Love the DIY? These DIY party decorations are fun and easy to make. Most importantly, they'll make your party truly special.
What looks like party time, feels like party time, sounds like party time, and is as awesome as party time? Party time!
While it's all well and good to say that the people that make a party great, let's get real: you're there for the food and then the decor. Think of it like this: the decor is there to accentuate the people, the food, and the vibe.
So, it's important to get the tone of the decor just right! Take a look at these 51 DIY party decorations for ideas and inspiration!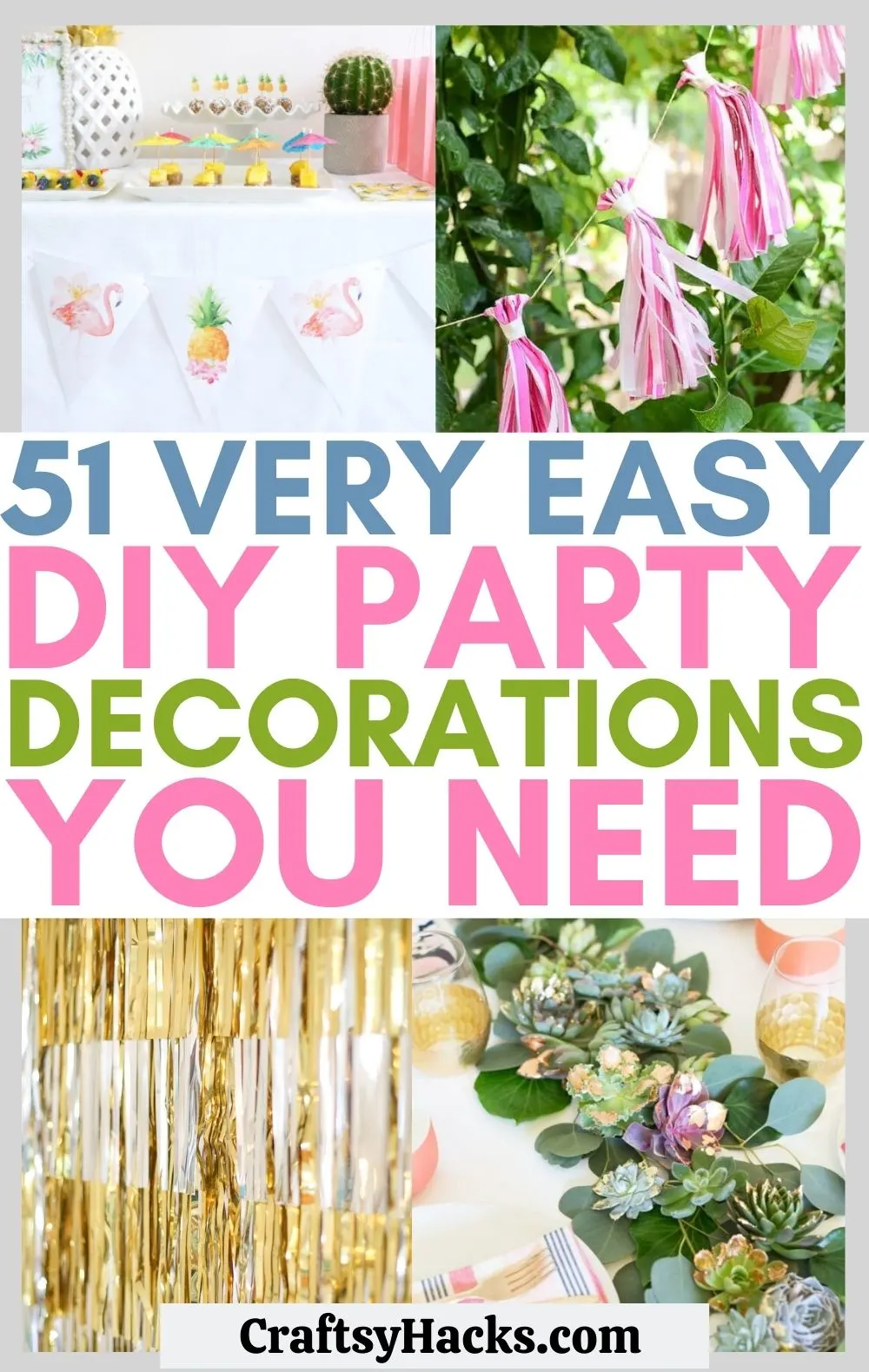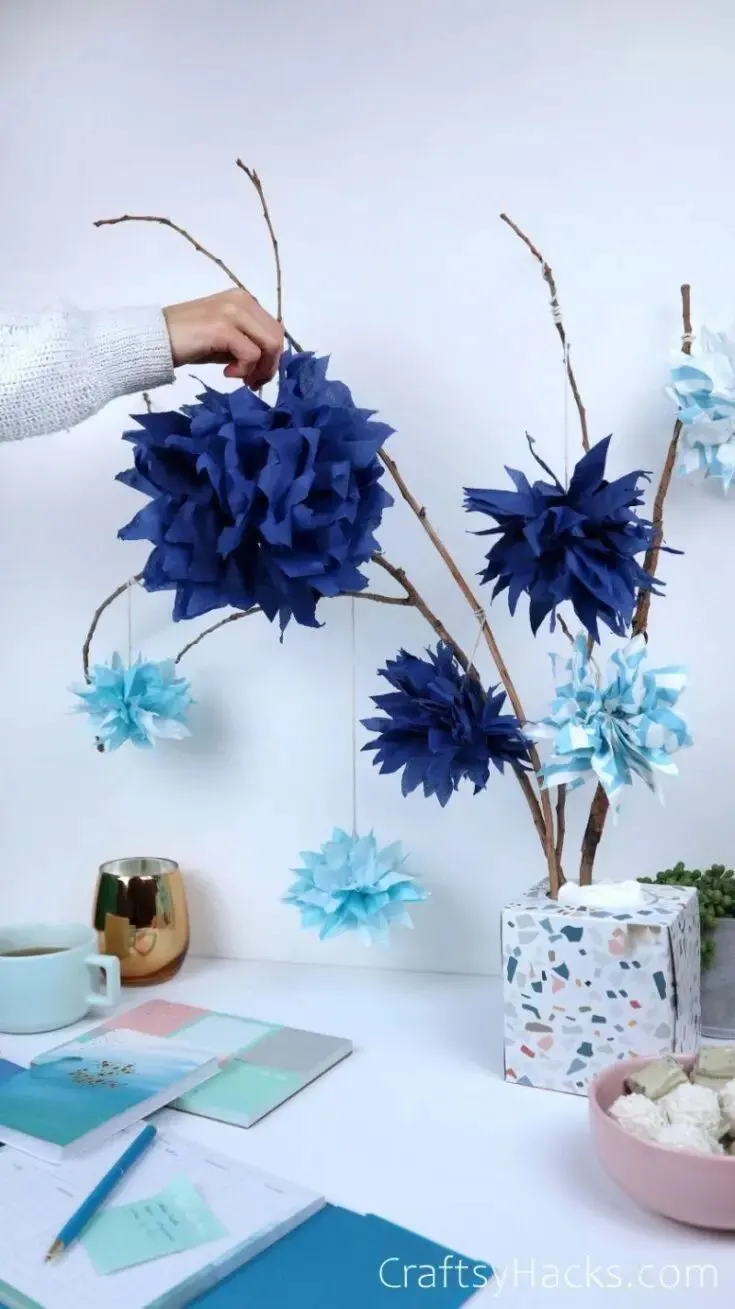 Source: craftsyhacks.com
Pom poms at a party are like cherries on top of a sundae—life just wouldn't be right without them. So grab a few sheets of art tissue paper from here to get started.
You will be making tissue paper pom poms for this particular DIY decoration and let me tell you that it's absolutely fun. You can make these pom poms ahead of time and store them away till you need them.
When you're ready to decorate your party, just hang them down from tree branches or sticks, and voila—an inexpensive yet effective decor piece!
Check out more of these tissue paper crafts.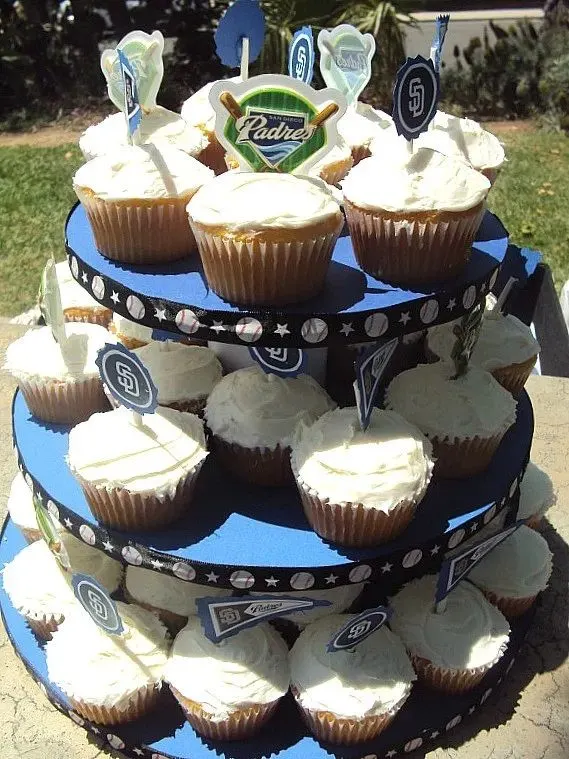 Source: honeyandlime.co
Cupcakes can liven up a party without even trying. Who doesn't love a big, generously frosted cupcake, right?
But if you want to really go all out and make those cupcakes the center of attention at the food table, then check this out! You can make your very own cupcake stand from scratch.
This 3 tier cupcake stand can hold all the cupcakes you'll need. It's just the right amount of snazzy without drawing away any attention from the actual cupcakes themselves. So go ahead and grab your supplies.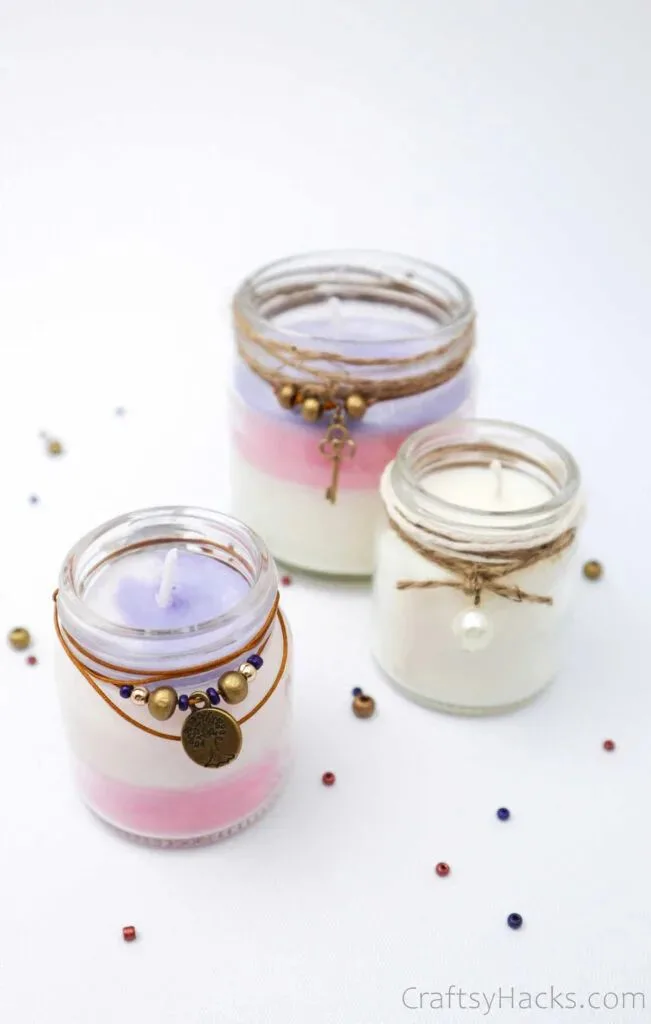 Source: craftsyhacks.com
Scented candles can really bring a whole new depth to any space. The light, the mouthwatering aroma, and even the decorative jars they come in can all make a great party fabulous.
But you don't have to buy expensive candles, not when you can make your own right in your home. They require but a few ingredients.
Make sure you pick out the best possible wax—either soy or beeswax (look here) are more eco-friendly than paraffin. Also, picking out high quality essential oils (look here) would boost the scent.
You can pick out a couple of jars you already have in your cupboards or from your recycling bin, too!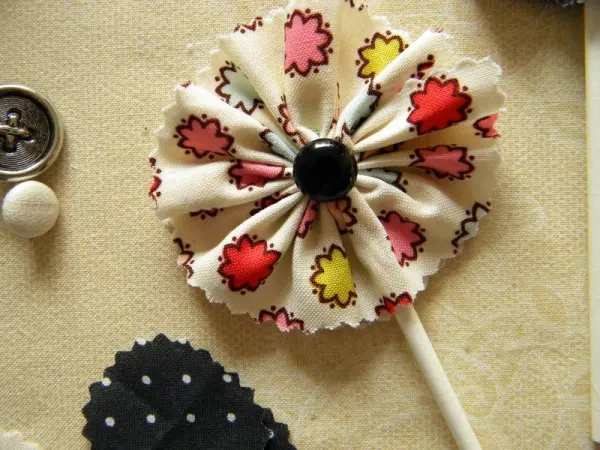 Source: glitterinc.com
Looking for some creative cake toppers, rather than plain old paper or plastic pop ups? Then checkout these gorgeous ruffled toppers and tell me you don't love them.
These toppers are fun, frilly, and flirty which make them ideal for bridal showers, baby showers, or even for when you're hosting brunch for your girlfriends.
Plus, they look like sprinkles and anything that looks like sprinkles, or tastes like sprinkles, or are just sprinkles themselves have me sold!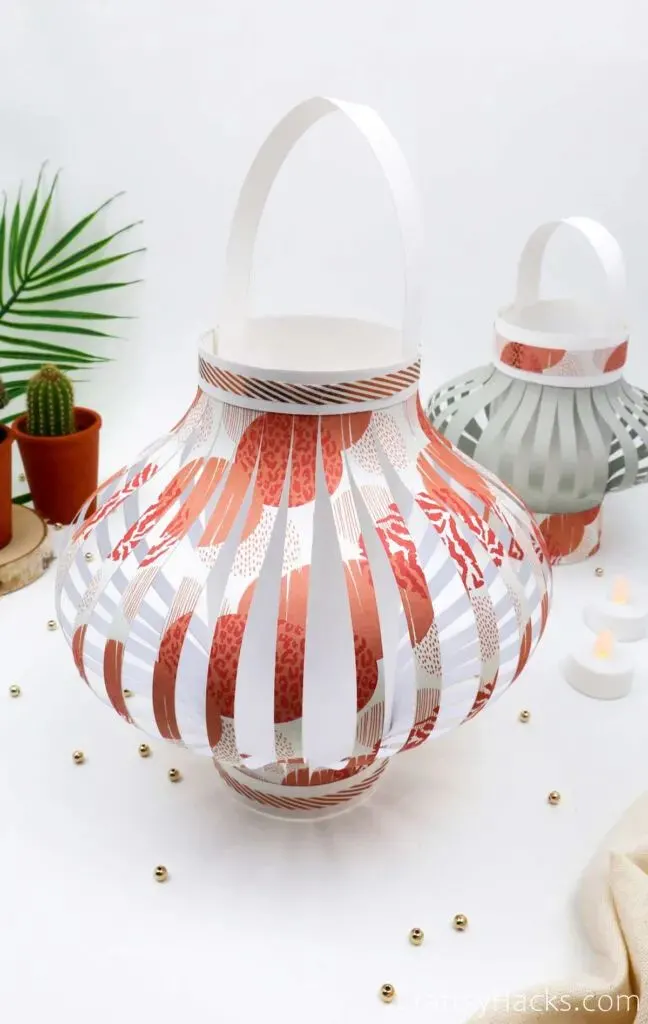 Source: craftsyhacks.com
Paper lanterns can liven up your entire party and bring some much-needed warmth, color, and light to it. It can also be a wonderful craft project for all ages.
So when you're planning your next party and have decided to make your own decor and lighting, then try your hand at making these lanterns.
While these lanterns are made from paper, you can also switch them out with fabric, bamboo, silk, or even wood as per traditions and customs in different countries!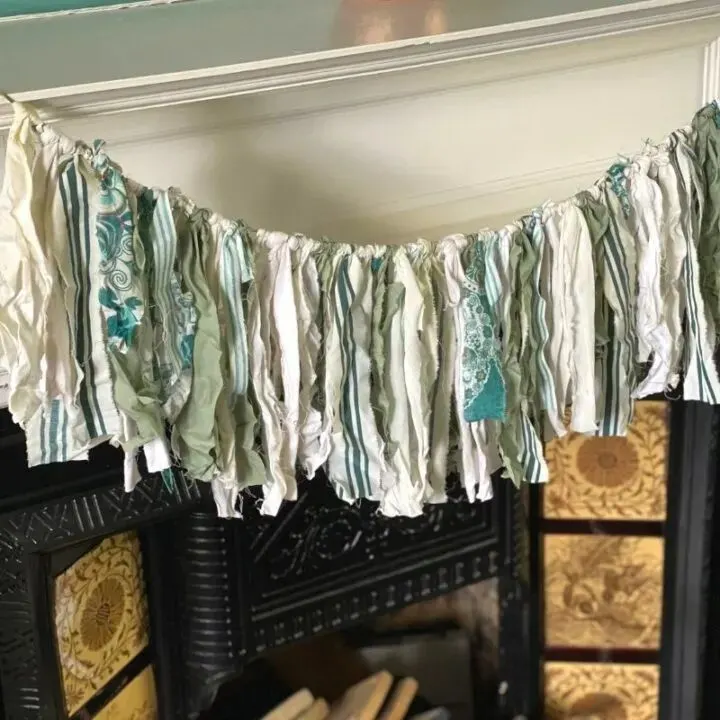 Source: upcyclemystuff.com
I love a good no-sew project as much as the next person. They're quick, and if you do them right, they're just as effective and efficient as the sew-on kind.
Now, while I do enjoy sewing as a hobby. But when I need something quick and easy for party decor, I really don't want to have to pull out and set up my sewing machine.
This no-sew bunting project can also help you put a dent in your stash of leftover fabric scraps from other projects. So, don't forget to check out these DIY scrap project ideas if you're interested.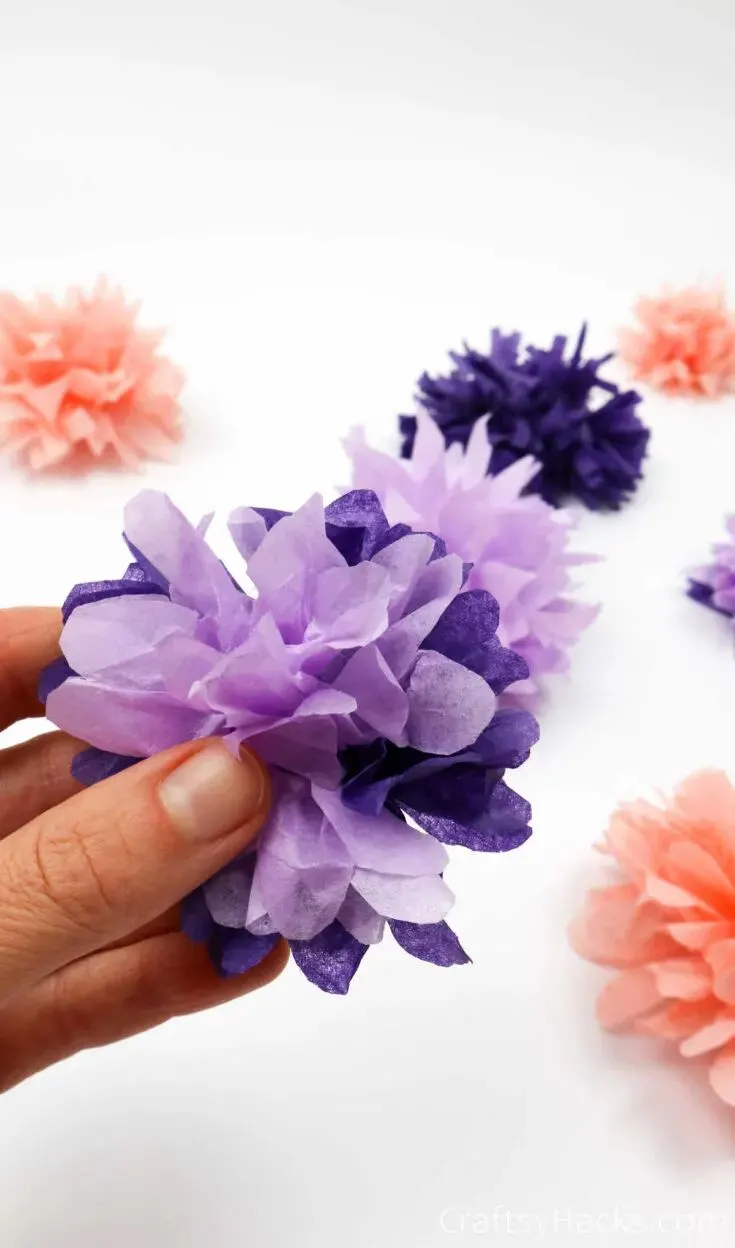 Source: craftsyhacks.com
Remember when you made those tissue paper pom poms earlier? Well, these aren't too different from those pom poms, but you can tell that they're flowers because of the curved petals.
Whether it's to decorate a party or just to supplement another craft project, pom pom flowers can come in handy. So that means it's time for you to put on a movie or sit down and binge watch your favorite show.
Make some popcorn and have a quiet night in while you make dozens of these pretty flowers. But first, grab some thread from here.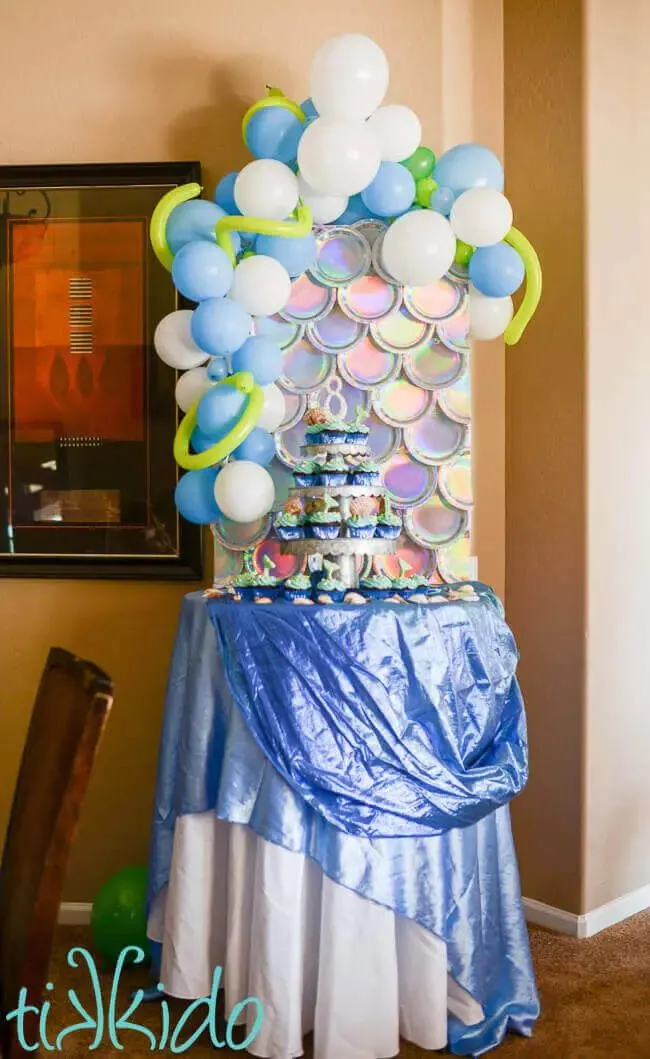 Source: tikkido.com
If your kid is going through a mermaid phase—or even an ocean and sea life phase—then buckle up. Why? Because every single party that falls during that phase is going to be themed.
So it's probably good that you get some mermaid-themed decor items ready. Check out this shimmery, glittery mermaid scales backdrop.
And you guessed it right, it is made out of paper plates, so go ahead and buy some here, or pick them up at a dollar store nearby. While you're at it, some seashells and other oceanic embellishments like conches and blue table cloths might also come in handy!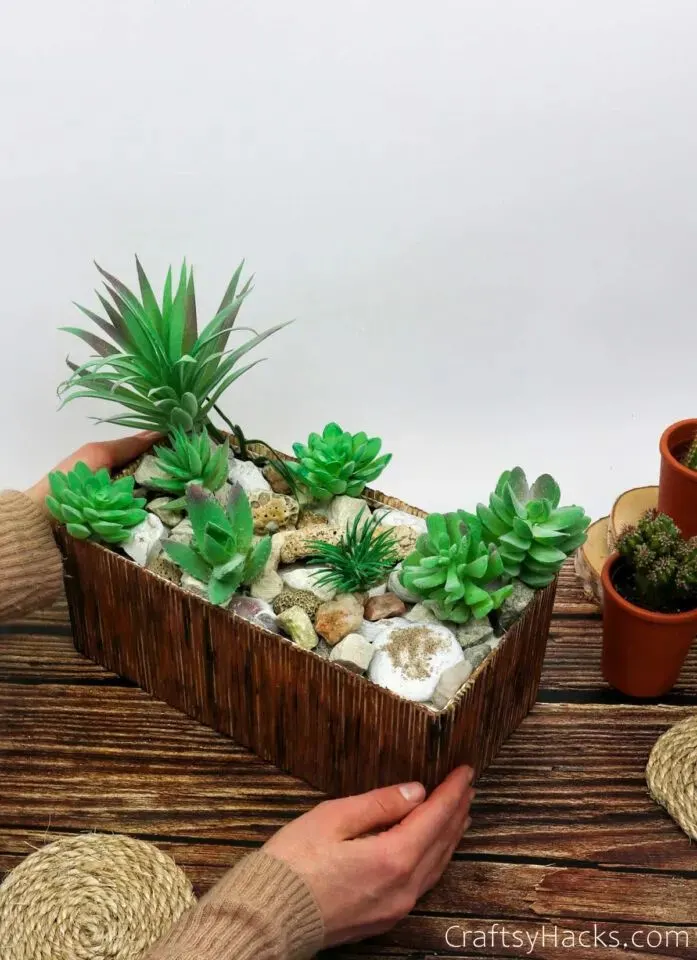 Source: craftsyhacks.com
Have you ever walked into a sunny room and just loved the feel and look of the space? You know what the room could use? Succulents!
Trust me, this succulent planter is the real deal—even if it is actually faux. It can help you set the scene, so to speak and liven up the room.
It also throws off just the right amount of sun, sand and the beach, if you catch my drift. So grab some of these styrofoam sheets, a hot glue gun, and these faux succulents and get started!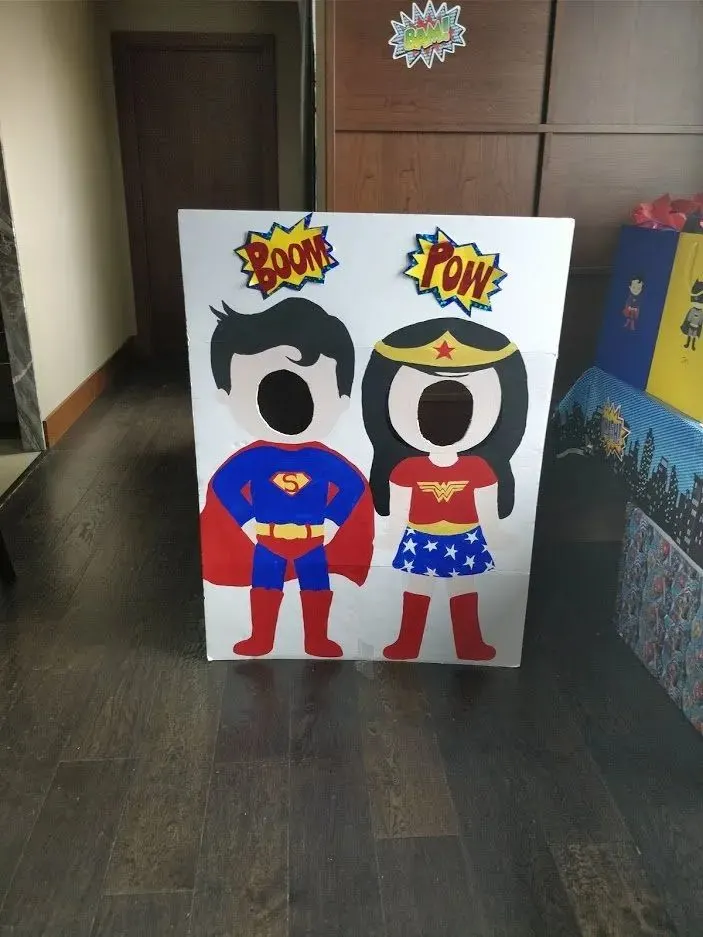 Source: feelingnifty.com
I'd like to say that boys grow out of their superhero fanatic phase, but well, I wouldn't hold my breath if I were you. I've seen my grown-up friends get a kick out of superhero-themed anything.
You know what would be a real hit at your kids' next superhero party, though? A superhero photo corner with a ton of props, just like this one!
Why don't you look in your garage and check if you happen to have any wood that you can repurpose for this project? Also, grab some paint, too, the next time you hit your local hardware store.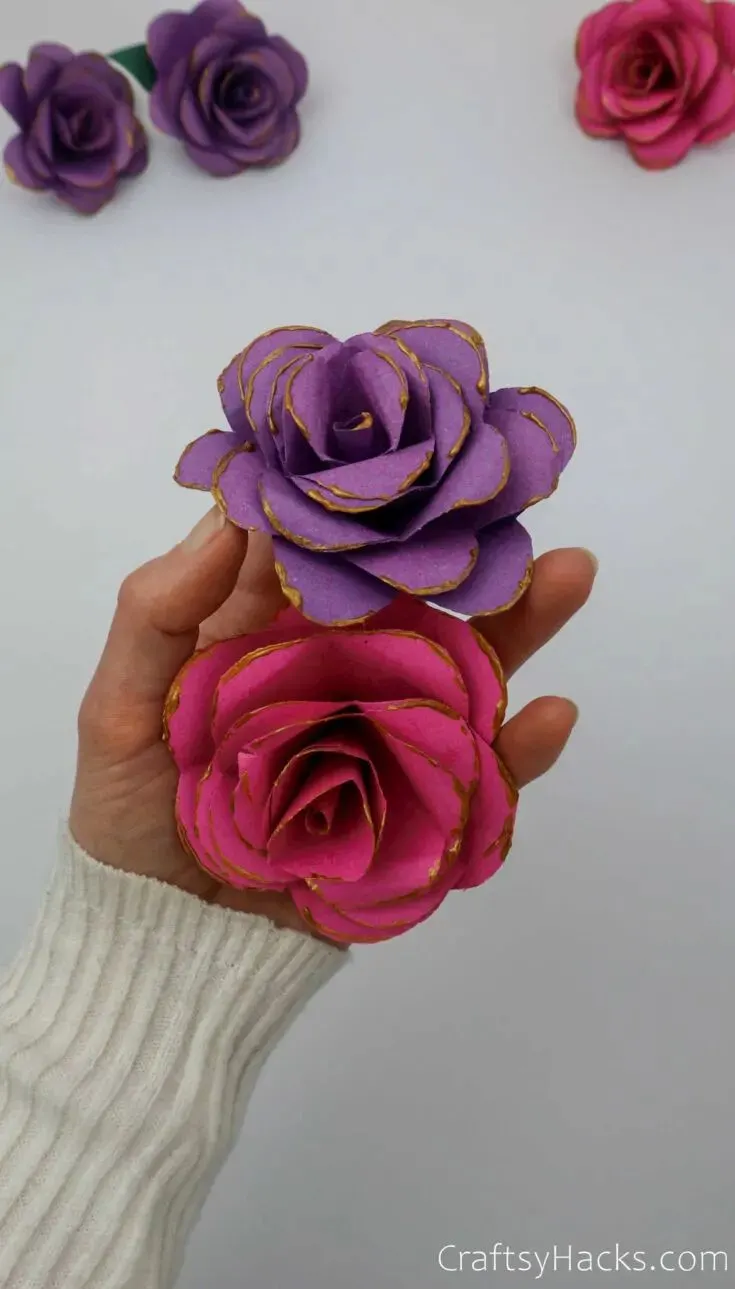 Source: craftsyhacks.com
See, didn't I tell you that paper flowers are super popular? They are one the most inexpensive props for decor and for craft projects.
This particular paper flower is a little more elaborate than your tissue paper flowers, I'll admit. But with a little help, some cardstock, and some glitter from here, you'll be set.
The glitter is optional, of course. But I don't know if I can trust a person who voluntarily turns down an opportunity to glitter bomb something, do you? So pick up some glitter glue from here.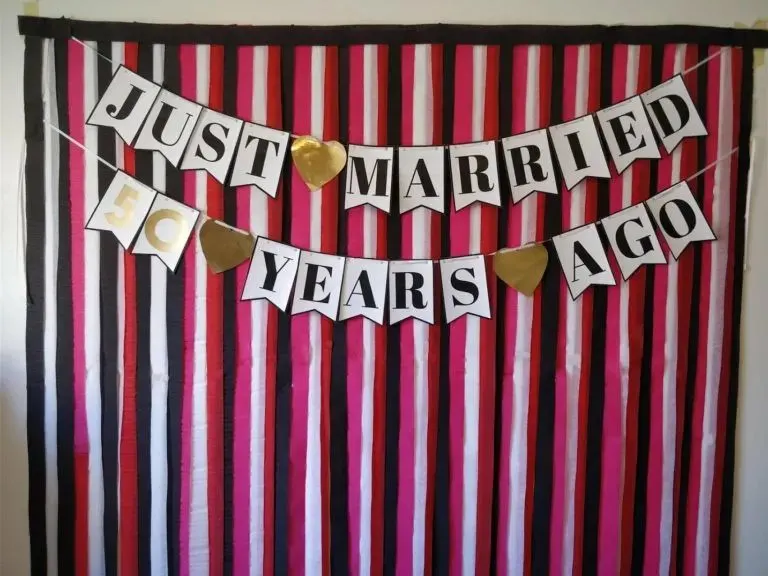 Source: feelingnifty.com
Streamers will never—never!—go out of style. Any party that has a streamer background is a hit, and that's something that you can see all the way through the ages from the 50's.
First, stock up with plenty of streamers in the color theme you've picked for the party. A lot of black, silver, or gold generously interspersed with other colors can be just the perfect touch of wild and wacky.
You can even set up your photo booth in front of this backdrop. Trust me, it's going to be the best 5 bucks you will have ever spent on your party decorations.
Check out more projects for teens like this here.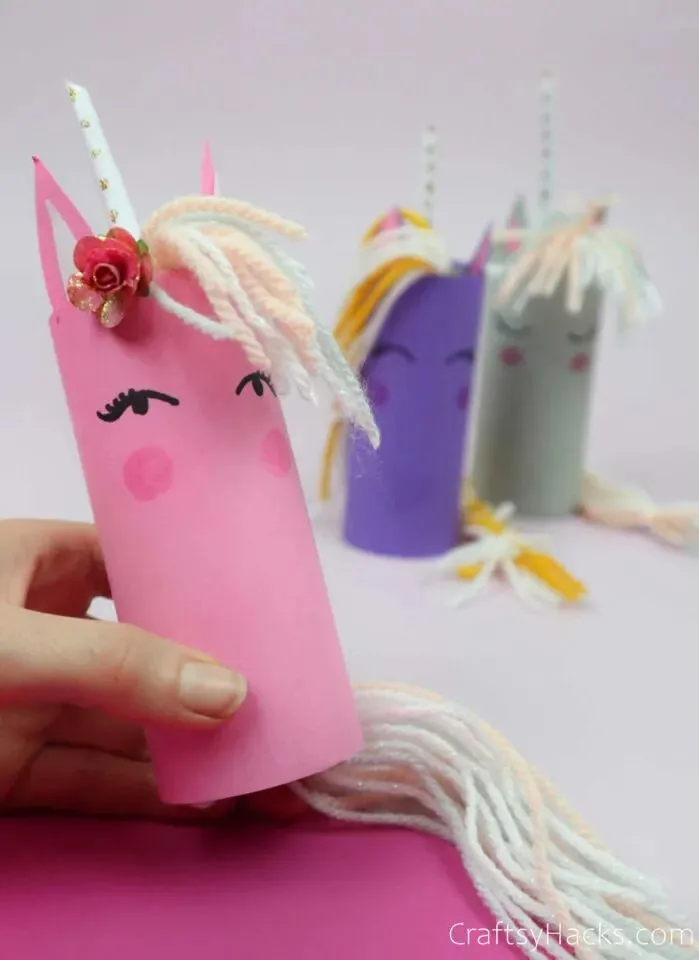 Source: craftsyhacks.com
Can you blame a little girl for wanting a unicorn themed party? They're so magical, and full of color and fun.
Here's an idea: why not set up a little craft station and make these unicorns out of—wait for it—toilet rolls. You can have the little kids make their own party decor, keep them occupied and you've got a keepsake for them to take back with them!
While the unicorn with just the horn looks fabulous, I think a little yarn from here to make a braided mane and tail would be a smashing hit.
Check out more unicorn crafts here.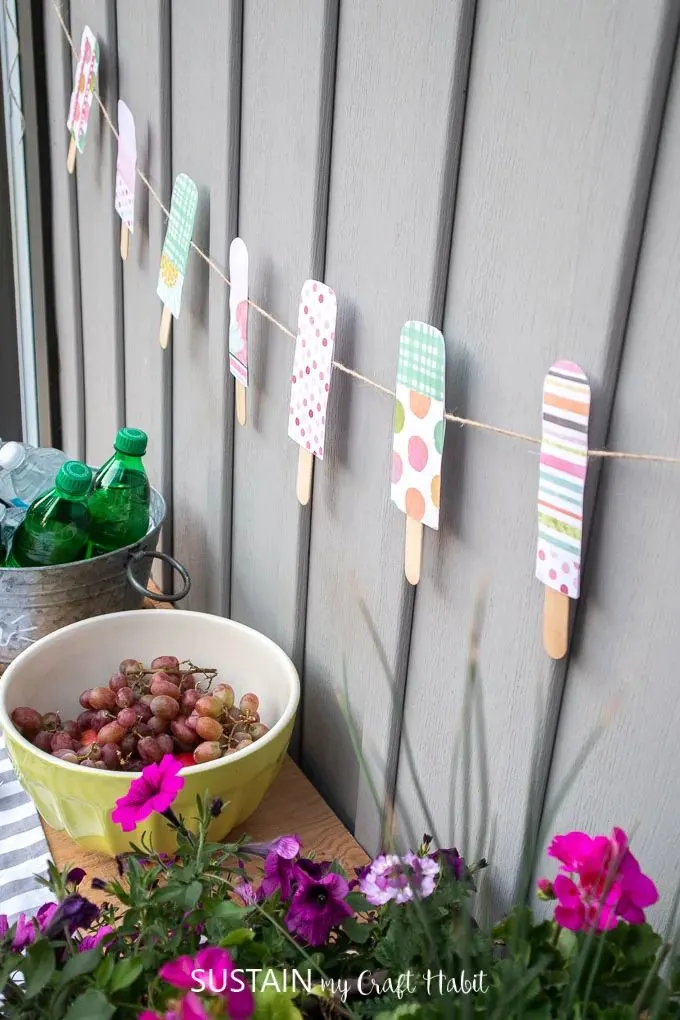 Source: sustainmycrafthabit.com
Summertime is here, and with it, summer vacation and all the parties you can ever attend. So to help you get ready for all those summer parties, you might want to start planning your decor.
This summer garland of ice cream cones and popsicles is perfect to add color and fun to the party, right? I mean, what says summer better than cold popsicles?
In fact, if you set up a popsicle stand, then you've got the perfect table decor already ready! Grab some jute twine from here and start crafting!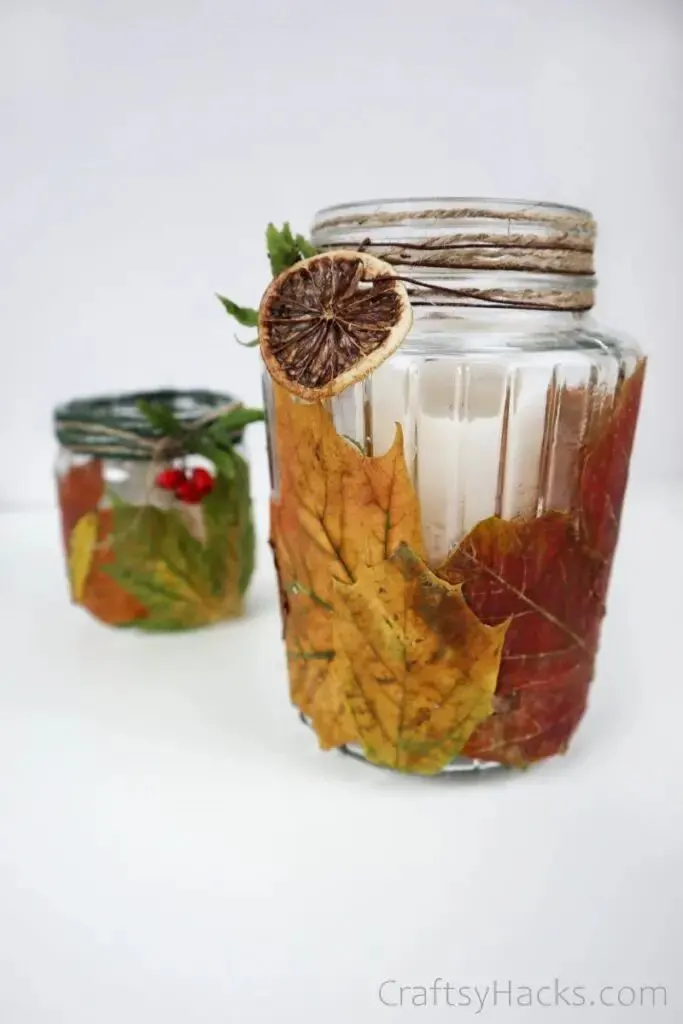 Source: craftsyhacks.com
If you and your guests loved the scented candle from earlier, then you'll also love this leaf candle holder. Didn't I tell you that while the light and scent of the candle is great, it's jar is also equally important?
This leafy candle holder is rustic and chic all at once. It's a balanced mix of rusticity and earthiness, mixed with oodles of charm and elegance.
Not only can you use it as party decor, you can also make them to give away as party favors. Go outside to your backyard, or have your kids go out there, and scrummage for pretty leaves to help you decorate!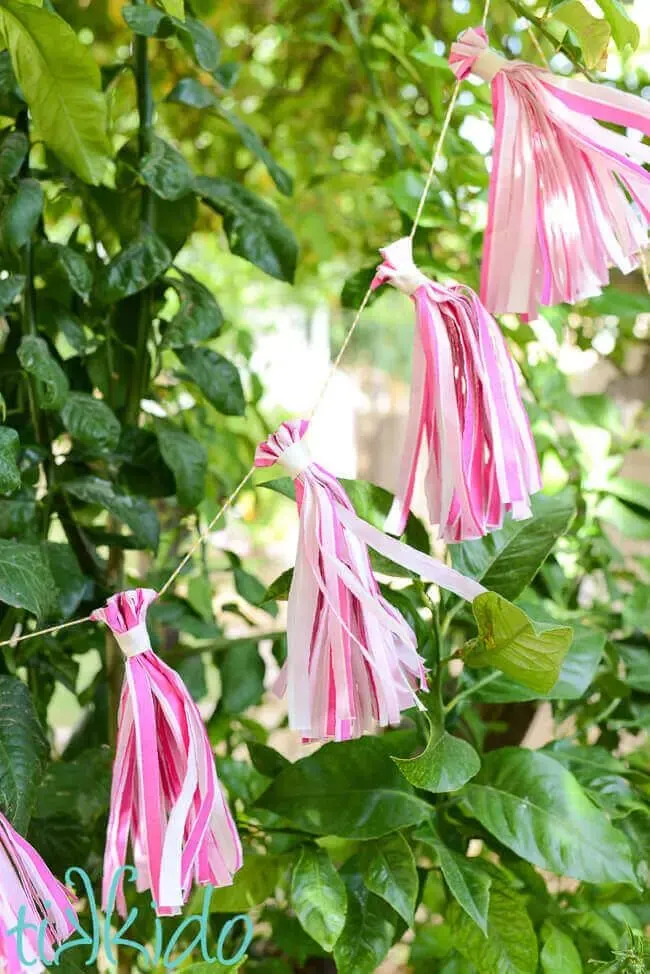 Source: tikkido.com
Don't get me started on the awesomeness of tassels. Too late! It's an addiction that I don't plan on curbing!
Whether it's paper tassels or yarn tassels, I can never get enough of them. They're flirty and fun, they add texture and color, and they're just plum cute.
To make a whole garland of tassels, grab some twine, colored paper napkins(look here), and some ribbon from here. Cut the napkins into long ribbons and use the ribbon to hold all the strips in place when you twist them into a tassel.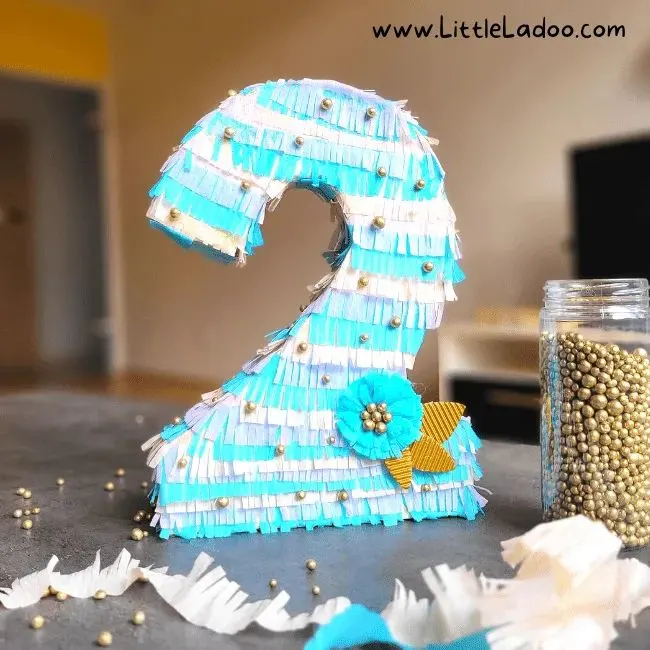 Source: littleladoo.com
A birthday party isn't complete without a little kid in blindfold whacking away at a number pinata while all his friends cheer him on.
Now this particular pinata might be for a two-year-old, but that doesn't mean the parent can't step in for a little therapeutic time with a baseball bat, right?
Grab some cardboard, crepe paper, the template that's been provided, and your other craft essentials. You should also figure out what fillers you want to add—candy is always a safe bet, as are little party favors and streamers.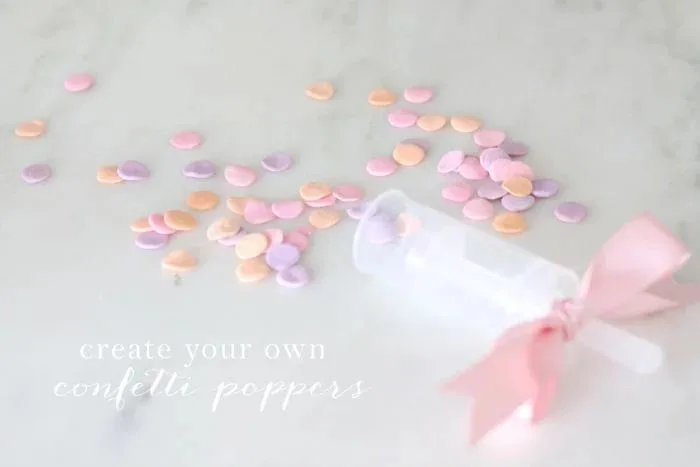 Source: julieblanner.com
Confetti and poppers? That's almost too much of a good thing. That's like color, sparkle, pop and fizzle, all in one.
I think you should save it for the most special occasions: graduation, New Year's Eve parties, birthdays…on a Tuesday afternoon when you need a pick-me-up.
You only need three things:
Plastic push up pops from here
Sprinkles or confetti fillers
Ribbon
The ribbon is optional but it does add a nice finishing touch.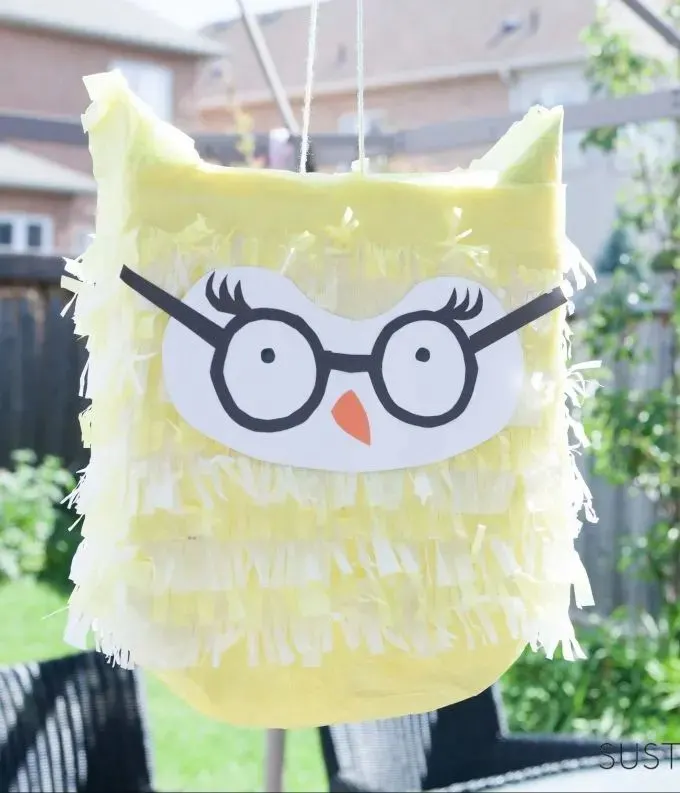 Source: sustainmycrafthabit.com
This owl pinata is pretty special, isn't it? It's got such a lovely array of textures and colors, and simple enough to recreate that you can make it in just an afternoon.
The next time you're about to throw away a cereal box, save it instead and upcycle it for this project. You will also need to wrap up the box. While you can use gift wrap, craft paper or even construction paper will work just as well.
Don't worry, there's a printable template to help you along the way. If you have any leftover construction paper after this project, then why don't you check out these construction paper crafts?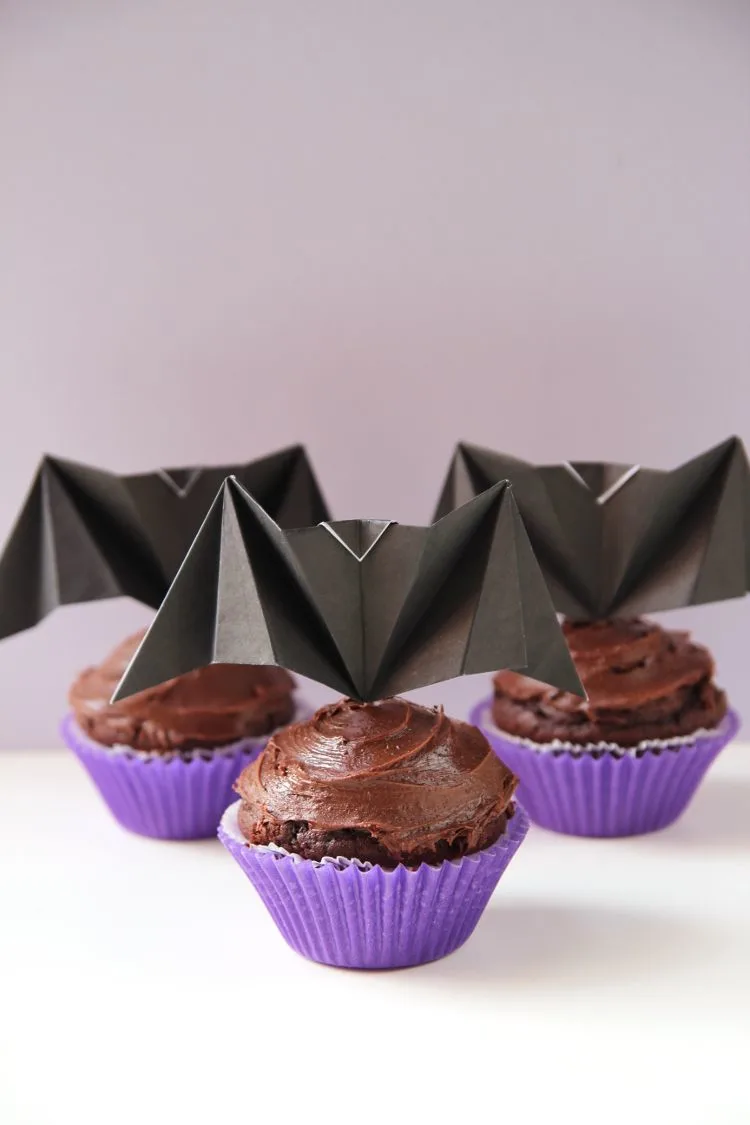 Source: gatheringbeauty.com
Origami crafts might be a little tricky at first, but if you follow the instructions and practice, you'll be a pro in no time. An added bonus is that you only need paper to practice this art form.
Whether it's for Halloween or for a themed party, these origami bat cupcakes or cake toppers can be quite a hit. They're such a simple addition to already awesome cupcakes.
You probably have black paper in your craft supplies already. So go ahead and grab some and start folding it into these cute bats.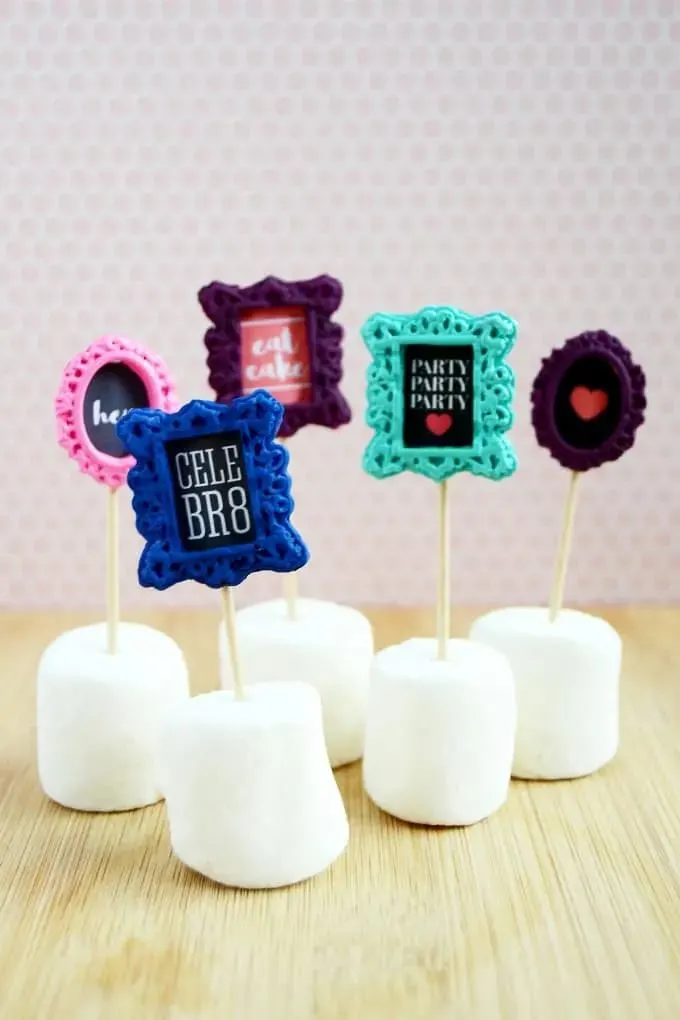 Source: modpodgerocksblog.com
Food pics are also a great addition to your party decor. They can instantly jazz up your food table and are pretty amazing to look at.
You can also use these food pics as little note poppers to let your guests know what dish it is, or you can use them to jazz up cheese, olives, fruit, and more.
First, grab these silicone molds from here to use as the base. You will also need a hot glue gun, wide washi tape from here, and some bamboo skewers, as well.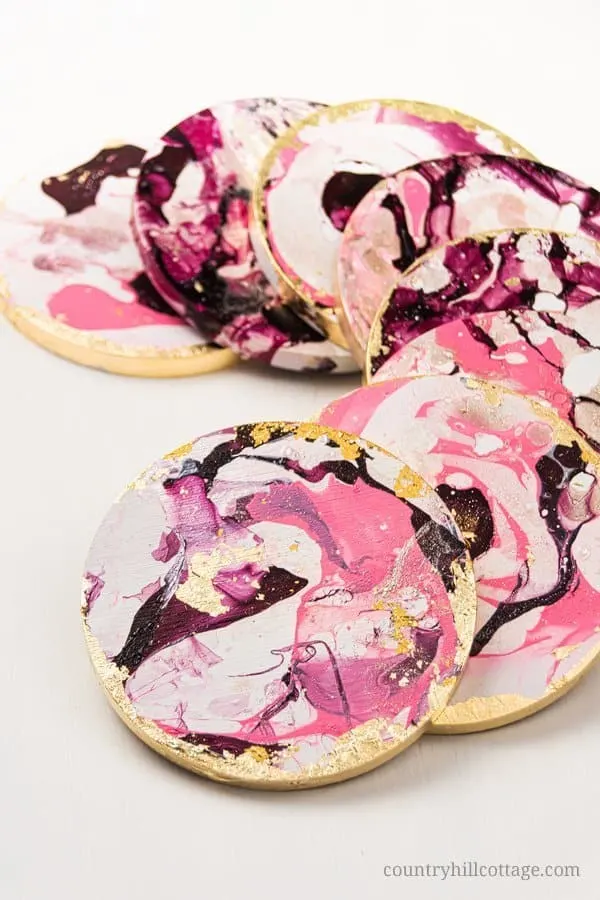 Source: countryhillcottage.com
Nothing like a few marble coasters to class up a joint, right? Just think of how elegant they'd look at your party, especially if it's an elegant tea or brunch with the girls.
What if I told you that you could recreate that marbled finish with just water and nail polish? Add some sparkle and gold from these gold leaf foils, and that's just class on a coaster.
Grab a few bottles of nail paint, first. It definitely helps to plan ahead so you can get your colors right.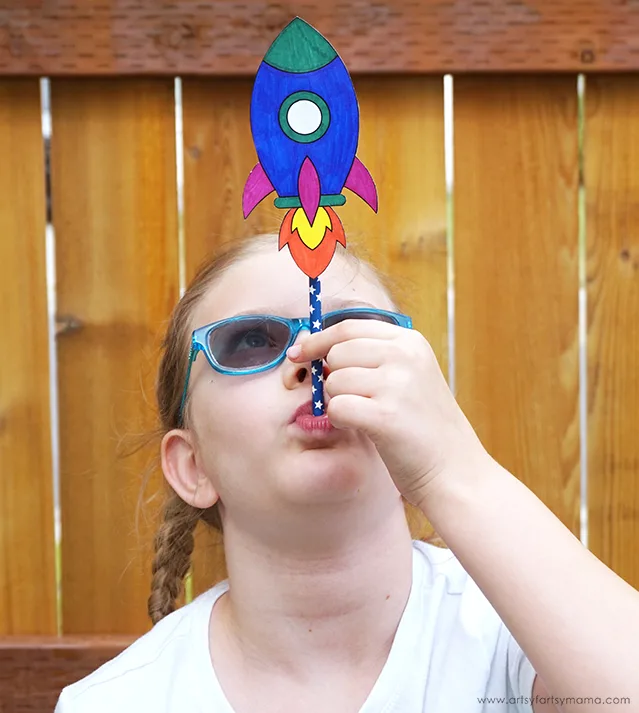 Source: artsyfartsymama.com
DIY straw rockets like the ones you see here are perfect when you're trying to up the fun factor at your kids' birthday parties. You can set them up for kids of all ages, and it can also be a fun and easy school project.
Grab some supplies first, and set up your workspace. There are templates available for you to download and print before you begin.
You will also need to pick up some straws while you're shopping.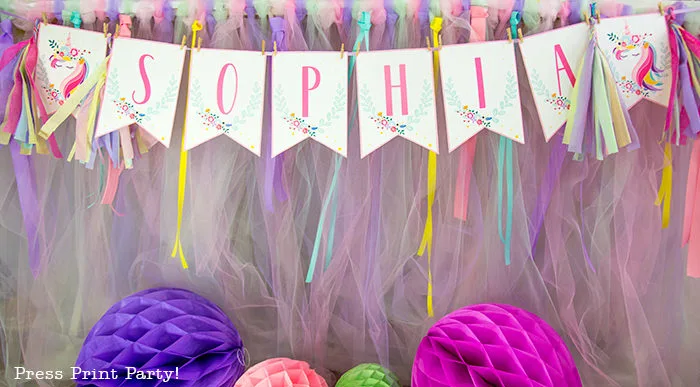 Source: pressprintparty.com
We've looked at plenty of ways to jazz up the food at the table. But how about we give the actual table a makeover and a new outfit? Check out this tulle table skirt!
All those colors would look spectacular, but it's the frothy texture of the fabric that I absolutely adore. In fact, with the colors you see here, I think this would fit right in at a Unicorn themed party or even an easter party.
Check out some of these unicorn crafts that you can set up for the kids at your party!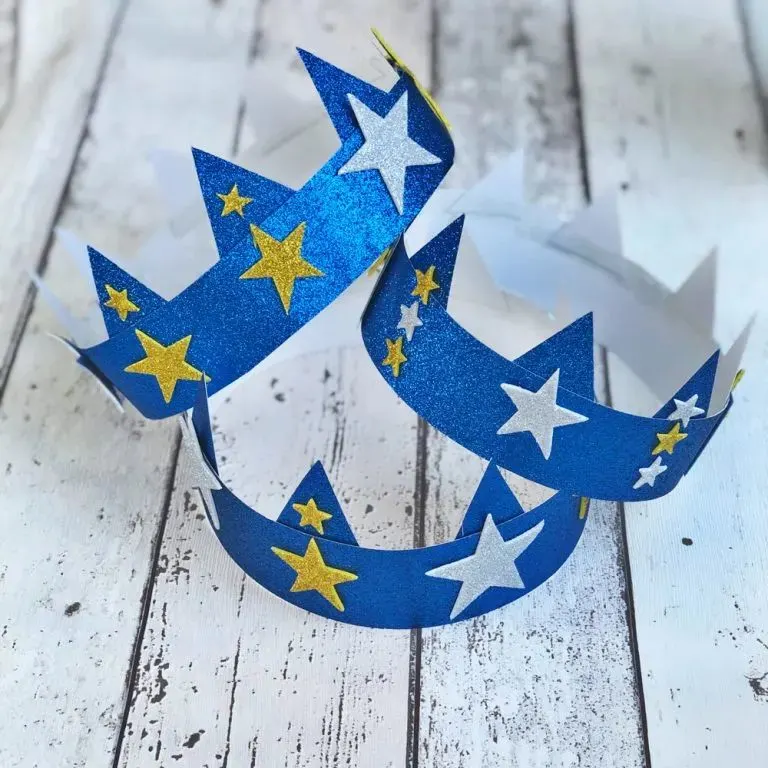 Source: daisiesandpie.co.uk
You know what is as colorful as unicorns, even if they are a little creepy? Clowns. Now while clowns may not be everyone's cup of tea, I'm sure there are still little kids out there who'd love a clown at their party.
You can make a clown-themed party crown to help augment the props and accessories at the part. They're colorful and pretty, without being OTT—over the top.
Grab some craft paper, glue, tape, and a few gold and silver stars. Then, go ahead and draw, and then cut out the shape of your crown and tack it in place with glue.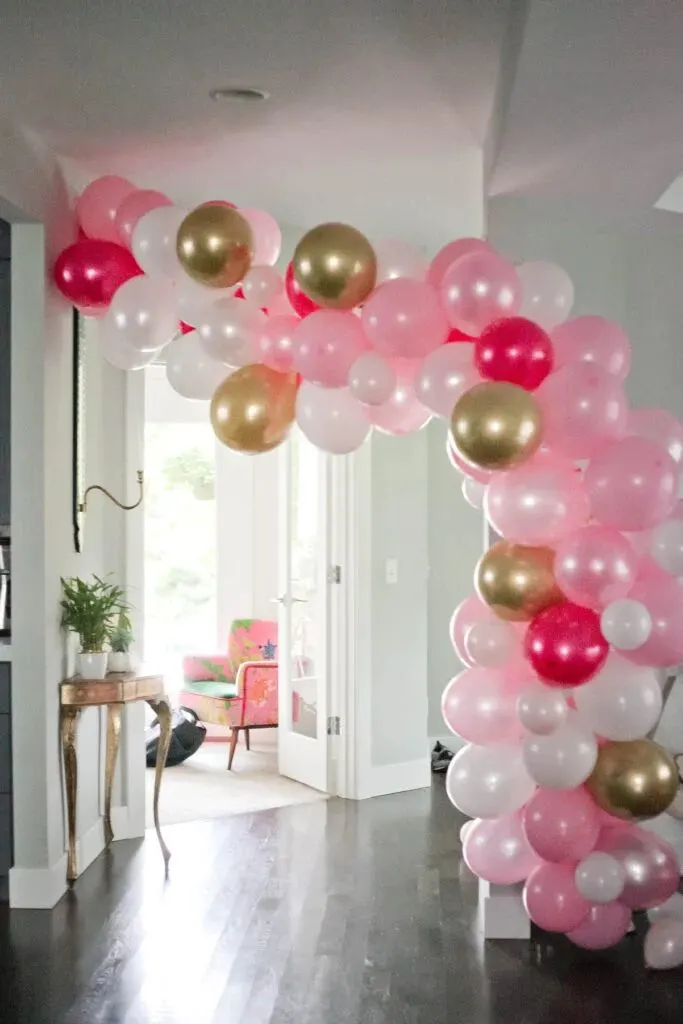 Source: paisleyandsparrow.com
Balloons are as essential to parties as cake and music. There's nothing that screams festivity as loud or as splendidly as balloons.
So why not make a whole garland of balloons—the more the merrier, right? It's one of the easiest decor pieces you can add to your party without spending too much.
And, if you plan it out properly and execute it just right, you can even have a balloon archway to spice up the party. Feel free to play around with colors and patterns, as well.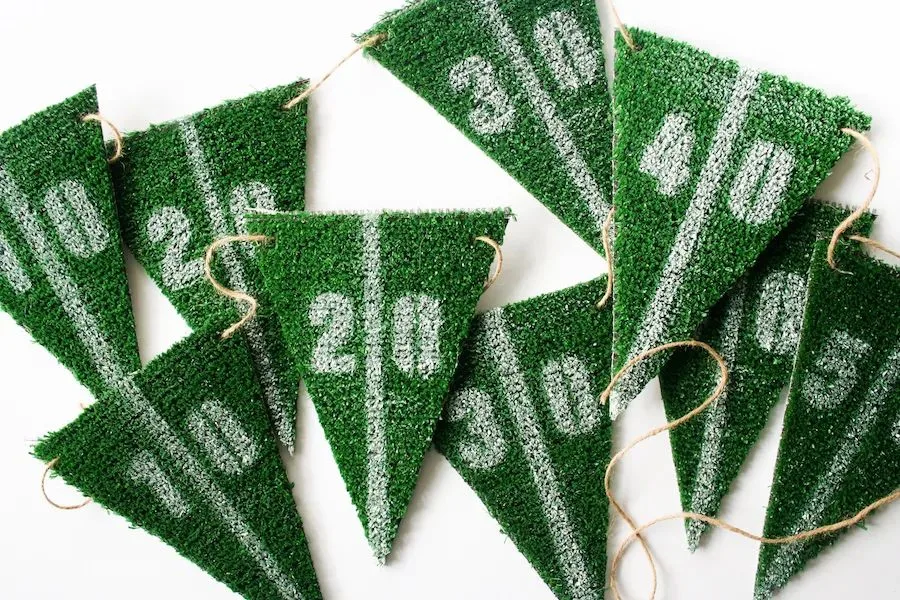 Source: saltycanary.com
Football season in some towns can be as important as national holidays. There's always some fundraiser party or celebration party that's in full swing.
So whether you're throwing your very own Super Bowl party, or just an after game party, here's something that can help you decorate. A yard line party garland isn't just clever, it's also super adorable and easy to make.
All you need is:
Stencils
Hole punch
Twine
Scissors
Astroturf from here
Grab your scissor and start cutting the astroturf into little triangles to get started.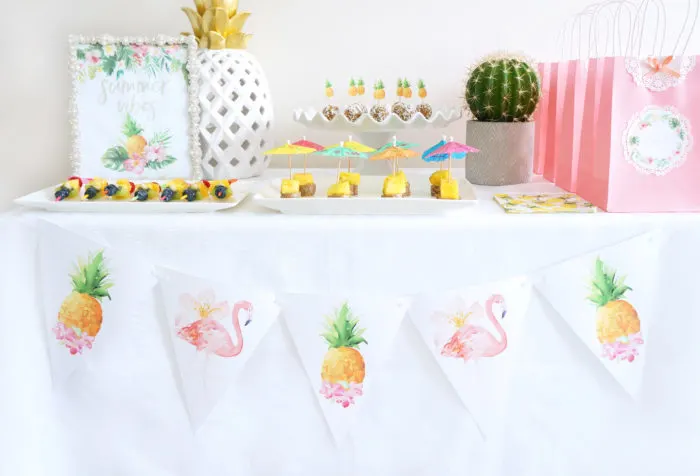 Source: hauteandhealthyliving.com
Here's another banner that you can experiment with. Only this time, it's more tropical and sunny instead of sporty.
And, what says tropical better than pineapples, flamingos and exotic flowers, right? Take some time to plan and design your banner, first. You can customize the size and the colors you use, as well.
When you're happy with how it looks, have it printed out either on paper or fabric. It would certainly be the perfect addition to your food table.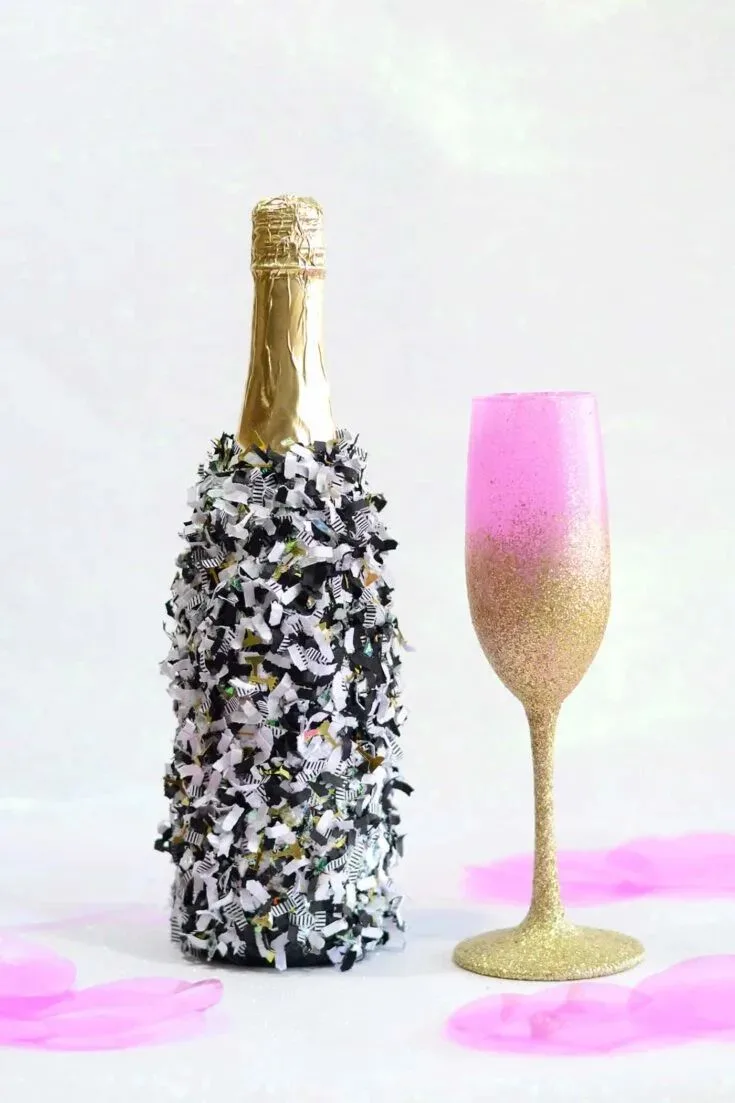 Source: modpodgerocksblog.com
No wedding or celebration is truly complete without popping open a bottle of champagne and toasting someone with a glass of bubbly. As if that weren't festive enough, check out this confetti-clad champagne bottle.
You need absolutely nothing more than some shredded paper or confetti, some mod podge, and a fabulous bottle of bubbly. If this is an underage party, then just switch out the bubbly for some sparkling cider.
Now, grab a sponge brush and start dabbing the surface of the bottle with mod podge. Then, before the mod podge dries, cover the bottle with a thick layer of confetti .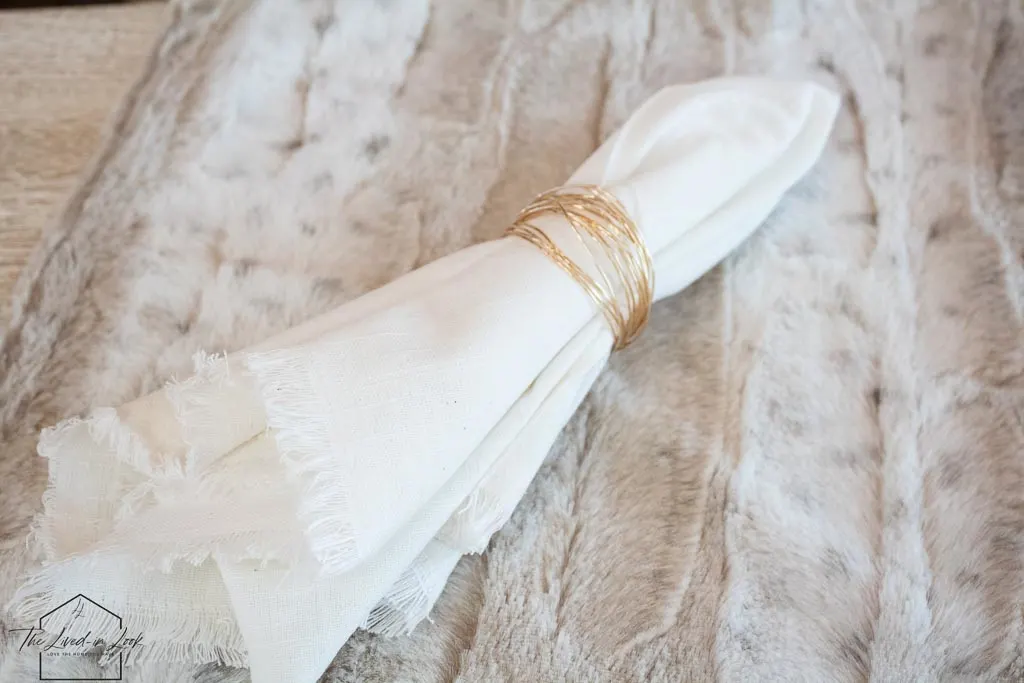 Source: thelivedinlook.com
You're looking down at your gorgeously laid dinner table. Your centerpiece is perfect, and I'm absolutely certain that the food is going to be spectacular.
But there's just something missing, isn't there? It's these gorgeous napkin rings, the final missing touch that your table needs.
You just need to look atit to see how utterly simple it is to recreate. But doesn't it also look like something right out of a home decor magazine? Just pick up some gauge wire from here and get started.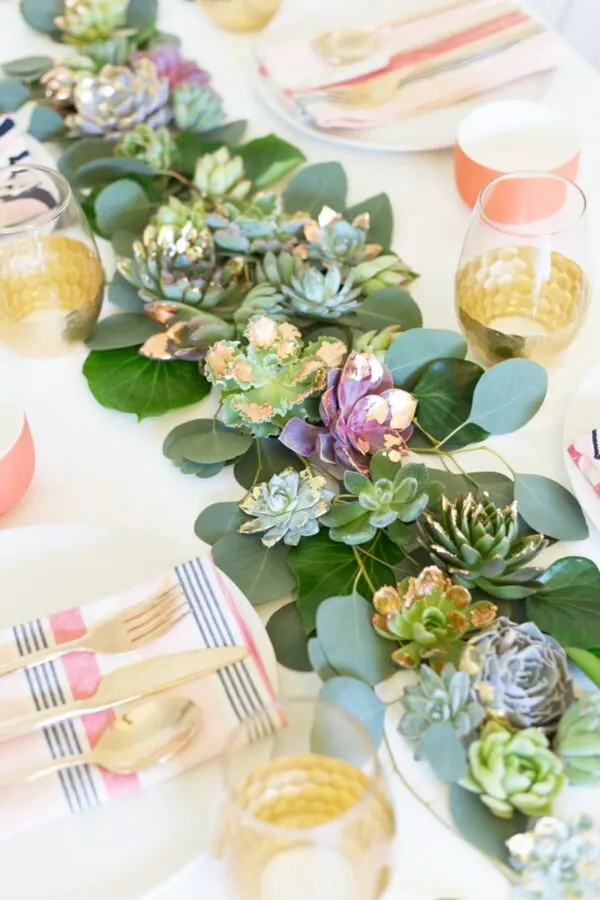 Source: lovelyindeed.com
It's only natural to segue from napkin rings to table runners. And, speaking of natural, can you get any more earthy and natural than these gorgeous succulents?
Don't you just love the little flecks of gold atop these succulents? It surely classes up an otherwise elegant and simple table runner.
The gold flecks will pair remarkably with your dinnerware, too. Just pick out some faux leaves, succulents, and gold leaf foil to get started. You can also add some flowers to the mix.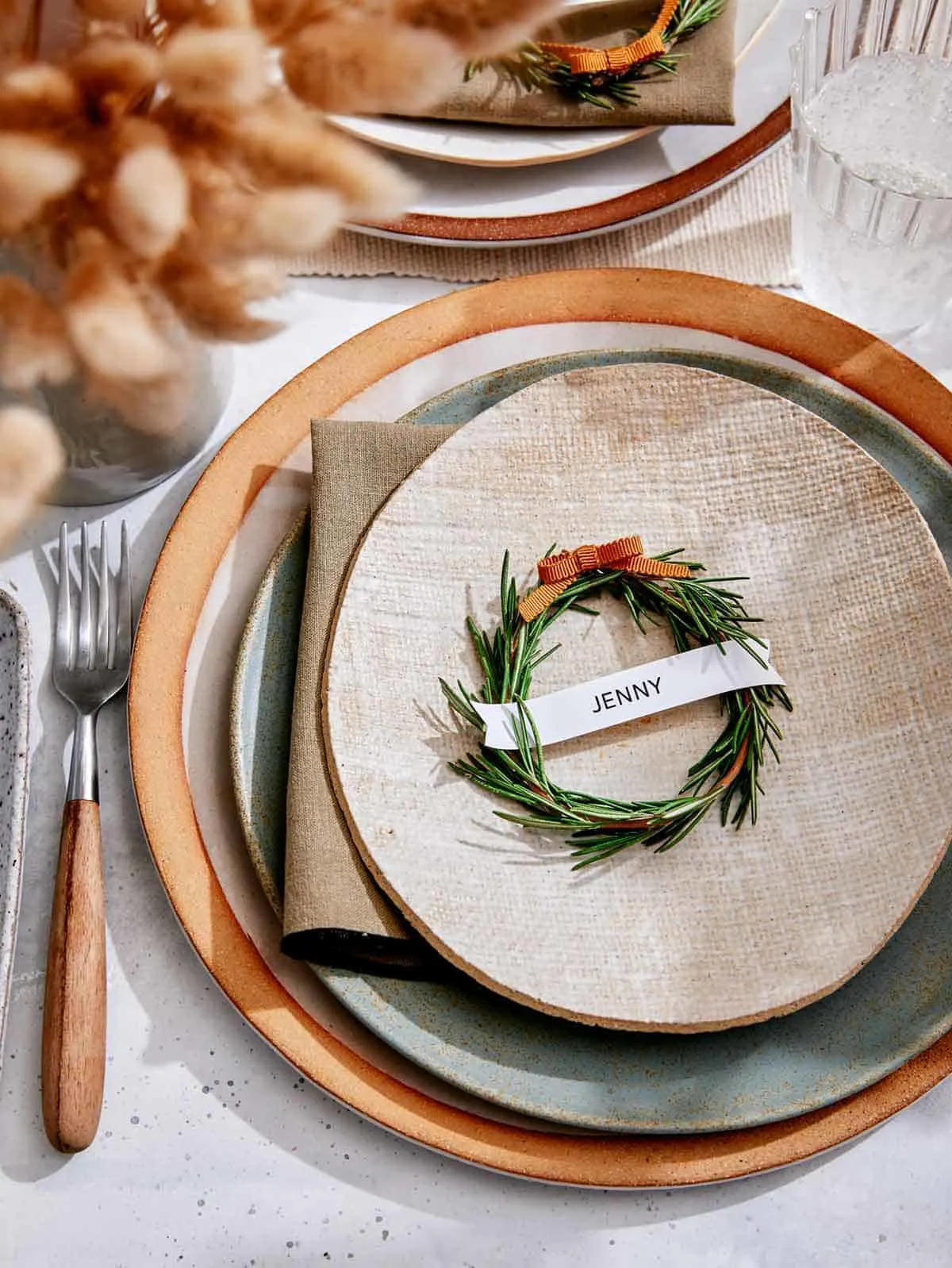 Source: spoonforkbacon.com
You've already worked out your napkin ring and table runner. How about you take a look at this mini rosemary wreath that would just be absolutely stunning as a place setter?
Herbs like rosemary and sage don't just look pretty and smell great, they also do a lot to help freshen up a room. Plus, if you're having roast duck or rosemary chicken for lunch…well, rosemary just got even better.
Pick up a few sprigs of rosemary, some floral wire from here, as well as some ribbon and twine. Don't forget the nametags, either!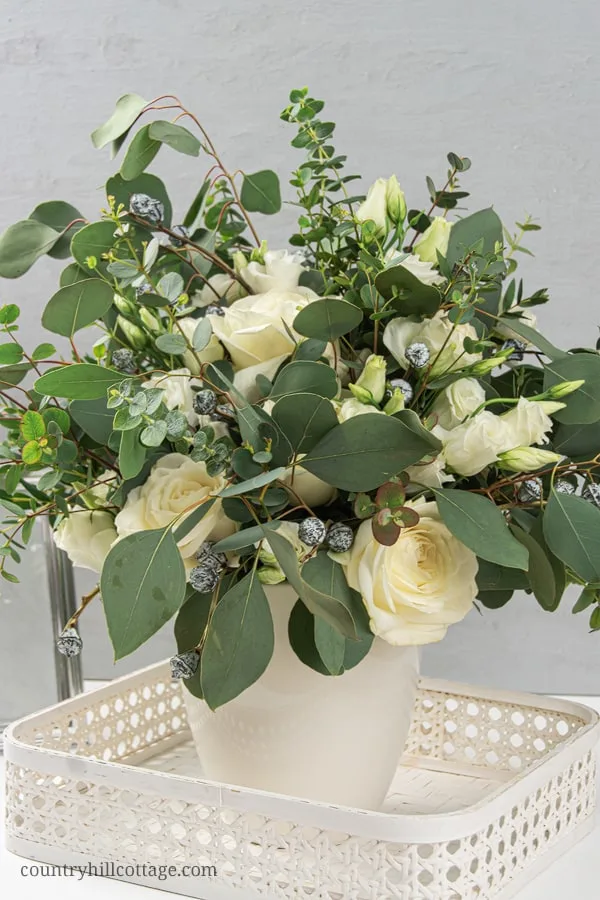 Source: countryhillcottage.com
Speaking of things that smell amazing, check out this simple arrangement of yellow roses and eucalyptus leaves. Fresh flowers at a party is all that it needs by way of decoration.
Did you know that eucalyptus has some spectacular medicinal properties? So let's combine the two and follow the step by step tutorial provided to create something fresh, sunny, and stunning.
Feel free to add some white flowers, seeds, and fers for fillers, too.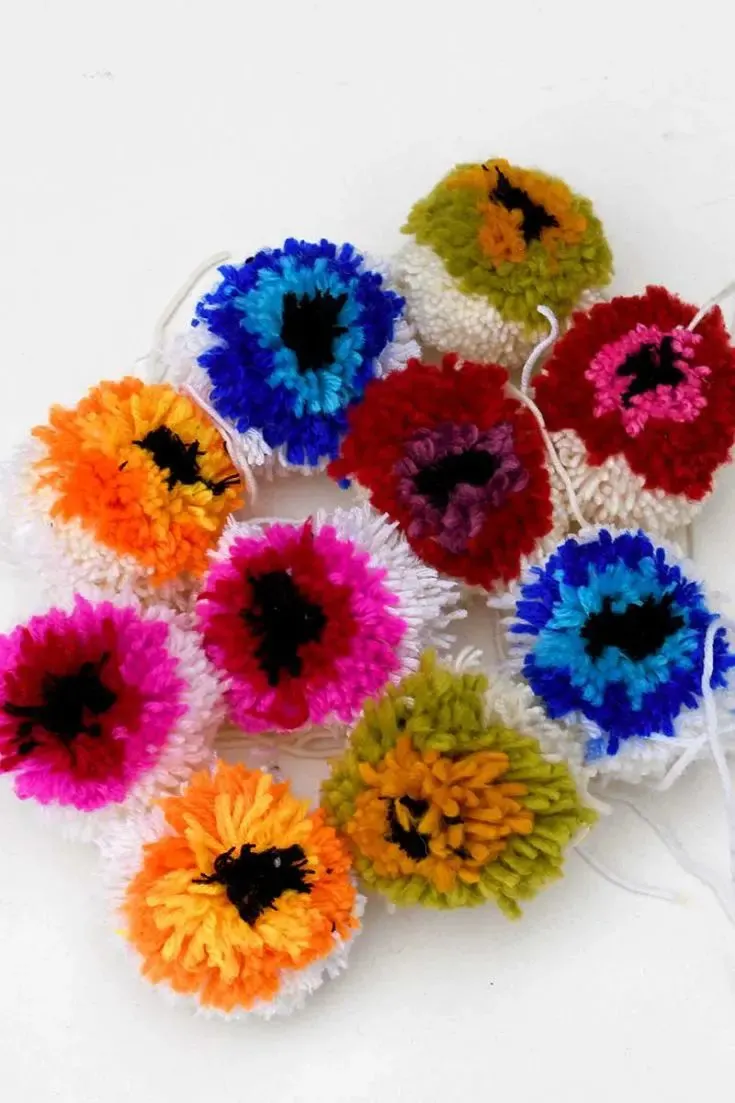 Source: pillarboxblue.com
You already know how to make paper flowers and pom poms. Check out how you can incorporate the two and create a pretty amazing party decor piece.
Grab one of these pom pom makers, first. Next, make as many pom pom flowers as you can. You can add a whole barrage of colors to your pom poms to make your flowers spectacularly colorful.
You can also spray paint your branches for an added spot of color, or stick to a neutral woodsy brown. Finally, hang the flowers from the branches, or stick them atop the ends to finish up.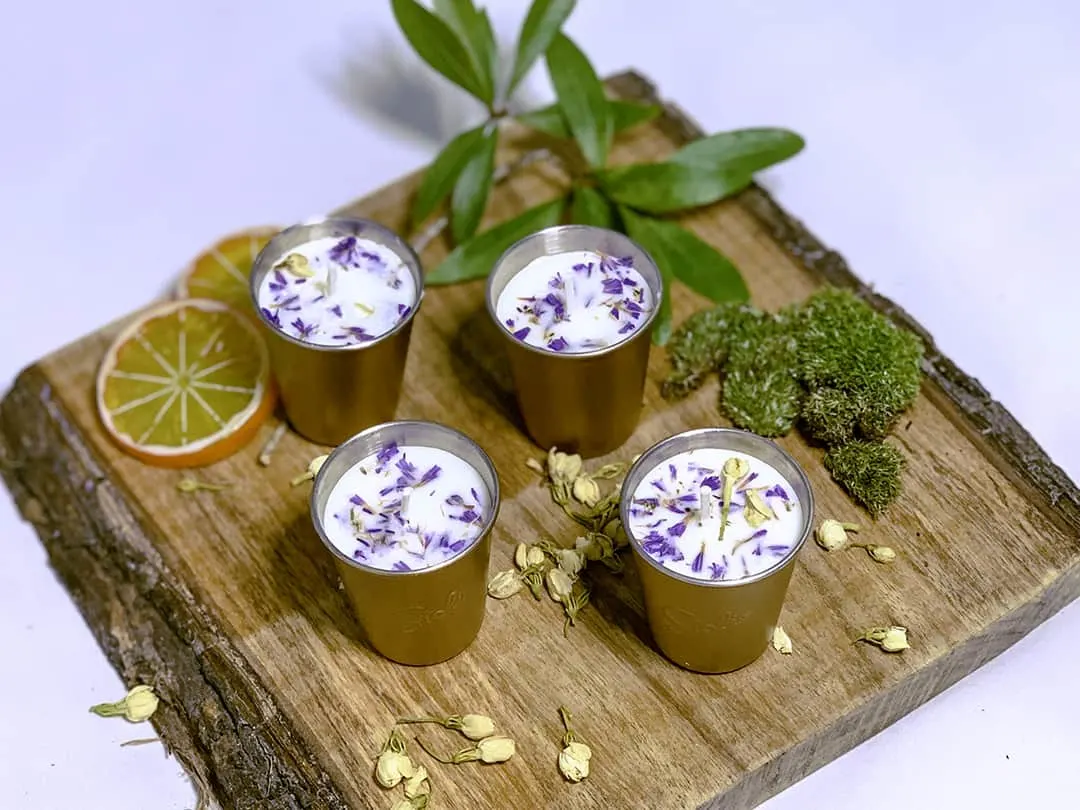 Source: hungaricanjourney.com
We've already established the sheer perfection og scented candles, especially as party decor pieces. Have you ever considered making scented candles with dried flowers?
Making dried flowers can be an entirely different project by itself, but it can take a lot of time. If you want to save yourself the hassle, then just buy them ready made here.
Also, if you don't do this already, you should definitely use the double boiler method to melt your wax. It ensures that the wax melts evenly and also prevents it from burning.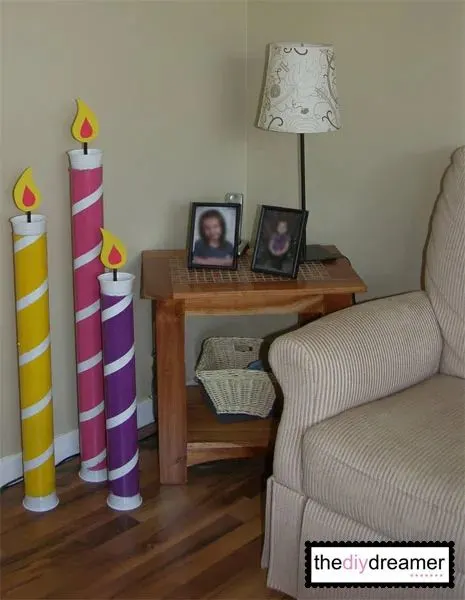 Source: thediydreamer.com
Birthdays and birthday parties all revolve around the cake. The cake—and only then the birthday kid—is the center of attention. SO it only makes sense that the birthday kid has his crown, and the birthday cake has it's candles, right?
But you're not going to stick to plain old puny candles, not when you can have this giant birthday candle instead. However, before you get excited, this candle isn't exactly a real candle—so it's technically just a prop.
But your cake still deserves the biggest candle ever, so make a few of these and keep them on hand for your party!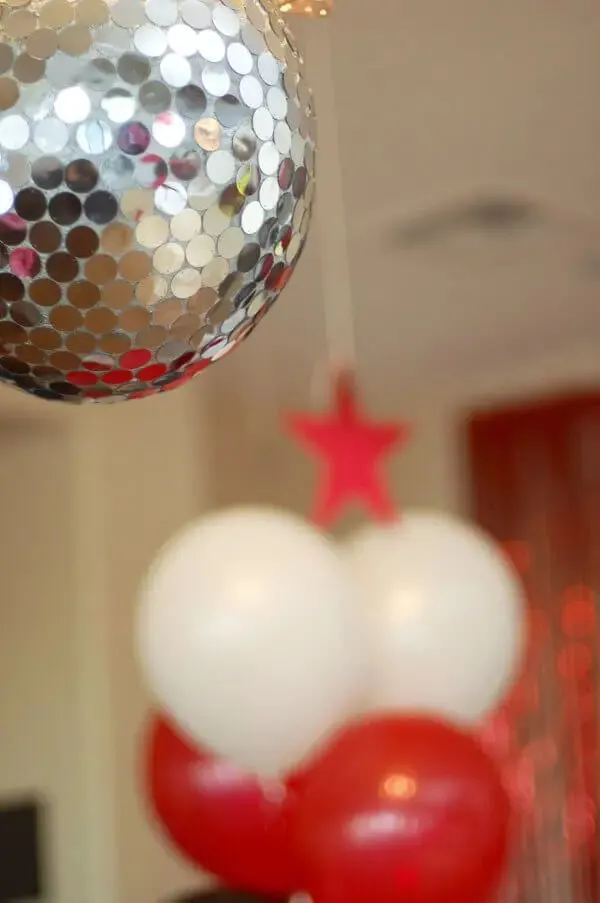 Source: tikkido.com
As if pinatas weren't fabulous enough, check out this disco ball pinata! A party pinata that will do justice to just about any party, don't you think?
The best part about these disco ball pinatas is that they're also great for teenagers to have at their parties, and not just for little kids.
With graduations and homecoming parties to celebrate, I'm sure that a giant disco ball that's also a pinata will be a resounding hit—pun intended.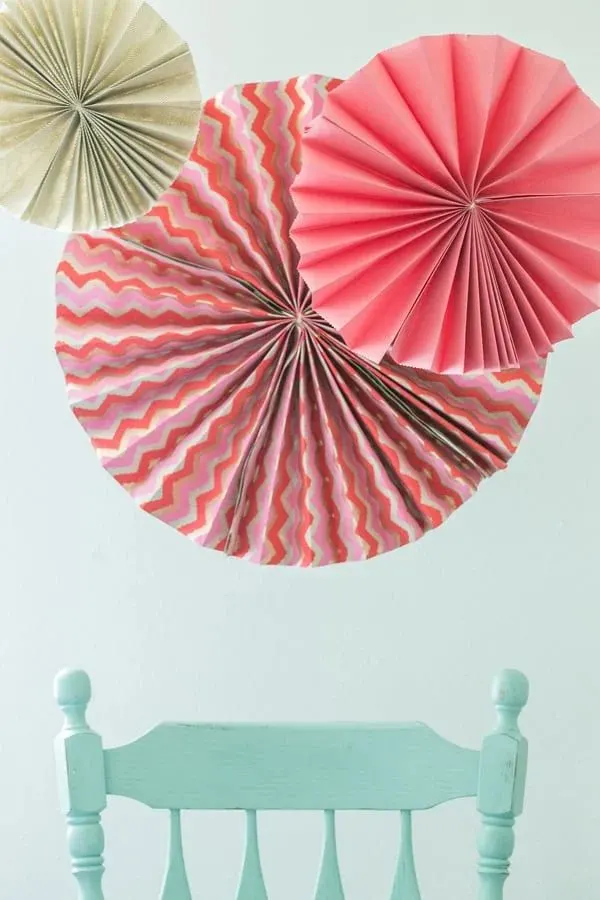 Source: sugarandcharm.com
Looking for a little something that can bring in some festivity and color to your party? If you don't want to spend more than you already have on your decor, then I'd definitely vouch for these giant party fans.
Not only do they amp up the festivity and color, there's also a subtle whiff of the beach just wafting off these pretty fans. You can also switch out colored paper with patterned paper for an added bout of color.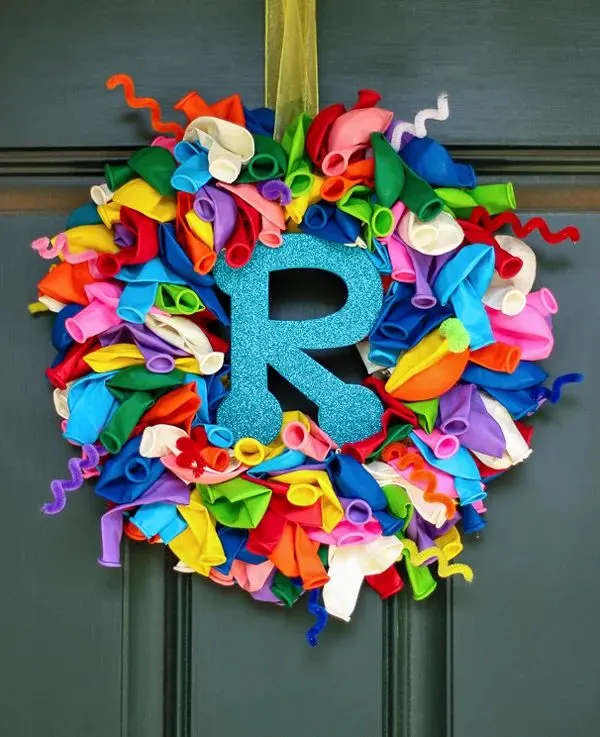 Source: wherethesmileshavebeen.com
Remember that balloon garland you made earlier. I'm absolutely certain that you still have a few balloons leftover from that. Go ahead and grab them to make this colorful wreath.
You can also use the defective balloons for this project, seeing as how you're not going to be blowing them up. So remember to save them up instead of just dumping them.
Grab a foam wreath form to get started. Or you can buy a straw wreath form from here. Grab some pipe cleaners from here, as well.
If you have any pipe cleaners leftover after you're done, go ahead and check out these 27 pipe cleaner craft ideas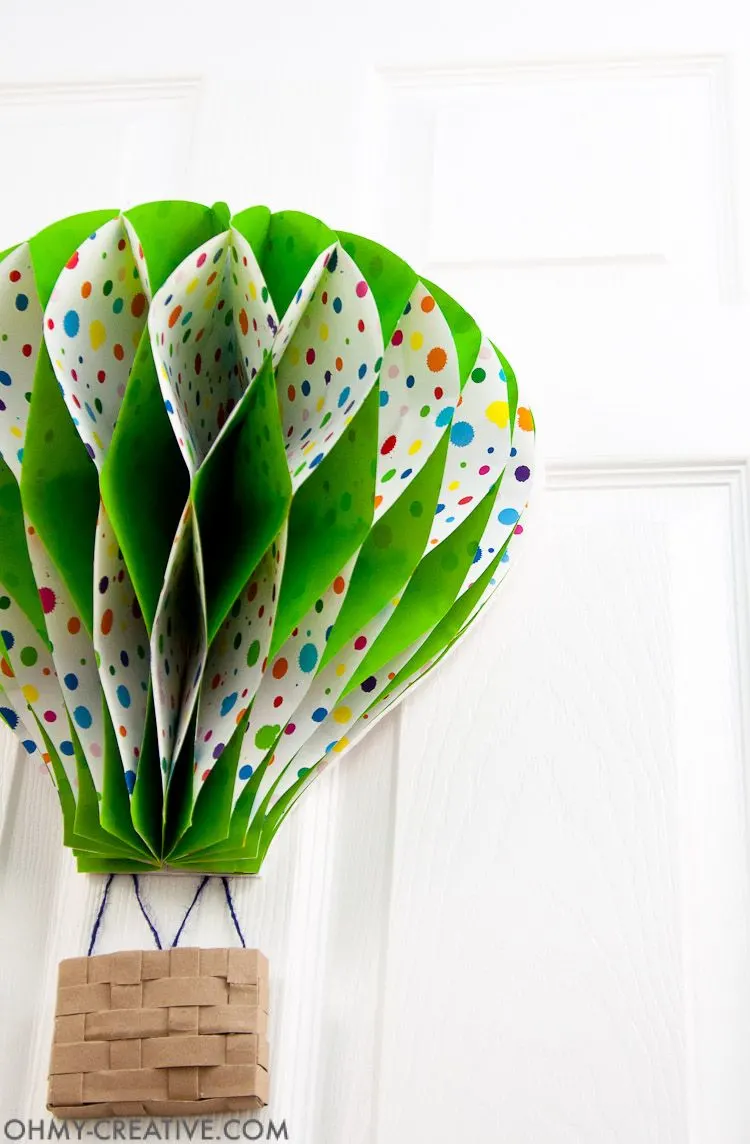 Source: ohmy-creative.com
Hot air balloon rides have always been on my top 10 list of adventures to undertake. I bet you've seen pictures—or even been to—hot air balloon festivals, and don't they look great?
If you want to incorporate your sense of adventure, all those bright pops of color, and just sheer creativity into your party decor, then check out these paper hot air balloons you can make.
This 3D accordian style paper decor isn't just a lovely decor item, it's also a creative craft project you can undertake. Grab a pair of scissors, your paper, and get started.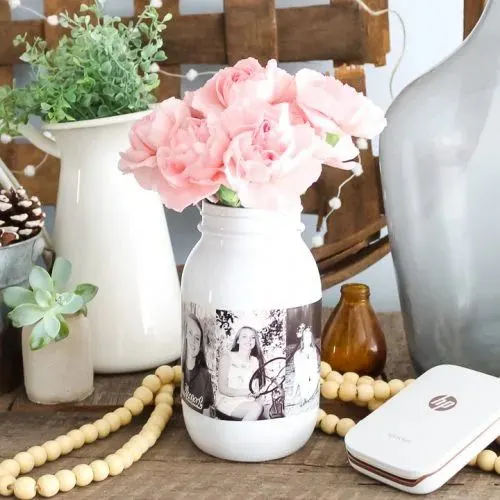 Source: thecountrychiccottage.net
Parties are all memories in the making, and what better way to capture those memories and display them at celebrations than, say, in a jar like this?
Grab a mason jar—preferably a smooth one so you can stick the photos without any trouble. You will also need spray paint—a chalk or matte finish would look particularly fantastic.
Finally, pick out your favorite photos—and memories—and have them sized and printed. You can have them printed on self-adhesive paper to make the adhering process a little easier.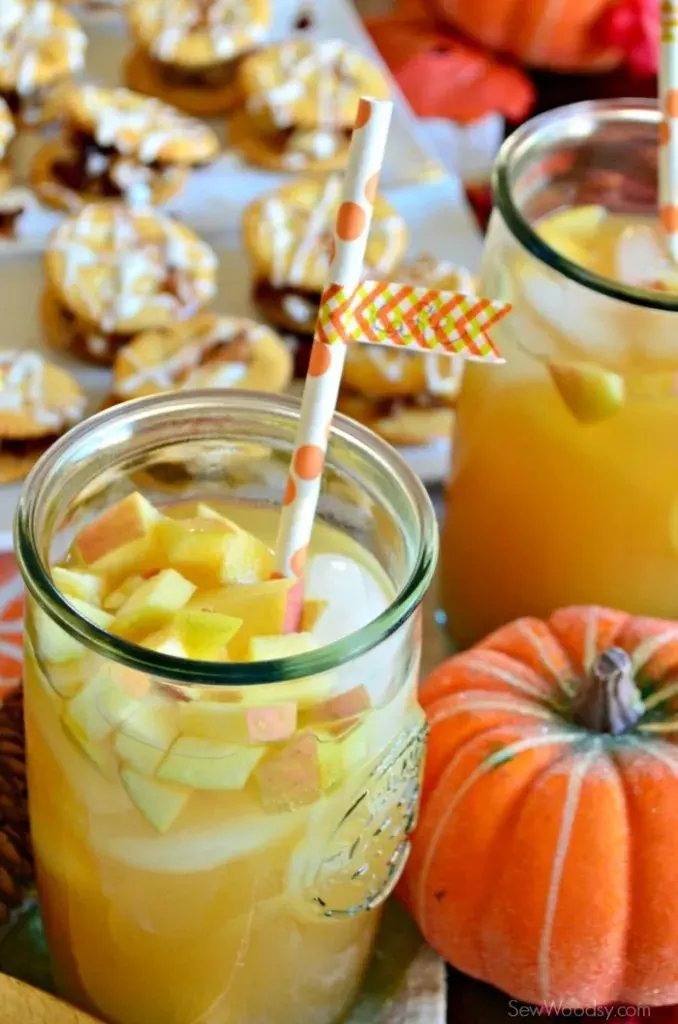 Source: sewwoodsy.com
Washi tape straw flags are one of those little somethings you can do to add a little extra decorative flair to your party.
Do you need them? Not really, no. But you should definitely have them for the simple reason that they're super easy and super fun. All you need are strips of washi tape and straws(look here).
You can cut your washi tape, roll it and stick it onto your straw, and then cut out a little triangle. This will give it a pretty festive flag or banner-like finish.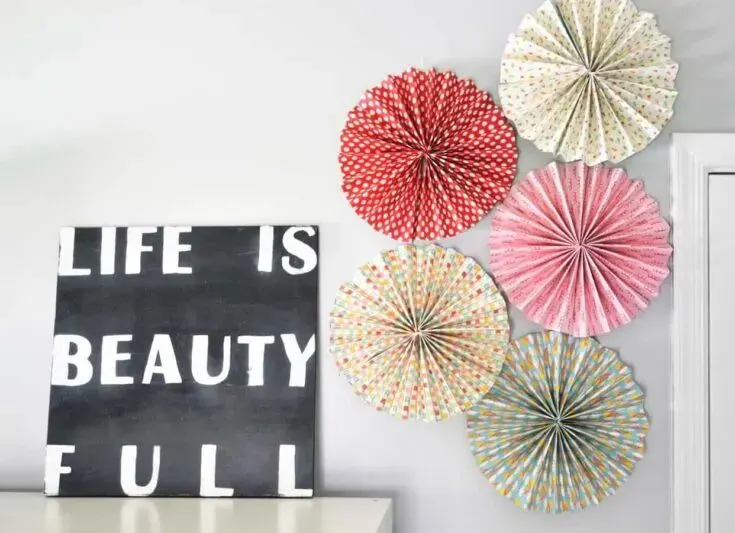 Source: burlapandblue.com
Do you want to learn how to make pretty rosettes? These rosettes make for some of the prettiest wall art, or in this case, party decor that is cheap and easy.
First, find yourself some scrapbook paper that you like—patterned or plain, both work. Next, cut out your paper into the appropriate sizes and start folding the paper as instructed.
If you've ever made a paper fan, then I'm sure you already know the technique. It's pretty much what you would do to fold an accordion, as well.
Keep in mind that you might need two-three pieces to achieve the perfectly fanned-out rosette.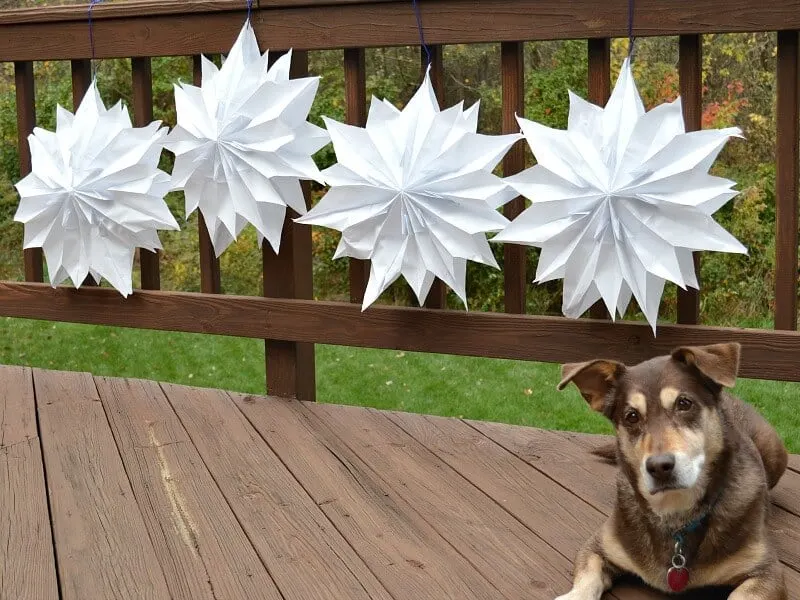 Source: organized31.com
This paper star decor would look stunning at an outdoor party, especially in the evening under actual stars. It's a chance to be a little closer to the heavens, don't you think.
In fact, I bet you you could even turn this paper star into a lantern and light these babies up. At the least, you could always string some fairy lights through them and have little twinkles like stars.
You can make about a dozen or so of these in under an hour, so grab your scissors, paper, some of this craft ribbon, and a hole punch like this.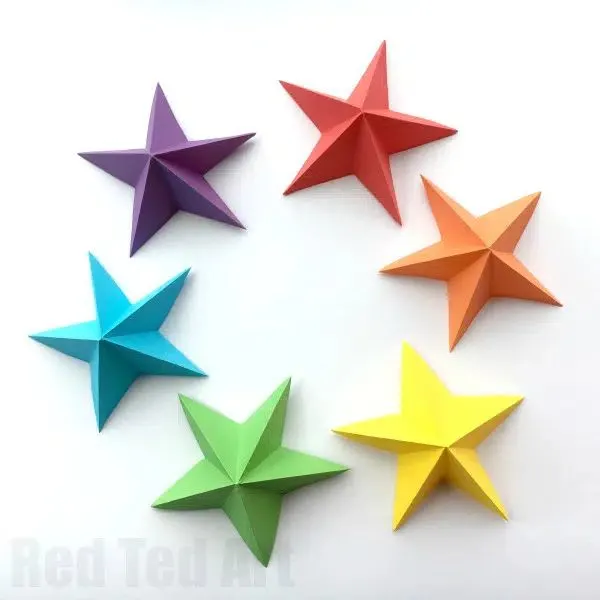 Source: redtedart.com
If you loved the stars you made earlier, you're probably going to adore these mini 3D paper stars. You can make them and hang them up along with the bigger ones and you'll have a starry night sky right on your back porch.
Imagine hosting an evening dinner party outside on a cool summer's evening and you're surrounded by these 3D stars. Magical, right?
It all comes down to your folding skills. But even if you have zero experience, the step by step process will help you along the way, fret not!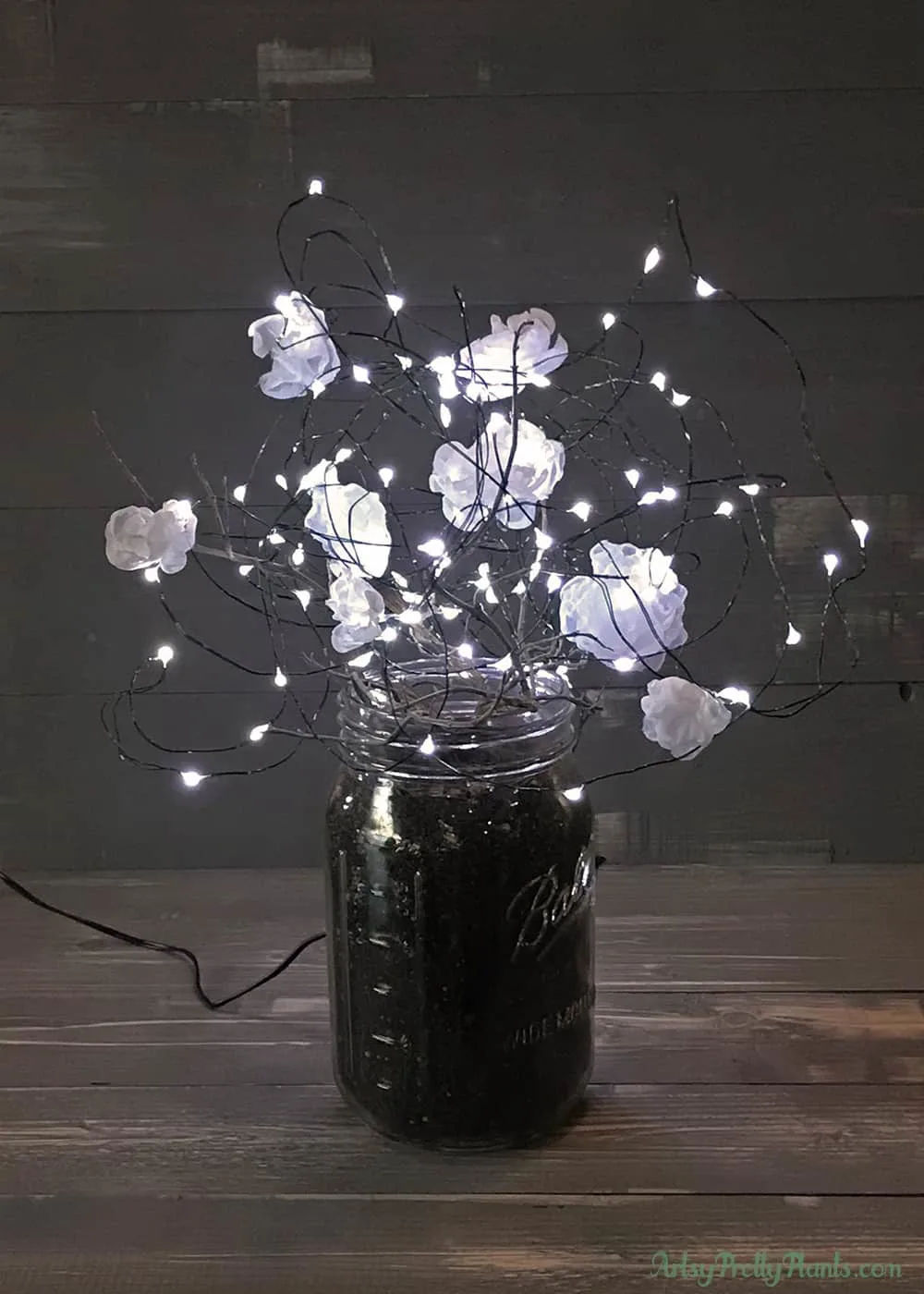 Source: artsyprettyplants.com
Don't you just love mason jars? They're super versatile and can be used for just about anything under the sun.
But for now, let's look at how you can use plain old mason jars as gorgeous, ethereal DIY mason jar lamps! Grab some wiry branches—either buy them at a garden store or pick them up from the Great Outdoors.
This is the perfect time to use your tissue or paper pom poms or flowers. You can also buy some fairy lights from here and wrap them around to add that glowing finish to these jars.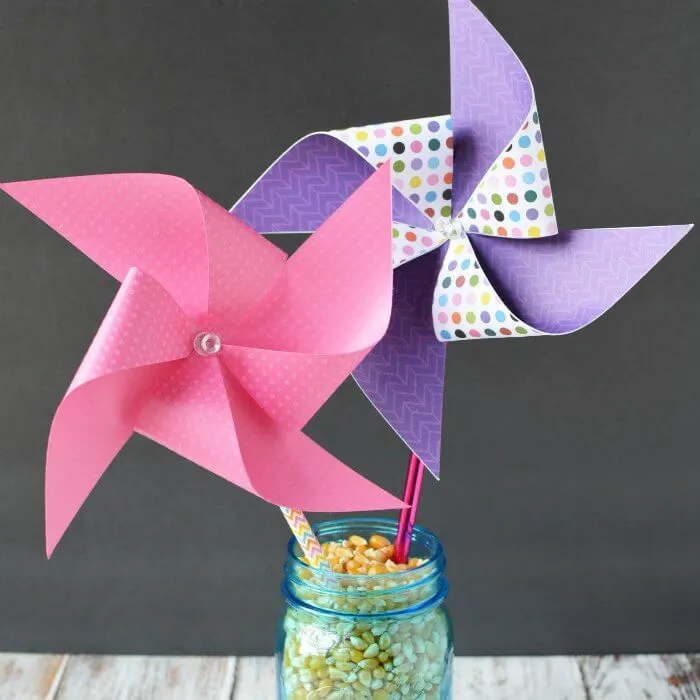 Source: onecrazymom.com
Doesn't this paper pinwheel take you back to your childhood? I can almost taste the wind on my tongue as I raced around with this pinwheel, trying to make it rotate.
With the way kids are today, I'd be surprised if they even know what a pinwheel is. So let's try to bring back a little of that nostalgic fun into this decade of the 21st century, shall we?
You know what you need, right: just cardstock, a push pin, a couple of pretty pencils. You will also need hot glue and a pair of scissors. Maybe you could make enough to use as party favors at your kids' birthday party?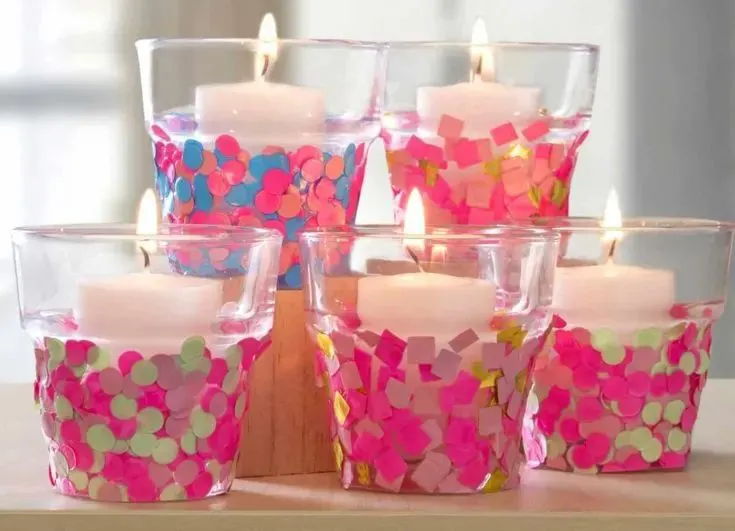 Source: modpodgerocksblog.com
When in doubt, confetti.
I think this is going to be my new mantra to get me through a slow weekend of craft sessions. Well, I don't know about you but I'm always on the lookout for new craft ideas to jazz up up candle jars.
I think decorating them with confetti is going to be a new favorite. You only need a simple glass jar for this project, a couple of tealight candles, and of course, confetti.
I think making your own confetti out of scrap paper from other projects is super fun and definitely a good opportunity to recycle.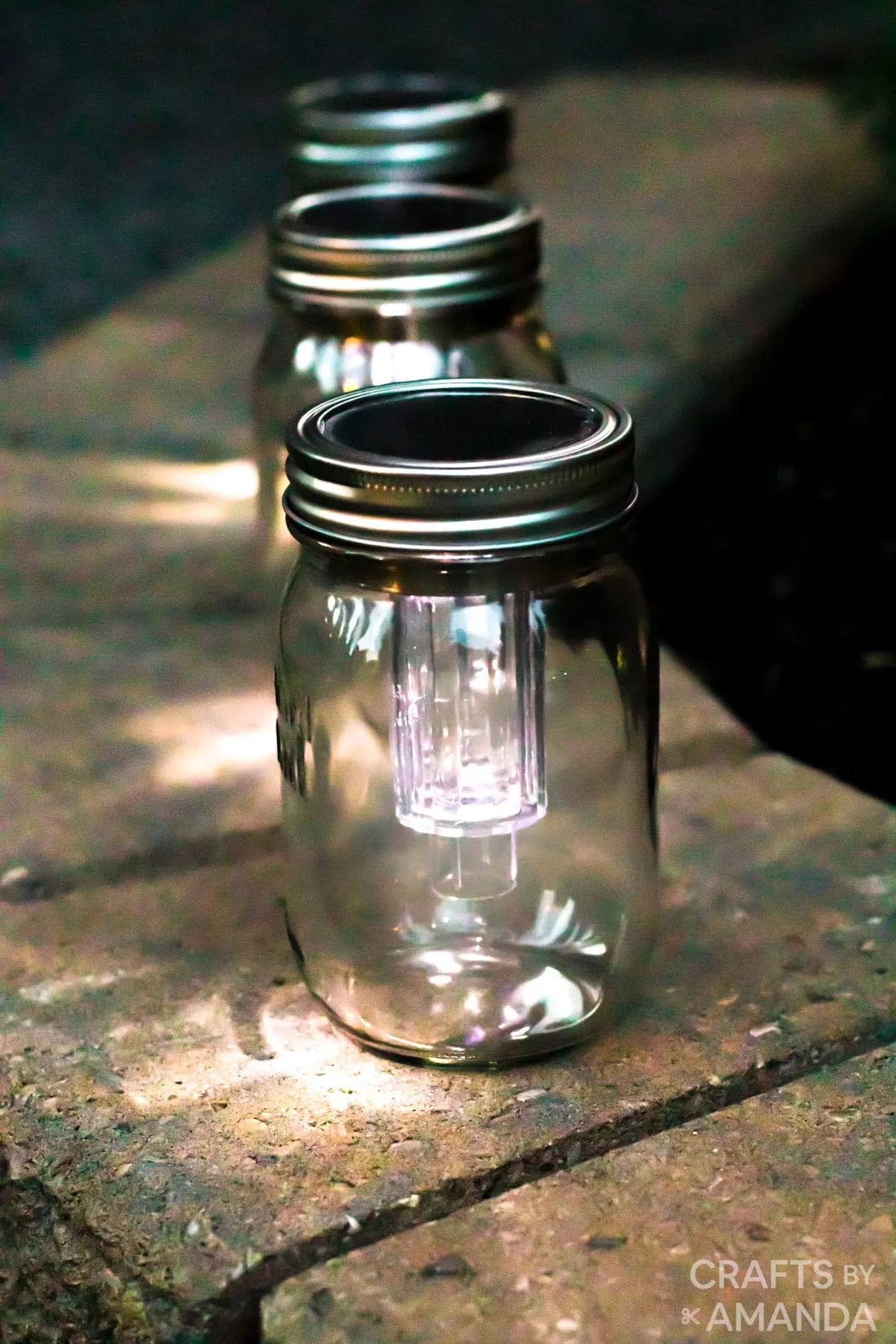 Source: craftsbyamanda.com
Maybe it's time to start investing in mason jars. There are so many projects that you can work on with mason jars, so grab a few from here and start working on this solar light jar.
Most of what you need for this can be bought at a local dollar store, as well. Plus, it's super easy to put together this entire project. It even specifies that kids aged 7 and above can make it!
Grab some solar lights, gorilla glue, and a few canning bands and you'll be set to make these solar jars.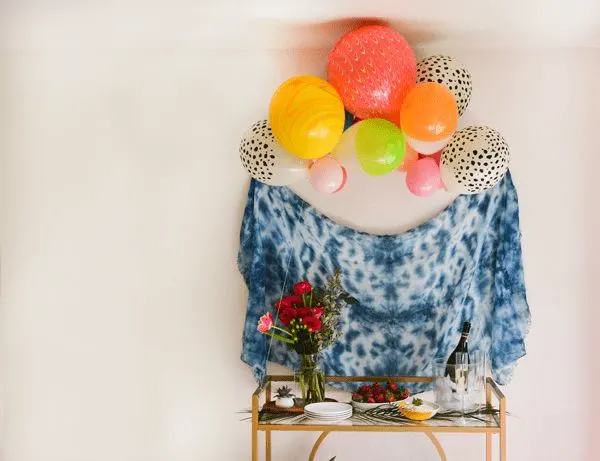 Source: cupcakesandcutlery.com
Everytime I hear the word chandelier, Rihanna starts singing in my head and it's an instant party! I bet this balloon chandelier is going to be just as much of a party!
All you need are your balloons, some string, and balloon decorating strip. You can also use a fishing line, if you have some on hand already.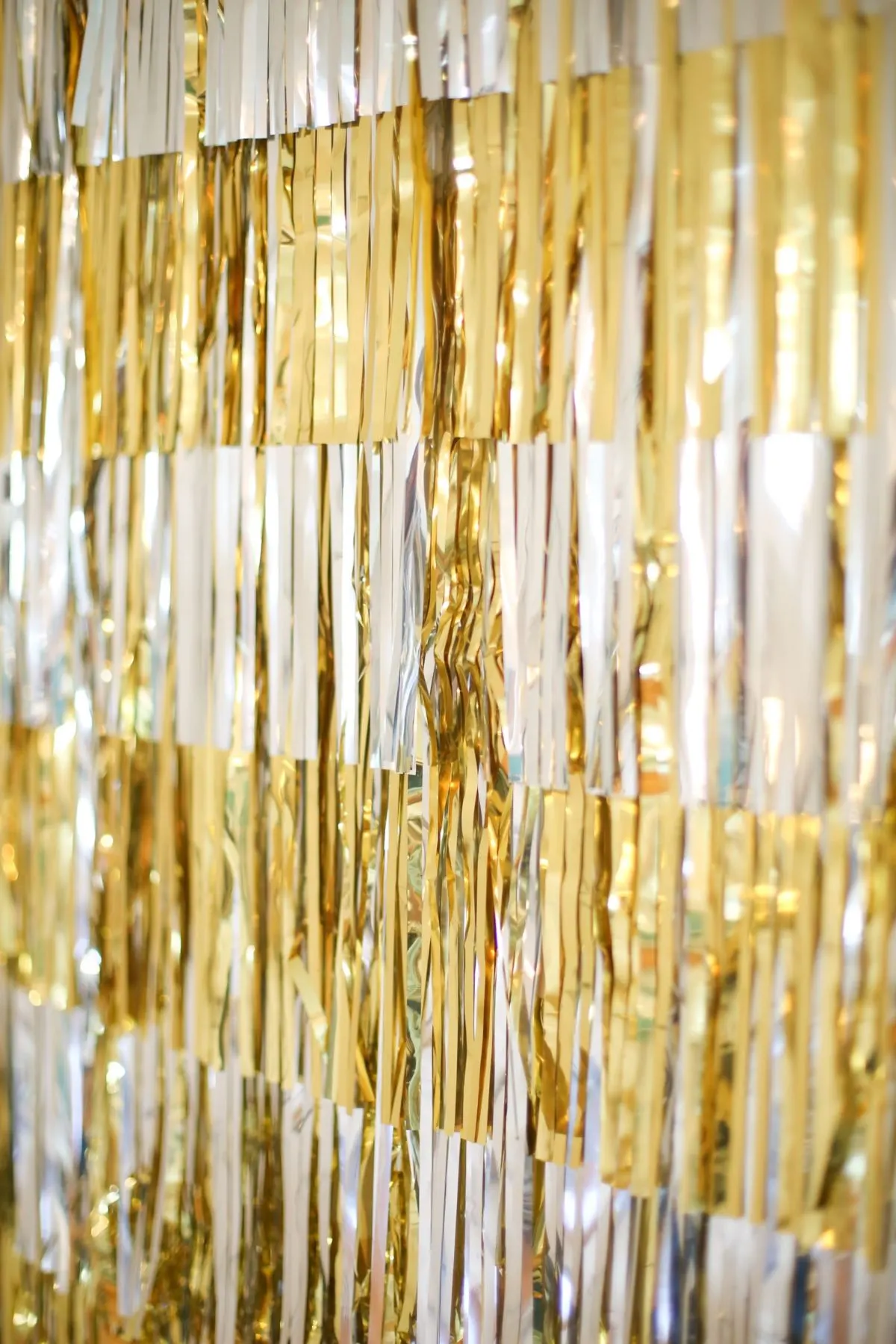 Source: lovelyindeed.com
Let's end this list—and the year—with a bang. Check out this sparkly backdrop for a New Year's party!
Here's what you'll need:
Once you have everything on the list, go ahead and cut out sections of your garland after planning the width of your backdrop.
Yield: DIY Party Decorations
51 Easy DIY Party Decorations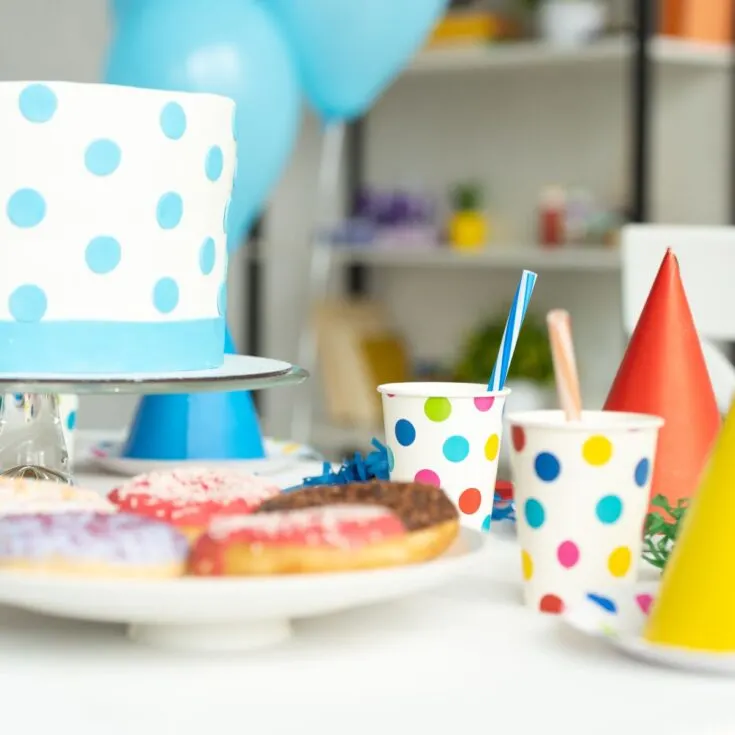 Have fun decorating with these DIY decorations. A great way to transform your party!
Materials
1. Tissue Paper Pom Poms
2. DIY Cupcake Stand
3. Scented Candles
4. Ruffled Cake Toppers
5. Paper Lantern
6. No Sew Bunting
7. Tissue Paper Flowers
8. Mermaid Backdrop
9. Succulent Planter
10. Superhero Photo Props
11. Paper Flowers
12. Streamer Backdrop
13. Unicorn
14. Summer Garland
15. Leaf Candle Holder
16. Paper Tassel Garland
17. Number 2 Pinata
18. DIY Confetti Poppers
19. Owl Pinata
20. Bat Cupcake Toppers
21. DIY Food Picks
22. Marble DIY Coasters
23. Straw Rockets
24. Table Tulle Skirt
25. Party Crowns
26. Balloon Garland
27. Football Yard line Banner
28. Tropical Party Banner
29. Confetti Champagne Bottle
30. Napkin Rings
31. Succulent Table Runner
32. Rosemary Wreath
33. Eucalyptus Arrangement
34. Pom Pom Flowers
35. Scented Flower Candles
36. Giant Birthday Candles
37. Disco Ball Pinata
38. Giant Party Fans
39. Birthday Balloon Wreath
40. Hot Air Balloon
41. DIY Photo Jar
42. Washi Tape Straws
43. Paper Rosette
44. Paper Stars
45. 3D Paper Stars
46. Mason Jar Lamp with Illuminated Flowers
47. DIY Paper Pinwheels
48. Confetti Candle Holders
49. Mason Jar Solar Lights
50. Balloon Chandelier
51. Sparkly New Year Backdrop
Instructions
Choose the decoration you love.
Gather your supplies!
Get crafty and decorate!