Attending a housewarming party? Here are multiple beautiful DIY housewarming gifts you can make and gift to your friends.
You can't go to a housewarming party empty-handed, no more than going to the beach without your swimsuit. It's just odd.
Finding the right hostess gift or welcome home gift can be a little daunting, especially if you're on a budget or want to make it yourself to add an extra personal touch.
Don't worry, though, because down below is a list of 51–51!—DIY housewarming gift ideas for you to get inspired by.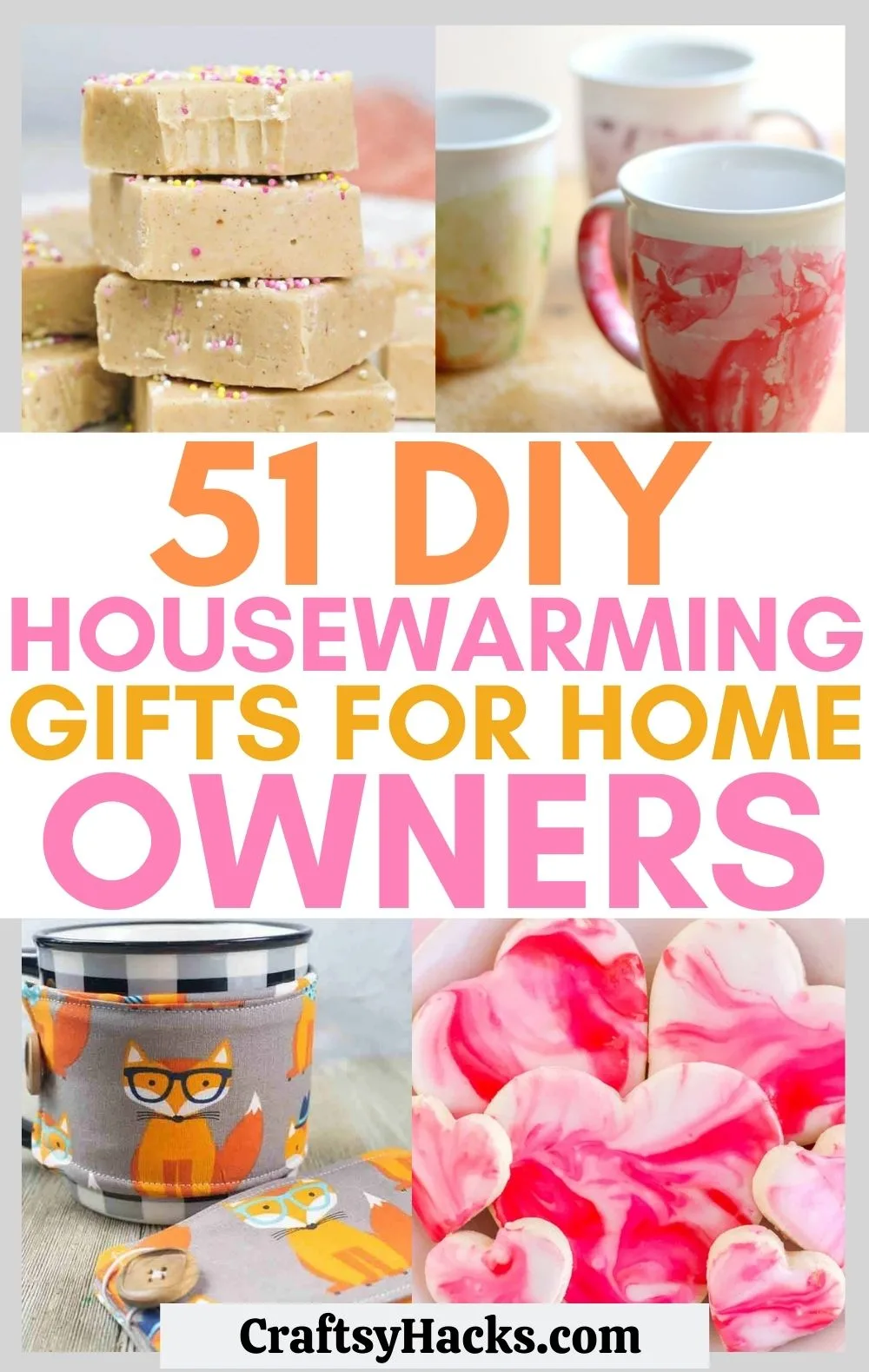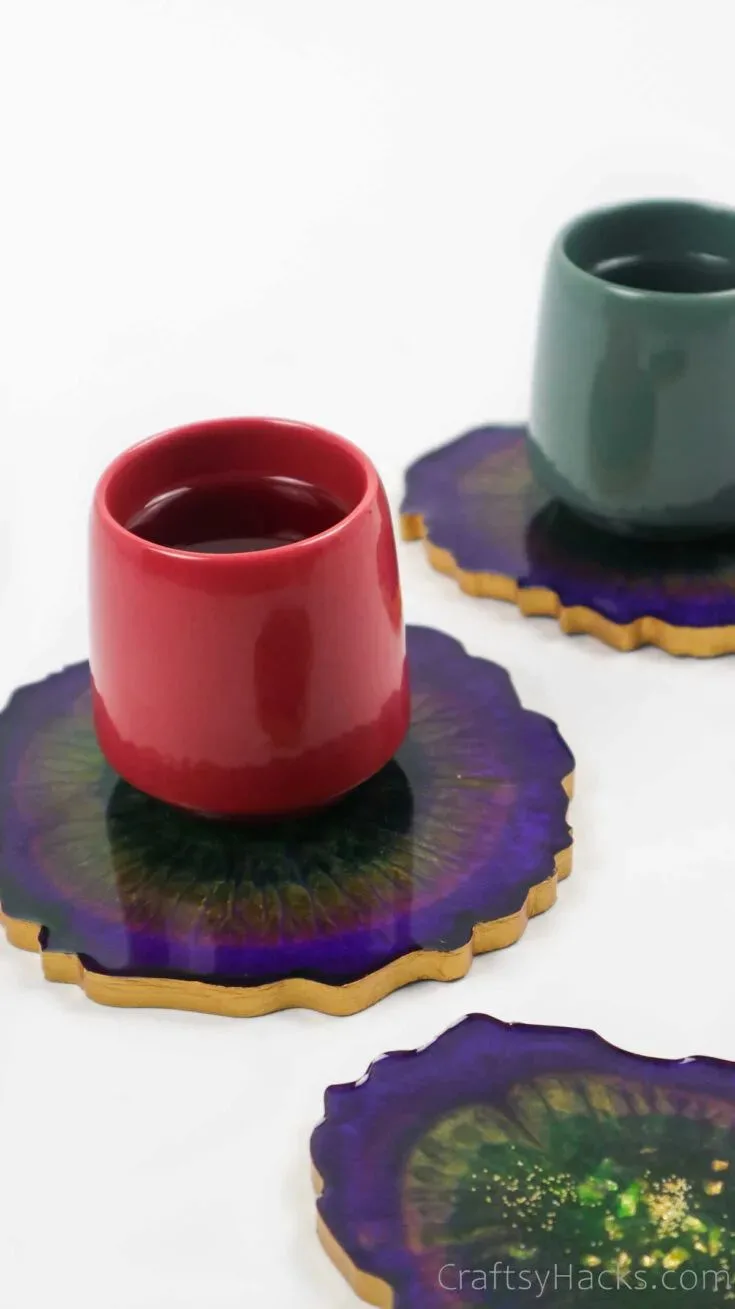 Source: craftsyhacks.com
Understandably, whenever someone is setting up their new home, coasters are pretty far down on their list of must-haves. That's where you come in, you and these gorgeous coasters that are going to protect their surfaces for watermarks.
Resin art has so much potential, especially when it comes to making coasters. I mean, look at how ethereal these coasters look, with billowing colors of gold, green, and purple.
A home can never have too many of these coasters, so make a set of six as a housewarming present, and your friends will love you!
Check out more resin crafts like this here.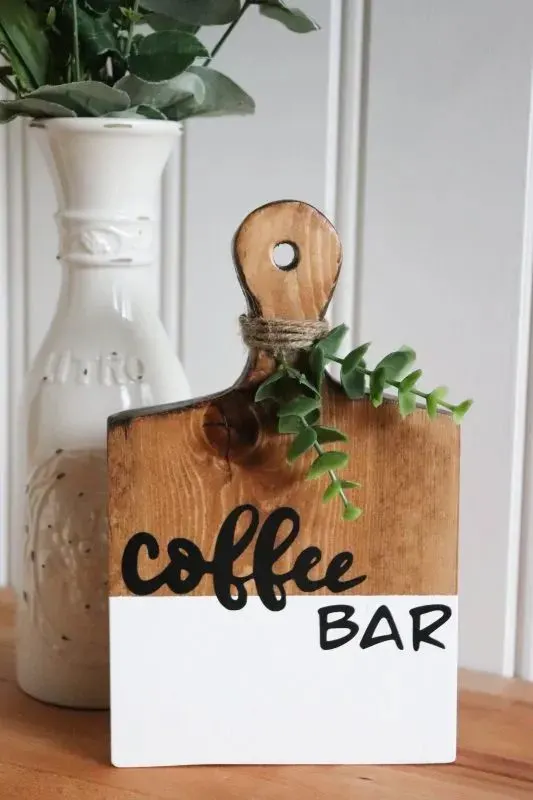 Source: homemadeheather.com
This cutting board is actually a coffee bar sign. It's the perfect accompaniment to offset a gorgeous espresso machine. The dark woodsy notes on the coffee bar will hit the exact notes that a good cup of joe would.
Here's what you'll need for this project:
You'll also need your Cricut machine and some vinyl to design and cut out your sign and transfer tape like this to transfer it to the board.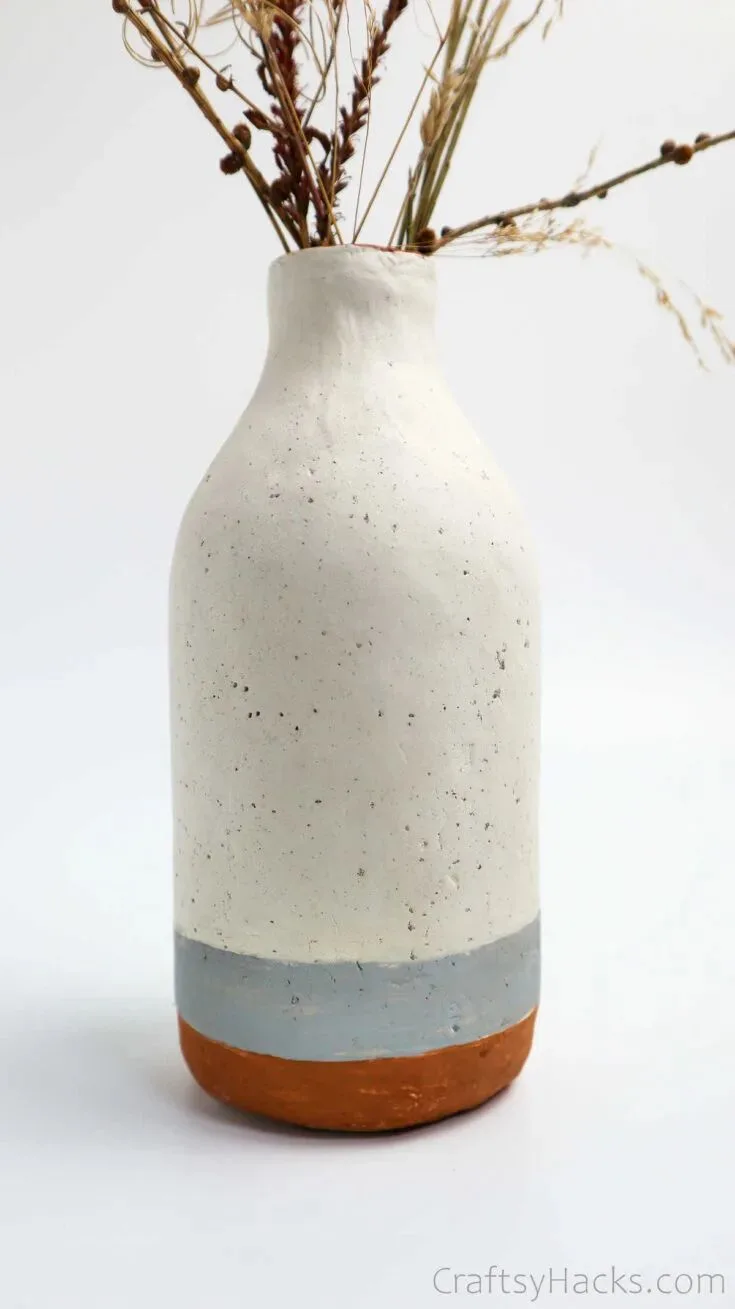 Source: craftsyhacks.com
If you have a couple of old vases in dire need of a clean-up, then here's what you can do to give them a makeover. Grab some air-drying clay, a rolling pin, a couple of bottles of acrylic paint, and a precision knife from here.
You're going to cover up all those dents and scratches by modeling some clay around it and fashioning a whole new vase. Don't you love the speckling that's at work here?
You can achieve that pattern by rolling some coffee grounds into the clay. You can also add colors to enhance the vase—just grab some acrylic paint from here.
This could also do for a nice DIY gift for moms.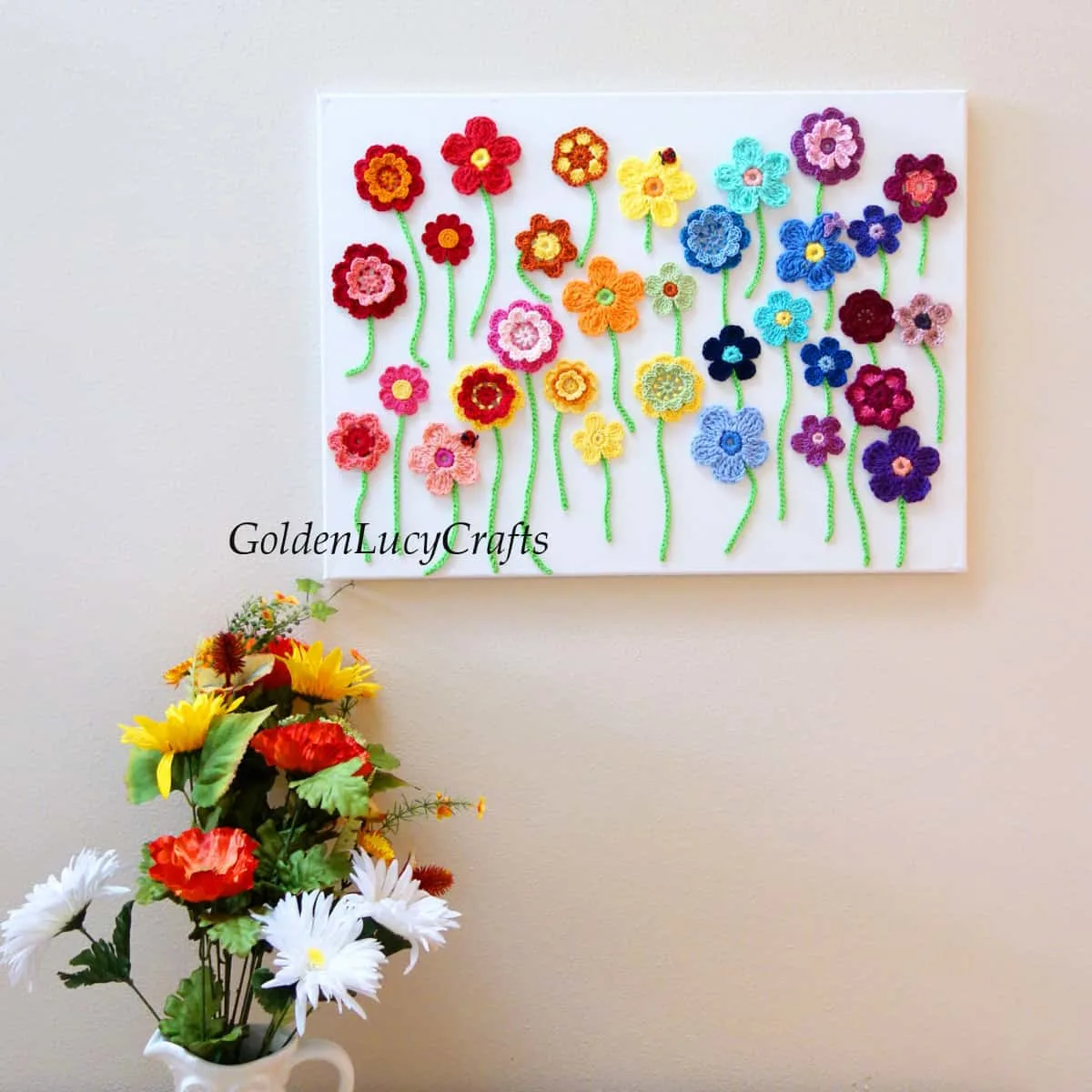 Source: goldenlucycrafts.com
Do you have a dab hand at crochet? Then this project will be right up your alley. It's a pretty and simple gift idea to help your friends decorate their homes.
I bet they're more occupied with getting the big things ready, like the kitchen and the master bath. So decorating the walls will probably not be on the top of their list.
Grab a few skeins of yarn from here, and grab your crochet hook. You can find plenty of creative flower patterns and tutorials, Follow the instructions and create colorful crochet wall art in no time!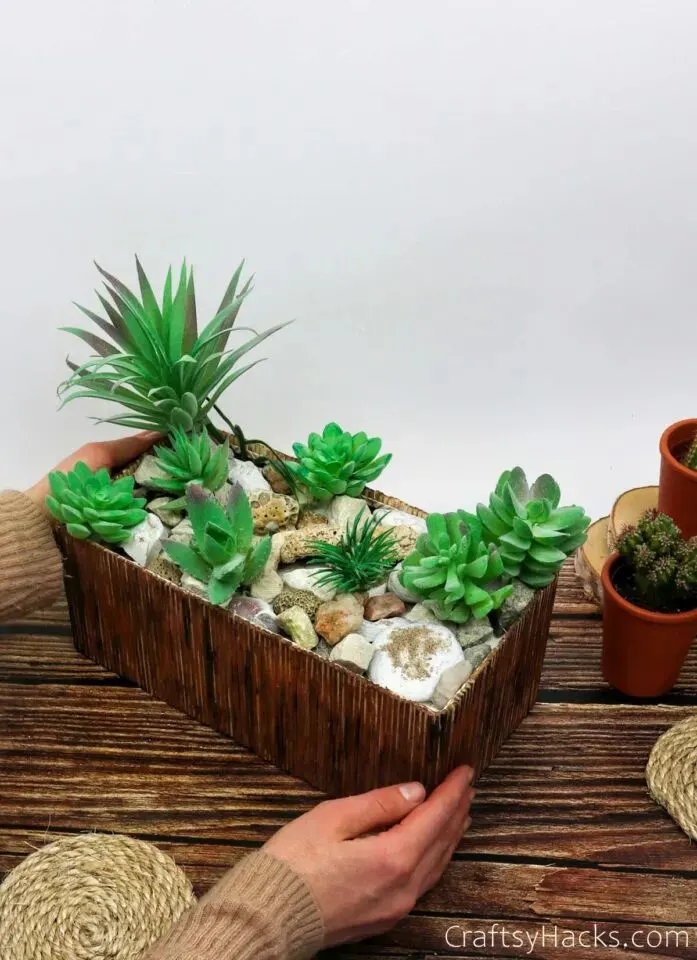 Source: craftsyhacks.com
This little planter display looks so real and fresh that you don't quite know that it's faux unless you're looking for it. That's probably a great gift for a couple setting up their home, especially because it requires zero care as real plants would
Grab some faux succulents, leaves, pumice stones, rocks, and anything else you think might look good here. Then, you can start creating the actual planter before setting up the display on top.
For a little beachy flair, go ahead and sprinkle some sand and white pebbles in there. You can even add a little conch or seashell to it!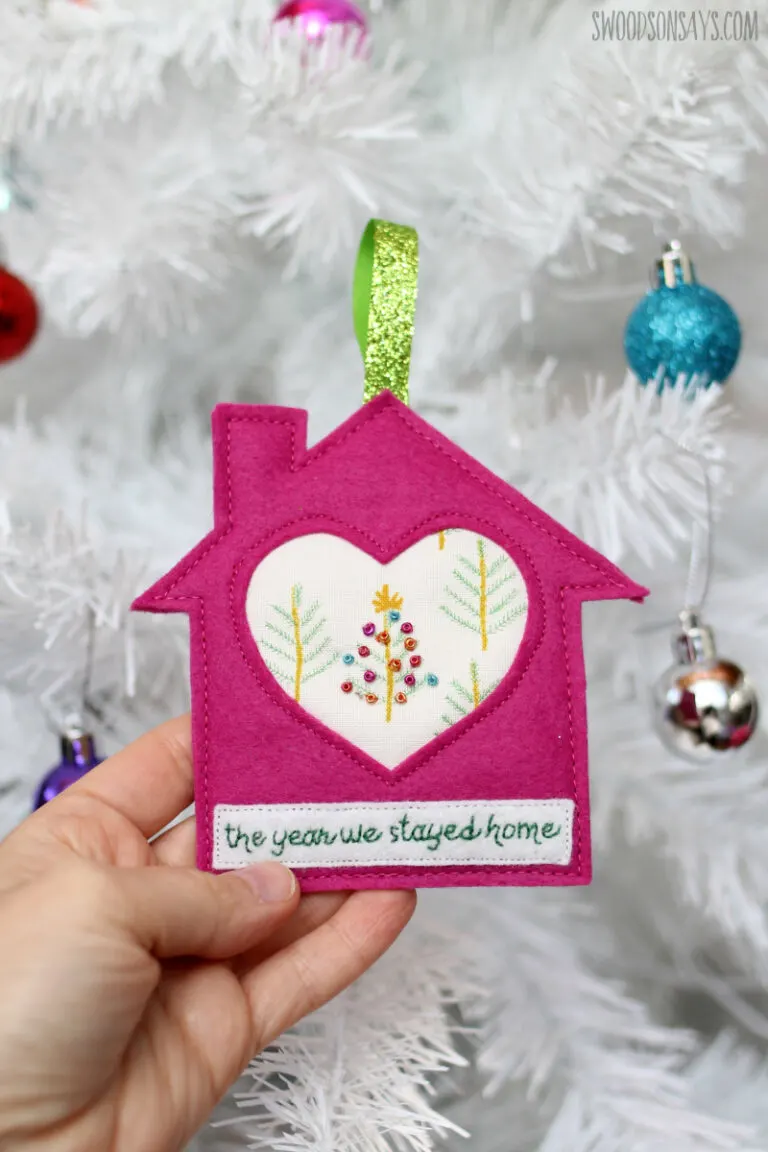 Source: swoodsonsays.com
I really enjoy working with felt. It's a rather versatile fabric that can be used to make any number of little knick-knacks and in craft projects, too.
Check out these little home ornaments. It's an opportunity to work on your embroidery and hand sewing, yes, but it's also a gift item that you can give at a housewarming.
You can make a set of four of these ornaments, and who knows, come Christmas, they might find their way onto a Christmas tree in their new home!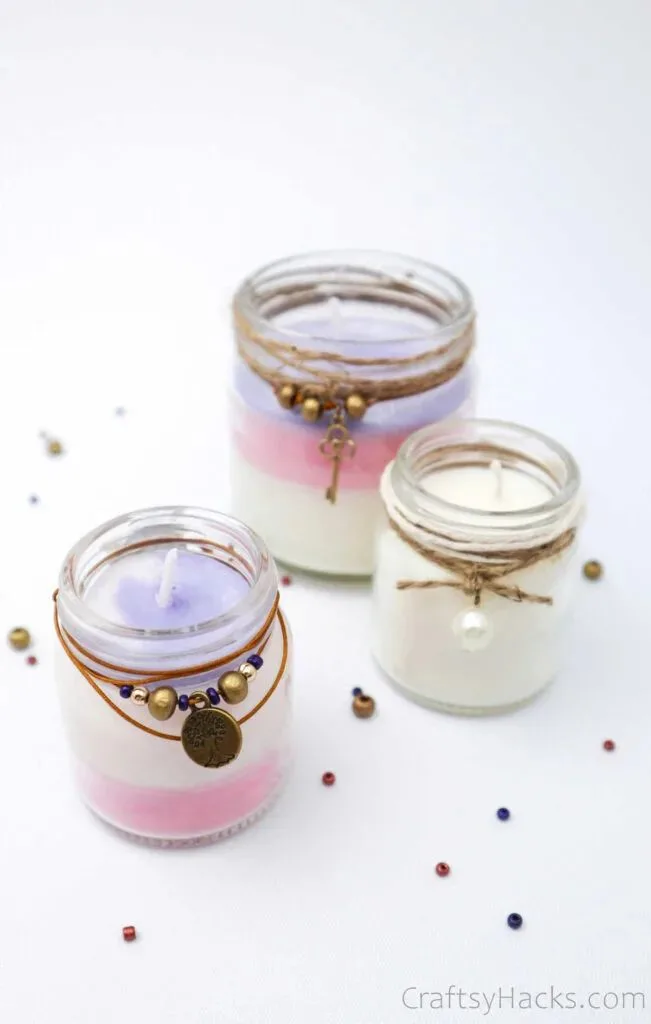 Source: craftsyhacks.com
A batch of fresh, homemade scented candles? Sign me up, please, and on a subscription basis. There aren't many housewarming gifts that can top homemade scented candles.
Grab your favorite essential oils from here to get started. You will also need to pick out your type of wax. I find that beeswax or soy wax is an eco-friendly alternative to paraffin.
You can also add a few drops of dye to color your candles. If you're in the mood to experiment a little, try to layer different colors of wax. Then the final step is to decorate the jar(s) and wrap 'em up.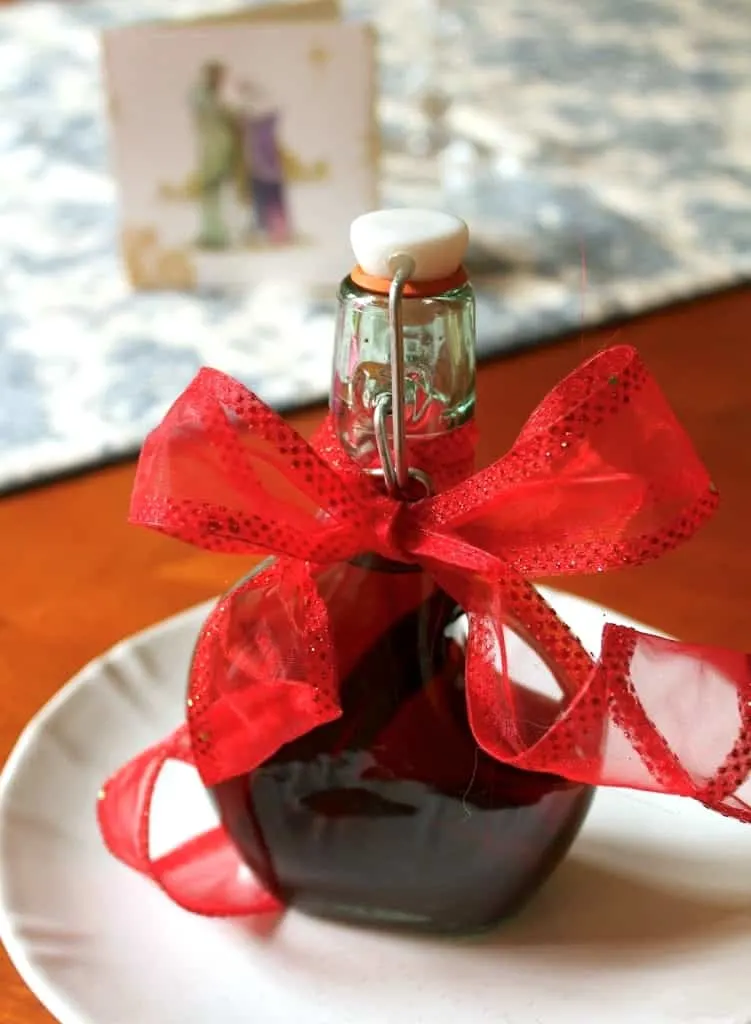 Source: christinascucina.com
Homemade vanilla extract is a great gift for home bakers. It's not just a housewarming gift, you know, but it certainly does help when the entire home smells like fresh vanilla muffins, right?
Check out this recipe and follow the instructions to help you whip up the perfect batch of vanilla extract. You know you can't just give someone something as awesome as this in any old bottle, right?
Find a cork bottle—preferably glass—and wrap a big bow around the neck, and you're done.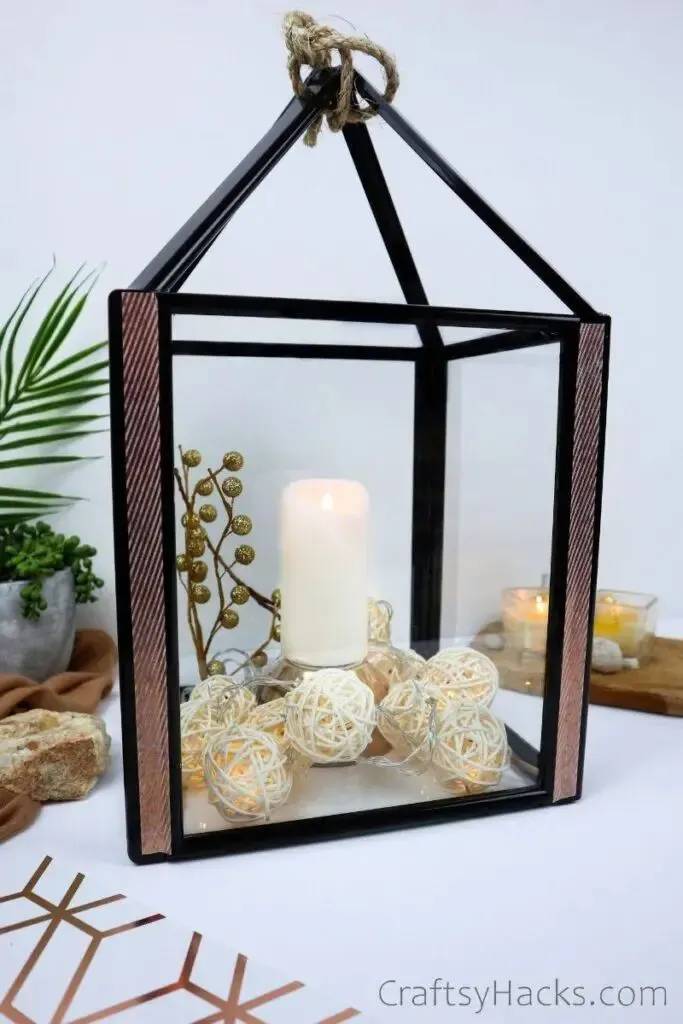 Source: craftsyhacks.com
Ah, dollar tree: my home away from home. Whenever I'm looking to decorate my home, I head over to this place to pick up supplies and essentials.
Sure, you have to work at it a little but imagine making a lantern like this for ten bucks. You'd normally have to pay a fortune to buy it ready-made, right?
While you're at it, pick up some pliers and this decorative tape, too. You can decorate the lantern with washi tape, embellishments, and anything else you might like.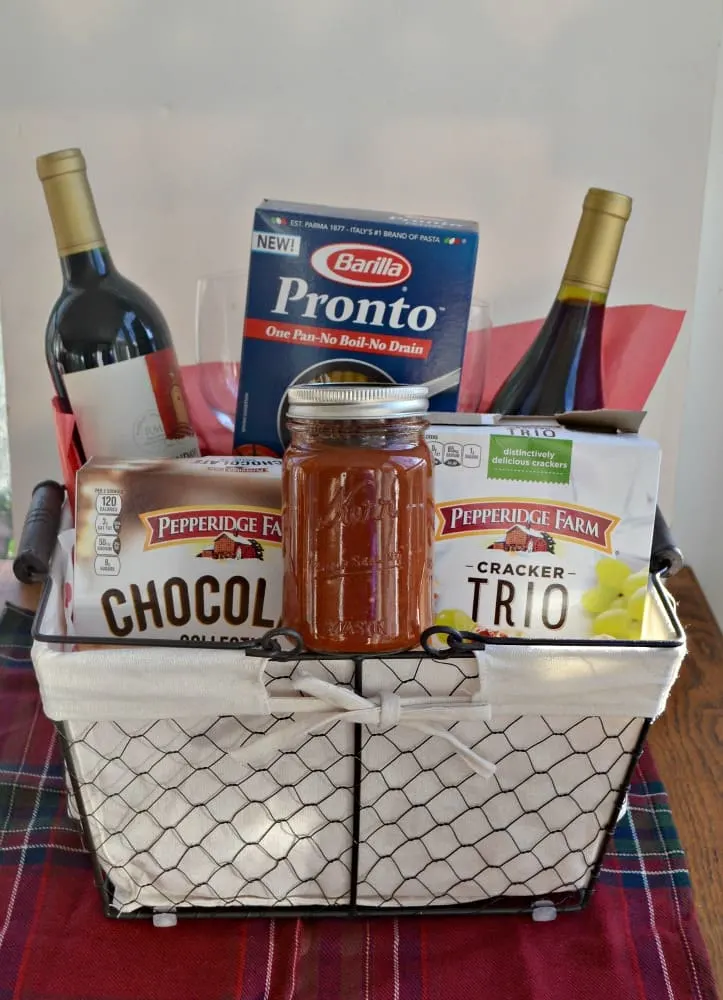 Source: hezzi-dsbooksandcooks.com
When you're heading over to someone's home for the first time—either for a housewarming party or for a dinner party, you cannot go empty-handed. Hostess gifts can be pretty great to plan, especially when you can put together a basket like this.
The best things to fill it up with are fruit, wine, cheese, olives, crackers, a box of tea, and the likes. Go ahead and make a list of things to add to your hamper and start shopping.
It might help to find out your hosts' favorite cheese and wine beforehand so you can personalize the basket to those specifications.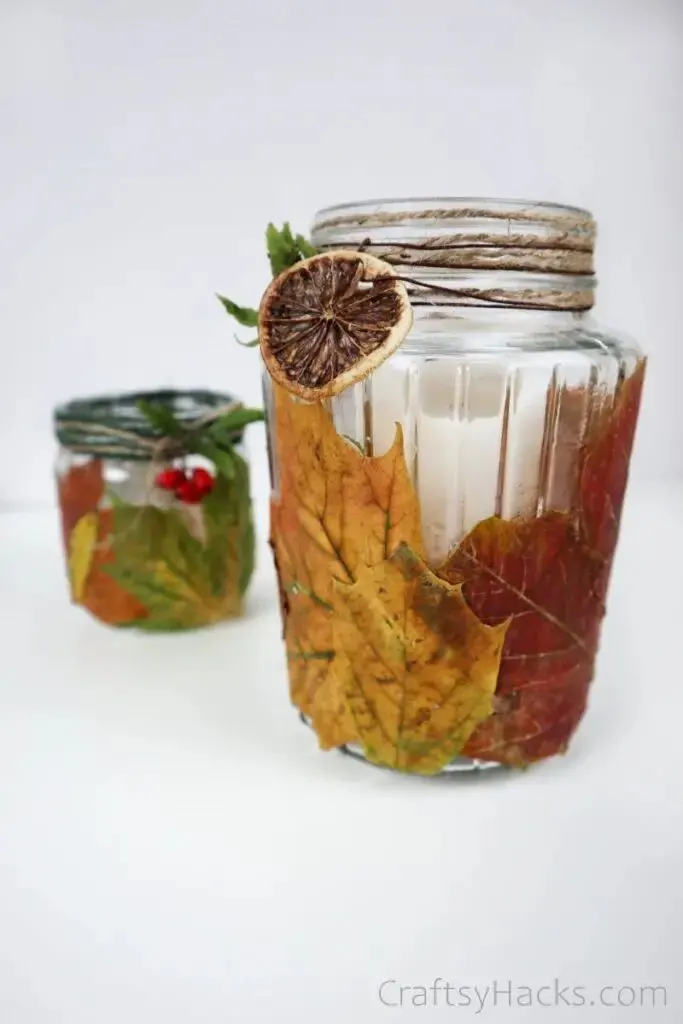 Source: craftsyhacks.com
Check out this leaf candle holder. Didn't I tell you that a good scented candle is only as good as the jar it comes in? Sure, it can still smell great if it's in an old tin box, but it won't look good.
Something like scented candles is meant to set the scene and mood, so put some thought into the jars, too. This leaf jar can be customized seasonally, but it is particularly appropriate for the fall or spring months.
That's when the leaves are the most colorful. Alternatively, you can use dehydrated fruit peels or cinnamon sticks to enhance the visual appeal and throw off its own scent, too.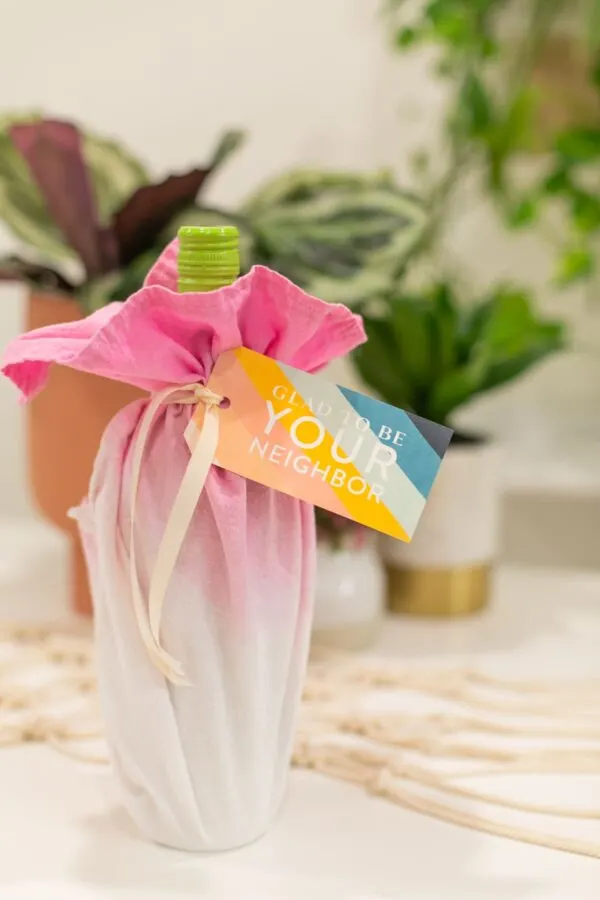 Source: lovelyindeed.com
You're invited to a dinner party, and you do what any decent friend would do: you buy a good bottle of wine to take with you. But you know what a great friend would do?
They'd wrap up that wine in something other than a brown paper bag. Check out this lovely and fresh cloth wrap for your bottle of wine. It's eco-friendly and reusable; plus, it looks like a million bucks.
You can use a length of ribbon or twine from here to cinch the fabric around the neck. You can also add a little tag with your name on it, or a message would work, as well.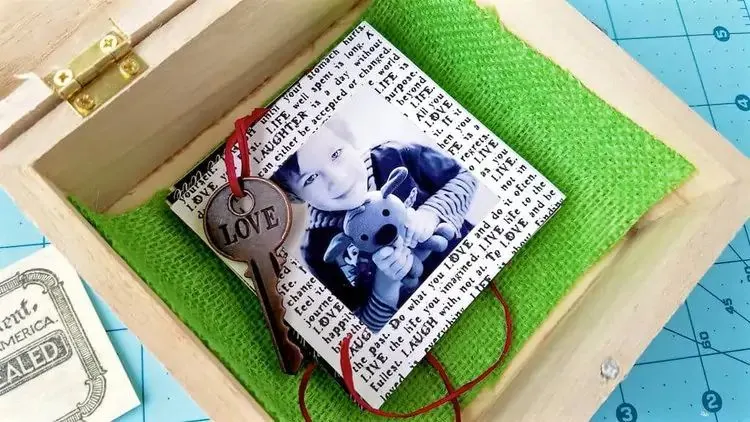 Source: craftsandprintables.com
When your loved ones are setting out on their own and moving into a house of their own, it deserves to be commemorated. It's also an opportunity to remind them of the good times you had so they can carry them into their new lives.
This memory box will only take you an hour to make, but it can hold all the memories of a lifetime inside. Take some time to go through your phone for pictures that you particularly love.
Narrow down your favorites have them sized, and printed. You can also include other memorabilia to the box—greeting cards, knick-knacks, and more that have been exchanged over the years,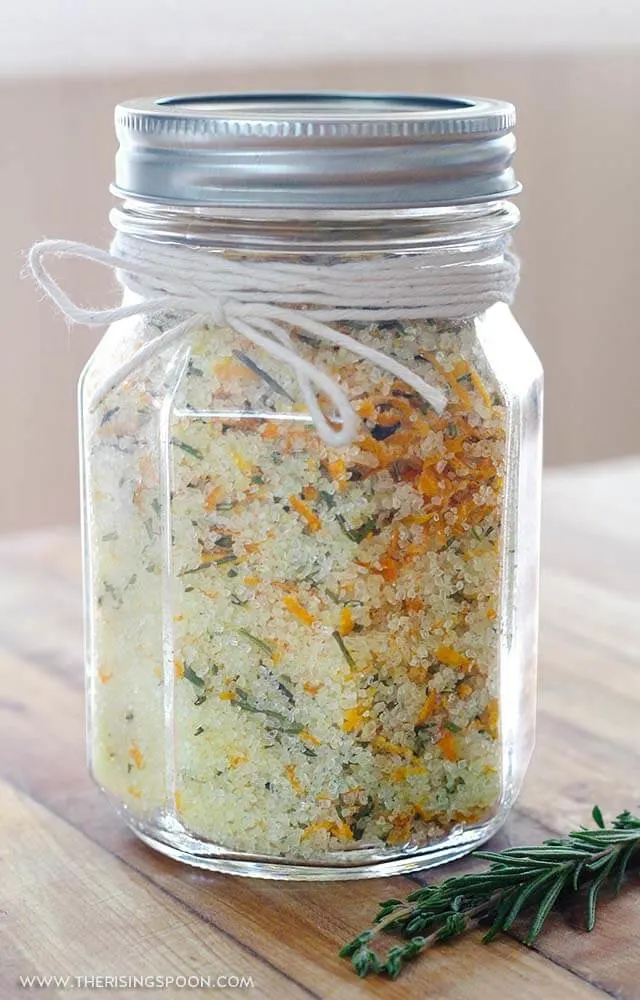 Source: therisingspoon.com
I have this little cheat gift that is surprisingly a huge hit amongst my friends. It's a jar of the seasoning I use that I have always had rave reviews about.
I never expected something that easy to make to be such a big hit as a gift, but there you have it. If you have a much-loved recipe for, say, flavored salt, then it's time to whip up a big batch to share with your friends.
It only needs a cute jar to go into and a length of ribbon for a festive touch, and that's that.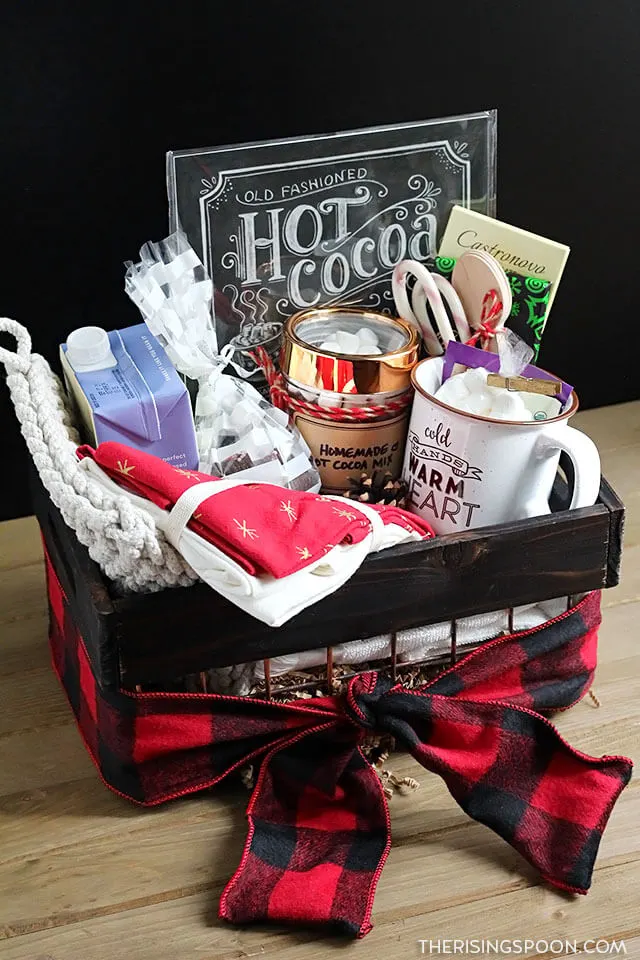 Source: therisingspoon.com
I love putting together gift baskets, especially themed ones for seasonal greetings or holidays. But a hostess hamper, or even get better soon hamper, is super fun—and thoughtful to boot.
Why not try your hand at putting together the best ever hot cocoa gift basket? Just jot down everything you like in your cocoa and then go out and buy all those ingredients.
Here are some things you can include: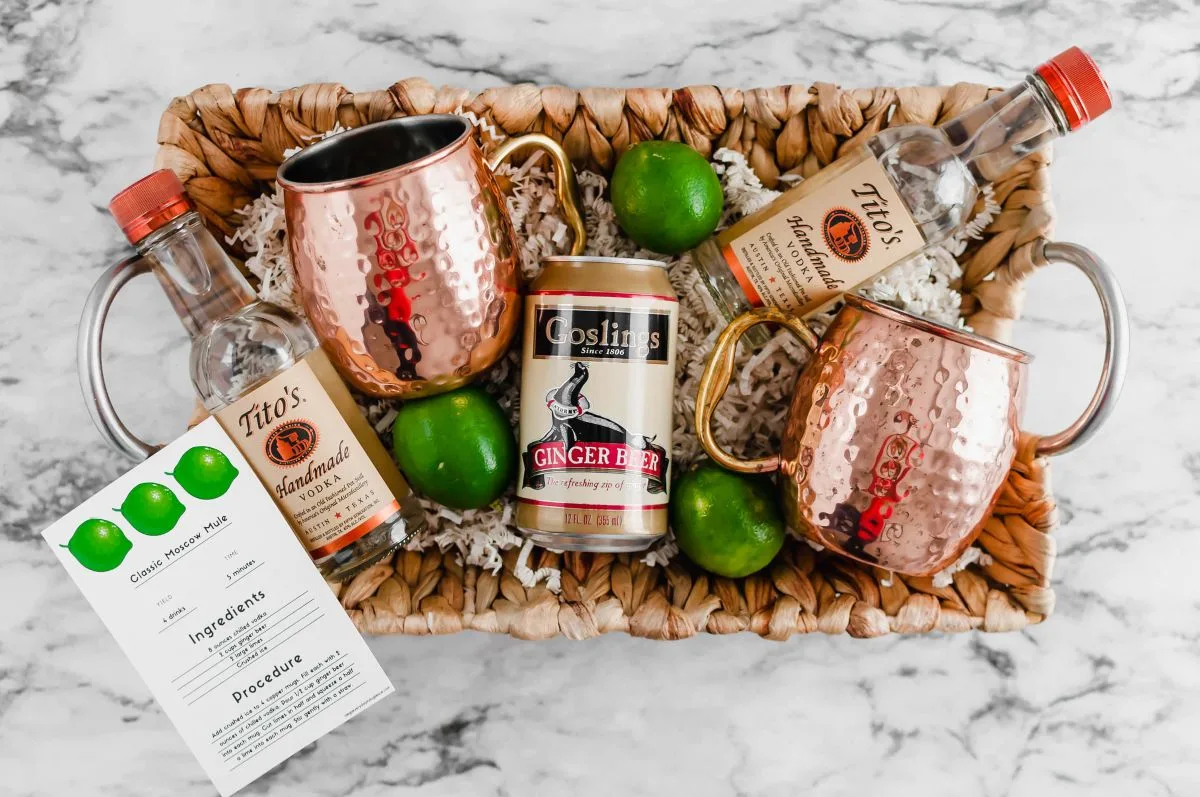 Source: megseverydayindulgence.com
While hot cocoa hampers are great, you might want something more…well, something not PG 13. How about a cocktail kit?
You can include everything needed to whip up a batch of, say, margaritas or whatever cocktail you pick. You can include a bottle or two of the alcohol the cocktail calls for, a couple of limes, some tonic water or ginger beer, and even a little shaker.
Think of everything that a classic margarita night with the girls would call for and just replicate it into a cocktail kit.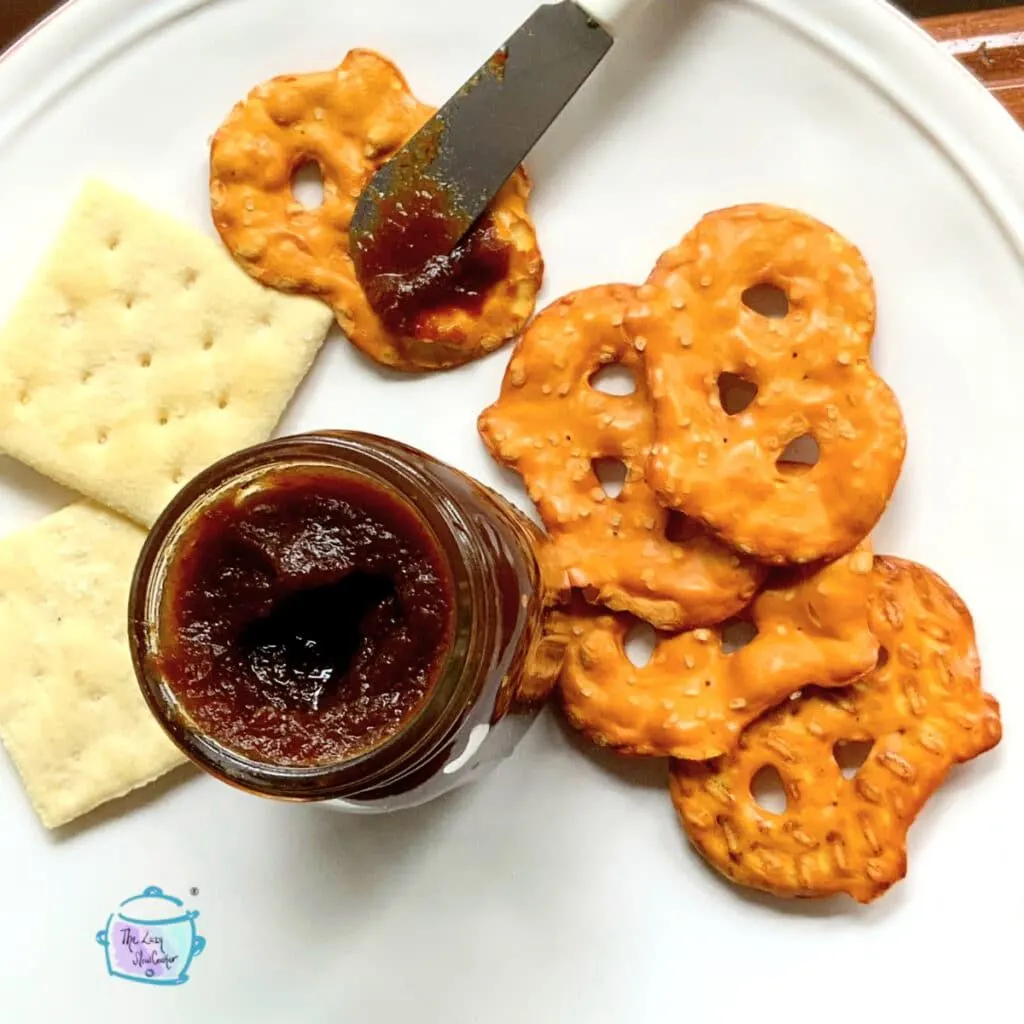 Source: thelazyslowcooker.com
Have you ever cooked up a batch of jam, caramel sauce, or apple butter and accidentally misread the proportions? Now you have two dozen jars of the most delicious apple butter, and it would be a crime to not share it.
If you have a house party to attend, then grab a couple of jars and wrap some ribbon around them into nice big bows. You can also include a few packets of pretzels, crackers, cheese, and fruit and turn it into a whole hamper.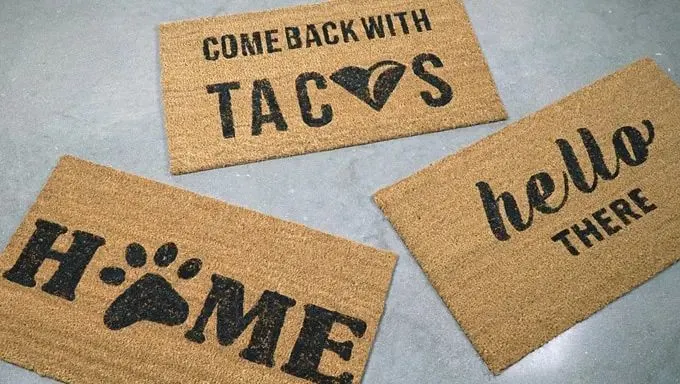 Source: burlapandblue.com
What's the first thing you see when you visit someone's home? The front door, of course, and right under there is where the welcome mat goes.
A welcome mat or a front door mat is a lovely choice for a housewarming gift. You don't really need to go all out with something expensive—even a simple coir mat will work.
Do a little browsing first, though. You might find something you like with a funny welcome message. Alternatively, you can also customize the mat with a personalized message to include the family's surname.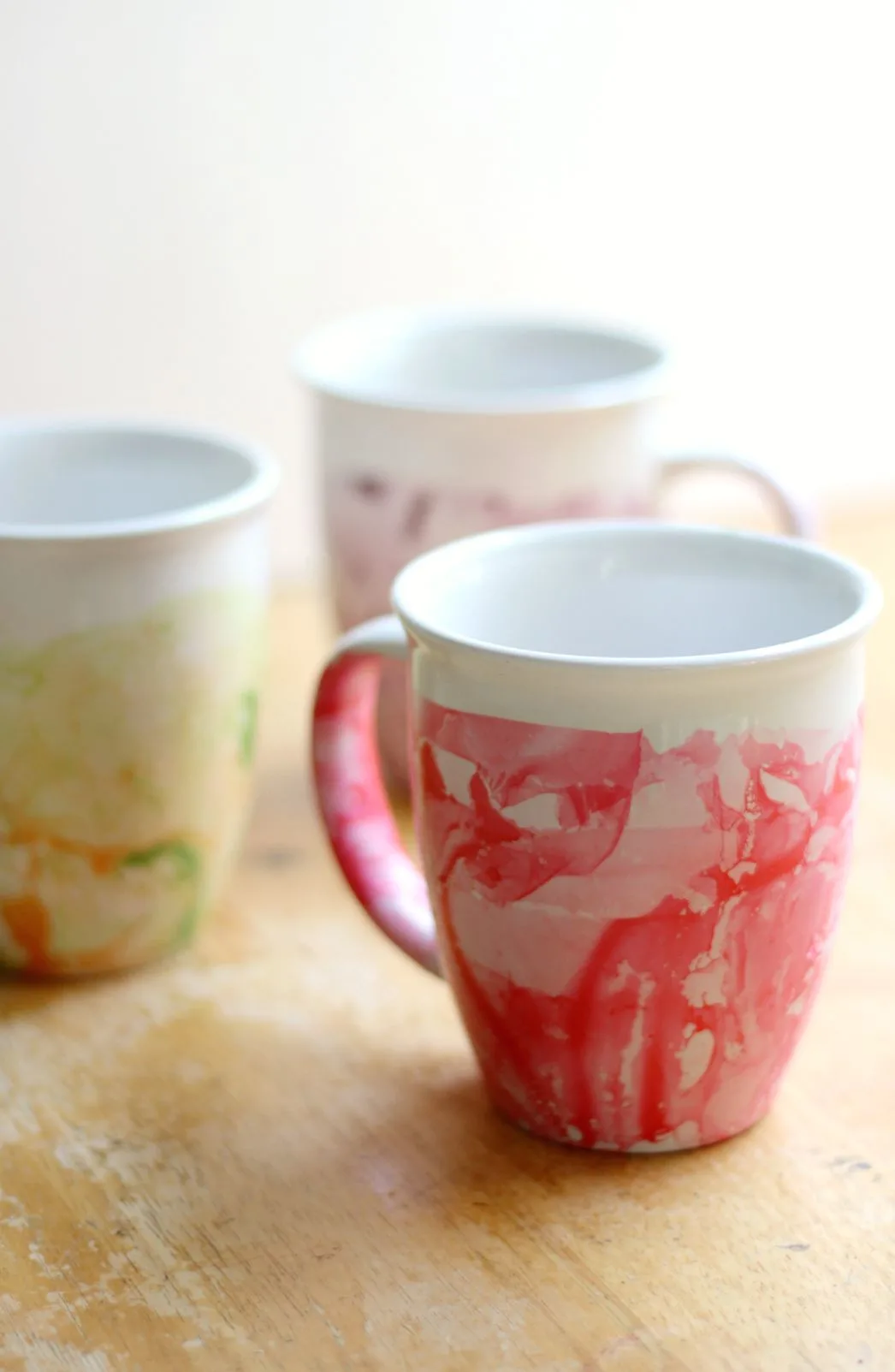 Source: strengthandsunshine.com
Don't you love that marble finish on this mug? It's got so many swirls of color and is vibrant to boot. What if I told you that all you need to make these mugs are nail polish and water?
Sure, you'll also need a plain mug(look here) as well some sealant(look here) to set the surface when you're done. But the actual process is pretty easy to recreate.
You can wrap up a set of these mugs for your friends or family. You can never have too many mugs at home, and if you plan it right, you can find out the best colors that match their home decor.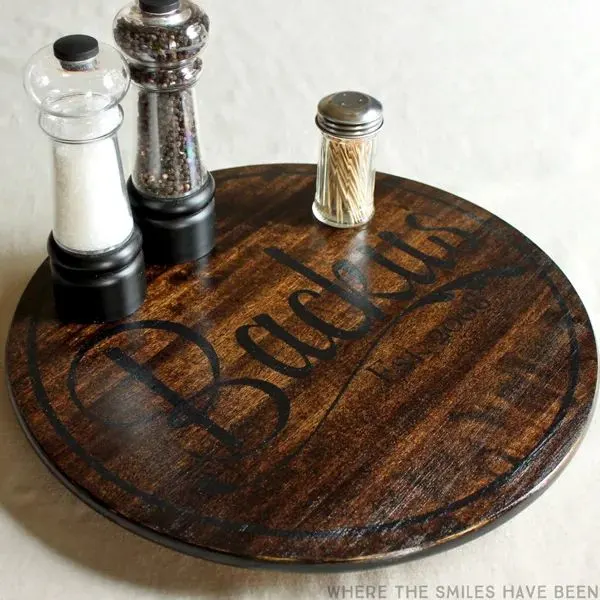 Source: wherethesmileshavebeen.com
Nobody thinks to give a Lazy Susan as a housewarming gift…or do they? Well I, for one, would certainly love this personalized Lazy Susan. It would look just right on my kitchen counter—on any kitchen counter, to think of it.
The dark wood will offset just about any decor style, so you don't have to worry about whether it will blend in with the recipients' decor theme. Just use stencils or even a Cricut machine and vinyl to spell out the name.
You can coat the surface with a layer of sealant when you're done.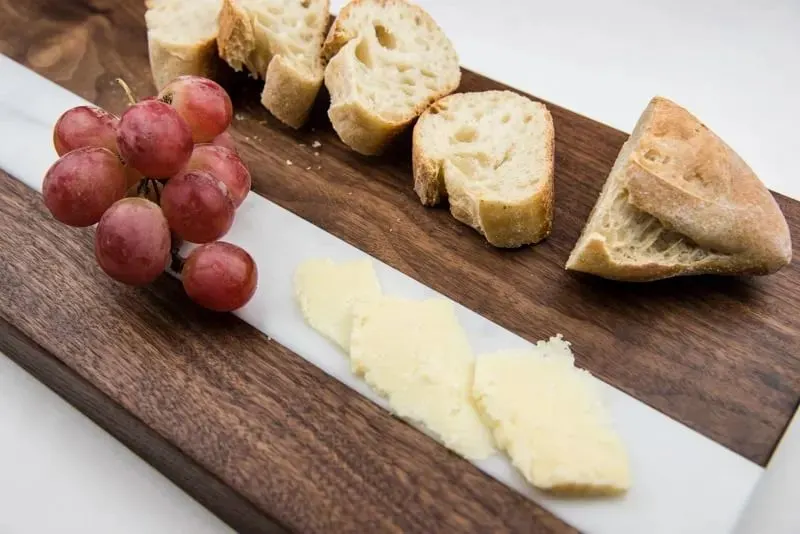 Source: thehandymansdaughter.com
You'd be surprised at how many cutting board tutorials there are out there. Wooden ones, plastic, marble…the options are endless. This particular one, however, is made out of walnut wood with a marble inlay.
That gorgeous sliver of marble is such a lovely contrast to the dark wood; I just can't get enough of it. That balance is exactly what you want to see in a cheeseboard, too, right?
Just think of all the sharp cheese, crusty bread, sweet and juicy fruits laid out on that board and tell me it isn't the perfect housewarming gift.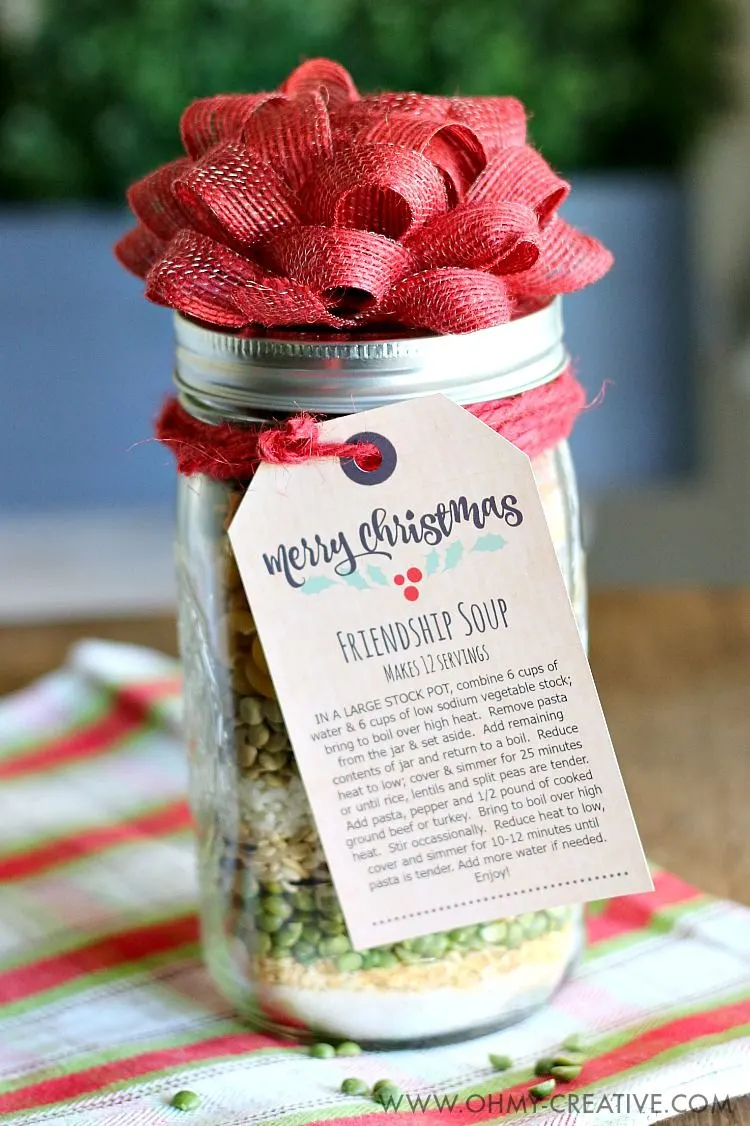 Source: ohmy-creative.com
You know when you've got a friend who's down with the flu, and you take her a bowl of chicken noodle soup? Well, who said you couldn't do the same for a housewarming gift?
Besides, casseroles are definitely not party food. This soup in a jar is like the savory version of mason jar cookie or cake mixes.
It's got all the ingredients needed to make soup. Plus, depending on the size of the jar you use, it can serve any number of people. You can even add a baggie of tri-color pasta to the jar for an added burst of flavor and color.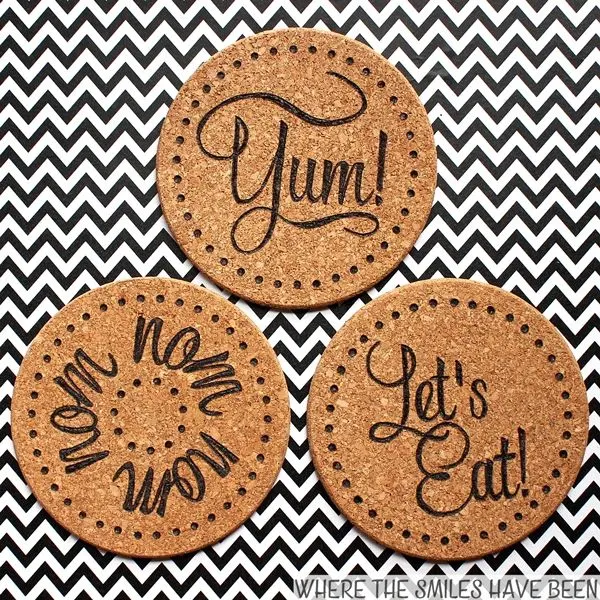 Source: wherethesmileshavebeen.com
Cork coasters hold a ton of decorative potential. They're the base for just about any kind of craft project you might work on with coasters.
For this next set of coasters, let's keep things simple and inexpensive. You can pick up a pack of these coasters here. Or, just head over to IKEA and pick up a pack.
You will also need a Silhouette Cameo, contact paper, and a wood burner like this with interchangeable tips. That will help you with precision and grip when you're designing the coaster.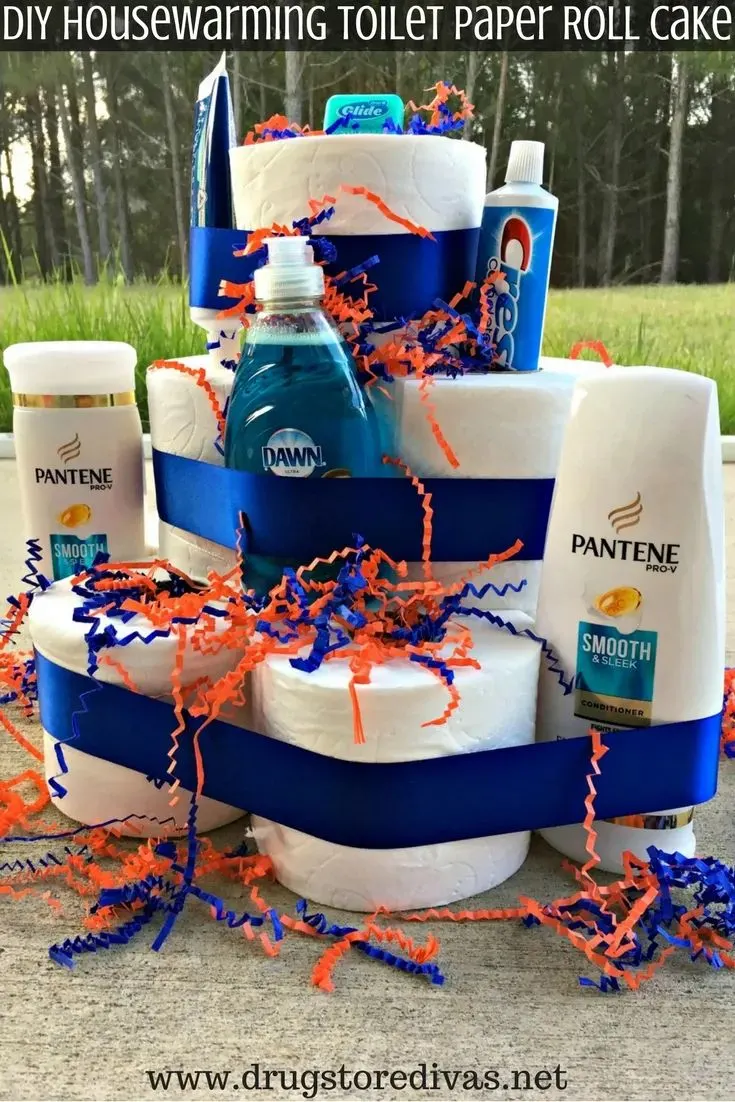 Source: drugstoredivas.net
Toilet paper roll cake: four words that just do not belong together, or do they? Well, let's just call it what it really is: a hamper for the bathroom that any new owner would be thrilled to have.
Your next question is probably: what goes in it? Well, toilet paper for one, but definitely not cake. You're just going to arrange all the components into a tiered cake-like structure.
You can add washing liquid, shampoos, conditioner, toothpaste, floss…just about anything at this point, seeing how we're actually calling it a cake.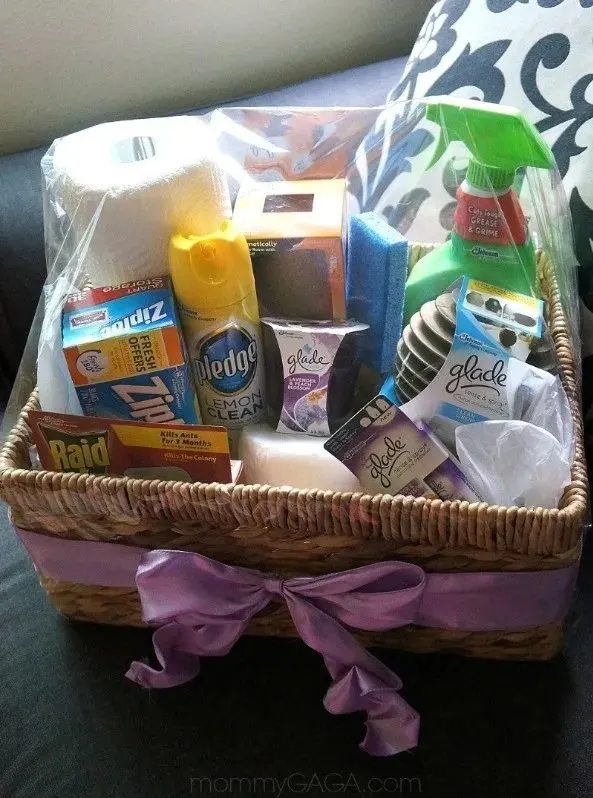 Source: honeyandlime.co
Here's another 'practical' gift basket to give someone to welcome them into their new home. It contains an almost exhaustive list of everything they might need by way of essentials for their home.
You can divide the components by room, too. For example, a kitchen essentials gift hamper will include scrubs, dishtowels, washing liquid, a couple of pots and pans, and more.
If you want to stay more general, then do a little research and find out what constitutes home essentials that can be used all around your home.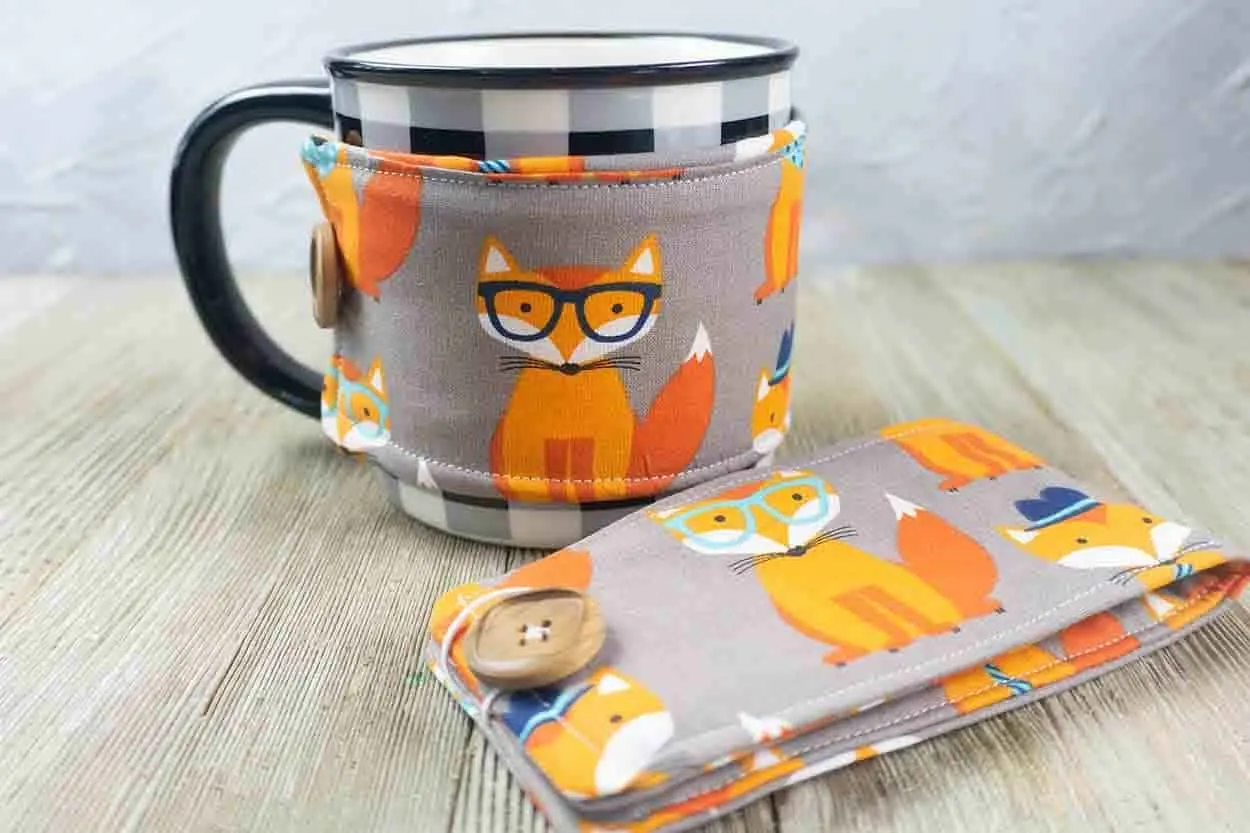 Source: beginnersewingprojects.com
What's the best feeling in the world? Waking up in the morning and having that first cup of coffee. But before my first cup, I'll admit that I'm a bit of a zombie.
You won't believe the number of times I've burnt my hand when picking the cups. Then, I found the joy and wonder of coffee cozies, and now, I just enjoy the warmth seeping into my palms.
You can sew your own cozies depending on the size of your mugs. They also make really thoughtful housewarming gifts. Pick out some pretty fabric and sew the cozies; don't forget to add a button for easy access!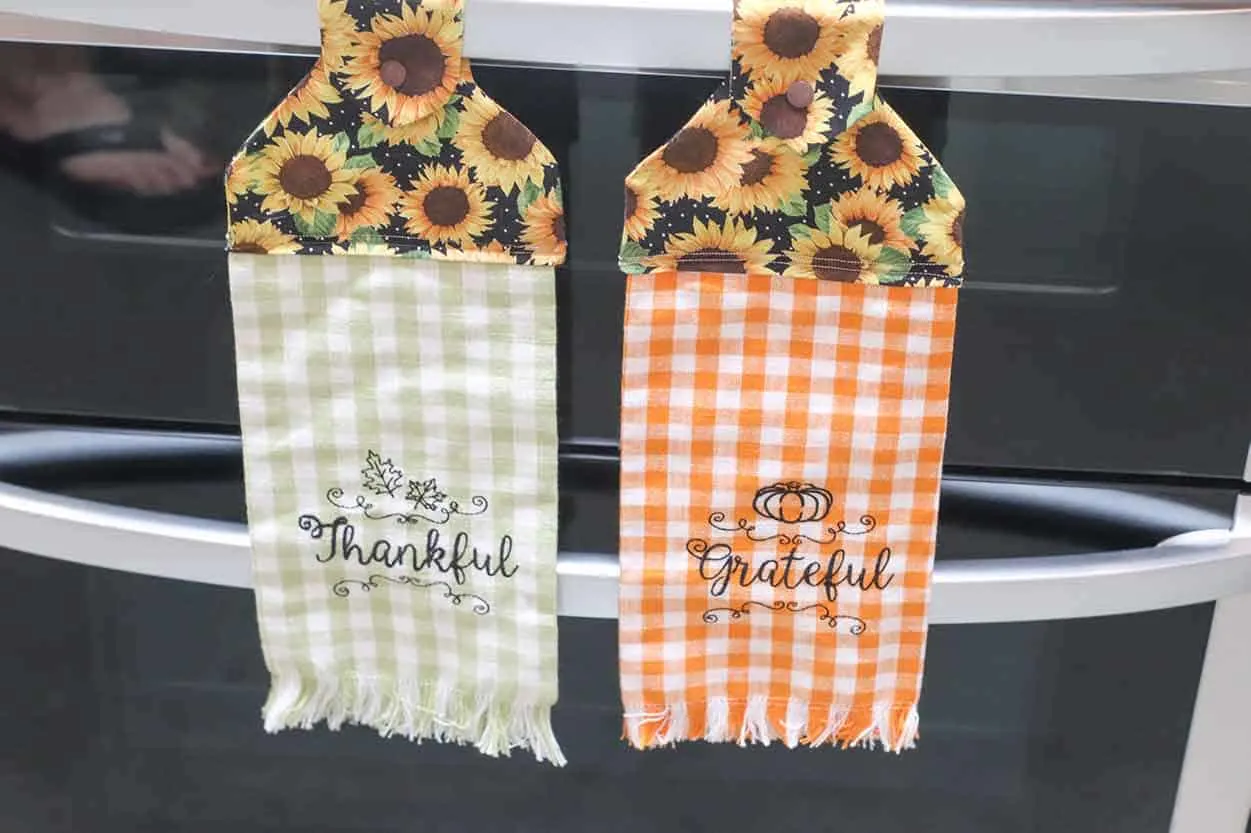 Source: beginnersewingprojects.com
Anybody who can cook more than toast knows three things:
First, there are different types of kitchen towels.
Second, you cannot use one towel for the other's function.
Third, you can never have enough kitchen towels.
With these three statements in mind, you know what your next housewarming gift is, right? Kitchen towels!
Not just any old kitchen towels, but ones that have a built-in snap closure which means you can actually hang the towels instead of stuffing them into the oven handles.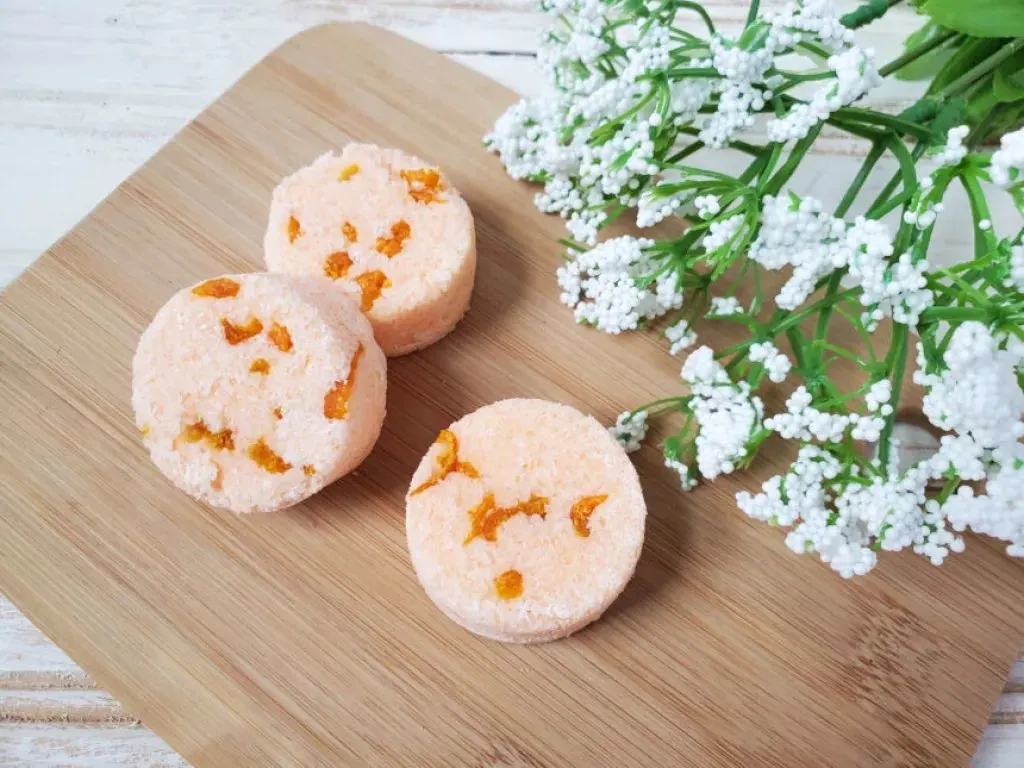 Source: madeinapinch.com
I love a good DIY bath bomb. Actually, I love just about any DIY bath product, but bath bombs are my favorite for obvious reasons—the pop, fizzle, snizzle, of course.
But have you ever made shower bombs? They're just as effective, and for those of you who don't have tubs, they're a God-send. You only need to pick out your favorite essential oils to get you started.
Next, pick up some Epsom salts from here, baking soda, water, and for some color, look here. Follow the recipe and cook up a big batch of shower bombs to give away at your next house party.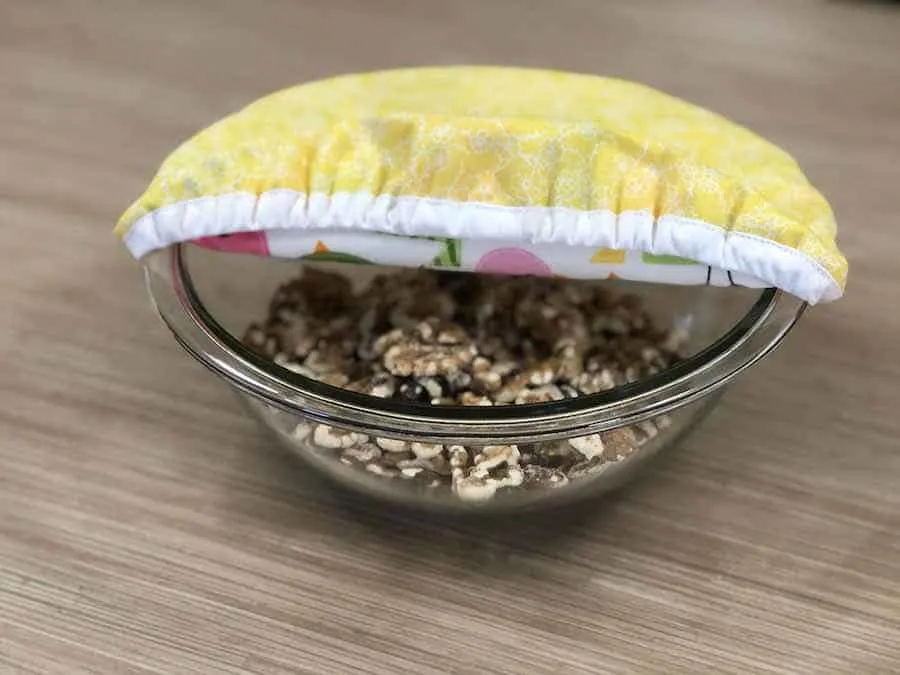 Source: happiestcamper.com
I wish I had bowl covers for every dish in my kitchen, but that's not possible, is it? The next best thing? These reusable bowl covers. Every kitchen should have these; they're reusable, sustainable, and they look so pretty!
Here's what you'll need:
Go ahead and sew a set of these covers. Trust me; you'll probably make at least a dozen before you come up for breath.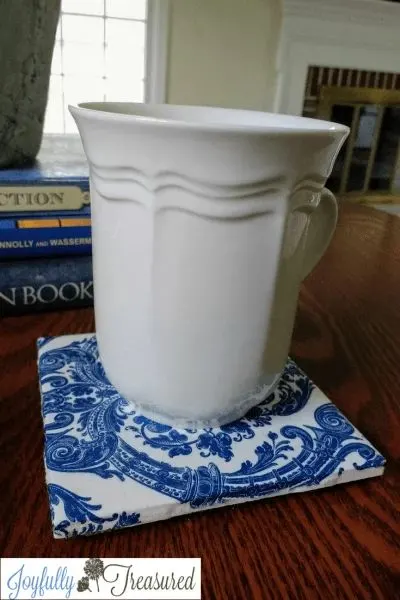 Source: joyfullytreasured.com
Ceramic tile coasters are right up there next to cork coasters, in that they're awesome. There are just so many ways to design tile coasters that it can take an entire session just to pick the pattern.
The most common pattern is filigree work or blue chinoiserie. But, depending on the patterned napkins you pick, you can have any design you like.
Just make sure you have plenty of mod podge(preferably glossy to get that tile-finish), acrylic sealer, cork backing from here, and brushes to apply the mod podge.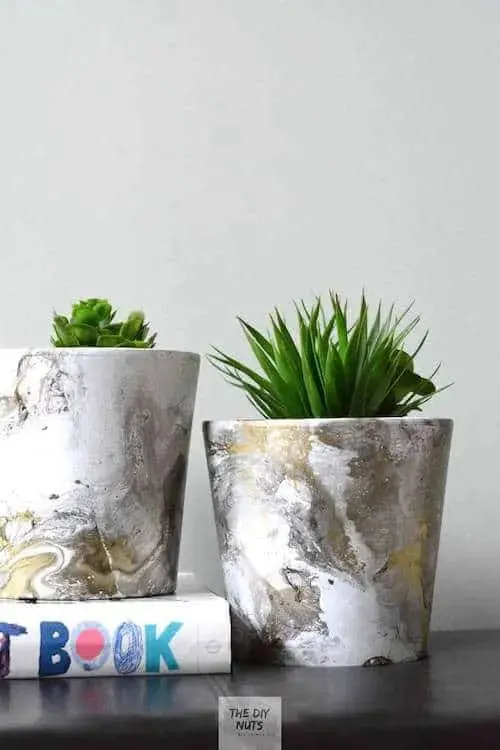 Source: thediynuts.com
You know that marbled finish on those cups from earlier? Well, do you want to recreate that marbling on something…bigger? Like planter pots, maybe?
If you are new to hydro dipping, then I suggest practicing first before you head over to the big pots. Transferring paint can be tricky, and it's not an exact science or art, so you just have to let the wind—or water as the case is—take you where it takes you.
You can actually spray paint the paint on water directly. It's much easier than swirling paint around.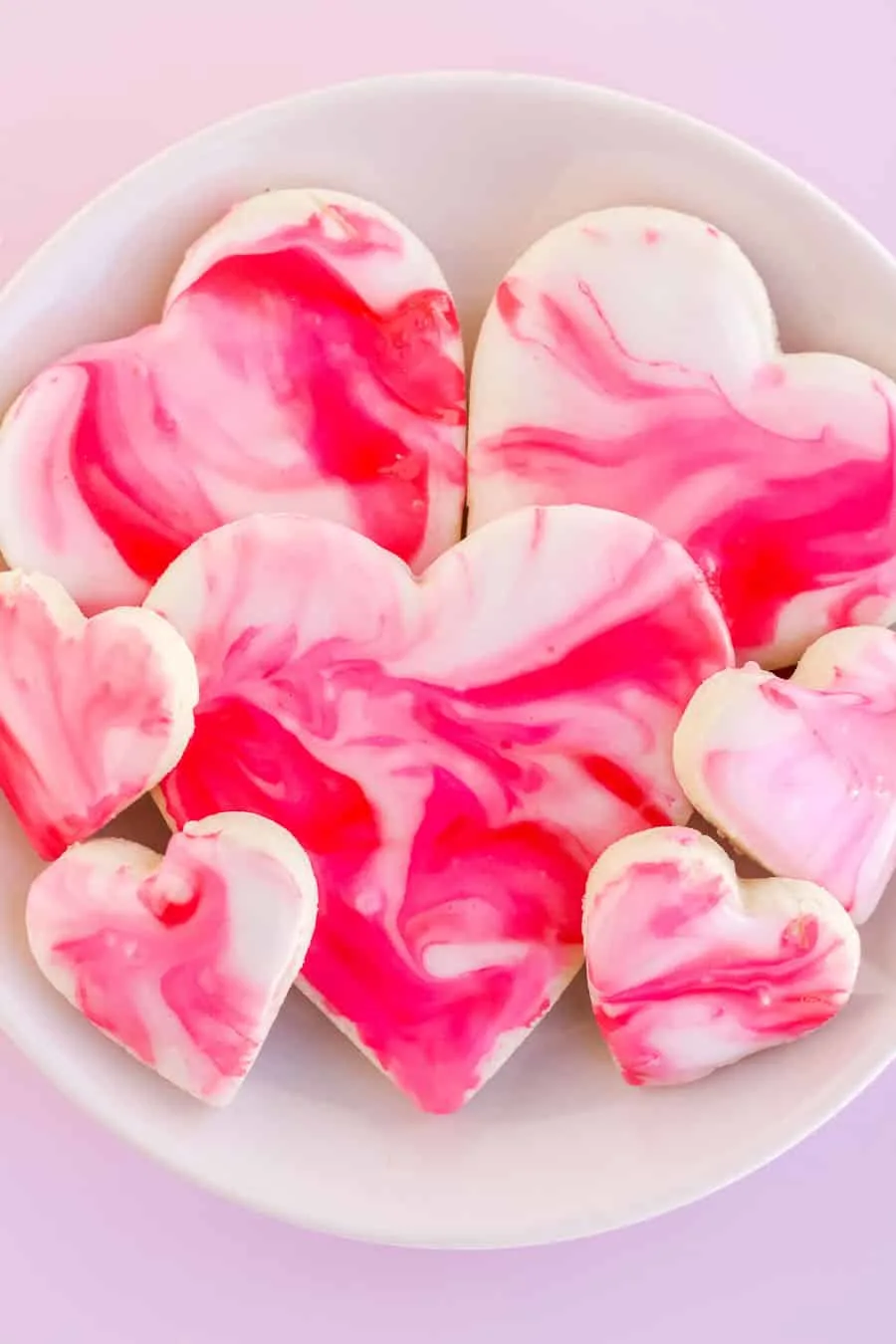 Source: nourishplate.com
Valentines Day cookies like these can be carried over to just about any other time of the year. More importantly, it can be carried over to a housewarming gift.
You know how you just worked on hydro dipping those pots to get that marble finish? Well, how about you recreate that same marbled finish on these cookies with icing, instead?
The ice glazing is just three ingredients: corn syrup, milk, and sugar. You just need to adjust the ratios till you get the perfect consistency and you're set.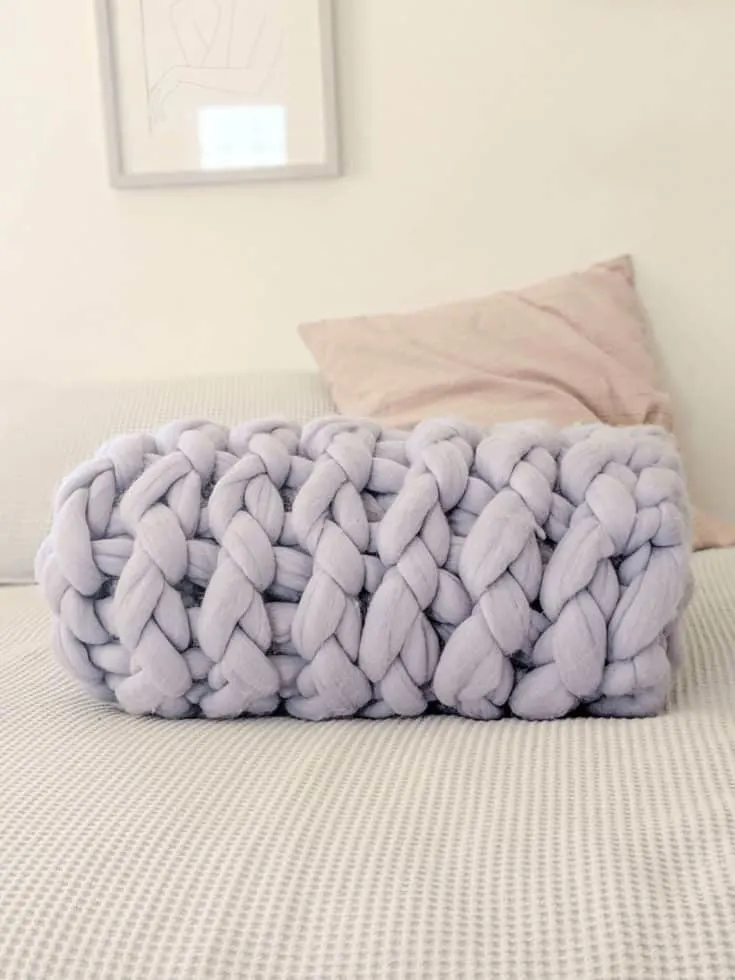 Source: thewalletmoth.com
If you're particularly fond of knitting, then you have to check out this chunky knit blanket. Even if you decide not to give this blanket to someone, you can still enjoy it yourself.
When the yarn is so chunky, you're going to have to knit it by hand quite literally. So you won't be needing your knitting needles. But don't skimp on the yarn because the chunkier and softer it is, the better the blanket will be.
It's like being wrapped up in a warm and cozy cloud, so go ahead and make two—one for yourself and the second as a housewarming gift.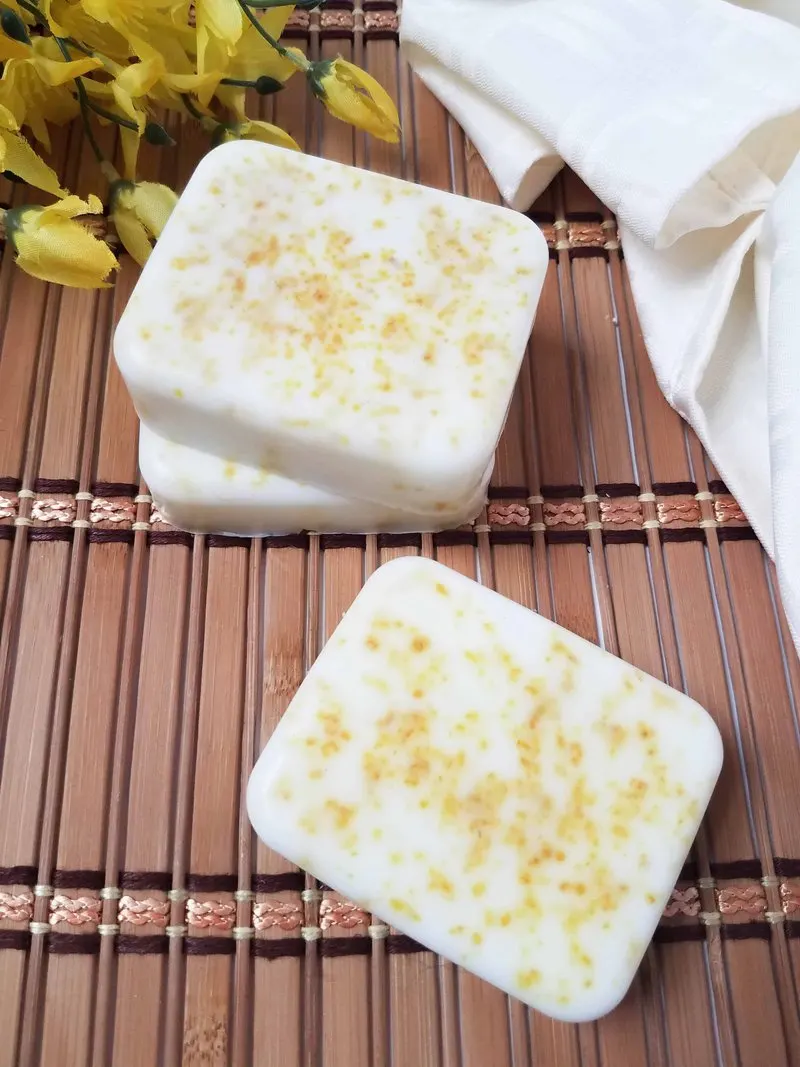 Source: theinspirationedit.com
When life gives you lemons, you make lemon soap; that's a no-brainer. Natural bath products made out of lemon or anything citrus are an all-time popular.
You just can't go wrong with lemons, so they make for safe, if not exciting, flavors or scents. The recipe for this DIY soap is remarkably simple, and you can whip up a big batch of it in no time at all.
Just buy some molds from here, first. They are your typical soap bar rectangular molds. If you like, you can switch them out with different shapes as well.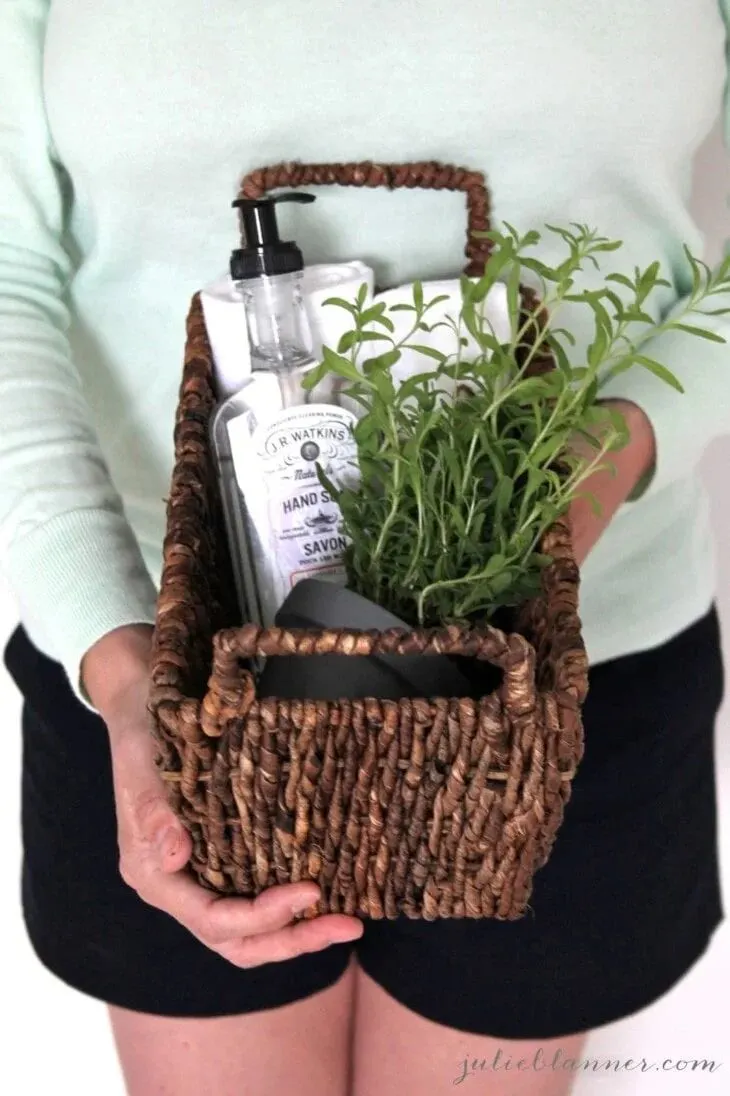 Source: julieblanner.com
Here's one of the classiest housewarming gifts ever. It's another hamper for the bathroom, but it's all about muted elegance and luxury.
Check out the fluffy face towels. With just a little bit of jute, there's elegance and rusticity in one package. The same applies to that gorgeous wicker basket.
You can also include other items like hand wash, lotion bars, and even essential oils. Feel free to mix and match the items you place, and also go one step further and place a lovely potted plant, as well.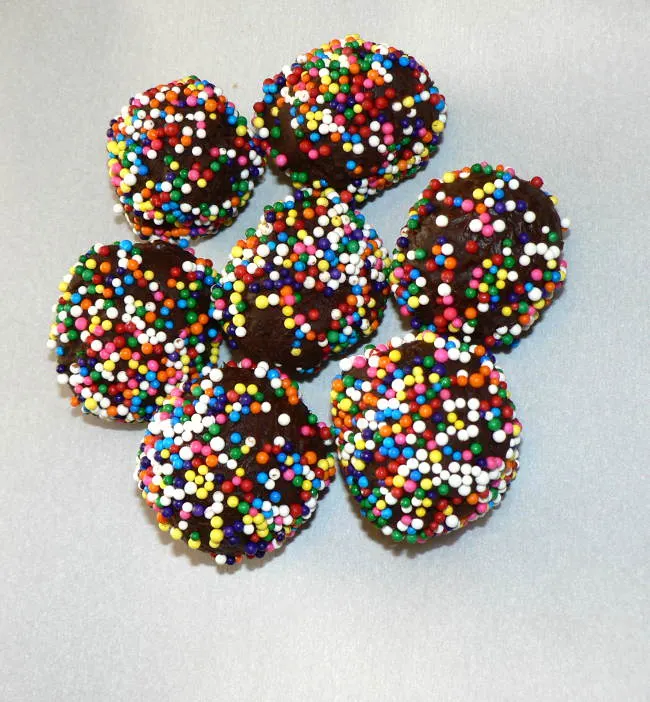 Source: tastygalaxy.com
Chocolates are wonderful gifts for just about any occasion. And decadent, gourmet chocolate truffles like these are an even bigger delicacy. Did I tell you that the recipe calls for just three key ingredients?
Here's what you need:
Once you bring the heavy cream to simmer on low heat, you pour it over the chocolate and make a ganache. Allow it to cool, roll the truffles, and toss them in sprinkles to finish up.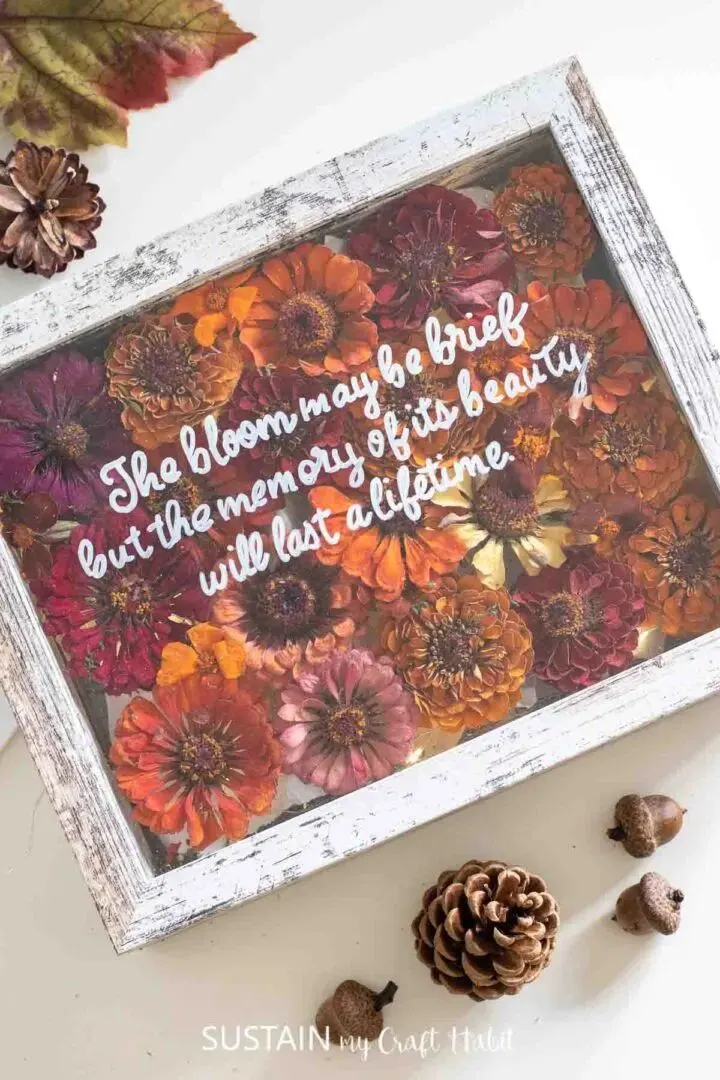 Source: sustainmycrafthabit.com
Here's a shadow box art project that's floral, summery, and downright gorgeous. It's easy to make, even if it does take a while to press all those flowers.
But what makes this a wonderful gift is that it's an opportunity to preserve something as important as a wedding bouquet. Alternatively, you can just use it as a wall hanging or decor piece.
If you're not up for pressing your own flowers, then just pick up a batch of dried flowers from here..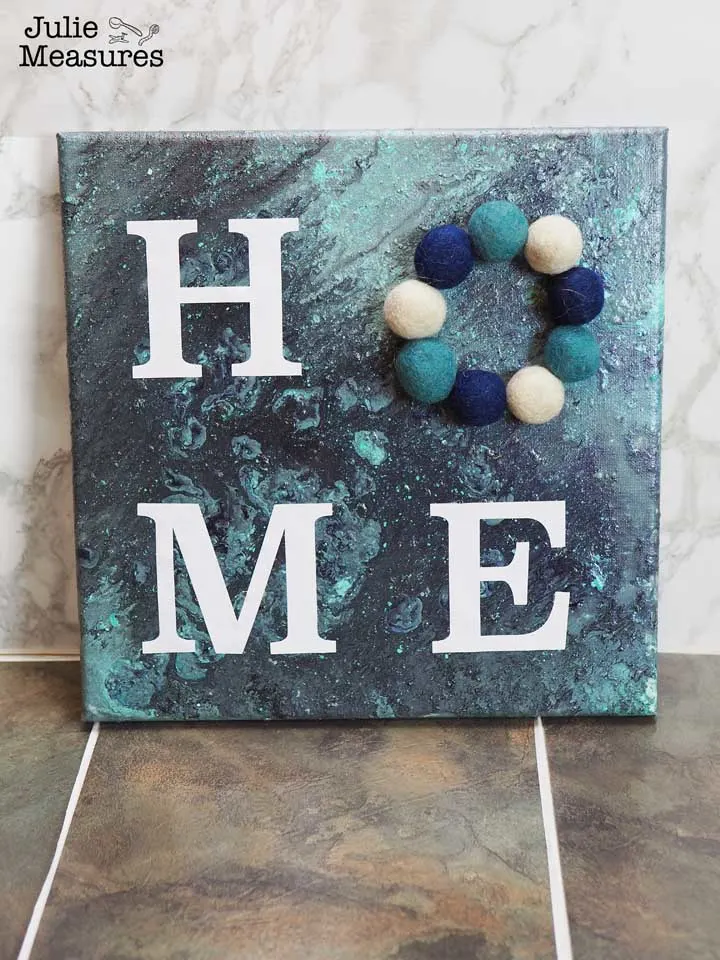 Source: juliemeasures.com
What better way to celebrate and welcome someone into a new home than with something that quite literally spells out home. You can grab a stretched canvas and start working on this lovely 3D painting.
The first step is to decide your color palette. Then you can grab your brushes and start painting the canvas. Feel free to play around a little.
You can either use vinyl and transfer tape for the letters or you can use stencils and paint it. For the letter O, grab some pom poms and hot glue them in place.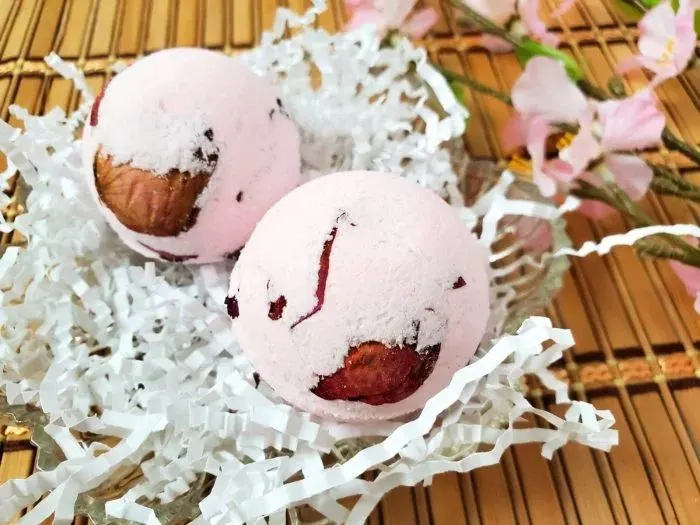 Source: ottawamommyclub.ca
Rose petal bath bombs will always be the most decadent of all bath bombs. Do I even need to explain why they'd be spectacular gifts for a new home?
What better way to break in a new bathtub than with a hot bath, surrounded by rose petals. This is also a rather lovely gift for Mother's day, so keep it tucked away in mind for when it's time to whip a new batch.
You can use both rose essential oils and rose petals. Alternatively, you can switch out the rose essential oil for, say, rose geranium oil.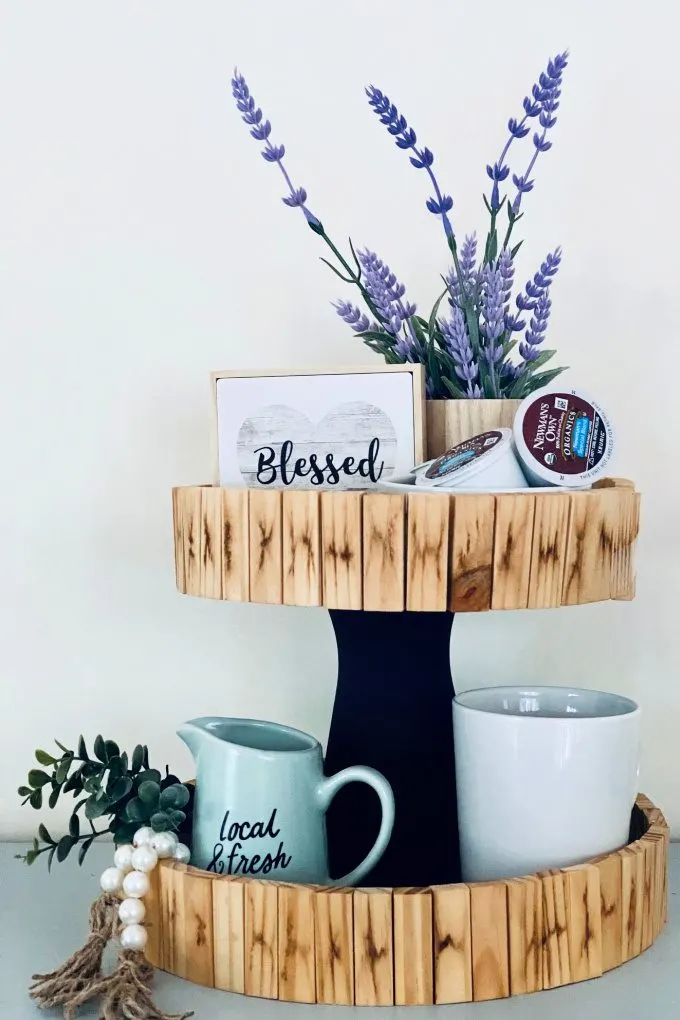 Source: jugglingactmama.com
A tiered tray like this can be used as a coffee station as well as a spice rack. It can also be used to decorate a room seasonally, but I definitely love the idea of using it as a coffee rack.
It can comfortably hold all your coffee pods, flavor syrups, add-ons, and even the odd decorative touches like a frame or string of faux pearls.
Why not present this stand so that your friends can place it on their new island in the kitchen. It's going to sit there all day and remind them of you and your lovely gift.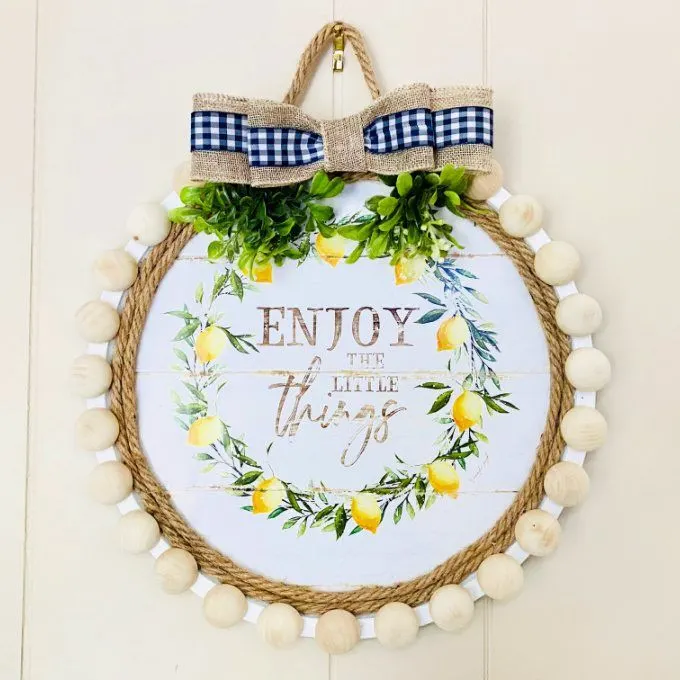 Source: jugglingactmama.com
If you told me that this wreath was actually a pizza pan that's been upcycled for this particular project, I'd never believe you. But there you have it; this beachy wreath wouldn't be so special if it weren't for that lovely tidbit.
Whether your friend and family use it as a wreath for their front door or decide to hang it up inside in the living room, it's bound to be a gift that lights up any room.
You can wrap a length of jute cord along the inside of the pan and a string of these wooden beans on the outside. Feel free to add some faux leaves, too, for color.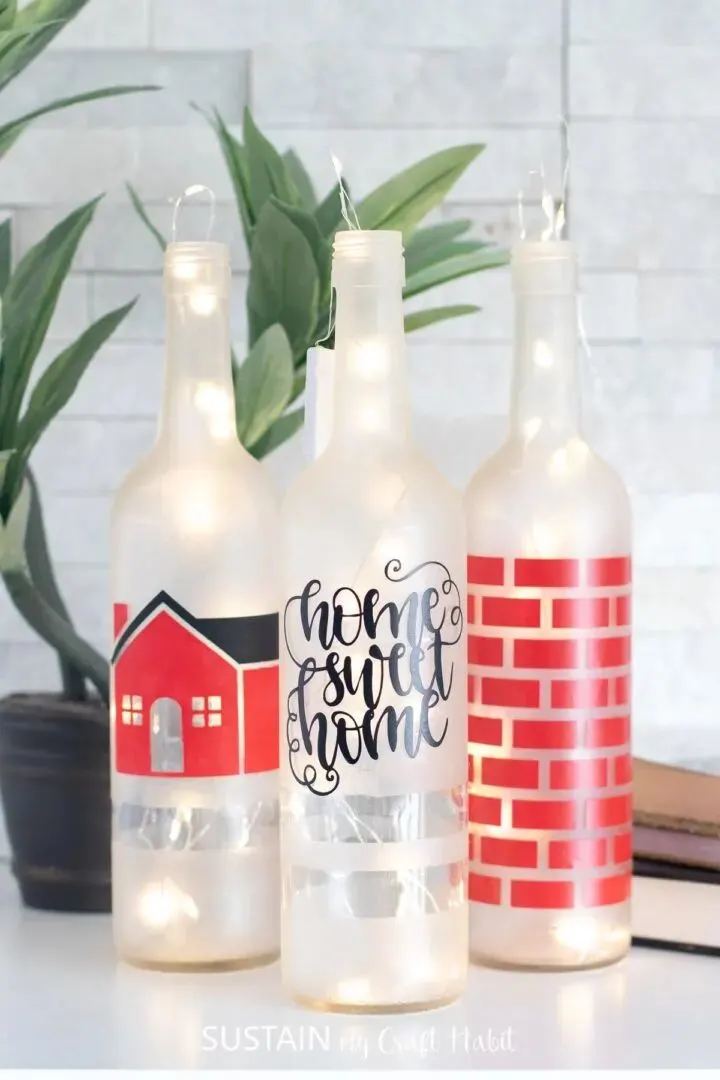 Source: sustainmycrafthabit.com
This project is perfect if you want to show up with a bottle of wine but also, not show up with just a cliched bottle of wine. Curious? Well, what you're going to do is a lot more fun than wine shopping.
Grab a couple of empty bottles of wine from your recycling stash. You're going to give them a complete makeover and turn them into gorgeous decor pieces.
You'll be using a Cricut machine to cut out several different patterns, images, and even phrasing in vinyl. You can also even use removable stencils to help you if you paint the bottles.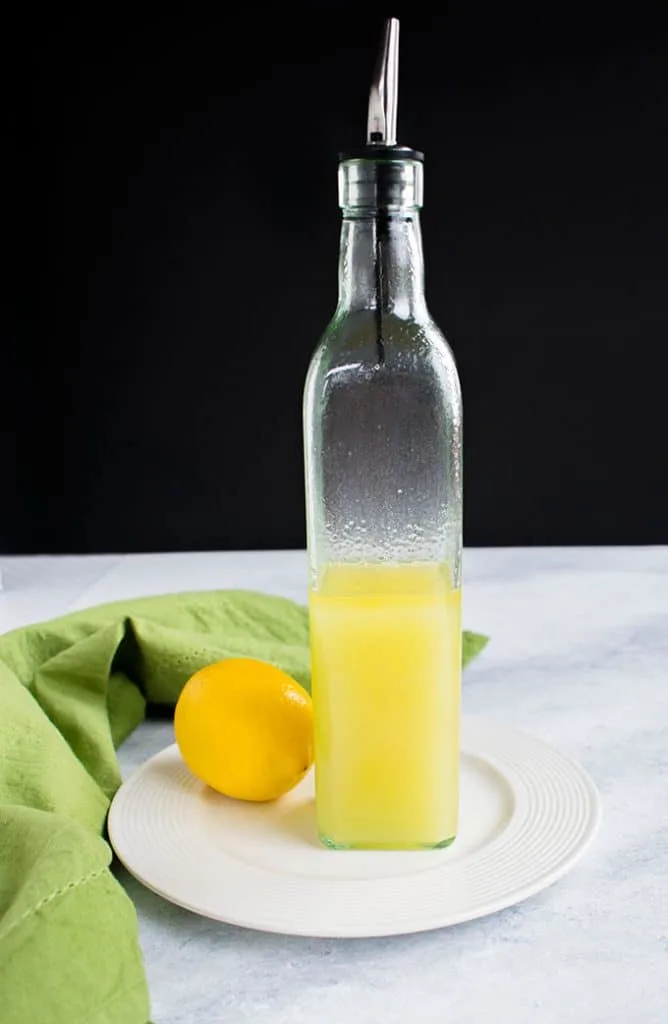 Source: cookingwithmammac.com
If I got a big jar of infused olive oil for a housewarming gift, I'd definitely be more inclined to use my gorgeous new kitchen. Heck, I'd even invite a few friends for brunch!
You've probably already come across garlic-infused olive oil, but what about lemon-infused? That's definitely going to boost the flavor of your salads, pasta, and veggies, right?
A bottle of this should last a few weeks, and you can always whip up a new batch and replenish it, should you need to. Just grab a fancy glass infuser from here to put the oil in first.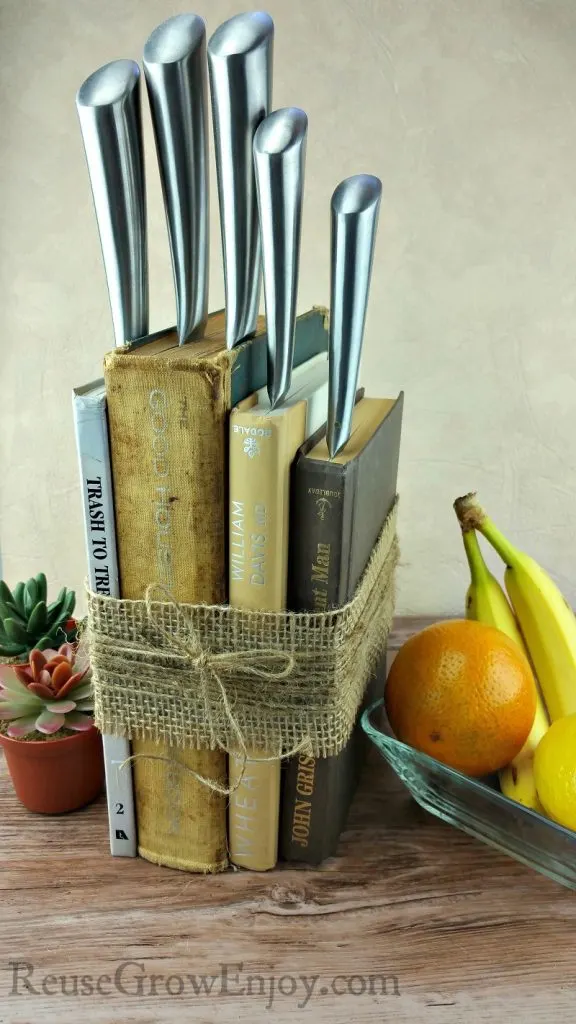 Source: reusegrowenjoy.com
Oh, so she's a cook and an avid reader, you say? Well, I've been waiting for this day for a long time because I have a gift idea that's going to top every single one out there.
It's incredibly creative—off the charts, even. If that isn't enough, it's also pretty inexpensive. What is it? A knife stand, of course!
This is a great opportunity to upcycle books, and it's super functional. You just need to pick up a few hardbound books, some duct tape, a pair of scissors, this burlap ribbon, and finally, twine.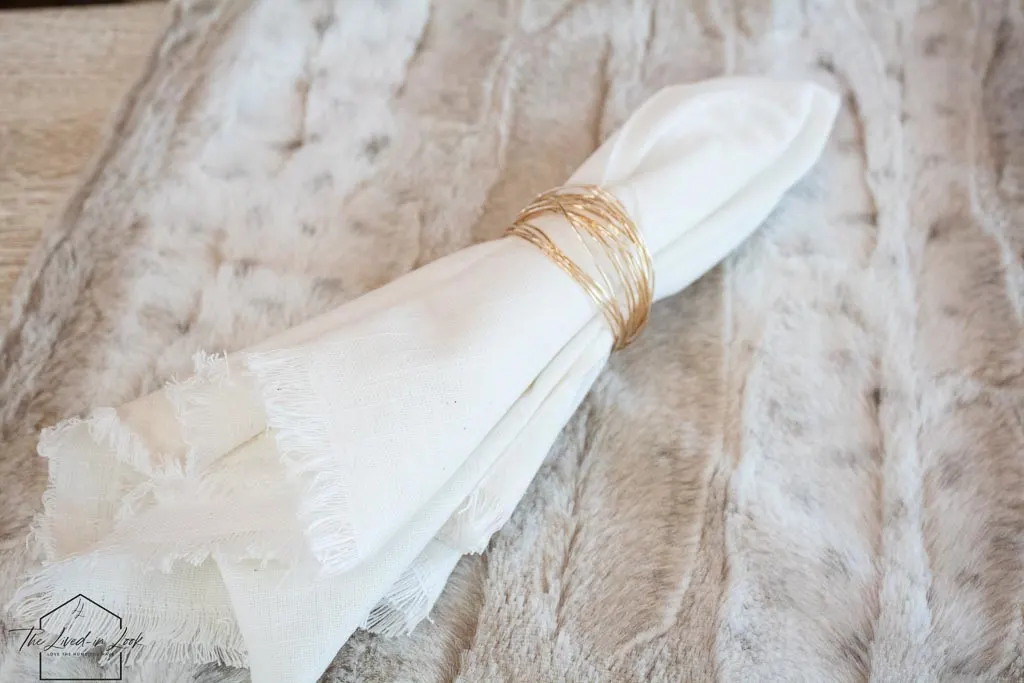 Source: thelivedinlook.com
There's nothing that can quite capture the elegance of metallic tones on creamy linen. The same holds for these napkin rings, too.
It's such a simple piece, just a length of gold wire wrapped into a ring and slipped over a napkin. But take a step back and look at it on the table, and it's riveting in its simplicity.
Pick up some thin gold wire from here. The lower the gauge, the heavier the wire, so pick something thin, 20 gauge, maybe? You will also need pliers to help you with the wrapping part, so grab one of those as well.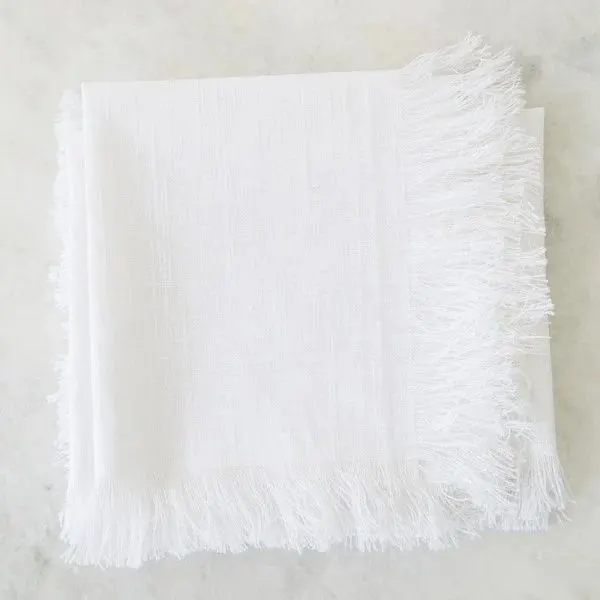 Source: sugarandcharm.com
If you want to add to your napkin rings from earlier, you can probably gift a set of napkins with them. But when you're buying something simple like napkins, it's definitely not the time to skimp.
So check out these fringed linen napkins. But what if I told you that these are not expensive ready-made fringed linen napkins, but the more affordable and DIY version?
You're going to be making your own fringes and turning plain old linen napkins into chic little gifts. Plus, did I mention that this was a no-sew project?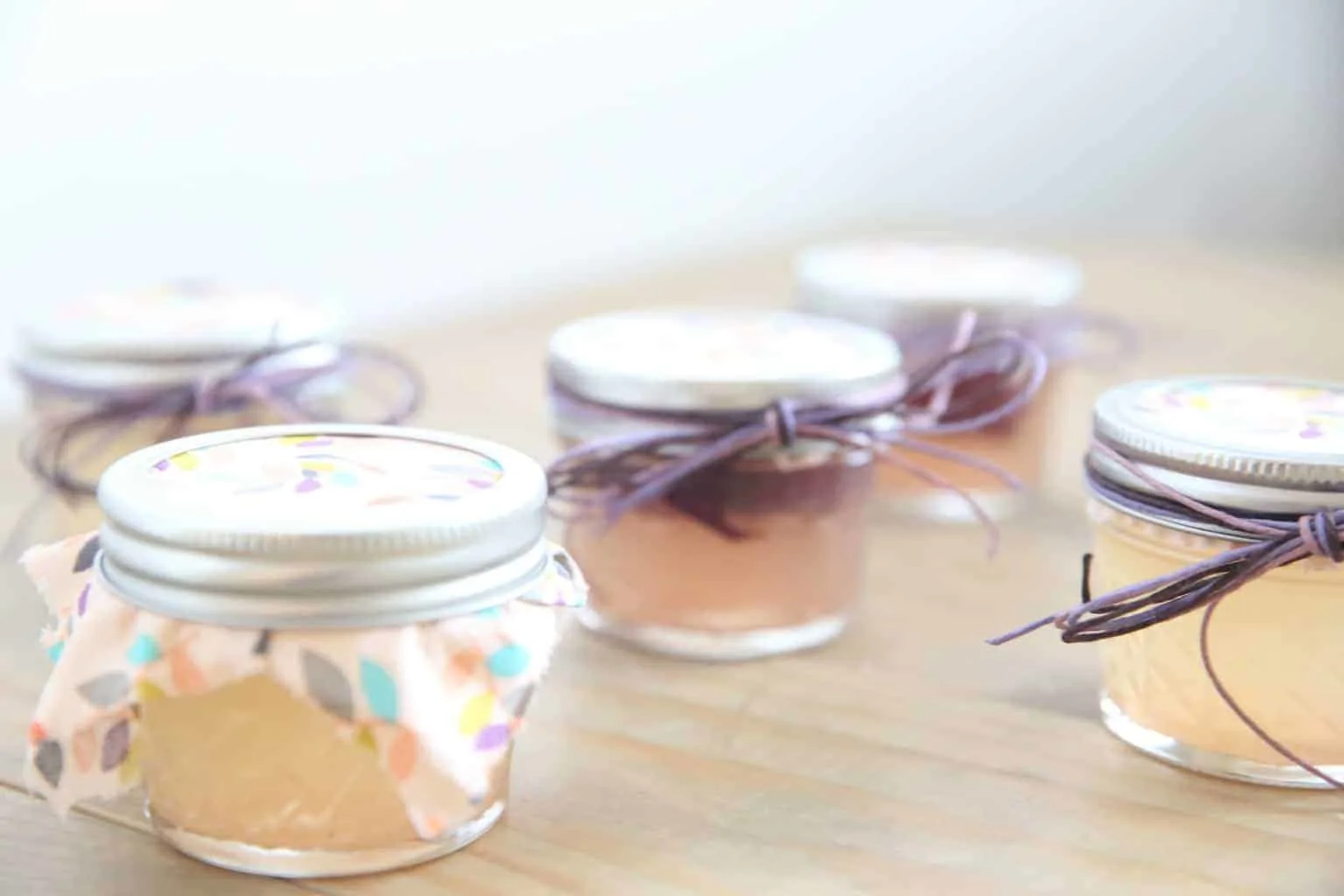 Source: ouroilyhouse.com
If you live in a student dorm, or if you are just generally worried about open flames in your home, then lighting a scented candle might be out of the question.
What you can do is switch out candle jars for these homemade gel air fresheners. They are non-toxic natural deodorizers that you can just tuck into a corner all around your home: bathroom, kitchen, bedroom, and even the car.
If you put them in pretty jars, then there's no reason to tuck them away at all. They can be displayed just as one would display candles.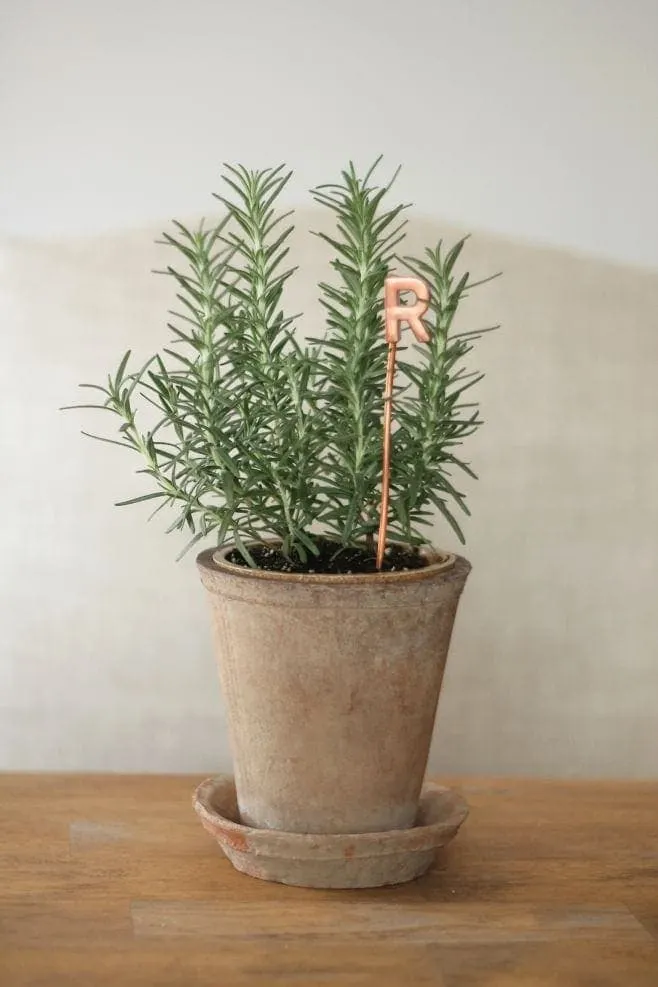 Source: julieblanner.com
Do you have a friend or a loved one who's just moved into a new home and is all set to plant her very own vegetable garden? Well, then here's what you can make for her housewarming gift: garden markers!
You can create these copper garden markers in minutes, and before long, you'll have an entire pack of them.
You can also use these markers as garden props, if not as markers. Plus, you can rope your little ones to help you, too, if you're in a pinch for time and need a few extra hands.
Pick up a can of copper spray paint from here to get started.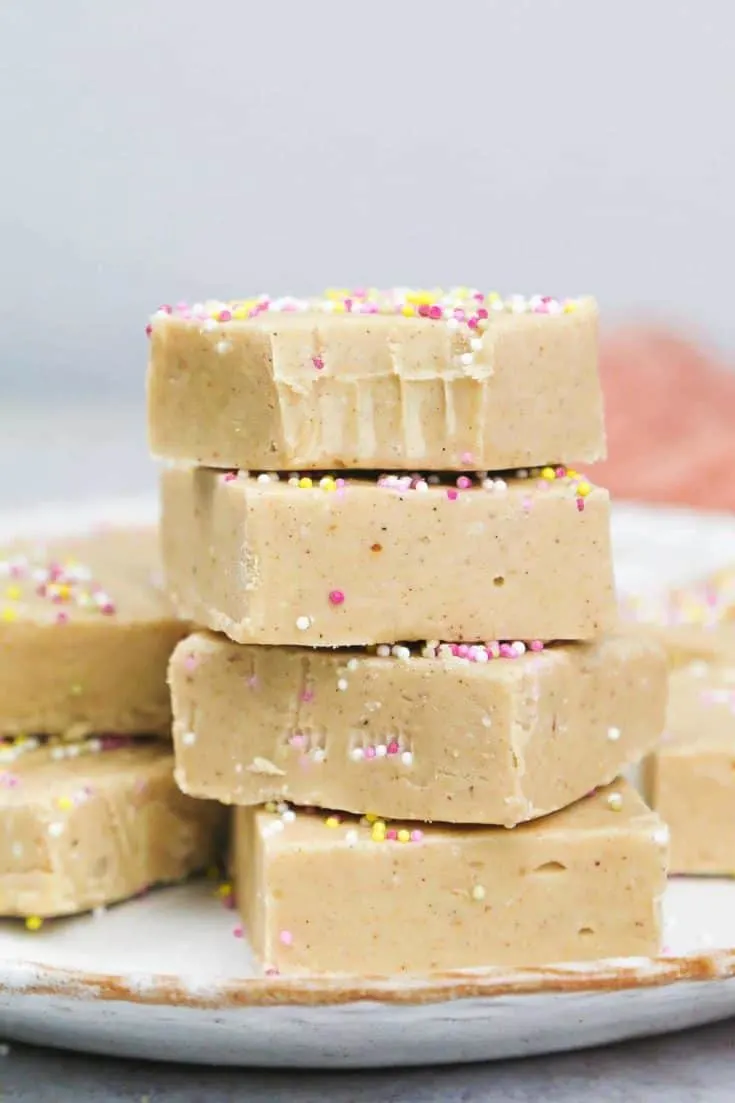 Source: nourishplate.com
This condensed milk fudge is super easy to make and requires around seven ingredients in total. It's decadent, creamy, and it's gluten-free. Plus, it only takes 20 minutes to prepare!
The recipe incorporates the best of both fudge and gingerbread, with a little shortcut thrown in there for an added bonus to make life easier.
Grab some fresh ginger, cinnamon, and some nutmeg from here. If you have fresh nutmeg, then you can grate some into the mixture. You will also need good quality white chocolate, as well.
DON'T SKIMP ON THE CHOCOLATE!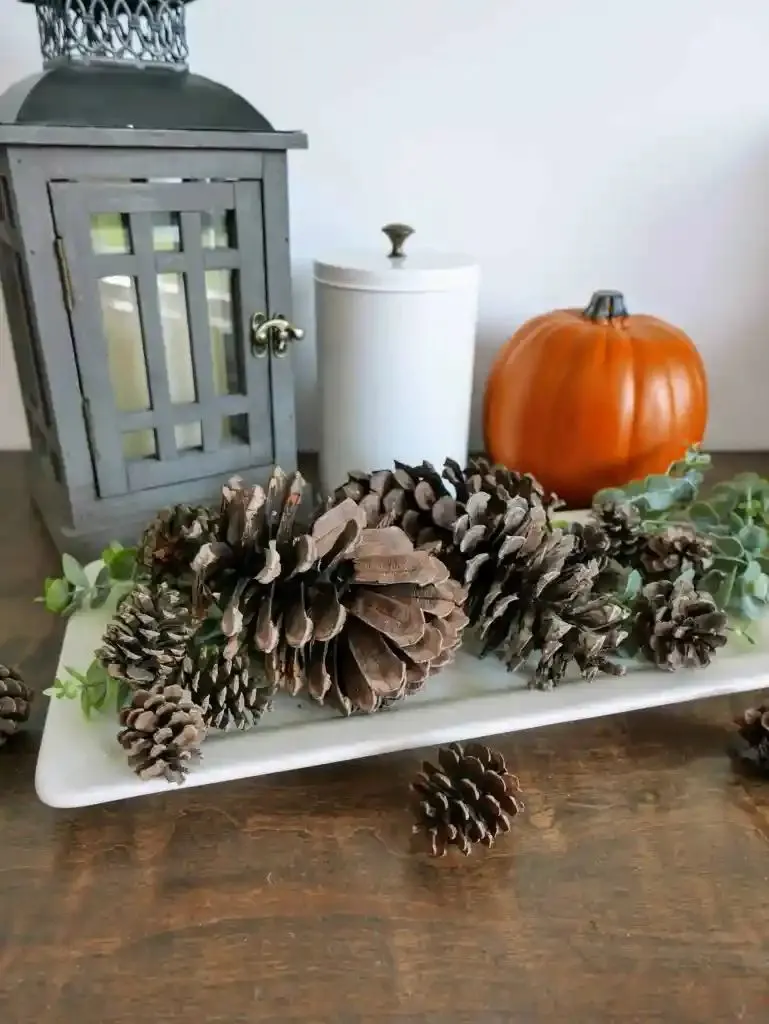 Source: madeinapinch.com
Scented pinecones are so inherently autumnal, but imagine being able to have them all through the year. You can whip up a batch of these scented pine cones in lieu of potpourri and wrap it up as a gift for a housewarming party.
Nothing is quite as welcoming as cinnamon when you enter a house. It's like walking into an earthy bakery, perfect for welcoming anyone to come in for a cup of coffee and to relax.
Grab some good quality essential oils—trust me, you'll be grateful for it when you don't have to keep replenishing the scent every week.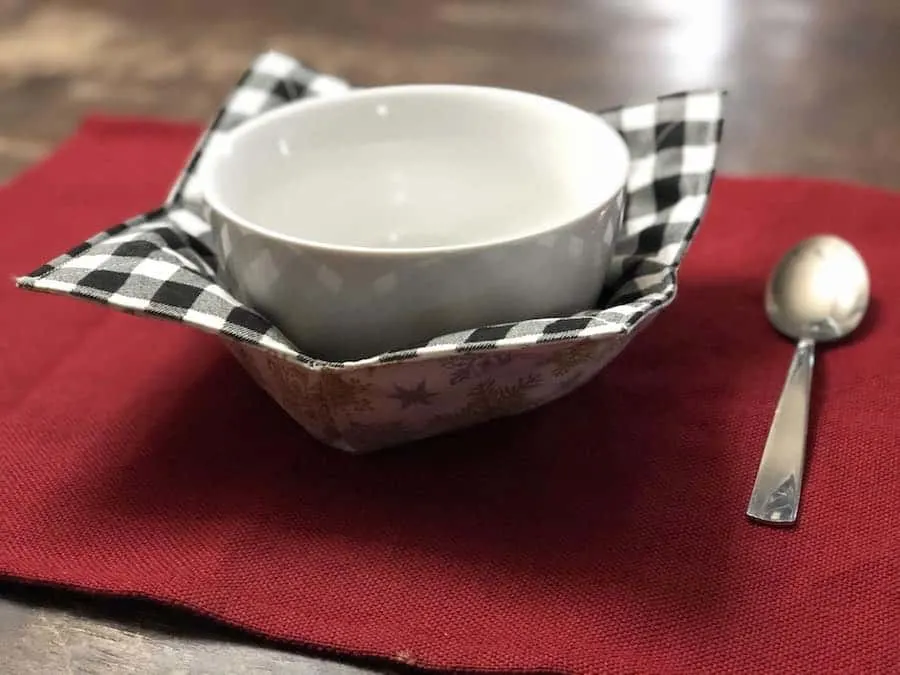 Source: happiestcamper.com
When you're making microwavable bowl cozies, you have to remember to pick out a fabric that is heat-proof, microwave and oven-friendly, and won't catch on fire.
Once you've picked out the fabric and subsequently the pattern, there's very little to it than to just sew it up. You will need plenty of batting, sewing pins from here, a pair of scissors, and tailor's chalk, as well.
A set of 5 of these should do quite nicely as a present, don't you think?
Yield: DIY Housewarming Gift
51 DIY Housewarming Gifts for New Home Owners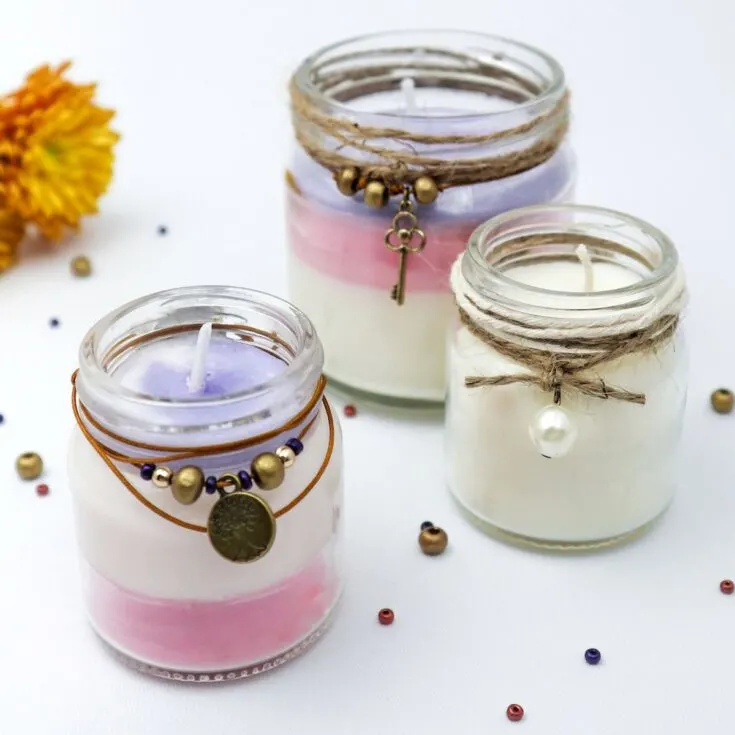 There is nothing more special than making your very own gift. These DIY Housewarming Gifts are easy to make, beautiful, and practical.
Materials
1. Resin Coasters
2. Cutting Board Sign
4. Crochet Flower Wall Art
5. Succulent Planter
6. Felt Home Ornament
7. Scented Candles
8. Homemade Vanilla Extract
9. Dollar Tree Lantern
10. Hostess Gift
11. Leaf Candle Holder
12. Wrapped Wine Bottle with Tag
13. Memory Box
14. Flavored Herb Salt
15. Hot Cocoa Gift Basket
16. Cocktail Kit
17. Slow Cooker Butter
18. Front Door Mat
19. Marbled Mugs
20. Personalized Lazy Susan
21. Cutting Board
22. Soup in a Jar
23. Personalized Cork Coasters
24. Toilet Paper Roll Cake
25. Gift Basket
26. Coffee Mug Cozy
27. Hanging Kitchen Towels
28. Citrus Shower Bombs
29. Reusable Bowl Covers
30. Ceramic Tile Coasters
31. Marbles Pots
32. Marbled Cookies
33. Chunky Knit Blanket
34. Lemon Soap
35. Gardening Gift Basket
36. Chocolate Truffles
37. Shadow Box Art
38. Canvas
39. Rose Petal Bath Bombs
40. Wood Tiered Tray
41. Pizza Pan Wreath
42. Painted Bottles
43. Infused Olive Oil
44. Knife Holder
45. Wire Napkin Rings
46. Fringe Linen Napkins
47. Gel Air Freshener
48. Copper Garden Markers
49. Condensed Milk Fudge
50. Scented Pinecones
51. Microwave Bowl Cozy
Instructions
Pick the gift you like the most.
Gather materials.
Make your very own DIY gift.