Trying to take your wedding decor to a whole new level? Check out these wedding table decoration ideas and get the inspiration you need!
With the wedding ceremony out of the way, it's time to kick back, dance, eat and make merry at the wedding reception. The right decor can set the right ambiance that you want at your reception party.
The decor at the tables: napkins, centerpieces, candles, glassware, dinnerware, and silverware add to the bigger picture. But it's those little details that tie a wedding together.
So here are 37 wedding table decoration ideas for you to check out!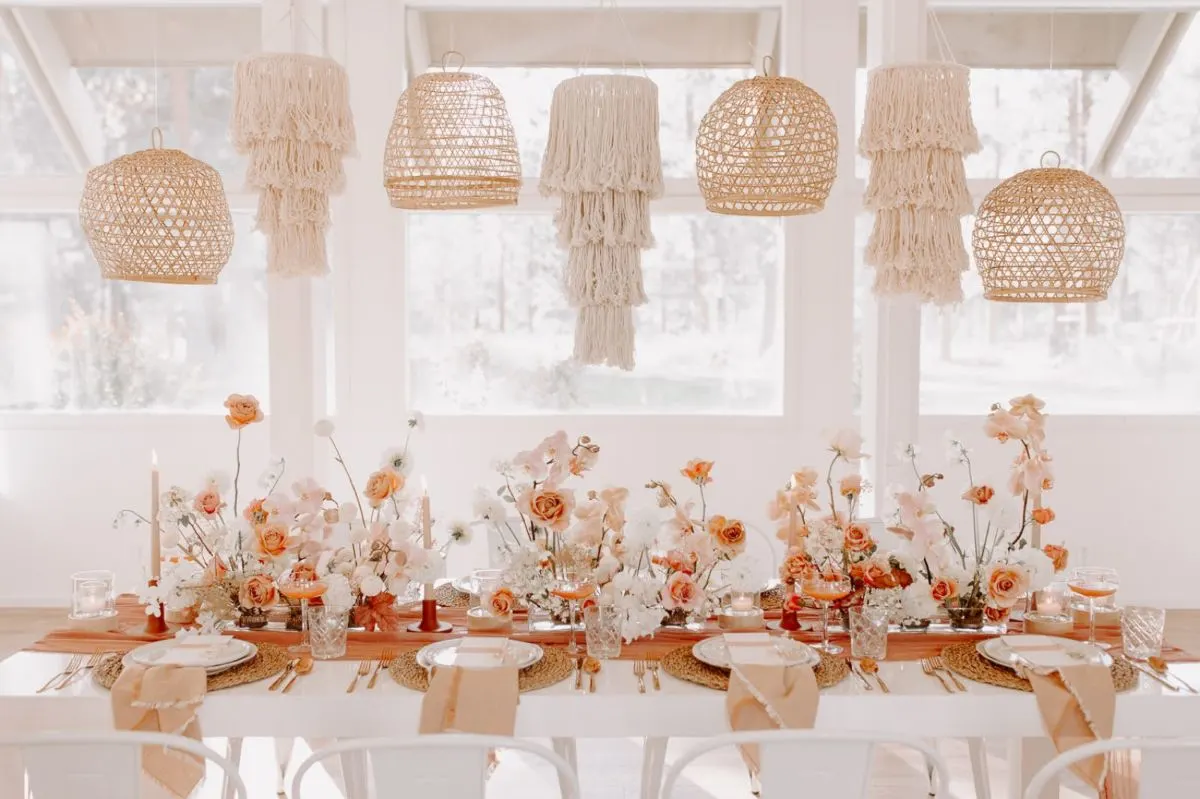 Credit: maeandcocreative.com
If you want to eschew the usual pink and white wedding, one of the best alternatives would be to use corals.
You can use coral, pink, orange, and blush-tinged roses for the flowers, with a few white calla lilies mixed in. Then you can add some peach napkins and a saffron table runner.
Don't forget the wicker basket and macrame hanging lights. As a final touch, use these braided placemats to round off the boho-chic-themed table decor.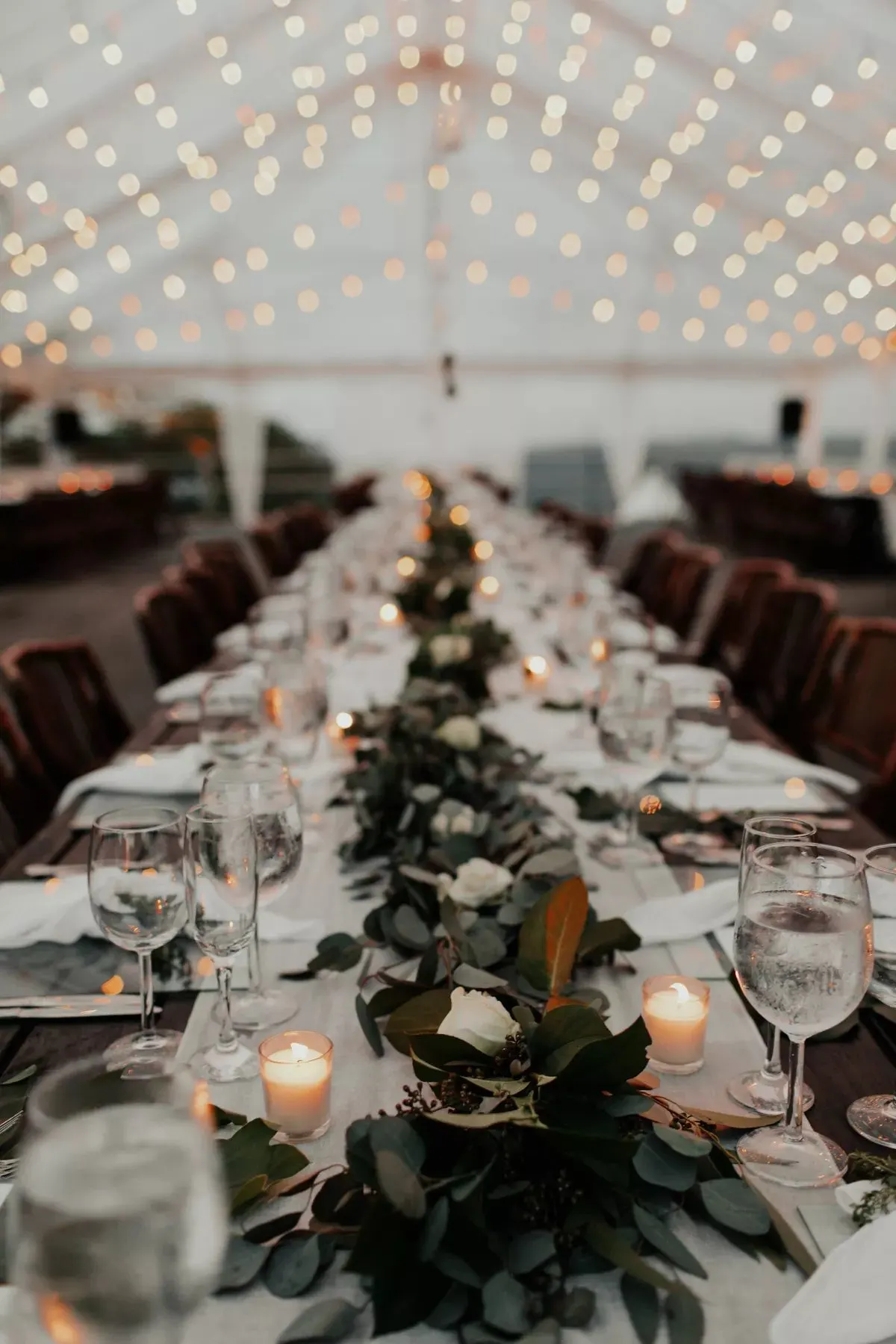 Credit: brides.com
Is there anything more earthy or more wholesome than a lush swath of silver dollar eucalyptus leaves draped over the table?
Don't these leafy table runners make the best centerpiece? Just tuck in a white rose here and there for a little more panache.
You can also place a few dozen white candles in these holders.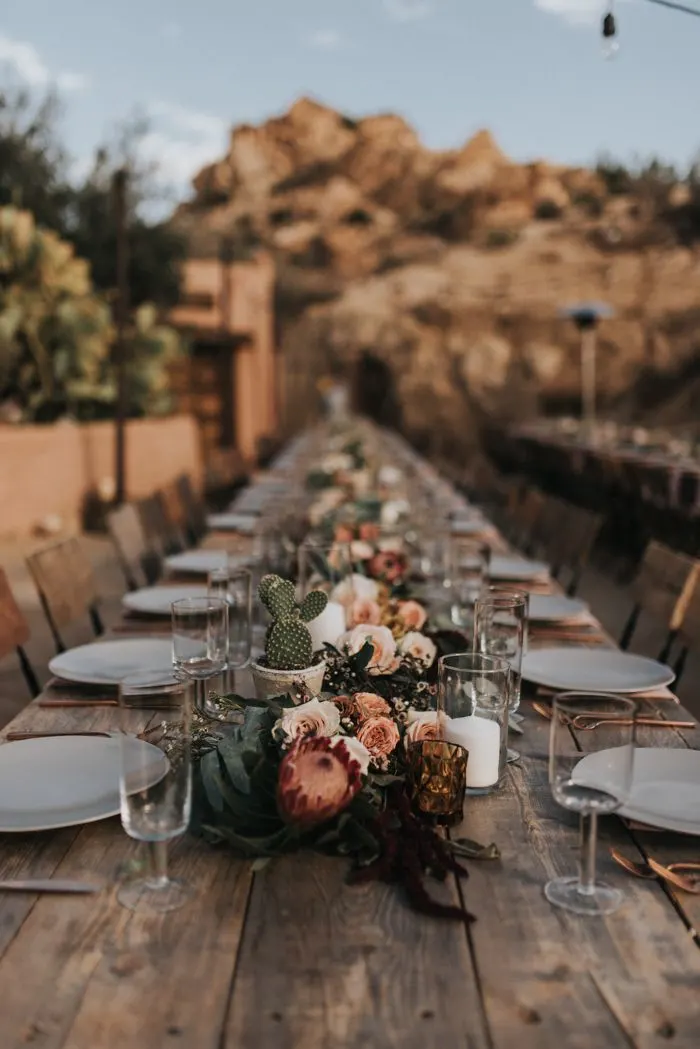 Credit: junebugweddings.com
You wouldn't think that cacti would make attractive wedding florals, but there you go. Is there any doubt that the angel wing cactus pots belong anywhere but at this table?
Did you know that angel wing cacti are also called bunny ears cacti? Whatever they're called, they look great on this table!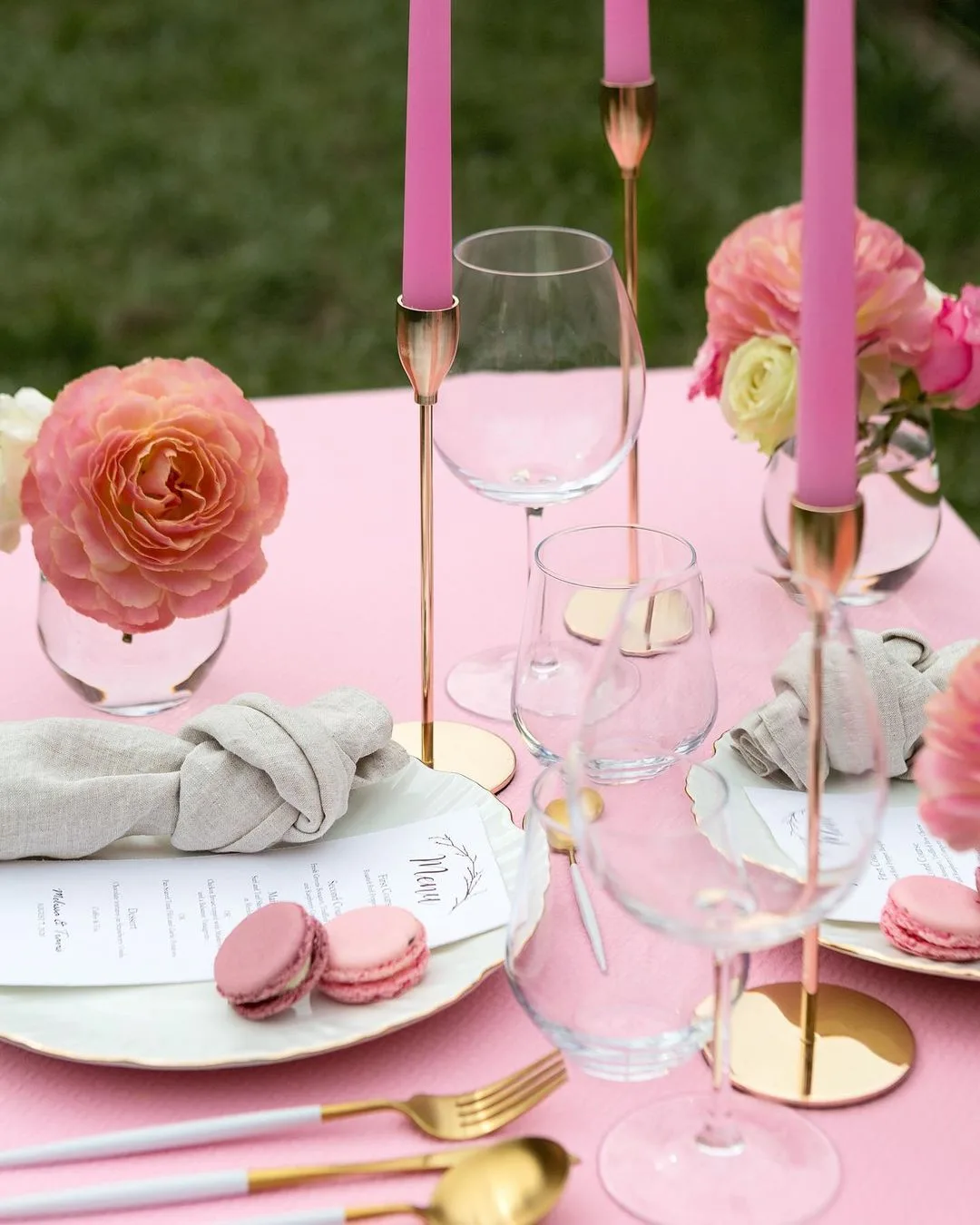 Credit: Instagram
How about a crisp, bubblegum pink table cloth to make a wedding table pretty and pink?
For the florals, you can eschew a flower vase. Just pop a couple of garden roses into a simple water glass.
You can tuck a white rose in to offset some of the pinks. You can also add a few pink taper candles while you're at it.
But you know what would really kick things up a notch?
Pink macaroons!
Just lay a couple on your fancy wedding china next to the menu, and you're set! Love these ideas? Check out wedding ceremony ideas!
Credit: Instagram
Nothing says summer like warm pops of color. So, bright and cheerful flowers against the dark wood from the tables are apt!
How about a few corals, pink, peach, and orange roses for the centerpiece? How do you feel about a single stark white orchid amongst the roses?
Keep the plates and placemats simple, nothing too elaborate for an outdoor wedding in the sun. Simple white china with a gold trim should do the trick.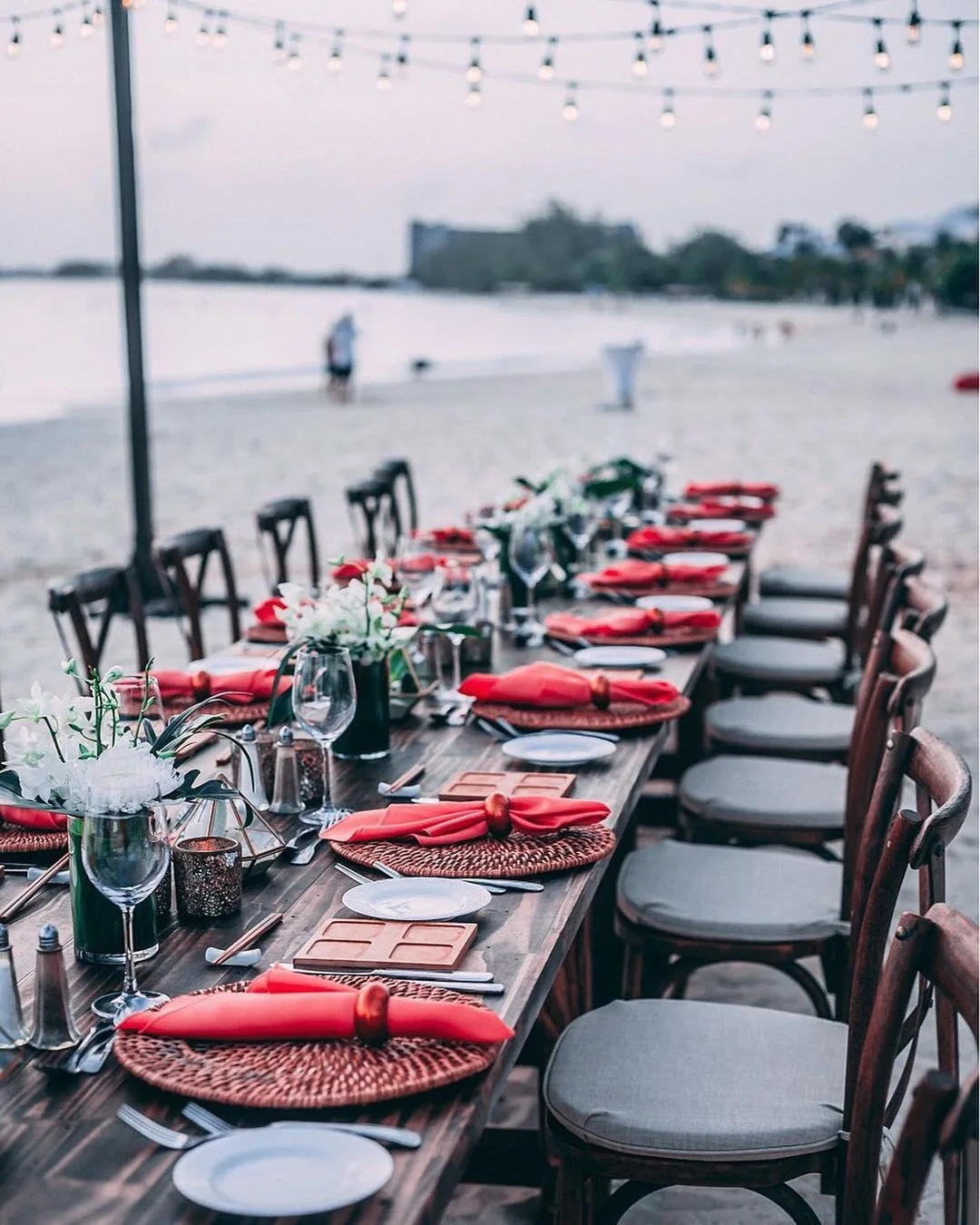 Credit: Instagram
An outdoor wedding at the beach can be wonderfully romantic, especially in the setting sun. But it can get grey and off-color if you don't have the appropriate lighting and some snazzy color.
Red napkins should keep the table in high spirits! Of course, you can't have them flying off in the wind, so these red napkin rings will come in handy.
Now light some candles, play some music and enjoy your dinner!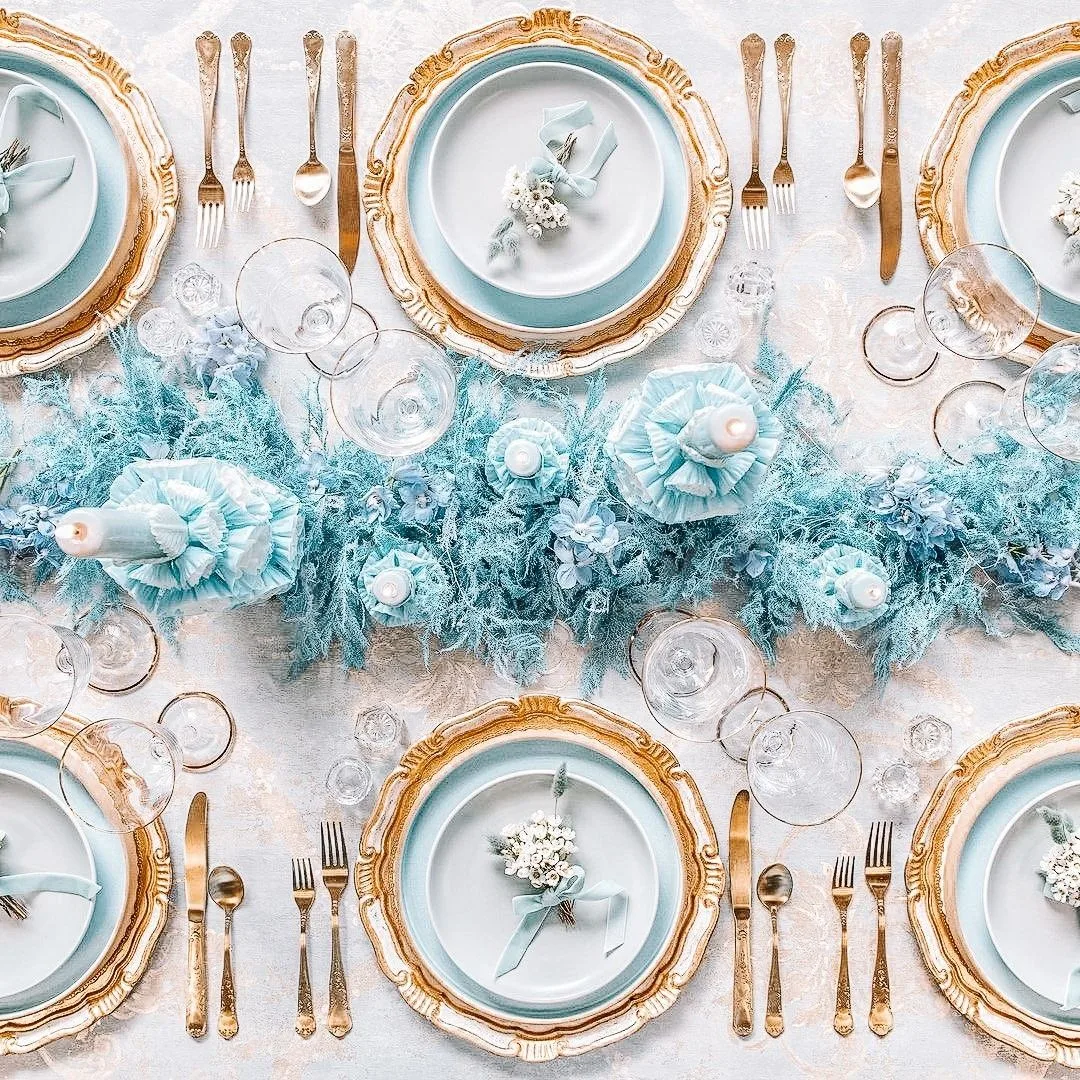 Credit: Instagram
This is the kind of table decor you'd see in a Dostoevsky novel. It's regal, opulent, and all about icy winter blue and sparkling gold.
You've got luxury right down to the table cloth: that silver and gold damask cloth sets the scene at the table, so to speak. You can find something similar here.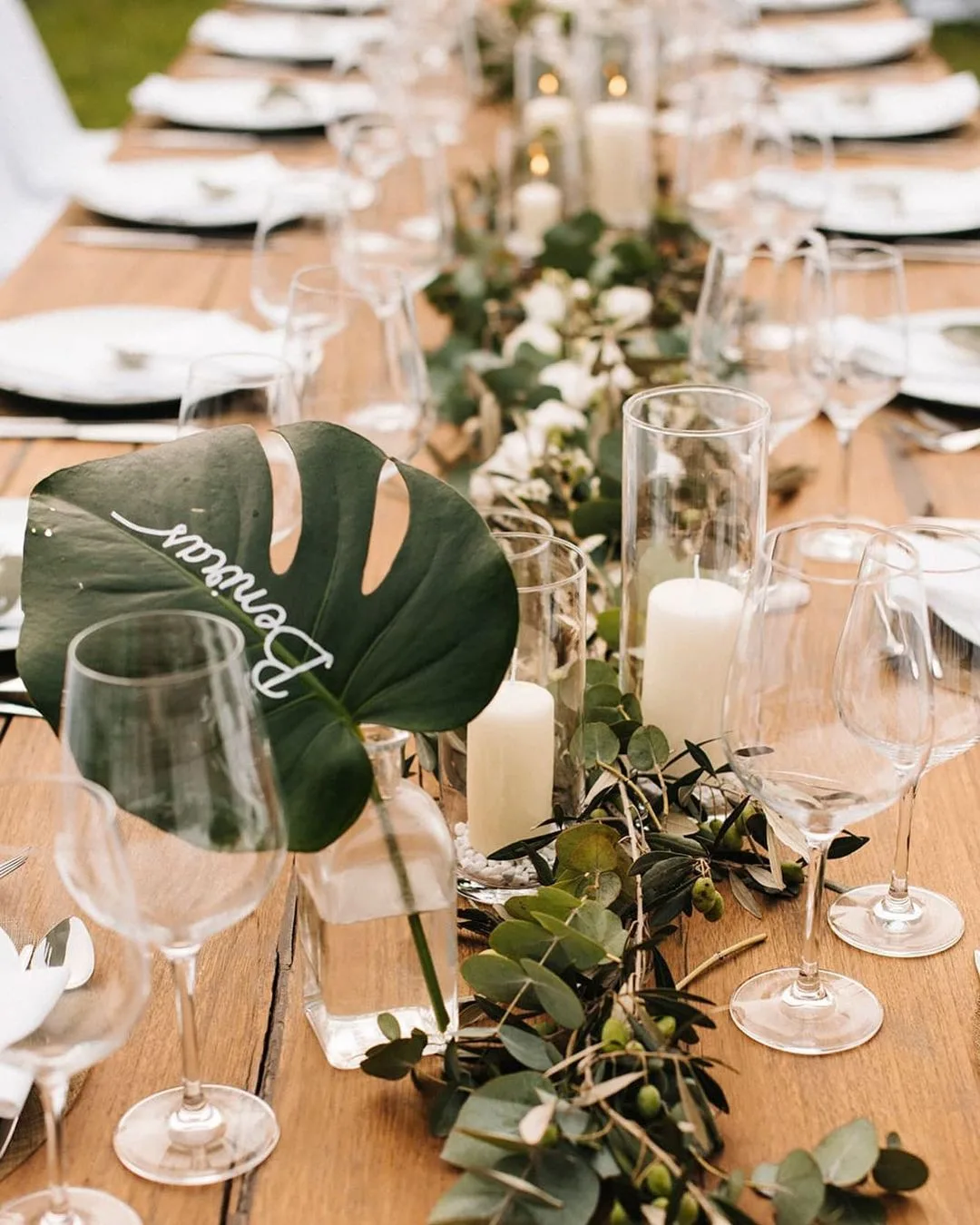 Credit: Instagram
From icy palaces to warm tropics: tropical is definitely what comes to mind when you see this table.
First, you'll need a single palm leaf in a vase. That, and an olive leaf table runner. You can even see the small olives hanging from the branches.
With those greens, you've got a beautiful wedding table!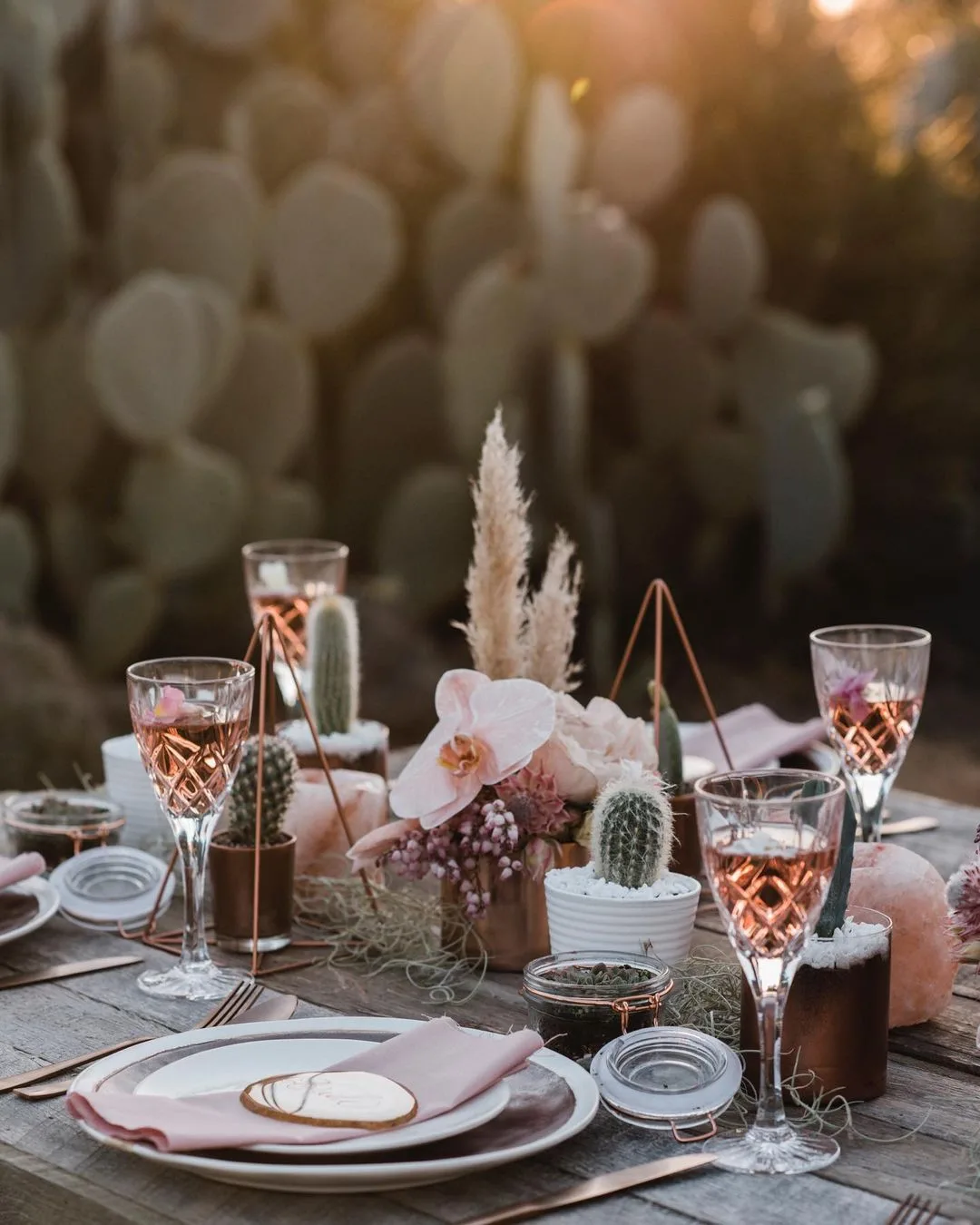 Credit: Instagram
A bohemian wedding isn't complete unless you find a few stalks of reed grass like this tucked into the wedding florals. The decor is soft and mellow, but there's also an earthy element to it.
Check out that jar of rich, moist mud. I know, mud at a table? No. Mud at a wedding table?
Hear me out because it's not just mud. There's a beautiful succulent in there. How lovely a wedding souvenir would that jar be?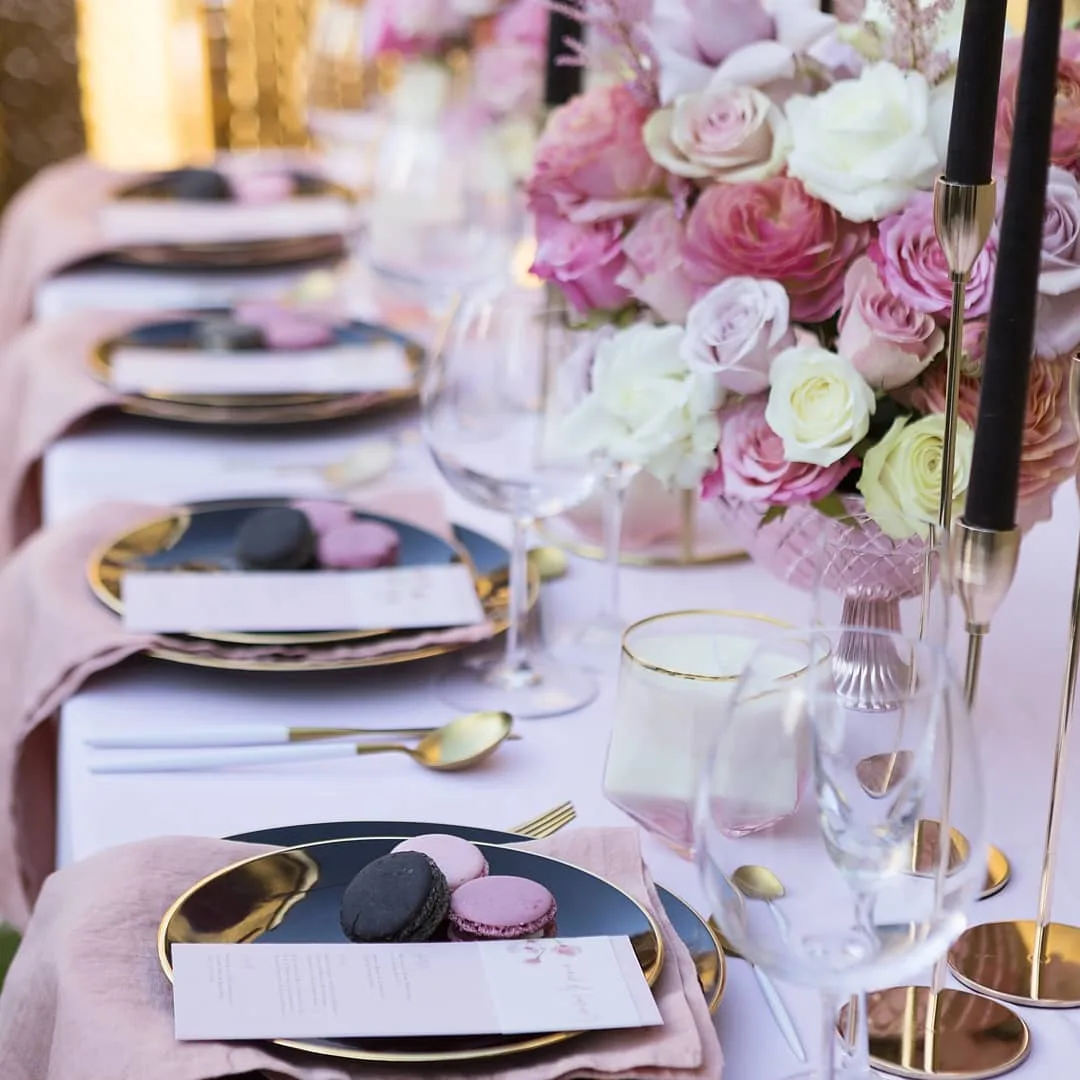 Credit: Instagram
Macaroons on a plate should be made a wedding staple after champagne and cake. Just look how appetizing they are.
Like you find on the cutlery and the candle holders, gold and metallic colors help bridge the gap between black and pink.
Sharp edgy black might seem incongruous at a pink wedding, but this table shows just how to balance the stark colors.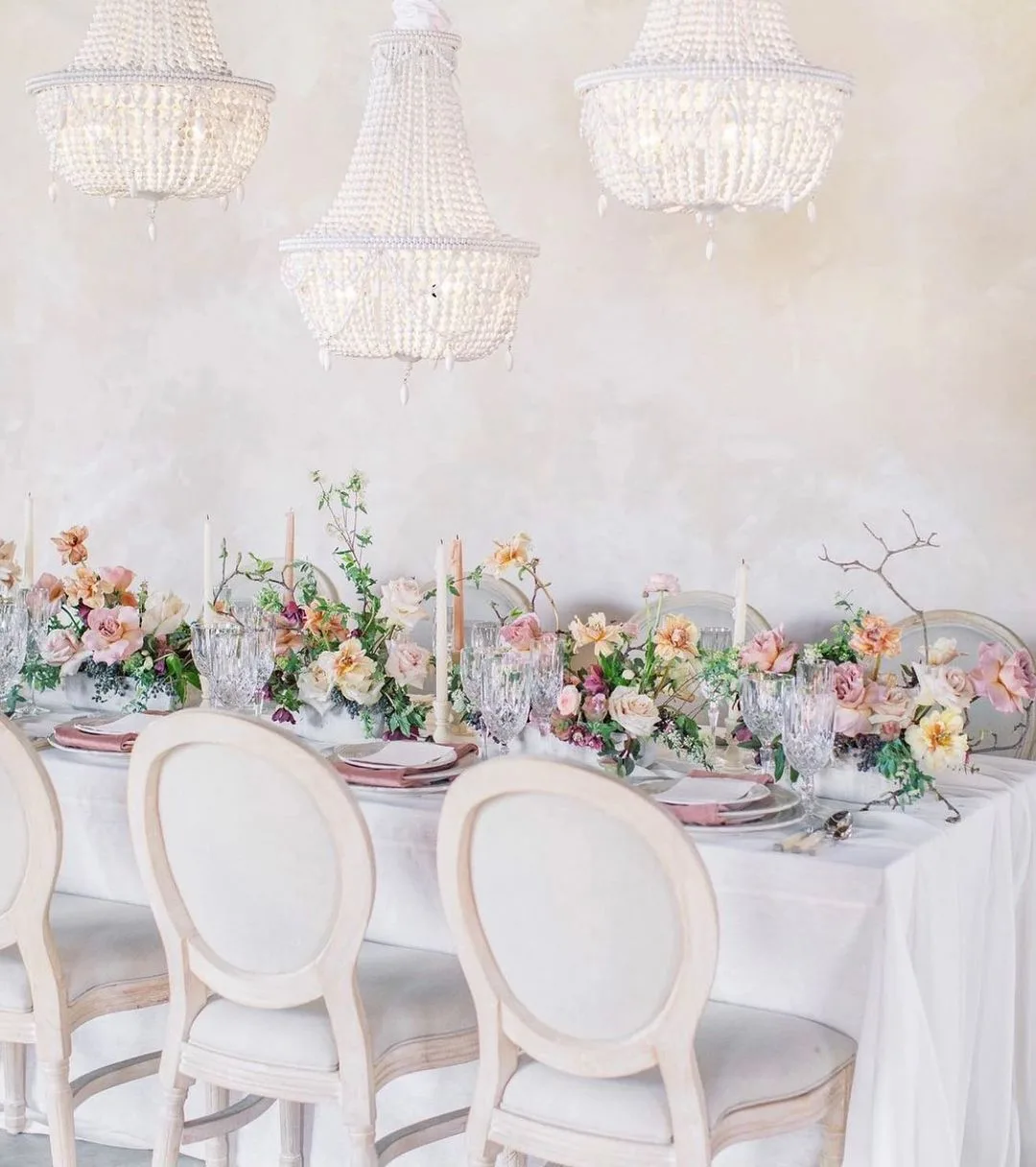 Credit: Instagram
Gold and icy blue decor isn't the only way to have opulence at a wedding table. You'll need a crystal chandelier as well.
Under the chandeliers, however, is a much more mellow, almost whimsical table decor. The flowers are muted pastels, as is the ivory and cream linen.
It's almost like a summer tea party until you see the crystal chandeliers, that is. Then we're back to luxury and opulence.
Check out some more unique wedding lighting ideas for inspiration.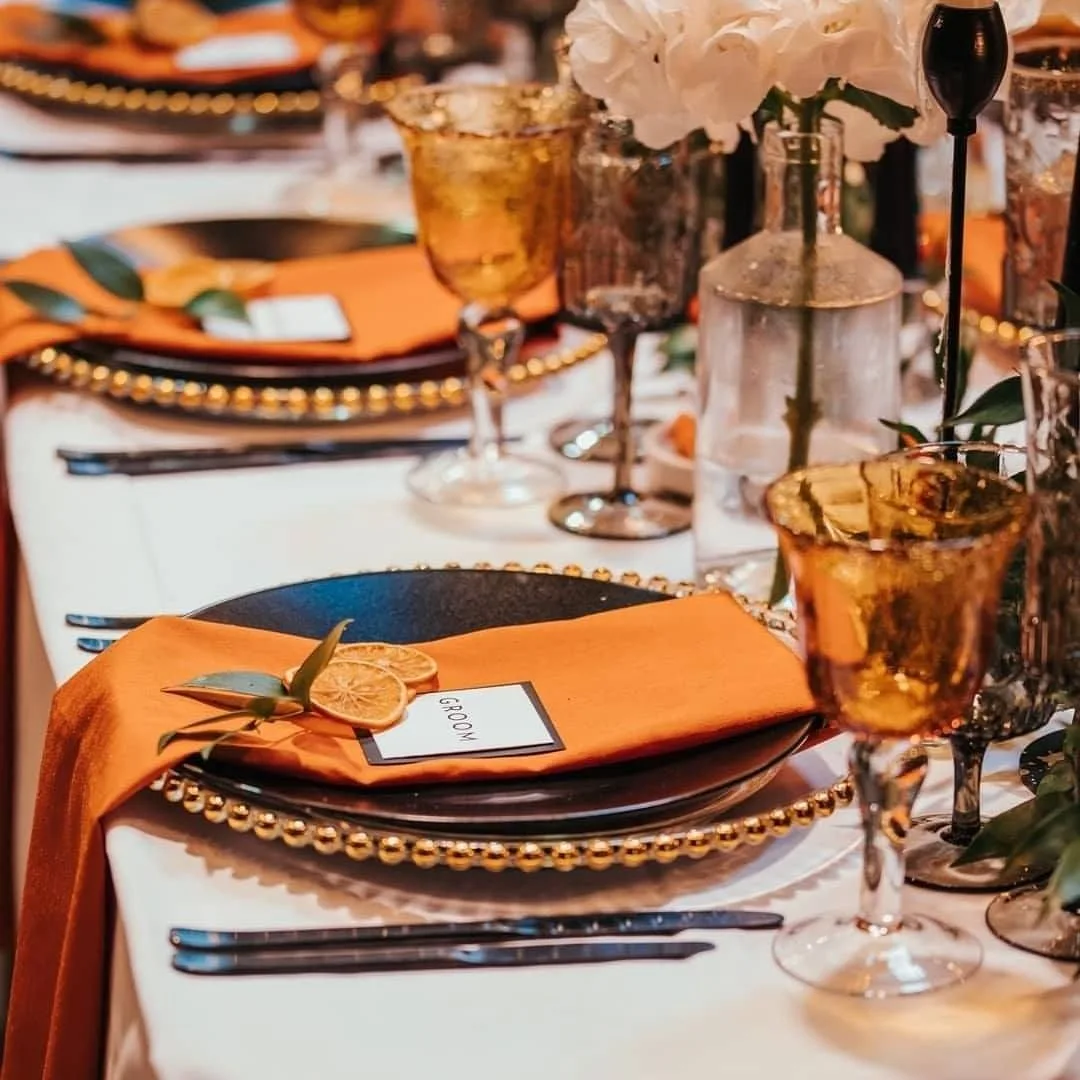 Credit: Instagram
Gold, ebony, and citrus orange. It reminds you of chocolate cake and orange blossom icing, doesn't it? I wonder if the wedding cake is something along those lines.
Look at the orange peel napkin holder on these tangerine napkins. They add character, zest, color, and eccentricity to the decor.
Speaking of quirkiness at the table, check out those seating cards. You've got the groom's guests and the bride's.
Now I wonder what they did with mutual friends.
Credit: Instagram
After the bold colors we just saw, it's a change in table decor theme coming back to pastels. This table is all about cute, flirty, and fun.
You've got heart-shaped chocolates off to the side, a heart-shaped napkin in the middle, and soft white candles to round it off.
But what I love about the table is this vintage jewelry box with a ring inside it. Of course, trinkets like that tennis bracelet fit right in, too.
Cute and classy! Loving these ideas? You might also want to check wedding card box ideas!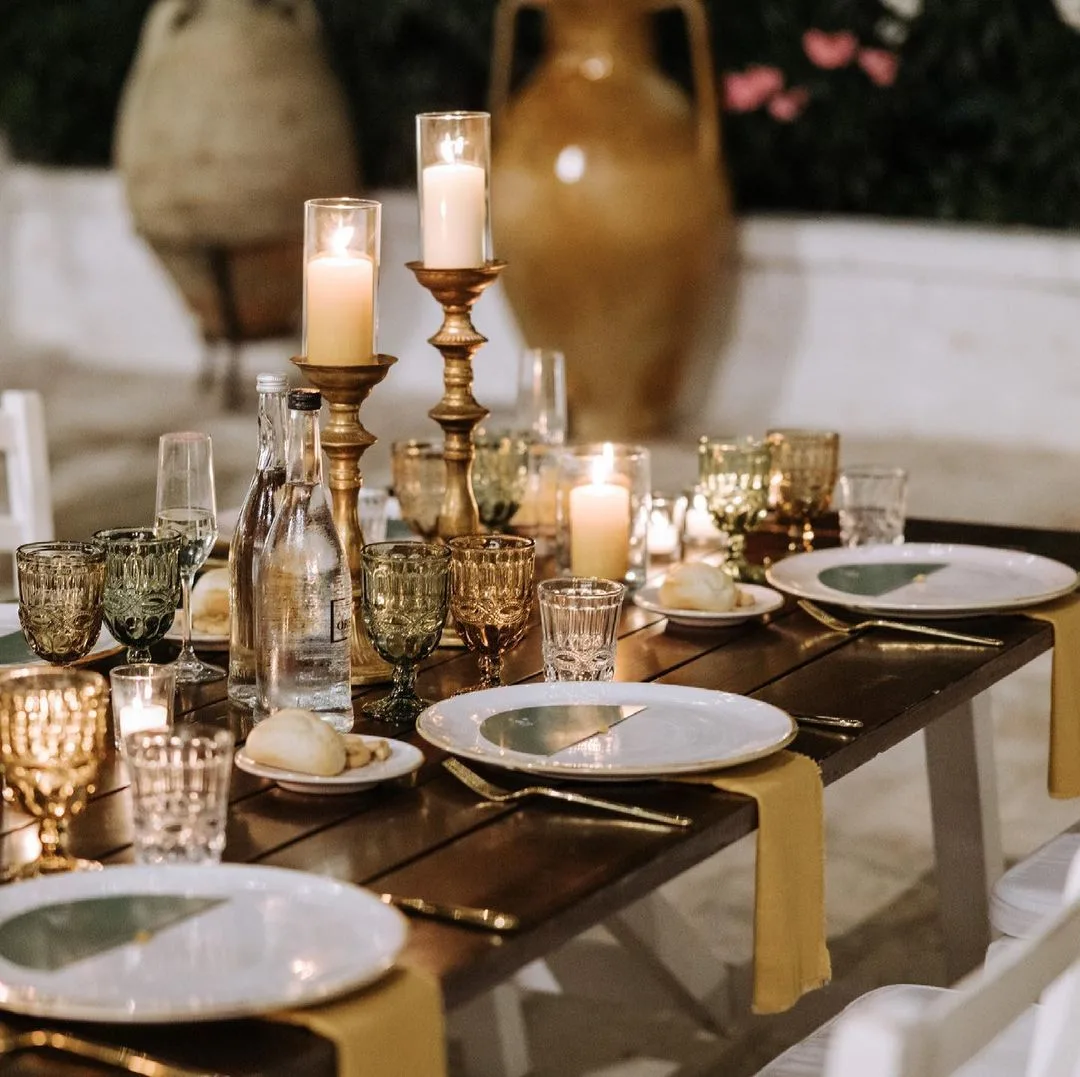 Credit: Instagram
Sage green is such a somber color and not something you'd often find at a wedding unless it's a part of the florals.
But, when paired with ochre and wood, you've hit the trifecta. There's a vintage vibe going here, with the ornate candle holders and windblown glassware.
Tealights, fairy lights, and candlelight just add character, don't you think?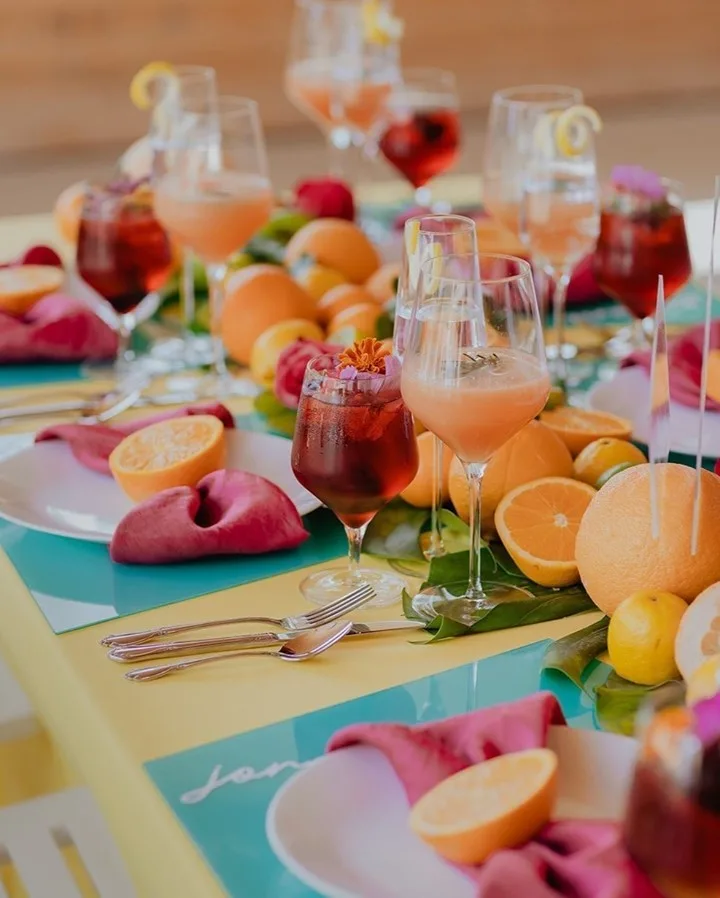 Credit: Instagram
There's no champagne and white decor at this wedding. This is the kind of wedding where you'd sip mimosas and revel in tart colors and sharp citrus decor.
Fruit belongs on the plate, yes. But a fruity table runner with oranges, lemons, and succulent peaches?
It's the perfect addition to this tableau.
Need a cake for the wedding too? Check these wedding cake ideas.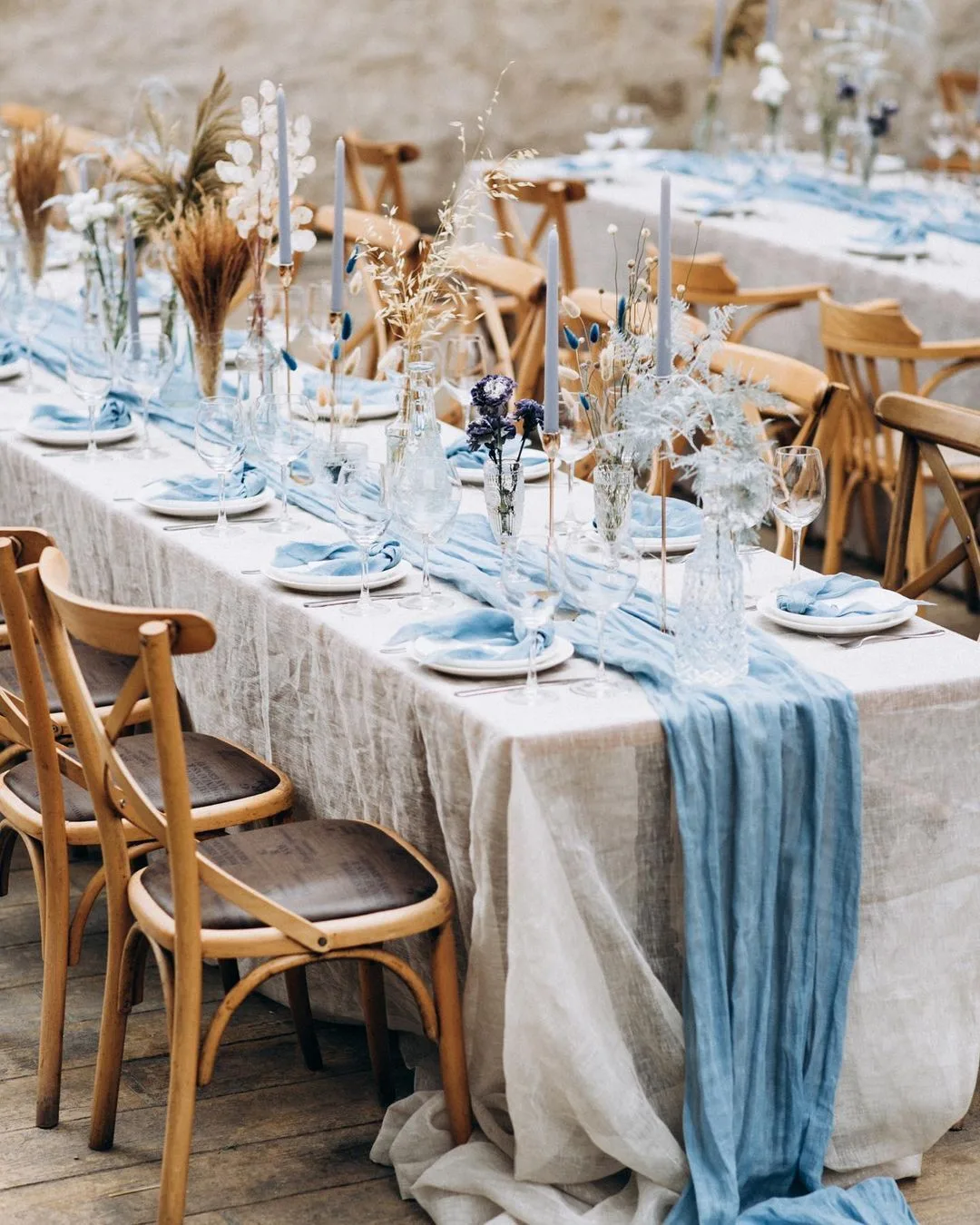 Credit: Instagram
A wedding reception right on a sandy beach can be romantic. But you also probably don't want to pour sand out of your shoe every few minutes.
How about a wedding reception on the deck overlooking the beach? This blue table runner is just the splash of color the table needs to pull off the beach vibe.
Now, some lavender sprigs, dried reed grass, and blue taper candles would look lovely beside the crystal dinnerware.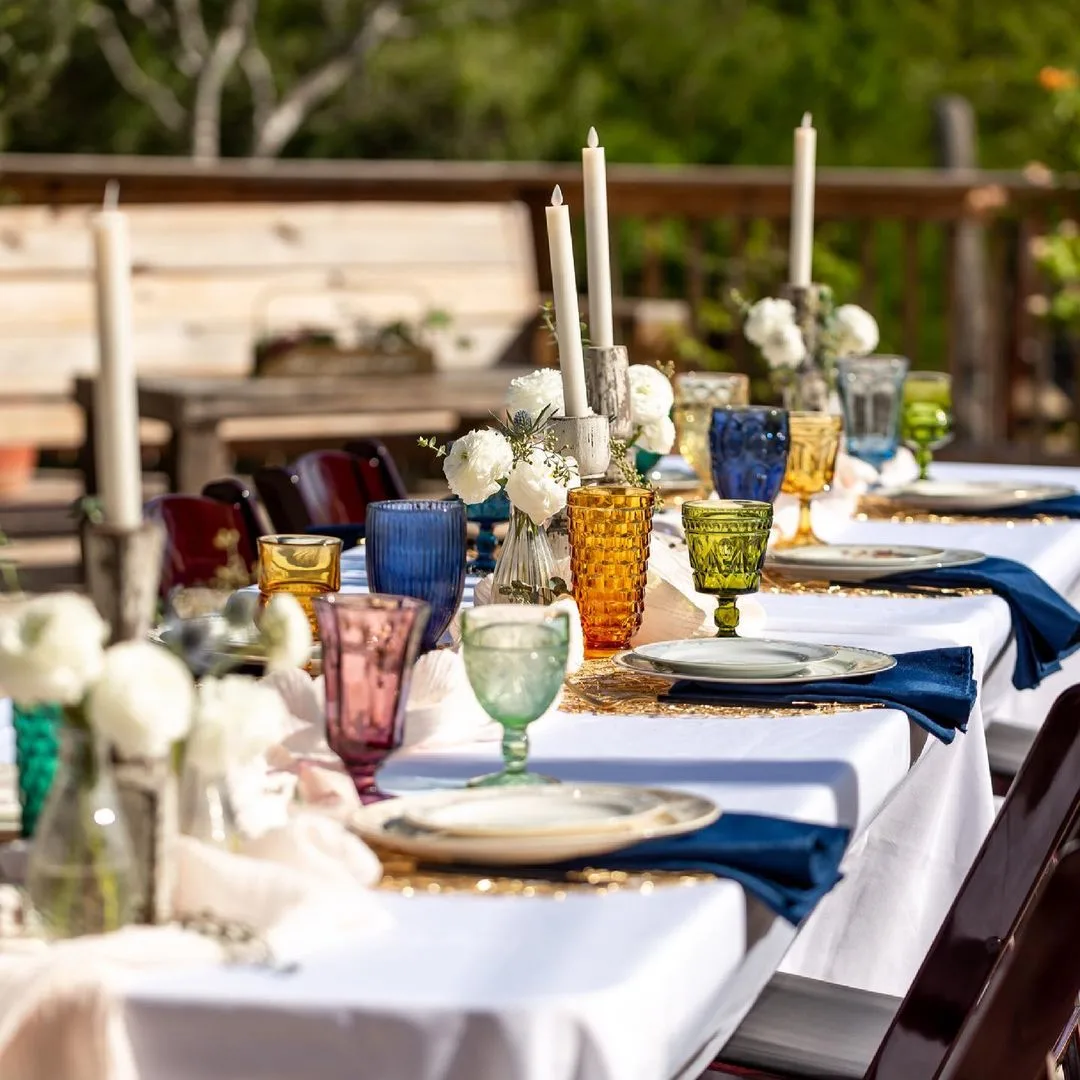 Credit: Instagram
I think that any wedding without character is as incomplete as a wedding without a cake. So how do you add character and a good dose of flair and color at the same time?
Two words: vintage glassware.
You can find an assortment of vintage glasses here. It doesn't matter what you're drinking, as long as you're drinking it out of vintage glassware.
You might also want to check these mason jar wedding centerpieces!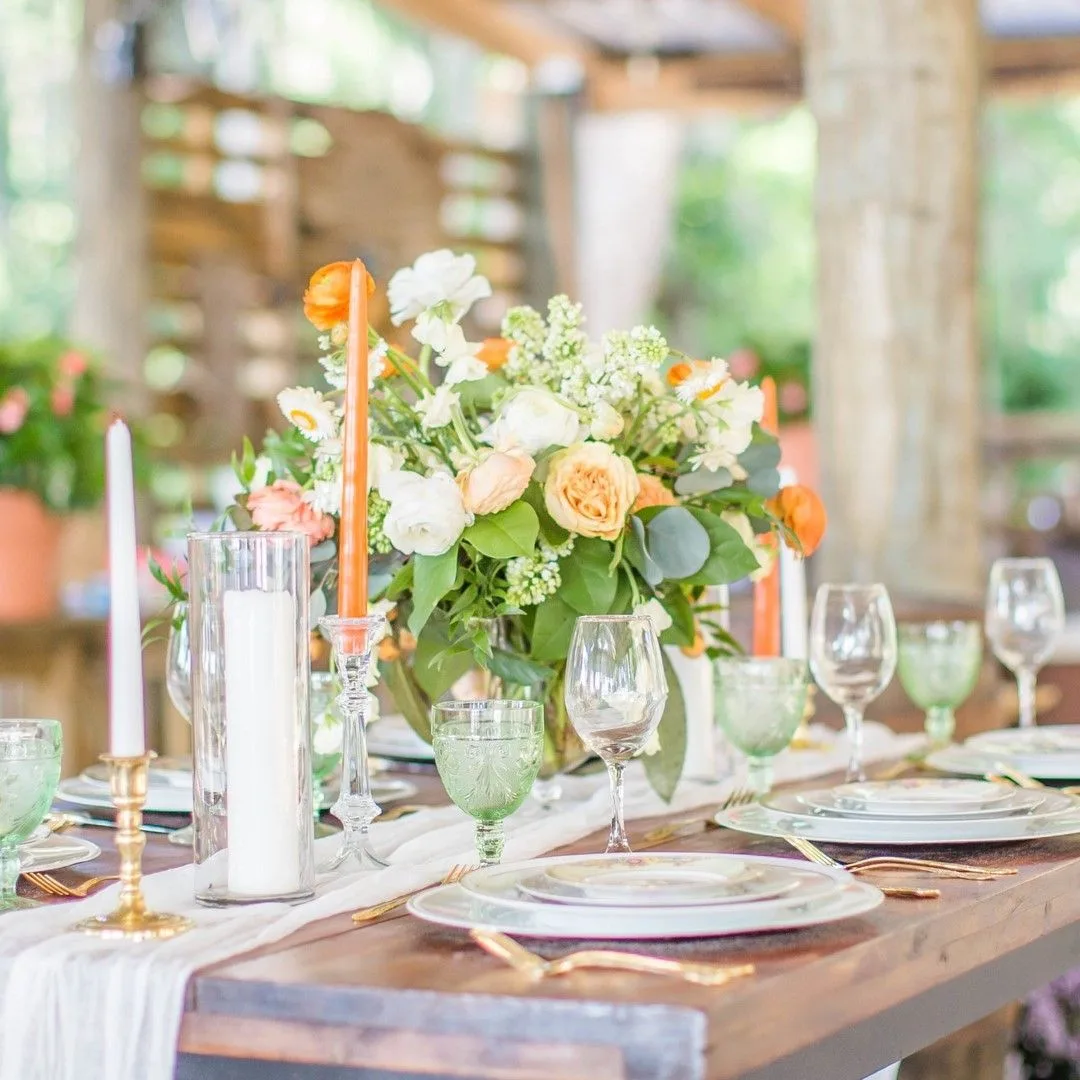 Credit: Instagram
Look how the bright tangs of orange roses fade into peach and pink before finally bleaching into perfect ivory blooms. That's the kind of color gradient you should have on a wedding table.
But don't forget that where there are flowers, there must be leaves, and with leaves come the final color you need: green.
The green shouldn't stay on the leaves alone, so how about green goblets like these?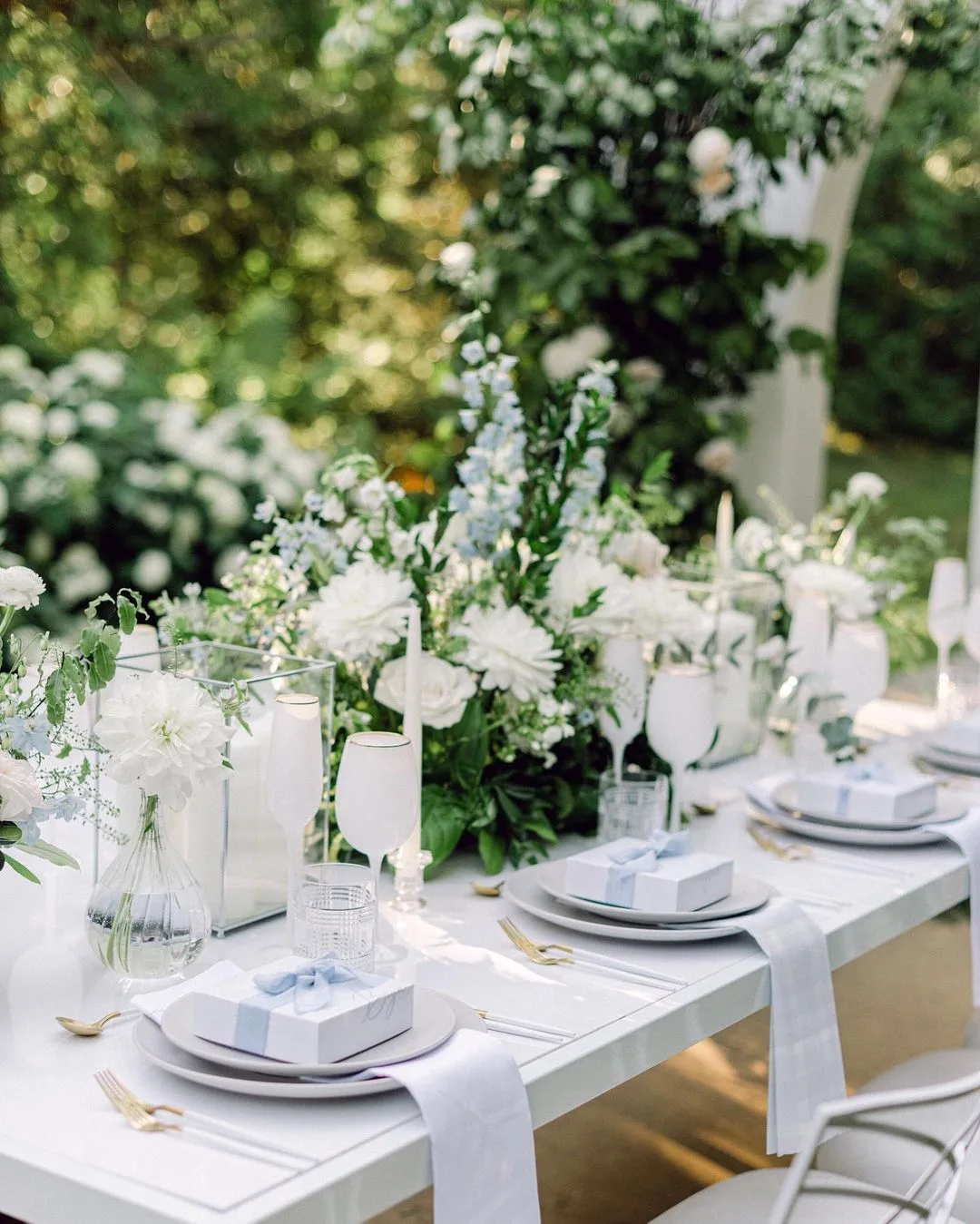 Credit: Instagram
Wedding favors are wonderful souvenirs for guests to take away. They usually include something monogrammed and personalized.
How about you class it up with a bow-wrapped gift box? You can place them right over the dinner plate, and they'd sit there just waiting to be unwrapped.
You can tie them into your wedding decor by matching the color of the bow to the colors on the table. The blue satin ribbon for the bow, for instance, matches the floral centerpieces.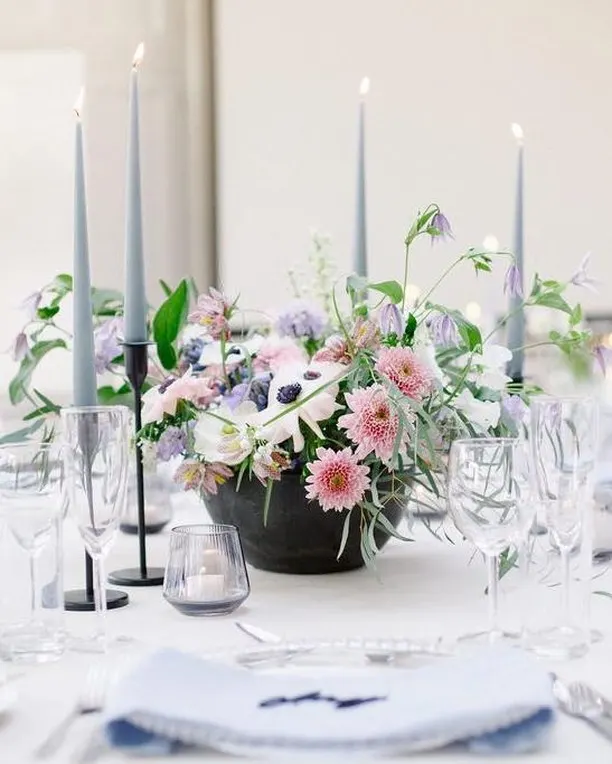 Credit: Instagram
Doesn't this floral centerpiece look like a sundae? There's an idea: ice cream sundae wedding centerpieces!
It's what you'd expect to see at a summer wedding overlooking the gardens. The pink dahlias and the hyacinths are soft and sunny, as are the African violet buds that look exactly like berries.
I told you it was a sundae!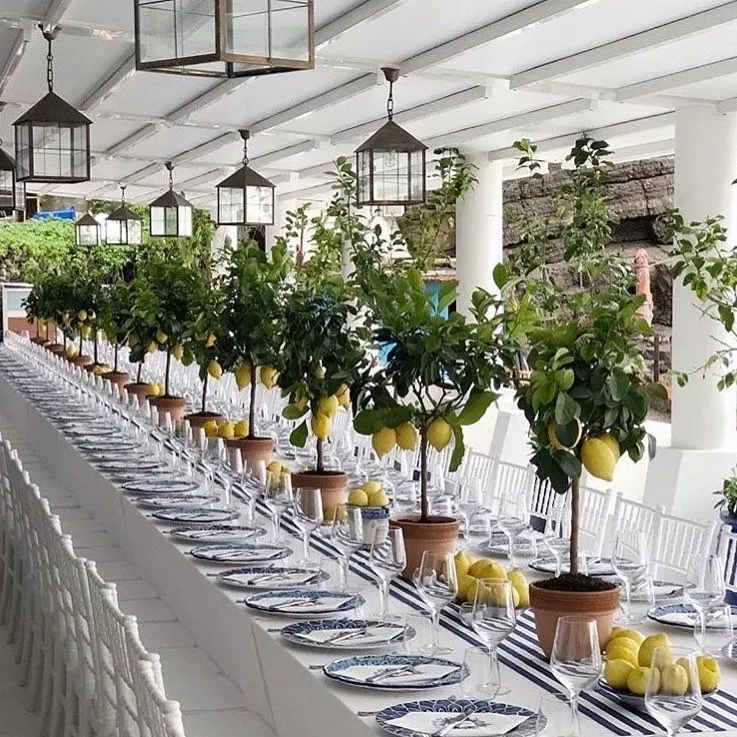 Credit: Instagram
With these potted lemon trees lined up as centerpieces, doesn't it feel like you're dining in an orchard? Can't you imagine how wonderful all those lemons would smell?
If the trees weren't enough, check out the bowls of fresh lemons between them. A navy striped table runner from here would be the ideal accessory to complement it.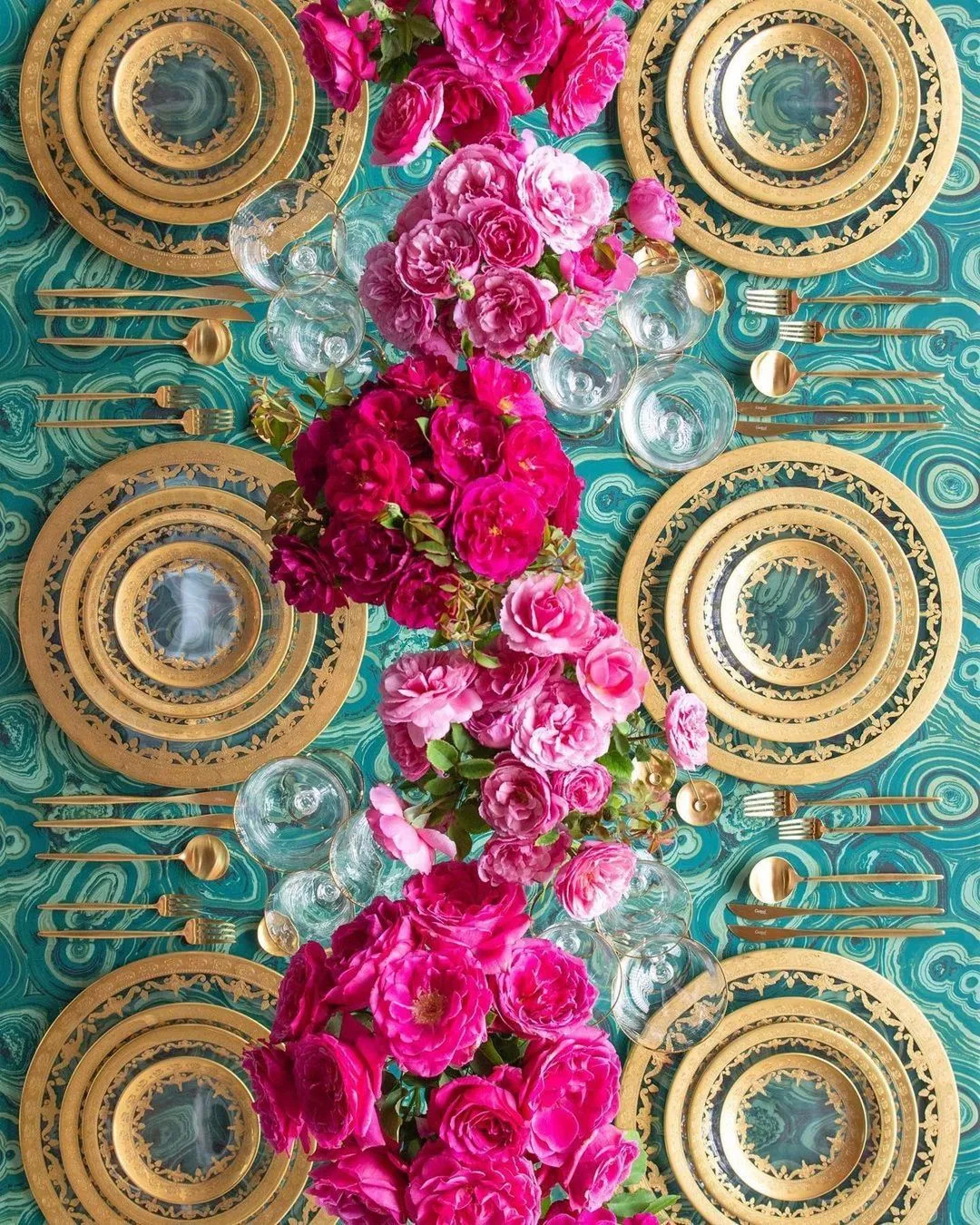 Credit: Instagram
You don't find these colors at a run-of-the-mill wedding. Instead, they're what you'd expect to find on a Caribbean cruise. So maybe that's exactly what this is: a table at a Caribbean Cruise Wedding.
The teal and lime swirls on the table? They're a great backdrop to the gold filigree trip dinnerware. Check out that tiny gold dish and curved toothpick spoon!
But it's the flowers that really take the cake in their place of honor in the centerpiece florals. The brightest shade of fuchsia pink, those peonies belong in this exotic tableau.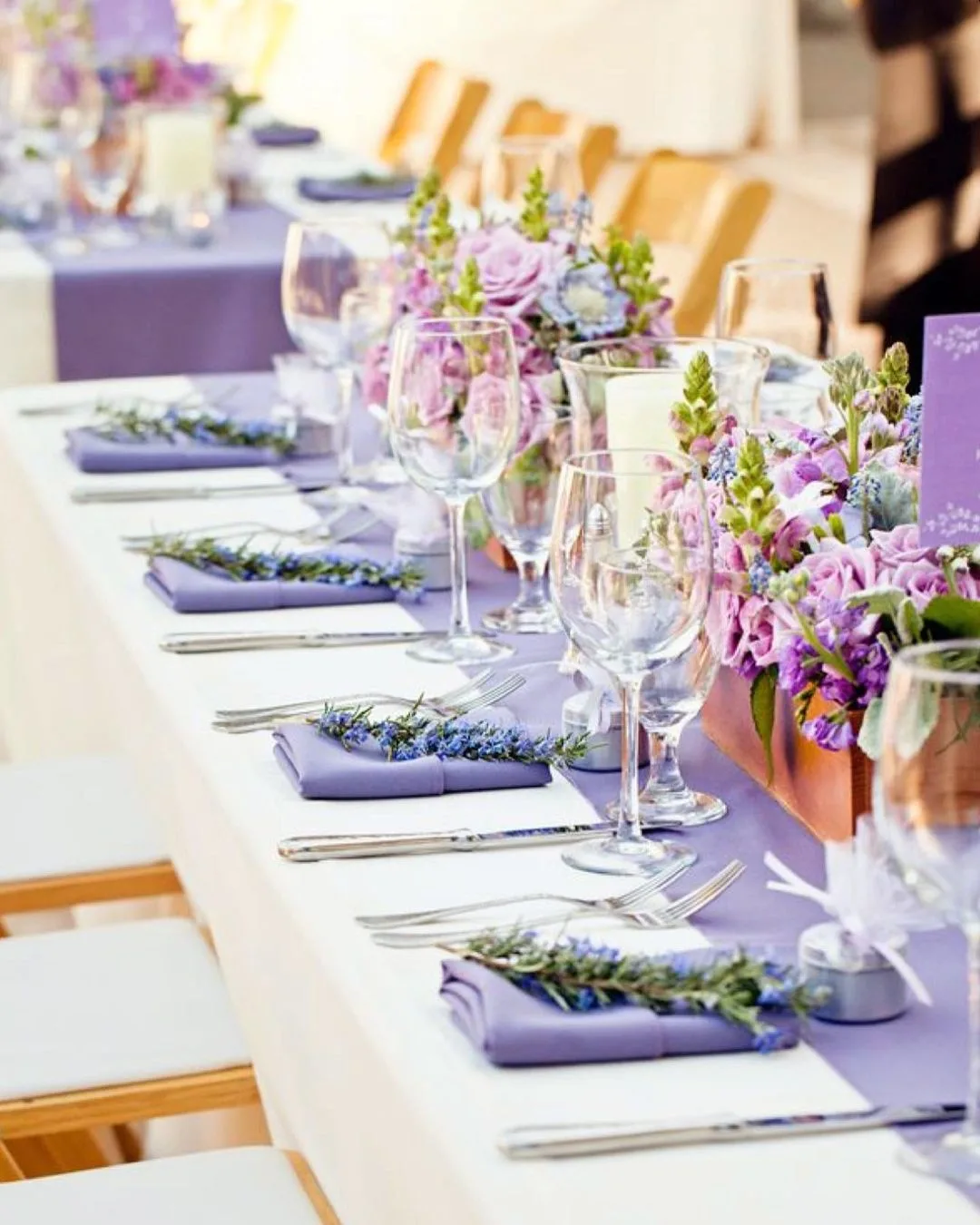 Credit: Instagram
I could never tell if lavender is blue, violet or if it is just a shade of its own. Whatever the color, it's the fragrance that I love best.
A sprig of lavender like this on violet napkins from here makes an elegant addition to the table. But, do you know what would make it even prettier?
A few pots of succulents! Succulents would add a lovely dose of green to the equation or the table as the case is.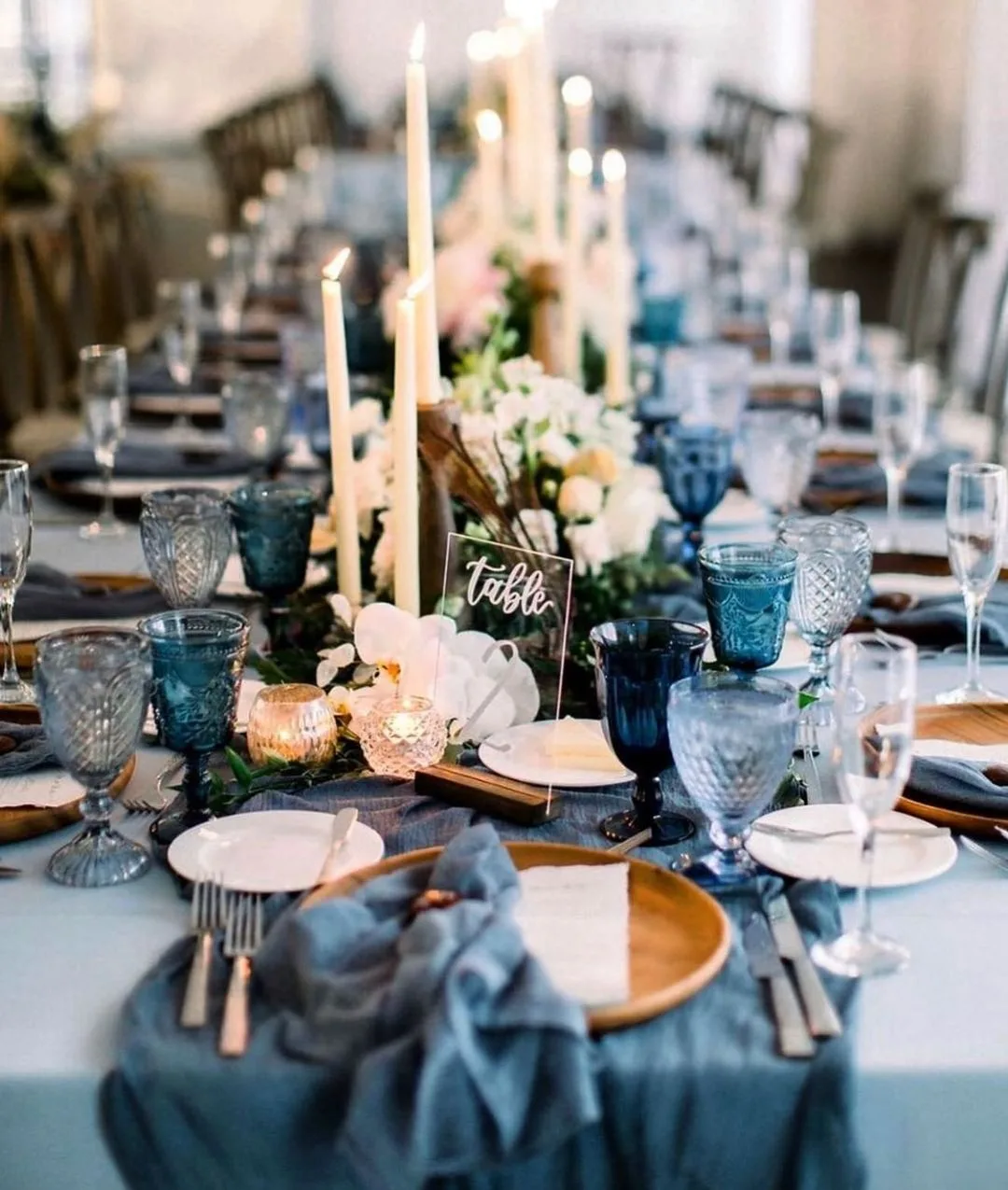 Credit: Instagram
Blue weddings—contrary to what they might indicate, they are not really melancholic or gloomy. It comes down to the right table decor in all the different shades of blue under the sun.
You can have a wonderful blue-themed wedding, reminiscent of blue skies over blue water. Check out the gauzy blue cheesecloth table runner(look here).
How about a touch of vintage? These blue sea-glass goblets should do the trick.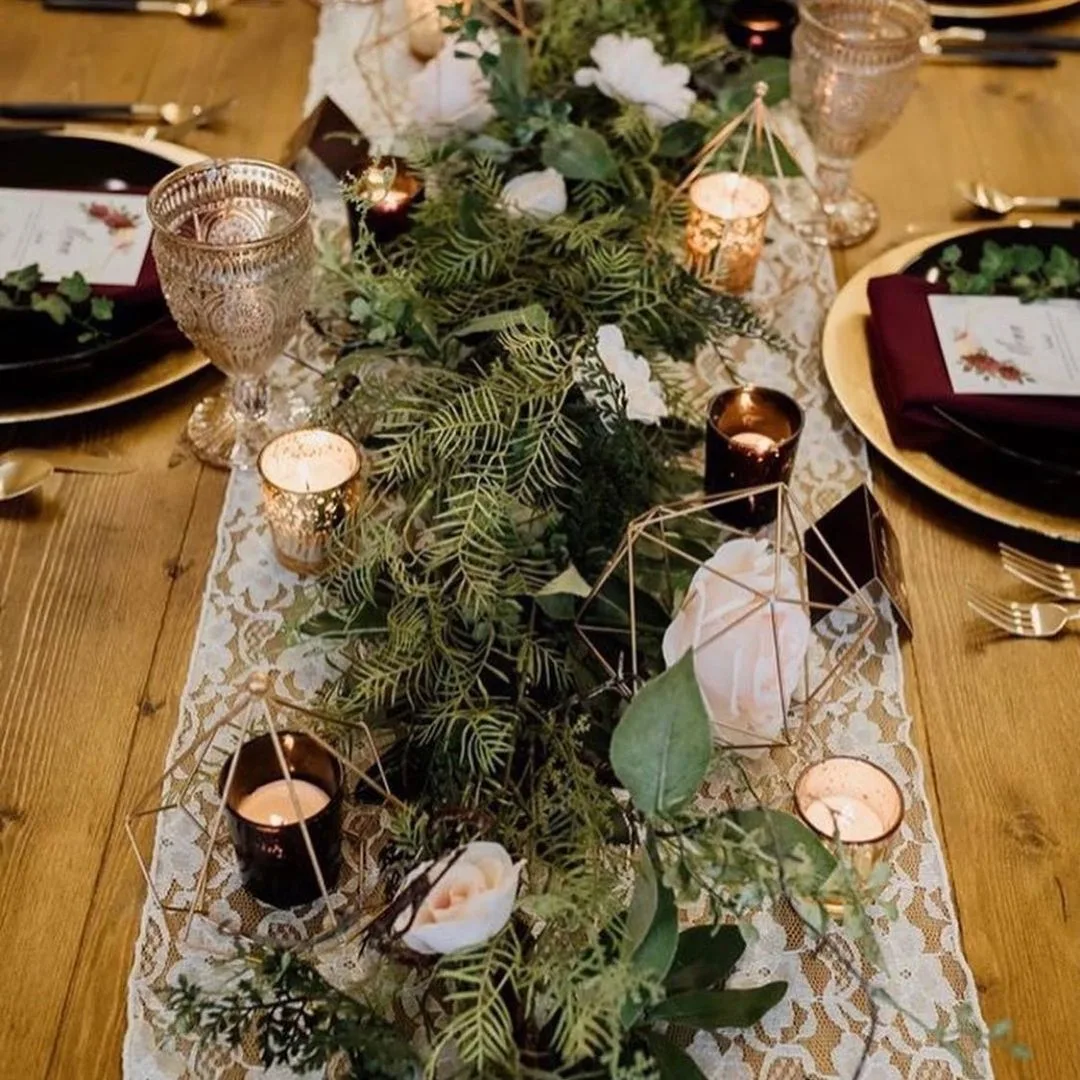 Credit: Instagram
There's something Graeco-Roman about this table. I just can't put my finger on exactly why that's so.
There's also a vintage effect added to the tableau. It could be from this lace table runner, or it could be the vintage goblets.
But then you see the edgy, geometric, gold tealight holder from here, that's none of those styles. So let's just consider it a beautiful confluence of styles and call it a day.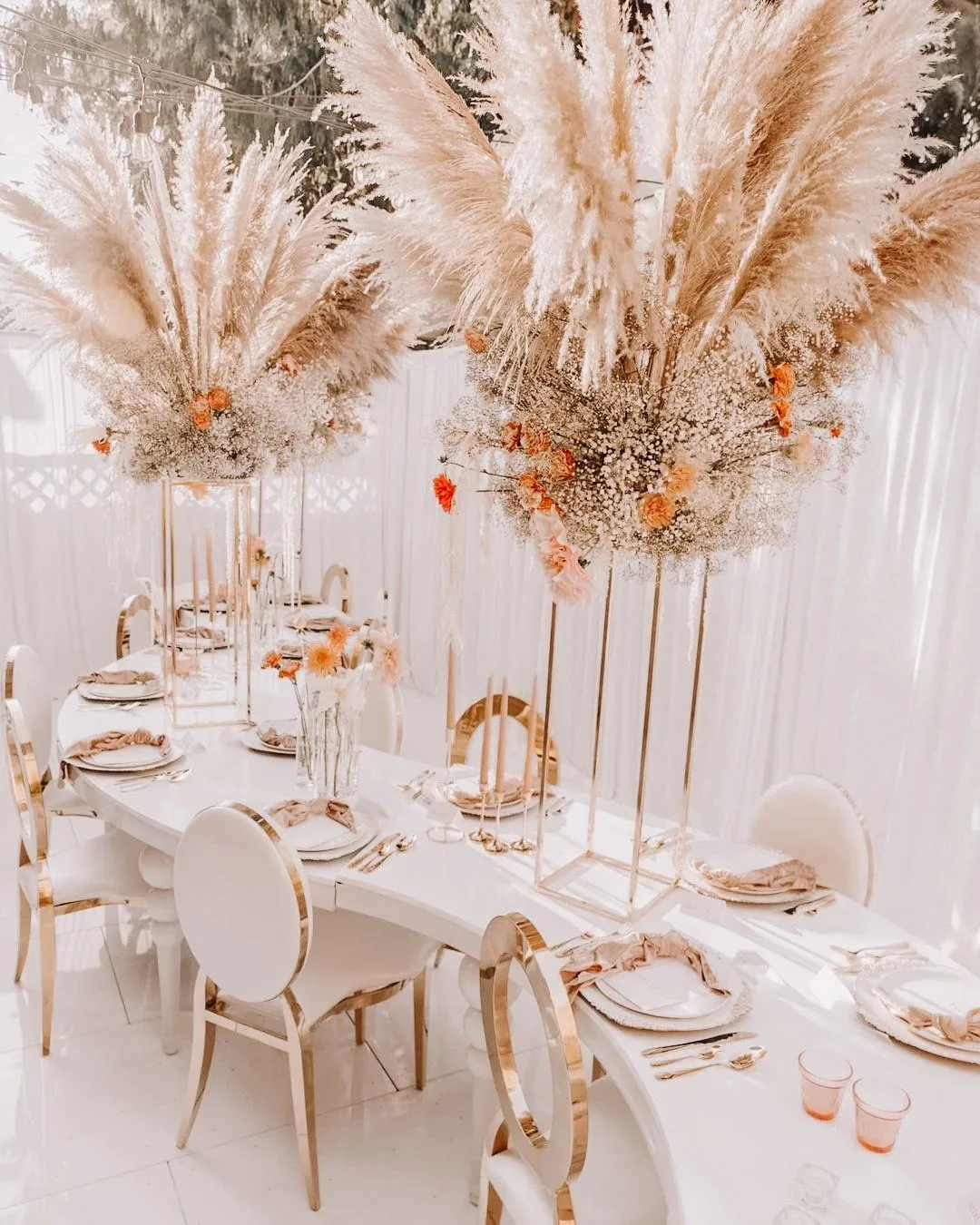 Credit: Instagram
How do you turn bohemian table decor into fairytale wedding table decor? It all comes down to the colors, the textures, and in this case, the centerpiece.
Have you seen anything more spectacular, more decadent than that towering floral centerpiece? If flowers could be fireworks, then this is how it would look!
It's laden with baby's breath, orange gerberas, peach carnations, and blush-tinged baby roses. But then, there's that extravagant fan of pale white reed grass.
If you're looking for help choosing your own centerpieces, here are wedding centerpiece ideas that you can explore.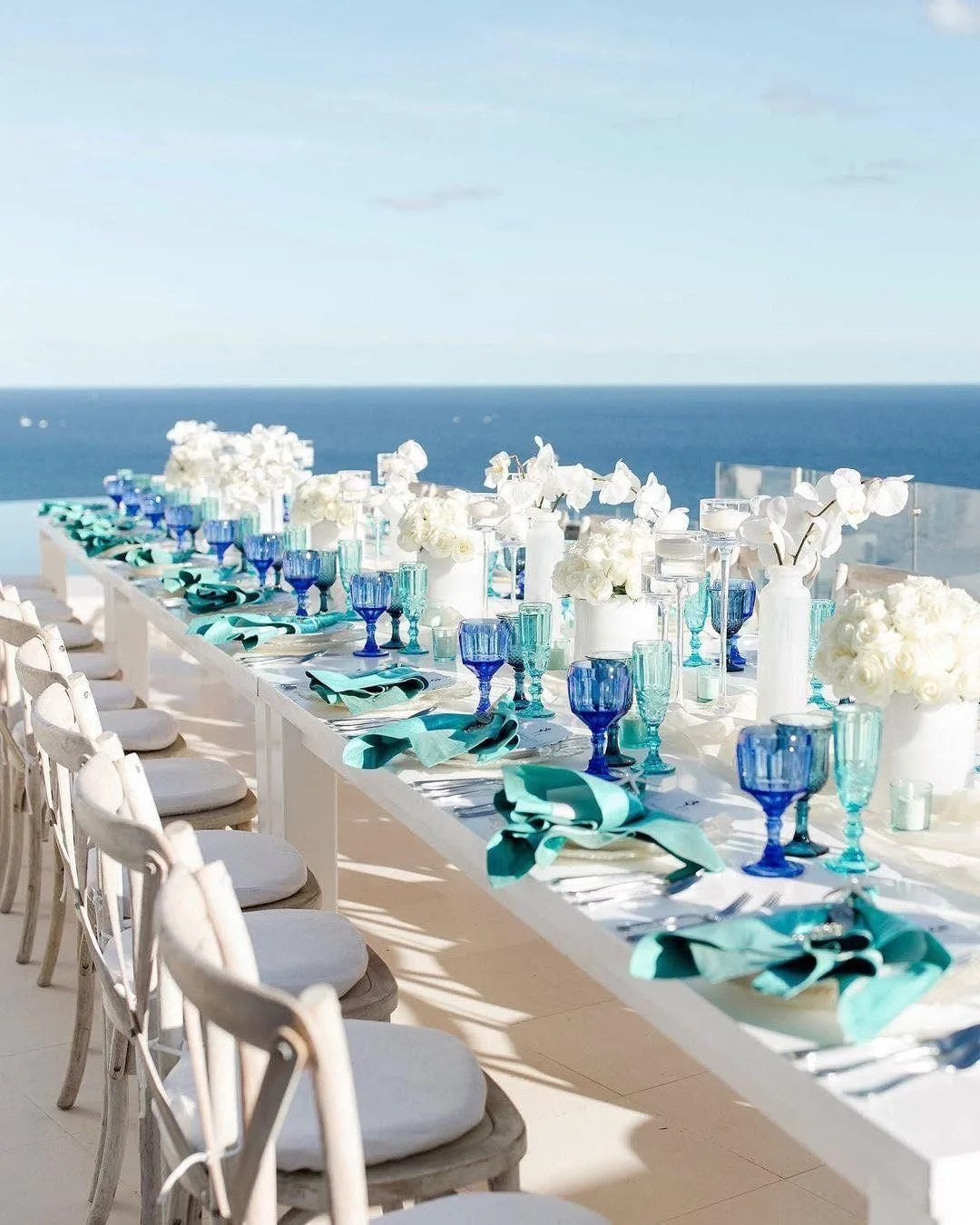 Credit: Instagram
That gorgeous expanse of violet-blue ocean is a vital part of this table, just like the flowers and dinnerware. You look at it, and all you can think of is an infinity table with the ocean as a natural backdrop.
You can be swept away by how the rays of the sun reflect off the water. Those very same sparkles and lights dance off the vintage glassware and silverware.
Check out these 20 wedding backdrop ideas for more stunning and creative decor.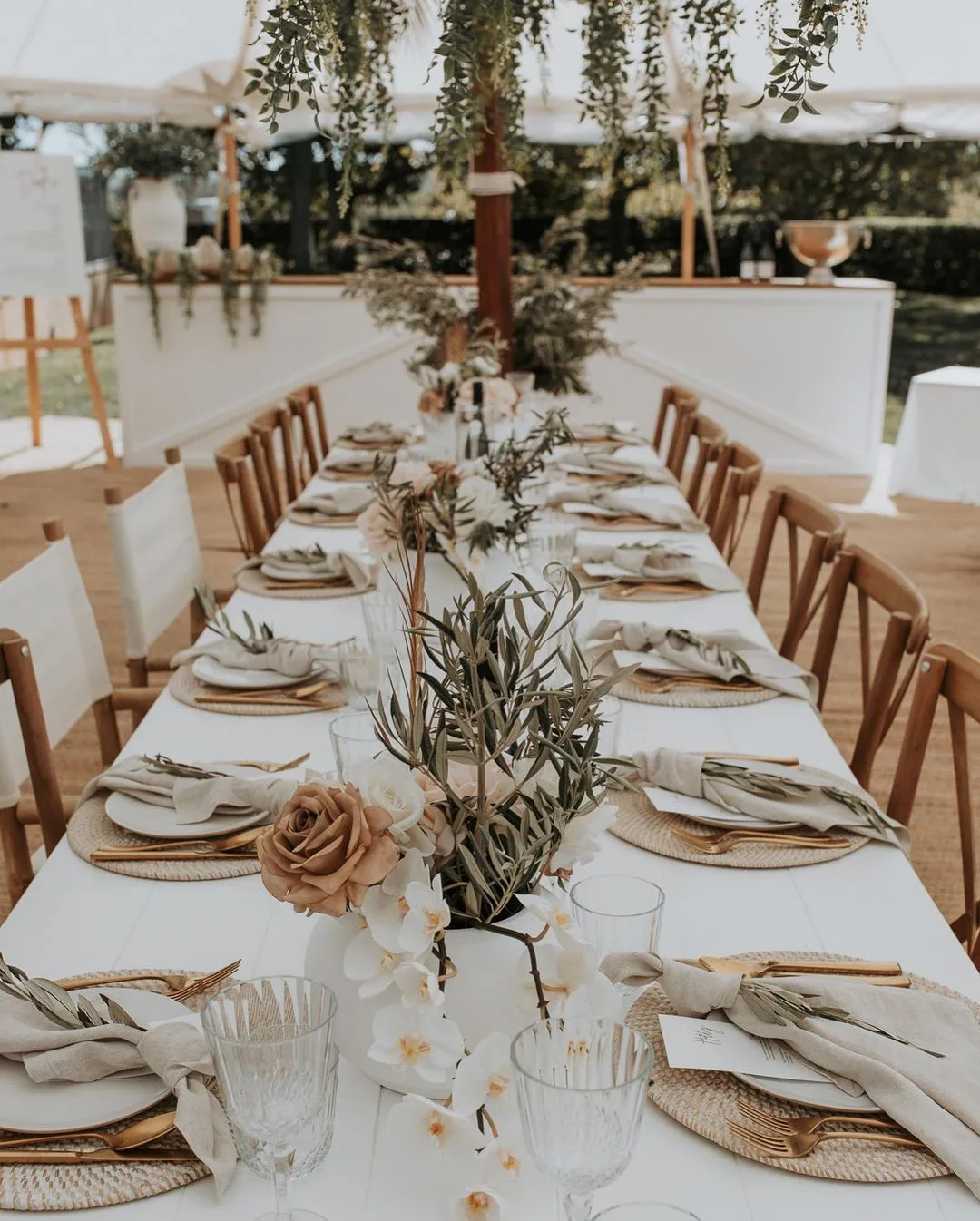 Credit: Instagram
Is there anything more magical than this table right here? It's bohemian style, yes, but it's not overwhelmed by fanciful, over-the-top textures or even reed grass.
Instead, you'll find simple white cherry blossoms and blush roses tucked away into olive leaf-vines. You can also hang those vines overhead and let them cascade downward in a thick canopy.
You've got understated sage green dinnerware and rustic cloth napkins like these, all falling in place and falling in line with this classy bohemian table decor.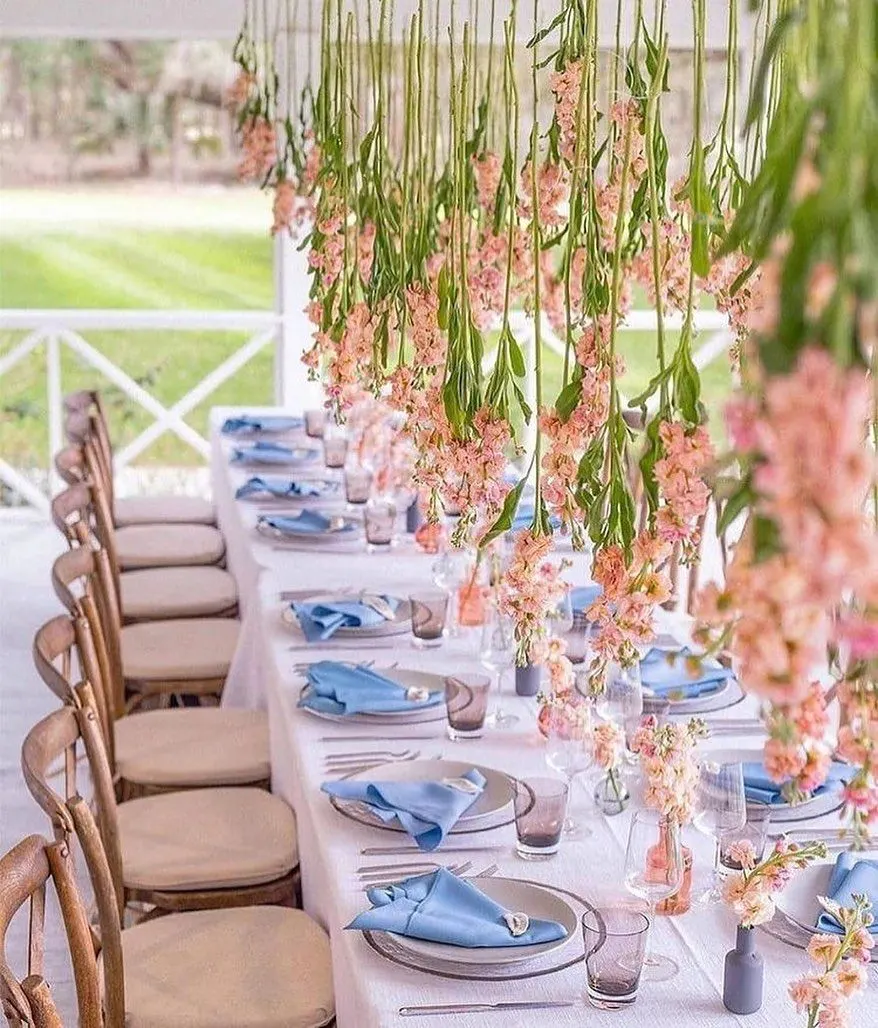 Credit: Instagram
I don't know about you, but those long stems of coral orchid hanging over the table make fabulous centerpieces. You don't need flowers on the table when you can have them hanging over the table.
Another surprise is the charming pop of lavender-blue from the linen napkins. Then there's also the bruised lavender from the glassware.
You don't expect those colors to be a part of the palette, but there it is, and there it will stay.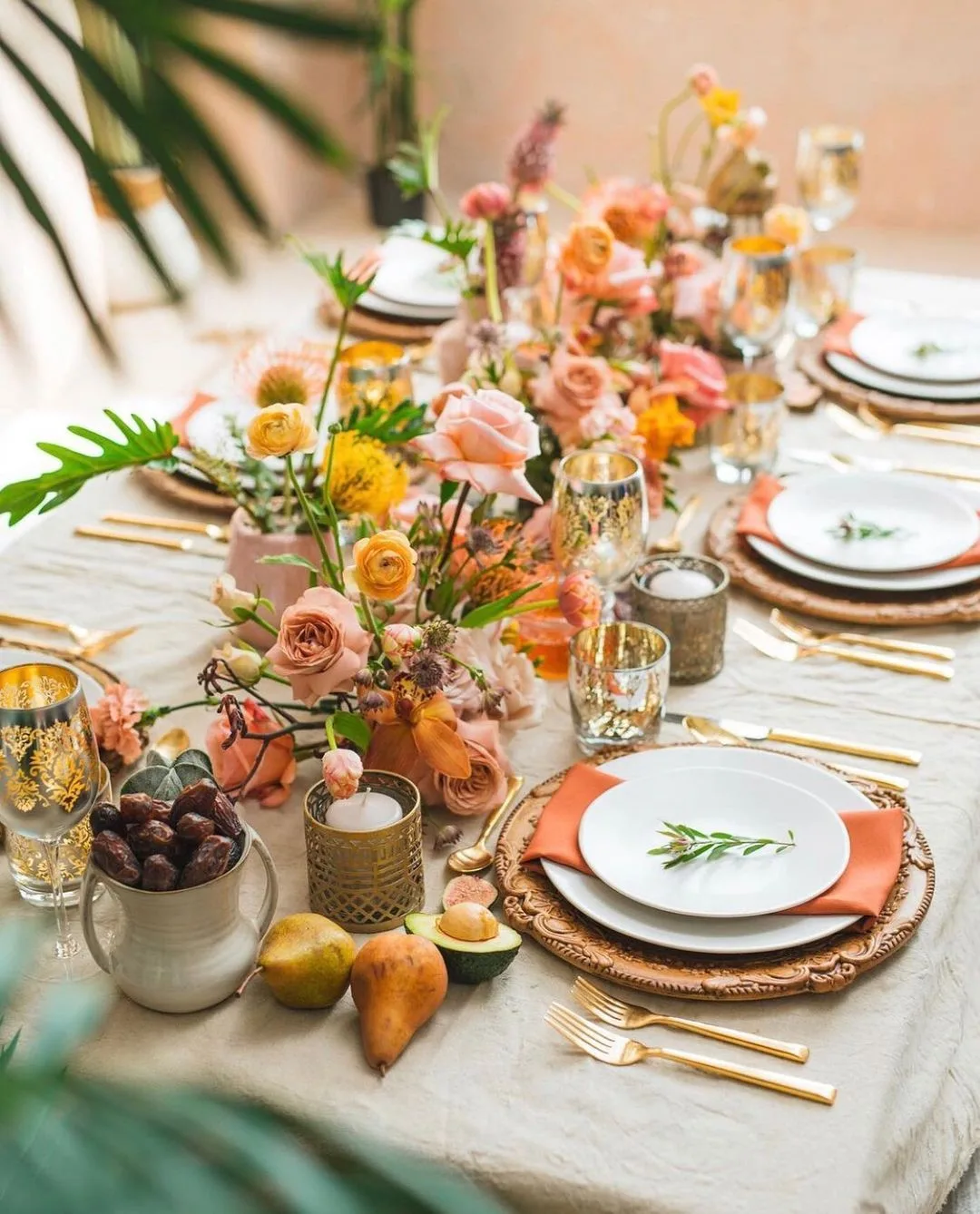 Credit: Instagram
Look at how lush, how delectable those pears, dates, and juicy figs look. I spy a few apricots as well.
I swear I saw an avocado just now before someone carted it off, probably to make guacamole. Who would've thought that they'd jazz up a wedding table like that?
The roses, bromeliads, and hothouse blooms belong here, right next to the ripe fruits. Just take in the colors: deep mustards, exotic corals, soft pinks, and forest green!
Do you know what's missing from the table, though? A few swaths of burro's tail or string of pearls succulents to drape over the table as an impromptu table runner!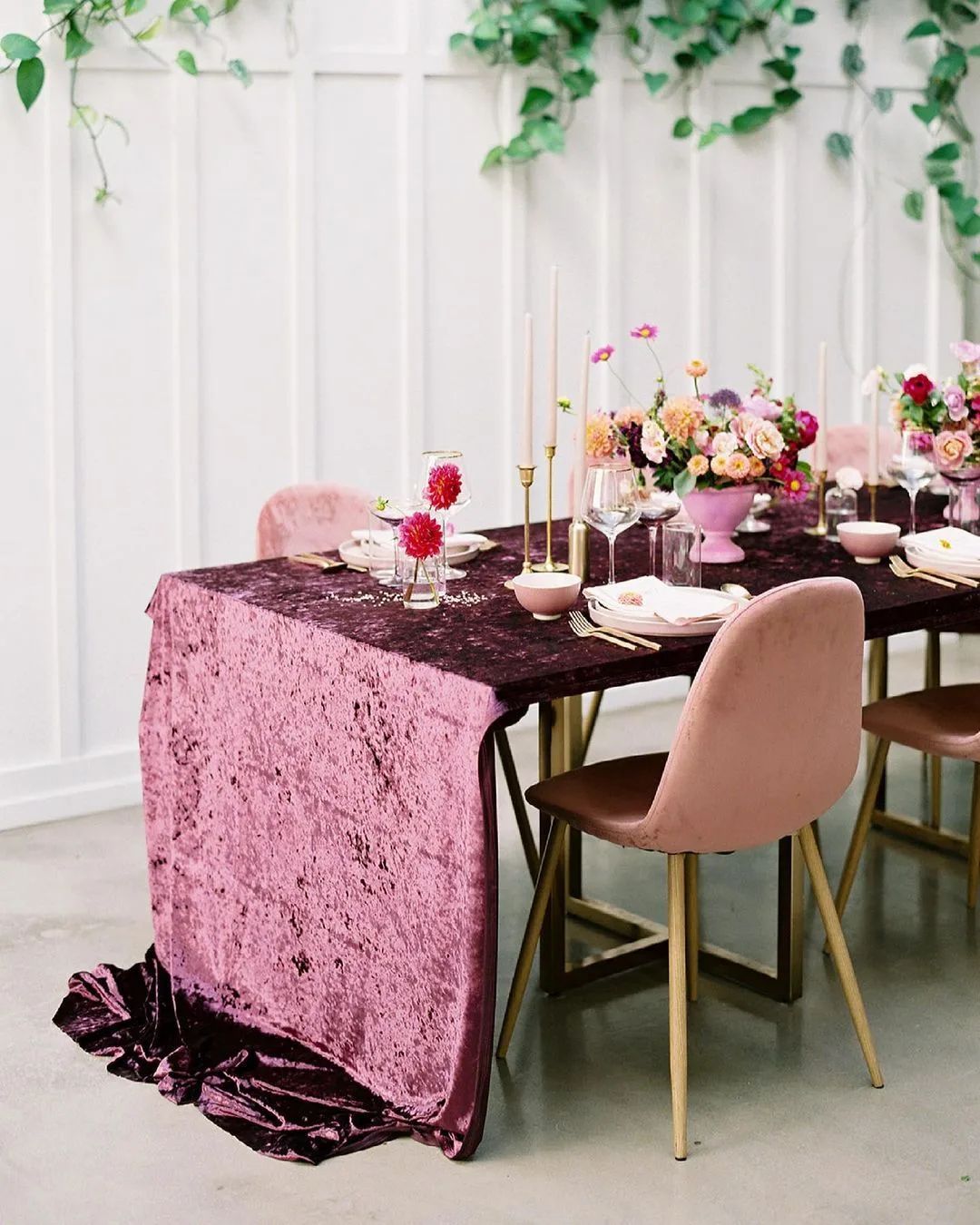 Credit: Instagram
This table is like a grown-up's rendition of an Alice in Wonderland tea party, only it's also a wedding. So there's all the color and quirky bobs and bits you'd normally find, along with the flowers and the pretty decor.
But then you see that luxurious drape of burgundy velvet fabric(look here) from the tablecloth. That bolt of fabric brings a certain je ne sais quoi, a certain undercurrent to the table you wouldn't find at a cheerful tea party.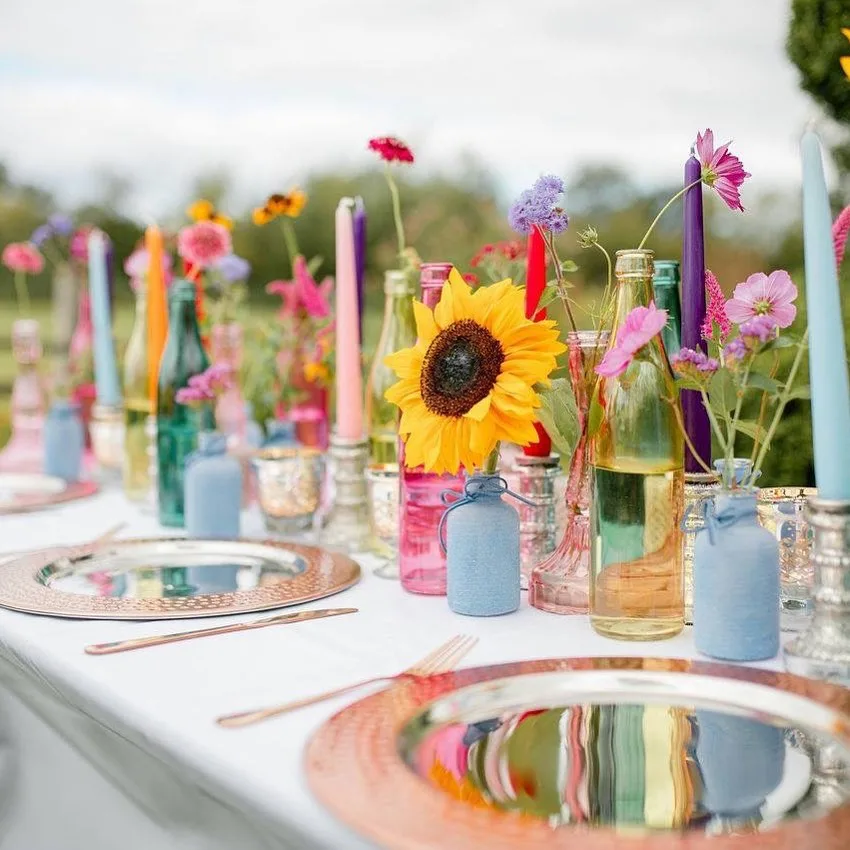 Credit: Instagram
Look how arresting that lone sunflower looks between sprigs of alumroot, lavender, asters, Shasta daisies, and wildflower.
You can find vases like that in matte ceramic right here. Or you can find an assorted set of vintage glass vases here.
With those rainbow-colored taper candles and rose gold plates, you've got a myriad of colors and textures. But it's all tied up to that single sunflower.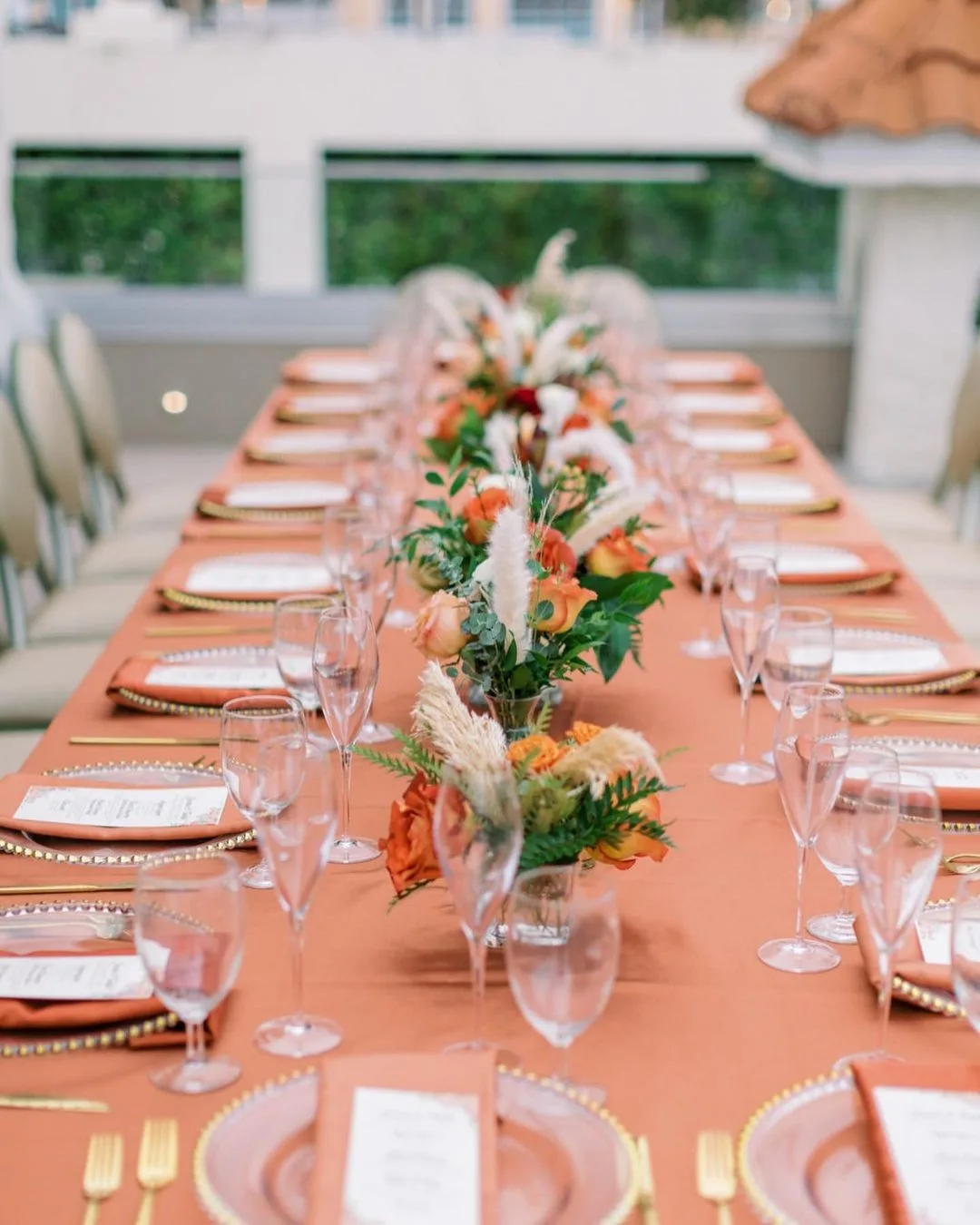 Credit: Instagram
You'll definitely need a bed of coral linen to accent that centerpiece. They also go well with the gold beaded trim of the dinnerware(look here)
The coral and pale peach roses in the centerpieces are not elaborate, but sitting on that linen, surrounded by all that gold and crystal? They look stunning!
Go ahead and tuck a few ferns in place and a single feathery plume of white pampas grass.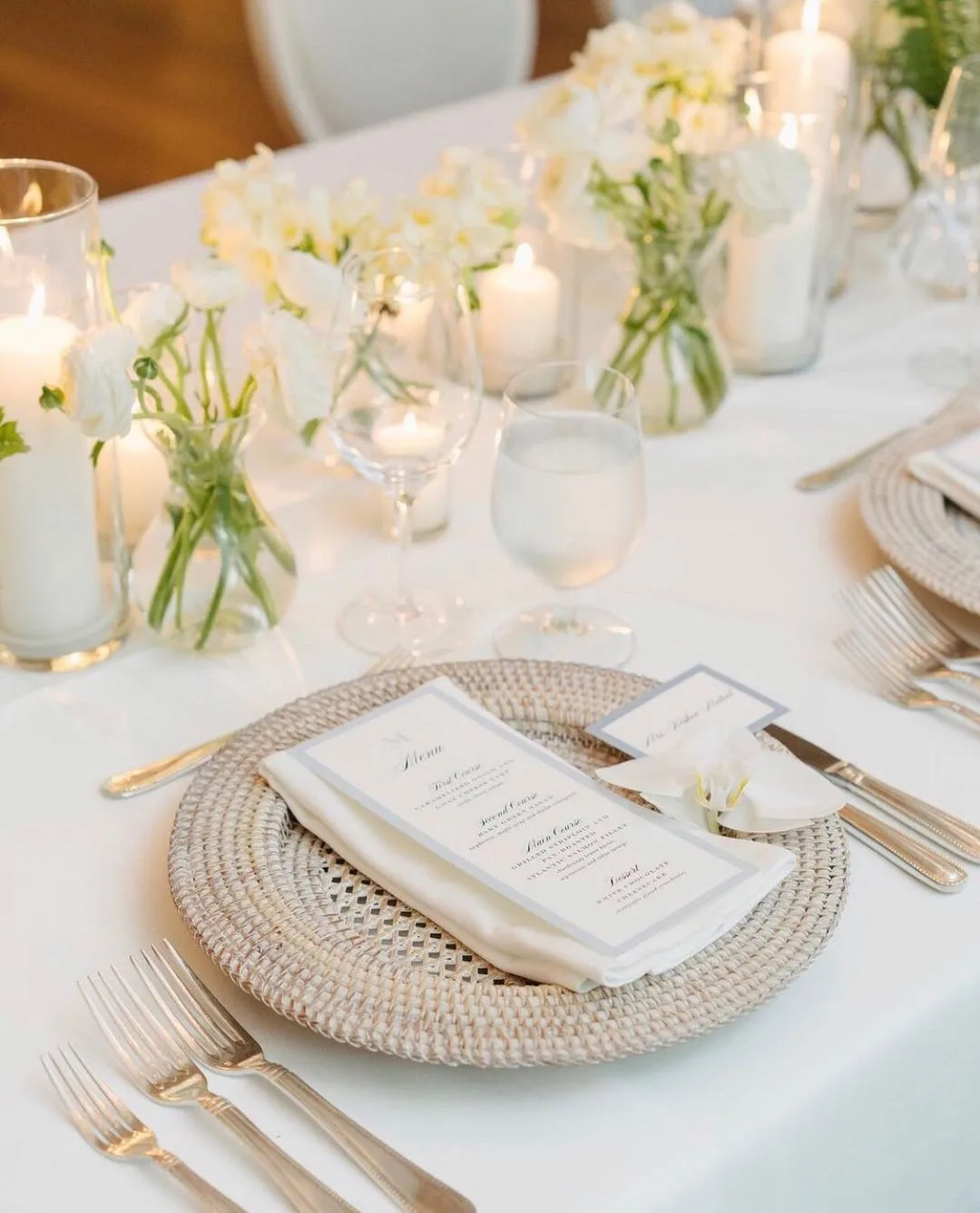 Credit: Instagram
What turns this table from a classic, traditional wedding to an earthy, boho-chic wedding is that single wicker woven plate.
No, you won't be eating from it. However, they are perfect for placing the menu and seating card, along with a napkin, the party favor, or a single calla lily.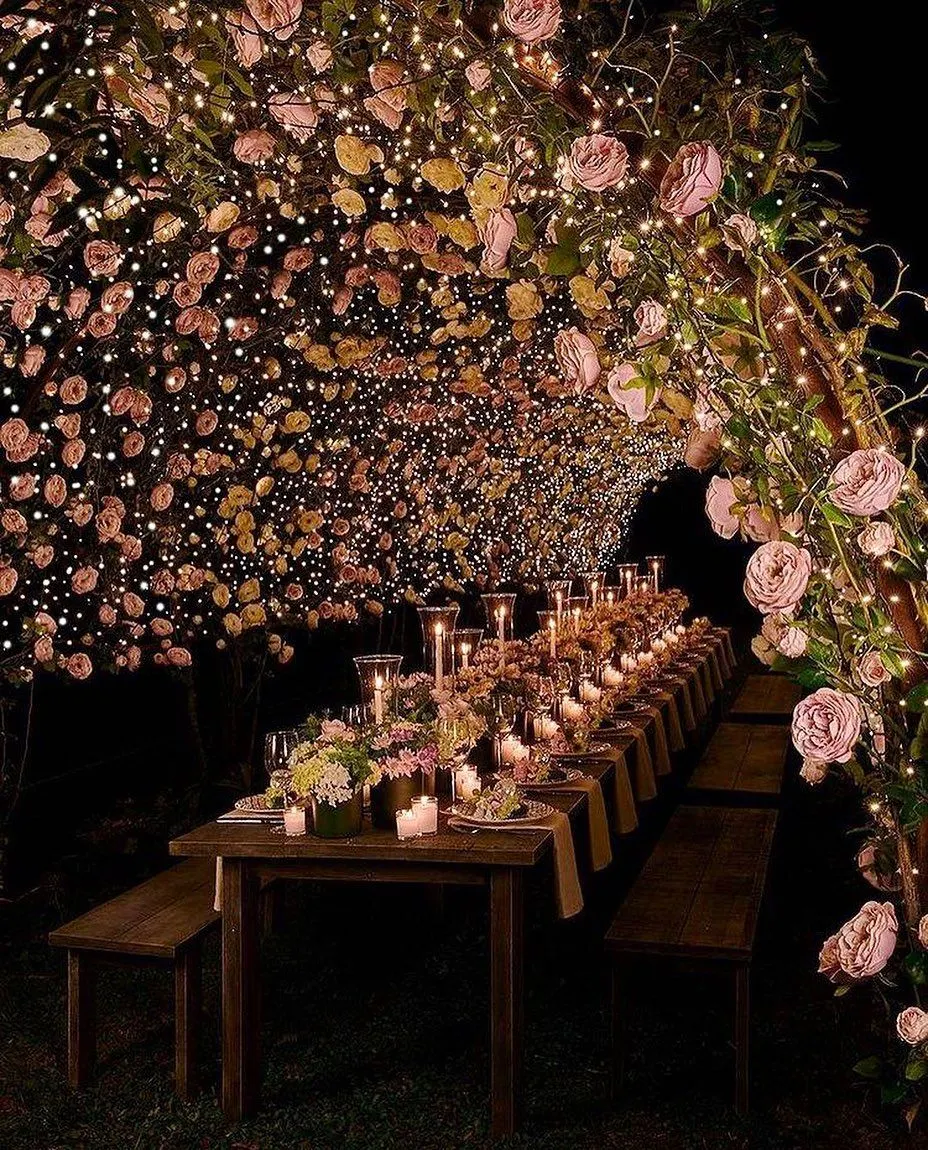 Credit: Instagram
Talk about strategic lighting! Have you seen a table that looks this spectacular?
You've got rows and rows of candles, outdoor ground lights, and solar string fairy lights draped over the bushes along with the table.
Come sundown, I just bet that the stars will have tough competition from the lights you see at this table.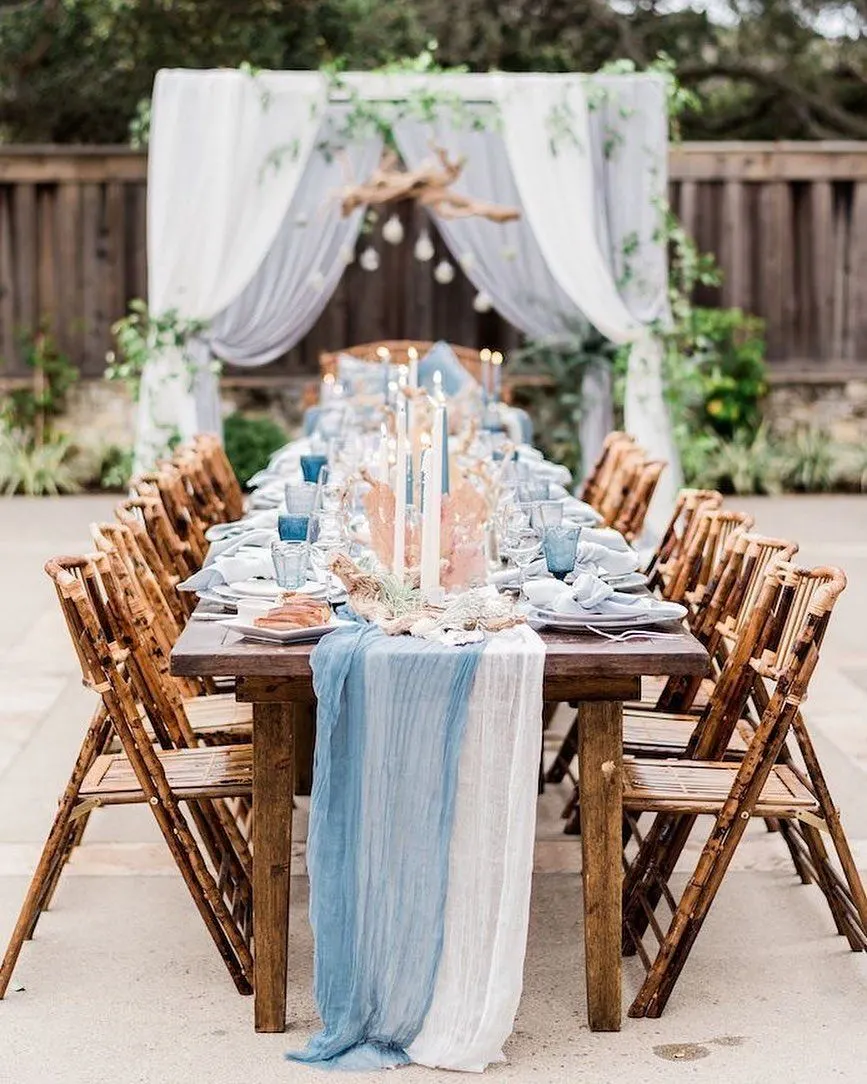 Credit: Instagram
Once again, you can bring the beach to the table. Start by laying out the cheesecloth table runners, the vintage blue goblets, and the tall, blue, and white taper candles.
How about some of these decorative seashells? You can lay them down between the candles and flowers.
I'd draw the line at having sand on the table, though. That can stay on the beach where it belongs and out of your food.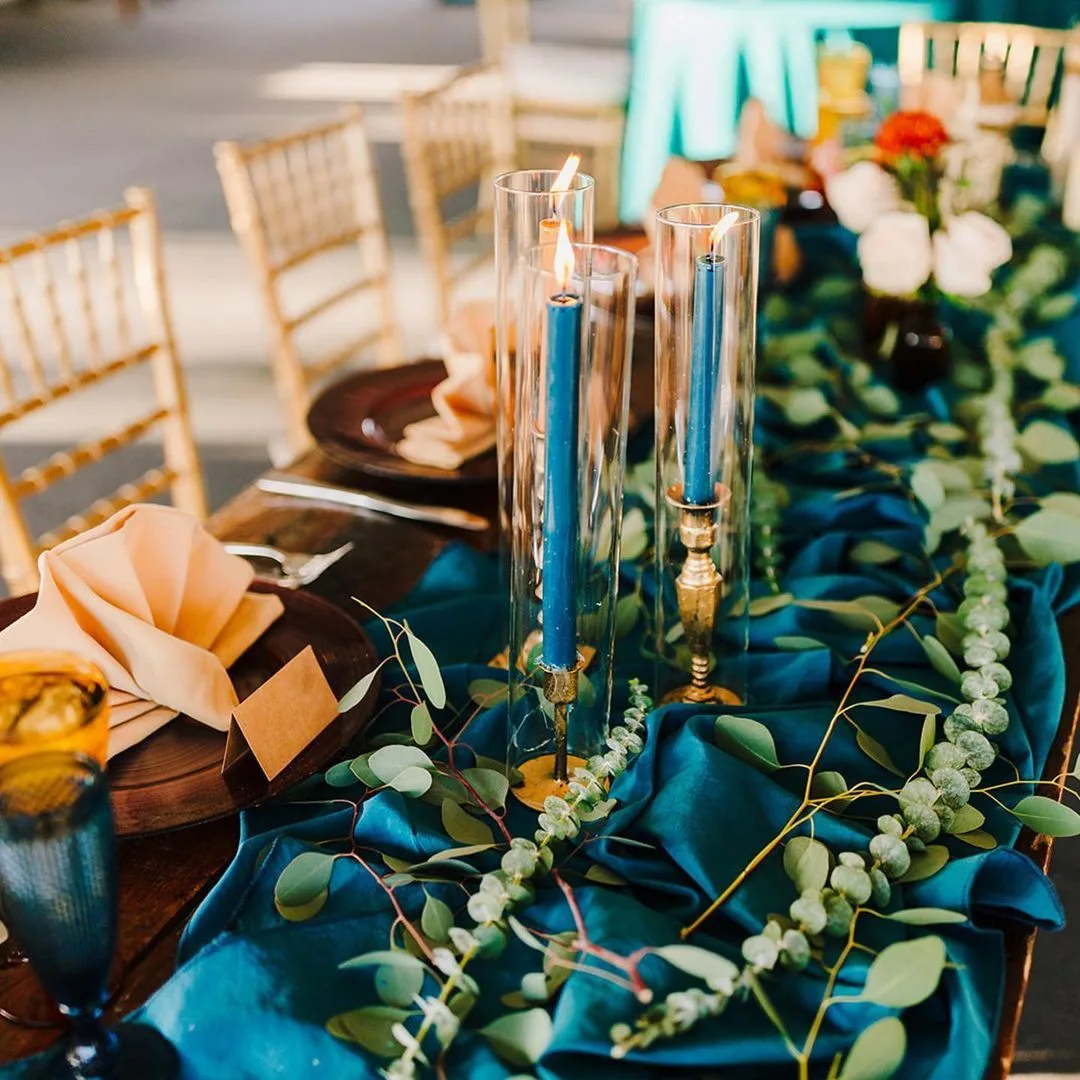 Credit: Instagram
These colors belong in an exotic Mediterranean wedding, and that's exactly what this is. Isn't that peacock green-blue table runner simply decadent?
Then you've got those silver leaf eucalyptus leaves and strings of pearls succulents over the table runner as well. Why don't you fold cantaloupe-colored cloth napkins into peacocks?
Next, light some peacock blue pillar candles and pour wine into the dark turquoise vintage glassware. This table just became a resplendent work of art.