Finding the right cake design for your wedding can be a real headache. Check out these wedding cake design ideas and transform your wedding into something truly beautiful and special.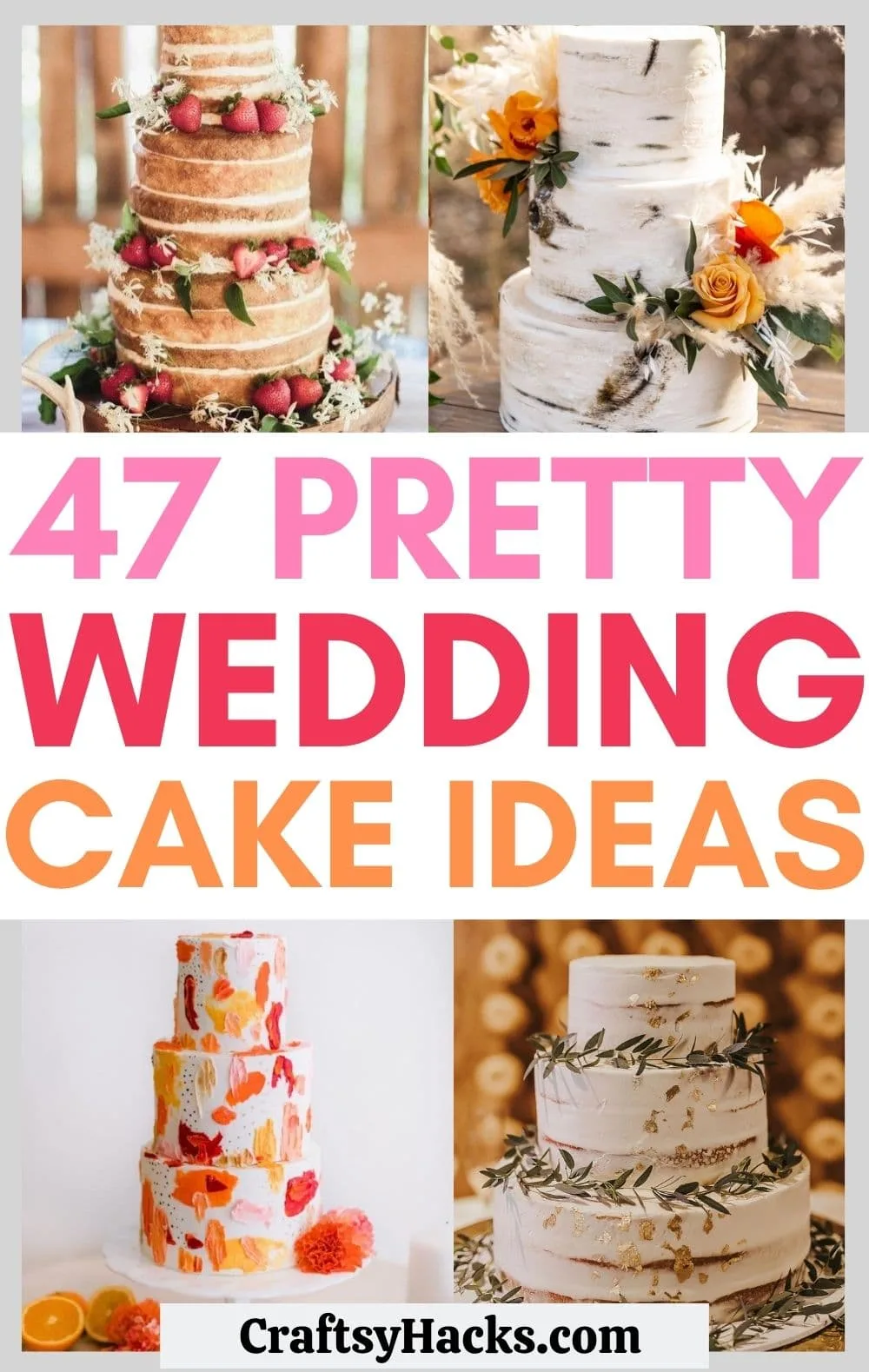 Is there anything more magical than being present at a wedding of loved ones and friends? Yes, yes, there is, and that's the wedding cake.
I often find myself guiltily wishing they'd just be done with their vows and say their "I do's" already. However, the sooner I get a slice of wedding cake, the better for all the guests in attendance.
If you're reading this article for inspiration for your wedding cake, here's two things to remember:
1. Always, but always, make sure there's enough to go around.
2. Don't forget to save me a piece—or two if you're feeling generous.
So, without further ado, here are 47 wedding cakes design ideas for you to explore.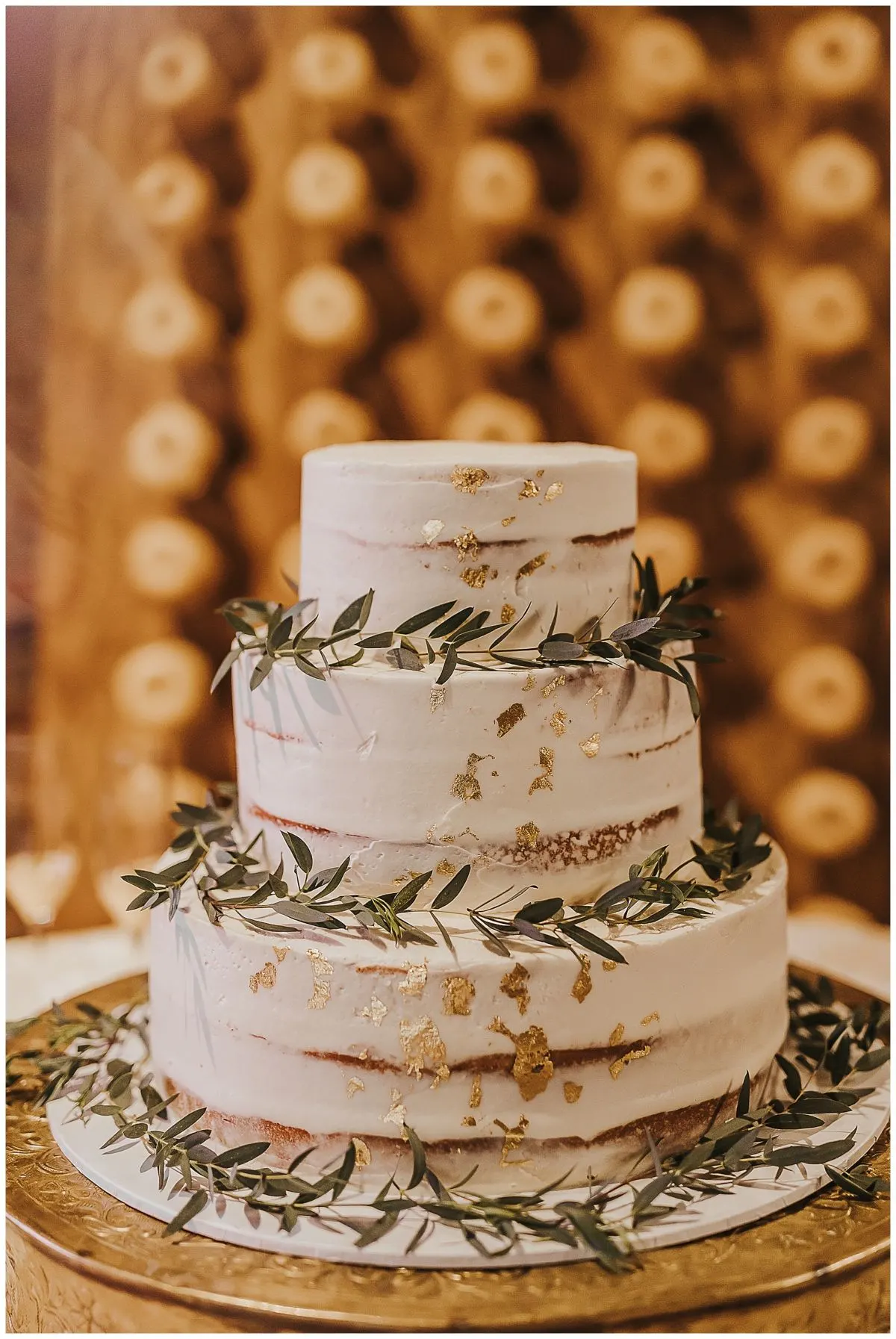 Credit: southernproductions.net
Such careless elegance can only be recreated on a cake, don't you think?
It brings to mind a cake you'd find at a Greek wedding, with Olympian Gods decked in white togas with gold trims, sporting simple crowns of green olive leaves.
It's only simple until you see those wisps of gold foil that you can find here, plastered down the tiers and offset by that gorgeous leafy wreath.
Love the idea? Need more? Check out these wedding gift ideas.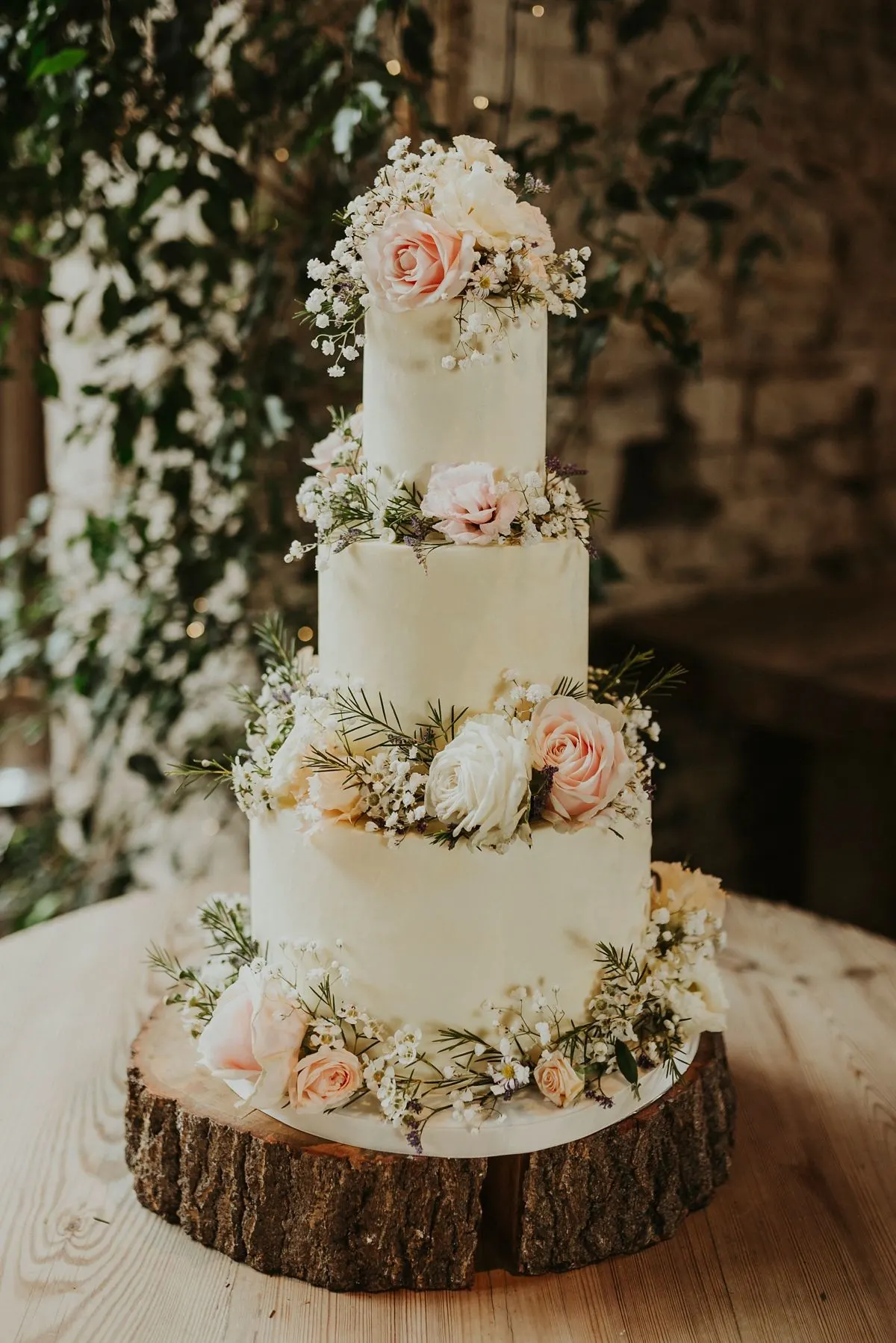 Credit: lovemydress.net
This cake is such a congruence of rustic Bohemian charm and simple, classic elegance.
You've got three lofty layers, laden with blush and ivory roses, these baby's breath and sprigs of green. There's also the barest hint of lavender tucked between the roses.
You can find that wooden cake stand block here.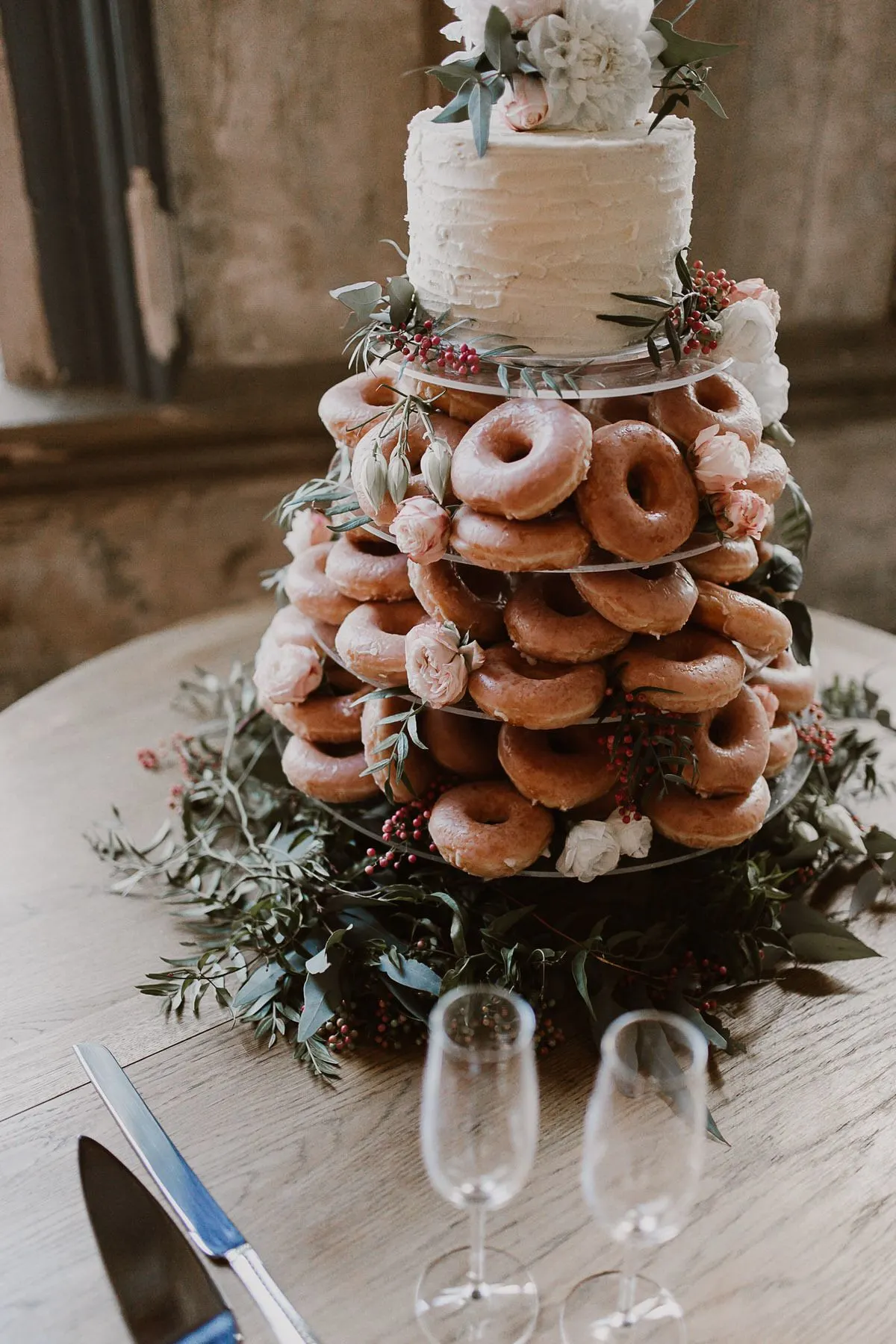 Credit: polkadotwedding.com
All weddings are fun. But I'd give an arm and a leg to be invited to a wedding which served this donut cake.
Forget gold or diamonds; these are the only rings I'd use to declare my undying love for my spouse. Look at those glossy, glazed rings of sugary, doughy goodness.
Is it a cake? Is it a doughnut? Whatever it is, I'm all for it.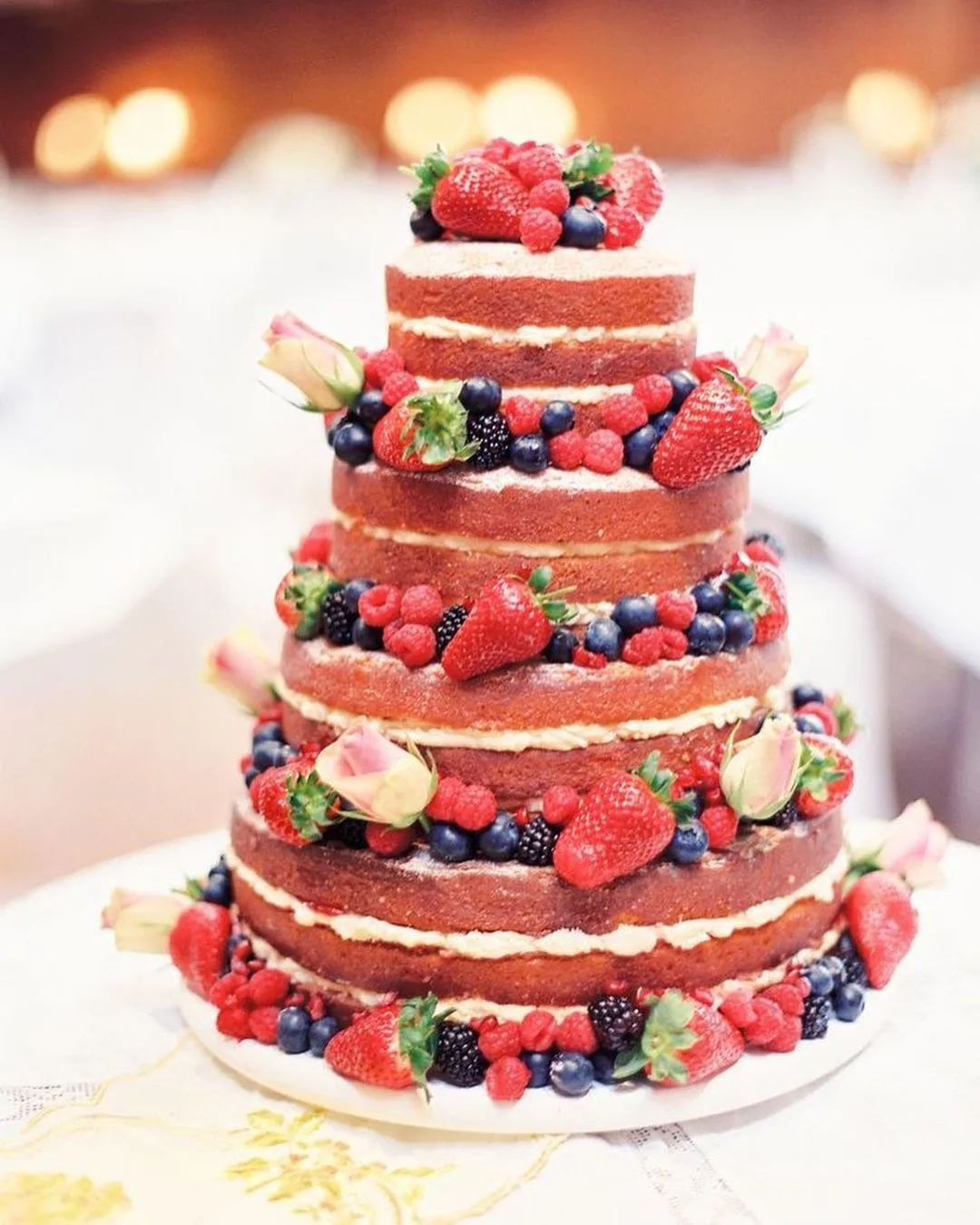 Credit: Instagram
Weddings have so much white, don't they? But check out this burnished, copper sponge cake. How's that for some color?
You've got so many pops of reds, blues, and indigo from the berries. You can almost taste the tart, juicy berries just looking at them.
Then there are that billowy white layers of icing to mellow those bold tangy flavors and bring balance to this beautiful cake.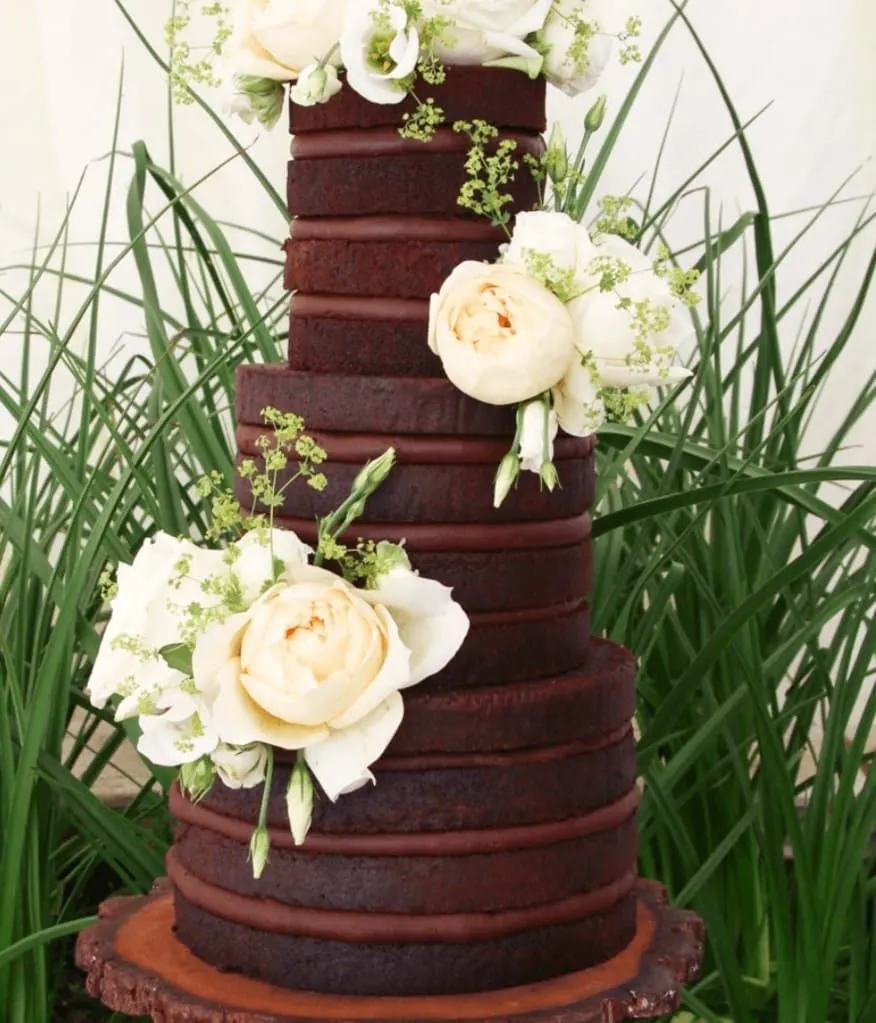 Credit: Instagram
There's nothing that could top a wedding, except perhaps this twelve-layered chocolate cake!
You can try to fancy it up however you like, with fancy swirls of frosting or big white corsages like you'd find here.
But underneath all that: pure, unadulterated decadence in every mouthful.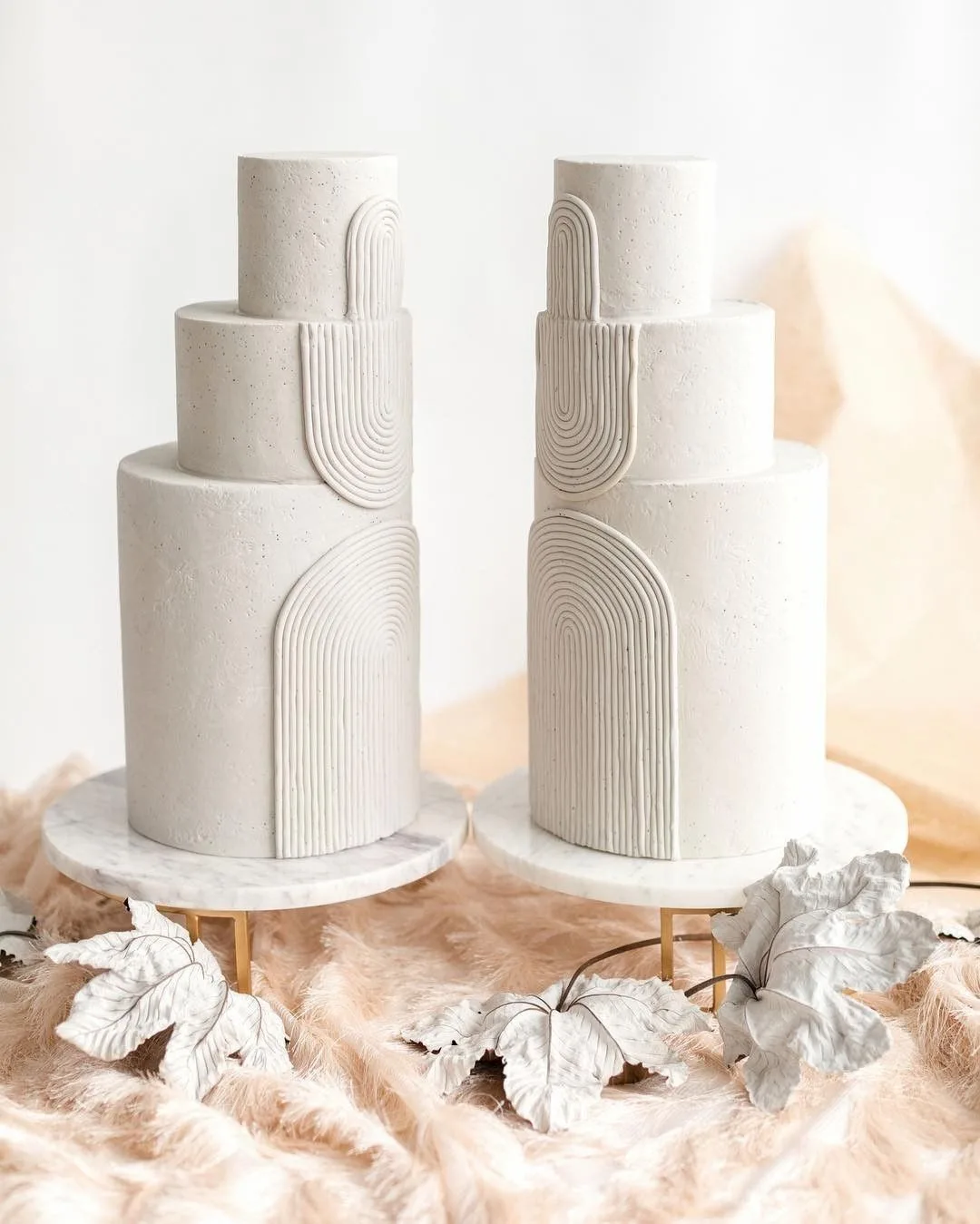 Credit: Instagram
This is the kind of cake you'd find in a Golden-Era-of-Hollywood-themed wedding. You'd probably think there'd be more glitz, glam, and color.
But nothing screams that theme more than these his-and-hers ivory speckled cakes on a bed of those downy, rose-gold feathers and gold-veined flowers.
Leave the glitz and glam to the couple and their guests. But keep that cake right there in its place of honor.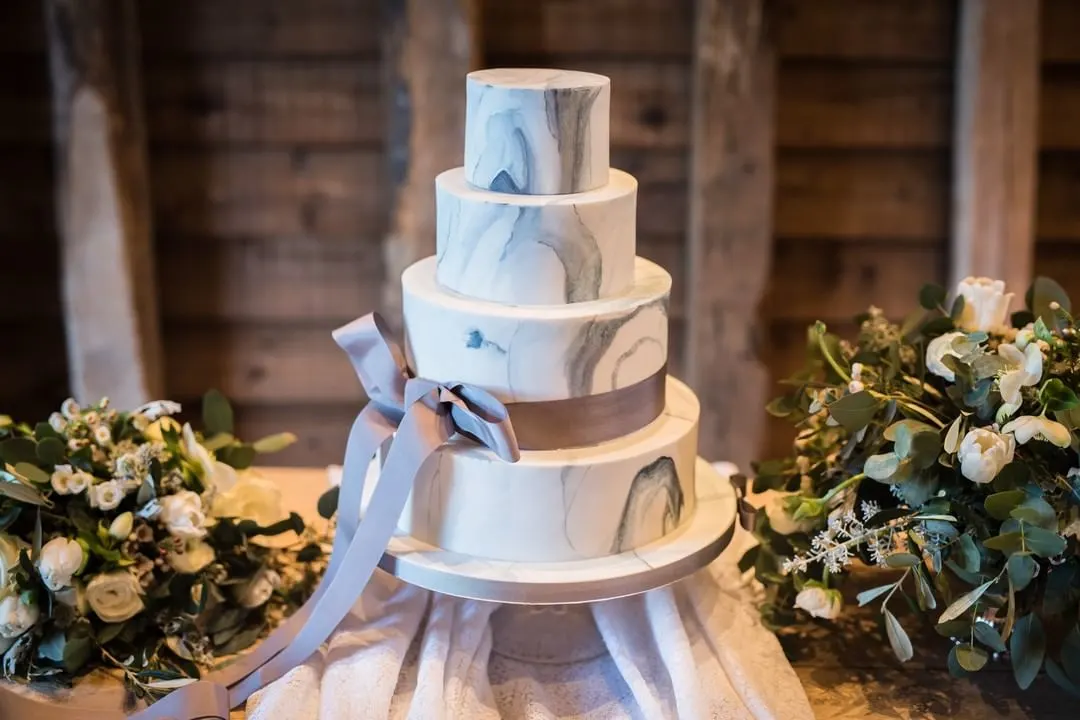 Credit: Instagram
Doesn't this cake just put all the other 'marble' cakes to shave? I'd be terrified to press a knife to it, only to find that it was actually carved from stone because it looks that real.
But what softens that hard yet exquisite exterior is that lush, velvety bow around the second layer of the cake, just waiting to be unraveled.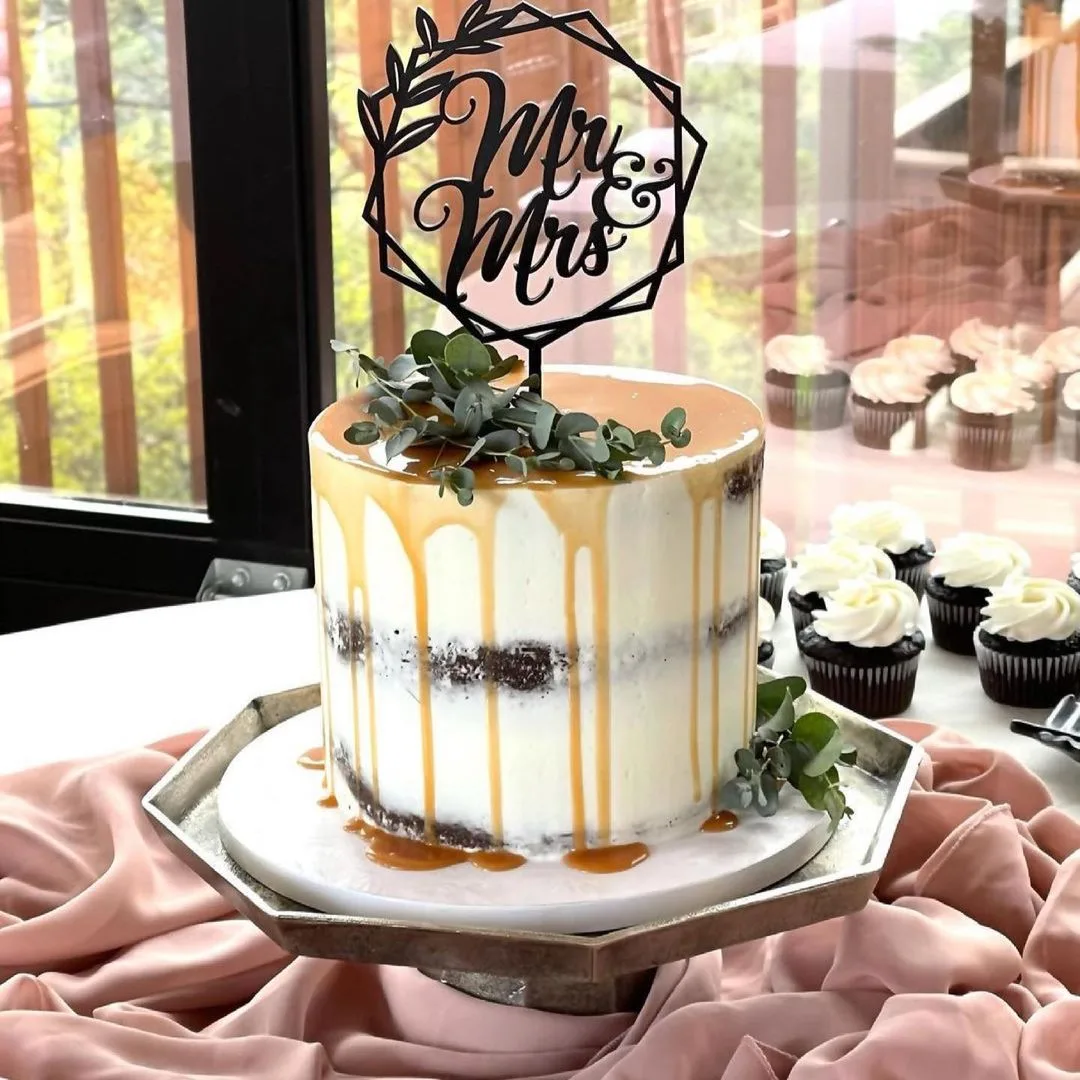 Credit: Instagram
A cake and cupcakes for the wedding guests? Isn't that just generous?
And, speaking of generosity, take a look at those billowy swirls of fluffy buttercream frosting on the dark chocolate cupcakes!
There's no fuss, just that splendid cover of caramel over the top that's been allowed to trickle down into pools of liquid.
You can find beautiful cake toppers like that right here.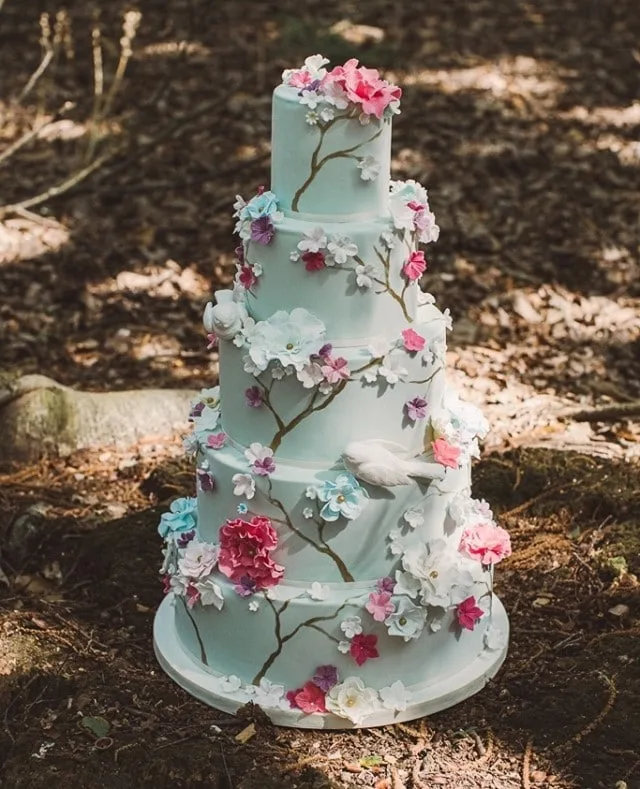 Credit: Instagram
Five layers of cake in that soft turquoise color is what I'd call a beautiful fairytale wedding cake.
It's the perfect addition to a spring wedding. Just look at all those flowers sitting on those dark gold veined tree branches.
What could make this tree prettier? I'm glad you asked: this decorative white dove, and there's two of them perched jauntily on the edges.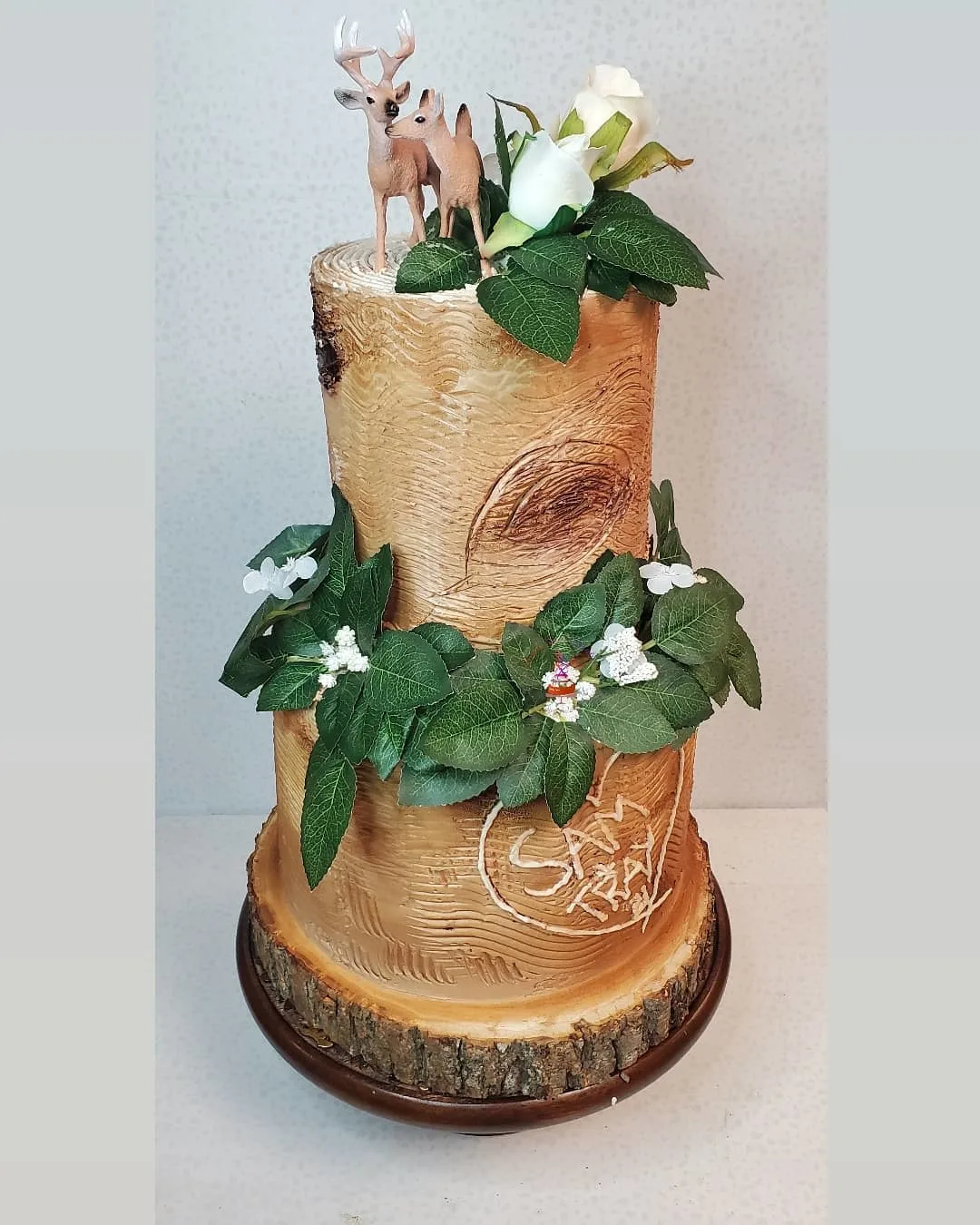 Credit: Instagram
Who needs a 'Mr & Mrs' cake topper when you have this doe and a deer topper to say "I doe, dear?"
These two blocks of thick chocolate cake have been artfully decorated to look like a woodland tableau. You can also find a generous amount of green foliage and ridges and grooves to add to that woodsy look.
However, it's not a neck-of-the-woods wedding, not with that touch of soft white elegance from the roses. Just grab a knife and carve out your initials to seal the deal!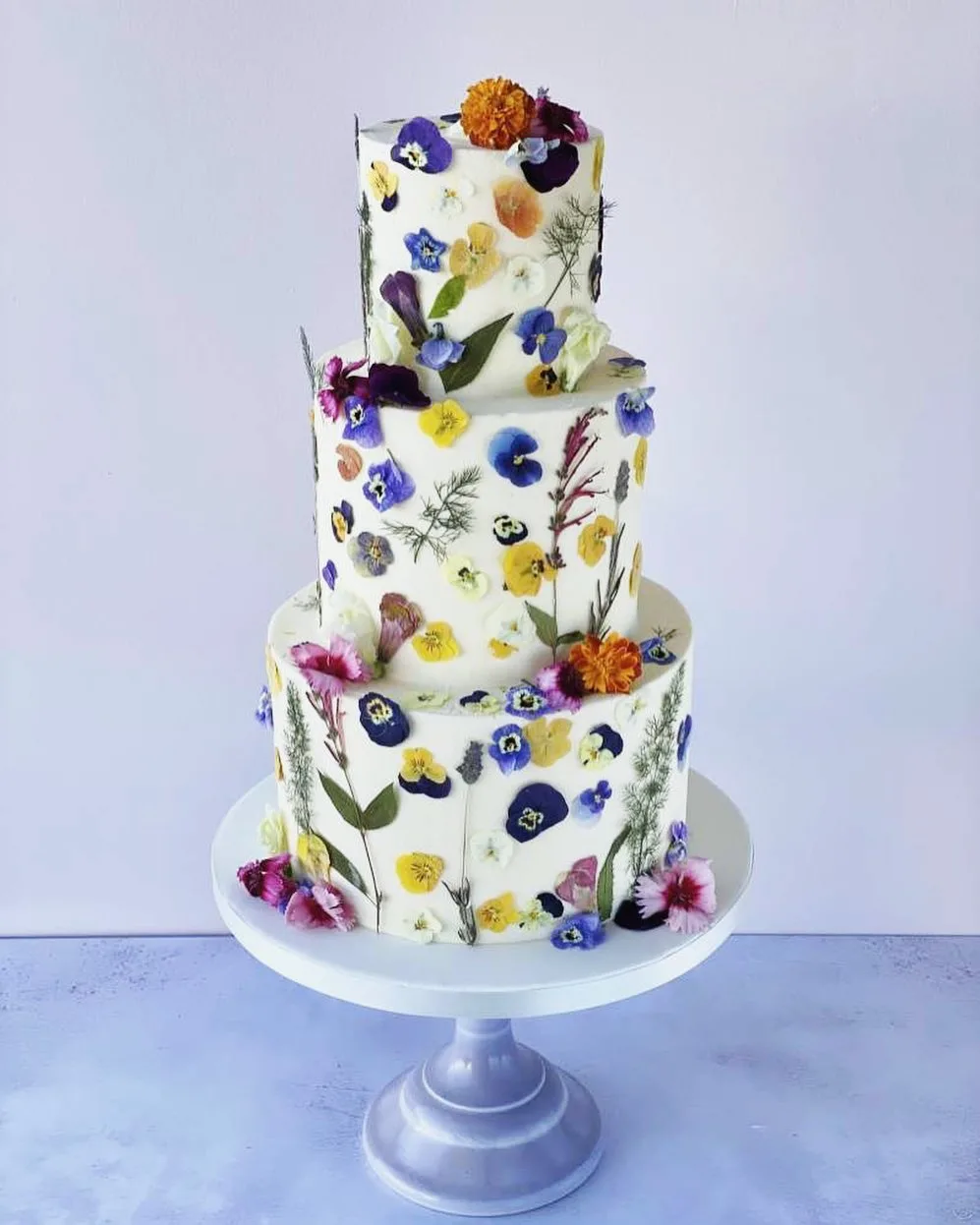 Credit: Instagram
You think of a wedding, and you think of the dress, the food, the flowers, and the cake. This cake combines the food, the flowers, and the cake in one pretty package.
First, you see the clean, rounded white frosting that's classic and timeless. But then, that white frosting becomes a canvas for all these dried flowers.
I bet, when it's cut open, you'll find layers of tangy berry jam or compote that would make this cake sublime.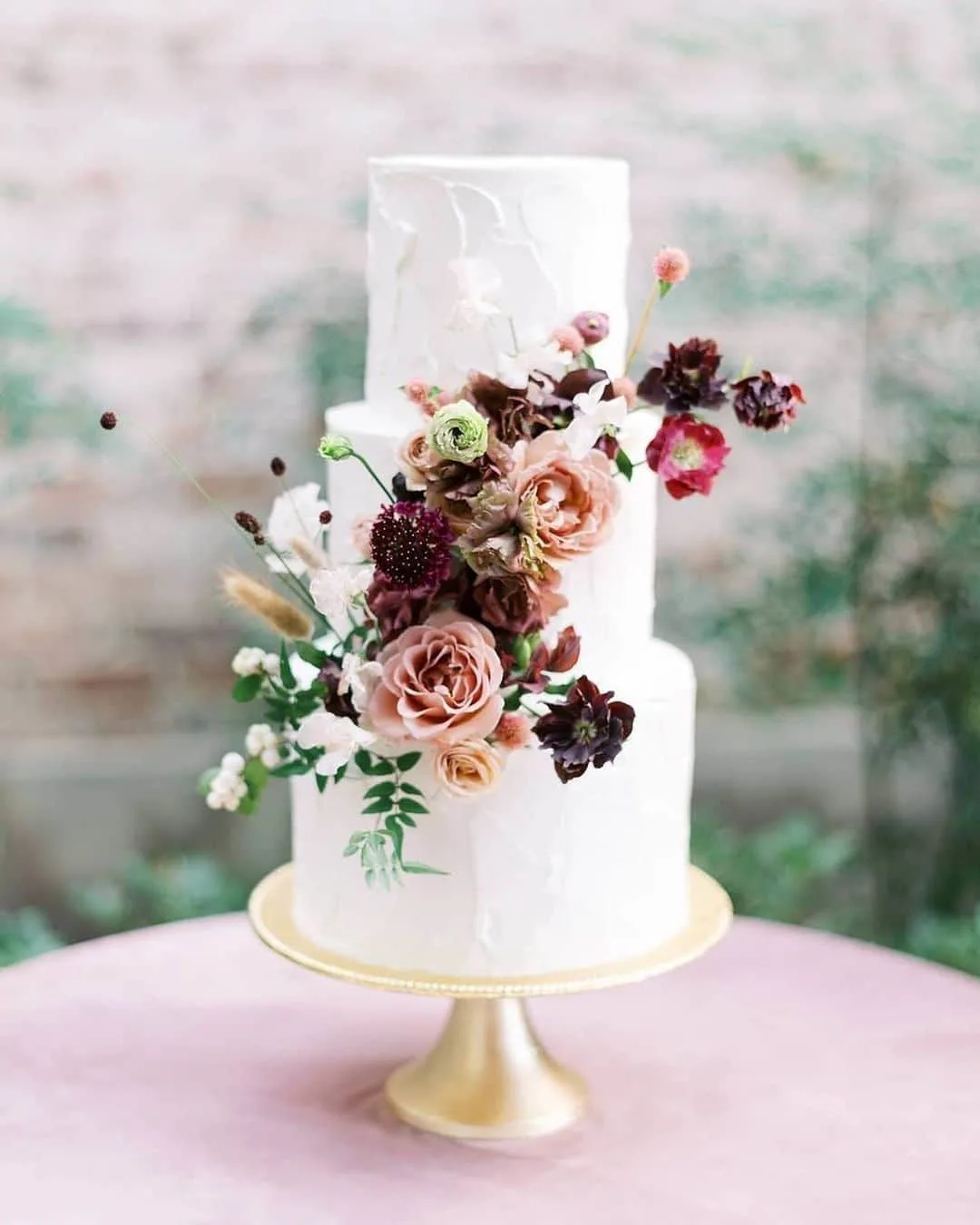 Credit: Instagram
I never thought that flowers could look any prettier than they did on trees. But, seeing them on this lovely, three-tiered, snowy white cake, I know that's no longer true.
I bet that the bridesmaids' dresses are the same blush tone as the blush roses you see here.
Did you see the bow ties that the groomsmen will be wearing? I bet they're that same deep burgundy from the 'chocolate cosmos' flowers.
Credit: Instagram
This one's definitely a bride's choice. Just look at how stunning those peaches and pinks look on that soft yellow, that's oh-so-mellow.
If the icing and design are mellow, nothing could be further from that than those hothouse blooms.
Look how just a splash of color, deeper versions of the pale pink and peach, can take a soft spring wedding and turn it into an exotic summer gala.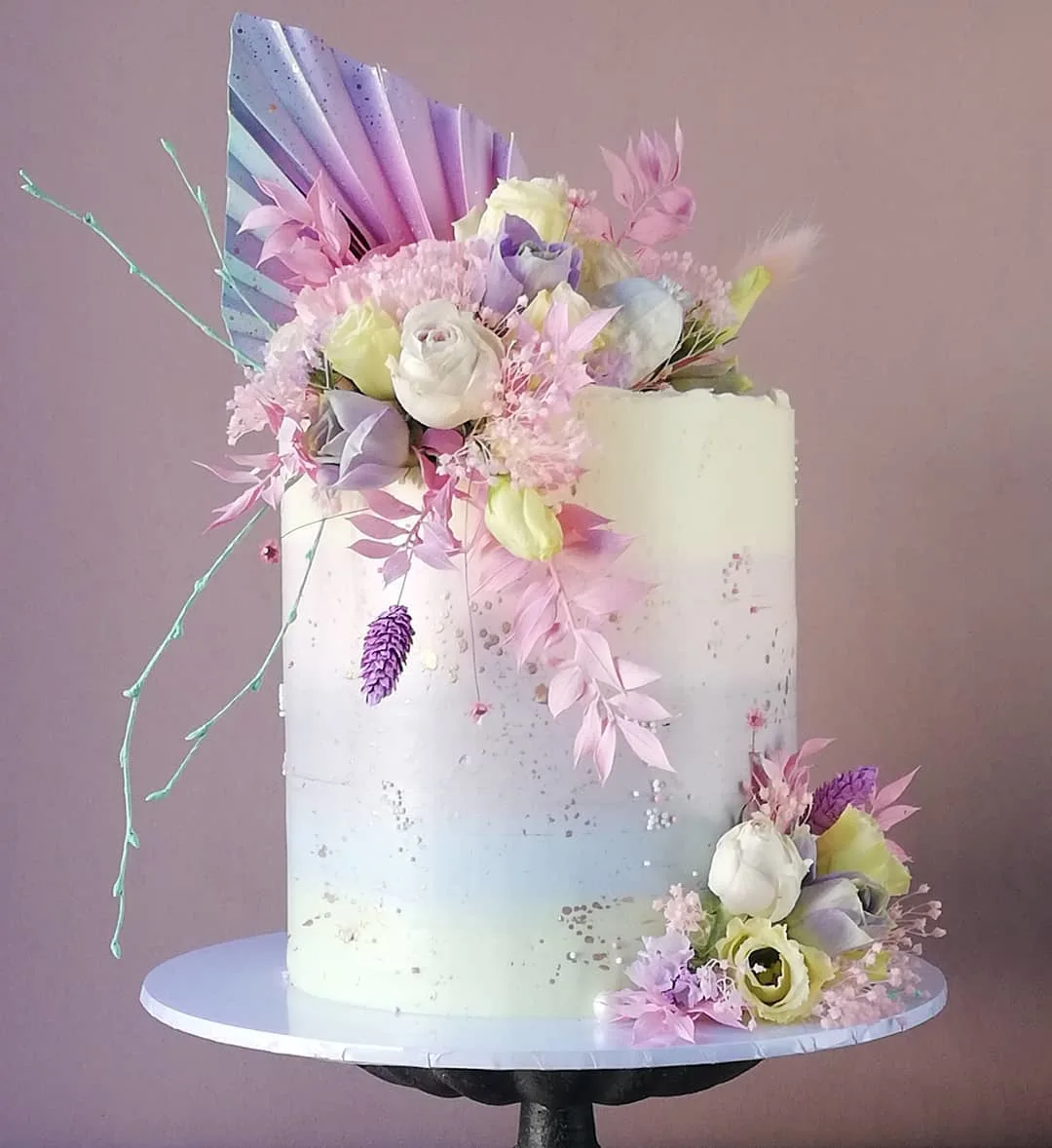 Credit: Instagram
Who would have thought that all those colors would come together just to set this cake apart?
You've got lavender and purple, yellow and lime, pink, and the palest of blush, all of which just wrap around that lovely three-tone gradient cake.
Oddly enough, with that fan-like cake decoration sitting on top at that particular angle, it almost looks like a unicorn's horn, doesn't it?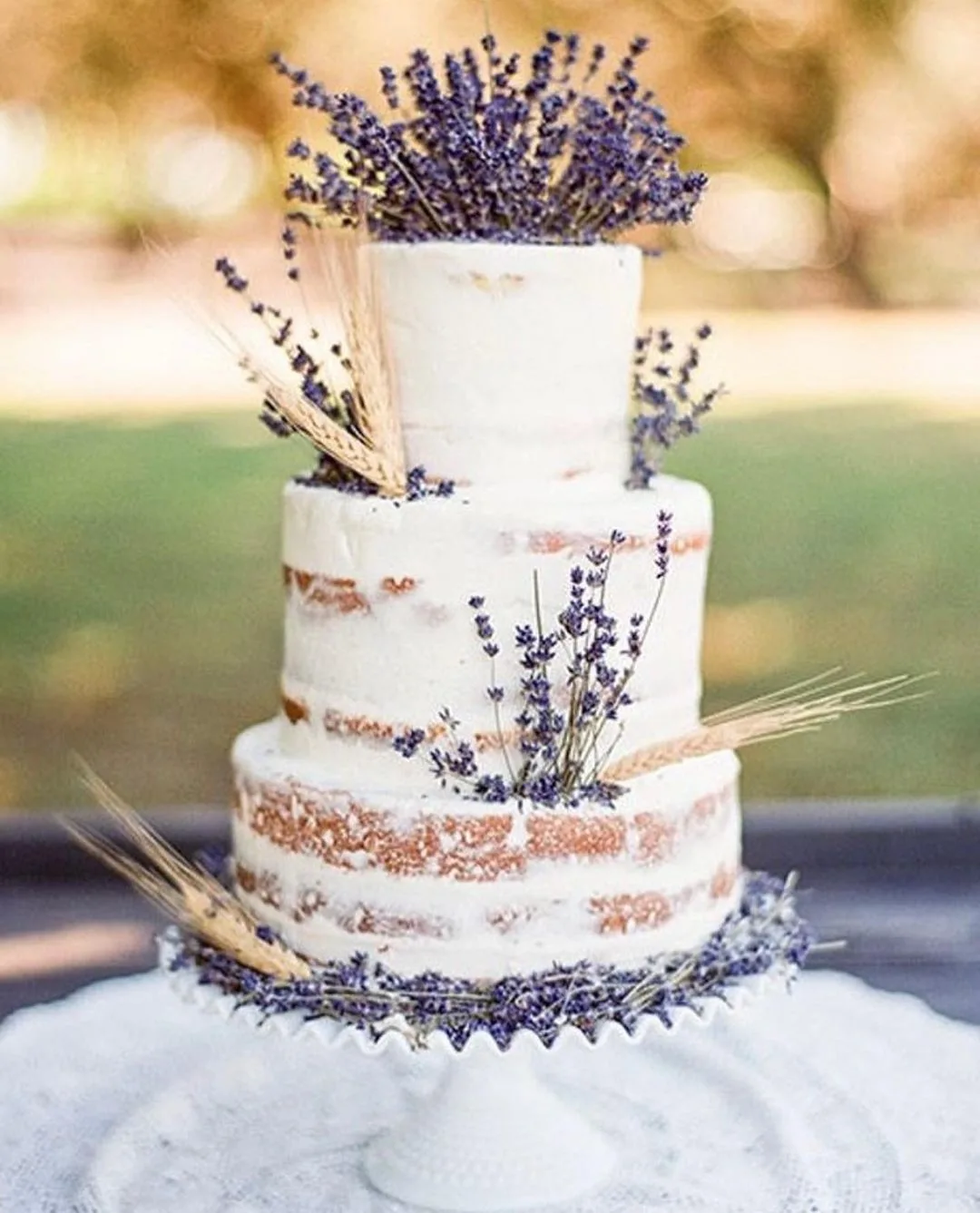 Credit: Instagram
Lavender is all about class, but it's also got this quaint charm that sits just as well in a bowl of potpourri as it does on this country cake.
See how artfully arranged these wheat stalks. They're a nod—no, a bow—to an elegant, country-themed wedding.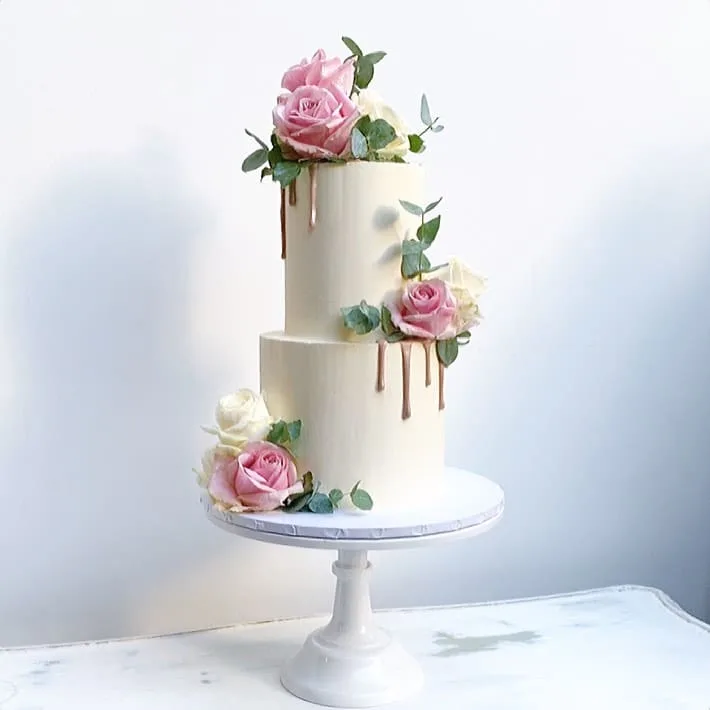 Credit: Instagram
Look at that glazed caramel just trickling over the edge of that cake. Or perhaps it's your eyes that have glazed over.
Simple and sweet on the outside, I bet there's a burst of berry and citrus inside.
Resist the urge to stick a finger in there and scoop up that drizzle and soft frosting, and find your seat. Till the happy couple cut this ivory cake, all you can do is watch and yearn.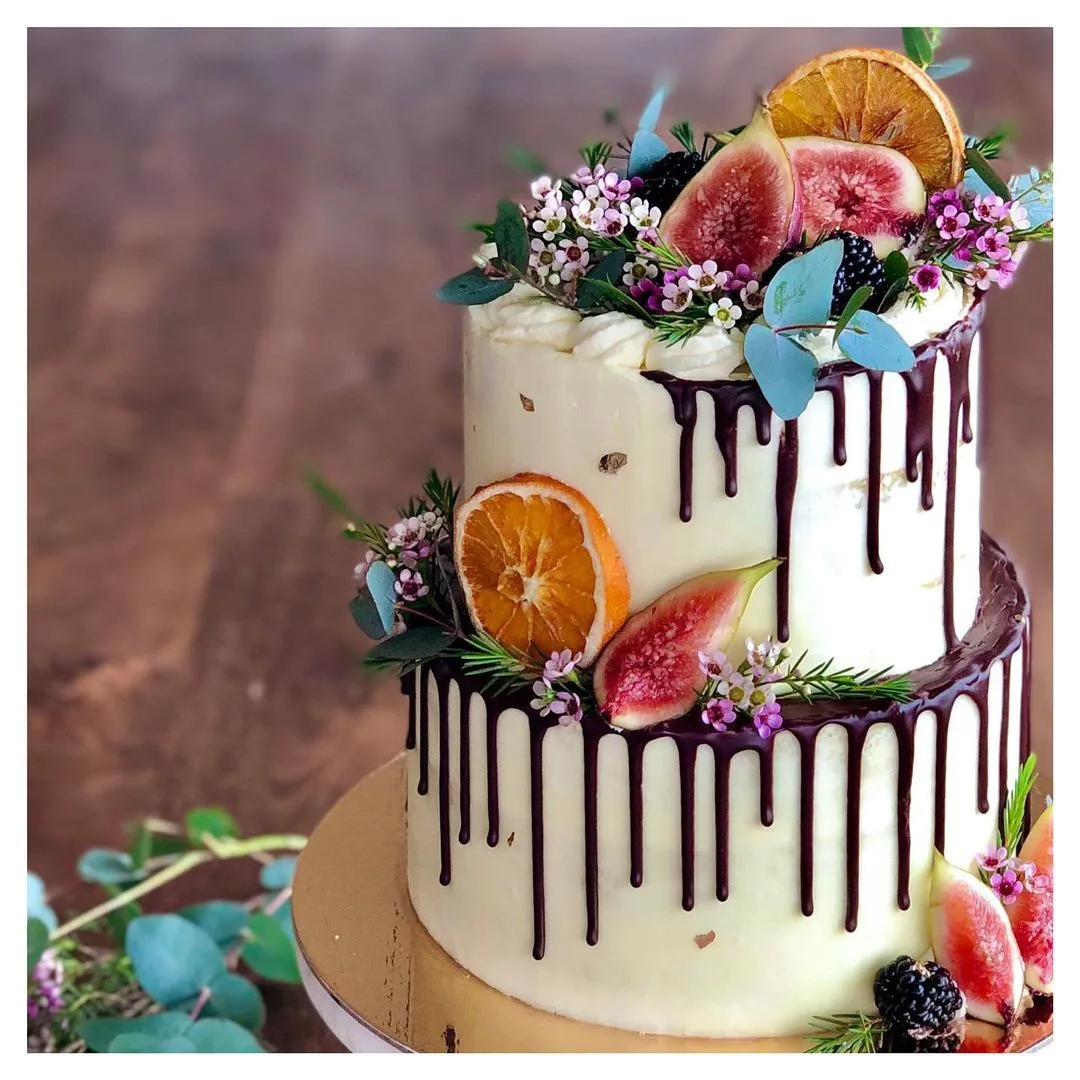 Credit: Instagram
I don't know about you, but figs and flowers on a cake are as wholesome and natural as they can get.
This is a bold cake for a wedding, so different from the simple elegance you'd usually find on other cakes. No, this one's earthy and robust.
What beckons you close are those odd, exotic splashes of blue and green from those leaves.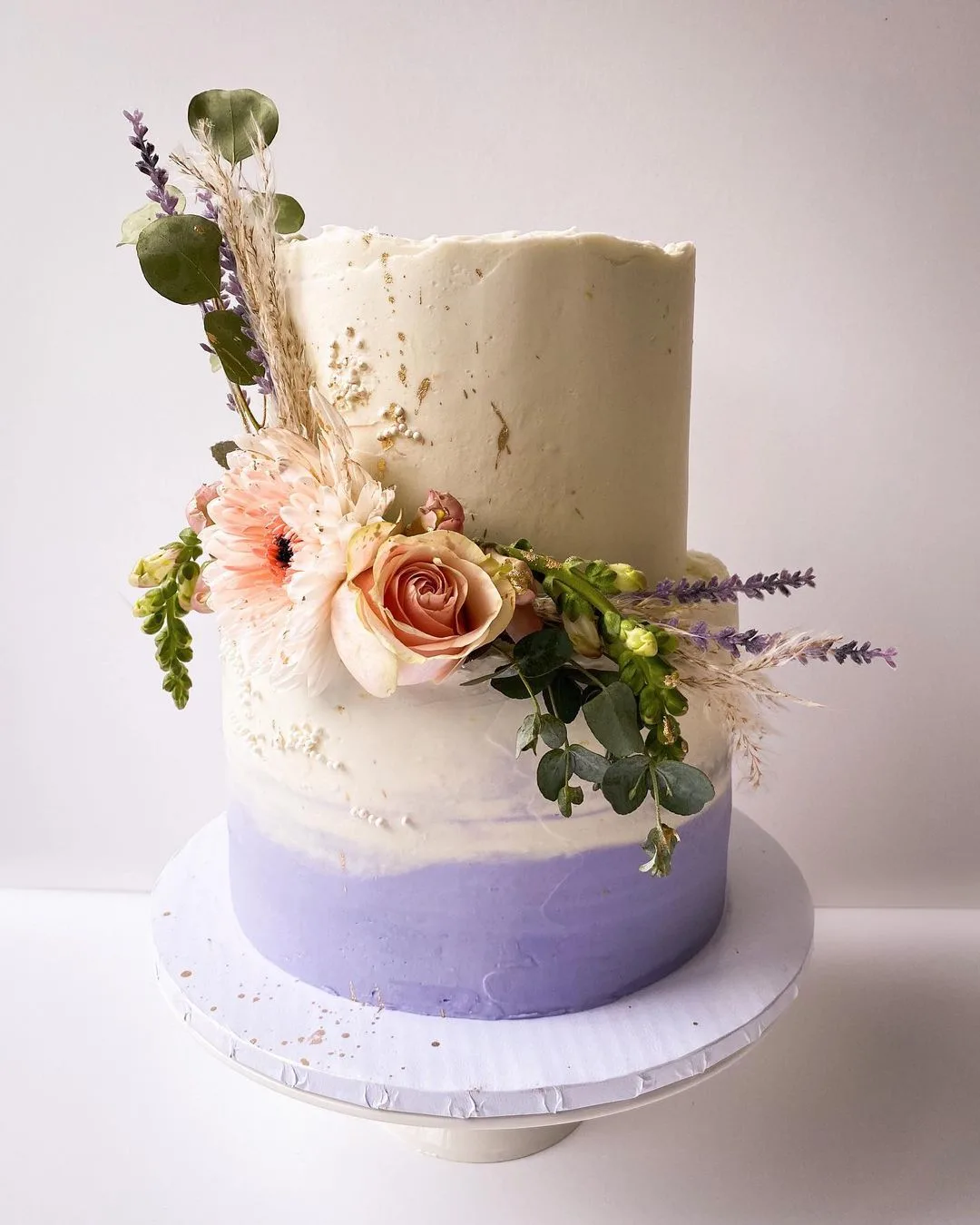 Credit: Instagram
Talk about expecting the unexpected. You look at the top half of this cake, and you see a classic, timeless vanilla sponge with ivory frosting.
You'd see the pretty flowers and those wispy stalks of wheat and think, "Oh, that's a lovely cake for a country-themed wedding."
Then bam! You're hit with that block of lilac, and now you can't help but wonder what surprises lay on the inside.
Rainbow buttons and confetti, maybe?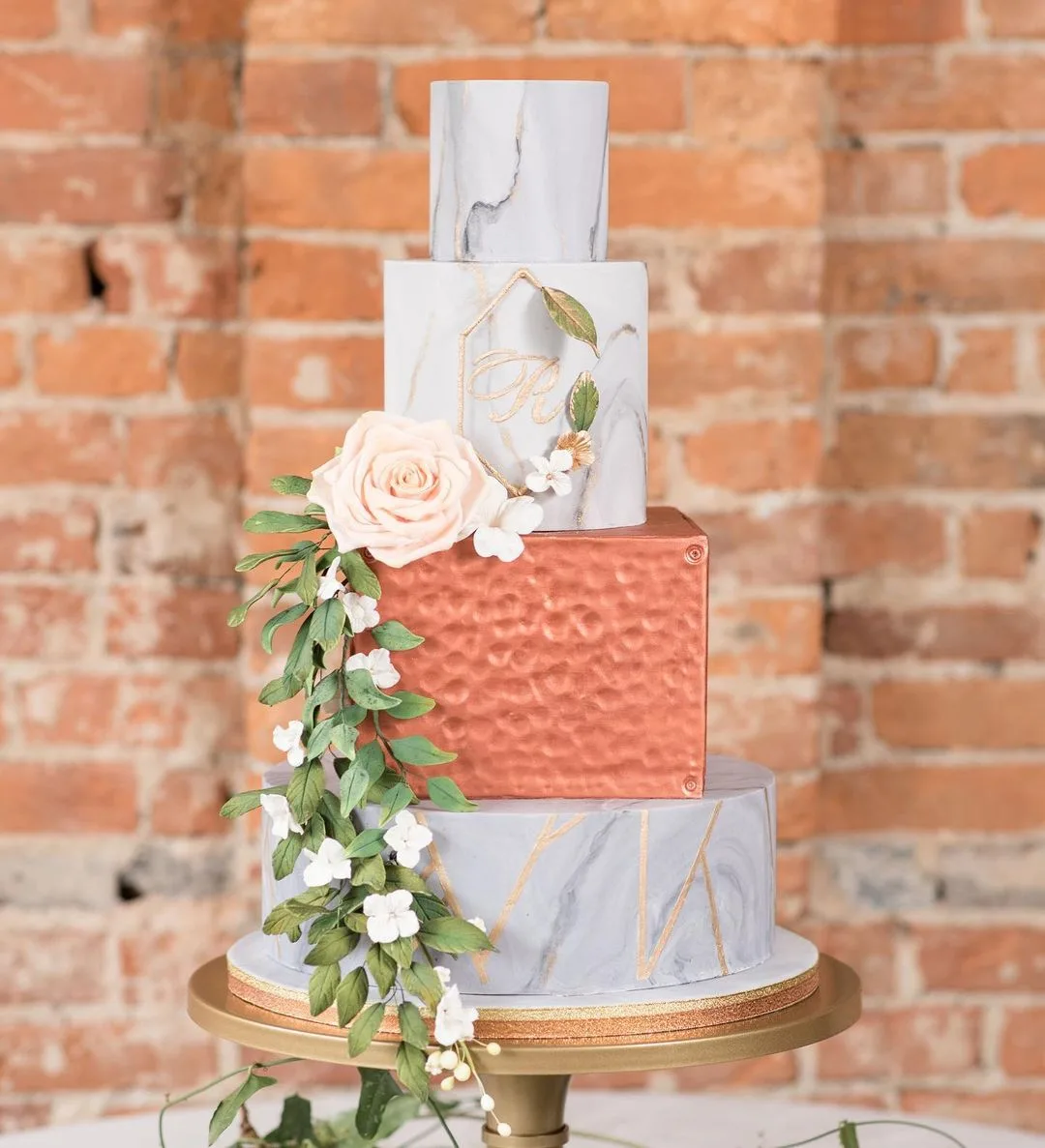 Credit: Instagram
I'd be afraid to sink a knife in this cake. That metal-plated-finish on the square tier and grey marble stone finish with gold veins look too real.
If there wasn't some sort of sign telling me this was the cake, I'd probably think it was a part of the decor. That's how real it looks.
Speaking of signs, wouldn't that be cool? Here are some creative wedding signs to help you along the way!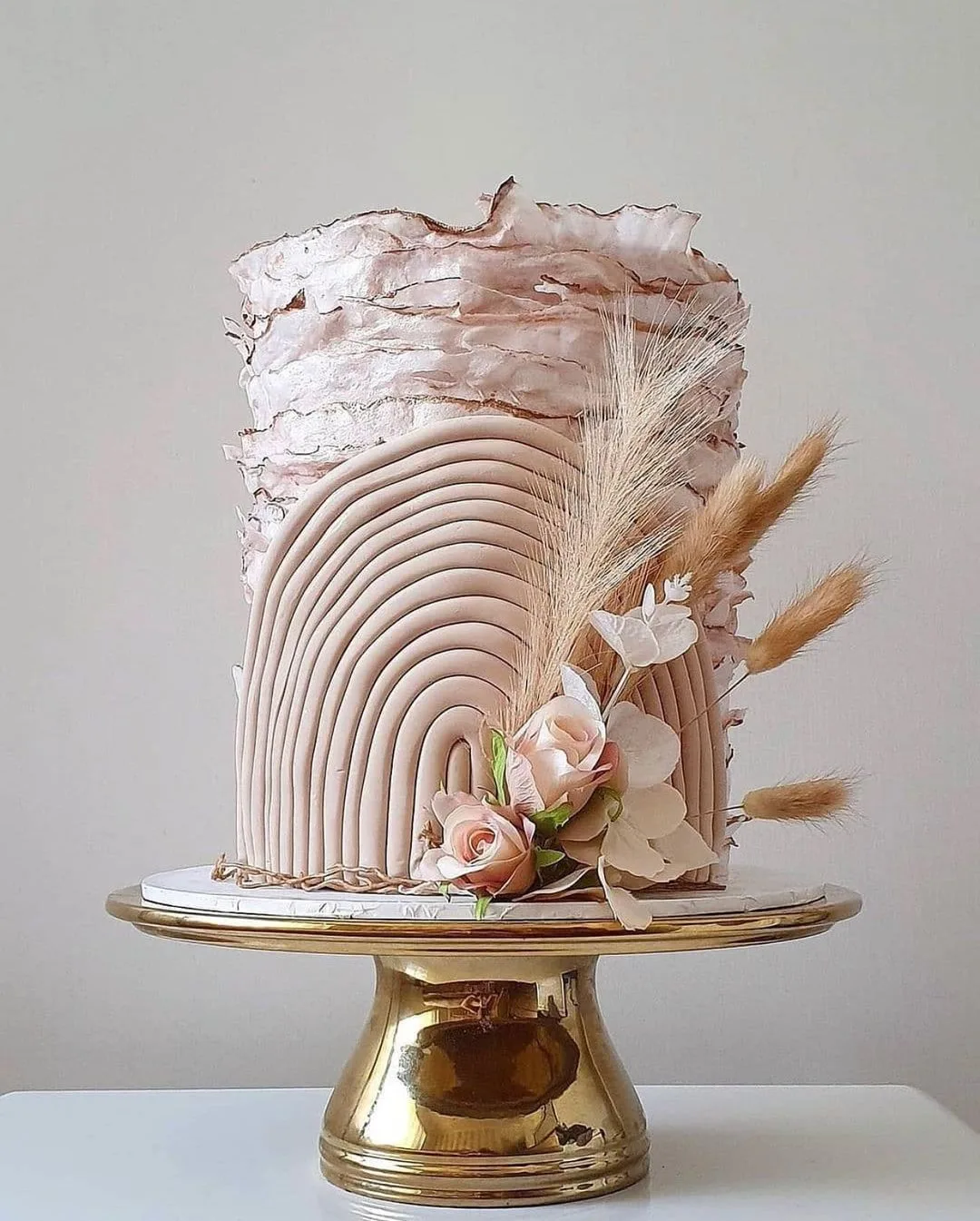 Credit: Instagram
Is there anything more delicate or as tasteful as that shade of blush on that cake? One base color, but so many textures, all in that single tableau.
Like, those taffeta-like ruffle ribbons with seared, ochre edges and thick rolls of sugary fondant coiled into an arched bow.
There are just so many things to see, so many textures to take in. You should just eat it all and call it a day.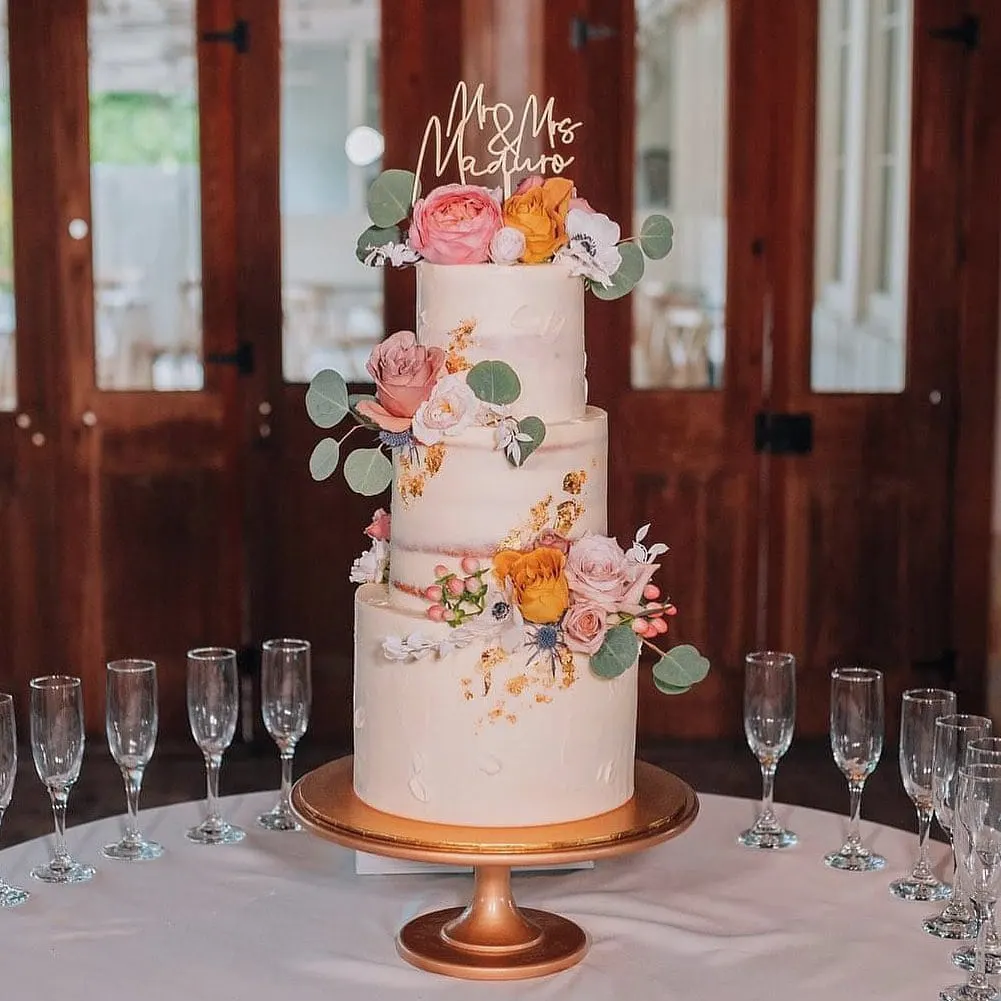 Credit: Instagram
Who doesn't love drinking a glass or two of champagne at a wedding? But, do you know what would be better than champagne? Pink champagne!
A pink champagne-colored wedding cake? The mind boggles.
Three tall layers of soft, creamy cake with lush roses in blush, ivory and a lovely, zesty orange like you can find here, are as good as wedding cakes can get.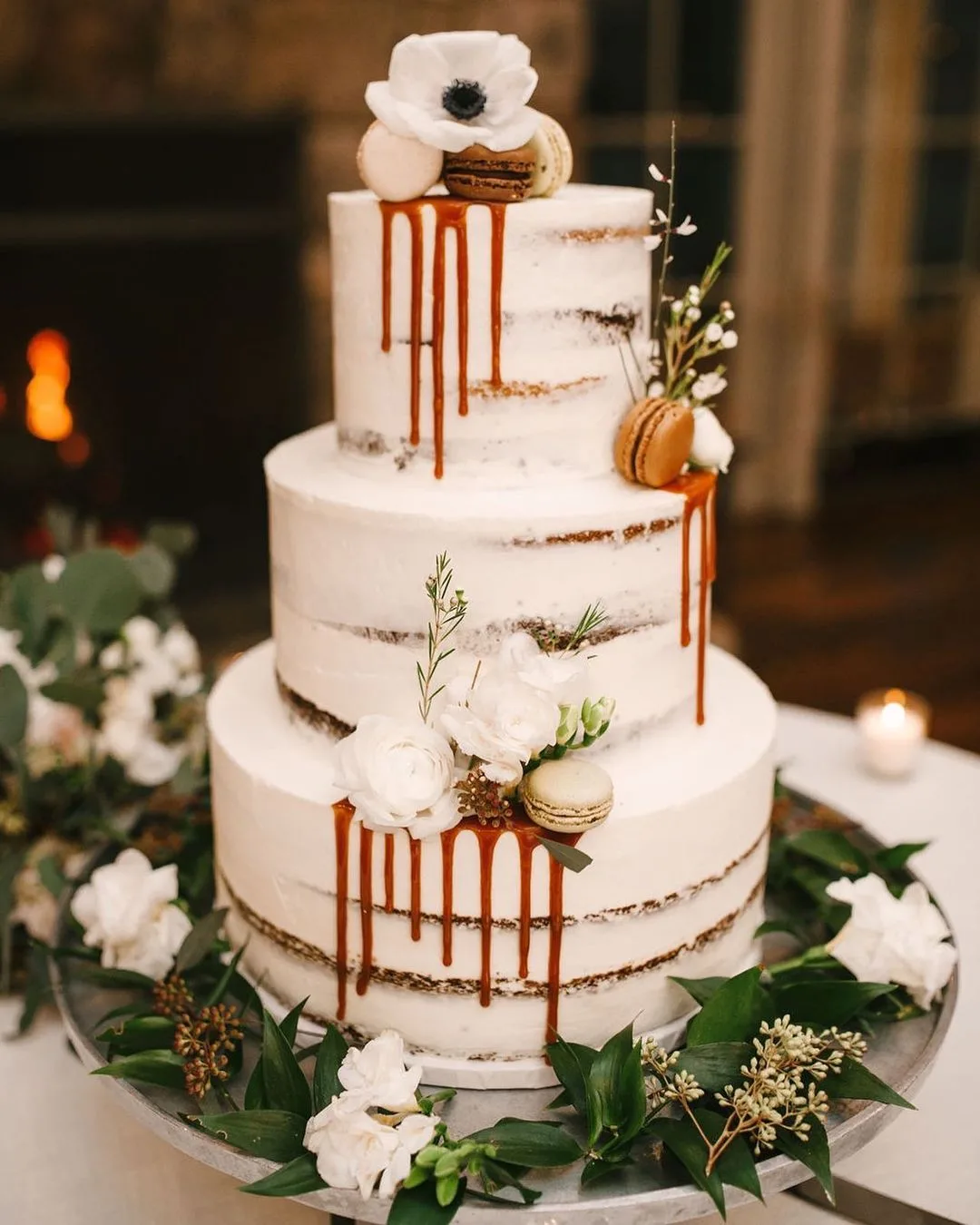 Credit: Instagram
You've got to love macaroons. Look at them, propped up against snowy white roses, looking so delectable.
Any wedding with cake and macaroons is one I'd pay to be at! That dark trickle can only be one of two things: burnt caramel or coffee.
Heck, why can't it be both?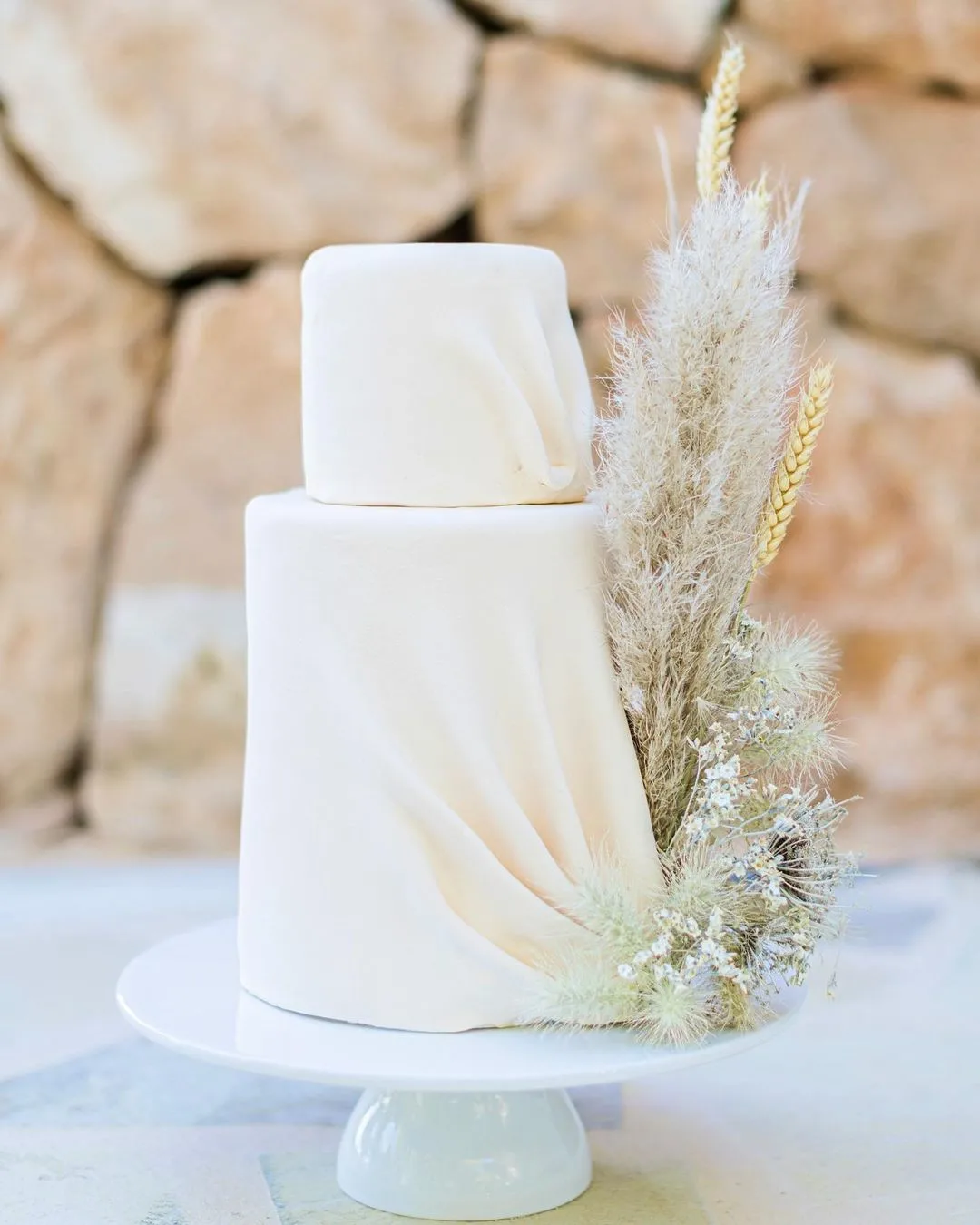 Credit: Instagram
You wouldn't be the only one to think that that's just satin cloth they'd used to cover the actual cake.
Look at those folds! Don't they look absolutely life-like, gathering just so?
But, if you look closer, you can see that tinge of pink in the creases, right where those sugary wisps of the 'floral' arrangement pin it in place.
Want to make your wedding even more special? Check out these wedding arch ideas!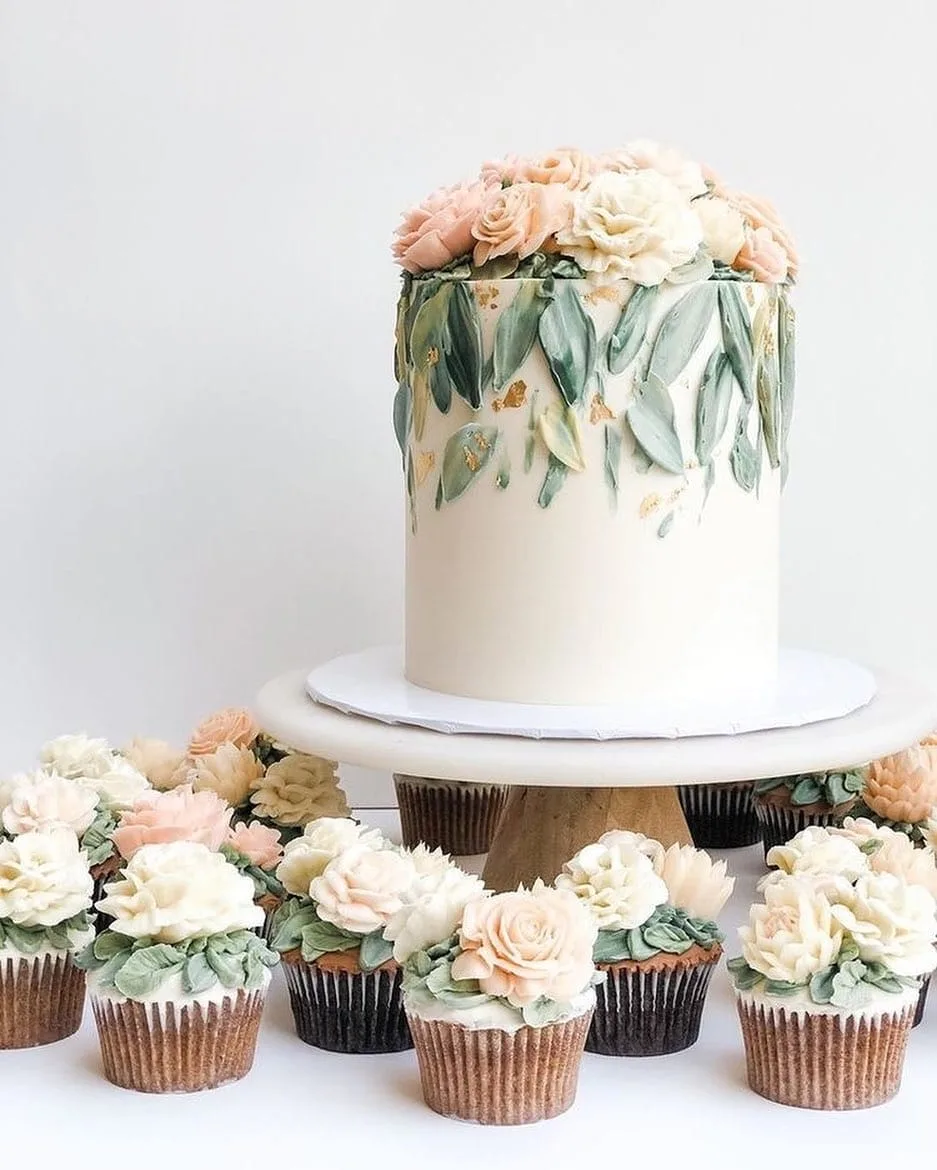 Credit: Instagram
Pastel weddings are the best, aren't they? Just look at those soft, sugary rose petals on a bed of green leaves.
Don't you just have to keep reminding yourself that everything there is edible? And, when you finally manage to tear your eyes away from the cake, look at those gorgeous cupcakes.
This cake and those cupcakes might just be too pretty to eat.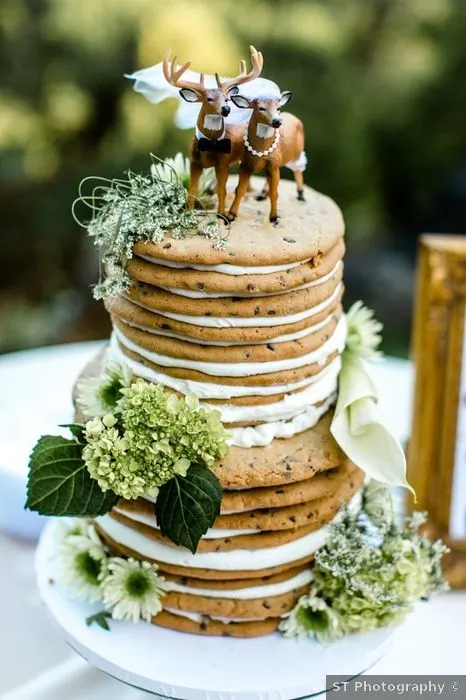 Credit: weddingwire.com
Donuts, macaroons, and now cookies. Weddings are getting better and better.
Logic tells you that that's just cake dough made to look like cookies, but does it really matter? Cookie cake!
But the real show stoppers are those cake toppers. Check out Mrs. Does' veil and string of pearls. Doesn't Mr. Deer look debonair in that bow tie?
You know what, this shouldn't be a wedding cake, this should be a centerpiece for every single table. Speaking of, here are some beautiful wedding centerpiece ideas to explore.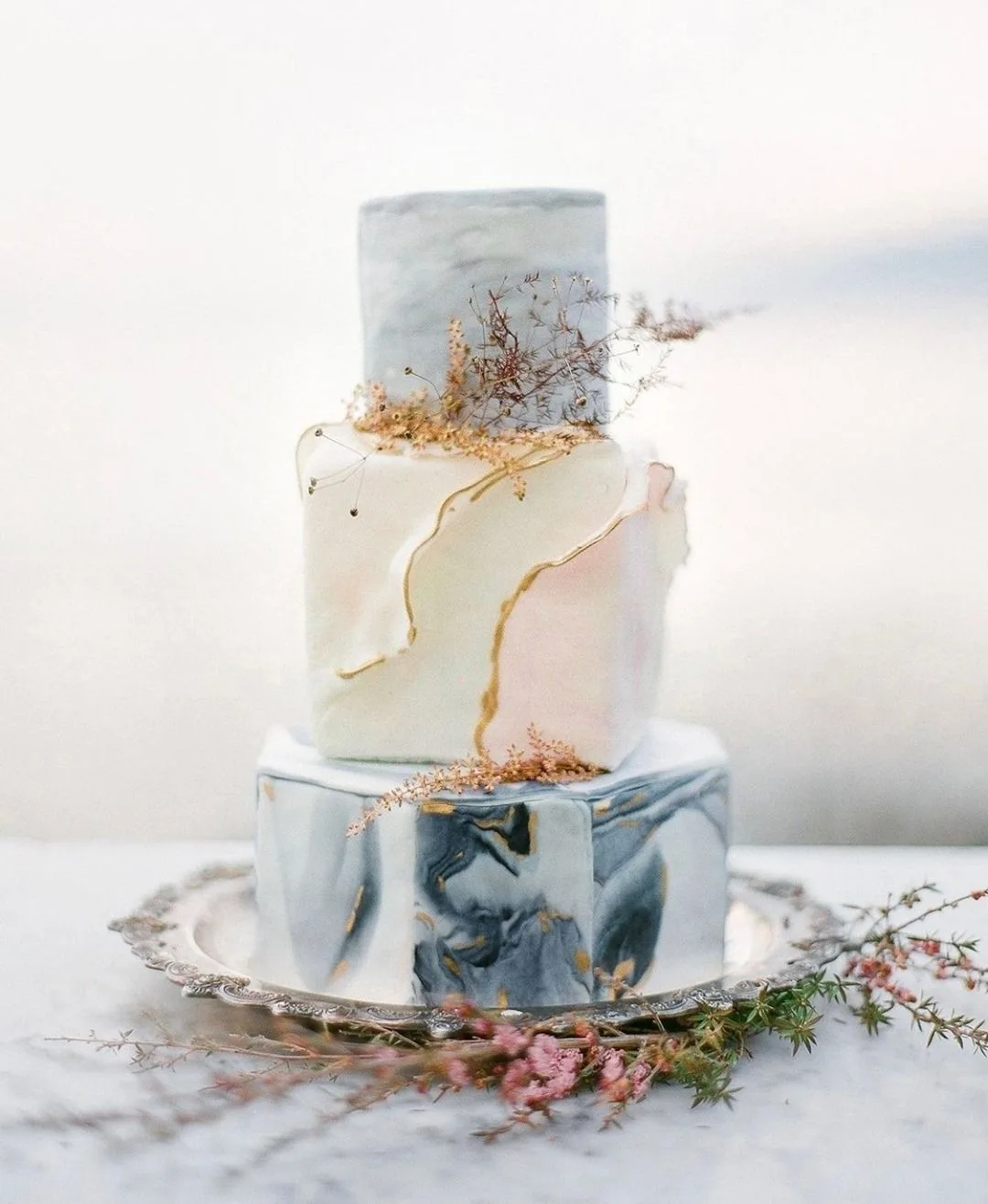 Credit: Instagram
That's not cake; that's a work of art.
The base and top layers are both edgy and sleek, with steely marbled veins and flecks of gold embedded in there. But then, you look at the middle layer, and you get that soft tinge of pink and even paler white.
It's almost as if the ruffled edges have been charred by gold fire that left gold residue fringes, haven't they?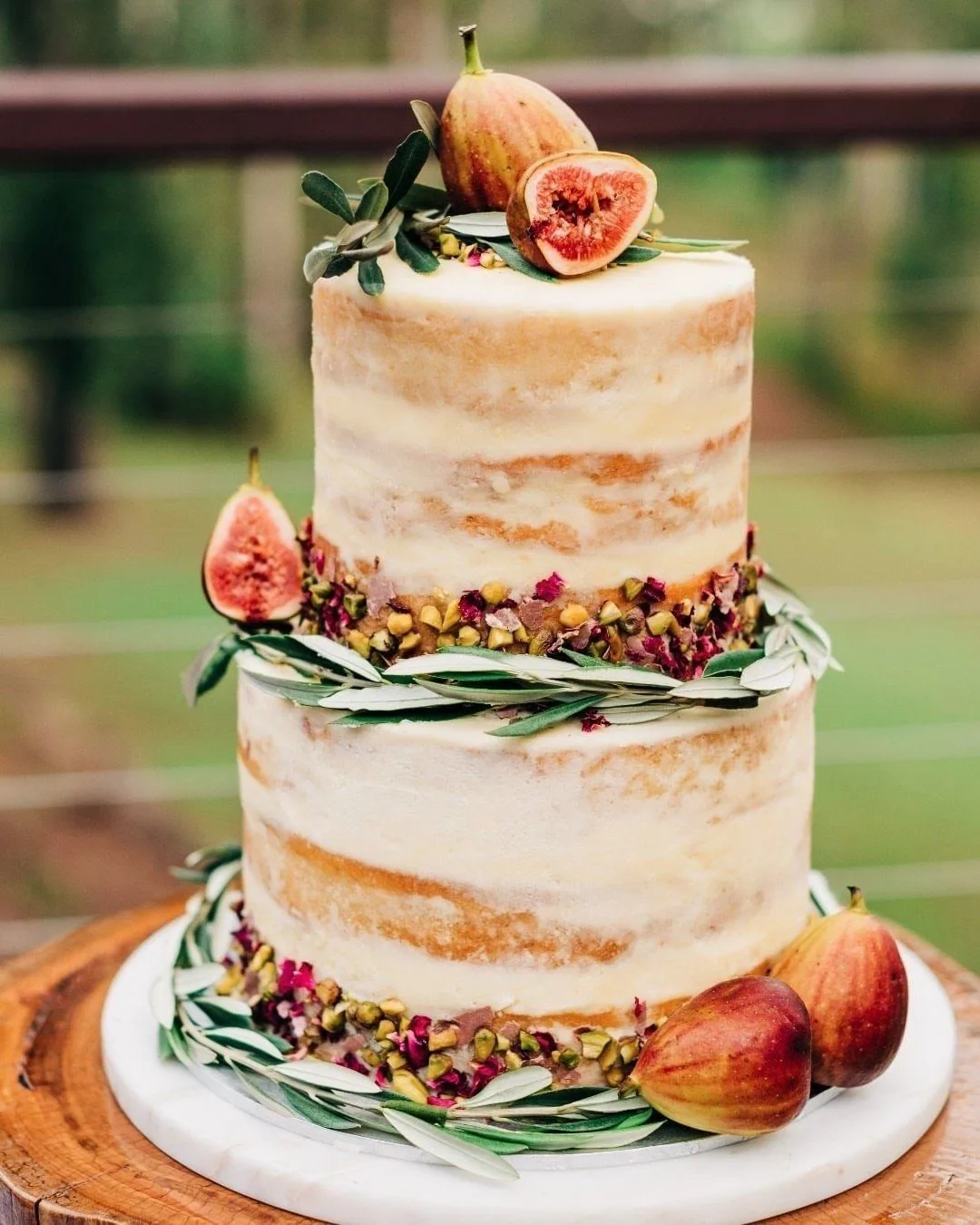 Credit: Instagram
Did you know that figs are attributed to the Roman Goddess of Love, Venus, as well as for union? So apropos, don't you think, to find figs on a wedding cake?
Symbolism aside, they're that perfect shade of bronzed golden pink that tastes amazing with a moist sponge and creamy frosting.
Check out that smattering of green pistachios and dried edible flowers around the base of either layer. Aren't these olive leaves just the perfect touch?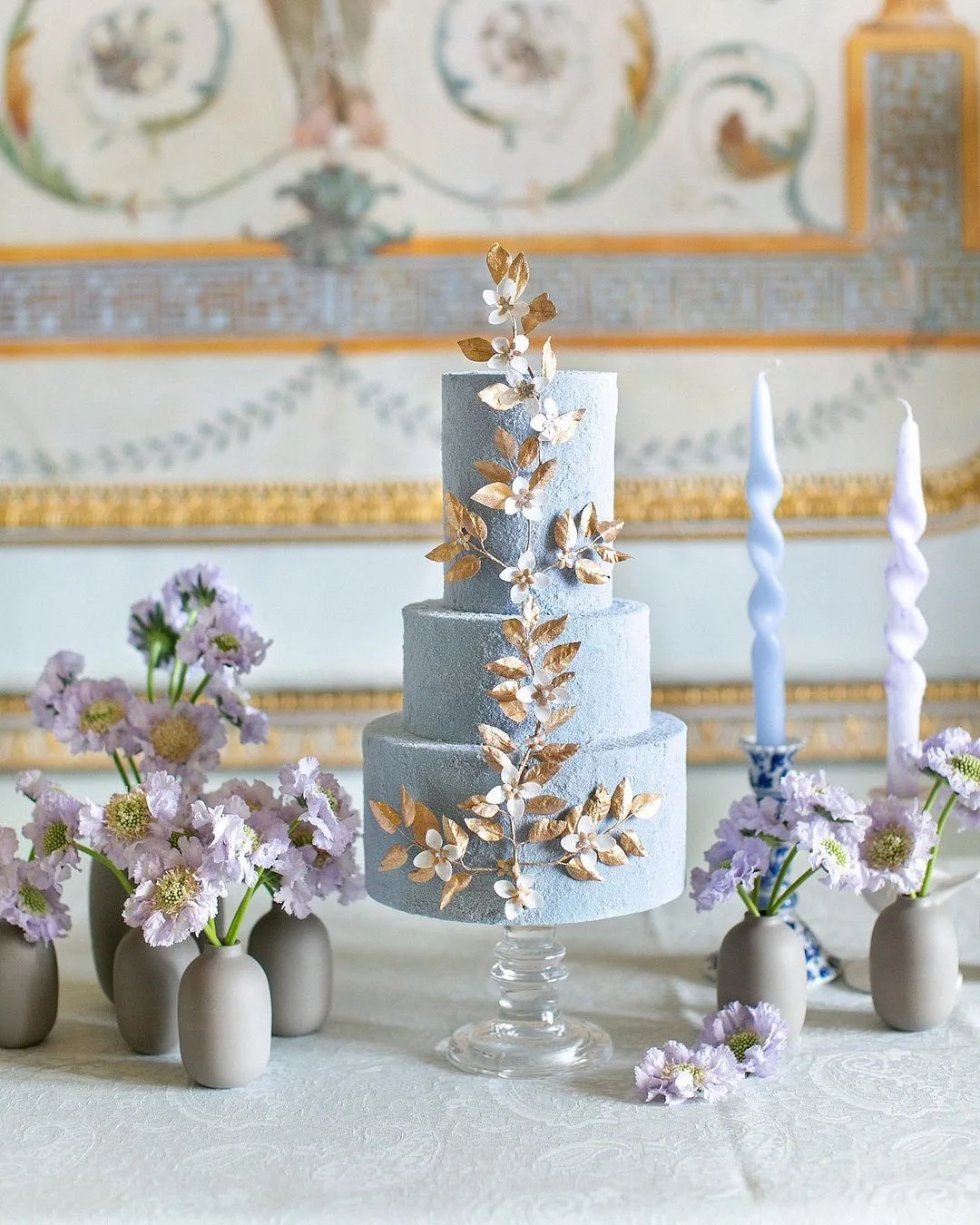 Credit: Instagram
This is the kind of cake you'd find at Cinderella's wedding. It's the exact same shade of lavender-blue that she wore to the ball. How dreamy.
Don't you love that gold vine that runs up the cake, sporting those tiny white and gold flowers? If you want to recreate that gold vine but not sure how just buy them here.
It's simple, yet so regal, just like a fairytale wedding cake ought to be!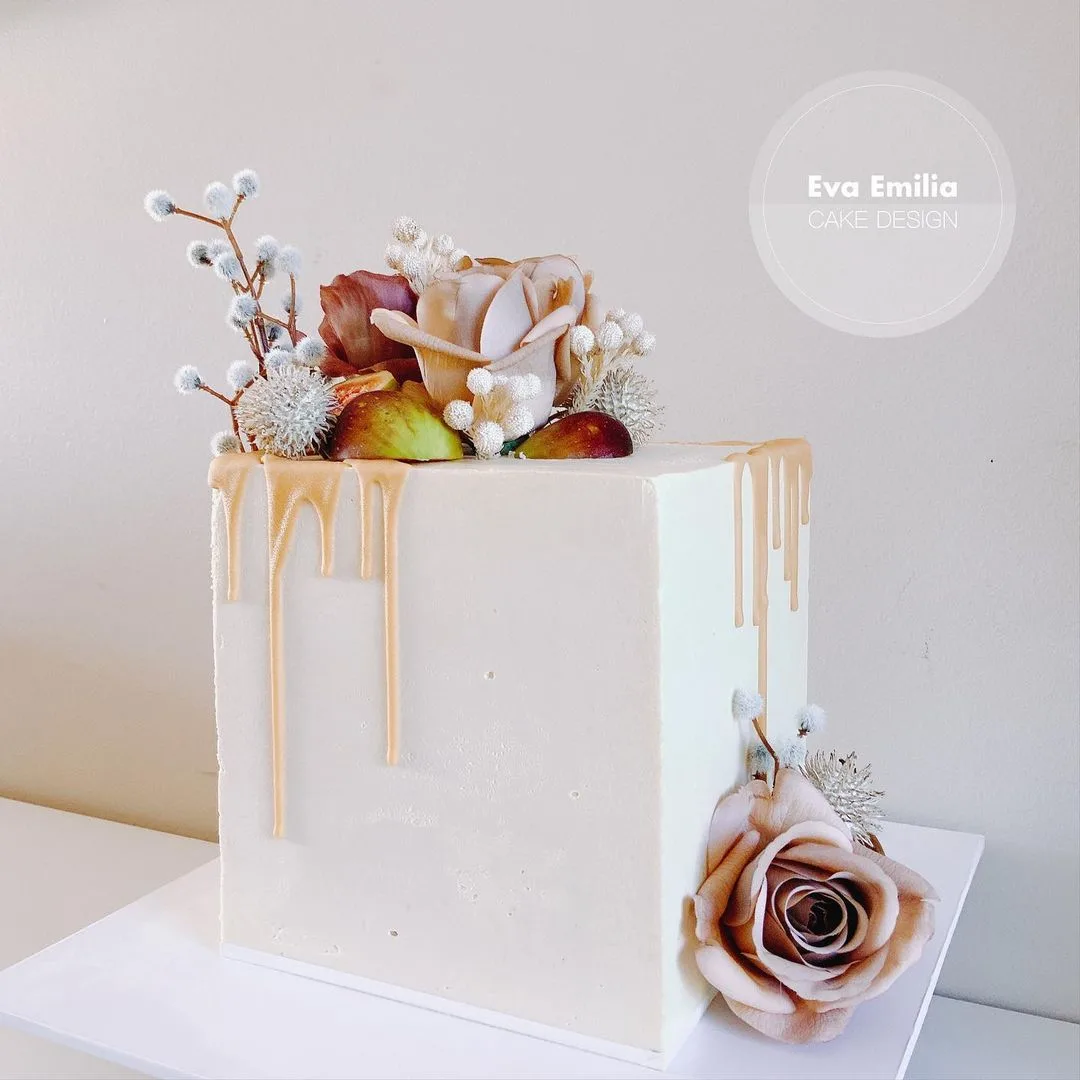 Credit: Instagram
This has to be a winter wedding cake. That single block of snowy white looks like an ice cube, albeit a cake-like one.
You've got some fig halves and some deep yet subtle pops of pink from those winter roses. Still skeptical?
Look at that caramel that's glazed over and frozen down the sides. I told you this was a winter wedding.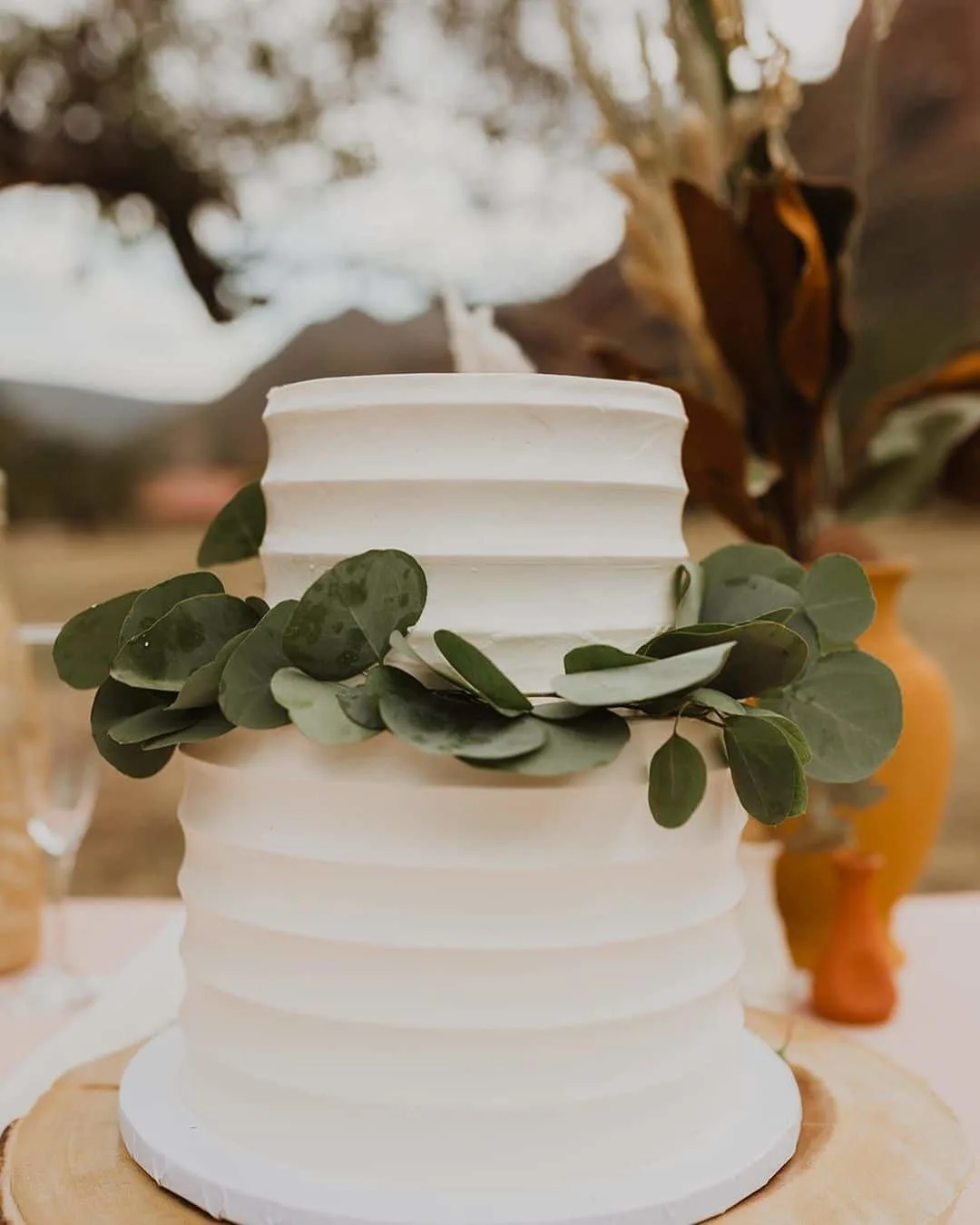 Credit: Instagram
Here's another cake design that's as exquisite as it is simple. This is just what you'd see at a vineyard-wedding.
Unfettered and elegant, there are two layers of snowy white frosting with just this green leaf wreath to add some color.
This is the kind of cake you'd pair with a glass of Riesling wine or maybe even prosecco to toast the happy couple.
Credit: ruffledblog.com
I'll bet you my slice of that cake that this is an artist's wedding. Or at least someone who just really loves oranges and everything citrus.
I'd like to think that it's the former. Why? Just look at it this way: the white frosting on the cake? That's the white canvas.
Now, look at those paint-like smears of icing. Don't they look like the soft strokes and swirls of oil paints, not unlike what artists would make with a palette knife?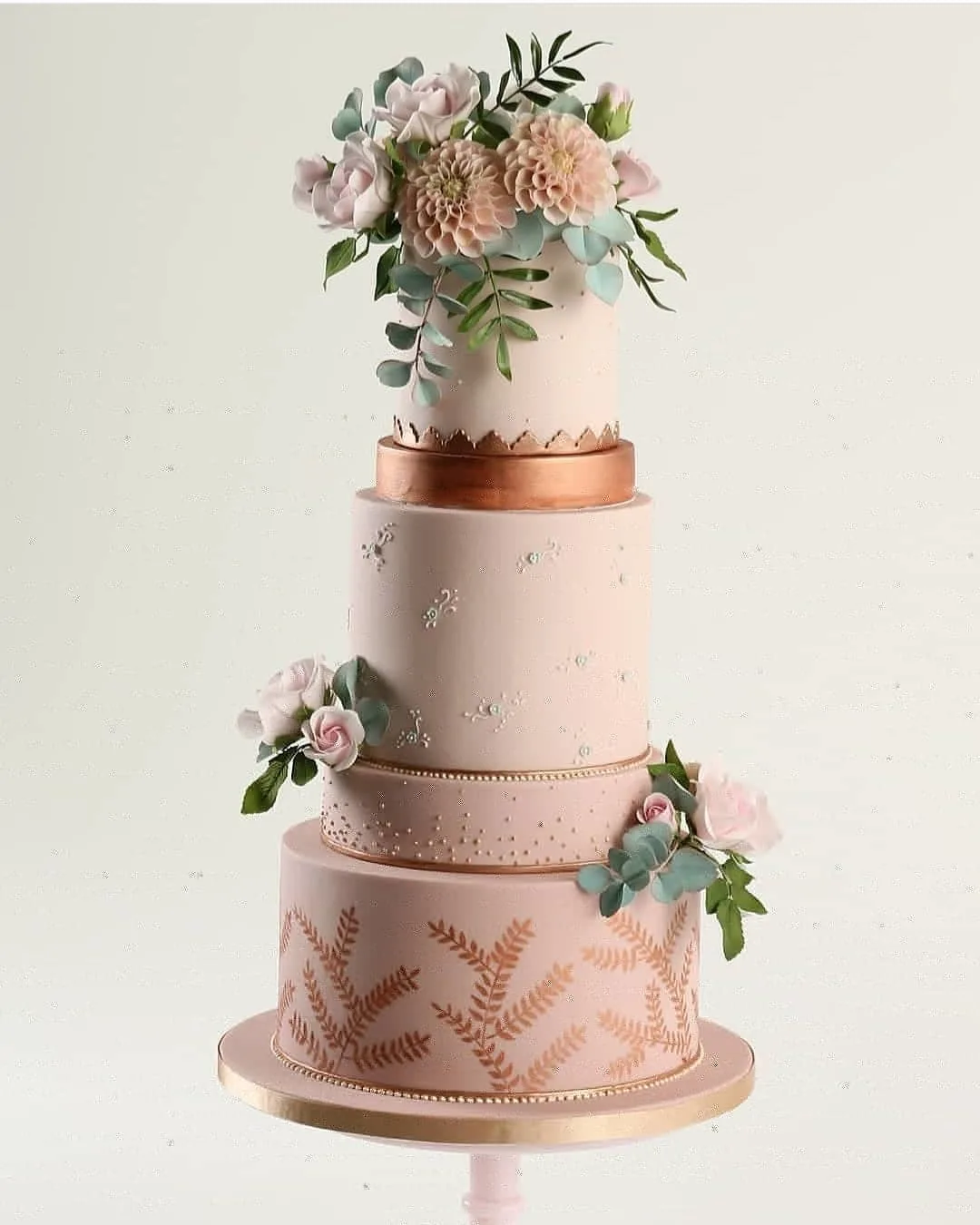 Credit: Instagram
You've got five layers of cake that's a soft pastel pink shade but all about detail and finesse.
There's a pattern and print in every row:
Stenciled copper leaves
Small edible ivory-pink pearls that you can find here.
Tiny floral motifs with intricate swirls
A thick band of copper
Classic pale pink roses
I particularly love those fully bloomed dahlias that look ripe and gorgeous and probably taste even better, seeing as how they're edible.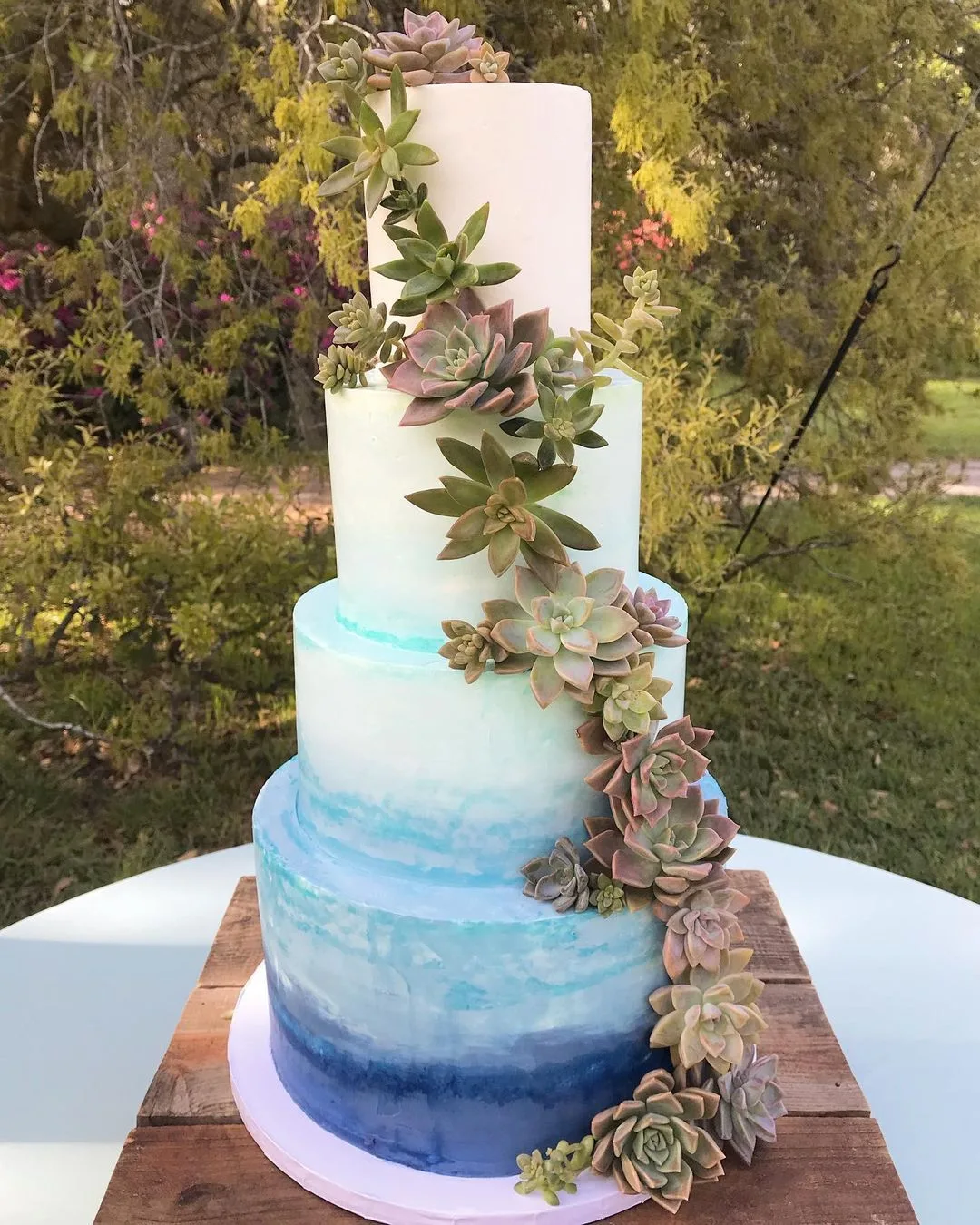 Credit: Instagram
I can't help but love this succulent cake. No, really, there are actual succulents on the cake, and I'll bet you they taste as good as they look.
Did you know that succulents are a symbol of enduring and eternal love? Roses are great, and all, but succulents up the ante and make a wedding cake unique and fun.
Credit: Instagram
Wow, just wow. Look at those folds of peach satin. Look at how they drape over the three layers and fall ever-so-carelessly down the front.
Here's the secret. That right there is cake. Fondant, mostly, but in essence, all that satin is edible cake. I'm not too sure about the
I hate to say this, but the bride and her dress have some serious competition from this work of art.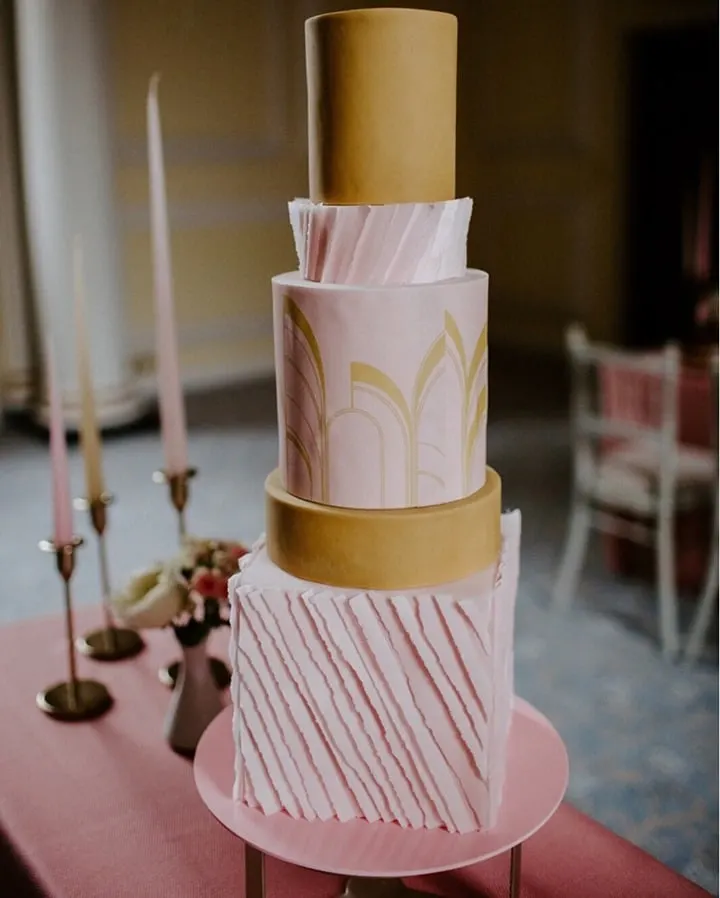 Credit: Instagram
Doesn't that cake look like something right out of the 70s? I'm pretty sure I've seen some similar wallpaper prints and patterns.
Speaking of wallpapers, that's precisely the effect you see on tier number three. That pale gold arc-like design is unique and fun on a cake.
Also, check out that chunky, frilled base, with what looks like wafer-thin strips of sugary goodness lined diagonally across each side. Delish!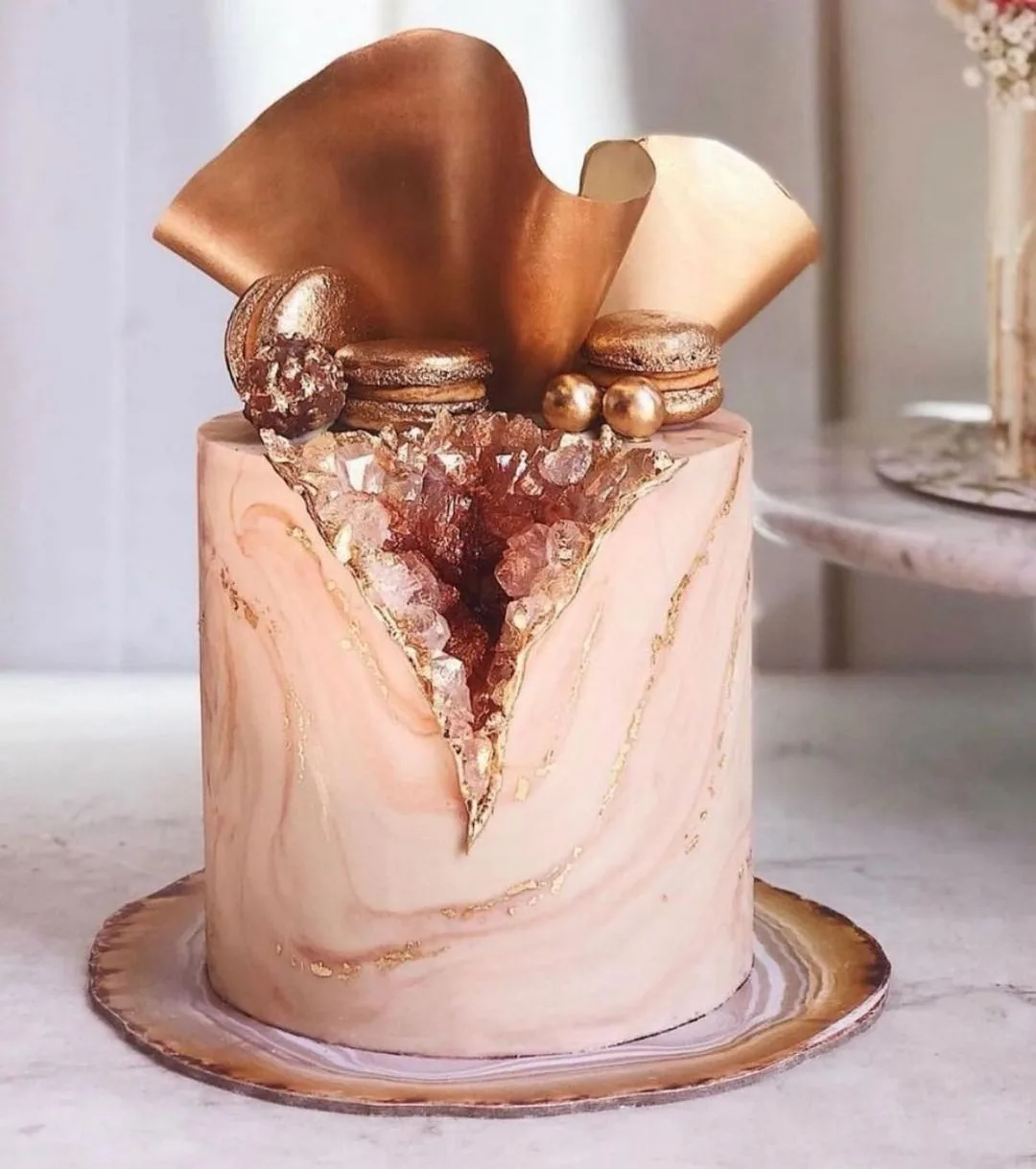 Credit: Instagram
If opulence could be captured in a cake, this is how it would look. I'd be tempted to slip those sparkly gems and bronzed macaroons into my purse.
Aren't those marble-esque swirls just amazing. You can see how the gold-crusted fringes of the marble just gape open to reveal the hard gem-candy within.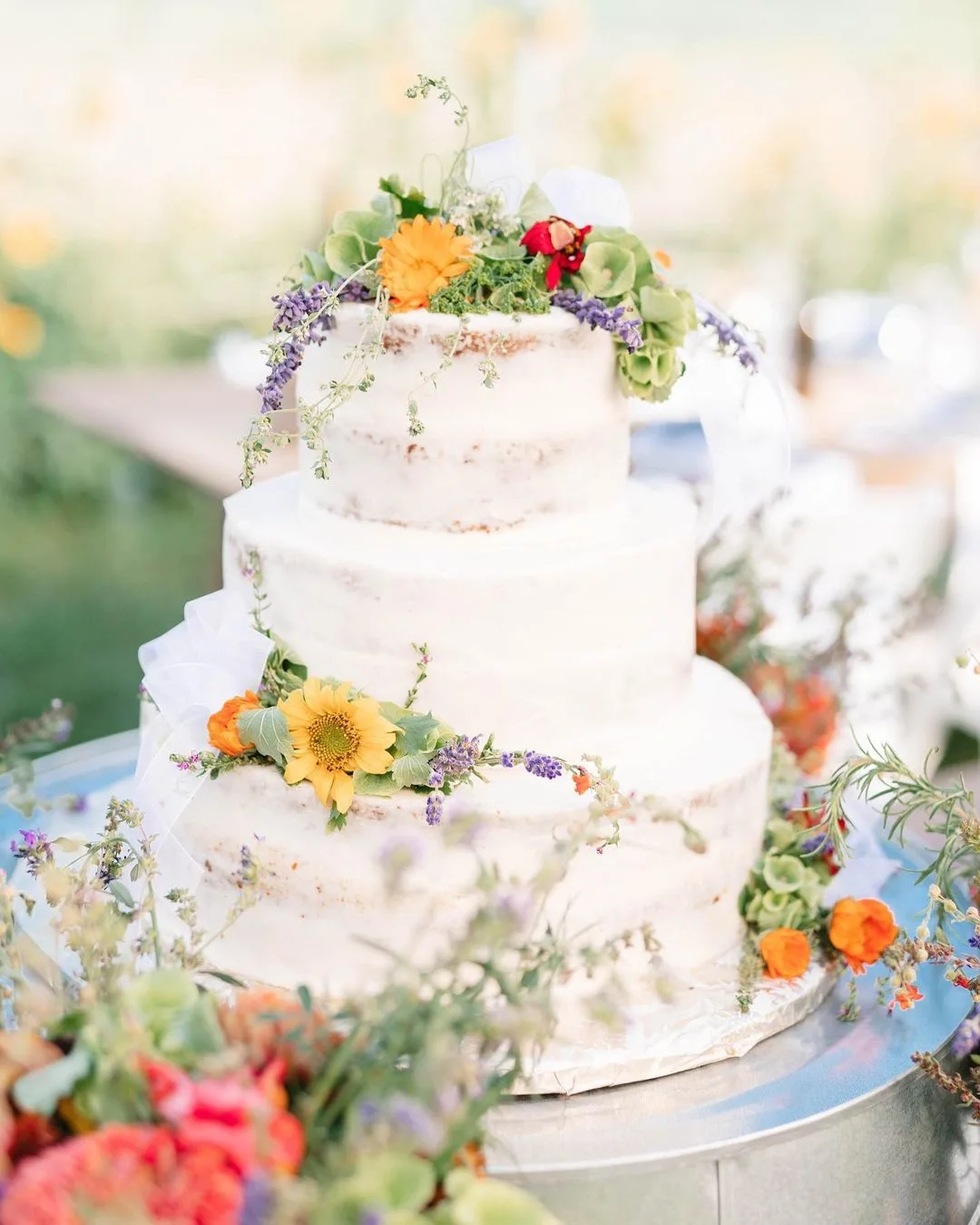 Credit: Instagram
After the glitter and sparkle from the previous cake, this simple white cake with soft floral decorations is a breath of fresh air on a summer's day.
You can find decorative flowers just like that right here, but honestly, all you need are a few sprigs of lavender like this and some of this baby's breath to do the trick.
Credit: Instagram
I love how crafty this cake is. I love the symbolism at work here even more.
Macrame is all about making significant knots and weaving threads to form something meaningful and beautiful. It's the perfect way to symbolise the day that you and your future spouse tie the most significant knot of all.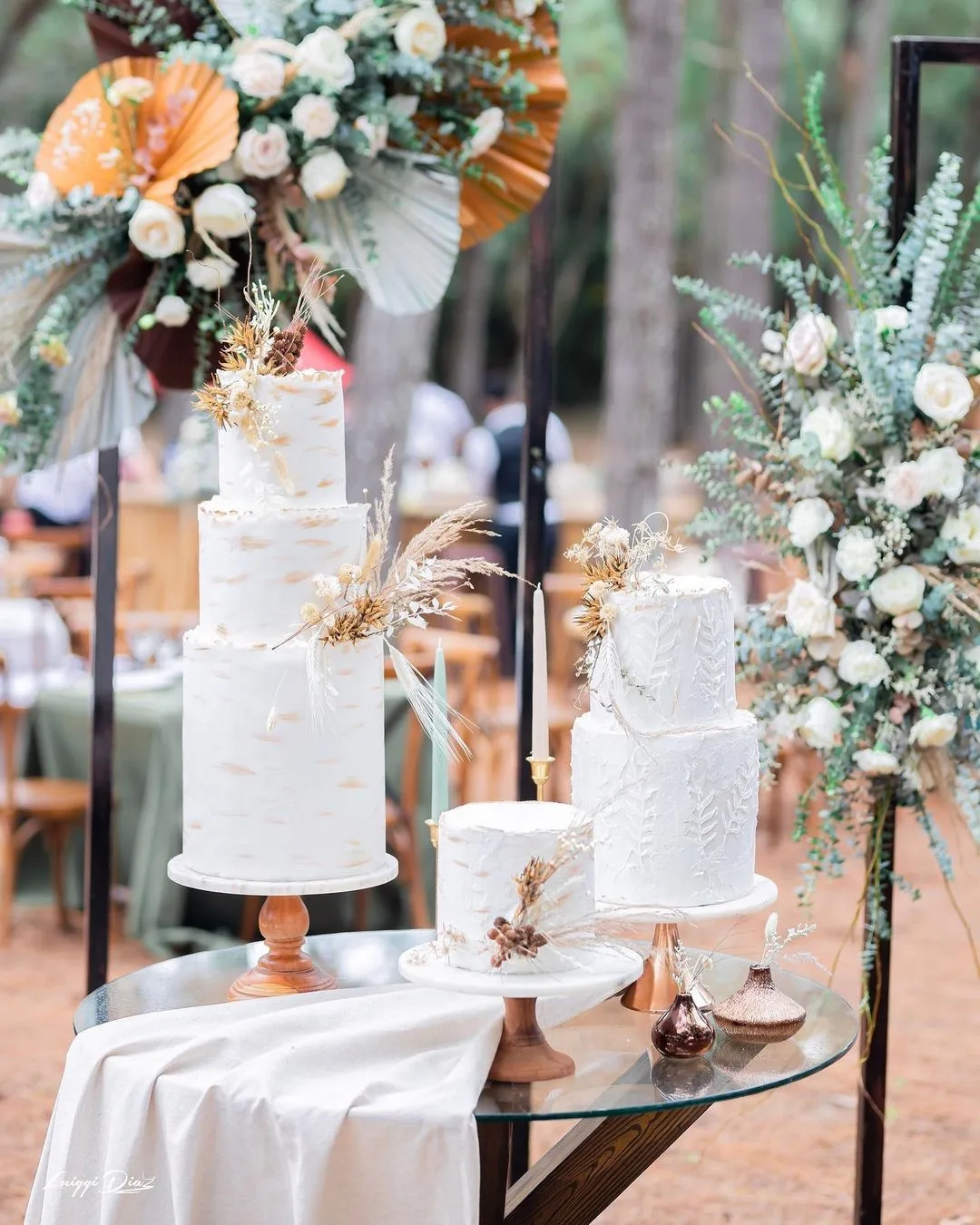 Credit: Instagram
What I wouldn't give to go to a wedding with not one, not two, but three wedding cakes? That's six layers of cake between them and so many bags of lovely, creamy white frosting.
You've only got a few traces of wheatish white from the stalks of wheat, brown, and nutmeg from cake decoration to brighten the cakes. But they really do wonders with only that, don't they?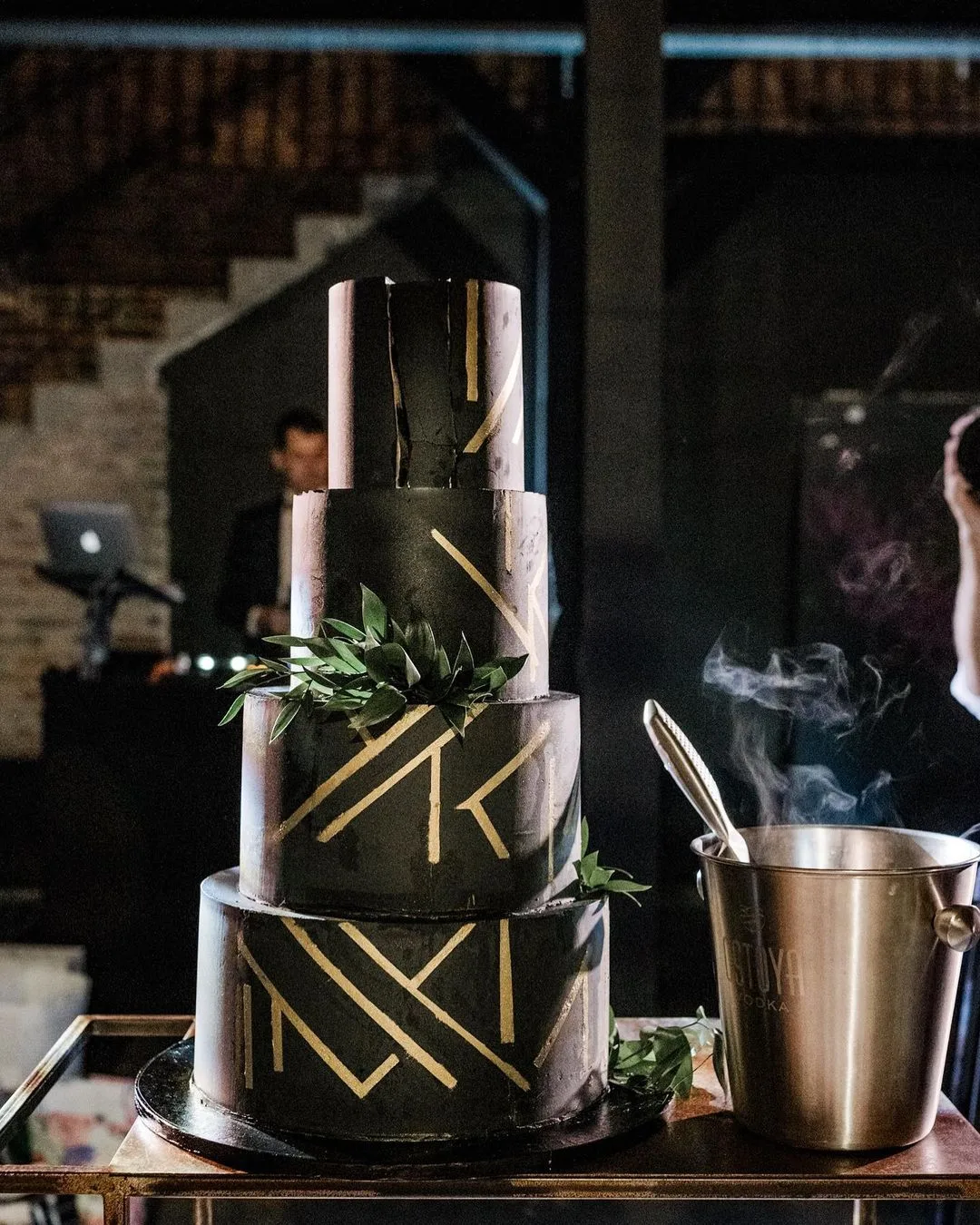 Credit: Instagram
Now here's a cake you don't often see! That smoky, charcoal greyish-green palette is the perfect setting.
For what, you ask? These perfectly edgy and sleek golden lines and patterns, of course.
It feels like you've walked into a neo-noir wedding. I can't even begin to imagine what that cake will taste like, but I sure can't wait.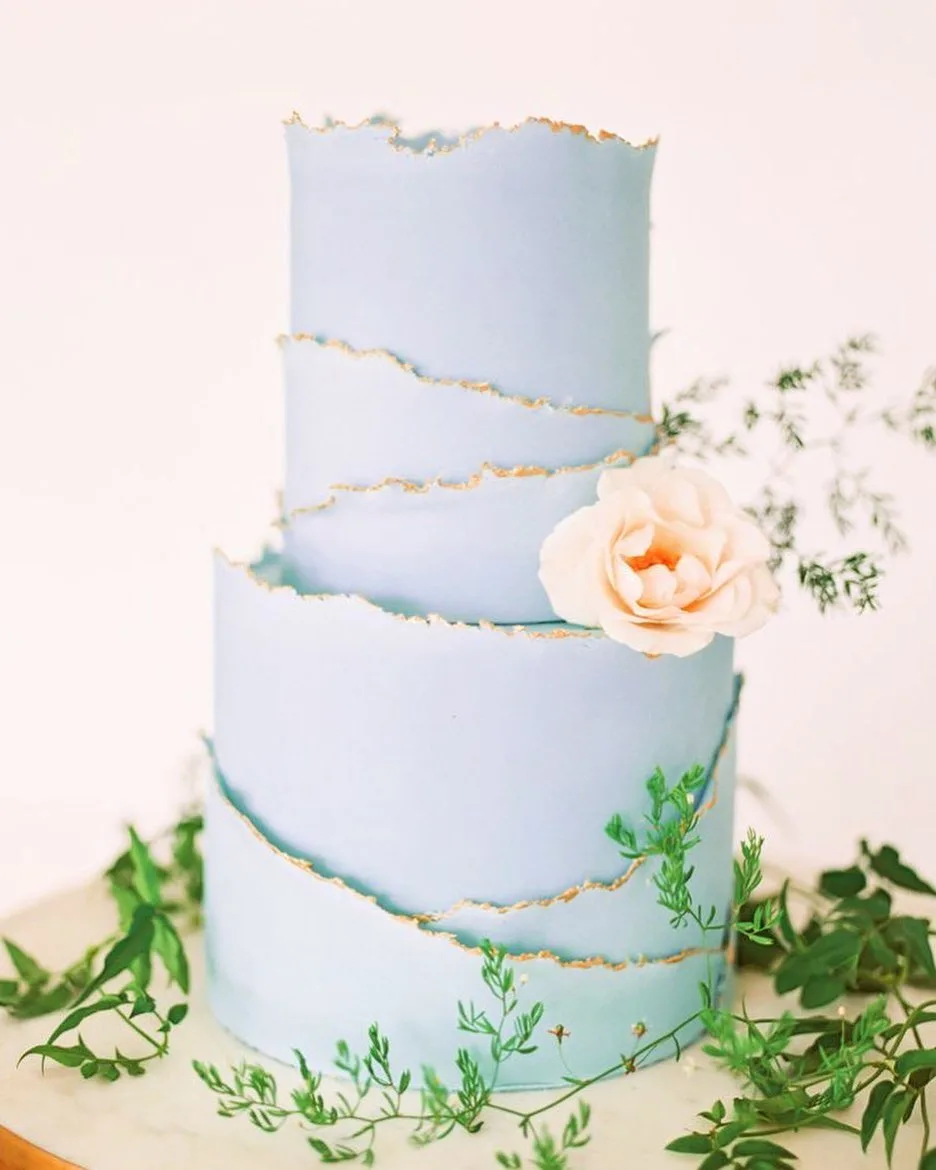 Credit: Instagram
Blue lilac cakes add some much-needed color to an event that's mostly all about whites and pale colors. With this cake, it's almost like there's a long sheet of gold frayed fondant wrapped around the cake to dress it up.
And, don't you just love how jaunty that single pale rose looks, tucked into the folds of this layered cake?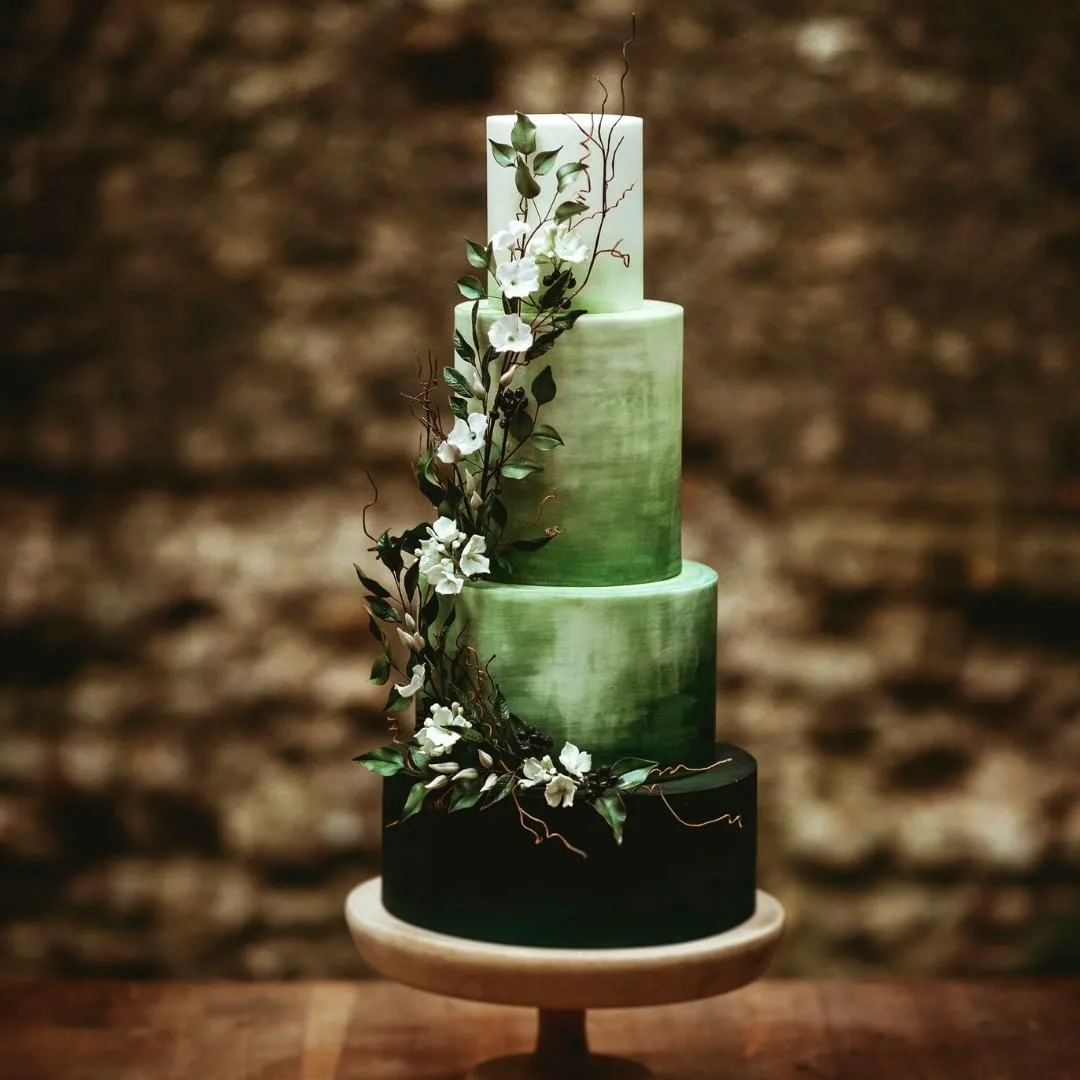 Credit: Instagram
It would seem we've walked into a dark fantasy novel, set in a forest that is thrumming with mystery, power, and allure.
No? It must be that cake then, filling my head with all those images. There's something so hauntingly beautiful about how the dark emerald fades into the barest whisper of green at the top layer.
Beautiful, yes, but hauntingly so, and perhaps just a tad bit uncommon at Muggle weddings.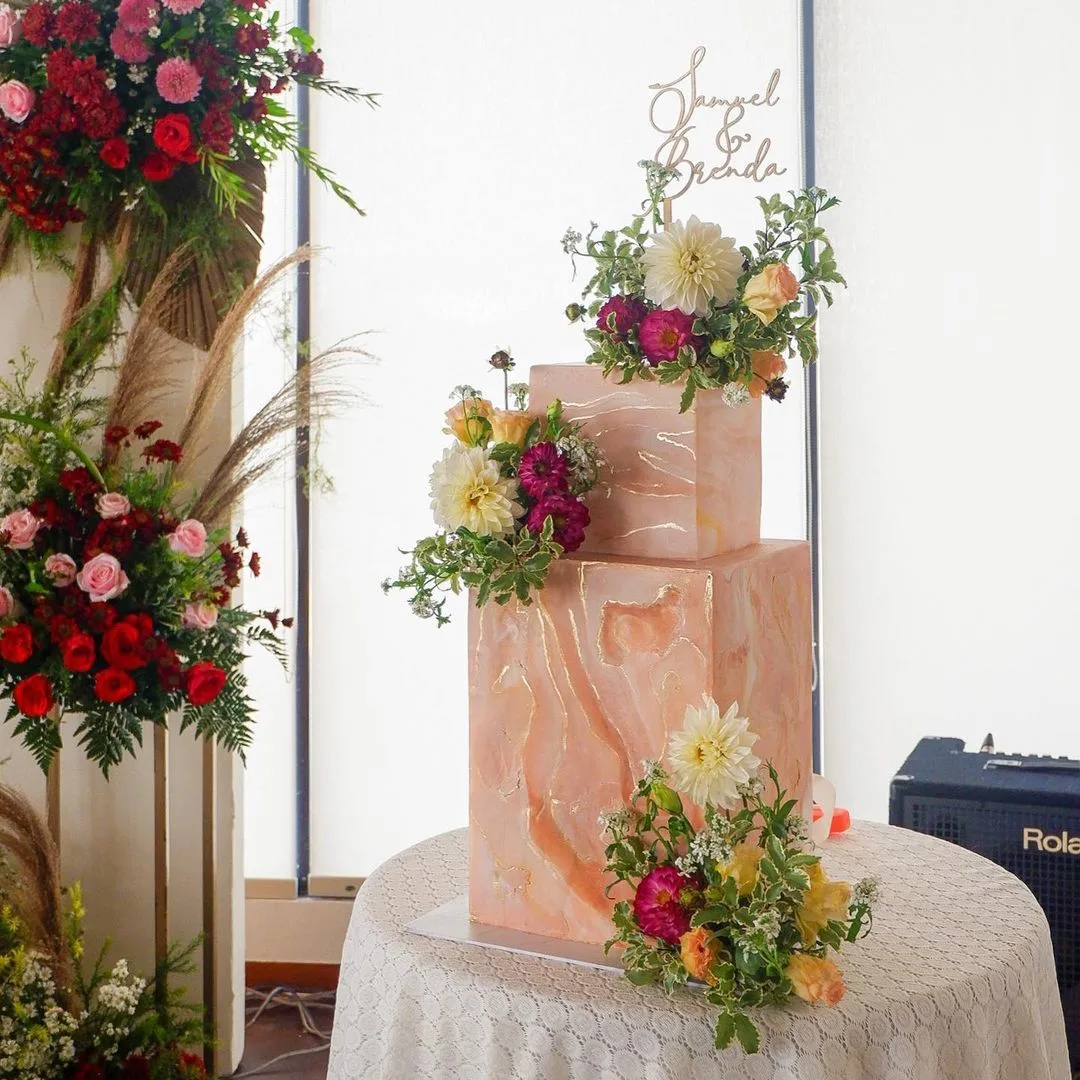 Credit: Instagram
Gold veins on a marble really do seem to be a popular inspiration for a wedding cake. I guess the only way to make a cake look like it'll last forever is to make people think it's set in stone—or marble as the case is.
So that means you'll also need some flowers tucked into the sharp lines to soften and mellow the stone-like edges down to candy-like proportions.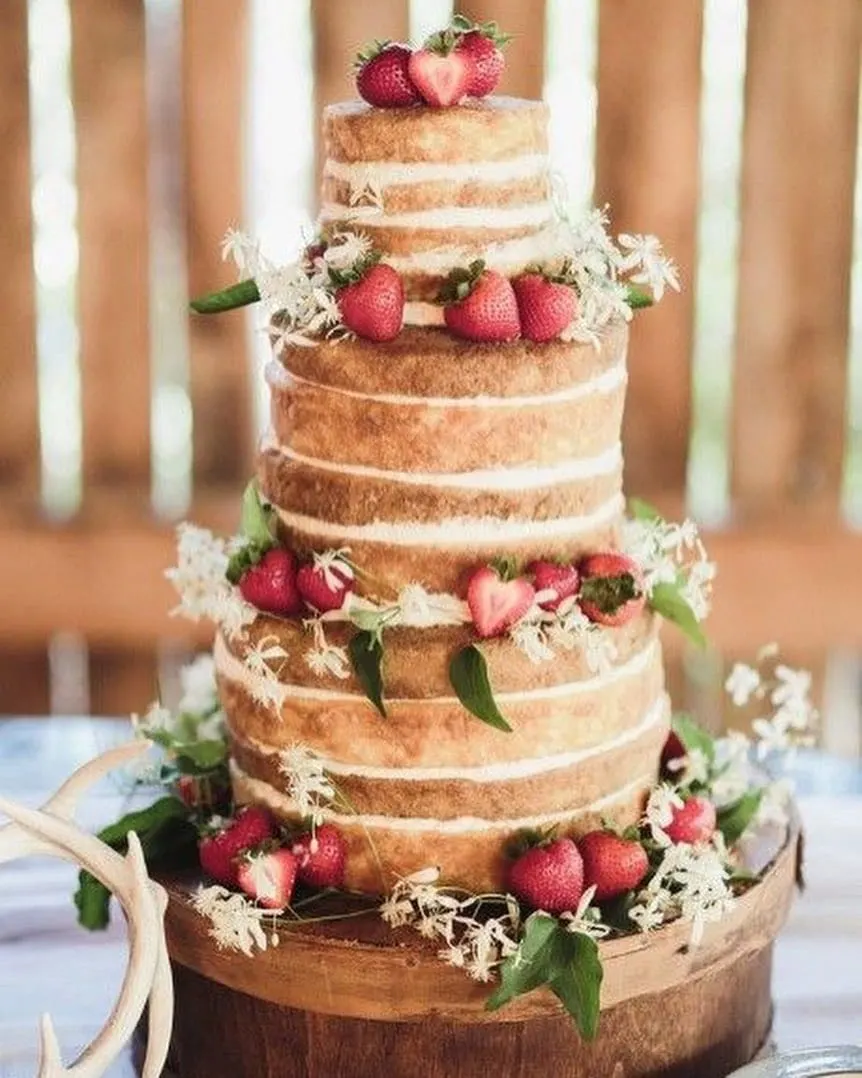 Credit: Instagram
This here is a no-nonsense and no-frills cake. But that doesn't mean it's unattractive, no. Far from it.
There's something so pleasing and natural about the soft, warm. brown sponge and the thick roll of good-old-fashioned buttercream vanilla frosting between every layer.
All it needs are some fresh berries, and you've got a winner.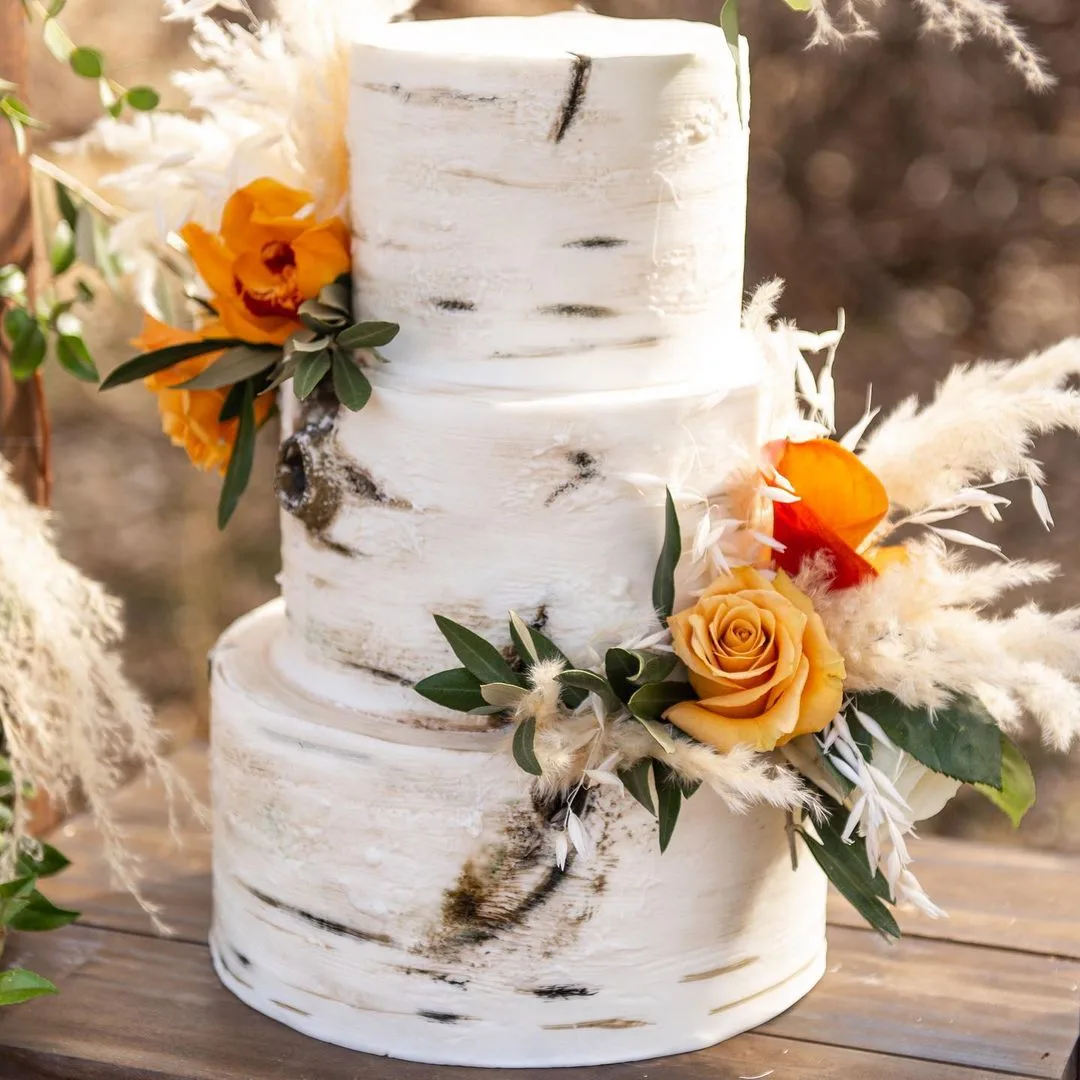 Credit: Instagram
Red roses are for love and passion, and yellow roses for friendship. So that means that orange roses are for love, passion, and friendship.
That makes it the perfect flower for weddings and an even better decorative item to tuck into a wedding cake like this one.
Just throw a few sprigs of heather and olive leaves, or artificial eucalyptus leaves like you can find here, and you've got a beautiful and earthy wedding cake.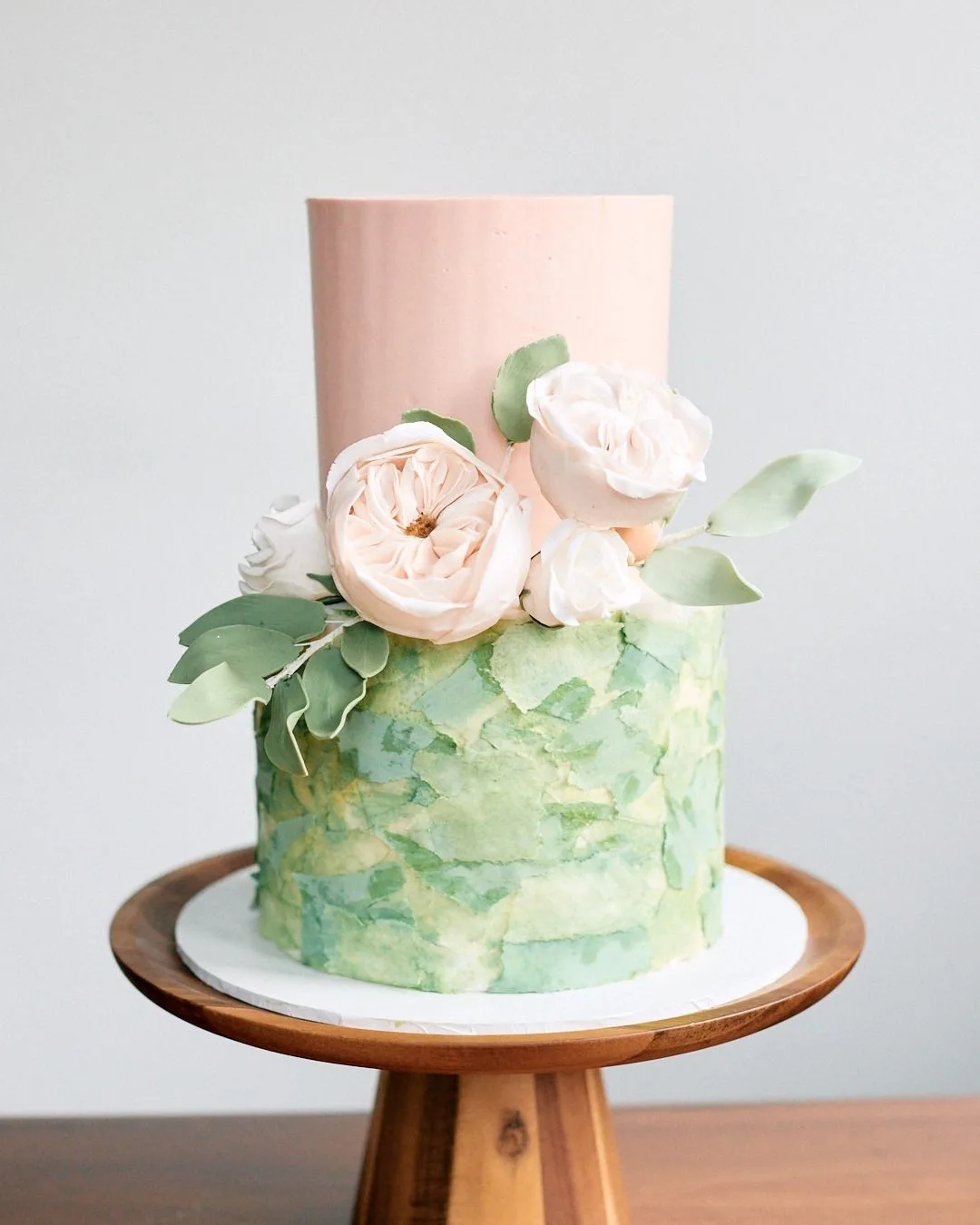 Credit: Instagram
You look at the top half, and you see a classic, traditional wedding cake in pale blush, with lush blooms. Then you look down at that quirky bottom layer.
It looks like it's a craft experiment of paper—or sugar frosting—mache with different shades of greens plastered across it.
That layer provides flair, character and texture to this wedding cake. If you're interested, check out these wedding craft ideas for inspiration.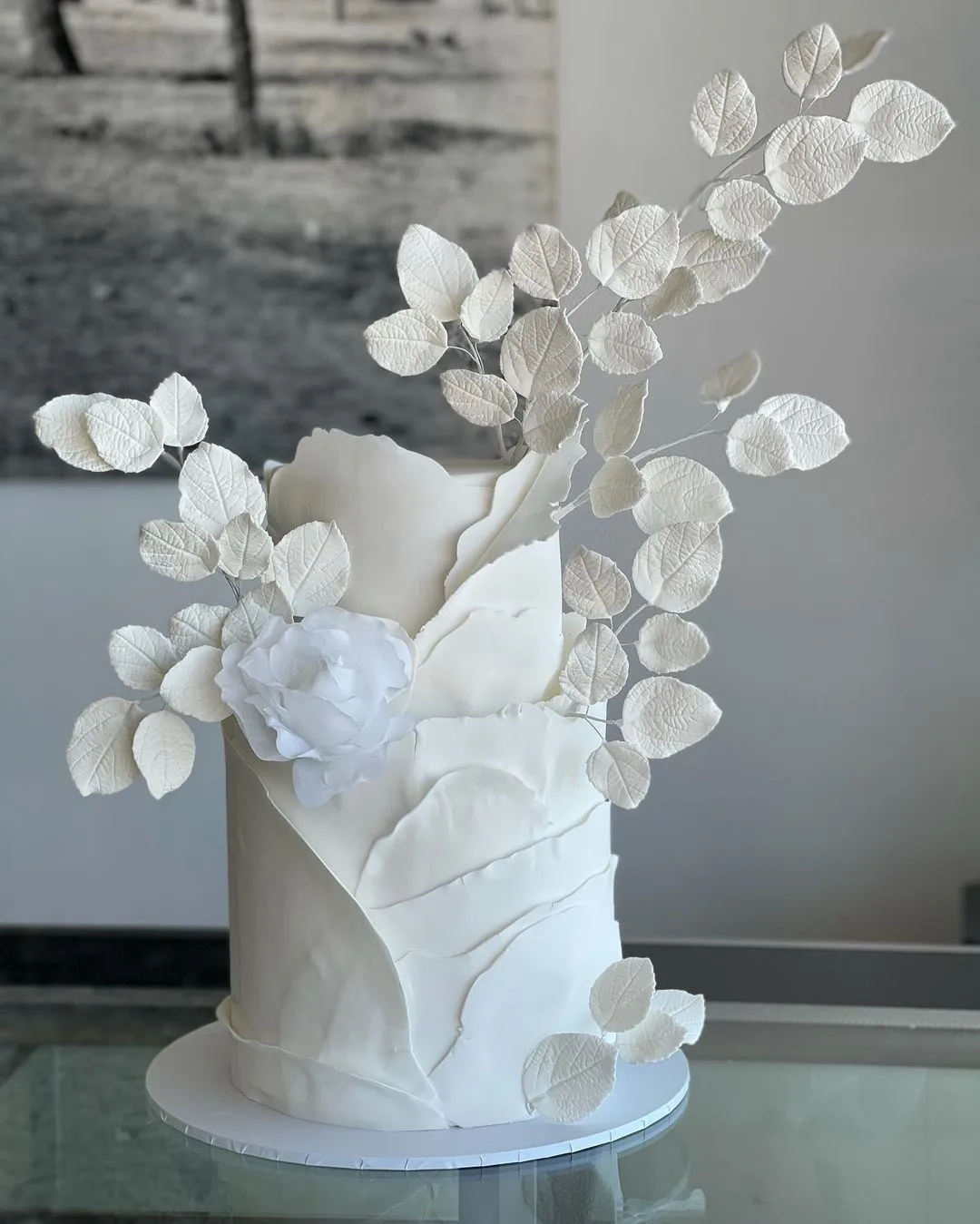 Credit: Instagram
It looks like a statue out of some Greek mythology, doesn't it? Too ethereal to belong to us mortals and definitely too beautiful to be a wedding cake.
If you look just a little closer, you'll be amazed to see all that detail on the leaves—all those veins and fine lines that run along its length.
You know what? You should go ahead and taste it, just to make sure it is actually cake.