Transform your wedding decor with these wedding arch ideas. If you're in need of some decor inspiration, these ideas will give you that and more!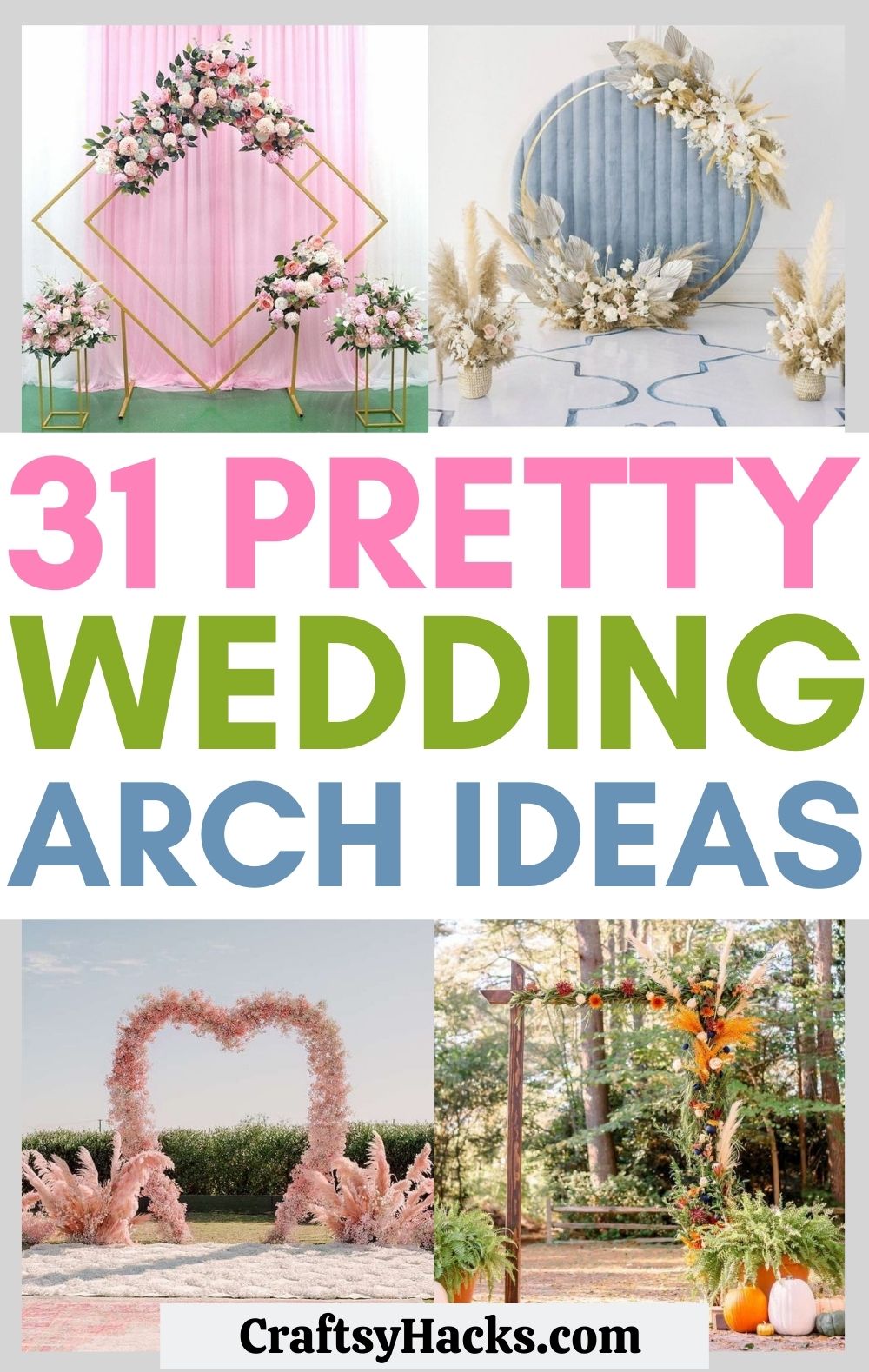 Your big day is on the horizon, the day you'll be walking down the aisle and binding yourself to the one you love, in the sight of your friends and family. That's a fantastic feeling, one that should be cherished.
Unfortunately, the stress of wedding planning can often override the excitement that lies in the lead-up. The truth is, planning this day should be fun! That's why I've assembled thirty-one stunning wedding arch ideas.
This arch will be what you get married under, so it should feel perfect to you. Browse through this list and find the one that makes your heart sing.
1. A Lily Pad Arch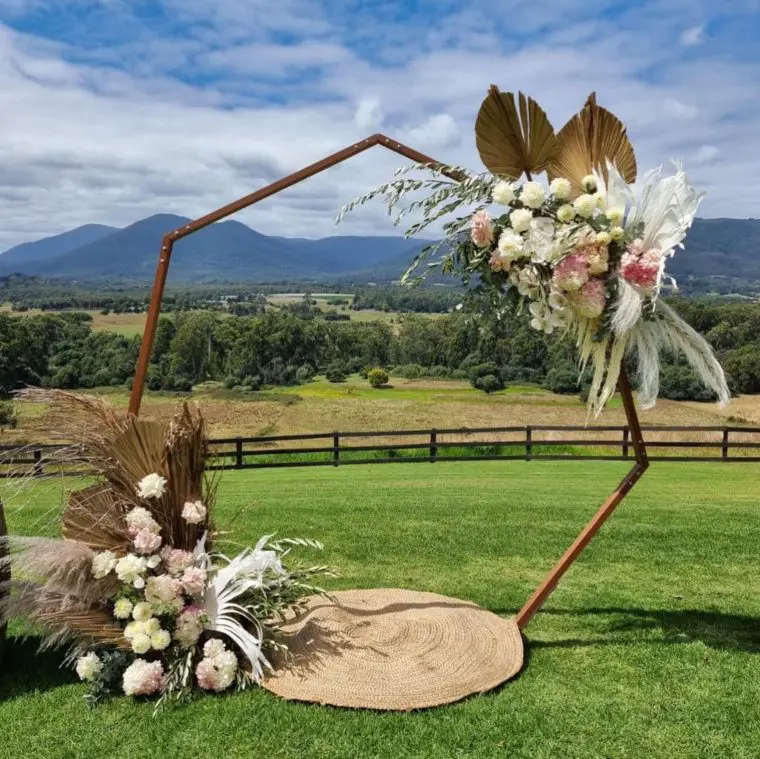 Credit: Instagram
Let's begin our list with a twist on the classical arch. If you're having your wedding in wine country or anywhere with wide-open vistas, this arch offers an attractive way to mark the end of the aisle.
Gaze through the wooden hexagon at the views stretching out below you. The wedding pictures with this arch alone will be phenomenal, not to mention the experience of standing there on your big day.
You can get a similar wedding arch here and decorate accordingly.
2. Venetian Window Arch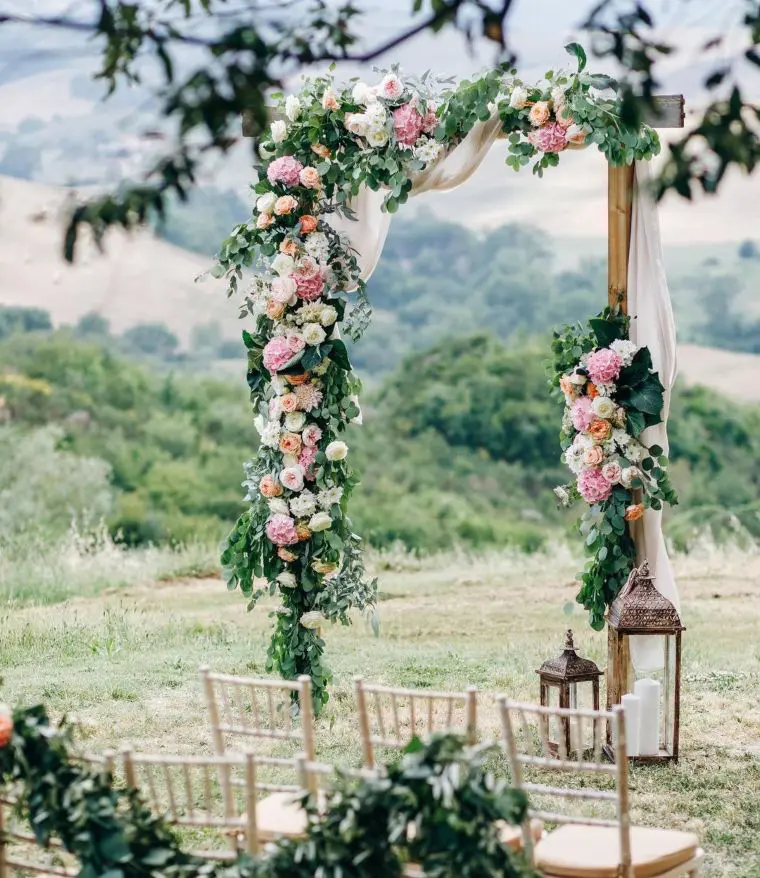 Credit: Instagram
Next is a gorgeous take on the classic trellis arch. Instead of a bare-bones rustic look, this reclaimed timber arch has been dressed up with flowing white silk and beautiful floral vines to soften the edges.
Finish the look off with a pair of antique-style lanterns at the arch's bottom right corner. Not only is this the end of the aisle, but it also marks the window into your future, a new beginning with your love.
3. Gold and Floral Ring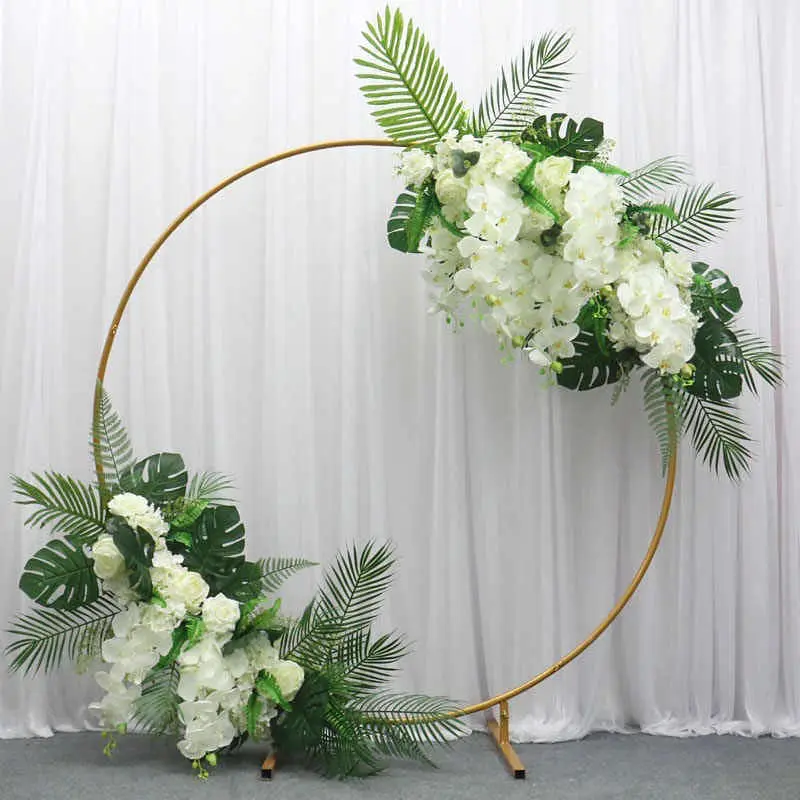 Credit: Instagram
This stunning Indonesian-inspired backdrop combines the shine of gold with the airiness of large, white, tropical flowers. This arch is ideal for an indoor wedding, as it shines brightest when backed by a white curtain.
The great news is this arch is quite simple to make yourself. You can use artificial or silk blooms and ferns like these for floral arrangements, while you can acquire the gold ring and stand online.
Loving this metal hoop idea? You can get the circle metal hoop arch here on Etsy.
4. Organic Forest Doorway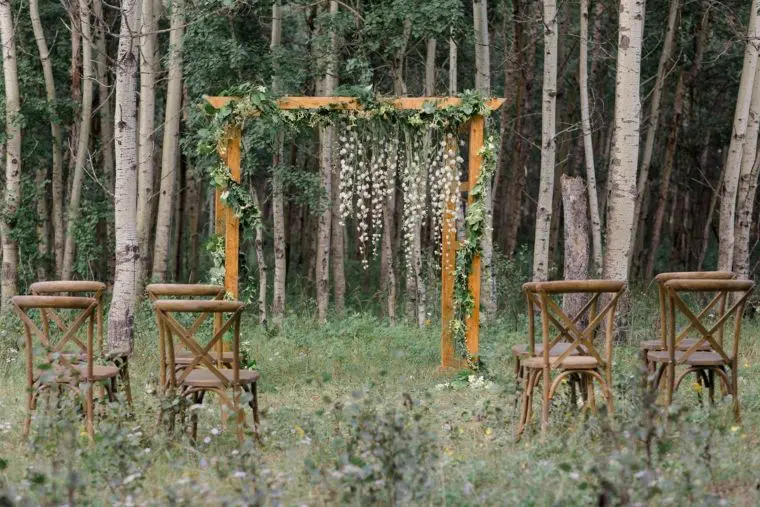 Credit: Instagram
Next on our list is something straight out of a fairy village. This organic, sustainable, forest-inspired arch combines wood grains and delicate white blossoms into the ultimate pixie dream.
I highly recommend using this in an outdoor setting. Backed by trees or wide open plains, this will make you feel like you've transcended modern life altogether. Wrap the whole thing with vines more nature influence.
5. Bohemian Country Rainbow Arch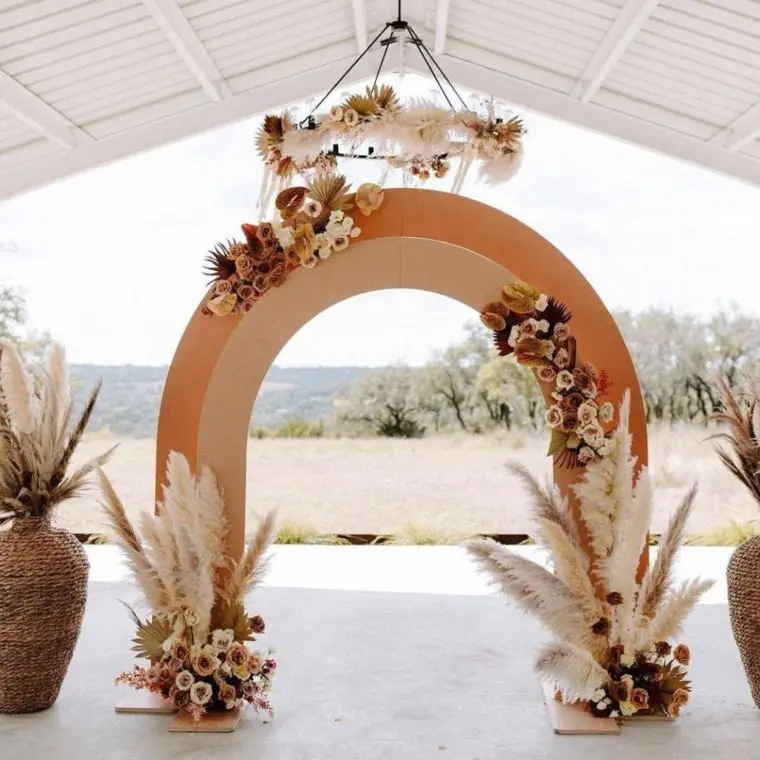 Credit: Instagram
Are you a fan of the bohemian style? This arch will let you incorporate that love into your big day, featuring a gorgeous color palette grounded in earth tones and dried flowers all around.
The arch itself is simple to make with some MDF and braces like this, and you can adorn any basic chandelier frame (here) with your chosen florals. This is a stunning way to bring the outdoors in.
6. Macrame Wedding Arch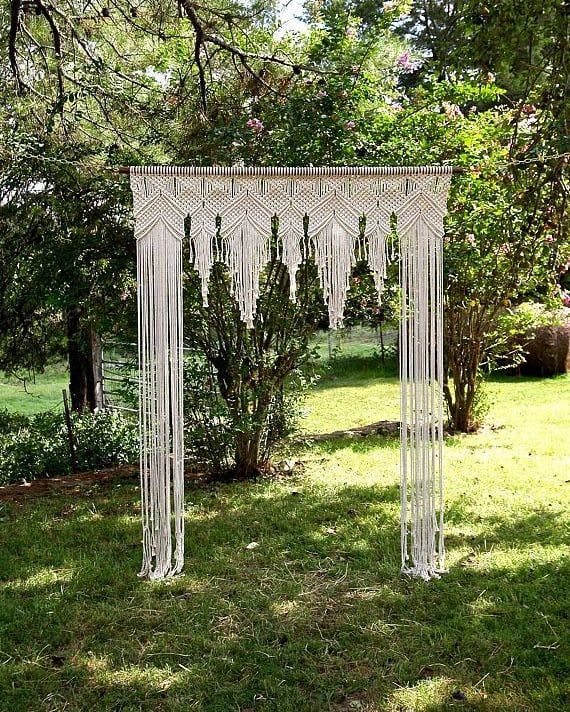 Credit: Instagram
In the realm of handmade wedding arches, this one might occupy the top spot. With some patience, some creativity, and a lot of macrame rope (here), you can create a unique arch shape that photographs beautifully.
By stretching a chain between two trees, you can create a space to hang your completed macrame arch. The contrast between outdoor greenery and the soft white is just breathtaking.
Here are a bunch of macrame wedding arches you can get for a reasonable price in case you're not a fan of crafting.
7. Pretty in Pink Floral Arch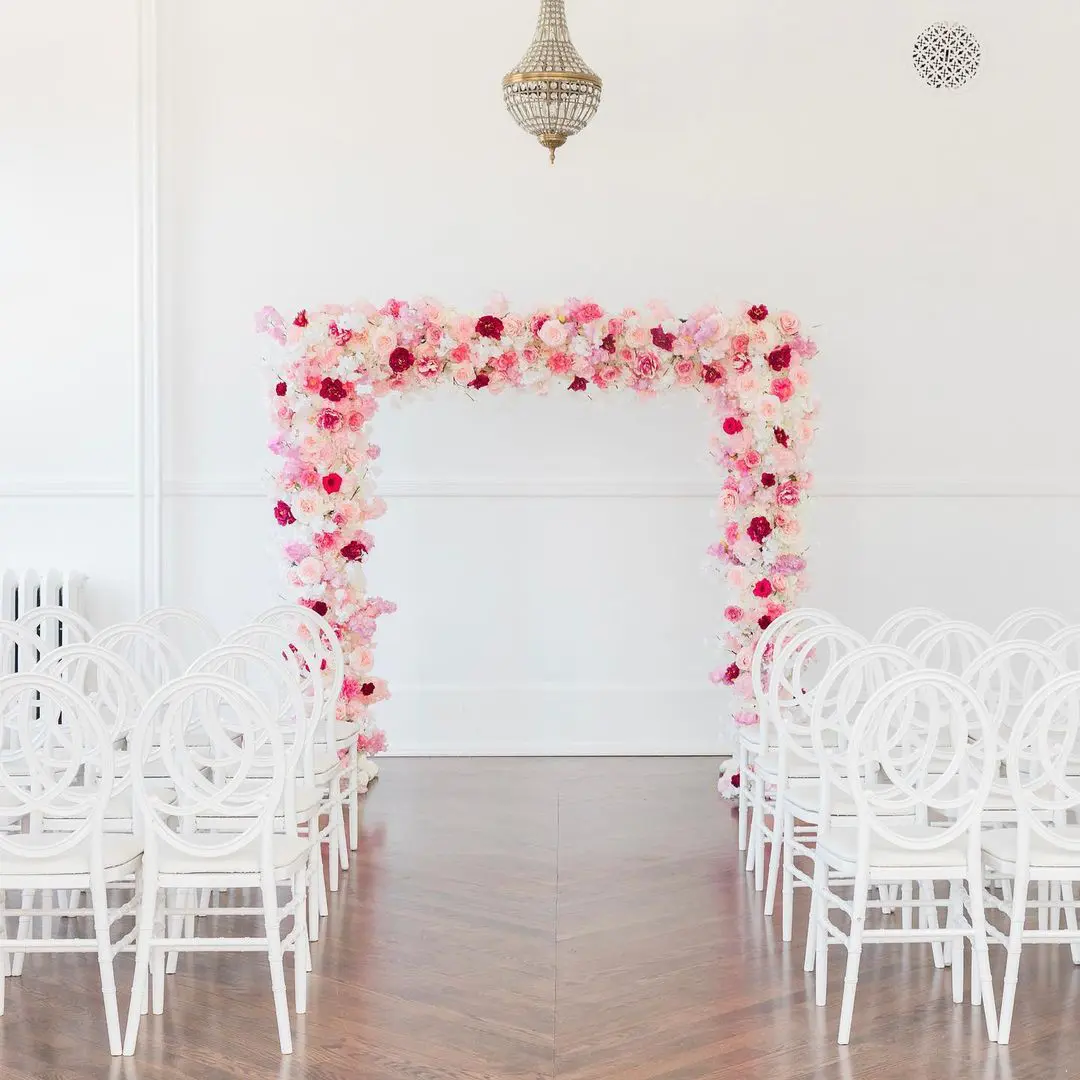 Credit: Instagram
If there's one thing every couple knows before they begin planning, it's their wedding colors. This arch idea can adapt to suit any color palette, offering a refined yet vibrant pop of color at the end of the aisle.
While this arch uses myriad pink flowers, this concept will work for any color. Assemble an array of flowers in different shades of your chosen color before crowding them along the arch to create a unique piece.
8. Tri-Angle Wedding Arch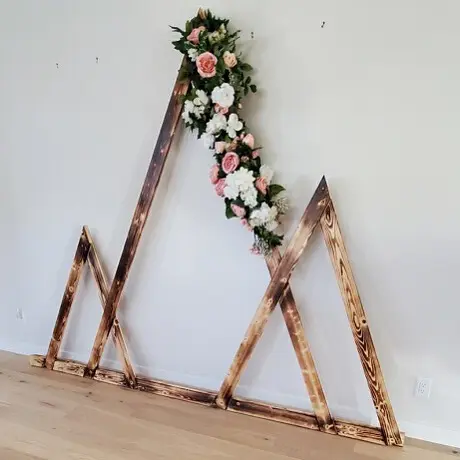 Credit: Instagram
This arch has angles upon angles, featuring triangles of three different sizes cannoned into one stunning piece. Thanks to the gorgeous grain on the reclaimed wood, those edges are softened into something whimsical.
The final touch lies in the beautiful arrangement adorning one side of the largest triangle. Whether you use silk or natural blooms, this is a fantastic way to accent your wedding bouquet as you approach your future.
9. Simple and Stunning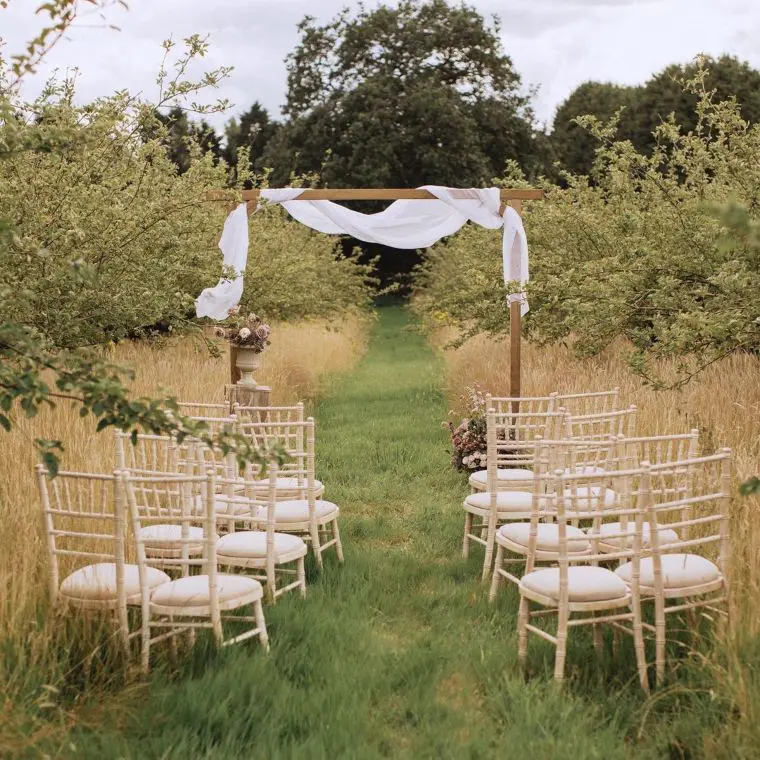 Credit: Instagram
Next up is an homage to simplicity. Wedding arches don't need to be complicated to be beautiful! This simple wooden archway is cleverly dressed in flowing sheer fabric and florals, creating an intimate feel.
This is – once again – ideal for an outdoor wedding (mainly if you've chosen a vineyard). Finish it up with some stunning stoneware vases (here) to provide a home for your floral spray.
10. In Love with Flowers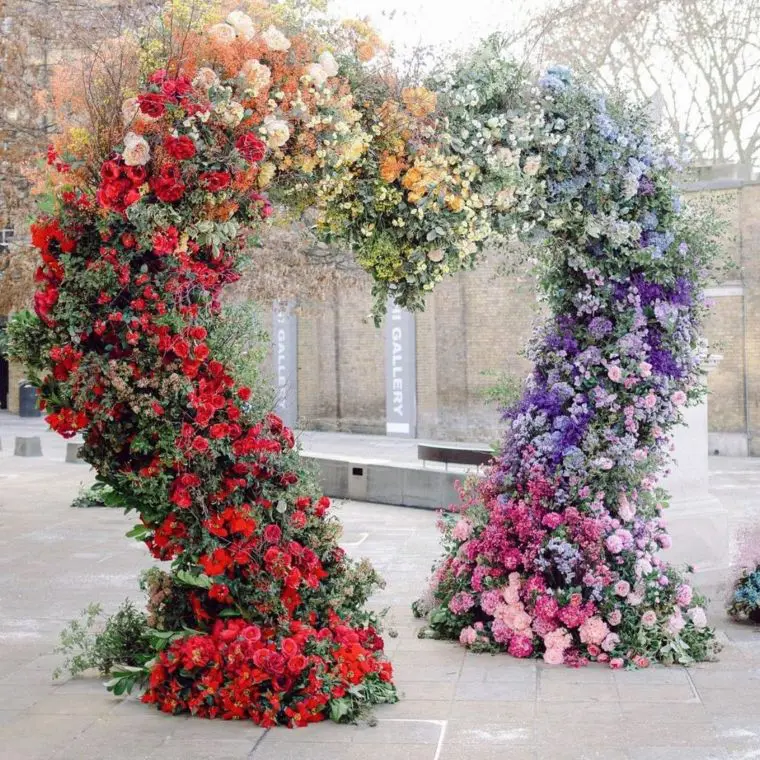 Credit: Instagram
Let's take a turn from simplicity to embrace nature in a big, bold, beautiful way. This heart-shaped flower arch will be a wedding showstopper, inspiring gasps of awe from your guests thanks to the vibrant gradient.
Ideal for either indoor or outdoor weddings, this arch can double as a photoshoot backdrop effortlessly. Reach out to your local florist for help, or settle in to create your own with hundreds of silk blooms (here).
11. The Ultimate Love Arch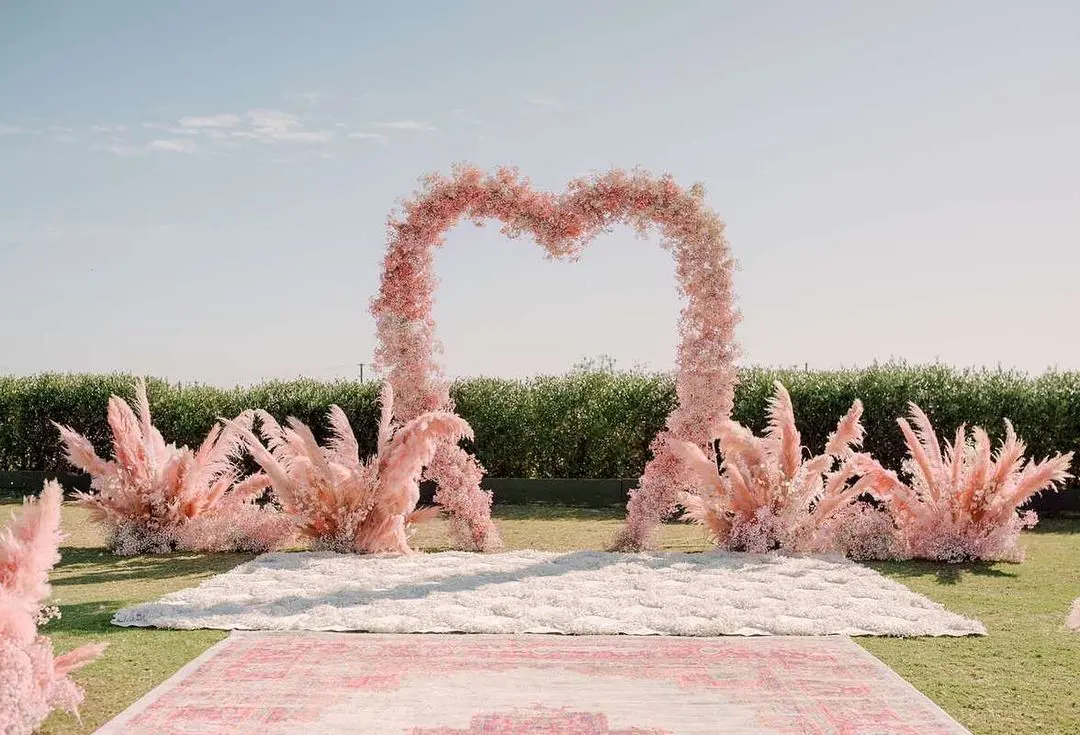 Credit: Instagram
Speaking of heart-shaped arches, this take on a classic wedding idea takes things to a whole new level. Featuring stunning floral sprays and a pink rug in the lead-up, this arch rolls out the carpet for you.
Once again, you can use this concept with any wedding palette. It's best suited to an outdoor wedding because of the other floral and pampas grass (think this), but you can make it work inside too.
12. You + Me Neon Arch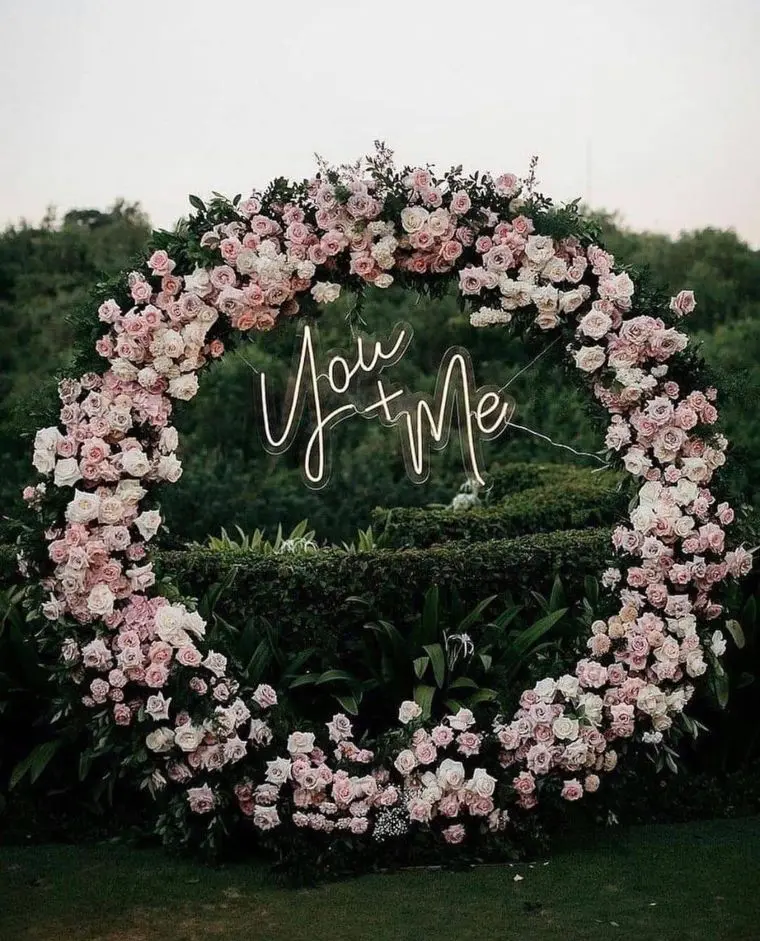 Credit: Instagram
This stunning arch combines modern and traditional elements into one glorious showstopper. Can anyone say flower wreath? Choose a neon sign with the perfect saying for you and your hubby.
Maybe you two have something you say to each other all the time, or perhaps you want a simple, heartfelt sign to top the arch off (here). Either way, this offers an easy way to personalize wedding day snaps.
13. Geometric Floral Arch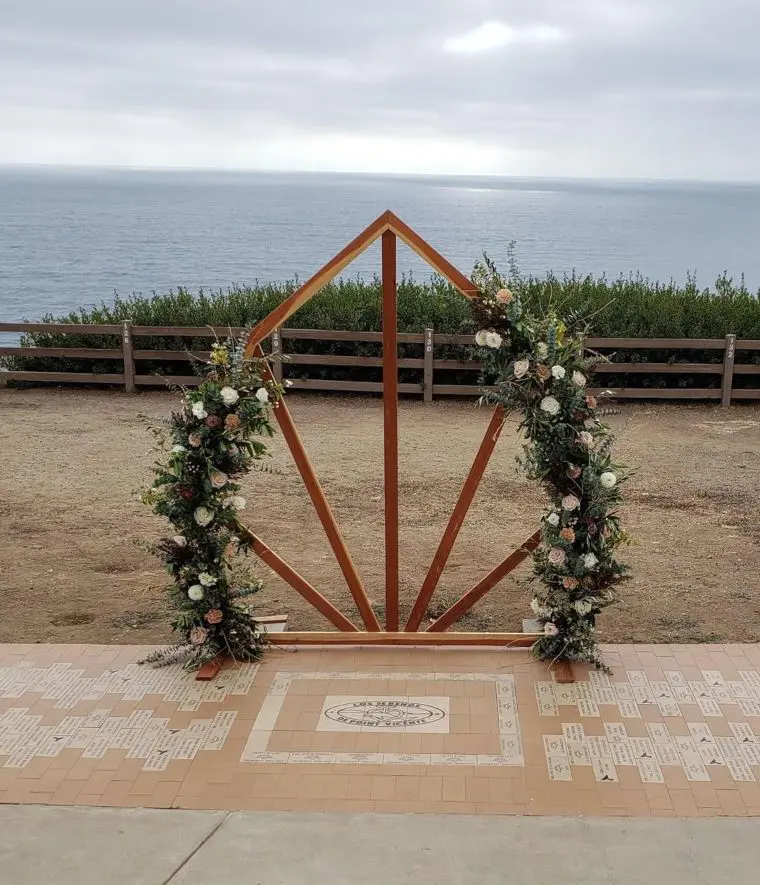 Credit: Instagram
This geometric arch provides ample space for a gorgeous arrangement of your wedding florals, or you can go it alone and enjoy its bare simplicity. Either way, the unique shape, and eye-catching color will shine.
I recommend adapting your wood choice to your wedding's theme. For example, if you're doing something whimsical, go with a light pine. Or take it modern with a cherry or mahogany arch.
14. Modern Grecian Archway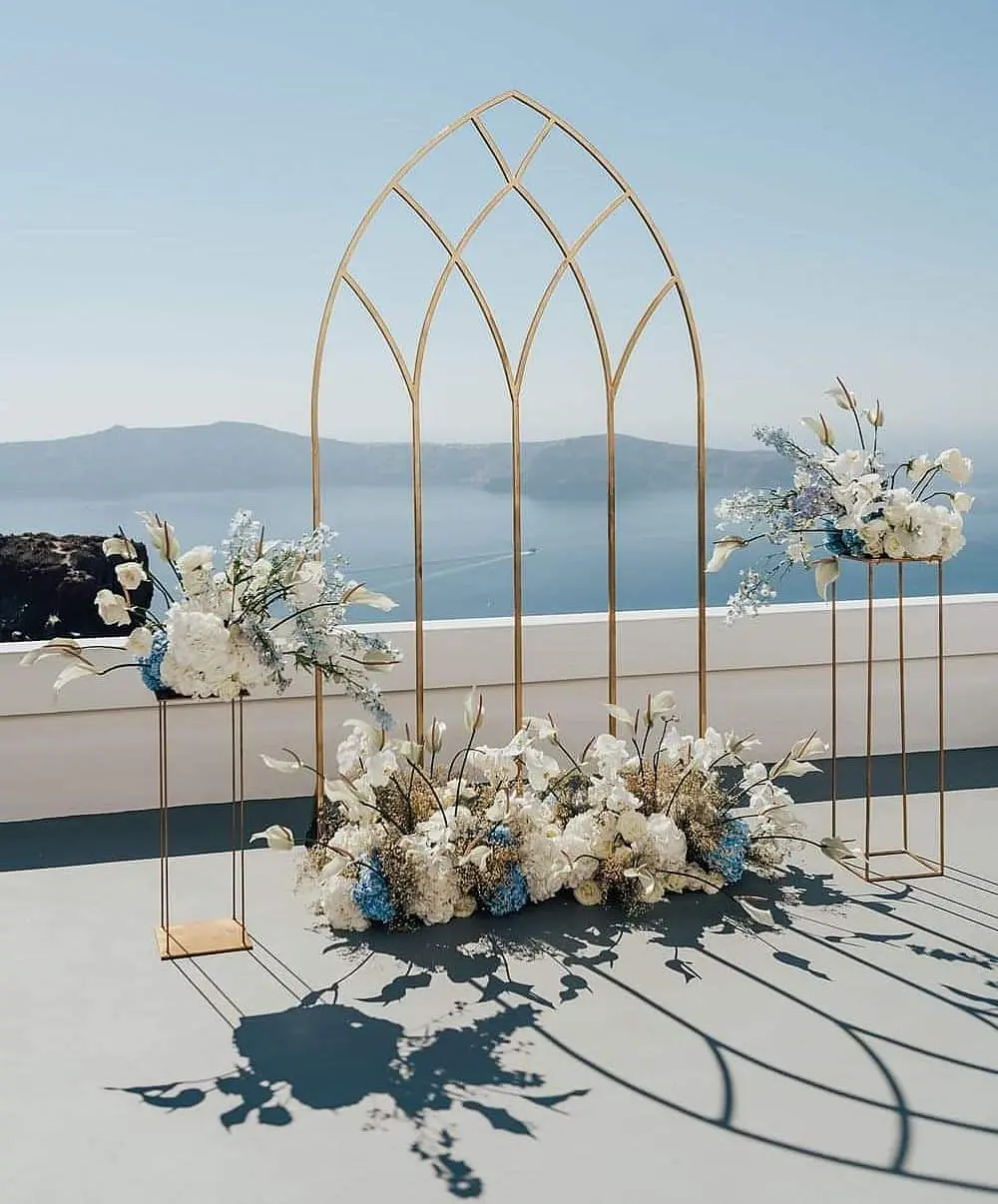 Credit: Instagram
Complement your outdoor venue's blue skies and stunning water views with a golden arch, marking your entrance into a shining future. With interesting shapes and clean, simple construction, this is just gorgeous.
I highly recommend dressing this arch with florals that speak to the scenery around you. For example, if you are in front of the water, try a white, blue, and cream arrangement featuring silk hydrangeas (here).
15. Tropical-Inspired Archway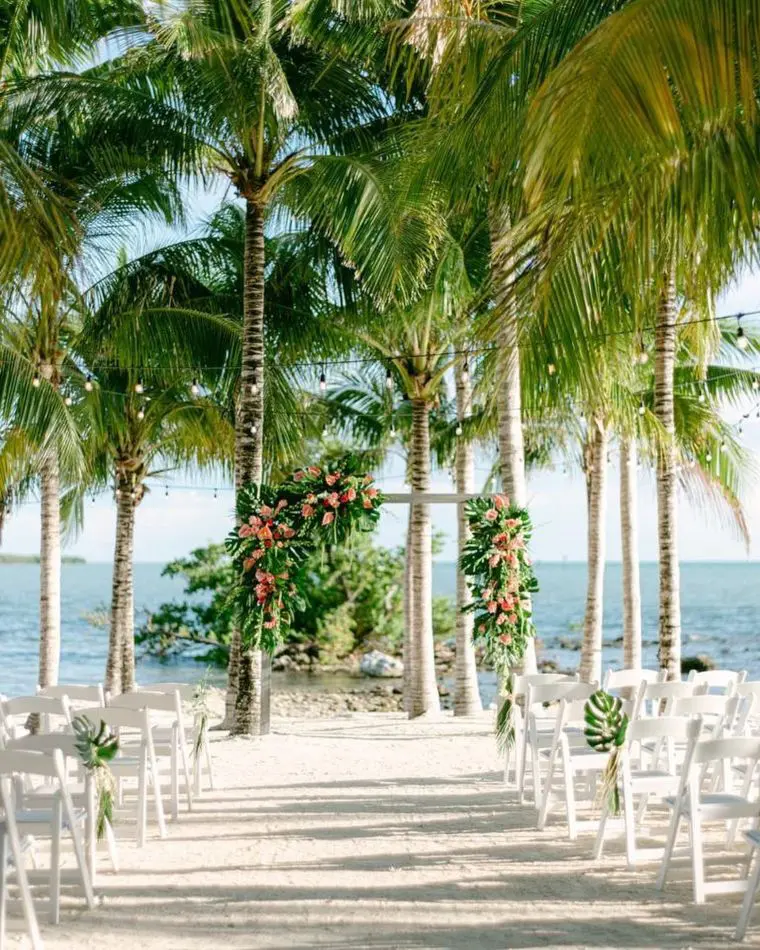 Credit: Instagram
Calling all beach wedding enthusiasts, this one is for you. Using greenery from your actual wedding venue on the arch is a fantastic way to tie it into the surroundings, making it feel as if it was grown there.
In the case of a beach wedding, you can use two palm trees with a mounted plank between them as a natural archway! Dress it with palm fronds, fruits, flowers, whatever strikes your fancy.
16. Golden Arbor Backdrop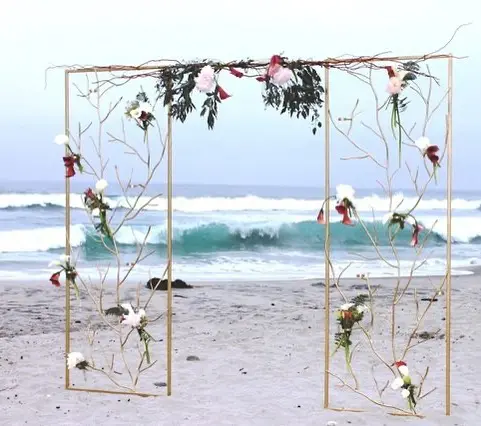 Credit: Instagram
If you're a fan of Romeo and Juliet, look no further than this arch. These golden twisting vines embody the story of these two star-crossed lovers, but you can transform their ending into something much happier.
By incorporating natural florals into the vine panels, you not only tie the arch into your wedding florals but also make it seem so much more intimate.
17. Wild and Wonderful Wedding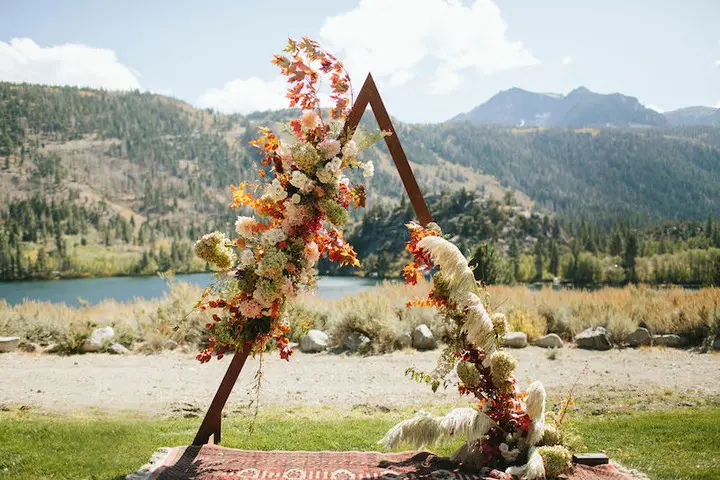 Credit: Instagram
All wedding décors need not be minimal, refined, or clean. This gorgeous arch embraces the outdoors' wildness, incorporate dried flowers, wild grass, a triangle wooden arch, and even an old rug into it!
This one would be simple to craft by yourself, making it an ideal solution for a big day done on a budget. Start with a triangle arch (you can create your own) and then adorn it with the baby's breath (here).
Here is a lovely wooden triangle arch you can use to make this vision happen.
18. Ultimate Palm Frond Arch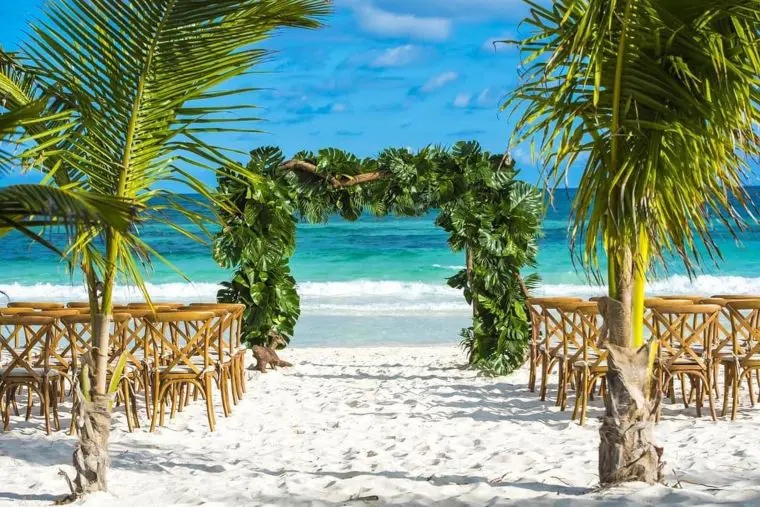 Credit: Instagram
If you're the kind of couple that likes to go big or go home, I have the beach-themed wedding arch for you. Make this showstopper with pure branches and palm fronds (here).
Bring the scent of saltwater and the tropical sun to your wedding day with a gorgeous green arch to mark the end of your aisle. Craft it from palm fronds yourself, or talk to a local florist if it's a destination wedding!
19. Fall Wedding Arch
Credit: Instagram
The perfect fall wedding arch incorporates touches of rustic life into it, combining root vegetables, the fading fall colors, and wood into a single piece. This arch undoubtedly ticks all these boxes.
Accent the arch's stunning orange and brown color palette with some shocks of green. This fall garland is perfect for ringing one side of the arch, while the rest can leave stunning reclaimed timber on display.
If you're a fan of this aesthetic, you might also like these creative backyard wedding ideas that are perfect for fall.
20. Statement Floral Pillars and Burning Candles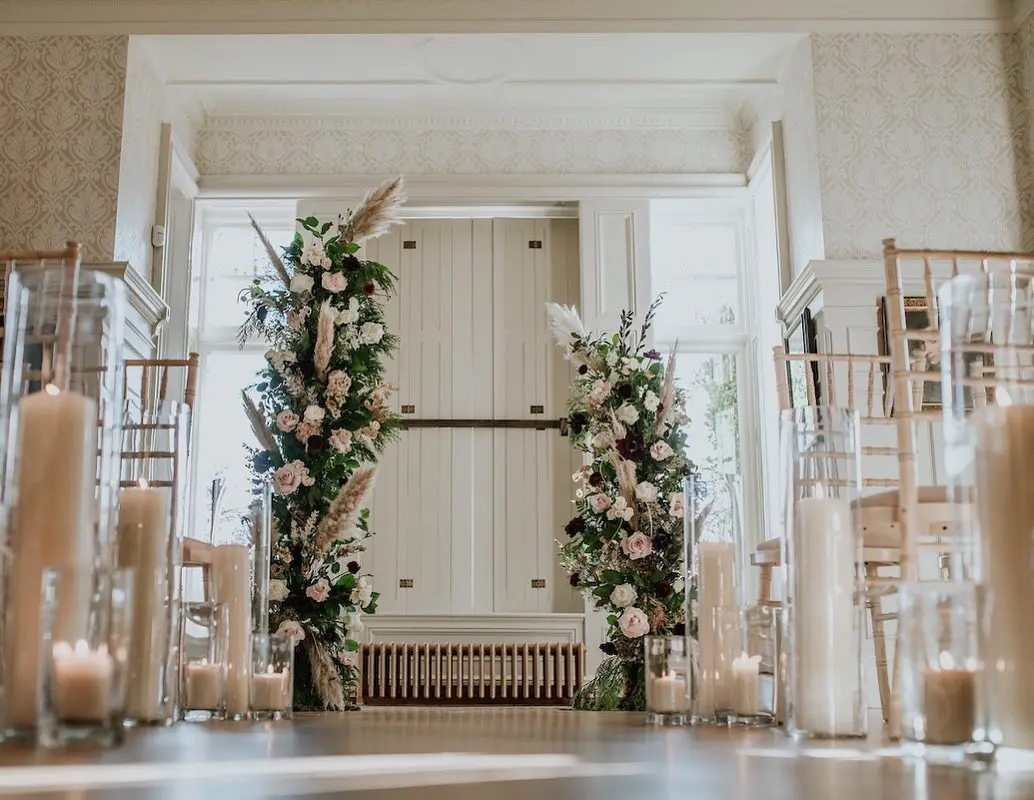 Credit: Instagram
Accent your big day with these floral statement pillars designed to frame you and your partner as you take the next step in your journey. Styled well, these pillars will suit any wedding, indoor or outdoor.
The designer of these pillars added an extra touch that brings the whole aesthetic together. They dotted the aisle with burning white candles in tall glass containers (here), creating an ethereal scene.
21. Tuscan-Inspired Lakeside Arch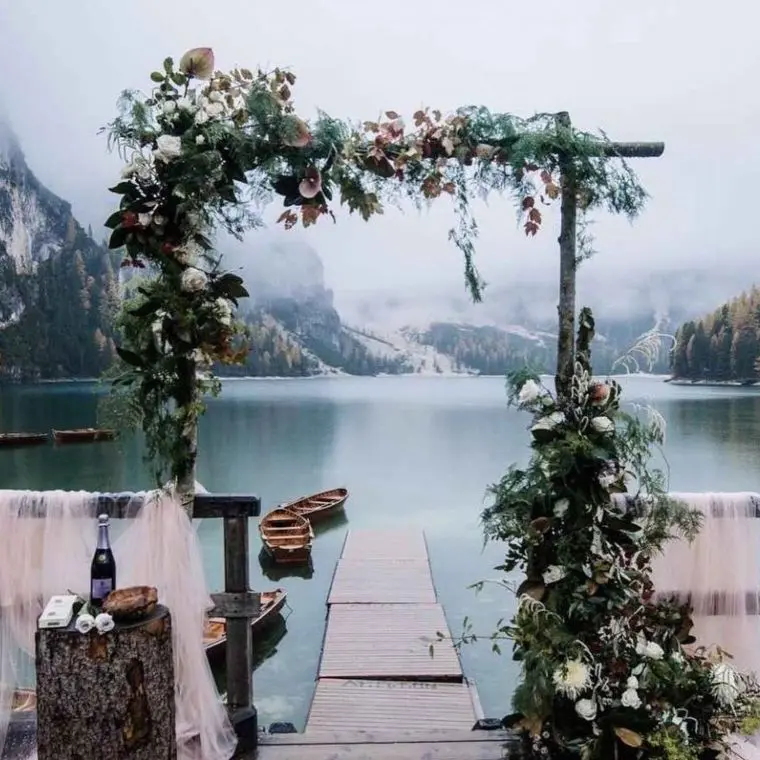 Credit: Instagram
Whether your wedding is taking place on the shores of a lake or not, this arch will undoubtedly make you feel like it. Constructed from gnarled branches and a mind-blowing floral arrangement, this works anywhere.
If you are having your ceremony on the water's edge, I recommend facing your aisle toward the water and framing it with this arch. How perfect would that look?
22. Simplicity is Beauty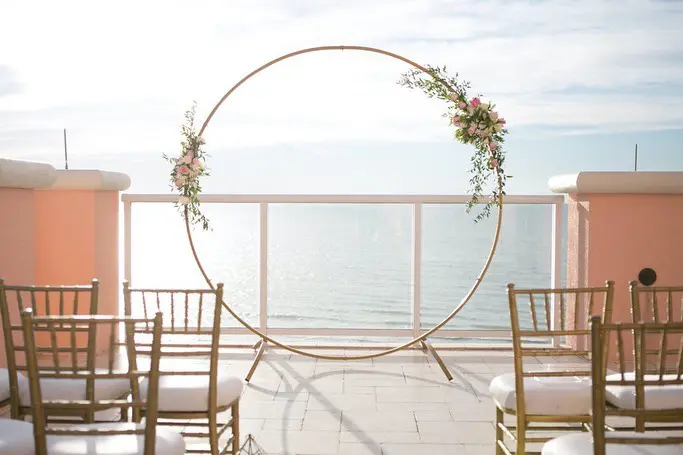 Credit: Instagram
This next arch lets the ceremony speak for itself. Did you know rings are exchanged at weddings because they symbolize eternity? Well, this arch's golden curves do the very same thing, ringing you in a promise of forever.
Go minimal with the simple golden hoop like this, or accent it with floral attachments at either end. This is perfect for a sea-view wedding, as it lets the view shine without interruption.
23. Dusty Bohemian Arch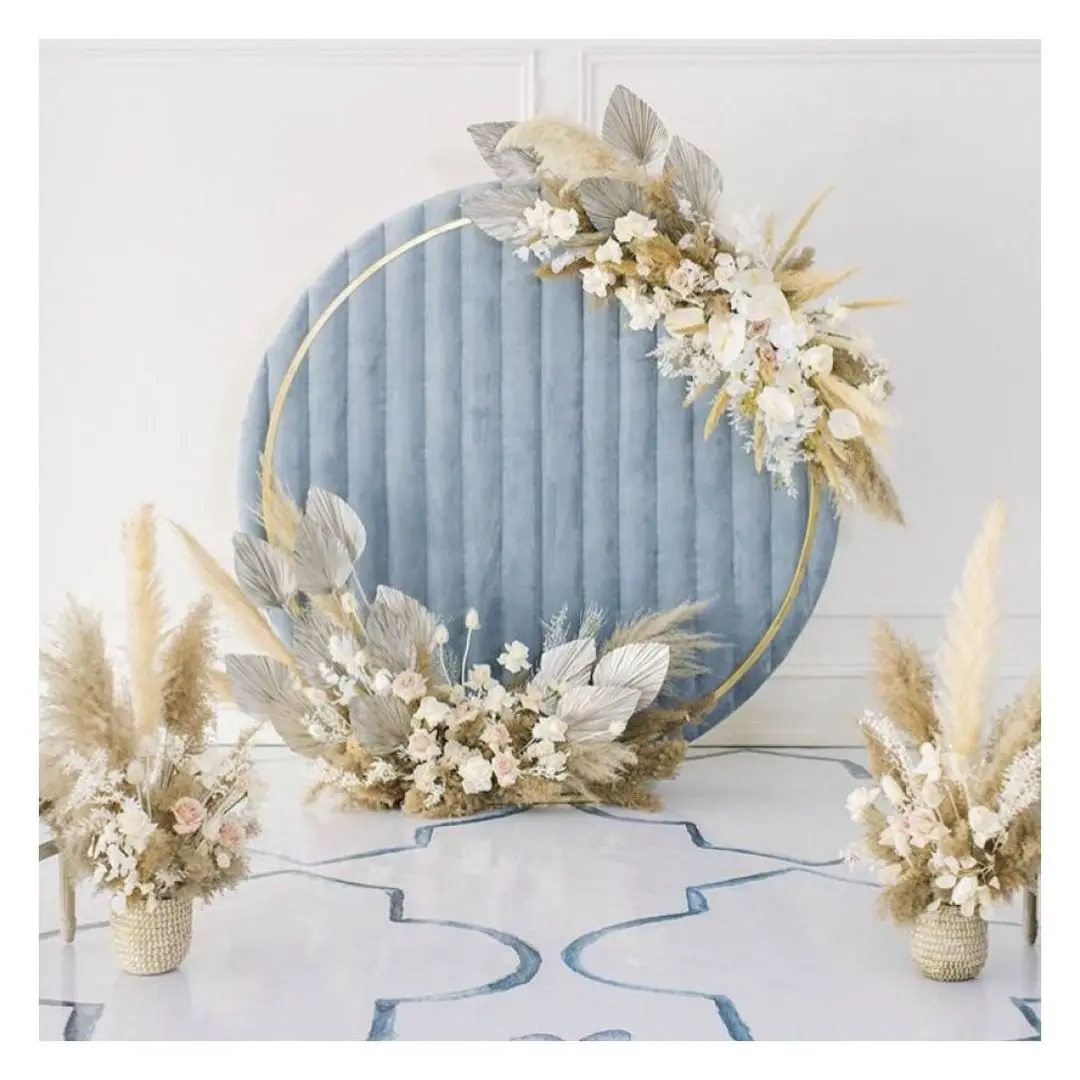 Credit: Instagram
If you liked the golden ring from the previous idea but just needed something more, this arch might be for you. Backed by a dusty blue fabric, this golden arch embraces a chic bohemian style with dried florals.
I'm in love with how whimsical this arch is. It combines soft and hard textures effortlessly, offering dried floral arrangements like this as a transitional element. This is another one that can double as a photo backdrop.
All chic bohemian weddings need signage to bring the theme together, so why not create your own? These creative DIY sign ideas are the perfect starting place.
24. Diamond in the Rough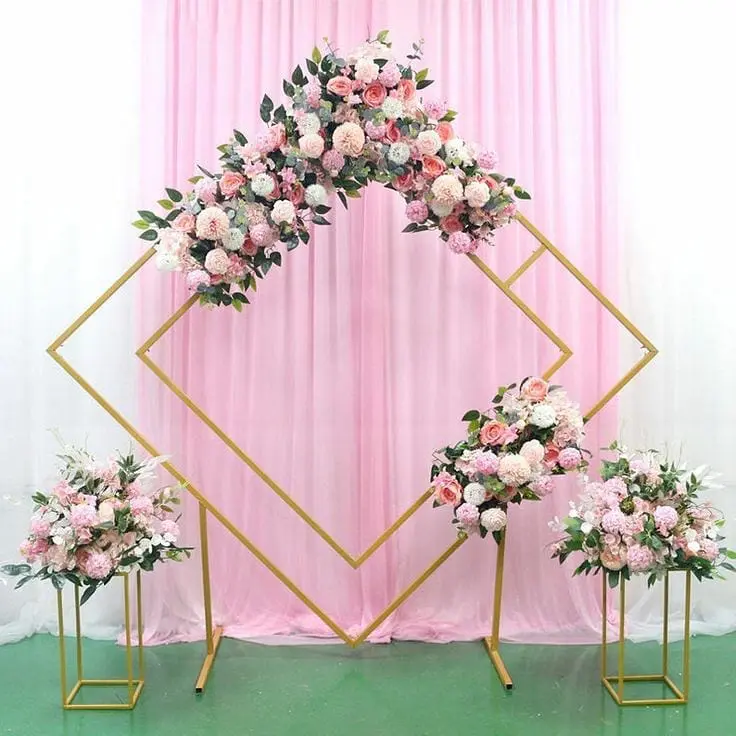 Credit: Instagram
Next on our list is a study in geometry. This gorgeous diamond arch consists of metal, gold shining out from behind florals in a lovely contrast of hard and soft.
If your wedding is indoors, this will look stunning backed by sheer curtains that match the floral color scheme (something like this). If outdoors, let the archway and the flowers speak for themselves.
25. Triple Floral Screens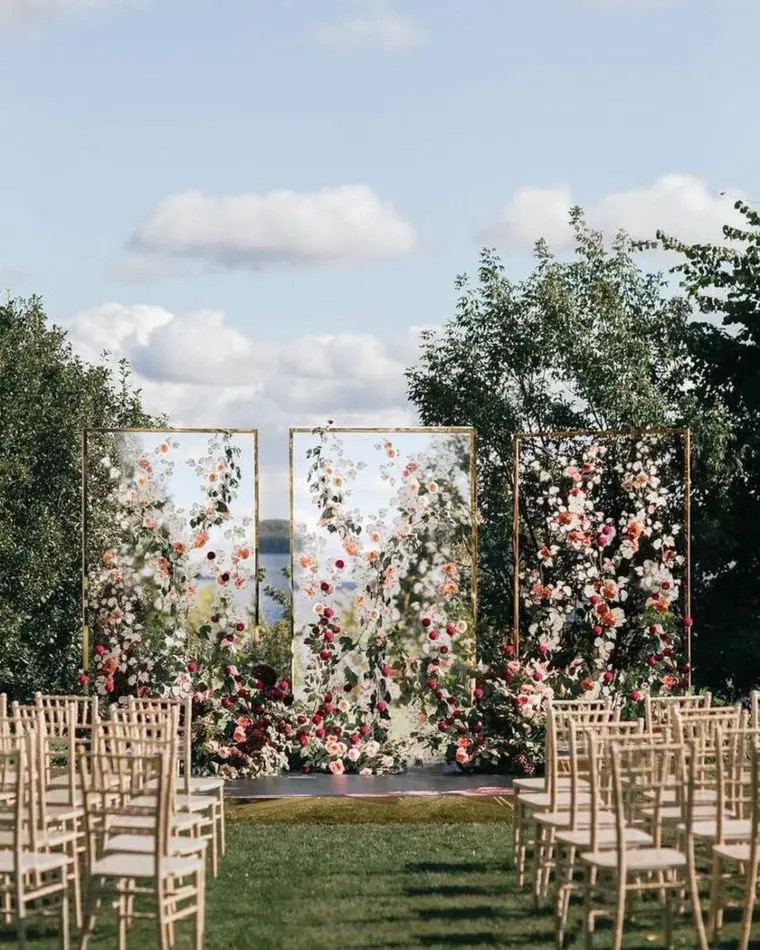 Credit: Instagram
This next one is less of an arch and more of a full-on display, but I just had to include it on the list. Look at how stunning the combination of florals is! It looks like the arch sprang up fully formed from the ground beneath.
The key to this arch is the arrangement; denser florals should adorn the floor before climbing up the front of the screens as if they're growing. This makes the arch feel alive, adding a great touch to your ceremony.
26. Simply Chic Arch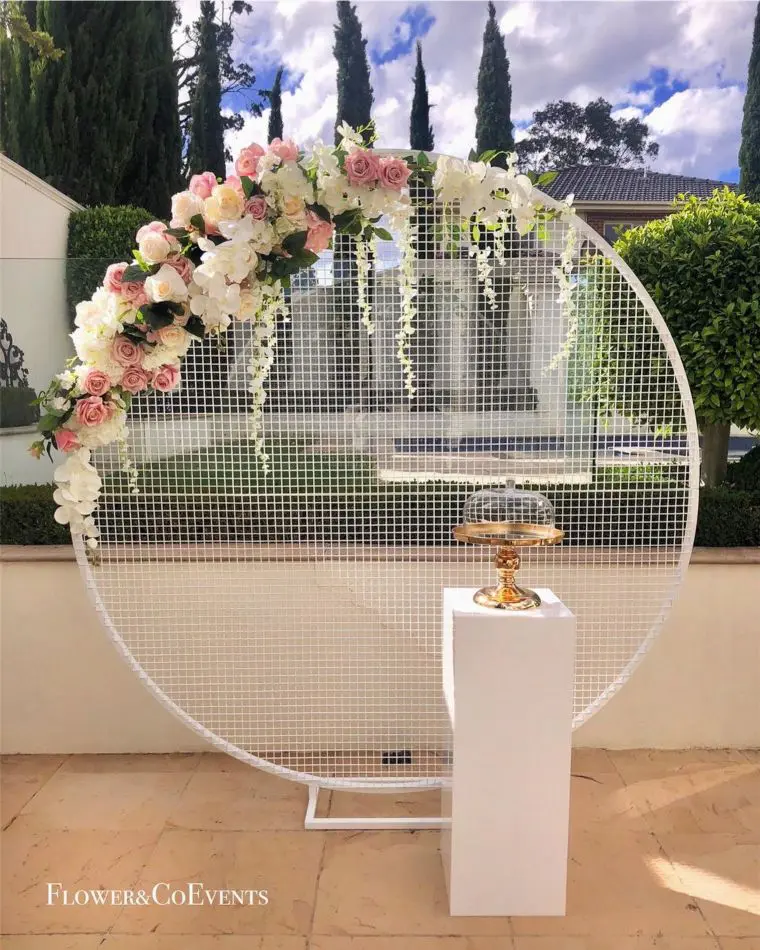 Credit: Instagram
If you're a fan of Scandinavian style or minimalism, this wedding arch might be for you. Crafted from metal and adorned with the barest touch of flowers, this provides a simple centerpiece for the ceremony.
This is also fantastic if you're looking to save money on certain wedding elements, as you only need to purchase a simple arch like this. Collaborate with your florist to adorn one of the corners or leave it bare!
Speaking of ways to save money, have you checked out any of these high-value, low-budget wedding craft ideas yet?
27. Golden Box Arch with Flowers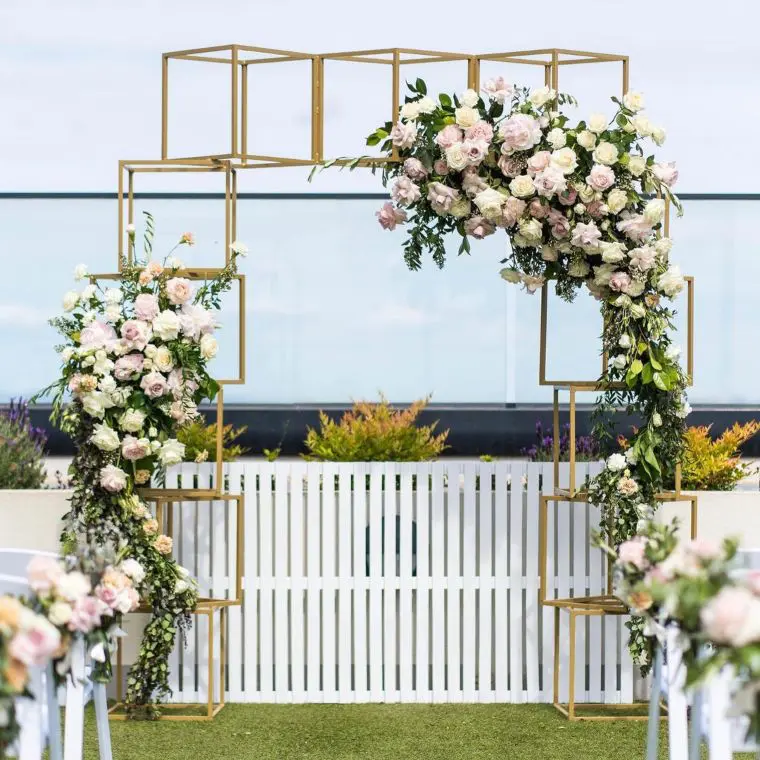 Credit: Instagram
This arch is one for the history books; it's such a unique take on a traditional wedding element. Geometric golden boxes are stacked together to form an arch, then adorned with strategic flower garlands to soften them.
Not only is this an ideal centerpiece for your ceremony, but it can also double as a photo backdrop if you add curtains like this behind it. What a great way to save money while attaining a unique decoration!
28. Lovely Sunset Archway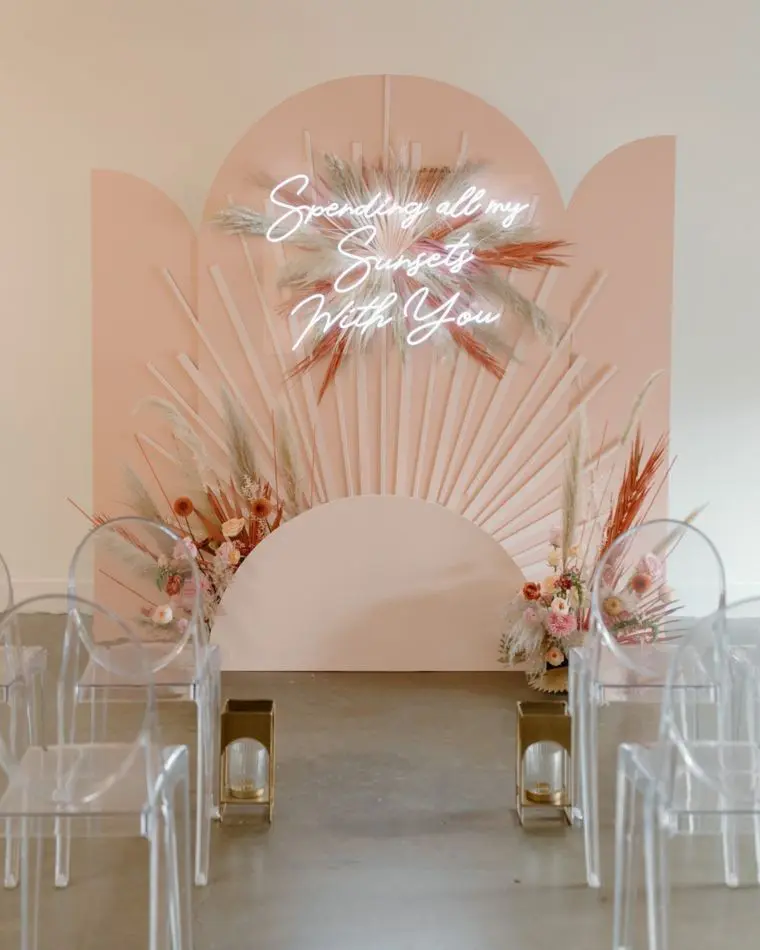 Credit: Instagram
This wedding is a personal favorite because it embodies the neon sign's message so well in its design. "Spending all my sunsets with you" is surrounded by peachy tones and dried florals, a wonderful homage.
Not only that, but the sentiment is also just so sweet. After all, that's what marriage is about, isn't it? It's about choosing to spend all your sunsets with your partner until the night eventually parts you.
29. Beachy Rustic Wedding Arch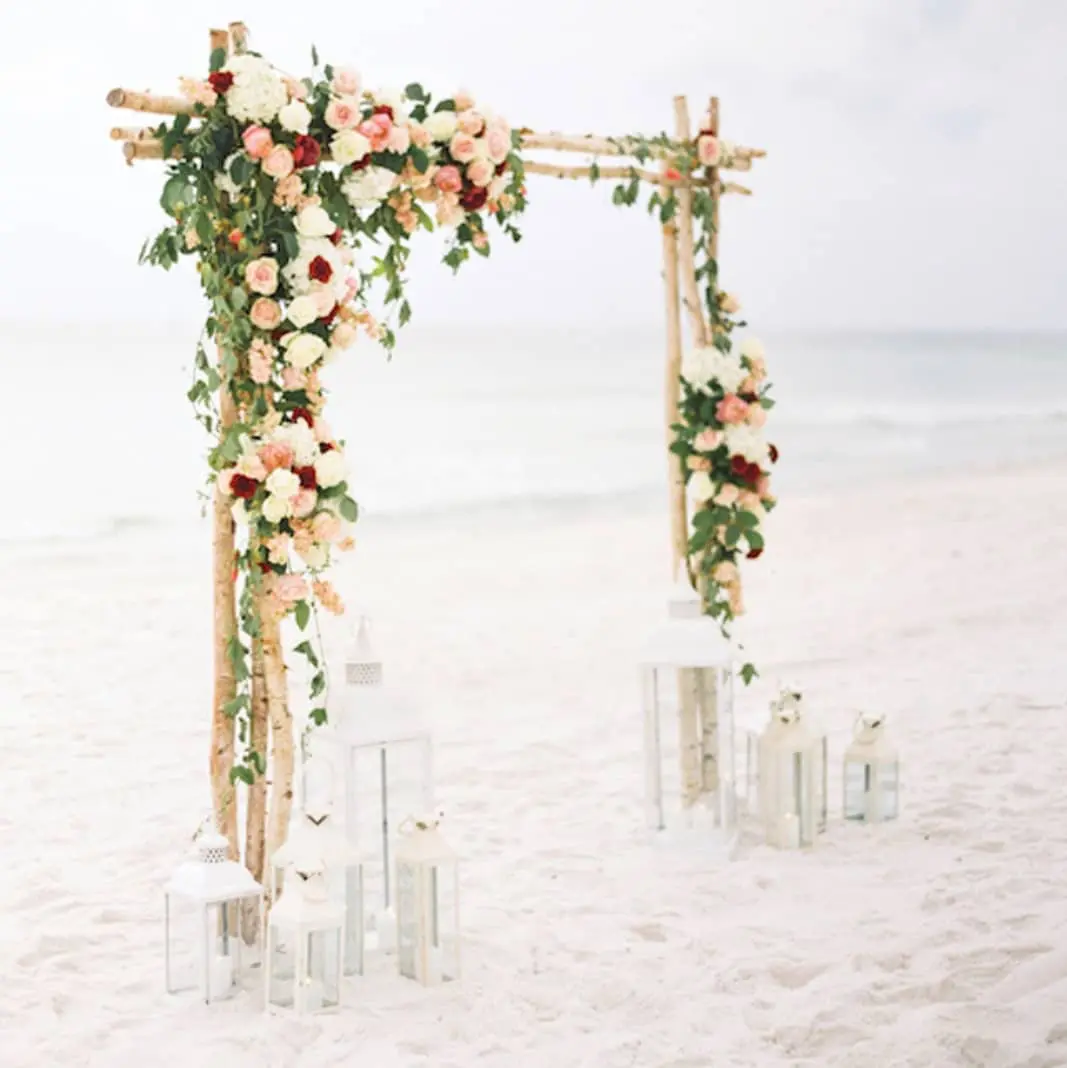 Credit: Instagram
The penultimate arch on our list takes shabby chic to a whole new level, using gorgeous white lanterns like this and peachy florals to accent wood. This is perfect for a beach wedding but can work elsewhere.
This dreamy and whimsical arch is perfect for sunny days near the ocean, signaling an excellent start to your married life. If you're getting married at night, try adding fairy lights (here) as an extra touch of light.
Check out more wedding light ideas here.
30. Hexagonal Forest Arch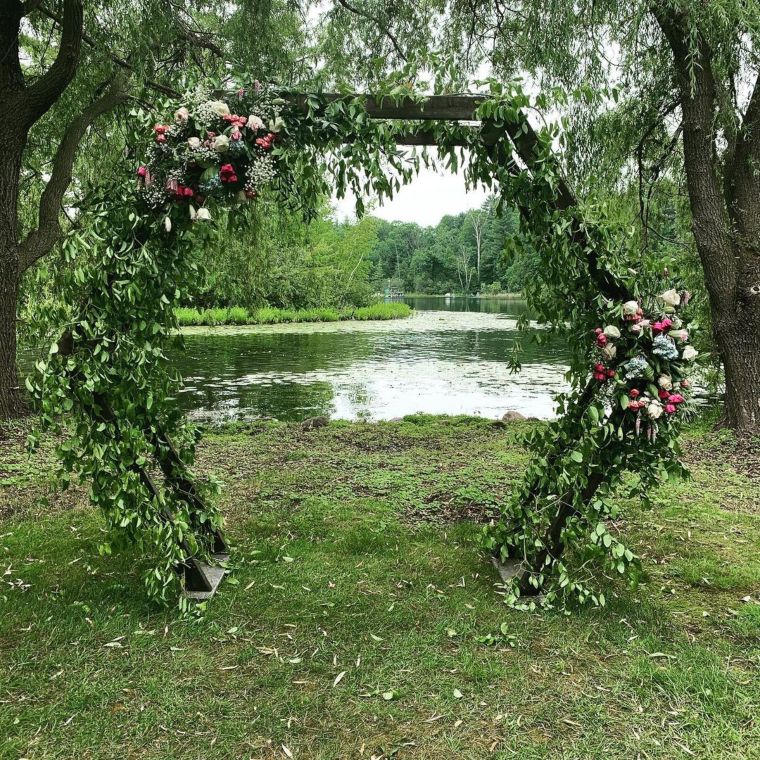 Credit: Instagram
The final wedding archway on this list uses its hexagonal shape to significant effect, covering the entire thing in green foliage. I love this idea for an outdoor wedding because it feels like the arch is part of the scenery.
If your venue has an archway already present (as many parks, lakes, and forests do), adorn it on the day. Otherwise, talk to your planner about creating a custom arch to use for both ceremony and photos.
31. Wedding Arch With 3 Piece Flower Set
Credit: Etsy
This wedding arch is a beautiful piece. Simple, elegant, yet extraordinarily special. A wonderful choice if you're going for a rustic wedding look.
Congratulations on your upcoming nuptials! What's your wedding theme, and do any of the arches on the list stand out to you? I can't wait to read about your wedding ideas in the comments.