Need some inspiration for your wedding? You're in the right place! These wedding ceremony ideas are beautiful, creative, and full of surprises.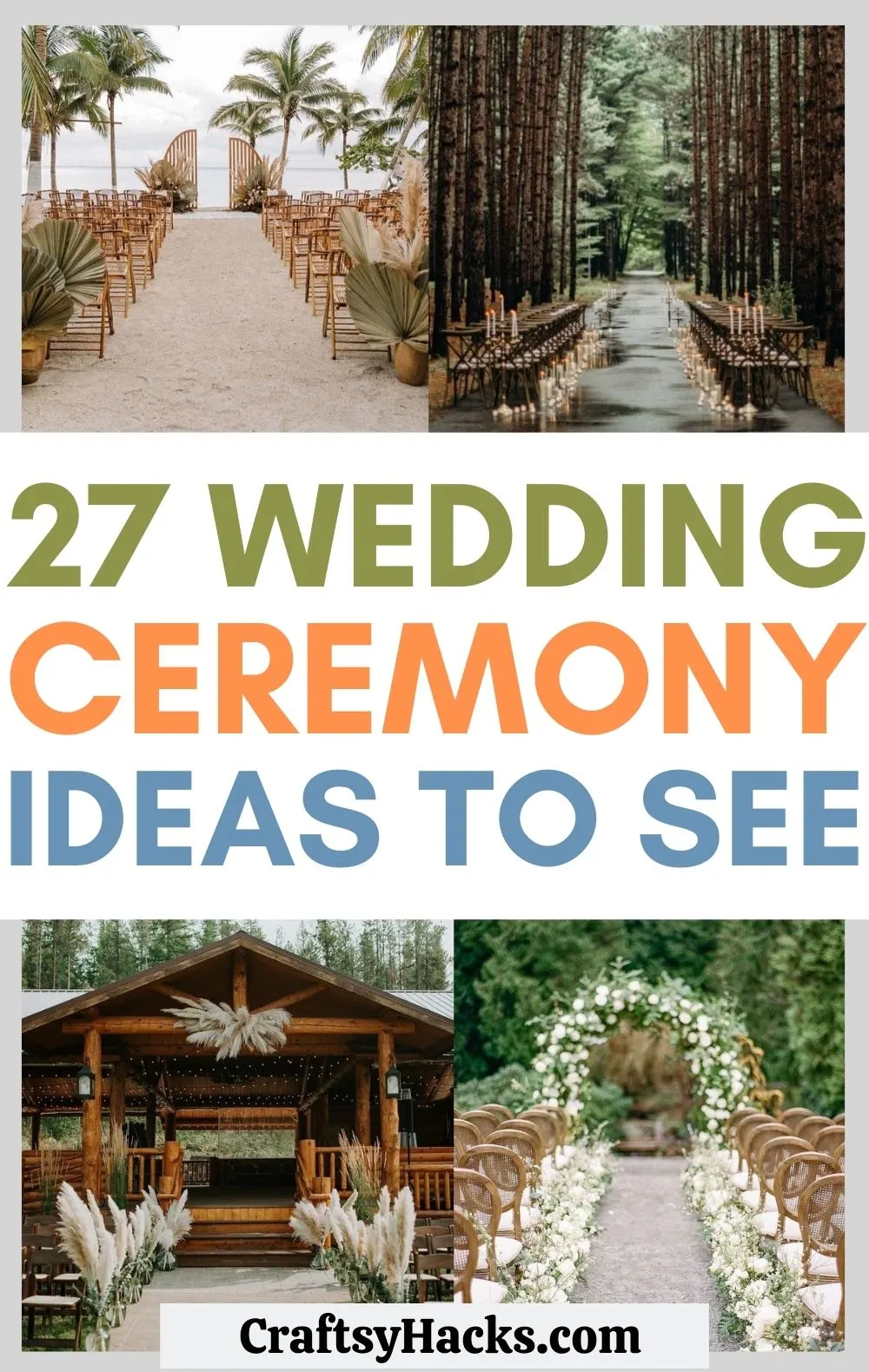 There's something in the air during a wedding ceremony: a sense of sincerity and solemnity around the vows and the promises made that get me all teary.
Who am I kidding? I go for the free food and to check out the decorations in place.
It's always interesting to figure out what every wedding ceremony has to say for itself through the colors, lights, flowers, and theme.
So without further ado, here are 27 wedding ceremony ideas for you to explore and enjoy.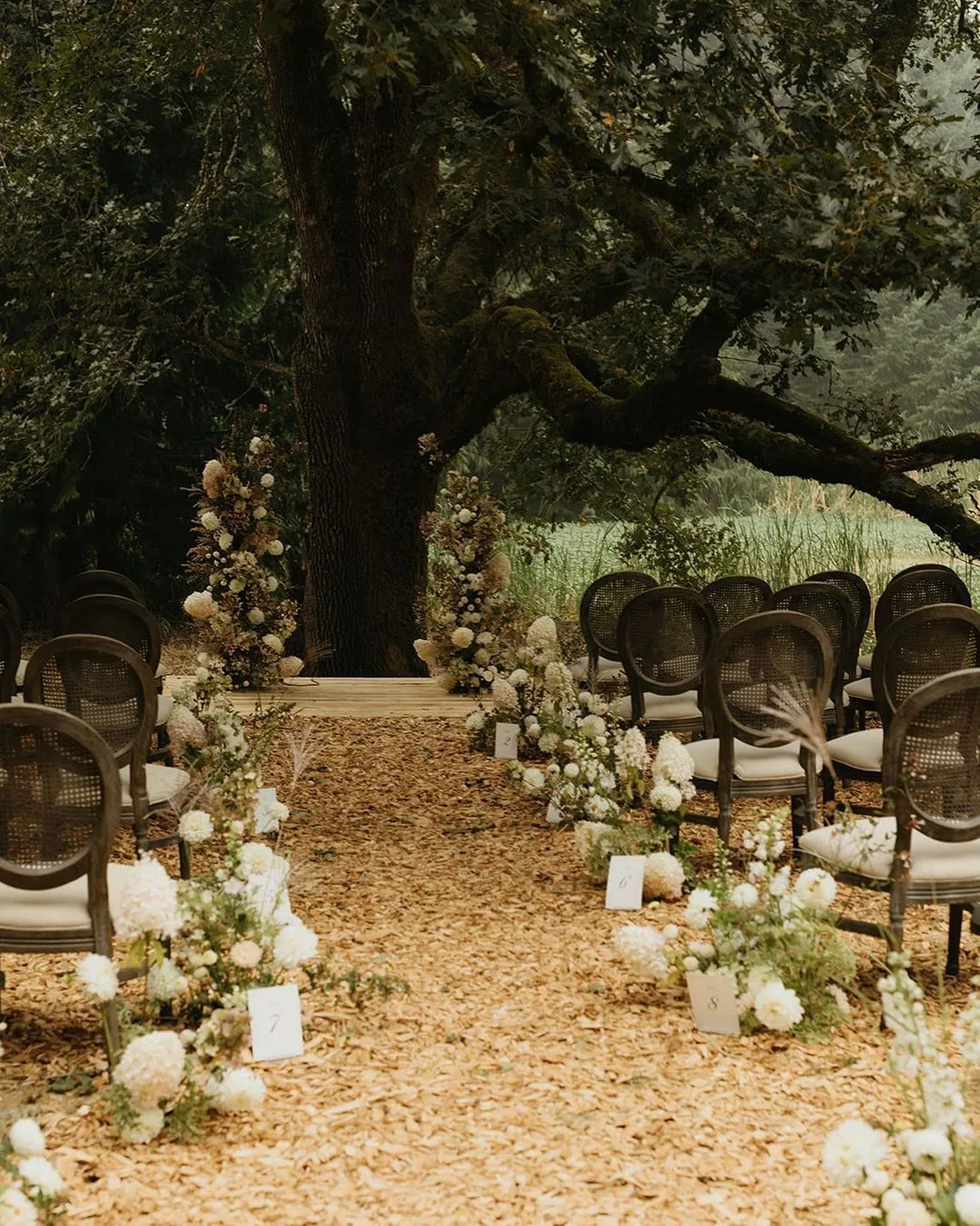 Credit: Instagram
Doesn't it just seem so magical to be marrying the love of your life under a canopy of emerald leaves? Imagine walking down that aisle in your gorgeous ivory dress, the lacey ends rustling softly behind you.
So find yourself a fiance and then find yourself an old picturesque tree to get married under. In that order, preferably.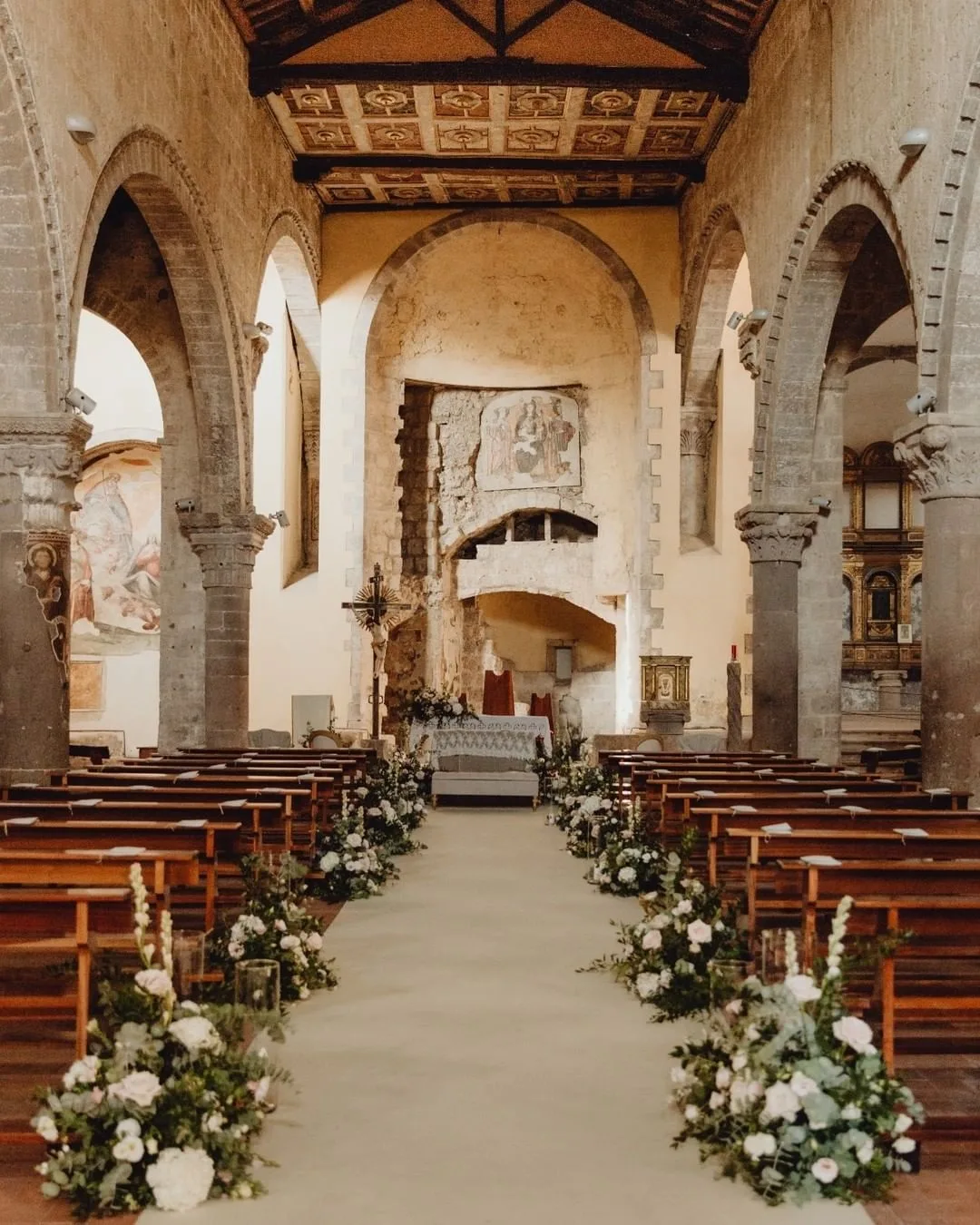 Credit: Instagram
Nothing is as timeless and classique as a cathedral ceremony. There's something so solemn yet so achingly beautiful about those rows of wooden pews under sturdy stone arches.
This particular setting reminds me of a church that you'd find nestled in a small, closely-knit village in Italy or Rome where generations of men and women have solemnly made—and kept—their vows.
To add a little levity to this sacred space, all you need are a few simple arrangements of flowers down the aisle—to soften the solemn.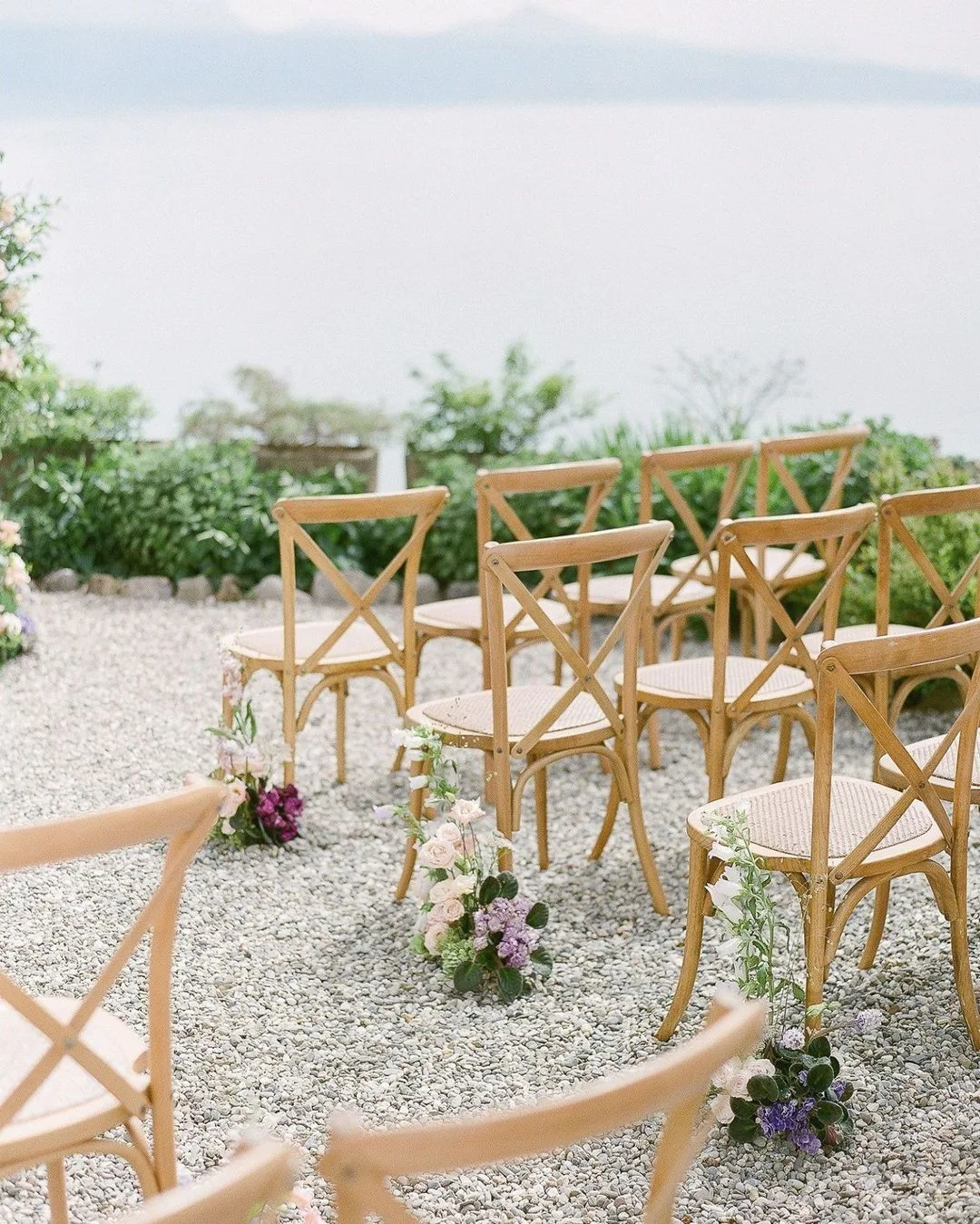 Credit: Instagram
Can you think of a better backdrop for your outdoor wedding ceremony?
If you're looking for sparkle, light, and color, then the deep blue water and the sparkling rays of the sun just bouncing off it are all you need.
With that venue, overlooking that view, you're bound to have the most magical time. But, here's an idea: why not sprinkle some rose petals like these to soften the crunchy gravel?
I bet your flower girl would absolutely love that!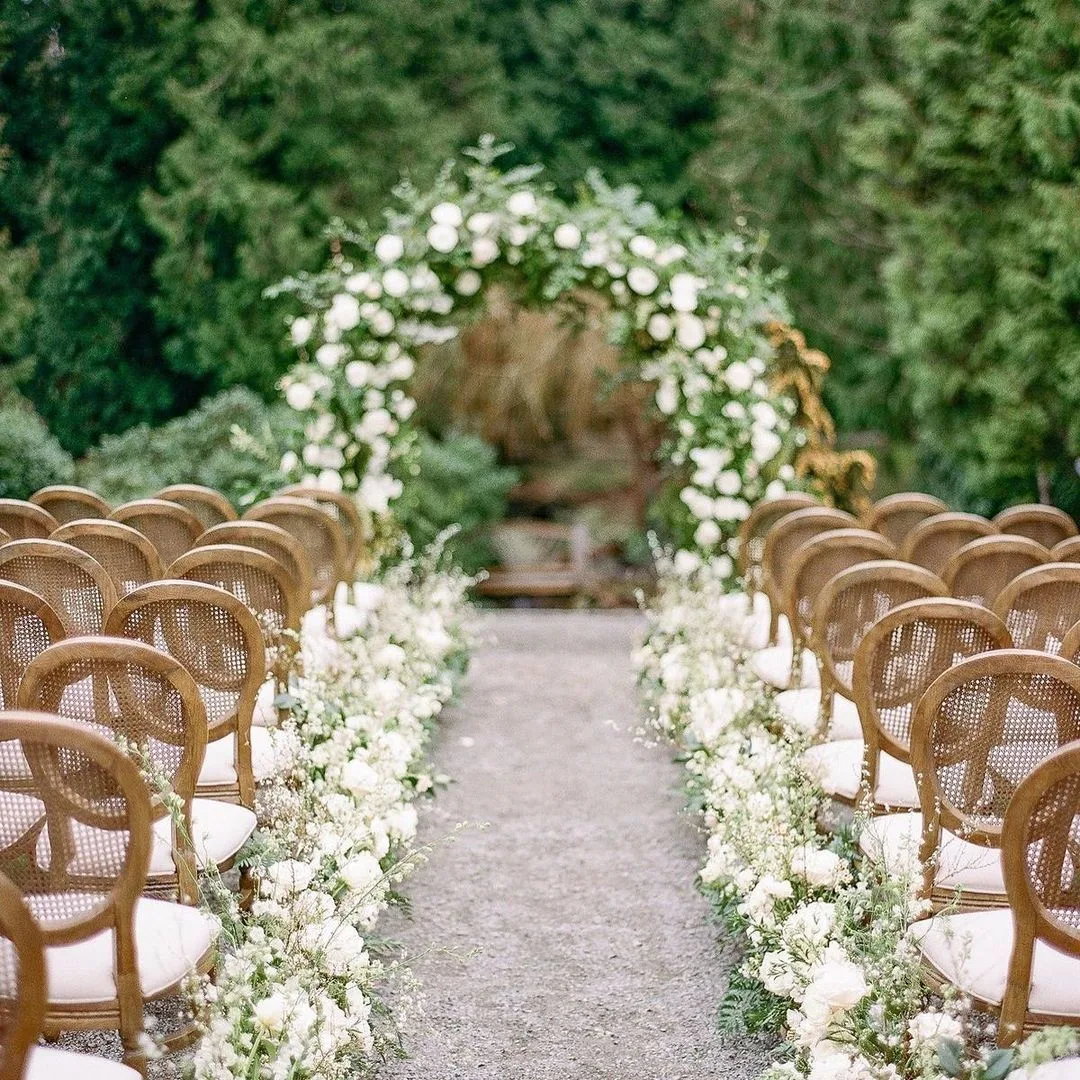 Credit: Instagram
Flowers do so much for a wedding. They look beautiful, they smell beautiful, and they feel beautiful. But, most important of all, they make the bride feel beautiful.
Just imagine her walking down the aisle between that marquee of white roses and getting married under that gorgeous wedding arch. It's simple, elegant, and timeless: everything anyone would ever want in a wedding ceremony.
Credit: Instagram
Are you planning an intimate and cozy wedding at a country club, perhaps? Look over at the sprawling green of the golf course—definitely says a country club, doesn't it?
Just wrap a few strips of ribbons or tie them to the pews. They will gently sway in the air, just like the soft music would.
With the soft glow from these outdoor lights to set the tone, your wedding ceremony just became pure magic.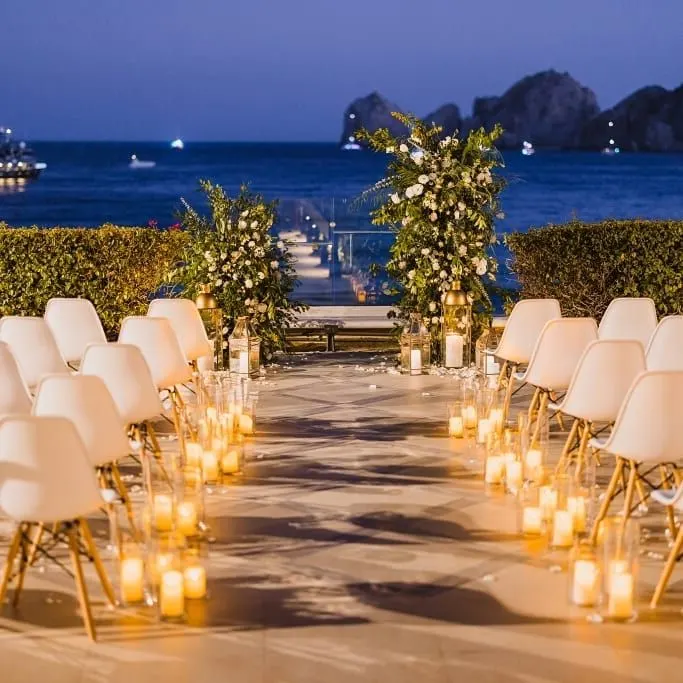 Credit: Instagram
That dusky, bruised lilac color from the water is the perfect shade of purple-blue to offset the golden light from these candles. Just feel that warm glow on your face as you walk down the aisle.
I bet people on their boats just off the coast are cheering for you as well, as you tie the knot with your significant other!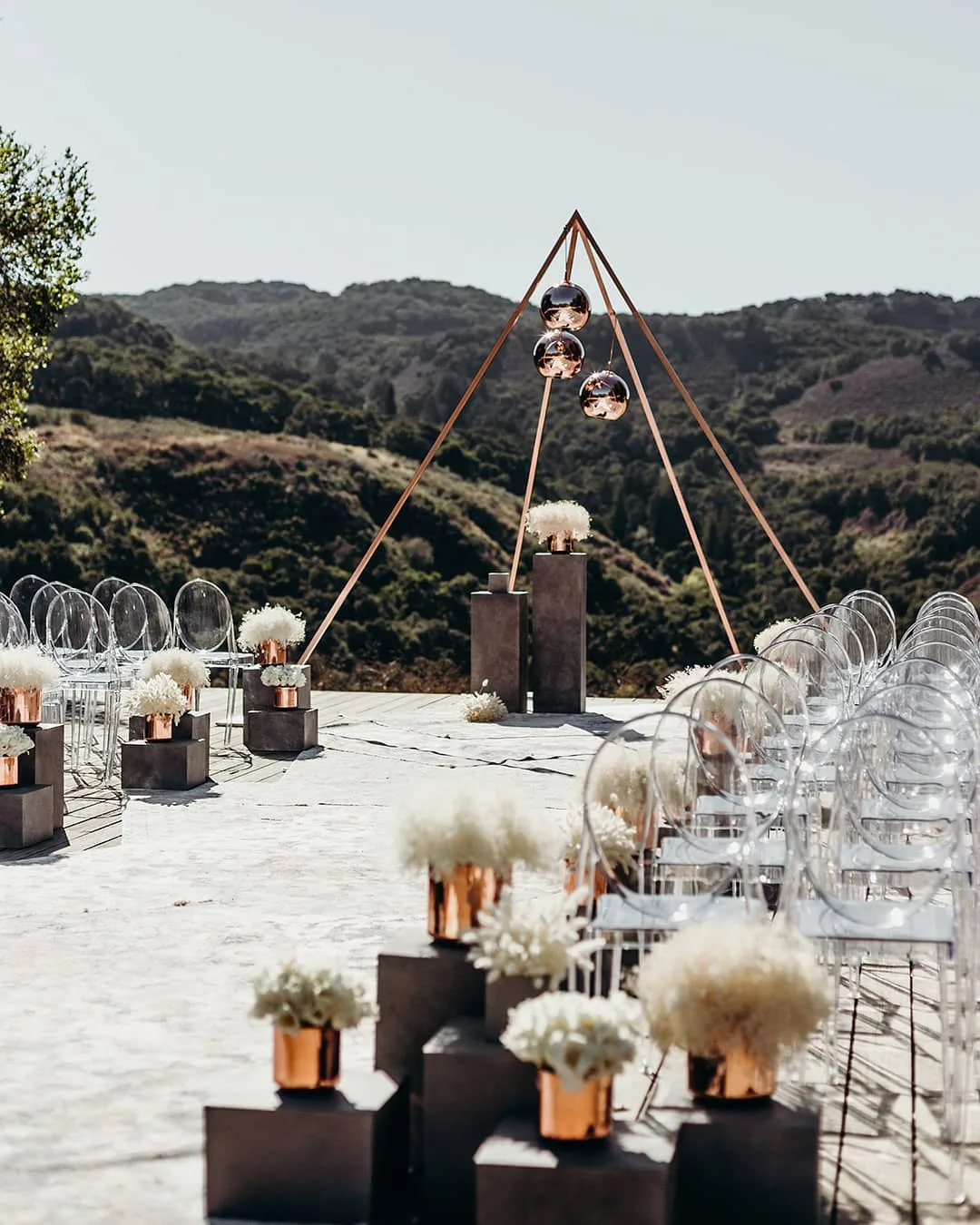 Credit: Instagram
At the very edge of Carmel Valley Ranch is this gorgeous, sprawling vista— one of the best spots to celebrate your wedding. You've got your dose of classic and timeless from that view.
Now, why not jazz it up a little with the wedding decor? Don't you love how edgy and modern that wedding arch looks?
Speaking of classic decor, how trendy are those metallic pot-holders for the flowers! I found the very same ones right here. Your guests will be torn between the view, that arch, the classy decor, and the happy couple.
Here are more stunning wedding arch ideas to check out.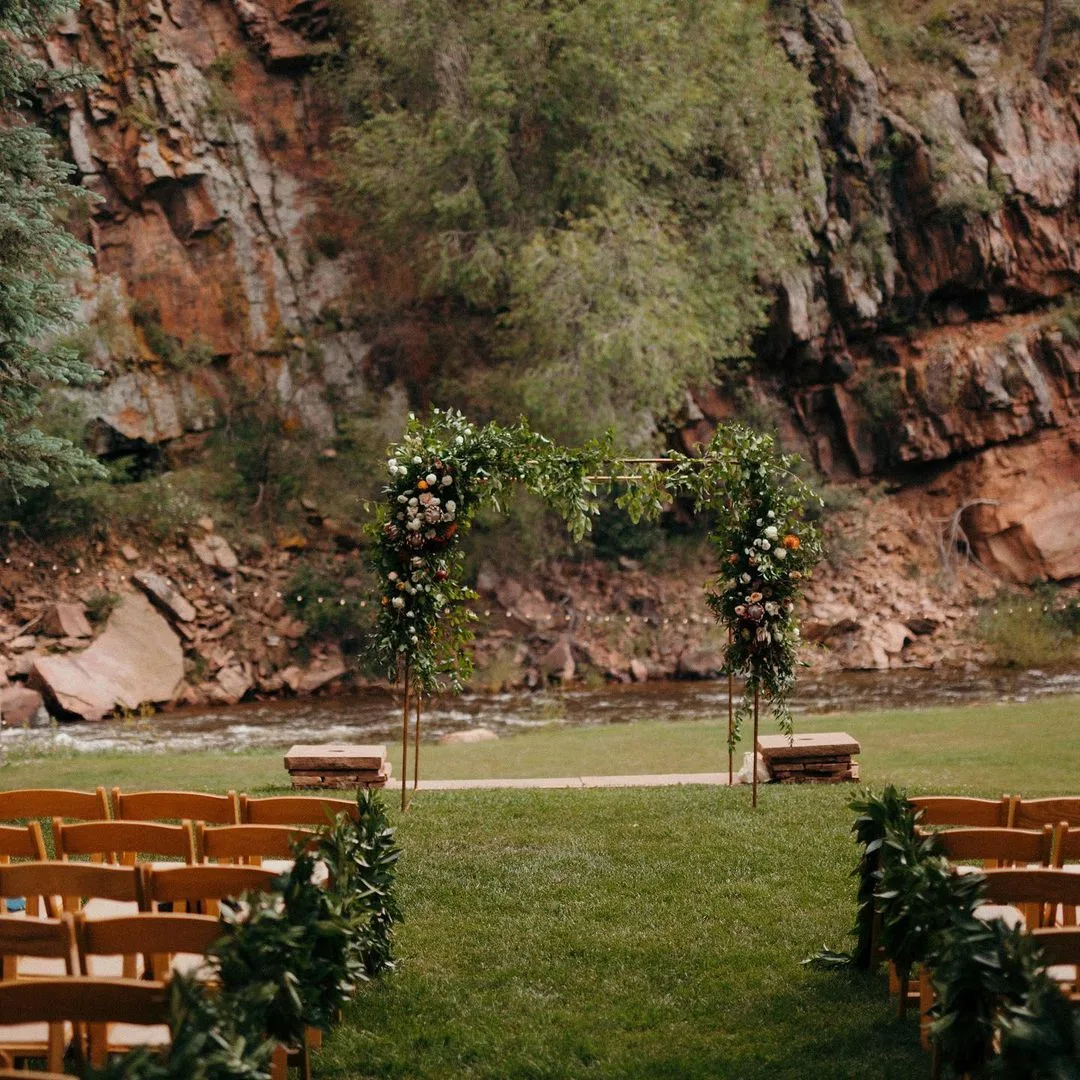 Credit: Instagram
The only thing that should ever outshine the rock on the bride's finger should be a rocky backdrop like that to get married under.
Who needs wall decorations and streamers when you've got natural beauty like that, a babbling brook nearby, and green canopies all around?
The wedding arch is all but perfunctory, which is why something simple would make more sense in this setting. Now, come sundown, you'll have a breathtaking wedding right under the stars.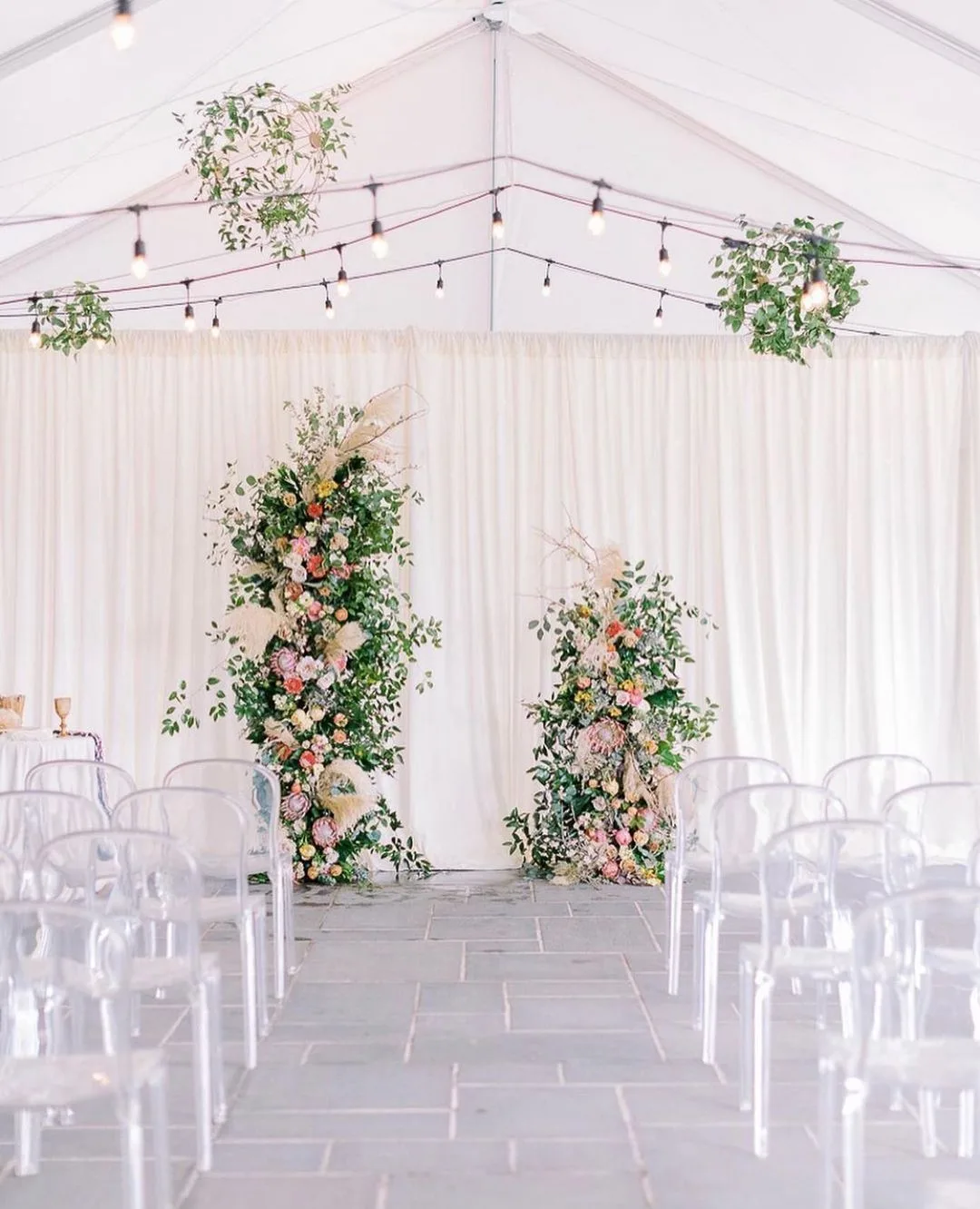 Credit: Instagram
After that rocky backdrop, let's look at something less earthy and more delicate: white satin and pale gold decor.
Of course you'd want white at a wedding, and you should not settle for anything but the softest of white satin for your backdrop.
Why?
Nothing should take the attention away from the bride!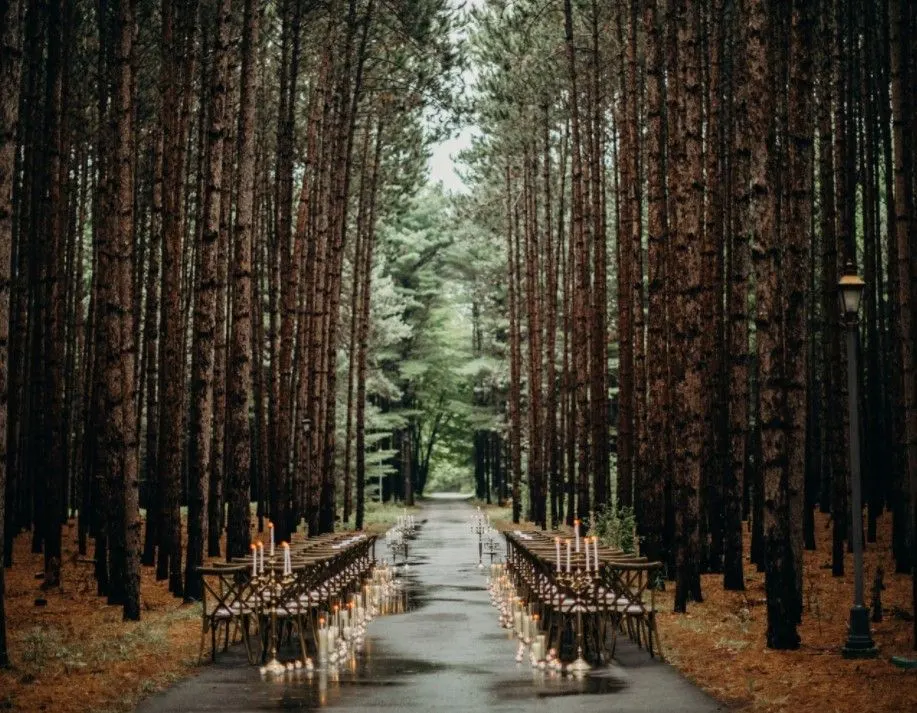 Credit: kaleyfromkansas.com
Those woods and that wedding ceremony look too ethereal to be true.
Here's what you'll need: A few candles to line the aisle and plush chairs that all but blend into the woods themselves. You'll also want four lofty candelabras like these right at the end of the aisle, in lieu of a traditional wedding arch.
It makes sense to do away with a wedding arbor when you've got those tall trees in place. No wedding arch could even beat that.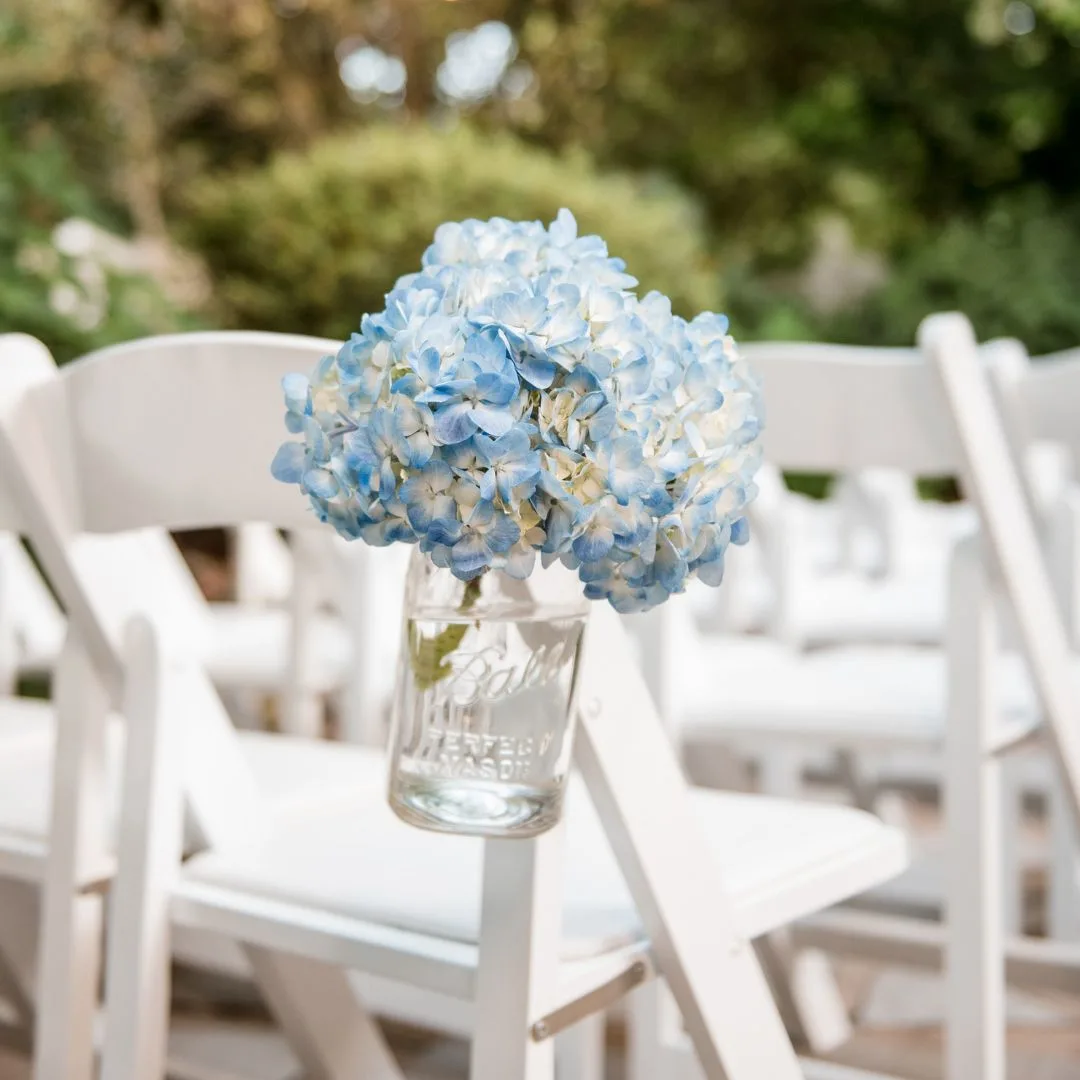 Credit: Instagram
I can't believe how versatile mason jars like these are. Especially when it comes to using them in a wedding: you can use them to fashion a centerpiece, serve layered cake, or even use them as candle holders
Which is why they'd be absolutely perfect for holding flowers. Not just any flowers, but the ones used to decorate the aisle.
All you have to do is place your flower arrangement of choice inside the mason jar. Now, attach the jar to the back of the aisle chairs with some boho-chic, jute garland twine like you can find here.
Check out these creative mason jar wedding centerpiece ideas for inspiration!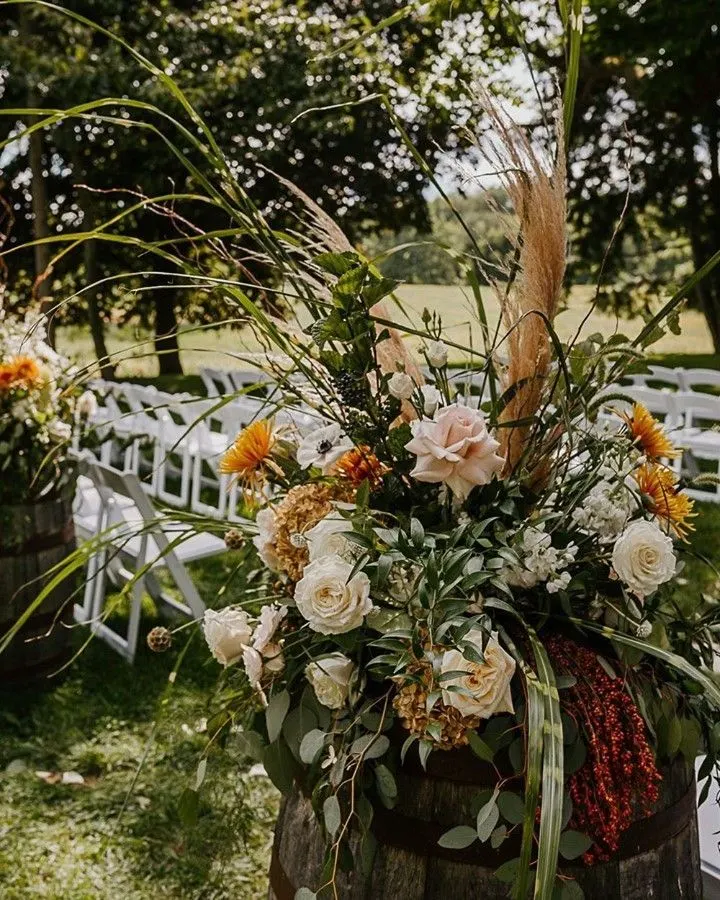 Credit: Instagram
There's nothing like a hearty and robust floral arrangement to kick off your wedding ceremony. Placed strategically at the foot of the aisle, they're a wonderful statement piece for what you want your wedding to say.
You've got some of these wheat stalks, a generous string of pearls, albeit in red, blush, and white roses and mustard gerberas. I bet they smell amazing, too.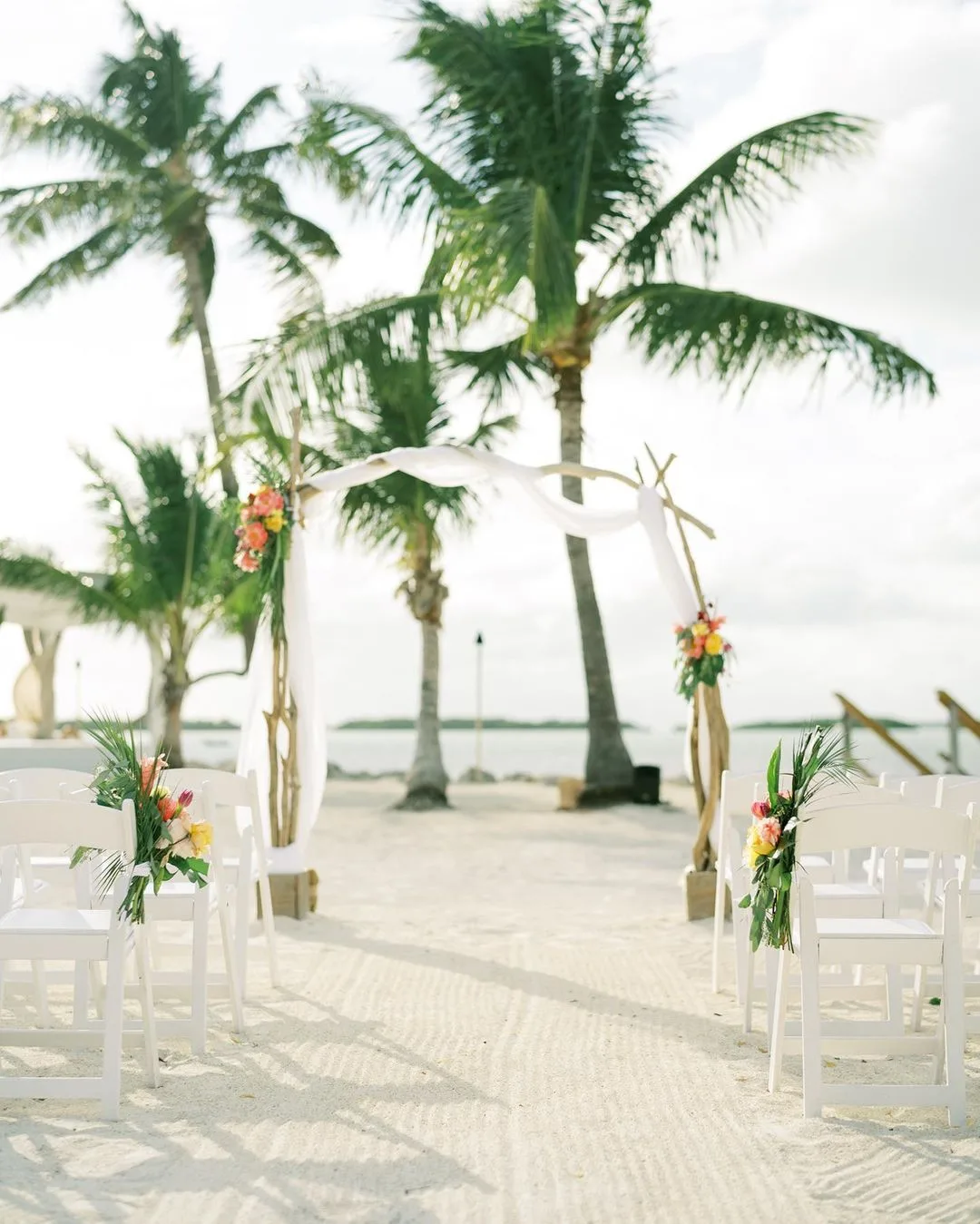 Credit: Instagram
A casual, laid-back beach ceremony is as fun as it gets. There's no fuss here, no wedding planner running around primping this or arranging that. No, none of that.
A few lovely florals tied to the back of the aisle chairs and a soft draping of billowy white cloth like this say more than all that needs to be said.
You've got the sand, the sun, and the simple I do's, and that's what makes this wedding ceremony a hit.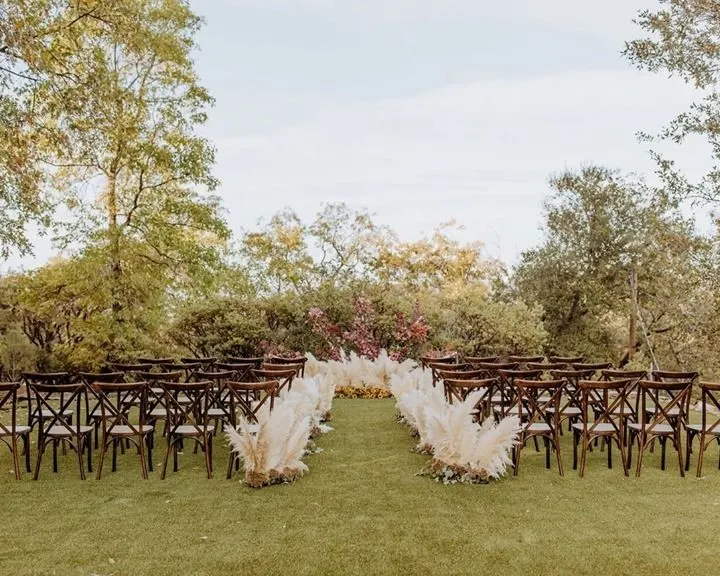 Credit: Instagram
I'd feel like a swan-bride walking down that aisle, between rows of lush and feathery pampas grass bouquets. Who needs flowers when you can have that plumage of feathers and pampas grass like this?
Not to forget, with that clear blue skies, freshly mowed grass, and a glass of champagne, you can have the perfect garden wedding.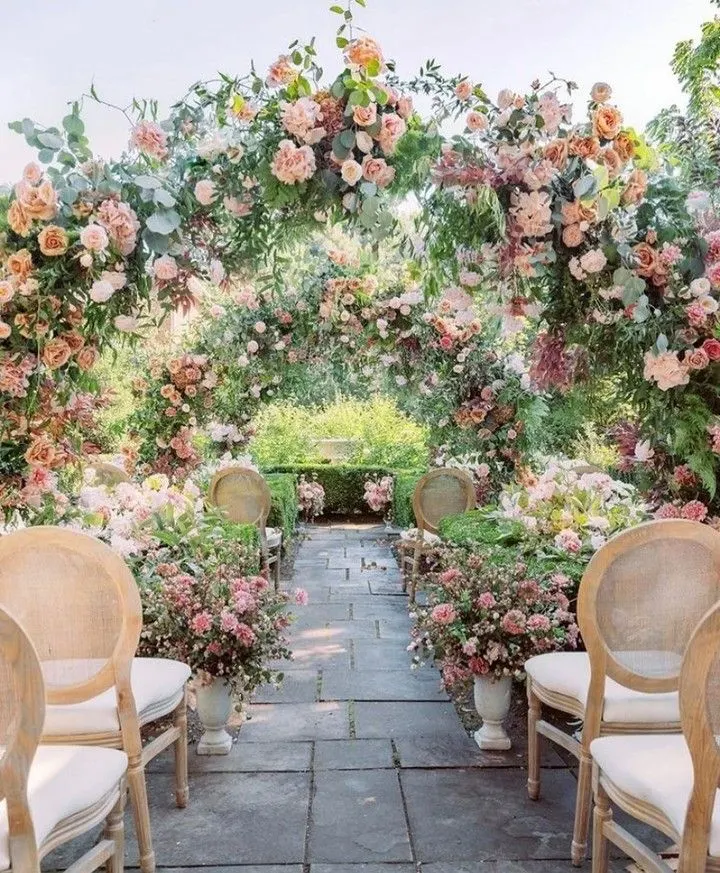 Credit: Instagram
Wouldn't you love to walk down the aisle under a canopy of green leaves, vines, and archways decked with blush-hued blooms? You can get married under a flower-laden wedding arbor!
Now, imagine being a guest at a wedding. You find your seat, and you sit down, only to be surrounded by flowers. There are flowers everywhere you look, and isn't that absolutely wonderful?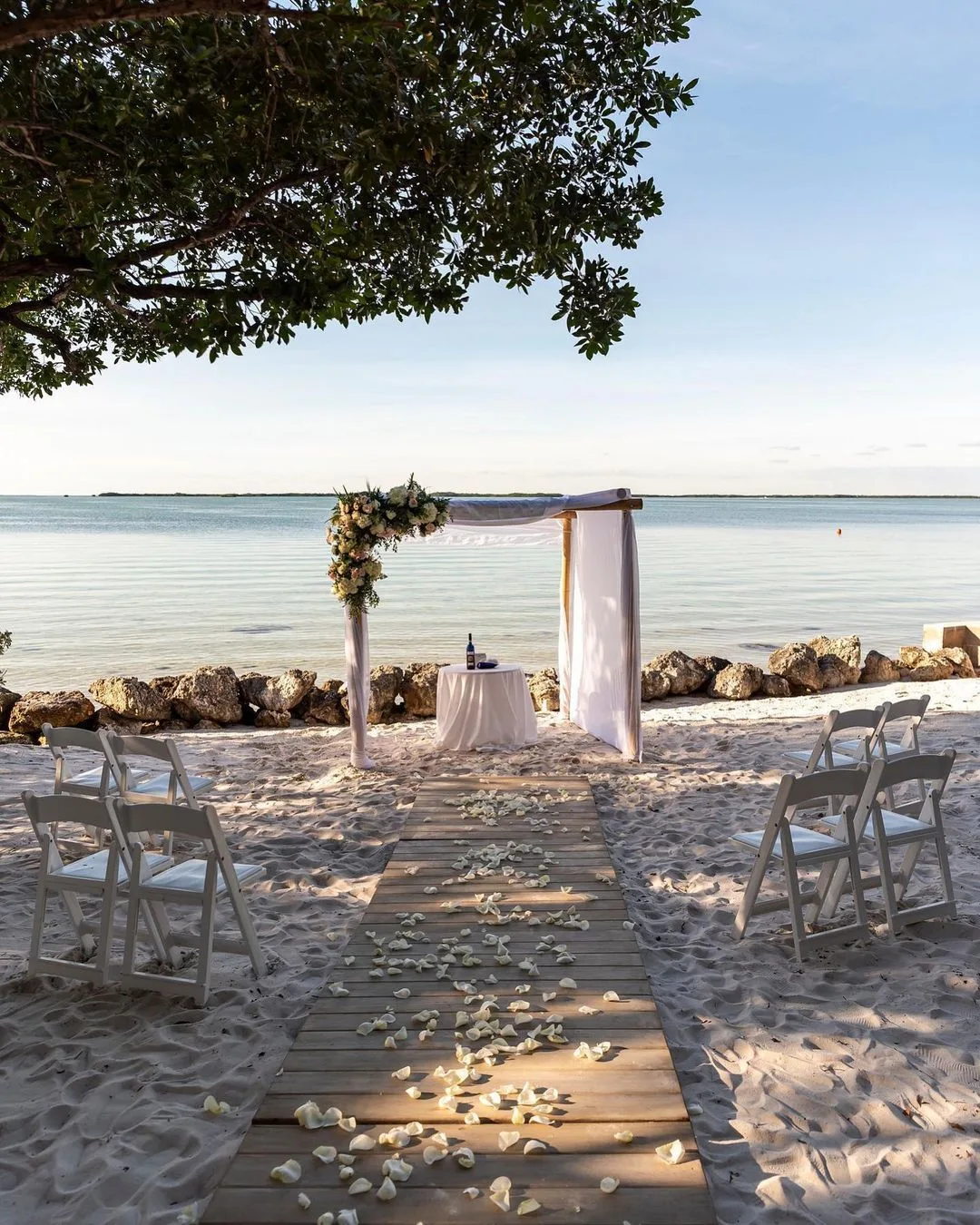 Credit: Instagram
With the water all but lapping your feet, can you think of anything more romantic than saying your vows in that spot?
You can feel the sand under your bare feet, smell the salty breeze mixed with the fragrance of these white petals and hear the gentle splashes of the waves behind you.
This is a wonderful setting for an informal gathering of friends and family scattered around.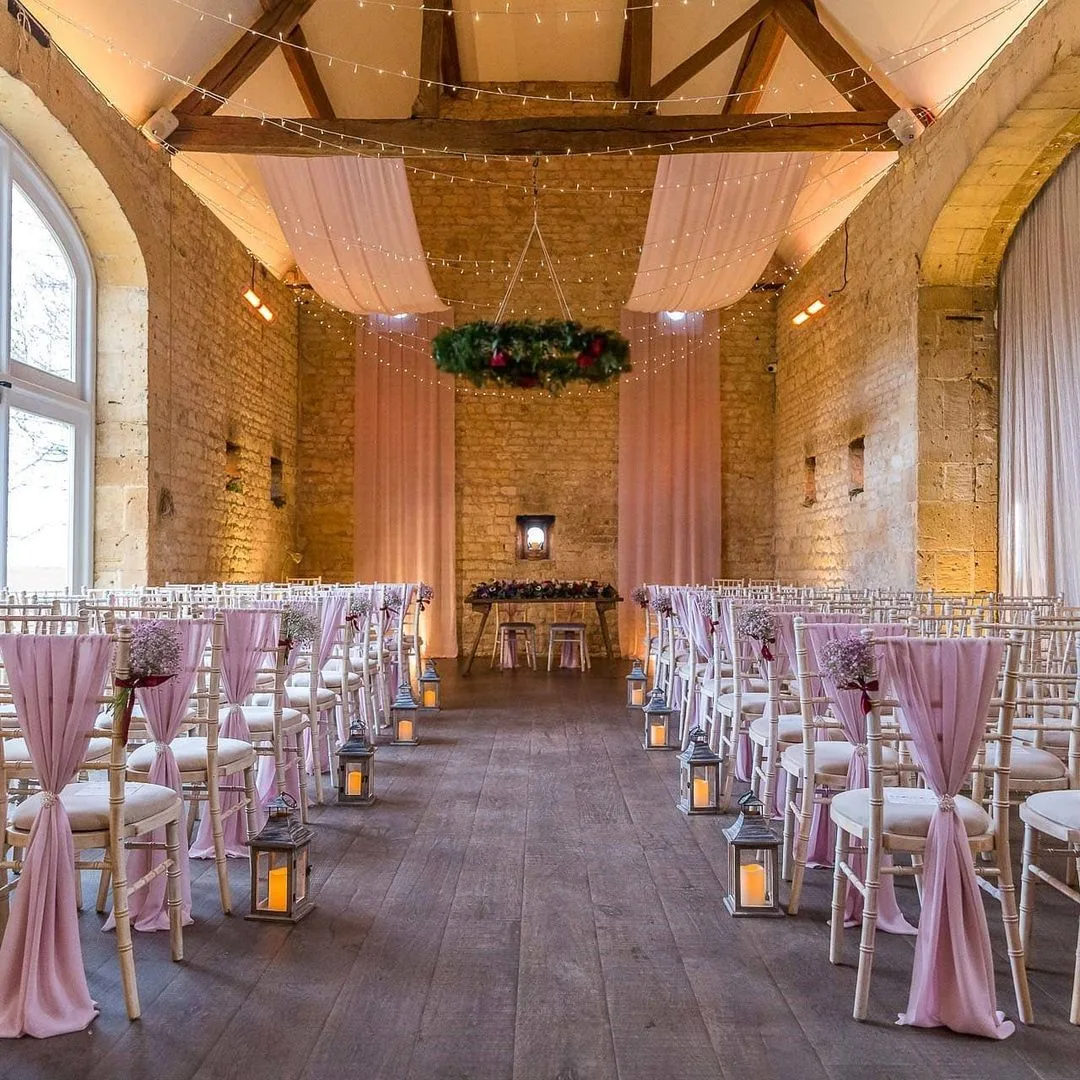 Credit: Instagram
Why would you need any kind of backdrop when you've got that massive yellow-brick wall? Don't you love how that mustard meets the dark notes on the wooden floor?
Check out these candle-encased lanterns and how they throw warm light on the pink taffeta fabric. A wedding ceremony can speak volumes just by the colors used to decorate it, and all these colors say I do!
If you decide that you do want a backdrop anyway, check out some of these wonderful wedding backdrop ideas.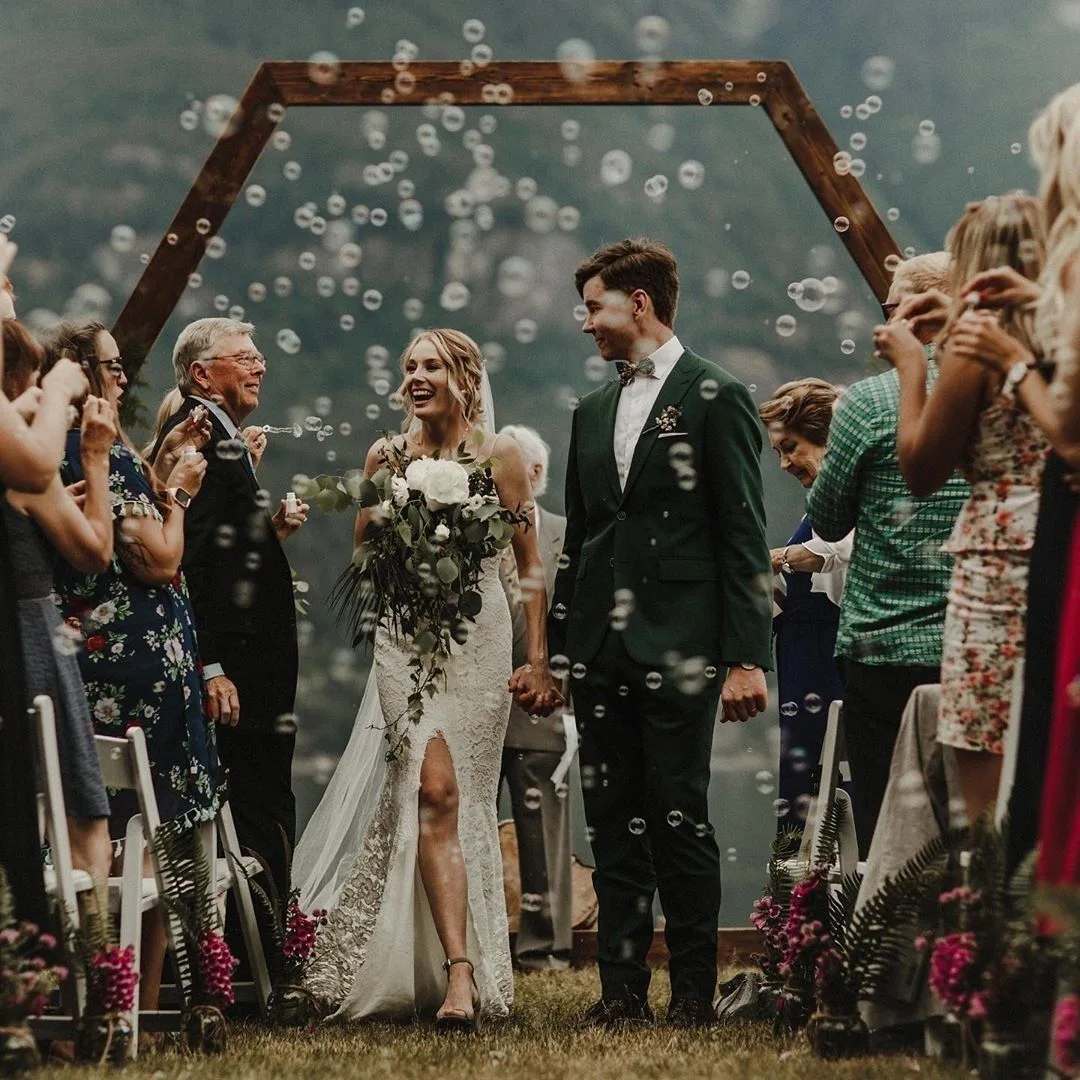 Credit: Instagram
Forget the fancy floral bouquets and the elaborate wedding archways. Forget ornate candlesticks or lanterns to light the way.
All you need to make a wedding ceremony dreamy and fun: bubbles. Just look at this picture.
Look!
You've got a simple wooden wedding arch and the barest pops of color from flowers but you don't need them, because you've got bubbles!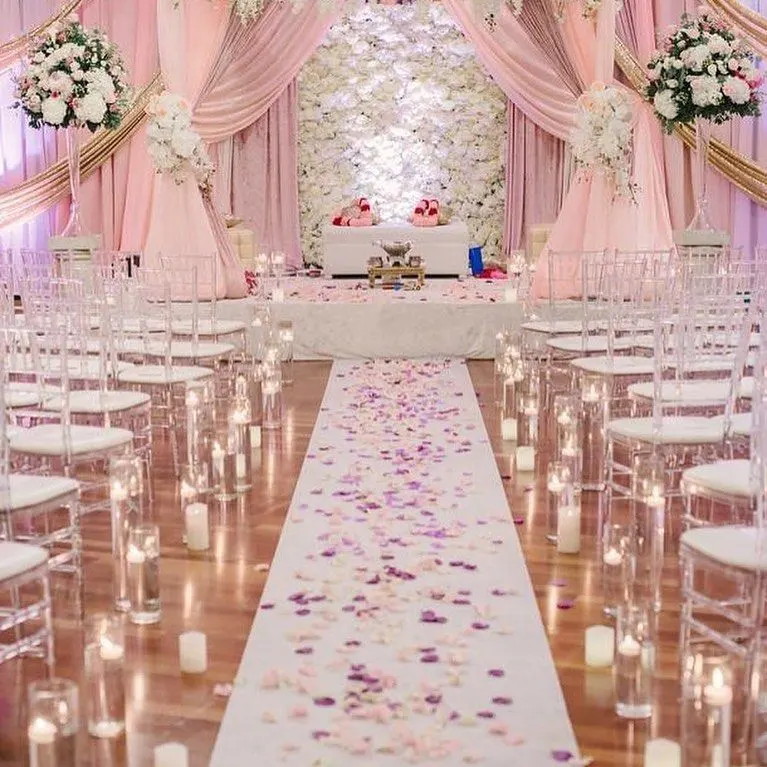 Credit: Instagram
Pink flowers petals like these? Check. Baby pink tulle curtains from here, check. Pink garlands for the bride and groom? Check.
If ever there were a pink-themed prop to find, you'd find it here. From the flowers used to make the garland to the pale pink of the carpet, you've got yourself a pretty and pink wedding ceremony.
Do you want to take a wild guess at the color of the cake?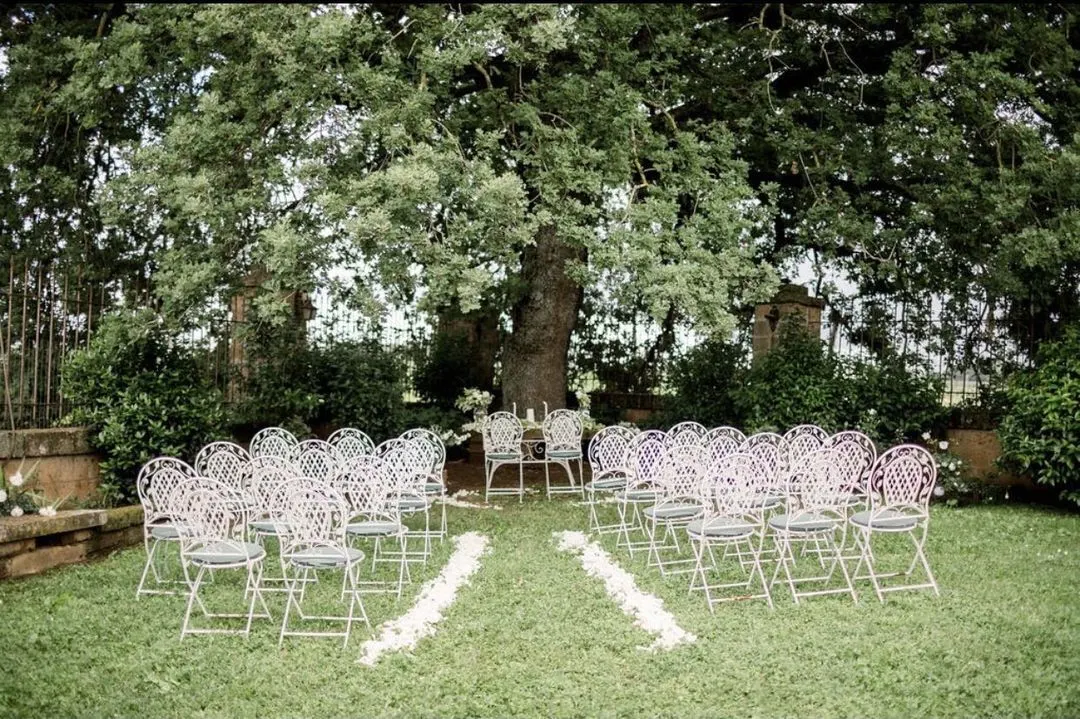 Credit: Instagram
Who said that a wedding in your backyard couldn't be fancy? Look at this ceremony, and tell me you still feel that way, I dare you.
We've seen time and time again that few things beat marrying the love of your life under a canopy of green leaves. Why bother with floral arrangements when you've got a big tree laden with real flowers right above you?
Just pull out the fancy chairs, play some music and let nature work its magic.
Here are some creative backyard wedding ideas for you to explore.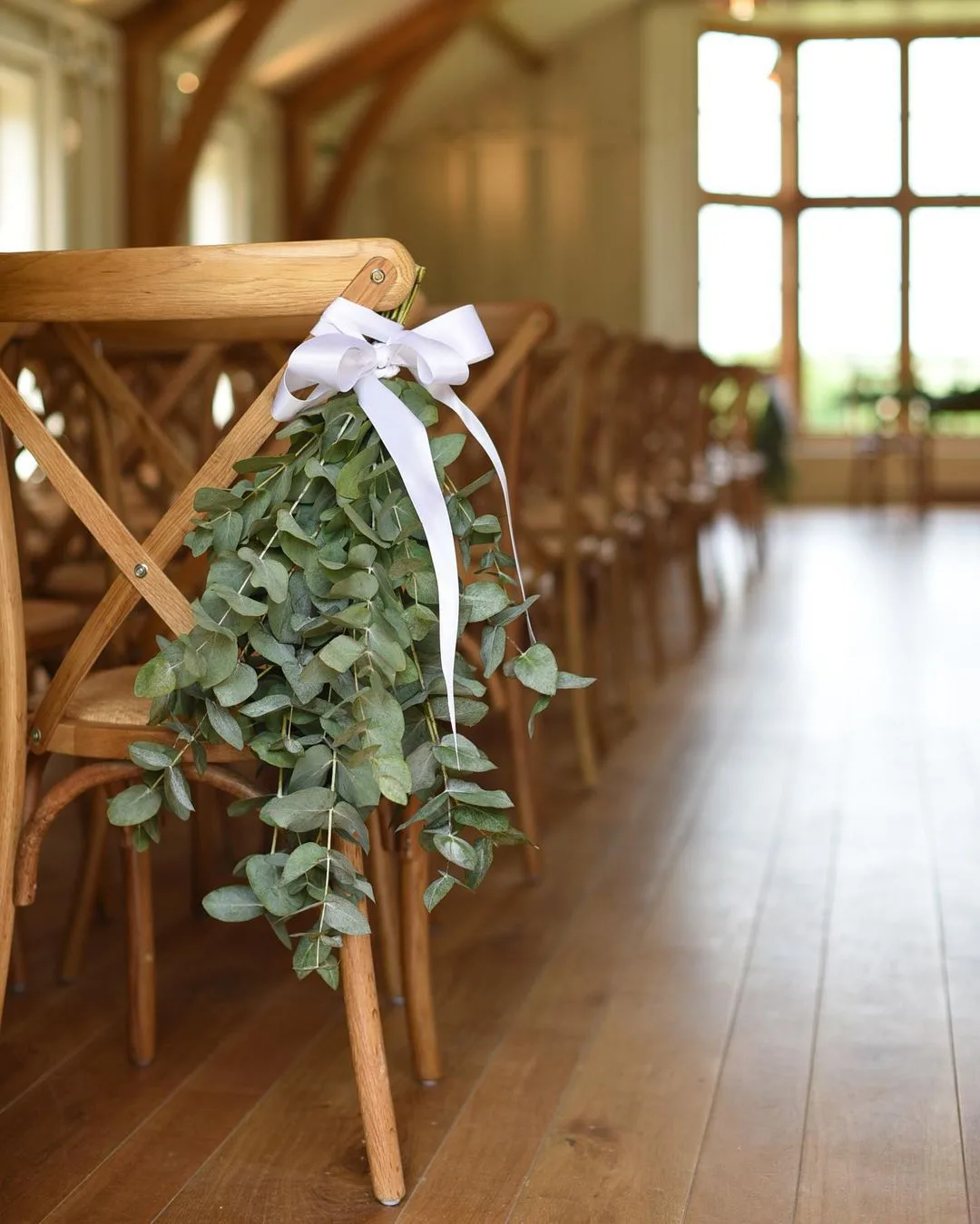 Credit: Instagram
With all that natural light streaming in from those bay windows, there's little more needed to brighten up the room for your wedding ceremony.
So, hear me out: why not tie a few sprigs of olive from here or these eucalyptus leaves with a length of this white-satin ribbon?
I think they'd look gorgeous hanging from the chairs along the aisle!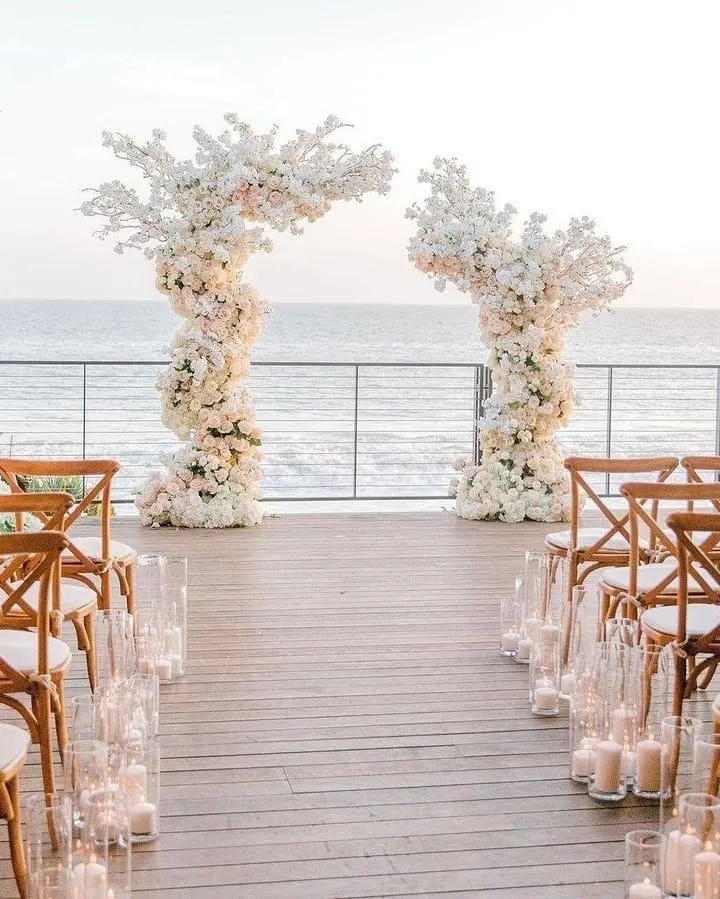 Credit: Instagram
This wedding ceremony is one of the most aesthetic wedding ceremony settings I've seen. From the pale blush candles, offset by dark wooden floors to that wedding archway—everything screams class.
Doesn't the wedding arch look whimsical, twisting up that way to meet the fading light in the sky? If this weren't fabulous enough, that stretch of foamy white ocean just pushes the wow-factor over the top into sheer perfection!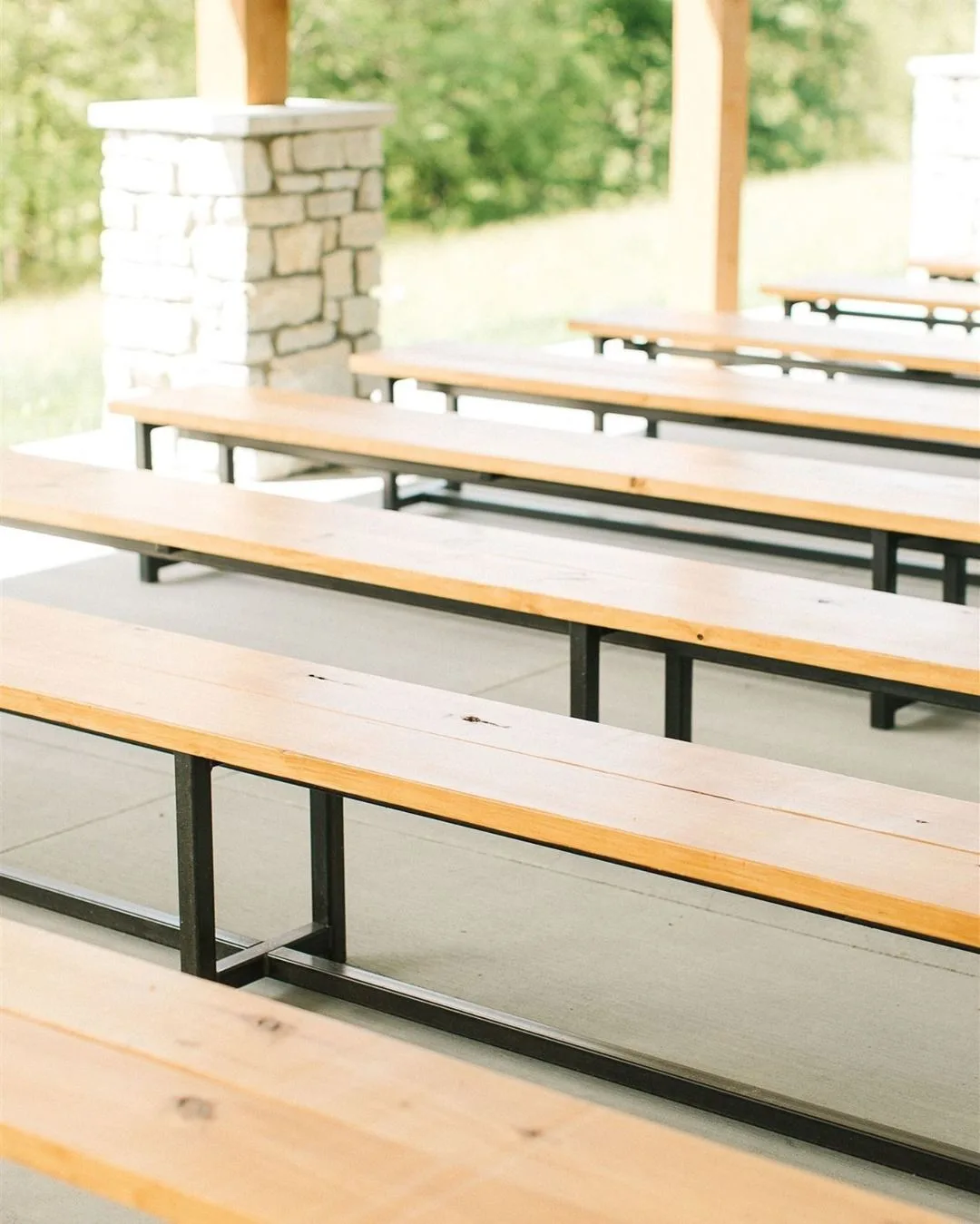 Credit: Instagram
This ceremony reminds me of all the fun times I spent at the camp hall. We'd watch movies on the big screen at the end of the aisle and then head over to roast s'mores by the campfire.
I bet those are memories that you can recreate at this wedding ceremony. With all your close friends in attendance—and maybe a few bags of marshmallows—you can make this a quirky, unique, and fun wedding!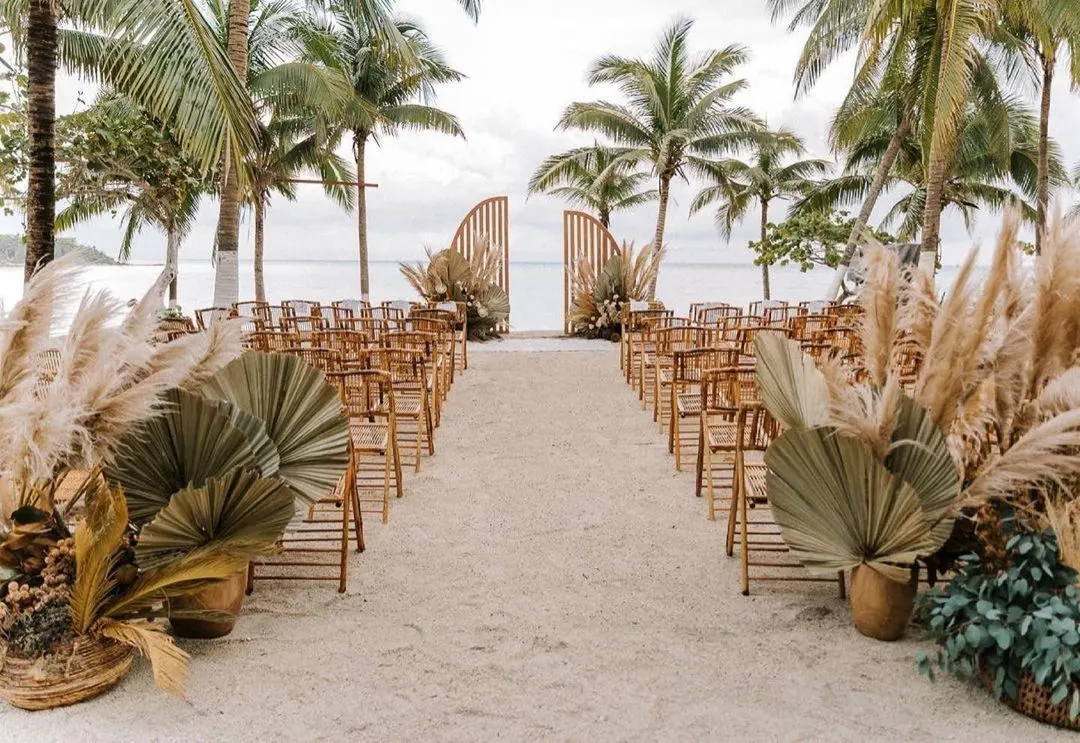 Credit: Instagram
Is it just me, or does that wedding arbor look suspiciously like the bamboo gates of Heaven? The pearly white ocean beyond and the sandy beach? What about those?
Check out the luau-themed green bouquet with stalks of these dried reed grass and palm leaves from here.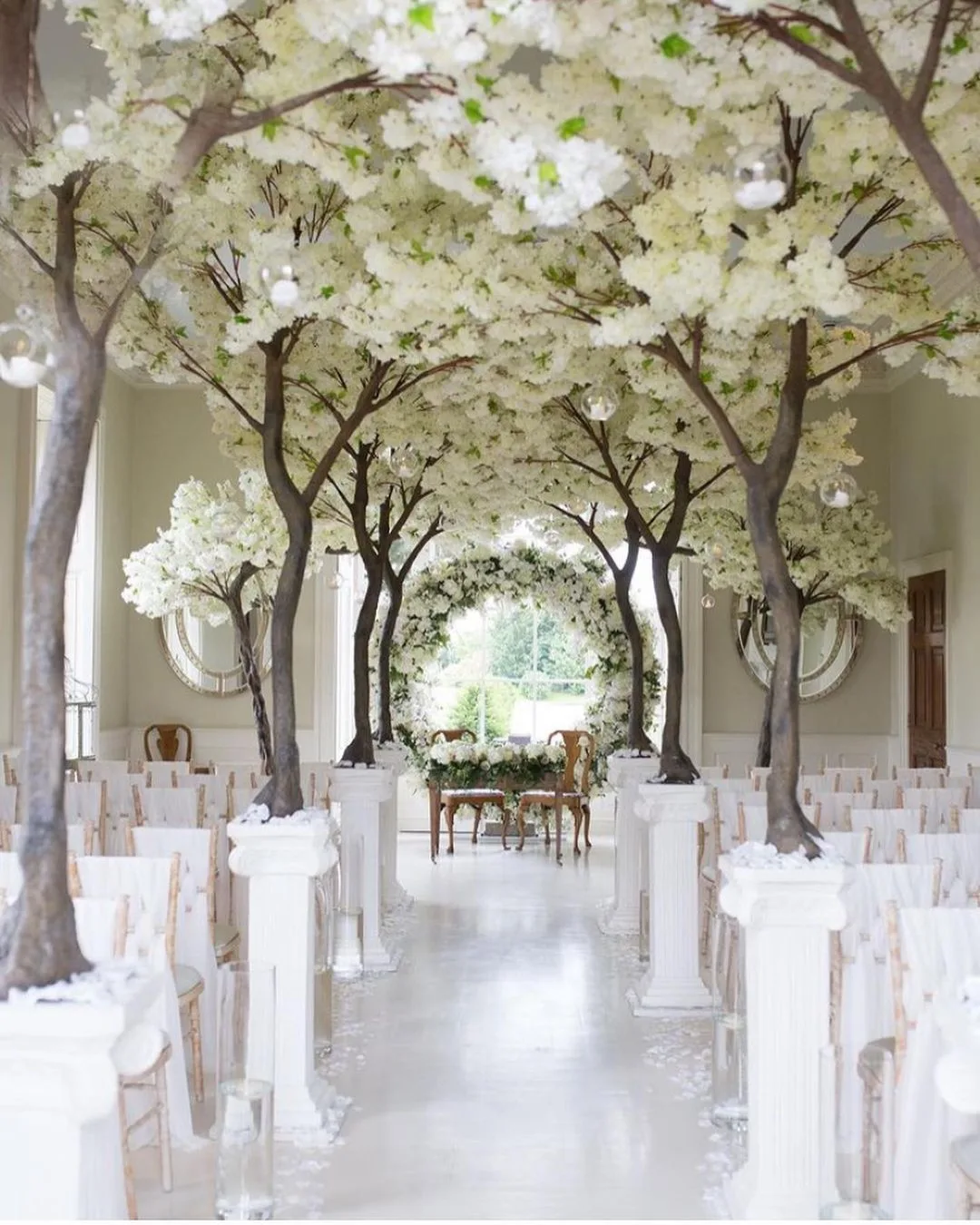 Credit: Instagram
Getting married under a canopy of white cherry blossoms? Sign me up…as a guest, of course.
When the sun goes down, and the soft orbs of glass lights (look here) hanging from the trees light up, this room will look like something out of a fairytale.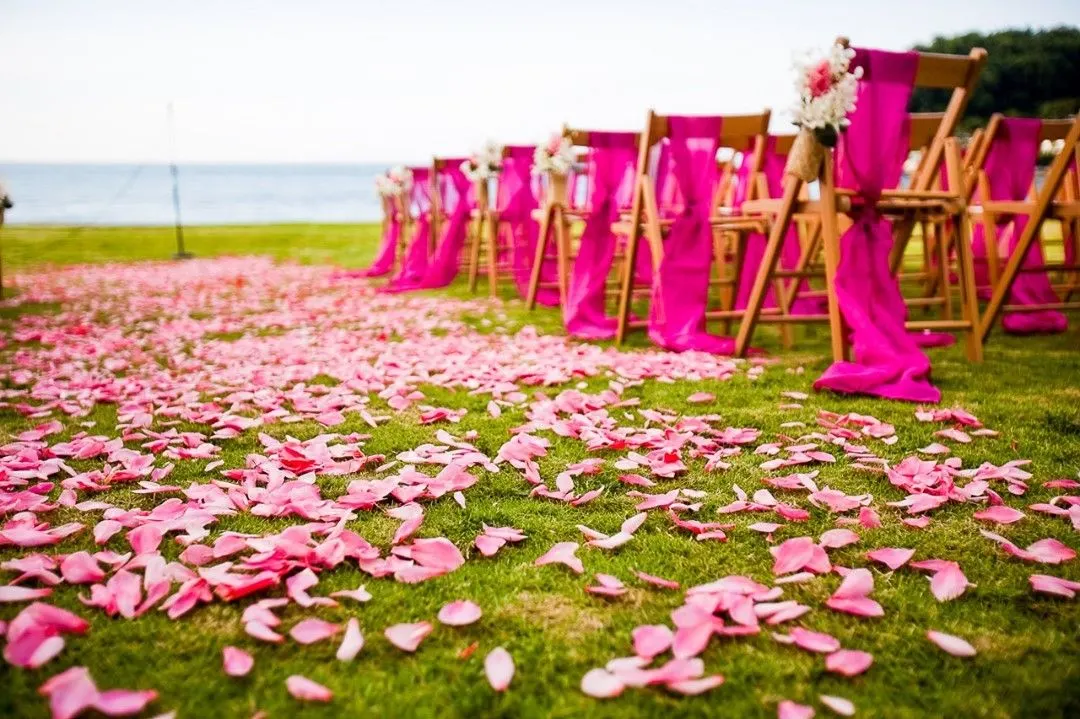 Credit: Instagram
There's pink, and then there's this pink. The more I look, the more I love how the color brings so much character to this venue.
You can see how those soft, pink rose petals look on the green grass. Then, there's a shock of fuschia chiffon cloth tied to the back of those elegant bamboo chairs.
The best part of this tableau? That lovely sweep of the pale blue ocean you see on the horizon. This is a summer's wedding, through and through!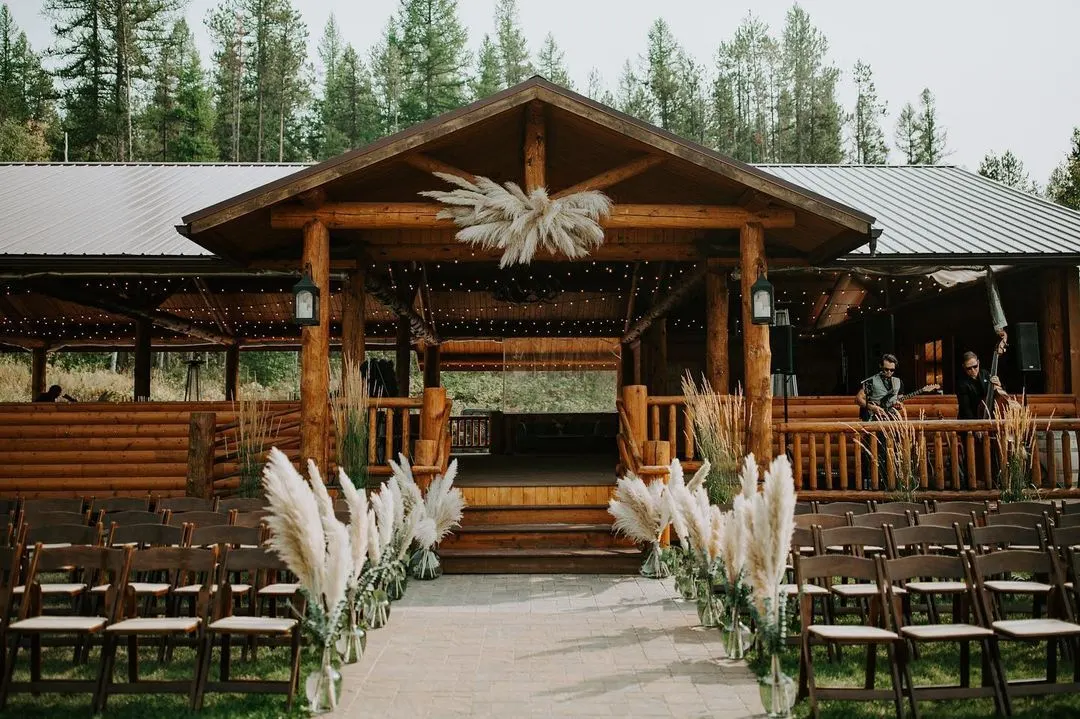 Credit: Instagram
When the stars come up, they're going to have a hard time competing with all these fairy lights.
You've got the promise of a dance floor right behind you and the promises you make to your spouse before you.
Now all that's left is to say I do, put on some feet-tapping music and celebrate your big day!
Check out some of these unique wedding lighting ideas for inspiration.