Planning and decorating weddings can be so overwhelming! Get inspiration from these wedding reception ideas to make that process a little bit easier for yourself.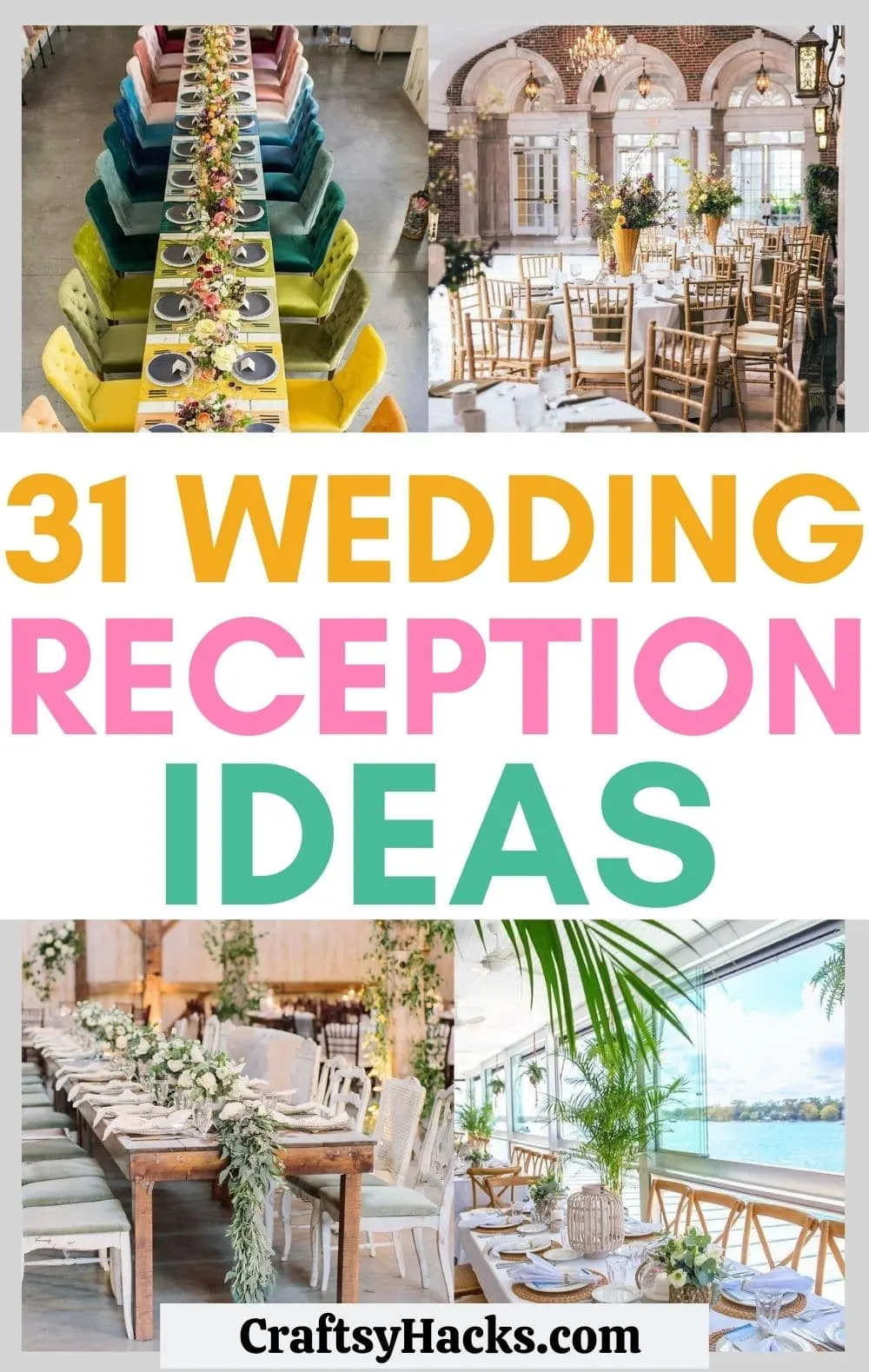 I don't know about you, but I love weddings. Of course, I love the heart-warming ceremony, but I look forward to the reception afterward even more.
Food, music, dancing, champagne, the bouquet toss, the conga line…most weddings have all that in common.
But I can tell you what all weddings don't have in common, and that's the decor, atmosphere, and ambiance that's different every time.
So here are 31 Wedding Receptions that you can look up and enjoy. Also, keep an eye out for niche ideas and inspiration!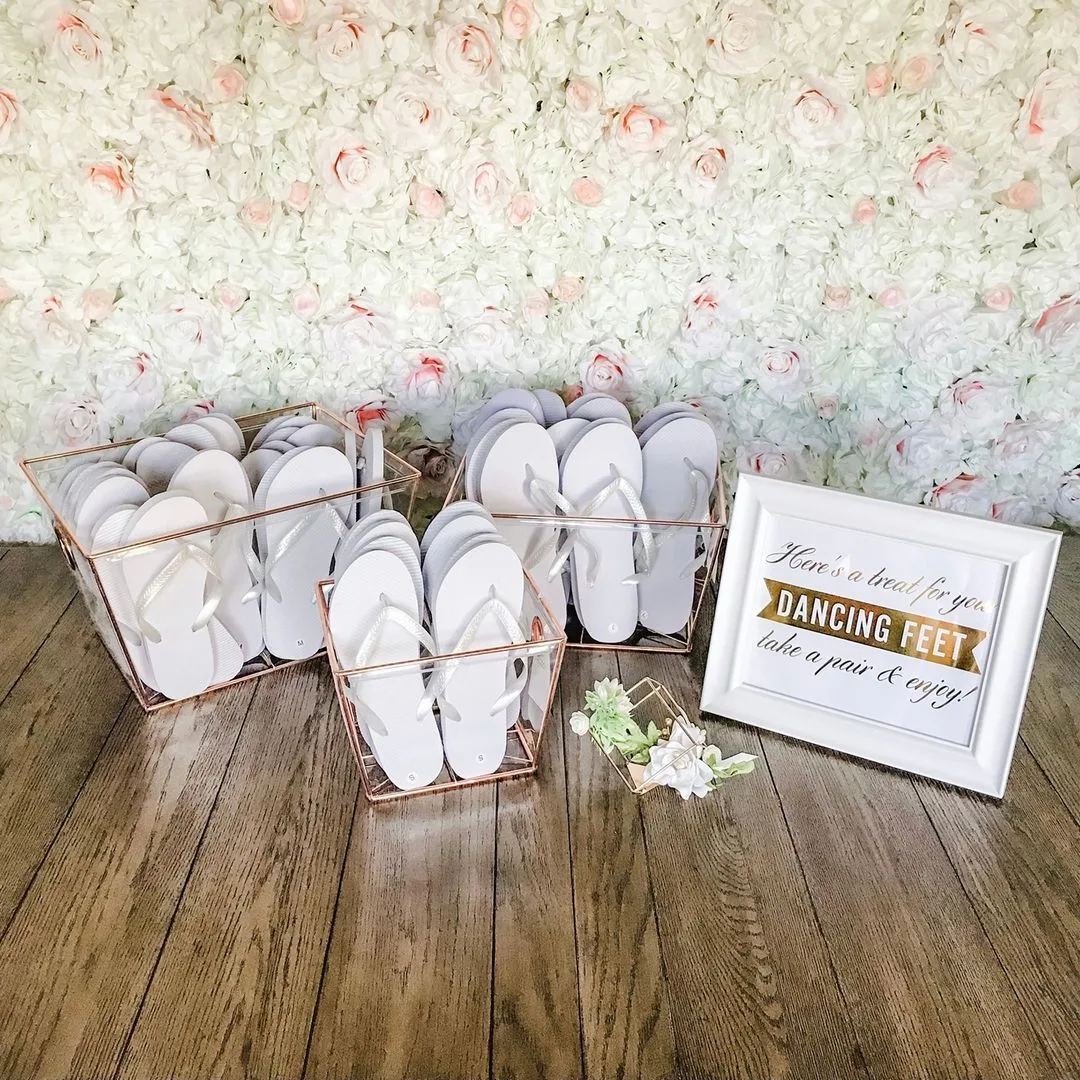 Credit: Instagram
You've got all decked up for a wedding reception. You're wearing a stunning dress and your hair looks good.
You're wearing your strappy stilettos and while they're gorgeous, you can't dance in them, can you? How crazy would it be to go to a wedding reception and find foot-friendly flip-flops to help you set the dance floor on fire?
Just grab a pair—maybe even a monogrammed pair like you can find here. They'd be great souvenirs as well.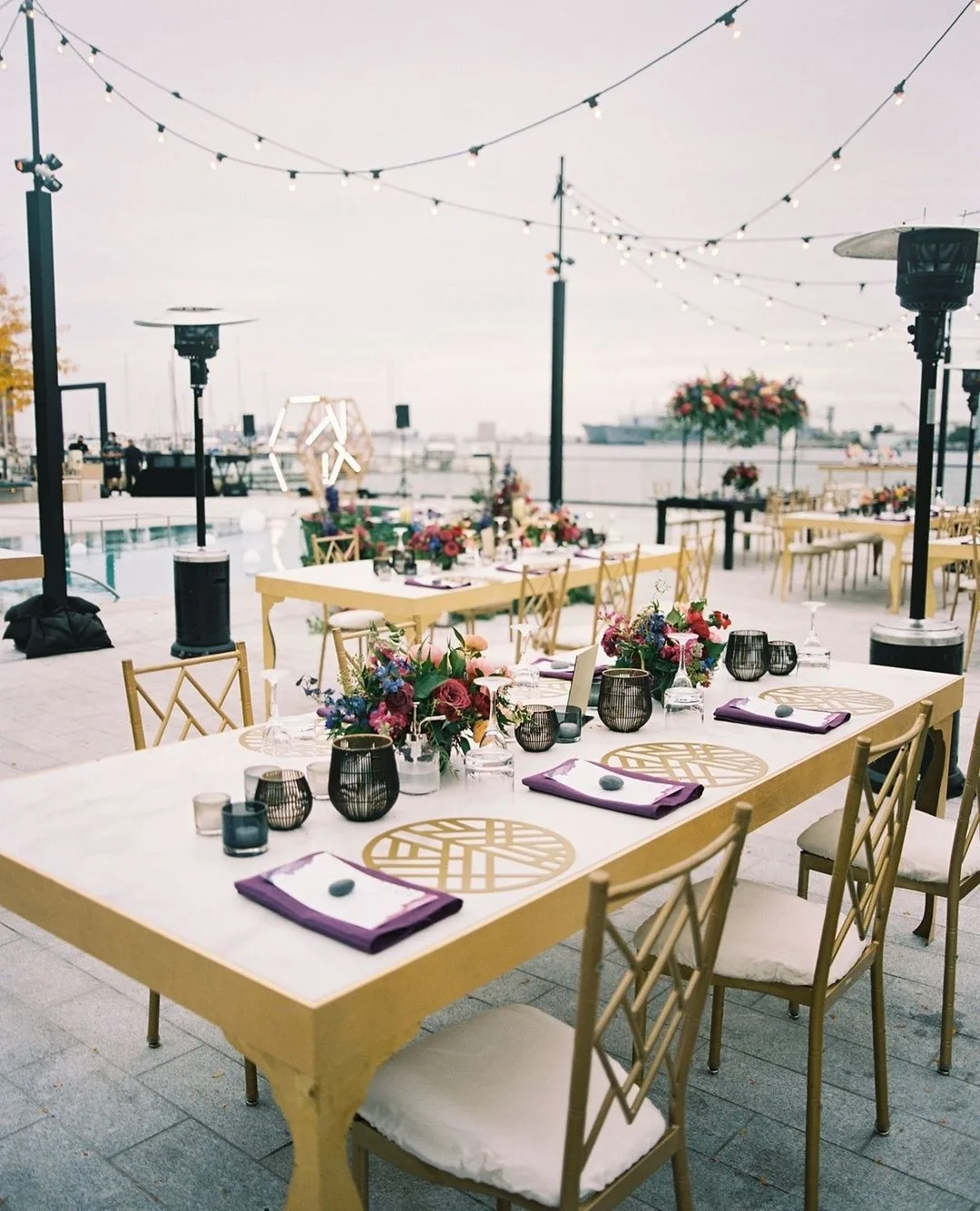 Credit: Instagram
How about heading down to the pier to celebrate a wedding reception? Come nightfall, you'll have rows and rows of these sparkling lights hanging bright over you.
You'll have the cool breeze from the waterfront—and a glass of Champagne—to keep you in high spirits.
Sit down with friends and family for a lovely meal, and toast the happy couple!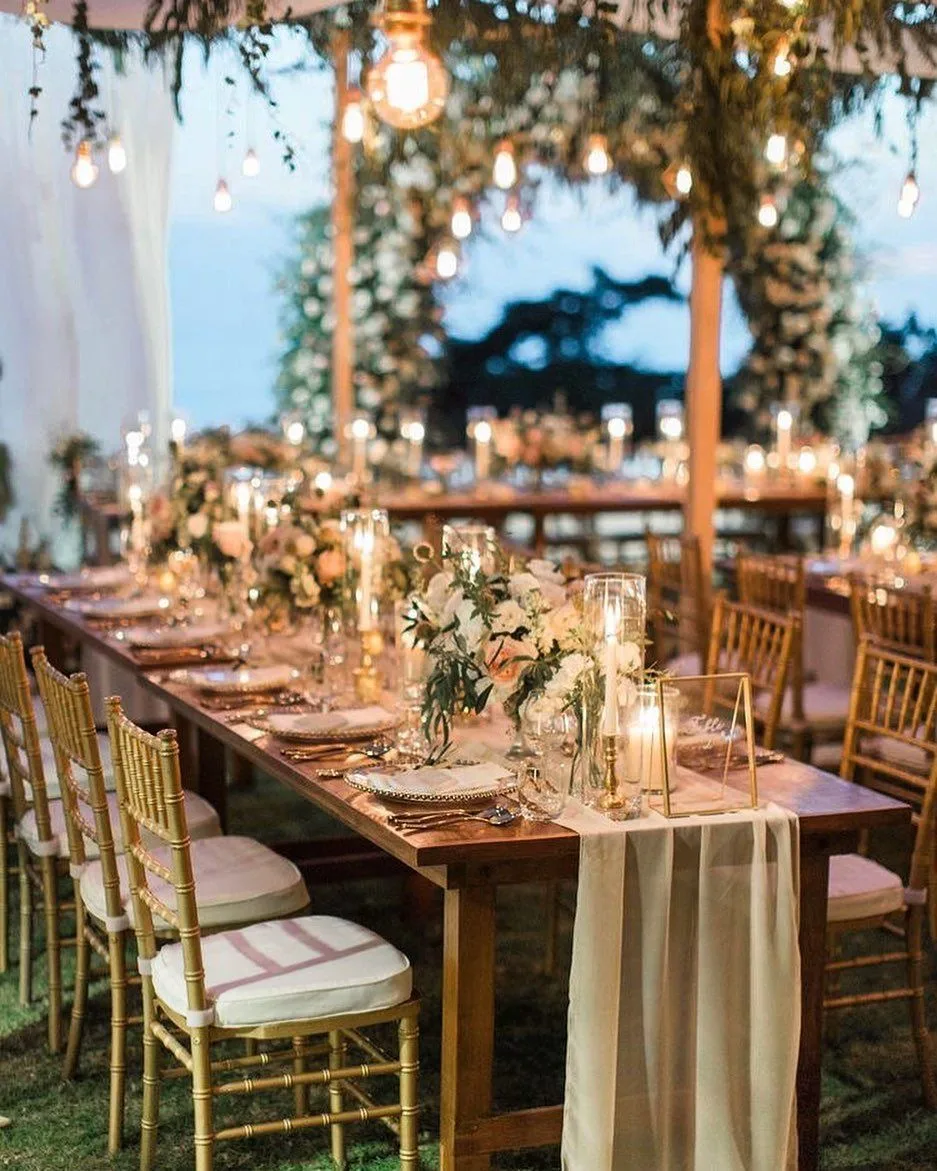 Credit: Instagram
It all comes down to the lighting. Be it that natural light streaming in, the soft glow of candlelight, or the bright flashes from the cameras capturing your big day, it's all about lighting.
You can see plenty of light here—hanging from drapes of green vines, as well as on the table. Of course, you'll need these candle holders to keep the candlelight going, but you can just find them here.
With the lighting you've strategically arranged and nature's own light from the setting sun, you can have a bright and happy wedding reception.
For more unique wedding lighting ideas, look here.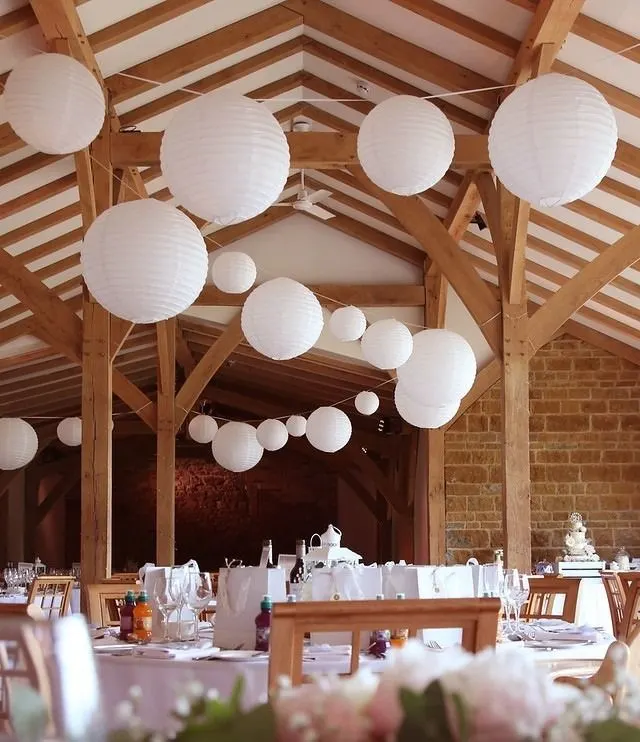 Credit: Instagram
Speaking of lights, check out these Japanese lanterns hanging from the wooden beams. It's daytime now, so you'll have to wait for the sun to set before you get the full impact of how amazing they look.
Once they're light, you'll have soft globes of light hanging above you while you can bask under these lanterns. Of course, you've also got a lantern as a centerpiece at every table, keeping with the theme.
Don't you love eating by lantern-light? You can find those lanterns right here.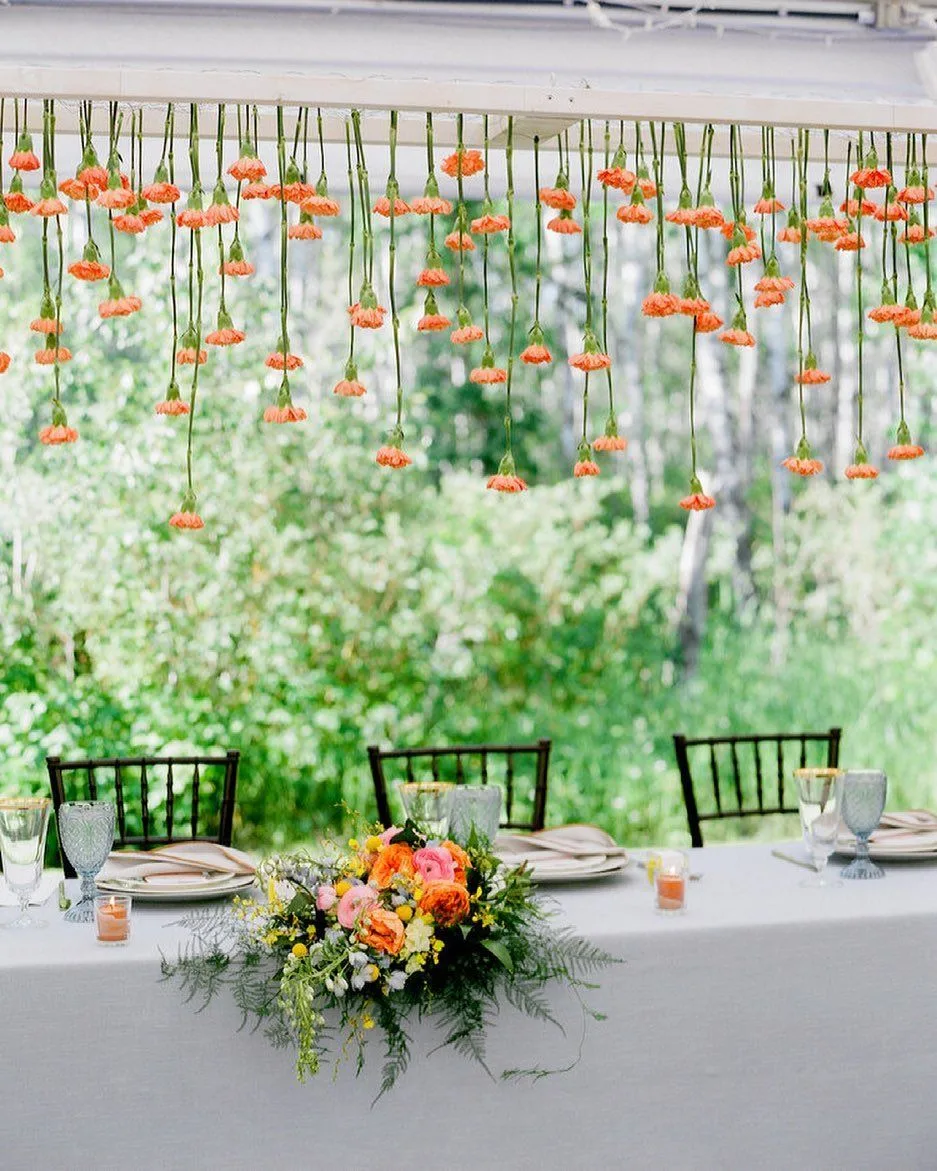 Credit: Instagram
Who would have thought that something as simple as hanging flowers from a beam could add so much beauty to your wedding reception? All you need are a few dozen long-stemmed gerberas from here and some sturdy white twine to tie them in place.
Here's an idea: why not string some fairy lights around that metal rod? Fairy lights and those flowers would tie up quite nicely!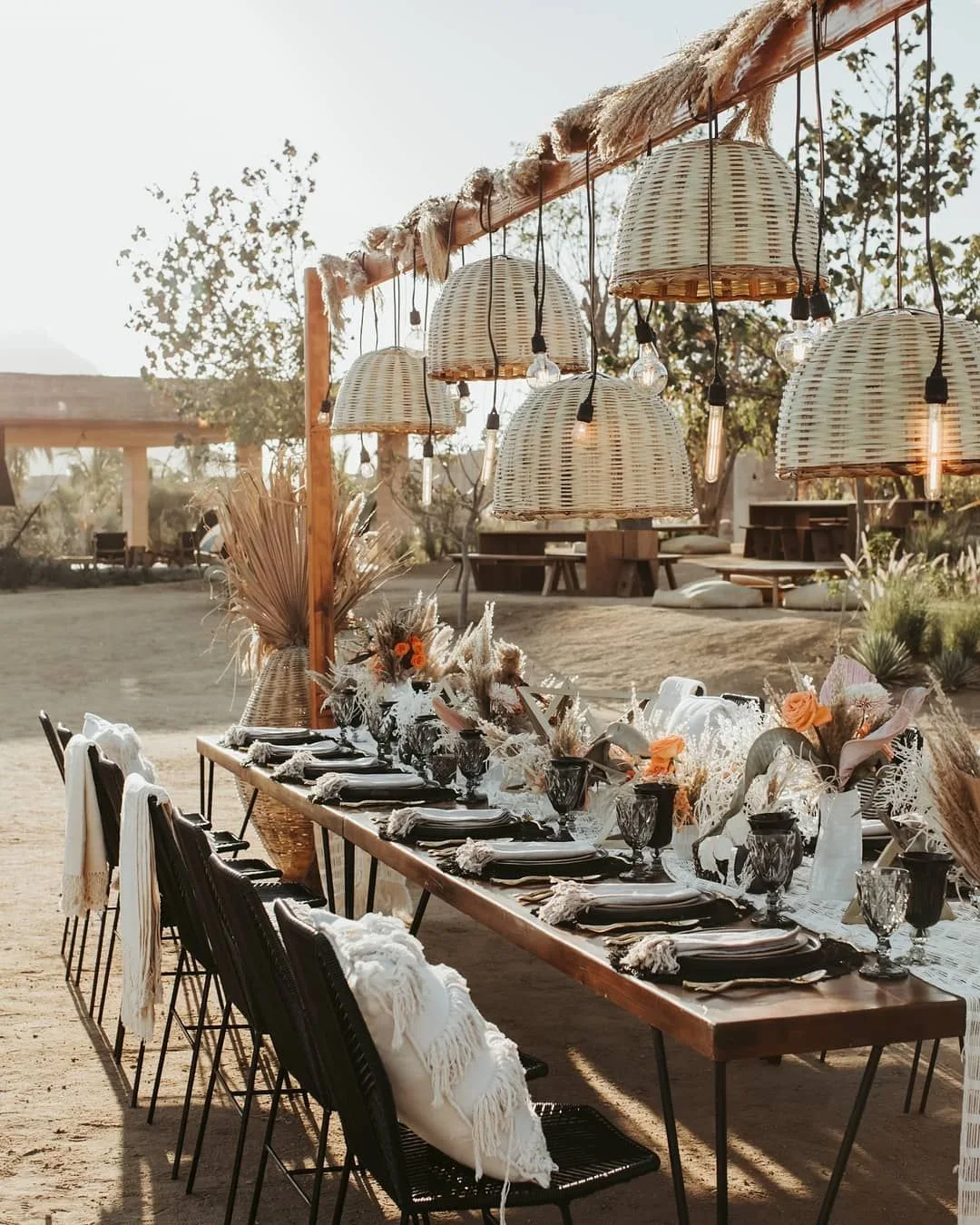 Credit: Instagram
Bohemian weddings are all about cozy comfort and subtle colors. You can certainly expect to find some variation of wicker, jute, cane, straw or other natural fibres along with the decor.
So look at these domed cane lanterns hanging down that wooden arch.
You can also see that gorgeous curved wicker basket which I just bet used to be a laundry basket. Now it moonlights at weddings and holds the occasional stalks of wheat and reed grass like this.
You've even got fringed cushions from here to keep you warm and comfy when seated.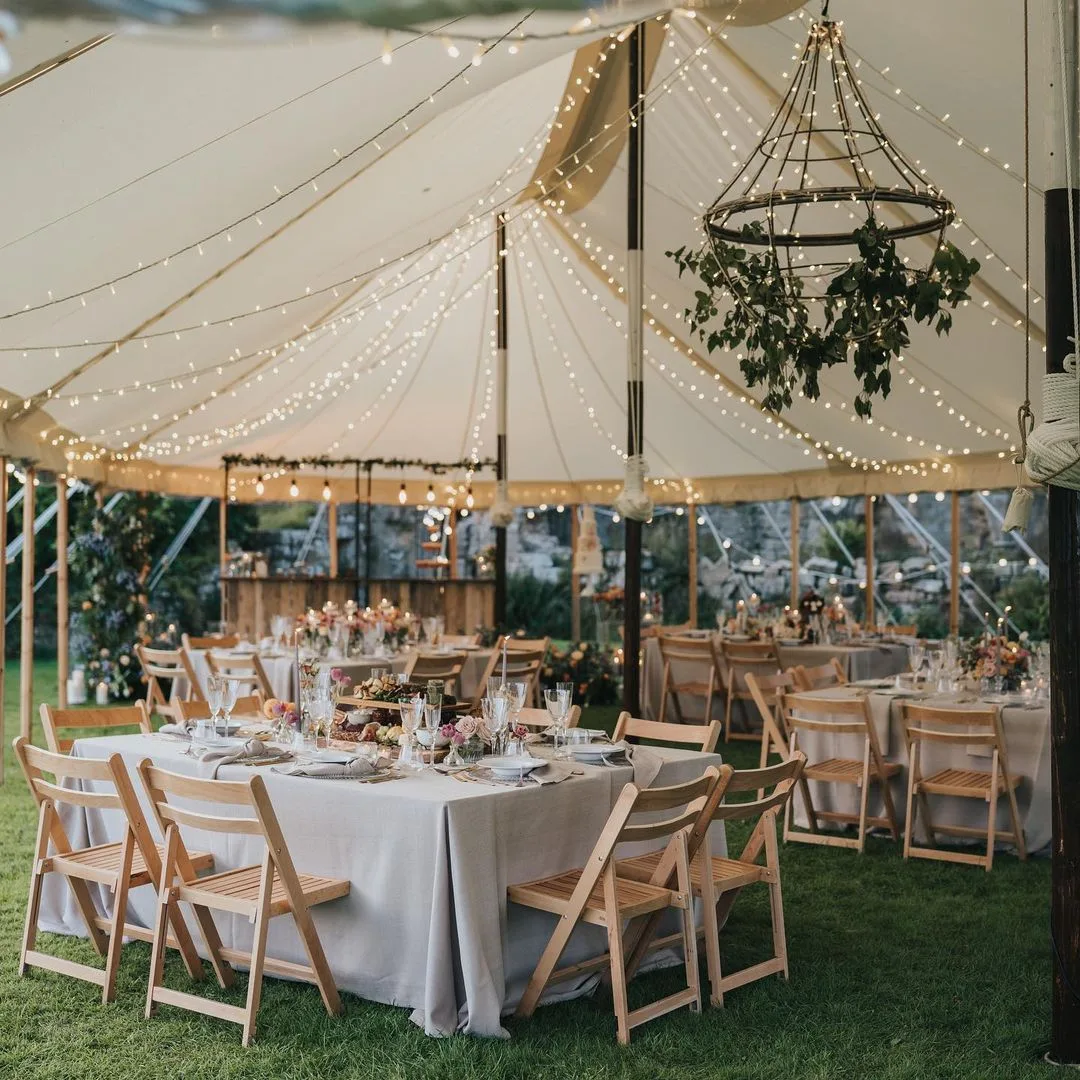 Credit: Instagram
Any wedding with a cheese board for a centerpiece has my eternal seal of approval. Forget the dance floor, and forget the bride and the groom. I'm going to be at my table stuffing my face with cheese and bread.
Look at how that table is groaning under all those jams, dips, cuts of meat, and succulent berries. Then there's the cheese and bread.
Lots and lots of bread, with a steady flow of wine and laughter. Bliss on a cheese board!
Need more ideas? Check out these wedding cake ideas.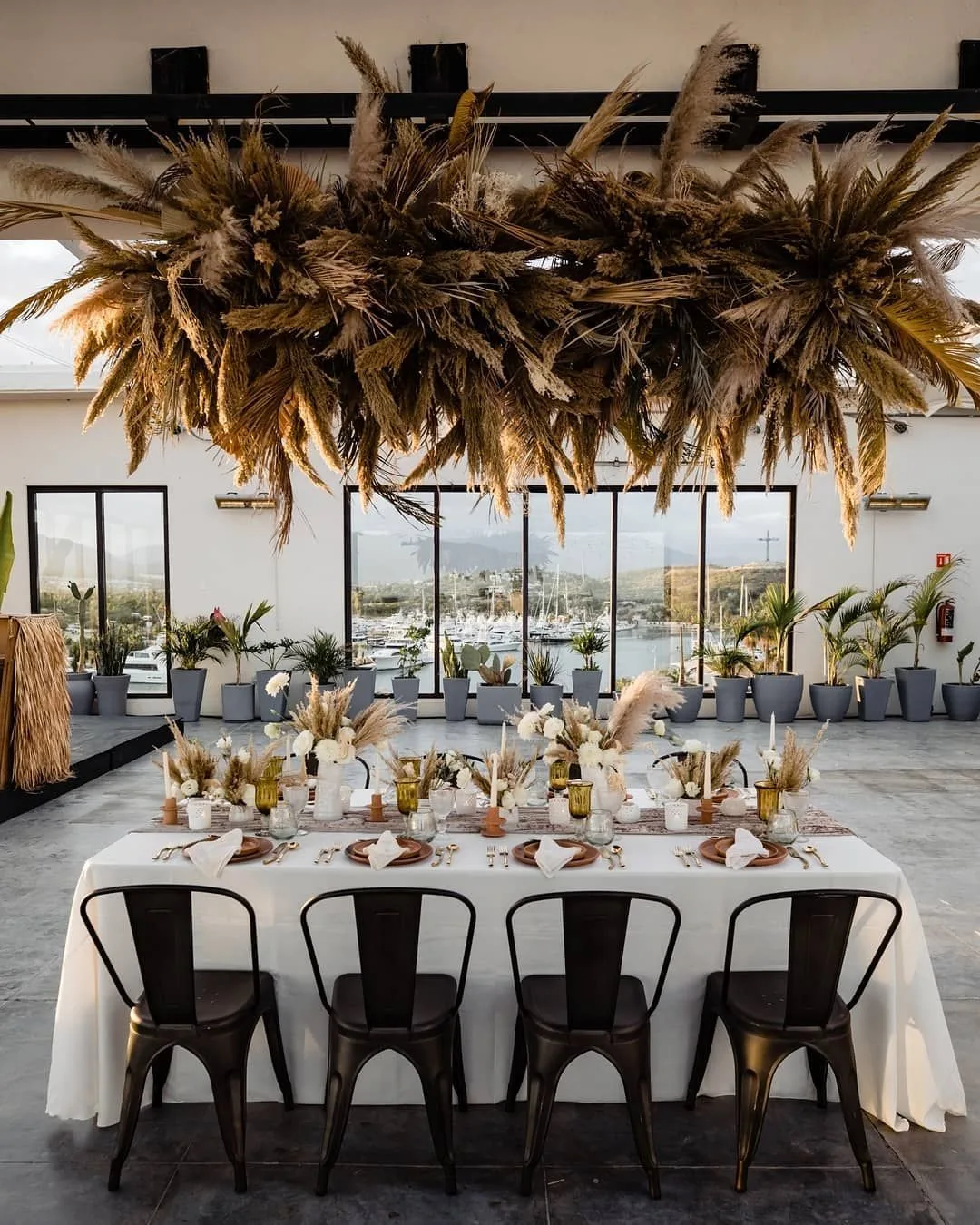 Credit: Instagram
A small, intimate wedding ceremony followed by a cozy reception dinner at this venue overlooking the pier, sounds just dreamy. But dreamier still are all those wheat and reed arrangements
You can tell that a wedding with all these wheat stalk bundles is sure to have a lot of bread. Now, all it needs is some wine, cheese, and some soft jazz playing.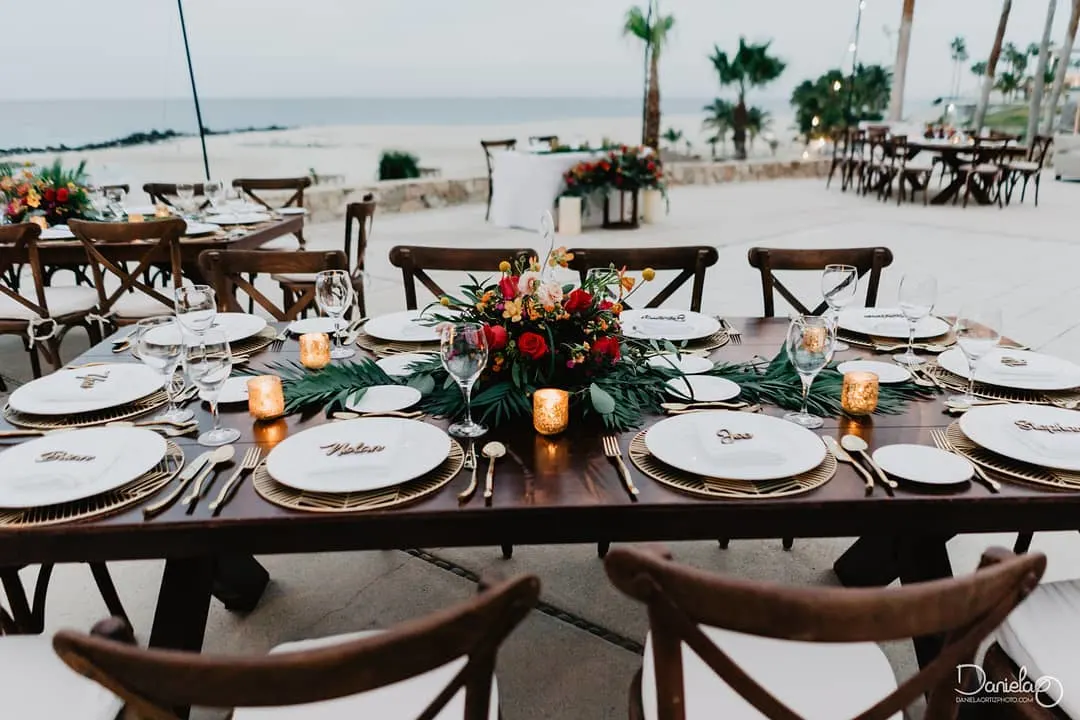 Credit: Instagram
With the sandy white beach and pale blue from the ocean as a backdrop, this wedding reception will need all the light it can get once the sun goes down.
How? You can use candle holders from here to dot the table with enough pops of yellow light, right between the place settings.
Speaking of table place settings, don't you love the monogrammed plates? I bet they'd be a love hand-me-down heirloom when the time comes!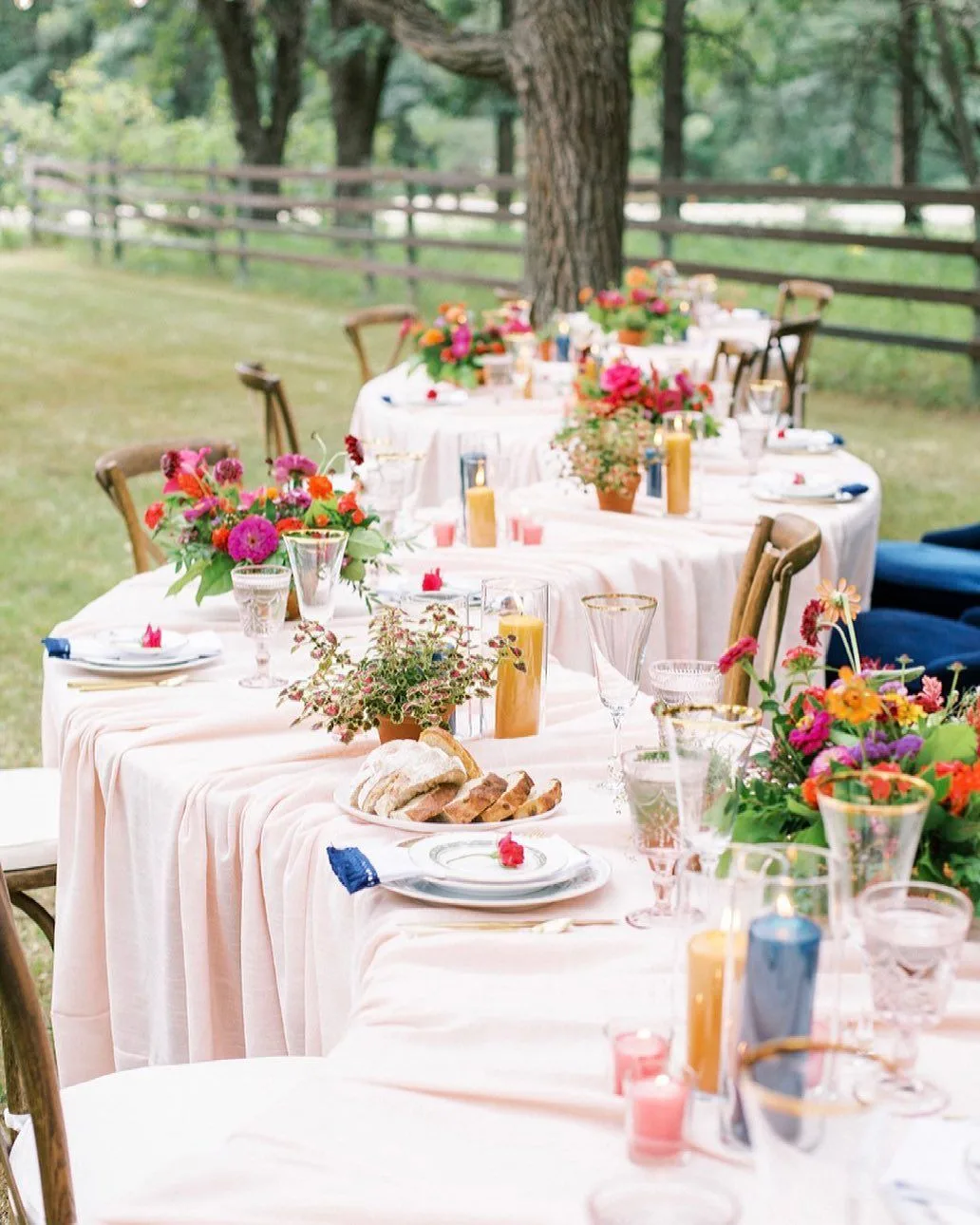 Credit: Instagram
Take a step back and admire all those splashes of color from the wildflowers. Then there are those greens, the royal navy seats, and even these splashy colored pillar candles like these.
With all that, can you think of anything but the infamous tea party? I think recreating that theme for a wedding reception would make for a quirky summer party.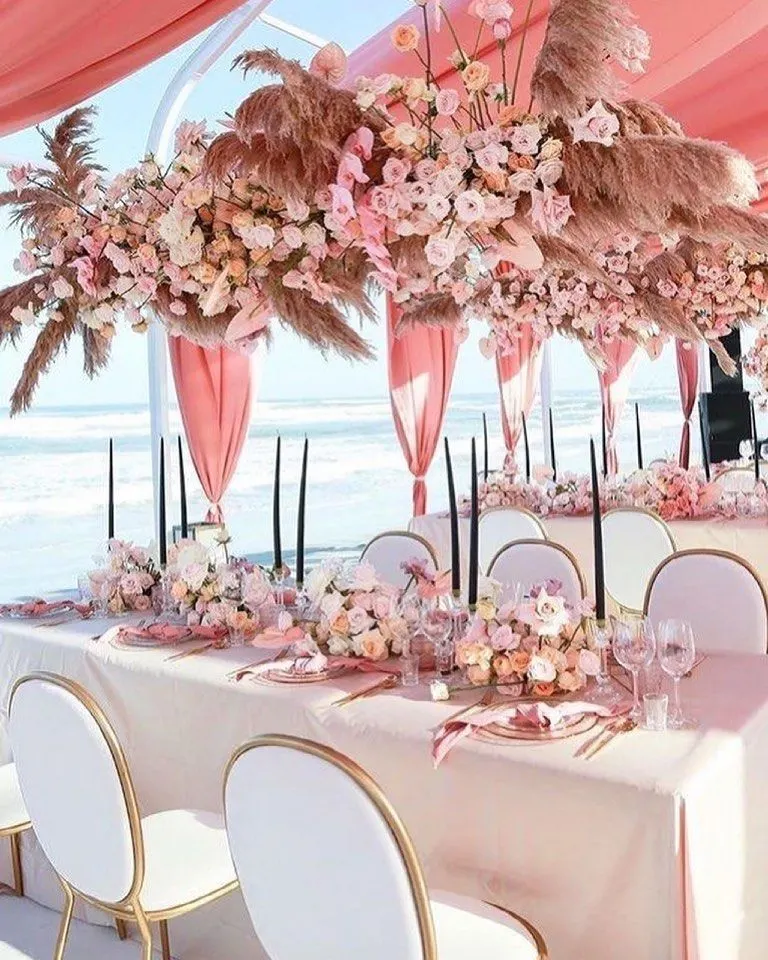 Credit: Instagram
There are so many shades of pink at this wedding reception that you could spend all day just naming them.
The centerpieces are beautiful, yes. But, it's that overhang of fat rose blooms and lush reed grass swaying with the salty breeze that inspires awe.
Also awe-inspiring are the towering black taper candles from here, so wonderfully incongruous in this pink wedding.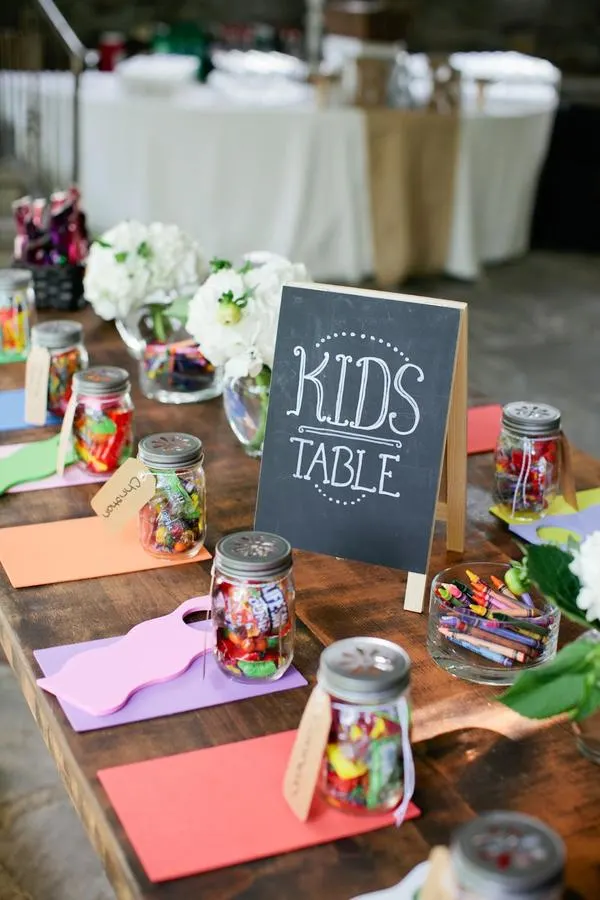 Credit: stylemepretty.com
It can be tough having a dozen or so kids crisscrossing and running through the dancefloor. They could fall and get hurt.
They might bring the conga-line down like dominoes or accidentally end up drinking grown-up juice from the punch bowl. That's why a designated area for children makes perfect sense.
You can set up a craft table with confetti, candy, and crayons. You can also have jars of chocolates set up as giveaways for competitions you can host.
Get yourself a chalkboard from here and scrawl your 'Kid's Corner' sign with chalk!
Also, if you're looking for other wedding craft ideas, we've got you covered.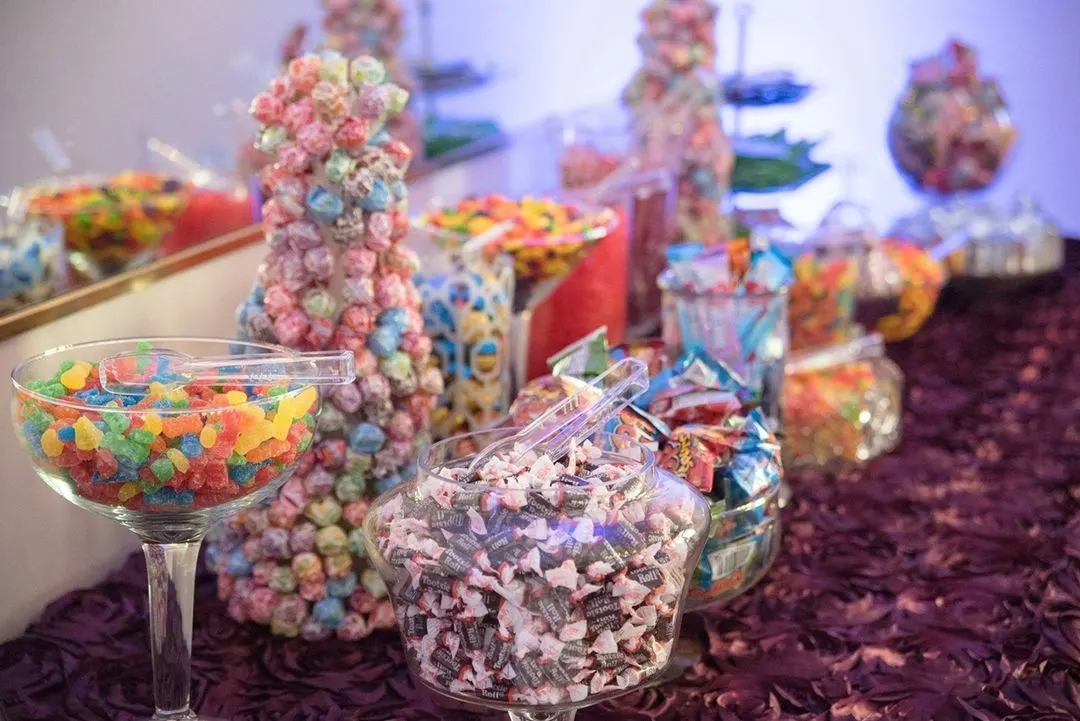 Credit: Instagram
Why should only the kids have candy? I bet that a candy station at your wedding reception would be a hit with the adults as well. This is a great and fun way to make your wedding a hit, and will fit well within your budget.
Grab some quirky bowls from here, a few dozen party packs of your favorite candy, and sort them into the bowls. You don't need a 'Candy Corner' Signboard.
Just follow the crowd of partygoers, and you'll get there!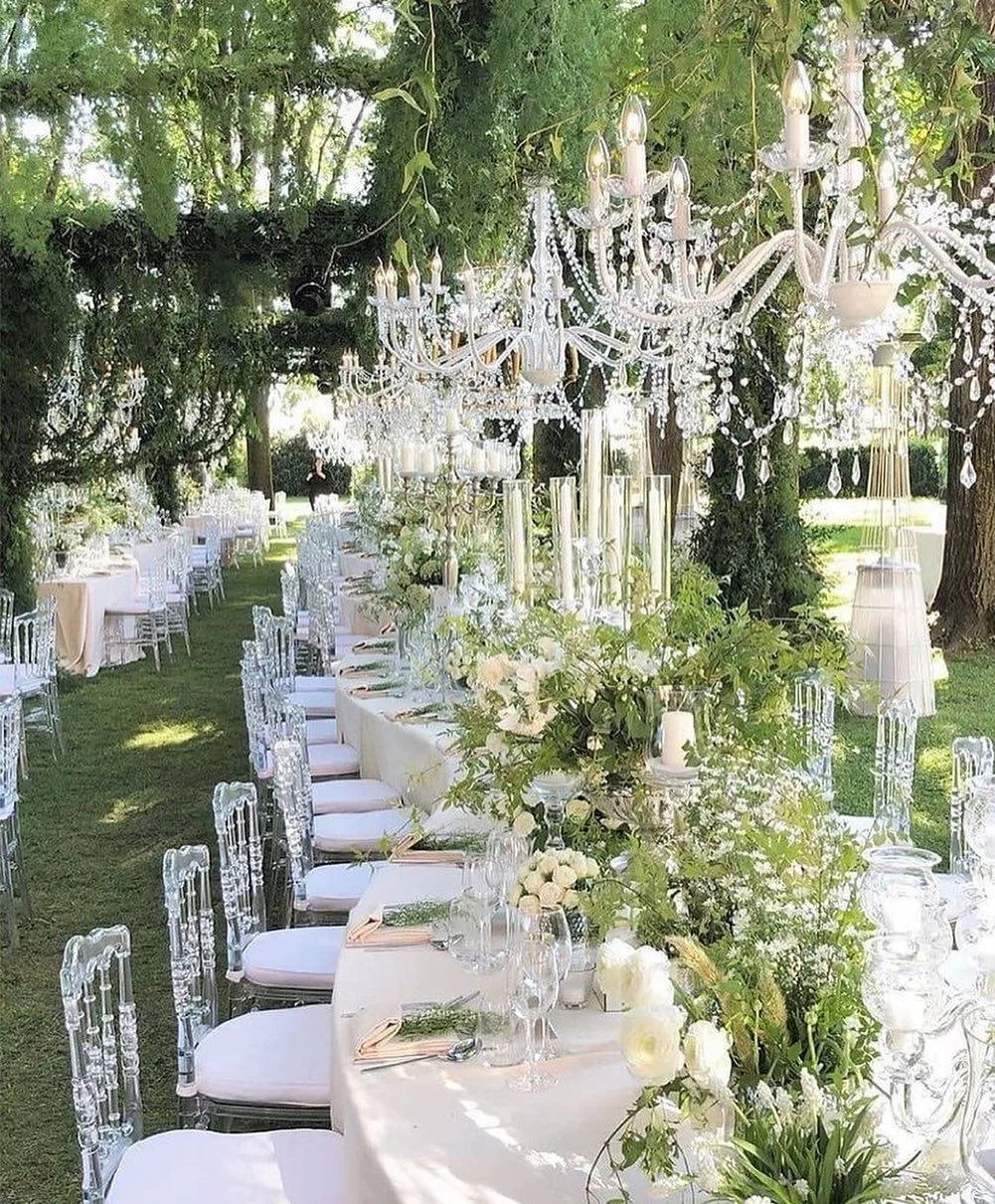 Credit: Instagram
If you're looking for a high-end, opulent wedding reception, you've found it in this garden. They've pulled out all stops, set out the most delicate china and silverware, and just look at those crystal chandeliers.
Crystal Chandeliers!
You don't really need more light, but you can also see those crystal candelabras—a perfect match to the chandeliers—lined along the tables, as well as artfully arranged vanilla scented candles.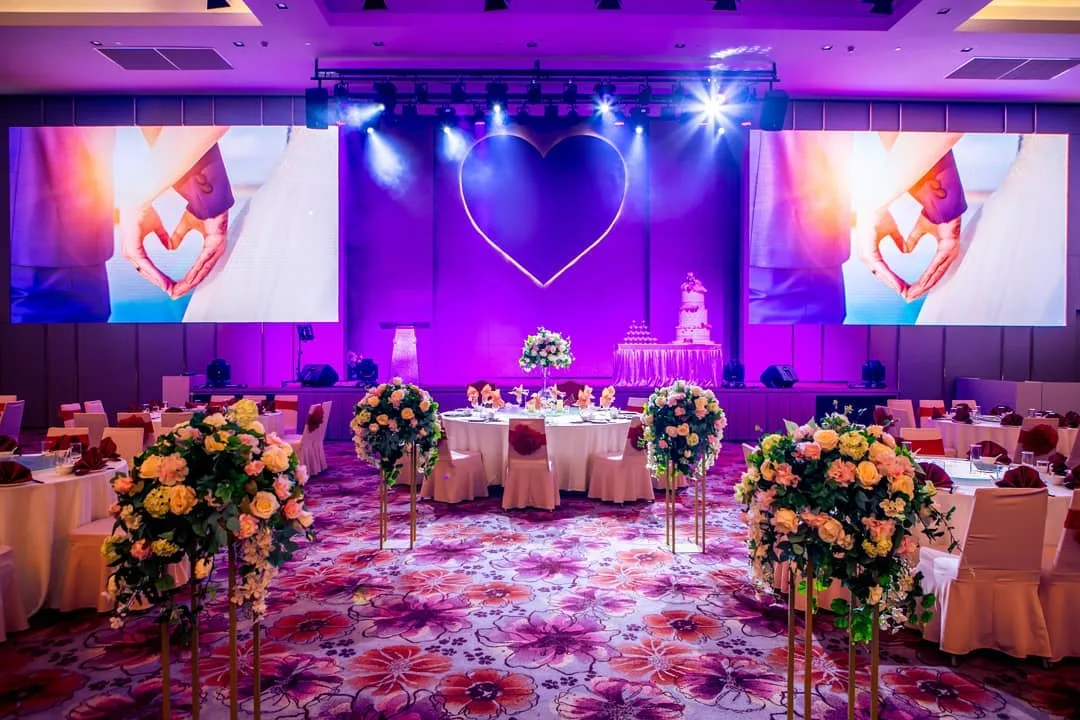 Credit: Instagram
You've probably got tons of pictures and happy memories that you'd like to share with your friends and family. So, what better way to share those memories on your big day than on the big screen?
Just dim the lights, play some soft music to set the scene, and get those pictures rolling!
Need more ideas for your wedding? Check out these wedding ceremony ideas.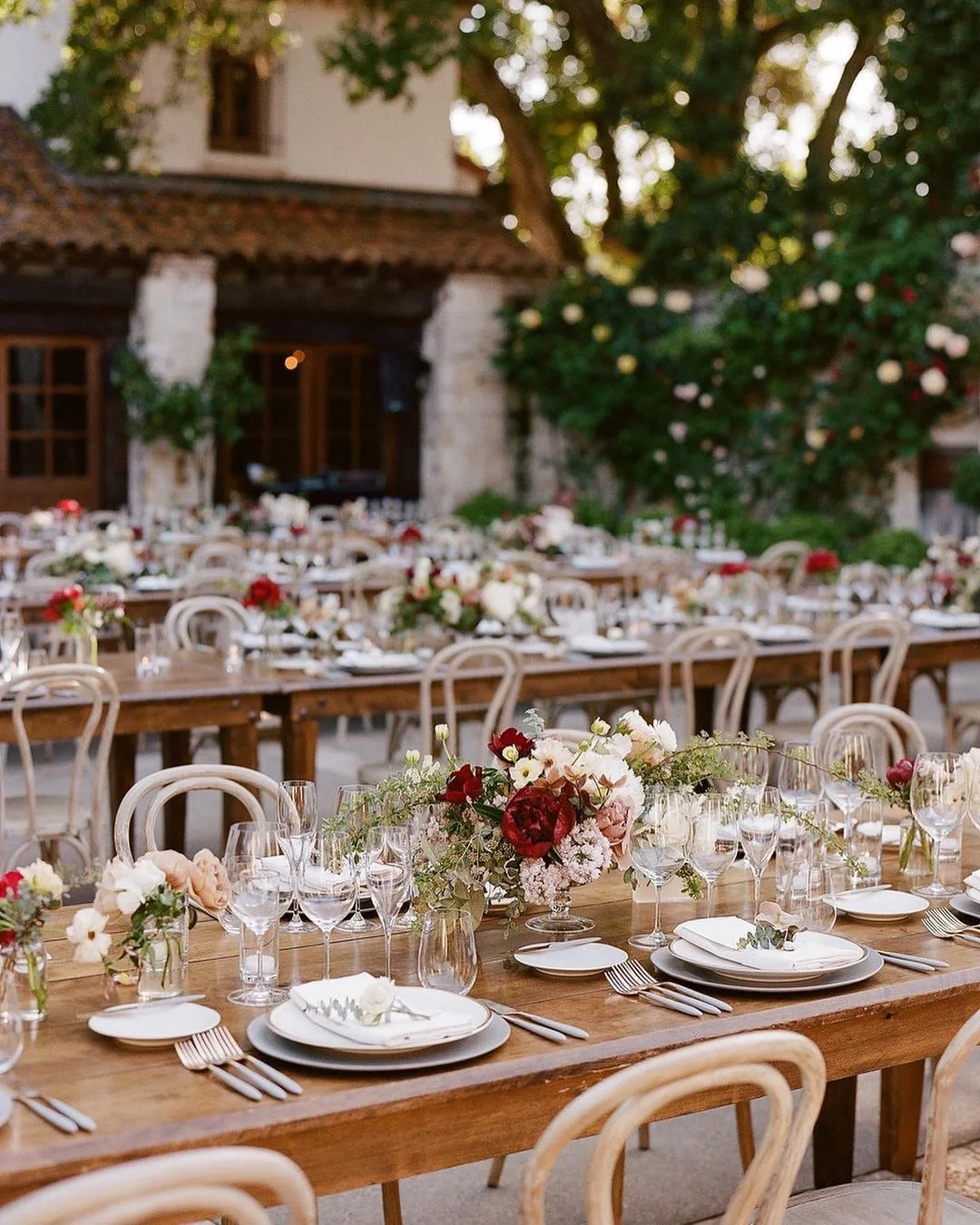 Credit: Instagram
Sometimes, with so many family and friends on the guest list, it might be tempting to just set up a buffet table with a salad and dessert bar. But not at this wedding reception.
Every single place on the long wooden table is elegantly laid out with an elaborate arrangement of silverware and glassware. But the most charming addition to this tableau is that lone flower on each plate holding the printed menu in place.
It's like every sprig of baby's breath, every lone rose or sprig of lavender like this is right out of the bride's own bouquet, meant to make you a part of her wedding!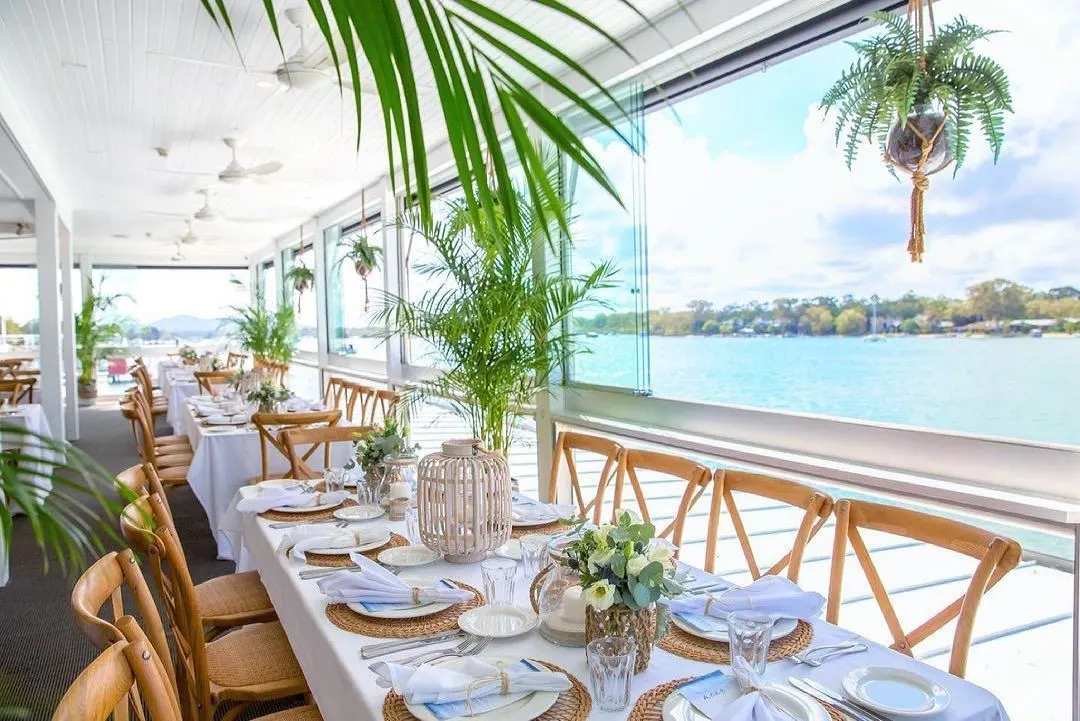 Credit: Instagram
After a long and enjoyable night of fun and wedding celebrations, why not treat your guests to a post-wedding breakfast reception?
This bright and cheerful venue with that bright blue water view is the best place to sit back with your closest relatives and friends and enjoy a lovely brunch.
You're right, I can't stop looking at these braided placemats either! They're a great addition to the coastal vibe you're experiencing.
Credit: Instagram
The only color that any wedding truly needs, apart from white, of course, is green. Not just any green, but the earthy green you can only get from leaves.
Look at that centerpiece. I guess it's more like a floral table runner but just look at it. With a generous amount of white roses, doesn't it look lush?
Looking for more beautiful wedding centerpiece ideas? Look no further!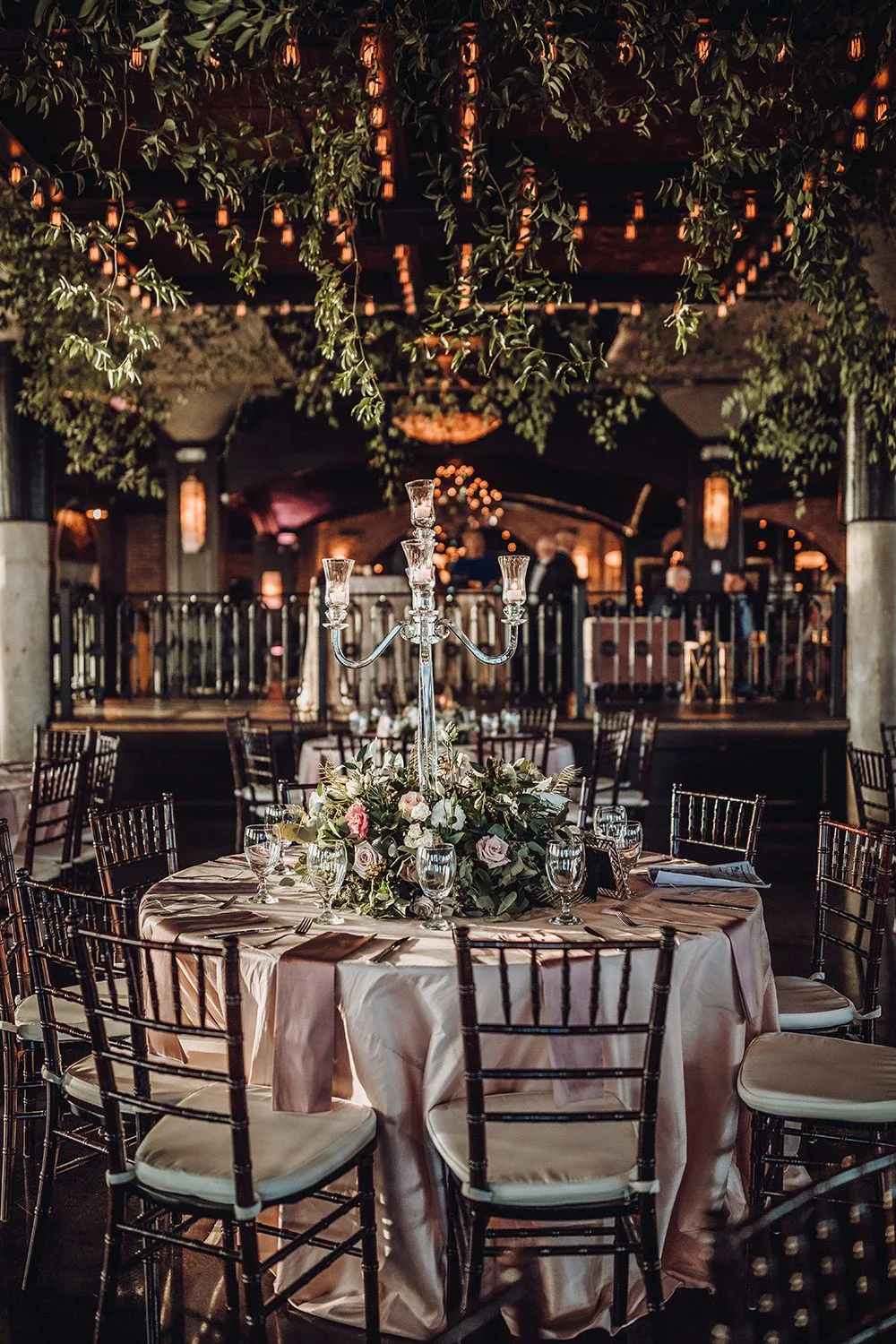 Credit: weddingsinhouston.com
It's an unusual choice, to forgo all but the barest whisper of white at a wedding reception. Instead, you find dark woods, olive green from overhead vines, and crystal drinkware.
You also have that soft yet innately feminine sweep of mauve from the napkins and pale pink table cloth, but that's pretty much it for wedding colors.
The rest? Dark and woodsy decor with just the right touch of mystery.
This is not a reception where you'll find petit finger foods and hors d'oeuvres, no. Instead, you can expect to sit down for a hearty steak dinner under moody lighting.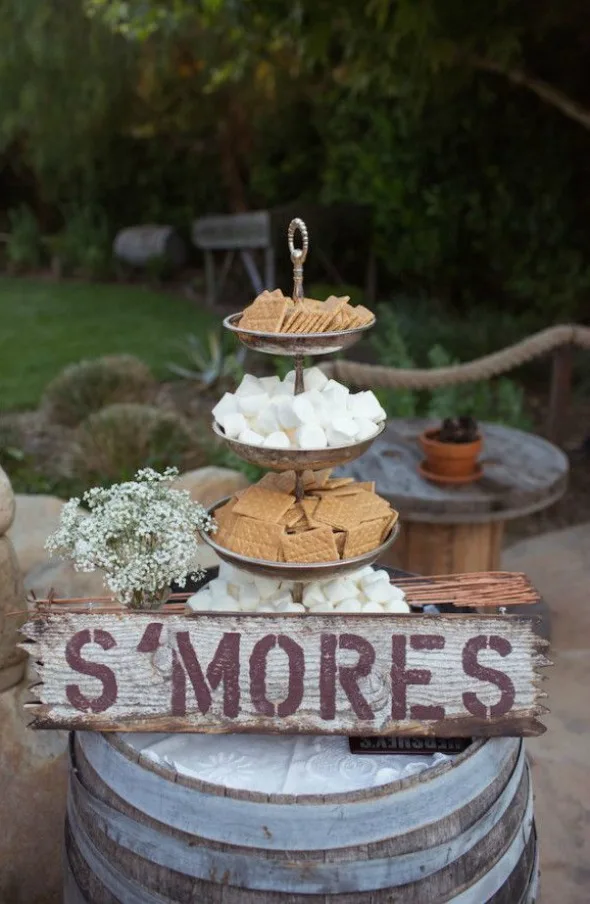 Credit: missplanit.com
Forget Candy Corners. It should be a punishable offense not to have a S'mores stand at every outdoor wedding. No, at every wedding, indoors or outdoors.
Find yourself a four-tiered stand from here. Next, buy a S'mores notice board from here or just make one yourself. Here are 20 creative DIY wedding sign ideas you can choose from.
Fill these tiers with marshmallows, graham crackers, chocolates, and all the s'more paraphernalia, and you're set!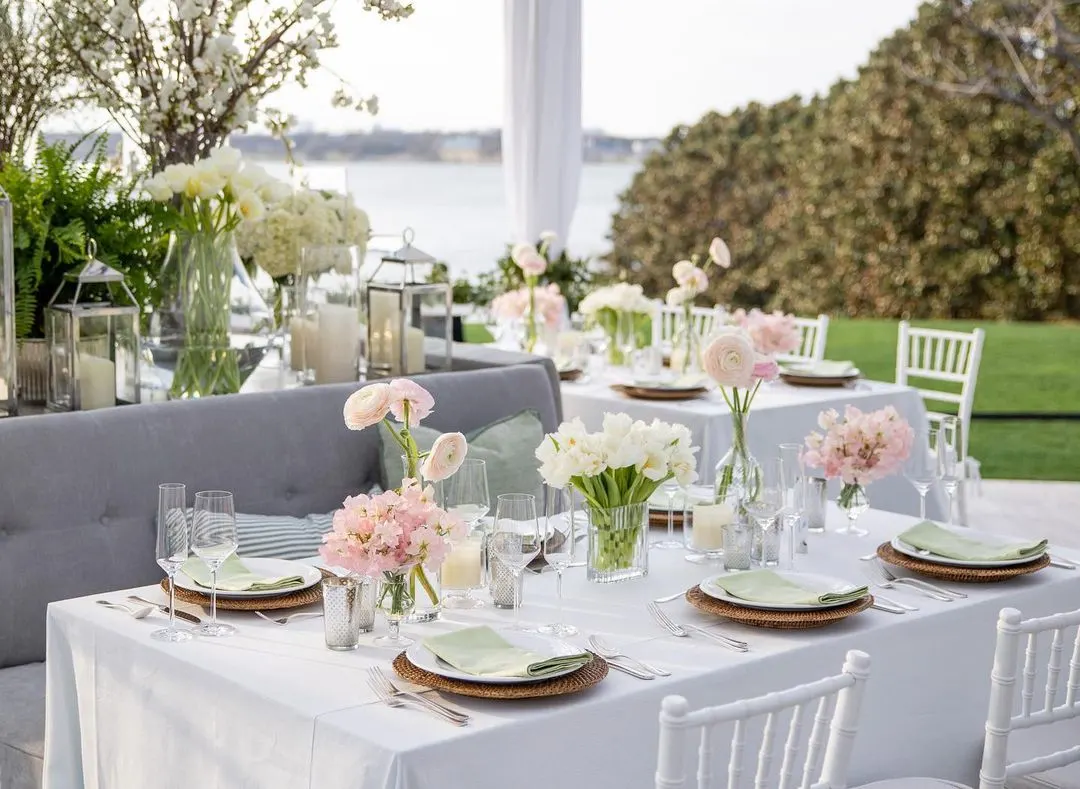 Credit: Instagram
Another lakeside wedding reception, only this one, is all about soft and mellow, from the colors to the seating to the decor.
Soft flowers, soft candles, and a beautiful breeze to carry word of this beautiful reception.
You've got everything: a sight for the eyes, vanilla for your nose, soft classical music for the ears, and the magical feeling of a beautiful wedding reception.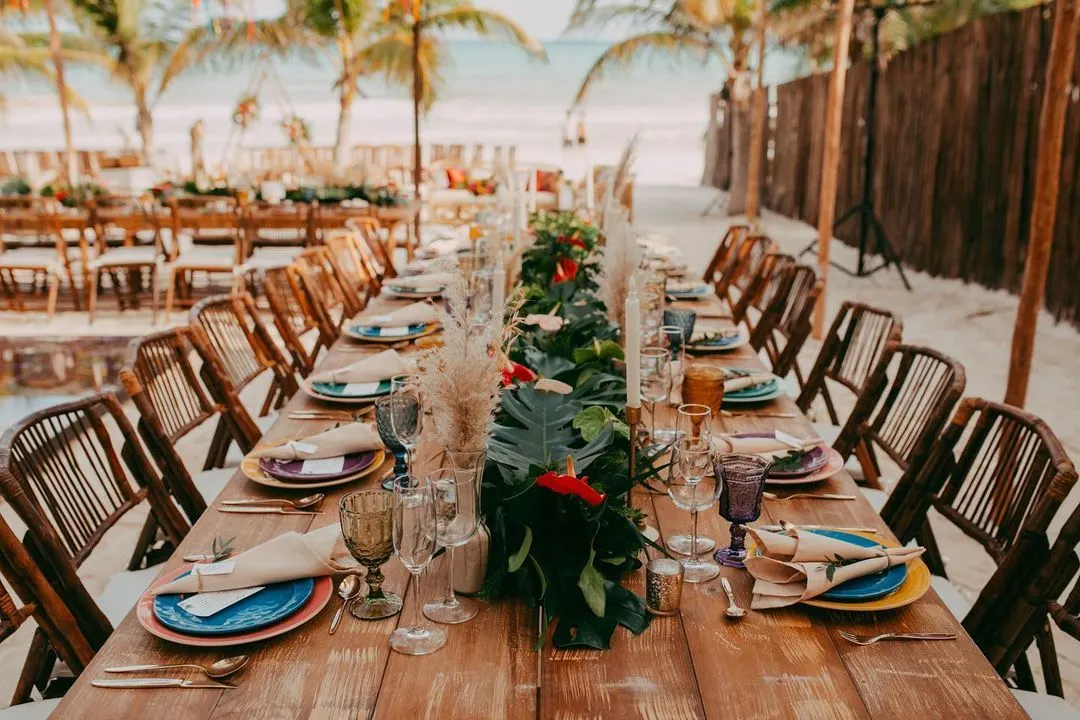 Credit: Instagram
Palm leaves and red anthuriums in a centerpiece? That fits right into this rustic beach wedding. But rustic can still be classy, as you can tell from here.
Also, check out the beautiful, colored plates on the table. Don't they just add the exact splash of color this wedding reception needs? The same goes for those hand-blown glasses.
With the right music to accompany the waves, this will be a night to remember.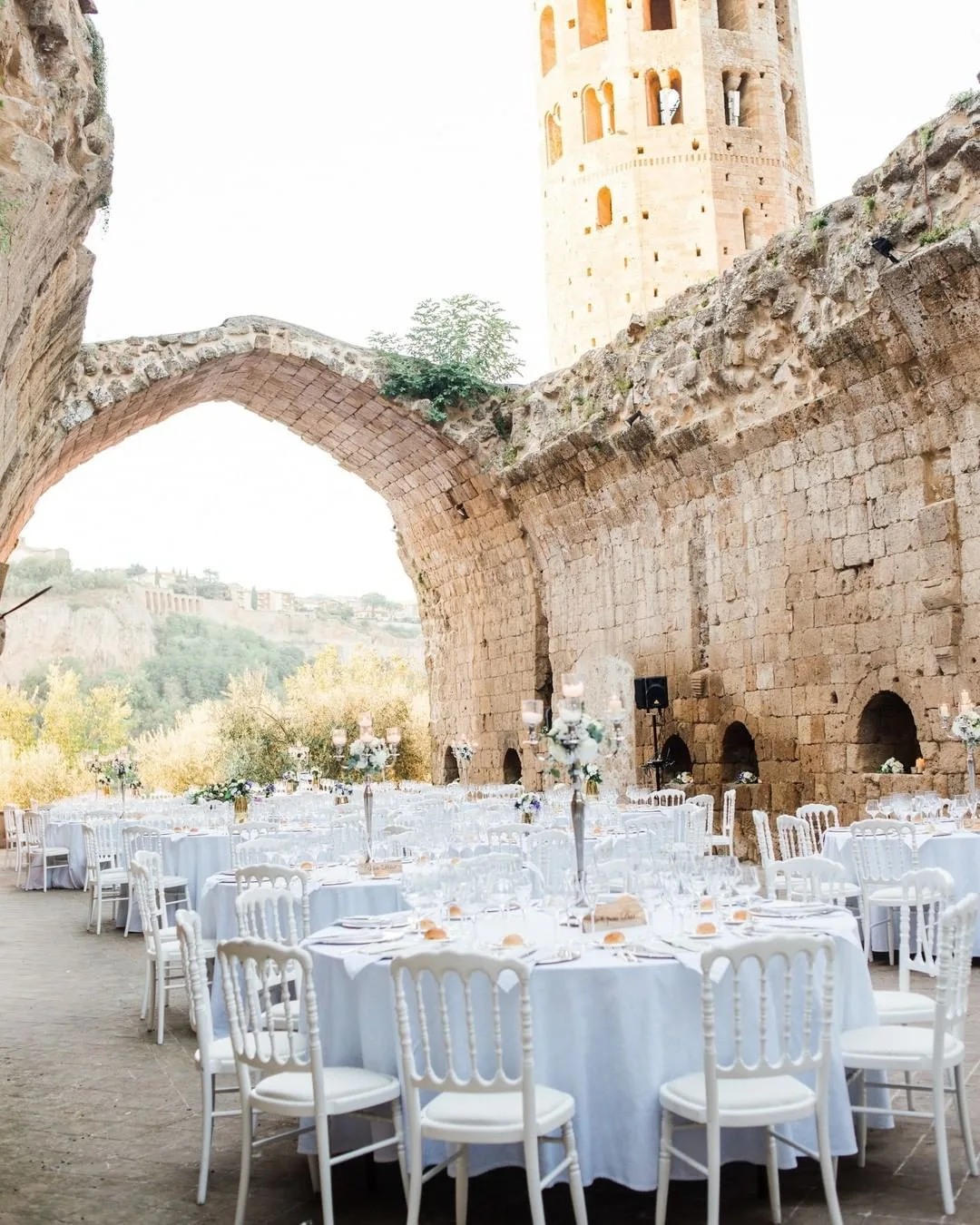 Credit: Instagram
If luxury, with a touch of culture and history, is what you want, then why not have your wedding reception at a chateau?
You can't get any more romantic than a chateau wedding reception under the stars. The rambling courtyards are sure to create the right ambiance.
The only color that the brick walls and mossy green growing along it need is the snowy white from your wedding decor. With soft table linen from here, you can do just that.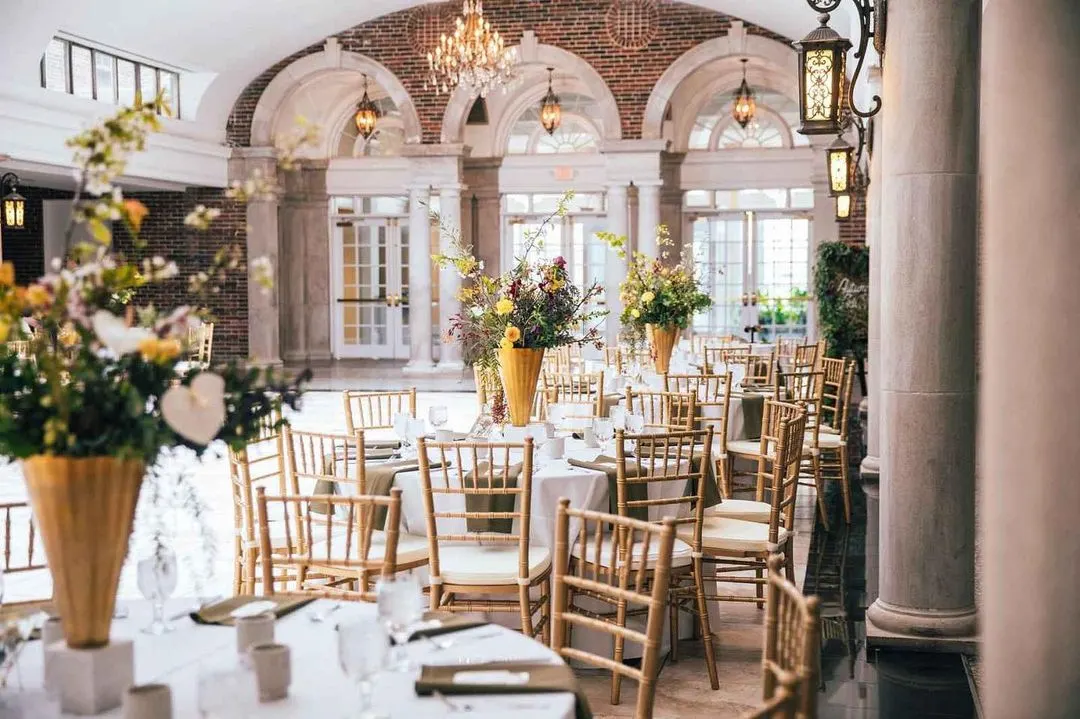 Credit: Instagram
Receptions at country clubs have always been popular among brides. And why wouldn't they?
These venues have elegant decor, the perfect lighting, and a guarantee that you'll get the best service and experience. With your specifications in mind, all you need to do is find the right spot, and you're all set.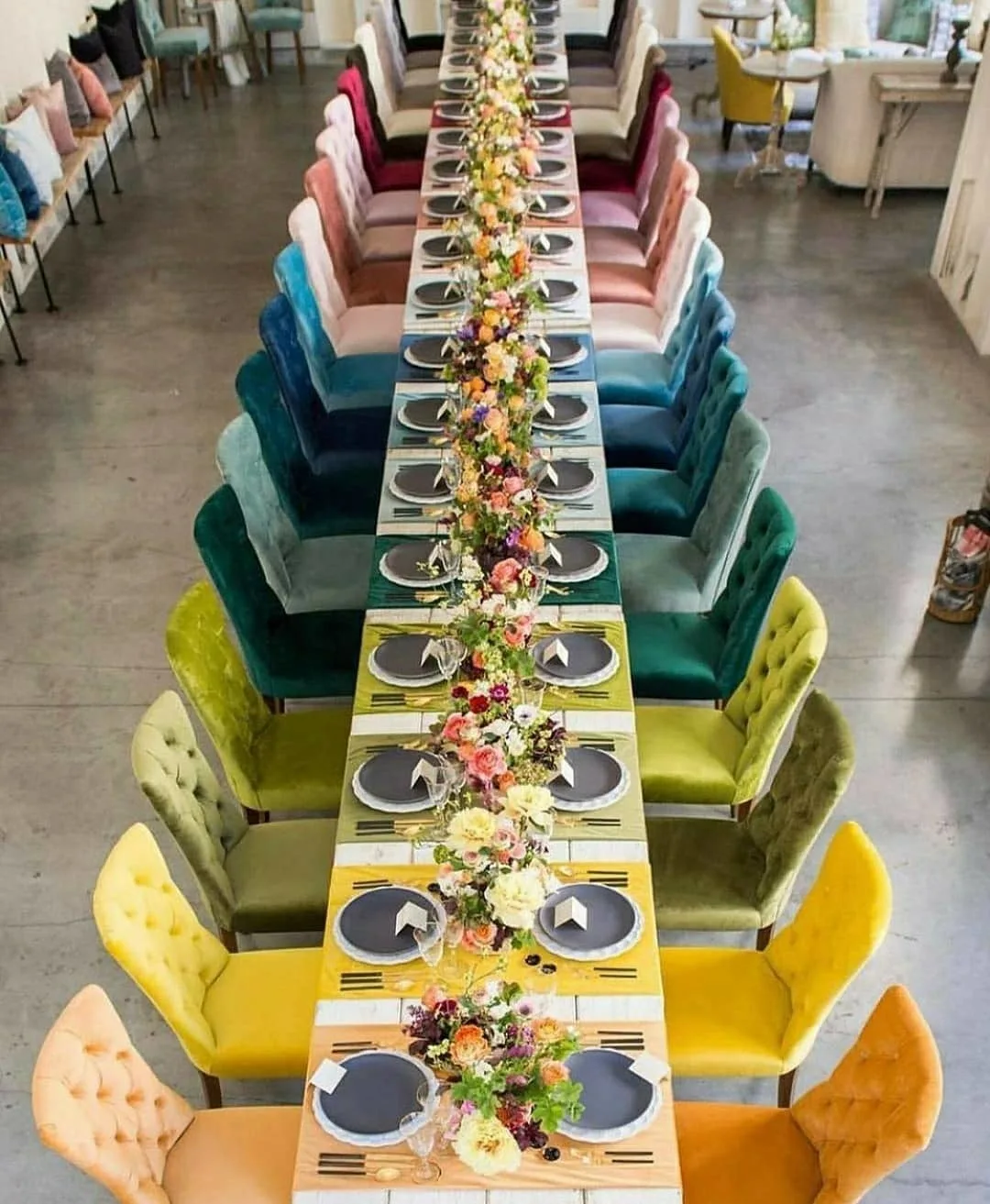 Credit: Instagram
Forget the Alice In Wonderland Tea Party Theme. Think rainbows and color, instead. But with anything rainbow-themed, it can be so easy to slip out of the cover of elegance and slide headlong into cartoonish.
So for every new color you add, you'll also need some neutral tones to balance or offset it. You can start by getting some of those matte grey plates from here.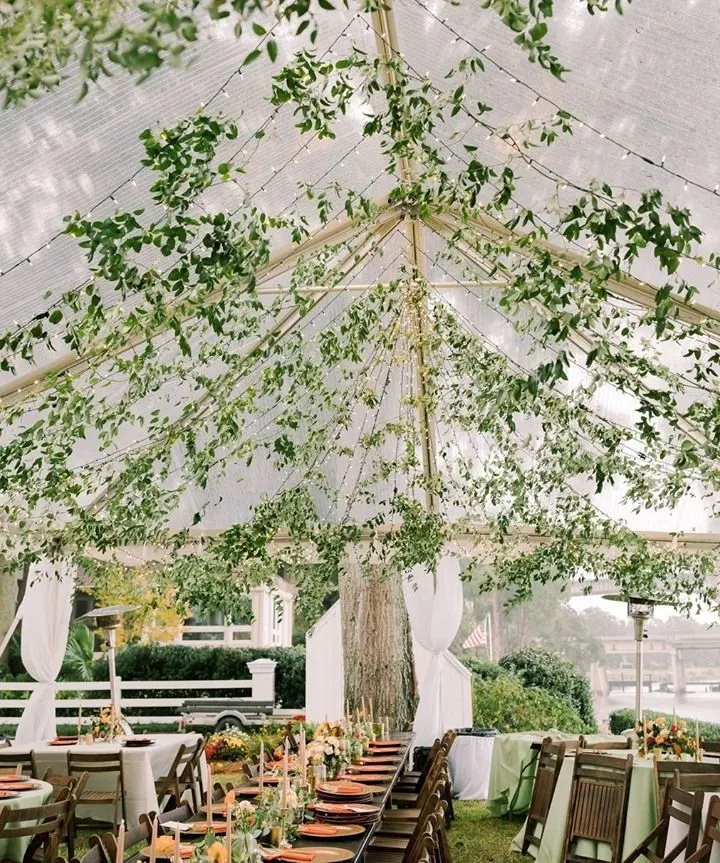 Credit: Instagram
Did you see the tendrils of ivy vines from here draped across the overhead trellis? Those vines intertwined with fairy lights can make it easy to forget that white and green need a little extra color to boost a wedding palette.
The solution? Soft salmon and coral pinks and the barest hints of peach. You can achieve that with something as simple as these napkins or peach roses.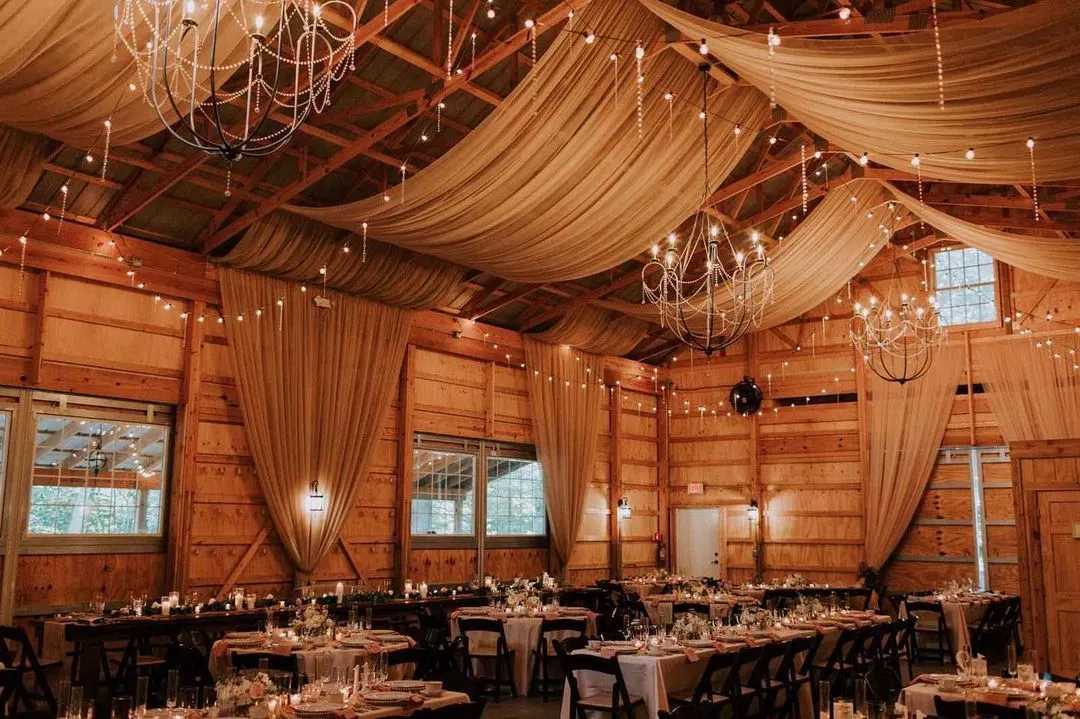 Credit: Instagram
Texture and color can speak volumes in any decorative setting. But they don't need to say the same things. For example, metallic rose gold, but on soft billowy chiffon cloth, can be used as ceiling draping.
You can offset that gold with warm caramel tones from the wood in this barn. But in the end, it all comes down to how the light plays on all these textures and colors.
Consider using exquisite chandeliers like these for that same effect.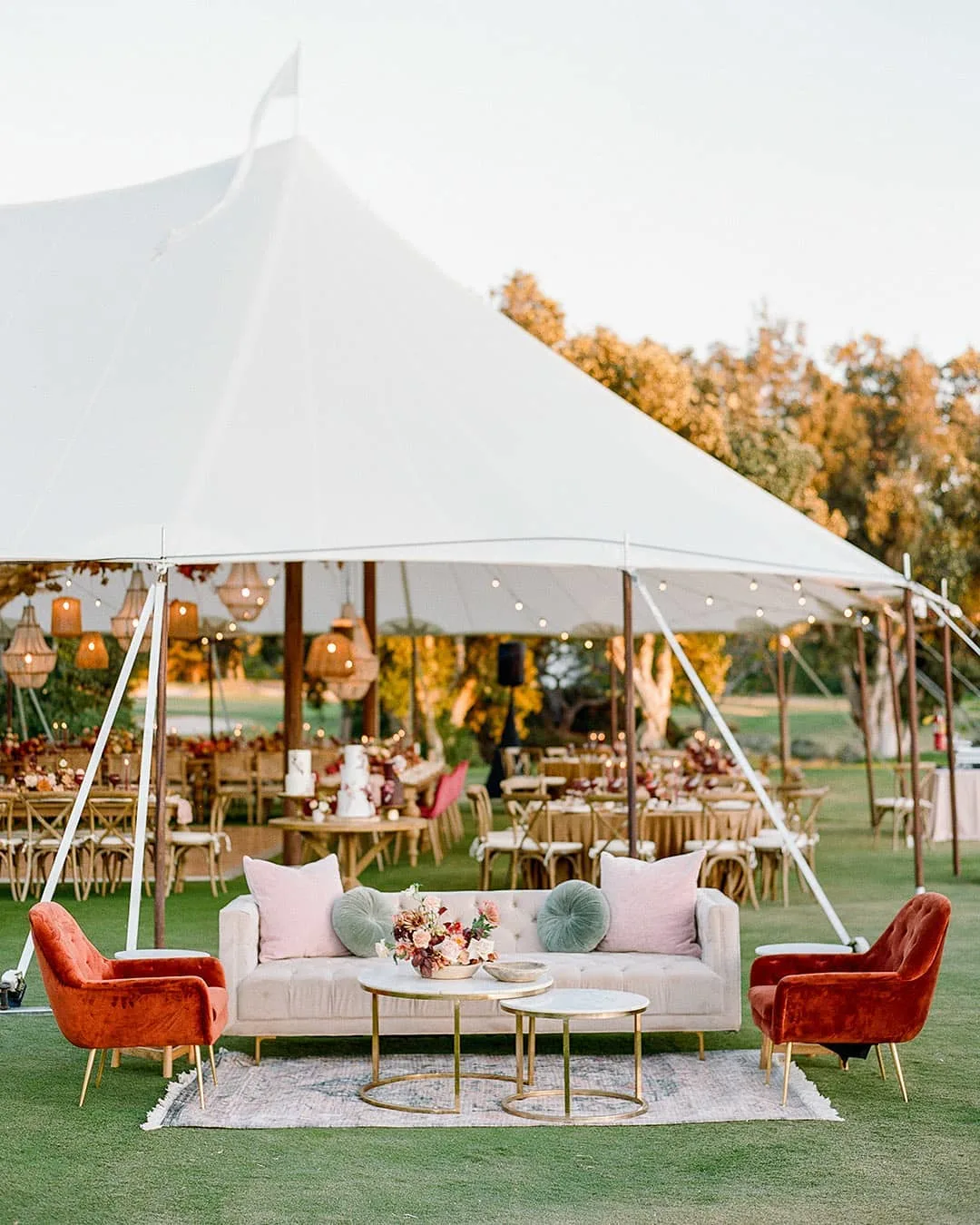 Credit: Instagram
A wedding reception will have dozens of people hanging around the dance floor and seated at their tables. So, finding a comfortable place to sit and gab with friends can be difficult.
Have you considered a seating area or two, with cozy settees and chairs?Especially if it's an outdoor wedding reception, just imagine how amazing it would feel to kick back on that couch.
Add a few toss cushions, a few toss pillows like this, and maybe even a warm throw to keep you cozy.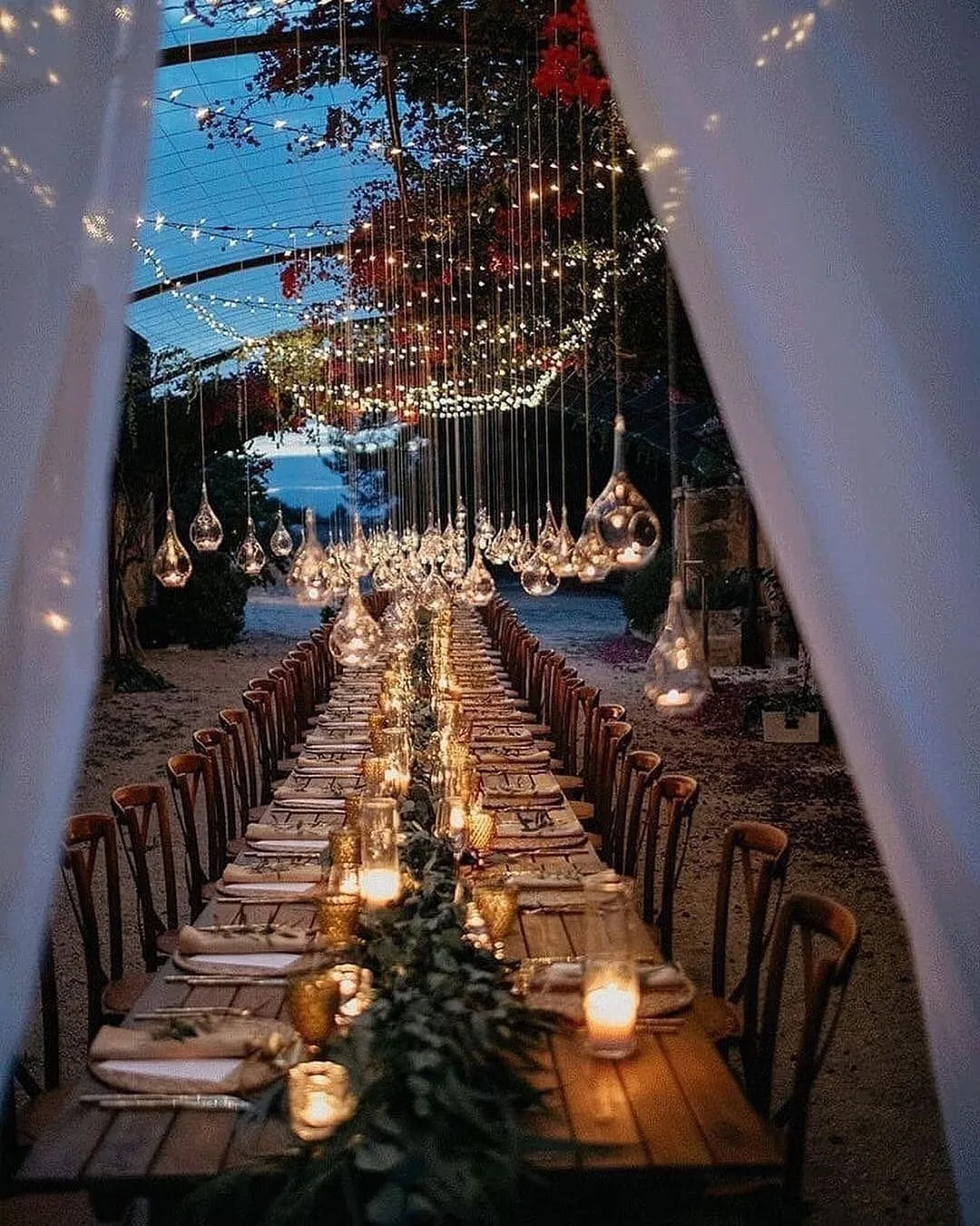 Credit: Instagram
Isn't this just absolutely romantic? Imagine dining under the stars, surrounded by all that soft, dreamy light.
You've got candles tucked away between the florals along the table, as well as those glass lanterns hanging down from that mesh overhang.
You can find something similar here. Get mor inspiration for your wedding with these wedding arch ideas.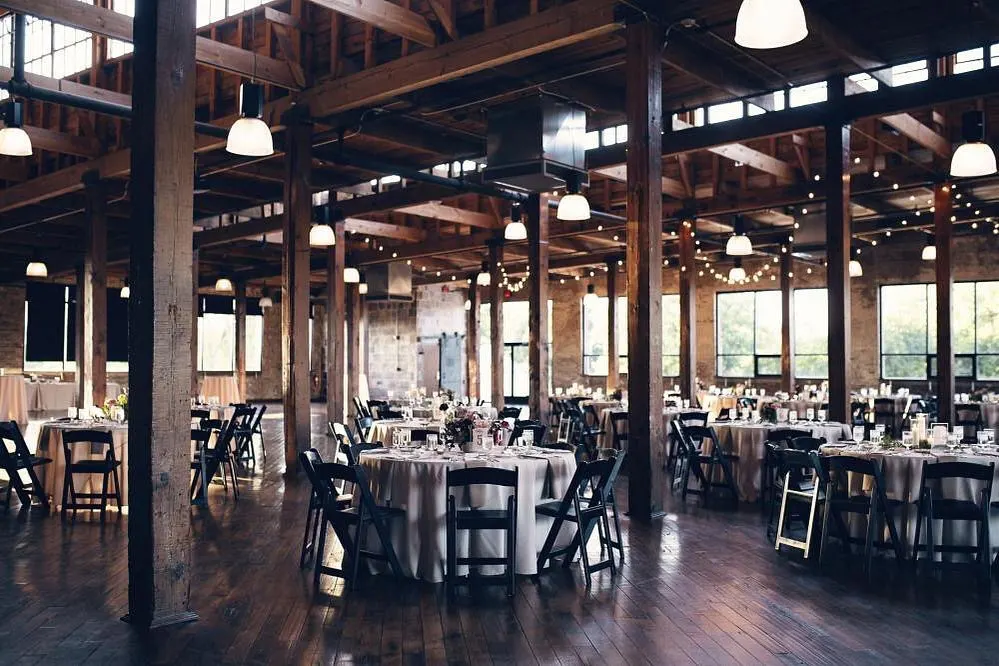 Credit: Instagram
I love outdoor weddings, I do. But then, I look at indoor venues like this, with their gleaming hardwood floors, thick ceiling beams, and sturdy pillars, and all I can think of is decorating it with moody lights.
Then, I'd get a live band and play something jazzy or eclectic, between slow songs, of course. I bet a place like this would have fabulous acoustics, so it would be a shame to hire a DJ.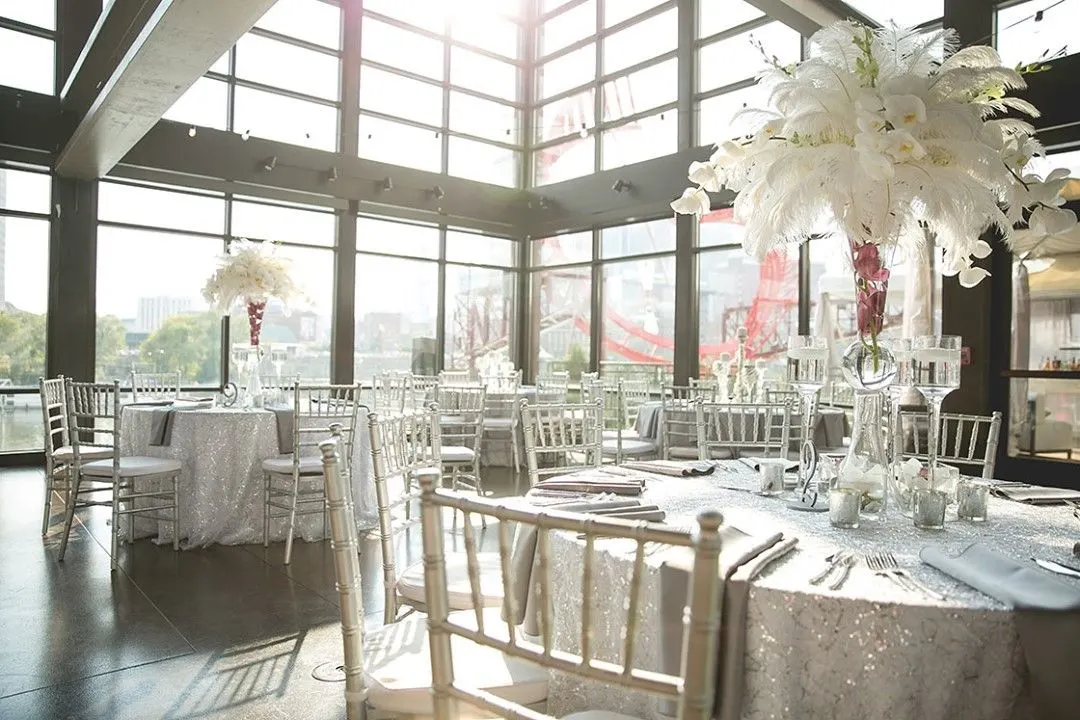 Credit: Instagram
If the previous reception was about moody lights, this one all but drowns is bright, sunny light that filters through the glass-paned windows.
See, that's the thing about using lighting as a part of your reception decoration. It does so well everywhere and with all textures and colors.
Imagine how that light will sparkle when it hits that glossy silver veined table cloth. You can find something similar right here.