Turn your wedding into a rustic fairytale! These rustic wedding decor ideas are fun, creative, beautiful, and just simply stunning.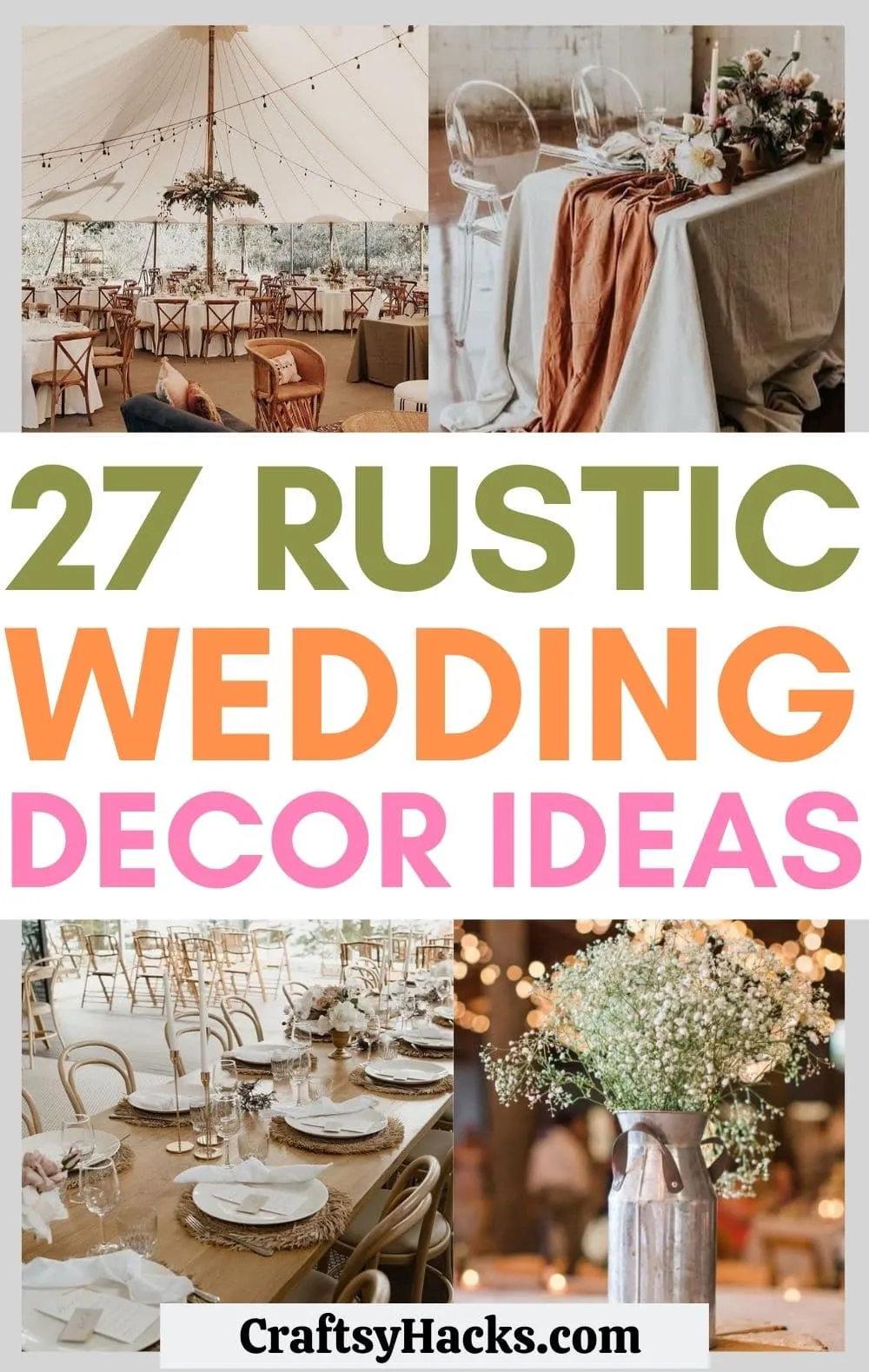 I love wedding decor. There's always a certain central theme: boho-chic, classic and traditional, edgy and modern, or eclectic. Then, there's rustic wedding decor.
Rustic wedding decor is all about a fusion of quaint rustic country charm with the timeless elegance you'd expect to see in a wedding. These results are often as startling as they are lovely.
You've got wood tones, cozy comfort, and soft, mellow colors thrown against dark vintage accents. You've also got lace, flowers, and gorgeous lighting to play with.
So, here are 27 rustic wedding decor ideas for you to explore.
1. Mason Jar Floral Centerpiece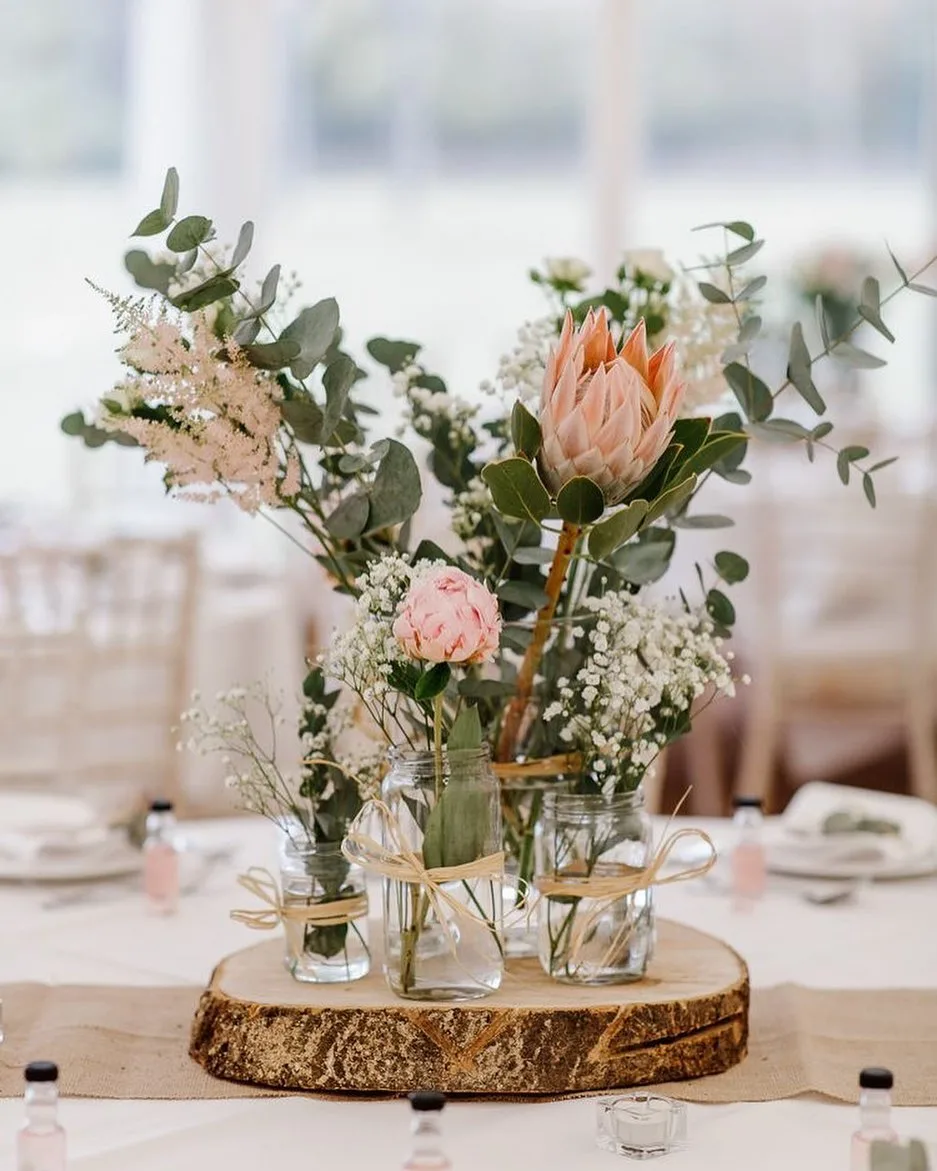 Credit: Instagram
You can't find a decor prop that's more versatile than a mason jar. Lemonade? Pour it in a mason jar. Pencil stand? Use a mason jar.
Floral centerpieces in mason jars? Yes, please.
Wrap this straw twine in a bow around the jar. Place it on a circle of rustic wooden blocks from here.
Aren't they the perfect centerpieces, the perfect blend of rustic and elegance?
Just look utterly feminine those bulbs of bromeliads look. It has just the right amount of green from a few stems of eucalyptus leaves and soft white from the few odd sprigs of baby's breath.
Check out some more mason jar wedding centerpiece ideas for inspiration.
2. White Canopy and Green Woods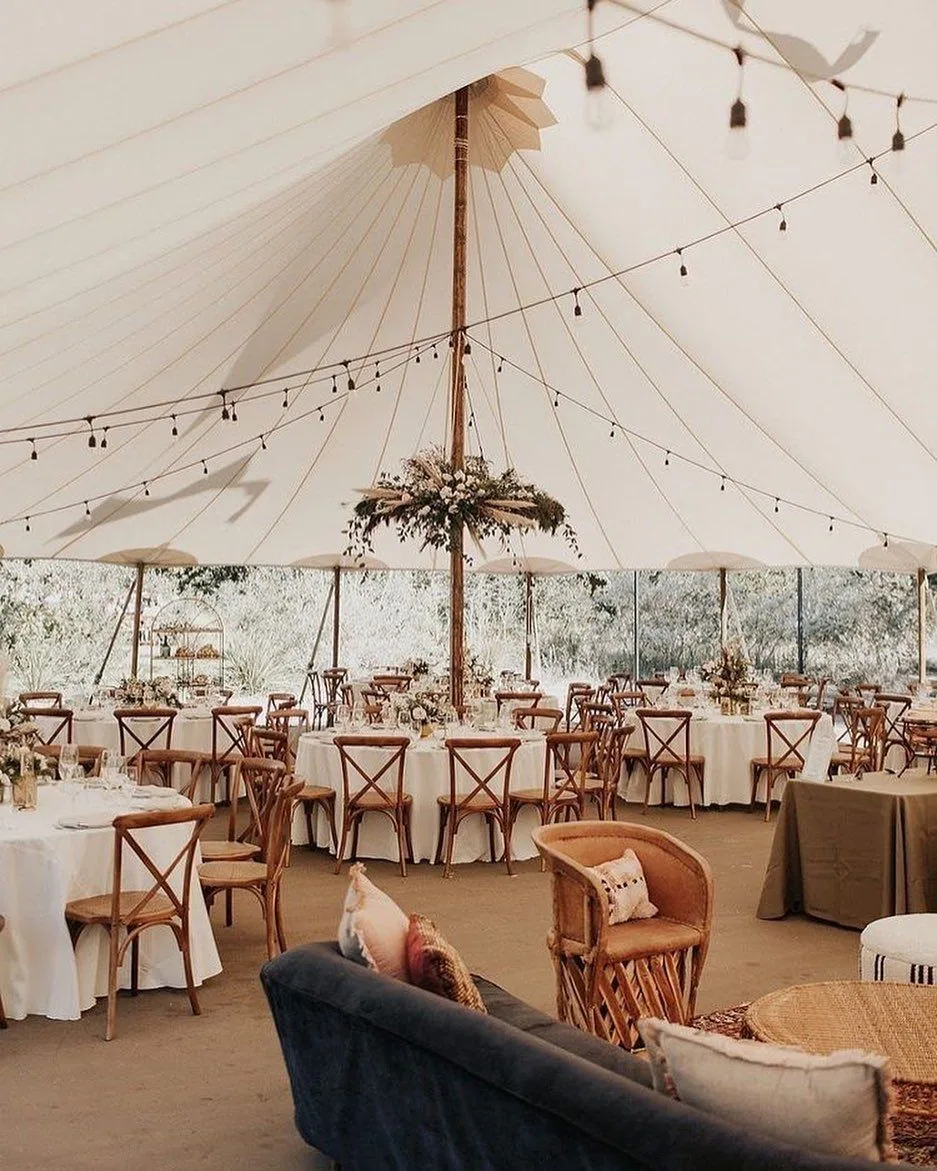 Credit: Instagram
It all comes down to just how you use colors to make traditional elegance look elegantly rustic. How? You use warm caramel hues, lush olive greens, comfortable navies, and mustard or tan pops like you see in this tableau.
Also, how cool would it be to attend a wedding and find a quiet place to sit and gab friends? Doesn't that cozy sitting area look inviting and comfortable?
3. Glass Holders Centerpiece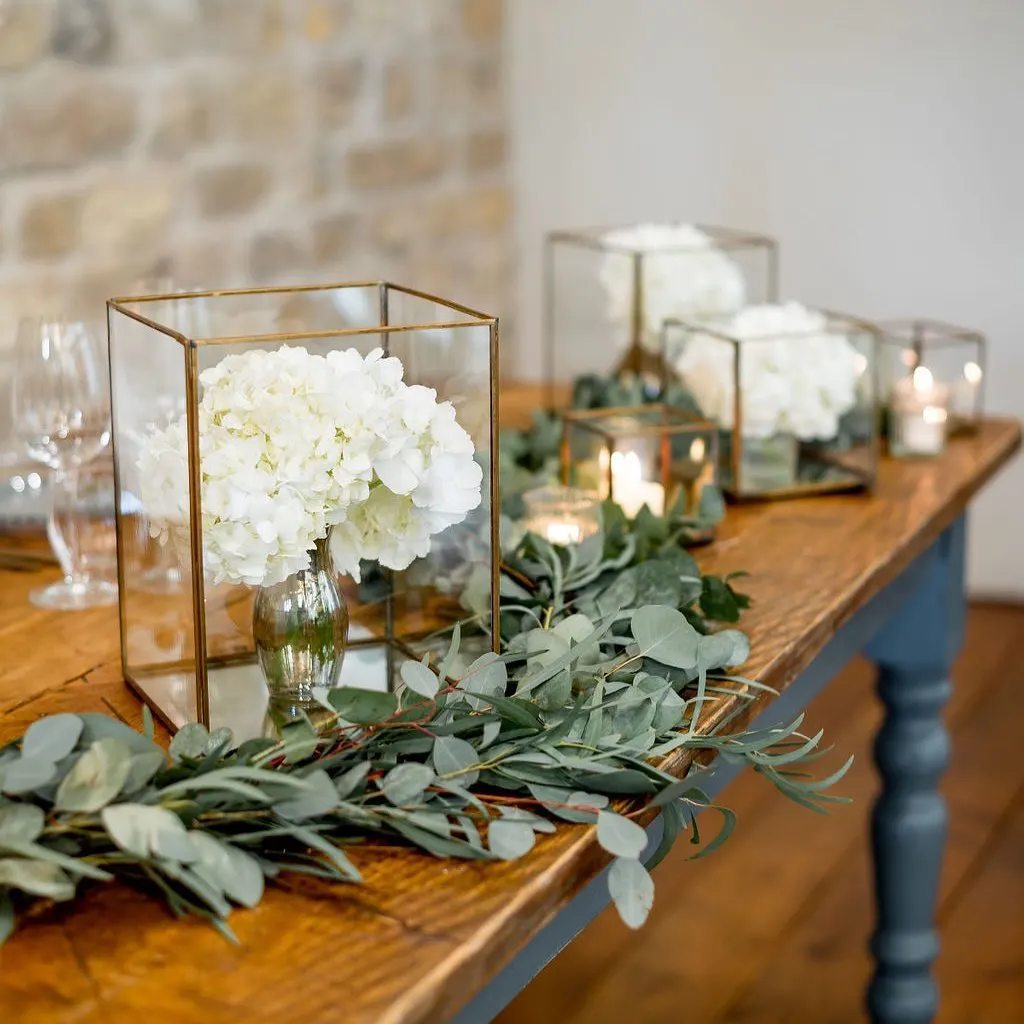 Credit: Instagram
First, you'll need to buy a few glass cubes from here. Not just for the centerpieces, but because they also come in handy as everyday decor items.
Just look at the decor at this wedding if you don't believe me. You can just as easily use glass vases as candle holders as you can use them to put flower vases in.
Just arrange a few stems of olive leaves—or even fresh bay leaves—around the glass holders, and you're set!
4. An Eclectic Confluence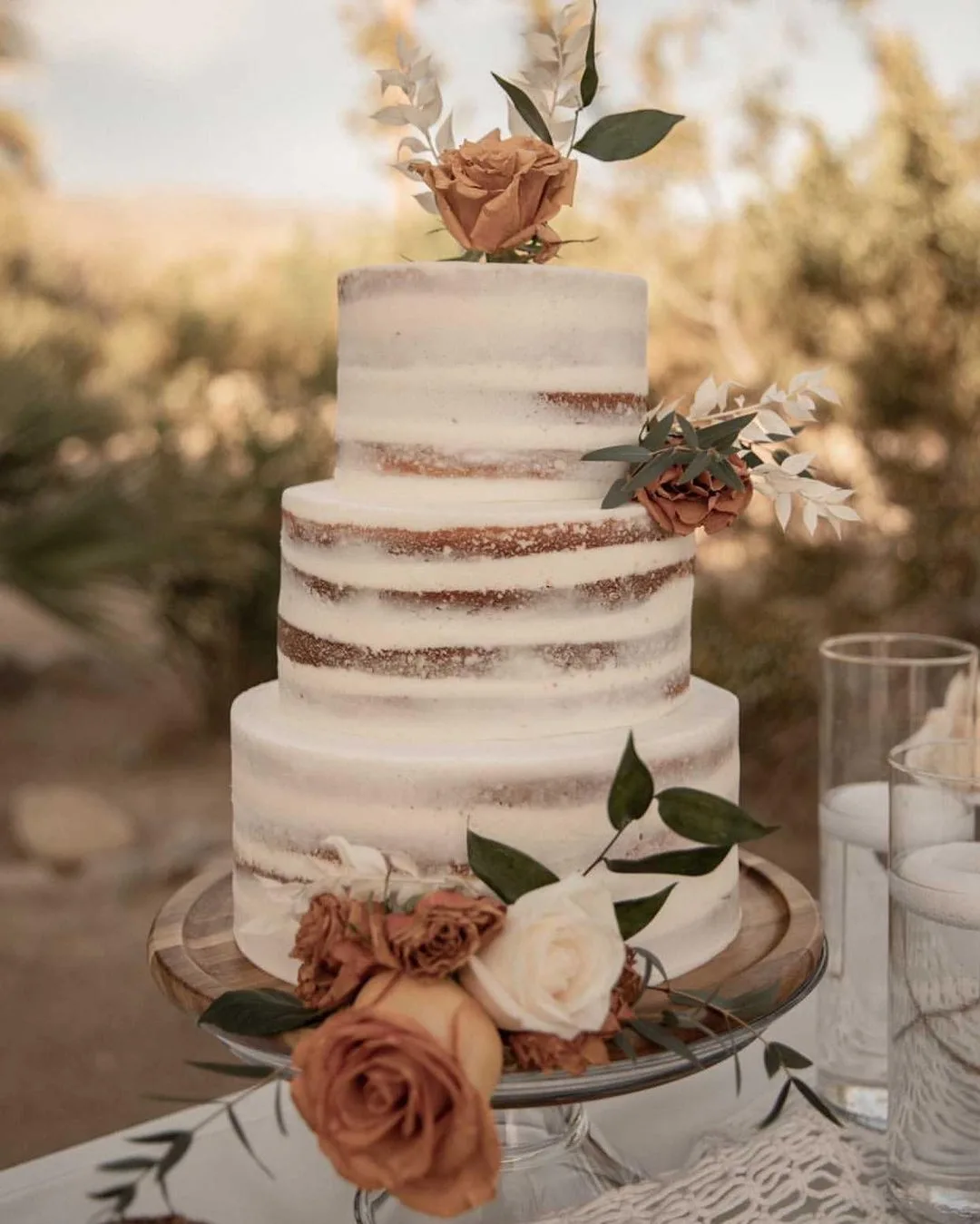 Credit: Instagram
I always find that rustic decor goes hand in hand with bohemian, eclectic, and artsy decor as well. The decor at this wedding is all about the confluence of those styles.
Mason jars to serve the punch, check. Chunky, braided placemats, check. Rustic-looking wedding cake with the sponge making an appearance between the white frosting, check.
Then you've got that big bouquet of coral and white roses. You can also find Shasta daisies and a generous amount of greenery.
The bouquet even has the odd fan or two of these palm leaves. All in all, it's a lovely and balanced confluence of decor styles, for sure.
5. Bright Light In A Rustic Barn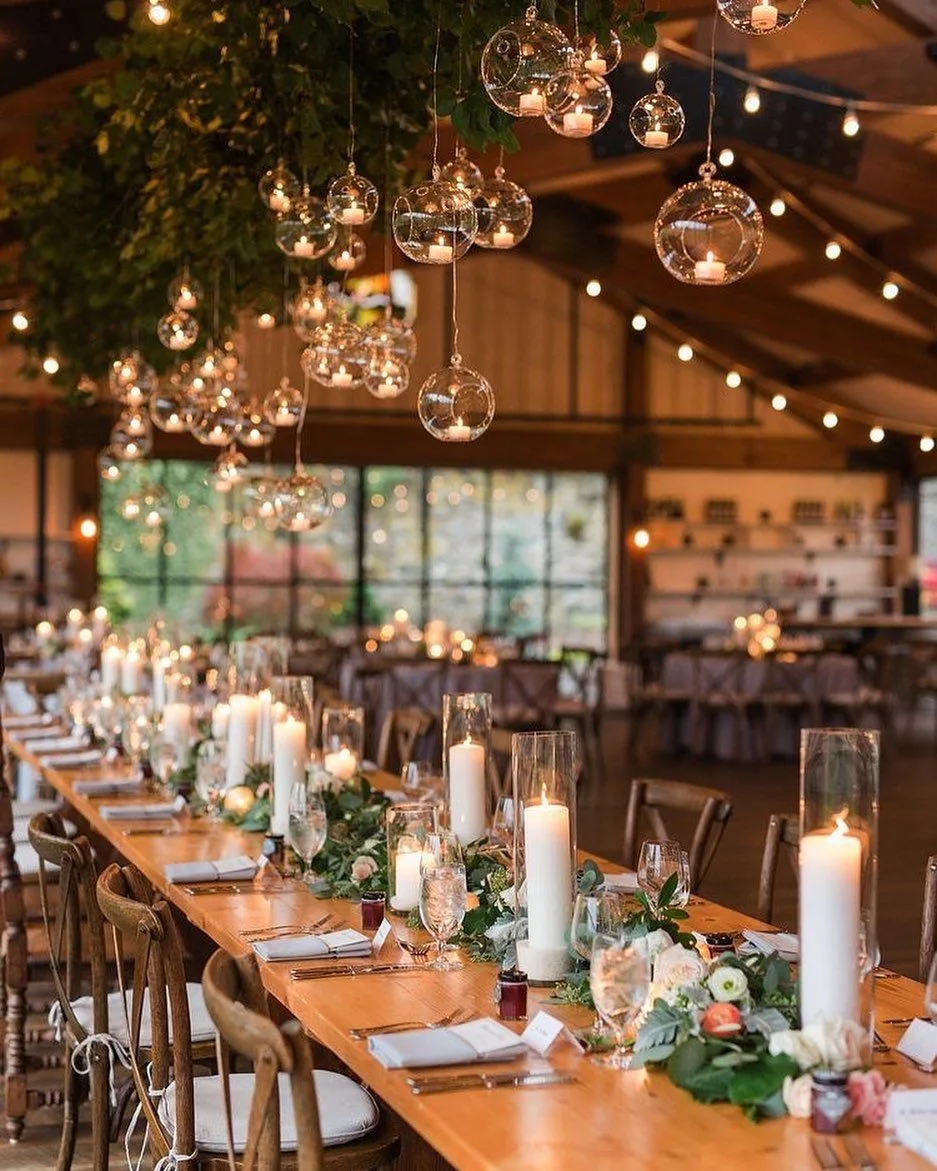 Credit: Instagram
Let's bring the rustic charm of the great outdoors indoors to this lovely barn-style wedding. Those high beams of dark wood make for the perfect backdrop to play with lighting and accents.
Find some fairy lights and hanging tealight candle holders. Now, all that's left to do is light the pillar candles along the center of the table.
Don't forget the music and food!
6. Wooden Seating Card
Credit: Instagram
When you've got a wedding theme going on, every last detail, including the seating cards, is essential. But who needs plain old seating cards at a wedding? You can have take-away souvenirs instead.
What are they?
Well, they're technically seating cards, but not the traditional ones. They're a small wooden circle, with the name of all the guests carved on its surface.
Just grab some jute twine to tie it off.
7. Wedding Arch…Or Is It A Hexagon?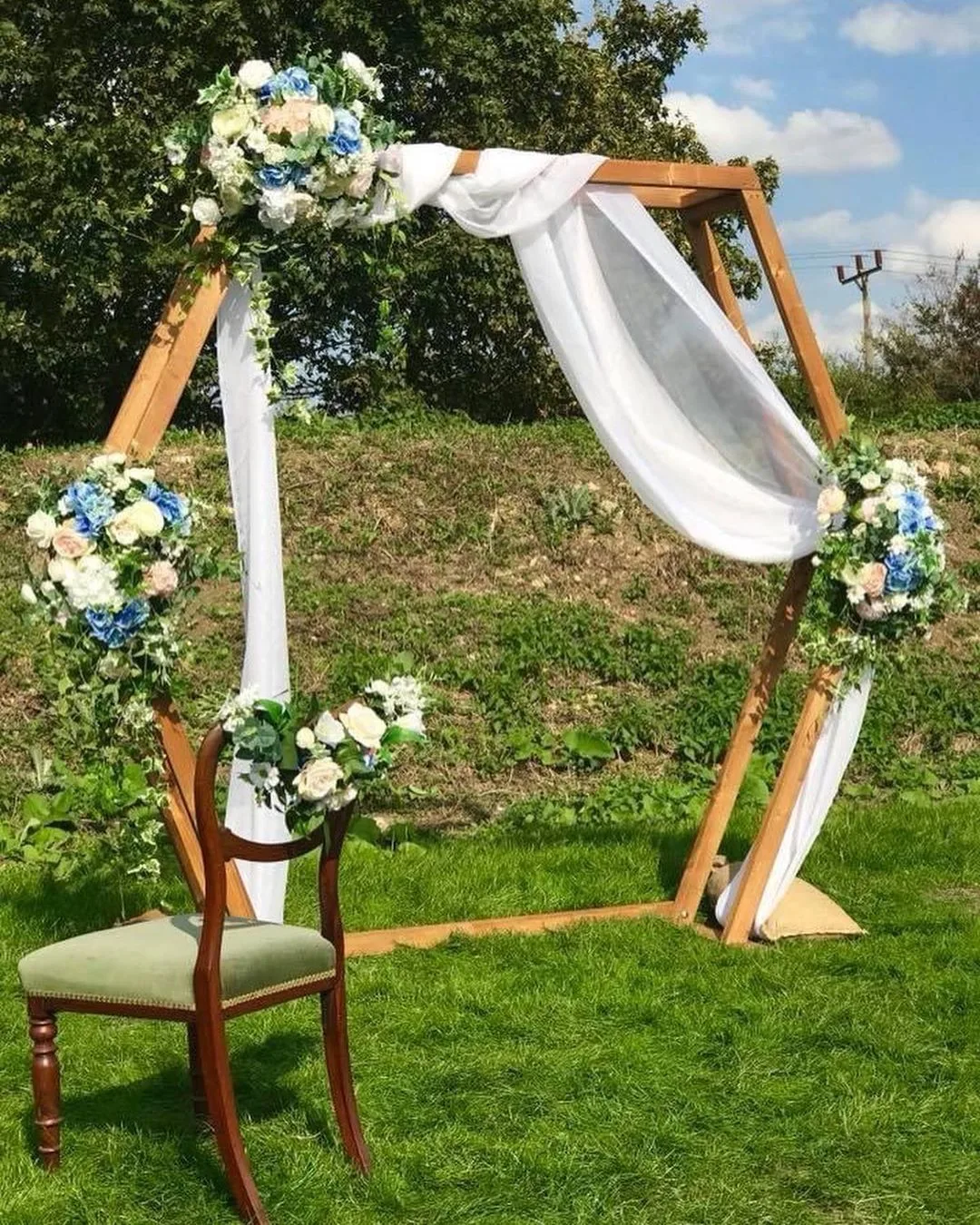 Credit: Instagram
When the bride and groom are standing up there at the altar, they're all but framed by it. It's almost as important as the actual walk up the aisle to it.
With that in mind, check out the hexagon arbor at this wedding. Quirky and fun, the hard angles can be softened with the right florals.
Or you can wrap some billowy fabric like this to do the trick. Either way, who needs a backdrop when you can have this instead?
8. Rustic, Rust Colored Table Runner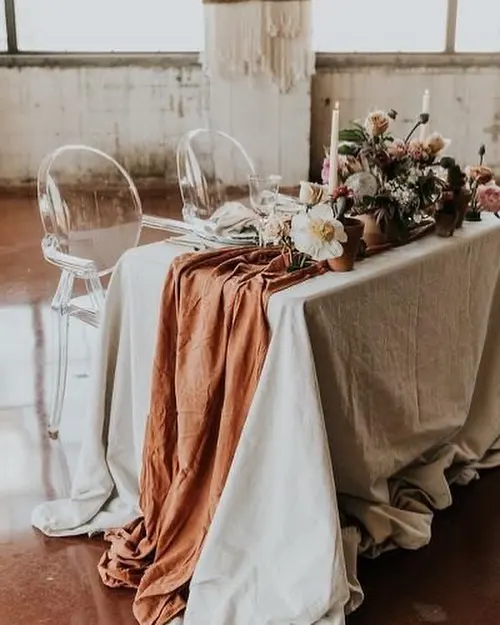 Credit: Instagram
Rust-colored fabric for rustic wedding decor. It sounds like a match made in heaven, doesn't it? You can find that table runner right here.
No crisp snow-white linen at this wedding, either. Instead, you can see how the thick folds of the eggshell-white tablecloth function as a soft canvas to the bold orange table runner.
Artfully mussed is the word that comes to mind.
9. Under A Canopy Of Trees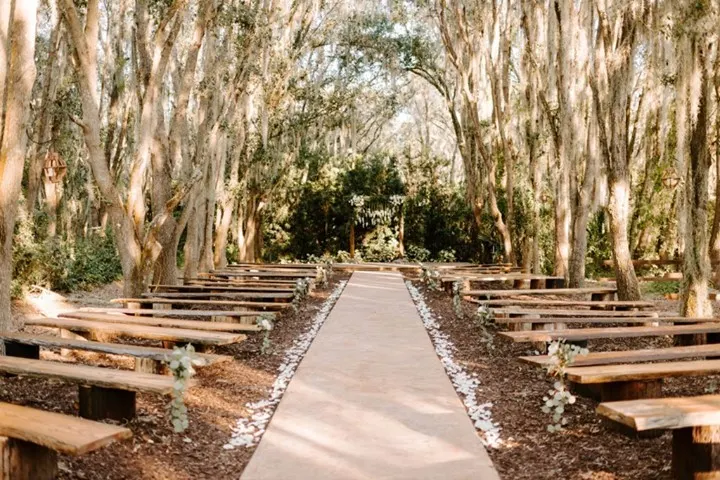 Credit: Instagram
Let's go outdoors for this wedding, to this gorgeous end-of-summer ceremony.
Check out those wooden benches in place, rather than traditional pews.
You don't see many flowers as a part of this wedding decor. But instead, you can see numerous vines of sage or eucalyptus leaves hanging down from the ends of the pews.
It's almost like they're part of the woods they belong to. You can't tell where the woods end, and where the wedding decor starts!
10. Desert Wedding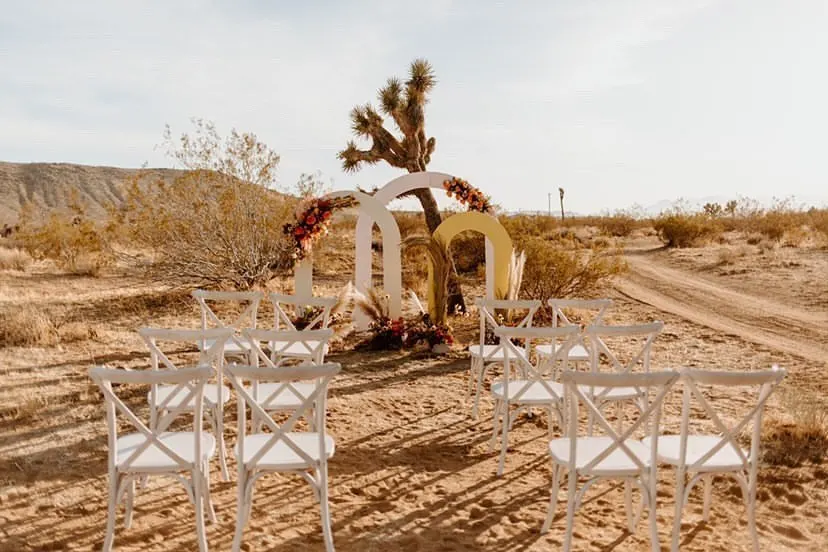 Credit: Instagram
Dessert at weddings, sure. Deserted bride or groom at a wedding? Tragic but still pretty common. But a wedding in a desert?
No, that's not a code word for a food-themed wedding. I mean an actual desert wedding—in the middle of a desert. We're talking heat, sand, and cacti.
Talk about taking rustic to an extreme, but okay, it looks pretty cool. Throw in a cactus or two for the wedding florals, and you've got yourself some wedding decor!
11. Rustic cake toppers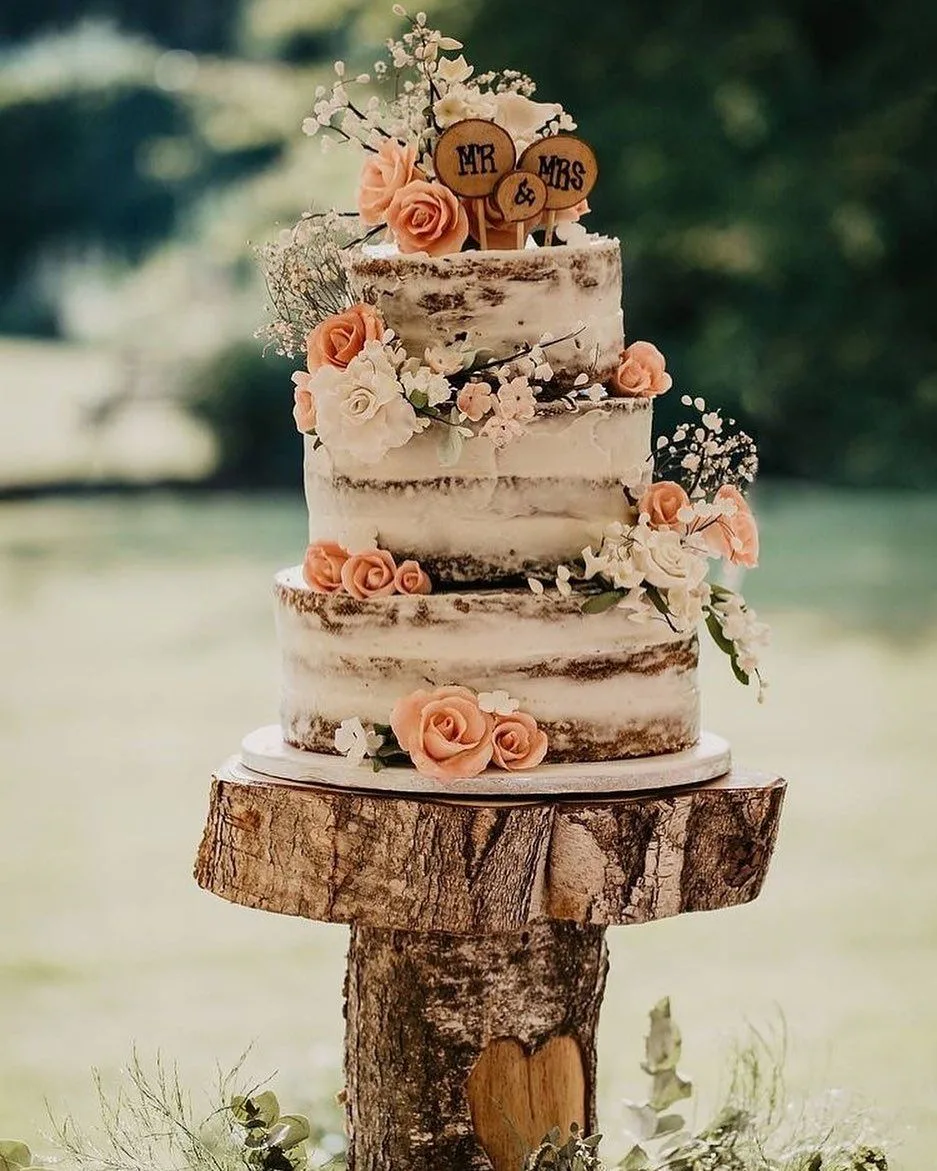 Credit: Instagram
We've got a wooden serving block that's now moonlighting as a cake stand. They're really handy, aren't they?
But for now, look at the woodwork on top of the cake. Wooden "Mr & Mrs" cake toppers, like the one you can find right here, are a creative statement piece, much like the wedding cake itself.
And why shouldn't they be? They look superb atop that cake.
Check out those coral sugar roses and baby's breath sprigs. I wouldn't be surprised if a bird hopped onto the cake and just settled in.
12. Wedding Sign Board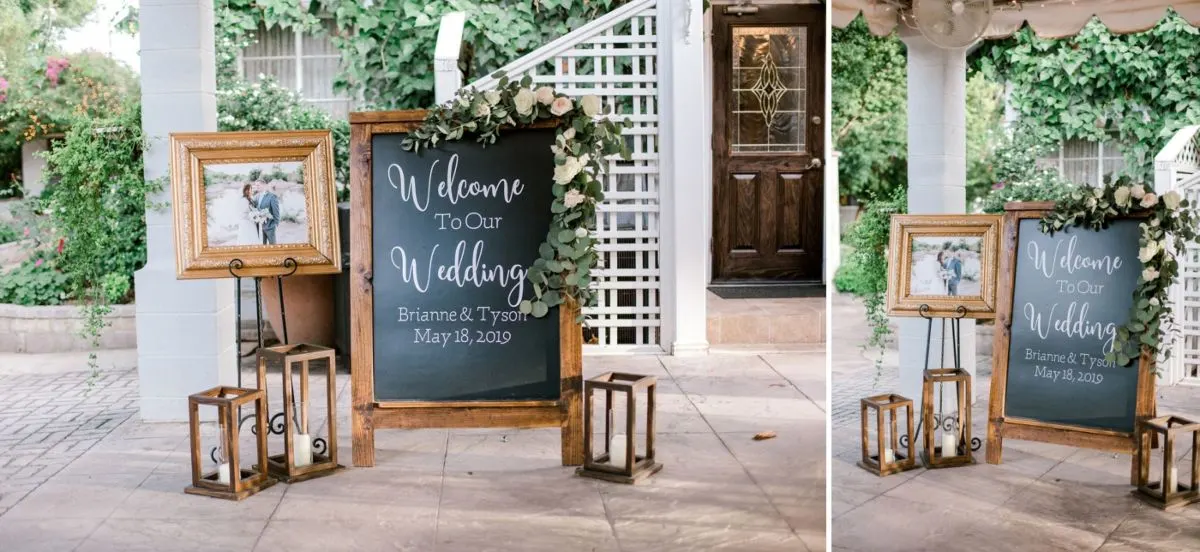 Credit: woodncratedesigns.com
Don't you love signs? If you're in the wedding business, you definitely know to look out for signs.
Not just for signs, but for signboards like these. You can scrawl out a warm, welcoming message on it, inviting guests to your wedding.
Next, place a few wooden candle lanterns around the sign, and you're ready! Check out some of these creative DIY wedding sign ideas for inspiration.
13. Wood, Leaves, And Candles In A Jar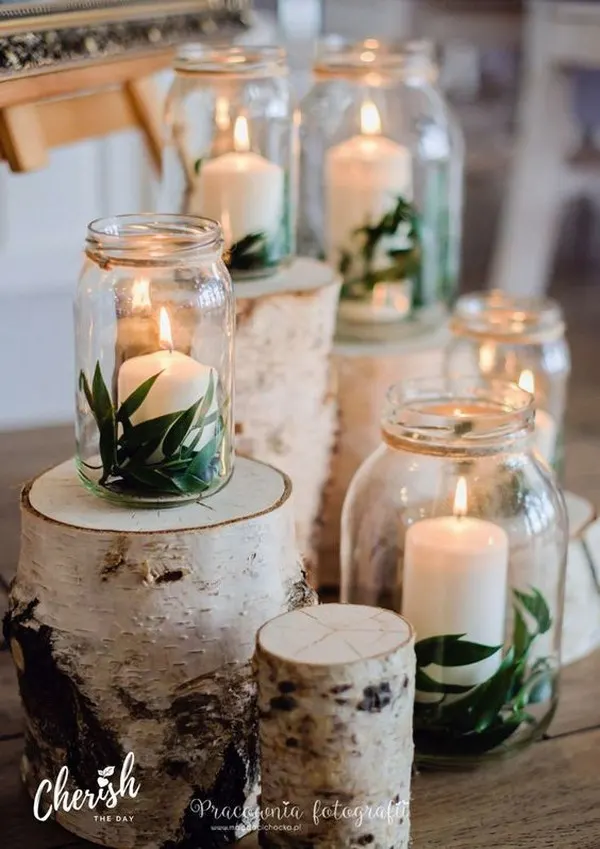 Credit: emmalovesweddings.com
Candles in a jar—didn't I tell you how versatile mason jars are? But these look too pretty to be rustic, right?
Didn't you see the wooden stump stands that the jars are sitting on? There's the rustic element for you!
Don't forget to cushion the bottom of the jar with some dark, glossy leaves. Laurels, lemongrass, or even eucalyptus, would look wonderful as a bed.
14. Rustic-Chic Wedding Table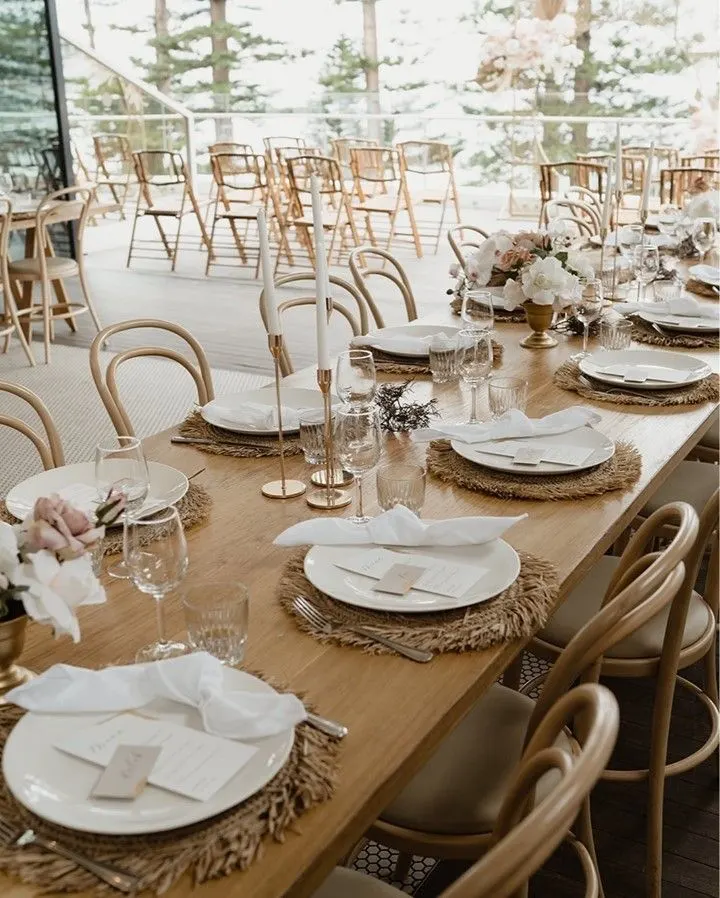 Credit: Instagram
Weddings are all about soft colors, right? Whites, soft ivories, and creams are all wedding colors. There are also blush pink notes from roses and dark spots of green from the leaves.
The decor here is muted and soft, as is the lighting you'll get from the tapering candles—soft, muted, and utterly feminine. But then you get that dash of wild and woodsy from the fringed, braided placemat(look here).
With the real woods and trees right outside, you have another key accent piece to consider to be a part of the rustic decor.
15. When Weddings Give You Lemons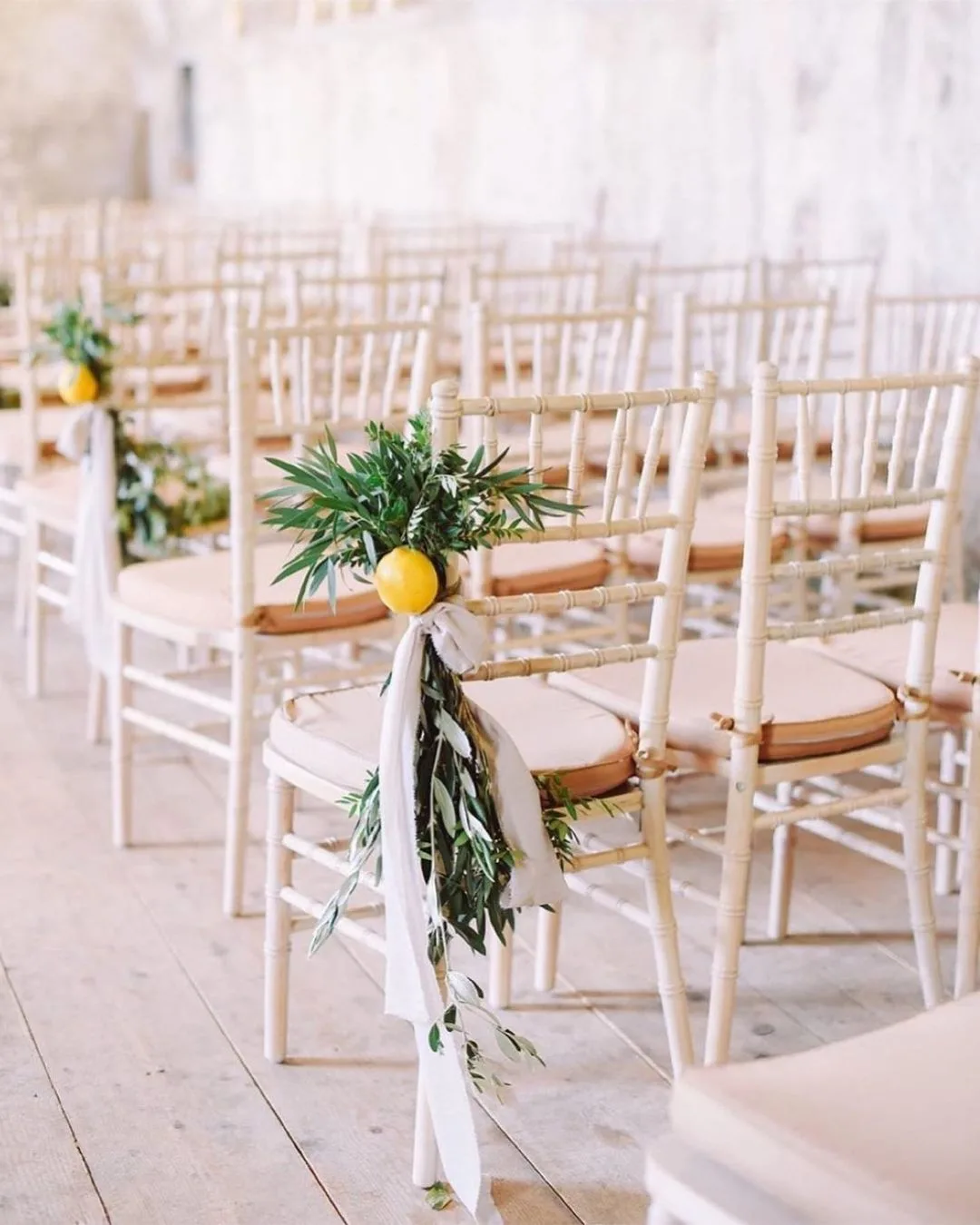 Credit: Instagram
I'm sure you've seen berries in wedding florals, but have you seen lemons? Just take a look at this wedding decor if you haven't!
Look how sassy that bright yellow lemon is, hanging from the aisle chairs. I wonder why we don't have more lemon-themed weddings.
They add some much-needed color to the decor. Here's an idea: why not pair lemons with a few sprigs of fresh rosemary while you're at it?
You can wrap some white fabric around it, tie it to the chair and enjoy the lemons that life—and this wedding—gave you.
16. Urbano-Rustic Backdrop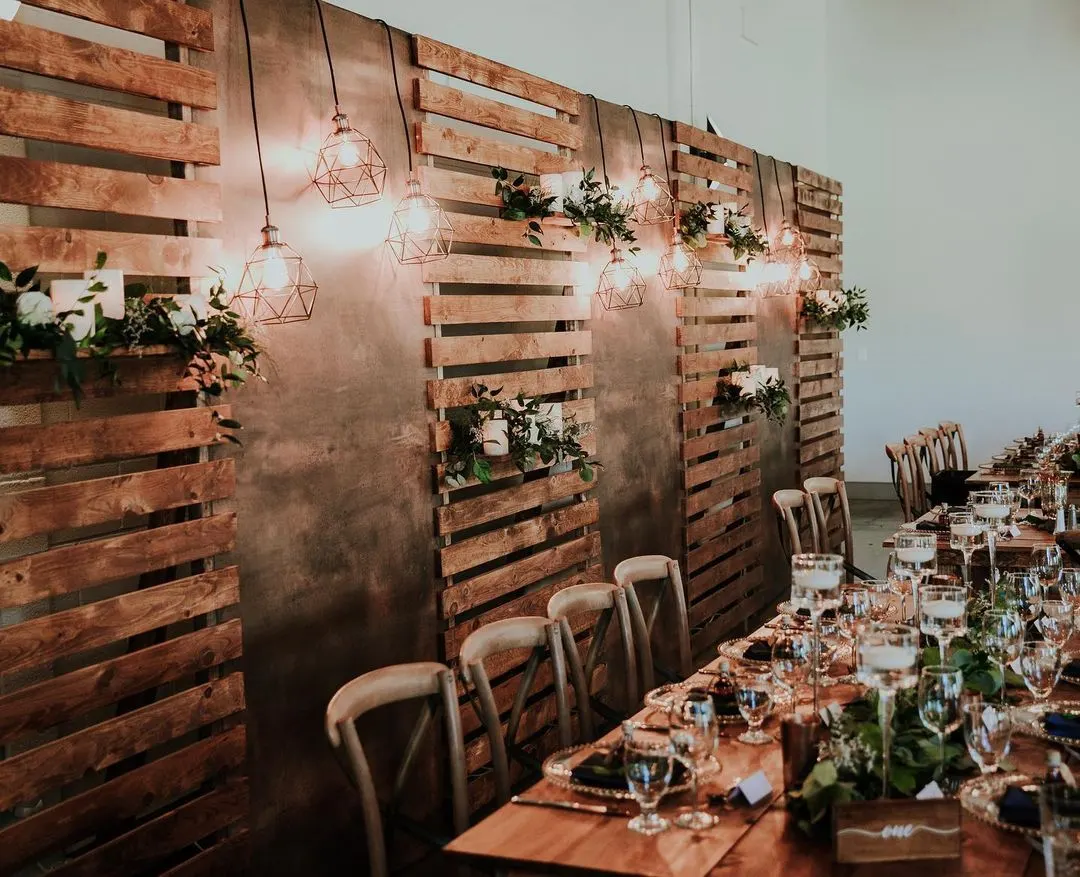 Credit: Instagram
Isn't that the perfect backdrop to a wedding dinner? The dark, gleaming wood is offset by these vintage metal lights, pulling the dark notes into the light.
You can also see the bright pops of green leaves hanging down from the ladder-like wooden wall.
You have plenty of delicate crystal dinnerware, too, to balance the hard edges of that wooden wall. But it's clear that this wedding decor leans towards the rustic.
That being said, you can still find the oddest hint of urban decor from the metal lights and the paint finish you see on the backdrop. Whatever's going on, it's lovely, isn't it?
Are you looking for more ideas for wedding backdrops? Check out these wedding backdrop ideas for inspiration.
17. Wedding Guest Registry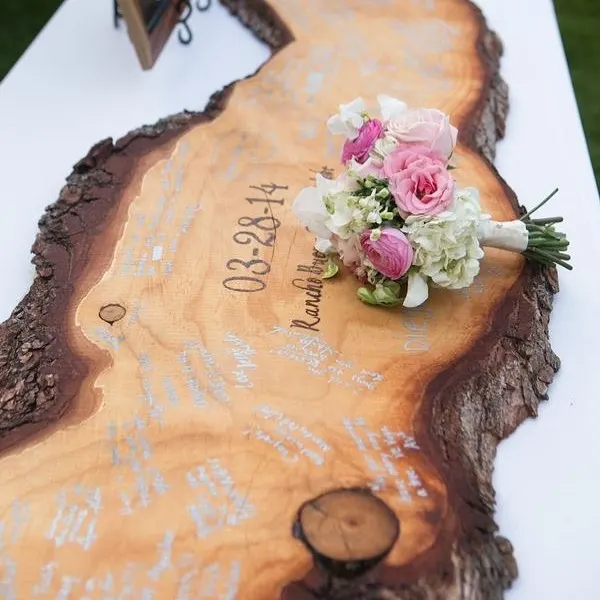 Credit: Instagram
Carved in stone, carved in wood…it's pretty much the same as long as it's been there for a long time, isn't it?
What better way to remember your big day and the people you celebrated it with than this wooden guest registry? You can set it up right at the front by the entrance for your guests.
They can scrawl out beautiful messages for you and sign them off as well. Then, at the end of the day, you can hang this log up over the mantle at your home.
It's a great souvenir for you, apart from the happy memories of the Big Day, of course!
18. Barrels and Bouquets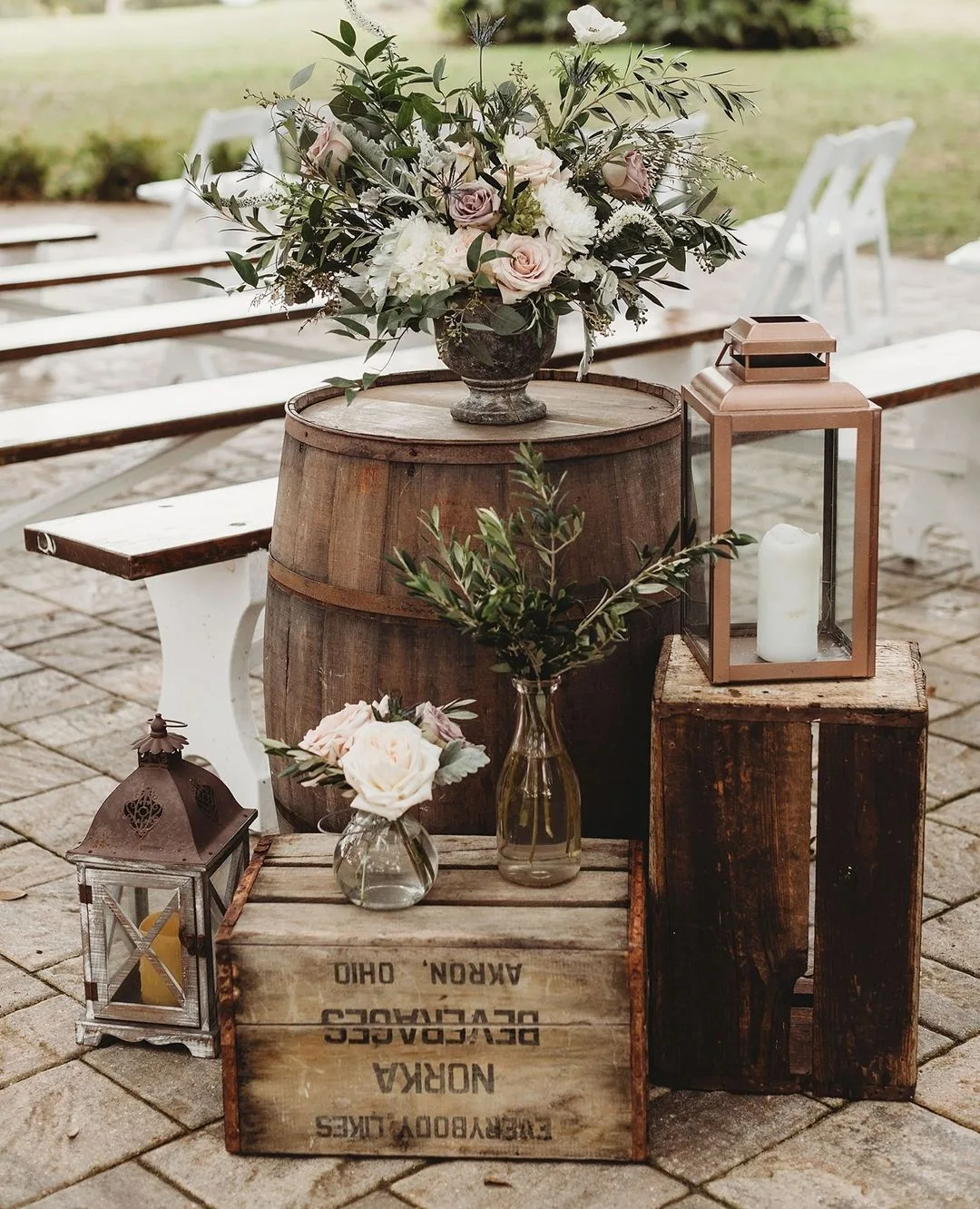 Credit: Instagram
Is a country wedding ever complete if you don't find a barrel or two as a part of the decor? Barrels, barns, and wooden crate: the trifecta of rustic weddings.
Now, just prop the crates up and use them as a stand. You can find the crates right here, as well as an old wooden barrel like this that you can refurbish to serve this purpose.
Now how about arranging a few lanterns and that lovely wedding bouquet in an ornate vase on top of the crate stands?
Or, if you're so inclined, just stick a few branches of laurel leaves into another vase. You can put it right next to the smaller bouquet.
19. Leaf Table Runner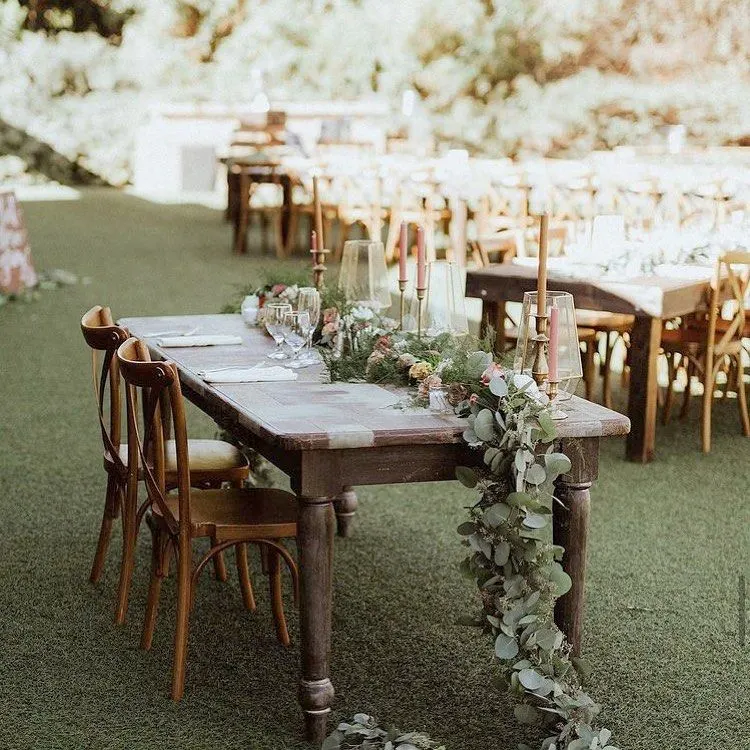 Credit: Instagram
Just look at that lush swath of leaves draped over the table. It looks like a table runner. So let's just tuck a few flowers in there and a few white candles and make it one.
You can jazz up the greens foliage and add a variety of leaves: rosemary, eucalyptus, olive, ferns, sage, or something paler like silver ragwort.
There's no rule, just that they look good, don't leak into the table cloth and, if possible, they can smell good too!
20. Vineyard, Vines, and Fairy Lights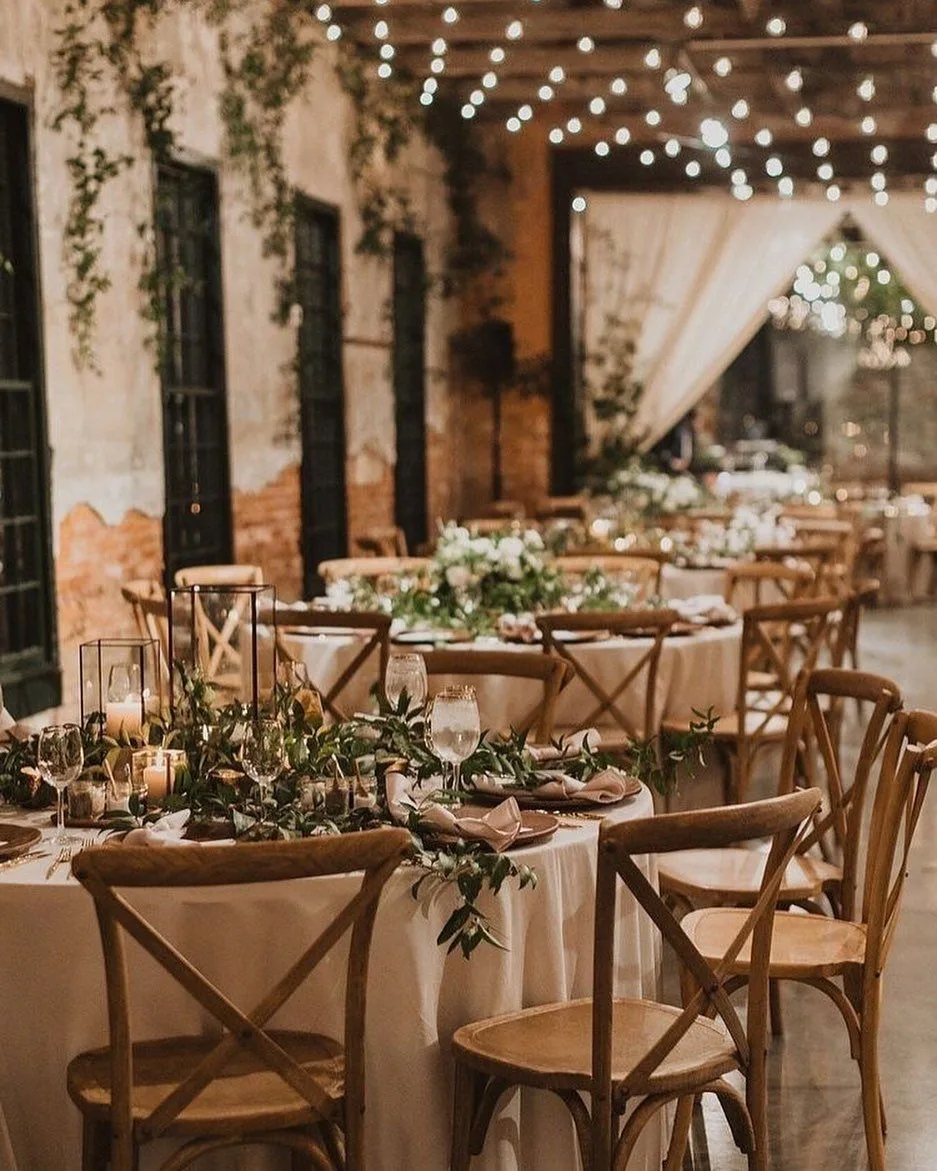 Credit: Instagram
First, you've got that rustic brick wall with its half and half paint and brick quotient. Next, you can see the wooden slatted ceiling.
Don't these fairy lights draped across them look like stars? But then you get those mellow caramel tones from the round tables. I almost forgot the green from the vines that are crawling down the wall.
How gorgeous are these color palettes?
I bet you a casket of wine that this is a vineyard. You don't need any decor to make vineyard venues look quaint and rustic; they simply are.
Check out more wedding light ideas here.
21. When B-A-R Spells Rustic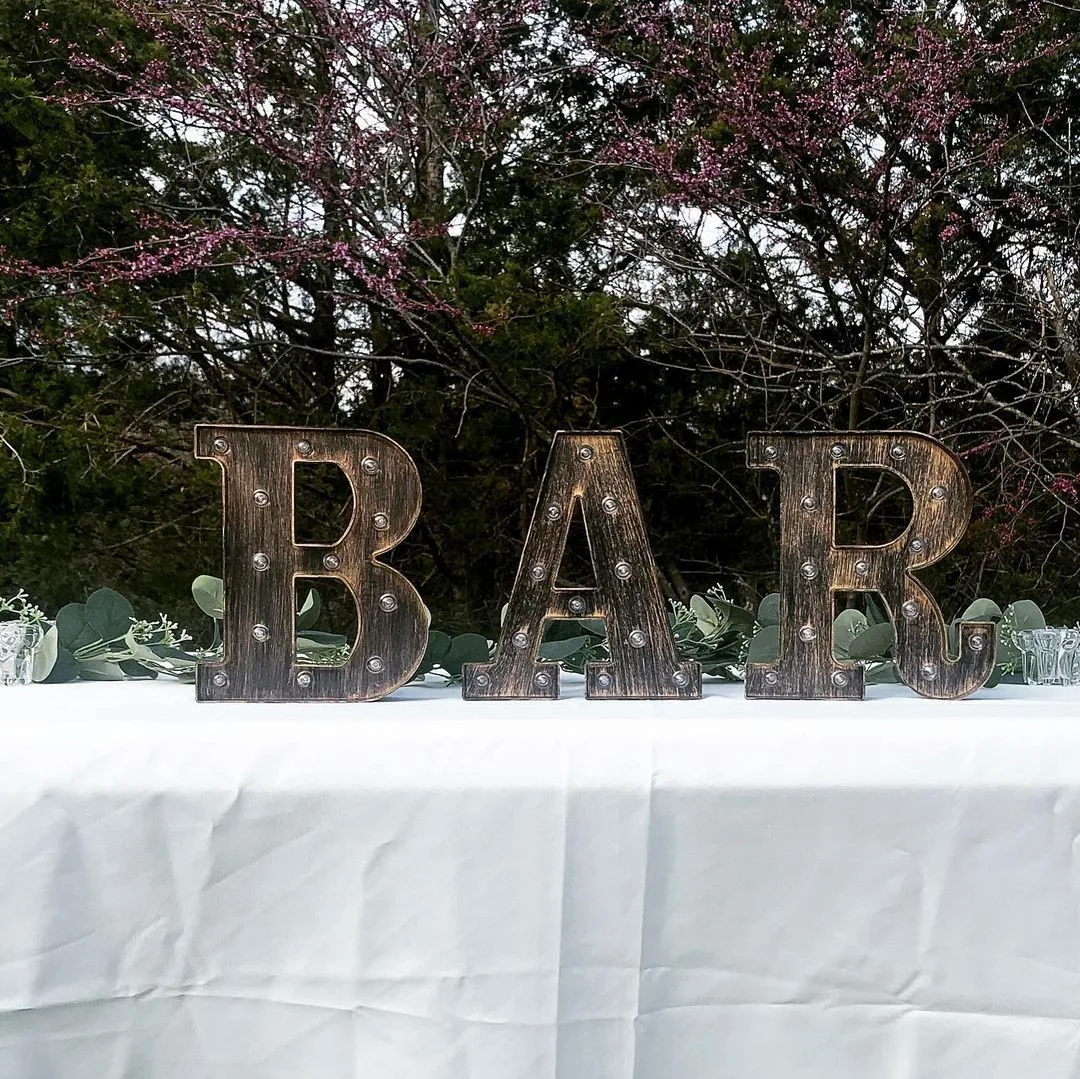 Credit: Instagram
There are three things here that are all about vintage, rustic decor.
First on the list are the leafy table runners. It's wonderful how a few leaves can make such a difference to a table, but there you go.
Next up are the chunky wooden blocks and those green bottles. Nothing says vintage like colored bottles.
Finally, it's the elephant in the room, or, rather, the wooden letters spelling B-A-R. It's wood, it's got big bulbs on it that will light up come sundown, and it's just plain old fun.
It hits the trifecta for a fun, outdoor wedding bar.
22. Barn Themed Decor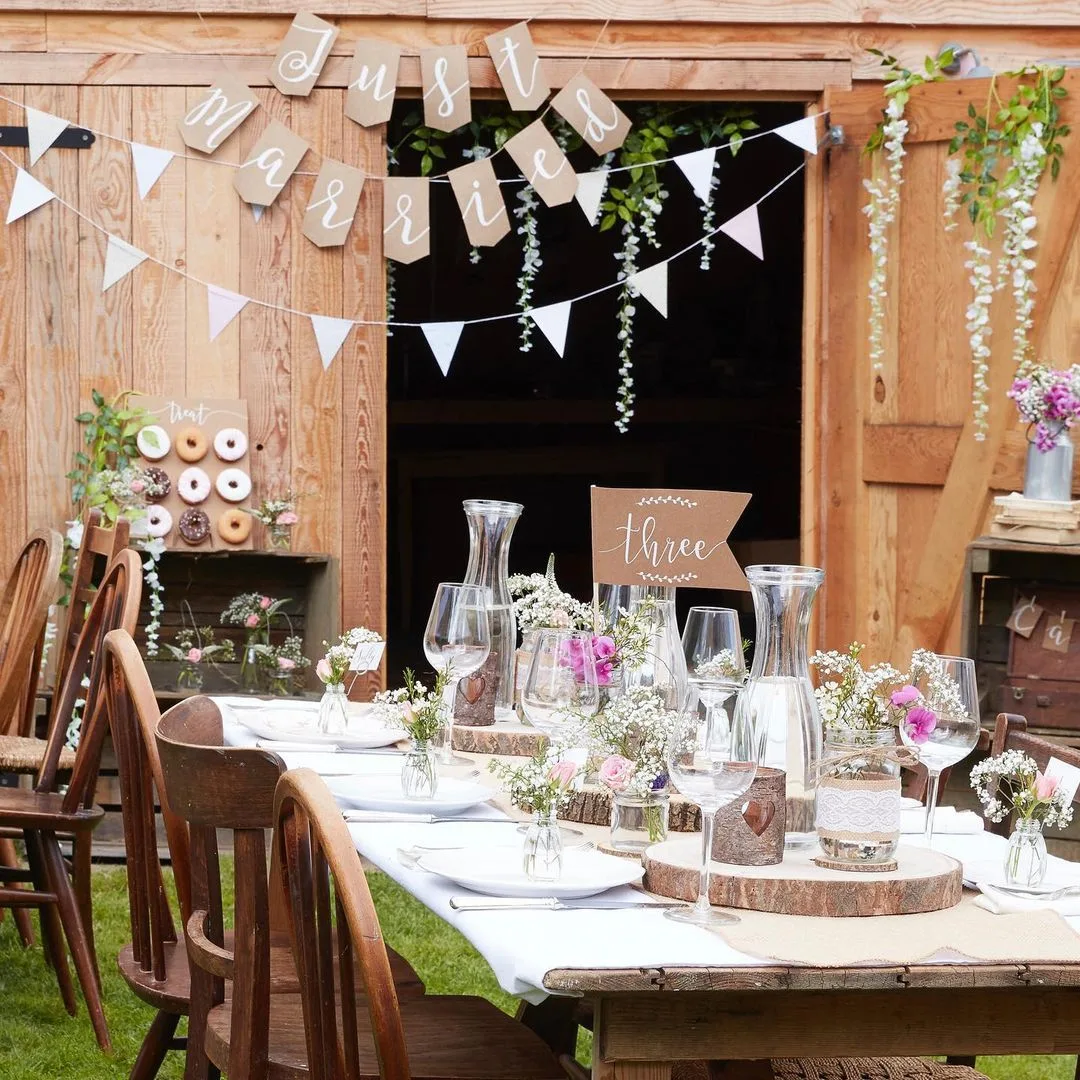 Credit: Instagram
With plenty of wood and simple yet cute decorative knick-knacks, you can just about make anything look country and rustic-chic.
Check out the mason jar flower vase, with this delicate lace trim wrapped around it. Next, and perhaps my favorite piece of table decor here, is that heart-shaped candle holder.
There's also the 'Bride and Groom's' chairs and the pennant banner from here that's festive and pretty.
Overall, this wedding reception and its decor are all about light, color, and fun, and not just about rustic barns.
Don't believe me? Just look over at that treat board with donuts pegged to it. Fun is always spelled as d-o-u-g-h-n-u-t in my dictionary.
Need more ideas for your wedding? Check these backyard wedding ideas!
23. White, Wood, Wedding: The Three Ws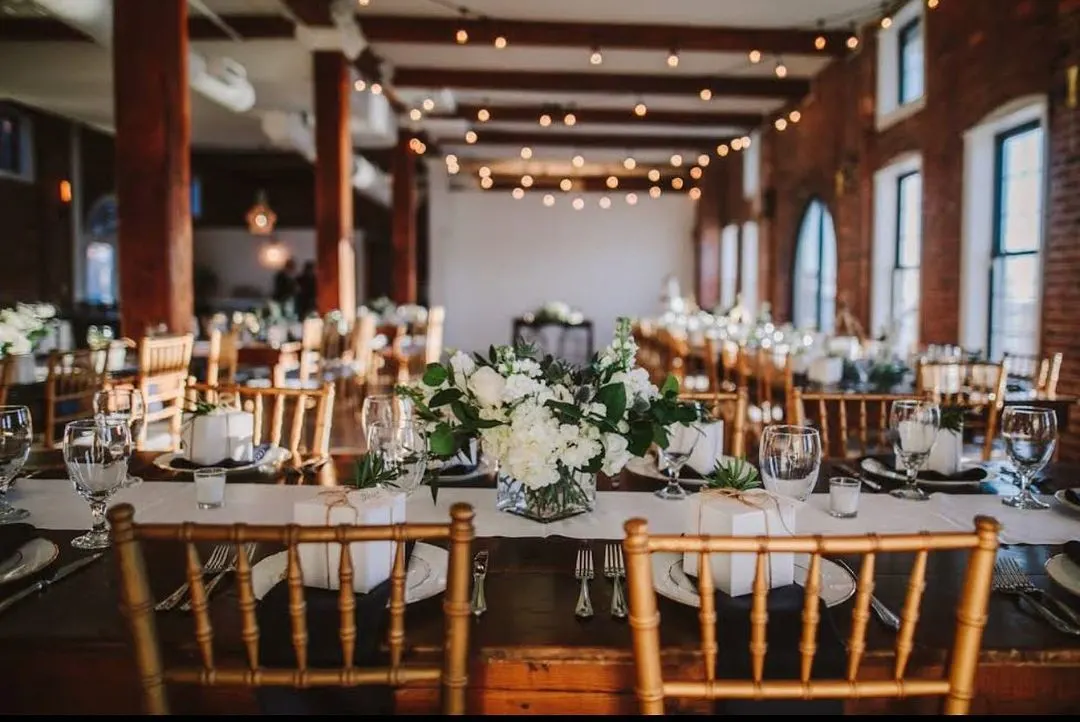 Credit: Instagram
Weddings, woods, and whites—the three Ws of weddings that come together so wonderfully. Here's the kind of wedding reception decor that's classic and timeless.
Wooden chairs and tables are a definite must, but so are the white tea candles and the white-rose floral centerpieces. Add the fairy lights to the list, and there you have it: classic, with just a touch of country rustic.
24. Seating Board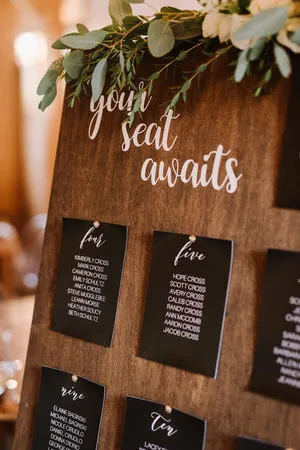 Credit: pinchmeplanning.com
If you choose to eschew the traditional seating cards, then why not put up a scoreboard like this? It's woodsy, it's creative, and it's quirky.
Bonus? Your cleaners won't have to deal with the scraps of discarded paper post-wedding celebration.
You can find a wedding seating chart board right here. You can use it to plan your seating and then use it as a decor piece on the big day!
25. A Sign That Say L-O-V-E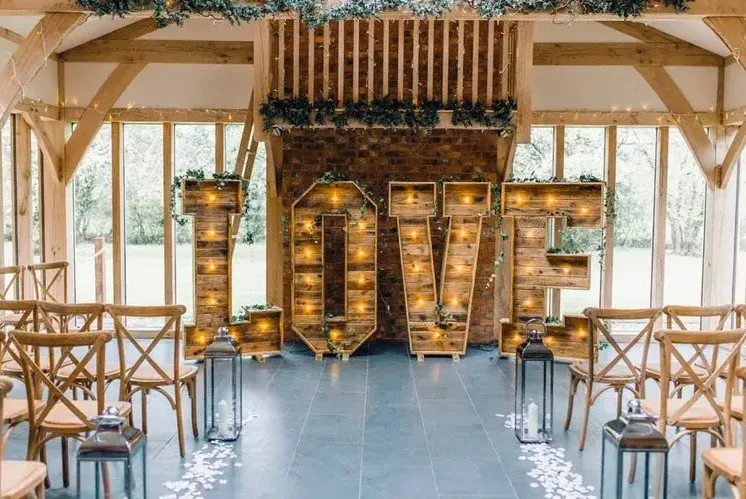 Credit: rockmywedding.co.uk
There's a lot of love at weddings. What better way to display that love, in life-size fashion, than with huge wooden letter boards like you see here?
You can drape a few vines over the letters, as well as tuck some flowers in the nooks.
While you're at it, you can also sprinkle some flower petals along either side of the aisle, leading up to the altar. Then you can place a half dozen of these lanterns—floor lanterns, extra-large—along the aisle.
Love this? You might like these wedding crafts!
26. Milk Can Vase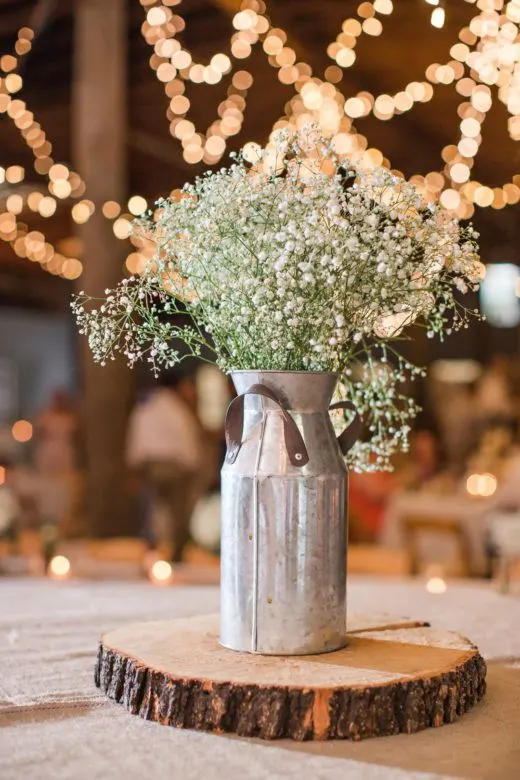 Credit: rusticweddingchic.com
Baby's breath is all about frothy white tufts perched on green stems. But, you know what else is frothy and white? Milk.
You're at a barn wedding, and there's bound to be a tribute to cattle somewhere.
Three words: milk can vase.
What do you do with it? Well, once you get a milk pail from here, go ahead and stick the baby's breath in there. Voila, country-wedding with plenty of pastoral charm to spare.
Check out Dollar Store wedding hacks here!
27. Leaves On A Chair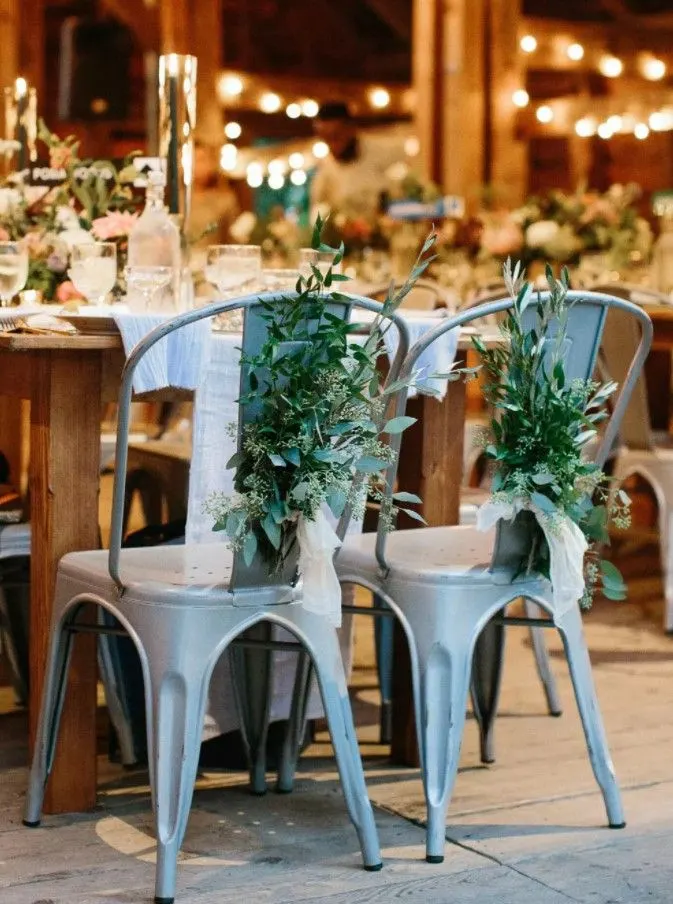 Credit: theknot.com
You can't just toss a few chairs around a table and call it wedding decor, no. You want rustic, not old and rusty.
So, what do you do to spruce it up?
Grab some lace trim as well as this leafy bouquet. Now tuck some sprigs of lavender into it, maybe even a rose or two.
You'll have a pretty and colorful bouquet. Now all you have to do is tie it to the back of the chair, and you're all set!