Transform your garage with these garage shelving ideas. They'll help you increase the storage at home and transform your space.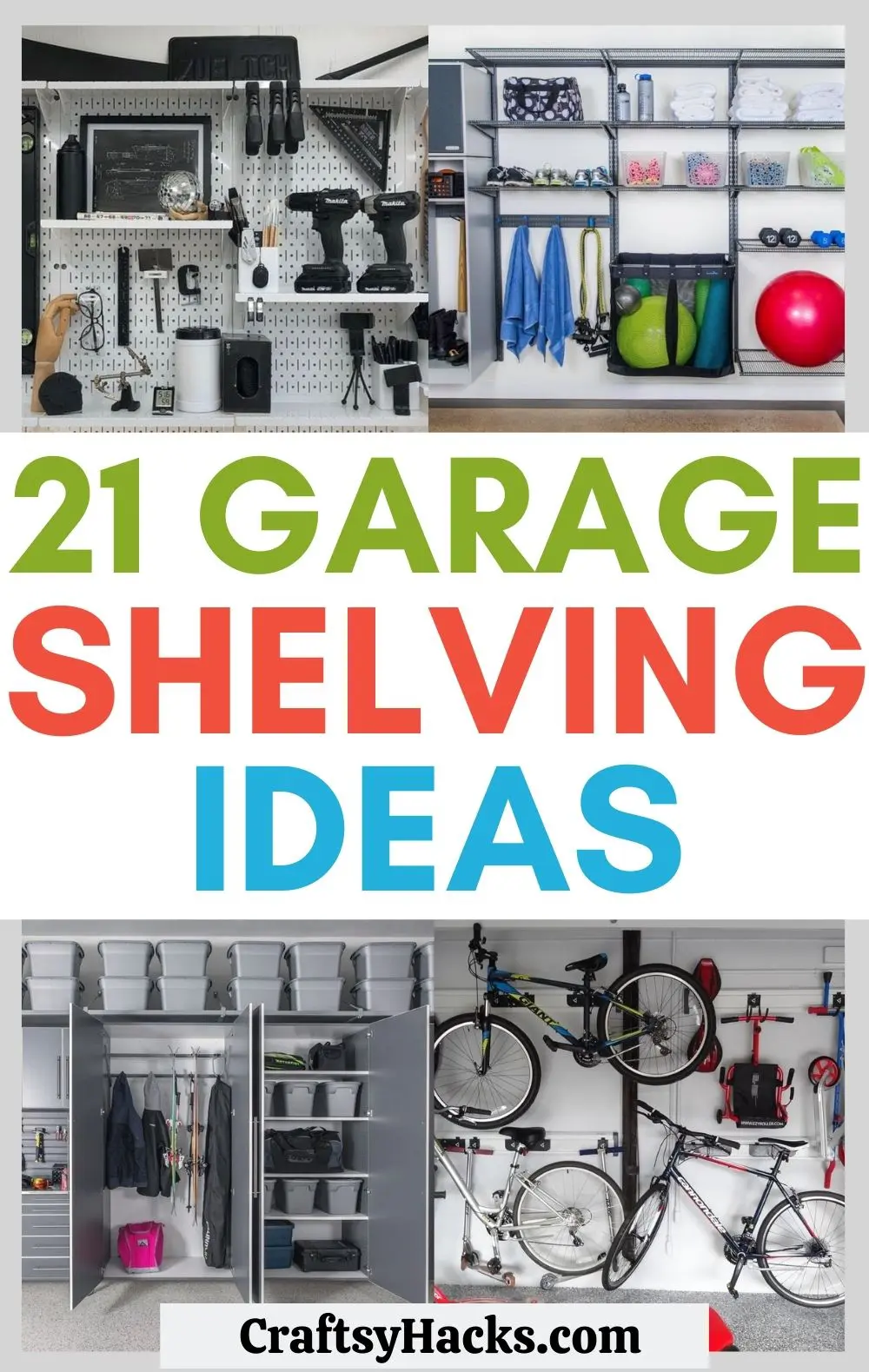 People often neglect their garages because it's easy just to dump things and run, but if you put some effort into its organization, you'll have a whole new room to enjoy.
Garage shelving isn't one-size-fits-all, and it doesn't have to look bad either. There are myriad ways to transform your space with some clever storage solutions, and in this list, we're reviewing twenty-one of them.
1. Stylized Pegboard Storage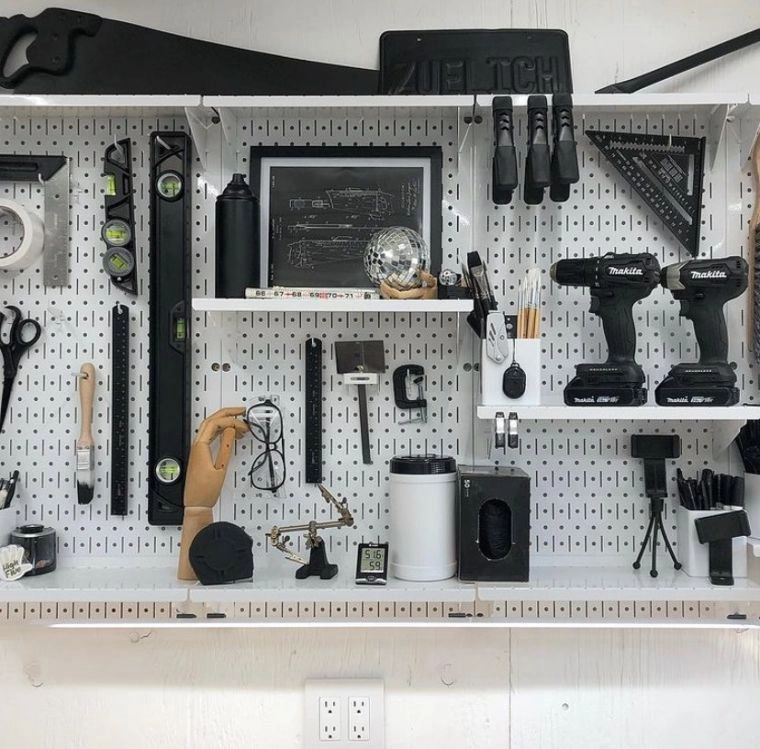 Credit: Instagram
Installing a pegboard is a great way to utilize the vertical space in your garage, but pegboards tend to look cluttered if not properly organized. I recommend creating a stylized, organized layout.
If you're lucky enough to have tools all from the same line (and therefore, with the same color palette), this will be easier for you. Style the pegboard much like you would a shelf in your home.
You can use pegboard shelves like this to provide extra surfaces for accessories, which in turn break up the monotony of the pegboard's pattern.
Check out more pegboard organizing ideas here!
2. Floating Garage Shelves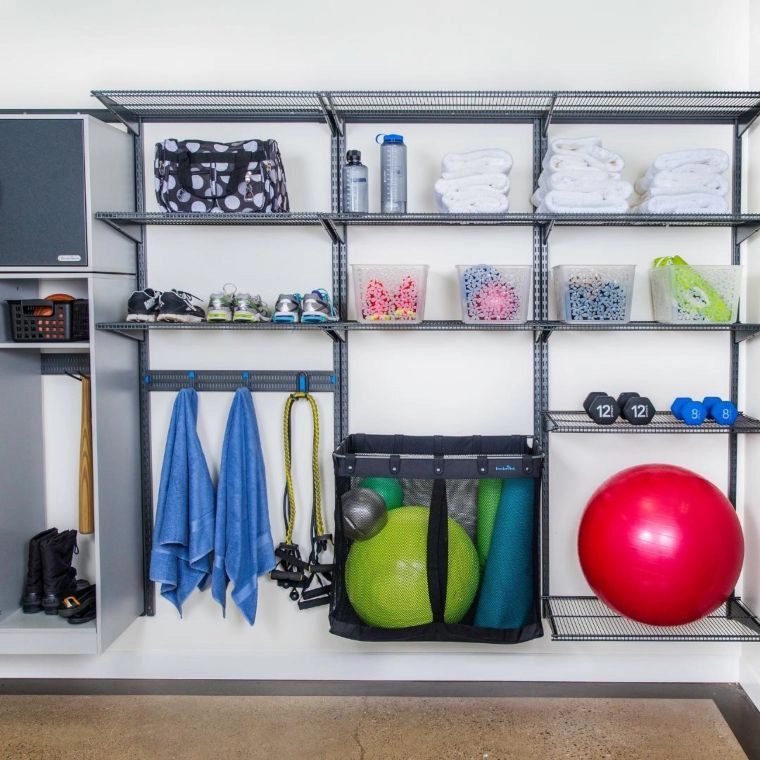 Credit: Instagram
Floating shelves are great for garages because they elevate your belongings away from the floor, keeping them safe from potential mold and water damage. Plus, floating shelves look super modern and sleek.
These are easy to create for yourself if you're handy with tools. If not, ready-to-install systems take less than a day to put in, so your garage will be clutter-free in no time. Use a freedomRail like this to suspend them.
Love the idea? Check out more garage organizing tips here.
3. Pantry-Style Garage Storage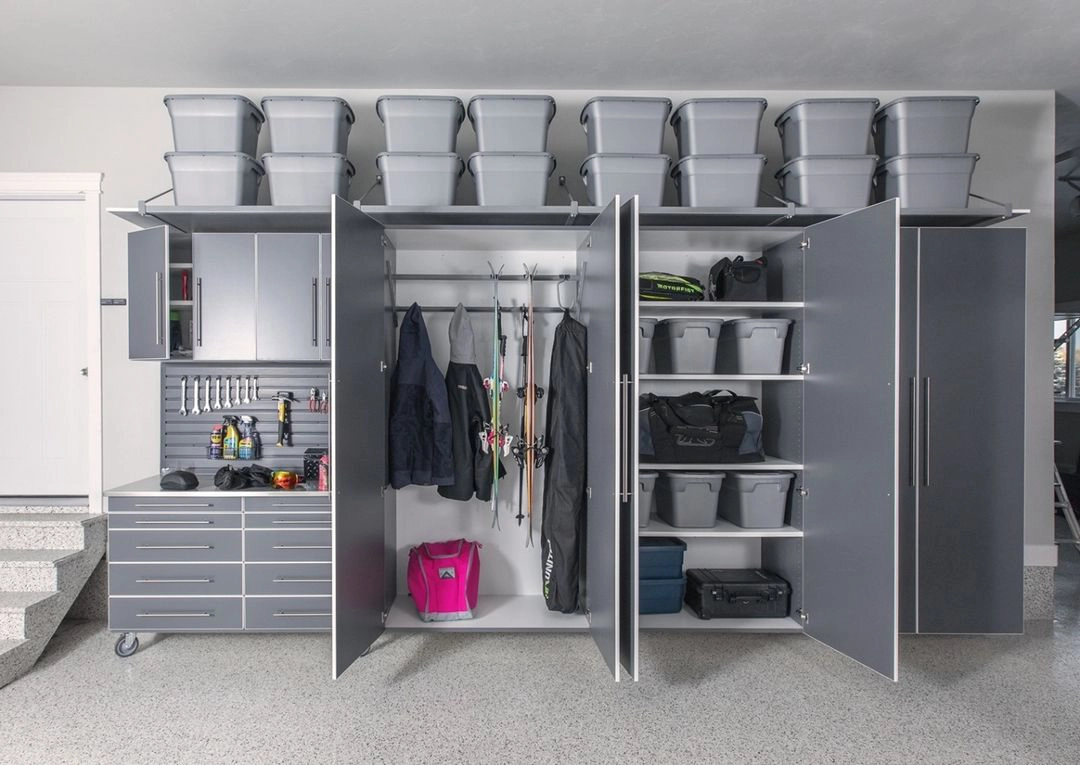 Credit: Instagram
If you'd rather keep your storage plans firmly on the ground, this pantry-style idea is perfect for you. Featuring shelf, hanging, and stacking space, these shelves are the ultimate versatile storage facility.
I highly recommend this setup for families, as they often need to store a wide variety of things. There's a place for everything in this system, from the kids' sports equipment to holiday camping gear.
4. The Storage Wall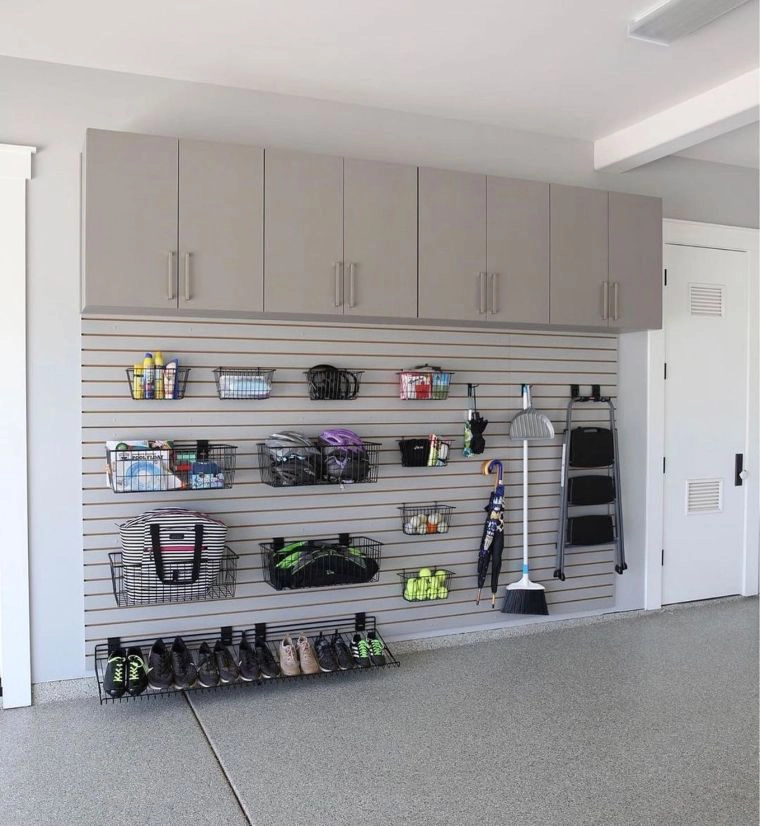 Credit: Instagram
Instead of a pegboard, another system cropping up on the home storage scene is a rail-like storage wall that uses channels in the wood to suspend wire baskets (like these).
If we're talking versatility, this is another excellent option because you can customize the wall's layout as you please.
5. Gardener's Dream Corner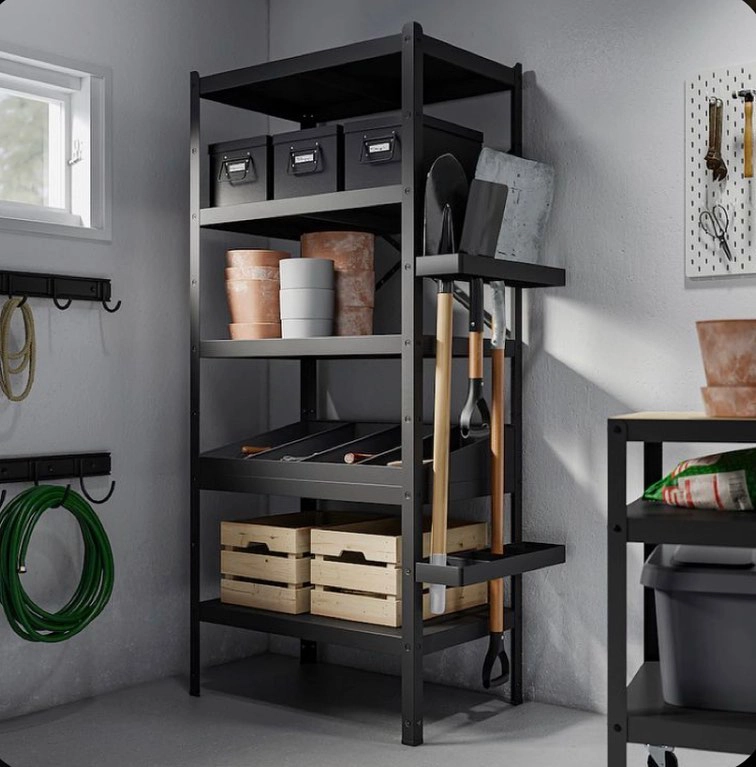 Credit: Instagram
Next up is every gardener's dream storage solution, but slightly condensed. This is ideal for small spaces, as it uses a lot of vertical space rather than spreading out across the floor.
Pick up tall, sturdy shelves like this for your base. Then, customize with a spade rack on the outside, seed bins, and crates like these for smaller tools.
Speaking of organizing small spaces, check out these practical storage ideas for small spaces to revolutionize the rest of your garage.
6. Golf-Club Storage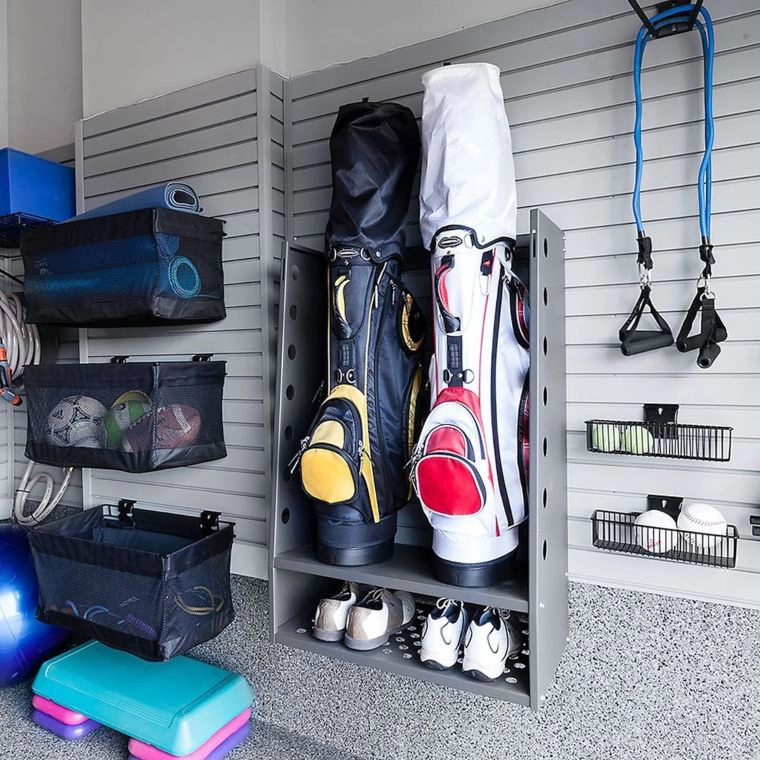 Credit: Instagram
Storing golf clubs is a daunting task, considering how bulky and unwieldy they are. But, with a quick purchase of a golf club storage shelf, you won't have to prop these against the nearest wall anymore.
Shelves like these have been designed purposely to store your golf clubs and shoes in the most convenient way possible. If you're good with tools, you can even make one yourself.
7. Organize Your Car Washing Supplies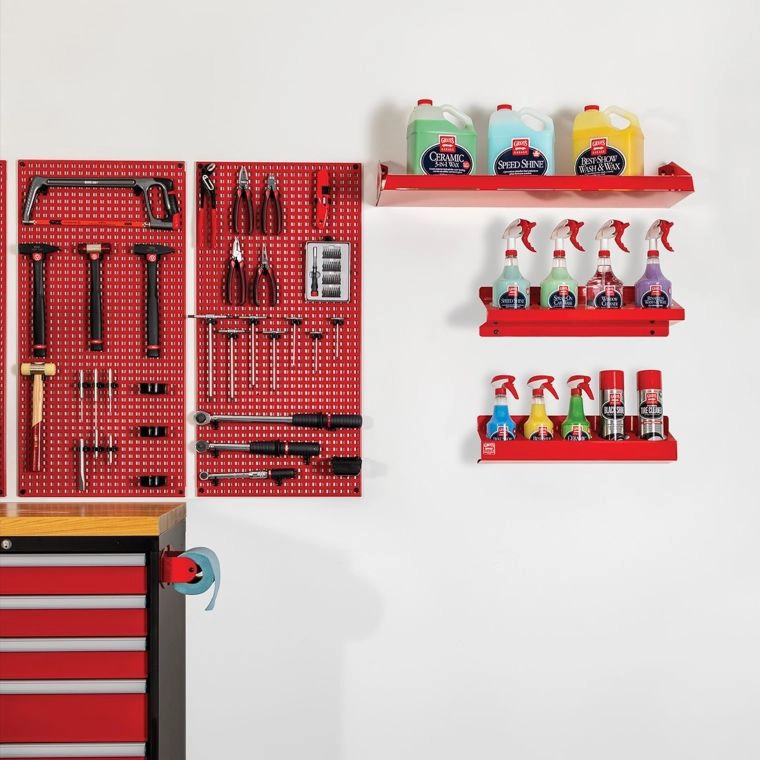 Credit: Instagram
Keeping your car looking clean and waxed is enough of a task without hunting down your cleaning supplies every time you need to break out the hose. This simple solution puts them in an easy-to-find spot.
Simple metal shelves like these are perfect for storing small items in your garage, including your contingent of car cleaning supplies. Plus, they blend seamlessly into a workshop environment.
8. Wire Basket Pantry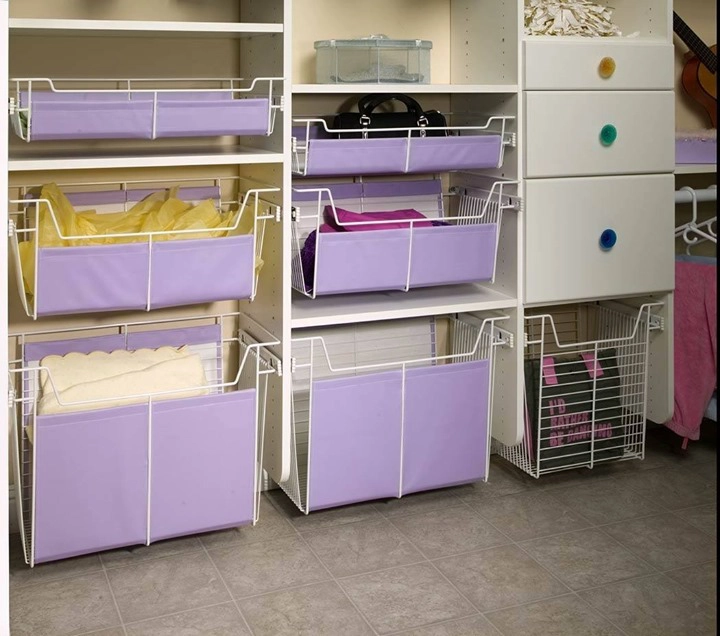 Credit: Instagram
This idea is excellent if you already have a wire basket pantry you've wanted to repurpose somewhere in your home. Invest in some stylish storage for your kitchen and move the existing system to your garage.
This type of storage works well in garages, as it neatly separates everything into categories while hiding any clutter.
9. Mudroom in Your Garage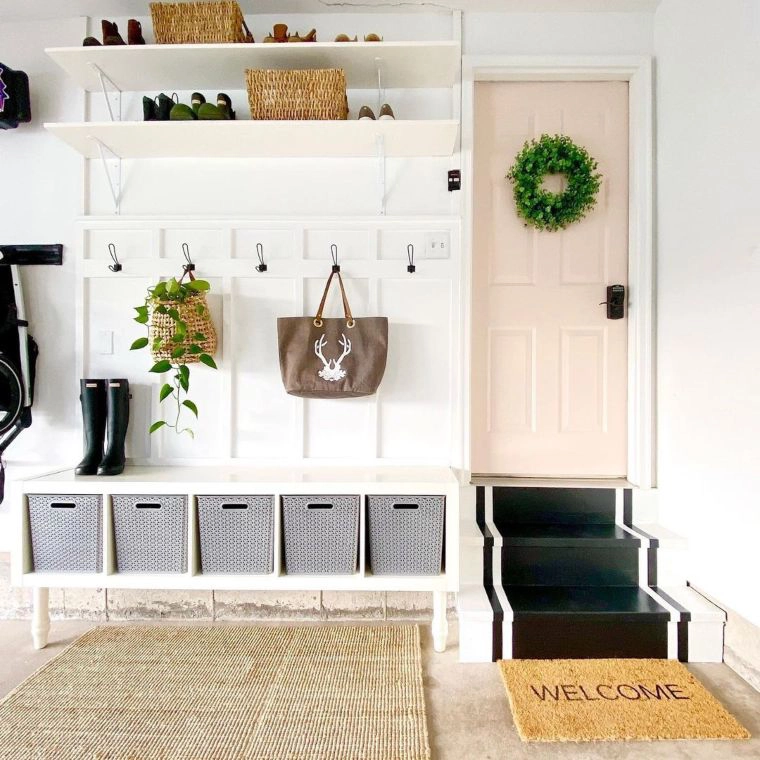 Credit: Instagram
Most garages feature an internal access door, which is why having a shoe cleaning and storage station in your garage is so great. Keep dirt, sand, and mud out of your house while elevating your garage's appearance.
Create mudrooms like this with some cub storage, floating shelves, and some heavy-duty hooks (here). Top it all off with a wicker mat to make the whole thing feel homey.
10. Create Your Own Craft Station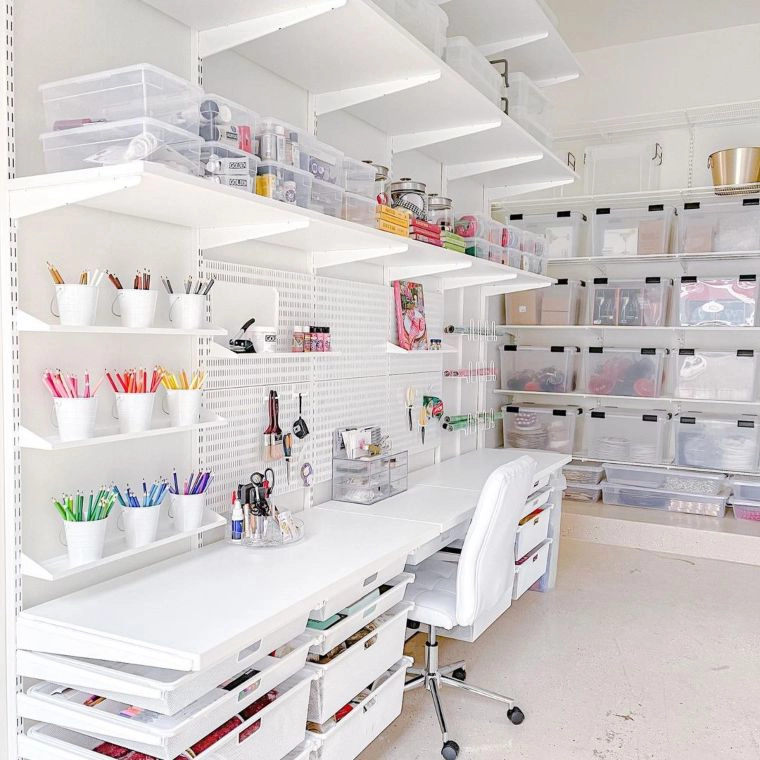 Credit: Instagram
Take your garage from something drab and cluttered to the craft room of the century using a few simple storage solutions. A wall of wire shelves will put all your unnecessary items out of the way, granting you space.
From there, dedicate an entire wall to a craft desk and floating shelves system. Pegboards are superb for creating versatile storage! Make sure to add both ambient and task lighting like this to brighten the space.
If you need some ideas for organizing this new office space, these creative office organization solutions are both stylish and functional.
11. Vertical Storage Wall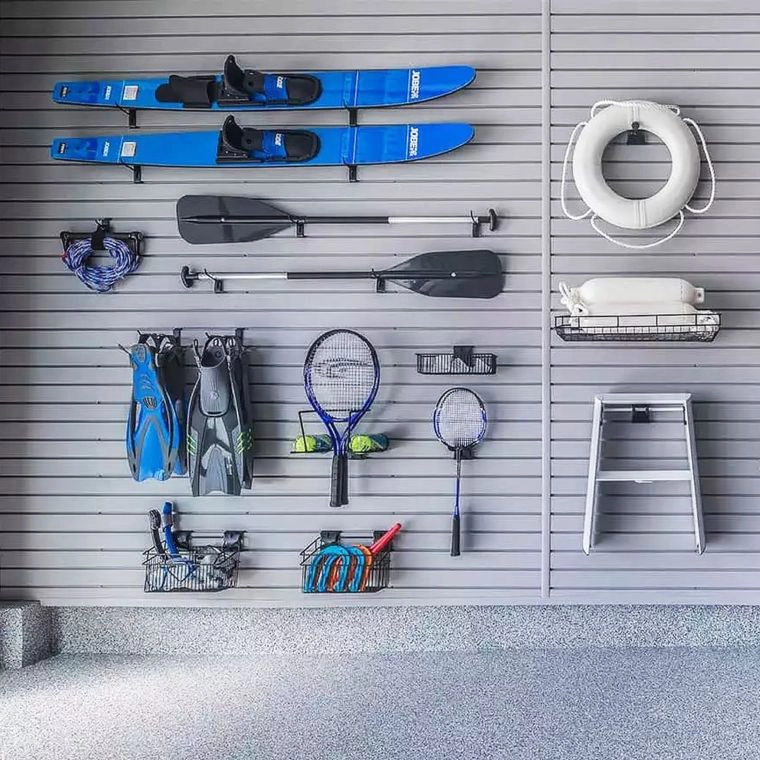 Credit: Instagram
Vertical space is an underutilized resource in many garages, but you don't have to make that same mistake. Using a wooden wall with embedded channels, you'll have a simple, versatile storage solution.
Even if you need to change up the orientation of the things you store, it's simple with this storage method. Shift the hooks, baskets, and pegs until you find the right spot for them all. Easy!
12. A Wall of Storage Buckets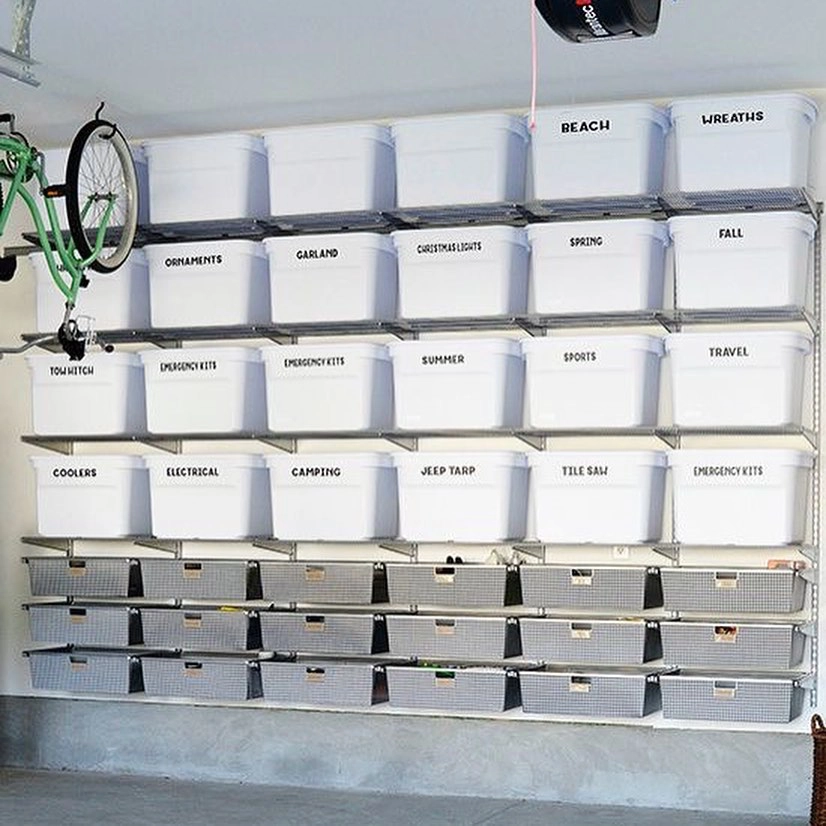 Credit: Instagram
Some of us have so much stuff that we're just not sure what to do with all of it. Luckily, some geniuses came up with this quick and easy solution that will have your garage organized in a weekend.
Begin by anchoring some metal shelves to your garage wall, then invest in as many plastic bins as you like (I like these). Fill and label them accordingly, then stack them on your anchored shelf.
13. Utility Shelving Unit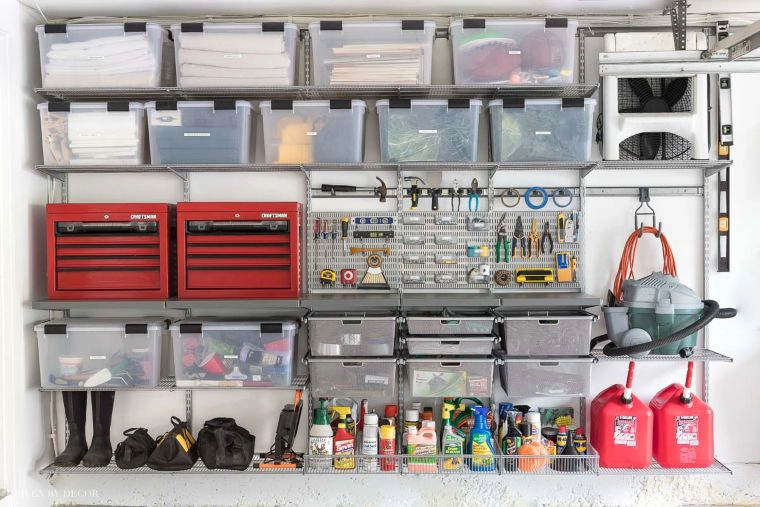 Credit: drivenbydecor.com
Utility storage systems got their name from their purpose, which is to be as helpful as possible. You can adapt this system to suit your specific needs, using storage bins, pegboards, and drawers at your discretion.
The most significant task is designing the unit's layout to best suit your needs. Sit down beforehand and consider what you need from the unit, sketch a form, and purchase the individual components to make it happen.
If you need some ideas, these basement storage techniques have some great possibilities.
14. Dedicated Kids' Shelves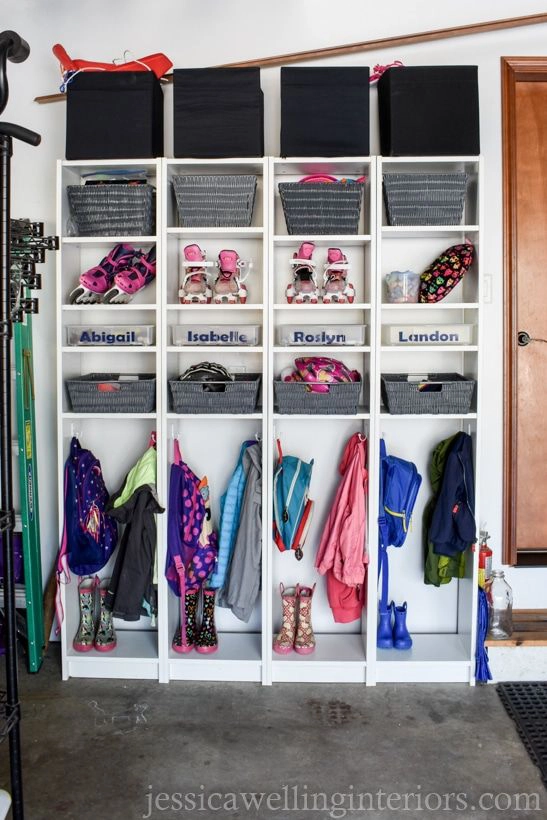 Credit: jessicawellinginteriors.com
Getting kids out the door and off to school every morning is enough of a challenge without hunting for their various belongings. These dedicated storage shelves are perfect for keeping everything in one place.
Make your life as a parent so much simpler every morning with this ingenious garage shelving unit. The kids can store their backpacks, shoes, and other sporting gear on these shelves for easy access.
15. Closed Garage Shelving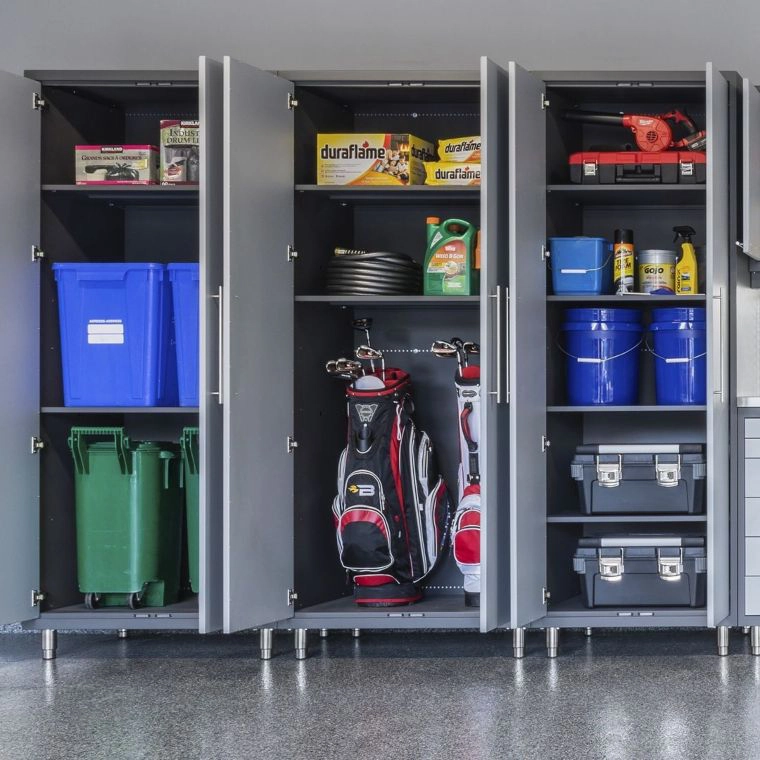 Credit: Instagram
The most frustrating thing about open shelving units is their tendency to get messy because it just ends up looking cluttered again. With closed shelving units like these, the mess is hidden from your eyes.
This idea is a great principle to apply outside your garage as well. From the kitchen to the bedroom, closed storage units make your room seem cleaner and more minimal without ridding you of all your things.
If you want some ideas to apply this principle in your home, check out some of these clever pantry organization hacks.
16. Simple Mudroom Makeover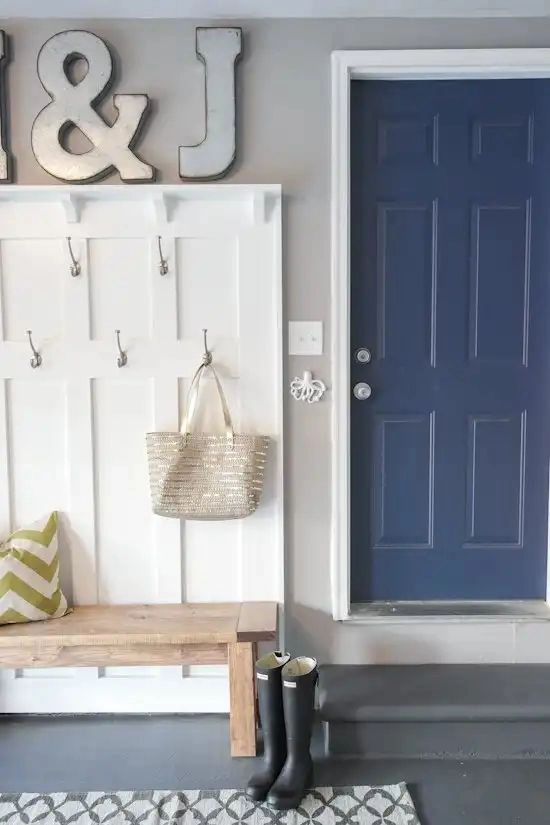 Credit: sypsie.com
Once again, a mudroom is worth sacrificing a wall in your garage. Not only does it make it easier to store your shoes and bags once you make it home, but it also improves the look of your garage.
The key to an aesthetically pleasing mudroom is a good balance of wall and floor storage. Some people use hooks and a cube bench, while others opt for floating shelves and a simple low table.
If you want to take it to the next level, consider painting your garage door a bold color to anchor the whole setup. Contrasting cushion colors will elevate it even more. Try these yellow cushions and this blue paint.
17. Over-Hood Wall Storage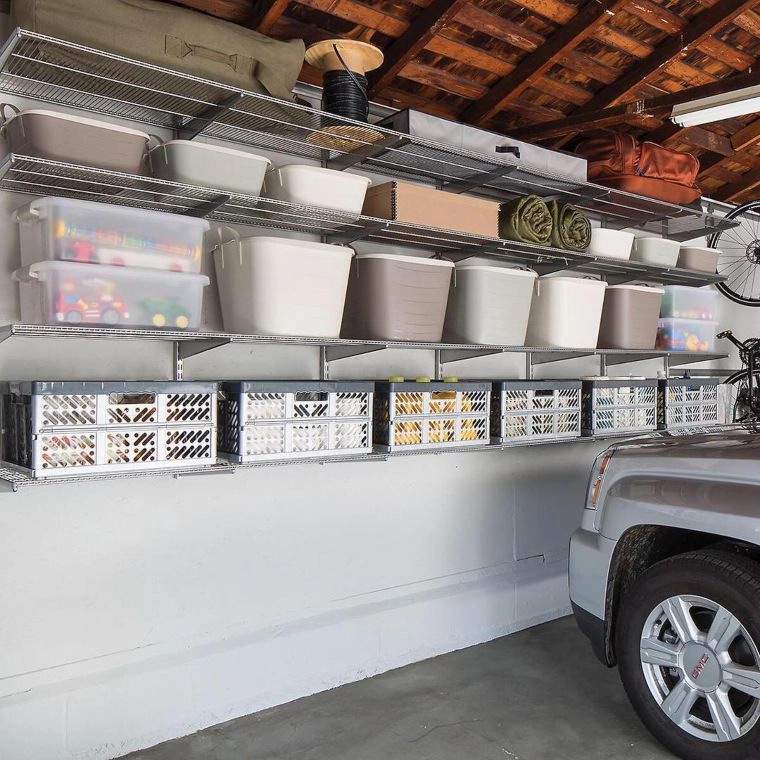 Credit: Instagram
The space above your car is an ideal spot for items you don't always need access to, and it's simple to utilize the area with some metal shelving. The key is to use heavy-duty wall anchors (here) to support the load.
You can even take it one step further and create an arch shape around the usual spot your car's hood goes. This offers more storage space on either side, and it looks even more extraordinary.
18. Utility Tub and Pegboard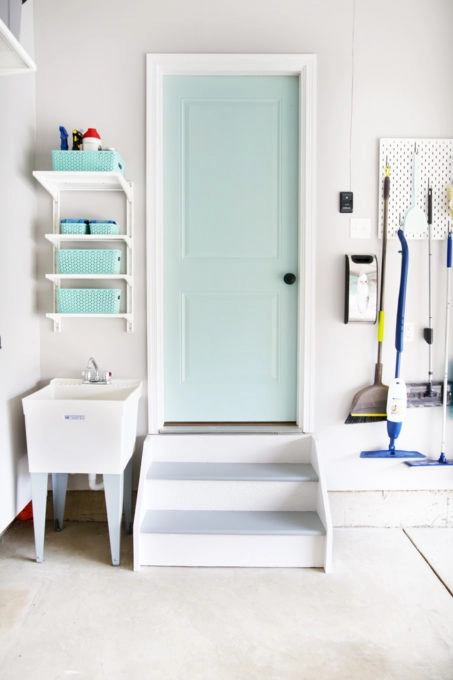 Credit: justagirlandherblog.com
Storing cleaning supplies can be quite a hassle, but you can make it a breeze with the right expertise. A pegboard on one wall is the perfect spot for long brooms and mops, while a utility tub is an ideal soaking spot.
The key to making these elements look attractive is to choose a color palette and stick to it, as this makes the entire setup look well-coordinated. I'm a massive fan of this light teal color in contrast to a clean white base.
19. Wall-Based Bike Storage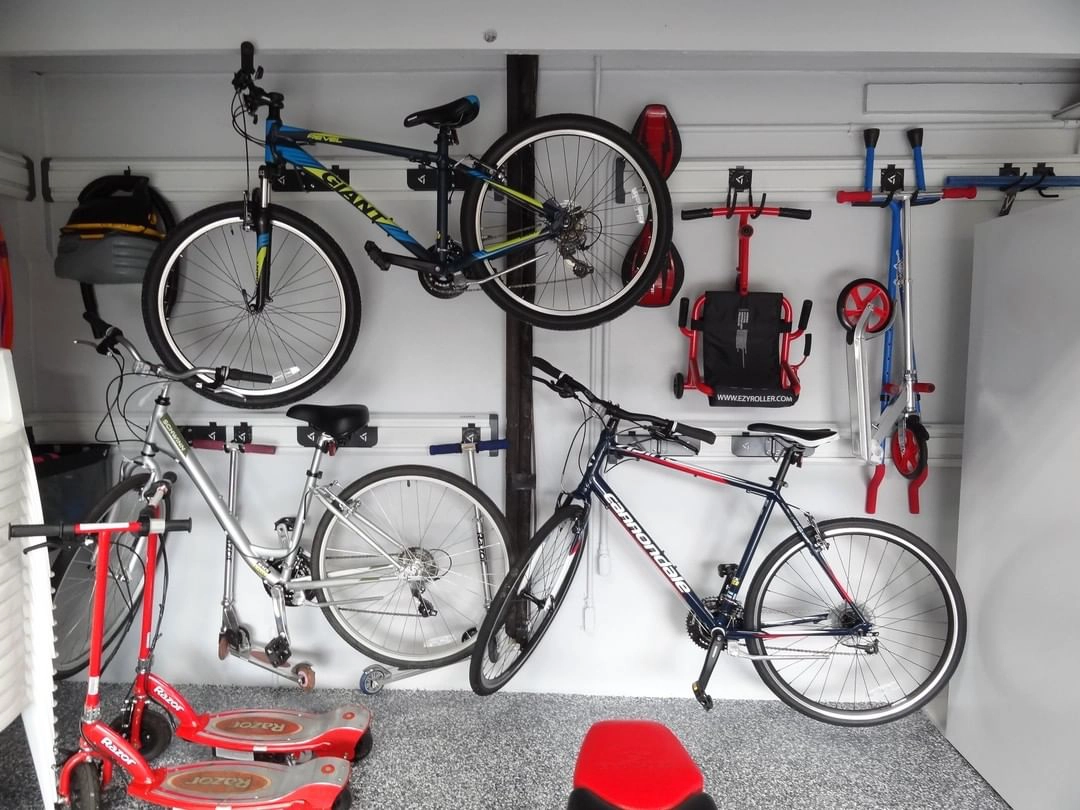 Credit: Instagram
Bikes are tough to store because of how large and unwieldy they typically are, but with the suitable wall hoists (here), you can easily have them out of the way.
With air constantly circulating the bikes, you won't have to worry about rust or erosion. These double as a display rack too. After all, why wouldn't you want to showcase these beauties?
20. Simple, Straightforward Shelves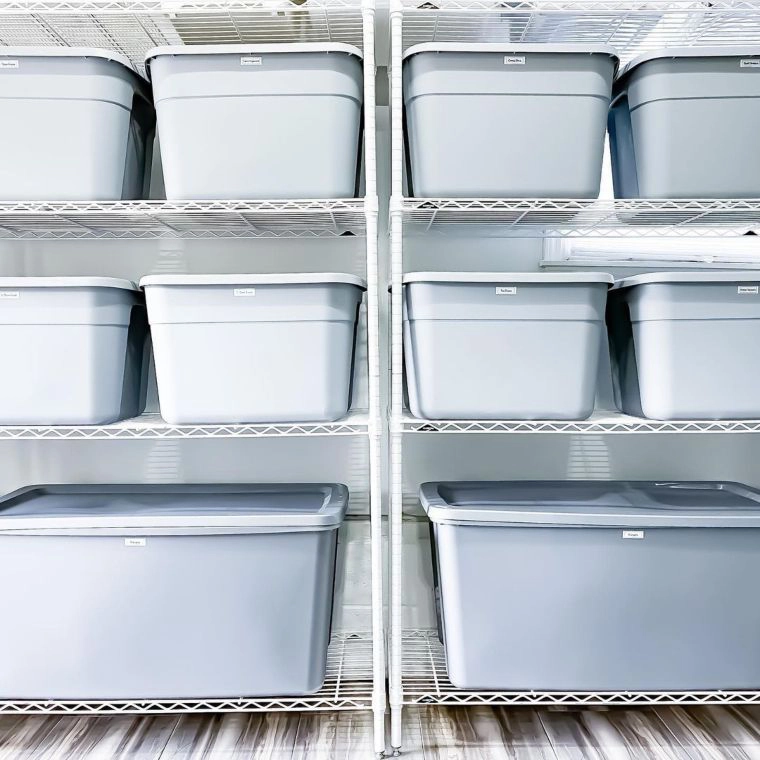 Credit: Instagram
Sometimes, the best storage system is a simple one. This minimal setup embraces neutral colors and monotonous shapes, making it look as if the unit grew from the wall.
Using subtle colors and shapes like this is a great way to make your storage seem smaller than it is, plus you won't clash with the system should you choose to overhaul your garage's look.
Start with these wire shelves as a base, then fill with storage bins. If you want to make this look a little more glamorous, why not splash out on some gold spray paint (here) for the shelves?
Love this shelving idea? You might want to get more inspiration with these closet shelving ideas.
21. Kid-Friendly Mudroom Setup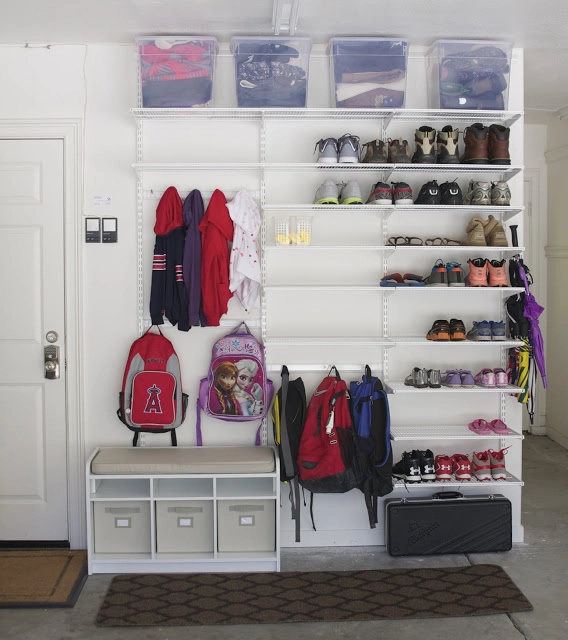 Credit: simplyorganized.me
The final idea on this list takes the mudroom idea and makes it kid-friendly, providing ample storage space for shoes, backpacks, coats, and umbrellas.
Rather than focusing on the look, this idea focuses on functionality to make parents' lives as simple as possible. Bring kids out to the car and have all their belongings already waiting!
There you have it, twenty-one garage storage ideas that will transform your space from cluttered to crisp in no time. Set aside a weekend and clean up the garage with your family or take a day off and tackle it solo.
I know how frustrating it is to walk into your garage and see a mess, but you won't have to deal with that once you've implemented one of these lovely systems. Which one has caught your eye? Let me know below!
Conclusion
If you're still hunting for the right garage storage solution, maybe this list of twenty more brilliant garage organization ideas has the golden solution you've been waiting for.