Struggling to keep your basement in order? These basement storage ideas will give you some inspiration to declutter and get organized! Simple, creative, and invaluable to any home!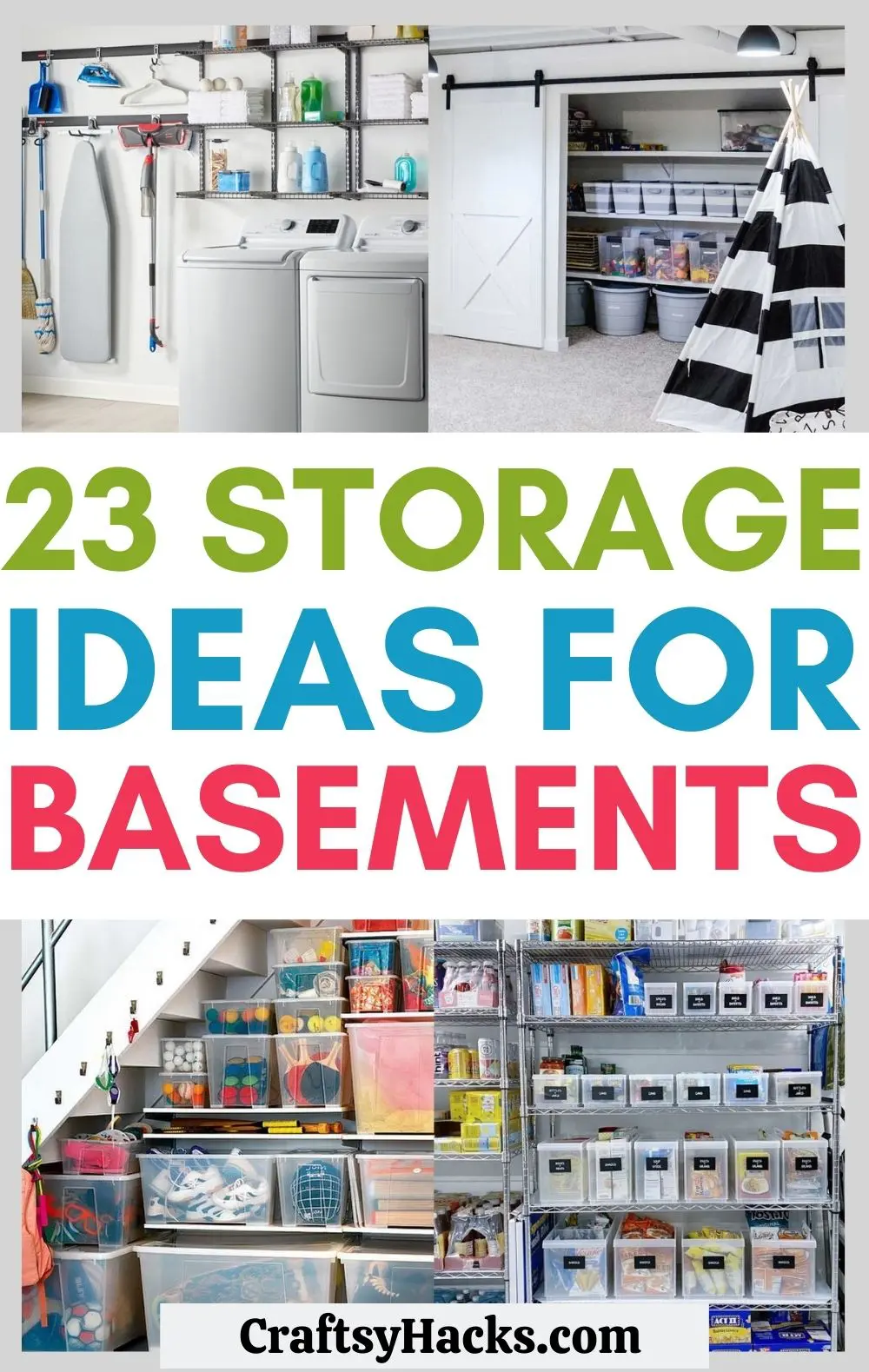 Whether your basement is a sanctuary for survival or a rumpus room for the kids, it's a fact that basements tend to fall into disrepair. They're a breeding ground for mess and clutter!
Luckily, there are many DIY enthusiasts out there who will not stand for clutter. So, they unleashed their organizational skills on the basement area. I went through a whole bunch of them to create this list!
So, check out this list of twenty-three excellent, functional, and, dare I say, attractive basement storage ideas. Find the one that works for you, and get organizing!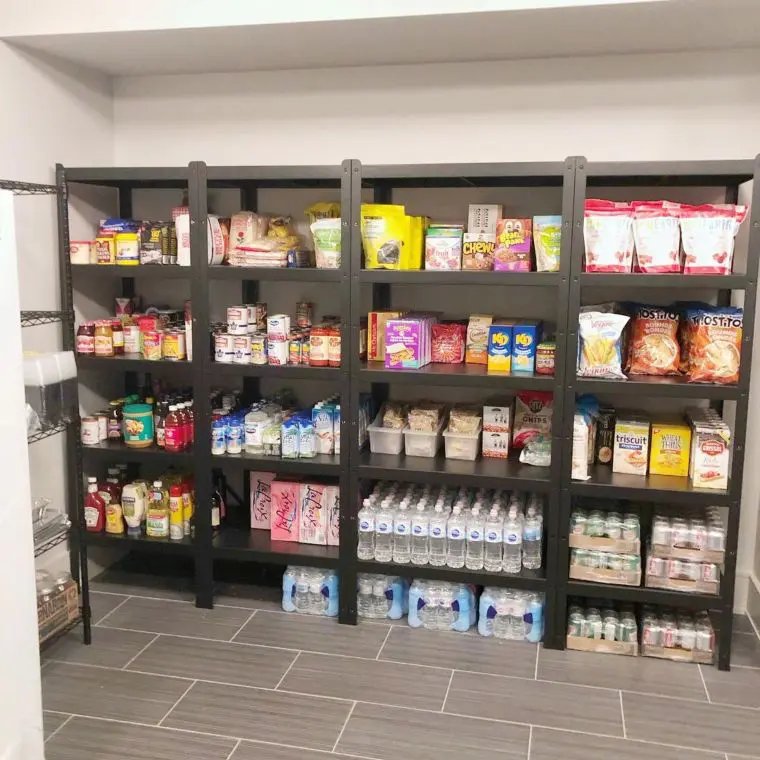 Credit: Instagram
Instead of dealing with a basement overfilled with supplies, there's a simple solution: shelves. Tall, sturdy metal shelves like this one are perfect for lining your basement's wall.
Featuring ample space for tall containers, these shelves are ideal for keeping bulk items in-line. Especially if you manage to leave some clearance between the top frame and the ceiling to fit oversized items.
This could also be used for organizing pantry as well.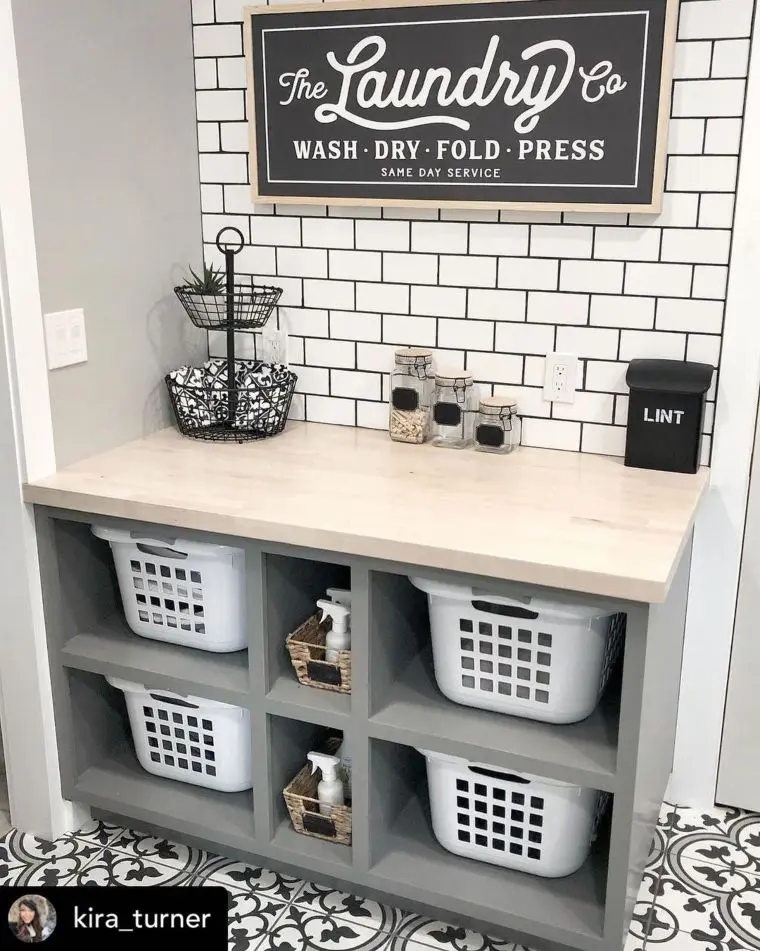 Credit: Instagram
If you keep your washing machine and tumble dryer in the basement, it's so much simpler to create a dedicated laundry and folding area than to move the clean clothes up and down.
Begin with a 3×3 cube organizer as your base, then top it with a countertop like this (which is the perfect folding area). Populate the edges with clothespins, a lint bin for the dryer, and anything else you need.
Check out more laundry room storage ideas here.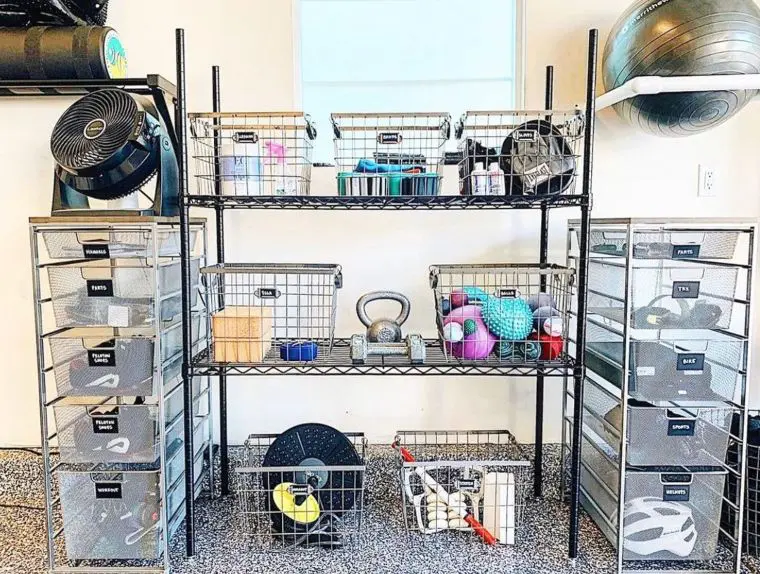 Credit: Instagram
Basements can be ideal workout areas, but not if they're cluttered with weights, skipping ropes, and other equipment. To create your workout area, all you need is a little bit of organization.
Use two wire drawer sets to frame the metal shelving unit. Store all the equipment you infrequently use in the drawers, while the weights can go on the heavy-duty shelf for support. Voila! A workout area ready to go.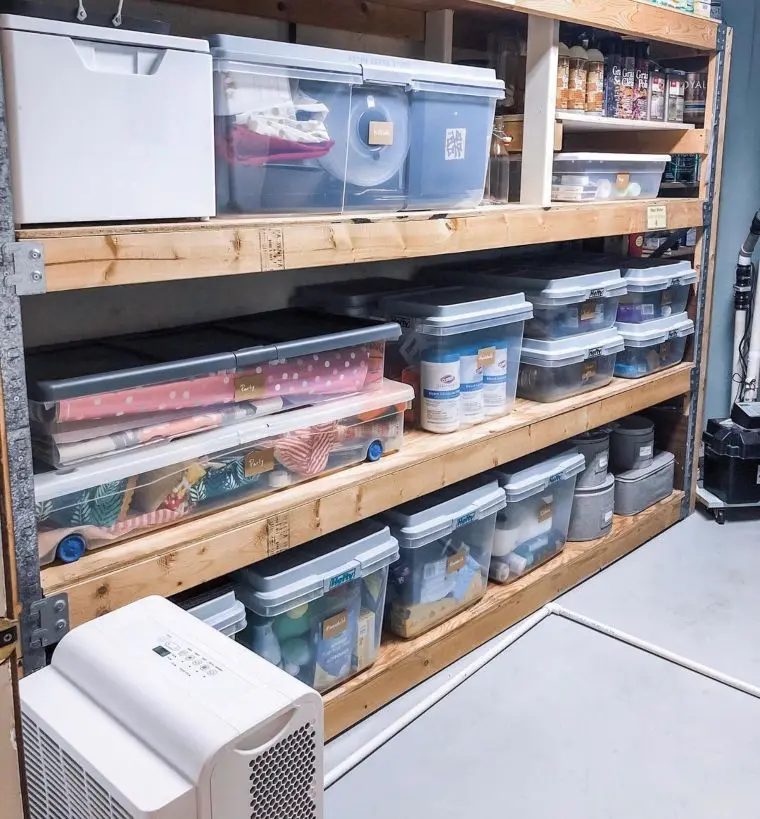 Credit: Instagram
This one goes out to the doomsday preppers and stockpilers among you, a heavy-duty shelf to support bulk supplies. You can create your shelf using palettes, or you can ask a hardware store to sell you an old one!
Fill this shelf with plastic bins in various sizes. The idea is to make this shelving unit incredibly adaptable (thanks to its ample space) because it's not exactly portable. So, try out bins like this to hold all your belongings.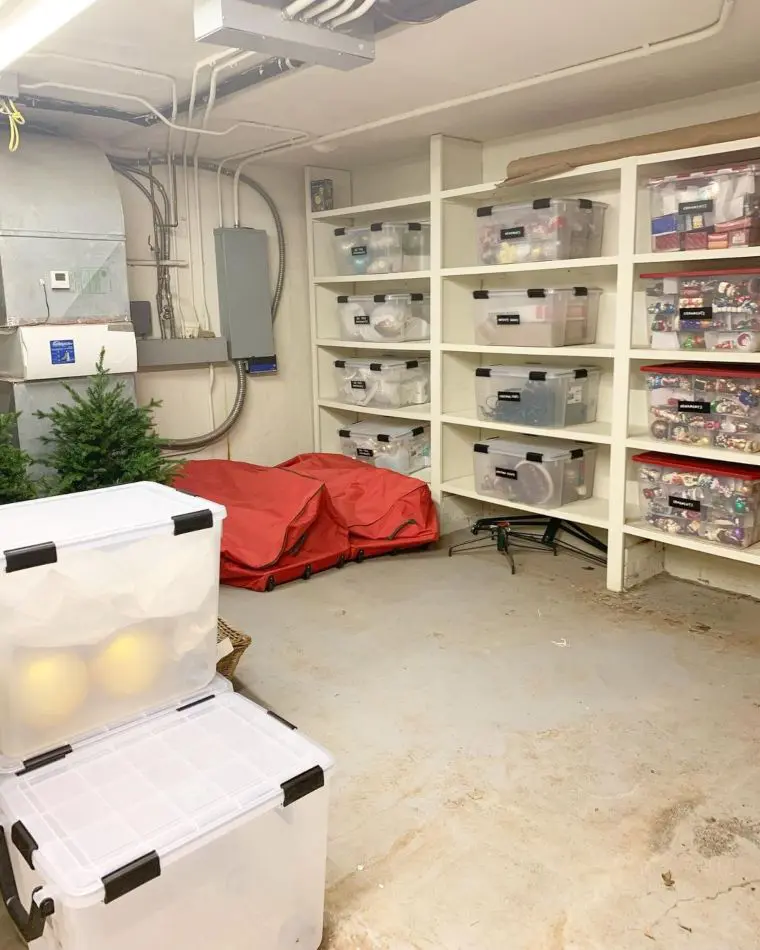 Credit: Instagram
For many people, the problem doesn't lie in not having enough storage in their basement. It's usually a case of not knowing what to do with the storage they do have. So, what is there to do?
Follow the Neat Method's example. Evaluate how much you must store (including getting rid of that which you don't need), then find a way to fit it into your existing space. This book has some interesting insights here.
You could also use these to organize your garage.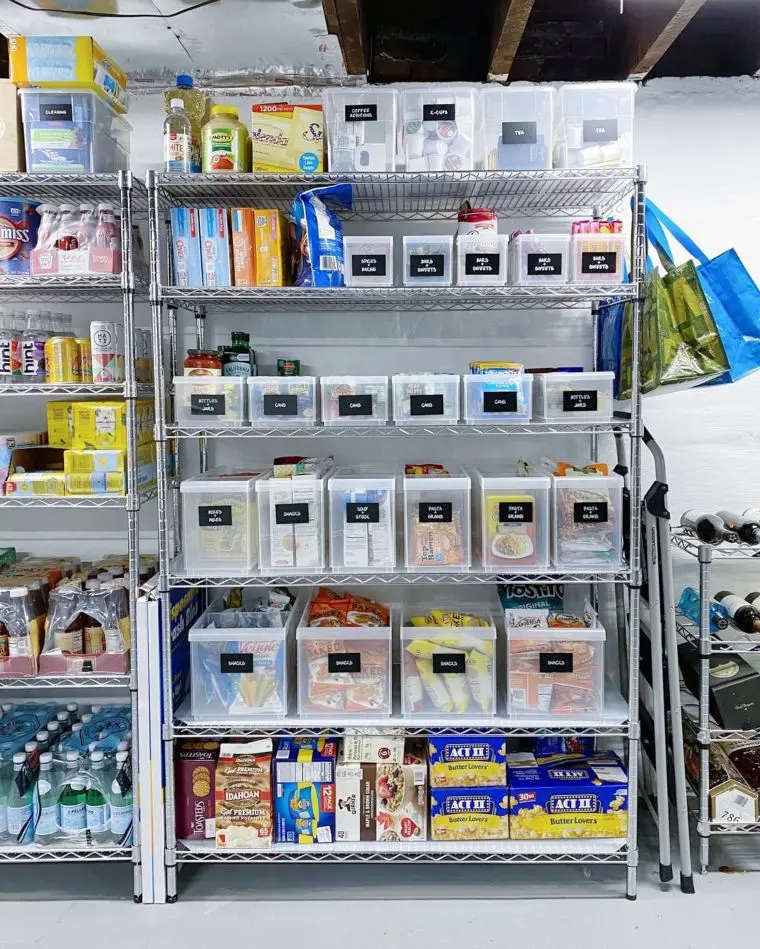 Credit: Instagram
If you're the kind of person who loves to entertain, then all your food supplies most likely don't fit into your pantry storage space. So, why not turn your basement into an extension of your kitchen cupboards?
Set up some kitchen-grade metal shelves (think these) and populate them with organizational drawers in every conceivable shape and size. These provide a great way to manage bulk food items with ease.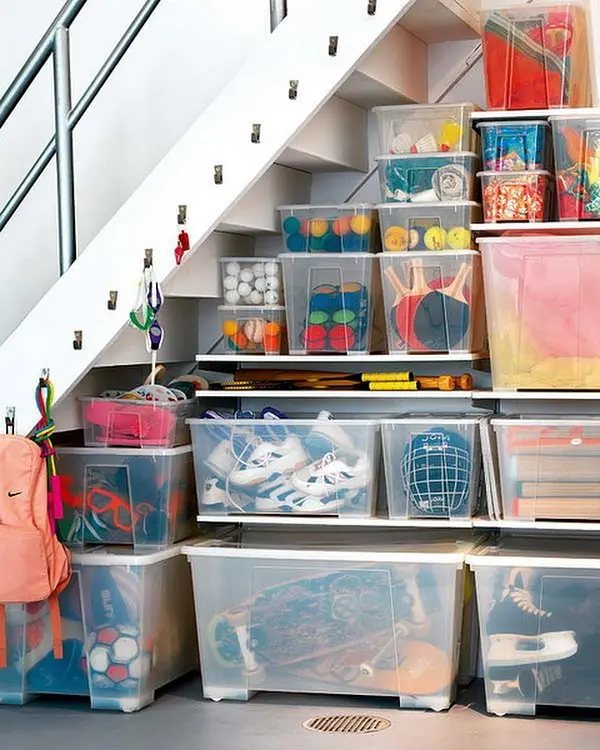 Credit: Instagram
As an awkward space, the spot under your stairs doesn't get much love when it comes to storage. But if you can learn how to utilize this spot well, a whole new world of organizational opportunities will open up!
The key to under-stair storage is using stackable containers. That way, you can customize how high or how low your storage goes without needing to break down an entire piece of furniture.
Install hooks like these along the staircase's base to provide hanging room for backpacks, grocery bags, and more.
Credit: Instagram
For many parents, the basement provides the perfect space in which their kids can play. It's big, open, and can stand to get a little messier than most other living spaces. That said, it still needs cleaning up.
Enter this ingenious hack. Using wire basket shelves to store your child's toys is a seriously clever move, especially if you choose shelves with wheels on the bottom for easy repositioning (like these).
Check out more ways to organize children toys here.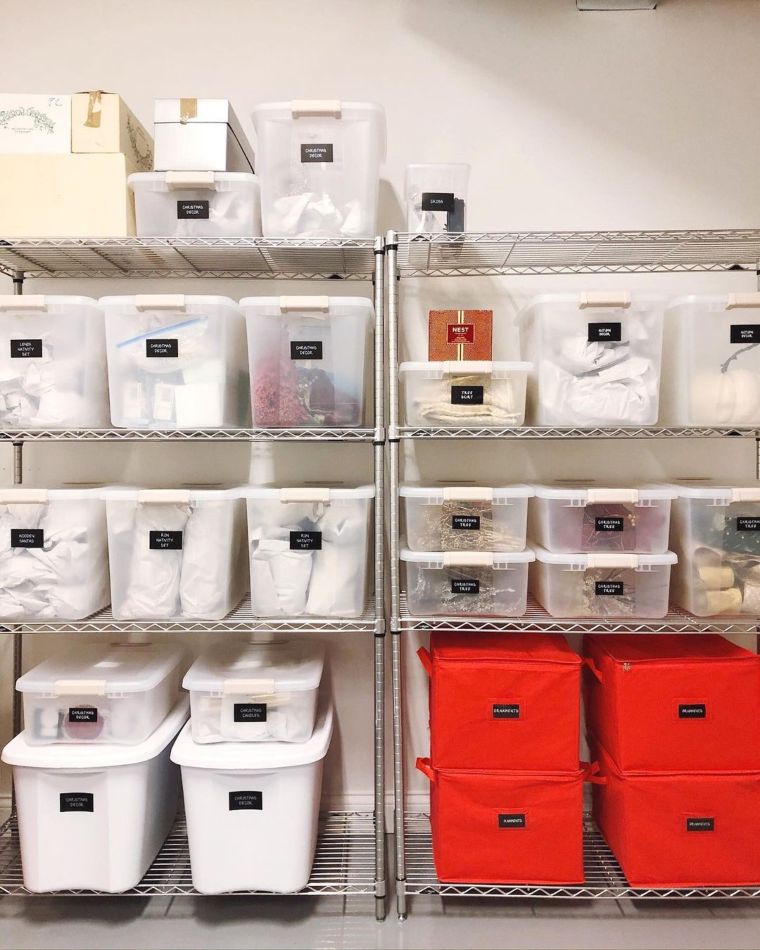 Credit: Instagram
With the rise of social media (mainly Instagram), there's a huge temptation to make organizational systems that pretty at the cost of their functionality. But that's not the way to go about it for some.
If you're the kind of person who enjoys straightforward, simple processes, this is the idea for you. Set up storage space in your basement with neatly labeled boxes and color codes that need special attention.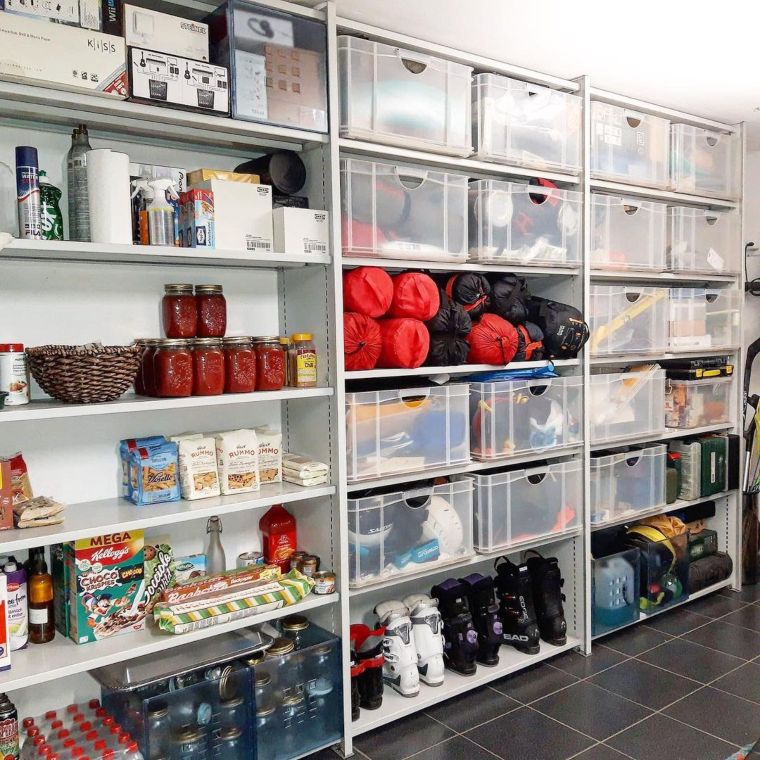 Credit: Instagram
If you have an oversized garage or a pantry fit to burst, chances are you're running out of storage in both areas. Consider moving some of those overflowing items to your basement where they can have room to breathe.
Wall-anchored cubic shelves like these are the perfect weapons for the task. Strong, durable, and open to the basement, you'll be able to clearly see what you have while keeping the two rooms' items separated.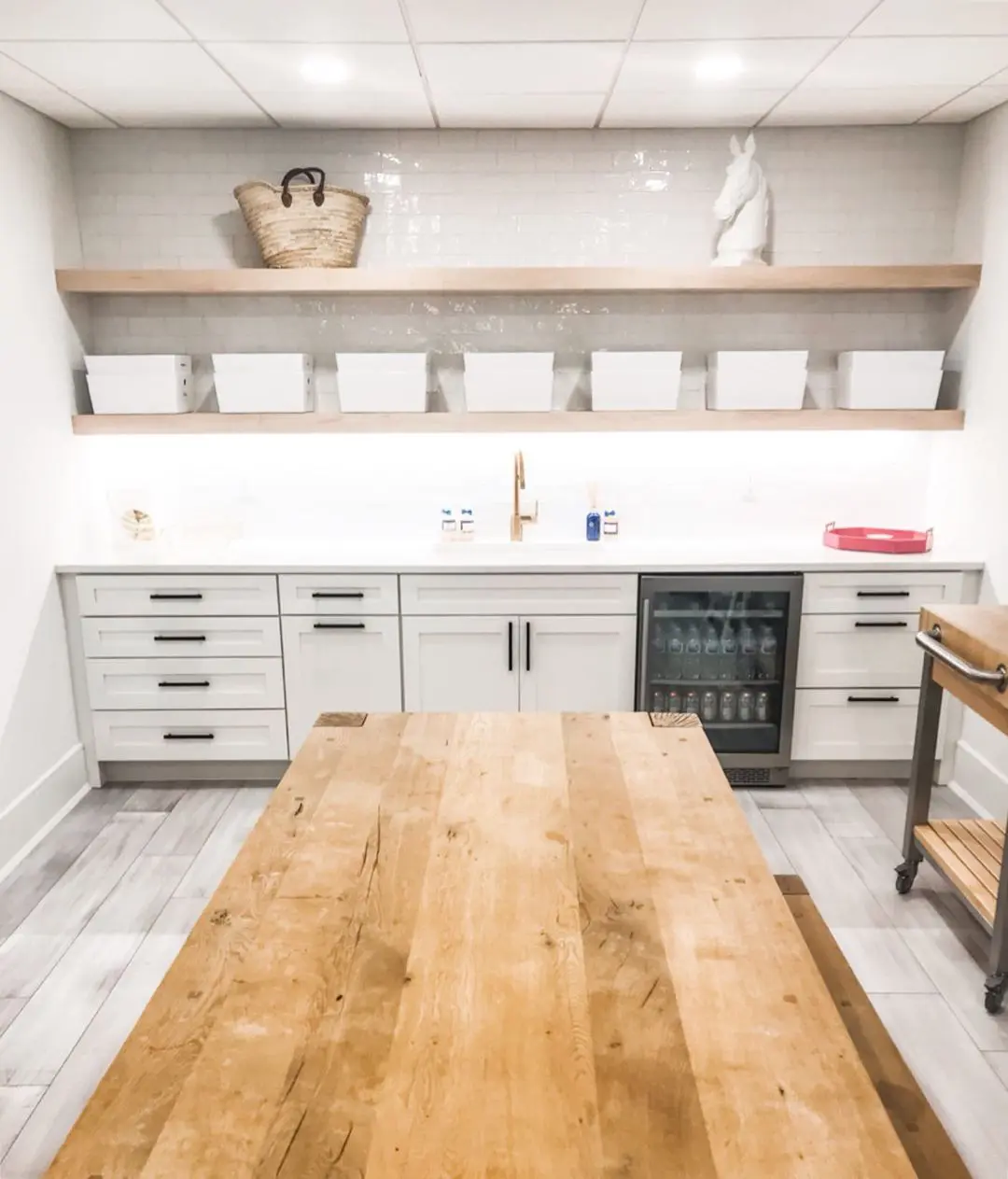 Credit: Instagram
Whether you're the crafter or someone else in your family is, having a brightly-lit workspace in the basement is one of the most valuable things a home can have. The key is well-chosen task lighting.
Consider implementing white-light LED task lighting (here) beneath some floating shelves (which you can use to store materials). Finish that off with an installed countertop and mini fridge for the ultimate craft zone.
Check out more craft room organization ideas here.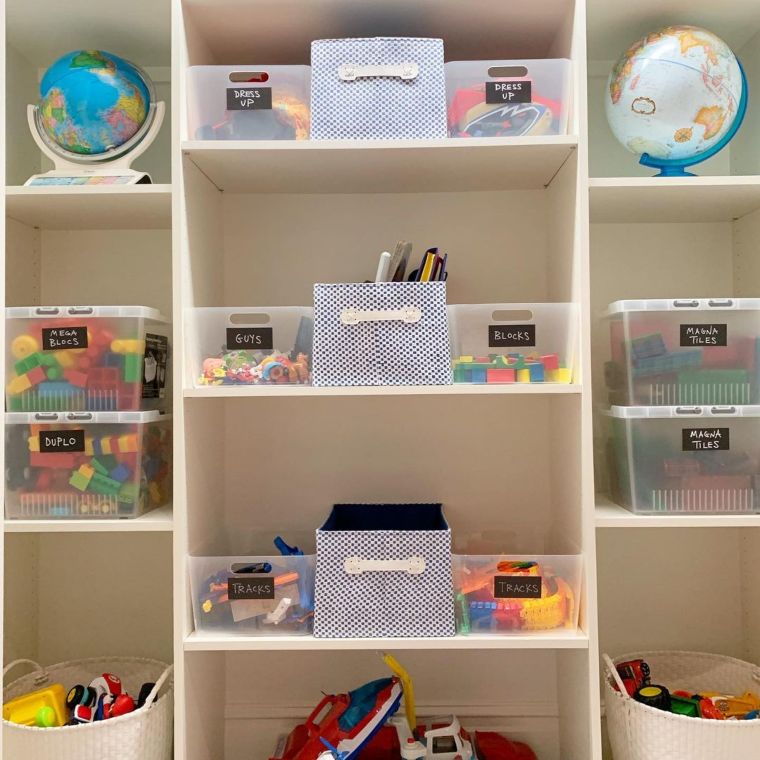 Credit: Instagram
If your kids' toys are starting to clutter the basement floor a little too aggressively, it's time to bust out the label maker (here). Work with your little one to create an organizational system.
While that might sound a little strange, it's great for their development! They gain a sense of responsibility for keeping the space clean, and they feel fulfillment for a job done well (hence the kid-friendly labeling).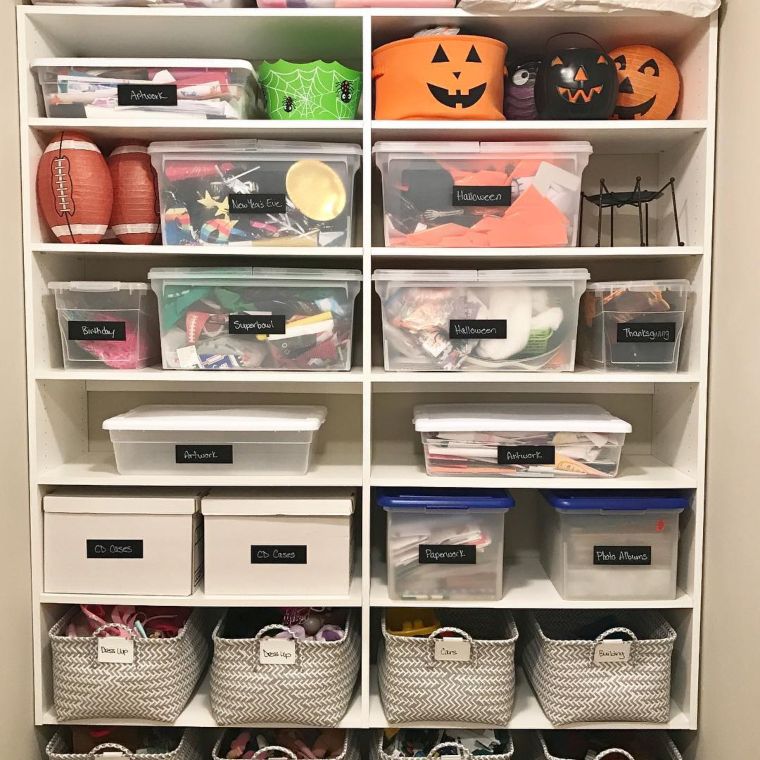 Credit: Instagram
The basement is possibly the room in the house that falls into a mess the fastest. Why? Because it's so easy to dump what we don't want to think about into the basement closet and run away!
Well, no longer. This idea focuses on creating distinct spaces for the different areas of your life in your basement. So, when the time comes to store something, that thing has its place to go—no more piles.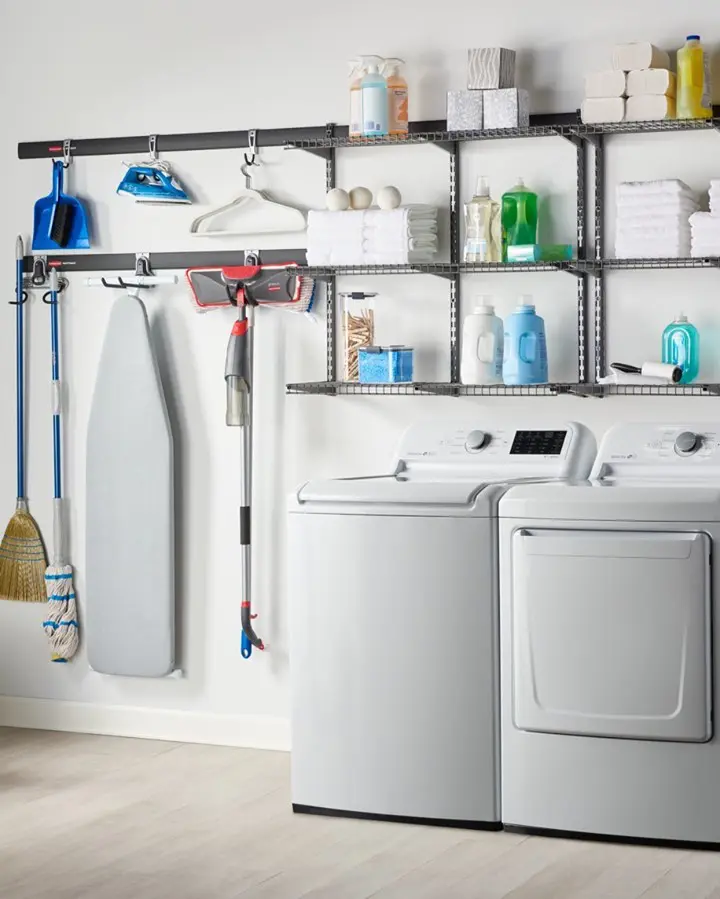 Credit: Instagram
Rubbermaid came up with this idea, and I'm a huge fan of how it turned out. As we all know, vertical wall space is a great resource, but it's also one many people don't know how to use.
Well, with an adjustable hook and rail system (like this), you can create a wall storage spot perfect for all your cleaning supplies. From the ironing board to the mop, never lean anything in a random corner again.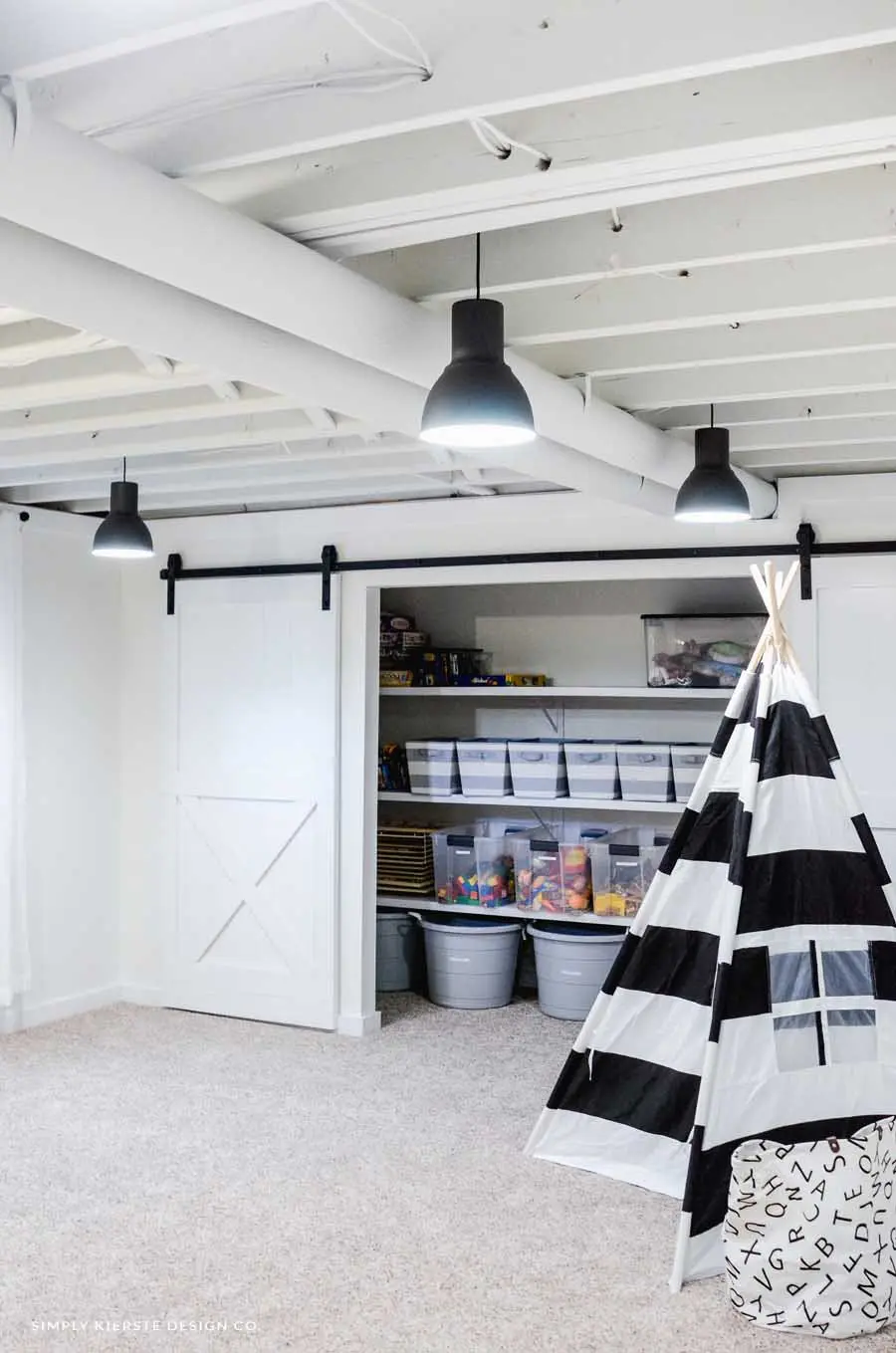 Credit: oldsaltfarm.com
Thanks to their position beneath the ground, basements are typically thought of as dark, dank places. Therefore, homeowners don't want to keep them organized. But there's a way to change that.
Set aside a weekend to revamp your basement. Begin by organizing your various belongings into a hideaway closet, out of sight, out of mind. Then, paint the walls and ceiling a lovely white or cream.
This color automatically brightens the room, making it feel more like a room in your home and less like a dark space you can throw all the things you don't want to think about.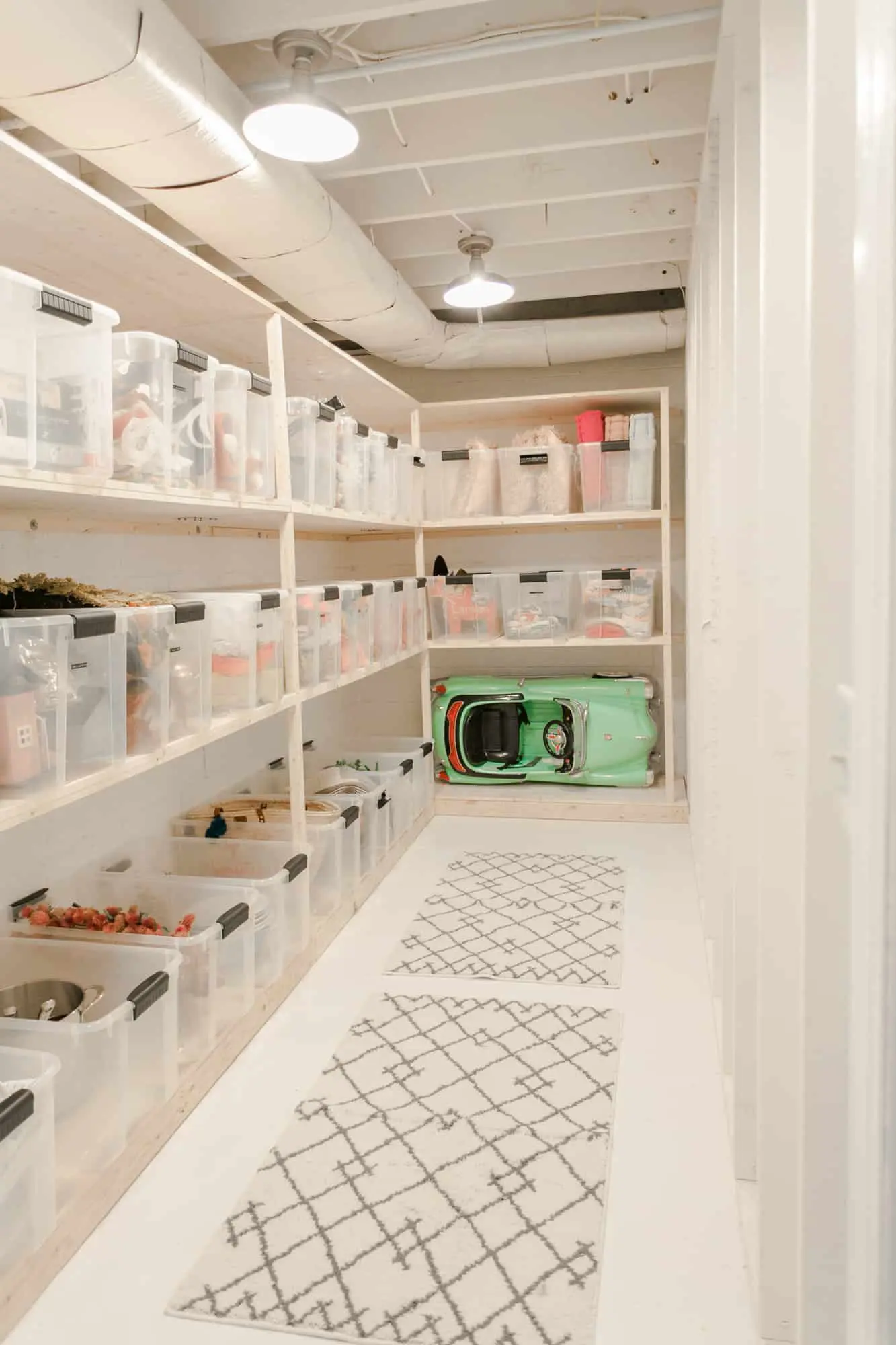 Credit: abeautifulmess.com
Sometimes, the problem with a basement is the lack of division. If the entire space feels like one big closet, throwing things onto the floor or in a corner starts to feel natural. But there's an easy fix.
Using some folding screen doors like this, you can section off a piece of your basement to act as the storage area. Install shelves, go full Marie Kondo, the whole nine yards, but keep the rest of the room clutter-free.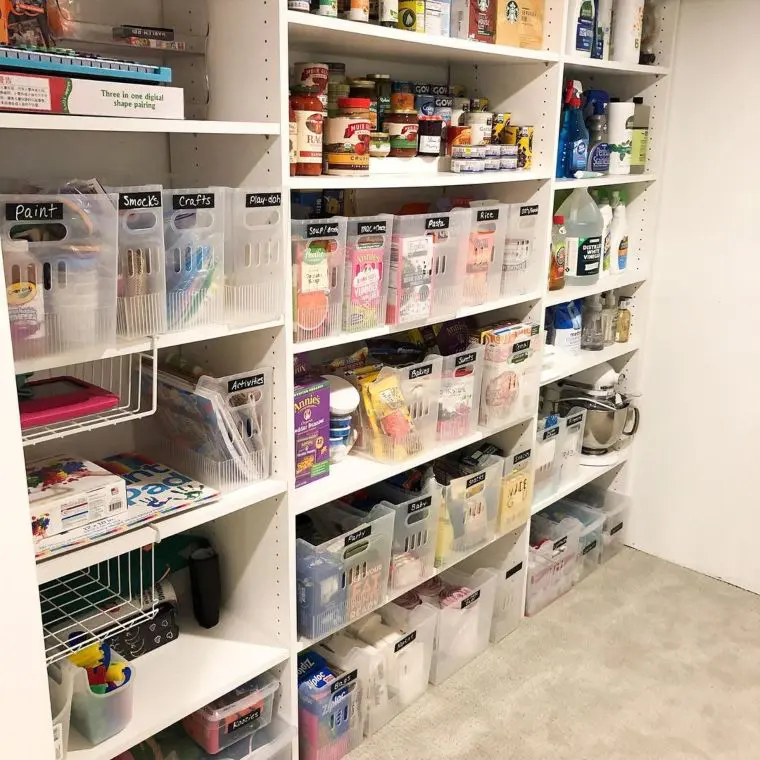 Credit: Instagram
Do you constantly find yourself re-buying a product you could have sworn you'd run out of, only to find five more in the basement? That's a symptom of a lack of clarity, and it can be so frustrating.
That's where a sound labeling system comes in. If you dedicate yourself to using clear storage bins like these (to keep an eye on quantity) and use labels, you'll always know how much of something you have.
Credit: Instagram
This is an elevated form of the stackable containers from earlier in this list. Rather than using temporary storage solutions to transform the area beneath your stairs, why not opt for something permanent?
Renovating an area like this will cost more than plastic storage bins, but it will also provide a long-lasting storage solution that looks and feels great. Consider what's best for you before investing!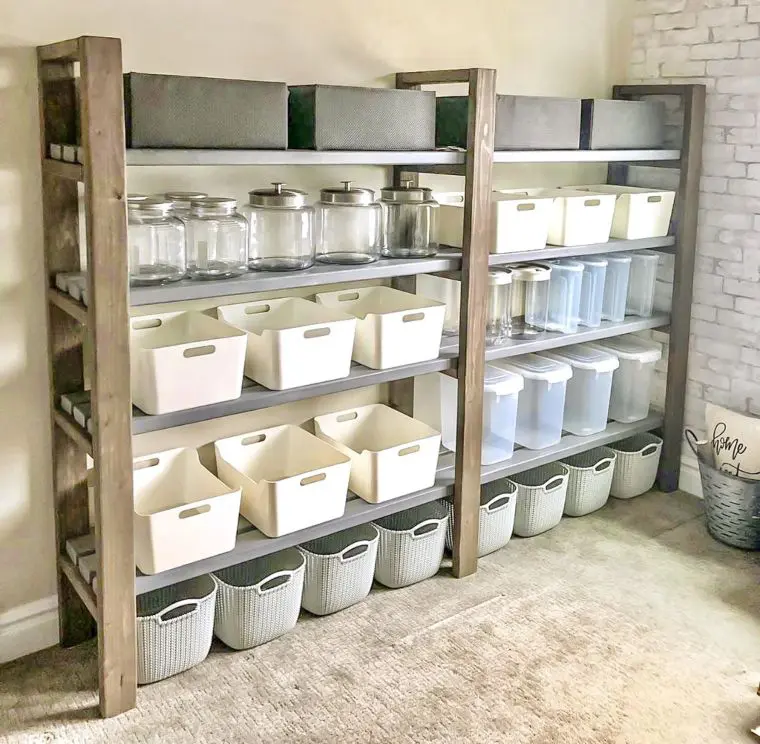 Credit: handmade-haven.com
Who said basement storage had to look dull or bland? Using the right combination of textures, colors, and shapes, you can create a diverse storage wall that's lovely to look at. The key is to choose a palette.
For example, this crafter chose a grey and white color scheme to match their farmhouse décor style. Both colors play beautifully off their wooden shelving units (which you can find here) to create stylish storage.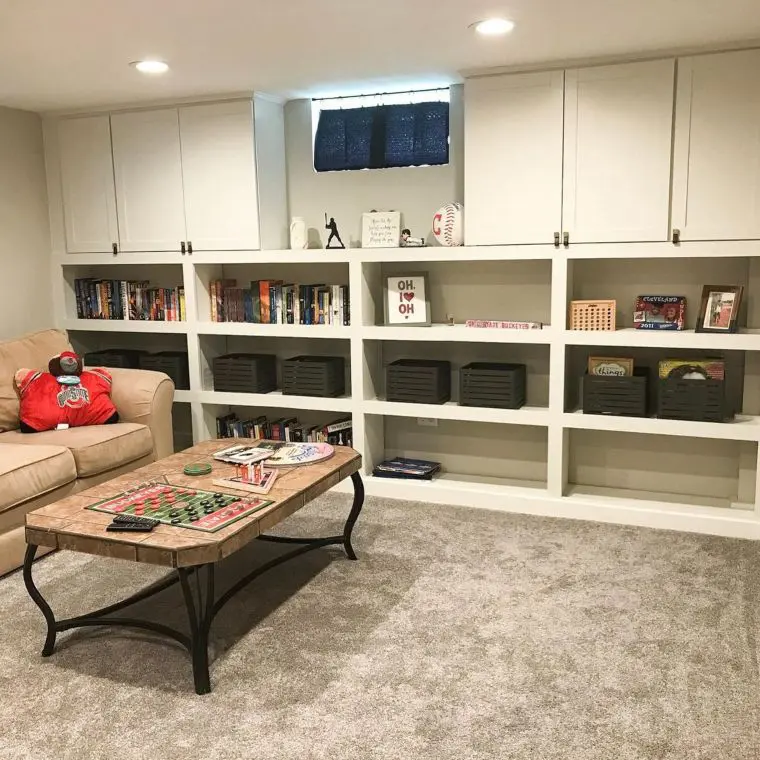 Credit: Instagram
With enough love and care, you can quickly turn your basement into another living room! All you need is the proper storage solutions to free up enough space for that cozy second couch and TV.
These built-in shelving units are a fantastic way to add a whole lot of storage very quickly. Conceal unsightly items behind closed doors and display the ones you're proud of on open shelves for all to see.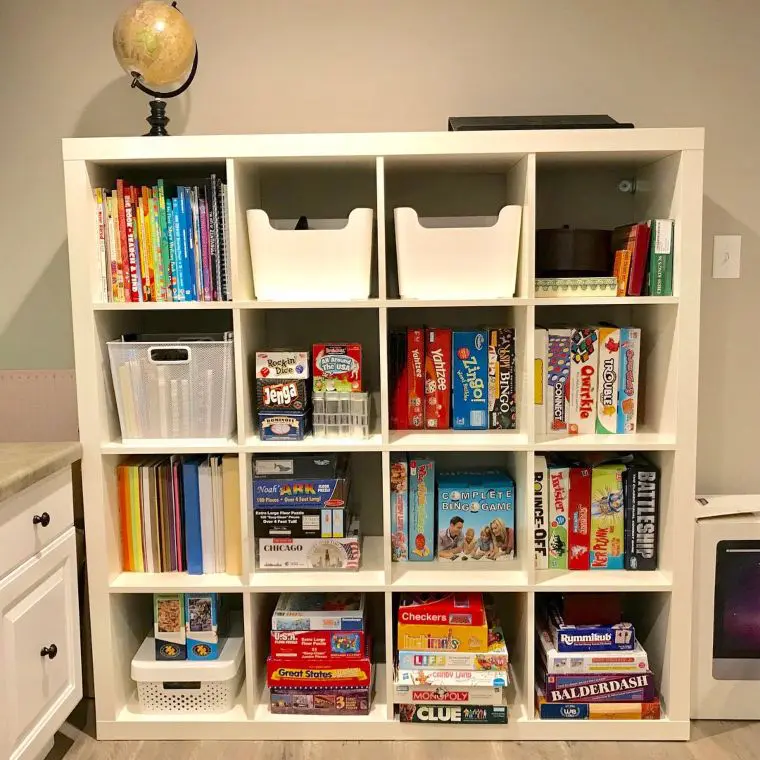 Credit: Instagram
If you're completely swamped with possessions, and you're just not sure where to start, a cube storage shelf like this is the answer. These are perfect as a keystone installation in your basement.
Not only do these units offer a lot of storage, but they're also super easy to decorate and customize. Invest in some plastic storage bins, paint the whole thing a new color, or drape a curtain over it. The world is your oyster.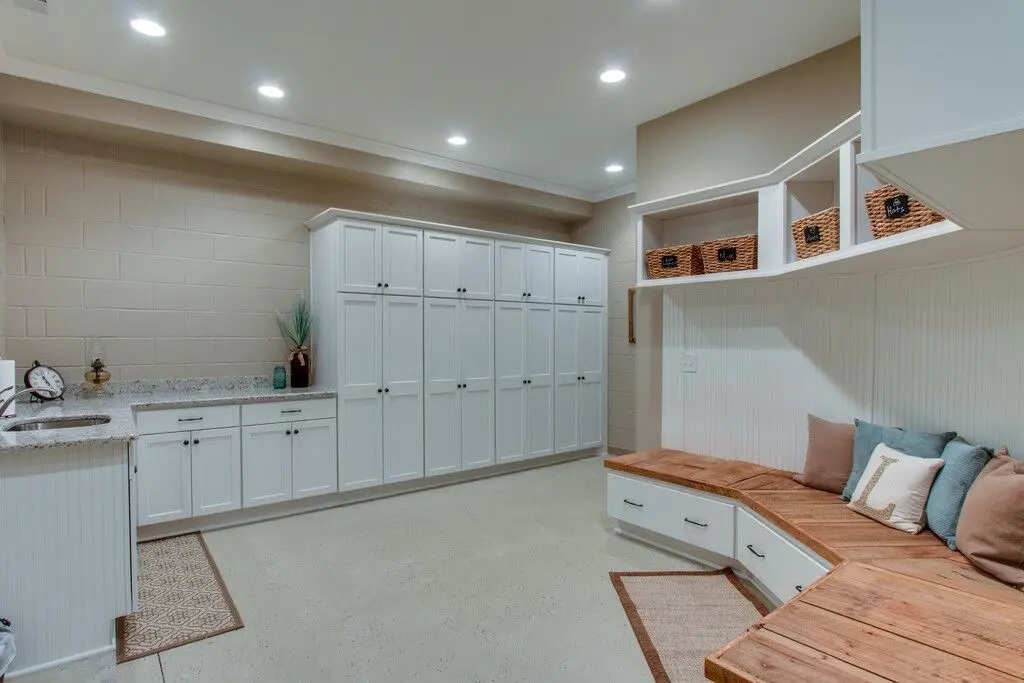 Credit: Instagram
Whether you're a crafter or a writer, we all need a space where we feel focused enough to dive into our disciplines. That's where this basement-turned-study comes in, and you can create your own!
The great thing is you can decide how much you want to invest in this transformation. I highly recommend investing in ample storage, such as these shelves or these storage benches.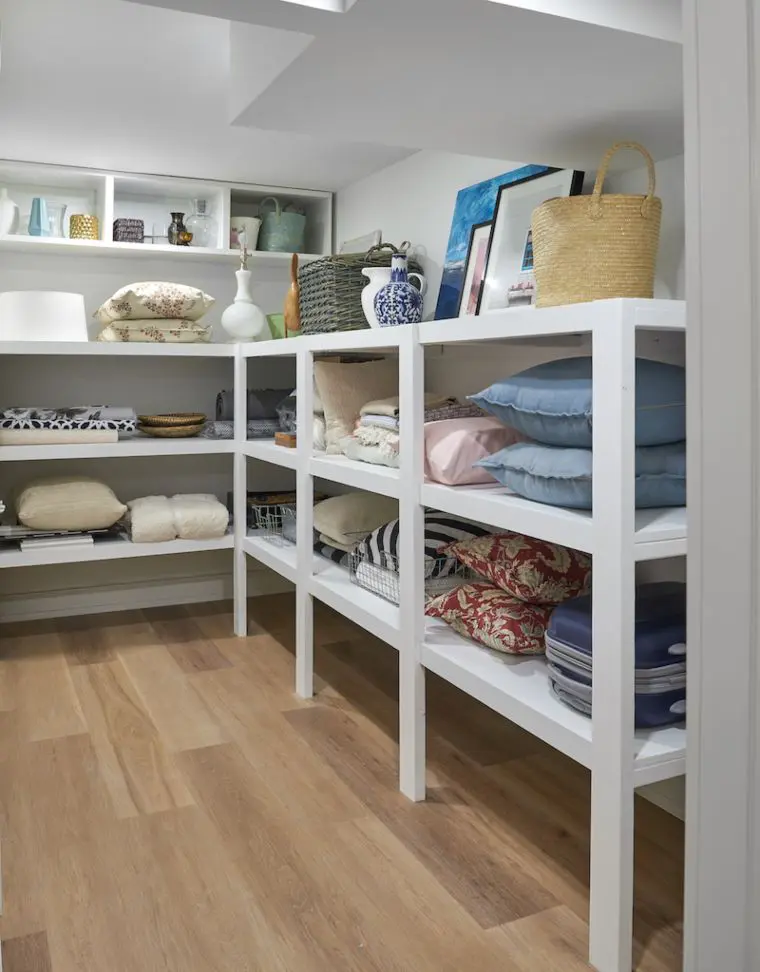 Credit: vanessafrancis.com
Our final idea essentially transforms a section of your basement into a stunning shopfront, putting all your linens, art pieces, and cushions on display. The key is to paint your walls and shelves the same stark white (here).
This helps the shelves to look like a part of the room rather than a recent addition. It also provides a stark contrast to your colorful items, making them look that much more vibrant and beautiful.
Conclusion
I'll bet you're eyeing up your basement already. Which organizational systems will be hitting your basement? Do you have any you're using right now? Let me know in the comments!