Are you a fan of painting? Check out these fun flower painting ideas, get some inspiration, and enjoy being more creative. You can use these ideas for your own art or even home decoration.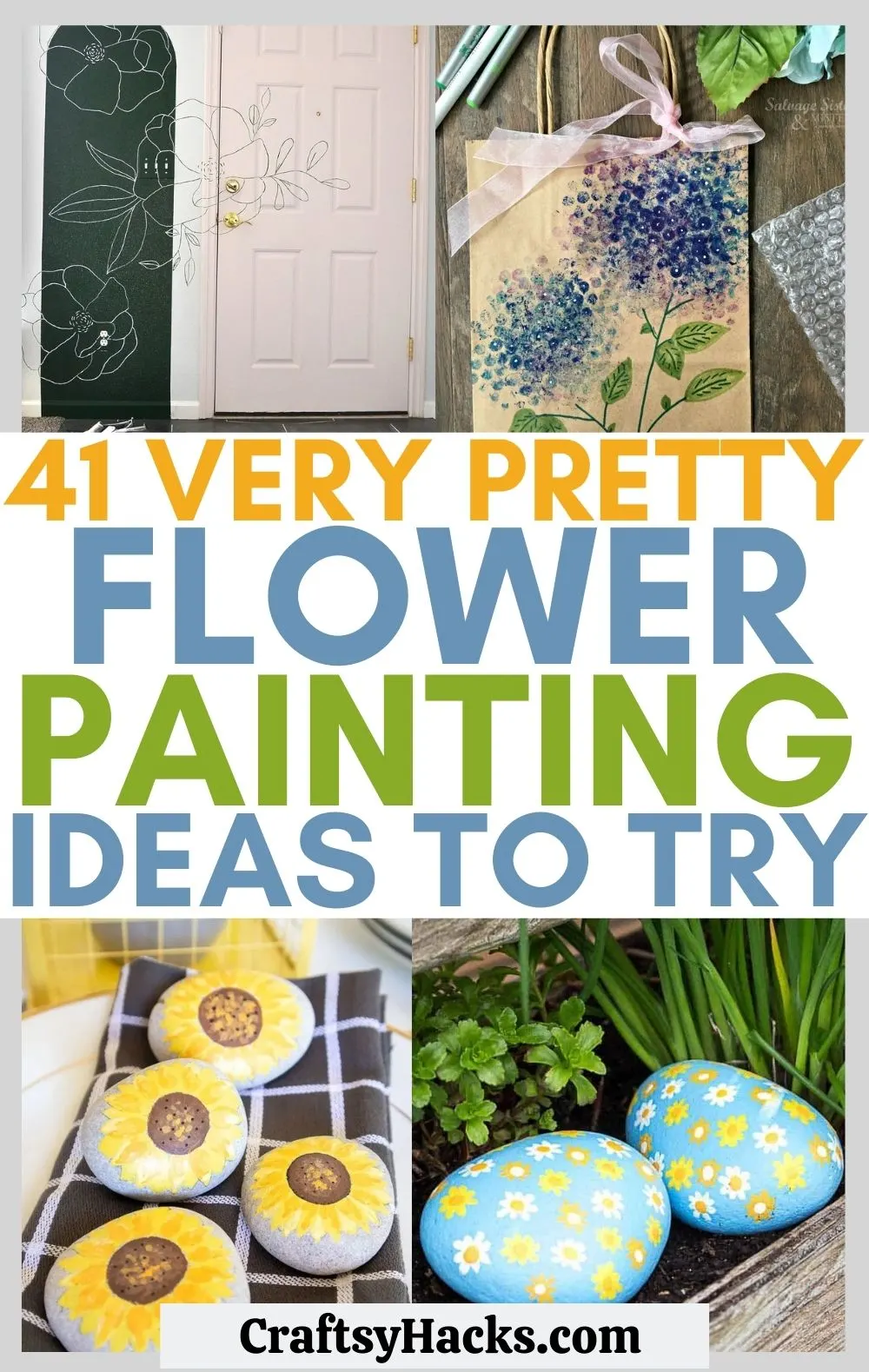 I love spending an afternoon just painting and sketching. It's therapeutic and fun, and you hardly need any elaborate craft supplies.
If you're a novice or have kids who are just starting to learn and experiment with paint, then painting flowers can be a good place to start.
Here are 41 easy flower paintings that you can explore and enjoy. Who knows, you might pick up new skills and techniques or improve the ones you already have along the way!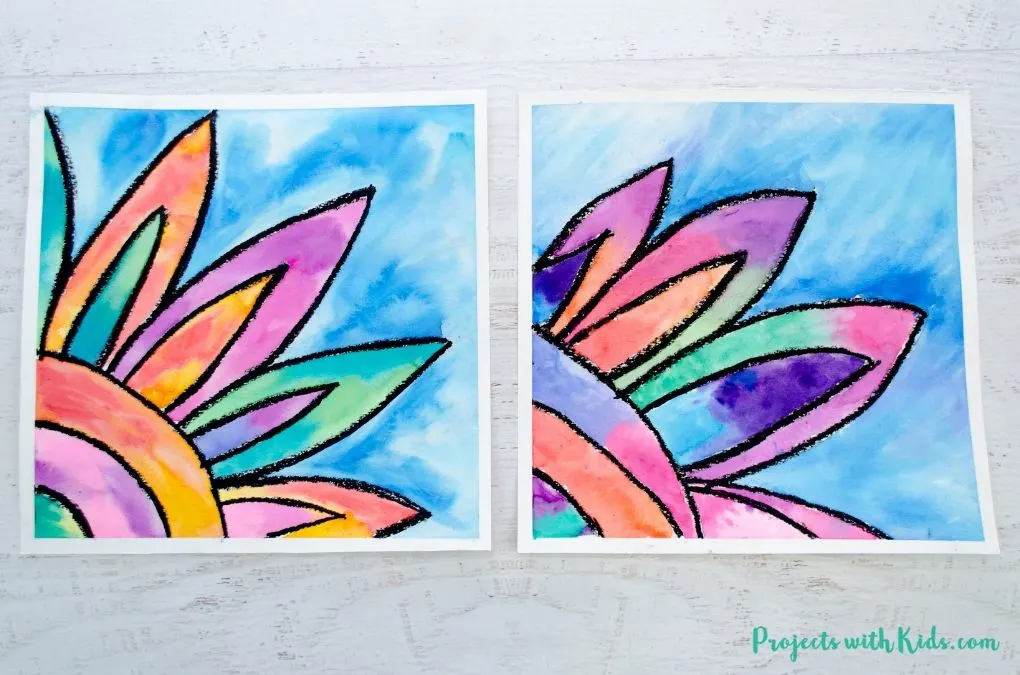 Source: projectswithkids.com
This beautiful watercolor flower painting can be your child's foray into the world of watercolors. It's ideal for young artists to explore their artistic flair for painting.
There's a method here of using black oil pastels to draw on the dividing lines between petals that makes it particularly easy for kids to paint. This allows them to work their way through every section without worrying about paint running over.
Grab this textured watercolor paper, and your child can start his first-ever watercolor!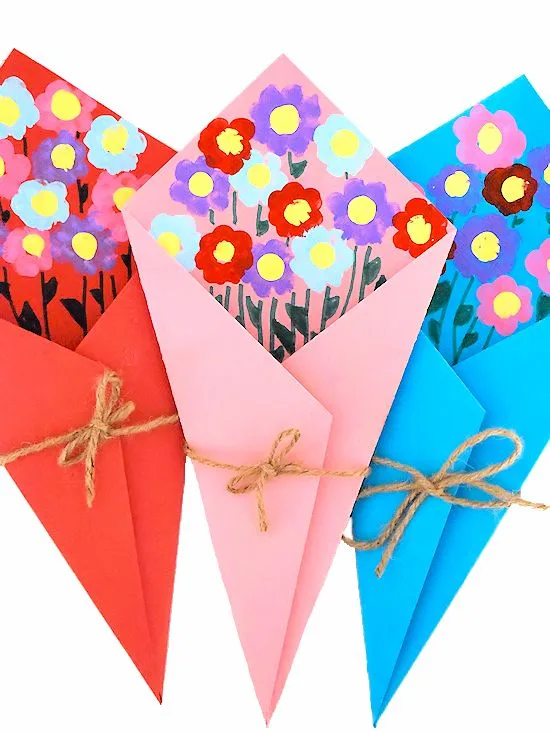 Source: ourkidthings.com
This finger-painted fingerprint flower bouquet has me thinking of a lovely mother's day card bursting with this painted bouquet. In fact, why don't you actually make this a bouquet?
You just need to fold your sheet of paper into this bouquet shape and then finger paint all the flowers inside. You can grab a paintbrush and paint on some green stems, too.
For the finishing touch, to hold all your flowers together and wrap up your bouquet, grab some of this twine and tie a nice, pretty bow.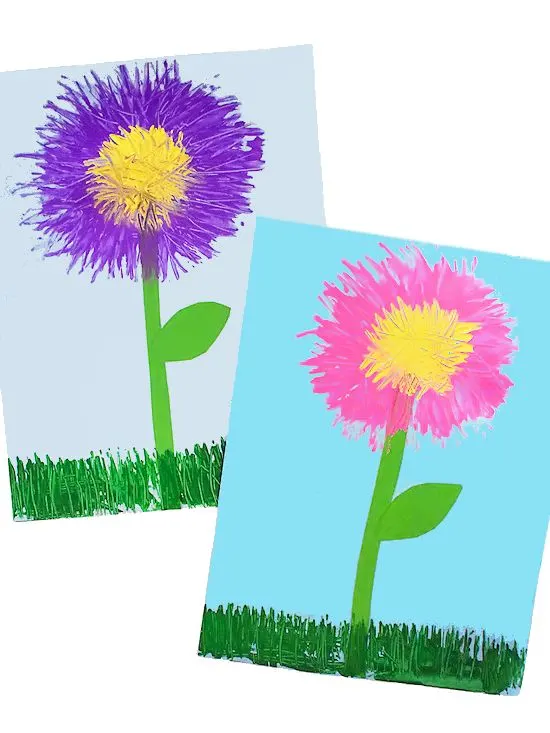 Source: ourkidthings.com
You've painted with your fingers already, so why not upgrade to using forks? Fork-painted flowers give a lovely, spiky finish that is quite attractive.
You can work on making wild and random strokes and applications, pulling your paint in an edgy and fun pattern. You can use the same technique of fork-painting to paint grass just under your flowers too.
Pick up some heavy cardstock—something that will be able to bear the brunt of your fork painting. You can find that right here.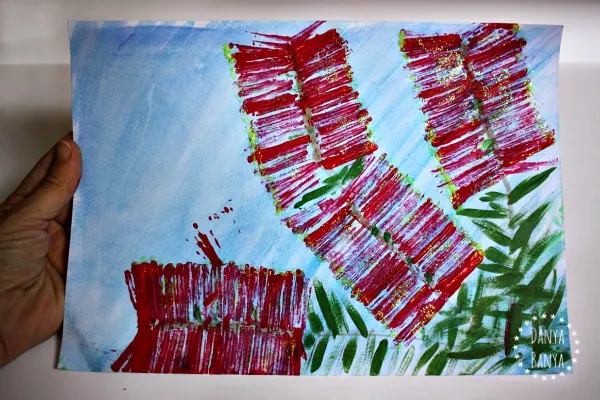 Source: danyabanya.com
Don't you just love bottlebrushes? This species of flowers are endemic to Australia, but you can have a nice bouquet of them right at home. How?
You paint them, of course! Also, you can paint yourself a big bundle of bottlebrush flowers that will see you through for a long time. You probably already have everything you need for this project, but what about this glitter glue?
It can add some much-needed sparkle to your bottlebrush flowers. If applied along the edges of the flowers, the yellow glitter glue can also act as pollen.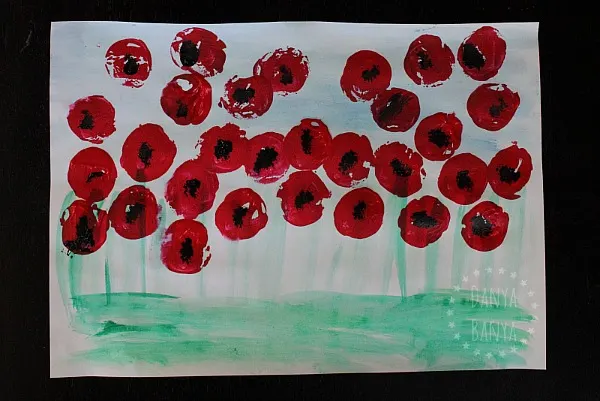 Source: danyabanya.com
Poppies are some of the most exotic flowers out there, with their bright pops of crimson red and dramatic dark center. Poppies are also for remembrance, you know.
So, this Remembrance Day, you can have your kids paint poppies in the spirit of that day. You'll need to pick up a bottle of deep red paint, as well as black and green for the leaves.
If your kids are up for it, they can paint an entire field of poppies, so pick up plenty of colors for them to paint the skies, the sun, and more.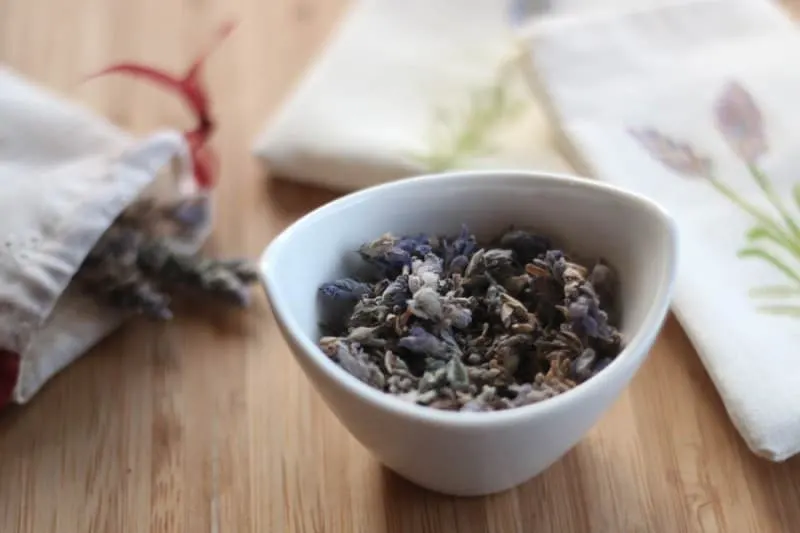 Source: thethingswellmake.com
Homemade scent sachets give off just the right amount of zing and zest to wherever you place them. But you don't just need to tuck those sachets away, you know.
With a little artwork, you can display your scented sachets in all their glory. How? Well, take these lavender-scented sachets.
You can hammer paint or leaf pound actual lavender to 'paint' the bags onto the cloth. In truth, you're going to smash the lavender into the fabric, so it absorbs the color and scent. You can try this out with leaves, too!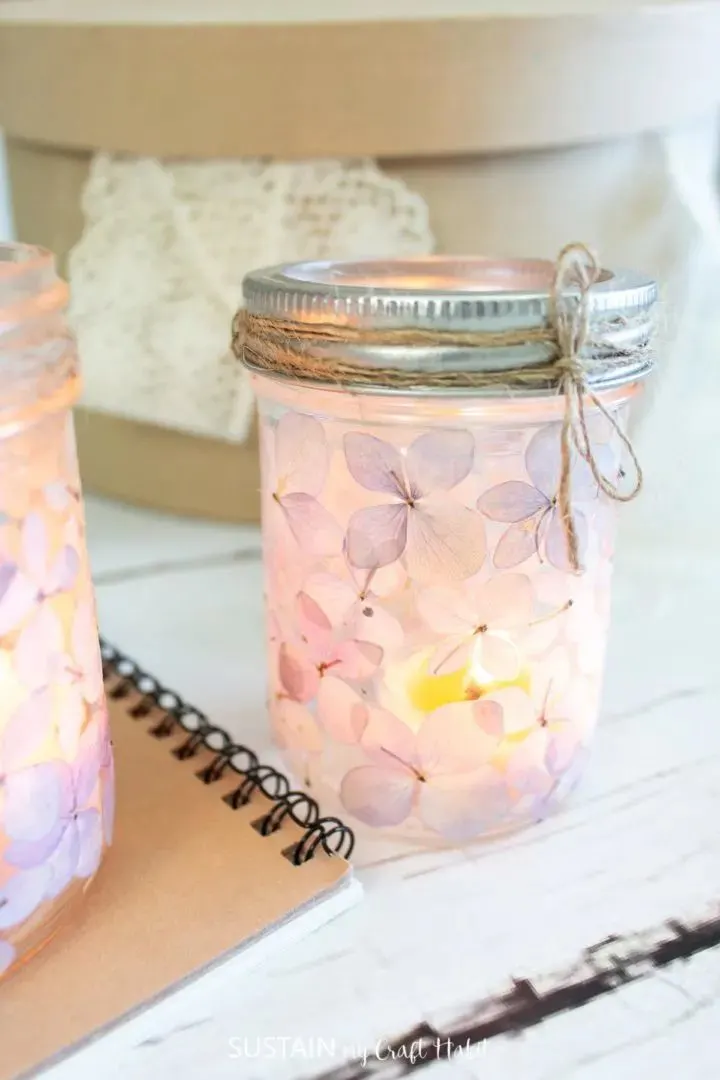 Source: sustainmycrafthabit.com
Here's another technique you can use to decorate your glass jars with flowers. While painting flowers is an easy process, why not kick things up a notch or two and press real flowers into the glass, instead?
This pressed-flower glass luminary looks like something out of a fairytale! It's delicate looking and almost ethereal! Once you master the art of flower-pressing, you can make just about anything!
Grab an old mason jar from your cupboards, a bottle of this mod podge, and some decorative twine to wrap around the lid when you're done.
This is an awesome craft to make and sell, for sure!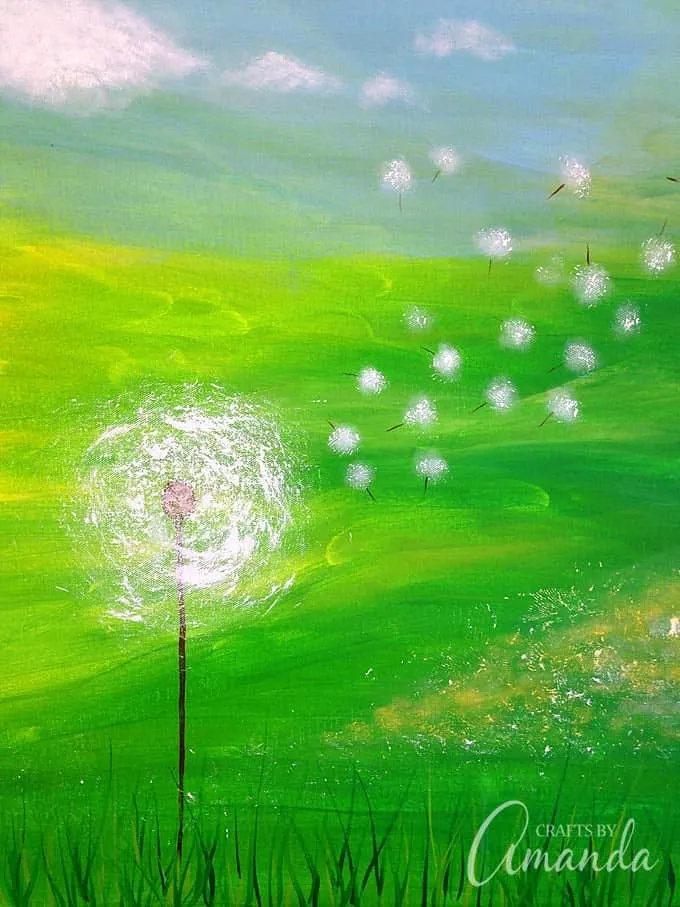 Source: craftsbyamanda.com
Dandelions are so magical, but they hardly ever stay in their full glory, do they? A little whiff of air, and poof! they just disintegrate.
If you want to capture the dandelion as its seed heads all fly away, then you have to turn to photography or, in this case, painting! Painting dandelions can be super fun if you know just how to capture those fluffy white tufts on paper.
The best part is that you can use a large sprawling landscape canvas(look here) to actually capture the seed heads drifting off. It's immensely easy and also satisfying to make!
This is a perfect project for all the adults out there.
Source: emmaowl.com
I bet you've done a ton of painting with your fingers and hands. But what about foot-painting?
I'm sure that your kids will jump at any opportunity to get their hands—or feet, in this case—dirty with paint. So go ahead and grab some paint bottles and a large sheet of paper to work with.
You can use brushes to apply the paint onto your kids' feet, or you can use a large paper plate and fill it with paint. Then have your kids place their feet directly on the paint and let the messy fun begin!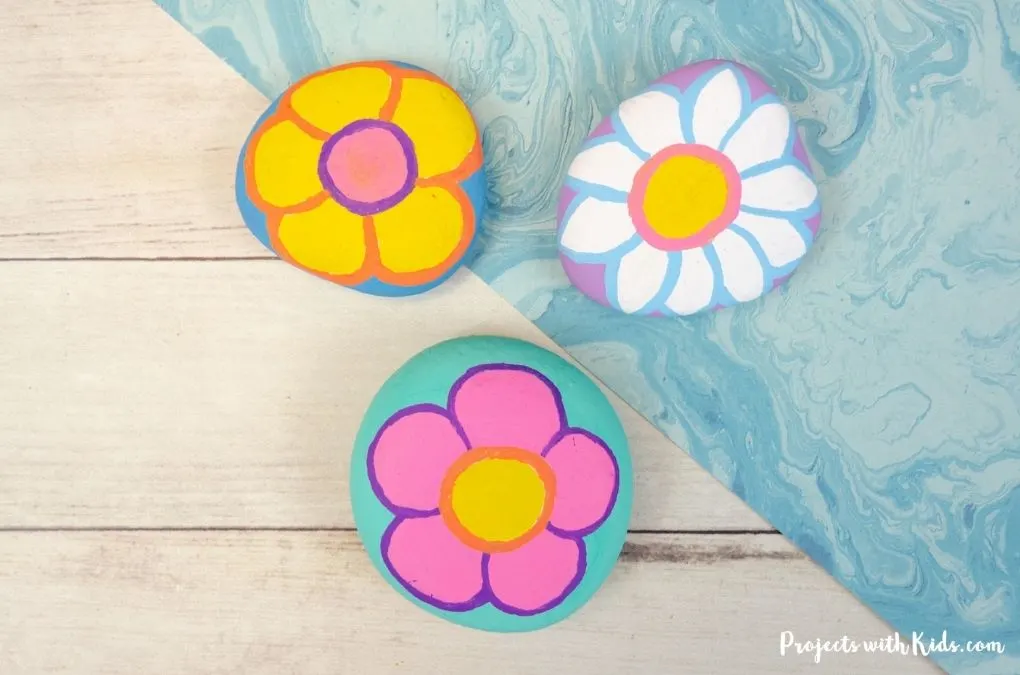 Source: projectswithkids.com
I think that rock painting is also a rite of passage that every kid must try before they grow up, don't you? It's also is a favorite go-to project when you're running out of ideas for more elaborate craft sessions.
It's a two-part activity. The first part is to have your kids go out and find pretty flat rocks to paint these flowers on.
Then, sit them down at the kitchen island with a glass of lemonade and cookies and let them paint away to their hearts' content. Just remember to lay plenty of newspapers around them, first, to catch paint spills.
If you love to paint stones, check out these rock painting ideas the kids will enjoy.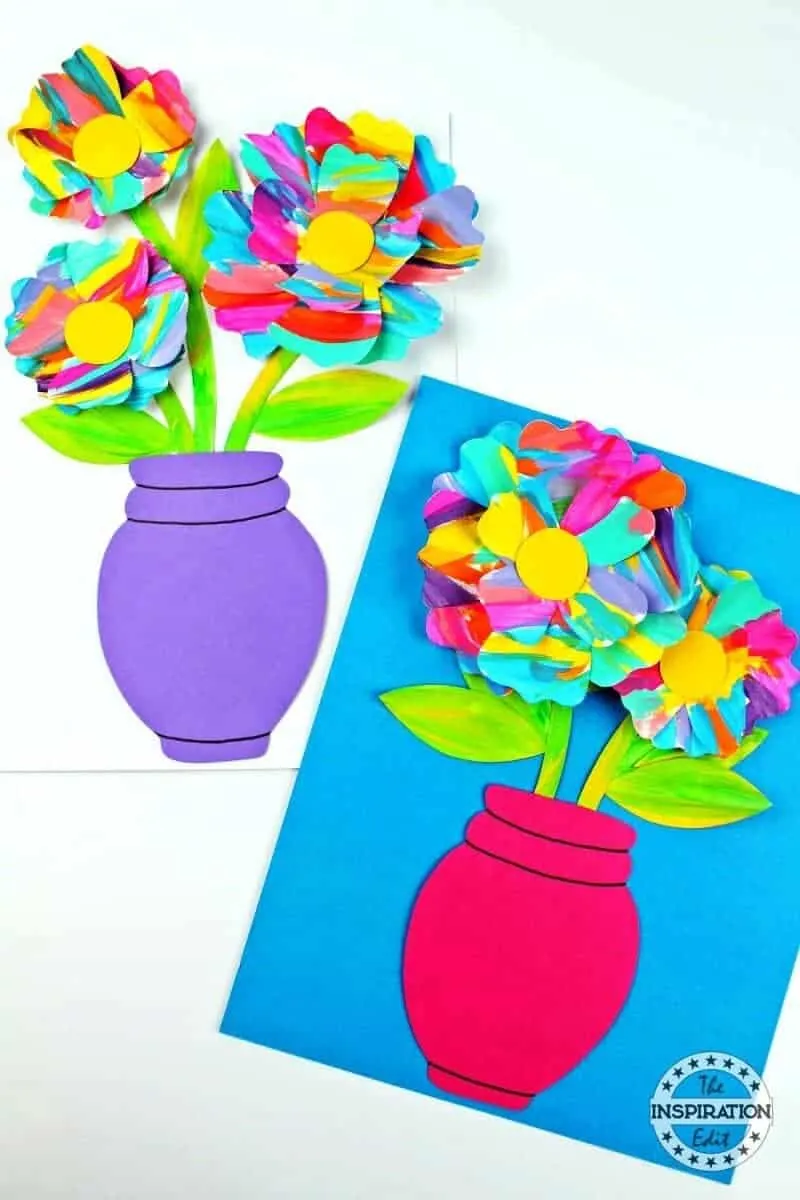 Source: theinspirationedit.com
Ah, preschool. Those hazy, lazy days of just being able to spend all day at school painting and playing. If you're a teacher on the hunt for a fun painting activity for your preschoolers, I've got you covered.
This painted flower activity is bound to keep them occupied throughout craft time. The rules are that there are no rules—they can paint a colorful bouquet of flowers and, finally, a vase to hold them, too.
There's a template provided that you can download and use to help them with the vase and petals.
Needles to say, this is a perfect project for classroom!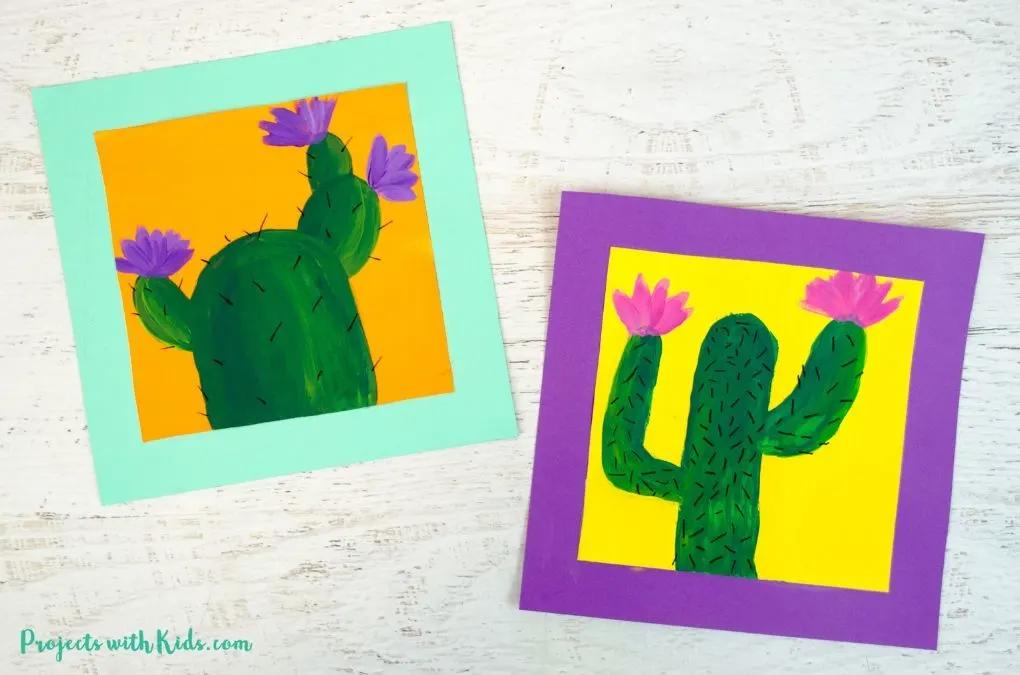 Source: projectswithkids.com
If your kids have this inexplicable fascination for cacti, then it might be a little hard to keep them from sticking their fingers out to touch these prickly plants. Perhaps painting cacti with gorgeous flowers will help assuage their curiosity—at least temporarily.
Instead of having them draw on just any old paper, why not make a little built-in frame for their painting? With some cardstock and construction paper, your kids will have a nice white canvas mounted on a base to paint their cacti!
So just set out the paint bottles and leave them to it!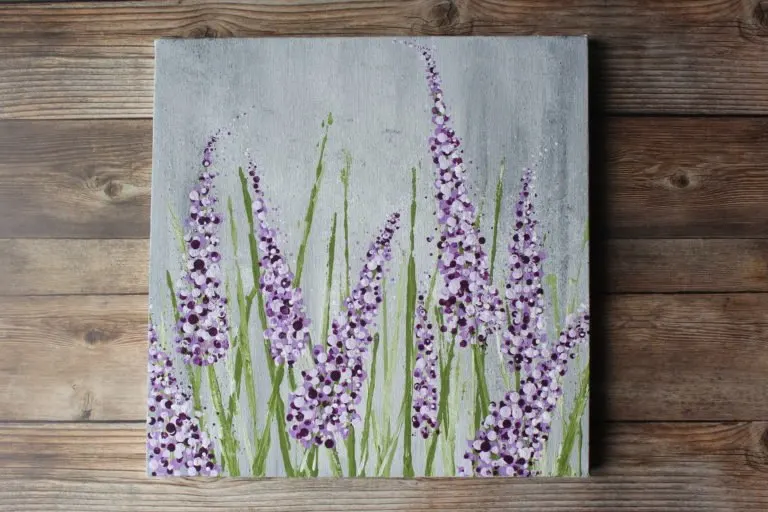 Source: feelingnifty.com
You'll be surprised by how easy it is to paint lavender plants. It's also oddly satisfying, I suppose. The process is very soothing, and you can paint a ton of lavender buds for hours at a stretch.
You can use basic acrylic paint and cotton swabs(look here) to paint the lavender buds. Just dip the ends of the swabs in the paint and gently push them on the paper in the required shape, as indicated.
You can paint green stems, too. Just grab your paintbrush and get right down to it.
Source: thecountrychiccottage.net
For this next DIY project, you can have your kids help you give an old watering can a nice makeover. Go ahead and paint the watering can in question with a few base coats first.
When the base coats have dried completely, it's time to paint some flowers on the surface. Not just any flowers, but handprint flowers.
Use a paper plate(look here) to mix the paint and have your kids press their hands in there to coat it with paint. Then carefully press their handprint on the can and also paint stems and leaves while you're at it.
Check out how to make paper plate flower crafts if you have any extra paper plates left.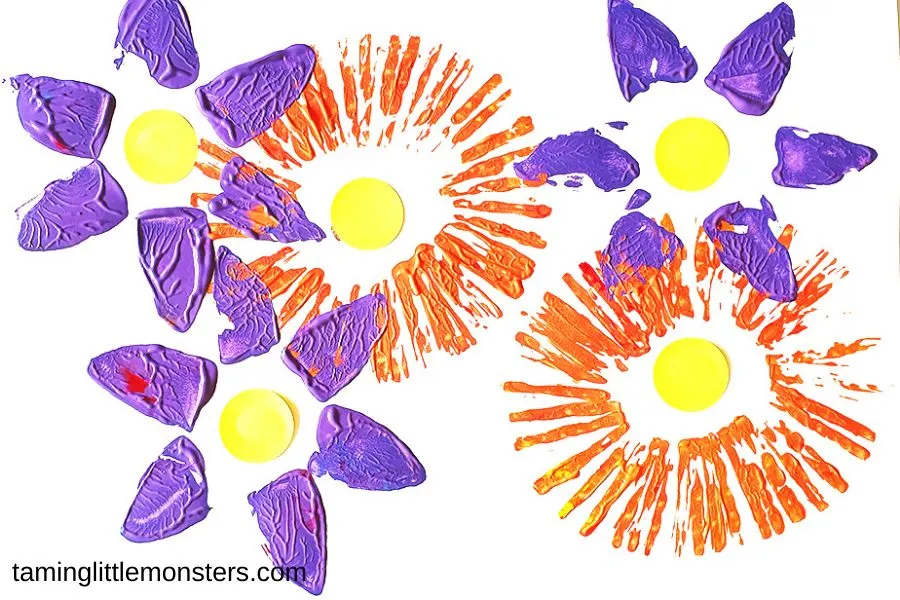 Source: taminglittlemonsters.com
Toilet paper rolls are like mason jars. No, hear me out! They're like mason jars in that they can pretty much be used for anything!
Take these stamped toilet paper roll flowers, for example. Did you ever think you could use empty toilet rolls in this particular fashion?
Just grab a pair of scissors and start cutting down the length of the roll, but leave it intact just up to a third of the way. These will be your 'petals.'
Now, just dunk the petals in paint, press them onto another paper, and voila!
Need more ways to use toilet paper rolls? Check out these toilet paper roll crafts.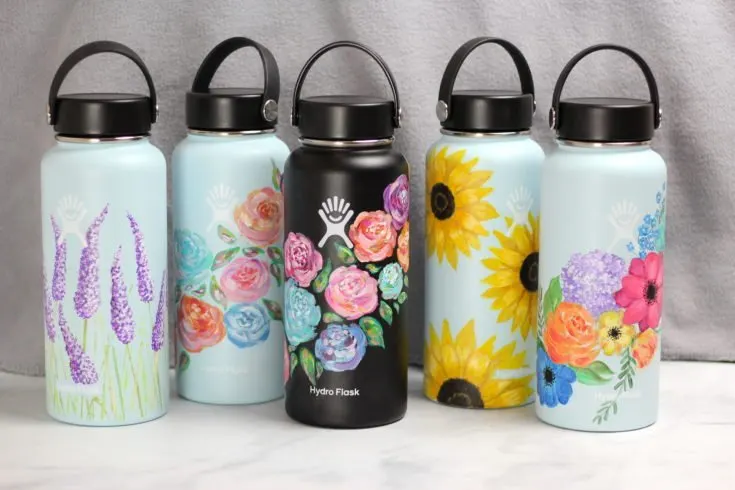 Source: feelingnifty.com
Hydro flasks can be the perfect canvas for your next flower painting project. It has a naturally smooth stainless steel surface, which makes it conducive to painting on it.
Plus, just imagine what a hit these flasks would be with your friends and family. You can buy some plain flasks and paint them in advance.
Then, when a birthday or anniversary comes up, you can wrap these pretty flasks up.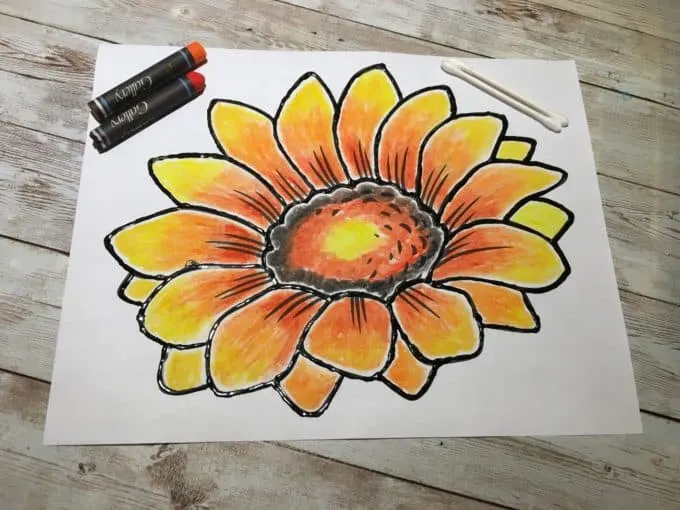 Source: littlebinsforlittlehands.com
Pastel painting flowers? Sign me up for that any day!
Pastel medium is very kid-friendly to work with. It provides you with the chance to harden the edges or alternatively blur them.
This allows beginners to enjoy painting different components without having to worry about the paint bleeding or bleeding. It is also very easy to practice blending and merging techniques with pastels.
So, download the template that's been provided for you. Next, pick up some oil pastels, cotton swabs, and some black glue like this.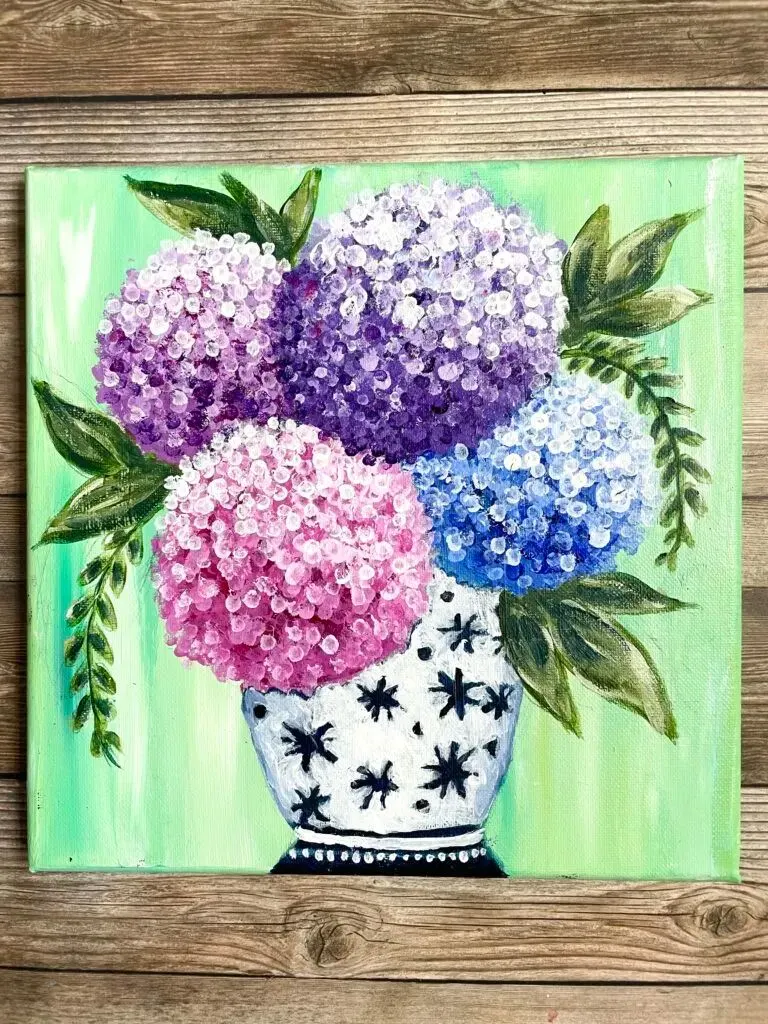 Source: feelingnifty.com
Painting hydrangeas might seem like an overwhelming task, but I promise you it's not. Once you get the hang of the technique used here, it will be a walk in the park for you!
You will be using bubble wrap and cotton swabs and alternating between the two to create that bubbled finish on your hydrangeas. Try to practice the technique beforehand to master it.
The best part about hydrangeas is that they come in so many different colors, so go ahead and experiment with colors, too!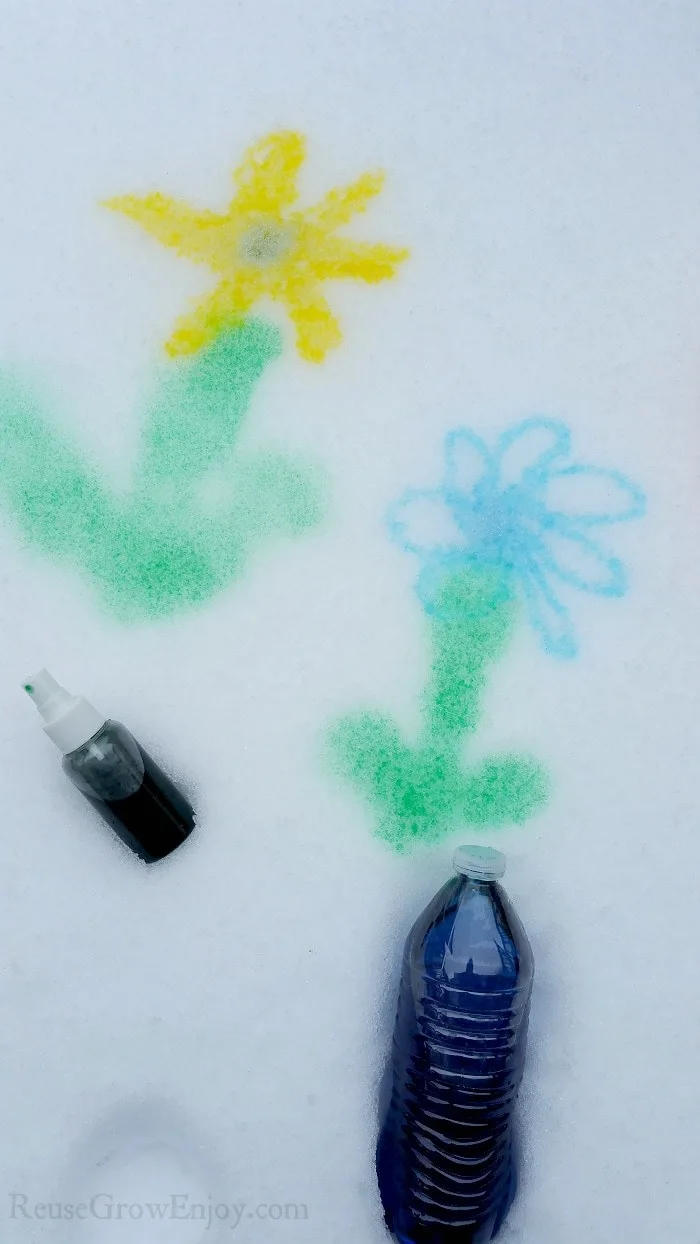 Source: reusegrowenjoy.com
As if the snow wasn't fun all on its own, here's an even more fun way to make the most of a snowy day: snow painting!
This snow painting activity will add a lot of color to your yard, almost like you're ushering spring in. But first, you'll need to buy some squeezy bottles from here.
You'll be filling the bottles with paint and using them to transfer your painting onto the snow. Alternatively, you can poke a hole through the lid of old coke bottles and use them instead.
Check out more winter crafts for kids like this!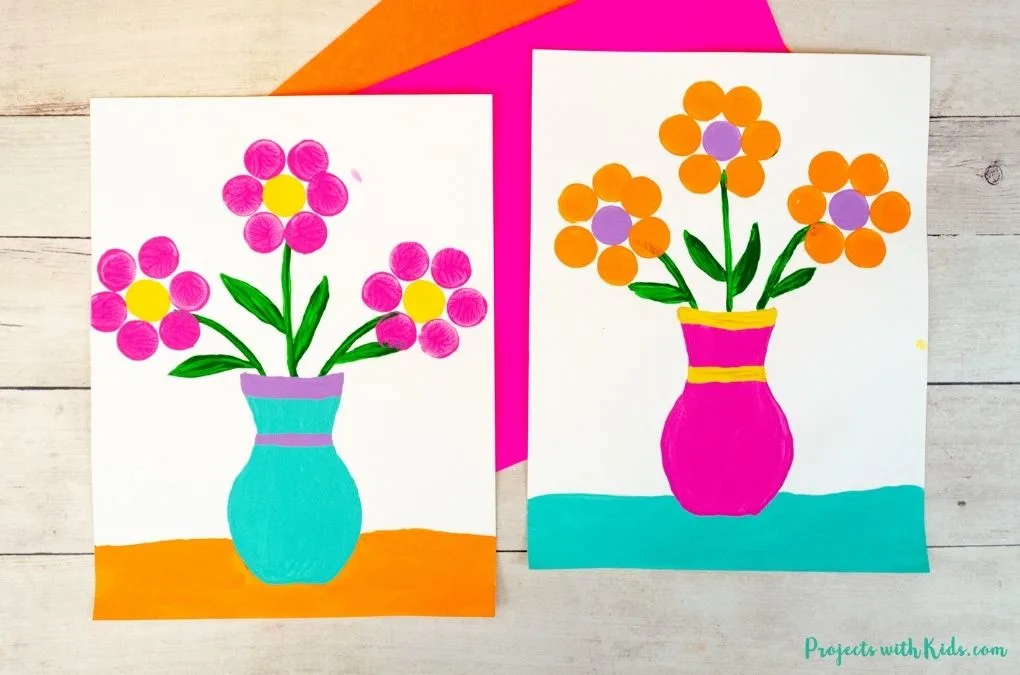 Source: projectswithkids.com
You know what I love about wine bottles apart from the actual wine? It's how you can repurpose and upcycle all the different components to make something new and unique.
Wine corks have a ton of potential, too. You can use the corks as a readymade stamp and paint flowers. Your kids will love this stamp painting activity simply because it's an opportunity to play with paint and get their fingers messy.
That's exactly why you need to have plenty of these paper towels at hand to mop up drips and spills.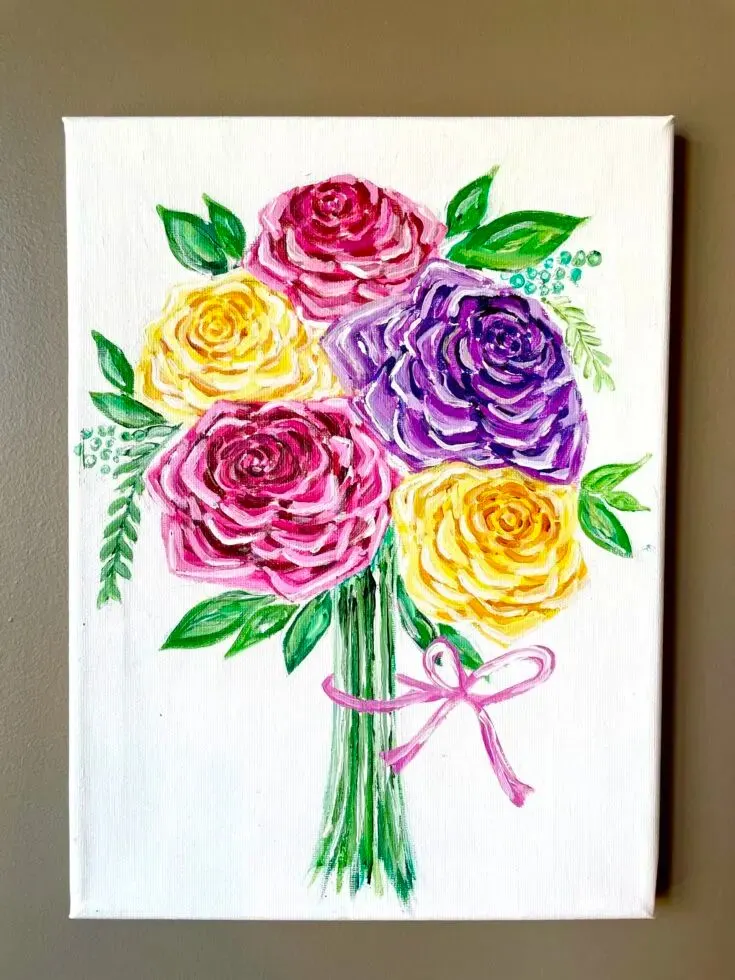 Source: feelingnifty.com
Acrylics are a popular medium of paint. They're super easy and uncomplicated to work with, and they're cost-effective to boot.
This time, you're going to be painting this lush and golden rose in just four simple steps. This 4-step process to paint a 3D rose can help you practice different angles and techniques to give you the most real-looking roses.
Once you get the hang of it, you can put this method to good use and paint a nice big bouquet of roses that look like they're blooming to life!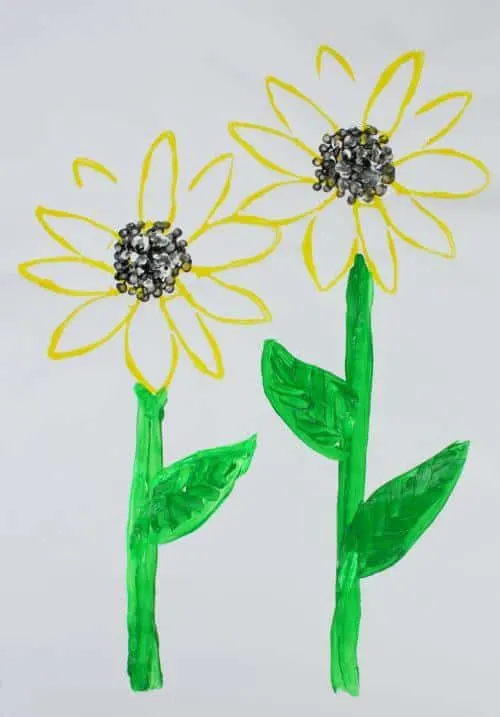 Source: emmaowl.com
I just bet that the toilet roll stamp painting was a huge hit with your kids. It's completely natural because it really is that much fun!
So here's yet another painting technique using empty toilet paper rolls for you to try out. This time, you'll be making bright sunflowers with tall green stems and lush green leaves.
So, grab a pair of scissors and cut the cardboard rolls to size. You will also need a few Q-tips from here to help you paint the dark center.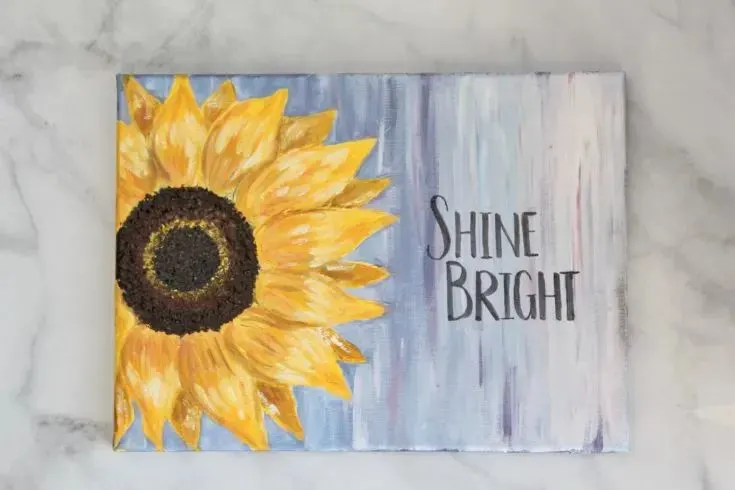 Source: feelingnifty.com
Did you enjoy painting sunflowers back there with those toilet rolls? Then maybe it's time to advance your skills and paint a more defined sunflower.
But don't just stop painting sunflowers on paper. You can paint them on a wooden board or canvas and mount them up on your walls.
Start by tracing your sunflower onto your canvas or wood base(look here).
When you're happy with your outline, start mixing your paints. As you work your way through the painting, try to practice and incorporate some shadow effects for a better finish.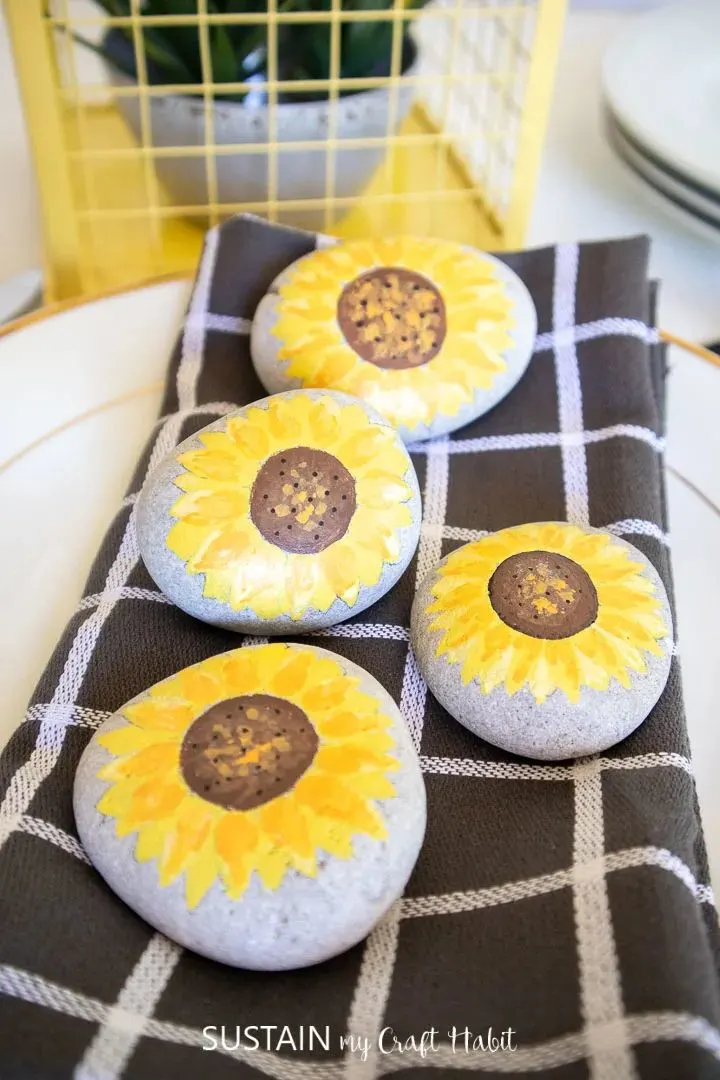 Source: sustainmycrafthabit.com
Here's another base for you to paint your sunflowers on—rocks! Rock painting is such an easy way to pass the time, especially when you have younger kids who are just bundles of energy.
You can let them out into your backyard or take them to the park to collect pretty rocks. That way, when they're ready to start painting, you'll find that you can just sit back and enjoy some downtime.
Place a plate of cookies and a couple of glasses of milk, sit them down in your living room, and let them paint sunflowers to their hearts' content.
Source: feelingnifty.com
Cherry blossoms are magical and you cannot convince me otherwise. How else can you explain all that surreal beauty and color?
Painting cherry blossoms might not be as magical, but they can sure be fun. This project calls for a bunch of Q-tips, so I hope you still have some from your previous projects.
Use a rubber band to hold a bunch of q-tips together in a bundle. Now, dip the ends in paint and then press the tips onto the canvas or paper. It's that easy!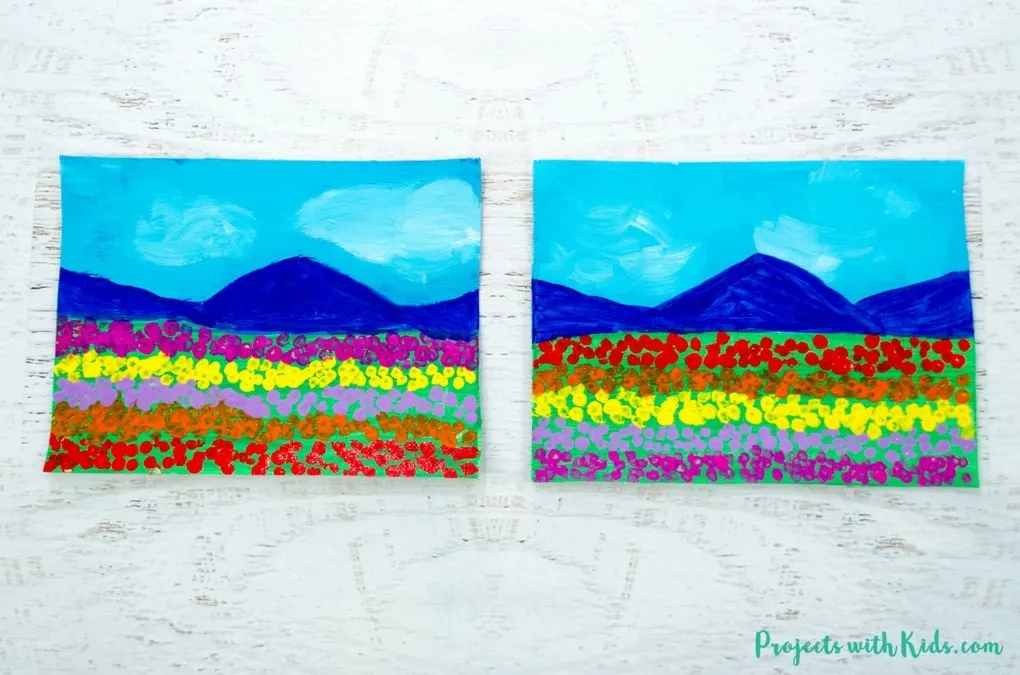 Source: projectswithkids.com
Don't put away your Q-tips just yet; you're going to need them for this next flower painting project. Can you guess what you'll be painting? Tulips!
While I just love tulips, I hate that they're so seasonal. Watching the tulips bloom in the fields, though, is an experience that's definitely worth capturing on canvas.
This project is perfect for the little ones who love playing with color. Have plenty of Q-tips at hand to paint the many colors of tulips in long rows along the green fields!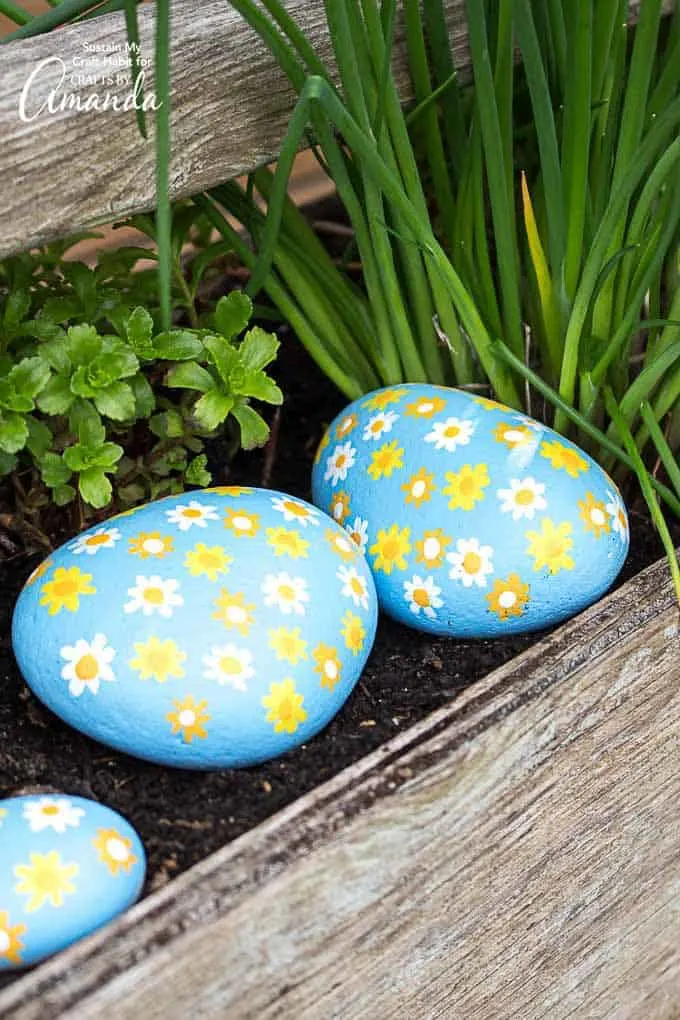 Source: craftsbyamanda.com
I'm sure that your kids bought back plenty of flat rocks from their last scavenger hunt for their previous rock painting project. It's time to take out a few from your stash for another afternoon of rock painting, only this time, you'll be painting daisies.
Daisies are simple, cheerful, and sunny and they deserve a nice sunny blue background or base. So go ahead and paint your rocks a nice shade of sky or cerulean blue.
When you're done, you can sit these rocks in the garden, or, with a few flat magnets from here, put them up on your refrigerator.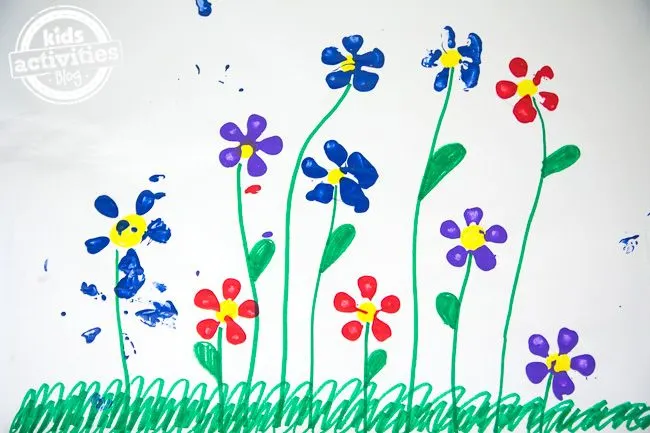 Source: kidsactivitiesblog.com
Remember when you were a kid and you'd paint flowers with just about anything you could get a hold of? I've used potatoes, okra, wood stumps, and finally, the base of plastic bottles.
The base of plastic bottles are naturally petal-like, don't you think? You just have to cut the bottom part of the bottle off, dip the ends inpaint and press them on paper.
All that's left to do is paint the center of the flowers, and also some leaves, stems, and grassy fields while you're at it.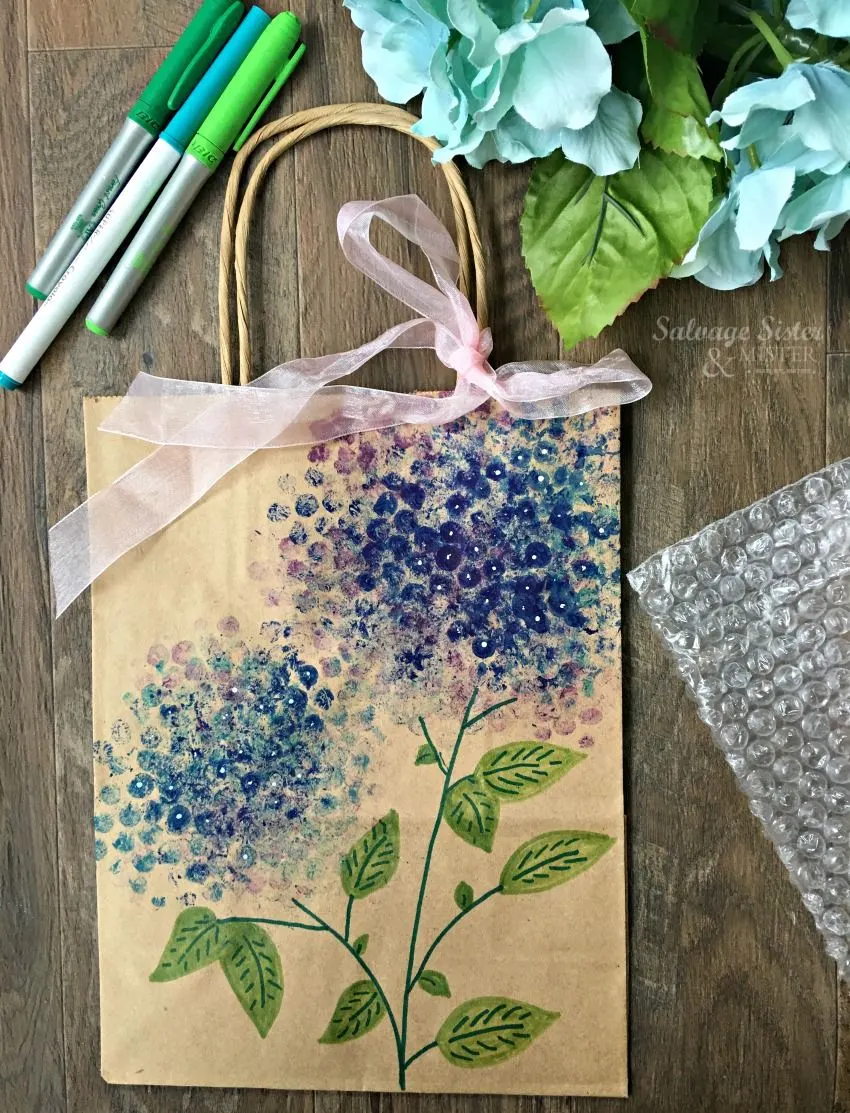 Source: salvagesisterandmister.com
Here's another project involving painting hydrangeas with bubble wrap. These might not be the perfect shape, but they're certainly pretty to look at.
Instead of painting your hydrangeas on paper, why don't you consider painting them onto brown paper gift bags? Think of how lovely your gift bags would look with colorful pops of hydrangeas on their cover.
Just pick up the brown paper bags from here to get started on your painting. If you want a quick hack, then consider switching paint with ink pads; it's quicker and possibly cheaper, too.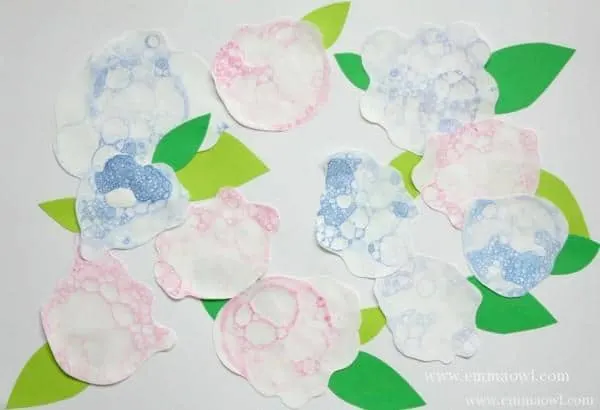 Source: emmaowl.com
You really can't get enough of hydrangeas, can you? There are so many ways to paint them as you've already seen, but this might very well be my favorite.
You're going to be blowing bubbles over your canvas or paper and letting them settle and pop naturally to recreate that bubbled-effect that hydrangeas naturally have.
It's not an exact science, nor is it an exact technique, but it sure is fun. Your little ones are going to have a ball bubbling up colored soapy water, so have plenty of paper towels nearby!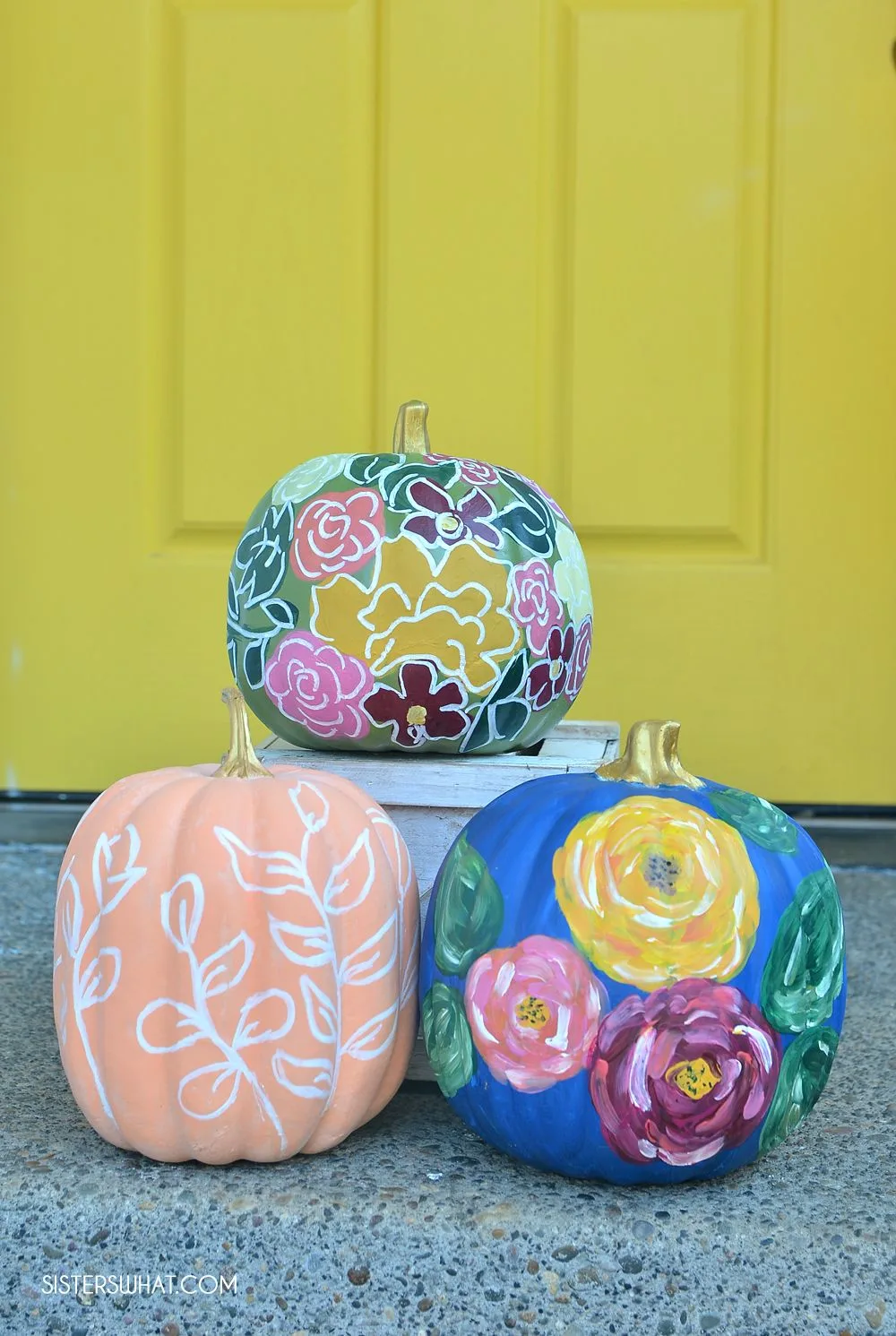 Source: sisterswhat.com
While scooping out pumpkins can be super fun, messy, and squishy, I think you should also consider painting them. Why?
Well, just look at them! Don't they look like a million bucks? Why would you want to go carving them up when they look so pretty?
You already have all the supplies you need for this project at your craft desk, I'm certain of that. Just remember to allow your base coat(s) rest for a while before you design the pumpkin and paint over it.
Source: thedecoratedcookie.com
Painting glass is an activity for the ages. Painting wine glasses sounds like a fun activity for adults to wind down with on a wintry evening inside.
Acrylic enamels are the best paint to use on non-porous surfaces, so grab this set of acrylic paints for this project. You can also blend your paints to get an acrylic enamel medium if you like.
Then grab a flathead brush, dip it in paint and paint as many flowers as you like. This is an opportunity to practice painting with cotton swabs, too, so feel free to switch between techniques.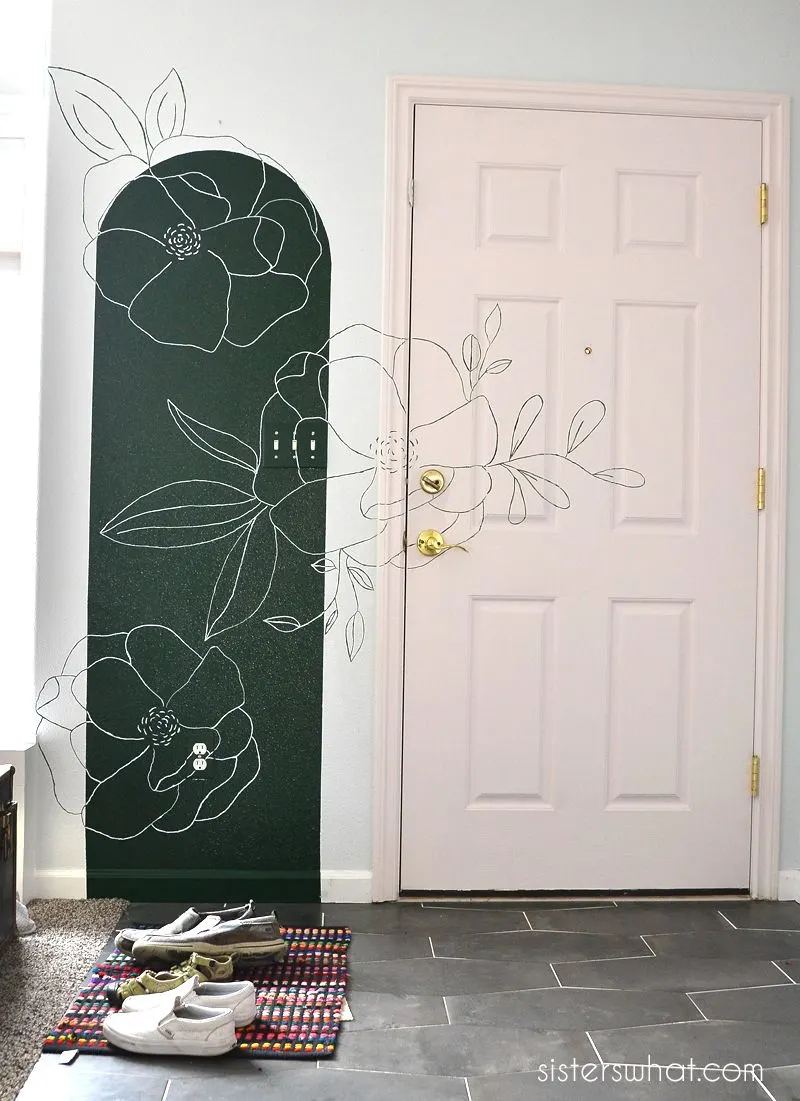 Source: sisterswhat.com
Murals are so breathtakingly beautiful Imagine walking past a building or a wall and seeing a big bright floral mural up there.
This floral mural, however, is a little more subtle and minimalistic. The difficult parts include stenciling and drawing your flowers.
But when you want some color to offset your flowers, you need paint. How about you paint the wall rather than the actual flowers themselves? That seems like a good way to let the flowers shine and have color on your mural.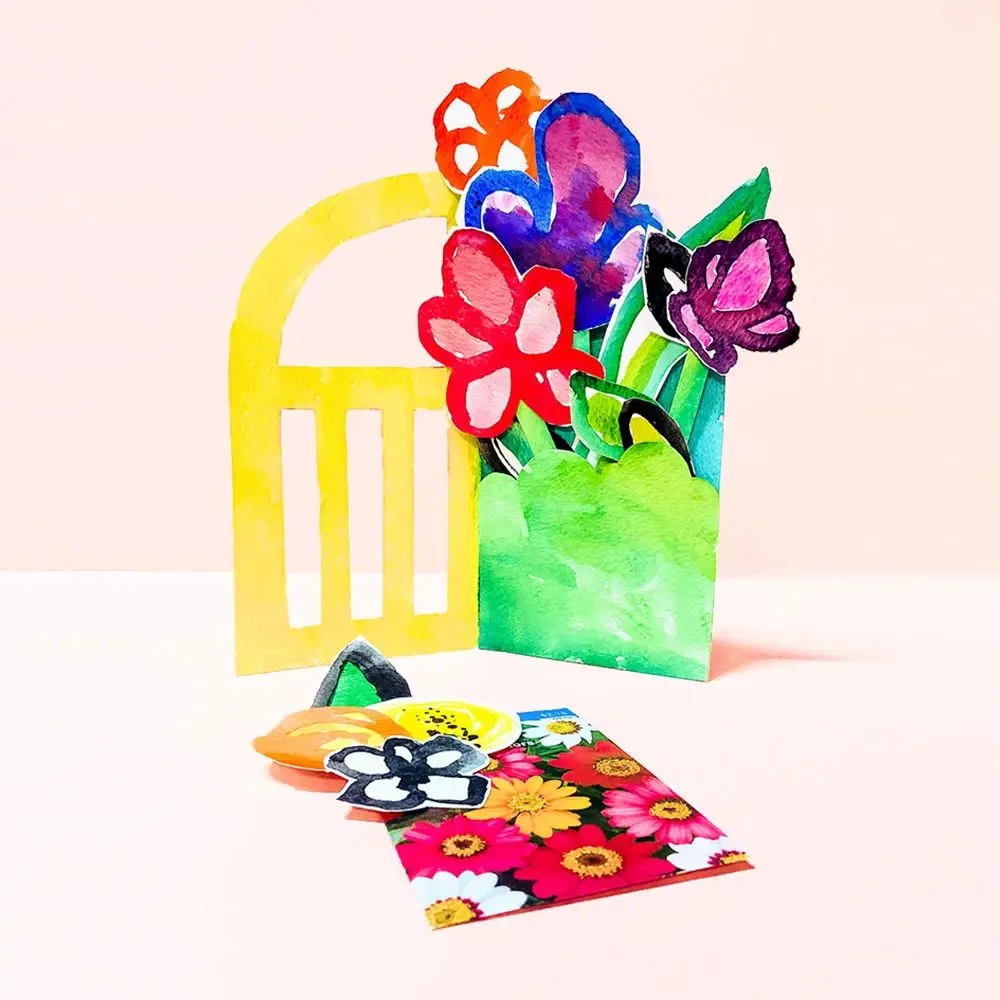 Source: barleyandbirch.com
There's nothing I like to do more on a cool summer's day than to take a stroll through a pretty flower garden. I love being surrounded by all those amazing scents and colors.
But when it's winter and I need to get my fix, I turn to watercolors. Since it's also the holiday season, why not incorporate the flower painting with your seasonal cards?
There's a printable secret garden template provided for you to access and get inspiration from. But mostly, it just involves a ton of painting on watercolor paper like this, so let your creativity flow!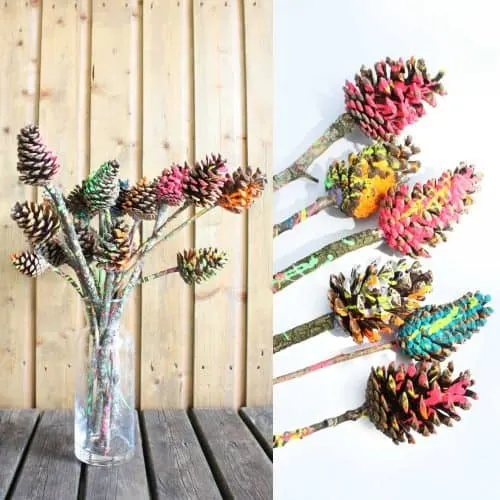 Source: emmaowl.com
When it's the fall season, you'll find that a short walk outside will provide you with plenty of mediums and bases to paint with. Take these pinecones, for starters.
You can paint a bunch of pinecones in bright colors and attach them to a stick. This will give you a bouquet-like bunch of pinecones that you can stick into a vase and use as decor.
You can also practice the technique of drip painting when you're working with these pinecones. You have plenty of opportunity to practise and experiment with, especially since your base is virtually free and found in abundance right outside!
Source: projectswithkids.com
I'm pretty sure that there's going to be a natural segue from drip painting to splatter painting. Why? Well, both are super fun and messy, and when kids are involved, there's bound to be a ton of paint splatter.
It's a great activity to introduce your kids to new and innovative painting techniques. Trust me, when they see how much paint they get to splatter, they'll definitely be on board.
Maybe you should use this opportunity to embrace your inner Jackson Pollock. The rules are that there are no rules, not when it comes to splatter painting preet trees and flowers.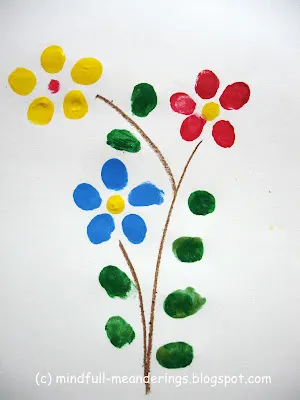 Source: artsycraftsymom.com
When you want to put your own signature and touch on something, you can't do better than fingerprint painting. Did you know that in many countries, fingerprints can actually be used as official signatures?
But for this project, you're going to work on putting your fingerprint and signature on pretty flowers; let's start from there.
If you've got a baby and you'd like to introduce them to finger painting, then this project is definitely for you. Just think of how adorable their little fingerprints would be as petals!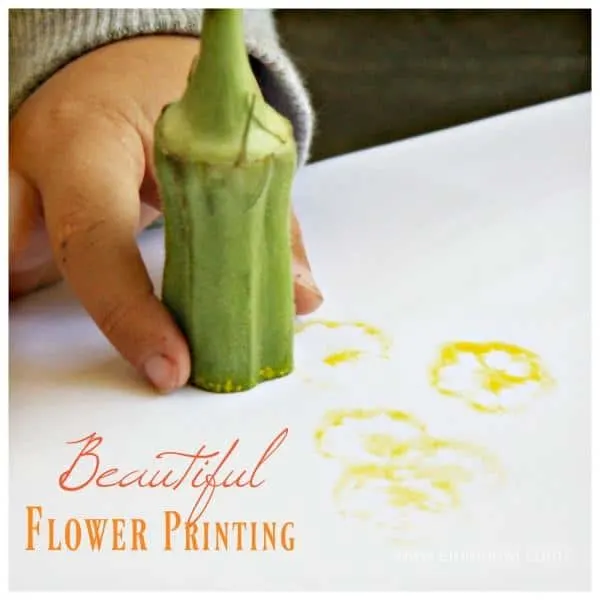 Source: emmaowl.com
Remember when you used wood corks and toilet rolls as stamps for your flower paintings? Let's try that technique again, only this time, let's use something more natural like…veggies?
Okra and potatoes are my go-to veggies when I'm stamp painting. Okra, in particular, has that natural petal-like finish when you imprint them onto paper.
You just need white cardstock, watercolors or acrylic paint, paper towels, a paper plate to mix the paint, and a knife to slice the okra. If you've gathered everything you need, start painting your flowers!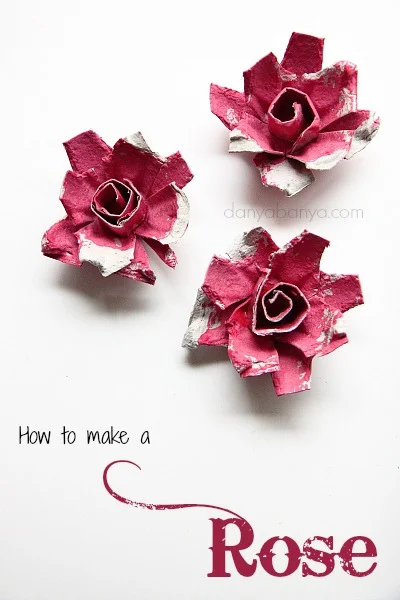 Source: danyabanya.com
Rather than dumping your egg carton in the trash can or recycling bin, you can repurpose them to use as painting accessories. Take a look at how you can turn old egg cartons into beautiful painted roses.
The process involves cutting each individual egg cup and then painting them a rice deep shade of red,. Then you'll be cutting the flat surface of the carton into strips and rolling them into a rose-like shape.
When you're done, you can also dip the tips of the 'petals' in gold glitter paint for a gold-tip finish.
Check out how to make paper flowers, too while you're at it.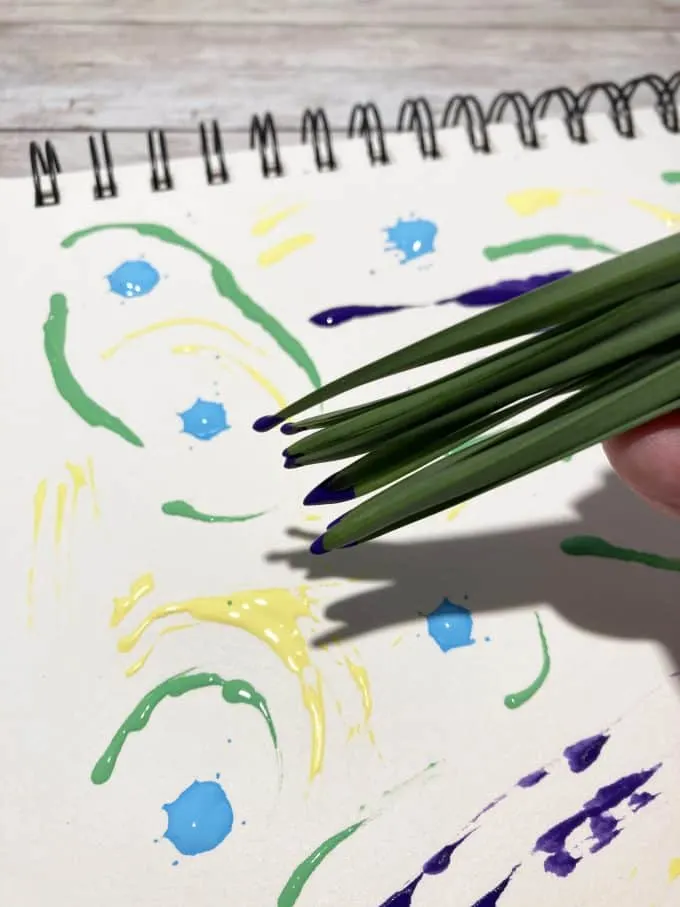 Source: littlebinsforlittlehands.com
In a household full of kids, one of the most frequently misplaced craft supplies is the ever-elusive paintbrush. The next time you lose your paintbrushes and can't make a quick run to the store to restock fret not.
You can make your own natural brushes at home, and better yet involve your kids and teach them how to, as well. When they make their own brushes, they're less likely to be cavalier about them and will keep them safe.
​You will need sticks, leaves, or pine straw to use as the base for your brush. If you save up those leaves, you can also make this DIY leaf candle holder.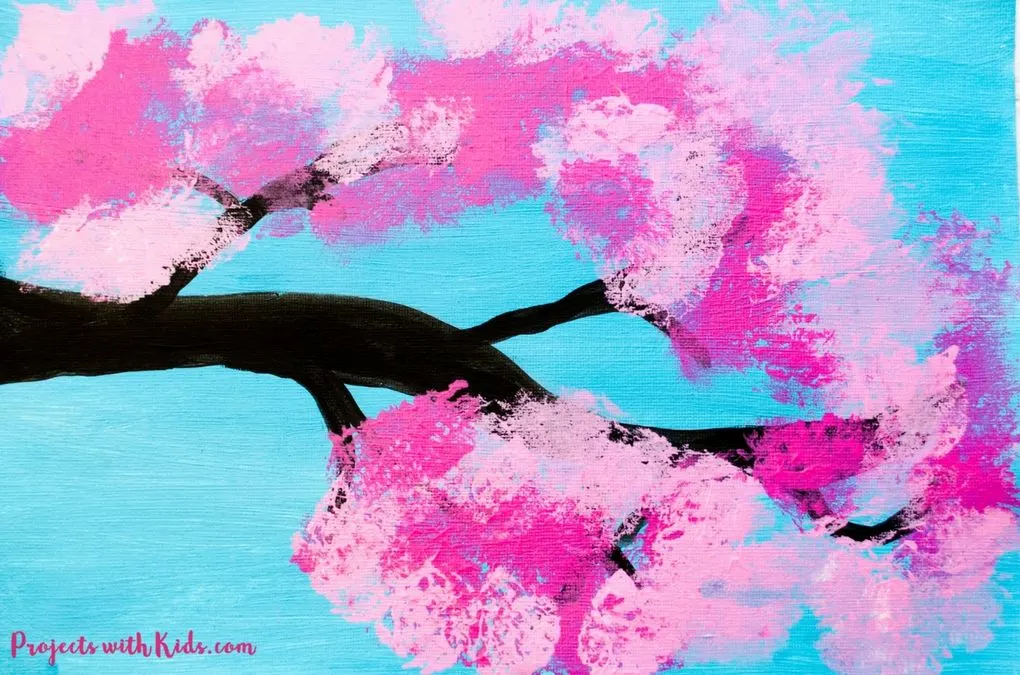 Source: projectswithkids.com
Cotton ball painting—just the name sounds super fun. And guess what flowers you'll be painting with cotton balls? Cherry Blossoms!
Grab some cotton swabs, your acrylic paint, a white canvas, some brushes, and a mixing palette. You can use paper plates instead of a mixing palette, too.
When you're happy with the colors you've mixed, dab the cotton swab in the paint and start sponge-pressing it over your branches to paint your blossoms.
Yield: flower painting
41 Fun Flower Painting Ideas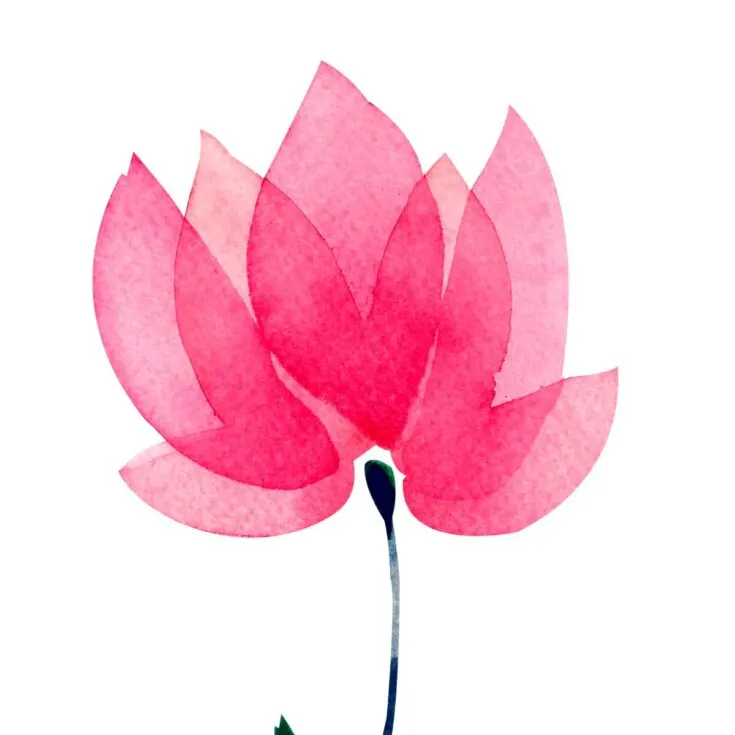 Ready for some crafting? Try these easy flower painting ideas and have fun being creative with the whole family.
Instructions
Choose one of the flower painting ideas from above.
Enjoy painting!