Staying inside much more than usual this winter? Why not give these winter crafts a try and make these with the kids! They're cute, inspiring, and fun to make.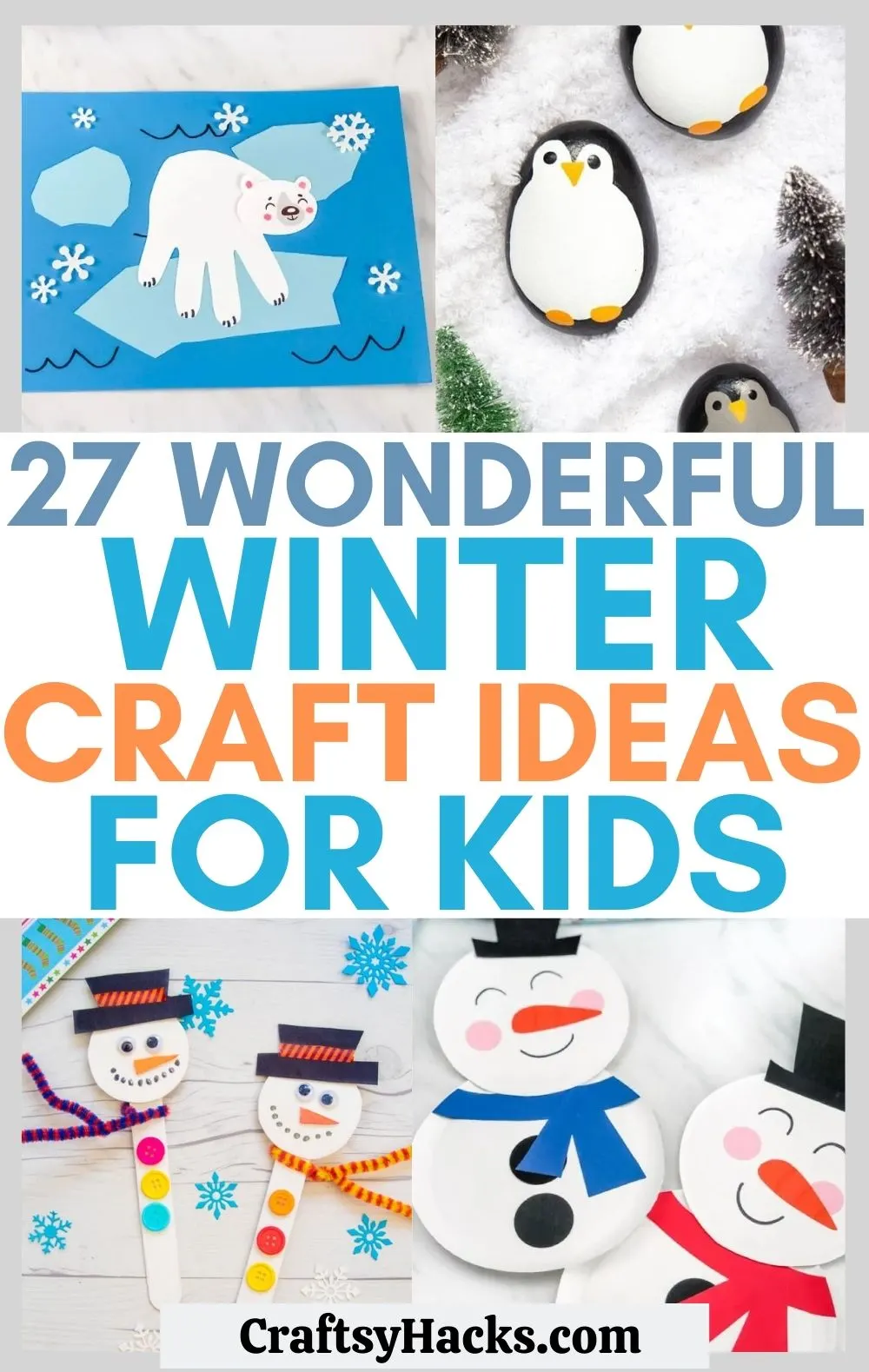 I love winter crafts—they're always so satisfying to make. Plus, with the Holidays to celebrate, you'll have a ton of decorations to put up and gifts to pack.
That's why craft time with your kids can really help. Whether it's making little knick-knacks to add to your decor, seasonal greeting cards to send to friends and family, or just plain old craft time, they'll have a ton of fun.
So, check out these 27 Winter crafts for your kids that they're sure to love.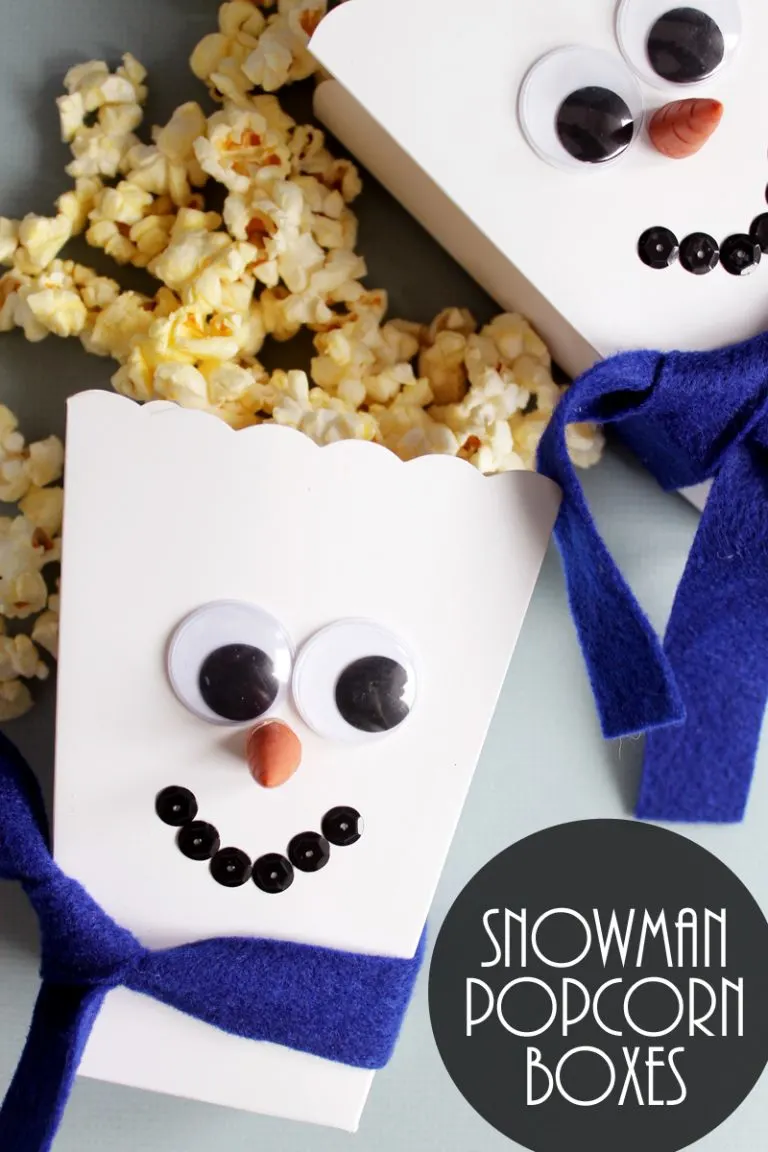 Source: thecountrychiccottage.net
Sure, popcorn in a bowl is perfectly fine. But popcorn in these snowman popcorn boxes will be better than fine. It will be utterly delicious.
You can make them right at home—the popcorn and the boxes. It's all about decorating them the right way with googly eyes, a little carrot nose, and some scraps of felt to wrap at the base into a scarf.
You can buy your run-of-the-mill popcorn boxes here and then decorate them. If you're hosting a sleepover for your kids, then these boxes will be a definite hit!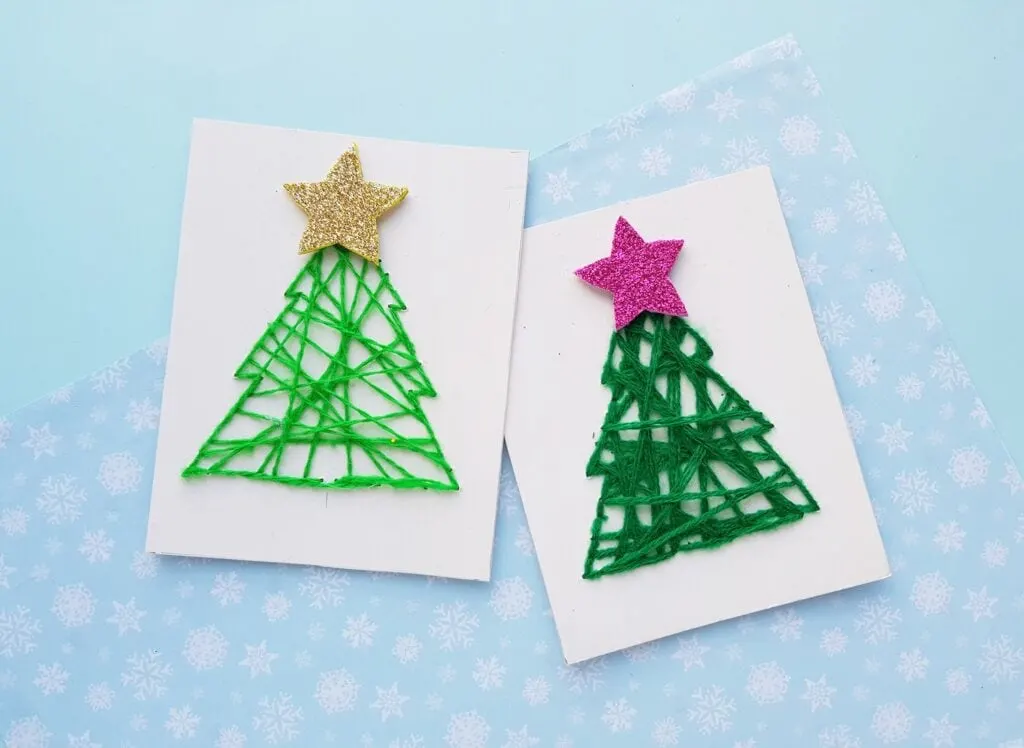 Source: kimandcarrie.com
String art isn't just for grown-ups, you know. They're actually super easy to pull off, and you can have your kids work on string art cards like these to send to friends and family for Christmas this year.
Here's what you'll need:
Cardstock paper
Embroidery floss
Pencil
Go ahead and stencil your drawing—a tree or snowflake, perhaps?—and get your needle and thread ready.
You'll effectively be sewing the yarn into the paper, so remember to poke tiny holes along the stencil beforehand. Your kids can learn how to sew—a very important skill to have.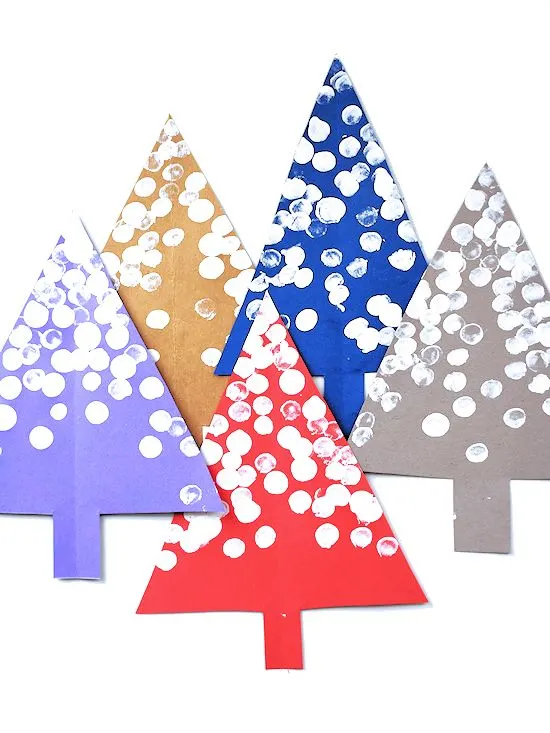 Source: ourkidthings.com
When all else fails, you can always turn to painting. No brushes? No problem—you've got ten of them at hand: fingers!
Grab a few bottles of paint and some cardstock paper. You're going to be making pretty fingerprint trees with your kids.
Help your kids cut the cardstock into trees if they're younger. It's an important motor skill to have. Then comes the fun part, or rather the messy part, so don't forget to lay down some newspapers when you start painting!
Check out more crafts for kids you'll love.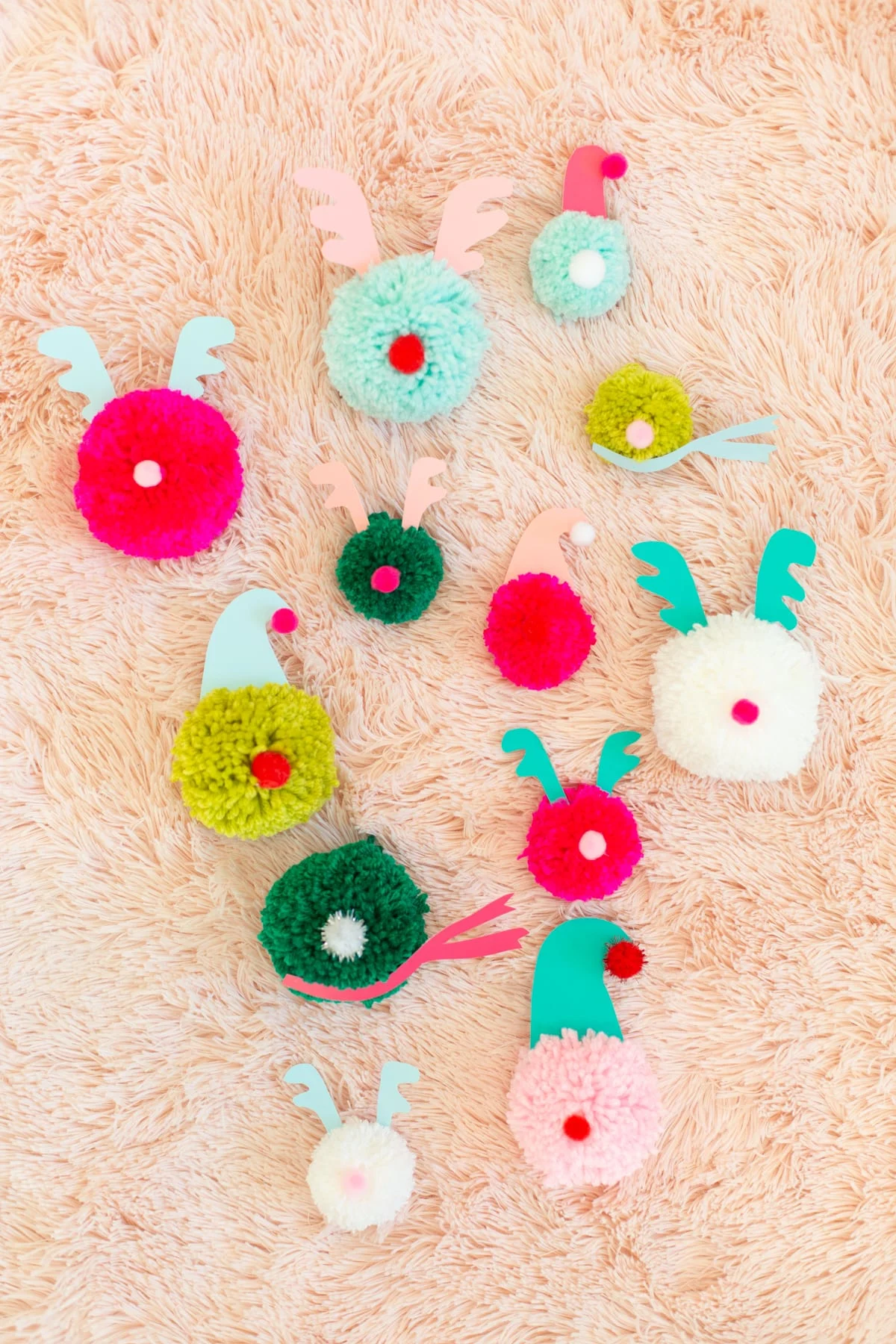 Source: lovelyindeed.com
I wonder if you've still got any pompoms from your precious projects. You'll need large white ones as well as small red ones.
On top of it, you'll be making a fluffy reindeer ornament with a bright splash of red at the nose and cardstock paper for the reindeer's antlers.
You'll also need a bit of twine from here to attach and hang the ornament from your tree. Depending on the different sizes of pompoms you have at hand, you can make big and small reindeer at your discretion.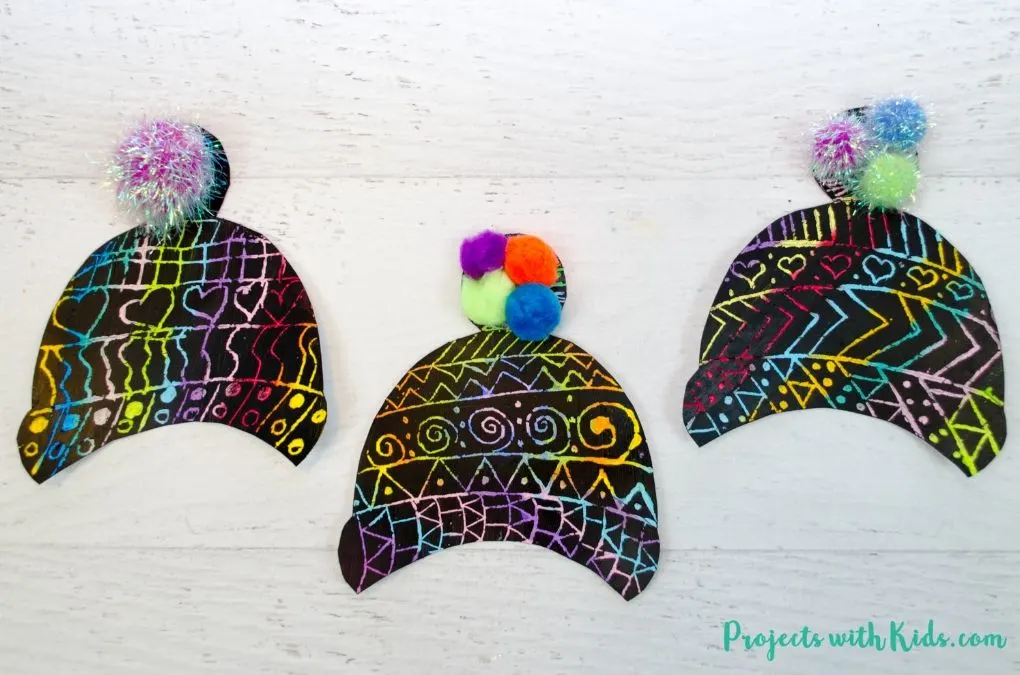 Source: projectswithkids.com
This winter craft project is perhaps exactly what you need to add a little wackiness to your wardrobe. Your kids can show off these quirky hats to their friends; they'll love them.
Since you're making it from scratch, you can decorate them however you like. You can just have a plain black beanie with colorful pompoms, or you can go crazy and paint it with neon paint.
You can embellish the hat with glitter pompoms like these, too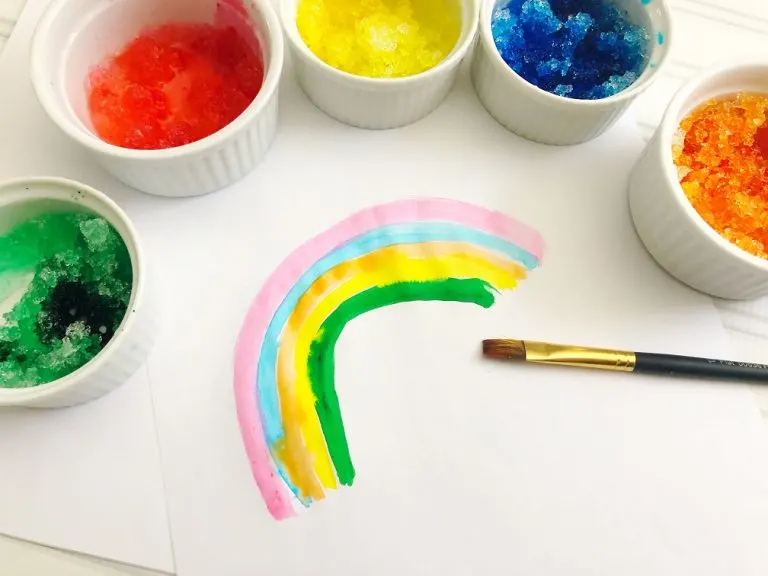 Source: twokidsandacoupon.com
With some cardstock, a few brushes, food dye, and a ton of snow, you can have yourself a fun-filled afternoon craft session that you and the kids won't forget. Maybe it can lead to a snowball fight followed by some hot cocoa to warm up.
So check out how you can paint with snow. In a few mixing bowls, add a few drops of different colored food dye to your snow and mix it.
Then, dip your brushes in, and you can paint just like you usually do, but with snow!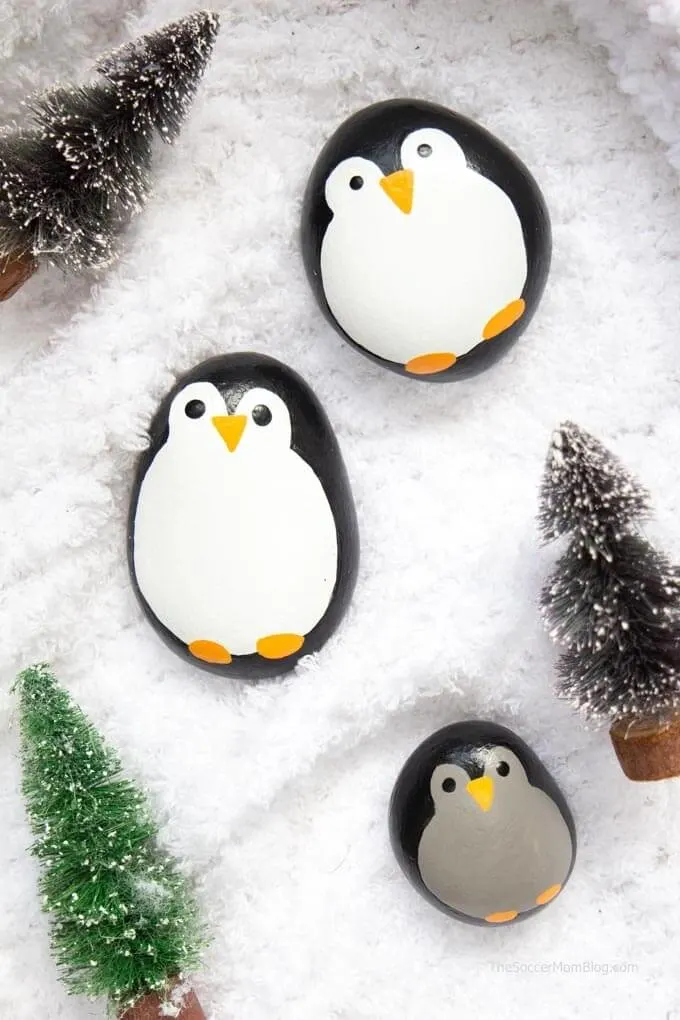 Source: thesoccermomblog.com
Rock painting is a time-old tradition. You haven't truly had a childhood unless you've managed to paint a rock or two dozen growing up.
It's always my go-to craft project when there's an empty afternoon that needs filling. So, grab your flat pebbles and get ready to paint some wintery penguins from the artics.
If you make enough, you'll have an entire family of penguins. You can lay them out on your kids' bedside tables when they're dry!
Check out more penguin crafts here.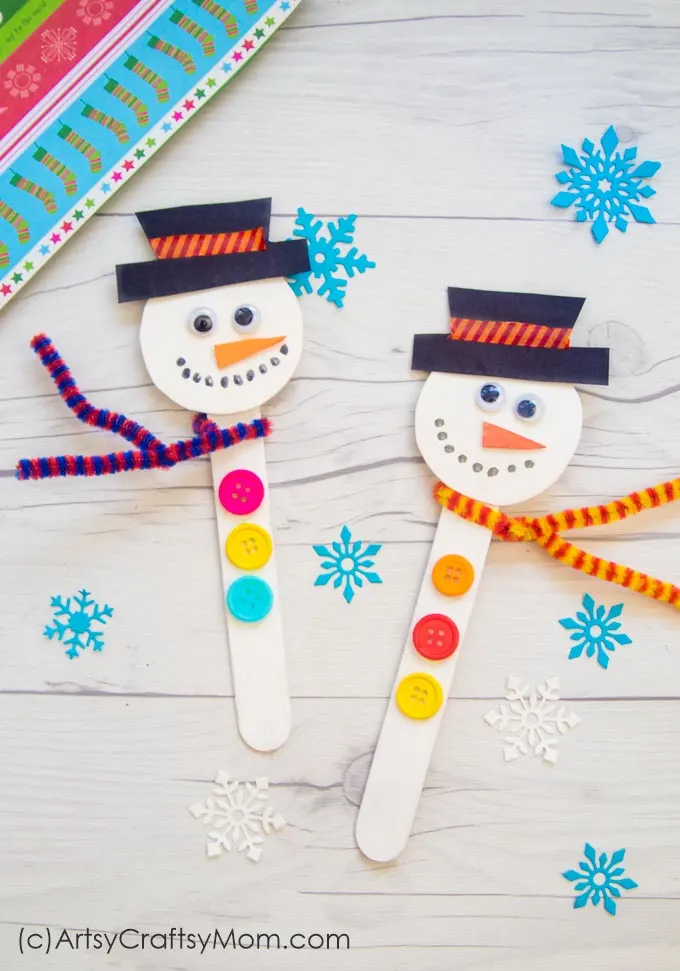 Source: artsycraftsymom.com
This popsicle snowman won't take you more than 5-10 minutes to complete. You can make a dozen or so in an hour and prop them up around your home as decorative pieces.
This project is perfect for even the youngest of kids. Start by painting these popsicle sticks white—acrylic paint with a matte finish works best.
Then, for the head, you can cut out some white foam sheets into a circle. Don't forget a little orange triangle for the nose, the black hat, and googly eyes, too.
Check out more popsicle stick crafts here.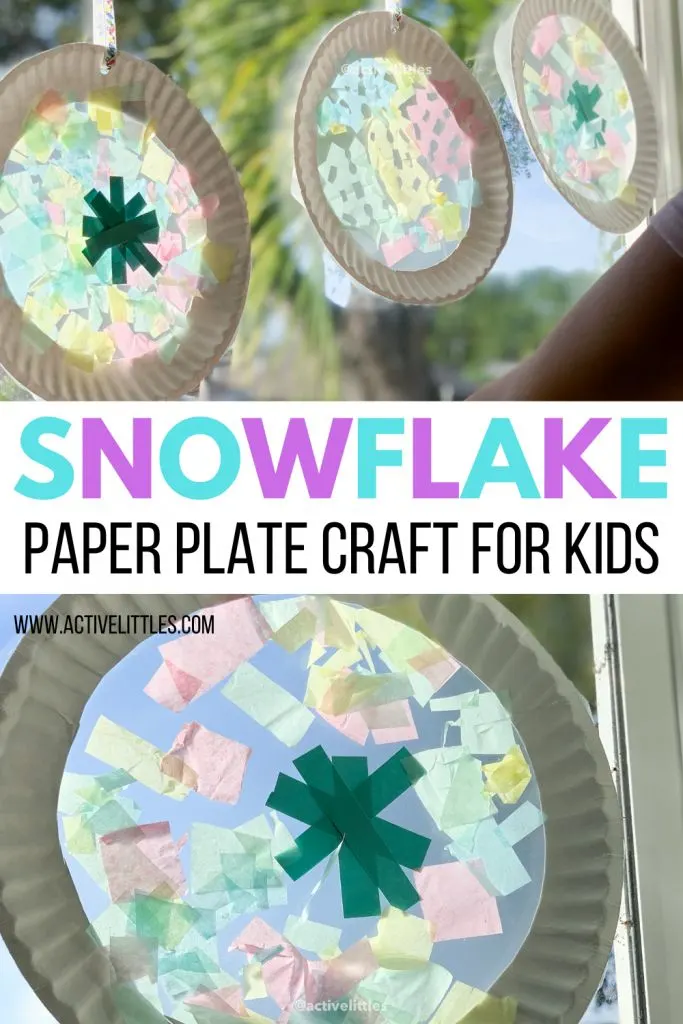 Source: activelittles.com
You know, paper plates are really quite versatile as craft supplies. Also, you can make a ton of creative things with them, like these paper plate snowflakes.
You can hang these up on your windows for the light to catch it and filter in just so. They look pretty adorable, don't they?
Grab some paper plates from here, to begin with. You'll also need some tissue paper and contact paper.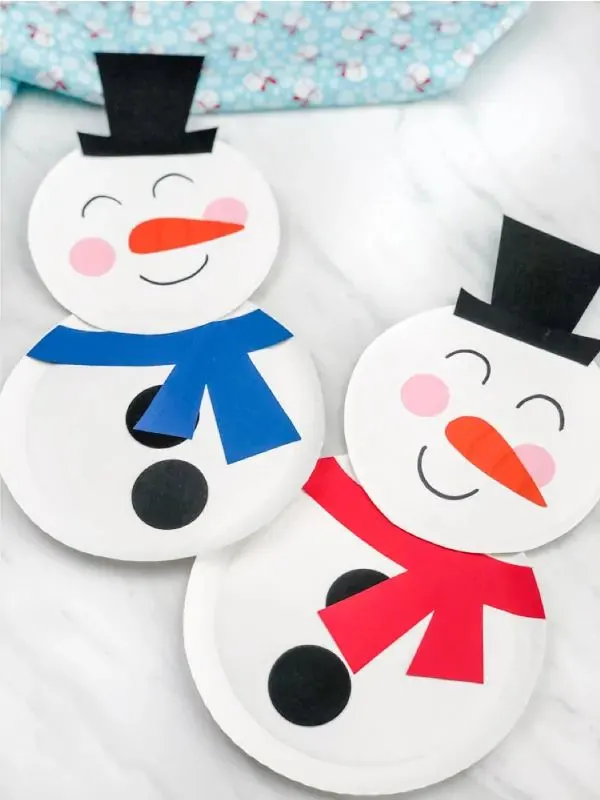 Source: simpleeverydaymom.com
I hope you saved some paper plates from your last project because you'll need a few to make this paper plate snowman.
You'll also need some colored cardstock, a glue stick, and a pair of scissors. Oh, and don't forget to grab a few markers!
If you like, you can download the printable template provided. This will help your kids with this project. Alternatively, just draw the outline yourself if you've got a good hand with sketching!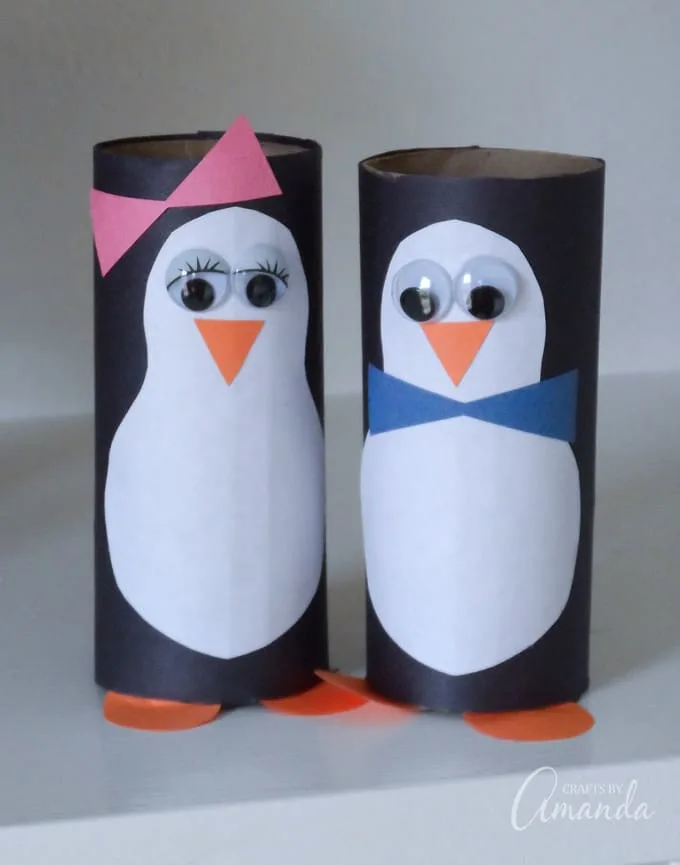 Source: craftsbyamanda.com
Just a heads up, these cardboard tubes can just as easily be switched out with empty toilet paper rolls. They're essentially the same, so just grab a couple of them, as well as some construction paper.
You'll probably want to pick up some googly eyes from here, craft glue, and finally, a pair of scissors—these are all just your typical craft essentials.
When you're done rolling up the paper with your cylinder, go ahead and stick on the different components to finish off your penguin.
If you have any construction paper left, then check out these construction paper crafts, as well as how to make this unicorn toilet roll craft!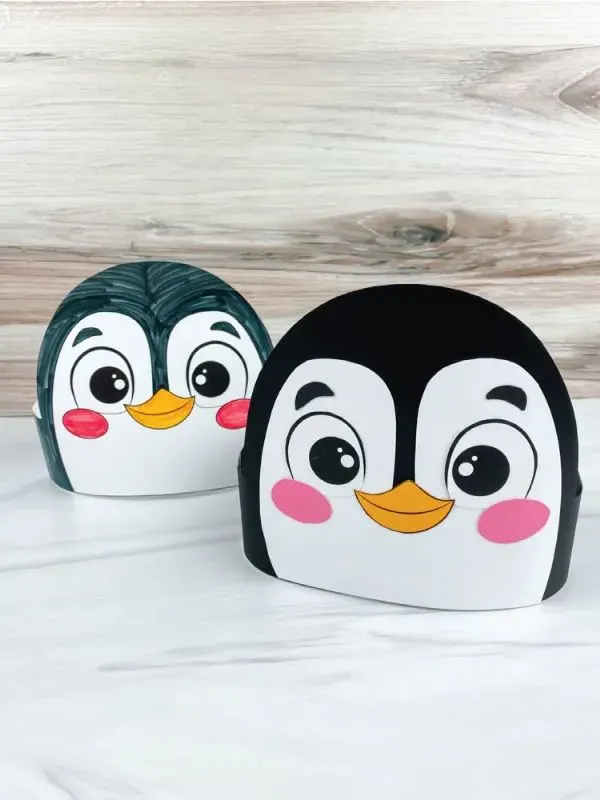 Source: simpleeverydaymom.com
In keeping with the penguin theme we've got going, how about you take a look at these penguin headbands? They're super cute and even easier to make than you'd think.
Use the template provided; print out and subsequently cut the different pieces as instructed. Then, assemble the penguin and glue the face to the headband's base, as seen here.
Finally, you can glue a couple of googly eyes or paper eyes if you prefer, along with the beak. There you go!
Love to make a headband? You might want to try this one.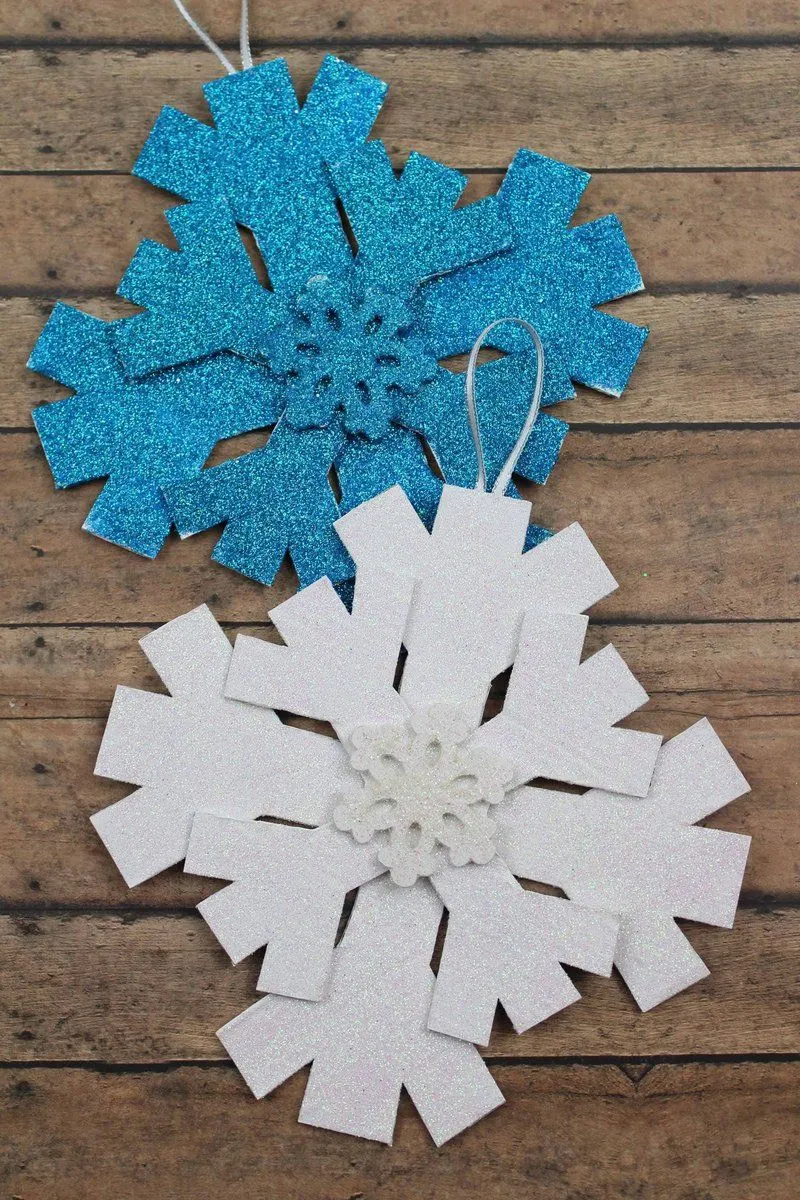 Source: theinspirationedit.com
These snowflakes might look pretty fancy, but they're actually pretty easy to make, and your kids will love the sparkle involved. So, use your printer to print out the template provided.
You'll essentially just assemble the different components and then use white glue like this to stick them in place. You'll also want some ribbon—something cheery and festive to hang your paper snowflake from.
Once your glitter has set, and you're happy with how the snowflake looks, grab the ribbon, loop it through and then hang it up on the tree.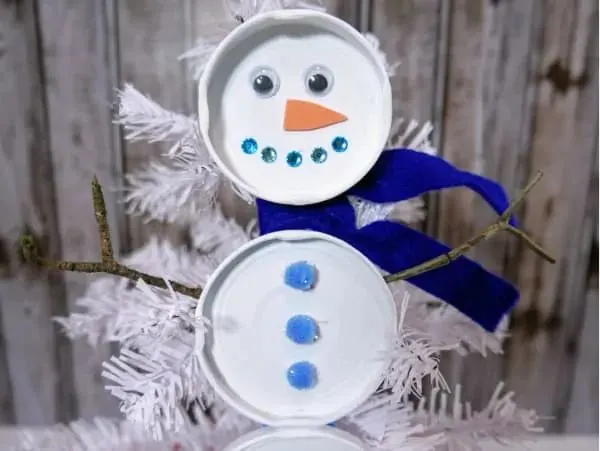 Source: threekidsthreecatsandahusband.com
You'll be amazed just how easy these snowmen are to create. Even a child could do it, and that's exactly why it's found its way onto this list of craft projects for them to try.
You'll need a few bottles of paint, embellishments, and even some scrap fabric to use as the scarf—you can see that this one's made of blue felt. You can use scraps you already have or pick some felt sheets here.
Then, hot glue all the components together, stick the little pompom buttons in place, and simply enjoy your snowman!
Check out these scrap fabric projects you'll have fun making.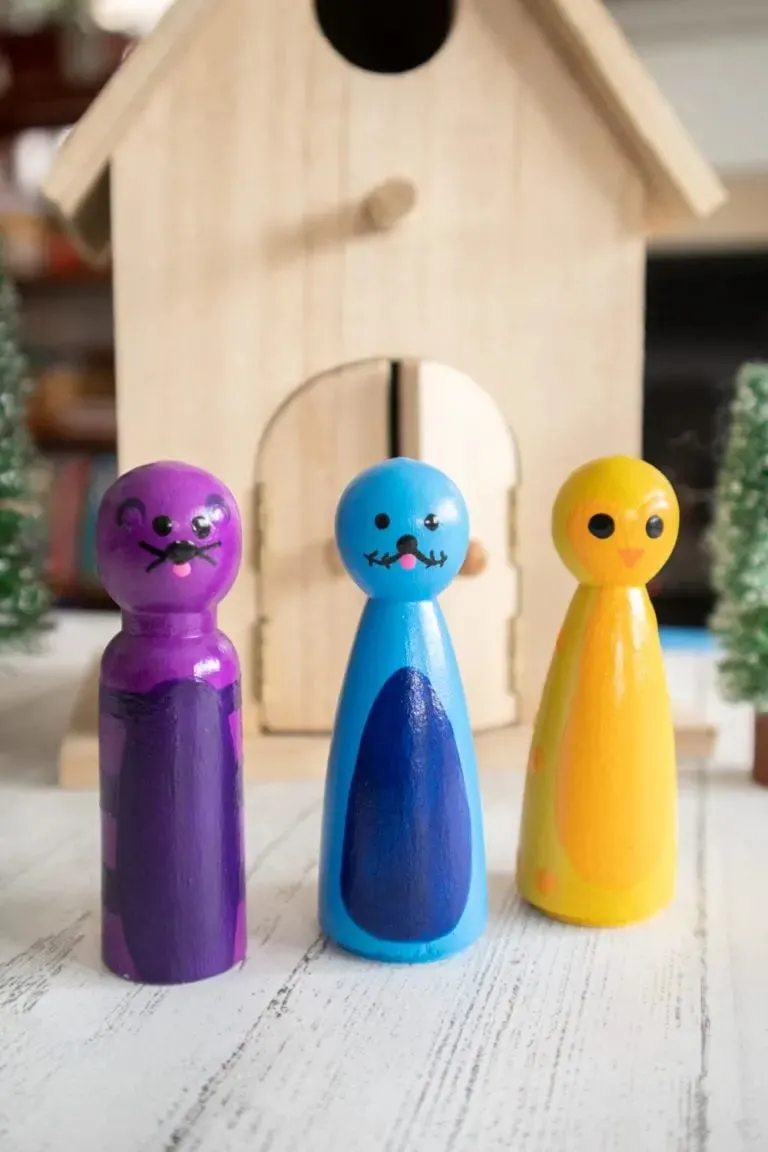 Source: sustainmycrafthabit.com
I always held a profound fascination for animals at the poles. Arctic animals are so rare everywhere else in the world, which is why it's super important to teach your kids all about them.
These wooden pegs can be used to bring those arctic animals to life just enough to interest your kids. Grab some paint, a few brushes, and a black marker to draw their faces.
You can make a penguin, a seal, and finally, you can round off the set with a polar bear—the entire trifecta, if you think about it.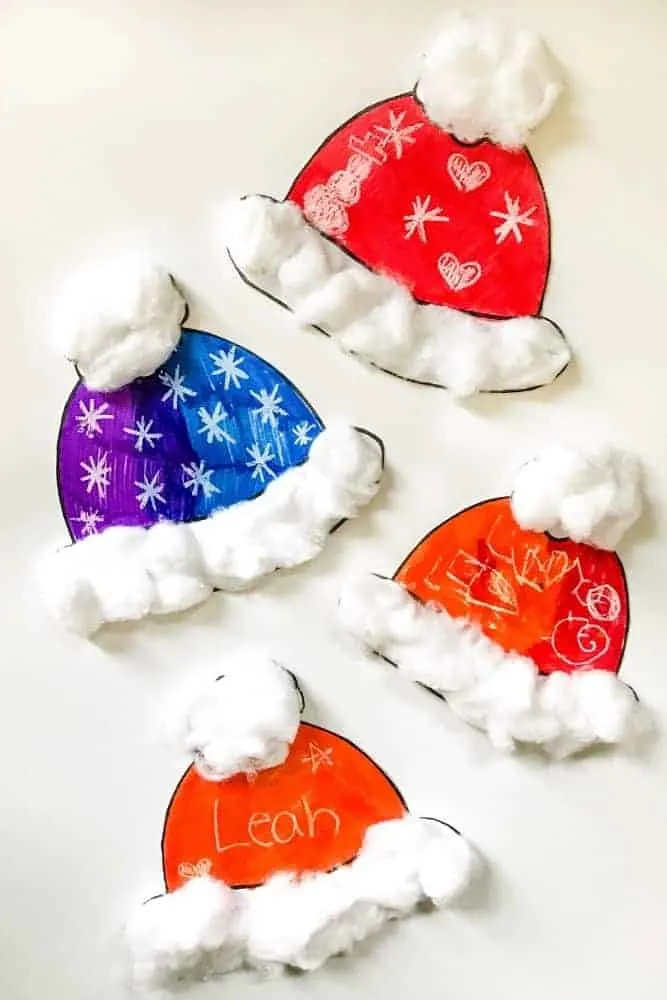 Source: journeytosahm.com
This winter hat is a craft for the younger kids to try out, especially toddlers if you have them. These hats are super easy to make, and I bet you already have all the supplies you'll need, including cotton.
While there is a template provided, feel free to add to the design with your own patterns—you can use a white crayon for this. This way, your toddler, too, can explore their creativity, and it's never too early to learn to draw.
Finally, cut the hat shape out of the paper and tack it up on your refrigerator for everyone to enjoy.
Source: daisiesandpie.co.uk
This looks a bit like a deconstructed snowman, I agree. There's a rather cut shabby-chic vibe going, though, with a whole lot of rusticity that's only offset by those cute buttons.
So, grab a popsicle stick, a marker and your buttons and get started on this craft project. You can hot glue the entire stick onto a white snowman silhouette base as indicated.
Or, you can just stick the popsicle into a potted plant and call it a day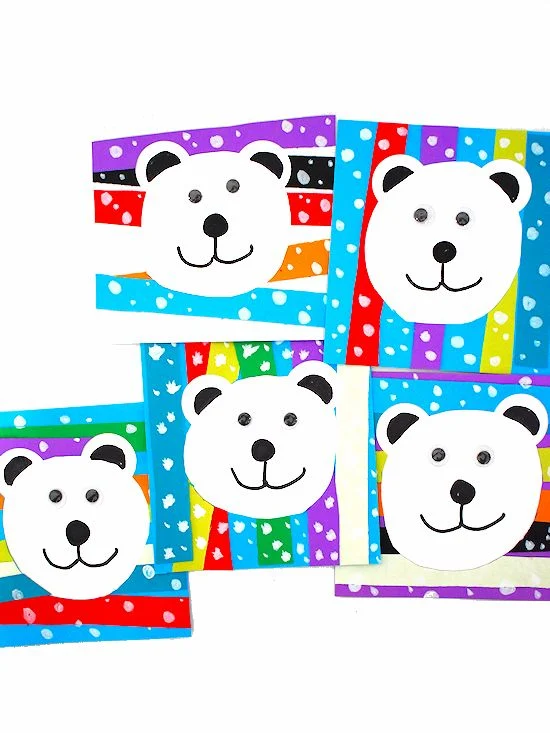 Source: ourkidthings.com
Polar bears are the epitome of all things wintery. They're like the Santa Clauses of the season, in that they represent a whole lot of the icy poles they belong to.
When you're making these paper strip polar bears, though, you don't need to stick to plain white. Offset the white polar bear with a ton of colorful strips of paper.
And yes, they do look a little like pandas, so feel free to use them however you see fit. You can teach your kids about both animals, so there you go!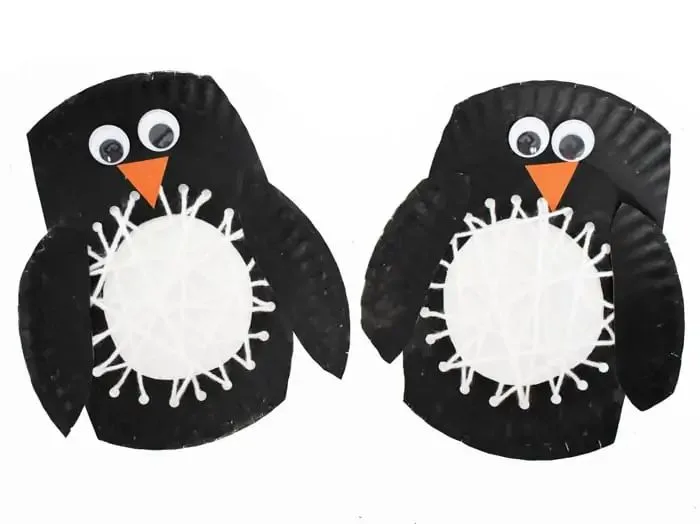 Source: madewithhappy.com
Let's follow up those polar bears with the next arctic animal: penguins. Only, unlike the polar bears, they're much easier to find at zoos.
If your kids love penguins, then winter time is the best time to make a ton of penguin crafts. This one calls for paper plates, paint and a pair of googly eyes.
You can string some white yarn from here across the center as seen here to add a little bit of texture to your craft project. Use a hole punch to punch holes around the belly of the penguin and loop the yarn through it.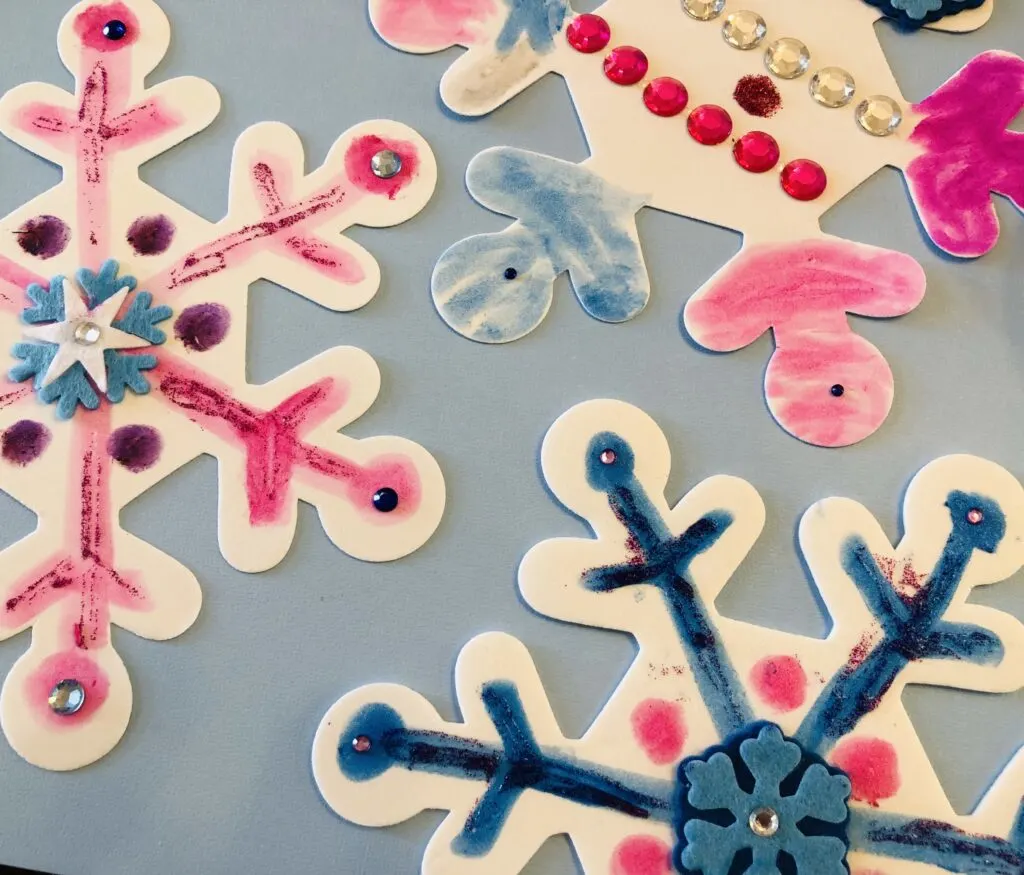 Source: glitteronadime.com
Unlike paper snowflake crafts, these foam ones are much more durable. So, if you and your toddler decide to make them, you'll find that you can store them away and carry them over to the next year's festivities.
Here's what you'll need to get started:
Glitter glue
Paint
Stickers
Once you've set things up, just start decorating your snowflake with glitter, gems, and stickers.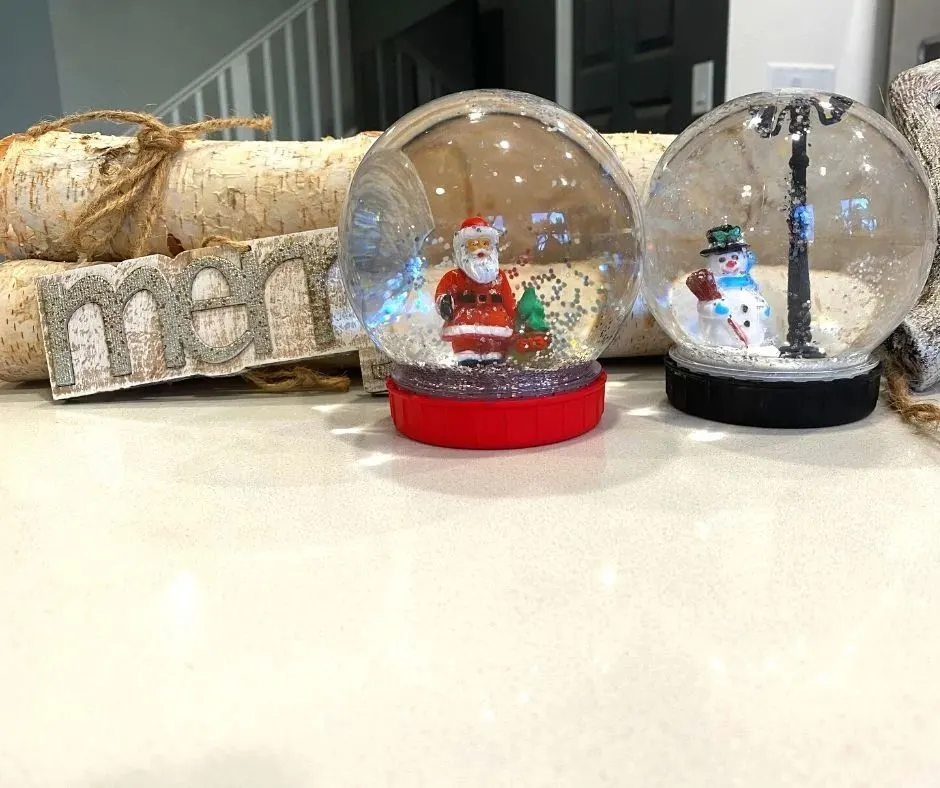 Source: swankyden.com
You'll be surprised to find just how easy it is to make DIY snow globes. They're super inexpensive, too.
You can pick up most of what you need at a nearby dollar store. But you can find the plastic orb containers right here. Also, you can use glass if you want something fancier to put up on your mantel.
You probably have mini Christmas toys like Santa, a reindeer or two, and the likes. You can put them inside the globe if you like! Don't forget, you can also add sparkle to really kick things up a notch!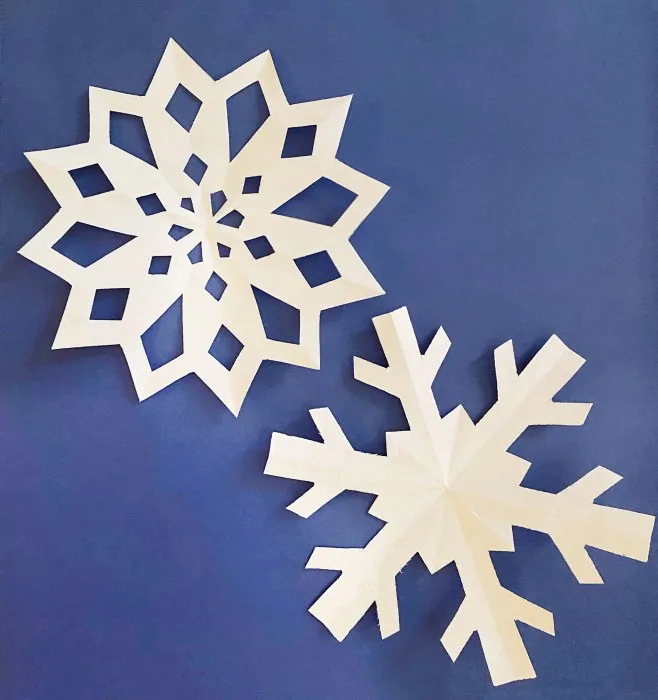 Source: brooklynberrydesigns.com
This project is really super easy.It just involves a lot of cutting, and that's a good thing. Why?
Well, if you're starting your kids out on their crafting journey, especially with the young ones, they need to learn how to use a pair of scissors effectively and carefully.
So, under your supervision, you can guide them along the way. Just download the template that's been provided and start working!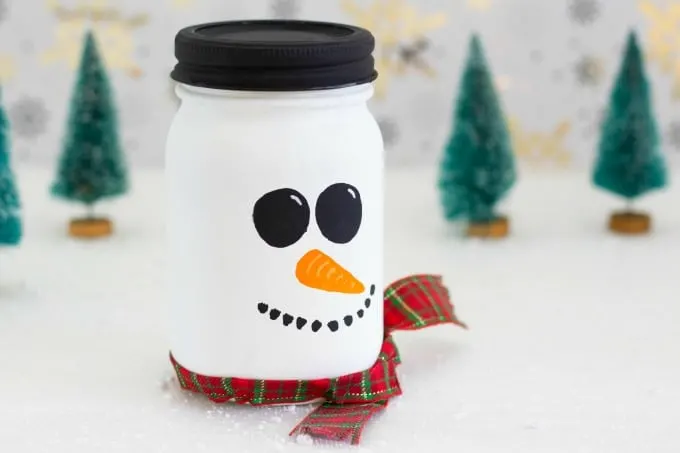 Source: funmoneymom.com
If I've said it once, I've said it a gazillion times(excuse the hyperbole): mason jars are the absolute best. I genuinely believe that you can do just about anything with these mason jars.
This mason jar snowman is a lovely decorative addition to your winter-themed home decor. It's also something that I bet your kids will enjoy making, so feel free to involve them, too!
Don't forget to pick up some paint while you're shopping: black, orange, and white for this project.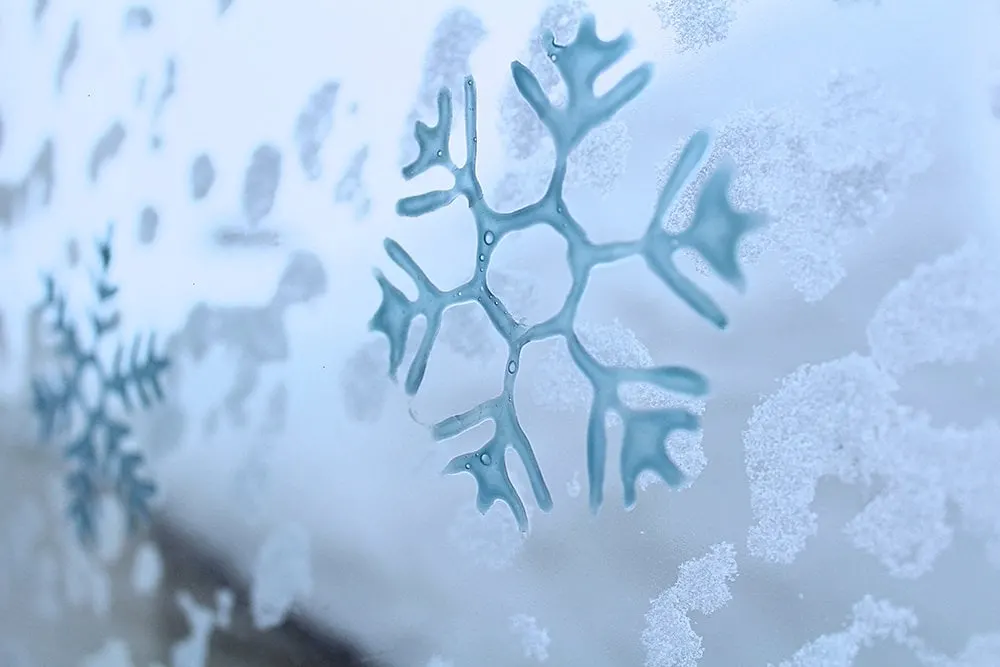 Source: thecraftathomefamily.com
Take a look at these gorgeous color-changing snowflakes. They cling to your window and look like magic!
Your kids are going to love watching them change color and you need very few ingredients for this project. Grab a bottle of color changing glue from here.
Then, print out the template for the snowflakes—I wouldn't recommend winging it with this particular project. Then just sit back and enjoy the show!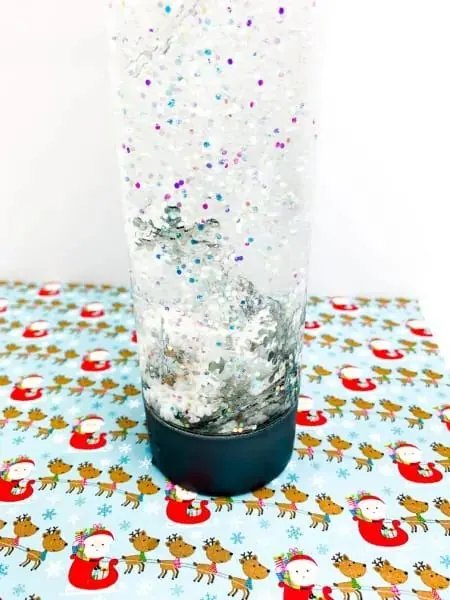 Source: threekidsthreecatsandahusband.com
Sensory crafts are so important, especially to younger children. This particular sensory bottle will keep your kids occupied for a good long hour—and that's after the time it takes you to actually make the project!
Grab an empty bottle—with a lid—and a bottle of glue. You'll need confetti, sparkles and some plastic snowflakes from here to put into the bottle.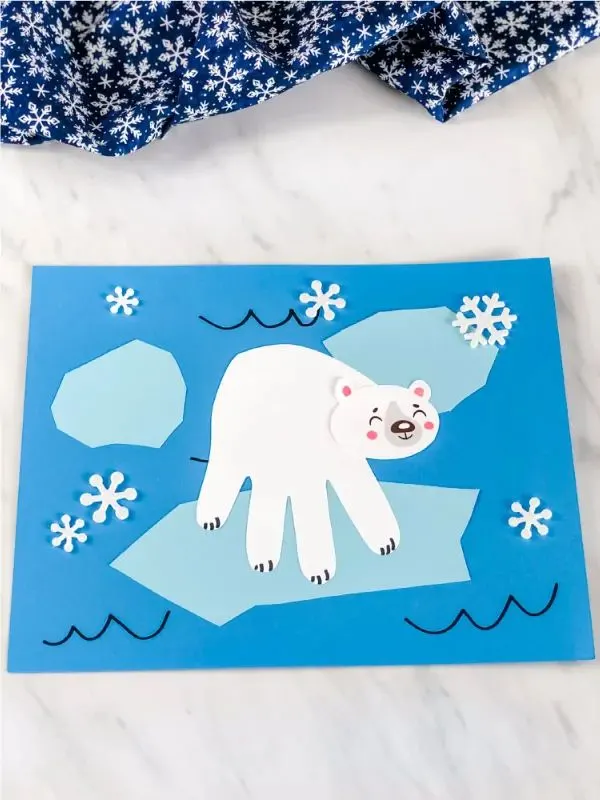 Source: simpleeverydaymom.com
You have five fingers and a polar bear has four legs and a head. That's the perfect recipe to make a handprint polar bear craft project, I think.
Grab a couple of sheets of dark blue, light blue, and white cardstock paper. Also pick up some mini snowflake embellishments to stick to the paper.
Then, help your kid trace an outline of their palm and then cut it out. The thumb is where the polar bear's head goes, if you're wondering.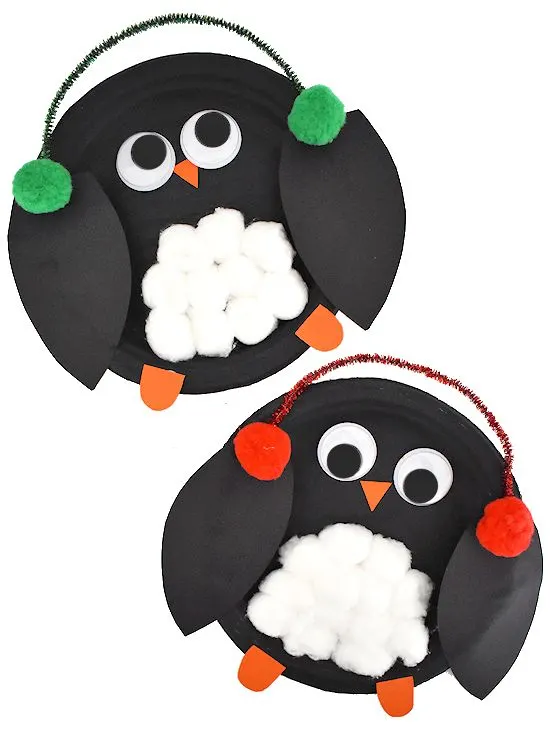 Source: ourkidthings.com
Aren't you glad you have just one more penguin craft project to try out? This is quite simply the most adorable one yet. Look at all the fluff from the cotton!
There's also a couple of red pompoms at the ears. You can bend a bit of pipe cleaner from here and make a cute pair of earmuffs for your penguins, too.
Check out these pipe cleaner craft ideas, too!