Need a little upgrade to your bedroom? These DIY bedroom decorating ideas will transform the way your room looks. The projects are simple but creative enough to make a huge difference.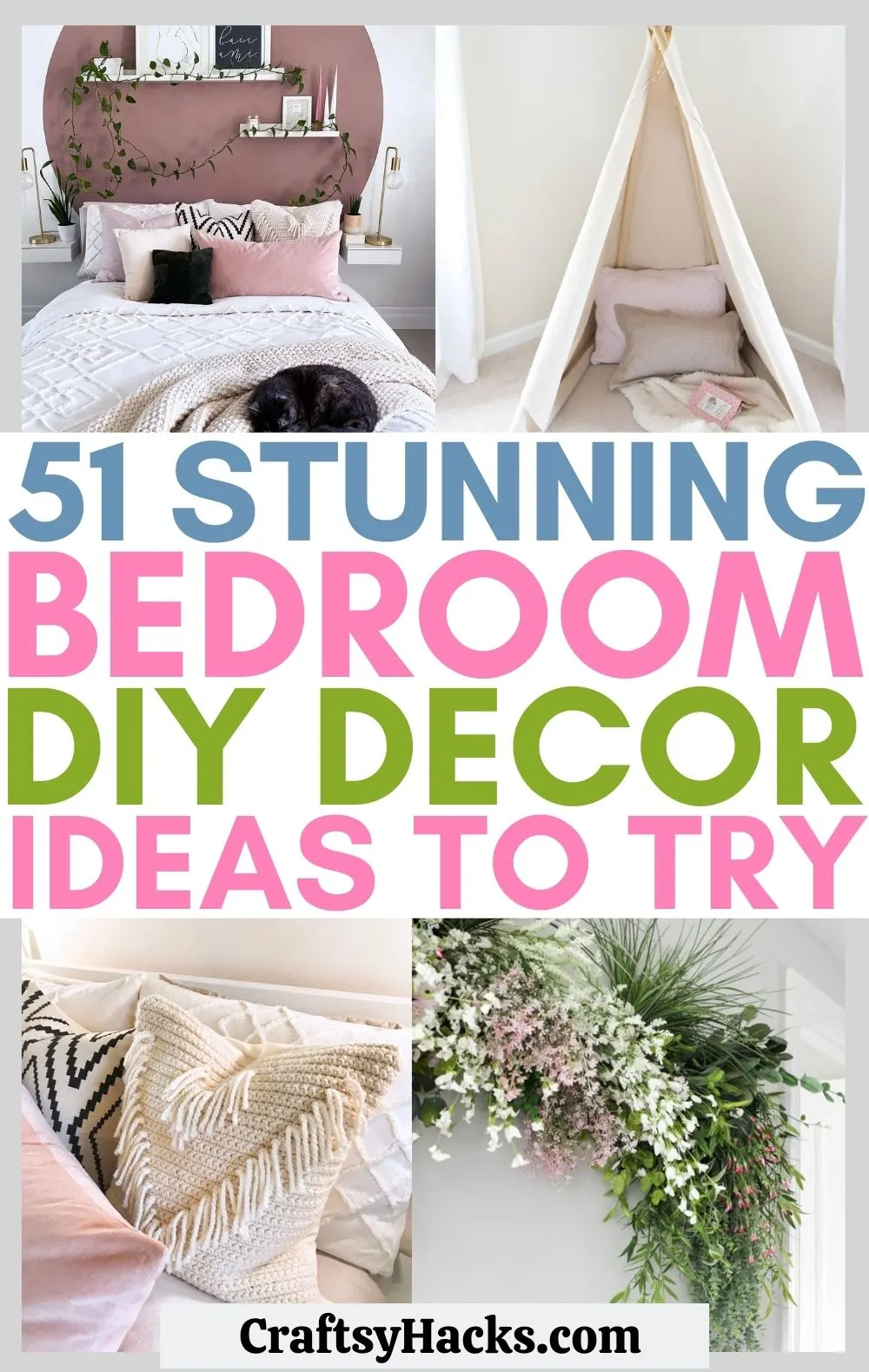 You've finally moved that last piece of furniture into your newly painted bedroom, and now, you're all set. But…are you?
Don't you think that your bedroom needs a little more…well, just a little more? It's time to decorate your bedroom and put your very own stamp on the place.
How? Well, here are 51 DIY bedroom decor ideas to get you started!
1. Crochet Pillow with Tassels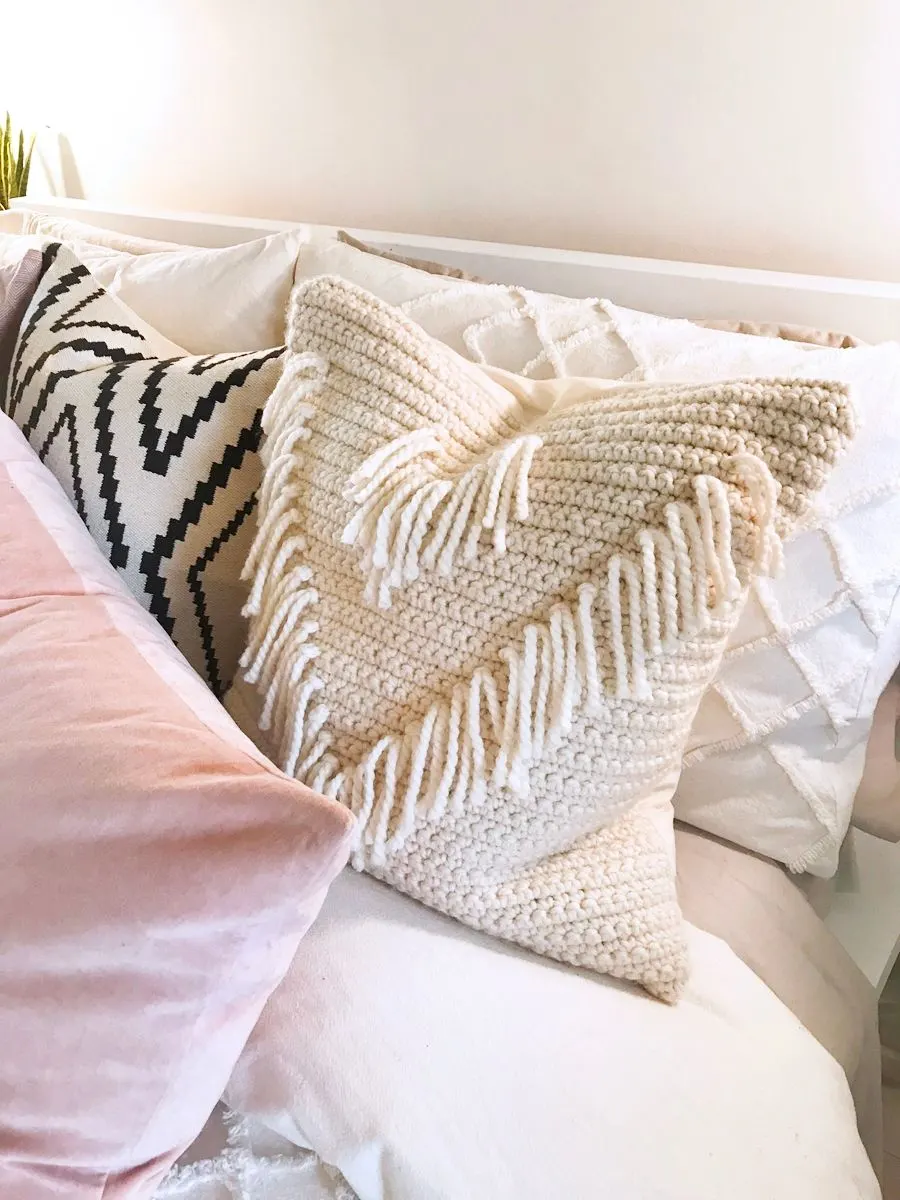 Source: popshopamerica.com
There's nothing like a few toss pillows to decorate your bed and bedroom. Think of it as an opportunity to bring in color, design, and texture to your bedroom, and the way to do that is with these crochet pillows.
To give your pillow a little more jazz, you can add a western-chic element to your pillows with a line of tassels. Once you've crocheted the pillow, you can attach your tassels in any pattern you like.
So, grab a pillow insert from here, and you're set.
2. Doily Wall Art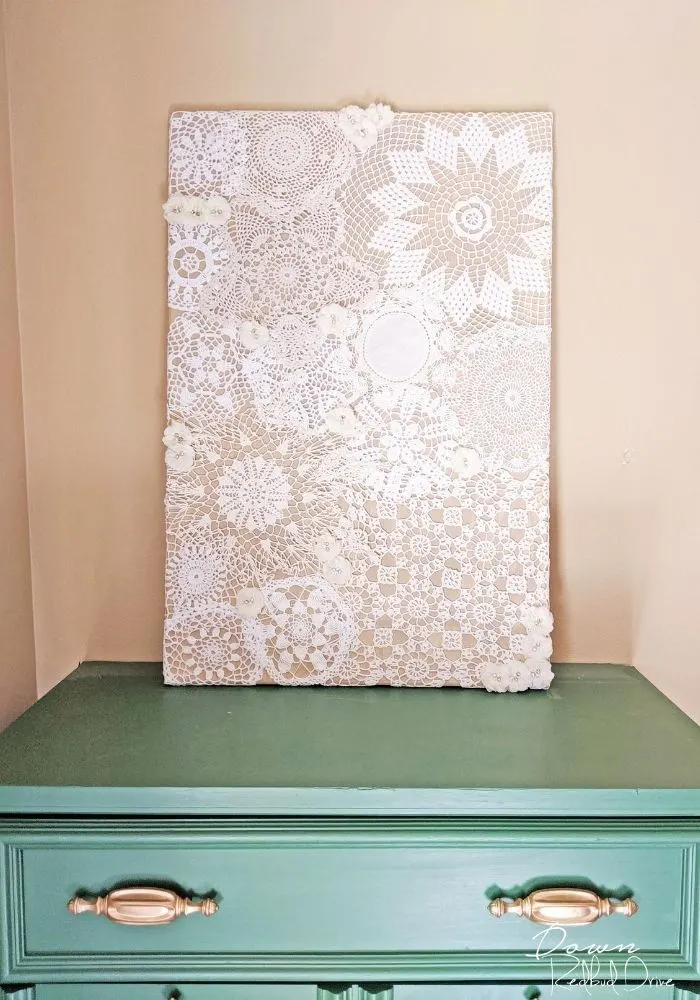 Source: downredbuddrive.com
Doilies are so quintessentially vintage and feminine. It's not uncommon to see them adorning tables, but let's take it up a notch and maybe even add a twist, shall we?
Let's turn a bunch of pretty doilies into a fabulous piece of art that you can use to decorate your home! You can hang it from a wall, or you can mount it up anywhere you like.
Just grab enough doilies to cover a canvas board like this. Then, take your hot glue gun and start sticking your doilies to the canvas.
3. Wooden Mossy Letter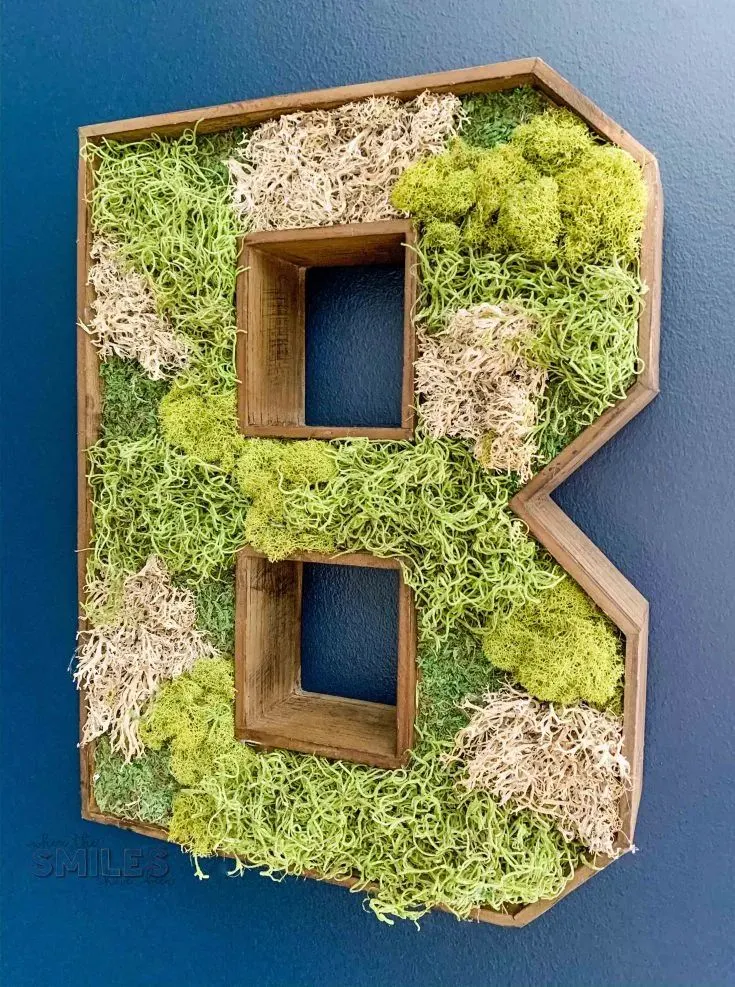 Source: wherethesmileshavebeen.com
Mossy wooden letters can add a ton of texture to plain walls. If your bedroom is in dire need of some texture, color, and character, then check out how to make your moss letter.
First, grab some preserved moss from here. You can use different colors of moss, too. Just think of how lush some deep purple or green moss would look.
Then, pick up some cardboard sheets to make your letter. Make sure the letter is at least a few inches deep so you can stuff your moss in there.
4. Paper Flower Wall Decor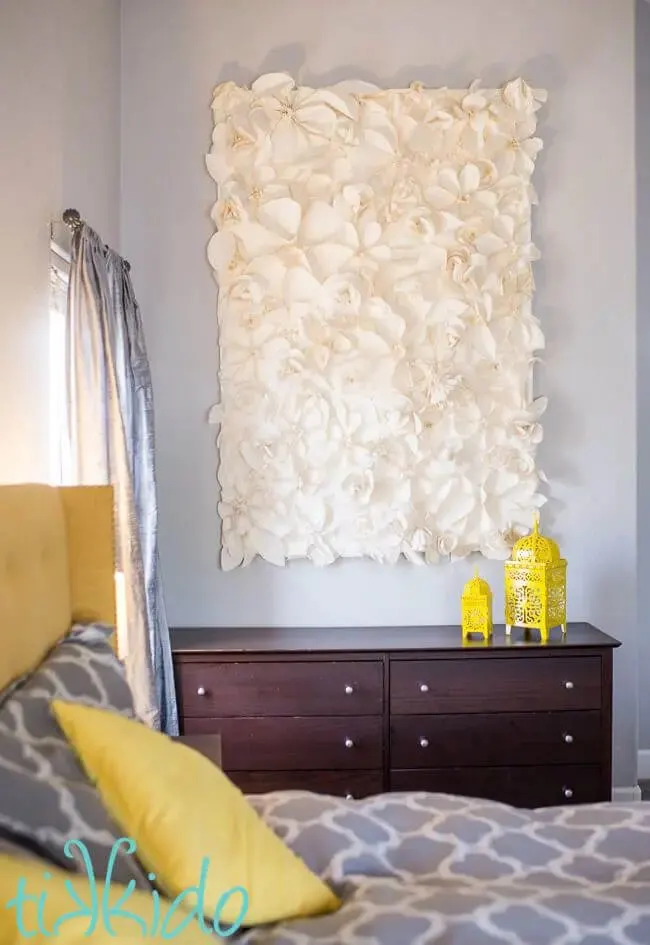 Source: tikkido.com
A paper flower wall decor like this one is definitely a lovely addition to your bedroom, but it can also be a bold accent piece when done right.
You don't need any elaborate blueprint or template to make your flowers, just sturdy paper of your choice to get you started. You'll also need a roll of this easel paper for the base.
There are so many different styles and types of flowers that you can make. In fact, why don't you take a look at these two methods to help you along the way:
5. Basket Wall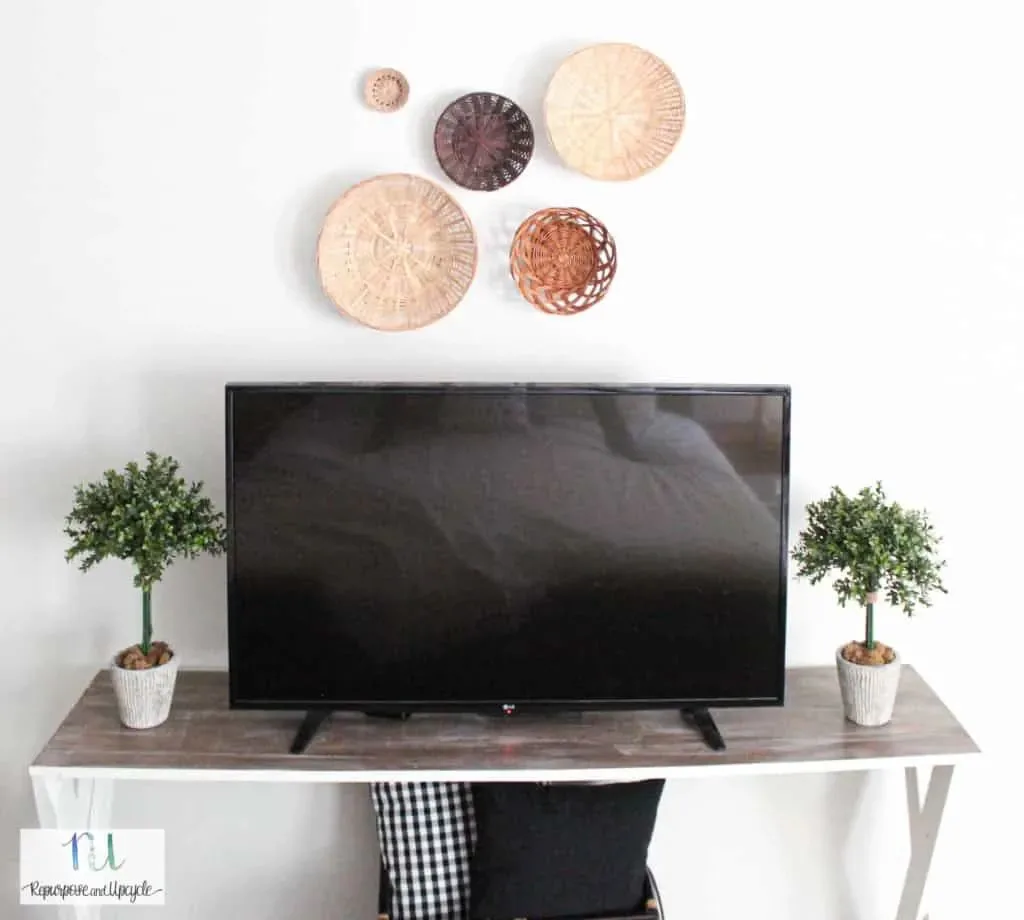 Source: repurposeandupcycle.com
Another great piece of wall decor that takes very little to make and display is this display of baskets. It just screams cozy Bohemian cottage, and again, does much for your room in terms of color and texture.
It also adds a certain level of depth and character to your wall. This display would look perfect right above your headboard or on the empty space above a dresser.
Just remember to use different sizes, and even different shapes of baskets, and you'll be good to go!
6. Aged Vase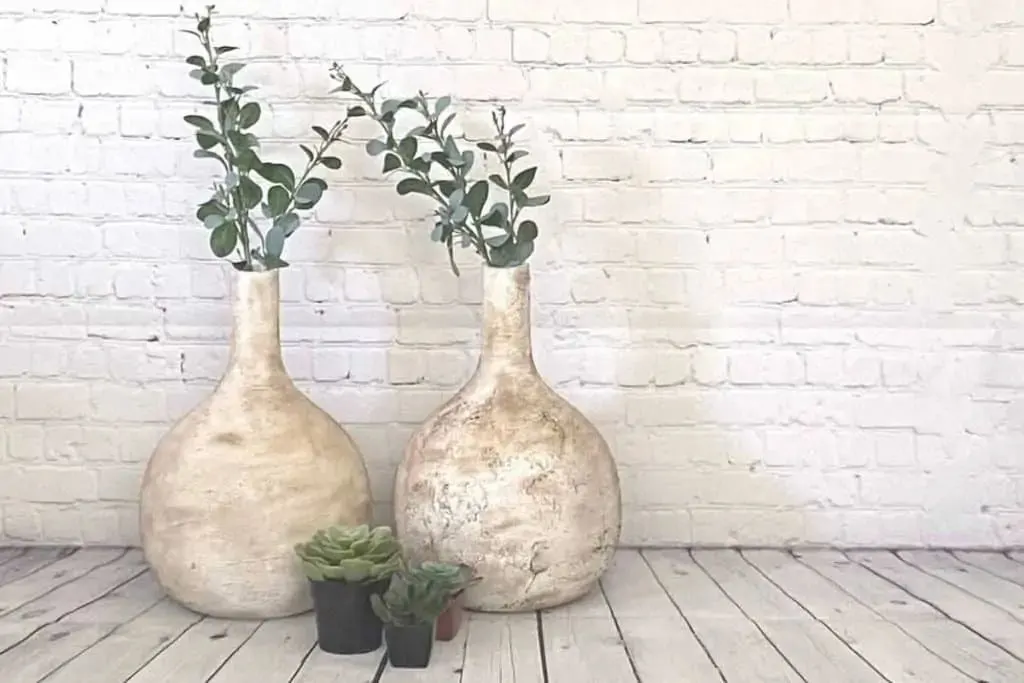 Source: restoredecorandmore.com
I don't know why but aged decor pieces are so fundamentally modern. Take this aged vase, for example. Doesn't it look rather edgy and earthy at the same time?
It might be because it's artfully aged, rather than just an old and dingy vase. You get the idea, though, and you'll be glad to know that you can make this vase, too!
You can upcycle an old glass pitcher or the bottom of an old lamp to use as the vase. But first, you'll need a base layer of white primer from here to apply a couple of coats to the vase to prime it.
Loved this idea? Check out more DIY Summer décor ideas here.
7. Ombre Hexagon Wall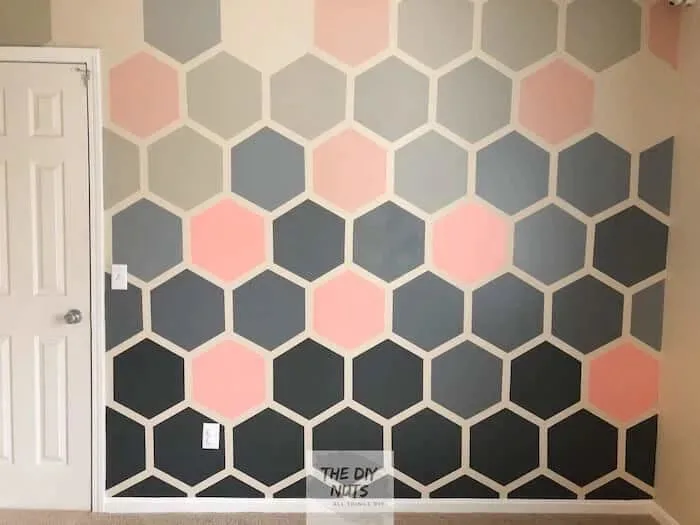 Source: thediynuts.com
You'll be surprised at how a little tape and paint can change a plain old bedroom wall into this gorgeously symmetric hexagon accent wall.
It's pretty easy to pull off, really, if you're careful about how you tape your hexagons in place. So, pick up some tape from here to help you along the way.
You'll also need several foam rollers and tray liners. When you're planning your colors and placement, ideally, anywhere between 3-5 colors variations should do the trick.
8. Monkey Fist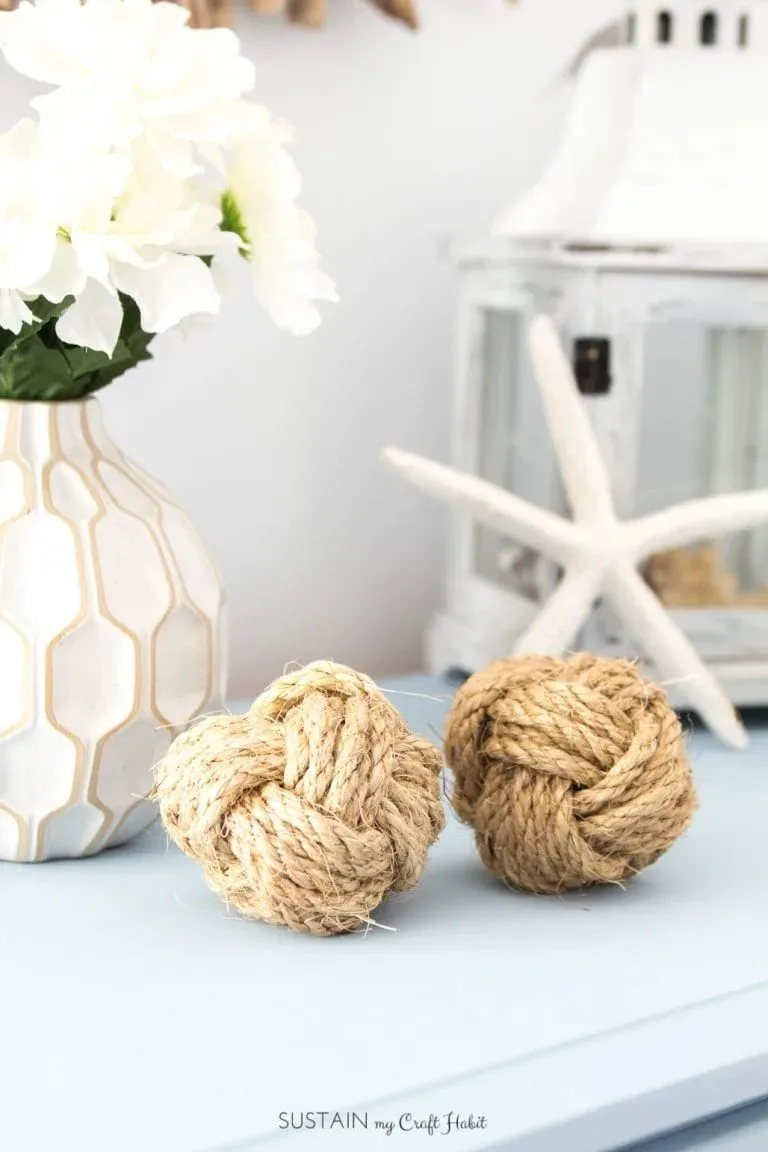 Source: sustainmycrafthabit.com
Have you ever heard of a monkey's fist knot? It's essentially a knot that looks like a fisted paw, ergo the name. Well, when you make this knot with thick and sturdy rope, you have a lovely decor piece.
It's exactly the kind of little knick-knack that can fill up that eye-sore empty spot on the mantel. You can make a couple of these knotted pieces—different sizes would work really well—and set them out.
You'll just need a measuring tape, a pair of scissors, and sisal rope from here.
9. Upcycled furniture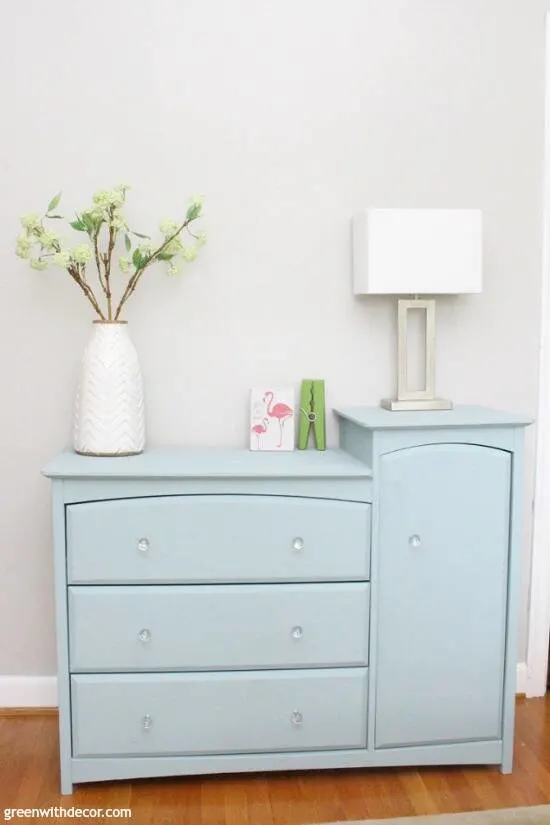 Source: greenwithdecor.com
Upcycling and repurposing old furniture is a great way to save a penny. A few coats of paint, a little bit of tinkering, and you've got a lovely new accent piece of furniture to show off.
Before you begin the makeover, you should probably scan the piece in question. You might need to replace some of the hardware, so go ahead and visit some flea markets or thrift stores.
You'll definitely find some unique handles or drawer pulls that you can use.
A fan of upcycling and transforming your furniture? You might love these IKEA bedroom hacks!
10. Painted Circle Headboard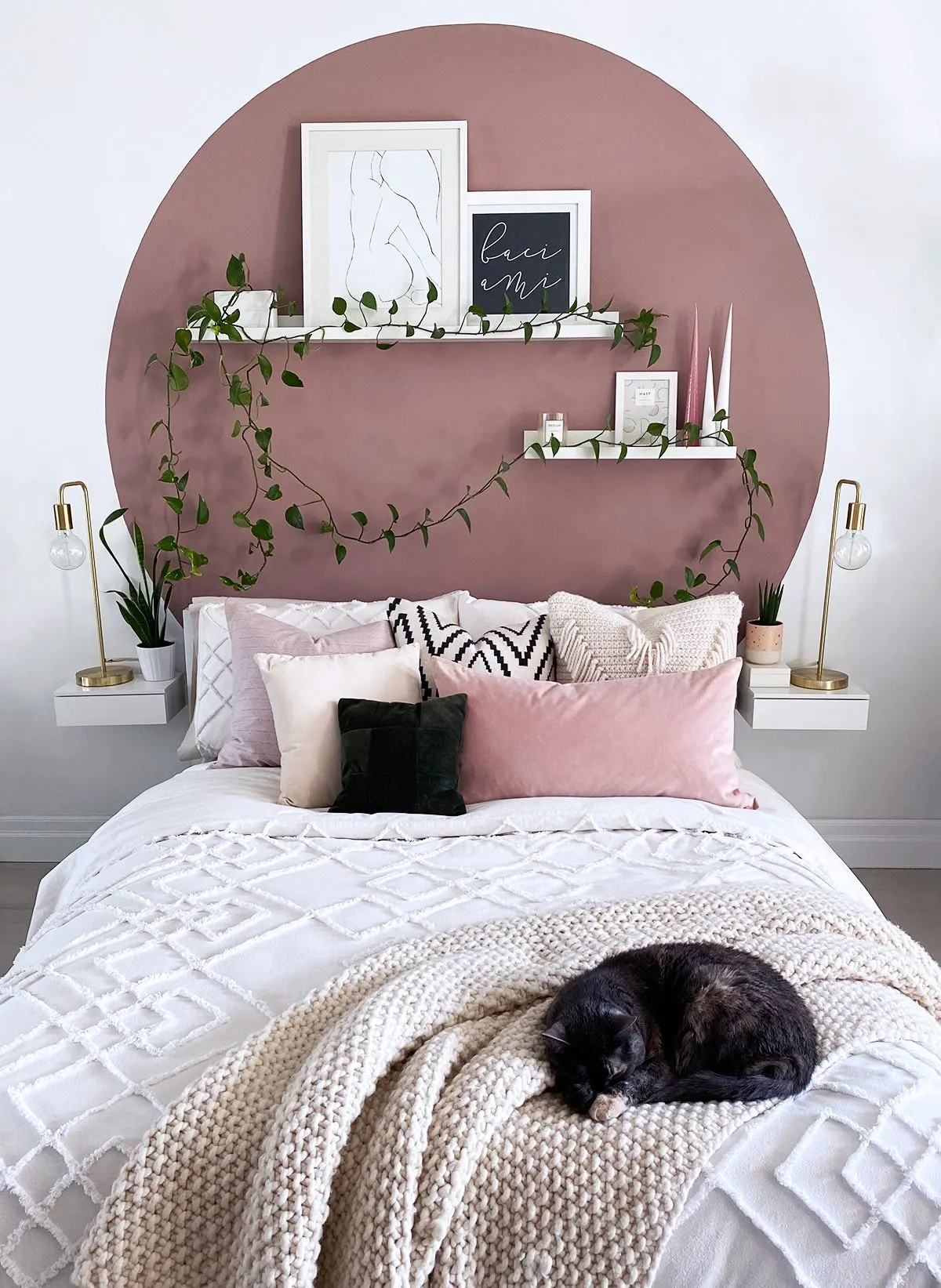 Source: popshopamerica.com
A headboard is the perfect opportunity to accentuate a bedroom. But when you don't have one or if the room can't accommodate one due to space restrictions, then it's time to improvise.
You can paint this simple circle on the space above your bed to add some color and cheer to your space. It's also the perfect place for you to set up a couple of shelves to hold a few books, or even a plant or two.
Grab a quart of your favorite color of paint, a couple of paintbrushes, and start painting!
11. Trunk Storage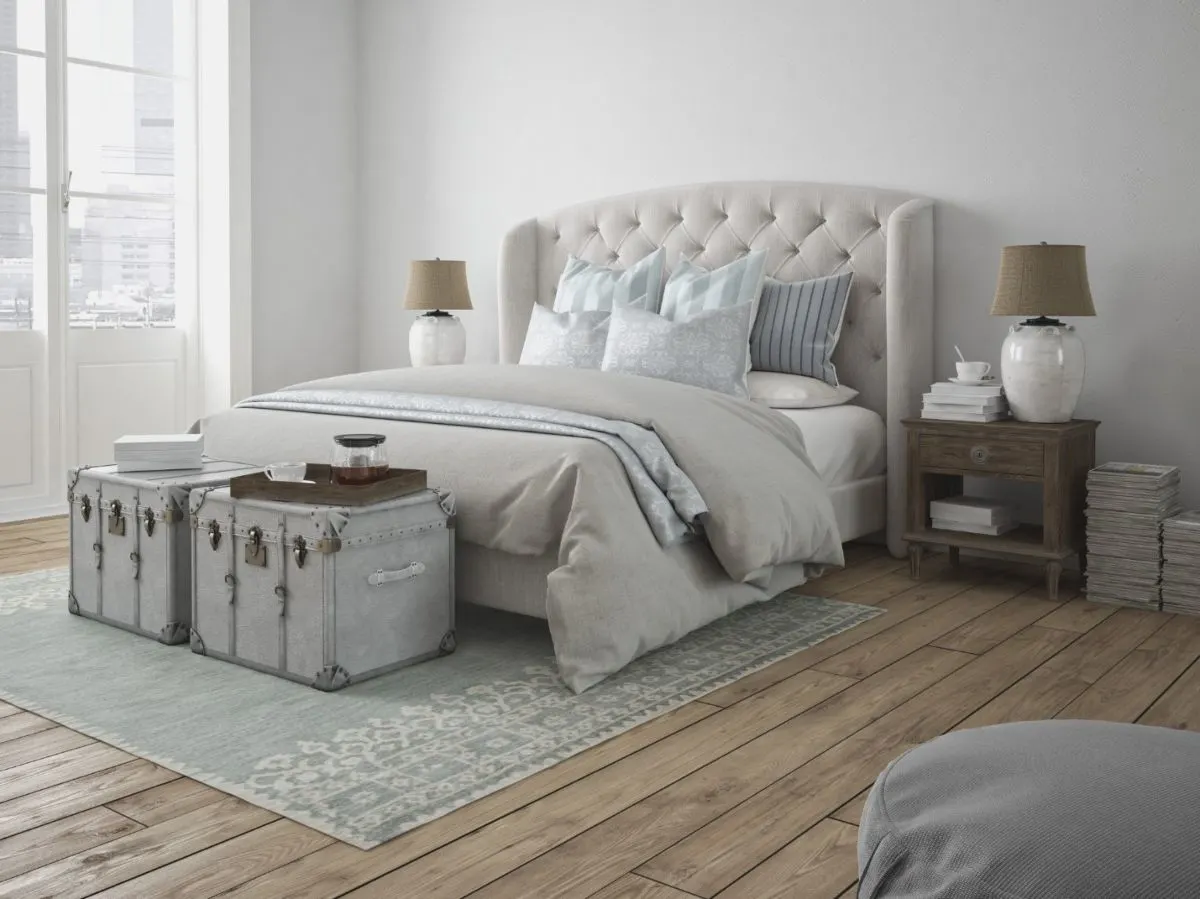 Have you ever seen those little benches at the end of the bed, which also doubles as a place to store your blankets and toss pillows? This trunk set will definitely look good in your bedroom and help you declutter it, too.
You can upcycle a couple of old trunks from your attic for this project. With a few coats of paint, an update of the hardware and handles, and you're set.
Besides, who wouldn't enjoy thinking they're all packed up and ready for a vacation 24/7?
Love increasing storage space at home? Check out these IKEA hacks to organize home!
12. Hanging Lights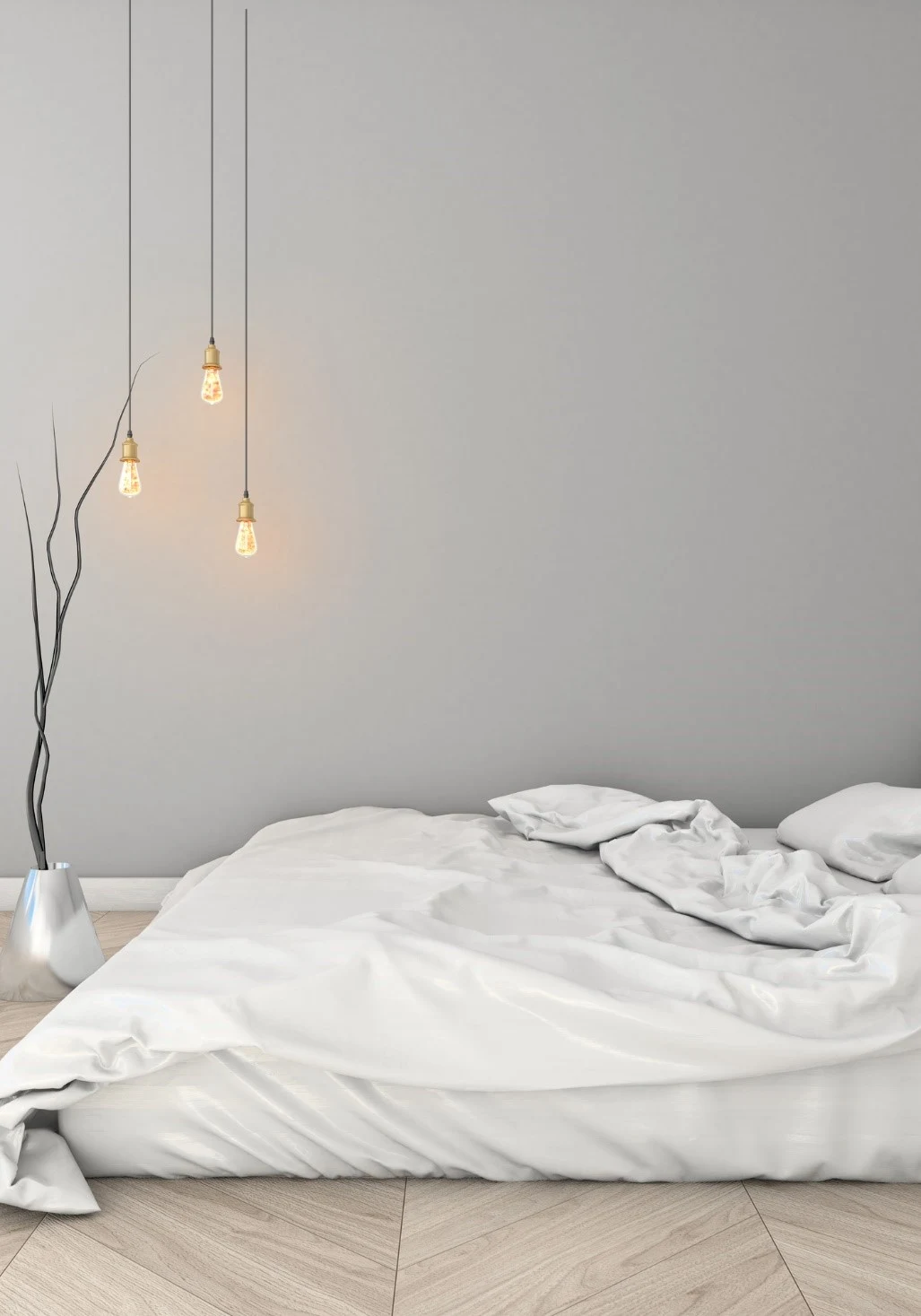 Lighting can set the tone for the entire room. While most bedrooms go for the traditional bedside table lamp or side lamps over the headboard, you can also consider hanging lights.
They're a modern lighting solution that will, for lack of other words, light up a room. A set of three hanging lights per side should work nicely as bedside lighting, don't you think?
But it can just as easily work in one corner of your bedroom. You could set up a comfy chair, and you'll have yourself a reading nook!
13. Ladder Shelf Storage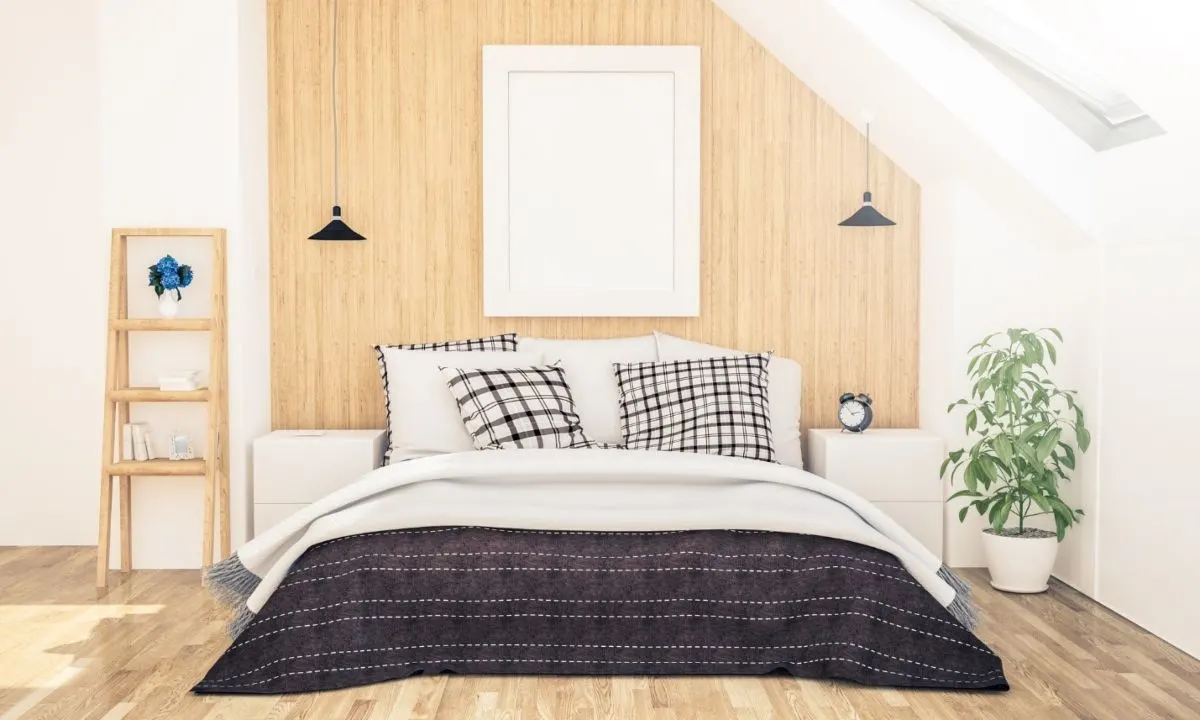 Did you ever think about repurposing a step ladder to use as a storage unit? Depending on the number of steps on your step ladder, you can have a number of shelves to store your belongings.
You can place books, planters and flower vases, little knick-knacks, baubles, and more. If your ladder is a little worse for wear, a coat of paint should help spruce it up.
But you can also make shelf storage ladders from scratch by repurposing scrap wood.
14. Framed Mirror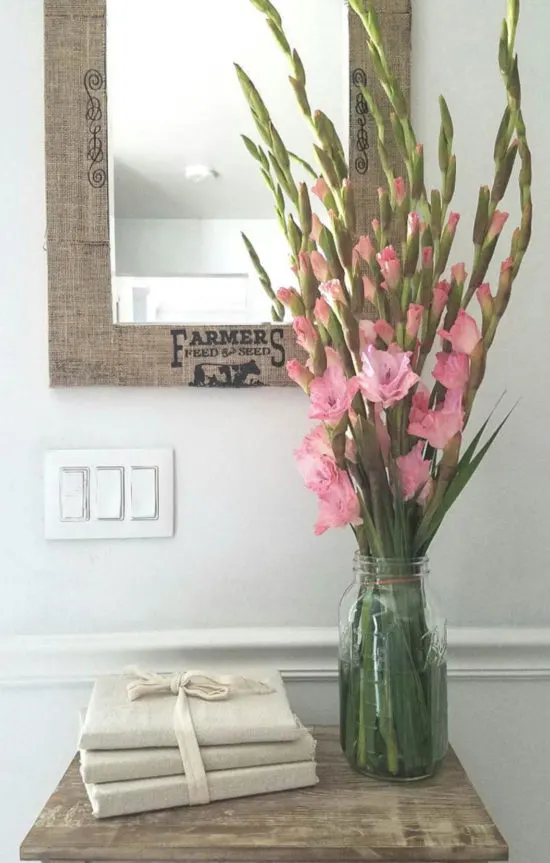 Source: thehoneycombhome.com
A mirror over the dresser in your bedroom is a definite must-have. But not just a plain old mirror. You've got to have it framed, so you've got a nice border to offset it.
This burlap frame is rustic-chic all the way through. You can cut out the pieces from a sack, or you can buy burlap from here.
Just one thing, though: when you cut the burlap, it tends to unravel really quickly. It might help a little to cut evenly to reduce any fraying and jagged ends.
Need an idea for a lower budget? Why not check these Dollar Store home décor ideas.
15. Map Roses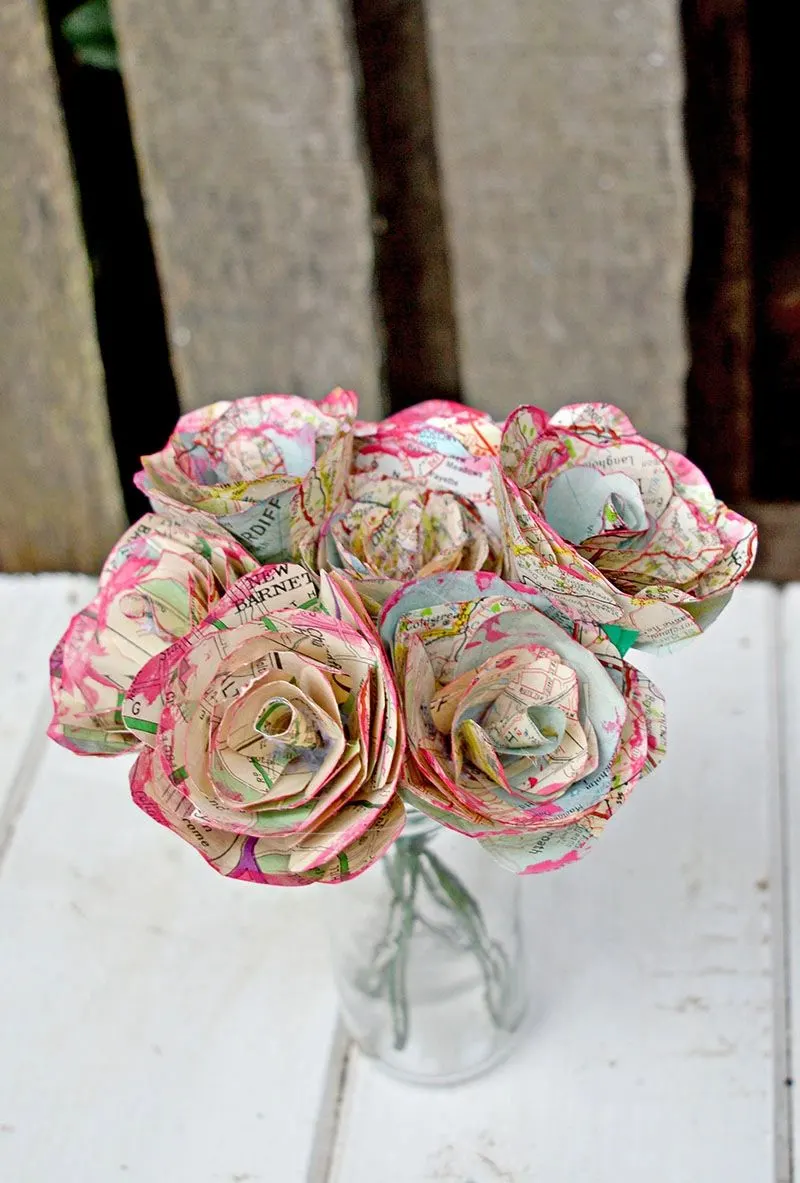 Source: pillarboxblue.com
At the end of the school year, there's always a ton of old textbooks, used worksheets, and old maps that you're probably going to dump in your recycling stash.
Why don't you consider upcycling those maps instead to make these beautiful roses? It's a great craft project that will yield you an even greater addition to your home decor.
Grab some floral wire from here, a pair of scissors, a hot glue gun, and some paint if you want to paint the tips of your roses.
16. Mirror Decals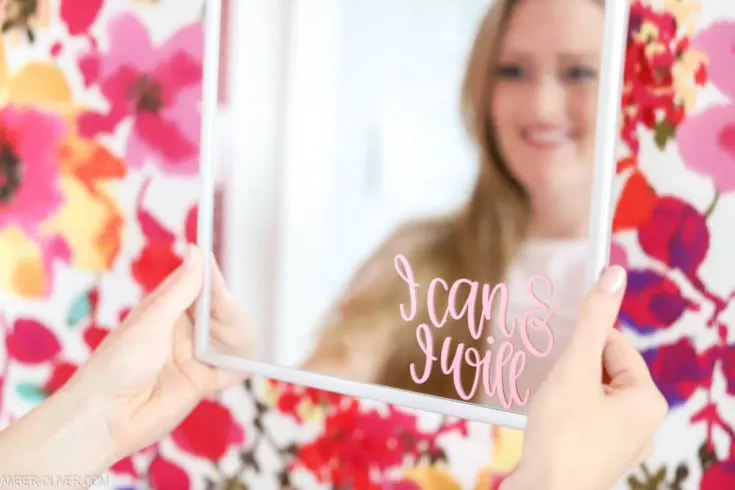 Source: amber-oliver.com
Adding some decal work to your mirror can help you personalize it and bring some much-needed character, too. It can also be a clever way to hide errant scrapes or dings on the mirror that's a definite sore-eye.
With your trusty Cricut machine to help you, some vinyl from here, and a roll of transfer tape like this, you'll be designing your decal work in no time!
If you need some extra help, there's a downloadable template provided. You can upload it into your Cricut design space and work your way from there.
17. Driftwood Mirror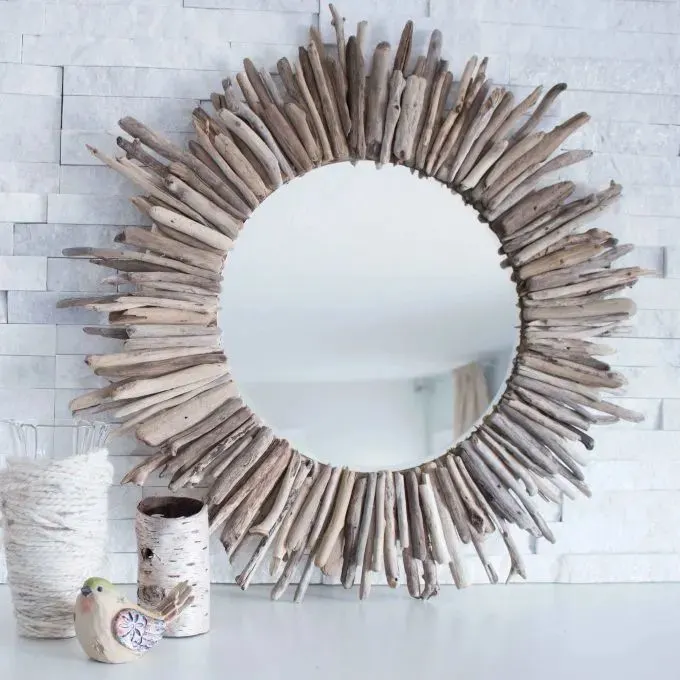 Source: sustainmycrafthabit.com
Here's another project that calls for a mirror. This one is all about recreating that earthy and beachy vibe to go in tandem with the decor in your bedroom.
This driftwood mirror will remind you of a lazy stroll along the beach.
In fact, that's exactly where you can find driftwood, so if you happen to visit a beach, take a bag with you and pick up some driftwood.
You will also need a round, beveled edge mirror from here. Alternatively, you can upcycle an old mirror you already have and stick your driftwood around it as instructed.
18. Cement Balloon Planters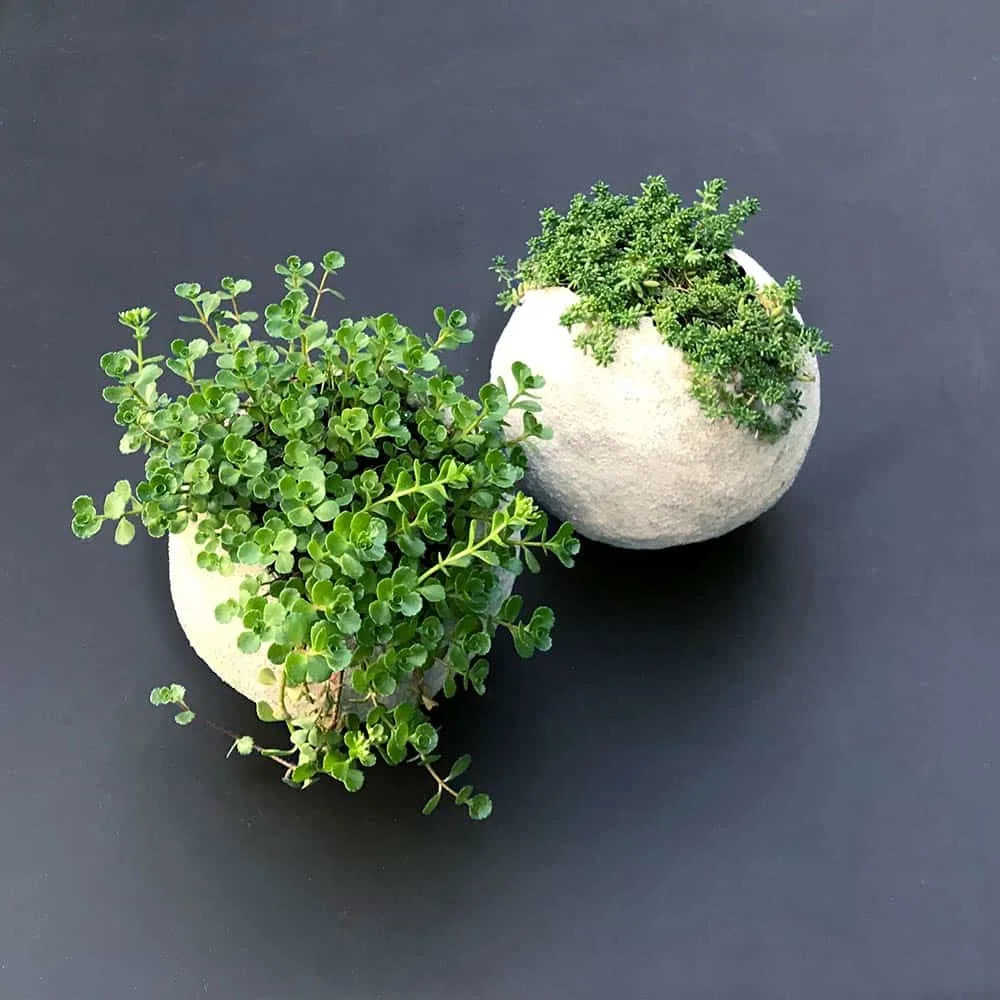 Source: artsyprettyplants.com
Cement balloons sound like the spicy version of a water balloon prank gone terribly wrong. Ha!
What you are going to be making is a gorgeous and urban-looking planter. Yes, you'll be using concrete and balloons; just take a look at how you can coat a balloon with cement and set it to make your planter.
Just remember that you'll be using cement like this, not concrete. Also, I'd definitely recommend wearing a pair of gloves and any other protective gear you deem appropriate while working on this project.
19. Crochet Floor Pouf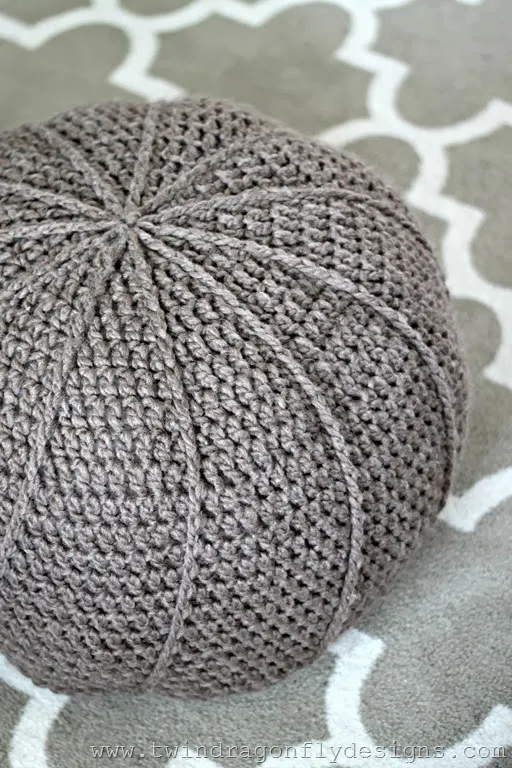 Source: homemadeheather.com
If you have some knowledge about crochet and know your way around a crochet hook, then this little crochet floor pouf is something you can try out.
There's a pattern provided along with instructions regarding the size of the finished product. I hope you have some pillow stuffing to stuff your crochet swatch.
Just remember to pick chunky, heavy-weight yarn for this project. That will keep your pouf sturdy, and you won't have to worry about whether the yarn will give when you stuff it.
20. Dip Dyed Blanket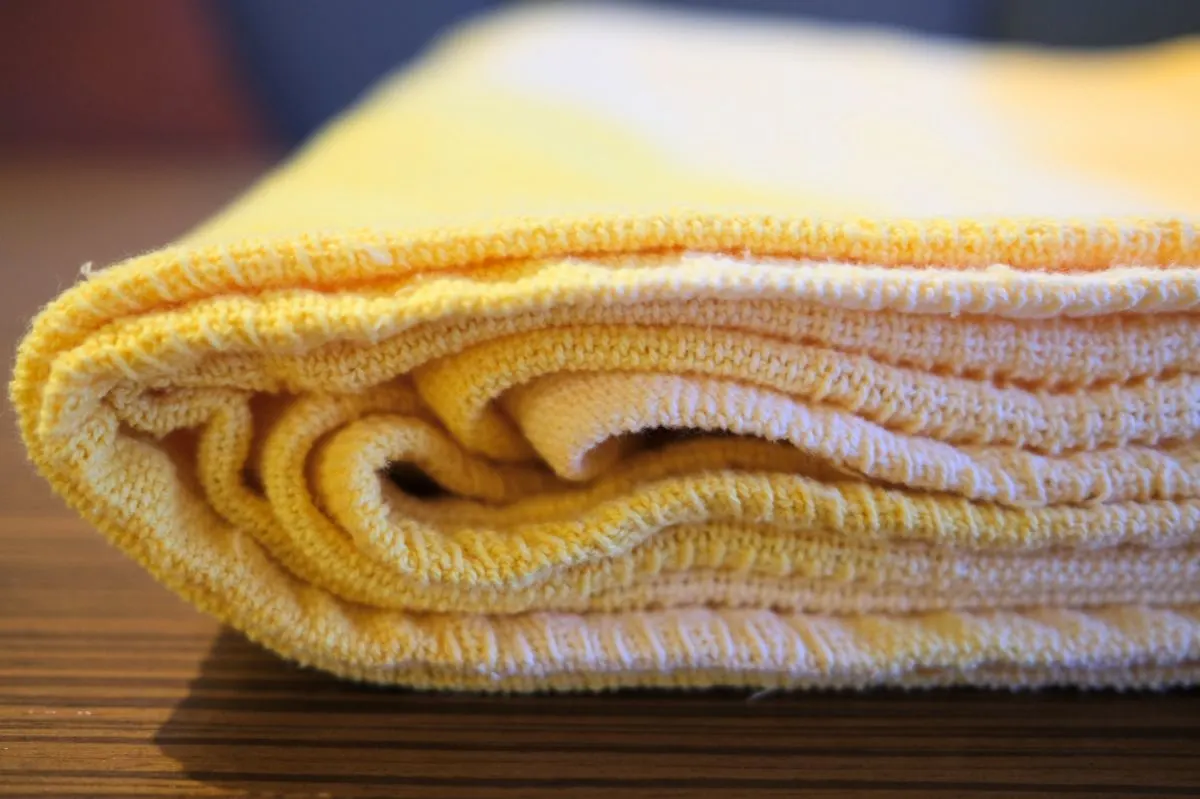 Source: popshopamerica.com
What's gorgeous, cuddly, and can keep you warm during these chilly winter months? No, not a dog or a boyfriend…one can only hope. I'm talking about this gorgeous DIY dip-dyed blanket.
You'll need a basic white cotton blanket, your favorite colors of liquid dye, a pair of gloves, a few drops of dish soap, water, and finally, a quarter cup of salt.
Remember to lay out plenty of newspapers around you so you can control any
21. Farmhouse Window Frame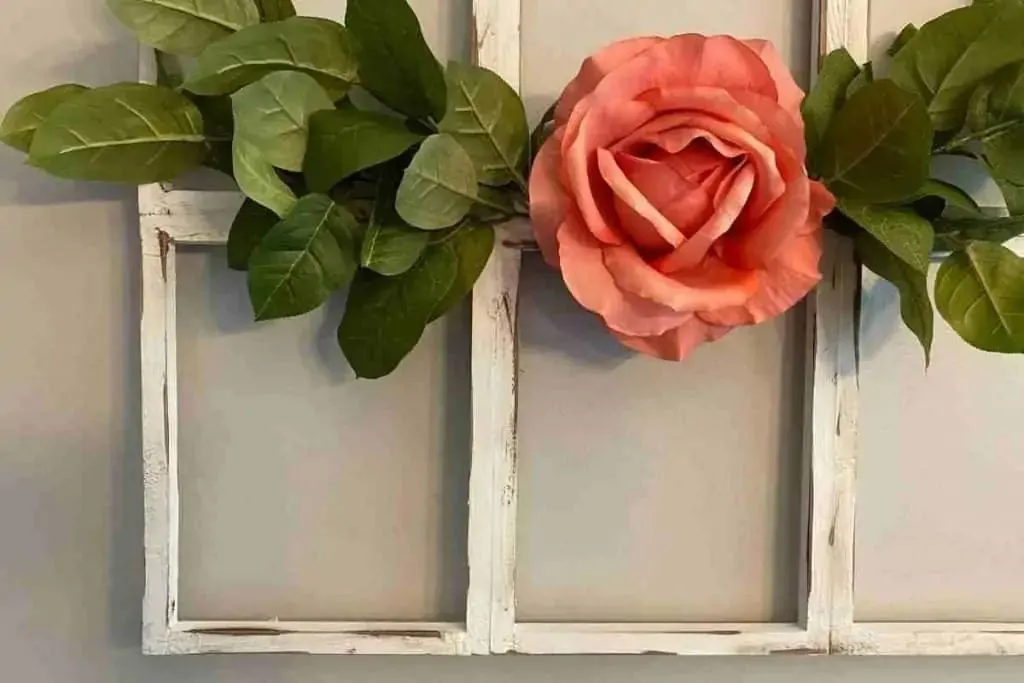 Source: restoredecorandmore.com
Have you ever seen those vintage and quaint-looking farmhouse windows? There's always some creeper or vine growing around it and plenty of flowers, too.
You can recreate that rustic farmhouse window frame to use as a decor piece in your bedroom. How? Well, first, you'll need to pick up a few canvas frames from here.
These canvases come in different sizes, which makes them easier for you to customize. Just remove the canvas from its frame, and you've got the bare bones for this project.
You might also love these Farmhouse spring décor ideas that are absolutely stunning!
22. DIY Coastal Decor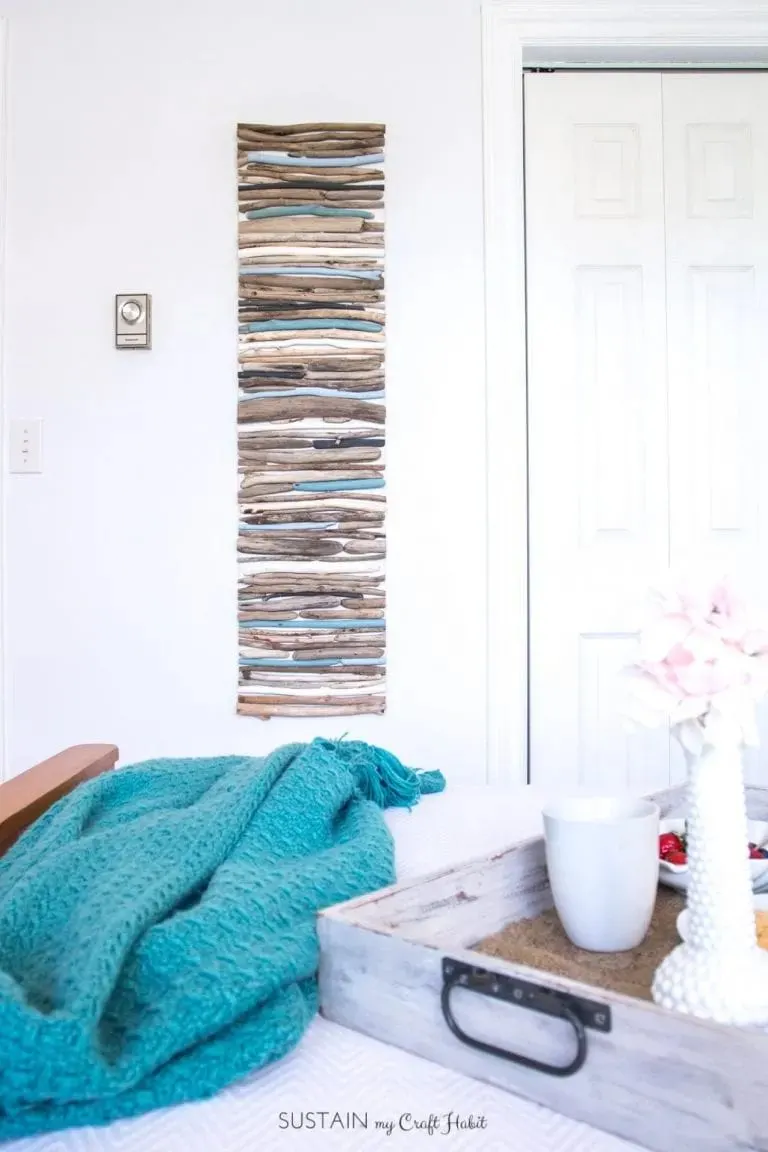 Source: sustainmycrafthabit.com
This gorgeous piece of art is sure to add a ton of texture to your bare walls. It's exactly the kind of wall art that can set the tone for the entire room, and in this case, it just screams beach!, doesn't it?
You'll need plenty of driftwood, which you can pick up anywhere along the beach. You will also need a thick plywood base, which you have to thoroughly sand first.
Feel free to paint(pick some up from here) your driftwood to add some color to the piece, too. Some sandy white, ash grey, and dull teal interspersed among the dark wood notes would look stunning!
Give your décor an extra oomph with these IKEA hacks!
23. Paper Roll Trinket Display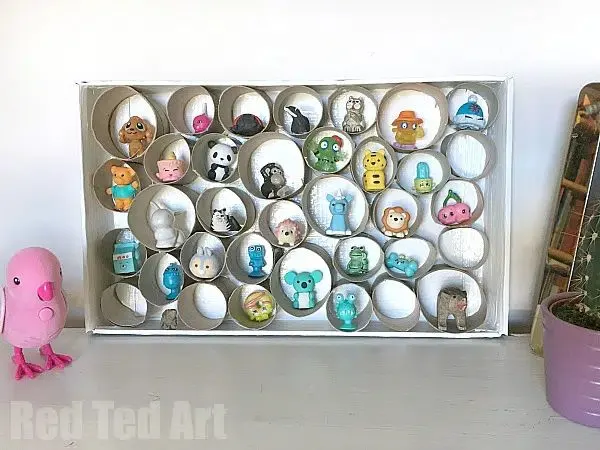 Source: redtedart.com
It never ceases to amaze me just how versatile empty toilet paper rolls are. Did you even consider using them as a display unit to store and display all your trinkets, collectibles, and other knick-knacks?
It can also be used as a toy storage or display unit if your kids want to display their stash of mini action figures. You can recycle an old cardboard shoebox or cereal box to use as the base frame.
You can also rope the kids into decorating their trinket display; that's bound to make a great craft session.
24. Hand-Painted Throw Pillow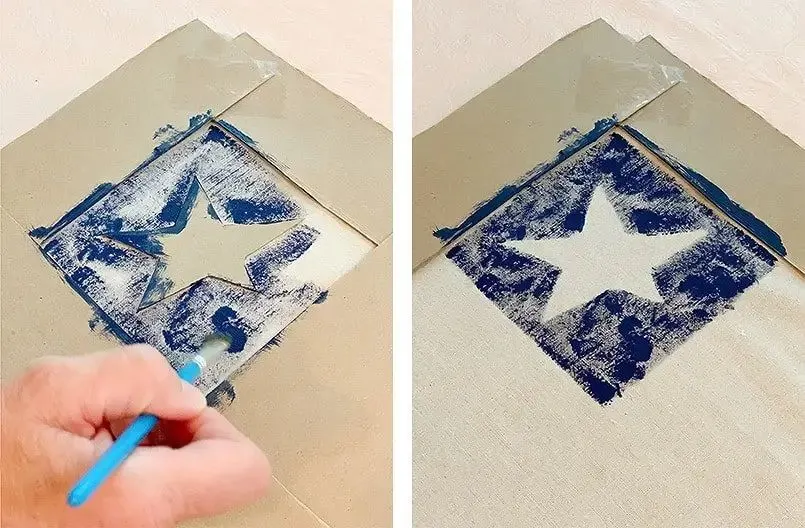 Source: bebraveandbloom.com
If I've said it once, I've said it a thousand times, but I love toss pillows. Many people think that they just add to the clutter you have to constantly clean up, but I beg to differ.
Toss pillows, especially hand-painted ones like these, are a wonderful way to express your unique personality and flair. Imagine Painting something super pretty, and instead of hanging it up, you can actually use it!
25. Floral Wall Hanging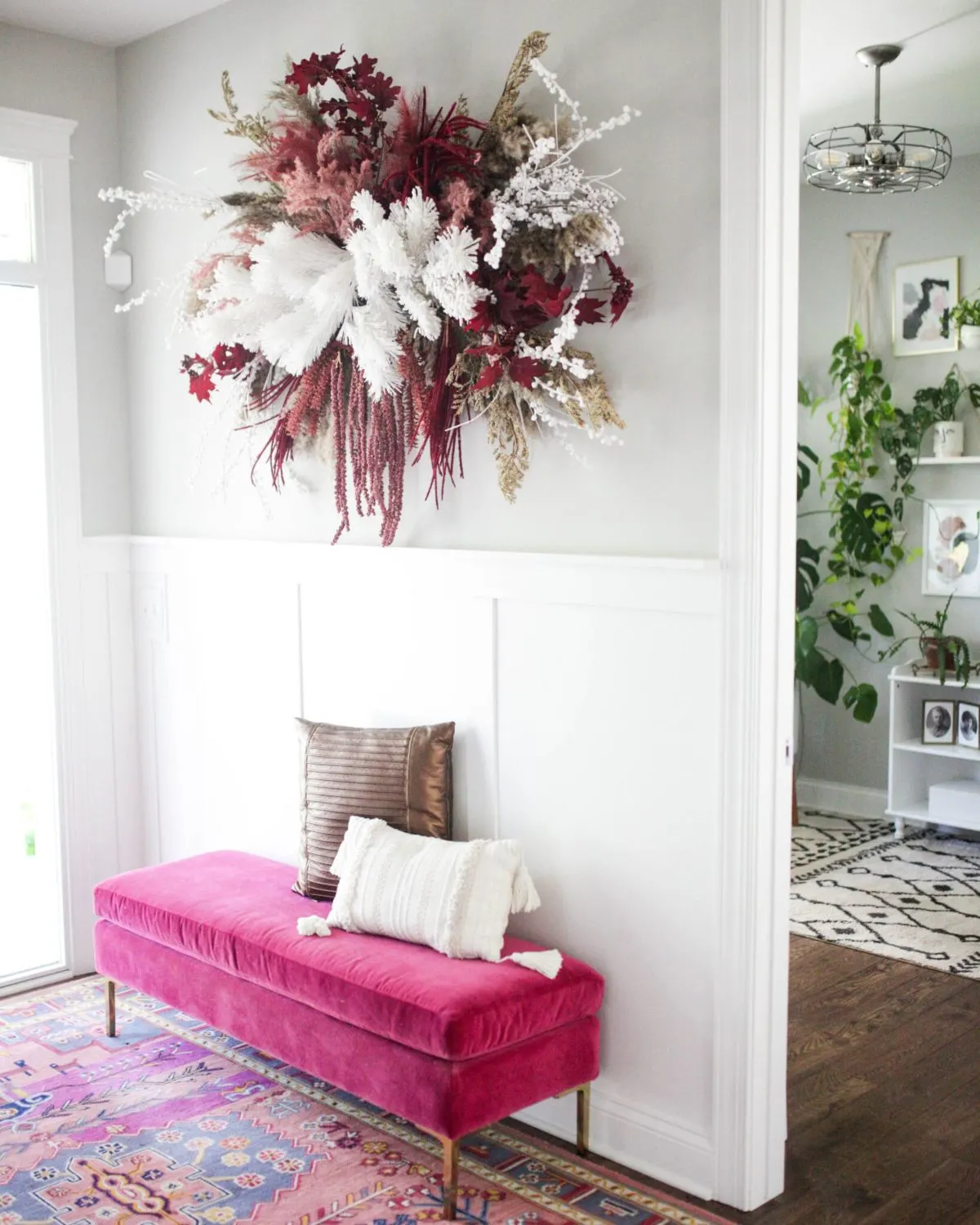 Source: paisleyandsparrow.com
This floral wall hanging is a definite statement piece. It's flirty, fun, flora, and downright easy to make. Just think of how much it can cheer a room up, especially during the grey winter months.
You can include some greenery in there, too, in the form of faux leaves(look here). Since you're using faux florals and leaves, you can always paint them if you have a particular color scheme you want to work around.
26. DIY Rug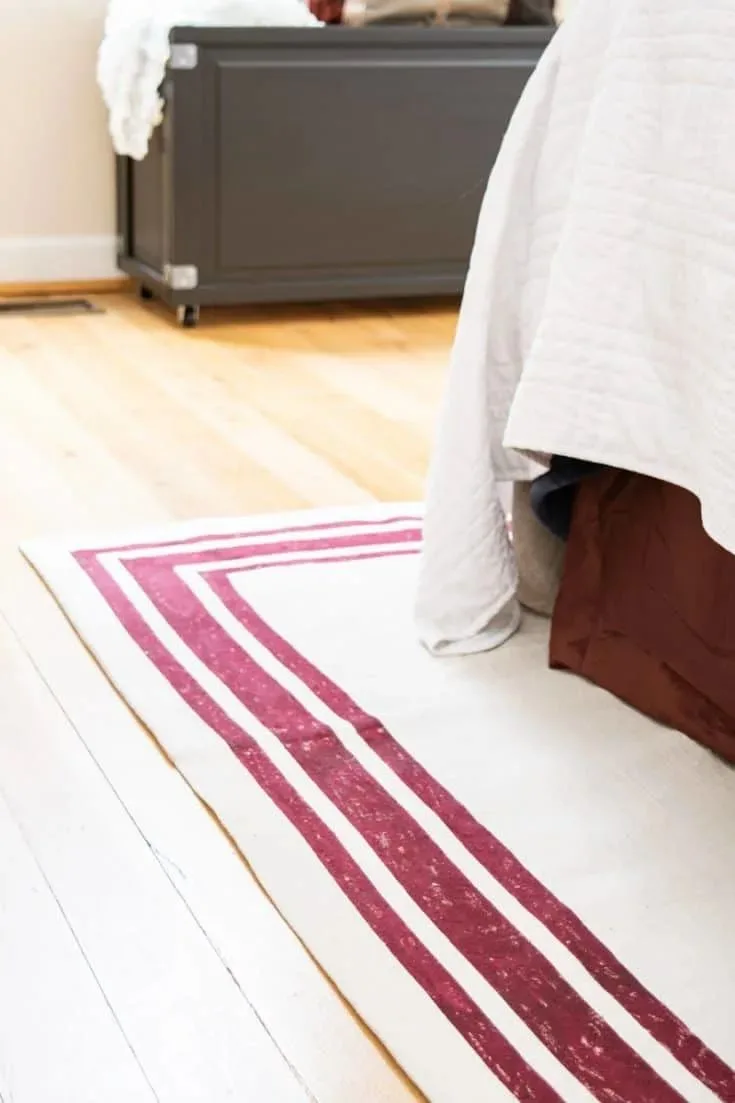 Source: thehandymansdaughter.com
Would you believe me if I told you that this rug was actually a drop cloth? No, really. You just need to grab some fabric paint and some drop cloth to get started.
When you make a rug like this, it's super to customize the size and also coordinate the colors you use with your decor. The best part, however, is the pricing.
Large rugs, especially custom-made ones, can be horrendously expensive. This drop cloth rug looks fabulous and at a fraction of the price, too!
This is an absolutely amazing project for bedroom on a lower budget!
27. Nautical Mobile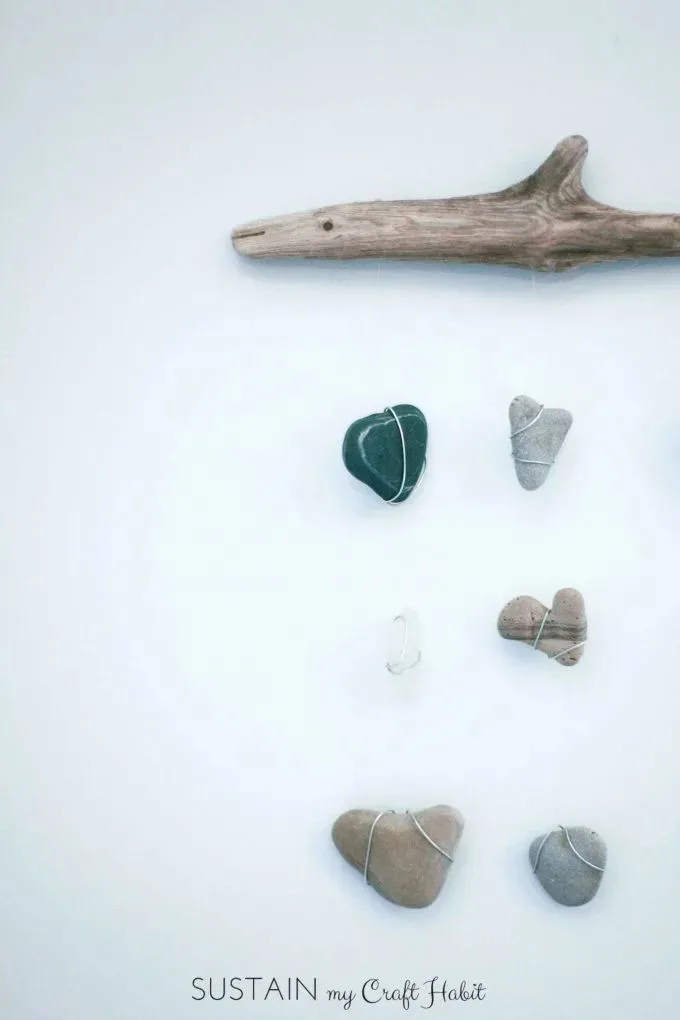 Source: sustainmycrafthabit.com
A walk down the sandy shores of a beach is always relaxing. But, when you go hunting for shells and other treasure, it's also an adventure.
When you've collected all the pretty stones, bits of sea glass, and driftwood you want, it's time to wind down with this project. It's an earthy and rustic wall hanging that's as elemental as you can get!
You'll need some twine or fishing wire from here, first, to help you hang all the collectibles you picked up!
28. Seaglass Rope Lantern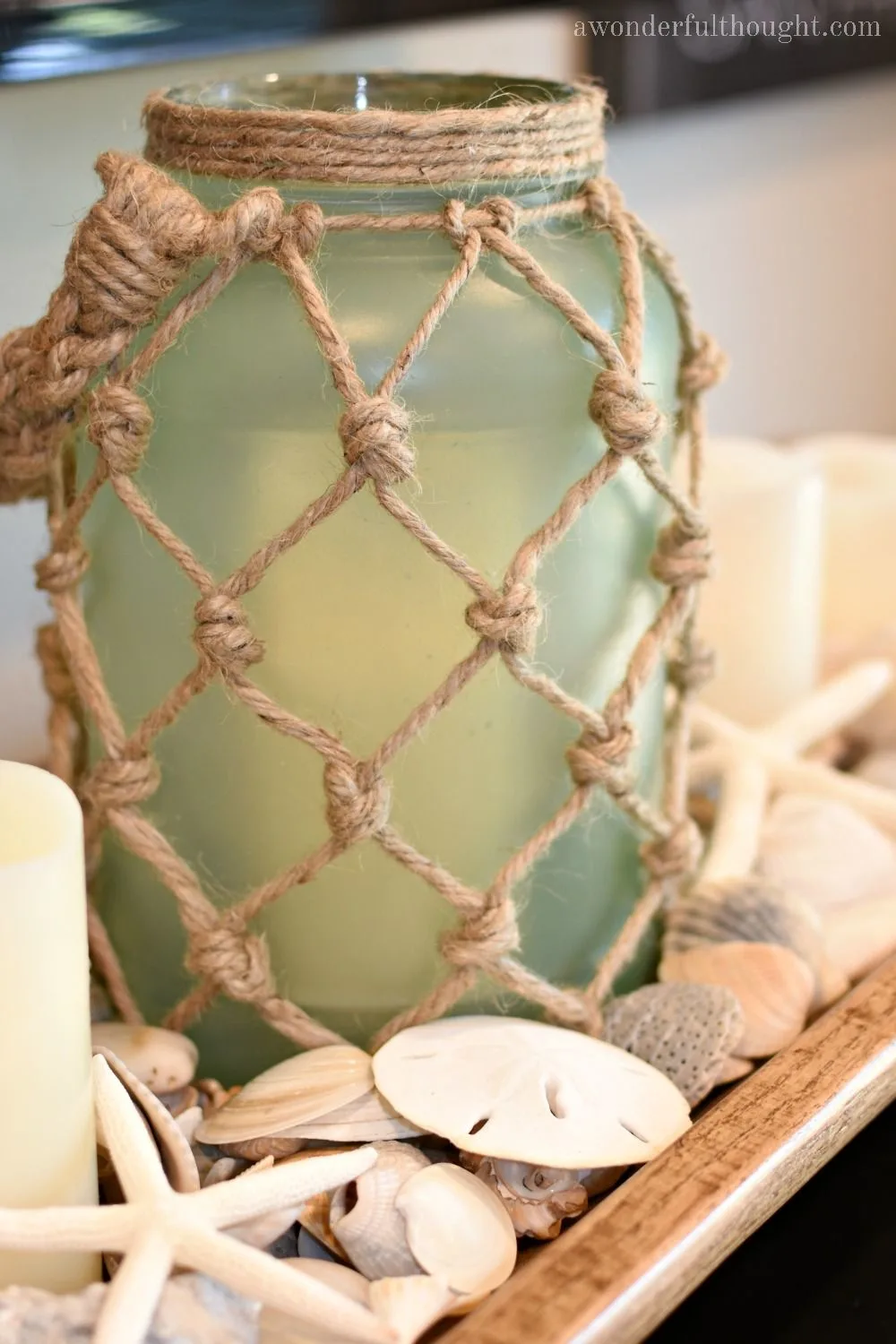 Source: awonderfulthought.com
There's something so mysterious and other-worldly about sea glass. You can't quite put your finger on it, but sea glass is as classy and unique as it is enigmatic.
You can incorporate it into your bedroom decor in the form of these rope lanterns. In truth, it's just an upcycled glass jar that you're going to spruce up with some sea glass foam from here.
Once that's done, you can use some jute cord to create a lovely macrame-like cover for the glass before you place the candle in there!
29. Hanging Light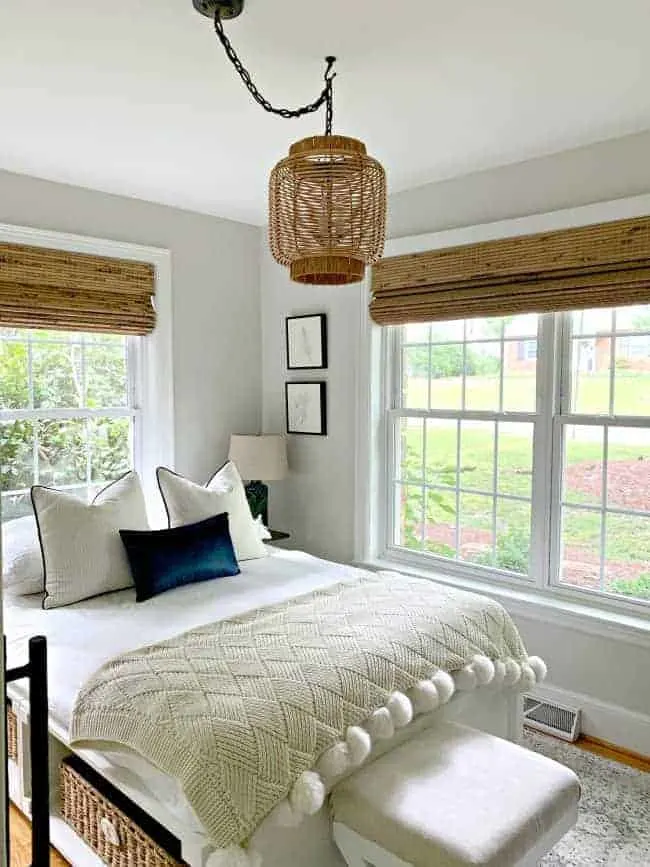 Source: chatfieldcourt.com
If you loved that sea glass lantern, then you're also going to love this DIY hanging light. You can never have too many decorative lights to brighten up your room, can you?
This one calls for a rattan lantern, which preferably has a candle holder in it. Look for the one you like the most from the different options here.
Then, it's time to pull together the lighting hardware components. You know what? This light fixture canopy kit should get you started!
30. Earthy Paper Feather Wall Decor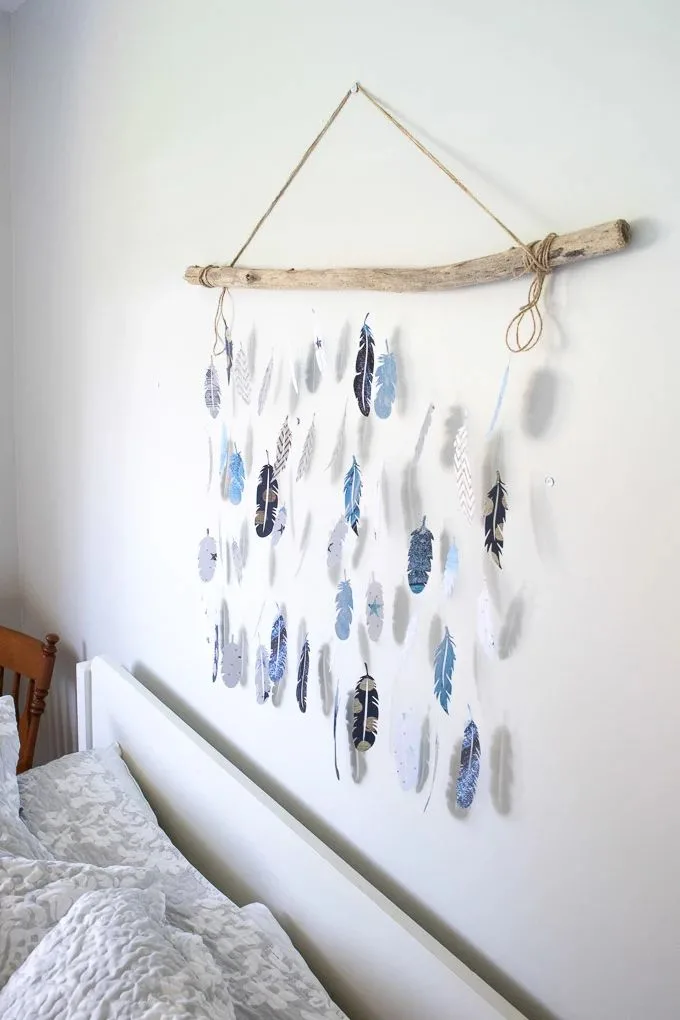 Source: sustainmycrafthabit.com
I wonder, do you still have any driftwood left from the last time you went gathering them on the beach? You're going to want to find one, preferably large and sturdy.
With that driftwood, you're going to be making a gorgeous feather wall decor. The feathers in questions are made from paper, although you can always dangle a few real ones, too.
Pull out your trusty Cricut machine, and you can start designing and making your paper feathers. You can also hang other beachy trinkets, like pretty shells, ricks, and more!
31. Lava Lamp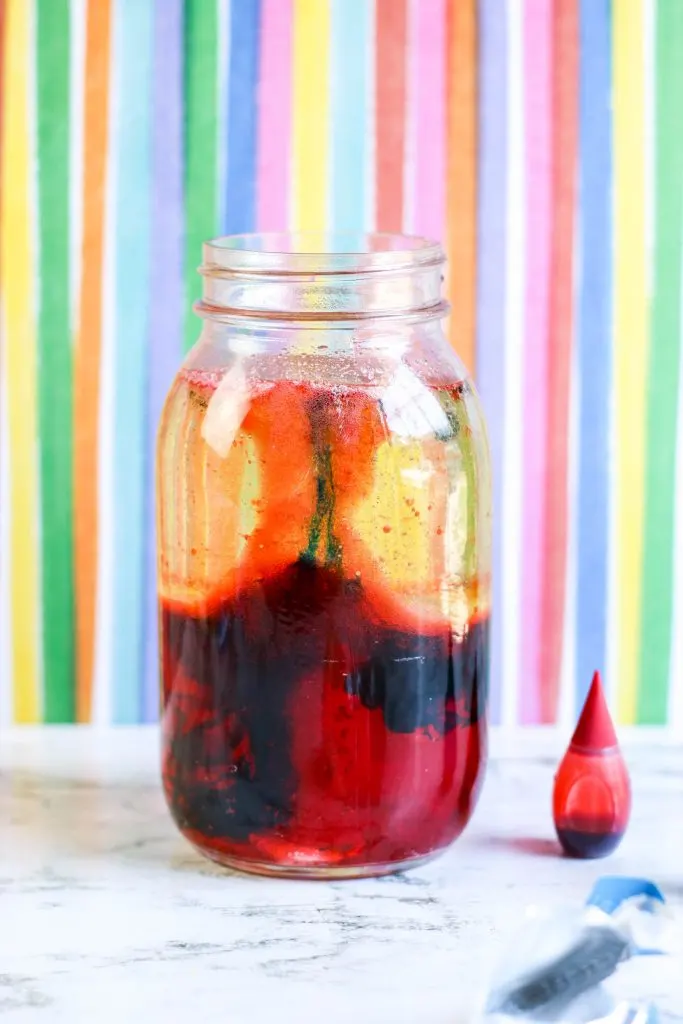 Source: aboutamom.com
Have you ever considered making your very own lava lamp? No, really, it's actually quite simple once you know the science behind it.
But first, you'll need to gather the different supplies you'll need, like an old mason jar from your cupboards.
You'll also need some oil, a couple of Alka seltzer tablets, this liquid food color, and finally, some water. This project does have the potential to turn messy, especially if kids are involved, so I'd keep some paper towels at hand.
32. Arrow Wall Art
Source: thediydreamer.com
Here's another quirky piece of art that can jazz up the walls of your bedroom; just check out all those colorful arrows!
There are plenty of colors that can stand out on a dark wood base like this one, so feel free to play around with the colors. You Can even switch out your arrow colors for flashy neon ones!
There's an arrow template provided for you to work with, too. Just pick out your wood plaques and dowels, and consider using up scrap wood from previous projects to make your arrowheads and fletchings,
33. Greenery Wall Hanging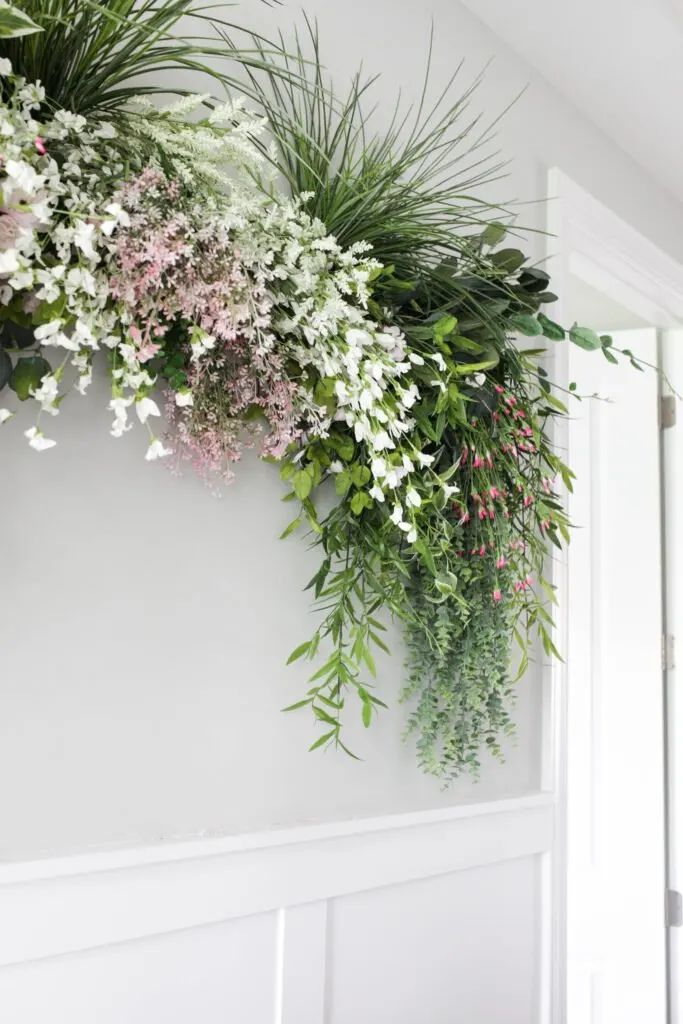 Source: paisleyandsparrow.com
Do you remember that floral wall hanging from earlier? Well, if you enjoyed that, then perhaps you'll love this one, too. It's filled with fresh florals and bright greens—perfect for accentuating the springtime decor in your room.
Grab some floral wire from here, some painter's tape, and a few command hooks(look here). You'll need a mix of both large-sized and smaller hooks to mount your floral hanging up on the wall.
Just remember to measure the wall space you're planning to mount this wall hanging on. You'll need plenty of room to allow for all the florals and leaves to spread out.
34. Cardboard Letters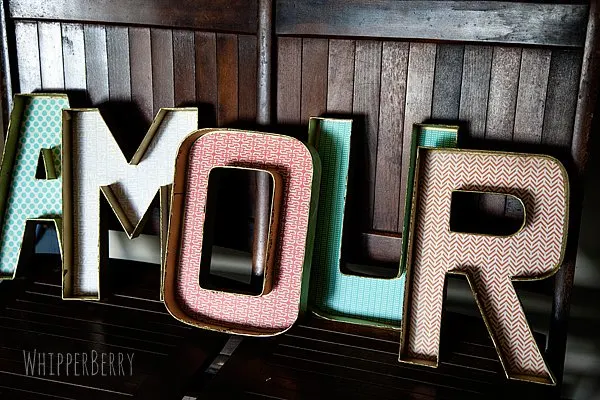 Source: todayscreativelife.com
Using cardboard letters to decorate your room might be an oldie, but it sure does do the trick. It's one of my favorite go-to DIY projects when I want to personalize something like a room.
Nothing can help you put your stamp on a room than big cardboard letters that spell out your name, right? But you can just as easily use these letters to welcome people to your home or to celebrate the holidays.
First, pick up some paper mache letters from here. Alternatively, you can use a craft cutter to make your own letters out of cardboard sheets.
35. Teepee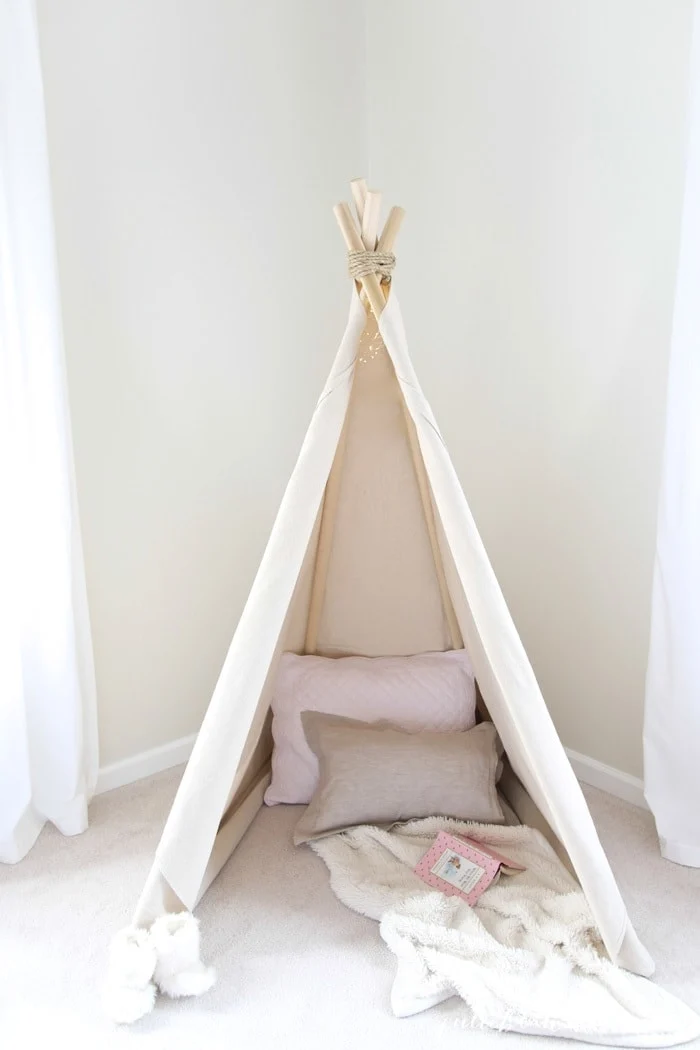 Source: julieblanner.com
If you're wondering how you can ever fit a teepee in your home, well, let's just say that this one's not quite lifelike. But what it is, is super easy to make.
I bet your kids will get a kick out of having their very own teepee in the corner of their room. You can turn it into a cozy reading nook or a play corner for them to get the most use out of.
How? Well, a plush rug on the floor of the teepee would be a good place to start. Then, you can also add a couple of comfy pillows.
For the final touch, just string some fairy lights in there, and you're all set.
36. Tire Ottoman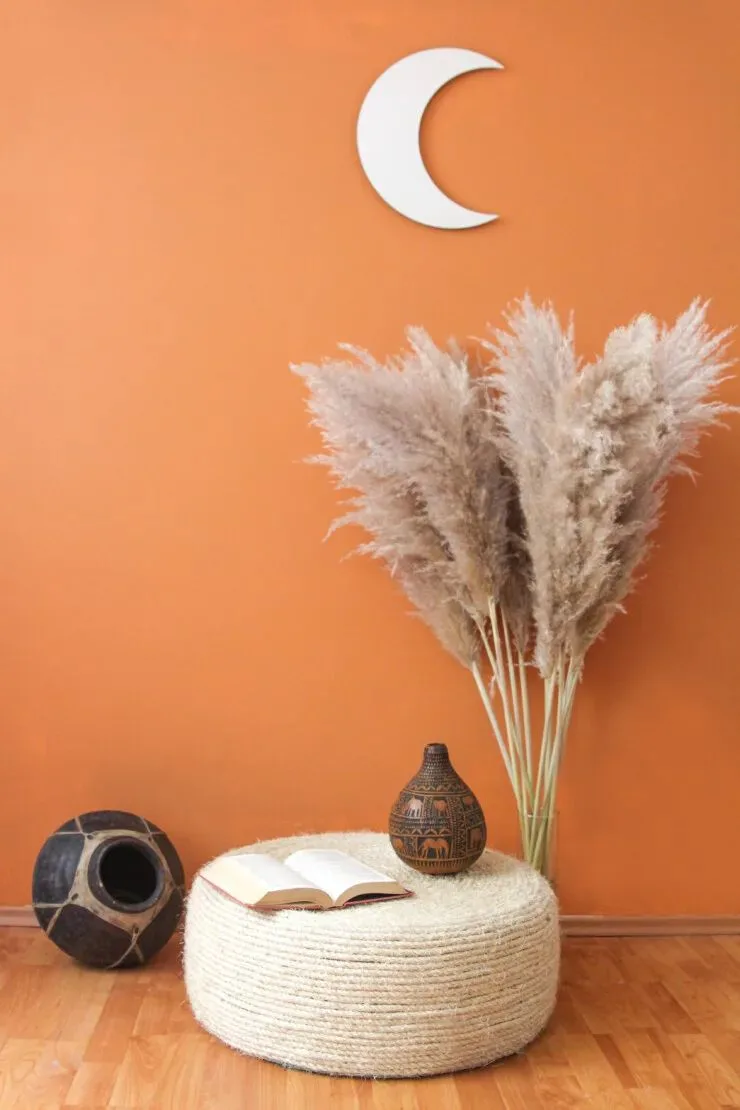 Source: frugalmomeh.com
I bet you've been seeing a ton of these videos on Instagram about how you can upcycle old tires into a nice little ottoman. It's actually a really unique project that also happens to be super easy—and inexpensive—to make.
You just need plenty of rope(twisted nylon, manilla, or sisal all work well for this project), a piece of circular plywood to cover the diameter of the hole in the tire, and a hot glue gun.
Here's an idea: if you want to give your ottoman a little lift, just attach four woodblocks to the base, and voila!
37. Bed Canopy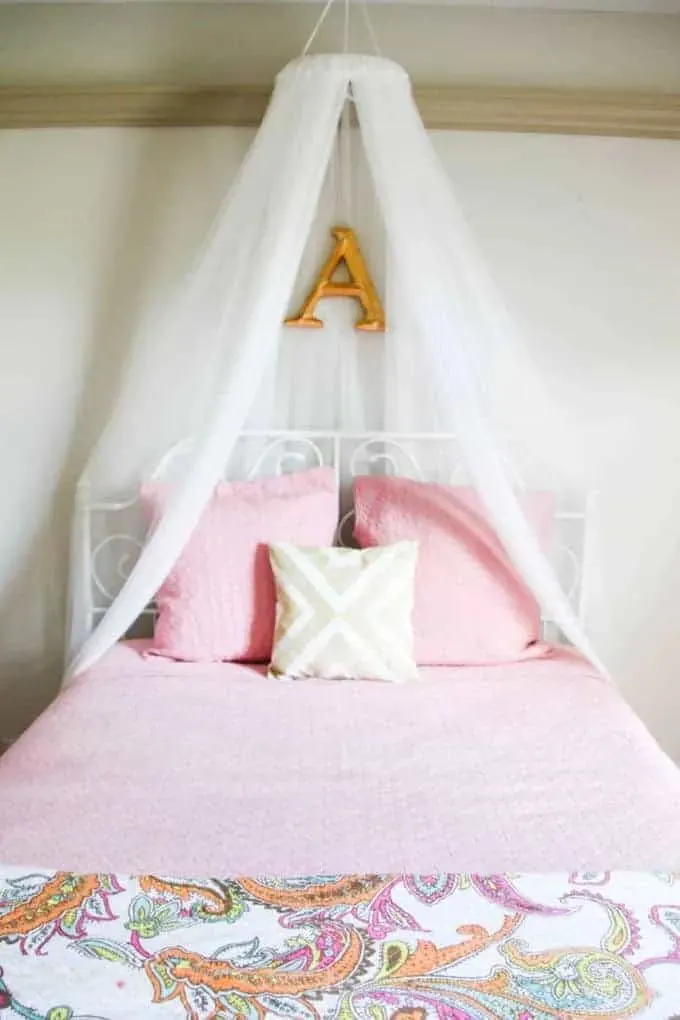 Source: burlapandblue.com
I bet that most people craved a lovely canopy bed when they were growing up; I know I did.
If I'd known how easy it would be to recreate it, I definitely would have. But it's not too late for your kids; you can turn their bed into a cute canopy bed with just a few inexpensive materials.
You'll need a quilting ring or an embroidery hoop from here, a ceiling hook, some ribbon or string, and finally, curtains of your preference.
38. Fabric Garland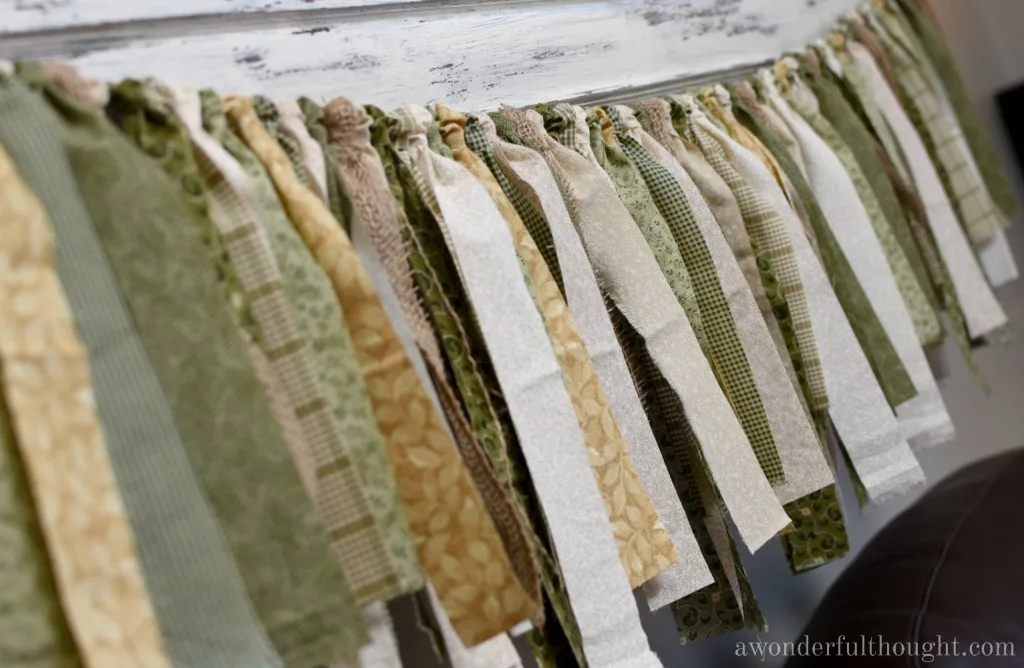 Source: awonderfulthought.com
Adding swatches of fabric to your room in any form can boost the decor in a jiffy.There's plenty of textures, colors, patterns, and shapes that you can introduce to your room, all through the fabric you choose.
This time, you're going to be busting out your stash of scrap fabric to make this DIY garland. The garland looks like it has plenty of chunky block tassels, and you can just string it along the mantel or even across the headboard.
You will need a couple of command hooks, a roll of burlap from here to use as the backing for your fabric, and a rotary cutter and mat, too.
39. Gold Leaf Art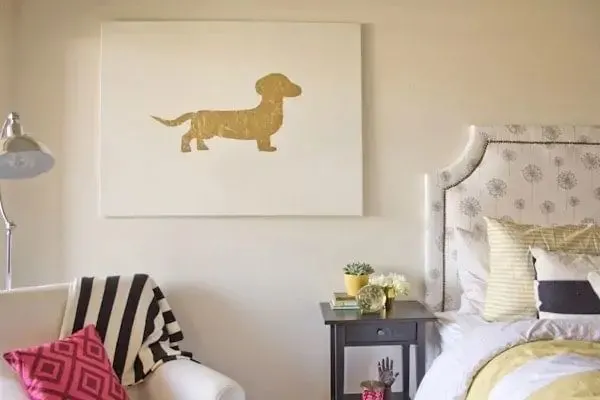 Source: lovelyindeed.com
You'll usually find that gold leaf foil comes in pretty handy during craft projects. You can use them to make resin coasters and other DIY crafts.
Have you considered making a full-fledged piece of art solely out of gold leaves? Check this cute canvas and that adorable golden dog!
But first, you'll need this gold leaf adhesive and a large canvas. You will also need some tape, a couple of brushes, and a pair of scissors. Once you've got everything ready, go ahead and figure out what you want to create and start crafting!
40. Bed Skirt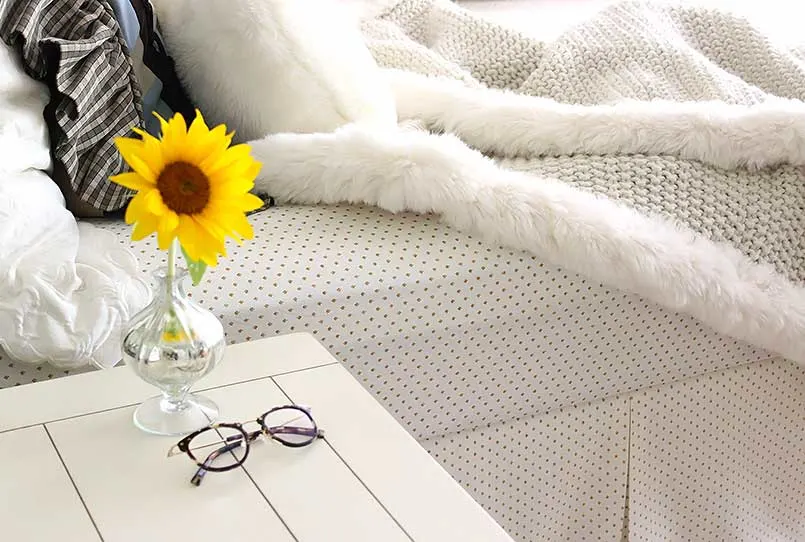 Source: bebraveandbloom.com
A bed skirt is not something that most people prioritize when they're decorating their bedroom. In fact, it almost seems like a thing of the past, doesn't it?
But perhaps bed skirts deserve to make a comeback, and you can make one right at home for your bed. You can use inexpensive bedsheets to make your bed skirts.
So go ahead and pull out your sewing machine. Then, figure out the yardage and decide whether you want to use lining fabric for your bed skirt.
You also need to figure out whether you want to go old-school and have a pleated skirt.
41. Half Moon Dreamcatcher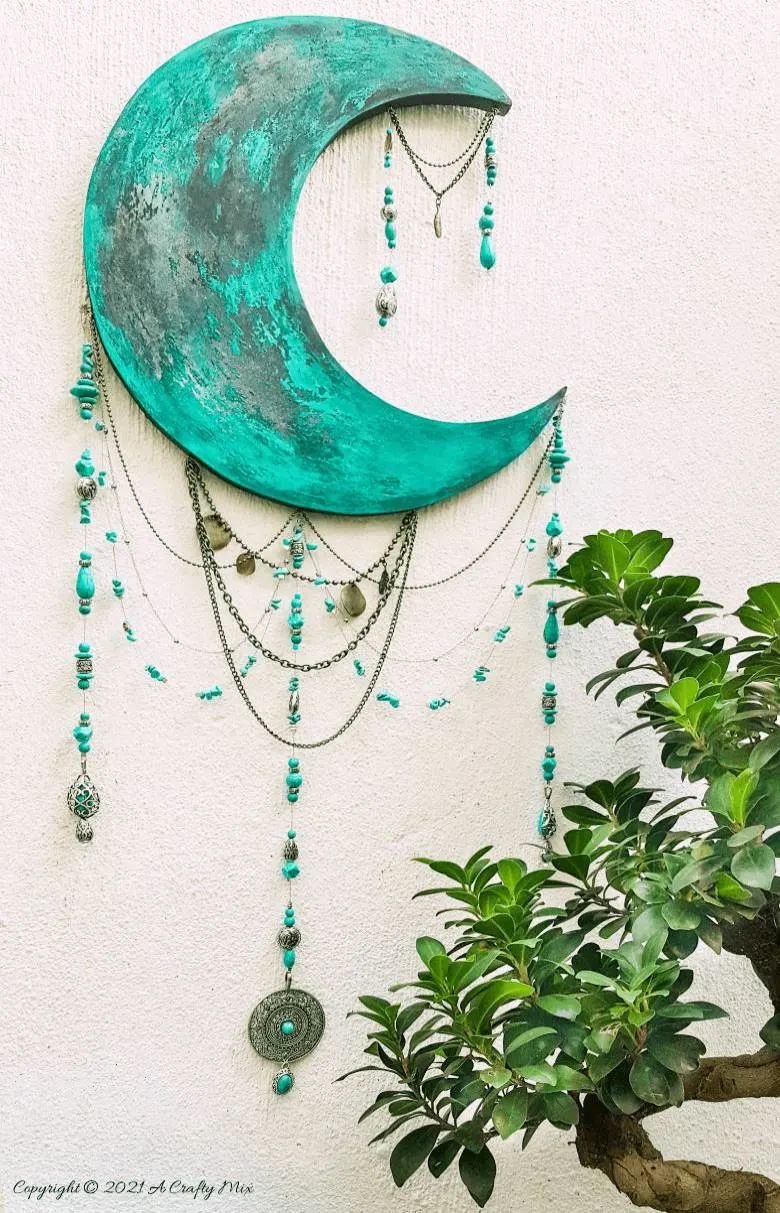 Source: acraftymix.com
This DIY half-moon dream catcher comes with a gorgeous beaded detail that manages to be vintage and edgy at the same time. The distressed surface of the painted moon probably has something to do with that edginess, don't you think?
Depending on what you want in terms of color, you can customize the design any way you like. Picking out all those different beads and embellishments can be fun, too!
You can also consider adding some chunky silver pendants with an antique finish for an added oomph!
42. Wine Bottle Lights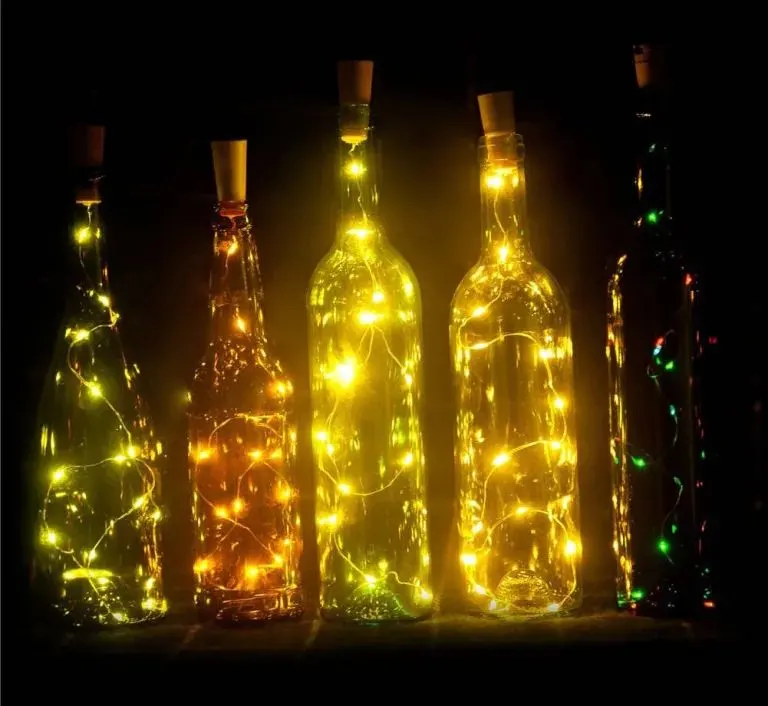 Source: modpodgerocksblog.com
I'm almost certain that we all have a stash of wine bottles in our cupboards—empty or otherwise. So if it's not empty, then you know what you need to do.
You'll be upcycling empty wine(or any liquor)bottles into these adorable bottle lights! You'll find that there are plenty of faux corks that are actually the battery packs for fairy lights(look here).
This way, you don't have to worry about an ugly black box getting in the way of your finished fairy-lit bottle. Just drop the string of lights into the bottle and place the cork in the rim, and your DIY bottle lights are all ready!
43. Eucalyptus Branch Wall Decor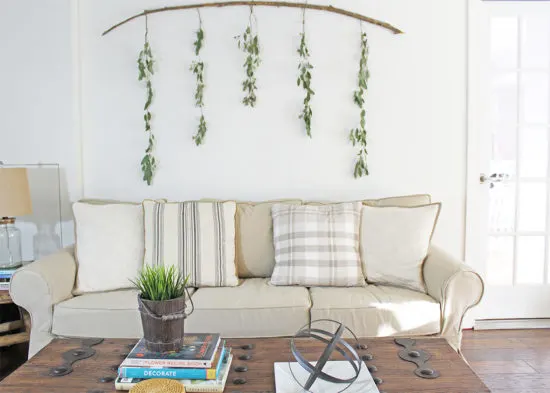 Source: thehoneycombhome.com
Eucalyptus is one of my favorite plants ever. Everything about it is just perfect: the oils smell great, and they have medicinal properties, and the leaves look elegant and swanky, too.
You can hang the leaves down from a large branch and use this as a wall decor piece. It's ridiculously easy to make, and you just have to mount it up when you're done.
You can also wrap a length of fairy lights around the branch or hang them from it for a little extra sparkle!
44. Floating Shelves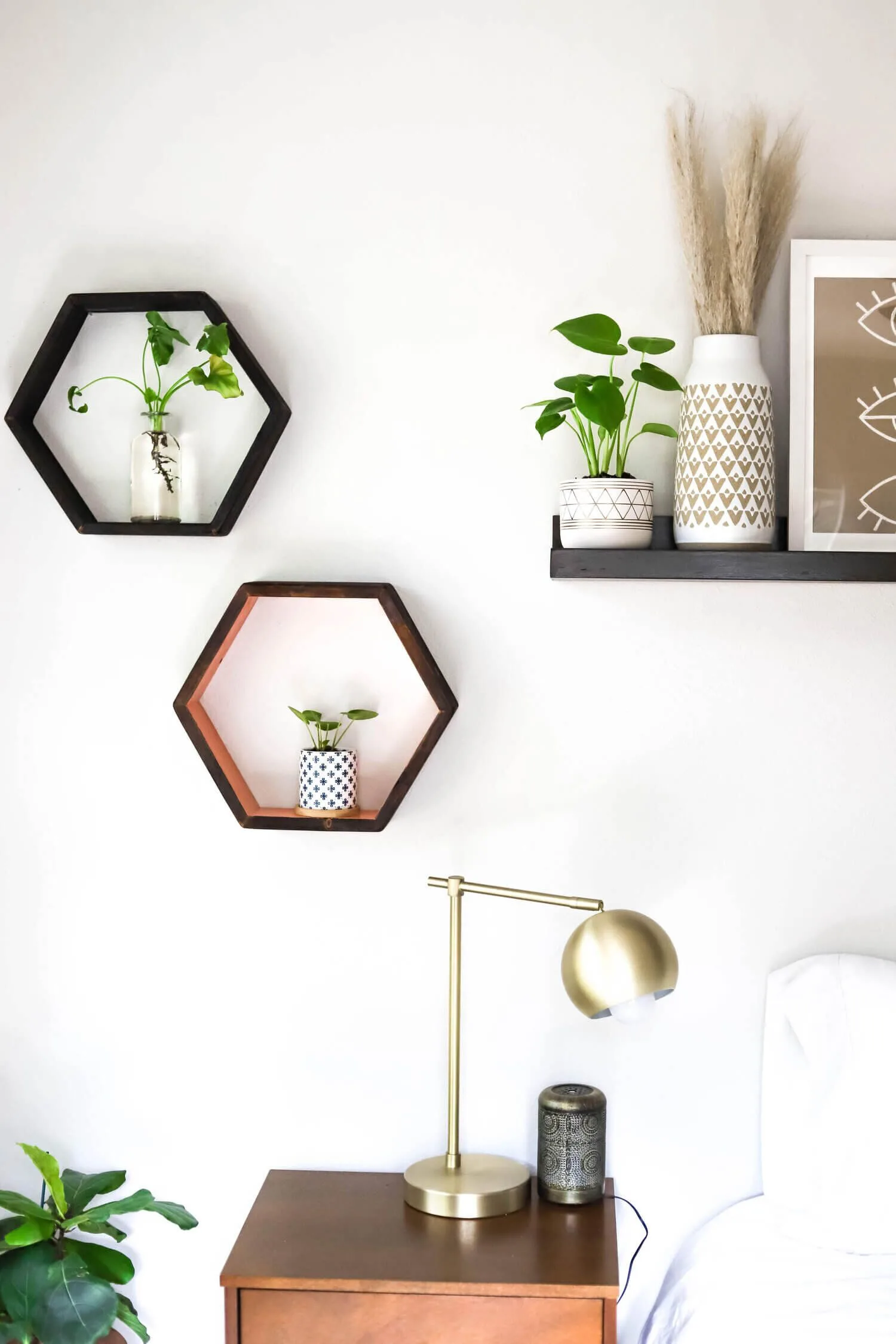 Source: swiftfit.net
Floating shelves will never go out of style, and you can't convince me otherwise. They're just so versatile, aren't they?
You can have a ton of different shapes and sizes of hanging shelves and use them for different purposes depending on those factors. A smaller shelf can act as a plant holder or a display case, while larger ones can hold your books.
These hanging shelves can help you decorate a stretch of empty wall space while simultaneously ensuring that the space doesn't get too crowded or stuffy.
45. Rainbow Wall Hanging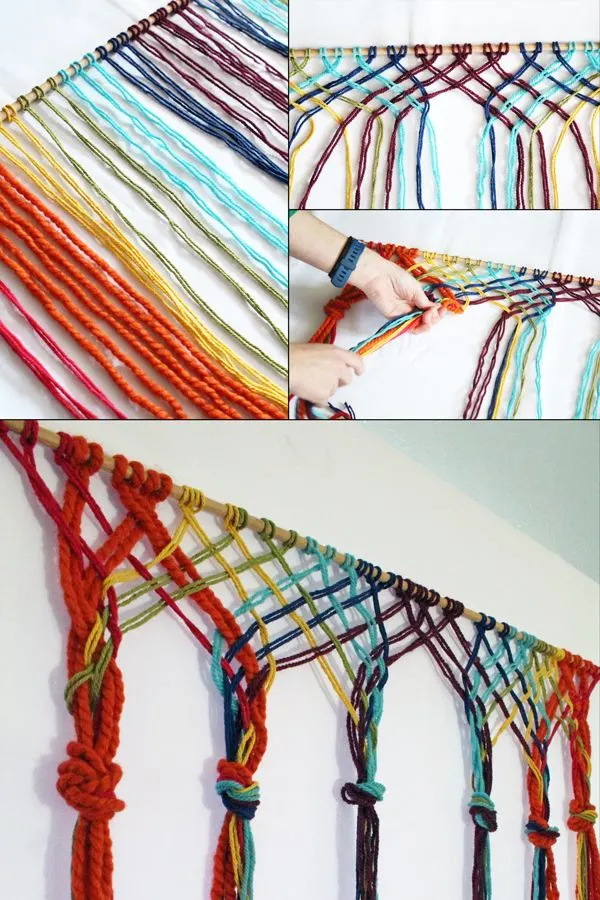 Source: onemamasdailydrama.com
Speaking of gorgeous wall hangings, check this rainbow-colored wall hanging! Made entirely of rope, this wall hanging can be a fun foray into macrame, only without all the complicated knots.
You'll need this wooden dowel, a pair of scissors, and an assorted batch of colored yarn or cotton rope, depending on the finish you want for your wall hanging.
You can also switch out the rainbow color scheme for something monochromatic or whatever best suits the decor in the room.
46. Tree Stump Side Table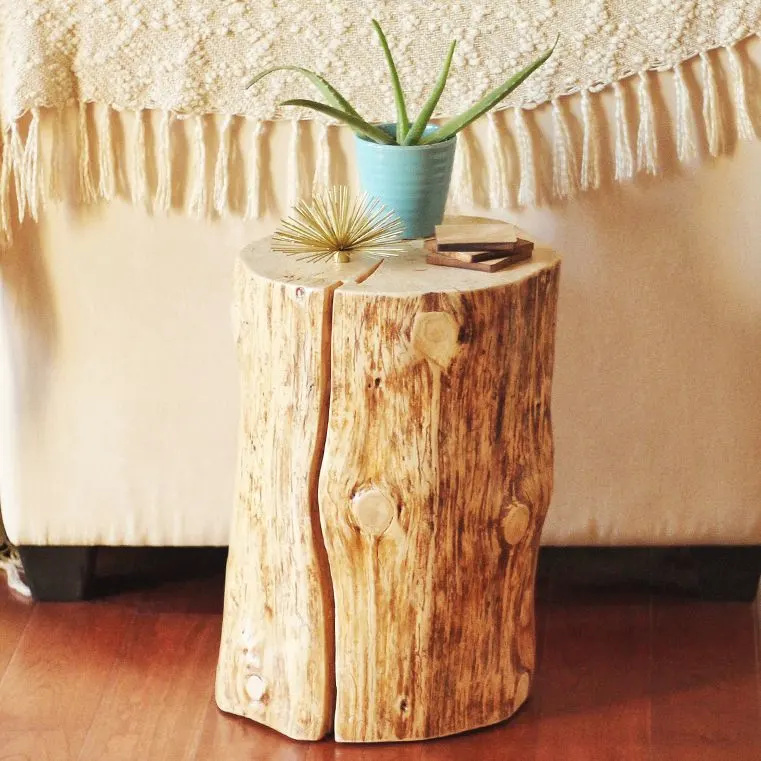 Source: justinecelina.com
A side table doesn't just have to be utilitarian, you know. When you have a gorgeous bed, you also need to make sure your side tables live up to the standards.
But, that being said, you'll find that they can be quite pricey. These tree stumps, however, can be repurposed, and you'll have yourself a set of rustic and earthy side tables.
You can choose to give it a makeover with some paint, or you can pick a wood stain you like and apply it over the surface. With the right touches and tabletop accessories, you'll be able to switch over from rustic to boho-chic, too!
47. Lace Candle Holders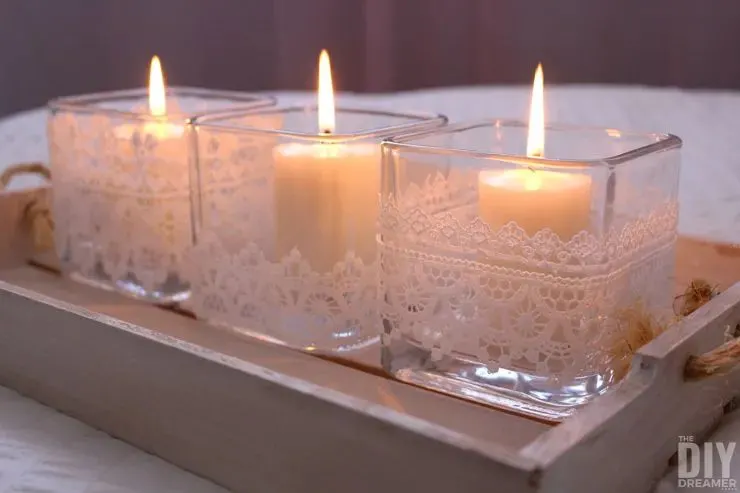 Source: thediydreamer.com
Lace candle holders are classy and elegant, and they will never go out of style. They are also a ridiculously inexpensive way to jazz up a plain old candle jar.
You can pick up the lace ribbon from here, or if you have a dab hand at crochet, then you can make your own. Just line the lace around the glass and grab your hot glue gun to adhere the two together.
48. Honeycomb Pom Poms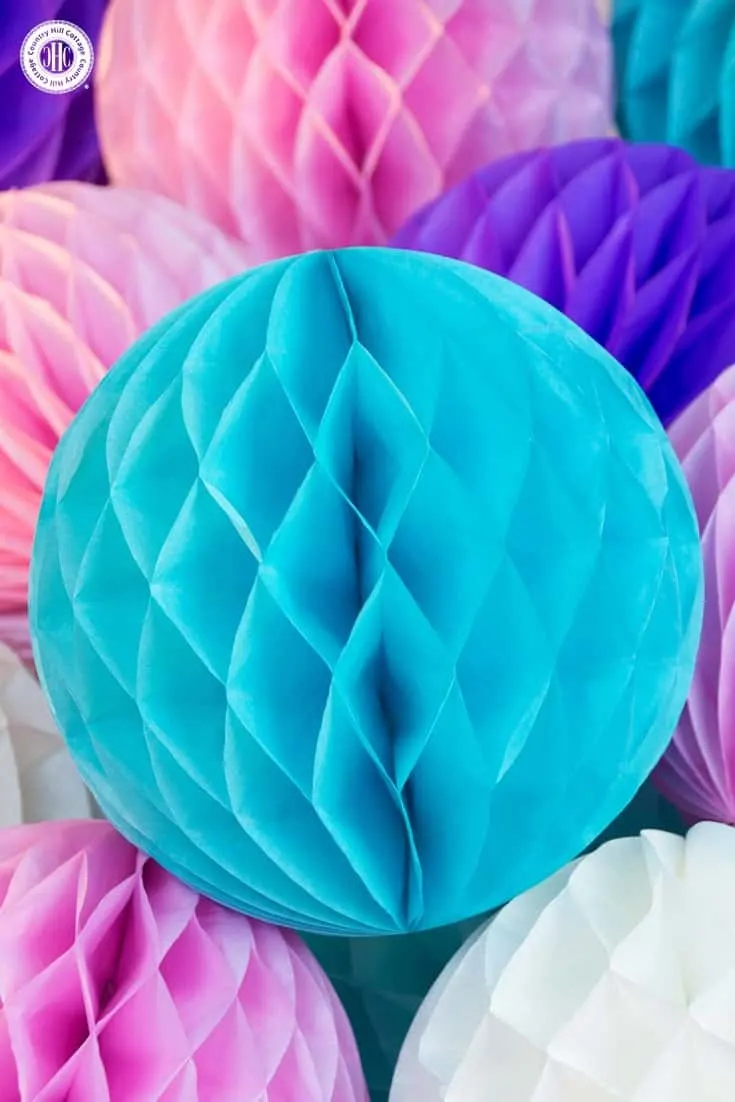 Source: countryhillcottage.com
What, you might be wondering, are honeycomb pom poms. Well, they can be used as decorative hangings that can add color, texture, and variety to just about any room.
Once you get the hang of the technique, you'll be cutting paper into different shapes of pom poms in no time. But, for this one, you can download the template provided to help you along the way.
49. Accent Wall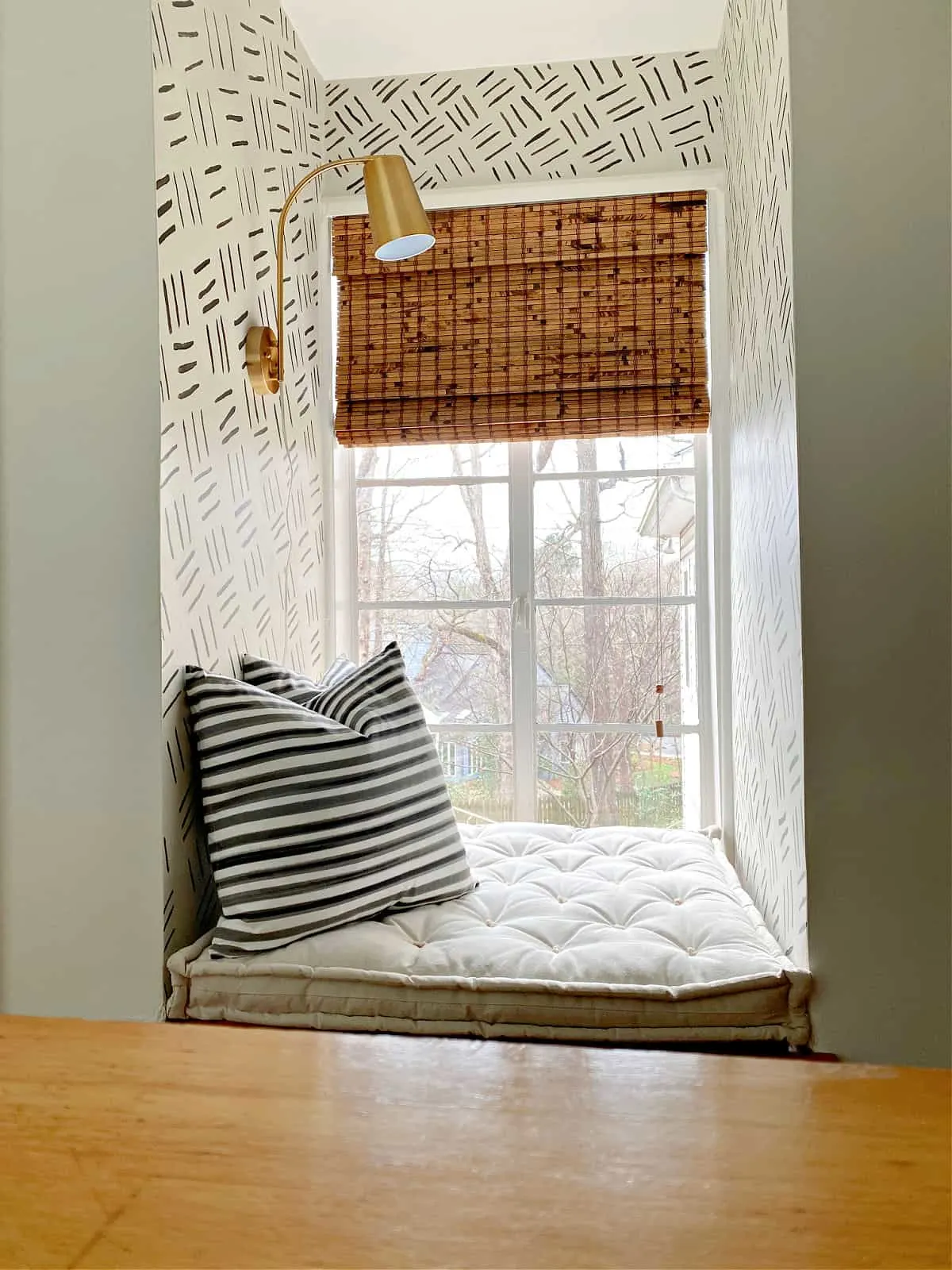 Source: chatfieldcourt.com
An accent wall is perhaps more important than all the other walls of the room. It truly does more to bring the room together, just like how the four walls hold the room in place.
And, when you also have a quaint reading nook like this, it's a no-brainer that you center your accent wall around this area. The technique for this accent wall's design is simple, and with some practice, you'll get the hang of it.
You can practice on cardboard before you move on to the actual wall. That way, you'll be able to play around with patterns and colors and pick the best ones.
50. Wooden Crate Shelf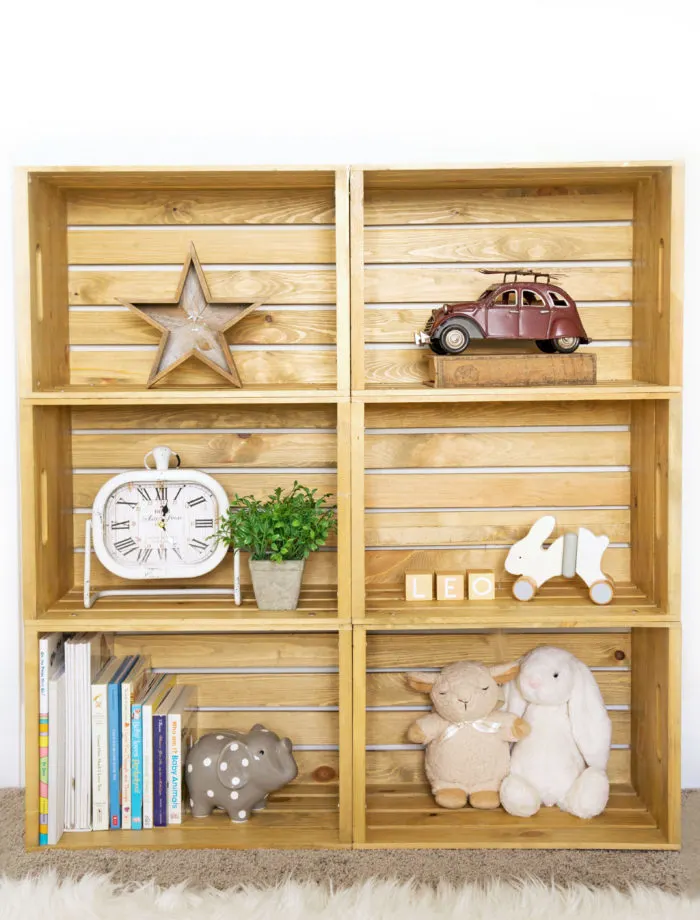 Source: hauteandhealthyliving.com
I bet you have an old wooden crate or two in the back of your garage that's just sitting there and gathering dust. Go ahead and grab them; you're going to be upcycling them into a shelf unit!
You don't need me to tell you just how handy some extra shelf space can be, but here are a few ideas:
Shoe storage
Toy storage
Bookshelf
Display shelf
Shelf to store craft supplies and stationery
You get the idea, right? And since you're making your own shelves, you can pick out a nice stain for the wood to match the light or dark accent theme you have in your room.
51. Beachy Painted Headboard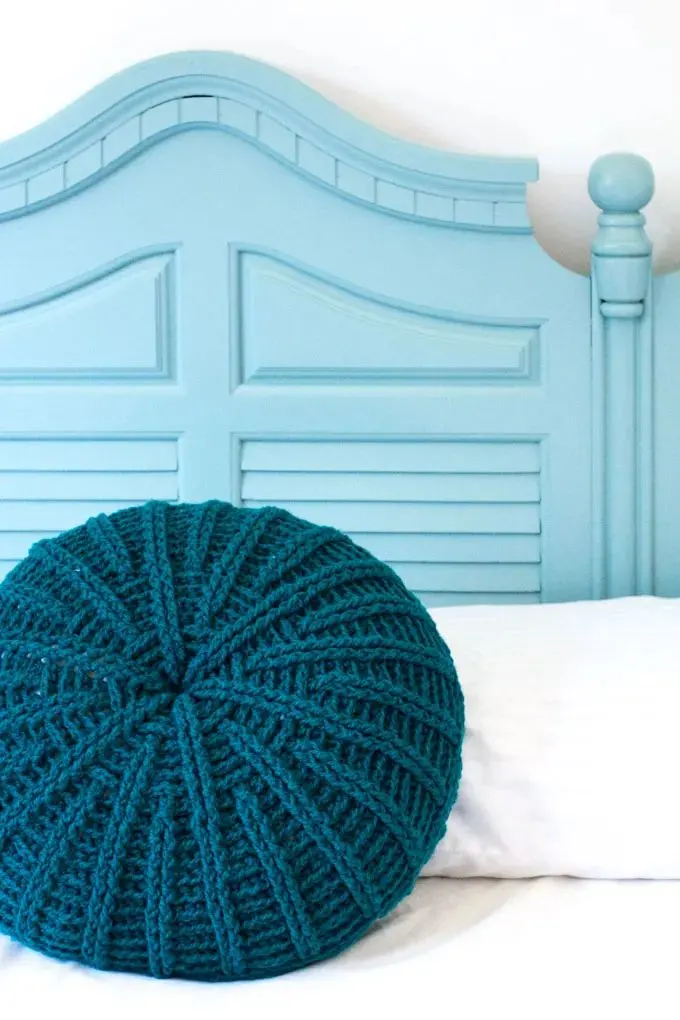 Source: sustainmycrafthabit.com
The bed is the heart of the bedroom, right? But a headboard isn't just a piece of decorative wood, you know. But that being said, you can really use it to accentuate a decor theme or idea.
The easiest way to do this is to give the headboard a nice coat of paint. This beachy-blue painted headboard is reminiscent of cool waters and rippling waves.
You can offset the soft blue with dark navy and sandy white tones using pillows and bed linen.