Level up your home decor this summer with these DIY projects. These summer decor ideas will transform the way your home looks and bring summer straight into your life!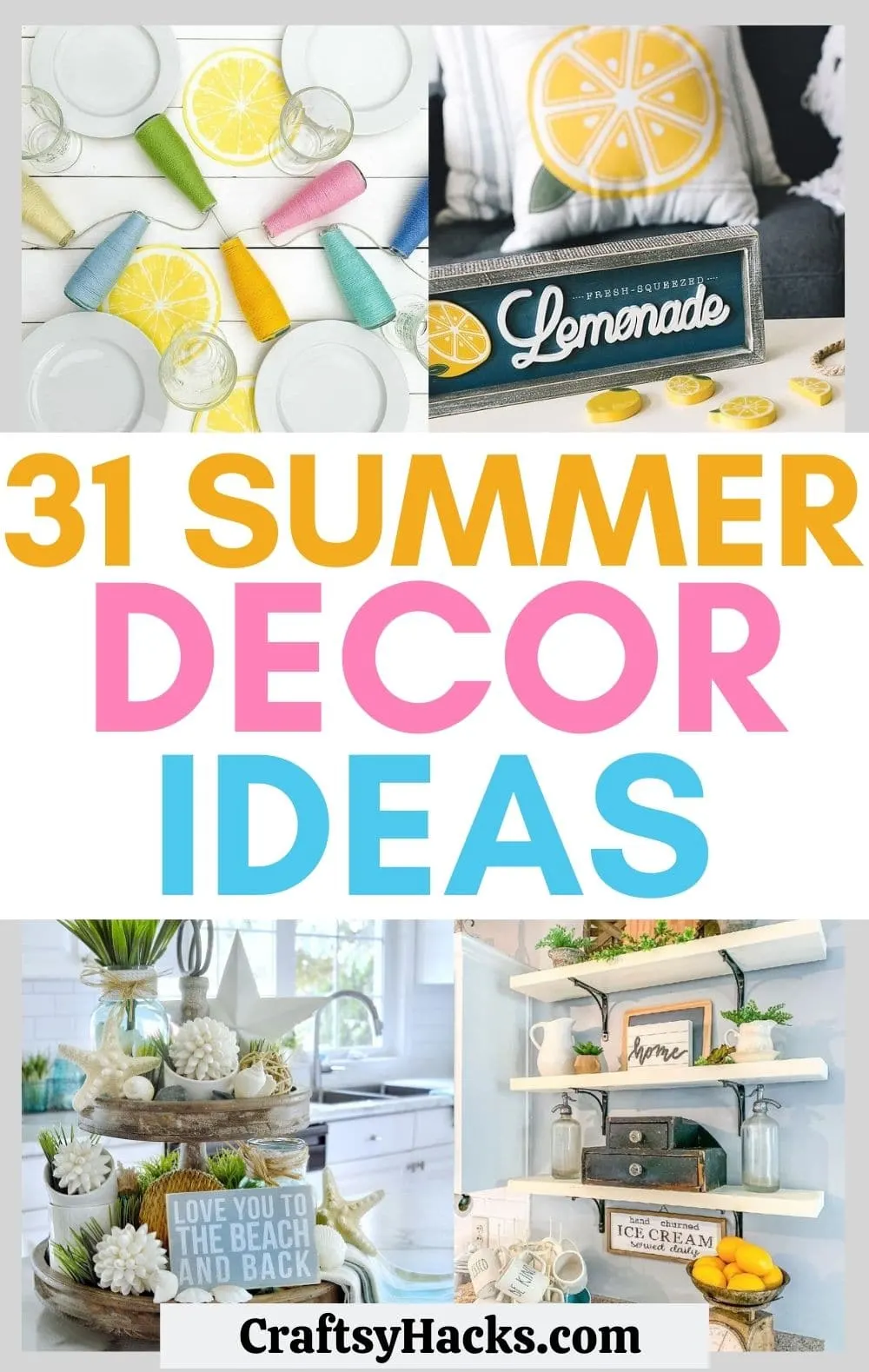 It's summer, I can't wait to feel the warm sunshine on my face, go out to the park for a picnic, or spend a day having fun and getting some sun at the beach.
It also means it's time to pull out your summer decor.
Summer doesn't have to stay outside, you know. With some simple and crafty decor pieces, you can bring summer right into your home, where your air conditioning is. I'd leave the heat outside exactly where it belongs.
You'll need a nice bowl of lemons to get started. Nothing quite says summer like lemons, does it? Lots and lots of lemons.
So, with that in mind and armed with lemons, here's 31 Summer Decor Ideas to welcome summer back.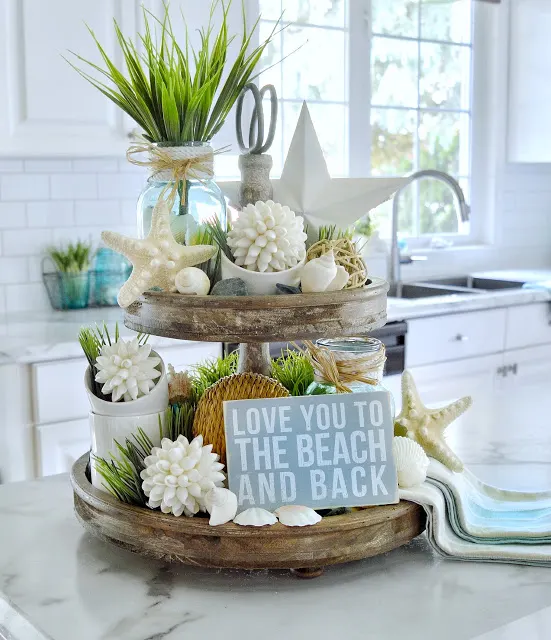 Credit: celebrateanddecorate.com
This tiered stand would look just perfect in your kitchen, perhaps on the island or on one of the counters facing a picture window?
Fresh, sunny, and reminiscent of the beach, if this piece of decor doesn't scream summer, I don't know what does.
You can artfully arrange a couple of succulents or even a mason jar with fresh flowers that you can switch out every few days.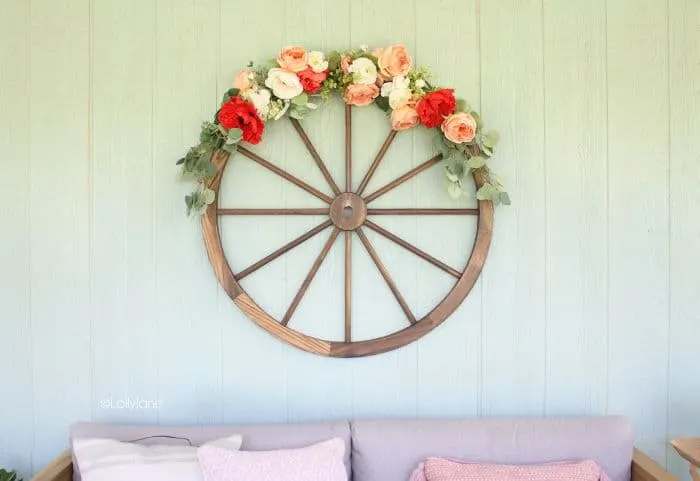 Full tutorial at: lollyjane.com
Wagon Wheel Wreath. Now, I bet you can't say that three times in a row.
Imagine that wheel hanging on a wall on your porch or in your living room. A touch of rustic, classed up by those beautiful flowers.
You'll need a wheel, of course, and I'm assuming that isn't something you'd have lying around in your craft supplies. So check out this one here.
Also, you'll need to pick out some flowers to match your home decor theme, and just because they're artificial flowers doesn't mean they can't look beautiful. Check these out.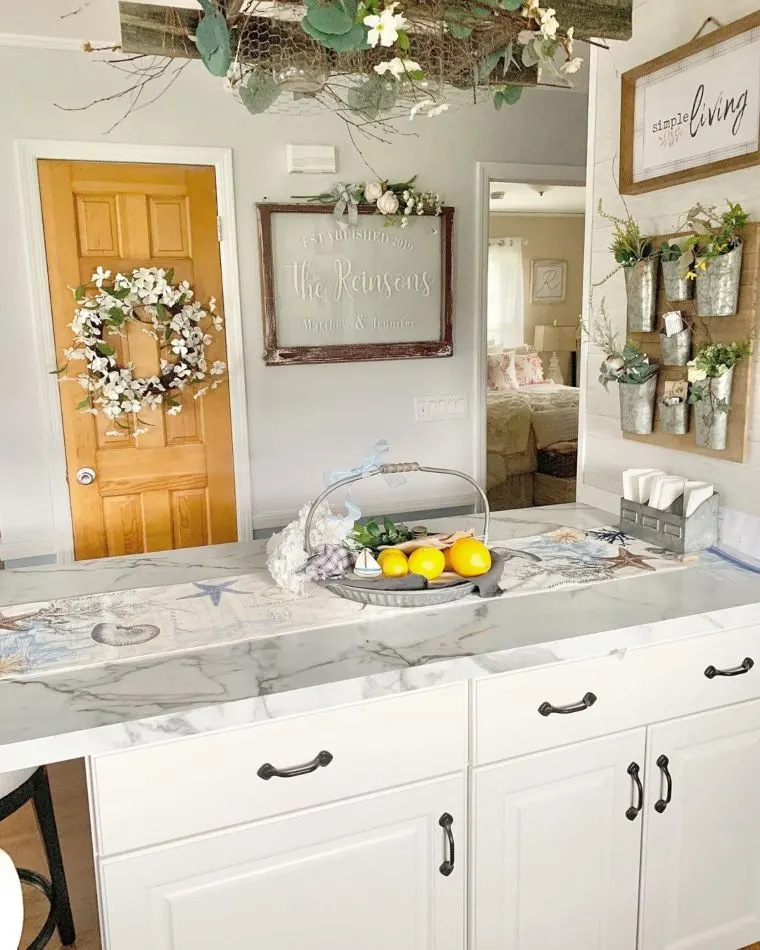 Credit: Instagram
Doesn't this picture look fresh and inviting? Look at that little arrangement on the island counter, with fresh lemons, some sprigs of green, and the most adorable little sailing boat perched in the corner.
I always think that the best aromatizers are a bowl of lemons in a bowl on one of my kitchen counters. That lovely pop of color they add to the room, and sharp notes of citrus to the air really does scream summer.
Grab a few of those lemons, and make a pitcher of lemonade and call it a summer day.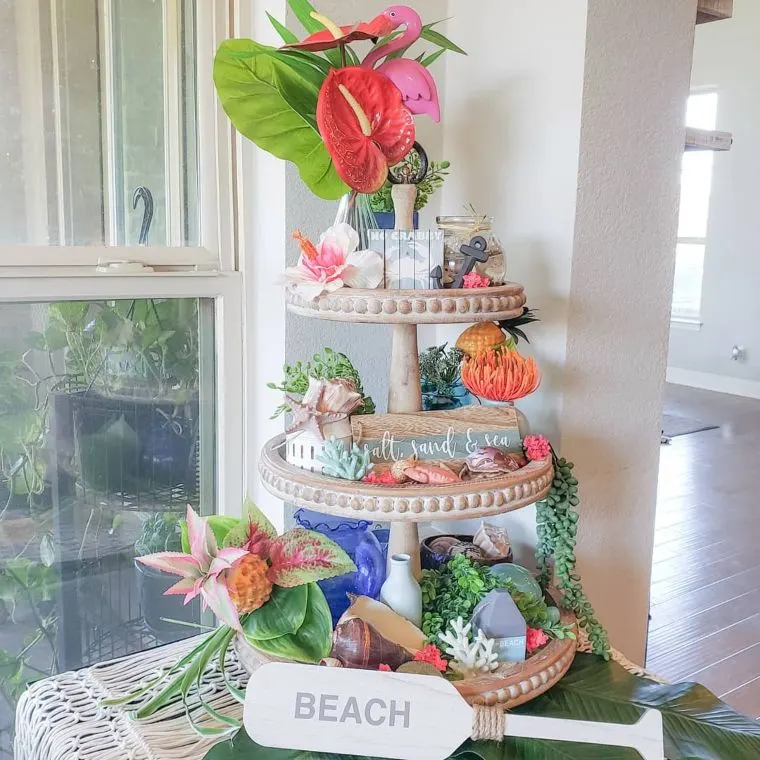 Credit: Instagram
Did the decorative conch and seashells, bits of coral and the little anchor, the plaque that reads "Salt, Sand, and Sea" not clue you in that this was a three-tiered tribute to the beach?
No? I'd think that little paddle that reads 'Beach' should clear it up.
Look how exotic this display looks! You have flamingos, bright red anthuriums, and, my favorite thing about the entire display, that little square of the driftwood-themed block that says 'No Crabby.'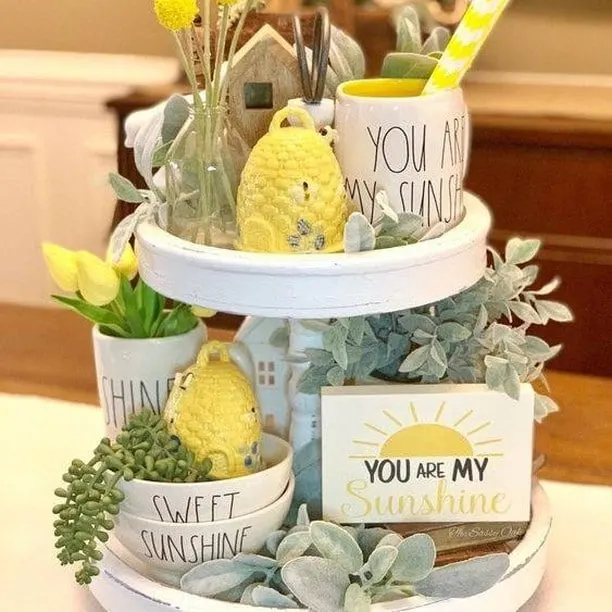 Credit: Instagram
Another tier stand display, tastefully designed with soft whites, mellow greens, and then a pop of yellow. I love the sunny theme, and I love that string of pearl plant casually spilling out of that 'Sweet Sunshine' cup even more.
Those tulips there are a great touch, but they don't usually bloom until late summer or even early fall. So you can switch those out for seasonal summer blooms.
Slip in a small sachet of scented potpourri or a small pot of fresh basil and let the smell of summer and sun fill your room.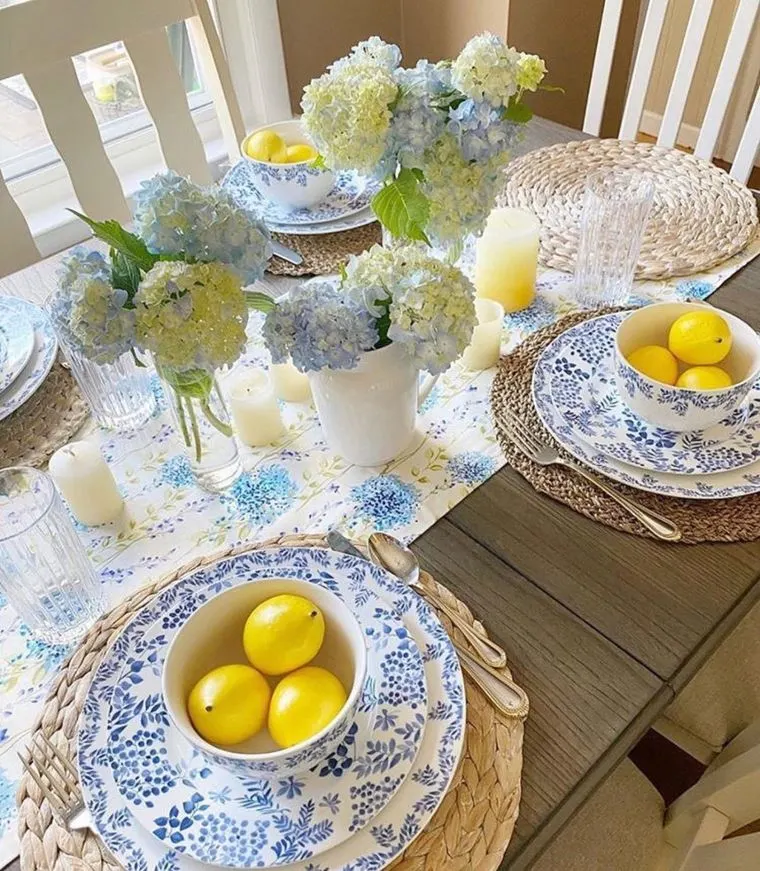 Credit: Instagram
What better way to set your dining table for a lazy summer's day brunch? Bright blue and soft white dinnerware, those tangy bursts of yellow citrus from the lemons, muted ivory candles like these, and soft fluffy hydrangeas to round it off.
The braided placemats are the perfect dash of Bohemian, and they add a little bit of rustic charm to this pretty and elegant English table setting. You can kick back with a glass of prosecco and end your brunch date with girlfriends right here!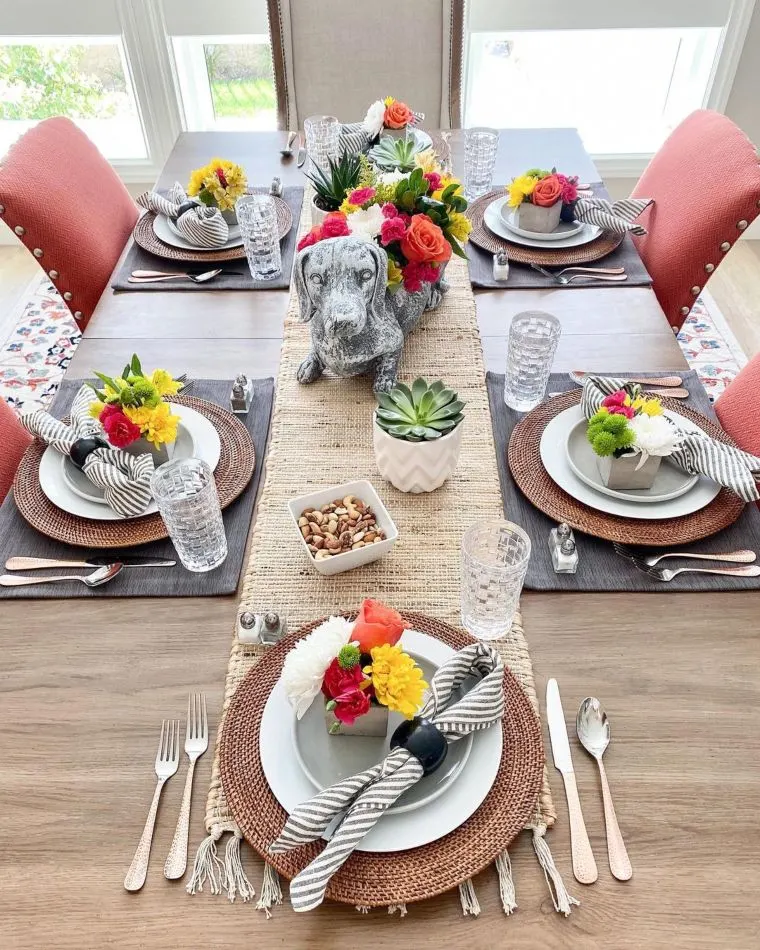 Credit: Instagram
Don't you just love a good floral arrangement on a table? Of course, you have a summer bouquet sitting in that doggie vase right in the middle.
But, what I find particularly interesting are the individual mini-pots of flowers on each plate; those would make wonderful hostess gifts.
The entire setting reminds me of a fancy lunch on a yacht on a summer day, right down to the white-and-grey sailor-striped napkin.
That bowl of warm almonds and cashews only ups the class!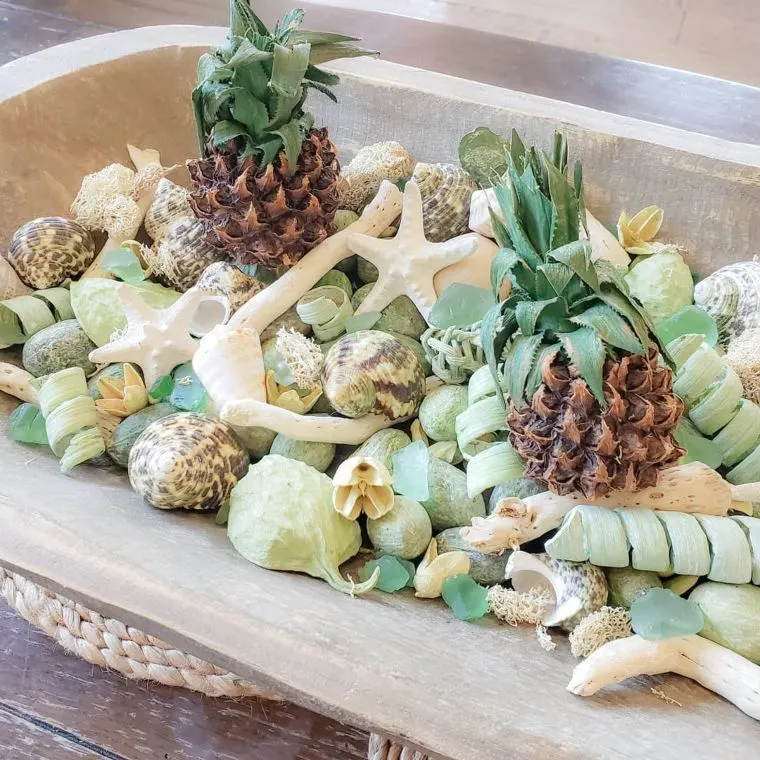 Credit: Instagram
I really do appreciate a good batch of potpourri. Look at this tray filled with lovely swirls of dried flower petals, scented husks, pinecones, and decorative trinkets, and two pineapples. It looks fabulous, but I bet it smells even better.
While you can buy your potpourri ready-made here, you can also put together your own batch. Pick something that smells warm, a summer scent like lemongrass, or Brazillian orange citrus. Add a few drops of essential oils.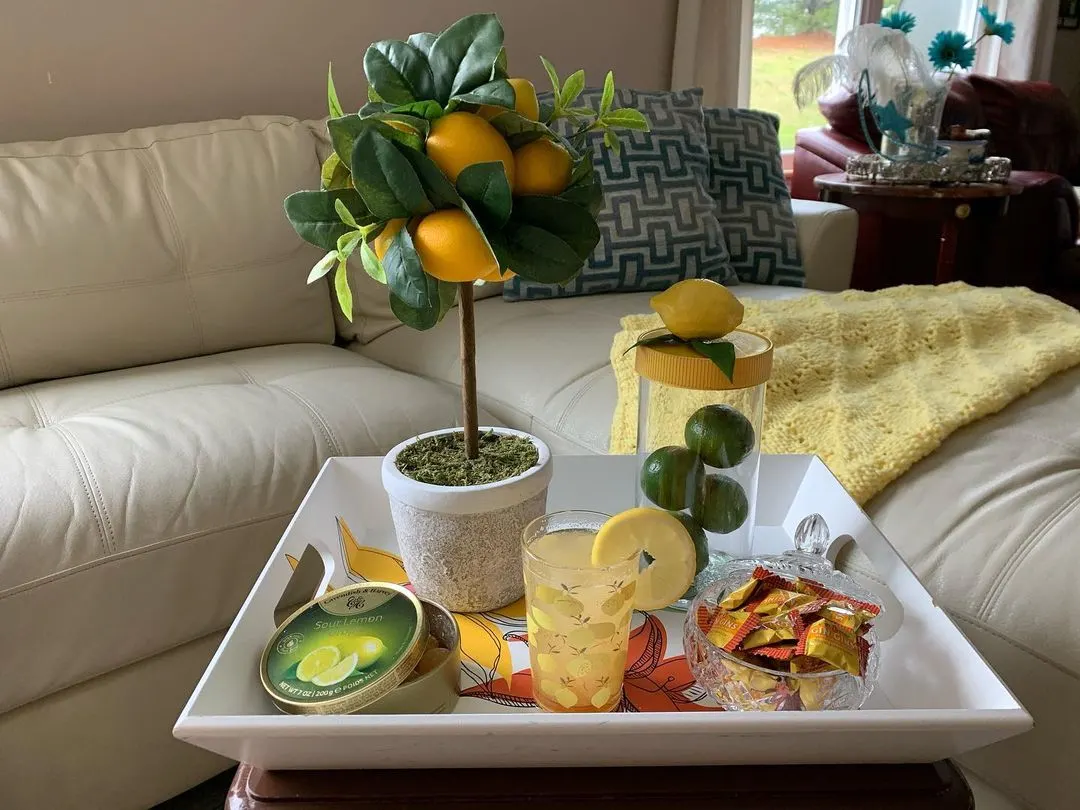 Credit: Instagram
Why not sit down on your couch with a nice cool glass of lemonade and enjoy a hot summer's day? Don't you just love how the color yellow just brightens up your room?
Do you know what else brightens up the room? That adorable mini-potted lemon tree! You can find something just like that here.
Now all you need to make this picture-perfect is a good book. Just curl up with your lemonade and enjoy your afternoon off.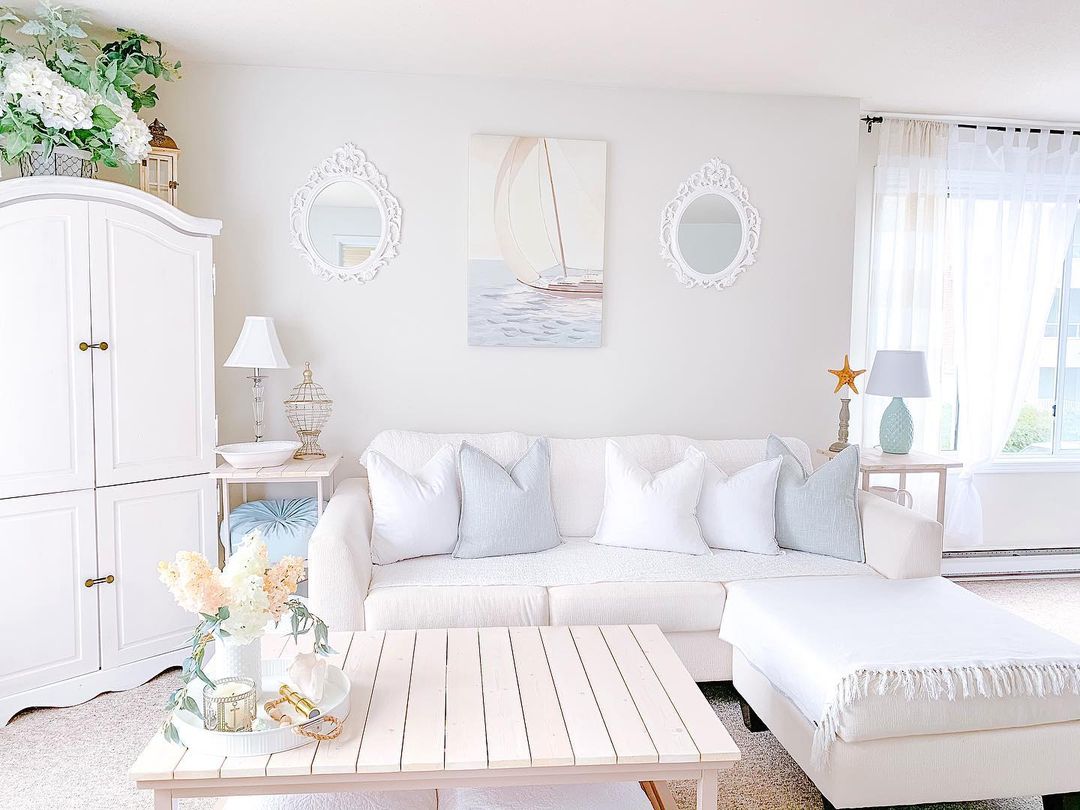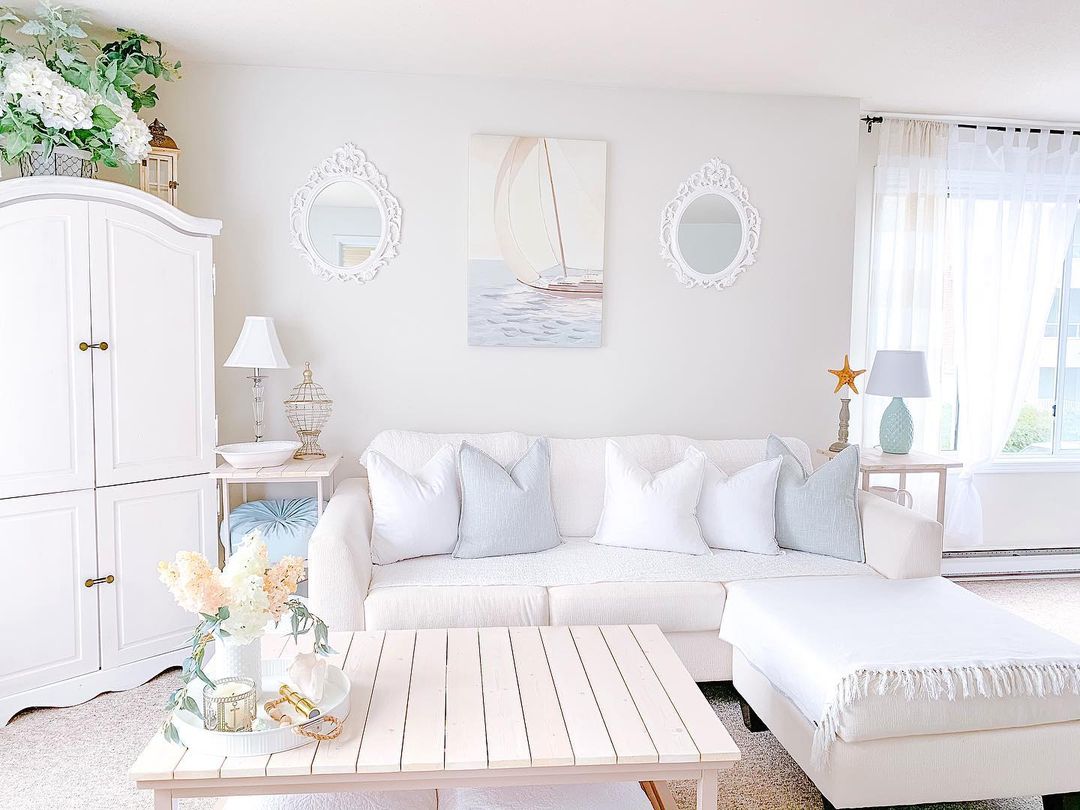 Credit: Instagram
Normally, I'd find all that white just a little too pristine and cold. But do you see those soft blue throw pillows and the vase of pale peach flowers on the tray by the coffee table?
That soft whisper of color makes all the difference between a cold winter landscape and a cool breezy summer's day. I can almost feel the soft white curtains swaying in the wind while I sit here and kick back with a glass of wine—white, of course.
I'd sooner cut off a limb than bring any red wine here.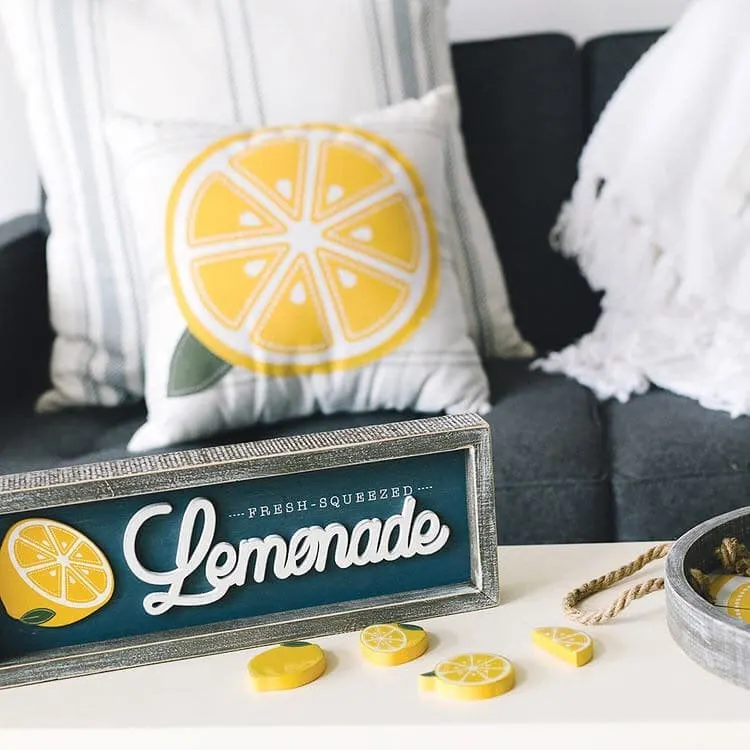 Credit: Instagram
When you're playing with summer colors, it's easy to get carried away by yellows, white, honey-gold, and beige hues. You wouldn't usually think of elephant gray complementing a summer vibe, would you?
But look how the white and yellow color scheme in this decor is offset by that dark grey backdrop from the couch. It's like seeing a ray of sunlight escaping through a dark patch of sky.
Oh, and there's also that deep teal on the lemonade plaque to consider!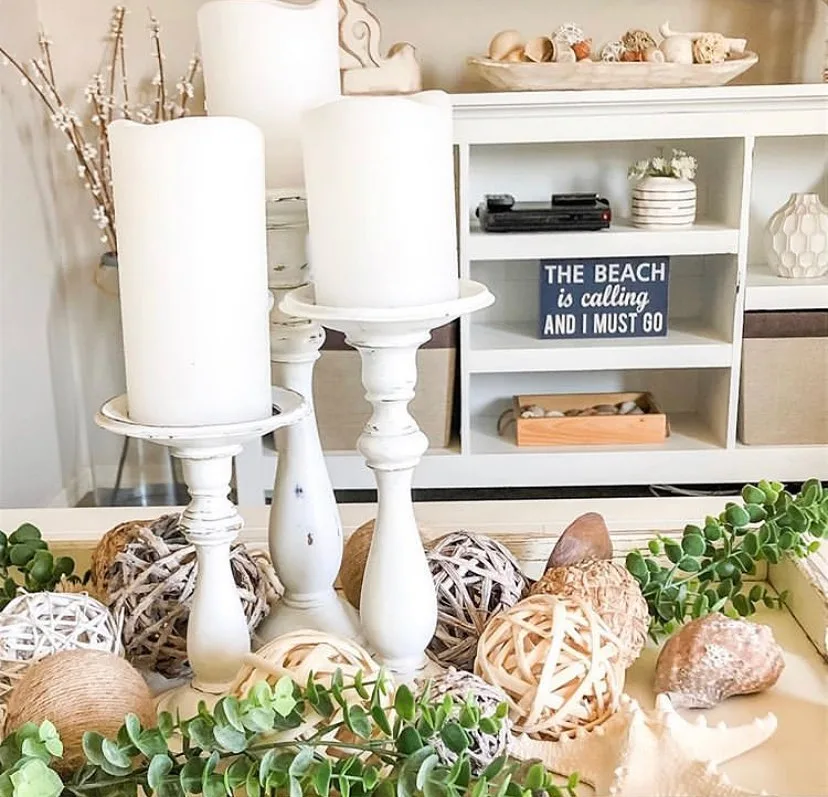 Credit: Instagram
"The Beach is calling, AND I MUST GO."
Isn't that the truth?
Get yourself some decorative wicker balls here. You can use these as a part of your summer decor, and come autumn, you can pair it up with deep reds and mustards and design the 'fall look' for your home decor.
Why not drape some string of nickels succulents like these around the wicker balls and prop up a candlestick or two? Throw in some seashells you found on your last stroll on the beach, and you're set.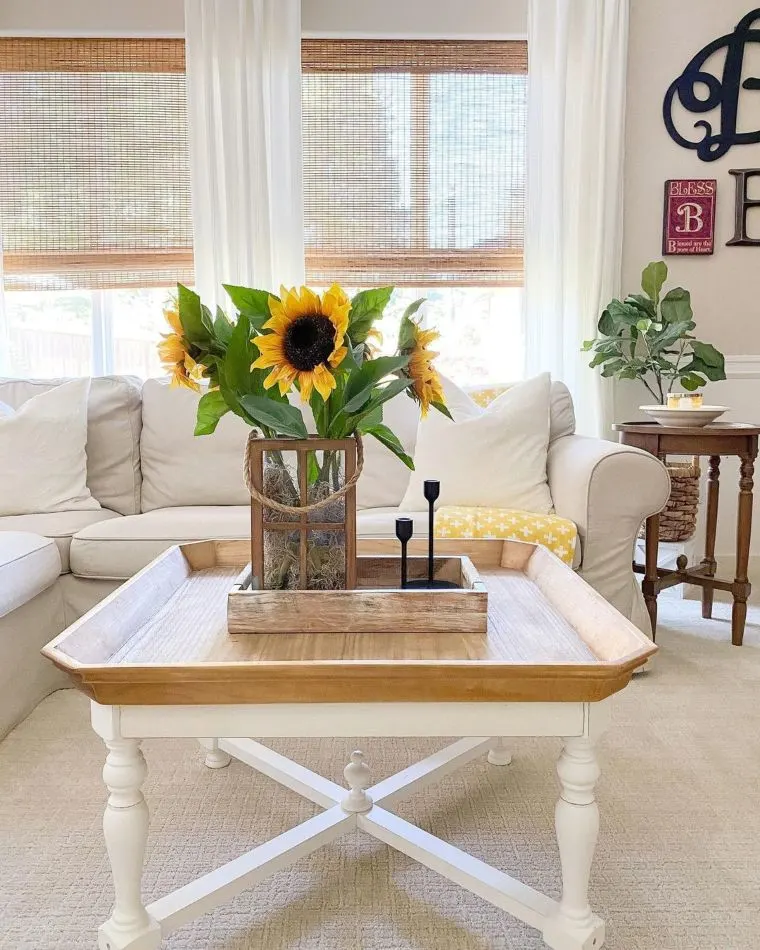 Credit: Instagram
I was wondering when we'd be able to pull out the sunflowers. Don't they look absolutely ravishing, sitting there in their wooden, glass-paned vase?
You can go for artificial flowers, of course. But if there ever were a time to splurge, it would be now and on real sunflowers.
Do you know what would really tie this decor together? A raw, braided jute rug like this on the floor, to go with those jute blinders you see up on the window.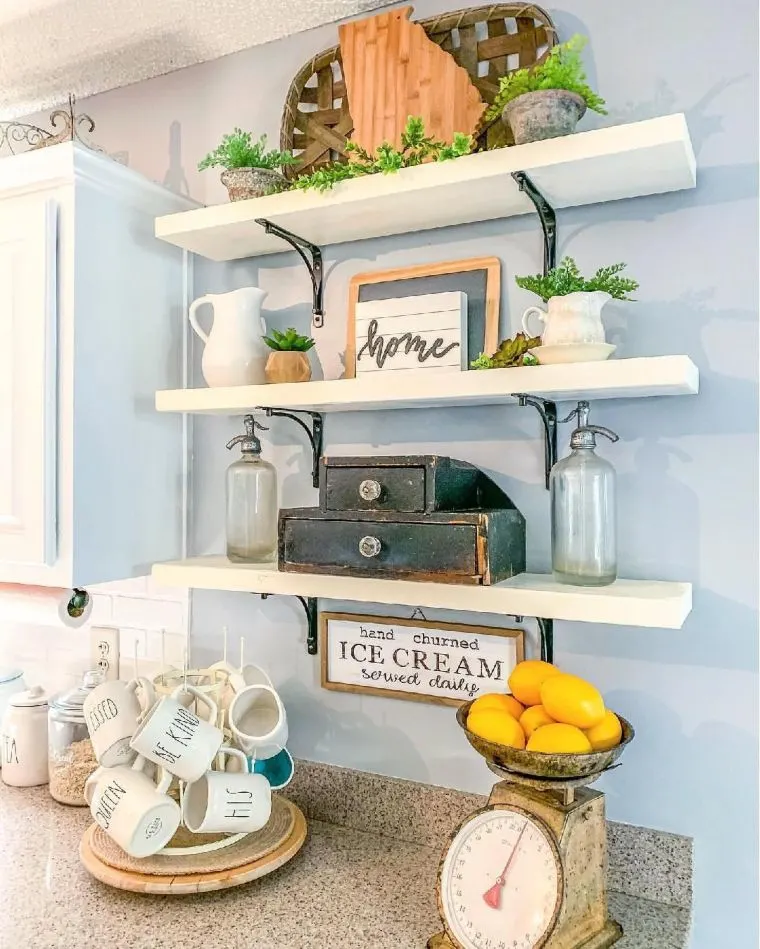 Credit: Instagram
A vintage summer-themed shelf is just what you need to get your home ready for the summer.
You've got some succulent up there, a white pitcher, a 'home' board, and a wicker tray mounted up as a backdrop for that piece of driftwood decor.
There's that artfully-rusted chest of drawers, just perfect to hold small knick-knacks, buttons, and shells.
Love the idea? You might also like these farmhouse spring décor ideas!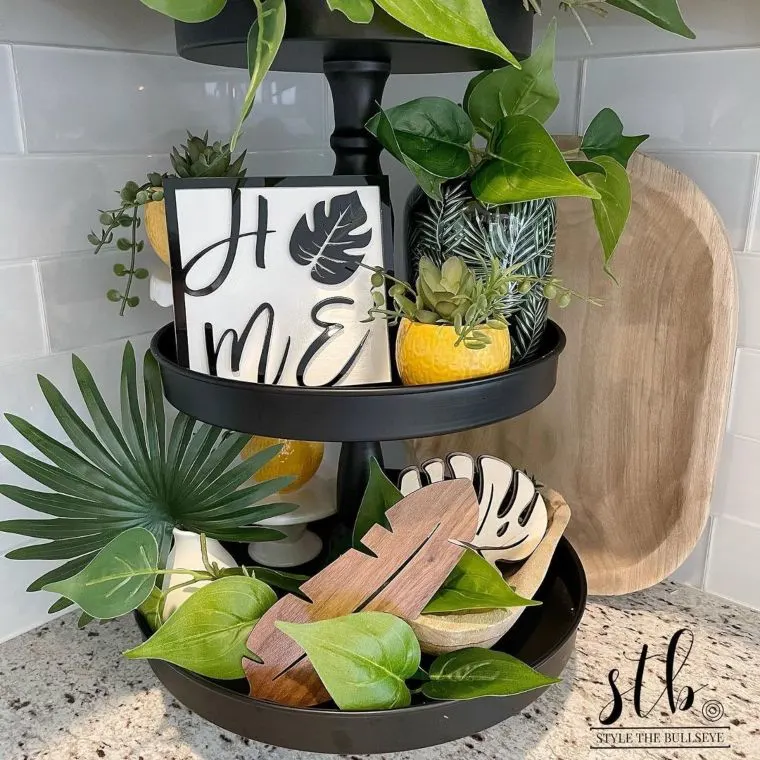 Credit: Instagram
What you see is a tropical-themed, three-tiered display, with a generous splash of deep green from all those artificial tropical leaves.
You can find a variety of artificial leaves of all shapes, colors, and sizes to choose from right here. Don't forget to save some for your next DIY decor project!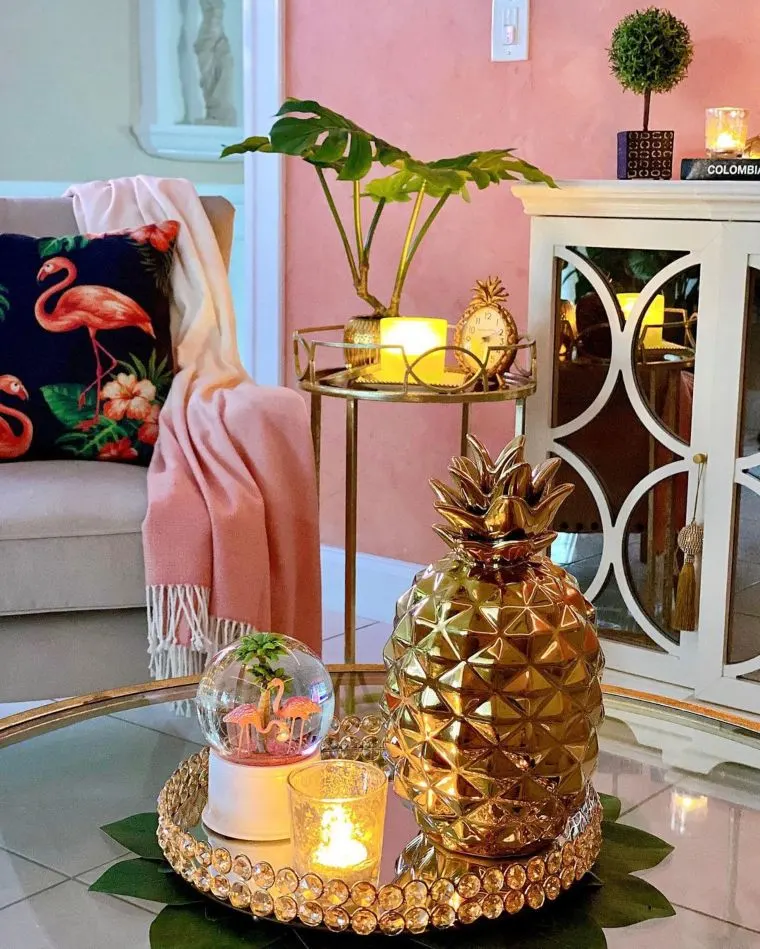 Credit: Instagram
Have you ever seen a snow globe without the snow? I have, sitting right there on that gorgeous studded tray, next to that hunk of lush, gold pineapple.
Flamingos and palm trees, in a snow (sand?glitter?) globe. Ha! Isn't that just absolutely clever? But of course, you can have something just like that, with sparkly glitter, instead of snow right here.
If you decide to stick to the flamingo theme, here's another countertop decor piece!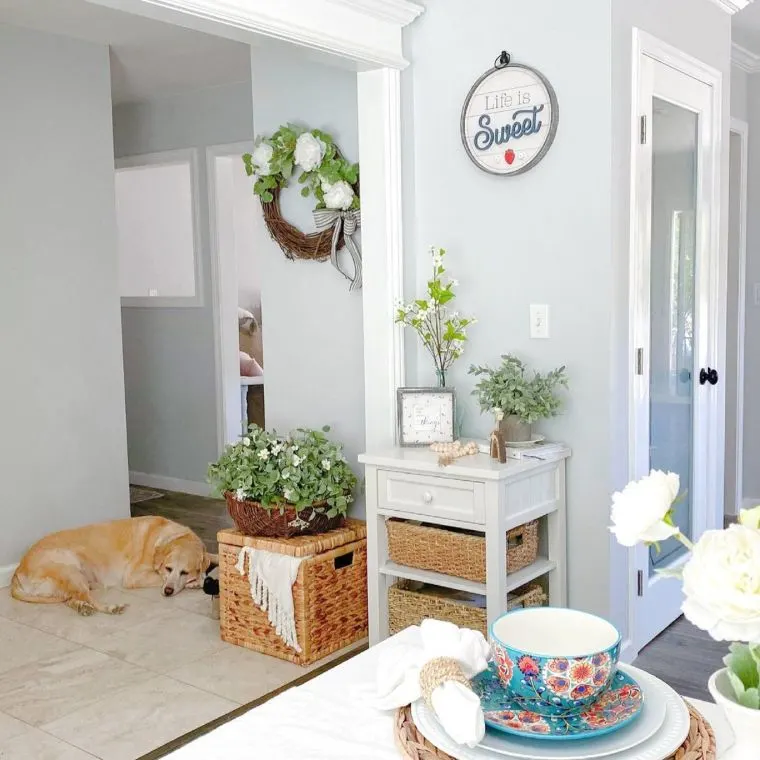 Credit: Instagram
Nothing like a cute little wall hanging to tell you that life is sweet. Nothing like that beautiful big puppy snoozing in the corner, next to that wicker hamper to show you that life is the sweetest.
Check out that napkin holder on that snowy white napkin. I bet you can wrap some macrame thread or even a macrame ring like this around your own napkins to get that same finish.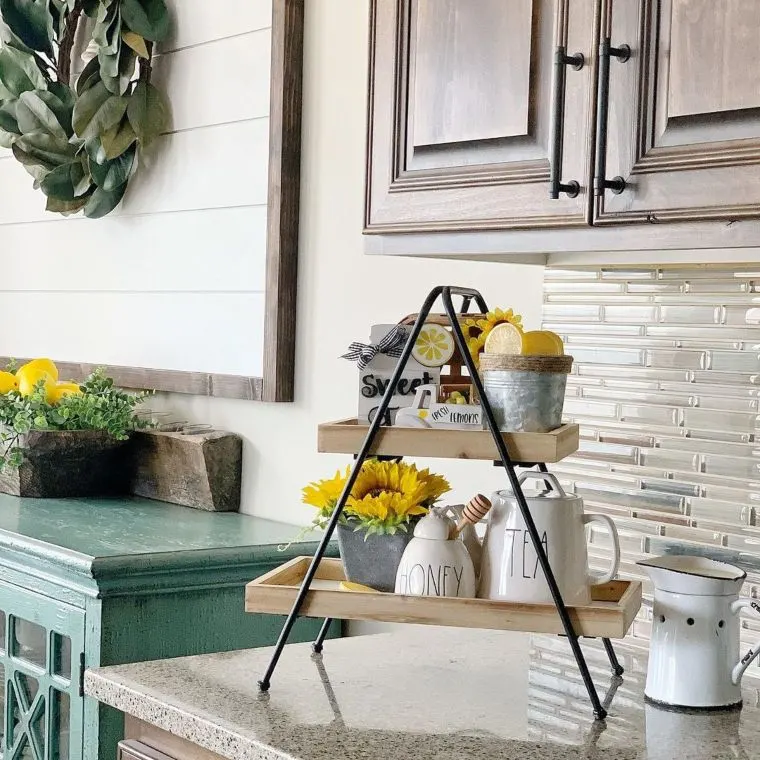 Credit: Instagram
How about a lovely tea service tray to brighten up a summer's day? How about a lovelier, two-tiered tea service tray, so you can add a vase of sunflowers and a name board letting people know you serve sweet tea?
What else would you need? A tin bucket for decorative lemons? Check. A small dish to serve up the real lemons? Check!
But do you have a pot of honey with a dipper? No? You can find a set right here.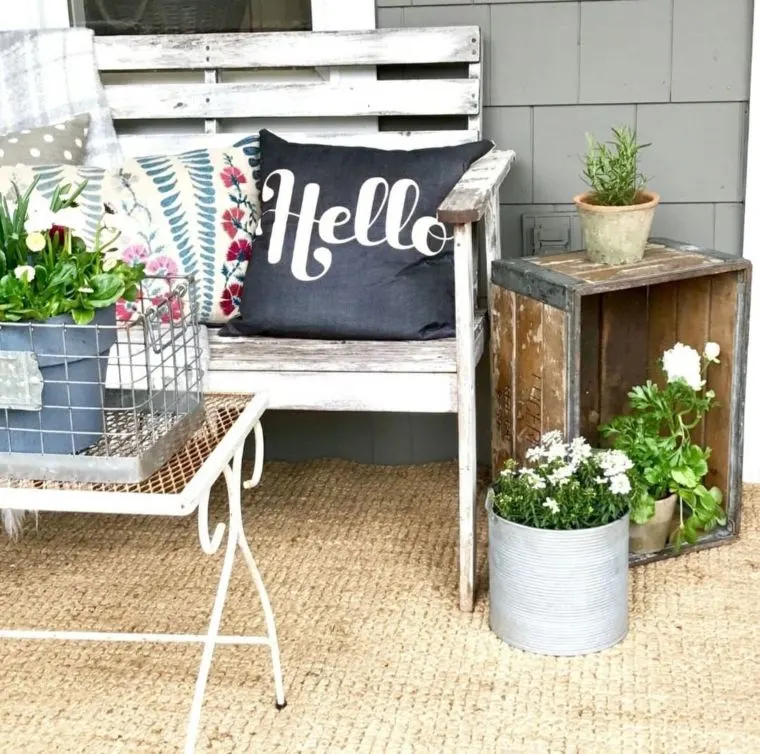 Credit: Instagram
You can decorate your porch to match the summer-themed decor you have going on inside your house.
Do you have a tin bucket lying around? Why not use it as a planter? Speaking of things that can double as another decor piece, check out that wooden crate!
You've definitely must have one of those lying around. Prop it up and use it as a side table and as an impromptu plant stand!
Don't forget that lovely natural fiber chunky jute accent mat like this to finish off that summer beach house vibe you have going.
Here are some more porch decorating ideas to inspire you.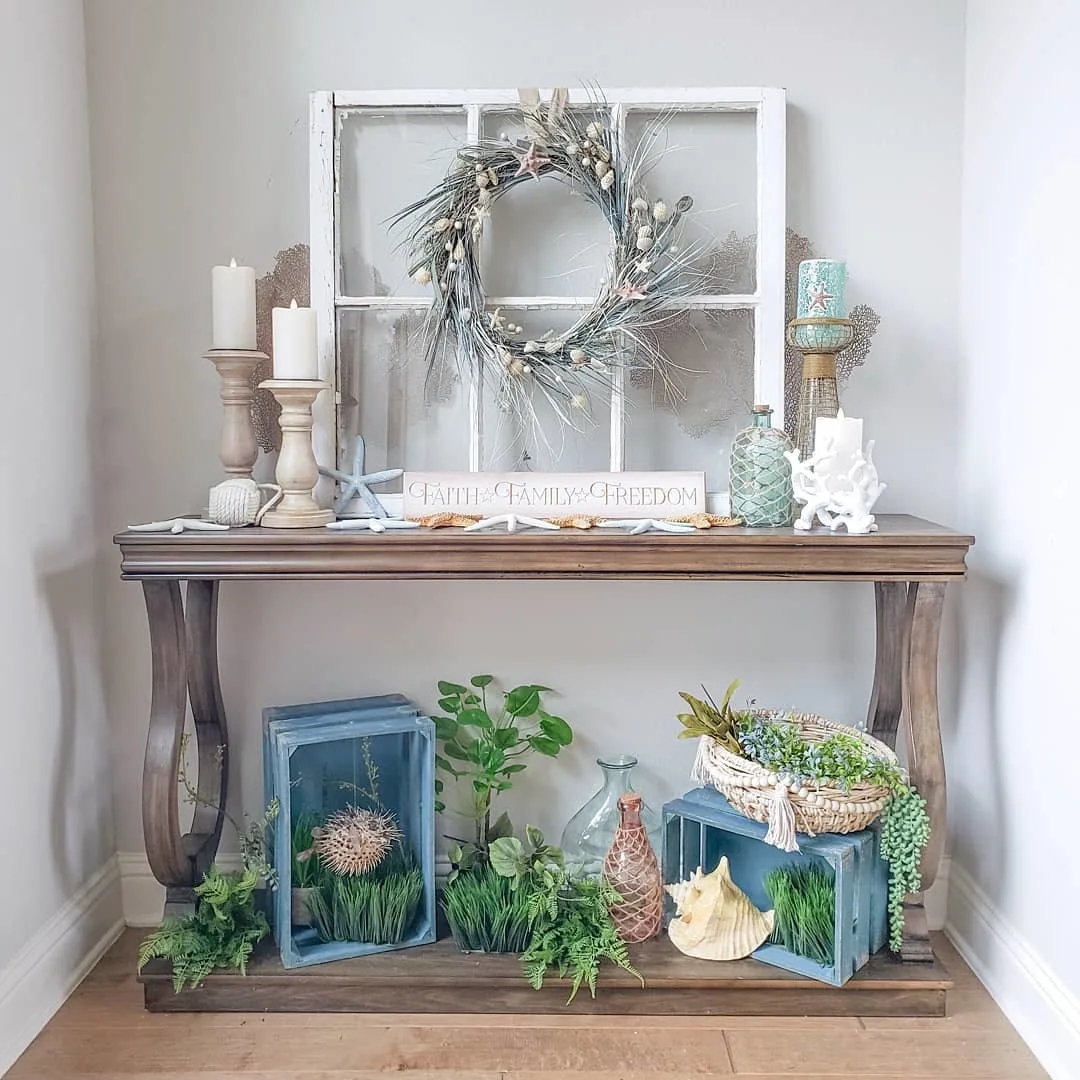 Credit: Instagram
What a beautiful tribute to summer. I bet, come fall and winter, you can switch out this corner display and decorate it to portray the best that every season has to offer!
Can't you picture that beautiful wreath come fall? But this summer wreath is light and breezy, with its soft blues and sandy whites.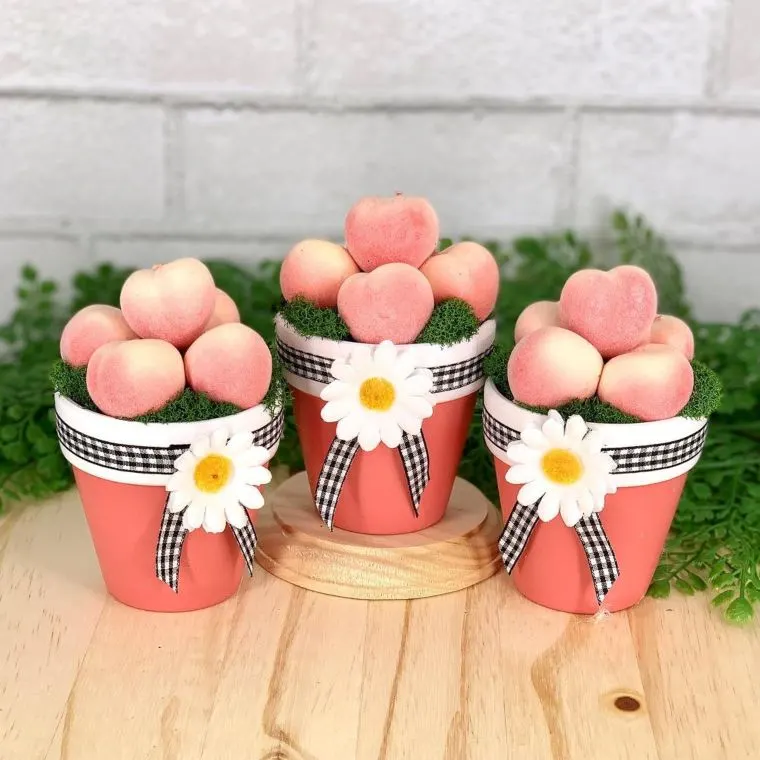 Credit: Instagram
Have you visited the local farmers' market yet this week? Don't forget to pick some peaches on your way back, at least a dozen, so you can arrange them on your kitchen island.
Forget lemons in a bowl; it's time for peaches in a painted pot like this. So, switch out the lemons and make yourself some peach iced tea while you're at it.
Or, if you're worried about letting fruits sit outside all day, just buy some decorative peaches here.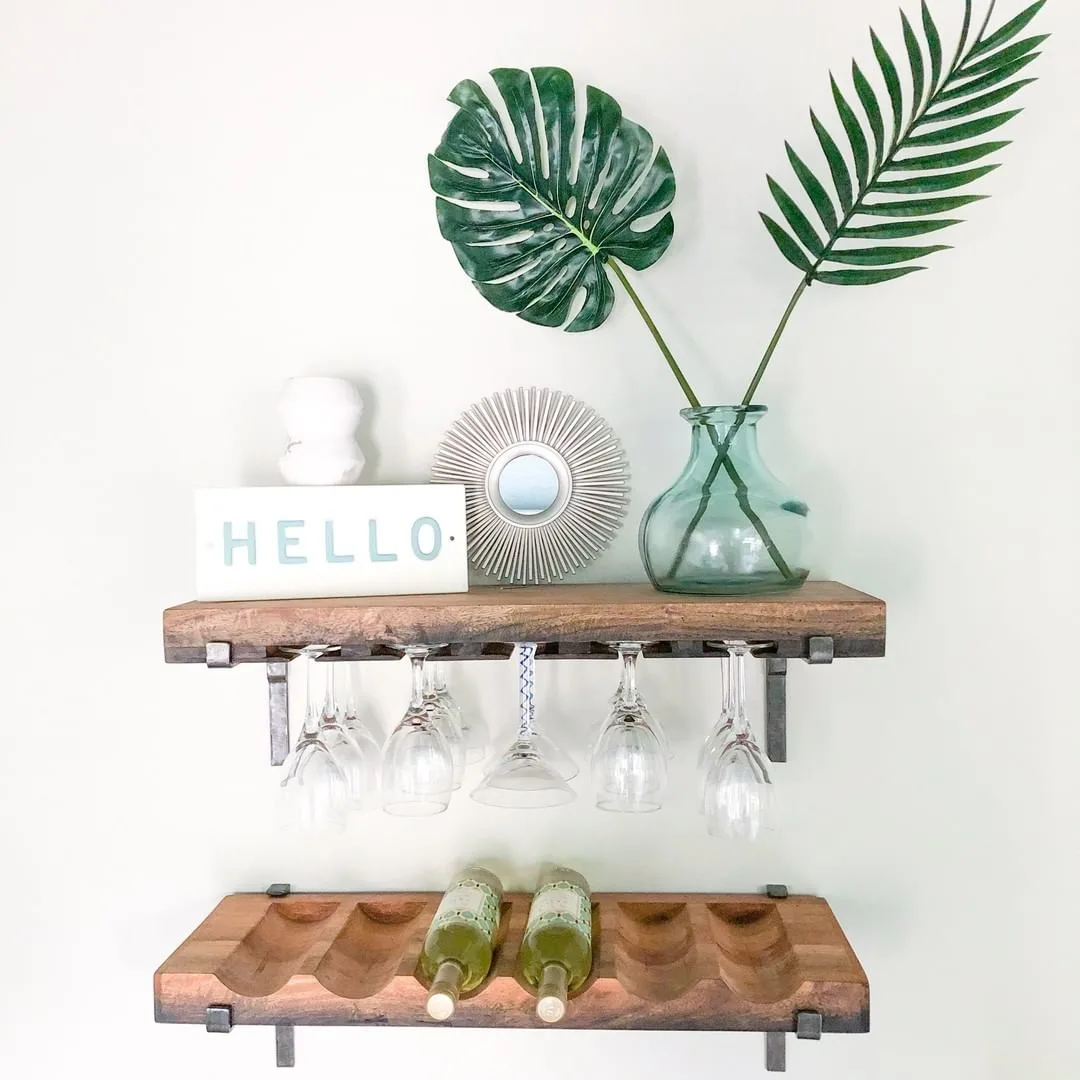 Credit: Instagram
This is just what you need on a warm summer's evening: to sit back and enjoy a nice movie with a glass of wine.
Why not set up this wall-mounted wine rack? You can get a glass holder or an upside-down glass organizer like this.
If you're entertaining a few friends, clear out the top display unit and set up your mini-bar right here.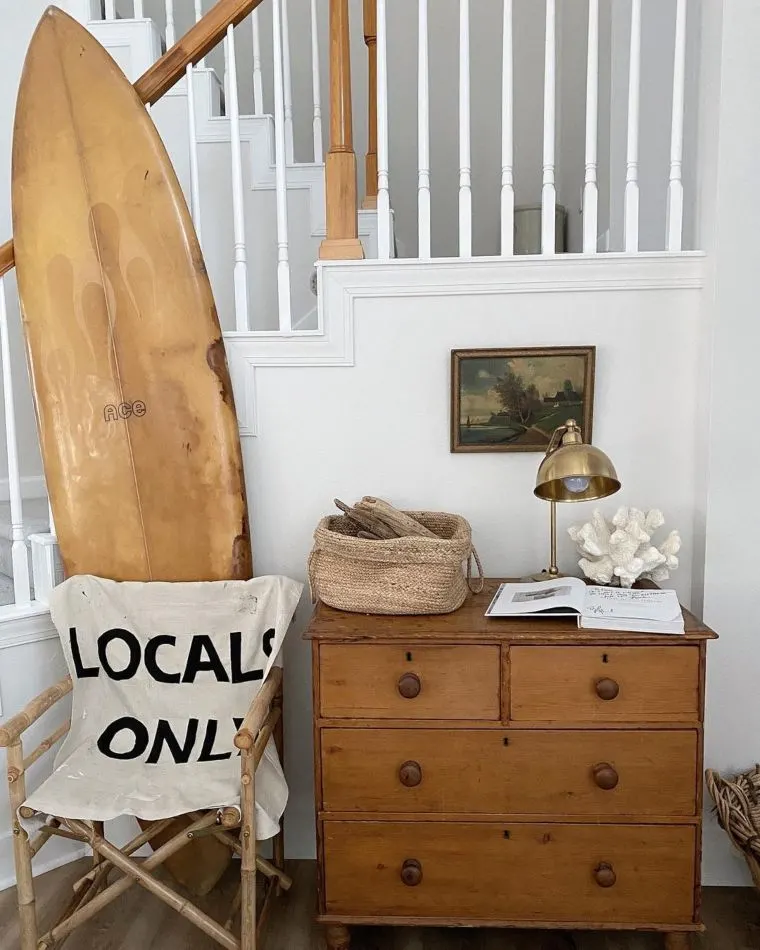 Credit: Instagram
Let's talk about the surfboard in the room. How cool does it look in that nook by the stairs?
It says: "Oh, don't mind me, I'm just a local, biding my time till I can hit the beach and surf the waves." You've even got that wicker basket set up… for an indoor picnic, perhaps?
Whatever's happening here, I love it!
Check out more furniture makeover ideas here.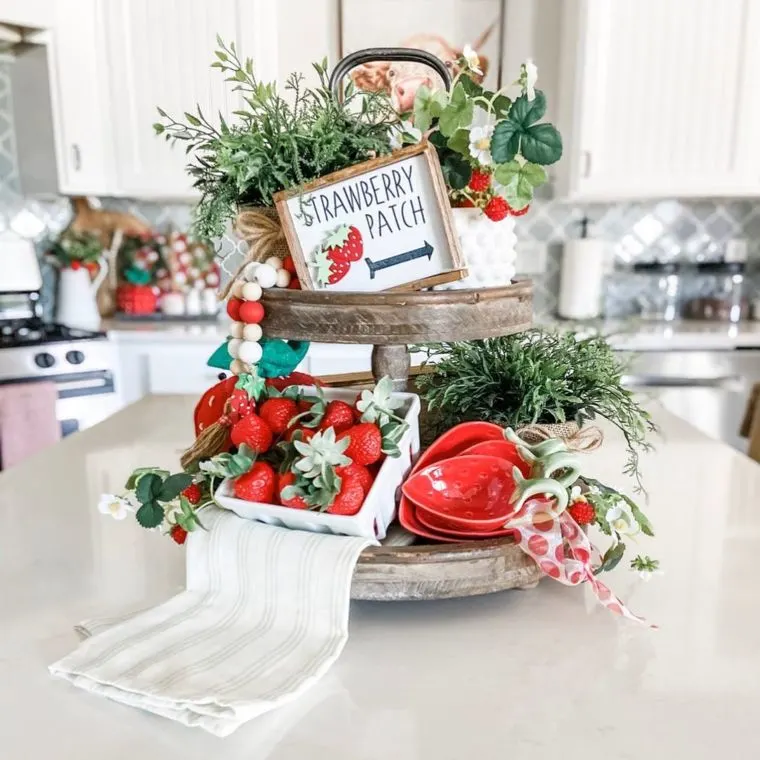 Credit: Instagram
It's time to pull out all the stops; it's strawberry time. Don't you love how the ripe berries look in that? So, get your little strawberry serving dish and serve up some cold cream to dip the strawberries in.
A pot of rosemary would smell divine next to the berries, so why not set out your herb planter? You know what would look divine and taste like heaven on a plate? Strawberry cupcakes.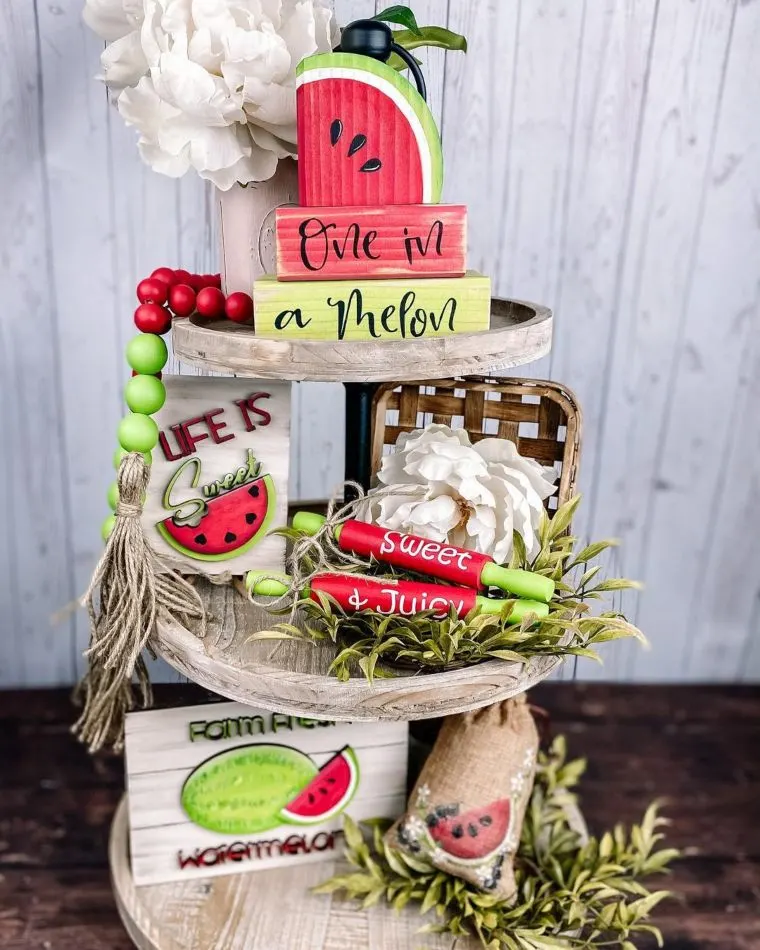 Credit: Instagram
We're really getting fruity this summer with our decor, aren't we?
Nothing cools you down on a hot summer day than a cold wedge of watermelon.
A one-in-a-melon wooden block on one tier, a lovely basket with a white bloom, on another…now all you need is to put out a pitcher of freshly-pressed watermelon juice, and you're set!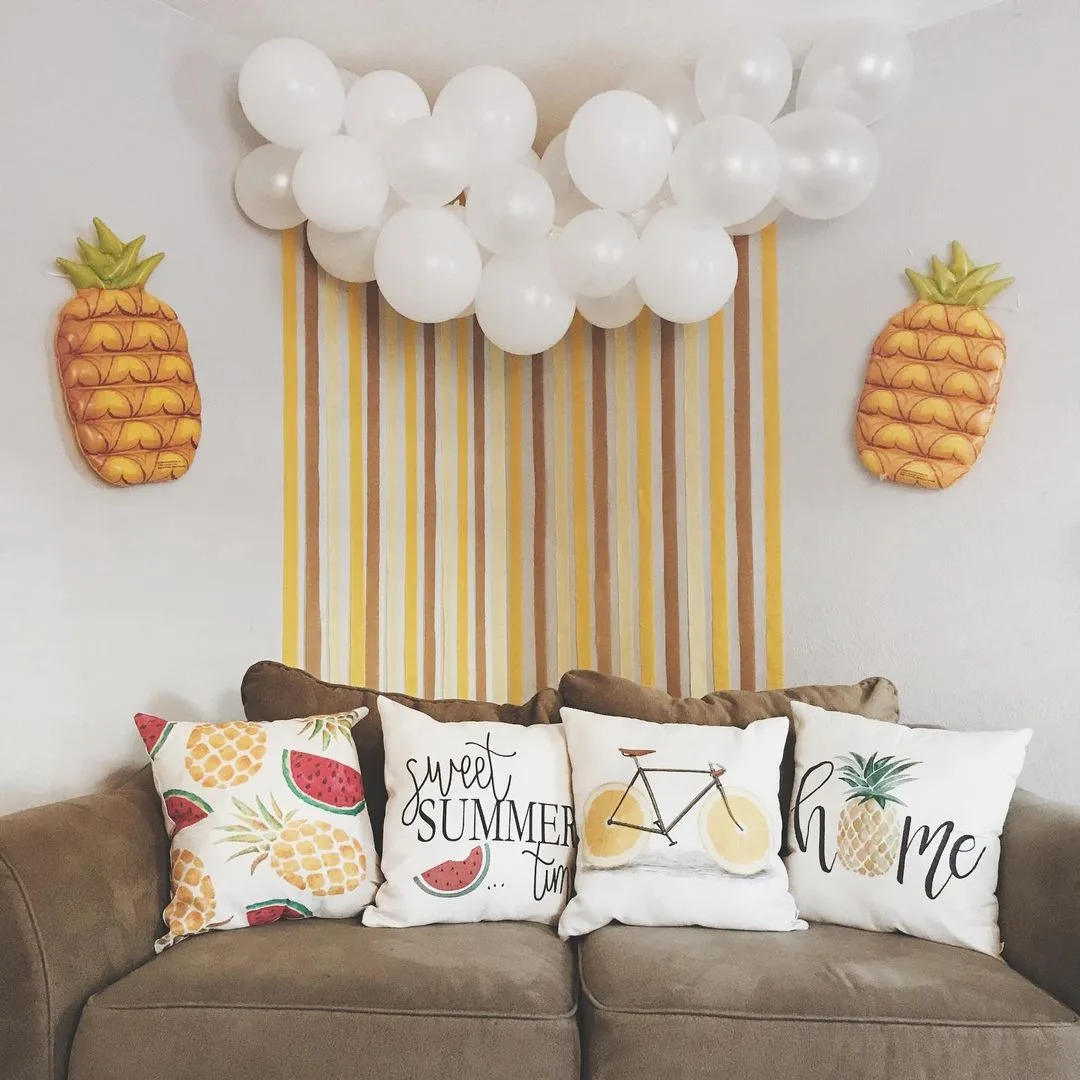 Credit: Instagram
Keeping with the fruit-themed decor, it's time you did something about your toss pillows. Check out these fruity cushion covers to help brighten your living room.
Take a (fruit)pick: lemons, watermelons, and pineapples. I'd add a strawberry-themed cover to the mix. Now I'm hungry; perhaps a fruit bowl?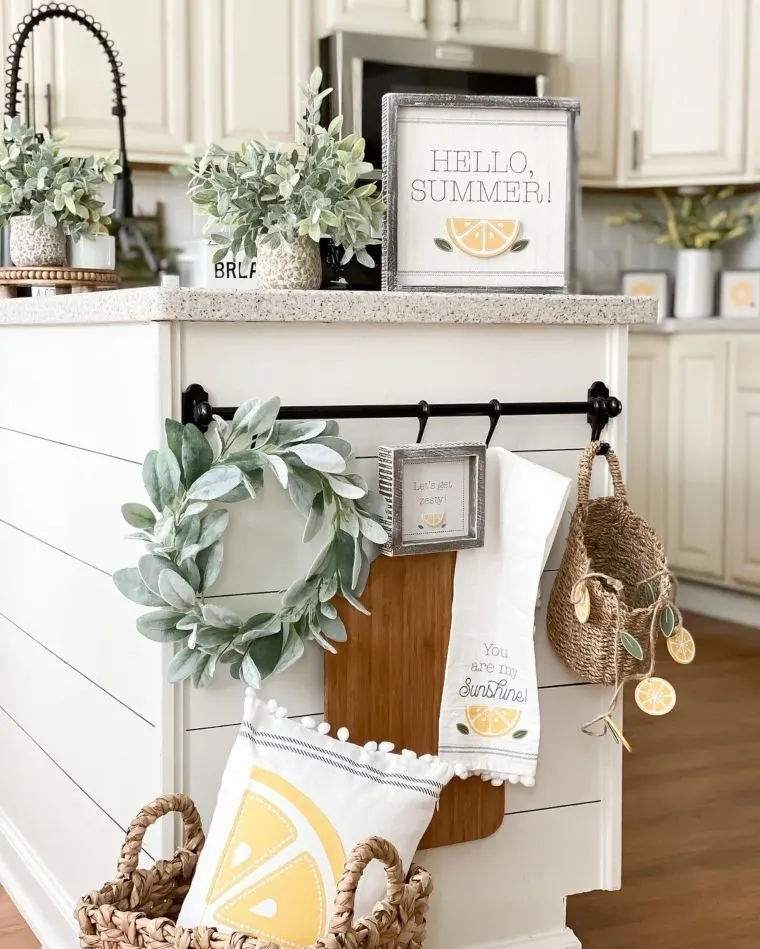 Credit: Instagram
It's easy for fruit-themed decor to turn childish and unsophisticated if you're not careful. But look at this little island corner.
That's sophistication and elegance on a rack. So, if you're handy with a drill, go ahead and put up a metal rack. Here are some unique IKEA kitchen island ideas for you to try out.
You can hang that lovely wreath and even some white planter buckets from here, next to your chopping board. Your kitchen island has never looked better.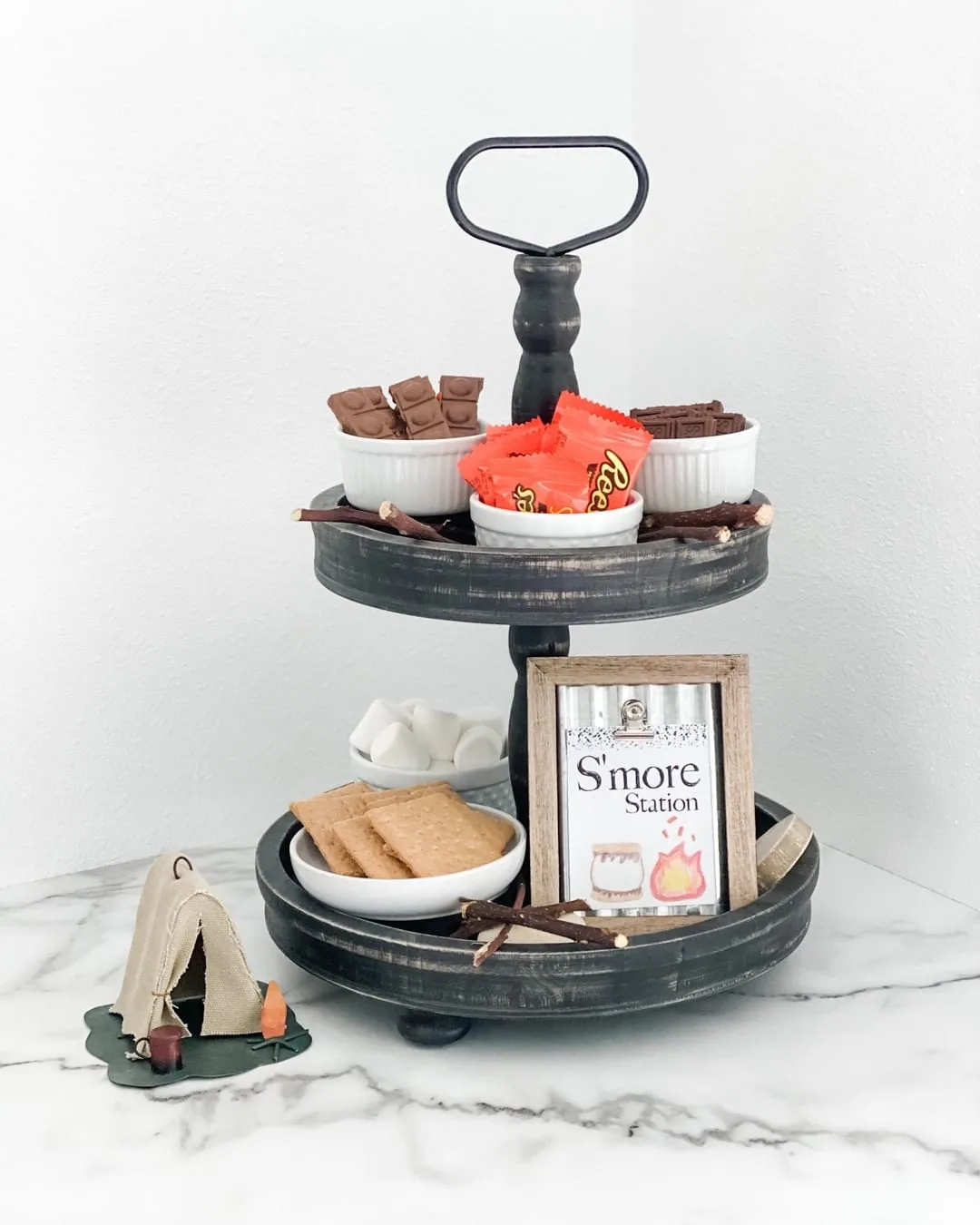 Credit: Instagram
Maybe you couldn't go camping this summer, and you missed roasting marshmallows by the fire. So why not bring camping inside to you?
Grab a few bowls and lay out some marshmallows; we're making s'mores. Don't forget the Graham Crackers and a few Reeses' cups while you're at it.
Now just toss a few decorative twigs, get a fire going in your fireplace and start toasting those marshmallows!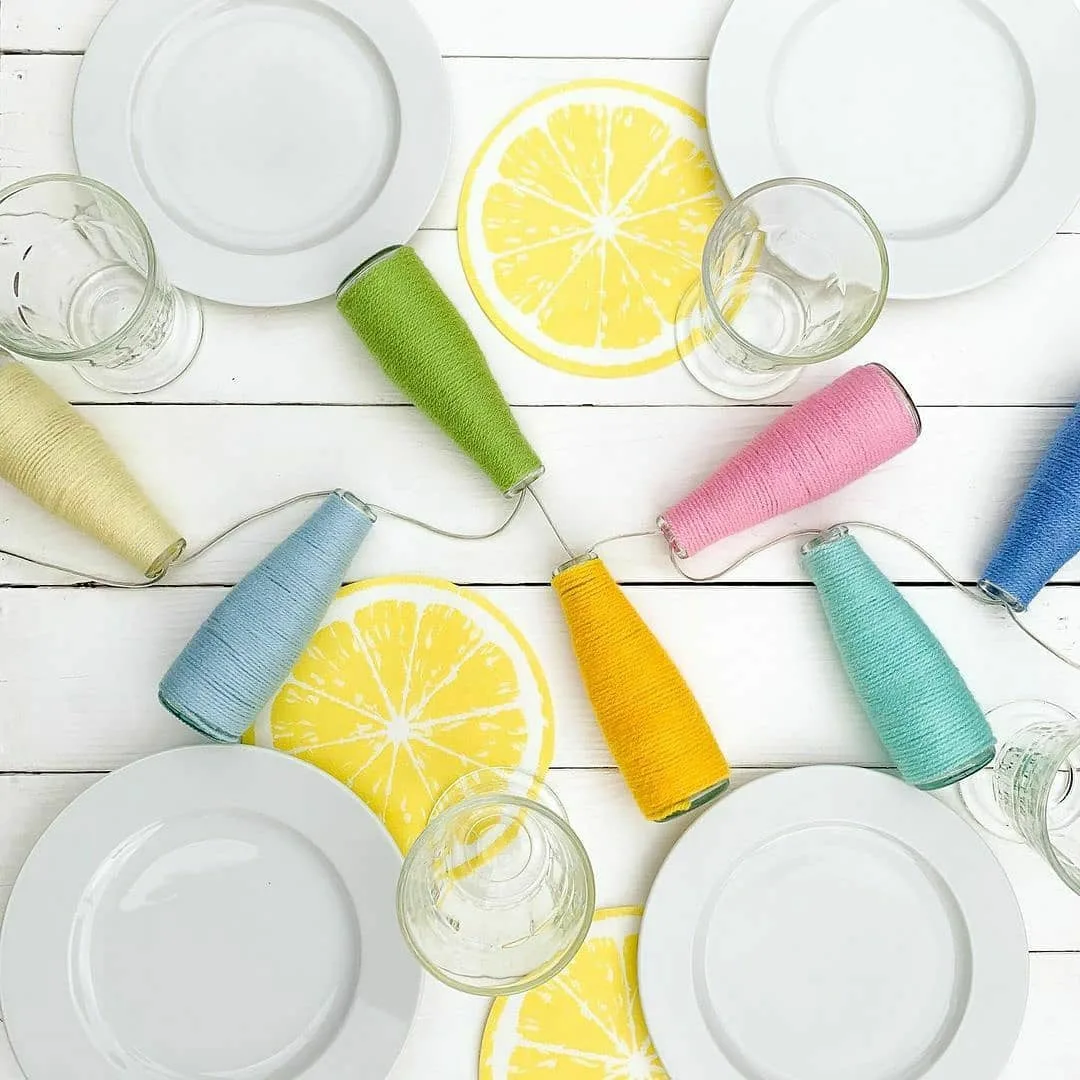 Credit: Instagram
Grab a few glass bottles like these. Now get out your basket of yarn and pick some colorful skeins of yarn. What's missing here…fairy lights!
That's all you need for this table decor. Switch out your table runner and gently lay out your yarn-covered bottles.
Come dinnertime, and you'll have a warm, cozy table and hot supper to look forward to.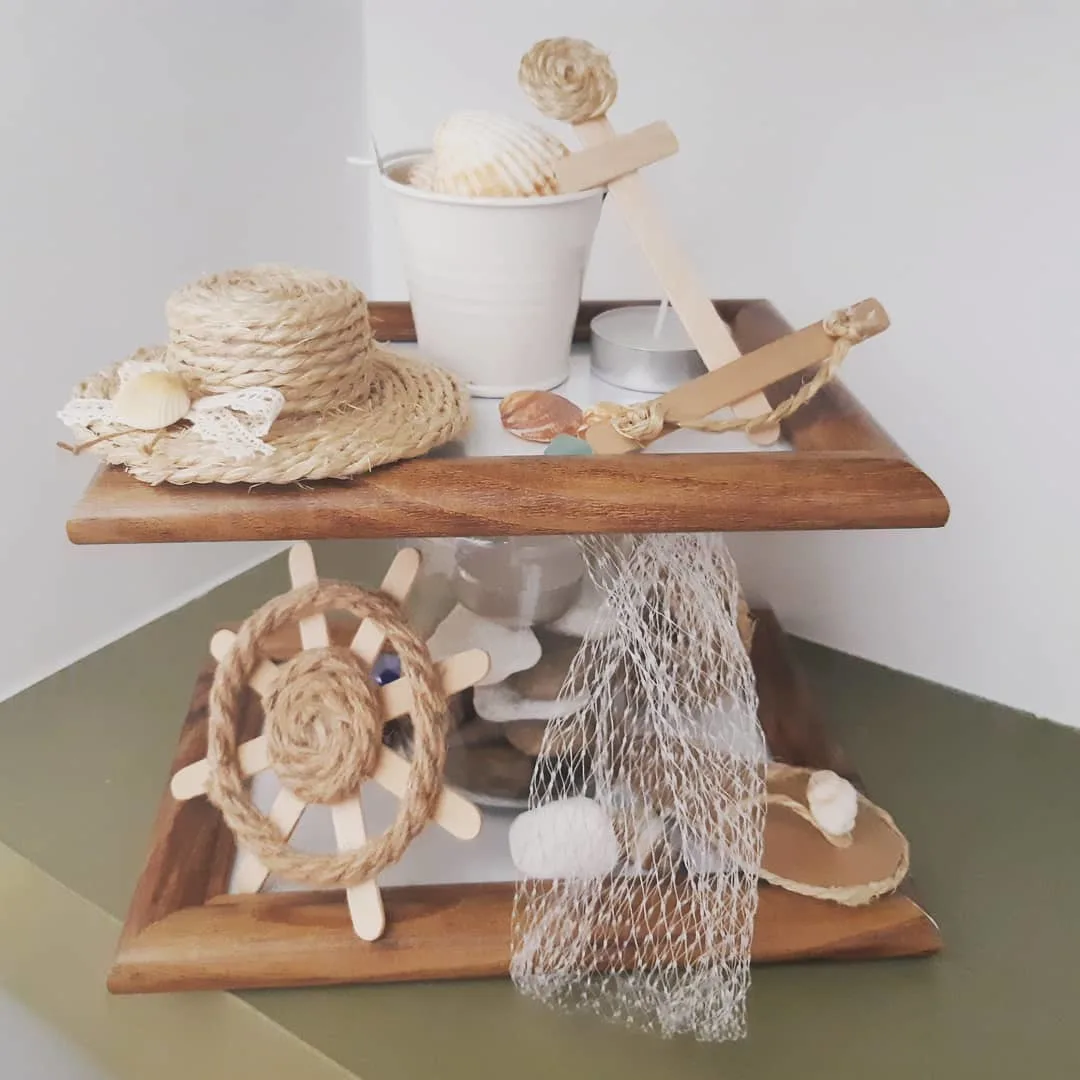 Credit: Instagram
If I were ever to be stranded on a remote island, I'd probably set up this little display in my beachfront shipwreck home.
A lot of this looks to be upcycled. You've got that fruit bag mesh hanging that I'm assuming is a fishnet, a popsicle anchor, that lovely rope hat, and a steering wheel.
The only thing missing is a mini Tom Hanks at the helm, and you've got a scene from Castaway right at home.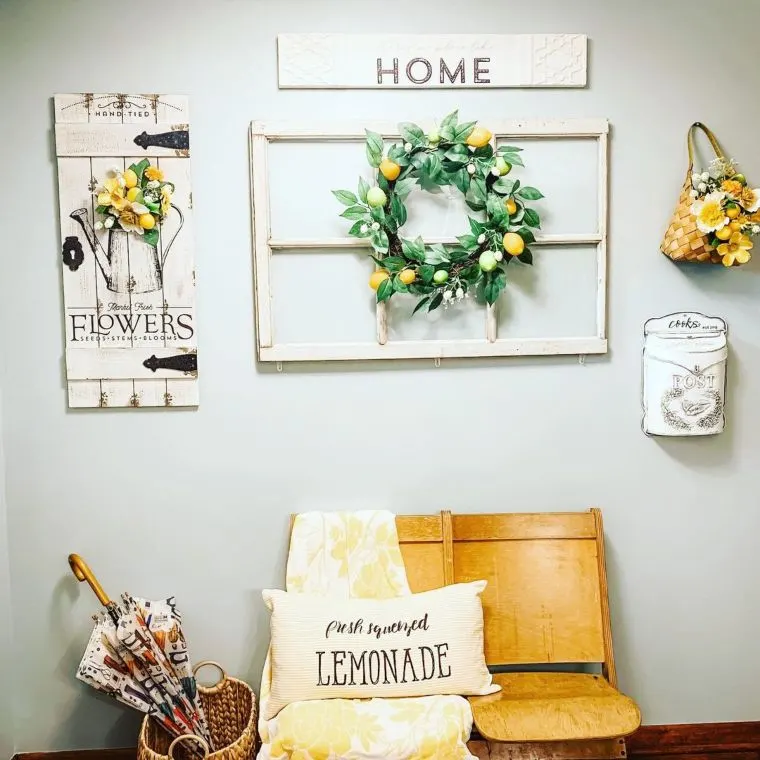 Credit: Instagram
You walk into your house, and right by the front door is this lovely sitting arrangement just welcoming you to take a minute.
Just sit a while on that lovely chair. Enjoy that blast of cool air now that you've gotten out of the heat.
Watch out for that leafy-lemon wreath when you get up, though, unless you plan to wear it as a headpiece at a luau.