Easter is here! Make these Easter centerpieces all by yourself. These DIY projects will help you decorate your home for Easter and you'll most definitely have fun with it.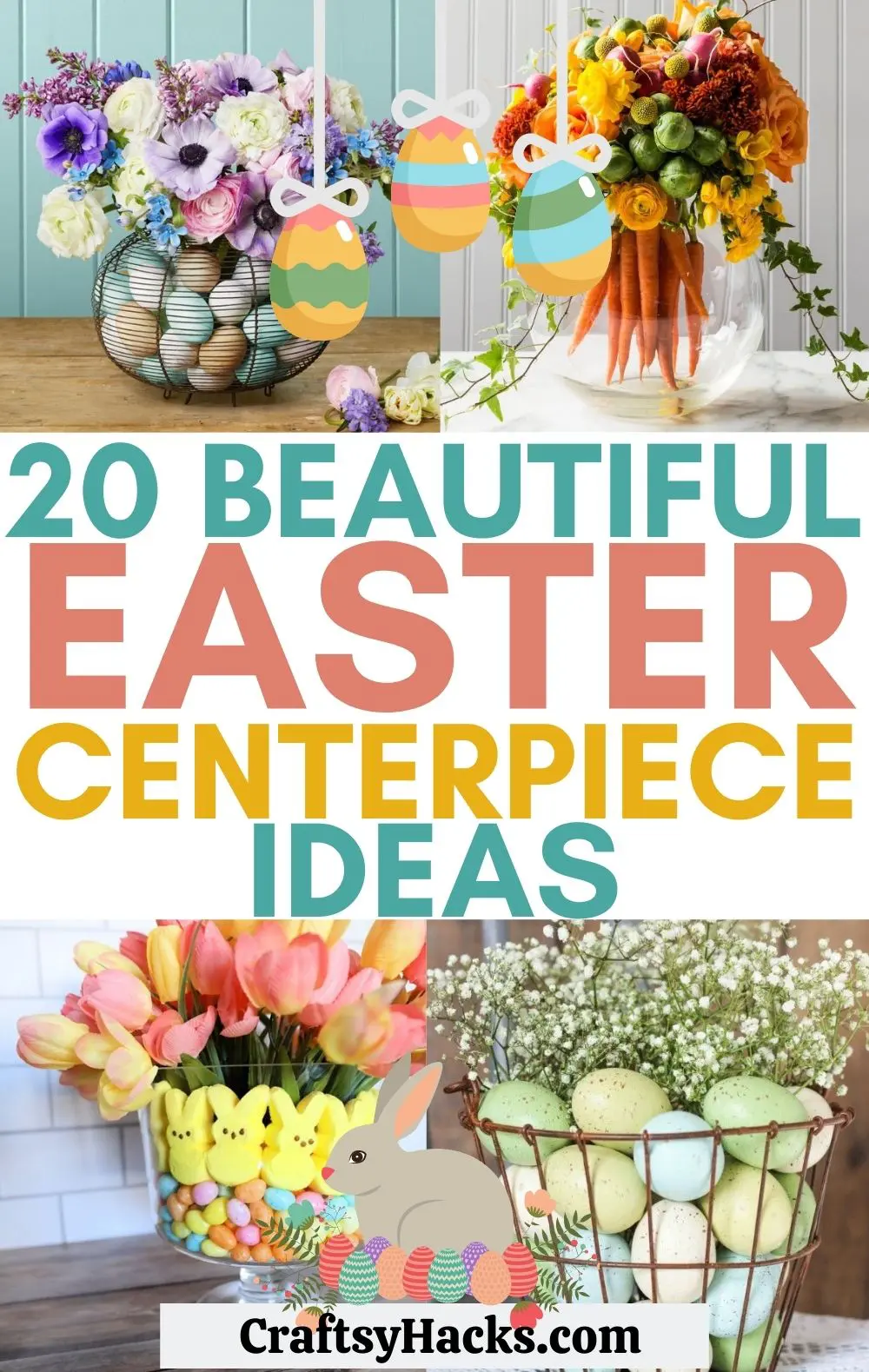 Easter is a time to celebrate togetherness, springtime, and the colors of the world. Whether you're having a big dinner with your family or celebrating alone, there's nothing better to spruce up your table than a centerpiece.
This holiday presents so many opportunities for creativity with its bright and varied color palette. The significance of the coming four days is fertile ground for some real masterpieces to spring forth.
Get it? Spring? Let's dive in!
1. Martha Stewart-Inspired Easter Basket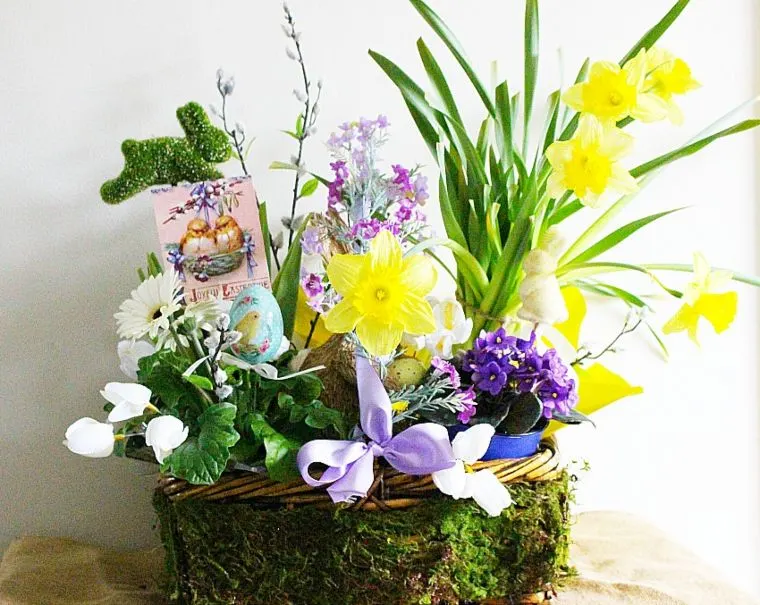 Credit: ourcraftymom.com
Martha Stewart is the mother of all crafters, and she brought her creative genius to every corner of the household. Her style is super traditional, banking on big florals, varied textures, and a general feeling of joy.
Those things are all embodied in this easter basket centerpiece! Finding its home in a square base basket (here), these huge daffodils and adorable trinkets really put me in mind of my childhood Easter.
2. Three-Tiered Easter Tray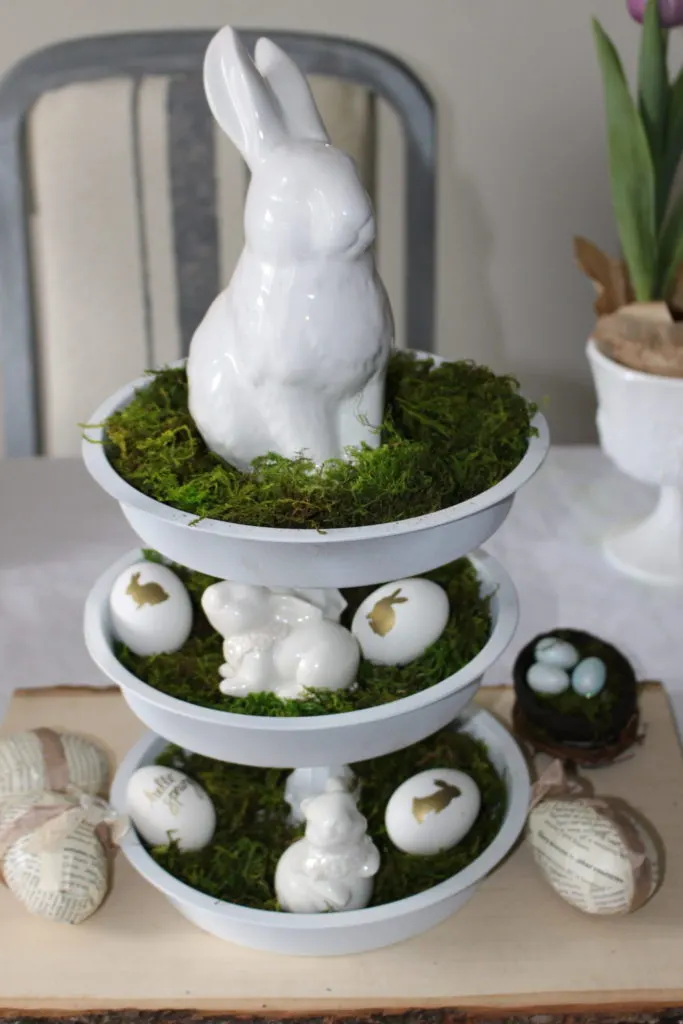 Credit: ourcraftymom.com
Up next, this craft is so easy to make with dollar store materials. It draws focus to your table without getting in the way of conversation. If you enjoy minimalism and nature, this one's for you.
You'll be using three cake tins like these to craft this tiered masterpiece, then crowning it with a focal piece like this ceramic bunny. The tray can be reused in other ways too, so this is a sustainable craft!
3. Farmhouse Style Easter Centerpiece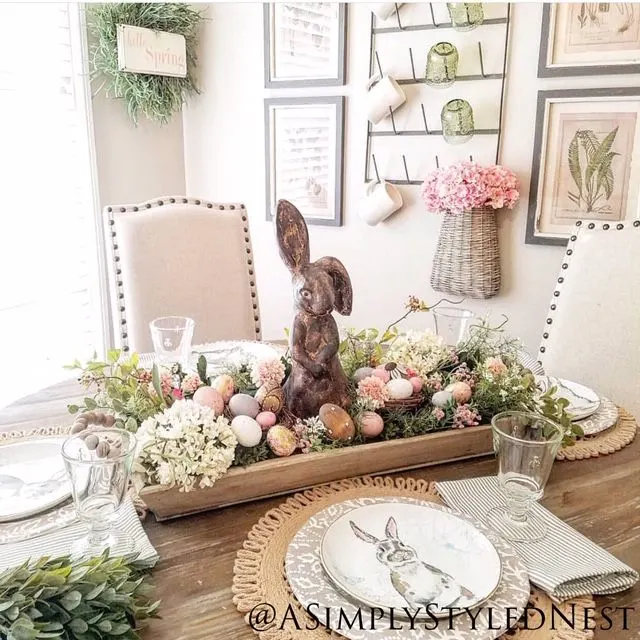 Credit: virginiasweetpea.com
Did you ever read the stories of Peter Rabbit? If those are as much a staple of your childhood as they are mine, then you'll fall in love with this centerpiece in no time. It's so vintage yet timeless all at once.
Your main character is Peter himself, a standing rabbit figurine like this that provides a focal piece for the eye. Surrounding him is a bed of wild greens, all dotted with Easter eggs for that festive spring note.
4. Trifle Bowl Easter Centerpiece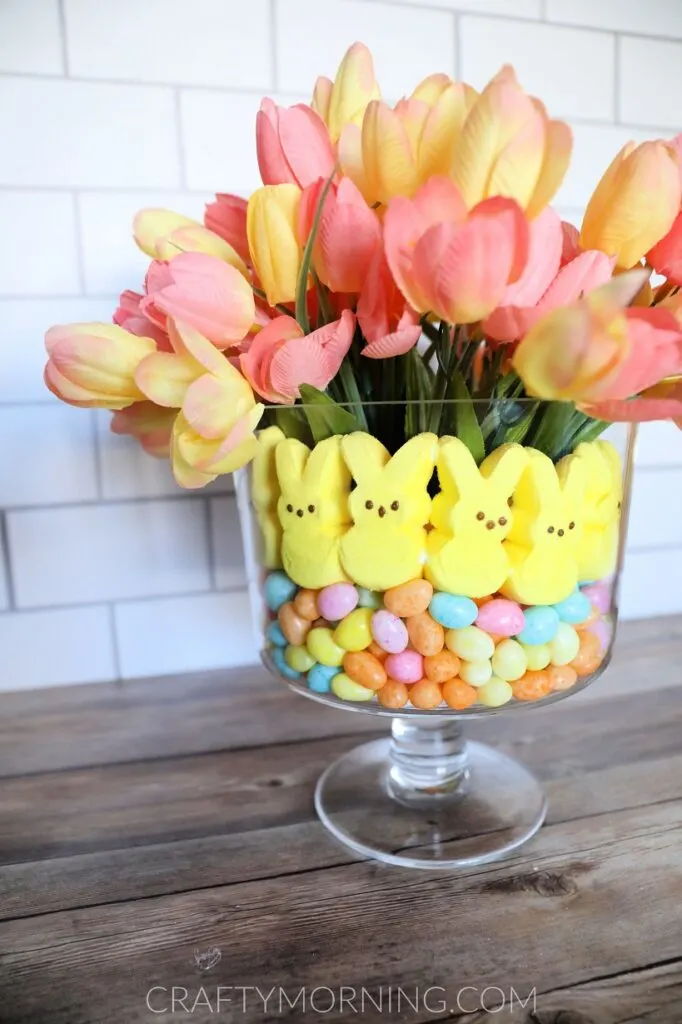 Credit: craftymorning.com
If there's anything better than a gorgeous centerpiece, it's one that you can snack on with abandon. This vibrant trifle bowl centerpiece fits the bill on both counts, featuring marshmallow peeps and jellies as a base.
A large trifle bowl like this makes an ideal centerpiece as it's simple to move around (should you need to). You can also keep it on your table all year round, swapping out florals and candies as holidays come and go.
For example, here are some inspirational centerpieces for the Christmas holidays to keep in mind.
5. A Bouquet of Carrots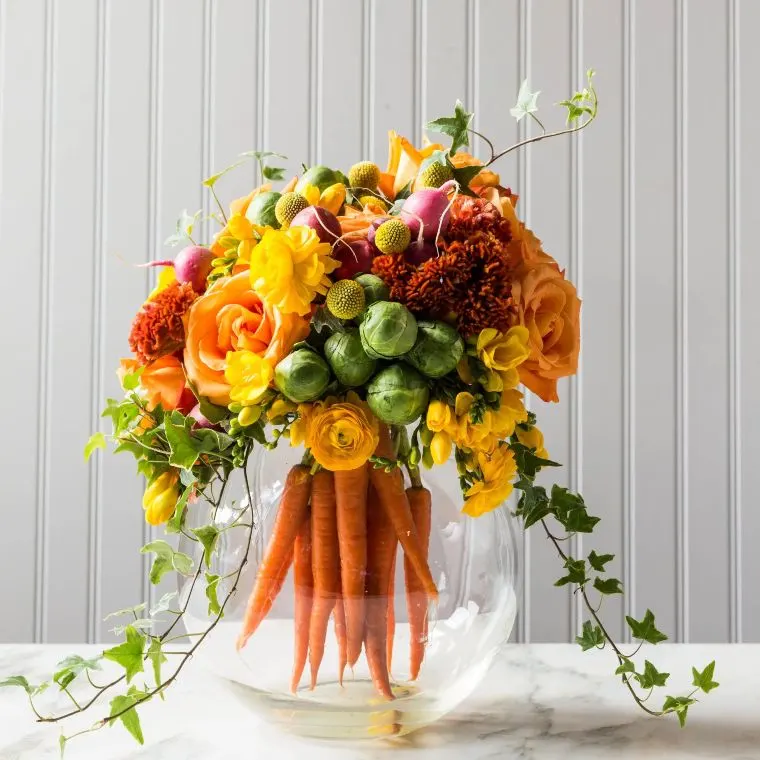 Credit: southernliving.com
Now, I know a bouquet of carrots doesn't sound that appealing. But when you see how absolutely stunning this traditional arrangement with a twist is, you'll be rushing to your nearest produce store.
With this piece, the carrots are the anchor, floating beneath a vibrant floral arrangement that's been assembled atop a glass fishbowl. The entire work has a gorgeous shape, color, and flow.
6. Hobnail Planter Centerpiece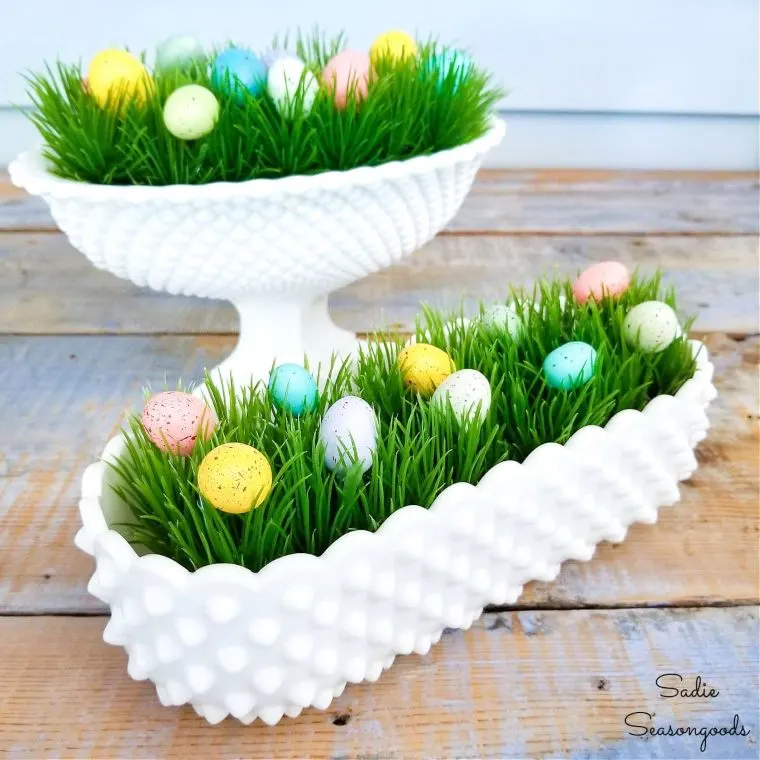 Credit: sadieseasongoods.com
Hobnail milk glass harkens back to a simpler time, where milkmen delivered their goods to our stoops, and children cycled through the street on pastel bikes. Sometimes it's nice to feel that vintage nostalgia.
That's why I love these hobnail planter centerpieces. You can create your own hobnail pattern on virtually any dish using hot glue and paint, but it's simpler to just buy the requisite container and fill it. Here's one I love.
7. Floral & Rustic Farmhouse Centerpiece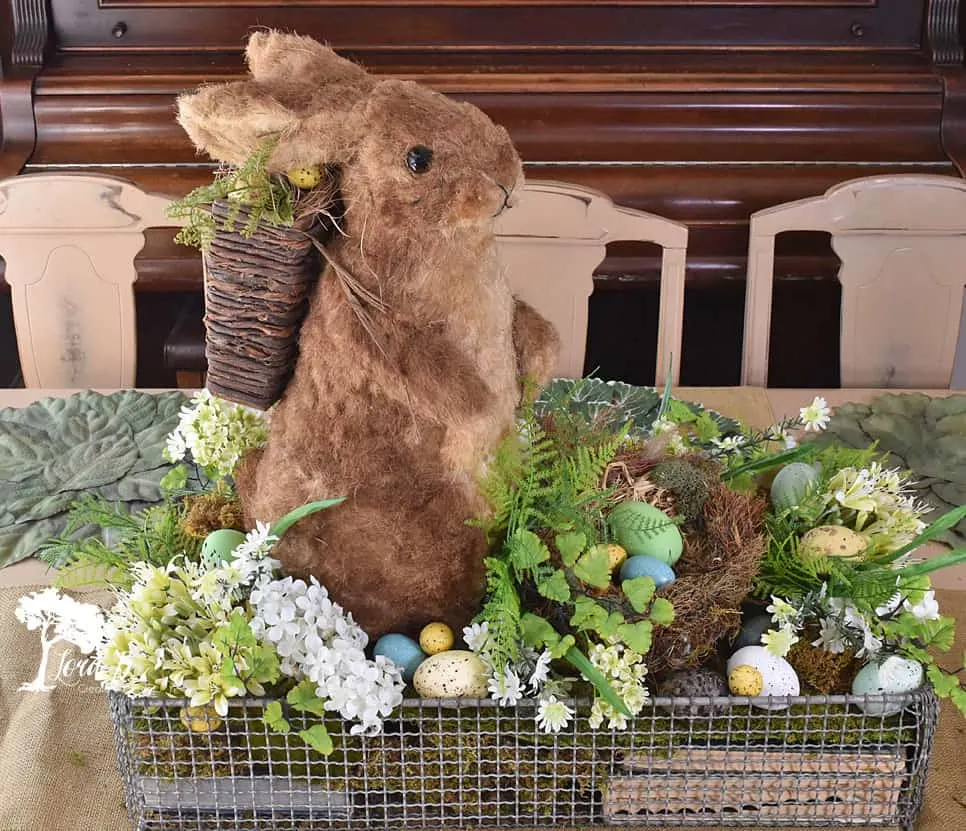 Credit: lorabloomquist.com
I can't get over how stunning this farmhouse-themed centerpiece is. Alongside the adorable bunny statue and delicate floral contrast, this arrangement's color palette is just too good!
To create your own, you'll need to start with a flat wooden dish as the base. Fill with florals and greenery of your choice, dotting with color-correspondent eggs as you go. Finally, top with our ever-present bunny.
8. A Precious Tiered Tray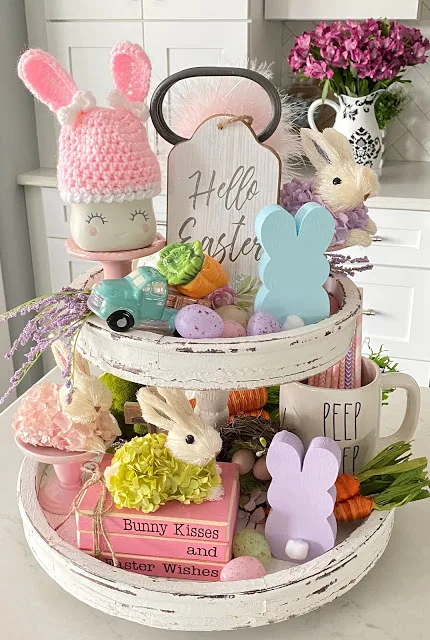 Credit: livingoncloudnine9.com
Sometimes, all you need to do to create a themed centerpiece is hunt down the knick-knacks already in your home. This clever mom did exactly that, assembling an adorable assortment on a tiered tray.
You can create this tiered tray using metal cake pans (as in an earlier entry on this list). You can also use wooden cutouts and distress them with chalk paint (here) to give them an aged, somewhat vintage look.
9. Bring the Garden to You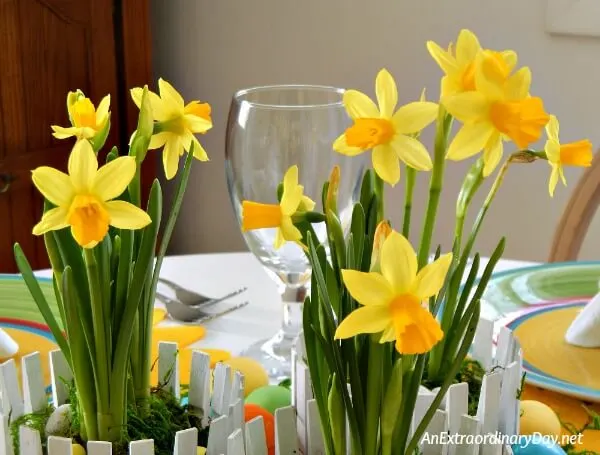 Credit: anextraordinaryday.net
This next centerpiece is ideal if you're operating on a budget (as many of us are). However, don't correlate spending less money with a diminished impact; these centerpieces are gorgeous.
Not only is this piece inexpensive, but you'll also be reusing old tin cans to create the daffodil planters, so it's sustainable too! Use white clothes pegs to build fences around the planters, assemble on grass, and done.
10. Easter Table Wreath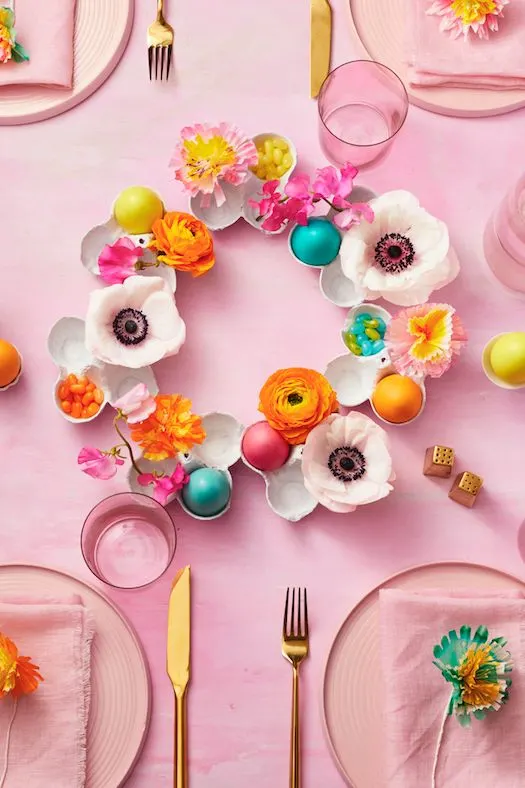 Credit: goodhousekeeping.com
While wreaths are typically reserved for doors, I love the ingenuity that went into making this table wreath. Using old egg cartons, you can create a ring of such vibrant color you'll smile every time you see it.
To make the centerpiece look more professional, I recommend painting the egg carton cups a uniform color like this. It makes them look cleaner than if they were just their natural cardboard color.
Then, head out into your garden and pick some of your favorite blooms to fill the Easter wreath before everyone sits down to dinner.
11. Easter Egg Bouquet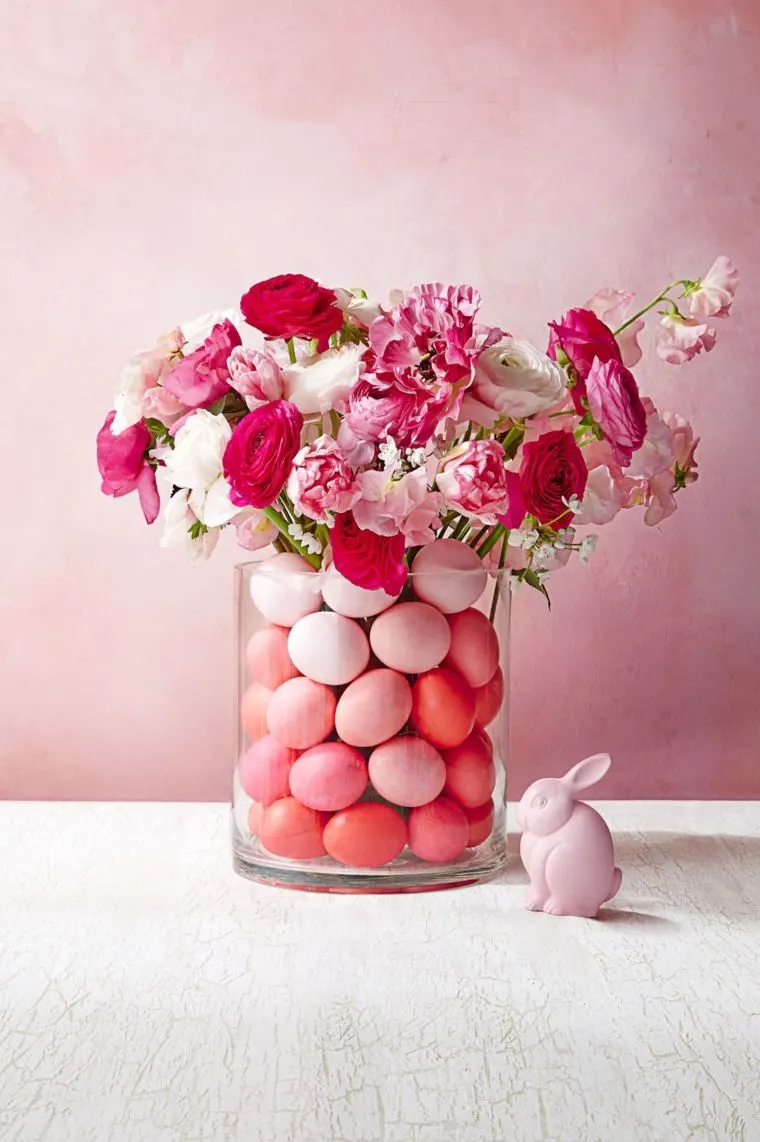 Credit: goodhousekeeping.com
Sometimes creating an Easter centerpiece need only be as simple as stacking a vase full of colorful eggs and topping it with a floral arrangement. The key is to create a gradient color palette that's consistent.
I recommend picking a keystone color (in this case, they chose pink) and only using colors in that same family. The only exception here should be white, which helps the colors pop (no matter what they are).
You might even want to paint your own easter eggs to get the color exactly right. If that's the case, you can pick up some quality craft eggs here. These will last for years!
12. Soft & Lovely Easter Table Landscape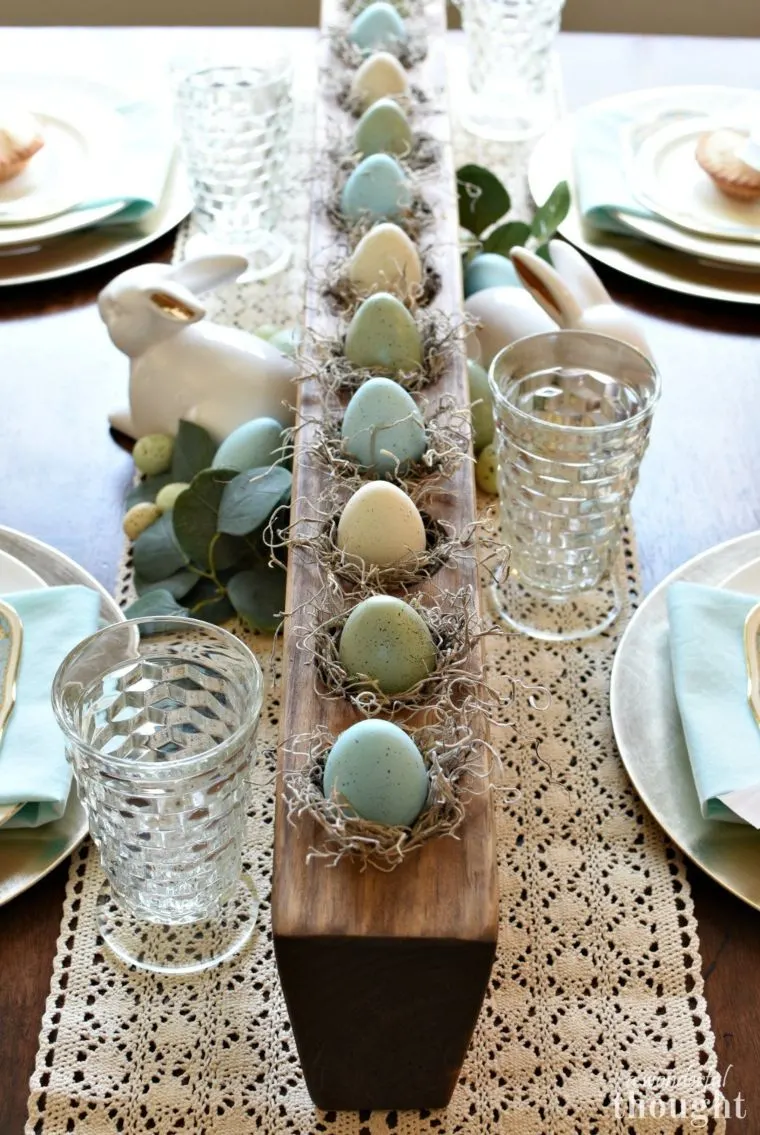 Credit: awonderfulthought.com
The table runner is an under-used centerpiece format, in my opinion. This one uses natural textures and a distinct color palette to evoke the Easter palette, all without infringing on the rest of the table.
In fact, if you have a small or narrow dining table, I would recommend taking this approach. You can stain a piece of reclaimed wood with this wood stain to give it a freshly-chopped appearance.
13. Minimalistic Pussy Willow Centerpiece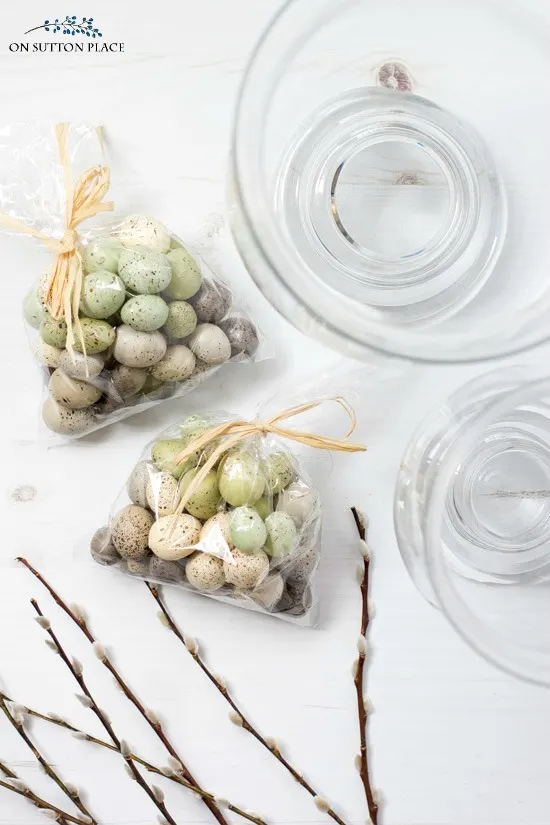 Credit: onsuttonplace.com
This centerpiece uses the color scheme from the one before. Still, instead of going horizontal, we're taking it to the skies. Who knew budding willow branches could look so stunning when nested in Easter eggs?
If you have a large table, grouping multiple different sizes of these vases onto a vintage tray like this is a great way to fill the center. However, a single vase is more than enough Easter cheer for smaller tables.
14. Dollar Store Easter Egg Centerpiece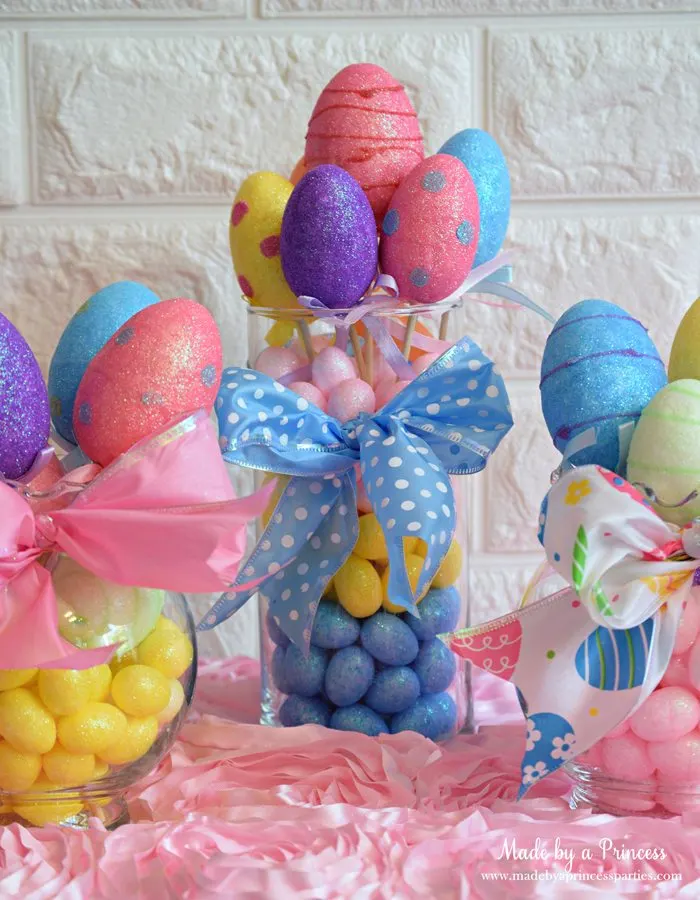 Credit: madebyaprincessparties.com
Centerpieces don't need to cost a million dollars to look like they're worth a million. It's all a matter of knowing your colors, sticking to a design, and, when in doubt, liberally applying glitter.
With a set of small glass bowls like these, you can create color-coded Easter egg centerpieces individually to use on any surface in your home. These offer a gorgeous splash of color no matter where they sit.
15. Bold Candy Floral Centerpiece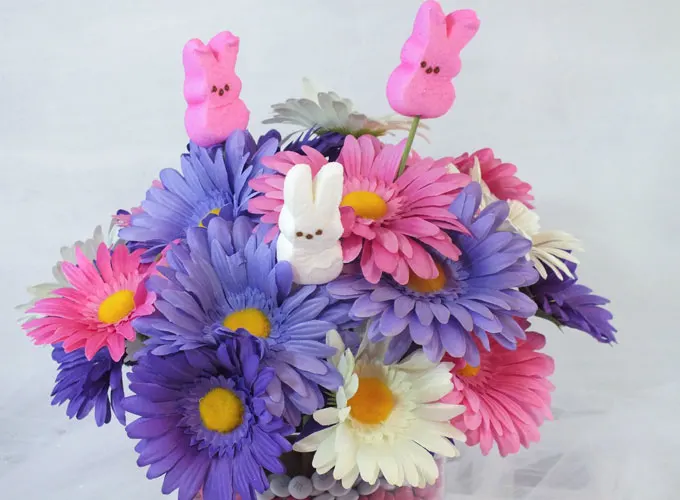 Credit: twosisterscrafting.com
I've said it before, and I'll repeat it: any Easter decoration featuring candy is one that I'll immediately fall in love with. Considering this pink and purple masterpiece is filled to the brim with M&Ms, I'm now married to it.
The key lies in the layering for this bold focal piece. Your marshmallow peeps form the middle layer, but a gradient of M&Ms needs to be distinct around the peeps for the effect to work. So, be careful as you fill!
I guarantee your kids will love this centerpiece, too… maybe a little too much. You might want to keep them distracted as you assemble this, so why not set them loose on these delightful unicorn crafts?
16. An Explosion of Blooms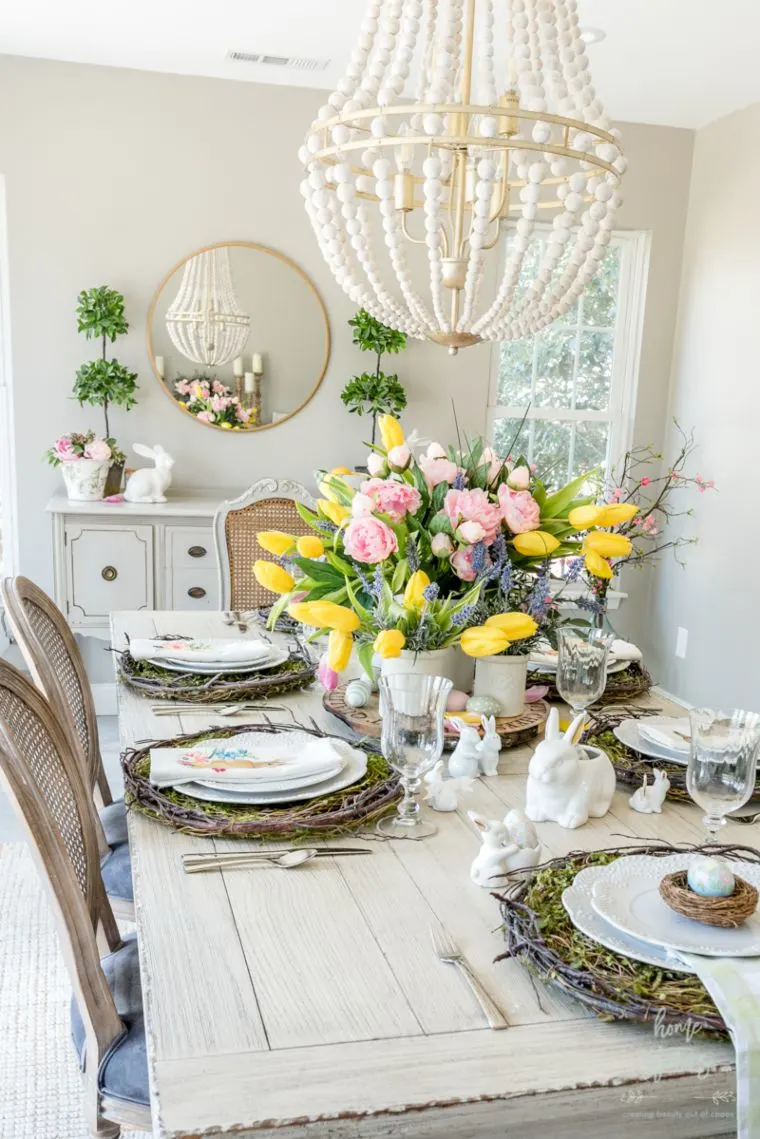 Credit: homestoriesatoz.com
There's minimalism, and there's maximalism. This piece falls squarely in the latter category. With gorgeous florals exploding in every direction, this massive centerpiece will hold its own on any table.
To tie the whole arrangement together, ensure you're using an overall arrangement scheme for your flowers. For example, the original crafter has placed yellow tulips on the outside all the way around.
Meanwhile, the center is purely dedicated to large pink blooms. Another key is to use identical vases for each bouquet and stand them all on a large wood slice (here) to create the feeling of a single arrangement.
17. A Simple Centerpiece Tray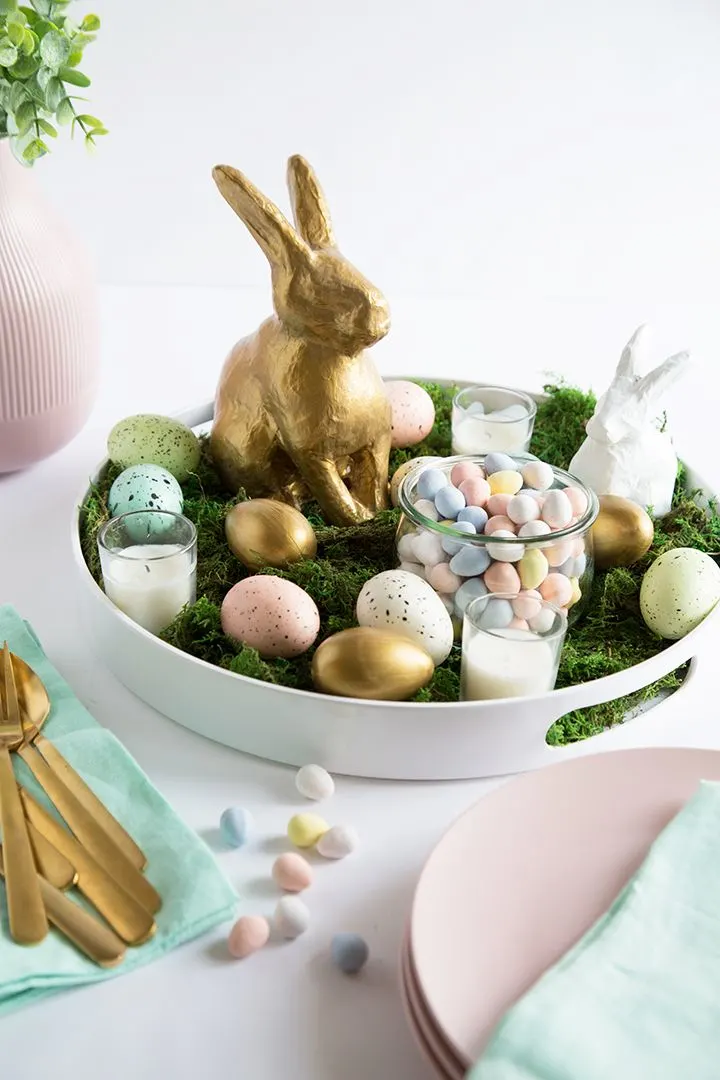 Credit: bhg.com
After the previous centerpiece, this one is almost a relief to the senses. Embracing a straightforward color palette, all you need for this are some wooden eggs, Spanish moss, candles, and Papier Mache skills.
If you really want to get into the spirit, I recommend creating your own Papier Mache bunnies from scratch. However, if you're short on time, you can always buy them pre-made here and paint them.
Notice the metallic accents on the eggs? These are essential pops of interest that make the rest of the centerpiece sing. If you're painting your own eggs, pick up some metallic paint here to keep this element alive.
18. The Ultimate Versatile Seasonal Centerpiece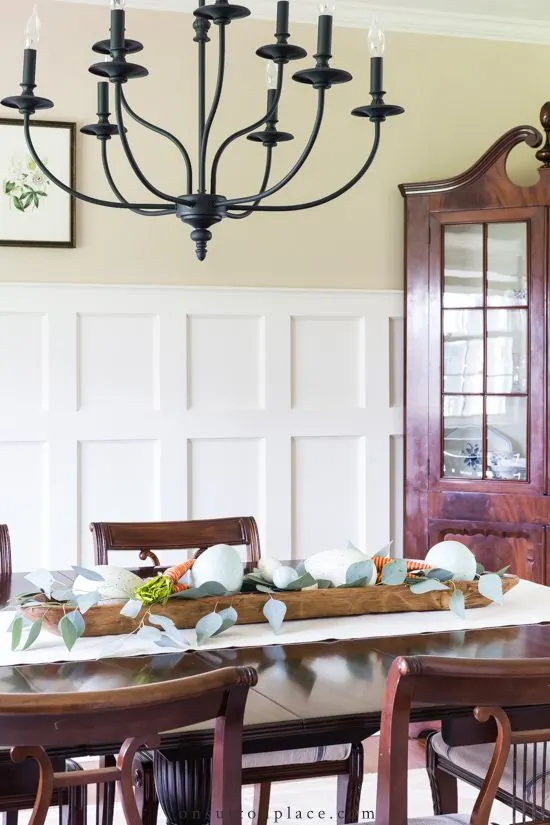 Credit: onsuttonplace.com
My main frustration with centerpieces is that – once the holiday they signify is over – they have to disappear again. But what if you didn't have to get rid of them? What if there was a versatile option?
Enter this genius idea. Using a table-length wooden trough bowl like this, you can have a spot for seasonally-appropriate decorations year-round. For Easter, faux eggs, blossoms, and carrots are best!
19. Vintage Egg Basket Vase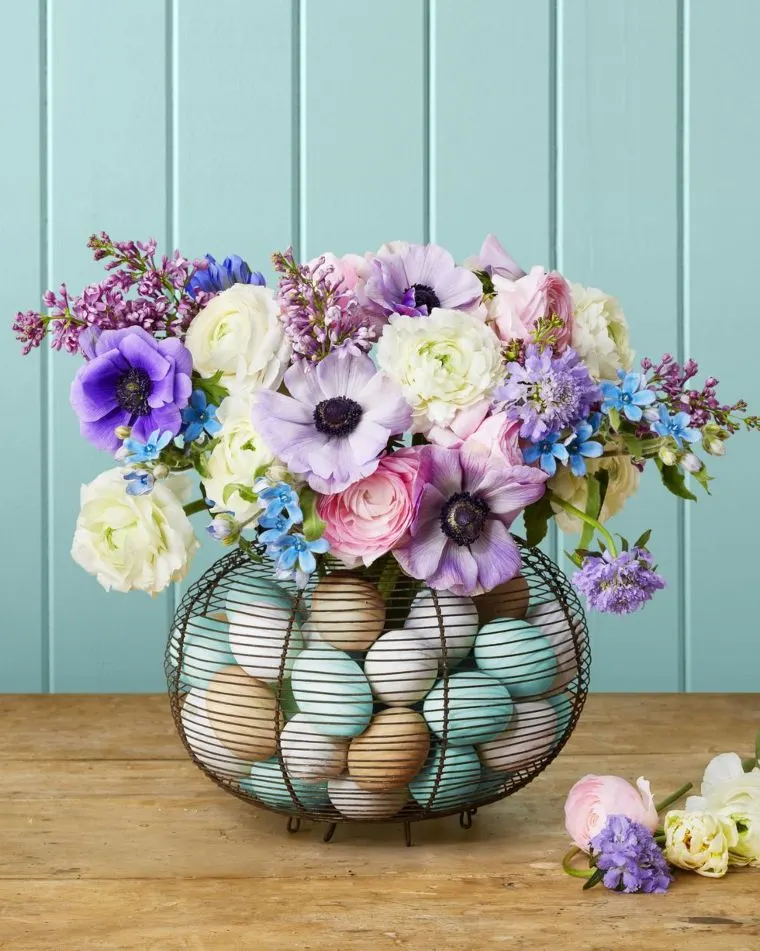 Credit: countryliving.com
If you already own a vintage egg basket, it's pretty much the law you create this centerpiece for Easter. Using the same method as the bouquets above, you merely fill the basket with these Easter egg ideas and blooms.
What makes this so unique? Well, suppose you own an heirloom or antique. In that case, this is a beautiful way to display it over the Easter weekend. Or, you could even do for the entire year.
20. Rusted Basket Floral Arrangement
Credit: purelykatie.com
Our final centerpiece is another iteration of the one preceding it. However, this time we're using a basket that appears to be rusting, thus lending it that gorgeously outdated and antique aesthetic.
Rather than arranging a full-on bouquet, opt for a spray of baby's breath. The delicate blossoms will contrast the metal basket's sharp and industrial rungs. This creates perfect harmony on your table.
Suppose you don't happen to have a rusty basket on hand (which is probably a good thing). In that case, you can simply grab a wire egg holder. Paint this with yellow ochre and burnt ochre acrylics (here).
Conclusion
So, do you celebrate Easter? Is it a religious holiday for you, or merely a time to gather with family? Let me know which of these centerpieces will be adorning your dinner table come Good Friday. I can't wait!