Looking for a gift for a teacher? These DIY gifts are easy to make, look amazing, and are practical.
If there's anyone who deserves a gesture and show of appreciation, it's the teachers and professors out there. They're probably the most hardworking people I know, tasked with the very important task of getting generation after generation of kids ready for their future.
They definitely need to be pampered a little—actually, they deserve to be pampered a lot. So, check out these 51 DIY teacher gifts and let the pampering begin!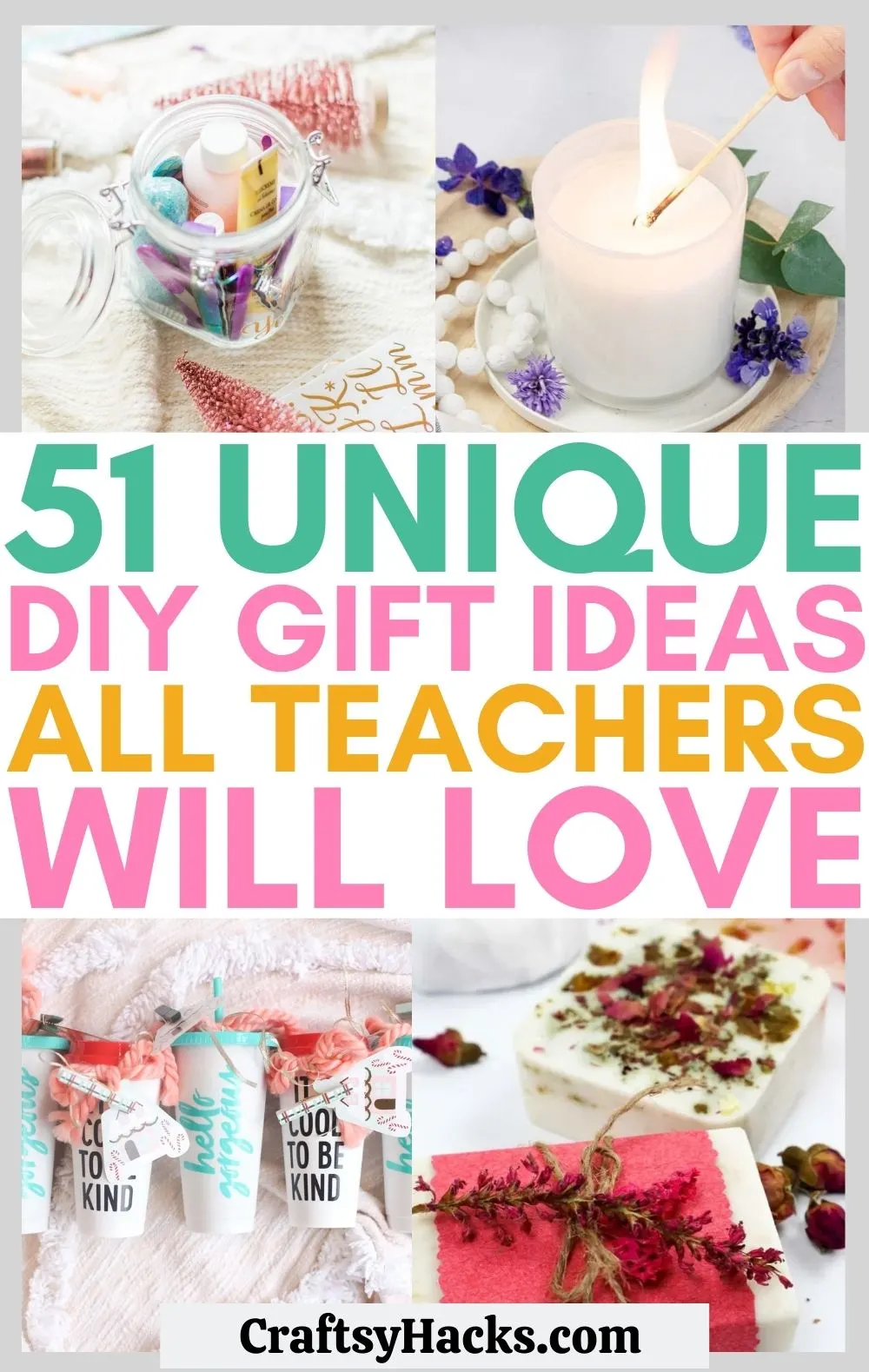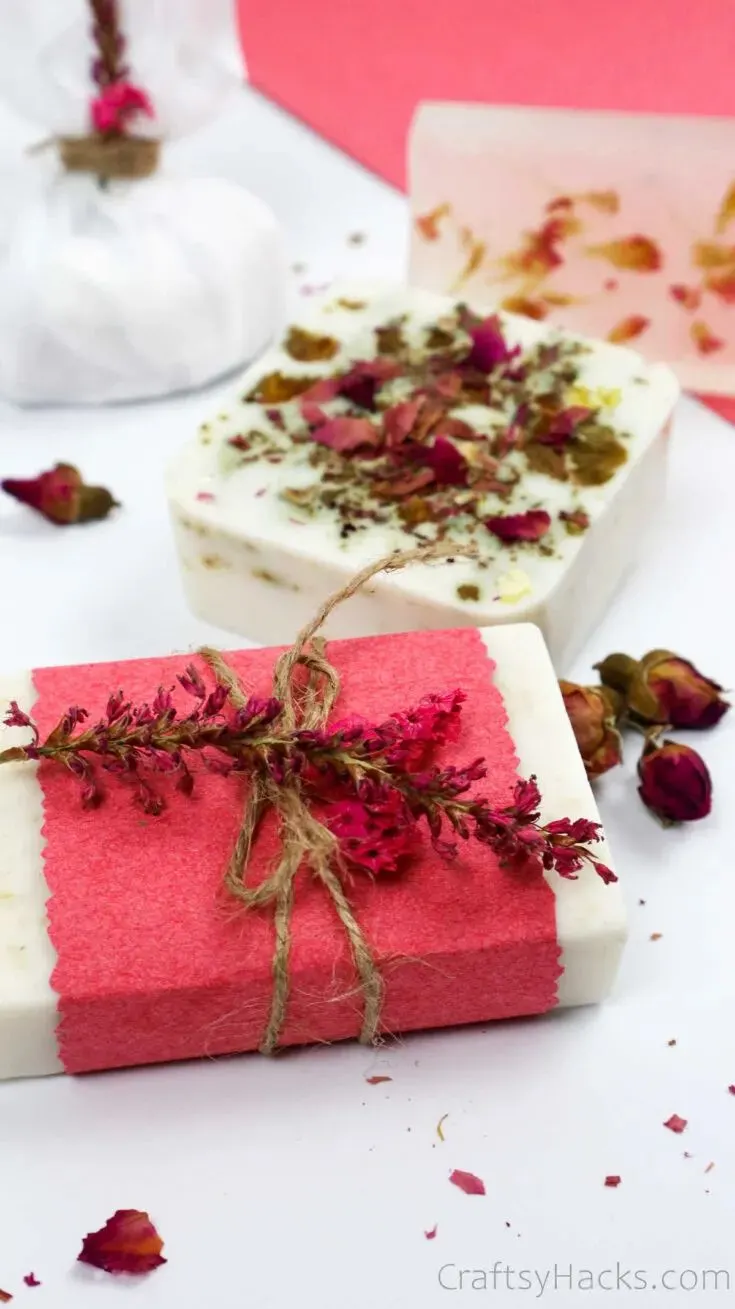 Source: craftsyhacks.com
I love a good batch of homemade bath products. Be it soap bombs, hand wash, or soap like this, homemade an handmade makes it all the better. Why?
Because it instantly loses the whole clinical industrialism facade and becomes a luxury product—unique and decadent. Don't believe me, then try it yourself.
Check out this decadent DIY homemade soap bar and tell me you don't love it. Your teacher will love it too, come Teacher's day when you give her a big batch!
This makes for a lovely gift for moms.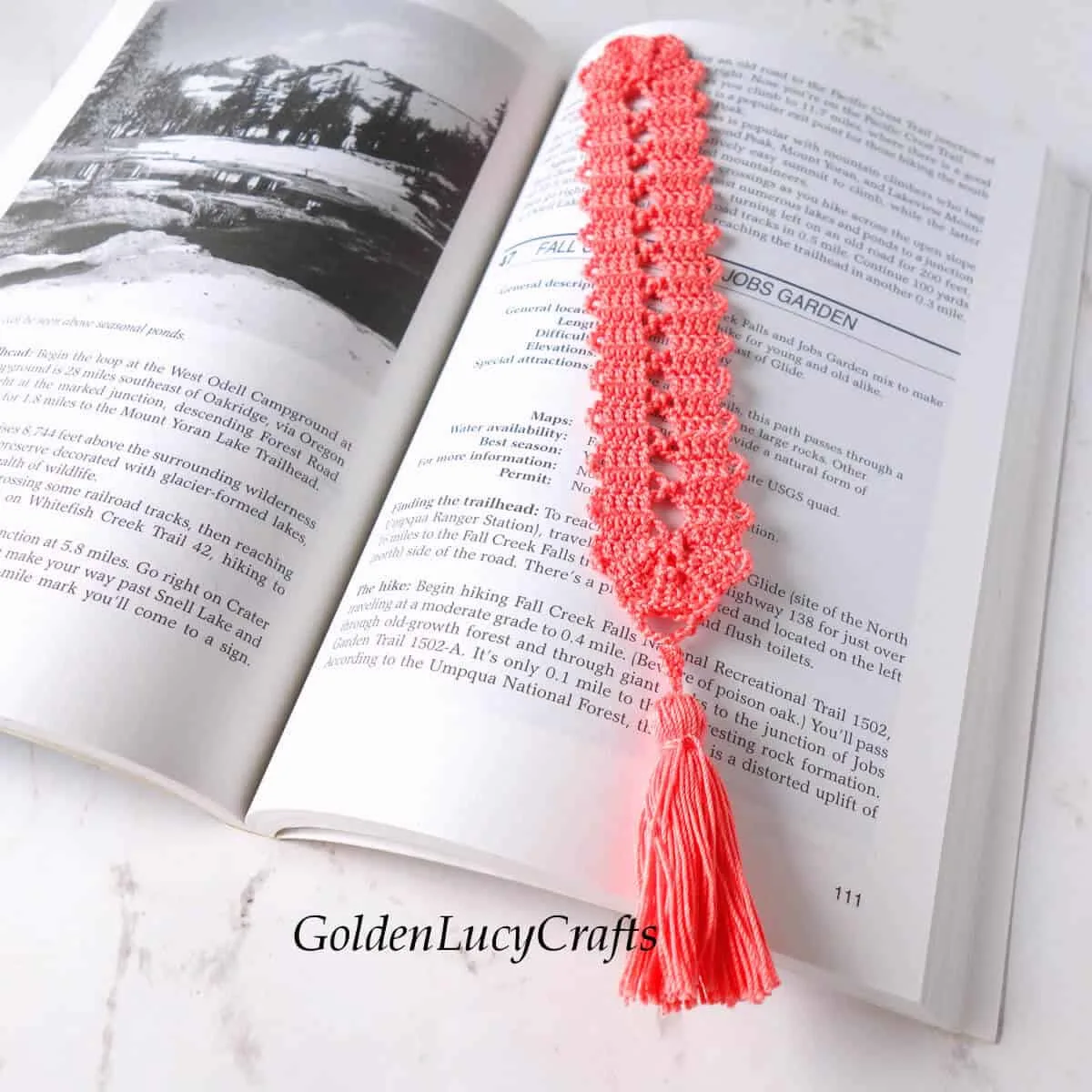 Source: goldenlucycrafts.com
My English teacher was the first person I'd go to back in school when I needed a recommendation for a new book. She was an avid reader, and she passed on her love for books—and hatred for dog-marking the pages—to me.
The solution? A bookmark, of course. But not just any bookmark, no. You're going to take the effort to make a set of crochet bookmarks for her.
They're frilly and pretty, with little tassels in the end that jazz up the outside of the book, as well. Grab some yarn from here and get started on crocheting these bookmarks.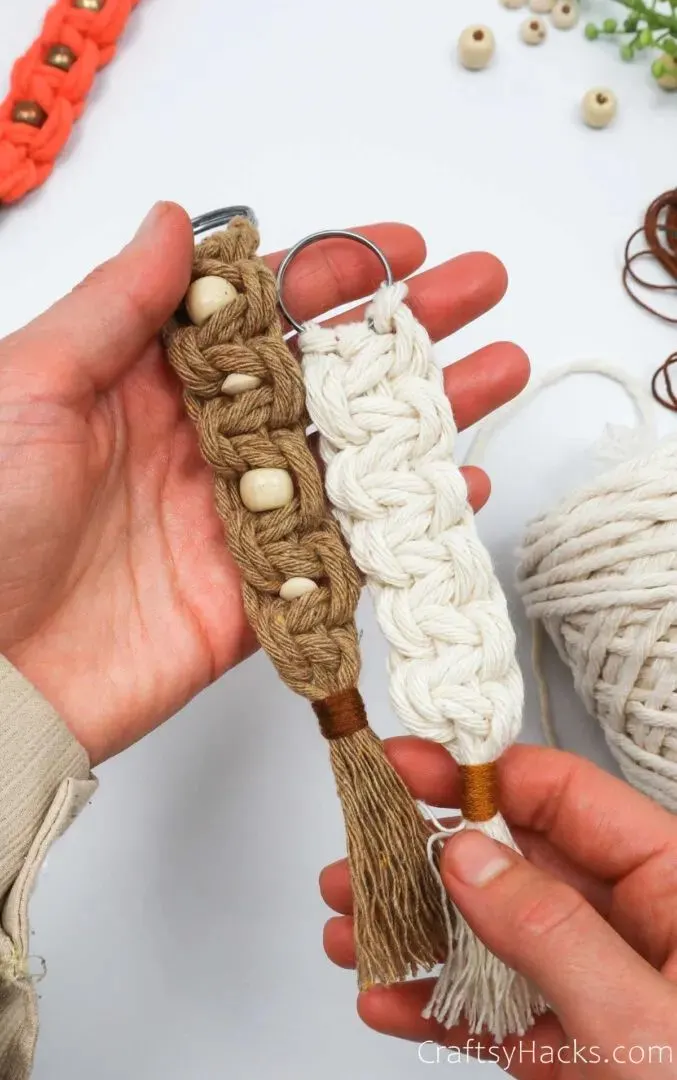 Source: craftsyhacks.com
If you enjoy crochet, then you'll certainly enjoy learning how to macrame. It's all about the cords you use—the ply, the material, and the width.
For your next gift idea, you're going to make this lovely DIY keychain for your teacher, and you're going to macrame it. Grab a length of macrame cord(or yarn if you prefer) and learn how to create a square knot.
You can also introduce little beads or embellishments to your keychain or switch colors for a more vibrant finish.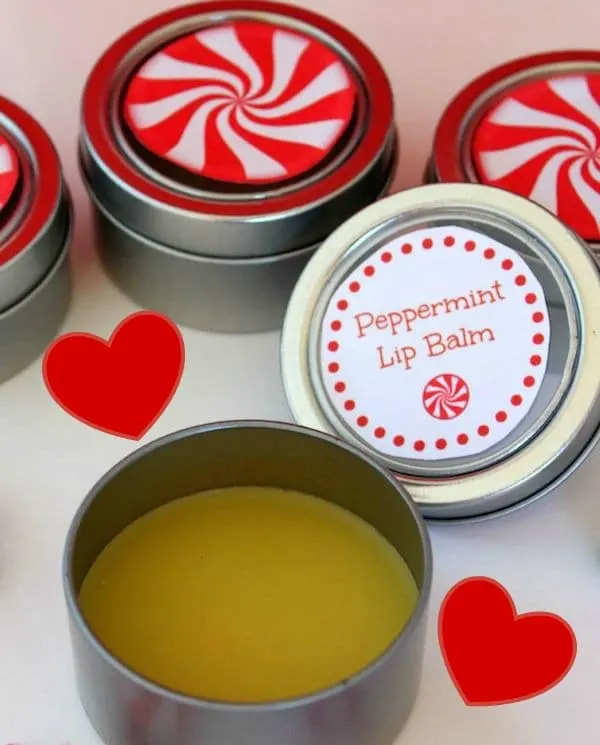 Source: thriftyjinxy.com
Teaching classes all day long? That's got to make your teacher thirsty. It can be a very tiring task, and it can also dry up your lips, especially in the drier months.
How about a tin of DIY lip balm to help her get through the day without cracking her lips? Find out what your teacher's favorite flavor is first.
But, if you want to bet on a safe flavor, then I'd recommend you stick to something minty and fresh—like peppermint? Grab a bottle of this peppermint oil and check out the recipe to make this DIY lip balm.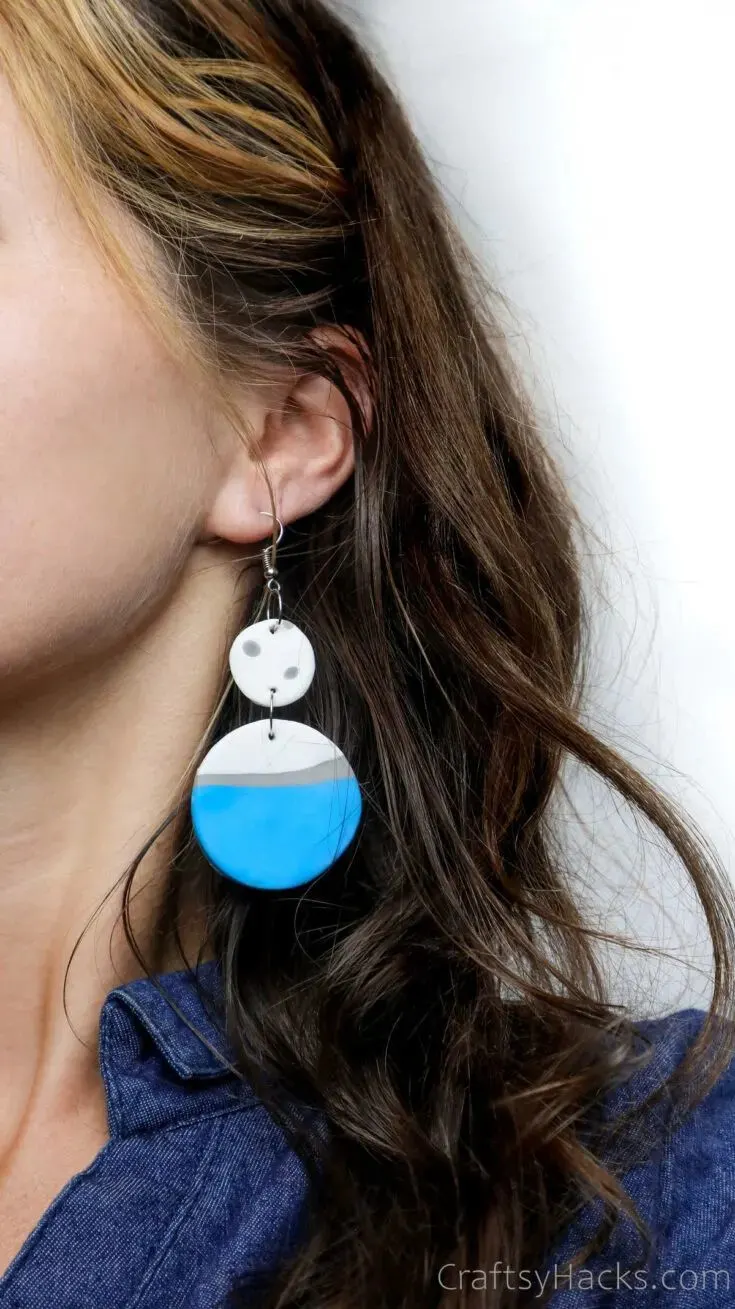 Source: craftsyhacks.com
Polymer clay earrings are quirky and singularly unique pieces of jewelry. It's also handmade, which means you can give a pair of these pretty earrings to your teacher.
You only need to grab these supplies first:
Polymer clay
Cookie cutters
Filing knife
Pliers
Earring hooks and jump rings
Once you've got everything you need, go ahead and start rolling your clay. Feel free to use stamps to add some designs and texture to the earrings, as well.
Before you wind up, just remember to poke a little hole in the earrings before the clay dries to insert the jump hooks through.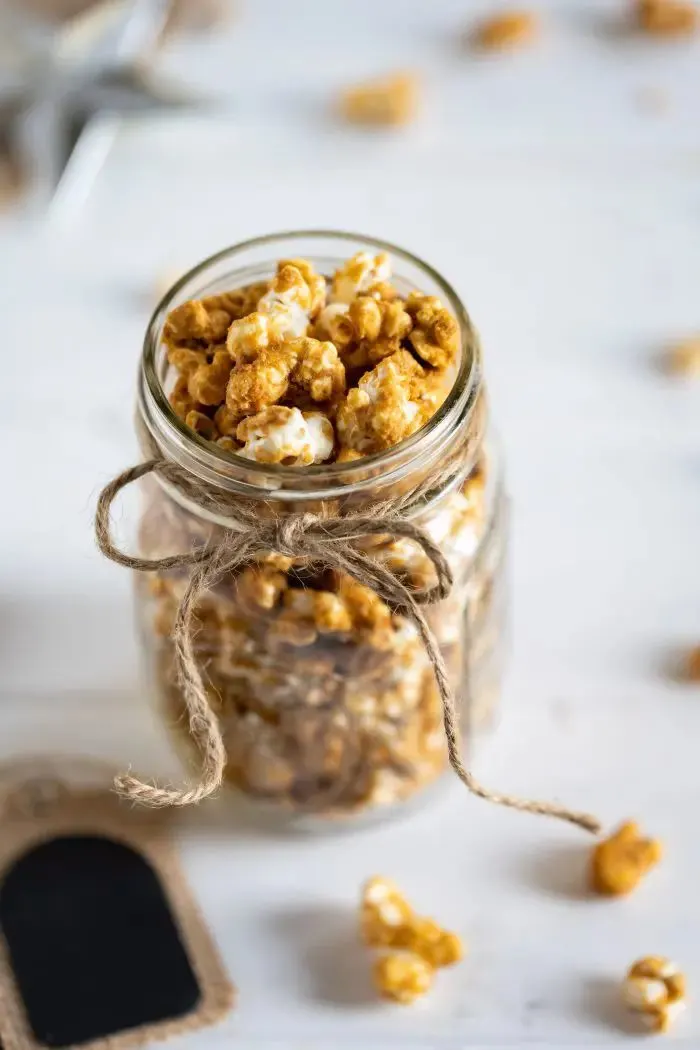 Source: theforkedspoon.com
A big batch of delicious homemade caramel and gingerbread-flavored popcorn? My tastebuds are already tingling, just thinking of it.
I bet that your teacher would simply love a jar of this delectable snack—or just a big box of it, if you really love her. You can upcycle old pickle jars or mason jars you have lying around at home.
A little bit of ribbon or this twine around the neck is all the decoration these jars need. But you can make a little recipe card or ingredient card to go with the jar if you like.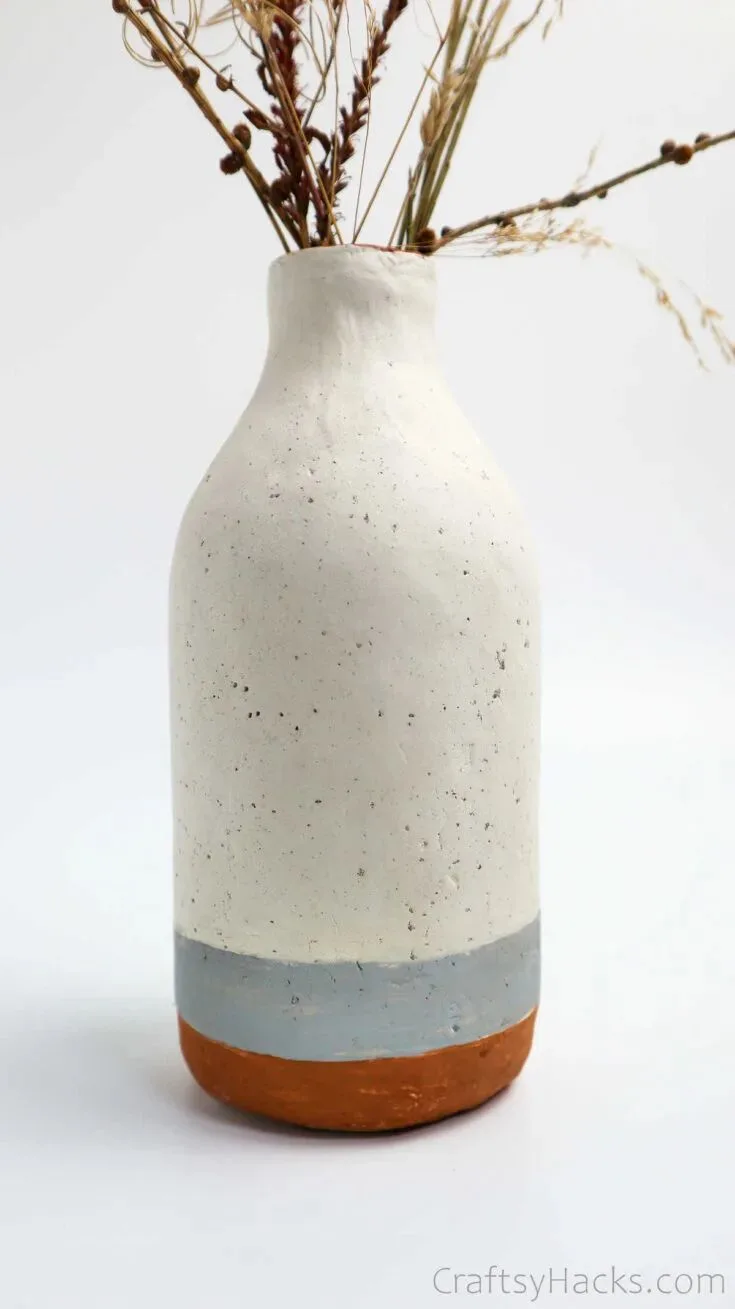 Source: craftsyhacks.com
I have been stockpiling a ton of old vases, bottles, and jars for a while now. They're ones I already have that are in dire need of a makeover, and can't be used unless I find a way to cover up the dents and scratches.
I'm sure you have a couple of those at home. What if I told you that you could transform those old jars into fabulous new DY vases? It's something that anybody would be able to appreciate, especially your art teacher in school!
Who knows, she might even display it in class or could turn into an activity for the entire class that you can help with!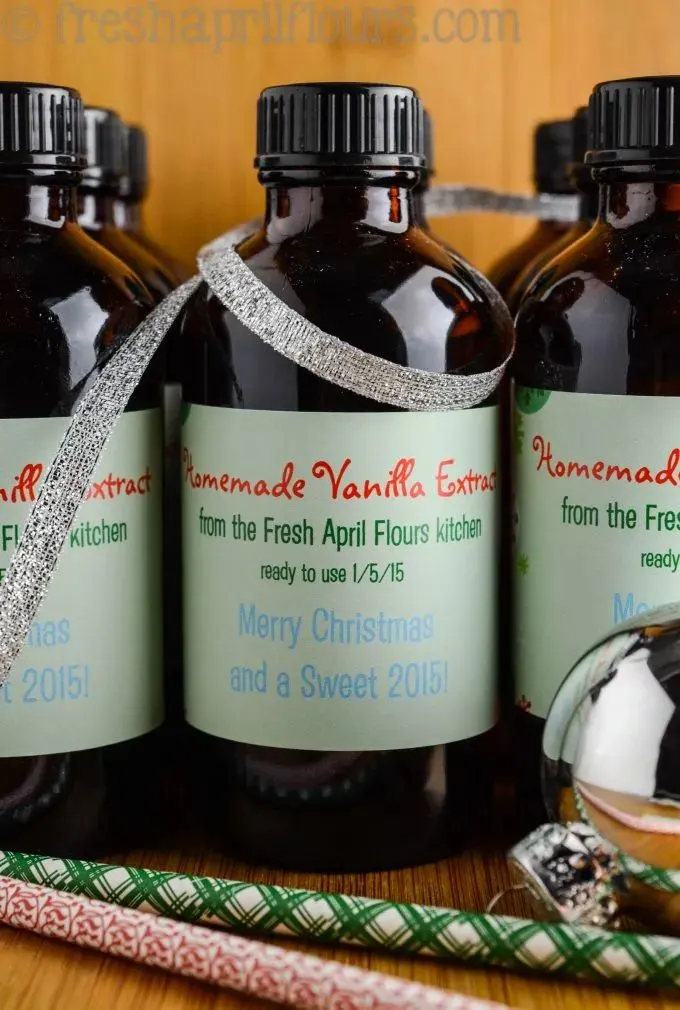 Source: freshaprilflours.com
My HomeEc teacher and not surprisingly, my Chemistry teacher in high school were both avid bakers. I think that anyone who enjoys experimenting with food and baking should definitely receive a bottle of homemade vanilla extract at least one time in their life.
So go ahead and grab everything you need to make a batch of vanilla extract at home. It's so inexpensive that you'll be hooked to the process.
You will, however, need to be a little patient as this project does take a while to make. But grab a pretty bottle from here to get you started.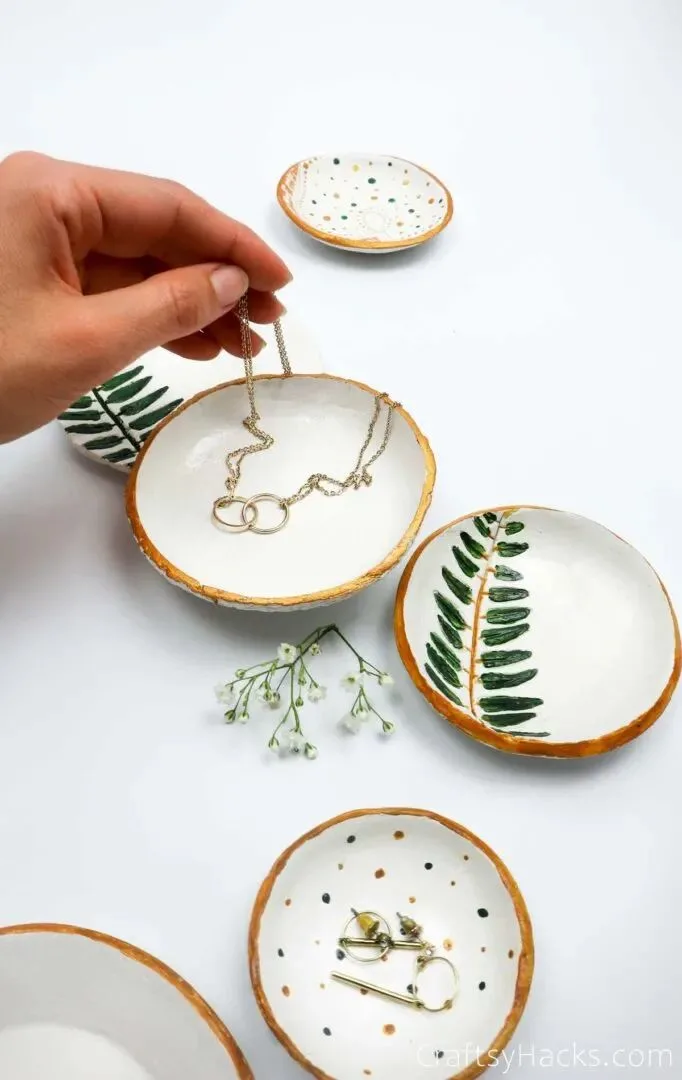 Source: craftsyhacks.com
DO you have a teacher who's constantly losing her glasses, only to realize they're sitting atop her head? Well, the chances are that she's probably like that all the time, and there's something you can do to help her declutter and keep track of her things at home.
You can make her these gorgeous little trinket trays—perfect to sit on her dresser and hold all her jewelry. If you play around with the shape and size of the tray a little, you can even make one for her to keep on her desk.
That way, she'll never again misplace her glasses, not when there's this lovely tray beckoning her to keep everything in order.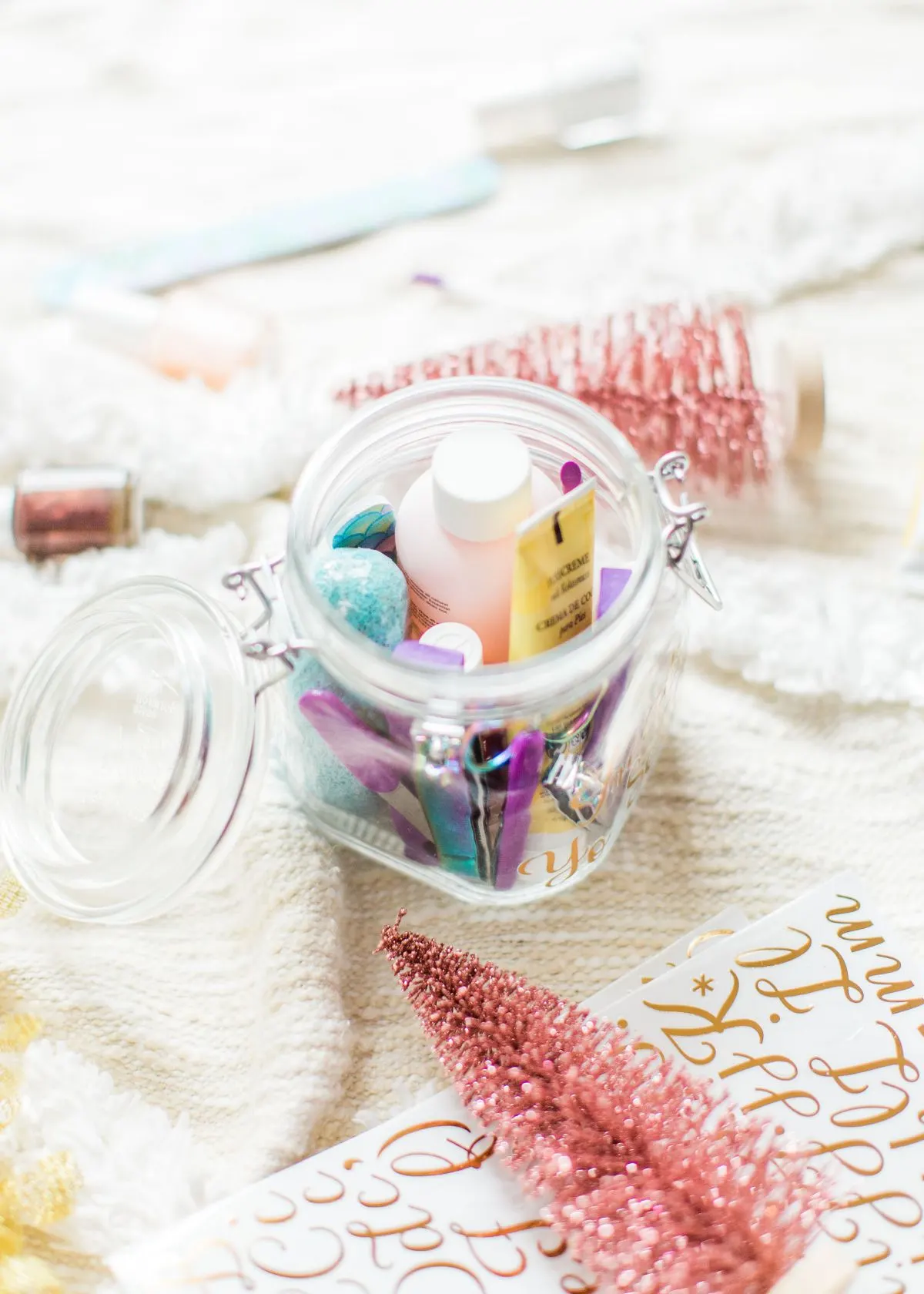 Source: glitterinc.com
Cookies in a jar, cake in a jar, soup in a jar…all make sense. But what on earth is a pedicure in a jar, and where can you get it, right? Well, let me tell you: you make it.
The first order of business is to compile a list of everything you—or your teacher as the case is—will need for a luxurious pedicure. Then, grab a large jar from your kitchen to put everything into.
While you're shopping around for supplies, feel free to add little knick-knacks that can truly help her pamper herself, like a bottle of bath salts, maybe, to soak her feet in. You can pick up mini bottles of bath salts here.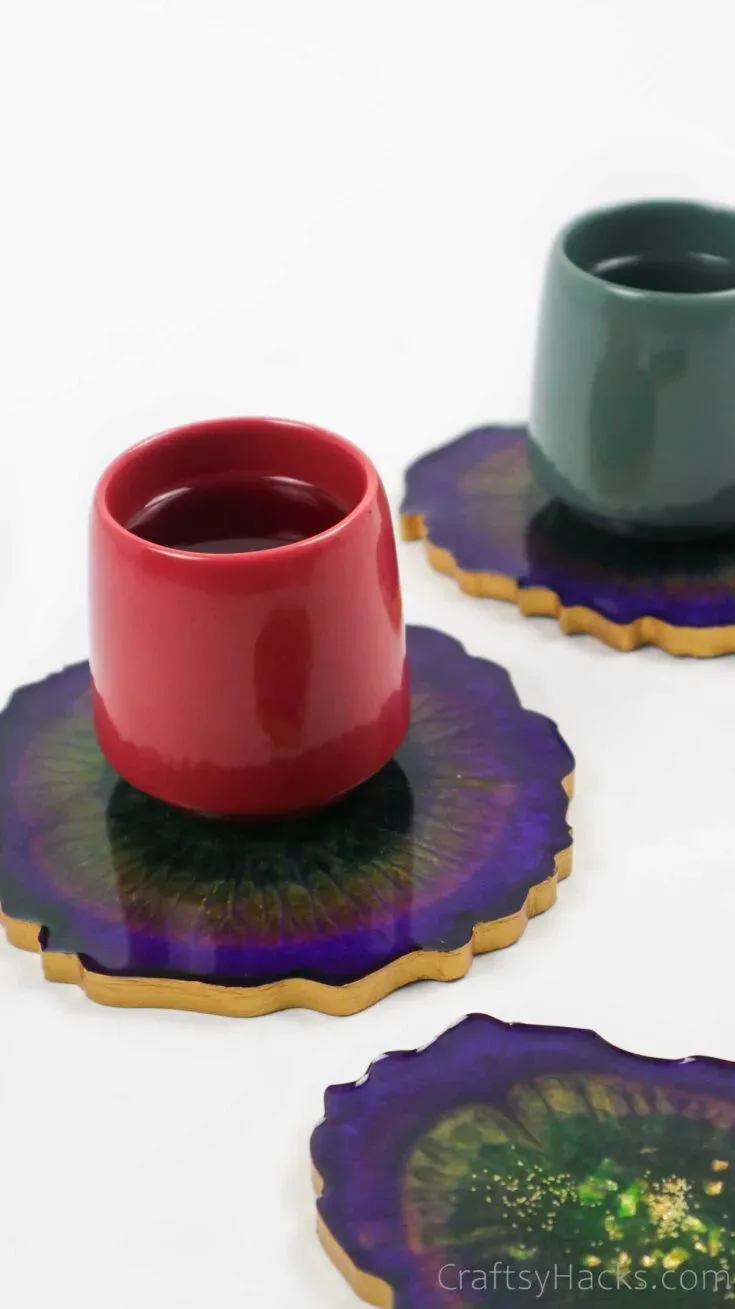 Source: craftsyhacks.com
Resin coasters are no-brainers. Actually, coasters are a no-brainer because a person can never have too many coasters at home.
The fact that they're made out of resin and look like they belong in a magazine? Well, that's just sheer beauty, and your teacher is going to love getting a set of these!
Ideally, a set of four coasters is a good number to work with but trust me, you're bound to get carried away while you're making them, so be ready to have a dozen by the time you're done.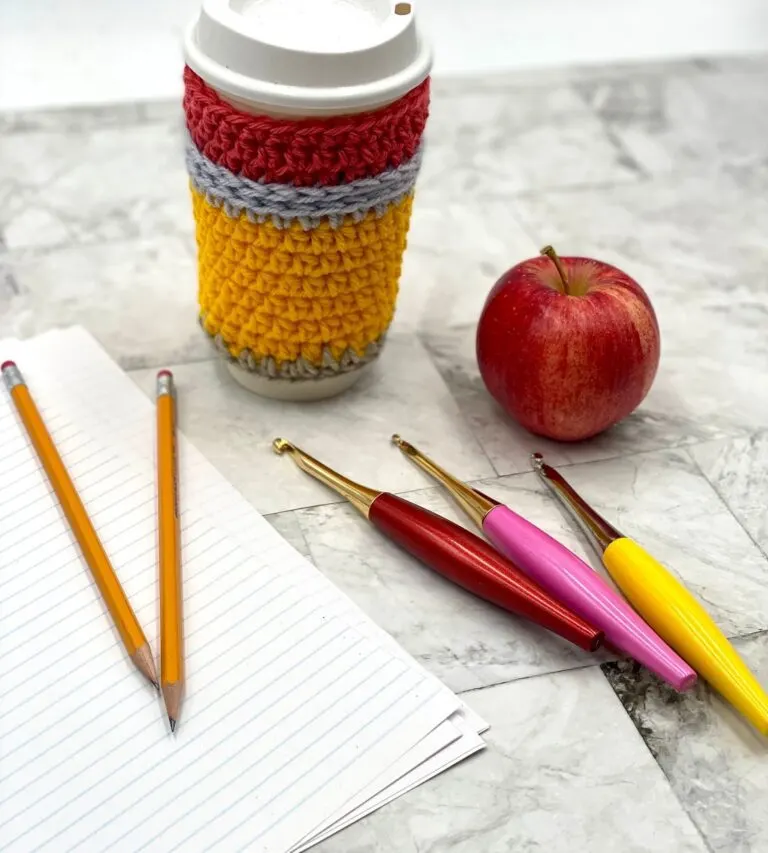 Source: throughtheloopyc.com
If there's anyone who truly deserves to enjoy a cup of coffee in the morning, it's the teacher who has to face a classroom of unruly kids first thing. You know what you can do to make coffee time more memorable for her?
You can crochet her this lovely cup cozy to help keep the heat from the coffee from burning her. This particular pattern has a ton of potential for you to experiment with colors.
When you're done crocheting the cozy and are ready to fasten off, you can grab a yarn needle from here. It will help you weave the end of the yarn back into the pattern and blend it seamlessly.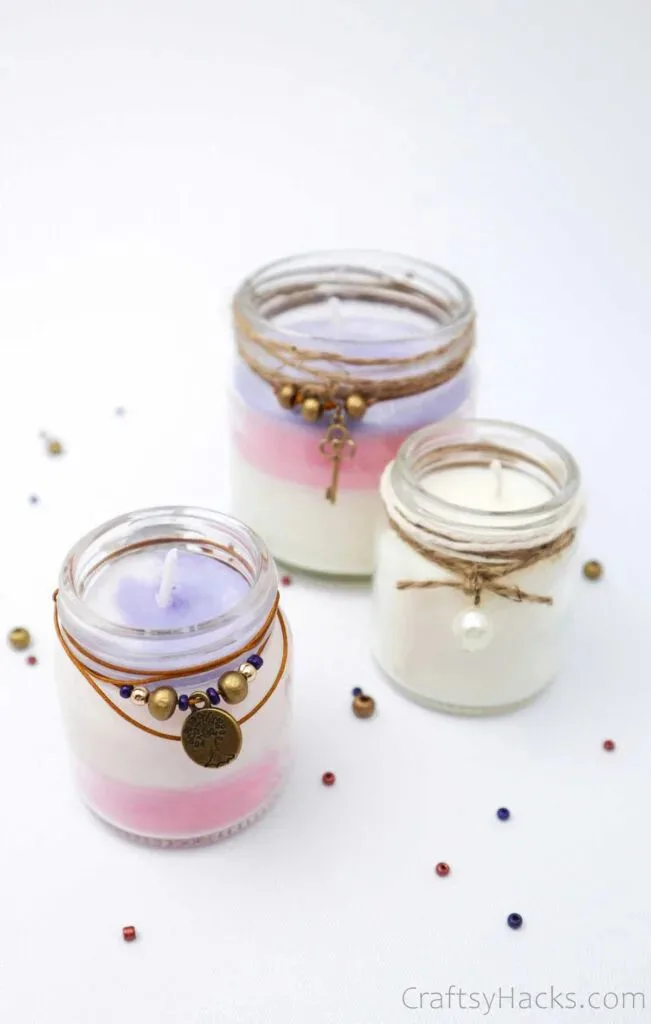 Source: craftsyhacks.com
You've already made homemade soap and a mani-pedi kit for your teacher to enjoy. What can really help her unwind after a long day dealing with all of you in class is: scented candles.
Scented candles are just so inherently fabulous. They can help set a relaxing mood that's conducive to your teacher snuggling up with a good book.
It might also make her feel calm and relaxed when grading papers—and that's the most important thing here, right—brownie points? Ooh, perhaps you should make her brownies, as well!
Love this idea? You might like these anniversary gifts for lovers.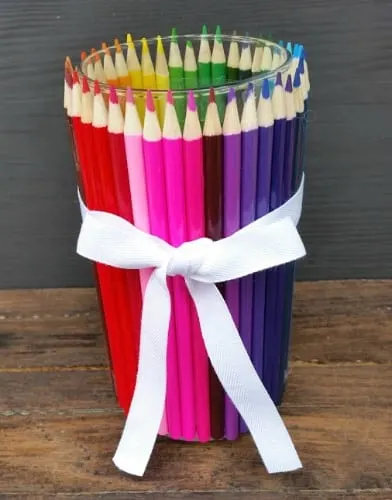 Source: thriftyjinxy.com
This project is perfect for the younger kids to work on when making a gift for their kindergarten or middle school teachers. This pencil vase is colorful and super easy to make, too.
Imagine how pretty it will look sitting on your teacher's desk. Here's what you'll need to make it:
A clear vase
Colored pencils from here
Double-sided tape
Hot glue gun
Ribbon
Remember to pick out a vase or a jar that is roughly the same size as your colored pencils. If you don't want to buy a new jar and want to cut the pencils down to size, that works, as well, but will require some cutting tools.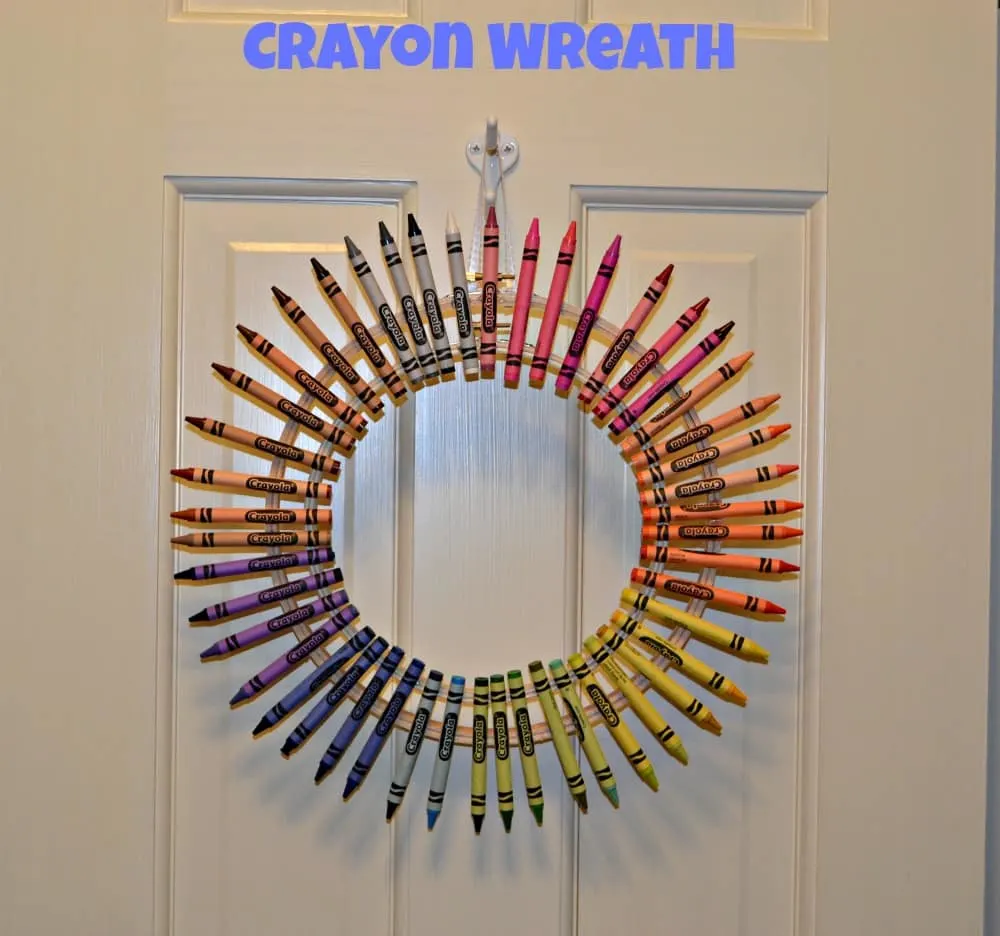 Source: hezzi-dsbooksandcooks.com
The next time you're at the store, grab a packet or box of colored crayons—not pencils, mind. Then, go look in your sewing supplies whether you have an extra embroidery hoop by any chance.
You're going to be making a color crayon wreath, and it's going to be a lovely addition to your classroom. So grab your crayons, your hot glue gun, and your hoop and start sticking them in a gradient color scheme all around the hoop.
You can add another smaller or larger hoop to your wreath form, as well, if you want a little more stability for your crayons.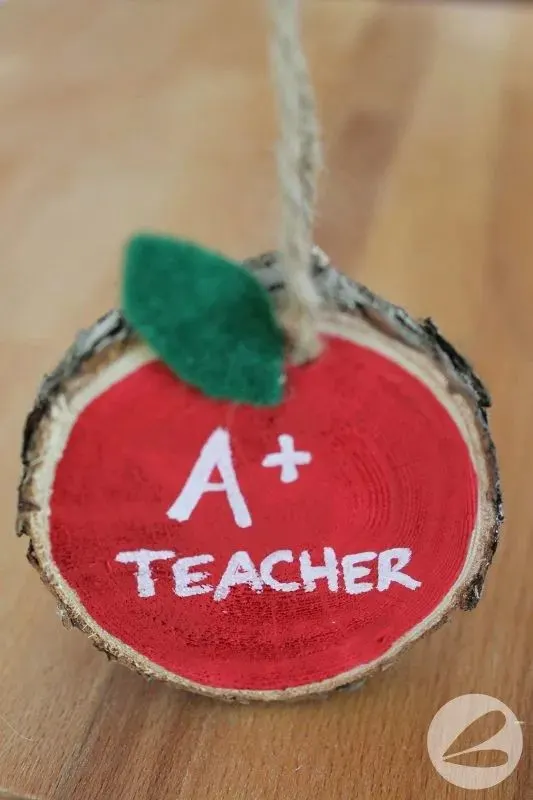 Source: homemadeheather.com
Are you wondering what to give your teacher for Christmas? Well, I think that you needn't look any further than this lovely wooden apple ornament.
It's time to grade your teacher this time, and not the other way around. Once you've painted your wooden apple, use a black marker or a brush paint to write "A+ teacher" in the middle!
You can grab some green felt to help you decorate the apple with a nice green leaf. But first, you need to actually get the wood slices to use as the base. You can find them right here.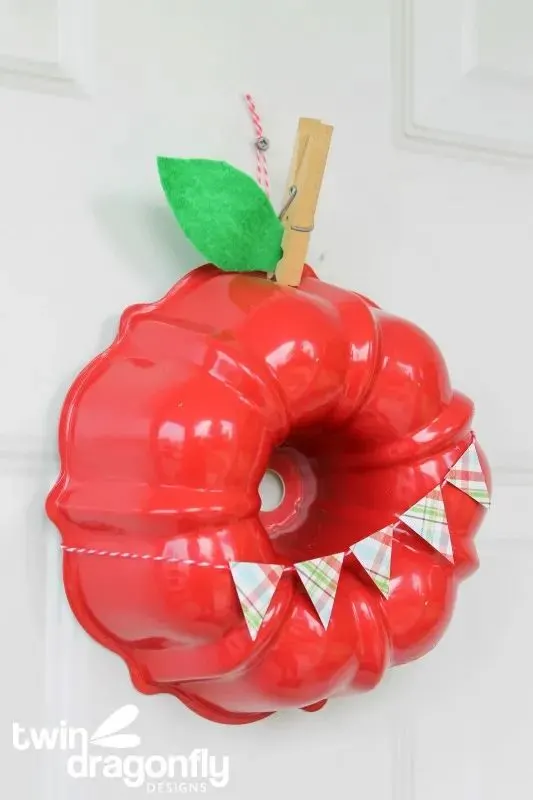 Source: homemadeheather.com
I'm not surprised you keep coming back for apples. Somehow, they just make sense, don't they? They're red and juicy, yes, but they also make for a great craft project idea inspiration.
This next apple-themed project is for a wreath that's actually made out of a bundt cake pan. So if you're gifting it to your teacher, she gets to have a superb wreath to hang on her door, and when she's done, a bundt cake pan!
That's a win-win, right? So grab some decorative tape or a roll of colored ribbon to help you hang the wreath and also to add a splash of contrasting color.
Source: surfandsunshine.com
Here's another DIY homemade bath product that you can use to supplement your teacher's growing stash. A batch of this mouthwatering sugar scrub will set you up in her good books for life.
Plus, she'll enjoy using them, as well, because who doesn't love a good sugary scrub to help exfoliate. Grab all the ingredients that the
Recipe calls for and also plan the quantity you're planning to make.
Pick up a box of gold mica color powder from here and also some pastel food coloring. It's typically skin-friendly and will add color to your sugar scrub. You can make a batch of unicorn-colored sugar scrub for your teacher to try!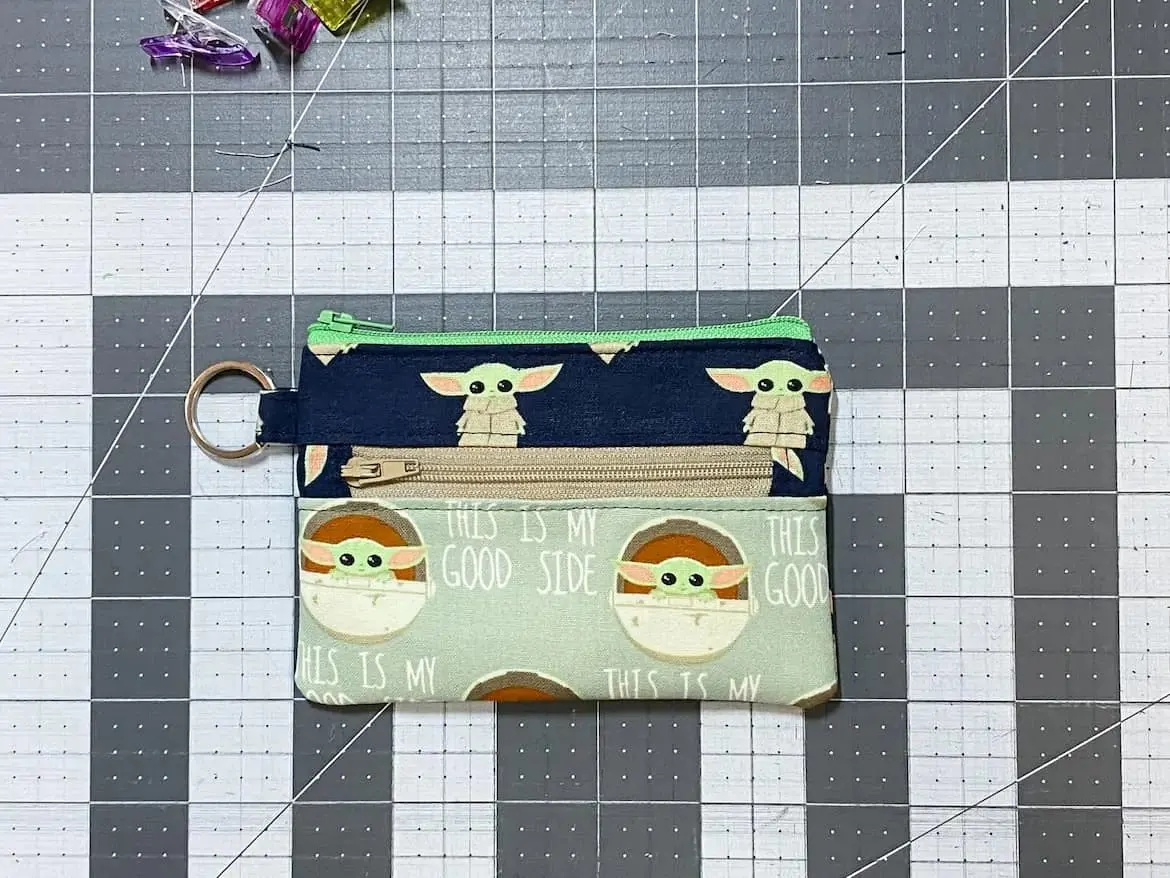 Source: surfandsunshine.com
If you're wondering if people even use a coin purse anymore, then know this: they should be. You won't believe how convenient it is to not have to rummage into the depths of my bag to find a pesky penny.
It's something I learned from my teacher, ergo the inspiration to make this pretty coin purse. You can also attach a key ring to it so she can keep track of her keys and her quarters at the same time!
This little purse can also fit some cash, a credit card or two, and even some ID proof. It's super useful, and, if you use the right fabric it can look pretty great, as well.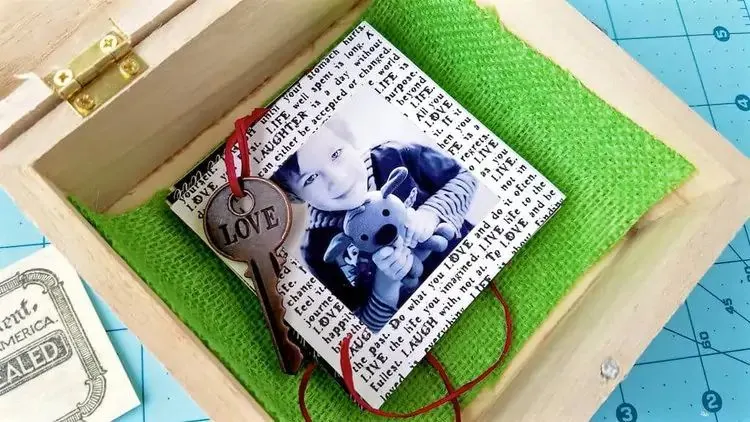 Source: craftsandprintables.com
You know what the perfect gift for a teacher is, especially when you're graduating? It's a memory box, of course, filled with little memorabilia dating back to all the fun times you spent with her.
It's a project that the entire class can get in on and contribute to. Your box can include:
Photographs
Cards
Little knick-knacks
Collectibles
Heck, it can even contain all the detention slips she's given out to you through the years. So the first order of business is to buy a lovely and durable box. Look here to find what you like.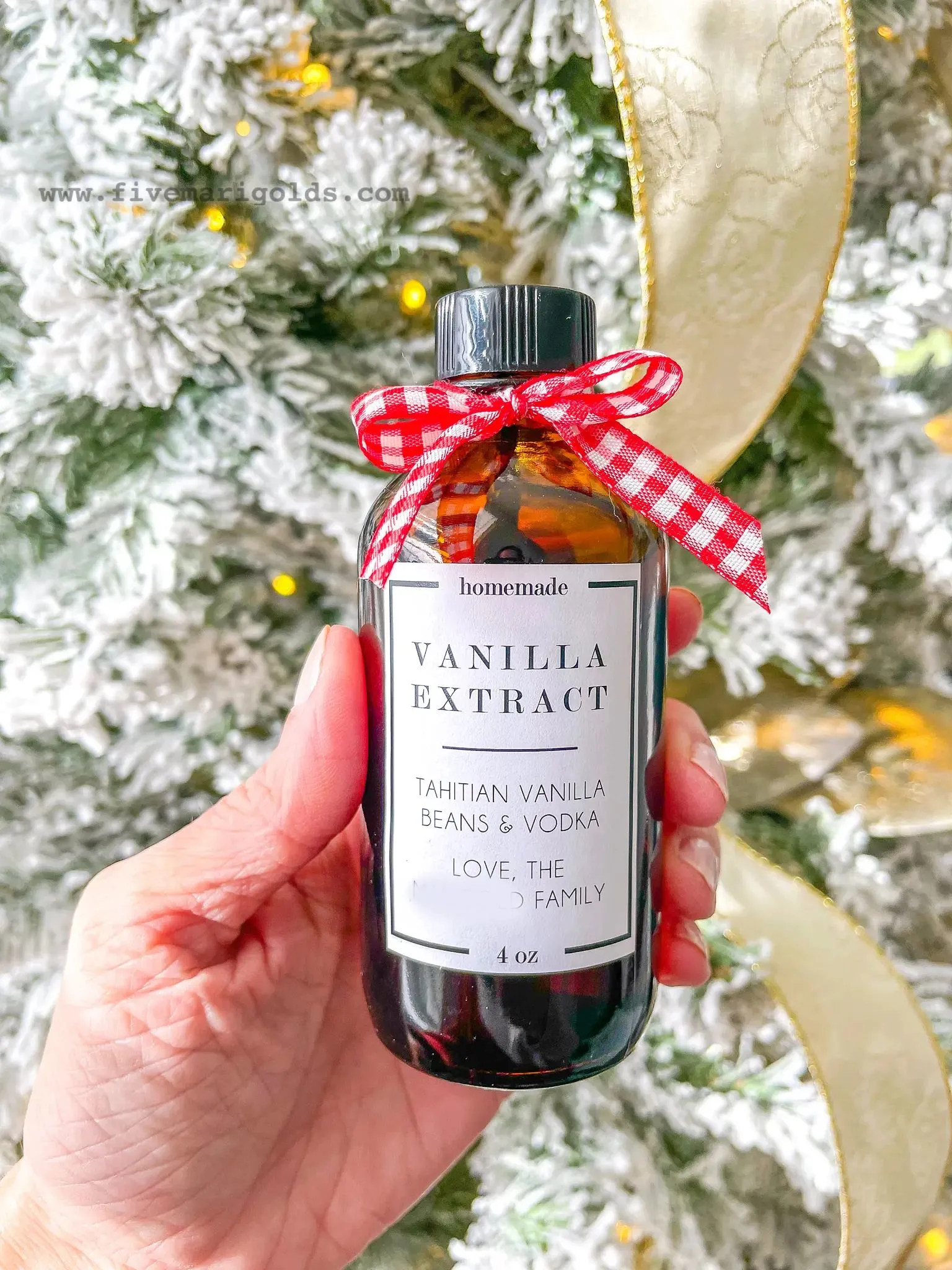 Source: fivemarigolds.com
Here's another recipe for a bottle of tantalizing manilla extract. You can never have too many bottles, can you, and there are also plenty of different recipes to explore, as well.
The key to a really good batch of extract lies in the vanilla beans you buy. The better the quality of the pods, the better your finished product will be.
While your extract is marinating, store the jar in a dry and dark place. Remember that this takes up to 10 to 12 months to really take on the full flavor, so think of it as a senior year project for your teacher!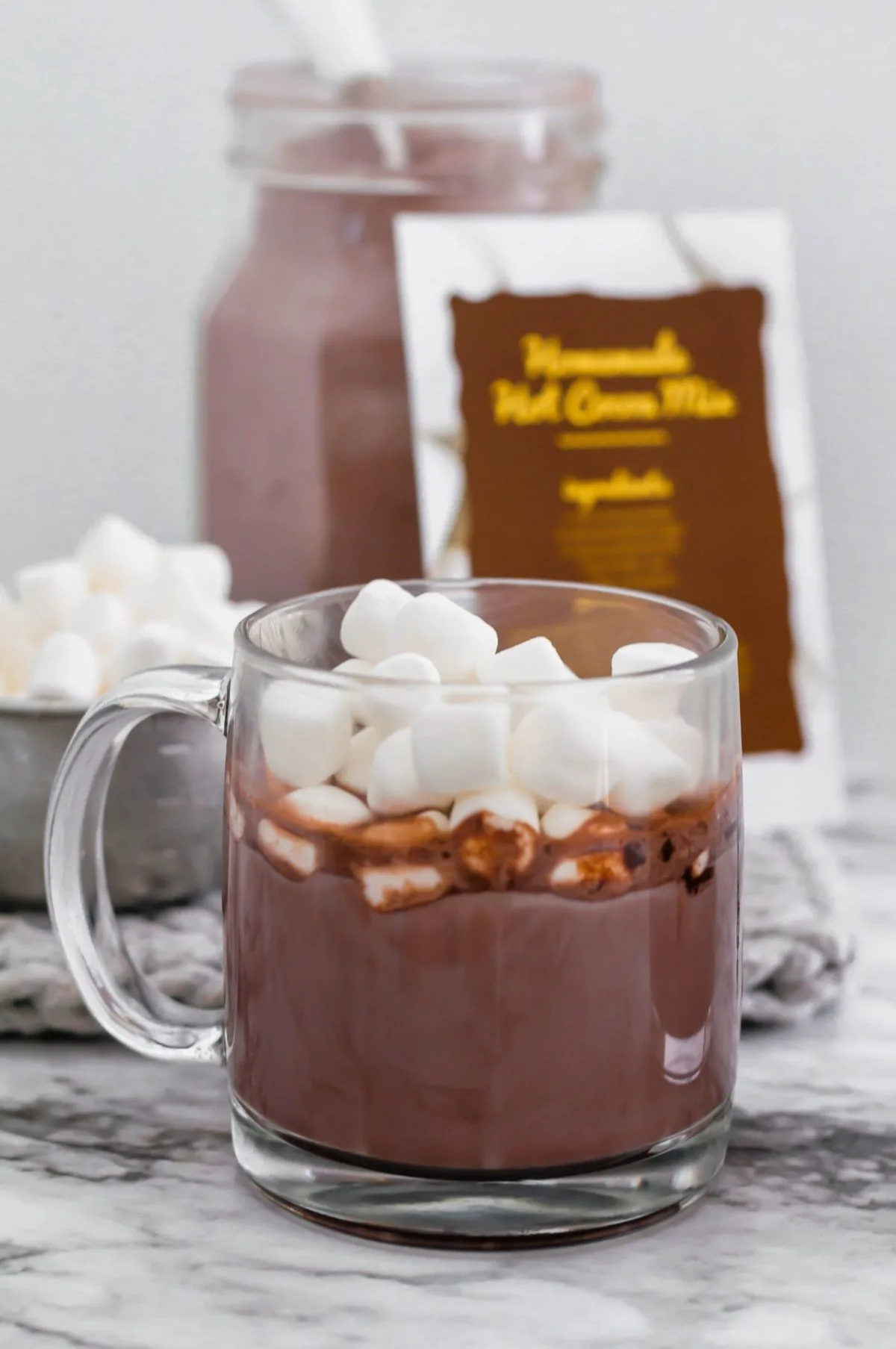 Source: megseverydayindulgence.com
What could possibly top off a night full of pampering? You've already given your teacher a whole slew of luxuriant bath products, so what's left but this DIY cocoa mix.
This 5-ingredient recipe can help you whip up a batch of cocoa mix right at home, and I'm pretty certain you already have all the key ingredients. But take a look anyway:
Cocoa powder from here
Powdered sugar
Powdered milk
Salt
Cornstarch
Apart from these key ingredients, you also get to pick out your teacher's favorite toppings. So, is it going to be marshmallows? Sprinkles? Or both?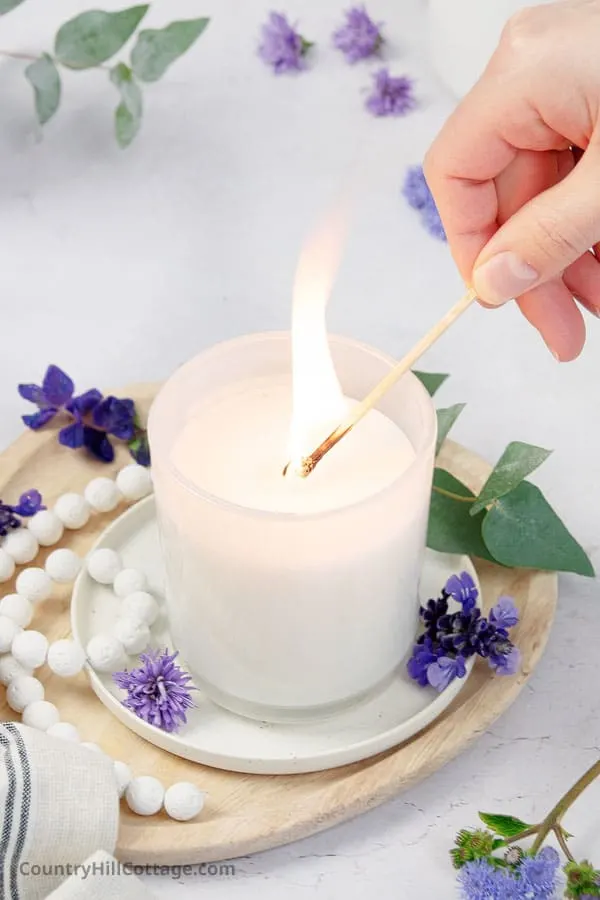 Source: countryhillcottage.com
Did you know that certain scents and oils have healing properties? Let's introduce your teacher to the healing, stress-relieving, and soothing effects of aromatherapy.
How? Well, candles, of course, but not just any candles, mind; it's stress relief candles! You can pick a recipe from any of the eight different options available to you.
Me, I love lavender. But cinnamon and honey scented candles, or scents like sage, bergamot, or sweet orange can be just as effective.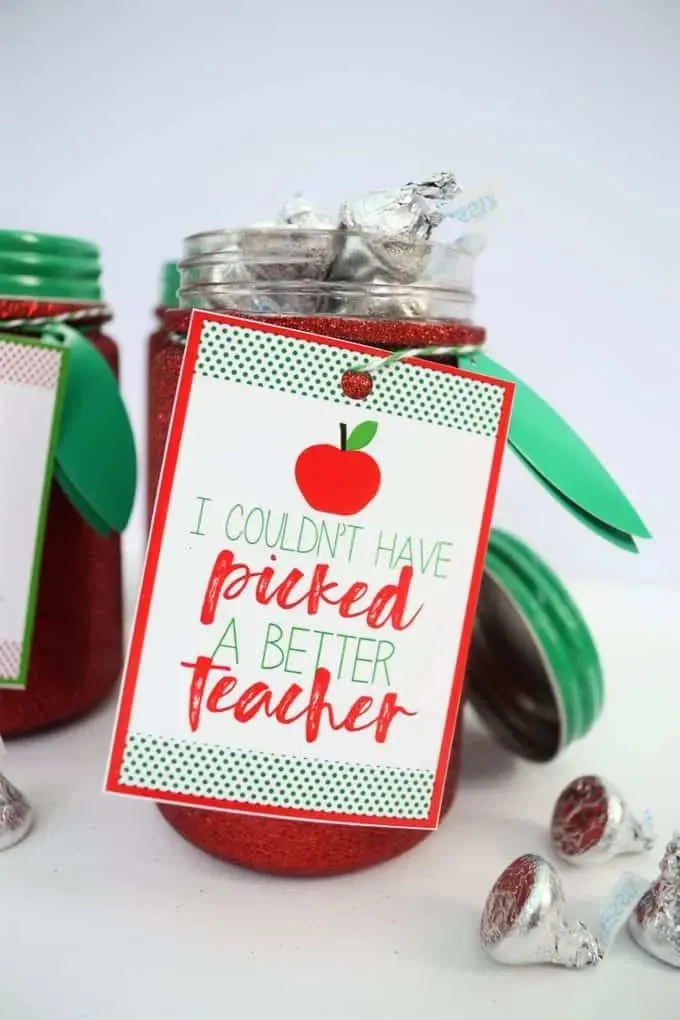 Source: burlapandblue.com
These apple-themed mason jars aren't just a star gift, but they hold a ton of potential. How? Well, think about all the different things you can put in the jar.
The gift isn't just the jar but also what goes in it. So while planning your jar decor, also put some thought into what you want to fill it with. Candy or munchies are always a safe bet, don't you think?
This adorable teacher gift idea also comes with a printable gift tag template. Download it, print it, write your message and sign it! But first, grab a jar or two from here.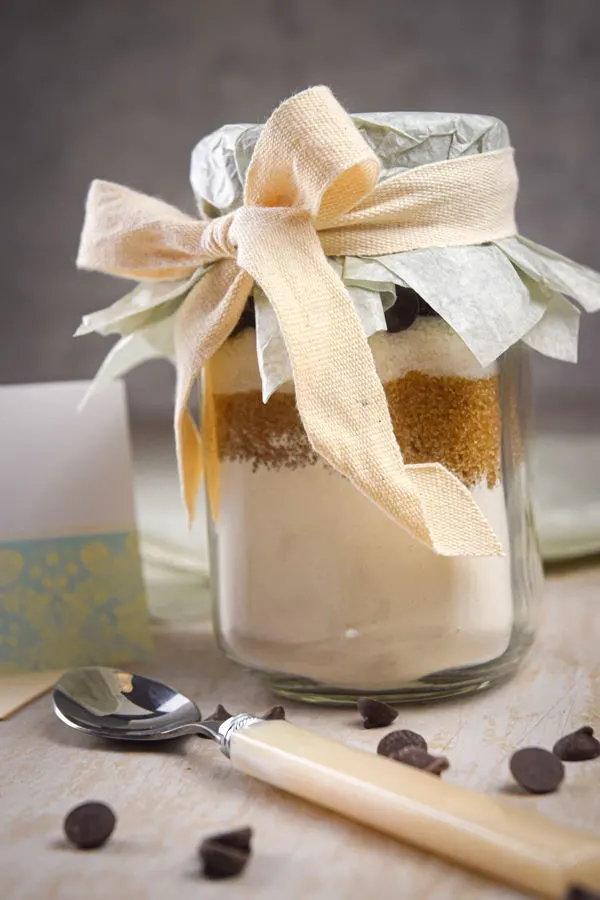 Source: inthekitch.net
Chocolate chip cookie jars—maybe that's what you can fill those apple mason jars from earlier! But somehow, I think that the whole point of layering the ingredients just so is to decorate the jar from the inside out.
Tell me you don't love the way the different ingredients look all layered up like that. It's just begging to be put to good use, right? There's also that sinful scoop of dark chocolate chips on top.
This is exactly the kind of quick treat that your teacher can make when she's grading all your papers and wants something to fix her sweet cravings.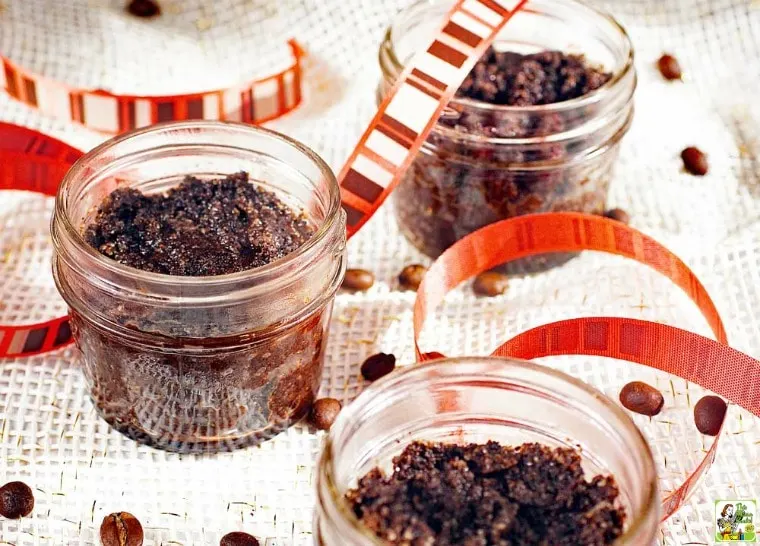 Source: thismamacooks.com
What's better than chocolate chips, you ask? To a teacher who really needs a pick-me-up in the morning and can't really turn to alcohol, the answer is simple: coffee.
While you might not be able to buy her a cup of coffee every day, you can, however, make her a batch of this decadent coffee and sugar scrub. The coffee, sugar, and coconut oil work to exfoliate, nourish, and finally brighten up your teacher's skin and her mood before class.
That right there is a win-win. So grab some coconut oil from here and start mixing up a batch!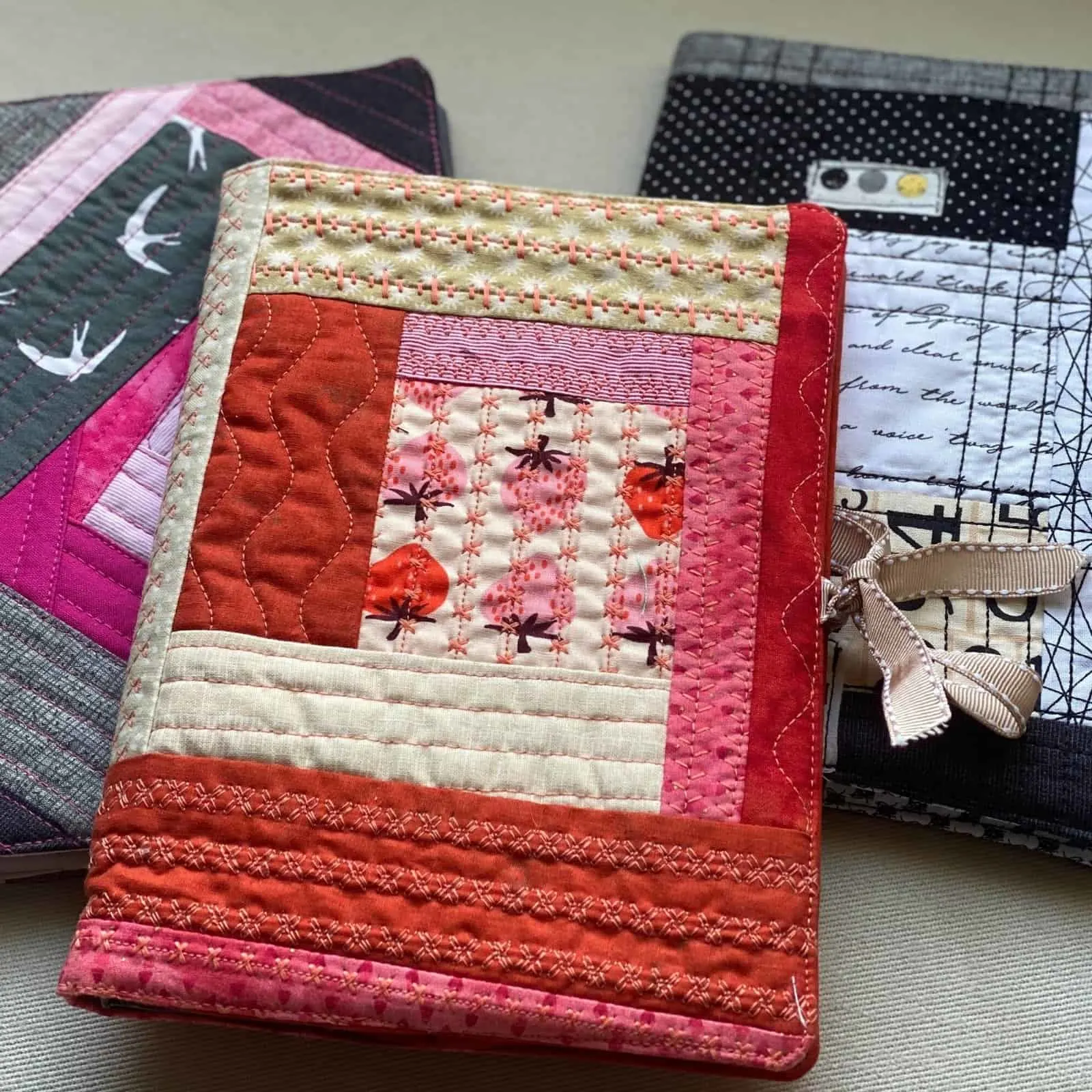 Source: scrapfabriclove.com
A teacher knows the importance of keeping a journal. How else is she going to remember all the students she taught? Well, how about you go one step further and make her this quilted journal.
This way, every time she even sees it, she'll remember you, and it's the kind of keepsake that she'll cherish forever. Well, I know I will!
You don't really need fancy or advanced quilting techniques and skills. You can work on a quilt-as-you-go technique that works for smaller projects like this one.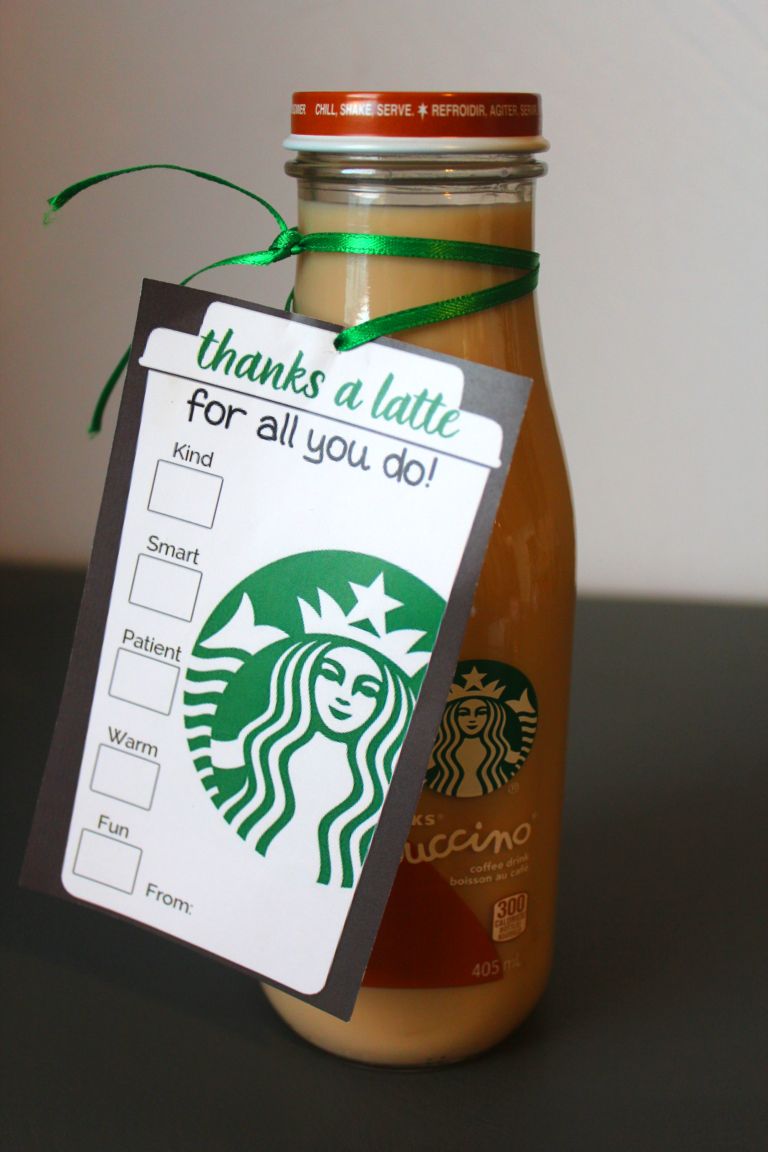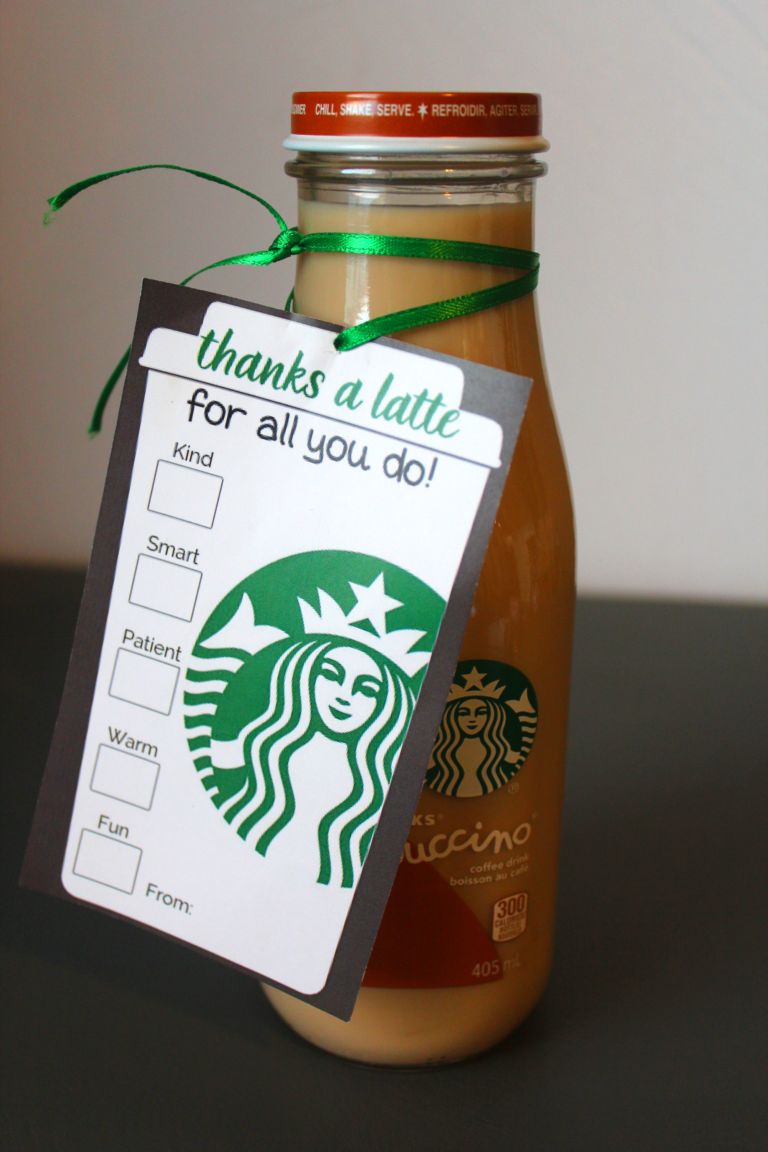 Source: feelingnifty.com
Sometimes, all you need is a card. Simple, effective, and something your teacher can keep with her for a long time. So why not be as creative as you can be with this Thanks a Latte card?
Thanks a latte—you've got to appreciate a coffee pun, right? Well, don't worry about having to make it from scratch because there's a printable template to help you.
What you can do, though, is get her a coffee cup to go with the card. You can also include a gift card to Starbucks along with it. Buy a reusable Starbucks cup right here.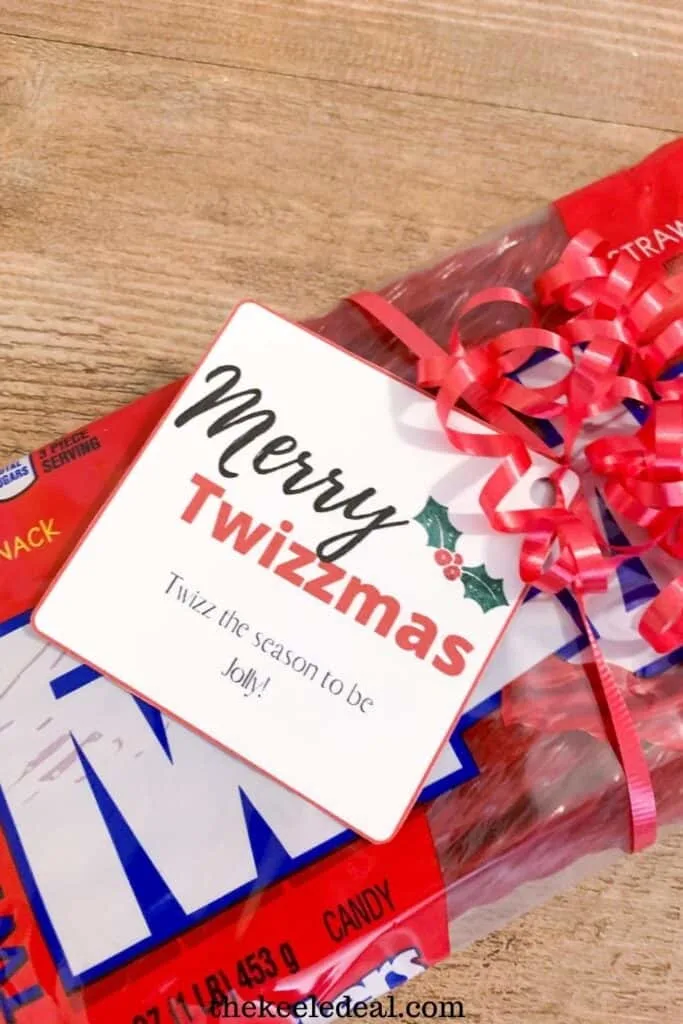 Source: thekeeledeal.com
Merry Twizzmas—Ha! The things that kids do to get on their teachers' good side…actually it's not a bad idea, now that I think of it.
Because 'twizz the season,' right? Okay, let's stop the puns while we're ahead. If you haven't guessed this next gift idea, it's a jumbo packet of twizzlers.
You can pick up a packet just about anywhere, so that means that it's the card with the terrible puns that's the real gift. Your teacher's going to think you're a hoot—or a nut—but either way, the twizzlers will save the day!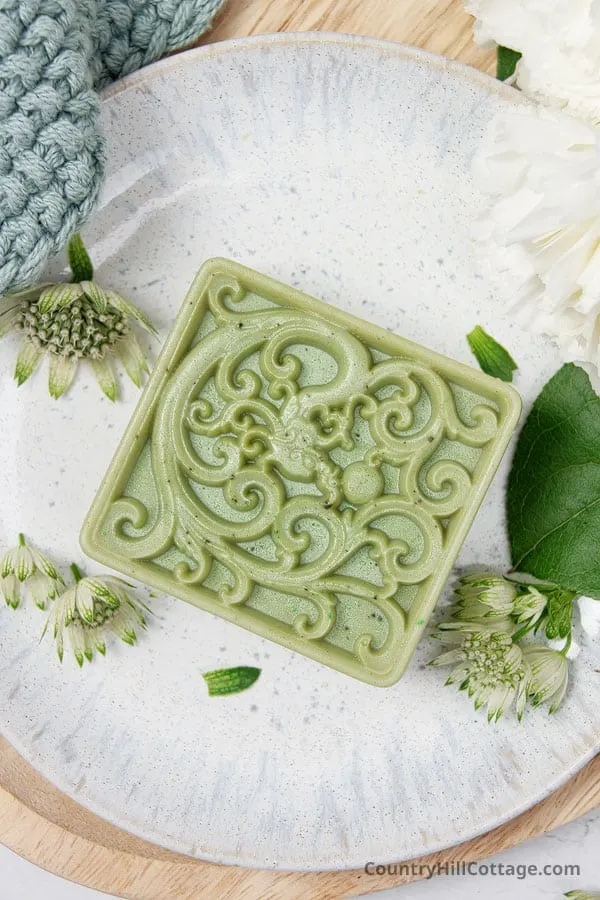 Source: countryhillcottage.com
Coffee is for the morning when your teacher has to face a whole classroom full of rowdy kids. Green tea is for when she wants to soak up some antioxidants to detox from the day.
So for this next DIY gift idea, we're going to make yet another batch of homemade soap—green tea flavored. Doesn't this bar of soap just look like a million bucks? It's probably because of the fancy mold.
But if you're wondering where that lovely green color and that subtle and natural scent is coming from—wonder no more. It's from this matcha powder that you can incorporate into the soap.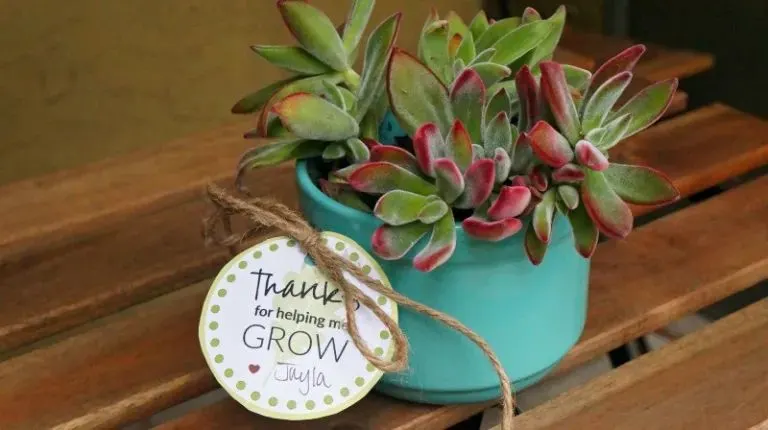 Source: honeyandlime.co
This little succulent in a mug is a cute little thank-you gift for your teacher. It's something she can place atop her desk in class, just to help brighten up the space.
What makes this little succulent in a mug really personal is the personalized tag that goes with it. You can attach it around the mug with some twine when you're ready to give it.
There's even a printable template if you don't want to make the card yourself. So the first thing you need to do is match the size of the succulent with the size of the mug you're going to use.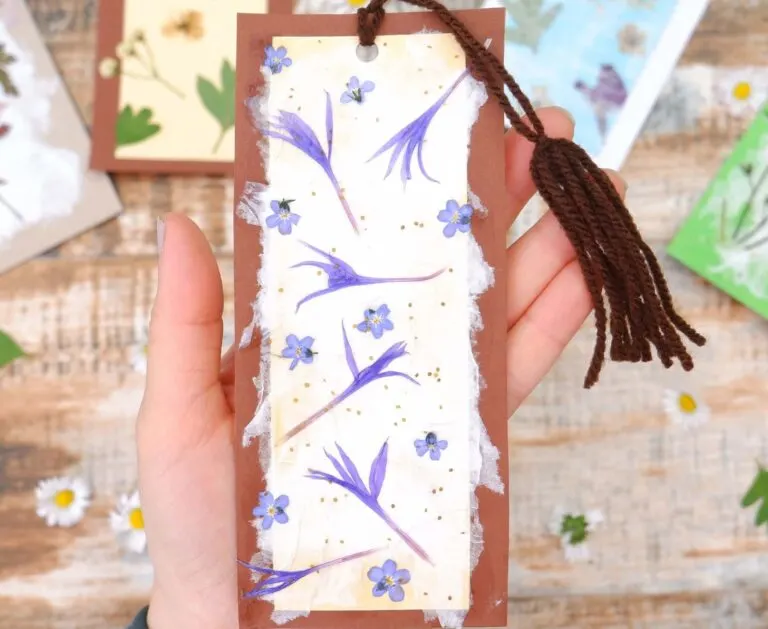 Source: liltigers.net
Have you ever pressed flowers before? I'll admit that the process is time-consuming, but it requires very little care, as long as you do it right initially.
But fret not, when you're making this pressed flower bookmark, you can always just buy the ready-made ones from here. It will definitely save you time, especially if you're looking for a quick gift idea.
You will also need some basic crafting essentials like a cereal box to use as backing, scissors, glue, ruler, pencil, and a hole puncher.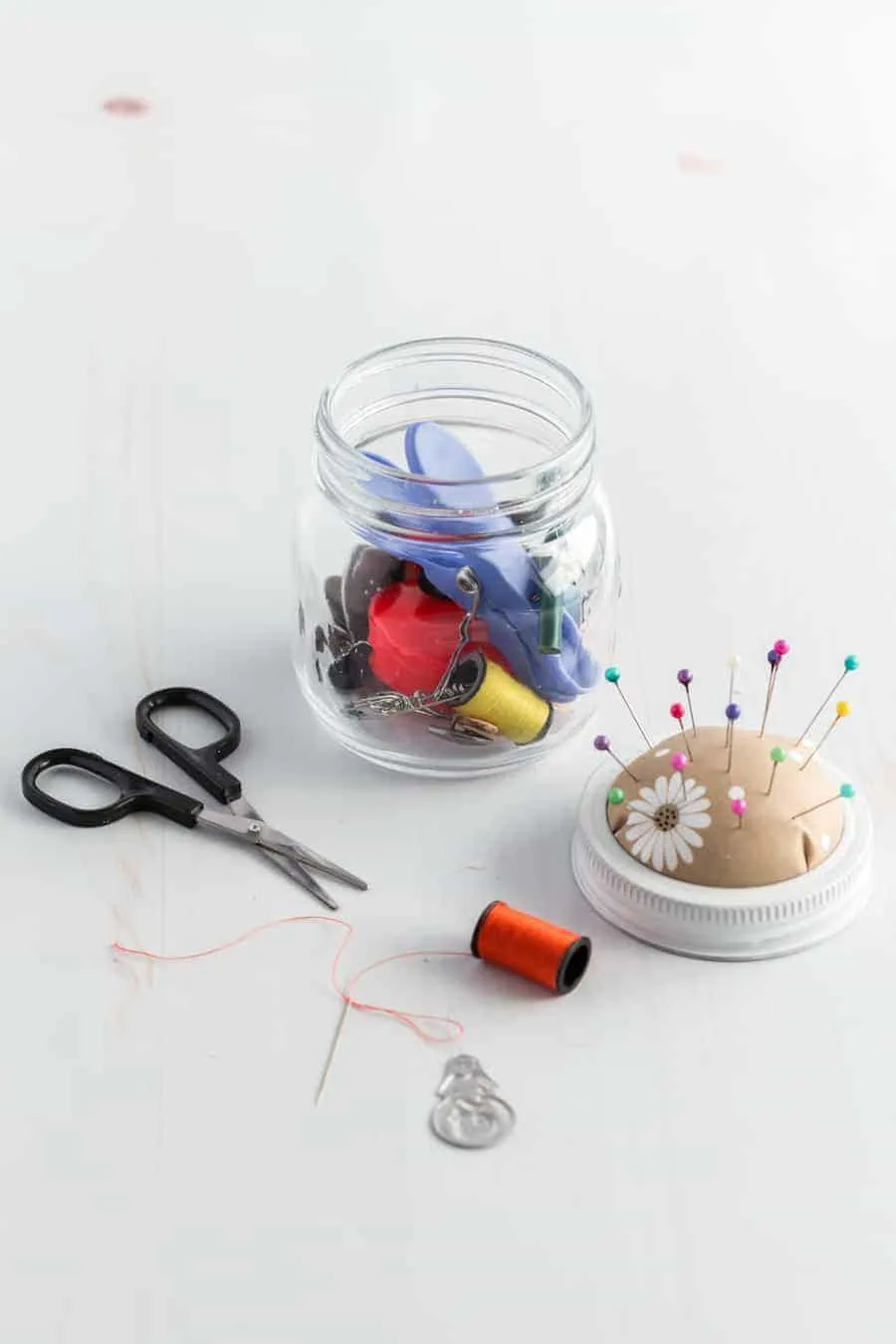 Source: blessthismessplease.com
Did you have Home Ec classes in high school? Well, I'll admit that I never really thought they were a big deal back then, but there are skills I picked up in that class that have served me well.
I owe it to my teacher, of course. It's because of her that I always carry a little sewing kit with me. So if you're still in high school and need a gift for your teacher, then check out this sewing kit in a jar!
Start by working on your pincushion. That's where you can really play with colors and patterns for the fabric you pick.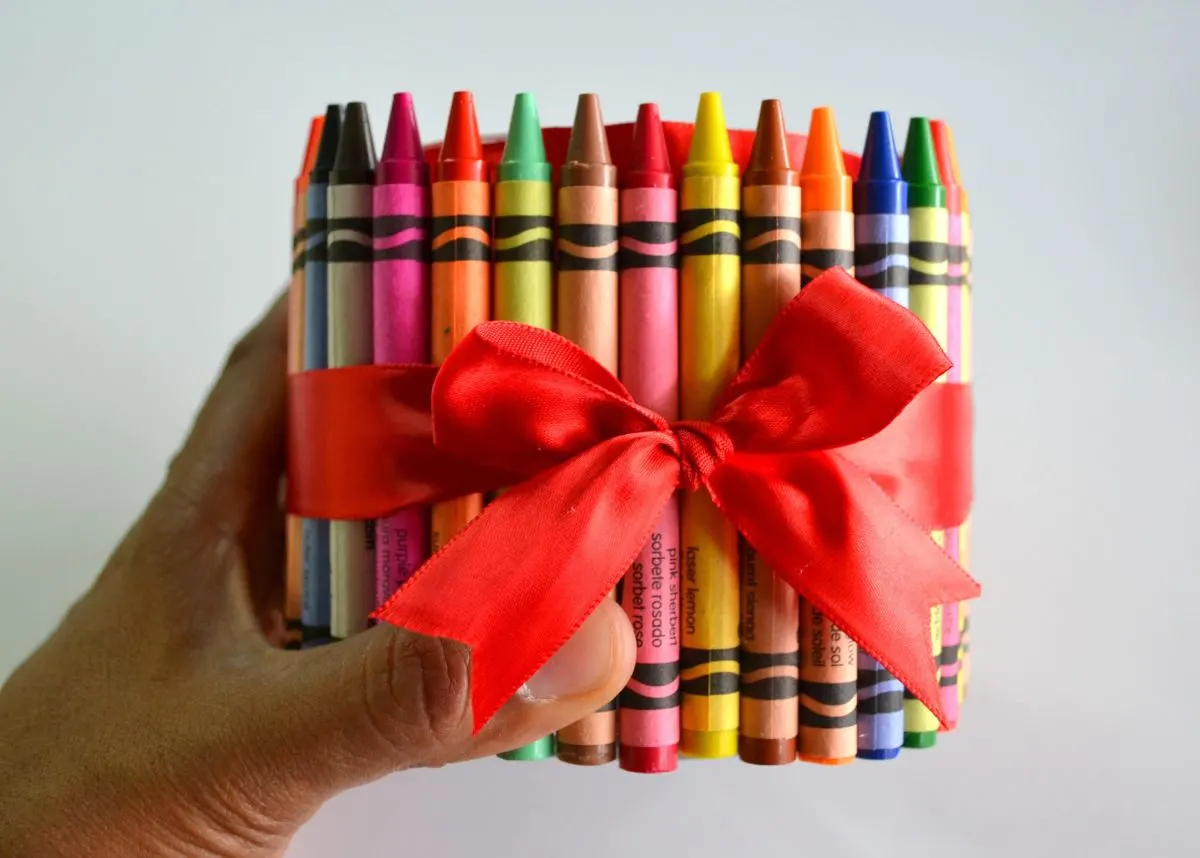 Source: mommysnippets.com
Remember that color pencil pen holder you made earlier? Well, this one's almost exactly the same, only you're going to be using crayons to make your crayon jar holder…to hold your crayons.
You get the point. So grab an old mason jar that is preferably the same size as the crayons you're using. Try to figure out how many crayons you'll need, as well.
Next, grab your hot glue gun and glue the crayons around the jar. Finally, cut off a length of this ribbon and wrap a pretty bow around the middle.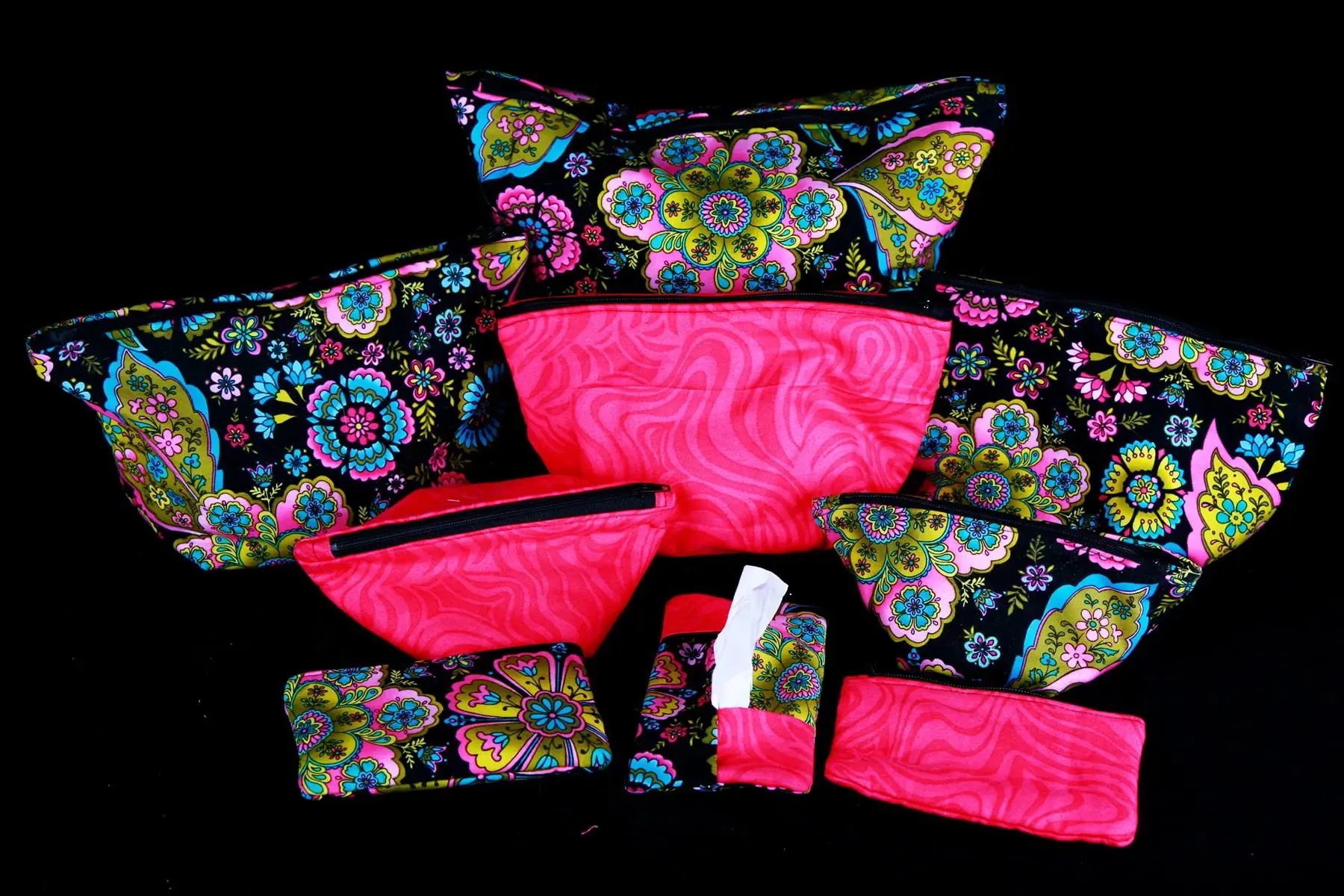 Source: celebrationgeneration.com
Are you up for a quick sewing project? Because if you are, I have the best gift idea for your teacher: a set of travel kit bags. Even if you only want to give one, these bags still make pretty amazing gifts.
There are so many different fabrics, prints, and colors to choose from, as well. You can sew a set of three bags in the same print, albeit in different colors, or you can make a matching set too.
When you're happy with the print, the size, and the shape, the next step is to sew the bag. Don't forget; you can also add a zipper for the closure.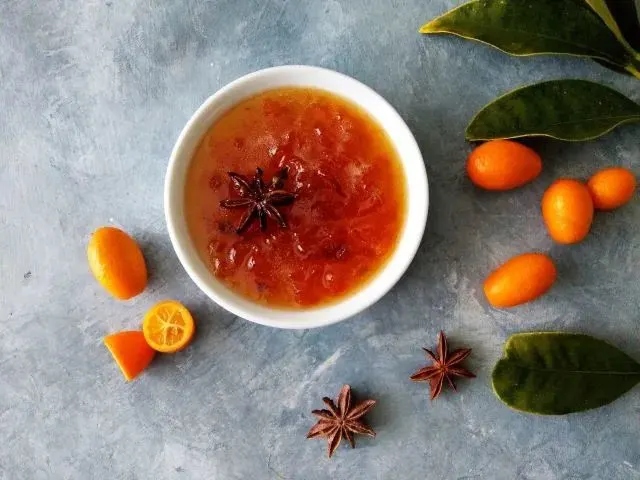 Source: plantfoodathome.com
How about a jar or two of this delicious homemade jam to give your teacher? You don't really need an occasion to give jam; you can just spread the joy and spread jam on some crackers and cream.
This recipe calls for kumquats and star anise, and my mouth is already watering thinking about it. The tart sweetness of the kumquat mixed with the earthiness of the star anise is perfect for a rich and juicy jam.
Grab a pack of star anise from here first. Then prep your kumquats by allowing them to soak overnight.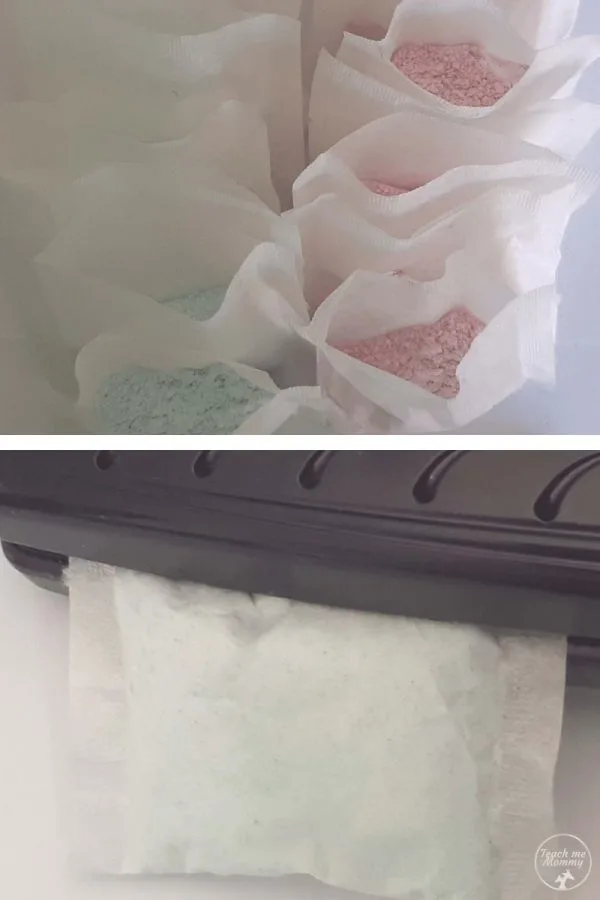 Source: teach-me-mommy.com
What's a fizzy bath tea, you might ask. Well, you're going to incorporate the fizzy goodness of bath bombs or bath salts with the functional efficiency of teabags to make…fizzy bath teas!
You'll need all the fixing to make your choice of bath bombs—which I'm sure you already have. But you will also need to pick up some heat seal tea bags.
Once you make your bath salts, you're going to scoop some into the teabag and seal it up. A set of 5 bags should get your teacher through exam week, right?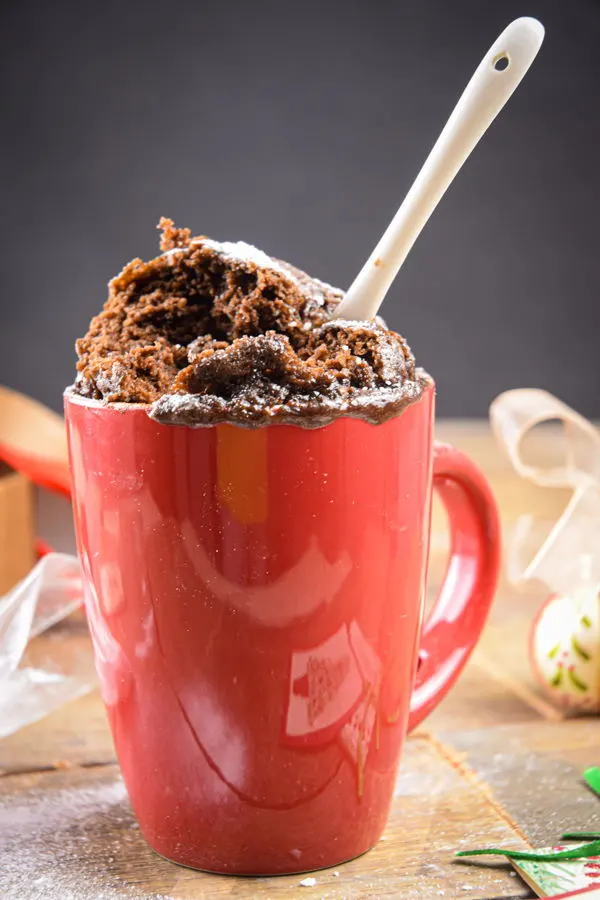 Source: inthekitch.net
After exam week, you need to prepare your teacher for grading your papers. You can't send her off to war without giving her the best shield, can you?
Well, in this scenario, your best bet is to arm her with a big batch of these fudgy chocolate mug cakes. You don't need to actually bake them, just incorporate the ingredients and put them in a bag.
Next, that bag goes into a big mug(look here), and you can wrap it up and give it to her. It will see her through the tough times that are sure to come with grading papers.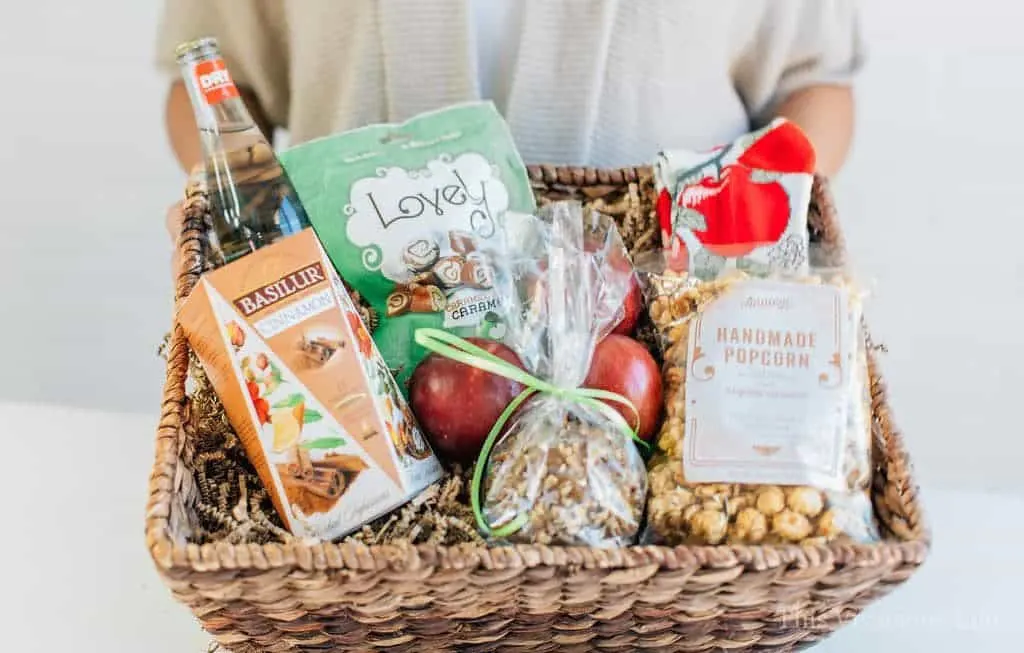 Source: thisvivaciouslife.com
We somehow always end up with apples for your teachers' gifts, don't we? Well, you can't quite give doctors apples, can you, because you know how much they hate that old adage.
For this next teacher appreciation gift idea, you—and maybe a couple of friends can chip in—are going to plan a lovely apple-themed gift basket.
You can fill it up with a bunch of candied goodies like caramel popcorn, candied nuts, pretzels, and of course, apple-themed goodies as well.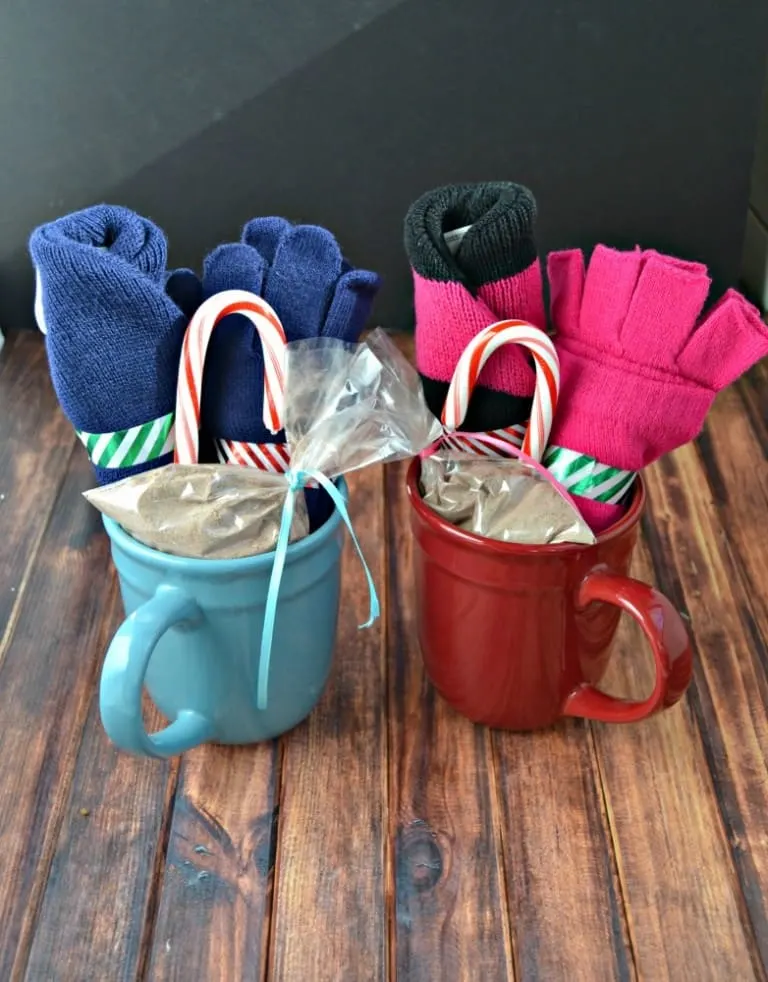 Source: hezzi-dsbooksandcooks.com
Whenever we head into the colder months, I always appreciate all the little things that keep me warm: a cup of hot cocoa at night, a warm scarf, and a pair of chunky mittens.
How about you put all those things that make you happy into a cold-weather care package for your teacher. It can just be an appreciation gift, or it can be a get well soon package if she's been under the weather.
You can add a packet of that hot cocoa mix from earlier, too. You know what would cheer her up? A cheerful-looking candy cane from here!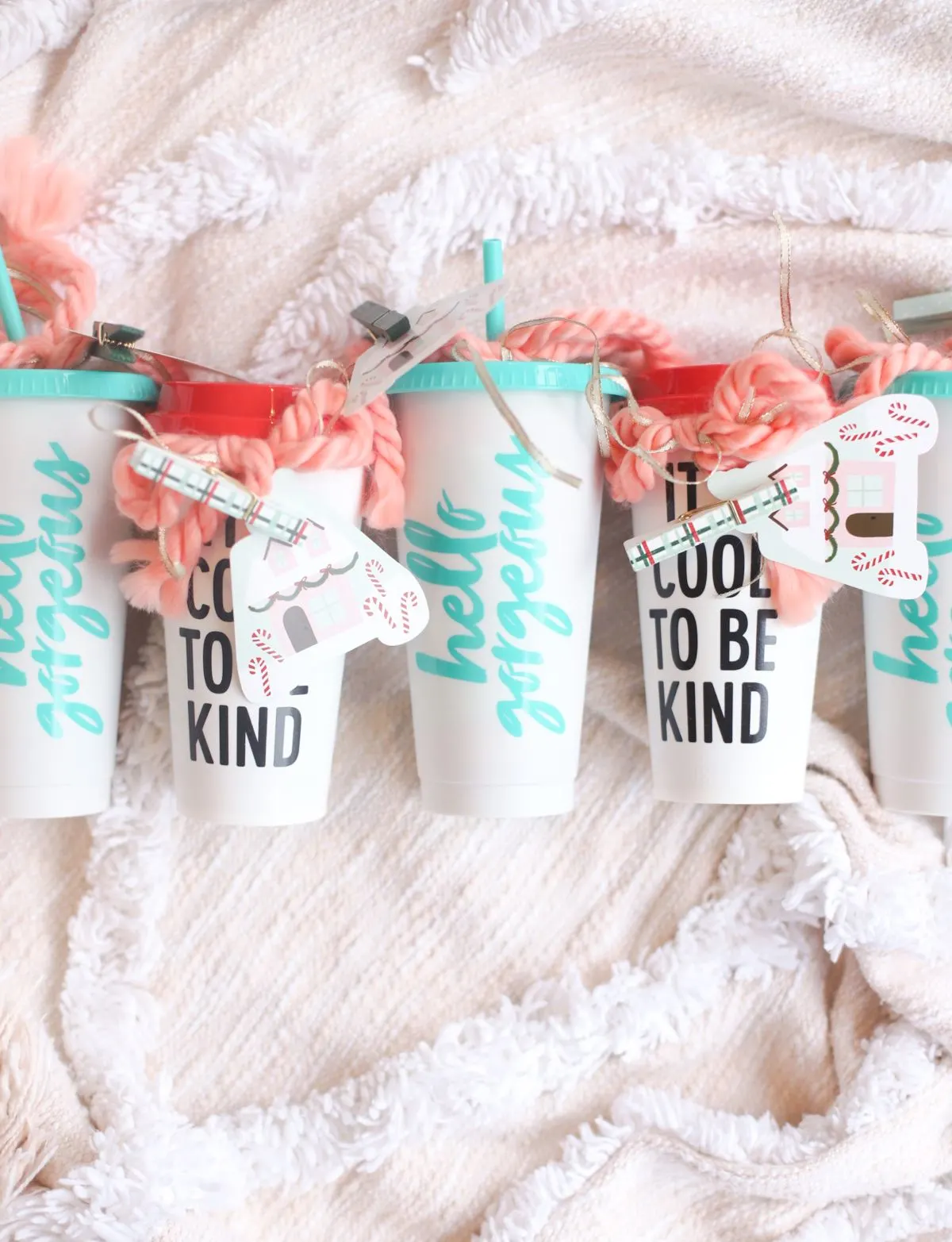 Source: glitterinc.com
Here's another gift idea if you want to pamper your teacher a little. It's a cute cup that's filled with little bath products like a loofah, a face mask, and maybe even some homemade bath products.
You can even turn it into a goodie cup and fill it up with the fudge or jam you made earlier. Your options are limitless; just decide how you want to pamper your teacher and just do it!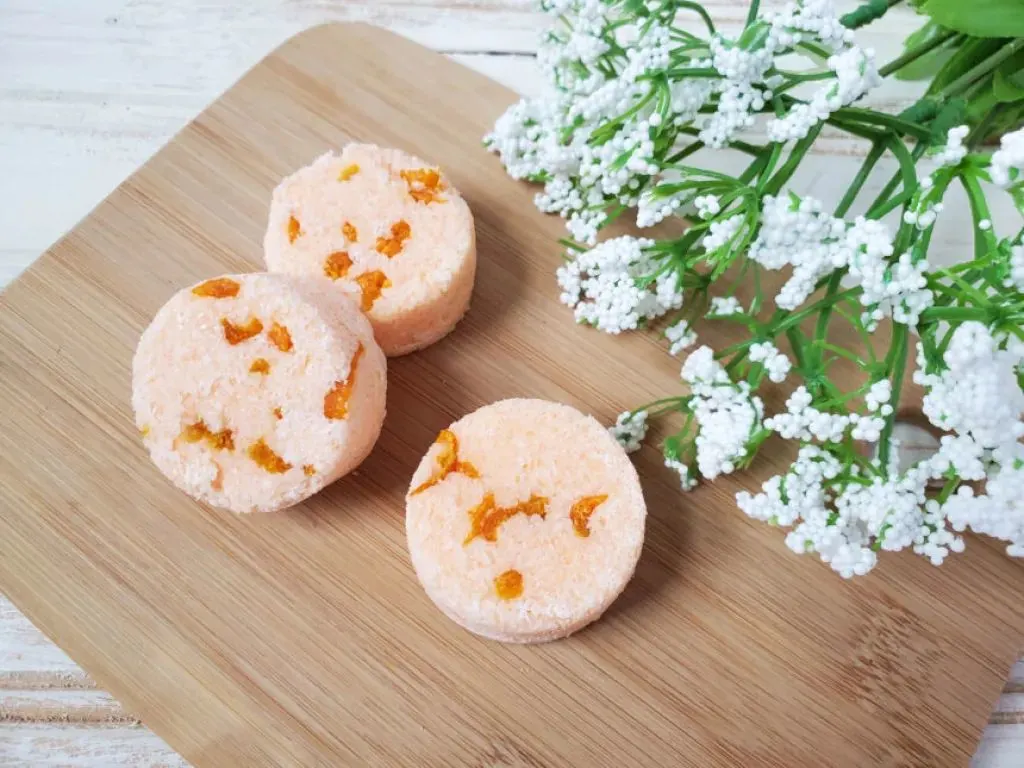 Source: madeinapinch.com
I just hate it when bath and shower bombs are just too pretty to use. I'm often torn between wanting to use them and wanting to have them displayed.
Well, this time, you're only going to give them, so you don't have to worry about what your teacher does with them. But fret not; she'll surely love them.
This shower bomb actually contains three essential oils, and all three are citrus scents that are going to make your shower smell like an orchard in spring. But first, grab a soap mold from here.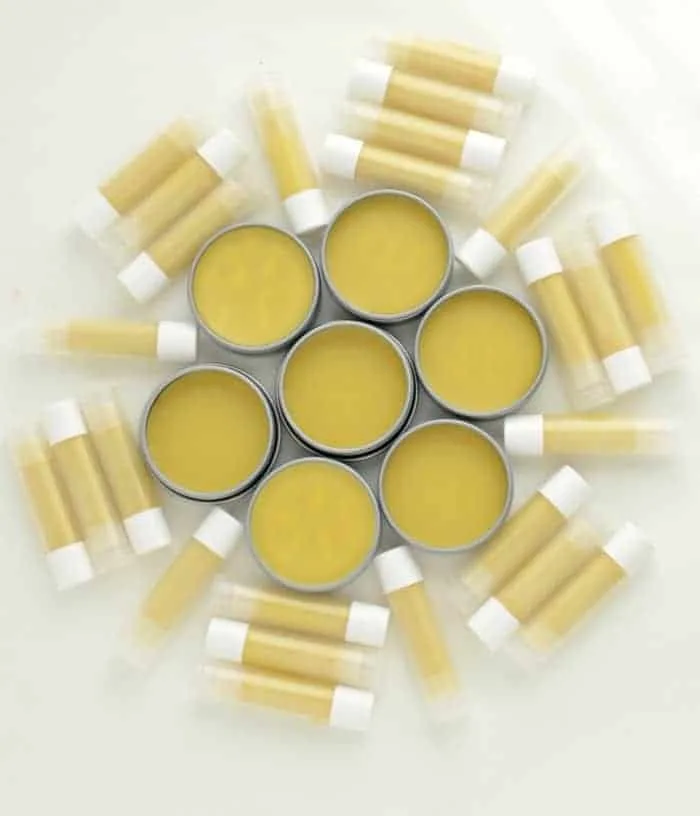 Source: blessthismessplease.com
Beeswax lip balms are so underrated, especially seeing how good and nourishing they can be for your lips. With just three key ingredients and some added flavor, you can make a whole bunch of DIY flavored lip balms.
First, mix equal parts beeswax, coconut or olive oil, and shea or cocoa butter, depending on how many containers or tubes you want to make.
When you've melted the three, go ahead and add your flavor oil and coloring agent, too, if you want to. Now pour it into the container or tube immediately and allow it to cool down before you use it.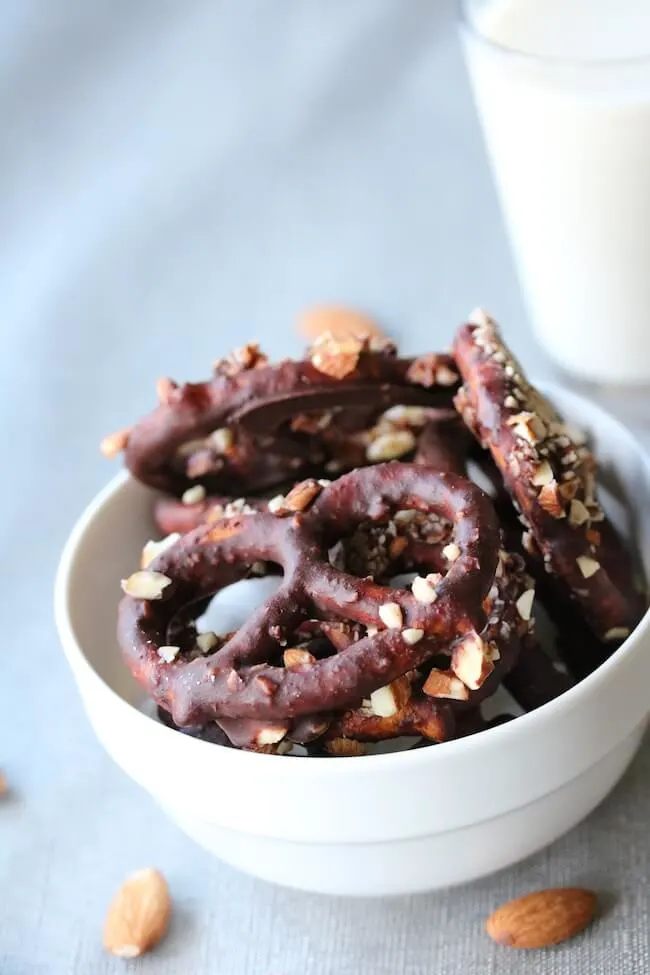 Source: thesoccermomblog.com
Here's a recipe that will check all the boxes for anyone with gluten or dairy allergies or intolerance. These chocolate-covered pretzels are to die for: a salty-sweet snack that's going to be a sensory delight to your taste buds.
You can also top these pretzels with nuts if you want an added crunch. Since the flavor lies solely in the chocolate, make sure you pick out the best possible one you can find.
Trust me, you'll definitely be grateful for it, and so will your teacher.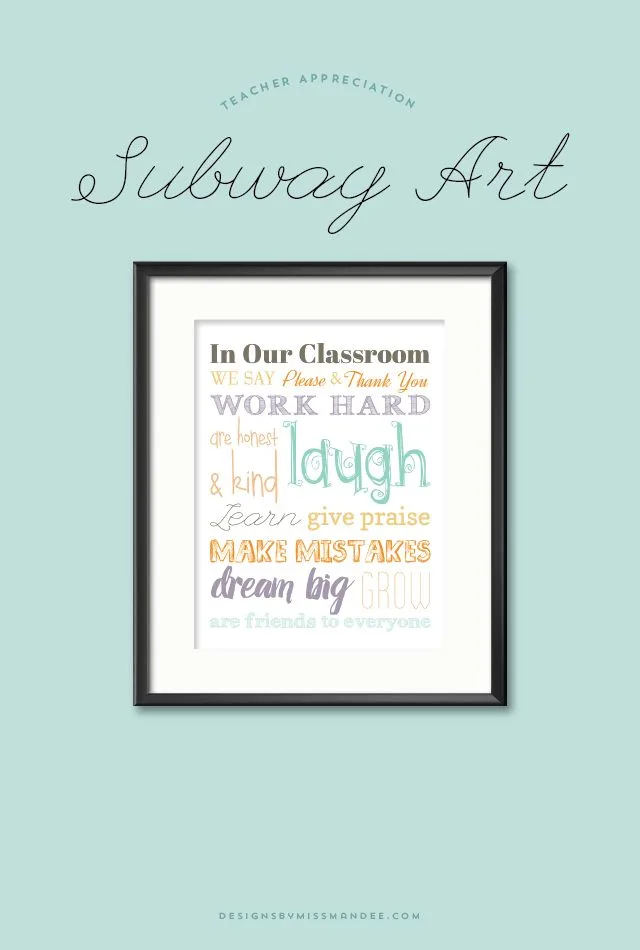 Source: jugglingactmama.com
I love any project that takes me just a few minutes to plan and execute. It's what I need when I'm in a pinch for time and need something fabulous but quick.
This subway art-style framed printable meets all those requirements. It's a fun and pretty wall hanging and can be a great gift for your teacher.
If you enjoy designing your own poster art, then feel free to do so and just have it framed!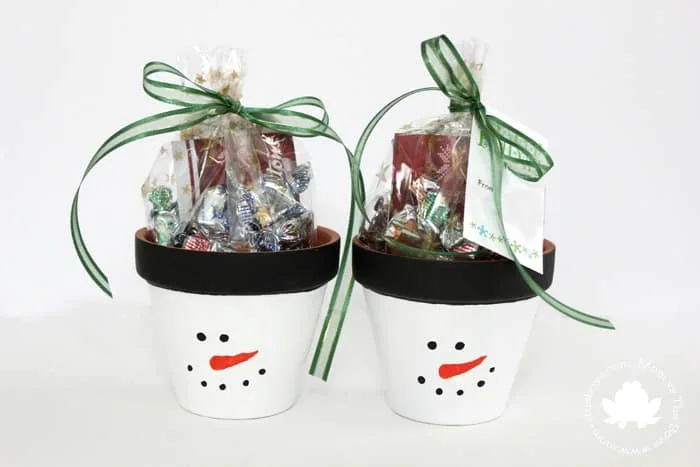 Source: momvstheboys.com
I had a teacher who used to go crazy about seasonal decoration. Everything would be perfectly themed, and there would be zero ambiguity about recognizing what she was decorating for.
If you know a teacher like that, then this Christmas, why not give her this cute snowman gift pot? It's not just something that can be used as a planter, but it also happens to be great as a gift or cardholder.
So, what can you put inside, you ask? Well, just about anything you can think of. Look through this list, too, to find more gifts you can include!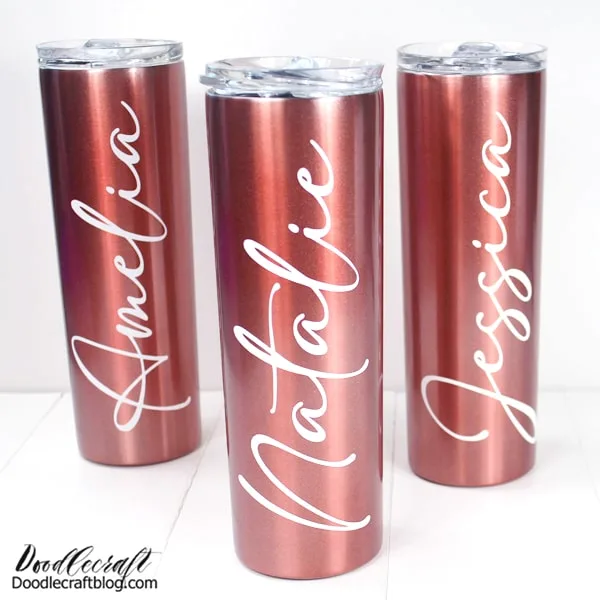 Source: doodlecraftblog.com
Do you really know your teacher as anything more than Mr. or Mrs—? Well, often, the role of being a teacher takes away that personal touch from their jobs.
Let them know you think of them as more than a teacher. Give them these personalized DIY tumblers! You can either use a Cricut or any electronic cutting machine to help you with the decal work.
Grab some vinyl from here, as well as this transferring tape. Once you've designed the names of your teachers, print them out and transfer them onto these cups!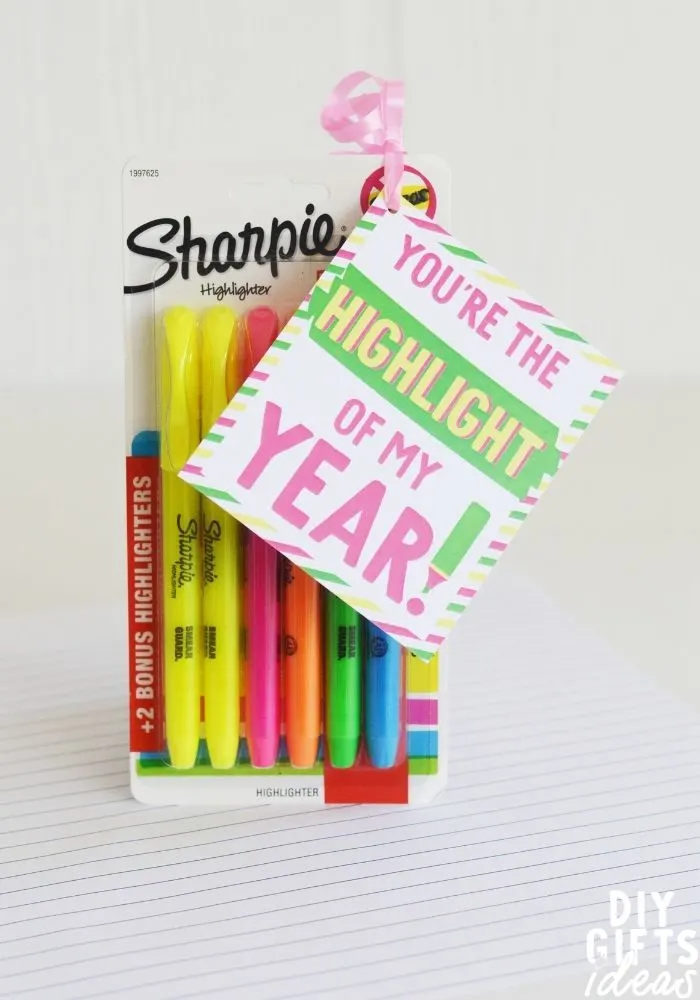 Source: diygiftsideas.com
Go ahead and grab some cardstock, a few sharpies, and any other decorative supplies you can think of. You're going to make a card for your teacher, and you're going to make it the best card ever.
But you're not just going to give them the card; you're also going to give them a packet of highlighters. Then, to add a little comic touch, go ahead and write down this message: "You're the HIGHLIGHT of my year!"
They're bound to get a kick out of that gift and card!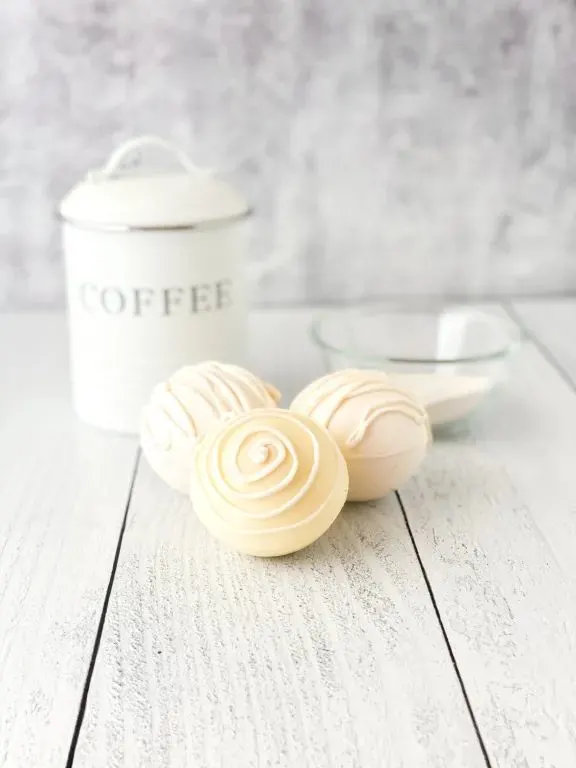 Source: madeinapinch.com
Forget bath bombs; check these white chocolate mocha coffee bombs! I think we need a moment of silence to commemorate the sheer brilliance and the perfect balance of flavors that this edible coffee bomb is going to bring to the table.
Coffee bombs are no different from cocoa bombs, just for coffee instead. They're effectively creamers for coffee only way, way cooler.
The next time your teacher's having a bad day in class, drop a coffee bomb into her cup of joe and make her day!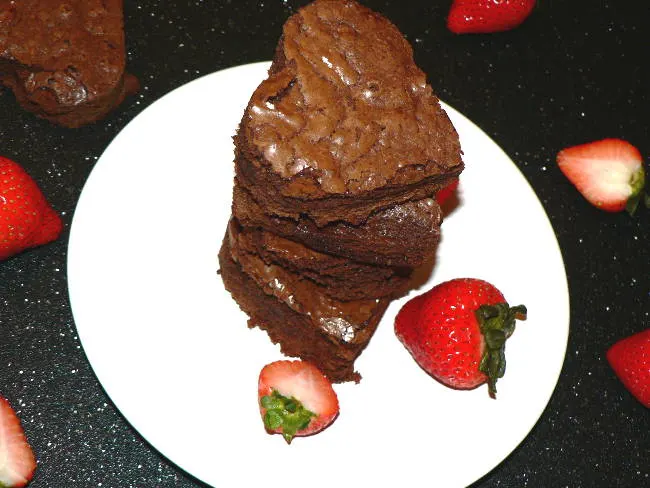 Source: tastygalaxy.com
Square brownies are all well and good, but why not give your teacher a batch of these heart-shaped brownies to show her your appreciation and affection?
Grab a heart-shaped brownie or cookie-cutter from here, first. Then, when your brownies have cooled down, just cut them into heart-shaped treats and wrap them up!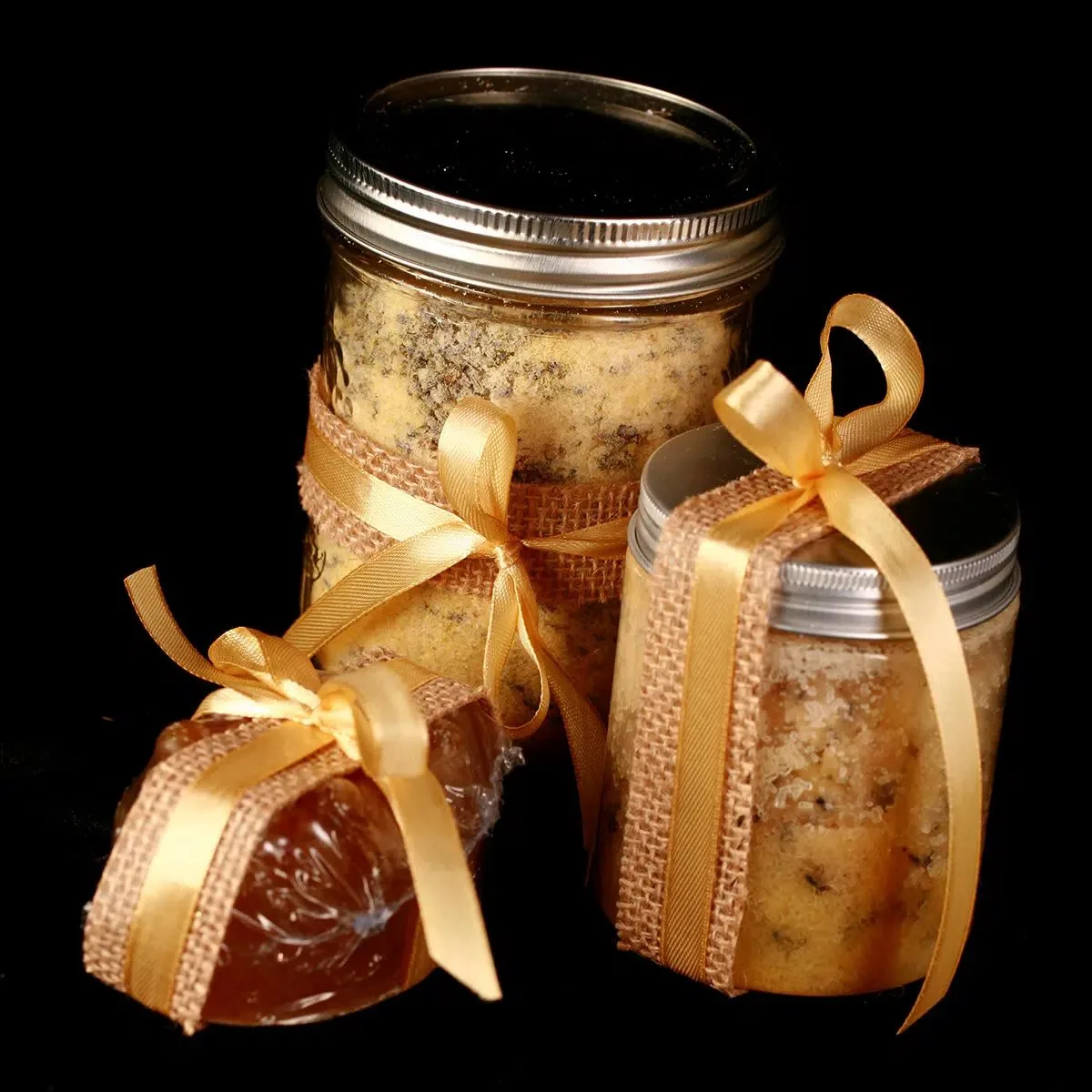 Source: celebrationgeneration.com
Did you know that mustard has some amazing healing and anti-inflammatory properties? It's just bursting with so many nourishing and hydrating qualities.
Mustard also has a lovely earthy smell that can be quite pleasing. So go ahead and put together a mustard-based bath set. Maybe you can even add a set of mustard-colored bath towels, too.
Yield: DIY Teacher Appreciation GIft
51 DIY Teacher Appreciation Gifts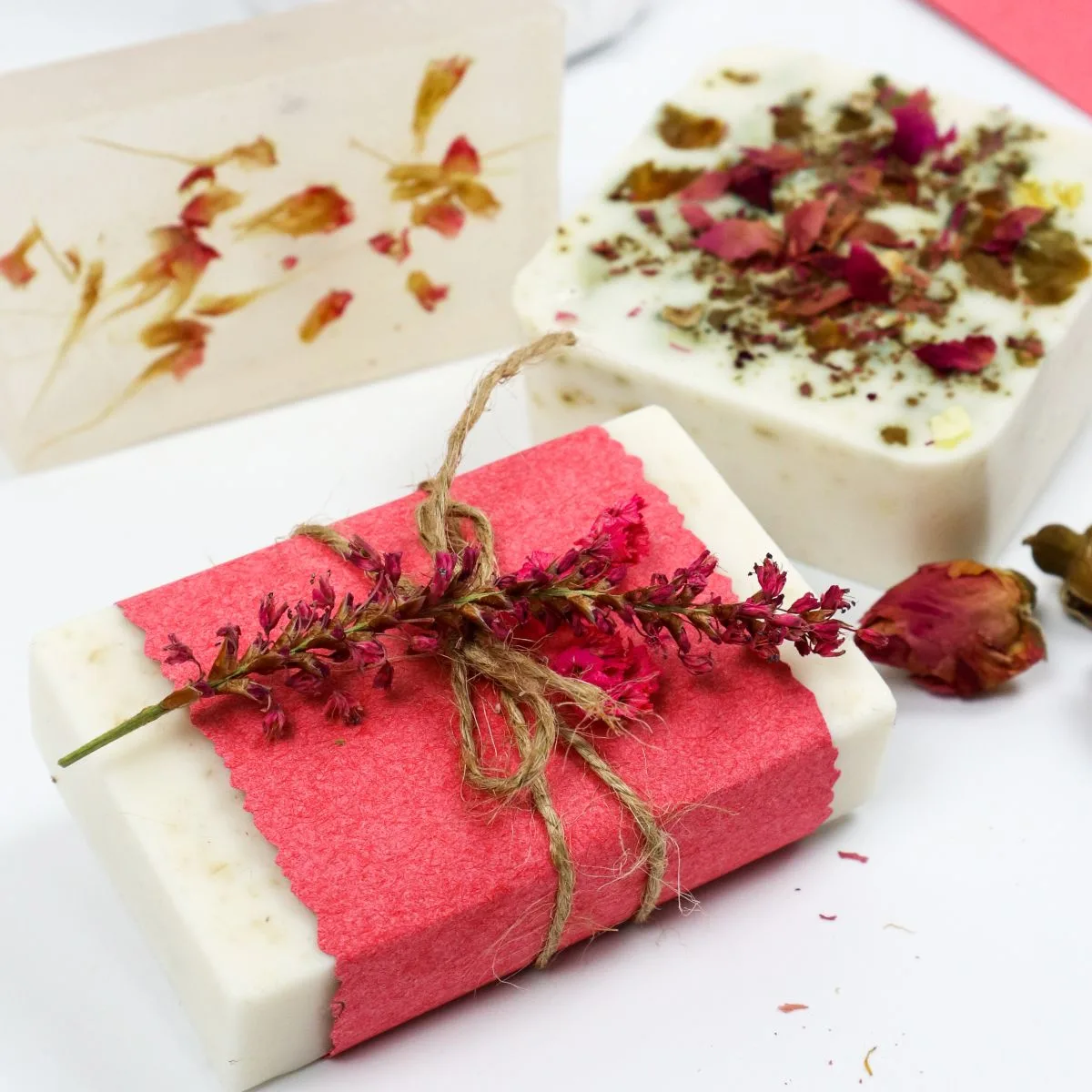 Looking to make a DIY gift for a teacher? These cute gifts will make for a nice surprise.
Materials
1. Homemade Soap
2. Crochet Bookmark
3. DIY Macrame Keychain
4. DIY Peppermint Lip Balm
5. Polymer Clay Earrings
6. Gingerbread Caramel Corn
7. DIY Bottle Vase
8. Homemade Vanilla Extract
9. DIY Jewelry Trays
10. DIY Pedicure in a Jar
11. Resin Coasters
12. Pencil me in Cup Cozy Crochet Pattern
13. Scented Candles
14. Coloured Pencil Vase
15. Crayon Wreath
16. Wooden Apple Ornament
17. Apple Wreath
18. Sugar Scrub
19. Coin Purse with Key Ring
20. Memory Box
21. Vanilla Extract
22. Hot Cocoa
23. Calming Stress Relief Candle
24. Mason Jar Gift with Gift Tag
25. Chocolate Chip Cookie Jar
26. Coffee Scrub
27. Quilted Journal
28. 'Thanks a Latte' Card
29. Twizzlers Candy Gift
30. Green Tea Soap
31. Succulent in a Mug
32. Pressed Flower Bookmark
33. Sewing Kit in a Jar
34. Crayon Jar Holder
35. DIY Make-Up Bag
36. Kumquat Star Anise Jam
37. Fizzy Bath Tea
38. Fudgy Chocolate Mug Cake
39. Apple Themed Gift Basket
40. Cold Weather Care Package
41. Homemade Pampering in a Cup
42. Citrus Shower Bomb
43. DIY Homemade Beeswax Lip Balm
44. Gluten Free Pretzels
45. Subway Art
46. Snowman Gift Pots
47. Personalized Tumbler
48. Highlighter gift with card
49. White Chocolate Mocha Coffee Bomb
50. Heart-Shaped Brownie
51. Mustard Bath Set
Instructions
Choose the craft you love.
Get the supplies you'll need.
Start crafting!