Have a feline lover in the family? You've come to the right place–I've got a collection of cats that are sure to please, and the best part is that these cat drawing ideas are super easy!
A tip as you or someone you know tries easy drawing any of the cats on my list: start with the outline and then return to the details once the proportions are finished.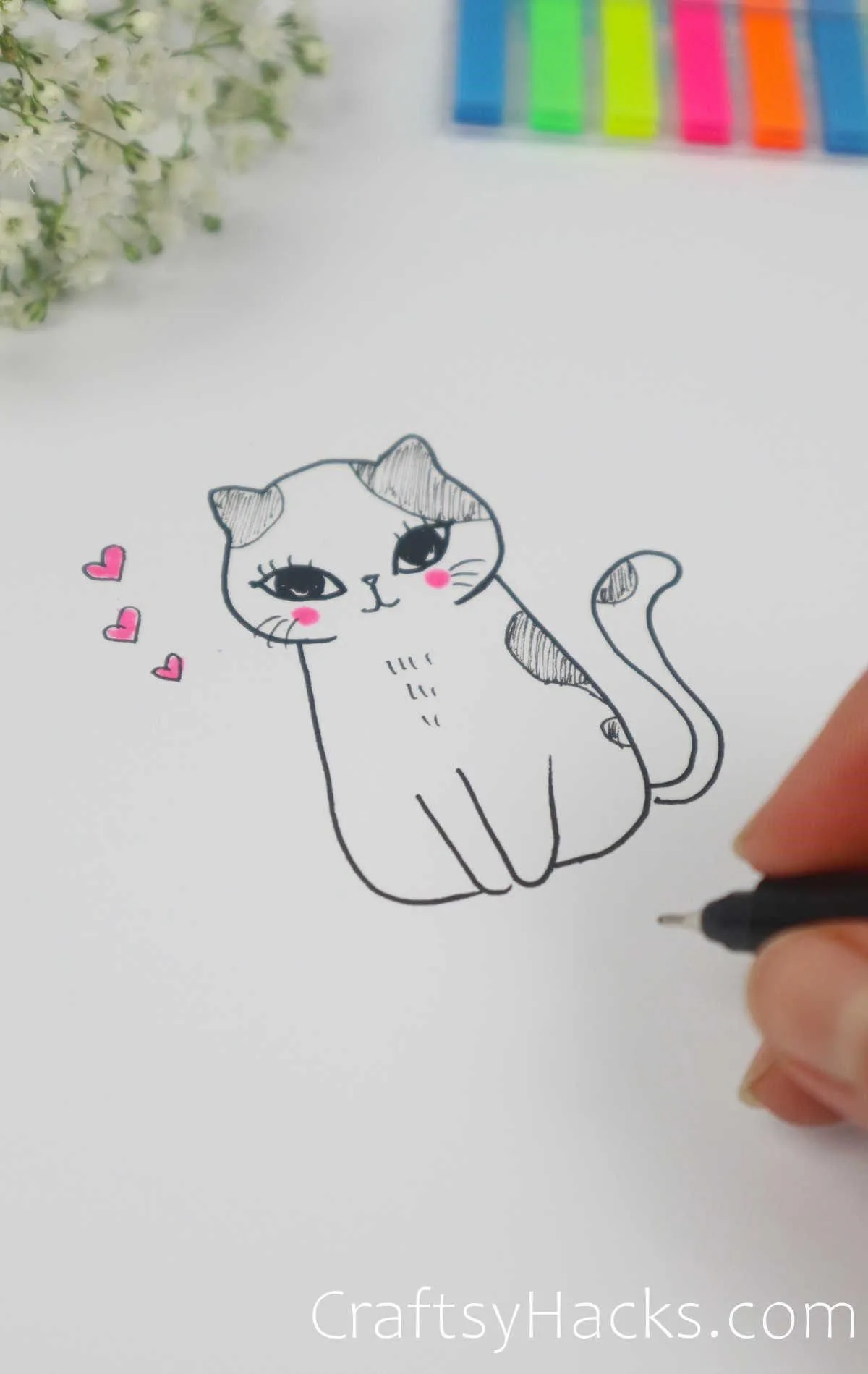 Most of the time, I like to start with the head and then go from there.
Keeping the drawing equal in all parts of the image is easier that way.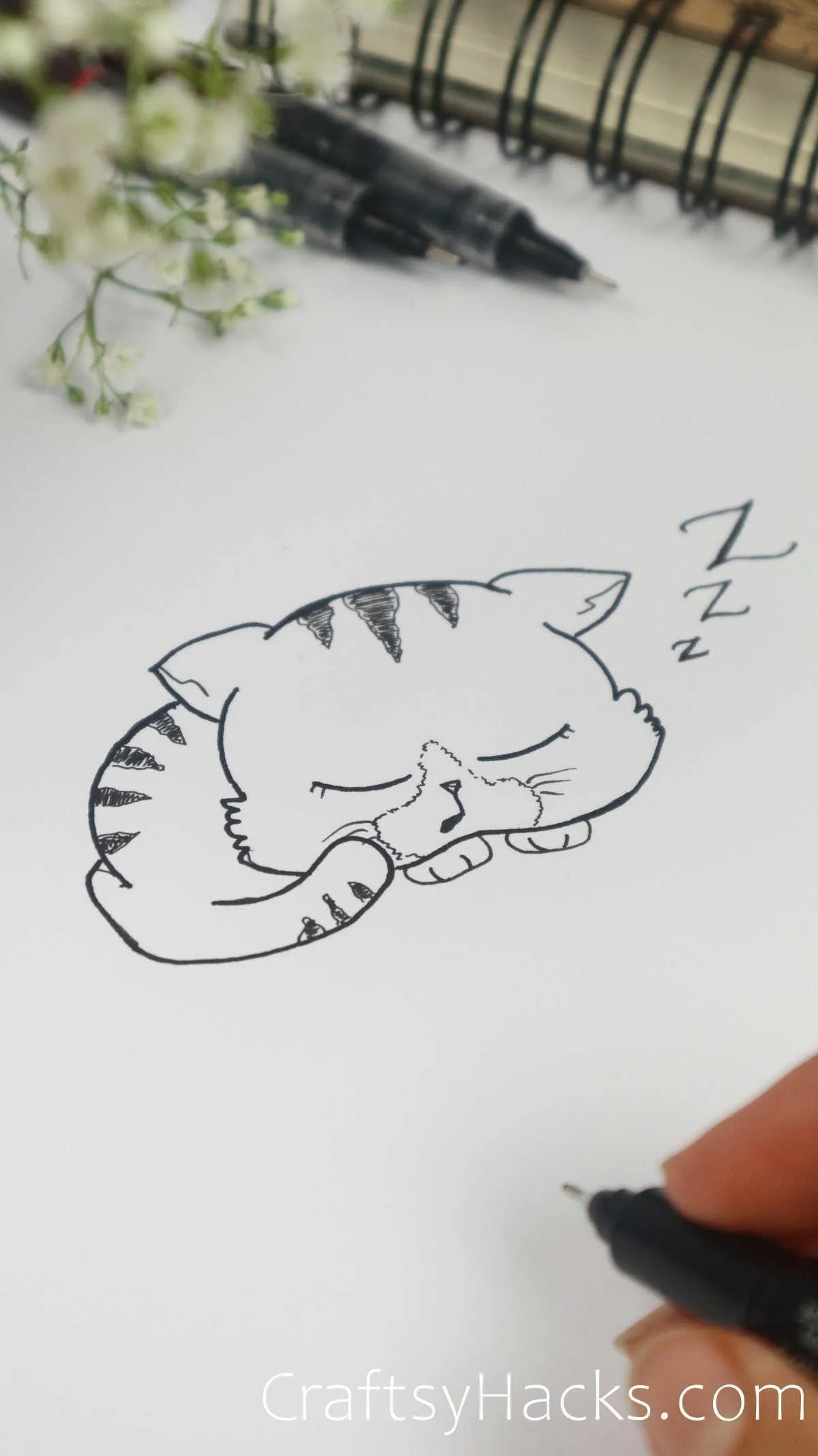 Before we get into the list, if you're interested in any of the materials I used to illustrate my gang of tabbys', I'll leave them here for you.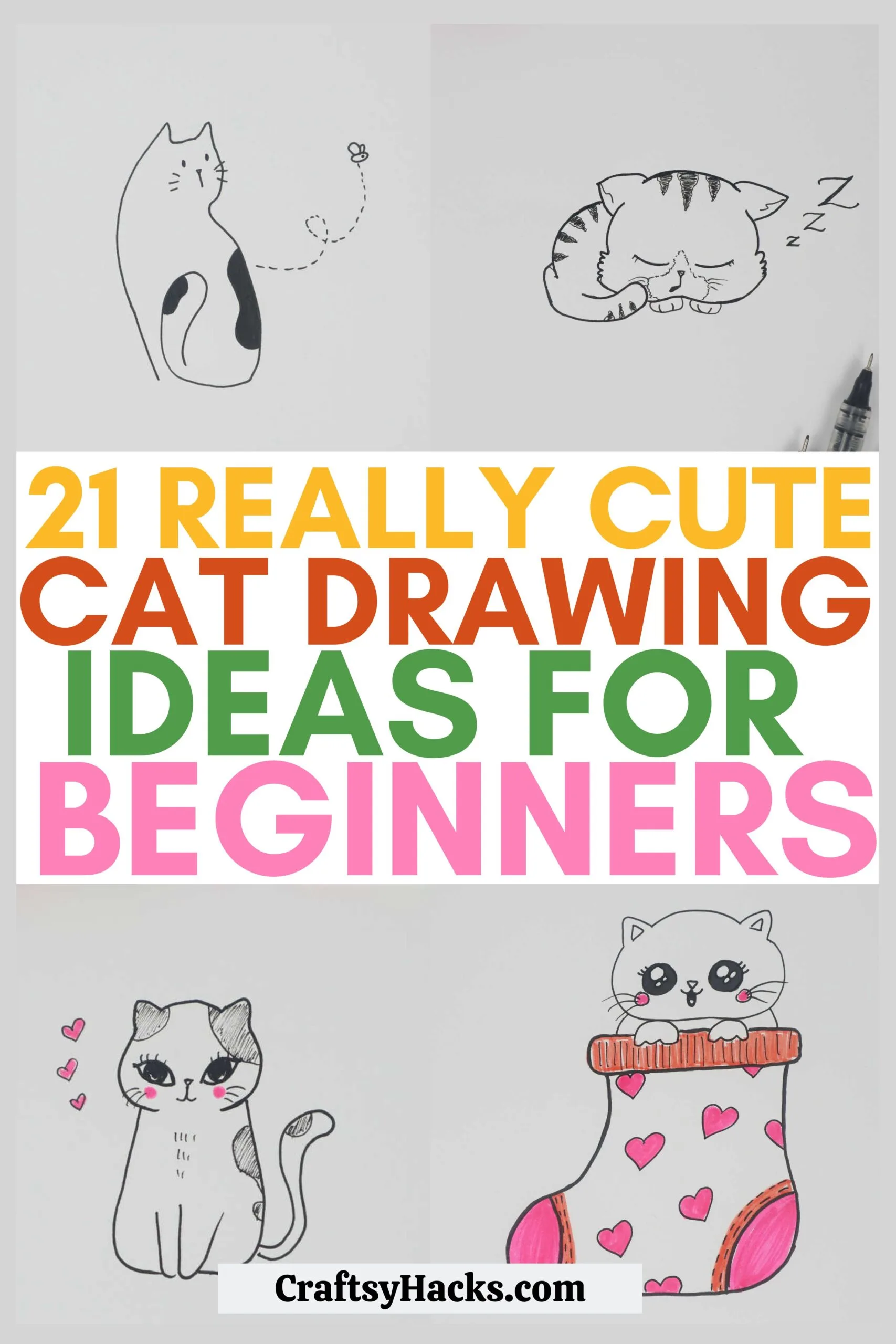 This notebook, these pens, these markers, and these paint pens are what helped me on this project!
Another tip before we begin, I start with a light pencil trace and return with ink, especially when I started drawing these cats! Enjoy a lazy cat afternoon, and try a few of these fun felines!
Watch: How to Draw Cats
1. Cuddly Cat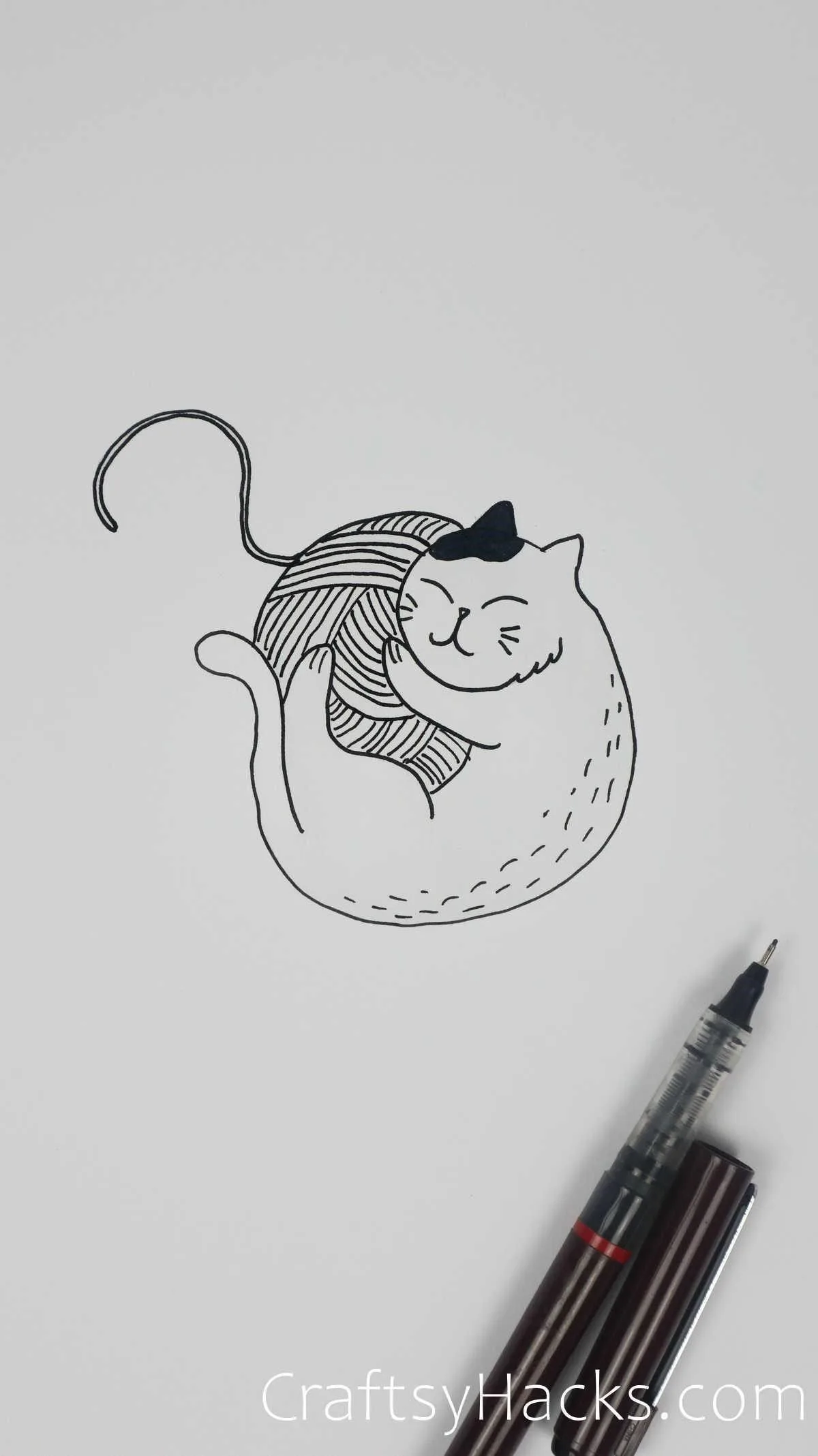 This sweetie is just enjoying her favorite ball of yarn.
A great way to start this sketch is to draw a light circle on the page and then add the detailing bigger than the circle–tail, part of the head, and the yarn tail.
If you are truly a cat lover, these cute cat crafts will wow you!
2. Minimal face of a cat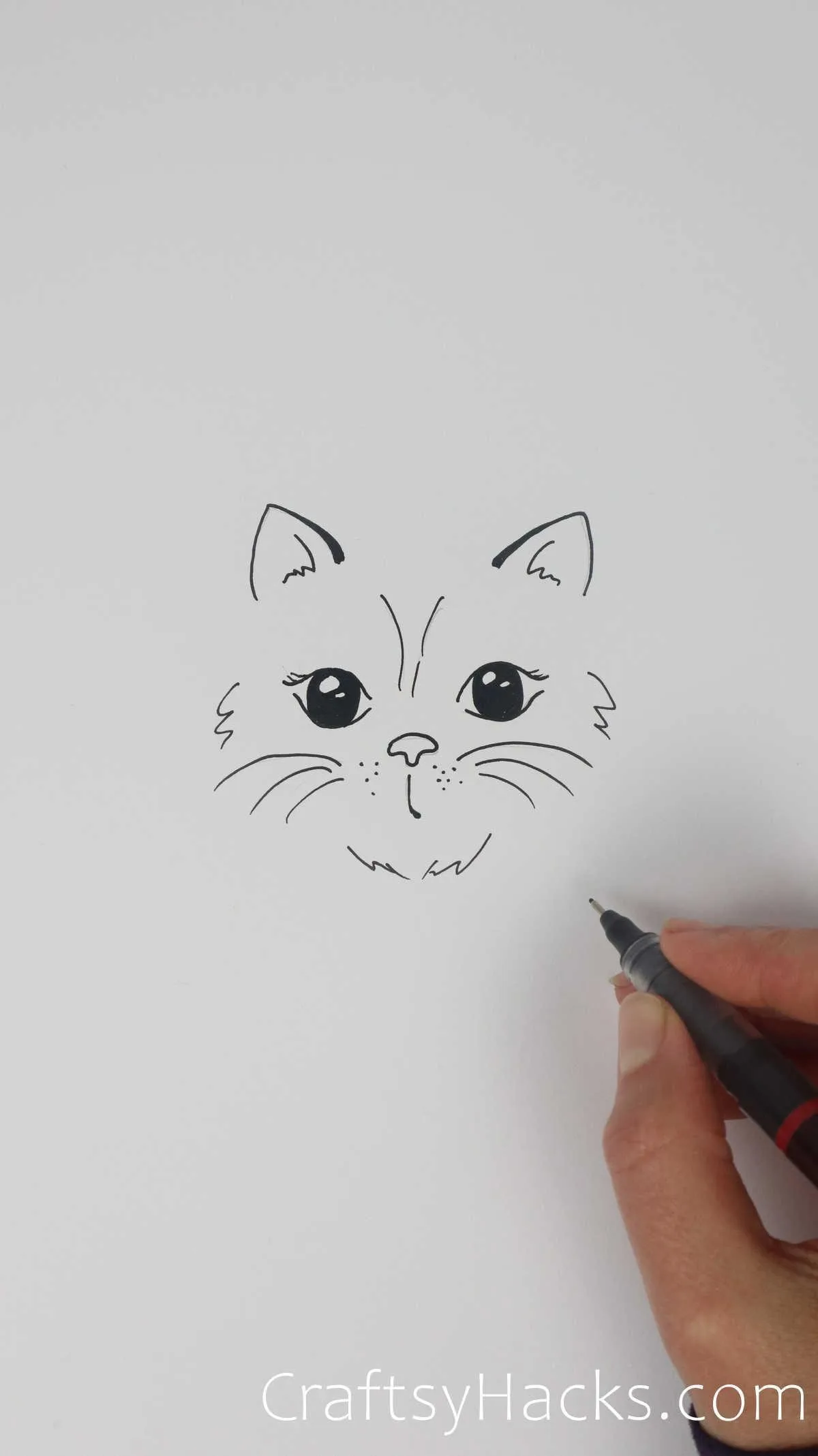 Perspective in a drawing changes the image entirely; like my cat face here, you could add anything to the background or keep it completely blank.
Start with a central point in the drawing, like the bridge of the nose, and then equally work outward.
If you love drawing little cuties like this one, you should check out these other cute animal drawings!
3. Yoga cat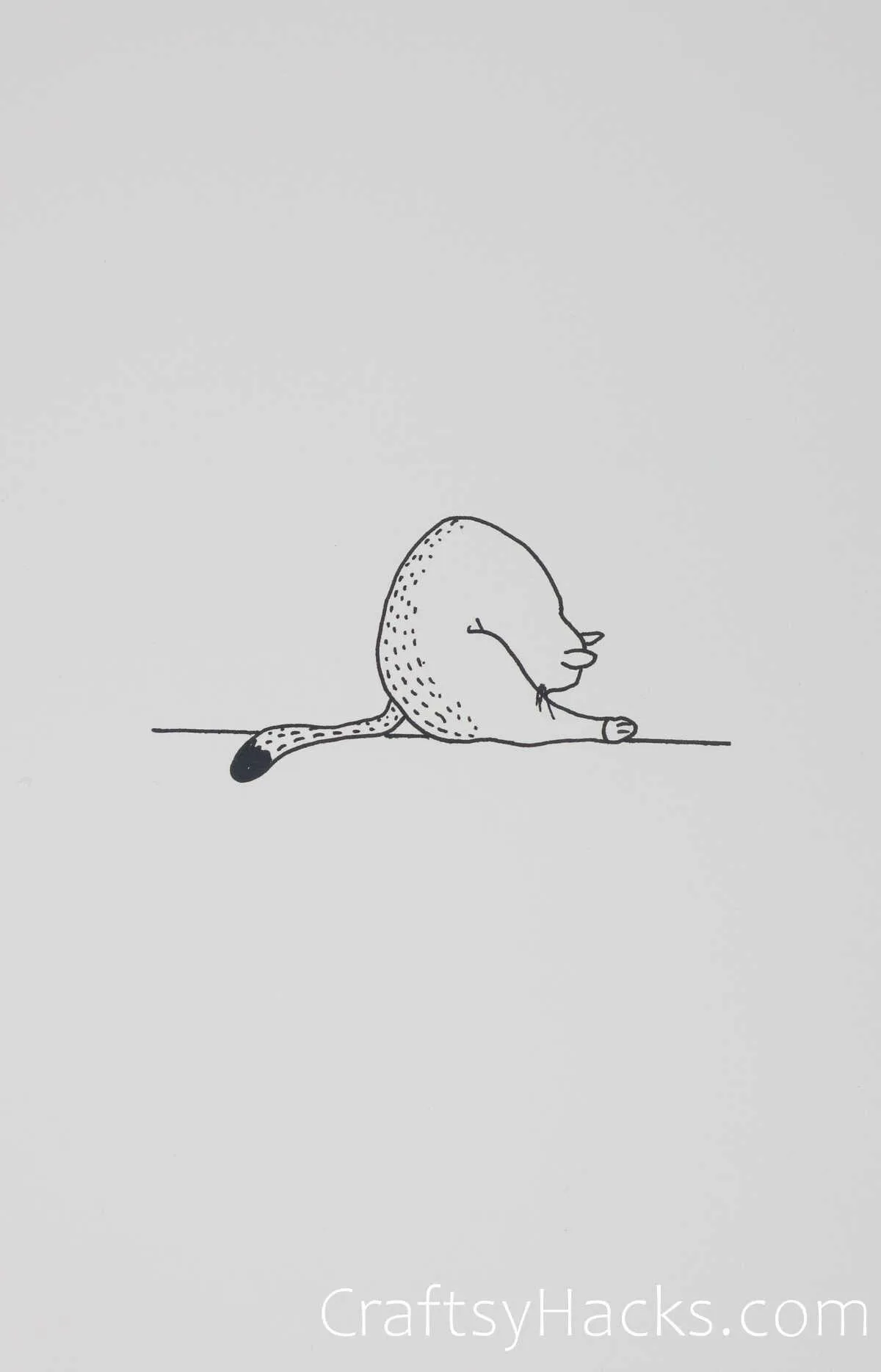 We've all seen a cat in at least one crazy pose, so why not translate it onto the page? I'd start with an angled "C" pointing downward, fill in the leg, then the head and tail, and finish with the ground line.
4. Cat & The Fly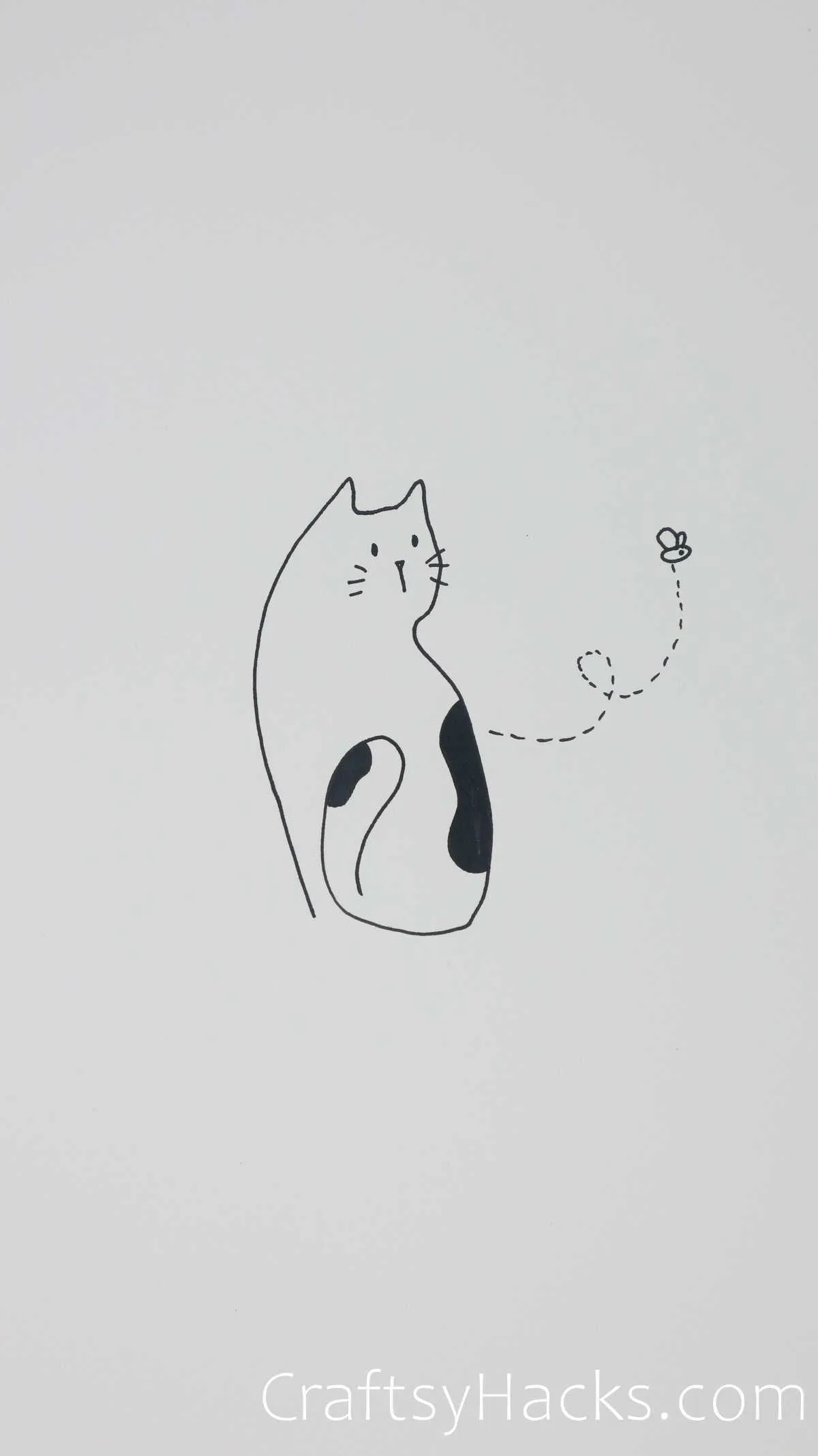 Natural hunters, it's no wonder why I drew one watching a bug!
Even with these minimalistic lines, you can tell that the cat still gets hung up on watching potential prey.
Find more cute drawing ideas here.
5. Thoughtful cat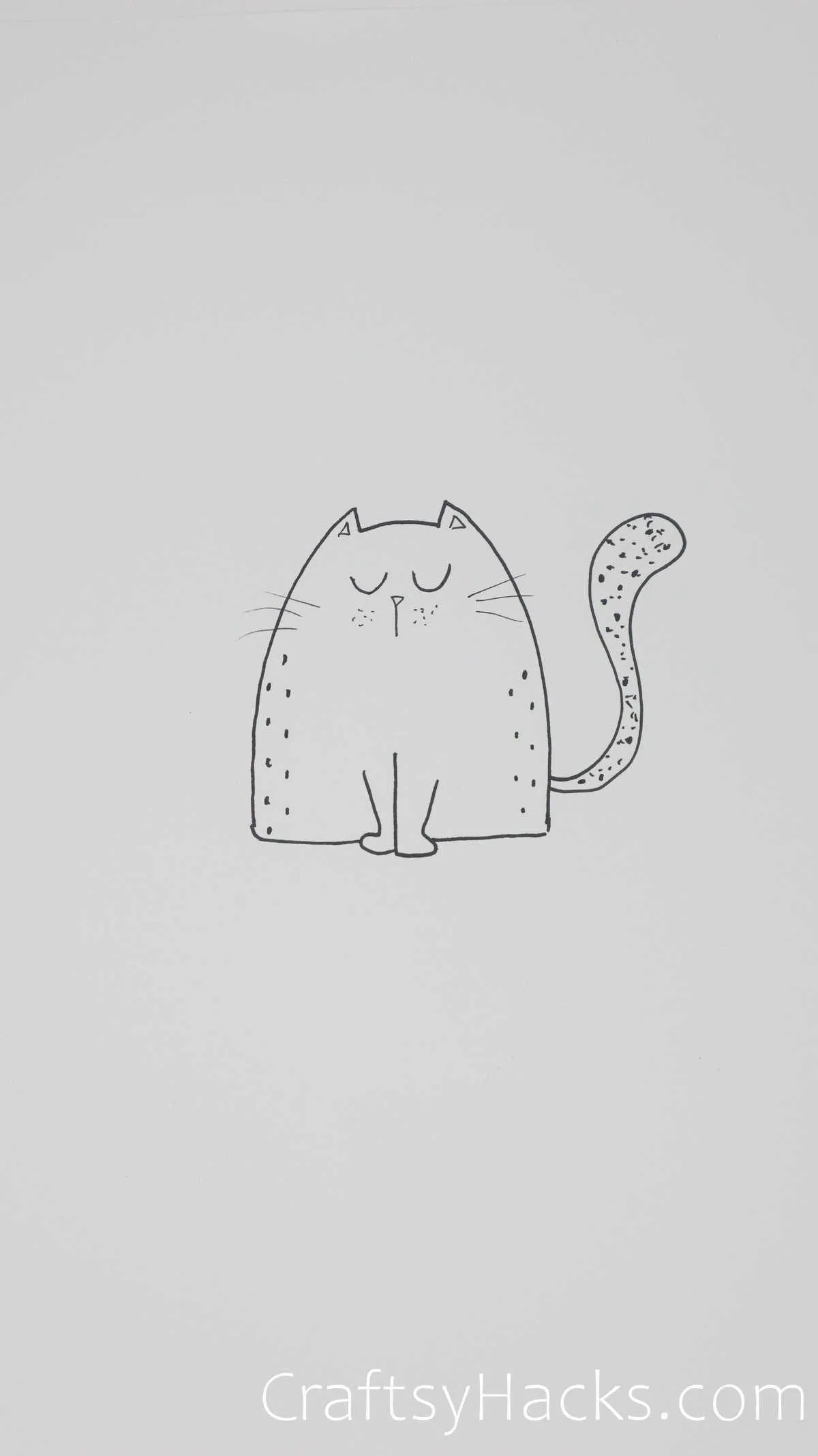 Potentially as simple as it gets on this list!
A cat in thought, with a simple body and facial expression, draw a few of these–they take no time at all.
6. Silhouette cat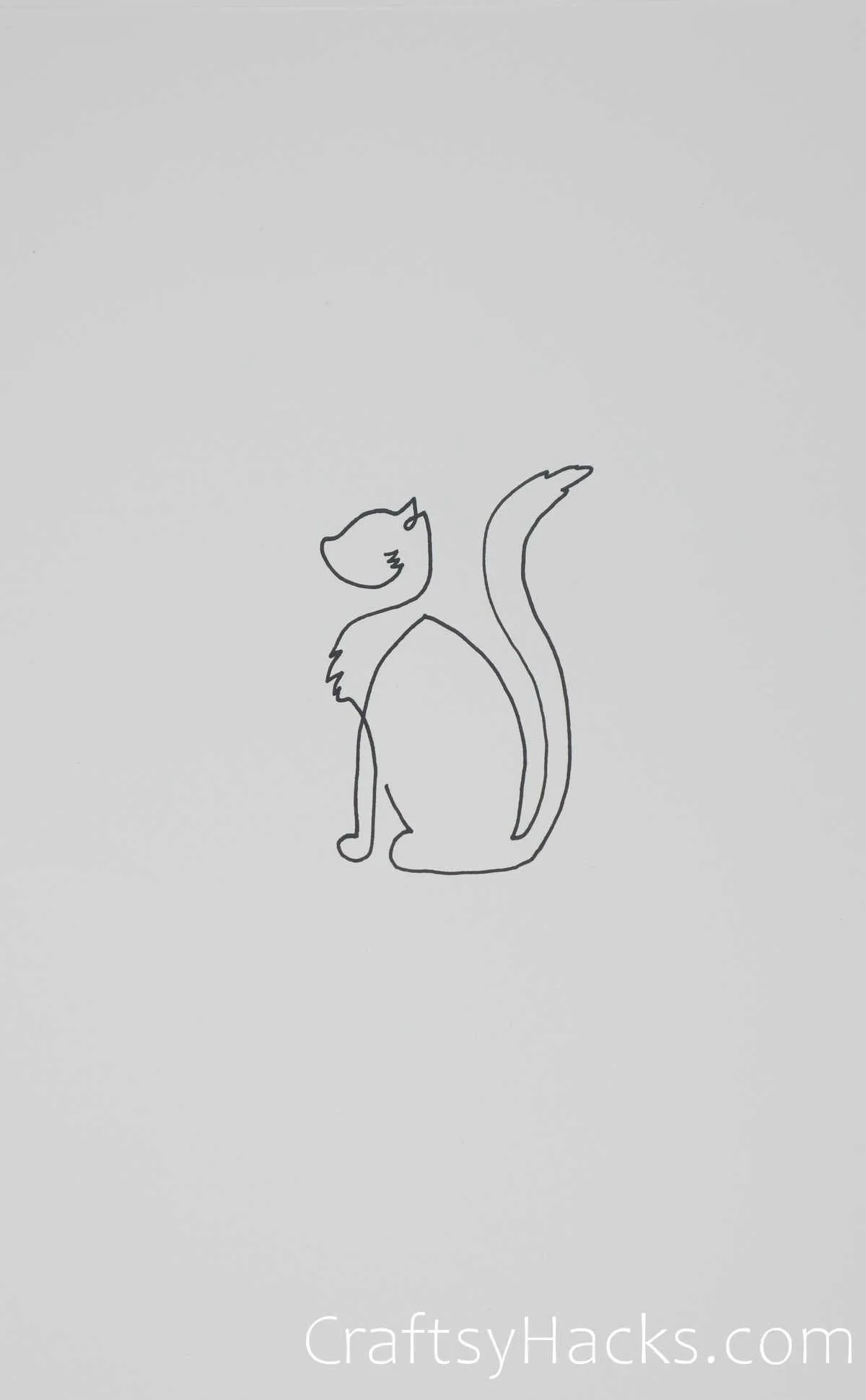 We love a stencil in our house, so I tried my hand at a freehanded-looking stenciled drawing, and it was a success!
Thinking of where to begin–the squiggly cheek line, then following the line flow will get the job done.
7. Cat in love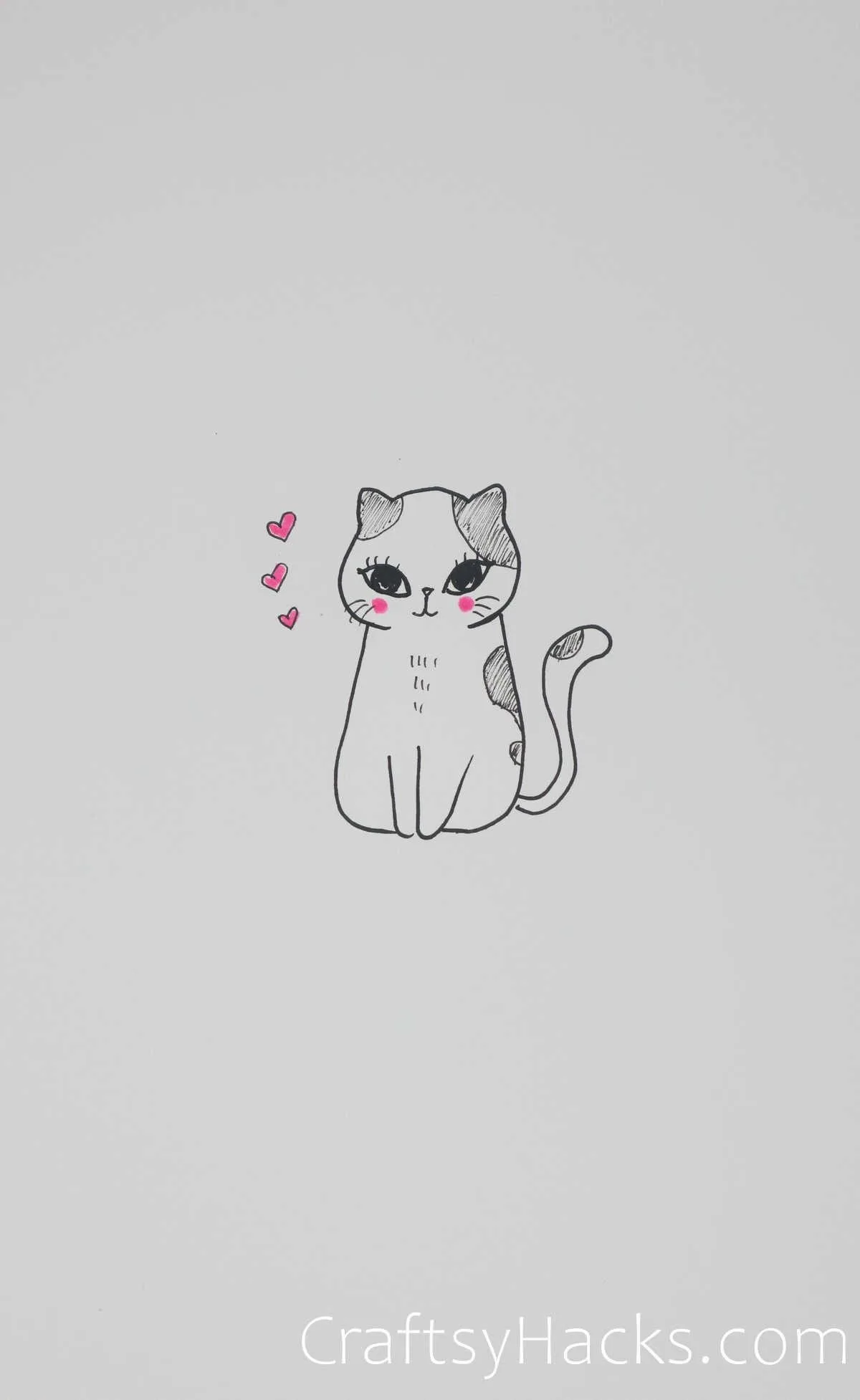 There's nothing better than a cat that is so happy that it potentially could blush if possible.
For this feline, start with the space between the ears and move outward and down to complete the body.
8. Sleepy cat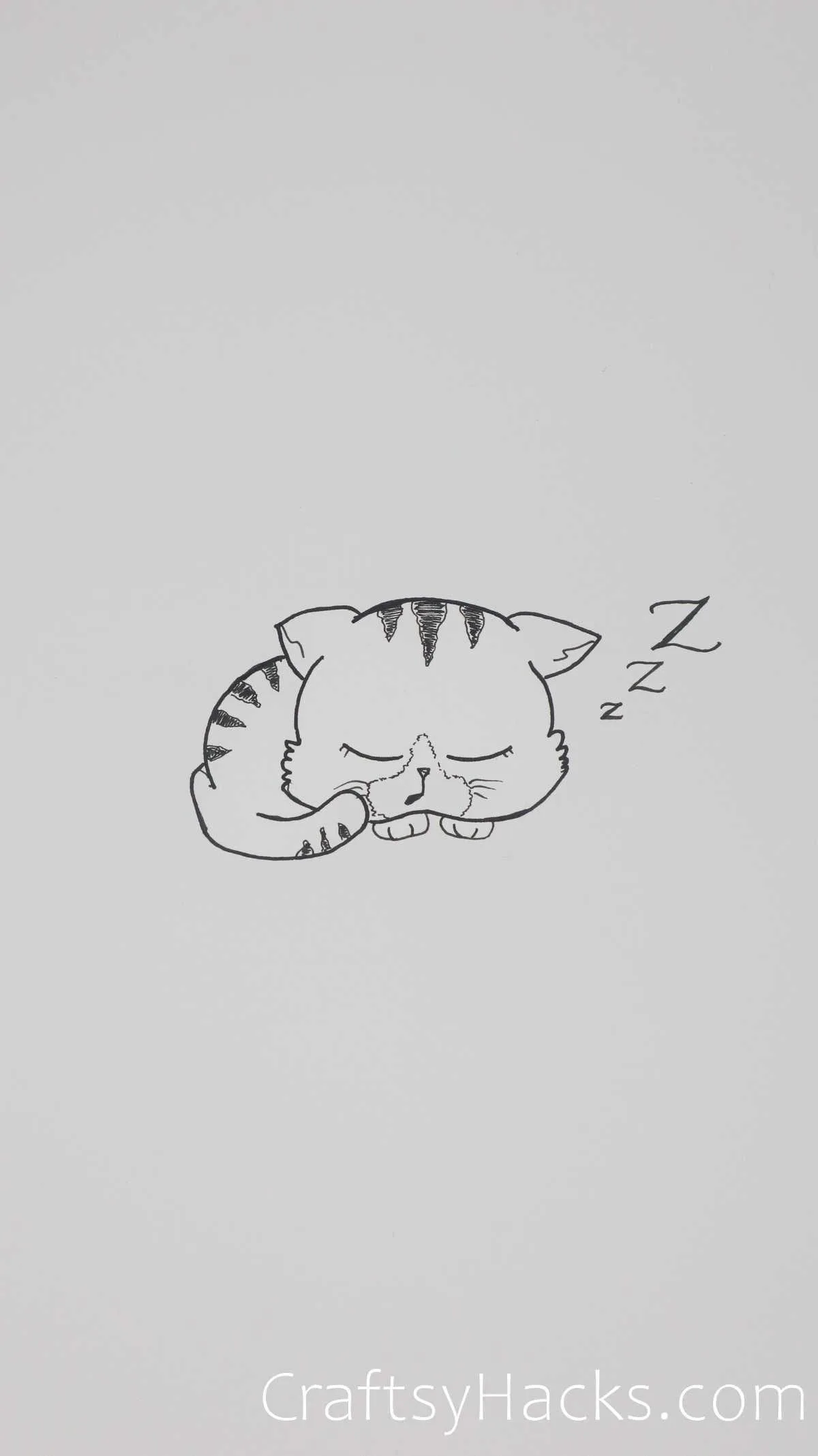 A cat sleeping is so precious! For this sketch, again, start between the ears, and complete the head before moving on to its body.
Find more aesthetic drawing ideas.
9. Happy Cat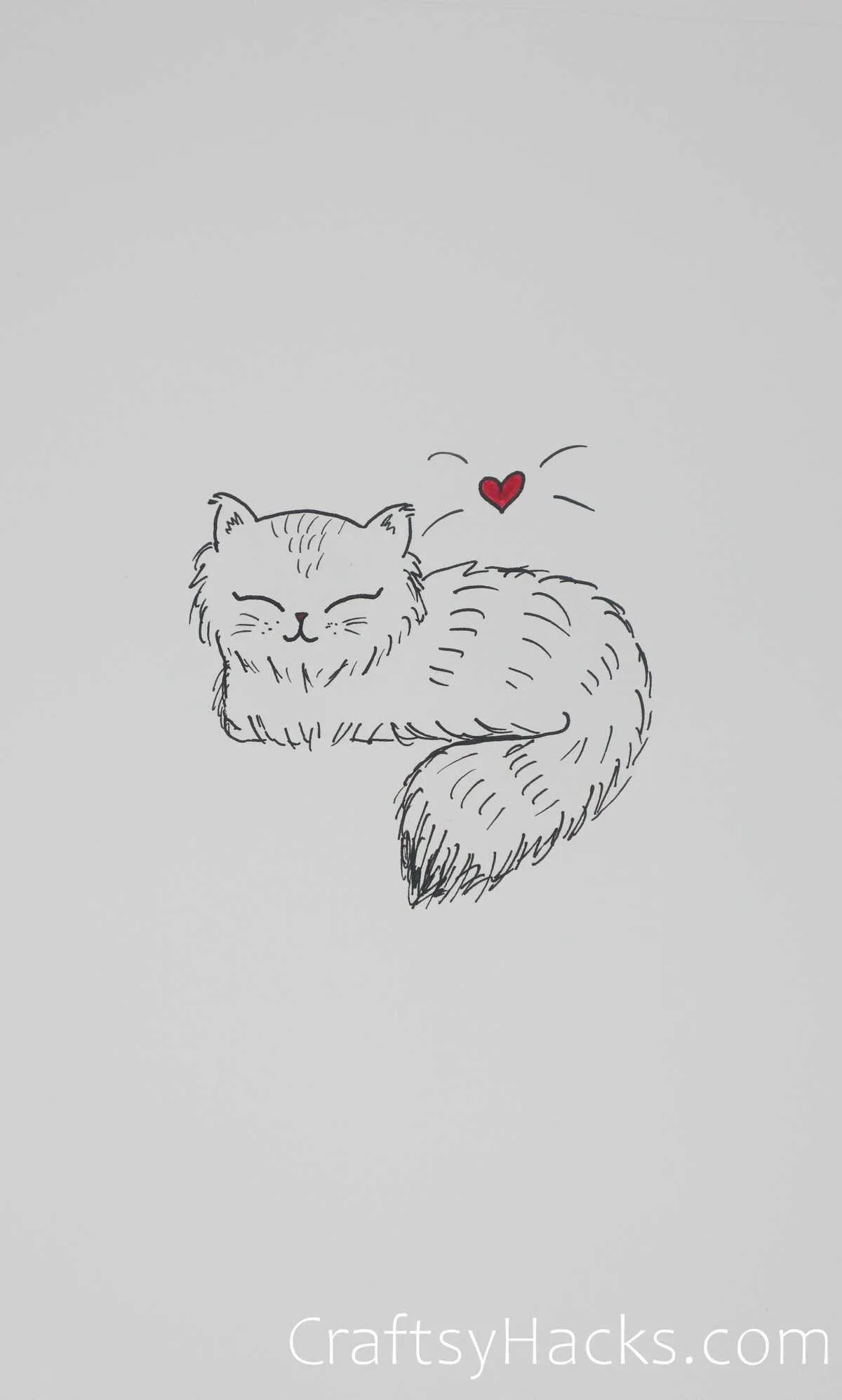 Completely content and loving life, this little one is cool because the only defined line on them is, again, between their ears. I'd start with the head, move to the torso and fill out the tail last.
If doodling like this is up your alley, try out these easy doodle pattern ideas!
10. Hungry cat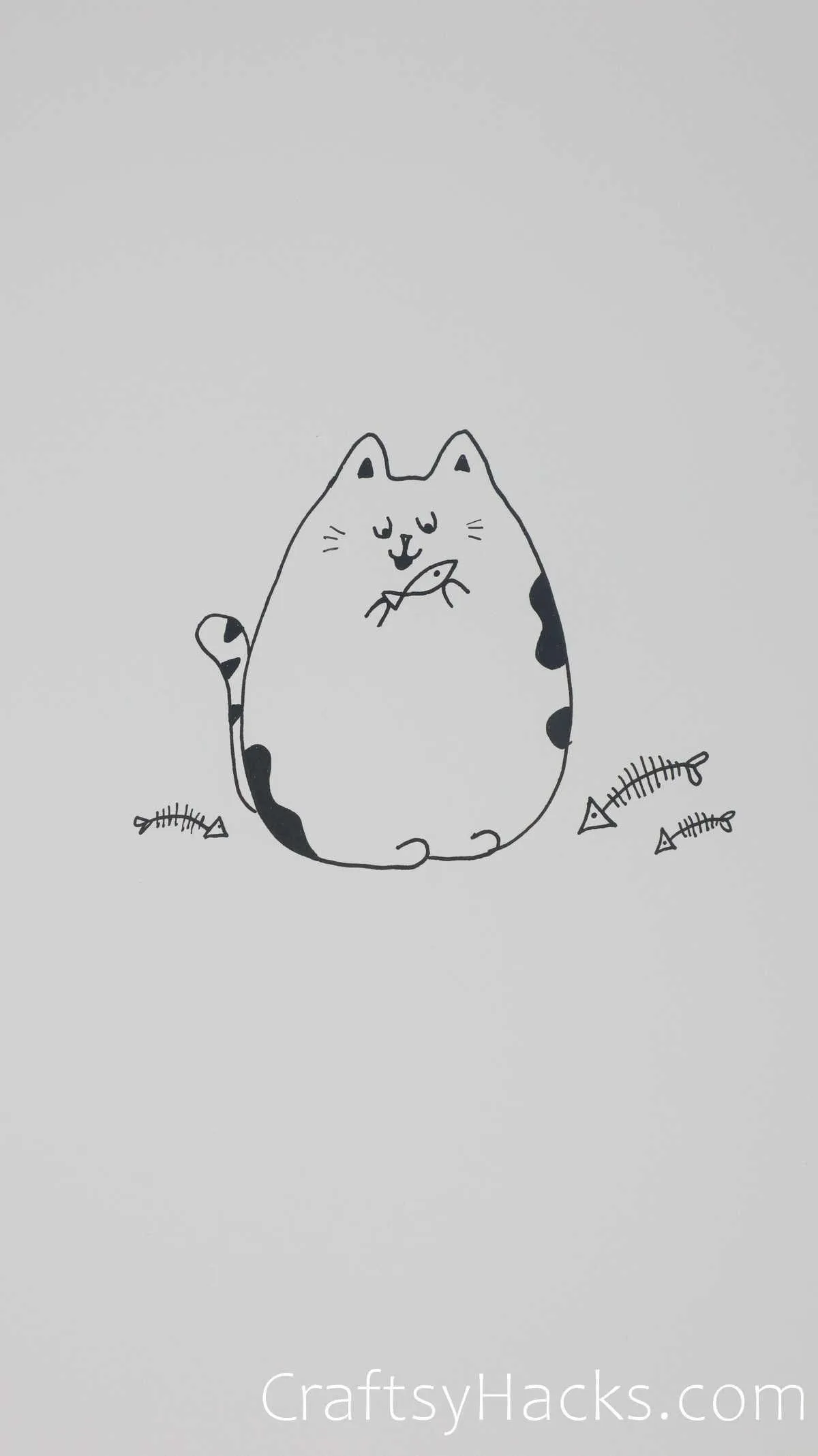 Nothing is cuter than watching an animal enjoy a special treat! Hungry cat is no exception, and I made sure to have soft and fun lines throughout to make it just that much sweeter.
This cutie has been snacking, and a fun way to mix up this picture–draw some different snacks if you feel inspired!
For this pal's beginning, I'd start with the left ear and head down towards the left foot–making a bit of a candy cane shaped for each foot, picking up the pen for each, and continuing the line back up.
11. Cat in motion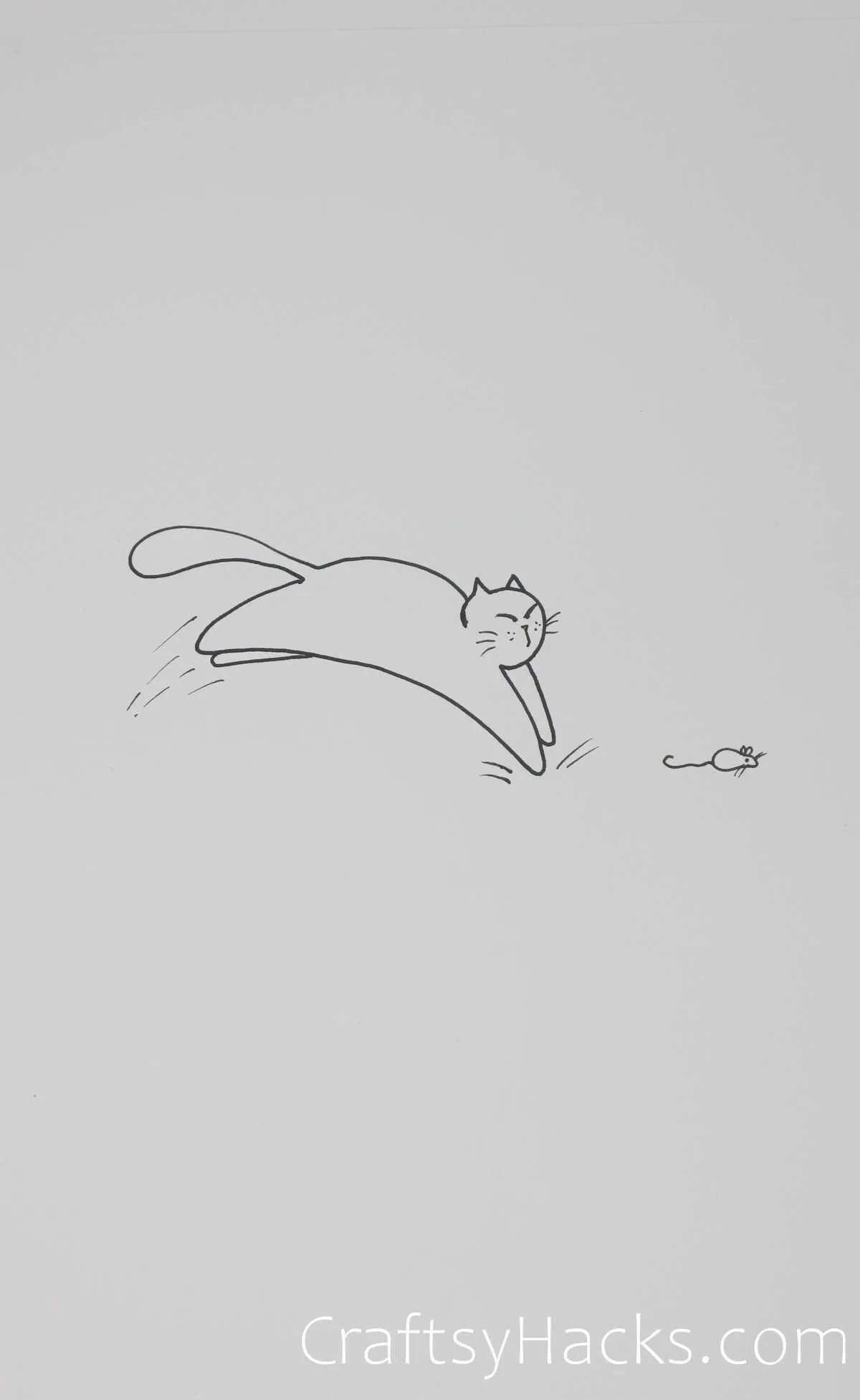 What we have here is a very minimal rendering of Tom and Jerry for those who remember that reference–I hope some of you do out there.
This classic cat-and-mouse rivalry had to be included on the list because it's a quintessential pairing, like PB and J or salt and pepper!
This cat gets a little different treatment; I started with the body shape, an oblong boomerang type, and then filled the head into the space before detailing the rest.
Get more inspiration with these doodle pattern ideas.
12. Disgruntled cat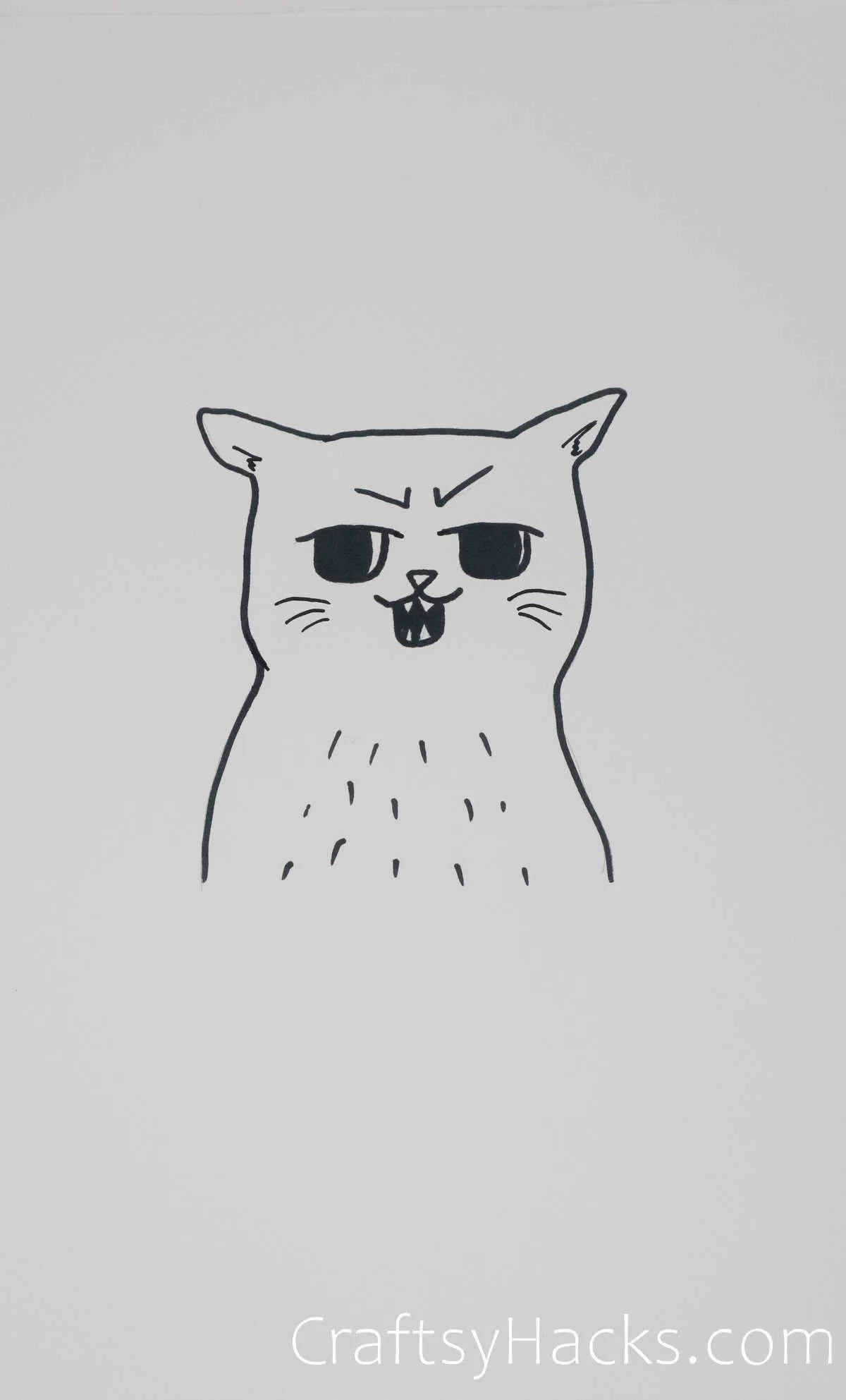 Hopefully, you don't know this face, as well as some others on this list. Those that have, I'm sure, could share some pretty interesting stories about how the cat got to this point!
The disgruntled cat's only note is, don't worry about getting the ears just so. A cat feeling this way has unpredictable angles on its ears, so it'll look fabulous anyway it lays on your page.
13. Hungry cat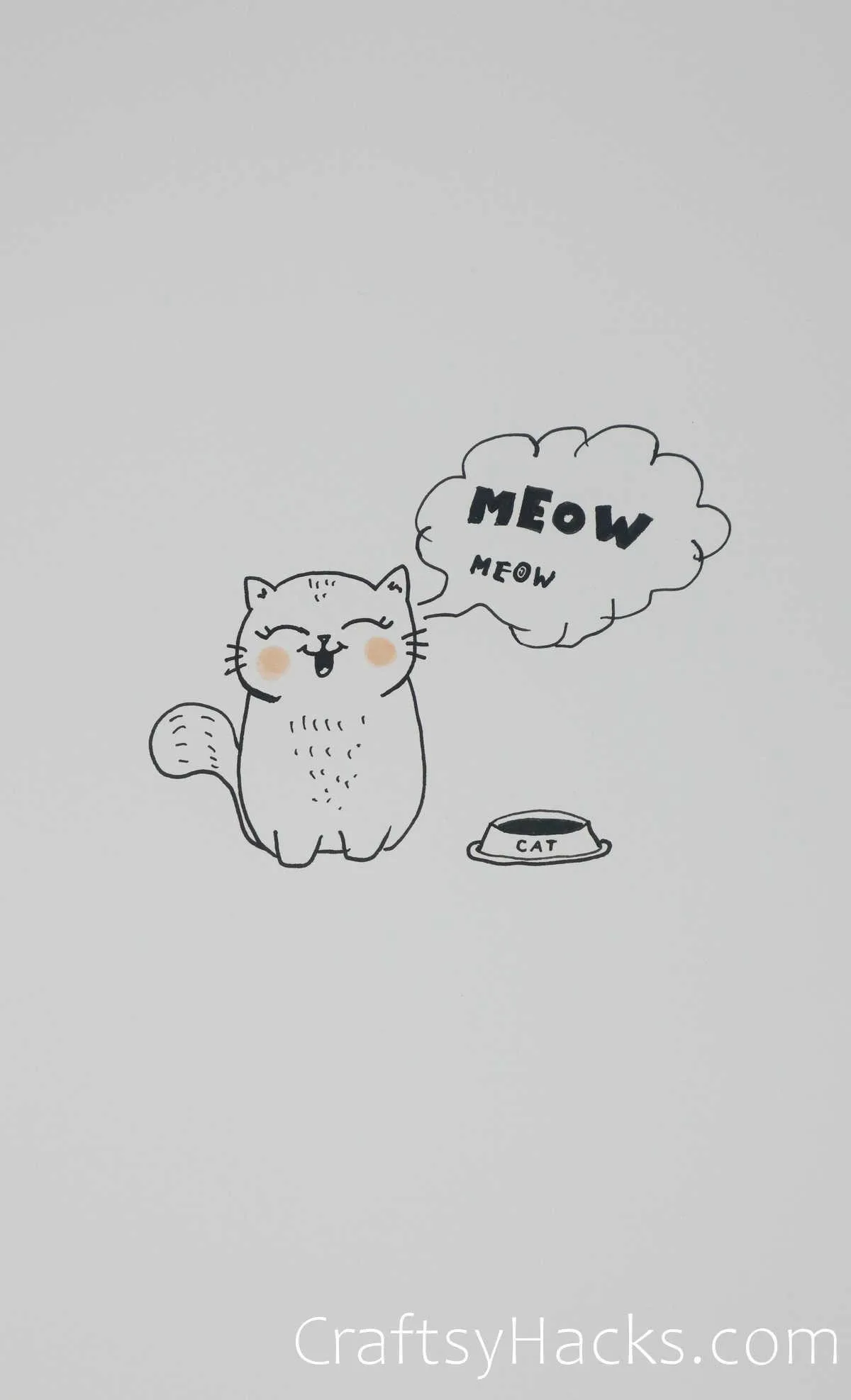 It's funny that some images trigger particular experiences in your own life, and I think anyone who owns a pet may think of a certain someone as they look at a hungry cat.
Hopefully, your pet is as pleasant as this one when looking for food.
For this feline, I actually started with the face and cheeks! It's an excellent middle ground to even out this animal as it's drawn.
14. Curious cat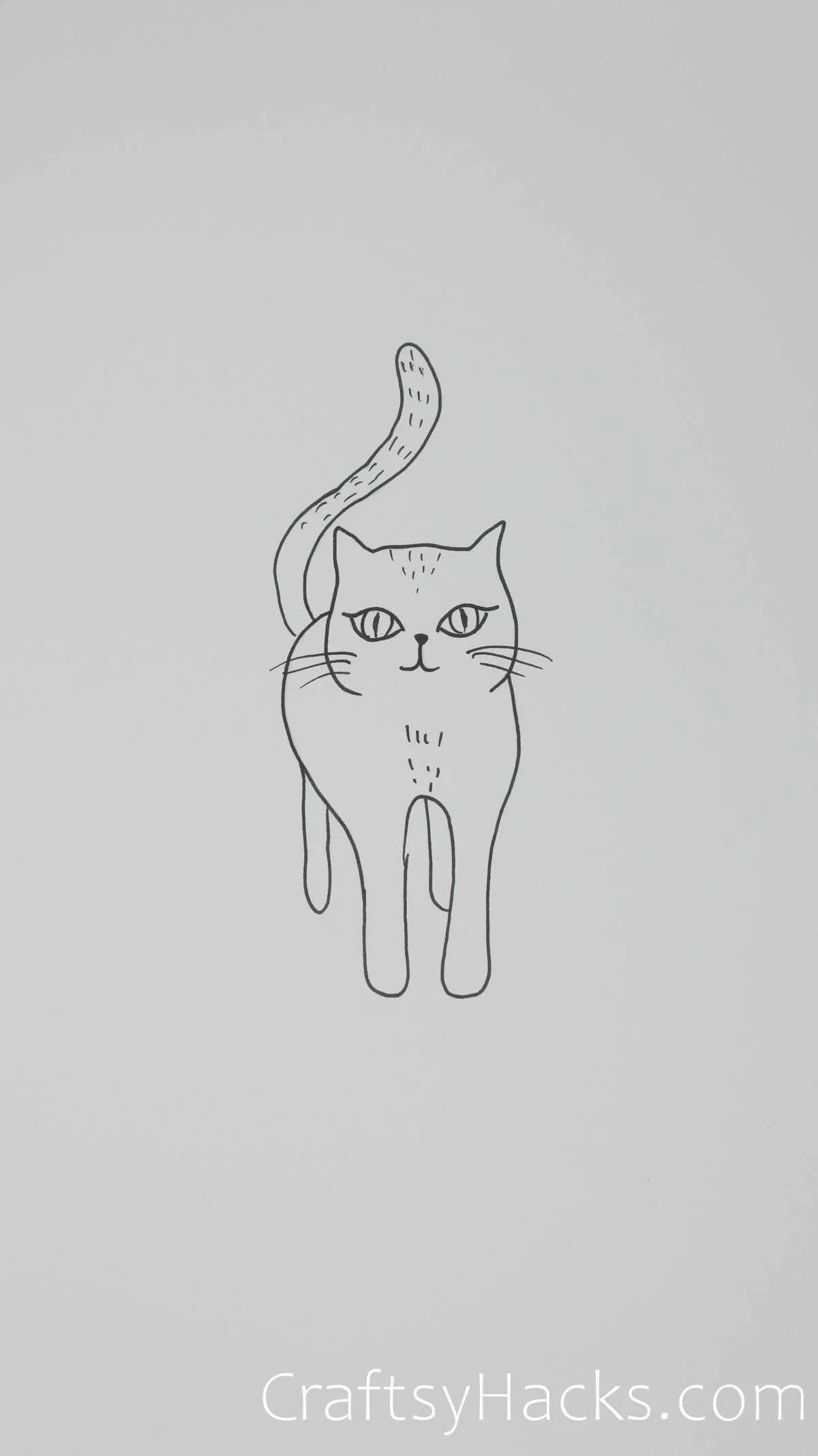 A lot of us have come across this face, too, when coming across a cat we haven't met before.
Typically, I run into this type of cat in the city while running errands, and they are on the hunt for any love or food.
For another cat that doesn't start with the head, I'd begin just below the highest part of its chest and draw the front legs, torso, back legs, and rest of the body.
15. Loved cat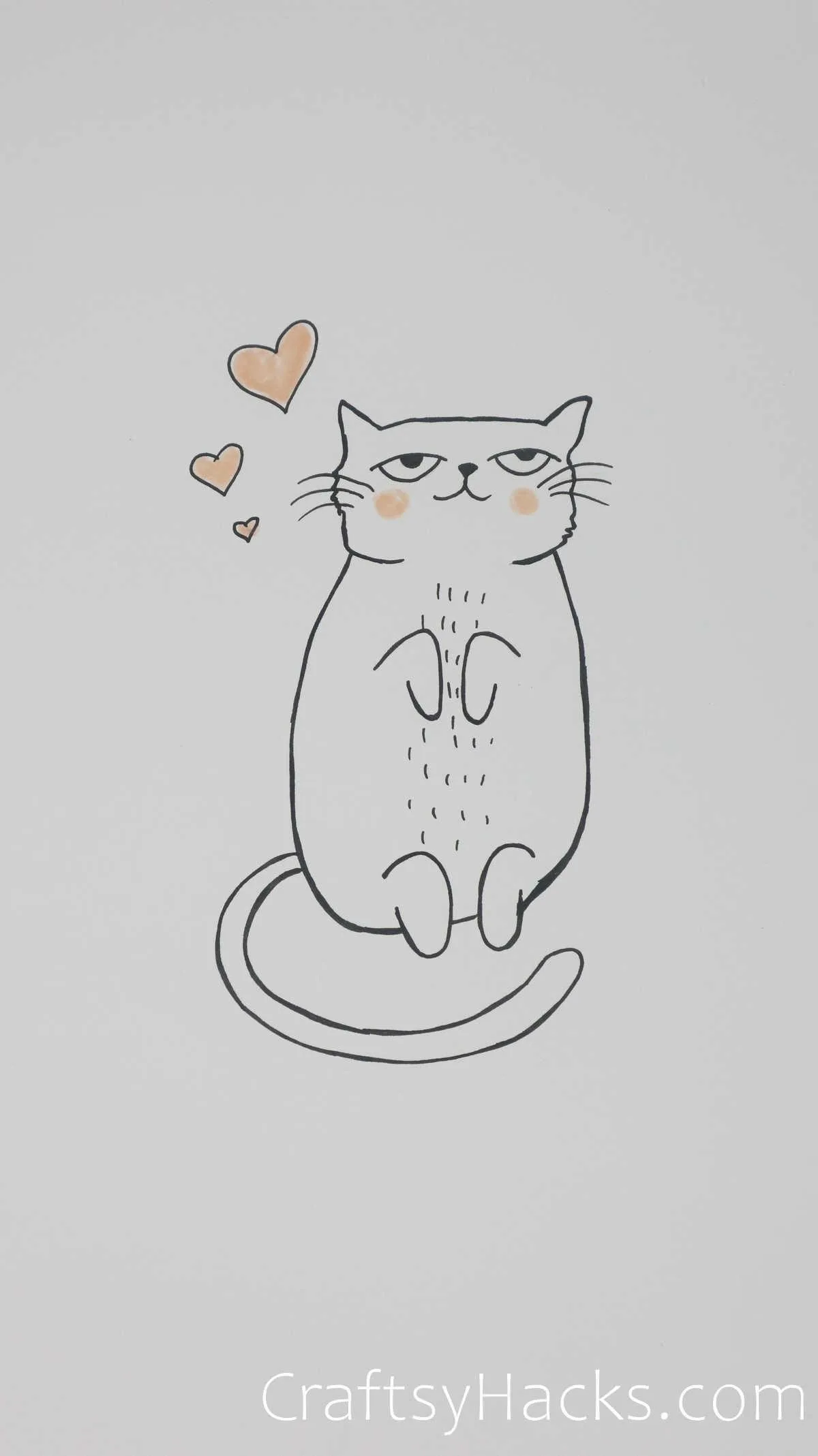 A cat exposing its belly, we all know, is a sign of comfort and love and had to be included in the lineup.
The body on this cat works as an excellent gauge for the head, and soft lines or uneven work here help illustrate the cat's appreciation.
16. Fat cat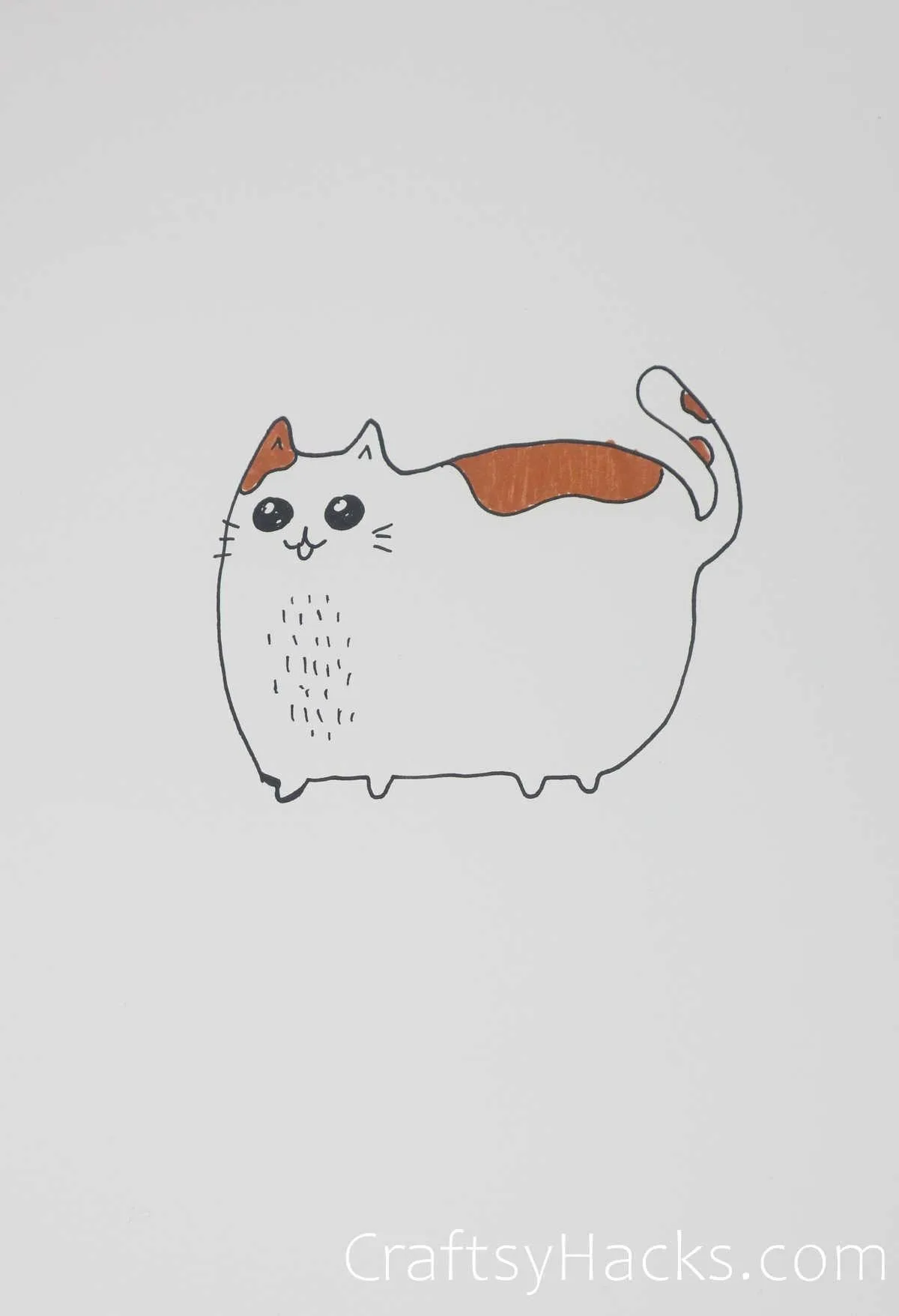 Who doesn't love an incredibly large cat? I certainly do, I used to volunteer at a cat shelter, and one of my favourites who visited me often was named King and weighed about 20 or 30 pounds!
This cat can pretty much start as a rounded rectangle; make sure to eyeball where all the features will come in as you start this one.
Go back around the shape and add the specific features to each respective side of the animal.
Looking for more cute cat crafts? These paper squishies are so much fun!
17. Outer space cat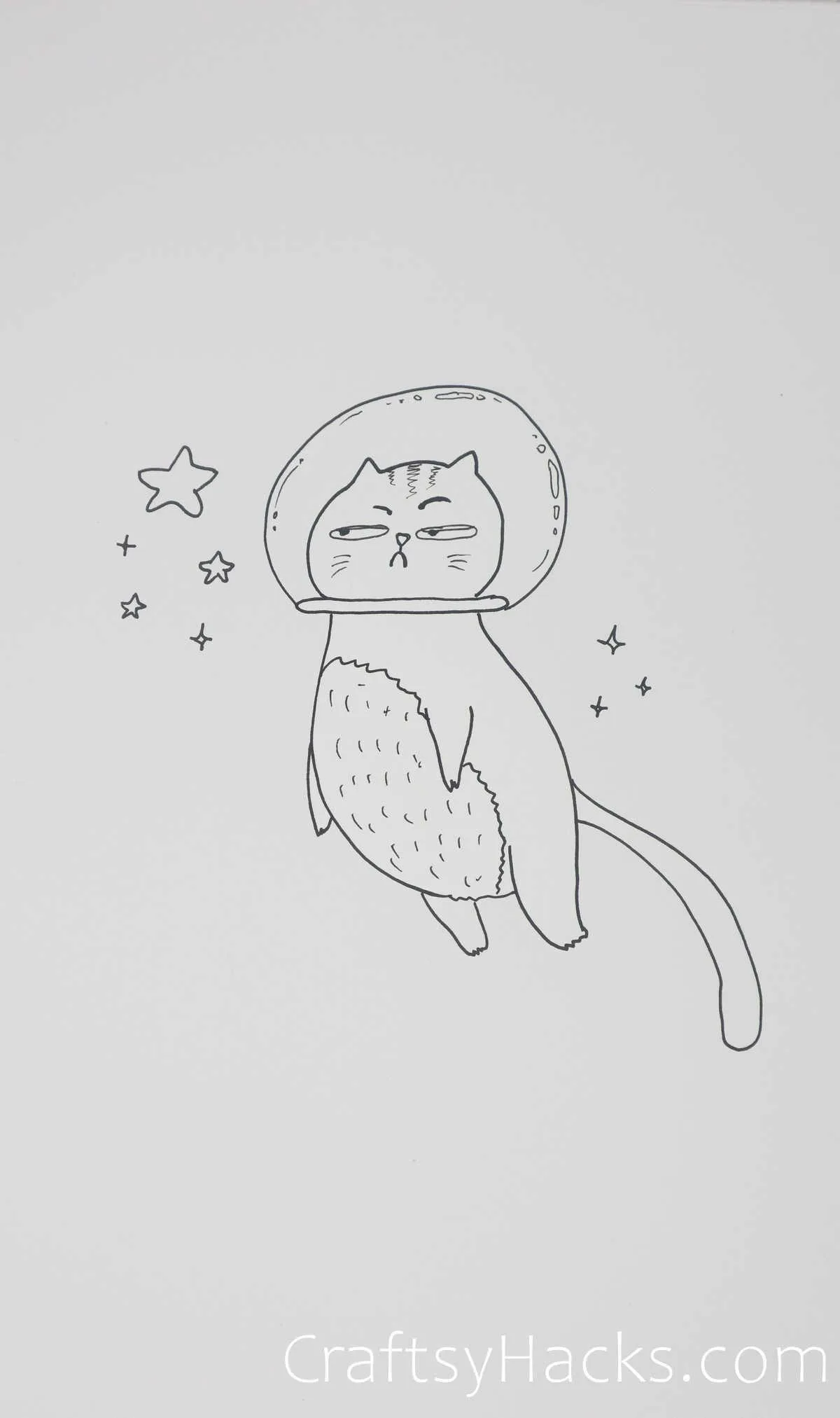 I'm not sure if this cat is okay with being in space, but it's certainly a fun idea to draw! Also, feel free to change the expression as you wish–I just couldn't help but give this guy some "cattitude."
You'll want to start with the head and helmet or the body and then go back to finish the other part of the body.
It feels weird, but while drawing, the line of the helmet kind of divides the cat's head from its body, but everything will look more sensical once it's finished.
18. Hanging in there cat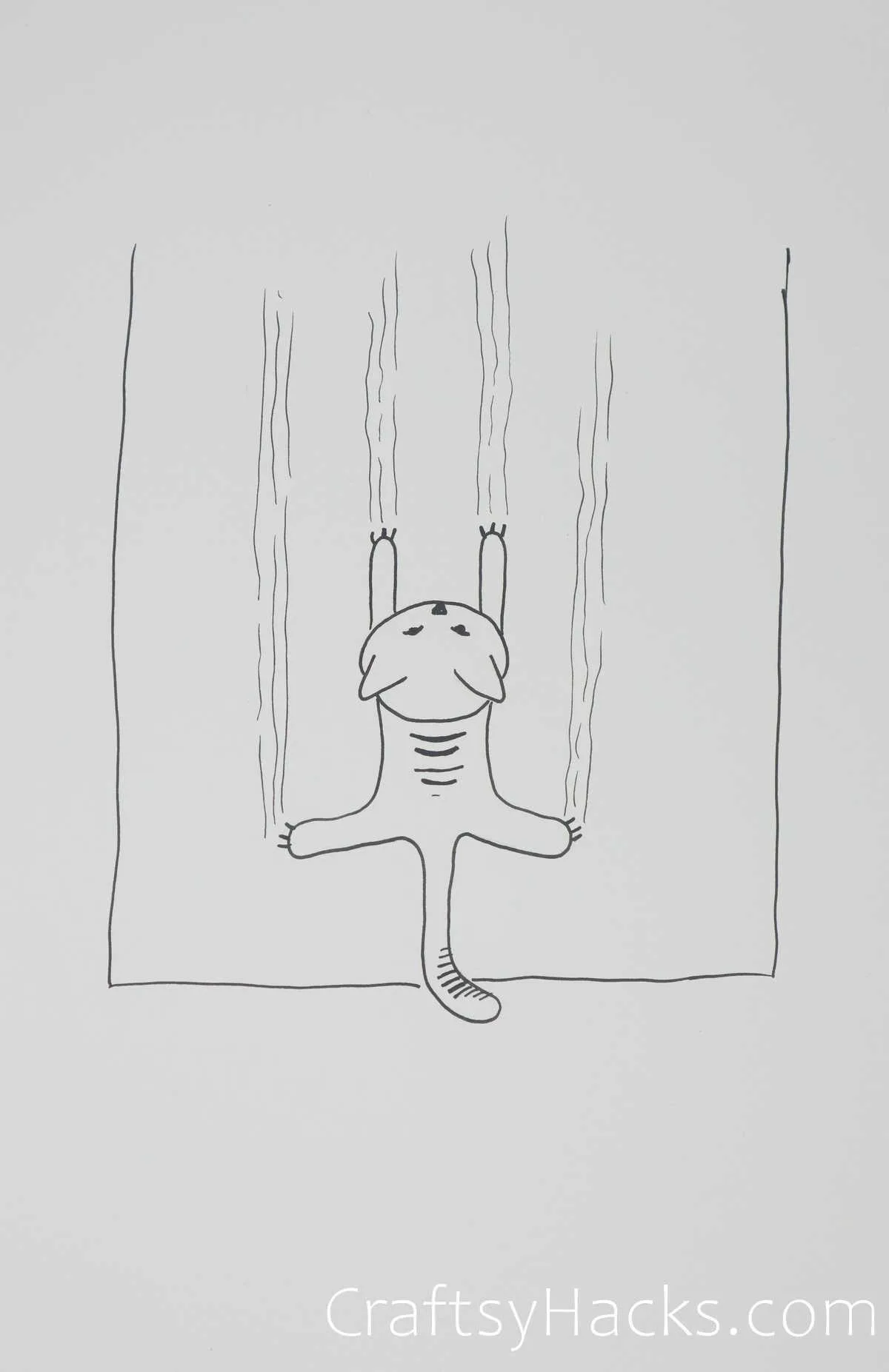 This cat is holding on to the page for dear life! But seriously, another classic moment that many of us have seen and may be directly scolded by a pet for doing it.
The lines are all pretty simple here, but it creates a cool depth to the page, with its tail touching the floor in that way.
My recommendation to get that effect is to go in like you're making a capital bubble "J" or "T," but angle the bottom in the way you'd like the tail to go.
19. Kitten in a stocking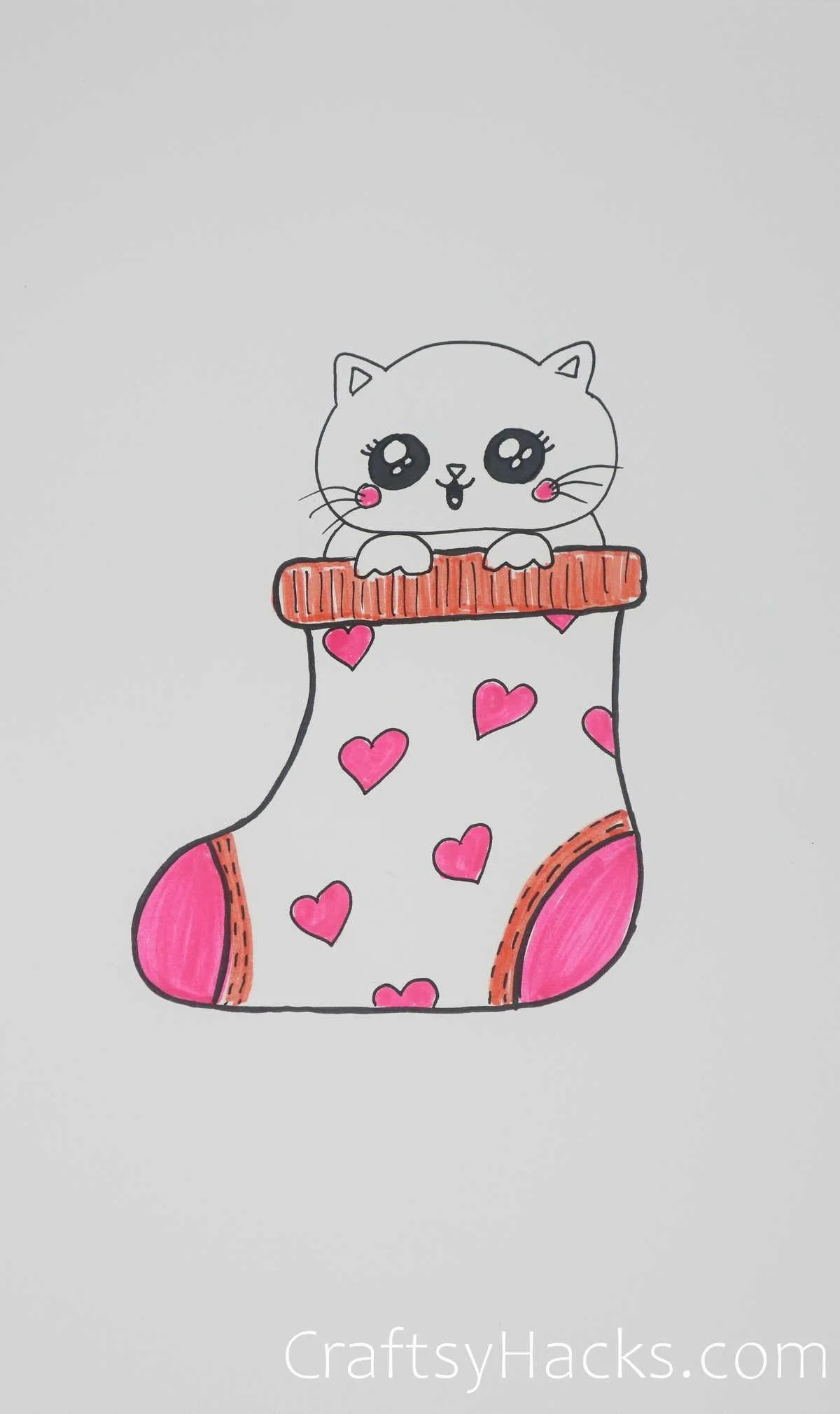 I just love this kitten! The inspiration for this furry friend comes from those very young animals in tea cups, stockings, or anything else small that smaller animals can fit inside.
Draw the sock however you'd like–add a different theme, colours, whatever you'd like! I would start with the stocking and work my way up, ending with the head.
20. Bookstore or literary cat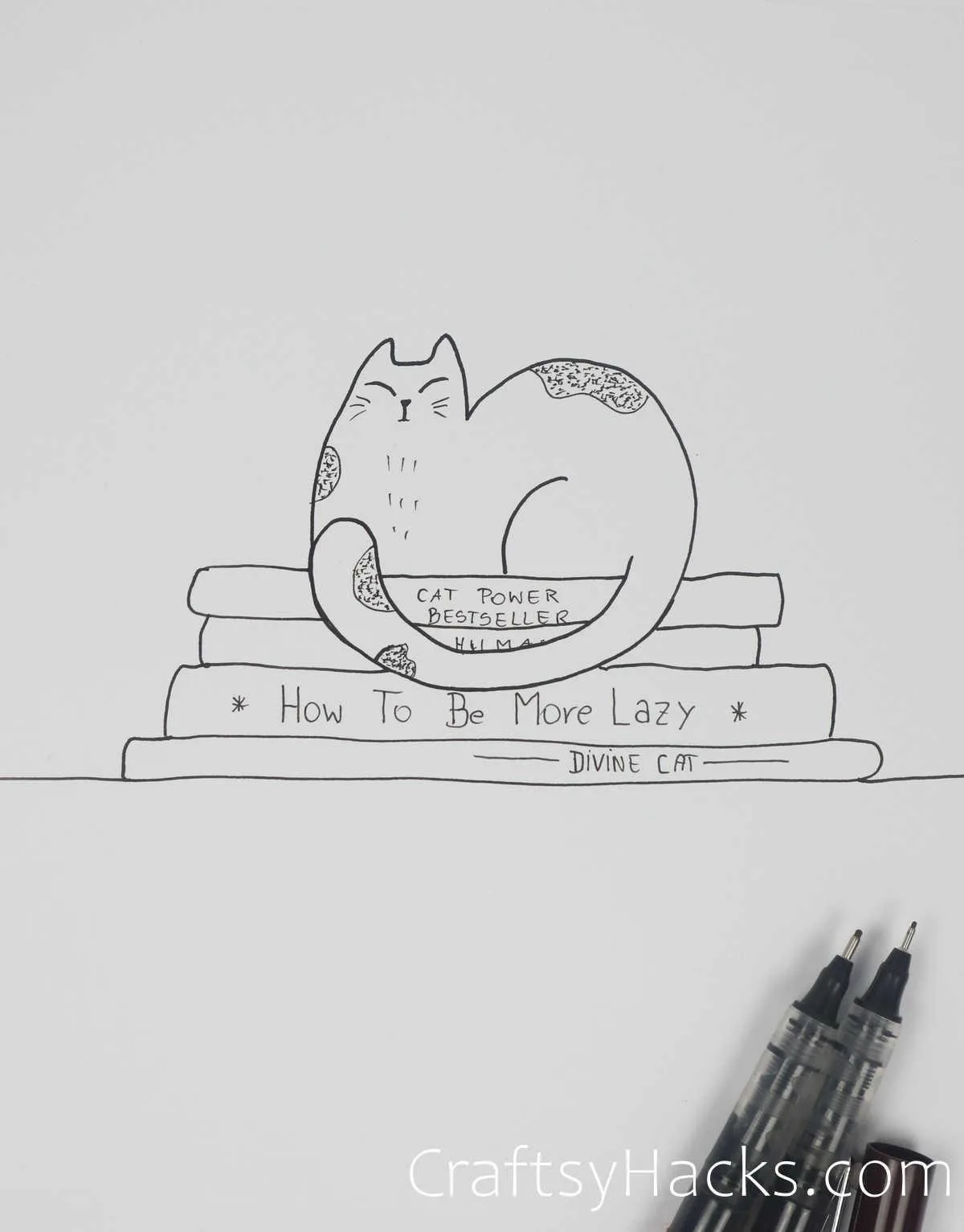 One of the best things about a public bookshop or even the proper library–there's usually a cat lurking somewhere nearby.
Finding a cat lurking in a shop, though, definitely makes my shopping experience a little more wholesome.
Feel free to stay simple like I did with this rendering, or place the cat on a bookshelf or any other way you see fit for a studious feline like this.
For the cat, just a tip, drawing a "3" facing downward to start and then adding the tail and ears after, ensures a decent outcome.
21. Angry cat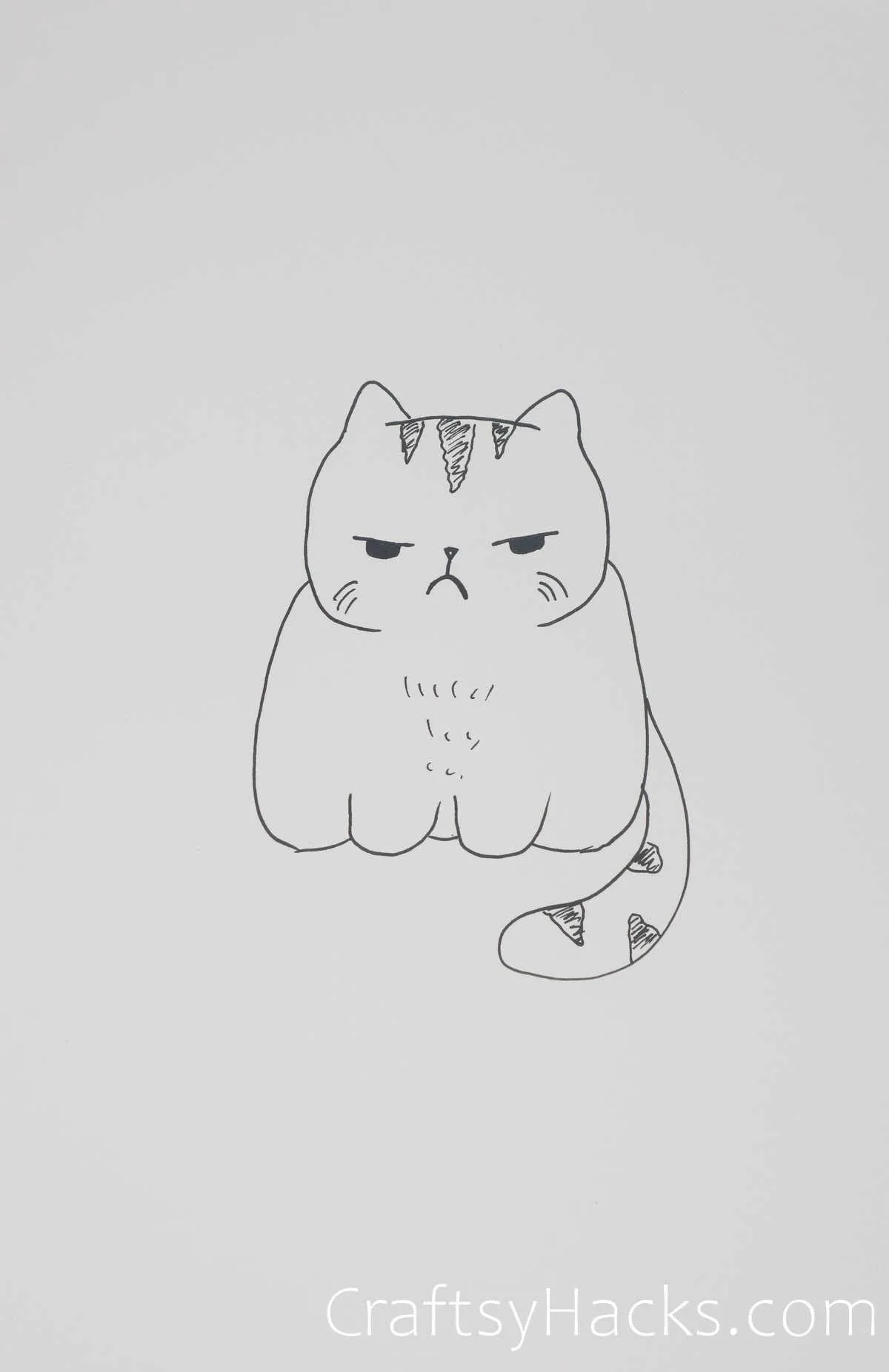 Now, this last one may remind you of a certain infamous internet cat of a similar name, and to tell you the truth, I took inspiration from him! RIP, by the way.
This angry cat shouldn't be so angry, although the last cat on the list, it is one of the easiest to draw!
Start at the middle top of the head, rounding out the rest, and then extend its shoulders down after finishing the top half.
Enjoyed these cat drawings? You'll also love these easy drawing ideas!