Mental health is important. Use these bullet journal spreads to track your moods, feelings to take control of your mental well-being.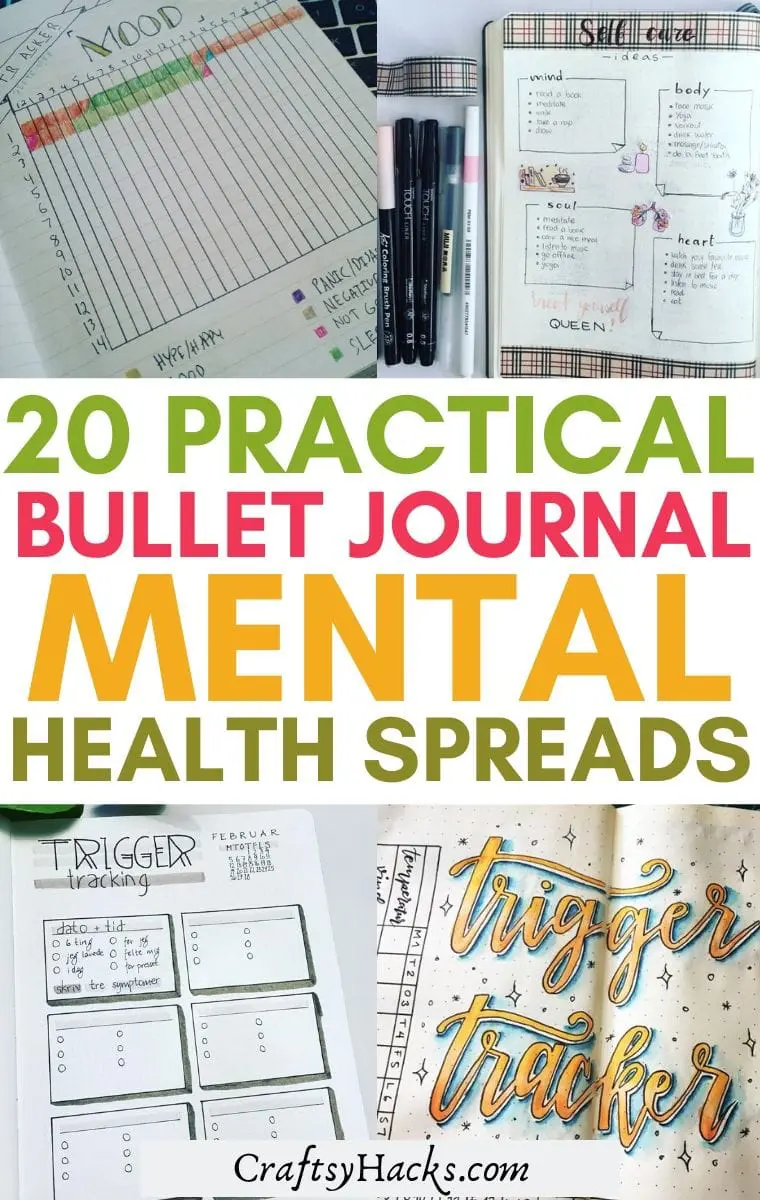 Keeping up with your mental health is a great way to promote whole-body wellness. This includes tracking your moods, and everyday habits to get an overall glimpse of your daily, weekly, and monthly health.
You can use your bullet journal to do this in a creative, positive, colorful, and enjoyable way. If you don't own a journal yet, here is a good quality dotted journal that you can start with.
1. Compliment Keeper
Credit: instagram.com
Remind yourself how awesome you are! Prepare a page you can call whatever you like, such as "compliment jar' or 'go you!'
Each day or week list the ways you've gone above and beyond to make your life great! This can be as simple as having a great day at work to finally hitting that five miles on the treadmill.
Celebrating our little accomplishments can give us the motivation to keep heading towards the bigger ones!
2. Mini Mood Tracker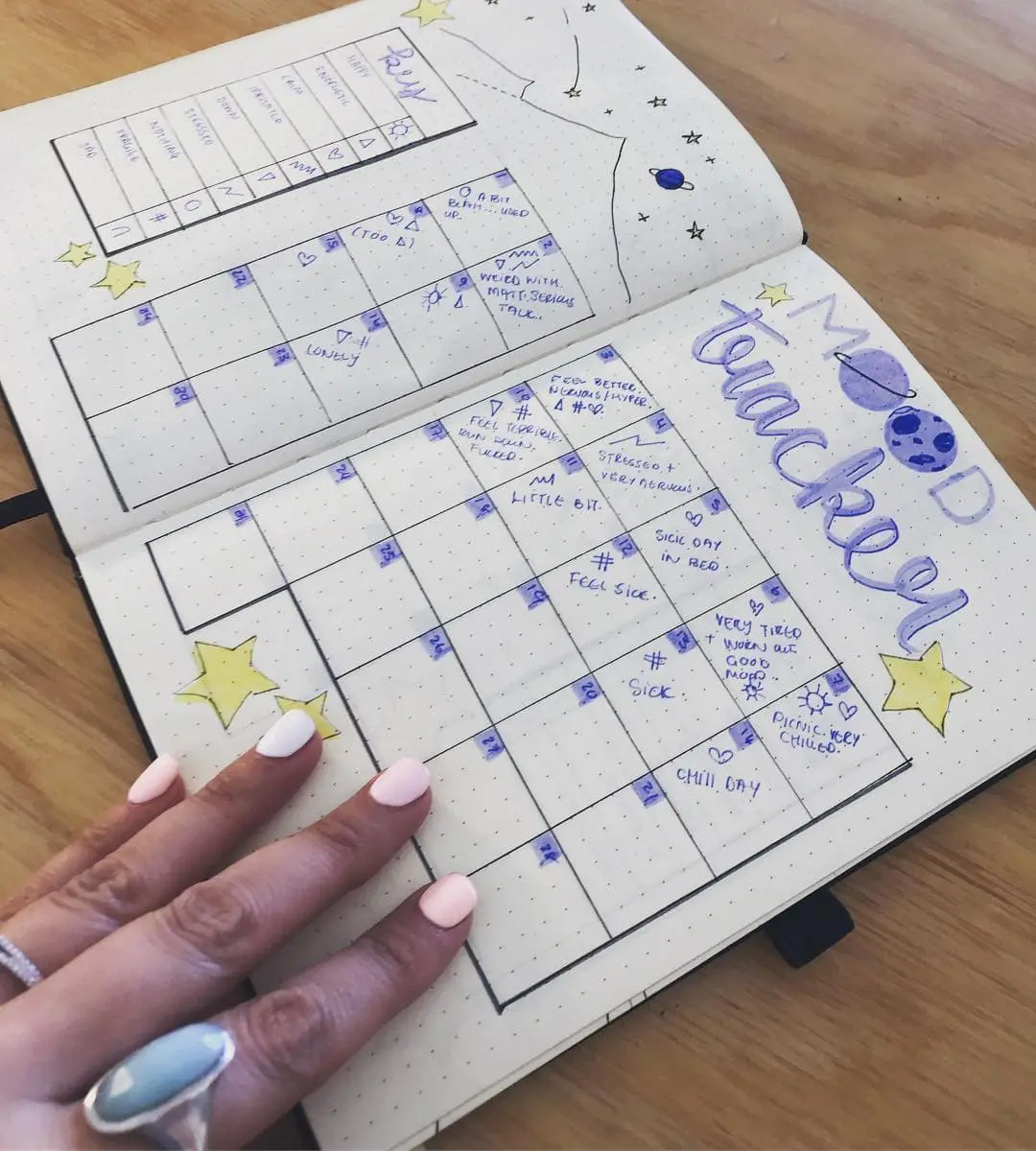 Credit: instagram.com
Keeping up with your wellness starts with the moods and emotions you feel every day. Use a simple mood tracker with a pictorial key to keep up.
Use a two-page simple spread, or other easy spreads if you're not super artistic, to create a calendar for the month with easy-to-read boxes.
Create a key using easy, basic drawings. It might make you smile to draw little faces for each mood!
You can also use stickers like stars of different colors, like the ones here, to denote your different moods each day.
Decorate the page as you desire.
3. Love Yourself Log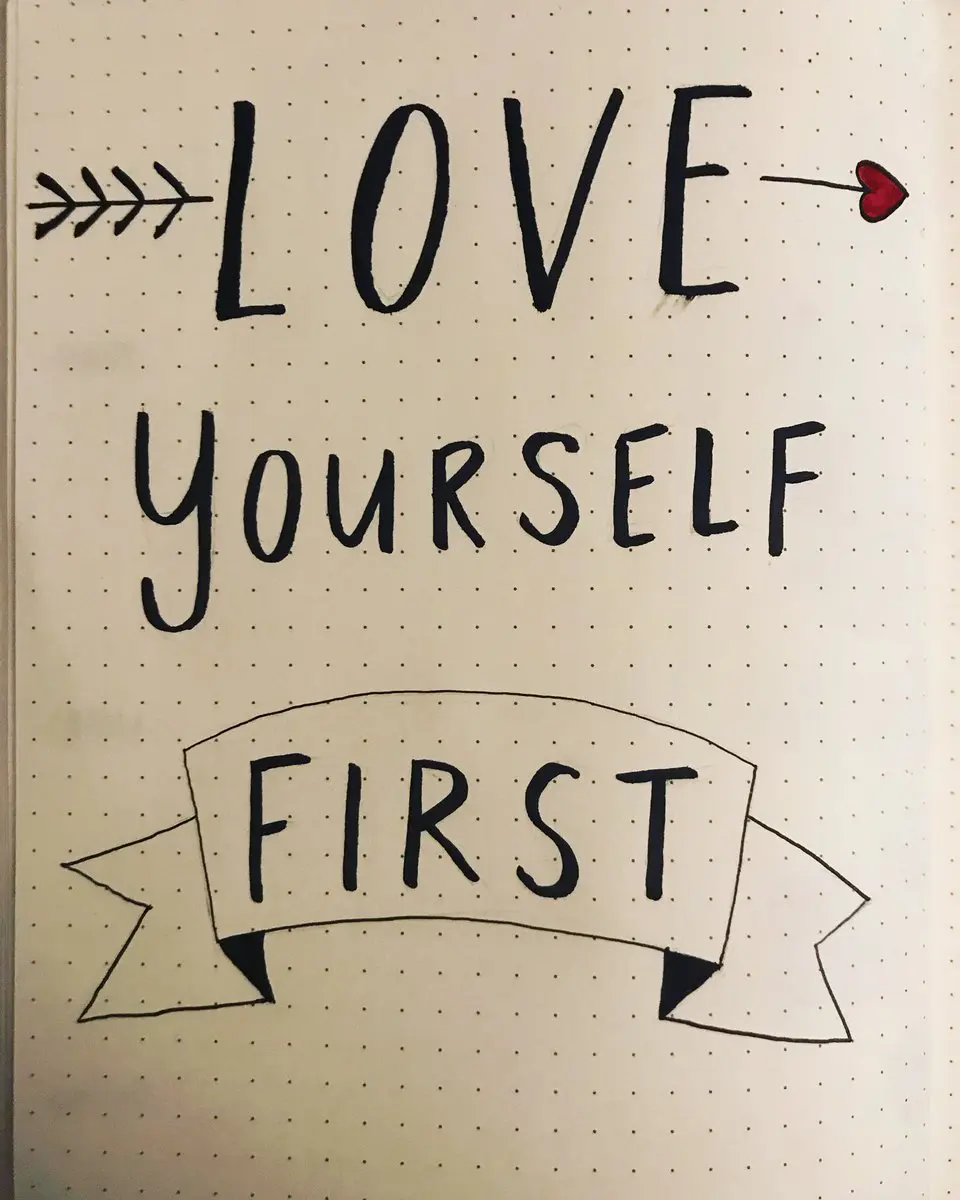 Credit: twimg.com
Many people don't take the time to love themselves. Loving yourself is the key to wellness and positive life.
And look how amazing you are! You deserve love!
When you love yourself, you can then love others. There are little things you can do throughout the month to show yourself love.
This can be as simple as taking a nap when you're tired of taking a break to do some yoga or meditation. Keep up with your self-love by filling up a 'bucket' with different-colored balls to represent each self-love act.
4. Gratitude List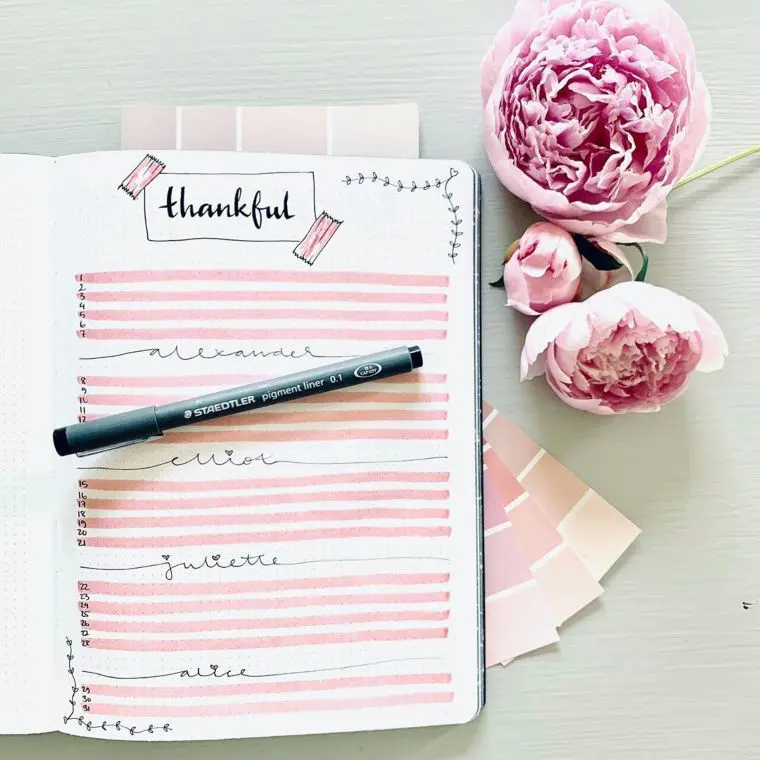 Credit: instagram.com
One of the things we usually take for granted is the good things in our lives when it's so much easier (and a force of habit) to focus on what's wrong when we get overwhelmed.
This beautiful, pretty-in-pink layout serves up love with an easy-to-use spread that lets you list the things you're most grateful for each month.
Use the colors you love and doodle designs that bring you joy!
5. Attack Your Anxiety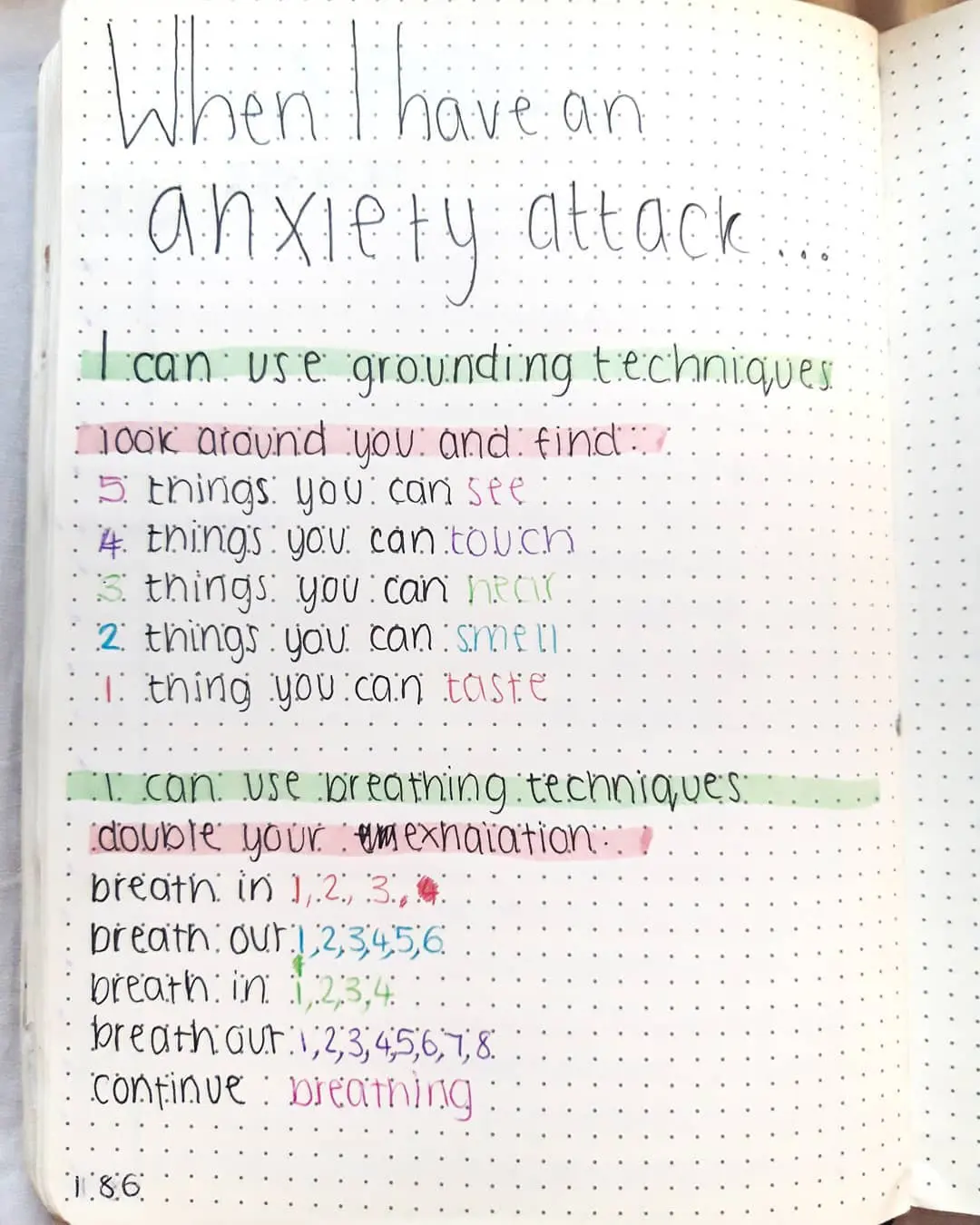 Credit: instagram.com
Millions of people suffer from anxiety, and anxiety attacks are very common. When you're having an anxiety attack, you can feel scared, emotional, and out of control.
Dedicate a page or layout to your bullet journal with ideas to help you with your anxiety. Whether you have used techniques like grounding or other therapeutic ideas, sometimes it can help you see them right in front of you.
This makes it easy to glance at your favorite ways to calm down during a panicky moment or anxiety attack. Use calming colors on these pages or favorite images.
Check out these mood trackers to understand your emotions better.
6. Today is a Good Day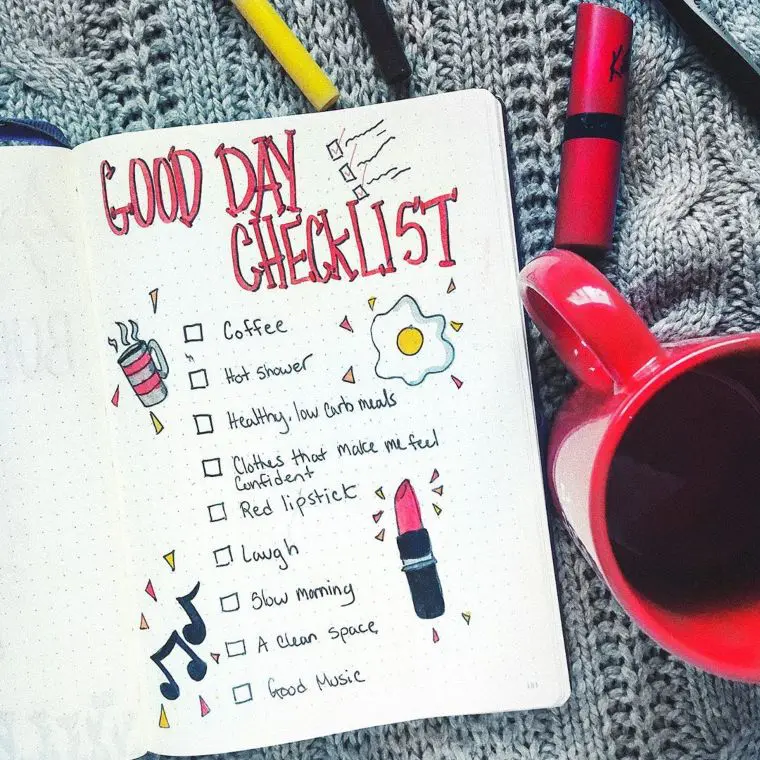 Credit: instagram.com
What are your ingredients for the perfect day? Does it start with your favorite kind of coffee?
Do you style your hair a certain way or wear a favorite outfit? Maybe you relax and unwind at home or spend the morning exercising and listening to music.
It's important for your mental health to focus on the positive aspects of everyday life, so make a list of every component of your best day to gear you up for a great one!
7. Tracking Triggers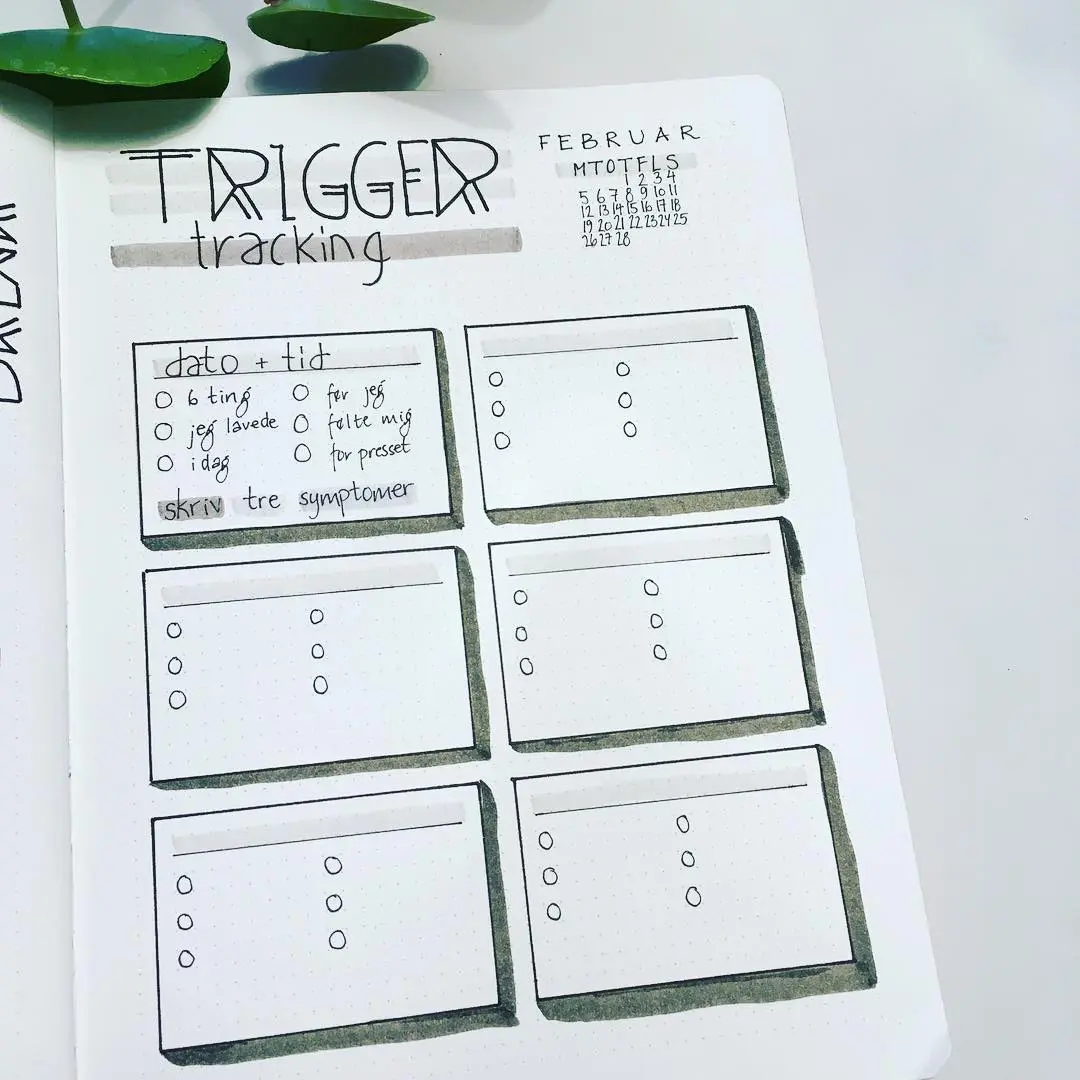 Credit: instagram.com
You may have a health condition like allergies or chronic pain. Or, you may be monitoring triggers that turn your moods on and off.
Whatever you're tracking, it makes sense to keep a chart in your journal that lets you identify things that trigger your symptoms and what the resulting symptoms are for each month.
Whether you suffer from a mental or physical illness, it can be helpful to pinpoint what your triggers are that cause you to feel bad so you can avoid them, especially if you're already feeling lousy.
8. Helpful Habits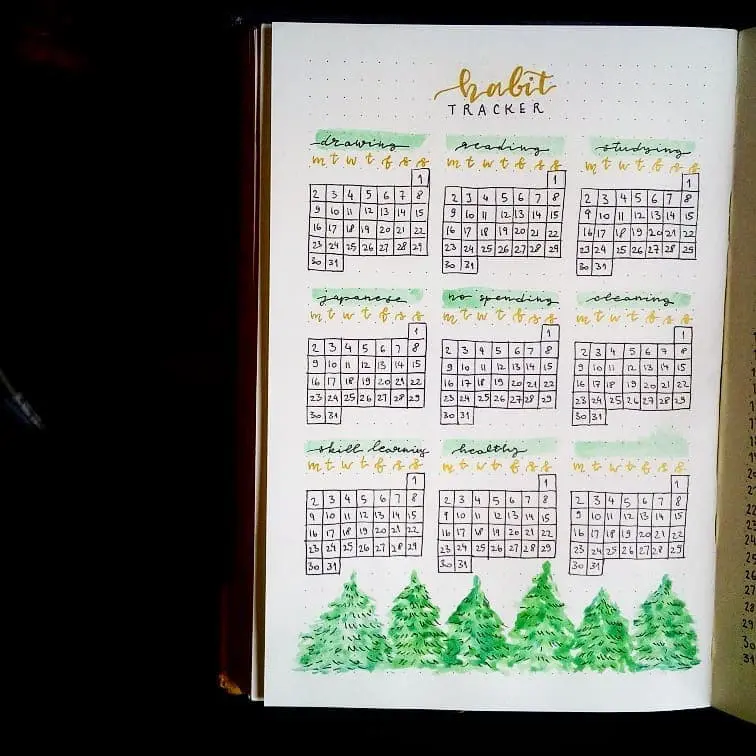 Credit: instagram.com
There are so many habit tracking bullet journal layouts. The habit tracker pictured is a great start, especially if you're new to journaling and a bit overwhelmed by complex layouts.
You can use a grid journal like the one here to make it easier to make squares and add each habit in calendar form to the page.
Tracking your habits is an excellent way to start new ones (exercising, eating well, getting more sleep) or leaving bad ones in the dust (spending too much money, not focusing on gratitude).
Grab a few pretty markers like the ones here and doodle to add your own personality to the page!
9. Self-Care Spread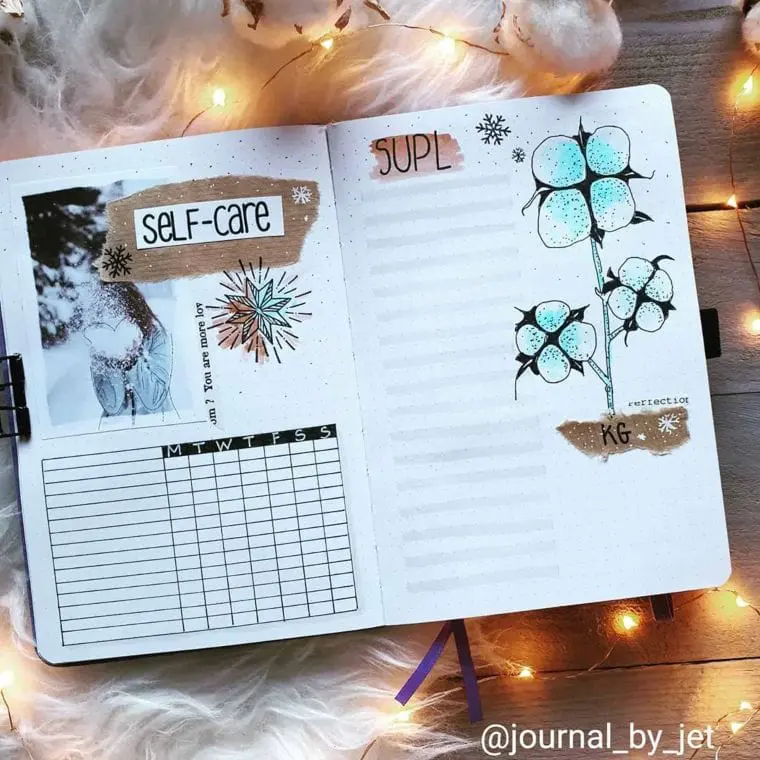 Credit: instagram.com
How do you take care of your physical and mental health? There are many ways to do this.
It could mean getting extra sleep or saying no to evening plans and relaxing at home instead. Self-care isn't just physical; it's mental too, such as skipping a late night of work and picking up a book instead.
Make a collage of images or drawings that inspire you and a list format box with each day of the week.
Your goal is to add a list of self-care actions and check off how many days you do one – hopefully, every day you're practicing self-care!
10. Watercolor Brush Bujo
Credit: instagram.com
Using Tombow watercolor brushes like the ones you can find here is one way many people enjoy customizing their bullet journals. You can use this design for fancy headers on any page.
In this example, a trigger tracker has been made to track fibromyalgia symptoms and what things cause flares. This is a great idea for anyone who has a chronic illness or a mental illness such as anxiety.
Not only are watercolors pretty to look at, but any kind of painting can be very therapeutic! Don't worry if you're not a professional artist, either.
You don't have to impress anyone; this journal is just for you!
11. Healing Health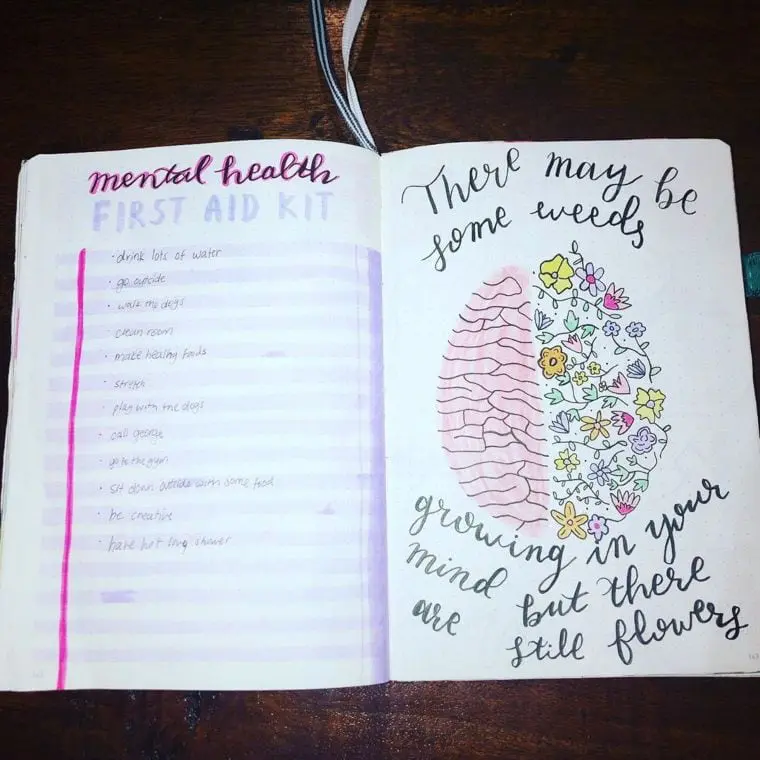 Credit: instagram.com
This easy list layout offers some solutions for enhancing mental health, especially if you find yourself having one of those days. This could mean hopping in a hot tub full of bubbles (aaaah!), taking a walk, or creating a cute craft!
Whatever ways you like to keep your brain from burning out, list them in this mental health first aid kit layout!
The author used Tombow markers like the ones here, which are popular choices for journals since the colors are so beautiful, and they are so much fun to use.
Pick your favorite colors, add an inspirational quote, or simply paint a pretty drawing that will make you smile.
12. A Habit of Gratitude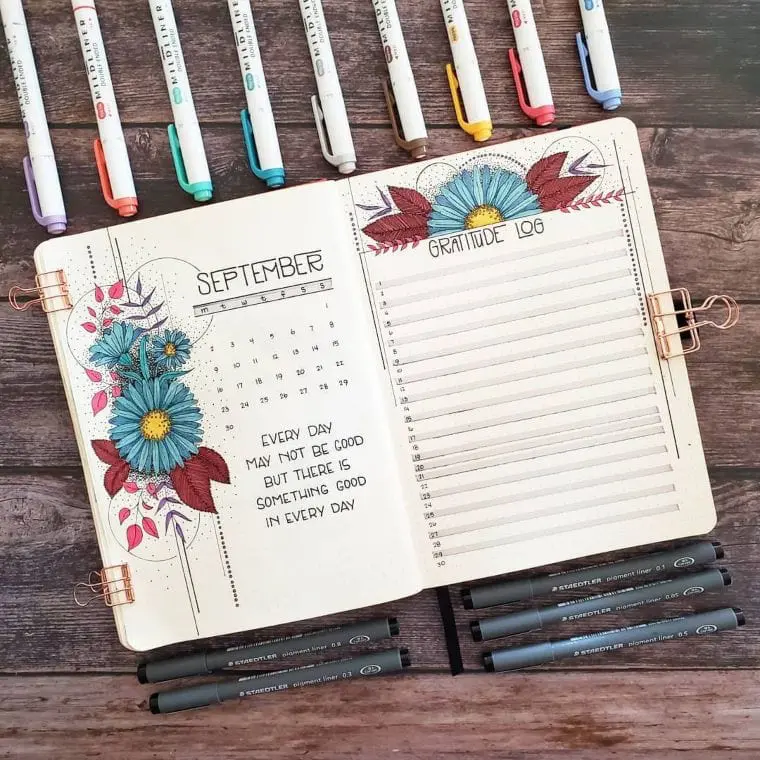 Credit: instagram.com
Negativity can do a number on your mental health. Did you know it's much easier to be negative than positive?
Let's turn that around in 2020 and focus on everything that's great in your life, and you know there are so many awesome things to celebrate!
Do a two-page spread for each month with a calendar on one page along with drawings and doodles that are bright, colorful, and engaging.
On the opposite page, list everything you're grateful for that month! It can be as simple as lunch with your mom or finding a lost earring to something bigger like a new job or apartment.
13. Your Majesty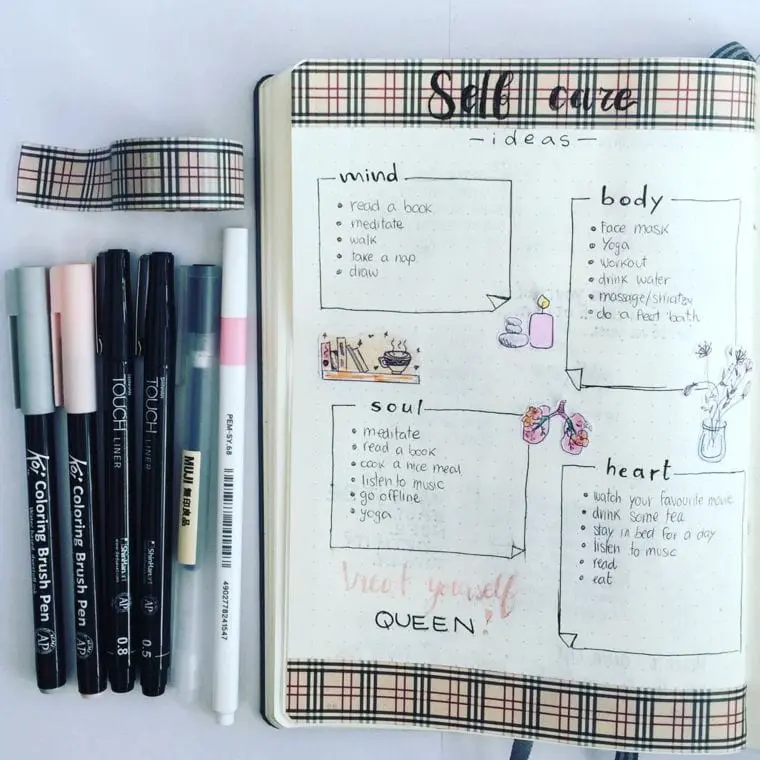 Credit: instagram.com
You are a queen. And, you deserve to be treated like one!
If nobody else is doing it, why aren't you? This cute layout takes patterned washi tape like the kind you can find here and gives the pages a distinct and decorative edging.
In the boxes, list the things you can do to care for your body, mind, and heart. These can vary from eating healthy and exercising to listening to music and taking a break from the internet.
Try using Koi coloring brush pens like the ones found here to add lots of fresh color to your self-care pages and meaningful doodles that you love.
14. Mindfulness Moments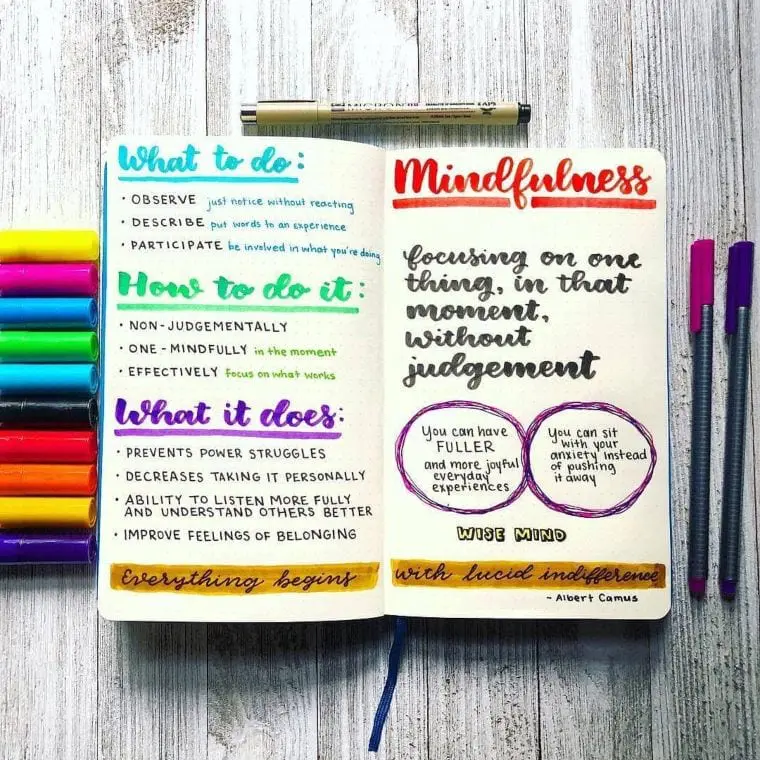 Credit: instagram.com
Part of mental health wellness is being mindful, which is a big part of focusing on your habits, activities, and how you can improve your daily life.
Devote a double-page layout to mindfulness. You can list the things that you like to do to have more positive life experiences.
Make the lists easy to read, use bright colors, and add a couple of your favorite mindfulness activities and quotes you can reference when you need to.
15. Anxiety Layout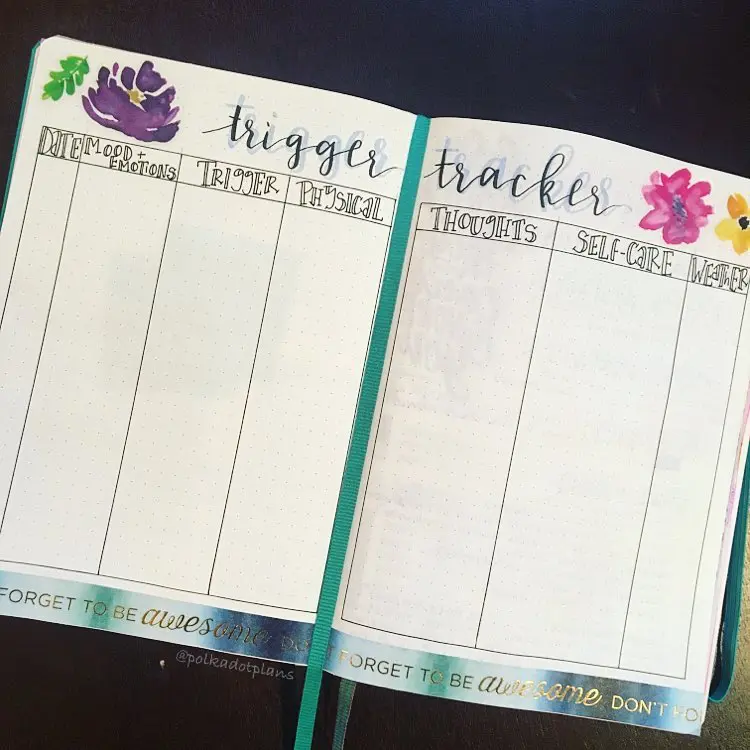 Credit: instagram.com
When you have anxiety, you'll find that getting to the bottom of what triggers your panic may help you avoid stress altogether.
Make a chart that starts with the date, what your mood was when you felt anxious, and what you feel like actually triggered your anxiety.
Then, you could try some different self-care solutions to see what the outcome is and what your thoughts are. This could prove really helpful to you!
Use watercolors, markers, stickers, or whatever makes you happy and calm on the pages.
16. Colorful Calm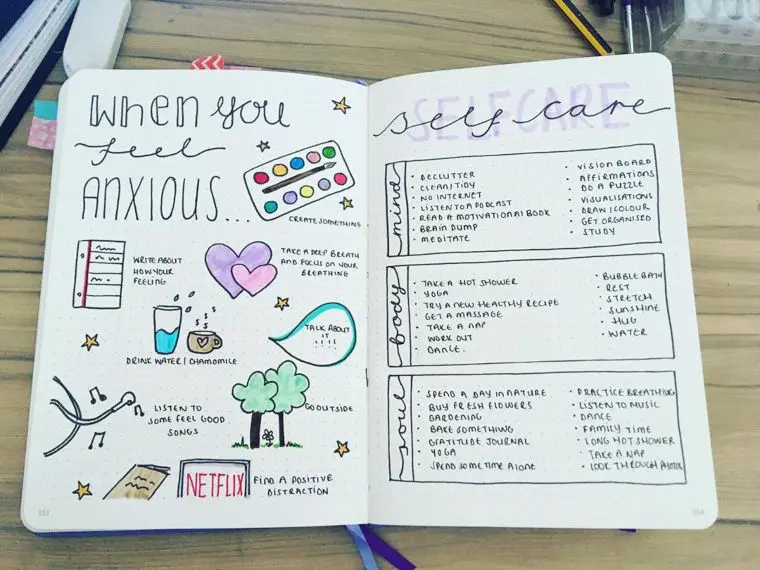 Credit: instagram.com
Doodling adds dimension to this layout that can help you relieve the burden of your anxiety. Create small bright images of the things you do to help you when you feel nervous, like listening to music, watching movies, or going outside to enjoy nature.
On the following page, make boxes for each aspect of self-care: your body, your mind, heart, soul, etc. Make these lists a bit more detailed than the drawings.
These can be a great reference when you're feeling overwhelmed, and multiple colors can be soothing to see when you're having a tough day!
17. Depression Data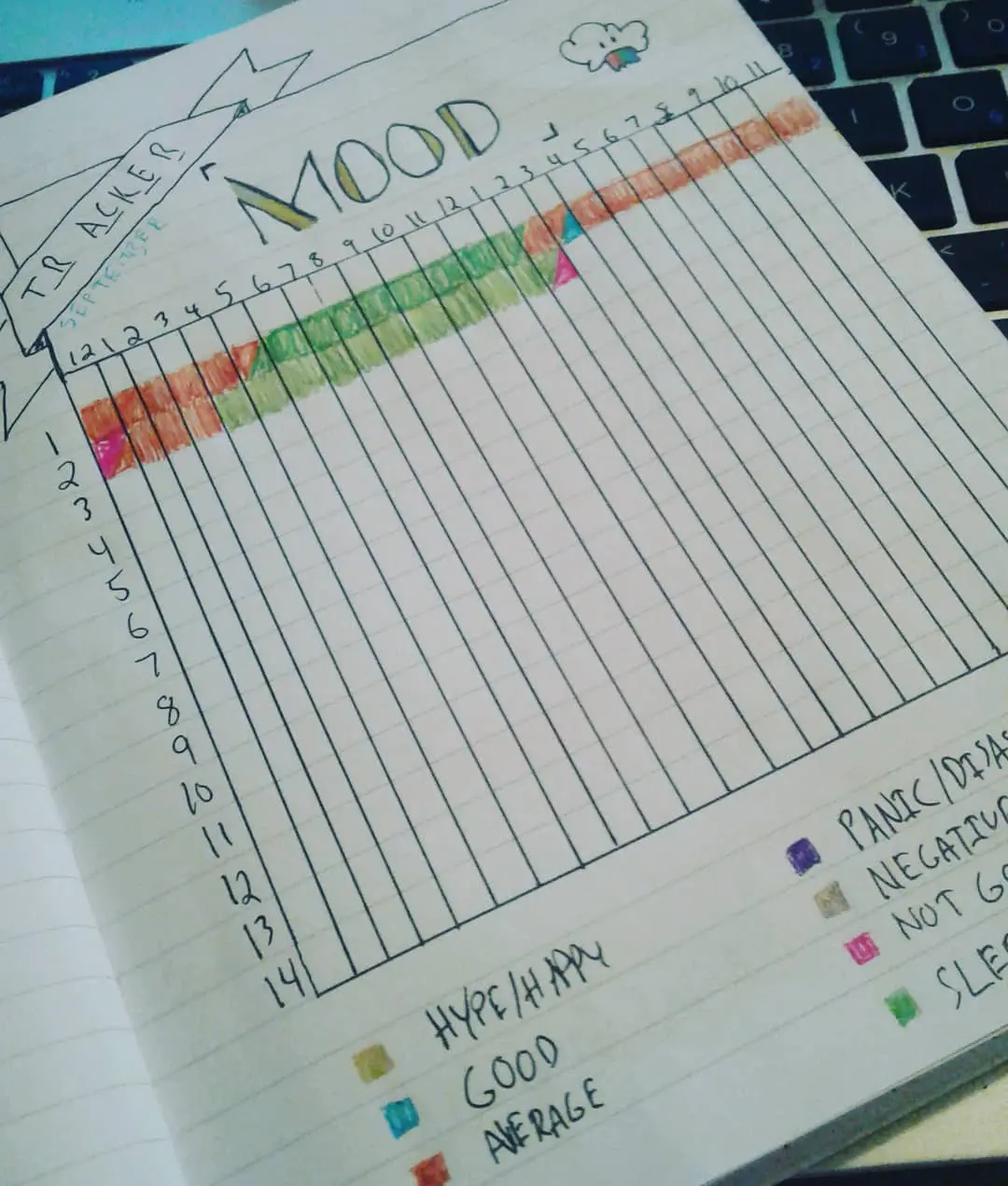 Credit: instagram.com
Sometimes when you have a mood disorder, tracking your moods, sleep, activities, and other daily habits can help you see what actually contributes to anxiety and depression.
This can be in the form of a user-friendly chart. You can write the days in and color-coded squares to keep up with everything using the colors of the key to represent each mood or activity.
Glancing at this layout can give you some much-needed mental health answers, especially when combined with your other habit trackers like spending, health, and other things that can all contribute to depression and anxiety.
18. Positive Pens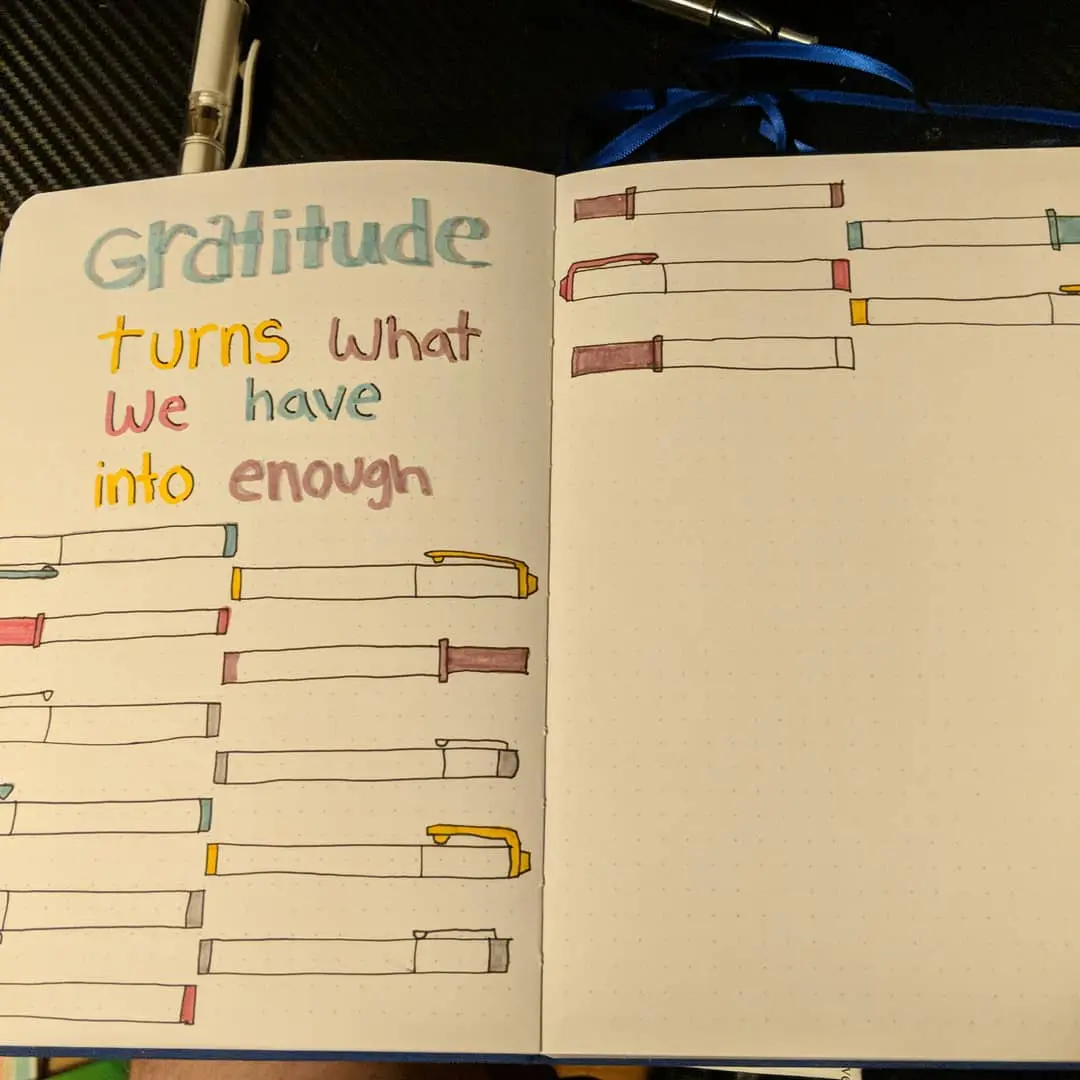 Credit: instagram.com
Get creative with keeping up with the things you're grateful for by drawing photos of horizontal pens of different colors.
Each pen represents something in your life you are grateful for. You can make a list a day, or just add items throughout the month as you think of them.
When you're feeling down and having a bad day, reflect on your life and how much you have to be grateful for!
It can improve your perspective.
19. Panic Response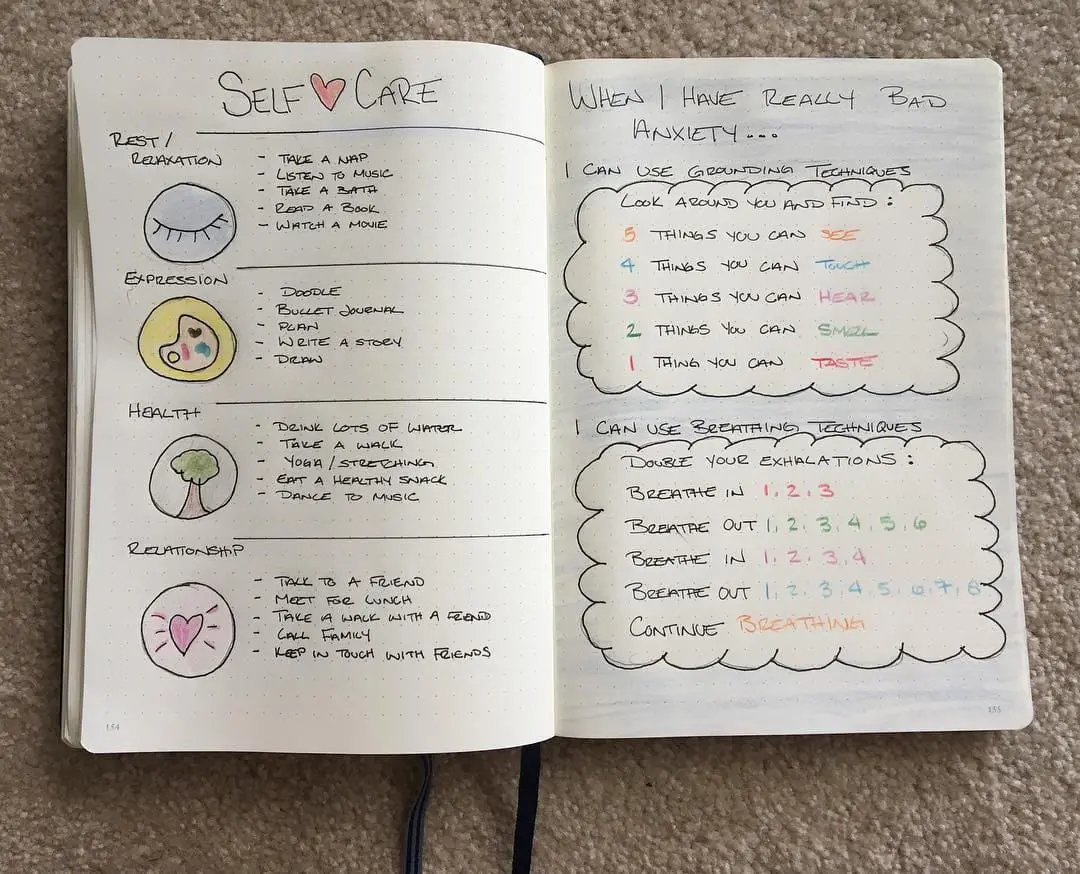 Credit: instagram.com
For people who suffer from panic and anxiety, sometimes it can seem like there's no way to control it. That's not true, though!
You can get a handle on your health by keeping a log of the things you've noticed always have a positive effect on you when you feel anxious and panic-stricken.
Do a double-page spread with little lists of the ways you can alleviate panic. These can range from creative expression to sharing a chat with your best friend.
On the opposite page share some tips for crisis mode – when you feel like you can't breathe. Meditation, taking deep breaths, and grounding techniques are just a few things to focus on.
Feeling better?
20. Happy Hints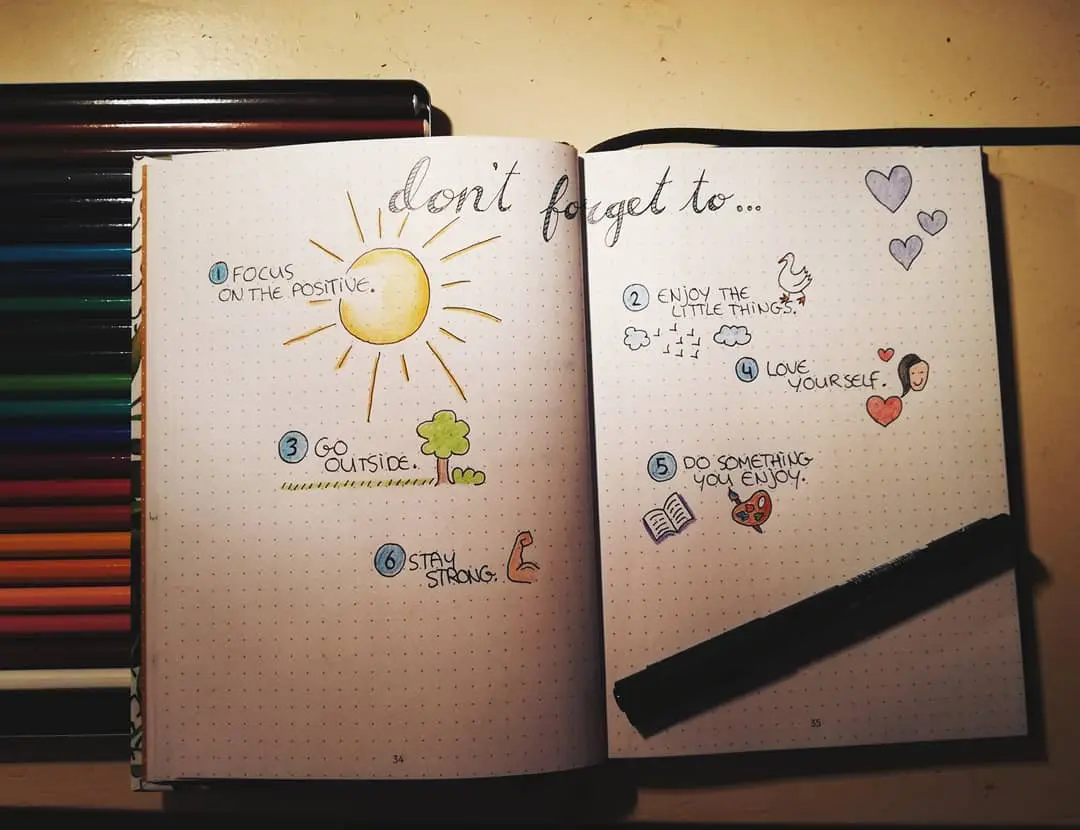 Credit: instagram.com
Sometimes we get in a rut and need a visual reminder of the things we can do to feel more positive and fulfilled at the moment.
Use blank pages or grid pages to doodle things that you know will have a positive effect on you, like sunshine, hydration, and focusing on the small things even on days when it seems hard.
Bright colors soothe the soul!
Conclusion
Are you enjoying any of these bullet journal ideas? Which mental health spread are you going to try next?