Looking for the best wedding invitation idea? These wedding invitations are cute, and creative and will make your wedding organizing easier.
Wedding invitations are the first glimpse into the big wedding. They're the first taste of all that is to come and they kind of set the standard, so to speak.
So while it isn't necessary to go overboard with your wedding invitations, it is pretty important to use them as an opportunity to decide your wedding colors, theme, and more.
So, take a look at these 27 unique wedding invitations for inspiration!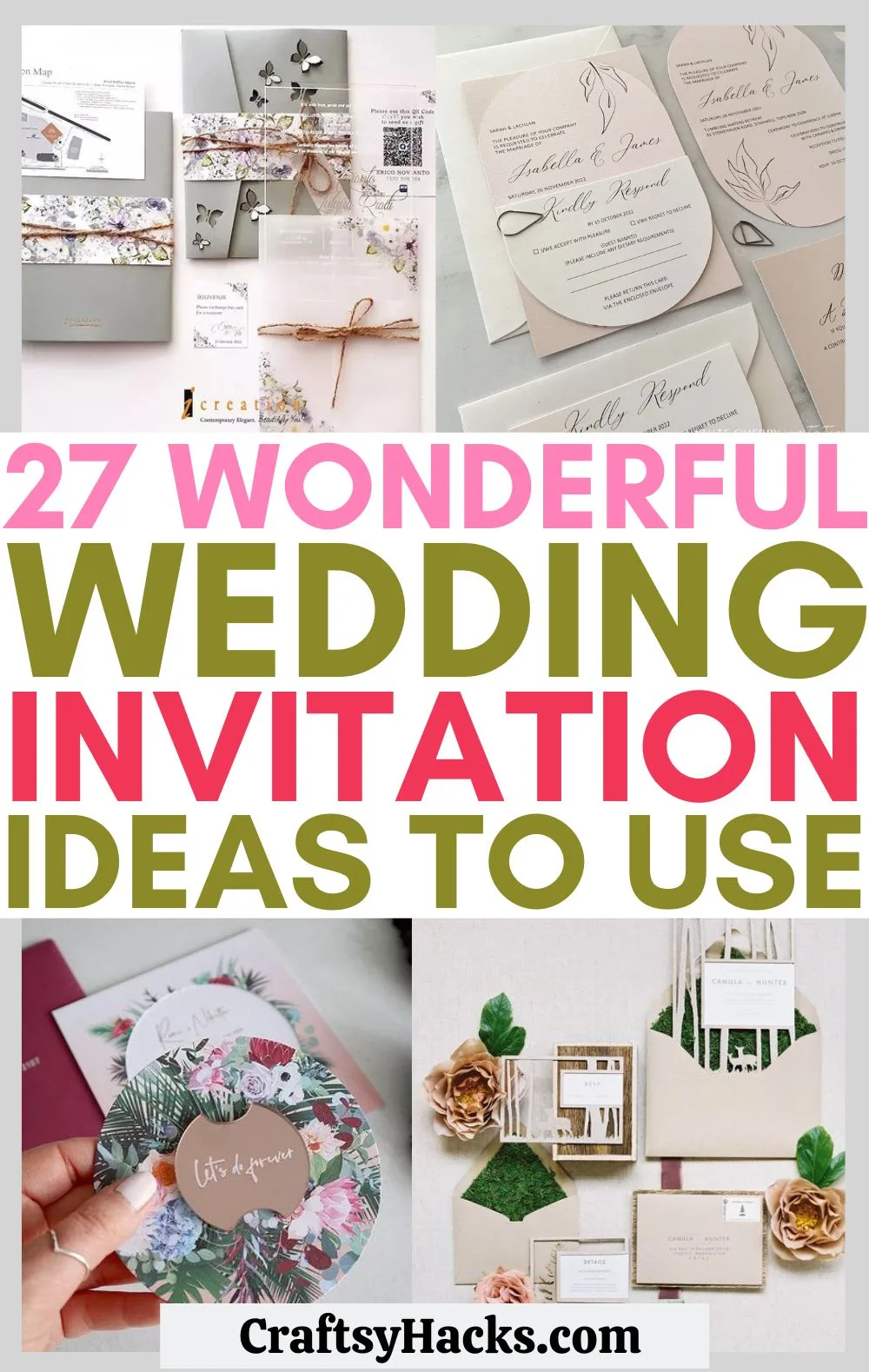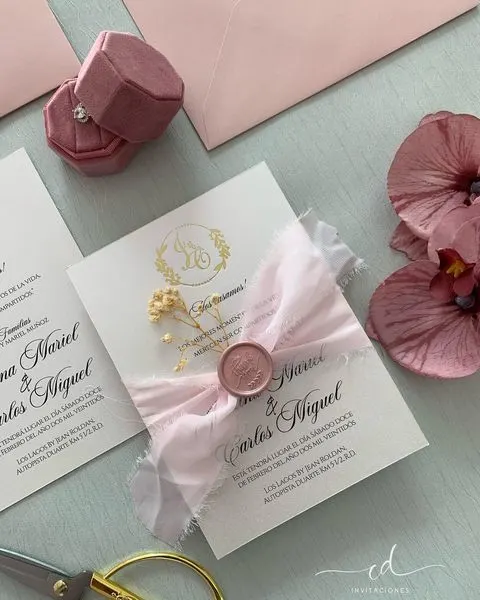 Source: Instagram
Shades of plum, blush pink, ivory and gold can be soothing and elegant at the same time. The deep velvet notes of plum and blush on your invitations might be just what you need to set the right tone for the entire wedding.
Another little extra touch you can incorporate is that lovely pink frothy scrap of ribbon. How about you pick up one of those personalized wax seals for the occasion? You can find it right here.
Finally, a little sprig or two of dried flowers or baby's breath can do wonders to add texture and a pop of color to the entire tableau.
Need more ideas for the wedding? Check out these wedding registry ideas.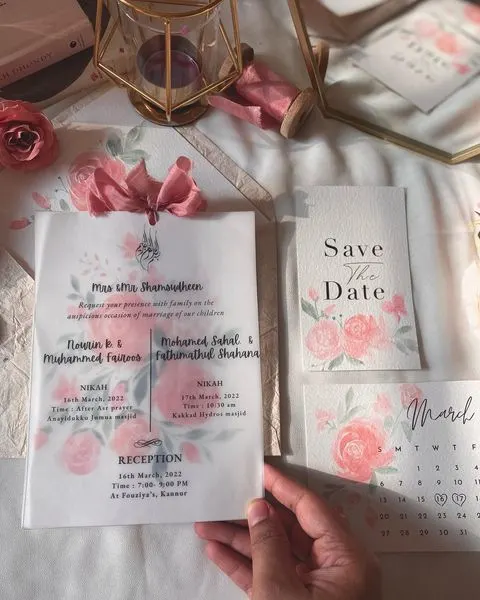 Source: Instagram
A spring wedding deserves a fun and floral invitation like this one. Don't you just love how the peach and coral tones of the flowers are offset by the elegant greens and pastels?
There's something quite touching about the hand-painted finish that the blossoms bring to the invite. You can tie everything together with a length of pretty ribbon or twine.
It also definitely makes sense to include RSVP cards, save the dates, and even individual sheets for every single occasion in the wedding. For example, you can include a card each for the main wedding, the reception that follows, and even for smaller parties like the bachelorette.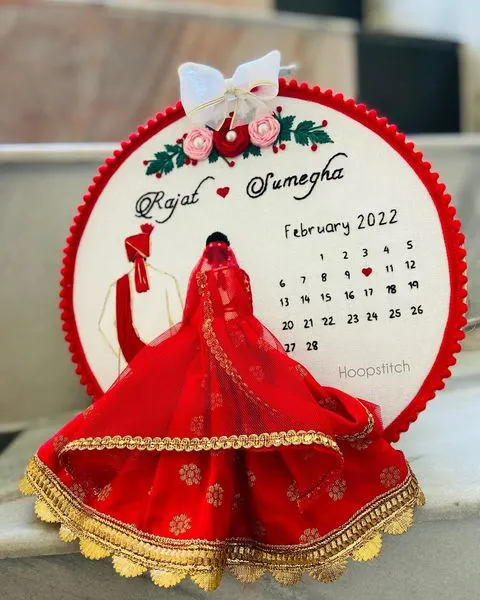 Source: Instagram
This gorgeous save the date invite can double as a lovely keepsake to give your guests. It is completely customizable, right down to the color of the outfits worn and the hair of the bride.
If you have a dab hand at embroidery and needlework then this is your time to shine. However, depending on the number you have to make, it might be prudent to order these hoops online in bulk.
If you have already planned your outfit, then feel free to play around with the colors and patterns of the outfits on the hoop. You can include the date, venue, and time, as well.
Source: Instagram
These cute as a button reveal invitations are fun and interactive. They allow your guests to participate and create a lovely sense of mystery and excitement as they unravel.
You'll find that you can customize these invites to your specifications and choose your pattern, theme, size, and style. You can also decide whether you wish to include that little acrylic medallion in the middle.
If you do decide to include it then it might be just what you need to add some contrasting color and texture to the invitation.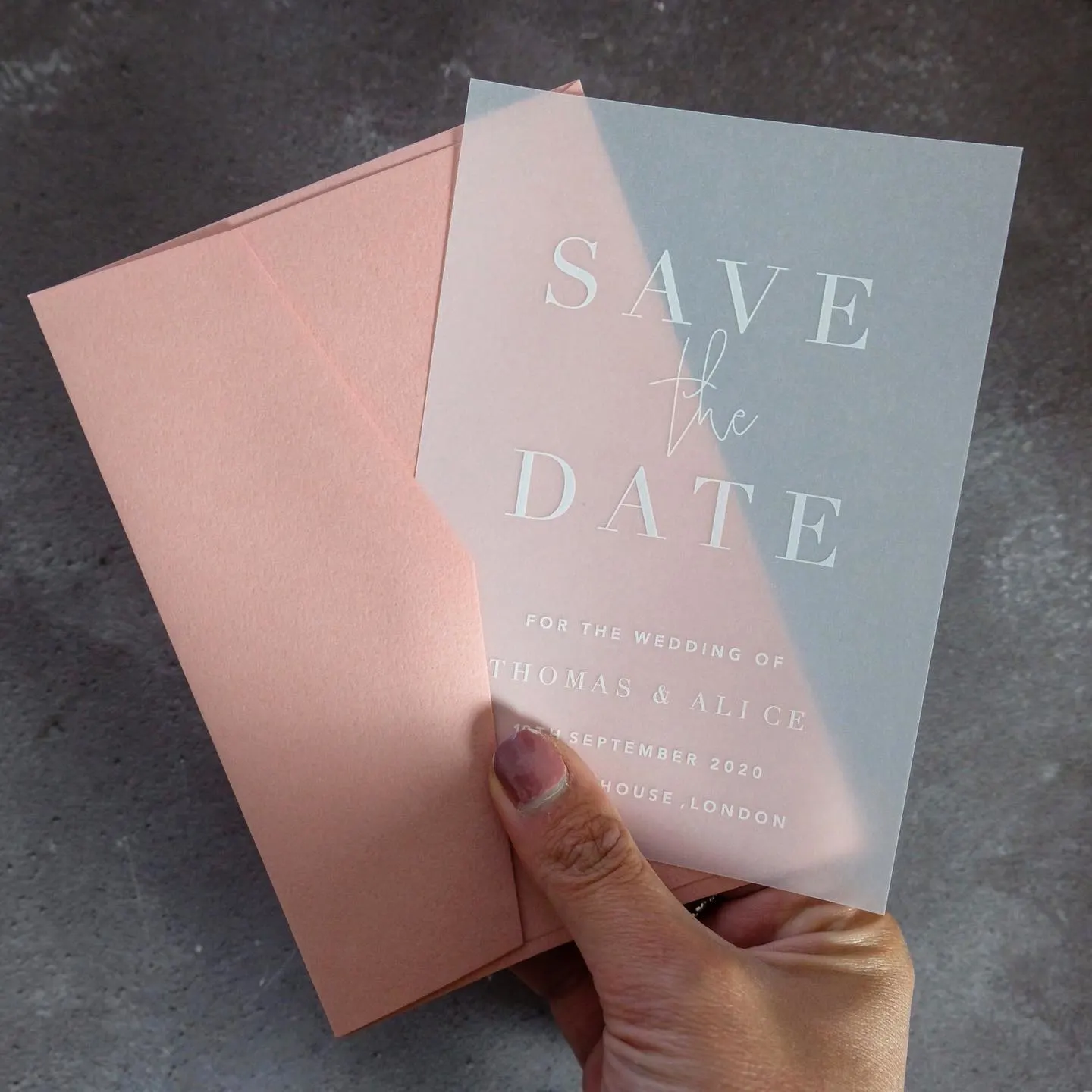 Source: Instagram
There's nothing more elegant than a chic, minimalistic invitation like this one. Printing the invitation on vellum paper truly kicks things up a notch, without taking away that element of simplicity.
What vellum paper does do,however, is add a subtle amount of texture. When paired with the right contrasting shade of envelope, you have the perfect recipe for a perfectly minimalist invitation.
You can, of course, play around with font and color. But ivory of egg-white letters on a gray scale vellum would truly hit the spot.
Need more ideas? Check out these rustic wedding décor ideas.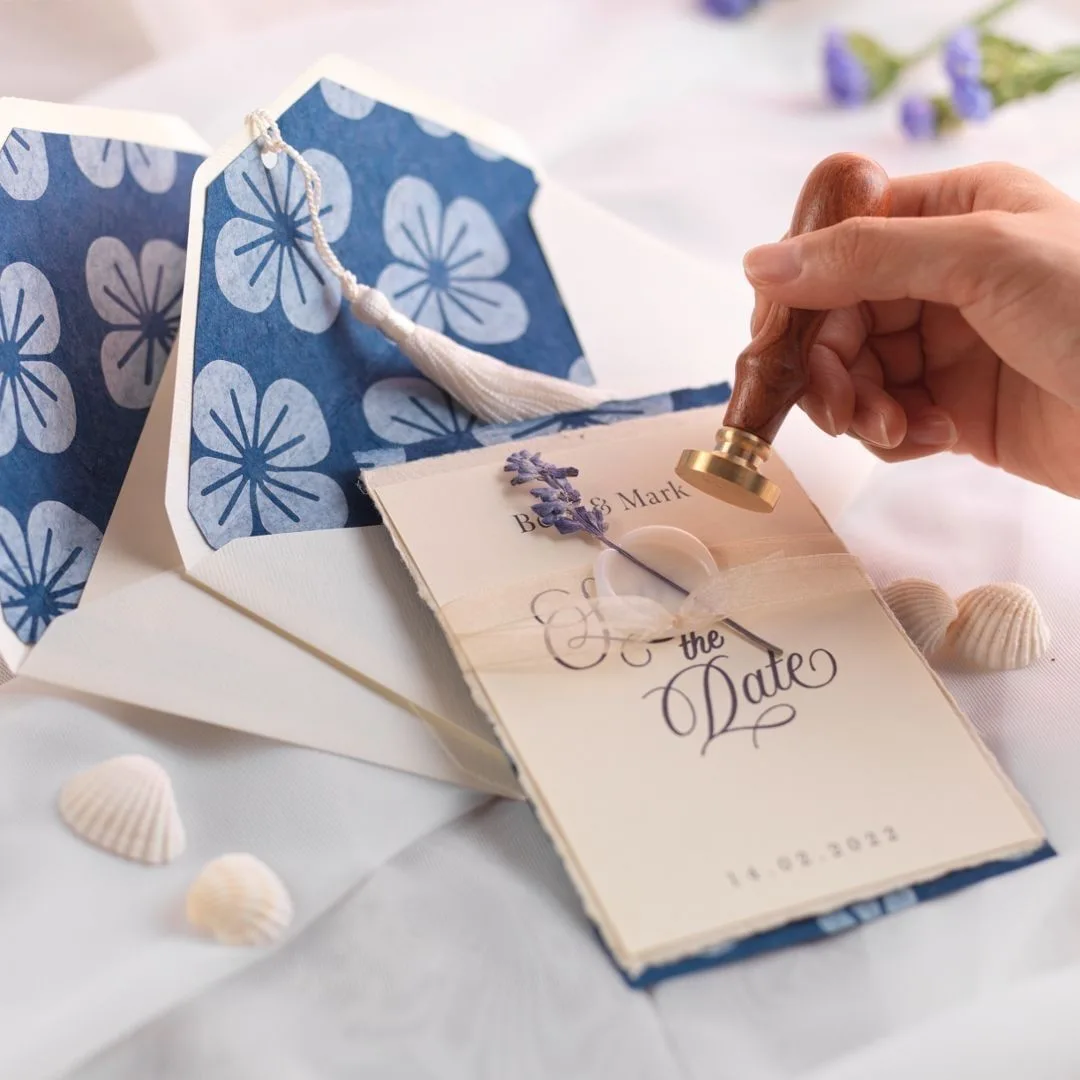 Source: Instagram
Save the date cards are the first opportunity you'll have to experiment with theme and color schemes that you can recreate and replicate for your whole wedding. It's an opportunity to experiment, to play around and test the waters till you hit the nail on your perfect style, design, and color combos.
This particular shade of robin blue paired with that parchment ivory shade is simply spectacular. There's a subtle texture that is offset by the big and quirky looking flowers.
Feel free to include a little sprig of lavender or something similar to add some oomph to the invitation.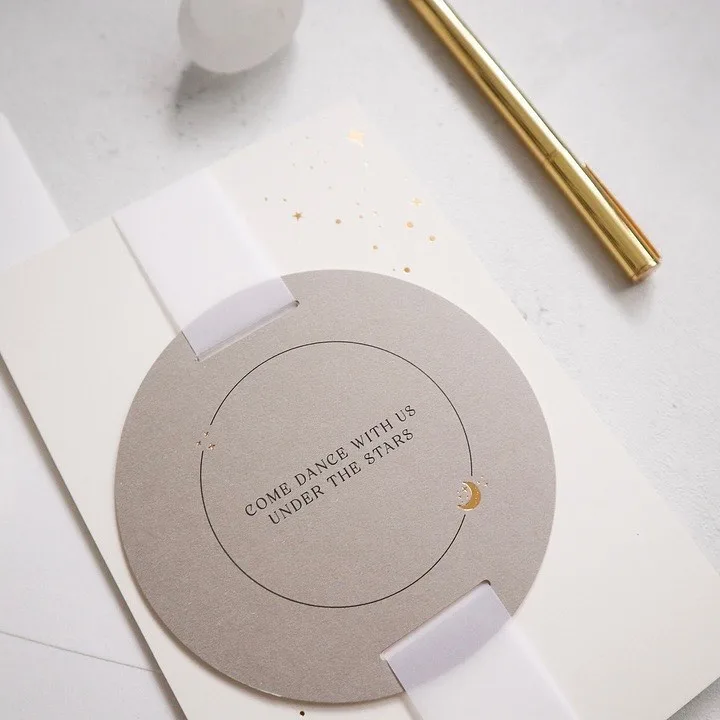 Source: Instagram
Sometimes, less is more than enough. The same can be said of these monochrome invitations.
It is a simple yet effective way to invite your friends and family to join you on your special day and to 'dance with you under the stars.' If you put a few hours into a fun and creative craft session, I bet you can make these cards right at home.
You can rope your family into helping you, as well!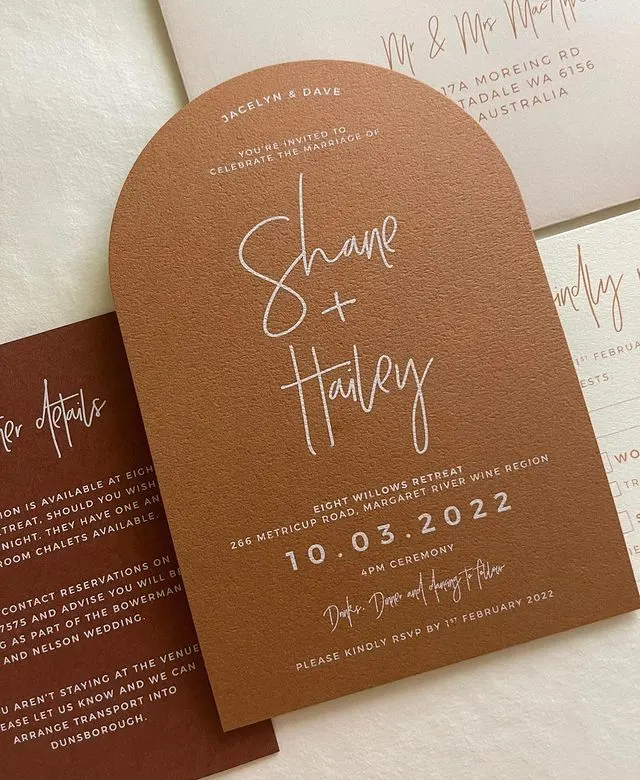 Source: Instagram
Who said that wedding cards could only be square? This domed finish and that gorgeous coffee and cinnamon toned paper is all things wonderful and unique.
You'll notice that the paper is earthy and rustic, with a grainy texture that allows you to emboss and embed the letters quite easily. There is a sublime matte finish that also ups to elegance, but in a more muted and tasteful way.
Get more inspiration with these wedding reception ideas.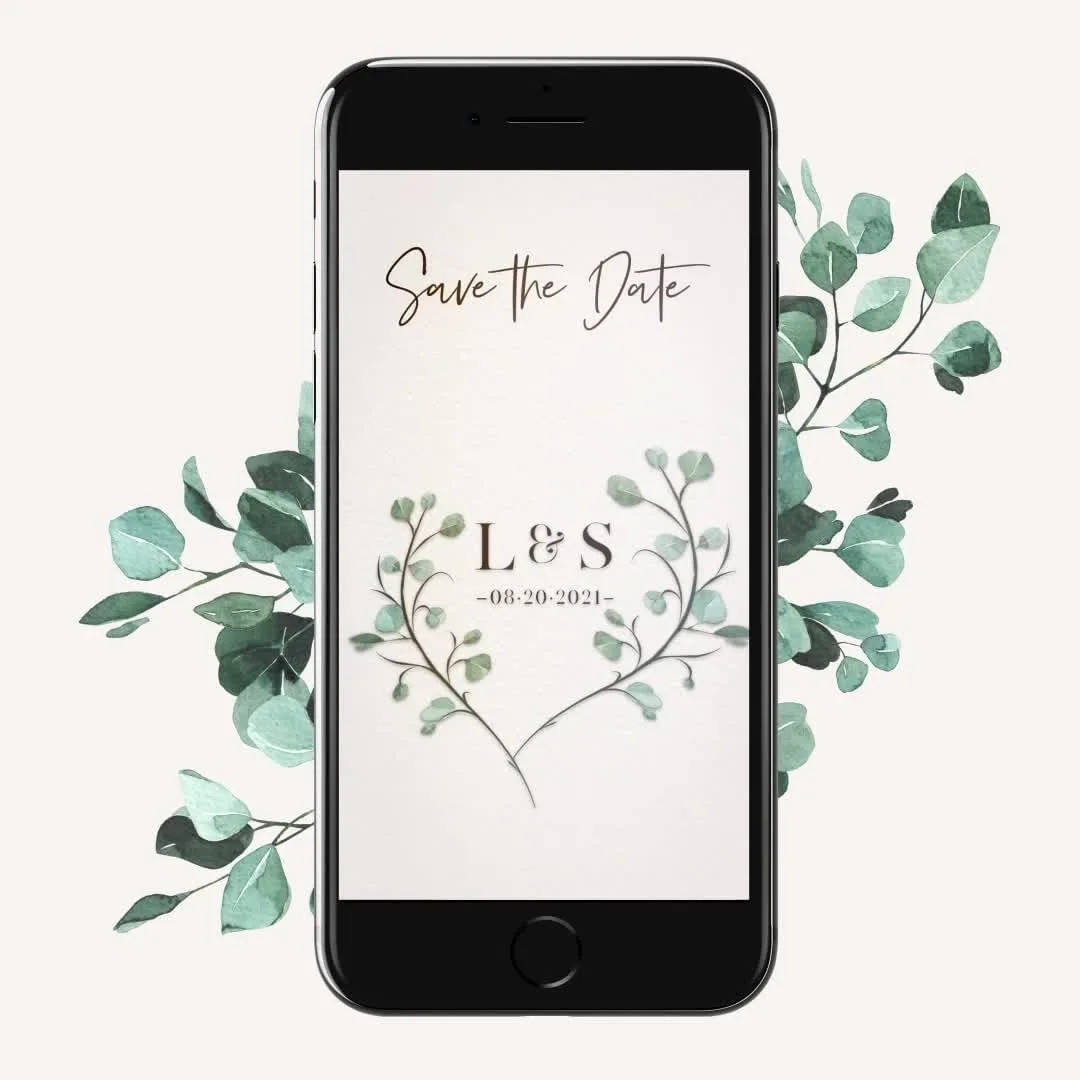 Source: Instagram
We're fast moving into a world where everything is digital. Yes, even invitations which have become e-invites.
While this might not be the traditional way to go about it, it does allow you plenty of room to be creative. You can animate your invitations, add effects, play around with a ton of customizable options, and more.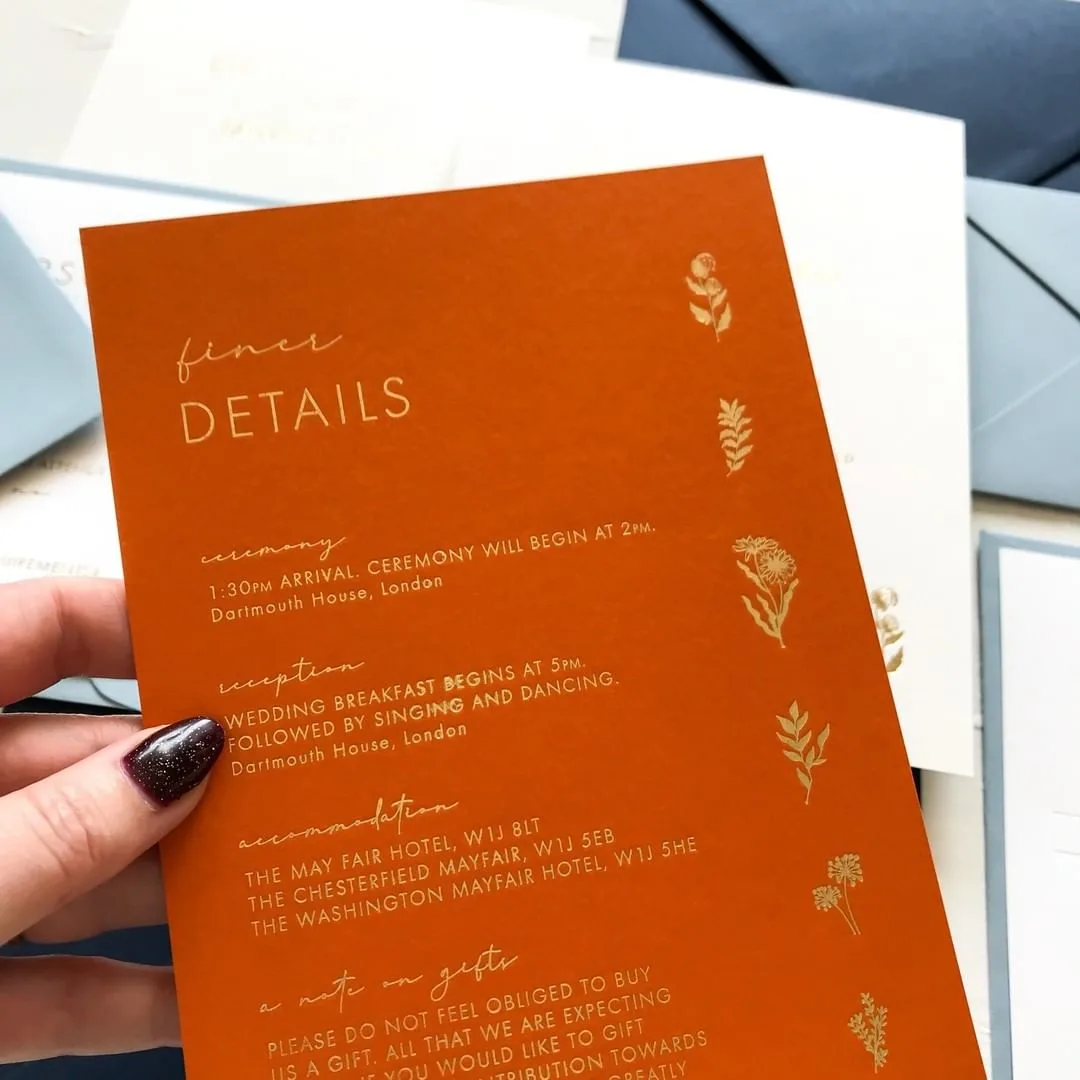 Source: Instagram
You'll find that this invitation is not too dissimilar to the domed cinnamon ones from earlier. But check out the elegant and scrawly script used and tell me you don't absolutely love it.
This time around, switch out the silver toned font for a more mellow, gold tinted one. You'll find that it softens the entire invitation and makes it even more inviting.
If you want to decorate it further, then consider embossing little filigree or floral designs along one corner, as seen here.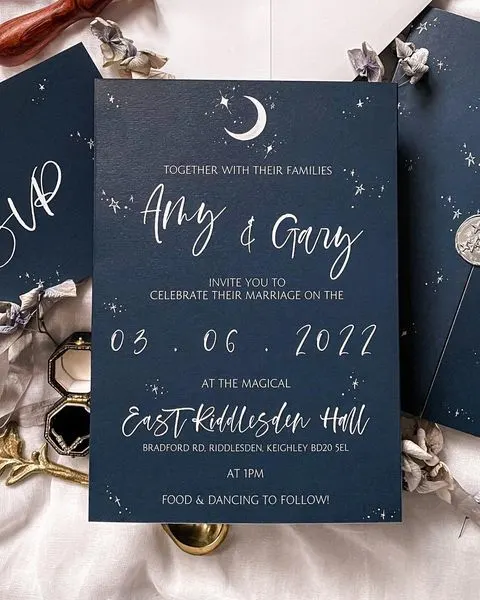 Source: Instagram
Be it for a Homecoming dance or wedding, there's something about the theme 'Starry Nights' that conjures a dreamy fairytale picture in our minds. It's just downright romantic and you can't convince me otherwise.
So plan your invitation to reflect the stars and heavenly bodies above on a backdrop of midnight blue. Don't forget the sparkly silver stars when you're customizing the design.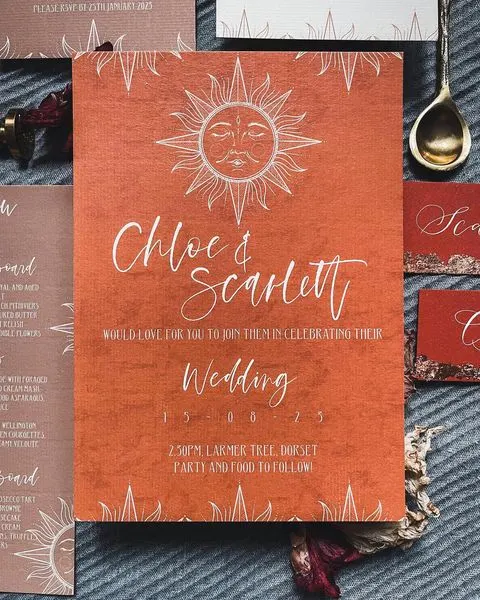 Source: Instagram
Nothing makes an invitation quite as personal as a hand illustrated drawing like this one. If starry skies on blue backdrops are all things elegant then this fiery bronze backdrop with its flaming sun is all things earthy and vivacious.
You'll find that the font is in a silvery white shade. Feel free to switch that out with a more warm shade of gold or amber. You can also use textured canvas paper to enhance the fact that this invitation has been hand illustrated.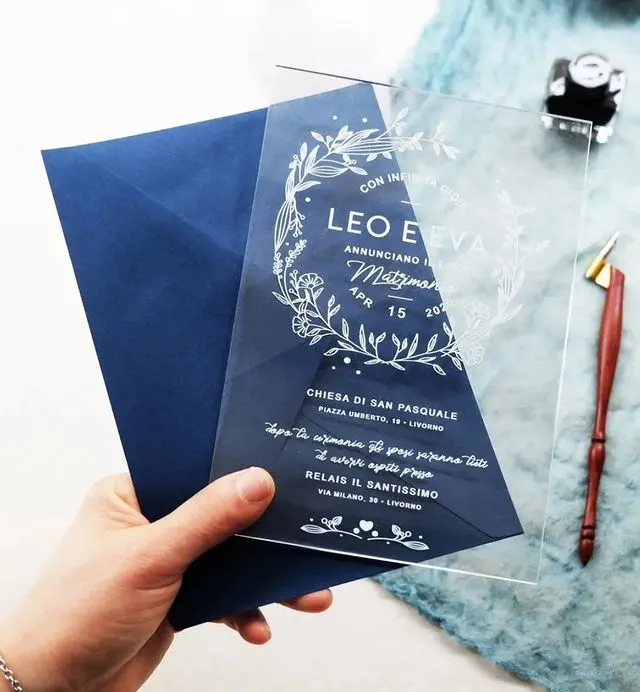 Source: Instagram
Matches are made in heaven, promises are set in stone, and your wedding invites can be inscribed on glass. What do you think of these fabulous glass tablet invites?
There's nothing I love more than artwork on see-through mediums like glass. If you're able to incorporate that effect and turn it into an invitation, then that just takes the cake.
It is just as easy to design and execute as any other invitation. However, they will definitely last longer and can be a keepsake of sorts for all your guests.
You might also like these wedding sign ideas!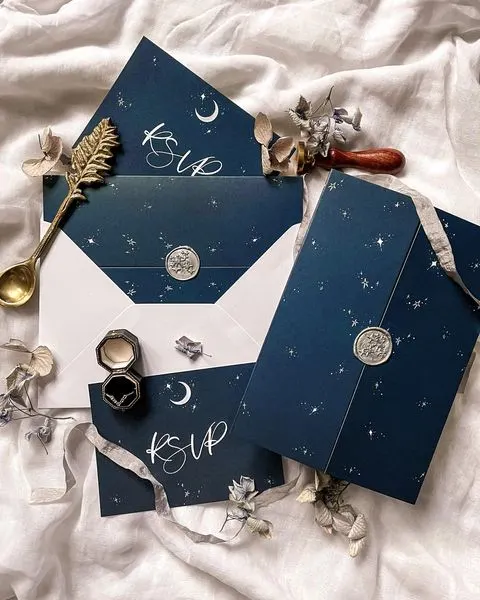 Source: Instagram
Here's another starry night themed invitation set for you to consider. This one is an entire set which includes RSVPs, save-the-dates, wedding and reception invites.
When you've already narrowed down your theme and design, then it makes absolute sense to go ahead and incorporate them into your wedding invitation. You can enclose all these cards into an envelope-style enclosed invitation booklet, or you can send them out over the course of your engagement, as well!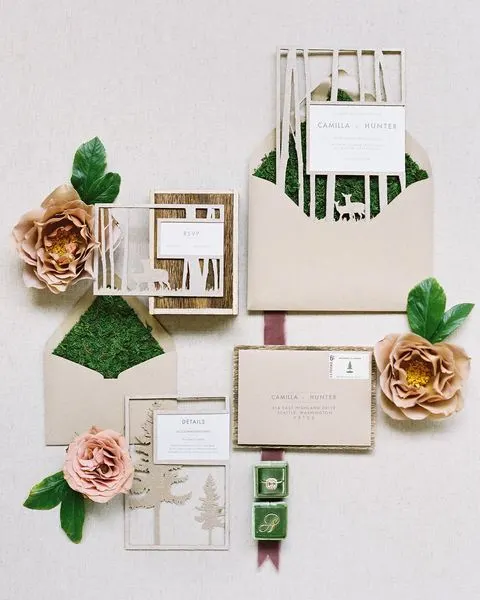 Source: Instagram
There's just so much going on in these invitations. First, you'll notice that there is a recurring woodland theme here which is perfect if you're planning a fun and outdoorsy wedding.
Next, you'll notice that the cards are all gorgeously cut out into a kind of frame silhouette. Don't you love how there is a seamless interplay between the negative and positive spaces in this invitation?
It is the moss lined envelopes, however, that really take the cake. I can almost smell the earthy and woodsy notes just looking at it!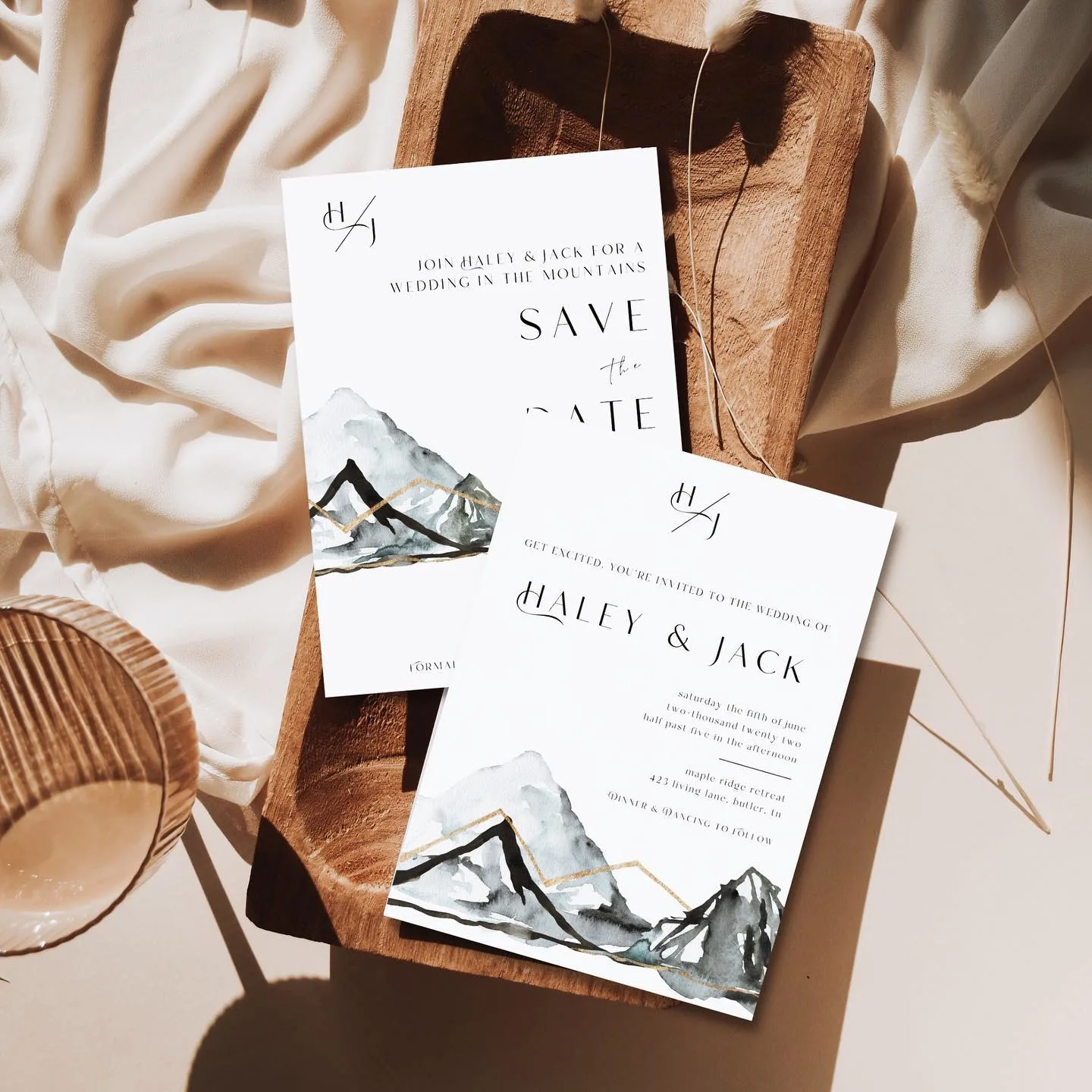 Source: Instagram
Check out the abstract mountain-themed watercolor finish on these invitations. These are simply perfect for just about any occasion, but that line of sparkly yet subtle gold just adds a festive touch that is much needed in a wedding invitation.
When you're planning your wedding theme, it might help to design a log of sorts. You can incorporate the initials of the couple and create a lovely and intricate logo that you can center the rest of the theme around.
Need more inspiration? Check out these wedding card box ideas you can easily make by yourself.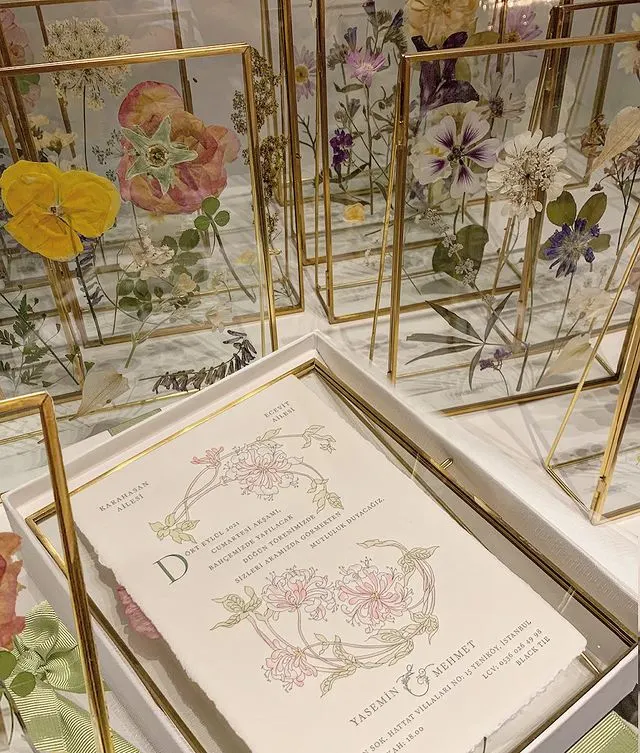 Source: Instagram
Pastels are probably only second to gold and ivory when it comes to wedding colors. They're warm and unassuming shades that can be jazzed up with a little flicker of gold, or a couple of burst of deeper tones.
Pastel flowers, in particular, embody the very essence of a summery wedding. It immediately conjures a picture of billowy white wedding cake, flutes of cold bubbly, and sublime and tasteful elegance.
So capture all that in your wedding invitation and you will have given your guests a taste of everything your wedding promises.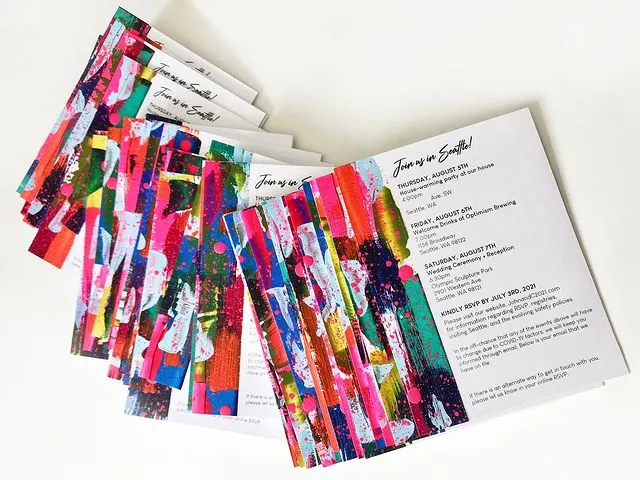 Source: Instagram
This invitation features an amalgamation of acrylics, ink, and paint splatters that comes together in a unique and colorful way. It's like an invitation to an art show, which is perfect if you think about it.
Your wedding too should be an expression of love, art, and color and these invitations can be the perfect way to start you off with a colorful theme.
Go ahead and incorporate monochrome fonts to offset the bright pops and splatters of color and you'll find the right balance between the two.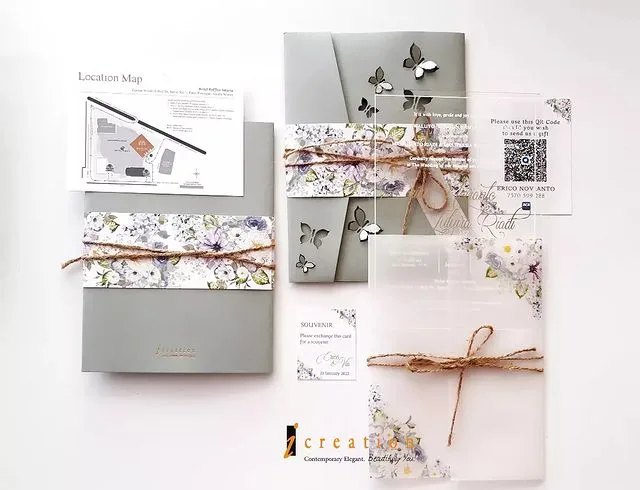 Source: Instagram
If you loved the vellum paper invitation from earlier, then it might be worth it to consider this one as well. It's not quite as minimalistic as the other one, so that gives you two different styles to choose from.
The heart of this particular invitation, however, is not the vellum paper. What really makes this invitation stand out is the flurry of beautiful 3D butterflies and the smattering of pastel flowers around the middle.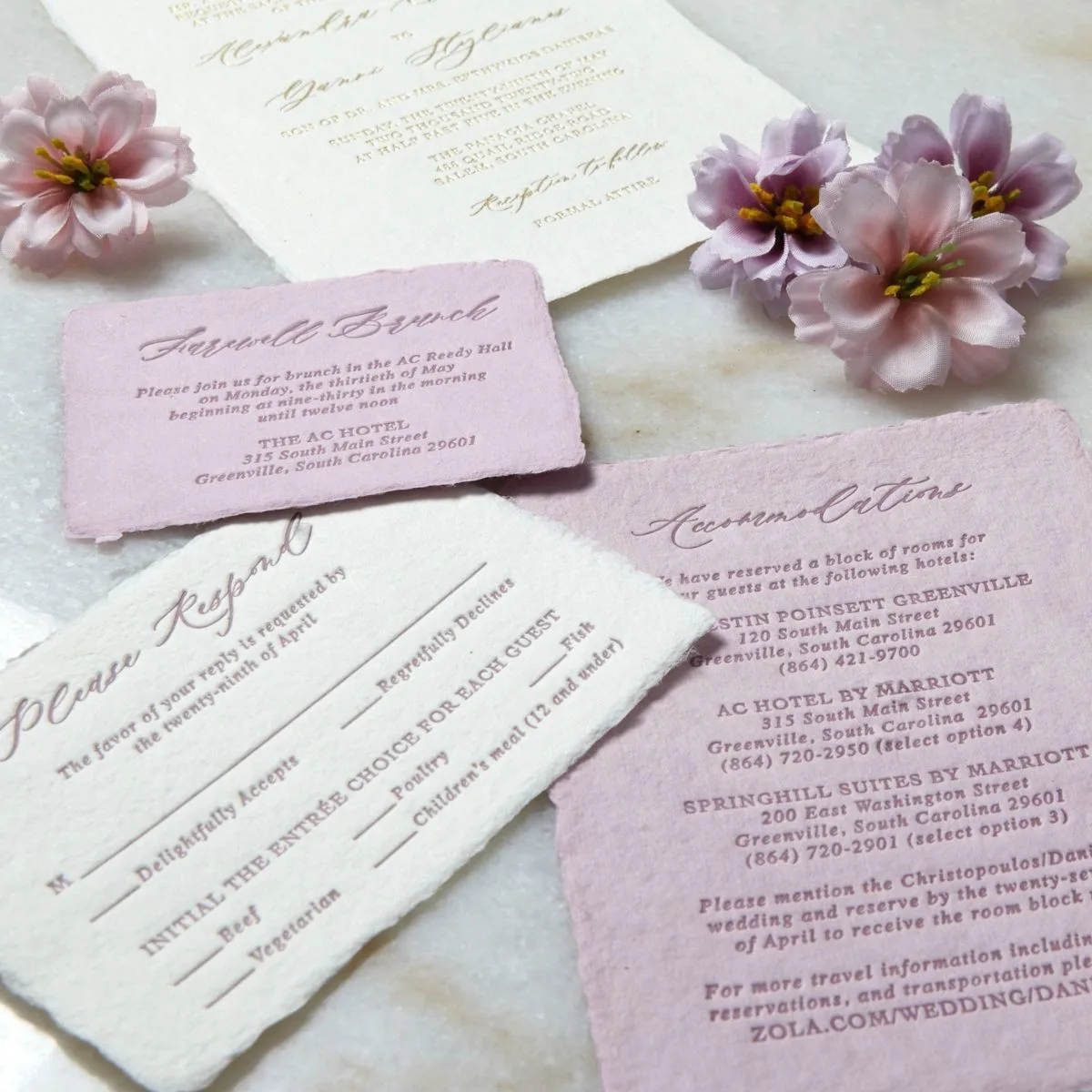 Source: Instagram
There is just so much to love about this batch of invitations. First is the fact that they're printed on rustic handmade paper. The second thing that just makes it stand out is how that chunky and rugged handmade paper features a delicate and elegant cursive font.
When you print the font onto the paper, you'll find that there is a natural ingrained texture that you only find when printing on handmade paper. So go ahead and plan your cards and colors!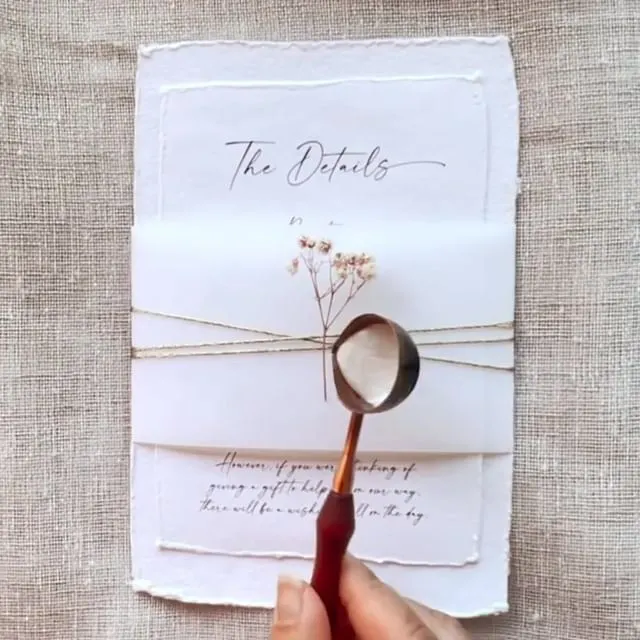 Source: Instagram
Don't you just love to see wax seals on…well, anything? Just think of how much it can class up a wedding invitation.
It doesn't just have to be a decorative addition. You can actually use it to encase different invitations into one big envelope and hold them in place.
Go ahead and research different ways to incorporate flowers, color, sparkle, and other embellishments into wax seals before you seal the deal.
Need more inspiration for your wedding? Check these wedding backyard ideas.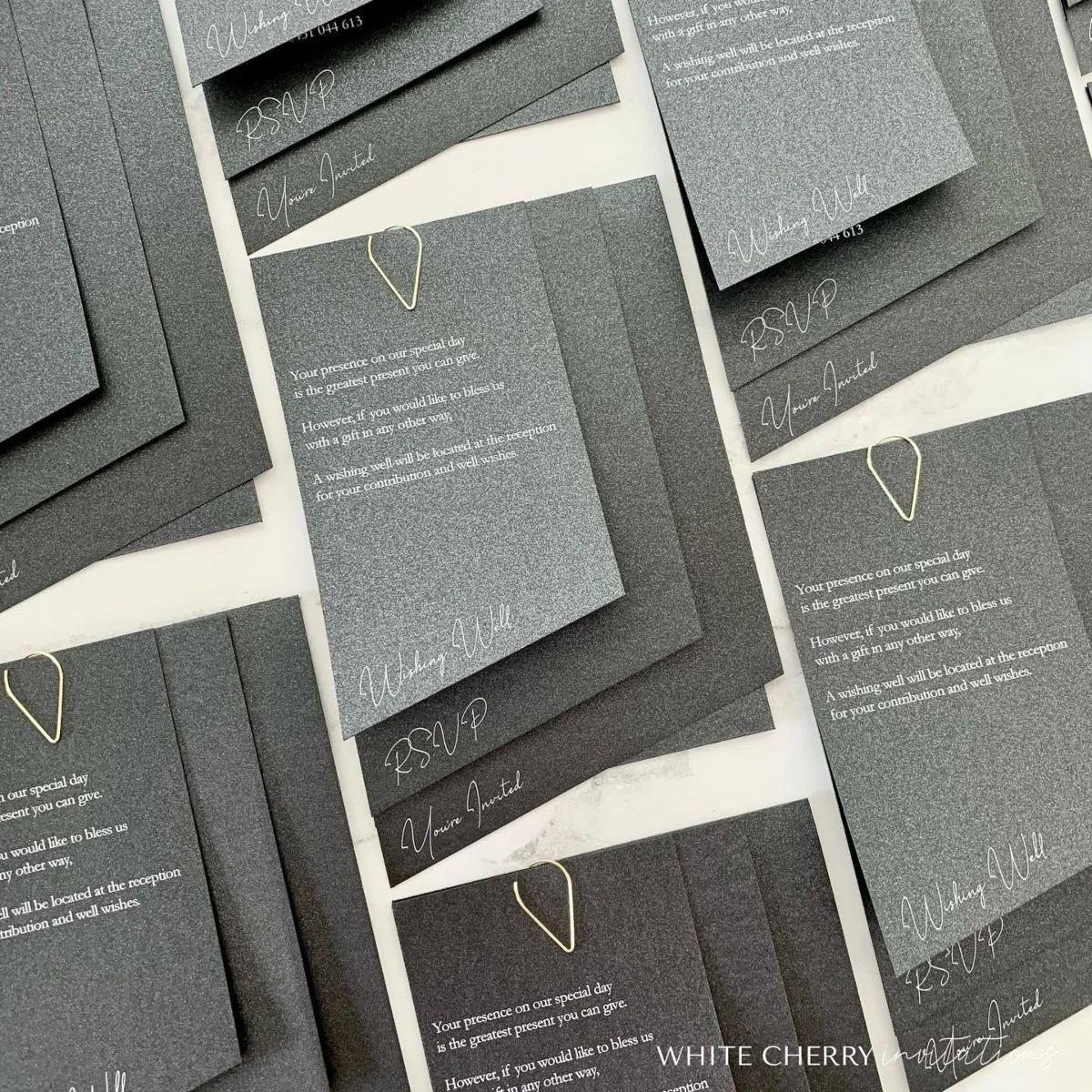 Source: Instagram
Nothing can quite beat sparkle on a black or dark backdrop. This can include silver, gold, bronze, or any metallic toned sparkle…it just takes the cake.
When you're planning your invitations but haven't quite figured out your central theme, then this sparkly invitation can help you till you decide. Or, you can just turn your white and ivory wedding into a black tie event. Either way, this invitation has your back.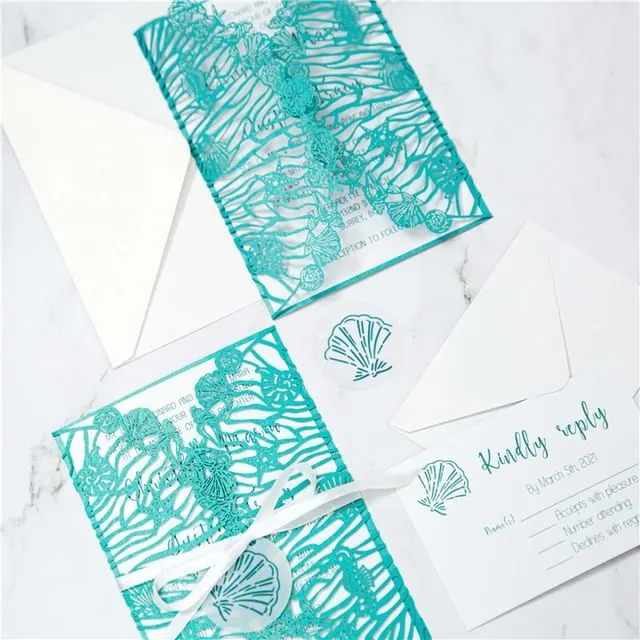 Source: Instagram
You'll often find that beachy themes can turn clumsy and rustic quite quickly. If you want your beach wedding to be all things fun and sandy but also elegant and chic, then check out this teal silhouette frame invitation.
There are plenty of intricate and delicate details that go into this invitation. Even the partial shell prints on the paper are soft and mellow, don't you think?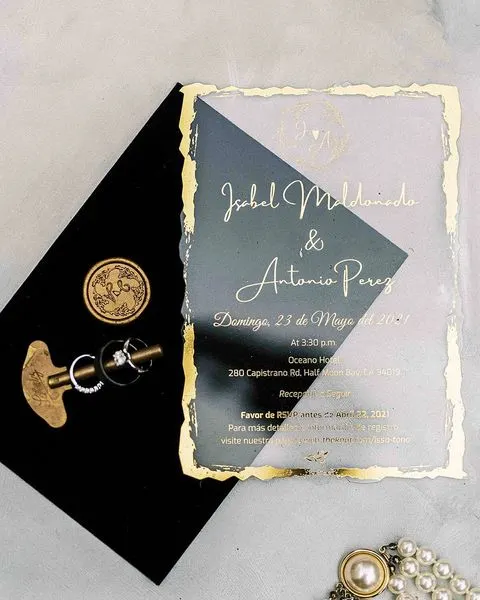 Source: Instagram
Not too many wedding invitations are black. You'll find that while white and gold is an oft-loved combination, black might be a little too stark, at times. But this see-through invitation balances out the heaviness of that black and gold quite effortlessly.
Check out that rugged edge, too, while you're at it. I think that touch of ruggedness quite perfectly offsets the polished elegance of black on gold.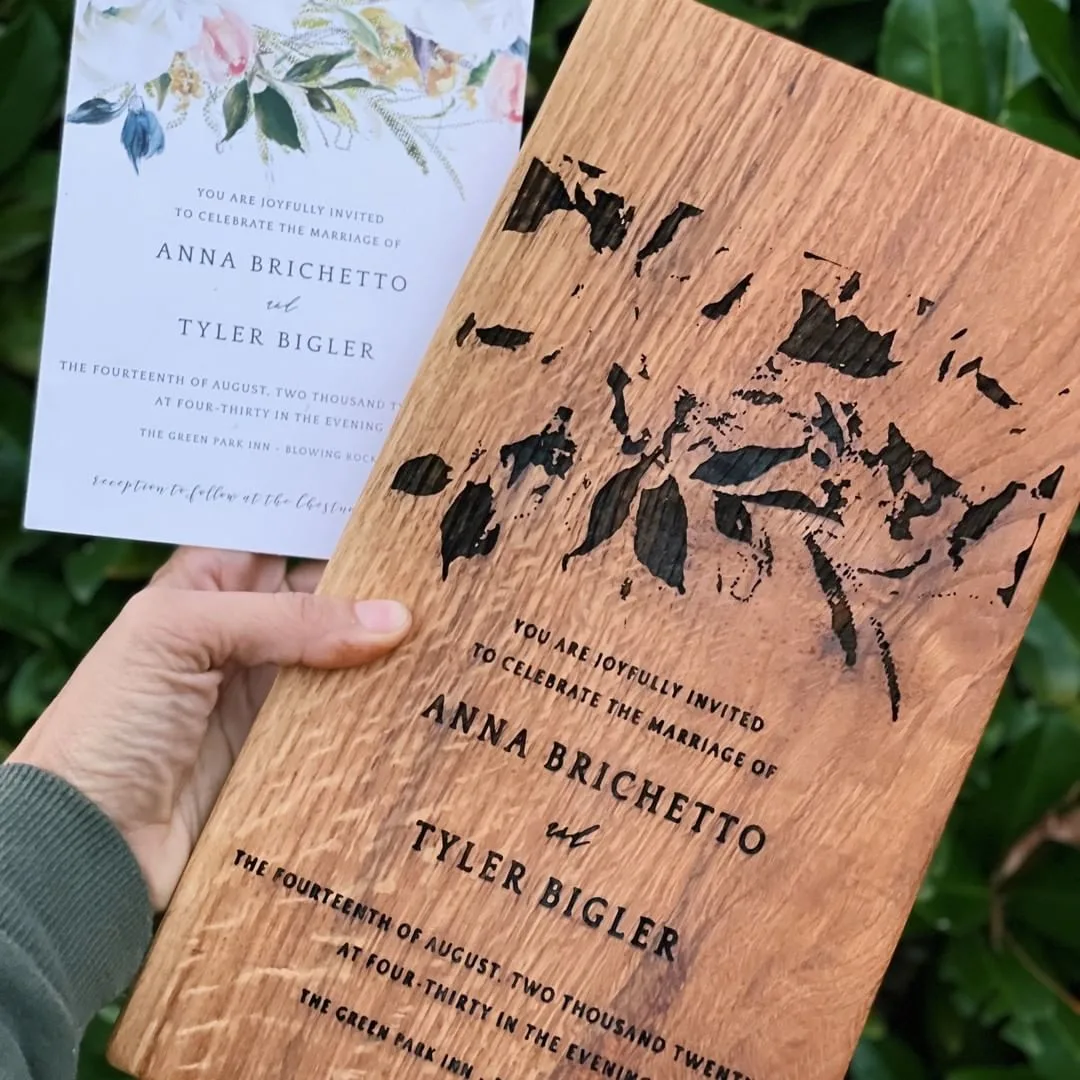 Source: Instagram
Is it a wedding invitation? Is it a serving board? It's…both! This woodsy and rustic wedding invitation doubles as a thoughtful memento and take-away gift for all your guests.
The abstract artwork across the top is simply stunning on that wooden base. There's nothing quite as wonderful as unique wedding invites like this, so go ahead and plan yours to best cater to your wedding theme!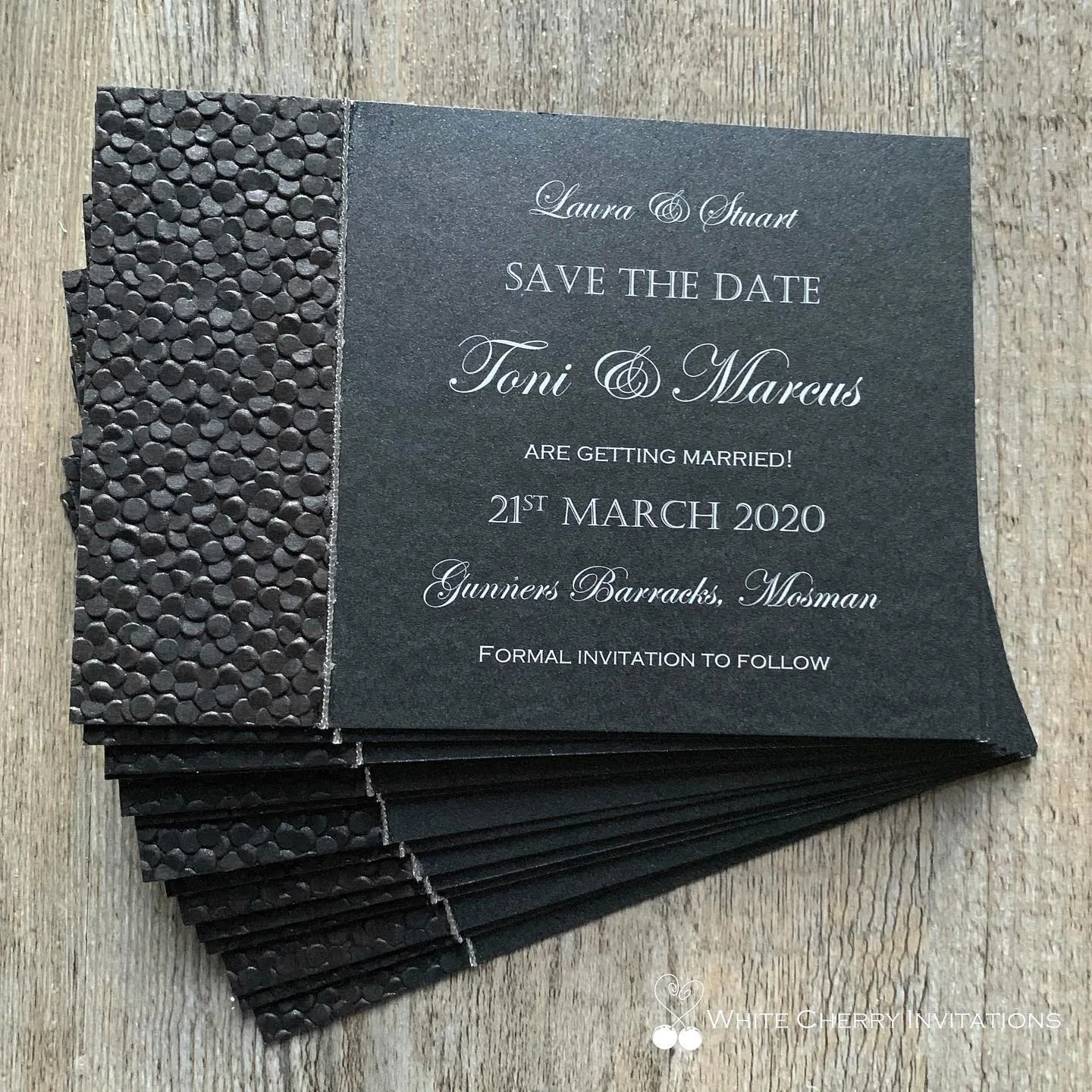 Source: Instagram
When you're going for dark base colors, like black or midnight blue, it is important to cut through the solid starkess of those colors with some texture. Offsetting the black with metallic shades of fonts is a good place to start.
The next step would be to incorporate texture. Check out that little strip of pebbled paper. Don't you love how it breaks through the monotony of the black?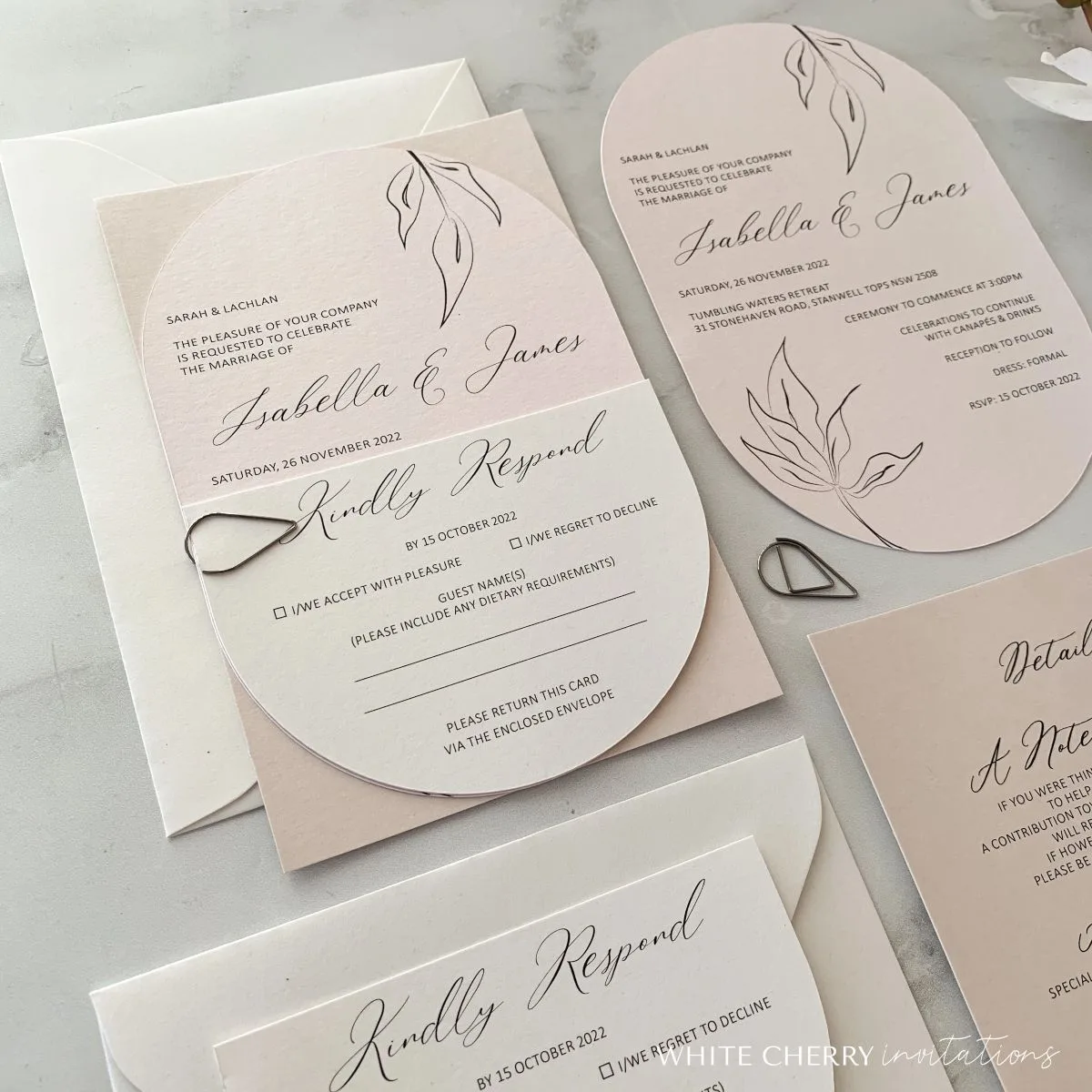 Source: Instagram
Why have just one domed or arched facet in an invitation when you can have two? This double-arched opal and blush tone invitation is just the height of fashionable aestheticism with just a touch of vintage.
And don't you just adore that little paper clip holding the different components in place? That right there is your chance to customize and jazz up this pastel invitation!
Yield: wedding invitations
27 Unique Wedding Invitations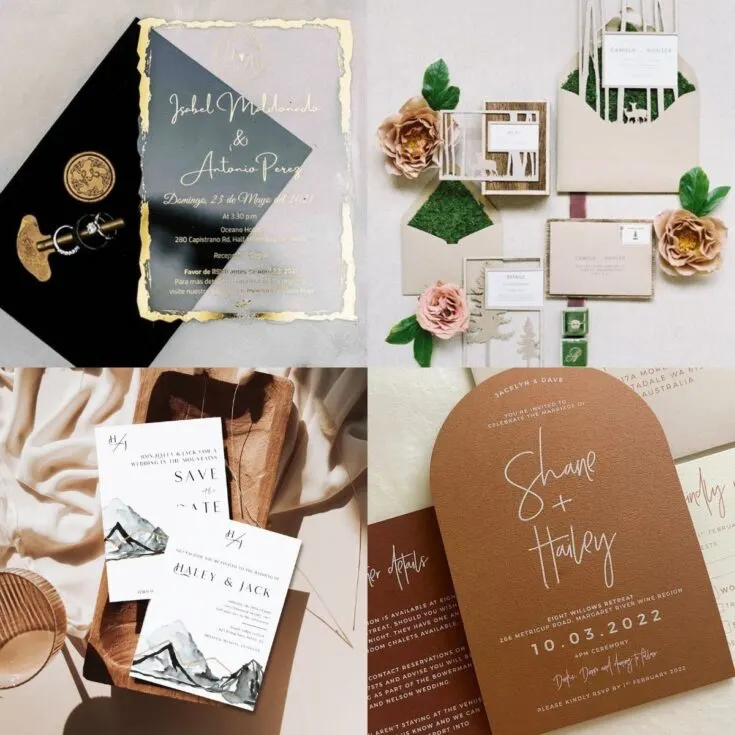 Need help with wedding invitations? These are creative, beautiful and will make wedding organizing much easier.
Materials
1. Blush and Pink Invitation
2. Peach Floral Save The Dates
3. Embroidered Wedding Keepsake
4. Interactive Wedding Reveal
5. Minimalistic Vellum Invitation
6. Robin Blue Patterned Envelope
7. Minimalistic Starry Night Skies
8. Cinnamon and Coffee Cards
9. Animated E-Invite
10. Gold Embossing
11. Starry Nights Fairytale Invitation
12. Hand Illustrated Solar Theme
13. Glass Inscribed Tablet Cards
14. Starry Skies Set
15. Woodland-Themed Outdoor Wedding Invitation
16. Watercolour Mountains
17. Pastel Tones
18. Abstact and Monochrome Amalgamation
19. 3D Butterflies on Vellum Cards
20. Rustic Handmade Paper Invites
21. Wax Seals
22. Metallic Toned Sparkle on Dark Backdrop
23. Beach Silhouette Invitation
24. Transparent Invitation
25. Ru
26. Go Black
27. Opal Double Arch
Instructions
Find the wedding invitation idea you like!
Get creative!