Need to improve storage in small spaces or just create a beautiful gallery wall? These wall shelf ideas will serve as decorative pieces and provide extra storage space.
What turns a plain old storage unit, closet, or empty space on your wall into something that gives you oodles of storage, a ton of utility, and jazzes up your walls at the same time?
Shelves! They're at the heart of any good storage unit and can add character and creative solutions to your storage needs.
Here are 27 wall shelf ideas for you to explore!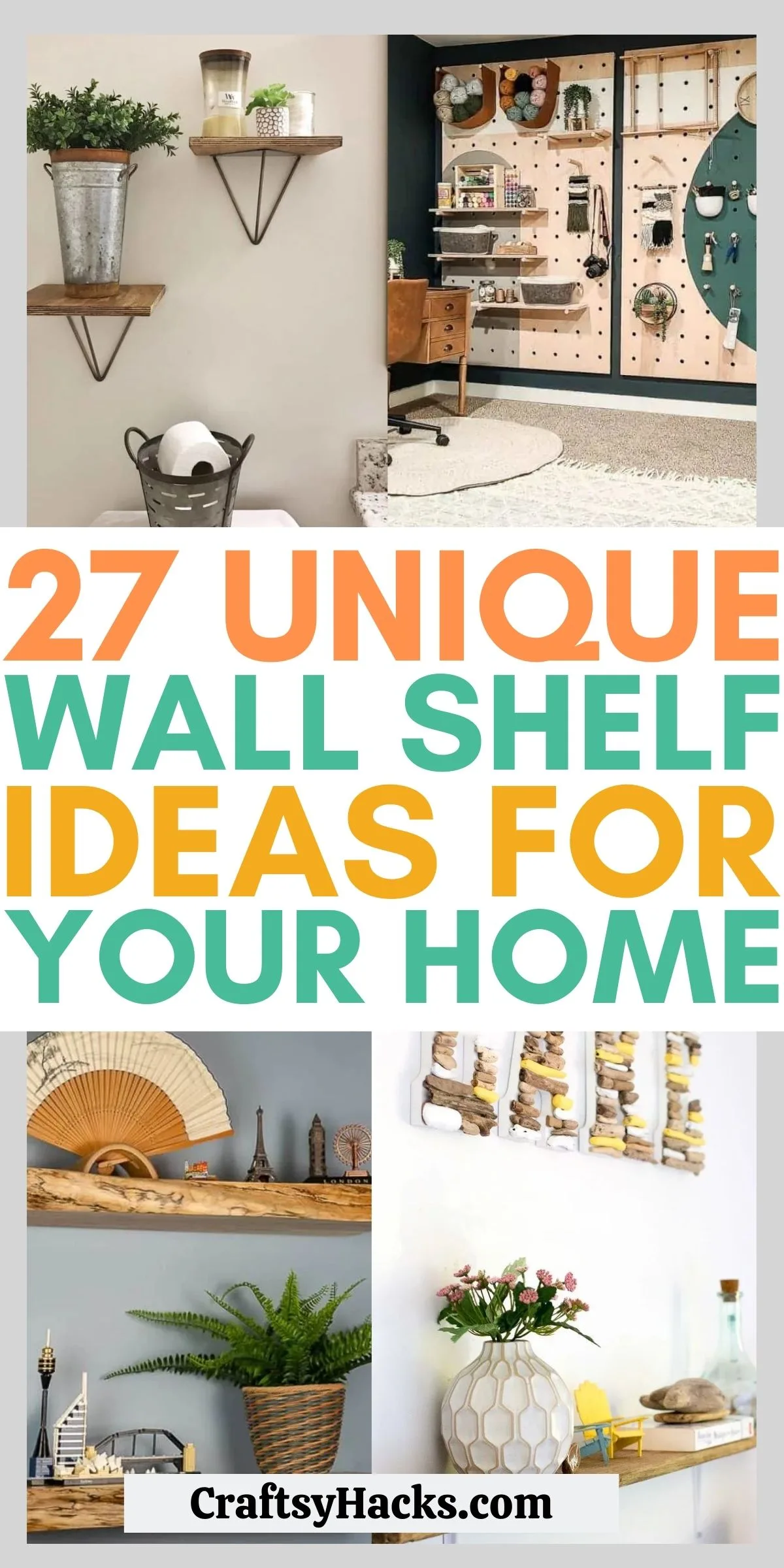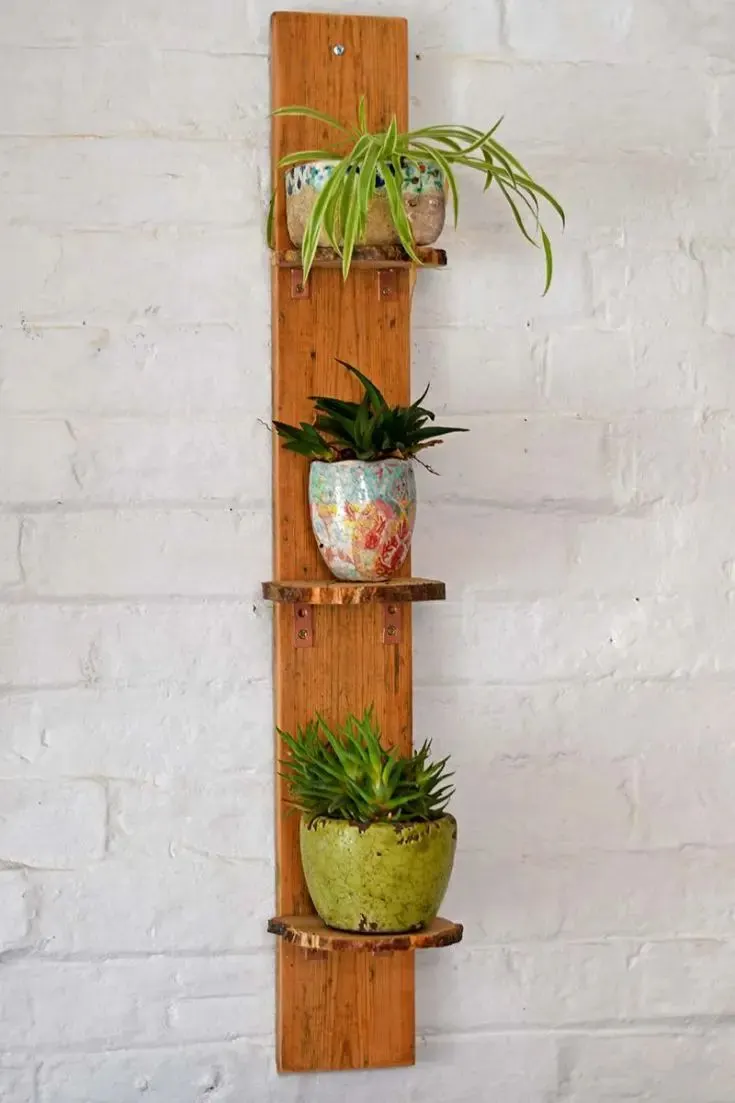 Source: pillarboxblue.com
Do these plant shelves have to exclusively display plants? No; but are you going to use them to display your plants? Yes, absolutely!
For this DIY shelf, you'll need to buy a few wood slices. Just pick them up from here to get started. Next, you'll need your toolbox to help you size the slice according to your specifications.
What a great way to introduce extra space into your small rooms.
Check out more wonderful DIY bedroom décor ideas!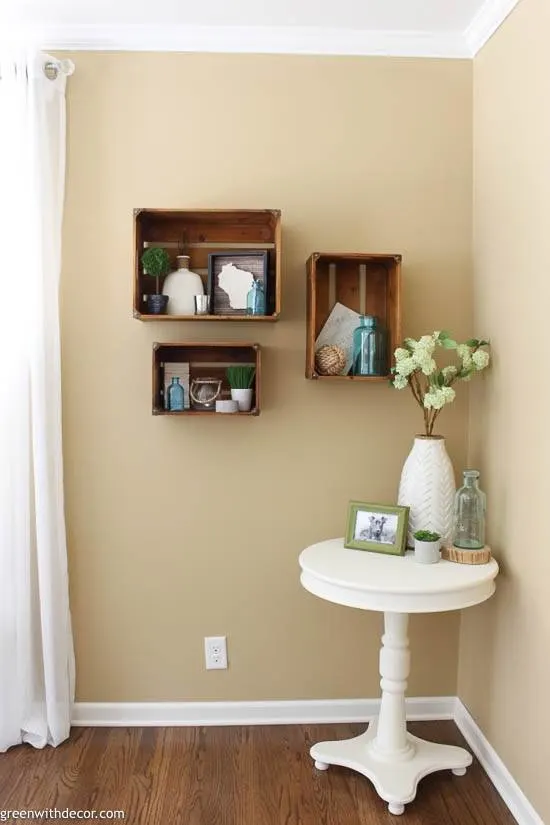 Source: greenwithdecor.com
I wonder…do you have an old milk crate or two lying around in your garage? I've got the perfect home decor project for you, so go ahead and grab those crates.
You're going to give these crates a makeover first–a little scraping, buffing, and a coat or two of wood stain or paint should do the trick. Then, you're going to grab your drill and mount them up onto your wall to use a shelf!
These DIY shelves are a perfect solution when you want to make your own shelves. These will serve as a perfect addition to your room.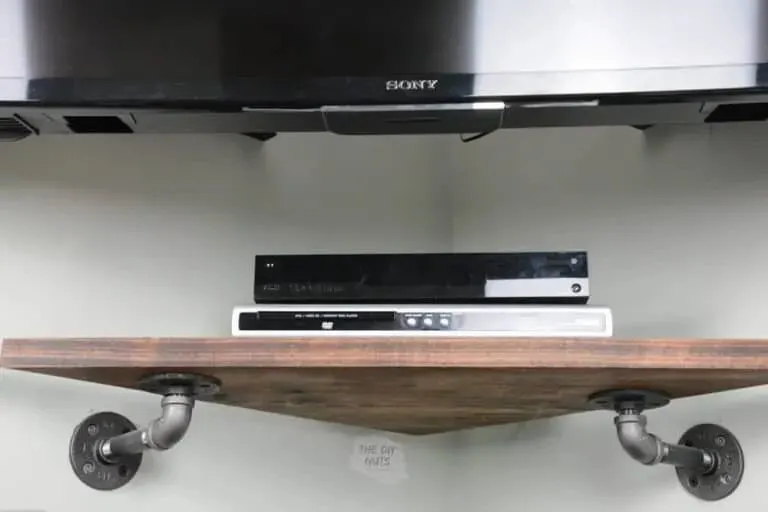 Source: thediynuts.com
Love corner shelves? This corner shelf is pretty creative, even if I do say so myself. With a couple of pipes, you can bring the wooden shelf forward a few inches and add some depth and angle to your corner shelf.
If you don't want the traditional L-shaped shelves, then these can be a lovely alternative for you to try. Grab some of these pipe fittings to begin working on your corner shelf.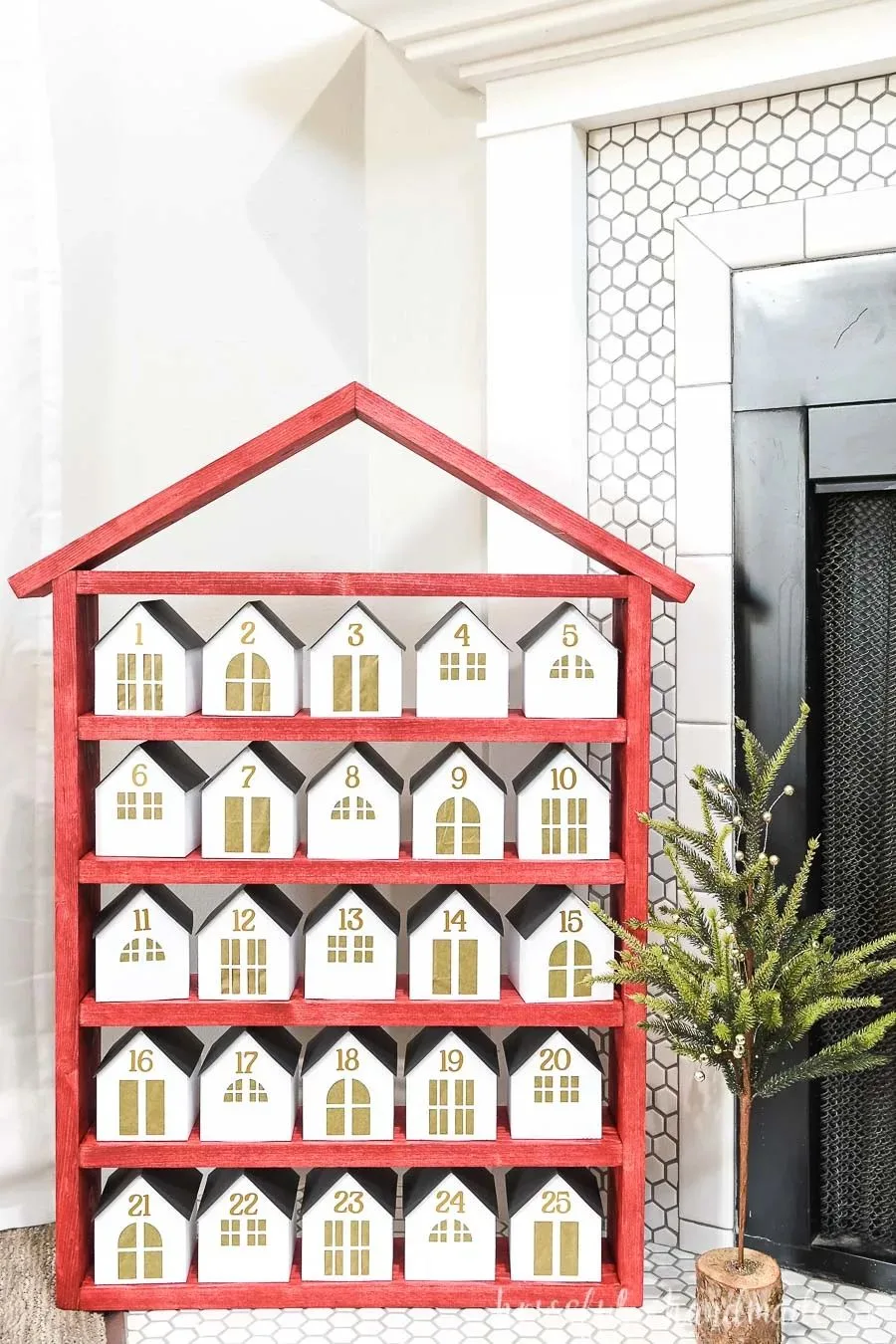 Source: housefulofhandmade.com
Looking for decorative items? How about a super simple, yet unique-looking house-shaped shelf for your house? It's a pretty great project for you, especially if you're a beginner looking to advance your woodworking skills.
You don't need any elaborate tools or supplies, either. Just grab your measuring tape, a miter saw, your wood of choice, and finally, your nail gun. Now all that's left to do is figure out the dimensions and you can start building.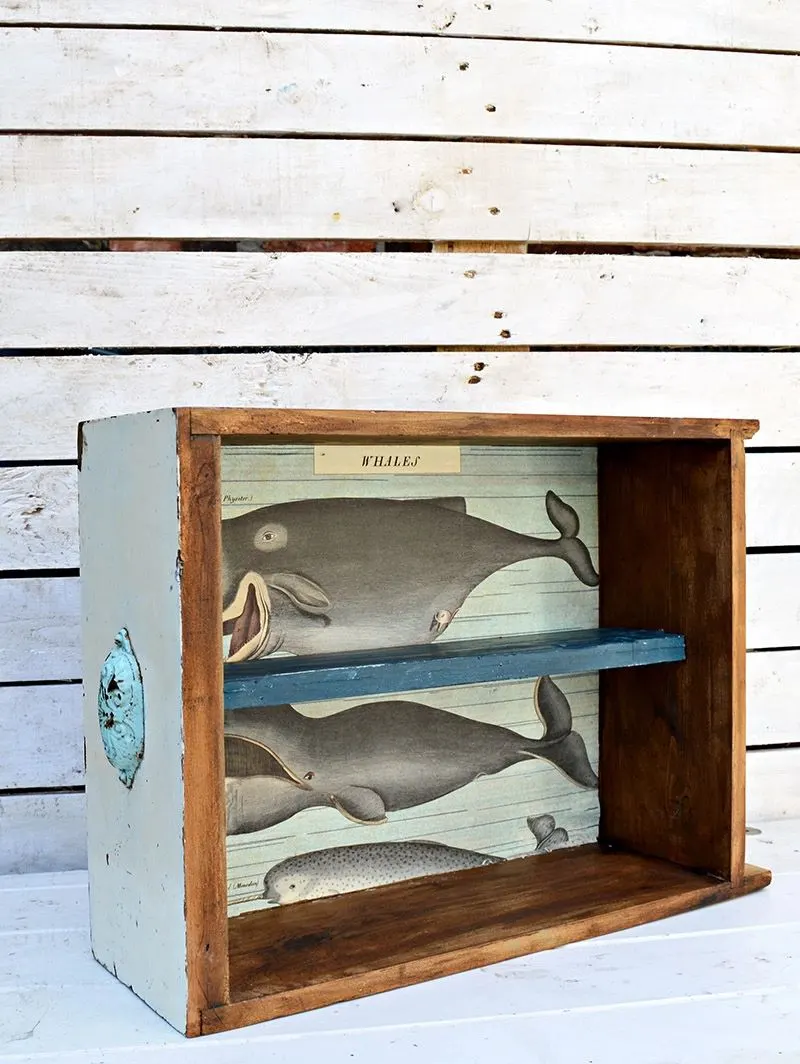 Source: pillarboxblue.com
Transform your bare walls! Upcycling is one of the coolest ways of being sustainable. Don't believe me? Just take a look at how you can turn drawers into this gorgeous and handy wall unit!
While this project is pretty easy to work with, there are ways you can jazz the wall unit up. This can include your choice of paint or wood stain. It can also come down to the drawer pull you use.
You can browse for the one you like right here!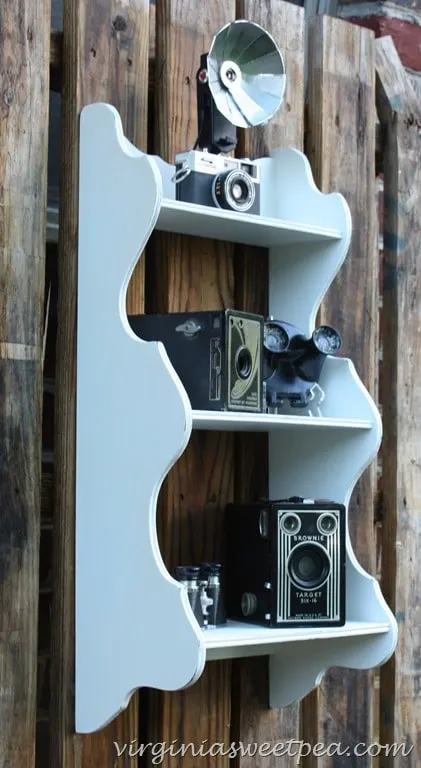 Source: virginiasweetpea.com
Why have just one shelf when you can have three tiers of them. Check out this vintage shelf! If you've got an old shelf like this in your home, then here's what you can do to spruce it up and repurpose it, too, while you're at it.
Feel free to experiment with the wood stains or paint you use. This is your chance to play around with colors and also any decal work you might like.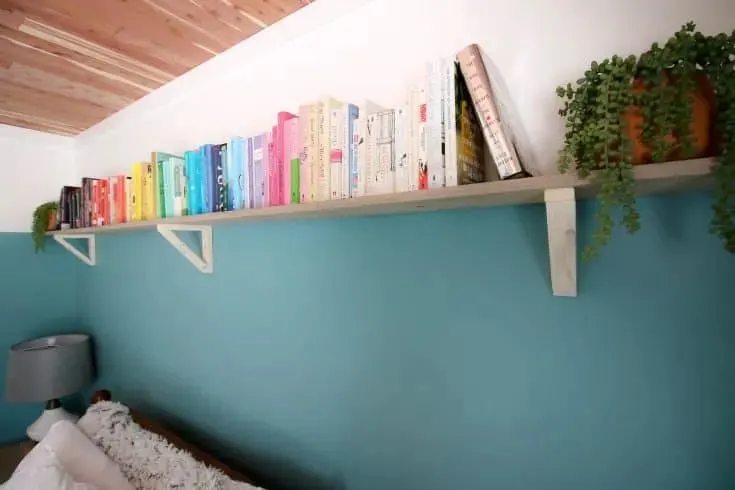 Source: charlestoncrafted.com
While floating shelves are great to look at, sometimes, you need a little added support. If you stack books or heavy plants on your shelf, you need something under it to help prop it up and balance the weight.
These triangle brackets for your shelves will definitely do the trick. They're a great way to use up wood scraps leftover from previous projects. Just pick up some wood glue from here before you start building these brackets.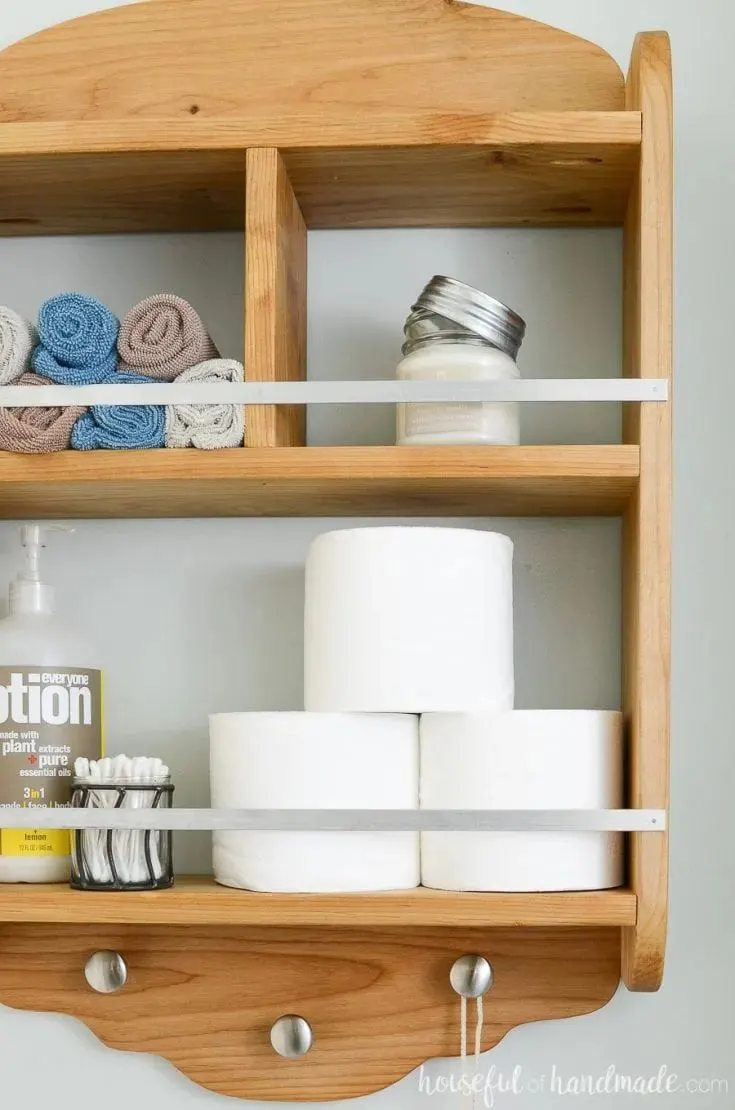 Source: housefulofhandmade.com
You can never have too much storage, especially in your bathroom. With shelves like these mounted up on your walls, you'll be able to clear up and declutter your counter space.
Trust me, your bathroom will look so much better without all the little toiletries and make-up taking up valuable counter space. You can also use this shelf to stack up face and hand towels, too.
What a great way to increase vertical space with one of these storage solutions. Find more Dollar Store bathroom hacks!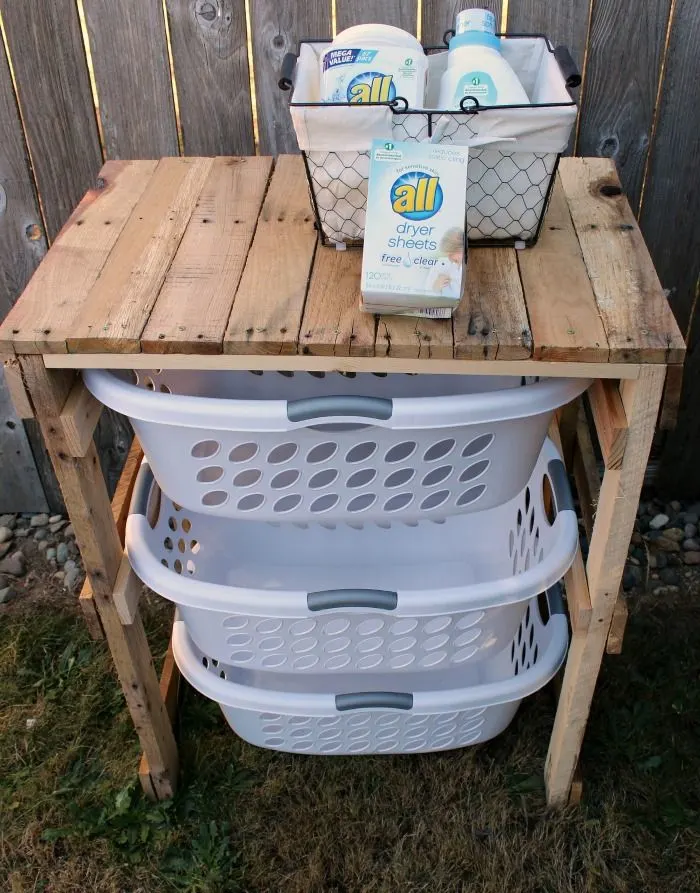 Source: cookeatgo.com
Sometimes, no matter how hard you try, it can feel like your laundry is getting the better of you. There's always a pile that needs to be loaded, a pile that needs to be folded, and just another pile full of socks.
It's time you organize all that, and here's how you can do it. Grab a few laundry baskets from here.
You're going to stack them up into a drawer-like shelving unit and sort your clothes into them. Say hello to a clean laundry room!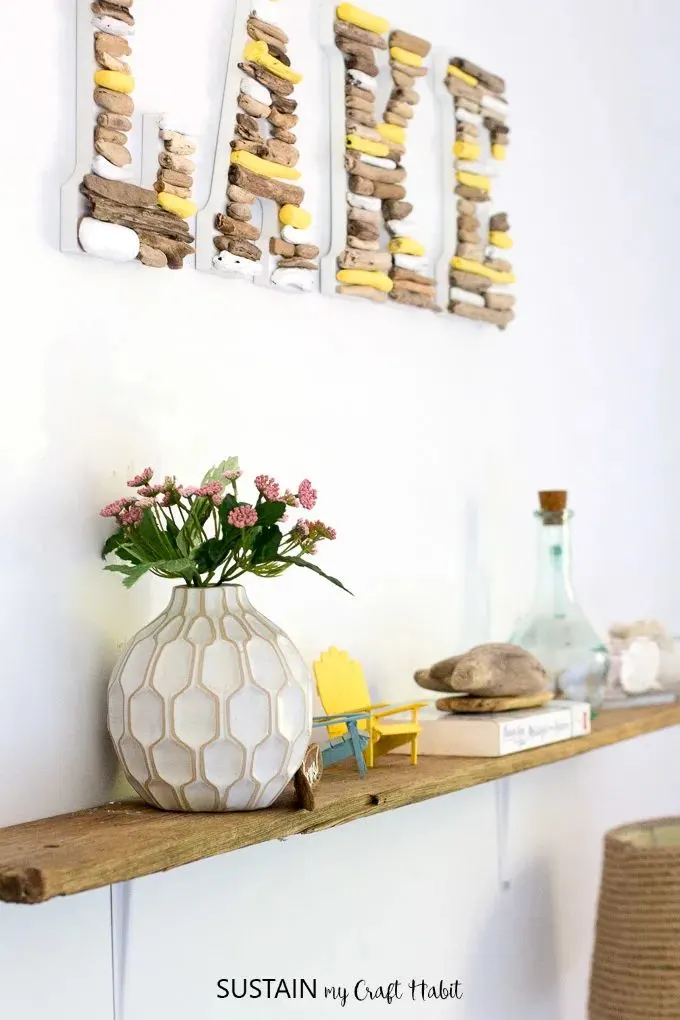 Source: sustainmycrafthabit.com
You know how when you walk along the beach you come across all that driftwood? Well, if you happen upon a big piece, go ahead and bring it home.
With some tools to help you, you can turn that driftwood into this simple and rustic-looking shelf that would add a ton of beachy-vibes to your decor and to your home. You will need to add wall anchors to hold this shelf up, especially if you have two levels of it.
This is a great option when you want to place picture frames and just get cute wall shelving. Check out more cute room decoration ideas for girls.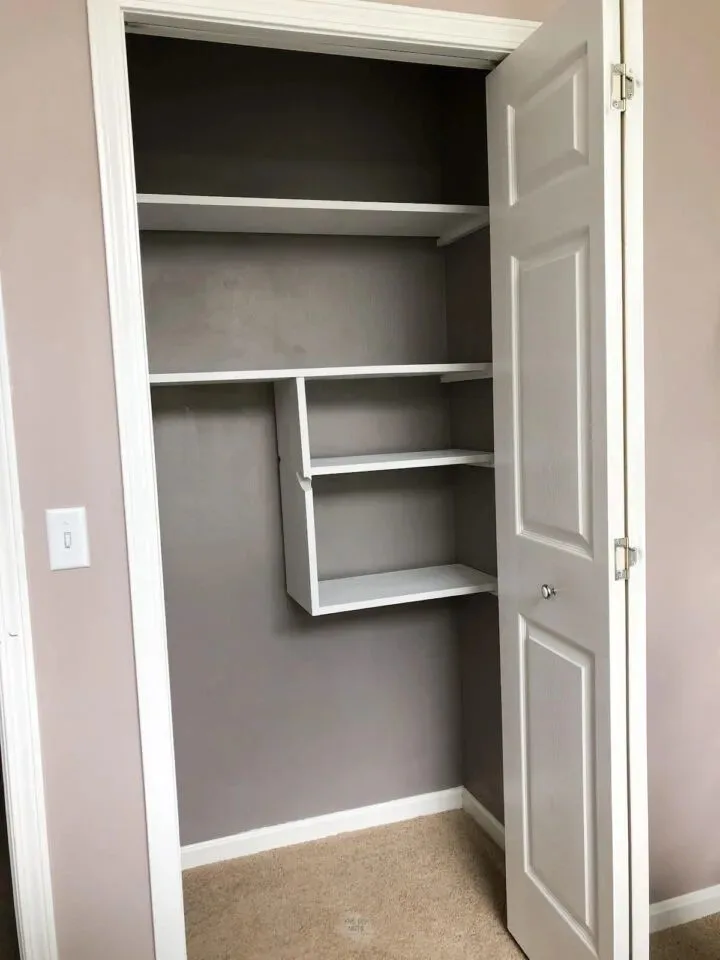 Source: thediynuts.com
Your closet can never be too organized. There are always storage units that can help you get more utility.
Shelves inside your closet will add some much-needed shelf space to your closet, especially if there's a ton of empty hanging space in the middle. You can customize them depending on your closet's dimensions and make the best possible use of the space you have!
Check out these 20 IKEA closet hacks for more creative ideas.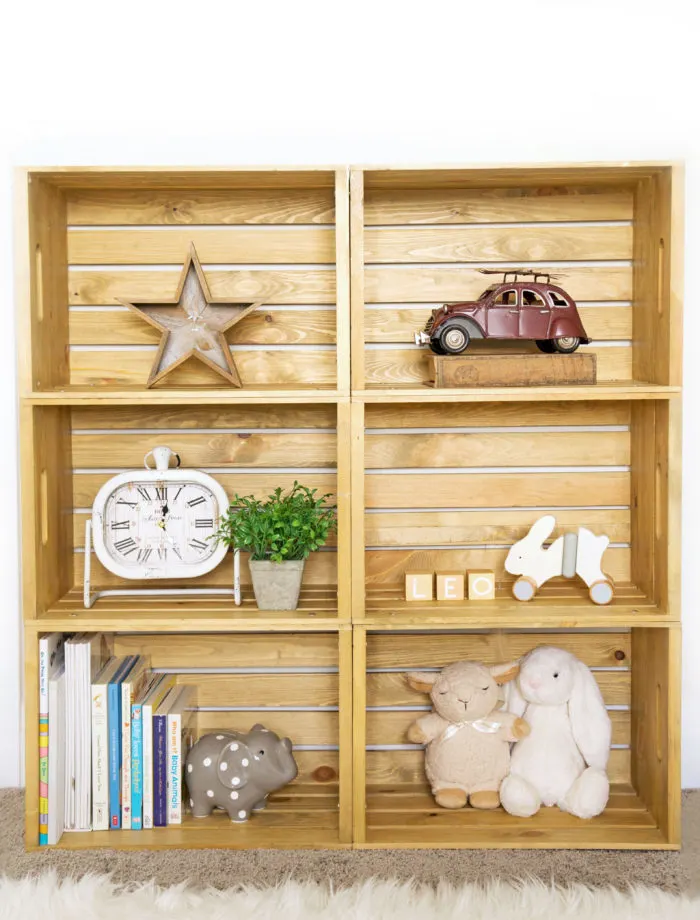 Source: hauteandhealthyliving.com
Remember how you mounted that wooden crate up and used it as a shelf? Well, if you have four or six of those crates, you can stack them up and use them as a whole shelf unit to increase your storage.
Grab your crates and before you attach them together, give them a thorough cleaning, followed by a little face lift. Grab a bottle or can of wood stain from here to help you with that.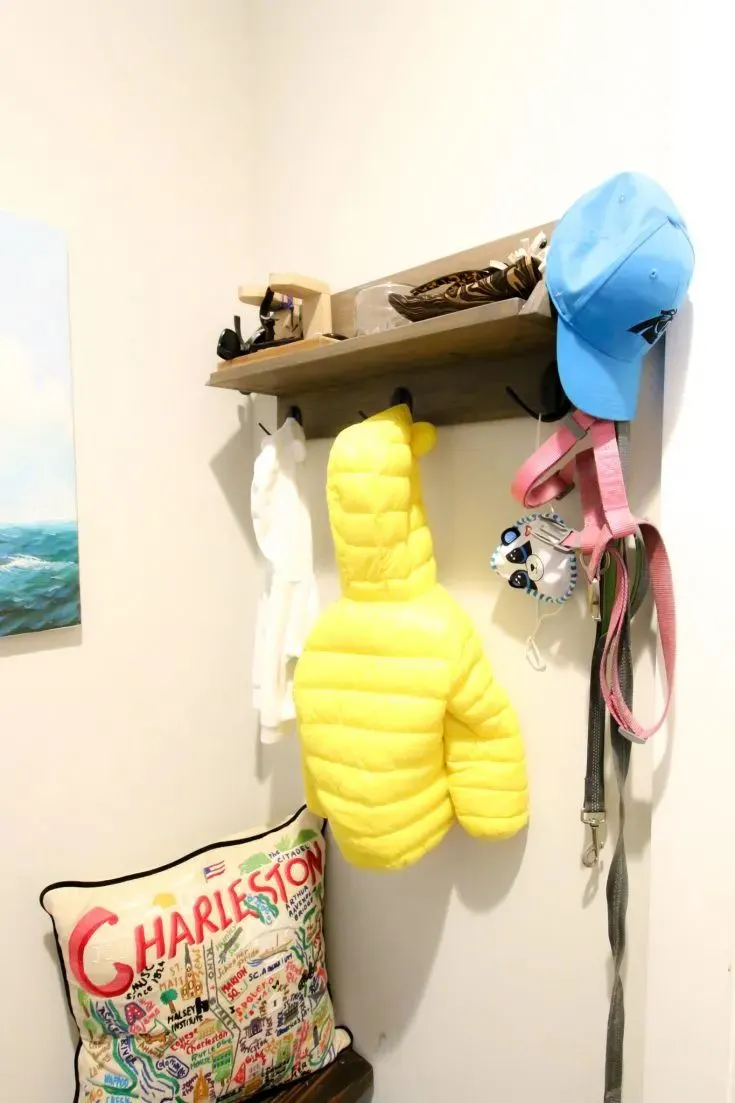 Source: charlestoncrafted.com
I feel like the foyer or entryway is the first room that a guest sees of your home. It would be a downright shame if that entryway is cluttered with coats, hats, and shoes all just piled up in a corner.
That's why you need a proper storage system in place. Sometimes, even just a simple shelf like this can help you stay organized and add some utility to the room. You can go the extra mile and add these hooks to the shelf, too, and turn it into a coat rack!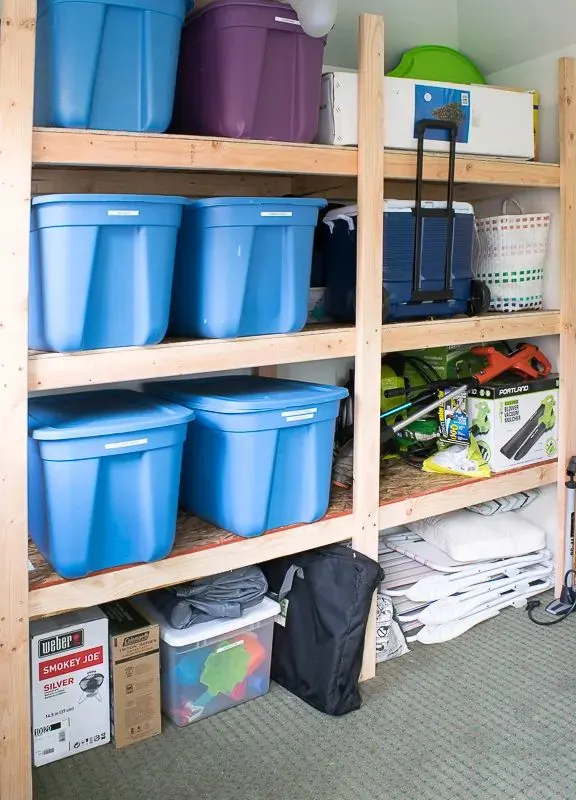 Source: thehandymansdaughter.com
If you can't have too much storage in your closet, then you absolutely can never have too many shelves in your garage. The garage has the most potential when it comes to smart storage systems and utility.
It's also the one place in your house where you invariably dump just about everything. So a few shelves like these can help you with stacking all your storage boxes and keep your garage neat and tidy.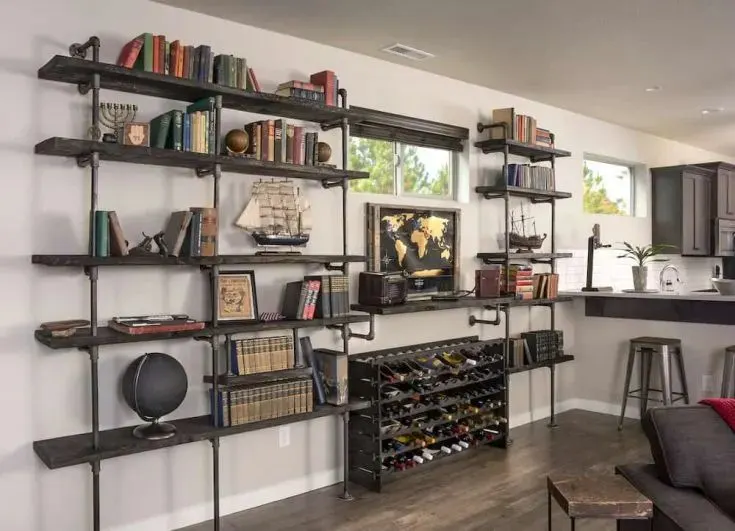 Source: diycandy.com
Looking for something urban and mid-century western both at the same time? Well, pipes are the way to go. They're exactly what you need to recreate this lovely antique-y yet uber industrial-looking shelving unit.
Since you're building this unit from scratch, you get to customize the size. So go ahead and grab a measuring tape(look here) and get started on measuring the space you want your unit to be.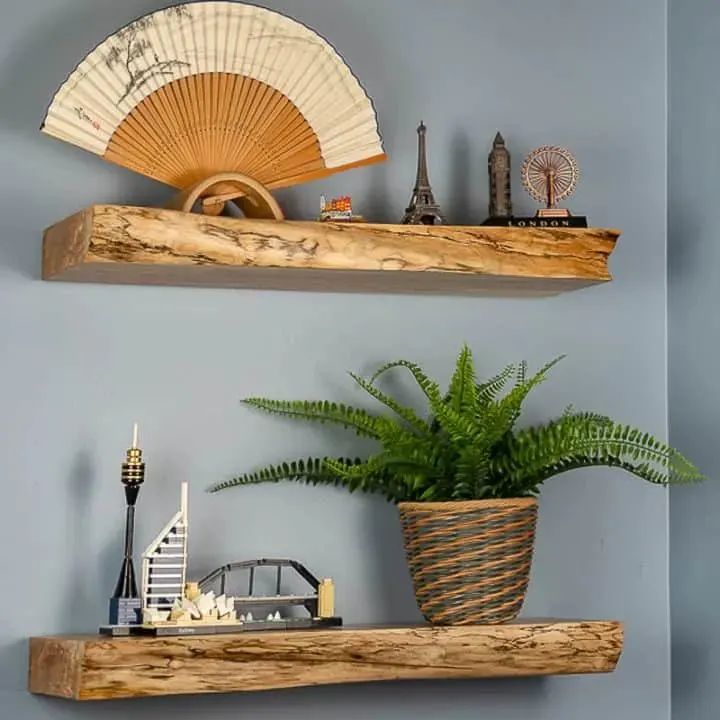 Source: thehandymansdaughter.com
I love how seamless and tidy floating shelves are. But they can also be chunky and rustic at the same time, if you use wood like this live edge rustic wood block from here.
If you want the rugged end to be on display, then you can keep that side facing out and work on the opposite end to attach to the wall.
Check out more ideas with these IKEA bookshelf hacks!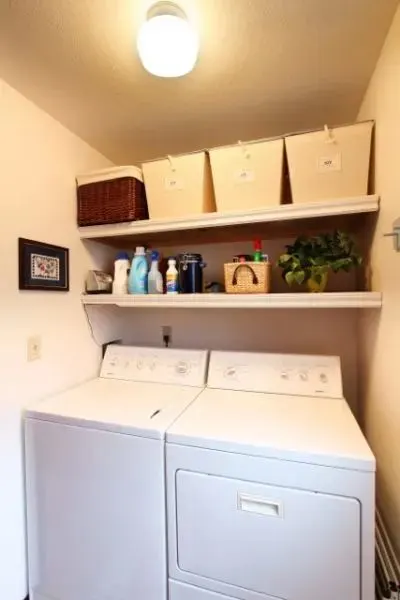 Source: singlegirlsdiy.com
Let's go back to basics with this next DIY project. Sometimes, all you need is a set of basic shelves to get the job done and that's exactly what these wooden shelves deliver.
However, you can zhuzh it up a little if you use furring strips. You can pick that up right here. Just keep in mind that these shelves are intended for alcove spaces or anywhere with just three walls–like linen closets or shoe closets, for example.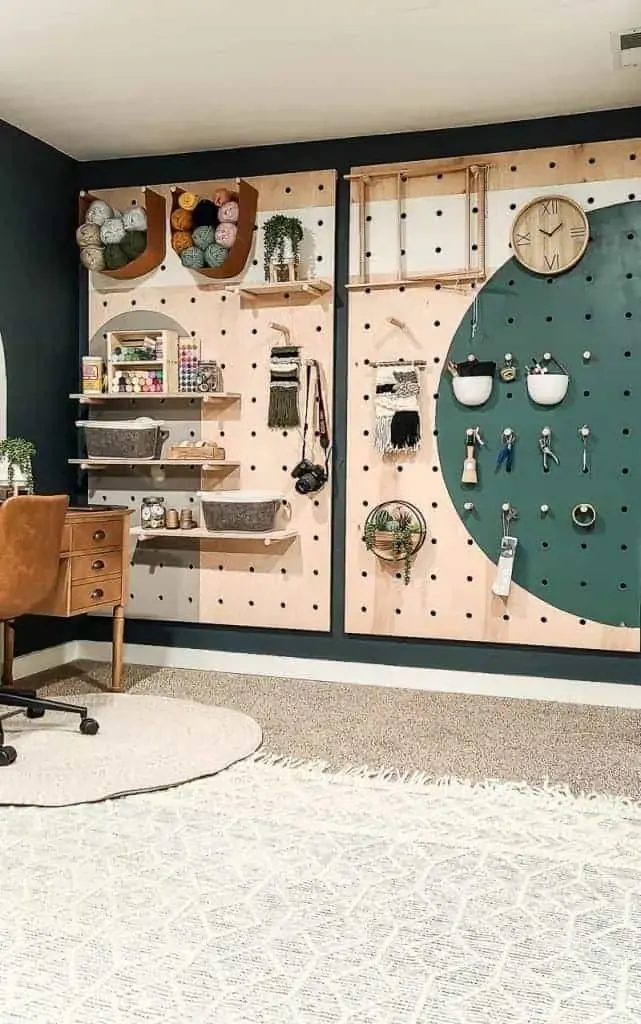 Source: makingmanzanita.com
Your garage is probably where you house all your tools. When you're working on a project there, you really don't want to be rifling through drawers for the tools you're looking for.
It's always more effective to sort and organize your tools on a pegboard that's mounted up on the wall space above your work desk. But if you have a whole bunch of tools, then this giant pegboard which essentially takes up the entire wall space is definitely the way to go.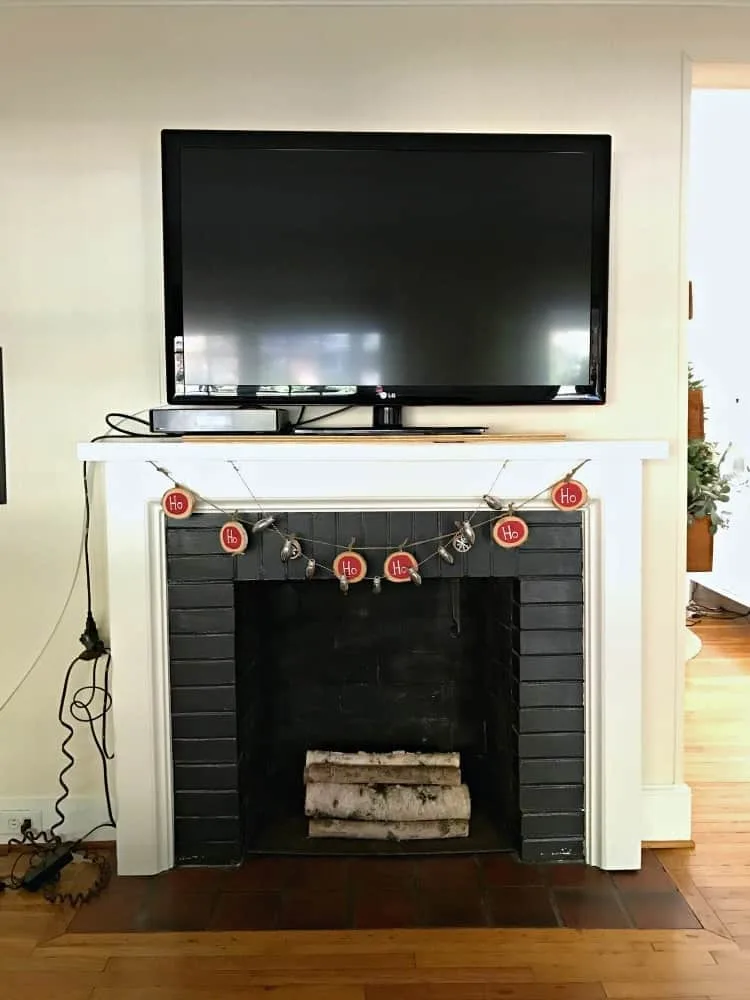 Source: chatfieldcourt.com
Having a mantel up over your fireplace can be quite useful. Not only can you keep little keepsakes, photo frames, and other memorabilia there, you can also use that space to set up a flat screen TV.
If you already have a mantel, then all you need to do is give it a little makeover by increasing the surface area. You can line the top of the mantel with some wood and make a shelf of sorts.
Here are 20 TV stand hacks you can check out for inspiration!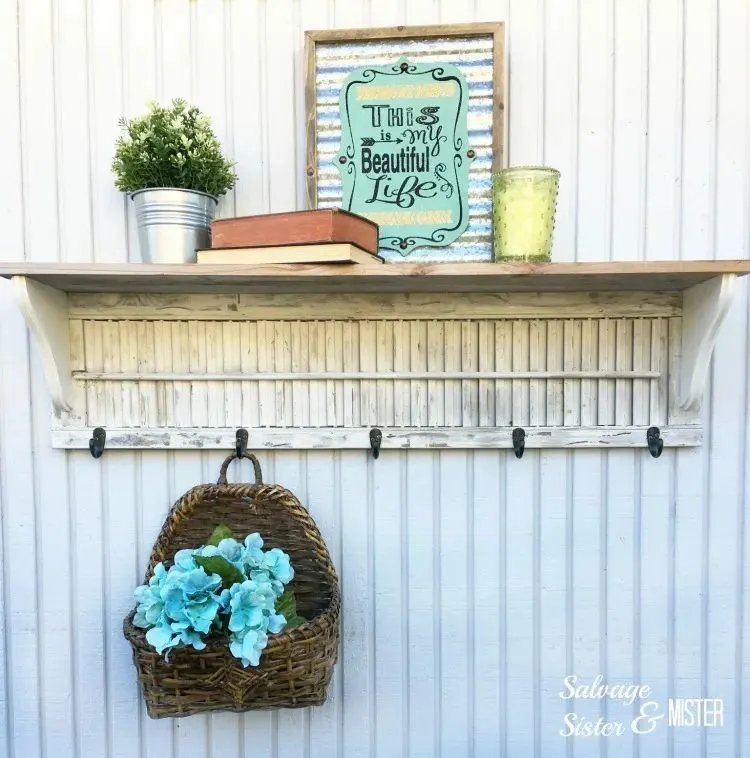 Source: salvagesisterandmister.com
While you can buy shutters from a thrift store near you and spruce it up for this DIY, you can just as easily repurpose and upcycle any shutter you have at home.
You can line the button of the shelf with hooks and turn it into a multi-purpose unit which can be used as a coat rack, a book shelf, a plant shelf, and more!
Place your favorite books and create the perfect place for your intelligent mind!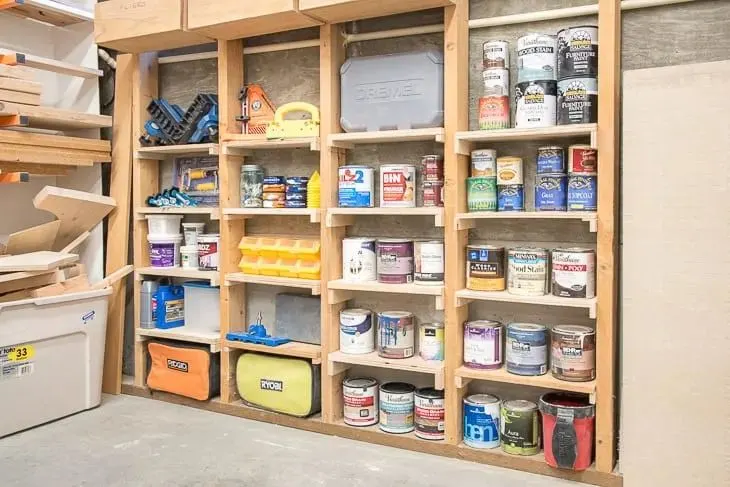 Source: thehandymansdaughter.com
I don't know about you but I just can't take the sight of stacked boxes and piles of clutter leaning against my garage walls anymore. There is just so much potential there, so let's turn that entire wall space into handy and clever storage units for you to sort everything into.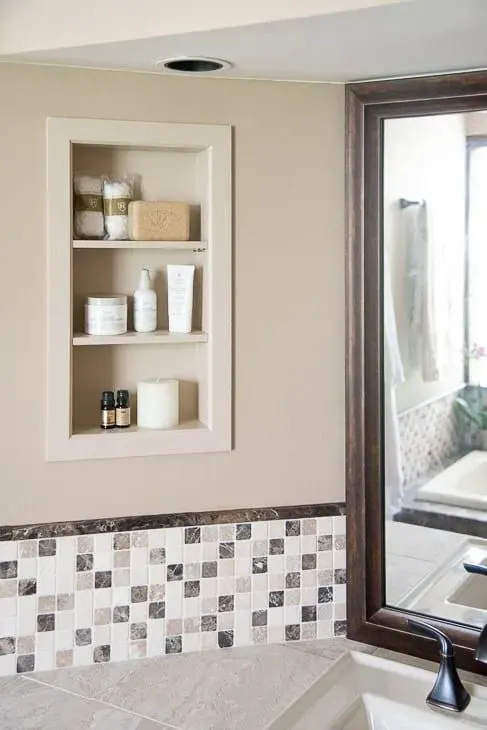 Source: thehandymansdaughter.com
Recessed shelves are just so darn classy. They're ideal to sit little plants, knick knacks, and more.
If you have some scrap wood, you can turn that recess into a little cubby hole, as well, with little shelves to display whatever you want.
You can drill little shelf pins into the recess and place adjustable shelves in there. This will give you plenty of room to play with your decor!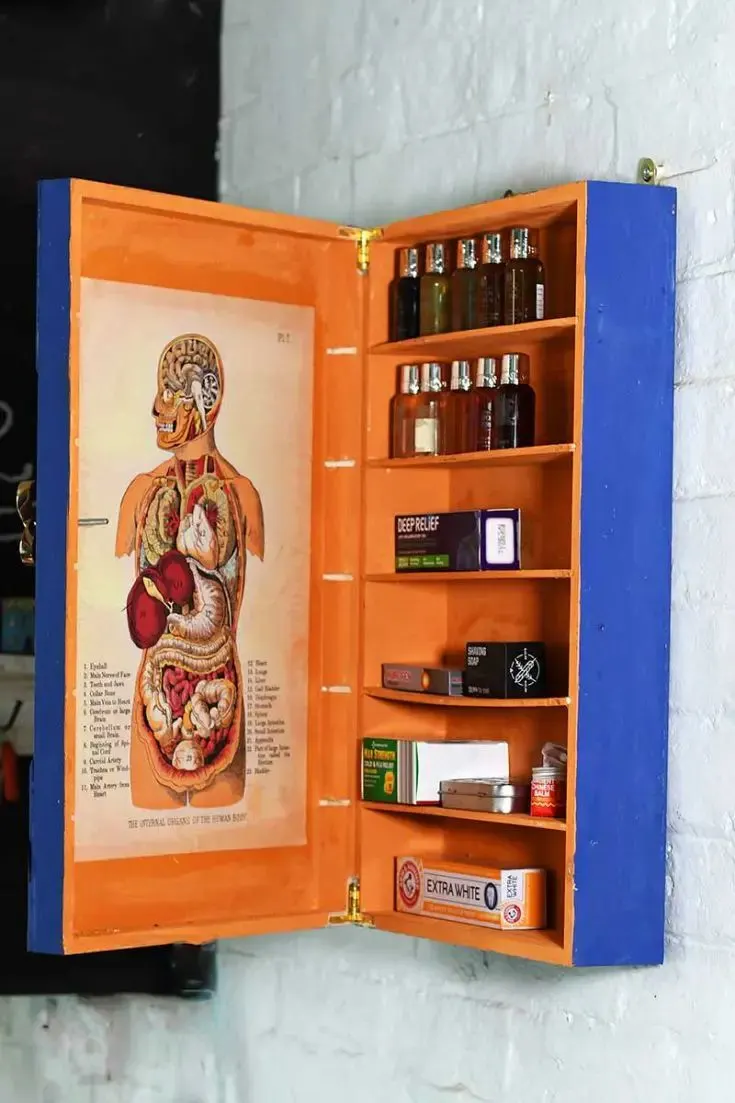 Source: pillarboxblue.com
For this upcycled bathroom cabinet, you will need a wooden box. You can fin what you're looking for at a thrift store or even at a local flea market.
Grab your supplies, as well, and set up your box on some newspaper while you give it a good and thorough cleaning. Then, pick out some paint or a wood stain of your choice and coat your box with it.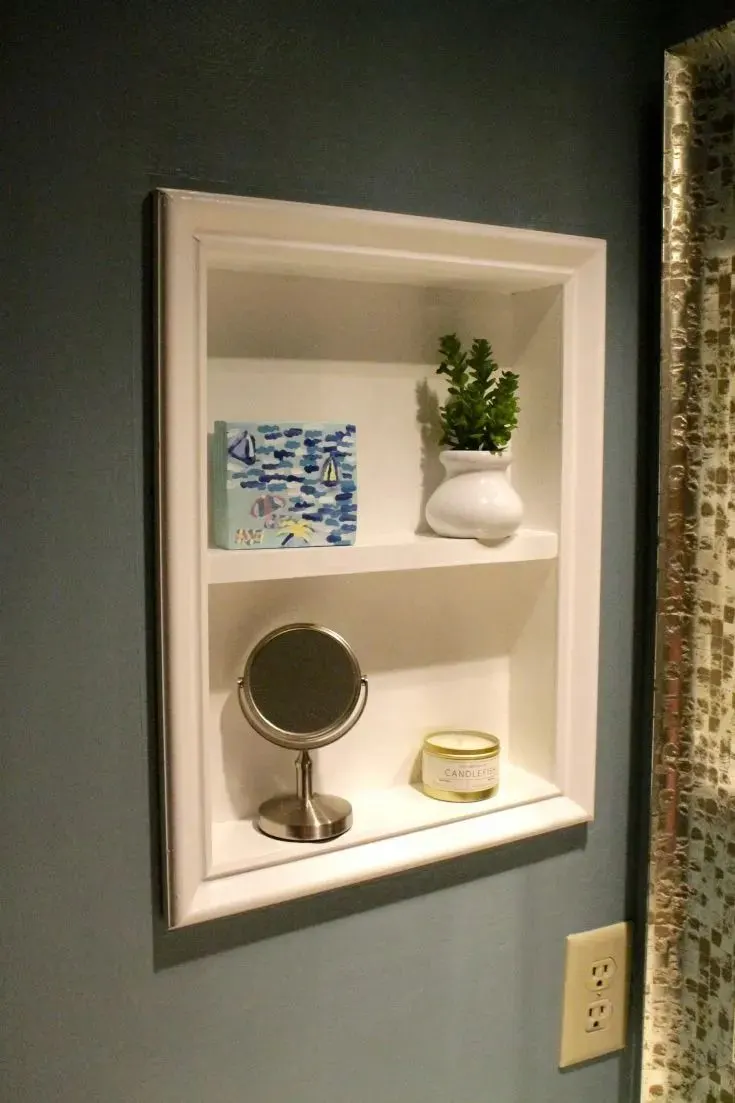 Source: charlestoncrafted.com
Whether it's for easy access to your toiletries, or you just want to open up your space a bit, you can turn your old medicine cabinet into an open shelf unit. All you need to do is build a frame and have a shelf made to insert into the middle.
When you're happy with the structure, you can have it stained and then installed.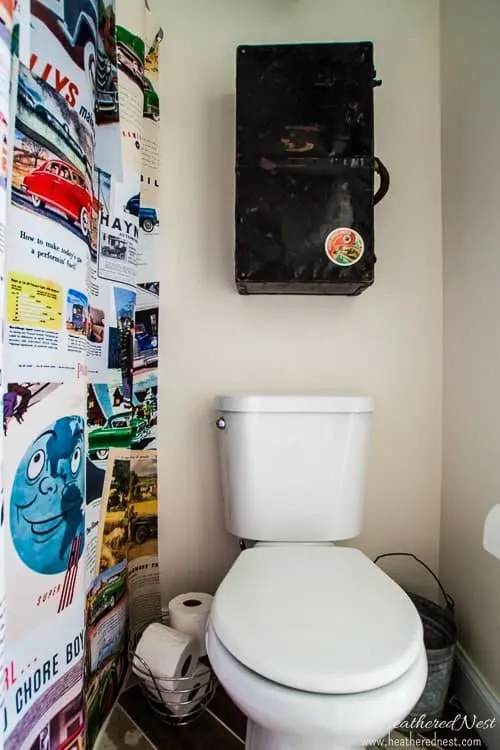 Source: heatherednest.com
Here's yet another upcycling project that just might be one of my all-time favorites. You're going to go into your attic and find an old suitcase to convert into a medicine cabinet.
A little makeover, plenty of mod podge from here, and a slap of paint will turn that suitcase into something fabulous in no time! What a good idea!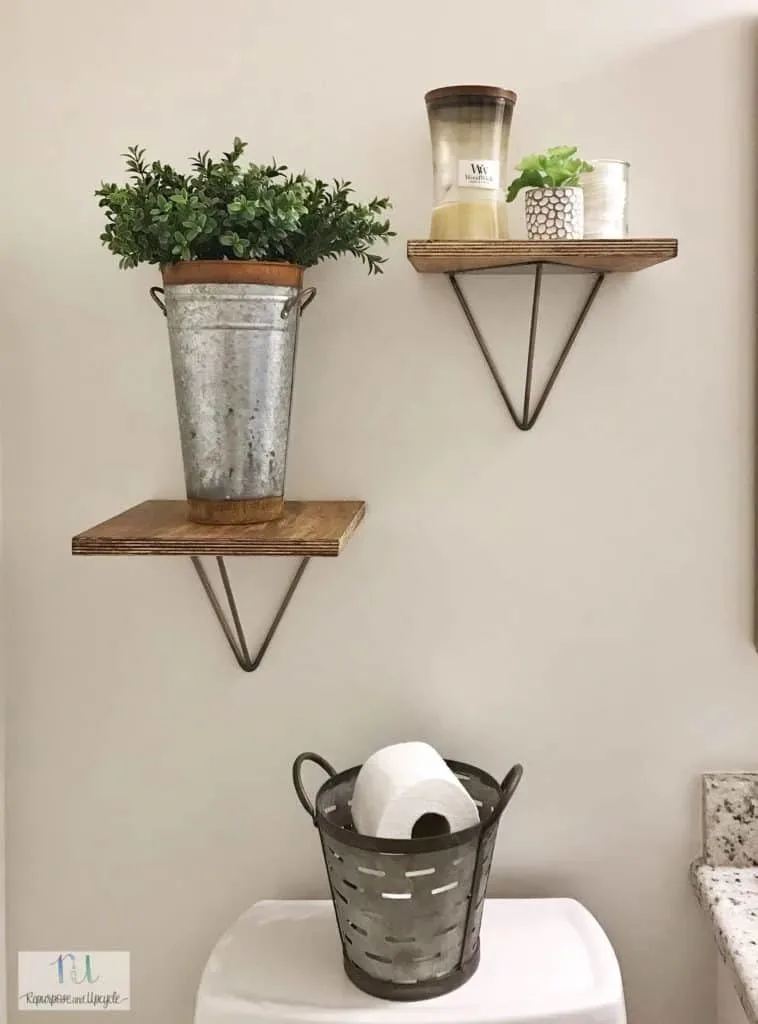 Source: repurposeandupcycle.com
Whatever your shelves look like, and whatever you plan to stack on them, they can always use a little extra support from a bracket or two. Shelf brackets don't necessarily have to be a sore sight, though, not when you've got these sleek and edy prism brackets to work with.
So just pick up a couple of brackets from here and get started.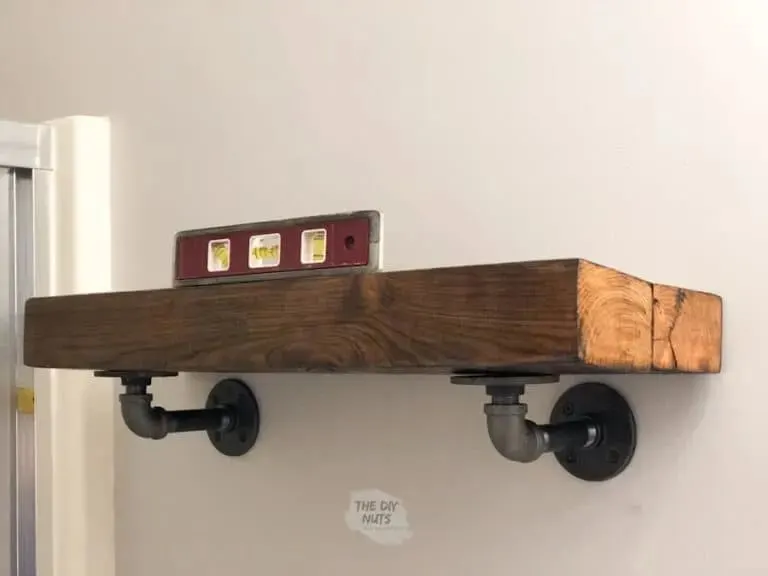 Source: thediynuts.com
Rustic shelving actually pairs quite well with sleek decor, just as well as it does with a more relaxed country or beachy decor. So whichever theme you've got going on in your home, you can definitely incorporate a couple of rustic and chunky wooden shelves.
Do you want to add another element to your theme? Then switch out those shelf brackets with pipes and voila! What a great idea!