IKEA closet hacks will transform the way your closet looks! These ideas are great for low budgets.

IKEA is the mecca of home organizers everywhere, and it has a lot of amazing things to offer for people who know what they're doing.
If you struggle with a lack of closet space, or if you're the poster child for a disorganized closet, you're not alone.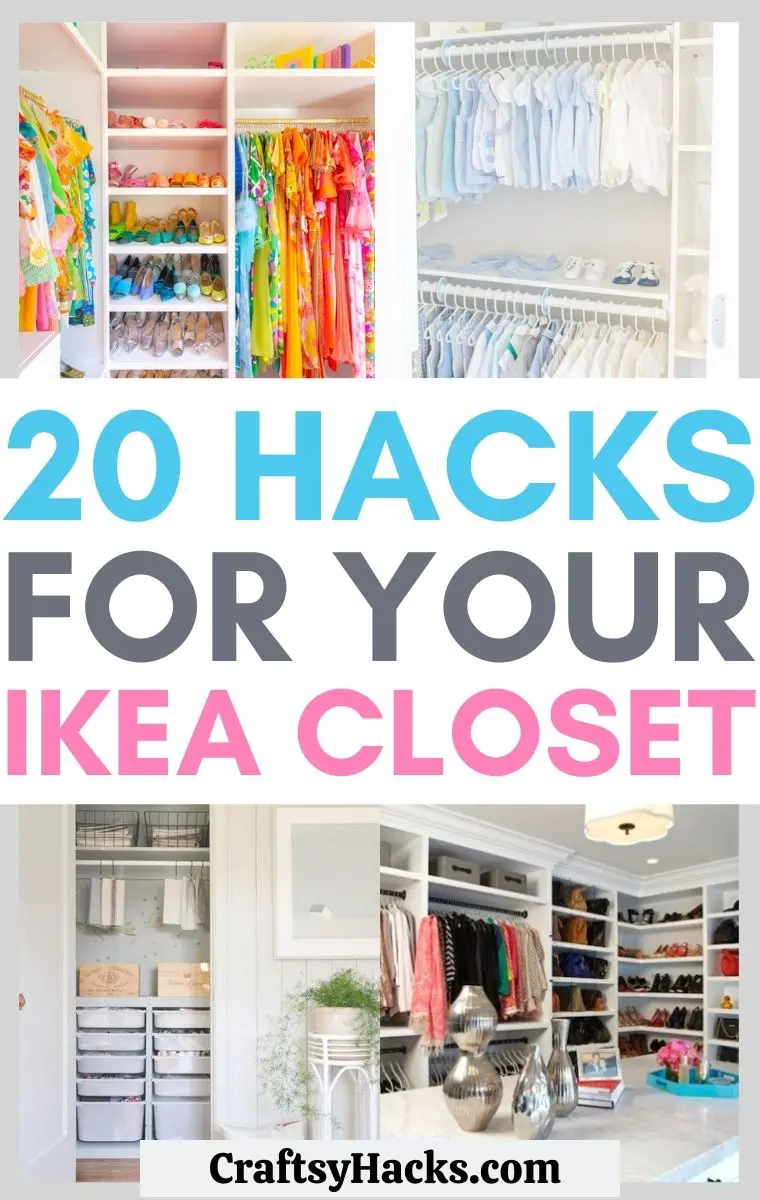 Whether you're a passionate organizer, a home DIY-er, or someone whose closet needs a facelift, you're in the right place. These hacks are perfect for renters who can't make permanent changes, students in temporary housing, or for any homeowners on a budget.
1. An Easy DIY Custom Closet – The IKEA Billy Bookcase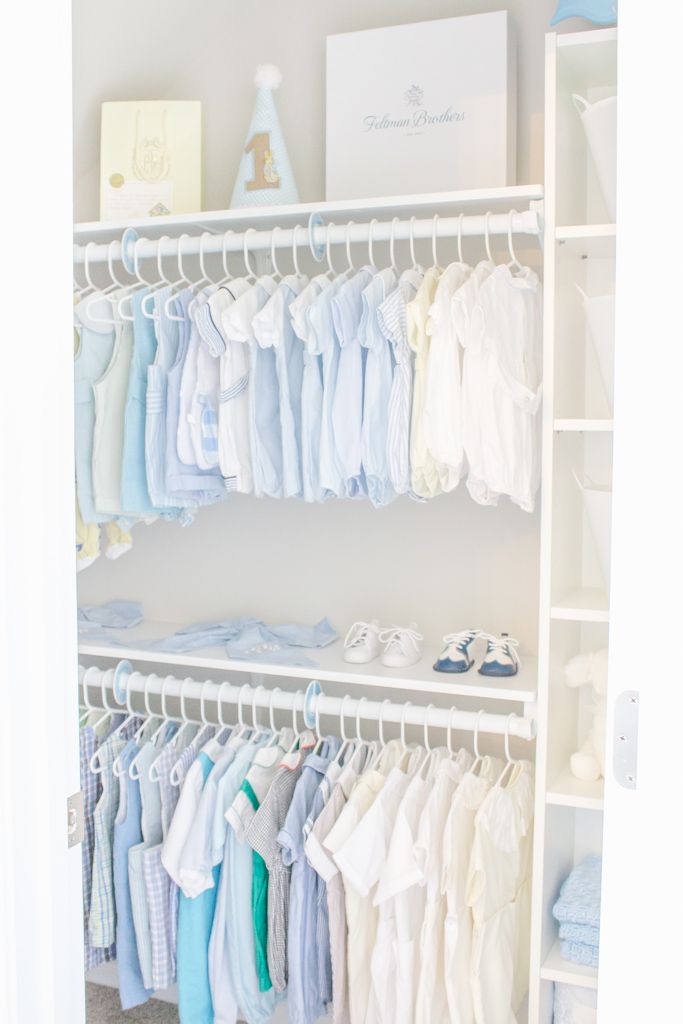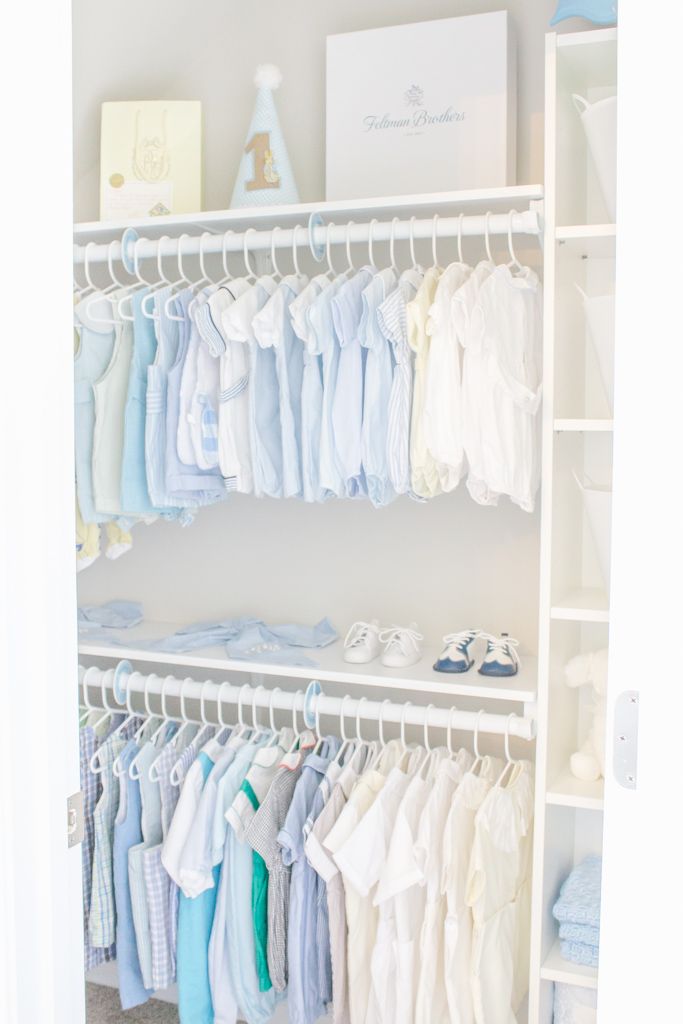 Credit: homeandhallow.com
Got a closet in your home in desperate need of some revamping? The IKEA Billy Bookcase will be your rescuer.
Remove those awful standard wire shelves and replace them with something sleek and modern (while staying within your budget).
Customize the closet of your dreams without dealing with nightmarish costs. This whole project costs roughly $120, combining Billy with some supplies from your local hardware store.
It's easy to do and easy to customize to your favorite color and spatial needs.
Speaking of Billy, here are some other ways you can use him. Errr… it.
2. Seamless & Integrated MALM Drawers for a Walk-In Closet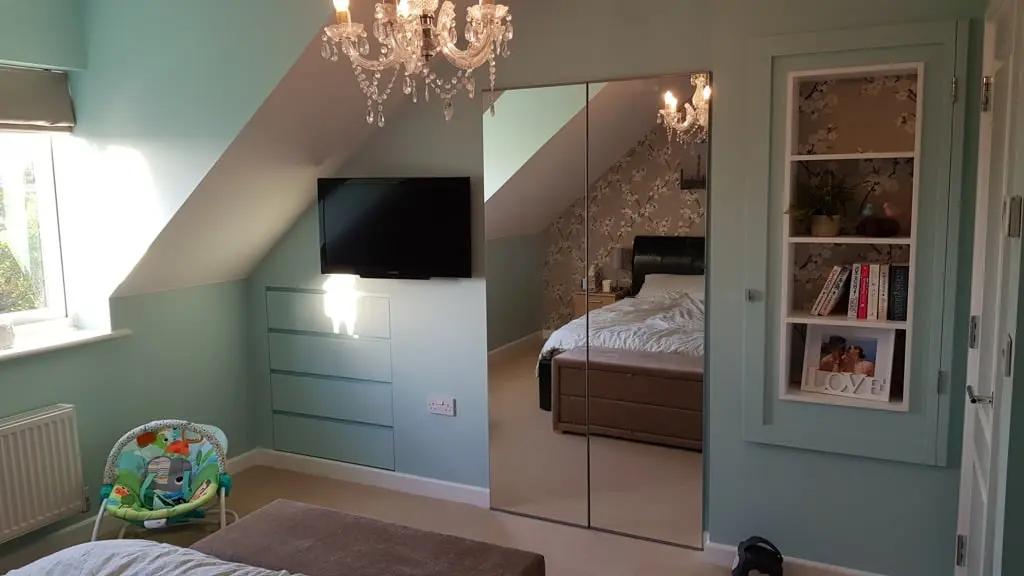 Credit: ikeahackers.net
The IKEA MALM collection is full of clever, sleek home storage ideas. If you're desperate for that dreamy walk-in closet, this hack can give it to you with a little time and effort.
All you'll need is a MALM chest of four drawers from IKEA, and two IKEA VIKEDAL mirrored doors.
Find a corner of your bedroom and build the closet's frame into it. You can do it using the mirrored doors to section the area off and the drawers for internal storage.
Before you know it, you've got the walk-in closet you've always dreamed of.
3. Floor-to-Ceiling Shoe Shelves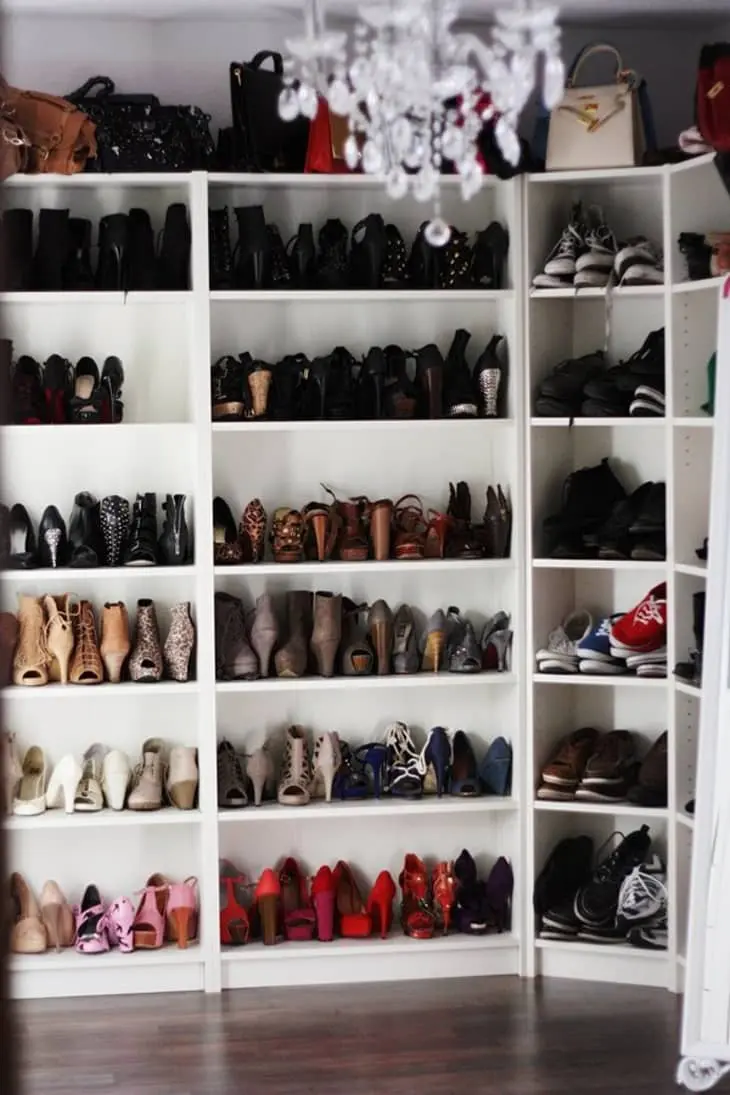 Credit: fashionhippieloves.com
If you fancy yourself a bit of a shoe fiend, this is the IKEA hack for you. Give your shoes a nice little place to live with floor-to-ceiling shelves!
Not only that, showcase your collection with pride! The IKEA Billy Bookcase makes another appearance here.
All it takes is some paint and a little carpentry to show off your shoes on the walls of your bedroom. Take it to the next level by adding some lighting fixtures like these as a highlight.
4. Make a Full-Sized Wardrobe with IKEA Rast Dressers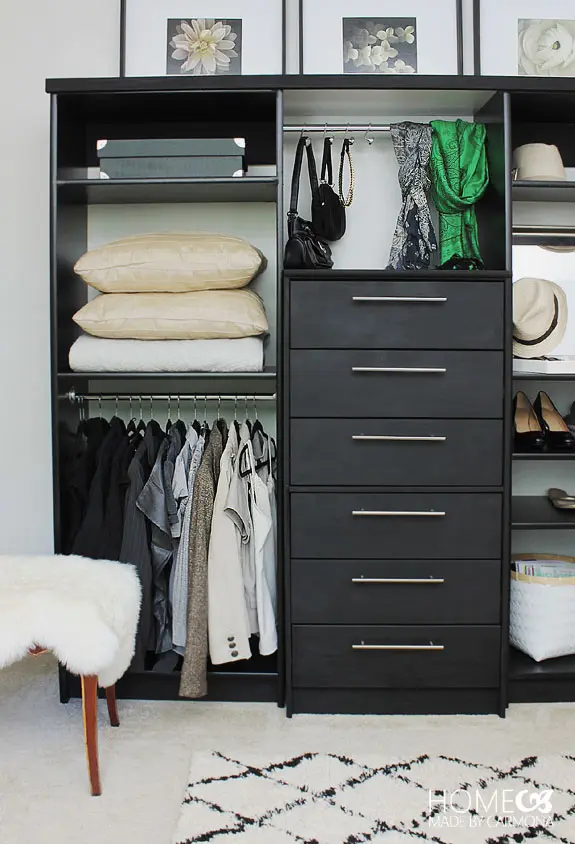 Credit: homemadebycarmona.com
If you're absolutely in love with the idea of the IKEA Pax wardrobe, but it seems a little far out of your budget, then have I got the hack for you. This genius DIY-er used two IKEA Rast dressers to construct an entire wardrobe!
This beauty sits outside your standard closet, so make sure you have enough space for it to fit. Apart from the dressers and some MDF, you'll need some paint to customize the build.
Find one that works on the dresser's surface here. You can opt for a classic white, beachy feel or go full black with chrome fixtures for something more modern.
5. Tie Rack for Sloping Roof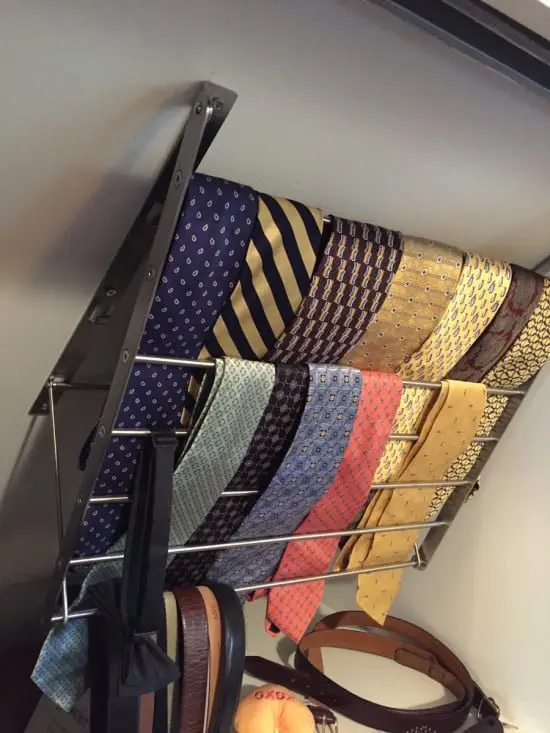 Credit: ikeahackers.net
We all have that one corner of the house or closet with a sloping roof. It's impossible to fit anything into, so it just stands there, empty…mocking us. No longer!
This inspired tie hanger will keep your man's ties hanging neatly while utilizing an awkward space, so it's a win-win.
Funnily enough, this hack uses the IKEA Grundtal Drying Rack. You don't need any extra tools (beyond what you'd already need for fastening the rack in place). It's the perfect DIY solution for a sloping roof.
6. DIY Closet Makeover with IKEA Trofast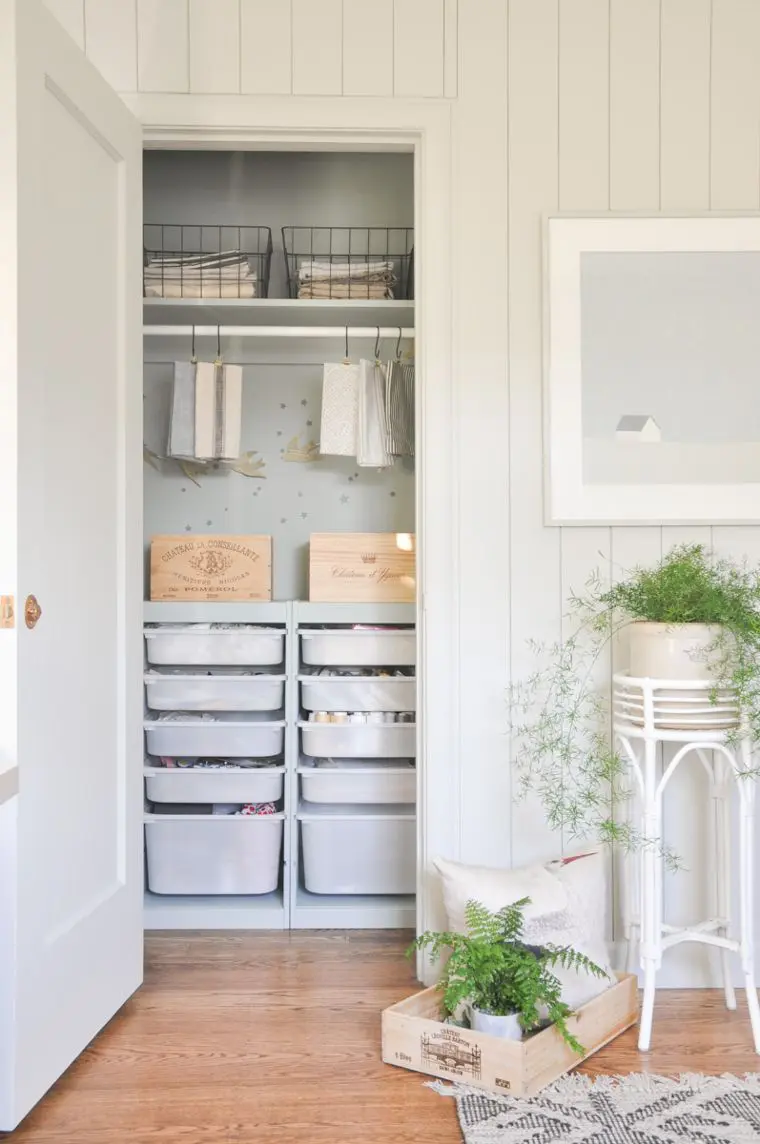 Credit: hydrangeatreehouse.com
The IKEA Trofast storage unit is super affordable and easy to customize, so it's perfect for a DIY closet makeover. Stack them side by side to offer enhanced storage in your home's closet (office or bedroom) without any extra renovations.
Choose a color scheme that works with your room, painting the closet, and Trofast's primary color while you paint any other fixtures the accent color.
Grab an extra closet rod here or use S-hooks like these to hang your clothing for a more modern feel.
7. Children's Closet with IKEA Billy Bookshelf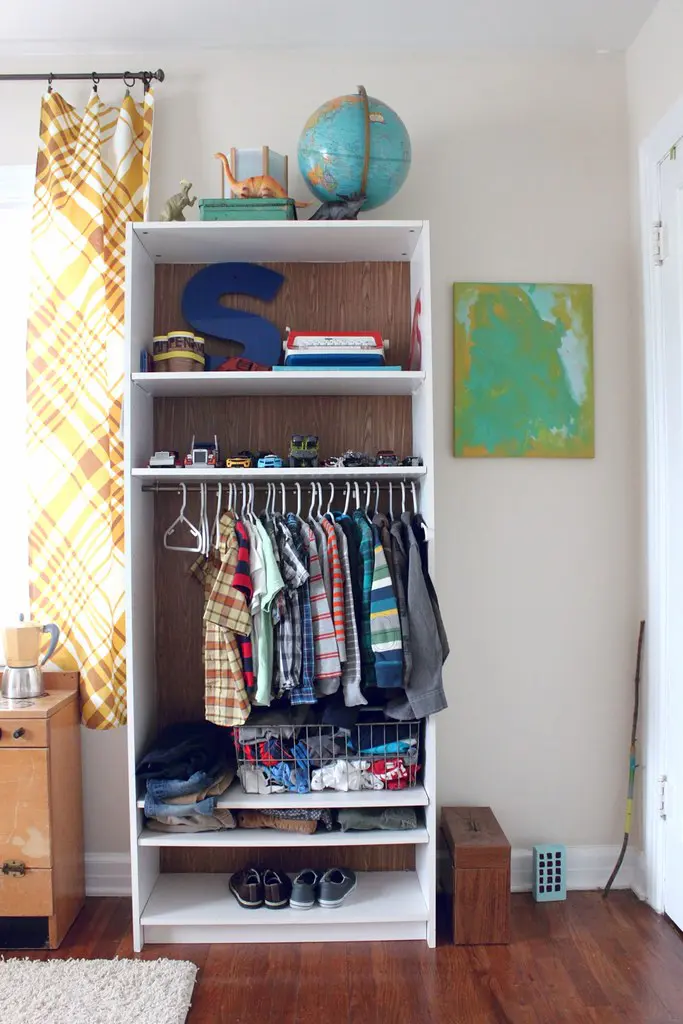 Credit: racheldenbow.blogspot.com
As kids grow older and start to choose their own clothes, they outgrow the drawers and boxes of the baby years. So, how do you cater to that change in their bedroom?
By giving them their very own closet, of course! The IKEA Billy Bookcase doubles beautifully as a child-sized closer.
Cover the inside with contact paper like this to offer a nice accent color, adjust the shelving, and use some rods and hooks to add a hanging section. Easy and perfect for a budget upgrade!
Check out more IKEA Kids room ideas!
8. DIY Closet Island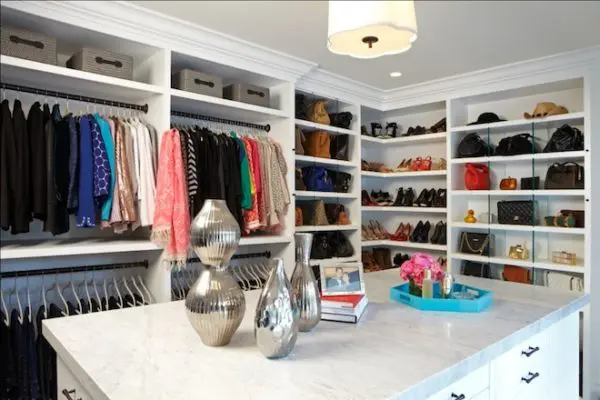 Credit: laurenmessiah.com
You know you've made it big when you have a closet with its very own island. But, here's a secret… you don't need a million bucks to get a celebrity closet!
While custom closet companies estimate the lowest price for a job like this to be around $2000, you can make your own closet in a spare room.
All you'll need is a couple of IKEA Expedit Shelving Cubes, some silver legs, and a marble topper. If you're on a budget, marble contact paper like this will also work.
Line the walls with IKEA showcase bookshelves if you've got the budget, or just stick with the center island. Either way, your closet will be looking like a million bucks.
9. Extra Hanging Space with Shelf Brackets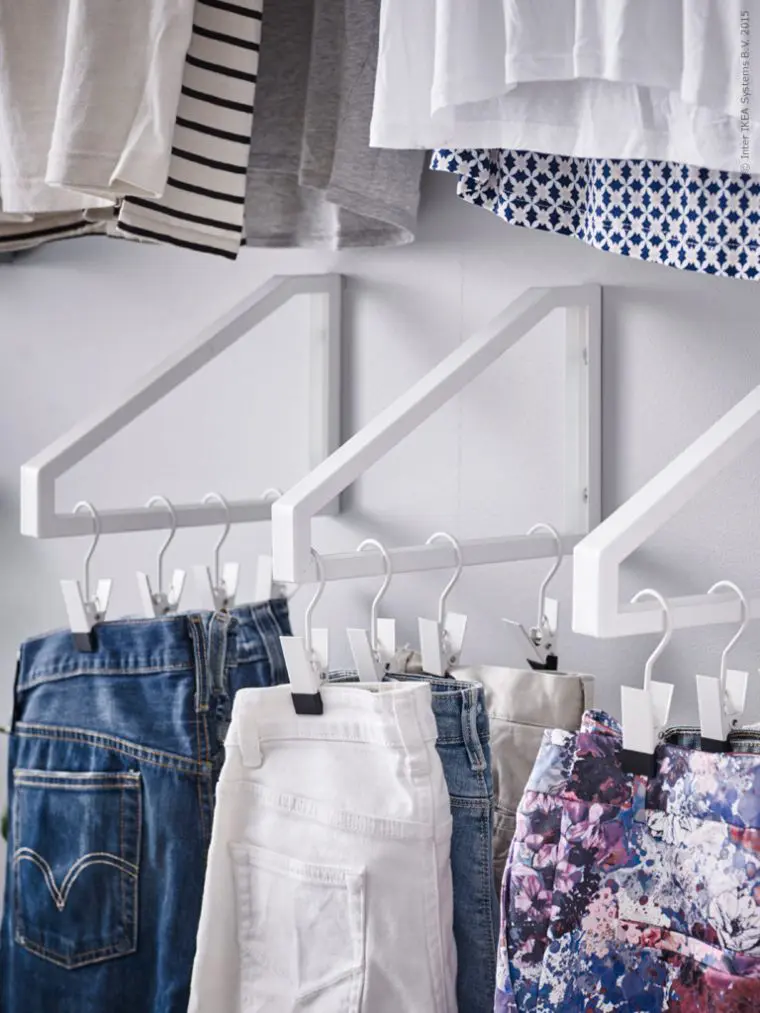 Credit: livethemma.ikea.se
IKEA has every furniture accessory under the sun, and the great news is, you don't always have to use it as specified. In the case of these shelf brackets, use them to create some extra hanging space in a smaller closet.
Simply purchase the brackets, attach them to your wall facing outward, and hang your clothes from the bottom edge. This hack is awesome for the closet organization because you can group your clothes into categories… jeans, shirts, dresses, you name it!
10. Customized IKEA Hemnes Wardrobe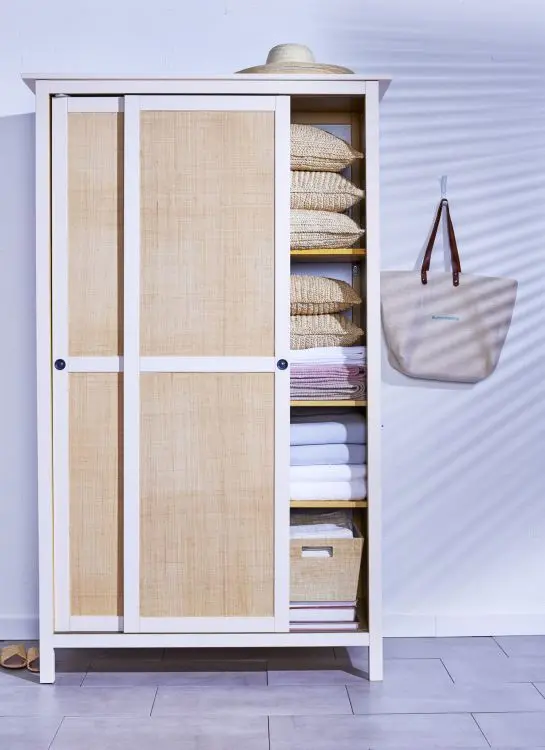 Credit: digsdigs.com
Thanks to its simplistic, functional design, the IKEA Hemnes wardrobe is ideal for DIY closet projects. This closet features flat sliding doors and a whole lot of storage.
So, it's the perfect addition to any room in your house. Need more space in your study?
Remove the middle of the doors and replace them with clear acrylic for a modern craft cupboard. Adapting your bedroom to a beachy vibe?
Repaint the Hemnes sky blue and add some wicker to the doors.
The sky is the limit!
11. Custom Closet with the IKEA Tarva & Ivar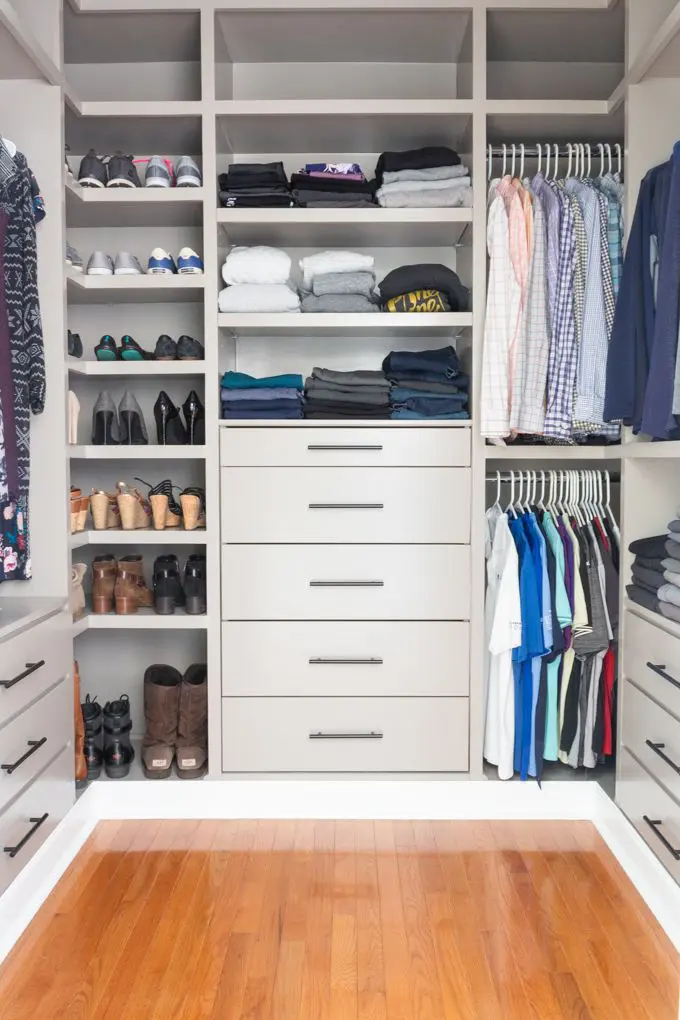 Credit: handmadeweekly.com
I love the Tarva and Ivar dressers so much I've made whole blogs about them, and there's a reason for that! You can easily use either dresser to customize your closet according to your needs.
Paint them black and change the drawer fixtures to chrome (like these) for a modern take on your closet.
No matter the size of your closet or how many clothes you have, the Tarva and Ivar are right there with you. Curious about some more hacks with these dressers? Check out my article on Tarva hacks.
12. Custom PAX Drawer Fronts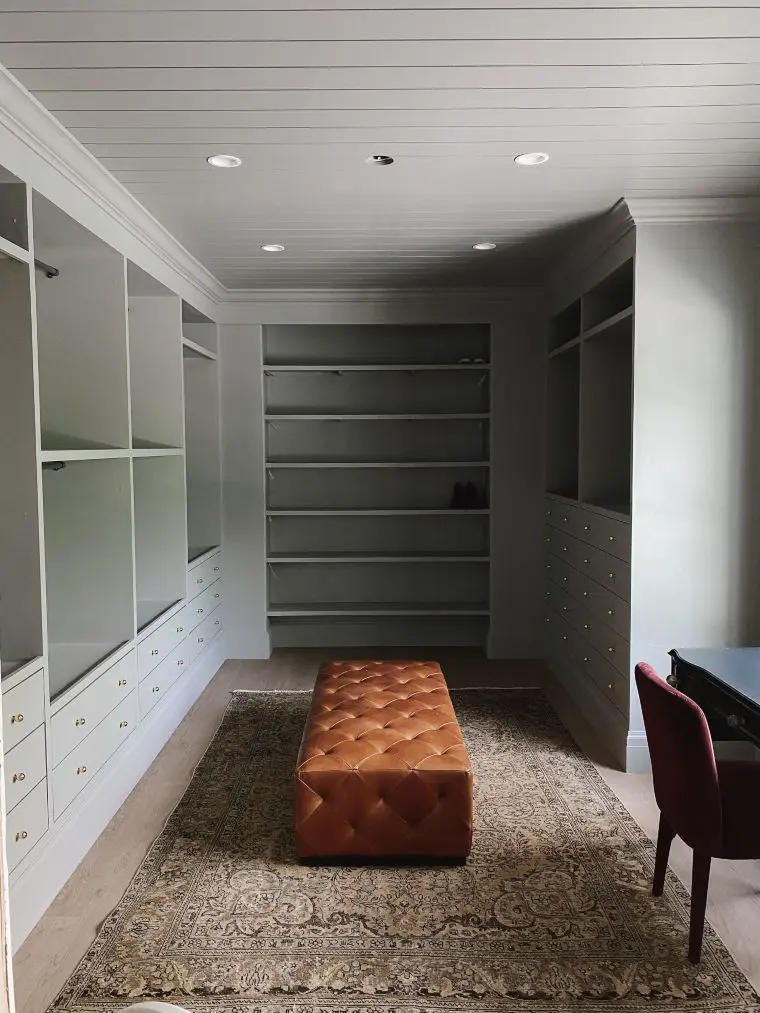 Credit: chrislovesjulia.com
The IKEA PAX closet drawers are a staple in many homes, but that doesn't mean they'll be perfect for you when you buy them. Don't be afraid to get creative with the PAX's appearance and customize it to fit your life!
Remove the drawer fronts and refit them with solid pine, oak, cherry… Whatever wood tickles your fancy. You can then paint over them or oil the wood to highlight the grain for a natural touch. Interested in more PAX hacks?
Check out my article here.
13. Refine Your PAX Closet with Crown Mouldings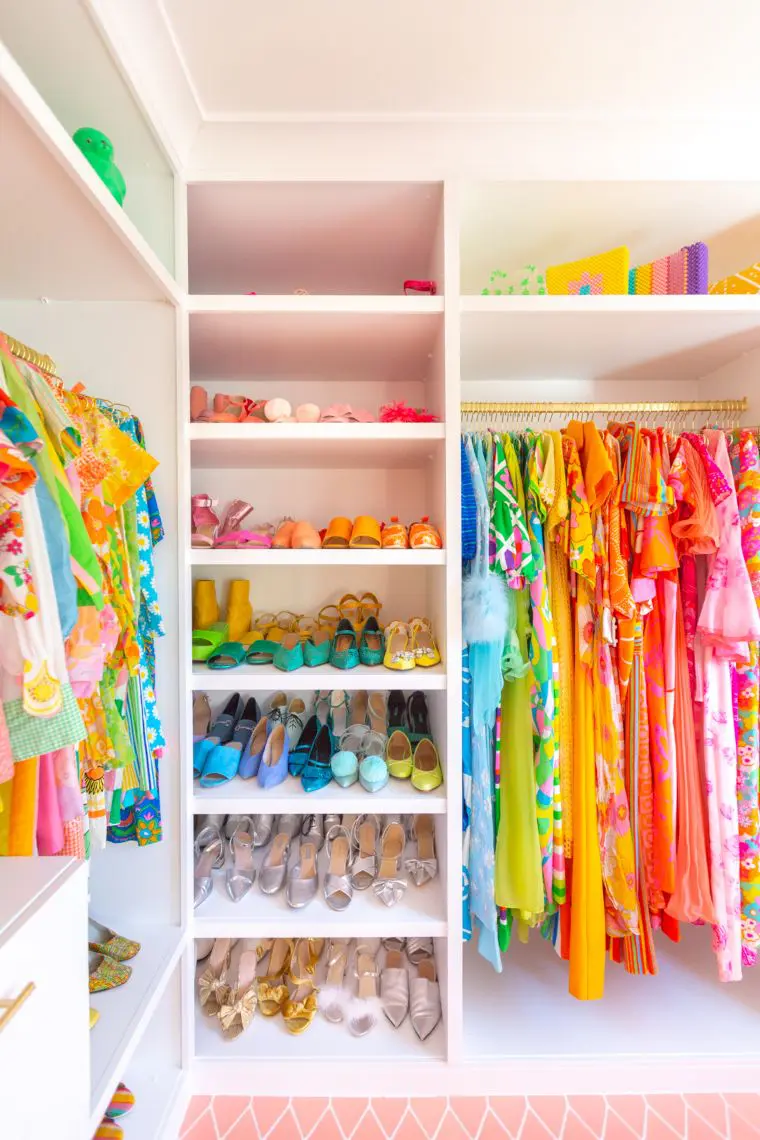 Credit: awwsam.com
When so many people have the same closet in their homes, it can be frustrating to create something unique. Luckily, there's a solution.
If your home already features crown moldings, this hack is perfect, but you can also do it just to add some interest to a plain PAX closet!
Pick up some crown molding trim to add to the top of your closet (I really like this one). Not only does it add to its design, but you're also helping to integrate a freestanding closet into your home.
14. Create an Accessories Section with IKEA KOMPLEMENT
Credit: thepinkmillennial.ca
The IKEA KOMPLEMENT drawers come in opaque or glass-front styles, and the glass-front choice is perfect for displaying your accessories. Usually reserved for the Hollywood-style closets, a glass-front accessory stand serves both an aesthetic and functional purpose!
Whenever you walk into your closet, you can easily see which accessories you have on hand as you construct an outfit. And, they add an air of opulence and sophistication.
Add some fabric jewelry organizers like these for an extra touch.
15. Choose Co-Ordinating Hangers for Your Space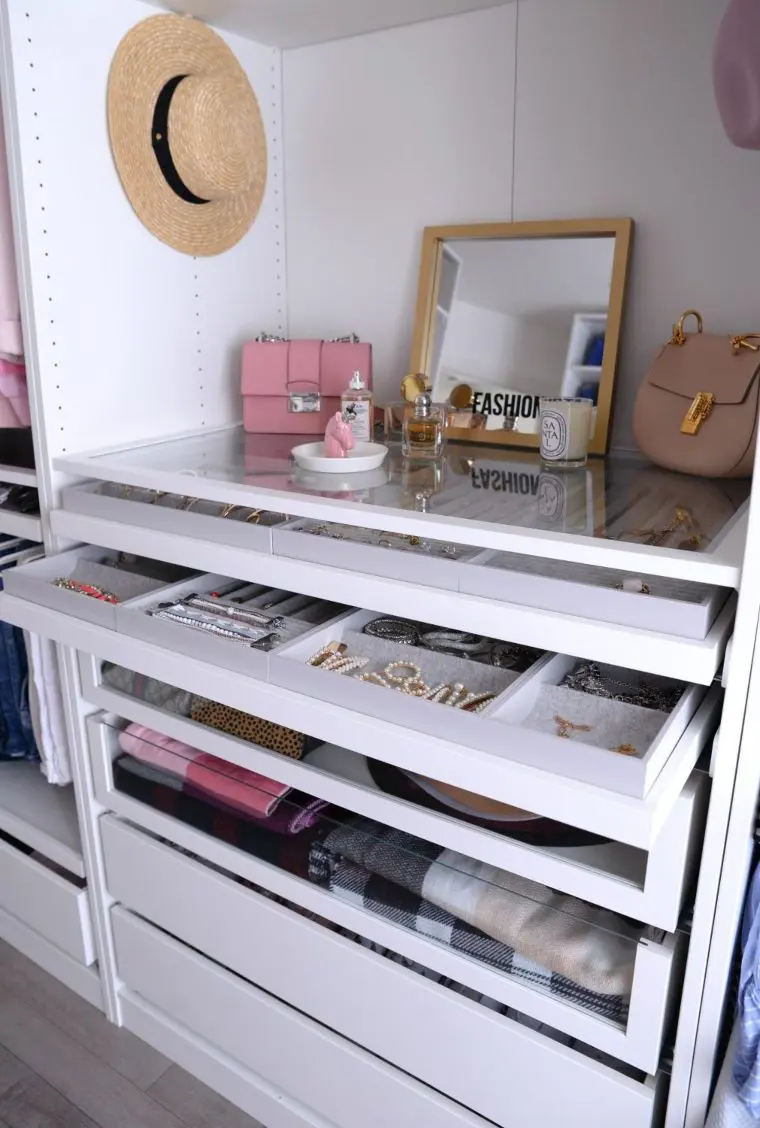 Credit: thepinkmillennial.ca
This may seem smaller on the hacking spectrum, but trust me, it's crucial. It brings the whole space together! Choosing the right hangers for your closet is a lot like picking the right seasoning for a meal: it can make or break it.
The Pink Millennial, a very clever IKEA hacker, used a slide-out drawer with velvet-wrapped hangers as an effective storage method for her closet. You can achieve a very similar result with the IKEA BUMERANG hangers and a slide-out rack.
16. Use Chalkboard Paint for a Blackboard Storage Unit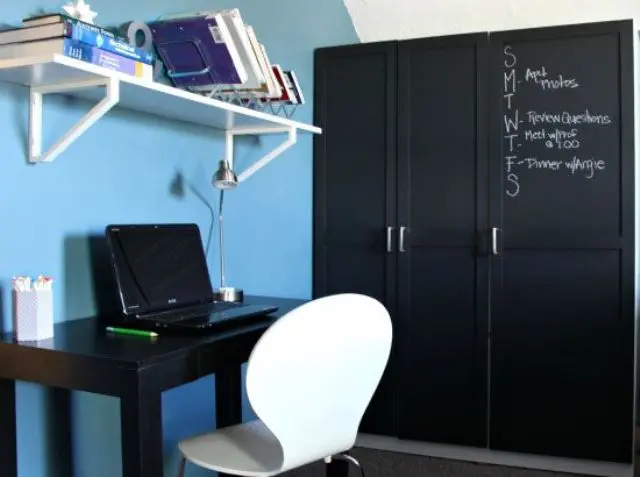 Credit: digsdigs.com
Adding some storage to your workspace? The DOMBAS wardrobe is a large unit with three doors and three handles, ideal for sectioning out your crafting materials.
Another great thing about the DOMBAS is its wide, open planes.
Turn the outside of the DOMBAS into a blackboard with some blackboard paint like this to jot your thoughts, projects, and notes down. Perfect for a craft room or home office, and it lends a "Beautiful Mind" aesthetic to your workspace.
17. Under $100 IKEA Closet System Hack
Credit: southernrevivals.com
Giving every closet in your house a full makeover isn't an option unless you're raking it in! Instead, look to IKEA closet hacks to overhaul every room's closet.
This one uses good old Billy, some closet rods, and some small MDF panels. Not to mention some chich white paint to finish it all off.
The great thing about this hack is you can customize it to fit any space. Use stylish boxes to store your clothes in the shelves, stack four Billys side by side for a double-wide closet, or use just one for a compact solution.
It's completely versatile.
18. Nursery Closet for Baby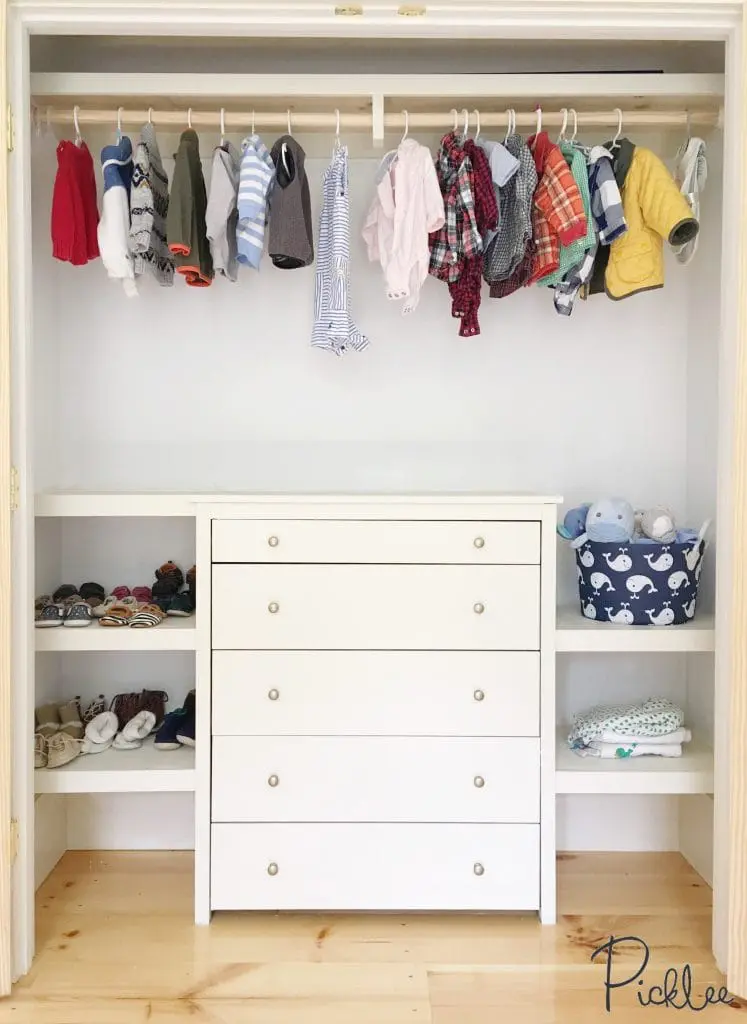 Credit: picklee.com
Got a bun in the oven? Designing the perfect nursery is a difficult task, and there's possibly no space more integral to keeping that room clean than the nursery's closet.
This clever mama used an IKEA Koppang style dresser for the center of the closet. Then, attached shoe shelves to the side. Keep the existing closet rod, as this dresser is nice and low (but with deep storage).
Check out some more IKEA hacks for kids here.
19. IKEA Kallax Clothes Rail Hack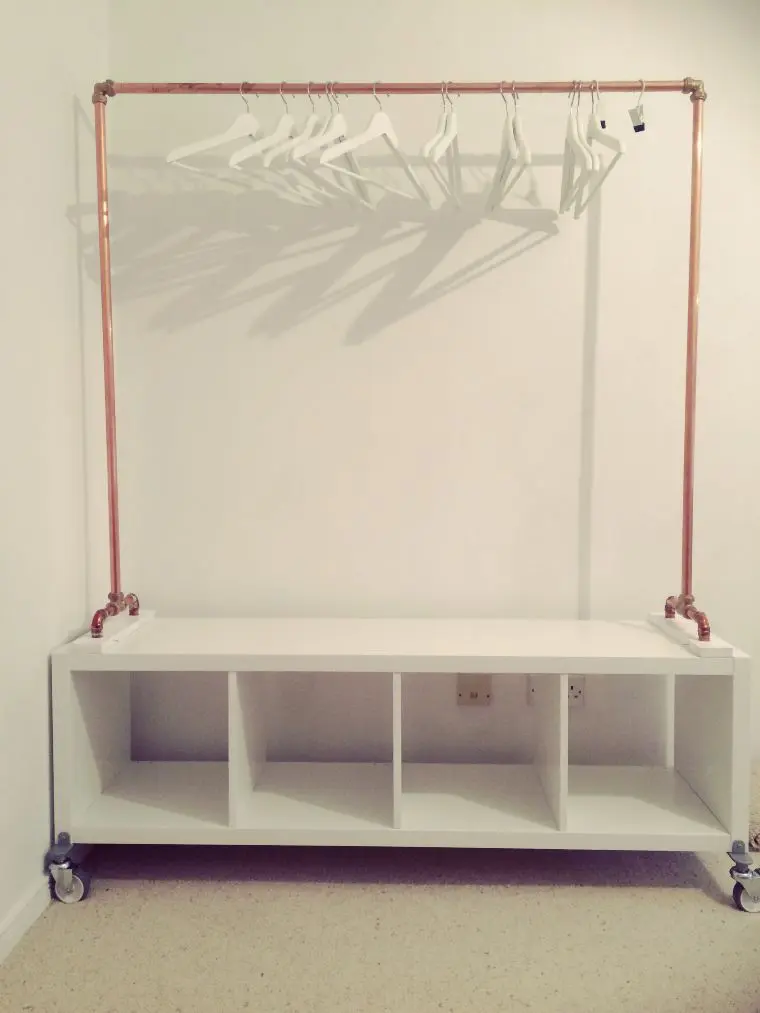 Credit: emilyslittleworld.files.wordpress.com
Here's a quick and easy way to make an open wardrobe on a budget. Flip the Kallax unit on its side and use copper piping (like this) to create a rail affixed to the top of it.
Then, take some casters and screw them to the bottom, and you're done! A stylish solution for modern organizers.
Paint the Kallax for an extra touch of originality and even put your own color of MDF in the units' back as an accent color.
Check out more IKEA Kallax hacks here.
20. IKEA Kallax Bag Display Hack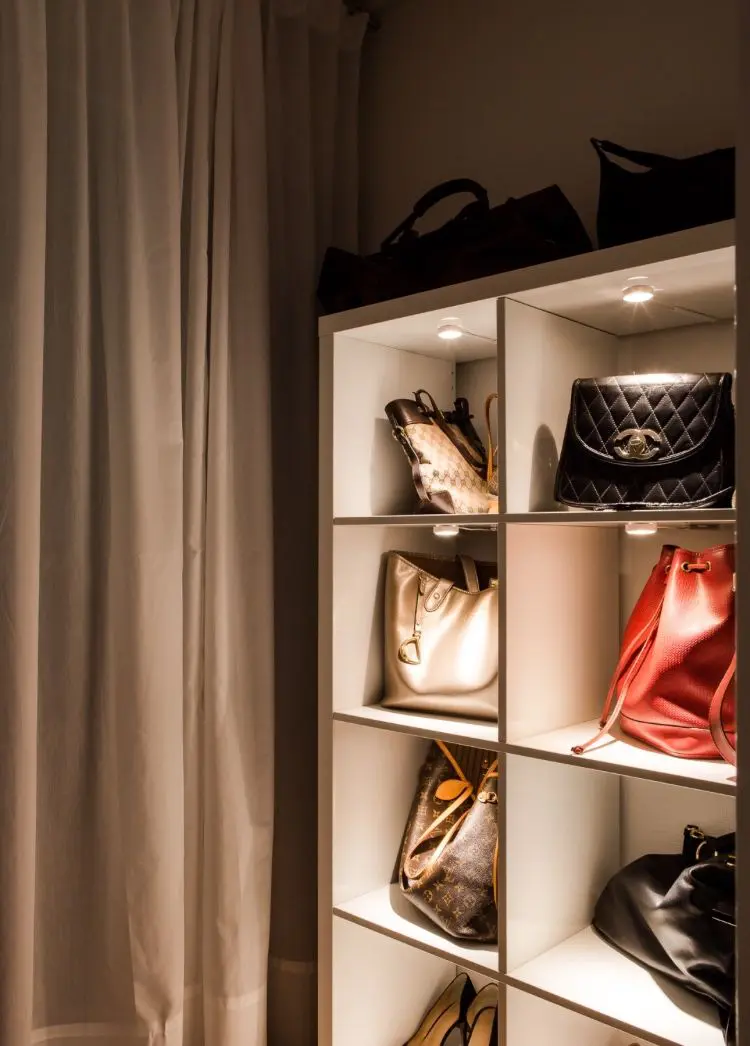 Credit: Pinterest
Speaking of the IKEA Kallax, here's a clever way to use the unit to display your bags, sneakers, or collectibles. Each shelf unit has a downlight fixed to the top to lend a gorgeous glow to your most prized possessions.
You can pick some stick-on LED lights (like these) for easy installation, or you can run a full electrical system through the shelves, so they all turn on at the same time.
Good luck, and happy closet hacking!