IKEA Pax wardrobe is an amazing piece of furniture. Get creative with it and decorate your home while increasing storage!
If you frequent my page, you probably already know that I love featuring Ikea hacks. Their products are just so versatile, and there are gazillions of ways to turn one thing into another.
This time, my focus is on the Ikea Pax. If you're not familiar with this particular Ikea line, it's pretty much a range of wardrobe furniture, mainly wardrobe frames and accessories.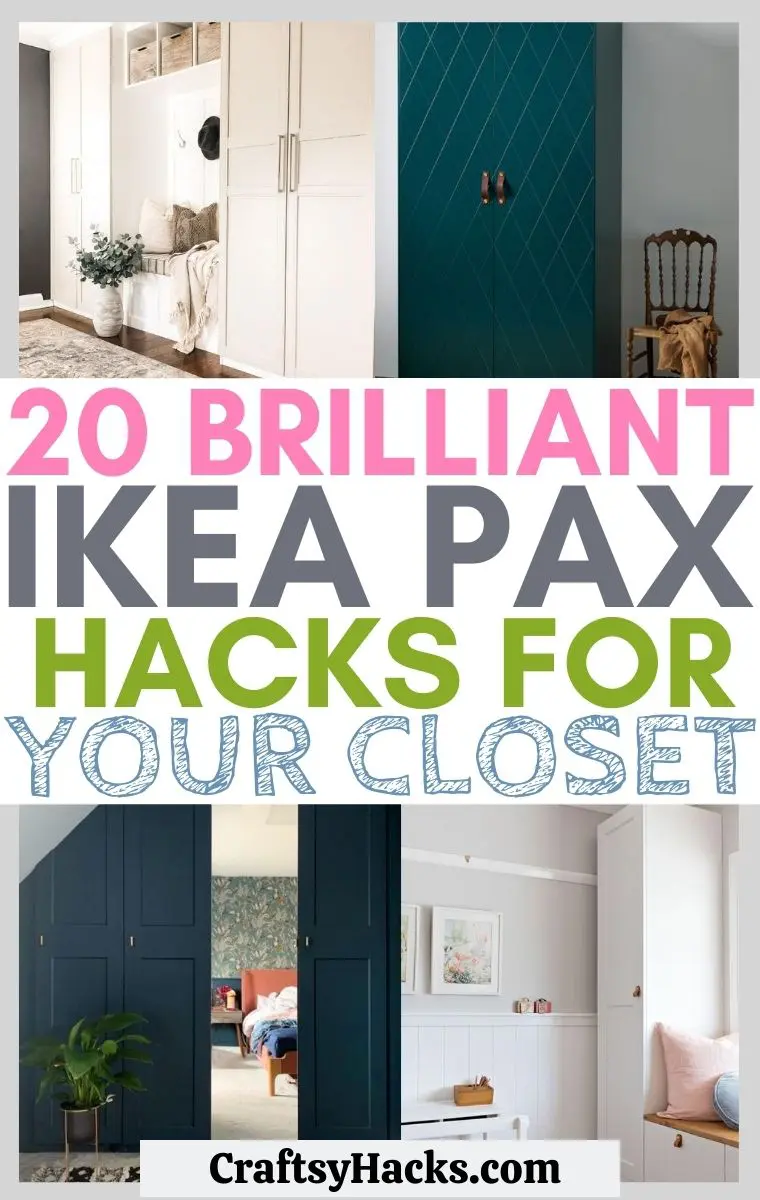 Here it goes – 20 Ikea Pax for your next home DIY project.
1. Pax Turned Wardrobe Vanity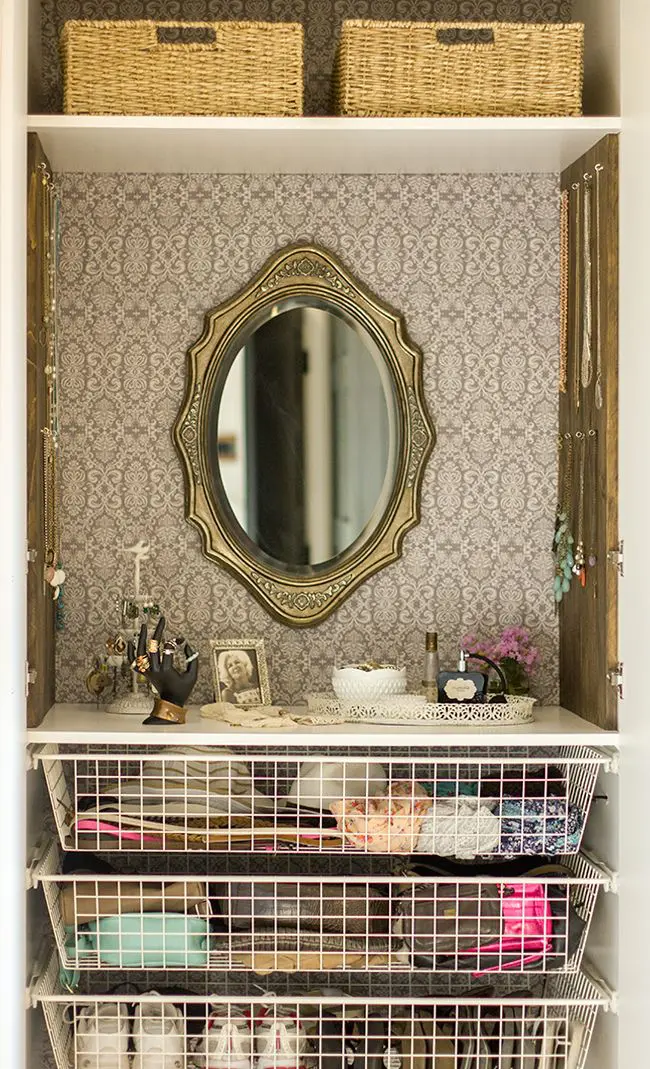 Full tutorial at: jennasuedesign.com
Most vanity desks have an empty space below the desk, supposedly to give your legs space when you're doing your makeup. But if you do most of your makeup in the bathroom and only need the vanity for a final look, then this is the project for you.
You still have enough space for a mirror and a surface to rest your jewelry and perfume on, but the bottom spaced is maximized as extra storage. Brilliant, isn't it?
You will need the Pax wardrobe frame for this, along with a few pull-out shelves, and contact paper like this to decorate your vanity's interior.
Check out more IKEA hacks for your bedroom here.
2. Built-In Pax Closet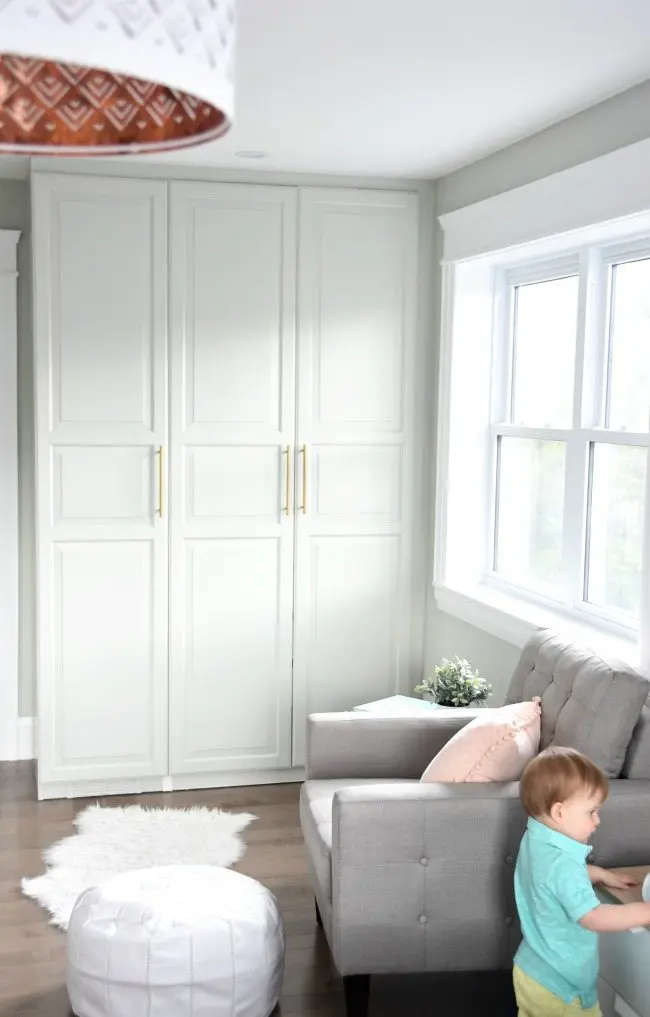 Full tutorial at: thesweetestdigs.com
The great thing about the Pax (or most Ikea products) is that it comes in white or wood, making it super easy to integrate with existing furniture or the color scheme of the room.
This particular project took the Pax wardrobe frame, painted it over, and added doors and hinges to make it look like the cabinet closet was built-in with the house.
If you decide to do something similar, a shellac-based primer like this works best with Ikea furniture's laminate surfaces.
3. Pax Built-in Walk-In Closet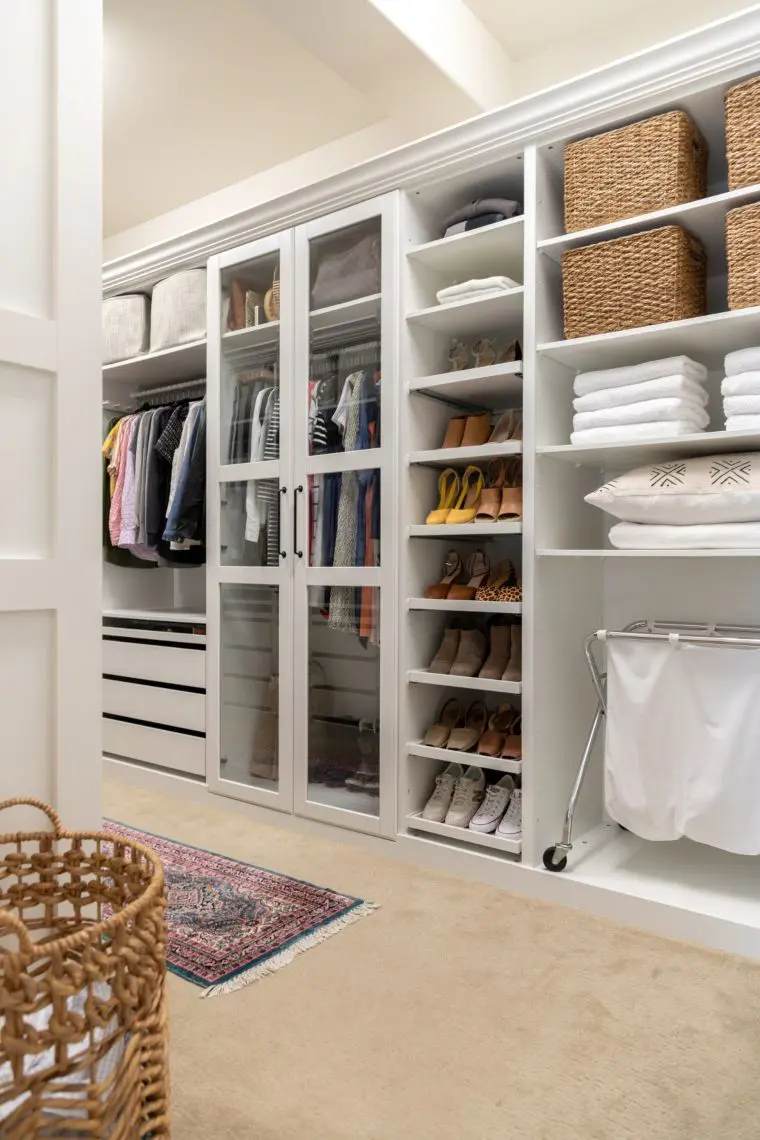 Full tutorial at: crazy-wonderful.com
I would bet that most women wouldn't refuse a walk-in closet. If your home didn't come with one, there is still hope.
You can make your own walk-in closet by mixing a few pieces from the Ikea Pax range.
The elements of your walk-in closet would entirely be up to you. Add as many shelves or hanging rods as you like.
Just make sure you use it to properly seal any gaps and enhance the built-in look.
My favorite is this paintable caulk, allowing me to paint it with the same color as the furniture or room – again, completing that seamless, built-in look.
This is a great IKEA hack that will keep everything organized.
4. Custom-Fit Pax Storage Cabinets for Awkward Spaces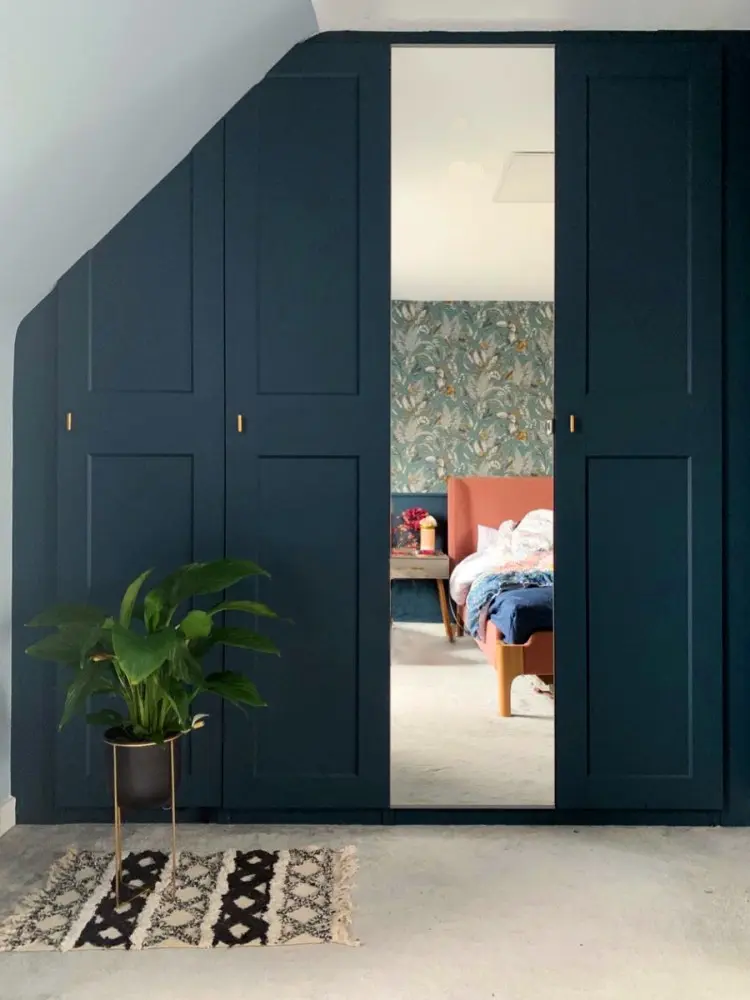 Full tutorial at: domino.com
Do you have underutilized space under your stairs? Or perhaps an attic that has no storage cabinets? If you do, the Pax may be your new best friend.
To recreate this Ikea hack, you will need a few Pax systems, your usual woodworking, and painting tools, and these 90-degree brackets to secure the cabinets in place.
5. Mural-Covered Pax Closet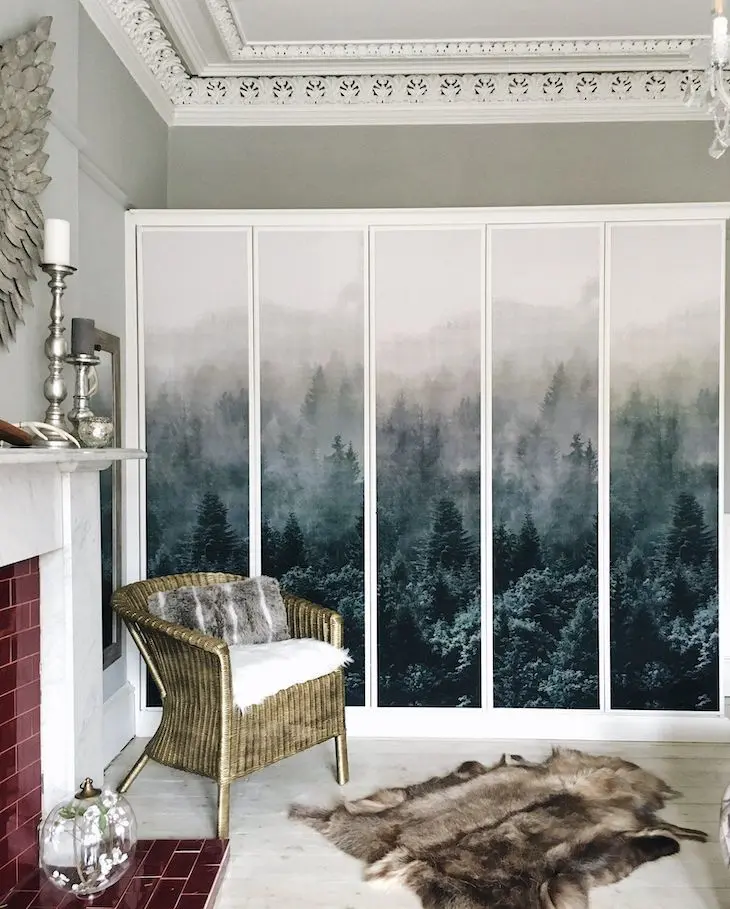 Full tutorial at: aroundthehouses.com
I love this Pax project! Who would have ever thought this gorgeous wall of art is made out of a few Pax systems? The process is similar to the other ideas I have shown above, and the difference is the use of wallpaper to create an almost floor-to-ceiling mural.
If you can't find a wallpaper mural that you like from your local stores, this page features many attractive scenic murals that may appeal to you.
6. Statement Hardware on Pax Corner Closet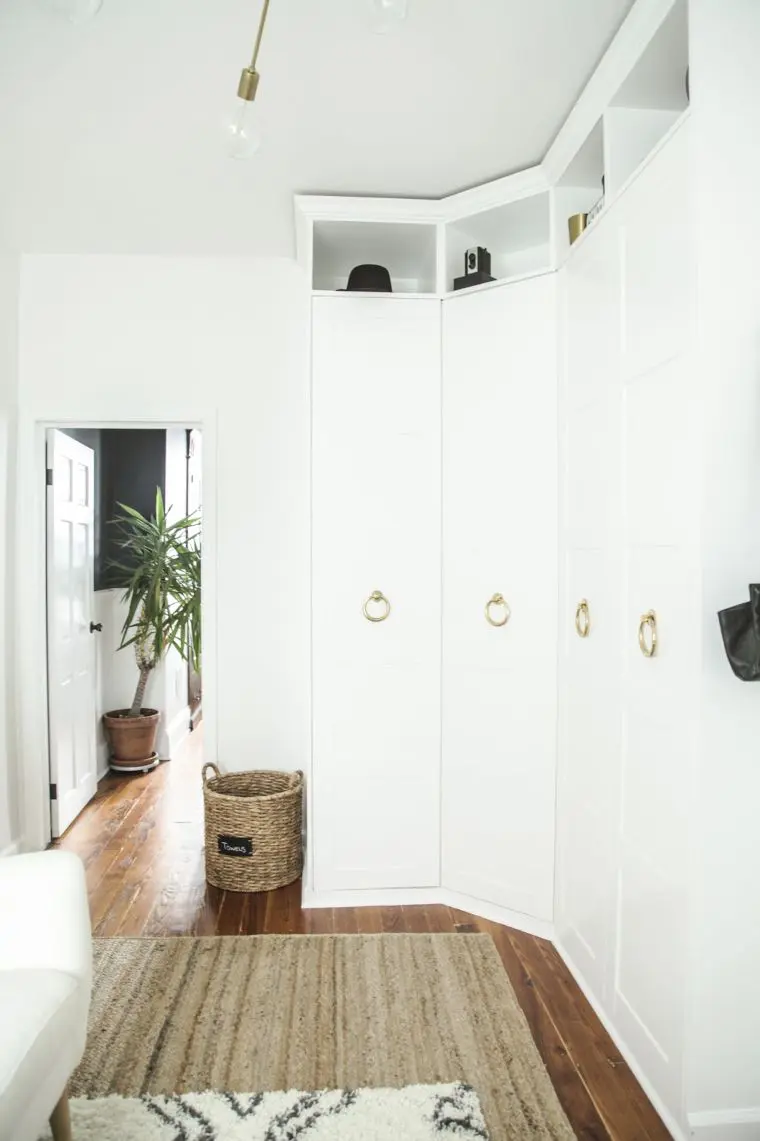 Full tutorial at: andchristina.com
I wanted to show you two hacks in this example. The first is more of a functional and practical hack, in that this hack shows how the Pax system can be built-in even in corner spaces.
My second point is more towards a design hack. When you have a minimalistic closet like this, an easy way to make it stylish is to add statement-making hardware, like the door knocker door handles similar to these.
Check out more IKEA hacks like this for low budgets here.
7. DIY Pax Window Nook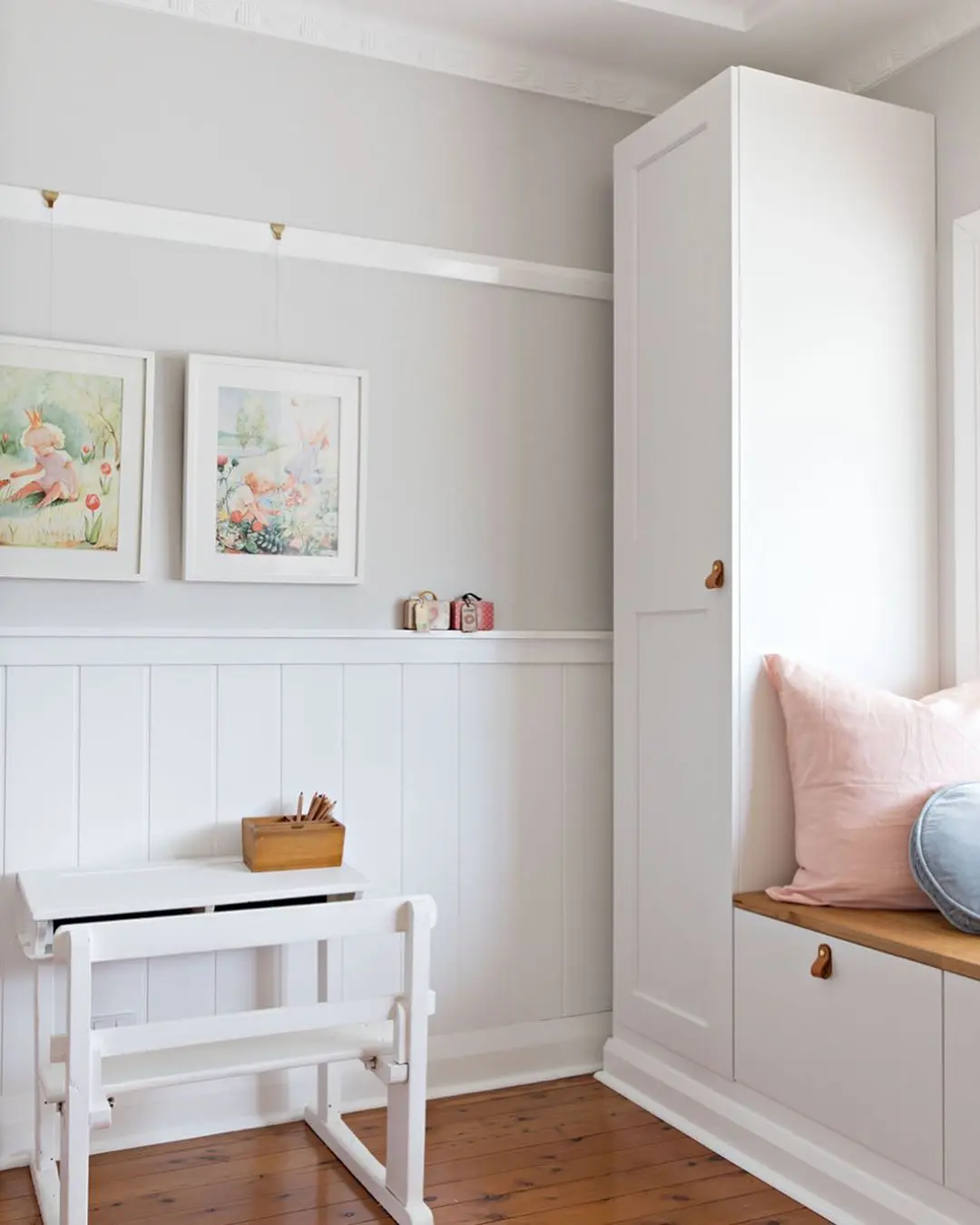 Full tutorial at: Instagram
This Pax hack is perfect if you have space to spare beside a French window. Actually, even if the space beside your French window is already occupied, I would suggest creating space for this relaxing nook.
A nook like this serves as a great sanctuary for you or any family member to just chill and forget about the stress and troubles of the day. A similar nook will also be a great study corner for your kids' rooms.
8. DIY Pax Mudroom
Full tutorial at: abrickhome.com
Another built-in-furniture hack using the Ikea Pax is a mudroom. This will perfectly suit relatively wide hallways and households with any aged kids (because toddlers and teenagers make the same amount of mess!).
If you're planning to recreate this, remember to include hooks like these, so there's somewhere to hang those coats, bags, hats, and other what-nots.
9. DIY Laundry Room Closet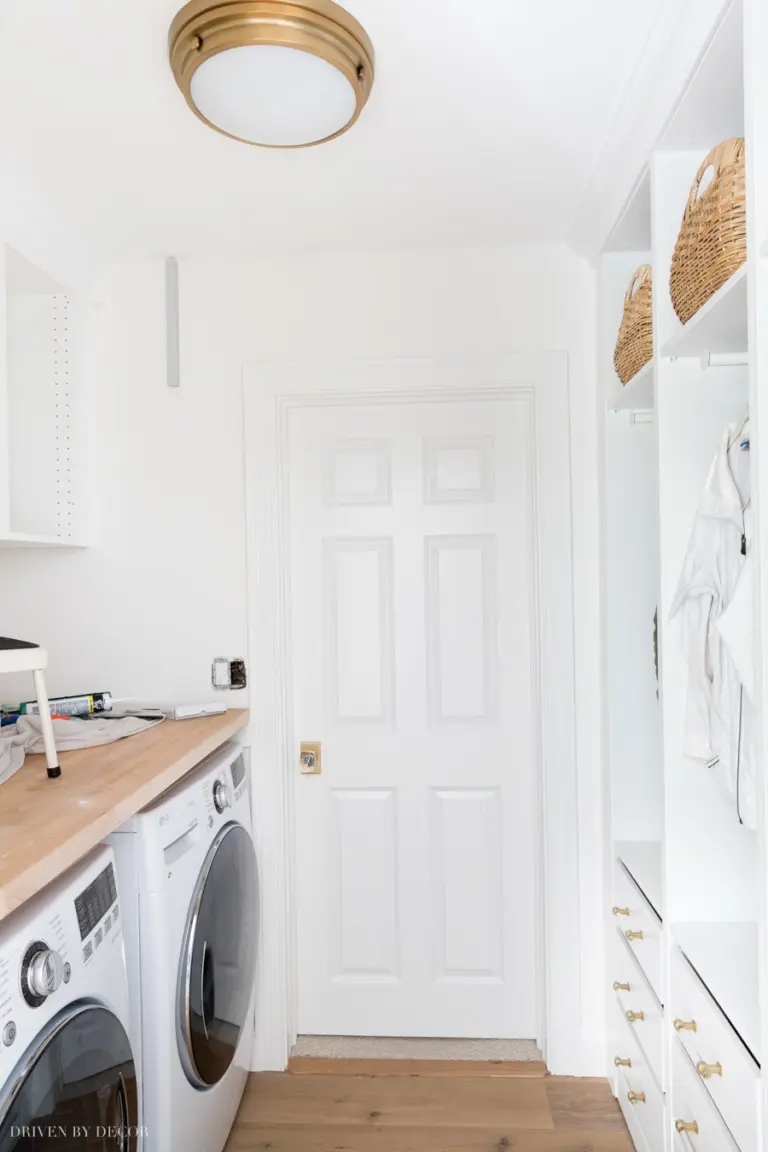 Full tutorial at: drivenbydecor.com
If your first thought upon seeing Ikea Pax idea was "why didn't I think of that?" – that makes the two of us. This is such a brilliant idea! It saves you from having to run up and down the laundry room to each individual family member's room.
Also, I can't help but admire the clear handles used for the drawers. As always, I tried to look for something similar, and my research leads to this gold and clear drawer pull.
I prefer silver to gold, so I tried to look for a silver-colored one and was super thrilled to find it here.
10. Space Efficient Reach-in Closet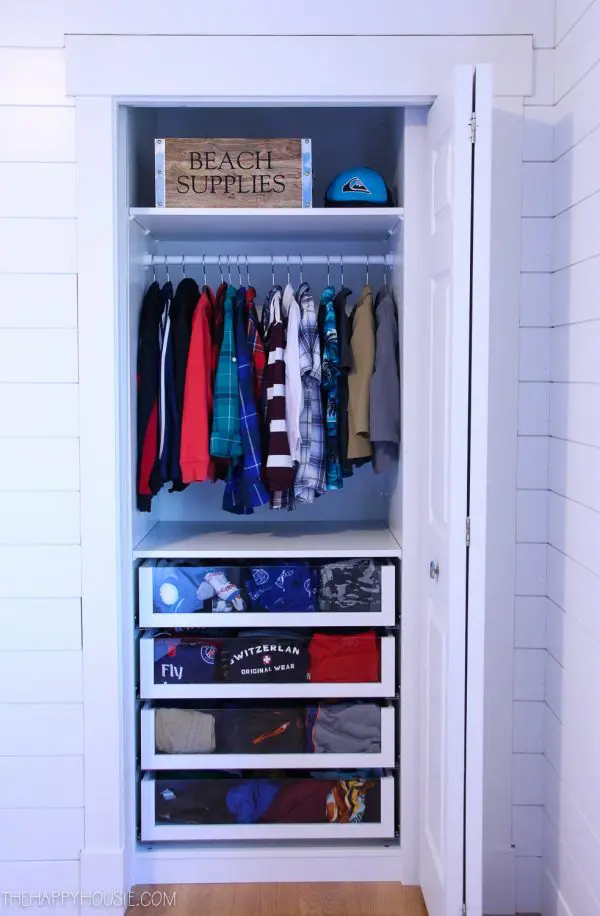 Full tutorial at: thehappyhousie.porch.com
I have one issue about reach-in closets: there is a lot of wasted space. This is the reason I love this Ikea hack.
It uses a combination of Pax system pieces to create a great-looking cabinet to efficiently maximizes the space. Having more shelves means more capacity, and putting the clothes rod higher means it can fit longer clothes better.
Check out more IKEA hacks for a kids room!
11. DIY Wardrobe Closet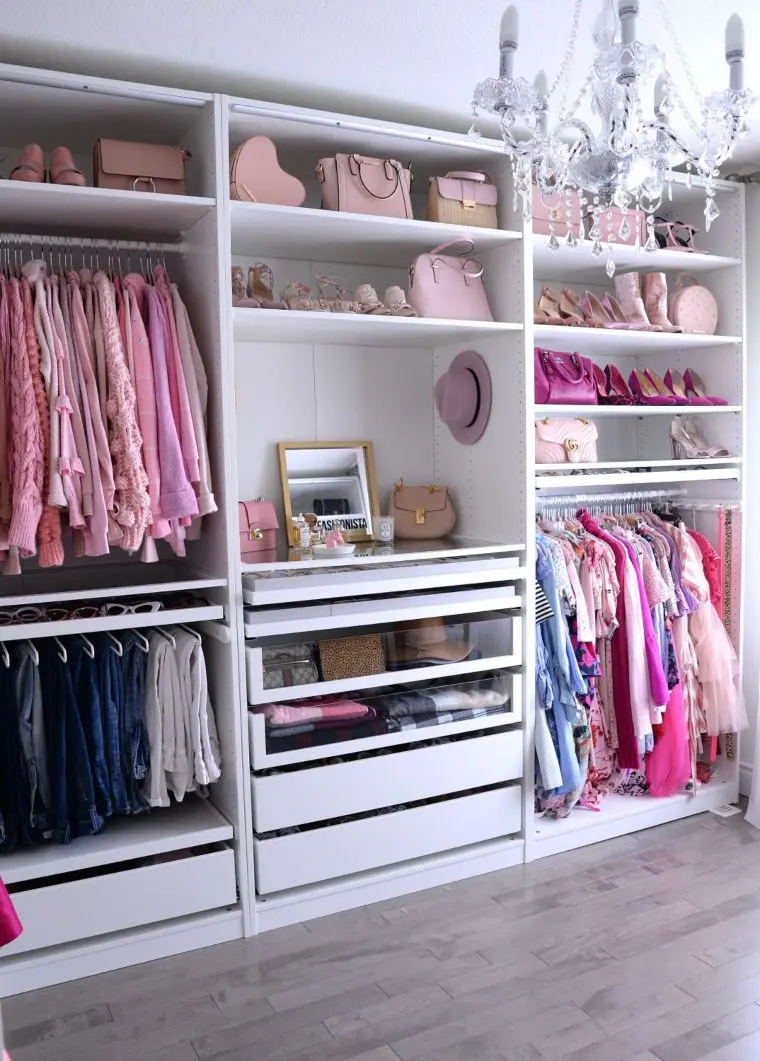 Full tutorial at: thepinkmillennial.ca
This is a wardrobe fit for a fashionista! It used a lot of Ikea pieces, with the Pax system comprising the majority of the elements.
I love the fact that this wardrobe has dedicated drawers for jewelry and other accessories. If this organization hack appeals to you too, here's where you can find inexpensive yet stylish jewelry drawer divers.
12. DIY Chic Pax Cabinet Doors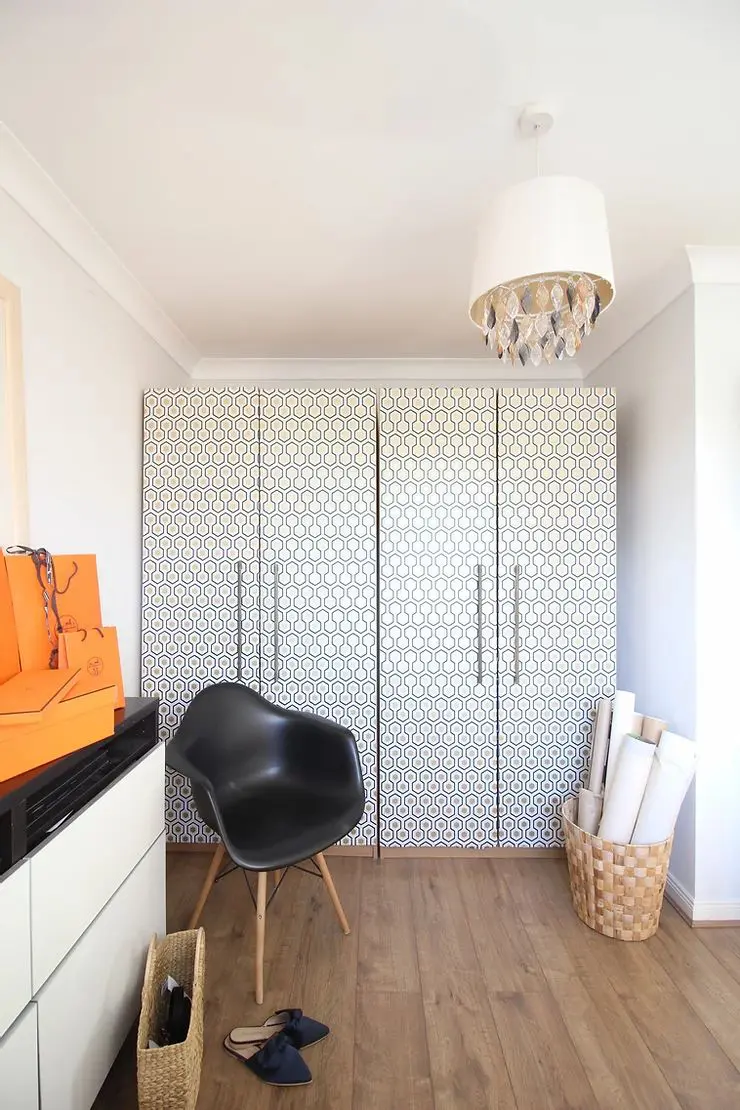 Full tutorial at: seasonsincolour.com
I love how a simple tweak of Pax cabinet systems and wallpaper transformed this pristine room into a room vibrating with chic, colorful vibes.
This is very similar to one example I showed you earlier, but instead of using 3D wall panels. You simply need to look for a striking patterned wallpaper, like the one I found here.
What I love about using wallpaper is if, in the future, you want to spruce the room or furniture up. It's as easy as peeling the paper off and replacing it with a new one.
13. DIY Wall Closet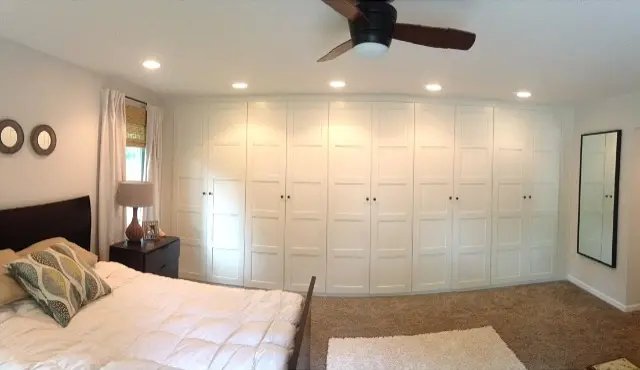 Full tutorial at: theranchwelove.blogspot.com
Why limit your wardrobe to a floor-to-ceiling one when you can have an entire wall to serve as your storage space? This is the perfect storage solution to a master bedroom that has space to spare.
For the ladies out there, who never have enough storage space (wink), suggest this project to your partner so you can have all the walk-in wardrobe space to yourself (wink, wink).
We all know how this story will end, though. You will eventually end up using half of the wall storage space.
14. Pax Office Organizer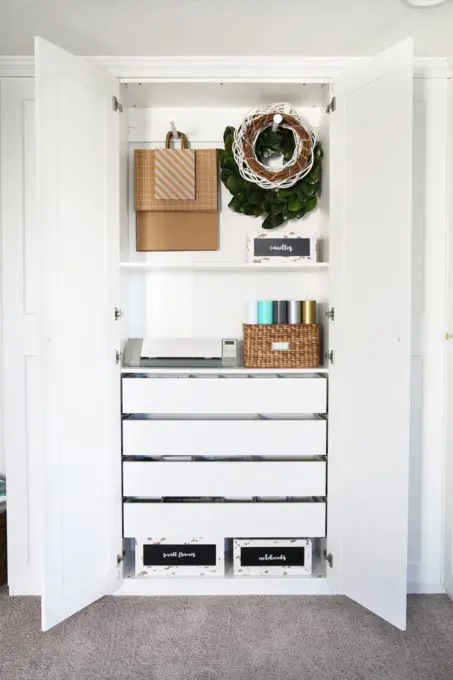 Full tutorial at: justagirlandherblog.com
I debated whether to call it an office organizer or a hobby organizer. Because is it really considered work when you're doing something you love, like crafts? Putting a few Pax pieces together is a great hack to declutter your work or hobby space.
It also makes your office look more formal, especially if you have clients that often come into the home office.
15. Pax Princess Closet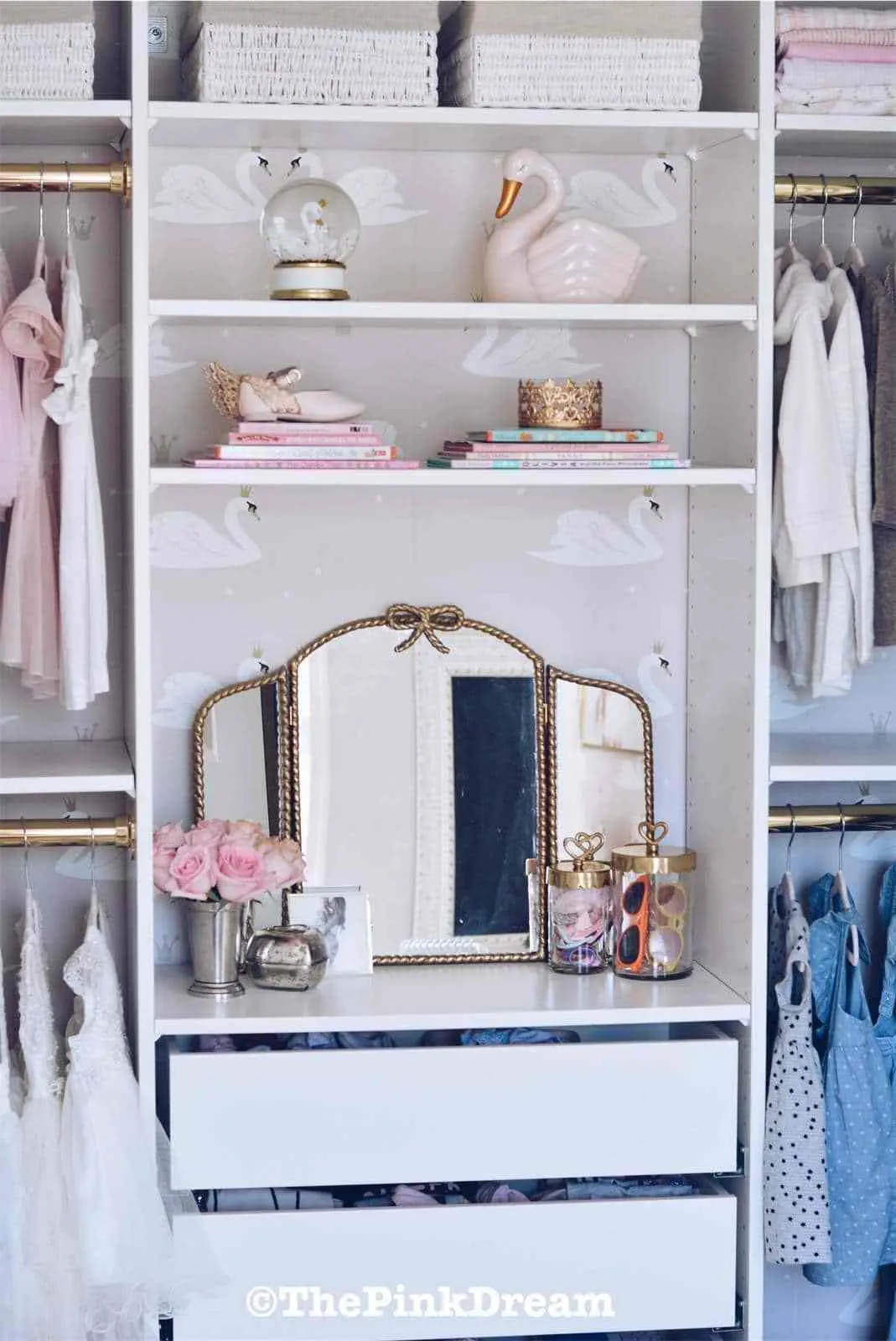 Full tutorial at: thepinkdream.com
Your little girl will surely love this closet fit for a princess. The great thing with DIYing your child's closet is you can match the vanity dresser to their height.
And when they get older, it's relatively easy to bring this higher.
Make your daughter's vanity look more regal by placing her accessories in decorative canisters like these.
Check out more hacks like these that could also be used in a bathroom.
16. Windowless Kids' Reading Corner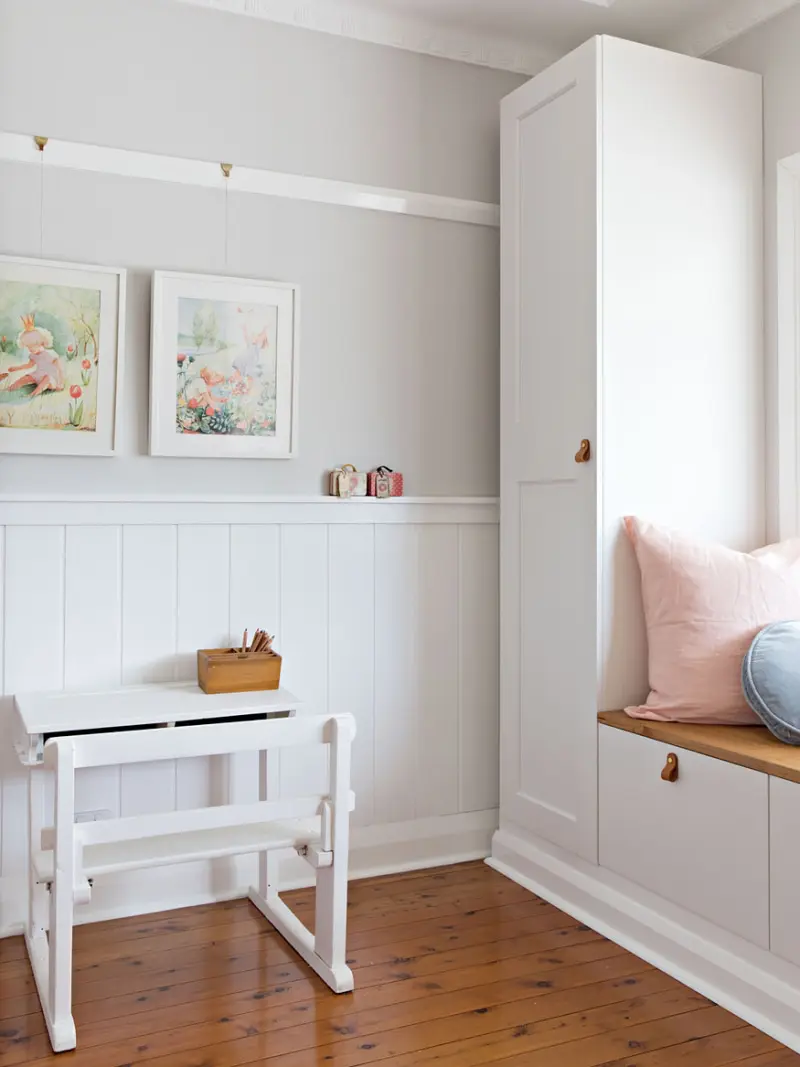 Full tutorial at:: domino.com
If you don't have a large window space to create a French window nook, there are other hacks for you to do. For example, this Pax solution is another way of creating a reading nook for your kids.
It's super fun and cozy. Dedicate one Pax unit to hold books, and your child will feel like they have their own private library!
17. Add a Statement Mirror to Your Pax Vanity Wardrobe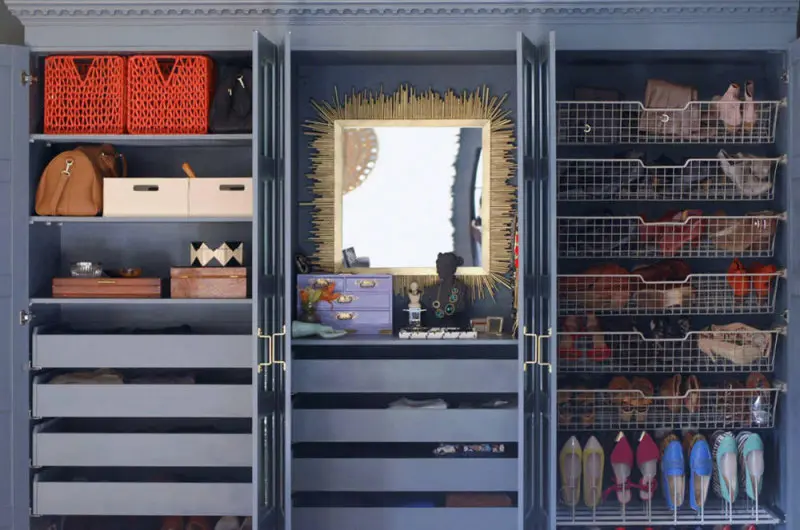 Credit: domino.com
A great way to add personality or character to a Pax built-in wardrobe and vanity is by adding a striking accent piece, such as the statement mirror seen in this gorgeous wardrobe hack.
I can't find one similar to the mirror on this example, but I did come across this other statement mirror, which I found really attractive.
18. Pax Men's Closet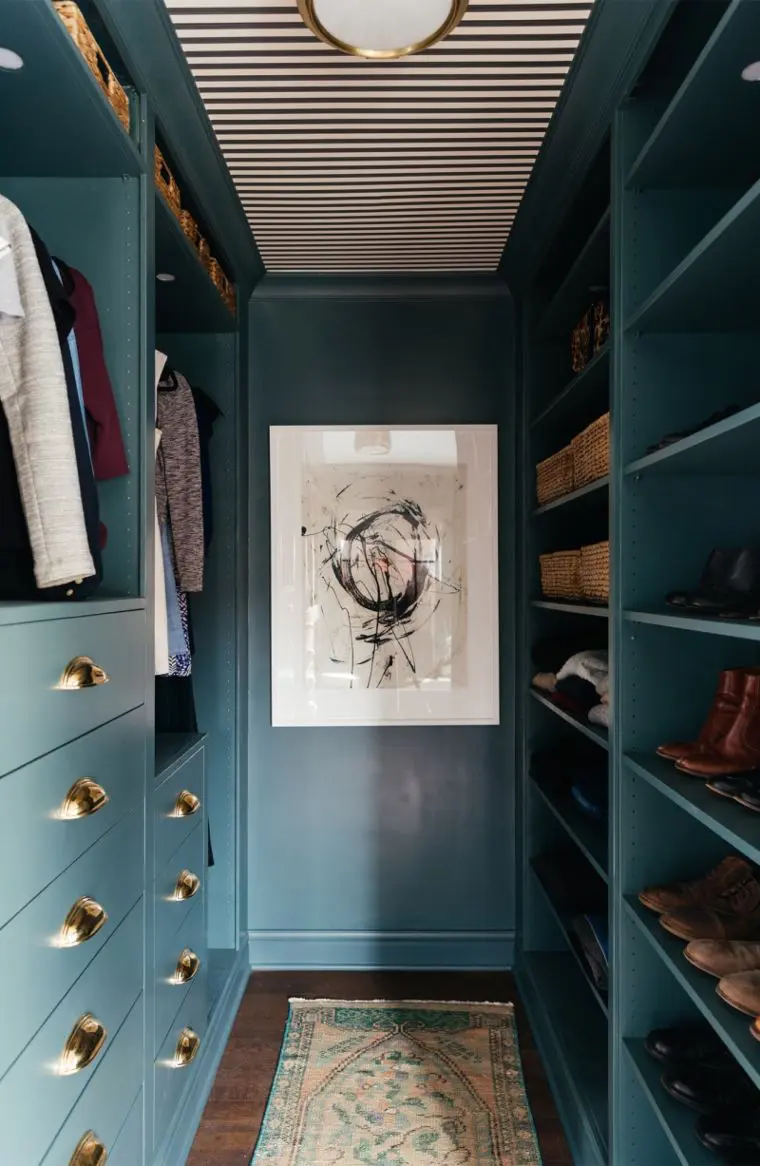 Full tutorial at: erinkestenbaum.com
Yes, not all the hacks on this list are dedicated to women and their clothes. The last Pax hack, and definitely not the least, is one fit for a gentleman's closet.
Use neutral or dark-toned hues to match your man's color preference, and opt for minimalist yet bold drawer pulls like this, to complete the look.
Conclusion
What did you think of this round of Ikea hacks? Did you see something you'd want to do sometime in the future?
Let's chat about it in the comments below.