Decorate girl's bedroom on a budget! These room decorations ideas for girls are creative and beautiful.
When it comes to decorating a girl's room, all bets are off. You never know what color the walls will be, what's happening with the wall art, or why there is a veritable jungle in there with a gazillion plants.
But what you do know is that a girl's room is a sanctuary, a display of individuality and self-expression. So, to help your girls decorate their room, check out these 51 room decor ideas for inspiration.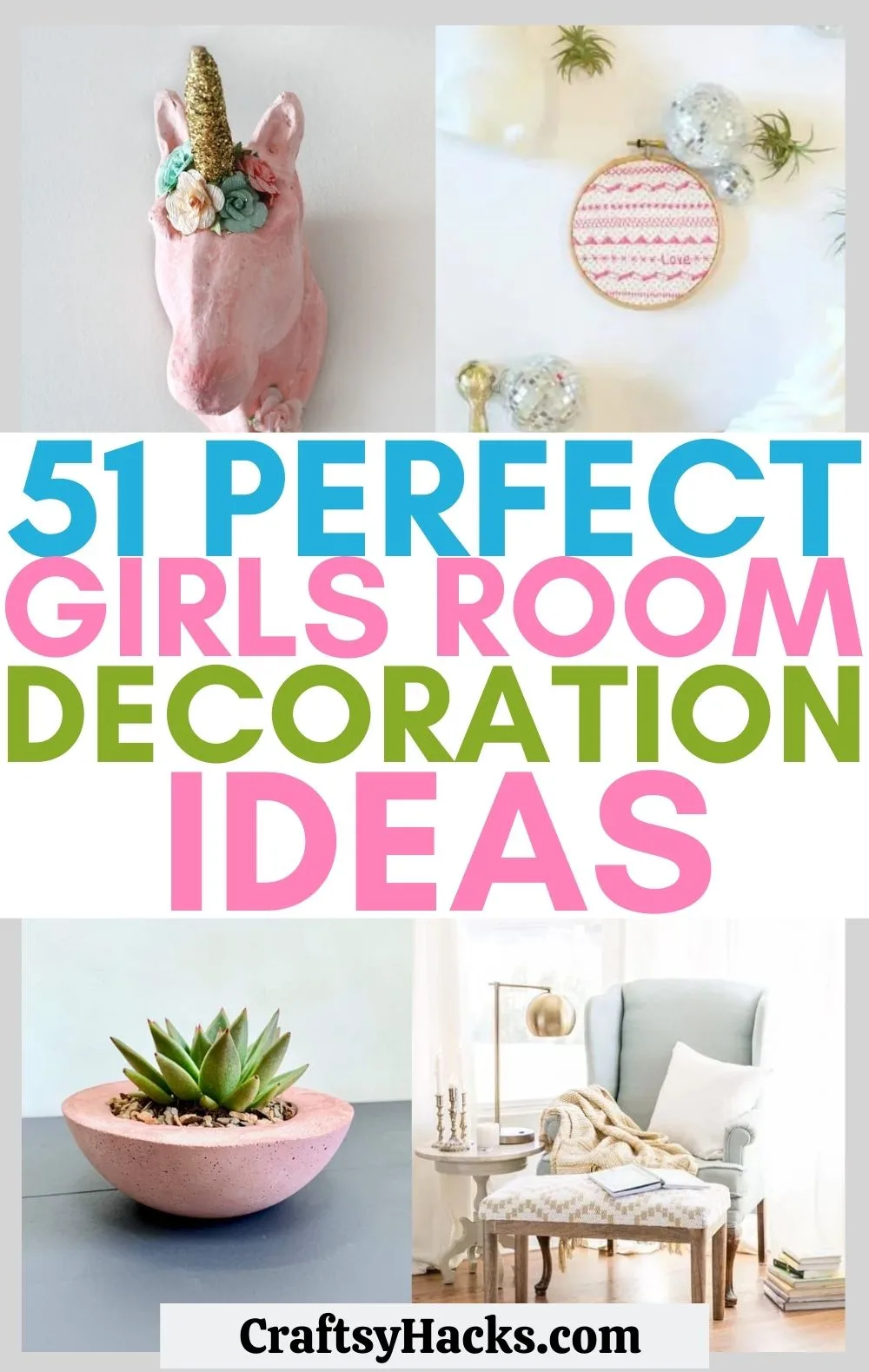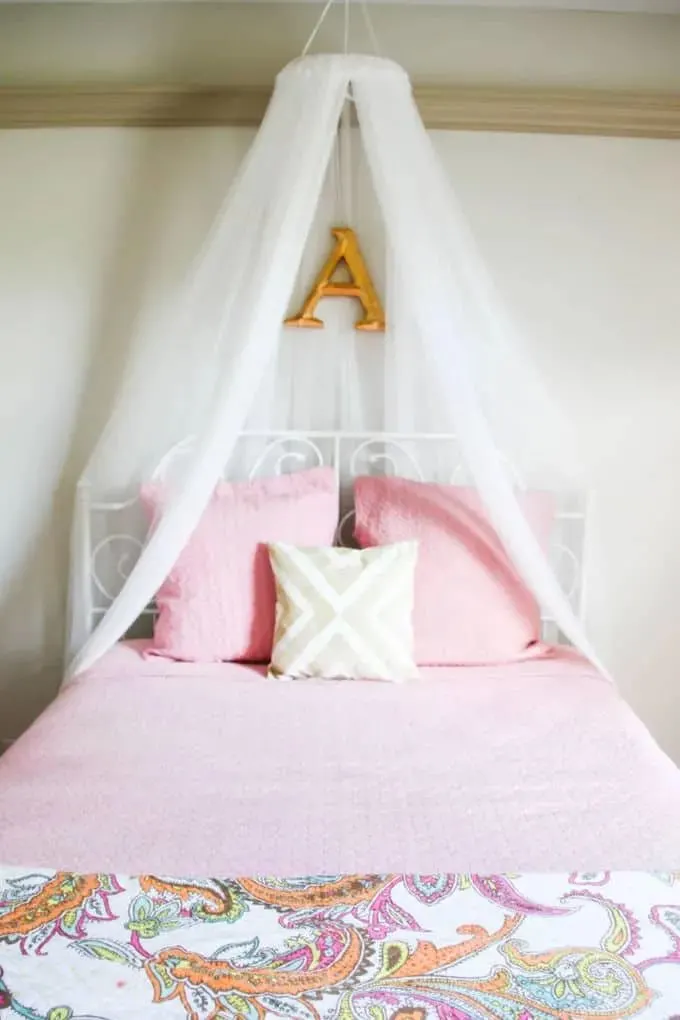 Source: allcraftythings.com
A canopy bed is every girl's dream growing up. There's something about waking up under billowing folds of fabric that makes you feel like a princess, and there's no other way to explain it.
Making a canopy for a bed is actually much easier than you'd expect. You only need an embroidery hook to get you started. Pick one up from here.
You will also need a few meters of fabric—tulle or net works best for that frothy look you're hoping for.
Love this idea? You might enjoy these IKEA bed hacks!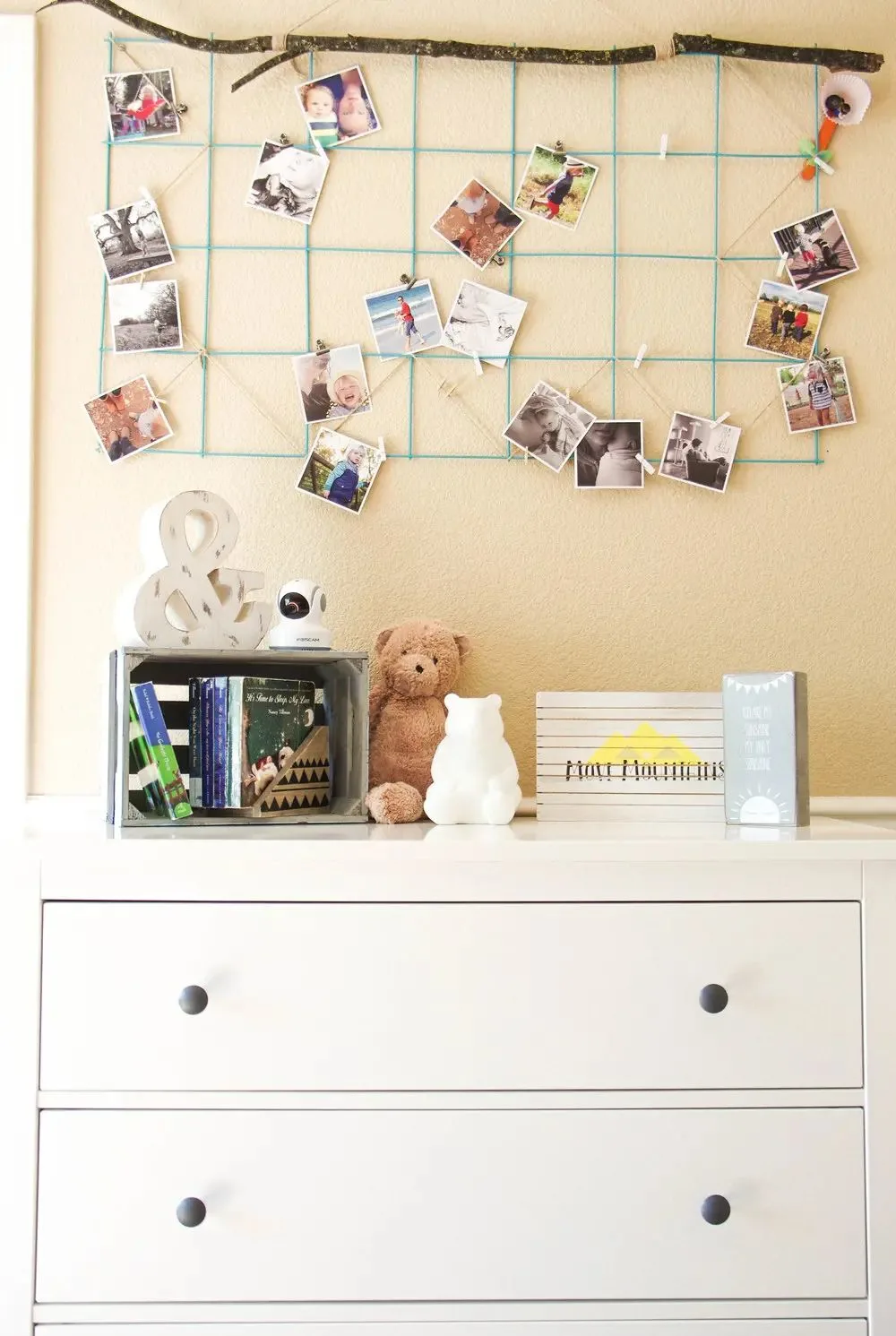 Source: theforkedspoon.com
There was a month or two last year when I went off every social media platform. While time off Instagram was beneficial, I did, however, miss out on looking back at my memories with friends and families.
That's why an Instagram photo display like this one can be a brilliant idea. If you want to get all your Insta photos on a wall, then you definitely should.
Pick some clothespins from here and a welded wire mesh steel sheet. You can cut the sheet down to size and roll up the rest for another project.
Source: ellemariehome.com
I get excited about tassels any time of the day, anywhere I see them. They're flirty and fun, and they also do a lot for a girl's room.
Don't believe me? Check out this pink tassel garland.
If you're wondering where you can hang this garland, then try one of these spots:
Across the mirror on a dressing table
Over the back of the headboard
Across the room like a banner
Against the doorframe
No matter where you hand it from, it's going to instantly brighten up a girl's day to see all that sparkle.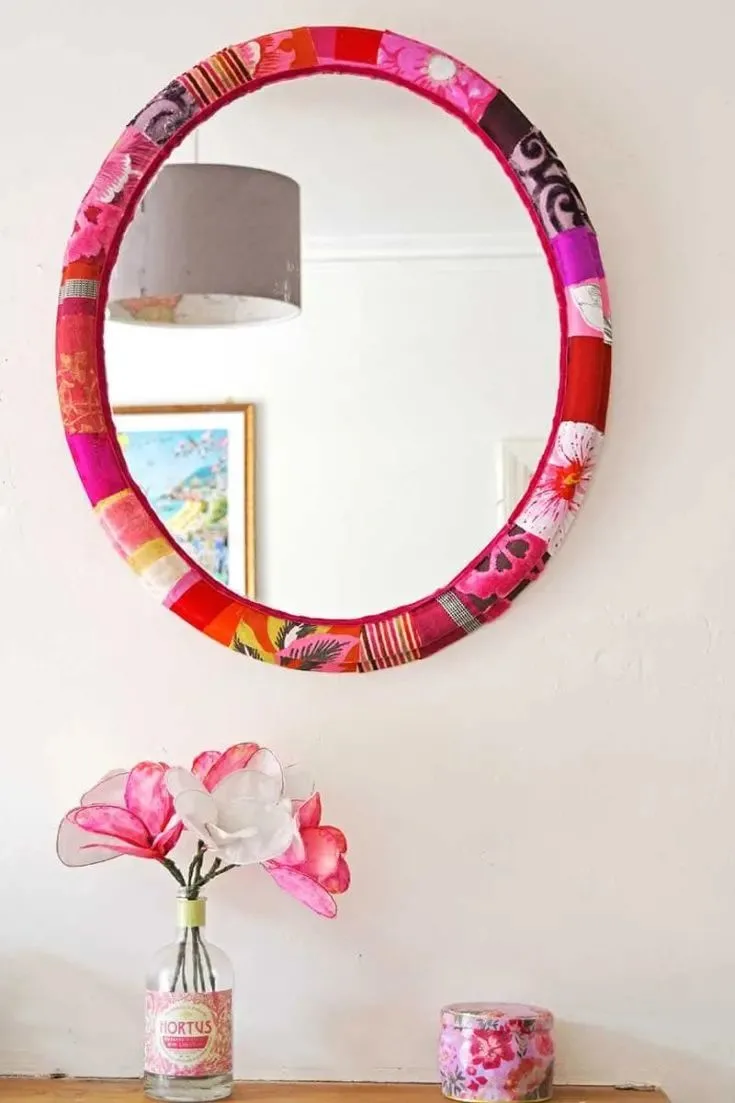 Source: pillarboxblue.com
Mirrors deserve a frame, especially the one in a little girl's bedroom. When she looks into the mirror, surrounded by all that bright color, that's exactly what she'll see: brightness and cheer.
The first step after you pick out your mirror is to prep it. Next, pick out your fabric swatches. This project is perfect to use up all those scrap pieces of fabric you've been saving up.
Grab a pair of scissors and start cutting the scraps down to size.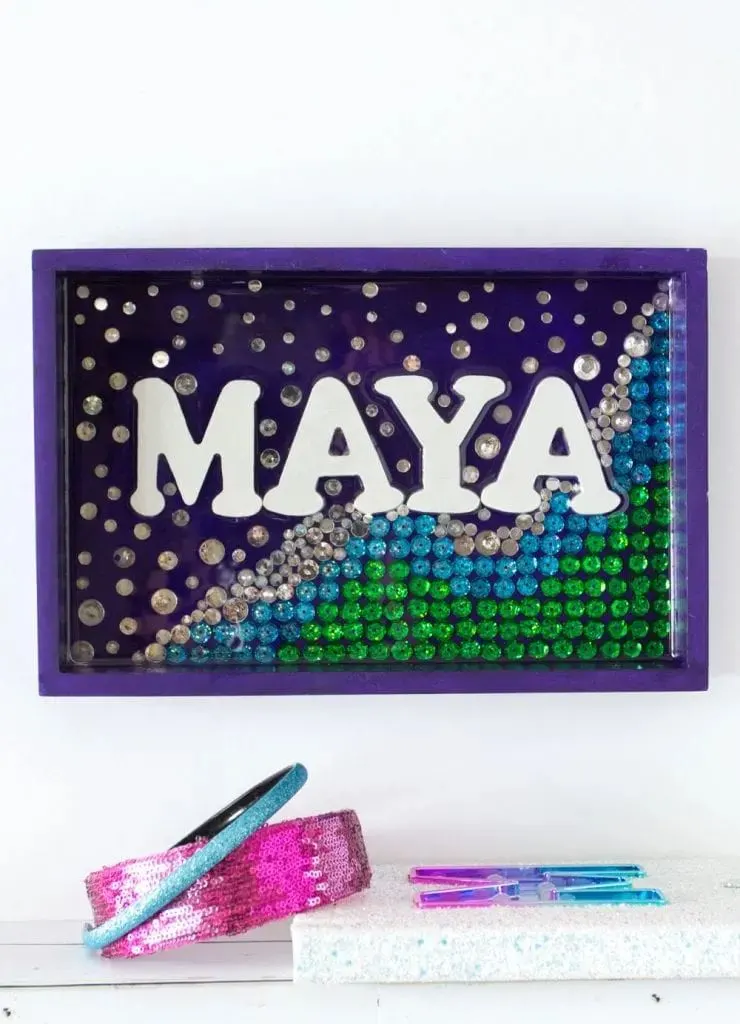 Source: sustainmycrafthabit.com
Mermaid colors are pretty great to work with. True, there's a primary color scheme of ocean blues and greens, but there's also silver, pink, purple, and the odd glimpse of gold.
That there is a great color palette to work with for a little girl's room. You can personalize it even more if you use those colors to make a shadow frame with your kid's name inside.
Grab a wooden plaque to use as the base for your frame. Then, either buy letters online or use your Cricut machine to make your own. Finish it up with an even layer of resin, and you're all set.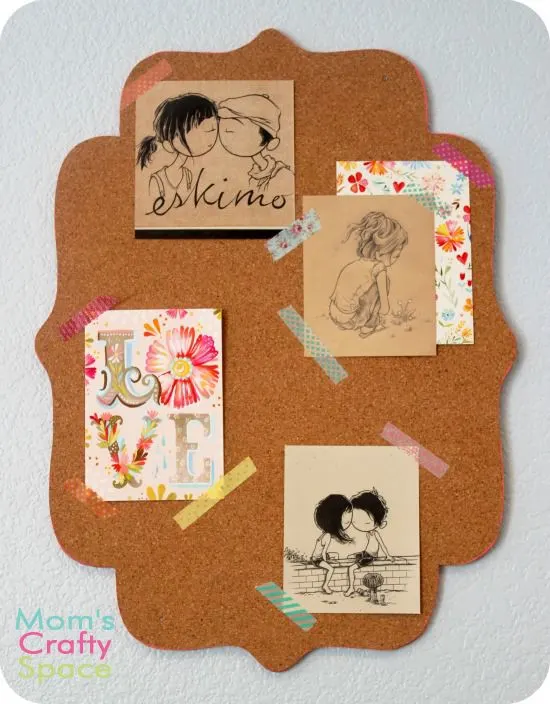 Source: happinessishomemade.net
Corkboards are a great way to express your creativity and interests. The best part is that it allows you to keep updating those interests as and when you like.
So what better way to decorate that center of your creativity than to style its shape and size to your specifications. First, buy a plain cork board(look here).
Next, print out a template in the shape you desire. Place the template over the corkboard to check for size, and then use a utility knife to cut off the extra bits. Don't forget; you can also paint the edges!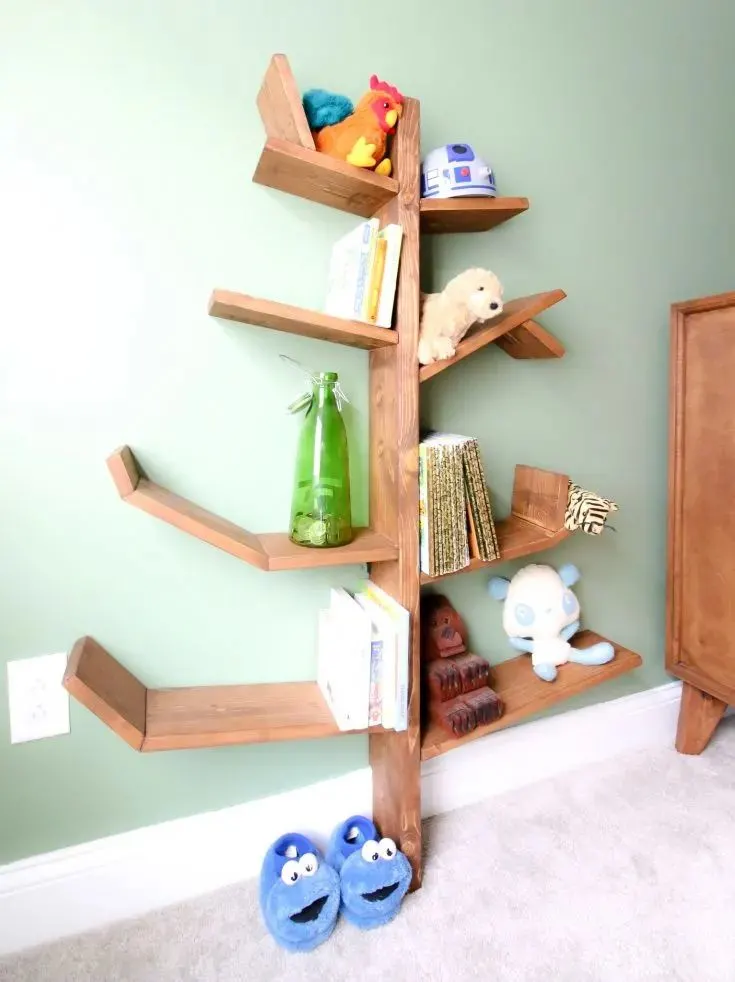 Source: charlestoncrafted.com
Is a room complete without a bookshelf to hold all your favorite books? But sometimes, a plain old bookshelf just won't do.
If you want to add a tree-shaped bookshelf to your home, then roll up your sleeves and start building one. You will need to pull out your toolbox and plan your bookshelf first.
You will also need to design the bookshelf around the space you have to work with, so that means you can add or remove the number of 'branches' or shelves your tree will have.
Check out more Dollar Tree Home décor projects you might like!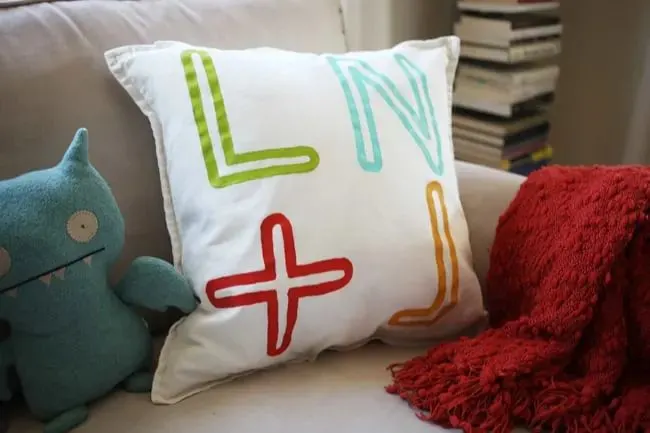 Source: diycandy.com
It's never too early to instill the love for pillows and toss cushions in a girl. So let's start off with a lovely painted pillow that displays her initials.
First, grab a pillow to use as your base. You can also buy a pillow cover or slip from here to paint on. For the first project, try to stick with a white cover, so you have more room to play with colors and designs.
Then, grab some fabric paint. Before you apply it onto the cushion, make sure you stencil the letters onto it first.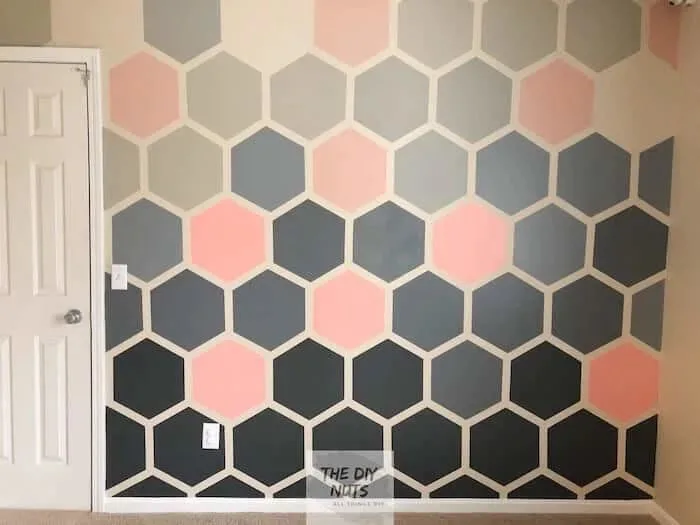 Source: thediynuts.com
This ombre-toned hexagon wall is one of my favorite patterns—or geometric—prints to use when decorating, right behind herringbone. There's a lovely symmetry to it that is softened out by the ombre gradient of colors.
Here's a list of what you'll need to buy for this project:
Once you have everything ready, go ahead and tape your hexagon pattern onto the wall. Lay out plenty of newspapers, too, to catch spills and drips.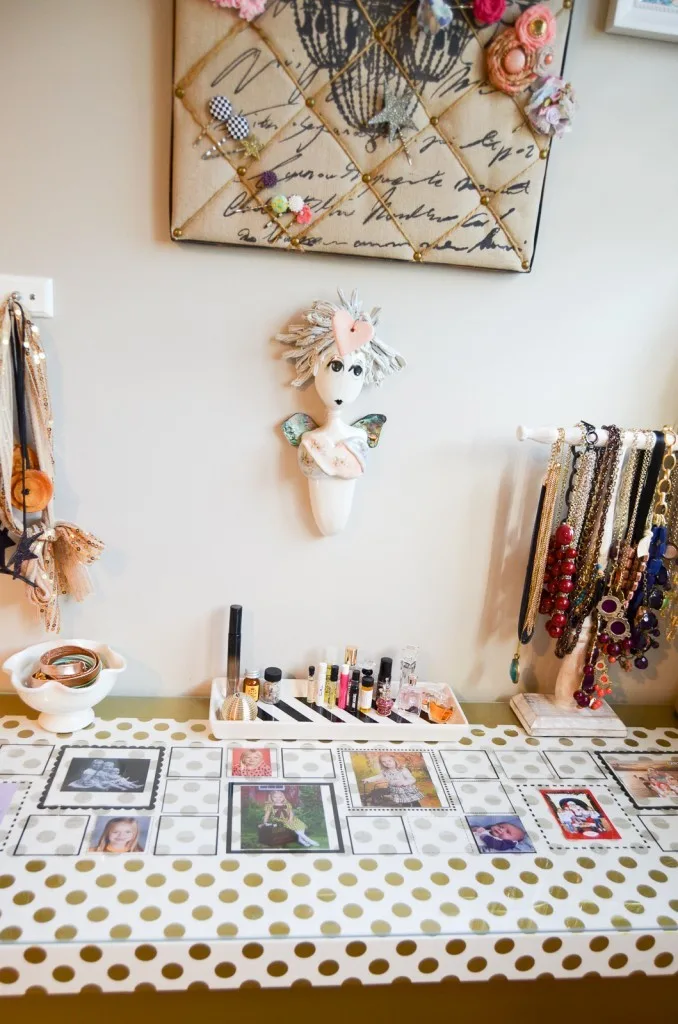 Source: albiongould.com
People always assume that it's the bed that is the heart of a bedroom, but I always believed that it was the dressing table. That's where the magic happens.
I remember watching my mother dress up for a night out and rush off to my own room to work on my own makeup in front of the mirror. Those core memories deserve a lovely setting, so let's get down to giving the dressing table a makeover.
First, grab some decor tape and use it to cover the top of the dresser. You can always keep changing this cover, and it also protects the surface below!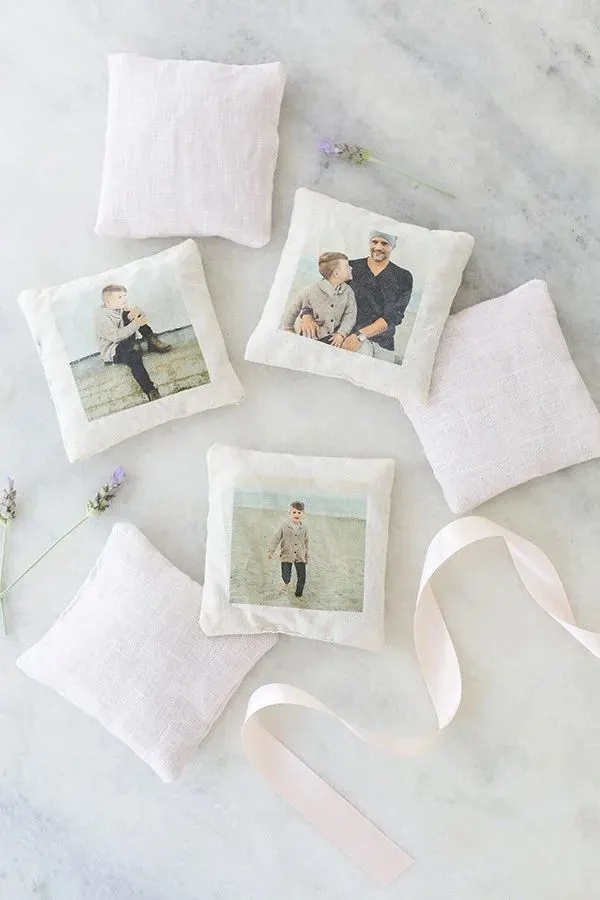 Source: sugarandcharm.com
Lavender sachets are so quintessentially charming. They're easy to make, and they keep the clothes smelling fresh and floral. Why not get a little creative with your sachets and turn them into photo holders?
This way, every time you open a drawer, you get to see your loved ones smiling back at you—even from the bottom of your linen closets!
Plus, they're also really unique and personalized gifts that you can give someone—on Mother's day, perhaps? But for now, grab some lavender from here to make your sachets and decorate your daughter's room.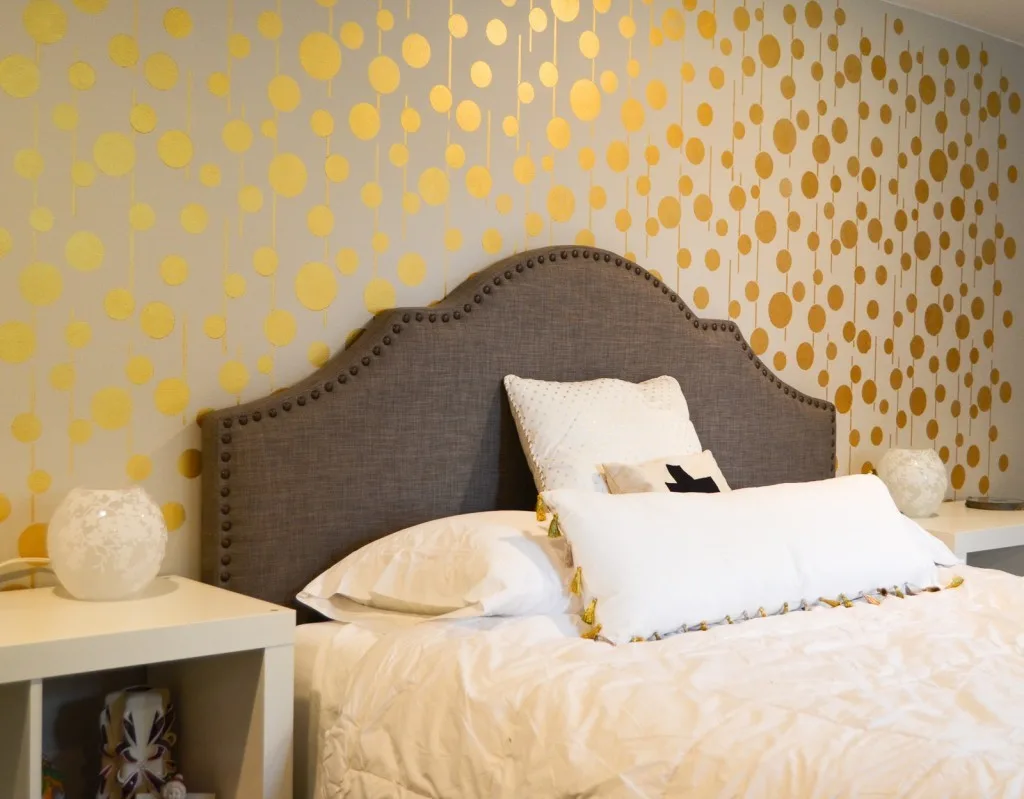 Source: albiongould.com
The space behind your bed and headboard has so much potential. But I've always been paranoid about hanging anything right above my bed for, well, the obvious reason that it'll crash down on my head.
Instead, how about some lovely stenciled artwork to jazz that space up? You can recreate just about anything you want with the help of stencils.
If you want to turn your plain white walls into something warm and mellow but also sparkly and sassy at the same time, then grab a bucket of gold paint along with your stencils.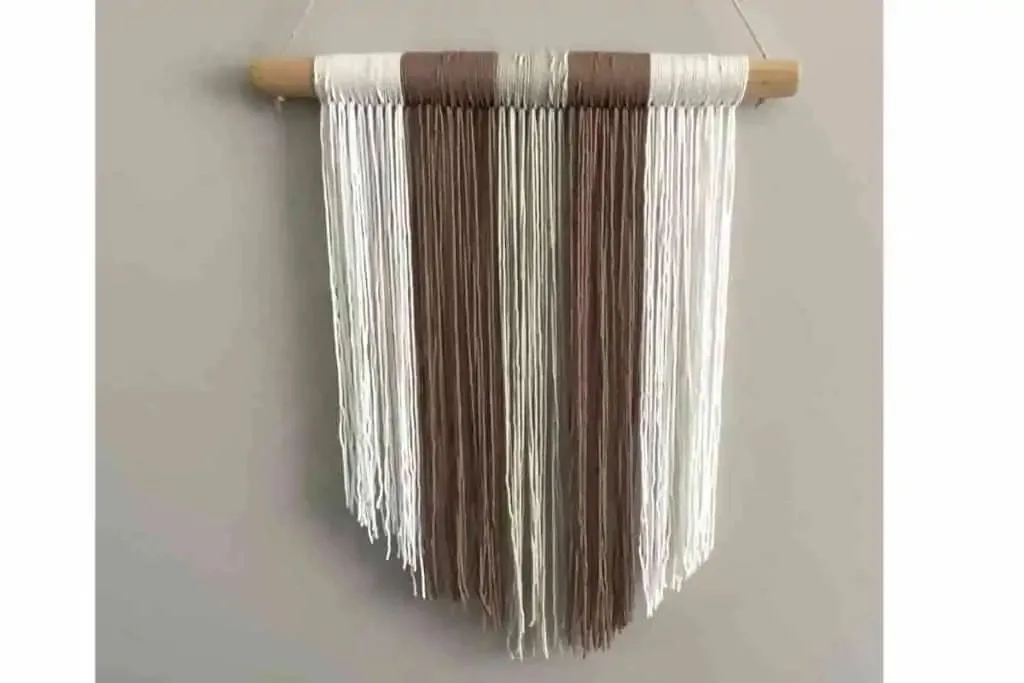 Source: restoredecorandmore.com
Macrame is such an intricate art form. It's elegant, classy and just screams boho-chic, all at the same time. If all those adjectives appeal to you, then it's time you made a pretty macrame wall hanging for your room.
Grab some yarn from here, and pick up a wooden dowel or even a tree branch for the base. Then go ahead and attach your strands of yarn onto the dowel.
Feel free to leave it as it is, or grab a few strands and make a twisted braid to add texture to the wall hanging.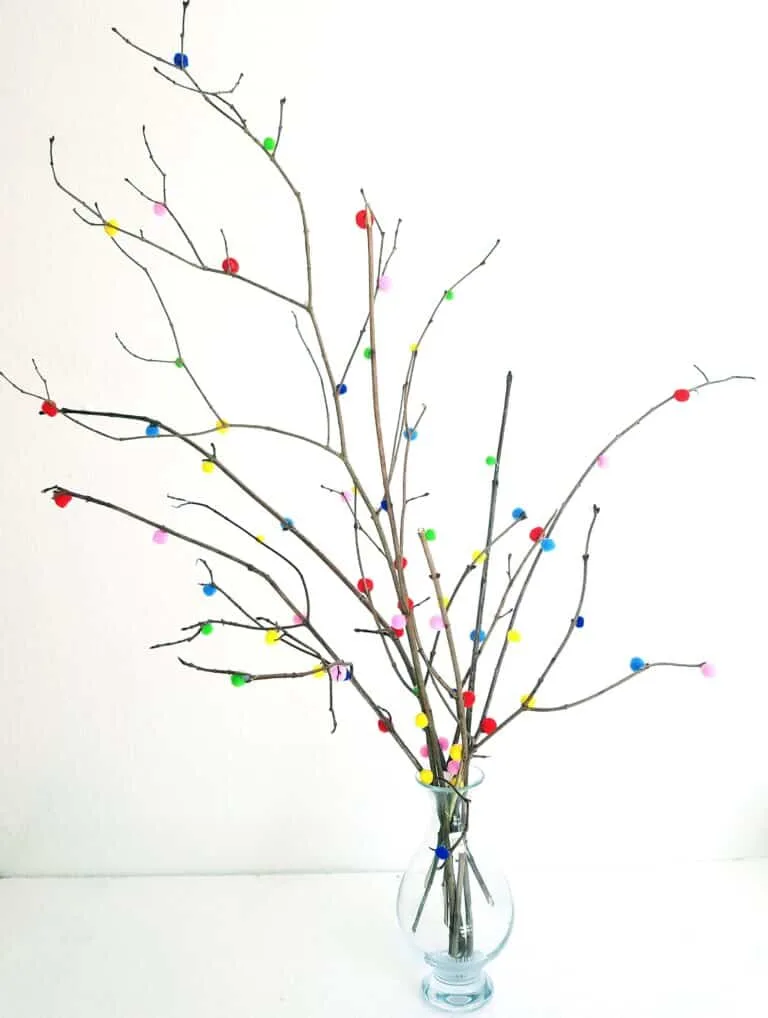 Source: liltigers.net
Pom poms—even the word just screams fun times, doesn't it? How do you like the look of this simple yet colorful pom pom tree?
As a teen, I would always be on the lookout for inexpensive ways to decorate my room, and this pom pom tree would have been on top of my list.
You can either make your own pom poms, or you can buy a ready-made pack here. Go outside and pick up a few branches and twigs to stick the pom poms onto, and you're set.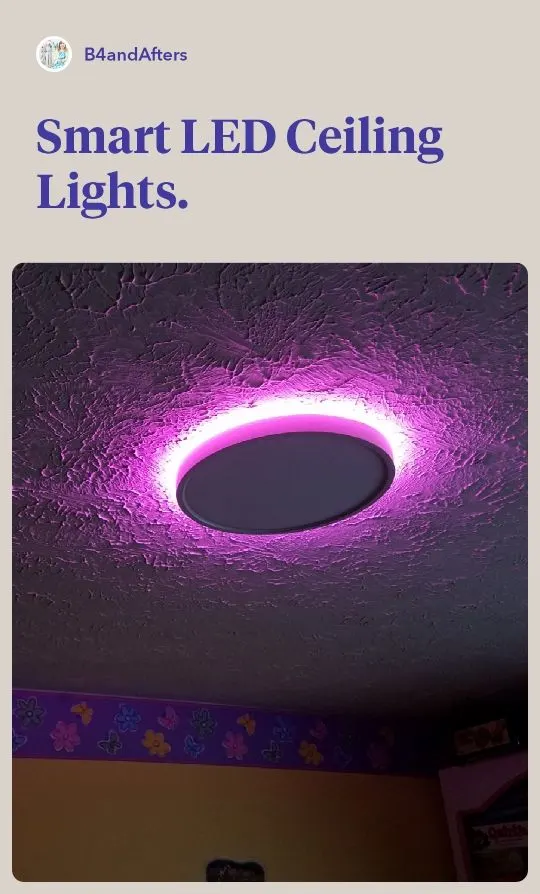 Source: b4andafters.com
Let's be honest—if you had an LED light like this one, you'd be too thrilled to go to bed. Well, that's no reason not to set this up in your girls' rooms!
It can be a lovely night light for them to enjoy rather than having to switch on their bedside lamp all night. Plus, it's 'smart.'
What that means is that when your lights are on, you won't see the LED light, but once you turn them off, these nifty lights appear automatically! Grab them right here.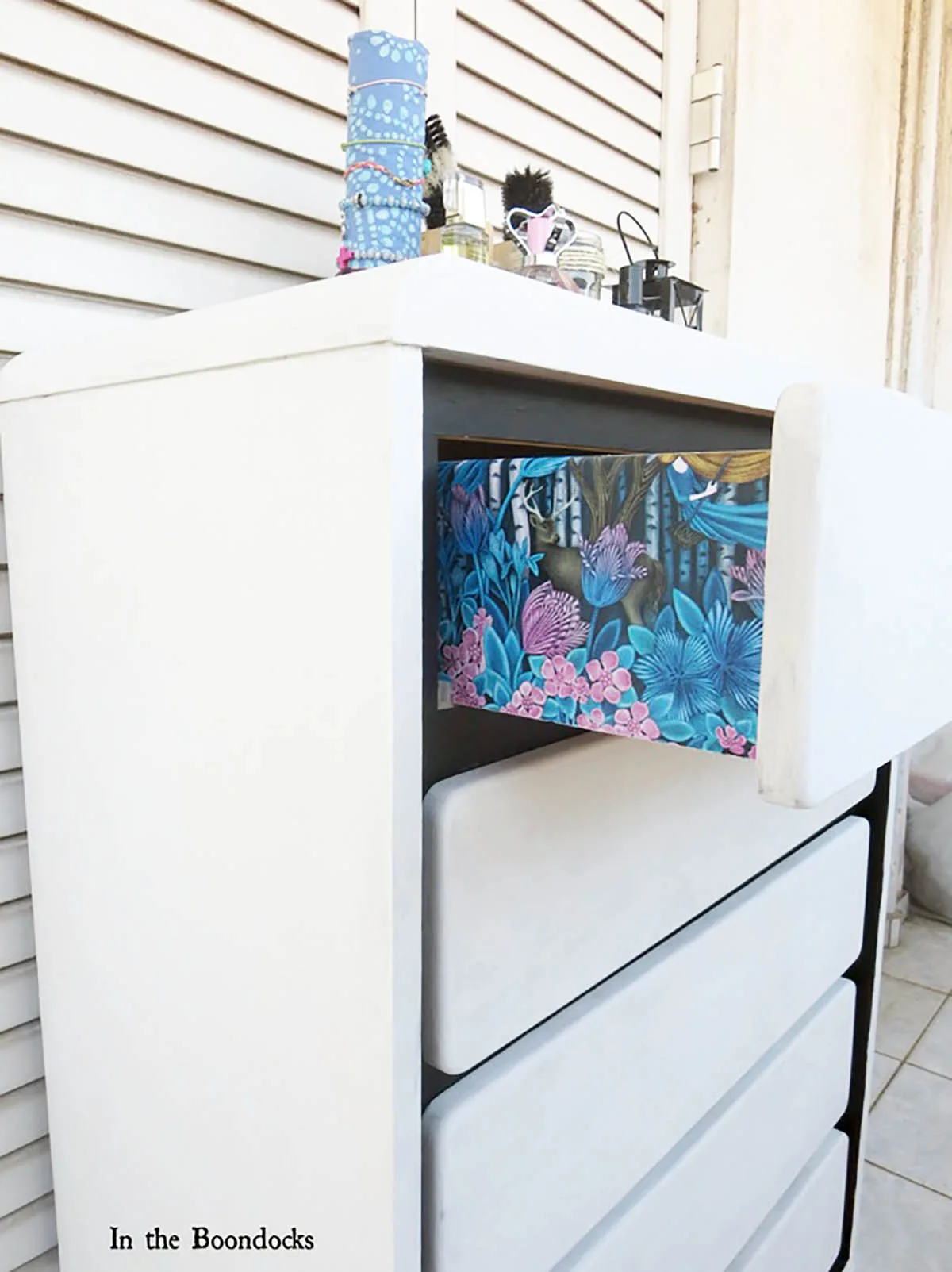 Source: theboondocksblog.com
I love visiting flea markets and picking up old furniture for a song. Sure, they need a little work, but that's what makes the whole process fun!
Here's another way you can jazz up an old dresser; it's inexpensive and gorgeous to boot. Grab some chalk paint and cover the outside with a few coats of paint.
Next, you have to work on the sides of the dresser when you pull open the drawers, and this is the fun part! You're going to grab some gift wrap of any paper you like, some mod podge and a brush, and you're going to decoupage the entire thing!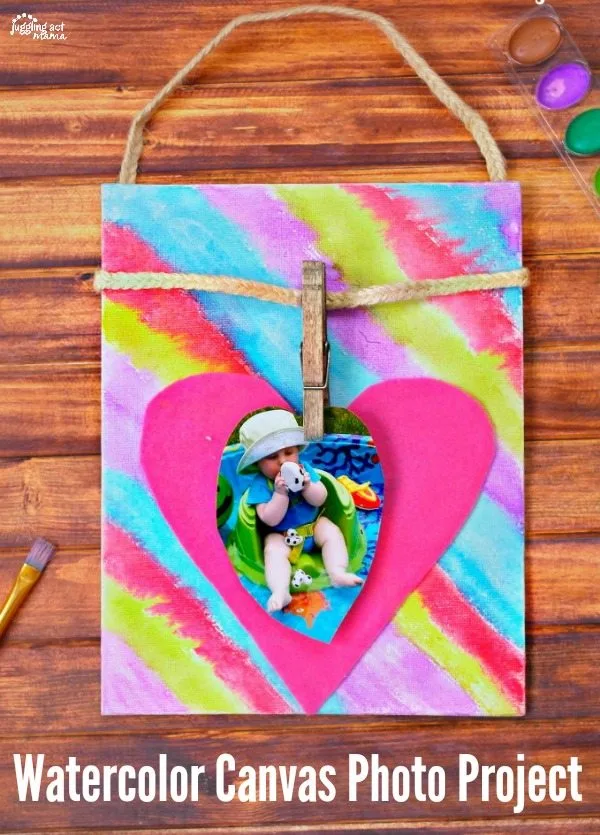 Source: jugglingactmama.com
Here's a watercolor canvas painting that can be a little DIY that you can use to decorate your room. First, grab some watercolors from here.
Also, grab a few brushes, a palette, and your canvas while you're shopping. You will also have to decide whether you want your canvas to be vertical or horizontal before you cut out your heart shape.
This is where the photo will go into so keep in mind to measure out the photo first.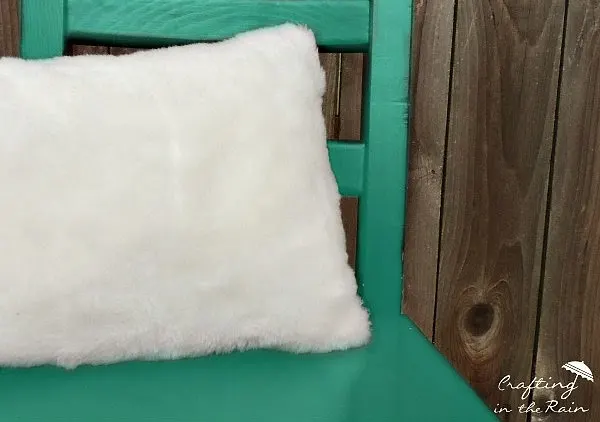 Source: craftingintherain.com
If there's anything I know about DIY pillows, it's that while color and size are important enough, it's the texture that really matters. I'm not just talking about the plushness of the actual pillow, but the fabric you use for the cover—fur, or even faux fur.
Don't you just love the soft decadence of fur? It's luxurious and cuddly at the same time, and I can't get enough. Pull out your sewing machine and set it up; you're going to sew a set of fur pillow covers!
While you can buy your cushions from a store, you can also sew them up from scratch. Pick up some stuffing from here to get started.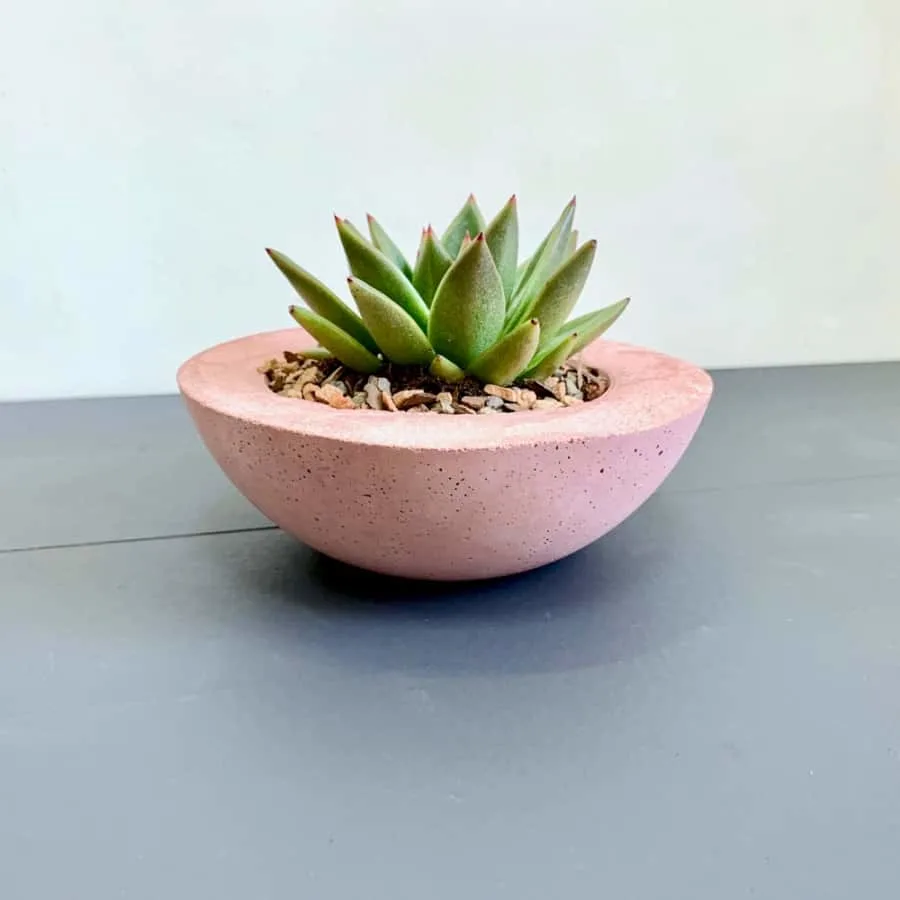 Source: artsyprettyplants.com
DOn't you love it when urbane mixes with rustic, which mixes with minimalism, which also mixes with sheer gorgeousness? Because that's what this pink cement planter is!
If you're ready to get your hands dirty—because working with cement can be tricky—then roll up your sleeves and ready your workspace.
Lay plenty of newspaper and have plenty of paper towels on hand because when you work with quick setting cement like this, it might get messy. I'd also recommend wearing protective gear like gloves.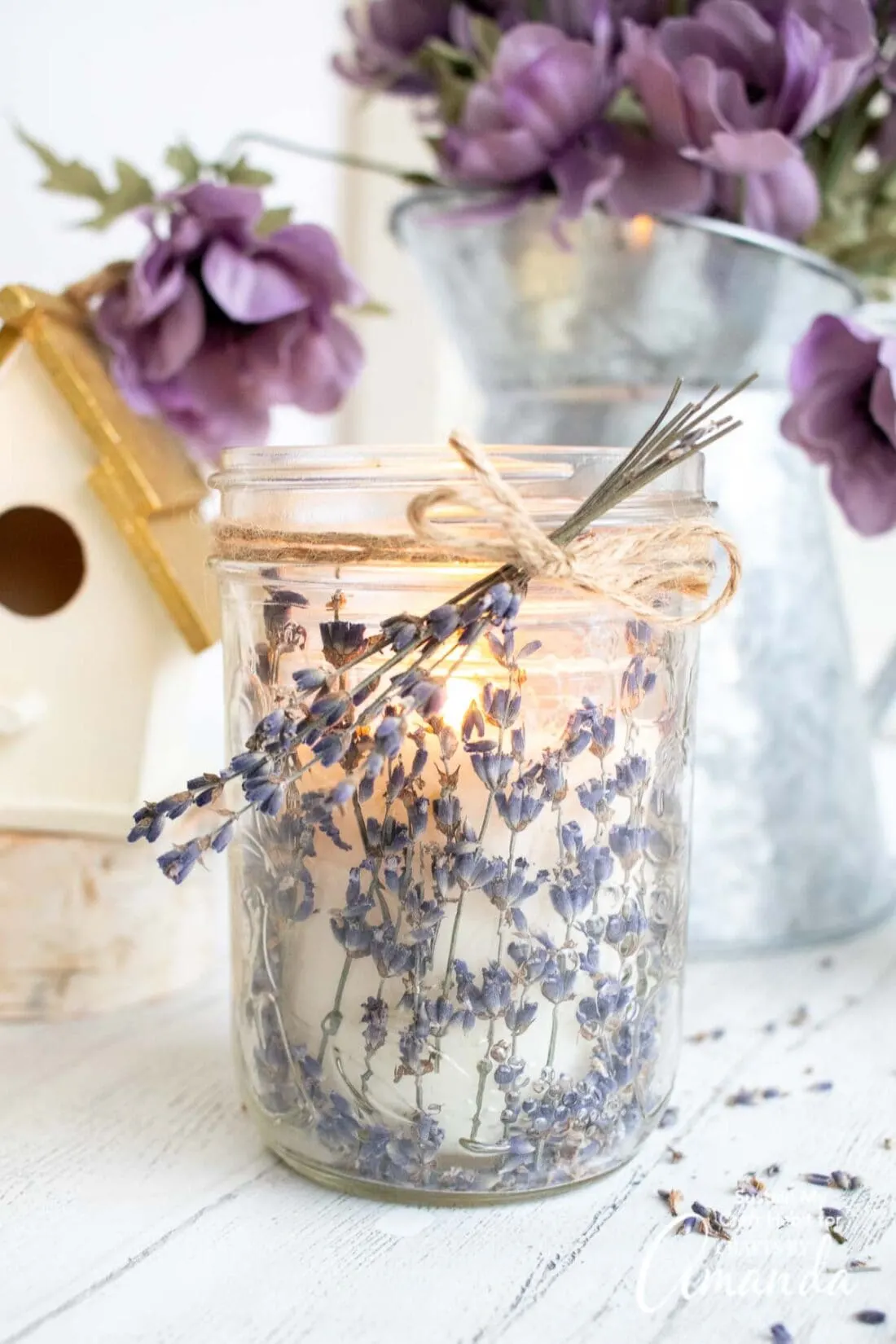 Source: craftsbyamanda.com
When it comes to scented candles, all bets are off. At any point of time, my room is always filled with a mouthwatering scent which I owe to these scented miracles in a jar.
Lavender, in particular, can be an extremely soothing scent to have wafting around you. The spicy aroma is known to have healing properties and is also a definite mood-booster.
You will need this lavender essential oil, all your candle-making supplies, and dried lavender, too, for extra oomph.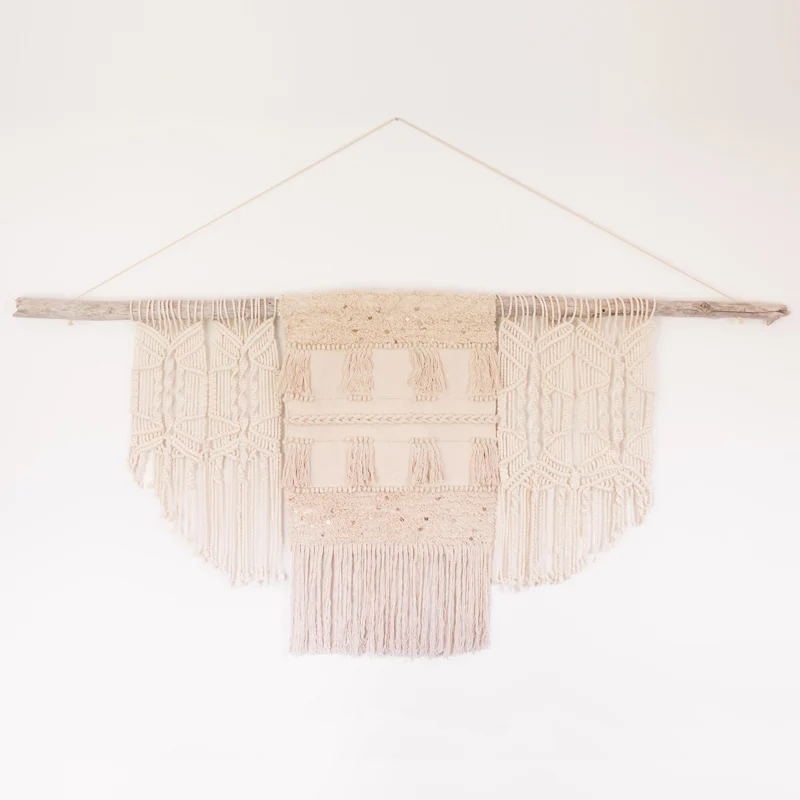 Source: justinecelina.com
If you remember that pretty wall hanging from earlier with an impromptu macrame-esque finish, then you'll love this macrame wall hanging.
You can use proper macrame cords or even yarn, but for that lovely rustic finish, I'd definitely recommend that you find the best cords in the right size and ply.
Feel free to add any decorative embellishments, too, and hang them from your macrame wall hanging.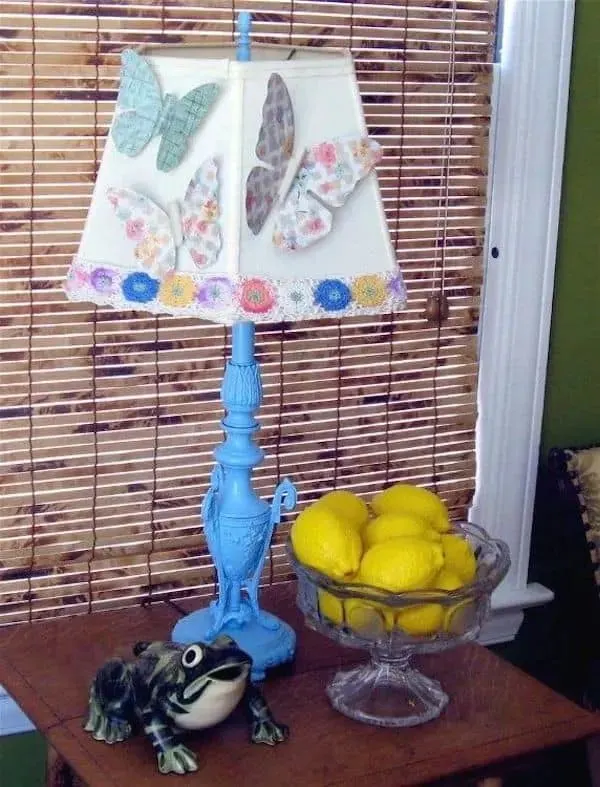 Source: modpodgerocksblog.com
Which little girl doesn't love butterflies? They're one of the prettiest ways to decorate a room. There are also multiple ways that you can decorate a room with butterflies, be it with wallpaper, motifs, prints, or little magnetic ones like these.
These are little antique metal butterflies that you can pick up at flea markets and stores. With a little bit of wallpaper, you can turn them into lovely magnetic add-ons to any metallic surface.
Don't you love how they look perched up on the wall like that? Grab some magnetic rounds from here and start making a batch of your own!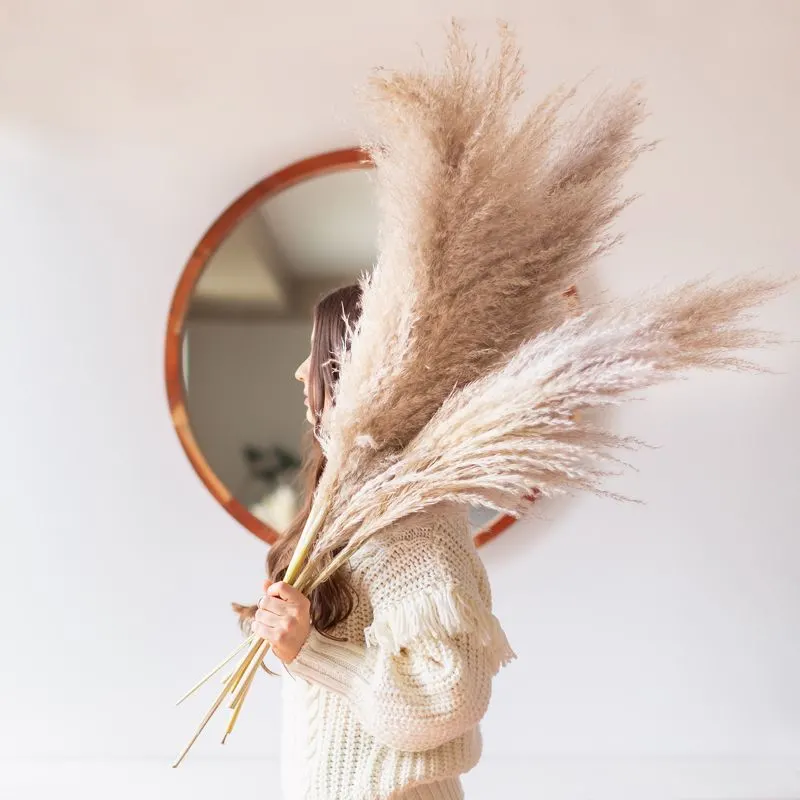 Source: justinecelina.com
I picked up a nice big batch of pampas grass once, as well as reed grass, and I just love how decorative they can be. I think they are a stunning addition to any room.
They look like they were made to belong in so many different decor themes, be it bohemian, minimalistic, or even a little girl's room.
You can put the stalks in a vase and work a floral arrangement around it, or even use them as texture-enhancing decor pieces where you see fit!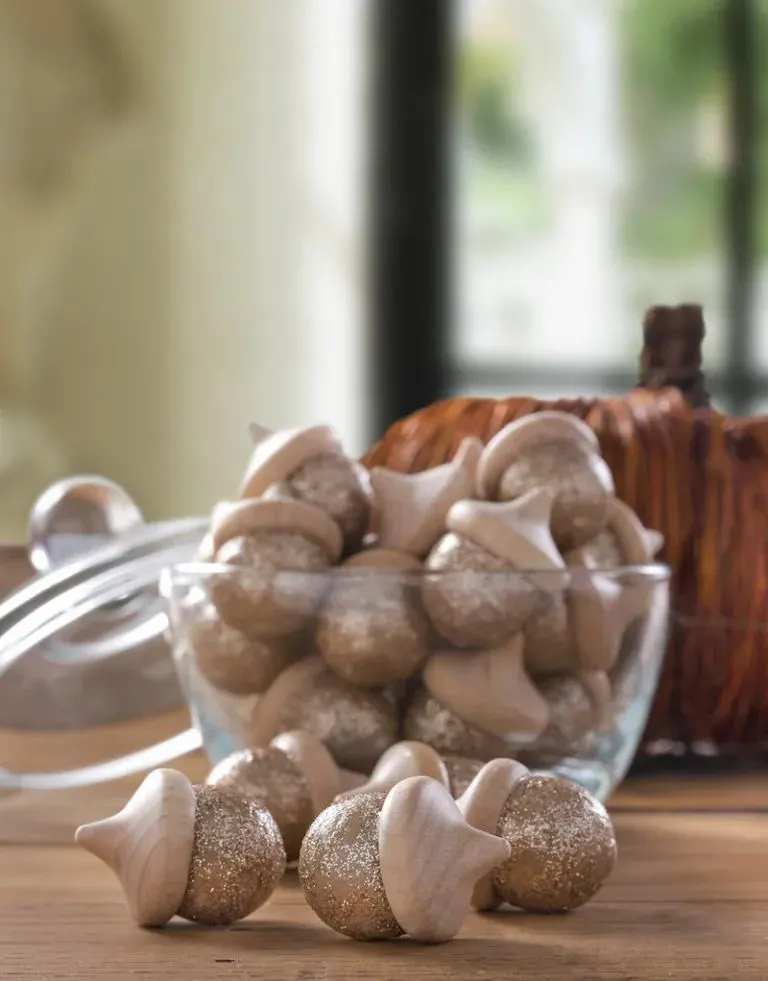 Source: modpodgerocksblog.com
Here's the skill level you need for this project: absolutely none! That's right! These elegant and classy-as-a-bottle-of-champagne-on-ice sparkly acorns are super easy to make.
Just make sure that you use either silver, gold, rose gold, or even bronze-toned glitter if you want an elegant finish. If it's color and sparkle you want, then you can definitely go all out with a rainbow of colors.
Look here to pick out your glitter, and while you're shopping, grab some mod podge, as well.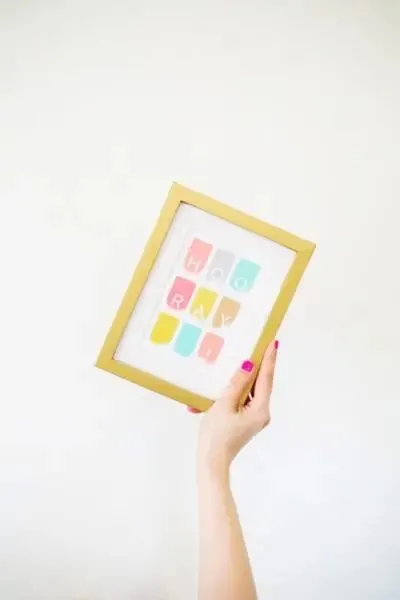 Source: lovelyindeed.com
When in doubt, turn to gold. That's a motto that you can certainly live by. There are just so many nuances to gold that you can find the right shade for just about any occasion, setting, or purpose.
Take these gold frames, for example. The right kind of gold can be considered antique, ornate, sparkly, or, in this case, subtle and simple. That's how versatile gold frames can be.
Gold frames also pair splendidly with most decor themes, and that makes it the perfect tone to accentuate pictures in a frame, as is the case here.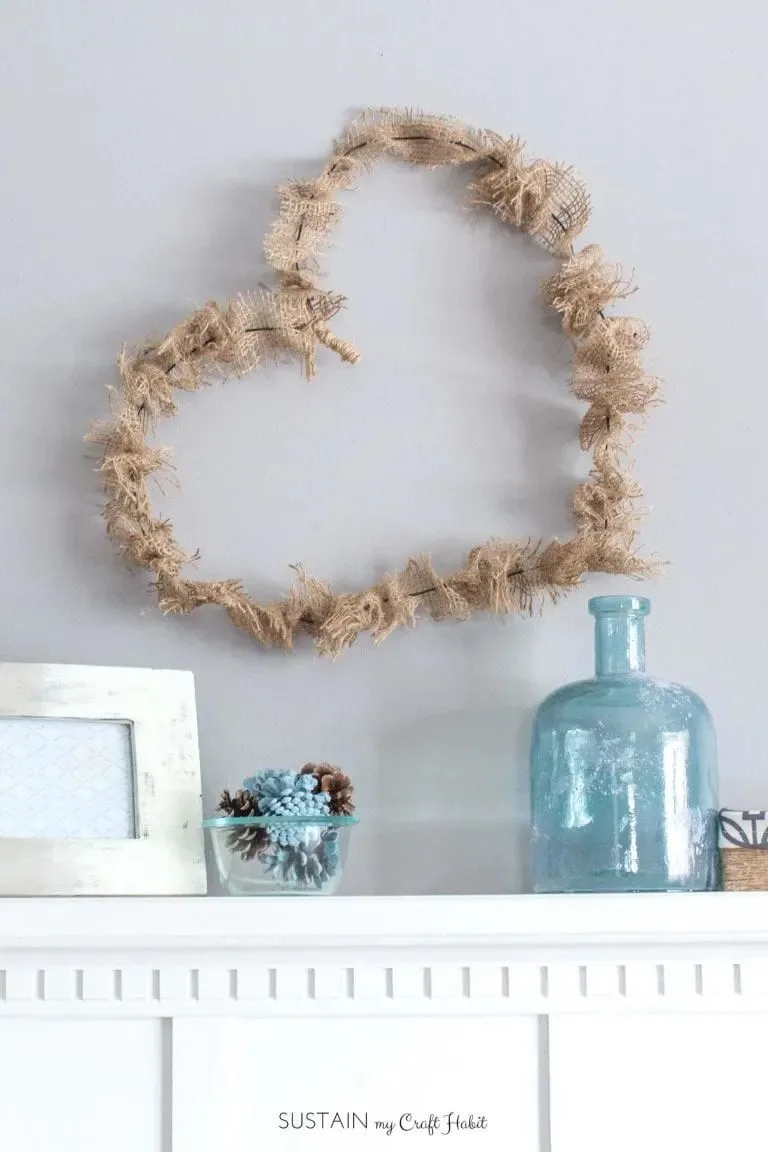 Source: sustainmycrafthabit.com
It's not always hearts and roses, I know. Sometimes, it's hearts and…burlap! You read that right; I said burlap because this smashing heart-shaped wreath is decorated with burlap ribbon.
You only need a few simple supplies to make this wreath:
Decorative wire
Burlap ribbon from here
Wire cutter
Once you have everything you need, go ahead and twist the wire into the desired heart shape and then thread the burlap ribbon through. You can even make a lovely lace-tipped frill if you pick the right ribbon to use.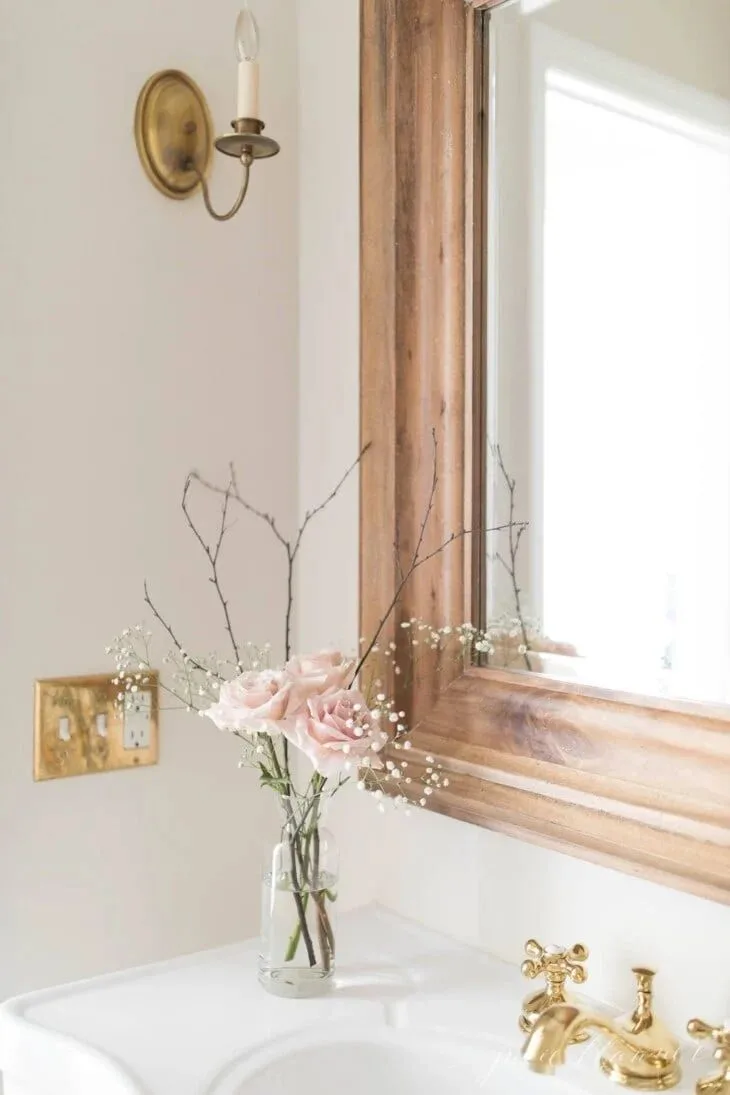 Source: julieblanner.com
Here's a quick and inexpensive floral arrangement that looks like it was made to sit on a little girl's bedside table. It's elegant and almost fairytale-like without being overwhelming or heavy.
You just need a glass jar or vase, a few branches, a couple of roses, and a few sprigs of baby's breath to use as fillers. Just fill your vase with water and stick everything in there aesthetically!
You can also add greenery—a few stems of pine or fir would add some lovely texture and color to the arrangement, as would silver dollars or birch.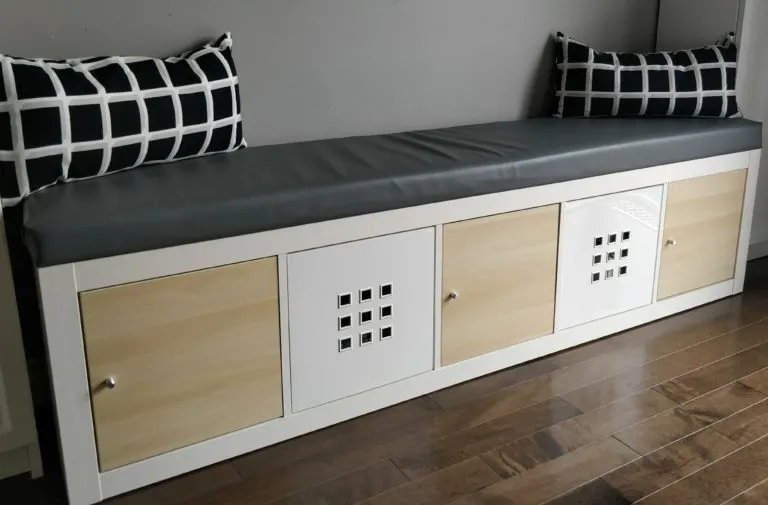 Source: feelingnifty.com
If you're planning to turn some space in your home—the kitchen, hallway, or even a corner of your girl's bedroom—into a seating area, then check this out. It's an innovative idea that can help you convert a shelf like this into a storage bench!
You don't need any fancy tools, nor do you need to spend a bomb. A trip to IKEA can help you with everything you'll need for this DIY.
Just remember to measure your space before you head on over there!
You might also want to pick out your material for the seat of the bench. Vinyl is particularly popular, especially when you have kids or pets—it's easier to keep clean.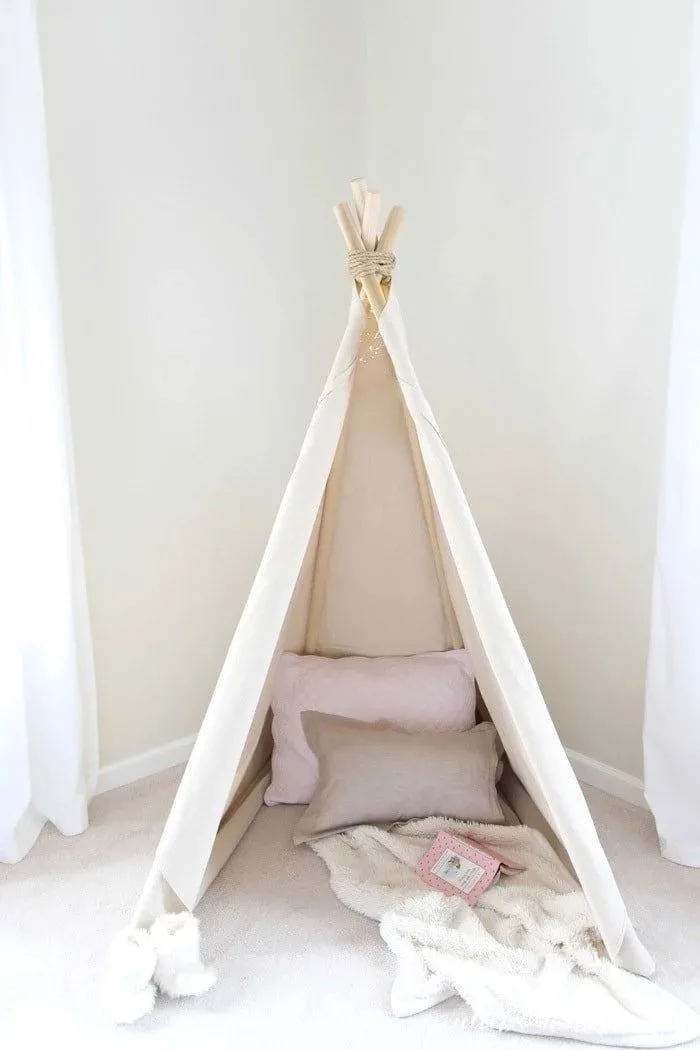 Source: julieblanner.com
Gosh, I'm all grown up now, and I'd still love to have this kickass teepee in my room. It's such a fun and unique decor idea and super functional too.
Your kids can get the best of both worlds: a great-looking corner reading nook for them to wind down in and a fabulous opportunity to dress and play, too.
Grab some fairy lights, some poplar dowels from here, canvas drop cloth from here, and also some rope like this. You'll be able to set up this teepee in just under a couple of hours!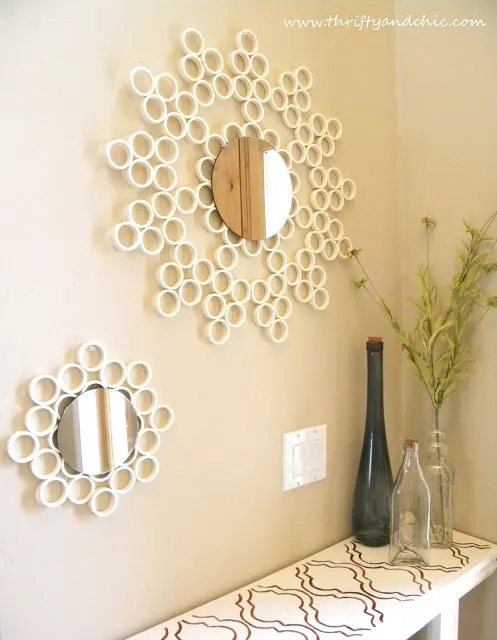 Source: scratchandstitch.com
Remember that lovely fabric frame you made for your mirrors earlier? Well, here's another DIY frame for your mirror, only this one is a lot fancier.
It's got a chic elegance to it that belies the fact that it's actually made out of—wait for it—PVC pipes! No, I kid you not! All those lovely rings you see around the mirror are PVC pipes!
You'll need a utility knife, of course, to help you cut the pipes. You'll also need to pick out some metallic or chalk finish spray paint to coat your pipes.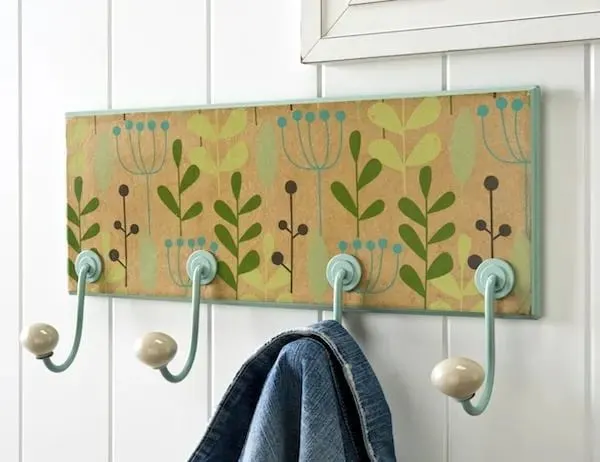 Source: modpodgerocksblog.com
A coat rack is a super important thing to have in a girl's room—in any room, actually. You'd be surprised by the clutter you can avoid by the side of the door by just installing one of these racks.
You don't need to worry about it looking out of place, though. With a roll of wrapping paper and mod podge, you can turn a boring old coat rack into a cute decorative addition to your room.
Grab some of this painter's tape, too, while you're at it, along with your basic craft essentials like pencils, brushes, and a ruler.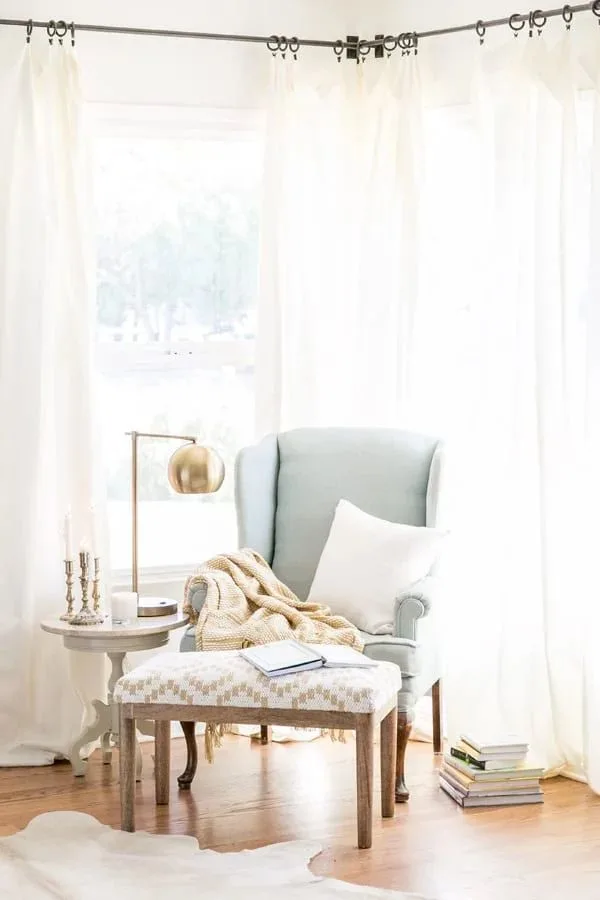 Source: sugarandcharm.com
Growing up, I had a little nook by my bedroom window where I would often curl up in with a good book, a cup of cocoa, and a scented candle or two. Those were some of the best memories I have of my childhood room.
Every girl deserves a dedicated corner in her room where she can snuggle up with her cat, a movie, or a book. That's why it's vital you set aside that space to fashion a lovely reading nook.
You can have a nice cushy chair, a couple of comfy throw pillows, and a chunky knitted throw to keep you warm while you read away into the night!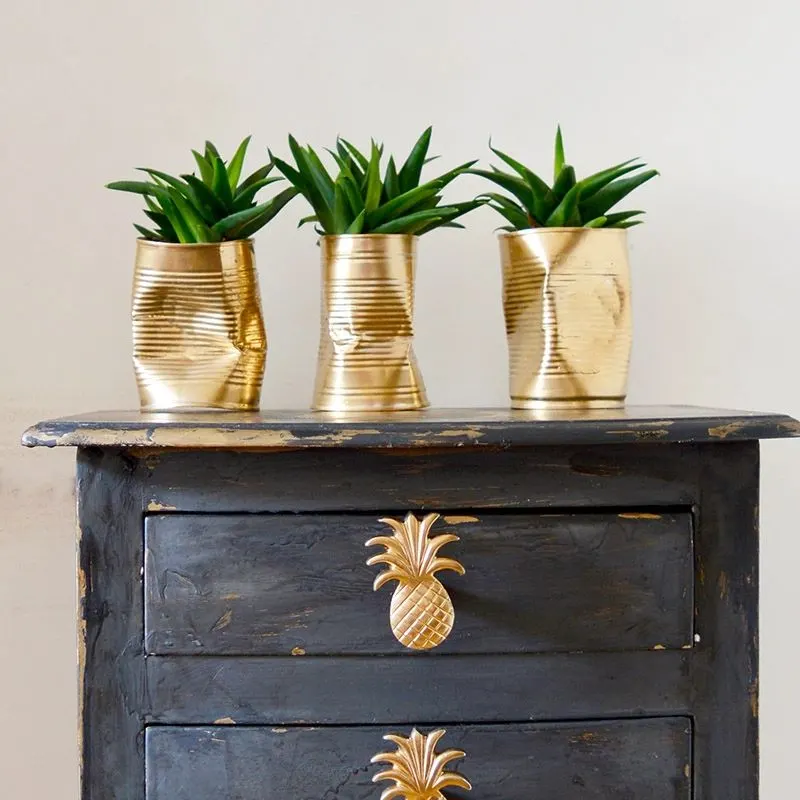 Source: pillarboxblue.com
These crushed gold planters are pretty high up on my list of favorite upcycling projects. Why? Well, first, just look at how quirky and unique they are!
A set of three of these planters will only cost you a buck or two, tops. I'm sure you have a few cans in your pantry that you've been meaning to recycle. Go ahead and grab three.
If you have dented cans, even better, or you can always do a little cathartic denting of your own. Finally, spray paint the cans in any color you like—metallic shades on cans would look great—and you're all done.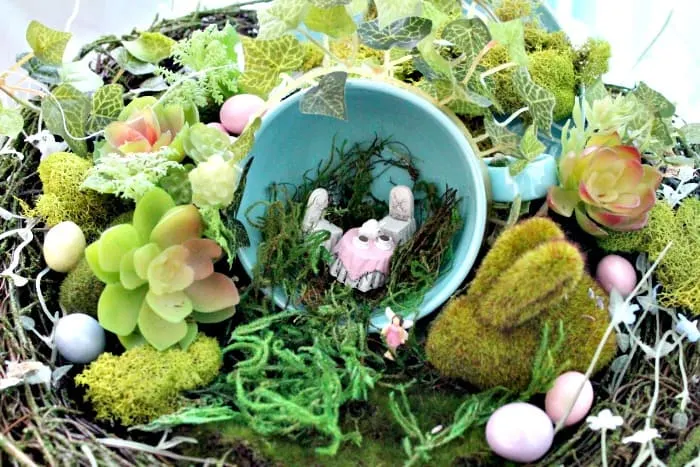 Source: ​prettydiyhome.com
I was watching an episode of Chesapeake Shores the other day, and I came across that lovely fairy garden the girls on the show have, and it got me thinking. How much would your daughter love to have a little fairy garden right inside her room?
With a few supplies like this faux nest, some moss from here, faux leaves, succulents, flowers, and more, you can make your very own fairy garden.
You can perch it on the windowsill so the fairies can keep visiting their home away from home!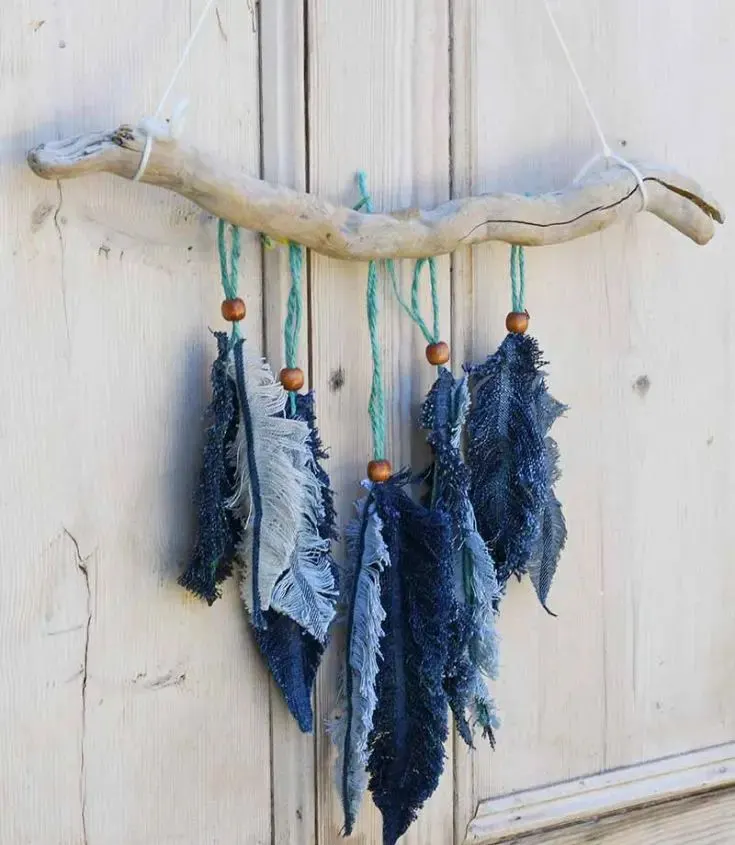 Source: pillarboxblue.com
This feather wall decor piece is perfect for accentuating the wall of any boho-chic styled room. It's got all the style and elegance of macrame, but perhaps not as heavy or intricate, so it's ideal for a young girl's room.
Oh, and did I mention that this piece is made out of real denim? The next time you're about to dump an old pair of jeans, you can upcycle them instead.
Frayed denim is naturally pretty feathery, and with a little help from a pair of cloth scissors, I bet you can turn it into something as fabulous as this wall hanging!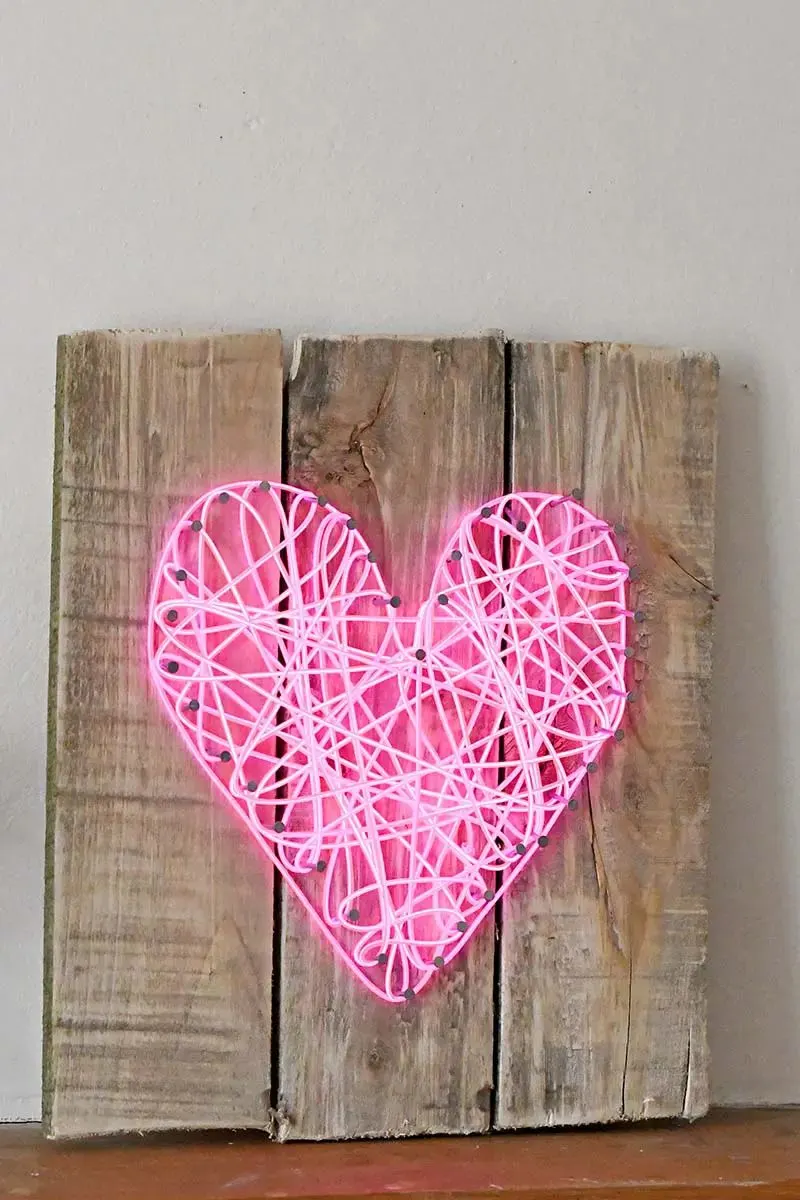 Source: pillarboxblue.com
String art can be really fun. It's almost mindless how you can keep twirling a bit of string over and over, but take a step back, and bam! You've got a lovely design in the making.
Let's kick things up a notch, though. Instead of using plain old string, why don't you grab some neon wire from here? It comes with a battery pack attached that you can tuck away discreetly behind the plaque or board you're using.
You can go with a traditional pink or red heart, yes, or switch things up a bit and use funky neon colors to brighten up your room.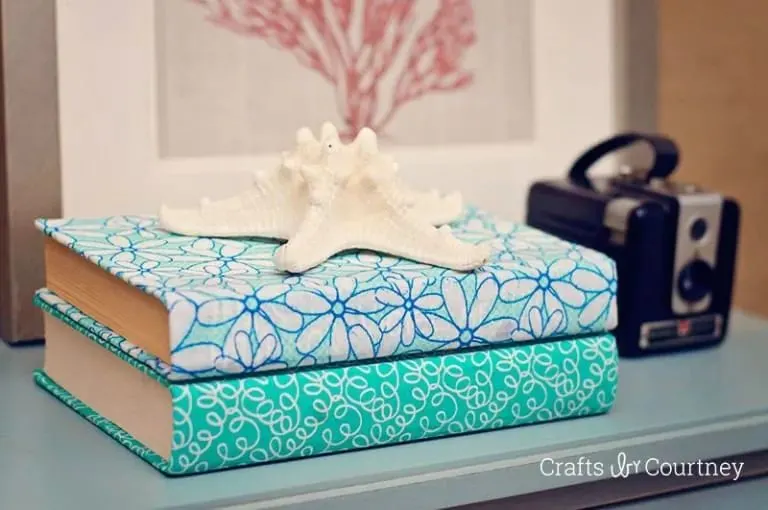 Source: modpodgerocksblog.com
I think that a stack of books artistically placed on a coffee table can really class up a room. It can add personality and intellect to it, too.
You'd be surprised at how easy it is to recreate that look. It's a simple touch you can add that can help you declutter some of the books you have lying around your home.
Grab some mod podge and pick out your fabric of choice. Then simply decoupage the entire book. Alternatively, you can also just wrap the book with paper without ruining the cover in the process.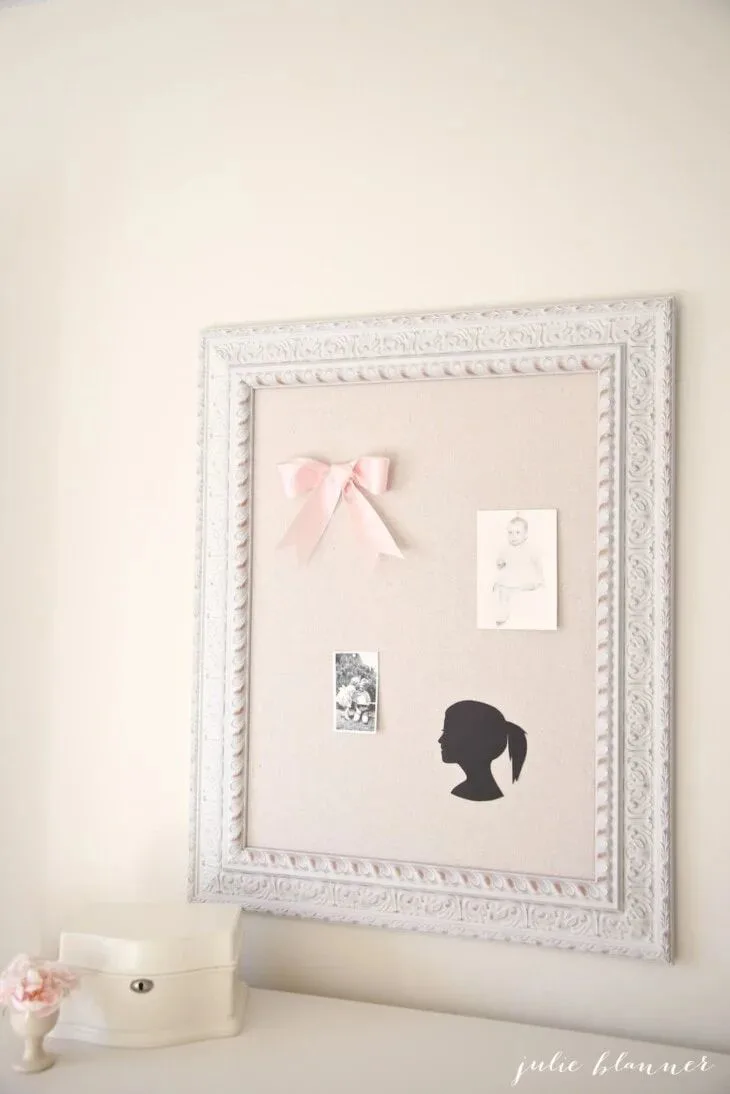 Source: julieblanner.com
Silhouette portraits: yay or nay? I say yay because A, they're inexpensive to make, and B, they just look stunning if done right.
Handmade silhouette portraits can go either way if you're not careful. That's why you can work on profile portraits, which will give you more angle and definition to work with.
You will need a picture frame, a pair of cutting shears, cardstock(black, of course), and a computer to upload your picture. Make the best possible use of the technology you have to design your silhouette and then frame it up, ready to mount!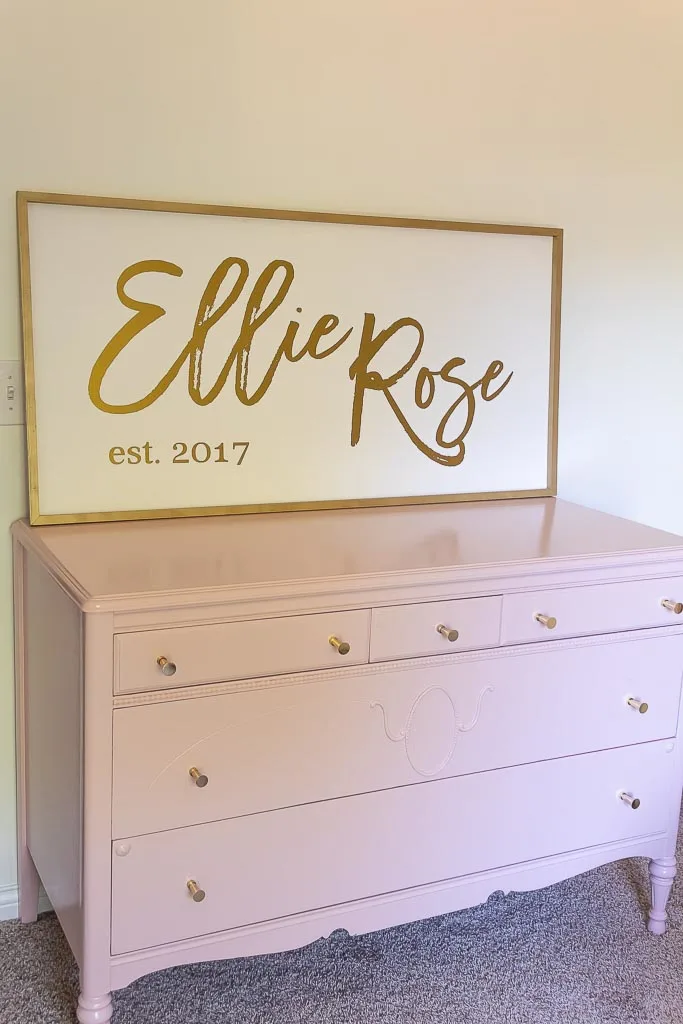 Source: thelivedinlook.com
I've said this before, and I'm going to say it again: it's the dresser that's the heart of the bedroom because that's where most girls spend a bulk of their time in the morning.
That's why it's important to get it right. You don't need to spend a ton of money, though. You just need to pick a dresser with a shell frame you like.
Next, you're going to give it a complete makeover. You're going to prep it, prime it and then paint it in the most sublime shade of pink I've ever seen.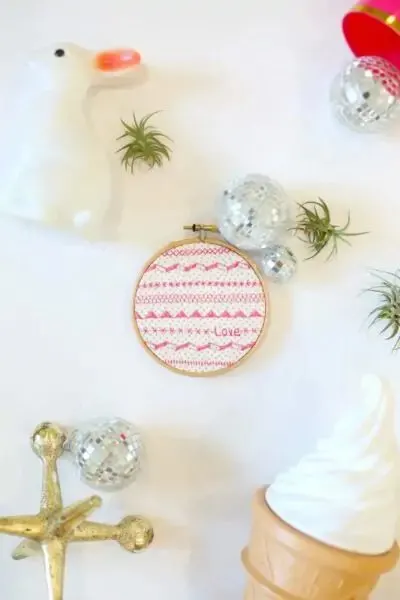 Source: lovelyindeed.com
Embroidery, much like crochet and knitting, often feels like a thing of the past. It's something my grandmom enjoyed doing, and it's a skill that she passed on to—or rather taught—me.
If you have a dab hand at embroidery, then have a project for you that can help decorate and personalize your room.
Grab an embroidery hoop from here to begin. You will also need embroidery floss, a needle, and a pair of scissors. If you're in the habit of using a thimble, then pick one up from here.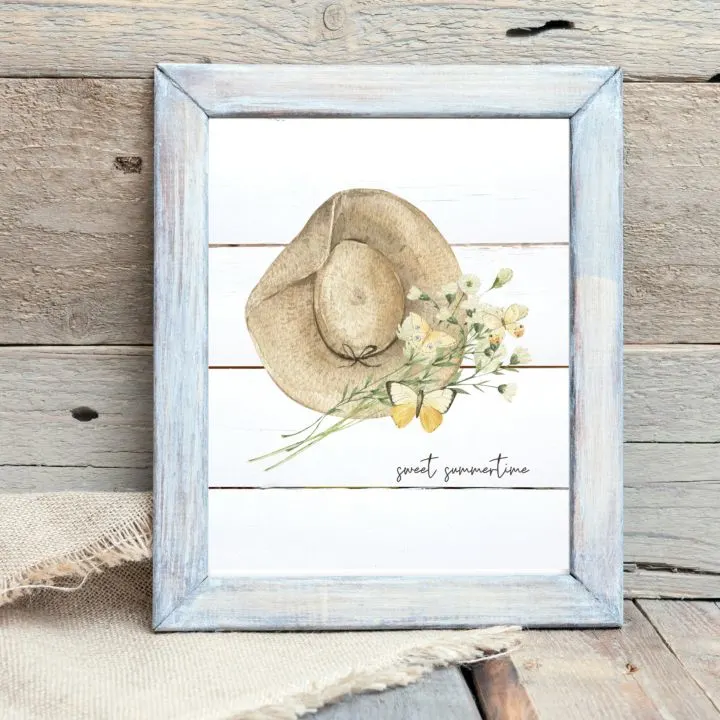 Source: ahundredaffections.com
It's summertime. The sun's shining, birds are chirping, and I bet you're in the mood to embrace everything summer.
Here's a pretty, sweet, and cute-as-a-button painting that might help you get started. It's reminiscent of sandy waves and straw hats at the beach, of hot days and cold lemonade, and lazy naps in the shade of a tree.
This painting is so inherently summer-y that you can almost taste it, smell it, and feel it. So go ahead and print out this sweet picture to hang in your girls' rooms.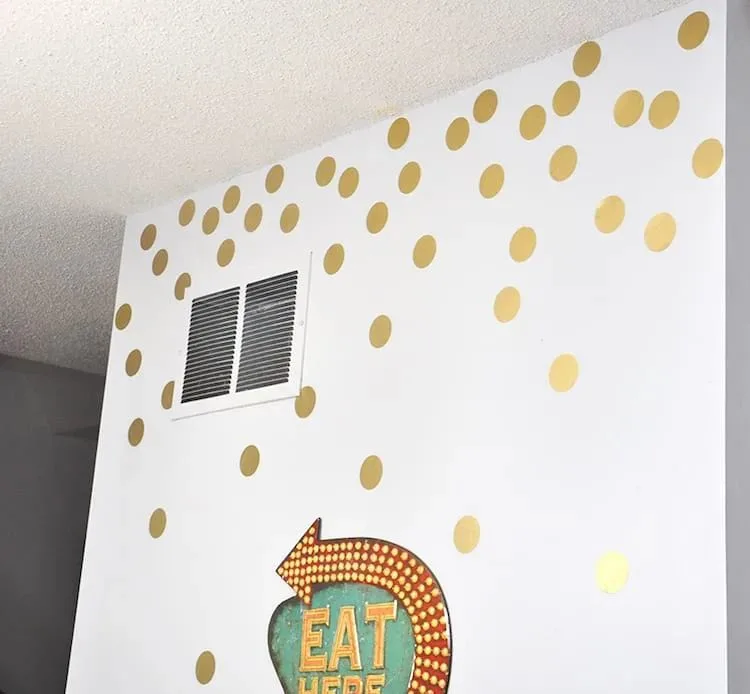 Source: diycandy.com
Gold decals on the wall can help turn a plain white wall into an accent piece. It's nothing that some paint and a couple of sheets of this sticker paper can't take care of.
Grab the paints first. Spray painting gets the job done really quick. You will also need a cardboard box which you will need to place in a well-ventilated area to avoid wayward paint splatter.
Next, just spray paint the sticker paper, use a large punch hold to punch out dots, then peel them and stick them on the wall. That's pretty much all that's there to it.
Check out more bedroom décor ideas.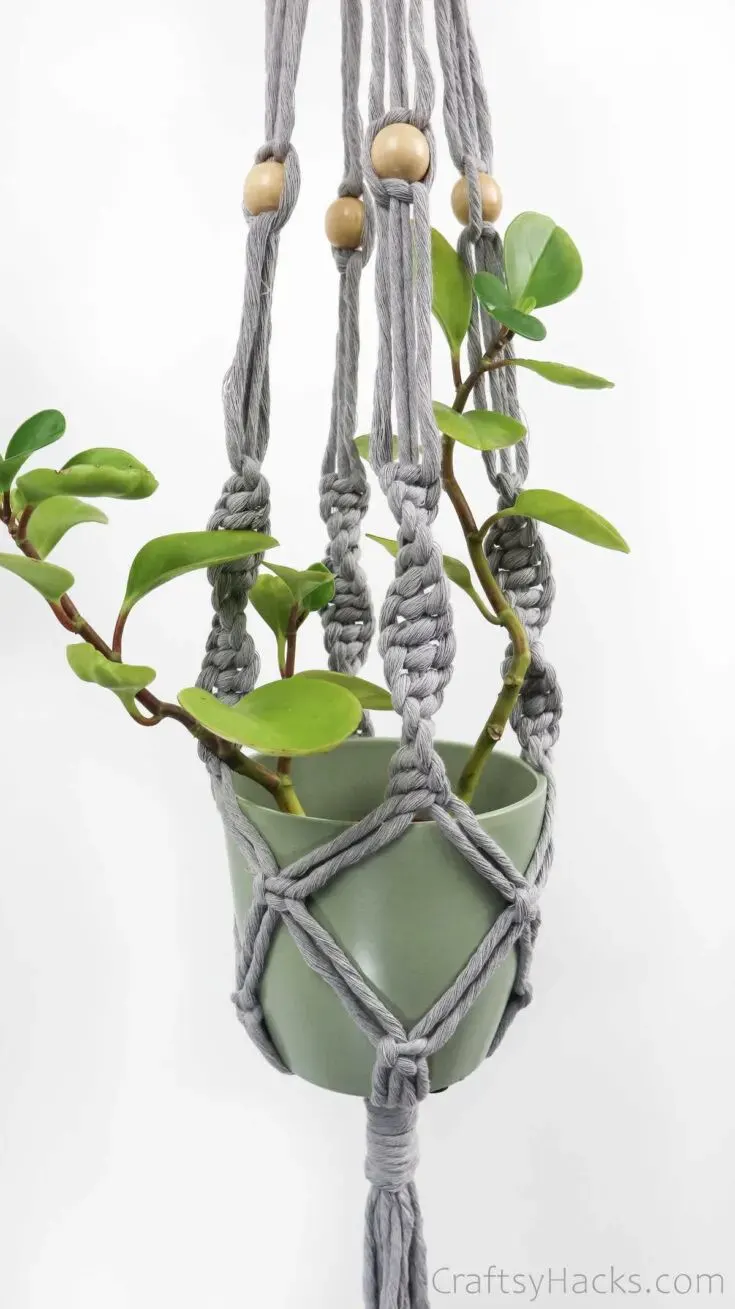 Source: craftsyhacks.com
It's becoming so popular to incorporate plants and little pops of green in every room, and why shouldn't you? Plants can do so much for a room; they can be both a calming influence, and they can brighten up a space, too.
If your window sills and tabletops are already bursting with all your plants, then it might be time to consider other ways to incorporate them into your room. Why not try hanging them?
You can use gorgeous macrame plant hangers to hang your potted plants from. They work especially well for creepers and vines, too.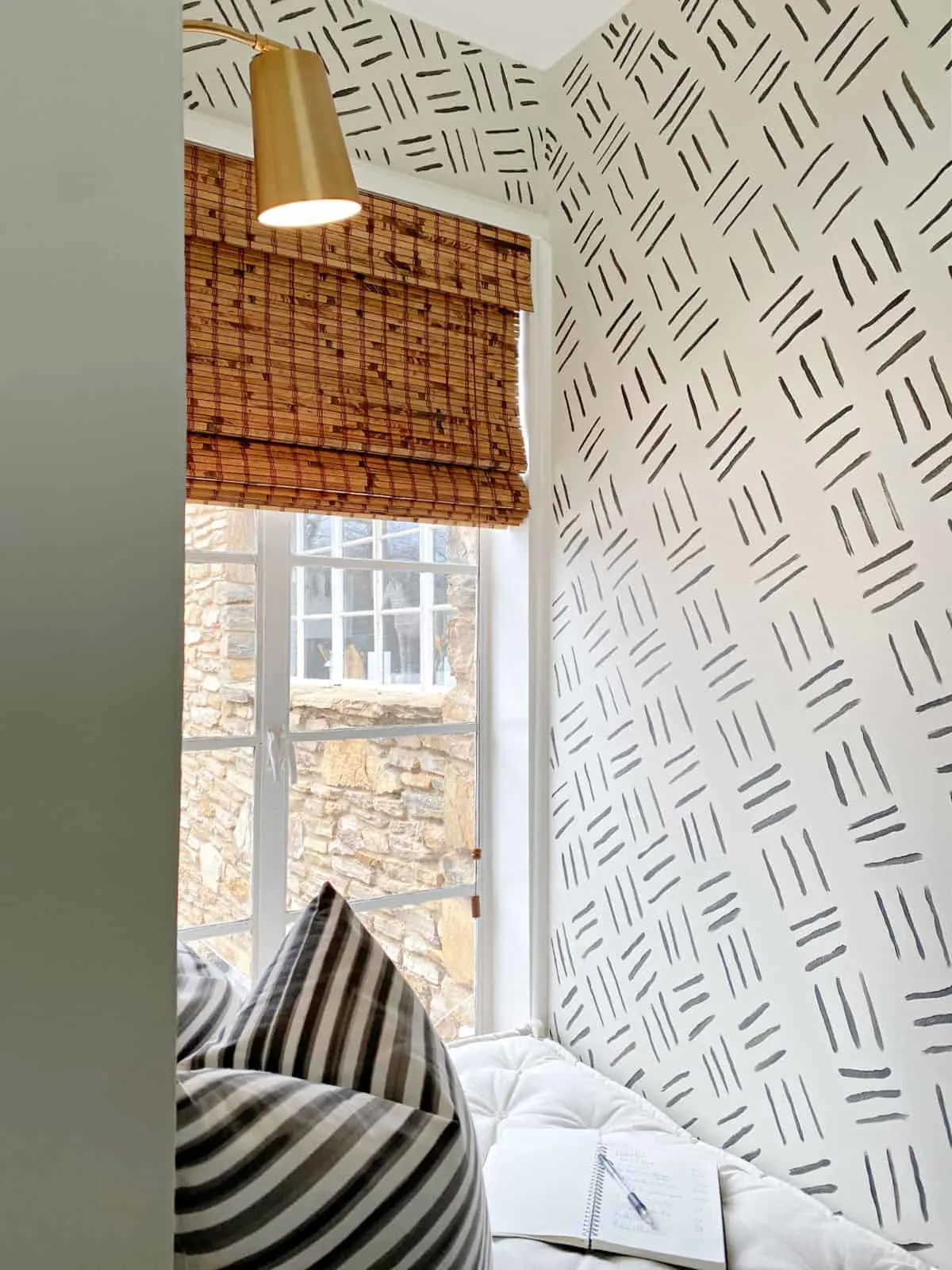 Source: chatfieldcourt.com
If your girls want to get involved with decorating their room, then there's nothing better to help personalize their space. They can start right from the beginning and can lend a hand—quite literally—and accentuate their room by painting an accent wall.
Not just any old accent wall, but one which they're going to paint by hand. This kind of accent wall would work particularly well as a reading nook.
The key is to practice the design before actually getting their hands messy. Try recreating the strokes on paper first before heading over to the wall.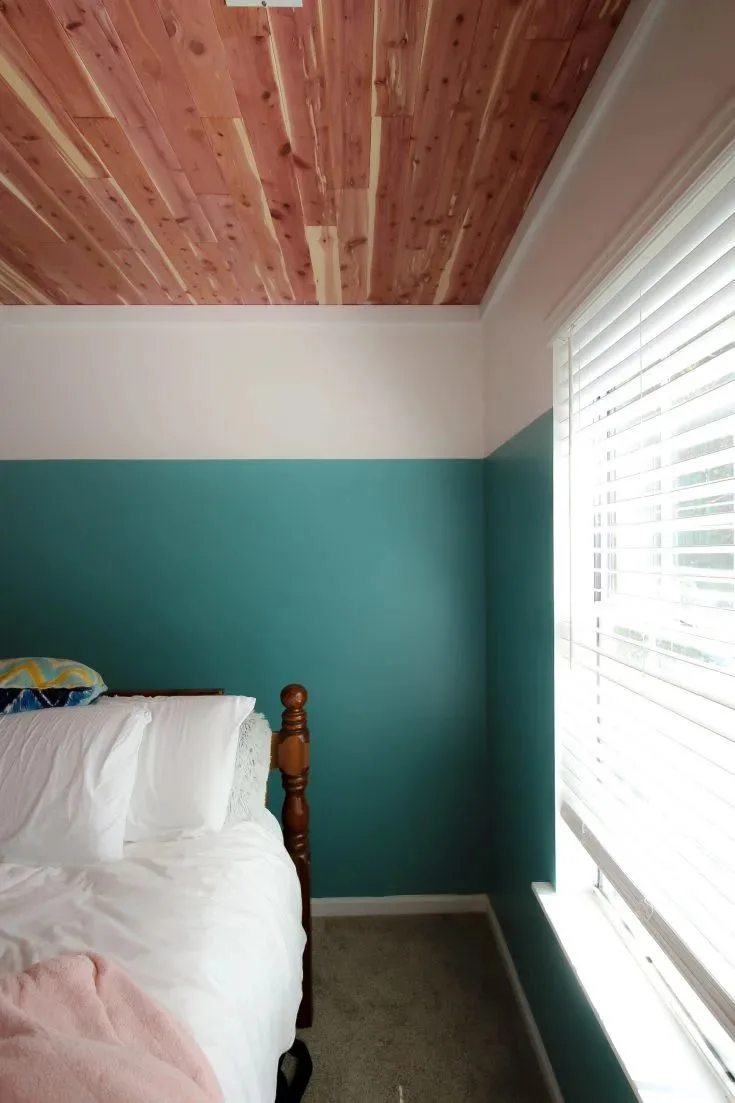 Source: charlestoncrafted.com
An entire room with a color-blocked wall can really help you eke out everything the room has to offer by way of lighting, accents, angles, and more.
But let's get just a little more creative, shall we? Instead of painting the walls from ceiling to floor, let's just paint a three-quarter way up and leave the last quarter of the room bare.
The ceiling and the unpainted quarter of the room will help offset the huge block of color. That way, your room won't feel like it's been boxed in with overwhelming color and will remain airy and bright.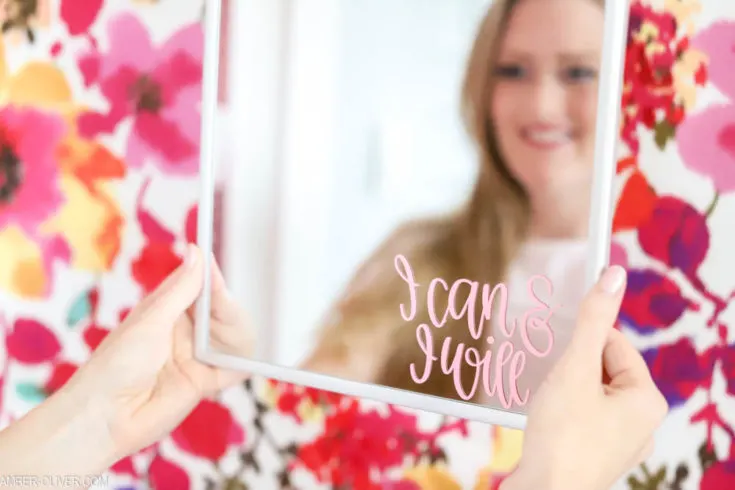 Source: amber-oliver.com
Back in the day, I remember when I used to write on my mirror with lipstick or leave little post-it notes to myself. It was just a little reminder or a small pick me up to get me through the day.
Nowadays, with a Cricut machine, vinyl, and transfer tape, you can add plenty of prettier and more professional-looking decals. There's a downloadable design template available to help you design your decal.
Just upload it to your Cricut page and customize, then print it out on vinyl. Use transfer tape to transfer your decal onto the mirror, and you're all done!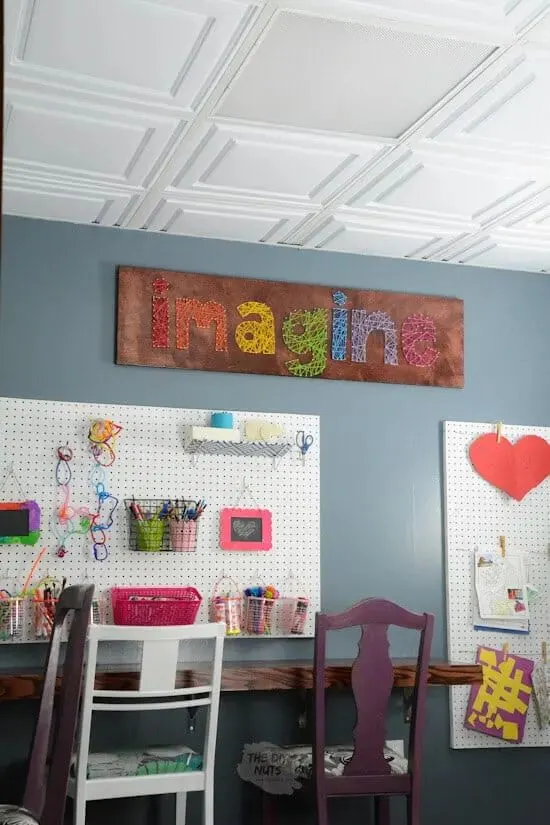 Source: thediynuts.com
Here's yet another string art project, only this one's a little more elaborate than just a simple neon heart. You're going to spell out an entire word onto your wooden base or plaque, all using string.
The first order of business is to figure out what you want your board to read and then plan the colors you want to use. You can buy embroidery floss from here to help you.
Take your time with this project and just enjoy the process!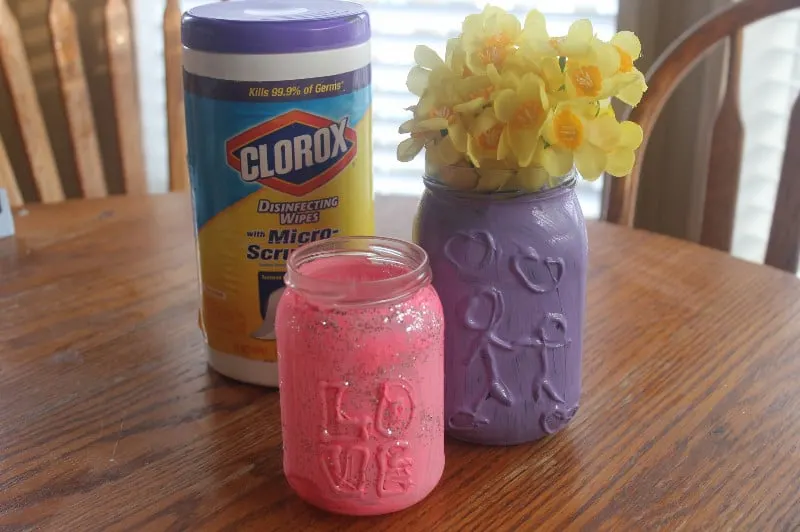 Source: thismamaloves.com
Are you looking for a quick and easy knick knack project to decorate your room? Well, what if I told you that you could also simultaneously use up a couple of old jars in your recycling stash?
First, head over to your kitchen and pick out the jars you want to use. Next, clean your jars as thoroughly as possible and allow them to dry completely before you start painting them.
If there's grime, dirt, or grease on the jars, the paint will not adhere, nor will any of the other decorations you apply. So keep in mind to clean and dry the jars thoroughly.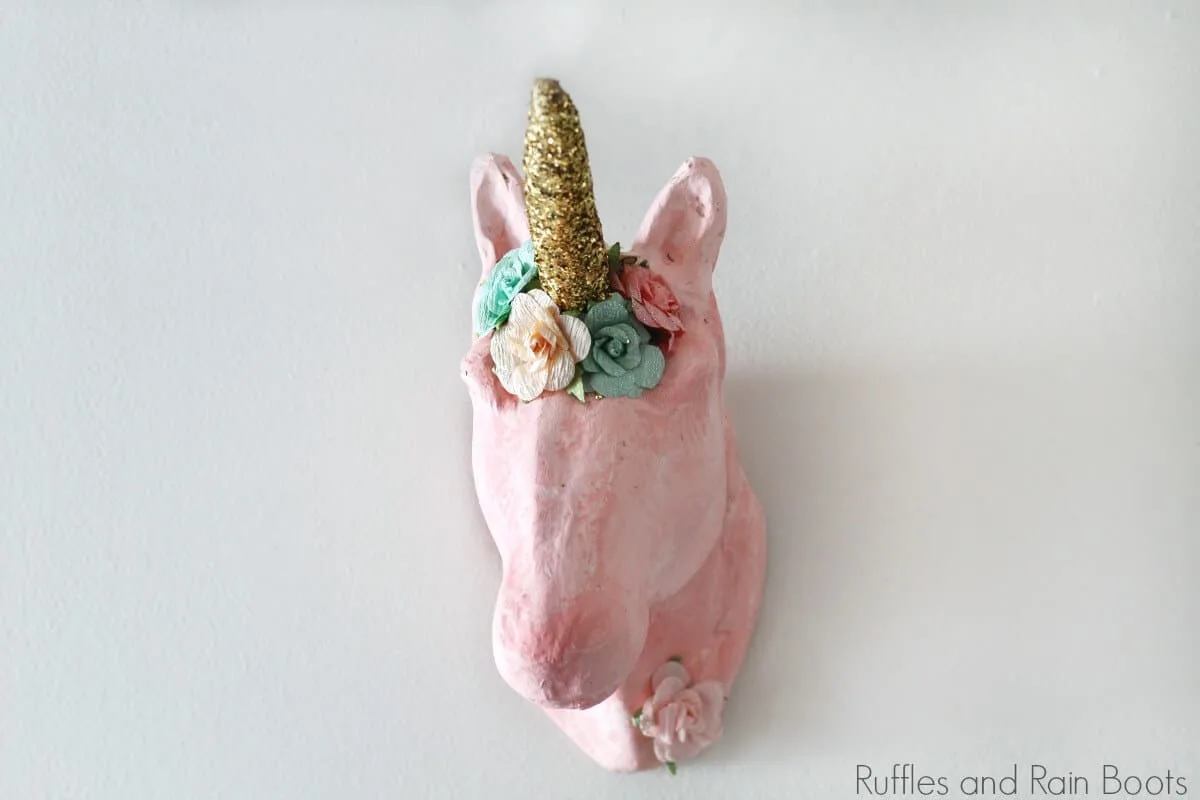 Source: rufflesandrainboots.com
Well, it could be worse. Your daughter could want a dog or a cat head to be mounted up on her wall. If you had to choose, I think a cute unicorn is a safe bet.
This pretty unicorn comes with a nice big glittery horn atop the head, too. You can also incorporate flowers and any other embellishments you see fit.
Grab plenty of glitter glue, a couple of brushes, paint, and a paper mache unicorn head to get started.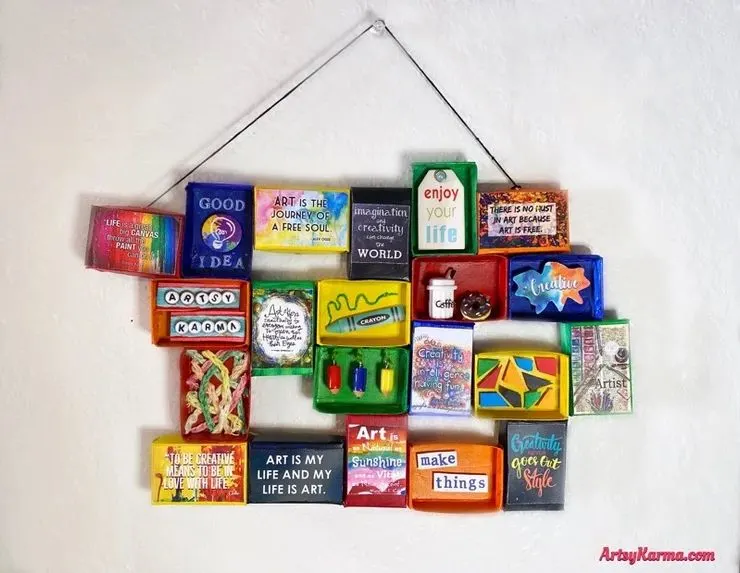 Source: artsykarma.com
Shadow boxes can be a lovely way to make a vision board for your kid. Just look at this inspirational collage in a shadow box, for example.
It's full of quotes and messages meant to inspire—something that young minds can really benefit from. Take a look at all the supplies you need and head over to the local store for a supplies run and pick everything up.
You can also use your Cricut machine to print out decals and quotes and adhere them to the box, as well.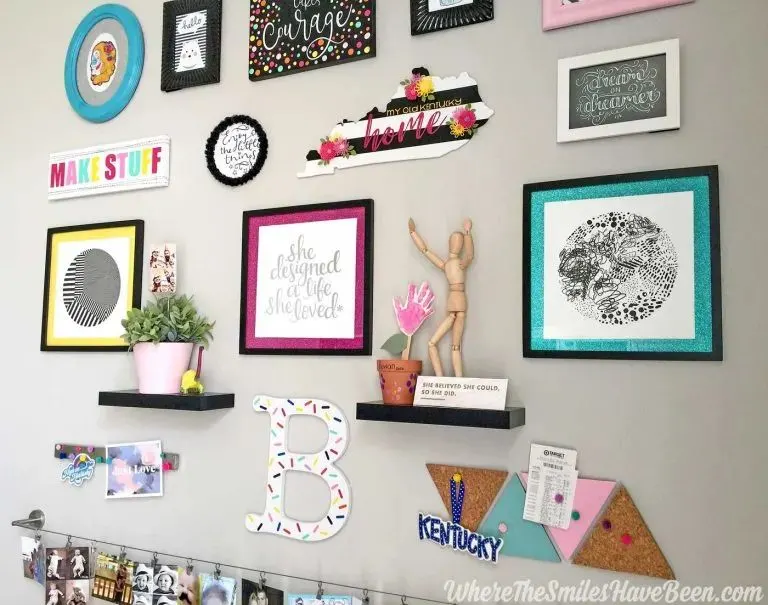 Source: wherethesmileshavebeen.com
This last item on our list is also super easy and inexpensive, just like almost all the projects you've seen so far. It's sparkly cute, and did I mention the inexpensive part?
Pick up some glitter cardstock and buy a couple of basic frames from a dollar store near you. You will also need a Silhouette C ameo or a Cricut to help you with designing what goes into the frame.
When you've designed what you like, go ahead and print it out on the glitter cardstock. Alternatively, you can use the glitter cardstock as the backdrop for your actual artwork, too.
Yield: Bedroom Decorations
51 Cute Room Decoration Ideas for Girls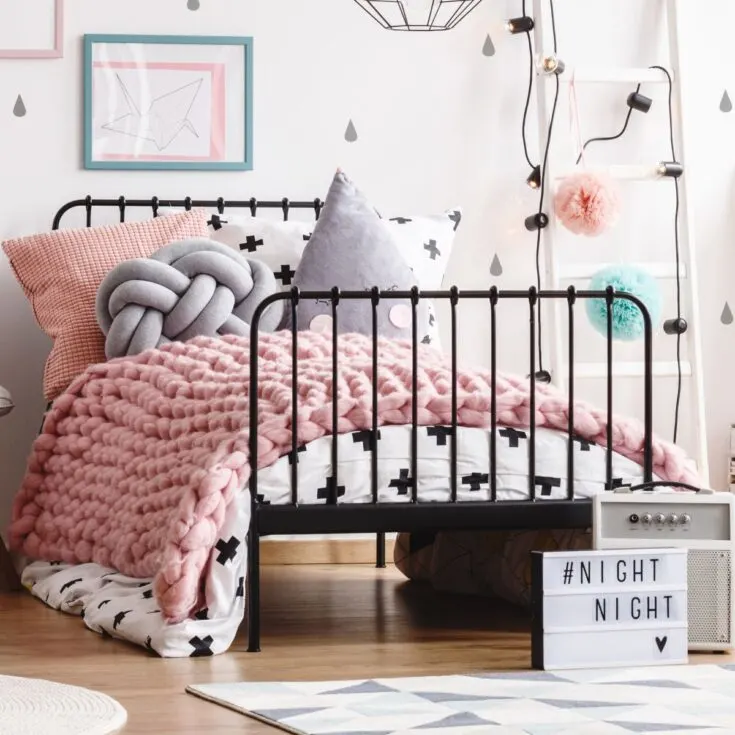 Thinking of ways to decorate the bedroom? These cute room decoration ideas for girls will transform the look of your home and create a beautiful space for your daughters.
Materials
1. Bed Canopy
2. Instagram Photo Display
3. Pink Tassel Garland
4. Fabric Mirror Frame
5. Mermaid Wall Decor
6. Decorative Corkboard
7. Tree Bookshelf
8. Painted Pillow with Initials
9. Ombre Hexagon Wall
10. Dressing Table Makeover
11. Lavender Sachets with Photos
12. Golden Stenciled Wall
13. Yarn Wall Hanging
14. Pom Pom Tree
15. Smart LED Ceiling Lights
16. Dresser Makeover
17. Watercolor Canvas Photo
18. Fur Pillow
19. Pink Cement Planter
20. Lavender Candles
21. Macrame Wall Hanging
22. Butterfly Decorations
23. Pampas Grass
24. Glitter Acorn Decor
25. Gold Frame
26. Heart Wreath
27. Woodland Floral Arrangement
28. Reading Bench and Storage
29. Teepee
30. Mirror Frames
31. Floral Coat Rack
32. Reading Nook
33. Gold Can Planters
34. Fairy Garden
35. Feather Wall Decor
36. Neon Heart
37. Decorative Books
38. Silhouette Portrait
39. Pink Dresser
40. Embroidered Wall Art
41. Summertime Printable Wall Art
42. Gold Wall Decals
43. Macrame Plant Hanger
44. Hand Painted Accent Wall
45. Color Block Wall
46. Mirror Decals
47. Word String Art
48. Decorative Jars
49. Unicorn Head Decor
50. Shadow Box
51. DIY Picture Frames
Instructions
Choose the style you like.
Get shopping!
Decorate your bedroom!