These IKEA TV stands are so fun to make and look amazing. Try these hacks yourself!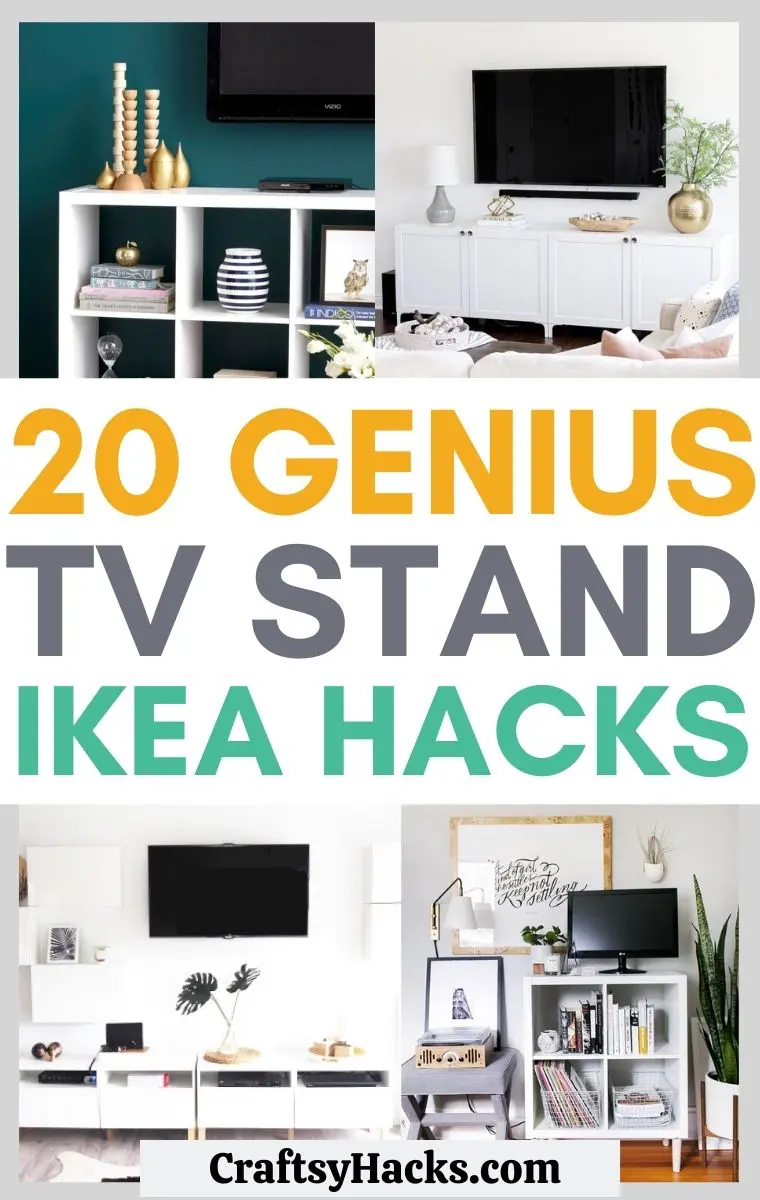 The TV stand is a stellar piece of furniture. It establishes a focal point for your living space, adds storage to the living room, usually devoid of it.
And, if you get the right one, it looks great! The problem lies in finding a TV stand that works perfectly for your living room without dropping a ton of money.
Luckily, that's exactly why IKEA was invented. Using a piece of IKEA furniture and a little DIY know-how, you can create your own perfect TV Stand.
1. Ikea TARVA Dresser to TV Stand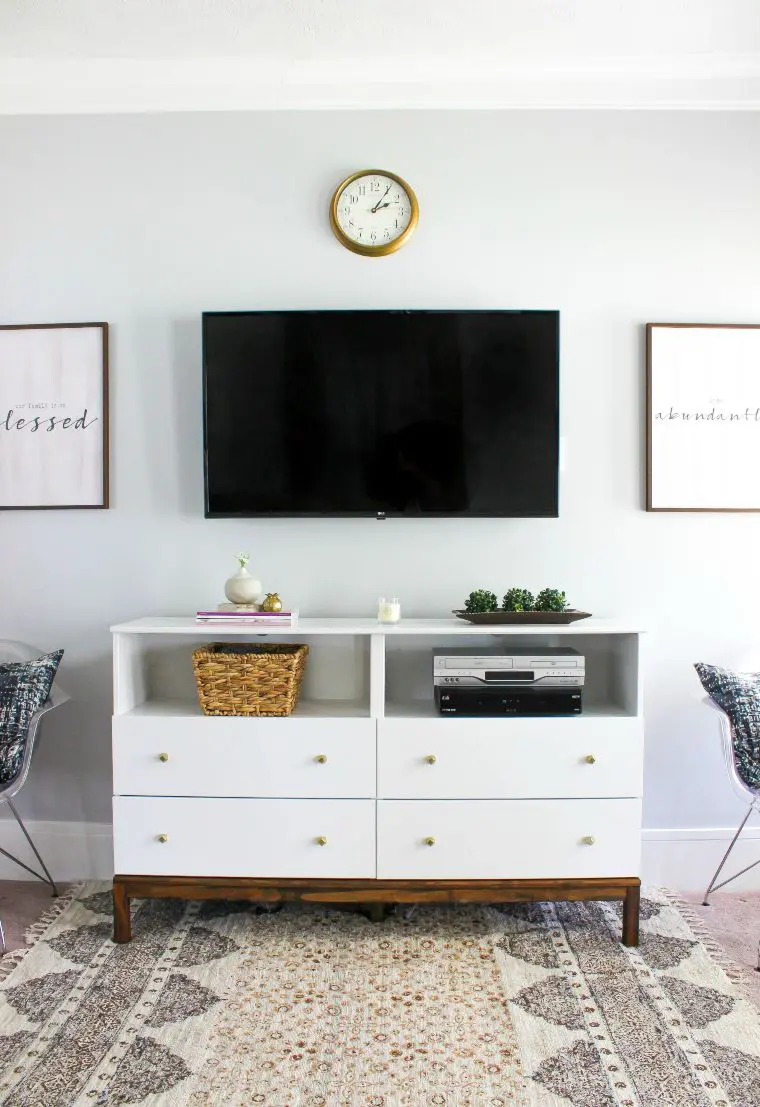 Credit: purelykatie.com
Stop number one is the Ikea TARVA, a short and wide dresser with six drawers and lots of storage space. Turning this into a TV stand is a matter of some paint, some furniture board, and a little creativity.
You can opt to use all six drawers on the dresser if your home needs the storage. However, you can also remove the top two drawers and lay some furniture board down across the opening.
Paint this over, and you've got an open shelf, perfect for display items or your media system.
Like the look of the TARVA? Here are some more awesome Tarva hacks to try out for your home.
2. Elevate the Ikea BESTA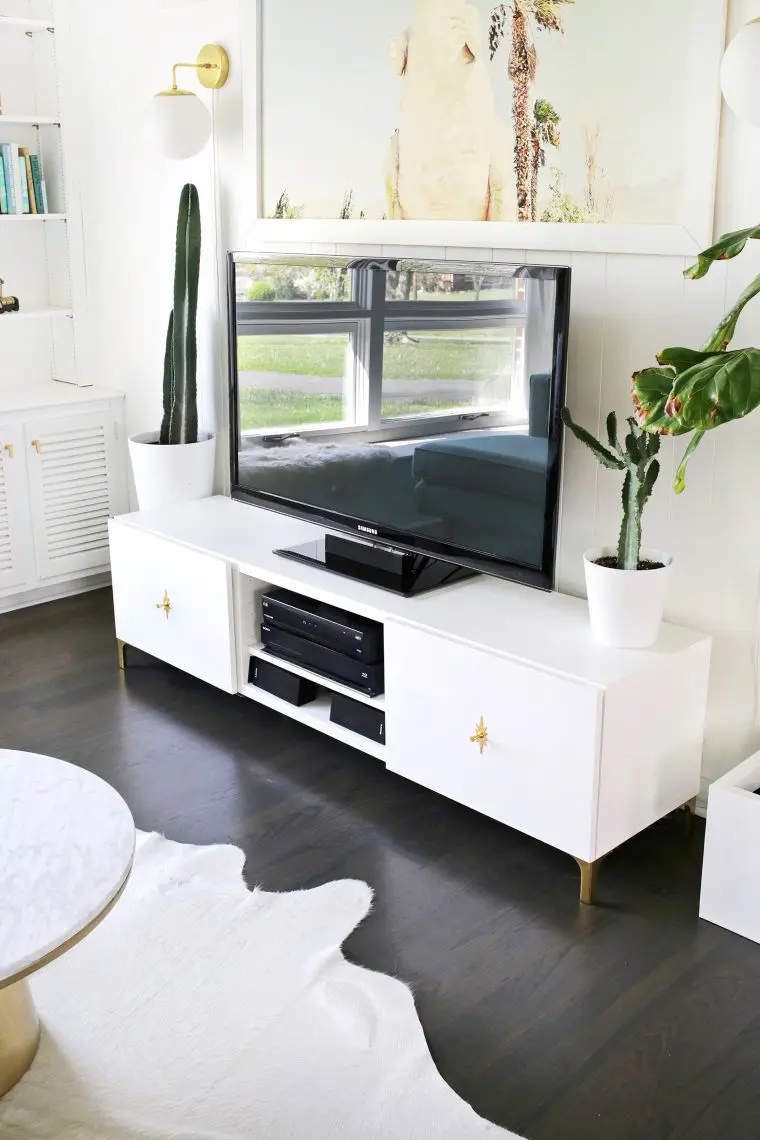 Credit: abeautifulmess.com
Ikea actually makes a very simple TV stand of its own, the BESTA. It's straightforward in its design and absolutely perfect for working some DIY magic on.
All you'll need for this hack are some knobs for the front of the drawers, a drill, some paint in your color of choice, and a little elbow grease.
Using drawer accents like these adorable brass radial designs will lend a vintage art-deco look to the project, but you could opt for other aesthetics too. Choose natural rounded wood for a back-to-earth vibe, or go full modern with chrome fixtures and a matte black paint job.
3. Create Accent Storage for the Ikea KALLAX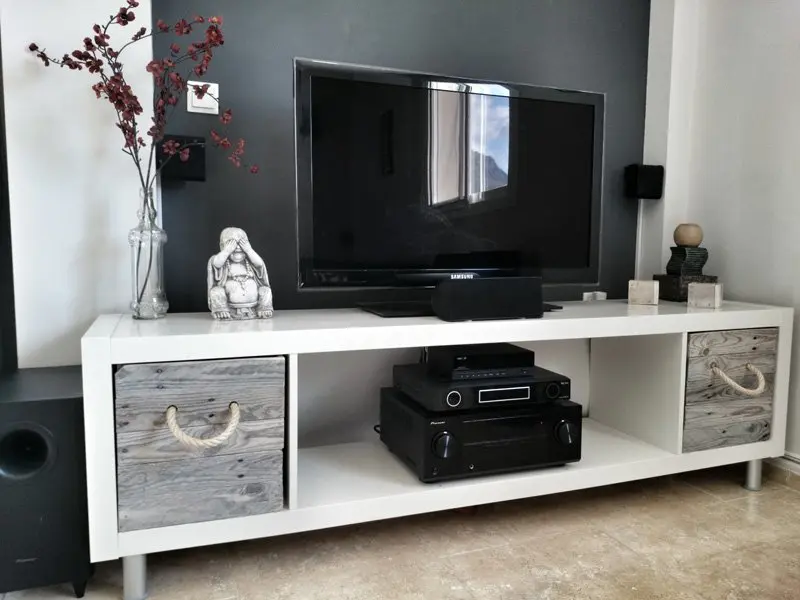 Credit: ikeahackers.net
One of the easiest ways to elevate a TV stand without making any changes to the stand itself is to add some accent storage. Not only does it look great, but these accent boxes are also very useful for storage.
They can easily be changed out when you update your interior design. It's a win-win!
This concept will work for any bookshelf-turned-TV stand. So, don't be afraid to get creative with the size, shape, and look of the boxes you create.
4. Distress Your TV Stand for a Farmhouse Feel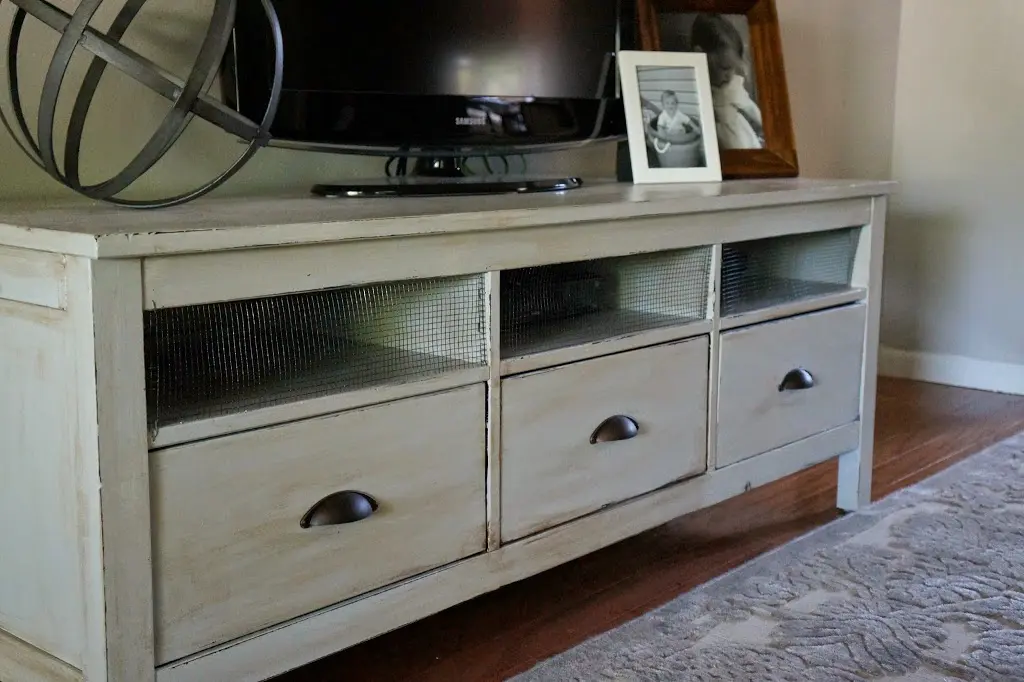 Credit: seekinglavenderlane.com
The originator of this DIY TV stand hack used the Ikea HEMNES TV stand as their base. However, you can use whichever piece that fits your needs.
The key is choosing the right color of paint and distressing it to look old and worn, much like a piece of furniture in a barn.
In order to get an authentic distressed look, make sure you have some dark glaze on hand before you sand it down. This gives the furniture depth and makes it look much more authentic!
Alternately, try out a distress embossing glaze like this made specifically for these kinds of projects.
5. Styling Your KALLAX as a Media Stand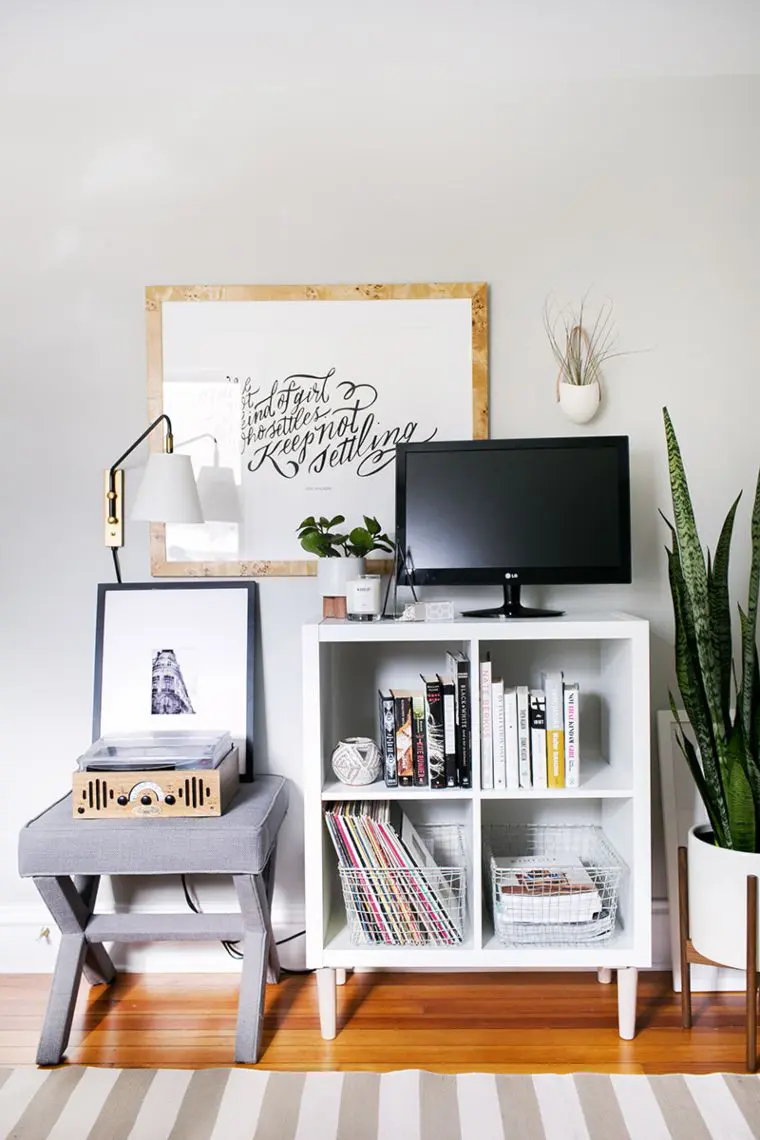 Credit: theeverygirl.com
This hack is less about DIY-ing a solution and more about employing a little interior design. For small apartments or rooms, the Ikea KALLAX shelf makes an ideal media center.
Style it by adding your most prized books, some vinyl, magazines… The idea is to include things with entertainment value besides the screen. Add a couple of accents like this candle or a house plant for a touch of life.
Who knows? Maybe styling it that way will help you read more and watch TV less (something we should all probably be doing).
Check out more Kallax Ikea hacks like this here.
6. Create Your Own Floating TV Stand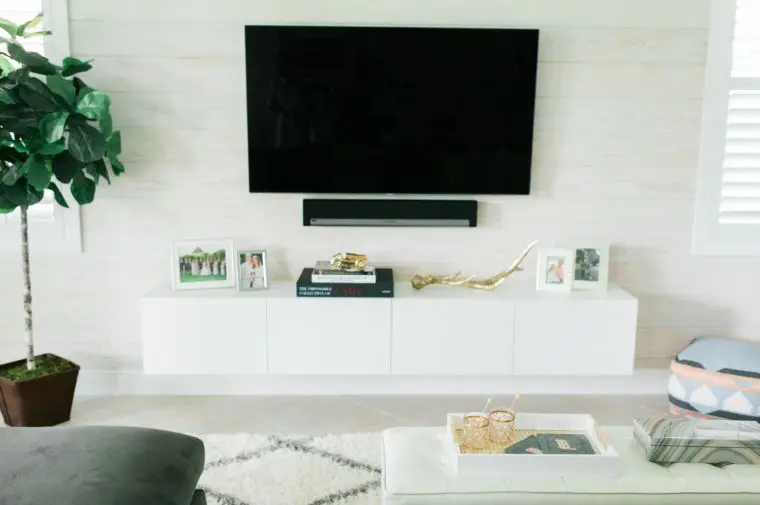 Credit: palmbeachlately.com
There's something particularly cool about a floating TV stand, and you don't have to drop a bunch of time or money to get one for yourself. Whether you like the modern, futuristic vibe or you just want to be able to fit the vacuum under it, this is a very cool DIY!
Pick up a couple of Ikea BESTA frame cabinets and securely fix them to the wall. You can opt to add the door fronts on or leave the shelves as an open display.
You can also paint it to suit your aesthetic.
7. Upgrade the Ikea VITTSJO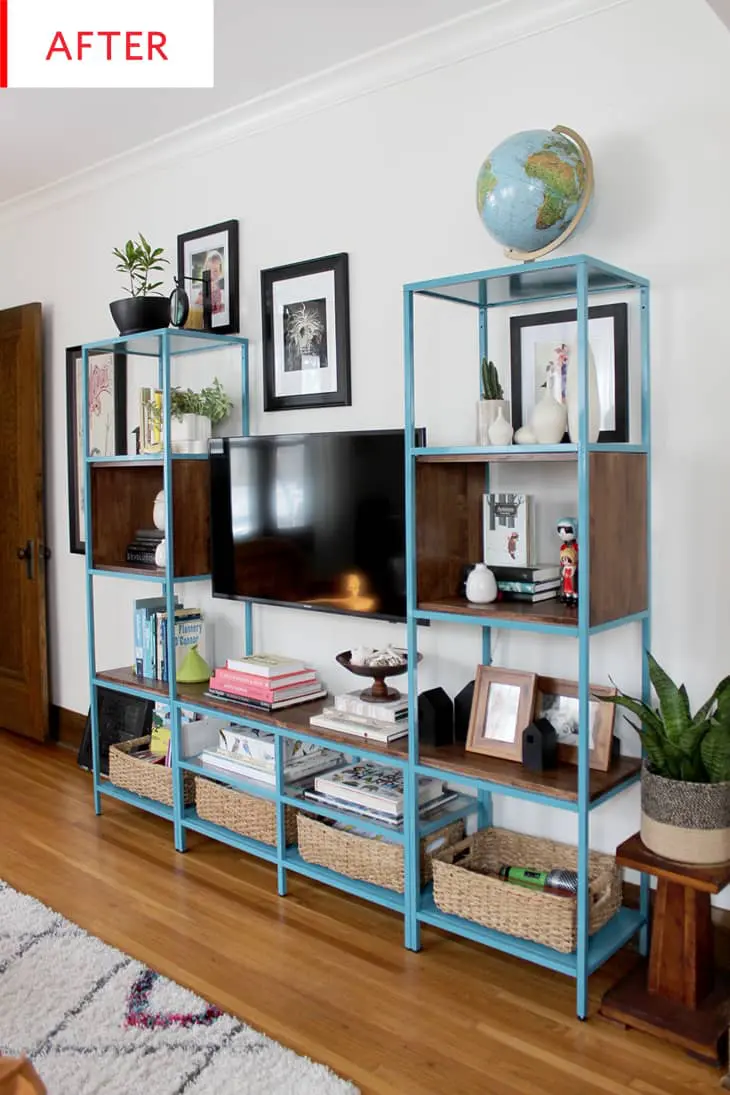 Credit: apartmenttherapy.com
With a vision and a little bit of elbow grease, you can turn the plain Ikea VITTSJO into a focal piece for your living room. The size of this furniture piece already draws focus, so why not lean into that?
Paint the VITTSJO a bright accent color and style the shelves to draw the eye upward. Small things like vases, books, house plants, and picture frames all help to do this.
Put all your stored items away in little grey wicker baskets like these for an adorable, practical look.
8. Give an Old TV Stand a New Lease on Life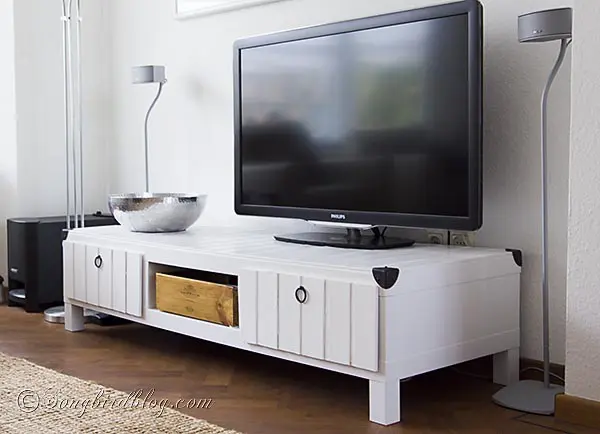 Credit: songbirdblog.com
The Ikea LACK table is sturdy, well-sized, and has a great profile as a TV stand. The problem is, it's also dark brown and can look a little cheap when left as-is.
So, why not take this (or any) old TV stand and give it a rustic, vintage-themed facelift? Use cheap pine stapled together with an electric staple gun (like this one) to add some doors and a new top for the stand.
Paint the whole thing rustic white and add some black metal accents for a true-blue barn door feel.
9. Use a Wooden Plank for a Simple Upgrade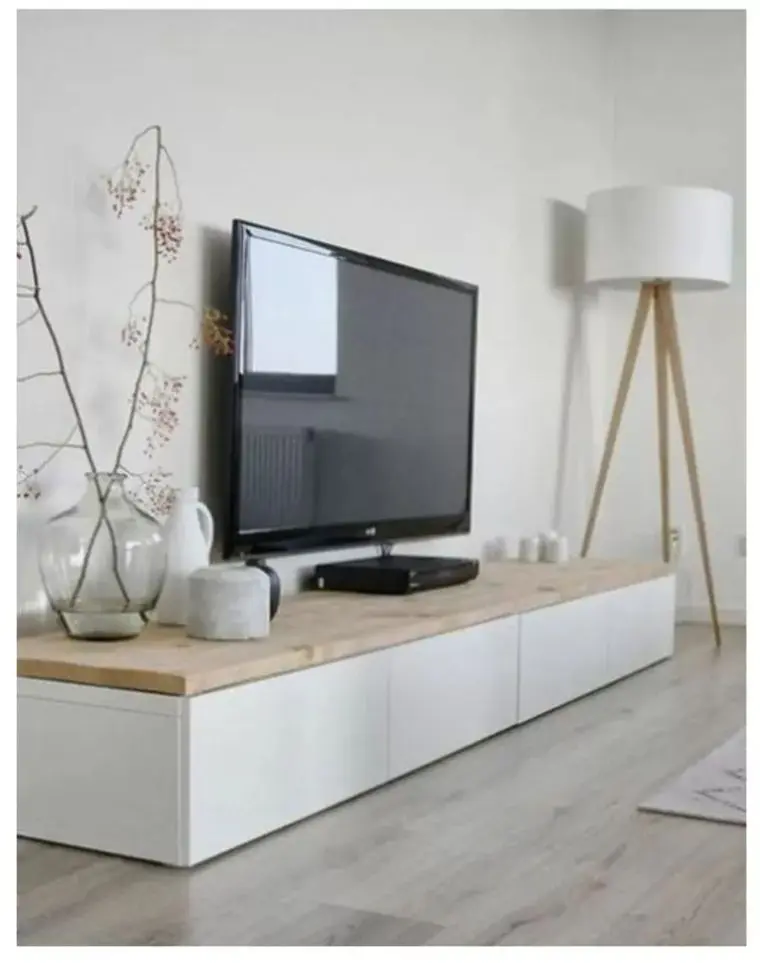 Credit: mydomaine.com
The Ikea BESTA shelving unit is ideal for use as a TV stand. It's long and low, with a lot of storage and a very minimal look.
The problem is, it's too simple for a lot of people! Luckily, it's easy to add a little flair by fixing a wooden plank to the top of it.
This adds a natural vibe and immediately elevates the unit, making it seem much more expensive than it really is.
Go for light-stained wood if you like the beachy vibe, or opt for something darker if you like the heirloom look.
Check out more IKEA shelf hacks!
10. Revamp the Mid-Sized EXPEDIT into a TV Stand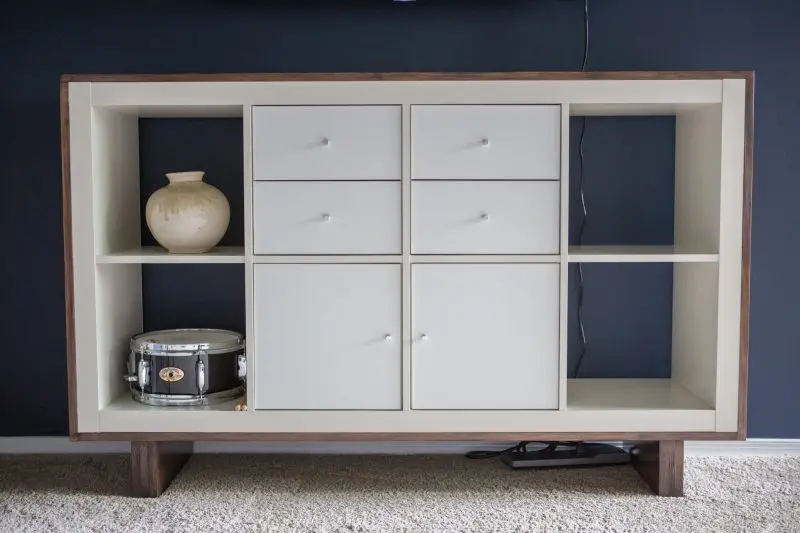 Credit: primalpalate.com
The Ikea EXPEDIT bookcase isn't what you'd typically think of for a TV stand, but it's the perfect piece of furniture for the job! There's lots of storage, it has a clean aesthetic, and mounting your TV over the unit gives you free reign to style the top.
The original DIY-er went ham with the renovating of this shelf, but the good news is, you can pick and choose what you like from it.
Maybe you like adding the stained wood around the edges or creating new drawers in the middle shelves by adding runners like these.
11. Piece Together the Perfect TV Stand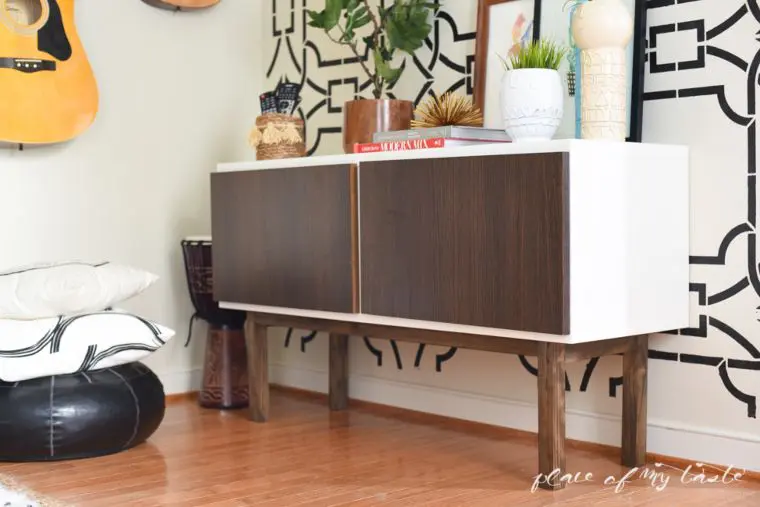 Credit: placeofmytaste.com
The great thing about Ikea is that each piece is designed to fit with each other piece. So, you can cobble together any number of components. Choose a door from here, a shelving unit from here, some knobs from here… It's a smorgasbord!
This clever hacker took the BESTA unit and added some cheap wooden doors to the shelves, also opting for some minimal cupboard handles like these.
She also constructed legs for the unit in the same shade of wood as the doors to bring the whole thing together.
12. Add Legs to a Shelving Unit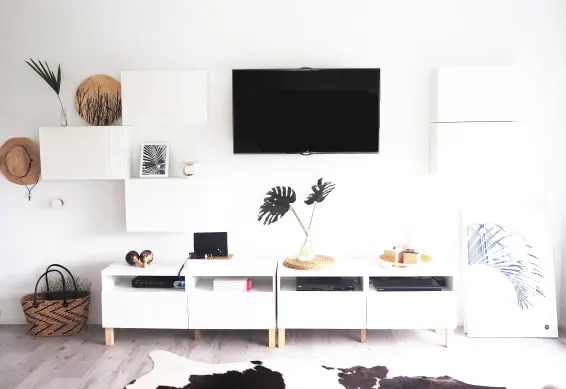 Credit: tomfo.com
Speaking of the Ikea BESTA unit, here's a great way to elevate it… literally. Choose a wood you like the color and grain of.
Then, cut some simple legs and attach them to the bottom of the units. Take it one step further and accessories the units with natural accents in the same color as your chosen wood!
If you're going for the BESTA, make sure you get the open top shelf option to discreetly house your media devices. This automatically hides messy cords. Now you're really thinking like a hacker.
Check out some more Ikea Bookshelf hacks here.
13. Frame Your Ikea TV Stand in Bevelled Wood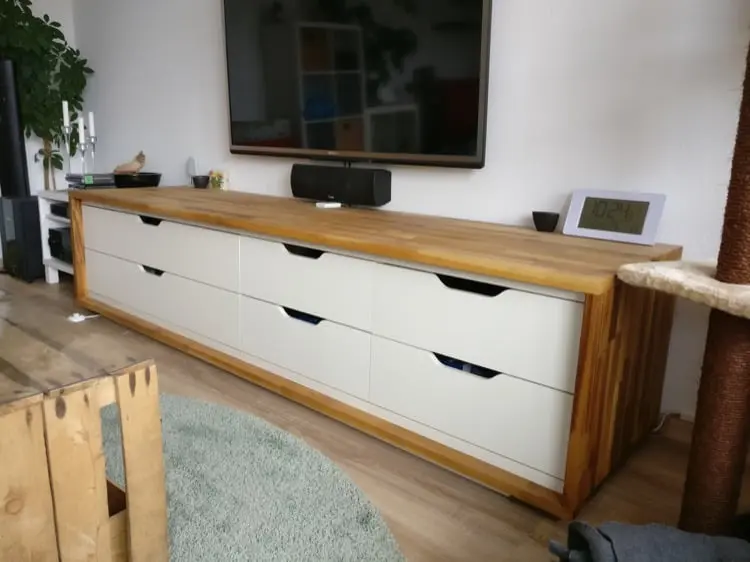 Credit: ikeahackers.net
The Ikea Stolmen makes for a great TV stand, offering huge amounts of storage and a discreet, minimal look. However, if you're looking for something a little more unique, why not frame it in wood for a natural vibe?
Make sure you stain the wood and cover it with a clear varnish-like this one, as this will keep the wood safe from coffee rings, remotes, and everything else.
14. Craft Your Own Built-In TV Stand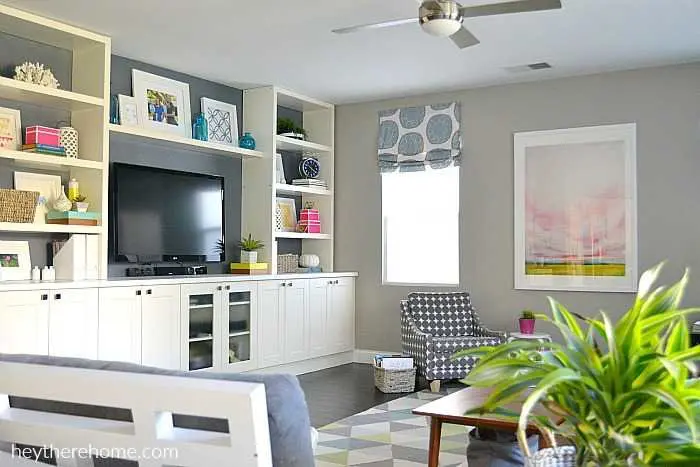 Credit: heytherehome.com
Built-in furniture almost looks like it grew with the house like it's been there all along. I personally love how natural it feels.
If your living space has an inset on one side of the room, then you have a unique opportunity to create your very own built-in TV stand.
Measure your space with a laser guide like this for accuracy and choose a shelving unit as tall as the wall is wide. Flip the unit on its side and bracket it to the wall for a floating appearance.
You can also add shelves above the unit to frame your TV, adding to the look. Check out more IKEA hacks here!
15. Make a Small, Portable TV Stand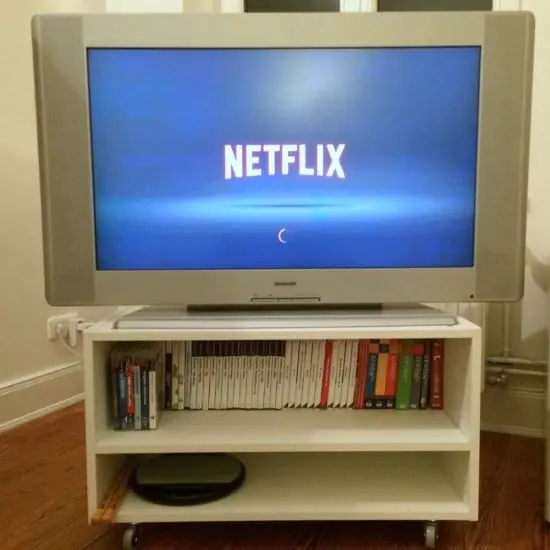 Credit: ikeahackers.net
Want to be able to move your TV into the perfect spot every time, but don't want a stand right in the middle of the room? This portable TV stand hack has just solved your problem.
The Ikea METOD cabinet is typically hung on the wall, but it also makes a great portable TV stand in a pinch. Simply screw some casters (like these) onto the bottom of the shelf, and you're done!
16. Stack Two Shelves Side-by-Side for a Wide TV Stand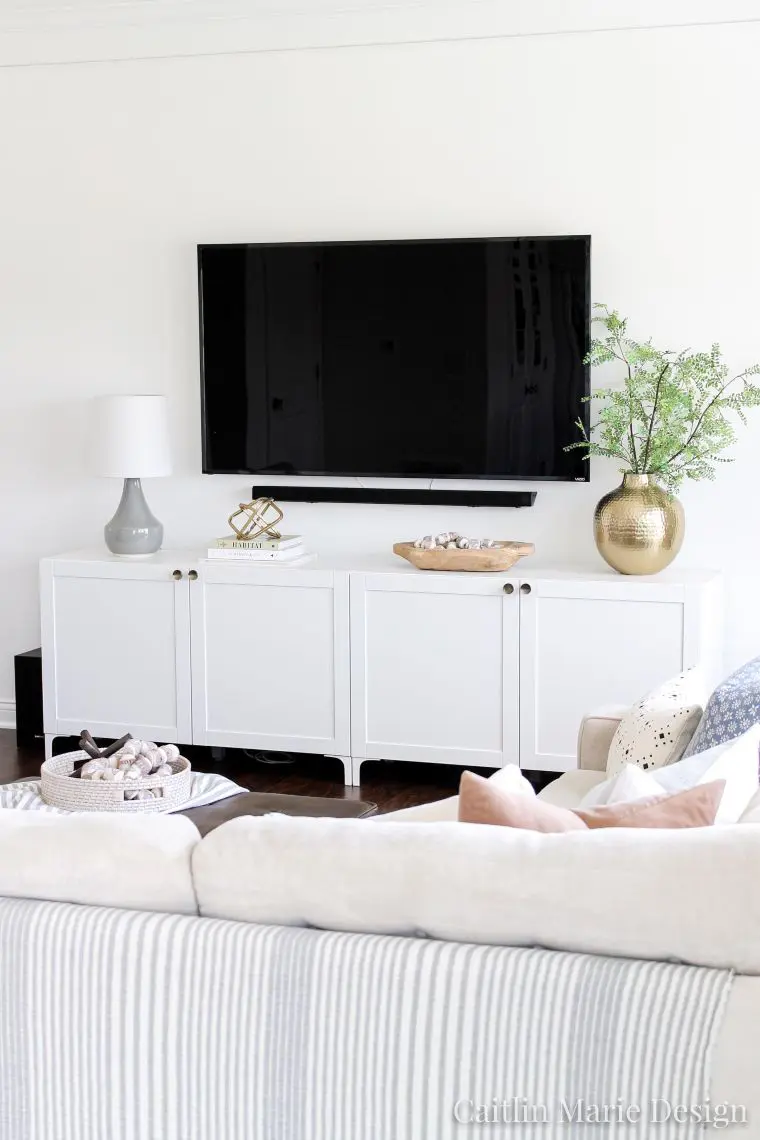 Credit: caitlinmariedesign.com
Always wanted the wide TV stand seen in many an Architectural Digest, but can't afford it? Ikea is now officially your mecca.
The BESTA frame is the base for this DIY, but you won't recognize it at the end. That's how good it is! You can pick up everything you need from your local Ikea, including the BESTA frame, the legs, the doors, and the soft-close hinges.
Paint everything a single color to make it appear more like a single piece of furniture, style, and you're away!
This IKEA hack is also great to keep things organized.
17. Create a Vintage-Inspired TV Stand
Credit: inbetweenchaos.com
Speaking of stacking shelves beside each other, this mid-century inspired TV stand hack puts a modern twist on a vintage armoire.
This genius hacker took it one step further by removing the sides of the internal joins, making the four cabinets look like a single continuous piece of furniture.
Then, she added a toe skirt and top board in equal heights to grant some extra uniformity.
18. Replicate Your Dream TV Stand with Ikea Products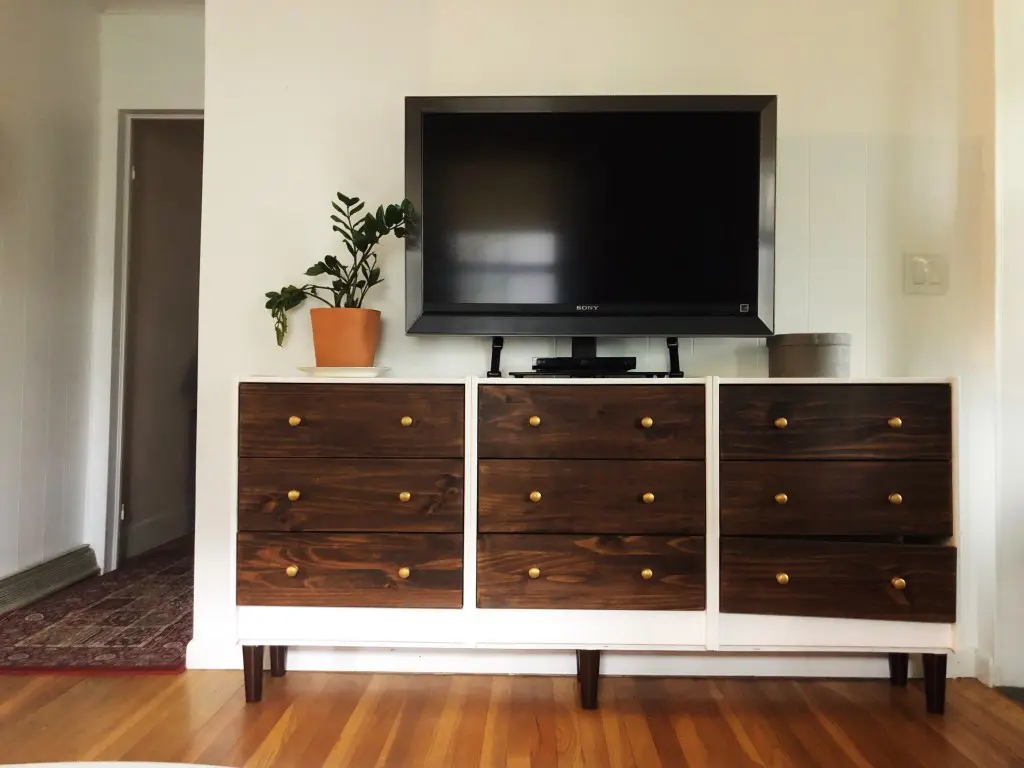 Credit: scribblesfromemily.com
Using cheaper items to create our dream furniture is certainly nothing new, but here's an example from a clever hacker with a penchant for mid-century charm.
She used three Ikea RAST dressers stacked side by side, some dark wood stain like this, and some extra lumber for framing.
With some ingenuity and elbow grease, all these elements combined into the Joybird TV stand she'd been dreaming of.
19. Draw the Eye to Styled Storage, Not Your Cables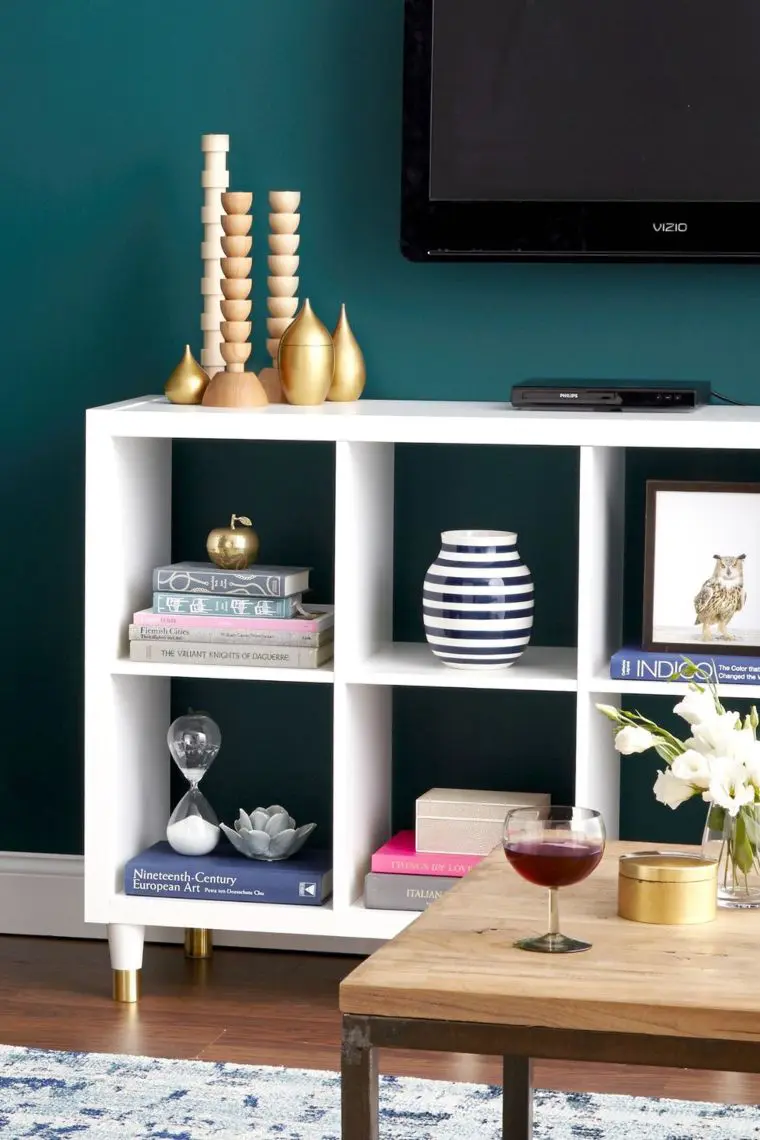 Credit: redbookmag.com
Cable management is an essential part of creating a home entertainment system. What many people don't tell you is that aesthetic storage is a big weapon in the fight against the rising tide of ugly cables!
Flip the Ikea KALLAX double shelf on its side and add some legs for a gold accent on the bottom. This offers many different sections to style to your heart's content!
20. Embrace Minimal Style with a Versatile TV Stand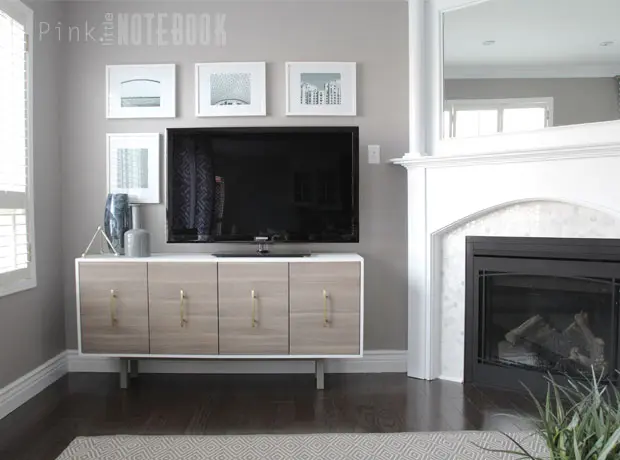 Credit: pinklittlenotebook.com
Finally, a TV stand doesn't just have to be a TV stand! You can use this hack for any room in your home that needs some extra storage, especially a bedroom or living area.
If you're on a budget, opt for the BESTA, but otherwise, you can spring for the Ikea SEKTION dresser for this hack.
Simply add some tall cabinet legs like these to the bottom, insert doors in a gentle accent color, and add some brass fixtures for some interest. Voila!
More IKEA dresser hacks here!
Conclusion
Which one of these IKEA tv stands is your favorite? Let me know in the comments!