Make your bathroom look just like you want on a low budget. These Dollar Tree hacks are creative, fun, and, most importantly, cheap.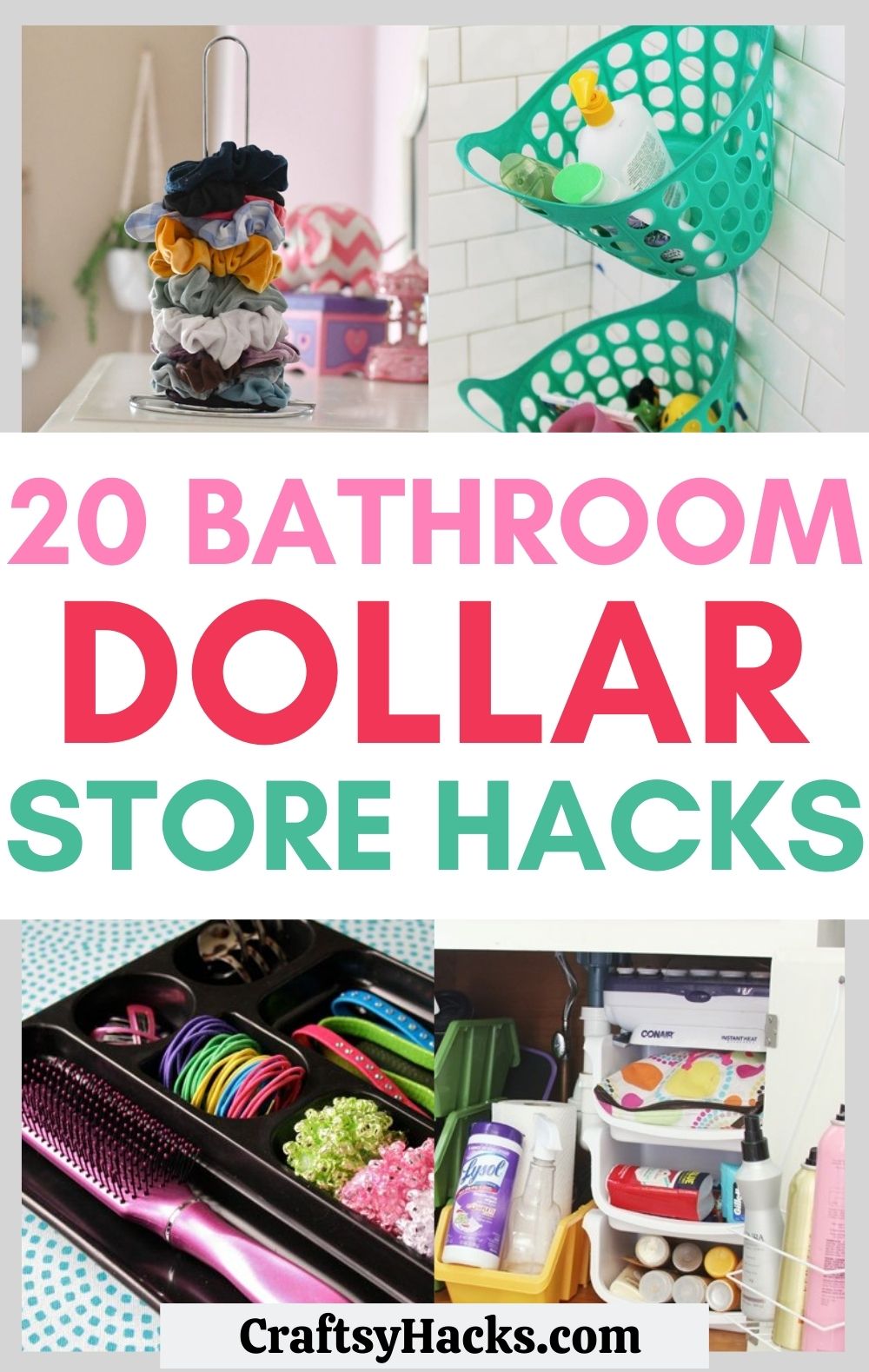 The bathroom is the first place we go in the morning and the last place we go at night, so it's vital to make it a calm, collected, relaxing space. As we all know, clutter isn't exactly soothing.
Happily, you don't have to spend an entire paycheck to organize your bathroom essentials. The dollar store has everything you need to take your sink, drawers, and shelves from a holy mess to great success.
To that end, here are twenty budget-friendly hacks using pieces from your local dollar store to save your bathroom organization tactics.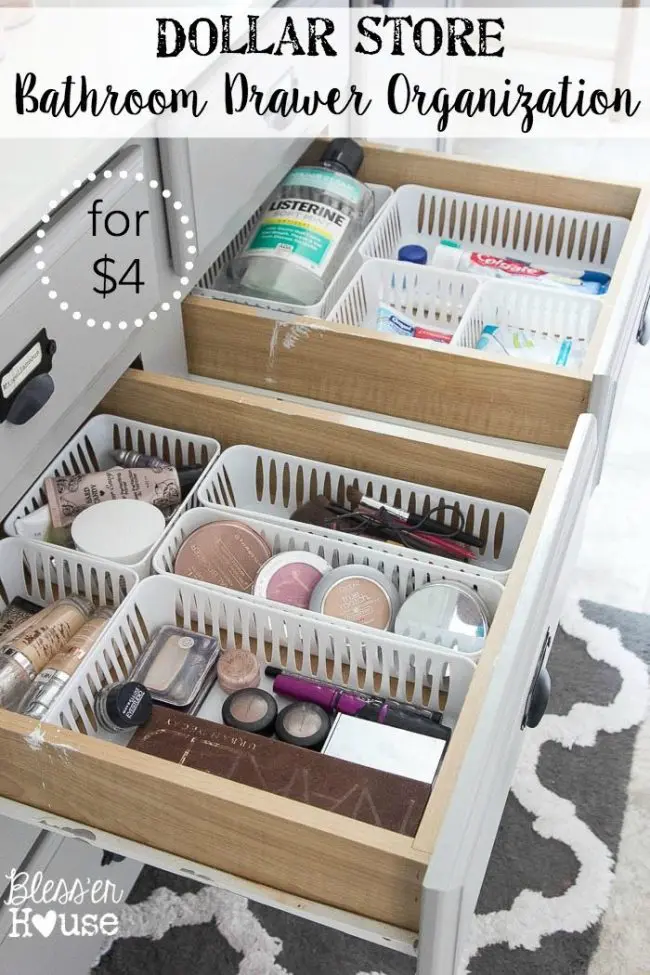 Go Check It At: blesserhouse.com
If you're anything like me, your bathroom drawers are quick to fall into disarray. Out of sight, out of mind, am I right? But if you're sick of the drawers getting jammed shut from clutter, this is a cheap and easy fix.
This organization hack takes all of ten minutes, using some simple plastic bins like these. You can use a collection of bins in different sizes to fill your drawers or opt for a couple of bins to corral small items.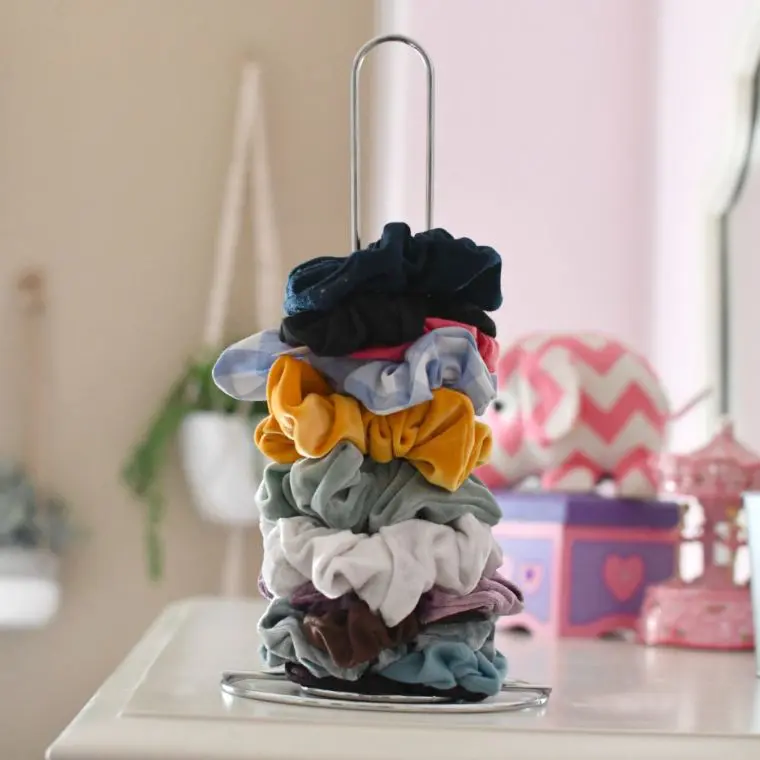 Go Check It At: hip2save.com
Next up is potentially the best way I've found to keep your scrunchies organized. These tiny hair accessories are easy to lose, but you keep them all in one place and easily visible with this clever hack.
Enter the paper towel holder. Who would have thought this kitchen item would double so perfectly for your bathroom? Sit this on a shelf, stack your scrunchies on it, and never lose one again!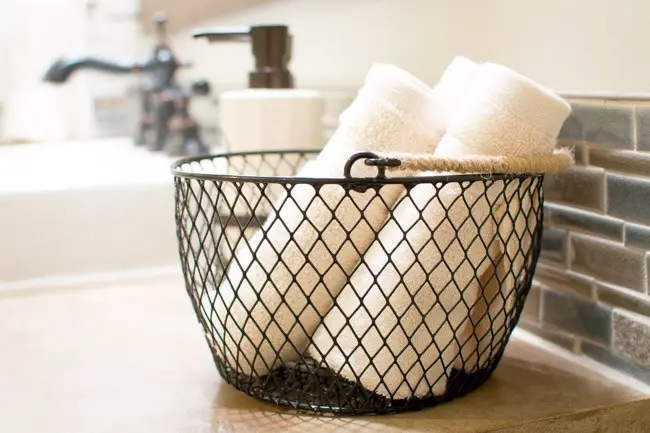 Go Check It At: northcountrynest.com
If your bathroom lacks towel storage space or wants another way to store your clean guest towels, this hack is for you. Transform a simple wire basket into a rustic masterpiece with ease.
You can find wire baskets like this from almost any dollar store. Then, all you need is some jute twine (like this) and your hot glue gun to wrap the handle, taking it from basic to minimalist chic in a heartbeat.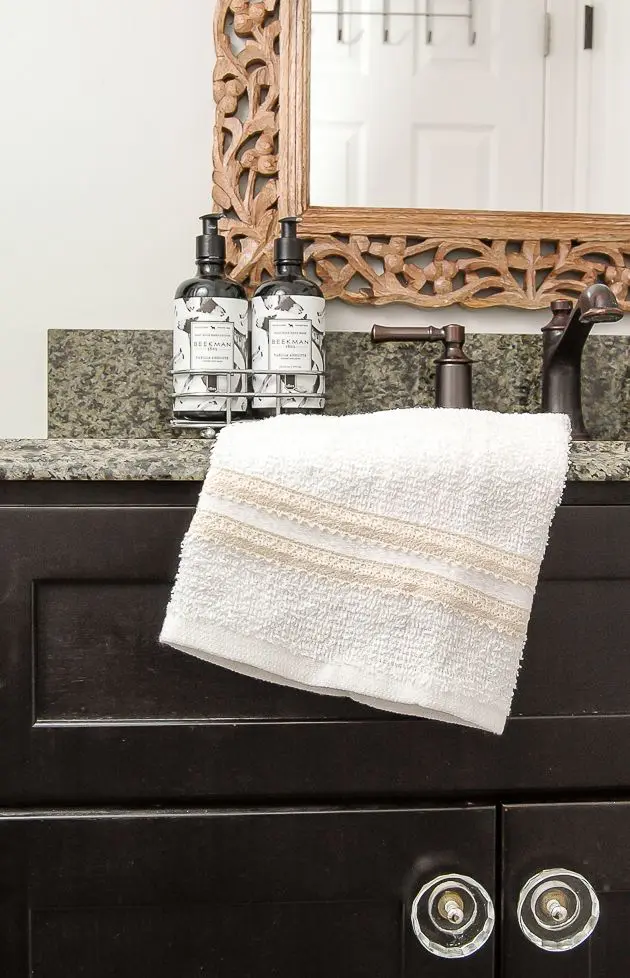 Full Tutorial at: littlehouseoffour.com
Once the previous hack is done and dusted, all you need are some rustic towels to complete the picture. No problem, you can whip up these adorable farmhouse-inspired towels in five minutes or less.
All you need to get the job done are your preferred white hand towels, some Floral Garden Lace (like this), your scissors, and your sewing machine. Lay your lace on the towel, stitch it down, and voila!
Check out more Dollar Store home décor projects here.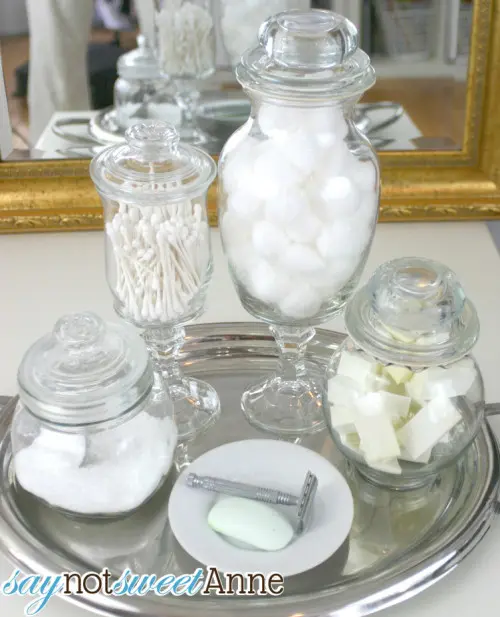 Full Tutorial at: saynotsweetanne.com
Home décor stores all over the globe try to sell us upscale apothecary jars for obscene prices. The truth is, you can get that very same jar from your local dollar or thrift store for a fraction of the cost!
Now, if you can't find actual jars, this quick hack can help you make lids for dollar store vases to accomplish the desired effect. Use clamp lids from mason jars like these in a similar size.
Substitute the lids onto the apothecary jars, fill with soaps, potpourri, or mints, and you're away.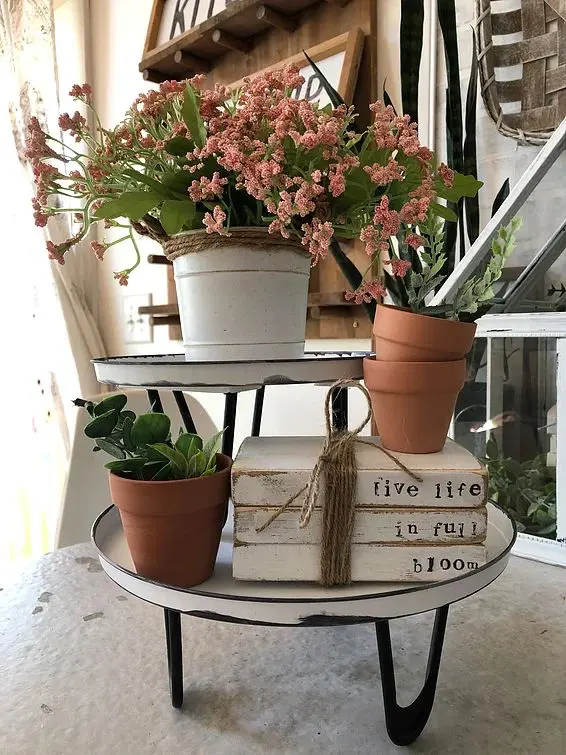 Full Tutorial at: bearcreekdc.com
Bringing the farmhouse style into your bathroom is a quick and easy way to upscale the look, and these trays are great for displaying plants or knick-knacks. All you need are some burner covers and clothes hangers.
To turn these simple ingredients into an upscale tiered tray, you'll need the help of some trust black and white chalk paint like this. This effortlessly gives a rustic look to anything, no matter the material.
Do you love this farmhouse décor? Find inspiration from some of these shabby chic kitchen décor ideas.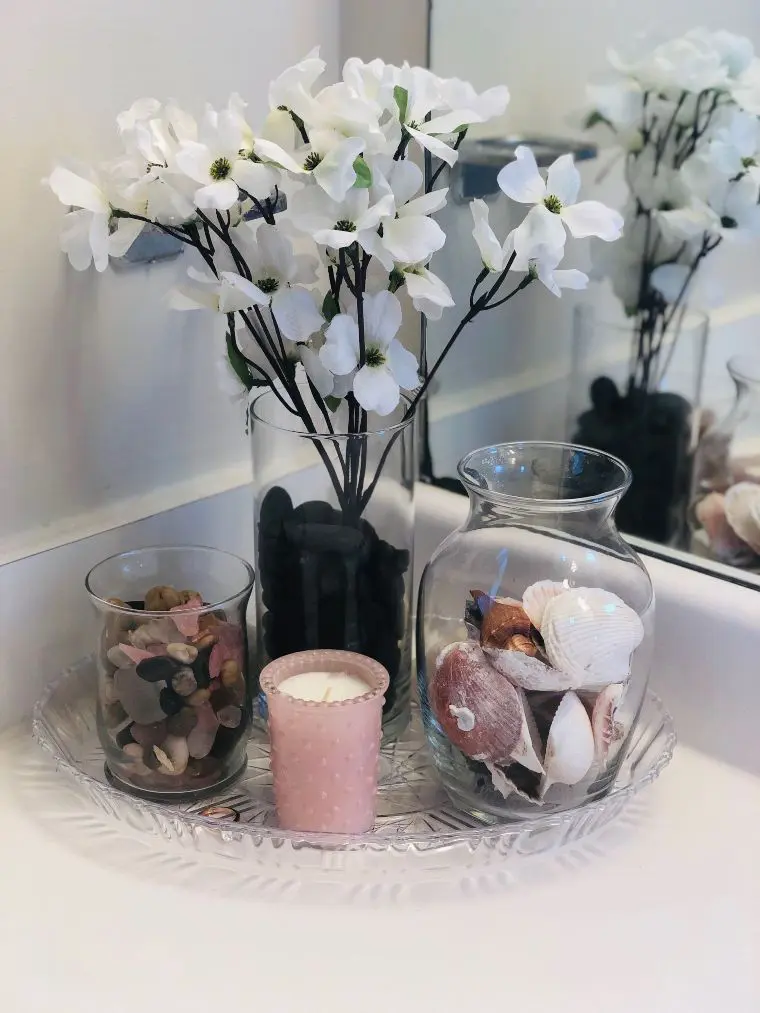 Go Check It At: likitimavm.com
Speaking of décor, if you're low on sink space, this is an incredible hack to spice up a dull corner. All you need are three glass jars, a glass tray, and a little creativity to make it happen.
The key to this hack is choosing a color scheme and sticking with it. Fill two of your jars with small items of different shapes and sizes, making sure to keep to the same palette. This will make it look professional.
Use the final vase as a home for artificial blooms, drawing the eye upward and creating decorative pieces.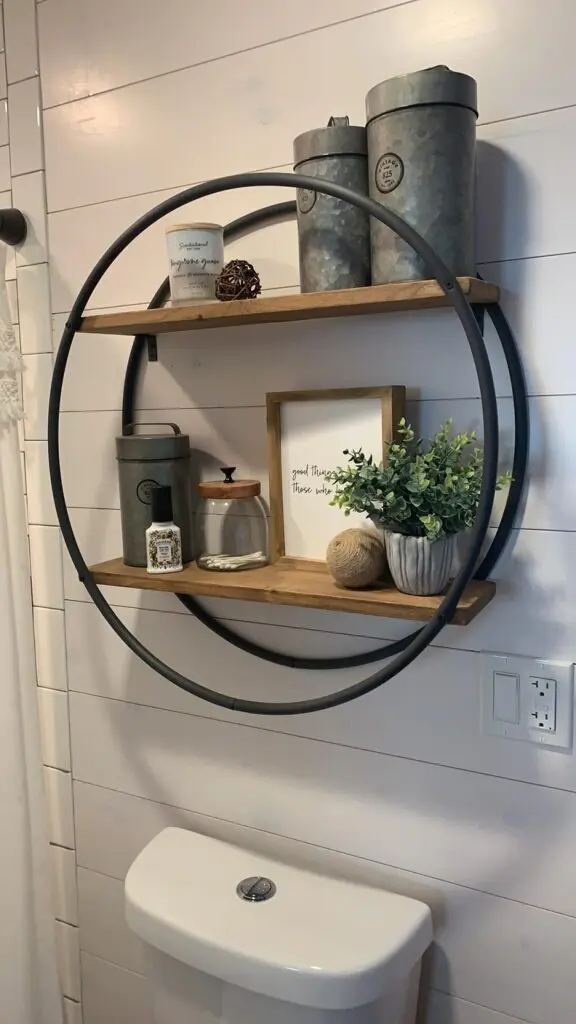 Full Tutorial At: thehappyfarmhouse.com
Have you ever come across a hack that you just instantly must put on your "To Make" list? This hula hoop shelf is right at the top of mine. Using something as simple as a hula hoop, you can make a stunning shelf!
For this craft, you'll need two hula hoops, some reclaimed timber, and a few shelf brackets. If you get hula hoops with that silver coating, you might be able to peel it off instead of spraying the circles black.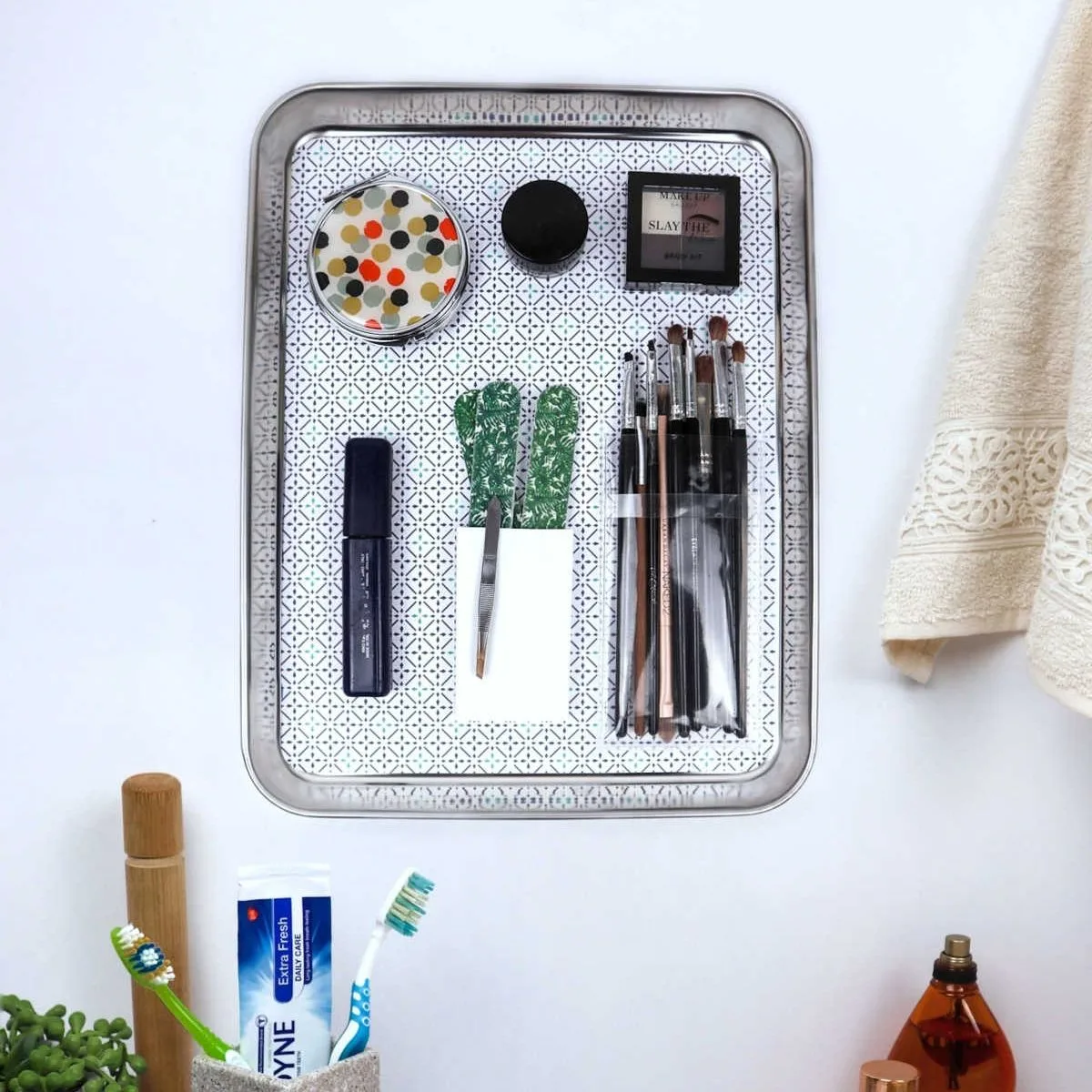 Full Tutorial At: craftsyhacks.com
I love repurposing one thing as another, and this cookie sheet organizer is a perfect way to keep all your small stuff in one place. Use it for notes, your daily makeup supplies, or even a little motivating message.
The key to this hack lies in two trusty ingredients: Mod Podge (here) and wood-grain craft paper like this. With these, you can make your cookie sheet look like it has a wooden base while retaining its magnetism.
Then, all that's left is to purchase some cute magnets like these, and you can get sticking.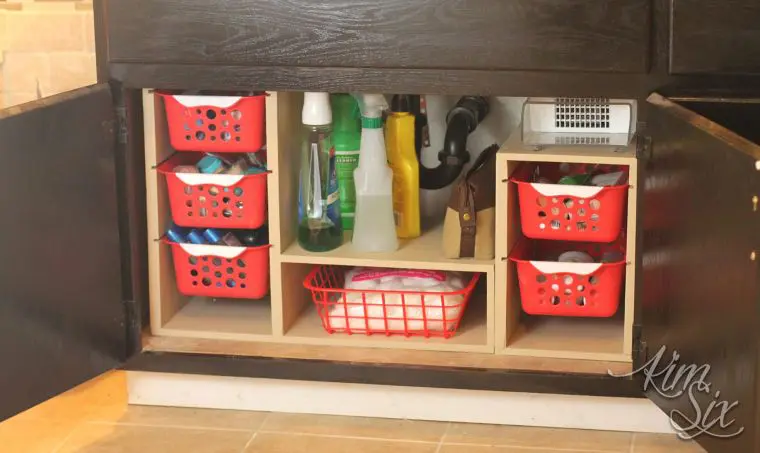 Full Tutorial At: thekimsixfix.com
This next hack will demand a little more time and effort from you, but it's all worth it to have a seamlessly organized under-counter area. You can bring this clever DIY project into your kitchen too!
Using a single sheet of plywood, some nails, and some dollar store plastic baskets, you can create a pull-out organizer that eliminates clutter with no mercy. This is the perfect craft for a beginner woodworker.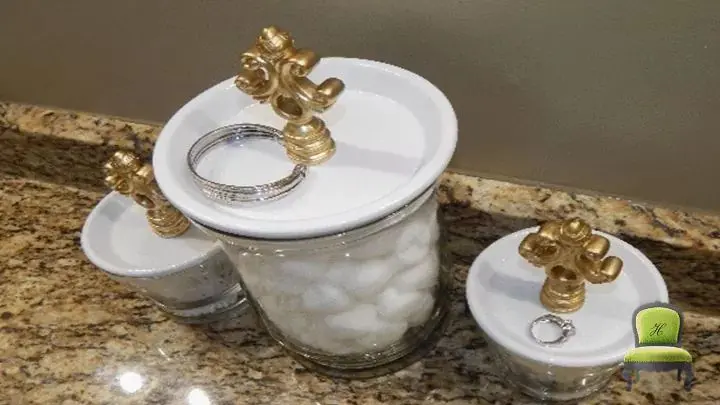 Full Tutorial At: hometalk.com
Never ask yourself where your rings went again with these ingenious countertop storage jars. While the jars' inside are perfect for soaps or potpourri, the tops are stunning little jewelry holders.
To make this DIY craft happen, you'll need some dollar store jars, terracotta saucers the size of the jar openings (like these), some lamp finials for the handles (like these), and some spray paint.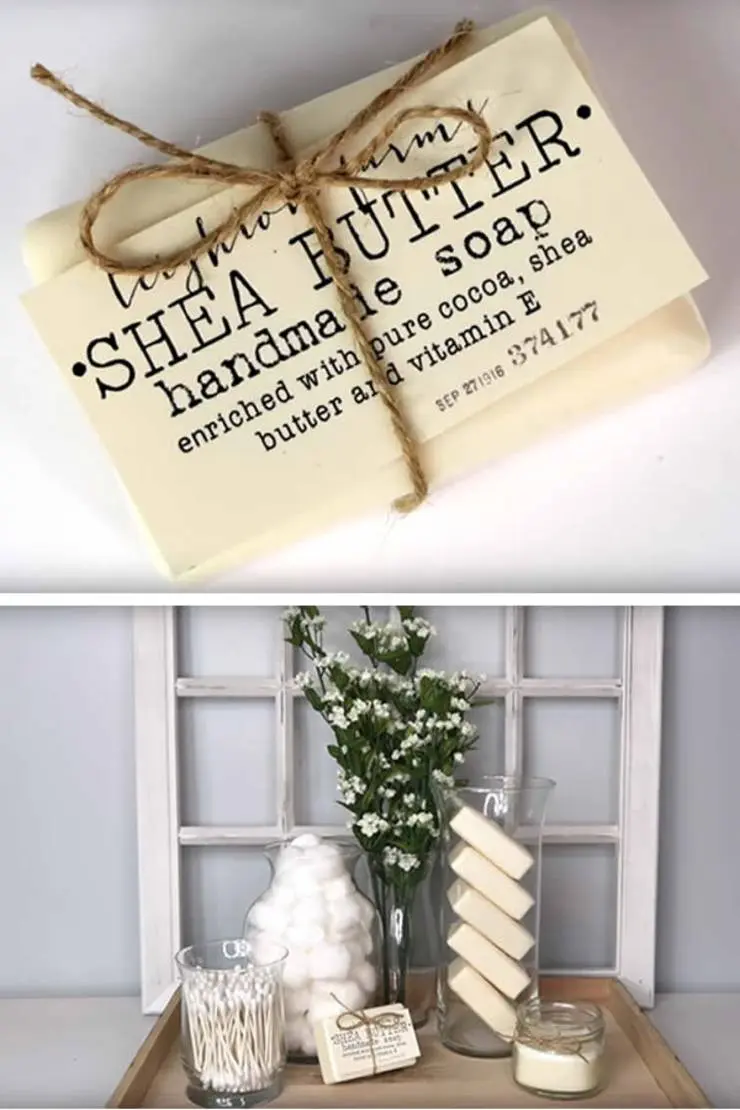 Credit: kimspireddiy.com
Whether you're crafting a gift or looking for a sustainable soap alternative to those plastic jugs of body wash, this shea butter soap is the answer. These look amazing stacked up in a glass jar in the bathroom.
This particular shea butter soap recipe is ultra-simple, using cocoa butter and shea butter (here) to create a super creamy and rich soap. However, if you want to add essential oils for a bit of spice, you can!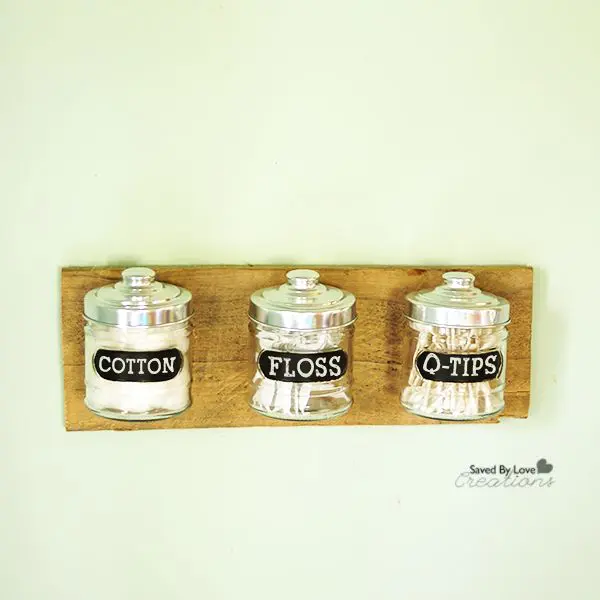 Full Tutorial At: savedbylovecreations.com
If your bathroom lacks wall storage, it's simple to make a hanging organizer that also adds to your décor scheme. Using reclaimed pallet wood means you won't have to shell out a lot for a rustic result.
I love this hack because it makes use of wall space. If you have a compact bathroom, this might be your only storage opportunity since counter space isn't exactly in abundance. Not to mention, this is so easy to make.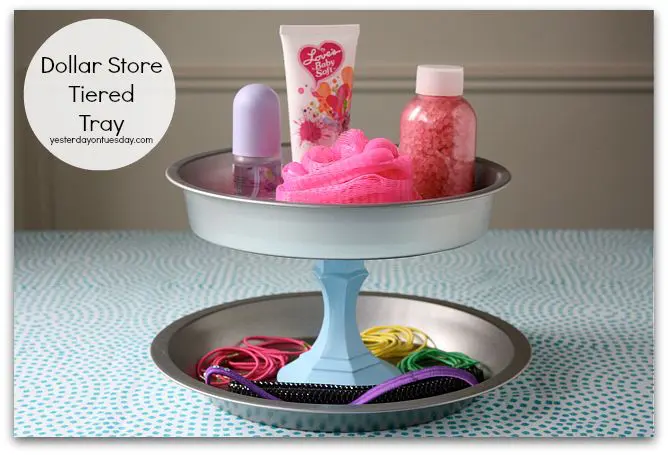 Go Check It At: yesterdayontuesday.com
Here comes a hack perfect for the kids' bathroom. If you're sick of dealing with loose hair ties, combs, and various other little pieces finding their way into obscure corners of the kids' bathroom, this is ideal for you.
Using some basic cake trays from the dollar store and a small pedestal, you can have this tiered tray up and running in about ten minutes. Stick it on the countertop and watch as your kids become organized.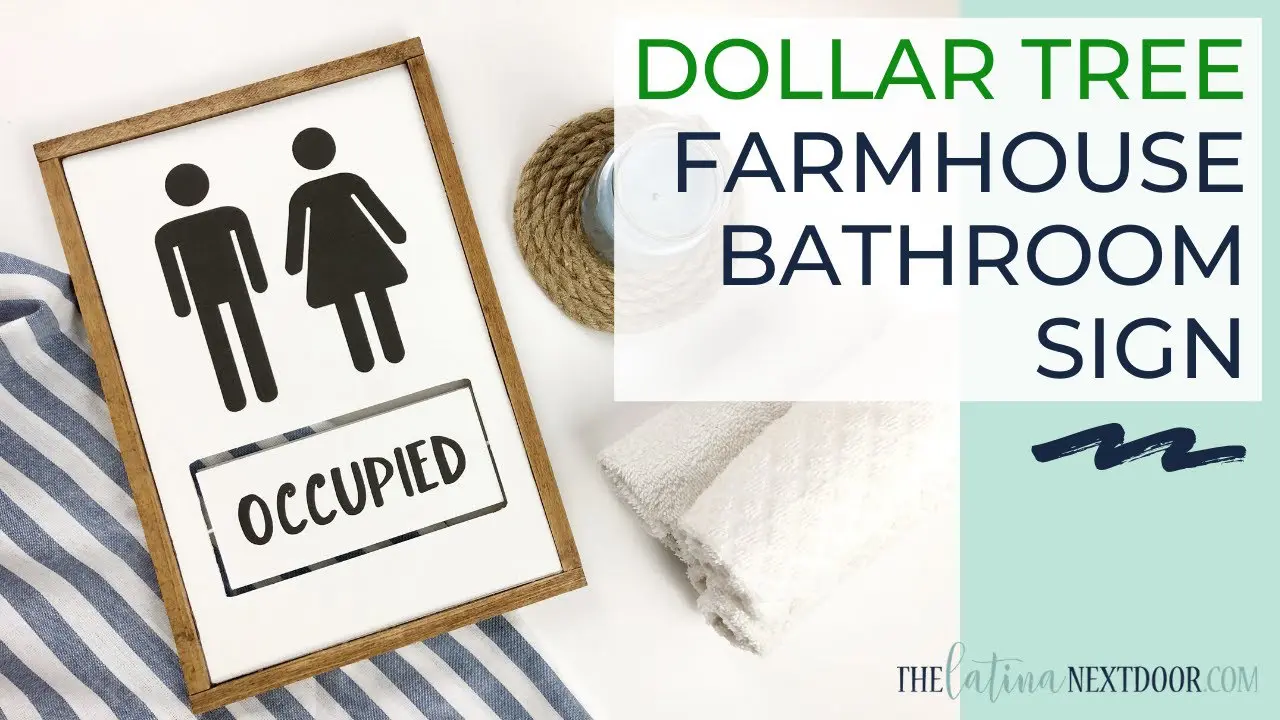 Full Tutorial At: The Latina Next Door
I don't know about you, but one thing I've always liked about public bathrooms is their lock. There are no qualms about whether someone is in a stall and no unwelcome knocks on the door. Why not bring that home?
This farmhouse-inspired occupied sign uses a simple hack to create a rotating Occupied/Unoccupied section, and it looks much better than a public bathroom lock. Not to mention, it's so quick and easy to make.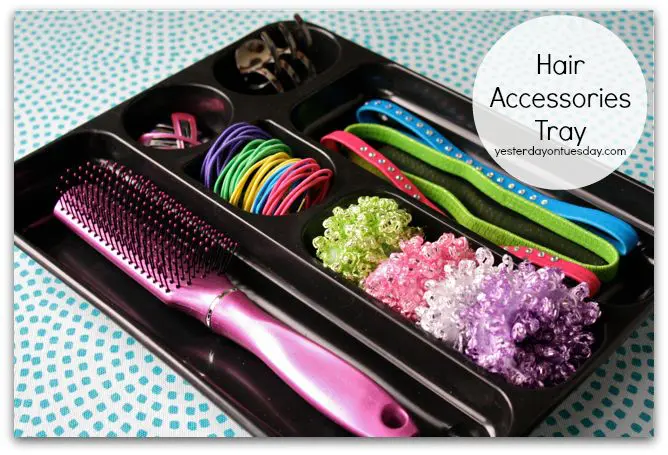 Go Check It At: yesterdayontuesday.com
Sometimes, the best DIY is a simple DIY. Repurposing a desk organizer (like this) in your bathroom is the perfect way to put all your hair accessories into some semblance of order with minimal effort.
Now, you can leave the dollar store organizer as-is, but if you want to bring it in line with your existing décor, you can use spray paint. This chalk spray paint is perfect for a farmhouse-inspired décor scheme.
If you're an IKEA fan with a small budget, you can take that organization outside of your drawers with these stunning IKEA bathroom ideas.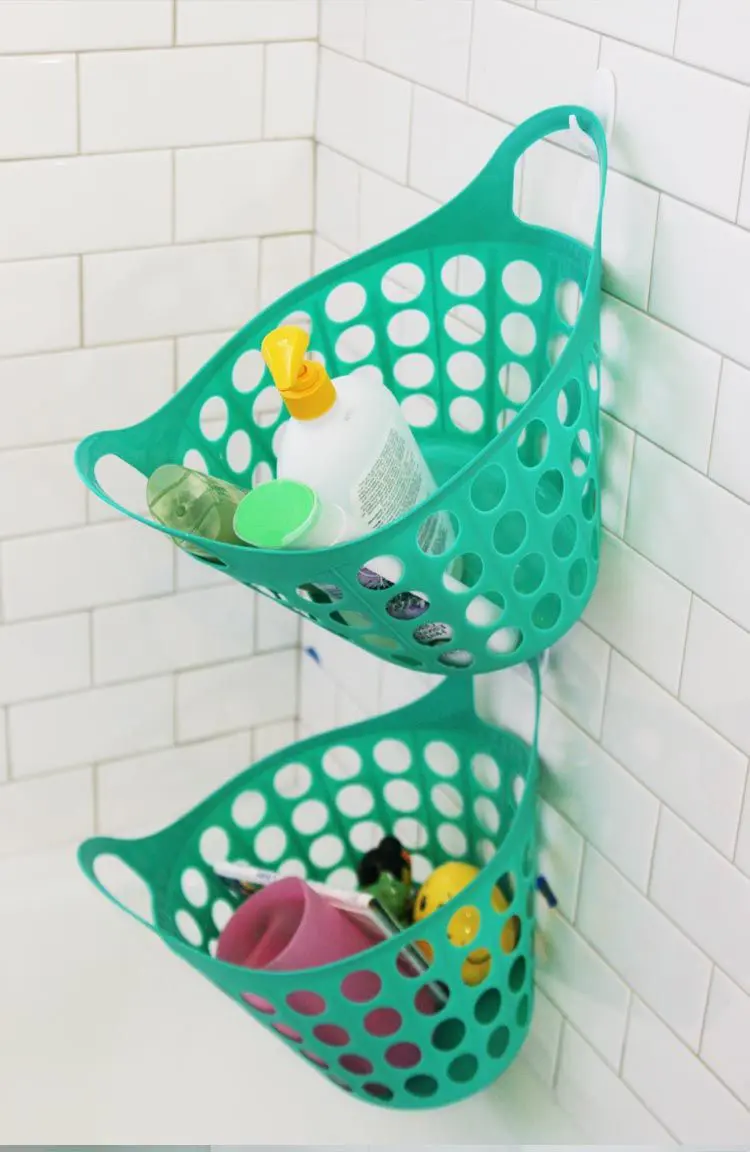 Credit: Pinterest
Finding enough storage in the shower – whether you have an in-bath shower or a standard cubicle – can be a huge hassle. The edges of our bathtubs just aren't cutting it! That's why we have to use wall space.
If you're renting or don't want to create a permanent fixture in your shower, this is perfect. Mount some dollar store plastic baskets on some command hooks like this for extra storage!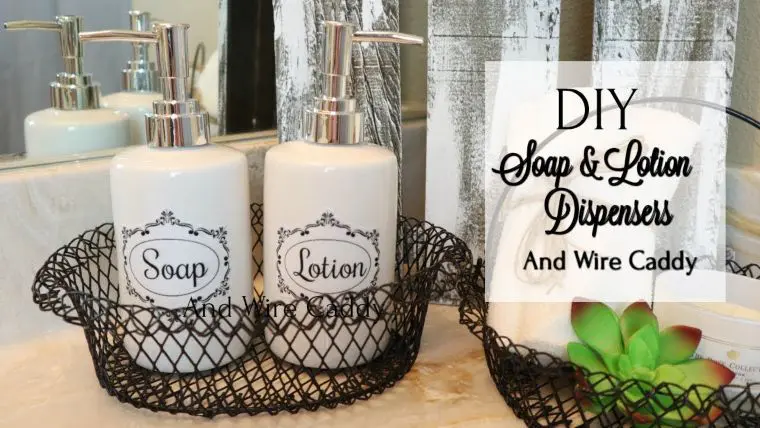 Full Tutorial At: youtube.com
Refined guest soaps instantly elevate a bathroom, and the good news is, you don't need to spend a million bucks to make them look expensive. This craft shouldn't cost you much more than the lotion itself.
Using a Cricut machine like this (or just a printer and stickers), you can customize some lotion and soap bottles to fit your bathroom aesthetic. Combine that with a roll-top wire basket for a refined and traditional look.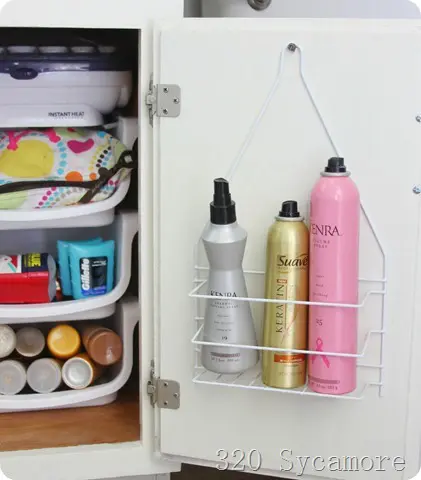 Credit: 320sycamoreblog.com
The doors are an under-utilized spot of the under-counter space. Just like walls, they offer vertical space we can easily use to store small or tall items. One of the simplest ways to do this is with a small shower caddy.
That's right, grab a dollar store caddy like this, then hang it on the inside of your under-counter door. This is perfect for those stray bottles of hairspray, air freshener, or any other tall canisters that are tough to store.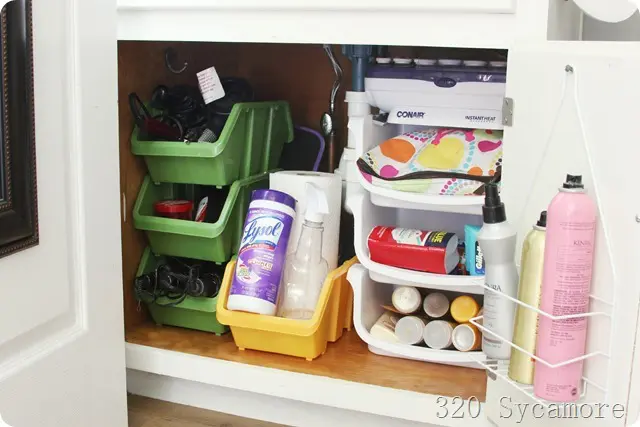 Go Check It At: 320sycamoreblog.com
Finally, our last hack on the list is nice and straightforward. Using some dollar store plastic bins in a few different colors, you can create a customizable storage solution that easily fits in a small under-counter space.
If you're not a fan of the plastic look, there's a simple way to upscale these drawers. Use some matte black spray paint (here) and some pewter Rub 'n' Buff (here) to make it look like distressed metal.
Conclusion
Did any of these bathroom hacks appeal to you? Which one are you going to use to spice up your sanctuary? Let me know in the comments, or check out my other blogs for more bathroom hack ideas.