Need a little more storage space at home? Why not upcycle and recycle the items you already have at home and turn them into amazing organizers?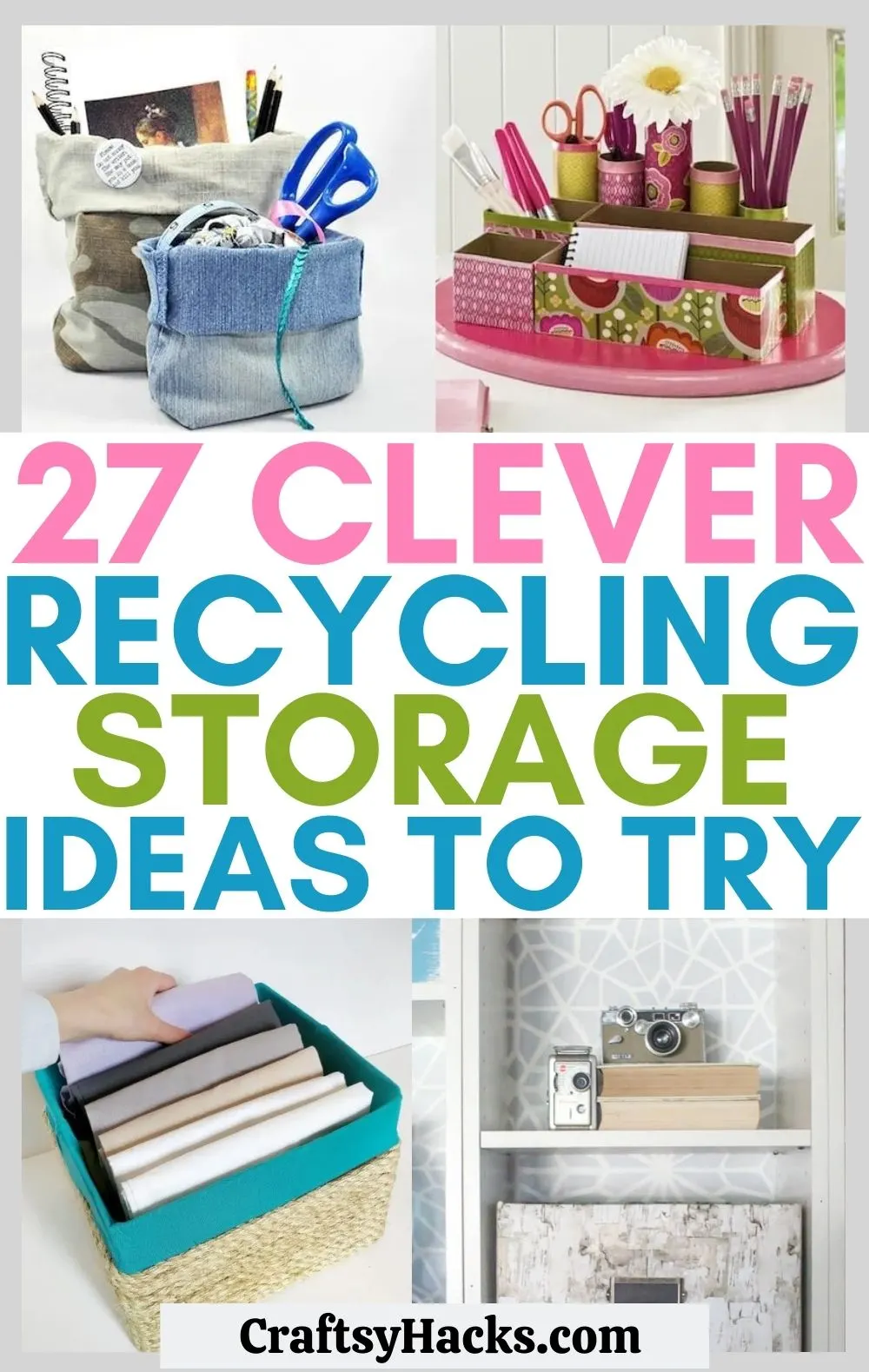 When you can recycle or upcycle your old products and household items, why would you just throw them away? Sure, you can give them away to a charity store.
But it will certainly be more fun to pull everything apart and make something new and amazing, don't you think? Or you might even consider salvaging for spare parts.
So with that in mind, take a look at these 27 recycling storage ideas.
1. DIY Rope Basket Organizer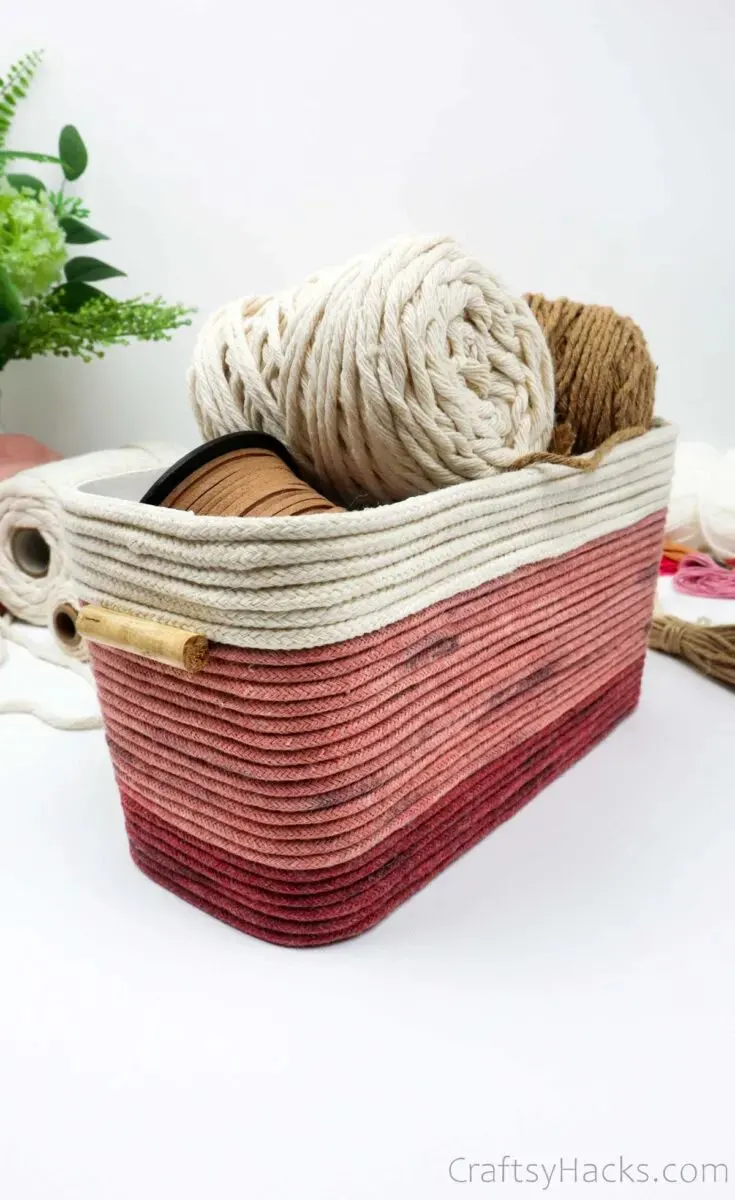 Source: craftsyhacks.com
I'm absolutely certain you have an old plastic box or two in the back of your closet. You've probably been meaning to recycle them, or even maybe upcycle them, so here's your chance.
You're going to need clothesline rope from here or a thick macrame cord—at least 10 to 12 mm thick. You will also need your hot glue gun to stick the rope around the basket.
If you want to dye your clothesline rope, pick up some fabric dye. Alternatively, you can buy colored macrame cords. Just remember to wear gloves, and you'll be fine!
2. Recycled Magazine Basket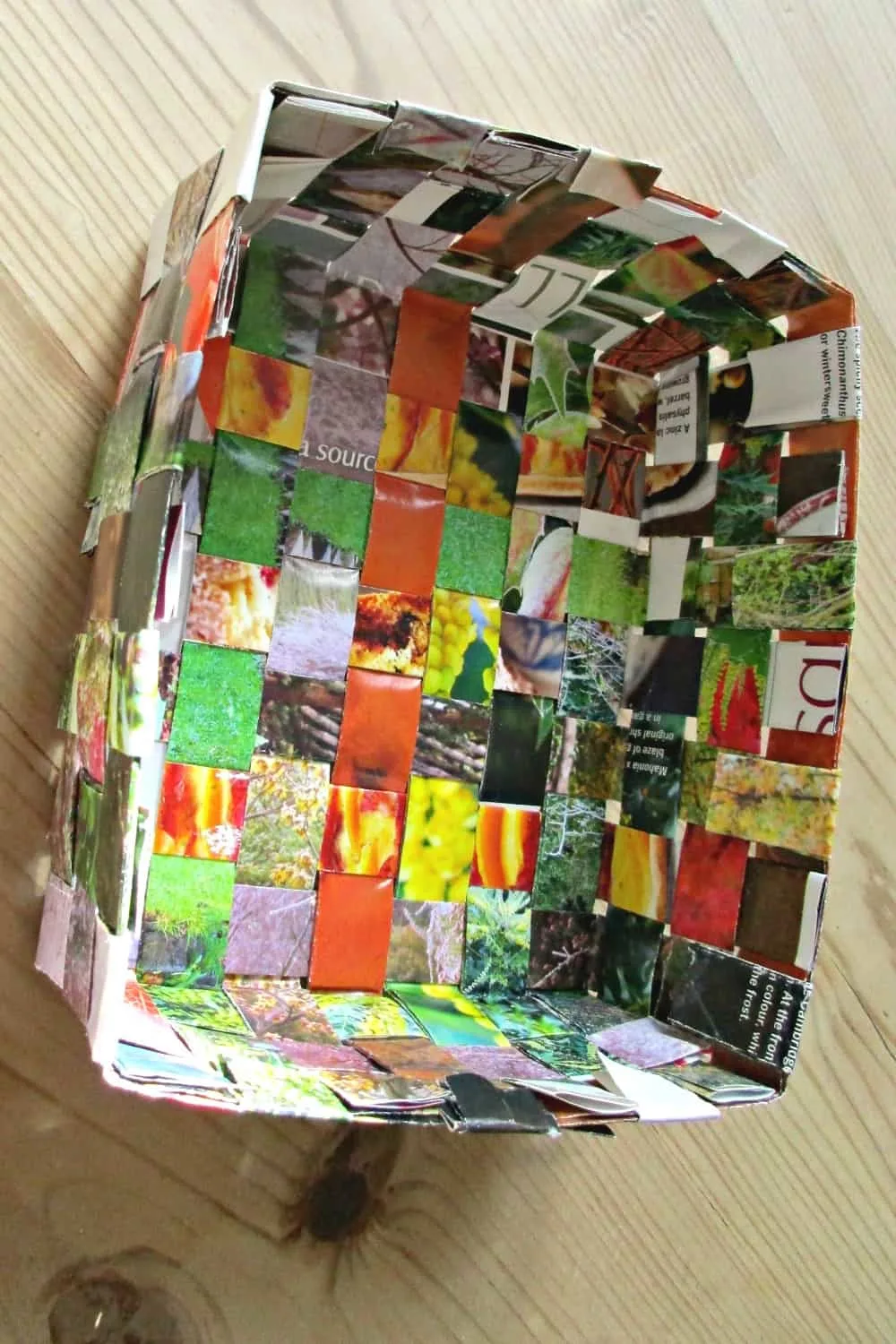 Source: craftinvaders.co.uk
Have you ever thought of making a basket out of a stack of old magazines in your recycling bin? It's always a good time to learn the basketweave pattern and technique, even if you're weaving paper.
Start by cutting long strips of the magazine pages. If you choose glossy, thicker pages, your basket is more likely to remain sturdy and durable.
Follow the instructions on how to fold and crease each strip and make enough to see you through this project. Once your prep work is done, you can start weaving your basket!
3. DIY Cabinet Organizer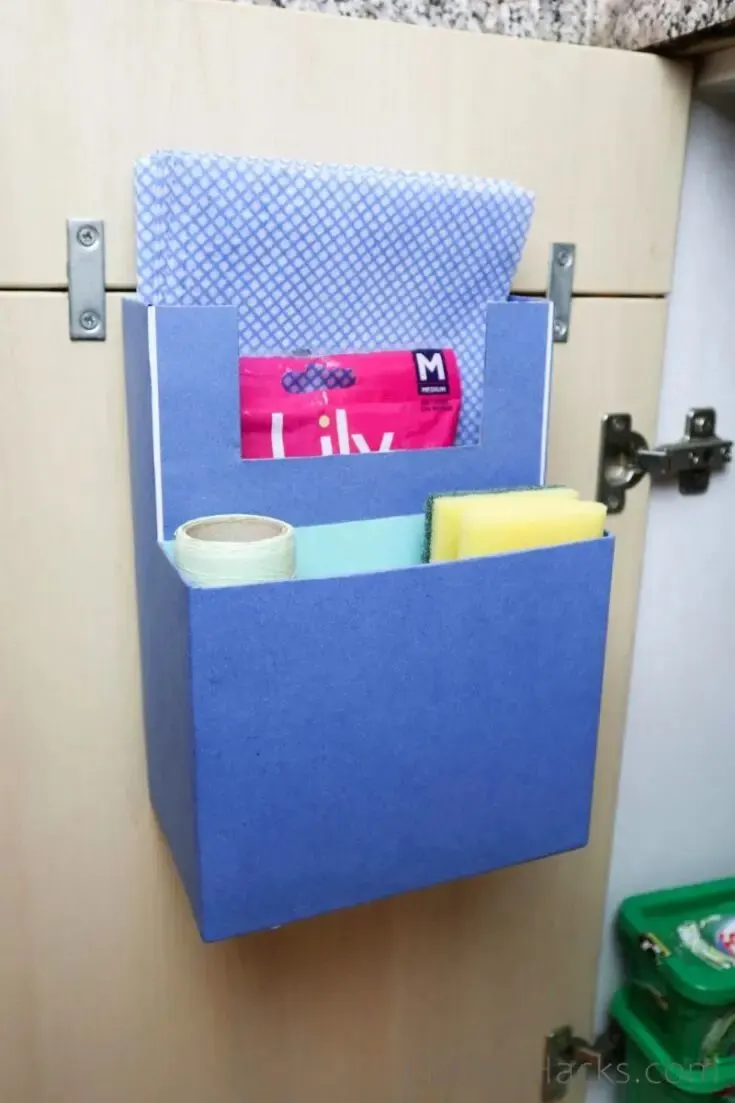 Source: craftsyhacks.com
With beautiful cabinets comes a necessity to do them justice by keeping them organized. Your kitchen or bathroom cabinets deserve the best, and organizing the contents is the way to go.
This DIY cabinet organizer should help you with that task. Depending on what you want to store, you can customize the shape and size.
This one works particularly well as an under-the-sink organizer. The design allows you to stick the organizer to the back of the door or the cabinets, too. So, pick up some self-adhesive velcro tape from here to get started.
4. Upcycled Cardboard Box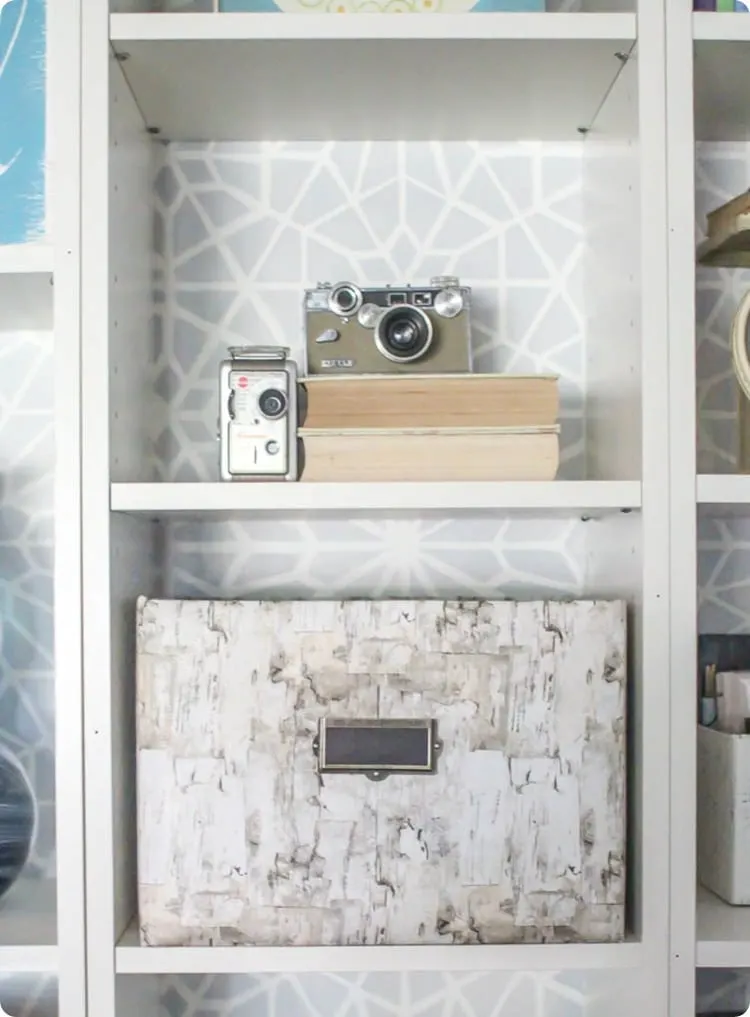 Source: lovelyetc.com
Cardboard boxes are always in surplus at my home. I have a stash in my garage, and that stash is forever growing. You can upcycle these boxes into storage boxes.
First, pick out a cardboard box in the required shape and size. You'll need wrapping paper—something thick and printed with colorful patterns, perhaps?—and a box cutter from here.
These boxes would fit perfectly in your cupboard and cabinets. You can store files, folders, and or clothes and shoes. Check out these organization ideas for more inspiration.
5. DIY Washi Tape Dispenser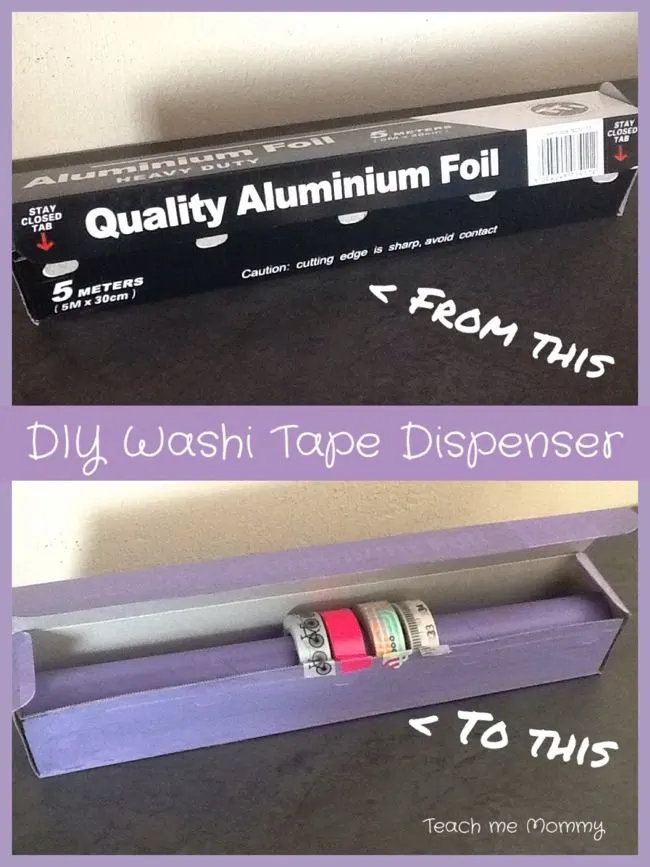 Source: teach-me-mommy.com
I've always wanted a washi tape dispenser. Don't ask me why I need it; I just do, and you do, too! It's the perfect way to organize all your washi tapes and use them more effectively.
The best part is that you can make more than just one dispenser to store your tapes. As your washi tape collection grows, you can just make more of these dispensers.
You can keep the decorations to the minimum and let the washi tapes act as decoration themselves. Or you can use patterned or printer paper to wrap your dispensers.
6. DIY Desk Magazine Organizer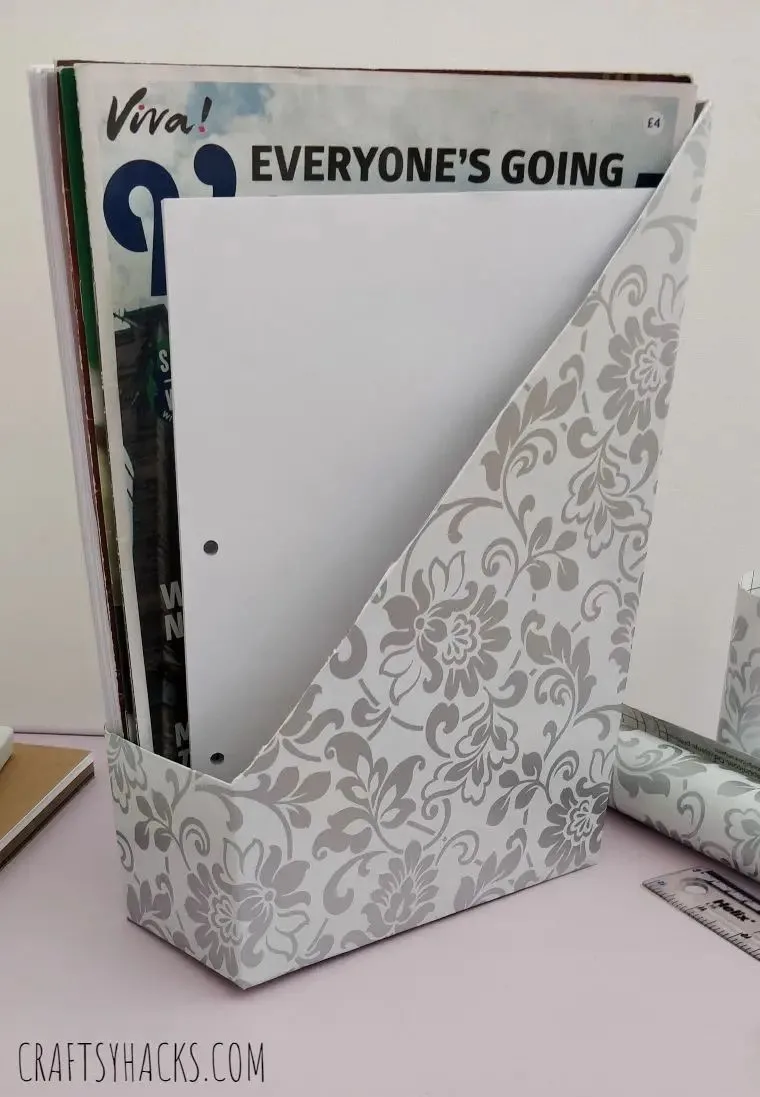 Source: craftsyhacks.com
There are times when it feels like your magazines are all over the place, and nothing—not your efforts to stack them or dumping them in a box—can keep them organized. This desk magazine organizer is exactly what you need to get rid of any visible mess on your desktop.
Made from a plain old cardboard box, this organizer is super cost-effective and easy to make, too. You can turn an empty cereal box into this gorgeous magazine holder.
Pick up a roll of wrapping paper of your choice or self-adhesive wrapping paper(look here), a pair of scissors, a ruler, and a pencil. If you want another similar project to work on, check out this DIY desk organizer out of cereal boxes.
7. DIY Wood Pallet Crates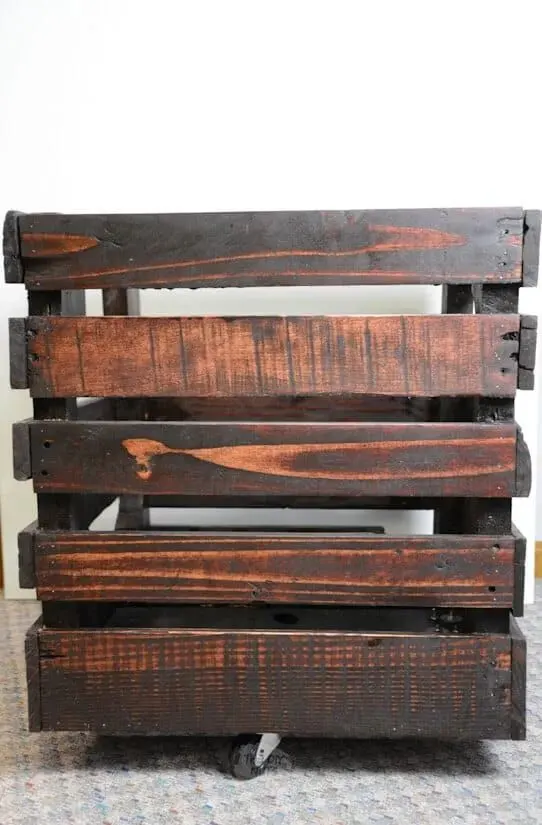 Source: thediynuts.com
Do you have any wooden pallets in your garage from previous projects that you haven't gotten around to using? I think you should check this DIY wood pallet crate craft project.
You can also make these crates from repurposed or reclaimed wood—at the end of the day, you're recycling it in the best possible way!
Using the design and blueprint for this project, you can create a crate in any size you like. The project does involve a bit of prep work, so you should probably set aside a weekend for it. So, grab this circular saw and start working!
8. DIY Rope Basket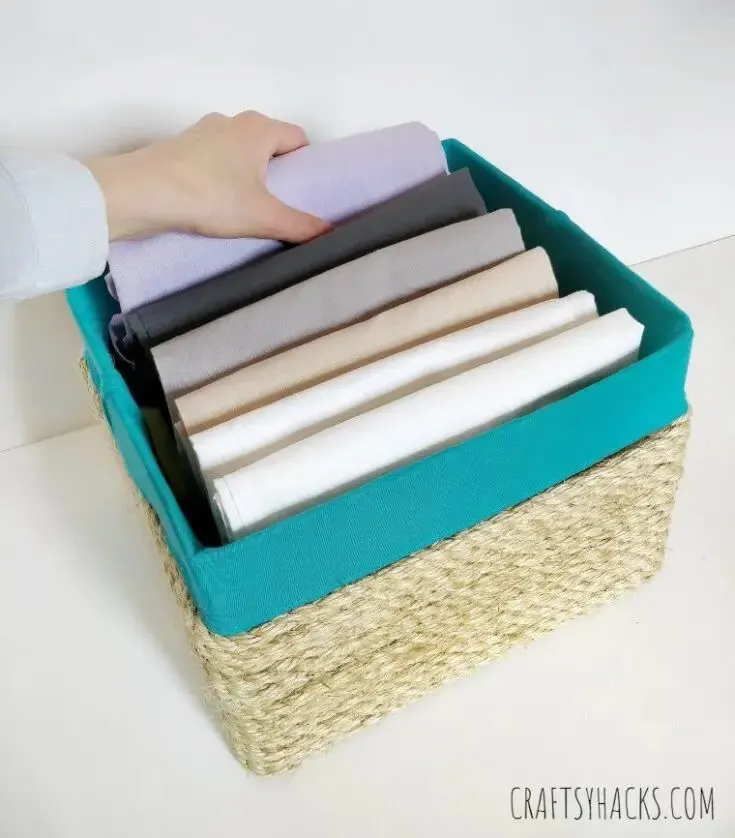 Source: craftsyhacks.com
Have you ever noticed how there's a never-ending need for more storage boxes when you're organizing your clothes or linen closet? Just when you think you've put all your pants away, you're suddenly faced with a half dozen tees you need yet another box to store.
This DIY rope basket is perfect for storing your folded tees and pants. It helps to declutter your closet and allows you to optimize the space in there.
To gather all your supplies, pick up some hemp rope from here, your hot glue gun, and a length of fabric to line the inside of your basket. You'll also need an old cardboard or plastic box.
Check out more office organization ideas!
9. Upcycled Hanging Bucket Storage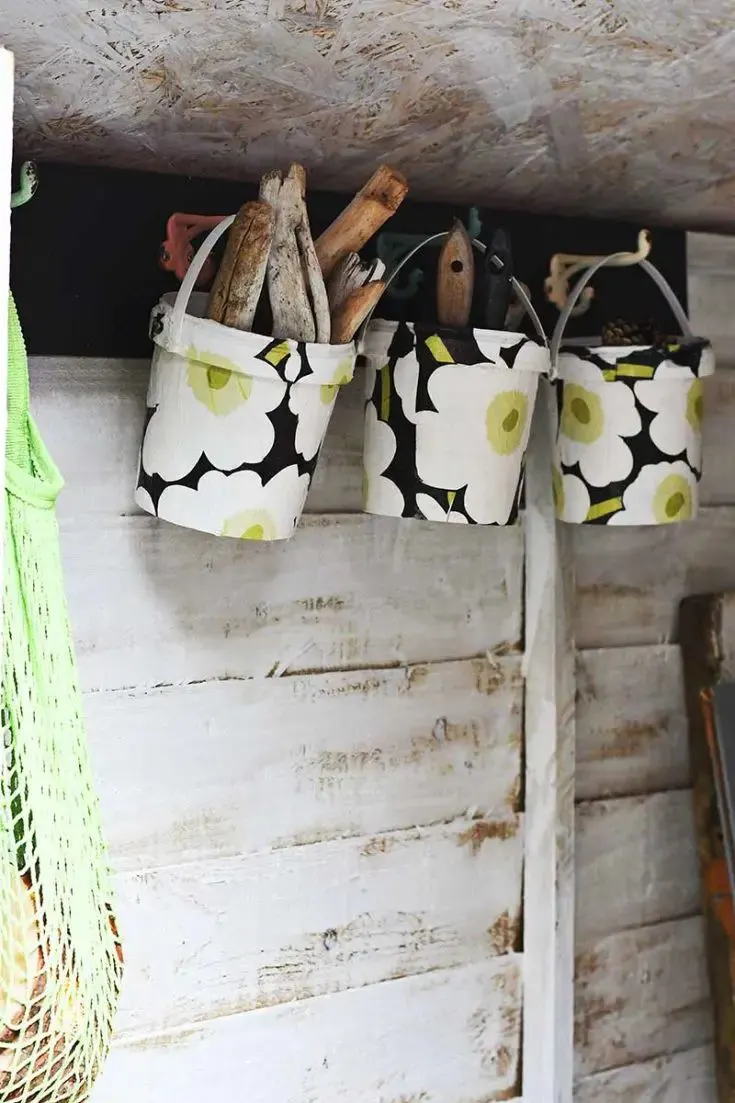 Source: pillarboxblue.com
If you've ever bought one of those big tubs of yogurt, you'll have realized just how handy those tubs can be. They're just big enough to use as hanging storage containers.
But before they're ready to be hung up, they deserve a little bit of a makeover, don't you think? First, clean, rinse, and dry your tub thoroughly.
Next, you're going to pick out some pretty printed napkins to decoupage over the tubs. You will need a bottle of decoupage glue—mod podge from here should do the trick.
Check out more craft room organization ideas here.
10. DIY Earring Organizer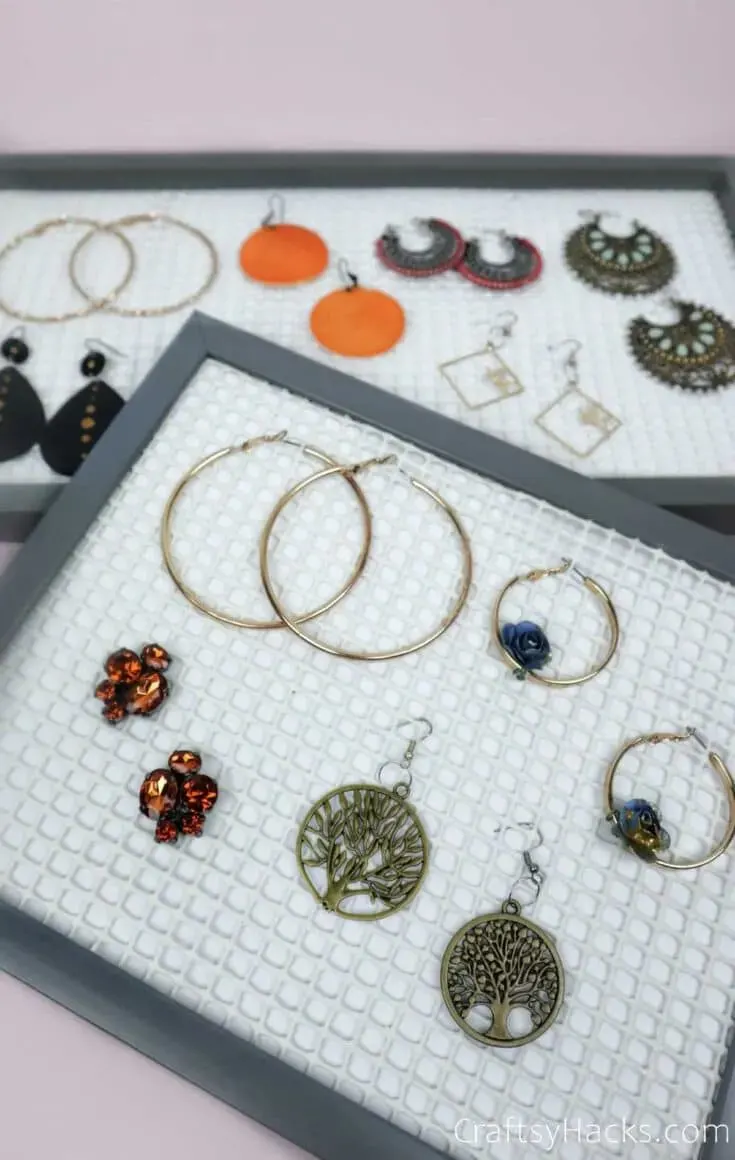 Source: craftsyhacks.com
If you've ever been in that position where you've swept all your accessories into a drawer of your dresser and called it a day…well, then this DIY earrings organizer is exactly the right project for you.
Your days of pawing through the dresser for that elusive missing pair of earrings are long gone. It's time to make your earring accessible and tidy, so the first step is to gather all your supplies.
Pick up a photo frame, a pair of scissors, and shelf liner from here. That's pretty much it, just three items and you're all set.
Check out more Dollar Tree storage ideas here!
11. DIY Garden Tool Storage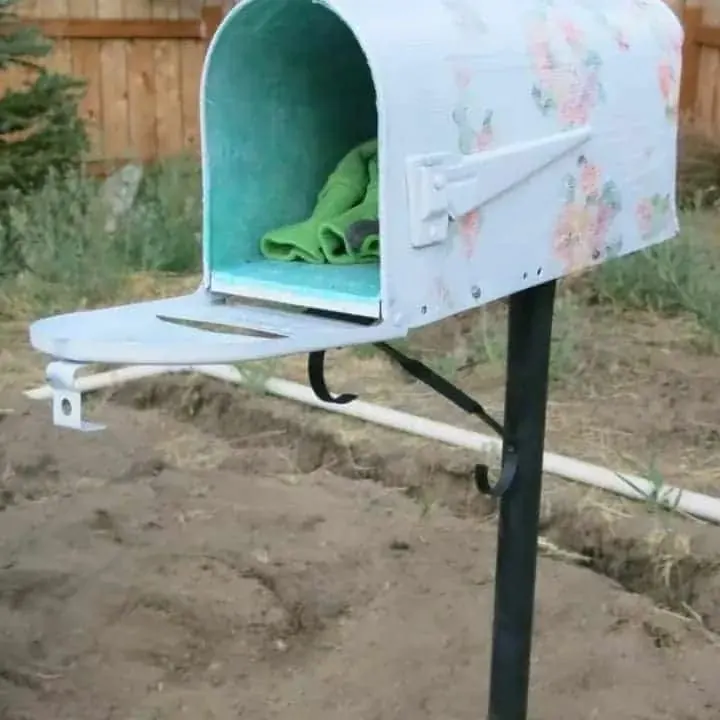 Source: makingmanzanita.com
As every avid gardener will tell you, your tools might be digging into the dirt and getting all dirty, but they still need to be stored away properly. You don't want a shovel or rake lying around somewhere for you to trip on and get hurt.
Organizing all your garden tools helps you declutter and makes said tools accessible. You'll need an old mailbox for this project, as well as outdoor spray paint, mod podge, floral napkins, paintbrushes, and a post hole digger like this.
You'll also need some fabric to line the inside of the box. Start off by thoroughly cleaning your mailbox and making sure it dries completely before proceeding.
Find more tool storage ideas here.
12. DIY Magnetic Organizer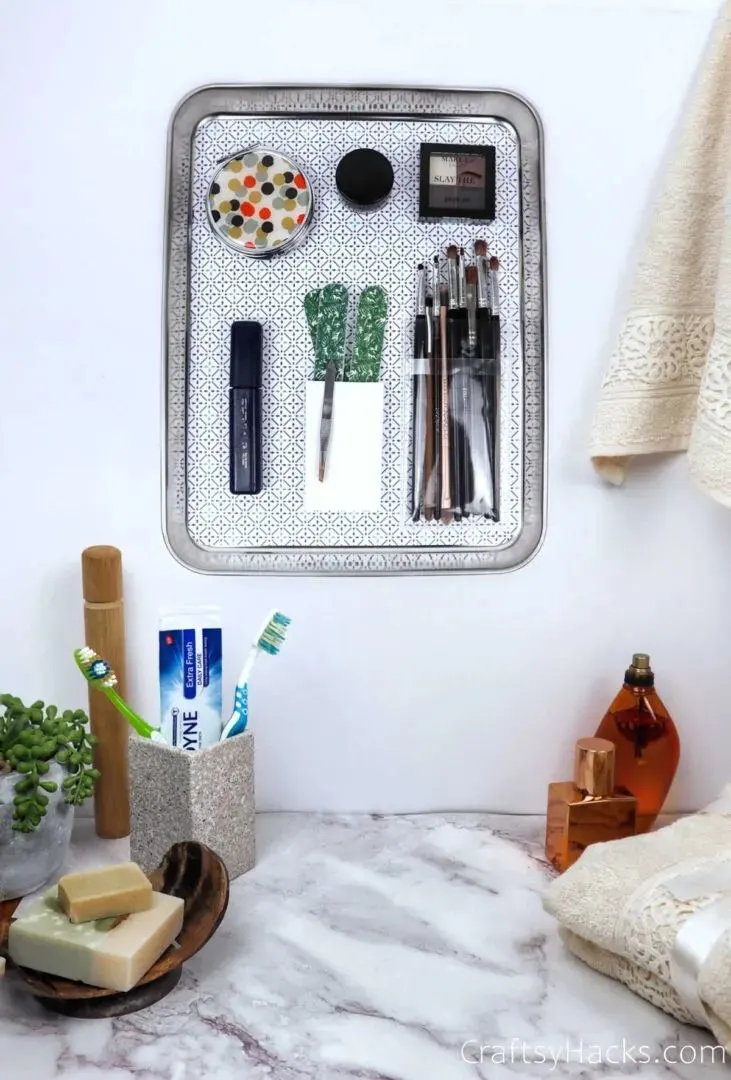 Source: craftsyhacks.com
This DIY magnetic organizer is an effective way to organize all your makeup, beauty products, and other small items. For example, if you can have a little area to tag your keys or even some spare change.
Here's what you'll need:
A stainless steel baking tray or a cookie tray
Magnets from here
Hot glue gun
Mod podge
Ruler and pencil
Decorative paper
When you've gathered everything this project calls for, you can start cutting out the paper in the dimensions of the tray.
13. Recycled Batteries Container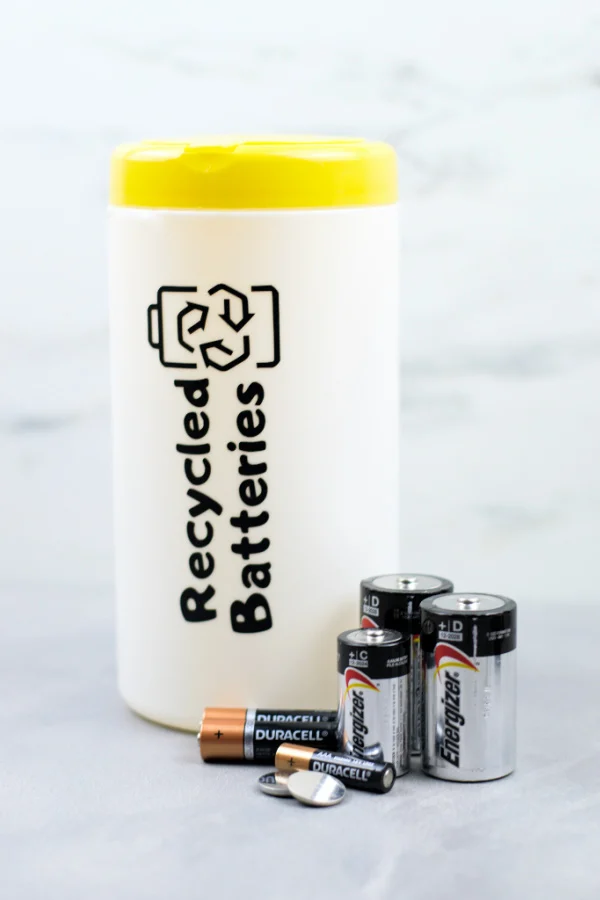 Source: greenokla.com
I can't stress the importance of recycling old batteries. It's not safe to just dump them in your garbage and leave it at that. Batteries contain toxic chemicals that can be pretty harmful if not disposed of carefully.
So, you need to store them in a proper container till you're ready to recycle them. This adorable battery box is sure to encourage the habit of recycling your batteries.
You'll need a Cricut machine, vinyl from here, transfer tape, and, for your container, you can use an empty wet wipes-type container.
14. Repurposed Empty Cookie Tins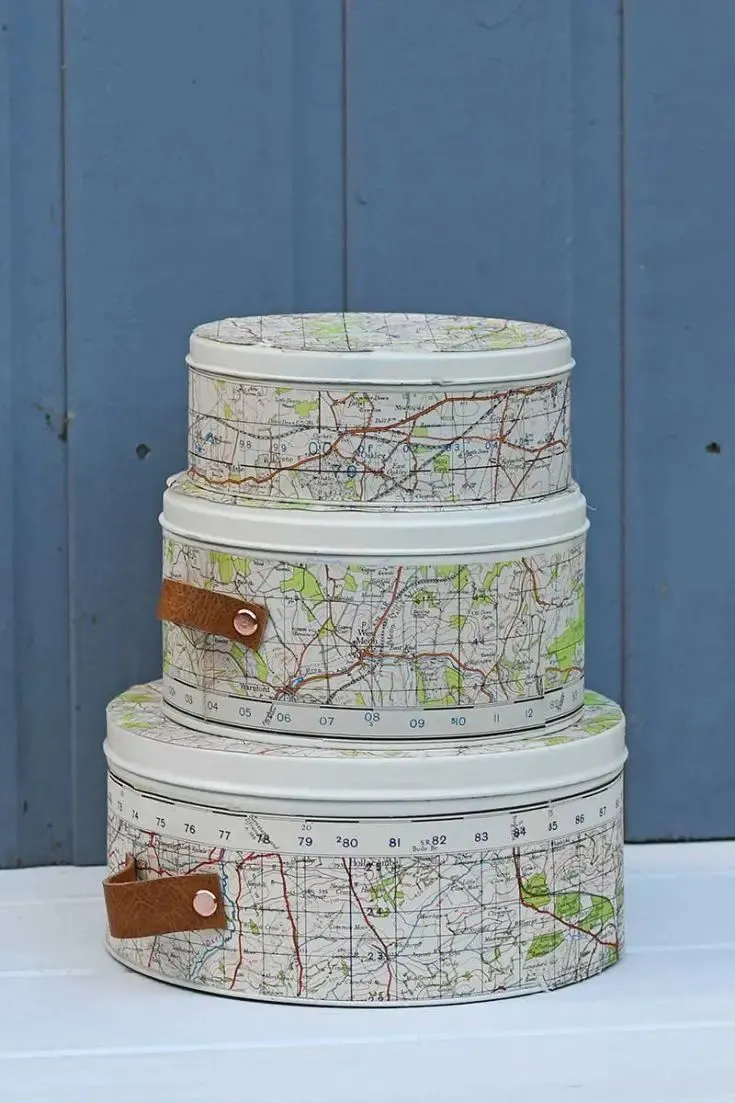 Source: pillarboxblue.com
Find me a sane human being who doesn't like cookies, and I'll swallow my tongue and change my name. What I love just as much as cookies are the tins they come in.
You can always use them to store little knick-knacks, accessories, or even just petty change. You can repurpose cookie tins, gussy them up a little, and you've got a new set of storage boxes.
The first order of business? Finish eating the cookies. Then, before you start this project, clean, rinse, and dry the tins thoroughly.
15. Cardboard Bookshelf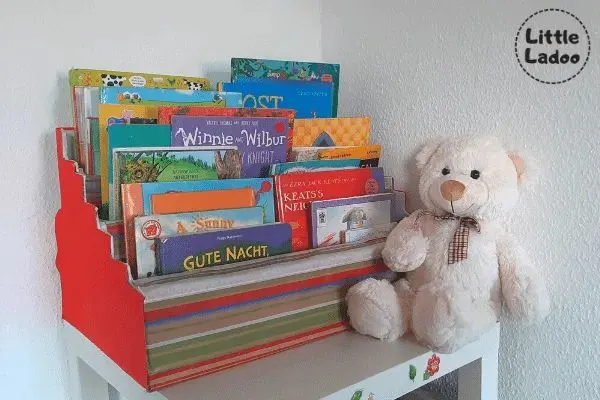 Source: littleladoo.com
Cardboard boxes are such a versatile craft material. They're perfect for recycling and upcycling to make a variety of innovative and creative things.
This cardboard bookshelf is perfect for sitting atop a desk in a corner where it can comfortably house dozens of books. You'll be surprised at just how easy this shelf is to make and even more surprised at how sturdy it is.
Grab your hot glue gun, duct tape, white masking tape, thick patterned paper, cutting map, and a cutter.
16. Headband Storage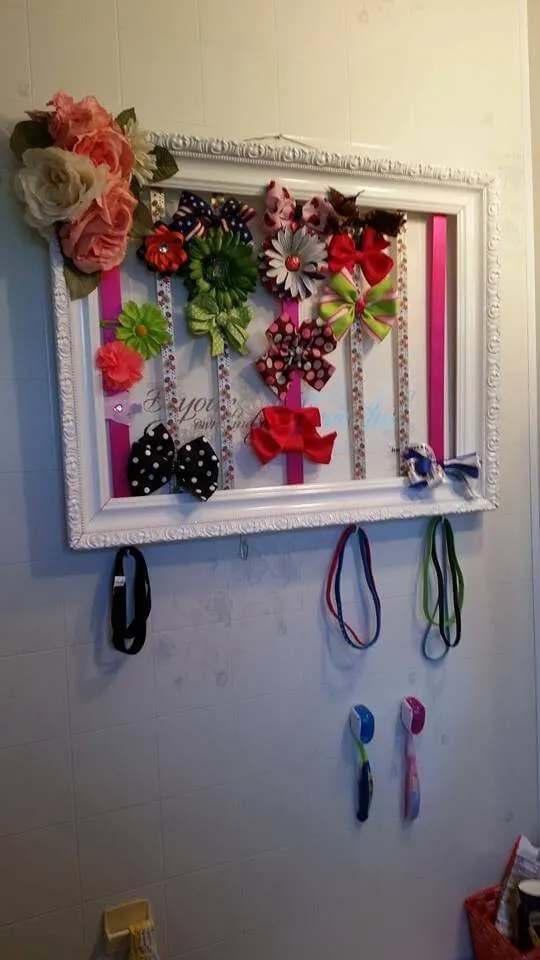 Source: thismamaslife.com
You never really thought of having a storage system to organize your headbands and headbands, did you? Oh, you can keep them all in a box, sure, but this technique of storing them is much more effective!
First, pick out a photo frame. You can repurpose an existing frame and use it for this project or pick up a new one. You can also pick out some faux flowers, leaves, and ribbons to decorate the frame.
You'll need a couple of tools, too, like a staple gun and a glue gun. Then, stretch out a length of ribbon across the frame as you see in this picture. This will house all your hairbands.
17. Comic Book Can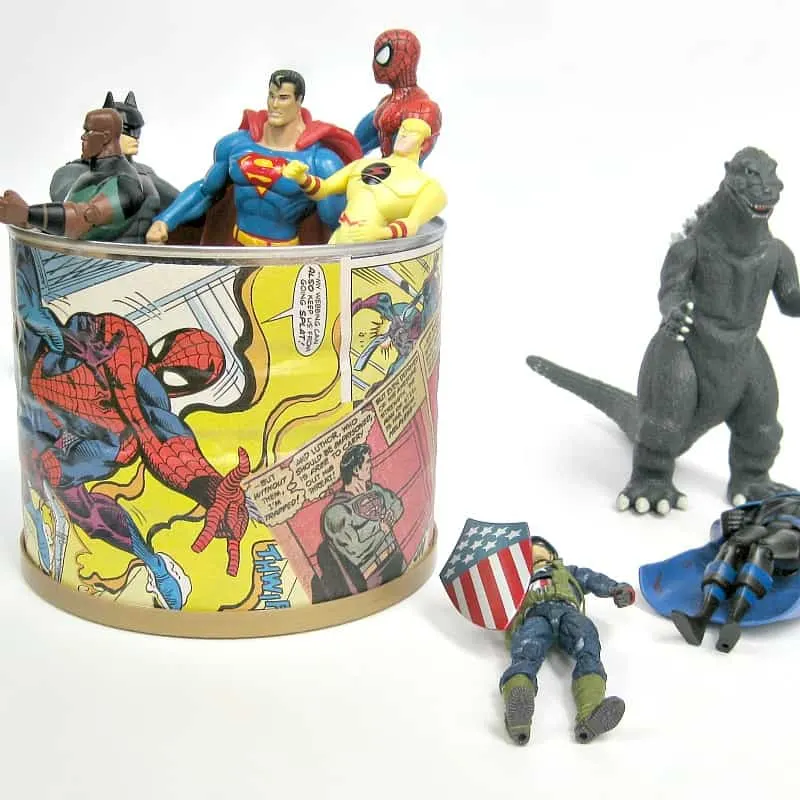 Source: organized31.com
A comic book would have been the cherry on the cupcake of my childhood. This smorgasboard of comic strips all in one can or container is the perfect tribute to all your favorite comic characters.
Grab a paper cutter, mod podge, a foam brush, and your comic books. You're going to plan all the different panels for this can and then use mod podge to glue them down onto the can or container.
Do you know what you can do with this can? You can use it as a planter! How amazing would a comic can planter look!
18. Desk Organizer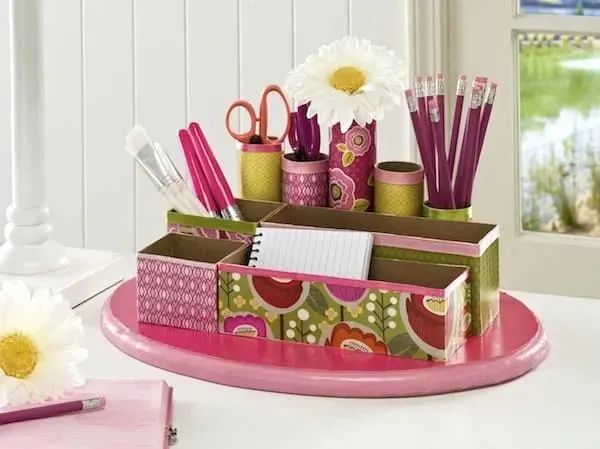 Source: modpodgerocksblog.com
It can be quite a task to organize your desk space. You probably have a ton of office supplies, pens, markers, and more, and you can't just stash them away in a drawer, can you?
What you need is a desktop organizer to hold all your pens, pencils, markers, and more. You can make this one out of old scrapbook paper or cardboard boxes and paint them after cutting them into the size you want.
Then, you can pick up a wood plaque or tray from here to place your desk organizer(s) on. Feel free to experiment a little and make different shaped and sized organizers.
Check out these desk organization and productivity hacks for more inspiration?
19. Hand Sewn Denim Bins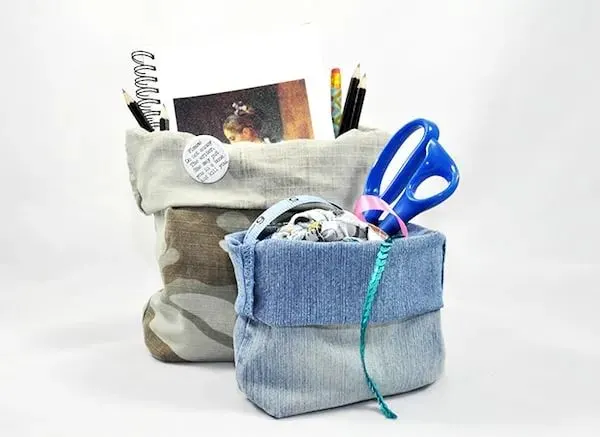 Source: diycandy.com
Before you decide to dump or throw out an old and ratty pair of denim jeans, just hold up. Why don't you recycle those jeans for its denim fabric?
The denim can make really effective bin or bin liners like you see here. You don't need to pull out your sewing machine; just grab a needle and thread and hand-sew it!
You can even sew a cuff over the edges just so. Not only does that look fabulous, but it also makes the bins sturdier.
20. Shoe Box Craft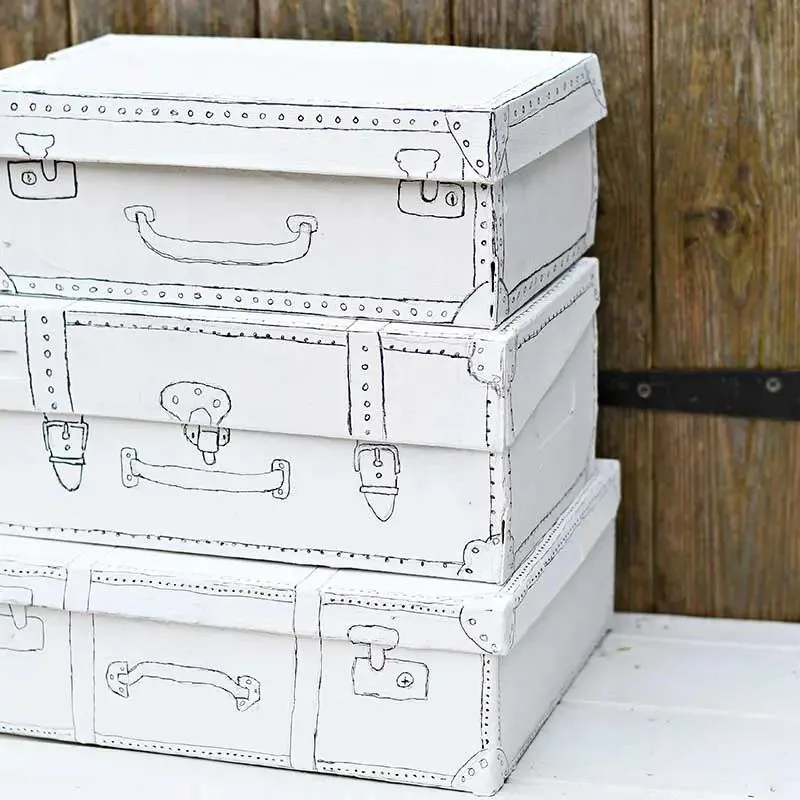 Source: pillarboxblue.com
I'm absolutely certain that every human being out there has at least a couple of shoeboxes sitting at the back of the closet or stacked up in the garage. It's finally time to put those boxes to good use.
It looks so amazing that I'm tempted to reach out and touch it, just to see if it's real. It looks like it jumped out of a blueprint plan, doesn't it?
Grab some chalk paint from here and black sharpies to doodle on the boxes once the paint dries. If you use different sizes of boxes, you can stack them up like old-fashioned trunks.
21. Dollar Store Container Makeover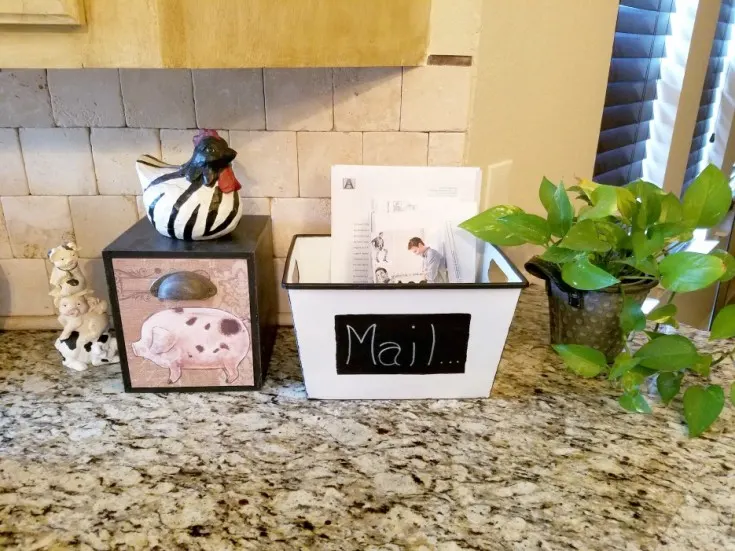 Source: mixedkreations.com
Dollar stores have some of the best craft items ever. They're perfectly basic, which makes them perfect to upcycle and turn into something spectacular.
They have a pretty good variety of containers to choose from as well as plenty of accessories, embellishments, ribbons, and more to decorate them.
You'd be surprised at just how much a slap of paint can turn a boring glass container into, say, a fabulous vase or decorative bowl!
22. DIY Bathroom Vanity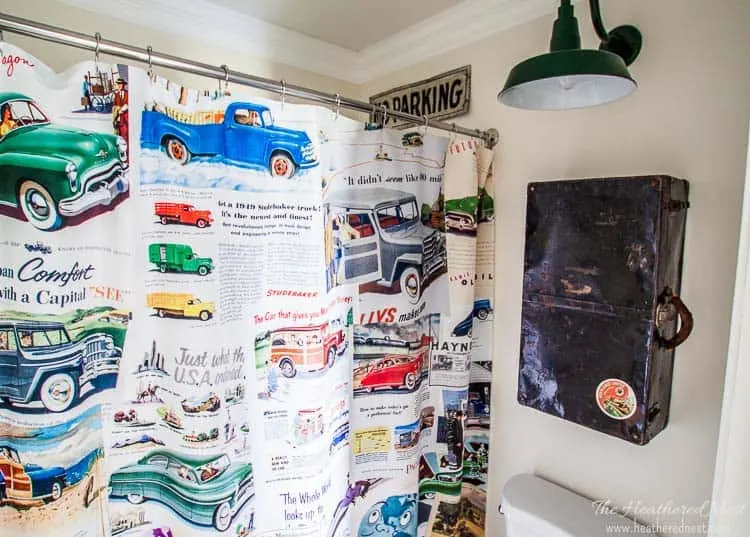 Source: heatherednest.com
Bathroom vanities are more important than you realize. They help you keep your sink clean and uncluttered.
You won't believe how much visual clutter can shrink a room, and you certainly don't want your bathroom to appear cramped and messy.
This bathroom vanity is such a unique statement piece. It's made out of an old suitcase, cardboard as mounting mats, mod podge, and scrap wood. You'll also need a drill(look here)—you know what, just go ahead and pull out your toolbox.
You can decorate the suitcase with vintage travel stickers from here and other embellishments, as well.
Check out more bathroom organization ideas here.
23. Recycle Bottled Organizers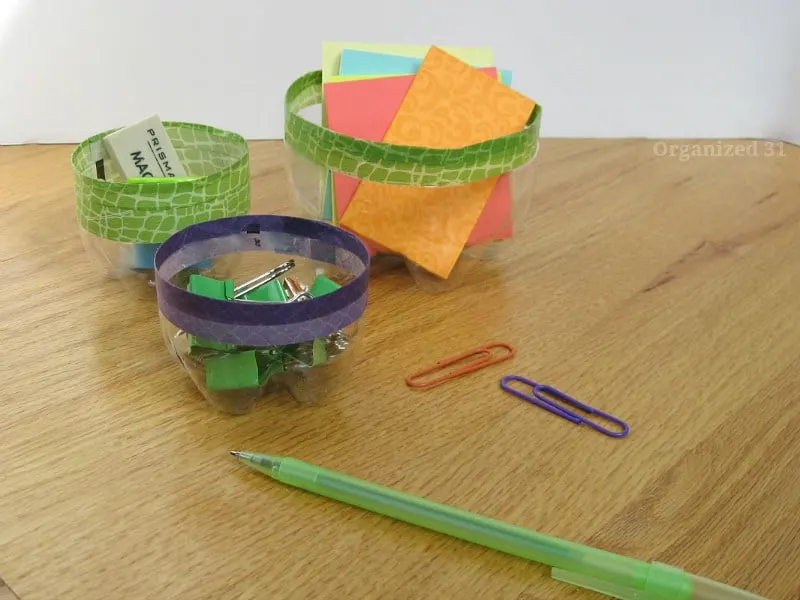 Source: organized31.com
You know how you just dump your used Pepsi or Coke bottles in the recycling bin? I have the perfect DIY project for you to use those bottles in. Or at least the bottom of the bottles.
You can use a craft knife to cut out the base of these bottles. With a few strips of washi tape, you're going to turn these cutouts into recycled bottle organizers.
They're absolutely perfect for stashing all your paper clips, staples, sticky notes, and more.
24. Converted Pantry from Entertainment Center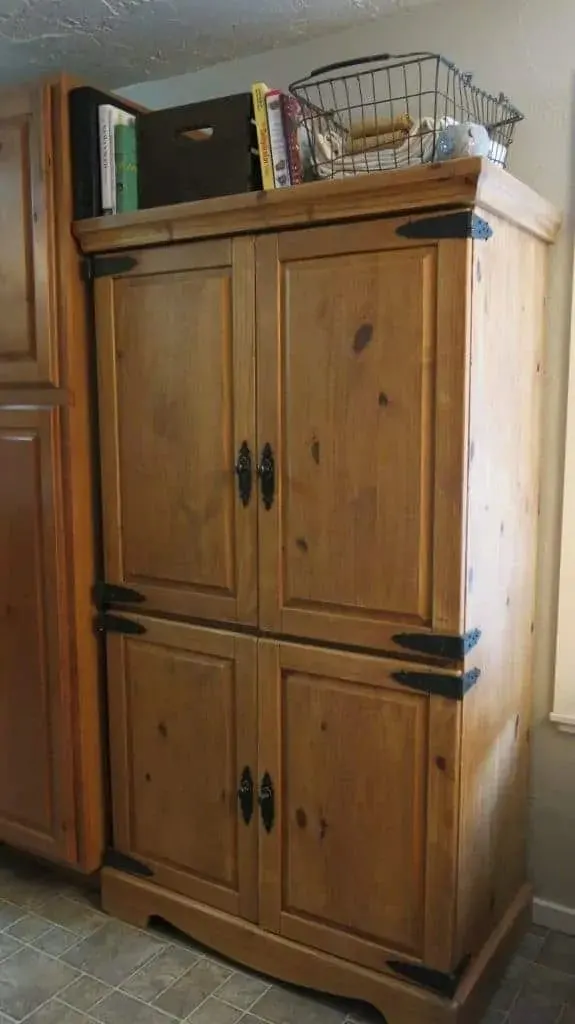 Source: makingmanzanita.com
If you're running a little low on space and need more utility in your kitchen pantry, then it might be time to repurpose some shelving or cupboards. This project calls for turning an old entertainment center into a pantry.
Admit it; there's something super rustic and earthy about storing all your spices and pantry supplies in this wooden unit. With a few creative accessories like these wire baskets and some over-the-door hanging organizers, you'll be creating a ton of utility!
25. DIY Cloth Storage Boxes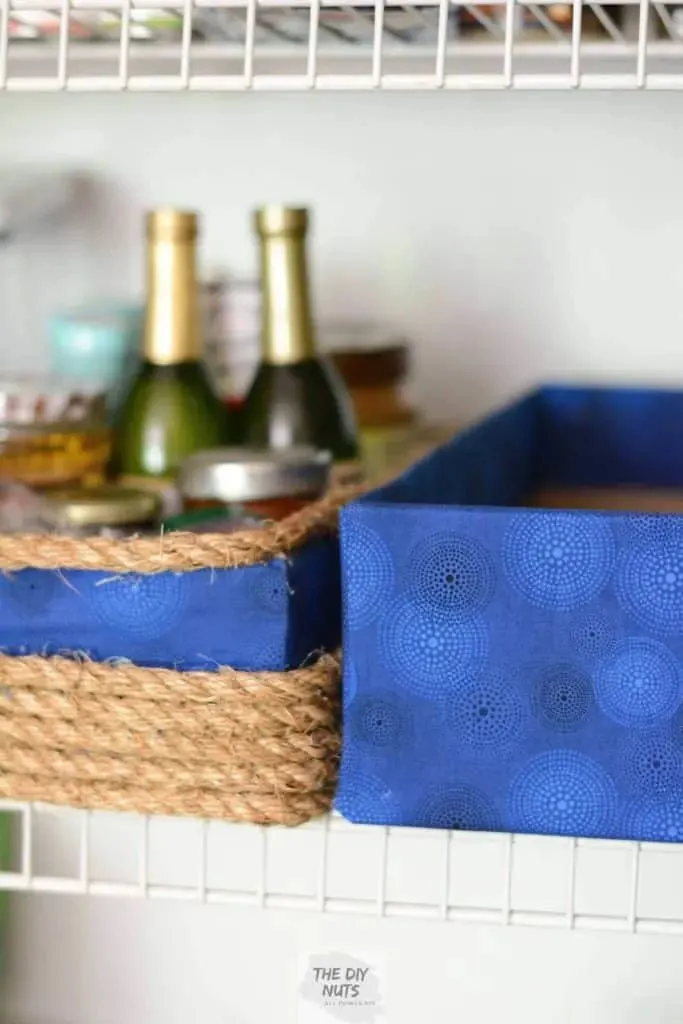 Source: thediynuts.com
We can't keep splurging on pretty organizers and storage boxes. You'll find that while it can be tempting to 'invest' in them, the expenses will start to pile up.
Instead, you can consider turning some cardboard boxes into storage boxes. Pick up some scrap fabric to line the inside and maybe even some rope for the outside(if you want to recreate a basket-finish).
You'll have your very own recycled cardboard storage boxes in no time!
26. Antique Hutch Upcycled Storage Shelf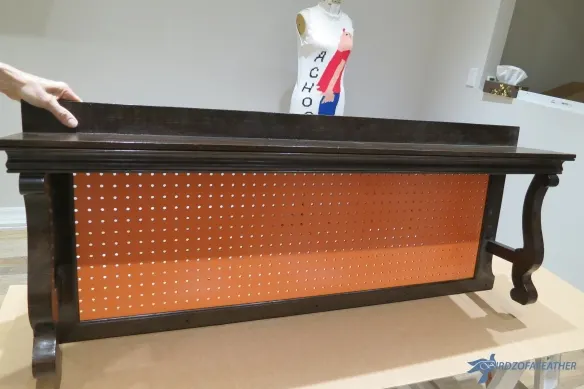 Source: birdzofafeather.ca
If you inherited some old antique furniture or even just found them for a song at a flea market, then you're in luck. I have a great project that involves some nifty and creative upcycling work.
You're going to turn this old antique hutch into a utility and storage unit. You'll be surprised at just how sturdy these old wooden furniture are, so a new coat of stain and lacquer should help you spruce it up.
Check out more ways to organize a small bedroom.
27. DIY Pool Storage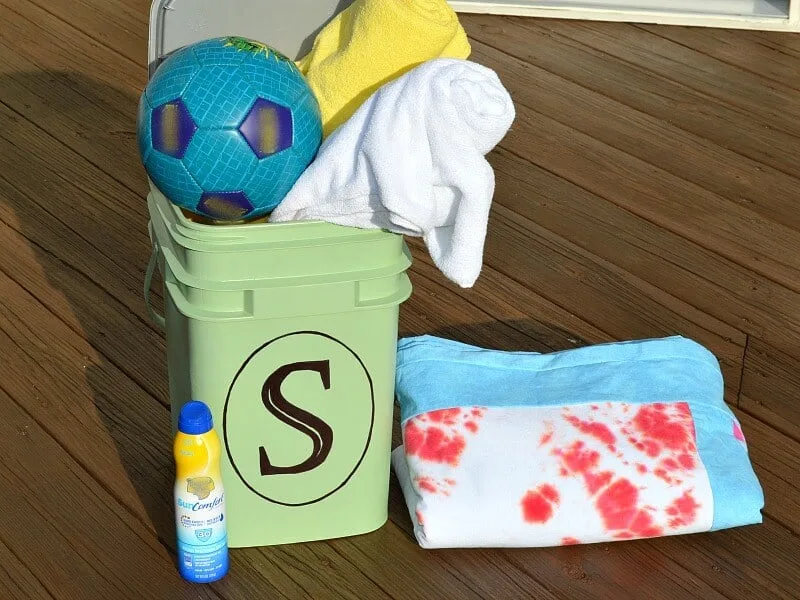 Source: organized31.com
When you're a proud pet owner, then there's a good chance you buy kibbles and pet food in bulk. They usually come in those large bins, don't they?
Wash and dry the container thoroughly before you repurpose it to store all your pool essentials and toys. The size and all that storage space will make this the perfect container to serve this purpose.
It's even large enough to hold your beach towels and a beach ball or two!