Increase storage with these Dollar Tree storage hacks. These simple organizing tips are fun, budget-friendly, and look extra cute.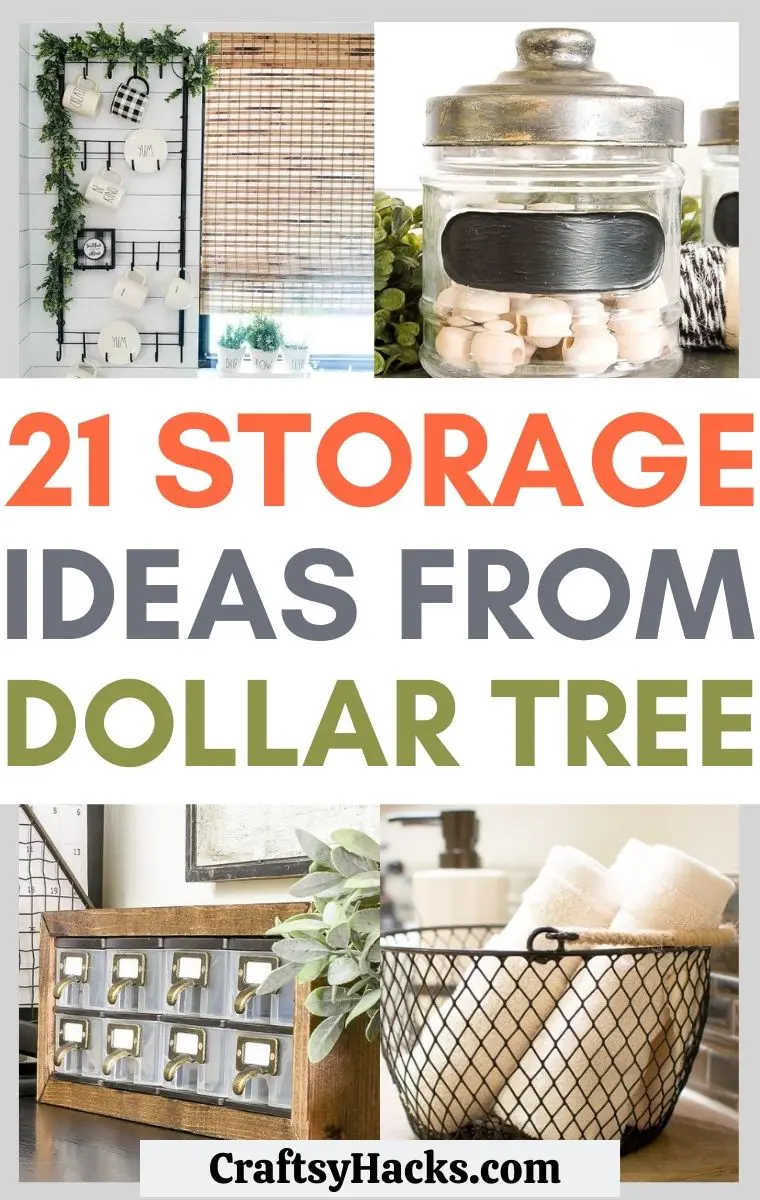 From the bathroom to the bedroom, storage is one of the most common considerations when creating your home. Let's be honest.
Most of us have a lot of stuff! So, we need somewhere to put it.
Unfortunately, a lot of storage options out there are overpriced, and they're not perfectly customized to your home. That's where these Dollar Tree storage ideas come in.
You can create the perfect storage for any room in your home. All on a budget, with the supplies you can find at your local Dollar Tree.
Let's dive right into some of my favorites!
1. Basket Bathroom Organisation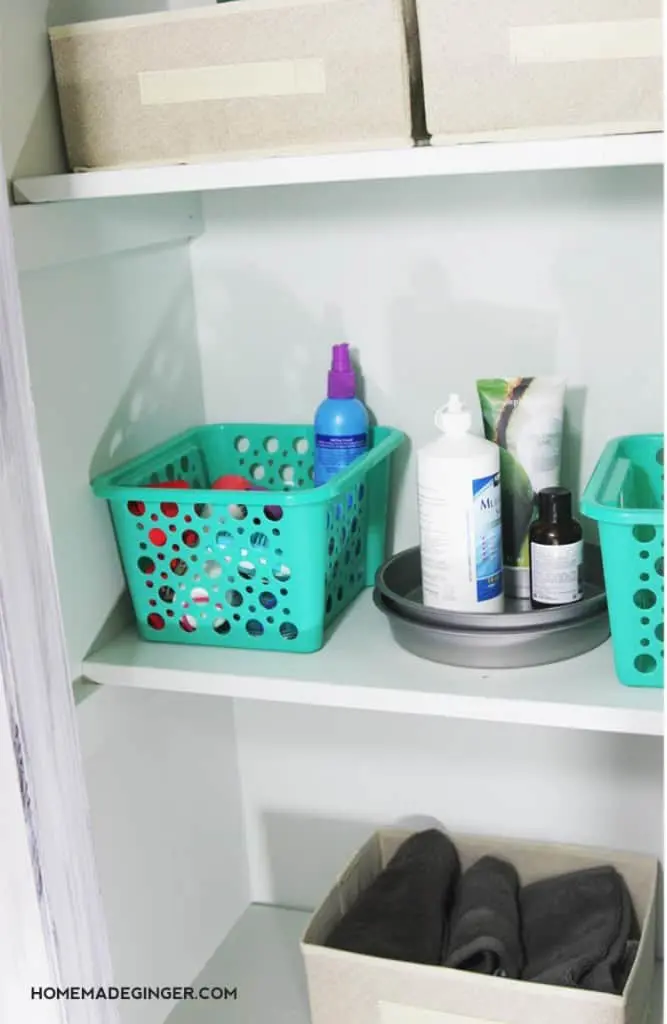 Credit: homemadeginger.com
The bathroom can be one of the most problematic areas in a home when it comes to storage. There are so many products to account for and organize.
Especially if you have a big family! So, why no try organizing these products with the help of some Dollar Tree storage bins?
These are perfect for putting on shelves or in cupboards, and you can even personalize the color to the person.
If your local Dollar Tree doesn't have a storage bin that suits your design choices, you can search on Amazon for the perfect bins. I personally love these ones.
2. Colour Co-ordinated Pantry Organisation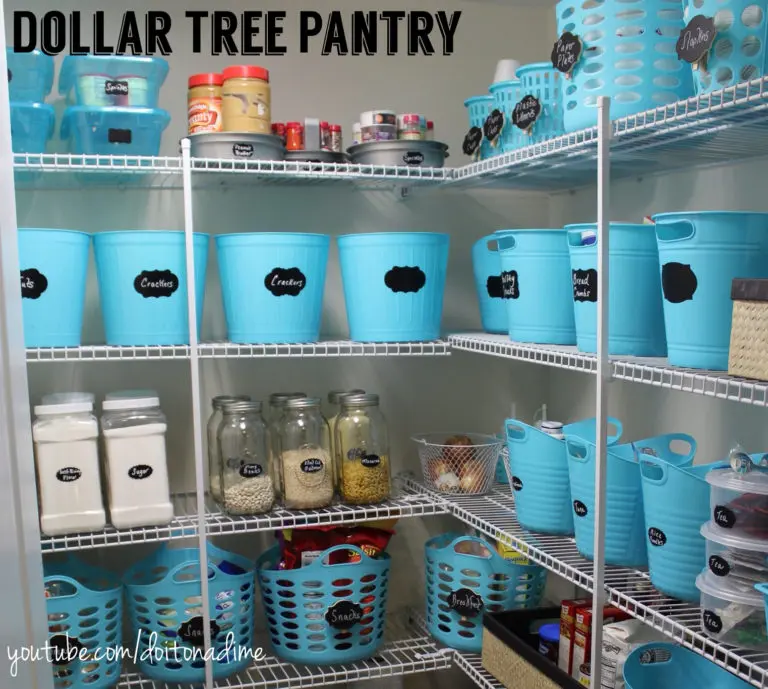 Credit: doitonadimeblog.com
Sometimes the easiest way to make a space feel clean and organized is to use a monochromatic color scheme. This Dollar Tree storage idea leans on that principle, using turquoise as its anchor.
Head to your local dollar store and pick up a variety of bins, baskets, and containers to fill your pantry with. Grab some labels as well to make everything easy to find.
Your pantry will be perfectly organized in no time! Check out more pantry organizing ideas here.
3. Keep Your Coat Closet Clean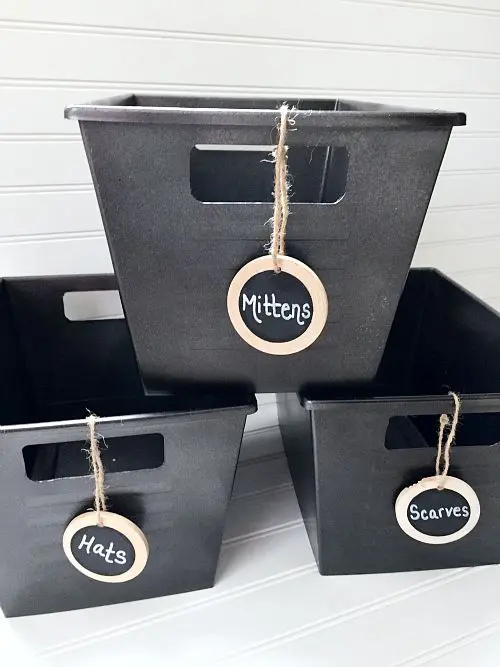 Credit: lemonslavenderandlaundry.com
Speaking of cohesive storage ideas, here's a way to bring your disorganized coat closet into balance! The Dollar Tree's locker bins are perfectly suited to coat and shoe storage, immediately decluttering the space.
However, they're usually not in the most appealing color. So, pick up some of Rust-oleum's Metallic Paint and Primer (here) to give these plastic bins the look of a sturdier, metal container.
You can label these with hanging tags or leave them as-is for a clean, minimalist look.
4. Organize the Garage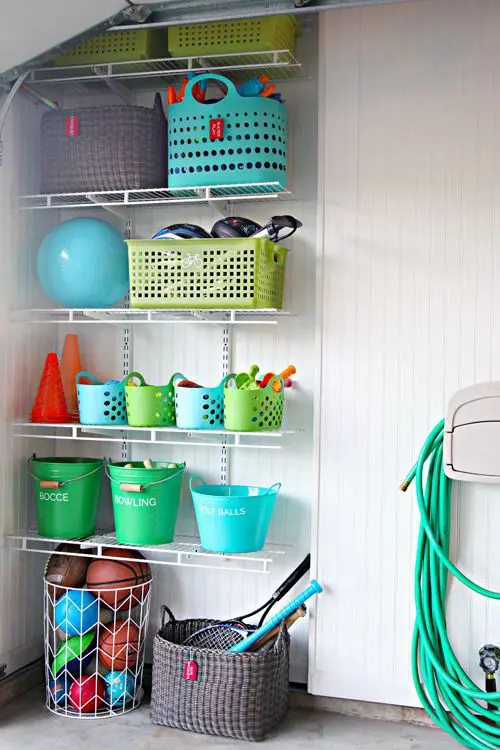 Credit: iheartorganizing.com
For most people, the garage is an almost impossible space to organize, especially if you have kids. After all, that's where we put everything we can't find a place for in the house!
Well, it's time to create designated spaces for everything in the garage. Thankfully, your local dollar store will have some great plastic bins and metal buckets that will do the trick.
If you don't already have one, try setting up a metal shelf (like this) in your garage. Then, set the bins on those shelves for an "all-out-there" organization system.
5. Bring Your Pantry into Alignment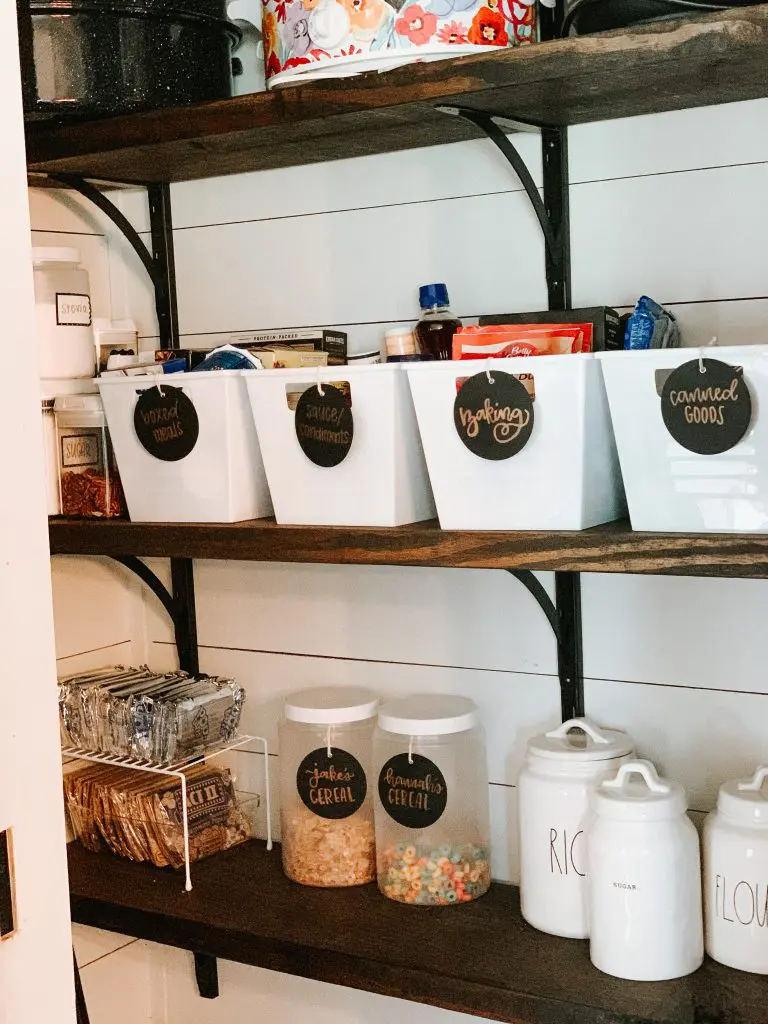 Credit: re-fabbed.com
If you're blessed with plenty of shelves in your pantry, but you haven't quite figured out how to use the best, this hack is for you. Choose a color scheme and purchase enough bins to carry your food.
Now's the tough part. It's time to clean out the entire pantry and rid yourself of packaging. Decant items like pasta, cereal, and flour into air-tight containers for an easy, clean, sophisticated system.
And remember… label everything! I love these chalkboard labels for the pantry.
6. Transform Your Plastic Organiser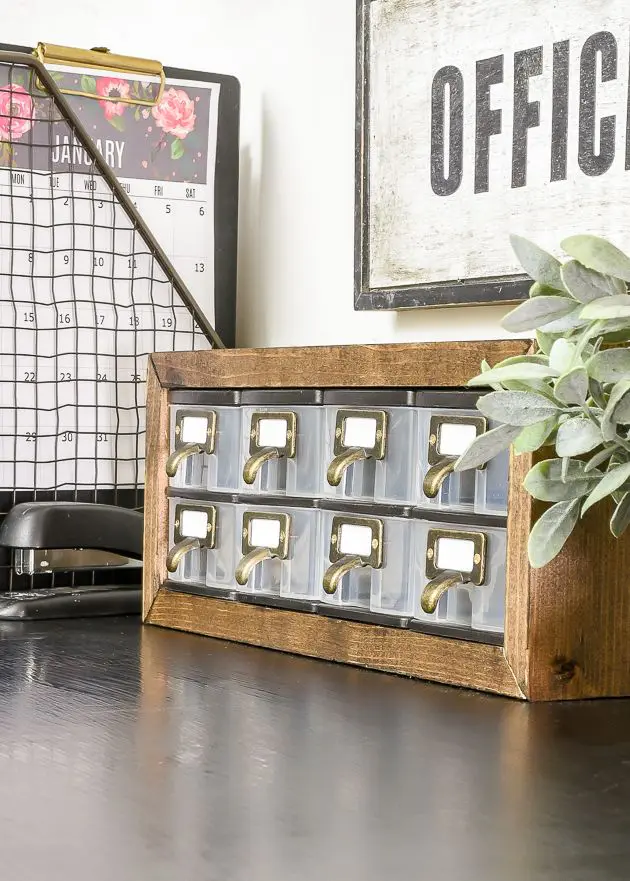 Credit: littlehouseoffour.com
This inexpensive hack will take your dollar store's plastic drawer organizers from zero to hero in a heartbeat. The secret? Some plywood, metallic spray paint, and a little bit of elbow grease!
By ringing your plastic organizer in plywood and staining it, you not only make the unit more visually appealing, but you're also making it sturdier! Take these drawers further with some brass pulls.
7. Chic Dollar Tree Bathroom Storage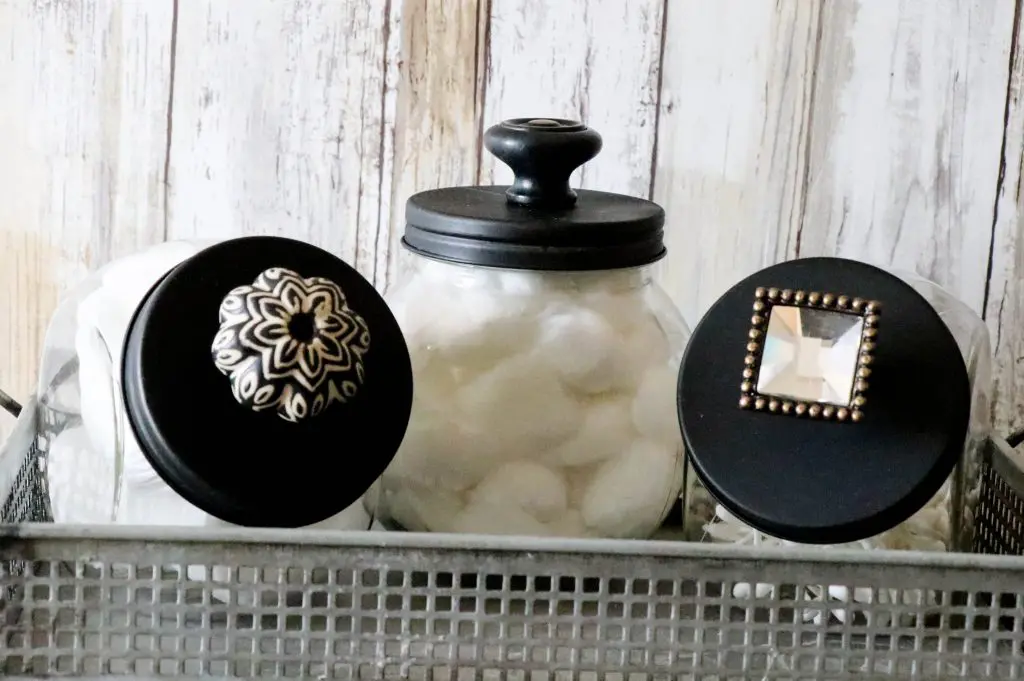 Credit: re-fabbed.com
Along a similar vein, you can transform some basic glass jars into some chic bathroom storage without breaking the bank. All you need is some matte black paint and the stylish knobs of your choice.
Make sure you choose glass jars with a dynamic shape to really lean into the Art Deco vibe of this upcycle. Simply spray the jar lids black, then hot glue or superglue the knobs onto the top.
8. Simple and Minimal Dollar Store Bin Transformation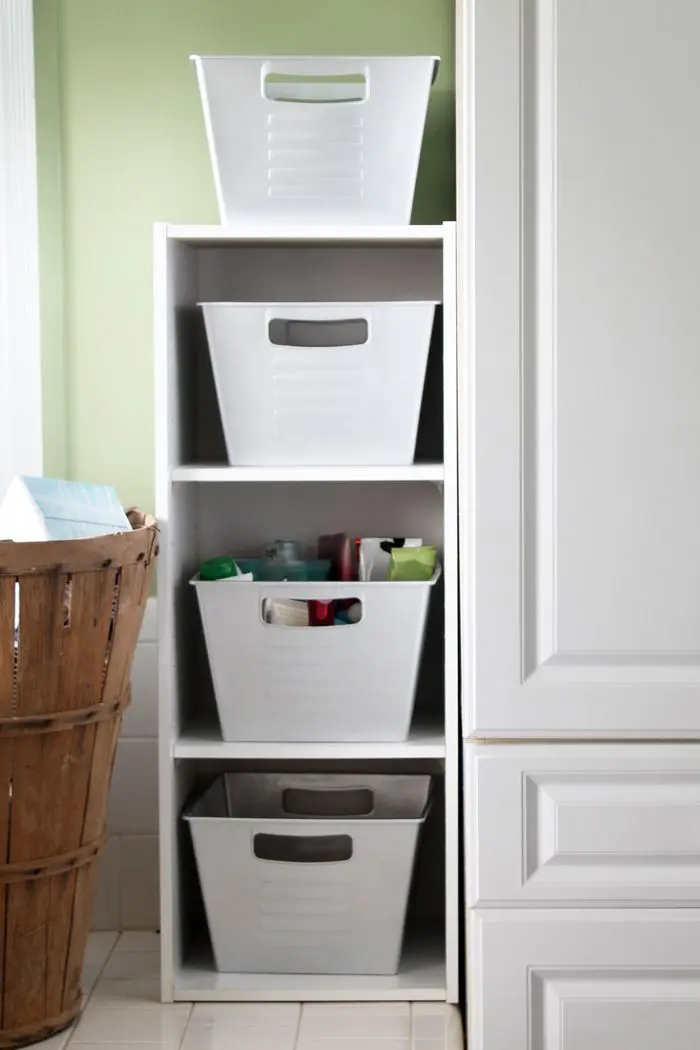 Credit: thecountrychiccottage.net
Sometimes, simpler is better. If you're the kind of person, who loves a clean, sharp edge to your décor. Then, you'll love this budget-friendly dollar store hack.
Simply pick up some storage bins in a shape that works for you, along with some glossy silver spray paint (here). Make sure you also buy plastic bond primer (here), or the spray paint won't stick!
Just spray and walk away. It's that simple.
9. Two-Second Dollar Store Lazy Susan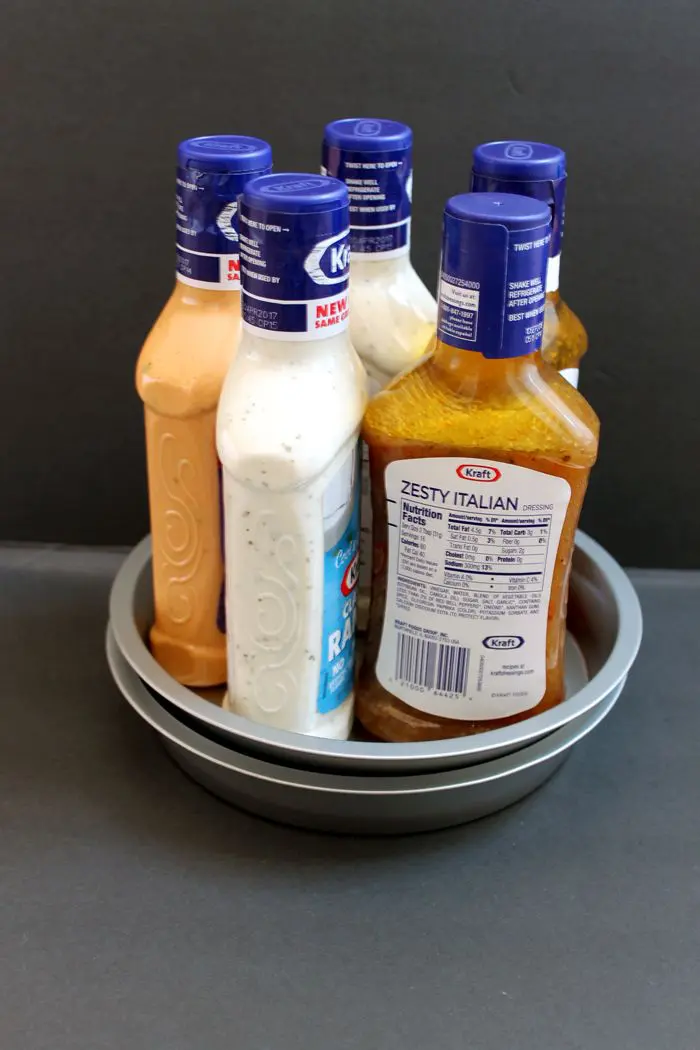 Credit: thecountrychiccottage.net
Lazy Susan's are a revolutionary pantry item but buying them from the store is completely unnecessary thanks to this hack. With some marbles and two cake pans, you'll have your own!
Simply lay the marbles in the first cake pan and place the second onto the marbles. Now, the inner cake pan turns independently of the outer, and you have a Lazy Susan. Genius!
Check out more kitchen organizing ideas here!
10. Aged Farmhouse-Themed Dollar Store Jars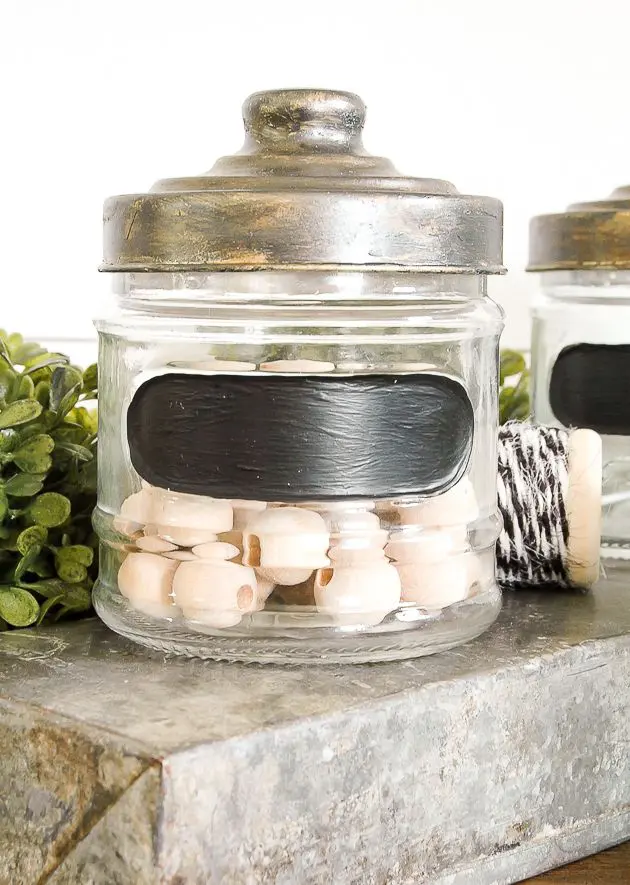 Credit: littlehouseoffour.com
Buying items that fit into a farmhouse décor scheme can be expensive, but making the items at home couldn't be easier. Here's a quick and easy hack for aging some dollar store jars.
Create these vintage beauties with ease using some brushed pewter metallic craft paint and gold leaf Rub 'n' Buff. Take it up a notch by painting a chalk label right onto the jar!
With this hack, you'll have an entire contingent of beautifully aged vintage stunners ready to go in an afternoon.
11. Under the Kitchen Sink Organisation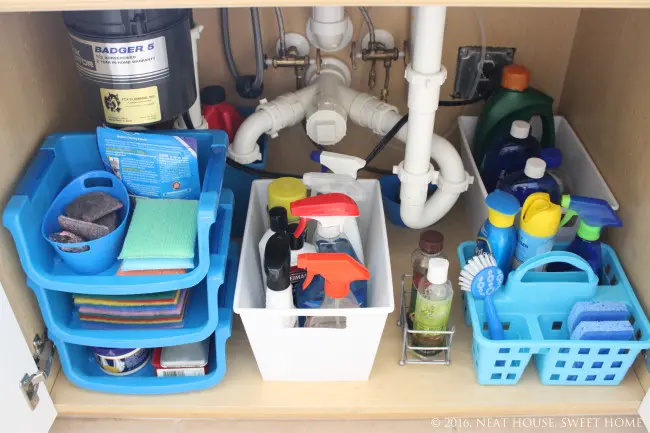 Credit: neathousesweethome.com
The realm under the kitchen sink is—at least for me—a difficult space to organize! It's typically small and cramped, and it stores many different things. So, what exactly can you use to tame this spot?
Not only does this hack touch on how to organize your under-sink space, but it also talks about what should be there in the first place. Most importantly, getting this area sorted out is kind to your budget!
Check out more kitchen cabinet organization ideas here.
12. DIY Dollar Store Spice Racks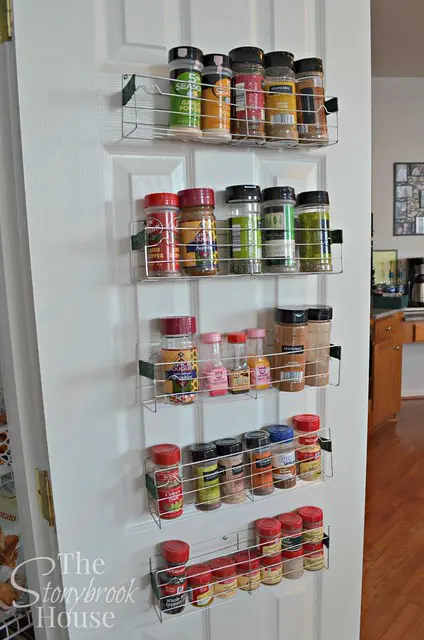 Credit: thestonybrookhouse.com
Most spice racks are pretty unorganized. After all, we're picking and choosing from them every time we cook a meal at home! So, a good spice rack needs to be simple and put all your spices on plain display.
This genius crafter made some hanging metal spice racks from some dollar store cooling trays. This requires some needle-nose pliers. So, make sure you have them in your arsenal!
13. Dollar Store Farmhouse Mug Rack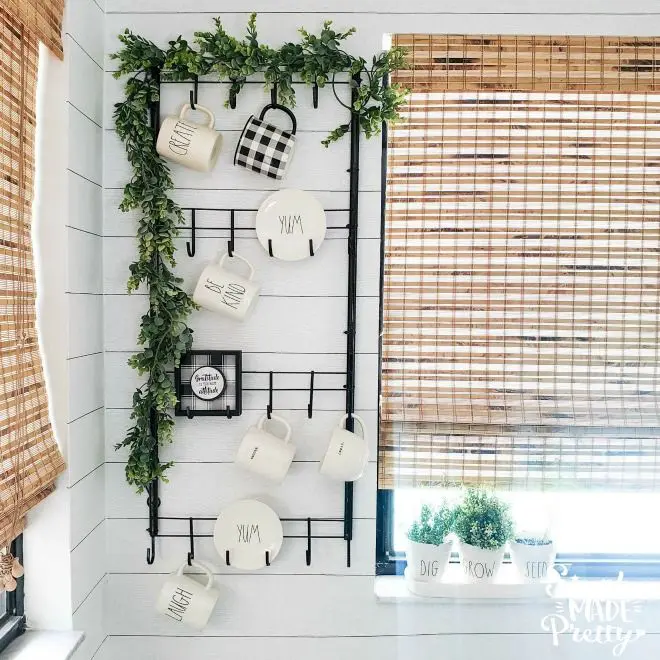 Credit: simplemadepretty.com
Next up on the list of kitchen organization is: mugs! If you've got a big family or if you're a big tea and coffee drinker, you undoubtedly have a lot of them hidden in drawers around your kitchen.
So, this stylish farmhouse mounted mug rack is created from many supplies you definitely wouldn't expect. Things like broom handles, over-the-door hooks, and zip ties bring this beauty to life.
To manipulate these elements into a workable mug rack, you'll need a sturdy hammer and some wire clippers. They're a great addition to your toolkit.
14. Over the Door Organiser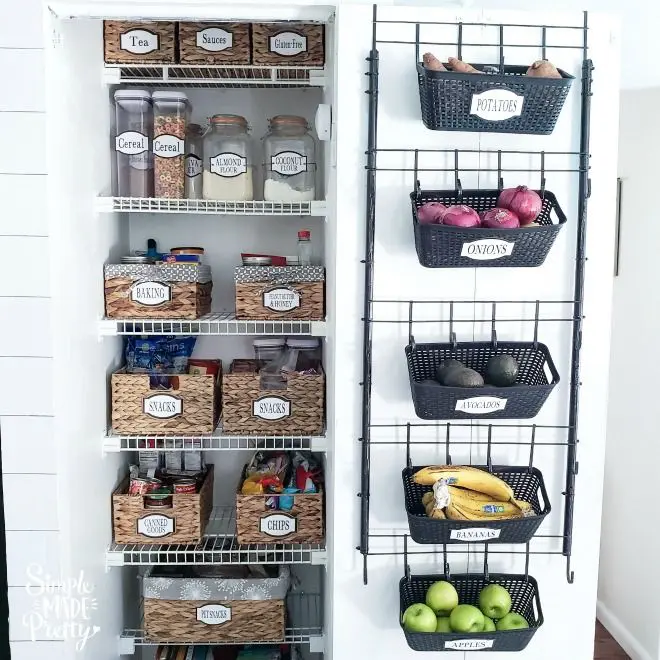 Credit: simplemadepretty.com
Using the same principle as the mug rack from the previous hack, you can create a clever over the door organizer for your pantry. However, this time you'll be adding some dollar store baskets.
Add some printed labels to each of the baskets, and this becomes the perfect spot to keep any root vegetables or fruits!
Take it one step further by spray painting the whole thing to look like aged brass using some Rust-oleum spray (here) along with some fake foliage. Gorgeous.
15. Industrial Style Dollar Store Basket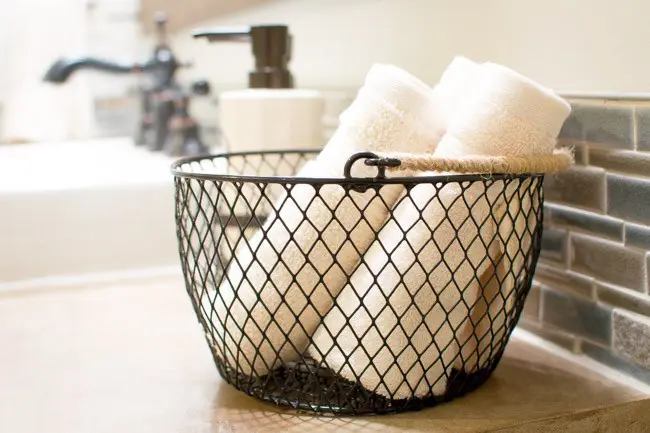 Credit: northcountrynest.com
Beginning with a black wire basket from your local dollar store, all you need to elevate its look is some thick jute twine. Simply glue in place along with the handle for a natural/industrial look.
This basket is the perfect touch to a minimalist bathroom. Use it to hold hand towels, toilet paper rolls, or even your skincare products next to the basin.
Whatever strikes your fancy!
16. Affordable Gold Desk Drawer Organiser
Credit: thisisourbliss.com
We all have that one drawer in our homes that needs a little extra tender love and care. Thanks to a little creativity and some gold spray paint (like this one), you can have your own affordable organizer.
But what is the organizer itself, you ask? It's a muffin tin! Each muffin hole is perfect for organizing your small desk drawer items, such as paperclips, bulldog clips, USBs, and more.
If you want to prevent scratching, make sure you spray the tin with clear enamel gloss once you're done.
17. Affordable Garage Organisation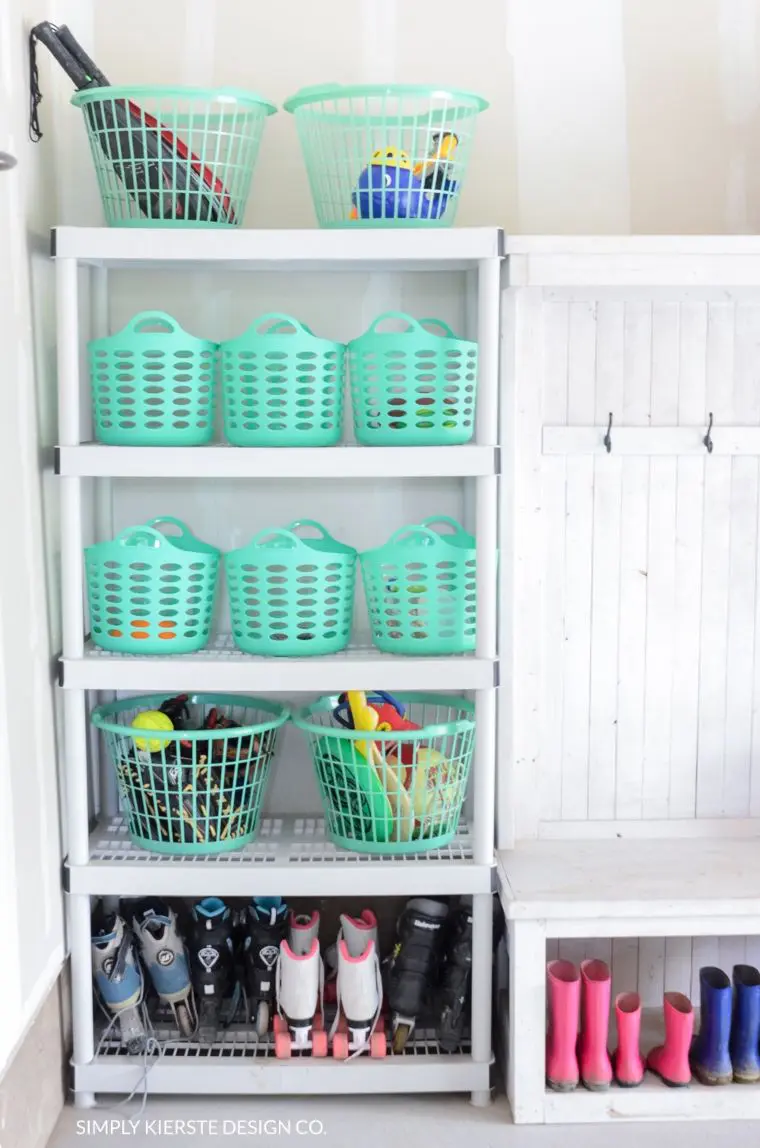 Credit: oldsaltfarm.com
Jumping back to the garage with another hack, here's a great way to store some sports gear! This hack plays on the same principle as the pantry from earlier, using different baskets in the same color.
You can put these on an existing tall shelf in your garage, or you can add a large plastic one for a small amount of money. Alternately, find a way to affix them straight to your wall.
Check out more garage organizing ideas here.
18. Keep Your Scrunchies in Line
Credit: hip2save.com
Whether you're the one with long hair or not, an overflowing collection of scrunchies can be a big hassle to organize. In other words, they end up everywhere!
So, here's a quick and simple hack that keeps all your scrunchies in a single spot for easy access. Not only that, but you can also see them all at once. So, you can select one based on its look.
19. Organize a Small Pantry for Good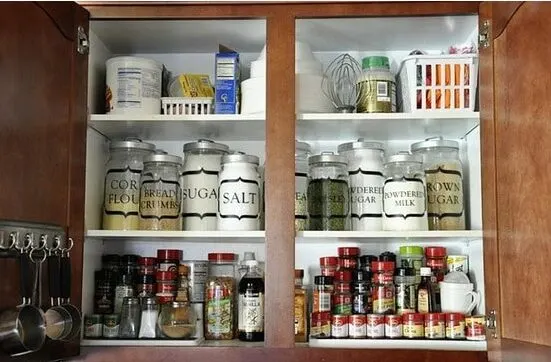 Credit: Blogspot
Keeping a small pantry in tip-top shape can be tough, but with a little know-how and the right storage solutions, you can make it work. That's what this clever crafter did, and on a budget too!
You'll find that dollar store jars are much cheaper than those found elsewhere, but they look just as good. Plus, you can stress or weather them with some Rub 'n' Buff if you want to make them vintage.
20. Keep Your Cans in Line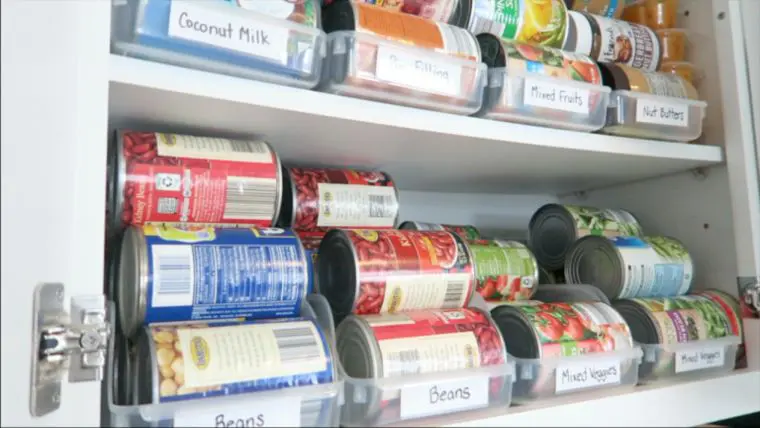 Credit: thriftedlivingblog.com
If you're the kind of person who has an abundance of canned food in your pantry—whether that be for the apocalypse or not—then you know how much space that can take up.
Rather than stacking them and hoping they don't fall every time you open the cupboard door, use this innovative hack to keep them organized in a space-saving way.
Make sure you invest in some good adhesive (here) to keep these trays tacked to the floor, or everything might go sliding!
21. Upcycle a Standard Plastic Laundry Basket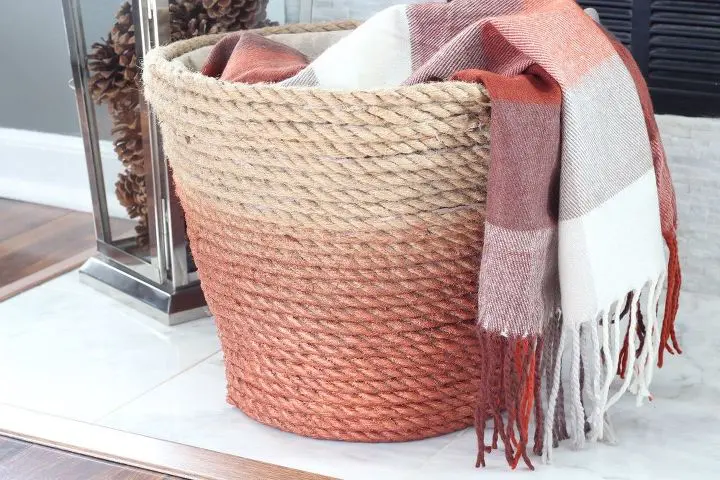 Credit: hometalk.com
Finally, here's a gorgeous way to keep your blankets and throws organized in your living spaces. All without breaking the bank.
You'll just need a well-sized laundry basket, some fabric, rope, and paint!
Not only can you slap this craft together in an afternoon, but it also looks like something straight out of a home design magazine. That is to say…
It's super cute and looks store-bought.
High-quality rope will stop the basket from fraying, so make sure to pick some up here. Happy crafting!
Conclusion
So get organizing and sharing these Dollar Tree organizers!