Love IKEA furniture? Try these IKEA Vadholma hacks you can incorporate into your home decor and save the $$.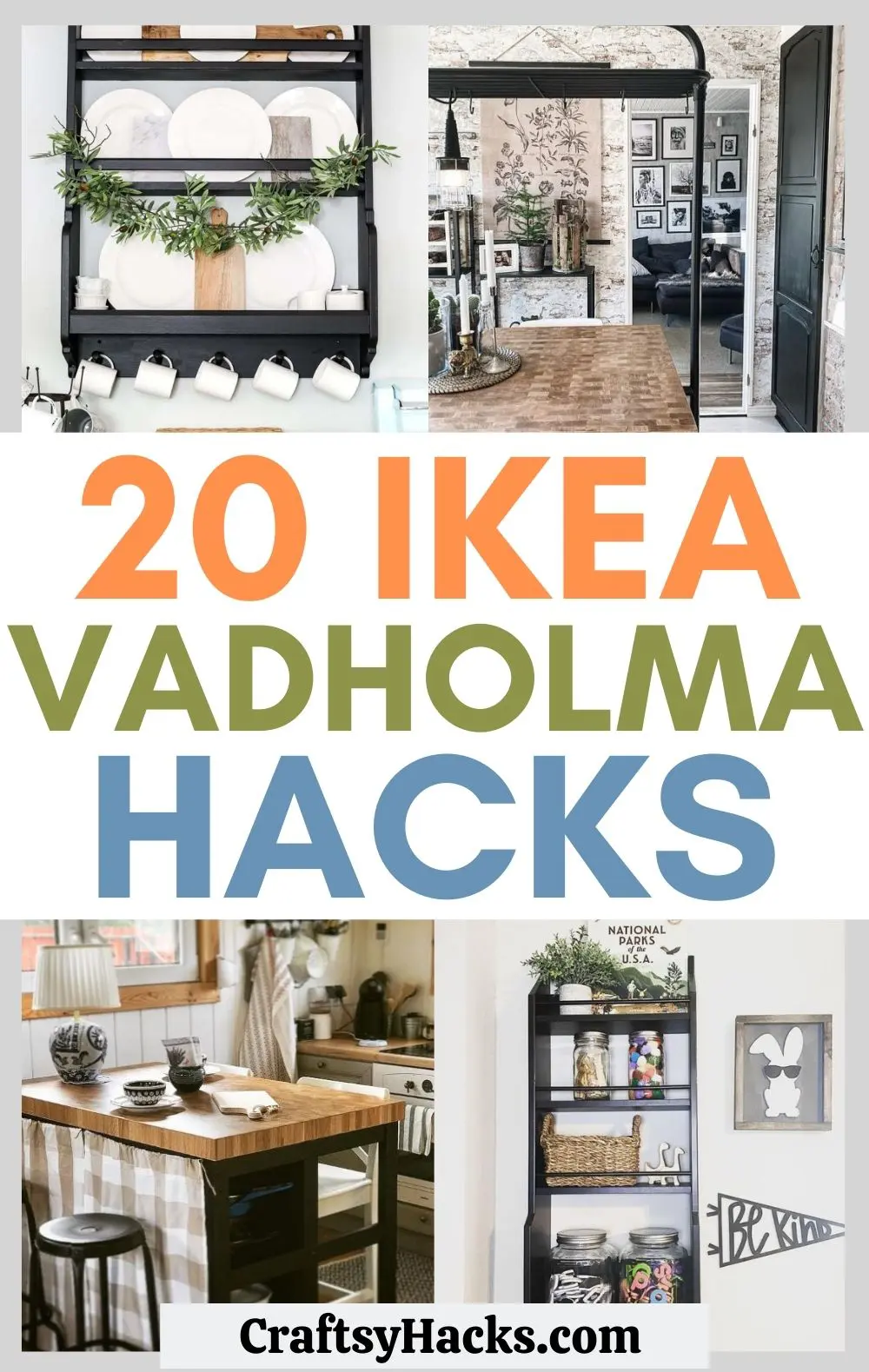 The IKEA Vadholma kitchen island combines all the best modern style elements: it's elegant, uses dark colors, has ample storage, and embraces minimalism. However, for some, it's not quite right.
After all, that's what a hack is all about, right? Taking something almost perfect for your needs and tweaking it to suit your lifestyle.
In pursuit of the perfect kitchen island for you, I'll be blasting through twenty various iterations of everyone's favorite basic kitchen island. Buckle up and break out your toolbox. It's time to DIY.
1. Rustic Vadholma Transformation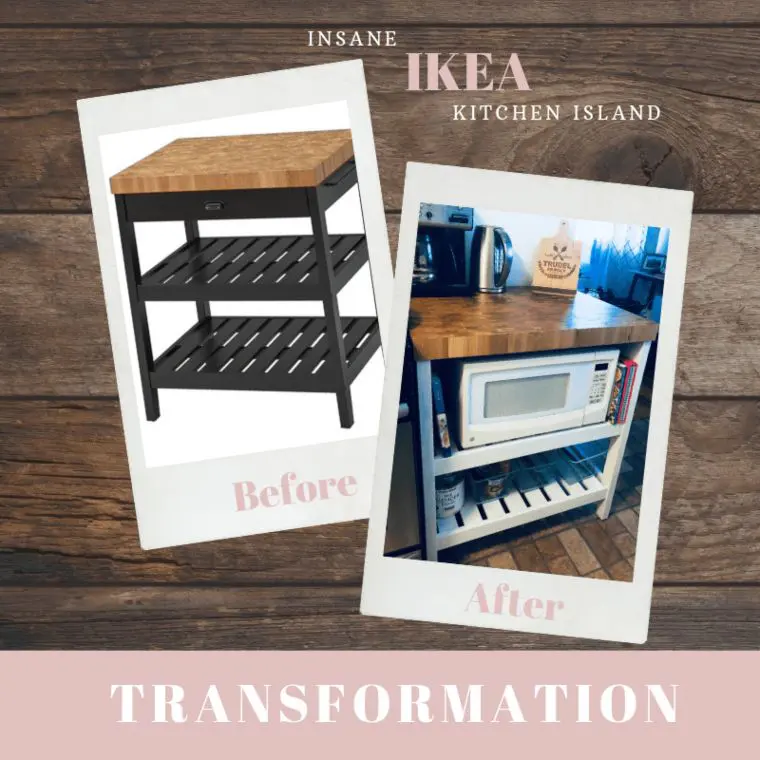 Credit: sheundivided.com
First off, let's turn back the clock on this modern kitchen island and take it back to a rustic farmhouse look. The wooden benchtop is already perfect for this hack, so your only job is to transform the bottom.
Sometimes, a hack is as simple as a fresh coat of paint. The key lies in white chalk paint, a favorite of DIYers everywhere (including me) because it's so affordable and easy to use. Find the color here.
I know I'm not the only one who loves a little rustic charm! Check out these other farmhouse-inspired décor hacks.
2. Dual-Function Dream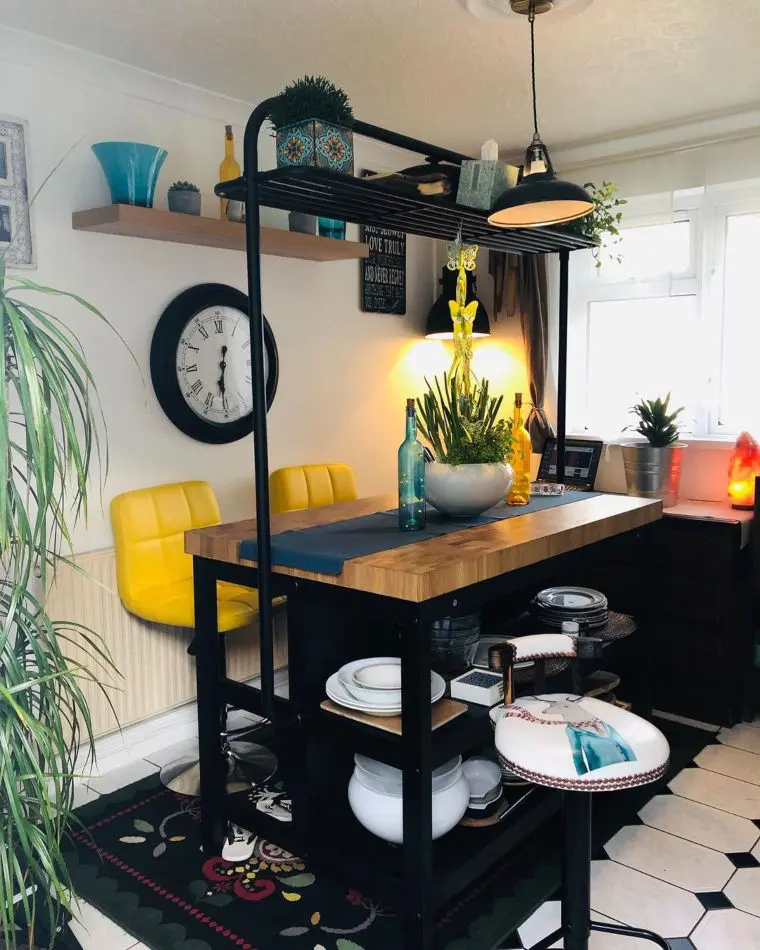 Credit: Instagram
It pays to have pieces of furniture that can transition seamlessly from one form to another in smaller spaces or homes. In Vadholma's case, it can straddle the line between the kitchen island and dining table.
Create a designated dining space where one previously didn't exist by using the Vadholma to section off a small part of your kitchen café style.
Bar stools make a plush addition to the room, and thanks to their adjustability, they'll meet the Vadholma's countertop with ease. Check these out for some inspiration.
Check out more IKEA hacks here.
3. Upgrade Your Living Room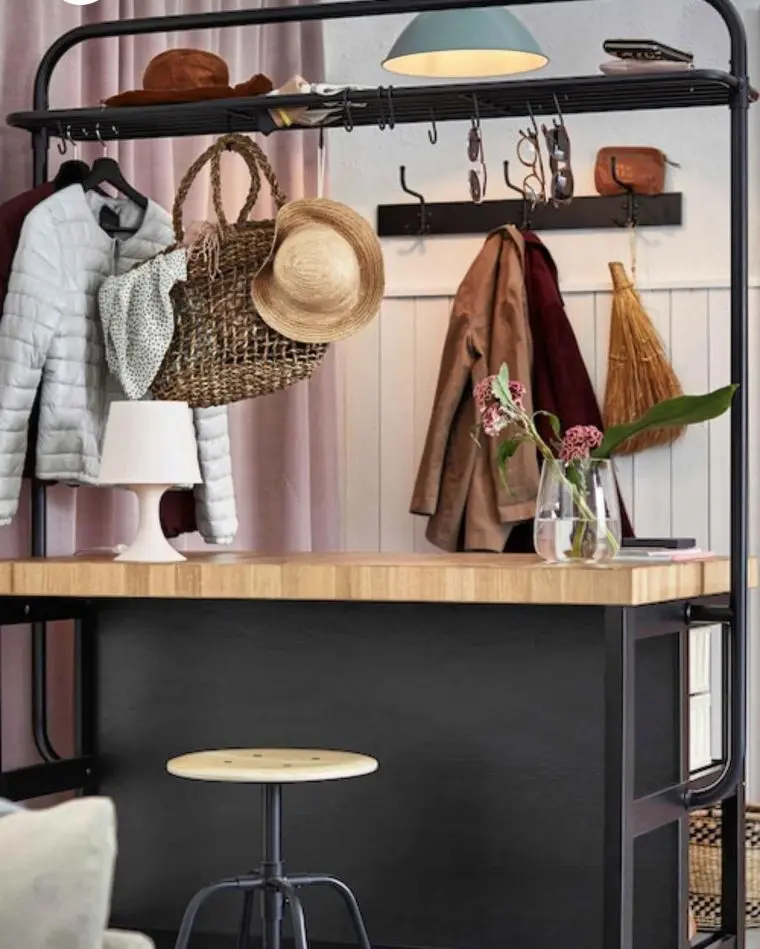 Credit: Instagram
Having a coat rack is a huge convenience, but sometimes the loose coats, sunglasses, bags, and hats can all become too much to hang on such a small post. Enter the Vadholma coat stand cum desk.
You'll want to install the Vadholma with its black metal overhead for the optimal hanging capability for this hack. Place it in a discreet corner of your living room, add a chair, and you have a multifunctional workspace!
If your clothes are migrating to other parts of your home, you're probably struggling with your closet storage. Not to worry, here are 20 IKEA closet hacks to help with organizing.
4. Farmhouse Kitchen Island / Dining Table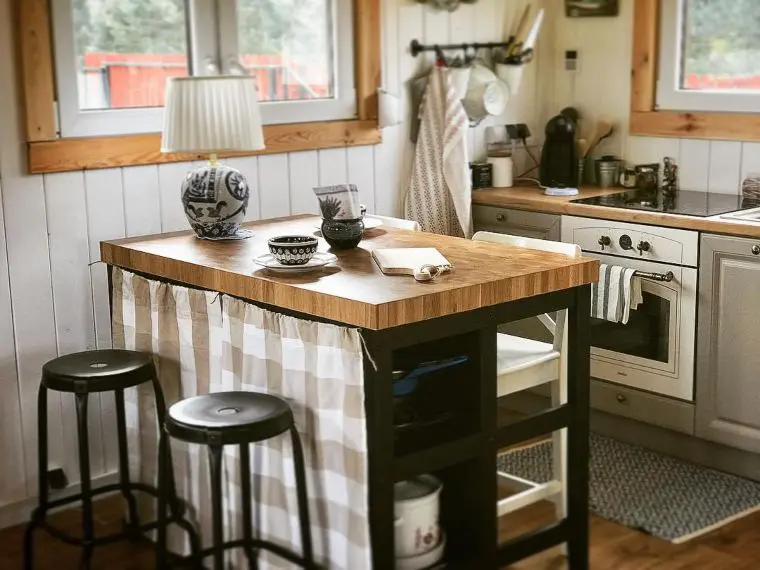 Credit: Instagram
Here's another take on a multifunctional kitchen island, but this time, it's got a delightful rustic twist. Rather than leaving the storage space below exposed, this crafter sewed a simple check curtain to cover it.
The result? An adorable table that readily transitions into a kitchen island when needed, with no unsightly clutter drawing guests' attention downward. Try out this fabric pattern for a true-blue rustic feel.
5. Versatile Crafts Table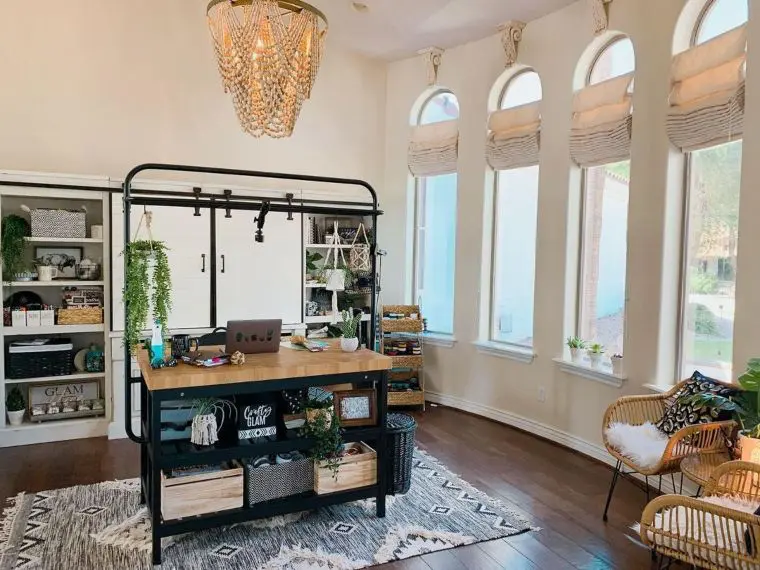 Credit: Instagram
The Vadholm's flat wooden top and overhead arch don't just look great. They also serve a variety of functions. As all crafters know, the more places we have to hang or store our implements, the better.
Take this kitchen island to your craft room and make it the centerpiece! Store fabrics, embellishments, and tools in the under-counter storage while using the wooden top as a smooth design or cutting table.
6. A Touch of Green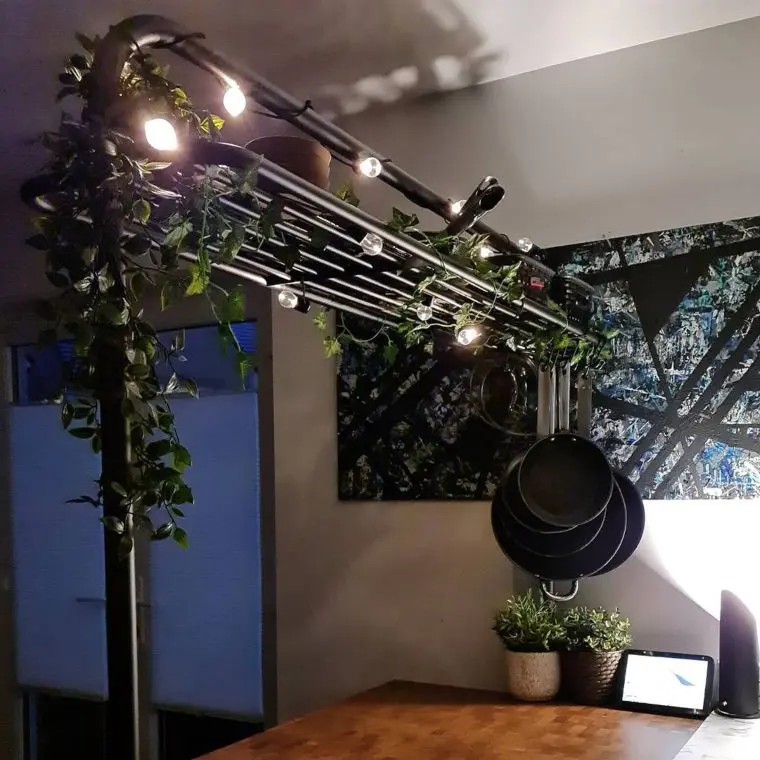 Credit: Instagram
There are proven benefits to bringing greenery into your home, whether fake or real. Not only does it look great, but the psychological benefits alone also dictate we should all have a little foliage gracing our homes.
The overhead arch on the Vandholm is an ideal place to wind said foliage, no matter where you're putting the table. Dress up your kitchen with fuss-free greenery (find it here) or liven up your living room with ease!
7. Extend Your Kitchen Counter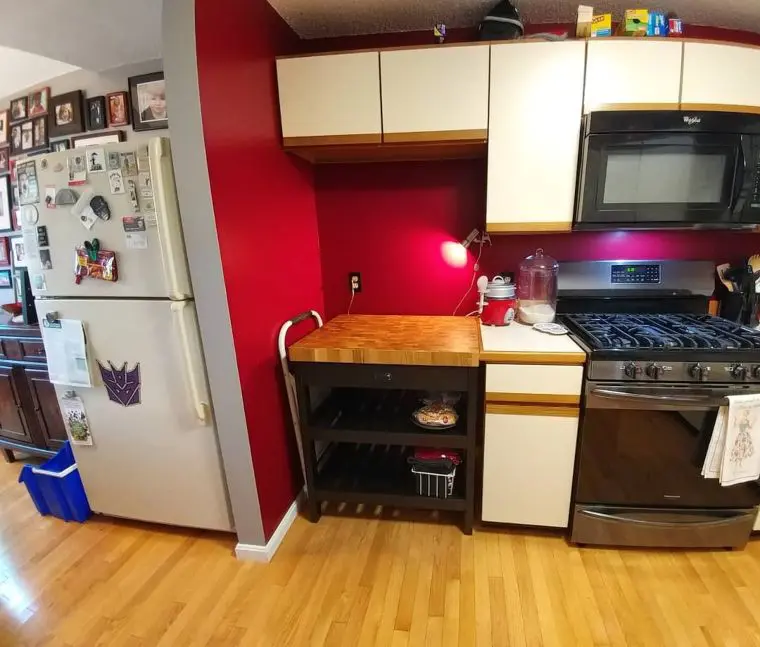 Credit: Instagram
So many homes have that one annoying spot without any counter space in their kitchen. Rather than dealing with the void, fill it with the Vandholm (sans its arch)!
Not only does it provide some extra under-counter storage to your kitchen, but it's also the perfect height to meet your kitchen countertops. With an easy-clean surface and sleek appearance, this is the ideal solution.
Still, frustrated by your kitchen situation? These 20 IKEA kitchen hacks might get you closer to your dream space.
8. Update Your Non-Vadholma Island with a Vadholma Rack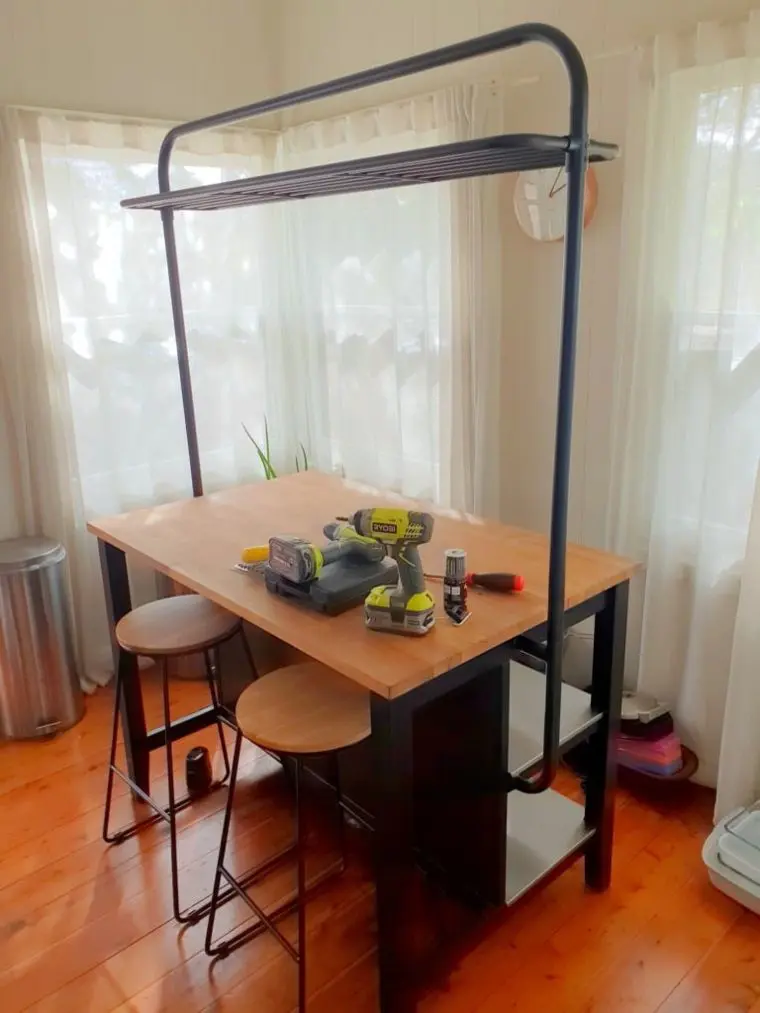 Credit: ikeahackers.net
Even if you don't already own a whole Vadholma kitchen island, nothing stops you from upgrading your existing island. Luckily, you can purchase the Vadholma overhead rack separately!
All you have to do is drill into your existing island's sides and affix the rack there. Make sure it's attached in two places for ultimate stability. If you don't already have a drill, I highly recommend this one.
9. Focal Point for Industrial Kitchen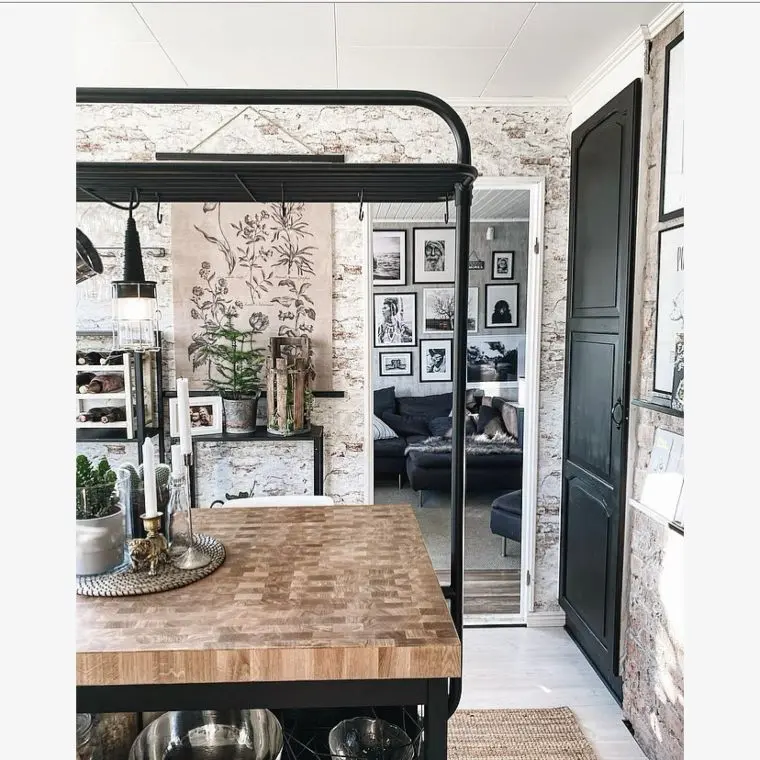 Credit: Instagram
If you're a fan of the rustic industrial décor style, you need only purchase this kitchen island to act as a focal point in your kitchen. Even without any other updates, your kitchen will feel completely different.
However, if you want to take it a step further, there are ways to bring industrialism to your kitchen. Paint your pantry door a matte black and replace the fixings with these. Choose aged brass accents and woven textures.
10. Organize Your Under-Counter Clutter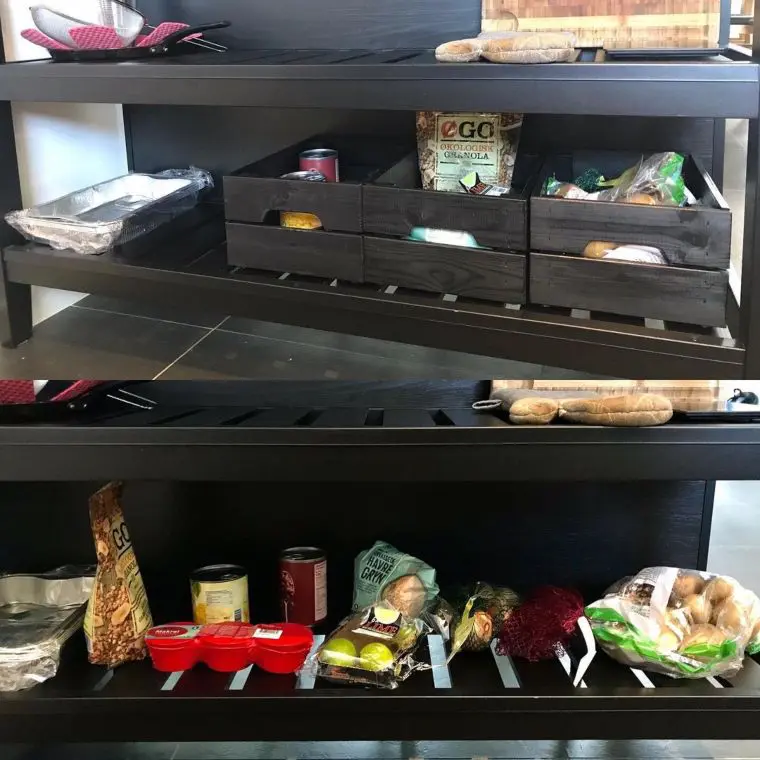 Credit: Instagram
Here's a quick and easy way to organize your under-counter space on the Vadholma. Create matte-black wooden boxes with a rustic shape and style to effortlessly combine modern and vintage sensibilities.
You can buy these boxes pre-made here and re-stain them with a black wood stain like this. Alternately, create the boxes from scratch if you fancy yourself a competent woodworker. Remember to include a handhold!
11. Upgrade Your Home Business Studio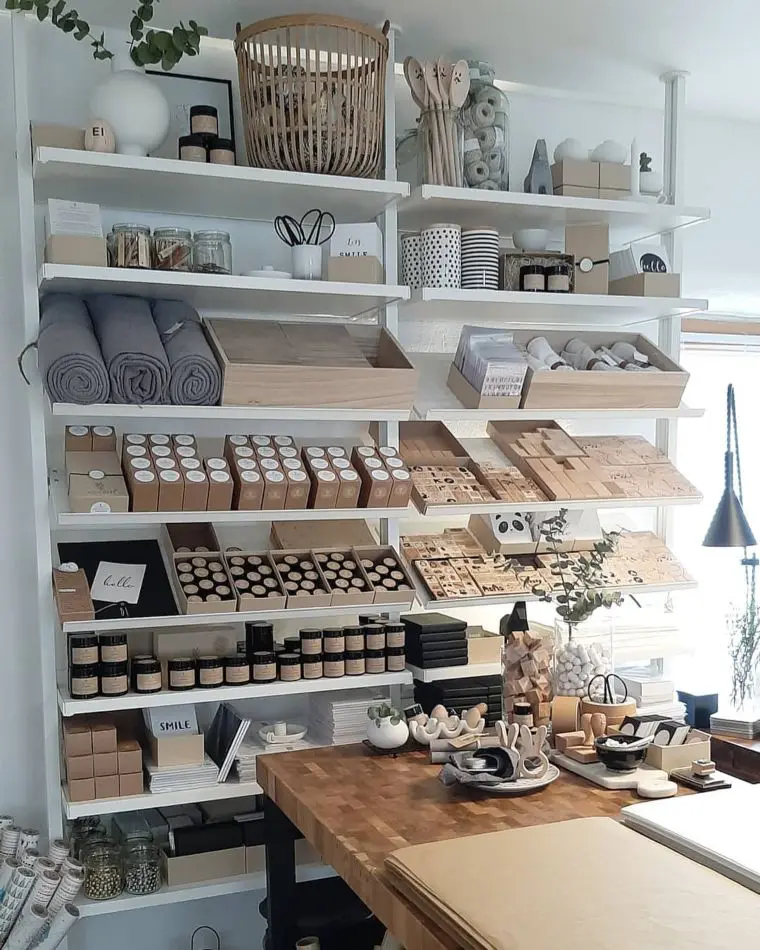 Credit: Instagram
We've mentioned before how well this island works as a craft table, but have you considered it for your home business setup? If you're a small business owner, you know that storage is a valuable commodity.
With the Vadholma anchoring your room, you can assemble orders quickly and easily by storing all your packing supplies underneath the counter. Situate it beside your product supply, and you've got it made!
12. Deck the Rails for Christmas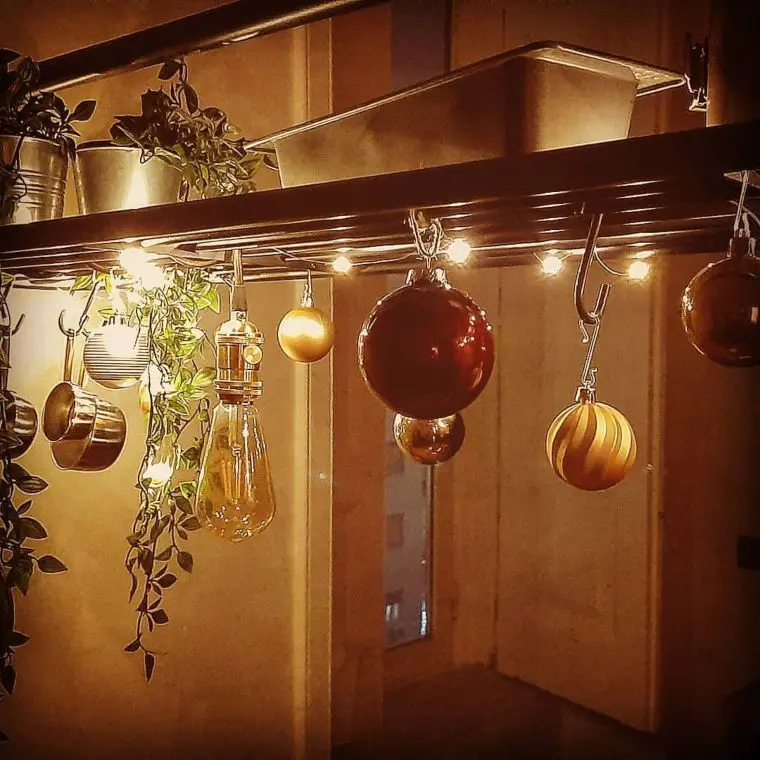 Credit: Instagram
I'm a huge fan of bringing the festive cheer to every corner of the house when the holidays roll around. If you have a Vadholma in your home, that couldn't be simpler, thanks to the hanging hooks on the rack.
Whip out a collection of vintage lights, ornaments, and even some foliage to adorn your kitchen rack. I highly recommend choosing a color palette and sticking with it, else it can start to look too busy.
Why not offset the industrial bluntness of the Vadholma with some charming vintage red and gold? This will warm up those cold winter nights in no time.
13. Take Your Storage Vertical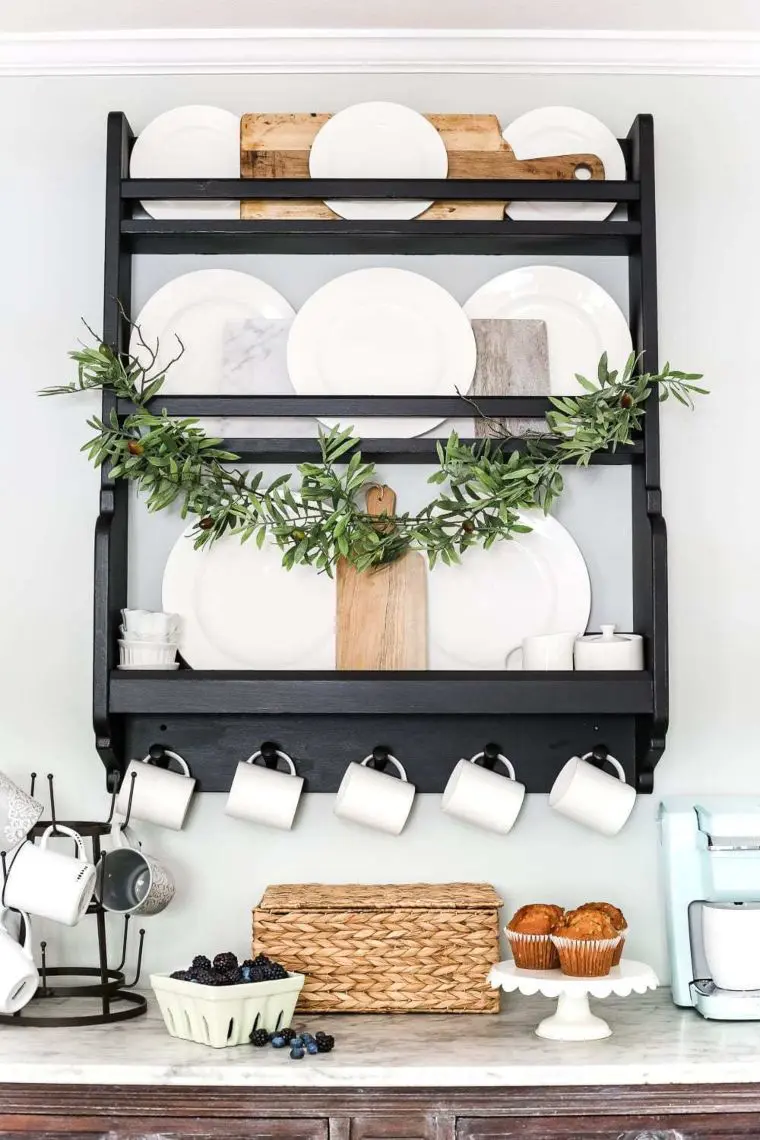 Credit: blesserhouse.com
The Vadholma rack is a fantastic addition to any kitchen, offering a quick and simple way to elevate your storage… literally. By utilizing your wall space, you're minimizing the amount of cabinet space your plates use.
Pair the plate rack with an actual Vadholma kitchen island for a truly coordinated look. I recommend painting the frame to match; you can use this black mineral paint to get the same metallic luster.
Check out more IKEA organizing ideas here.
14. Go Big or Go Home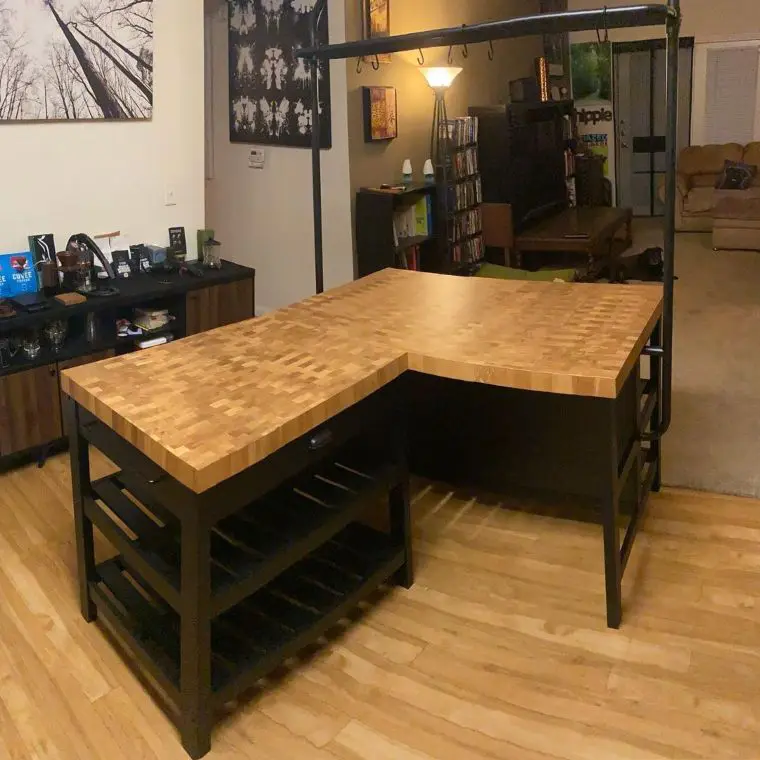 Credit: Instagram
The Vadholma comes in both big and small sizes, so why not combine them to create a lot of counter space quickly? The beauty is you can configure the islands however you like to fit your kitchen.
I recommend only erecting the rack of the bigger island, as having two up can get in the way of a smooth transition between surfaces. Before you know it, you have a place to sit and a place to make your coffee.
15. Vadholma Kids or Playroom Shelf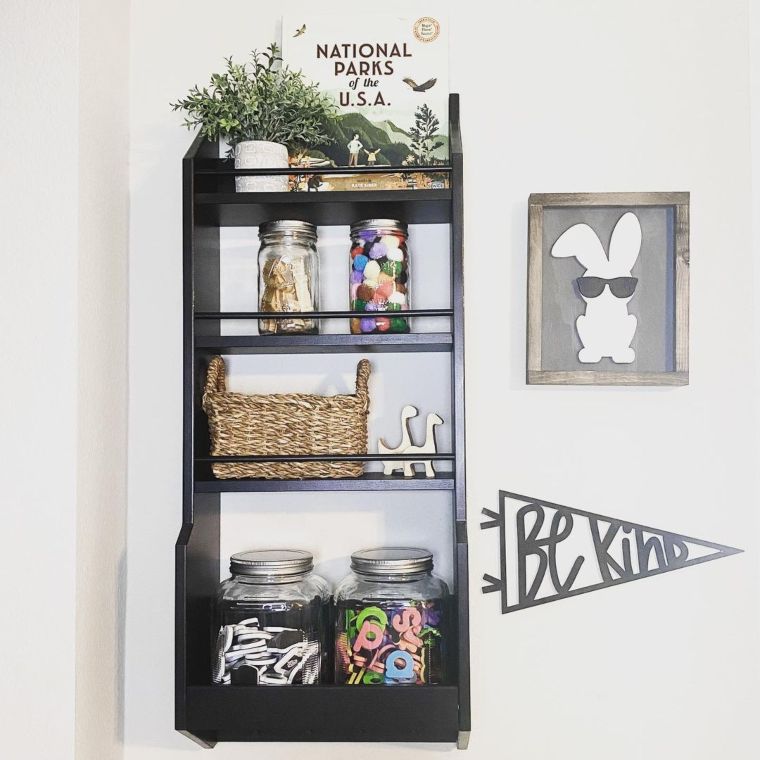 Credit: Instagram
The Vadholma rack will effortlessly transition to your kid's room, offering some easy wall storage that both looks and feels great. Highlight their craft supplies, create a home for their stuffed toys, or simply store clothes.
The choice is ultimately yours! To make corralling all those small items easier, why not grab some wicker baskets like these to offset the rack's harsh black? Now you've got a winning combination.
These aren't the only kids' room upgrades the IKEA range has in store. Check out these 20 fun IKEA kids' room hacks.
16. The Ultimate Miscellaneous Shelf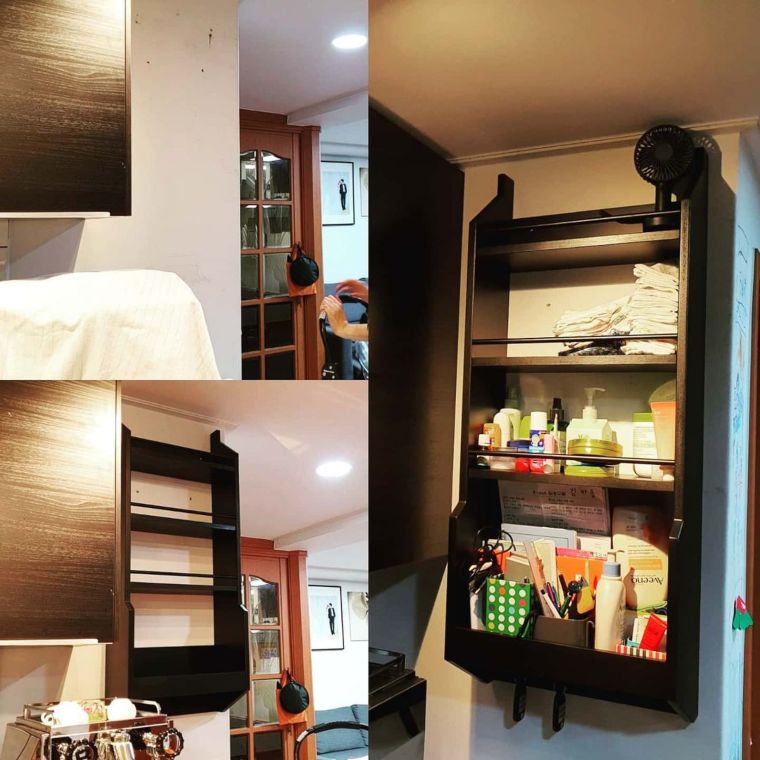 Credit: Instagram
We all have a junk drawer hiding somewhere in our home, filled with the little things we discard as we move about the house. However, your junk drawer doesn't have to stay a cluttered mess. Trust me on this.
Instead, you can create a miscellaneous shelf filled with all the small items you need daily. Not only does it lay it all out in front of you, but it also provides a spot for each thing. Everything in its place!
17. Accent the Wood in a Natural Space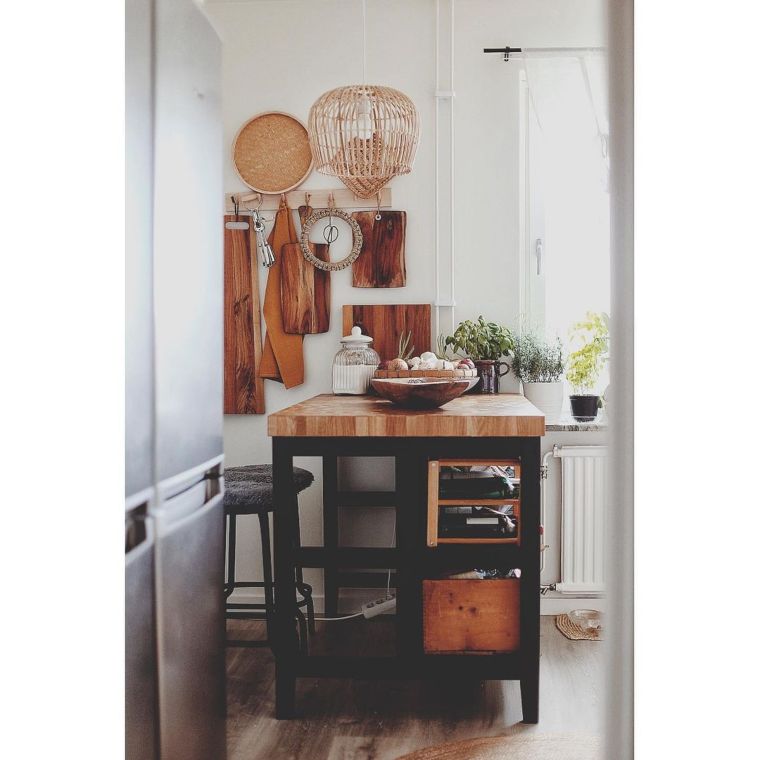 Credit: Instagram
For most of this list, we've been focusing on ways you can highlight the striking black frame of the Vadholma. However, what about the gorgeous wooden countertop? Doesn't it deserve some love?
This hack fulfills that need. By choosing natural textures like wicker, wood, twine, rope, and leather, you're bringing the warmth of the countertop out even more to create a cohesive kitchen design.
If you're stuck for some items to try out, why not take a look at this wicker light shade, or start assembling your very own collection of wooden breadboards here.
18. Lean into Industrial Design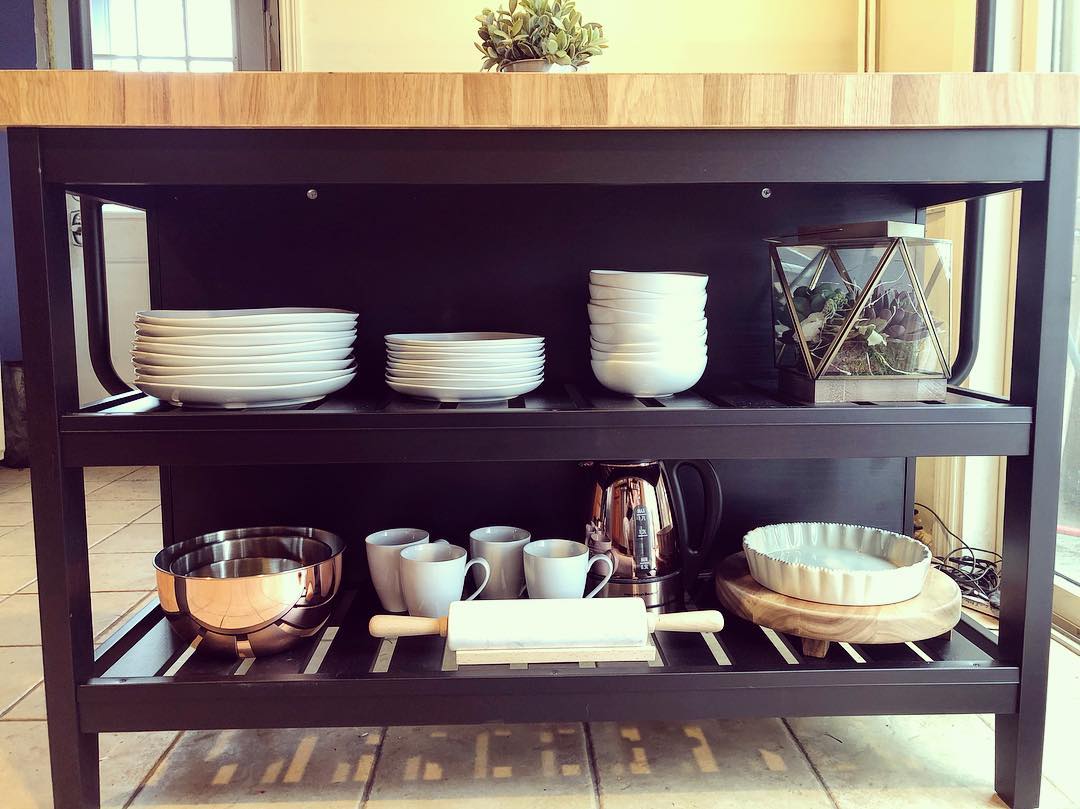 Credit: Instagram
On the other hand, here's a gorgeous way to lean into the Vadholma's industrial roots while also getting yourself some fantastic new homewares. If you already have some, polish them to a shine with this.
By choosing one or two metal accent pieces, you're contradicting the frame's matte black while simultaneously embracing the metal material. Trust me, the result is stunning when displayed in the open air.
19. Create Your Own Outdoor Bar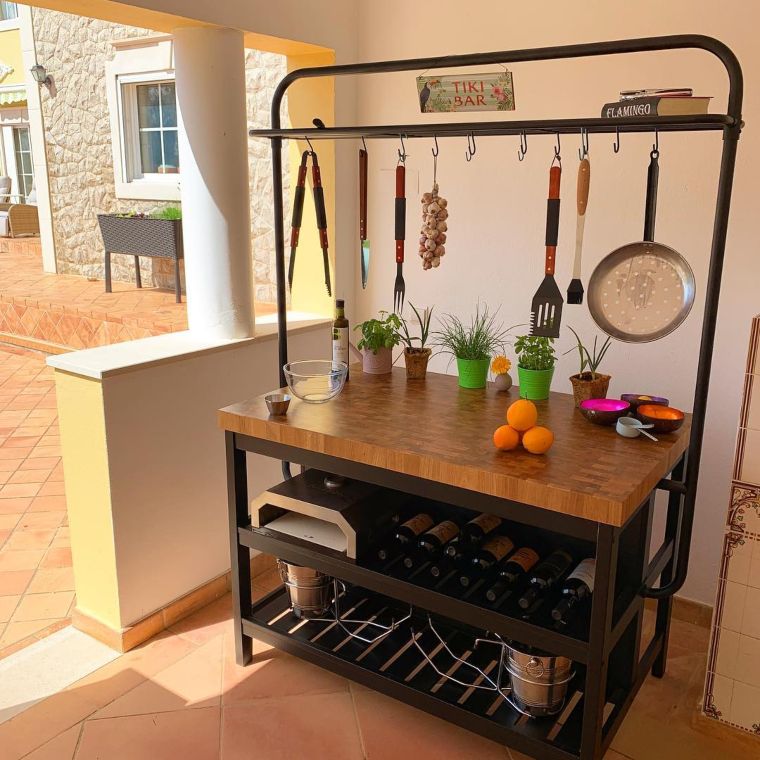 Credit: Instagram
If you're an entertainer, there's nothing more valuable to you than an entertaining outdoor space. However, those can cost thousands to install! Enter the Vadholma, your brand-new outdoor bar table.
Simply assemble this baby outside and hang your BBQ implements from the hooks. The lower storage is perfect for storing wine (try out this wine rack), and you can even grab a portable pizza oven here for flair!
20. At-Home Coffee Bar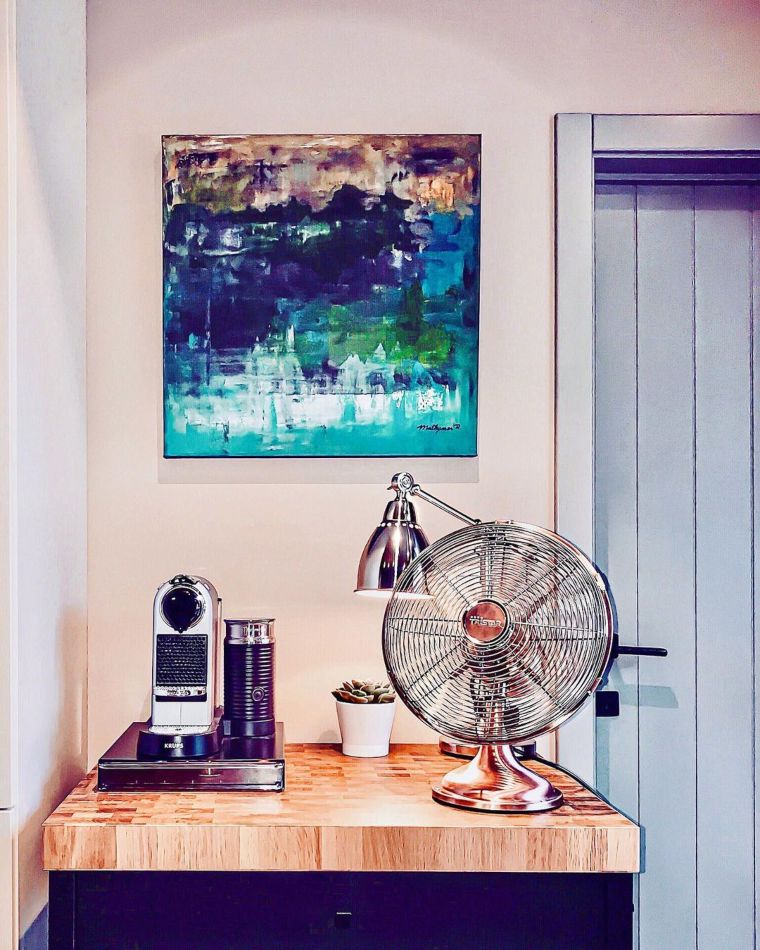 Credit: Instagram
With 2020 behind us and potential quarantines still ahead, we all appreciate the ability to make a perfect cup of coffee at home. With the Vadholma, you can create your own miniature café setup.
Whether you're a Nespresso machine person (here) or a Chemex lover (here), this open space is ideal for creating that morning cup of joe. Add a bar stool and pull up a chair as you take your first sip of the morning.
Do you already have a Vadholma ready to retrofit, or have you been inspired to get one for yourself? If you've used the Vadholma in any other creative ways, let me know in the comments!