Need a wreath for Halloween? Why not make one yourself? These creative wreaths are fun to make and serve as a great project for the whole family.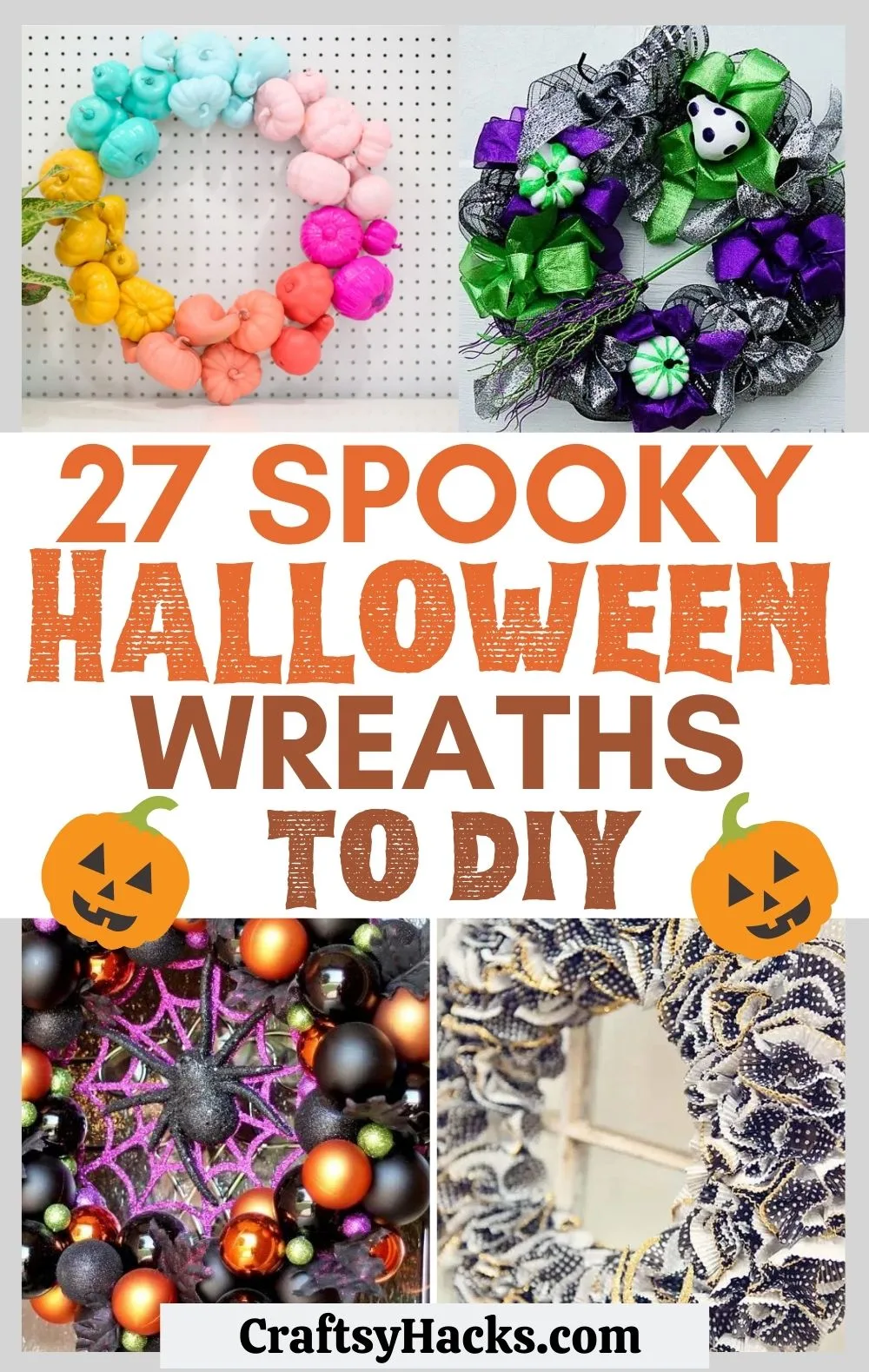 Halloween is the time to go all out with your decorations. Well, so is Christmas, but you know what I mean! Every seasonal holiday deserves to be celebrated.
What better way to celebrate than with gorgeous yet sublimely spooky Halloween wreaths? Remember, the first thing that people see of your house is the porch and front door. So a nice Halloween can do wonders to decorate your home!
Check out these 27 DIY Halloween wreath ideas!
1. Dollar Tree Wreath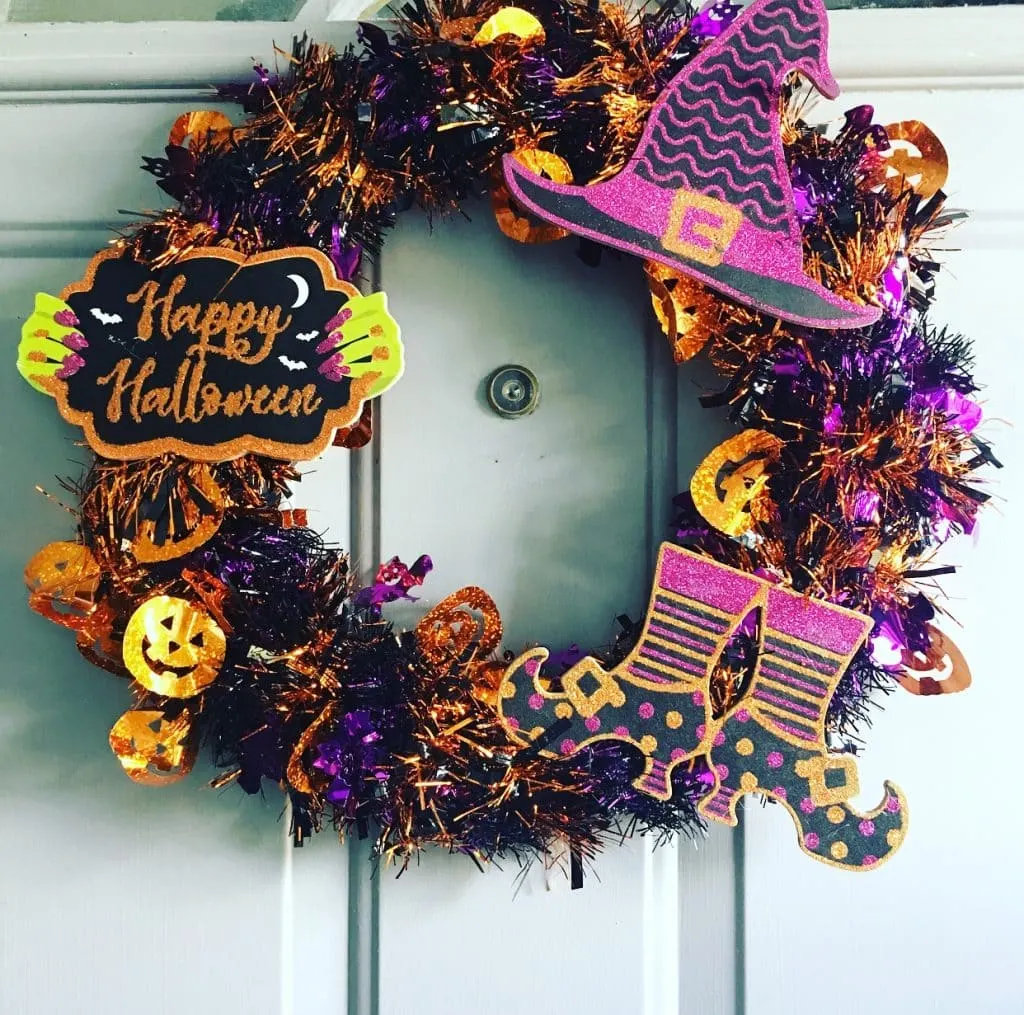 Source: makingfrugalfun.com
I love it when I can turn dollar tree goods into something gorgeous and way fancier than they actually are. It's the perfect combination of cost-effective purchases, trendy seasonal crafts, and funky decor.
This Halloween wreath, for example, can be made entirely from dollar tree products and what you can dig up in your own craft stash. You can pick up your wreath form and Halloween embellishments there, too.
Go ahead and wrap your funky garland around the wreath form, securing it in place with floral wire. Then finish it up by attaching your Halloween props and knick-knacks around it!
2. Witch's Cauldron Wreath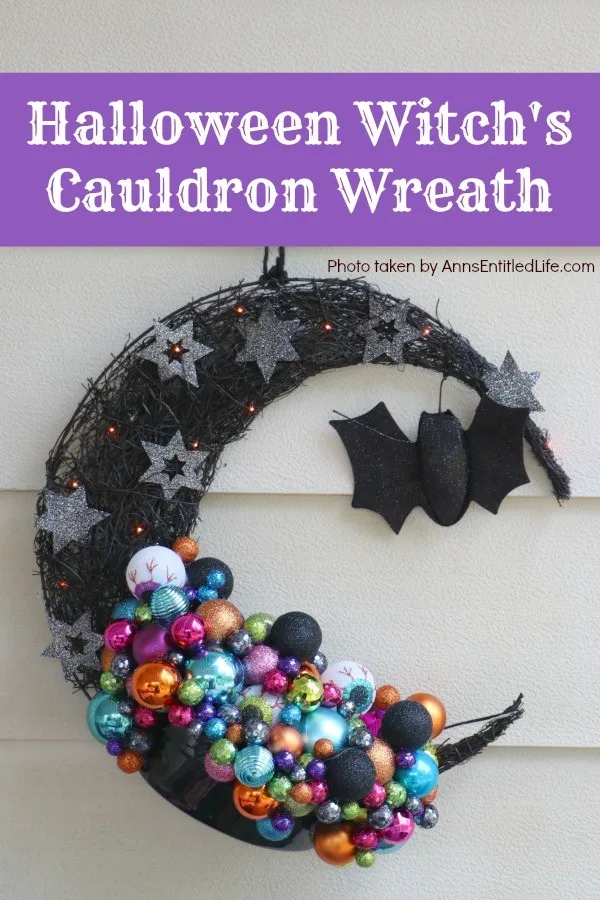 Source: annsentitledlife.com
I can't get over how creative this witch's cauldron wreath is. Even the base form isn't your typical circle form, but rather a really creative crescent moon(look here).
Just like the insides of a witch's cauldron that bubbling, boiling, and toiling, this wreath is a smorgasbord of colors and textures. But is it really complete without the odd eyeball or two? Pick them up here!
You can hang a little bat, as you see here, from the tip of your crescent wreath, as well as glue a few silver stars to recreate a Halloween night effect.
3. Spider's Web Halloween Wreath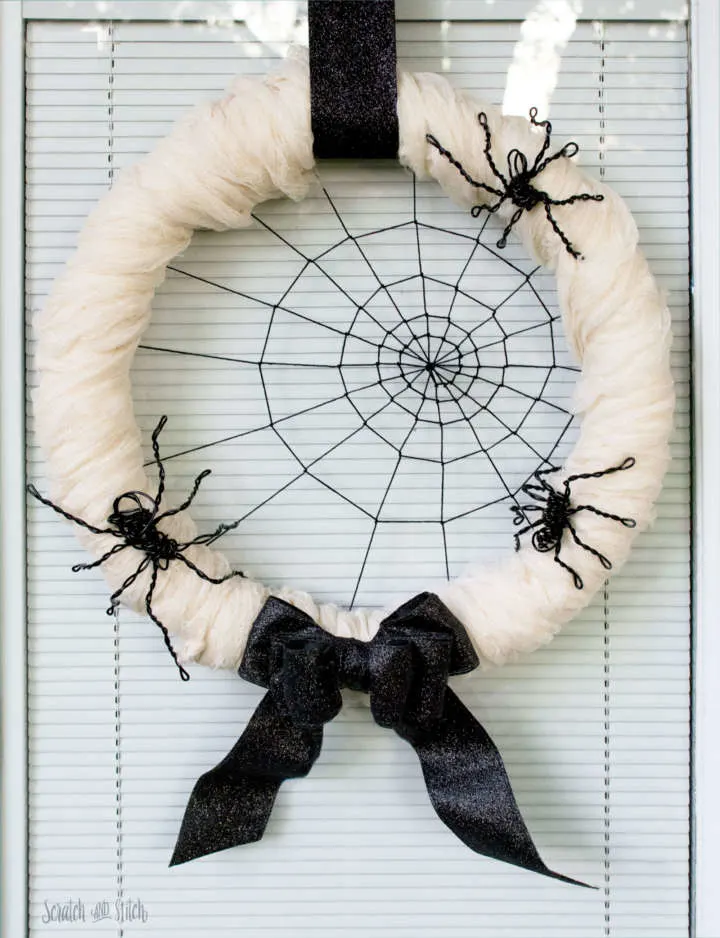 Source: scratchandstitch.com
This particular Halloween wreath is that incongruent balance of elegance and creepiness. How? Well, look at that delicate, chiffon or tulle-wrapped wreath form.
Then, take a look at that spiders' web and all those creepy crawlies making their way around it. Isn't it just a wonderful blend of both?
If you've ever made a dreamcatcher, then you know how to start working on the web part of this craft project. Just pick up some sturdy twine of embroidery floss from here, and you can get started.
4. Skulls and Roses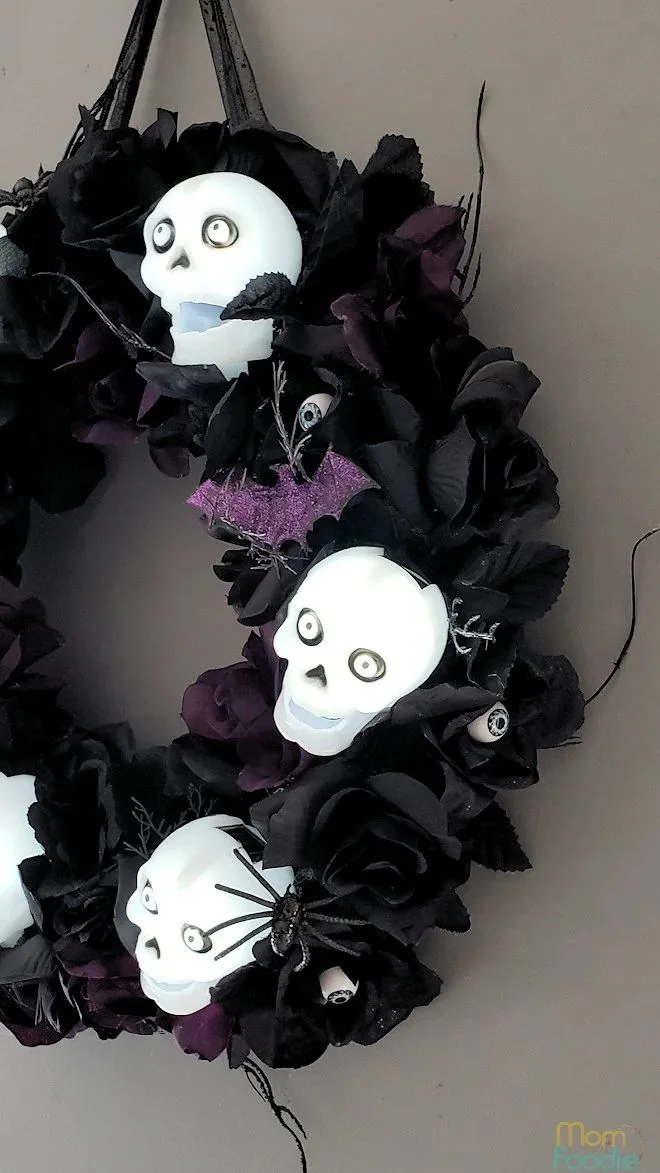 Source: momfoodie.com
There's a time-old understanding that there's a certain regal elegance in the gothic colors of purple and black. You might think that they're too stark to be really elegant, but just look how lovely this wreath looks.
Well, with these skulls nestled into the wreath, perhaps lovely isn't quite the best word to use. It's certainly quite stark, though, and just right for a Halloween wreath.
You can add a few lush, albeit faux, purple roses, a few sparkly bats, and even a few eyeballs to this wreath.
5. Wicked Wisteria Wreath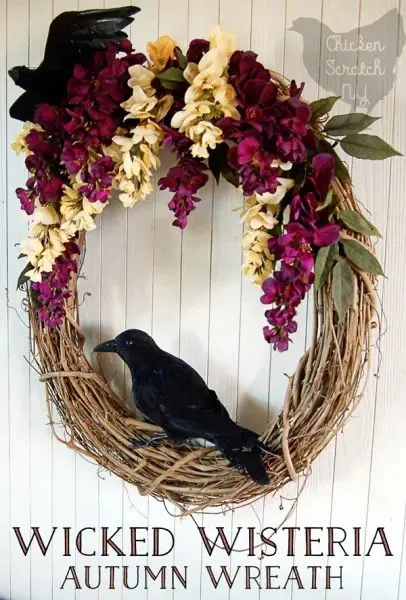 Source: chickenscratchny.com
Isn't there something deliciously wicked about wisteria flowers at Halloween? Oh, they're quite natural and beautiful normally, but somehow, they become mysterious and very Halloween-like in the fall season.
This wickedly wonderful wisteria wreath will add a cheeky and spooky touch to your front door. You can perch a couple of crows or ravens on the wreath and let them do their thing and appear eerie.
Pick up your faux wisterias here. You can also add a few sprigs of holly or dry eucalyptus leaves to bring the entire wreath together.
Check out these wicked Halloween decorating ideas!
6. Cricut Spider Web Wreath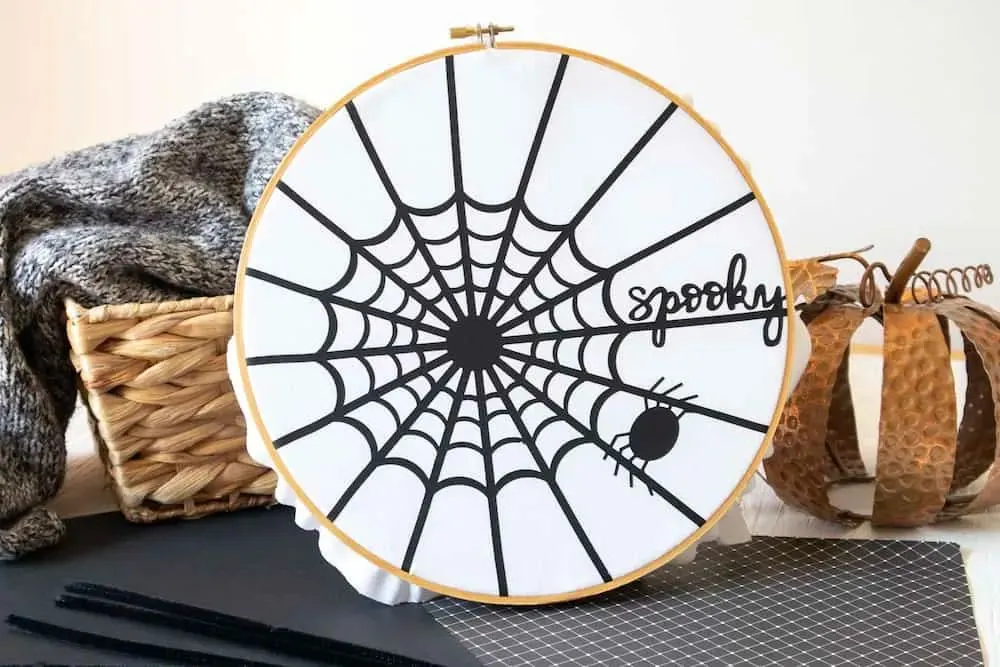 Source: singlegirlsdiy.com
While I love a bit of spook, gloom, and doom for my Halloween decor, I'd just as much love something not quite creepy. I'd be happy with cheerful and cute, but only if it means I can still have that Halloween vibe.
This particular wreath is creative, cute, and made using a Cricut machine. You'll need this embroidery hoop to function as your wreath form as well as a length of cotton woven fabric.
You'll also need black vinyl, a pair of scissors and a towel. Once you've gathered everything, start working on your spiderweb design on your Cricut!
Check out these 27 spider crafts for more spider-related ideas!
7. DIY Rustic Burlap Wreath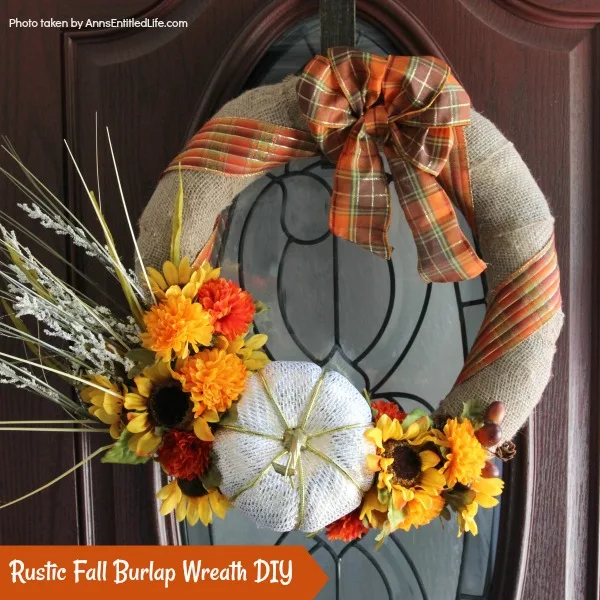 Source: annsentitledlife.com
Halloween doesn't necessarily mean skulls, spiders, and spooky decor. Since Halloween is a fall season celebration, your 'Halloween' wreath can just as easily be a fall wreath.
This particular fall wreath is cheerful and rustic. The wreath form is covered with this burlap ribbon, and there's even a big tartan bow in fall colors to brighten it up.
Sunflowers and orange chrysanthemums, interspersed with acorns, pinecones, and a few stalks of reed grass, can make up your fall foliage.
8. Sunflower Pumpkin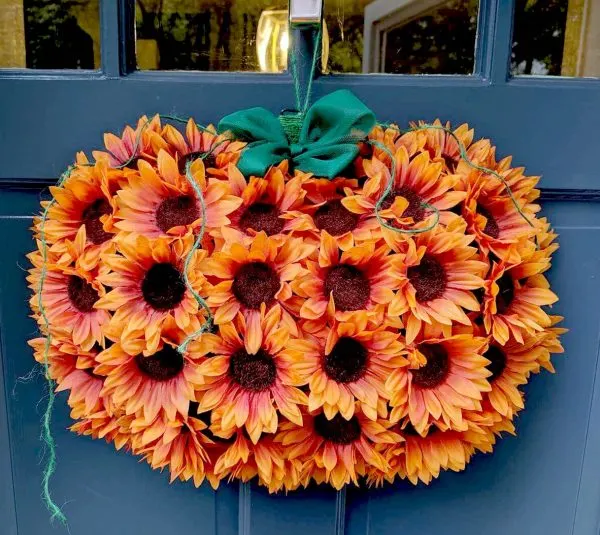 Source: craftbits.com
How adorable does this sunflower-laden pumpkin wreath look? If pumpkin ever had to be made of something else, I'd choose bright and cheery sunflowers.
For the stem, wrap a length of green ribbon into a big bow. You can also curl, coil, and carefully drape a few strands of green twine or embroidery floss.
I bet you're wondering exactly how the sunflowers are staying in place and keeping the shape of that pumpkin. You have this pumpkin wreath form to thank!
9. Butterfly Fall Wreath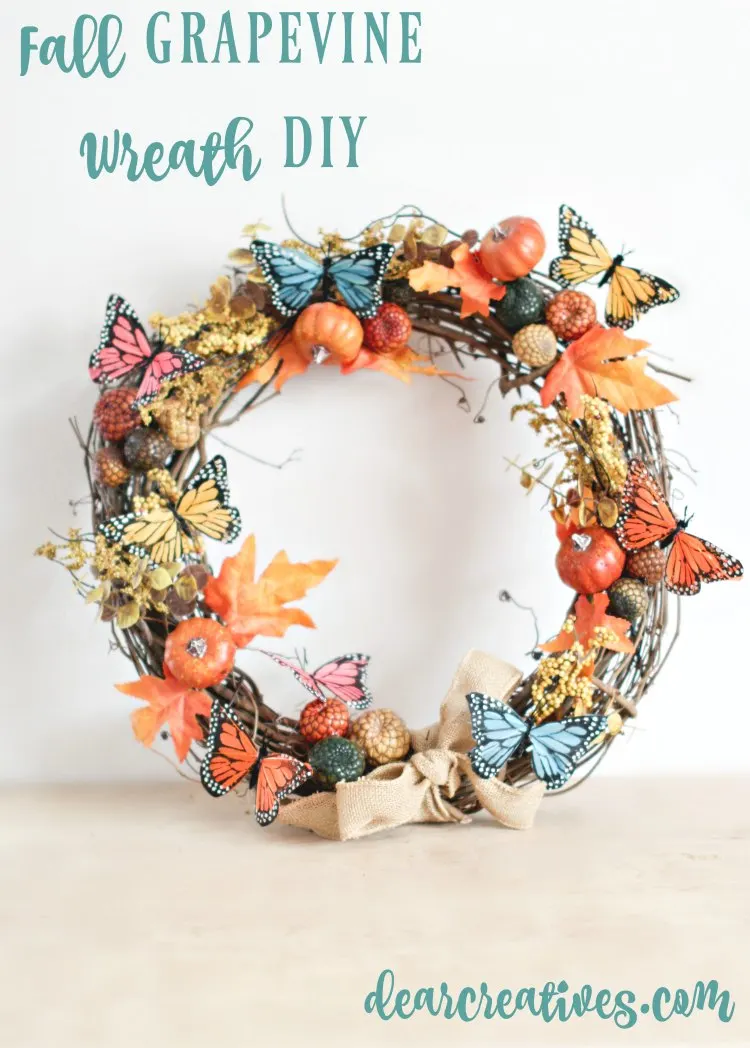 Source: dearcreatives.com
This isn't quite a Halloween wreath unless, of course, you're planning an Alice in Wonderland-themed party. There's just too much fun and cuteness involved.
You can use a grapevine wreath form to help you with your decoration. How about you pick out some acorns and pinecones, too?
First, buy a packet of decorative butterflies from here. You can also pick out some faux fall florals and leaves while you're at it. A nice big burlap bow should finish it off quite nicely.
10. Burlap Pumpkin Wreath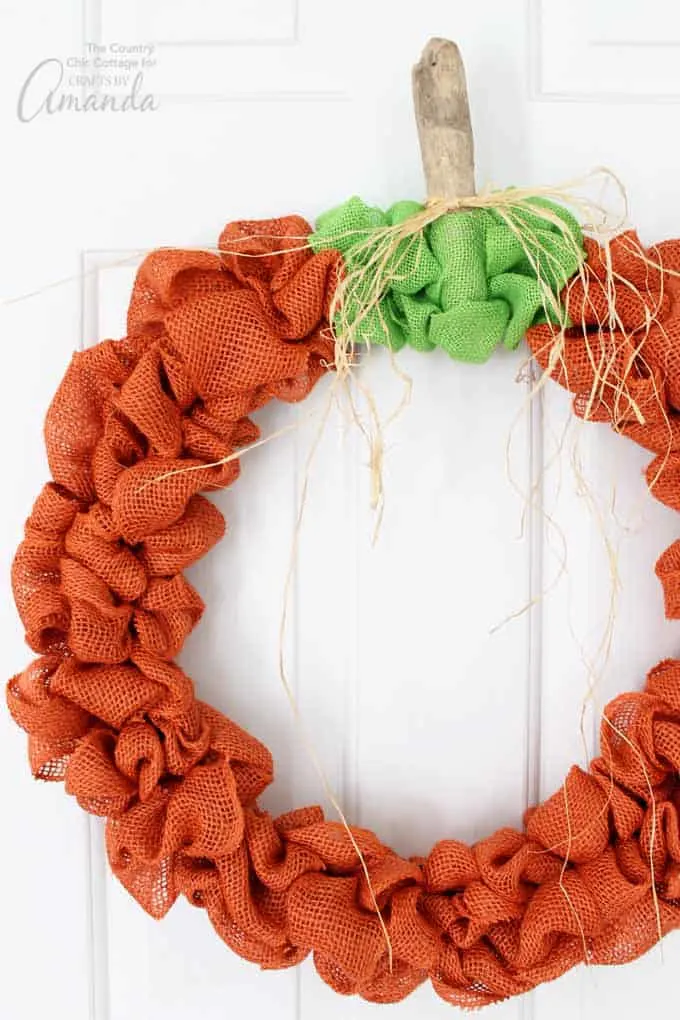 Source: craftsbyamanda.com
I hope you managed to save some of that burlap ribbon from your previous projects. You'll be needing a ton of it for this particular wreath
In fact, go ahead and get this orange burlap ribbon. Your gorgeous and rustic-chic-looking orange pumpkin is exactly what your front door and home needs.
Once you've managed to recreate that ruffled look and have pinned everything in place, go ahead and wrap a few stalks of straw or hay.
Let it fall down, as seen here, and you're all done!
11. Googly Eyes Halloween Wreath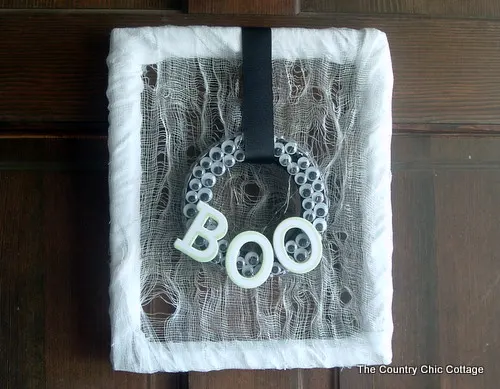 Source: thecountrychiccottage.net
Picture a hundred or so big eyes just staring up at you. It sends a shiver down your spine, doesn't it?
This googly eyes wreath can set the entire Halloween vibe for your home. So, pick out a ton of googly eyes from here, to begin with.
You'll also need a cheesecloth from here, a hot glue gun, black paint, a wooden frame, and some ribbon. You will need to hot glue the eyes onto the frame one by one, so put on an audiobook and settle in.
12. Feather Boa Halloween Wreath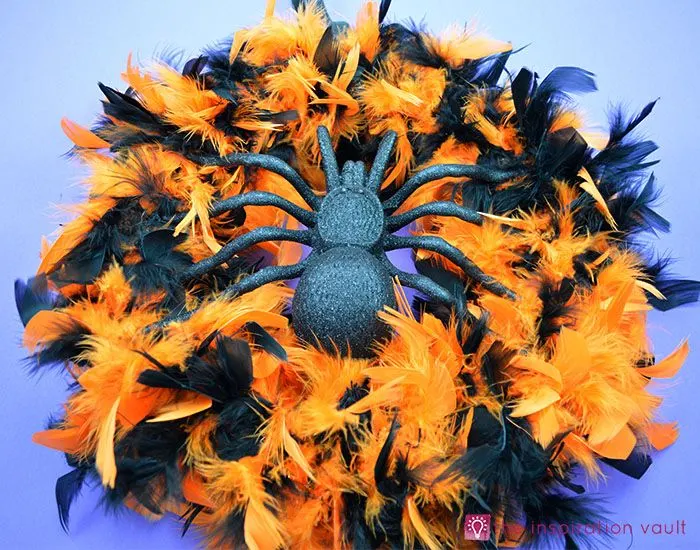 Source: ellemariehome.com
I really love all the feathers and fluff on this wreath. It adds a ton of texture to it. The black and orange colors, too, complements the texture and offsets that big fat spider in the middle.
Now, I won't judge you in the slightest if you want to switch out that spider for something else—a pumpkin or even a skull would be better. But if you decide to go ahead with it, then you're a braver person than I.
You can pick up your feather boa right here and also your foam wreath form.
13. Halloween Treat Wreath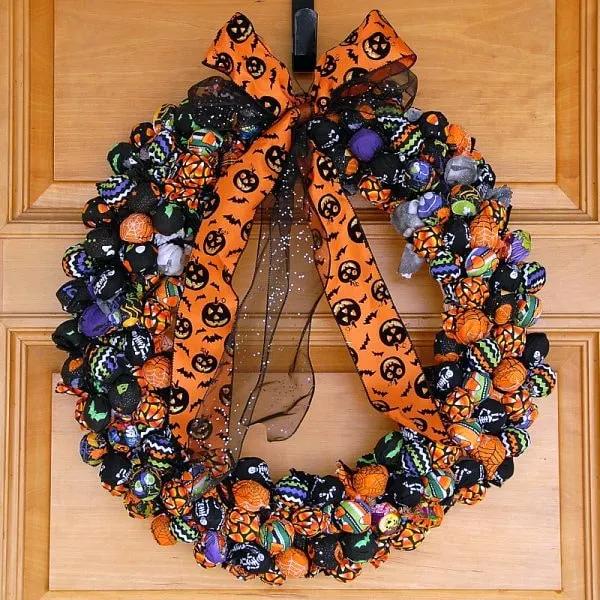 Source: boulderlocavore.com
This trick-or-treat wreath will thrill your neighborhood trick-or-treaters. Why? It's got actual treats on it, that's why!
This wreath required a ton of scrap fabric, so go ahead and pull out your stash. You'll need at least 5-6 sets of patterned fabric to wrap your lollipops in.
You'll need a couple hundred lollipops for this one. If you lay off on eating them yourself, you'll have enough to get you through the evening.
So grab your lollipops and start wrapping! Here are outdoor Halloween decoration ideas you can experiment with!
14. Trick-Or-Treat Bucket Wreath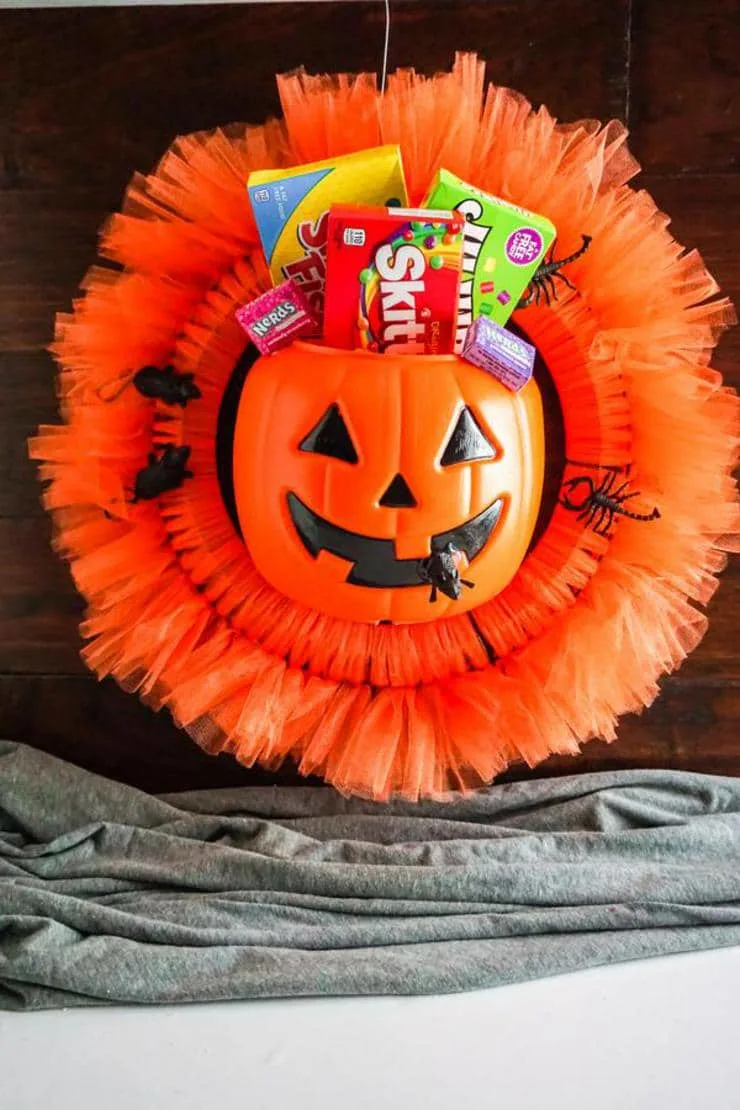 Source: kimspireddiy.com
If you loved the previous trick-or-treat wreath project, you're bound to love this one, too. This easy-to-make wreath will be the talk of your neighborhood, trust me!
The best part? You can get all your supplies at your local dollar store, including your candy and treats.
While this wreath already has a ton of treats and tricks in the basket, you can still add a couple of spiders, a skull or two, and the likes to jazz it up.
Just pick up this tulle ribbon and start right away!
15. Eyeball Wreath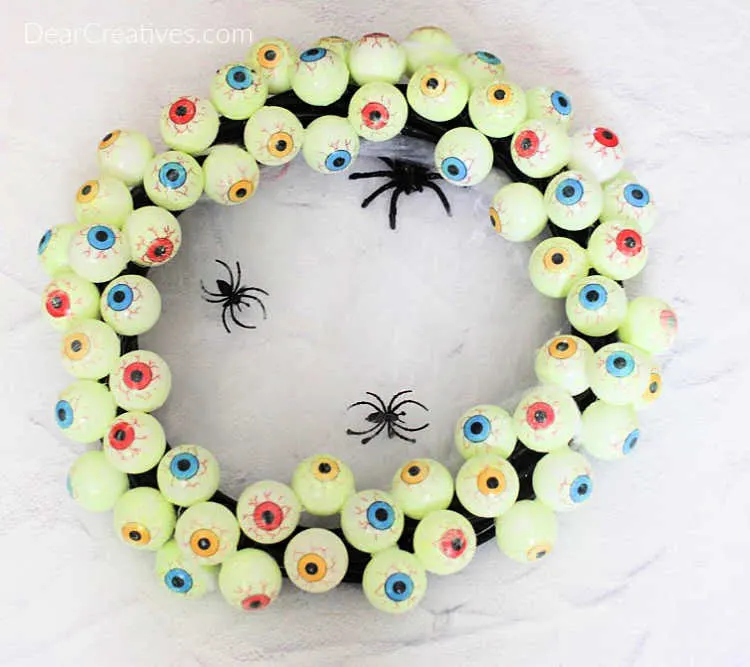 Source: dearcreatives.com
Did your neighborhood kids get a kick out of your googly eyes wreath? How about you kick things up a notch with the spook factor for your next DIY wreath?
You already have a ton of craft eyeballs from your previous projects, but do you have this willow wreath? Then pick one up and start assembling your supplies.
Here's an idea: how about you string some twinkling lights and weave them into the wreath. When you turn them on, they're sure to illuminate the eyeballs in the spookiest possible light!
16. Medallion Halloween Wreath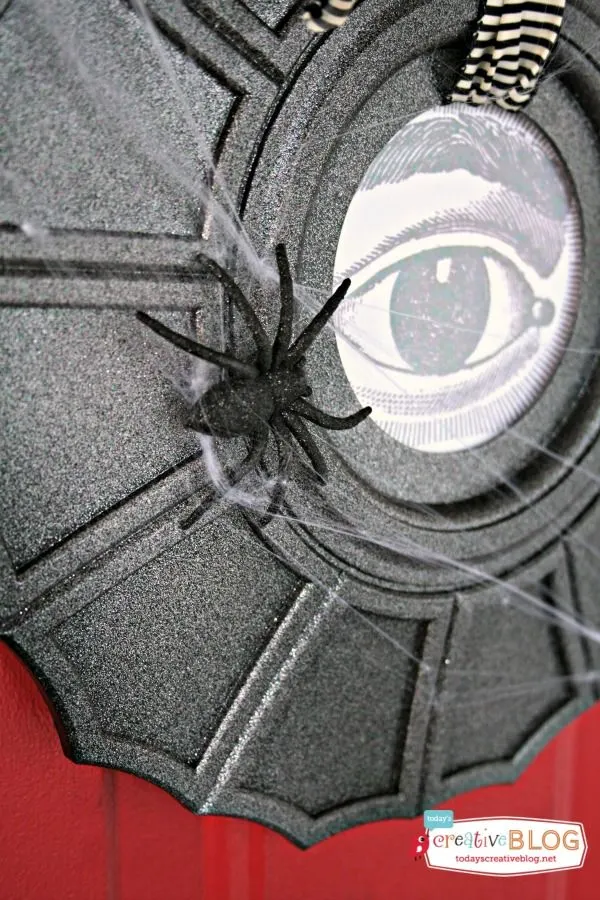 Source: todayscreativelife.com
A medallion wreath is rather a statement piece to have in your home. You could even consider it to be an accent piece at your front door.
Since it's Halloween, why don't you make the wreath a little…startling? How unsettled would you feel if you saw an eye peeping up at you through a keyhole? So let's recreate that!
You'll need to print out the 'eye' template and also find a rather attractive length of ribbon. It's only from the ribbon that you'll be able to add color to this otherwise sober medallion wreath.
17. Haunted House Halloween Wreath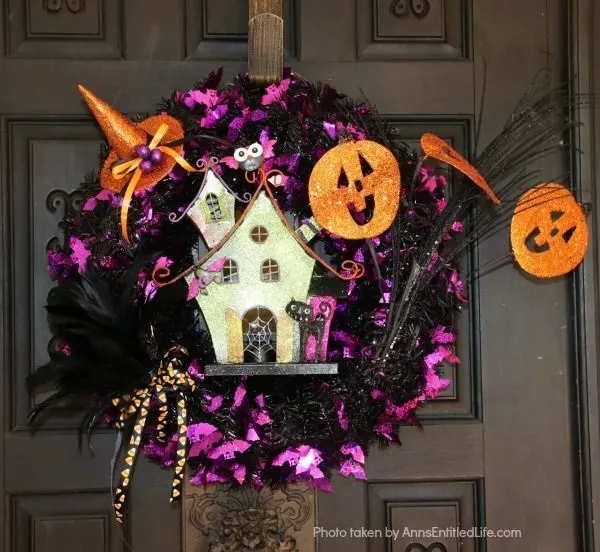 Source: annsentitledlife.com
This whimsical Halloween wreath is really pretty easy to make. If you know what you're doing, you can have it put together in under half an hour!
It all comes down to how you 'dress' the wreath. You can go all out and bring out the big guns, so to speak, or you can keep your haunted house on the DL.
Just remember to watch out for the size of the wreath. It's easy to get carried away with adding decor pieces to your wreath.
You'll end up with a huge, hulking wreath that overwhelms your front door if you don't watch out.
18. Witchy Wreath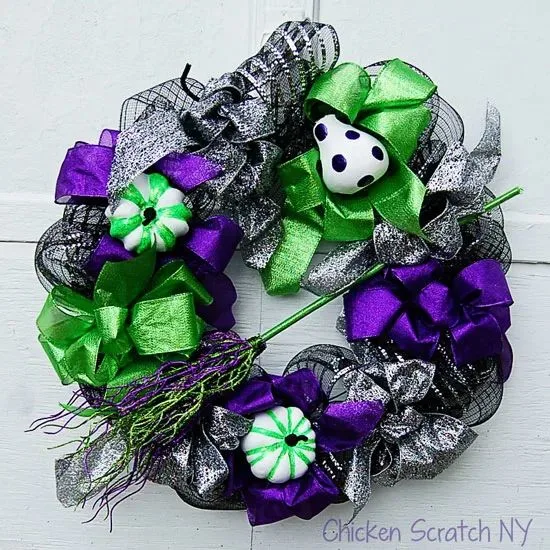 Source: chickenscratchny.com
Check out this witchy wreath! It's got a rather striking combo of colors: green, silver, and purple, mixed with the odd specks of black and white. It includes all witches' colors!
My favorite part is the broomstick that sits perched diagonally across the wreath. There's such a fun level of chaos and color, too!
If you plan to recreate this wreath, then bear in mind two words: sparkle and glitter! Witches might not be fairies, but they deserve sparkle, too!
Check out these Halloween crafts for adults you're bound to love!
19. Spider Ornament Wreath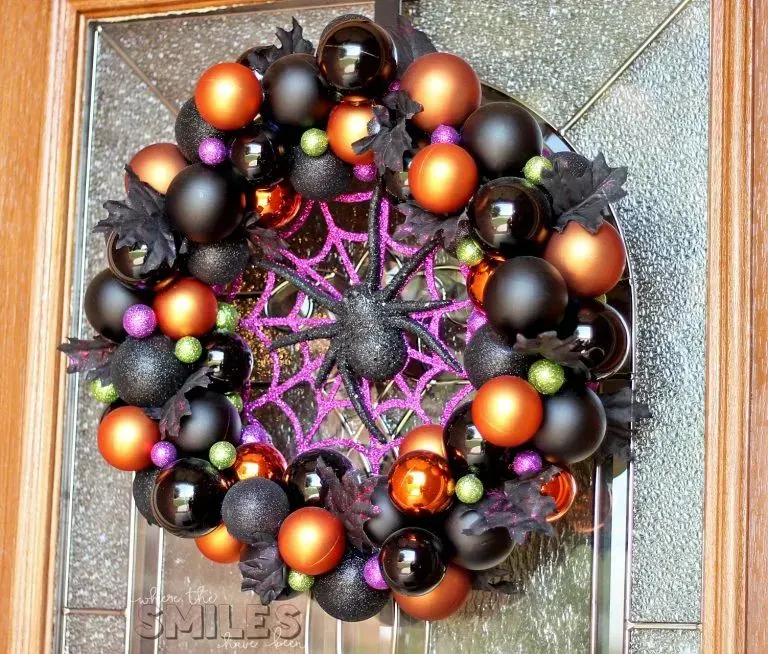 Source: wherethesmileshavebeen.com
If you thought that ornaments only belonged on Christmas trees, then you've clearly never seen a Halloween wreath like this one! It's laden with bright ornaments and trinkets—Halloween-themed, of course!
You've got your typical glass balls, only instead of bright reds and greens; they're orange, black, and purple. You can even catch a couple of black holly leaves in there.
Don't forget this spider and web ornament! It's exactly what your Halloween wreath needs to sparkle and shine.
20. Spooky Webby Wreath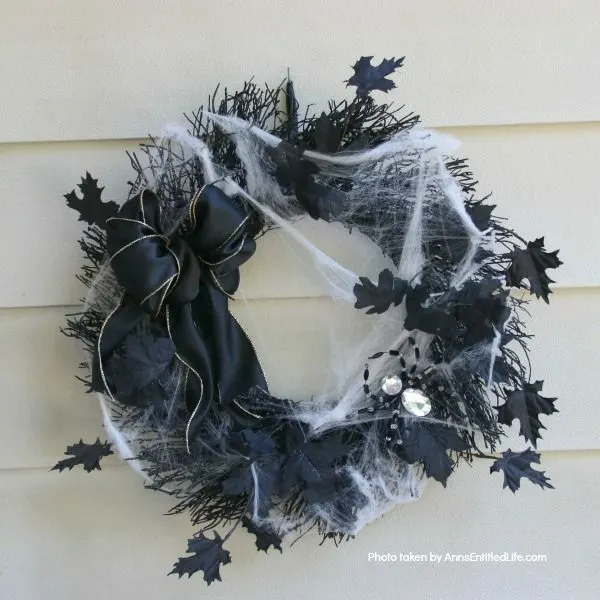 Source: annsentitledlife.com
This wreath looks like it belongs in a dark, dank corner of a haunted manor. That makes it perfect for your Halloween wreath because that's exactly what you need!
You can pick up a 20" black wreath, a few mini craft spiders, a black wreath garland to use as an overlay, and a pair of cutters. Gather your supplies and start assembling your wreath.
You can find spider webbing here. I'd recommend that you don't skip this step or skimp on the webbing. It adds some much-needed spookiness to your wreath.
21. Cupcake Liner Wreath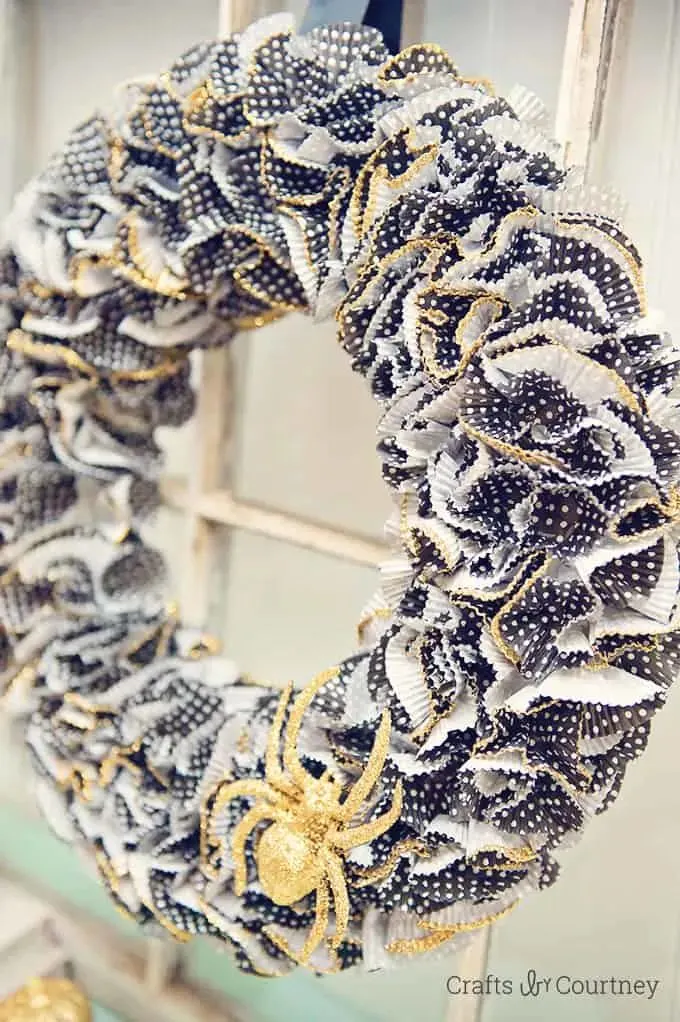 Source: modpodgerocksblog.com
Did someone say cupcakes? Because I have a great idea for a cupcake liner-wrapped wreath. It's very cost-effective and easy to make.
Depending on the ornaments and embellishments you use, you can use them year-round. You can also make it a seasonal wreath with fall colors and fall leaves or flowers to help decorate it.
You'll need quite a bit of cupcake liners and push pins for this wreath. You can also spray a thin layer of liquid glitter over the wreath to add some much-needed shine and sparkle on dark Halloween night.
22. Black And White Witch Wreath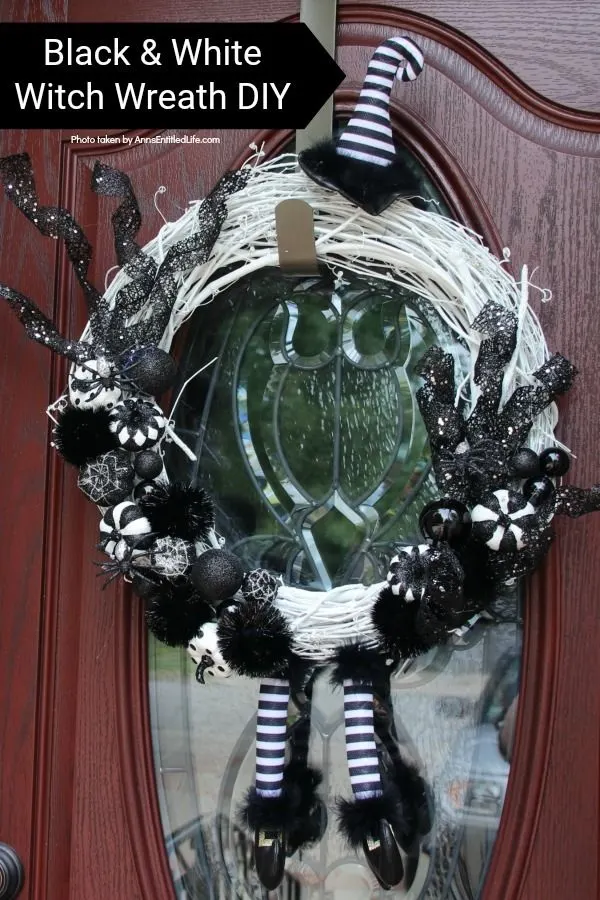 Source: annsentitledlife.com
Here's another witchy Halloween wreath for you to hang on your front door. This one's all black and white, devoid of the usual Halloween colors, but it really is quite pretty for a witchy wreath.
You'll need a white grapevine wreath and organza ribbons that you can coil and pin in place. You'll also need a few black and white pumpkin embellishments.
My favorite part of this wreath is the hat that sits perched atop the vines. Oh, and let's not forget that striped legging-clad legs dangling down!
23. Rainbow Pumpkin Wreath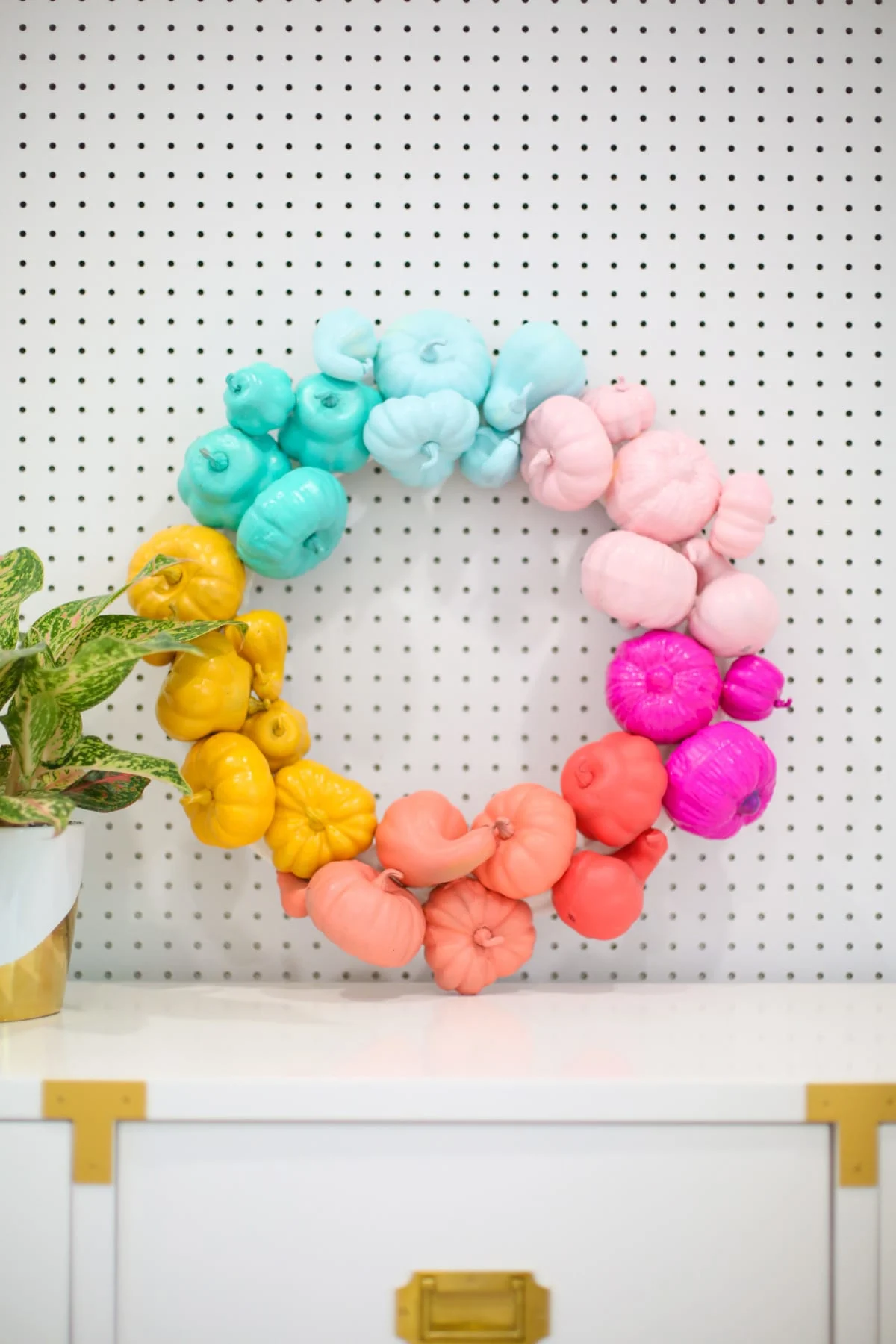 Source: lovelyindeed.com
If that last wreath was all about black and white, this one's all about rainbow colors. Just look at that gorgeous yellow front door with its sassy pumpkin wreath!
This just proves that Halloween wreaths don't have to be spooky or only have dark colors. Pick up some artificial pumpkins and gourds from here to help you get started.
Paint them in different shades and lay them out over a newspaper to dry. Only work with your freshly-painted pumpkins after they've dried completely.
24. Black Lace Wreath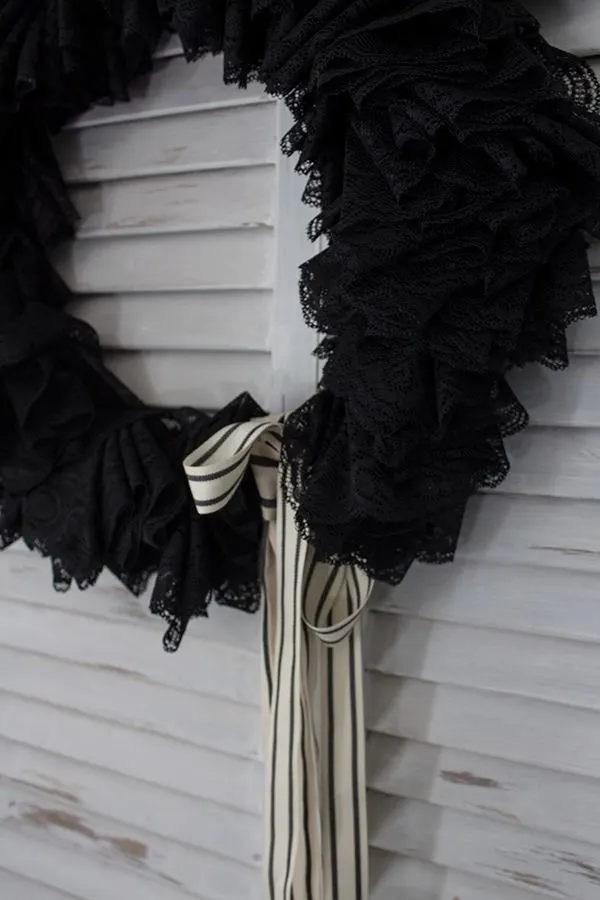 Source: thehoneycombhome.com
This is the kind of Halloween wreath you'd expect to grace the house of an old dame, duchess or lady, or someone from the Addams family. It's got that oddly charming 'I'm in mourning' vibe that's perfect for Halloween!
You'll need a ton of lace ribbon from here. You can offset all that black lace with a patterned bow.
Here's a tip: after you attach the bow, allow the ribbon to trail down to the floor. It's dramatic to boot, and you don't have to cut the ribbon this way, which means you can reuse it for another project!
25. Freddy Krueger Halloween Wreath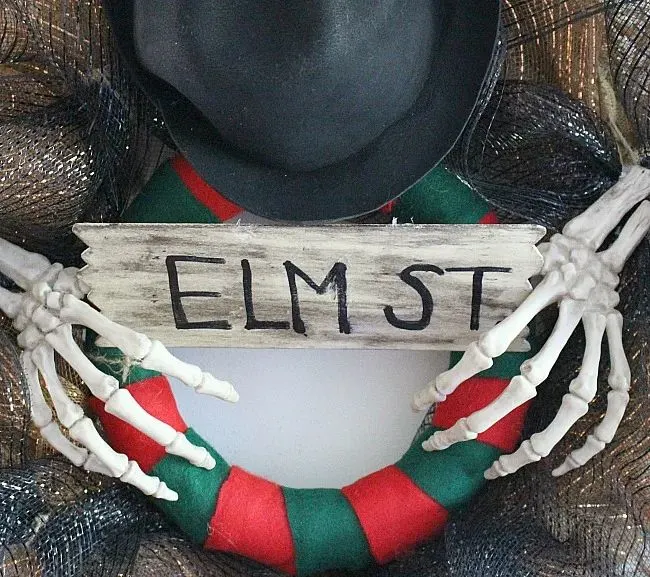 Source: ourcraftymom.com
Freddy Krueger at Halloween is like Santa at Christmas; he belongs right up there for being such a Hollywood-themed-Halloween legend.
He looks like he walked right out of a nightmare and…onto this Halloween wreath! Check this out!
The signature black cowboy hat is the perfect touch. It looks like Freddy Krueger decided to hang up his hat and walk inside that house to give the family inside a good scare!
26. Spooky Skeleton Wreath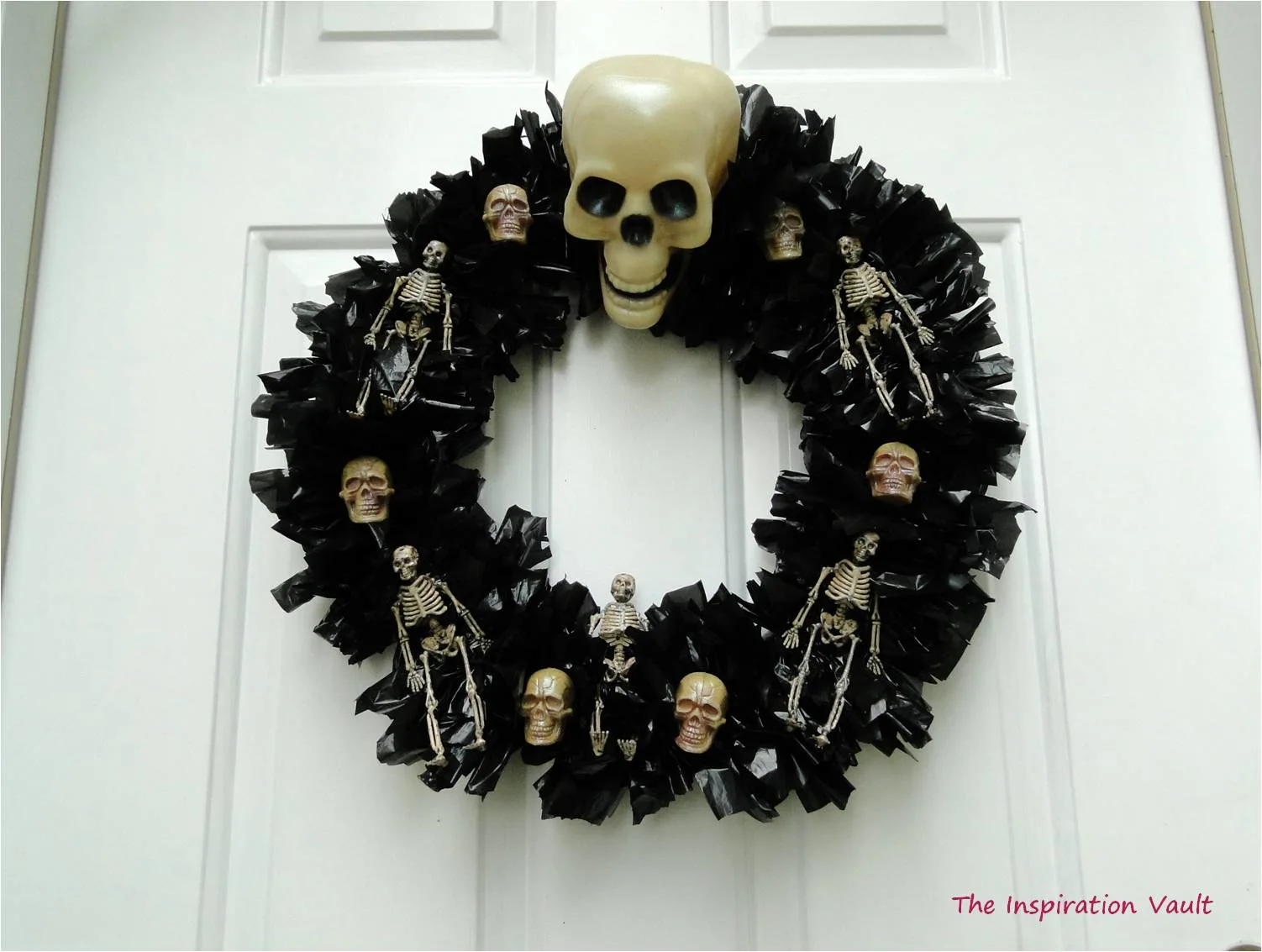 Source: ellemariehome.com
You can't have too many skeletons for Halloween; you just can't. So let's indulge this skeleton mania with a spooky skeleton wreath.
You'll need to assemble these materials first:
A foam base
Trash bags(black)
Clear packing tape
Scissors
Spray glitter
Skulls—small, medium, and one large
You can switch out the trash bags for cloth fabric and wrap your wreath form accordingly.
27. DIY Rustic Glam Fall Wreath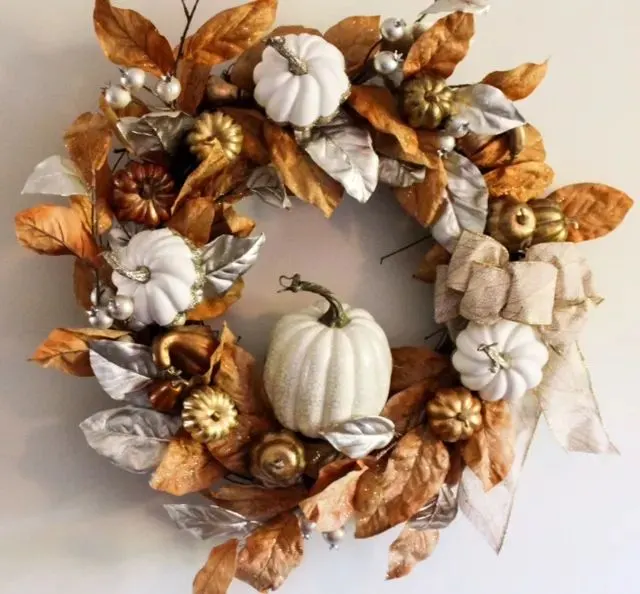 Source: ourcraftymom.com
Head down to your local craft store or dollar store and pick out a few copper, gold, silver or any metallic pumpkins. You'll also need a few white pumpkins with metallic stems.
Once you've bought everything you need, you can get started on assembling your wreath. While this wreath is largely copper and gold-hued with white pumpkins tossed in, if you look close, you'll find a lovely tinge of blush.
You can use blush-colored ribbon to make and wrap a nice big bow, and you're all done!
If you're looking for more creative ideas, check out these fall crafts that are super fun to make!