Looking for easy painting ideas to transform your bedroom or living room space? Find the Canvas Painting Ideas for Beginners and enjoy the creative process.
Got a few canvas boards at home, acrylic colors, or oil paints? Combine different colors to create a masterpiece of your own. These easy canvas painting ideas have easy steps to accomplish the end result.
So, don't fear to take the beginner's step and paint your next great idea! As simple or as detailed as it is!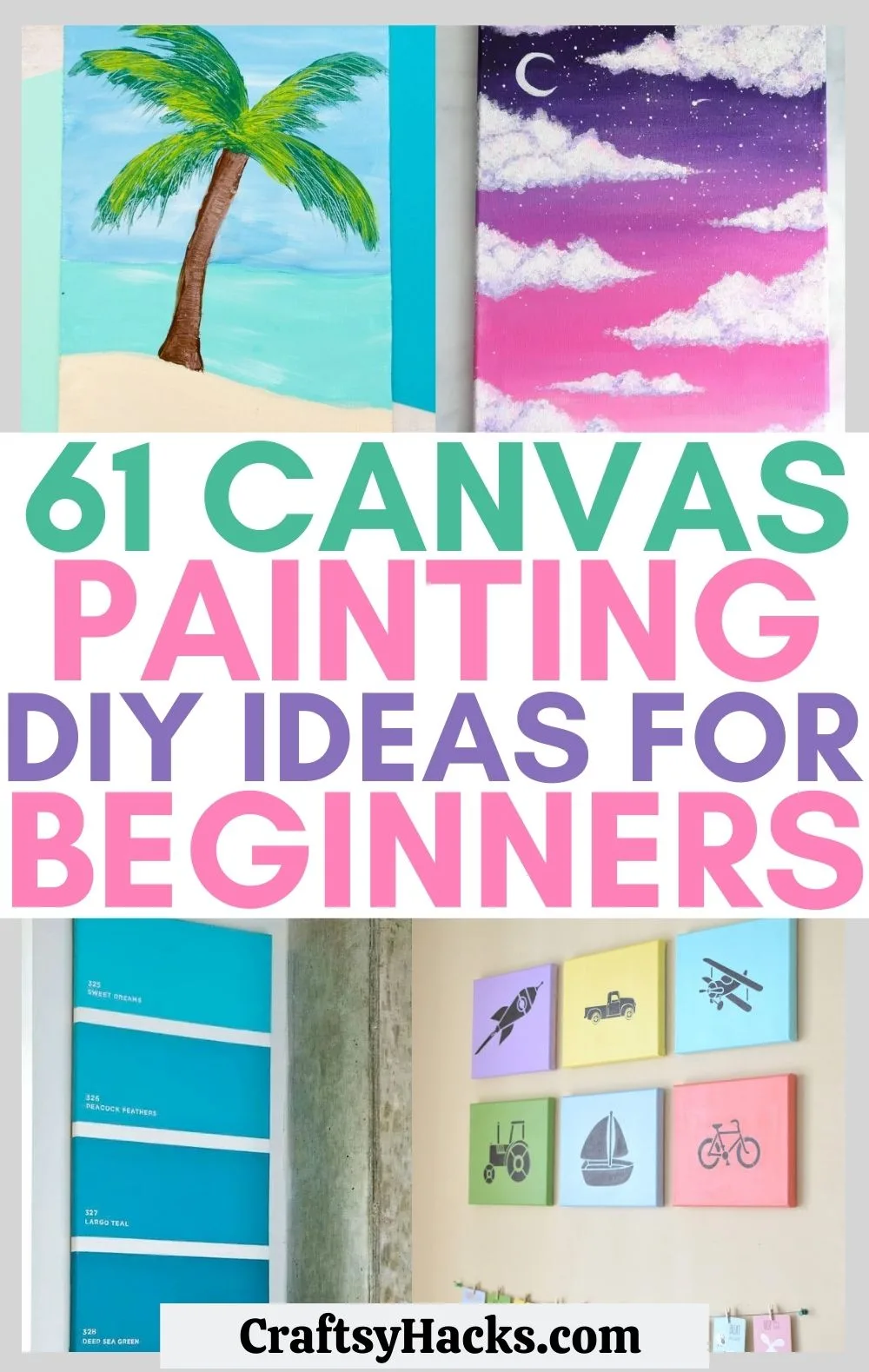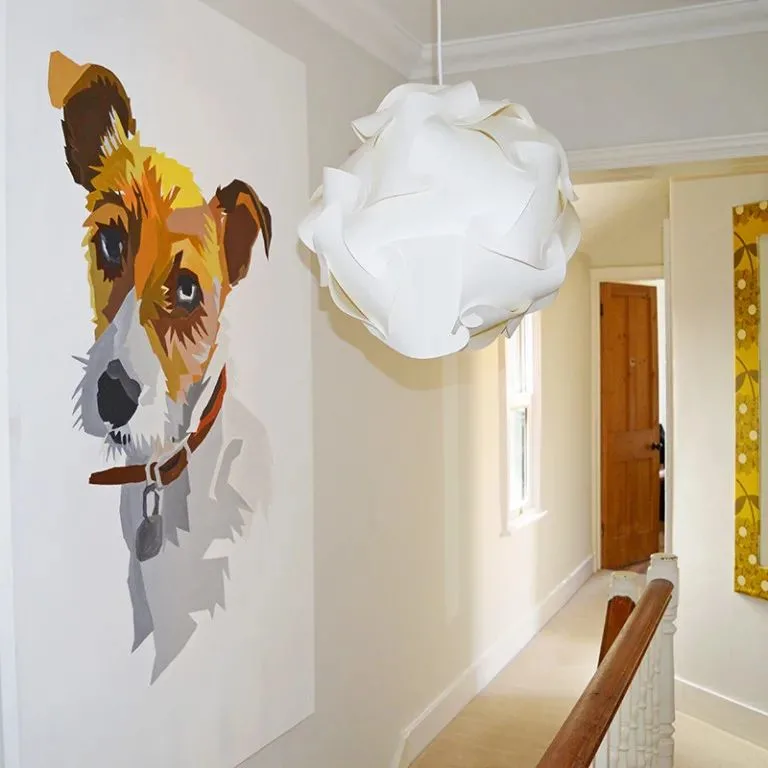 Source: pillarboxblue.com
Painting dogs might seem tricky, something that only professional artists can do.
But, actually, once you get the hang of it, it's all in a day's work. Besides, the trick to painting dogs is to get their soulful puppy dog eyes right.
Check out this giant wall art! Don't worry; it's not as daunting a task as it might seem at first. You just need to plan ahead and buy a large-sized canvas to work on. You can buy one right here.
Then, go ahead and pick your paints. You will also need an overhead projector or an art projector from here. This will come in handy when you want to project your photo to use as a reference.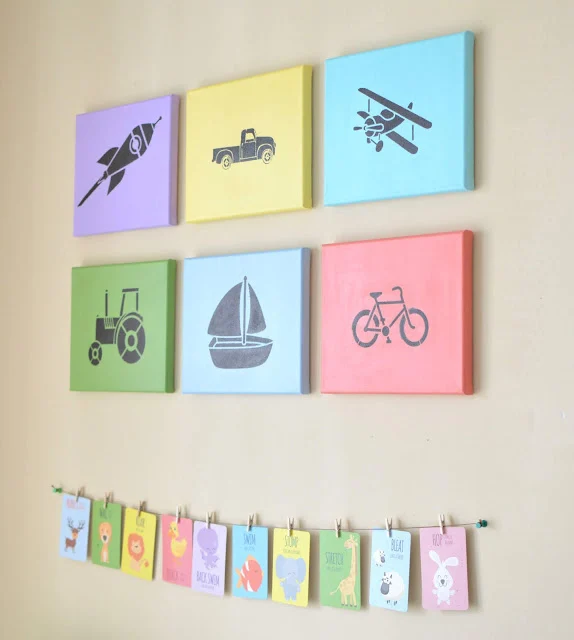 Source: vikalpah.com
This set of DIY stenciled wall art is simple, no-fuss, and cute as a button. That's why it would look perfect in a nursery or your kids' room. It also just offer a great way to start your painting journey.
It's never too early to get them interested in art, right? While Picasso or Monet might not quite speak to toddlers or kids, something fun like this stenciled set definitely will.
You can choose your stencils of choice, be it a vehicle-themed set with an airplane, tractor, sailboat, rocket, truck, bicycle, or even farm animals.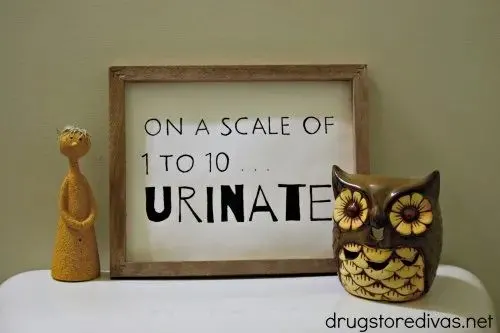 Source: drugstoredivas.net
Don't you just love it when you find those hilarious signs in the bathroom? They have some of the funniest phrases ever, and a little light reading early in the morning can help you take a load off.
This particular sign reads: "On a scale of 1 to 10…Urinate!" Go ahead and do a little creative browsing on Google and find something that calls out to you.
Next, grab a cotton canvas and paint your sign, frame it, and just hang it up in your bathroom. The guest bath would be my first stop!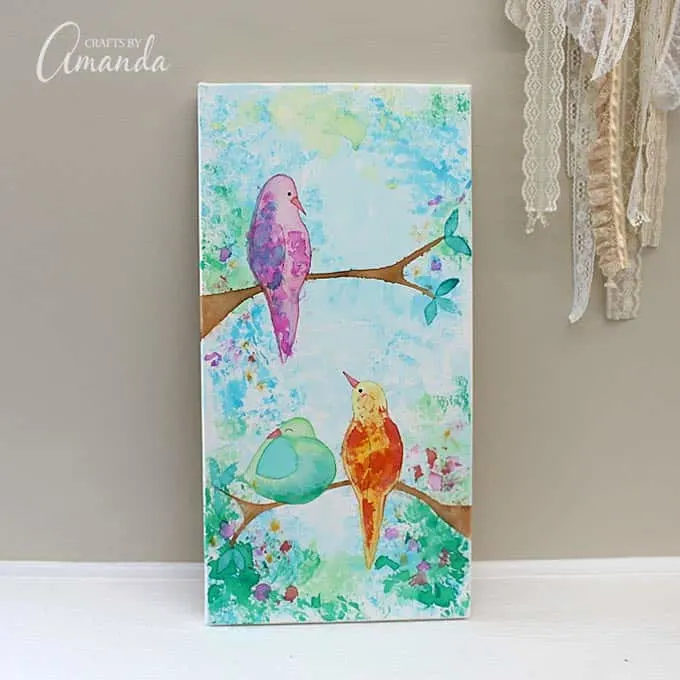 Source: craftsbyamanda.com
Tissue paper painting is a style of painting that can look quite unique and innovative. What better way to get started on this art technique than with pretty birds, right?
First thing, you will need a roll—or two—of toilet paper(look here), a flat palette or a paper plate to help sponge up the paint, and finally, your canvas.
If I were you, I'd probably stay away from red paint for the birds, at least until you get the hang of this technique. Trust me; you don't want your birds to look like they're bleeding!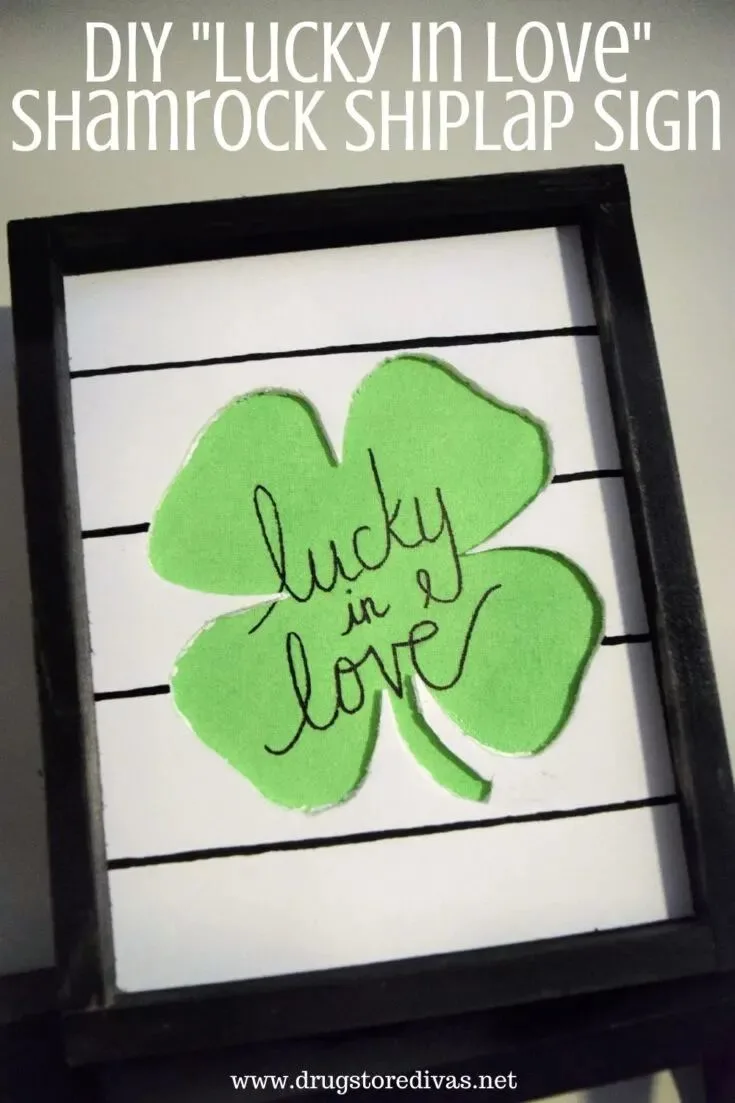 Source: drugstoredivas.net
Lucky in Love is a phrase that can be a little cliched. But when you know, you know, right, and I guess that does make you lucky.
This lucky in love sign is extra lucky because you've got a pretty four-leaf clover, too. Just grab a sheet of foam from here and cut out a four-leaf clover before painting your message.
Also, for this project, you will need a stretched canvas. Carefully remove the canvas from the frame before you paste the leaf over it.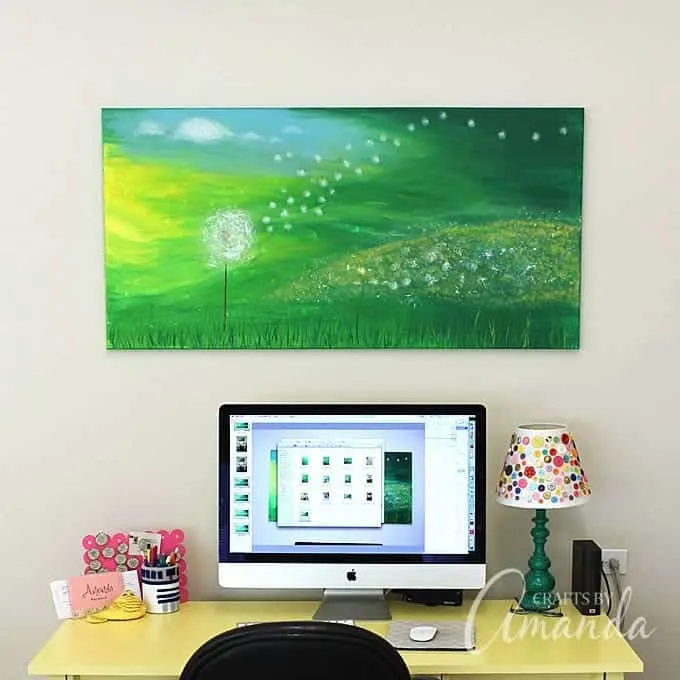 Source: craftsbyamanda.com
Painting dandelions on a canvas might be daunting at first. The trick is to capture the moment when the dandelion seeds float away.
You also need to capture the colors and movements of the fields and skies behind the dandelion. Practicing your blurring technique might come in handy.
Once you're happy with the painting, it's time to hang it up. A sweeping canvas painting like this deserves to be displayed above the mantle or over the headboard, don't you think?
This is a truly beautiful work of art that you'll have much fun making.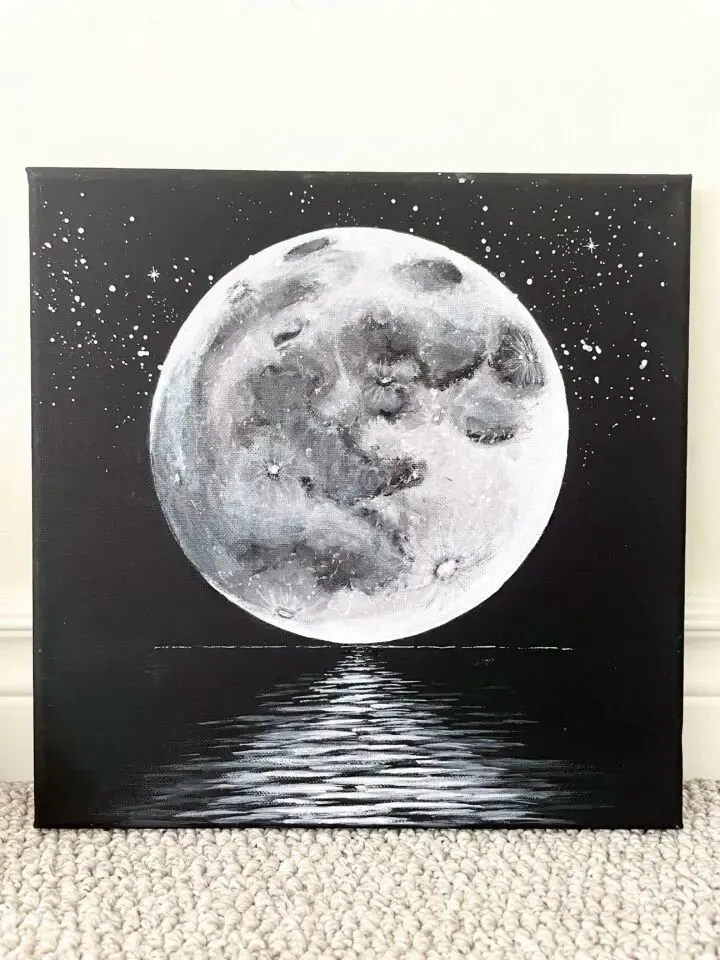 Source: feelingnifty.com
What's the one thing that you never get tired of looking at? For me, it's the moon, and that is your next canvas painting idea, which makes for a great gift and doesn't need a variety of colors.
Painting the moon can be a project for all painters of any level of skill. All you need is to find a square canvas, paint it black—or buy this black canvas—and find a circular object to trace as the moon.
Next, fill in the moon with a few craters and also use this opportunity to practice your shading. When you're done, you can fill in the rest of the canvas with moonlit waters below and starry skies above.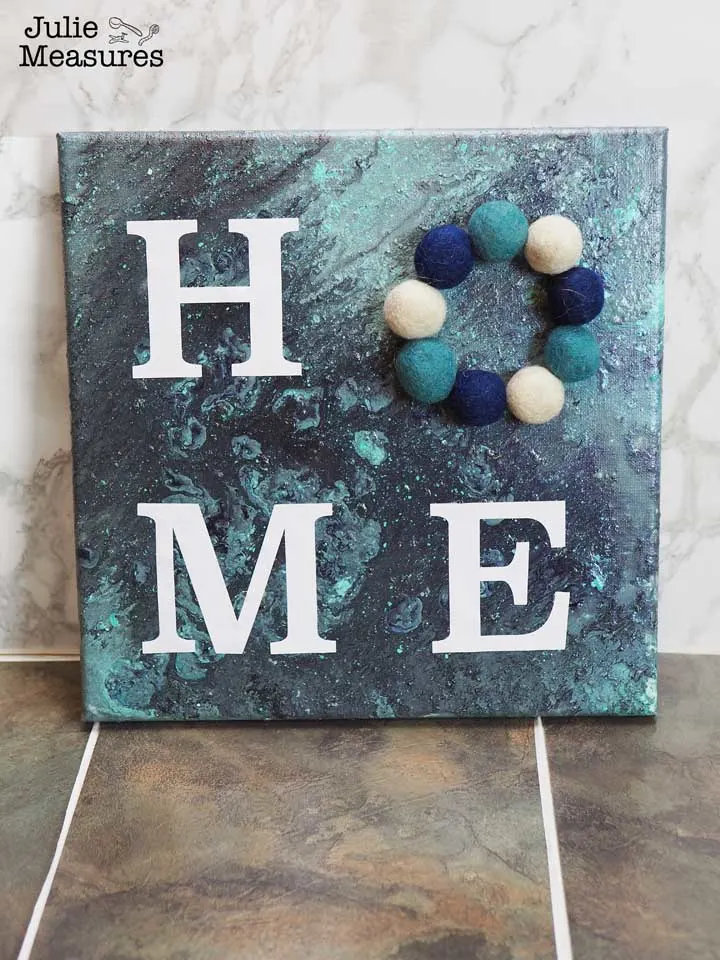 Source: juliemeasures.com
Another go-to motif or theme for all levels of painters is a house or home. But hold up, it doesn't have to be the same old chimney and house painting.
Even a canvas like this, with a bit of 3D effect, can hit the spot. Go ahead and pick out a canvas and paint the base any way you like. Next, grab some stencil letters from here and paint your letters.
For the letter O, however, you're going to mix it up a little. Grab your hot-glue gun and stick a few pom poms from here to form the letter O. And there you go, your home canvas is all done!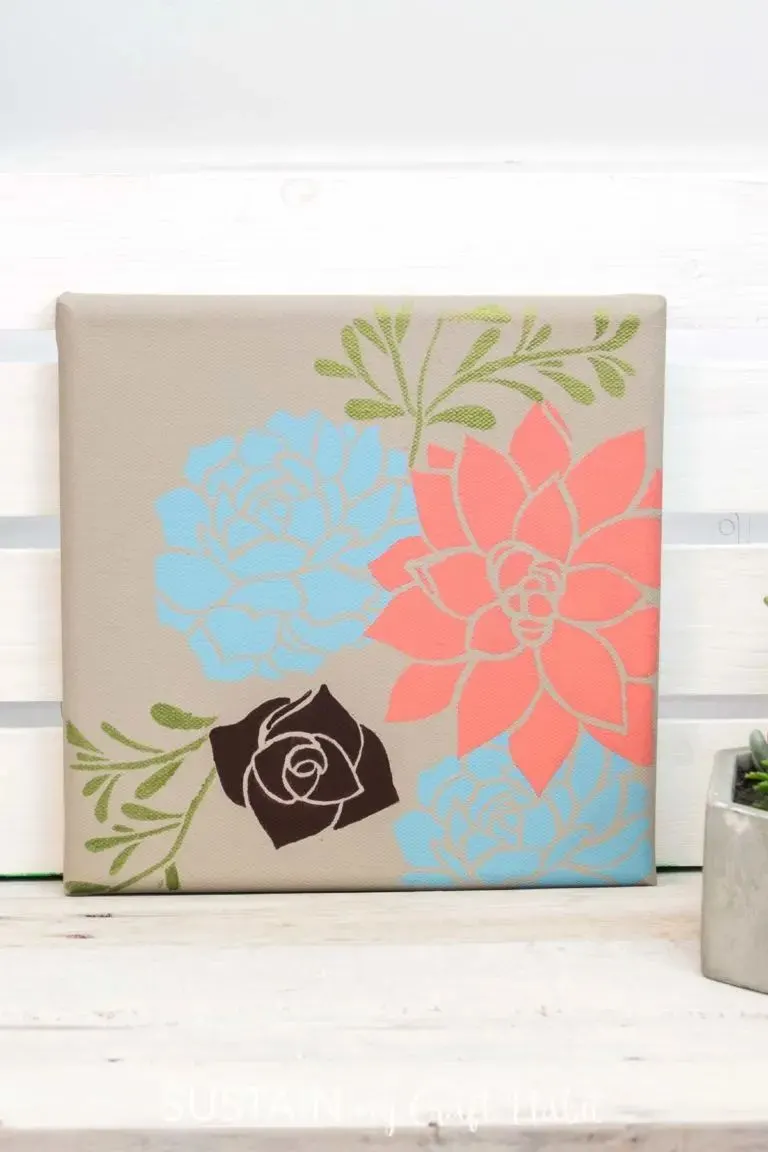 Source: sustainmycrafthabit.com
If I've said it once, I've said it a hundred times: stencil art can be just as good as traditional painting. You do not need to be a professional painter; you just need some good stencils to work with.
First, figure out the theme and color scheme you want. Then figure out the size of the canvas. Finally, browse for the right stencils(look here) and buy some paint and brushes, too.
You can also use a sponge or cotton balls to paint over the stencil. The finish might be a little different, but it's a good different. Feel free to experiment and play around with colors before you paint on the canvas.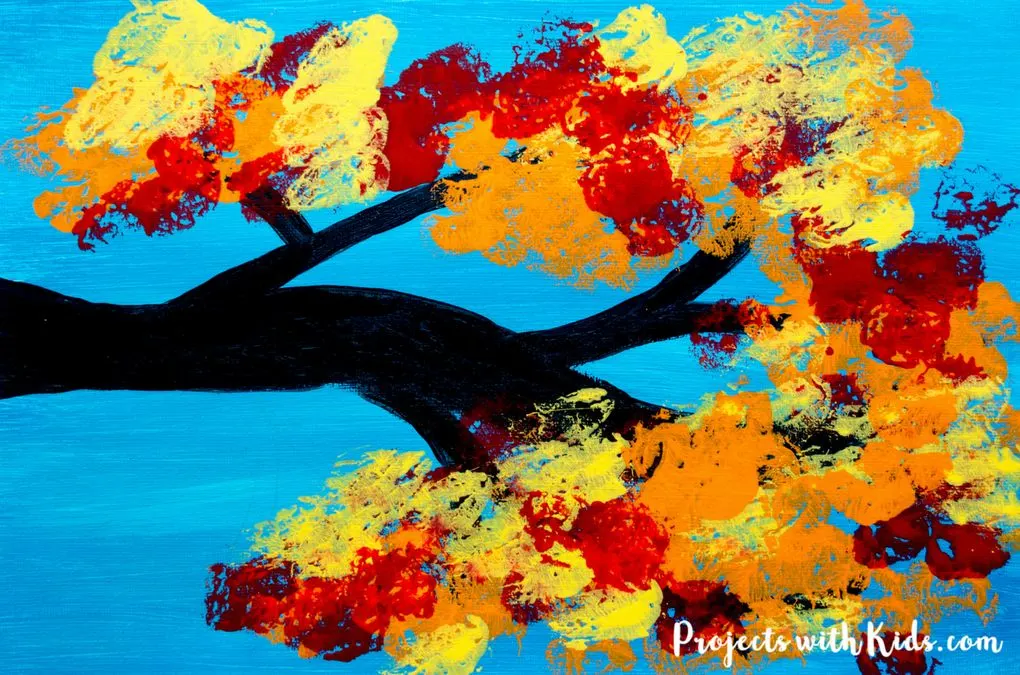 Source: projectswithkids.com
Don't put away those cotton balls just yet. You're going to need them to paint this autumn tree. This project is ideal for just about all ages, especially for kids and toddlers who enjoy getting a little messy.
The cotton balls(look here) give the leaves a lovely texture—fluffy and porous, with a ton of sweeping, billowy patterns. If you want to get more precision with your strokes, then I'd recommend grabbing a couple of clothespins from here.
You can clamp the cotton ball between the clip and paint that way! It's also less messy this way!
Here are 27 fall crafts for kids of all ages to make.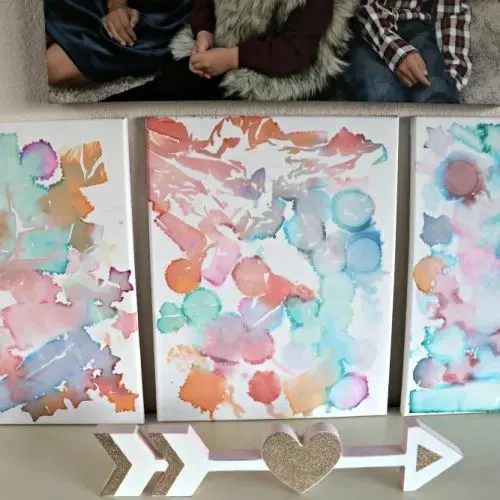 Source: thedenverhousewife.com
More interested in abstract painting?
Watercolors can be pretty great, especially when you're looking to decorate with abstracts. It's an easy medium, relatively inexpensive, and besides, you can't really go wrong with abstract, can you?
You're going to be using tissue papers again and the bleeding art technique, so go ahead and pull out some toilet rolls. However, you might want to invest in some art-grade tissue paper(look here), at least when you paint the picture, if not when practicing.
You will also need a spray bottle with water in it. You can also practice this particular technique of paint dripping before painting on canvas!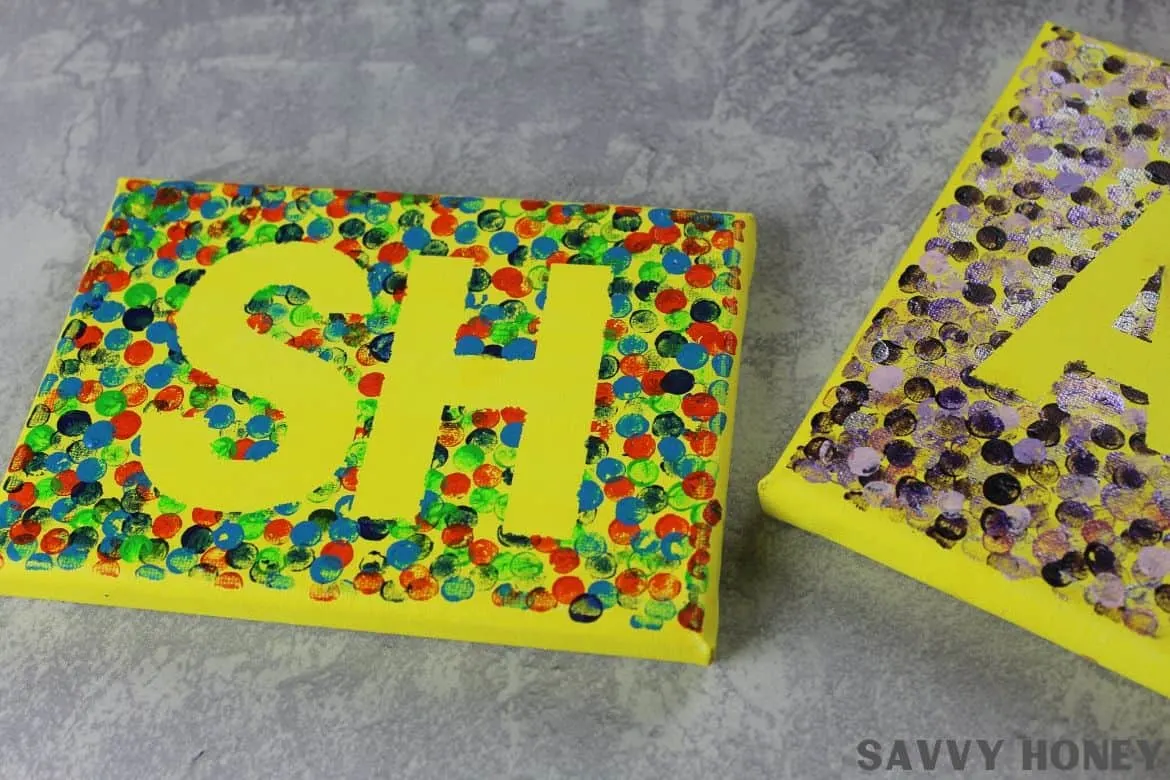 Source: savvyhoney.com
Another super easy canvas art idea is to paint your initials onto the canvas. It's always a go-to when you're looking for something quick and easy.
But just because it's quick and easy doesn't mean it's sloppy. What it is, is personal and unique. It's also an opportunity for your kids to get in on decorating their own room and put their touch on their decor—quite literally.
Pick up some letter stickers, acrylic paint, a couple of brushes, and a paint palette. Just remember to lay out some newspapers, too.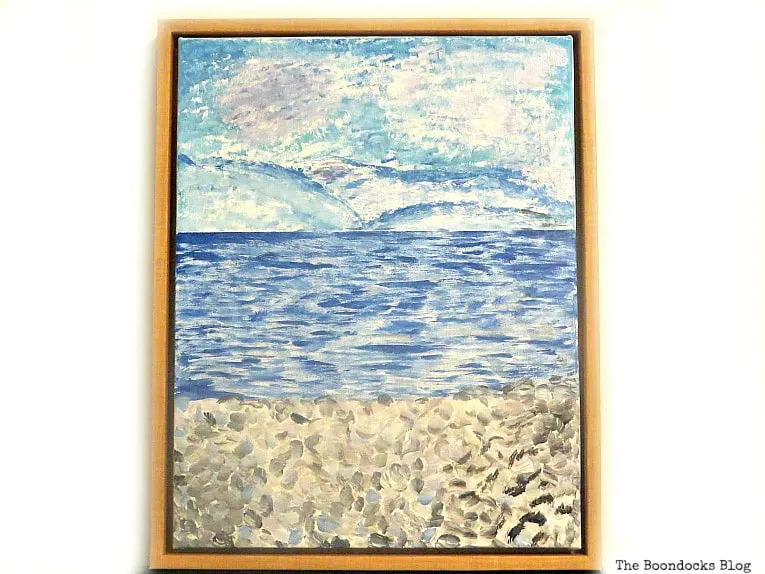 Source: theboondocksblog.com
What's your opinion about impression art, I wonder? All I know is that there's a ton of canvas painting potential that you can tap into with impressionist art, so go ahead and explore.
Here's what you need to use:
Canvas frame
Paints
Brushes
Sponge brushes from here
Impressionist painting is definitely an experimentative process, so just go ahead and enjoy the learning experience along the way!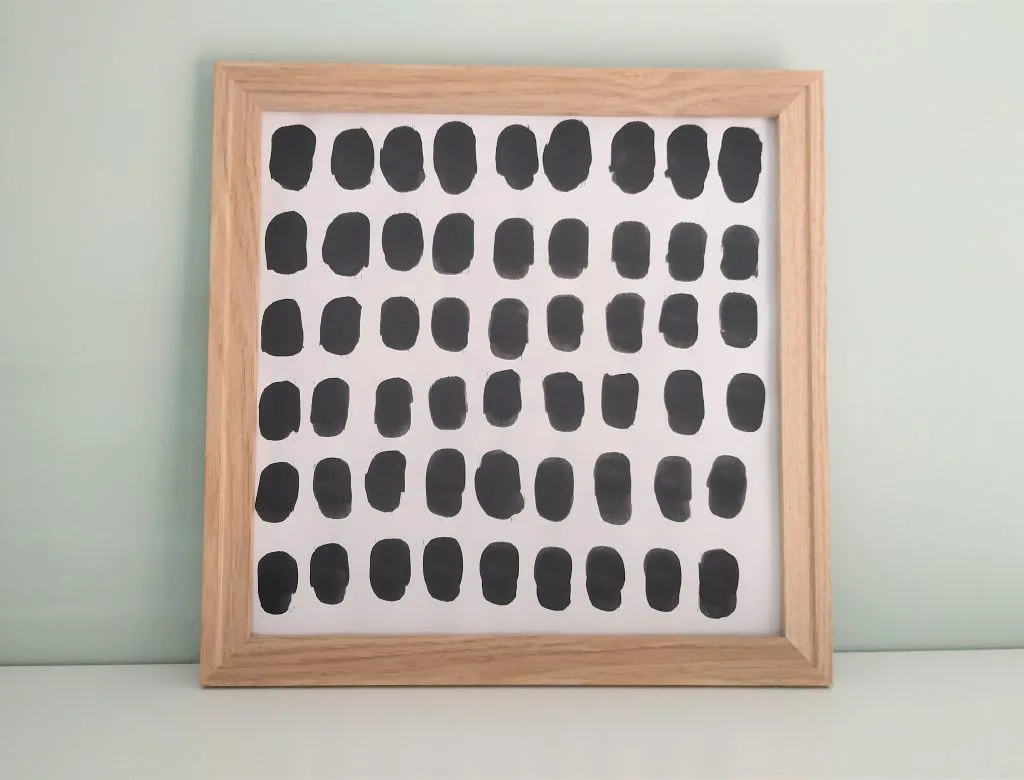 Source: rekindlemydwelling.com
Speaking of experimentative processes, let's just take for granted that you're going to want abstract artwork in your home. It's not a definitive science, but there is a ton of thought and technique that goes into it.
But the reason I love abstract art on canvas? It's because you don't need flair, just a good eye for color. The rest of it lies in the fact that it is custom, unique and modern.
You can repurpose an old frame, or you can buy a simple frame from a dollar store; the painting will still look fancy and unique.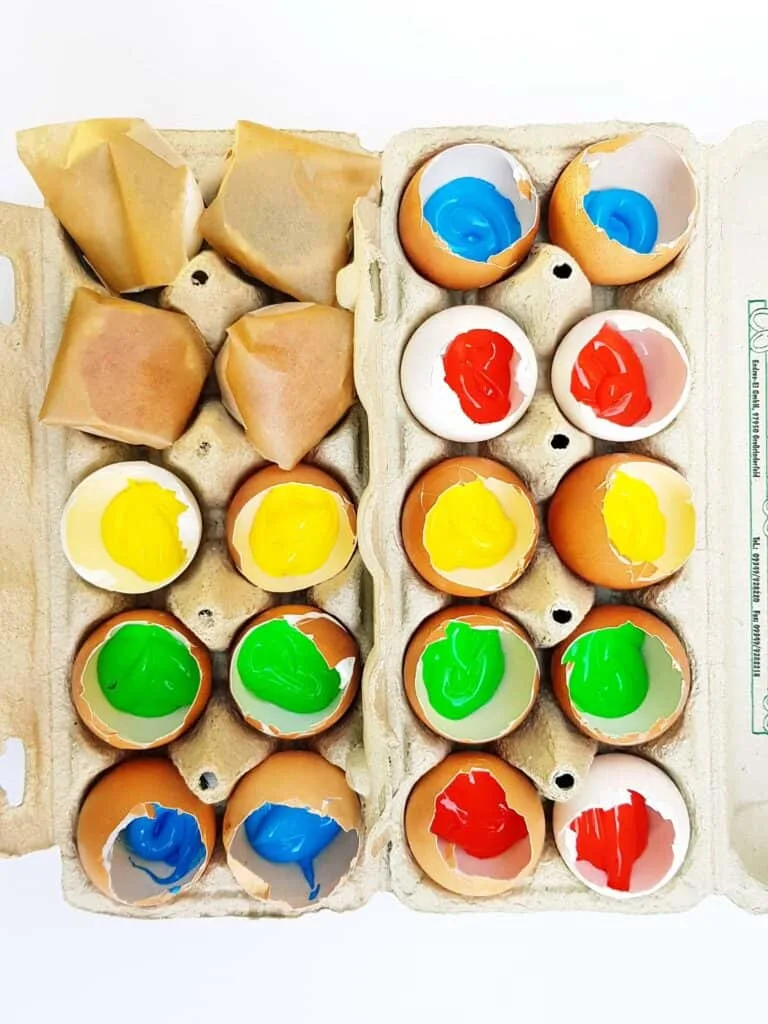 Source: liltigers.net
Eggshell art isn't smelly, trust me. At least not if you clean the shells thoroughly. So clean your empty shells first and pat them dry with paper towels.
You should also keep plenty of extra paper towels nearby—this is going to get messy! If you've got kids helping you with this project, then double the stash.
Once you fill the shells with your choice of colors, it's time for the fun part: throw them at the canvas. Enjoy the crunch of the shells and the splatter of paint across the canvas!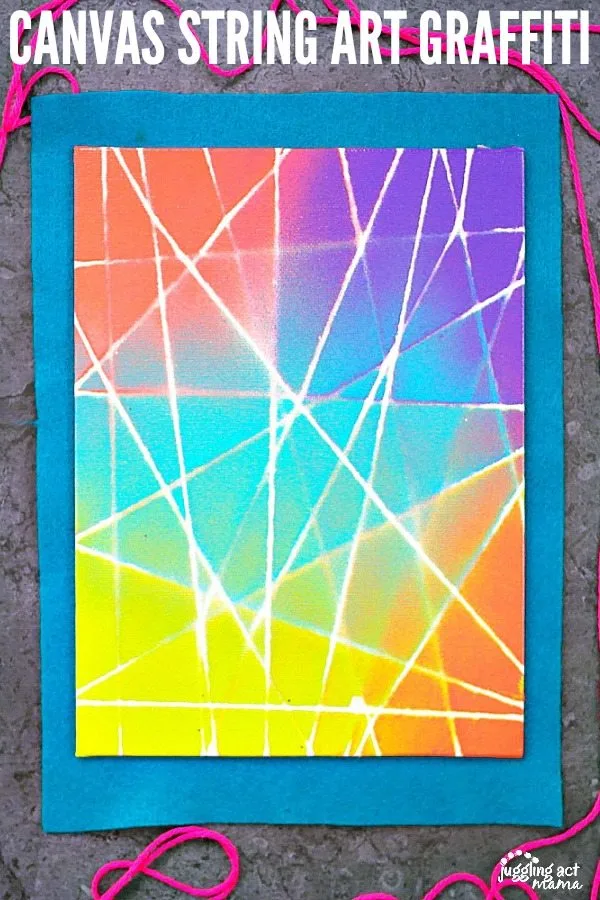 Source: jugglingactmama.com
String art and graffiti, only they're both on canvas…can you see how cool a collaboration of the two can be? String art is an all-time favorite with kids and adults alike and to incorporate it with spray paint just ups the awesomeness.
Grab some yarn or string to get started. You can also use a tie-dye kit if you like; just look here for what you need, or repurpose an old kit at home.
When you're done, cut off the string and remove the tape, but only after the paint has had a chance to dry for at least 3-4 hours.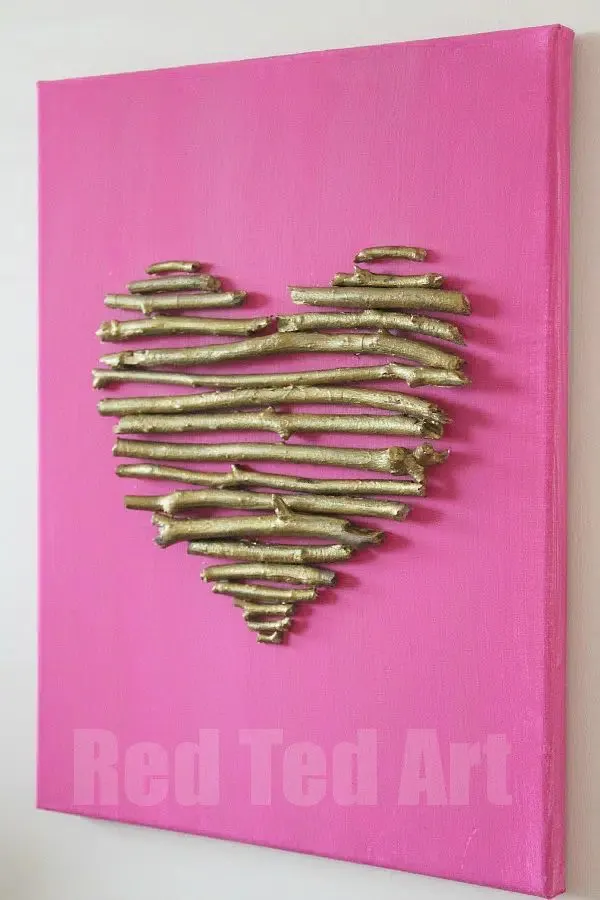 Source: redtedart.com
You've either got an over-enthusiastic dog who loves to play fetch or kids who love to go on adventures and pick up…sticks. So, let's make the most of it.
Go ahead and grab a can of this gold spray paint. Lay out plenty of newspapers first and place your sticks on them before spray painting them.
Then, grab a canvas and give it a few base coats of paint. Finally, when the base paint dries, you can hot glue your sticks onto the canvas—in a heart shape, of course.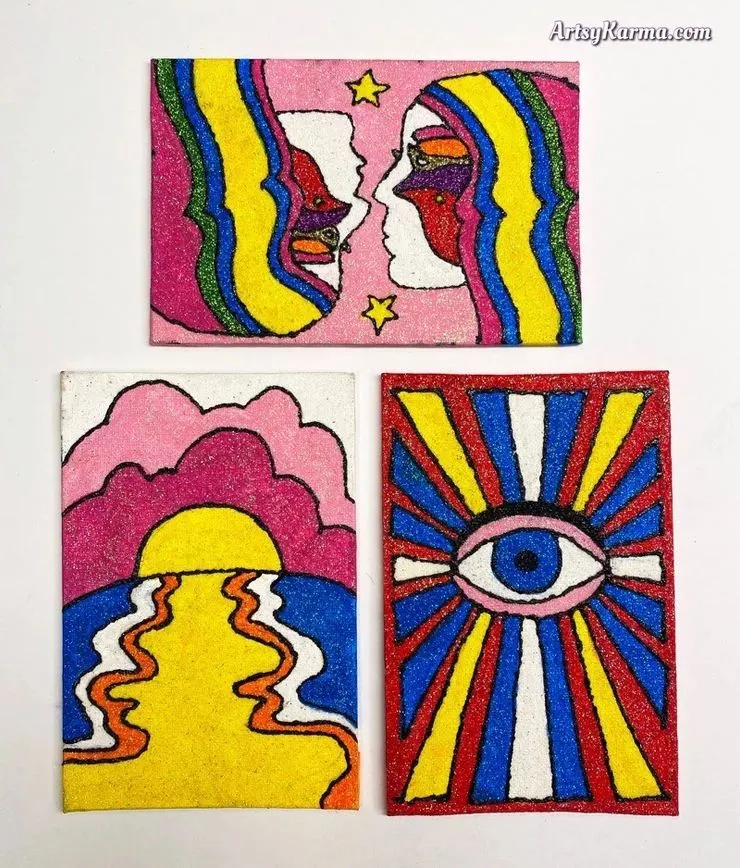 Source: artsykarma.com
I look at these psychedelic glitter paintings, and all I can think of is Glitterati! Imagine a whole canvas filled with these glittery illustrations!
Go ahead and buy a bucket load of glitter—just head on over to the nearest Dollar Store and pick it up. You will also need plenty of mod podge from here and a sealant spray that is suitable for acrylics.
The first step here, as with all other paintings, is to draw an outline for you to work with. Grab a pencil and draw on paper first before you transfer it to the canvas.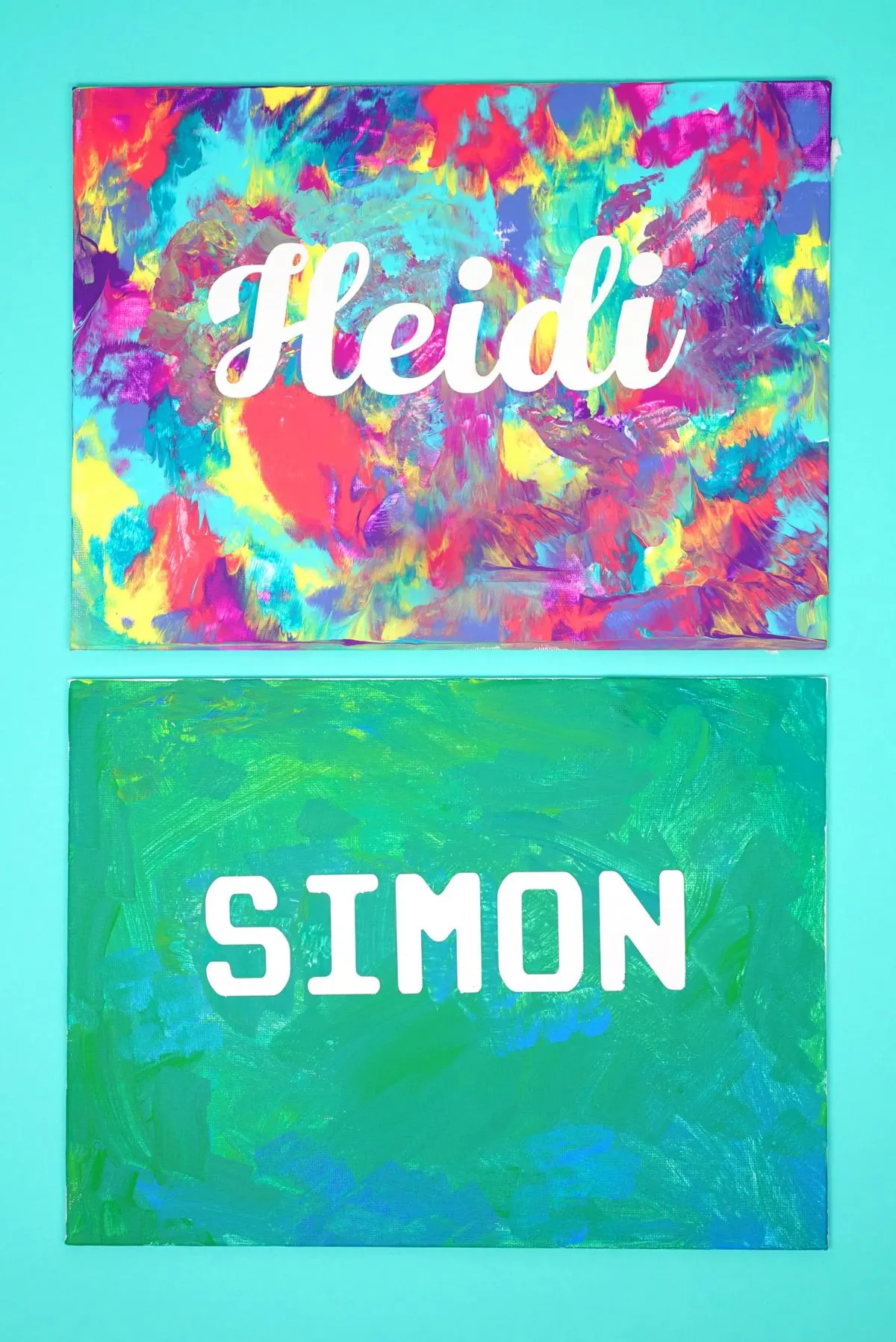 Source: happinessishomemade.net
Silhouette art and techniques can be an important art skill to develop, and it's always good to get your kids started on learning different techniques.
This particular painting can be a great place to start. Your kids can personalize the canvas and paint with their names.
All you need is a canvas and some vinyl letters to add more depth to your painting. When you're done, a layer or two of sealant can make a world of difference!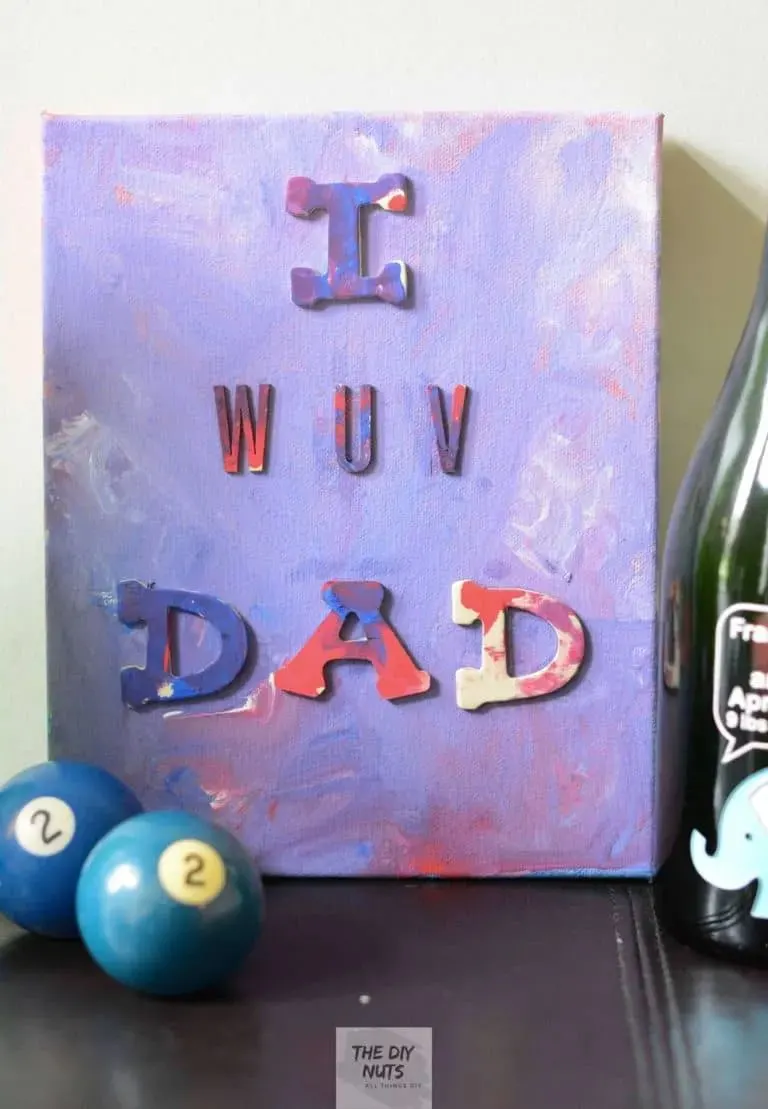 Source: thediynuts.com
Here's another word art painting idea on canvas that looks super professional but is extremely inexpensive and decorative.
It's got a lovely finish that is sweet but without being out of place in your living space. It's also an opportunity to rope your little ones into this project, so make sure you provide them with an easy medium, like watercolors.
The wonder of word art is that you can spell out just about anything, even if it isn't a conventional message. This one actually reads 'I WUV DAD,' which only makes it more endearing.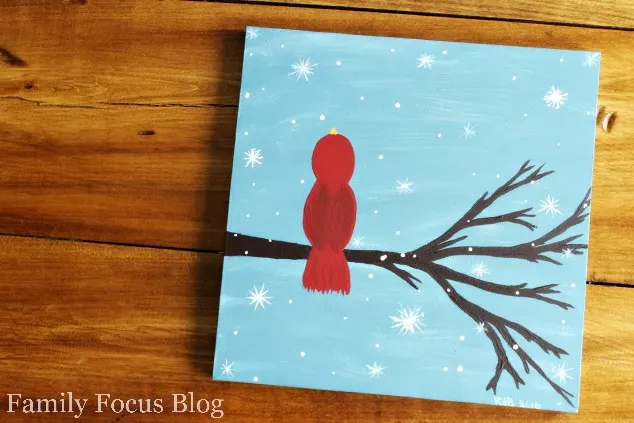 Source: familyfocusblog.com
Cardinals are one of the most go-to choices of birds when a beginner chooses his topic. They are easy to recreate and quite lovely to look at.
If you follow the steps as closely as possible and just add your own creative touch throughout the process, you'll have yourself a spectacular painting.
There's also a template provided to help you along the way. Just remember to pick up some acrylic paint from here if you're running low.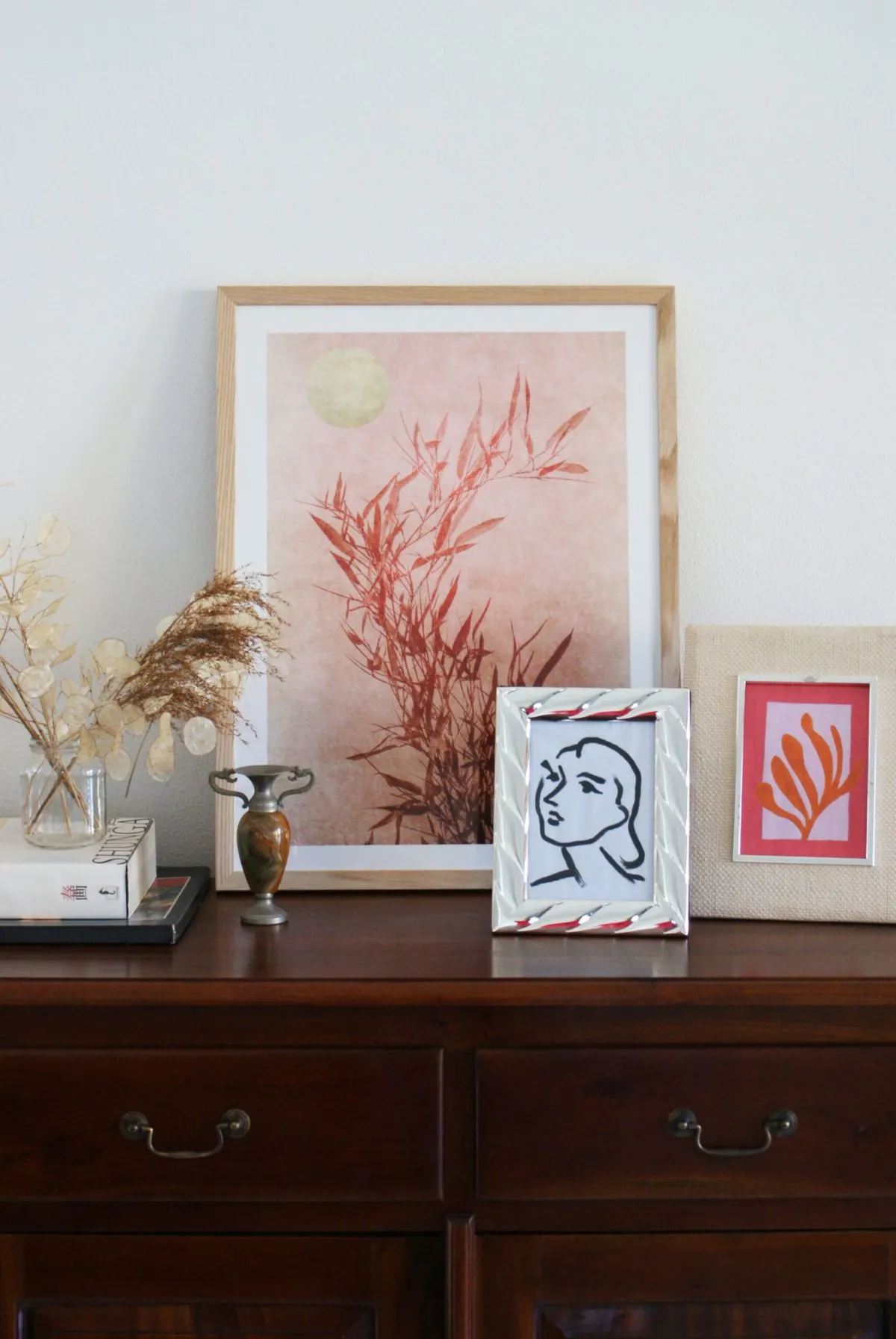 Source: francinesplaceblog.com
Sometimes, a little goes a long way. I mean, isn't that what minimalism is all about? But minimalism doesn't mean a blank canvas with a few scanty paint splatters.
It's all about understated elegance and pleasing colors that call to you rather than scream out from the canvas. It's about blending art with color, light, and texture.
This particular painting is inspired by Henri Matisse art, so go ahead and do a little research before you get started.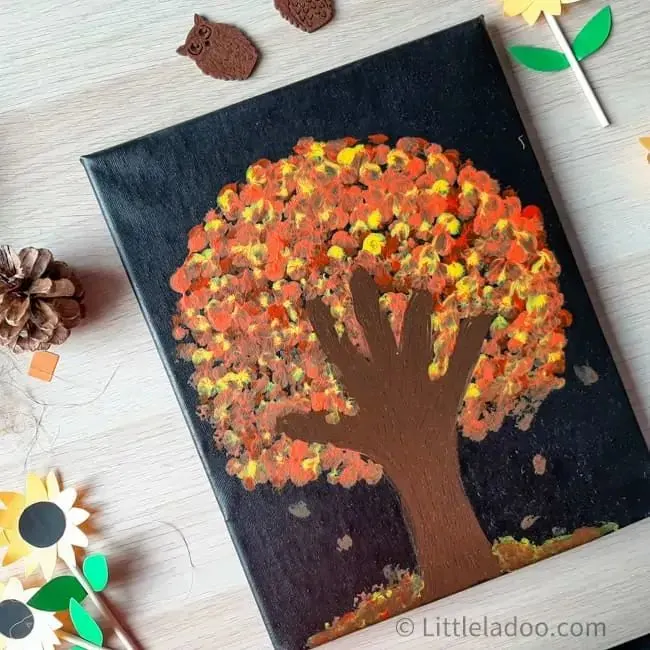 Source: littleladoo.com
No matter how many fancy or modern techniques we learn, I think that handprint painting will forever be an all-time favorite. So check out this handprint fall tree—an activity that your kids can take part in!
Fall holds a ton of potential when it comes to color choices and textures. So make the most of the oranges, reds, yellows, and browns the season has to offer!
You can use fingers to paint the leaves, which will add more texture to the painting, as well. Feel free to pick a canvas and paint it black, too, instead of a traditional white.
Are you looking for another handprint craft? Check out this DIY bookmark for kids!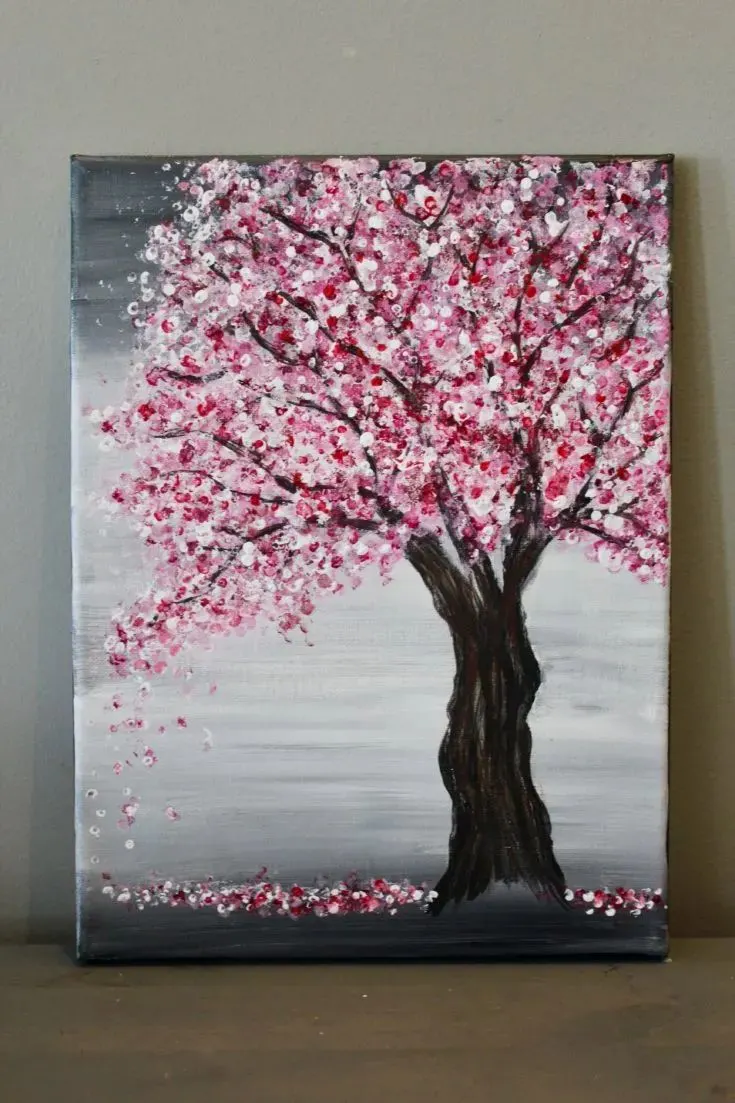 Source: feelingnifty.com
Speaking of color and texturing, cherry blossoms can be really fun to paint. Cherry blossoms also blend pretty well into just about any decor.
For this painting, grab some Q-tips from here. Bundle five to six q-tips and tie them together with a rubber band. You now have a stamp applicator of sorts to help you with recreating the blossoms.
First, just sketch and subsequently paint the branches and trunk of your tree. Next, dip the tips into your paint and stamp the blossoms around the tree, as indicated.
This is the sort of DIY projects you can sell.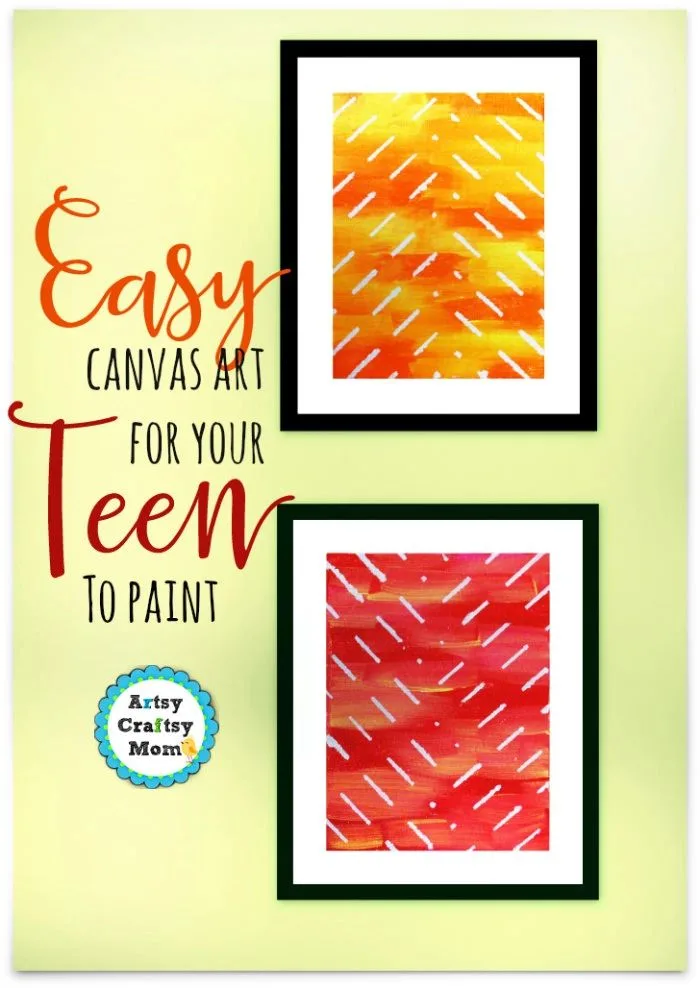 Source: artsycraftsymom.com
It's not just kids who need some structured craft time, you know. A teen can benefit just as much from a fun and creative session of painting.
Then there's also the fact that a little time away from their mobile phones and iPads would definitely be a plus. So if you've got a teen to occupy, then this canvas art painting can be a place to start.
Since this painting involves a lot of wide strokes for the background, you might want to invest in some thick, wide brushes. You can find them here.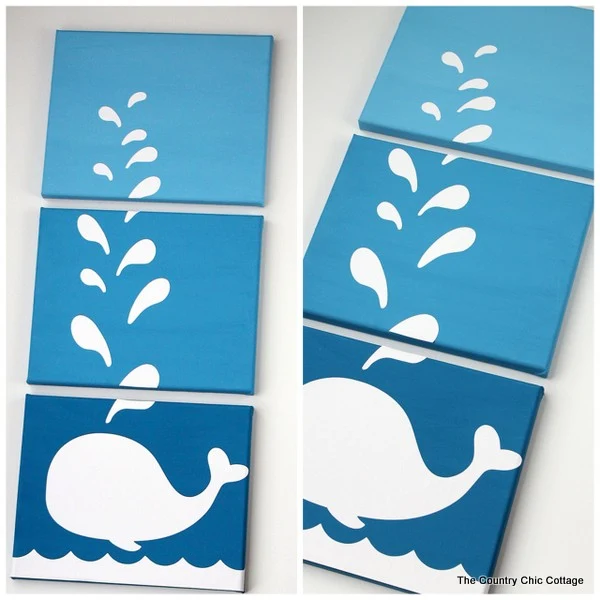 Source: thecountrychiccottage.net
I remember a time when I was obsessed with split canvases. It's when you have one painting that's been painted progressively on multiple canvases.
So you frame these paintings and hang them up successfully, so the entire image is visible, albeit split up. This gorgeously simple whale painting is pretty and fresh and is split into three frames vertically.
You can just as easily have a horizontal display; just make sure your painting or image has a horizontal orientation.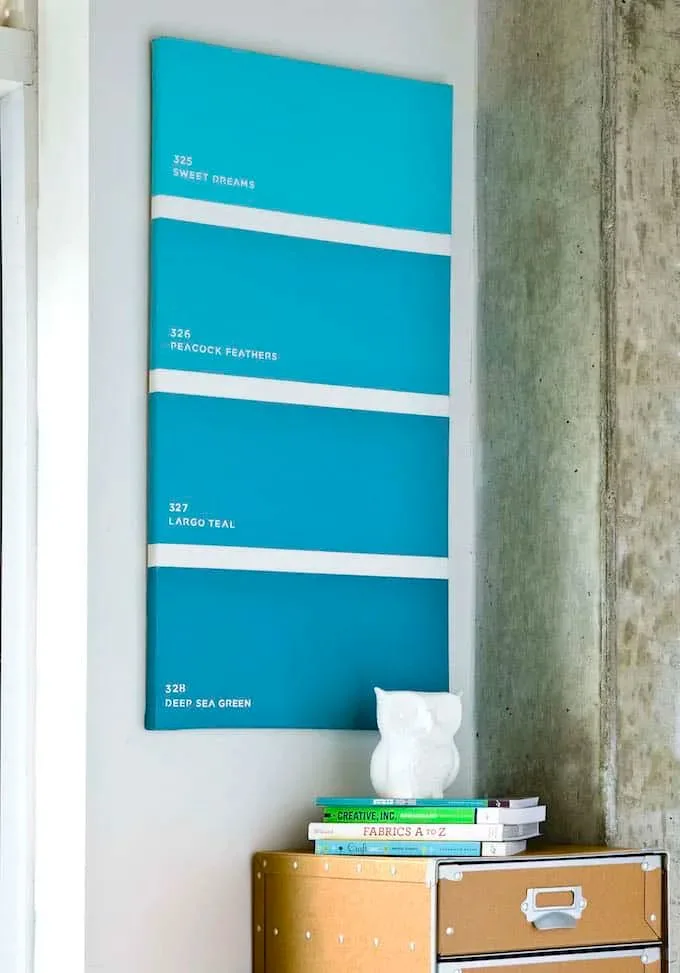 Source: modpodgerocksblog.com
We've all been in that place where you pop into a hardware store to pick up a paint chip and end up picking a dozen. Have you ever noticed how pretty those chips actually are?
The color gradients are quite lovely, aren't they? Why don't you consider blowing up a paint chip strip and making a faux paint chip art on canvas?
You can even paint the number code for the particular shades you use, along with the name of the color. It's a creative and unique idea for a canvas wall art.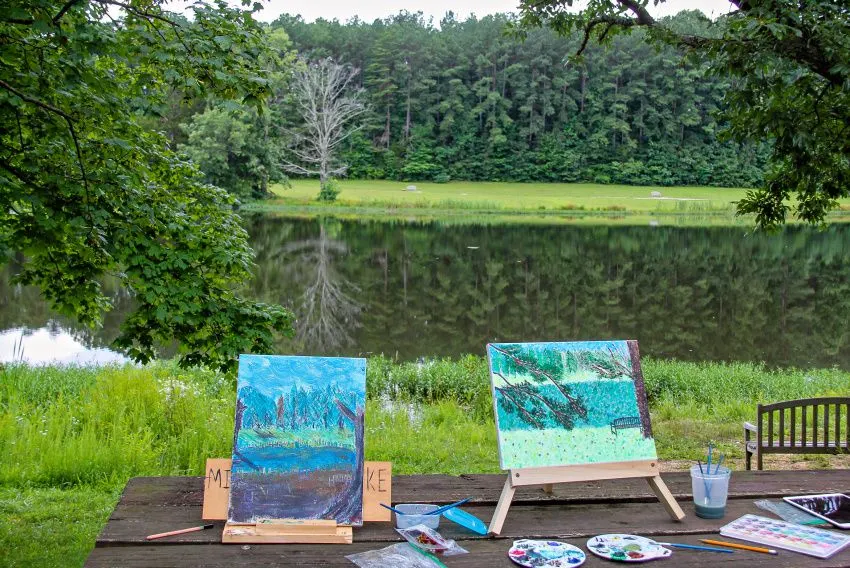 Source: tonyastaab.com
Landscape art is a no-brainer for canvas paintings. It's something that will never really go out of style.
If you're someone who loves to travel, and have been to several places, then think of it as an opportunity to capture memories of the sights you see on canvas.
You can pick up all your supplies just about anywhere, and you can also set up your canvas to paint the landscape in question. Just frame the canvas and hang it up in your living room!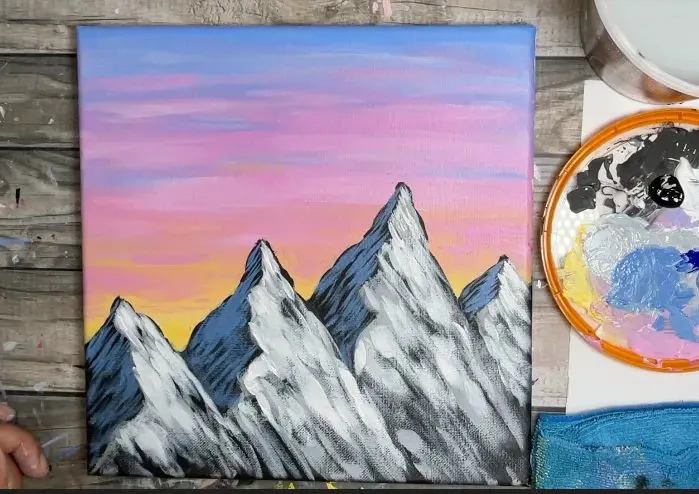 Source: feelingnifty.com
Right behind landscapes, birds, and flowers are mountains. It's probably one of the first things you learn to paint as a kid, and it's a great object to practice different painting techniques on.
Grab your brushes and practice your shading techniques first. If you notice, this pretty canvas painting is bursting with modern colors with traditional snow-capped mountains.
You can switch out the purple-pink sunset background for, say, the emerald greens and mystic purples of the Northern lights, perhaps?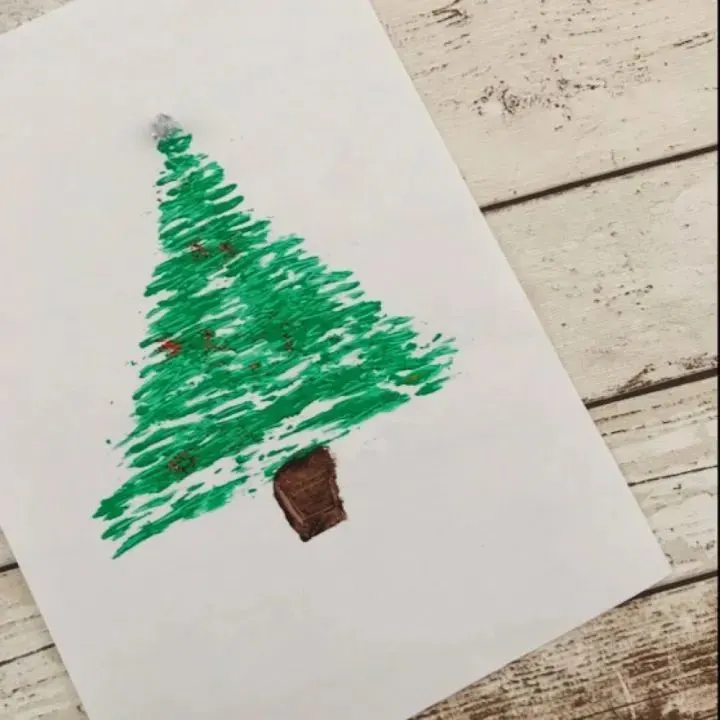 Source: daisiesandpie.co.uk
Go ahead and grab a fork. No, we're not going to eat—not yet, anyway. Instead, grab your fork and get started on painting this Christmas tree.
A fork can replicate the spindly needles of pine trees quite splendidly. You can rope your kids into this painting project.
Grab a paper plate from here and use it as a palette. Dip the fork into the paint and press it onto the canvas to stamp the pattern on it. Feel free to grab a paintbrush and paint little ornaments and lights on your tree, as well.
Finally, paint a little brown stump for the trunk of the tree, and you're all done.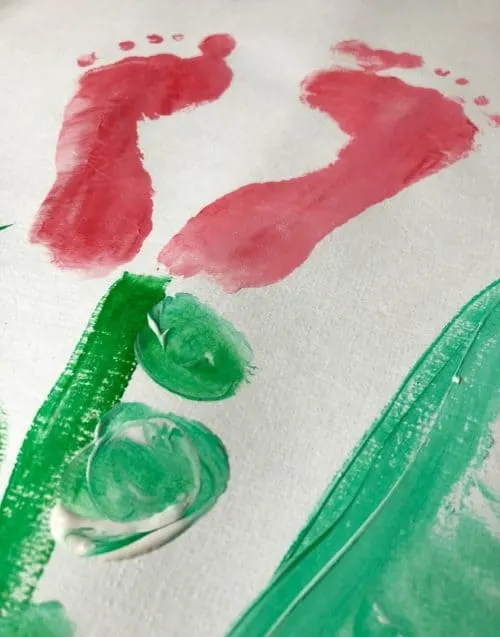 Source: emmaowl.com
I know you've probably painted with your hands, using fingers and handprints to create pretty pictures and paintings. But what about using your feet?
Have you considered using your footprint to paint, say, a flower? Well, if you haven't, then it's time you did. Grab another paper plate and spread some paint.
You can either just dip your foot directly onto the plate or use brushes to paint your foot. Next, press your foot onto the canvas to imprint it. Finally, grab a brush and finish up your flowers!
Check out more wonderful flower painting ideas here.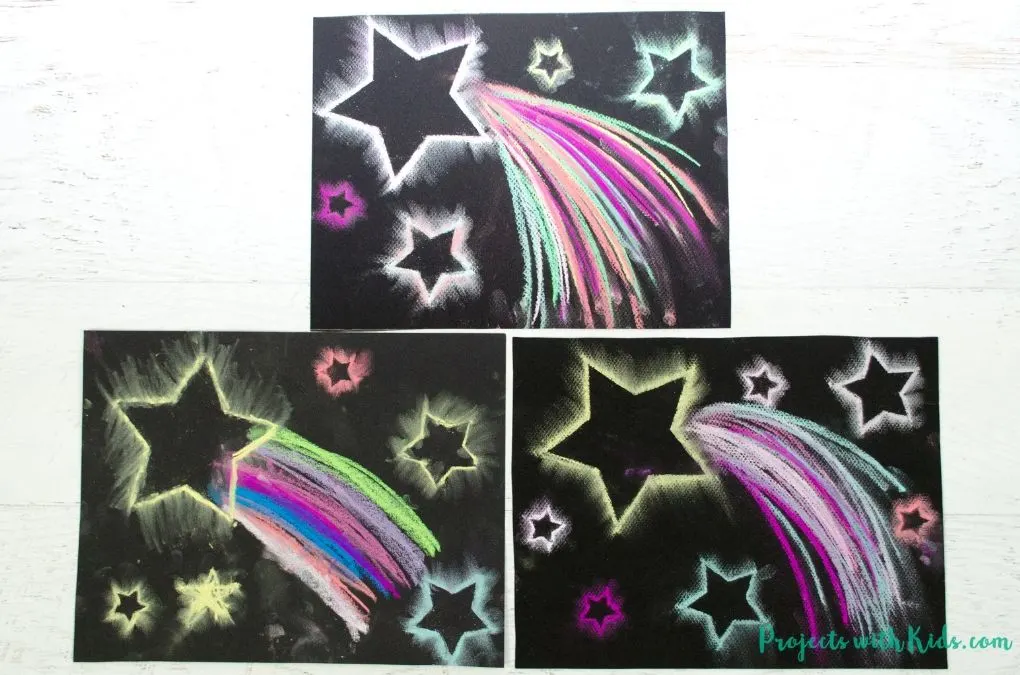 Source: projectswithkids.com
Shooting stars are my absolute favorite of all heavenly bodies. They bring luck, and even a single sighting of a lone shooting star can change your life.
Think of this painting as an opportunity to teach your kids about shooting stars. Grab a pack of chalk colors from here. You can use pastels, as well, to help you decorate the tails.
The chalk finish allows you to blend and smudge the paint. This allows for a lovely, almost hazy, and magical finish on your painting—exactly like shooting stars themselves are.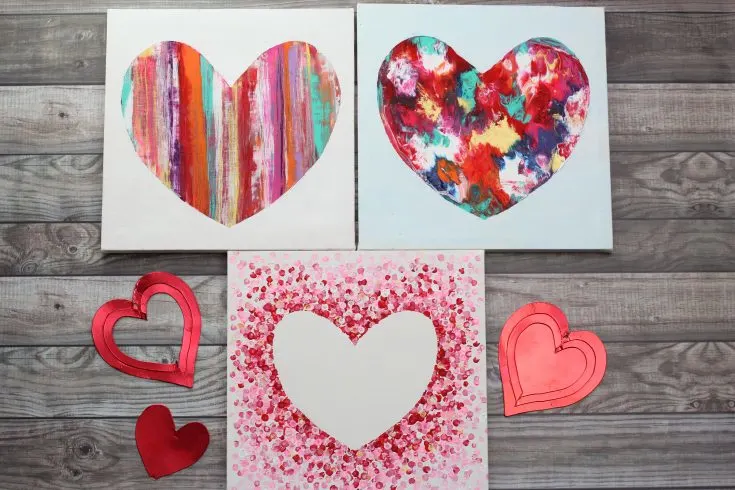 Source: feelingnifty.com
Let's paint hearts: three different ways! With these three nifty paintings to help you along the way, you'll have a set of three gorgeous heart-shaped paintings to decorate your home.
Here's what you need:
A roll of contact paper from here
Markers
Paints
Once you have gathered everything you need, go ahead and cut out the stencils for your hearts. Grab a credit card or any key card and swipe to create that unique swiped effect.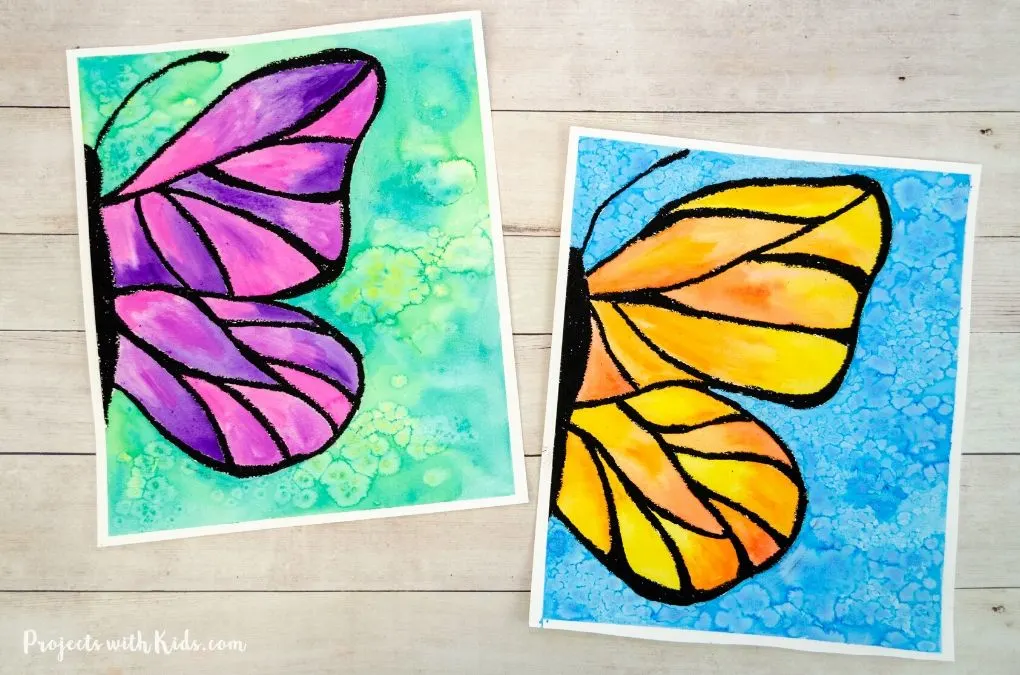 Source: projectswithkids.com
When in doubt, always come back to watercolors. It's one of the most versatile mediums but also super user-friendly and relatively cheap.
Another no-brainer is painting butterflies, right? It has a ton of potential to experiment and explore new styles and techniques. It also looks great when framed and mounted upon a wall.
You can also incorporate oil pastels when you're working on the outline of the butterfly's wings. Pick up some black oil pastels here and get started.
Source: activelittles.com
Rainbows. We always come back to rainbows, don't we? And why shouldn't we? There's just so much to love about them and so much to play with.
Rainbows also present you with the opportunity to teach your little ones about colors and help them with primary recall skills. Besides, I bet they'll love getting their hands dirty in the process because this project just so happens to be a hand-painted rainbow!
While you're at it, don't forget to draw a little pot at one of the rainbows. No rainbow is truly complete without a pot of gold at one end, right?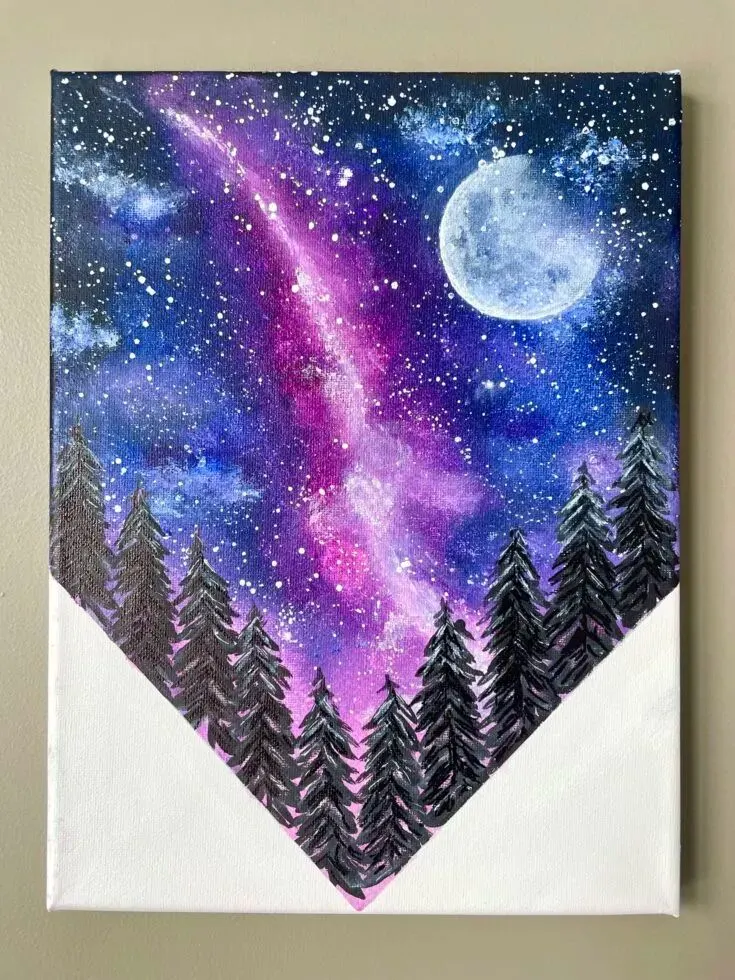 Source: feelingnifty.com
You'll be surprised at how easy it actually is to paint a galaxy-themed painting. It looks complicated and intricate, yes, but the technique is actually really simple and quite splendidly messy.
If you're looking for the easiest way to get fine detail onto the canvas panels, this project is just for you.
The first order of business is to figure out the colors you plan to use. You can stick to some of these colors: black, midnight blue, burgundy, magenta, purple, blue, green, white, and silver.
In place of a brush, try to use a sponge or even a sponge brush. You'll find that it's super easy to blend colors and textures with sponges!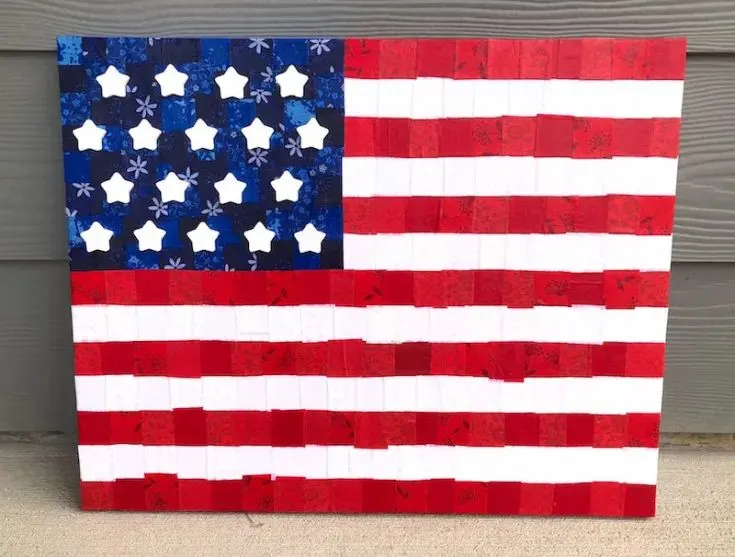 Source: modpodgerocksblog.com
There's something quite wonderfully patriotic about painting flags, isn't there? But if you're a beginner, then you'll find that it takes a ton of effort to capture all the nuances, angles, and even the crinkles.
So, as a beginner, you can recreate your national flag on canvas by turning it into a decoupage art project. So go ahead and grab a bottle or two of mod podge from here.
If you've got a stash of scrap fabric leftover from previous projects, then this will help you make a dent in that stash. In fact, check out these 47 DIY scrap fabric projects for more ideas.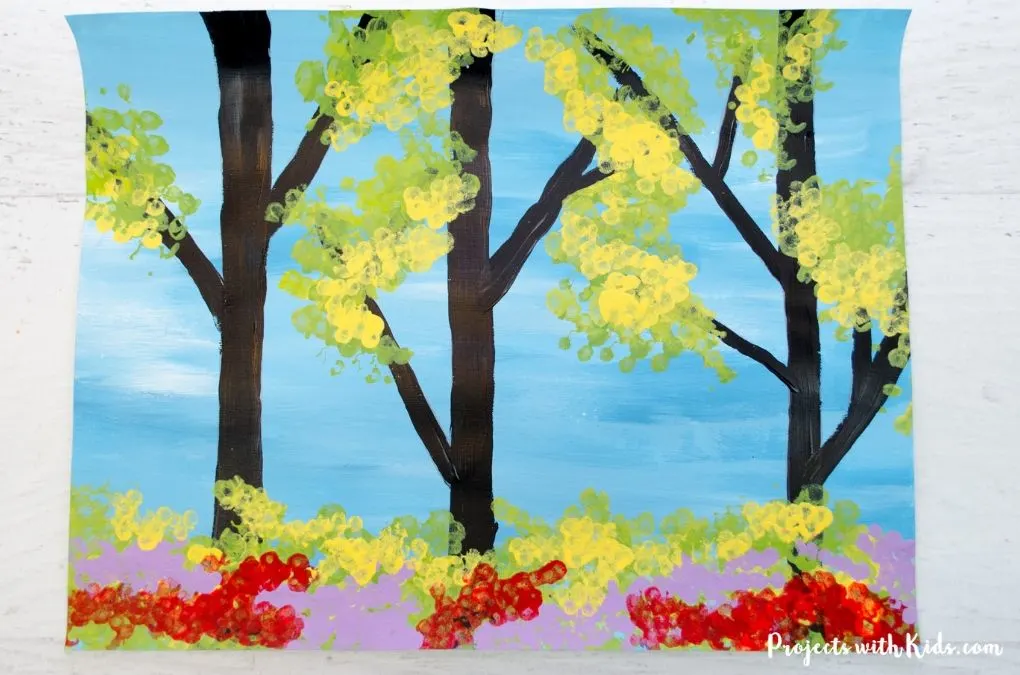 Source: projectswithkids.com
Do you still have any Q-tips leftover from when you painted those cherry blossom trees from earlier? Well, go ahead and pull them out; you'll be needing them again for these trees.
Springtime is when all the flowers are in full bloom and when the leaves are all big and green. The best way to capture all that on canvas? Use Q-tips, of course!
Download and print out a template to help you along the way. Make sure you print it out on white cardstock.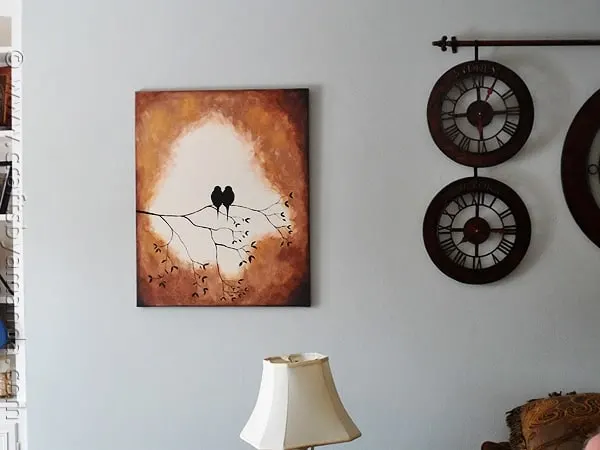 Source: craftsbyamanda.com
Two birds sitting on a branch, staring off into the distance; it looks like a little bubble, away from the real world, doesn't it?
Why don't you try to capture that other-worldliness on canvas? Take a look at this classy painting of two birds on a branch and try your own hand at recreating it.
You can hang this up in your home, or you can wrap it up and give it to a friend and loved one. It would certainly make for a lovely and thoughtful gift.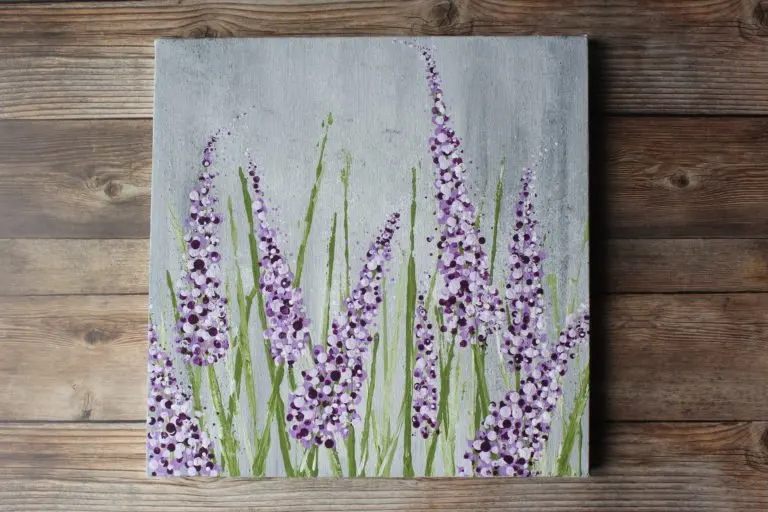 Source: feelingnifty.com
Painting lavender isn't that different from painting cherry blossoms. It's effectively the same technique—it's only the colors that change.
First, prep your canvas and paint the backdrop. You can paint multiple layers of fields, grass, and tall stalks first.
Then go ahead and paint lavender buds with cotton swabs Q-tips. Don't worry; there are step-by-step instructions that you can follow to get the hang of the entire process—a complete and ultimate beginner's guide to painting lavender.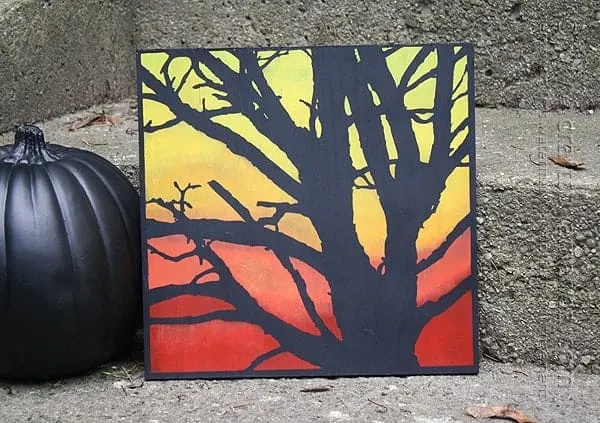 Source: craftsbyamanda.com
When you're painting spooky trees, it all comes to silhouettes and shadows. There's a lot to work with if you know what work needs to be done to paint these trees.
So roll up your sleeves and grab a few paper towels. Then prep your canvas, gather your tree stencils from here, cosmetic sponges from here, and finally, a can of acrylic sealer from here.
You can use the sponges to apply a lovely textured coat of paint, adding on to the base coat with several more layers as you work your way up.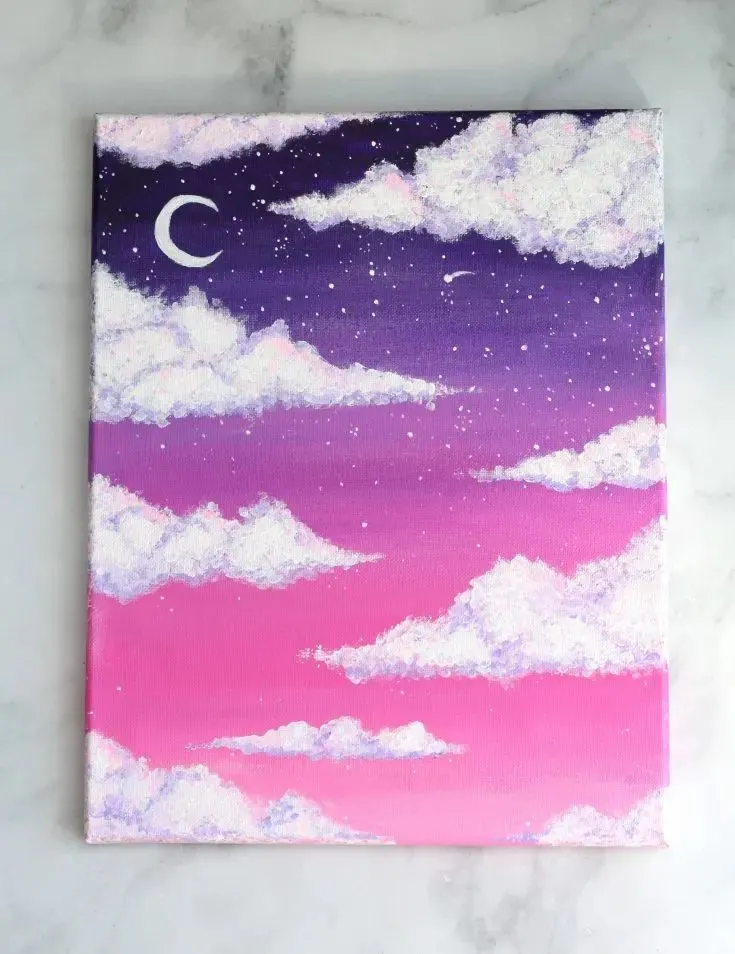 Source: feelingnifty.com
Painting clouds can be so therapeutic. There's something peaceful about blending the colors, splattering paint and making stars, and sponging up fluffy white tufts of clouds.
This painting is an opportunity for you to perfect your Q-tip painting technique. You've already painted cherry blossoms and lavender, so with these clouds, you'll definitely master the art.
The trick lies in creating the perfect shape for your clouds. It's got to be fluffy, yes, but not comically so. Practice and practice will give you this gorgeous canvas painting!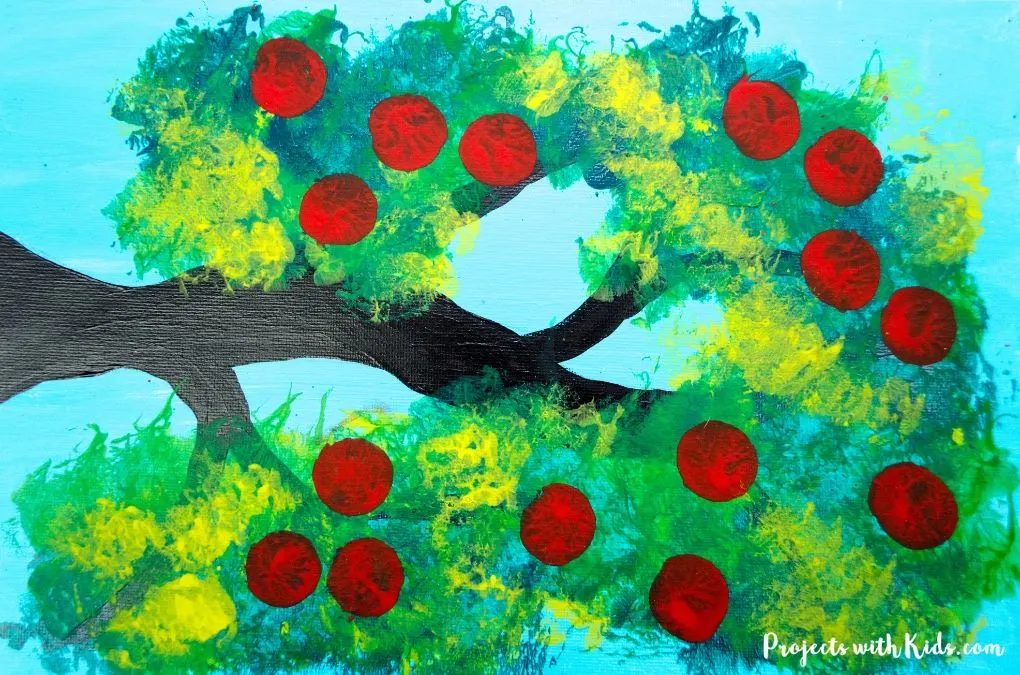 Source: projectswithkids.com
You probably loved painting with cotton swabs. While they give you a ton of precision while painting, you need something bigger when you're working on different projects.
Apples and apple trees, for example, need something bigger than q-tips. So switch them out with cotton swabs. If you don't want to get your hands messy, then pick up some clothespins from here.
You can also use this canvas pad for a change instead of a traditional canvas.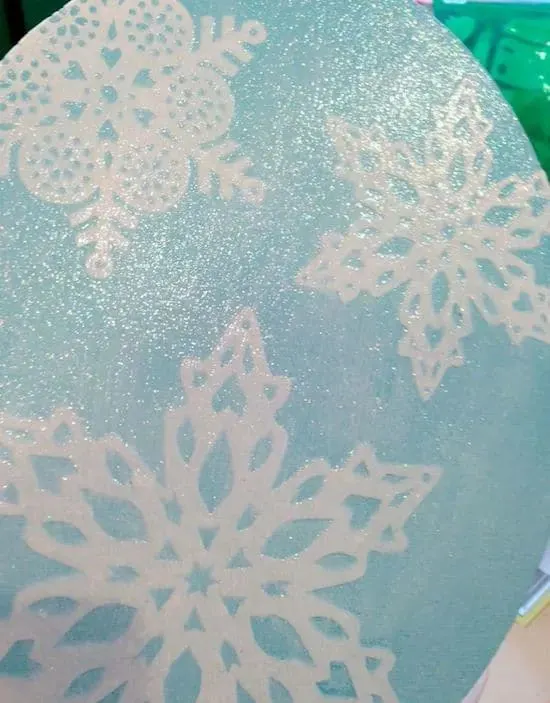 Source: diycandy.com
Let's take a step back from textured paintings and take a look at more defined artwork. Check out this set of three snowflake paintings.
If you love to decorate your home seasonally, then you've got to have this lovely set. It's not your typical square canvas but rather a lovely oval shape.
It also embodies everything winter, from the icy blue backdrop to the big, elegant snowflakes. You can recreate those snowflakes quite easily with the right kind of stencils.
Here are 25 winter crafts for you to explore this holiday season!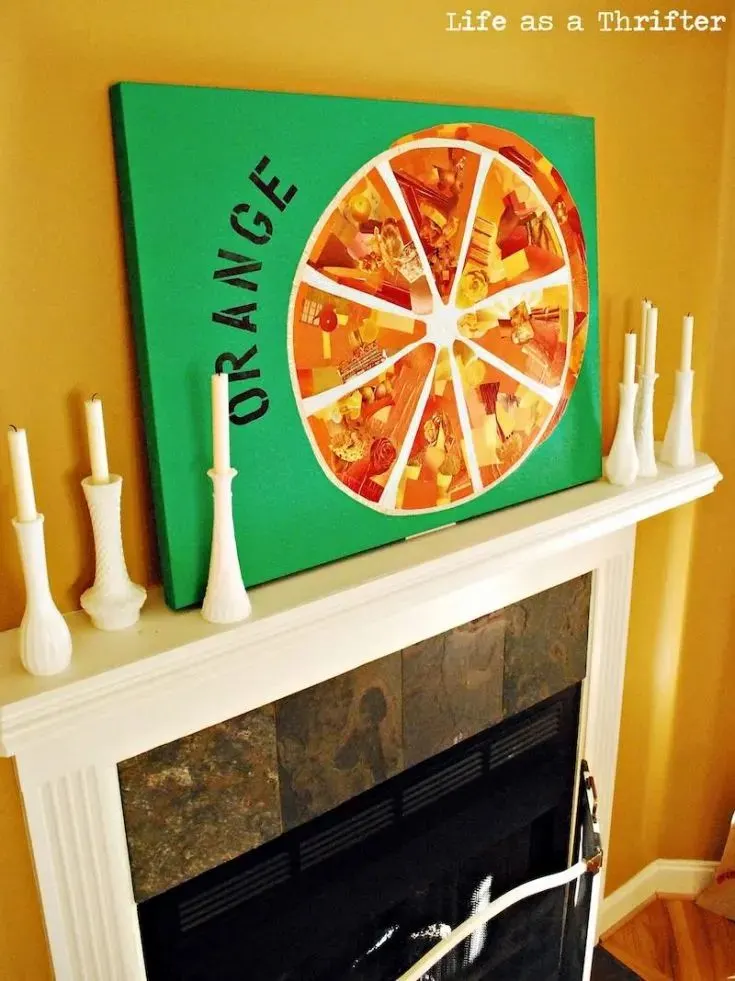 Source: modpodgerocksblog.com
Now, look at this fruity piece of art. Orange you glad you came across it? Ha! If you love a little bit of zest and color, then this orange painting is perfect for your home.
You'd be surprised by the kind of magic that mod podge can weave. You'll be putting together a collage with mod podge to help you. The final product?
It can be a collage of fun memories and creativity wrapped up in one orange peel. Paste your orange on a backdrop of green like you see here, and that's that.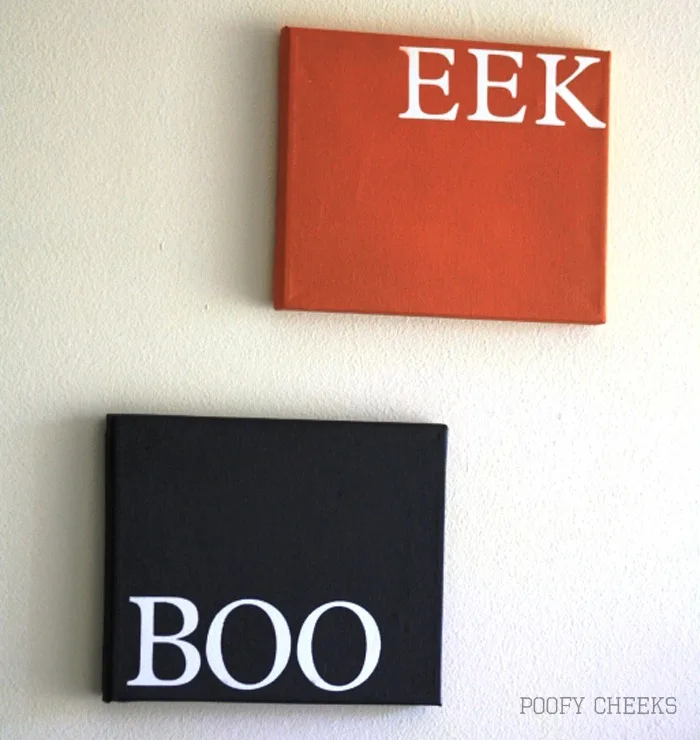 Source: poofycheeks.com
What, you might be wondering, are the words Boo and Eek doing on a canvas mounted on a wall? Well, why not, I ask you?
It's rather a dry and sardonic Halloween decor piece, don't you think? Grab a couple of canvases, vinyl letters, and a couple of cans of orange and black spray paint.
Take this project outside if the day is particularly fine. This will also help you control the splatter from the spray paint away from your home and furniture.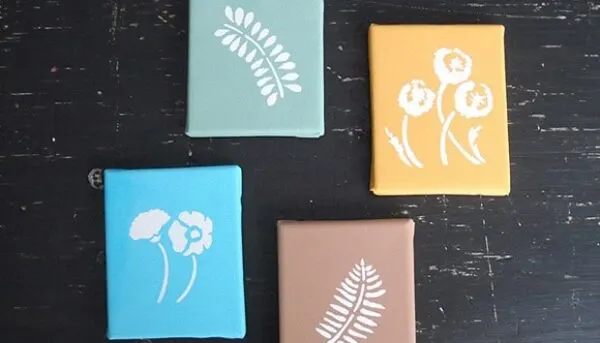 Source: craftsbyamanda.com
Have a spot on the wall that you want to cover up, but don't want to drop a month's worth of rent on an expensive painting? Or perhaps you're just in the mood for a simple painting project?
Whatever it is, stenciled flowers and botanicals are a quick-fix solution to any of your decorating problems. You probably already have stencils, a canvas or two, and paint.
Grab everything, as well as a can of sealant, and start painting this canvas. You can switch things up a little with leaves, flowers, and even feathers if you like.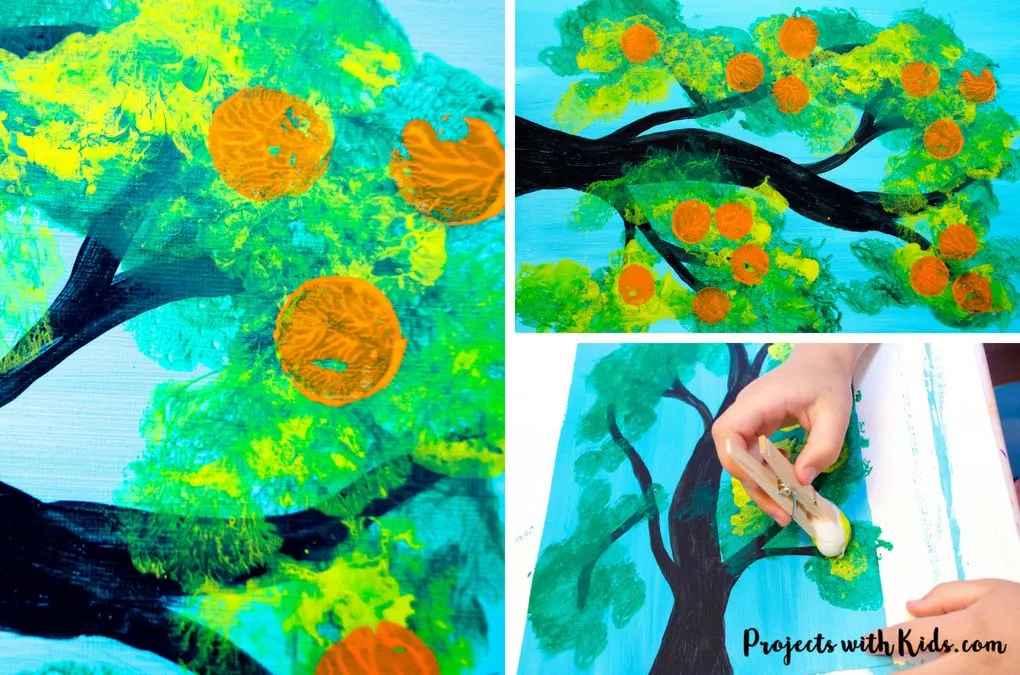 Source: projectswithkids.com
Here's one more fruity and zesty canvas art for you to explore. Remember what a hit that orange collage was? Why don't you make a whole tree this time around?
Grab your cotton balls and paint. You know the drill; clamp the cotton ball with a clothespin to give you better control and precision, and less mess.
Once you've painted the trunk and branches, all that's left to do is dip and dab, and dip and dab. Just keep switching out the colors you use with different shades of green.
When it's time to paint the orange, try to make a big sumptuous circle!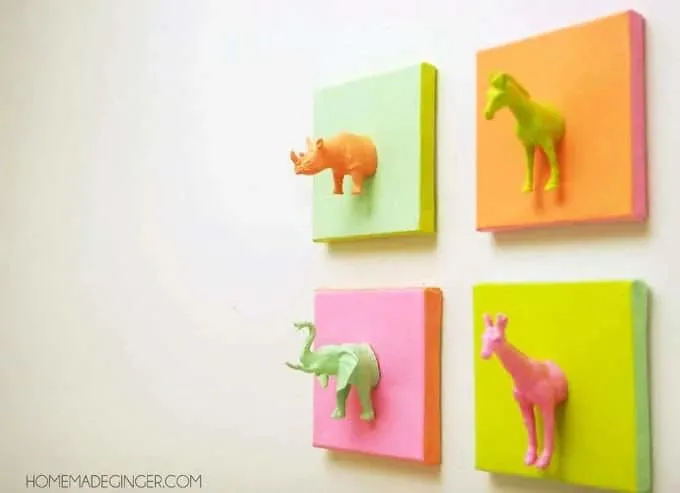 Source: modpodgerocksblog.com
A little three-dimensional fun with animals, anyone? I don't know about you, but I do love a good pop-up art show.
What you really want from a painting is for it to pop out of your canvas, right? Well, this one does, quite literally.
I'll be the first to admit that there's a morbid sort of fun in preparing the animals for the canvas. You will need to use a heat knife like the one you'll find here to cut the plastic toys in half.
Then spray paint it, and you're just about done.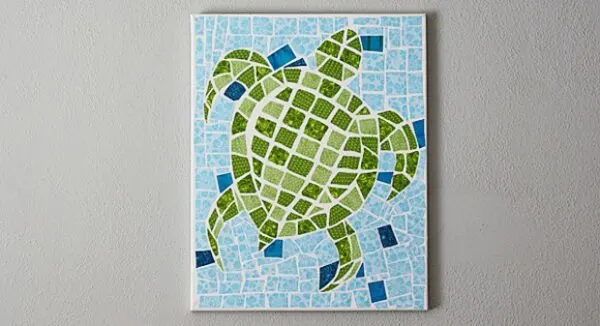 Source: craftsbyamanda.com
Mosaics have so much to say and a whole entire personality to contribute to any space. Be it tile and grout mosaic, or fabric mosaic, it's just bursting with potential.
Using fabric and scraps, you too can make a lovely turtle wall art on canvas like this one. You probably have everything you need for this project already.
Just make sure you have plenty of mod podge on hand. Now, grab your scraps and cut them down to size before sticking them down over the canvas.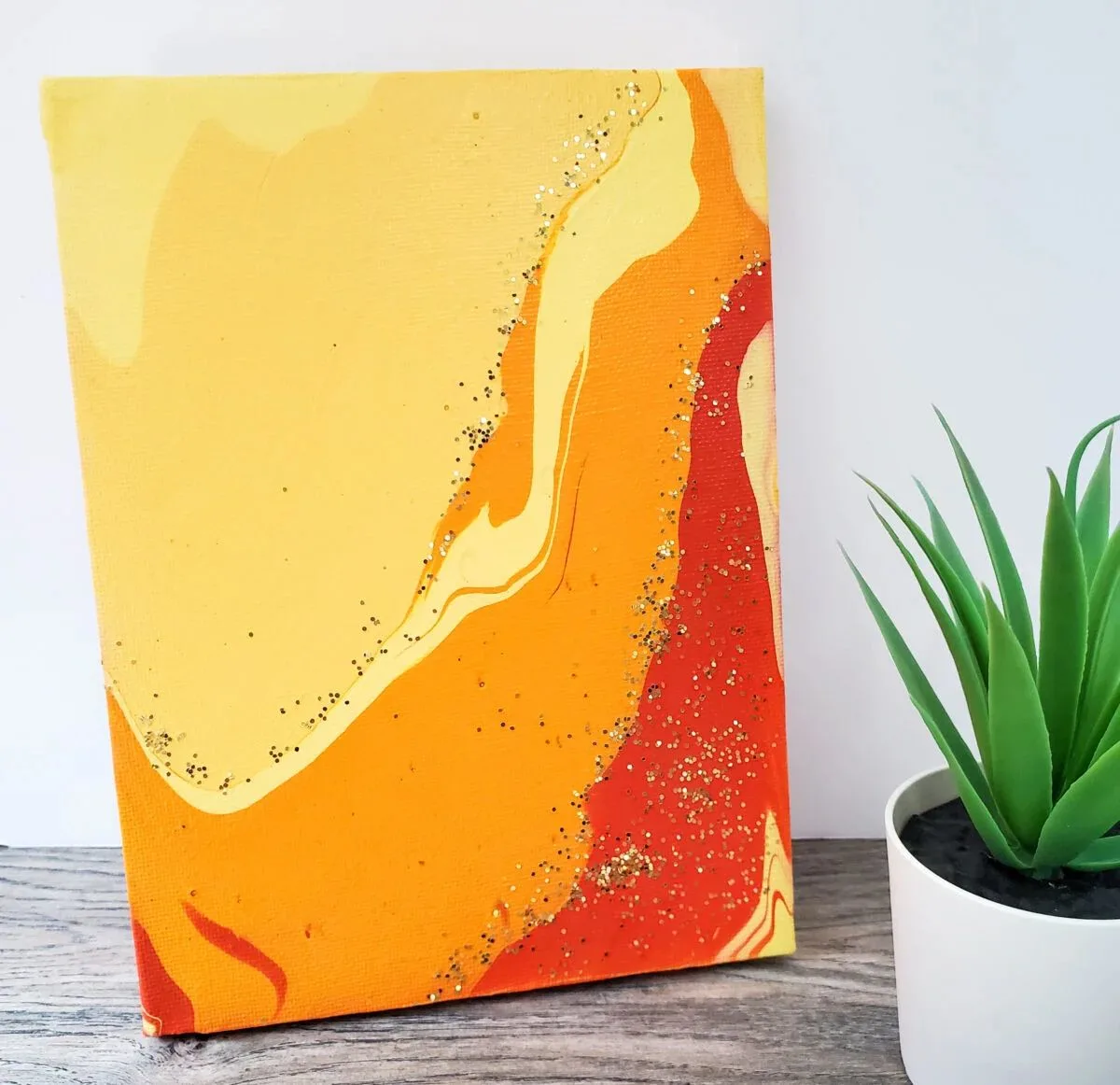 Source: singlegirlsdiy.com
In the mood for some free style artwork? When you're looking for something to decorate your home with, customizing is the way to go.
Besides, nothing will come close to the feeling you get when you throw or pour paint over a canvas—like a pro artist. Grab a canvas that meets your requirements as well as your paints.
While it is a freestyle technique, what you can do is plan your color ahead of time. That way, you'll be able to control the color gradient.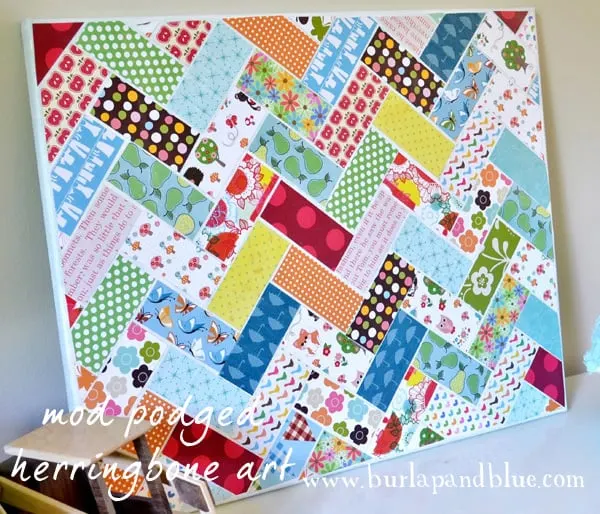 Source: burlapandblue.com
Don't you just love the herringbone pattern? You usually find it in kitchens as a backsplash or as bathroom tiles. But how about you recreate it on canvas?
You can use up scrapbook paper—or just scraps of paper you already have—and decoupage it over a canvas. Again, planning is key here.
Once you have a structured pattern all planned out, go ahead and cut the scraps to the required size. This particular project calls for strips of approximately 1.5" x 4" each.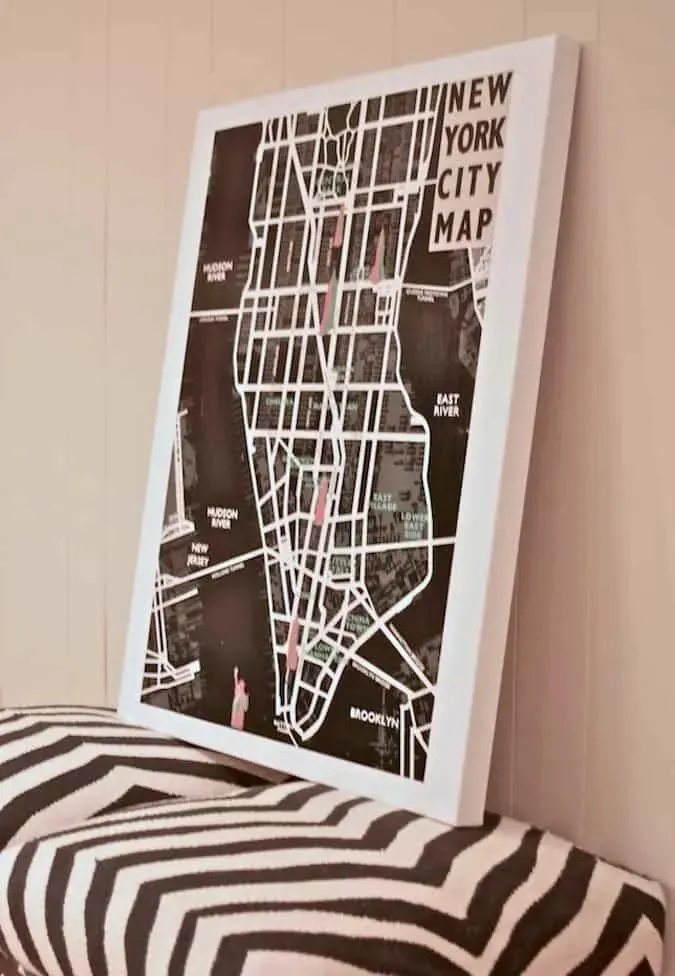 Source: modpodgerocksblog.com
You remember when you were a kid, and you used to hang posters up all over your room? I used to have so many posters up in a whole smorgasboard.
Just because you grew up, it doesn't mean you have to pull them down, roll them up, and store them away. The grown-up version involves mounting up your posters on canvas.
I'll admit that this DIY needs a little the skillset of an intermediary. But follow the instructions, and you'll be well on your way to decorating your room once again with posters.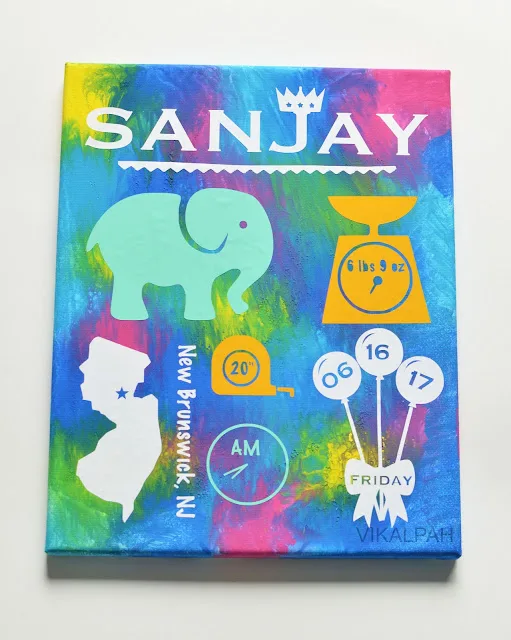 Source: vikalpah.com
There are a surprising number of craft projects that involve your babies. It's a lovely opportunity to bond with your baby and an even better opportunity to make memories and create keepsakes.
You can use birth stats to incorporate them onto canvas. Once you've designed the birth stats, you can use an electronic cutting machine to execute them.
The next step is to squeeze little random spots of paint across the canvas.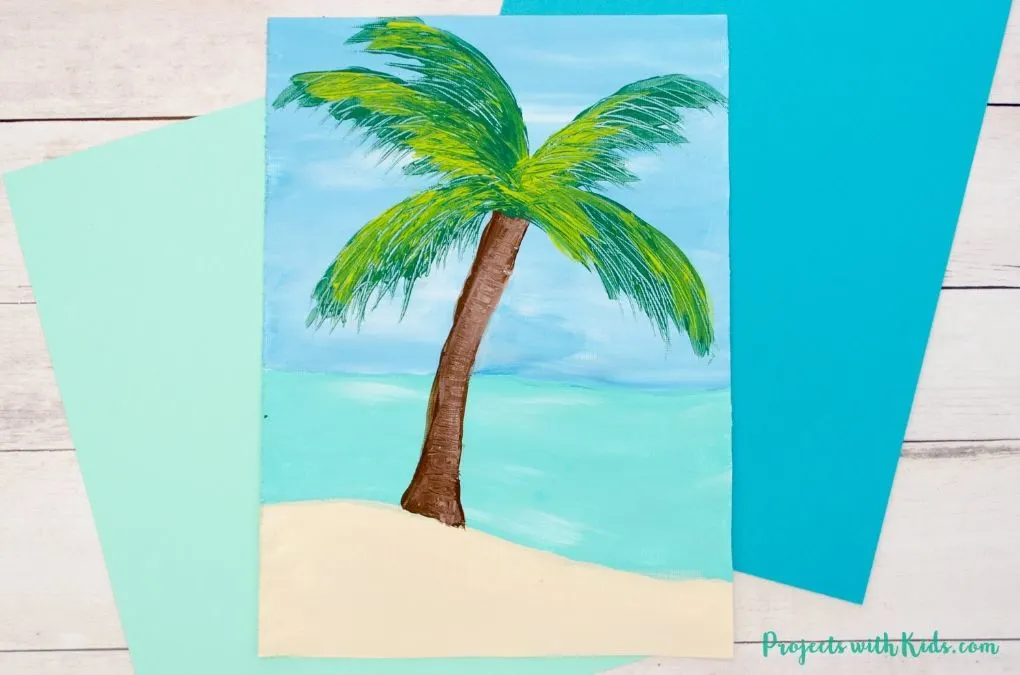 Source: projectswithkids.com
Palm trees and sandy beaches…if only there were a way to experience that blissful vacation-vibes all the time. Maybe this beach scene painting on canvas can help you at least a little.
Grab a fork, paints, and a palette. You can also use a paper plate to help you mix the paints. Once you've mixed the colors, go ahead and dip your fork into it.
Create your tropical palm trees on your canvas. If you like, you're welcome to practice the strokes on paper before you switch over to canvas.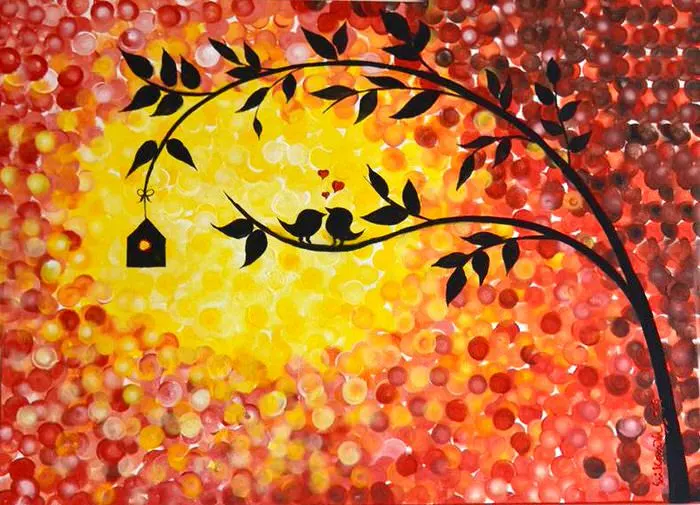 Source: artsycraftsymom.com
After cotton swabs and cotton balls, sponges do a lot to texturize a canvas. If you're wondering what sponge pouncers are, they're just the same as sponge brushes.
You can pick them up right here. You'll notice they have a flat round base; this makes it easy to blend colors, so they don't look like patches.
Just remember: when you're working with sponge pouncers, or even just cotton swabs, it's always better to have a wider surface area to help with mixing and dipping your paint.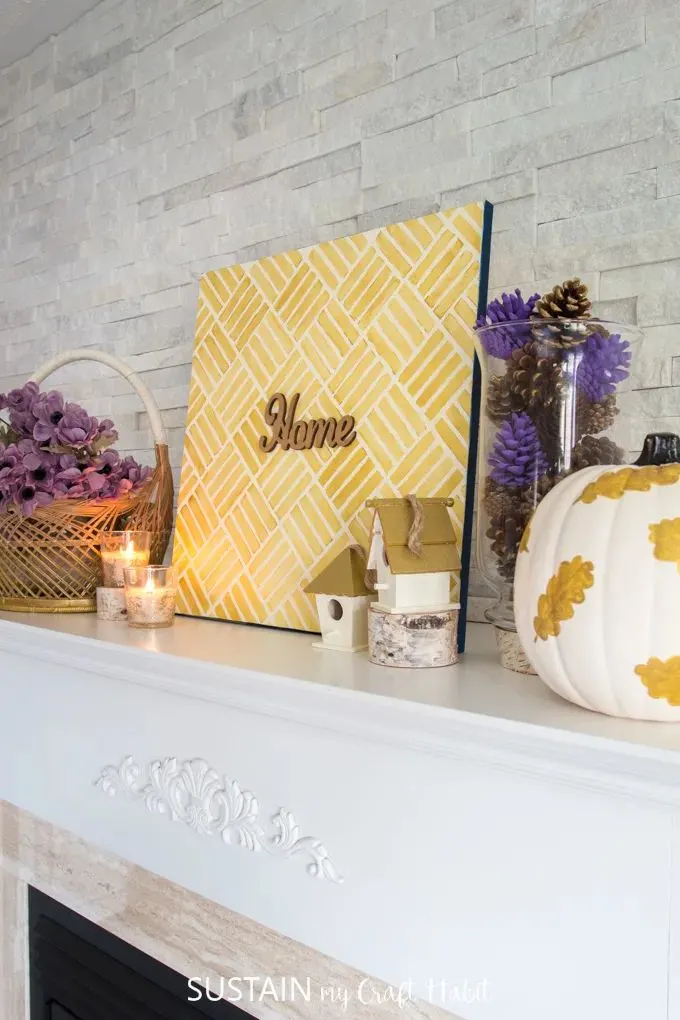 Source: sustainmycrafthabit.com
Did you ever consider recreating a basket weave pattern on canvas? It makes for a lovely backdrop on canvas—no matter how big or small.
This canvas, for example, features a yellow-tone basket weave backdrop that's perfect for your 'Home.' You can place it atop your mantle and enjoy the light it throws.
You can find the wooden letters here, or you can use your Cricut machine and some vinyl to cut your own letters!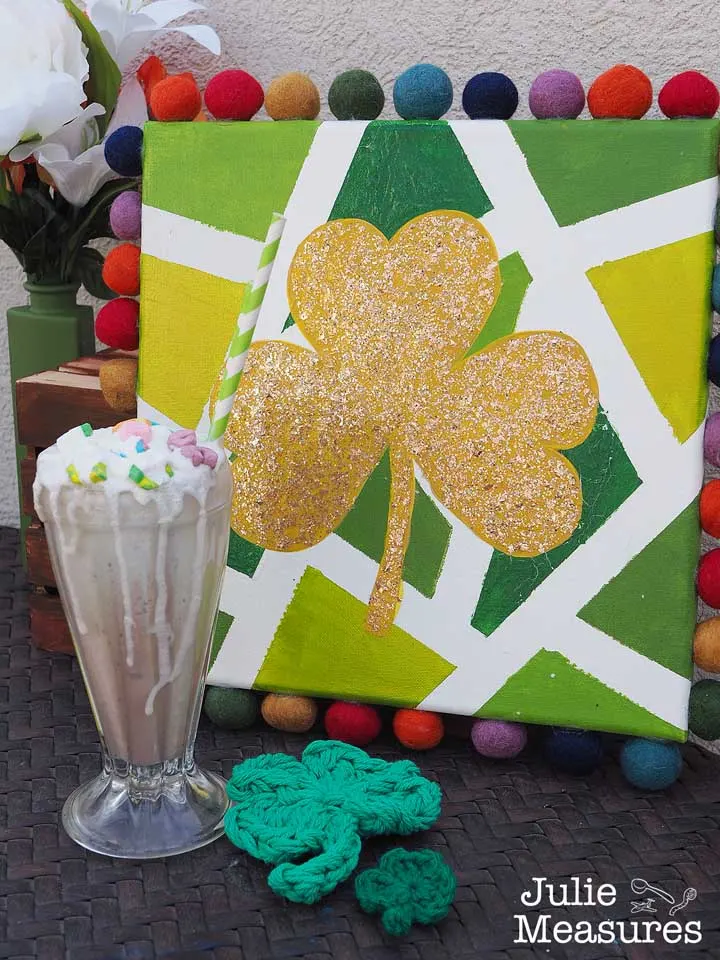 Source: juliemeasures.com
Feeling lucky? Feeling green, golden and glorious? Then it's probably time to transfer those feelings onto canvas. Check out all those different shades of green on this painting.
Not just green, but that sparkly gold clover in the center just ups the dazzlebfactor of this painting. Grab a roll of masking tape, and then mix different shades of green.
Stick the tape onto your canvas and go ahead and fill the canvas with all that green!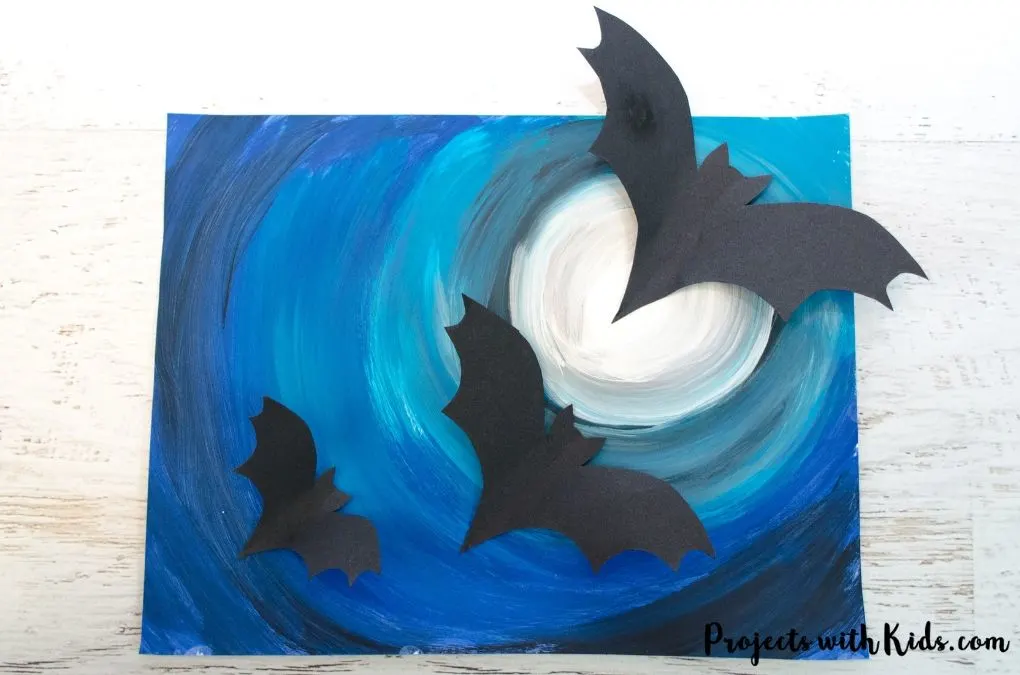 Source: projectswithkids.com
Remember those 3D pop up animals you worked on earlier? Well, here's another 3D project that might be exactly what you've been looking for this Halloween.
It's actually even simpler to create than you'd expect. All you need to do is paint your backdrop in the colors you pick.
Make sure that you have a nice big moon on your canvas—is Halloween truly halloween without a full moon? Once you're done painting the backdrop, grab black cardstock, trace an image of a bat on it, and cut it out.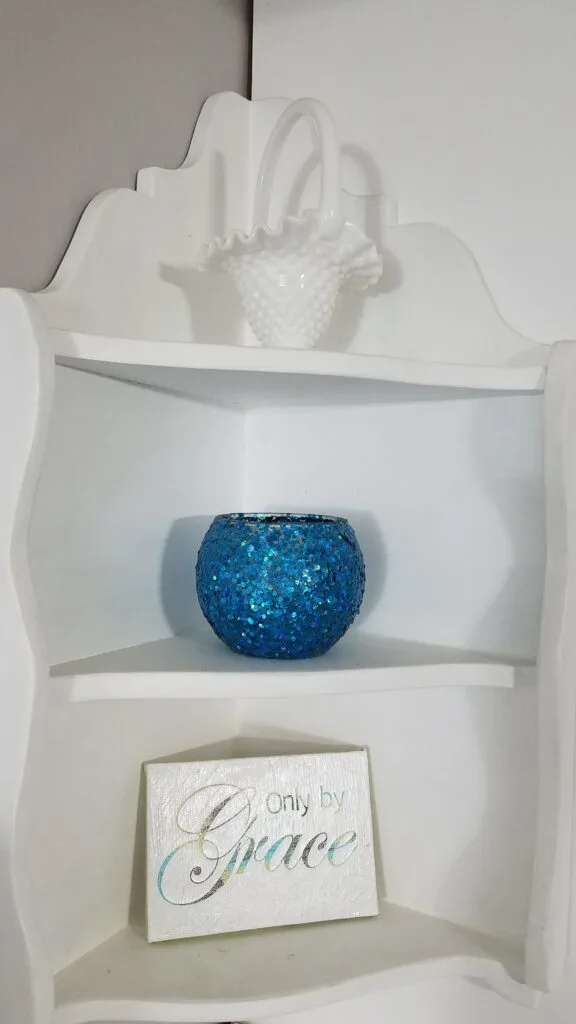 Source: b4andafters.com
Wondering what reversed stencils are? Then check this out! You will need:
Stencils
Craft paint
Canvas
Mod podge
While you can buy your stencils ready-made, it might also be fun to make your own. That can be a whole project in itself that can help you hone your calligraphy skills.
Anyway, once you've painted the backdrop, just adhere the stencil to the canvas and you're good to go.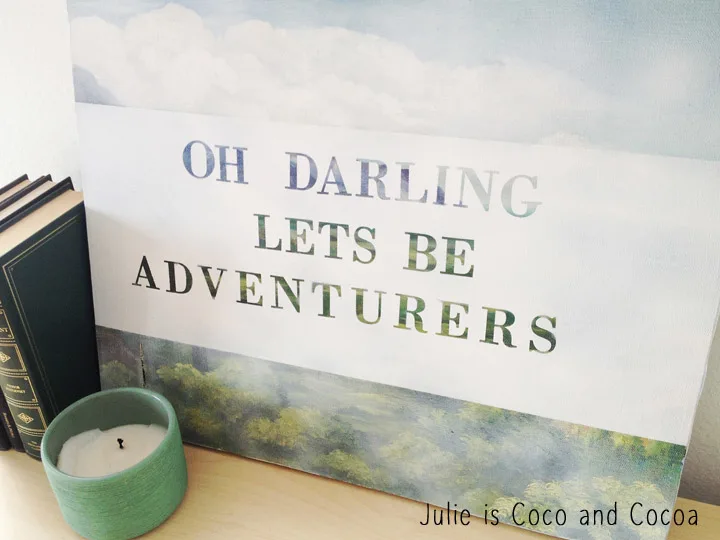 Source: juliemeasures.com
Thrift stores are magical, and you cannot convince me otherwise. You never know what you'll find inside the store and that's the beauty of it, right?
Go on a little adventure to find your favorite painting at thrift stores near you. Once you find what you're looking for, bring it home and turn it into a backdrop for your favorite quote!
Even a simple phrase like 'Be you' can seem bigger-than life when it's on a sprawling backdrop of beautiful scenery. So grab some vinyl and get started!
Yield: a canvas painting
61 Easy Canvas Painting Ideas for Beginners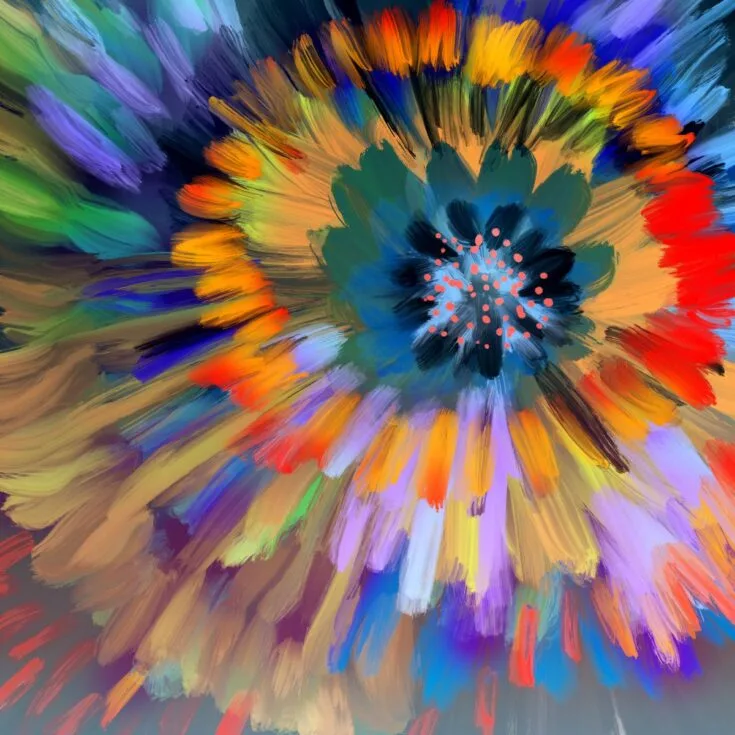 Got canvas and a few painting brushes? Start with these simple Canvas Painting Ideas for Beginners.
Instructions
Choose one of the painting ideas from above.
Gather your materials and tools.
Get painting.