Witches have become an iconic part of the fall season, from beloved movies to fun ghost stories and these witch crafts. There's no separating witches from having a spooky little place in our hearts!
Now, I know some of you may think that witch stuff is too scary or too much, but don't worry. Most of the list today is family-friendly, and most crafts, regardless of matter, are appropriate.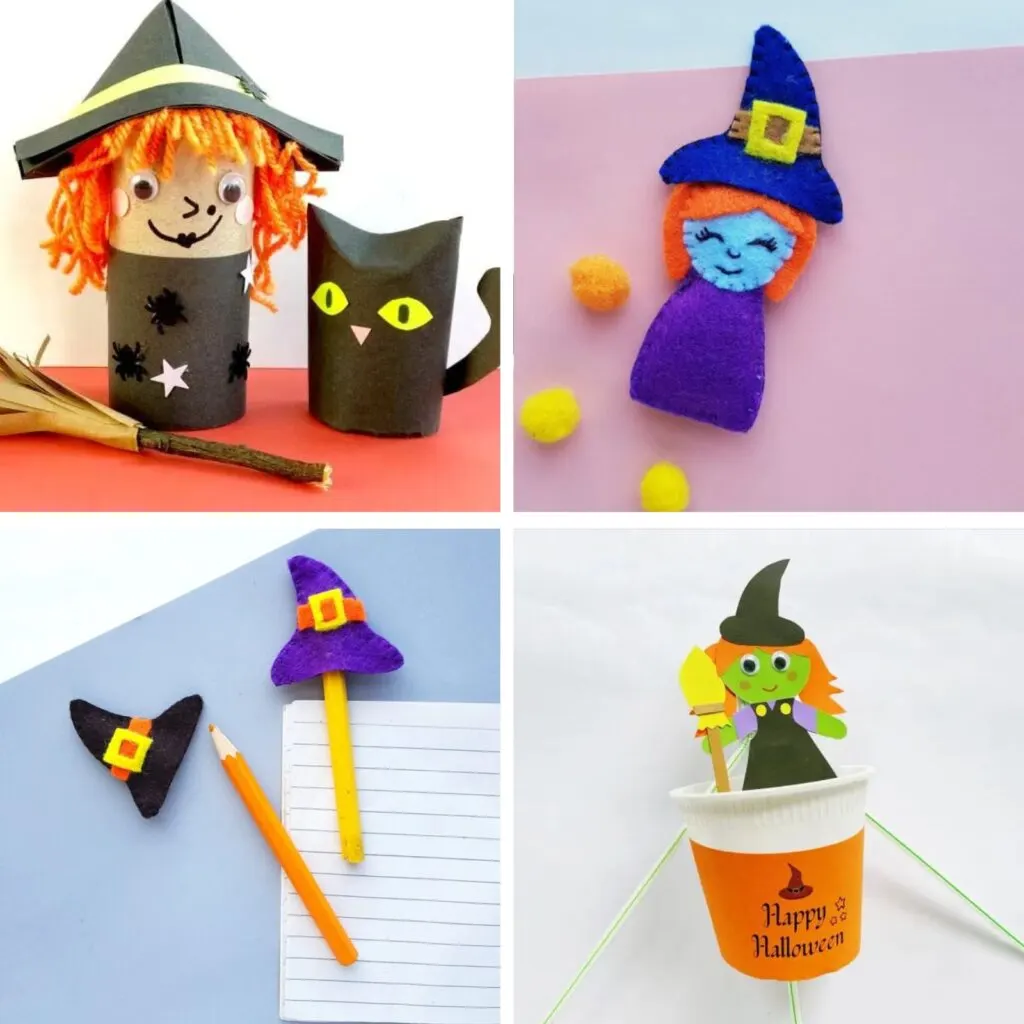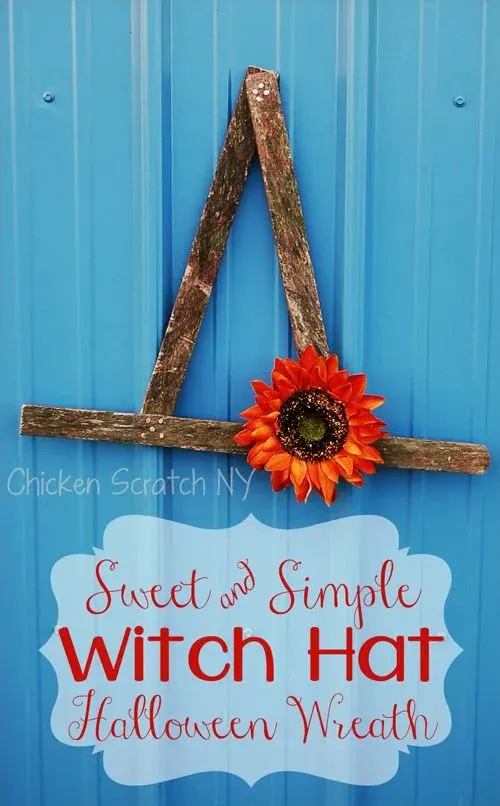 Source: chickenscratchny.com
This witch hat wreath is the perfect place to start our list. It's a unique piece that is the perfect amount of eye-catching and homey.
Add any accessories that match your style! It's the perfect opportunity to lean more autumnal, spooky, or your favorite type of styling.
This is one of the best fall crafts for homes!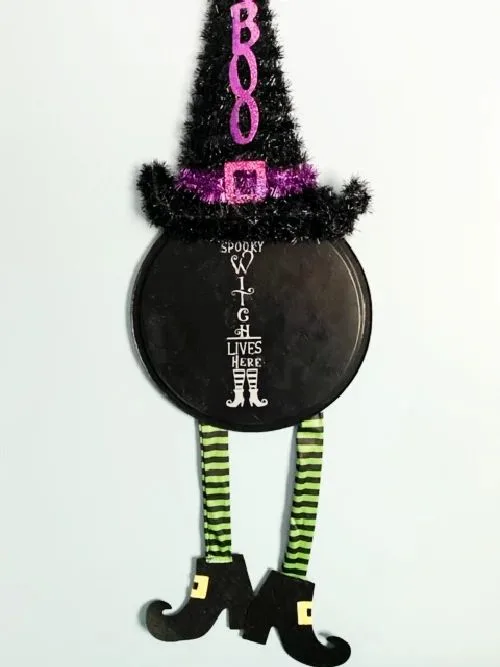 Source: ourcraftymom.com
An alternative to the neutral witch hat wreath is this witch door hanger. It's quirkier but a more direct nod at the classic Halloween-type of witch.
A fun variable on this project? Try grabbing this pack of varied sizes of pizza pans–you can easily make a trio of witch door hangers.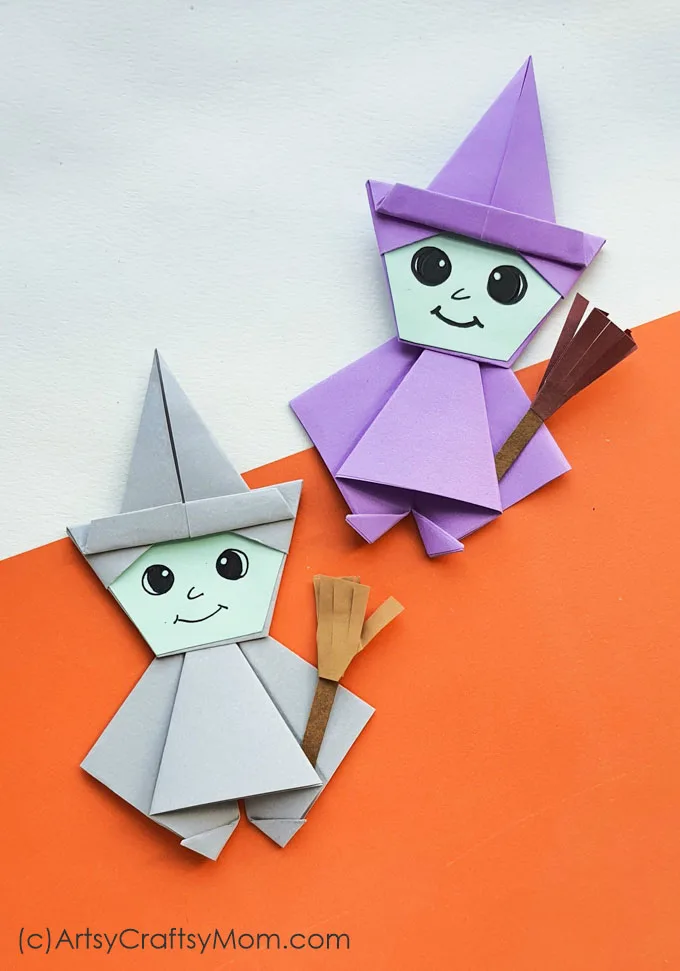 Source: artsycraftsymom.com
If you're kids, students, or you are itching for some spooky craft, these origami witch craft characters are the perfect option!
Have them choose their preferred paper colors and any accessories that you may have on hand, and then go step by step together.
Let them decorate however they please post folding.
You might also enjoy this cute DIY paper spider!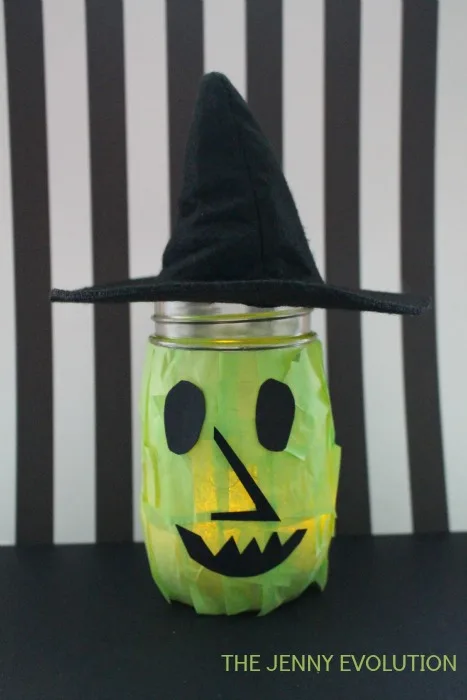 Source: mommyevolution.com
These cute witch mason jar crafts are also a great option for children. Have them prep all their supplies beforehand to focus on making their spookiest witch!
You can achieve these haunting mason jars with different mediums, but we used tissue paper like this.
Have a few face pieces ready and cut out that they can use as tracers if they struggle to make some themselves.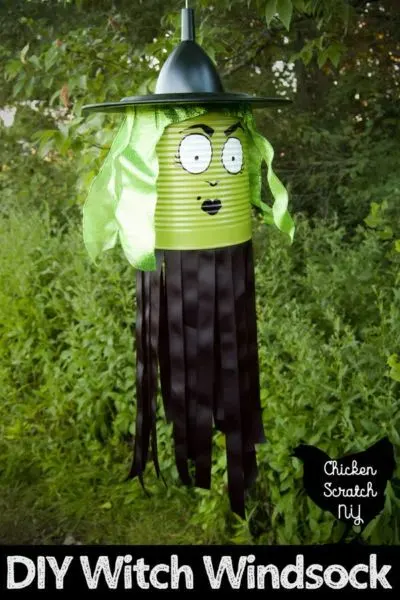 Source: chickenscratchny.com
One of the most fun witch crafts of the bunch, this witch windsock is the cutest and maybe wackiest of the bunch!
We love watching our witch fly around in the breeze during fall days–give her a broom if you're feeling extra creative.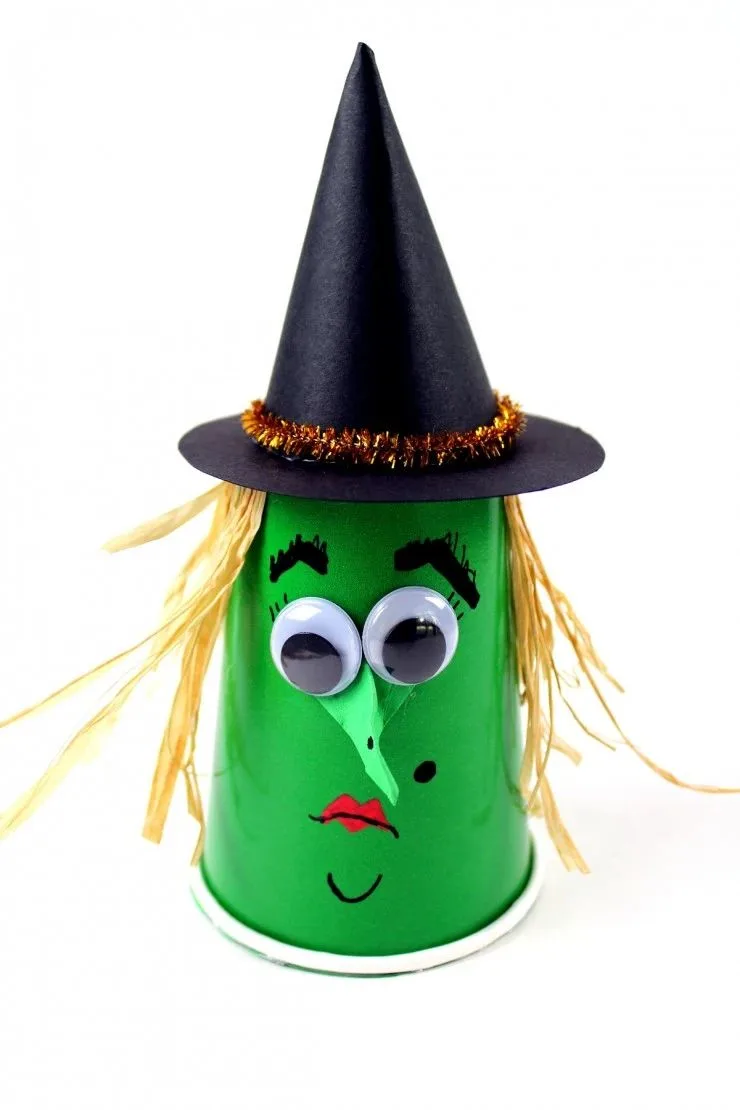 Source: frugalmomeh.com
These witch Halloween treat cups are perfect for a Halloween or fall party! The little ones get some crafty creative time with the promise of candy or a fun treat–what could be better?
Offer a variety of different paints like these beyond the classic greens. It's fun to see the different interpretations of witches when they are all done.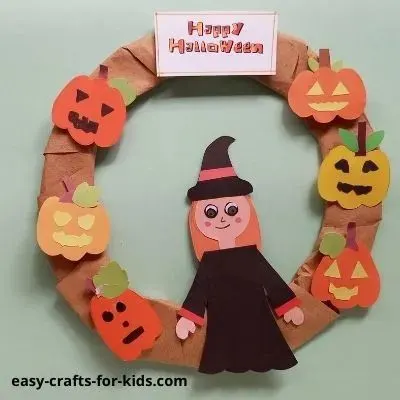 Source: easy-crafts-for-kids.com
There's nothing like a homemade wreath, and these witchy wreaths are a great one to do every Halloween season.
The pumpkins can be swapped out for candy corn, black cats, or any other favorite seasonal item.
We also love leaving a space for a small message at the top of the wreath to denote the year, a wish for the season, or anything else.
These perfect pumpkin crafts are also lots of fun this time of year!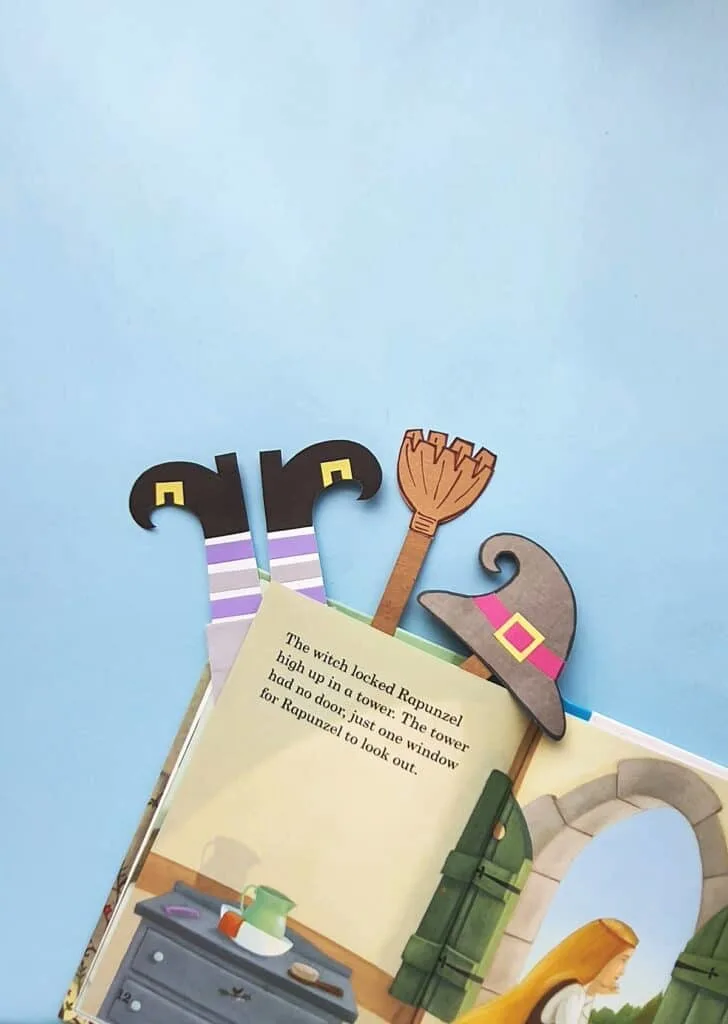 Source: bigfamilyblessings.com
For the readers that love a holiday bookmark, have them try one of these witch bookmarks!
There are plenty of avenues to play around with in the image of the marker–brooms, witch feet, a hat, and more.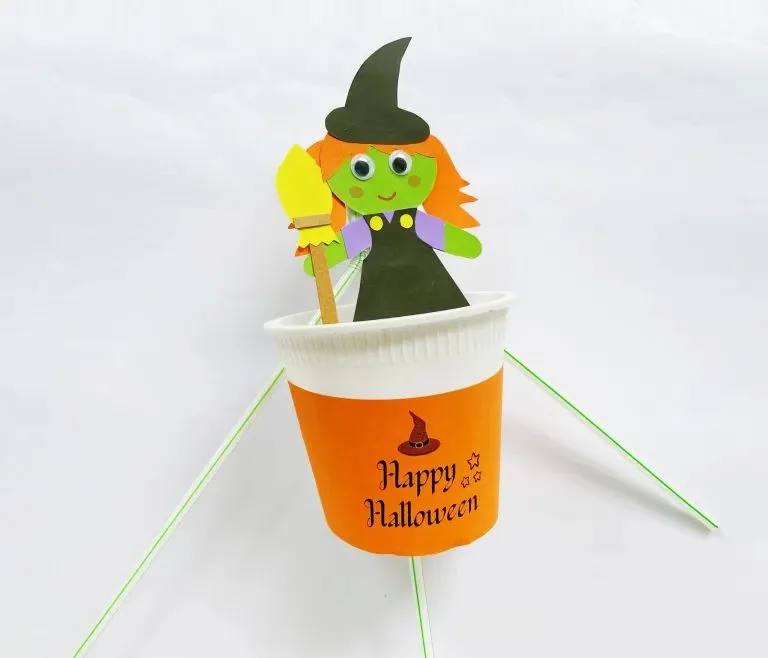 Source: easy-crafts-for-kids.com
Witches flying on brooms is arguably one of most people's main associations. This flying witch project serves this idea very well.
Kids love it, and the construction is simple. The witch doesn't fly away; she rises out of the cup and returns.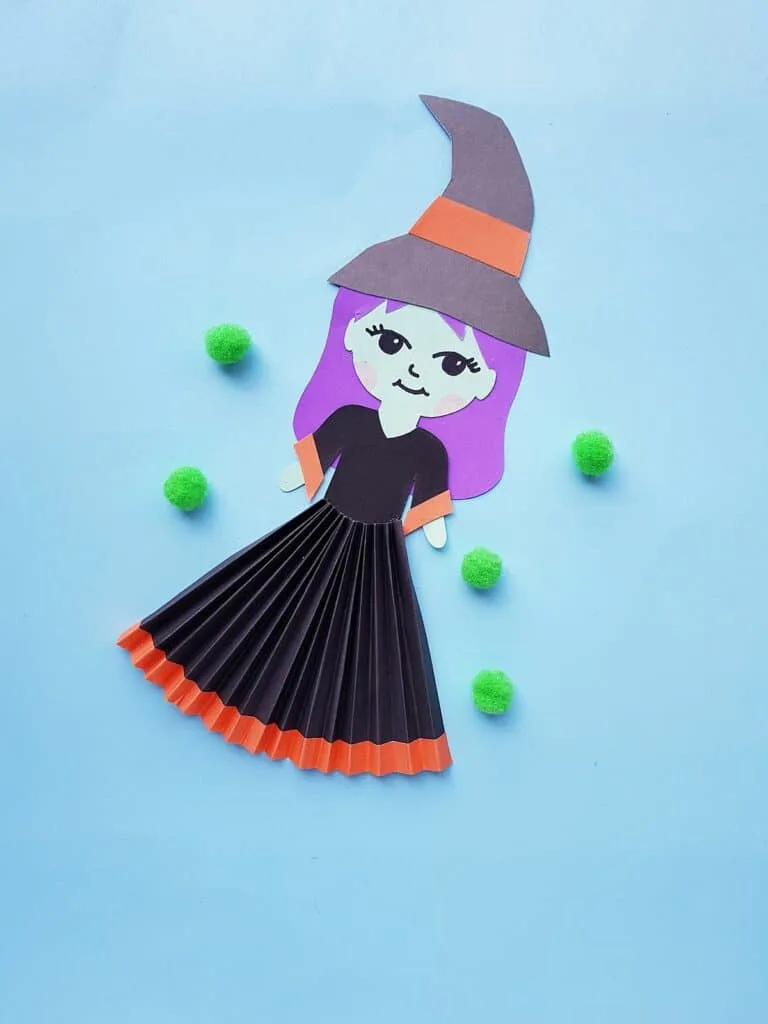 Source: bigfamilyblessings.com
This simple paper witch is a classic craft to have ready on a rainy afternoon. Grab some of this craft paper and help guide the initial construction of the silhouette.
After that, let them have free reign on the design of their witches. Glitter, stickers, or any other fun additions are welcome to this paper craft.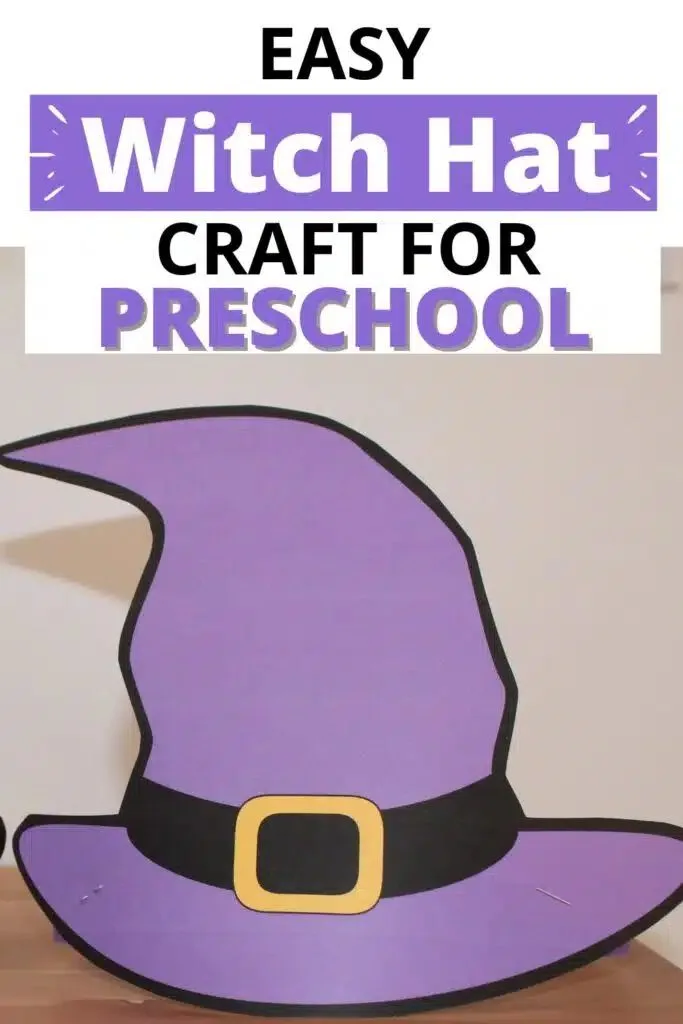 Source: simplyfullofdelight.com
Kids love to have or create a wearable piece of art, and this witch hat headband is a great option for this time of the year.
Opt for some sturdier paper, like a cardstock or something similar, and make the initial headband.
For the witch hat part, either print out options for them to color or have them color a piece of paper and cut a hat out.
There are many ways to achieve these cute witch hat headbands. Whatever works best for you is perfect.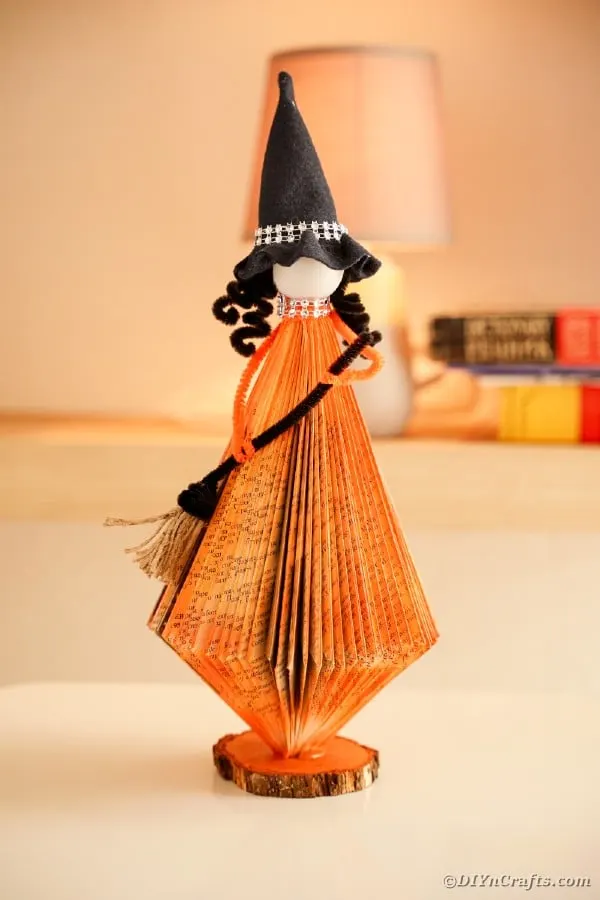 Source: diyncrafts.com
A great way to upcycle some old books you have lying around is to make them into these floating witches.
Make a whole coven with various sizes of old books, or opt for a large coffee book for one large floating witch.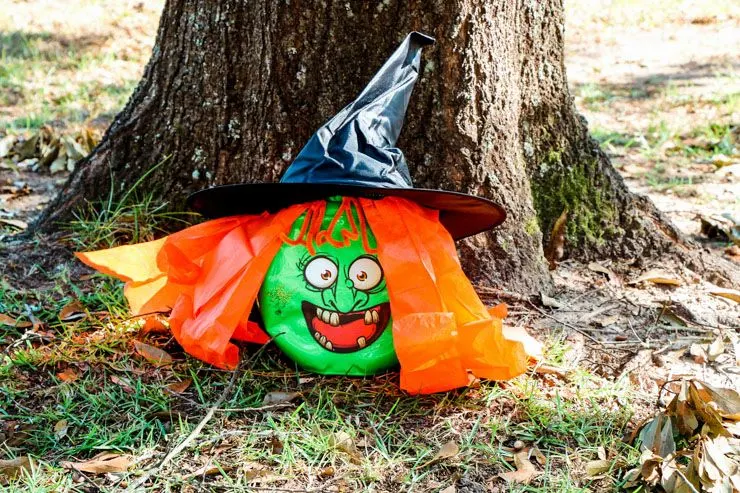 Source: consumerqueen.com
This a great opportunity to upcycle your leftover Gain Flings containers by turning them into fun Halloween decor. Naturally, witches come to mind, too, since the bins are that perfect wicked green!
Before starting, ensure your container is thoroughly clean so the application of different media will adhere better to the Gain Flings.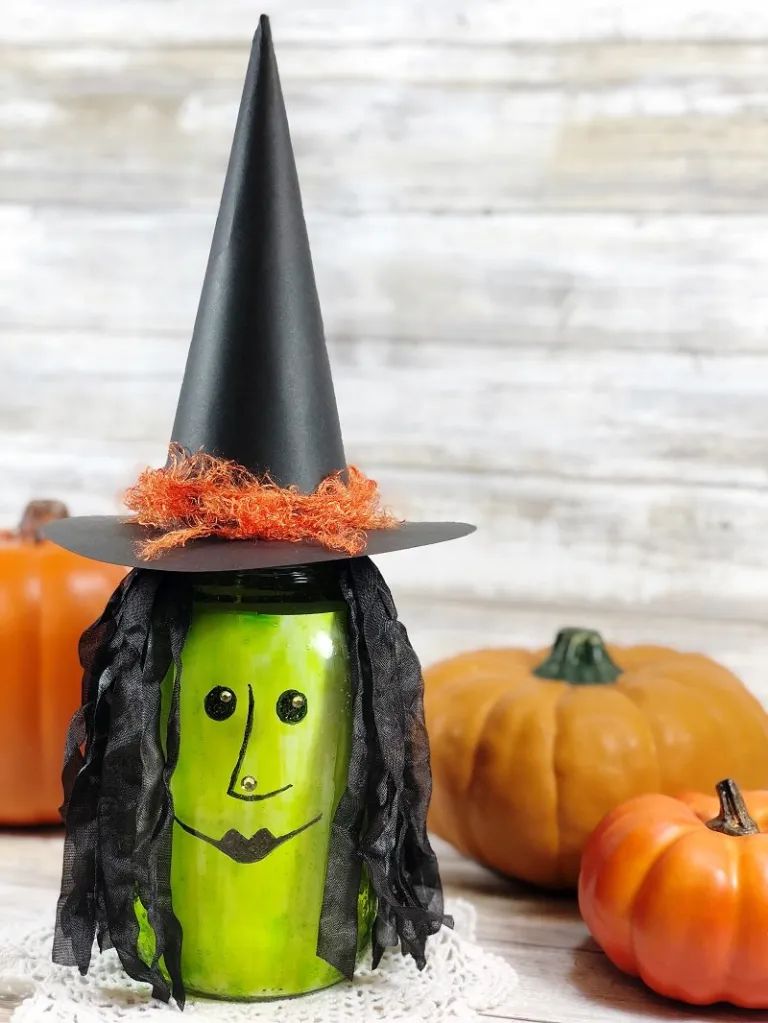 Source: creativelybeth.com
As mentioned above, a different take on the Halloween mason jar craft is to use different mediums; this one is painted.
This lantern is also geared toward older kids and adults with its more defined facial features and hair.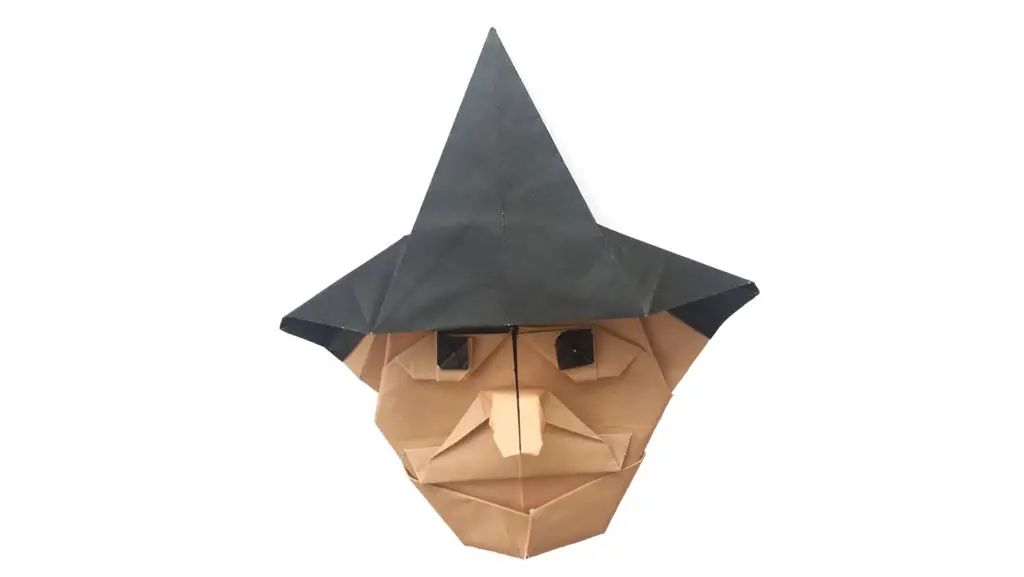 Source: origamiexpressions.com
A great alternative to the kid-friendly origami witch above, this option is minimalist and a little spookier.
Here, we opted for very plain color options, but pick any colored paper that works better for your home decor or style.
To add a bit of whimsy, consider fun googly eyes like these or textural additions like stickers or string.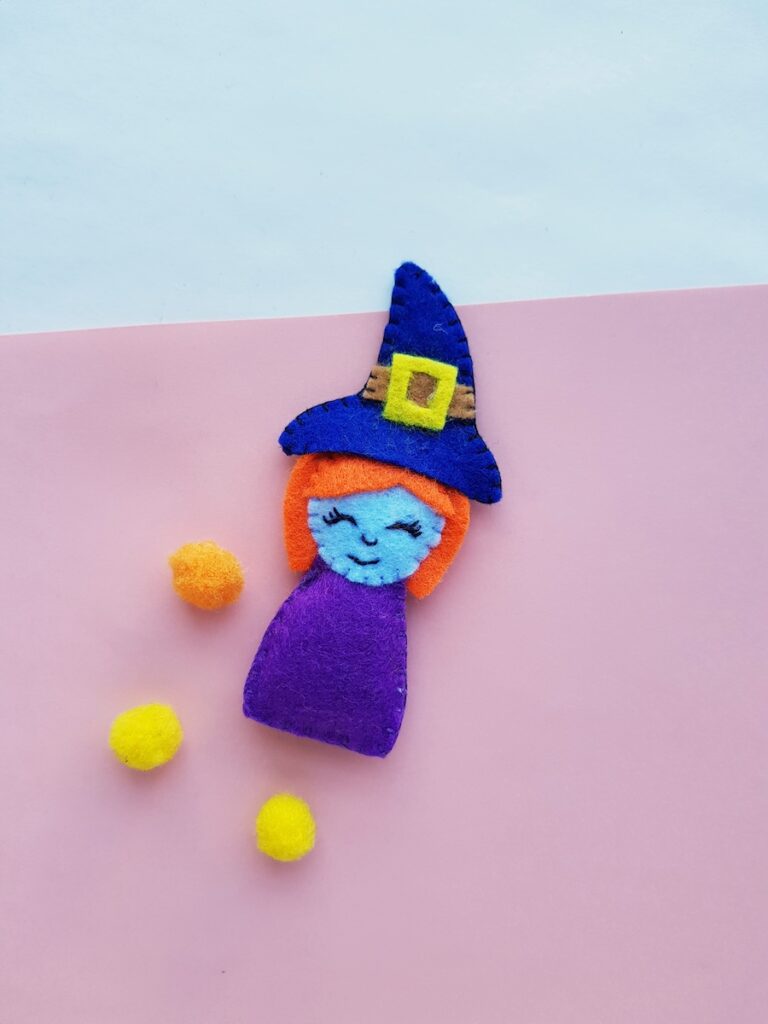 Source: easythingstosew.com
If you're looking for a cute semi-complex (but easily achievable in an afternoon), try this felt witch! Of course, feel free to personalize her style to what works for you and your home.
If you make a whole gang of felted witches, make sure to tag me online.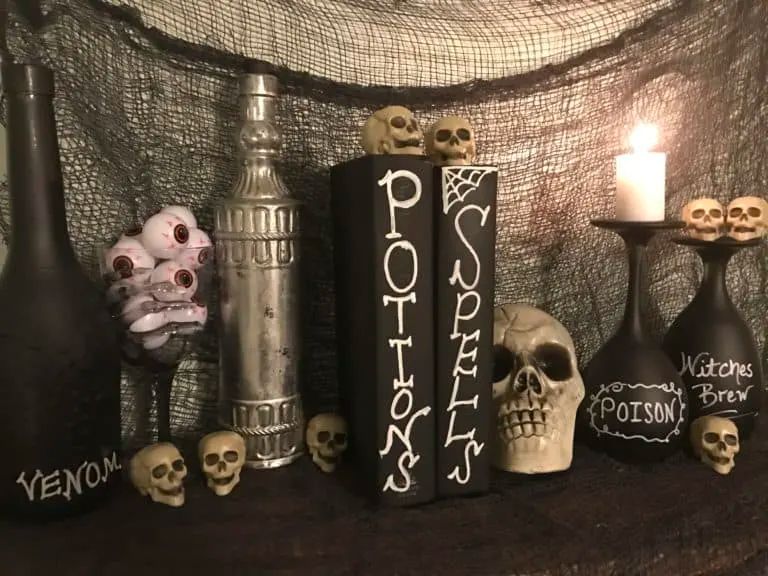 Source: diywithmyguy.com
If you're looking for a cheap way to decorate a main space in your home, consider this fun witch apothecary scene.
Run to the dollar store, opt for the oddest or most peculiar shapes, and paint them all dark.
Set them up in a way that is easily conceivable as an apothecary. It really sets a great scene for anyone coming to visit.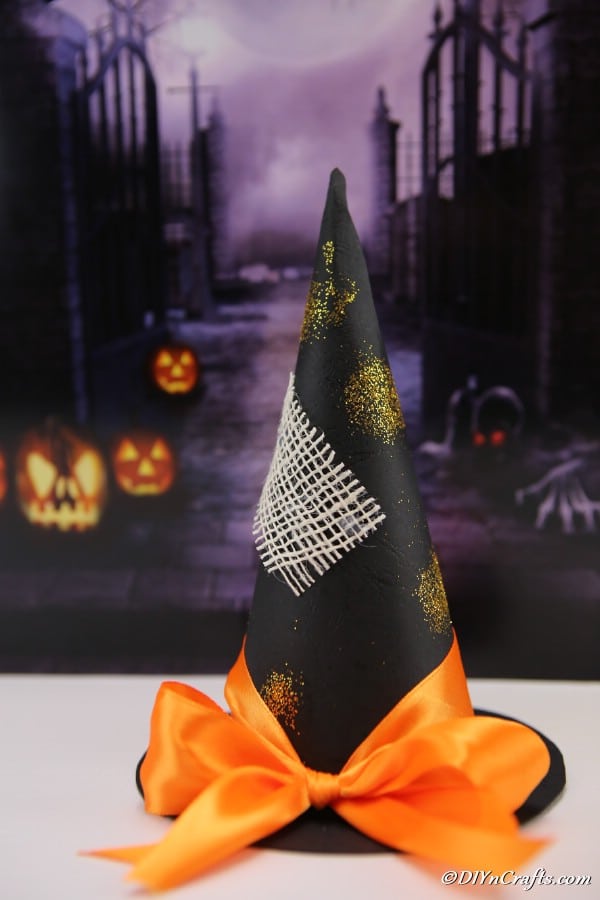 Source: diyncrafts.com
An excellent way to spend a rainy afternoon is to use up some odds and ends of cardboard or other materials lying around and keep the kids engaged.
These witch hats are so fun and endlessly creative to do each year and make for great play and decor.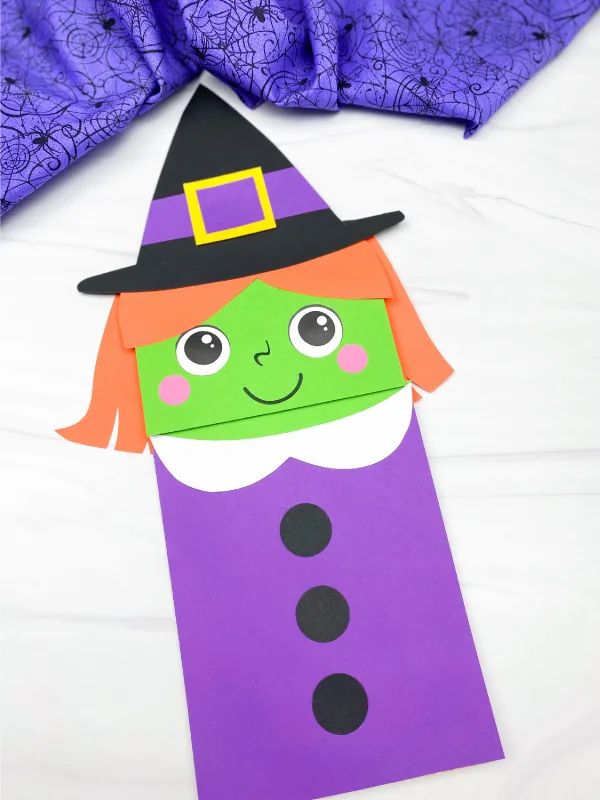 Source: simpleeverydaymom.com
Puppets never fail with the kiddos, so these witch puppet crafts are an obvious choice to add to the paper bag repertoire.
Get fancy with construction paper pieces to decorate your puppets, or let them create their own with markers, stickers, and anything else on hand.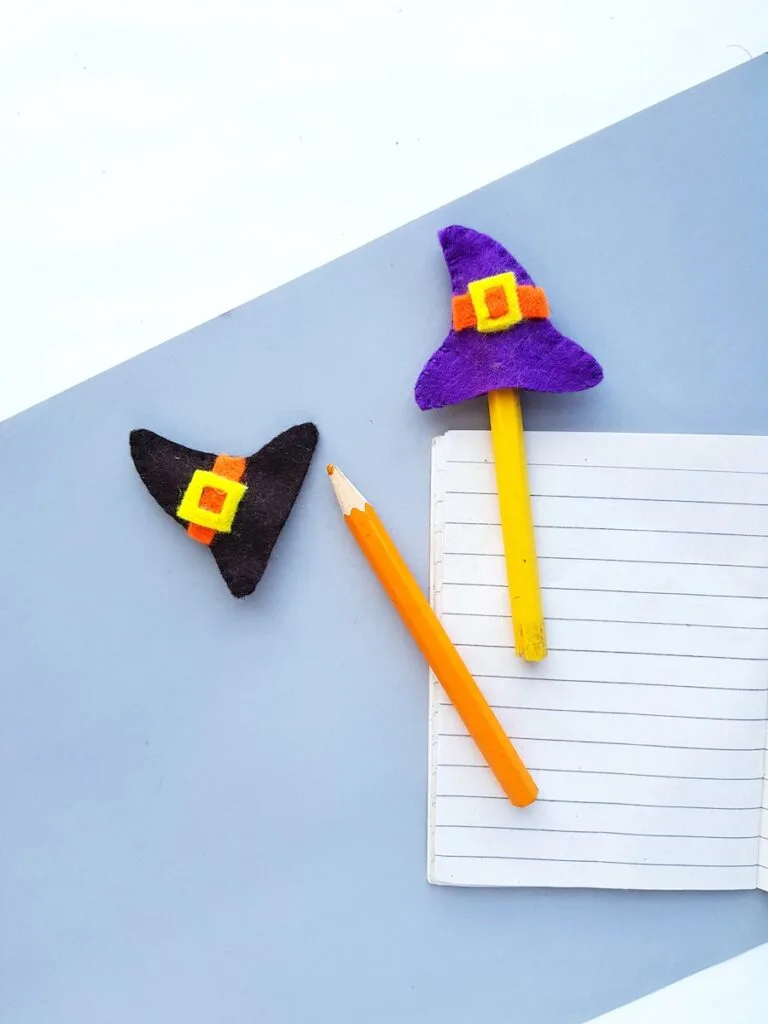 Source: easythingstosew.com
We like to get festive at our house–any inch of our lives is fair game, and these witch-hat pencil toppers are the perfect example.
Most people wouldn't think about something this detailed, but it is the perfect small addition to a gift or a fun surprise to pack for a kid in their bag.
So easy, too! Make a bunch while watching a favorite seasonal movie.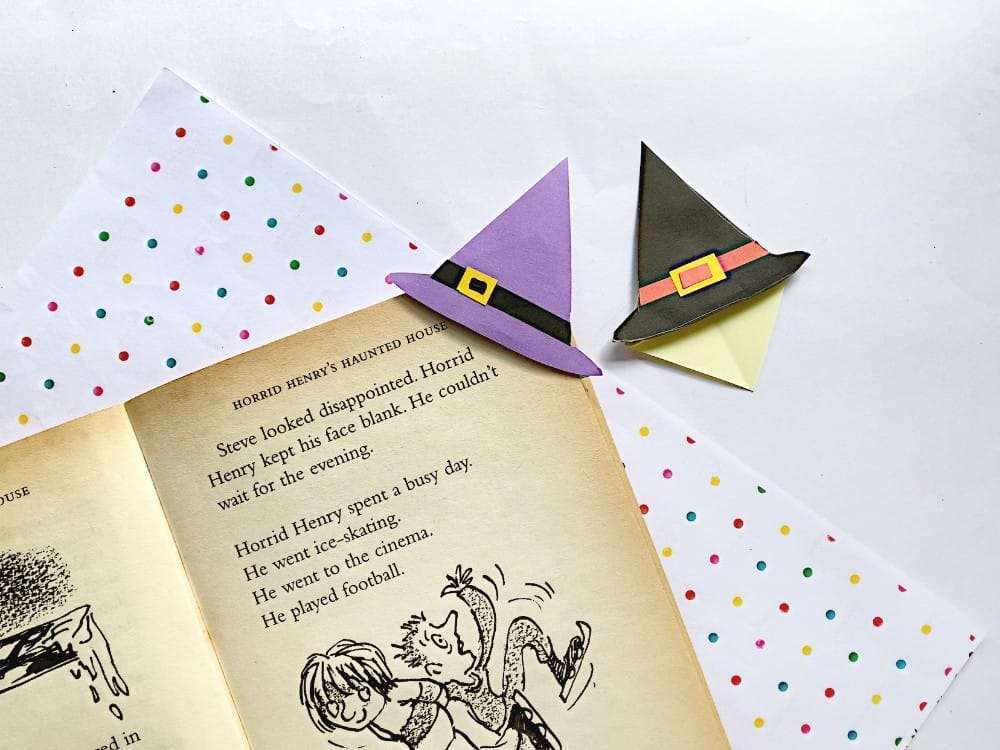 Source: twokidsandacoupon.com
This witch hat marker is a perfectly wicked little bookmark that is just darling! It's also an easy craft, especially if you're familiar with the Post-It folding technique that results in a corner bookmarker.
Here, we added a witch hat, but you could add any witch-adjacent item to make a cute bookmark.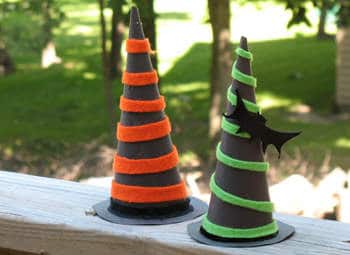 Source: craftsbyamanda.com
A witch is nothing without her hat–so if you have some self-proclaimed witches or need some extra home decor for the season, try out these cute paper witch hats.
What makes these toppers extra fun is the colored felt that gets added at the end.
You'll need some felt like these greens, oranges, and purples work best, but feel free to experiment!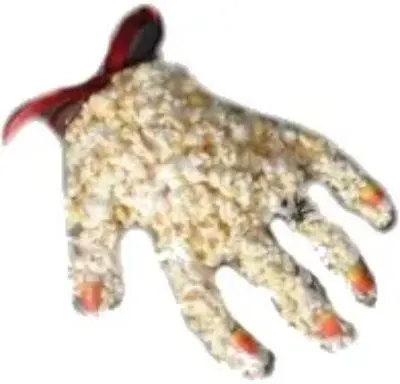 Source: craftbits.com
A nostalgic Halloween snack for some and a new treat for others! These witches' hands are perfect for parties and add to the season's spirit.
Traditionally filled with popcorn, candy corn (for the fingernails), and occasionally other little treats, they are a fun and easy way to distribute a snack to kids.
Source: craftsbyamanda.com
Need something to light up the night? Why not try out these creepy hand luminaries?
Tracing hands is the main step of this craft. Adding long nails, claws, or any other witchy friend accessory is where it gets spooky.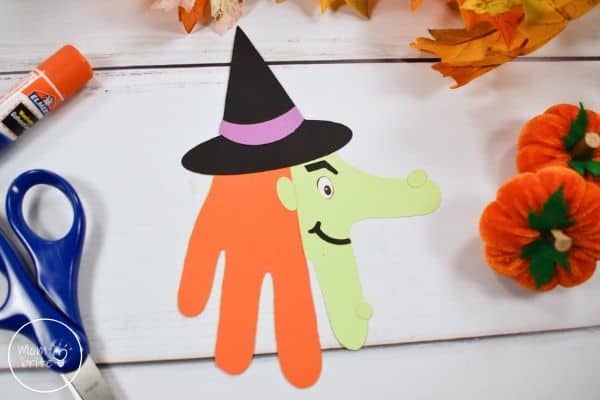 Source: mombrite.com
A friendlier hand-traced option is this fun witch handprint! Prep the other construction paper pieces ahead of time if your kiddo needs help with it, or have all the paper ready for them.
It's up to the crafter if you'd like a fully friendly or tricky witch.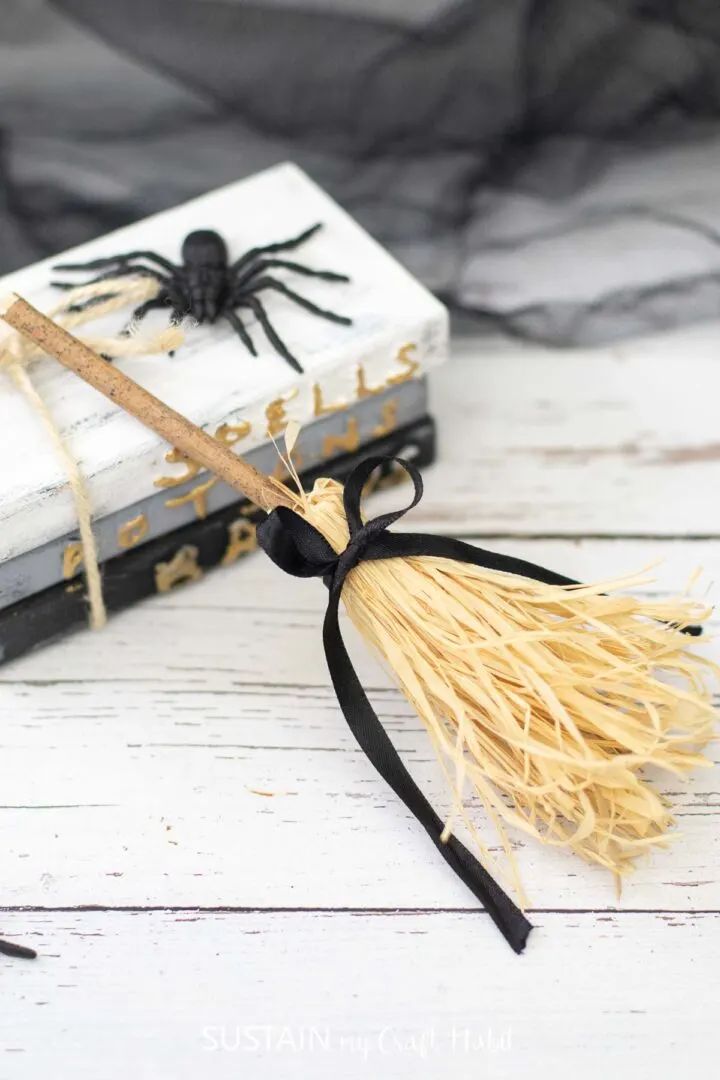 Source: sustainmycrafthabit.com
The other witch essential is her broom! This mini one may not be the best riding choice, but it's darling displayed amongst your other home decor.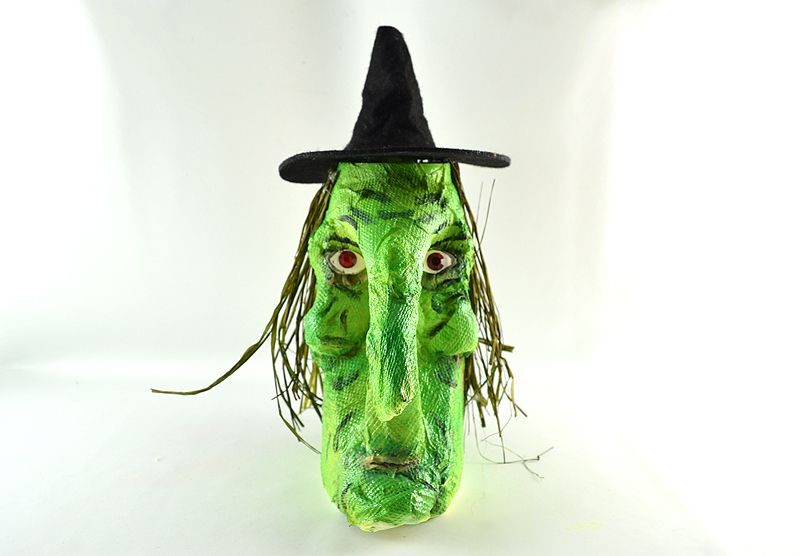 Source: ginatepper.com
This household items craft gives you full liberty to upcycle, use up, and create something unique!
This witch is made from an empty laundry detergent bottle, glue, paper towels, and some paint to bring it all together.
Don't be afraid to experiment a lot here!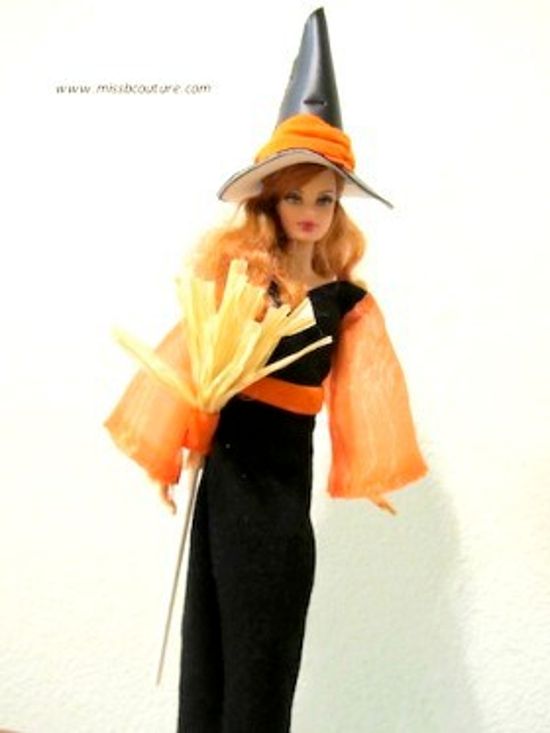 Source: craftbits.com
If your kids want to give Barbie (or any other toy) a Halloween party, dress them up as witches! Copy the look above or get inspired by it and create witchy looks all your own with the kids.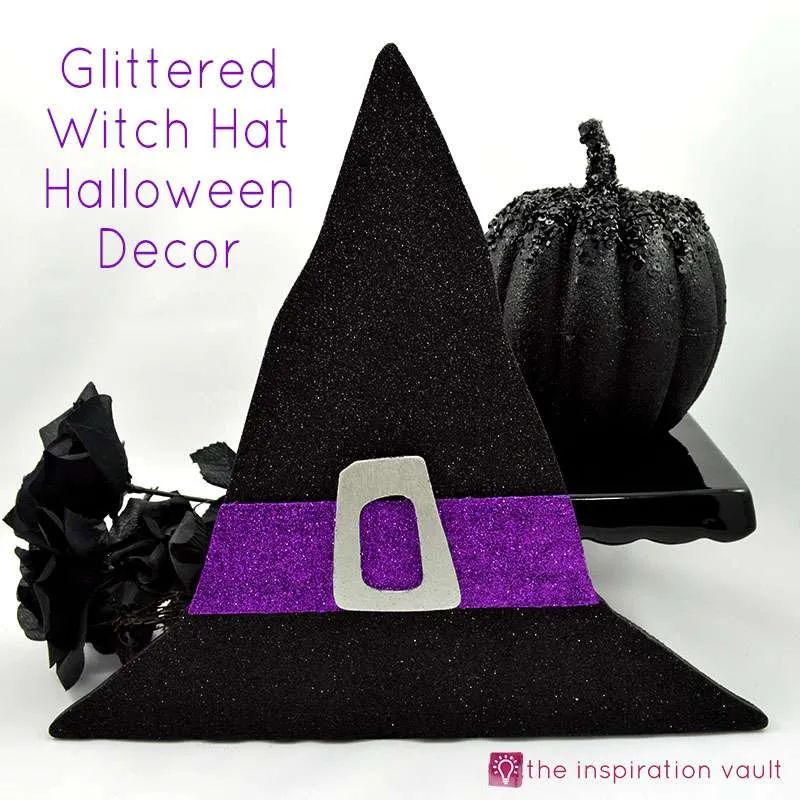 Source: ellemariehome.com
A witch has always had a certain spooky sparkle, so why not add that to your witch crafts? Grab some of this glitter glue or this glitter, and make those hats sparkle.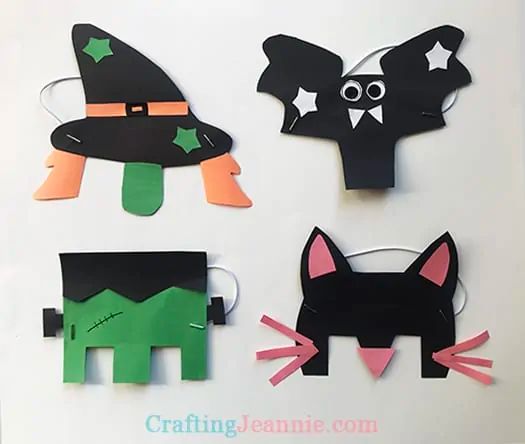 Source: craftingjeannie.com
As always, kids love any craft they can wear afterward, especially during Halloween! Now, any monster or ghoul is on the table and easy enough to do, but for our purposes today, a witch mask is our focus.
A good tip for any time you're doing a mask or headband craft is to get the kids' measurements before anything else. It'll save a lot of trouble.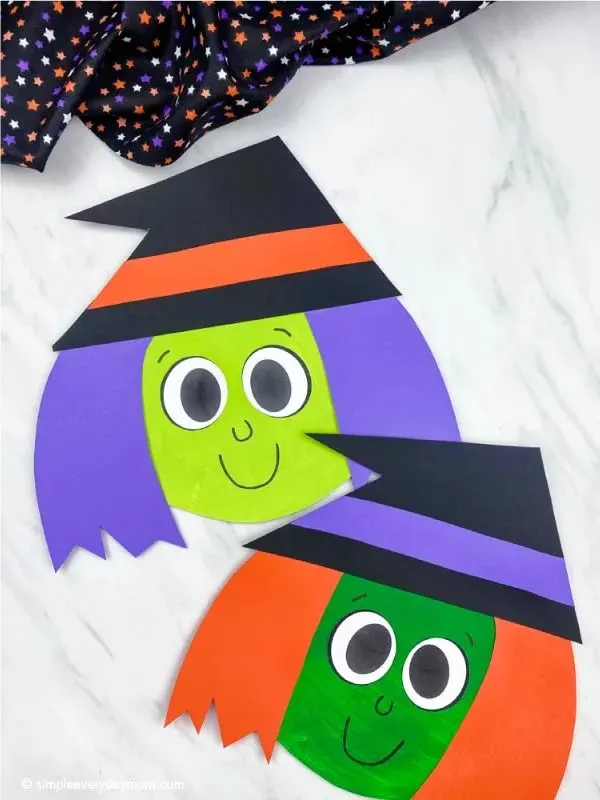 Source: simpleeverydaymom.com
A paper plate witch is an excellent craft for those young artists still exploring all there is when it comes to crafting.
They can be fully hands-on without much worry of the craft falling apart, especially with these paper plates.
A great way to get those big round eyes is to use the small side of a cup and trace the bottom.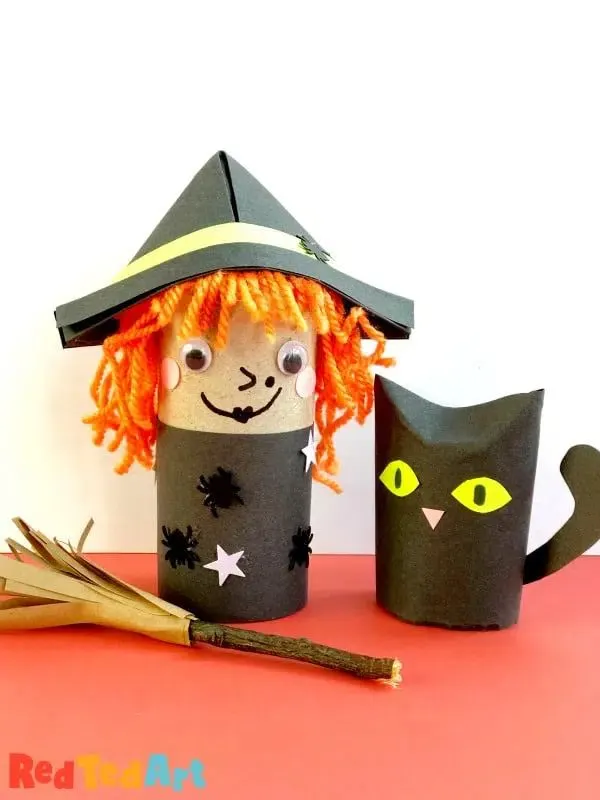 Source: redtedart.com
The big three of witch essentials–her hat, a broom, and her trusty cat are possible with a few toilet paper rolls.
This craft is great for one kid or a handful (depending on how many rolls are available; we have a small stockpile for this purpose) because everyone can make their witch, cat, and broom.
Provide an array of construction paper like this so everyone can personalize easily.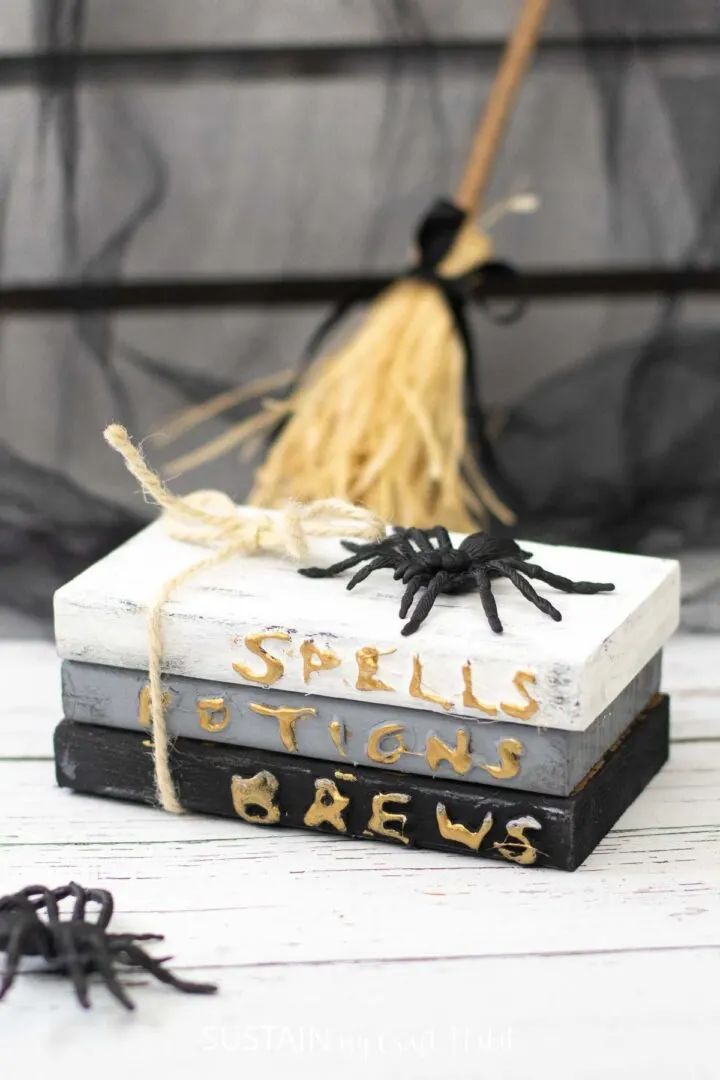 Source: sustainmycrafthabit.com
A stack of books placed smartly in the home makes for wonderful decor, and this witchy-inspired stack is no different.
Whether you have an actual stack of books in mind or are interested in creating your own set, both look great.
Use old books and make new covers, or cut wooden pieces to shape your spellbook stack.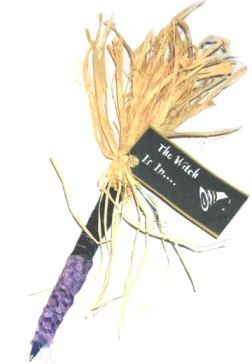 Source: craftbits.com
Like the witches' hats above, these witches' broomstick pens add to the festive spirit of the season!
This pen has some classic colors to its makeup, but feel free to use any scrap materials to construct one.
Or, make them for your place of work, party favors, or for anyone looking for some extra Halloween spirit.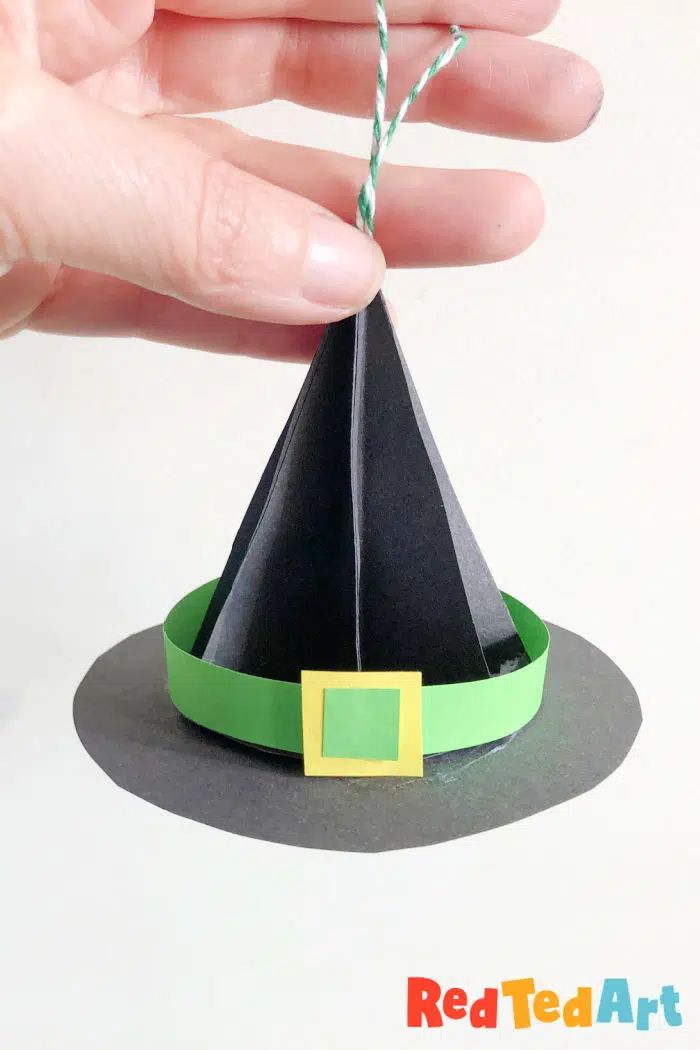 Source: redtedart.com
These 3-D witch hats are the perfect decor to add to some bunting to make a garland or have them float in the perfect place in your home.
The string attached to the top makes it a versatile decor item that fits anywhere.
Make them classic like the ones above, or make some bright alternatives–whatever works for your home.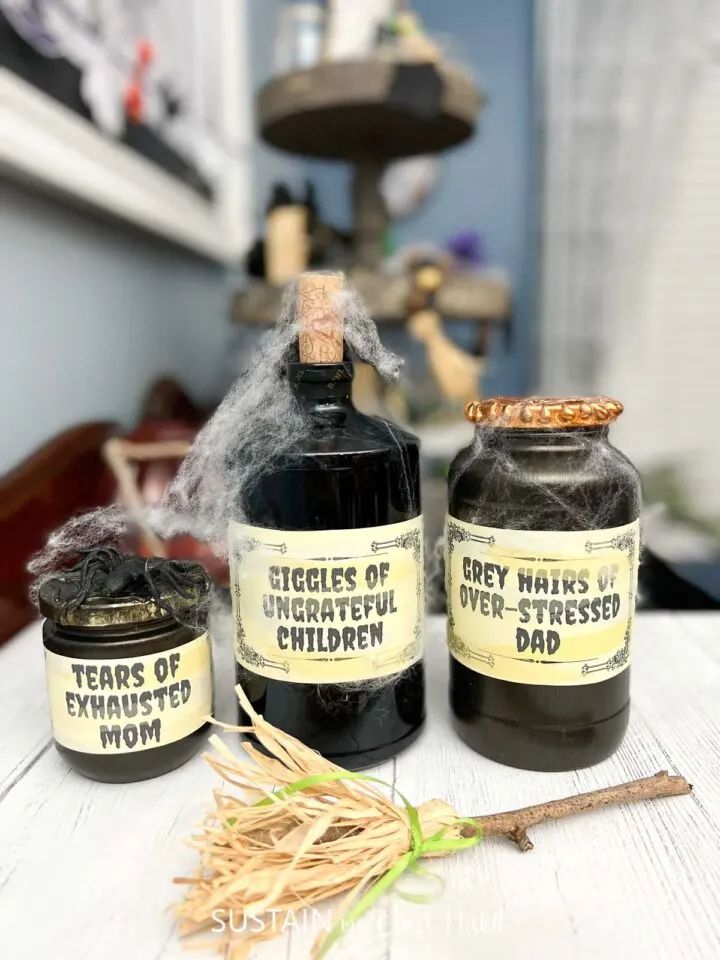 Source: sustainmycrafthabit.com
A witch always has a full cabinet of potions and brews, and they make for great display material along with the apothecary decor.
Create your own labels or seek some free printable ones anywhere across the web.
Stick with classic ingredients like frog legs or go humourous with dog barks at inappropriate times. Grab this variety pack of labels if you are making your own.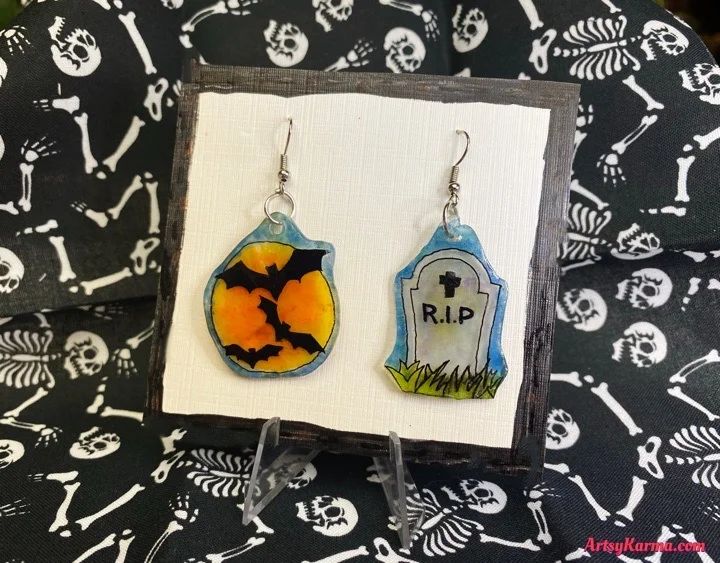 Source: artsykarma.com
Festive earrings are something I always enjoy, and I think a lot of others do, too! So grab some fun images from online and some of this clear shrink plastic and get to constructing.
A good tip is to stick with pretty simple images that are obvious still after being shrunken. Sometimes, the images can be affected by the process.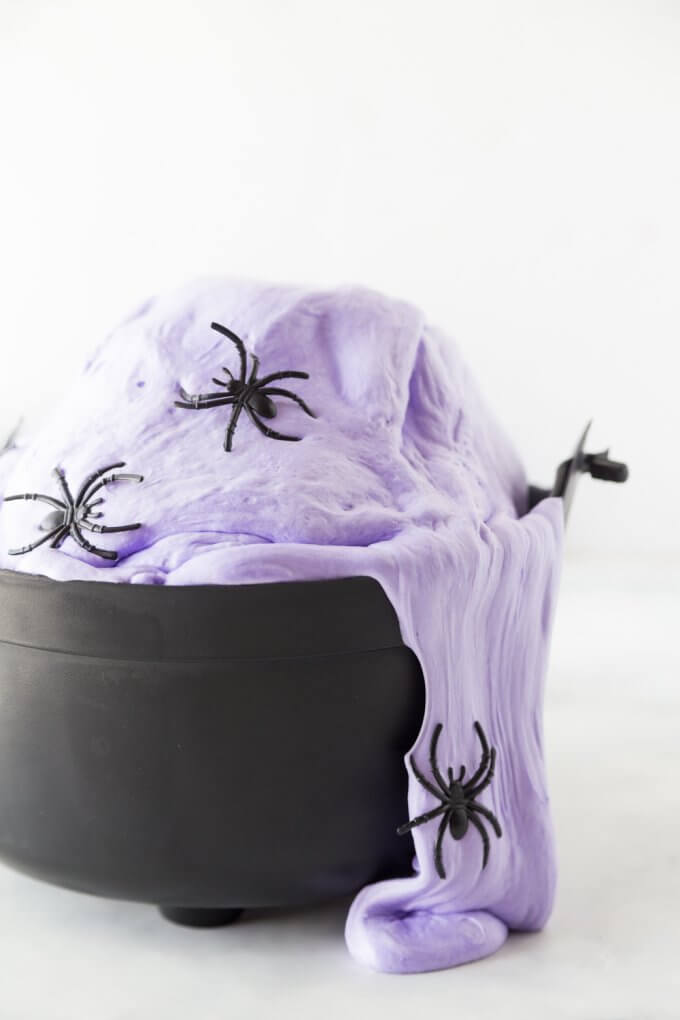 Source: littlebinsforlittlehands.com
Of course, the kids that love Halloween-y and witch-like things will love this witch's brew slime.
This slime can be any ghastly color you'd like–purple, green, blue, orange, hot pink–whatever seems spookiest for the young one.
The fun part is deciding what kind of fidgets or toys to add to the slime! You can sneakily make this into a fine motor, color, counting, or other academic moment–it all depends on the additions!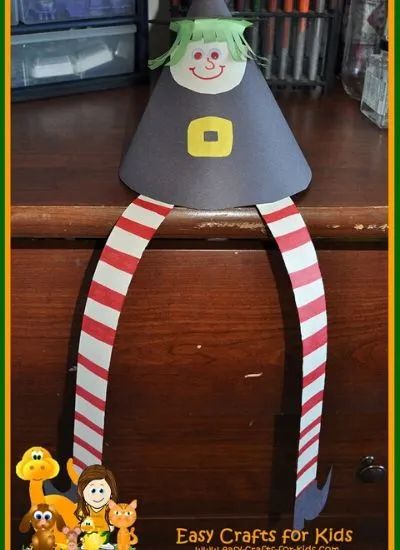 Source: easy-crafts-for-kids.com
Younger crafters fear not–this paper witch preschool craft is perfect for all of them. Lots of construction, multi-step, and listening skills make for a simple yet challenging project for your little ones.
Of course, we don't want it to be all serious for them. Let them have some free reign in color choice, decorating, and construction.
Homemade kid crafts are just so sweet and personal when done completely independently by kiddos.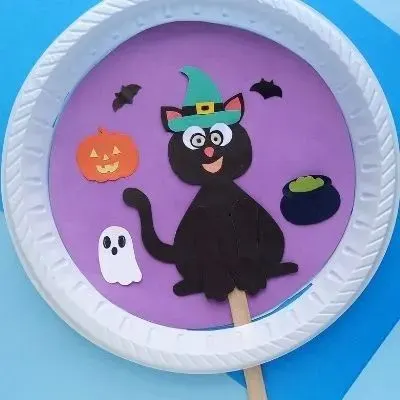 Source: easy-crafts-for-kids.com
If you've been here a while, you know my love and admiration of paper plates!
It is so entirely versatile and hardy, perfect for any kid, but especially for those 'young young' artists who may be a little too hands-on.
For this craft, it's just a sweet little Halloween witchy scene. Let the kids have free reign with what they'd like to include, and have stickers, gems, googly eyes, and all the fun additions on hand.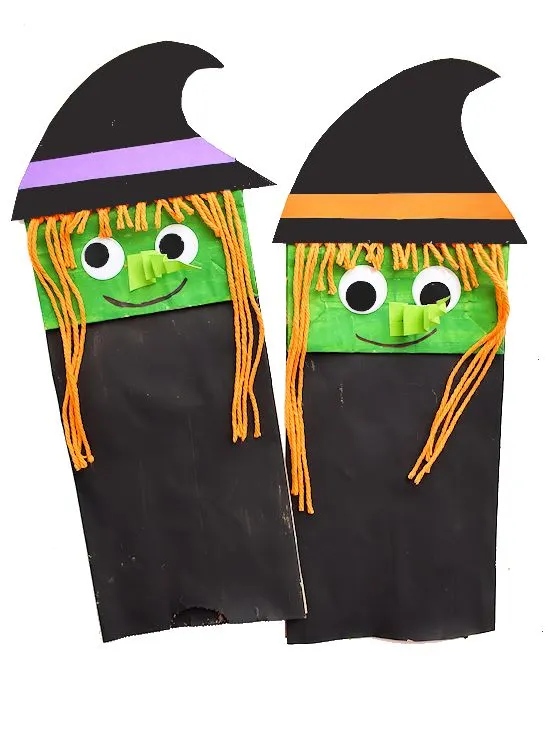 Source: ourkidthings.com
My other favorite unsung hero of the young kid crafting world is a paper bag! Yes, a regular paper lunch bag, as you probably know, is endlessly versatile and easy for kids to handle.
There's nothing cuter than a paper bag character, and I thought it'd be a nice way to wrap up the witch craft post.
Offer different colors for the witch construction, from clothing to skin color–let the kids take some liberties with the classic look of our spooky friend.
Ready for more spooky art ideas? Check out these Halloween drawing ideas!