This time of the year, it doesn't seem complete without pumpkins! These perfect pumpkin crafts are one of the best ways to get ready for spooky season!
It is one of the most iconic, adaptable, and easiest items to craft during the entirety of the fall season.
Today, we have forty-one pumpkin crafts of all shapes and sizes. There are options for beginner crafters to the more seasoned and professional ones.
From art projects to home decor, every age can participate in the ghoulishly good time of decorating their space or home with pumpkins.
These crafts include minimalist accessory-oriented pieces to show stoppers and even small guest gifts for your loved ones to take with them.
These projects are all generally budget-friendly and adaptable to any ability of crafter.
Regardless of what pumpkins you choose, you'll have a gord-eous looking home this season and many more to come!
As always, I hope you find something to enjoy, and now, on to the post!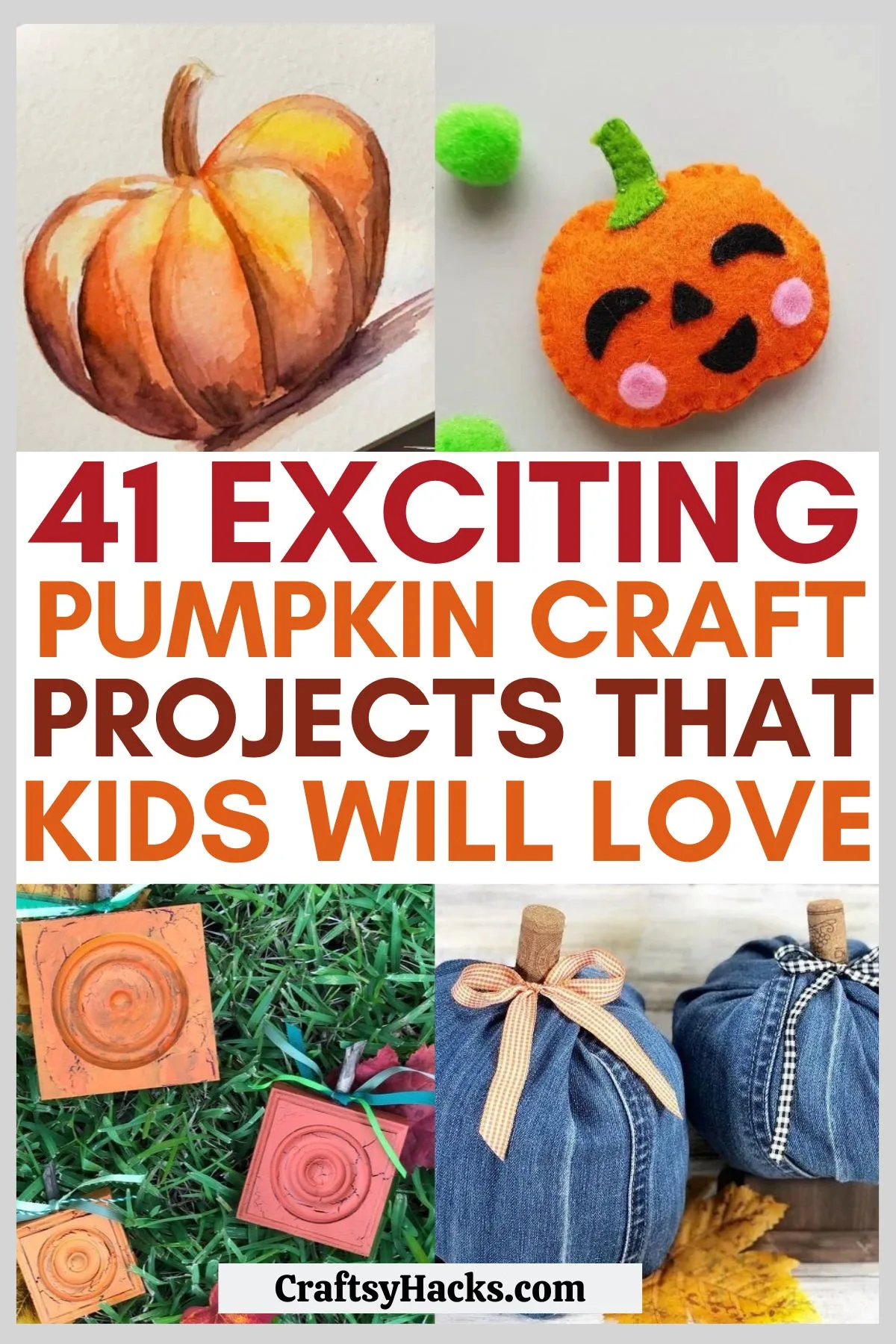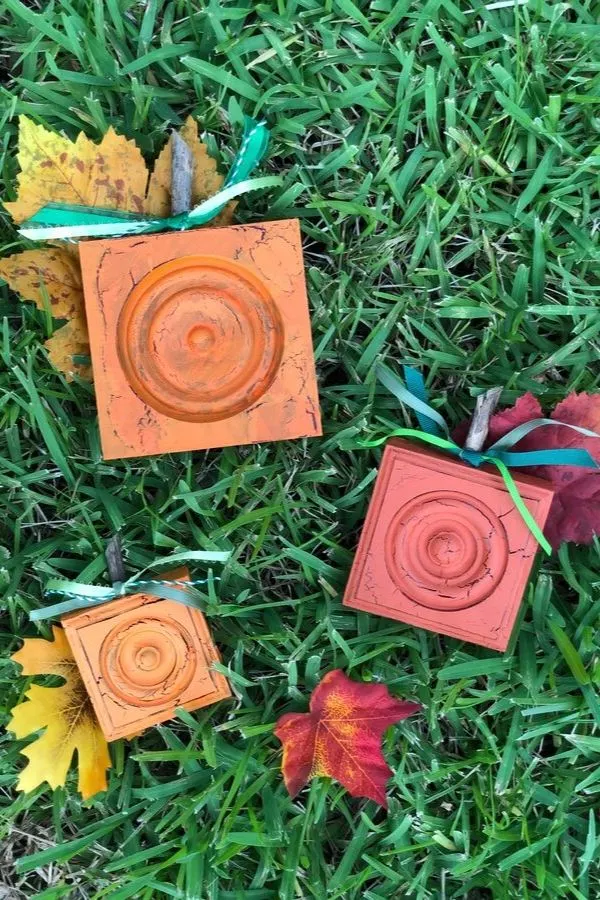 Source: homecraftsandmore.com
Starting our blog post with a little rustic and simple idea, these wooden pumpkins work as a great, easy project.
The best part of these pumpkins is that you can upcycle any old wood you have lying around to keep this project extra budget-friendly.
This is one of the best crafts to do when bored on a chilly fall day!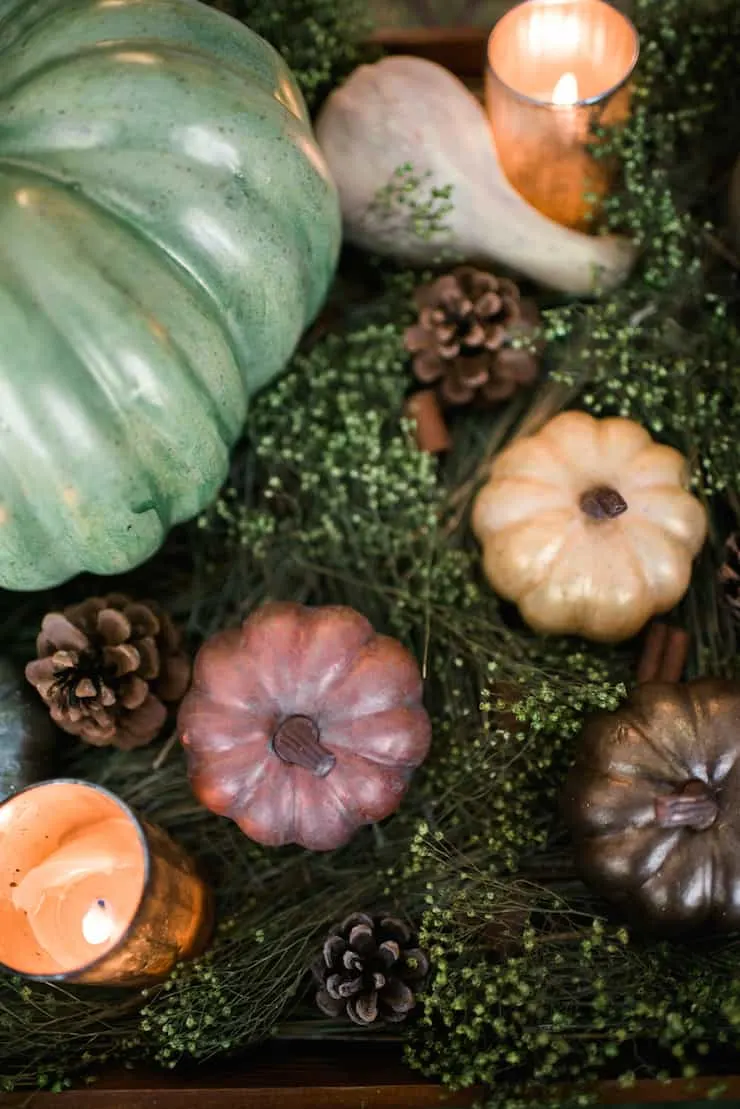 Source: muybuenocookbook.com
If you have pumpkins of any kind–real, fake, large, or small, consider painting them!
Opt for any paint on hand, or try a nice metallic coat to give your gourds a little glow-up that will steal the show.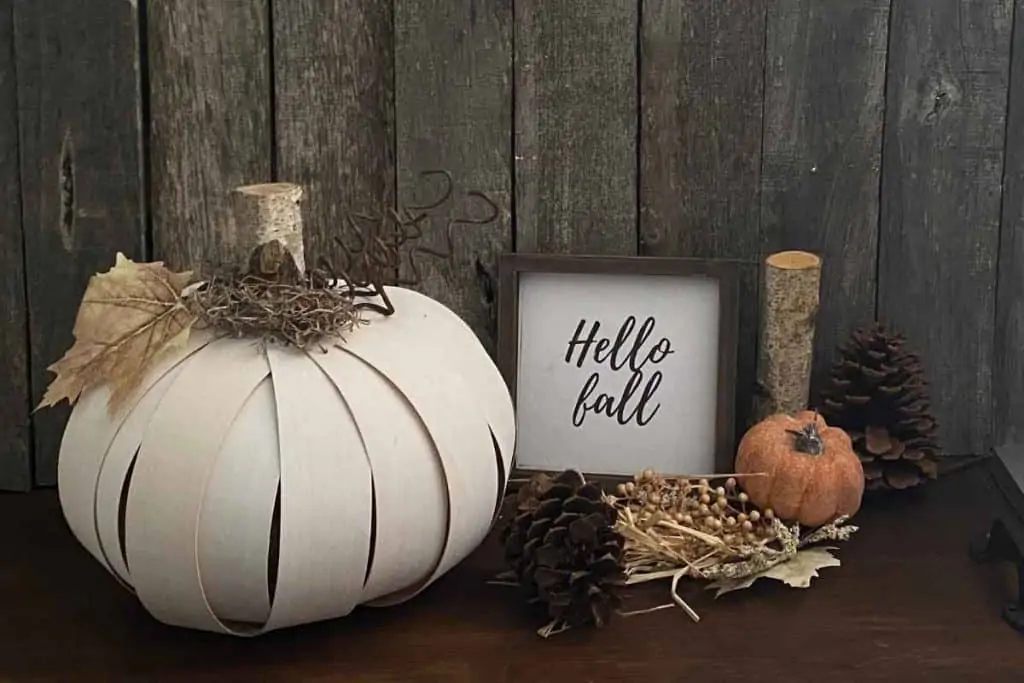 Source: restoredecorandmore.com
Make some of these wood veneer pumpkins for some fun textural in a natural-looking project.
This craft is great because you can stick with one color, two, three, or more and have a darling result regardless of how many colors.
Grab this pack of veneer–there are options for other colors below.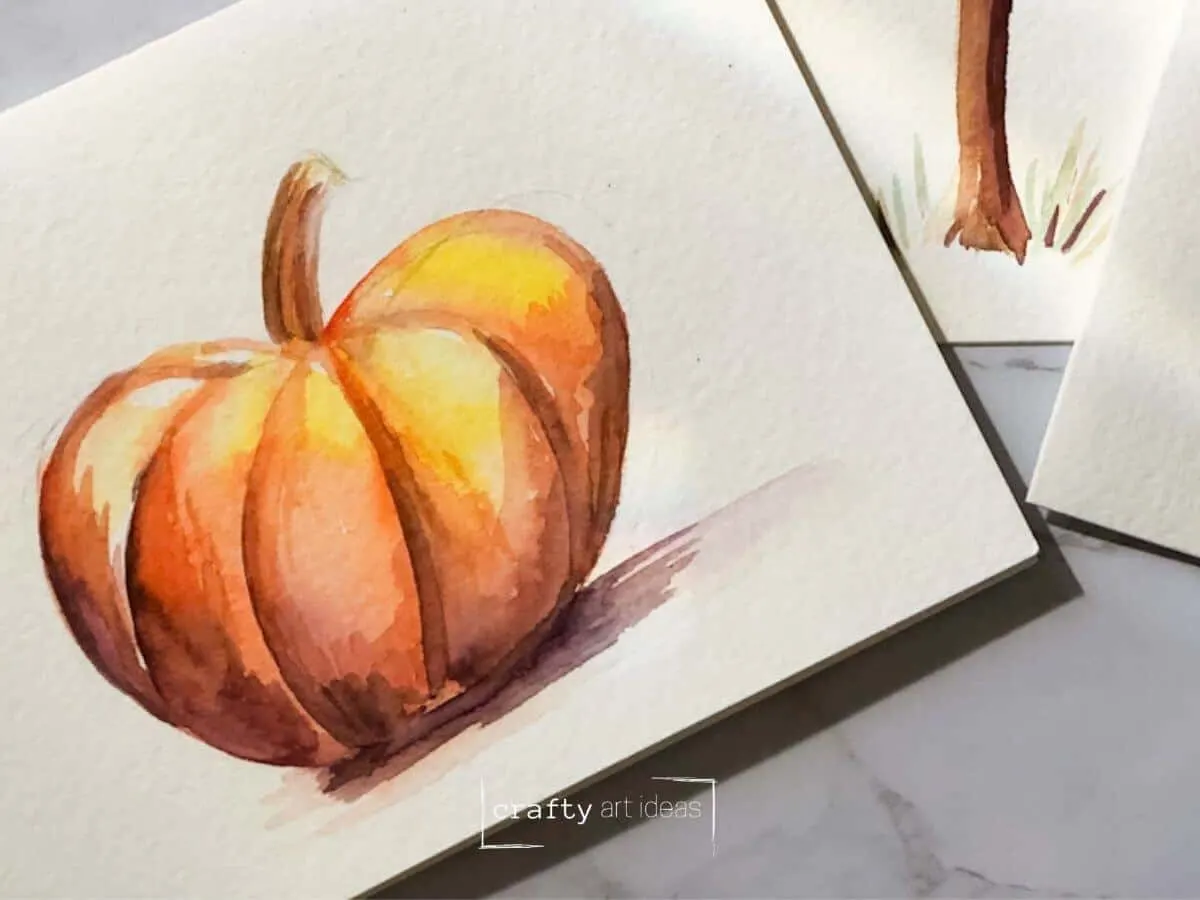 Source: craftyartideas.com
If you or if you have little ones who love to paint, consider pulling up a tutorial on creating a pumpkin with watercolors.
There are plenty of options for whatever level the artist is comfortable with.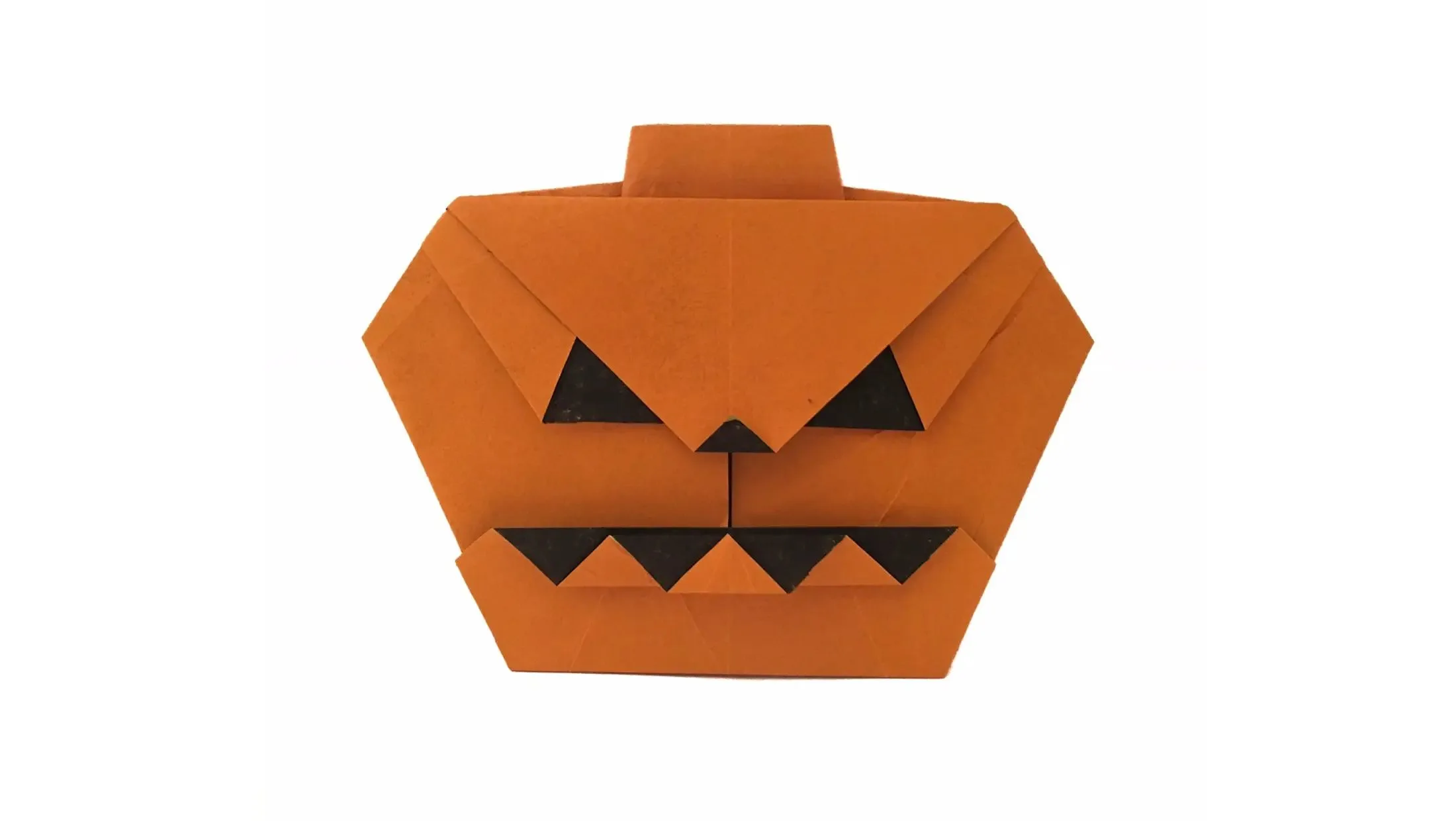 Source: origamiexpressions.com
The word 'Jack-O-Lantern' makes me cringe just the littlest bit at the thought of seeds and innards getting pulled out.
No fear with this option–try making an origami version of the classic icon instead, sans guts and cleanup.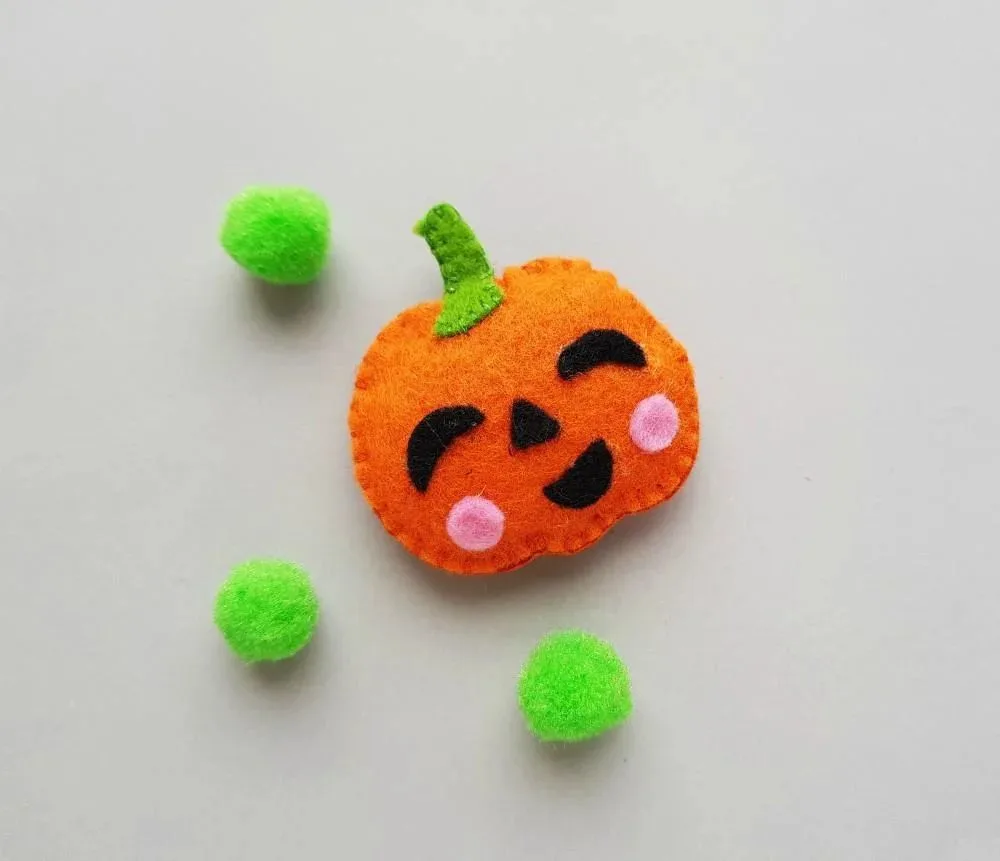 Source: ottawamommyclub.ca
If you know origami and the real deal of carving a Jack-O-Lantern isn't the right craft for you, try this plush alternative.
Keep the size on the smaller size for a quicker project, and grab this cute felting kit and get busy!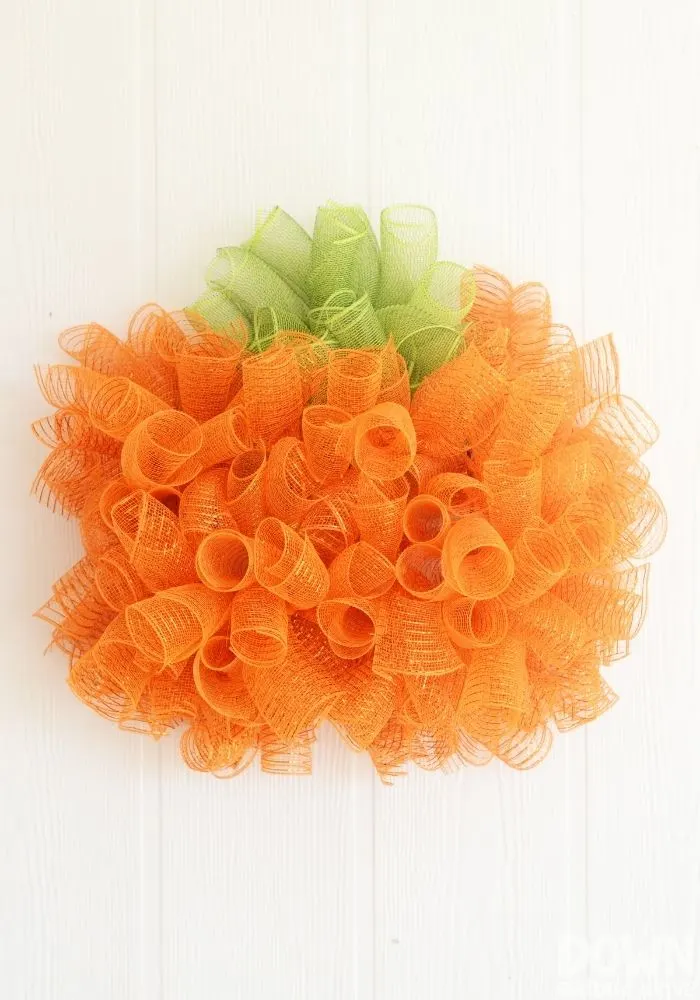 Source: downredbuddrive.com
Texture makes everything more interesting, including home decorations. This mesh pumpkin wreath is no exception and has a fun play on a traditional wreath.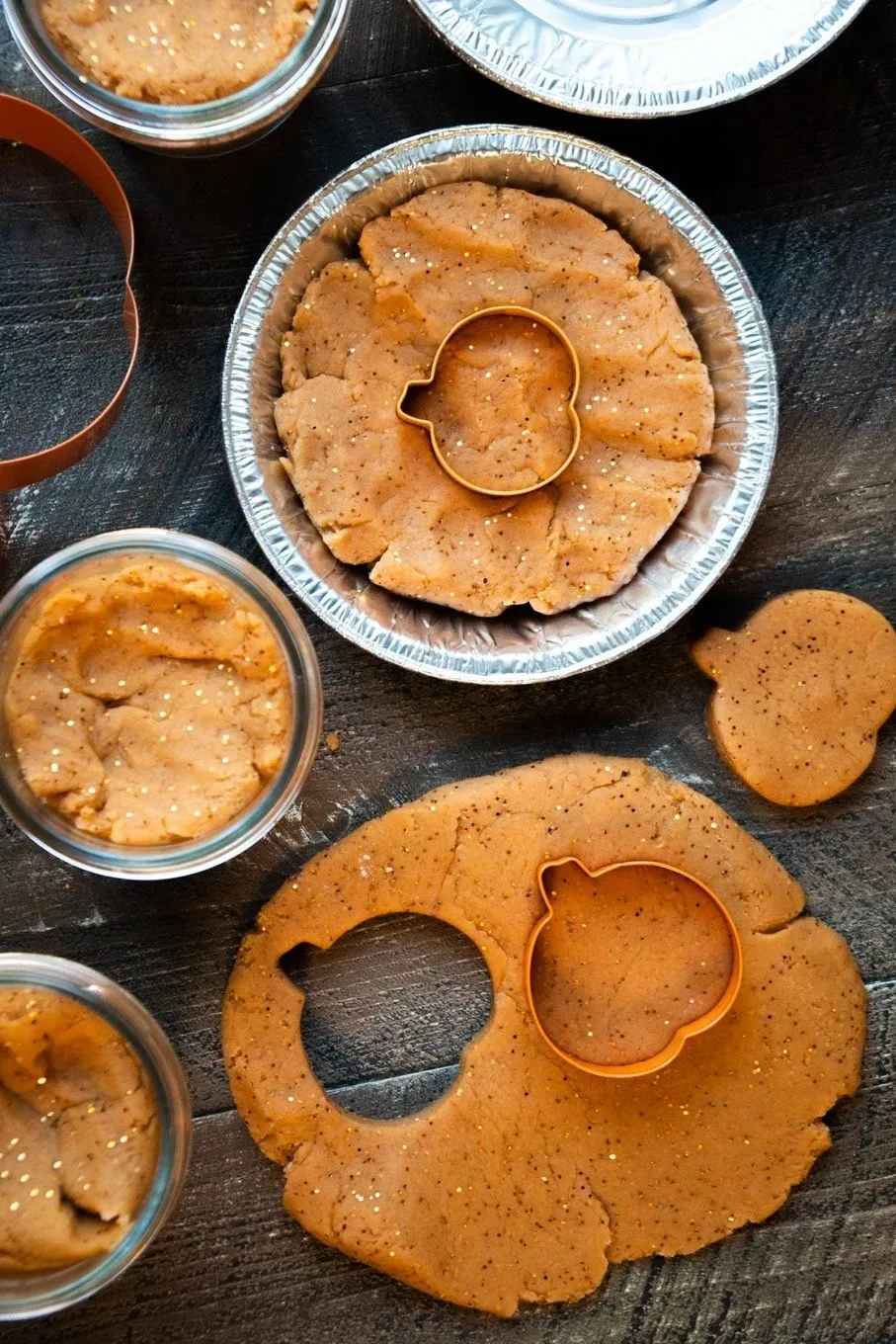 Source: vintagerecipetin.com
I know this craft sounds good enough to eat, but it is not! It's a great seasonal option for kids' hands to stay busy or a great destresser for any adult (who loves pumpkin pie).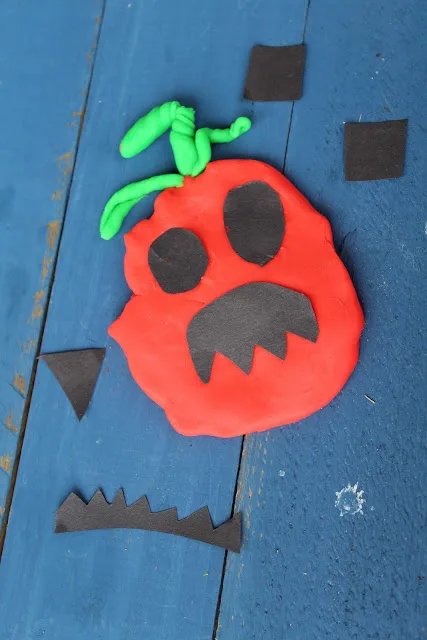 Source: sweetsillysara.com
For the non-pumpkin pie scent lovers, opt for a fun play session of making playdough pumpkin faces.
Set up the activity for the afternoon and clean it up when you get done, or let it dry and add the silly gourds to the decor.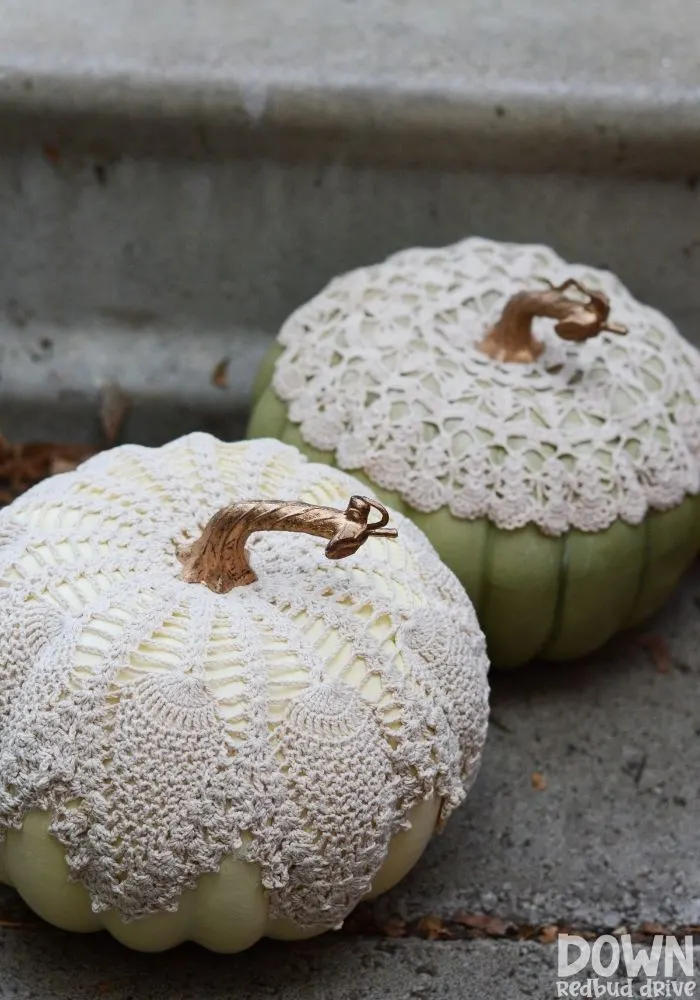 Source: downredbuddrive.com
Textures or mixed textiles will always bring an interesting element to home decor. Doiy pumpkins are a darling addition to this train of thought.

Keep everything white or add color to the pumpkin or doily or both. If you're wondering where you can buy doilies, get them here.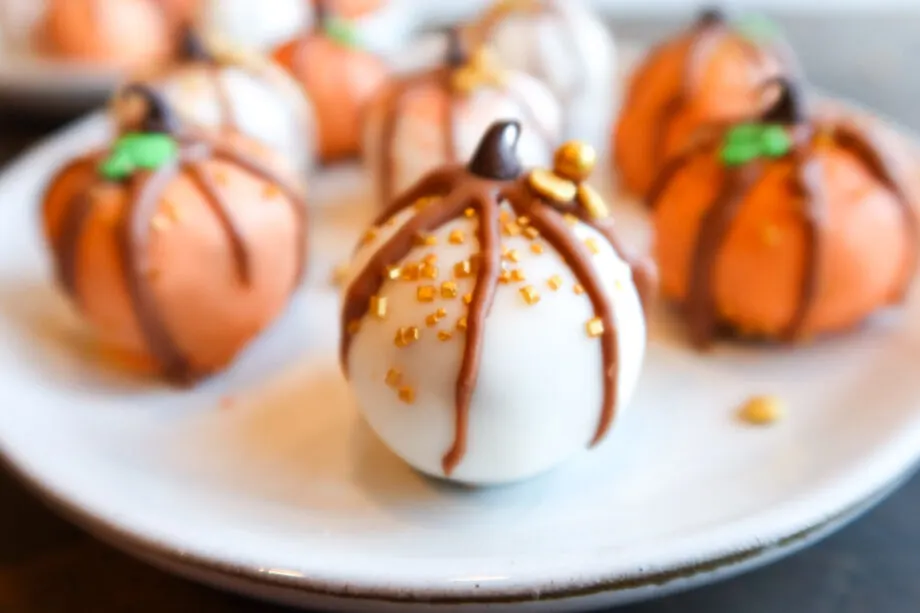 Source: garlicsaltandlime.com
All seasons need something sweet, and these peanut butter bites get the job done.
If you are allergic to peanut butter, opt for an alternative nut butter (almond, cashew, etc.) or even sunflower seed butter to forgo any allergies.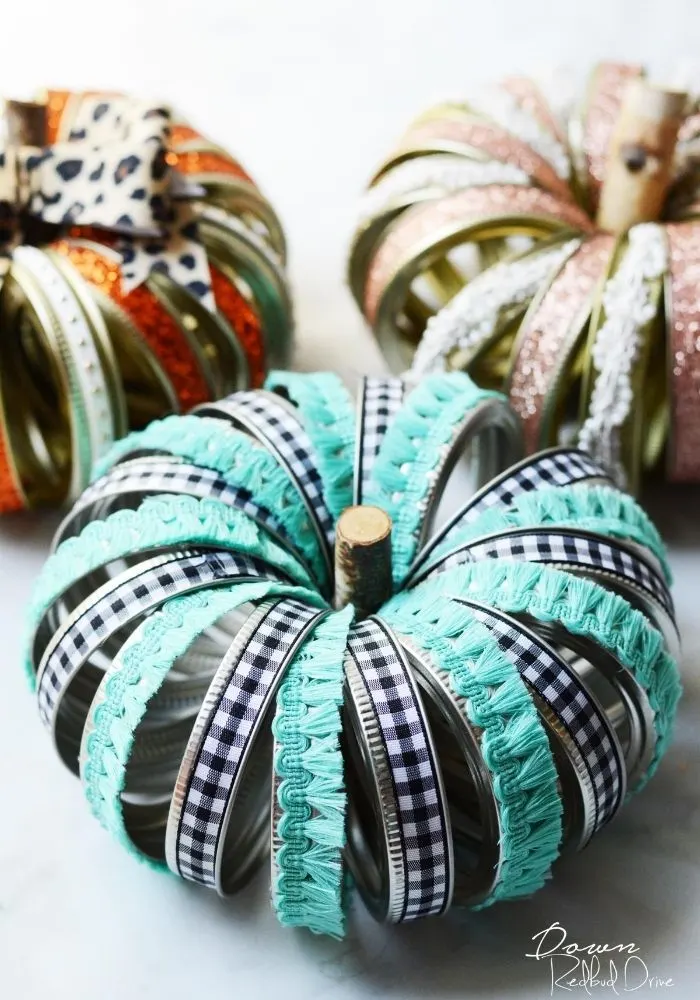 Source: downredbuddrive.com
If you're anything like me, you probably have odds and ends of canning rings hiding in your kitchen. A great way to upcycle those rings is to turn them into these fun pumpkins.
This is one of the best fall crafts to sell to make some extra money!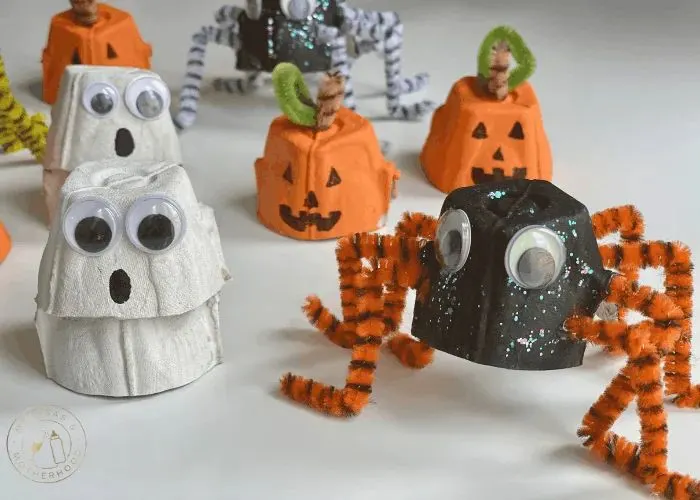 Source: mimosasandmotherhood.com
To keep fun crafts in your back pocket for kids any time of the year is a feat, especially ones that can get done on a whim.
Egg cartons are a perfect vehicle for any idea, especially this egg carton pumpkin!
Just make sure to reserve some of these googly eyes to make the result extra fun.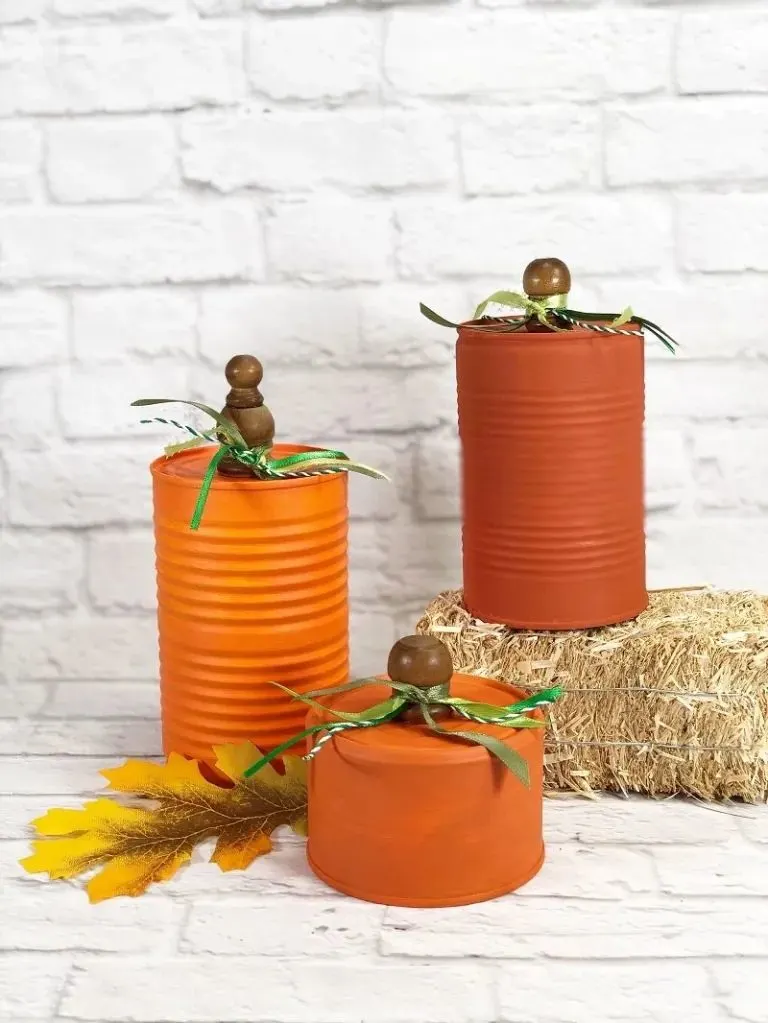 Source: creativelybeth.com
Upcycling is one of the best ways to craft these days and a great bonus: it makes for a cheaper project overall. Use cans of any size for a mixed array of a cute homemade pumpkin patch.
You'll also want to know these other ingenious upcycling ideas!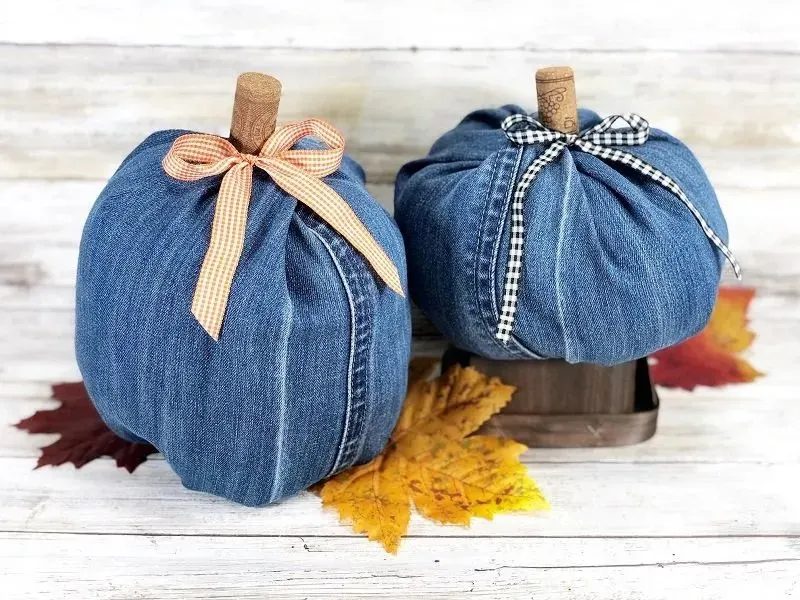 Source: creativelybeth.com
Any denim you have that needs a second life can get turned into these funky and fun pumpkins.
Keep them plain, or add a fun print or pattern to the jeans before assembling them to make them even more unique.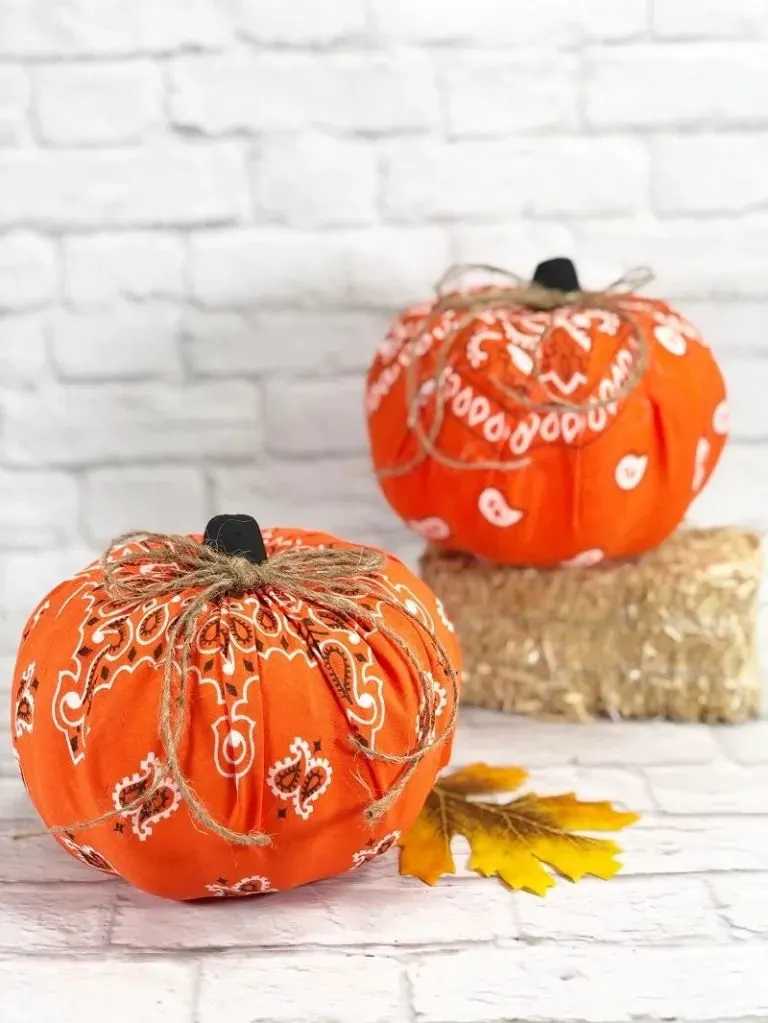 Source: creativelybeth.com
Alternatively, if you have old bandanas or scarves lying around, they can also get used to making fantastic fabric pumpkins.
The amount of filling will determine how big the pumpkins are. If you're lacking bandanas, these are a great price.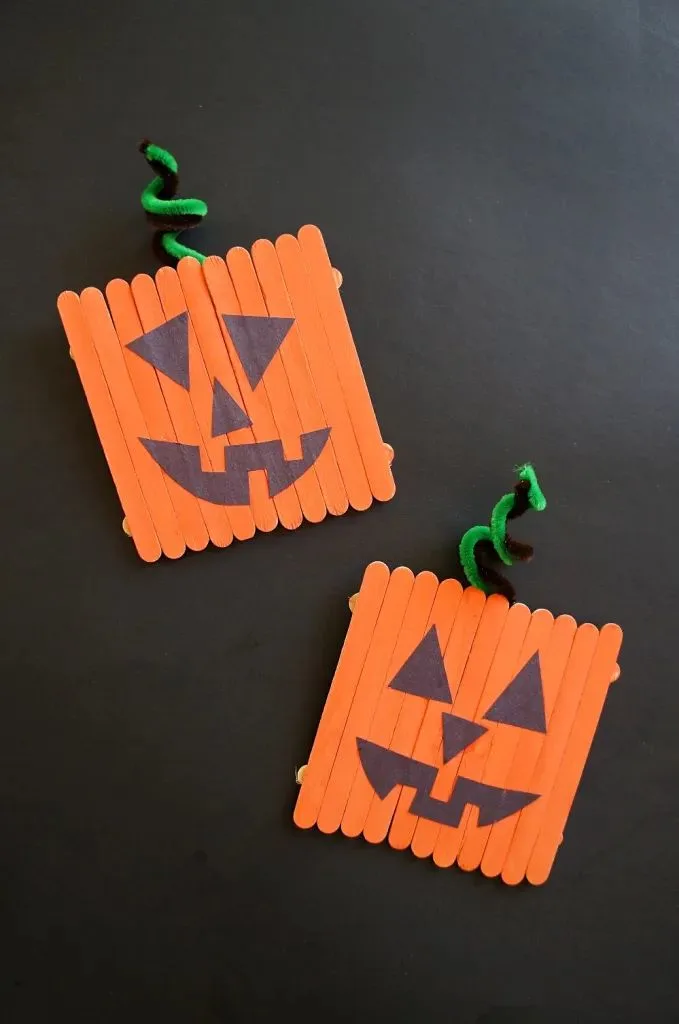 Source: honeyandlime.co
Popsicle sticks are another great option to have on hand for on-the-fly crafts. They are useable any time of the year, but these pumpkin popsicle sticks are adorable.
Turn them into fun fridge decor with these magnets.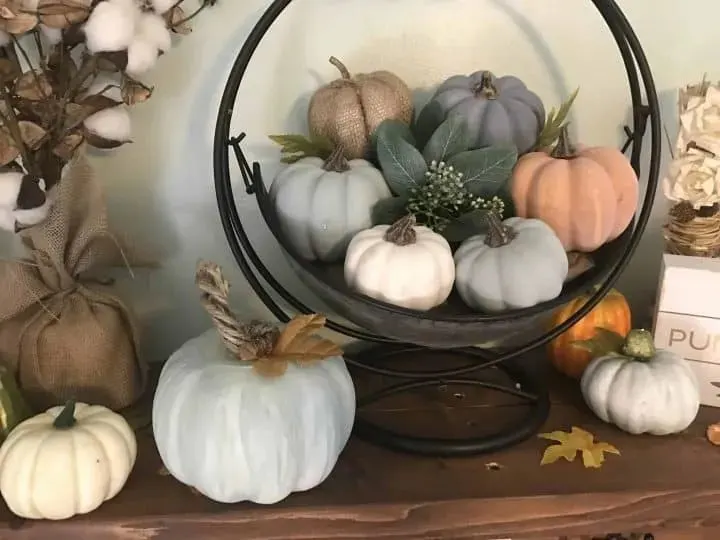 Source: diywithmyguy.com
The dollar store is a full treasure trove of goods for crafts, including seasonal items. Grab pumpkins, paint, fake leaves, and some rope to create these cuties.
Look beyond my recommendations at the Dollar Store–anything you may discover that works in this project, pick it up! Whether that's extra foliage, facial characteristics, and more.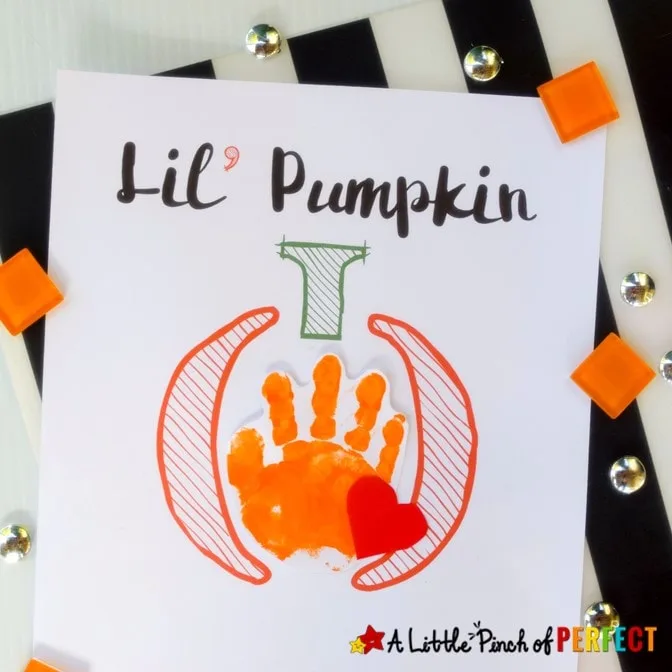 Source: alittlepinchofperfect.com
A cute sensory for the little artists is this sweet pumpkin handprint craft.
There are templates online, or sketch out the outside of the pumpkin and then direct the youngster to the middle space for their palm to go.
If you don't have paint, try the craft by tracing their hand and letting them color in the space with their preferred media.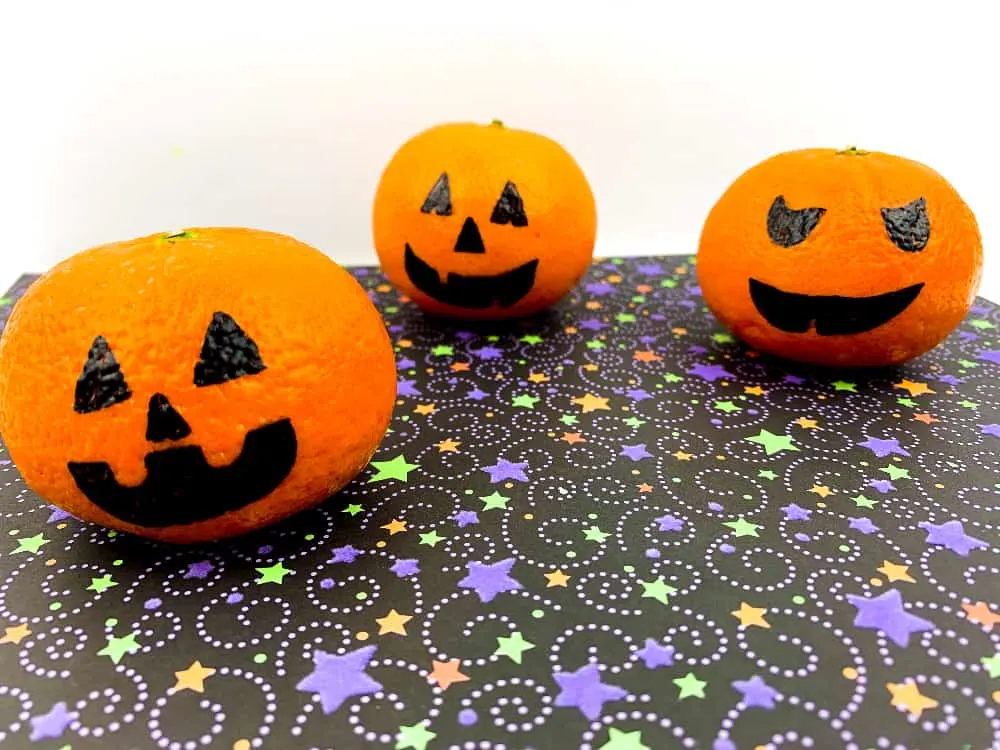 Source: twokidsandacoupon.com
These goofy but cute Halloween pumpkin oranges are a fun touch for the kiddos' lunches or even your own.
It is truly one of the easiest crafts on the list today but one of the most adaptable–however you'd like to draw these pumpkins' faces is up to you!
This idea works best with oranges or clementines due to the thicker skin layer, but if you're looking for an alternative to try on, I think a banana could do okay!
Although the banana won't give you that ghoulishly gourdy look.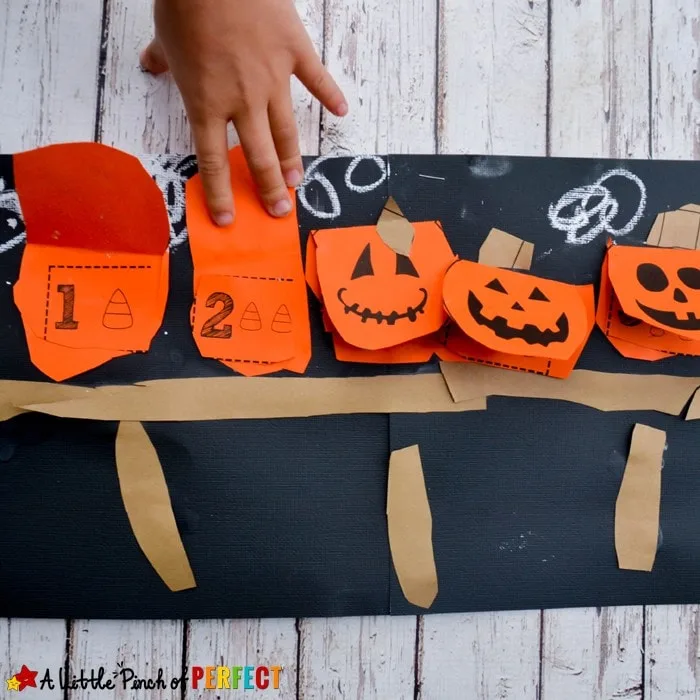 Source: alittlepinchofperfect.com
If you want to infuse a little academic play into arts and crafts, have the kids in your life make this pumpkin counting flap book.
This project pairs super well with the story of the "Five Little Pumpkins" (inspired by the "Five Little Monkeys" song and story).
Perfect for those learning how to count, looking at sight words, or even learning how to read!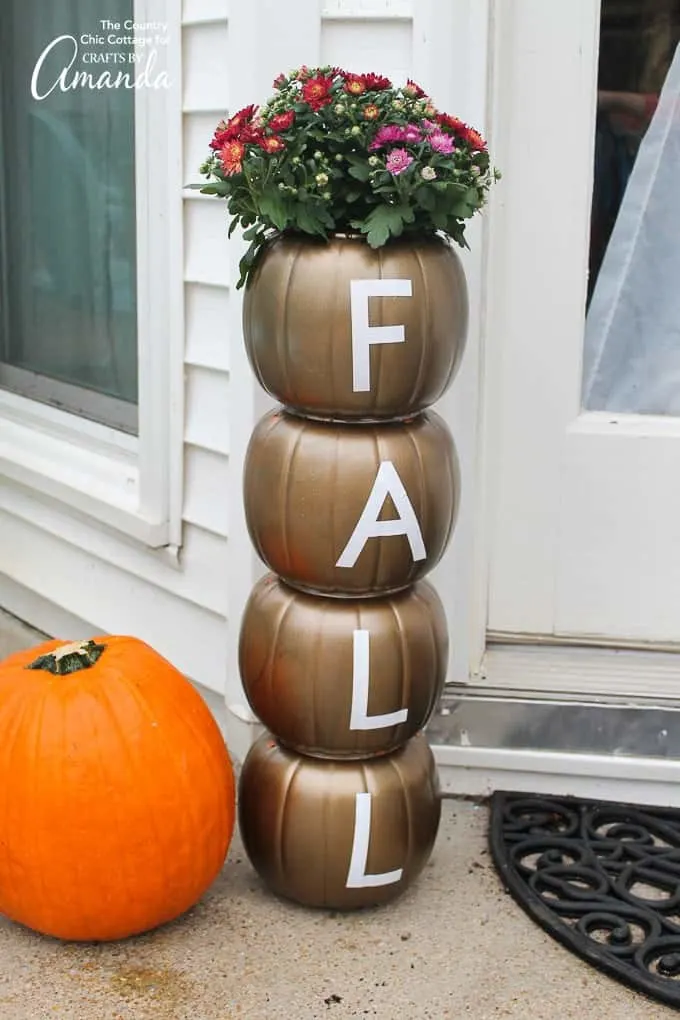 Source: craftsbyamanda.com
There's nothing cuter than this stacked pumpkin planter for front porch decor. The structure is the main idea, and the customization is all you–from the word on the pumpkins, colors, etc.
Decide on the word before gathering the materials. There's nothing worse than not being fully prepared and then realizing you don't have enough material to finish.
These printed letter stencils work great.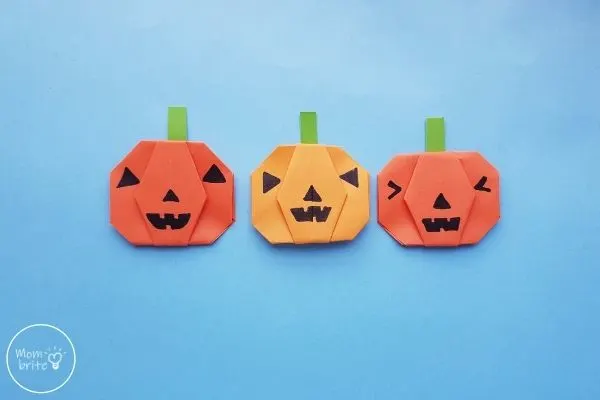 Source: mombrite.com
If you want to stick to a classic-looking pumpkin instead of a jack-o'lantern, try this cute origami pumpkin.
Play with the size of your figurine for different sizes of gourds, even with the color paper.
This fold is a bit different than the one above, so consider trying both and using the technique that's easier for you.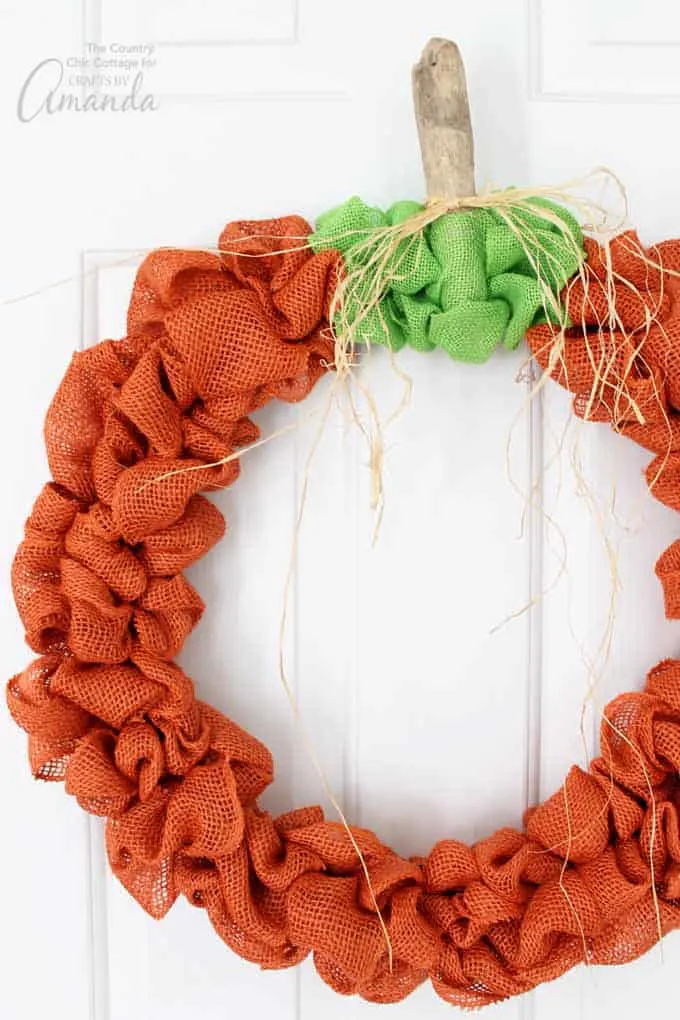 Source: craftsbyamanda.com
Any material is possible for wreath making, and burlap is one of the best alternatives to use any time of the year.
There are a couple of ways to apply the material for different looks; pictured here is a simple, fun ruching.
This is one of the most fun DIY projects to make for the fall season!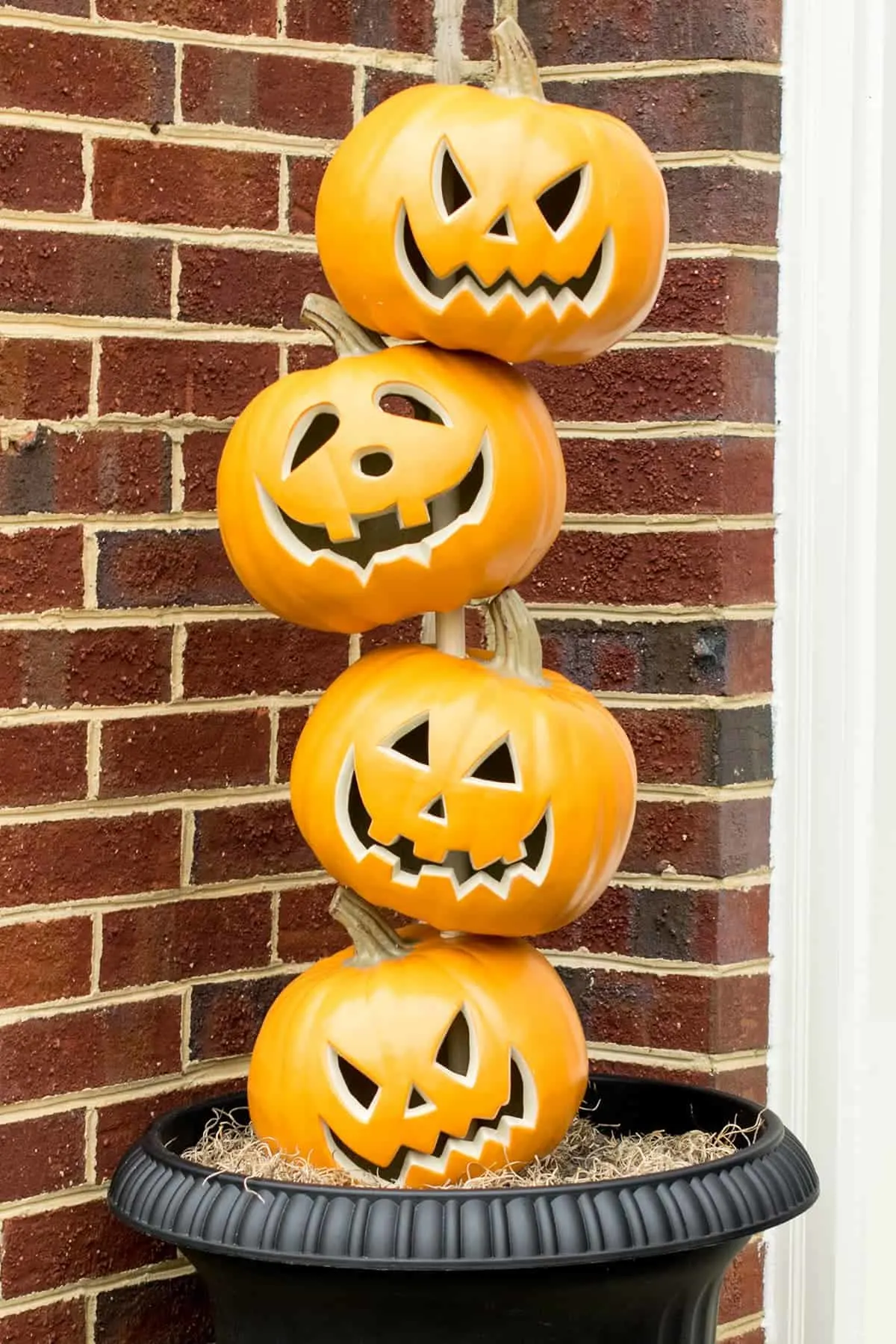 Source: cravingsomecreativity.com
If you enjoyed the stacked pumpkin but are looking for something without words, this pumpkin topiary is a fantastic option.
It's the perfect mix of spooky and fun–depending on the faces of your gourds.
Let the whole structure sit for a couple of days in the area where you created it to ensure its structural integrity.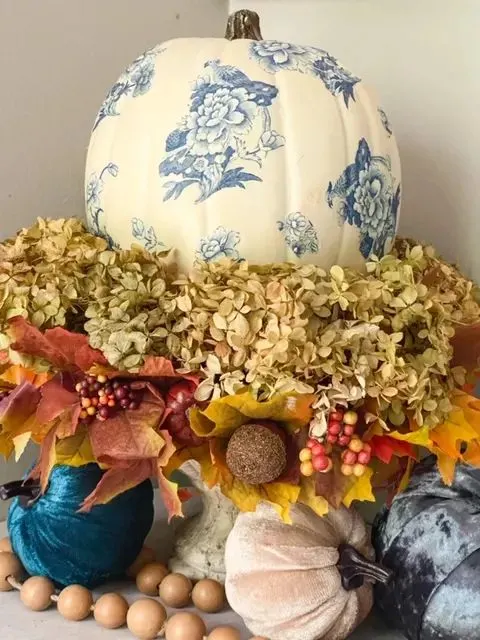 Source: ourcraftymom.com
A classic pumpkin centerpiece is an obvious choice for the season, but the real fun with this idea comes when deciding how to decorate said pumpkin.
Get creative here; below is a small brainstorm of direction, but go wherever you want.
Go for what matches your home's interior, minimalist or maximalist, or a completely specific theme from media or something more abstract.
Check out these other DIY fall crafts for homes!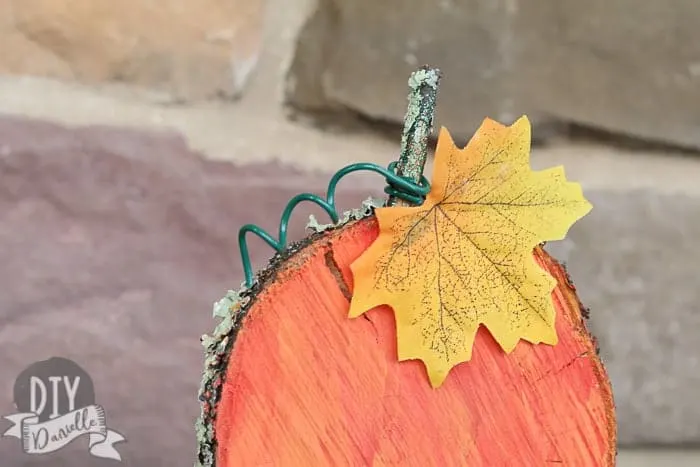 Source: diydanielle.com
Wood slices are a newer secret weapon in the crafting room, but it has truly deserved its place as a year-round option for any craft.
Opt for a handful of wood slices of different sizes to create a different type of pumpkin display.
If you're looking for a mixed bag of sizes of wood slices, grab them here. If you want to keep them more natural, just add a minimal amount of color to the bark and a few natural elements.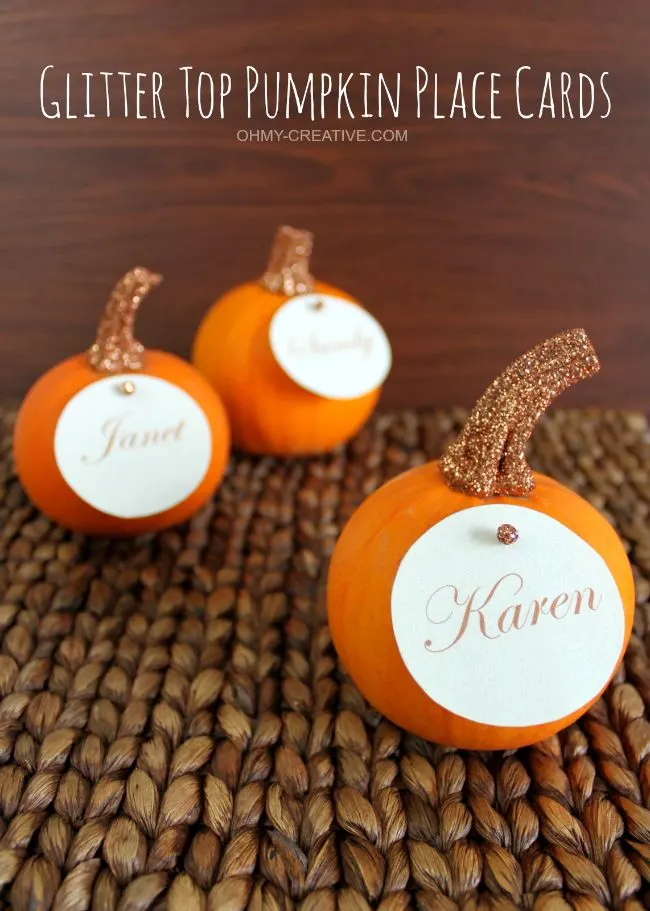 Source: ohmy-creative.com
Crafting pumpkins can be used for so much, including name cards for table settings.
Pick up the smaller ones of any material–real or fake–and the best part is that your guests can take home the pumpkins as a small parting gift.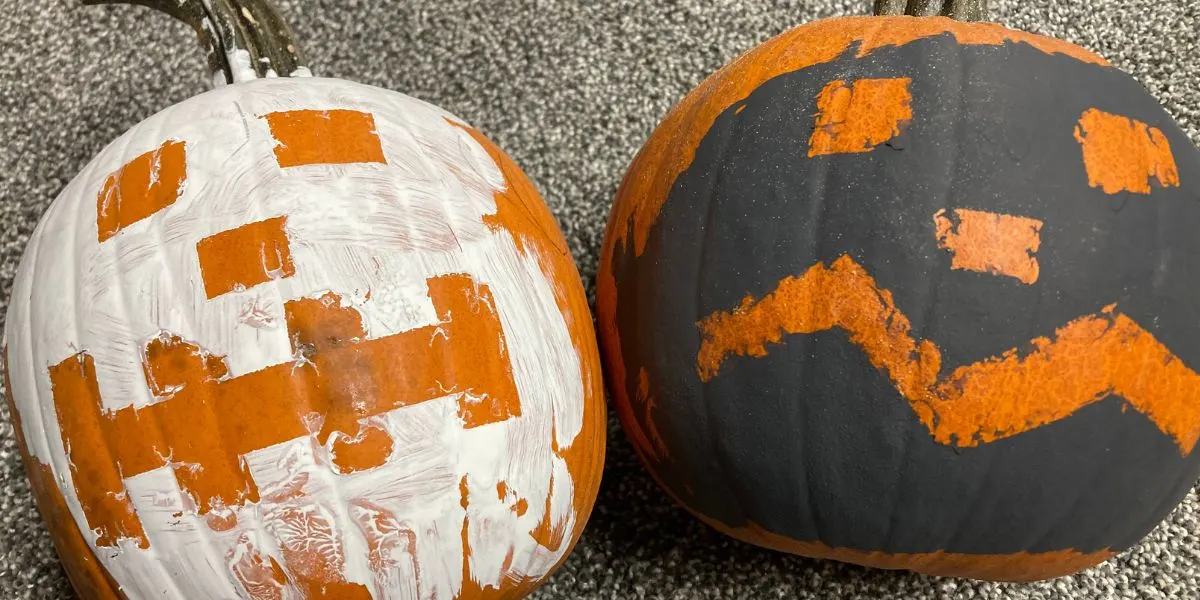 Source: mamaofminis.com
If you or younger kids aren't into the insides of pumpkins, forgo the whole ordeal! Try this taping technique when you get your pumpkins next.
Have you or the little ones tape out faces on the plain pumpkins, paint over the top, and then (the most important part) let it completely dry!
Let's say it's a very close family member of the jack-o-lantern without all the mess.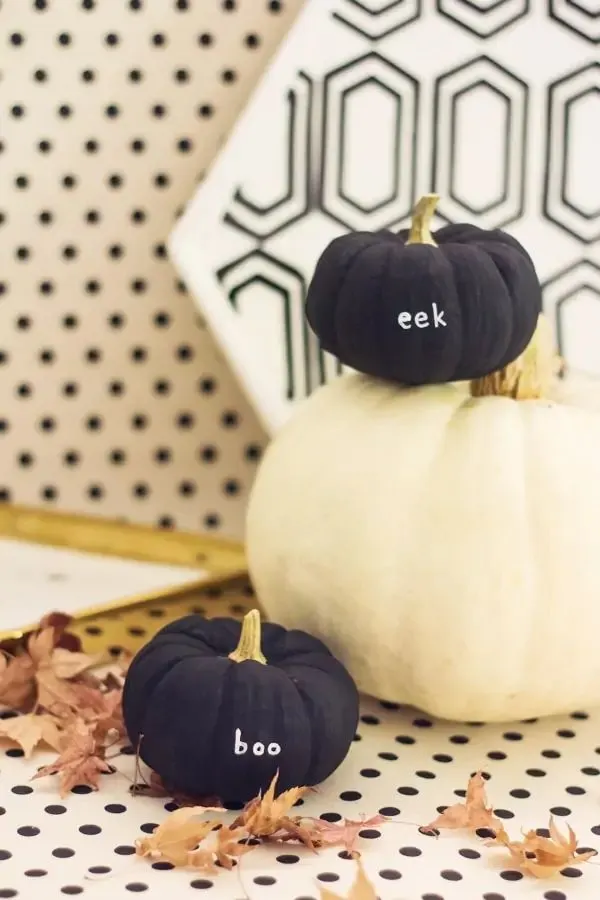 Source: lovelyindeed.com
Are you looking for a fresher or minimalist pumpkin? Look no further–these tiny message pumpkins are incredibly easy and darling when all is said and done.
The trick to the tiny print–grabbing a skinny paint pen like these and using the best contrasting color to your pumpkin's color.
Also, practice a few different fonts you'd like to try or opt for a stencil or stickers if you know that's the better route for you and your gourds.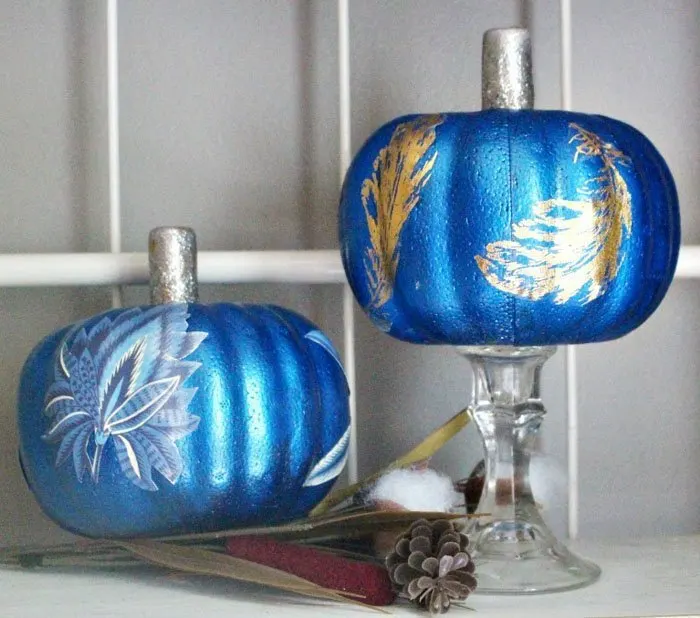 Source: ourcraftymom.com
I'm not sure what you all think when you hear 'decoupage,' but part of me always thinks of my grandmother and her friends.
I used to think of their old but sweet projects hanging around in different parts of their homes, collecting dust and decaying.
This project gives the old technique a bright new perspective.
Two things help: one is by adding brighter pops of colors to accent your efforts, and the other is using unexpected materials, like pumpkins!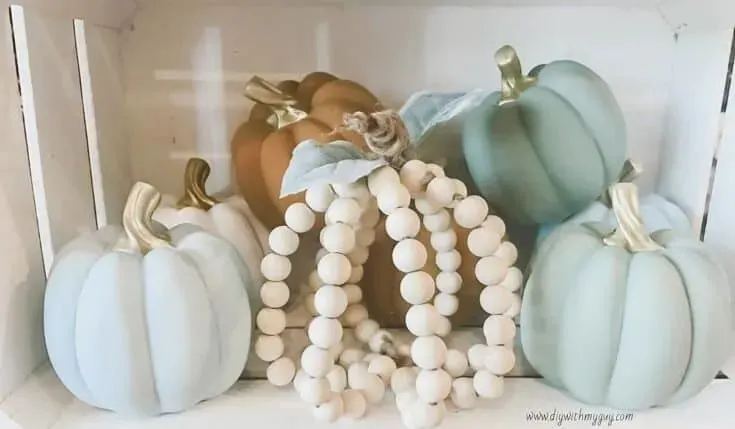 Source: diywithmyguy.com
Now, pumpkins can become repetitive in their regular states, but taking them beyond an average structure is a perfect place to elevate your space.
Trying an unusual material to construct a pumpkin freshens up any display, and this wood-beaded farmhouse pumpkin is perfect.
Stick with neutral tones or go fully in the opposite direction with bright and multi-colored beads.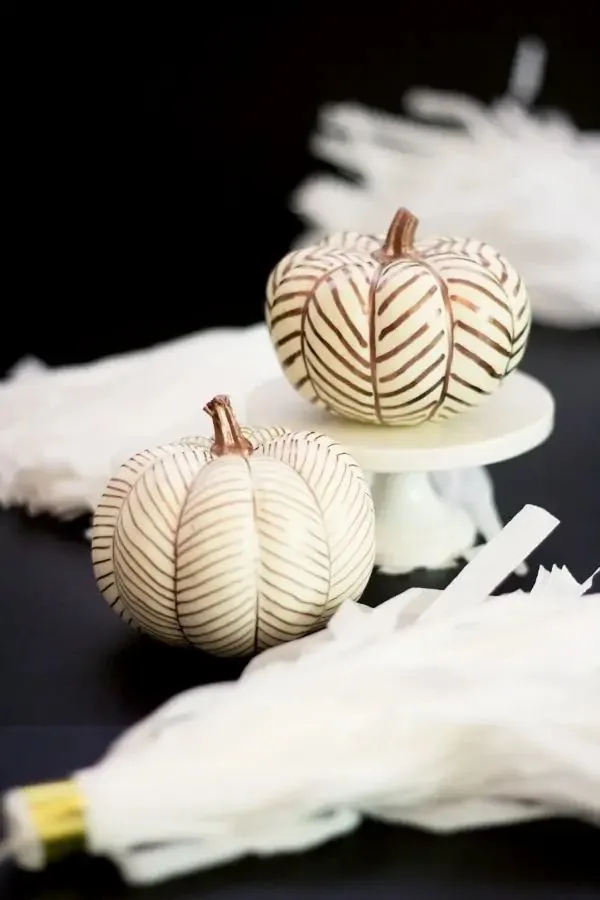 Source: lovelyindeed.com
Sticking with interesting patterns or structures, these herringbone add a touch of smartness and class to your home.
I will say, commit some time to this idea–all the lines you see get done by hand!
My suggestion is to put on a classic fall movie or show and get to decorating! Use a quick dry pen or marker to avoid smearing or ink stains on anything.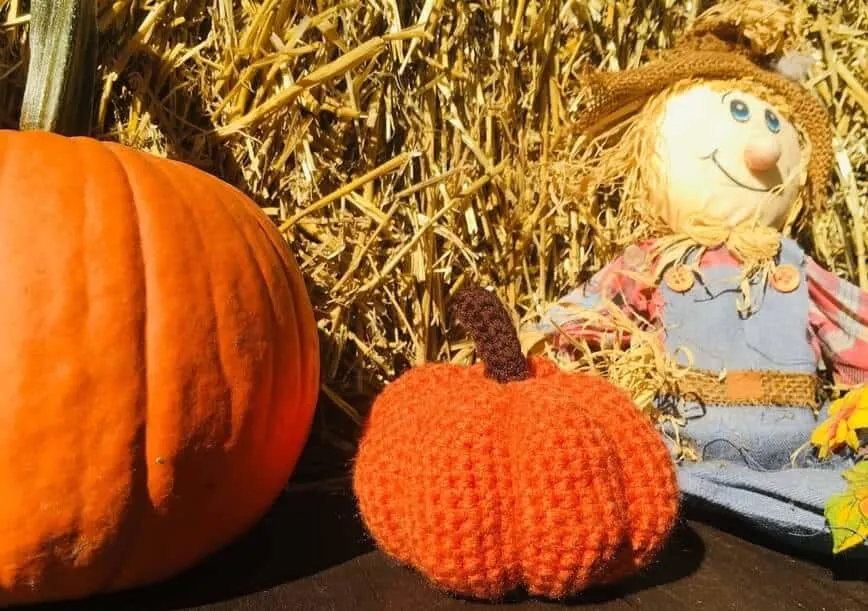 Source: maplewoodroad.com
This craft is darling to add texture to your home or wonderful for a younger child whose birthday is during the fall months.
Account for the size and shape of your crocheted pumpkin, and then gather your materials.
A handful of colorful pumpkins would be an incredible gift or display around the house.
To make your pumpkins even more unique, add a scent packet inside to have the first few years smelling extra good!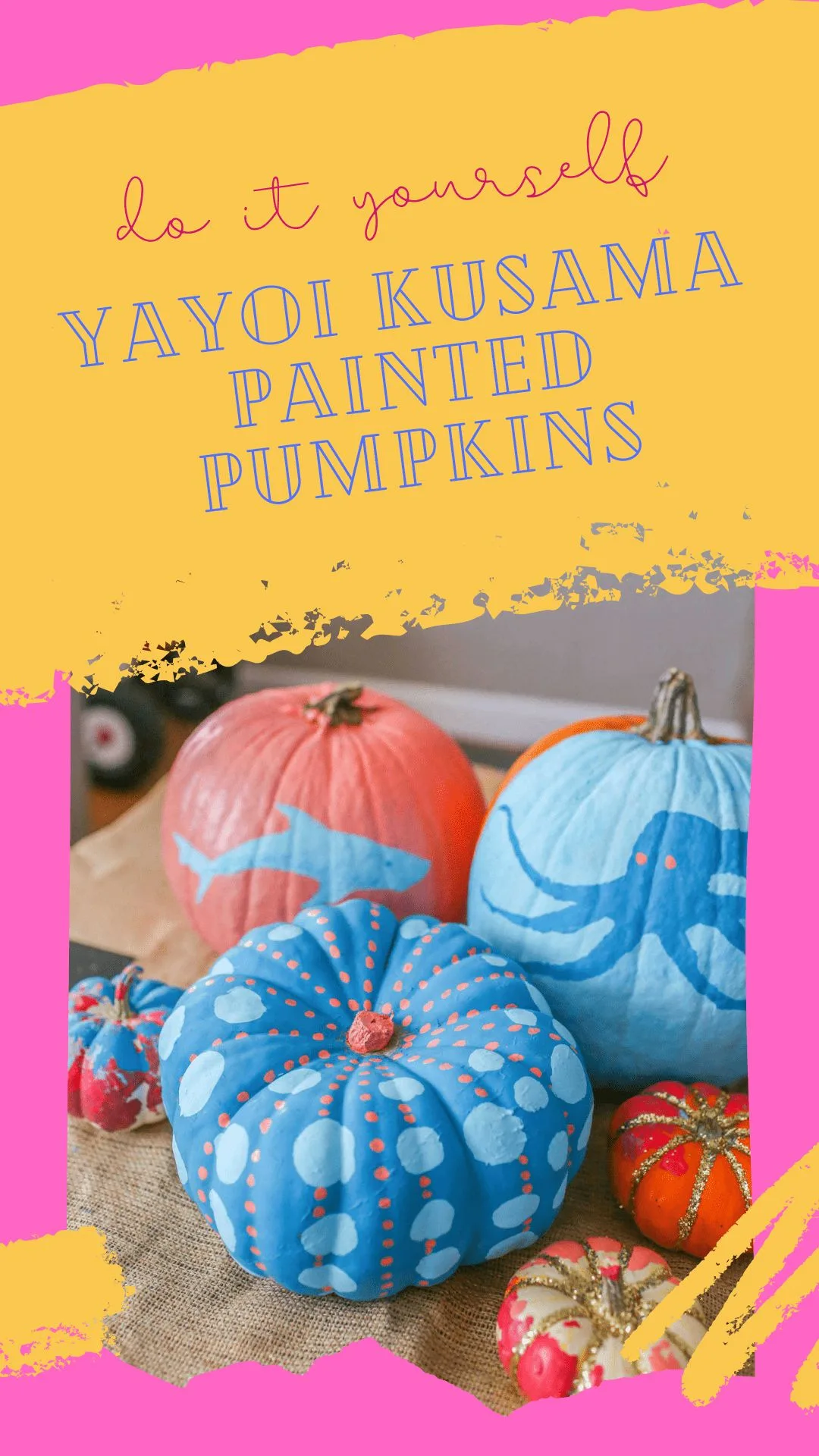 Source: genniferrose.com
Use the pumpkin as a full-fledged canvas for the arty people and families!
Here, specifically, these pumpkins are done in the style of the artist Yayoi Kusama–whose exhibit traveled internationally a few years back.
Her style works well on pumpkins with the varied sizes of dots and colorful hues, but experiment! Try your favorite artist's styles or paintings on your pumpkins.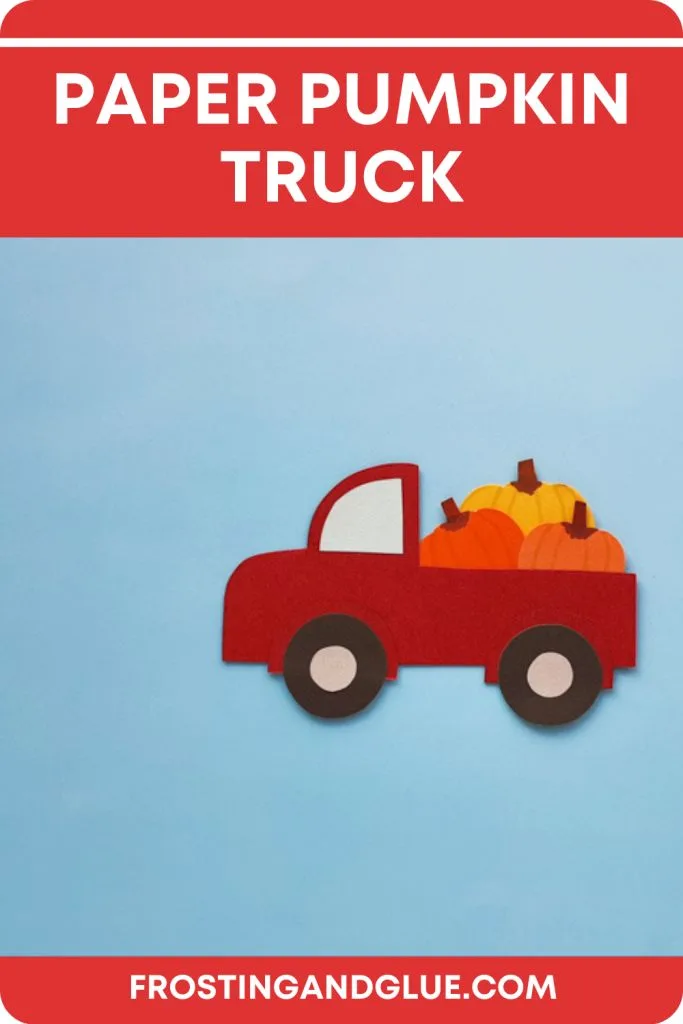 Source: frostingandglue.com
To interject a little academic work into the moments between fun crafts is a great idea, and this paper pumpkin truck is a cute option.
This exercise focuses on shape recognition–which I always find more successful if they build a real-world item.
After they've pieced it all together, break out the crayons, markers, or even paint and let them decorate however they choose.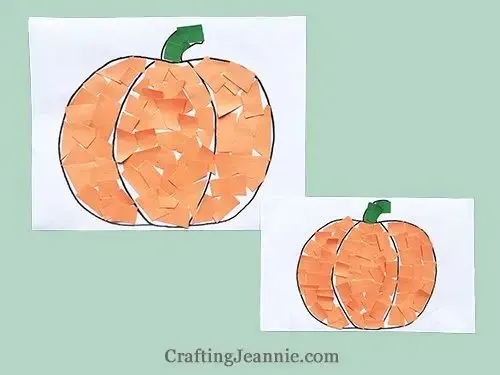 Source: craftingjeannie.com
Another great option is to have them work on this scrap paper pumpkin.
This project helps them work on finger dexterity and fine motor skills (ripping paper, picking up small pieces, and placing them intentionally).
Use whatever material you have around! Don't have construction paper–use tissue paper, cotton balls, or even beans; as long as the pumpkin silhouette is there, any of it works.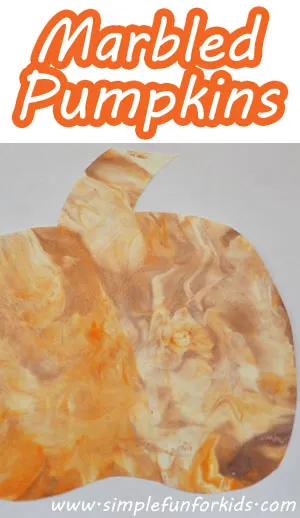 Source: simplefunforkids.com
Marbling pumpkins can have a handful of different crafts attached to them, but this is for anyone (and I mean anyone) who needs some art therapy or sensory time.
This craft involves shaving cream and is the key to the marbelization of these pumpkins.
Adding a washable tempera paint and playing with the shaving cream and paint will naturally reveal a marbled look on your gourds (just don't overmix paint).
Also, if you are going with a pumpkin silhouette, cut them before–otherwise, it may get messy after the project is done and dry.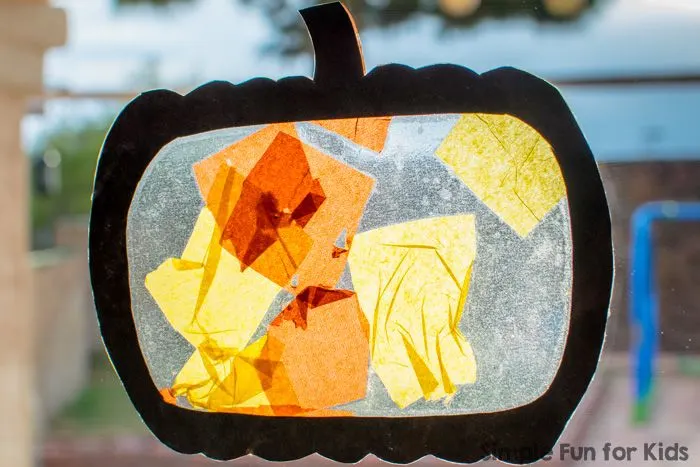 Source: simplefunforkids.com
Another great art project for the kiddos is this fantastic pumpkin suncatcher! The way the light shines through the tissue paper and transparent contact paper always excites the little ones.
Set and prep everything before bringing in the young artists; the whole process is a bit more assembly. It allows them to focus on the colors they'd like to have in their gourds to catch light.
Source: redtedart.com
In my opinion, one of the most satisfying projects on the list today is this yarn-wrapped pumpkin garland. Easy for children or adults, it's a great option for a party craft!
Stick with all one color or opt for a handful of different ones to make things more festive.
What's also great about this craft is you can hang singular pumpkins around or attach them to a string to create the full garland effect.
You will also have fun with these other creative yarn crafts!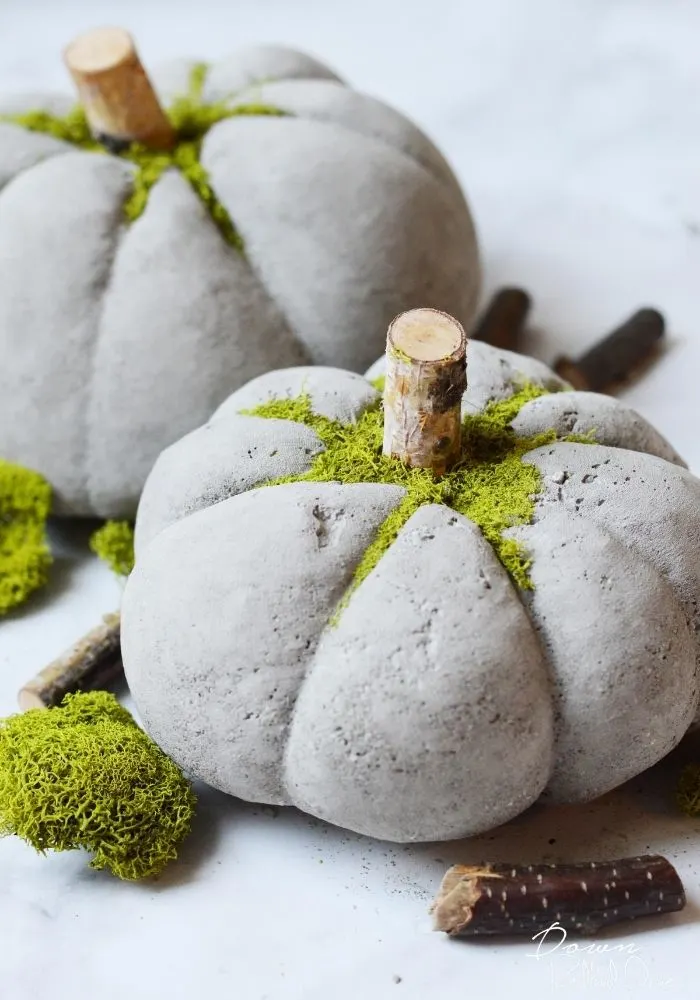 Source: downredbuddrive.com
A wonderfully striking take on our last beloved pumpkin craft of the day, these concrete pumpkins are also easy!
You'll need a pumpkin mold like this one, some concrete, and some time.
Once poured, add a stem–anything from a wine cork to a twig will do just fine!