It's that time of the year when things get spooky, but don't worry, most of it's just a bunch of hocus pocus! These Halloween drawing ideas will get you ready for spooky season!
Halloween has some of the best images, so why not try your hand at some ghoulish drawings?
Halloween characters are vast, so there are plenty of options. Today, I have collected twenty-one (lighter-hearted) of the spookiest drawing ideas.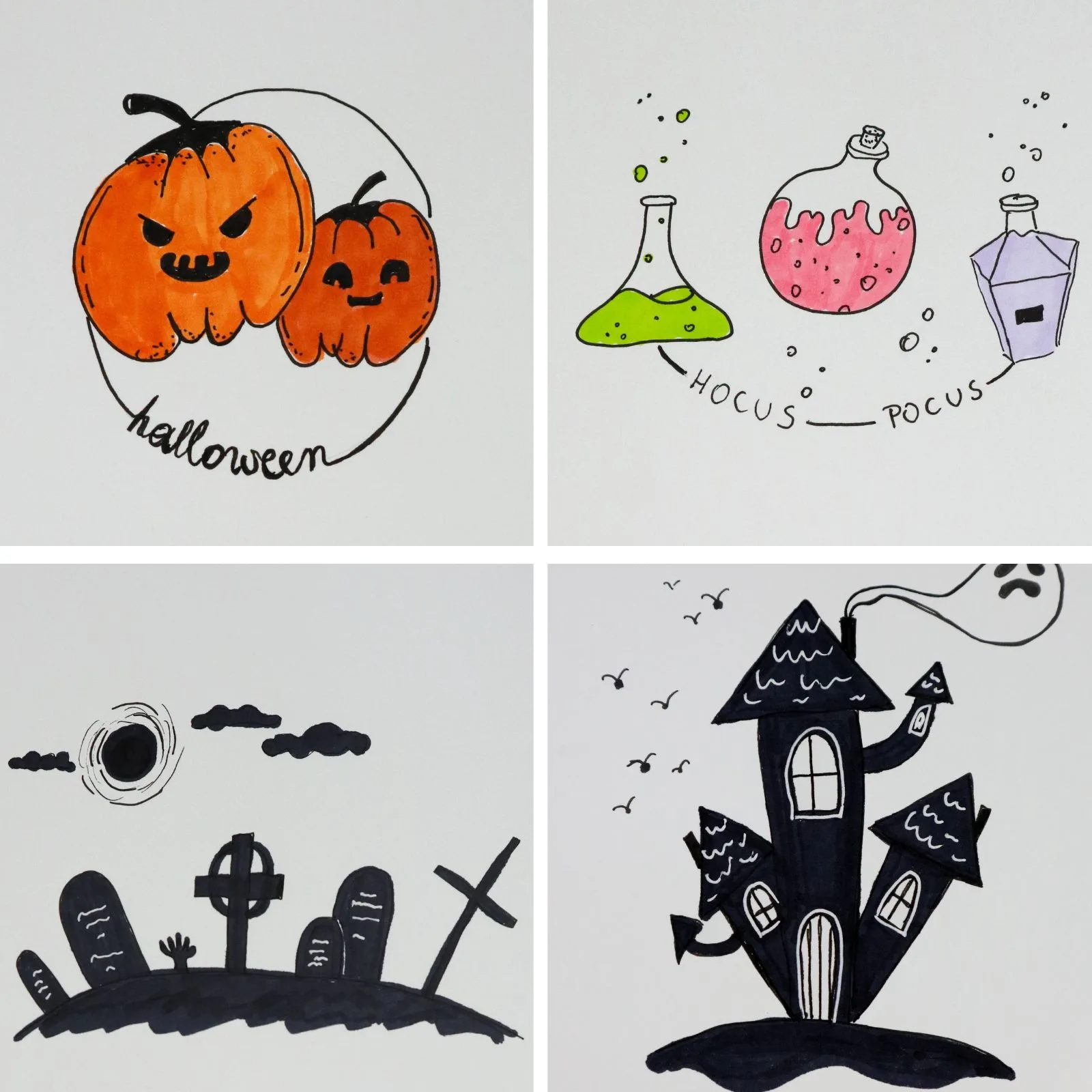 1. Mummy On The Move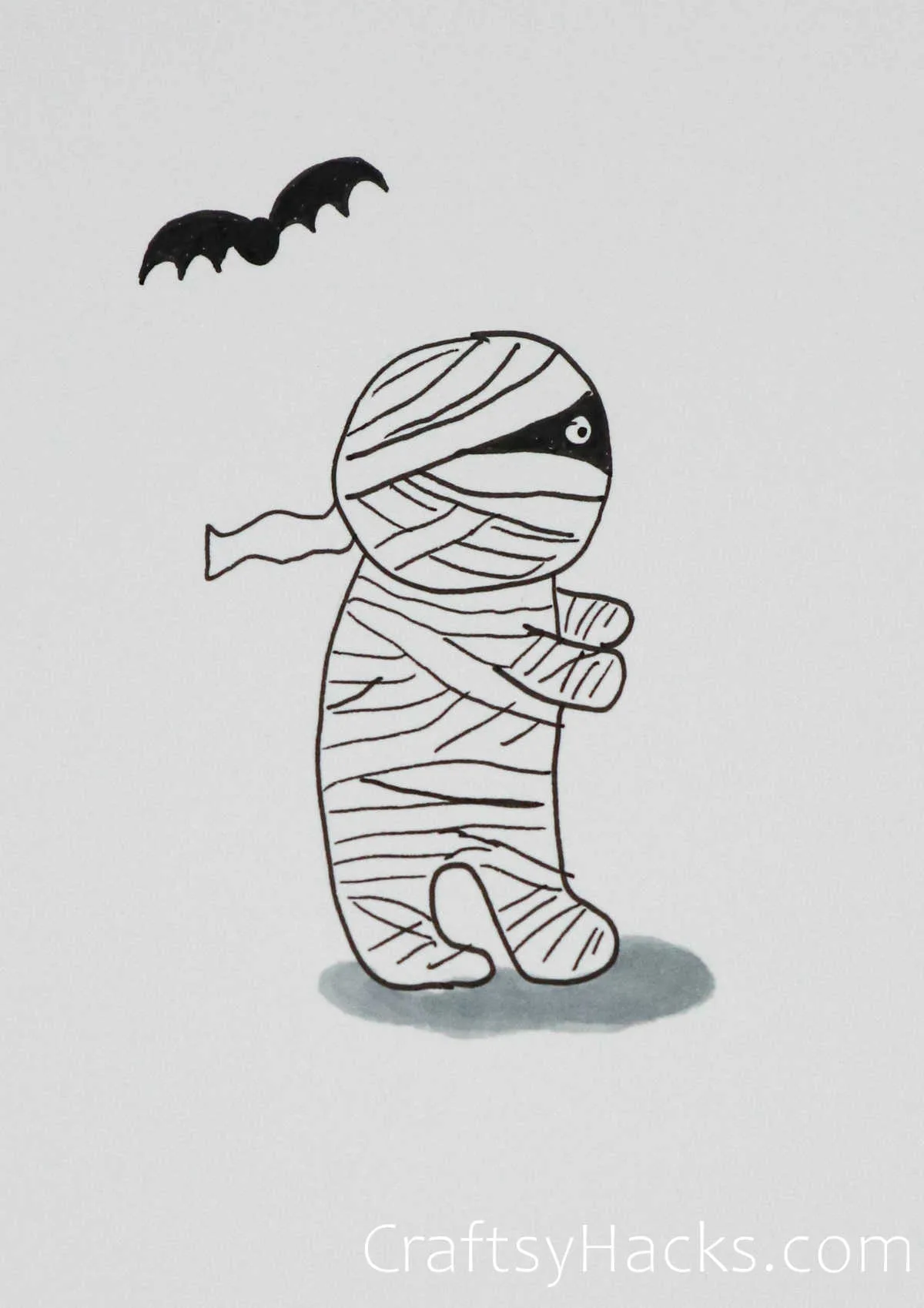 Mummies are essential to the Halloween scene, so why not kick off the whole list with one?
What's great about this particular mummy is the figure itself is a silhouette, which means no meticulously drawing line by line.
2. Hocus Pocus Brewing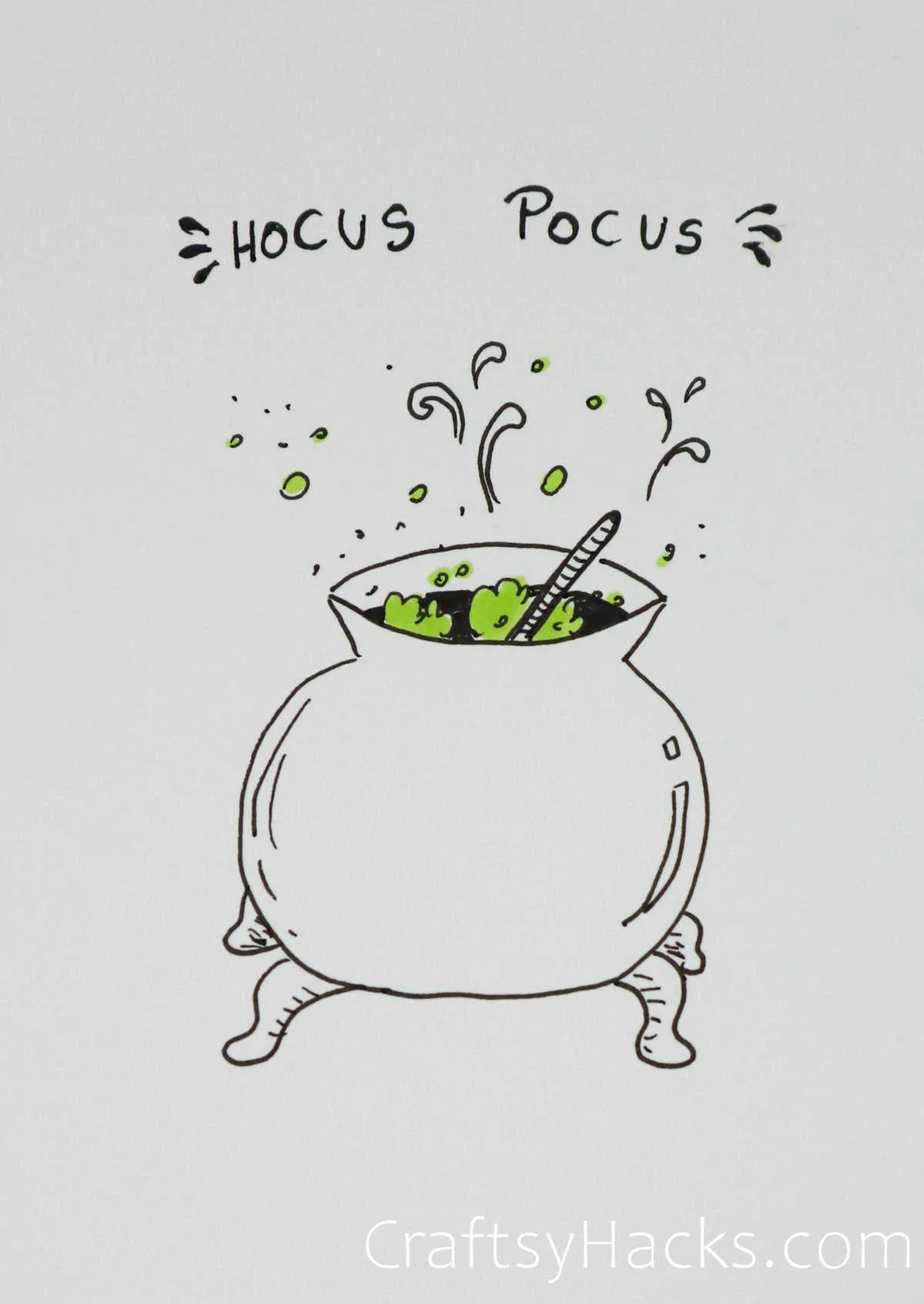 Now, I believe everyone is familiar with a famous movie of the same name, and if you are, feel free to add anyone or anything you'd like from the film.
Or, if you'd like to go minimalist like I did, it's a fun minimalist take that you don't need any extras.
3. The Count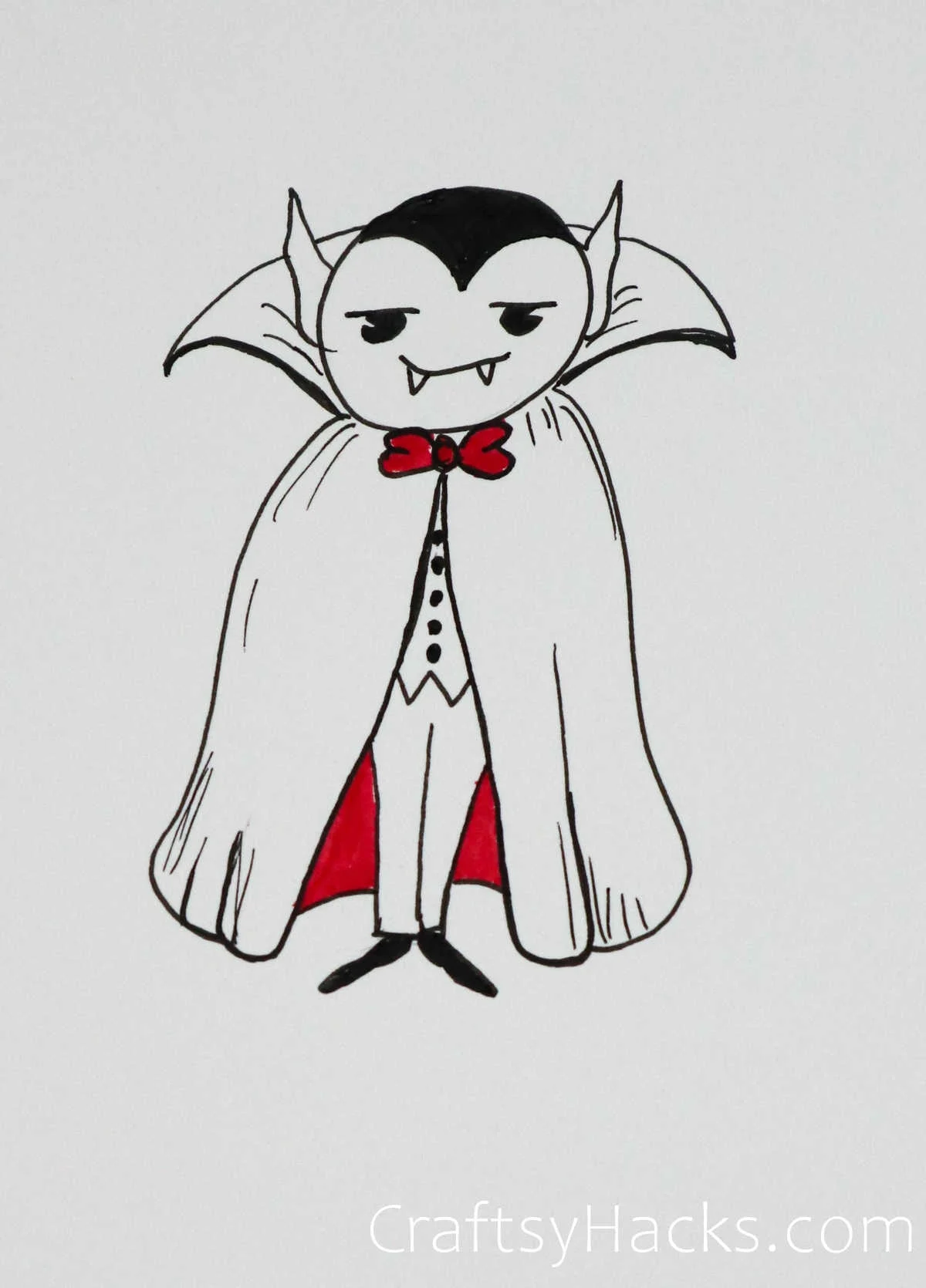 Like any good vampire, this particular one has all the quintessentials–a cape, the fangs, the dark eyes, and the dash of black and red mixed in.
Depending on your feelings about vampires, make this one goofier or scarier with some extra additions!
4. Trio Of Spiders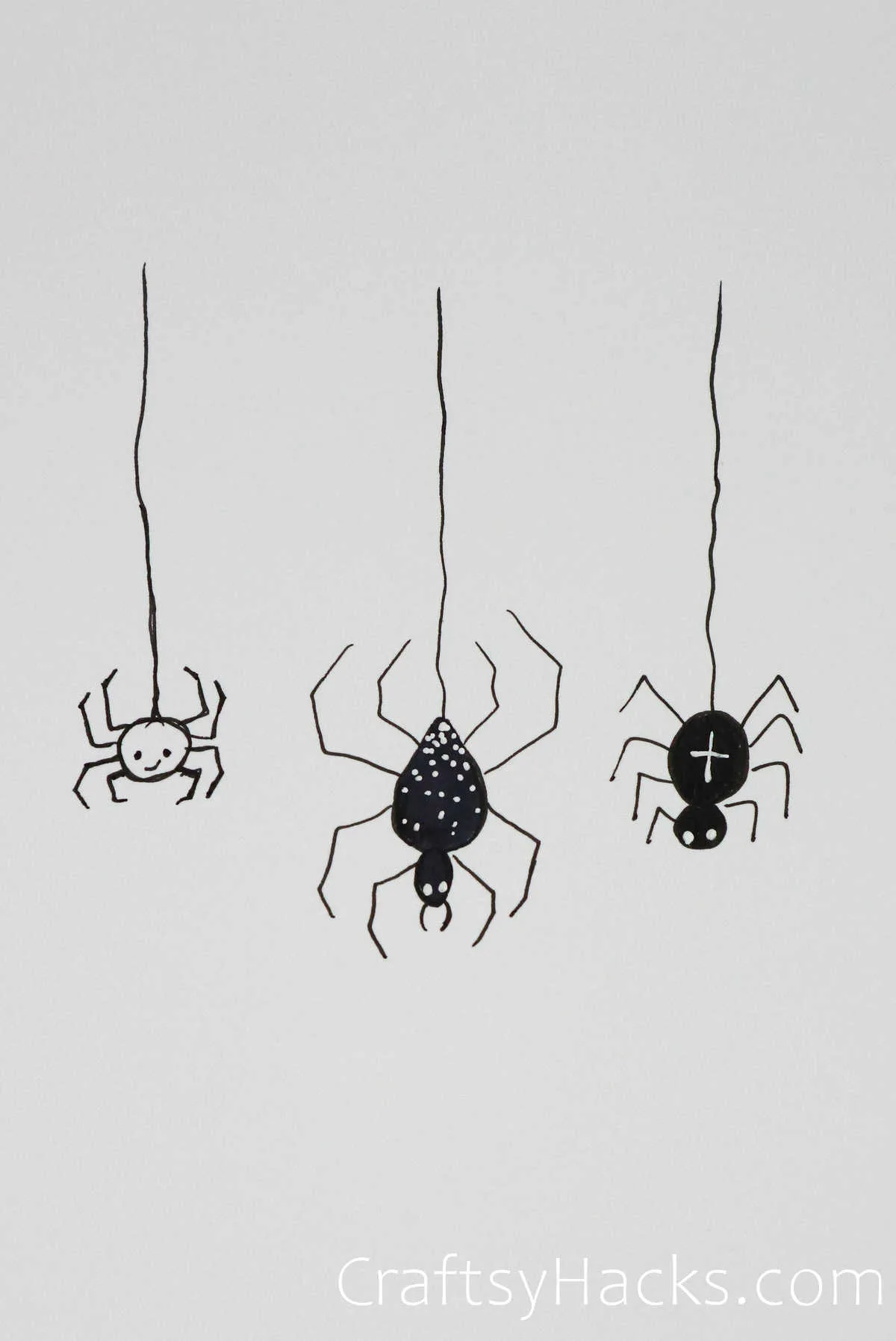 Spiders are with us year-round, but they remind me of a friendly ghost and his uncles! However you portray this trio, add some spooky imagery on the arachnids to give it a specific Halloween feel.
Bonus points if you know what movie I hinted at!
This is one of the most easy drawing ideas for Halloween!
5. Ghosts In The Graveyard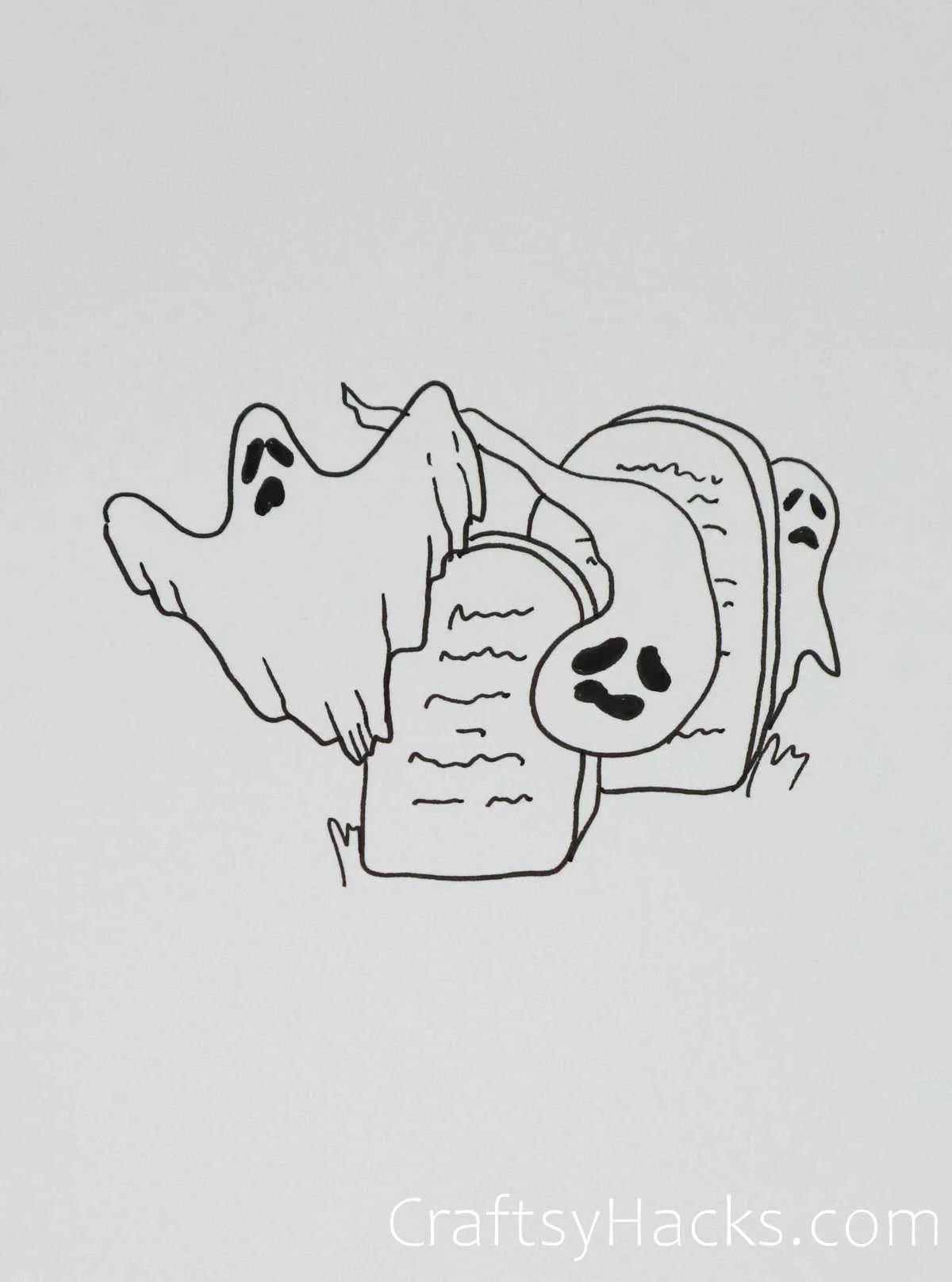 I'd recommend this one of Ghosts in the Graveyard for those looking for a spookier-themed drawing option.
You can do a lot with this image by altering it–implementing it into a scary scene, adding this into a whole graveyard scene, and more.
6. Skull and Bones Mark The Spot
Skulls are some of the spookiest things you can encounter because we all know something happened in a particular place.
This drawing and idea reminded me of the idea that 'X marks the spot' on a treasure map and was a must for our list today.
7. Haunted House On The Hill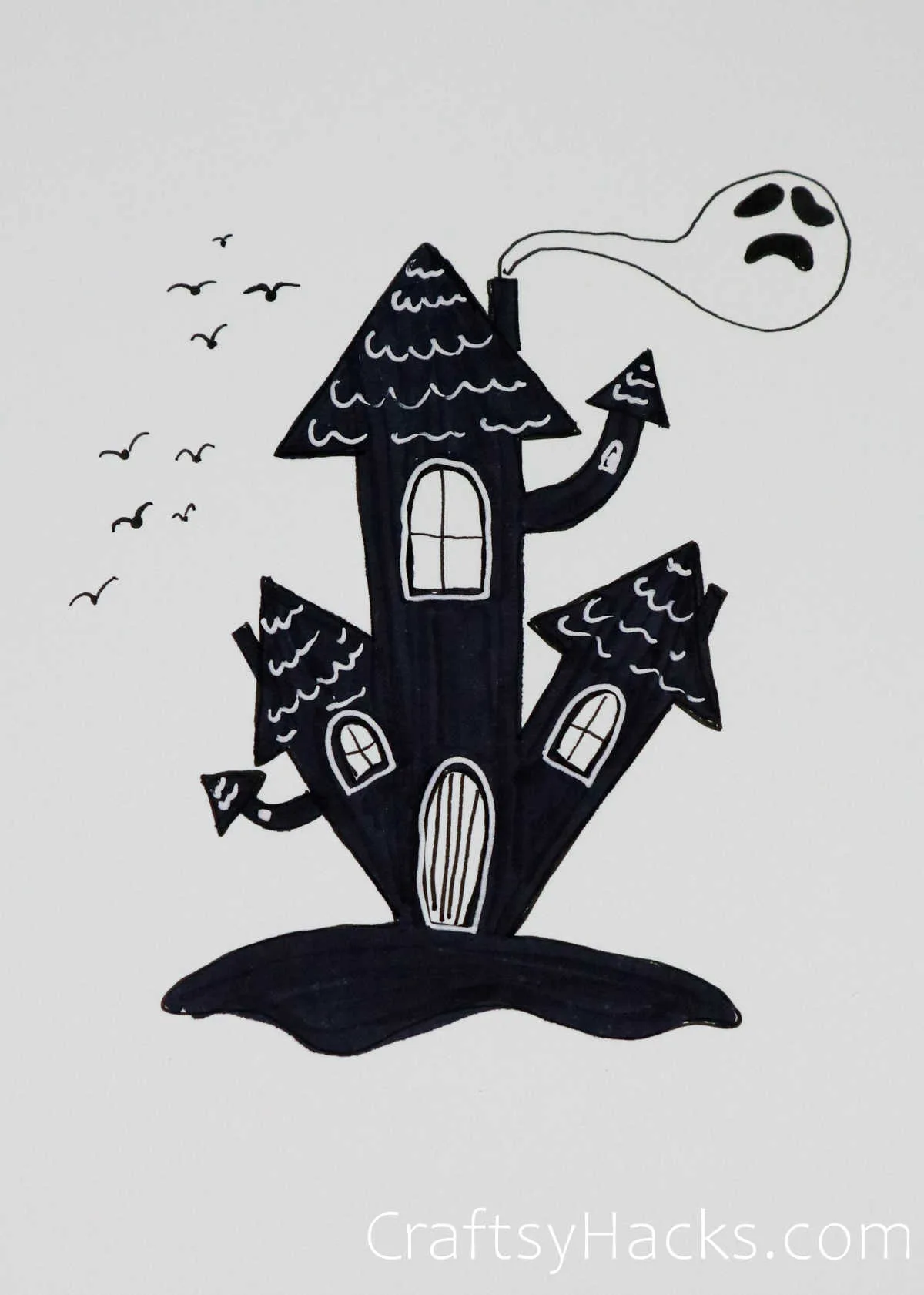 I wanted to make sure that there was a classically spooky, haunted-looking house for the Halloween season–what's this time of the year without one?
The ones that look cartoony are the best and relatively achievable for any artist out there.
Make sure to add some dark birds flying and a ghost to set the mood.
If you are looking for other fall drawing ideas, check out these easy mushroom drawing ideas!
8. Witches Hocus Pocus Potions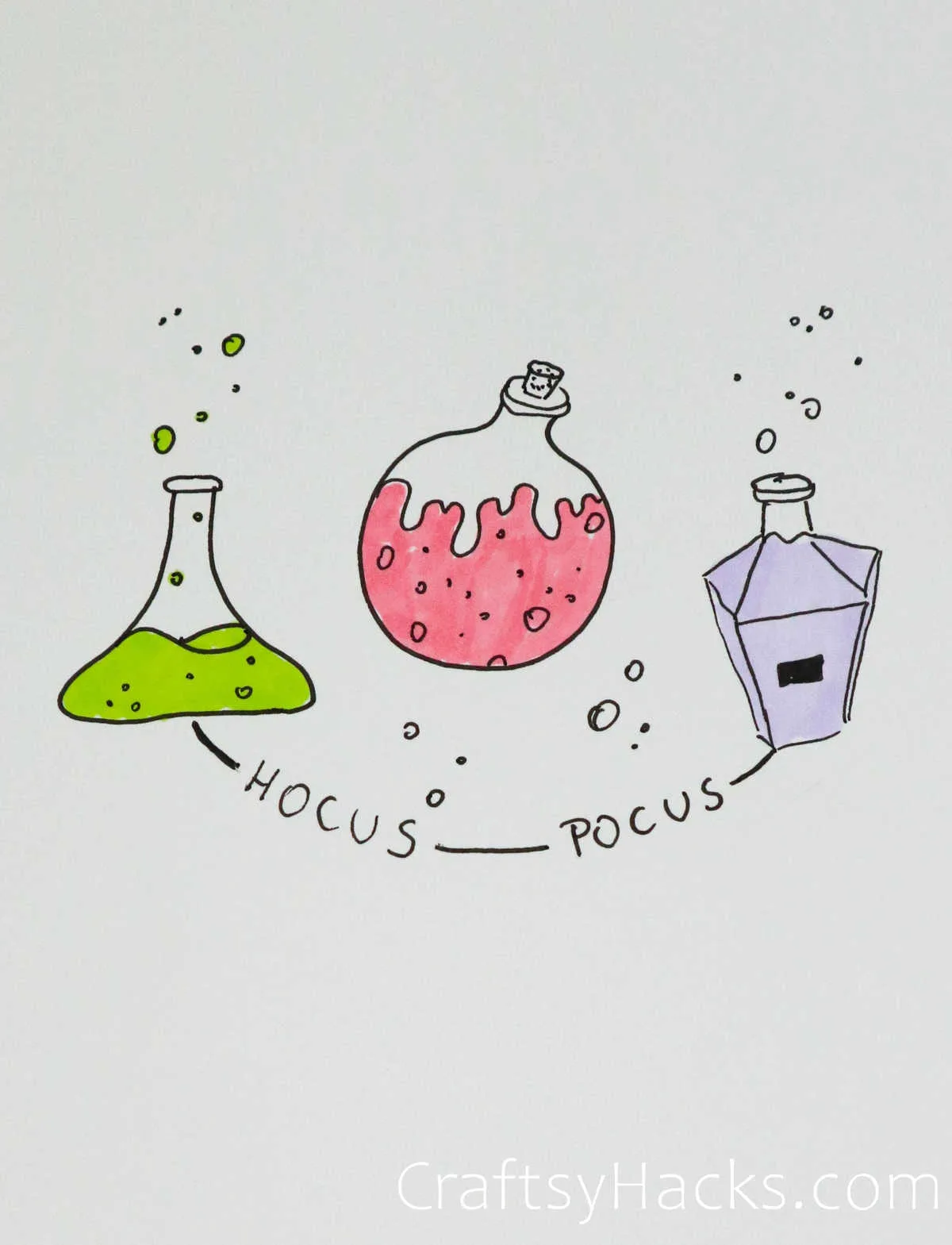 We all love a bit of hocus pocus, so I wanted to include another option so everyone can opt for one, the other, or both!
And, after all, witches are nothing without their potions–feel free to make the bottles and their contents as spooky as you'd like.
9. Ghastly Tree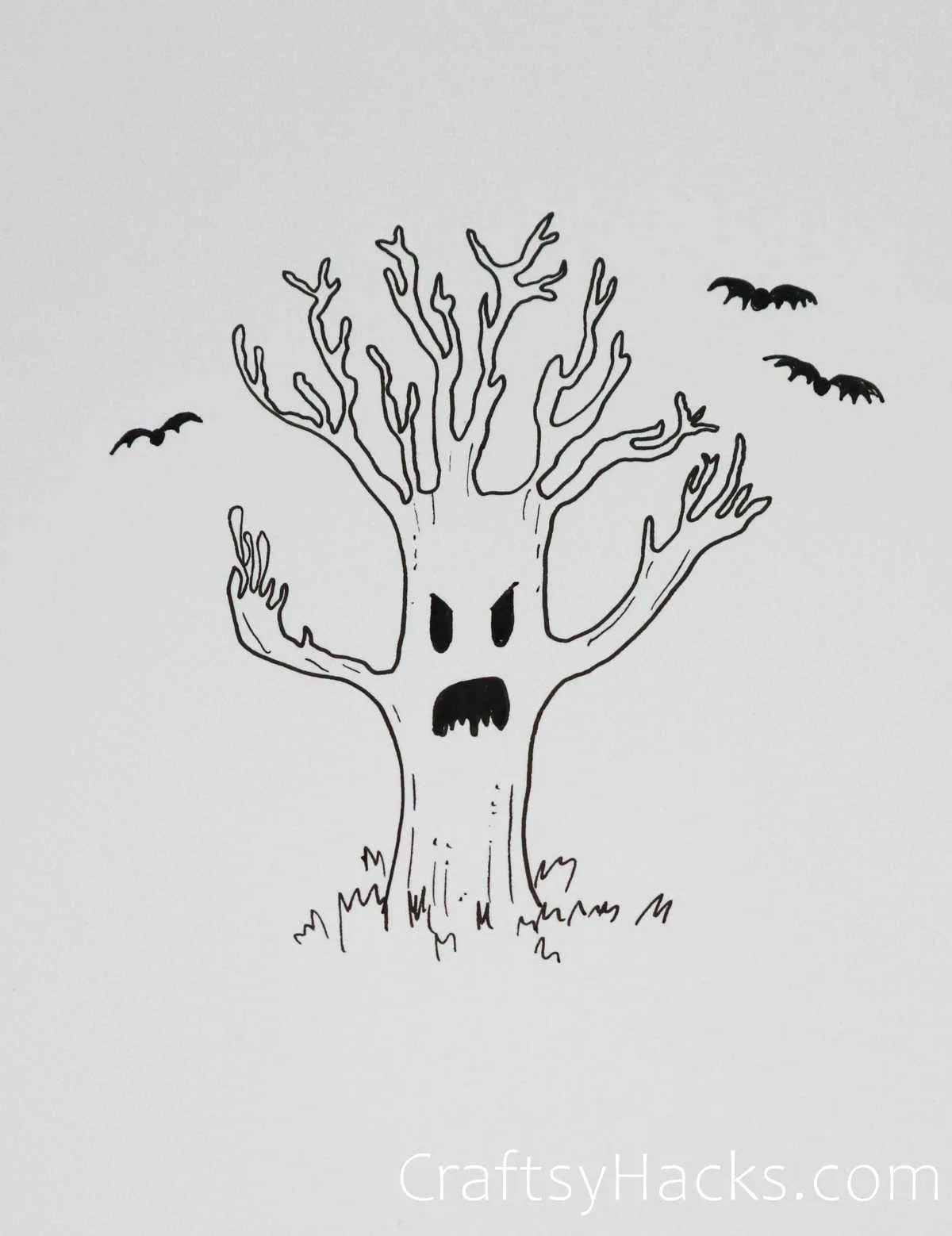 Thankfully, trees can only look like this–if trees had lively and spooky spirits, the woods would be much scarier!
Change up its expression if you're looking for a funner Halloween-themed tree that may only sneak up on you instead of fully terrifying you if you cross its path.
10. The Grim Reaper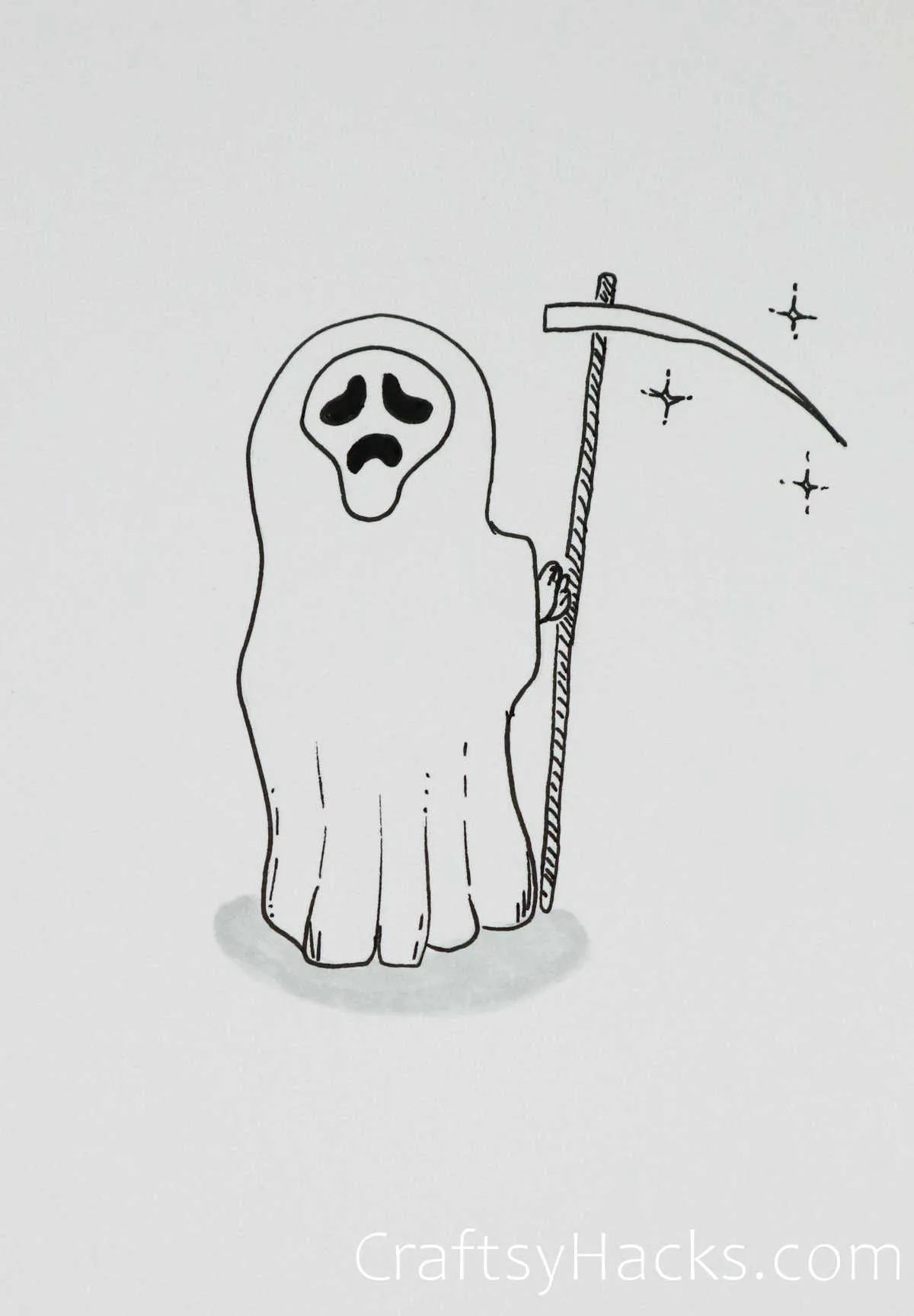 There's no way of getting through the list today without crossing paths with the Grim Reaper or another famous and deadly movie character.
Interpret this ghoulish guy as you will, and just be thankful that it's only a drawing!
11. Bats In Flight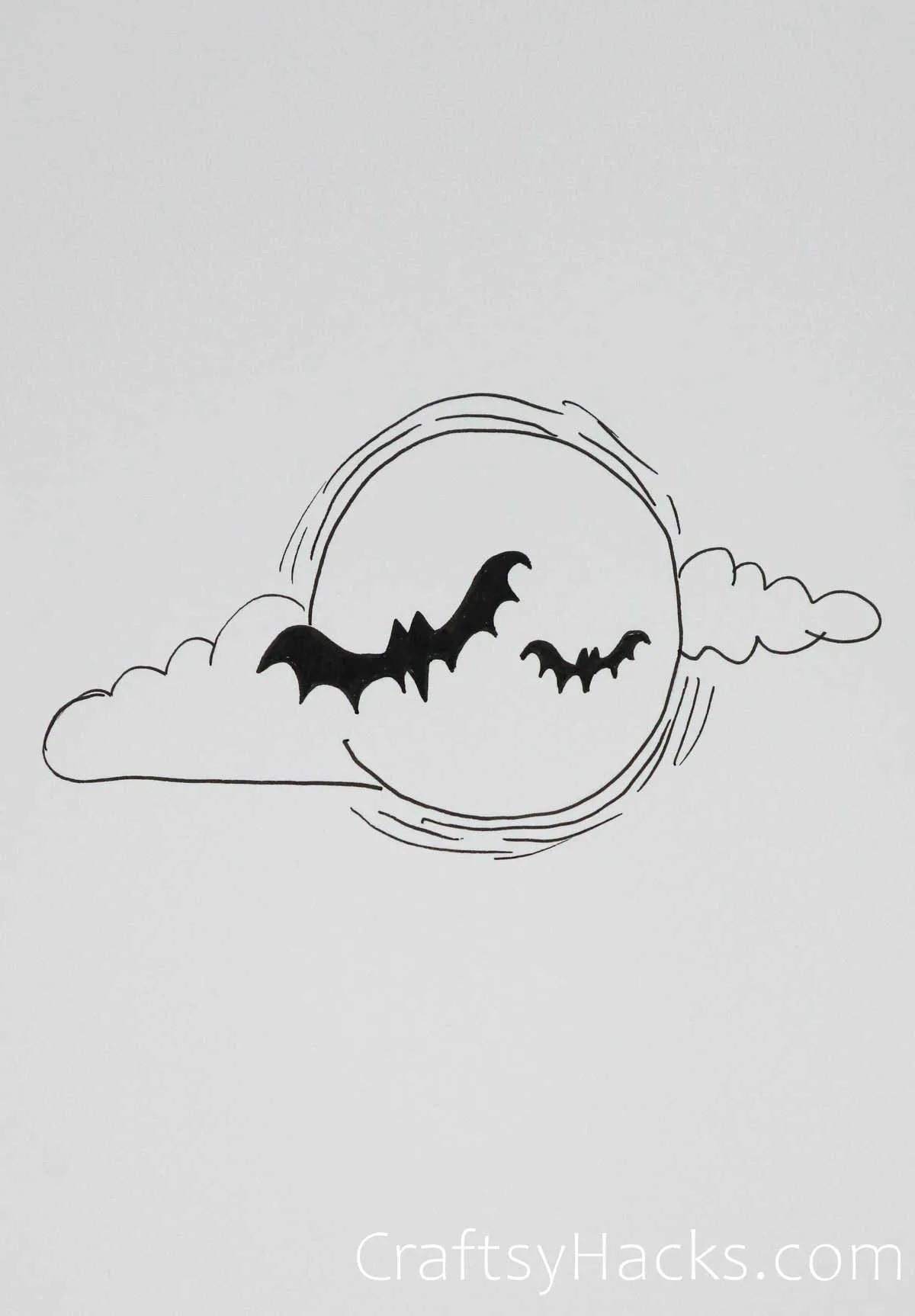 Perhaps an overlooked spooky image of the Halloween season, but all the same, they remain one of the most real images that actually live in our world.
Grab a compass like this one for the drawing to get a perfect circle for the moon.
12. Spooky Ghost
Ghosts have been portrayed in every single light imaginable over the years, and there's no denying that spirits can be sweet or scary.
To change up this ghost's look, play around with its facial expression if you're seeking a friendlier ghost.
This spooky ghost is one of the best cute drawing ideas for the Halloween season!
13. Crescent Moon In Flight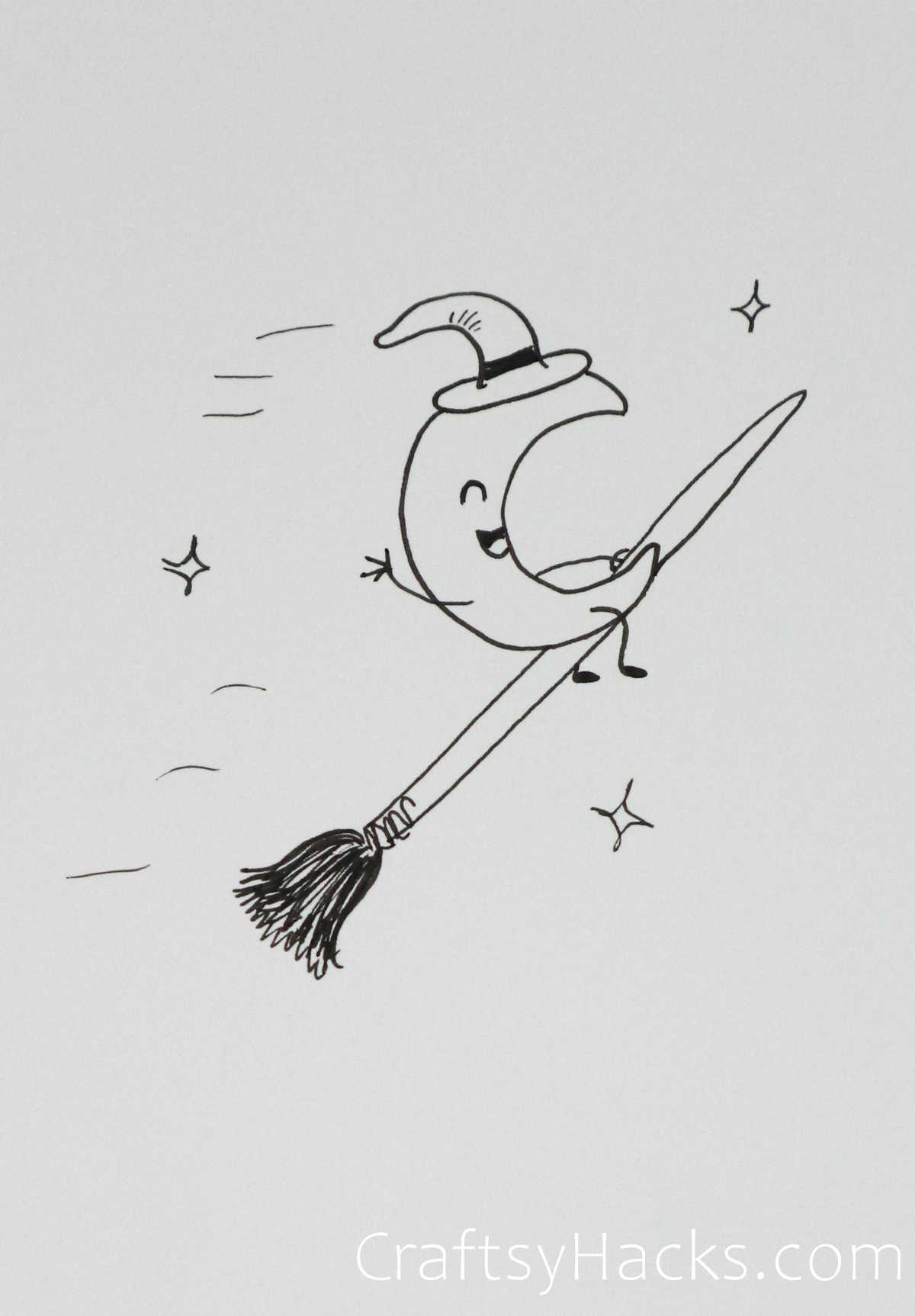 Try this crescent moon on a witch's broom for a lighter-hearted but still semi-annual and spooky scene!
Feel free to try this idea out with any phase of the moon–I went for the easiest one to draw for myself, but a waxing gibbous may be just as fun.
14. Ghoulish Halloween Gourds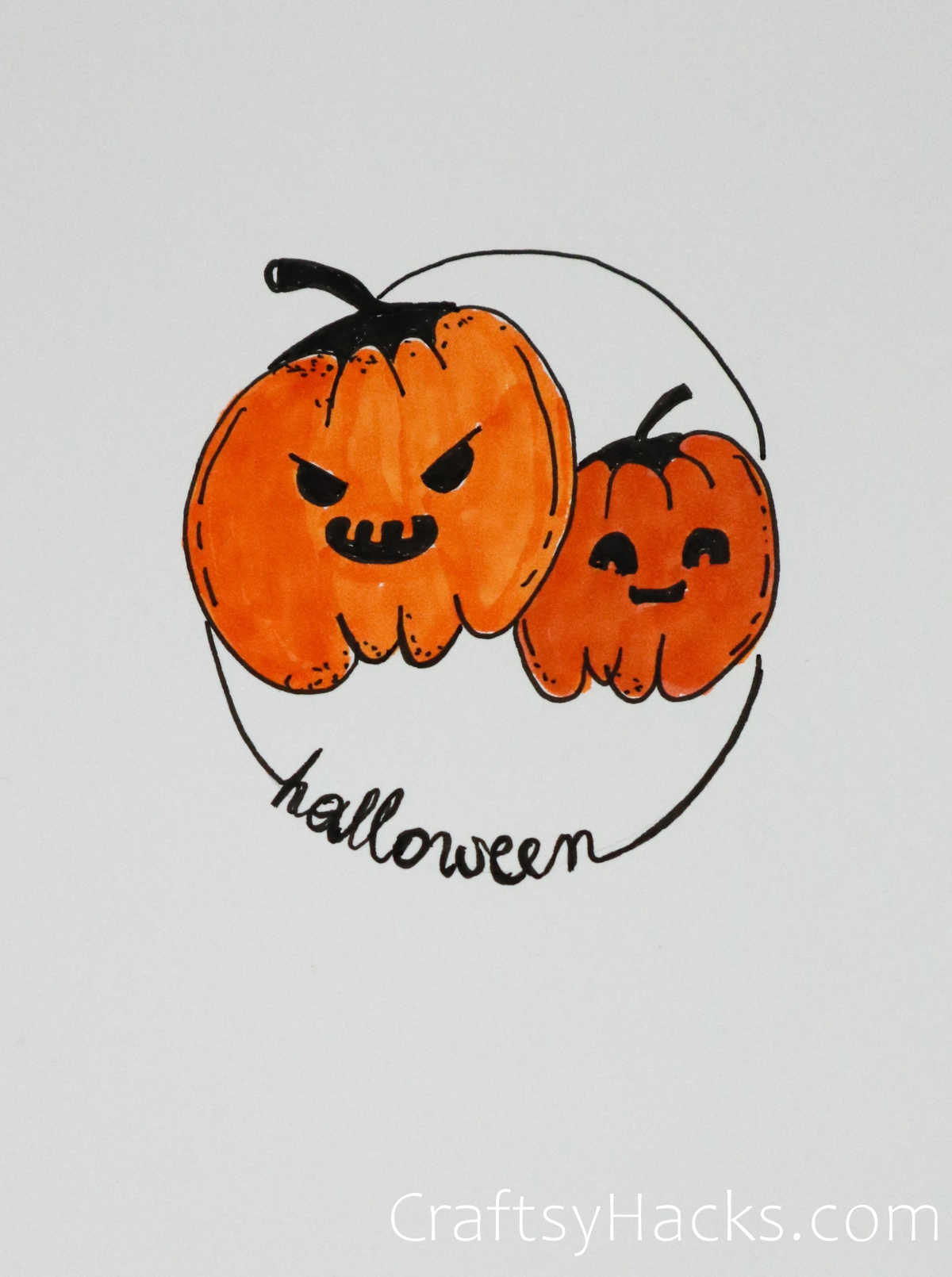 Pumpkins, specifically Jack-O-Lanterns, are one of the main images anyone celebrating Halloween uses to decorate.
As we all know, a Jack-O-Lantern's face is a blank canvas and completely up to the one doing the carving–so make sure to do the same here.
And grab these markers if you're looking for the ones I used.
15. Trick Or Treat Display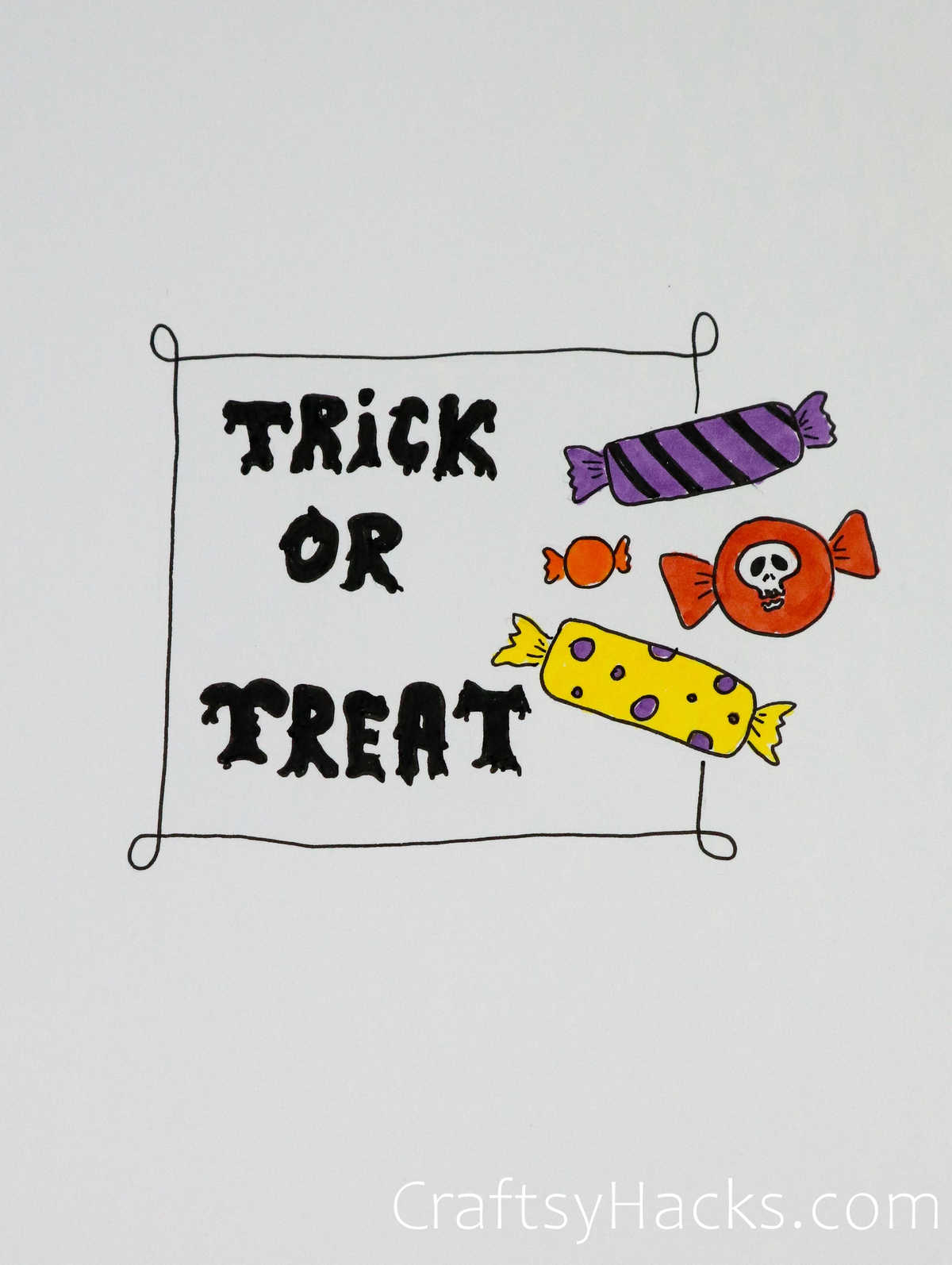 This Trick or Treat image can be a fun doodle or an actualized piece of decor for your home! Grab a canvas like this, upcycle some old wood, or use a stencil like this to add to your candy bowl.
Resizing on a scrap piece of paper or other material is a good idea for planning everything out correctly.
16. Zombie On The Move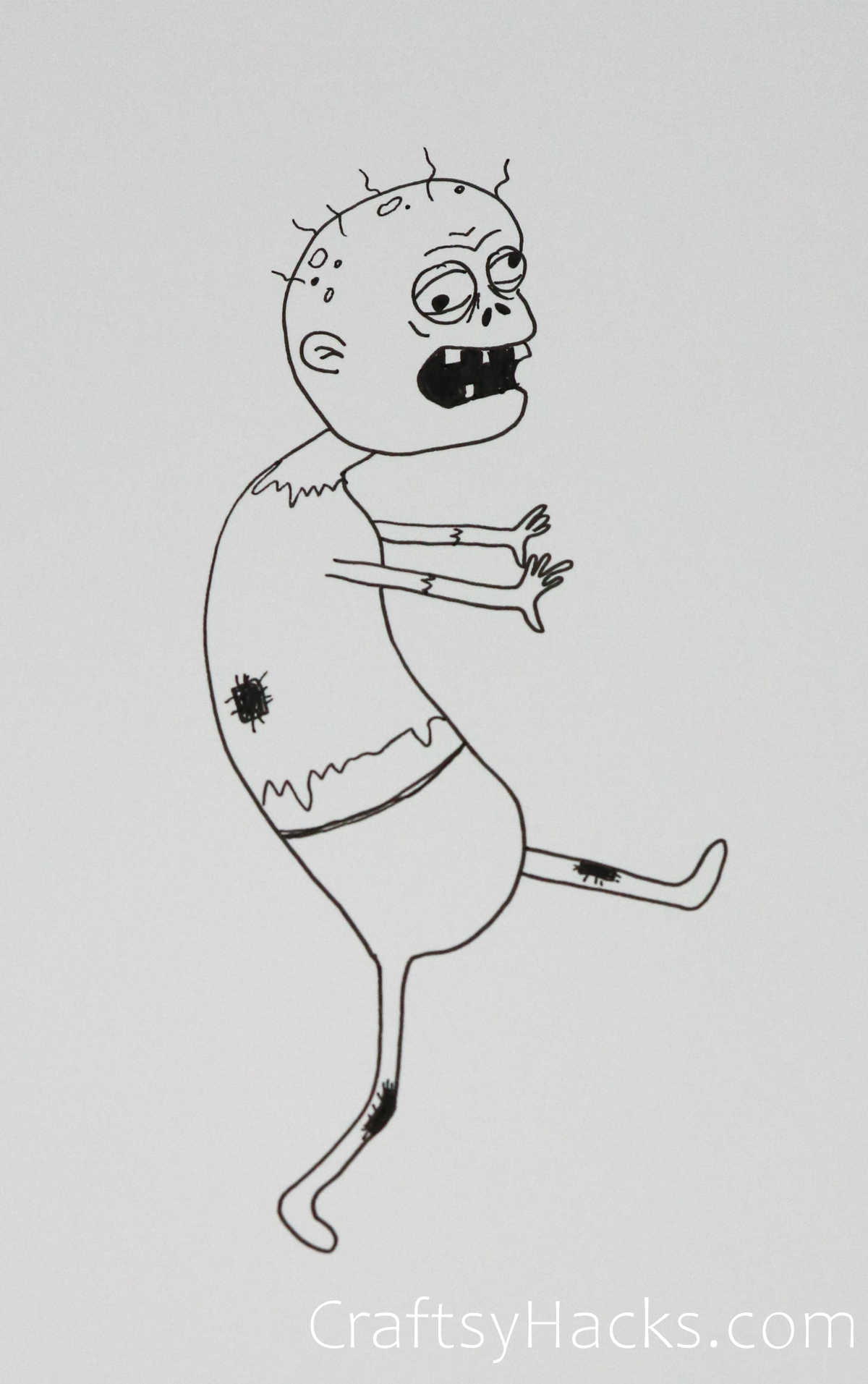 Zombies are a Halloween favorite among a thrill-seeking crowd and only deepened after a certain television show came out.
Regardless of how you feel about zombies, you cannot deny that this idea is one of the spookiest on the list today.
Like the Grim Reaper, I'm glad this undead person is only a drawing.
17. Witches Starter Pack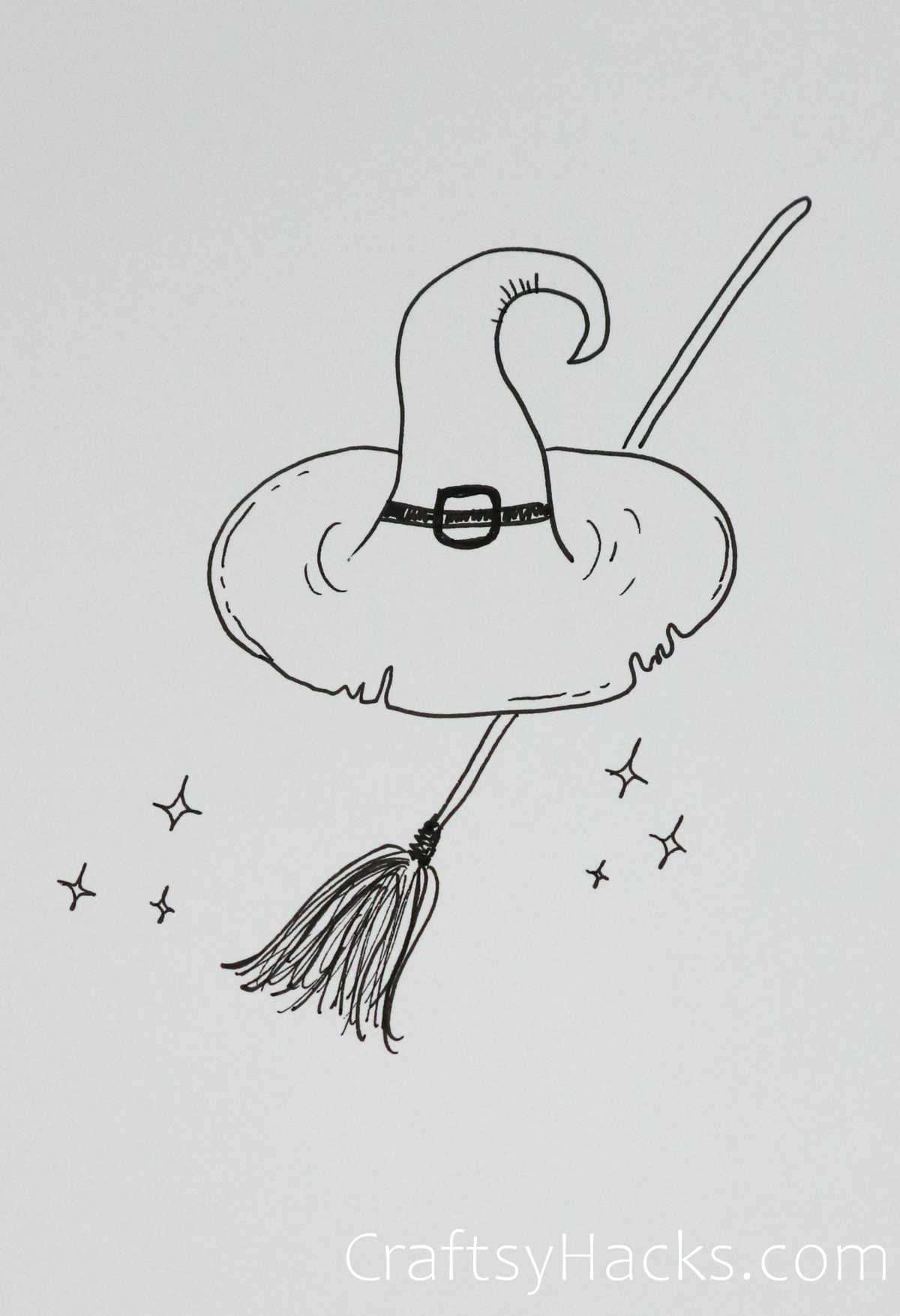 What is a witch without her iconic hat and broom? She is still a witch, but I don't feel the same without them.
The accessories change everything, and there's nothing more spooky than these two items. Add a black cat, spell book, or some potions to round out the image further.
18. Spider And Its Web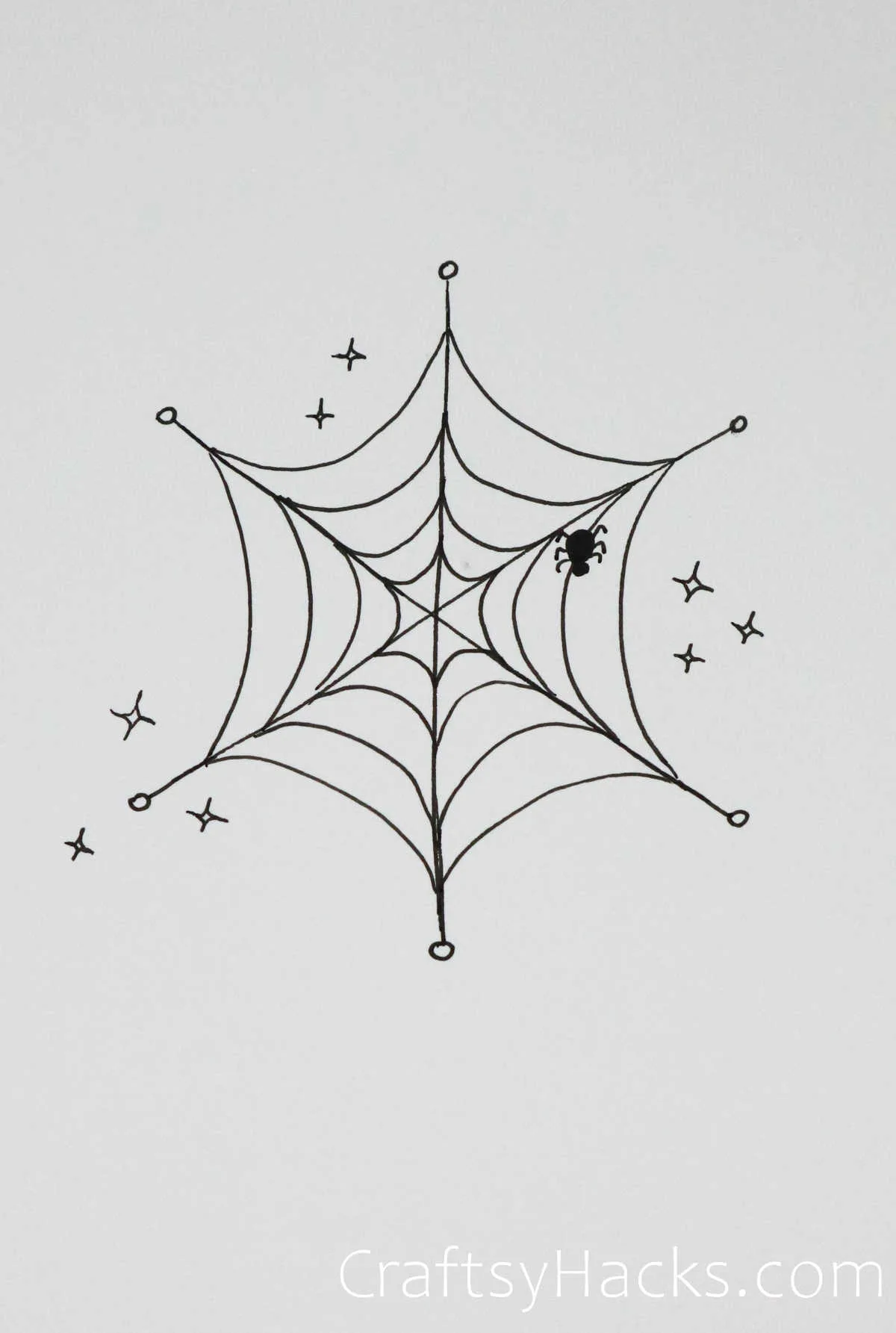 Spiders and their webs are innately spooky because the thought of getting trapped by either usually means a solemn end for its victim.
To add to the scary factor, add a handful of spiders or more webs to illicit that trapped, no-way-out vibe both have.
A tip for the drawing: start with the major lines and work inward. That way, proportions can stay in check with one another.
If you are new to drawing, these genius drawing hacks will help you!
19. Coffin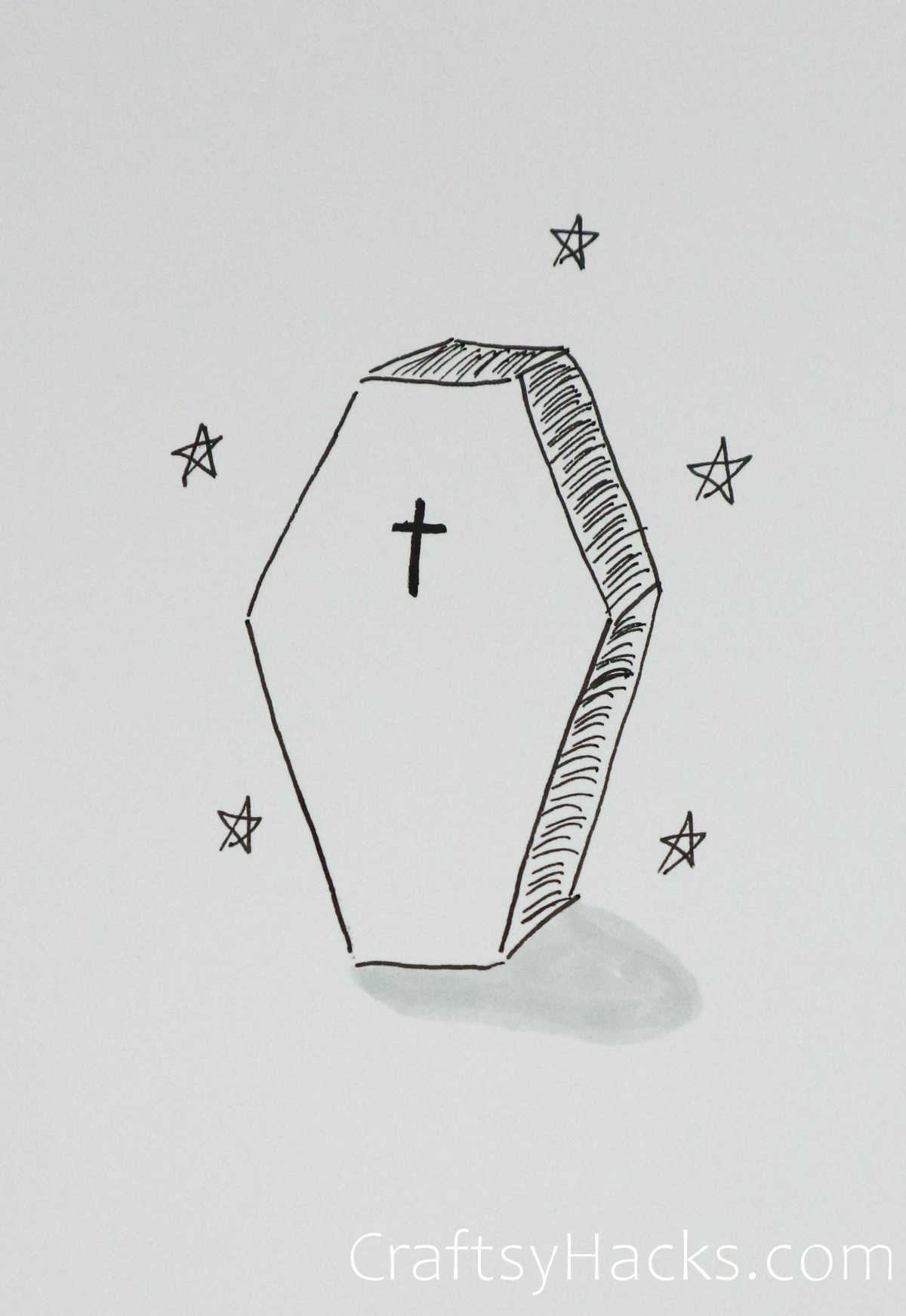 Coffins are truly one of the absolute spookiest ordinary objects that exist. The thought of what's behind the door may be scarier than what's actually lurking behind it.
Although, depending on what is behind there, it's probably spookier.
20. Midnight in the Graveyard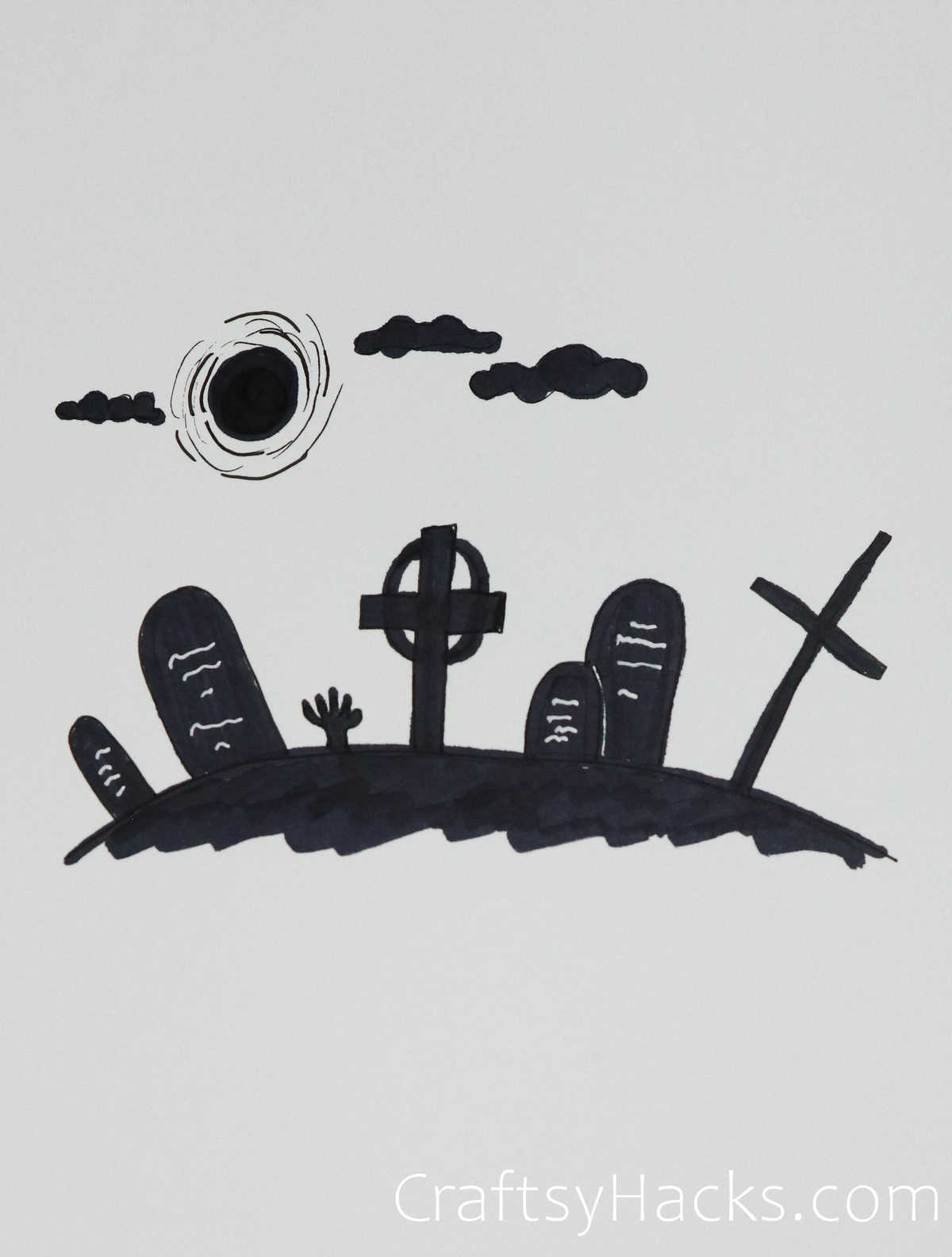 Graveyards is another quietly spooky image that most people innately feel uncomfortable with.
What's lurking underneath the ground could pop up at any second, like the hand emerging in this drawing.
If you're looking for a little extra fright, add a few more hands or maybe even a zombie sitting up.
21. Black Cat And The Moon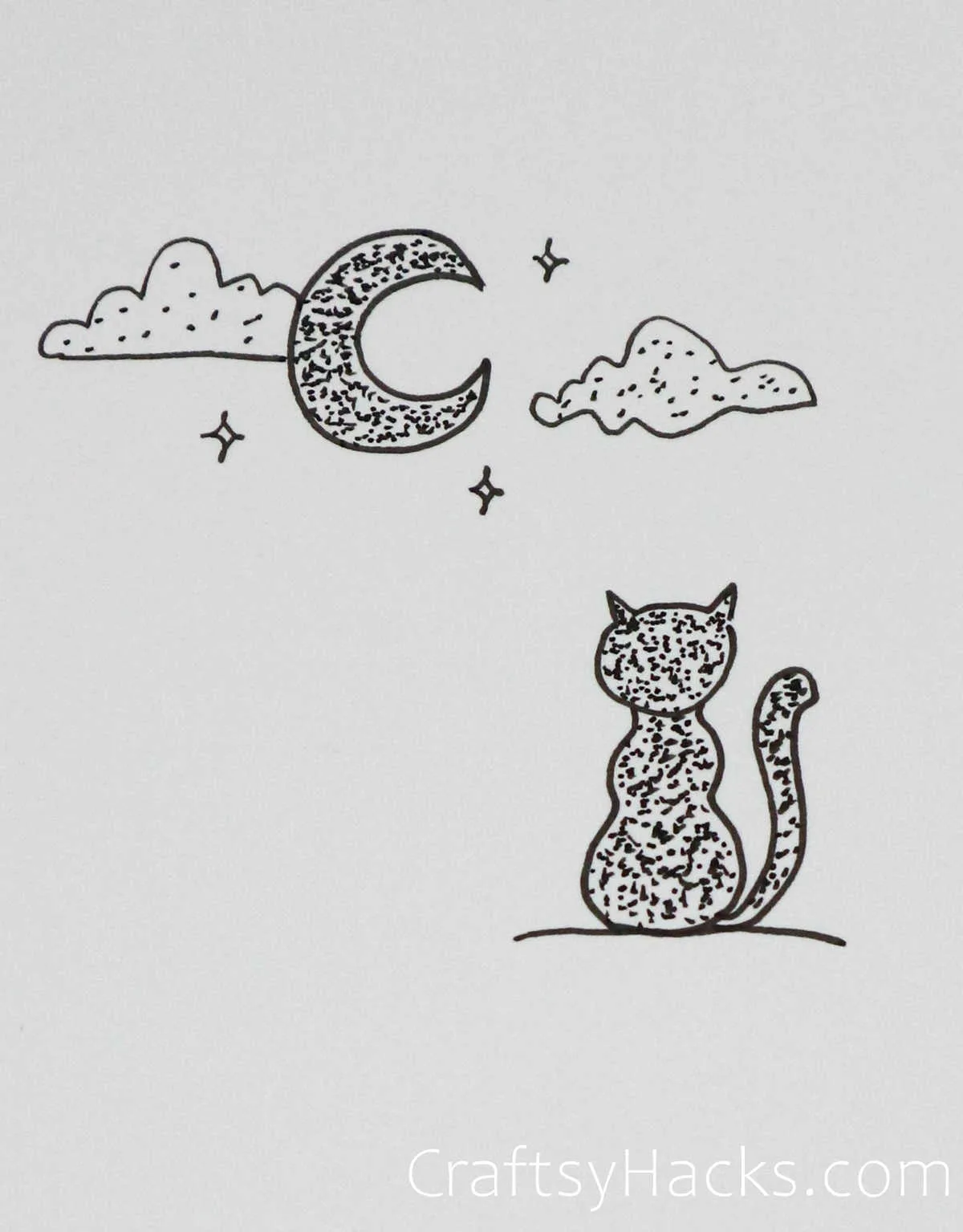 Last but not least, one of the most ordinary but still eerie creatures on the list–the black cat.
Although some of us are cat lovers, these felines seemingly know much more than they let on, or an image of something wicked is coming to you.
Grab this pen set if you'd like your cat drawing idea as spooky as the one I'm leaving you with, and Happy Halloween! Stay safe out there.
Watch Video: 21 Halloween Drawing Ideas