When the snow starts falling, there's nothing better than cozying up inside with a favorite activity. If you enjoy drawing, doodling, or sketching, these Christmas drawing ideas are for you!
I have a whopping sixty-one Christmas drawing ideas for you to try out during this cold season.
There are options for any age artist, too! You'll find recommendations of adult-oriented supplies and kid-friendly options–perfect for the whole family.
I used a handful of items that work for any age while making the images below: this notebook, these pencils, this ruler, this compass, and this eraser.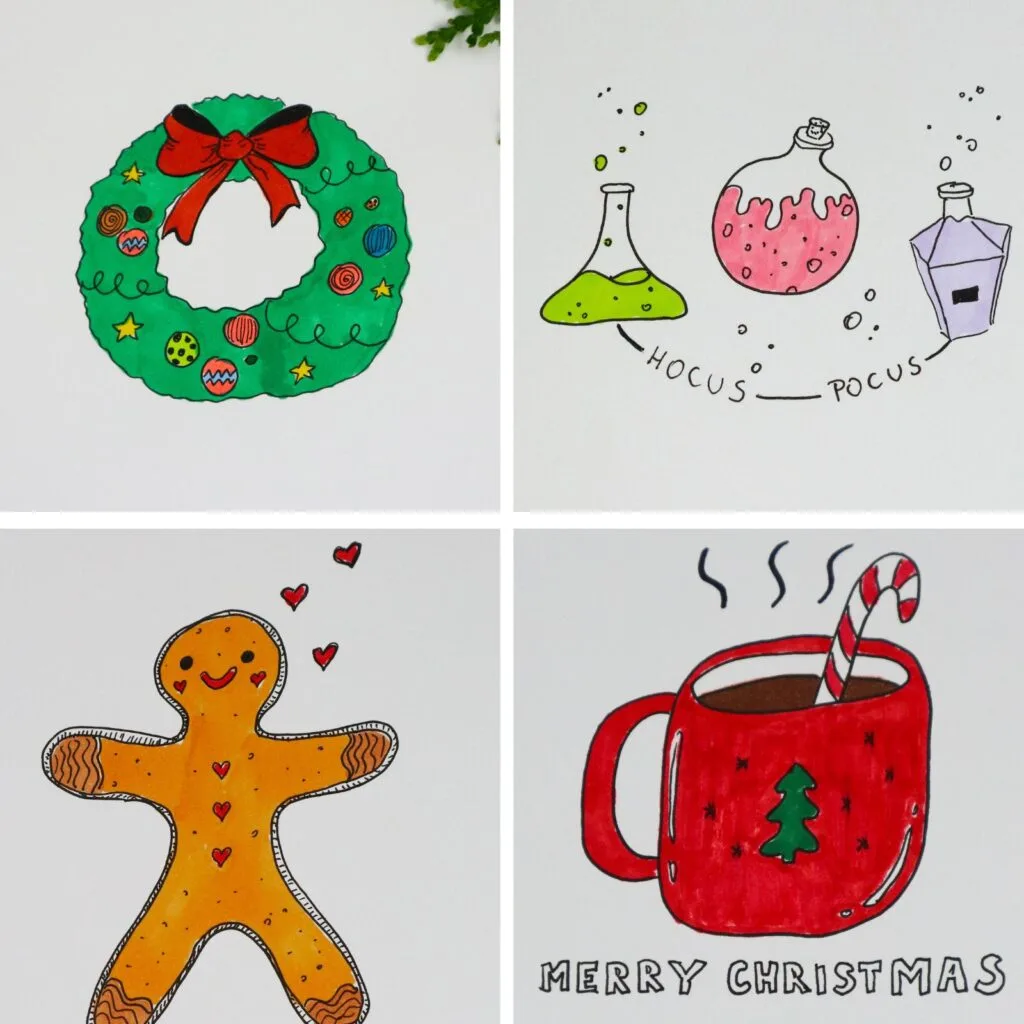 1. Wishing You A Warm And Festive Merry Christmas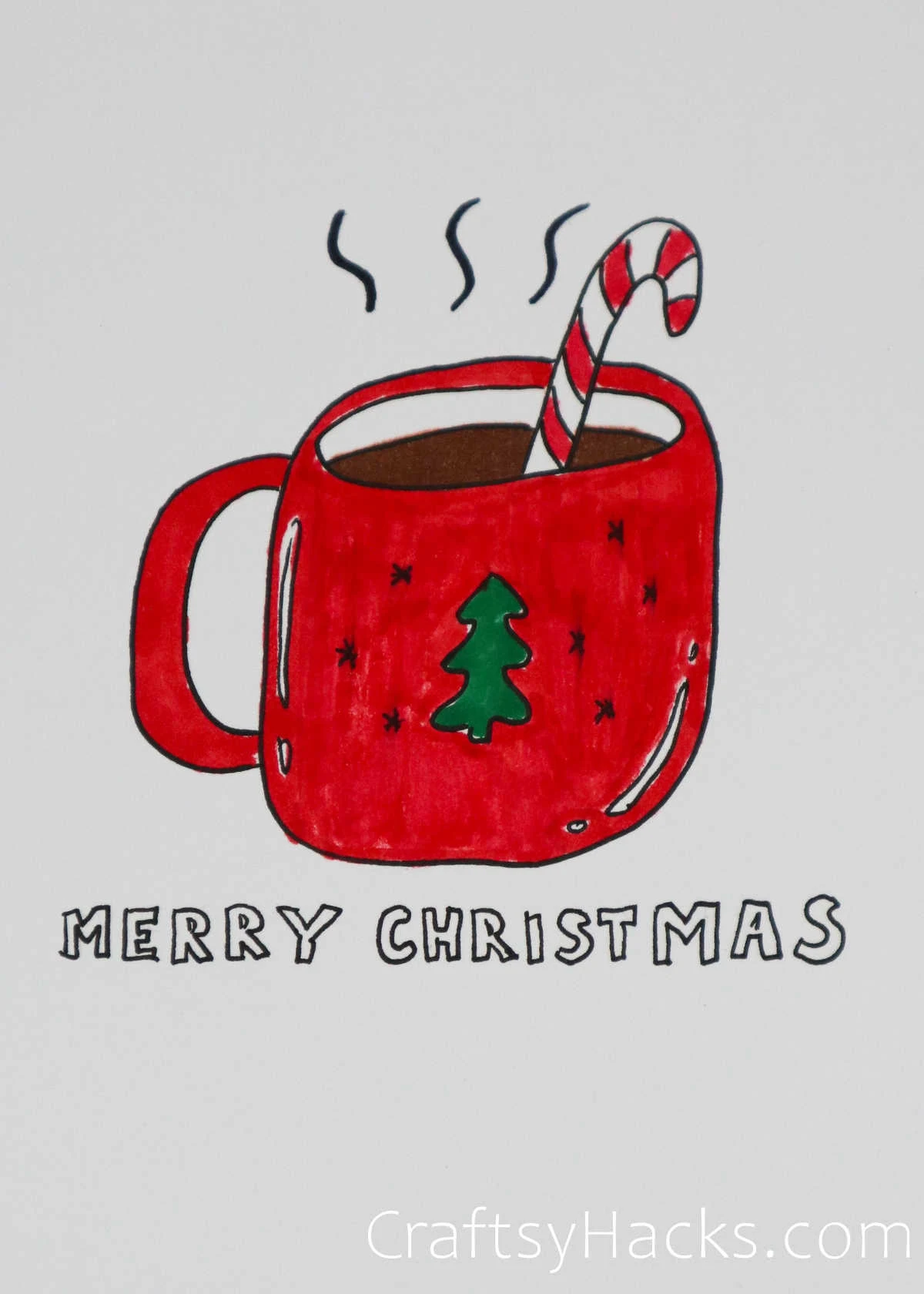 A classic cup of cocoa is a great way to kick off the most festive time of year, and adding something fun, like a candy cane, adds to the feel.
Customize your mug to your favorite festive additives–a snowflake instead of a tree, marshmallows instead of a candy cane, or even a sugar plum fairy peeking out–make it jolly!
2. Star Christmas Tree Topper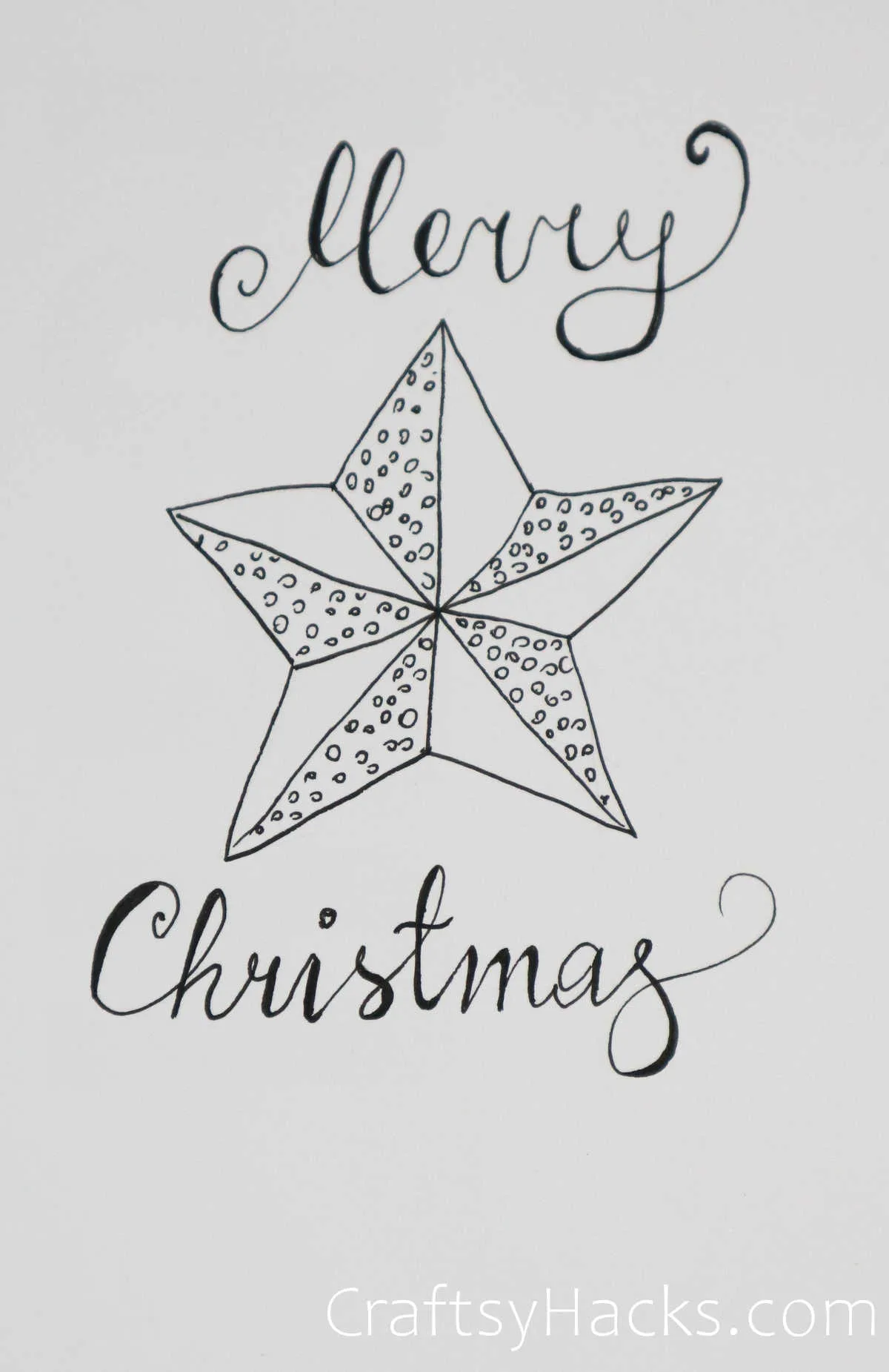 What tops trees during Christmas is wildly debated, and each tree seems to have something different.
So, this tree topper is one of the more recognizable images I see on Christmas trees most often; whether or not we agree is a different story.
If you or a teen you know is learning calligraphy or wants to learn, grab this set of pens! They are easy to use and for beginners.
3. Natural Winter Scene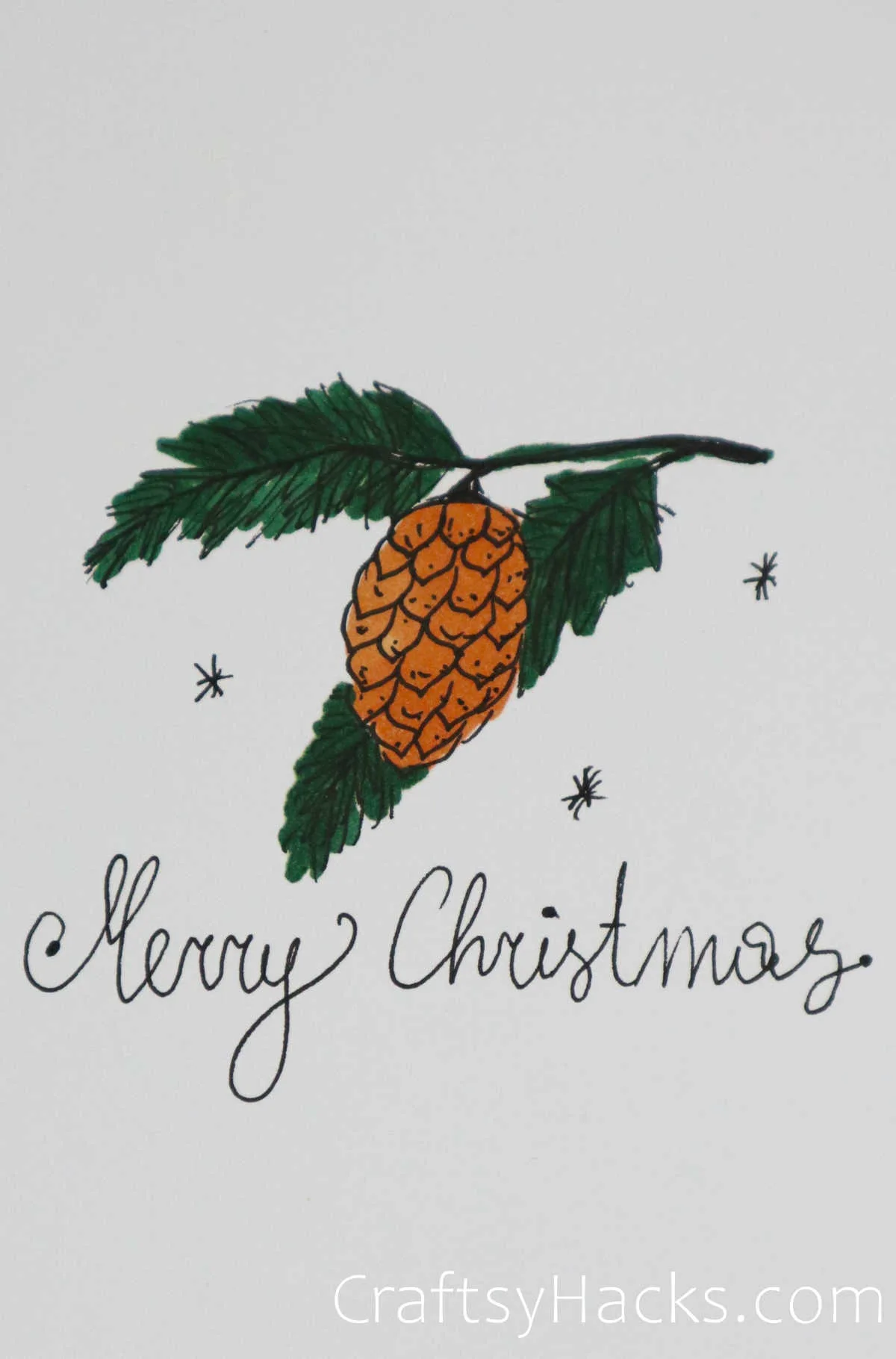 The Christmas season turns the world into a winter wonderland! Fresh snow in the woods or sitting nicely on trees is beautiful.
This snippet of a winter wonderland is the perfect drawing to give to your nature-loving friends or family. Add some wildlife or holly berries to give it a little more brightness.
4. Holly and Bright Christmas Candle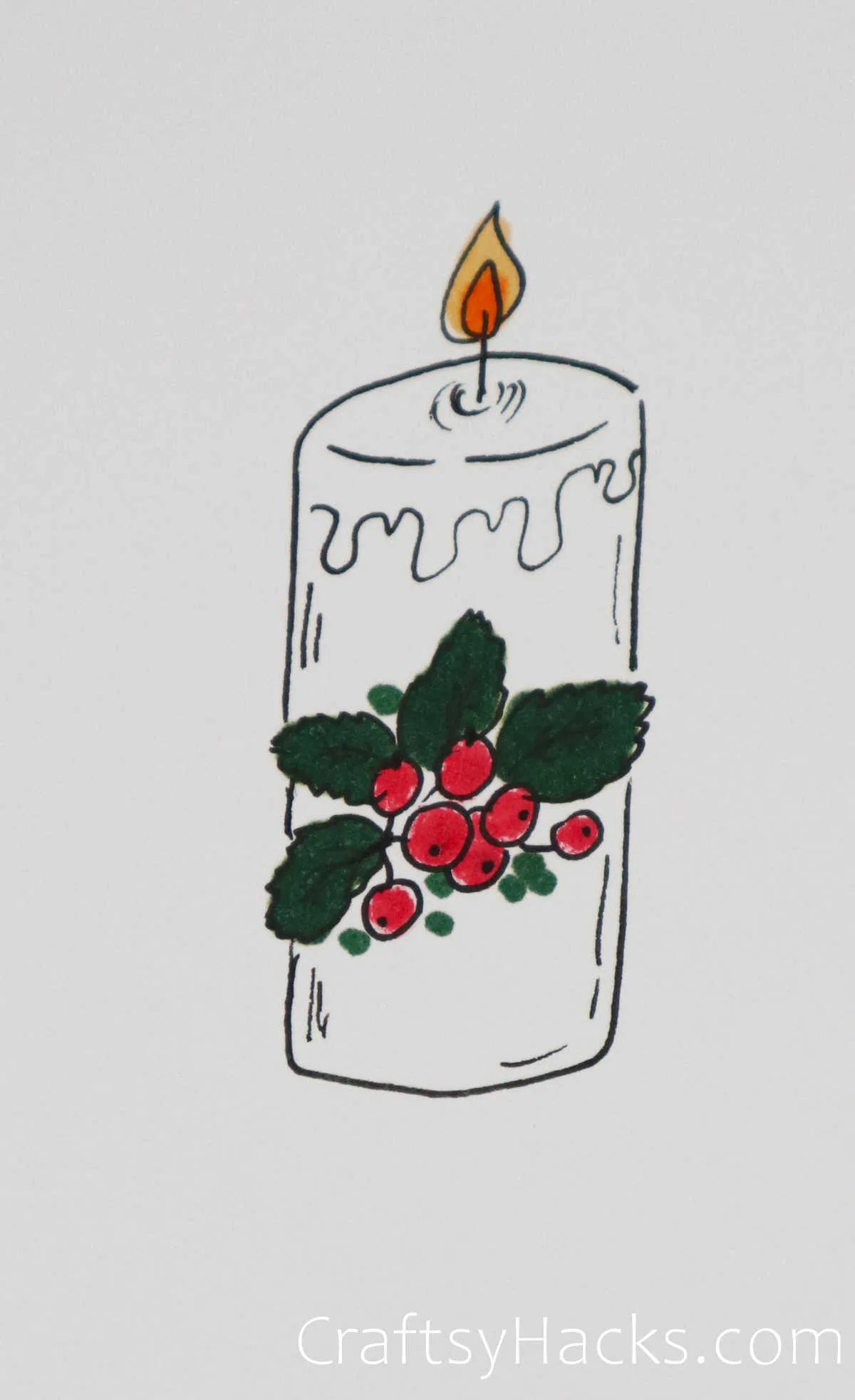 Dressed-up holiday candles always remind me of my childhood–there's a vintage feel to these simple candles that are still iconic today. A simple craft for anyone!
You could even translate this into a kid's art project or craft. If they need help with the drawing, do that part for them and let them color it.
5. Minimalist Silhouette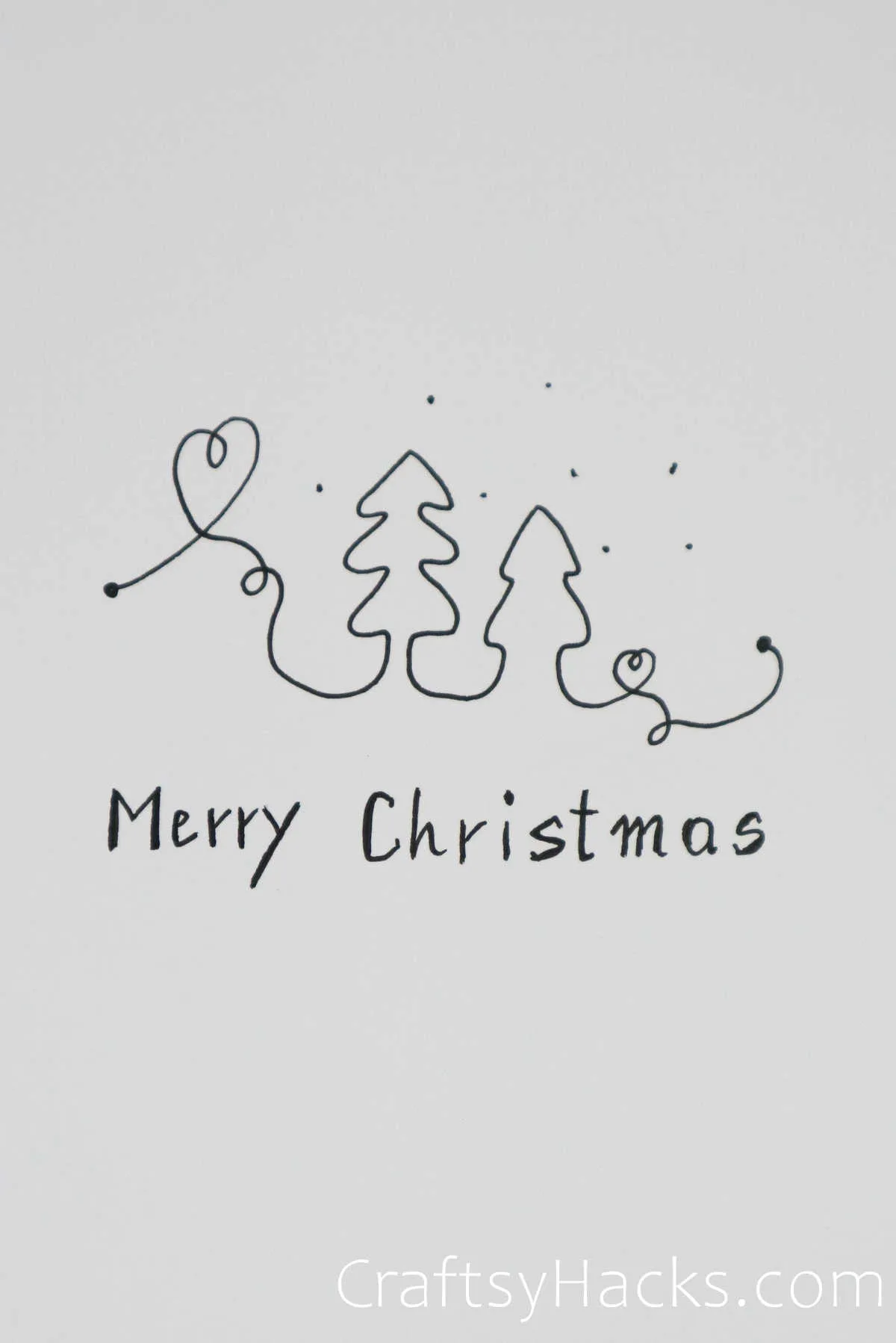 Sometimes, a minimalist theme works better than every other possibility! Whether you've known them for three months or thirty-three years, it works as a giftable item to anyone in your life.
The best part about this drawing is that you can add anything to your silhouette if you can draw it, and it's an identifiable image.
6. Classic Vintage Christmas Wreath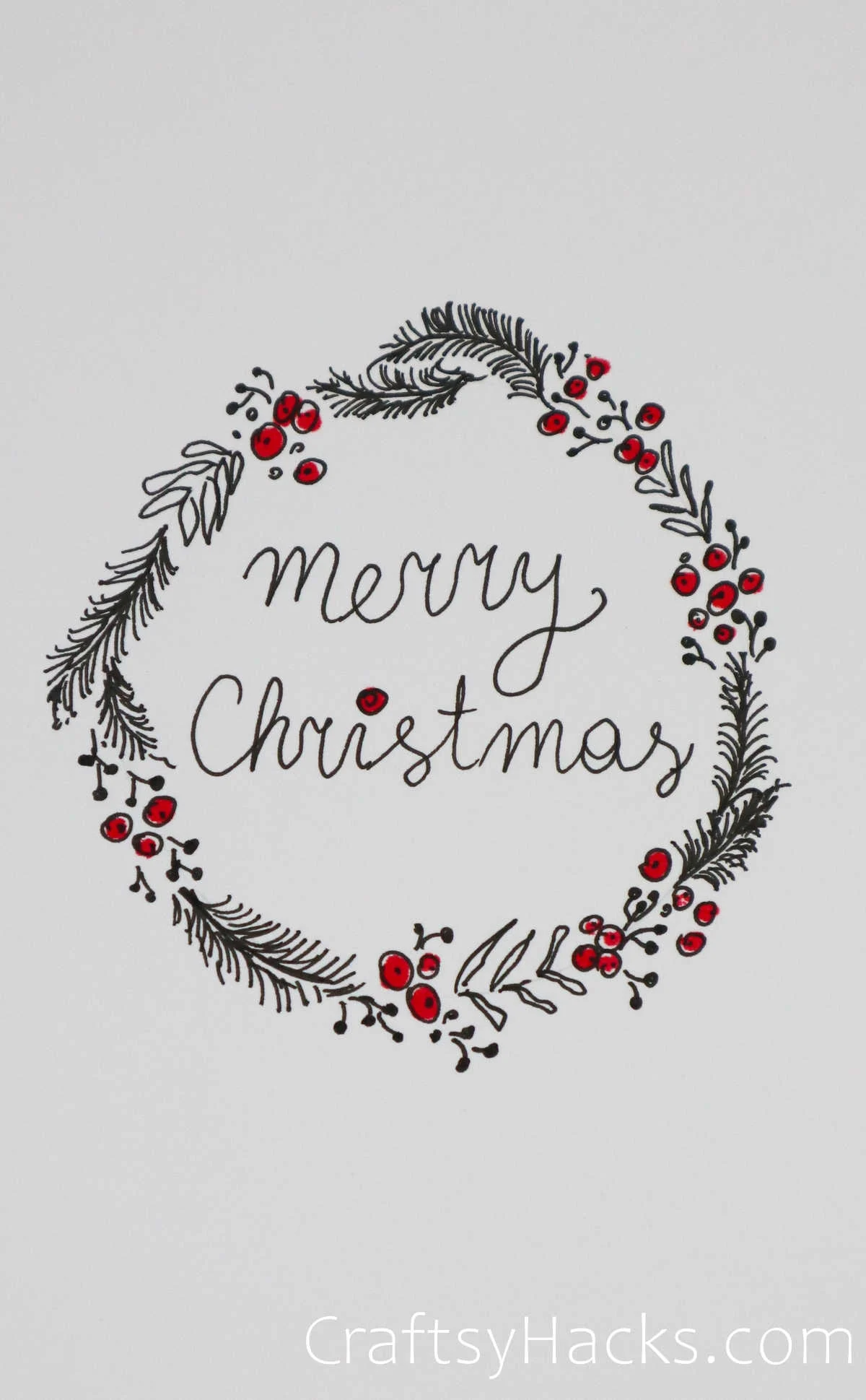 Wreaths full of berries feel so vintage, don't they?
The textures of this vintage wreath make for a simple yet detailed drawing that would make a darling sign, ornament, or anything else you can imagine.
7. Sweet And Kind Angel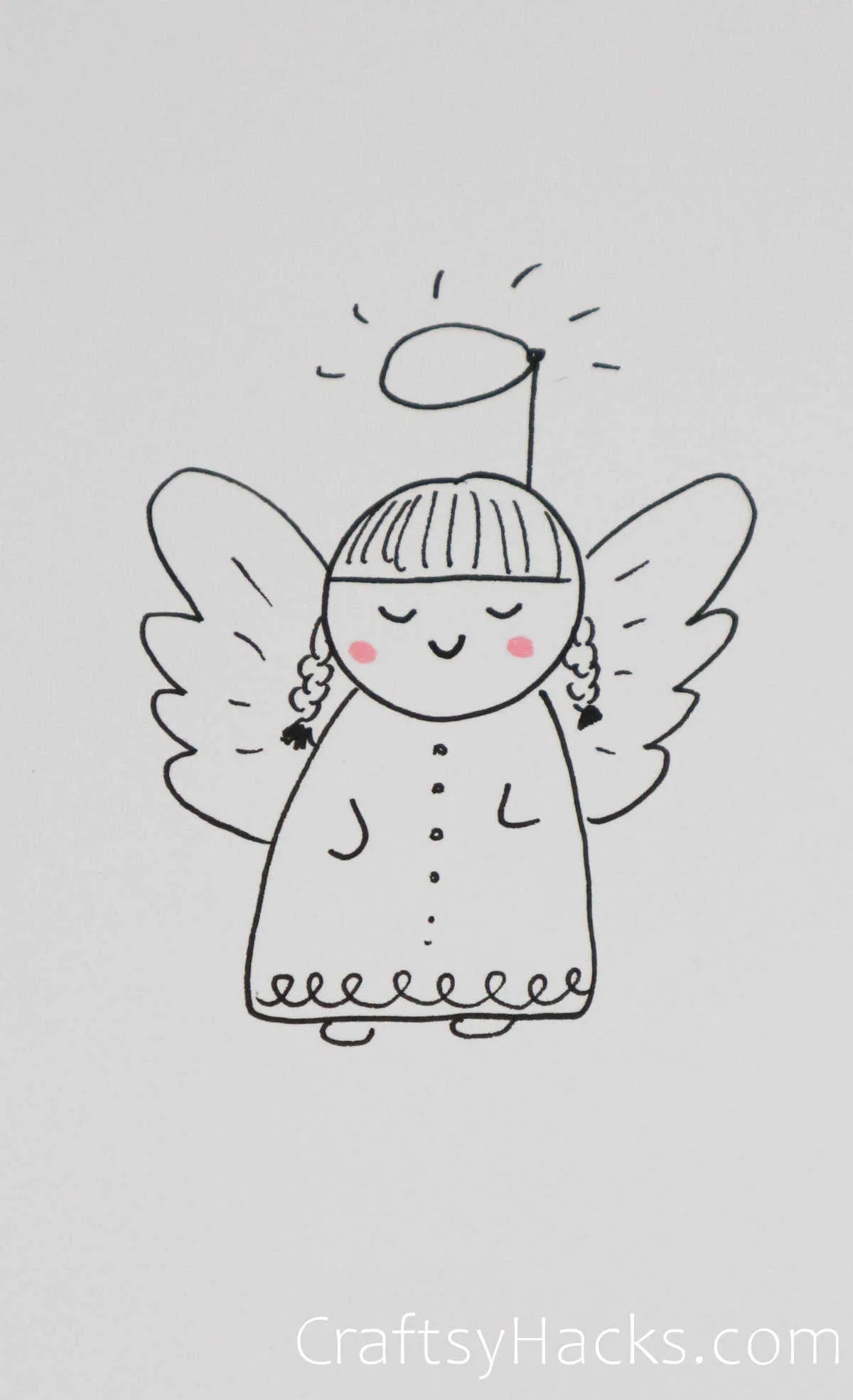 Angels, of course, play a large part in Christmas and always have dates back to the original Christmas story. So it's no surprise to find an angel or two here today.
The best part is that they are so easy to customize–male, female, tall, short, and anything imaginable. The main drawing elements are simple to manipulate into the designated angel.
8. Vintage Ornament Display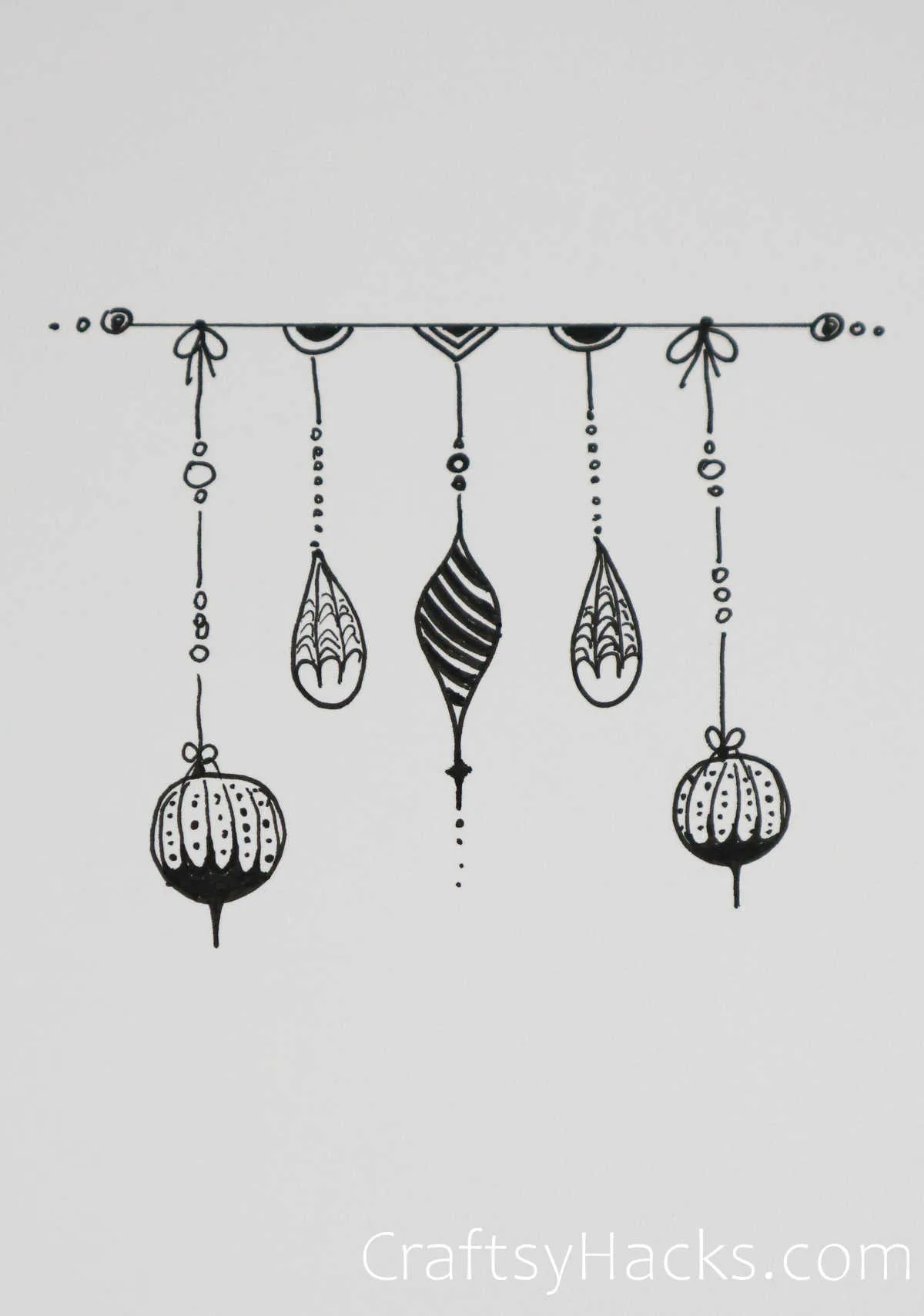 Christmas is such a magical holiday–the present mixed with specific holiday memories of loved ones who are no longer with us.
These ornaments are an homage to the Christmas memories, good, bad, or somewhere in between!
9. Bright and Colorful Ornament Display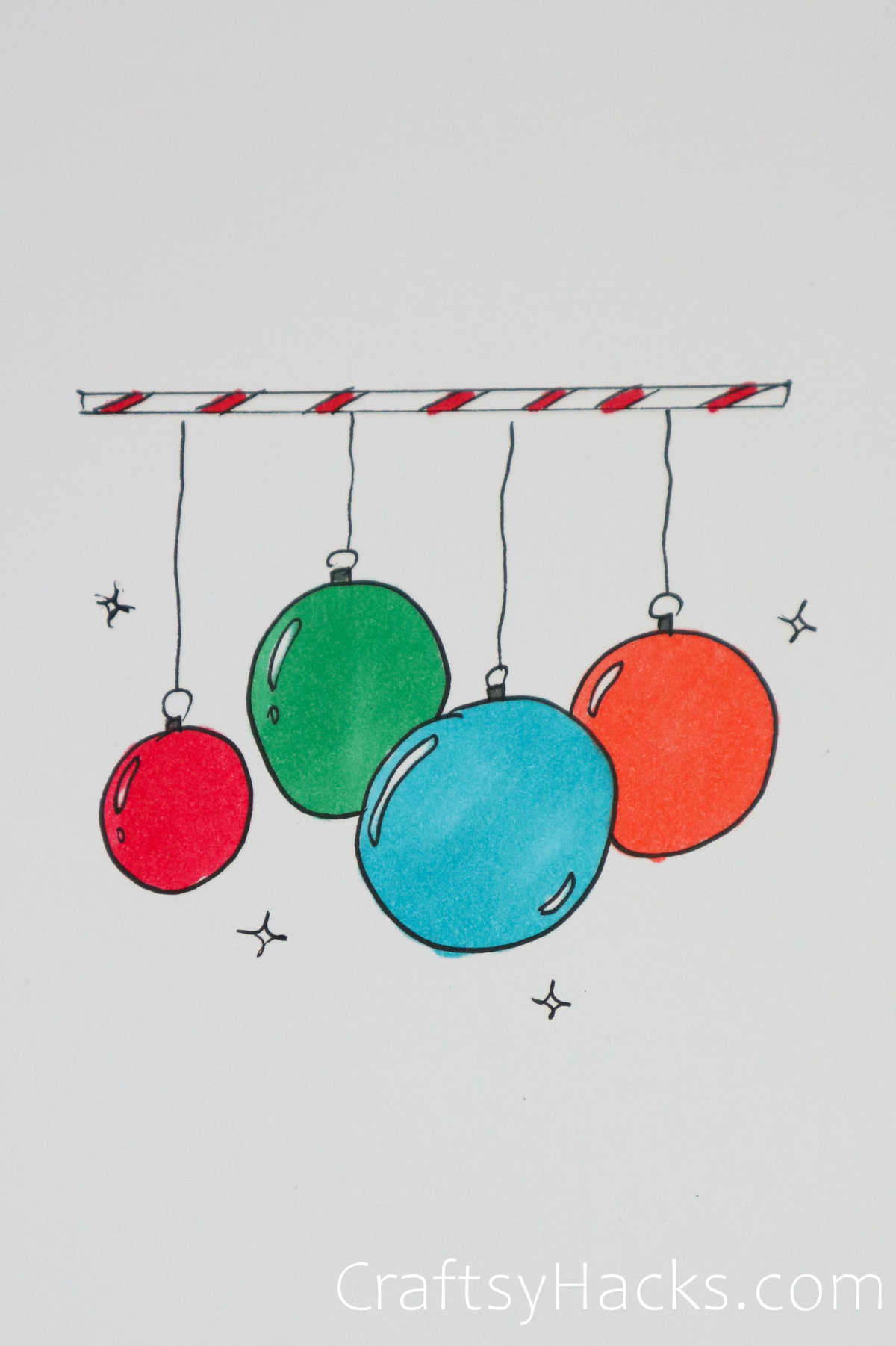 Similarly, this drawing plays to the opposite and balance of what's happening now or to come!
Christmas is a great time of reflection, but let this drawing remind us that there are many things to be thankful for in the present or that we're here for another year.
Regardless, these colorful ornaments are a fantastic project for anyone! Grab these markers for young artists and older kids and adults; these markers are wonderful.
10. Vintage Mistletoe Christmas Greetings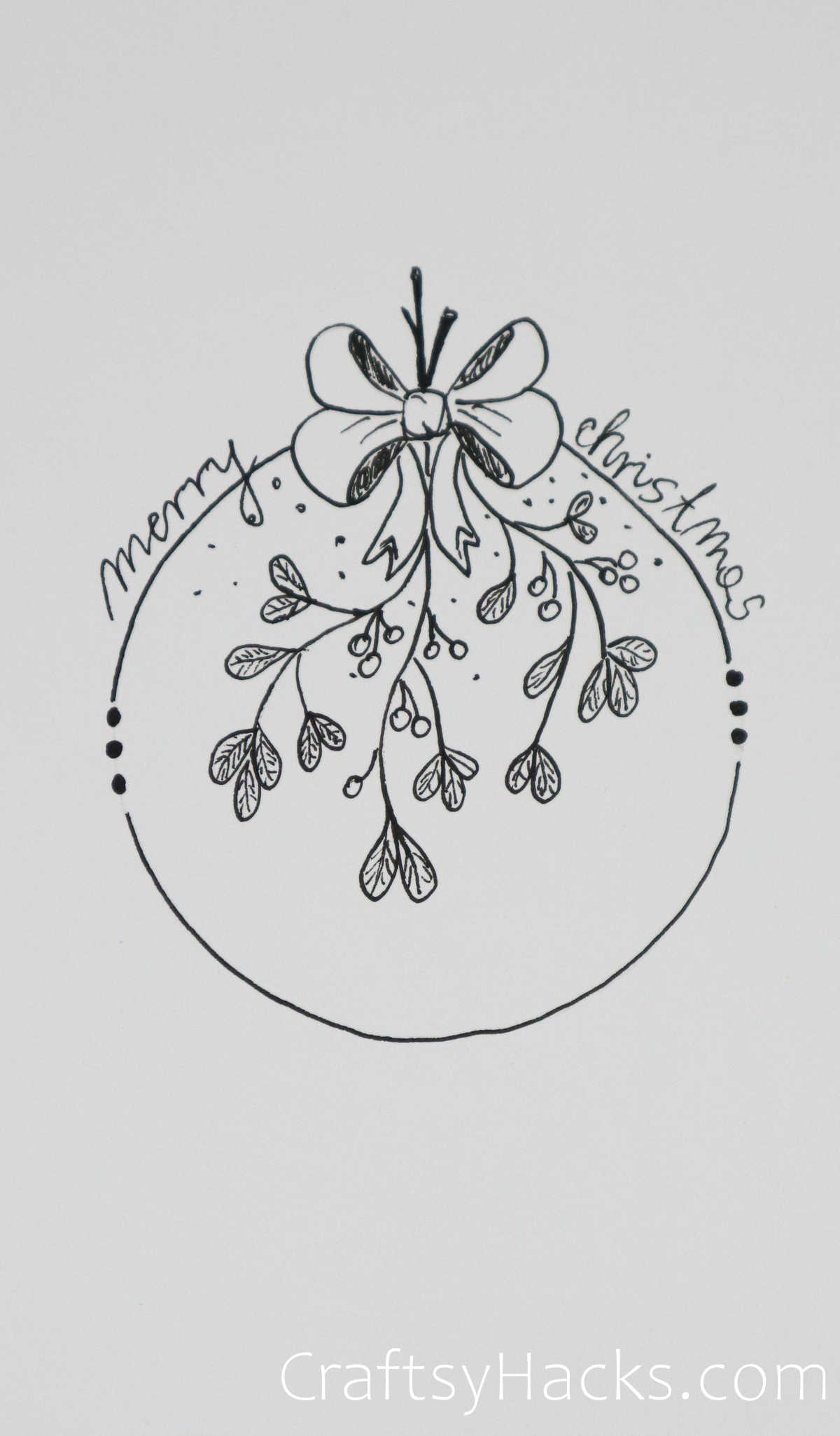 A perfect drawing to give to that special loved one! Mistletoe, as we all know, is a long-standing tradition of the Christmas season and can be a bit controversial.
If given to the right person, this image is a sweet way to show that special someone how you care for them. It would also be a darling display on a sign for your home.
11. Holly Jolly Santa Claus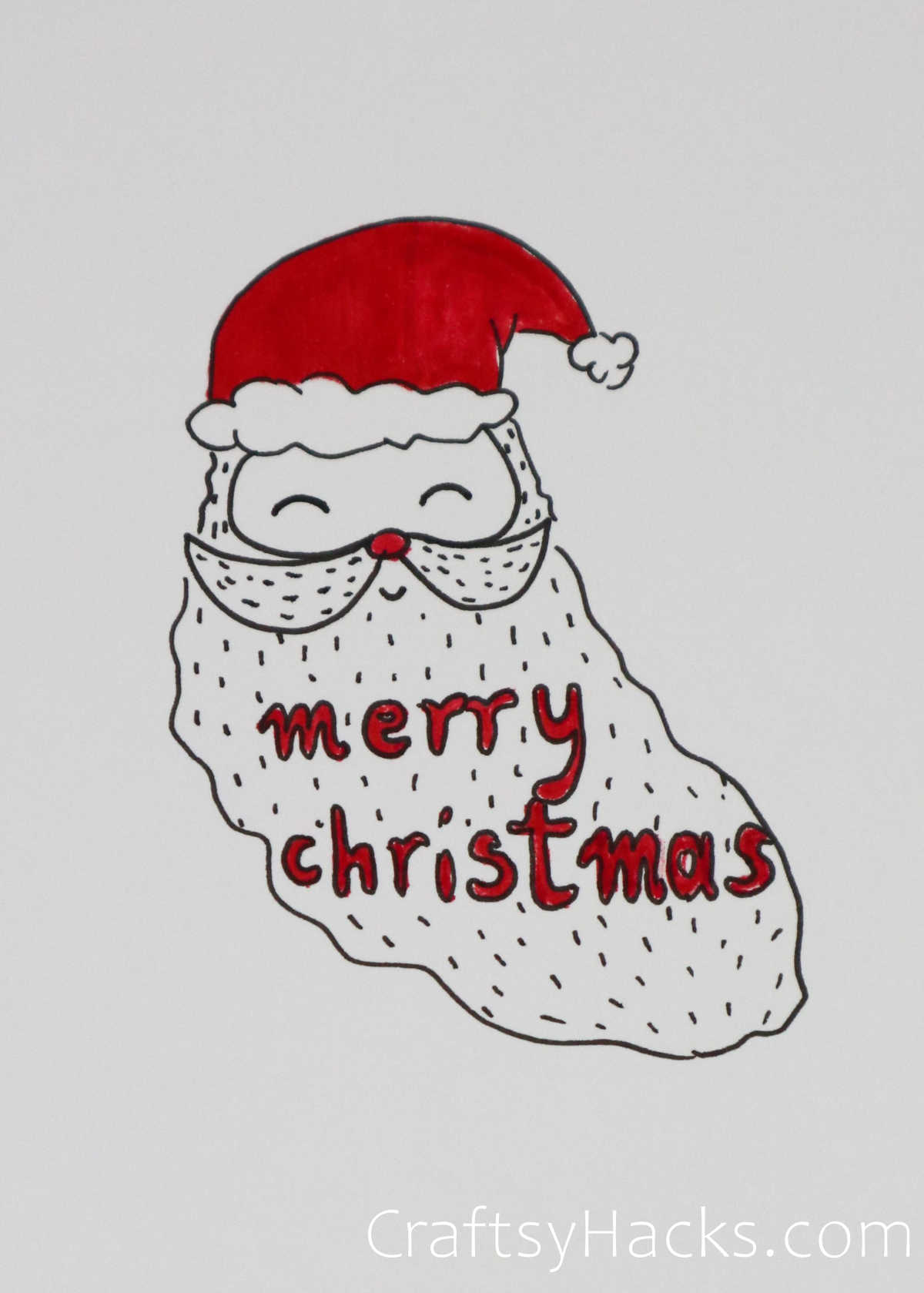 Santa is obviously a non-negotiable image on any Christmas list anywhere you'll look!
This drawing is particularly fun because you can make his beard hold a message, Merry Christmas being the most apparent.
I suggest writing the message first and then adding the beard and the rest of Santa afterward. That way, you don't have to squeeze the text in if you haven't spaced well enough.
12. Lovely Pair Of Winter Mittens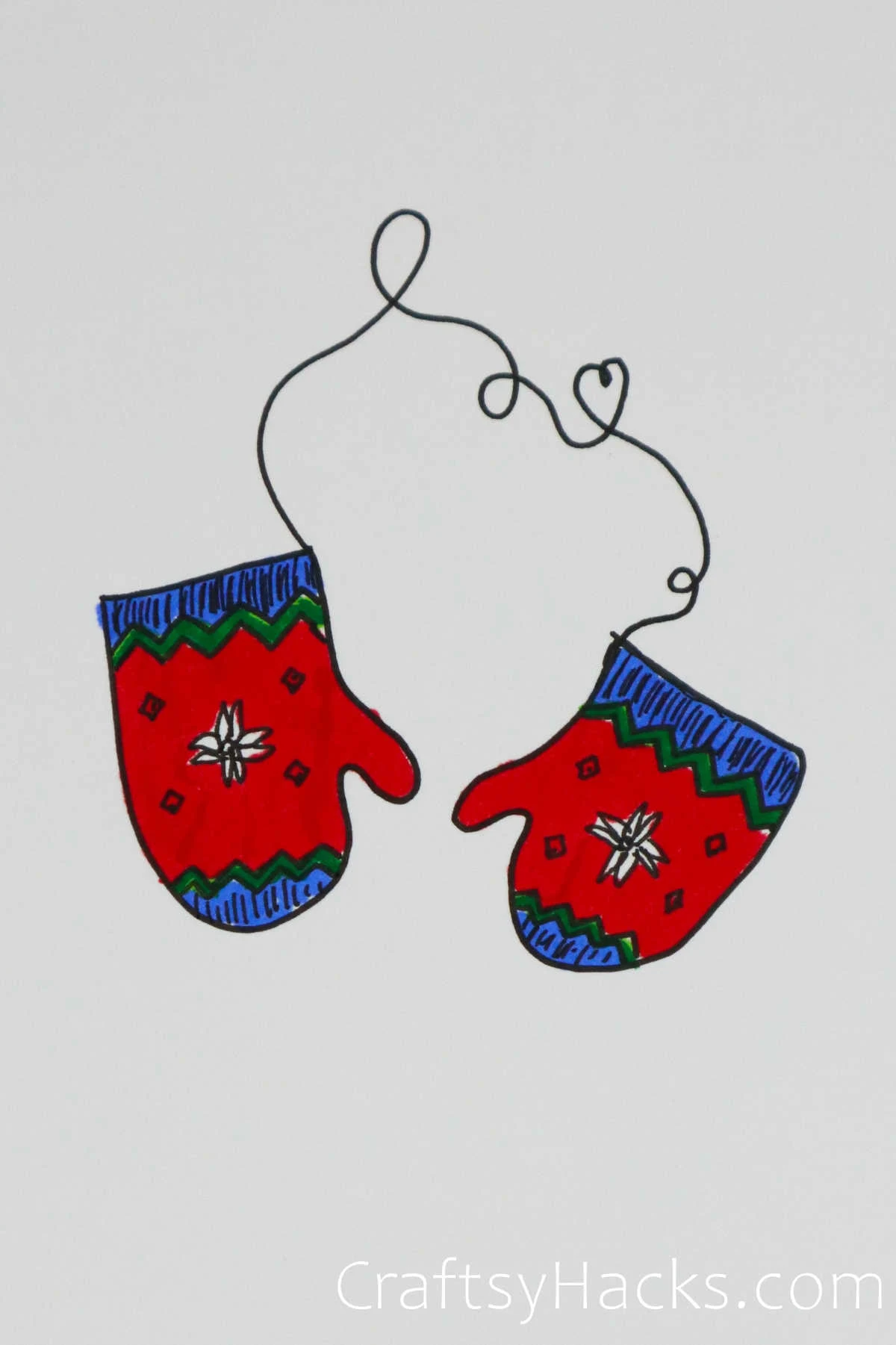 Nothing says winter more than a pair of gloves, but that's probably because our hands would freeze without them! I love drawing mittens because no two pairs are exactly alike.
However you feel that day, design them accordingly! Draw a larger pair and let any littles you know color them in.
13. Christmas Bell Display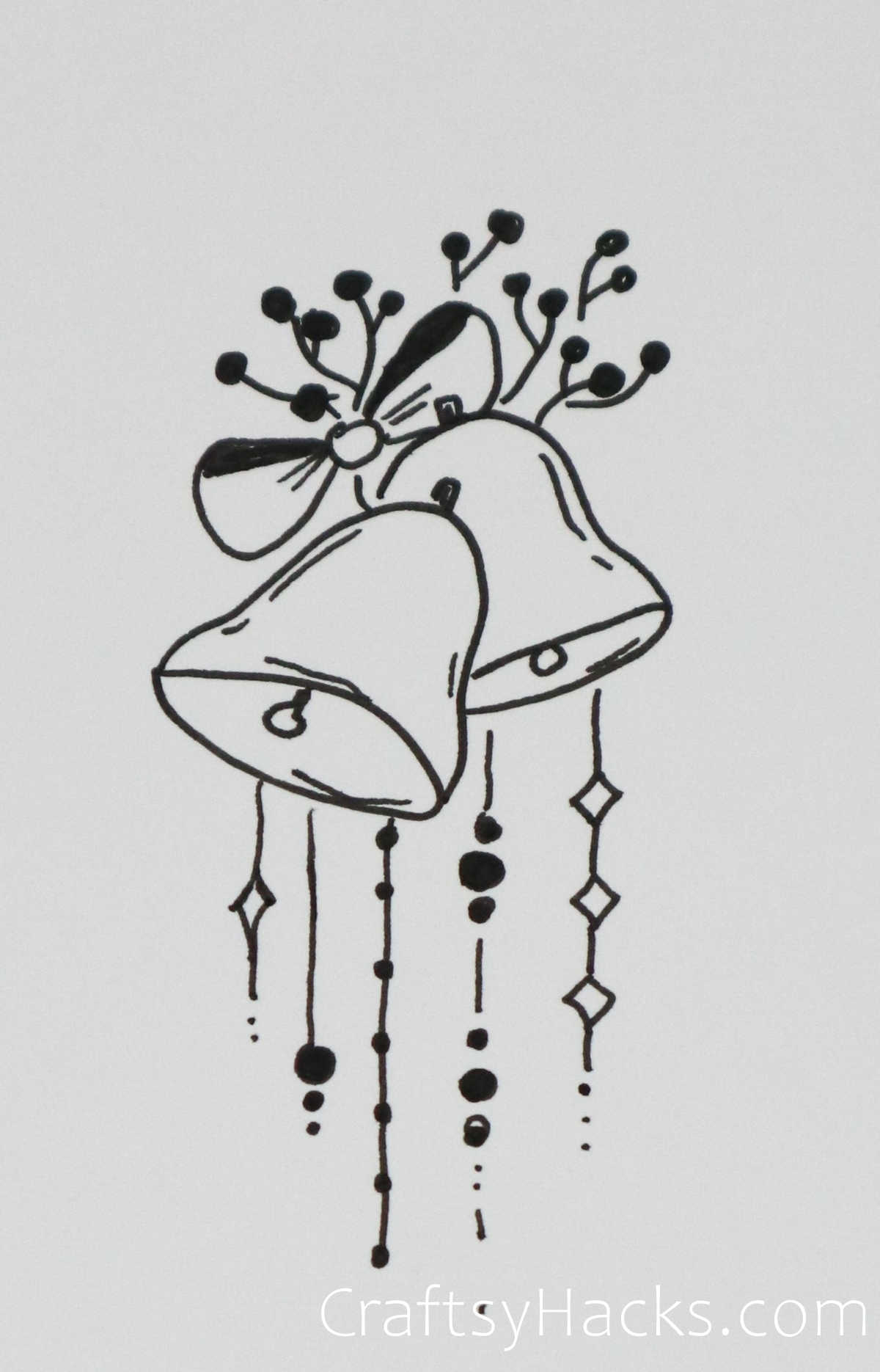 Bells are a classic and elegant image of non-Christmas Christmas items.
It's not something I think of right away during the Christmas season, but bells make their way into the scene through many different avenues–media, religious practice, and more.
14. Statement Candy Cane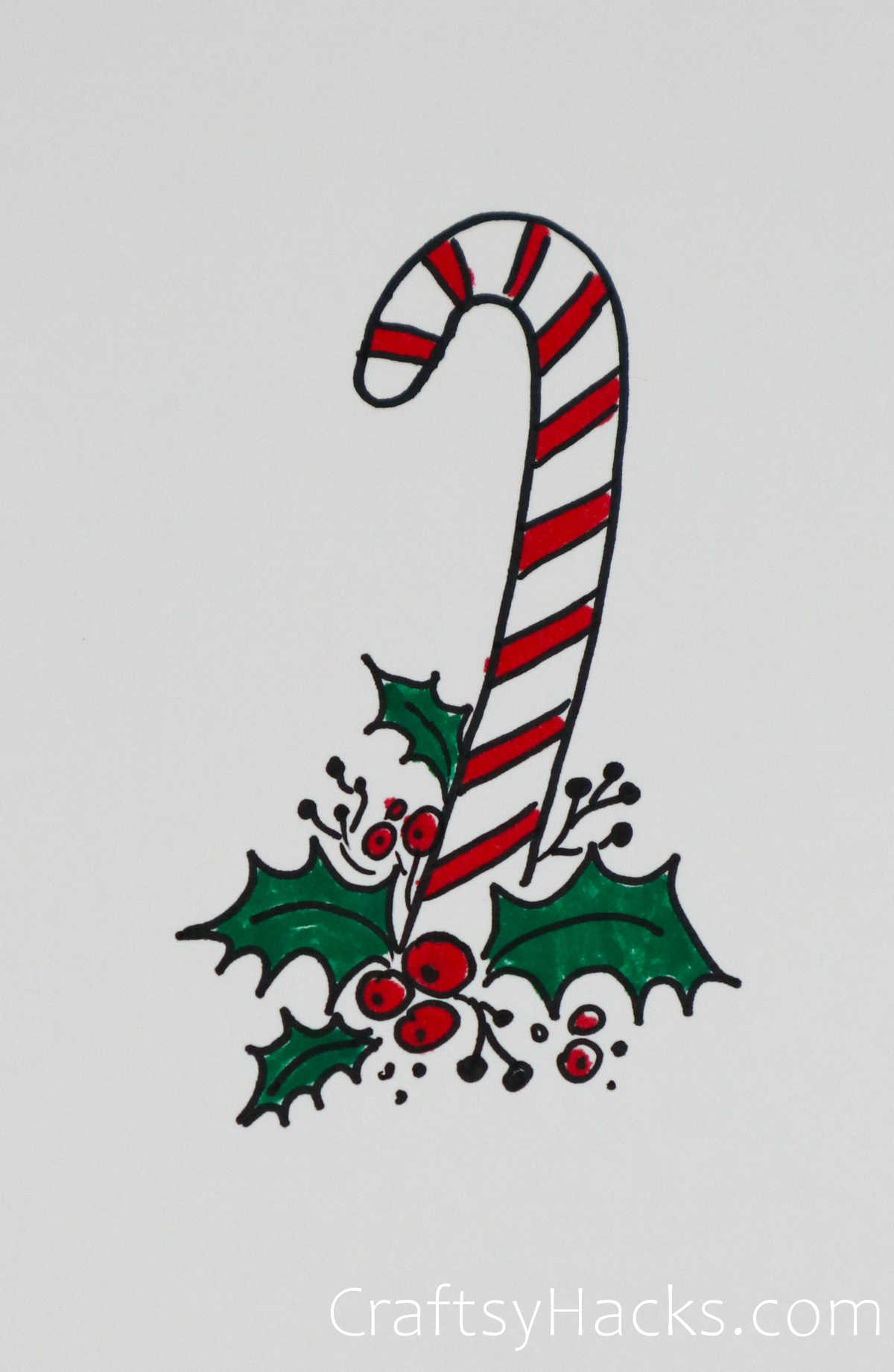 There's nothing bolder in the Christmas season than a smart and bright candy cane.
Whether displayed in a larger-than-life fashion or on a simple cup of hot cocoa, it's the perfect accessory for any part of the holiday season.
If you're a maximalist, this candy cane would look equally as fun in the style of a multi-colored cane!
15. Minimalist Merry Christmas Wreath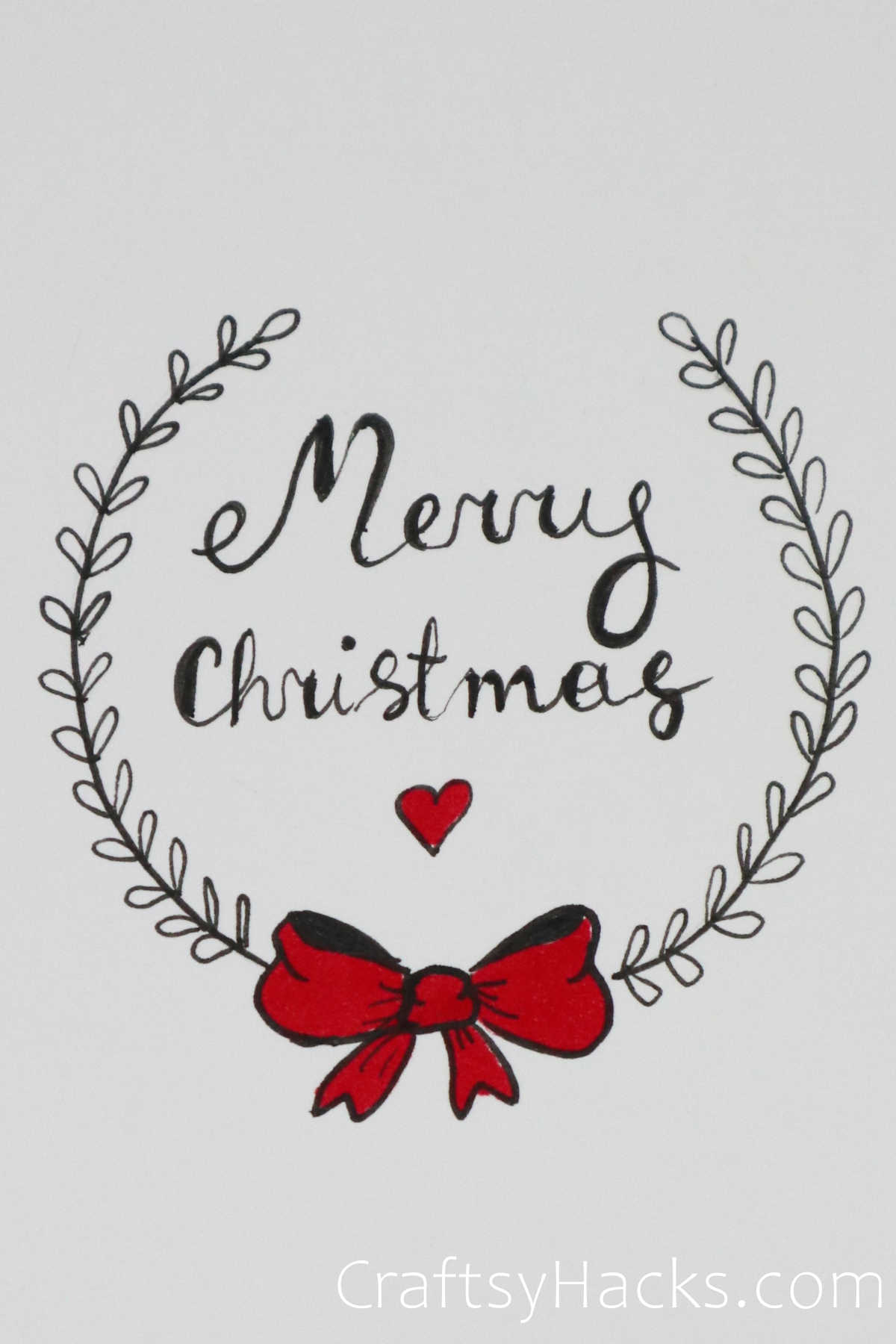 A perfect piece for the minimalist holiday card, gift tag, or home decor–this simple Merry Christmas wreath!
Another simple but bright presentation of sweet season greetings–feel free to customize the color and shape below the message.
I could see a great little poinsettia, star, or even a gingerbread cookie.
16. Early Christmas Morning Scene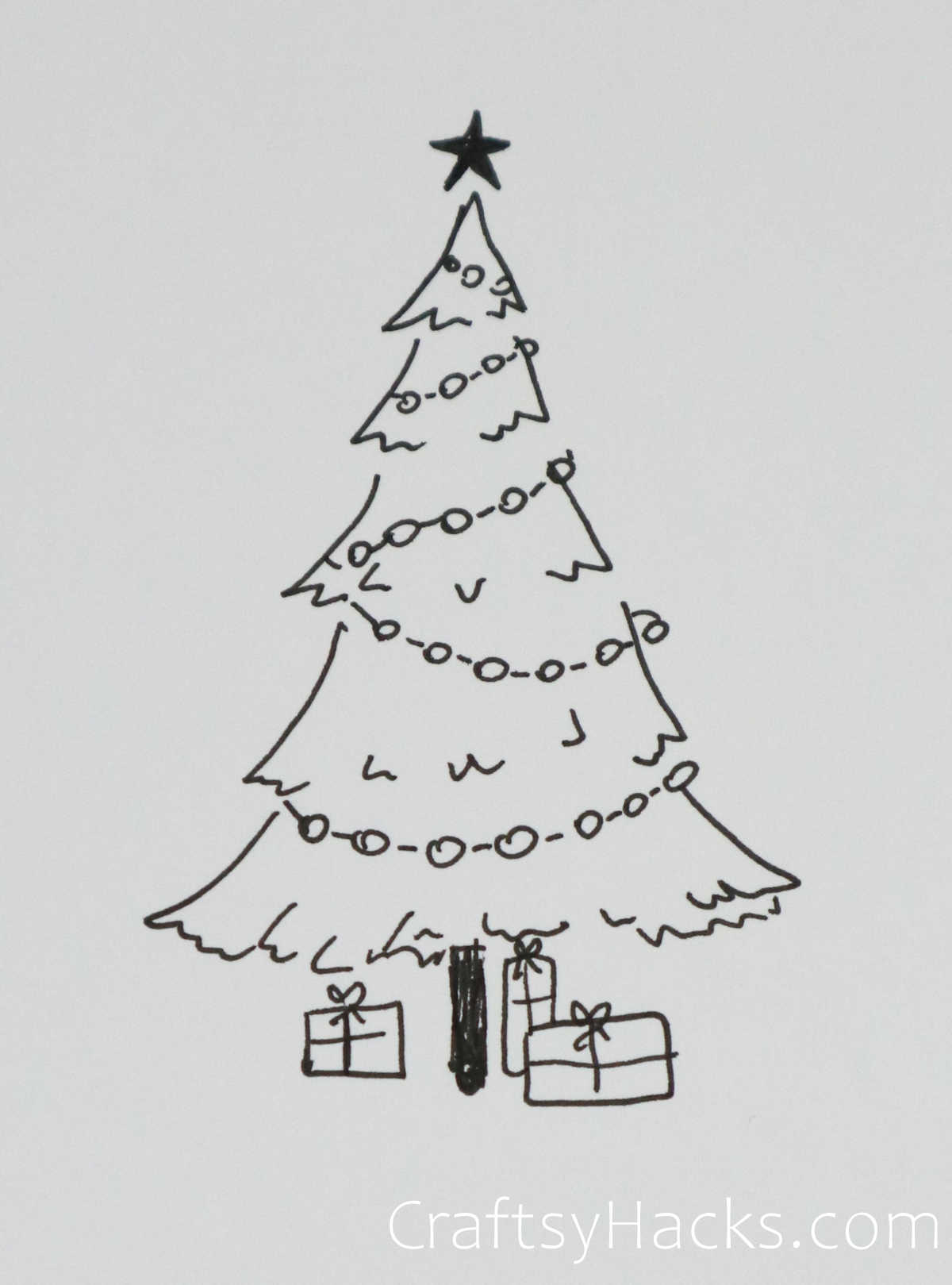 It's the most magical to see any tree quietly adorned with presents before the day's hustle and bustle begins–whether Christmas morning or before.
Keep it minimal, or go all out and make this tree cheery and colorful.
17. All Of The Reindeer Games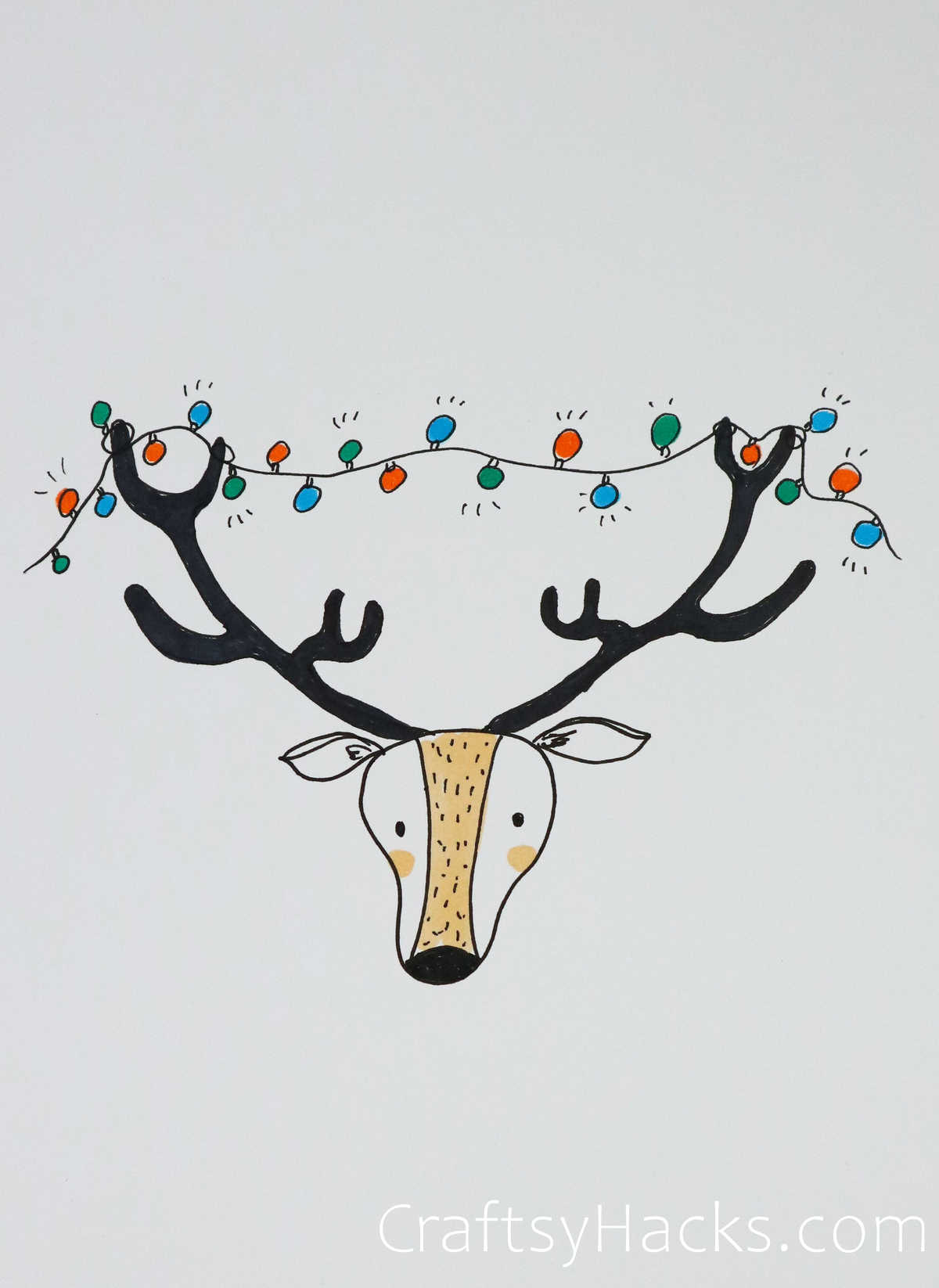 So, not all of the reindeer games may be present here, but you know this particular deer is festive and ready for anything!
The best thing about drawing a reindeer is that you can literally adorn or hang anything from their antlers–lights, stockings, ornaments, and so much more.
18. Poinsettia Christmas Greetings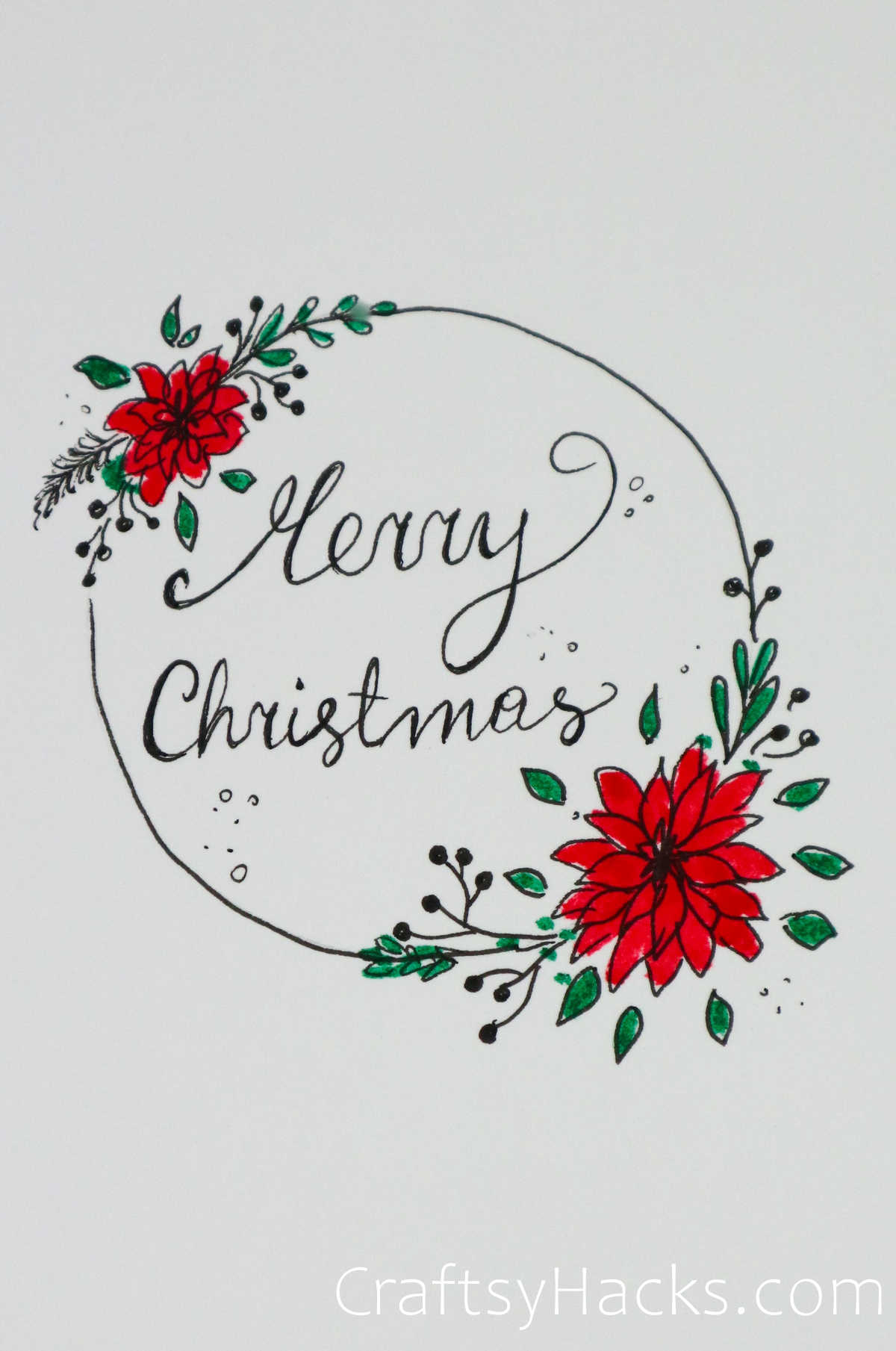 If you're a poinsettia lover like me, this drawing is perfect! Simple, elegant, and minimally customizable (the classic color options for poinsettias: creamy whites to pinks, and, of course, red).
Stick with the cursive or opt for any text that feels best.
19. Textured Christmas Trees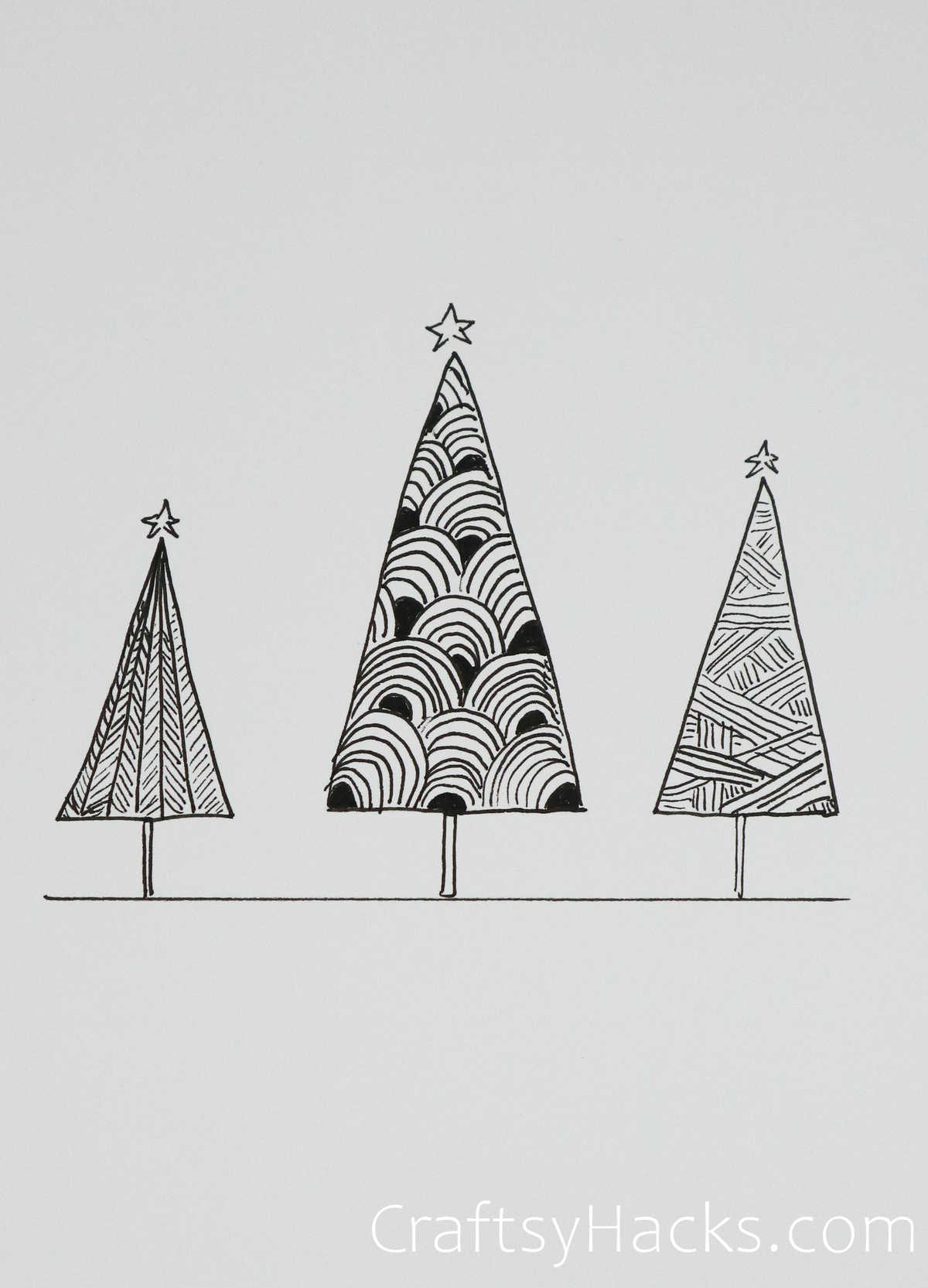 If you've been here for a while, you know I love a textured doodle or drawing because of its simple complexity to an otherwise pretty typical drawing.
The absolute best thing about these textured drawings is that whatever you feel like doing is completely fair game.
These drawings are always unique because no pattern or textures are exactly the same, which adds to the fun.
20. Vintage Christmas Ornaments Trio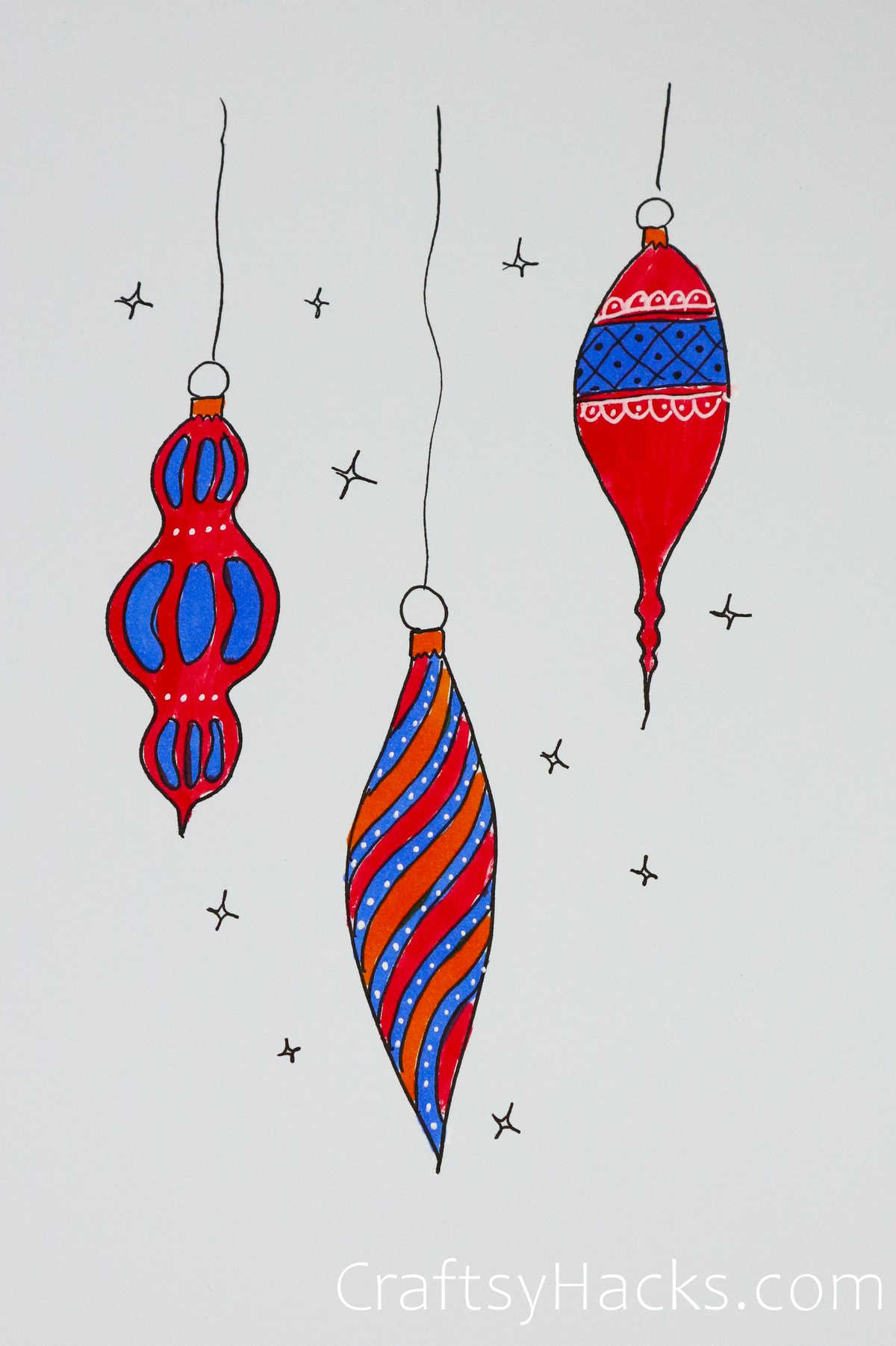 Vintage ornaments are so beautiful in person that this drawing tries its best to replicate the complexity of its real counterparts.
Drawing this picture casually while watching a favorite Christmas movie or special is fun.
Stick with a two-color scheme like me, or go all out. I think these would look beautiful with a watercolor pack like this one.
21. Bird Ready For Christmas
As we all know, most birds migrate for the colder seasons further south, but for the ones that stay, I imagine they'd all love a hat and scarf!
Add a whole family of birds in their smartest winter wares or a solo one like mine in your favorite colors.
22. Fun And Festive Wreath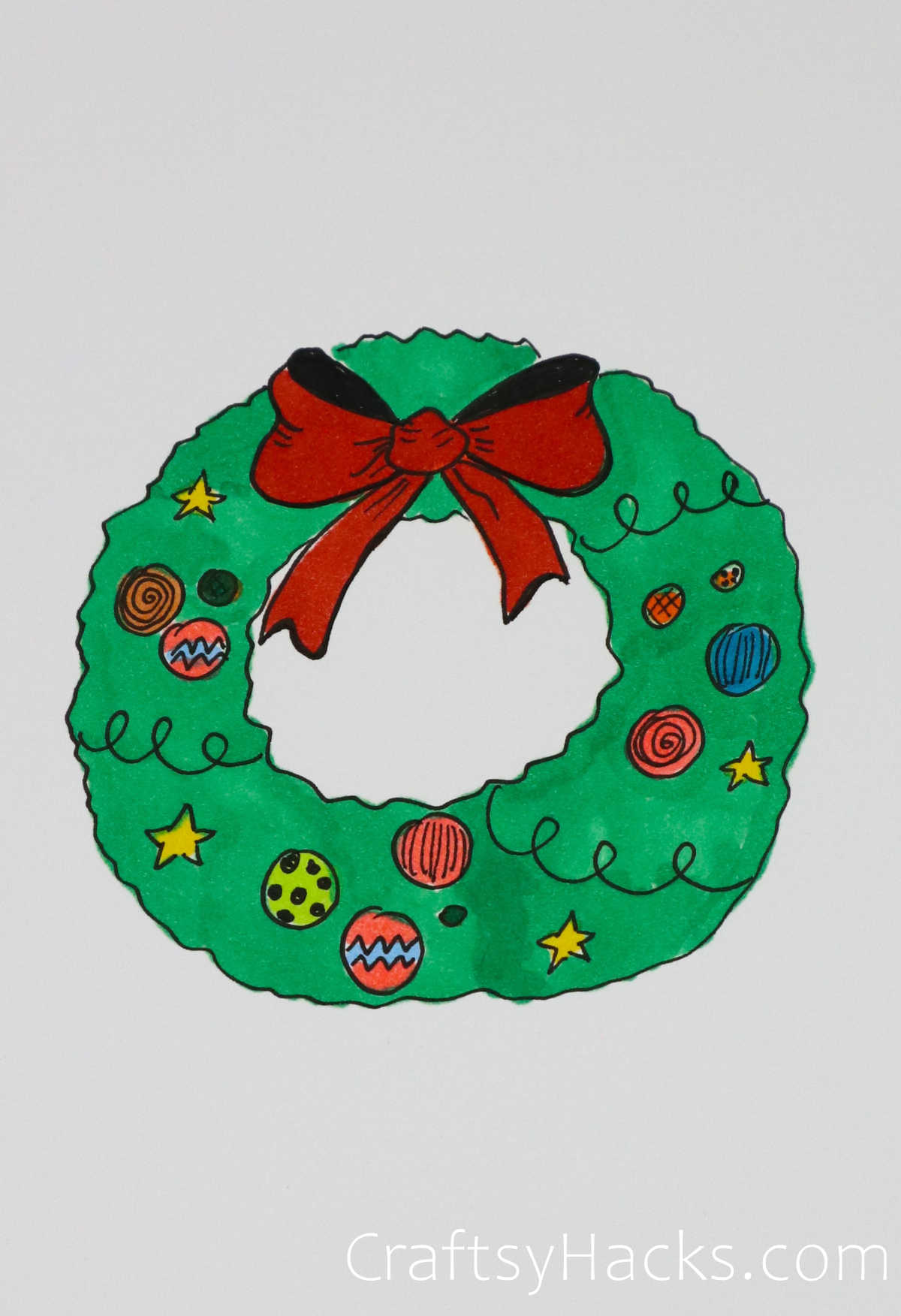 There's nothing better and no mistaking than a big color and festive Christmas wreath.
This drawing is great for anyone, and the decor can change depending on the artist–from toys to florals or classic ornaments; it all works.
23. Holly Berry Gathering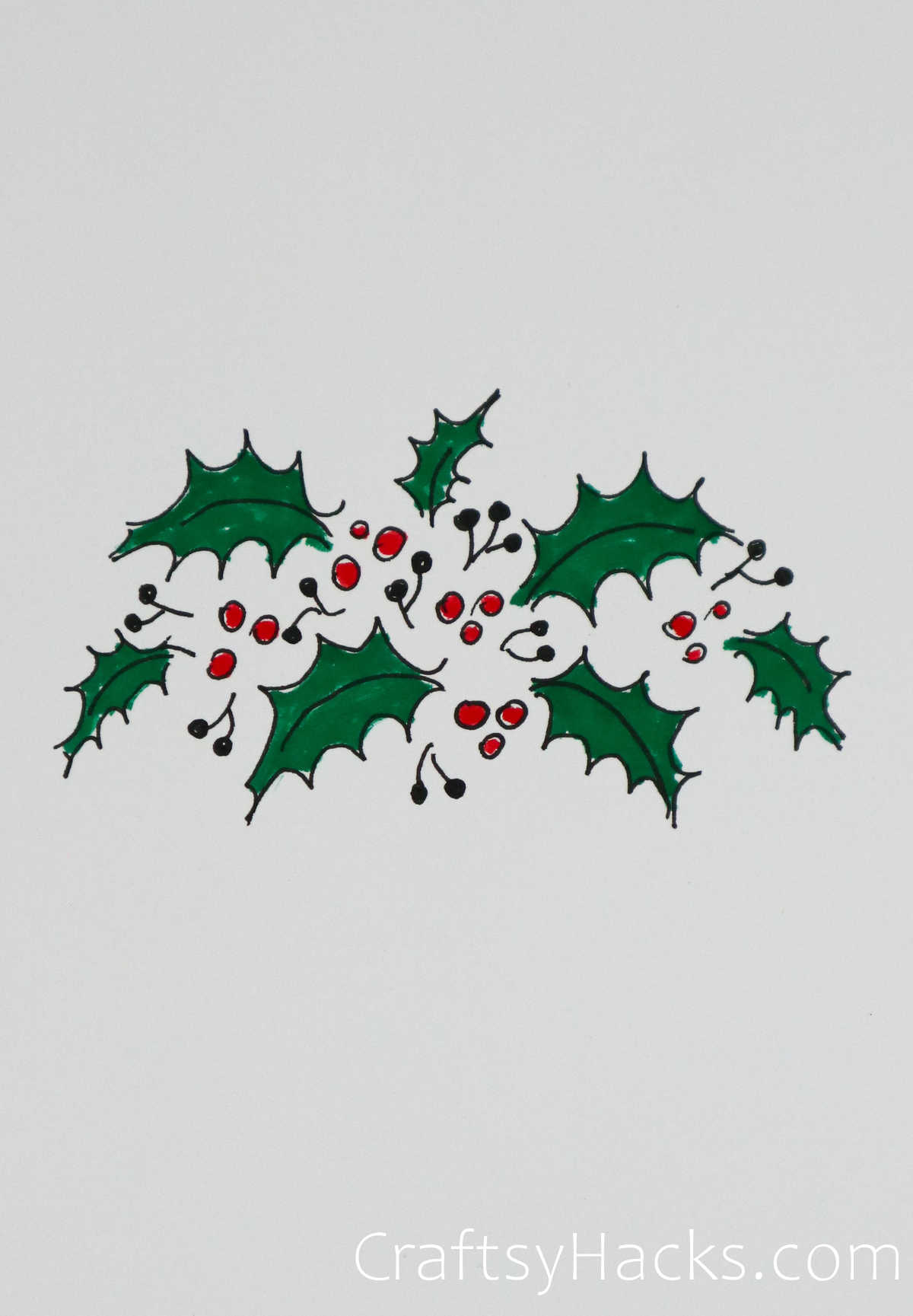 Minimally, Holly and its berries are among the most identifiable images of spirited Christmas imagery.
So, a negative space type of drawing works wonderfully–these greens could be from a wreath, bunting, or someone's tree. Still, we can all identify them easily.
24. Classic Knitted Stocking
Stockings are one of the cozier items of the season, whether for decoration or actual wearing while in the cold!
One of the best parts of drawing these stockings is coloring them unless specifically intended for a specific person–that way. They can color it in if they choose.
Add this to a scene that's missing something special, or draw an oversized one with younger artists.
25. Gingerbread Cookie Love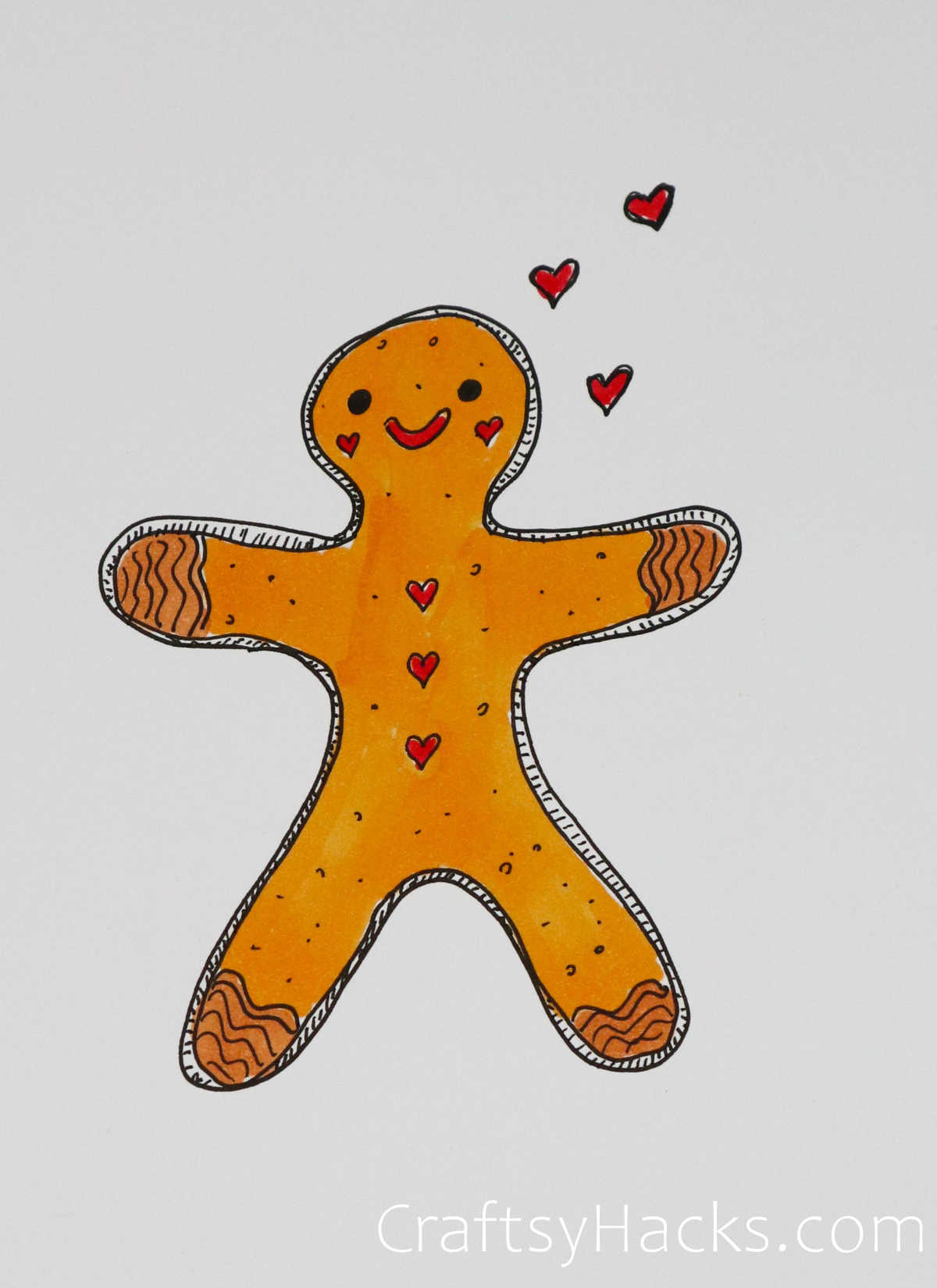 Gingerbread cookies are an iconic part of the Christmas dessert scene, so there's no way these little guys wouldn't be included!
As we all know, decoration possibilities are endless, so take some liberties with your cookie drawings.
If a kid is working on a gingerbread and needs a skinny black or other color marker, grab this pack for all your cookie-making needs!
26. Fern Wreath Christmas Wishes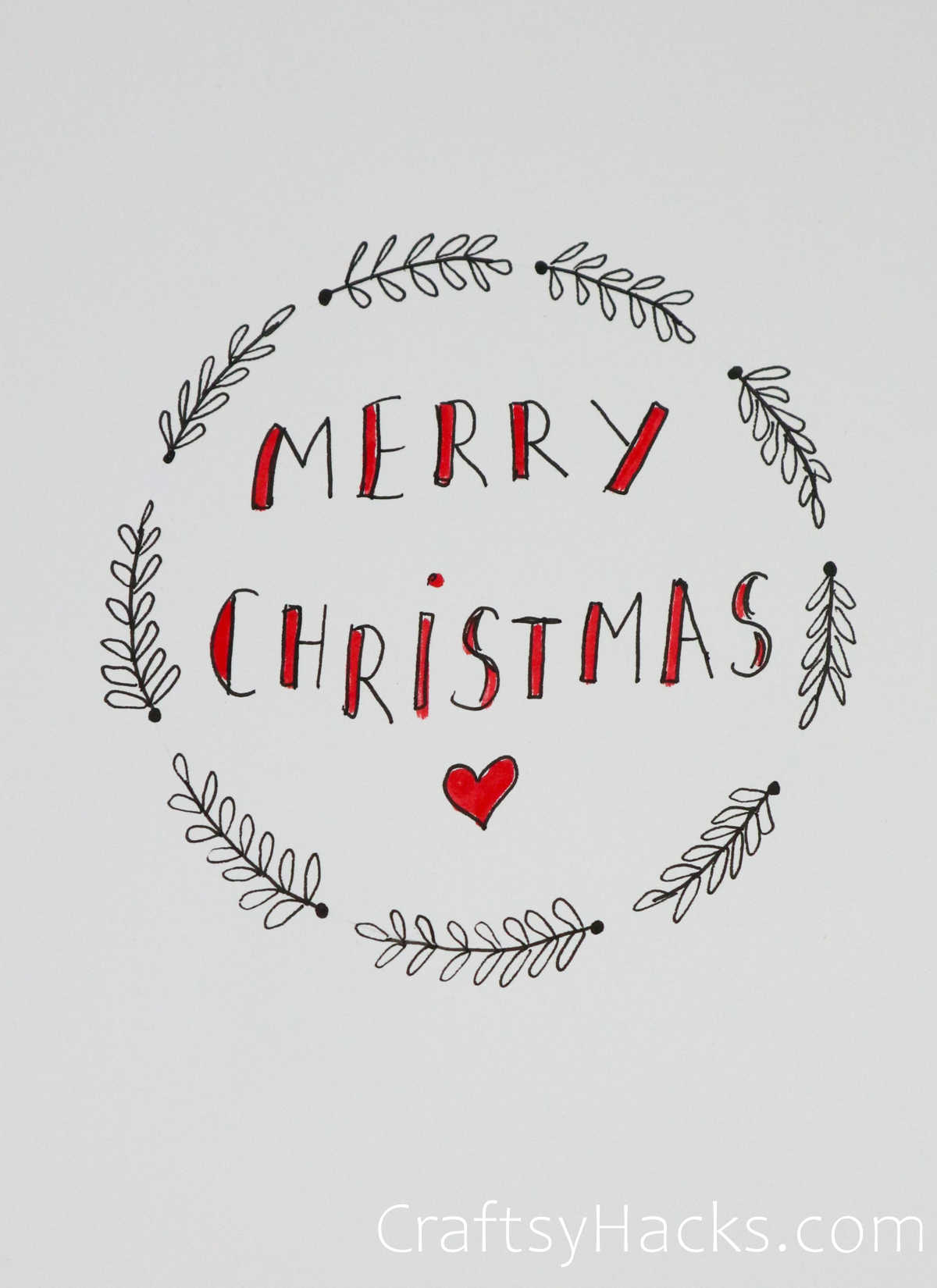 Vegetale greens like ferns, dogwood twigs, and more refresh the Christmas season. So, this fern-inspired wreath helps evoke the same type of feeling.
In fact, you could add multiple rows or pieces hanging downward to have that green-thumb feeling during all of your holiday parties.
27. Frosty The Snowman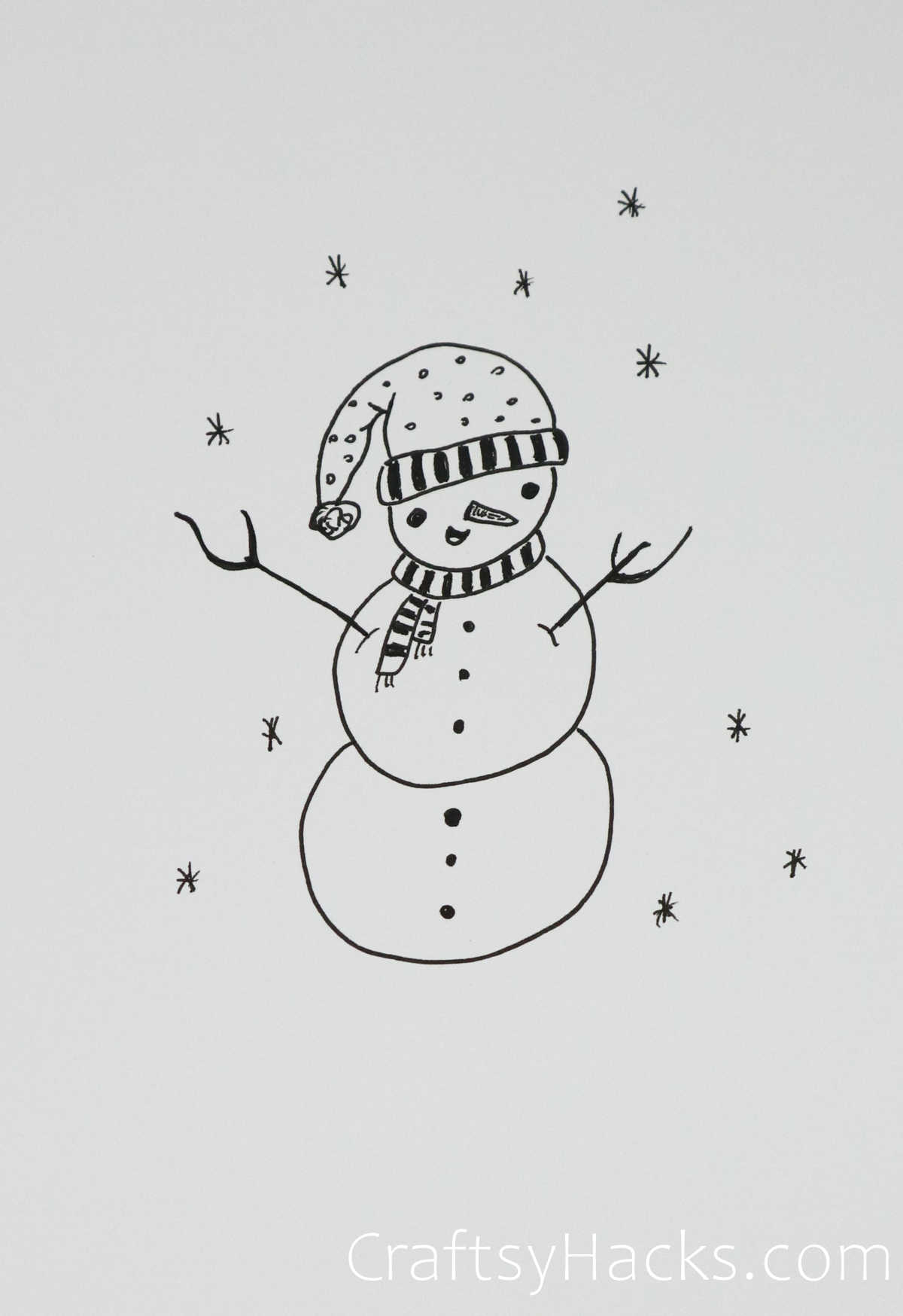 We all know there would be a snowman on this list–beyond Santa, a snowman, and specifically Frosty the Snowman is one of the main Christmas characters, in my opinion.
Dress up your snowmen or people in whatever fashions you love; that is, after all, the best part of building a snowman.
28. Snowflake Ornament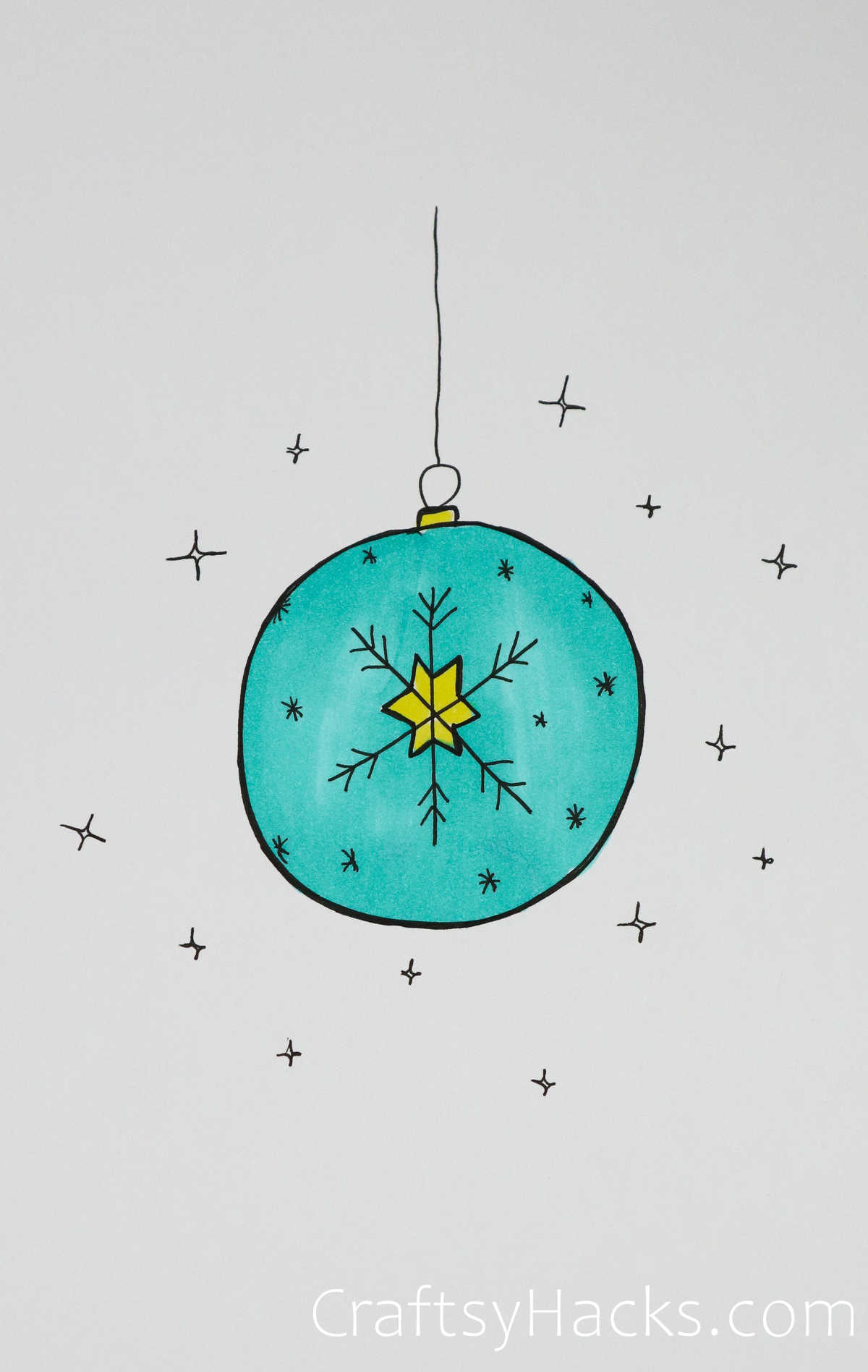 A single ornament is a great and easy drawing to work on for anyone–how you decorate the piece can vary from artist to artist. Any shape, size, or color works perfectly here!
Grab this fabulous glitter glue here if you want to make yours shine.
29. Christmas Bells Are Ringing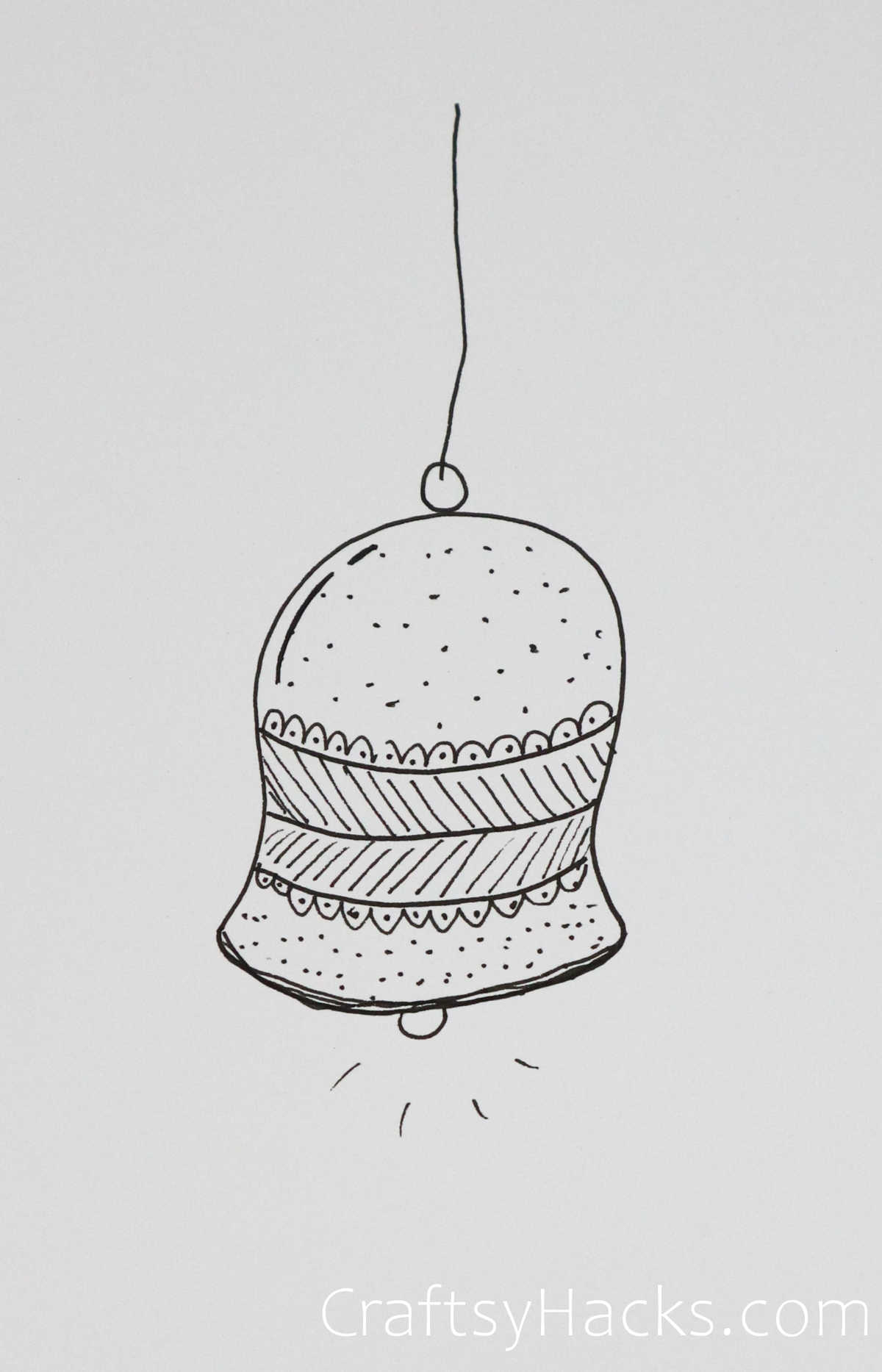 We've talked about texture and bells, and the best way to re-invent a classic image is to add a little pattern to the mix. Therefore, this beautiful bell was born.
Add a whole row to get extra cheerful, or color this one to add to the magic.
30. Holly Christmas Display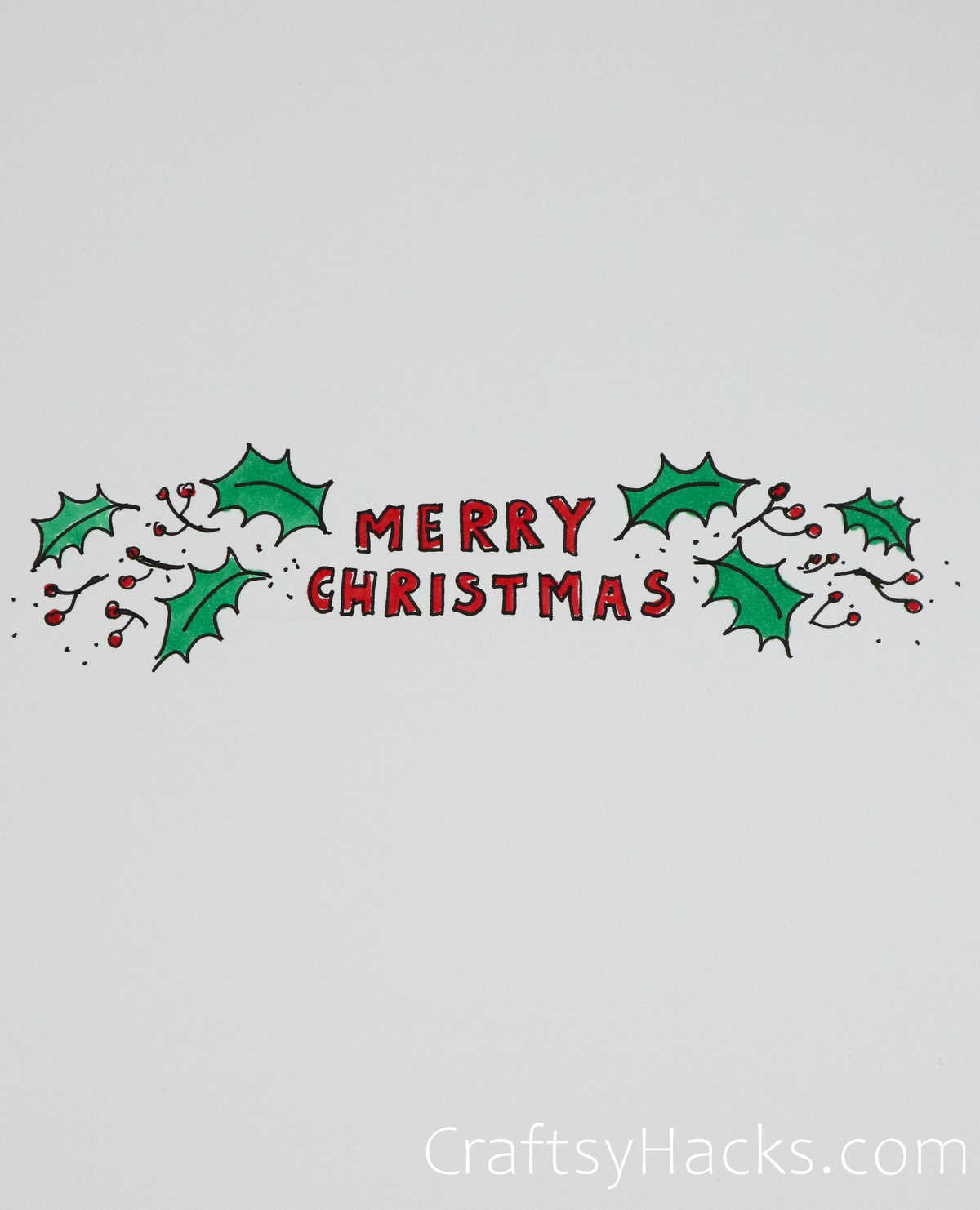 This drawing is probably the simplest item on the list today and gets the message across perfectly. Sometimes, less is truly better.
If you're feeling creative, add some different colors to the text or holly.
31. Santa And His Reindeer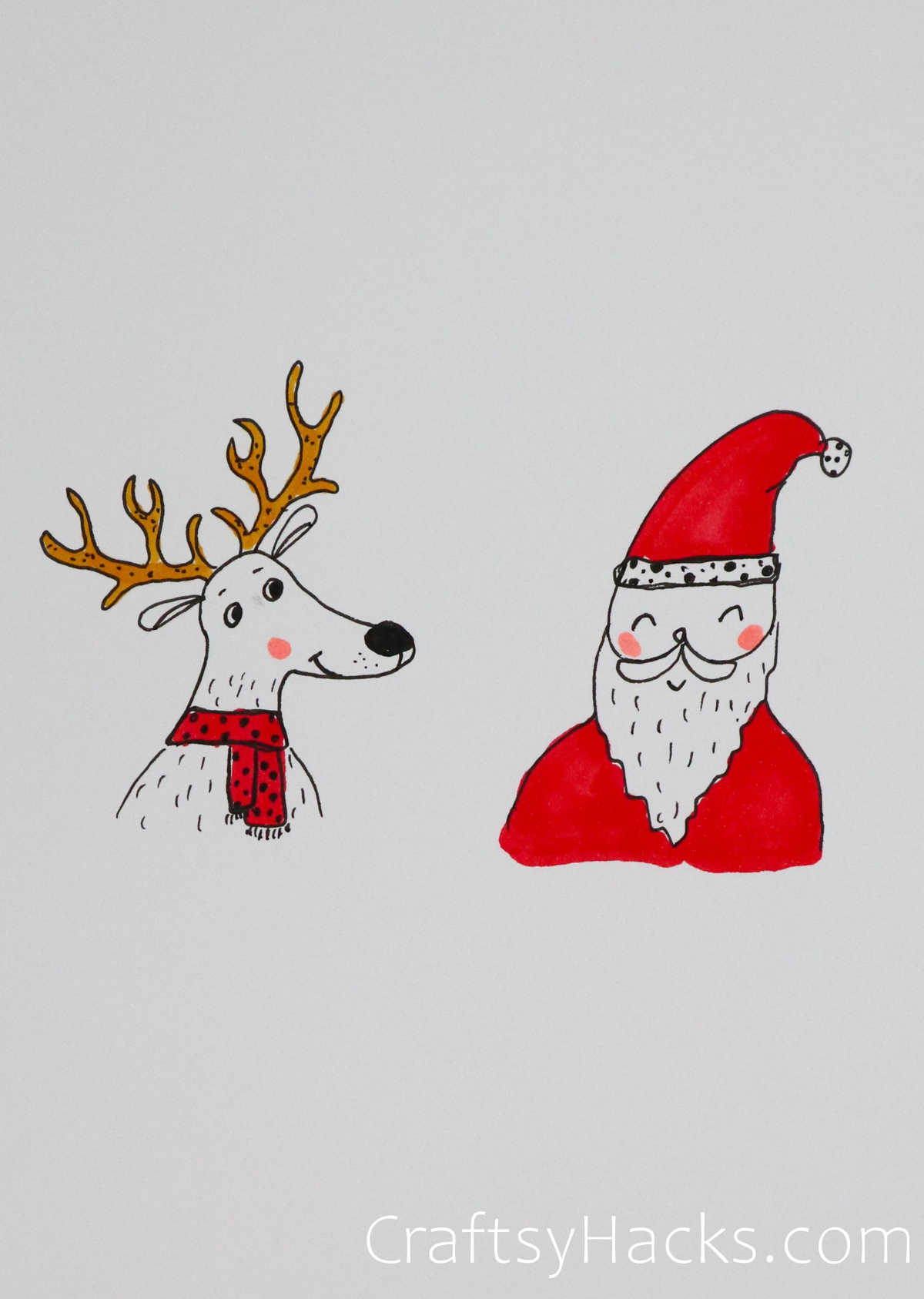 The big red man and his trusty reindeer are the mainstays of the holiday we know today and for a good reason! So, it's no surprise that the dynamic duo appear together on this post.
Feel free to accessorize either with anything of your choosing!
32. Nature Christmas Display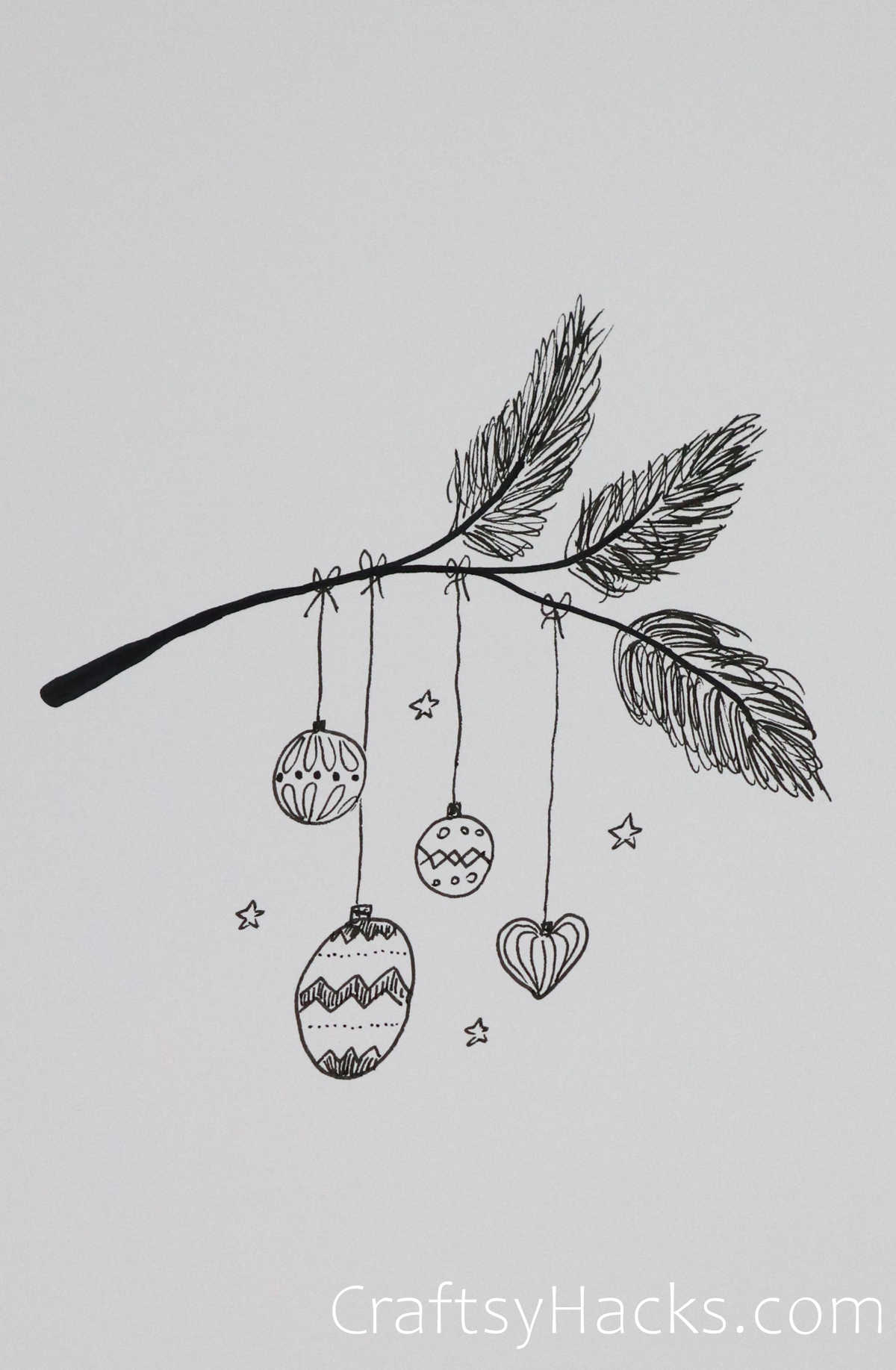 A variation on the winter nature scene above–Christmas intertwined with the natural environment surrounding the season is a great option for any drawing.
A tree branch is a perfect vehicle for any decoration that gives a nod to Christmas.
A singular item or an array of different items all look darling.
33. Vegetable Christmas Wreath Wishes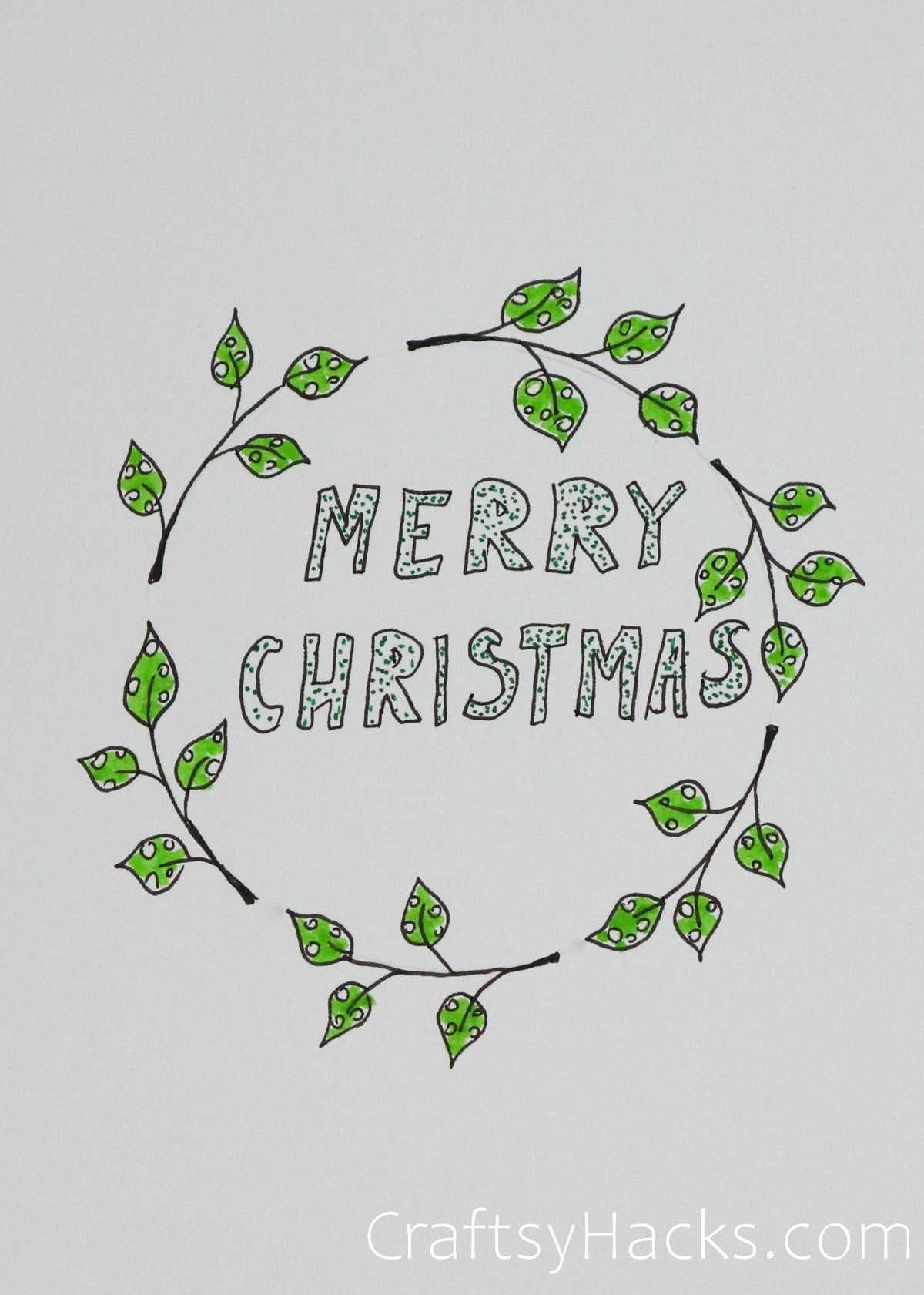 As you can see, there are plenty of options to choose from for Christmas Wreath drawings. Any of them are easily made into a piece of decor.
One of the easiest ways to turn this drawing into decor is by grabbing this canvas and rescaling it to fit appropriately.
This craft is a great lowkey holiday idea; grab your friends and share these wreath ideas, and have a paint-and-sip night!
34. Unique Snowflake Trio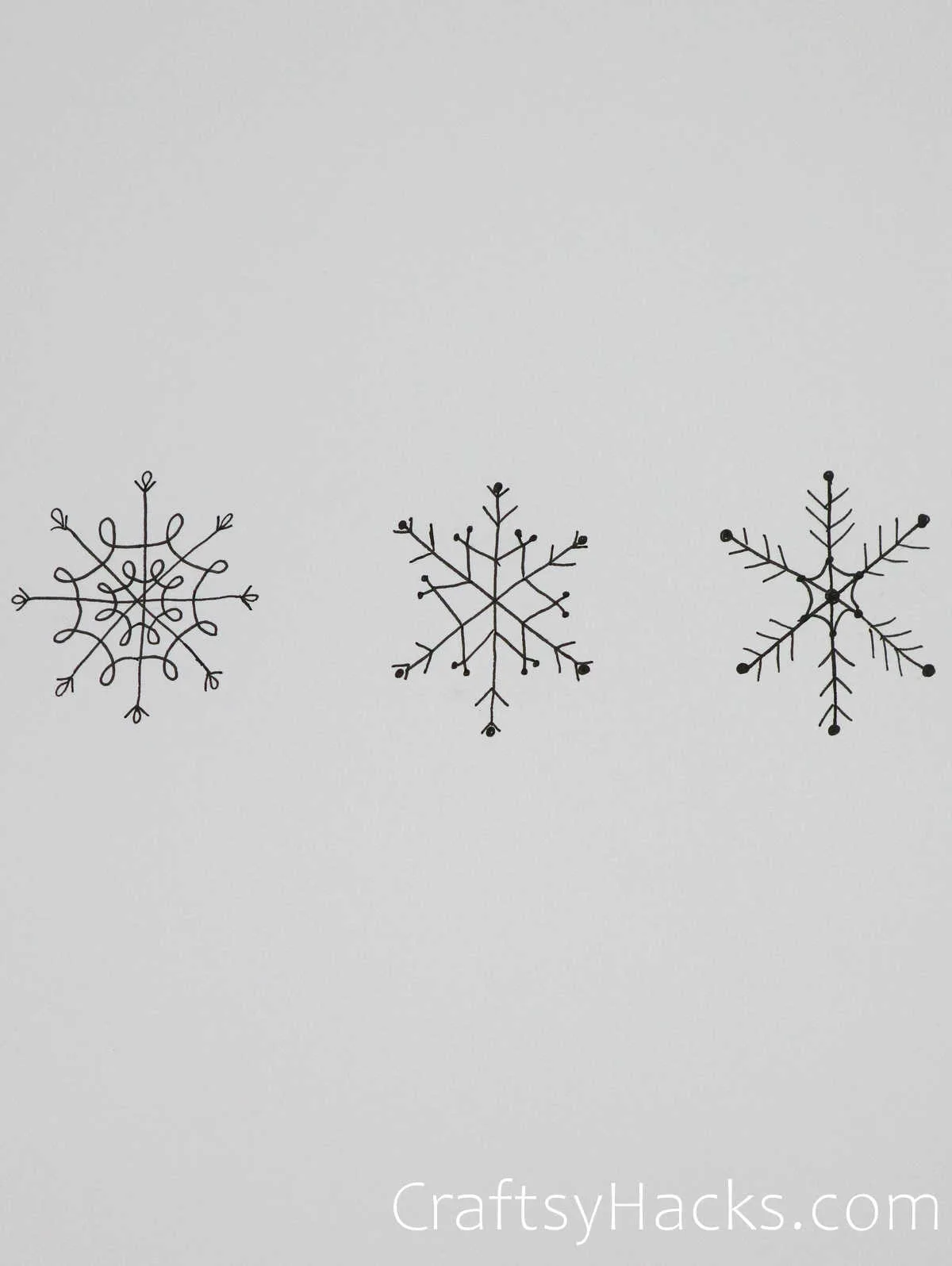 We all dream of a white Christmas, depending on what part of the world we live in, but snowflakes are undeniably beautiful!
A simple trio of flakes looks darling and elegant in any application, whether on clothing, craft, or even on your morning coffee.
A good tip to give these flurries your special touch is to pay attention to the designs before you start. Go with your gut in design–it reflects who you are as an artist.
35. Natural Christmas Wishes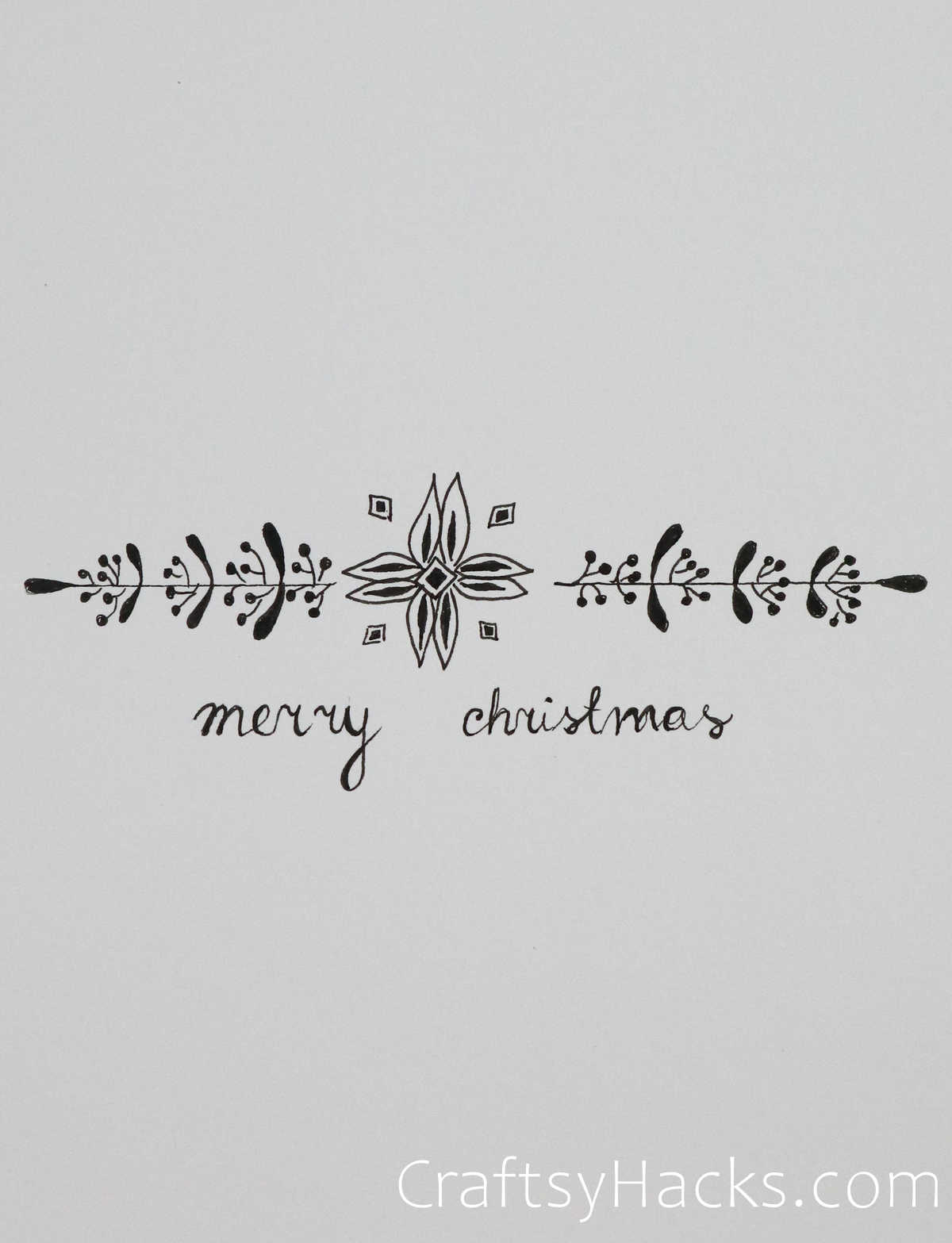 I find little detailed moments like this extra festive, whether handmade or printed onto something you buy in-store.
A great idea for this is to design your own and send it here to make your holiday stamp!
Personalization and price may vary depending on the time of the year and vendor.
36. Holiday Bells And Blooms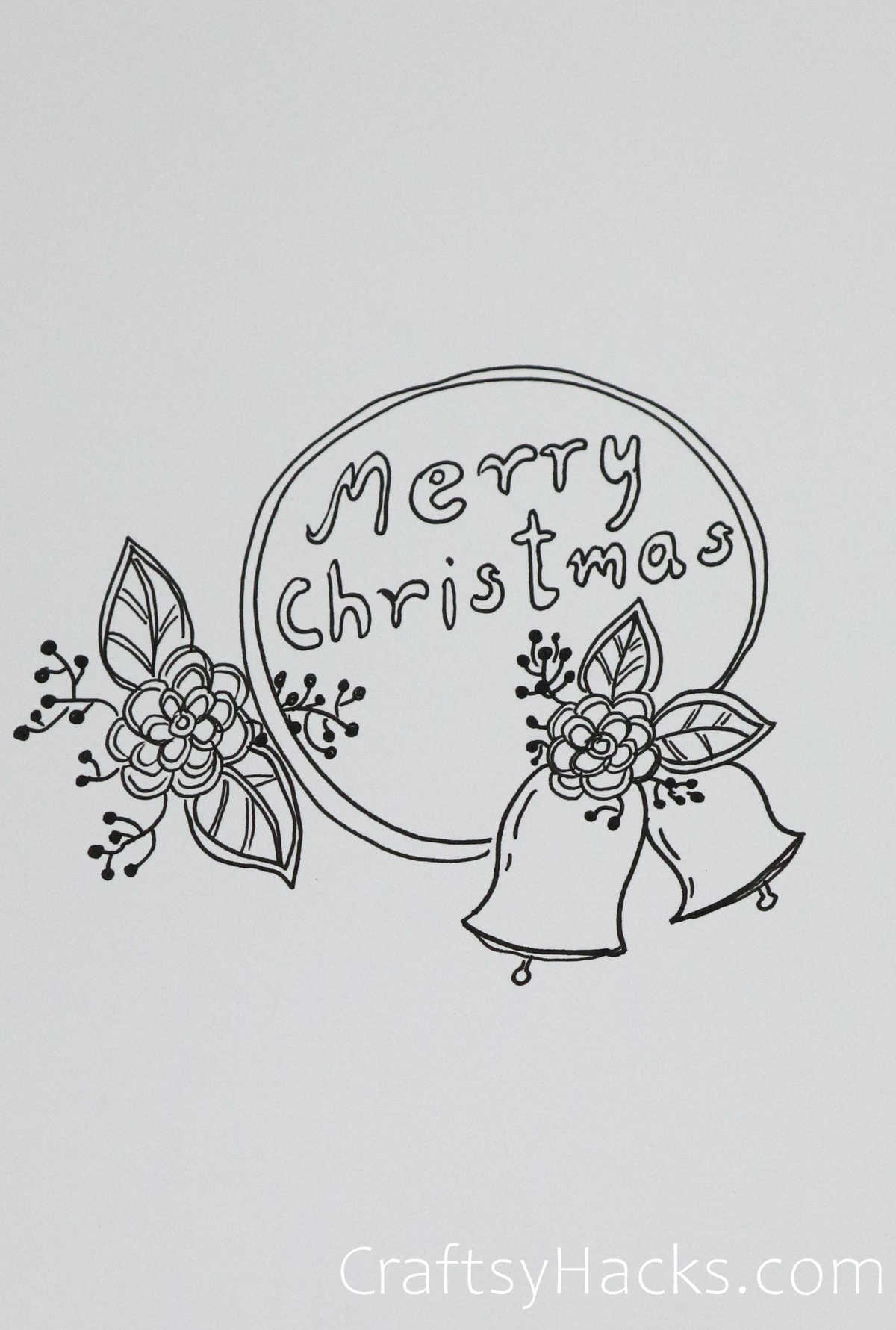 Bells and flowers are vintage and wholesome imagery you could share with your guests.
Whether you have these as homemade cards, on name tags for a special dinner, or turning into an ornament on your tree, it's a darling addition to your Christmas season.
37. Patterned Ornament Trio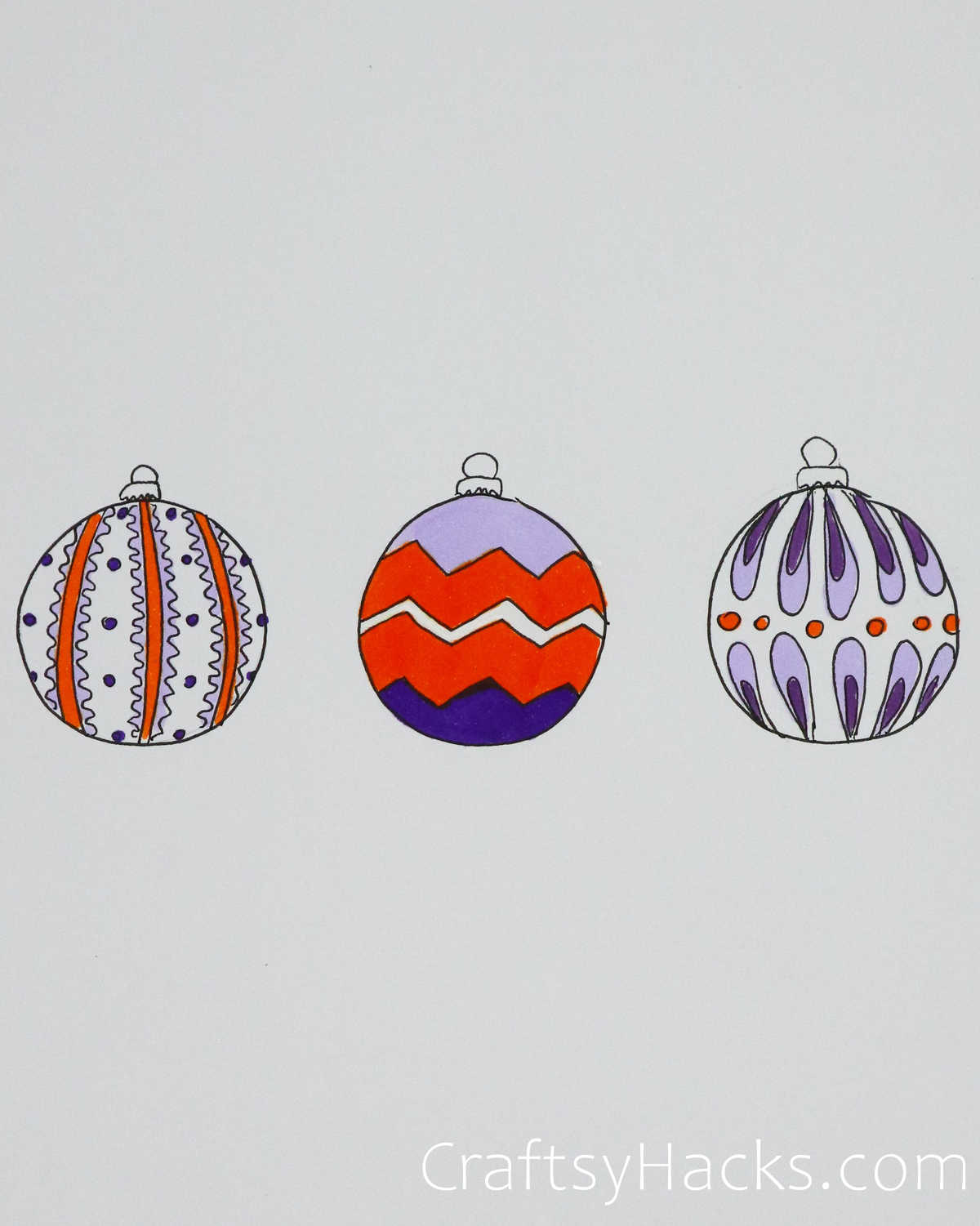 Trio imagery is always a smart choice when drawing or gifting something special to someone. Aesthetically, it serves the eye well–regardless of shape or size.
There's a lot of play and movement you can choose here. Different shape bulbs with minimalist patterns or similar shapes with vastly different schemes like the one above all work.
38. Wheat Wreath Christmas Wreath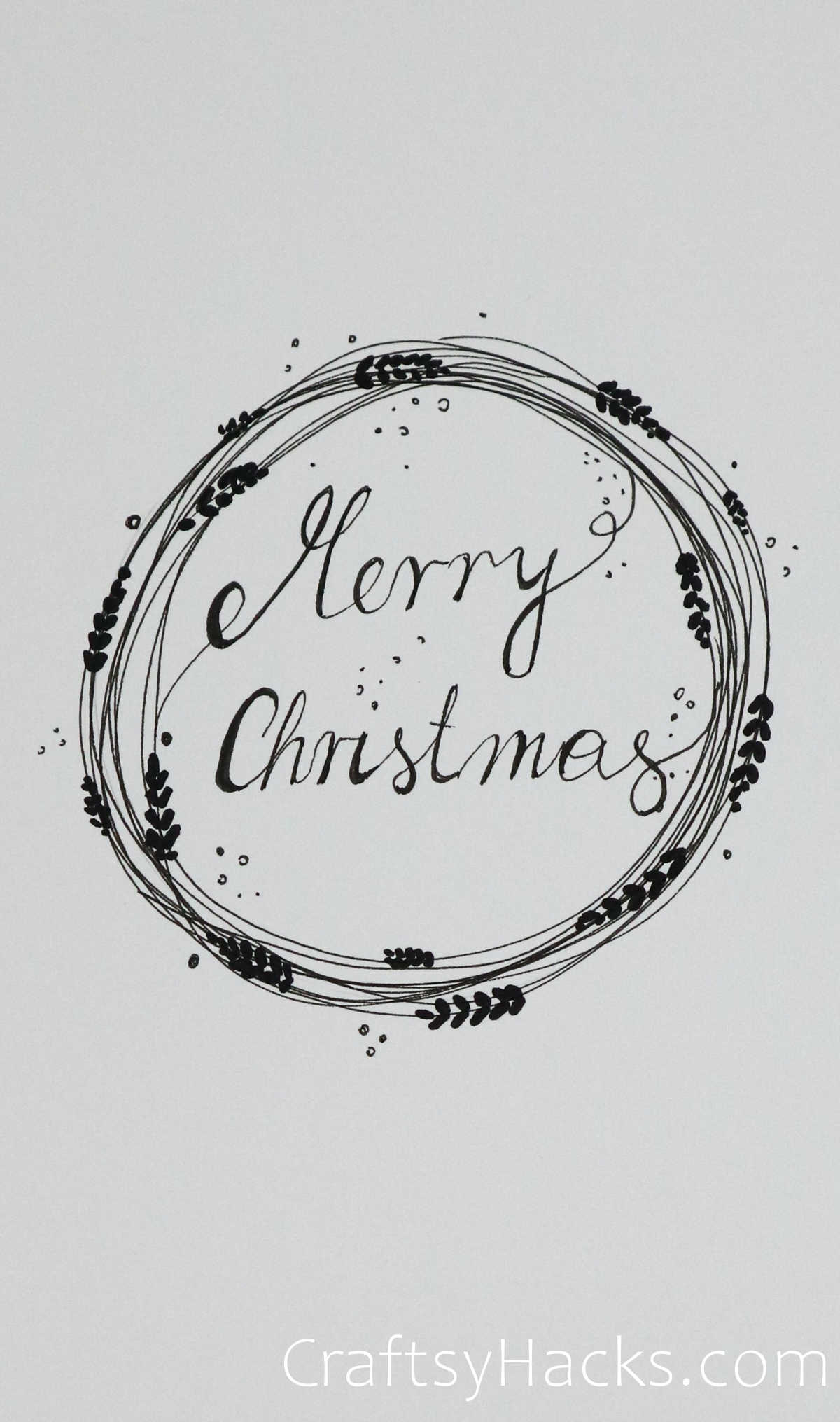 Add this to the nature-loving drawers category. I love this idea because of its stately elegance and how it feels snowy without being outside or touching snow.
If you love this but want to add just a touch of color, I recommend the dotted detailing. That way, there's a pop of color without overpowering the whole feel.
39. Ho Ho Ho Vintage Santa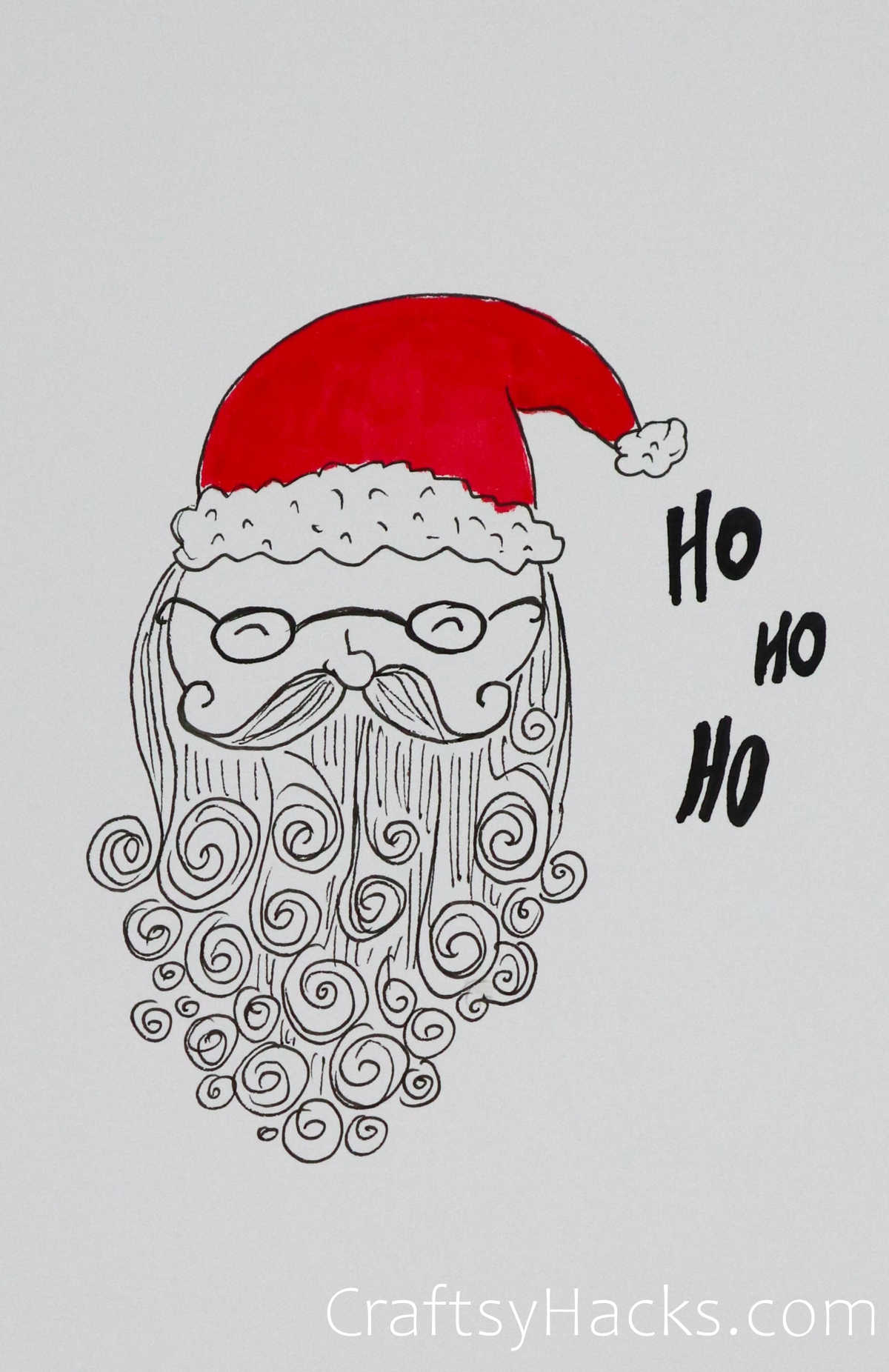 To kids, Santa is (almost) everything to them during the Christmas season, so a big, fun, curly-haired beard one is a great option to do as a family.
You could even make his beard a fun texture; grab these white pipe cleaners for a 3D fuzzy beard experience.
40. Acorn Ornament Trio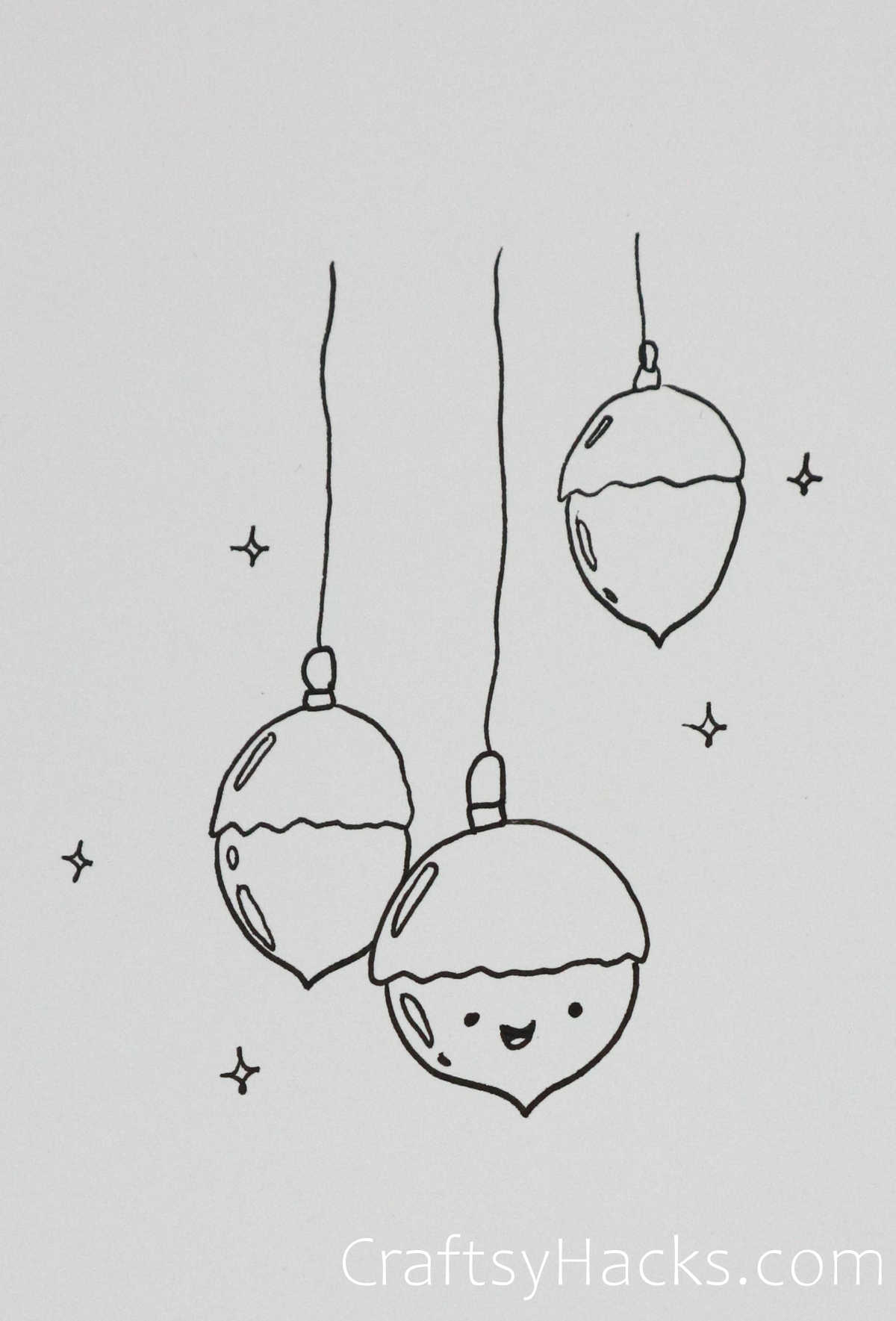 These acorn ornaments are ideal if you're looking for a whimsical and a little off-the-beaten track. Add color or fun, unexpected medium like this washi tape to the caps.
Add these to reindeer antlers or a festive anchor line if you want to get extra whimsical with these nuts!
41. Vintage Holly And Bell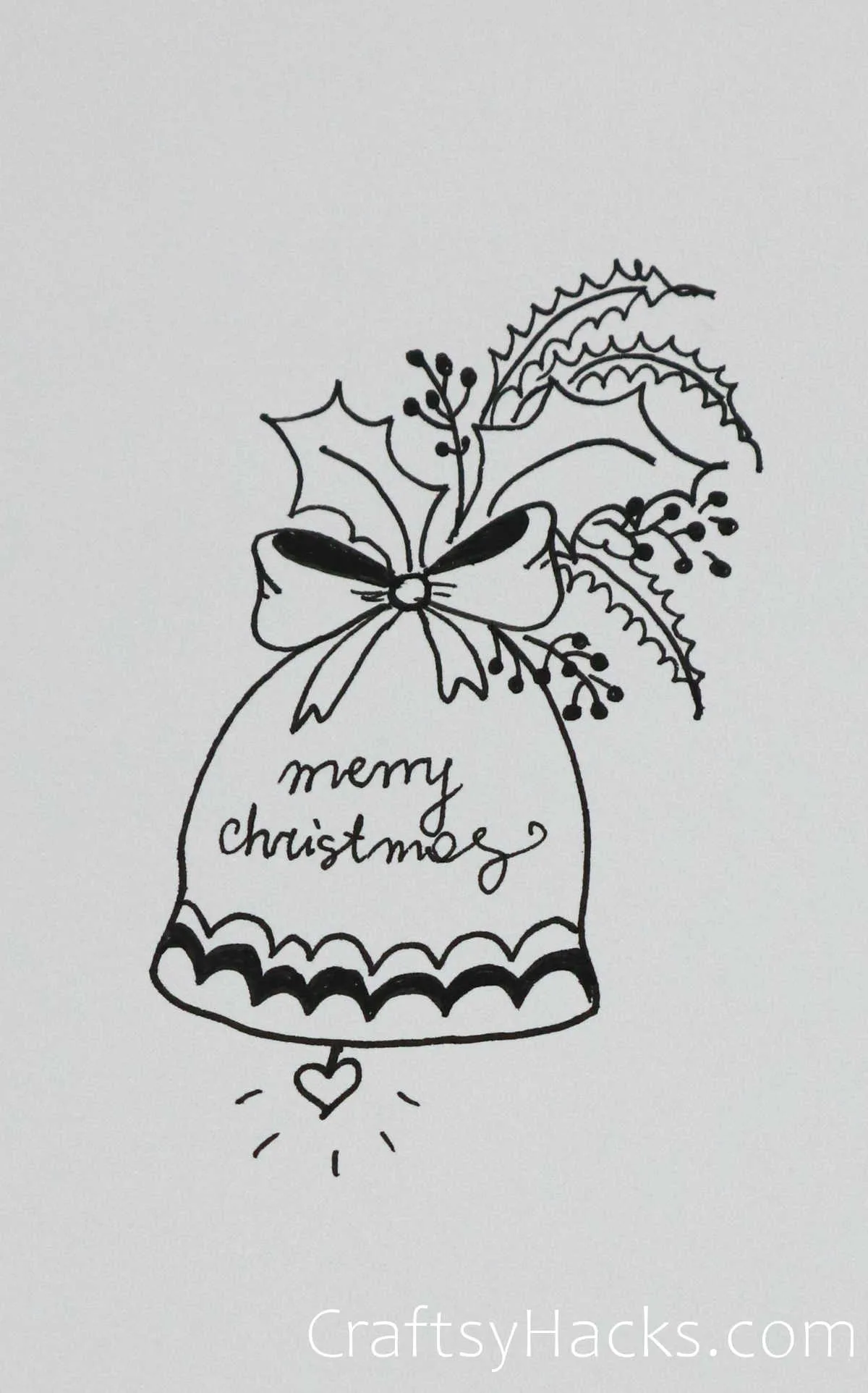 Bells are versatile and generally easy for any artist to pull off.
The best part, though, is that you can decorate them however you like, and most of them are big enough to naturally house a message on their body.
This bell would look lovely with a nice coat of watercolors or even colored pencils like these.
42. Seasons Greetings Christmas Card
Christmas or holiday cards are possibly one of my personal favorite traditions of the season. Hence, a drawing of it gives me that same feeling of wholesomeness when I receive a real one.
Like many drawing ideas, the card is completely up to you to design! Of course, feel free to draw mine directly, but whatever you choose will be charming and jolly.
This is one of the most cute drawing ideas for the holiday season!
43. Christmas Horseshoe Wreath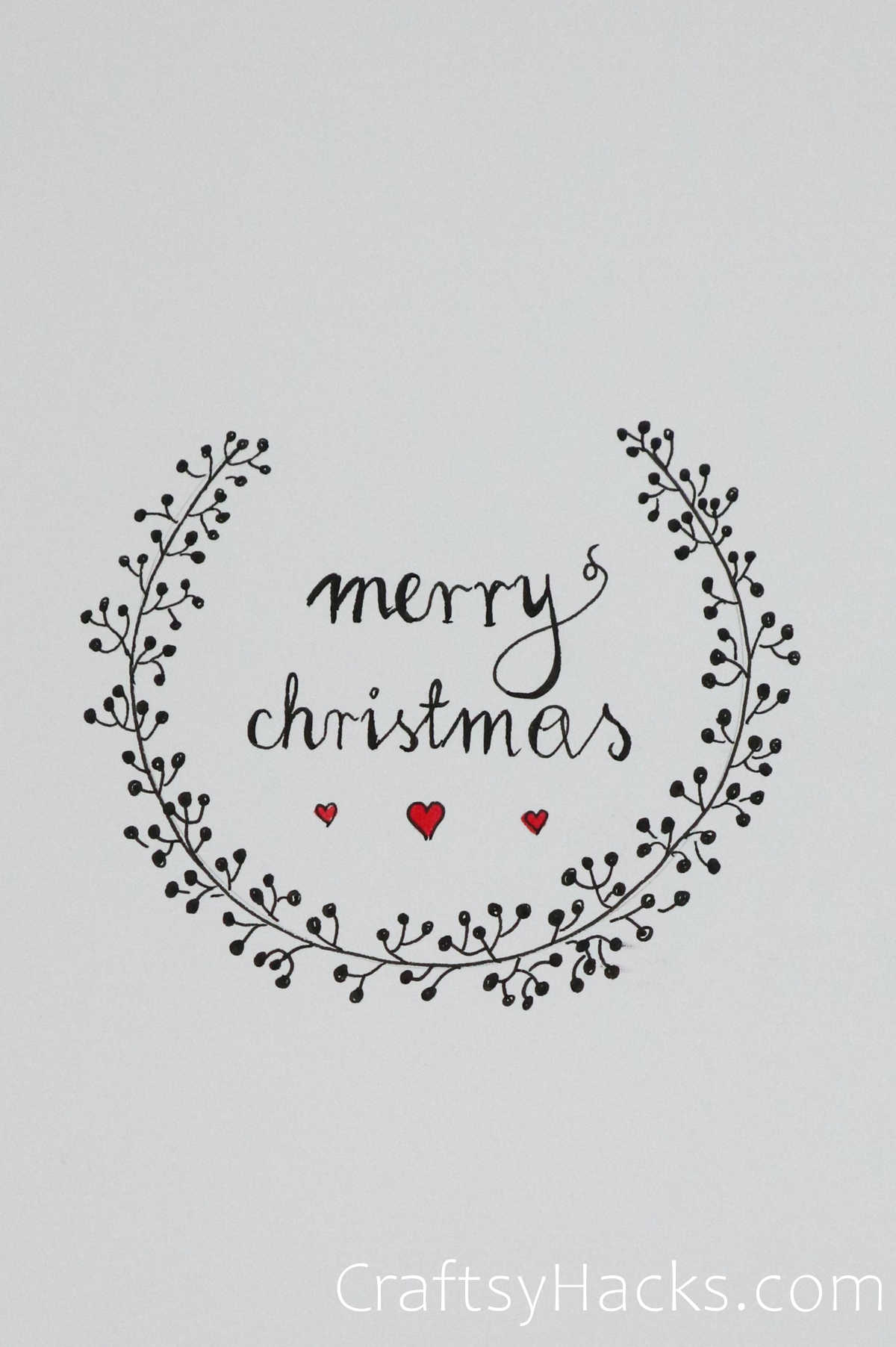 A gun take on a wreath for the holiday is a cute horseshoe type of bunting. It breaks up the image fresh and lets the eye naturally take in the whole image instead of the text or the wreath itself.
The horseshoe shape can easily take on any type of greenery or message within its ring, so feel free to play around with the design.
44. Patterned Christmas Tree Trio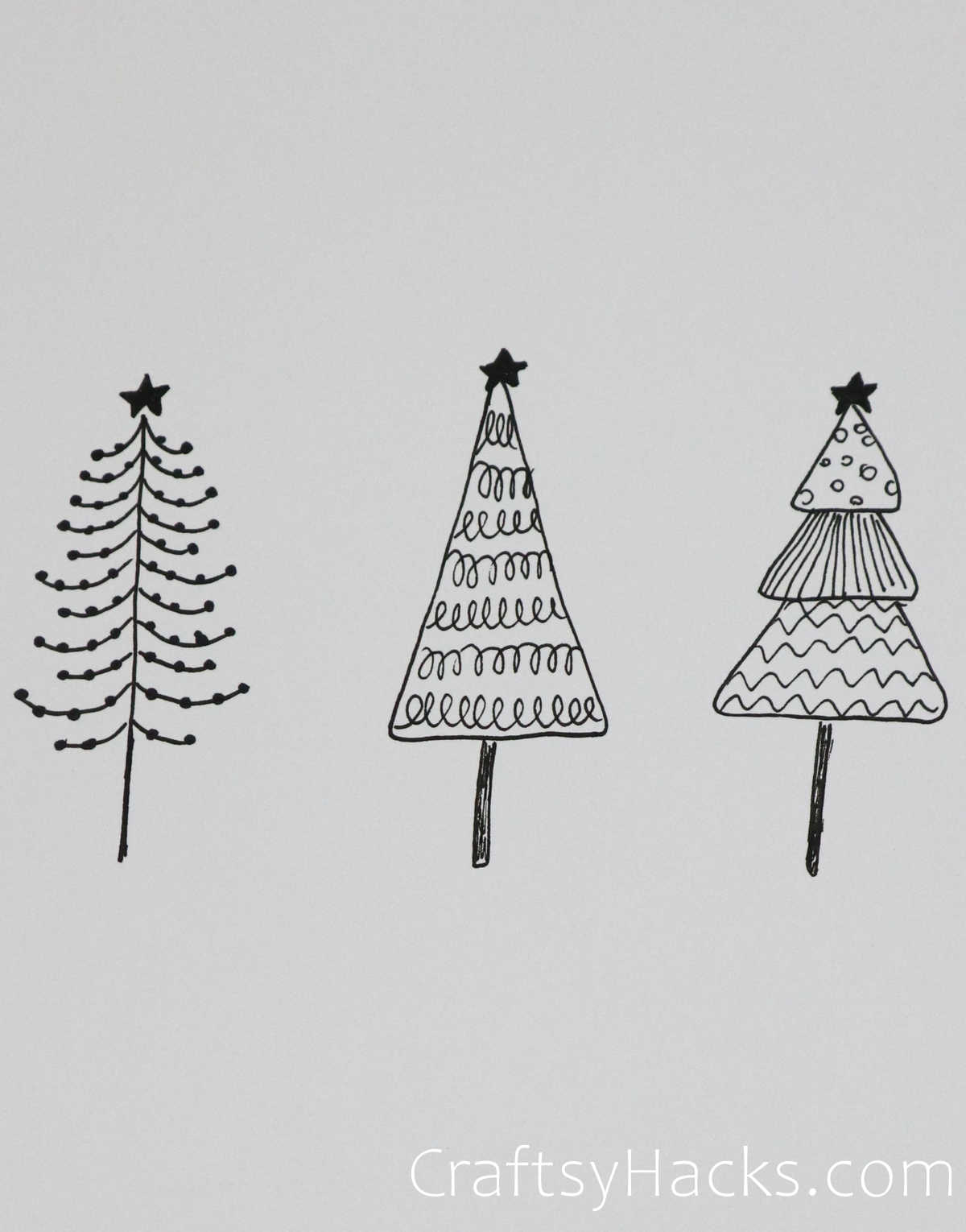 Compared to the natural texture trees, these three feel more like home Christmas trees with the intentional patterns and textures within each limb.
Pops of color here will make these trees even more vibrant when done evenly across each frame.
Change the count of the scene–one large texture tree to many various-sized trees would all look wonderful.
45. Star Of The Show Christmas Cookie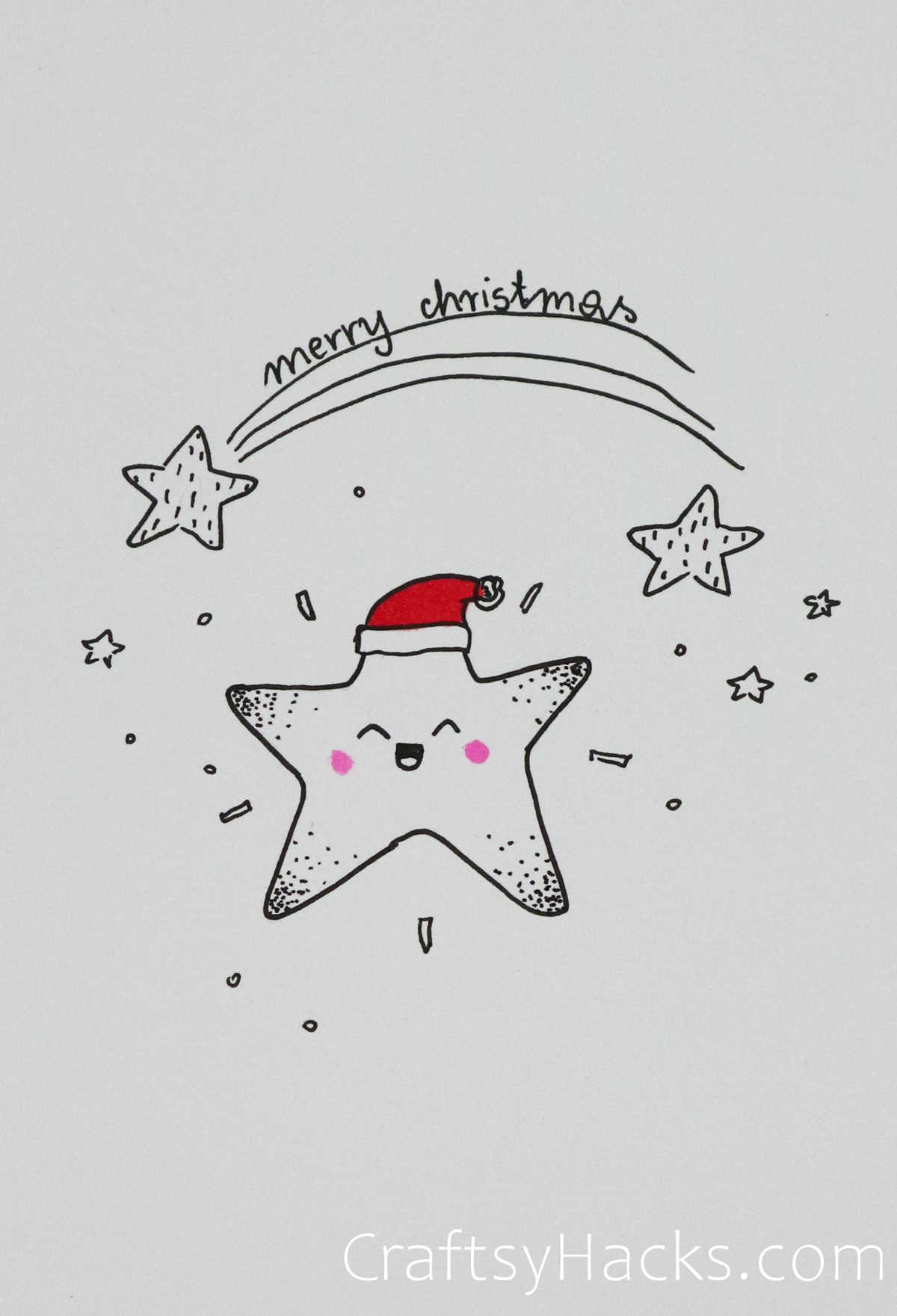 We've barely touched on cookies other than the classic gingerbread. Sugar cookies are seemingly everywhere, from parties to the grocery store, and most often a star cookie.
Naturally, like its real-life counterpart, decorate your cookie or cookies to your heart's content!
There's no bad sugar cookie result either, and the same goes for these cuties, whether it's a pattern or one with a face.
46. Winter Scene Snow Globe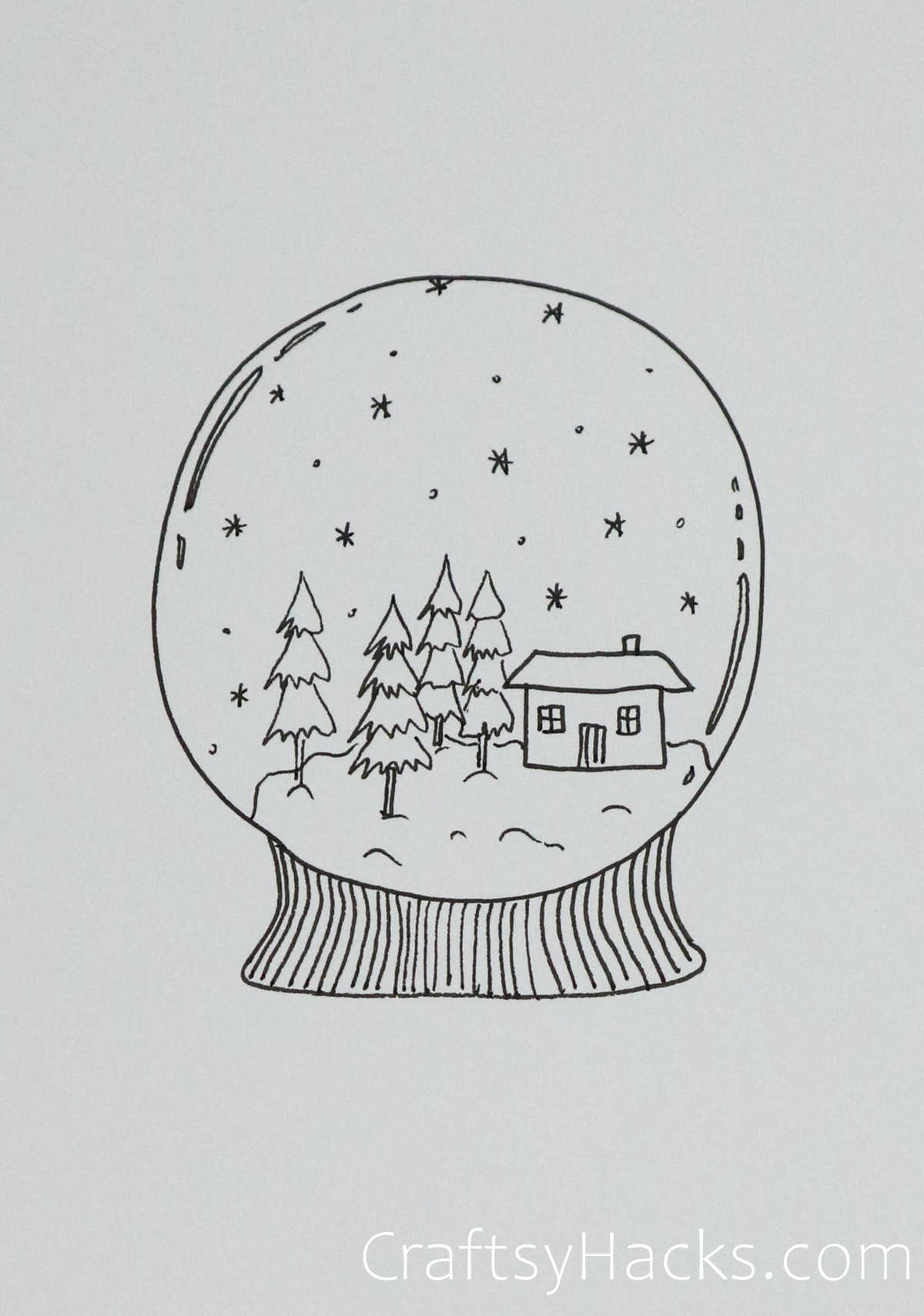 Maybe the Christmas item that holds the most wonder, this winter-themed snow globe, is a perfect drawing to add to your Christmas time.
Beautiful in any context, regular drawing, on a card, or a coffee mug, the stillness of the globe captures what the season is all about.
Are you looking to add color? My brain immediately skips to watercolor, but maybe something light with a sprinkling or outlining of glitter?
47. Christmas Light Bunting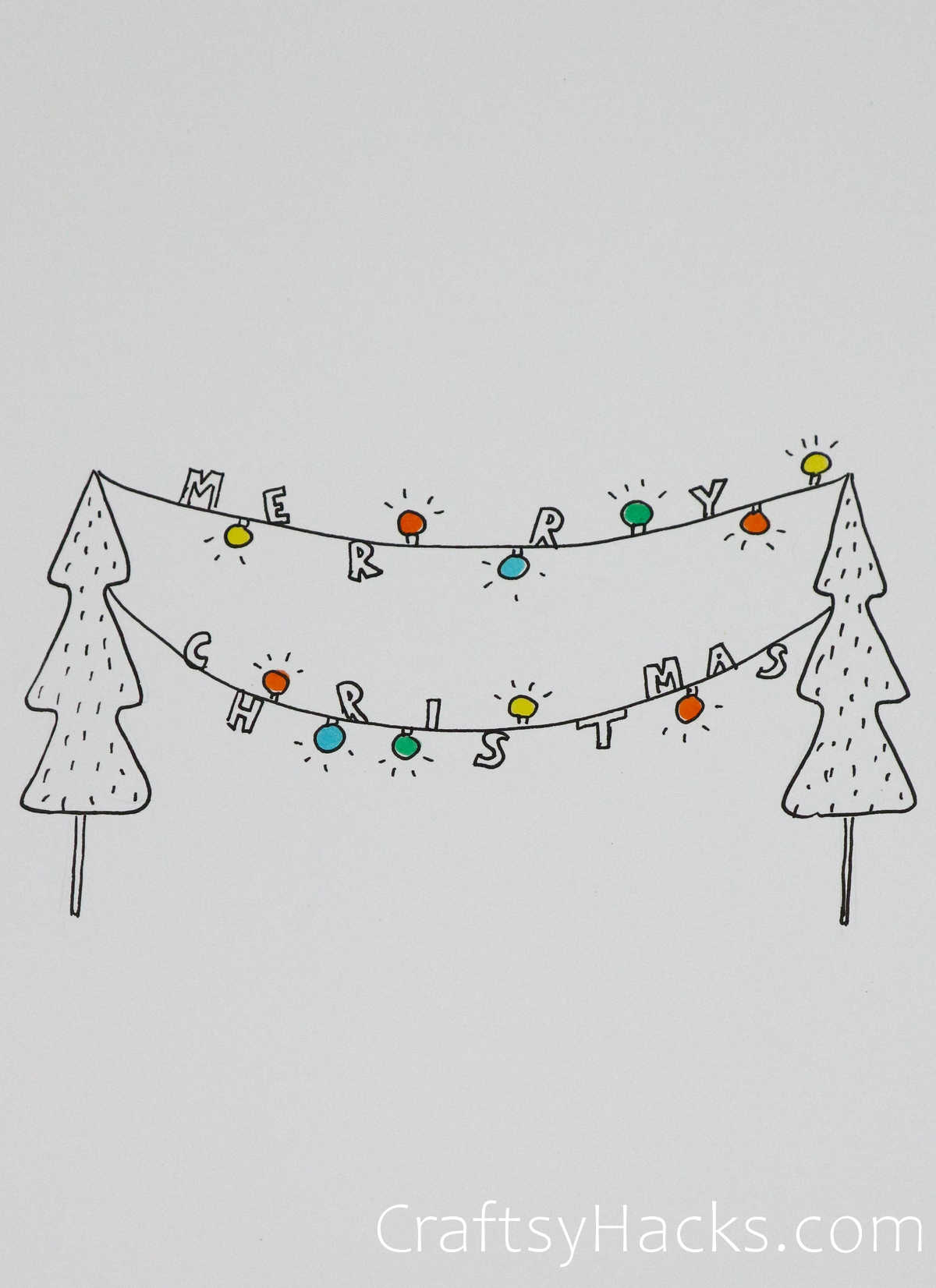 If you're hosting or heading to a Christmas party, I see this as the perfect decor piece or card front. It feels festive and light–perfect for a friend or casual family party.
Add cute presents, animals, or a fun inside joke between the trees if you like it! You could also add a different texture to the trees to alter the feel slightly.
48. Reindeer Sugar Cookie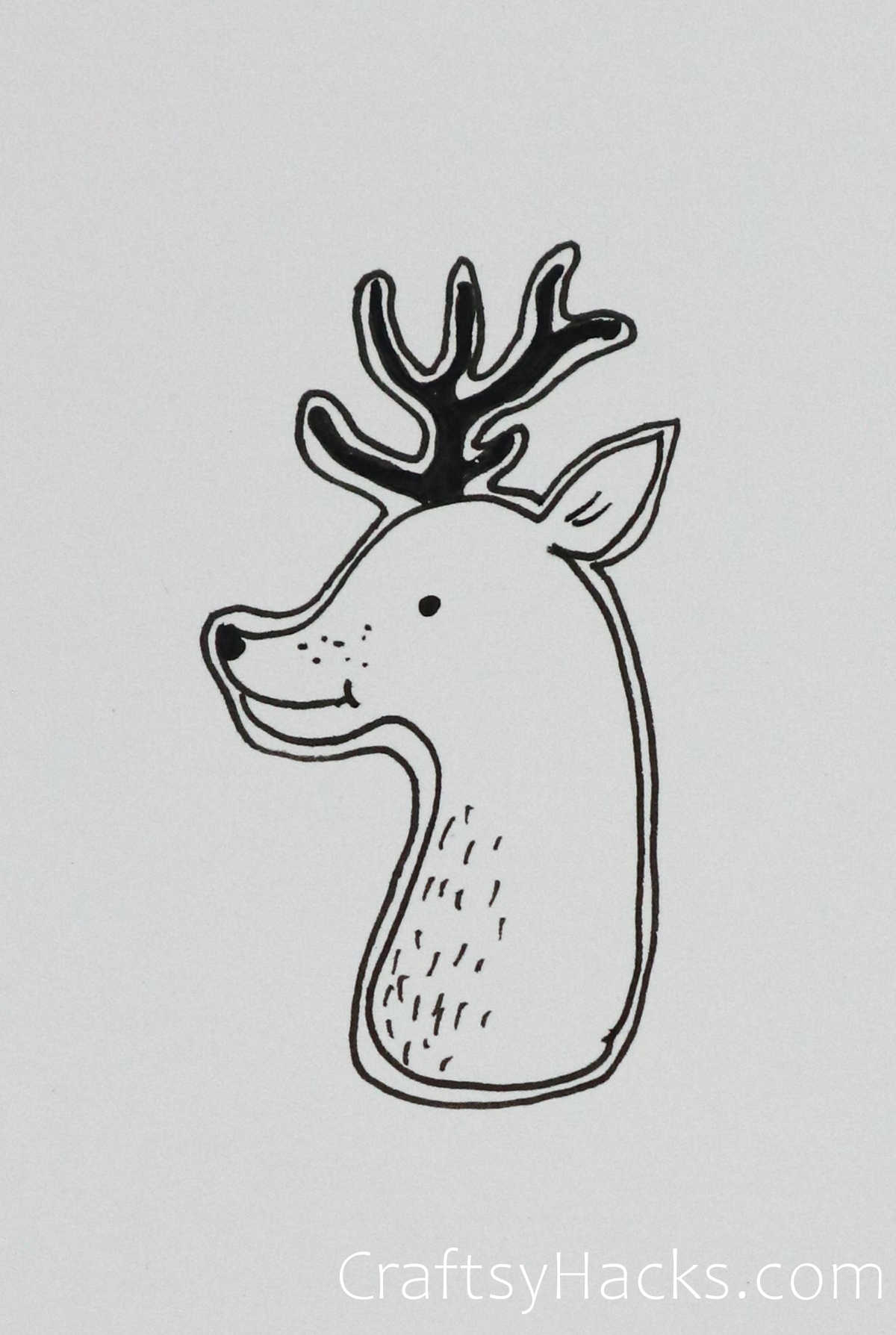 Like the star sugar cookie, this reindeer is the perfect vehicle for decoration and cheer! Add some fun shades, a scarf, or some ornaments of the antlers for an extra personal touch.
Draw a whole crew of reindeer cookies and decorate each individually for a fun party feel. There's one reindeer that needs to be included, and they have a red nose!
49. Stack Of Pretty Presents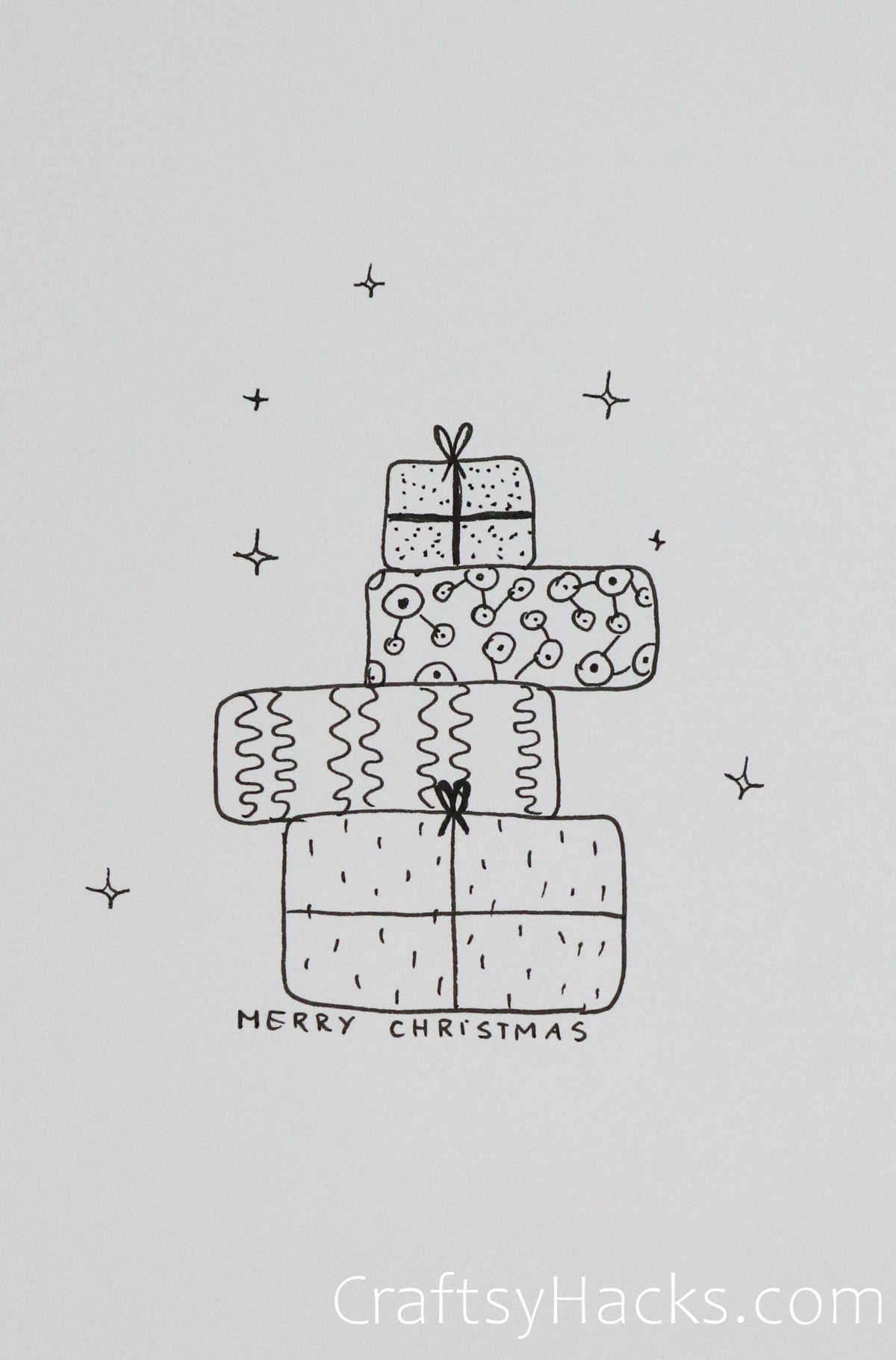 Presents of any form are a regular part of this time of the year, but the easiest way to showcase that is through boxes wrapped with pretty paper.
Stack the boxes however works for you and the area you're drawing in.
A vibrant medium, I think, would make these presents pop the most, or a nice pastel color palette would look lovely.
This super easy drawing idea is great for kids too!
50. Angelic Star Of The Show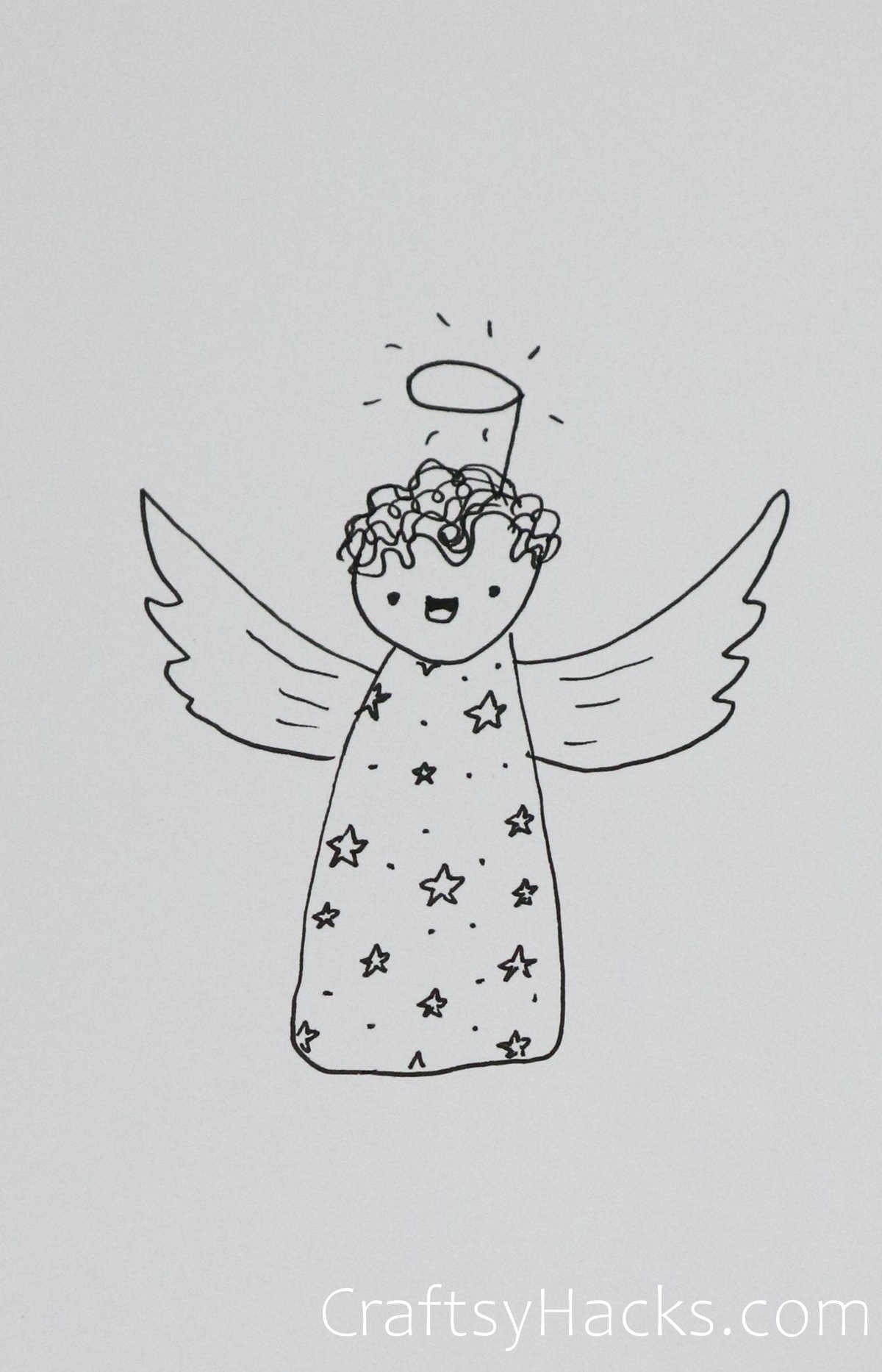 This angel probably granted a wish that came true! Regardless, angels are bright beacons of the season looking out for the rest of this, so a nod to them on the list was inevitable.
Stick with the stars on the robe or play around with texture or pattern to change the look of the angel watching over you and yours.
Alternatively, keep the robes plain and add detailing to the wings for a completely different look.
51. You've Got Christmas Mail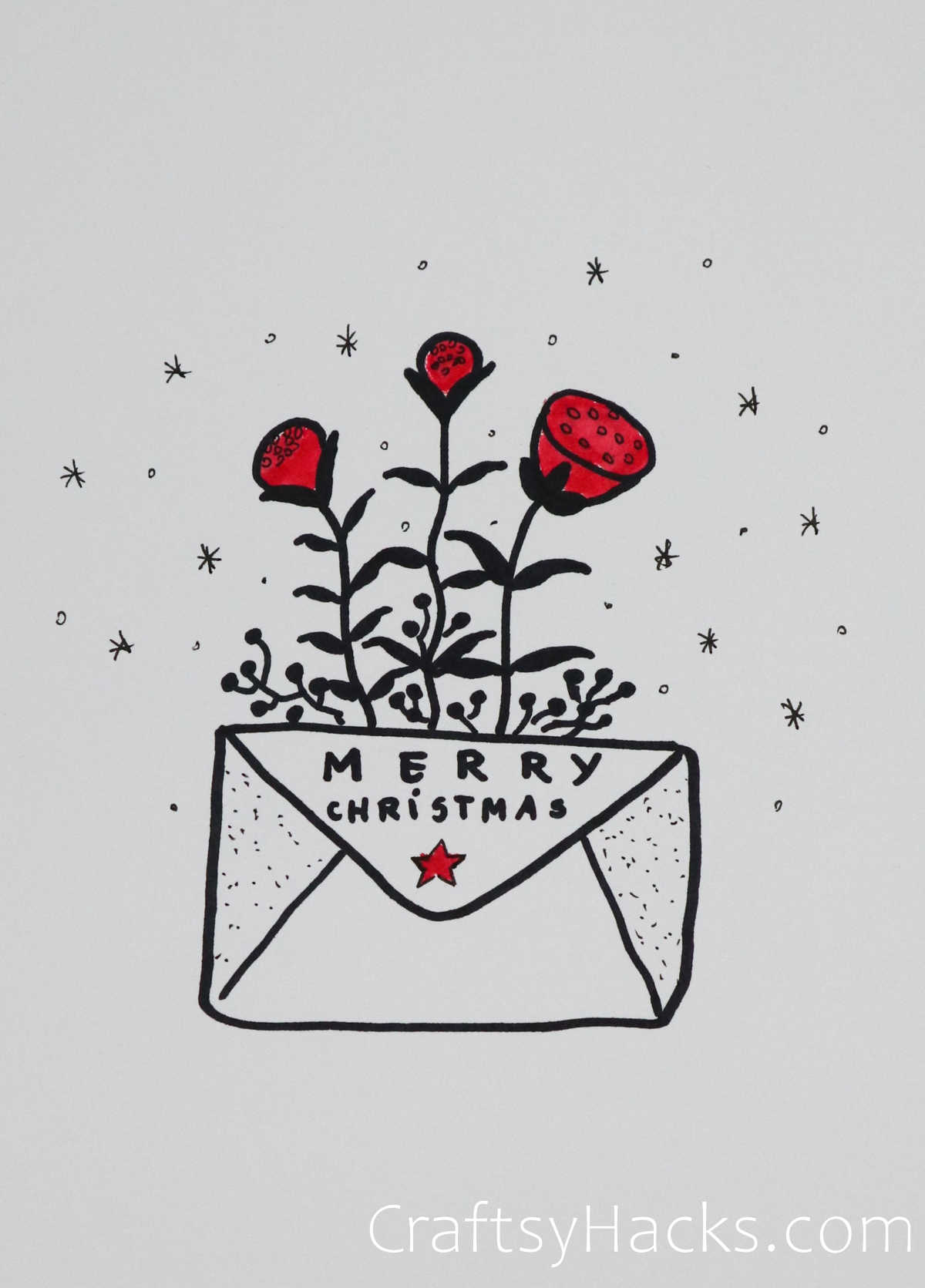 Christmas mail is an extra special feeling when receiving it! The flowers, I feel, are like an embodiment of how I feel when reading cards from loved ones.
Dress up the mail and flowers to extend that feeling to your personal preferences. Classic Christmas colors happen to make me feel that anyway, but if you're more colorful, try out anything!
These other rose drawing ideas are sure to put a smile on your face as well!
52. Holiday Bundle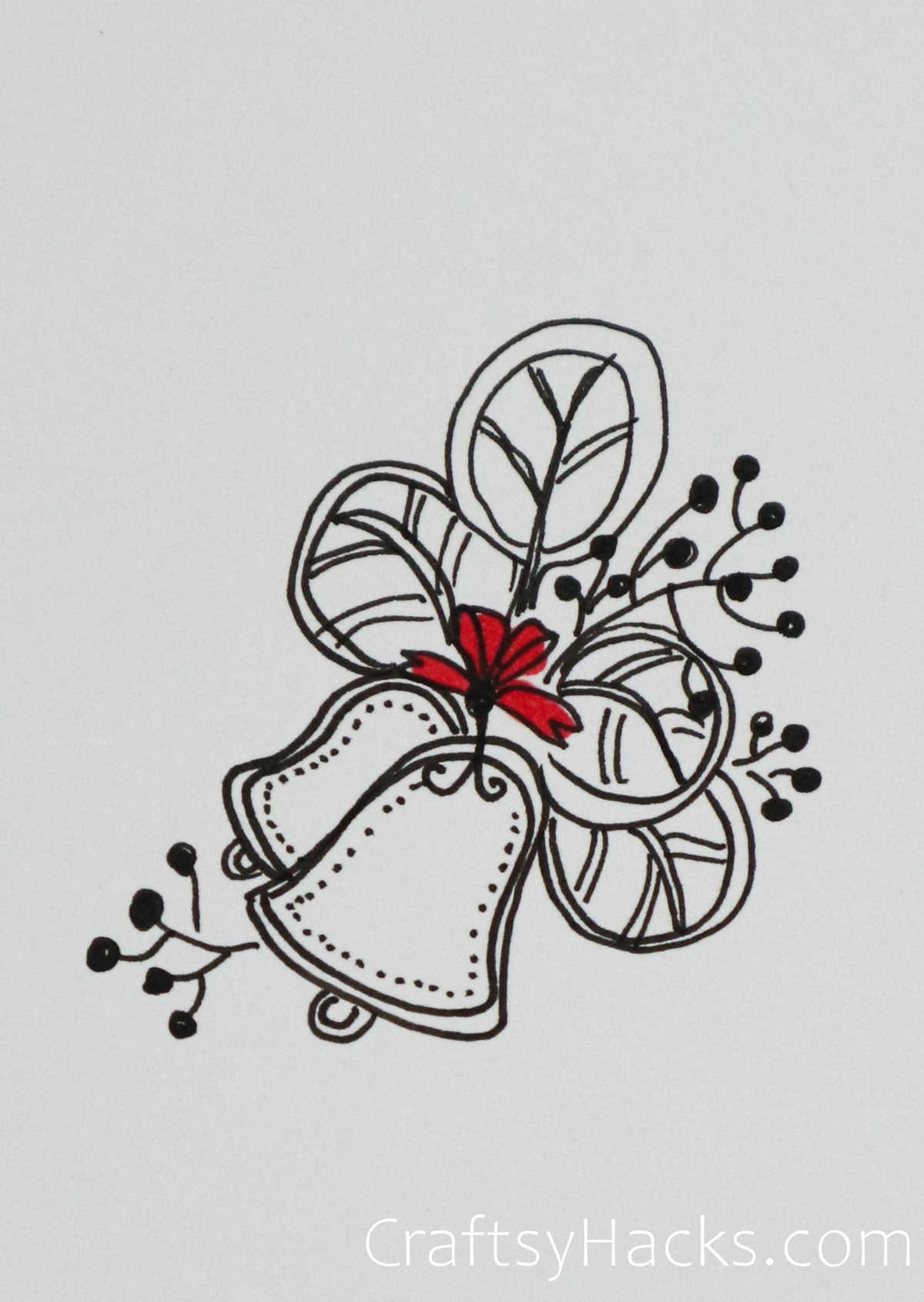 A perfect pairing of nature and bells comes together for this festive bundle! Keep it in a singular fashion, or add more bundles to the scene for more holiday cheer.
This drawing would make a great addition to place cards for a nice holiday dinner or return address details on envelopes.
53. Dressed Candy Cane Duo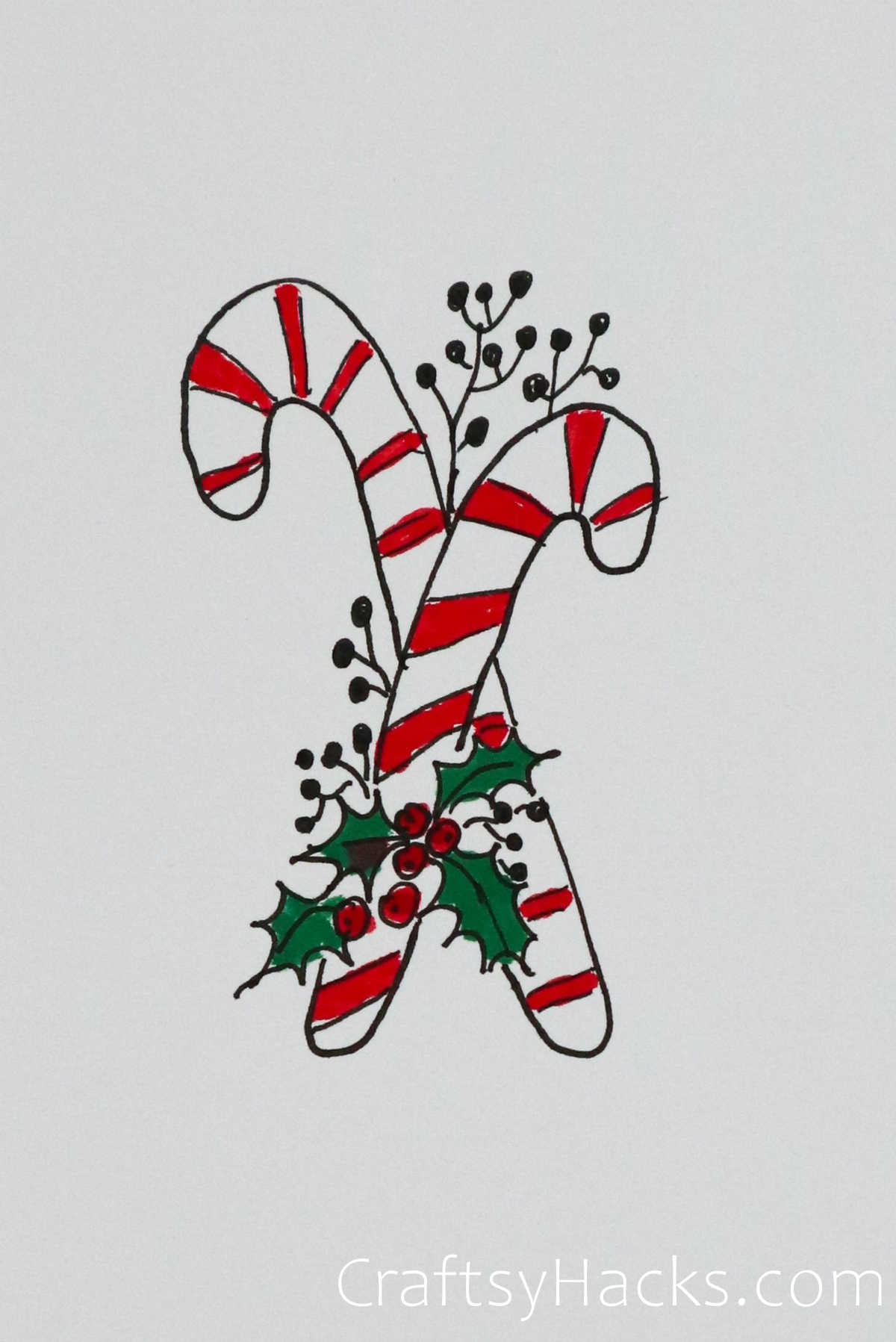 The boldest and brightest of the holiday bunch, it's an undeniable sight during Christmastime. As I mentioned, keep with the classic red and white, or make those stripes a multi-color party!
Candy cane projects are always great for younger artists, too. Draw the outline, help them if they are learning to draw, and let them color afterward.
54. Christmas Eve Shooting Star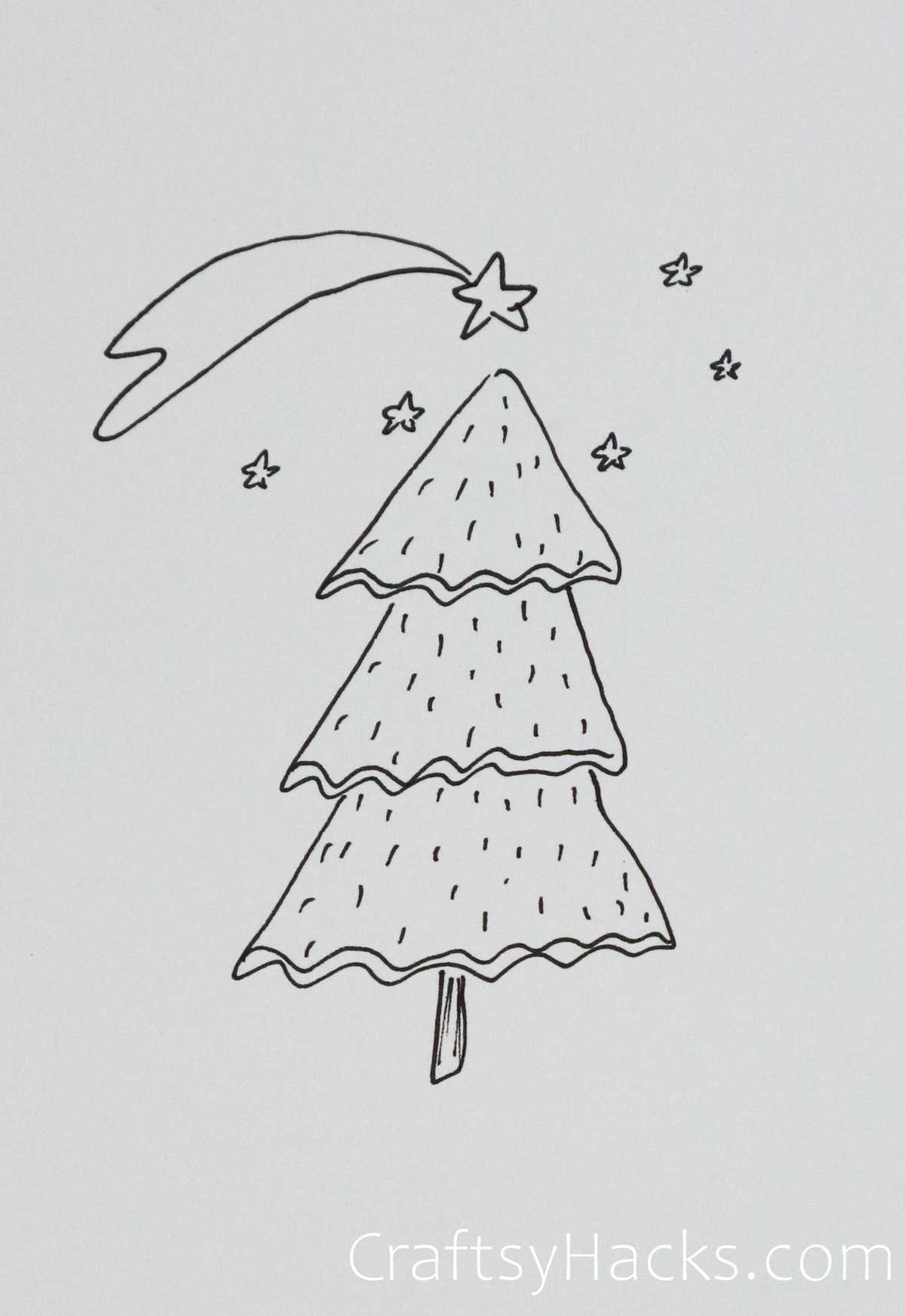 Nights leading up to Christmas are sweet, special, and a different kind of quiet. A shooting star helps bring the feeling closer to the page, but there's no good way to describe it.
Drawing and coloring the image is a great way to destress during the holiday business of it all.
Draw a few at the beginning of the season to have them on hand whenever you need a moment to color while indulging in a quiet break mindlessly.
55. Christmas Bubble Letter Balloon Message Display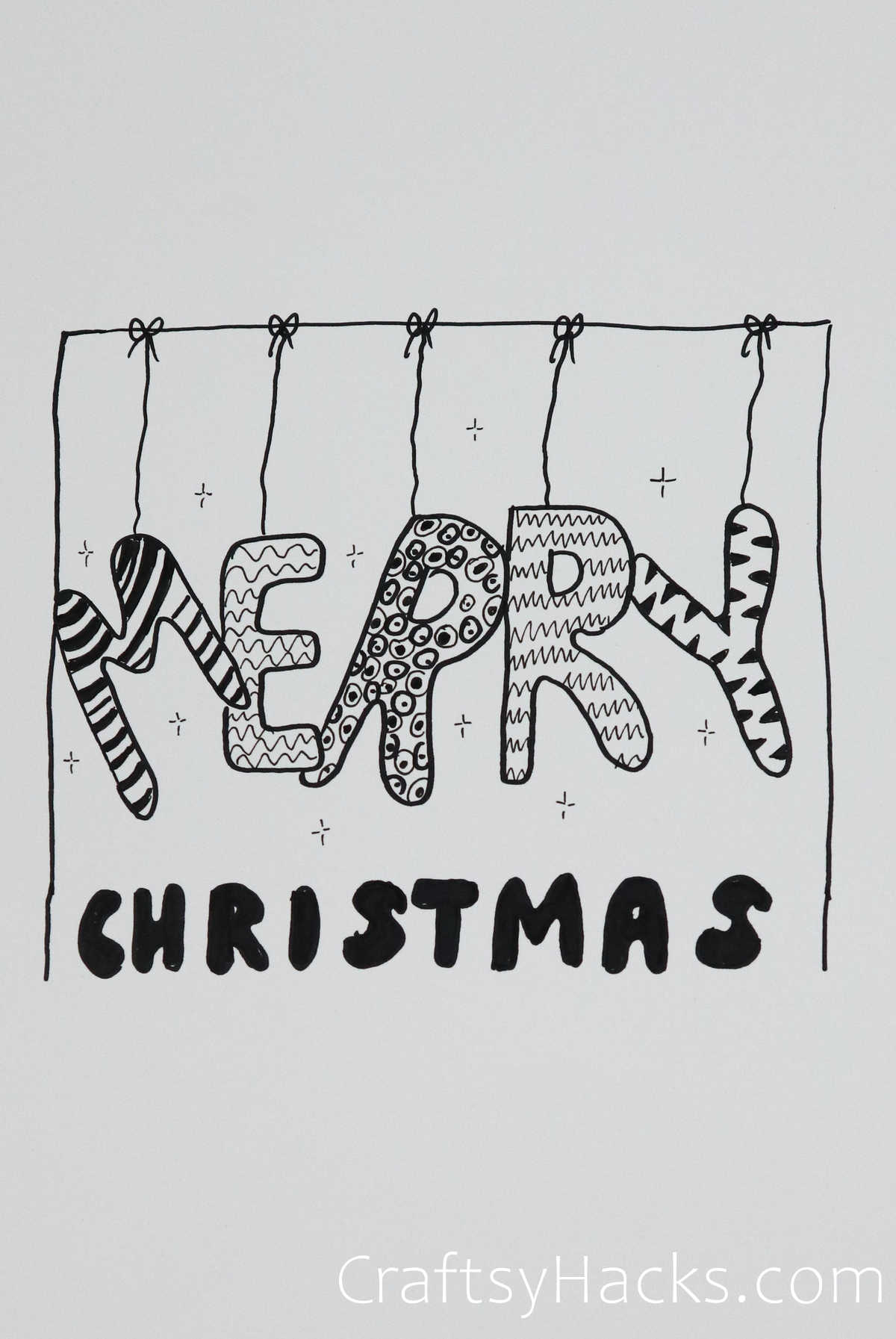 A cute and quirky holiday display never disappoints; this bubble letter Christmas wish display delivers just that.
The textures chosen will always drive home the fun of a Merry Christmas sign–so follow mine or choose your own texture and pattern scheme.
The structure's shape can also be anything if all ties fit properly. Bright and bold colors can really make this sign stand out in a crowd of Christmas decor.
56. Stuffed Stocking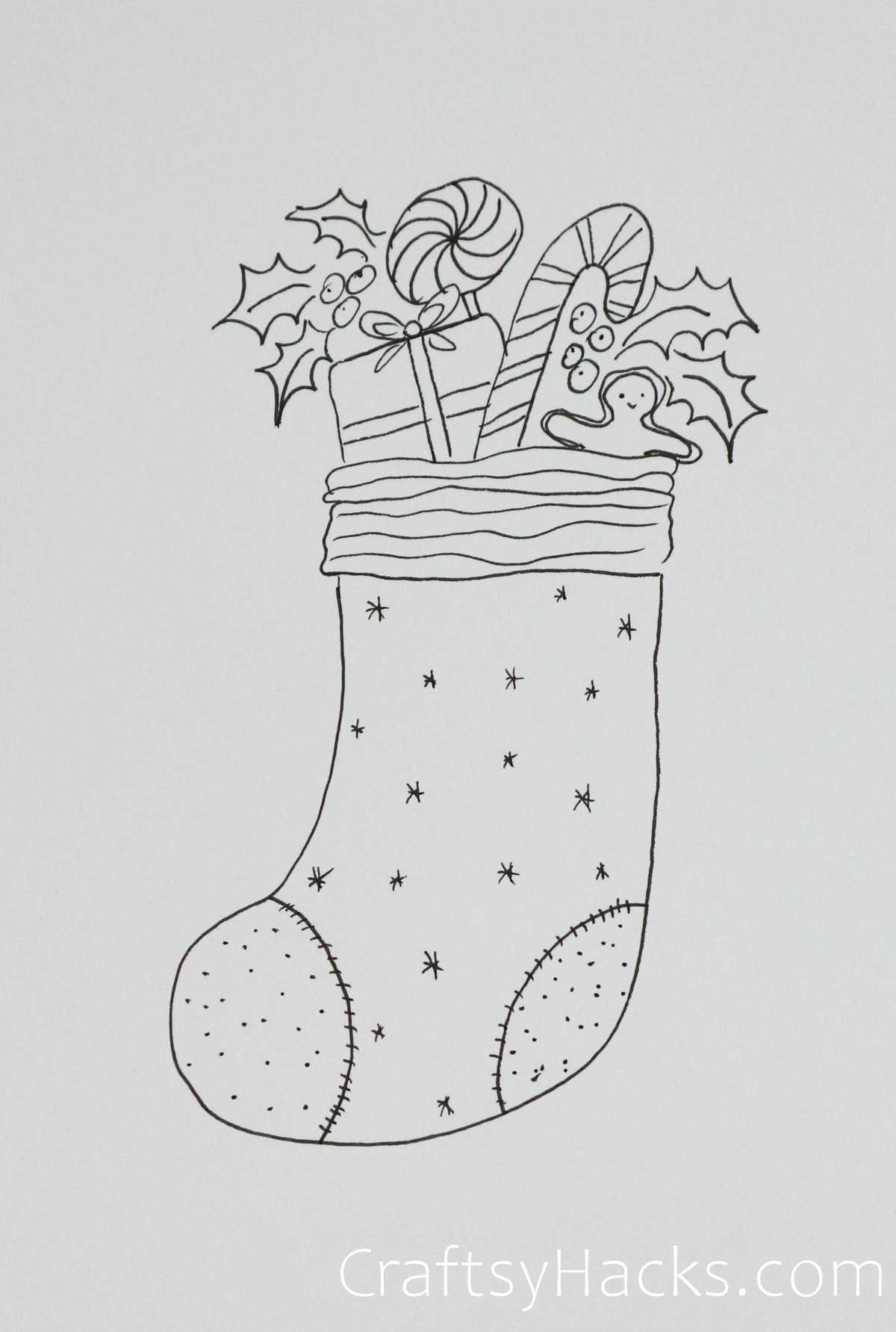 Personally, Christmas morning didn't start without opening our stockings first! Seeing a fully stocked stocking is a thrilling sight and a fun item to draw.
The stocking is easy to draw, but you can add anything to the top depending on your time and dedication.
The same goes for the face of the stocking–add an actual scene or stick with a fun pattern.
57. Textured Minimalist Christmas Trees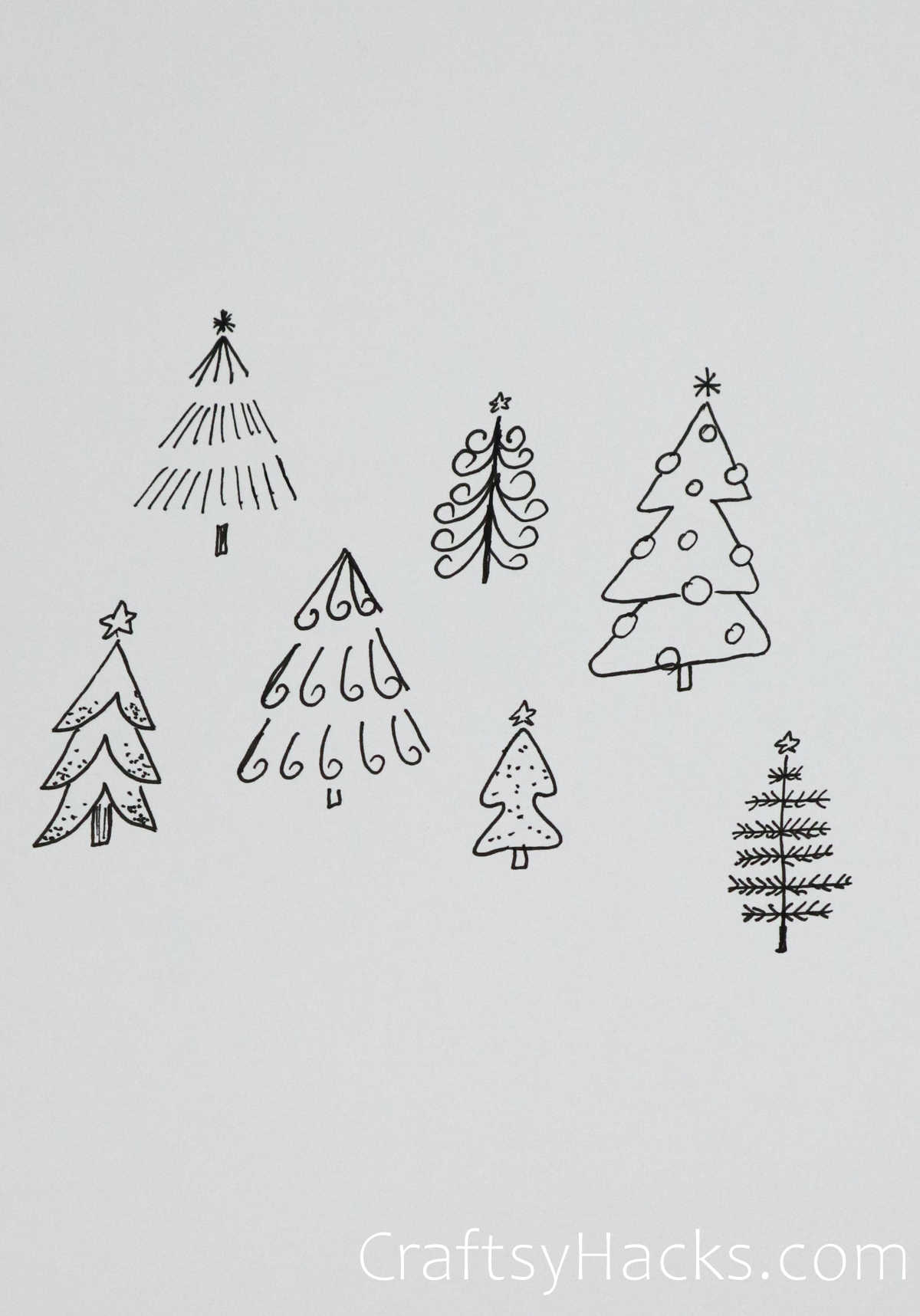 A plethora of textured trees small-scale look darling and vibrant! Open to a blank page and test out any textures your heart desires for these mini trees.
The ones you like, add sprinkles of color to illuminate the whole page.
58. Jolly The Snowman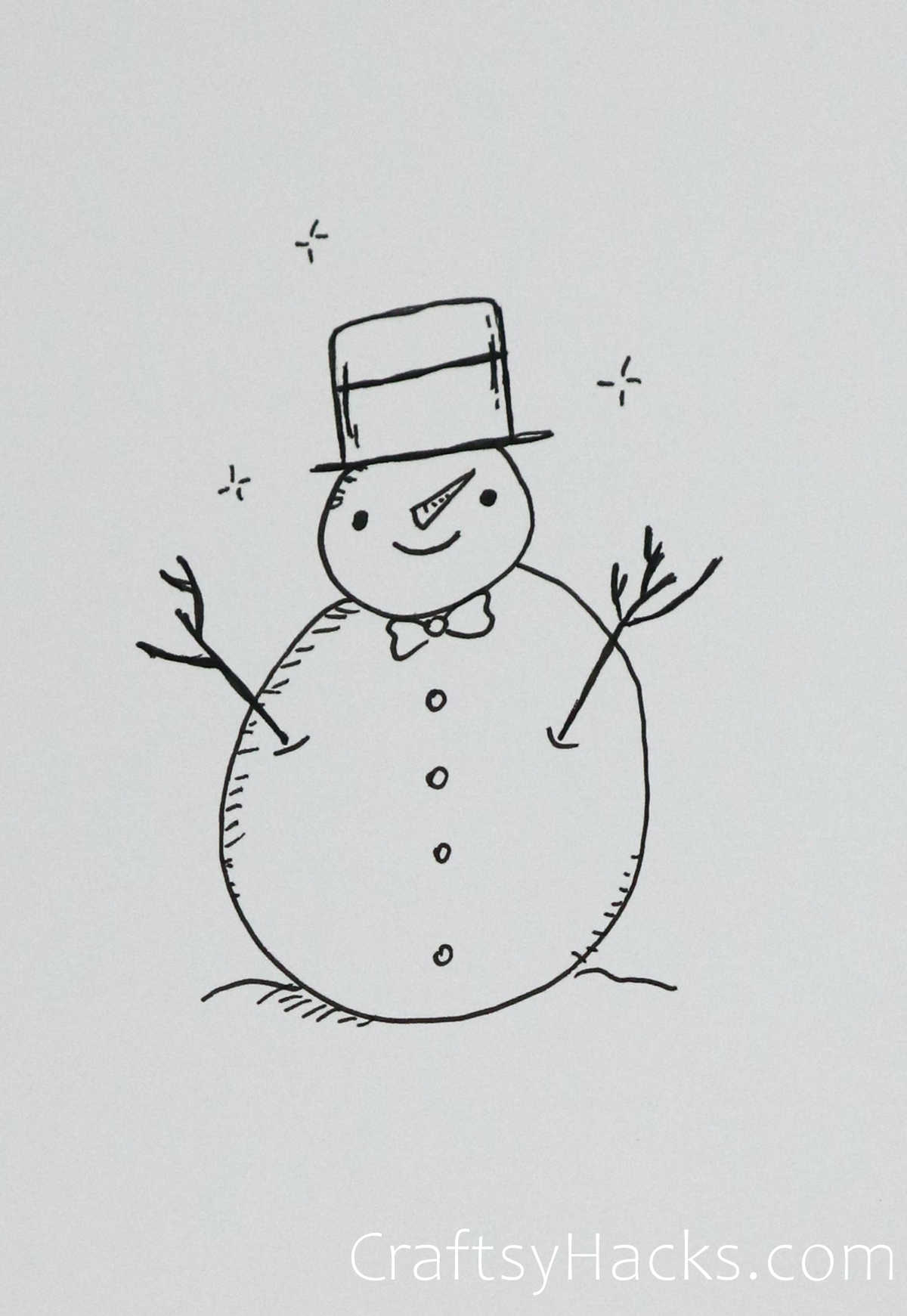 This fellow is happy to be here, a jolly cousin to the snowman higher up on the list. Simple in shape and adorned with classic accessories, he's perfect for any artist.
This is one of the best easy drawing ideas for kids to get into the festive spirit!
59. Outdoorsy Christmas Wishes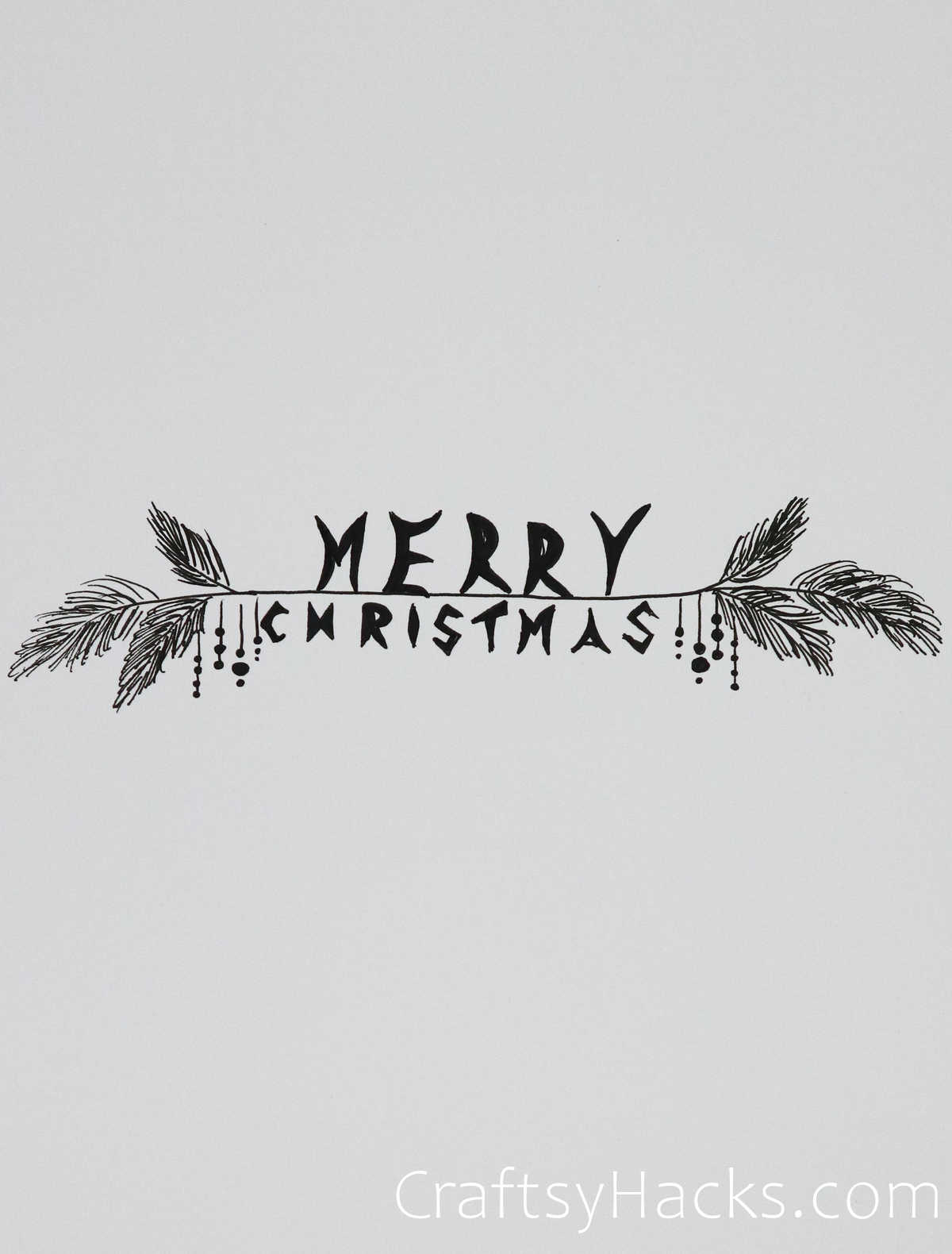 I see this becoming one of the best-looking pieces of homemade holiday decor–simple, elegant, and the perfect dash of vintage whimsy. Color in the baubles for that special sparkle if you're seeking it!
This drawing getting done on a piece of wood seems wonderful.
60. Santa's Present Sack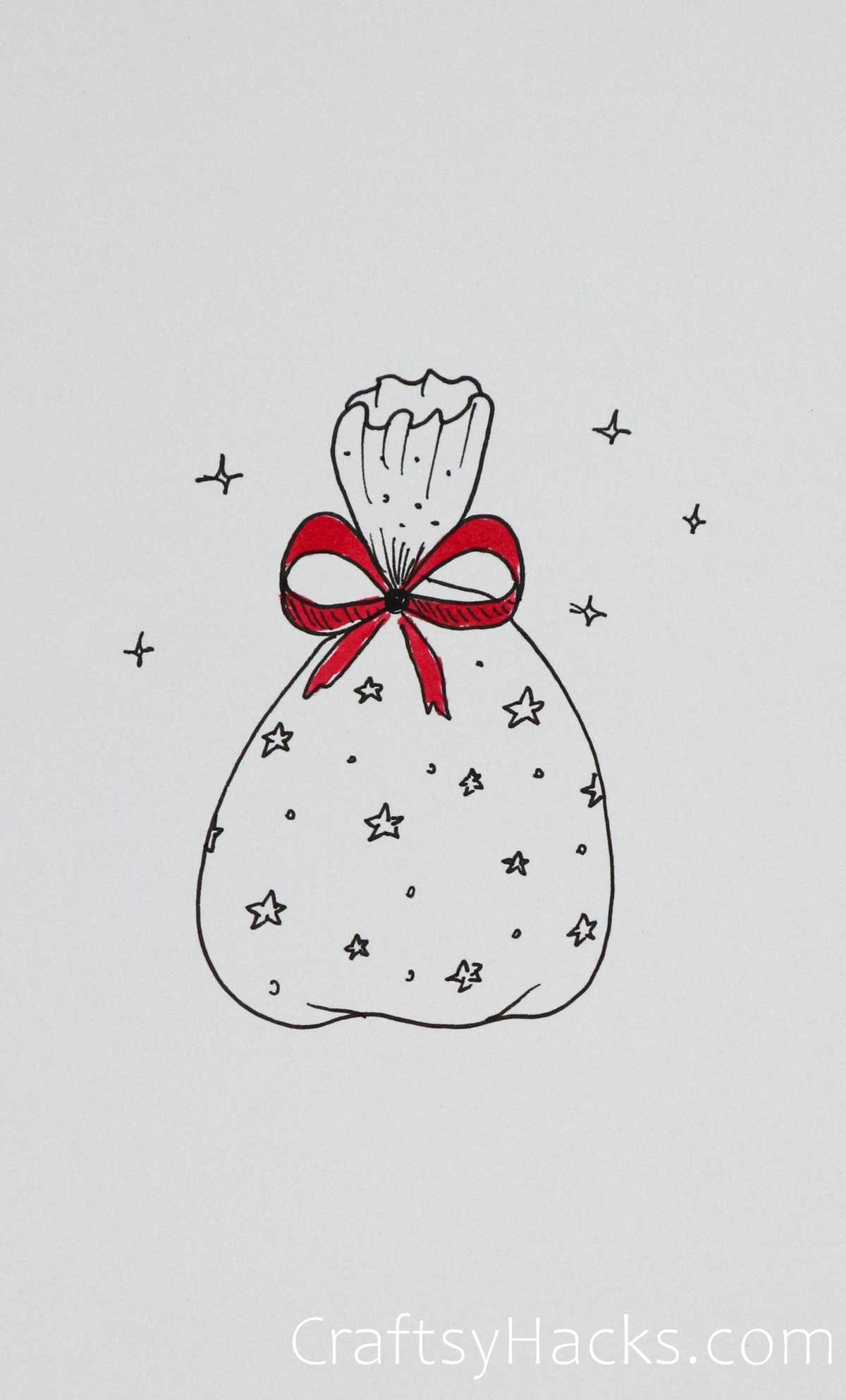 The magical bag Santa brings with him on Christmas Eve is an easy option to add to your drawing repertoire.
Customize the bag however you like and fill it in with the most wondrous colors for best results.
61. Silent Night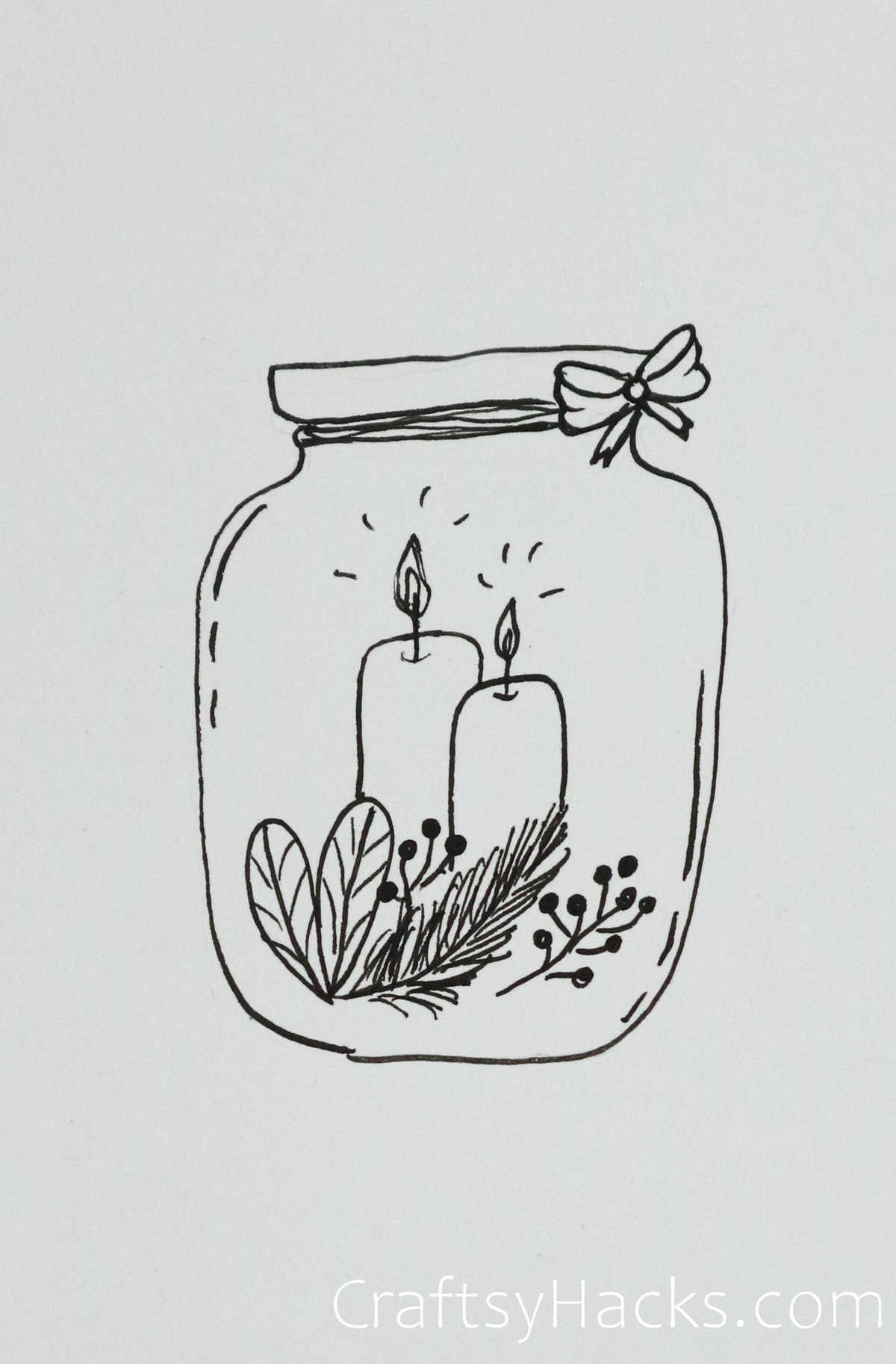 Last but not least, a sweet pair of candles placed festivaly in a jar. It reminds me of the song Silent Night with a simple light glowing, full of hope and wonder.
If you are a beginner artist, these genius drawing hacks will help you get better!