Make your front door more welcoming this winter with these wonderful winter wreath ideas! These stunning wreaths will look amazing on your doors!
As winter draws nearer, decorations and other holiday cheer have started popping up in advertisements, stores, and even the windows of your friends and families.
Decor has started to expand into broader territories, but one universal item that seems to transcend it all is wreaths.
Wreaths are entirely up to you and your decor's theme–vintage, character-oriented, upcycled–just to name a few avenues.
All the same, the beloved Christmas item can be found in any given place full of cheer.
For you all, there are thirty-one options of different wreath ideas for whatever you celebrate during the chilly months.
All of which are accessible to most financial budgets and creative abilities.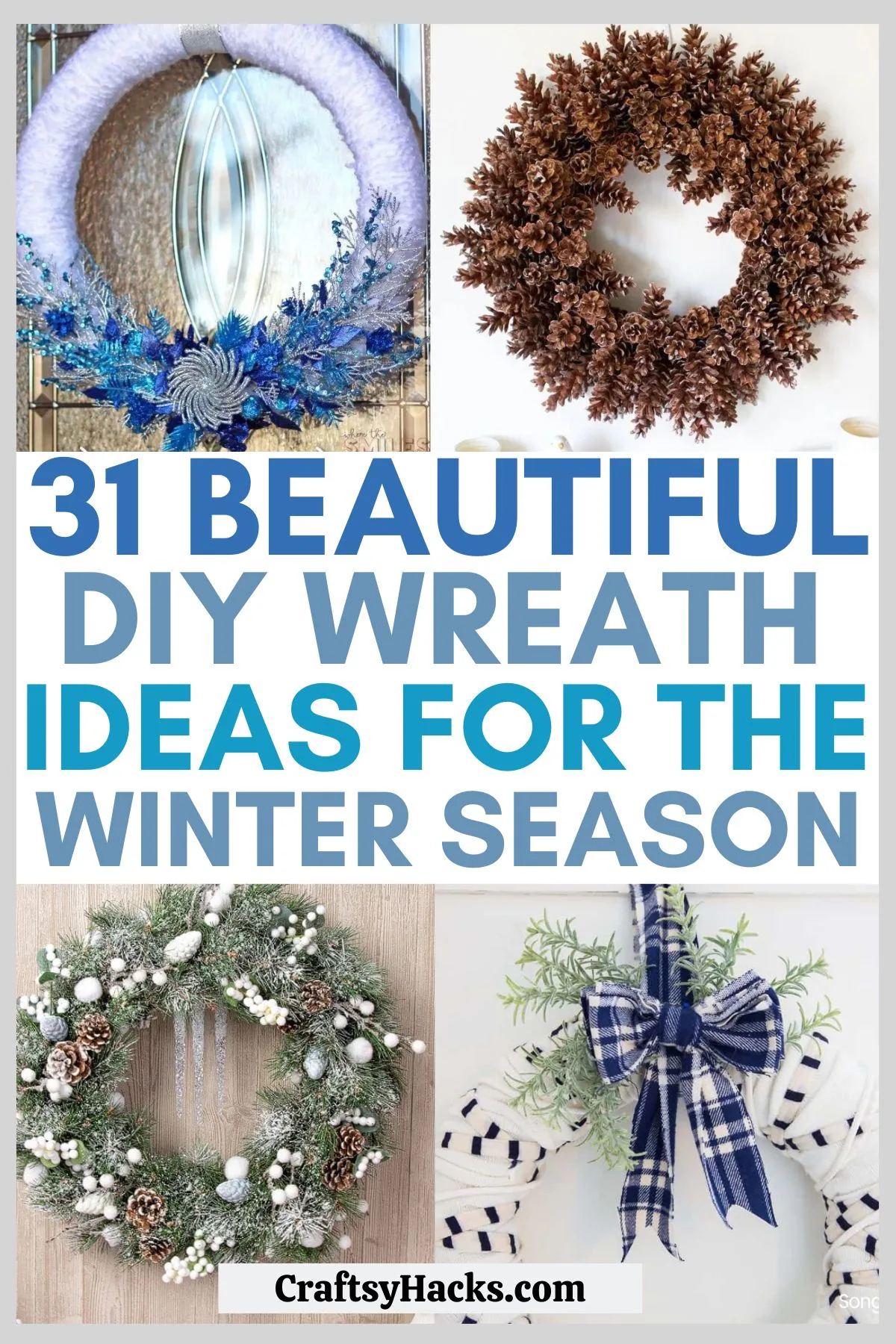 I hope you find a wreath on the list today that you love and try out this holiday season! You can't go wrong with any of these spreading a little brightness during the chilliest parts of the year.
Now, on with the rest of the post!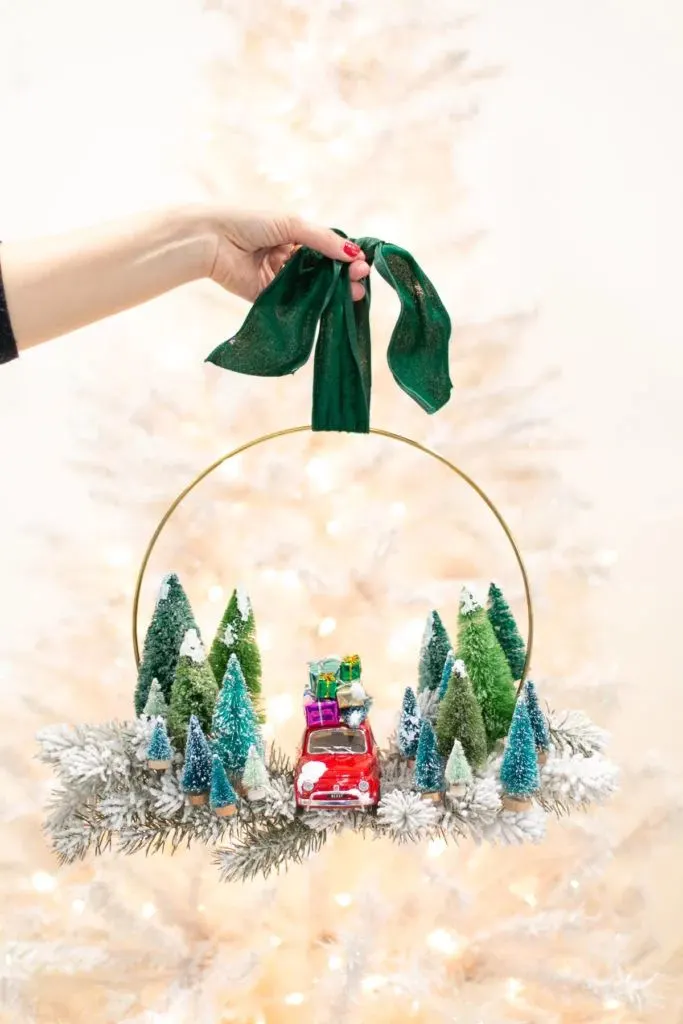 Source: lovelyindeed.com
This option has classic elements of winter's past, evoking sweet nostalgia while still speaking to the members of the family who love cars or anything with a motor.
The wreath keeps your home open and welcoming with the duality of nostalgia paired with the motorheads.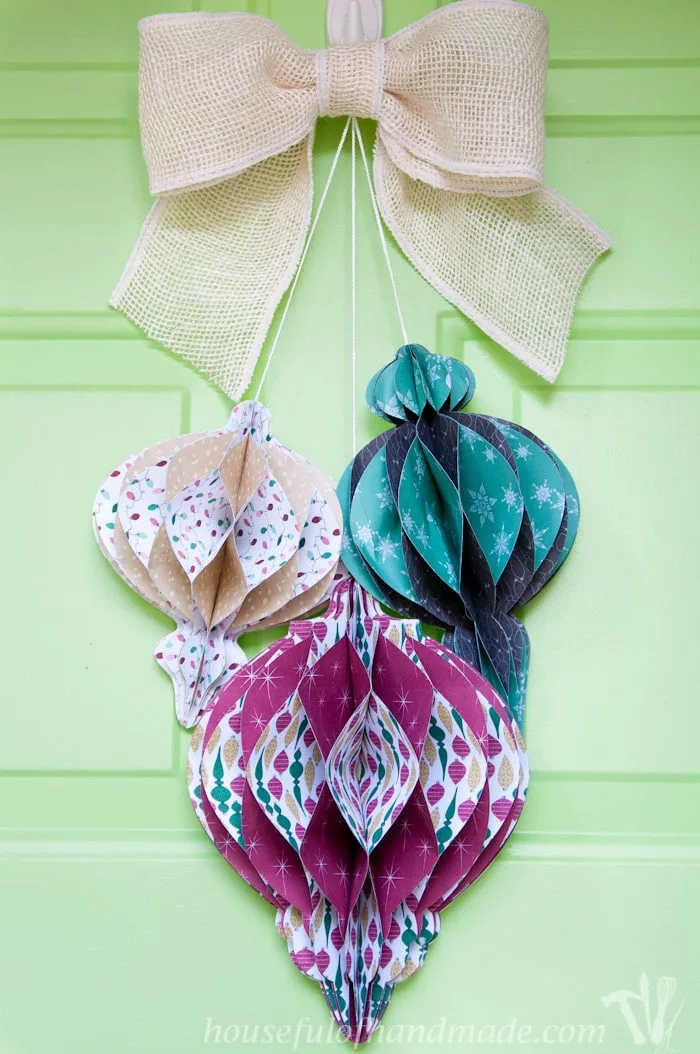 Source: craftingmyhome.com
This giant paper ornament Christmas wreath also falls into the nostalgia category.
The big bulbous bells remind people of their favorites, like The Nutcracker, A Christmas Carol, and more. Add a bow like this to tie everything together.
Feel free to play around with the size of the ornament, too–the outcome will vary with how many you add to your wreath.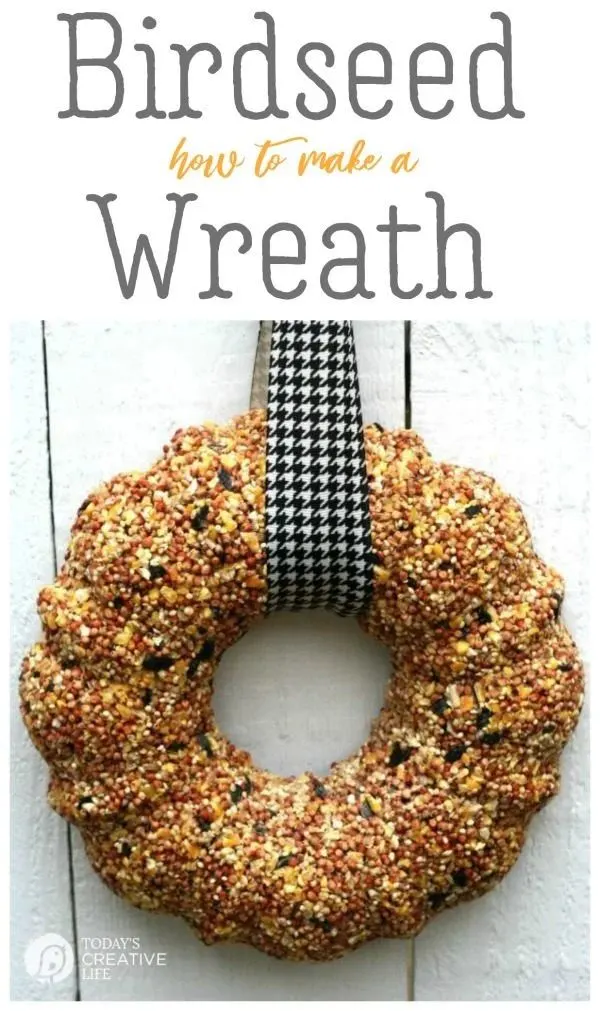 Source: todayscreativelife.com
Try this birdseed wreath for nature lovers or those who live near the woods!
I recommend keeping it on the inside of the storm door during winter and placing a birdseed-friendly wreath out for the birds to share the season's joy.
Depending on how you make it, the wreath for the door may not be suitable for wild animals to eat, so throw it in the compost if you're not sure after the season's over.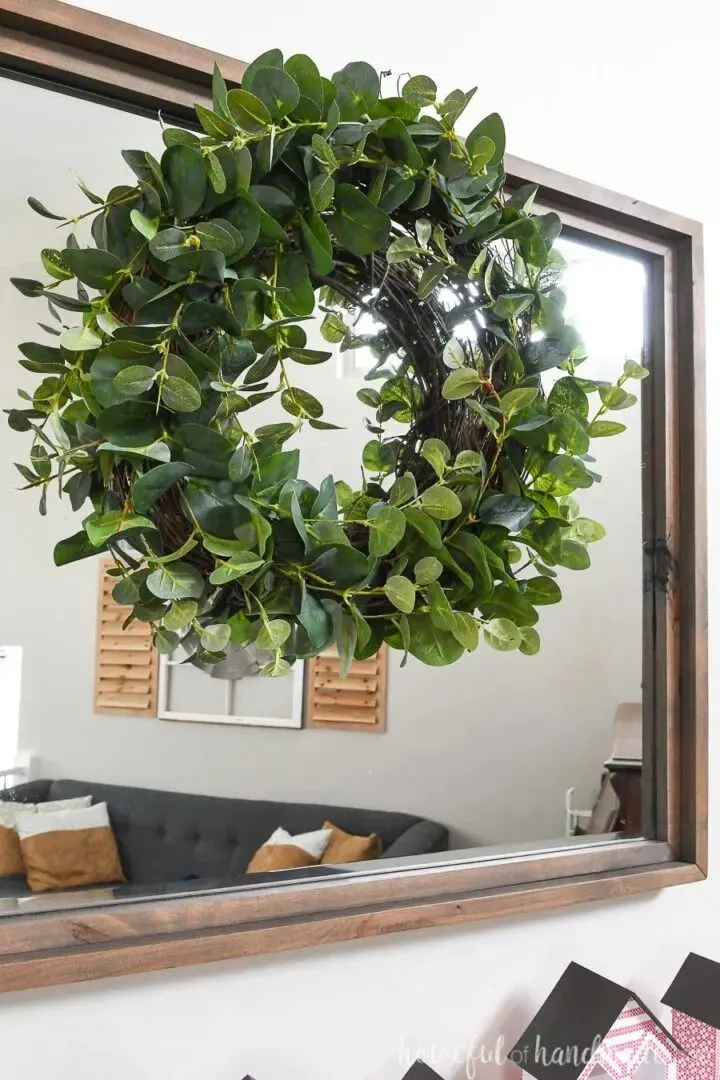 Source: craftingmyhome.com
Adding eucalyptus to your home anytime during the year can guarantee a much-welcomed scent boost.
During the winter, weaving the fresh plant onto a hoop and letting it dry makes for a stunning fresh green take compared to traditional wreath decor.
Add rosemary sprigs or other fresh herbs, dried fruit, or other goodies to boost your scent. Find more winter decor ideas for home!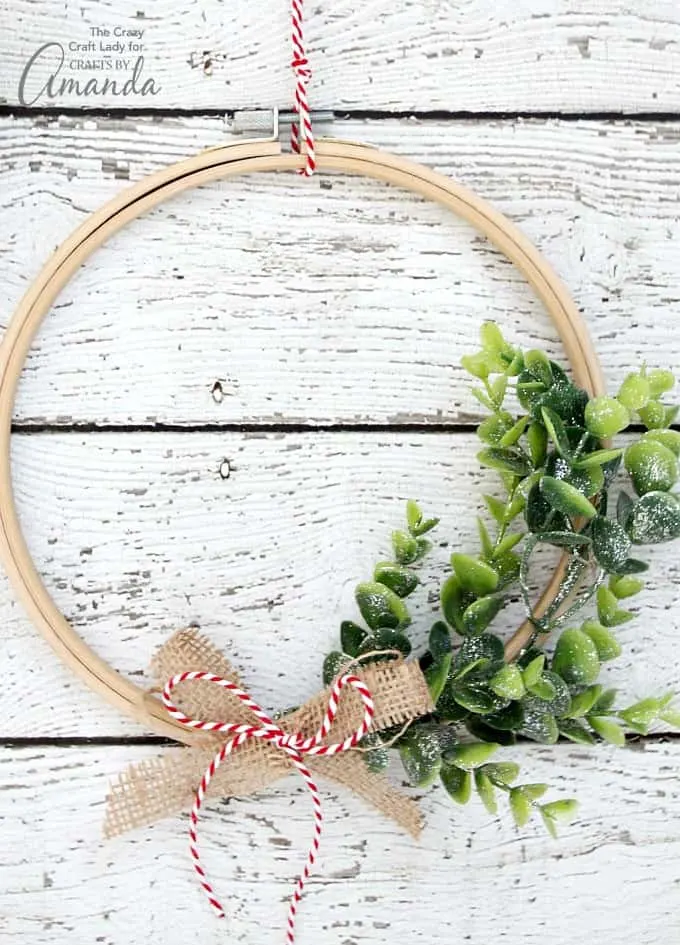 Source: craftsbyamanda.com
These embroidery hoops are a secret weapon in my crafting arsenal. These wreaths are versatile, from wall hangings to nameplates to gift tags.
I like to make a couple every few years or so so that I can have them anytime I may need a few.
This is one of the most fun winter crafts for adults to create!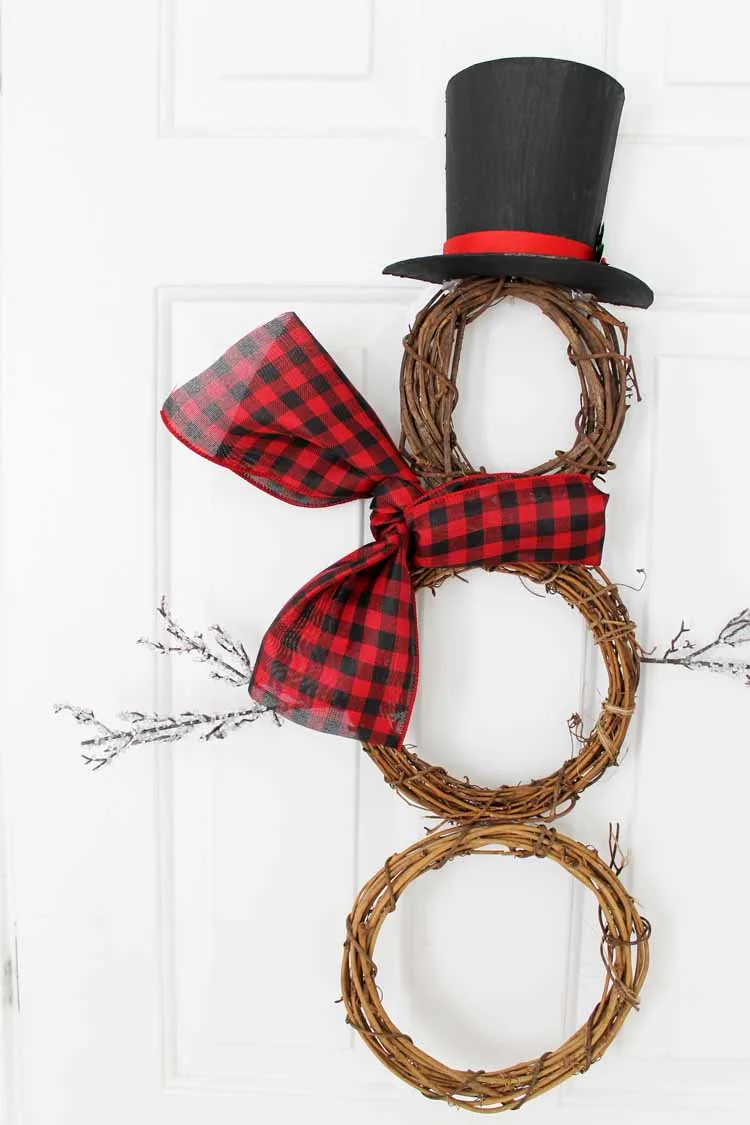 Source: thecountrychiccottage.net
Making beloved characters from simple silhouettes of wreaths is a great spin on the classic item. Add a hat, scarf, arms, and other sweet details to bring this wreath to life.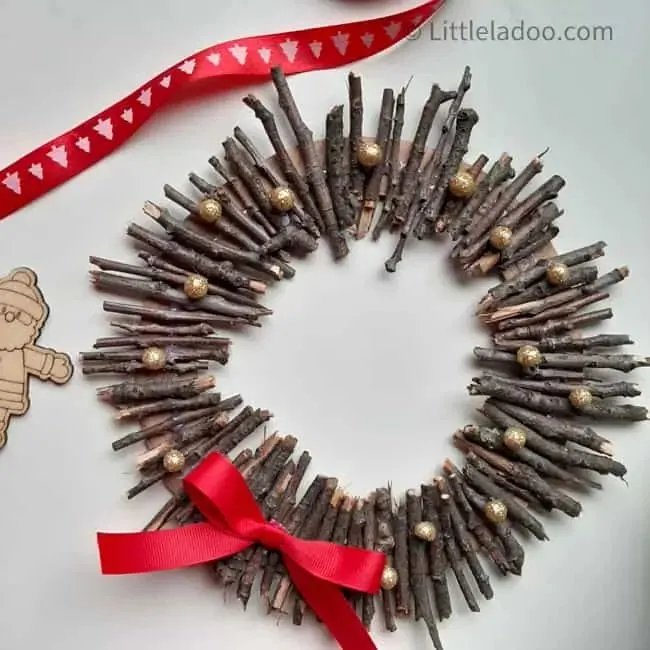 Source: littleladoo.com
If you're afraid to make a birdseed wreath or just a simpler, natural-looking wreath, this twig wreath is a great option.
Grab a reliable tool like this one to make all of the cuts on the twigs uniform.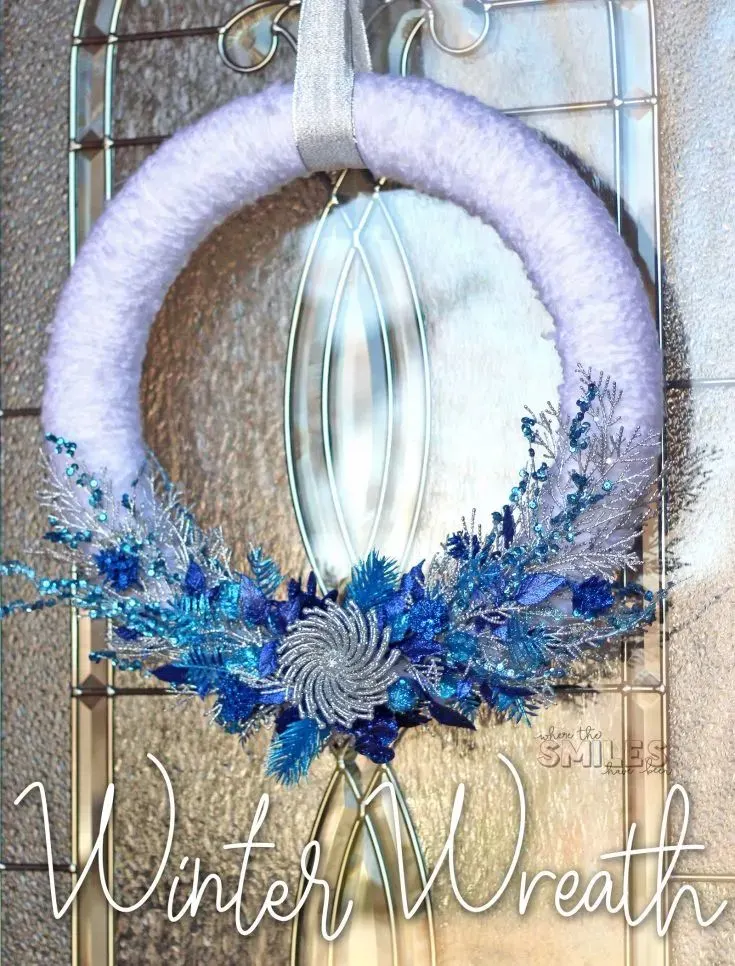 Source: wherethesmileshavebeen.com
This wreath is stunning once hanging on your front door with a fresh coat of snow on the ground.
Keep the detailing in shades of blue and white, or add gold tones to add extra dimension.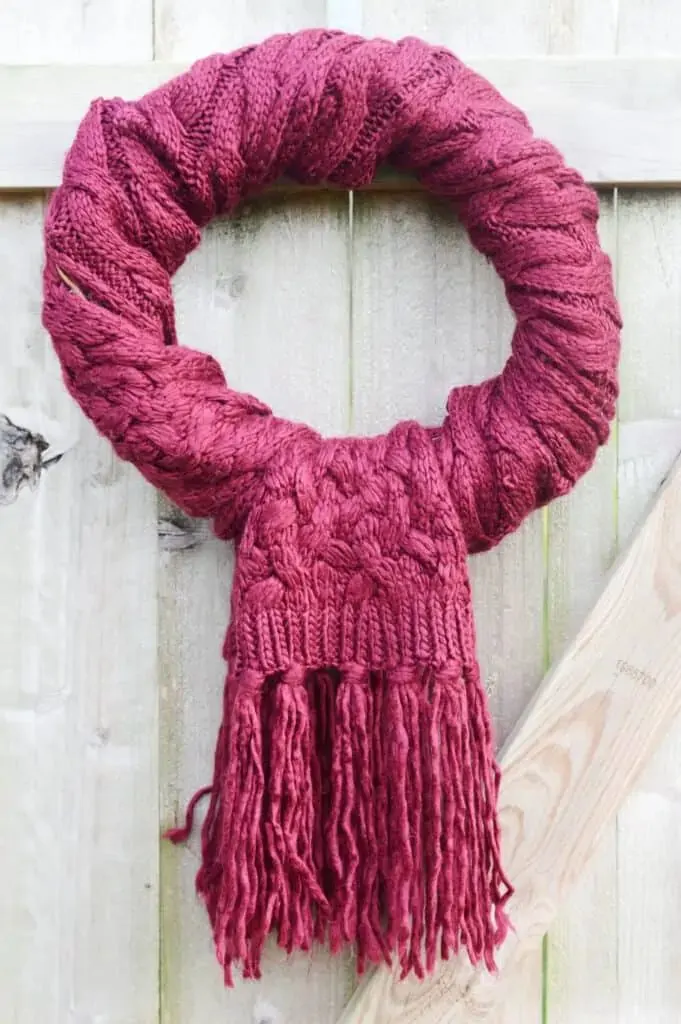 Source: makingfrugalfun.com
The first of a few different scarf-oriented wreaths, this classic winter scarf.
This particular one is a wonderful way to upcycle a beloved scarf that is either too delicate or worn out to wear anymore.
Make sure to measure the dimensions of the said scarf and plan the hoop accordingly. I like to use these hoops for fabric-based wreaths.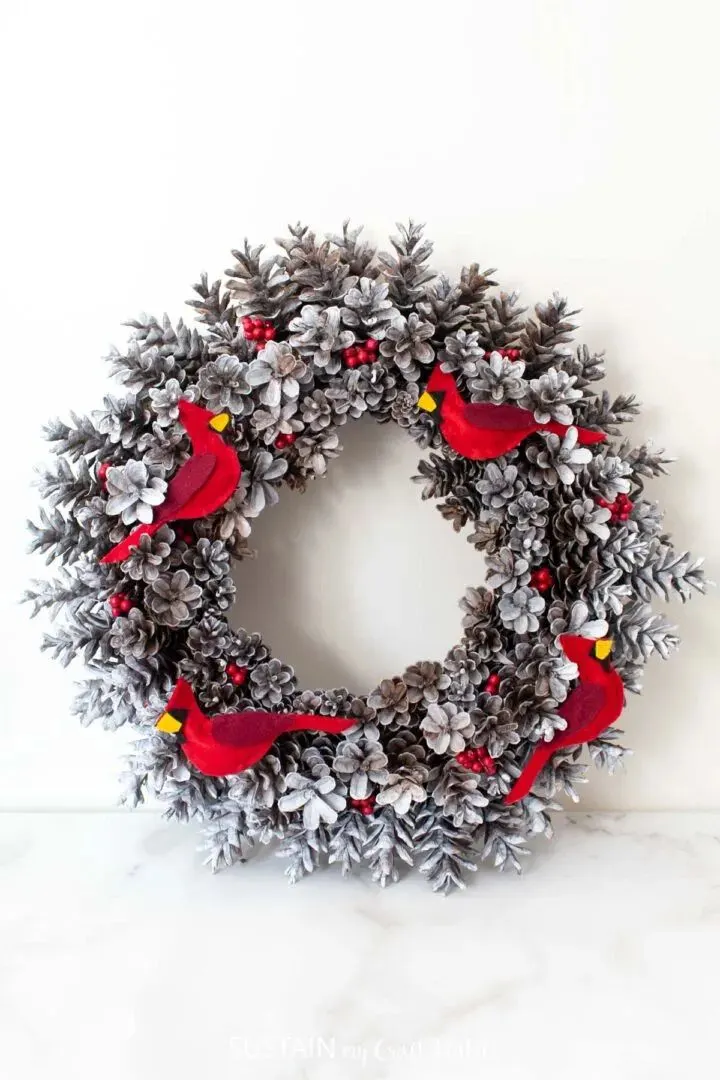 Source: sustainmycrafthabit.com
A plain and classic favorite, this pinecone wreath with cardinals elicits simplicity but with lots of dimension from the pinecones.
Keep the wreath natural, or add a fun layer of fake snow for the cardinals to rest on. This is a perfect winter craft to sell.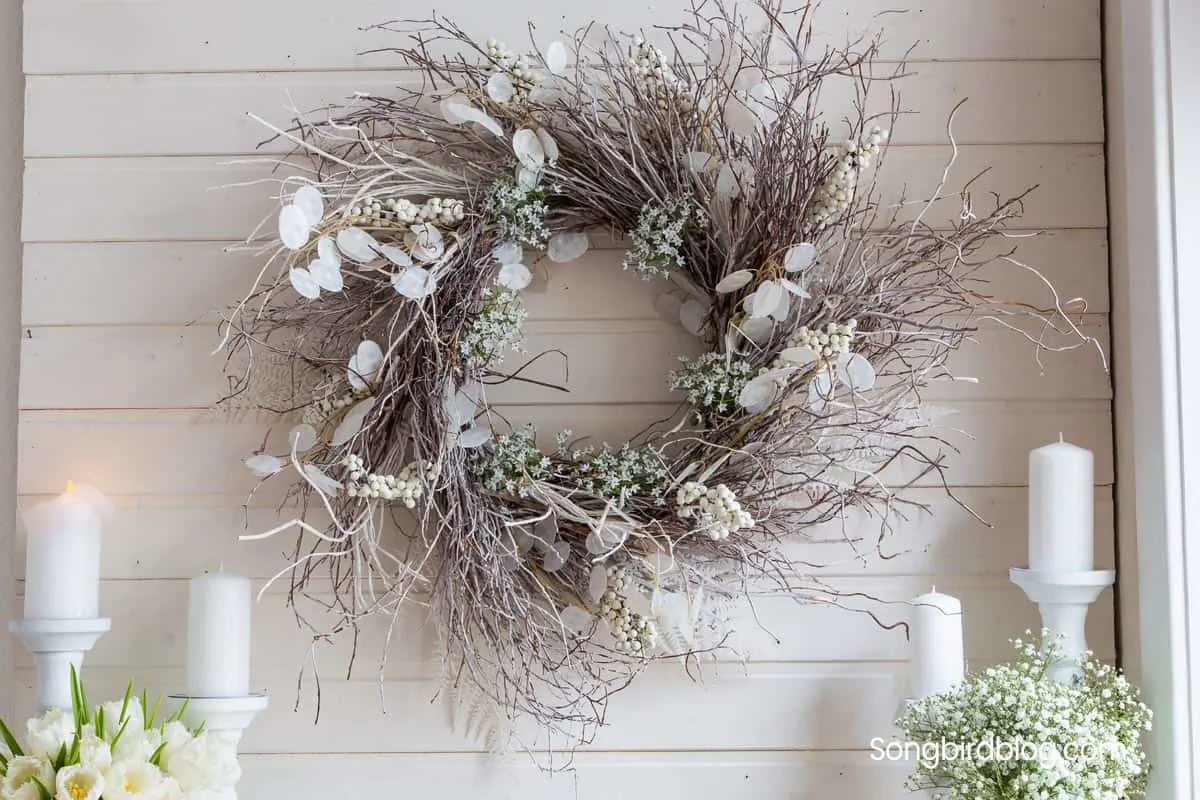 Source: songbirdblog.com
This white winter twig wreath will add that first-frost elegance to any home or space for a freshly fallen snow look.
Depending on where you live, it may be easier for some to collect twigs individually, but there are buyable options that will look darling.
To add some extra shiny sparkle to it all, add some small silver ornaments sparingly throughout.
Source: sustainmycrafthabit.com
While thrifting, I always find the most interesting textures, especially in the scarf section.
After coming across this wreath, I bought those fun scarves because they can get turned into a cool wreath.
Depending on the material of the thrifted scarf, try adding a nice little winter scene to make it uniquely yours. Find more winter crafts anyone can make.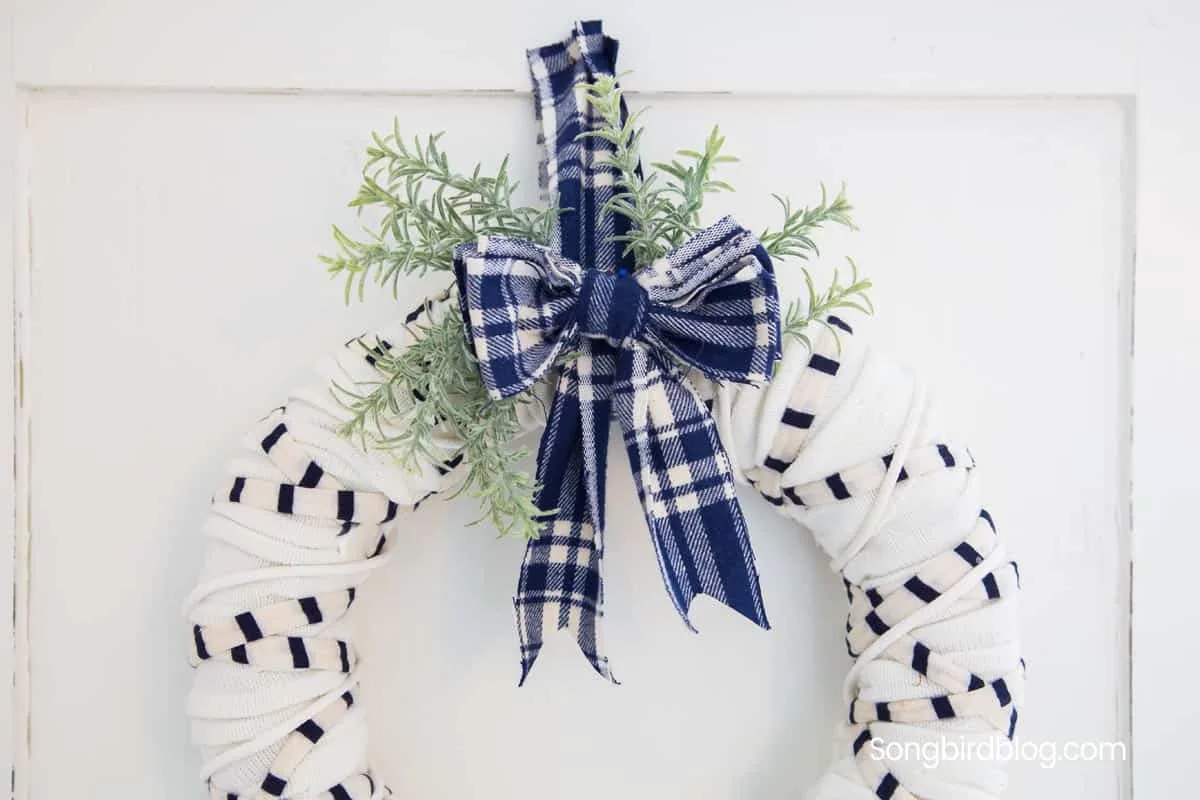 Source: songbirdblog.com
Alternatively, if you have or find a cute patterned scarf that you wouldn't necessarily wear, try turning it into a wreath!
I've been gifted specifically wintery scarves that sit in my closet, and it's a great way to honor the person who gifted you the scarf while still using it.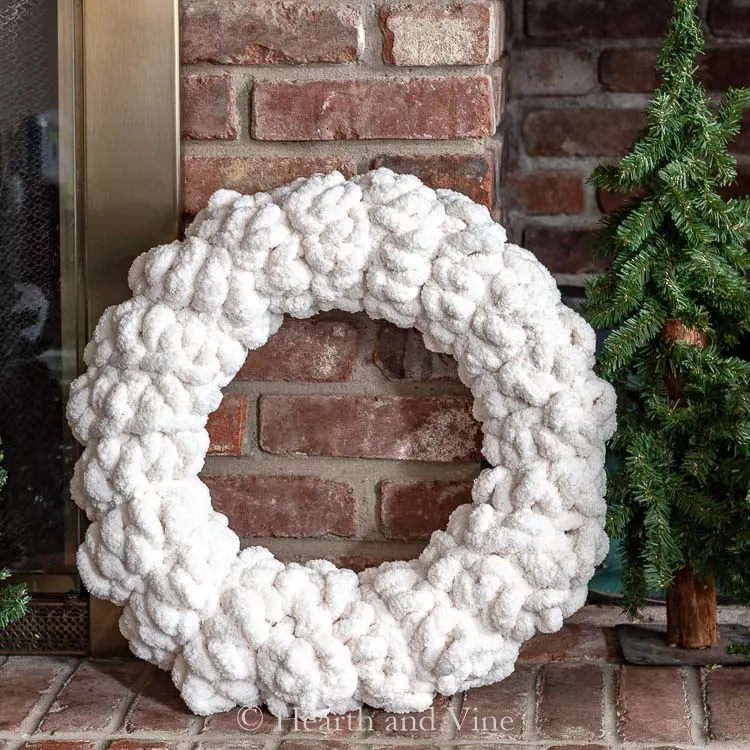 Source: hearthandvine.com
For that cozy hygge lover, this chunky yarn wreath is an absolute must!
The best part is you can opt for a singular or make it as many colors as you'd like, along with size, making it all the more cozier decor.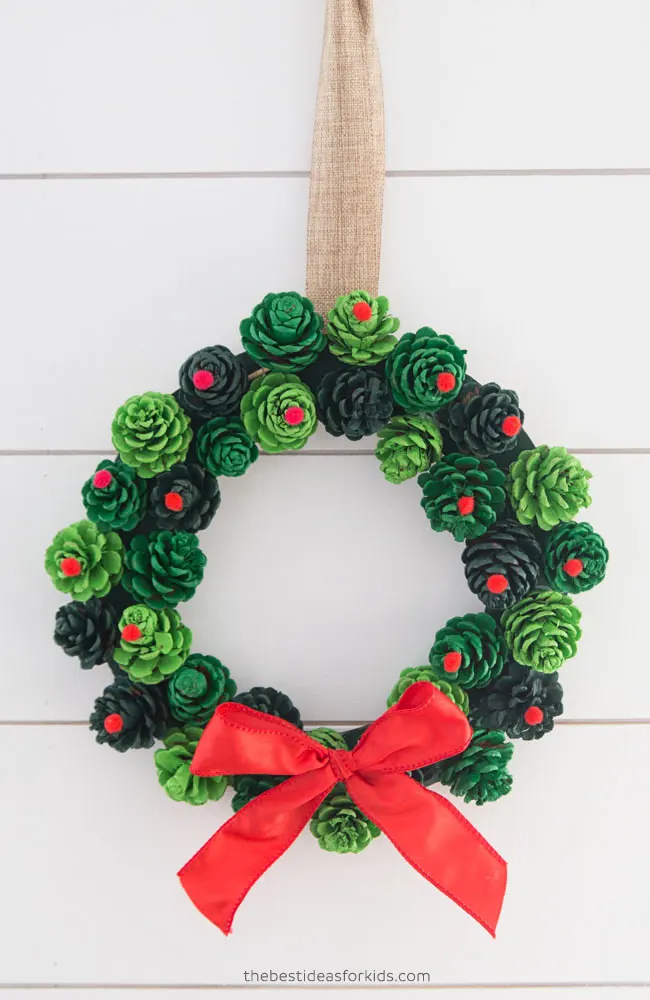 Source: thebestideasforkids.com
If you're looking for a creative take on the classic green wreath, opt for this green pinecone wreath!
At first glance, it looks like a traditional standby, but looking closer, you'll see that this one consists of painted pinecones.
Add sparkles, pom poms, or other natural elements to dress up this kid-friendly wreath.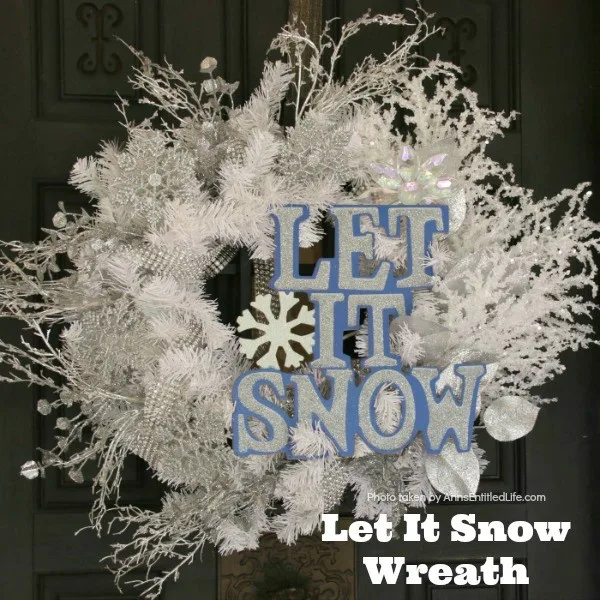 Source: annsentitledlife.com
Snow white wreaths are beautiful and unique pieces of decor you don't see daily. Use eclectic natural (fake or real) items to make it look like a big, wonderful, snow-dusted wreath.
Grab this pack to add to your snowy decor.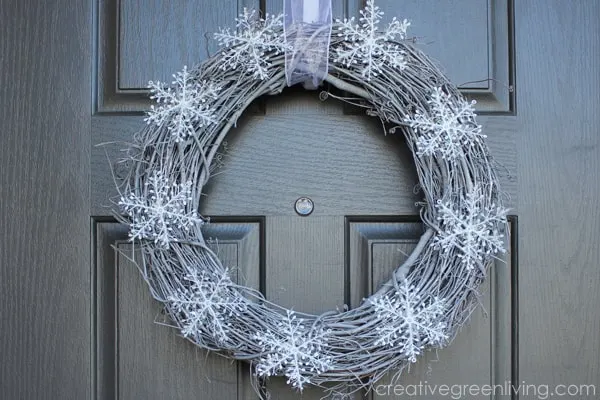 Source: creativegreenliving.com
Opt for branches or store-bought sticks to bind together for a more natural, stark white wreath.
Spray them with white spray paint and add cute, homey snowflakes to tie the whole thing together.
Pieces of holly or silver bells would make great alternatives to the big snowflakes.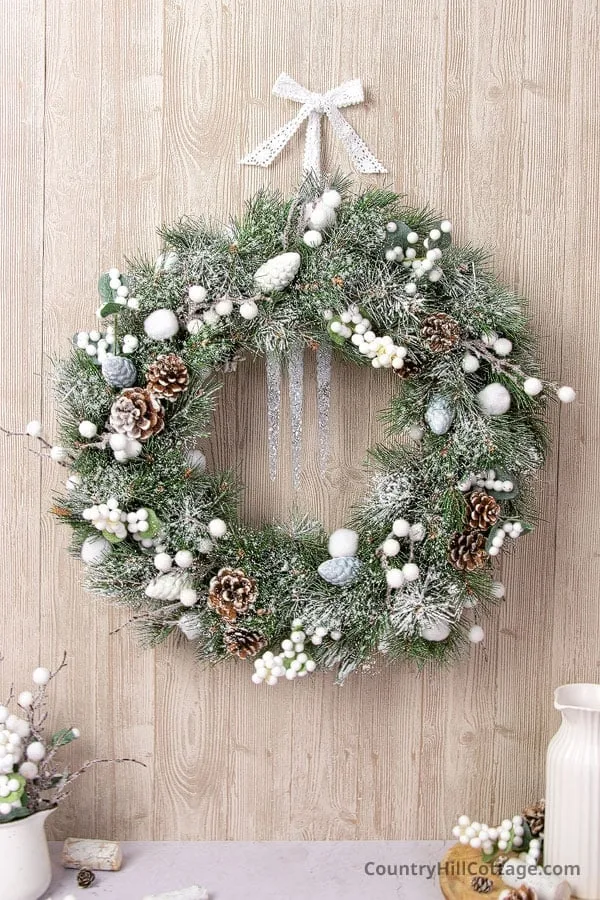 Source: countryhillcottage.com
For a beautiful, non-Christmasy wreath, this is one of the best. On the wreath is a beautiful wintry scene that you can cater to your aesthetics.
Here is a minimal and understated option, but opt for all of the color and fun baubles for a maximalist effect.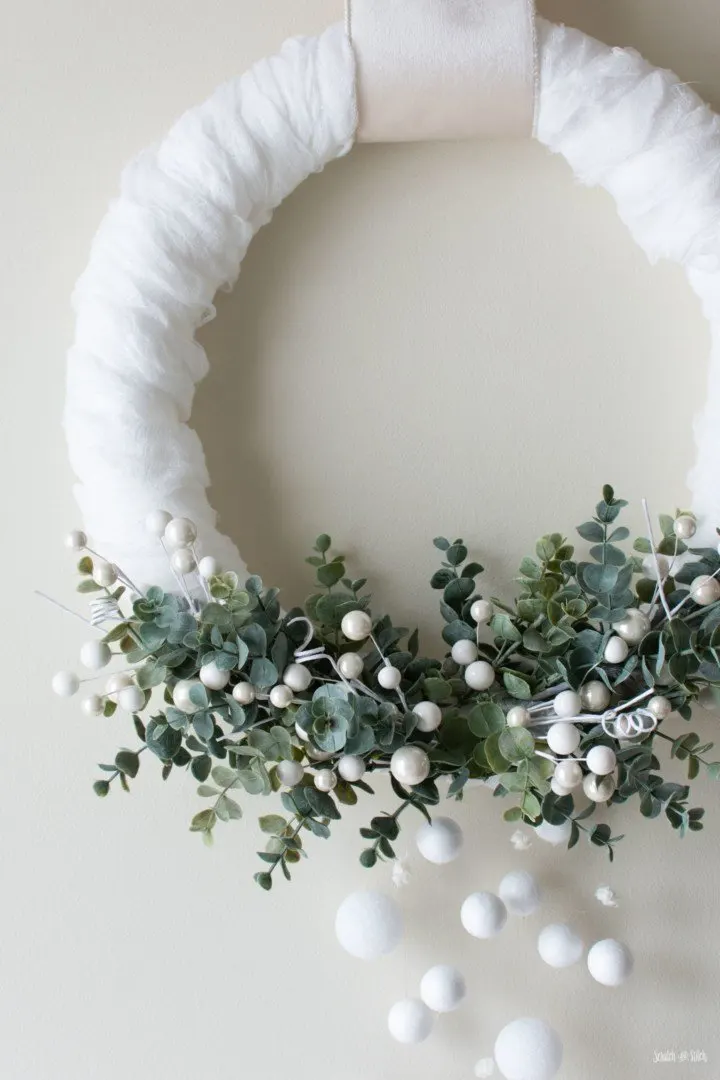 Source: scratchandstitch.com
White wreaths have been growing in popularity, and if you want a natural-looking spin for them, opt for this snowy and green winter wreath!
This option gives you the quiet elegance with the white but adds a fresh breath of air with the greenery decor on the bottom.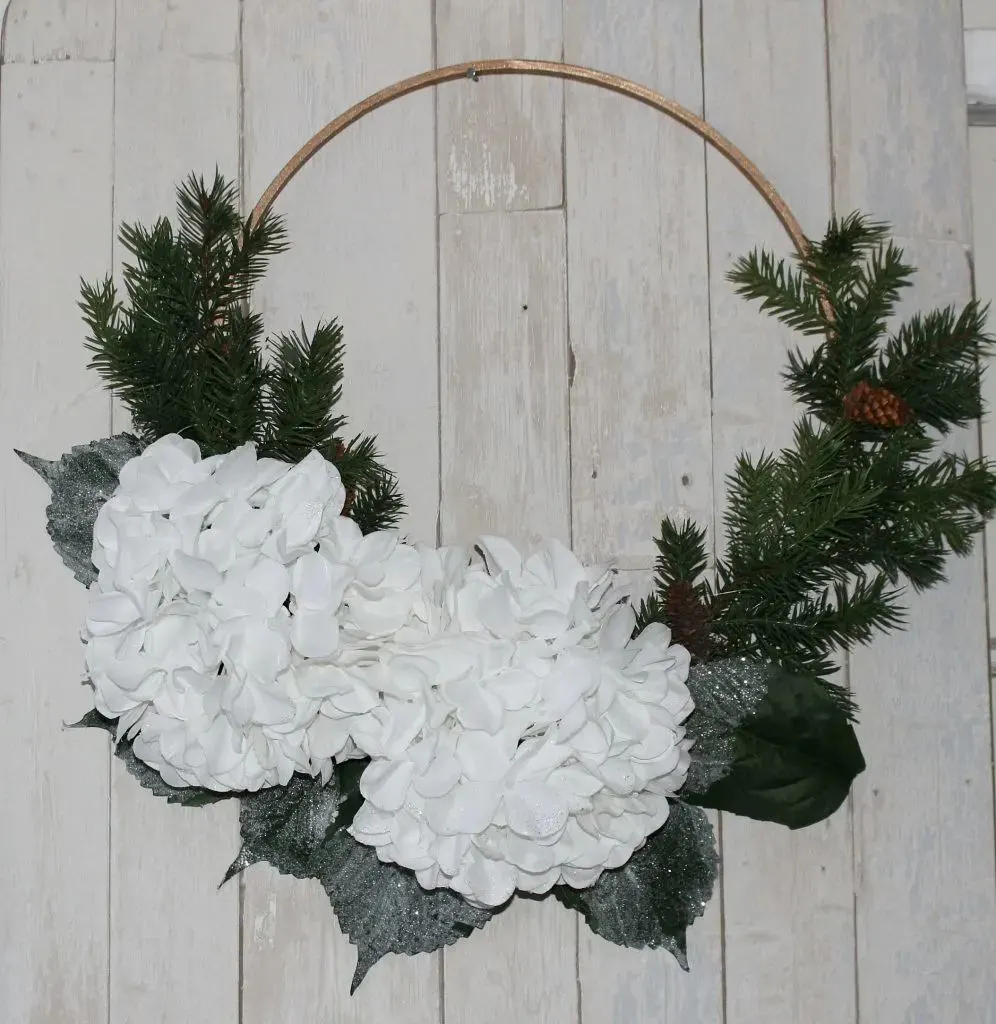 Source: ourcraftymom.com
For the true minimalist, opt for an embroidery hoop like these and add natural white and green elements to spread cheer quietly and simply.
Everyone's minimalist looks a little different, so pick and choose to create your unique take on this beauty.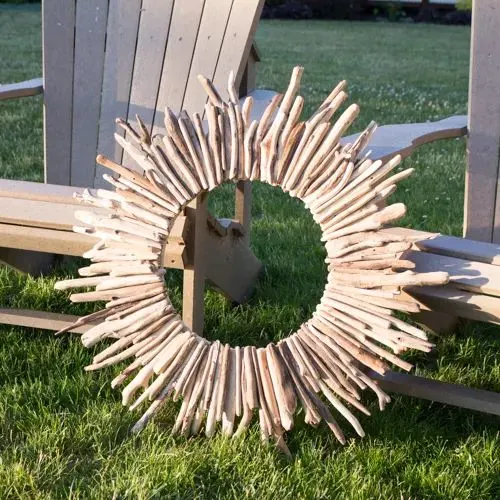 Source: sustainmycrafthabit.com
If you're near a body of water, try this wonderful driftwood wreath–or collect the pieces to make one while on vacation (or buy at the store!).
The natural uniqueness of each piece of wood makes this wreath one of the most unique.
Add a sweet bow to give it a little extra touch of home.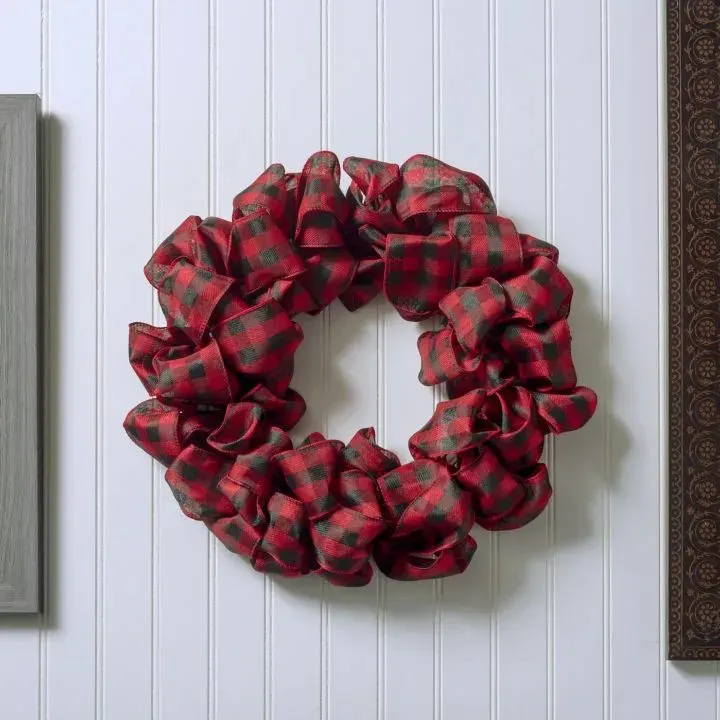 Source: diycandy.com
Speaking of bows and ribbons, a bow wreath is a fun textural take on a classic wreath.
Depending on the ribbon used, it can give the piece a lot of extra height and dimension, leaving space for fun gemstones, natural pieces, or pom poms to liven everything up.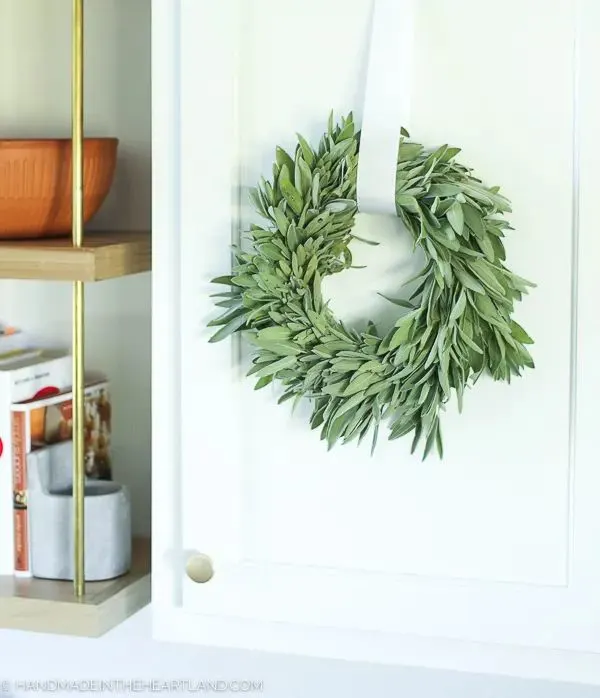 Source: handmadeintheheartland.com
If you're not a fan of eucalyptus, try this fresh sage wreath for a friendly and festive scent boost. Weaving plants and herbs for a wreath is a therapeutic and tactile experience.
The best part of these wreaths is that they last a few seasons while scenting the rest of your decor and are easily compostable once worn out.
This is an easy winter craft that anyone can create!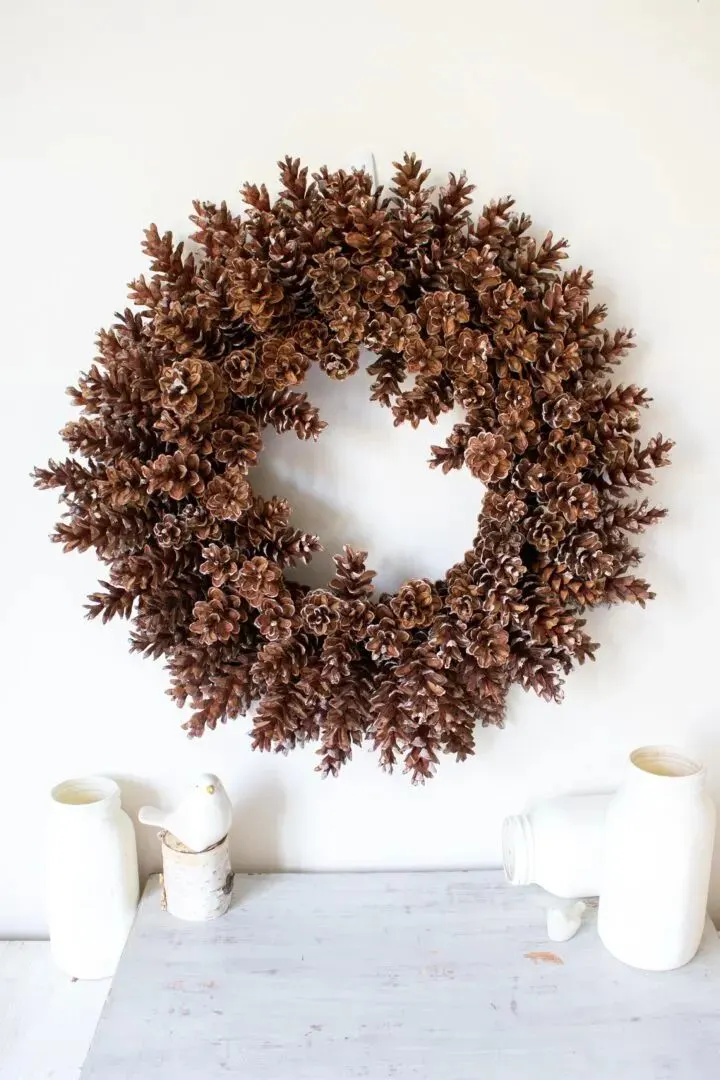 Source: sustainmycrafthabit.com
This classic one is great if you've enjoyed the other pinecone wreaths but want a fuller but minimal option.
This wreath is awesome to keep up through the fall and winter seasons for those who like decorating but not that much.
Grab this pack of pinecones for all of your crafting needs.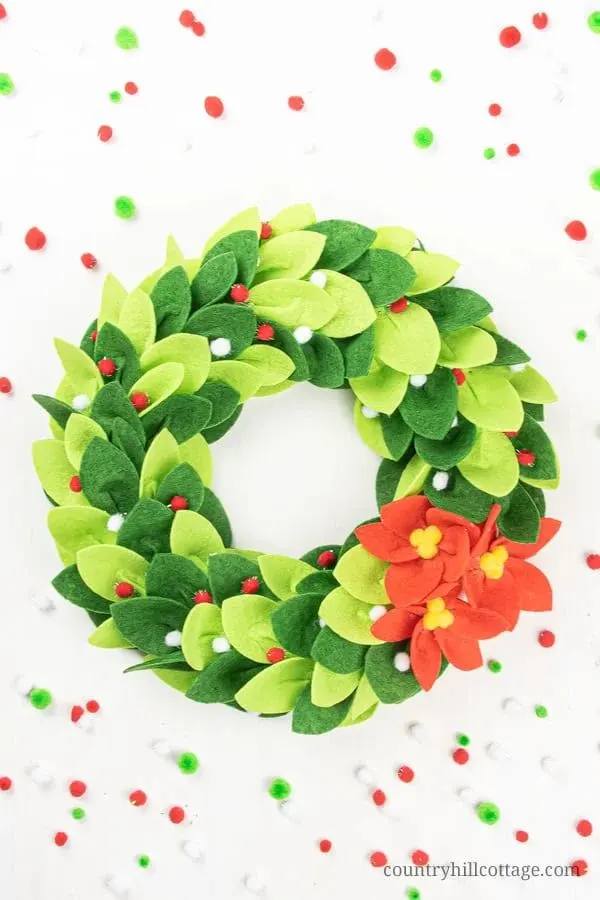 Source: countryhillcottage.com
Felting and felted items seem like perfect options in winter, so why not try this felted Christmas wreath?
It's a great project to start as the temperature drops and even better when you inevitably get that big snow of the season.
This is one of the best DIY Christmas decoration ideas!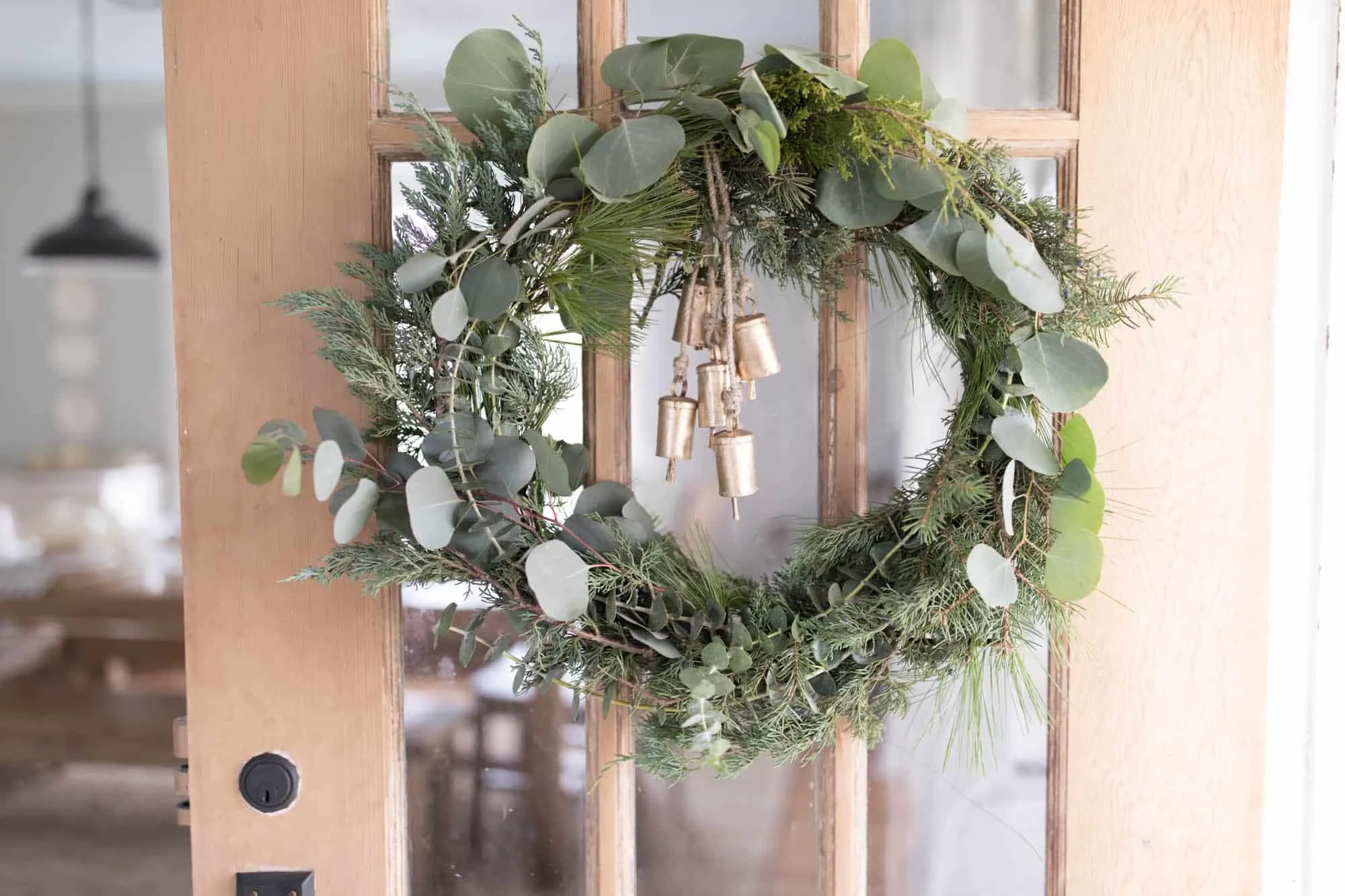 Source: farmhouseonboone.com
The fresh Christmas wreaths on the list are some of my favorites because of the natural scent boost, the longevity, and the low-waste result when moving on from a wreath.
As I mentioned earlier, weave together eucalyptus, rosemary, and more to get a breath of fresh air while getting in the holiday spirit with this DIY Christmas decoration.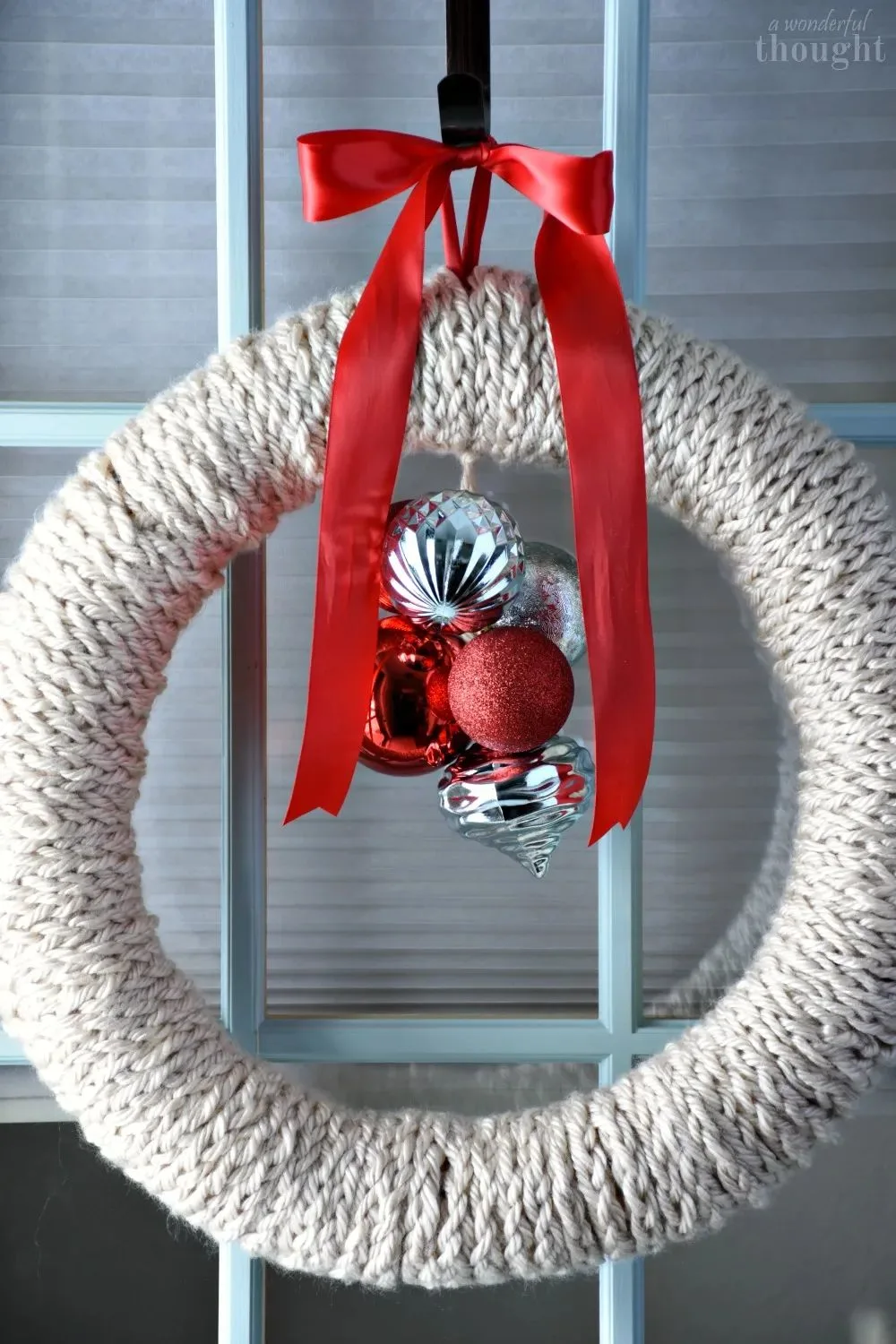 Source: awonderfulthought.com
Another hygge-oriented wreath option for those who love to get cozy during the season is this wonderful finger-knitted Christmas wreath.
From the material to the tactile experience of making this wreath, it will bring comfort and joy throughout the coldest parts of the year.
Keep it all white, or implement multiple colored yarns that give you all the warm and cozy feelings you seek. While you're at it, I love this yarn; some of the coziest I've found.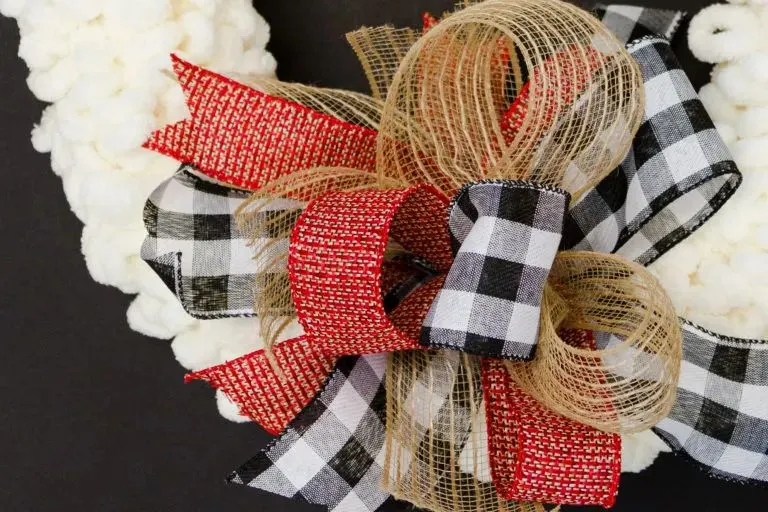 Source: kippiathome.com
Try this homey Christmas wreath for those looking for a simple country cozy vibe! The buffalo plaid will always scream comfort to me and others I know.
Paired with the chunky and fun wreath, the buffalo print fits right in, and there's only warmth here, perfect for those expecting loved ones home for the holidays.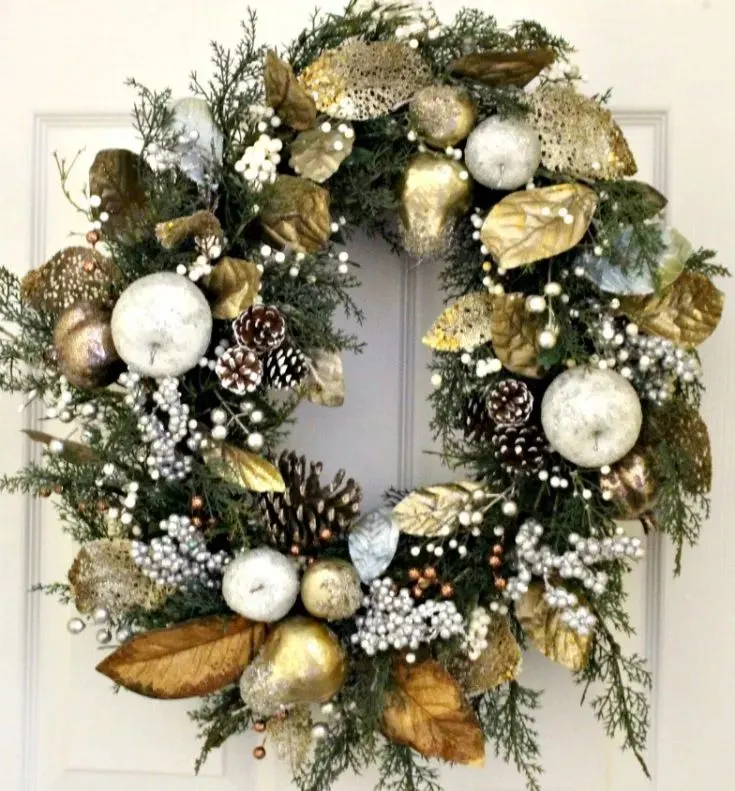 Source: ourcraftymom.com
We can't leave fruit out of the holidays, with everyone's most loved and hated item (fruitcake, anyone?). Why not add it to a wreath?
I promise the results will be much better than that of that questionable slice of who knows what it is.
Keep them their natural colors, or grab chrome or warm-toned spray paint and give everything a light layer to give it a magical touch.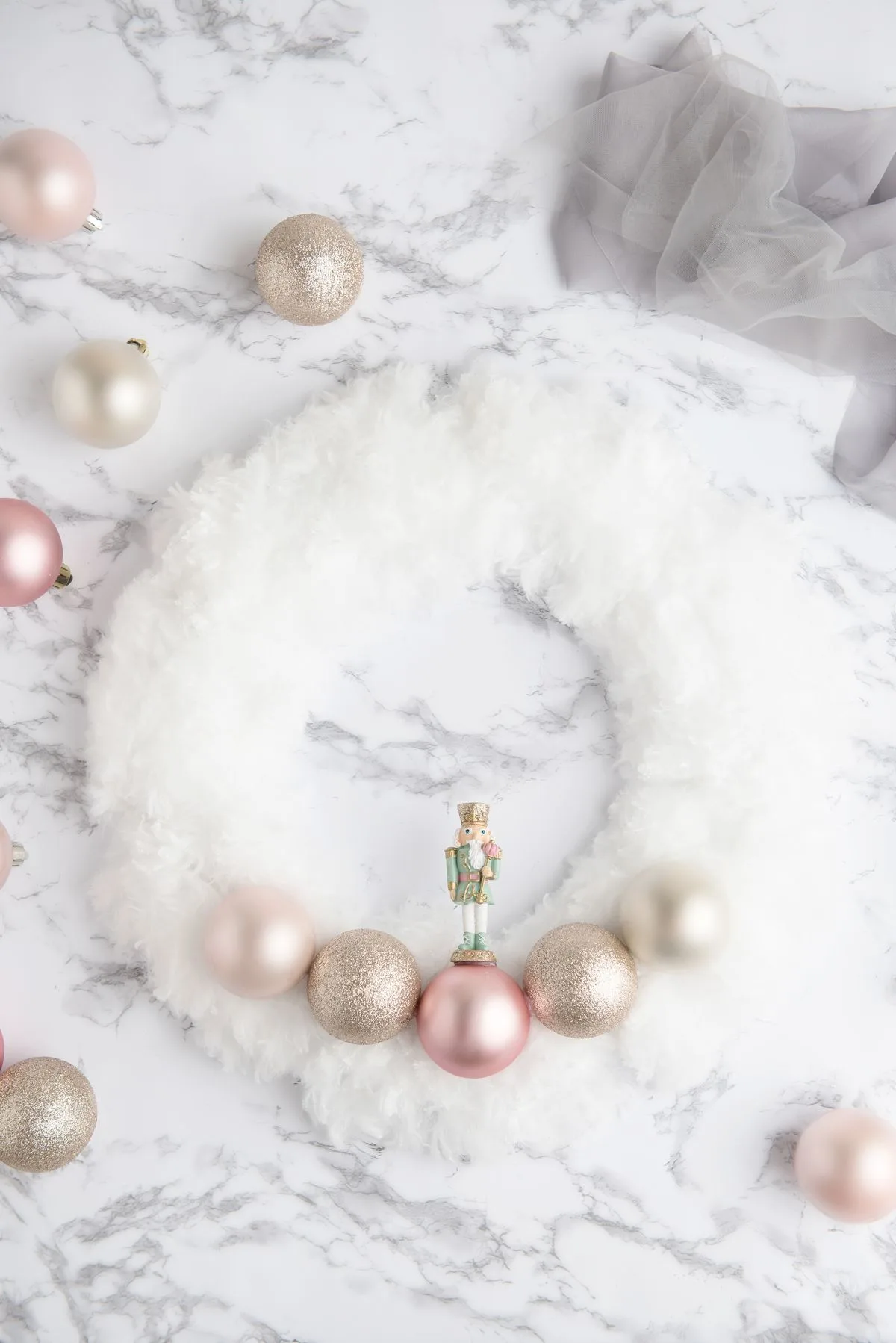 Source: extremecouponingmom.ca
For a fun and fringy-styled wreath, try this Christmas duster wreath. I love a unique Christmas duster; they are perfect for wreath-making.
Lean into tacky or classic with a little hot glue and your additions of choice! This wreath will always be a great conversation starter.
Check out these other easy Christmas crafts for adults!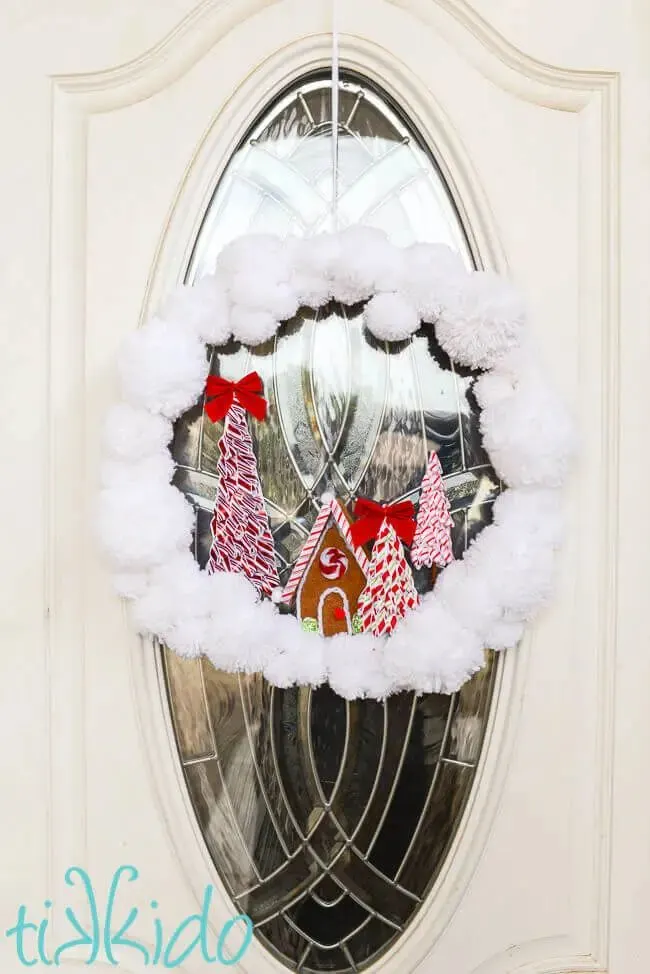 Source: tikkido.com
Another option for a more funky wreath is this cute yarn pom pom wreath! Add multi-colored poms or stick to one color for completely different results.
Continue to add more poms for a fuller and thicker wreath–or less for a more minimal result!