Need some wedding inspiration? Check out these wedding send-off ideas and take your wedding to a whole new level.
You've shed your happy tears, eaten your fill of the cake, danced your heart off, and now, it's time to send the bride and groom off on their next Big Adventure. With a little help, this send-off can be quite memorable for the guests and couples alike.
Here are 41 wedding send-off ideas for you to explore and draw inspiration from.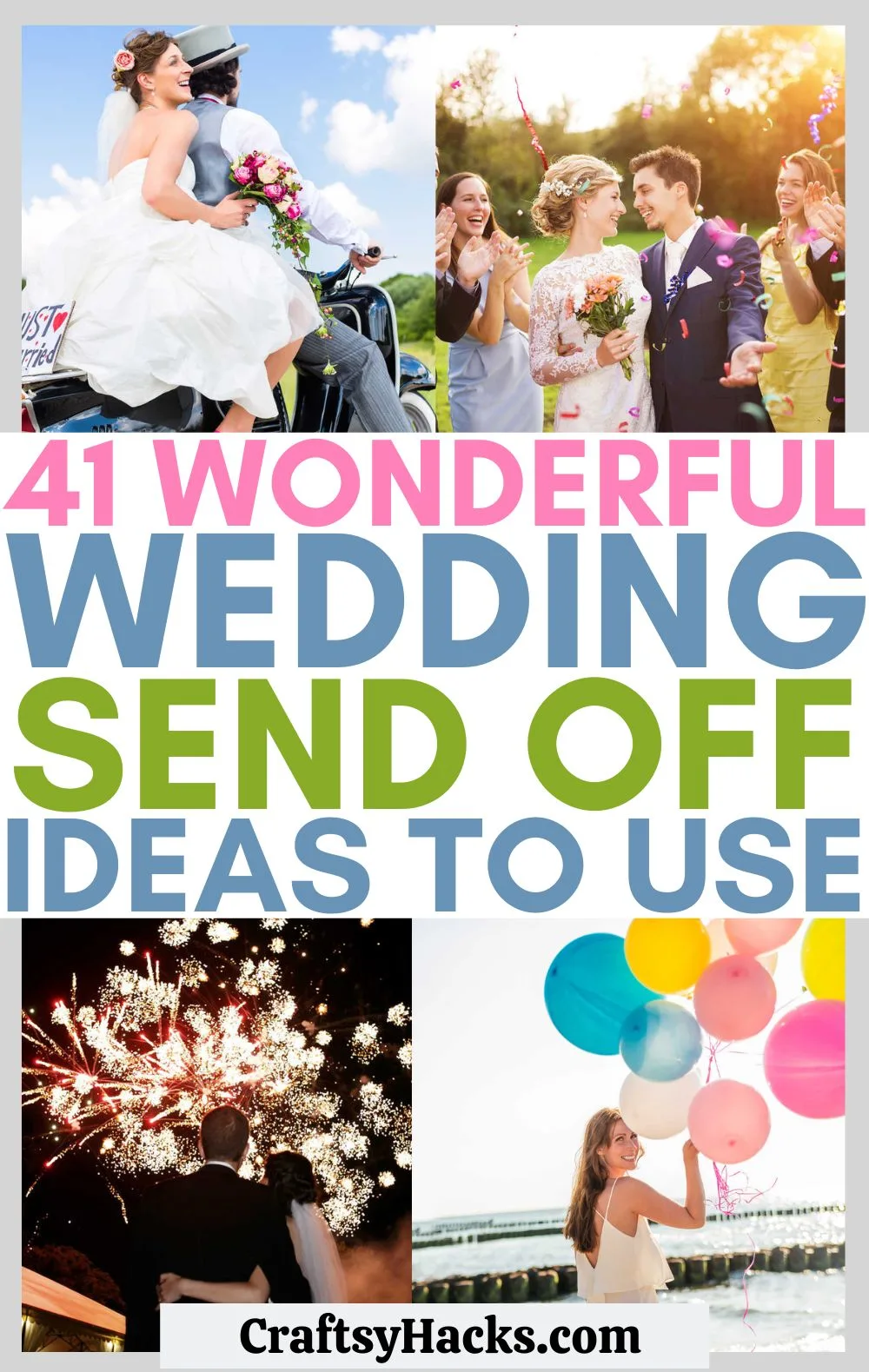 1. Glow Sticks
Glow sticks have this crazy effect on people. It's the stuff that epic concerts and vivid memories are made of. So it makes sense, doesn't it, to send off the happy couple with a whole bunch of glow sticks to light up their way.
You can have all their friends and family light these sticks up and form an arch around the couple as they make their way down to their happily ever after.
2. Dried Lavender
You know how you throw rice over the happy couple as they run off into the sunset? Well, how about you put together a toss packet, only this time, switch out the rice for dried lavender.
Dried lavender is wonderfully fragrant and super aesthetic. It's perfect for a summer wedding and the smell will linger in the air for the guests to enjoy long after the couple have been sent off.
3. Paper Airplanes
No, hear me out on this: paper airplanes are reminiscent of some of the happiest days that we spent as kids. It brings to mind balmy summer days when there was no care in the world.
That's exactly what you want the newlyweds to feel as they set off on their own adventure–a feeling of light-hearted fun and cheer.
4. Dove Release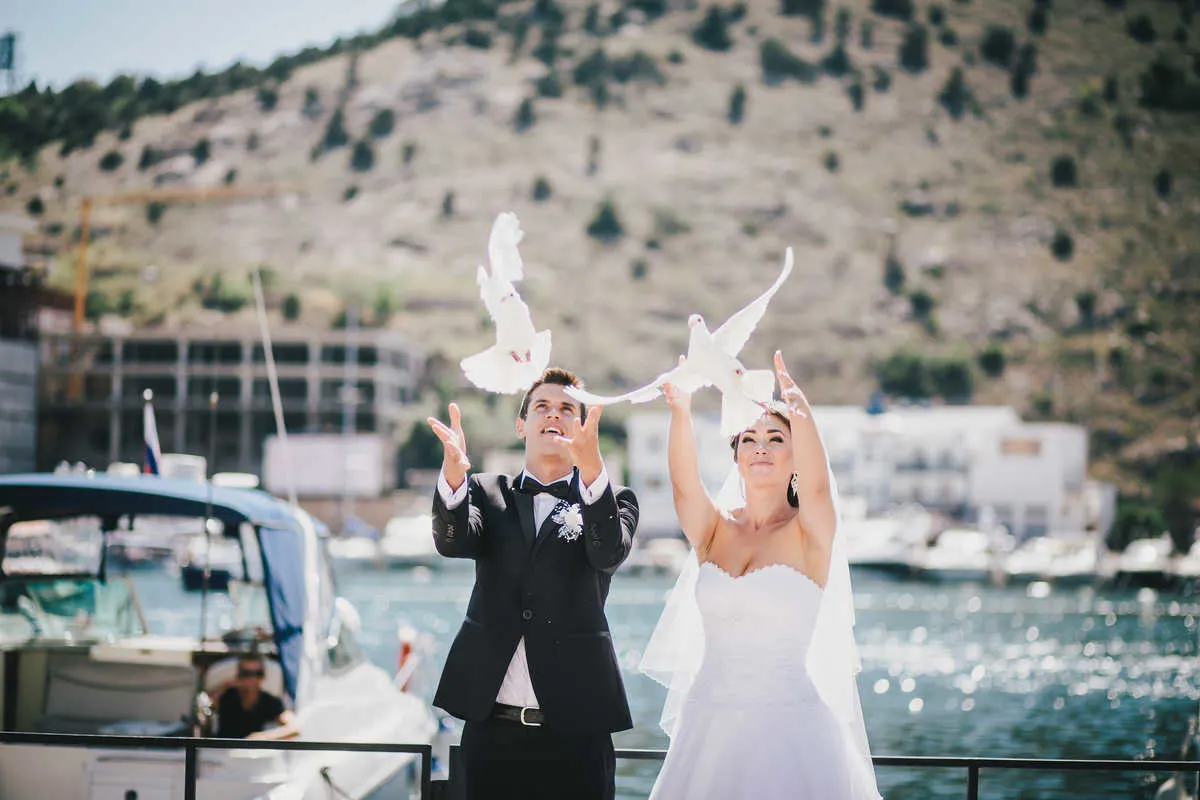 This is one for the ages, isn't it? Releasing doves into the air to send the newlyweds off just embodies a fairytale wedding. They're a sign of opulence and luxury, but also sheer and pure elegance.
It's truly a no brainer; go on and find a few doves and then release them!
5. Toss Dried Flower Petals
Much like tossing lavender, friend flower petals are an equally beautiful option. There's nothing quite as romantic as walking off with your spouse into the sunset while people shower flower petals down on you.
Roses, lavender, and just about any colorful flower petals can be bought readymade and tossed into the air.
6. Sparklers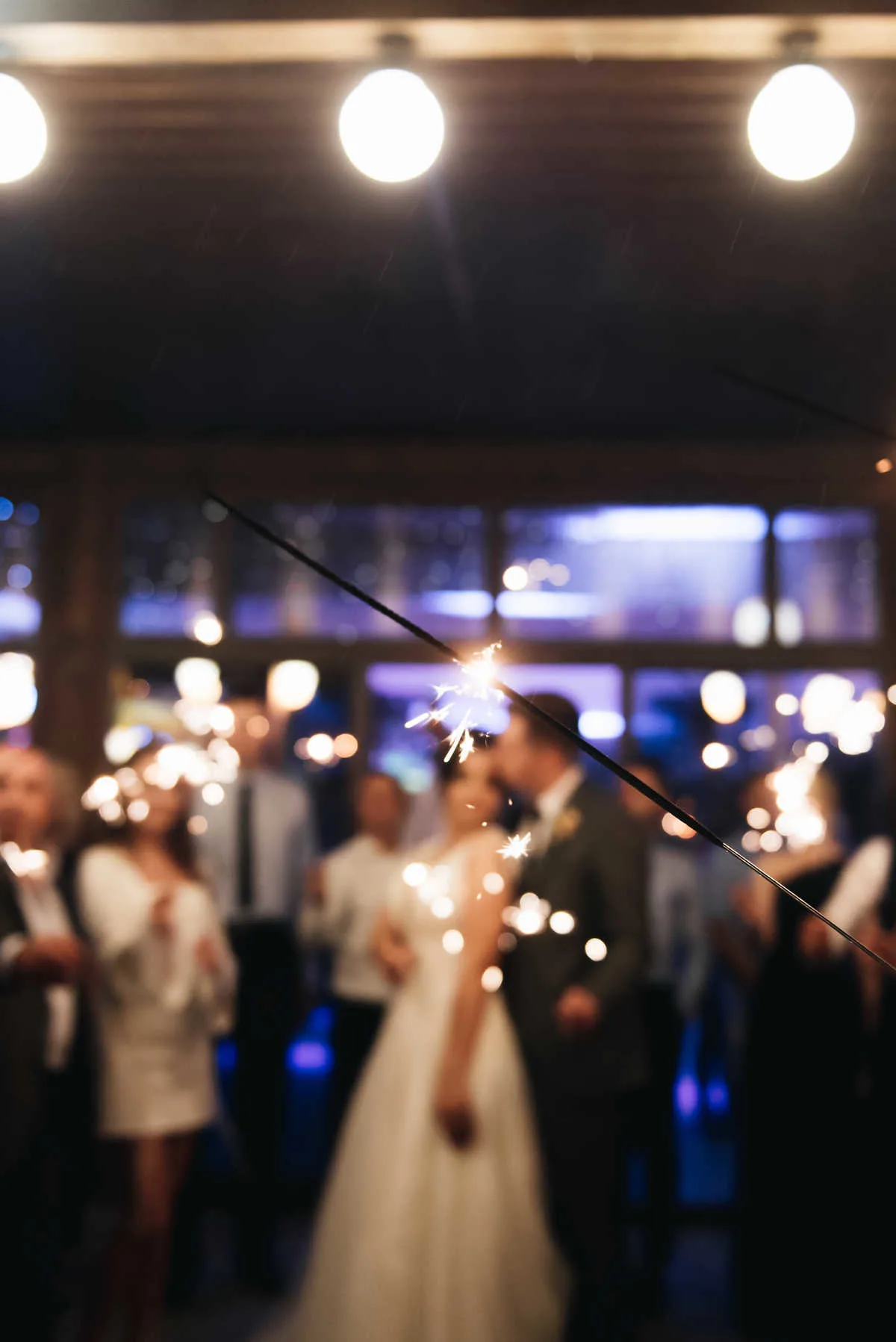 Don't tell me that you've never seen sparklers being lit up at weddings when the bride and her groom are ushered out to head off on their honeymoon. It's just downright festive and a sight to behold.
You can have all the guests form a path down the driveway to the couples' car and have them wave sparklers in the air.
7. Release Lanterns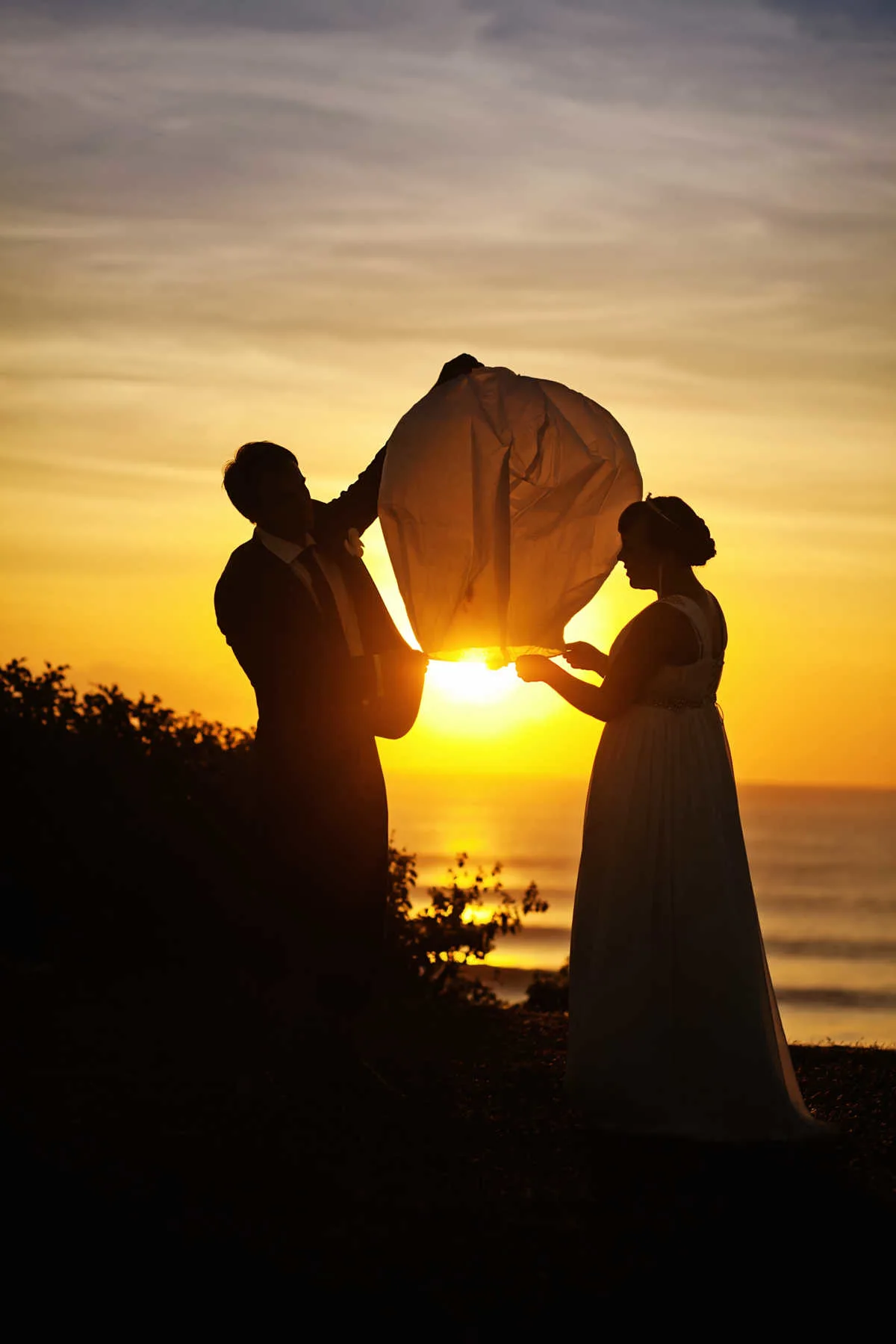 Have you ever been to one of those lantern festivals? Or perhaps you've seen that scene from Disney's Tangled?
Either way, didn't you just love how magical and dreamy it was to watch all those lanterns floating up and away?
Now imagine that at a wedding! You can truly have a magical ending to a magical night with a lantern-releasing activity!
8. Bubbles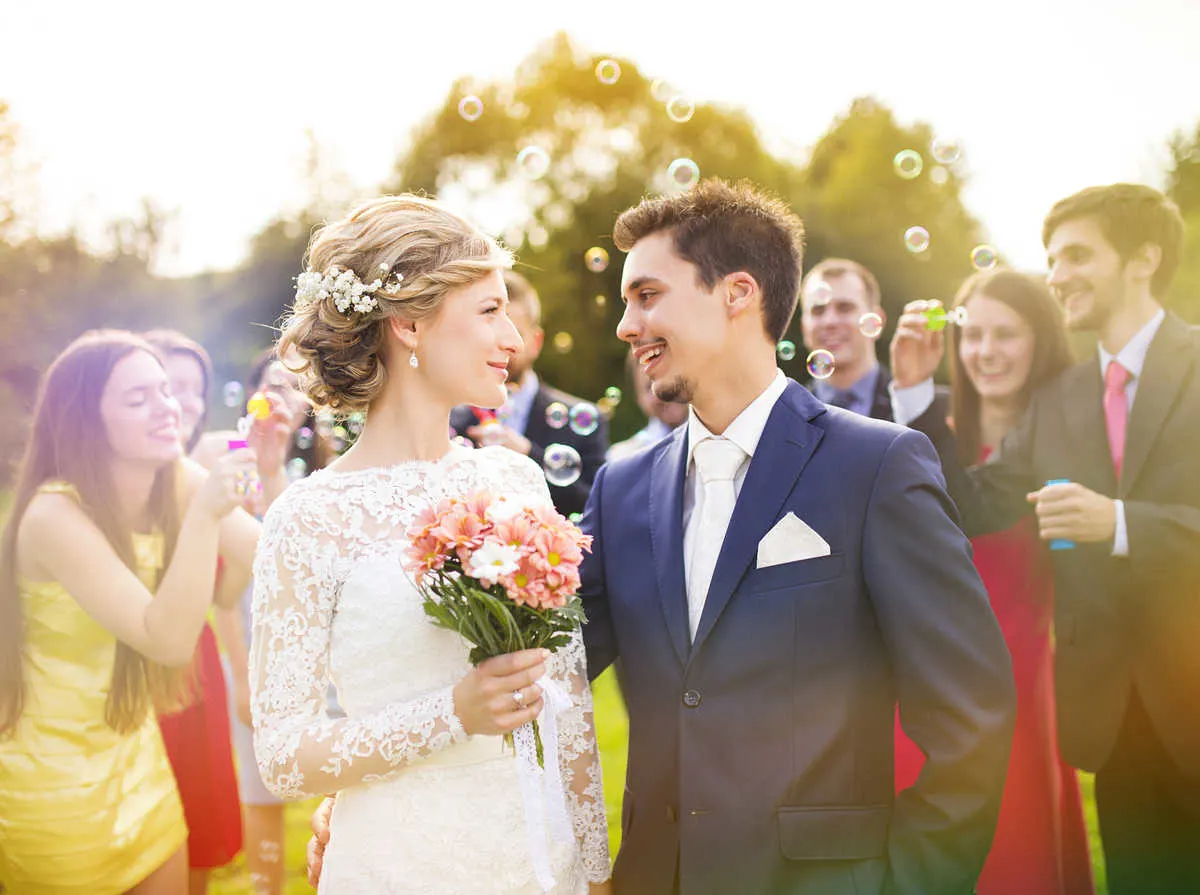 If lanterns are a little too risky on account of the fire hazards, then perhaps you can resort to the age-old, much loved, never going out of style activity of blowing bubbles!
You can never be too old for bubbles, and you can't convince me otherwise.
So, hand a few bottles of bubbles to guests, or have an industrial bubble blower ready to go just when the newlyweds depart!
9. Streamers
You can never go wrong with streamers. There's just so much to love about them: all those colors, sparkly glitter, and more!
When you're on a budget but still want to send off the newlyweds in a flurry of festive colors and fun, then turn to streamers!
In need of more ideas for a wedding? Check out these wedding registry ideas.
10. Smoke Bombs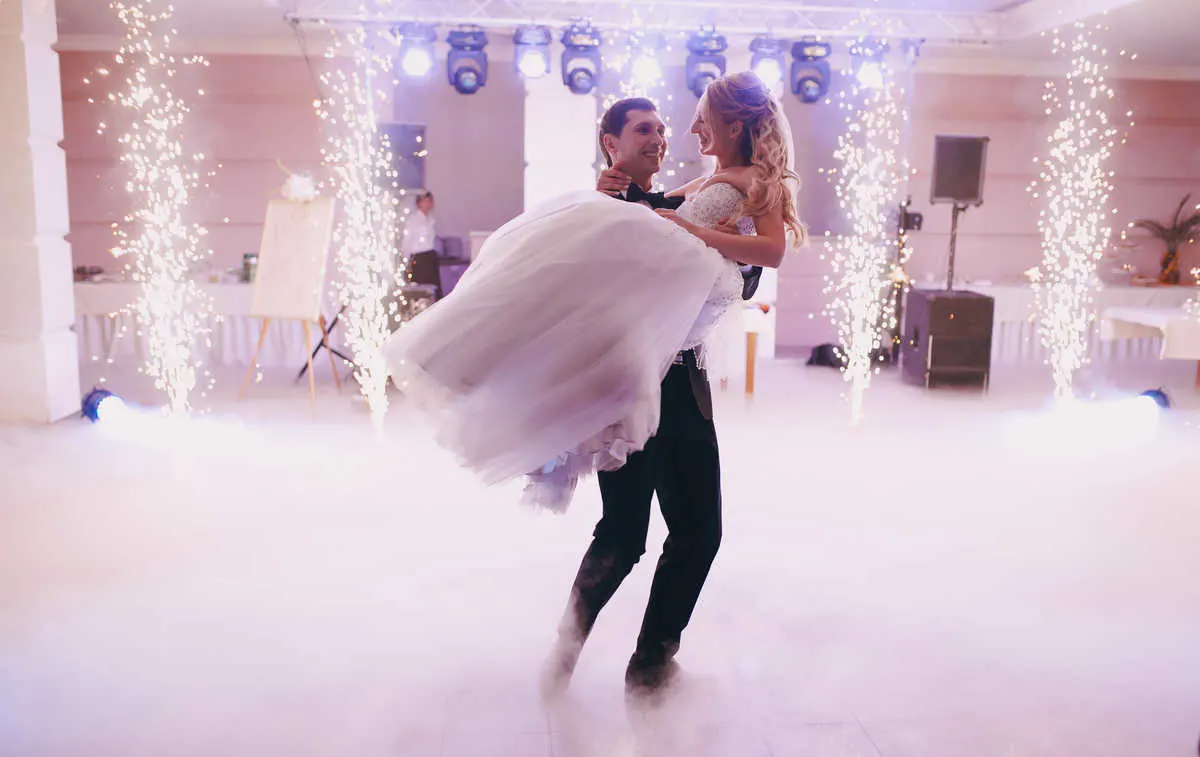 While smoke bombs might be breathtaking and spectacular, just remember to do a little research to make sure that they are allowed in your locality.
If they are, then the newlyweds are in for a treat as they ride off into the sunset in a whirl of color!
This activity will yield some spectacular pictures, as well!
11. Butterfly Release
If you've got an inexplicable fear of birds, then releasing doves on your wedding day might be out of the question. But you can still consider releasing butterflies!
There's something inherently Alice in Wonderland-like about releasing a kaleidoscope of butterflies at the end of a beautiful wedding, isn't there?
12. Leaves
When you're having a fall wedding, just stop and take a look around you at all those autumnal colors.
All those reds, browns, and golds just waiting to tumble down on you as you walk through a sea of your closest family and friends, hand in hand with your spouse.
So go ahead and switch things up a little and have your guests throw leaves to send you off!
13. Rose Petals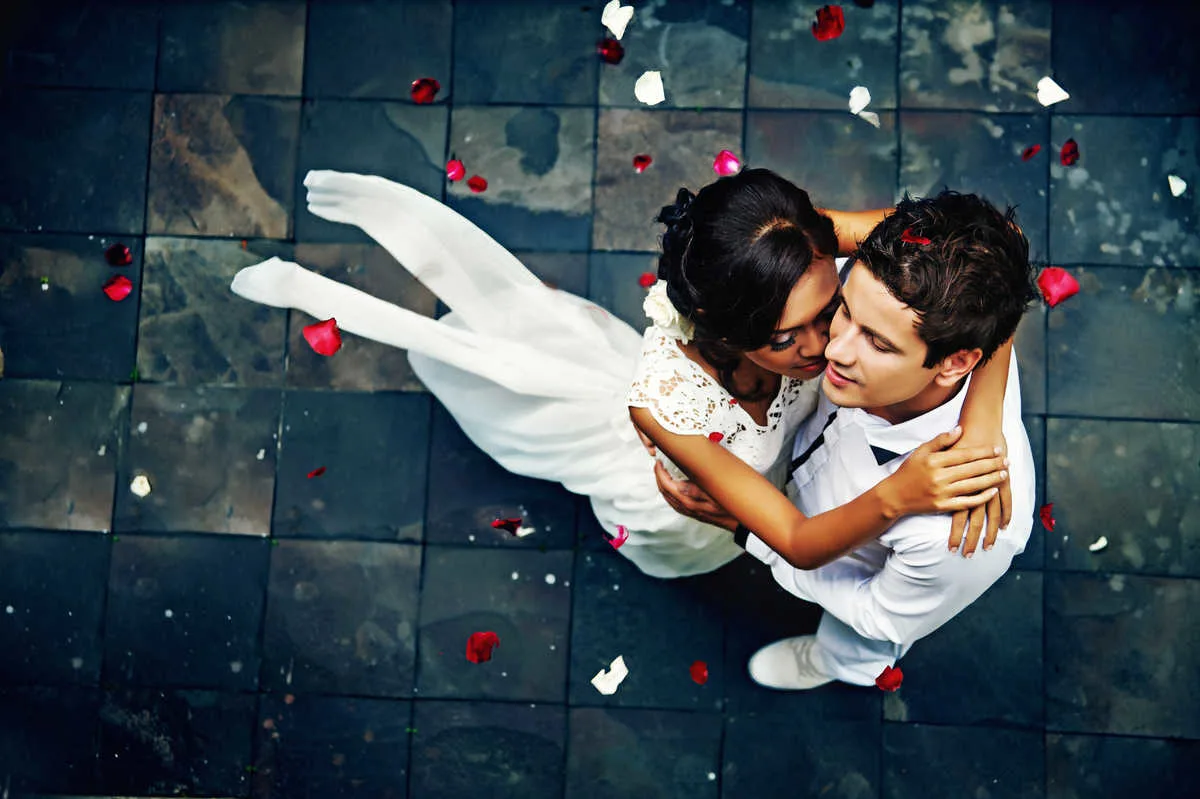 Throwing rose petals over the happy couple is as timeless and classic as it gets. There's nothing that can quite beat the feel of those satiny petals against your skin as they come tumbling down.
You can use multiple colors of rose petals if you really want to go all out!
14. Fake Snow
Imagine walking off into the sunset but under a canopy of softly falling snow. I can almost see the soft white flakes landing on the couple and melting away as they leave.
Sometimes, though, you have to rely on fake snow, especially when you're getting married in spring. You can arrange for the fake snow to cascade down and just sit back and enjoy the show!
15. Confetti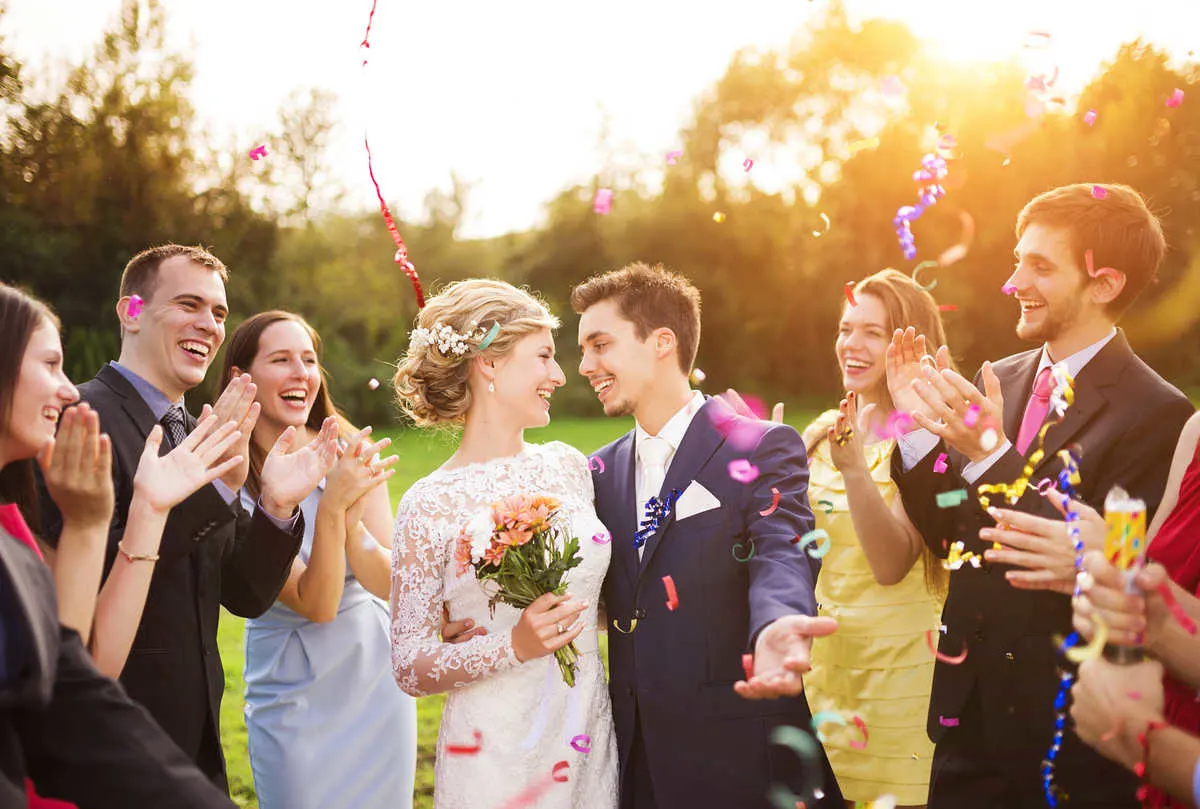 Streamers and confetti are high on my list of fun and crazy ways to send off the newlyweds. It's loud. It's colorful, messy, and downright amazing.
You can mix things up a little and incorporate streamers and confetti all in one go. That's going to be messier, louder, crazier, and a whole lot more amazing!
16. Fireworks
There's nothing I would like more than to wind up a beautiful wedding and a lovely party with fireworks. It is pretty symbolic, a culmination of the festivities, and also a lovely way to start the newlyweds off on their new Big Adventure.
A small round of after-dinner fireworks can be just what any wedding truly needs to up the ante.
17. Glitter
How about you drop a whole ton of glitter on the newlyweds. Well, if you wanted to give them a send off, they'll remember forever, then what better way than to drop a glitter bomb on them.
Trust me, they're going to be finding glitter on their body a few decades from now–that's just
how glitter works. Just remember that it's a send off that should be pleasantly memorable and not a big prank.
18. Tambourines
Tambourines are just so much fun. The jingle jangle, mixed with the lights and colors will only amplify the festive mood at the wedding. In some cultures, it is a part of their wedding custom to play certain instruments in honor of the couples.
Have the guest line up and form an aisle for the happy couple to pass through and have them play the tambourines!
19. Feathers
There's something very 'Viva las Vegas' about having feathers incorporated into the send-off. It's definitely retro and fun, and you'll find that it makes for some fantastic photographable moments.
So go ahead and pick out some colored or just plain feathers and send the couple off in style! Need more inspiration for wedding? Check out these wedding cake ideas.
20. Birdseed
If you're wondering why someone would throw bird seeds at the happy couple, well…why do we throw anything at all? If you're committed to the idea of throwing birdseed, then you will find that there are a ton of options.
You can use toss bags, birdseed straws, and more. Hey, if you release doves, maybe they'd get a kick out of this!
21. Balloons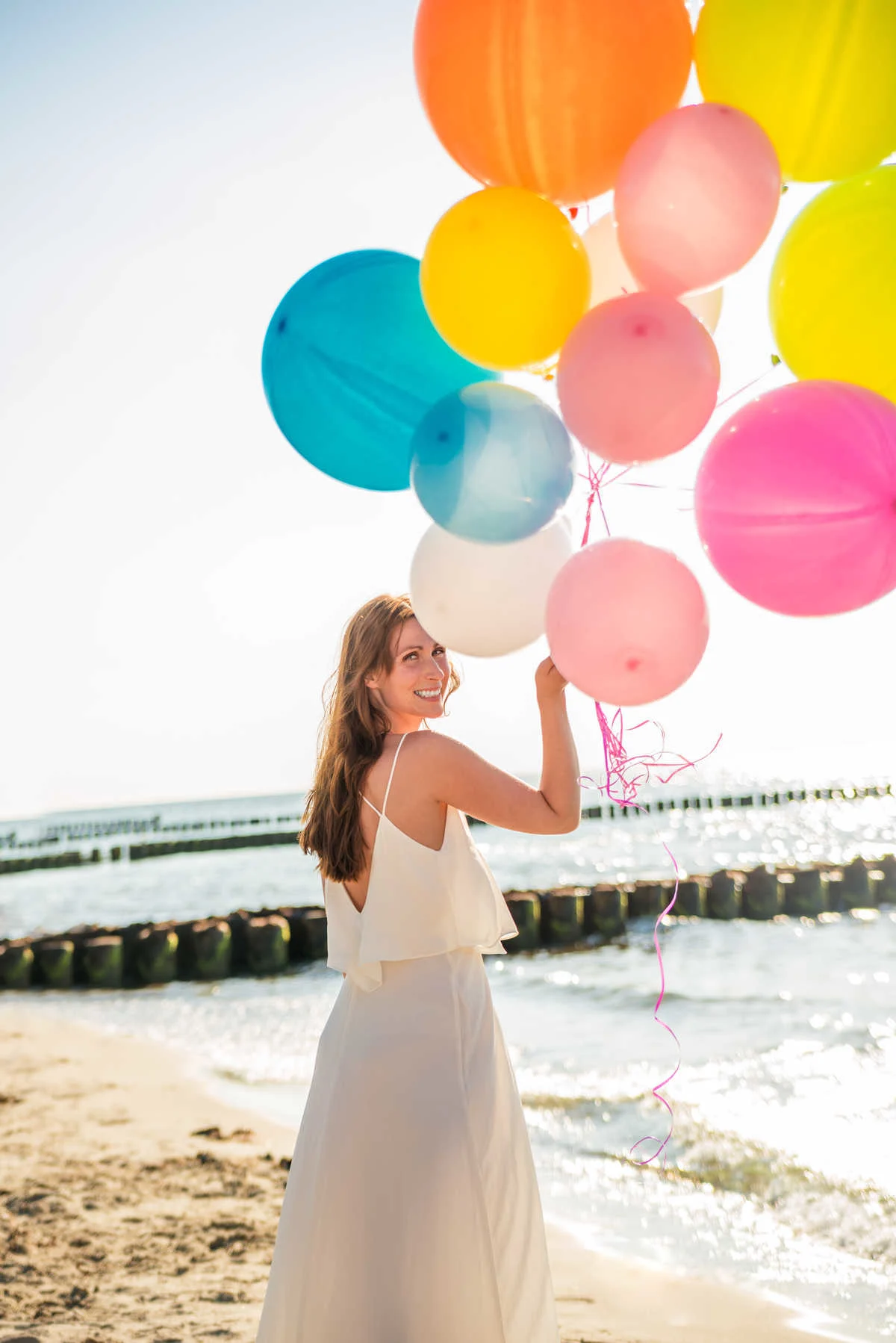 A party–or a wedding, as the case is–without balloons is like peanut butter without jelly, sundaes without the cherries, like…you get the point. You can never have too many balloons when you're planning a party.
When it's time to send the couple off, you can release all those colorful balloons up into the air and enjoy the sure.
22. Lavender
Lavender is one of the most aromatic herbs out there. Not only does it have a ton of healing and soothing qualities, it's also just downright pretty.
Wondering how you can incorporate lavender into your wedding? You can slip a few sprigs into the rice-throwing event, or even give them to you guests as a little send-off token.
23. Fall Foliage
Fall foliage can include a whole slew of things for you to pick and choose from. You can pick fall colored leaves, fall flowers, and more and center the send-off around those things.
Just remember, though, if you're planning to throw rice or leaves, I'd leave out the acorns and pinecones.
24. Rice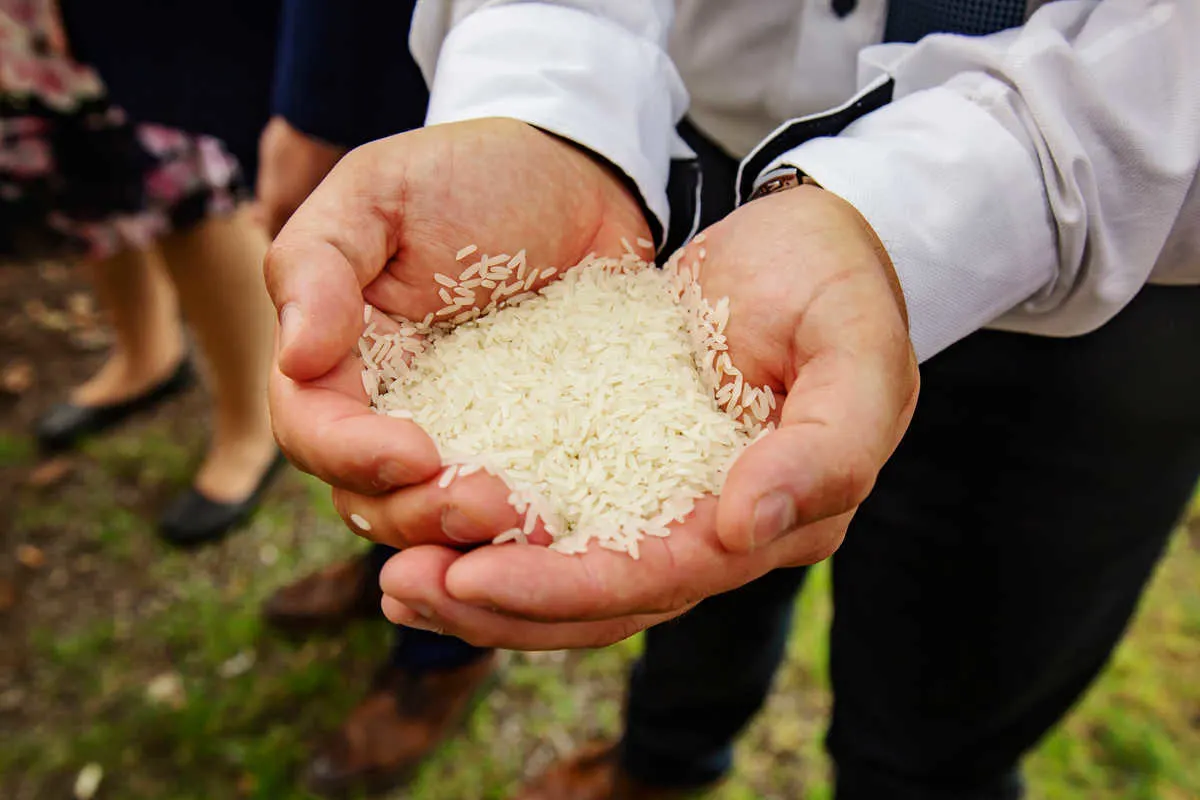 I'm as surprised as you are to find rice so far down this list. But with so many other contenders out there, rice has become quite old-fashioned.
However, in many cultures, throwing rice on the newlyweds is considered a sign of good luck. So, perhaps you can incorporate it with other things like flowers and lavender and make a throw pouch.
25. A boat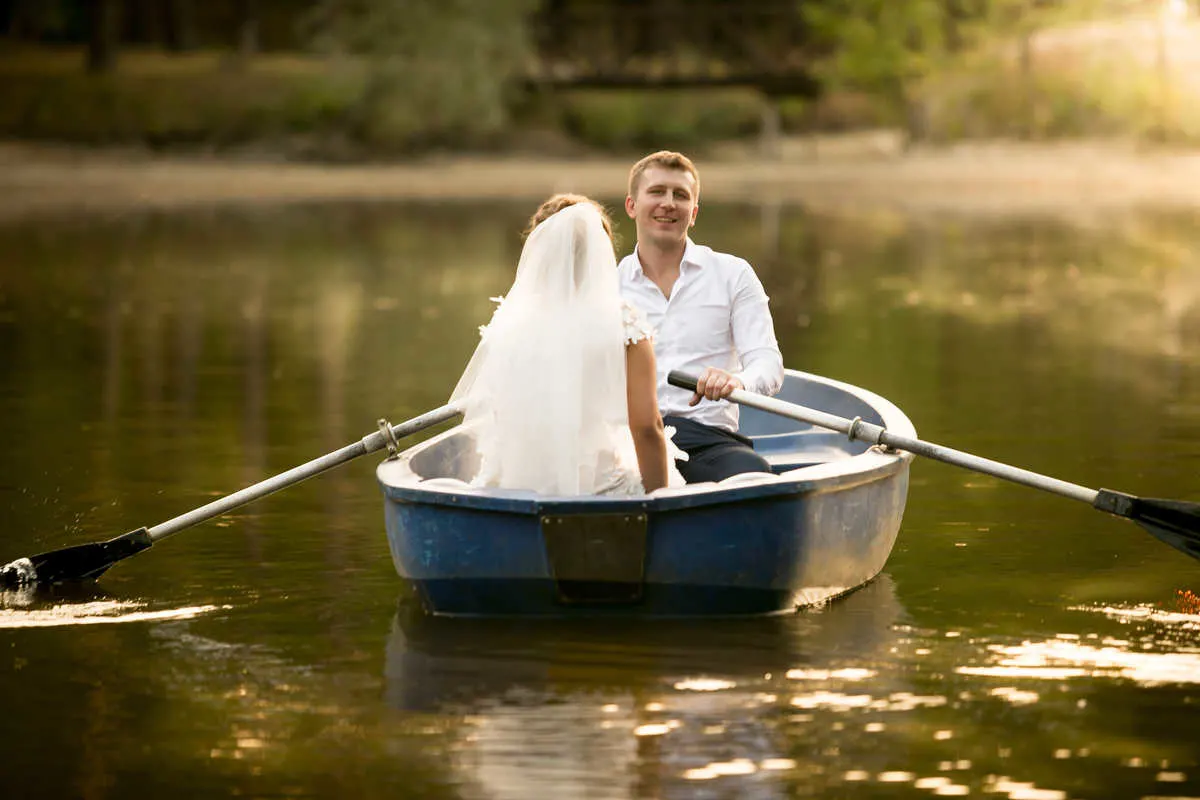 How romantic would it be to send the couple off on a boat?
Depending on the size of the wedding and the budget, this boat can be something as big as a yacht, or as lovely and romantic as a little dinghy.
26. Sequins
When you think about it, throwing sequins can turn out to be quite spectacular. When sequins catch in the light, they can bounce off a rainbow of colors.
They would look quite magical if captured properly on video or camera.
27. Musician Line
A string quartet of a line of musicians: they're both perfectly adequate for this next wedding send-off idea. You've seen plenty of options where you can finish the evening with a bang, colors, light, and merry.
Now, how about a little music?
28. Fresh Herbs
Fresh herbs are aromatic and pretty. Did you know that each herb has different symbolism and even healing properties?
You can make a little toss bag filled with purifying and aromatic herbs to toss on the happy couple.
29. Bells
Is a wedding truly complete without wedding bells? If you've seen Disney movies growing up, you probably dreamed of running down the cathedral steps with your spouse while the bells tolled loud and clear for you!
You can incorporate twinkling bells into your very own wedding send off! Need more ideas for a wedding? Check out these wedding gift ideas.
30. Pom Poms
Friends and family can be your biggest cheerleaders. They're the first people there to help you and the last people to leave.
So, hand a set of pom poms over to them and let them cheer you and your spouse on.
31. Wave Flags
When you can have pom poms, you most definitely can have flags at your wedding send off. It's stately and regal but also really adorable at the same time.
You'll love how colorful those little flags can look fluttering in the wind as you swoop past the crowds that are cheering for you.
32. Light the way with Candles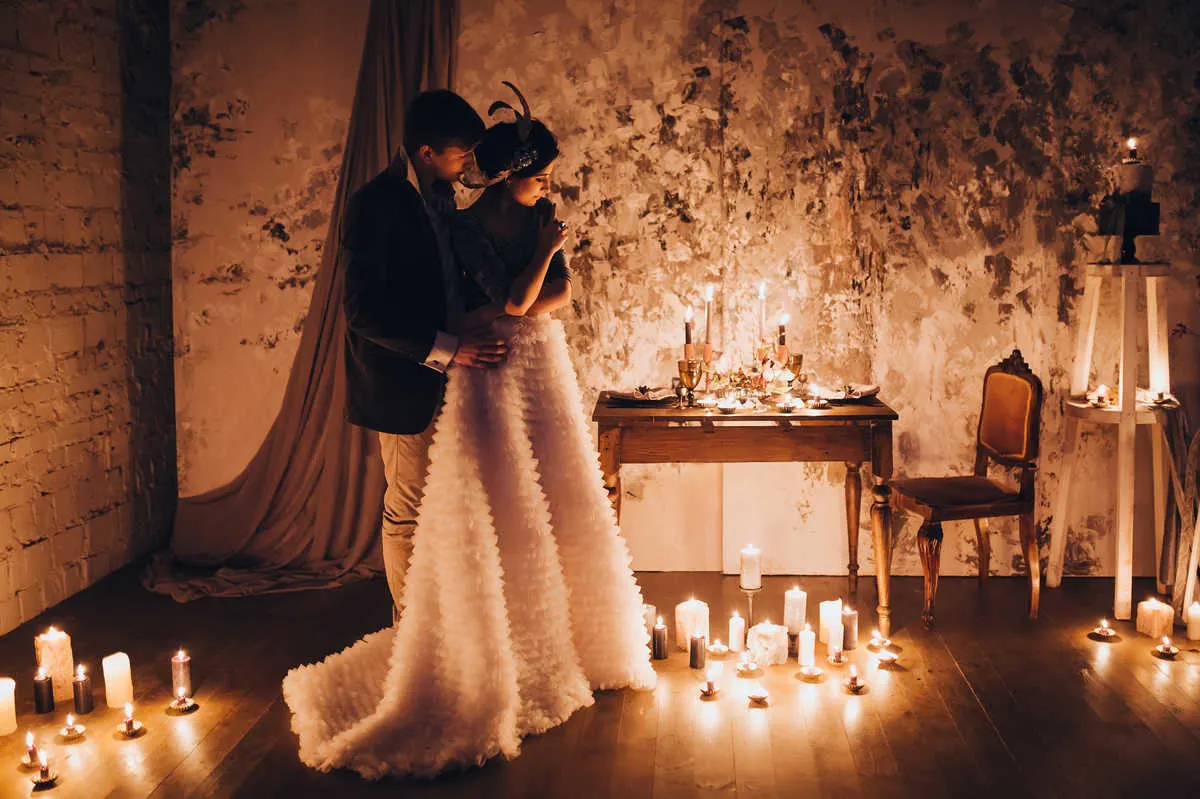 Lighting up the entire way from the reception all the way to the bridal car can be so romantic. The soft and mellow glow of the candles can add so much of personality and character to a place and can immediately set the tone for the entire wedding.
33. Champagne Showers
We've all seen this in movies, but when it's your wedding day, anything you say goes. If that means you want a half dozen bottles of sprayable champagne to be showered down on you, then that's what you'll have!
Love the wedding ideas? Check out wedding ceremony ideas here!
34. Air Show
There are so many things you can 'send off into the air' and create a spectacular air show for the newlyweds to enjoy before they push off. This includes fireworks, releasings hundreds of balloons, lanterns, doves, sparklers, and more.
You can do just one of the above or you can customize, mix and match, and just have a ball.
35. Retro Motorcycle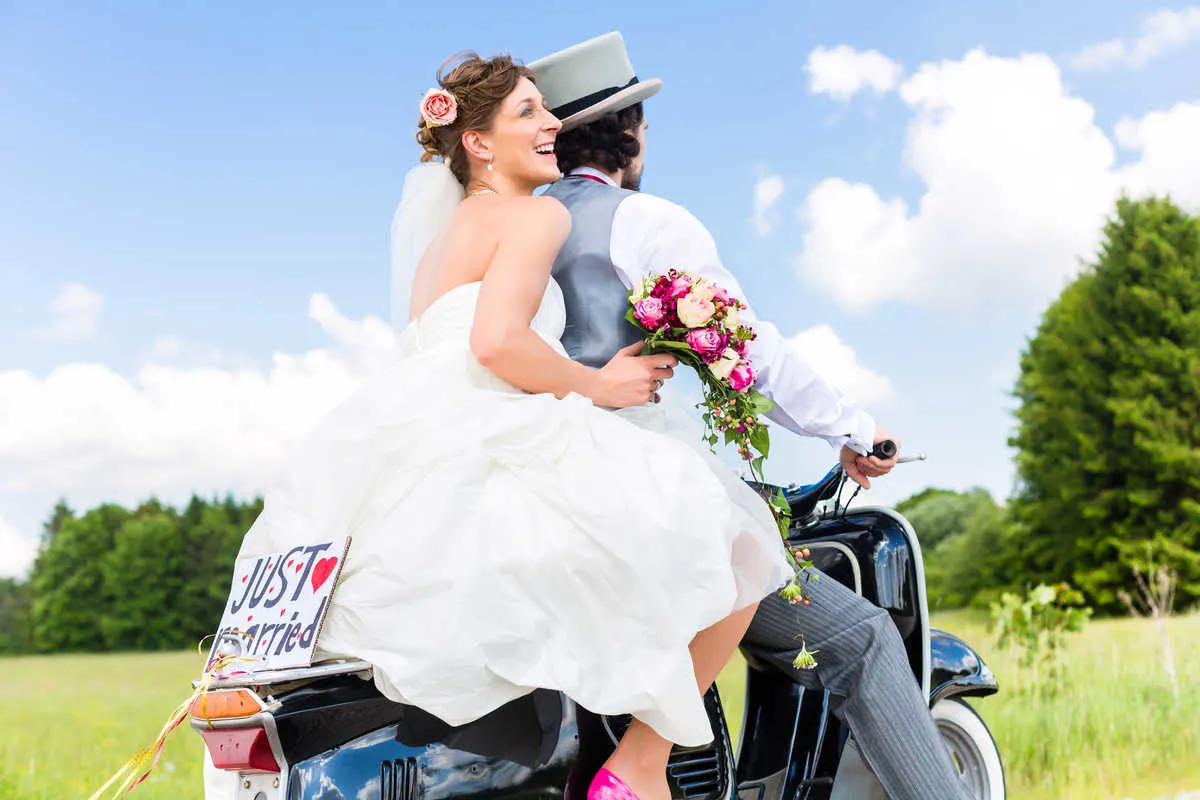 Biker weddings are just oodles of fun. There's often an honor guard of motorcycles that ride beside the bride and groom and see them off safely on their honeymoon.
It's a retro and full-throttle biker-style version of a classic send-off.
36. LED Wands
LED wands are not too different from glow sticks. The guests will typically be handed a couple or so LED wands that they have to wave around.
Pair that with some music and confetti, and you've got yourself a kicking send off.
37. Biodegradable Confetti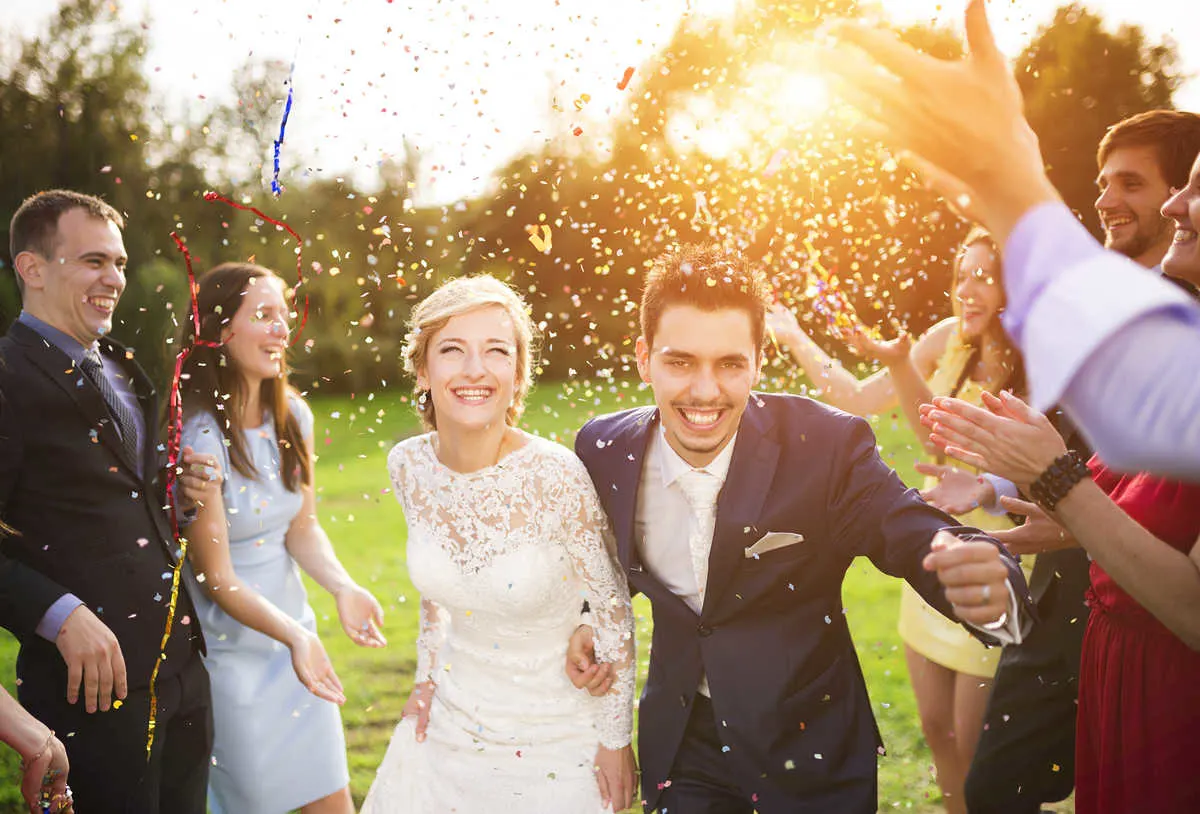 Have you ever thought about how messy confetti can get? There's a ton of non degradable waste that the cleaners are left to deal with.
How about you turn to biodegradable confetti? It's an eco-friendly version that is just as fun as the 'real' confetti!
38. Colorful Sprinkles
Along with those bright and cheerful confetti and streamers, how about a little splash of texture and sparkle from these sprinkles?
While colorful sprinkles can be a pai to clean up afterwards, you should definitely include them in your wedding day if you're looking for all-out fun.
39. Maracas
Did you know that maracas are pretty popular party favors? They're full of music, color, and sass, and they can really jazz up a wedding.
You can have a little impromptu maracas send off party right before the couple leaves!
40. Parade
A whole parade in lieu of a quiet send off? Well, you only get married once, so why not?
You can have all your family and friends there to enjoy the display, and who knows, maybe even be a part of the actual parade itself.
Love this idea? Check out these wedding reception ideas as well.
41. Petal Pops
There are little box syringes that let you fill them up with confetti, flower petals, and more. When it's time to send the couple off, you can just 'pop' the box, et voila, you've got a fabulous and jazzy petal pop device!
Yield: Wedding Send-Off Ideas
41 Creative Wedding Send-Off Ideas
Get some wedding inspiration with these wedding send-off ideas! Get creative and make your wedding truly magical.
Materials
1.Glow Sticks
2. Dried Lavender
3. Paper Airplanes
4. Dove Release
5. Toss Dried Flower Petals
6. Sparklers
7. Release Lanterns
8. Bubbles
9. Streamers
10. Smoke Bombs
11. Butterfly Release
12. Leaves
13. Rose Petals
14. Fake Snow
15. Confetti
16. Fireworks
17. Glitter
18. Tambourines
19. Feathers
20. Birdseed
21. Balloons
23. Fall Foliage
24. Rice
25. A boat
26. Sequins
27. Musician Line
28. Fresh Herbs
29. Bells
30. Pom Poms
31. Wave Flags
32. Light the way with Candles
33. Champagne Showers
34. Air Show
35. Retro Motorcycle
36. LED Wands
37. Biodegradable Confetti
38. Colorful Sprinkles
39. Maracas
40. Parade
41. Petal Pops
Instructions
Find the ideas you like.
Get wedding organizing!