Need some help with your wedding? Take your wedding to a whole new level with these wedding seating chart ideas.
If your wedding includes over fifty guests, then it is of the utmost importance that you devise a system and formulate a seating chart. This can save you a ton of hassle when you're planning your wedding.
Trust me, you don't want to put two rivals next to each other and ruin your own wedding. So, with that in mind, check out these 27 wedding chart ideas that you can explore.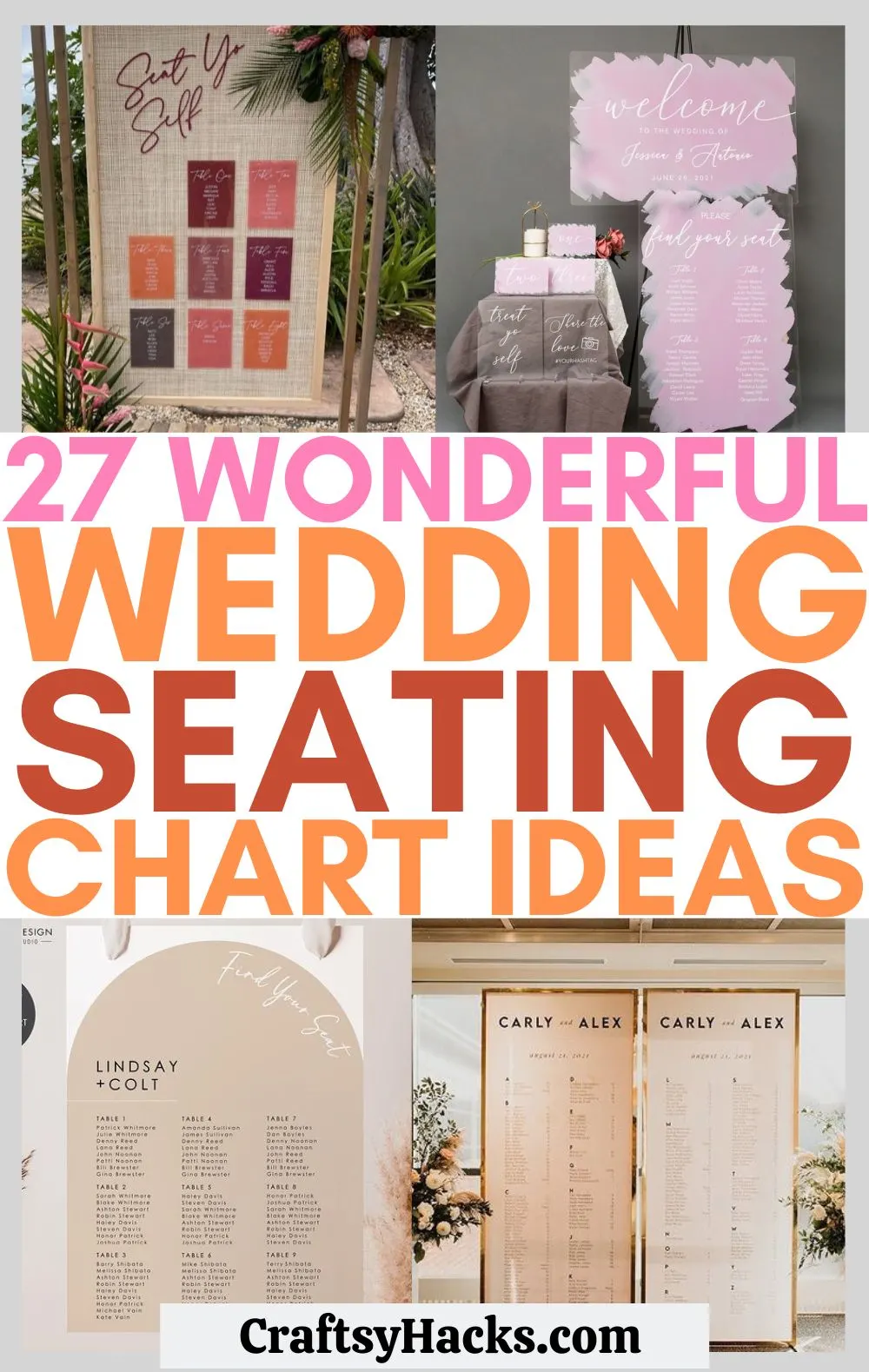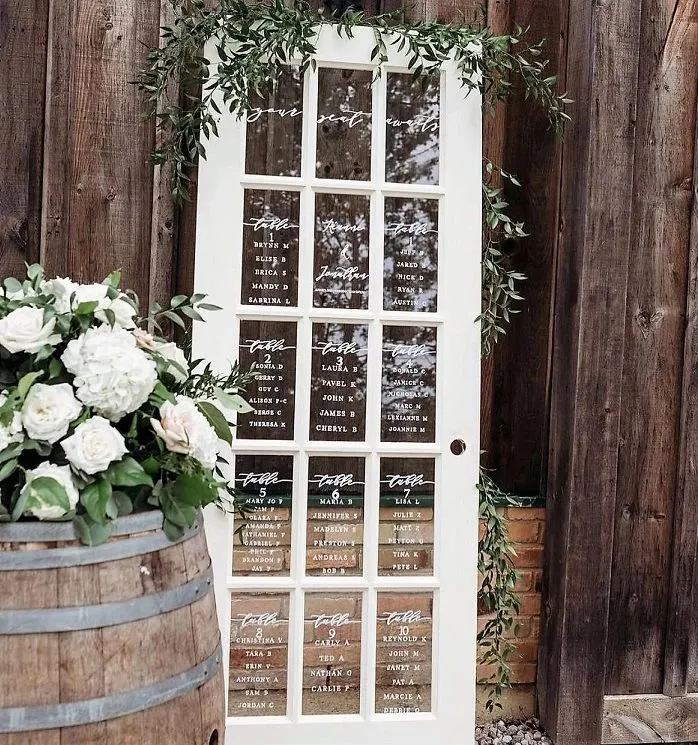 Source: Instagram
With a seating arrangement like this, there is absolutely no room for errors or doubts. There's also no way for someone to sneakily switch out their name tag with someone at another table.
That right there is a recipe for disaster. But with this big paned seating arrangement display, everything is up on display.
Are you wondering what that actually is? You might be interested to know that an old window pane can be repurposed to the same effect with the help of some vinyl from here for the letters.
Need more wedding inspiration? Check out these wedding backdrop ideas.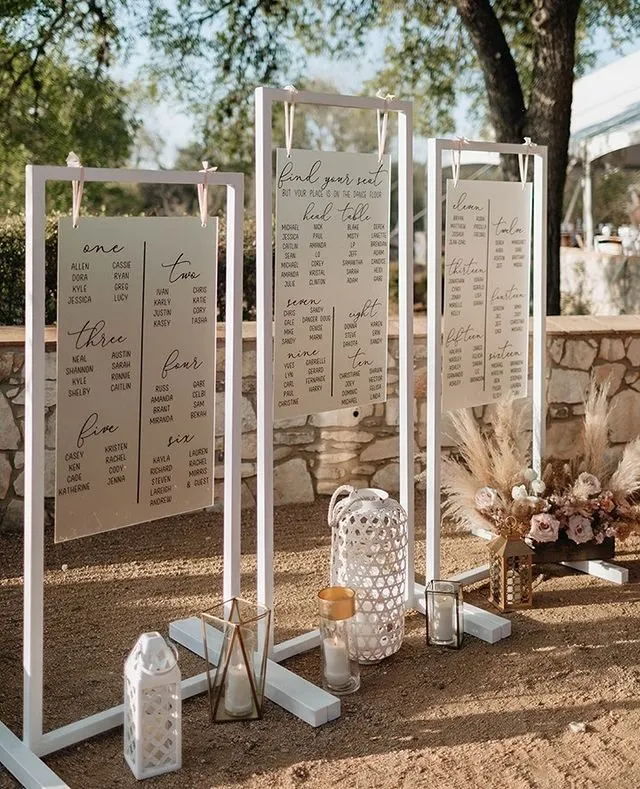 Source: Ashley Nicole Affair
This particular seating chart can be built from scratch. It's a project that you can undertake and complete over the course of the weekend. Making your own seating chart allows you to customize the measurements to meet your specifications.
It also means that you have more room and time to plan and execute your seating chart well before the big day. If you're looking for little extra pieces to decorate it, then consider placing a couple of outdoor lanterns like these and plants around to add light and color to the display.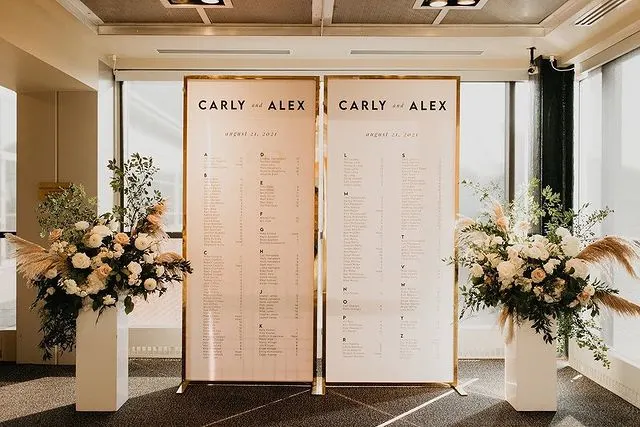 Source: Instagram
This tall piece of art is a rather lovely addition to include just outside your reception hall. When your guests pass by this seating arrangement, they're bound to be dazzled by how simple yet sublime it looks.
There's also a system in place that allows guests to find their names and their respective tables quite easily. The most direct and effective system is to arrange the guest list in alphabetical order.
Also, get more inspiration with these wedding card box ideas.
Source: Instagram
The first priority when seating your guests is easy and effective access to their allocated seats. Quite simply put, guests should be able to find their names and subsequently their seats.
But that doesn't mean that your display has to be boring and utilitarian. There are many little things you can do to help your seating arrangement display stand out.
Incorporating your wedding florals around the display is one way to do that. If you have a couples' logo, then you can put that in there, as well!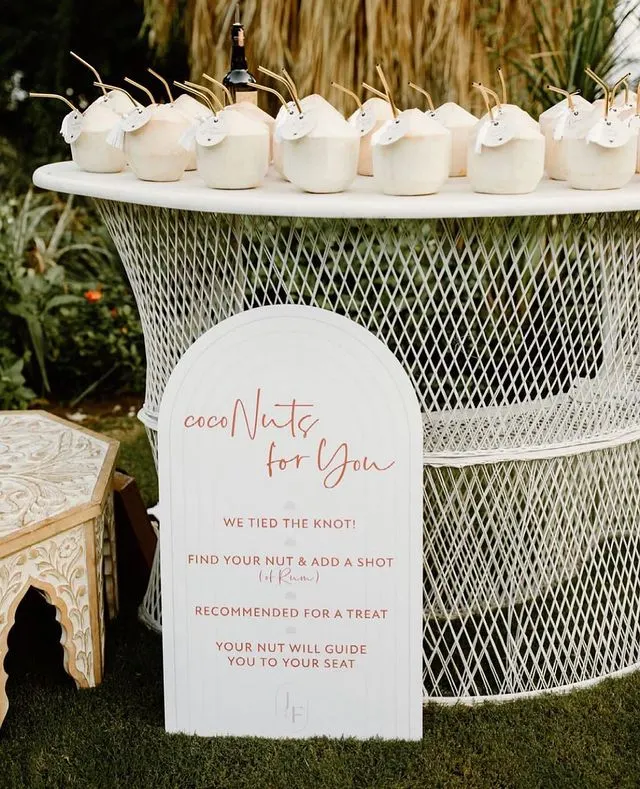 Source: Instagram
If you're looking for something less traditional and more interactive, then perhaps this coconut seating chart might be an inspiration. It's a fun and innovative idea that works two fold.
You have a cute little tropical display that is interactive and fun and you also get to hand out welcome drinks to your guests, all in one go. The coconut drink can also be laced with rum, as the sign indicates.
So it's just pure fun right from the time you get your welcome drink till you find your seats.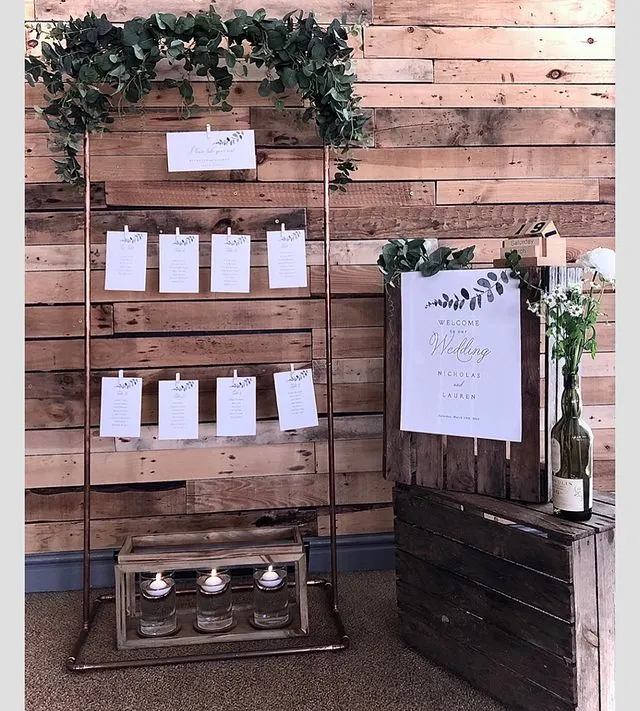 Source: Instagram
When you want a seating chart that adds both a rustic-chic and urban element to wedding decor, then this is what you need to do. This is an opportunity for you to repurpose those old milk crates you have stacked up in your garage.
Grab some wood stain from here to help you spruce up the crate a little. You can also line a few lanterns inside the crates to add some light to the tableau. You can also always add some foliage and florals to the mix, if the creative winds take you that way.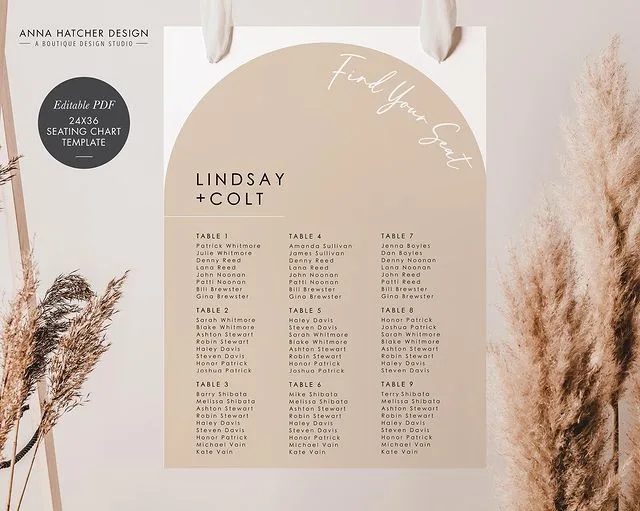 Source: Instagram
This arched seating arrangement is all things minimalistic, with more than a mere whiff of boho-chic rusticity thrown into the mix. With all those different styles coming together, it might be prudent to keep the textures, fonts, and any extra fitting you might want to include to a minimum.
Go ahead and plan out the seating chart first. When you're done, you can have it printed onto this board in no time at all. Just hang the chart with some thick ribbon from here and you're set.
Need more inspiration? You might want to check these wedding lighting ideas.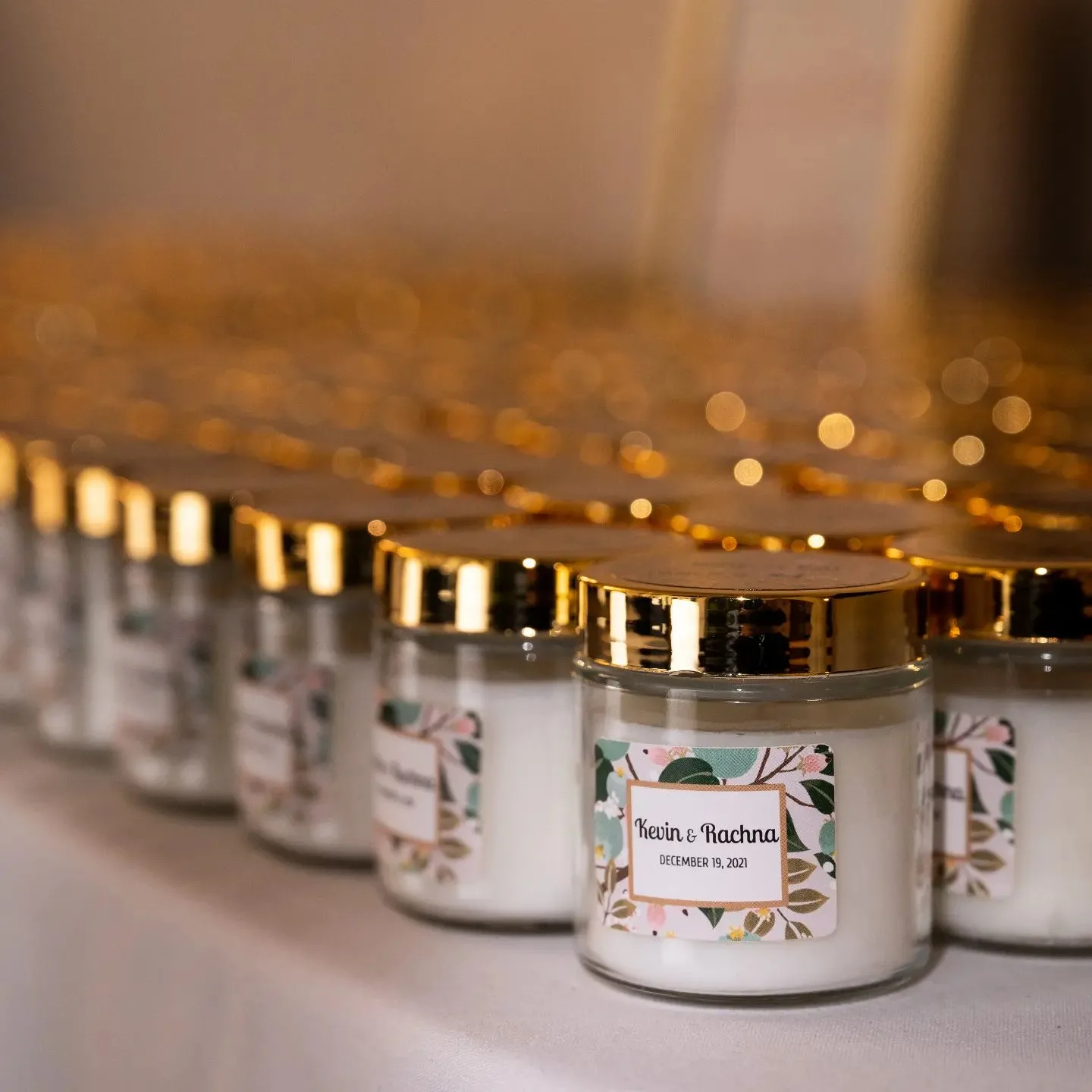 Source: Instagram
Here's a creative way to arrange your guests into their tables and also to give them their party favors. All you need to do is pick out the gifts you want to give.
I find that scented candles are always a popular choice and a safe bet, as well. Everybody loves a good scented candle right? So grab your favorite scent and then print out name tags or labels.
You can include the following details to personalize them:
Name of the bride and groom
Date of the wedding
Name of the guest, followed by
The table number they're seated at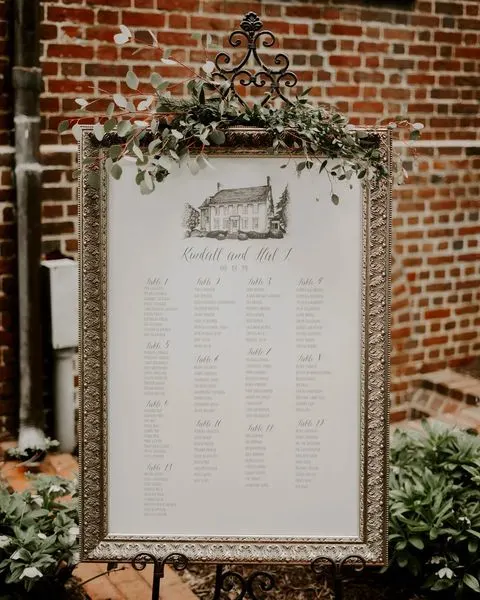 Source: Instagram
Sometimes, a little touch of old-school tradition can truly be a style statement. There's something quite charming about the little picture of an English cottage right at the top of the seating chart.
Then there's the ornate wrought frame that is once again reminiscent of the English countryside. If you want to include a touch of green and the barest whisper of florals, then go ahead and stack them up atop the sign. Just tuck a few twigs of eucalyptus leaves and you're set!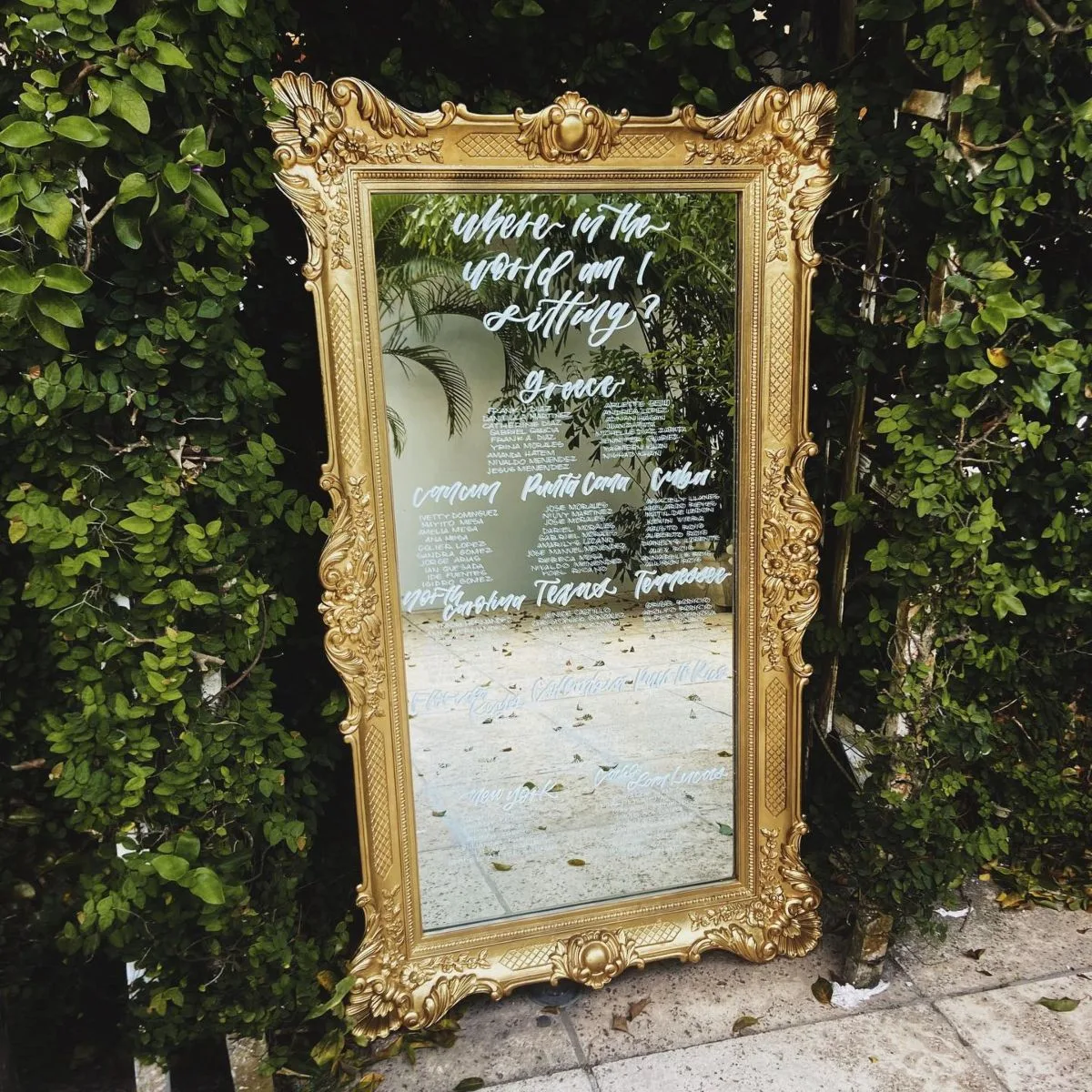 Source: Instagram
Speaking of ornate, you cannot get more ornate than this big, gorgeous body of art. This mirror has a ton of potential to be just about anything you need. While it would look fabulous propped up in a corner of your bedroom, I have a better idea.
If you still have any of that vinyl leftover from the previous project, go ahead and get that out. Use your Cricut machine or Silhouette Cutter to design and cut your seating chart. Then, use this transfer tape to transfer the vinyl onto the mirror.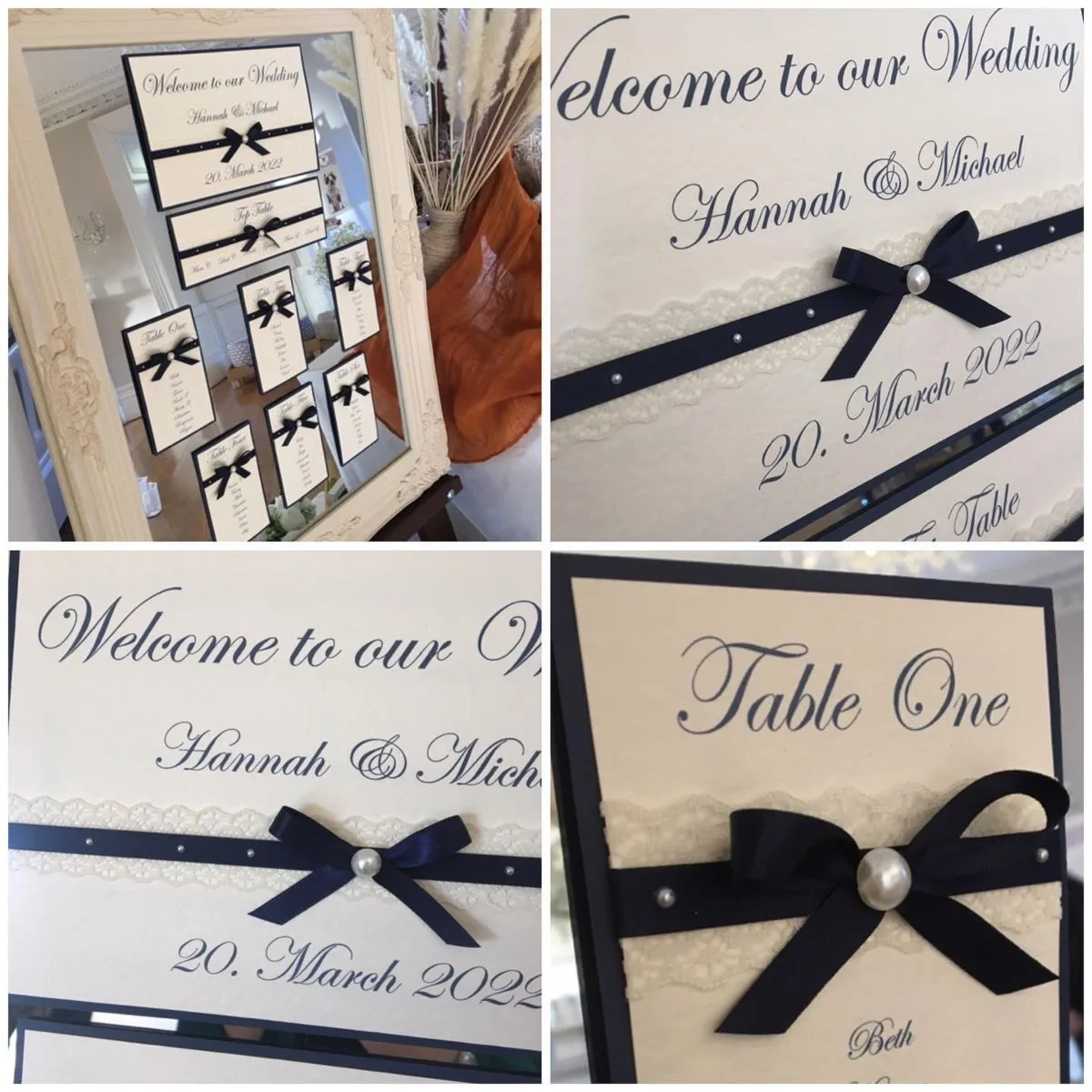 Source: Instagram
Ivory and navy might be just what your wedding needs in terms of color. Navy isn't quite as stark as black, and ivory, well, everyone loves ivory at a wedding, right?
Let's take a look at how to incorporate ivory and navy, with a touch of lace and a few pearls thrown in there for good measure. There's also a really sassy bow you can pull off that is sure to add a festive touch to your seating arrangement.
Need more inspo? Check out these wedding craft ideas.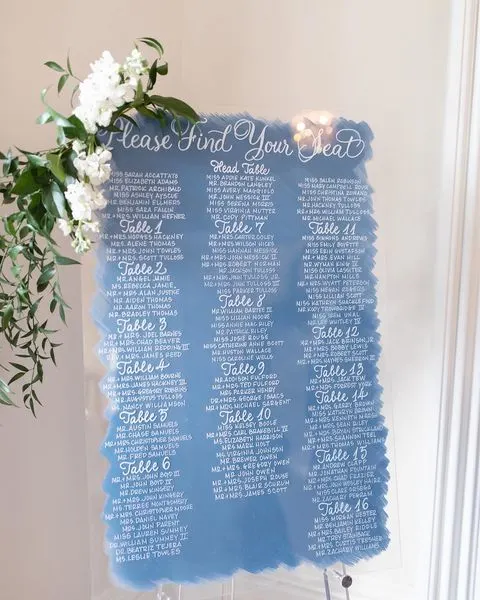 Source: Instagram
The key to a well placed and accessible seating chart lies in the space you decide to set this display up. In a place where you are pressed for space, a quick seating chart should be ideal to allow for easy mobility and access.
If however, as is the case here, you have more room for a more elaborate set up then switch out your seating chart for escort cards. However, whatever you decide to do, just remember to incorporate your theme into the display, and you're all set.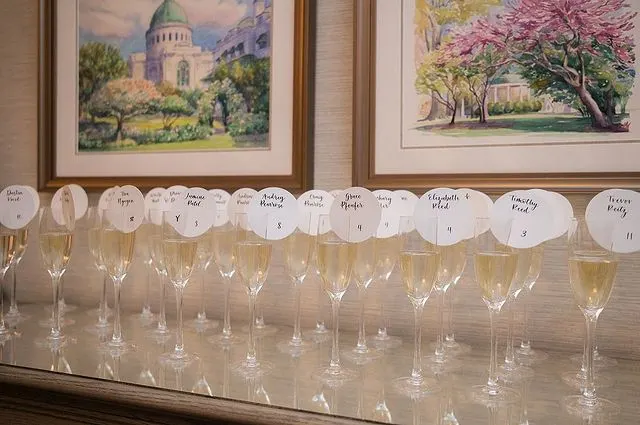 Source: Instagram
Here's an instance where you have more than enough room to use escort cards to help your guests find their way to their seats. What better way to get the guests into a celebratory mood than to supply them with bubbly?
Just think of them making their way through the crowd, sauntering, socializing, and sipping on their champagne as they head towards their table. Sounds about right, doesn't it? That's why escort cards are the absolute best.
Source: Instagram
If you're going farmhouse chic with your wedding decoration then it makes sense that the theme should find its way into the seating arrangement charts, as well. So what says farmhouse-rustic, but also chic?
Crates, of course. They just have so much potential in terms of decorating them to fit just about any thematic mold. To recreate this particular tableau, you will need plenty of clothespins from here, some jute twine from here, and all the extra fittings like flowers and leaves.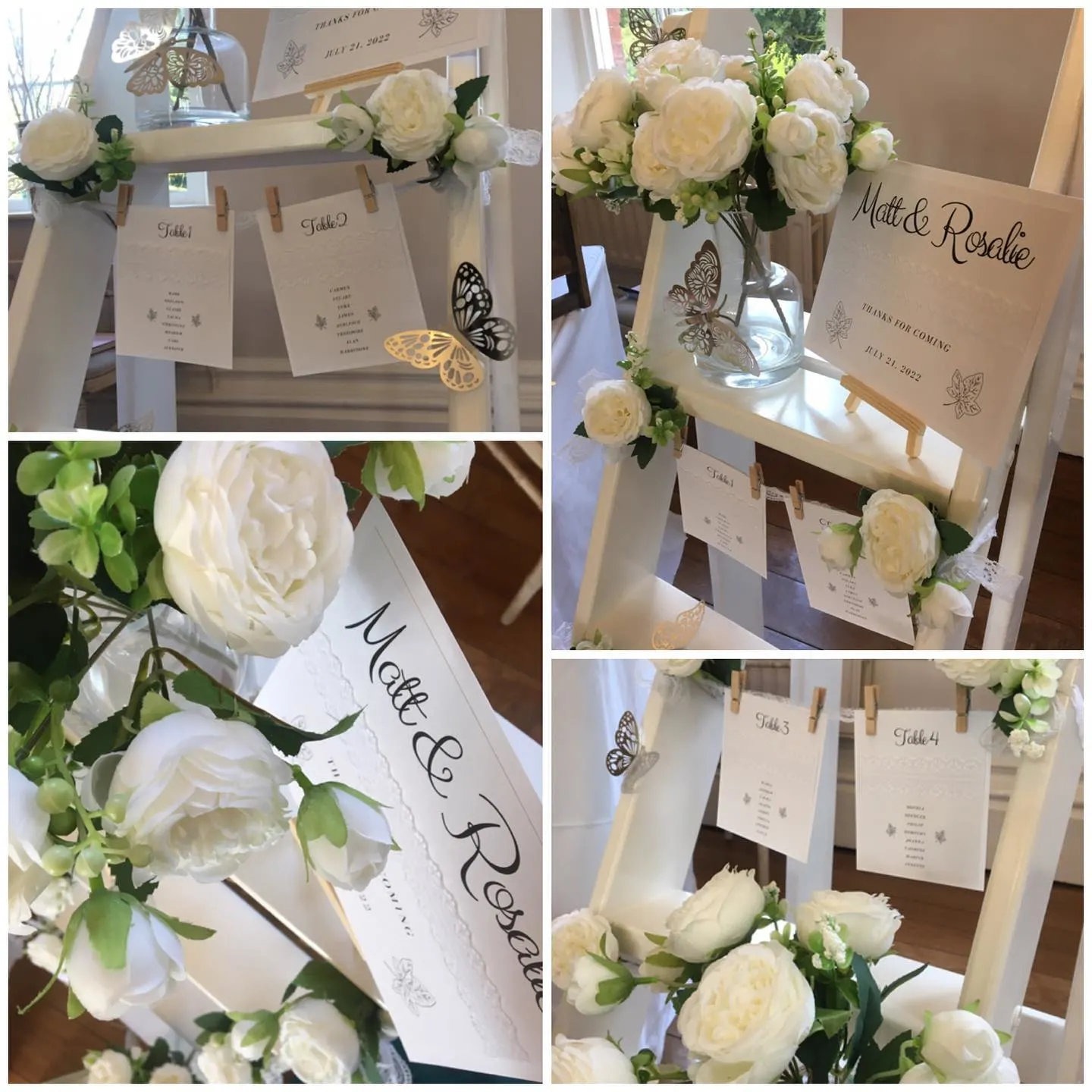 Source: Instagram
That little metal butterfly that is perched so perfectly atop this seating arrangement really does take the cake. It's so sublime in its simplicity but also inherently elegant and festive. There are so many little details that really do come together so very well here.
But at the heart of it all is that butterfly and the lovely white florals. So work your seating arrangement around them and you're all set.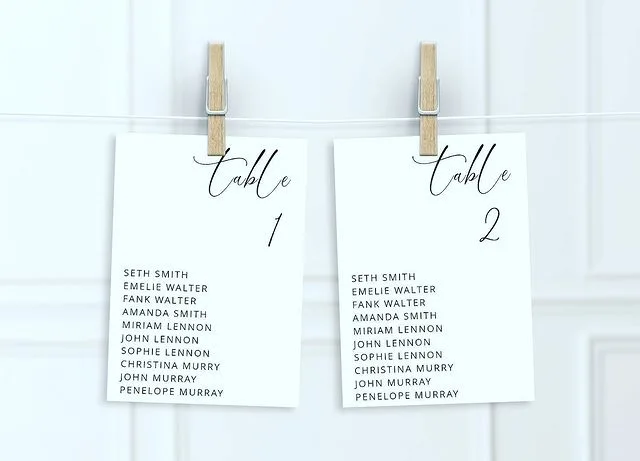 Source: Instagram
I wonder if you saved any of those clothespins from the earlier projects. You can reuse them to create this minimalistic and aesthetic seating arrangement. This works best at outdoor weddings where you can incorporate a cozy farmhouse living with understated elegance.
Just print out your seating chart into good quality textured cards to begin with. Next, string some jute twine across and merely clip the cards in place with a pin or two. It's that easy.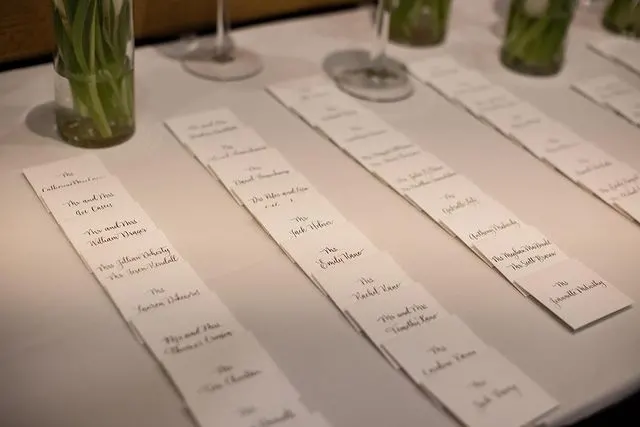 Source: Instagram
You don't need anything elaborate or out there to make your seating arrangements effective and elegant. You can just as easily achieve what you want with just a few scraps of paper and a dab hand at calligraphy.
That's the thing about these little escort cards in their adorable little envelopes. They can do wonders to execute your seating arrangement and look like they're elaborate while in truth, they're ridiculously simple to make.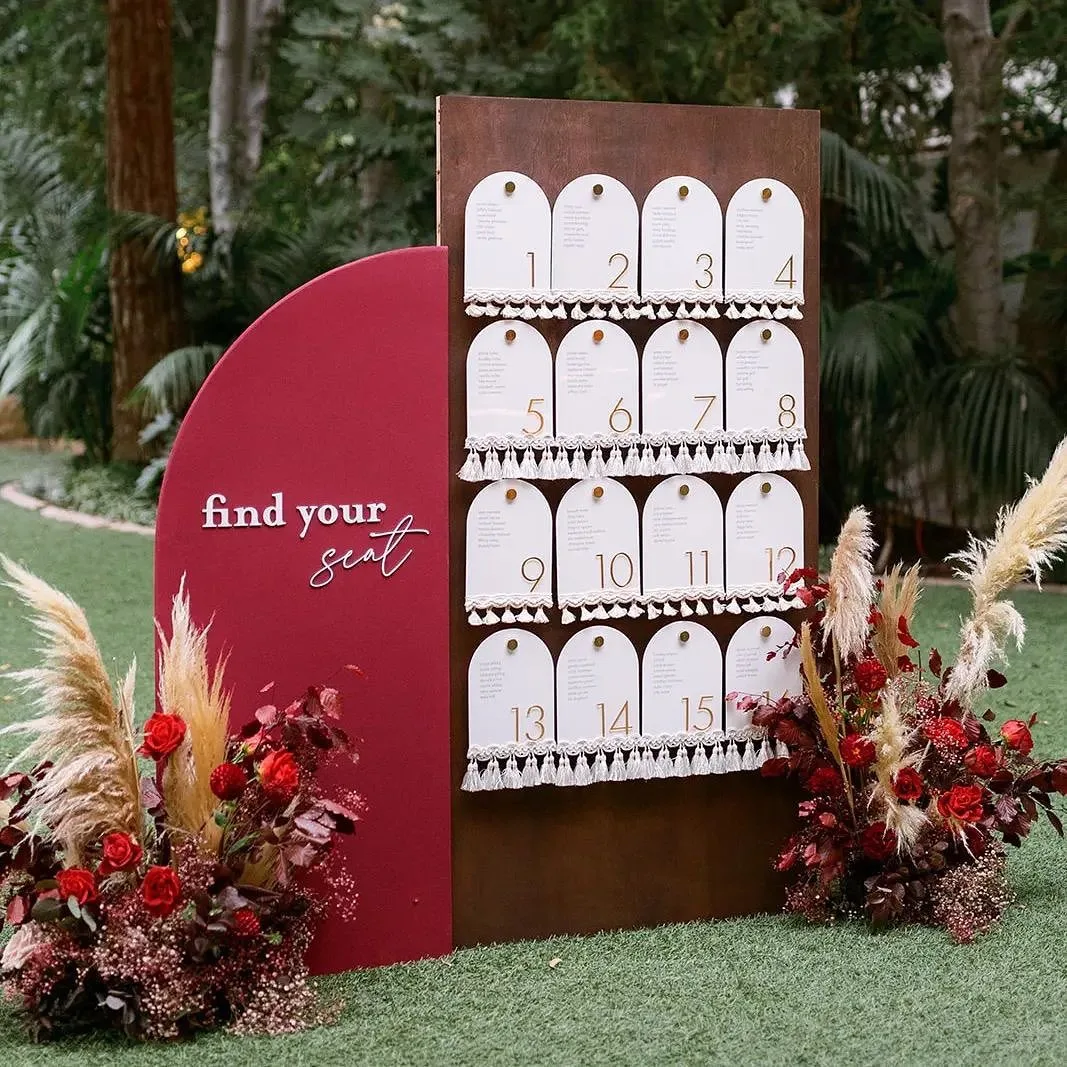 Source: Instagram
Don't you just love that arch or domed finish that these seating cards have? Who would have thought that this single touch of shaping the paper into a dome could be so elegant?
But under that elegance and under each table card is a burst of texture. Just take a look at those festive-looking tassels! Don't they look utterly divine?
Also, if you use a cork board, then you can pin the cards up. This here is an opportunity to accessorize and decorate those pins to your specifications!
Love this? You might like these wedding sign ideas.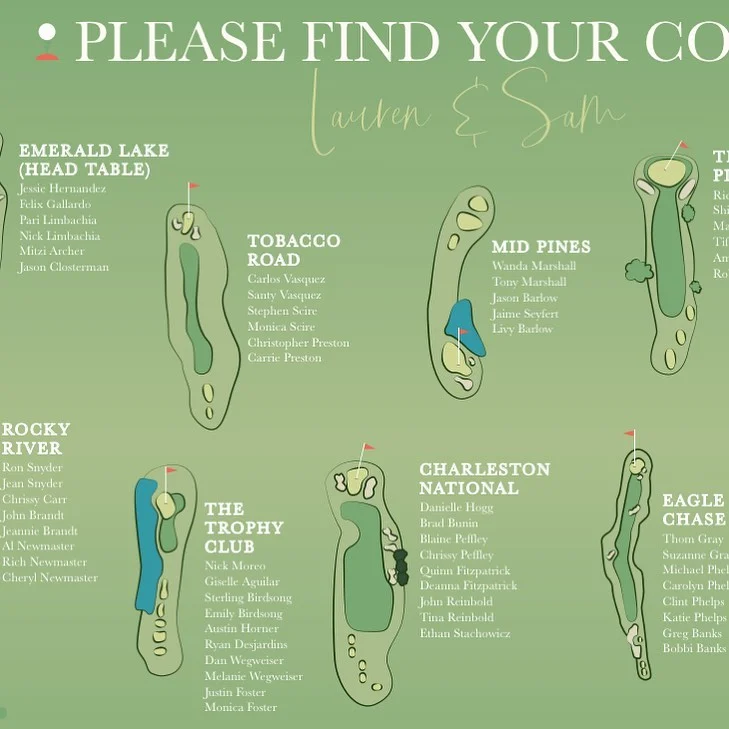 Source: Instagram
Designing a seating chart can be a way to reflect the personality of the couple in question. It is also an opportunity for them to incorporate their theme into their charts, like with this fun golf arena set up.
You've got a ton of creativity going into these seating arrangements, what with linking different golf holes to table numbers. This would be just perfect for avid golfers looking to incorporate their love for the game into their weddings!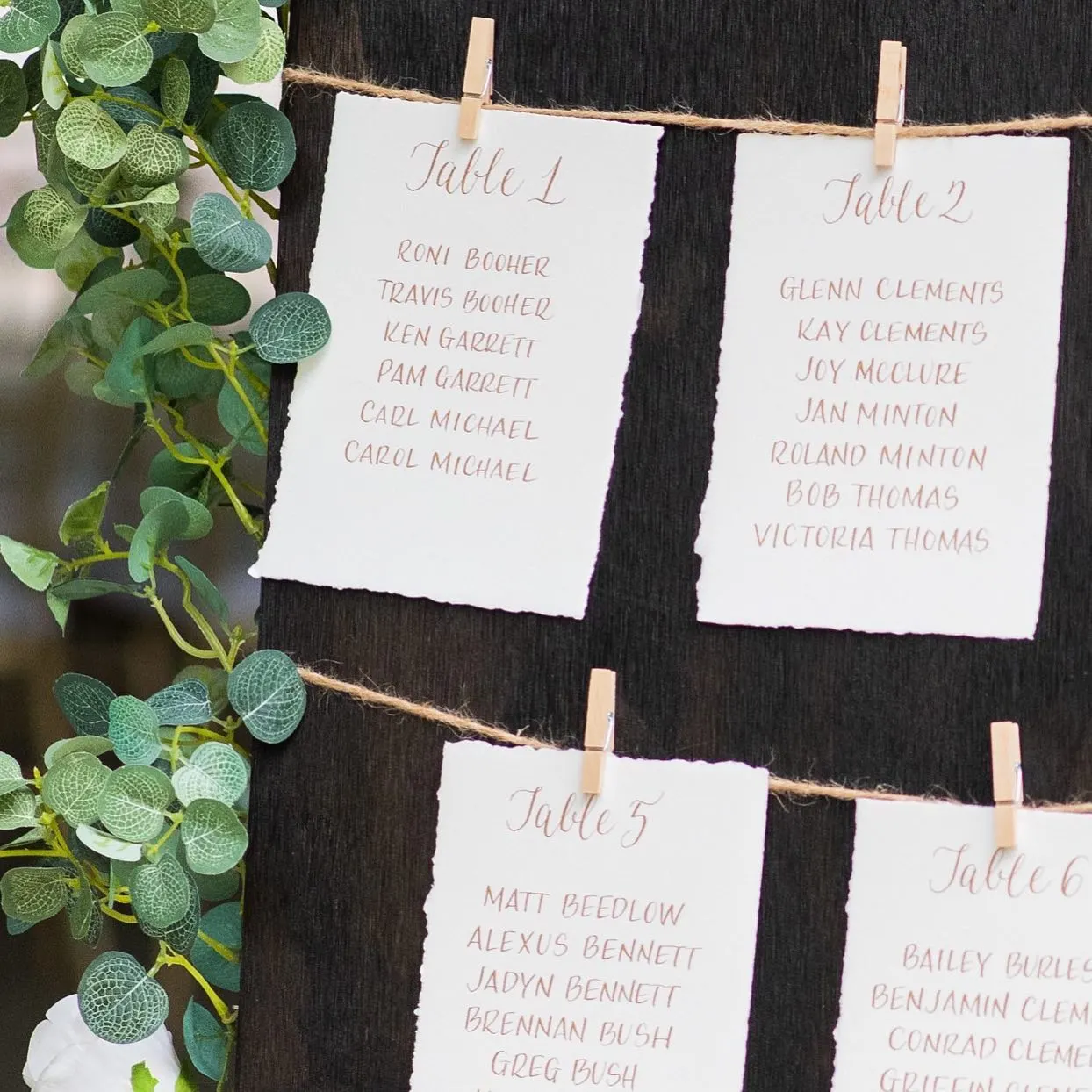 Source: Instagram
This particular seating chart once again requires some jute twine and clothespins. It is simple and elegant, but there's an underlying chicness that really shines through.
You can use handmade paper like this to print the invite. Not only will it give you a thicker quality of paper, you'll also have texture. Then there's also that lovely rugged edge you can only get when using handmade or handcrafted paper.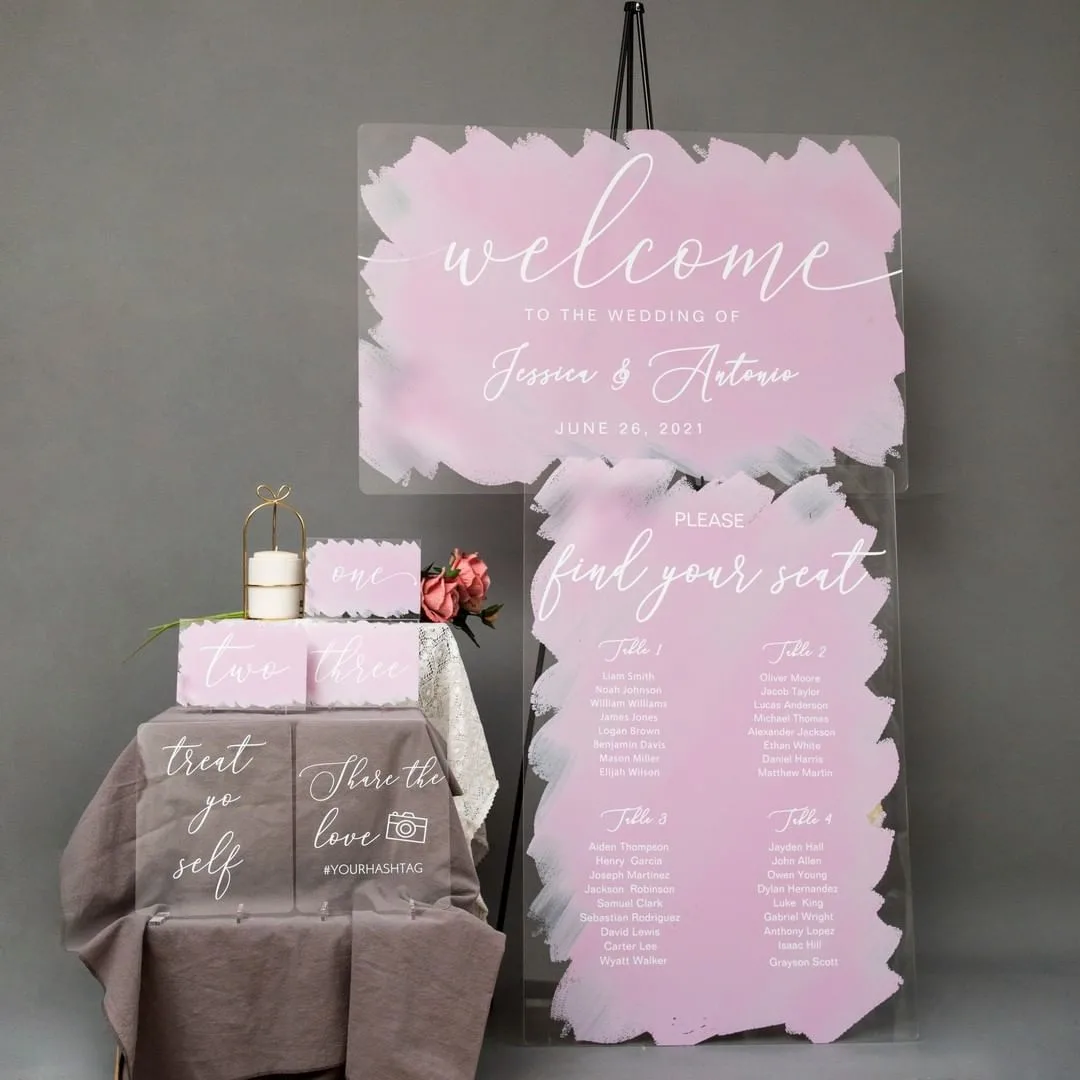 Source: Instagram
Do you have any glass panes leftover from an old DIY project? Why? Well, I think I know exactly what you can do with them.
Glass panes are the perfect canvas to experiment with. They're easy to clean and easier still to customize. Additionally, you also get some interesting textures when you're painting on glass that can enhance your seating chart.
You can use this as an opportunity to doodle and paint on the glass to your heart's content. Just remember to seal the paint in with a sealant spray from here.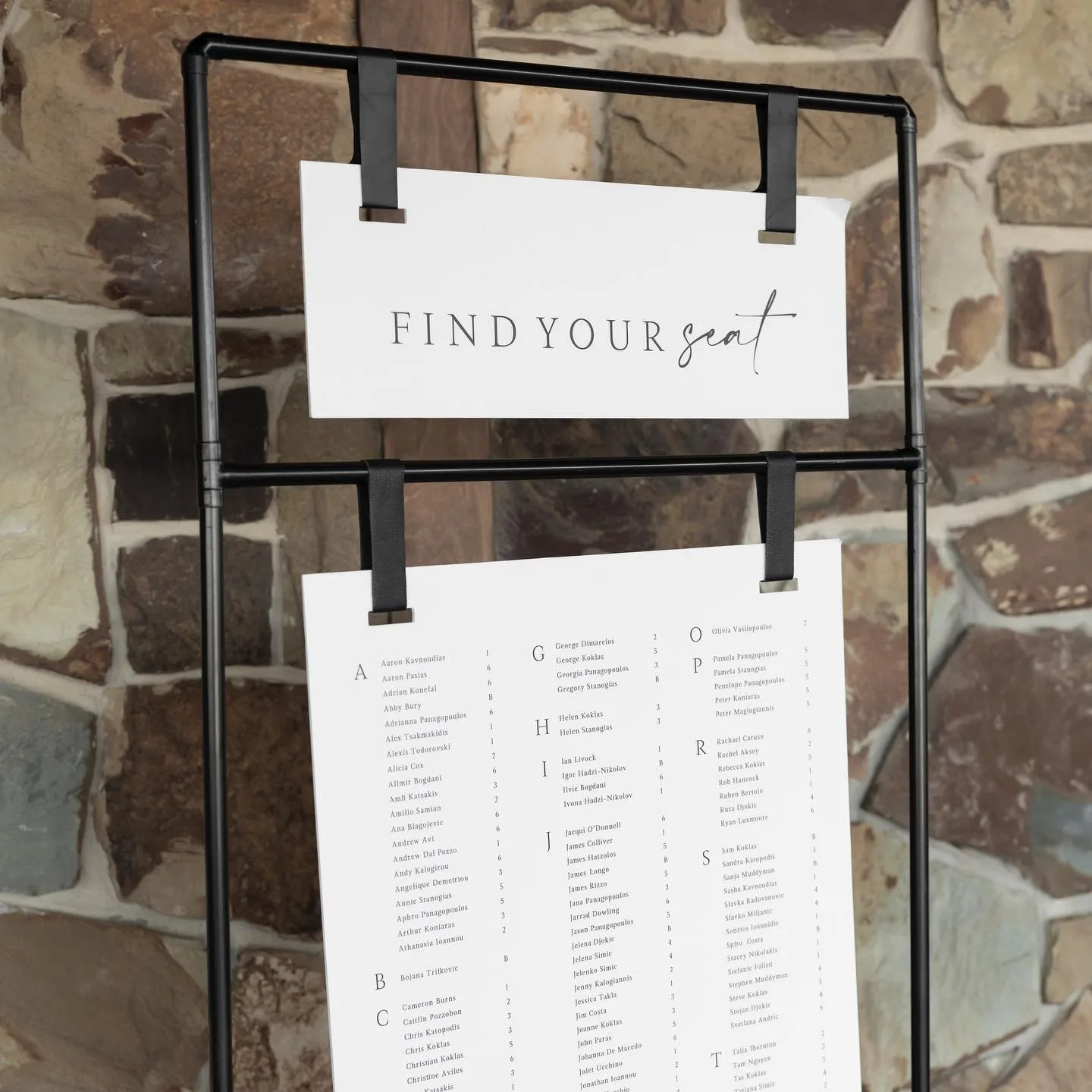 Source: Instagram
There's something about cold black metal and crisp white paper that just make all the sense in the world. They're both stark and unyielding, and together, they can make your seating charts a statement piece that guests can enjoy.
You will need to design your seating chart ahead of time. There are plenty of ways you can enhance the stark finish with just the merest pop of monochrome color. Or not, the decision lies completely with you.
Source: Instagram
There's something about this quote that instantly calms me down. Or perhaps it's the soothing ripples of the sea that's been used as a backdrop for this particular seating chart.
Once you tack on all the different cards in place, there's only one thing left to do. Gently and artfully arrange some leaves and flowers over the top so they flutter gently across the canvas.
Source: Instagram
The only way you can pull off all those colors in one single canvas is to use a neutral shade for the base color. A sandy white or a beige shade with textured jute to offset it is just what is needed to embrace the new pops of colors you'll include.
When you've printed out your cards, just pin them in place, as seen here. You can encase the entire chart and canvas with flowers and foliage to brighten up the entire display.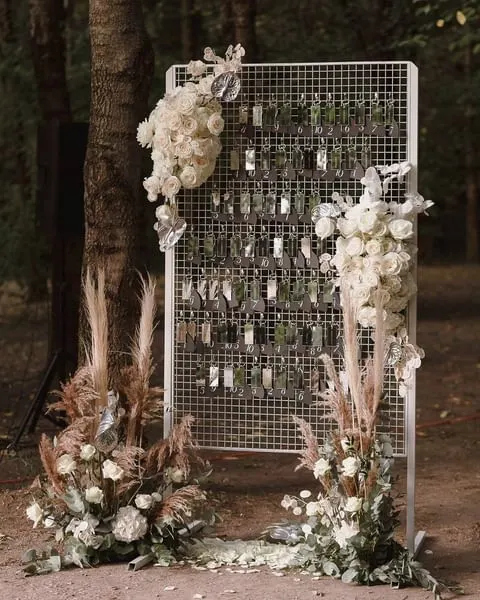 Source: Instagram
If you're having a destination wedding, then the first thing your guests will need to do when they're checking in is to, well, settle into their rooms. You can have little escort keys in lieu of escort cards or seating cards.
Assign your guests to their respective rooms and simply hang the individual keys and names from that basic wire mesh stand. In the absence of that, just use a stand like this.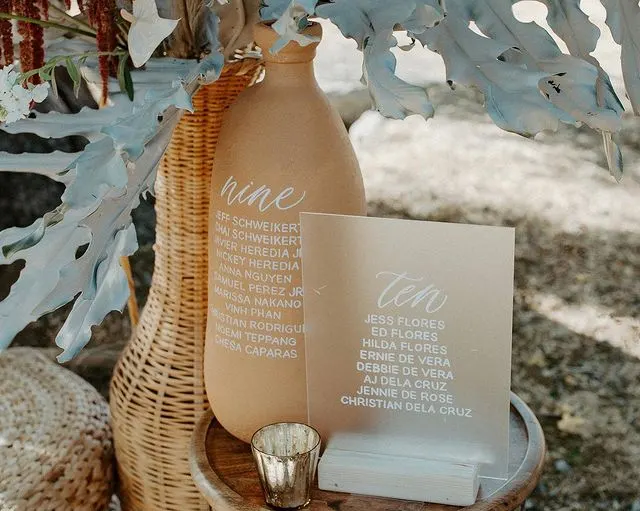 Source: Instagram
This boho seating chart isn't a traditional board and card ensemble. Instead, you can blend the seating arrangements into bohemian inspired, earthy, and chic props. Check out that gorgeous earthen vase full of eucalyptus leaves.
There's also a subtle texture plaque on display, as well. Don't you love how the table numbers and names have been artfully printed onto the surface?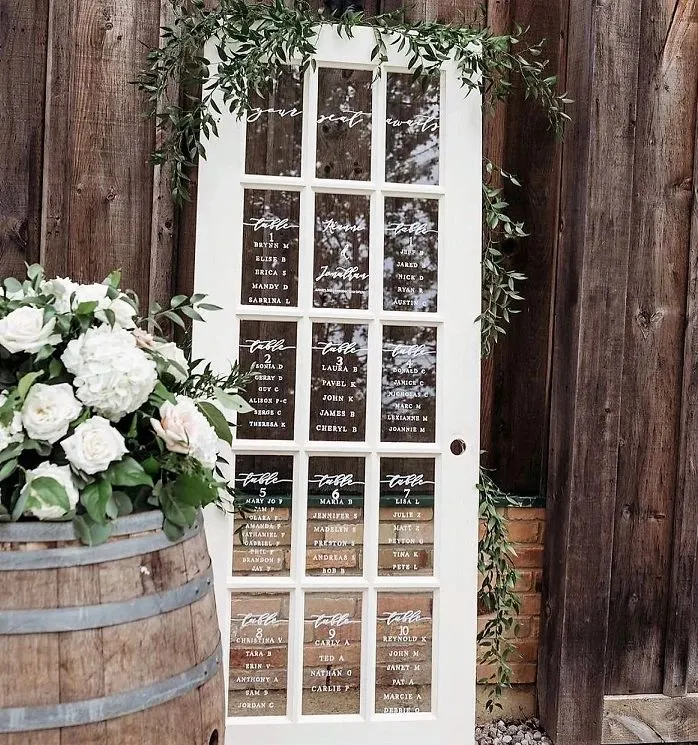 Source: Instagram
Do you remember the very first item on this list? It was a repurposed window where the panes were used to execute the seating arrangement.
Well, this time around, you're going to be using a door. No, you read that right; you're going to be repurposing an entire door with paneled panes into a seating arrangement. So pick up some vinyl and start decorating!
Yield: wedding seating chart
27 Wedding Seating Chart Ideas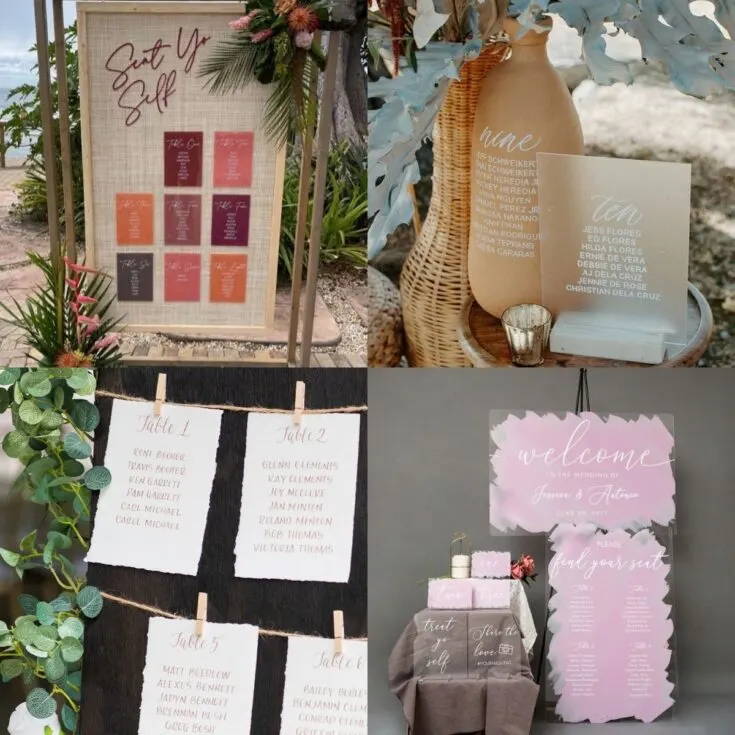 Trying to take your wedding to a whole new level? Get inspiration with these wedding seating chart ideas.
Materials
1. Window Pane Seating Chart
2. DIY Customisable Seating Chart Display
3. Custom Printed Large Table List
4. Personalized Seating Chart with Venue Map
5. Coconut Drink Seat Escorts
6. Rustic Meets Urban
7. Minimalistic Boho-Chic Display
8. Scented Candle Wedding Favors
9. English Cottage Core Chart
10. Ornate Mirror Seating Chart
11. Navy, Ivory, and Lace
12. Escort Cards
13. Champagne Escorts to Seats
14. Farmhouse-Chic Tableau
15. Metal Butterfly
16. Cozy and Aesthetic Meets Country
17. Calligraphy Place Cards
18. Tassels and Domes
19. Golf-Themed
20. Printed on Handmade Paper
21. Glass Pane
22. Mid-Century Urban Seating Chart
23. Ripples in the Water
24. Jute or Burlap Backdrop
25. Guest Check-In Keys
26. Earthy and Bohemian Display
27. Seating Chart on Wooden Door
Instructions
Find the wedding seating chart you like.
Get planning!