Love pirates? Get crafty with these pirate crafts and make it a great activity for the whole family.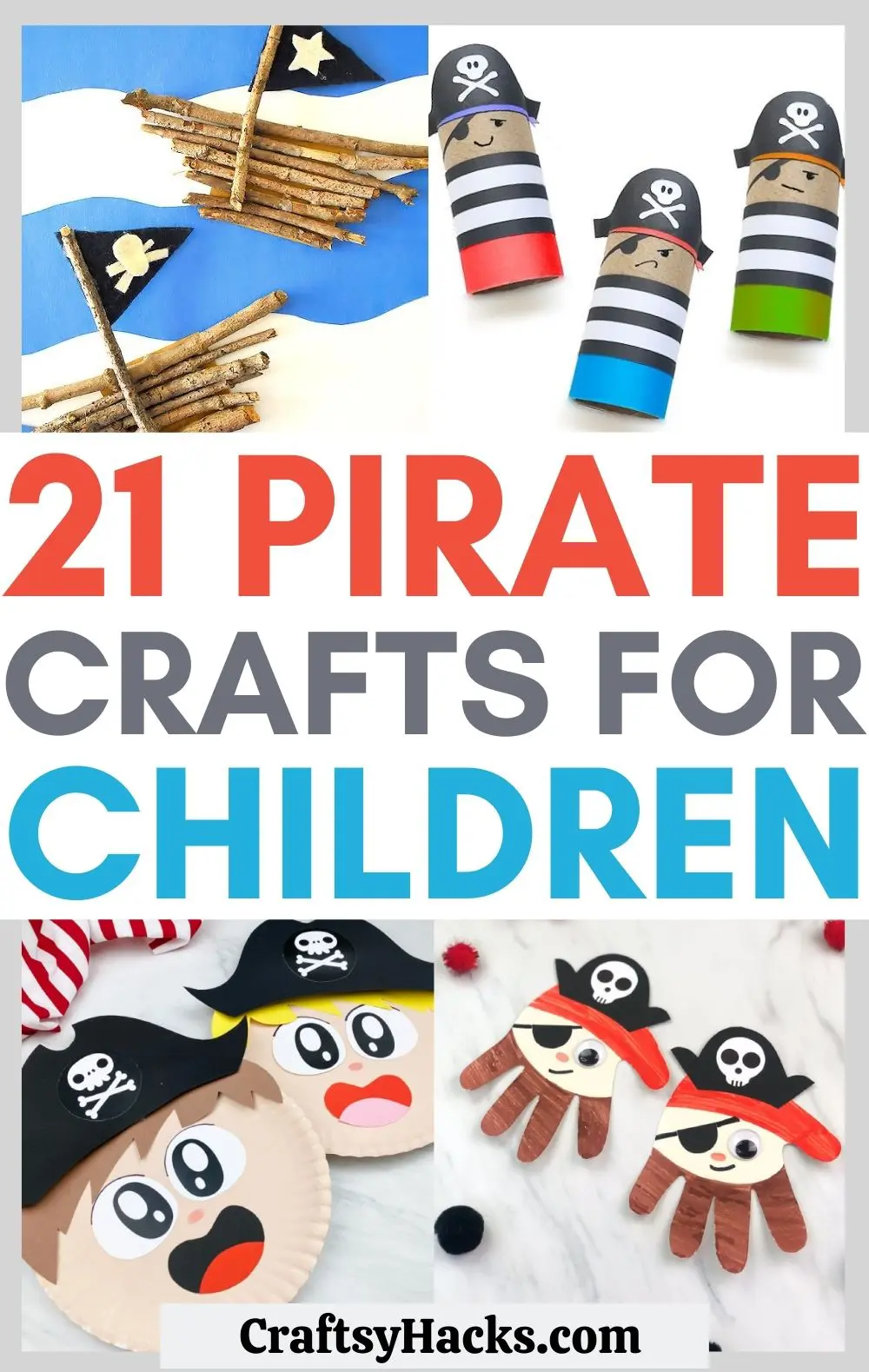 I defy you to meet a child who doesn't love the stories of pirates sailing the high seas. Whether you're in a classroom or crafting at home, a session of pirate crafting is pretty much foolproof.
So, it's time to walk the plank. Whip out your eye patch, don your peg leg, and all aboard for a collection of some of the internet's best pirate crafts for kids!
1. Paper Plate Pirates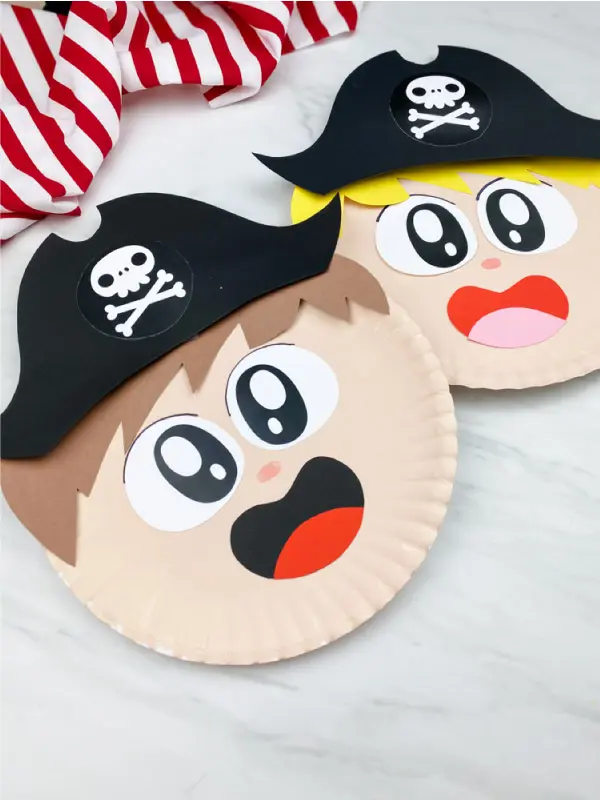 Credit: simpleeverydaymom.com
All good pirate captains need a crew, and with these paper plate pirates, your children can make their own! These crewmates will come together quickly when using construction paper and paper plates.
This craft comes fully equipped with a printable template for the eyes, mouth, and pirate hat. The rest can be customized by your child (with some help from you).
2. Handprint Pirate Paper Craft
Credit: simpleeverydaymom.com
We've all heard the tales of Blackbeard, one of the most fearsome pirates to roam the Seven Seas. But did you know your little ones could make their very own replica using their handprints?
I love how adorable simple this DIY is, offering a quick and easy afternoon of crafting for kids of any age. Ensure your crafting treasure chest includes a 0.75" googly eye (here) for the little captain.
3. Paper Cup Pirate Spyglass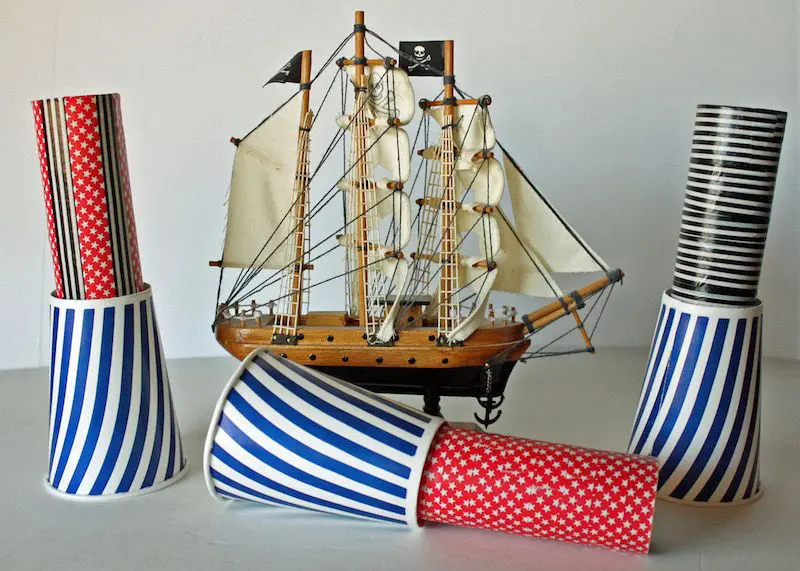 Credit: desertchica.com
Look, there, on the horizon! It's our next adorable pirate craft, perfect for completing your child's pirate costume. Ideal for any age, this DIY project is a great way to reuse something you'd otherwise recycle.
Gather some cardboard toilet paper tubes, cardstock, paper cups, and some decorative washi tape (this is a great roll). I guarantee you'll be staring down a fun afternoon in no time.
4. Transparent Treasure Box Craft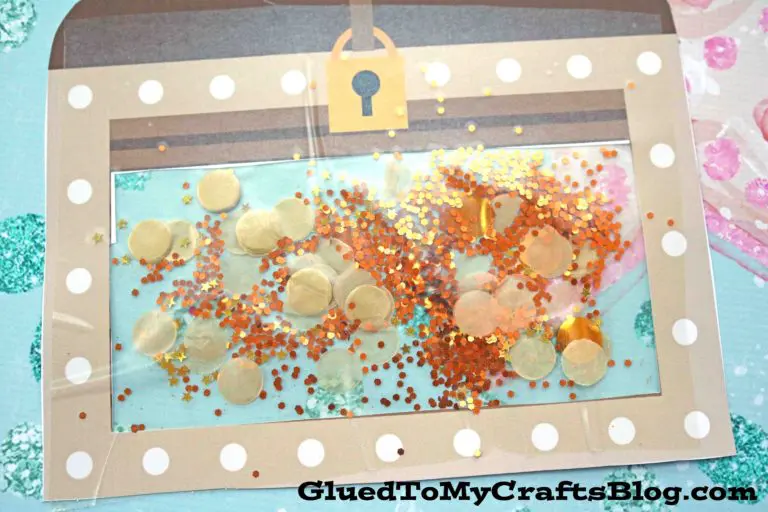 Credit: gluedtomycraftsblog.com
Set sail to discover the wonders of treasure, piracy, and sequins with this next DIY craft. This is particularly good for kids in a classroom because you can prepare the tough parts beforehand.
Create a treasure chest for each child, then have them decide what they want in it. Sequins, feathers, gold tissue paper circles, anything goes!
Stick with that ocean theme and take the kids through some of these mermaid crafts too!
5. Rocking Paper Plate Pirate Ship
Paper plates are one of the most versatile crafting supplies, and I love how clever this DIY is. Create a paper plate pirate ship that rocks with the tides. It's so simple, even your youngest can take it on.
If you don't already have some paper plates in the house, you'll need to buy your own pack. Consider buying biodegradable paper plates like these.
They're so much better for the environment, and you'll be turning the plates brown anyway.
6. DIY Duct-Tape Pirate Swords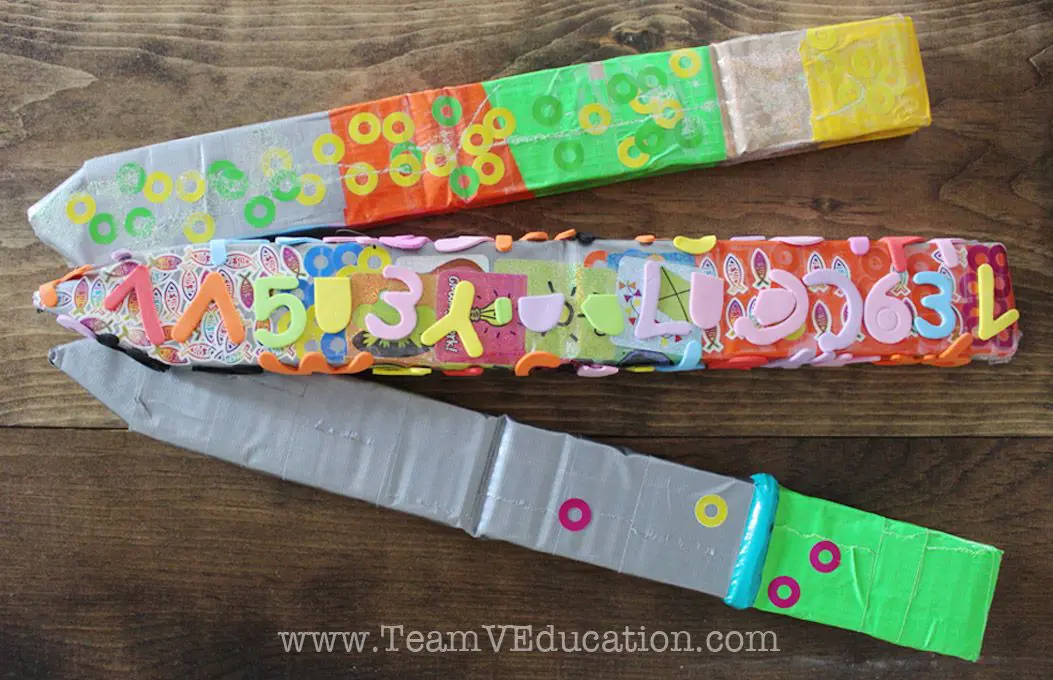 Credit: teamveducation.com
You can't be a swashbuckler without a trusty sword, but you certainly don't want to give kids a real blade. Enter, the duct tape pirate sword! This is great for tiring out the kids at your next birthday party.
Start by creating the sword bases (duct tape included), then unleash the kids on them, various embellishments in hand. Foam pieces, washi tape, stickers, and glitter will make these swords shine.
7. Popsicle Stick Pirate Crew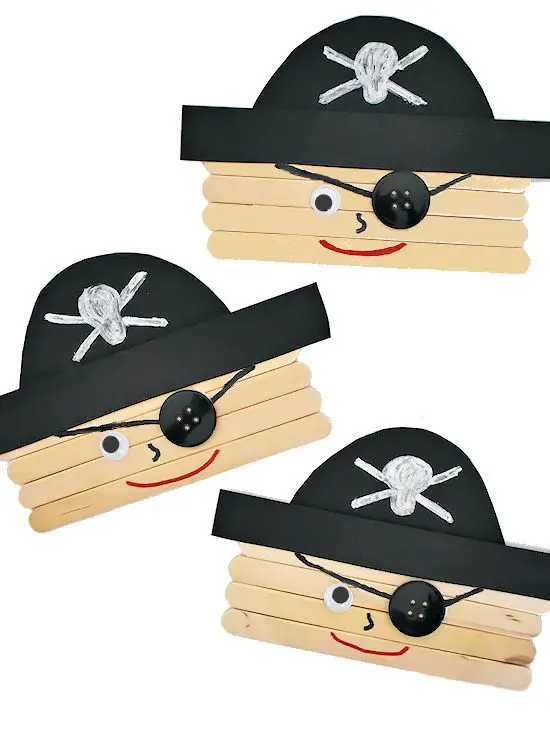 Credit: ourkidthings.com
In a world where we're all constantly burning through resources, recycling is more important than ever. So, why not use all those leftover popsicle sticks to give your child their own pirate crew?
Apart from the popsicle sticks, you'll just need some black cardstock for the hat, some googly eyes, black buttons for the eye patches, and markers. Once done, hang the completed crew on their wall!
There's more than one way to use up those popsicle sticks. I've listed a few of them in my article on kids' popsicle stick crafts, check it out!
8. Cardboard Roll Pirate Craft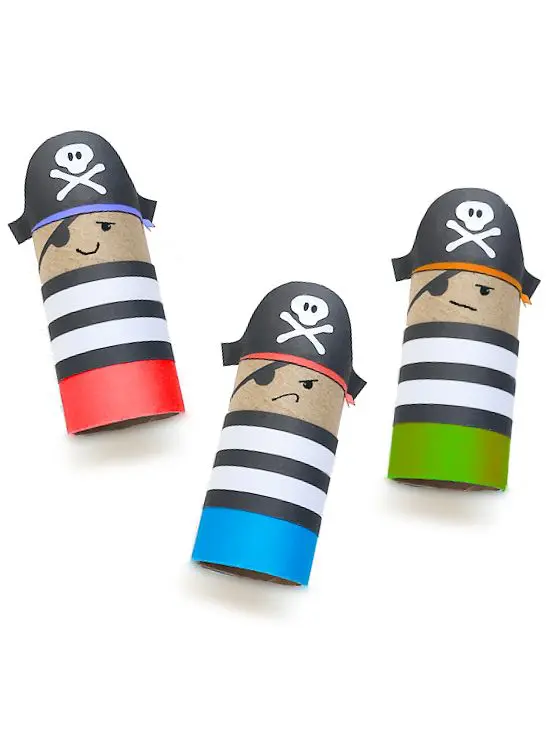 Credit: ourkidthings.com
if your kid would rather have a crew on their nightstand than on their wall, these cardboard roll crewmates are the answer. Not to mention, they use up any old toilet paper rolls lying around.
I love this craft because the kids can make it their own. Furnish them with a pack of construction paper (here) and some safety scissors (here), sit back, and watch the magic happen.
Check out more toilet paper roll crafts here.
9. Nature Stick Pirate Ships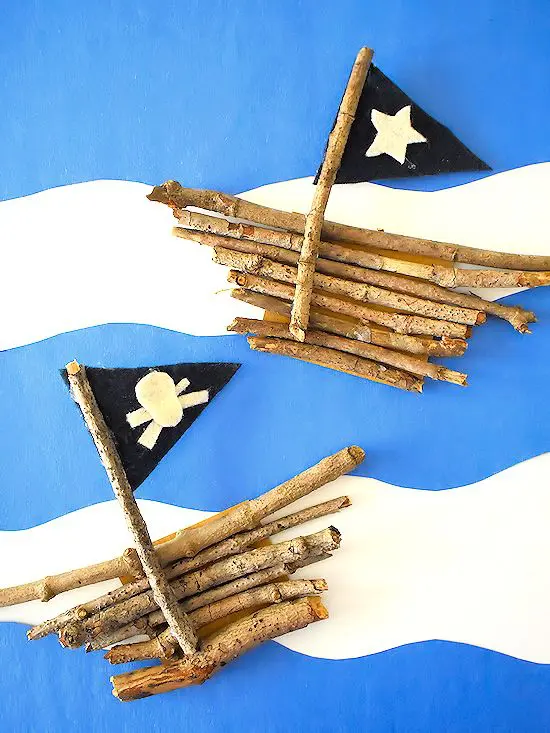 Credit: ourkidthings.com
On sunny days, there are few things better than getting the kids outside for some crafting. Even better if that craft requires some foraging first! These stick-based pirate ships fit the bill perfectly.
Head into the backyard to gather some sticks with the kids, then use them to assemble a rustic-looking pirate ship fit for any captain. These make for adorable wall decorations, so make a few!
10. Fizzing Pirate Treasure Chests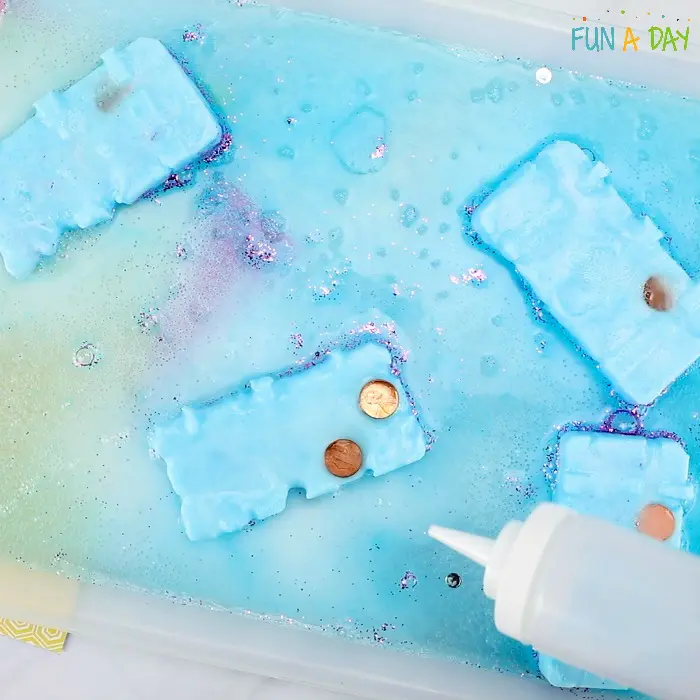 Credit: fun-a-day.com
Who knew you could combine good old-fashioned pirates with some modern science? These fizzing pirate treasure chests can make bath time an adventure or teach a classroom some scientific principles.
Fill the "chests" with anything you think your kids would enjoy hunting through fizz to find. Fake gold doubloons (here), tiny craft gems (here), and actual pennies are my personal favorites.
11. Wooden Spoon Pirate Crew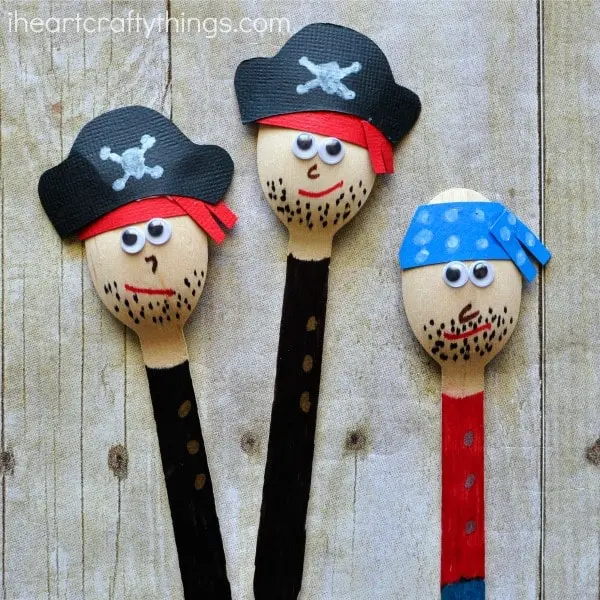 Credit: iheartcraftythings.com
Avast, it's time to make a crew of pirate puppets! Make one or make twenty, the sky's the limit with these wooden spoon pirates. You can even put them in their very own pirate ship!
I love this DIY because it's so easy to customize the crewmates. Change the bandana and skin colors, add a beard with some fluff, or add an eyepatch. Get started by grabbing a pack of spoons (here).
12. Paper Bag Pirates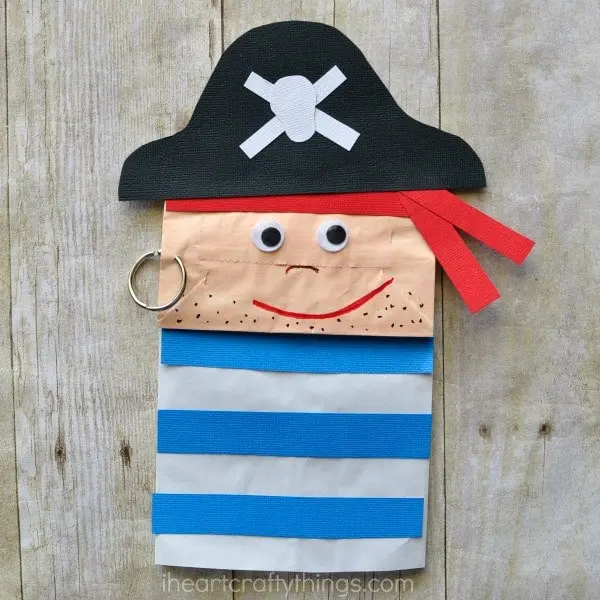 Credit: iheartcraftythings.com
If wooden spoons are too small for your needs, you can always make a paper bag pirate puppet instead! Using a white paper lunch bag (like these), your little one can create their own swashbuckling companion.
While the tutorial for this DIY uses many construction papers, you could always opt to turn this into a painting craft. However, you'll still need paper to create the hat. After all, what's a pirate without his hat?
These paper bag maties aren't the only cool thing you can do with paper. Check out some other paper crafts for kids here.
13. Egg Carton Pirate Ship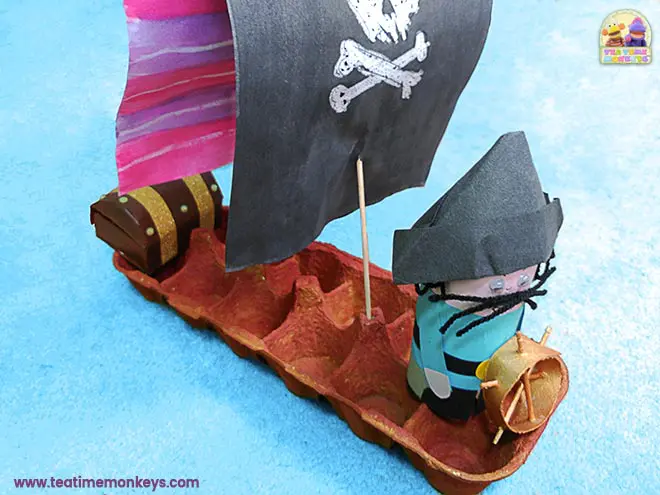 Credit: teatimemonkeys.com
Continuing with the trend of reusing household items, this pirate ship is crafted from an unassuming egg carton. Just add some sails, a treasure chest, and a captain for the completed vision!
I love this DIY's sustainability because it uses all the cardboard odds and ends you're bound to have to lie around. From there, all you and your child have to do is decorate to your heart's content.
14. Clothespin Pirate Ships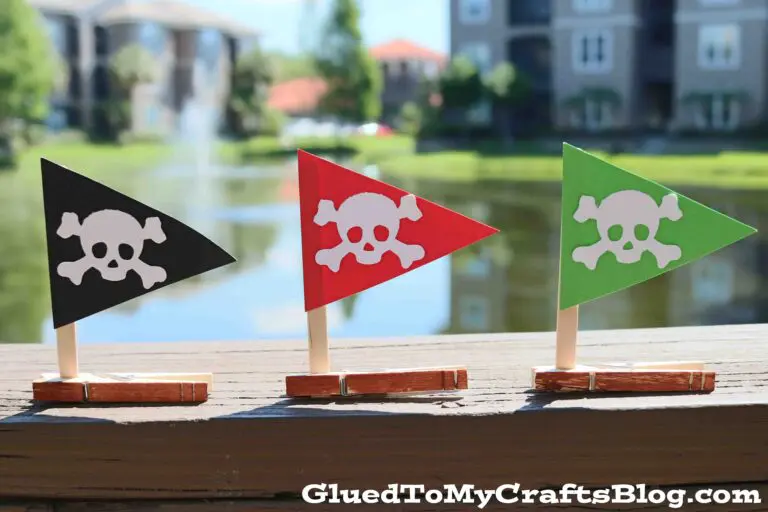 Credit: gluedtomycraftsblog.com
If we're discussing easy crafts, there's really nothing better than these clothespin pirate ships. In just three steps, your little one can have their own fleet of ships to command at will. They're great for games!
Paint a wooden clothespin (like this) a dark brown, craft a sail from a popsicle stick and some paper, then pinch the mast between the clothespin's jaws. Voila, a ship that's worthy of the pirate scourge.
15. Pirate Treasure Hunting Slime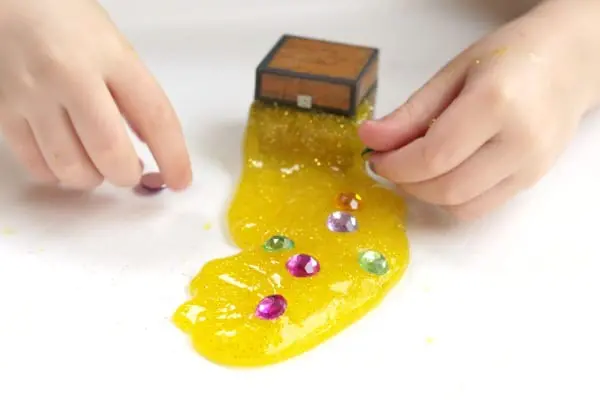 Credit: steamsational.com
Sparkly, filled with jewels, and fantastic for the senses; these are the things that characterize this pirate treasure hunting slime. Create this slime with the kids to teach them a bit about chemistry!
Once you're done mixing, they'll have a sensory tool to help them develop their spatial senses. Not to mention, this bright gold slime looks great spilling out of a treasure chest.
Unlike many other recipes featured here, this slime uses liquid laundry starch (find some here) to create the slime texture. Make sure you pair it with a large jug of Elmer's Clear Glue (here).
16. Customized Pirate Hooks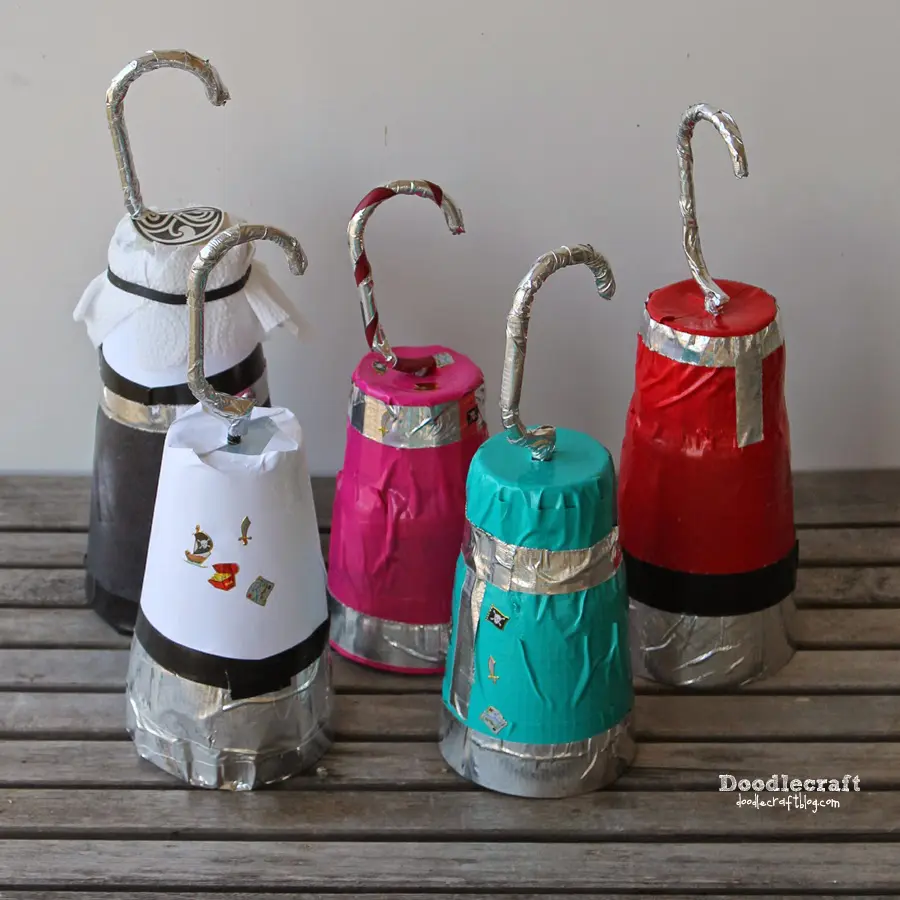 Credit: doodlecraftblog.com
Did someone say… pirate birthday party? Using an old plastic hanger and a plastic cup, you can create a simple pirate hook your kids can wear over their real hands. It's great as a party favor.
Alternately, lay out all the decorations on a large table and get the kids to decorate their own pirate hooks. They'll have a souvenir to take home, and stories to tell of their pirate party adventures!
17. DIY Pirate Paper Hat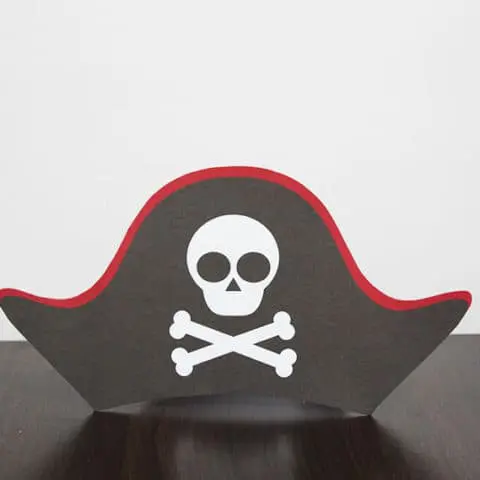 Credit: partywithunicorns.com
Speaking of pirate accessories, no pirate captain is complete without their trusty hat! Whip these hats up to give to birthday guests on the day, each one won't take more than five minutes to make.
Want to get even more creative? Use these hats as the birthday party invitations, so kids will already be showing up in full pirate attire, ready to start swashbuckling!
Thanks to the internet, there are so many other amazing birthday party craft ideas out there. Check out how to elevate your little one's special day on a budget with these 20 dollar store party ideas!
18. Popsicle Stick Pirate Flags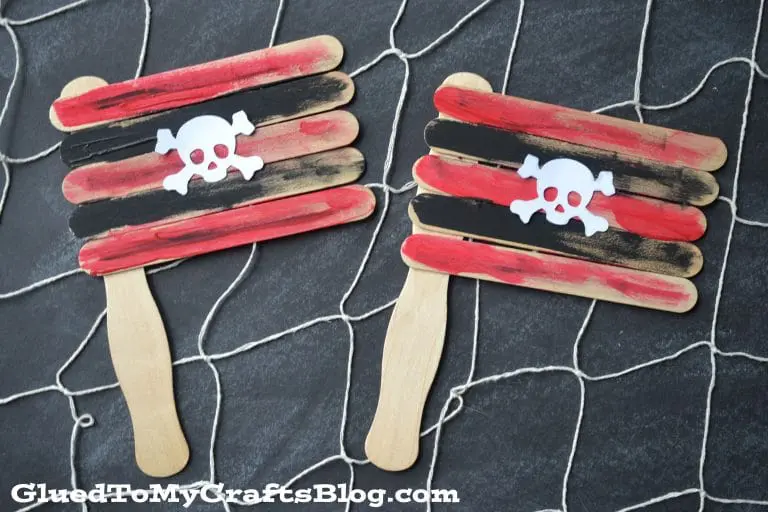 Credit: gluedtomycraftsblog.com
Whether you're adding them to a popsicle stick ship or using them as a birthday cake decoration, these popsicle stick pirate flags will liven up anything. They're so simple and cheap to make, too.
These delightful Jolly Rogers feature a white skull cut from cardstock. If you're keen on it, you can invest in a large skull paper punch like this to get a perfect skull every time.
Check out more popsicle stick crafts here.
19. Colorful Paper Cup Parrot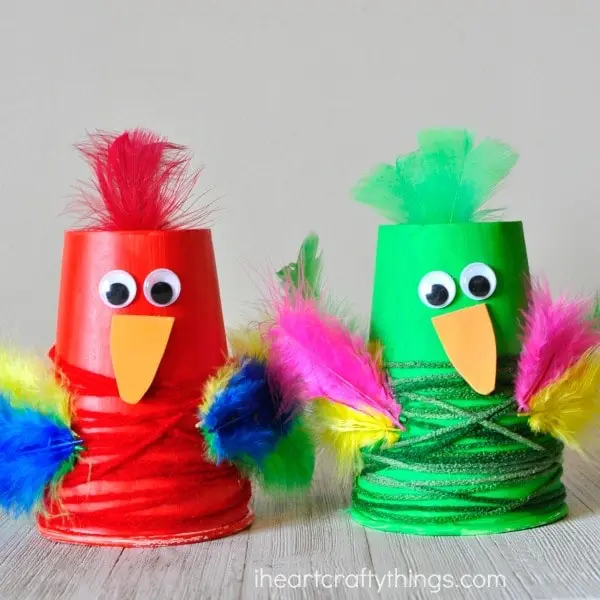 Credit: iheartcraftythings.com
You'd never see a pirate without their squawking companion sitting on their shoulder. Hence, no pirate costume is complete without a parrot! This colorful paper cup craft is so cute, so clever, and so easy.
Apart from googly eyes and paper cups, you'll need some colored feathers to really bring these birds to life. Grab a pack of colored feathers here, then fasten to the cup with a glue gun and string.
20. Pirate Treasure Chest Craft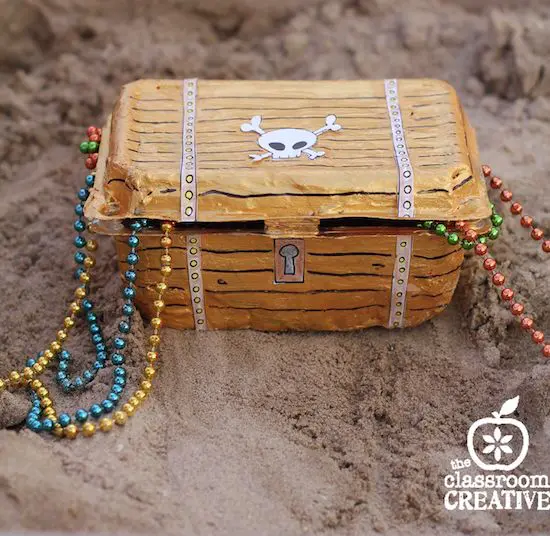 Credit: theclassroomcreative.com
This one is perfect for the classroom, as it gives your students an adorable bedroom decoration to take home at the end of the day! Use some old containers and Mod Podge to get started.
If you don't have enough old strawberry containers, use a set of recyclable brown lunchboxes instead (find them here). Let the kids fill it with anything their little hearts desire for a fun afternoon!
21. Pirate Ships in a Bottle (The Easy Way)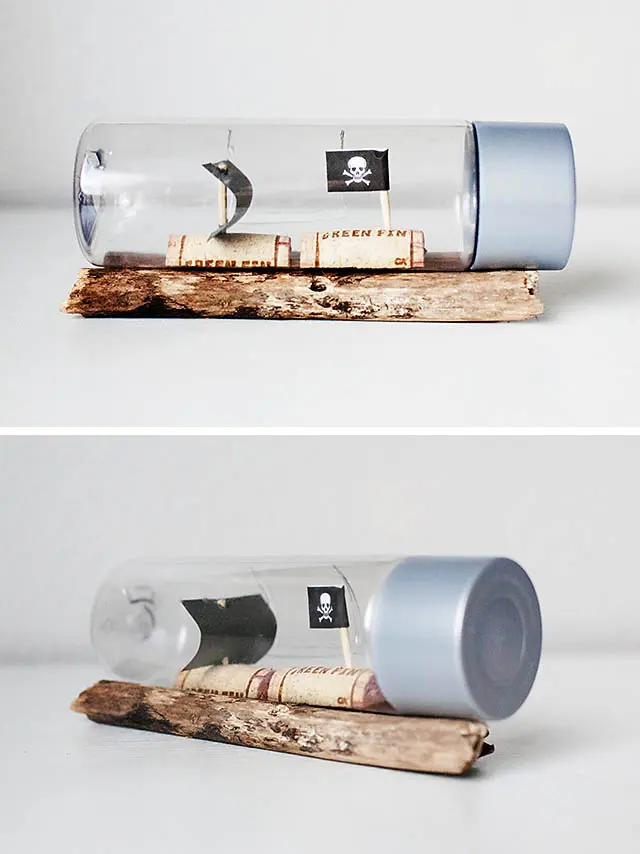 Credit: allfortheboys.com
Finally, here's a way to make ships in a bottle easy for the kids. Instead of the intricate detail of the adult version, all you'll need is a plastic bottle, an old cork, some toothpicks, and paper for the sail.
Take it an extra step by gluing the plastic bottle to a piece of flat driftwood. It really brings the whole craft together! This would make a gorgeous nightstand decoration for your resident pirate-lover.
There you have it, a full collection of some of the best pirate crafts sailing the internet's waters today!
Conclusion
Which ones do you think your kids will enjoy? Are there any I haven't listed? Comment below and let me know which one you and your little ones will be trying first.