Got a bunch of mason jars and not enough creative ideas? Check out these Mason Jar Crafts for Home that will transform your home.
I love mason jar crafts for a lot of reasons. They are both practical, and they look great when done right. You can do a lot of fun activities with your kids, too, using mason jars.
If you are looking for easy and frugal ideas to redecorate your home, you should check out our 41 Mason Jar crafts list.
These are super easy to do and give your home a new look; you can bet on it.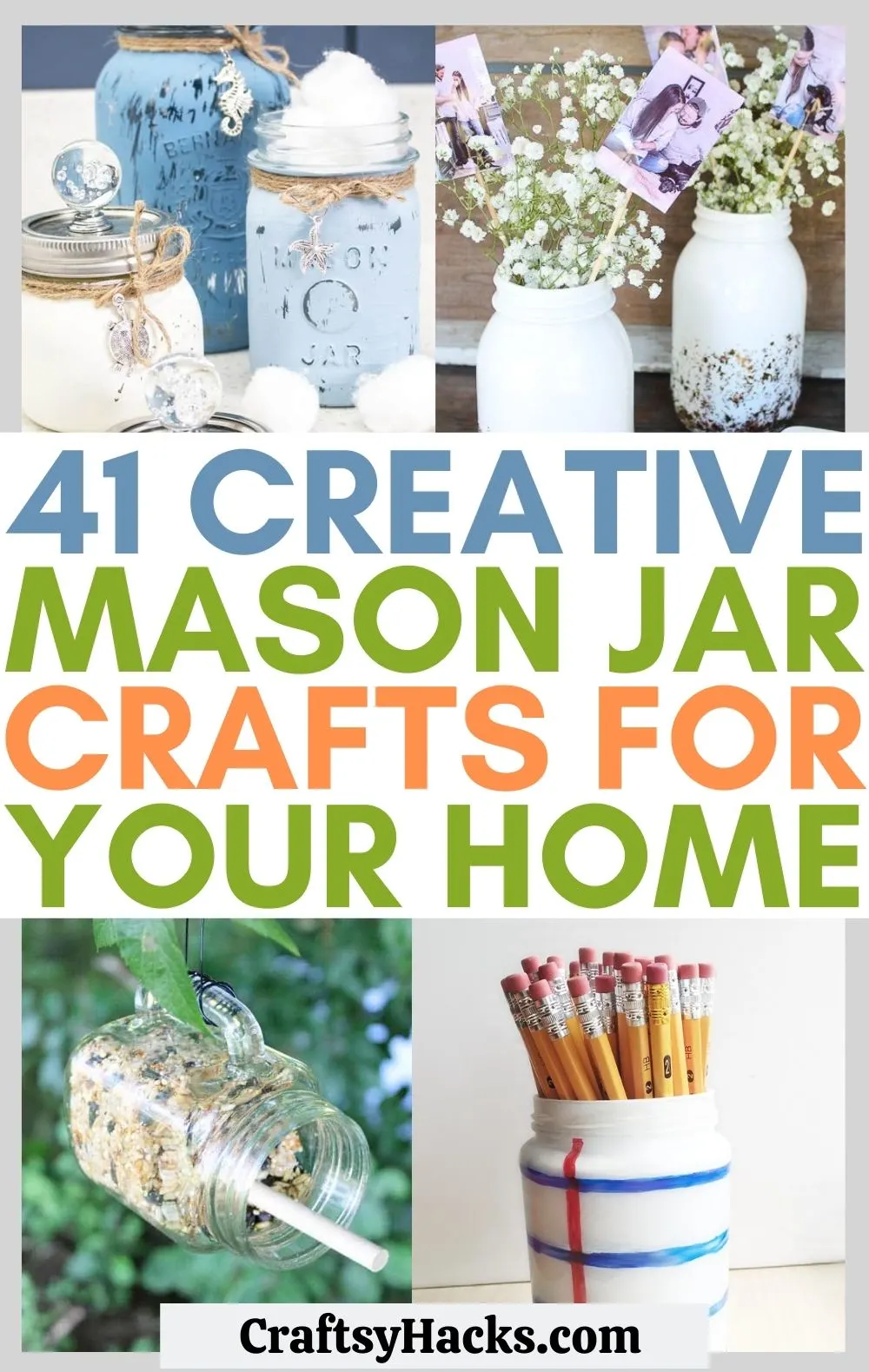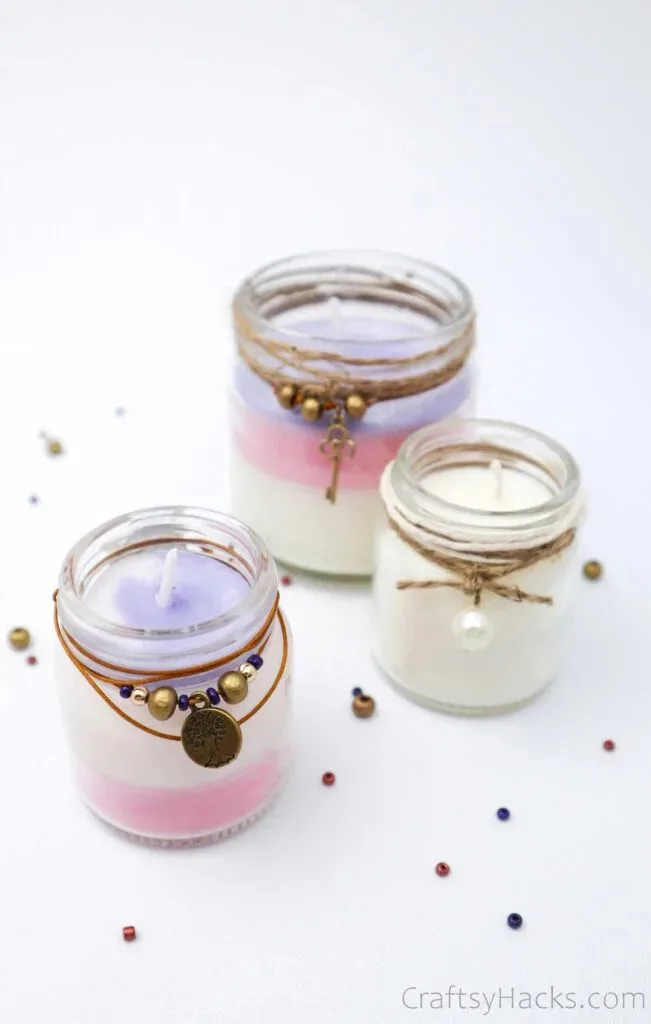 Source: craftsyhacks.com
One can never have enough candles, and if they are scented, your home should smell like heaven. I love creating practical decor, and candles top that list.
You need a couple of mason jars, soy wax, candle wicks, and your favorite scent to make your scented candles. Soy wax is great for scented candles as well as for the environment; get your first supply here.
Melt your wax, add your scent and add the wax to the mason jar. You can add food coloring to make your candles look pretty. You can also use ribbons, beads, and other small trinkets to decorate your candles.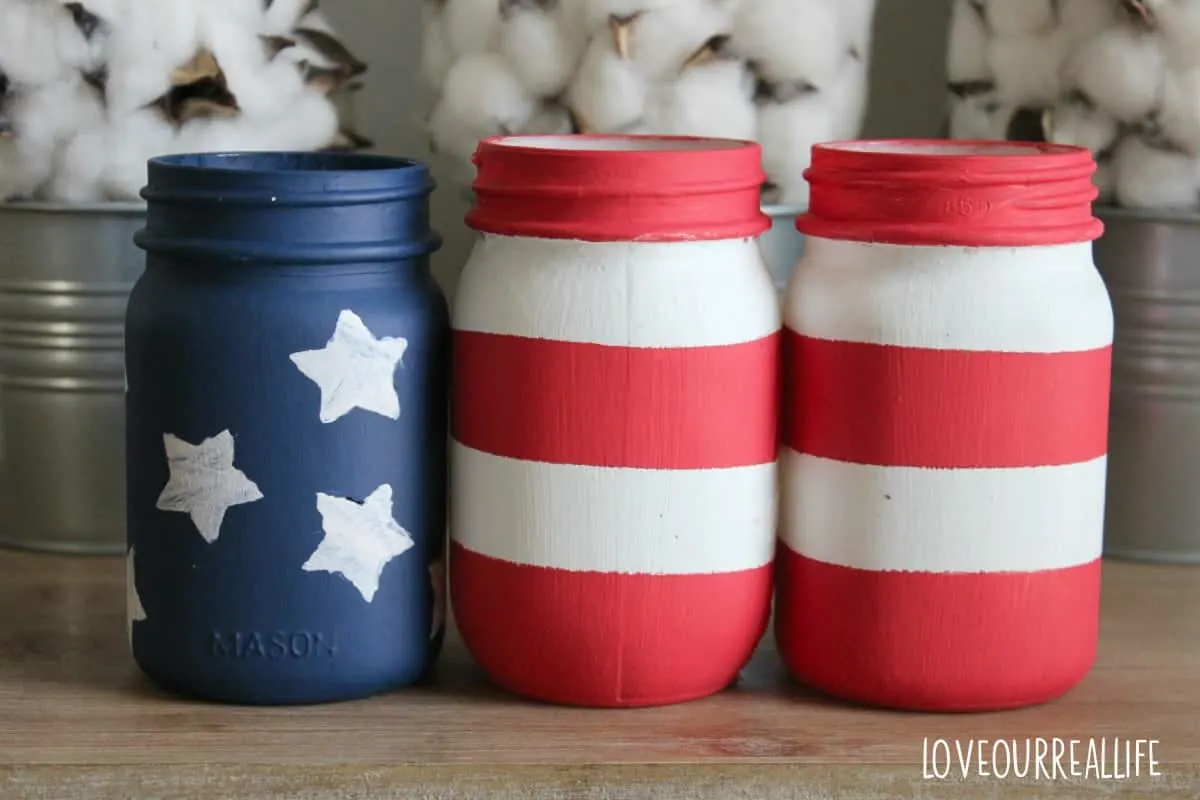 Source: loveourreallife.com
Having a 4th of July BBQ at your place is great! Here are some cool fourth of July mason jar ideas that you can do at home for your tablescape.
If you are good with paint, these will be fun and easy for you. Wash and dry three Ball Mason Jars and paint them with stars and stripes of the American flag.
You can use these jars to decorate the table or even use them to display small flags.
To paint the jars, you will need blue, red, and white acrylic paints; get the assorted box here. You will also need painter's tape and star stencils. Order your star stencil here for this patriotic project.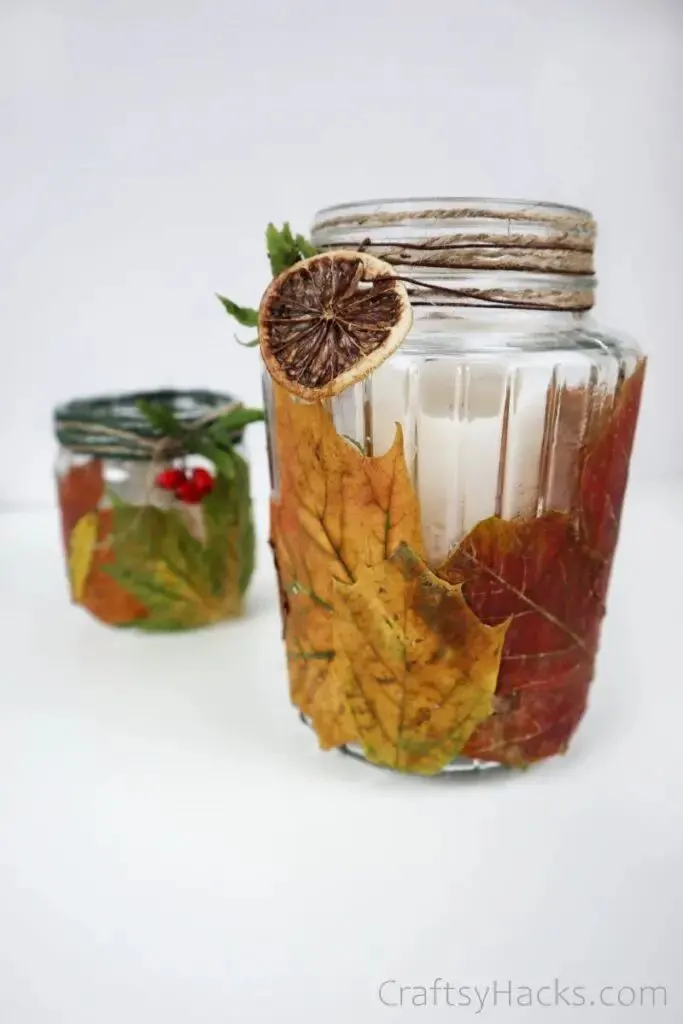 Source: craftsyhacks.com
DIY decoration doesn't take much. All you need is a creative eye and some mason jars. Our Mason Jar candle holder is the perfect decor for fall and Halloween.
Pluck some leaves from your backyard, and let's get started. You can also use textile leaves if you want your candle jar to last longer. Click here to buy fall-themed textile leaves.
Once you have your leaves, take your jar and stick your leaves artistically with standard glue or Mod Podge. Let this dry, and use any other decor like twine, beads, or ribbons to beautify your candle holder.
And there you have it; your fall-theme candle holder is ready to light up your house. Check out more upcycling ideas here.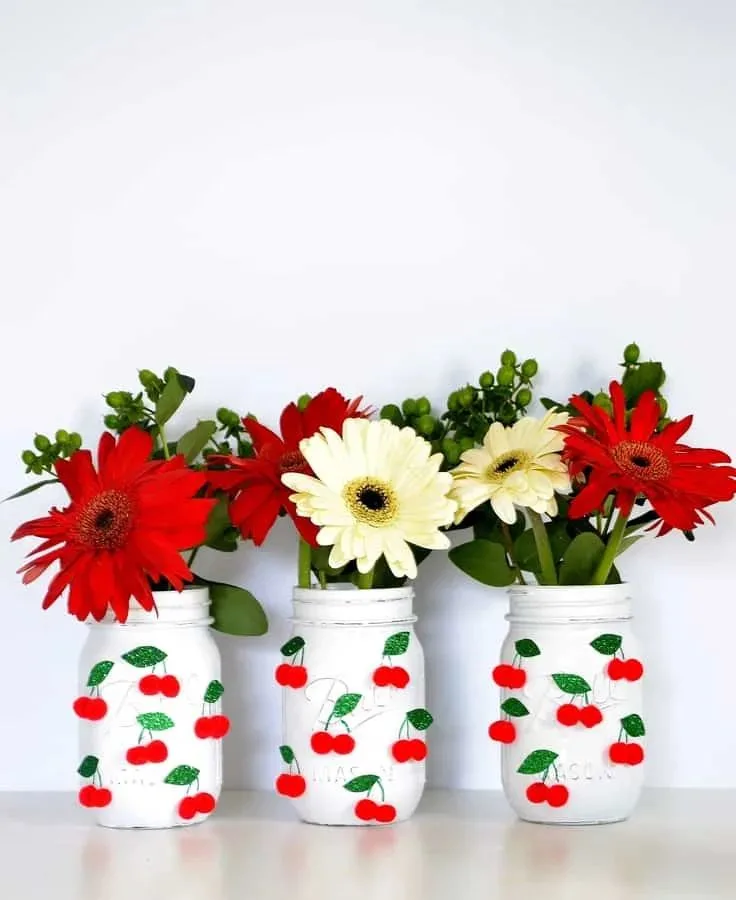 Source: burlapandblue.com
You can use mason jars to decorate your house for every season. For summers, you can check out this vibrant cherry theme to add a dash of color to your decor.
Paint the jars white using acrylic paints. Once dried, add red pom-poms and glitter foam sheets in the shape of leaves. To order pom-poms for this DIY, click here.
The cherry mason jars look great on coffee tables, mantels, and dining tables. You can use these to show off your flowers or cutlery when hosting a dinner.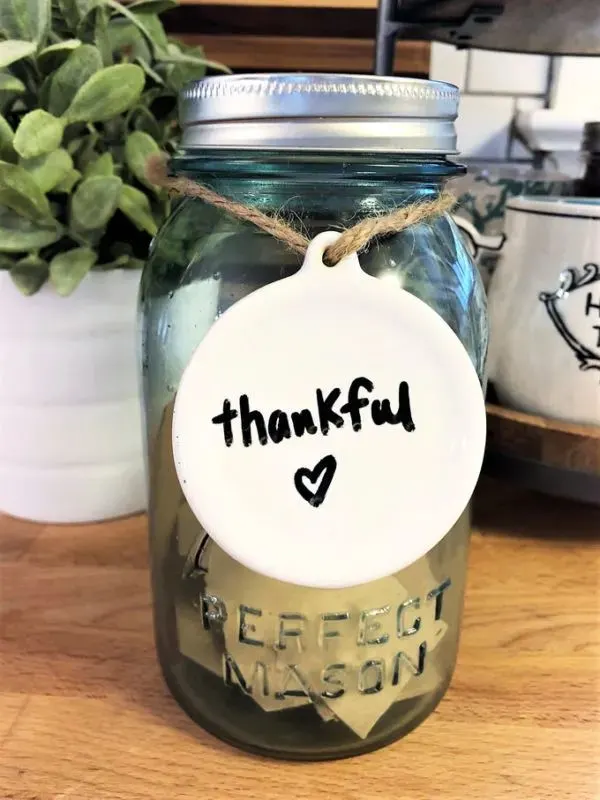 Source: allcraftythings.com
Gratitude makes life easier; when you see the excellent things you are blessed with, you tend to let go of the ones that hurt. So, use your mason jar to make a thankful jar.
The idea of a thankful jar is to add what you are thankful for to the jar. You will need small strips of paper or colorful index cards to write what you are grateful for.
You can get your colorful cards here. This is an excellent activity for the whole family to do on Thanksgiving.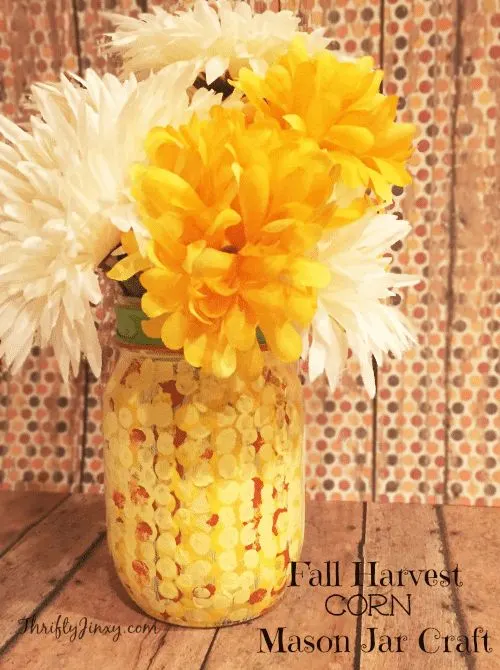 Source: thriftyjinxy.com
We can't forget the Fall Harvest Corn Mason Jar DIY project when we talk about fall decor. This is a cool project to do with kids.
Get Yellow, Red, and Orange paint and some sponge stipplers. If you are new to the world of crafts, you can order your Stippler set here.
Paint the mason jar Yellow, and add your colorful dots one by one in neat rows. Once dried, you can add flowers, pencils, or utensils to this harvest corn jar.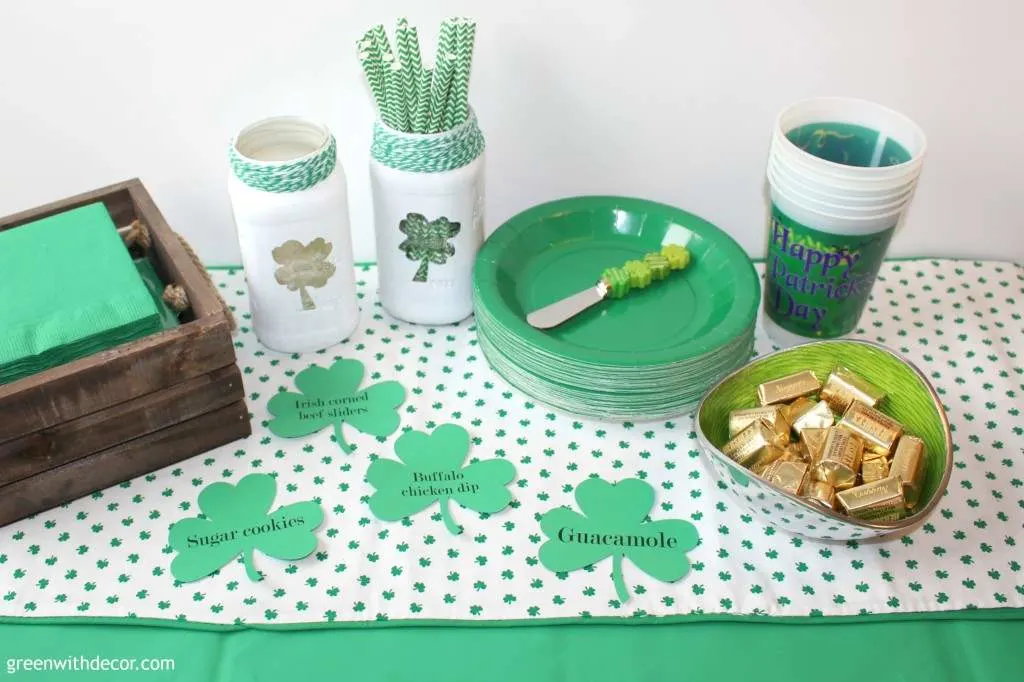 Source: greenwithdecor.com
Creating something new from something old is very productive and highly satisfying. You can make anything out of old jars if you put your mind to it.
We created these simple yet attractive St. Patrick's Day DIY mason jars to hold straws and spoons for the St. Patrick's Day brunch. You can order the Shamrock Stickers here if you aren't keen to print and trace the design.
The tricky part is cutting and pasting the Shamrock to the jar; the rest is relatively easy. Once you have painted your jar, let it dry and remove the tape.
You will have a cool-looking St. Patrick's Day project at your hand.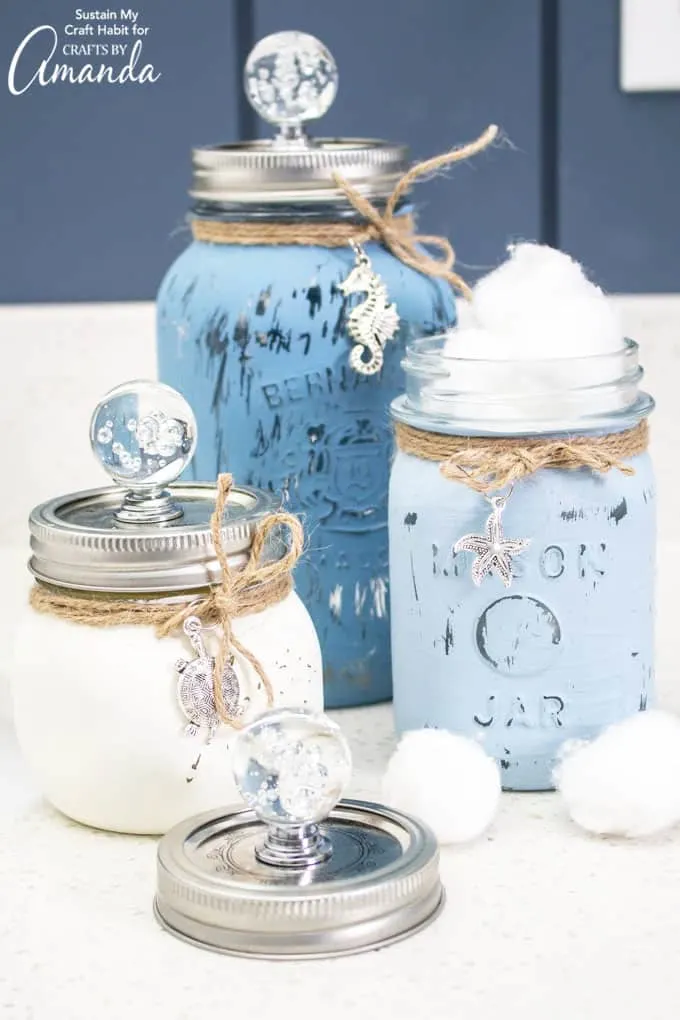 Source: craftsbyamanda.com
Mason jars are very versatile; you can use all shapes and sizes to store all kinds of stuff. Paint the jars in a cool ocean theme to use these jars as storage canisters.
You can paint the jars blue and white and add details like brown twines, sea charms, and seashells to decorate the jars to match the ocean's theme.
Order your sea charms here. You can also click here to get small seashells to stick on the jars.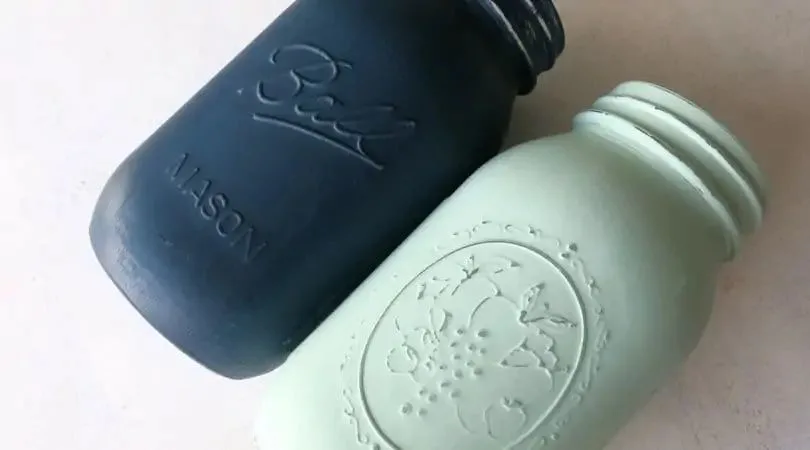 Source: makingmanzanita.com
Painting a mason jar can be tricky if you have never done it. But once you get the hang of it, you can create all sorts of cute painted jars to decorate your house.
You can also use paint according to season to decorate your house for different occasions, like green for Christmas and orange for Halloween or Fall.
To paint the jars just right, you will need acrylic paint, a foam brush, and patience. Get your foam brush tool here. Clean your jar and add the first coat of paint.
Once dried, add your second coat. To cover the jar to perfection, you will need three coats of paint.
If you want to give your jar the trending "distress look," you will need 220 grit sandpaper to rub all over the jar to add the distressed texture. If you don't have the sandpaper, you can get some here.
Love painting? These canvas painting ideas are fun to make.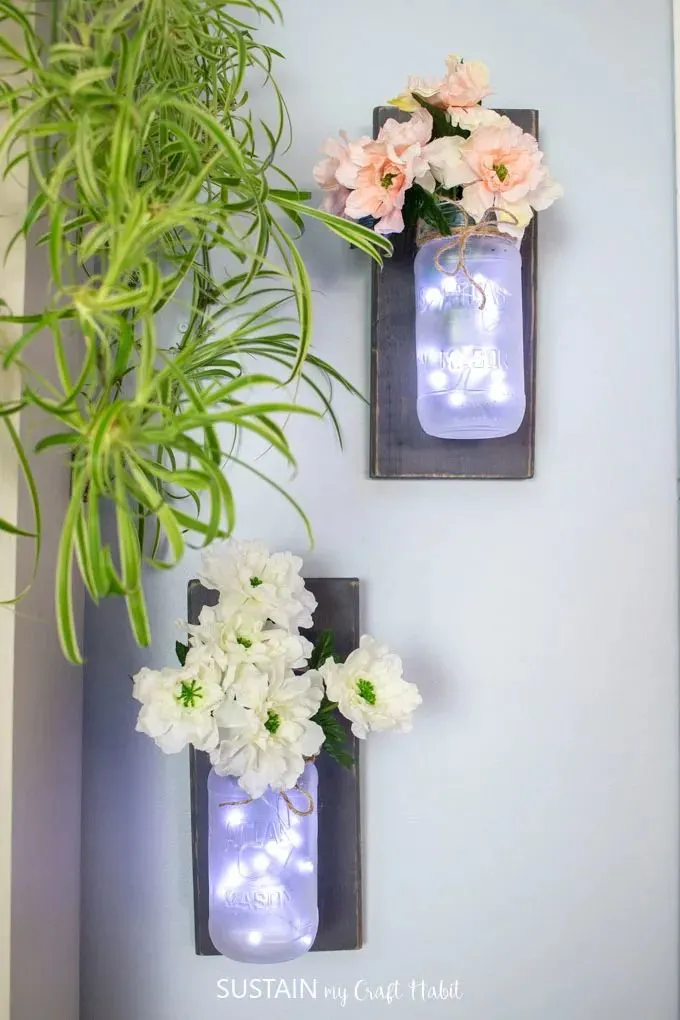 Source: sustainmycrafthabit.com
Upcycling old jars is my favorite thing to do. You can do so much with old jars and add so much color to your house.
Making hanging lanterns with mason jars is effortlessly easy. You will need battery-operated fairy lights, paint, and a wooden board. Get your battery-operated fairy lights here.
Paint and sand your board, and add a hook to it. Now, paint your jar, and hang it on your wooden board.
Add your battery-operated fairy lights to the jar and enjoy your new decor.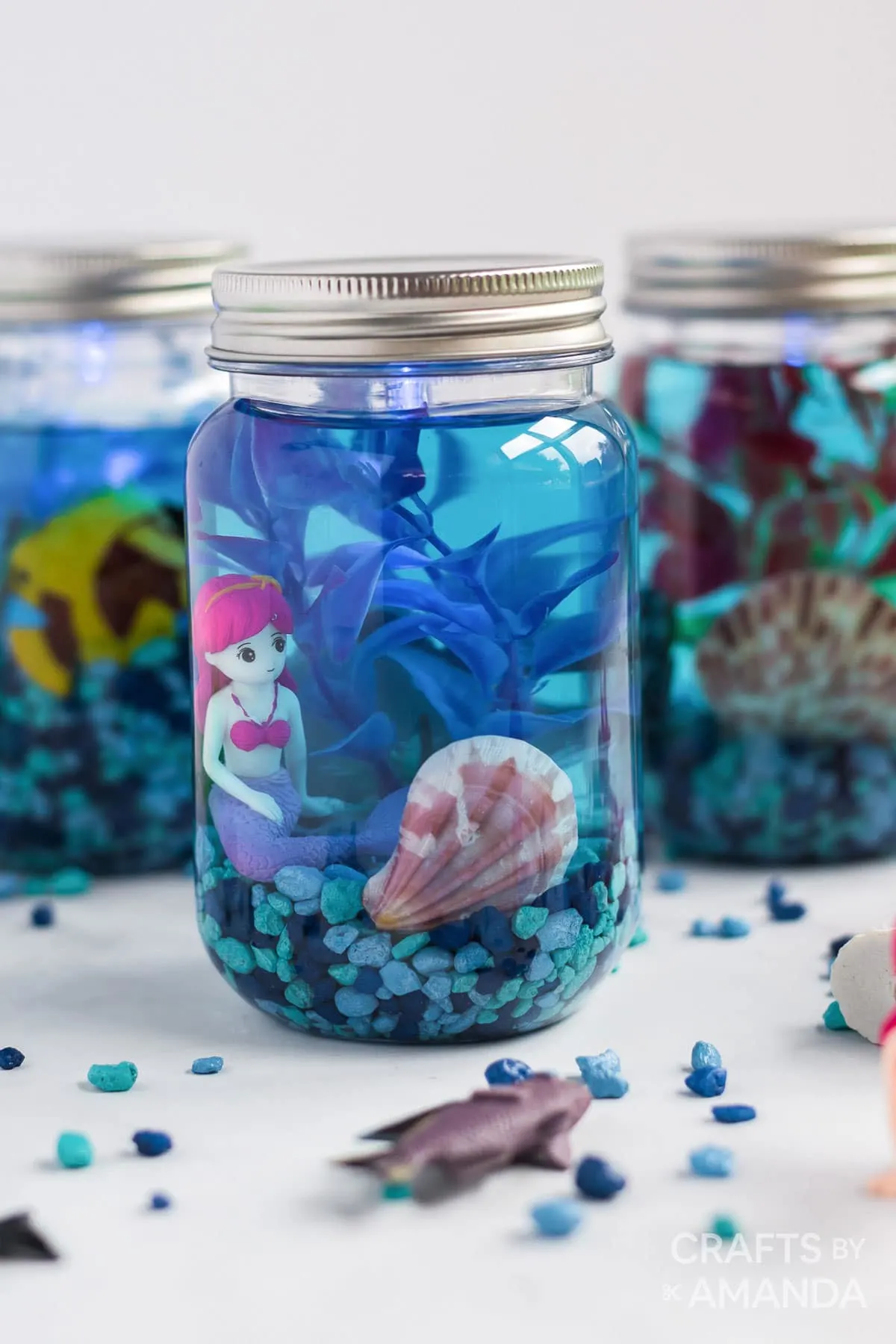 Source: craftsbyamanda.com
Making an Aquarium with mason jars is the coolest thing for your kids. Not only will it add color to their room, but it also will be a fun activity to do with their kids.
You will need aquarium gravel, some small aquarium toys, plastic fishes, shells, and blue food coloring; if you are out of gravel, order some here.
Add your bits and pieces to your jar, add water and a bit of blue color to your jar. You can also add fairy lights to the jar to make it look more fun.
This is a great craft to make and sell.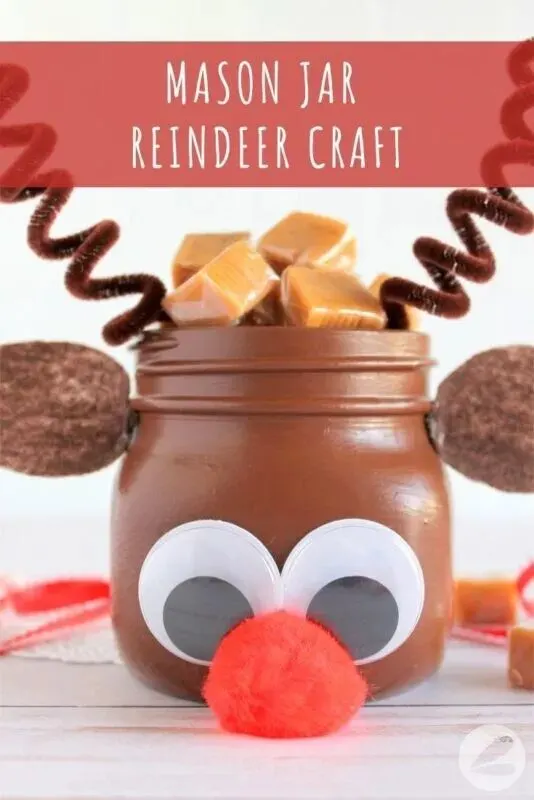 Source: homemadeheather.com
If you are looking for fun crafts to do with your kids this Christmas season, here is our cute Reindeer Craft. Your kids will love this craft, and you will love making this with your kids.
You will need wide-mouth mason jar acrylic paints, red pom-pom, and large googly eyes. You can order a pack of large googly eyes here.
Once painted, you can add your googly eyes and red pom-pom to your mason jar to complete your reindeer. You can use this cute reindeer to store candies and Christmas cookies.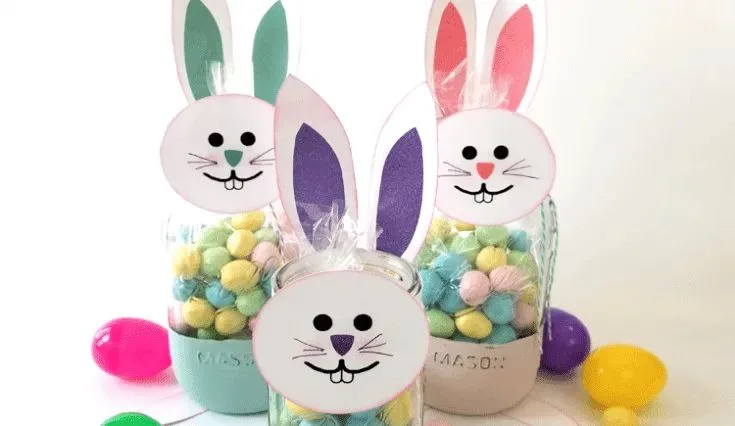 Source: michellejdesigns.com
Just like our cute reindeer, you can create a bunny for Easter from Mason Jars. This requires minimal effort.
Cut out a bunny shape from white cardstock paper, add bunny ears with glitter paper, and stick that to your mason jar.
You can also paint the jar if you want, but if you are keeping colorful chocolate eggs, it's better if you let it stay clear.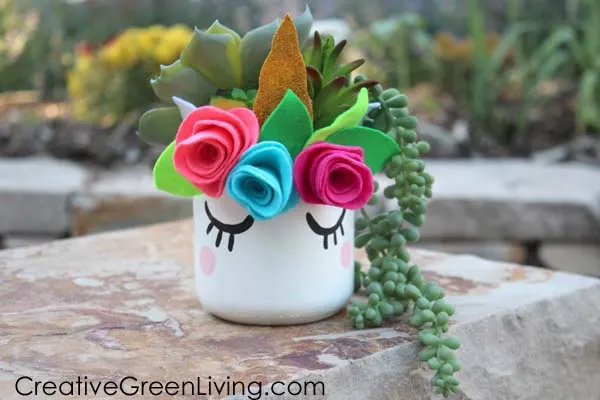 Source: creativegreenliving.com
Succulents and unicorns are the two cutest things to decorate the house. Paint your mason jar white and add details with black and pink paint.
Next, take your foam sheets, get colorful ones here, and make flowers and leaves. Stick these on your painted jar. You can use glitter sheets to create the horn; if you don't have glitter sheets, you can also use loose glitter and glue it to plain cardstock paper. Get loose golden glitter here.
Your jar is now ready to adorn your tables and mantelpiece. Just add your succulents, and you are good to go.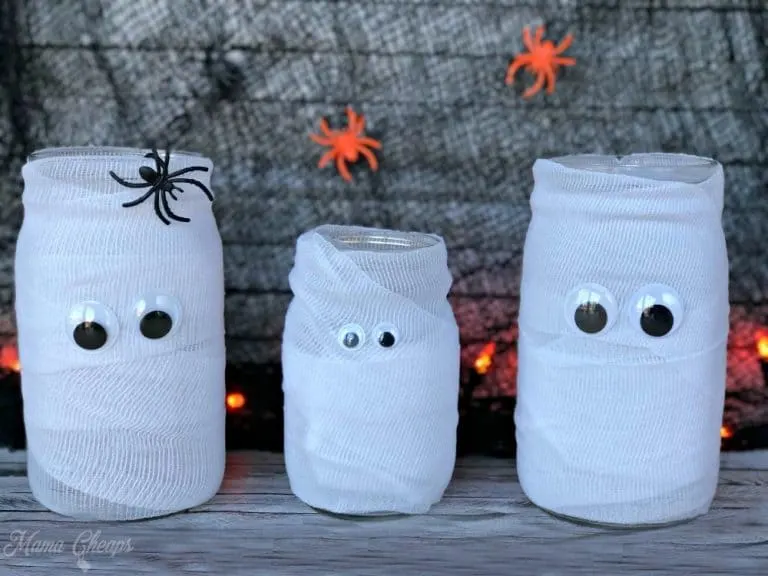 Source: mamacheaps.com
Want me to tell you the most spooky yet affordable Halloween decoration ever? Mason Jar Mummies! They are the easiest to make, and they look great when the sun goes down.
Clear your mason jar and just wrap a gauze loosely around your jar and glue googly eyes on your jar.
You can get a roll of gauze here for this craft. Add fairy lights to your jars and hang them out on the trees to make this even more impressive.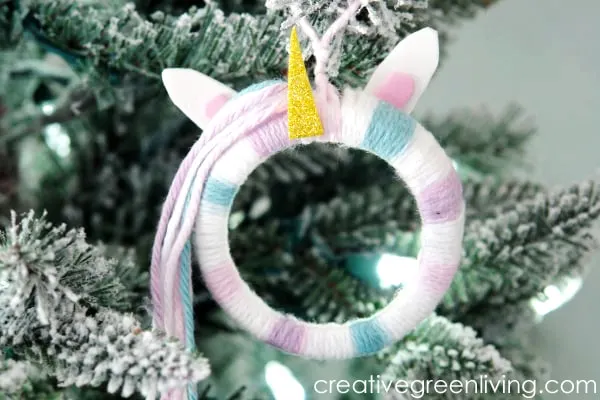 Source: creativegreenliving.com
Christmas ornaments are always fun to make, and when it's a unicorn one, double the magic. Let's use an old mason jar's ring for this one.
You can get your ring from the old jar, but you will need some colorful yarn. Small scraps of yarn from an old project will do. If not, you can buy your colorful yarn here.
Start by gluing the string of the yarn and looping it around the ring till it's fully wrapped. Add cardstock ears and a glitter horn to complete your unicorn ornament.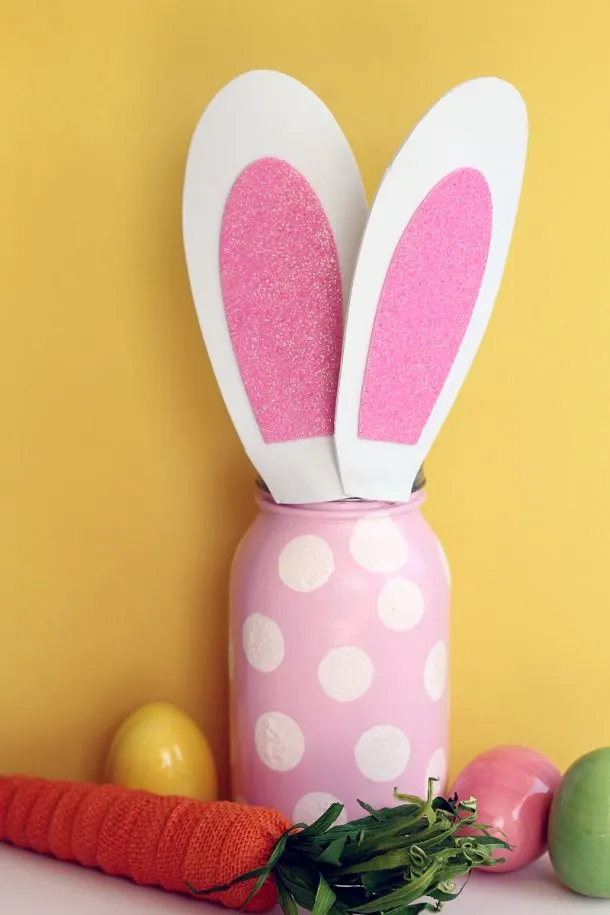 Source: thecountrychiccottage.net
Just like our summer mason jar decoration, you can make a cute Easter Mason decoration. This doesn't take much time, and it's also a fun project to do with kids.
If you have pink acrylic paint lying around, great! If not, you can order some here for your Easter project. Paint the mason jar pink and add white dots. To add Easter details, cut white ears from cardstock paper and glue them to the jar.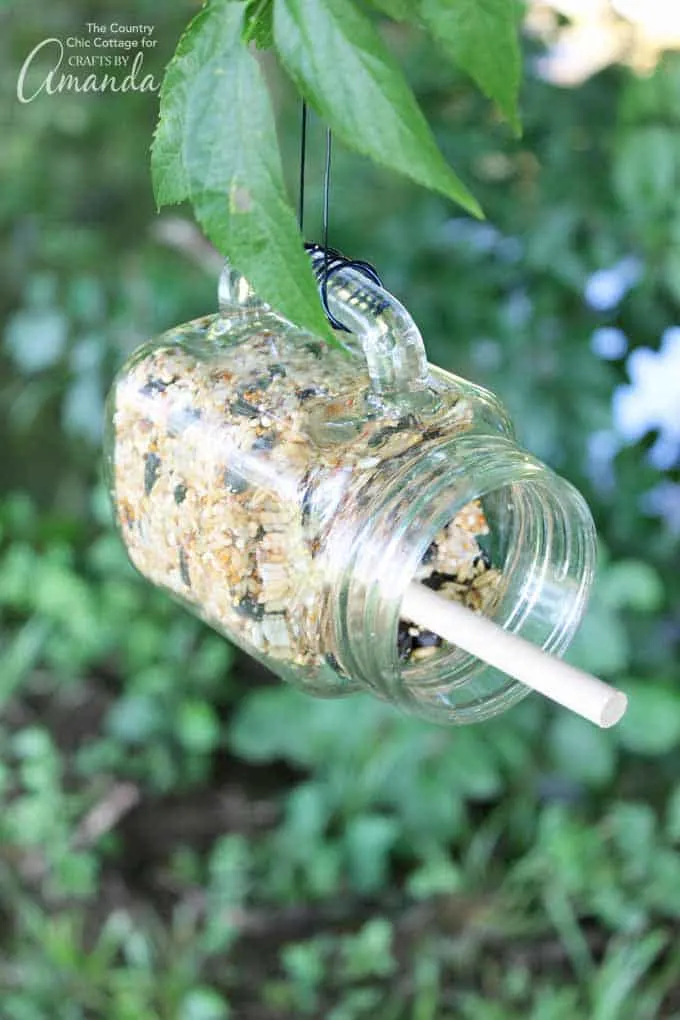 Source: craftsbyamanda.com
Mason jar bird feeder is an easy project that can teach your kids kindness and empathy. You can make this jar using the simplest elements.
Make the feed by adding corn syrup and water to regular bird seed. Stuff this in your jar and add a dowel rod to it for the birds to sit on while feeding.
You can get your dowel rod here. To hand this safely and securely to a tree in your yard, you will need a long string of wire. Order your wire to hang your bird feeder here.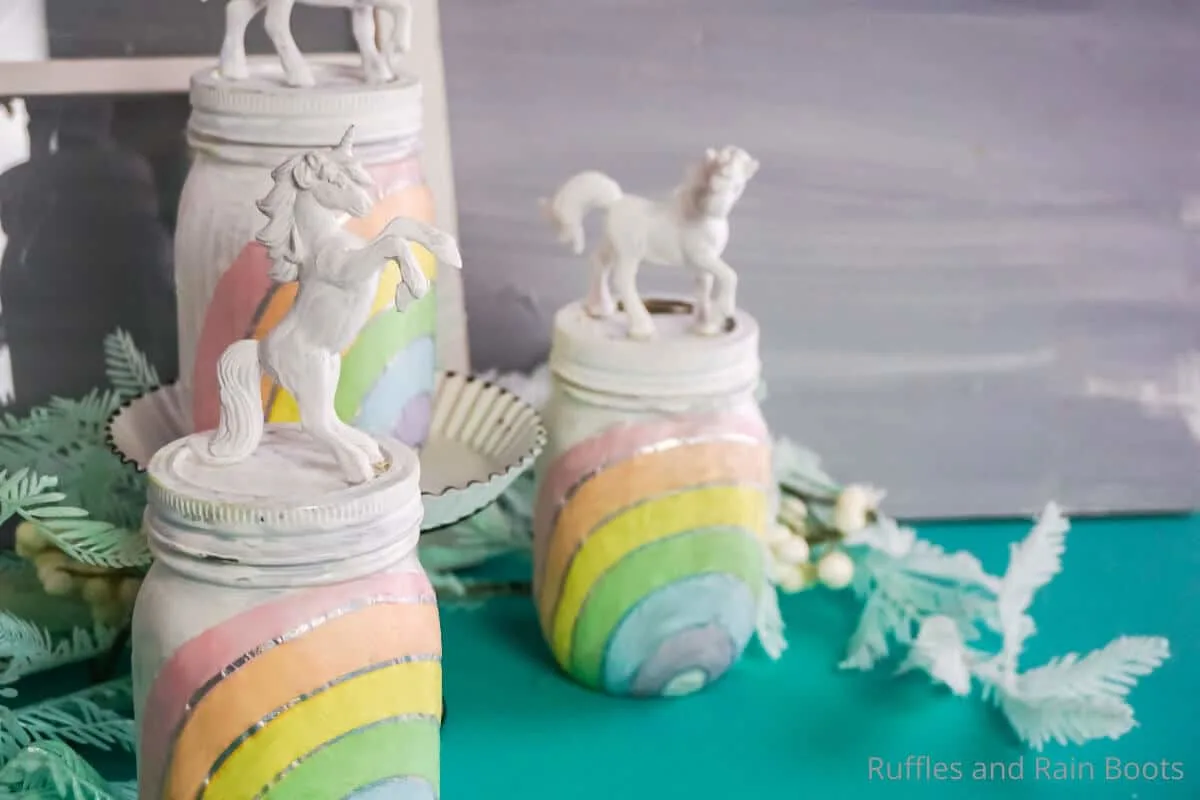 Source: rufflesandrainboots.com
Magic exists, just look at our magical rainbow unicorn night light, and you will start believing in magic.
If you are always on the lookout for doing DIY crafts with your small kids, this one is the perfect one. It's Not only cute but also practical for your little one's room.
Paint your Mason jar white; now paste your rainbow napkin on the jar. You can even stick a unicorn toy on top to make this more amusing for your kids.
Now add battery-operated fairy lights to your jar and see it light up your little girl's face.
Always seal your paint with a sealer, making your craft last longer. If you don't have a sealer, get one here.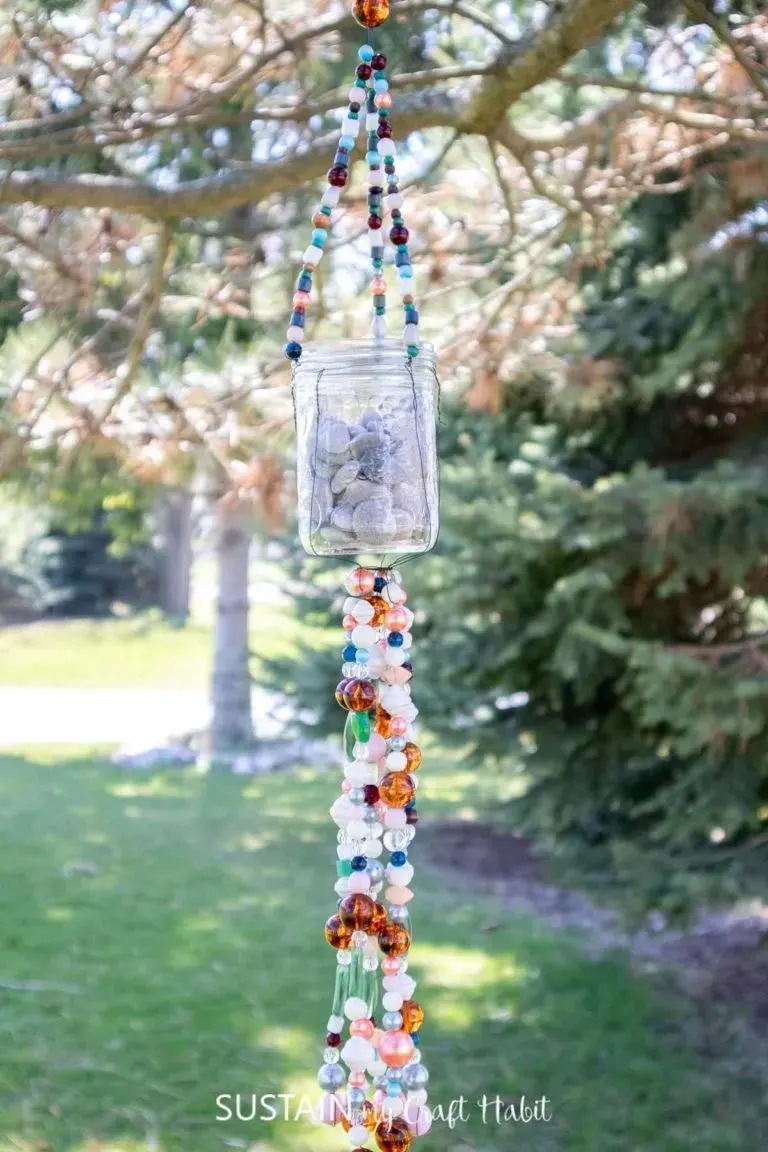 Source: sustainmycrafthabit.com
The soothing sound of windchimes takes you to the land of peace and happiness. If you love the sound of windchimes as much as we do, here's how you can make your own with a Mason jar and beads.
The colorful beads used in this craft will make your windchime look great. To get a pack of colorful beads, click here. Clean your Mason jar, and hang your head at the bottom of the jar with the help of a floral wire.
If you have never used floral wire before, get some here and start your craft. Floral wire is very flexible, hence perfect for this art. Use all types and sizes of beads; the more variety, the better your windchime will look.
Once done, hang the jar with the help of another wire. The wires are sturdy and keep your windchime securely hanging in all seasons.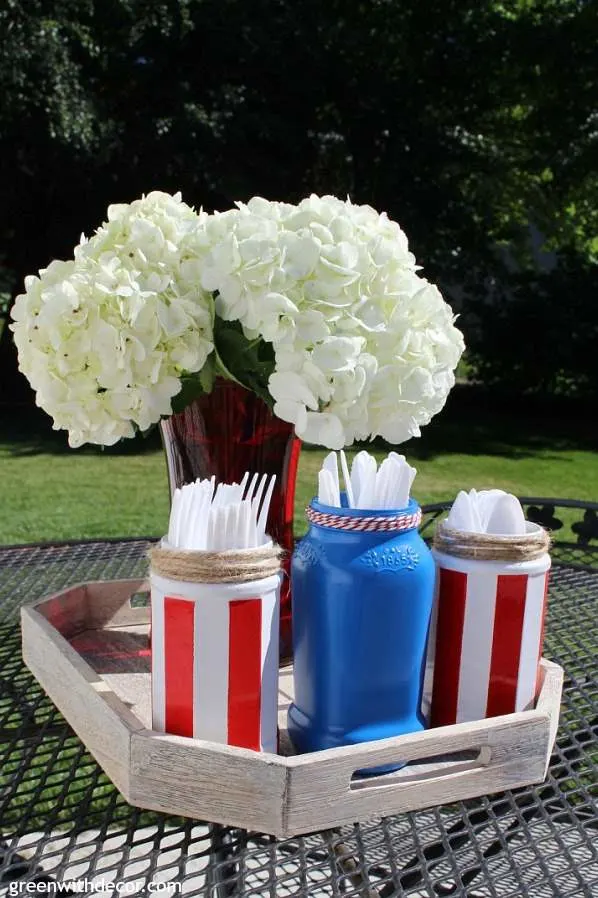 Source: greenwithdecor.com
We all look forward to and prepare ahead for Fourth of July picnics; if you are just like us, you will love this DIY. to display your silverware at the picnic, let's make some Fourth of July Mason Jars.
These are the easiest to make; all you need is blue, white, and red paint: some painter's tape to keep your lines straight and your favorite painting brush. If you don't have painter's tape at hand, get some here.
Paint one jar blue and keep it aside to dry. Now paint a couple of Jars white, and with the help of painter's tape, add red stripes to them. Let this dry, and then put your silverware to show off your craft.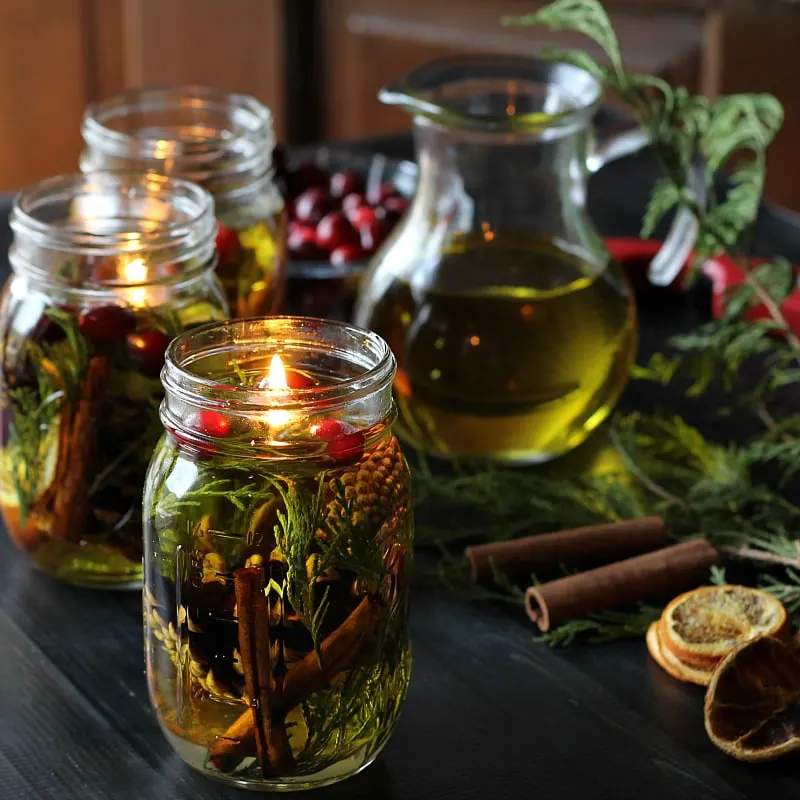 Source: hearthandvine.com
Giving out homemade gifts at Christmas is a very thoughtful gesture. Wouldn't you love to receive one too?
This practical oil lamp is a beautiful gift to send out to friends and family at Christmas. All you need are some natural elements like cinnamon, dried orange slices, and pine cones.
You will also need olive oil and floating wicks for your candle to burn successfully.
You can order your floating wicks here. Stuff your jar with all your botanicals and add the oil. Once full, you can add your floating wick to your candle and light it up.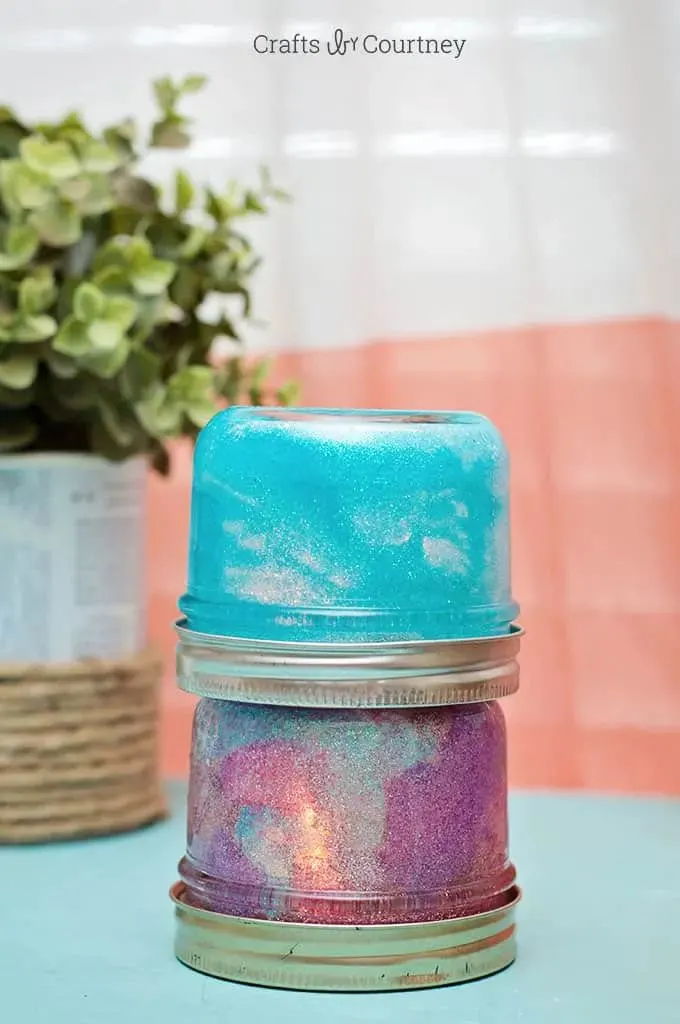 Source: modpodgerocksblog.com
A glittering night light is the cutest as well as practical decor for your kid's room. You can make it in any color. You can also make this a fun activity for your kids and let them choose the colors for their night light.
To paint your glitter night light, you will need glitter of your choice and Mod Podge. Paint your Mason jar or any Jar you have at hand with Mod Podge and sprinkle your glitter all over.
Let this dry for a good bit, and add your battery-operated fairy lights. You can get some here if you don't have battery-operated fairy lights at hand.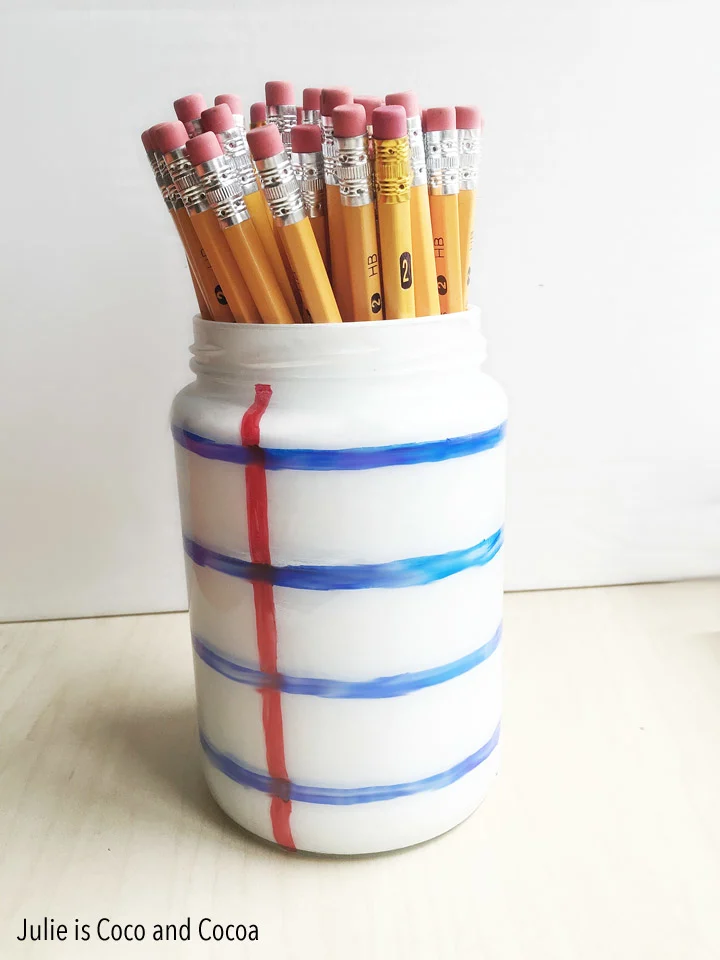 Source: juliemeasures.com
Old Mason jars are great for so many things, especially if you are looking for containers for various things. You can turn a clear, old Mason Jar into a pencil holder with a couple of paints and a little effort.
For this pencil holder, we are going for a notebook look. Clean your Mason Jar and paint it white. Once the jar is dry, add your blue and red lines to the jar, similar to a notebook. And there you have it; your homework table pencil holder is ready.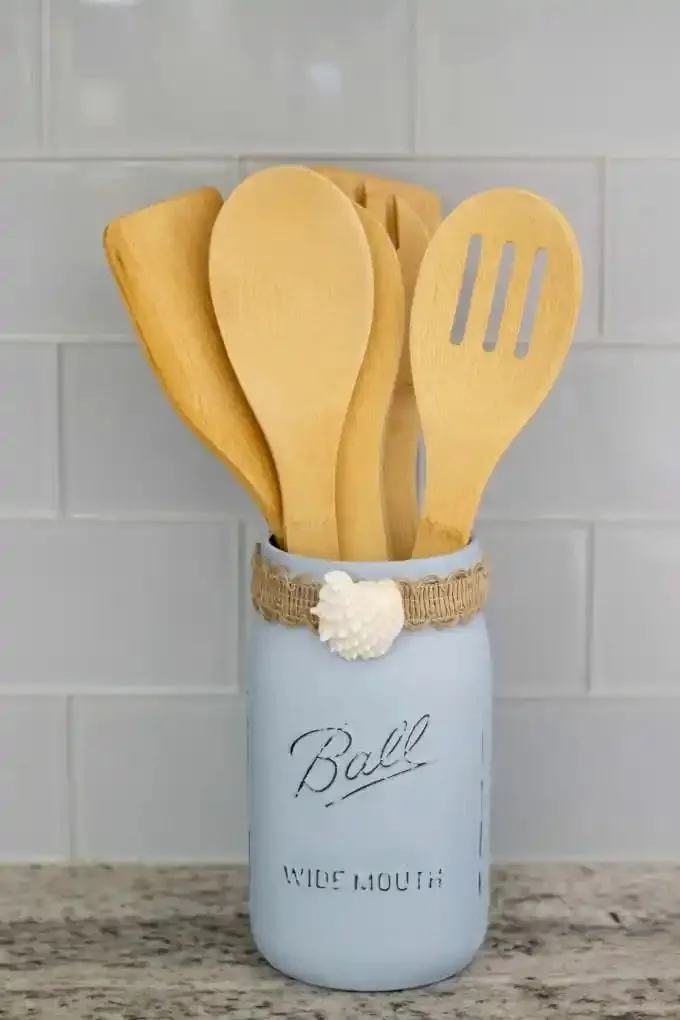 Source: funmoneymom.com
You can use your Mason Jars, contemporary kitchen organizers. To make a Mason Jar utensil holder worthy of Martha Stewart's kitchen, you will need some paint, burlap ribbon, and sandpaper to give the jar a distressed look.
Paint your jar first; three coats of paint shall do the trick. Sand the letters on your jar for the distressed look, and paste your ribbon on the neck. You are done with your beautiful utensil holder.
You can make it even prettier by adding fake seashells to it. If you don't have burlap ribbons, you can use any other kind or order your burlap ribbon here.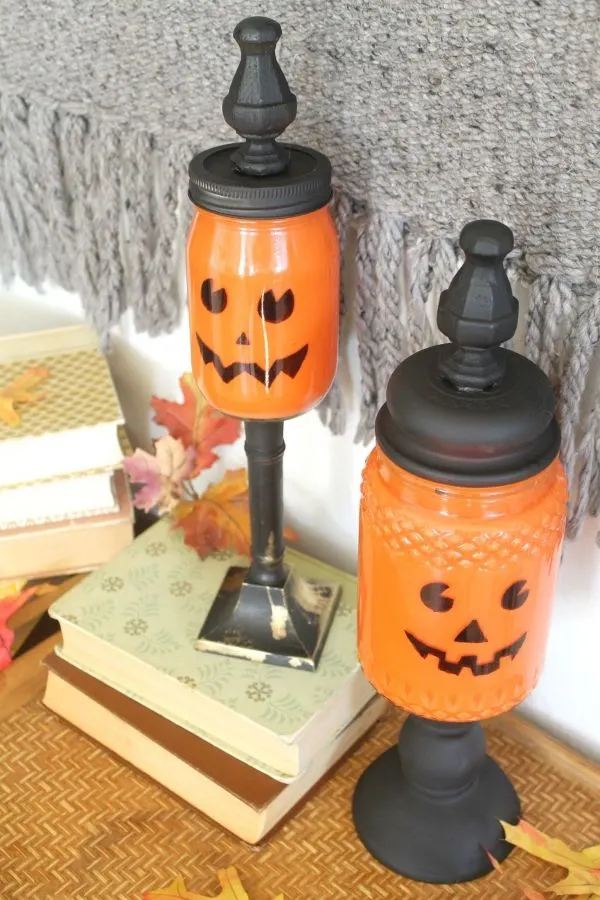 Source: craftbits.com
Upcycling Mason jars is a fun activity for all, adults and kids alike. We love making holders and organizers out of our old Mason jars.
For this Halloween candle holder, you will need candlestick stands; you can order a couple here. These stands will give it a chic look. Next, you will need some orange paint a black marker to add the details.
Clean your jar and paint it orange; to get a decent covering, you will need to paint it thrice. Paint your candlestick holder, the jar's lid, and a doorknob black, and set it aside to dry.
Now take your jar and paint it orange. Lastly, stick the candle holder at the bottom of the jar and the doorknobs at the top of the lid. Once all this dries, you can add your Halloween details with a black marker.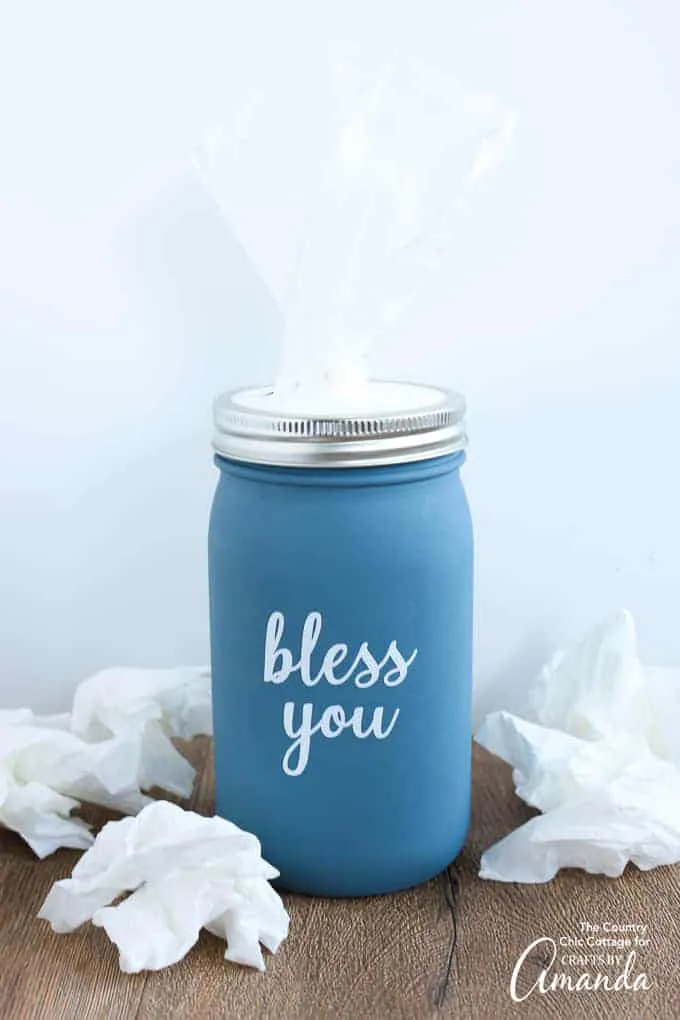 Source: craftsbyamanda.com
It's very irksome when you can't find the exact color decor, and one small thing like an odd color tissue box ruins the look of the room.
Fret not; we have the perfect solution. With our DIY Mason Jar tissue box, you can make the perfect colored tissue box for all your room. This DIY will upcycle all old Mason Jars in your home.
All you need to do is paint your Mason jar in your desired color, let it dry, add your upright tissues. To pull your tissues smoothly, you will need cardstock paper as the lid, just paste your cardstock paper to the band of the jar and cut an X through it.
Your beautiful tissue holder is ready in your favorite color. Isn't this the perfect thing to decorate your home practically? Check out more tissue paper crafts.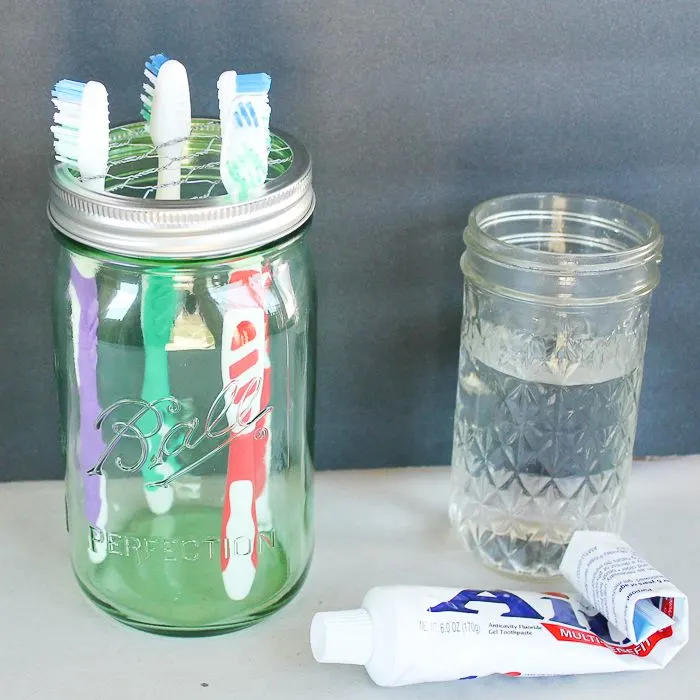 Source: thecountrychiccottage.net
We have decorated almost all rooms of our house with mason jar crafts, but we forgot one room, the bathroom. Let's make a tissue holder with our old Mason jar and give our bathroom a cute new addition.
This is a fun craft that is the easiest to make as well. All you need is some chicken wire, and if you don't want to cut the chicken wire, you can get a Mason Jar Toothbrush Holder Lid; they fit any wide-mouth mason jar. Get yours here.
Add your lid to your mason jar, and you are done! Yup, it's that easy. Your brand-new Mason Jar toothbrush holder is ready for your brushes.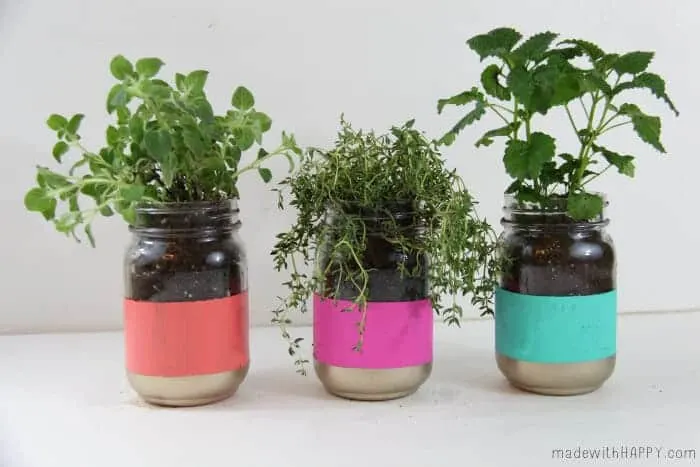 Source: madewithhappy.com
If you have always wanted an herb garden for your kitchen but never got to do it due to space issues, we have a bright solution for you.
Use your brightly colored Mason Jars to start your very own Herb Garden. Just clean and paint your Jars with bright colors. You can use glitter color as well. Add your potting soil and small plant herbs. Water these as necessary, and you are done.
You can hang them or keep them on the counter; they will look great anywhere. To get bright paint for your herb garden, click here.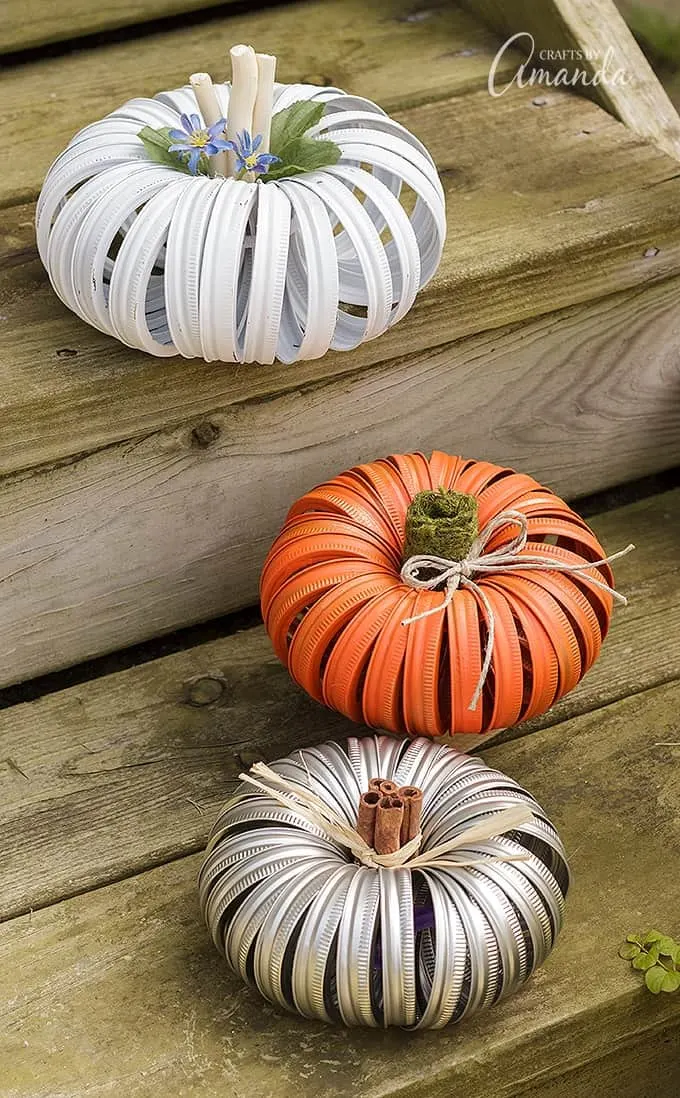 Source: craftsbyamanda.com
For those who love canning, we have the perfect DIY for Halloween. These Mason Jar Lid Pumpkins are absolutely gorgeous as Halloween decorations.
If you don't have the bands but would love to try this craft, worry not; you can order a pack of bands here.
Paint your bands any color you like; white and orange are seasonal favorites. Once they dry, you can tie them up in a circle around cinnamon sticks.
They look great on the porch around Halloween. You can also use washi tape instead of paint and make some cool-looking pumpkins.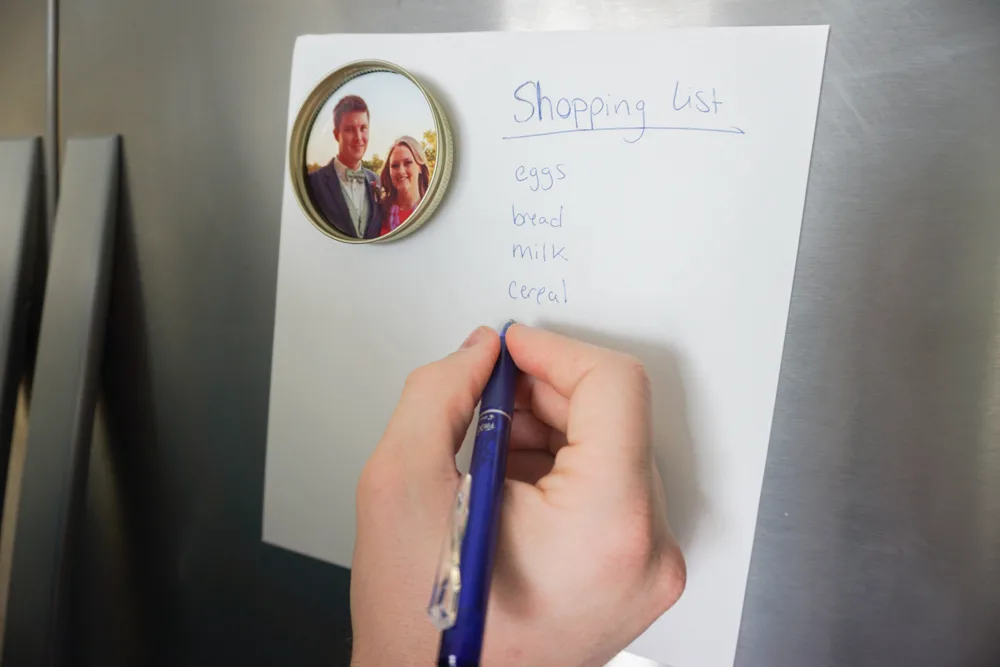 Source: amber-oliver.com
I adore fridge magnets; they look great and also keep my to-do lists handy. I have been looking for a DIY fridge magnet project for quite some time now, and I have finally found the one I love a lot.
This one doesn't need much apart from magnets; you can order a pack here. Print out your best pictures and cut them according to the inner side of the mason jar's lid. Glue the picture from the inside facing the inside as well.
Now glue the back and stick your magnet to the lid. Your photo magnet is ready to adorn your fridge.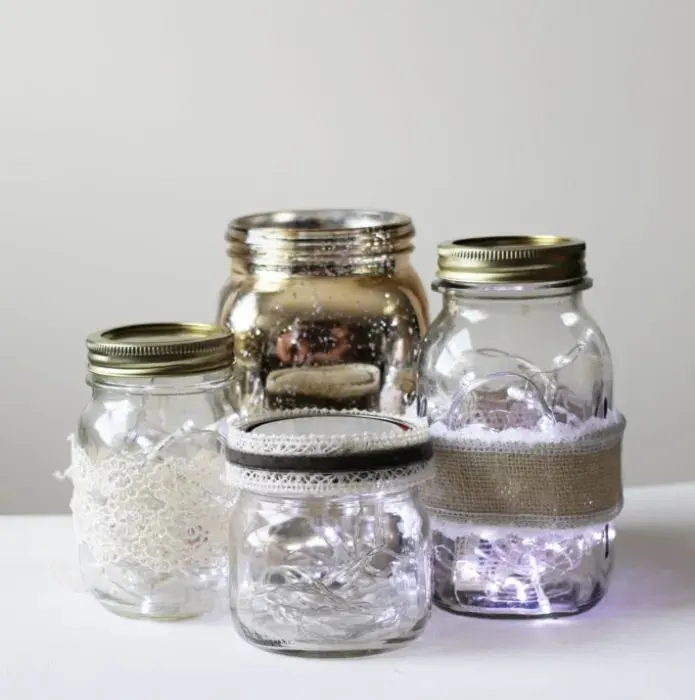 Source: brooklynberrydesigns.com
Adding fairy lights to mason jars is a fun and cute project that I love doing with the kids. For this one, you don't need paint or brushes or anything extravagant. All you need are some broad lace or ribbons.don't
You can get delicate white lace here. Just glue on your ribbons, add your fairy lights to the jar, and enjoy a warm glow.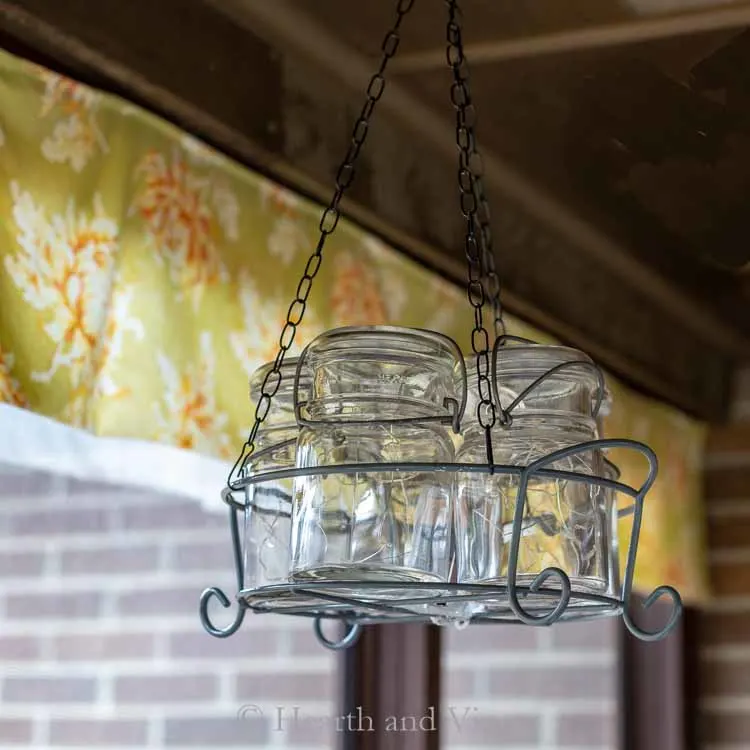 Source: hearthandvine.com
You find the best kind of treasures at thrift stores. Did you know you can make a superb glass Chandelier with Mason Jars and a metal basket? Well, here's how.
A small metal basket can fit 4 or 5 Mason jars; get your metal basket here for a cute Chandelier for your porch. Once you have fixed your jars, add battery-operated fairy lights, and you are done.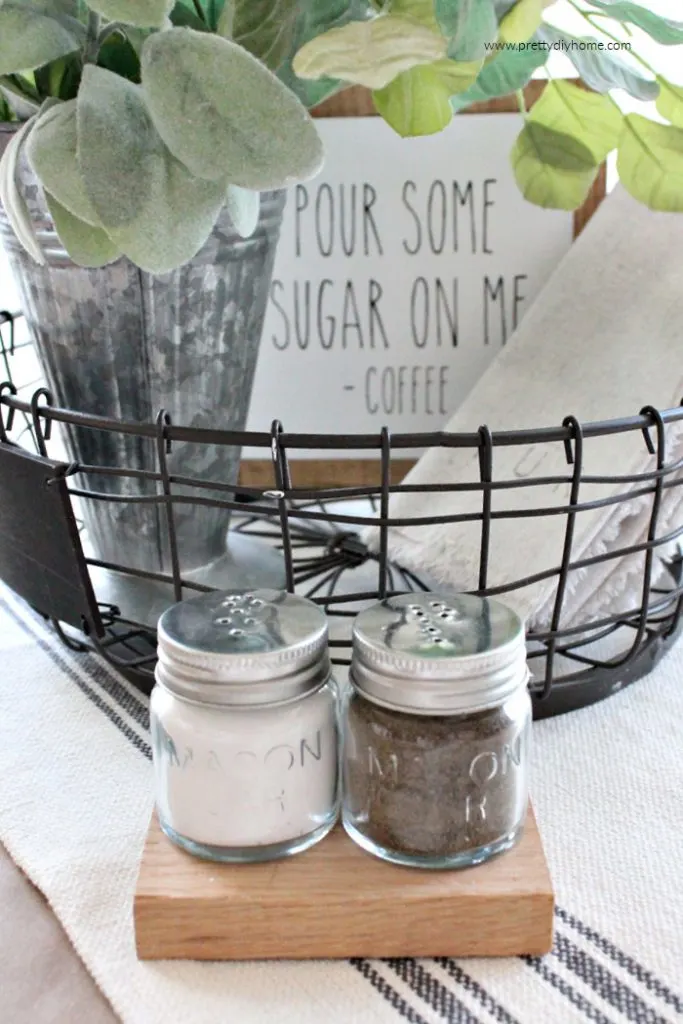 Source: prettydiyhome.com
Like our salt and pepper shakers, you can make just about anything with your old Mason Jars. You have fallen in love with this idea but haven't got the small Mason Jars for it, buy them here.
Once you have your Mason Jars, just punch holes in the shape of the letters S and P, and there you have it. Your salt and pepper shakers are ready to adorn your dinner table.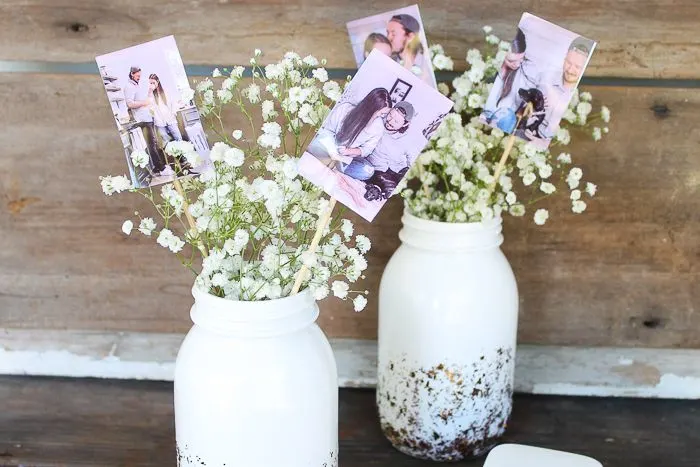 Source: thecountrychiccottage.net
DIY wedding decor has become a huge trend nowadays. The bride and groom love making their wedding a DIY affair. For such unique couples, we have the best wedding centerpiece ever.
Mason Jars can be used to make just the perfect centerpieces. All you need are Jars enough for all the tables, some skewers, and pictures of the couple.
Paint your jars and add a glitter detail. Once they are all done and dusted, glue your pictures to the skewers and add them to the jars. Now you can decorate the jars with any kind of flowers you have at hand, and you are done.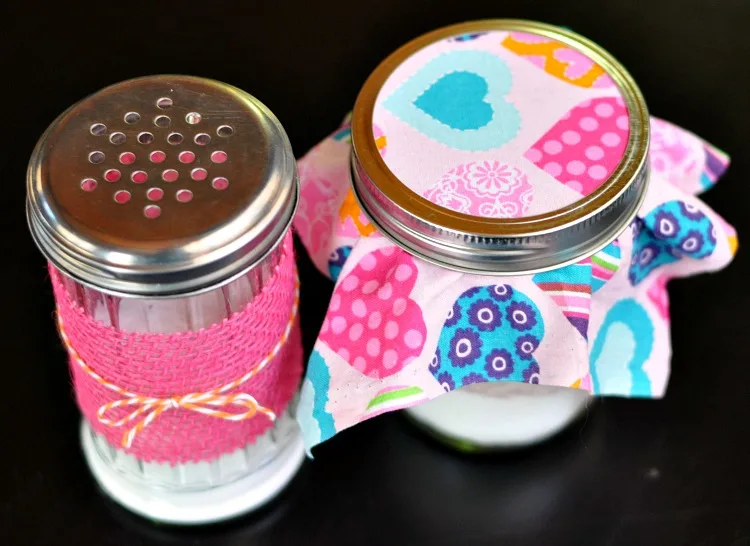 Source: happy-mothering.com
Are you looking for ideas to refresh your house without harsh chemicals or diffusers? We have just the trick. Our Mason jar Air Freshener will have your home smelling great.
You need half a cup of baking soda and your favorite essential oil. Mix this up and add this to your 16 ounces Mason Jar. If you don't have the right sized jar, order it here.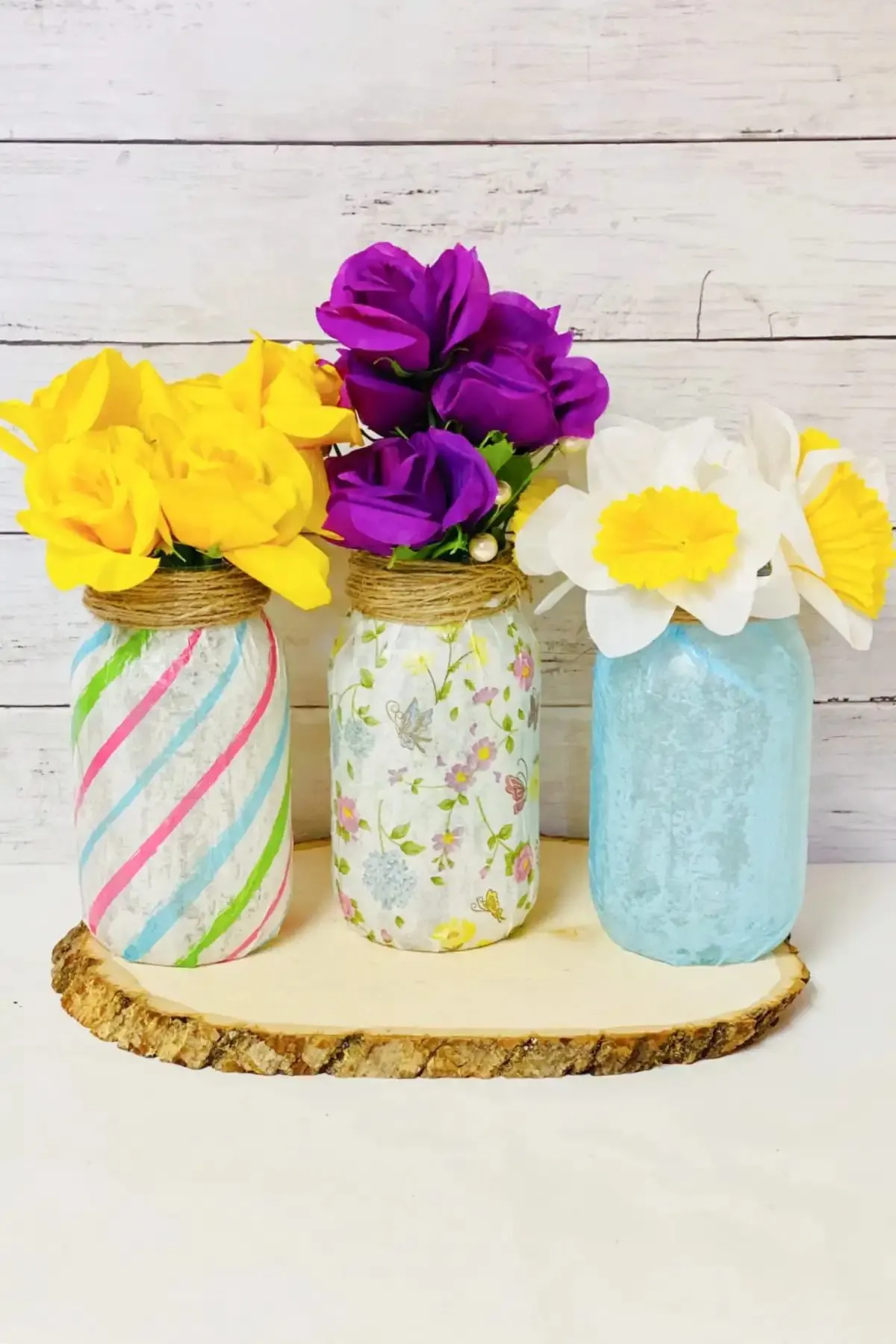 Source: funmoneymom.com
Tight on budget but still want to add a dash of color to your place? Take a look at these cute and colorful mason jar vases.
Just get some acrylic paint in cute colors like pink, yellow, and blue, paint your jars, and there you have it. Get assorted colors of acrylic paint here.
Always add three coats of paint to your jars to cover them to perfection.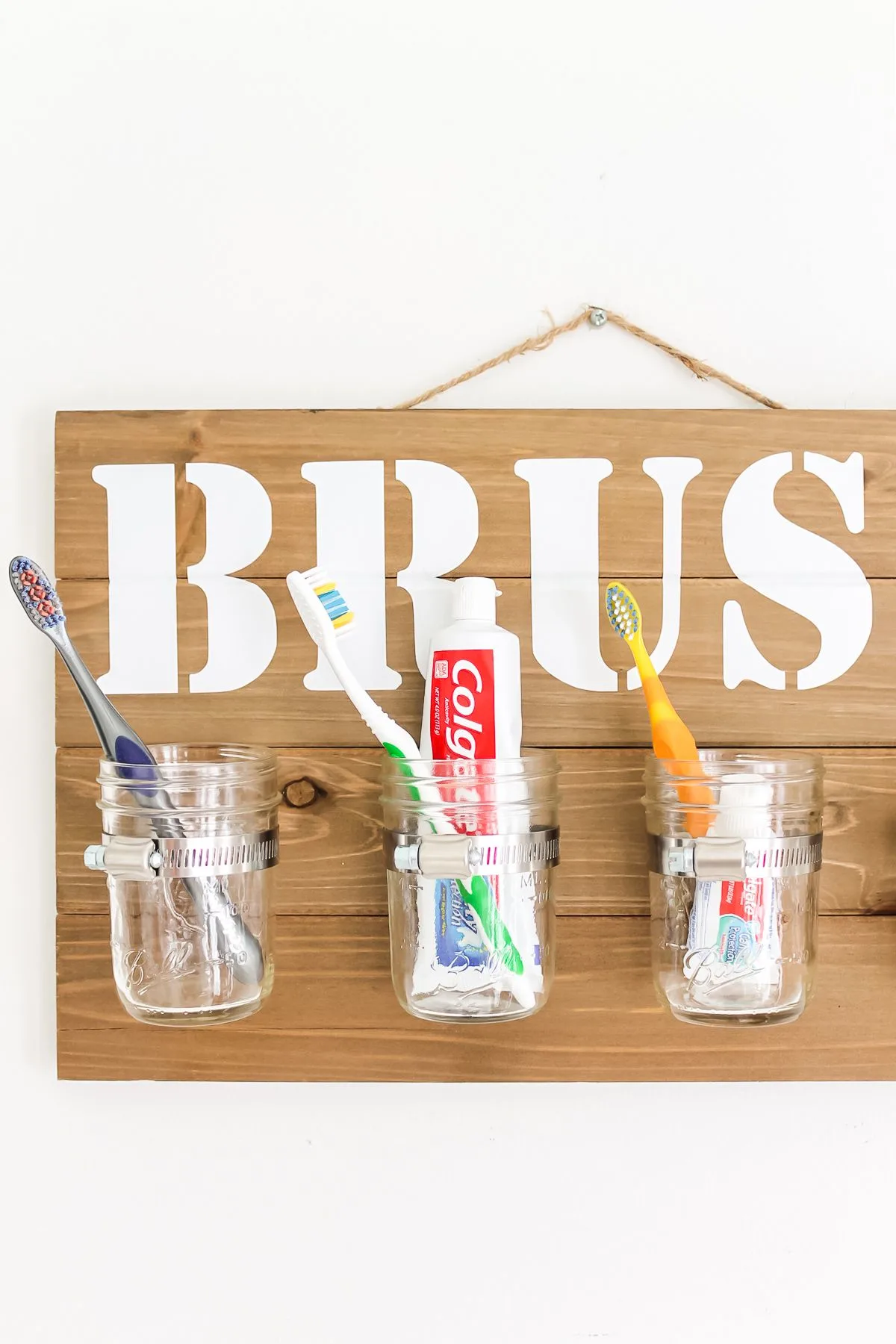 Source: thecountrychiccottage.net
Mason jar organizers are just the coolest things. You can use this DIY for any room in the house. For this one, we are making a Bathroom Organizer Wall Decor.
You will need a few things like a wood panel, Pipe clamps, Transfer tape, and a Screwdriver. Once you have all the items at hand, just drill and screw your clamps on the panel and add your jars.
Secure your jars to the clamp and hang the wood panel in your bathroom. If you aren't sure where to get the clamps, click here.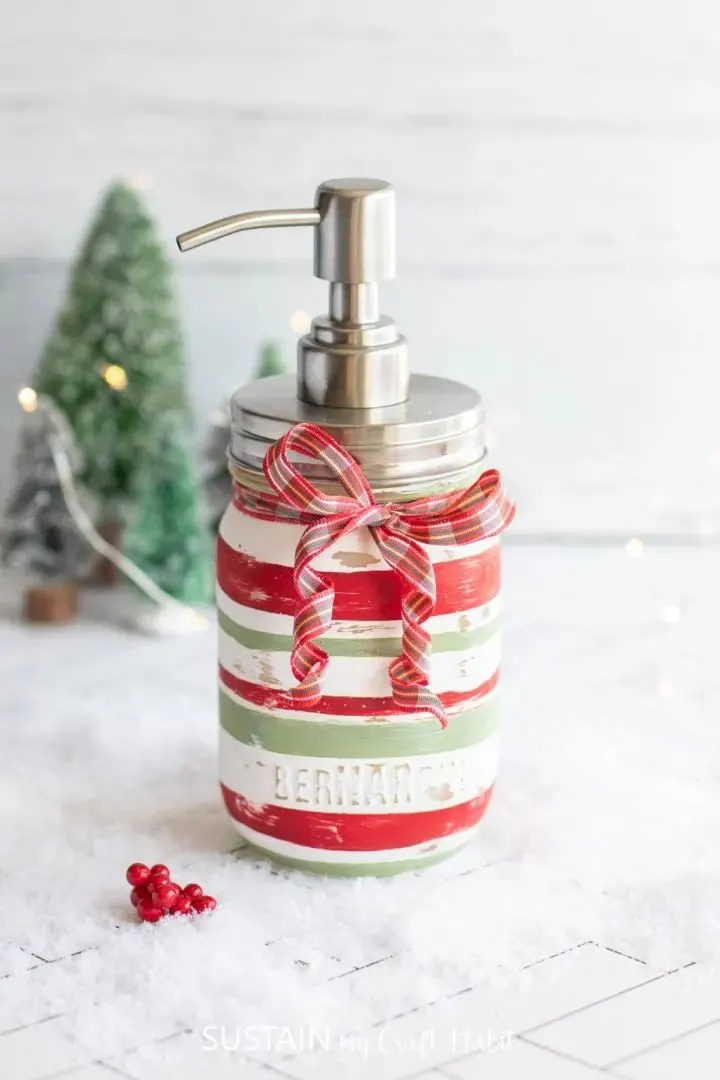 Source: sustainmycrafthabit.com
Why use a store-bought soap dispenser when you can make a cute one at home. We will paint this one in the colors of Christmas to be used as Christmas decor.
To make this to perfection, you will need a Soap Dispenser lid and pump, paint, and sandpaper to add the distressed detailing.
Clean your jars and paint them in fun Christmas colors. Now add the ump lid and screw it tight. You can also add a ribbon or bow to the neck of the jar and make it a cute Christmas gift for your family and friends.
Source: greenwithdecor.com
Mason jar crafts are for all seasons; let's make a snowman from a Mason jar as our winter craft. You will need a few cute buttons for this one; order your assorted buttons here.
Paint your jars white and add the snowman details by gluing on the buttons, tying a red ribbon, and painting the eyes, nose, and mouth.
And there you have it; your cute little snowman is ready.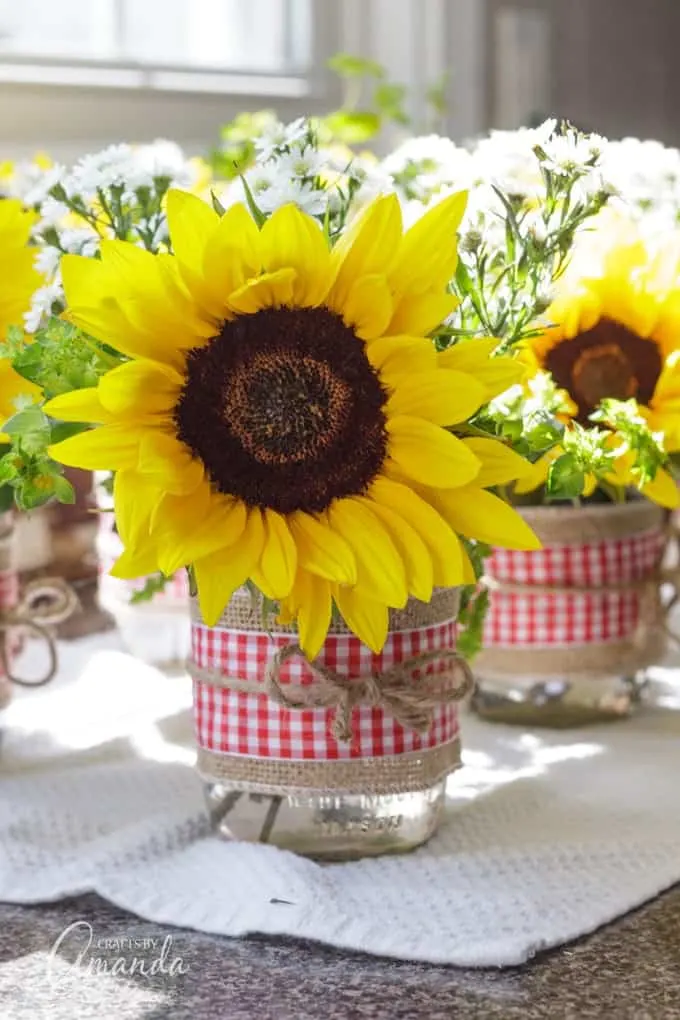 Source: craftsbyamanda.com
To make your sunflower centerpiece, you need just two brad ribbons and a Mason jar. Prepare the ribbon pieces ahead of time so that all you have to do is glue the ribbon to the jar.
To prepare the ribbons, you need to lay the ribbons on top of each other and sew the ends. Yes! It's as simple as this. Now, just glue the ribbon to your jar, and you are done. Add your sunflowers and enjoy your beautiful craft.
Yield: mason jar crafts
41 Mason Jar Crafts for Your Home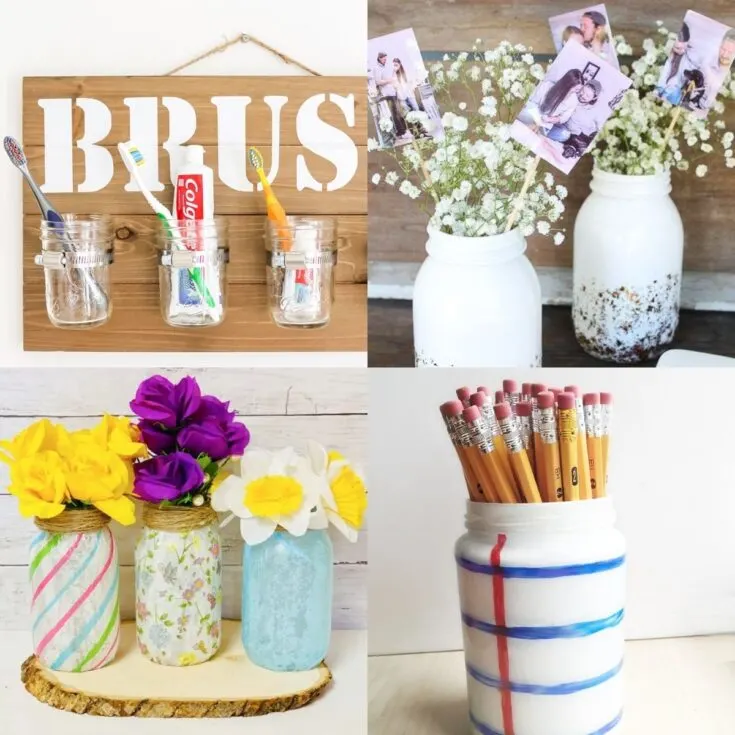 Looking for DIY projects for home and have some mason jars to upcycle? These mason jar crafts for home will be just for you.
Materials
1. Scented Candles
2. 4th of July American Flag
3. Leaf Candle Holder
4. Cherry Centerpiece
5. Thankful Jar
6. Fall Harvest Corn
7. St. Patrick's Day
8. Canisters
9. Painted Home Decor Jars
10. Hanging Lanterns
11. Aquarium
12. Reindeer Mason Jar Craft
13. Bunny
14. Succulent Planter
15. Halloween Mummies
16. Unicorn Ornament with Mason Jar Ring
17. Easter Jar
18. Bird Feeder
19. Unicorn Night Light
20. Windchimes
21. Silverware Jars
22. Oil Candle Lamp
23. Glitter Night Light
24. Pencil Holder
25. Utensil Holder
26. Candy Jars
27. Tissue Holder
28. Toothbrush Holder
29. Herb Garden
30. Mason Jar Lid Pumpkins
31. Mason Jar Lid Photo Magnets
32. Fairy Lights
33. Chandelier
34. Salt and Pepper Shakers
35. Picture Centerpieces
36. Air Freshener
37. Vase
38. Bathroom Organizer Wall Decor
39. Soap Dispenser
40. Snowmen
41. Sunflower Centerpiece
Instructions
Choose the mason jar craft you love.
Get your supplies.
Start crafting!