Looking for an easy macrame project? You are in the right place – check out these DIY macrame projects for beginners.
Macrame art is timeless and sublime. It's also surprisingly easy to work on for beginners and intermediaries alike.
There are a set of basic knots that, once mastered, you can execute just about any macrame project. So here are a few DIY macrame projects for beginners that can help you master those knots and subsequently master the art of macrame itself!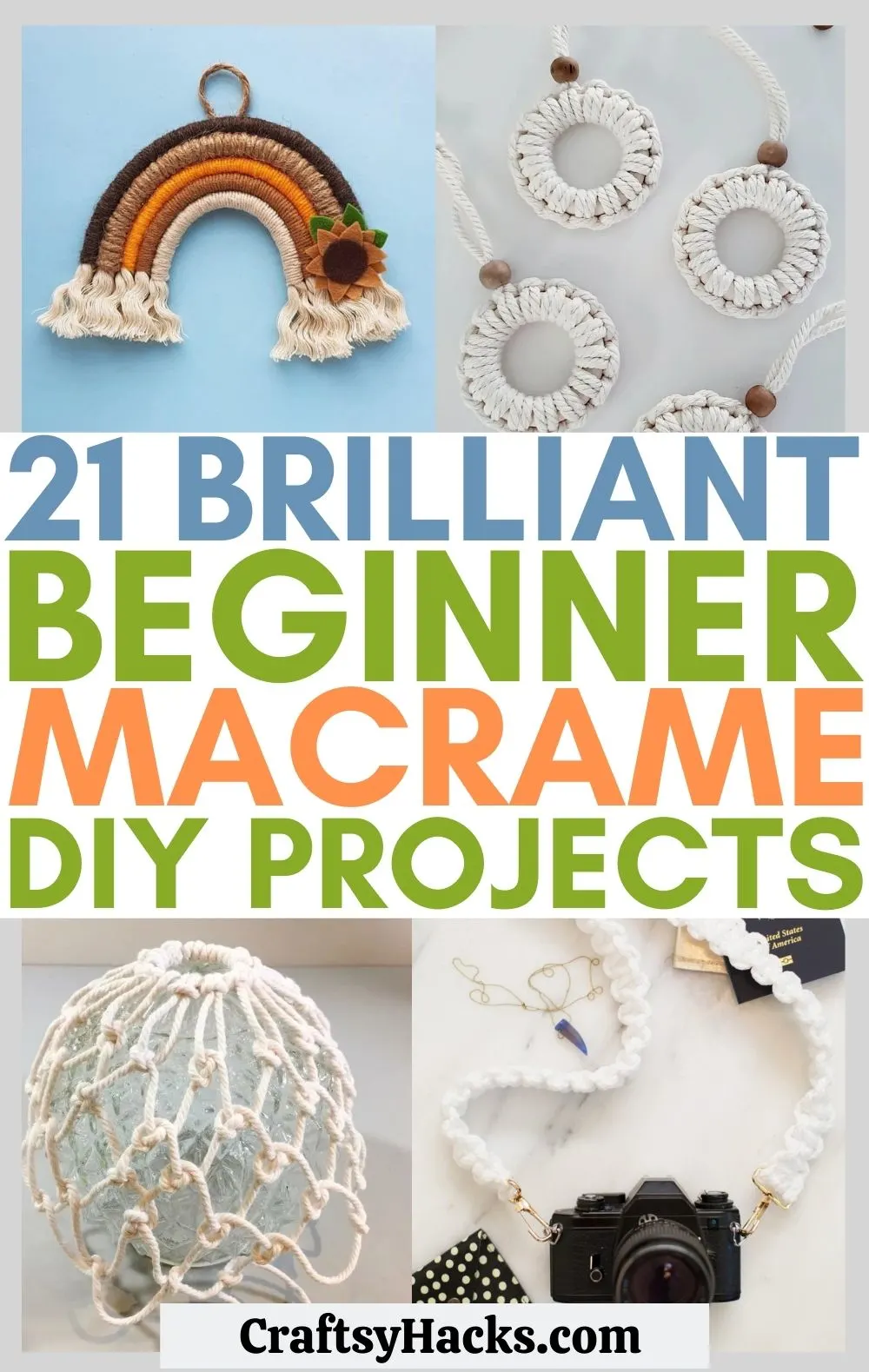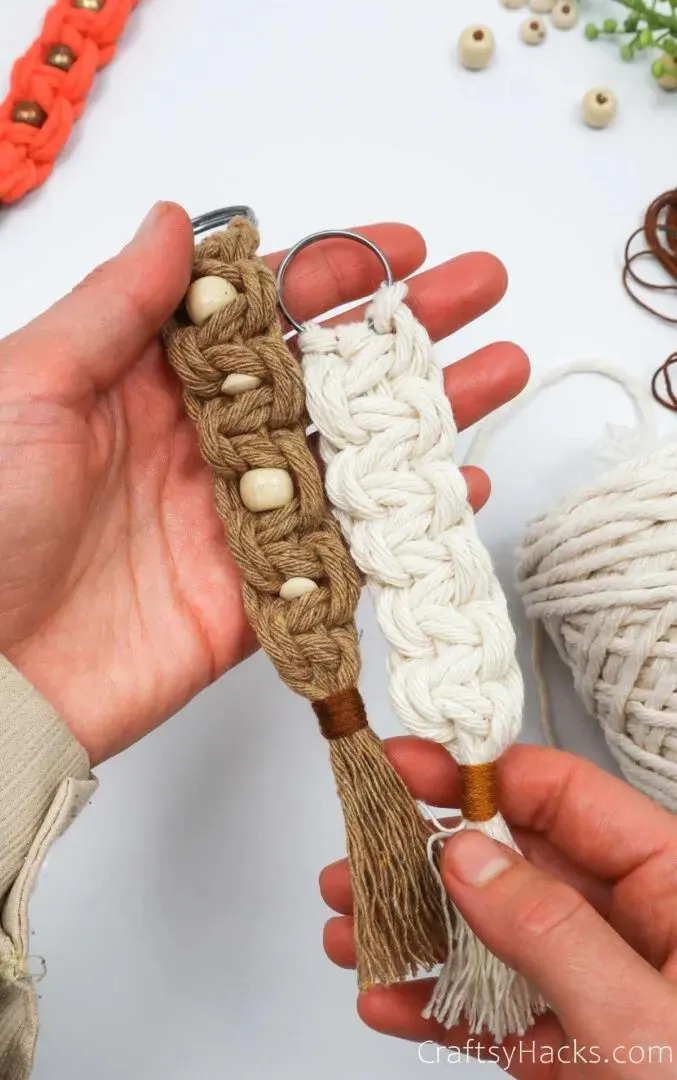 Source: craftsyhacks.com
Macrame keychains are a very beginner-friendly project. They require just the basic skill and technique of knotting the macrame cords and only a few materials.
You can make a ton of these keychains and keep them to use as party favors or little gifts for Friendship day, or Mother's day, as well. Buy some macrame cord in the color you like; alternatively you can make a dual colored keychain, as well.
Grab some keyrings from here to begin. Also feel free to make your very own DIY necklaces.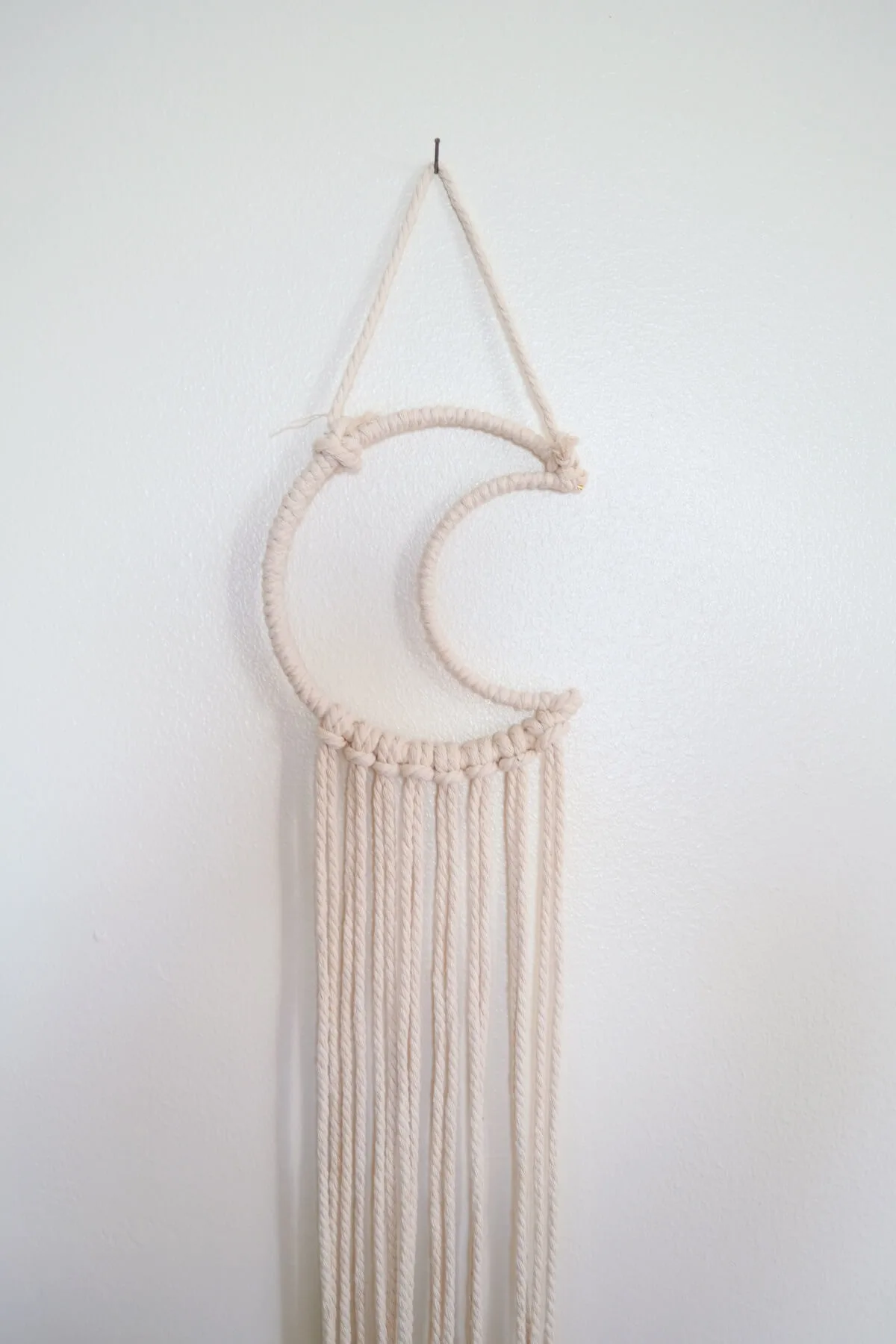 Source: popshopamerica.com
This moon-shaped wall hanging might seem like something an intermediary might work on but trust me, it's pretty easy. It all comes to how you window dress the piece. Choosing a crescent-shaped ring from here, and entwining fairy lights like these are what takes this simple project up by a couple of notches.
You can also add little beads or hang little charms and embellishments from the base of the crescent frame. You can even make a deconstructed dream catcher to hang above your head!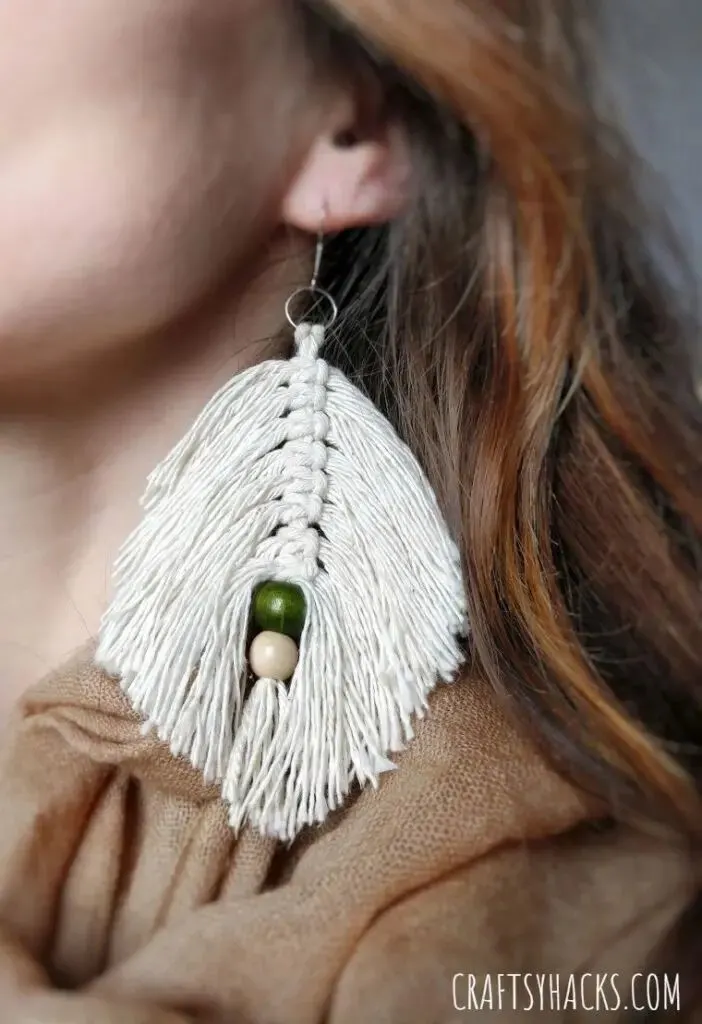 Source: craftsyhacks.com
These macrame earrings are a beautiful choice of accessories for teens and adults alike. It is also one of the easiest projects that a beginner-level macrame artist can undertake.
Making a leaf out of macrame cords comes down to the shape and size. You can cut out a little leaf template to use as a guide to help you cut the cords into their leafy shapes. Grab a pair of earring hooks from here, and these jump rings to begin.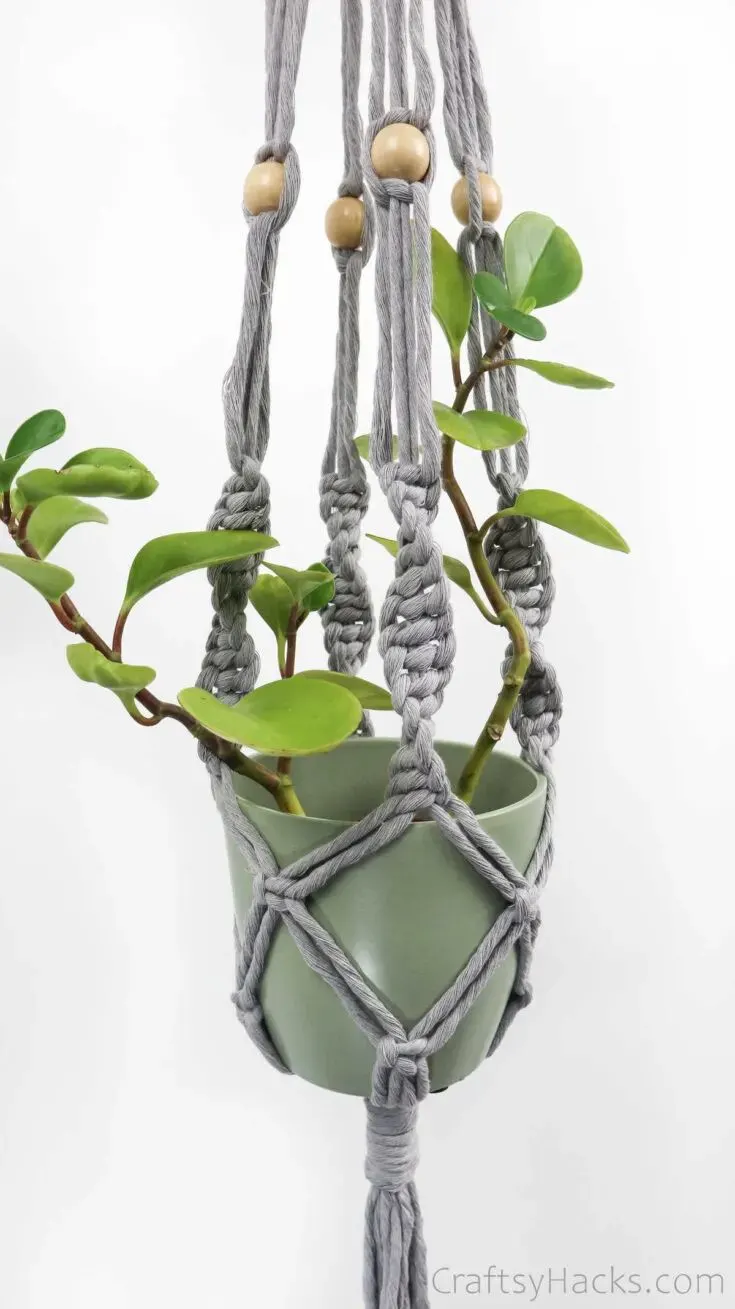 Source: craftsyhacks.com
A macrame plant hanger like this can be such a lovely addition to your home. It will look fabulous just about anywhere; you can hang them up anywhere you like.
They would look particularly pretty hanging from the front porch, patio, or a verandah. Alternatively, you can set up your very own indoor plant corner and hang this up from the ceiling.
Your options are endless, just do a little planning ahead of time to work this plant hanger into your decor, and you're set! Feeling creative? Check out these wonderful yarn crafts.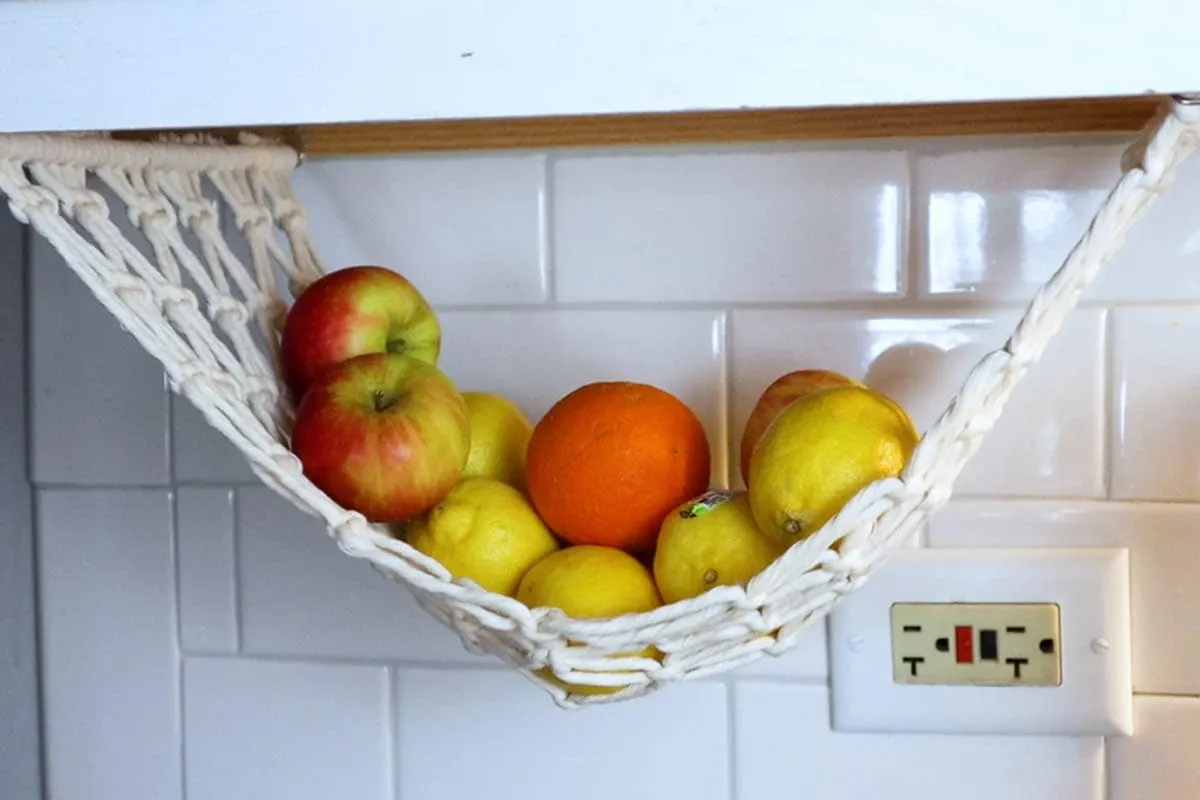 Source: marchingnorth.com
Don't you just love fruit hammocks? They are so quirky and fun, and way better than a plain old fruit bowl.
This macrame fruit hammock is effectively like making a wall hanging. Only here will you bind the cords together between two dowels.
These hammocks will help you declutter you island or counter space and add some depth to your decor. Your fruits will not be enclosed in a tight or damp space, but rather off the countertops and well ventilated and fresh.
Source: craftbits.com
Halloween time is when you can go all out on your decoration. But it can be super easy to get lost in all the big and creepy decor. You don't want to end up with a house that's bursting with Halloween paraphernalia, do you?
So here's a simple and tasteful decor idea that can help you tone down the horror, so to speak. You can still incorporate black, don't worry, but instead of stringing pseudo spider webs, let's macrame this gorgeous little wall decor instead.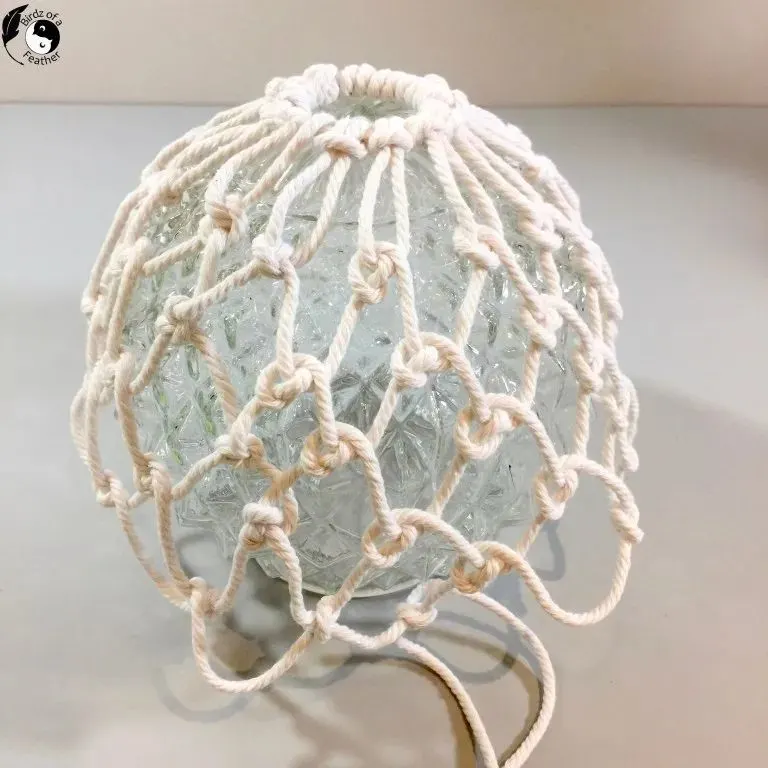 Source: birdzofafeather.ca
Japanese glass floats are rather exquisite. If you've seen them before, then you know how lovely and intricate that web holding it in place can be.
Source: resincraftsblog.com
Take a look at how to make these macrame placemats using 16oz Fiber-lok. It's a quick and easy project, yes, but you certainly wouldn't think that when you look at it! The first thing you need to do is cut out some burlap to use as the base.
This will help you get a nice round shape for your placemats if you decide to use it as a template. Next, mark the center of the burlap with a pen and start rolling one end of the cord snugly. Hot glue this end in place and continue rolling the cord around and around till you're ready to fasten off.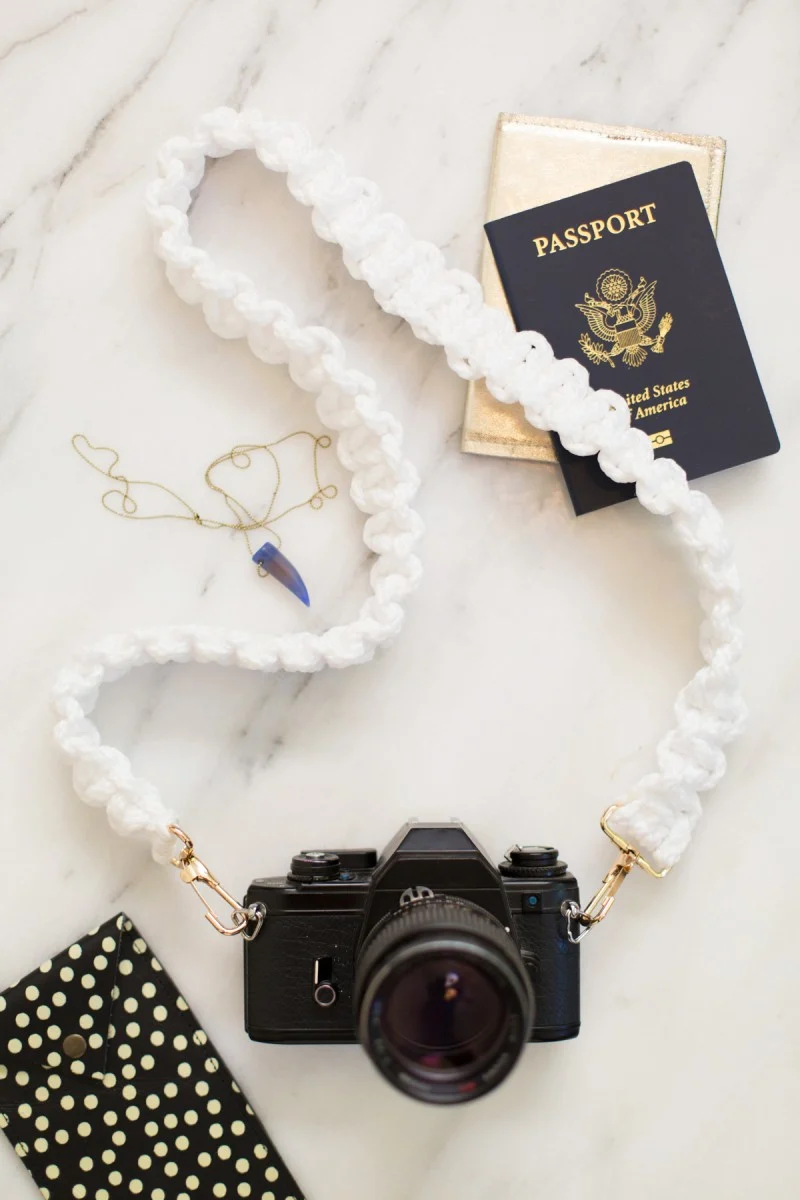 Source: lovelyindeed.com
Are you an avid photographer as well as a budding macrame artist? If you are, then I have something that's going to blow your mind away. Check out this macrame camera strap. Don't you just love how sturdy yet simply elegant it looks?
With just a few simple macrame knots at your disposal, you too can recreate this macrame strap in just a couple of hours. Grab some swivel clasps from here, first. You will also need some industrial strength glue to see you through this project!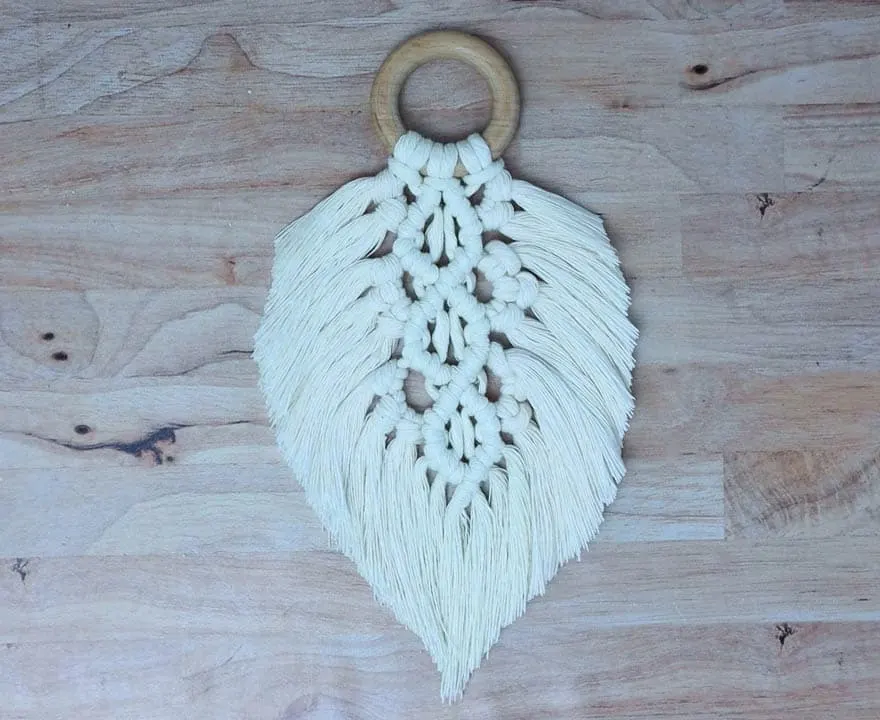 Source: marchingnorth.com
Remember the leaf earrings you made earlier? Well those 'leaves' are also effectively feathers. They can be used to accessorize different macrame projects.
So, do you want to jazz up certain wall hangings or even accessorize your handbags with feather charms? Then take a look at these three different ways to make macrame feathers.
You can customize with beads, danglers, and even intersperse different colors of cords for varied outcomes. Go ahead and start making these feathers now!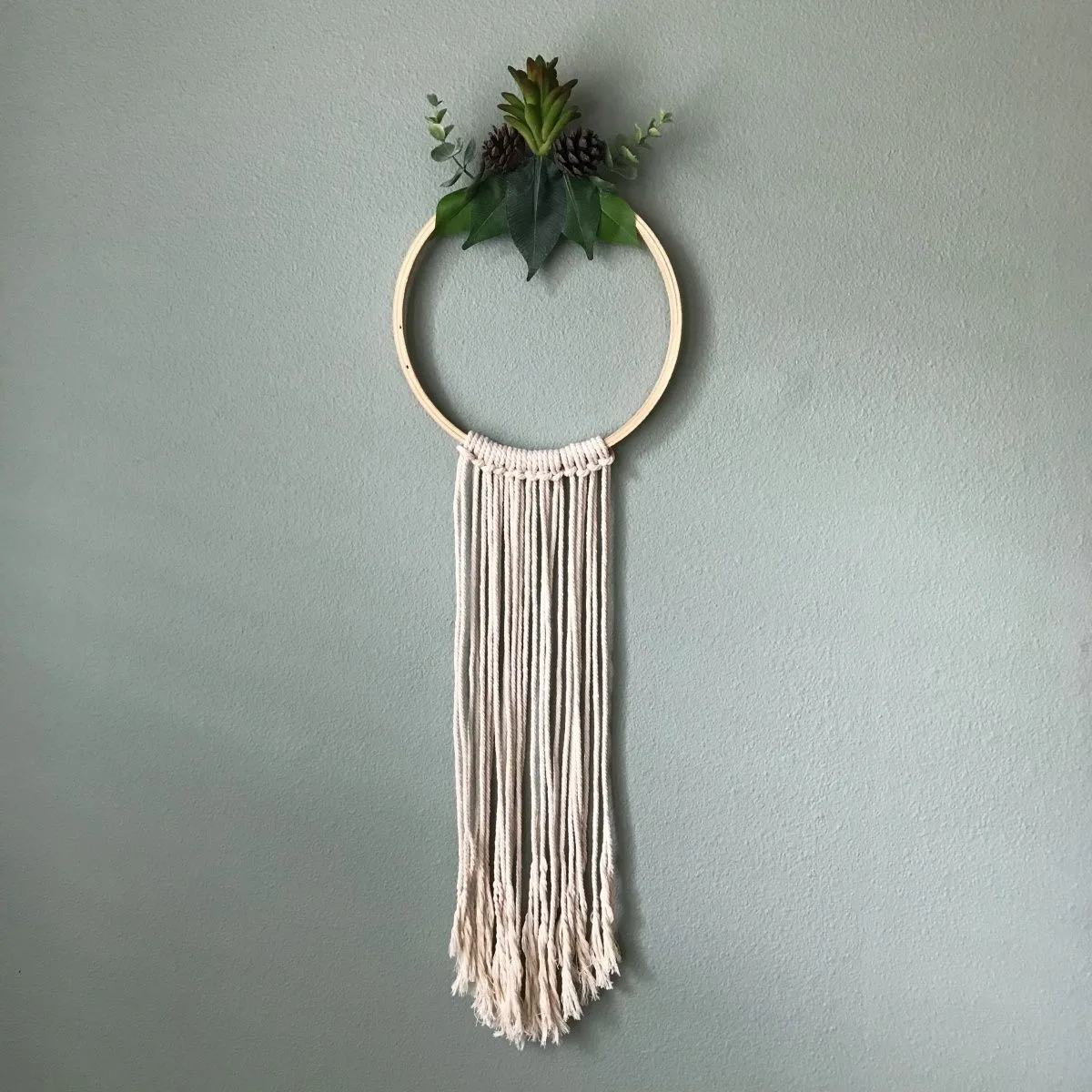 Source: popshopamerica.com
This fall wreath has a ton of potential. You can do a lot to decorate it and jaz it up–there's plenty of opportunity for that.
But how would you like a more minimalistic approach to decorating your wreath? This means you cut back on all those fall paraphernalia and stick to simple additions like succulents.
You can also include a few fall-colored leaves to the wreath and just tuck them into the succulents on top. For the finishing touch, just hang a few macrame cords to add some texture to the wreath.
Check out more fall wreath ideas here.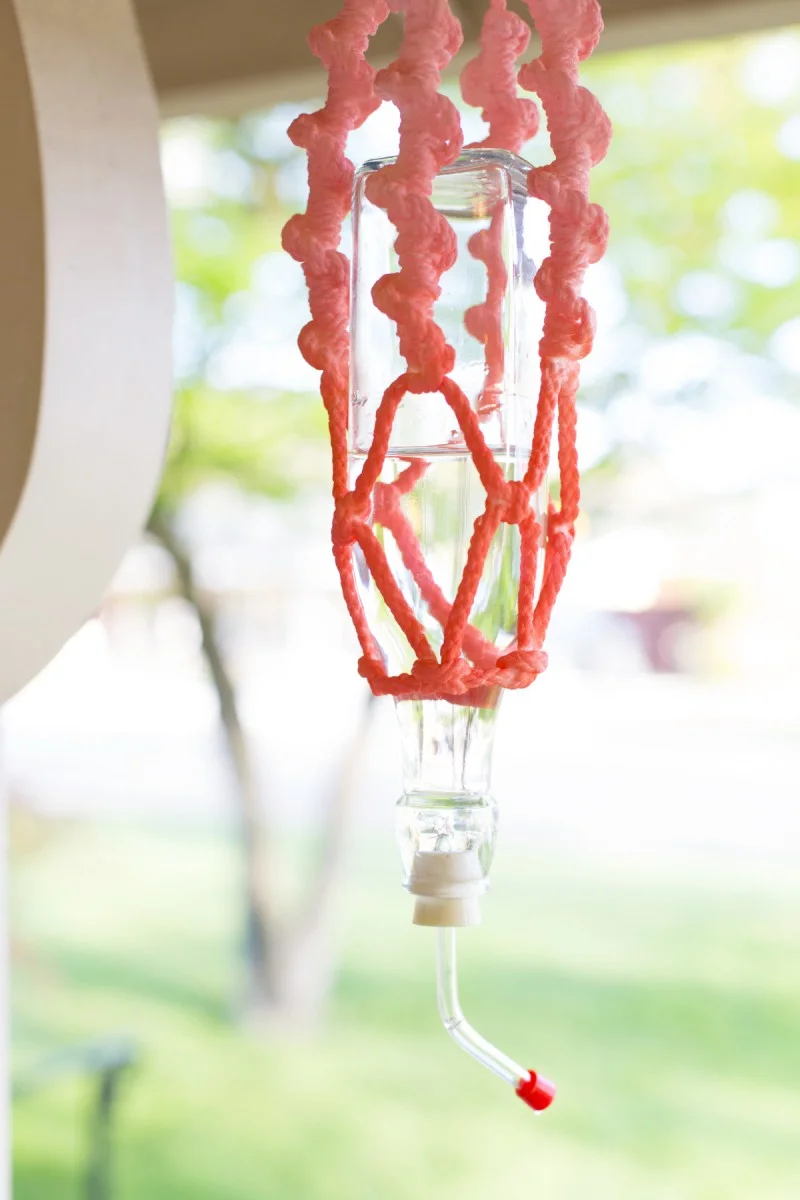 Source: lovelyindeed.com
Growing up, I had one of those little bird feeders out in our backyard that had a constant stream of traffic from feathery friends. I always kept an eye out for a=the odd hummingbird or two that would grace the feeder.
If you want to draw in pretty little hummingbirds into your backyard, then you'll need this DIY macrame hummingbird feeder. You can repurpose an old bottle or jar into the actual feeder and make a macrame cover for it as instructed.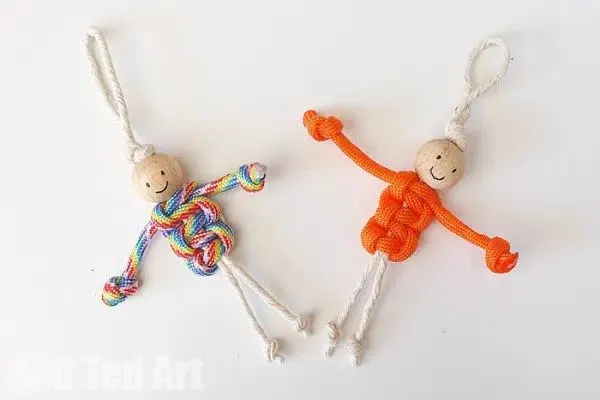 Source: redtedart.com
Paracords are just as effective as macrame cords, if not sturdier and more durable. While paracord bracelets are the most popular choice, you can also make these cute paracord dolls.
They're one of those quick DIYs that can keep your little ones occupied and also give them a finished product that they can actually play with. When you are shopping for your supplies, remember to pick up wooden beads like this . You can use it as the toy's body to ensure that the knots all stay in place.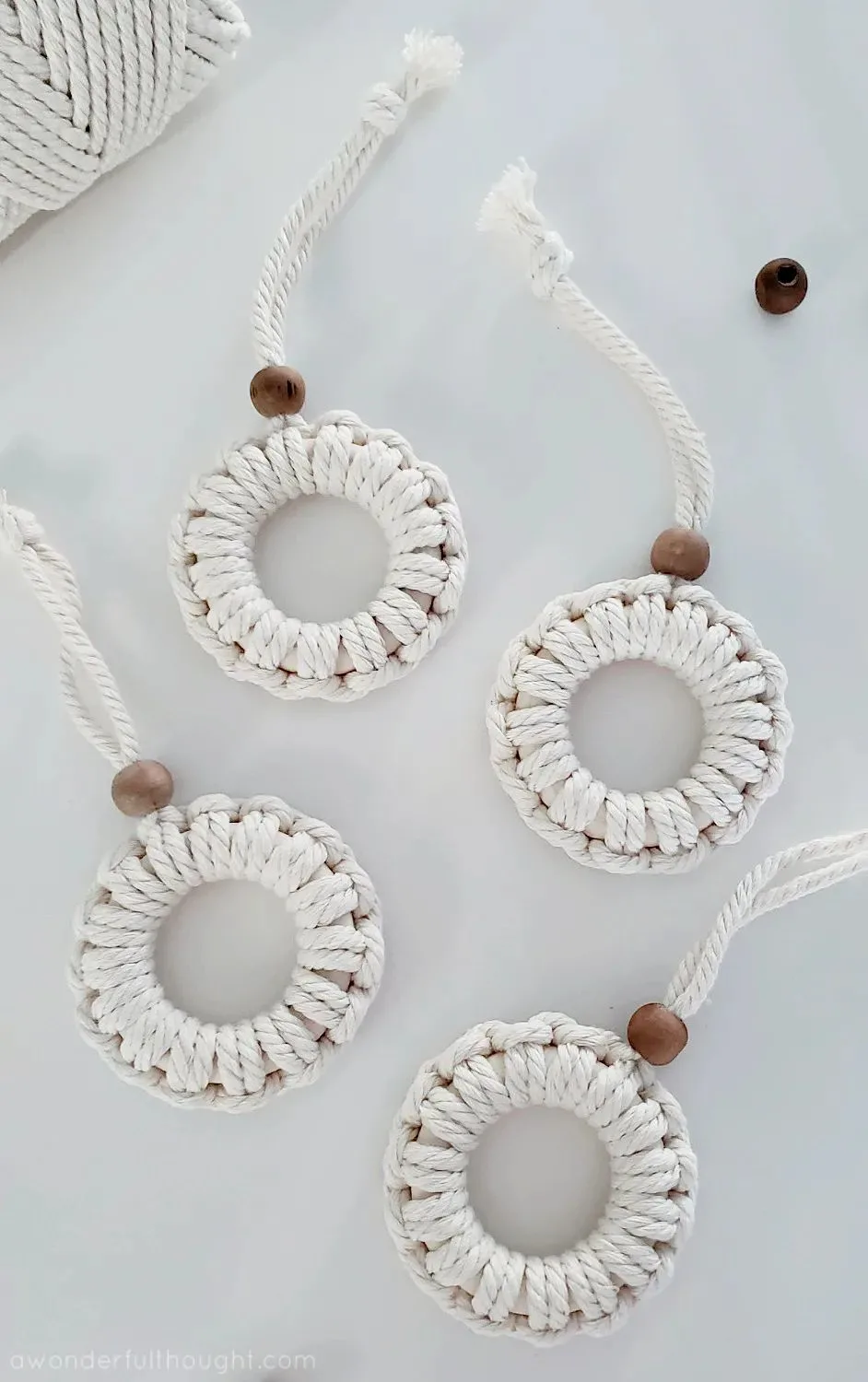 Source: awonderfulthought.com
Macrame ornaments are typically the kind that you can use throughout the year. But when Christmas time comes around, it's understandable that you want to be a little more festive.
How about a wreath-like ornament like this that you can hang from your Christmas tree. You can decorate the ornaments with little sprigs of holly, mistletoe, and pine.
You can also switch out the white cords and use a green, white, and red combo to make it super Christmassy! Find more Christmas tree decorating ideas here.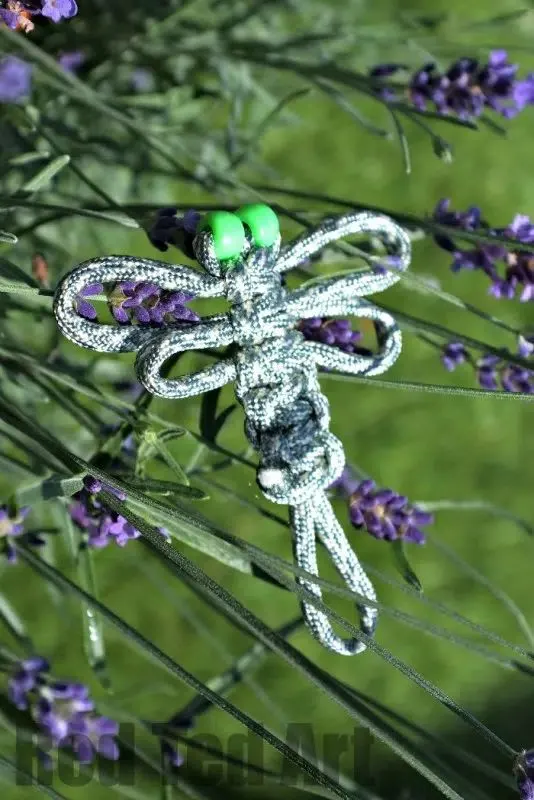 Source: redtedart.com
Are you in the mood to make something new? How about these cute little macrame dragonflies? If you're running low on macrame cords or if you just want a change, you can use paracords, as well.
Pick up some paracord from here to get started. Don't forget, and you will also need a couple of beads to use as the eyes. The bigger the beads, the more animated your dragonfly will look. So go ahead and pick out a couple that you can knot into place at the top of the dragonfly's head.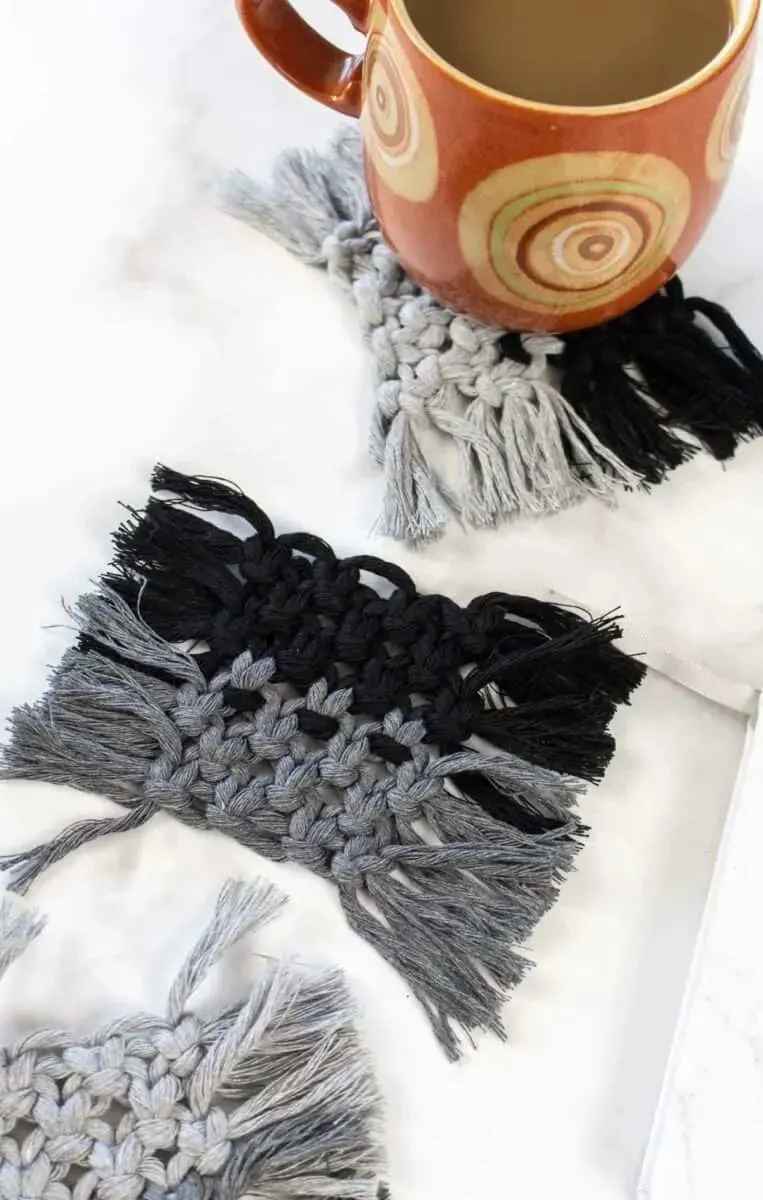 Source: singlegirlsdiy.com
You can never have too many coasters at home. I always have a few scattered around every room at home because you never know when you'll need them.
While crochet coasters are super easy to make and are also easy to wash, I'm pretty partial to macrame coasters like these. They're sturdy and solid and will do wonders to protect your surfaces from those dratted wet rims.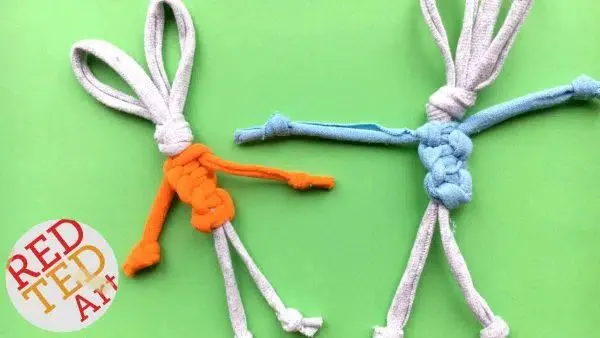 Source: redtedart.com
How about another cute little toy that your little ones can play with. When it comes to what you can do and make with macrame, you'll be surprised at the variety of little toys like these that you'll find.
This little bunny rabbit is actually made out of t-shirt yarn and using macrame knots to bring it to the appropriate shape. While macrame cords are just as effective, there is something quite endearing about this bunny being made out of old tees.
You can also use this as an opportunity to upcycle or recycle old tees you have lying around in the back of your closet! Grab a pair of cloth scissors and start cutting the tees into long strips.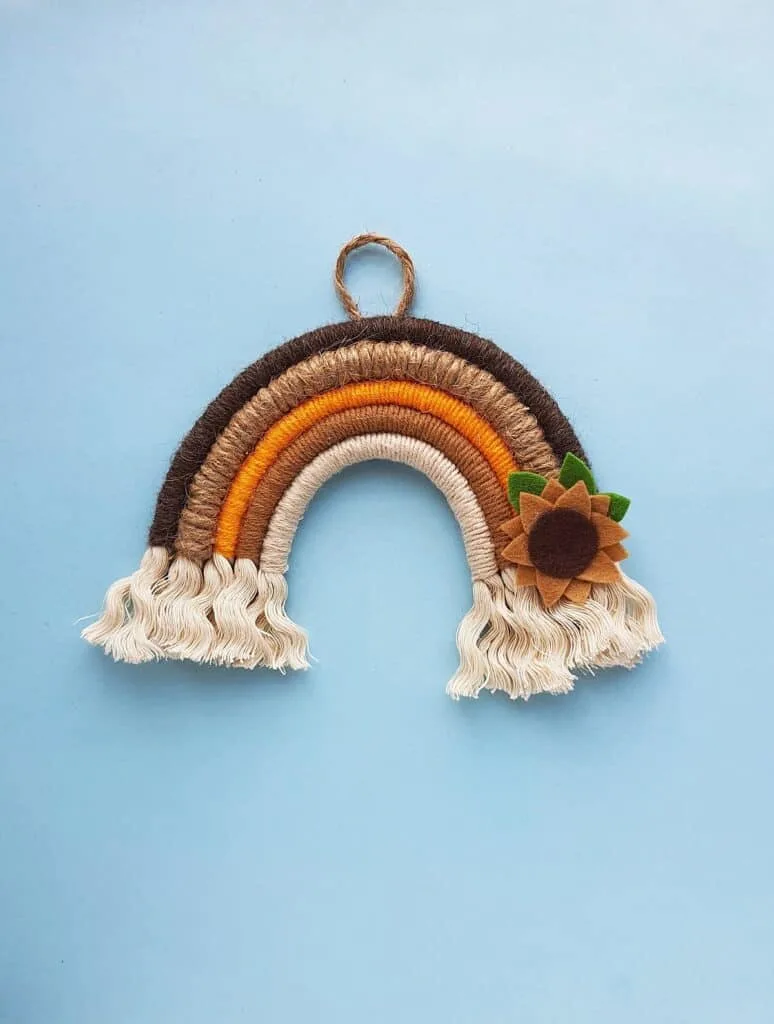 Source: bigfamilyblessings.com
Macrame rainbows are one of those delightful projects you can work on when you're trying to use up those scrap cords leftover from previous projects. It's a scrap project that yields some trly spectacular and colorful results.
Grab some base cords that are relatively sturdier than the colored ones. You are going to be wrapping the colored cords around this base cord and then gluing them together into a curved rainbow-esque shape.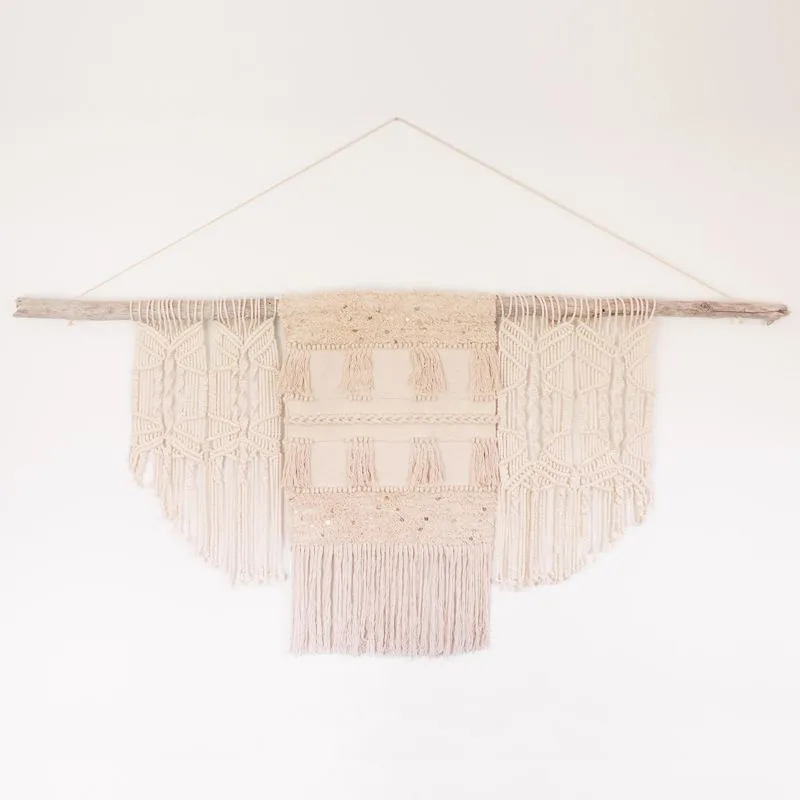 Source: justinecelina.com
Have you ever walked down the beach and come across those bits of broken driftwood scattered on the shore? The next time you're out there, go ahead and collect a few.
Why? Well, for this next macrame project–a wall hanging–you're going to be using these driftwood branches in lieu of dowels. You'll find that this will add such a lovely touch of earthiness and rusticity to your decor, especially if you have a beachy decor theme going on.
If you like, you can also drill little holes into seashells and just hang them down from the driftwood. They'll add a ton of character and texture to your wall hanging!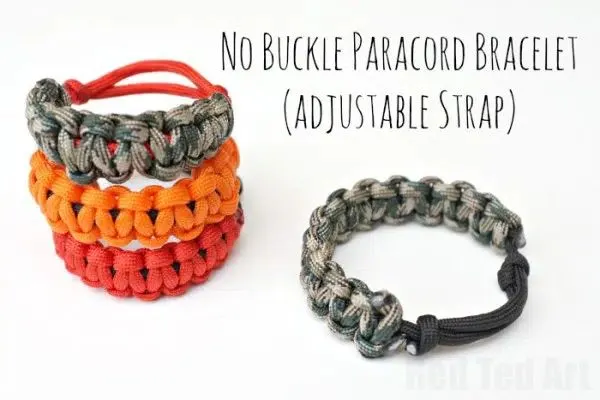 Source: redtedart.com
If you have any paracord leftover from one of the previous projects, go ahead and get them. You're going to be making these adorable paracord bracelets using the macrame square knot, which is the most basic of knots in macrame.
Grab some buckles from here if you want to have a buckle fastening. You can just as easily just make a loop on one end to help you secure the bracelet around your wrist. Feel free to experiment with colors, designs, and patterns as you work your way through this project.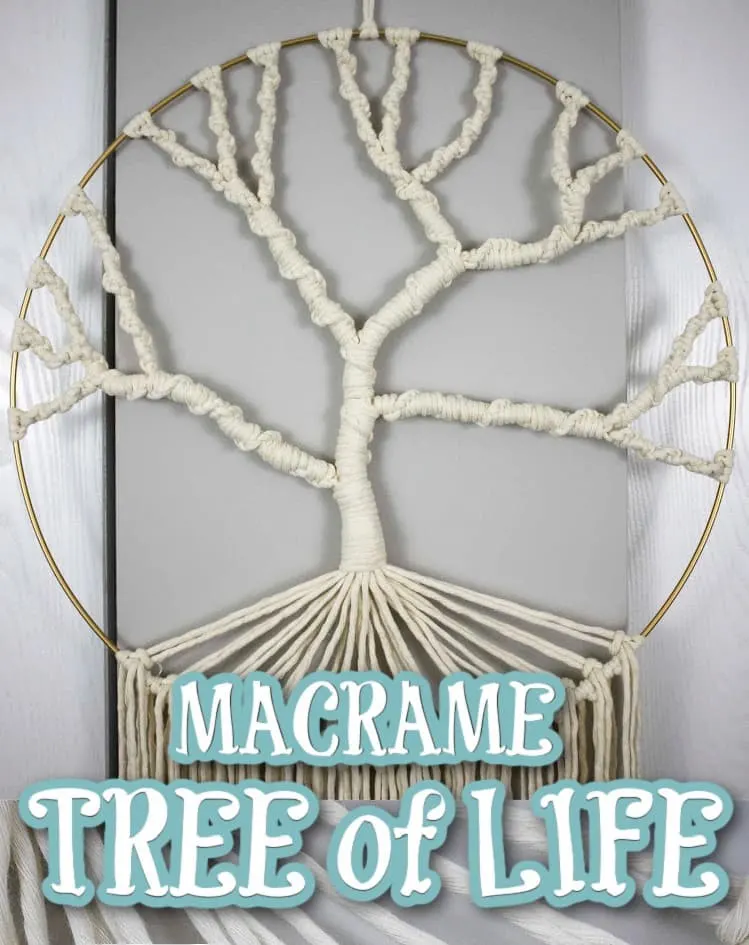 Source: marchingnorth.com
Don't ask me why but it seems apropos to end this list of DIY macrame projects with this tree of life wall decor piece. By now, you probably have a better understanding of the different knots involved in macrame.
This project is a little more elaborate than the others, yes, but with a little effort, you can have this gorgeous tree of the life art piece in your home as well. You can pick up an embroidery hoop from here or use a metal circle frame as the base.
Yield: multiple macrame projects
21 DIY Macrame Projects for Beginners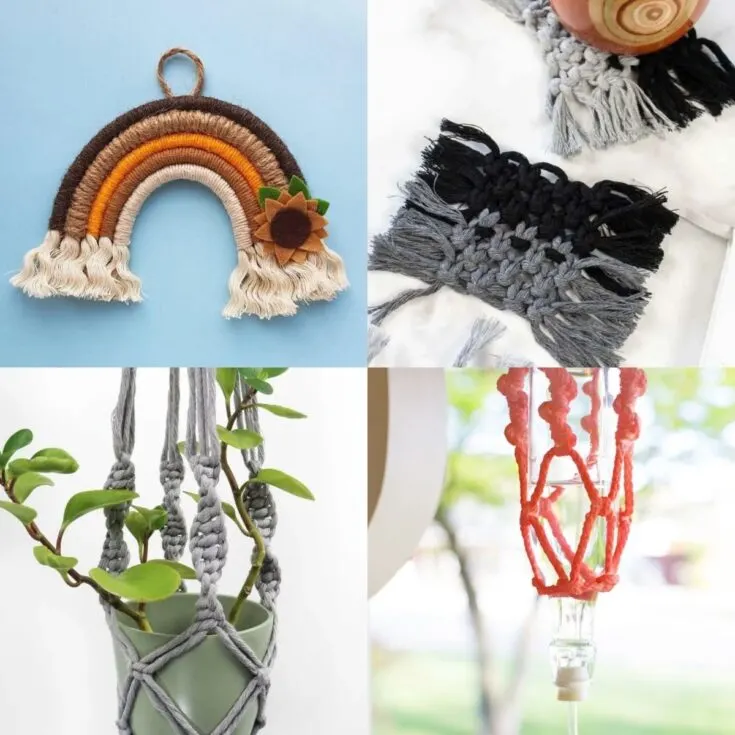 Need a fun, easy project? These DIY macrame projects for beginners will keep you busy!
Instructions
Take your crafting skills to a whole new level with these macrame projects!
Choose the beginner-friendly macrame project you like and get crafty.