Want to make your own necklace? Find step-by-step tutorials on how to make your very own DIY necklaces and enjoy your DIY jewelry.
Necklaces are the kind of accessories that can help you make a statement. Whether that's a fashion statement or a stamp of individuality and creativity that you want to display, is completely up to you to decide.
What I can guarantee is that making these easy DIY necklace ideas can be a ton of fun. So, without further ado, check out these 41 necklace ideas that you can explore making new pieces!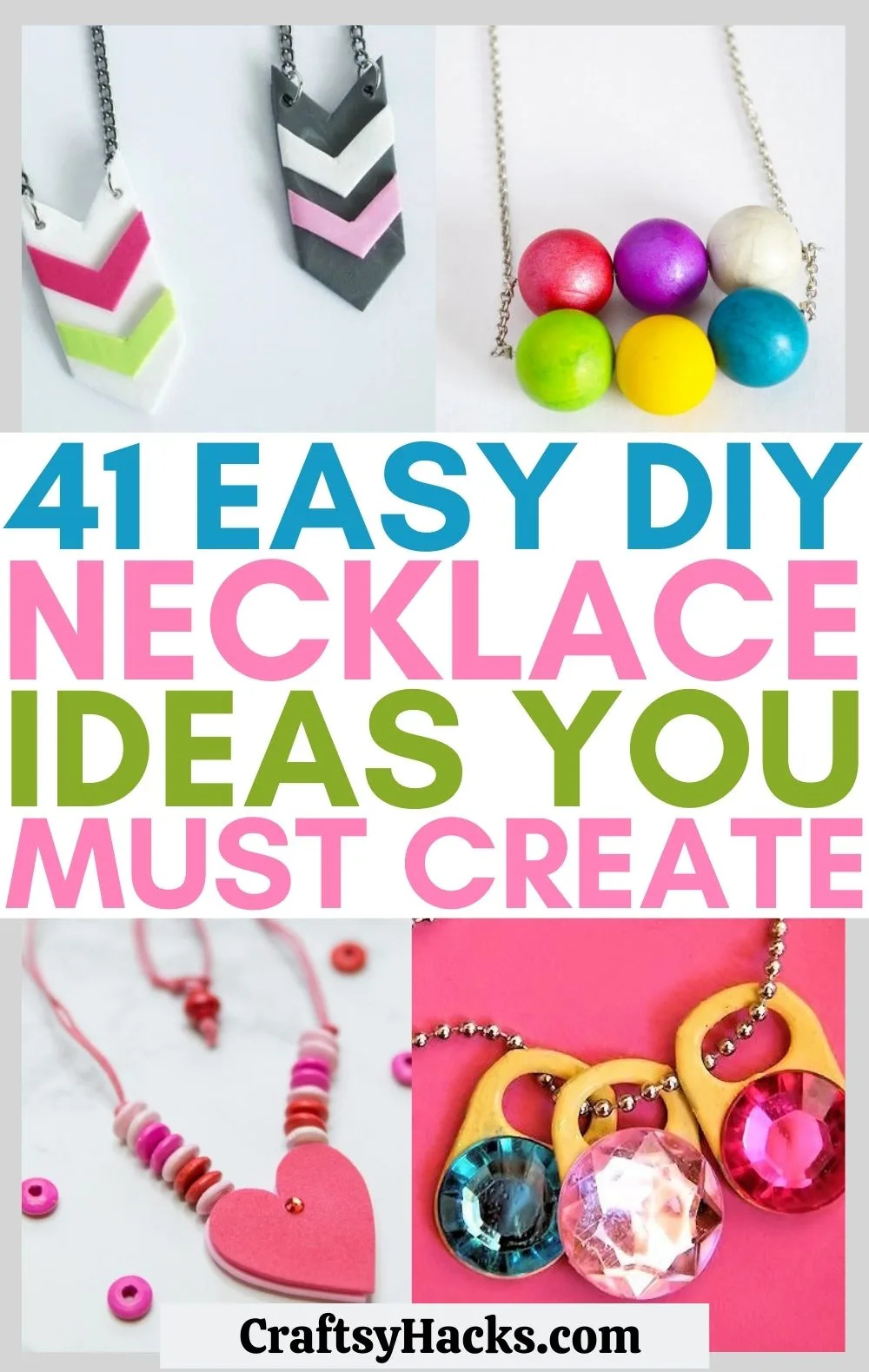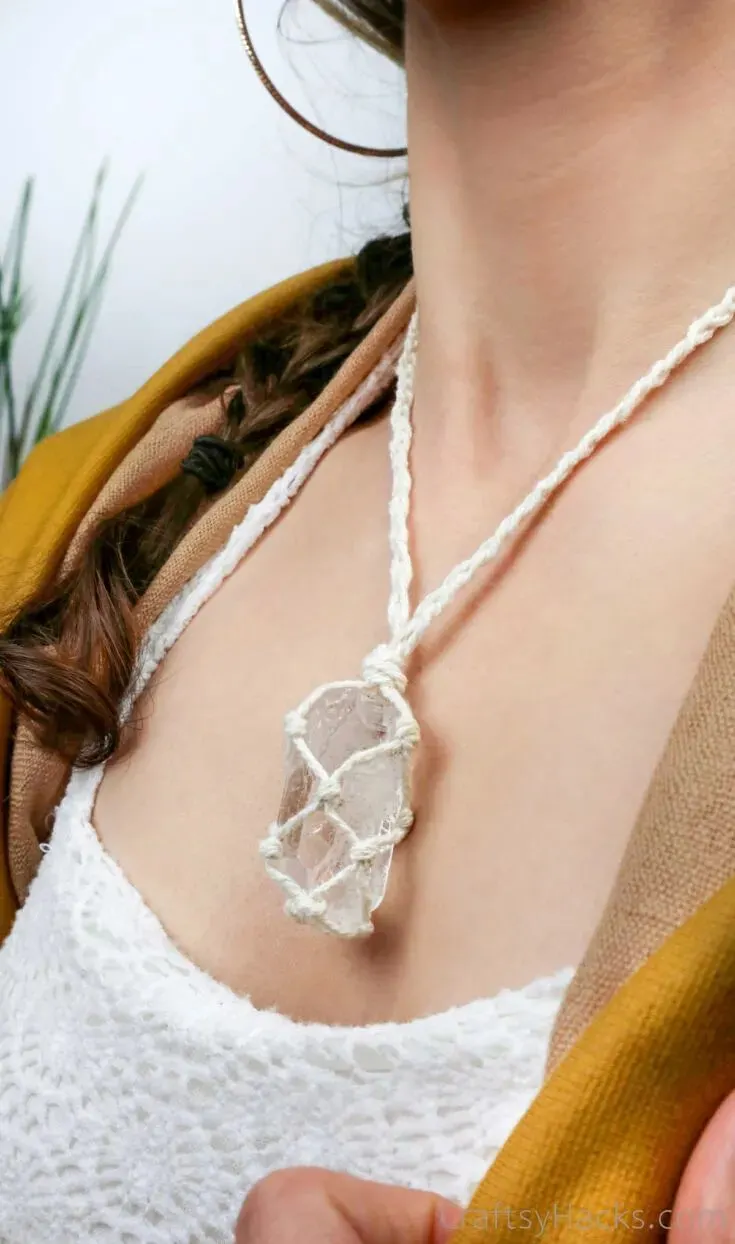 Source: craftsyhacks.com
Did you know that certain stones are known to have healing powers? Quartz, for example, can help rejuvenate and revitalize the mind, body, and emotions, while amethyst is used for its purifying properties.
The best thing to do would be to carry around these stones with you. How? You wear them around your neck as a necklace, of course!
With a little macrame skills and macrame cords from here, you can get started on making your DIY stone necklace!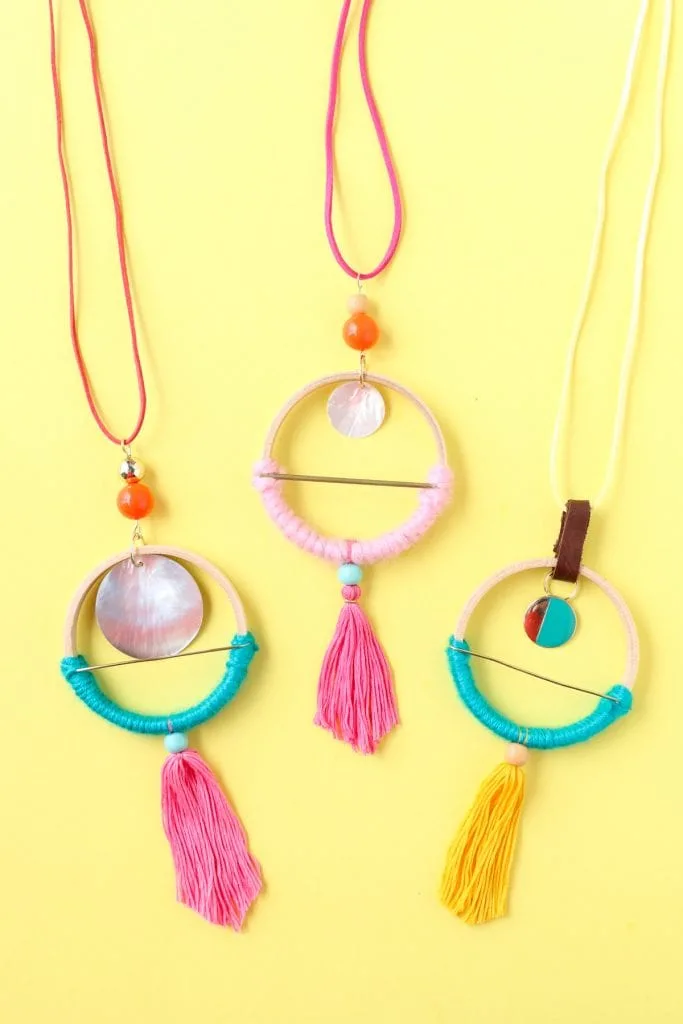 Source: lovelyindeed.com
If you're still on the lookout for another fun and easy piece of jewelry, then check out these! These Scandinavian Hoop Necklaces are super easy to make and a unique statement piece as well.
You can decorate these necklaces with colorful yarn and embroidery floss. You can also add chunky beads, charms and embellishments.
Grab your materials to get started. Don't forget to pick out some brass jewelry wire, too, while you're shopping. You can find them here.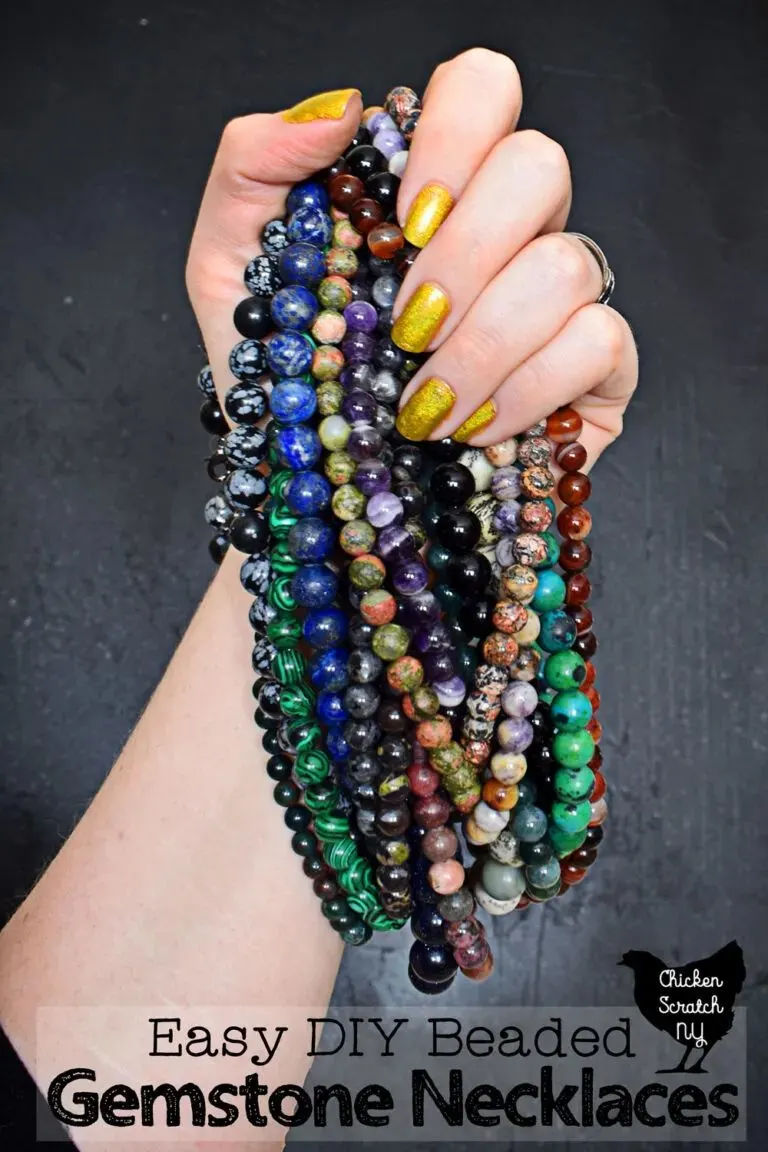 Source: chickenscratchny.com
Nothing is quite as unique as gemstone beads, and beading them into necklaces can be quite addicting. How about you play an episode or two of your favorite TV show while you make them?
The best part, however, is picking out your beads. There are so many ways to customize your simple necklace, with different types of beads, colors, sizes, and even patterns.
When you're ready to fasten off, just insert the string into a crimp bead and clip them in place with the help of pliers.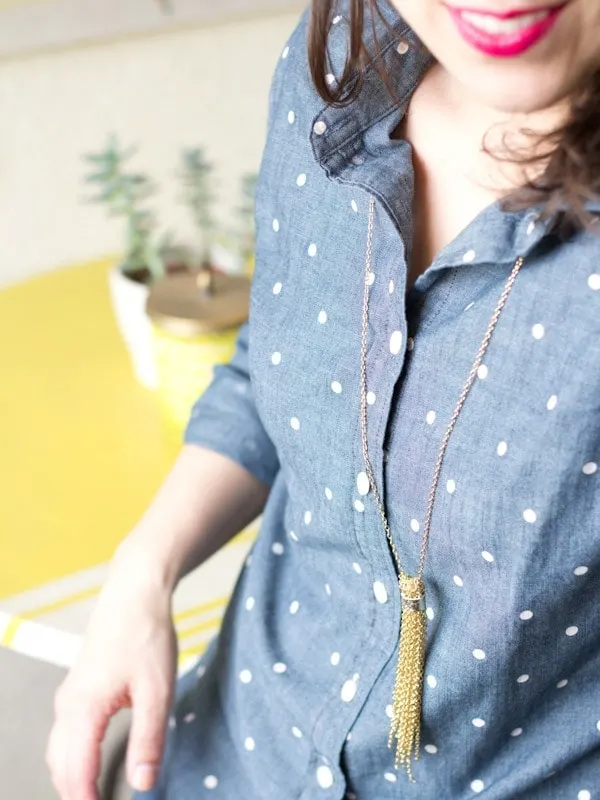 Source: lovelyindeed.com
Tassels don't just belong on curtains and bags, you know. Tassel earrings and necklaces are all in rage at the moment and rightly so.
They add a ton of texture and sass to your outfit. They can also be exactly the right accessory to take your casual outfit up a notch to dressy and fun.
Did I mention that these tassels were made out of cable chains? How cool is that? You can wear them on your next night out with the girls!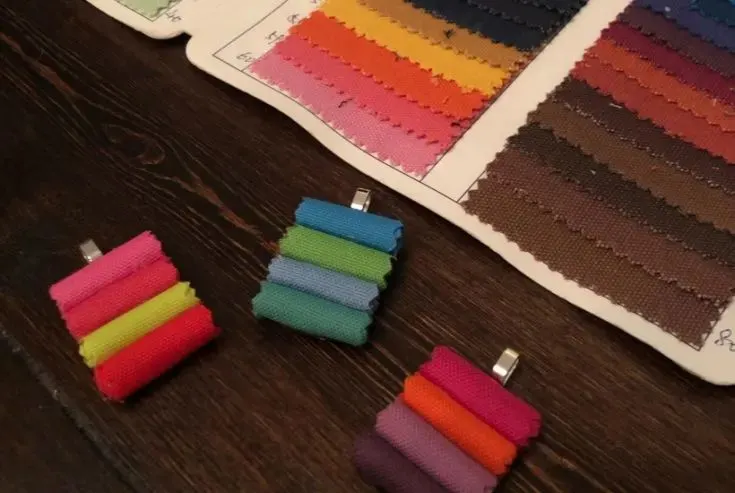 Source: upcyclemystuff.com
I have this habit of collecting—hoarding—all the fabric scraps and swatches leftover from projects. You never know when they'll come in handy, right?
So, if you have a box of fabric swatches like I do, then you're probably looking for some stash-busting projects. Check out these fabric pendants!
This is a great way to upcycle fabric scraps and get some really colorful and quirky necklaces out of it. Just pick up a pendant base from here to begin!
Here are DIY scrap fabric projects for you to check out.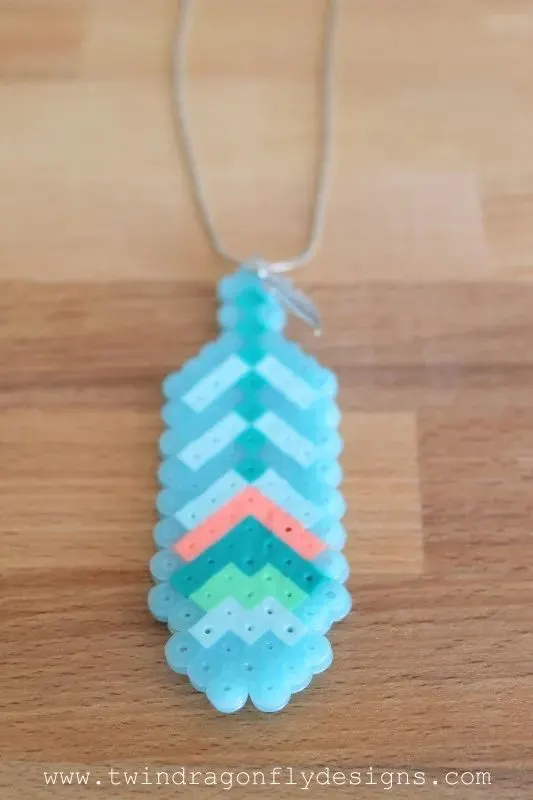 Source: homemadeheather.com
Did you ever play with Perler beads when you were a kid? Perler bead crafts were—and are—always a go-to craft project for me.
Take this handmade necklace, for example. It's got a lovely feather shape that would accentuate your outfit and accessorize it splendidly. If you're familiar with the method of using Perler beads, then you're good to go.
Just one thing to keep in mind: when you iron the beads together, the hole to insert the string might melt and close. Just insert a needlepoint through, and voila!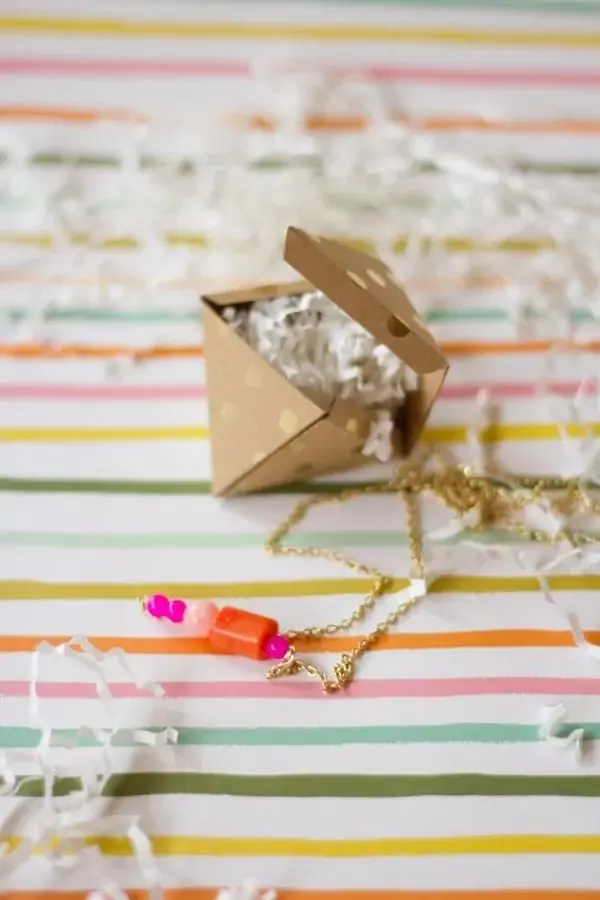 Source: lovelyindeed.com
Beads can go with just about anything. So it only makes sense that you use beads to make a cute little pendant for a DIY necklace.
You will need a few beads, all in your choice of colors and size, a thin gold chain, 2-inch eye pins from here, a pair of scissors, and this double-sided tape.
You might need to grab a pair of needle nose pliers to help you loop the beads and also to curl the eye pin.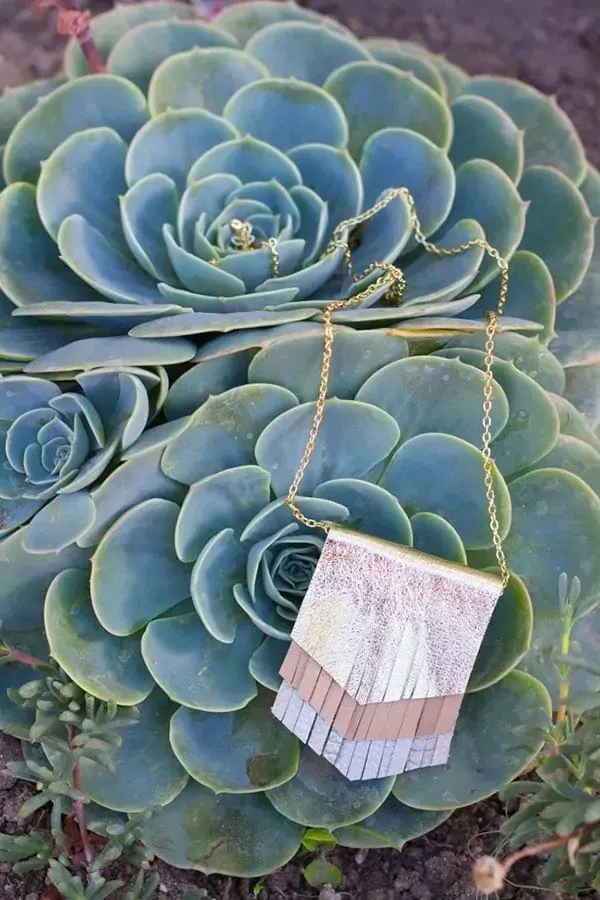 Source: lovelyindeed.com
By the time you make your way down this list, you'll probably want to buy stock in cable chains to make your DIY necklaces. This necklace is made out of leather and looks swag and chic at the same time.
The best part about it is that you get to upcycle materials you already have to make it. A few scraps of leather, a length of cable chain, a couple of clothespins, and a jump ring should get you started.
It will only take you half an hour to make these pretty pendants, so you can make quite a few and store it for later to use as gifts.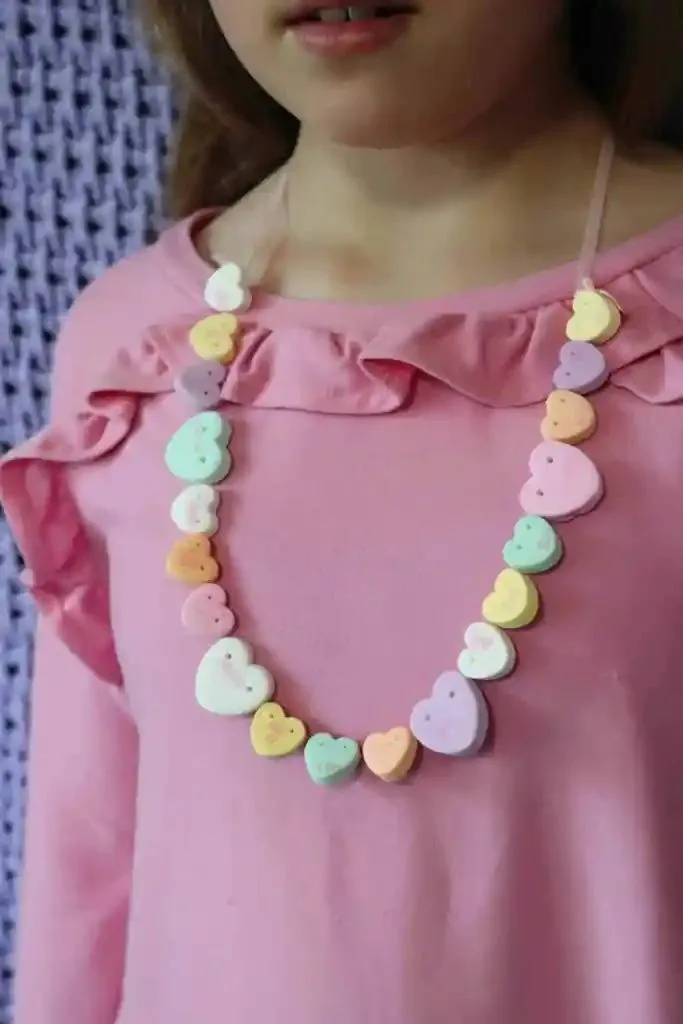 Source: b4andafters.com
Valentine's Day is right around the corner and the only way you can sweeten that day even more is with these adorable heart-shaped pendants. These are the kinds of necklaces a little girl will enjoy making because you can follow simple steps.
They're essentially candy hearts and they look good enough to eat! You can string just one heart pendant or you can string an entire set and make a garland.
Your kids will just love eating their necklaces, too. In fact, if they have a big birthday party coming up, why don't you consider making them as party favors? They're sure to be a resounding hit with the little ones!
This is definitely one of the adorable necklaces that will be your children's favorite thing.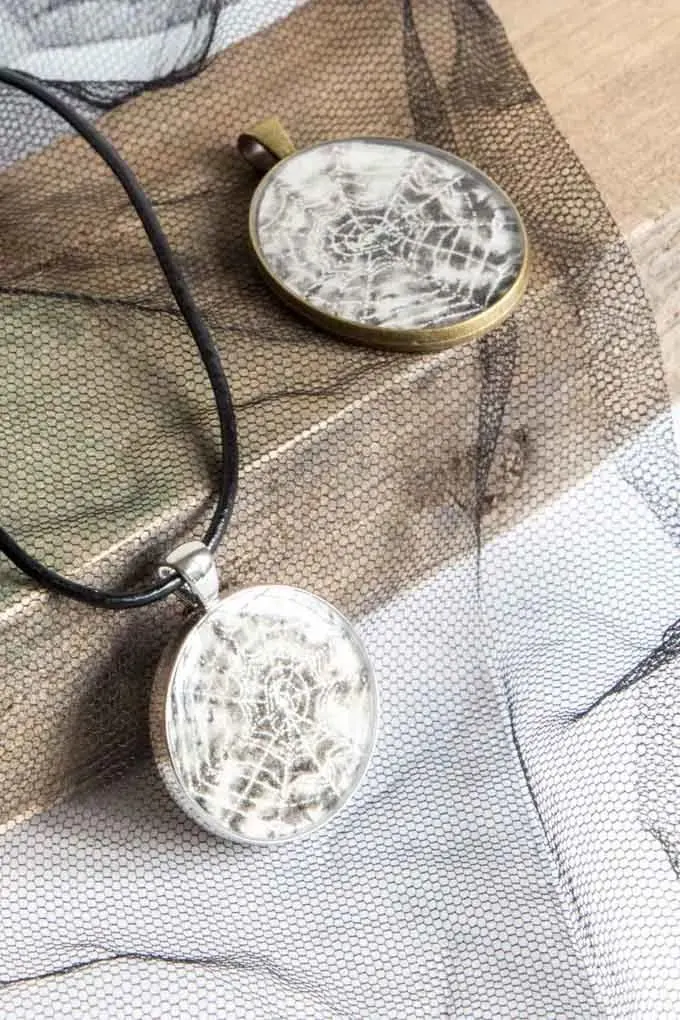 Source: sustainmycrafthabit.com
Resin art is perhaps the most charming DIY project. There's something so unique about how you can set something in resin and it will stay that way forever!
When Halloween comes creeping up on you, you can make these gorgeous Halloween pendants! They feature a spooky spider-web design that would do perfectly to commemorate the spooky season.
Just pick up a resin kit from here to get you started. You will also need some materials to make your pendant, so just buy a jewelry-making kit and you'll be covered! You can pick one up from here.
Try this DIY necklace tutorial and have your awesome necklace made quick!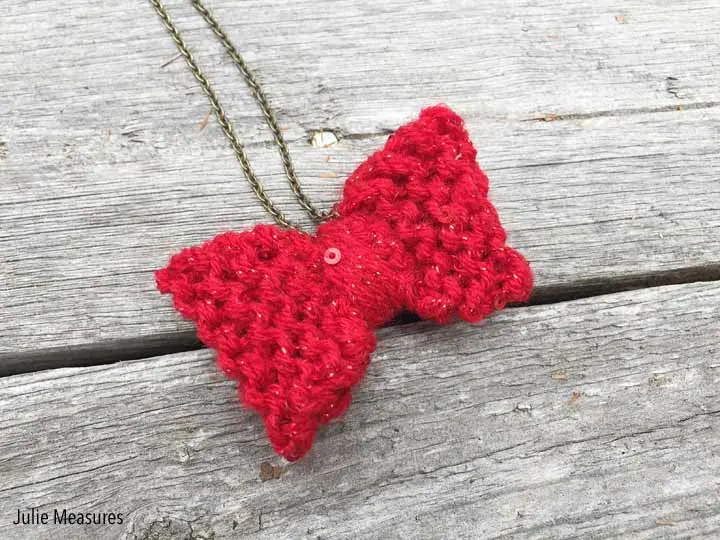 Source: juliemeasures.com
If you have a dab hand at knitting, then go on and get your knitting needles and yarn out. You're going to be knitting this adorable bow necklace. Just a beautiful necklace idea!
Grab your favorite colored yarn, first. Apart from your knitting needles, you will also need a tapestry needle, so grab one from here.
Now, just follow the pattern that has been provided to knit your bow. When you're done, you can hook it up with your cable chains, and you're all set.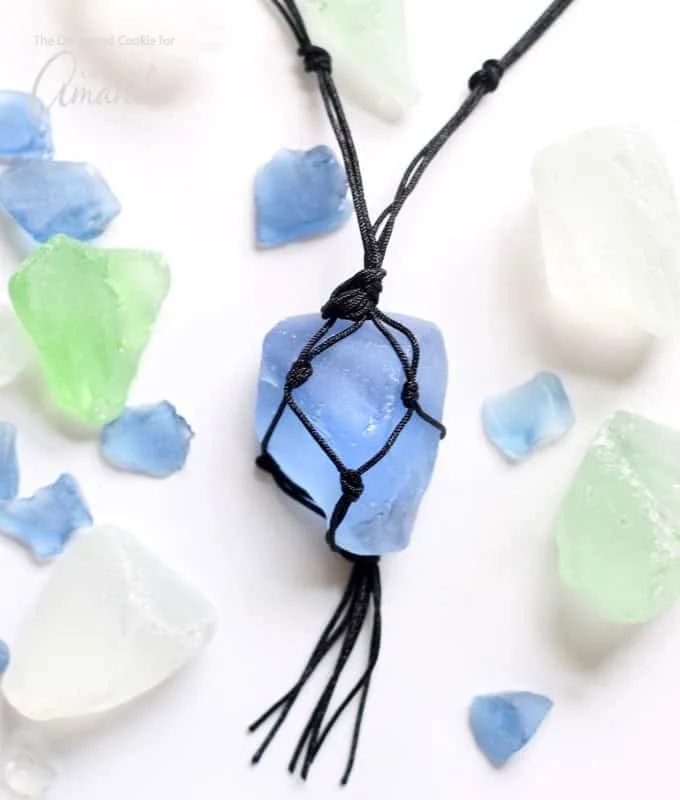 Source: craftsbyamanda.com
Don't you just love the beach? While I'd love to just carry the sand, the sun, and the sea with me all the time, that's not really possible.
The next best thing, however, to remind you of the summer days at the beach is this sea glass necklace. You can just hang it from your neck so the sea will always be a part of you.
Grab some cord, about 15 feet in length; you can pick it up here. Now, just macrame your DIY necklace, slip the sea glass in there and you can finally wear the sea on your neck!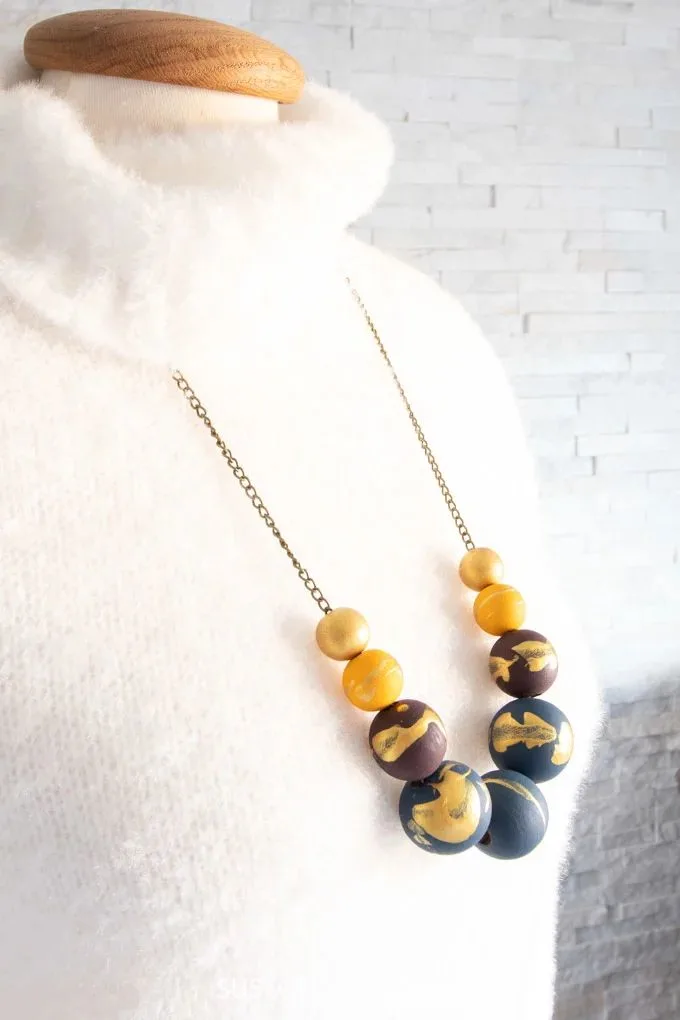 Source: sustainmycrafthabit.com
Didn't I tell you that beads are one of the most versatile craft materials? You can use them in so many projects and in so many ways.
For this beaded type of necklace, you'll have to grab your bottles of paint and a couple of paint brushes. Why? You're going to transform a few plain old wooden beads into gorgeous and colorful ones you'll be proud to show off!
If you use different sizes of beads, you'll have a lovely tapering effect. So, grab a packet of these wooden beads and start painting them.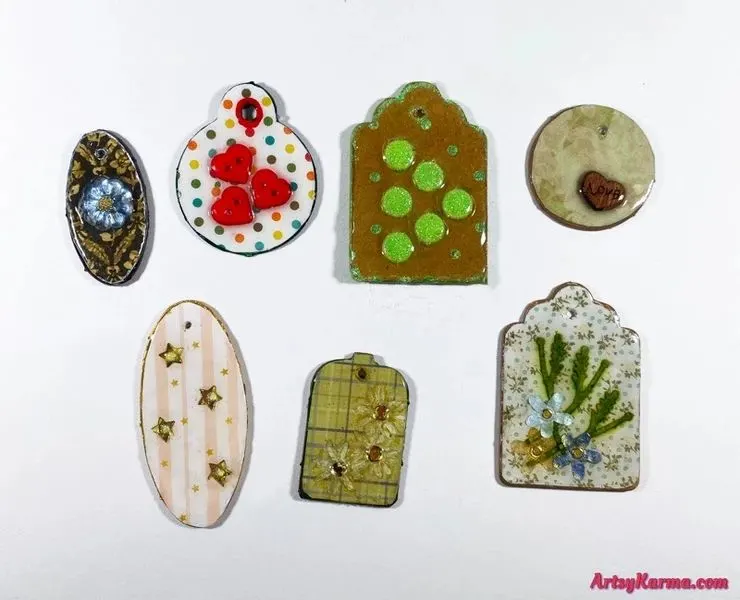 Source: artsykarma.com
If you aren't familiar with the term mixed media, it refers to the use of different and varied art materials and techniques to create something new.
So, in the spirit of versatility and exploring different art and craft techniques and materials, let's take a look at how to make these mixed media pendants.
What I love about this necklace, right off the bat, is that it is made out of gift tags. That means you get to not just explore new craft techniques, but also upcycle!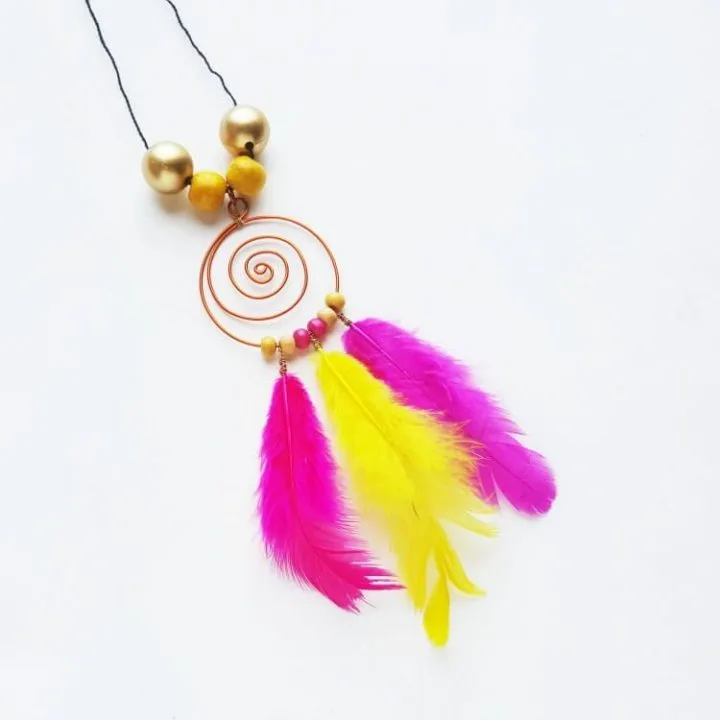 Source: rufflesandrainboots.com
This dreamcatcher necklace is so easy to make, and easy on the eyes, too. You're effectively shaping jewelry wire to make the circular part of the dreamcatcher that's meant to 'catch' your dreams.
And don't you just love it? It's got this loopy and hypnotic note to it that's bound to do the trick. Then you've got the little colorful beads and bright plumage of feathers, as well!
This is definitely a statement piece of a necklace so grab a pair of pliers and get started on looping your wire!
Don't forget to check out these DIY wire rings, while you're at it for an adorable look.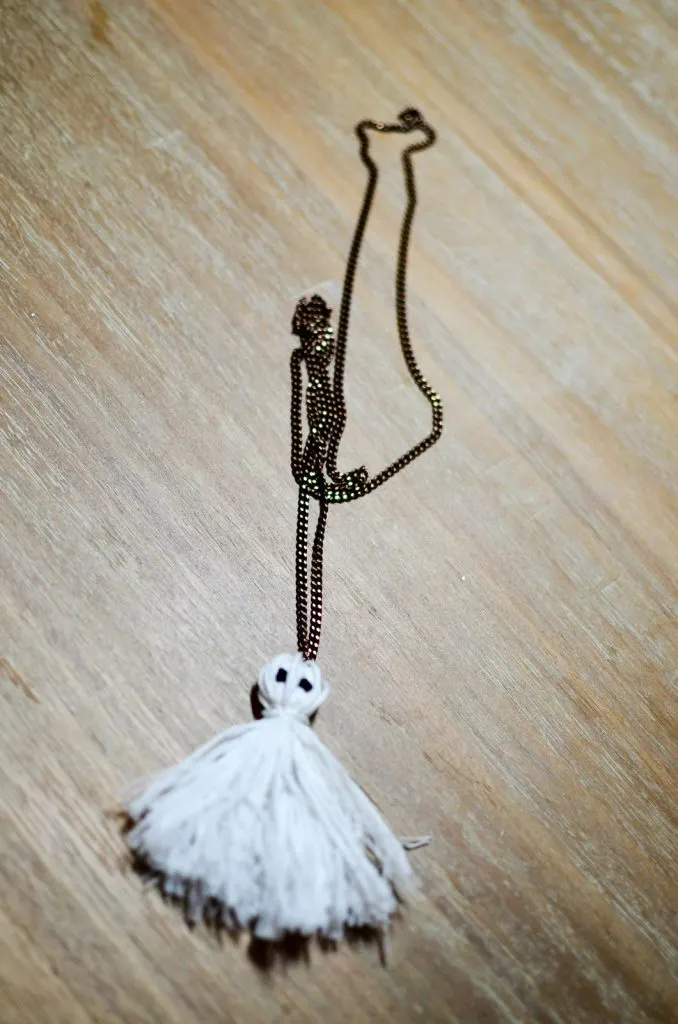 Source: albiongould.com
Halloween decor isn't just for your home, you know. You can get into the spirit of Halloween, too, with the help of cool accessories and spooky outfits.
But if you're not into full-on costumes, then perhaps a cute little ghostly necklace might be what you're looking for. It's effectively a tassel necklace, to be honest.
But to up the cool and spook factor, you're going to be using something special: glow in the dark thread from here! While you're shopping, don't forget to pick up a couple of jump rings, cable chains, and a needle.
Check out how to make these cute DIY tassel earrings! DIY idea you definitely want to try!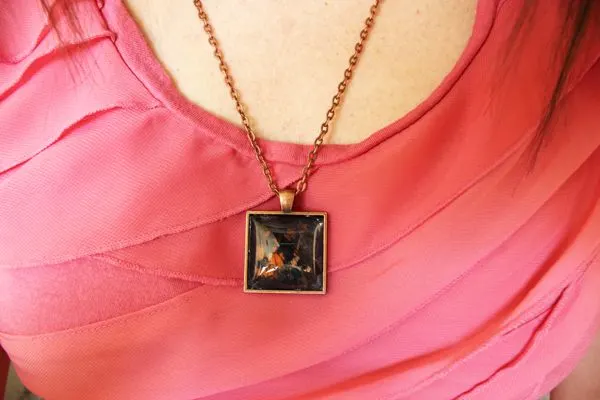 Source: happinessishomemade.net
At one time or another, I bet we have all wished that a pretty butterfly would just perch on our shoulders and just stay with us for a while. Here's the next best thing: butterfly wing necklaces!
No, you will not be plucking the wings off butterflies. While it's a little morbid to look for dead butterflies, it's time to go outside and do a little extensive foraging. You're bound to find what you're looking for.
Grab a necklace case and this glass cabochon. You can also use a little bit of this diamond glaze to set the necklace.
Source: artsykarma.com
Resin art is gaining a ton of popularity these days, and rightfully so, There's something quite lovely about being able to set something in resin, so to speak.
For this next DIY necklace, you're going to use resin to set some pretty dried flowers in an open-back bezel frame or base. It's a little tricky seeing as how the flowers and petals are so tiny, so grab a pair of tweezers to help you.
Also, you'll need some resin tape from here, as well as some rubbing alcohol to clean out your bezel frame. You can use a Q-tip to clean the frame quite effectively.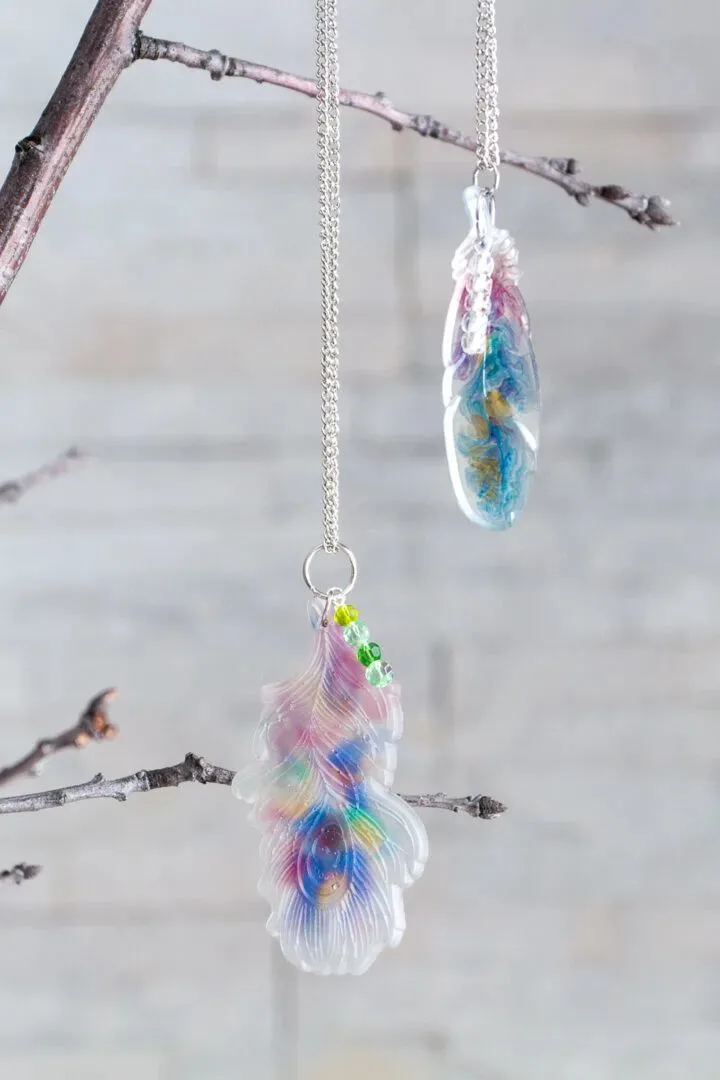 Source: sustainmycrafthabit.com
Don't put away your resin kit just yet; you'll be needing it to make this resin feather pendant. These colorful little pendants are quite unique and creative, to boot.
Now, here's what is really awesome about this pendant. While you can wear it as a necklace, you can also just as easily use it as a decorative ornament or charm.
Before you get started, however, you will need a feather-shaped mold, preferably silicone, to set your resin. You can find it right here.
If you want to work with resin some more, check out these 37 ingenious resin crafts.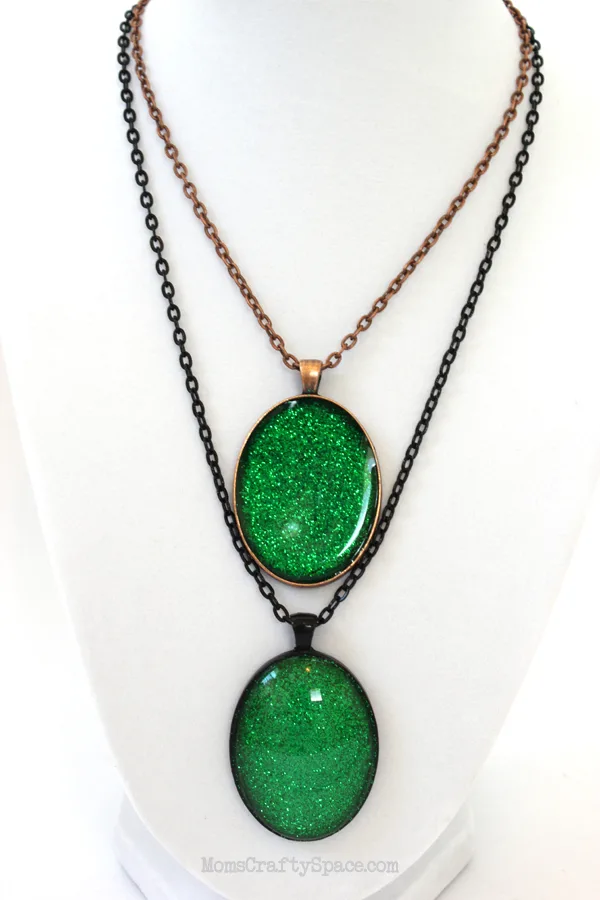 Source: happinessishomemade.net
Have you ever seen the movie Oz The Great And Powerful? Don't you just love the gorgeous costumes everyone wore, and those fabulous accessories?
What really caught my eye was that mysterious emerald amulet that Evanora wore. What if I told you that you could recreate that amulet too?
Go ahead and grab everything you'll need for this project: pendant base, mod podge, green glitter, and a matching cable chain. Alternatively, you can switch out the resin with a glass cabochon, as well.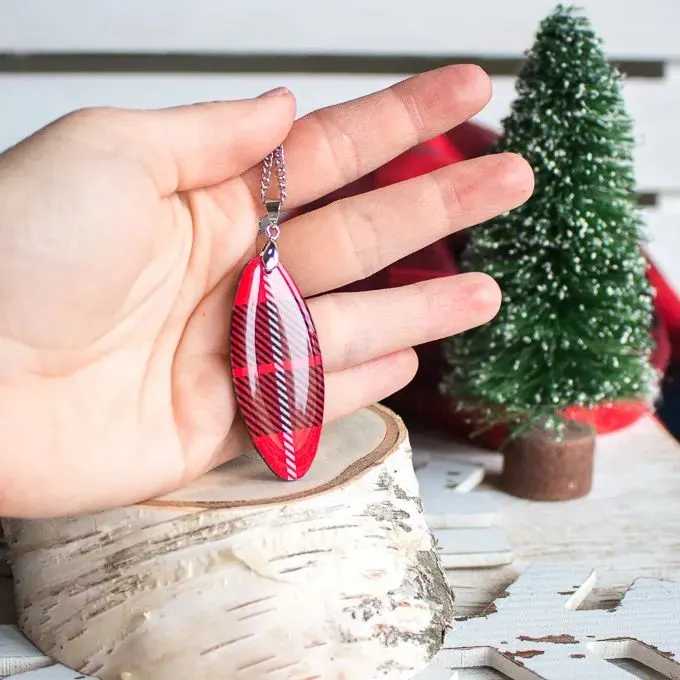 Source: sustainmycrafthabit.com
I think it's time you invest in resin; you'll definitely be needing it to make all these fabulous resin necklaces. This red and black buffalo plaid pendant is actually wrapping paper.
That means you get to upcycle old wrapping paper into something this chic with just resin and a few coats of mod podge! You can play around with the size and shape of the necklace, too.
Just remember to don your protective gear—gloves—when you're working with resin. Also, a few paper towels spread out across your work surface won't hurt, either.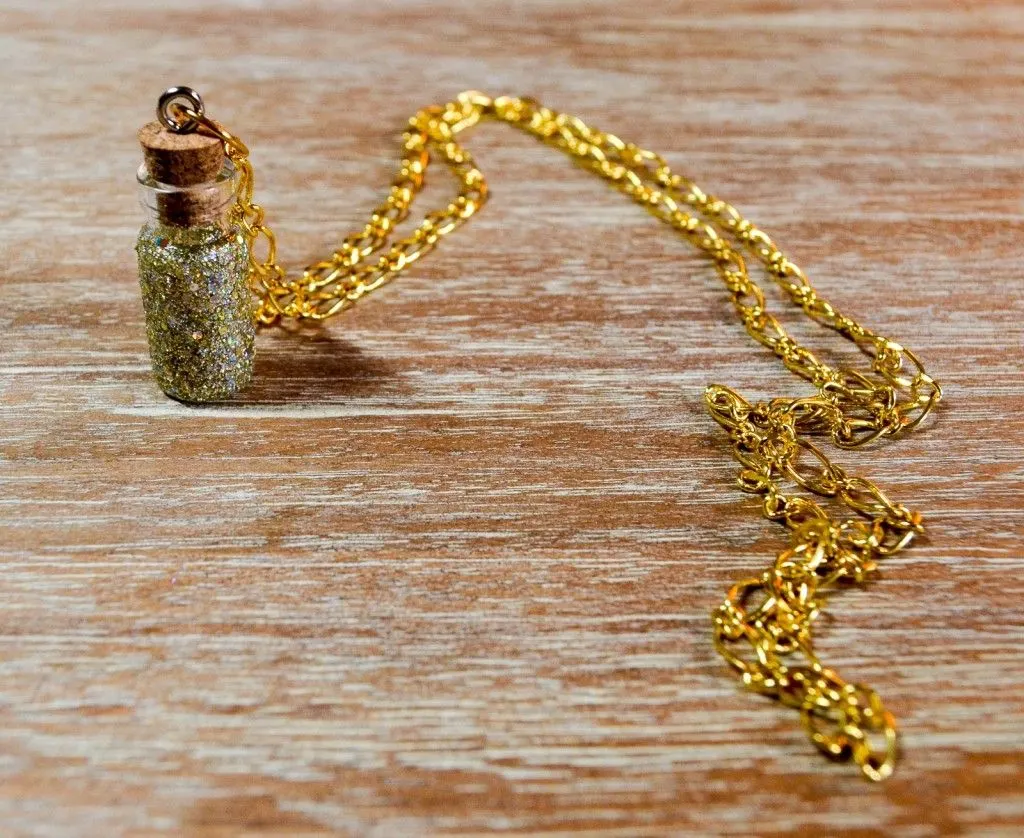 Source: albiongould.com
I grew up on stories of fairies who could fly and weave their magic. The source of a fairy's magic? Fairy dust, of course!
It doesn't matter how old you are, because everyone deserves a bit of magic. Why don't you bottle up that magical fairy dust and take it with you wherever you go?
You will need a: glass bottle charm from here and plenty of gold and silver glitter dust. You will also need a length of cable chain to loop your bottle through.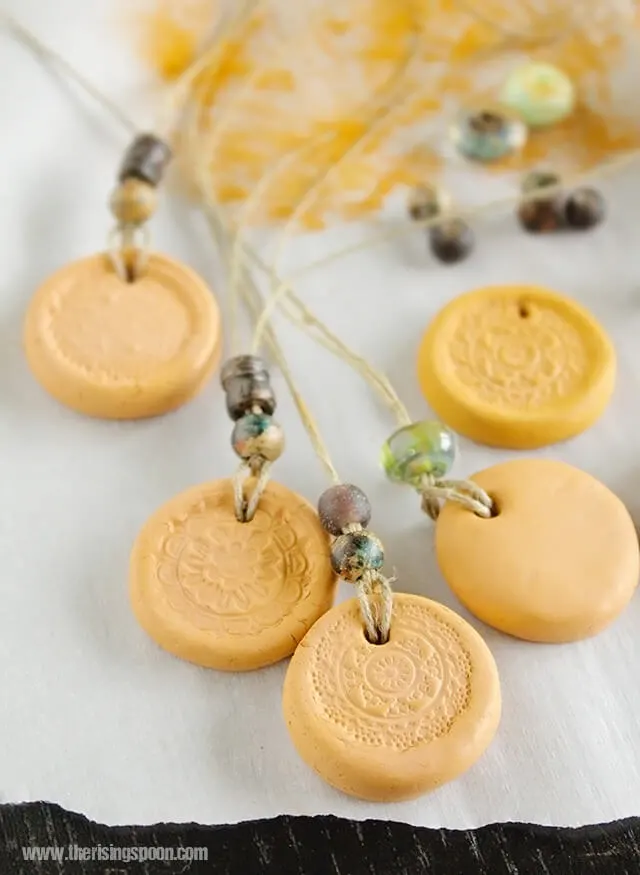 Source: therisingspoon.com
I love essential oils. I love how each flavor or scent has unique properties that can heal, rejuvenate, and invigorate your body and mind.
You can always just dab a drop or two of the oils at your pulse points and carry the scent you. Or, you can wear one of these clay diffuser DIY necklaces ideas around your neck.
The clay is soaked with the oils, which allows it to permeate and enables it to retain the scent for a good long while. You can also use an engraved stamp to imprint a gorgeous design on your necklace.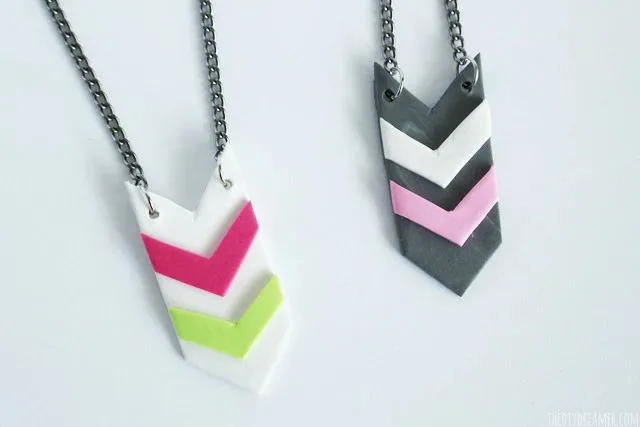 Source: thediydreamer.com
Don't put away that clay just yet. While you still have your clay workstation set up, you can make this Aztec clay pendant, as well.
So clean your clay roller, slicer and knife and get started on another batch of clay. In fact, you can just pick an essential tool kit right here.
Before you get your hands dirty, draw your Aztec template first. Then you can cut it and detail it to use as your actual template. Feel free to play around with colors and size, too.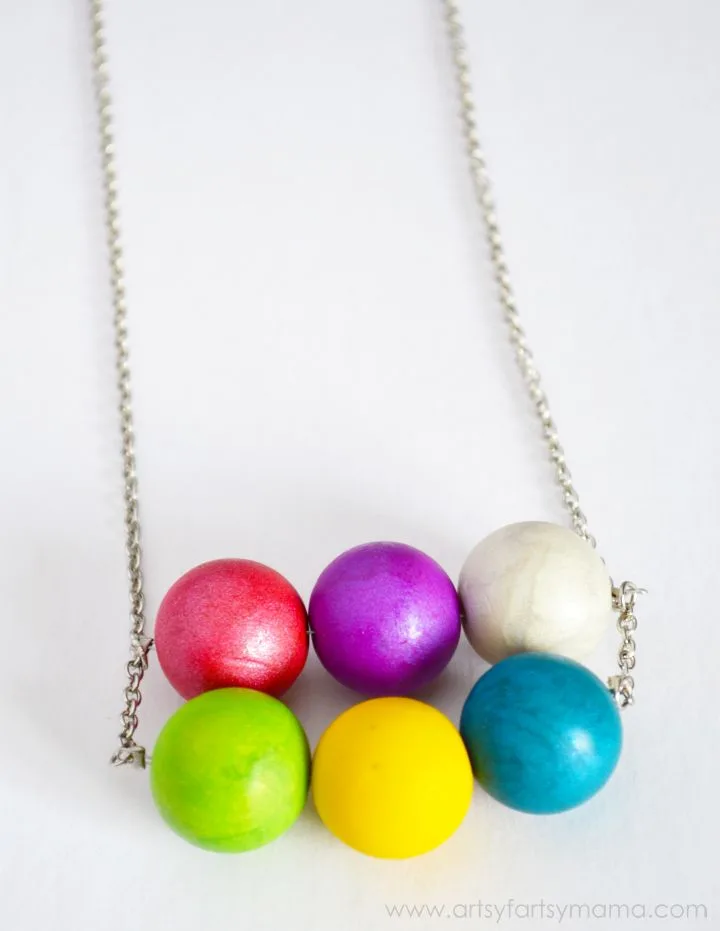 Source: artsyfartsymama.com
Here's yet another lovely DIY beaded necklace that you can make with clay! You can fashion little beads out of the clay and, once they dry, you can paint them in a variety of colors.
Alternatively, you can use colored modeling clay to make it easier for you, as well. While you can roll out the clay into beads, you might want to buy a bead mold.
This mold will ensure that all the beads are uniform and also ensure a better finish.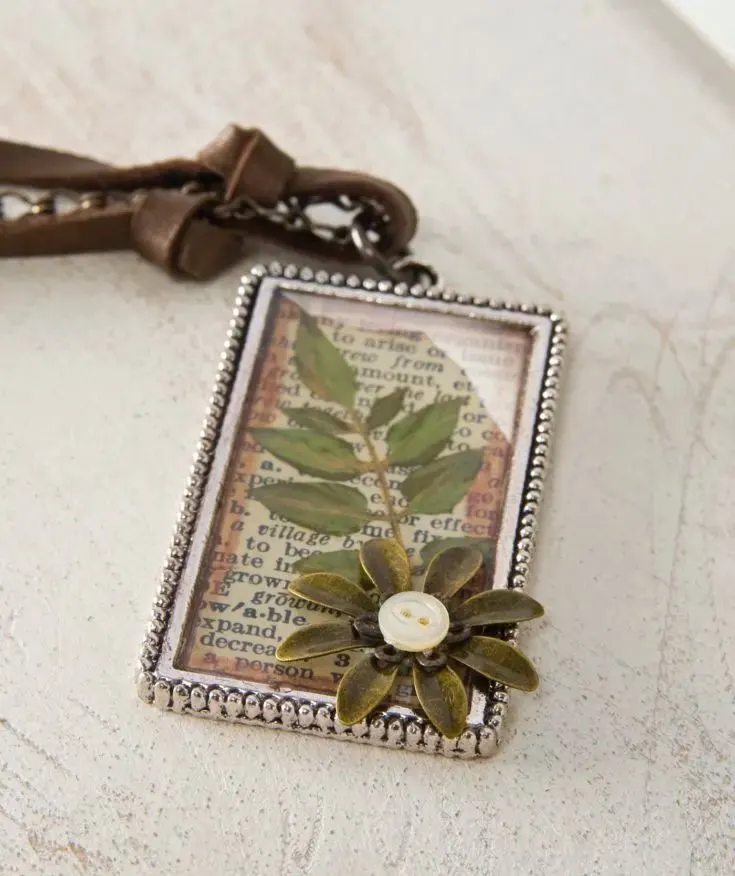 Source: modpodgerocksblog.com
I know you've probably pressed flowers before, but what about leaves? The process is pretty much the same, and just like with pressed flowers, pressed leaves have a ton of potential.
Check out this pressed leaf pendant! It's elegant, with oodles of a unique kind of vintage charm! You can set the leaf in a backdrop of vintage paper and either use resin or a cabochon to set it.
Finally, just hang your pendant from a cable chain or a leather cord.
If you're like me and can't decide, just use both!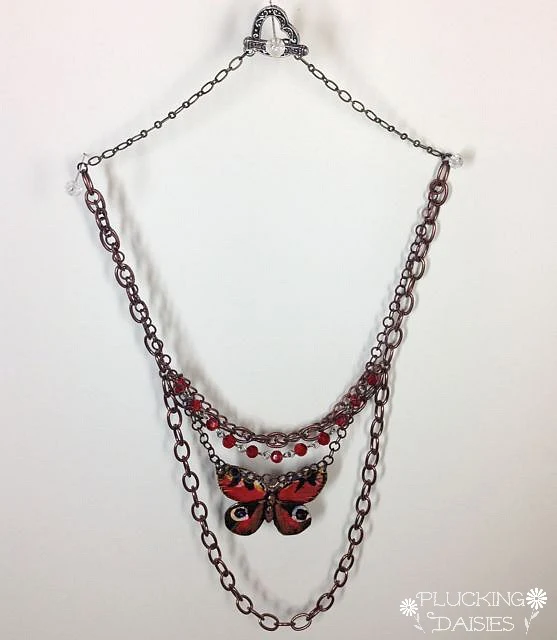 Source: savedbylovecreations.com
Butterfly pendants will always hold a special place in my heart. I mean, who doesn't love butterflies? But don't worry, you're not going to be setting an actual butterfly in resin or something morbid like that.
Instead, you're going retro-chic with these pendants. First, pick out a pretty butterfly brooch you want to use. Then grab your other supplies, like pliers and jump rings from here.
Also, did I mention that you're actually going to make these pendants out of earrings? Sounds intriguing doesn't it?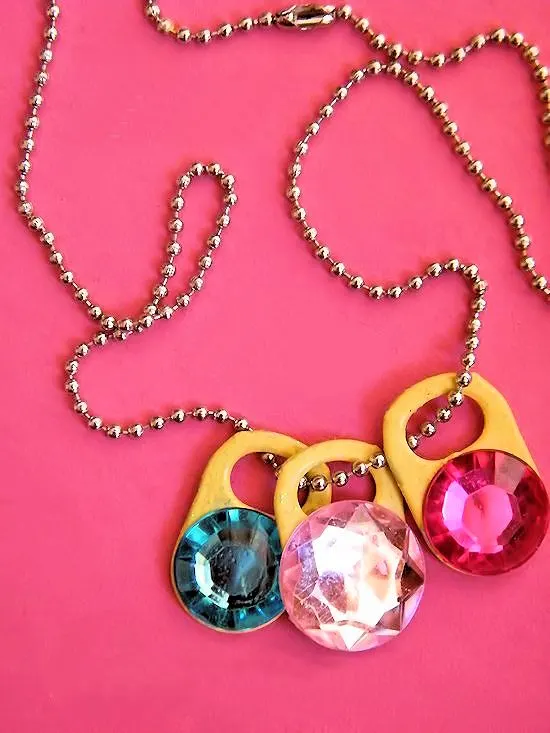 Source: ourkidthings.com
You knot that little metal tab on your soda cans or food cans? Well, back when I was a kid, I'd collect and save those tabs. Perhaps it's finally going to pay off.
Check out these soda tab gemstone necklaces! It's an opportunity to really let your creativity shine, just grab your supplies to get started.
You'll need a handful of soda tabs, acrylic paint, brushes, gemstones, and glitter nail polish. To get the tabs, just carefully twist them off the can and then clean them thoroughly.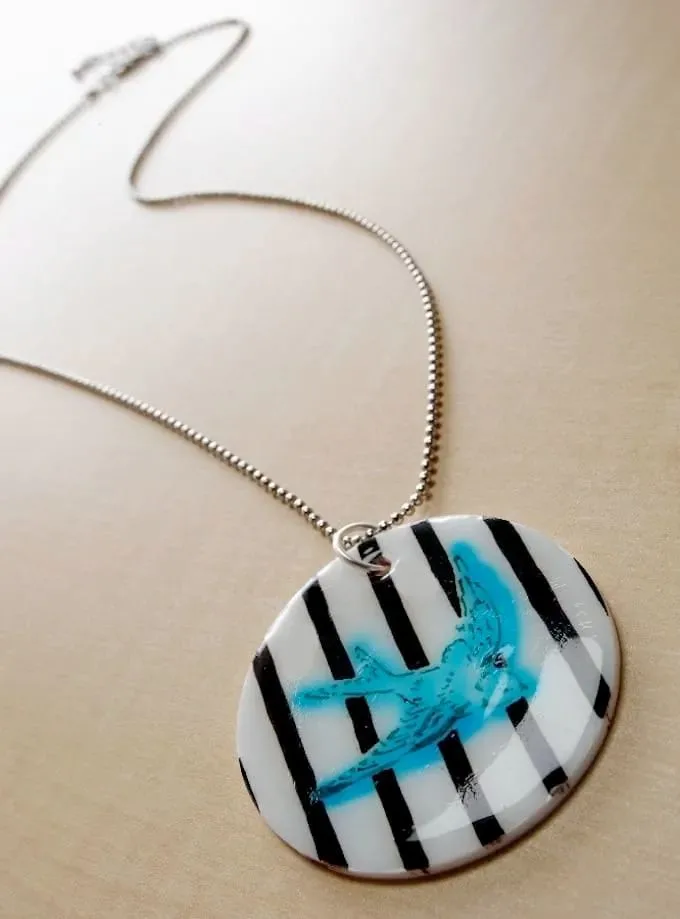 Source: modpodgerocksblog.com
If you're familiar with Shrinky Dinks, then this project is right up your alley. Grab your sharpies and stencils and get started!
If you're familiar with how they work, then you'll know that Shrinky Dinks will shrink to a third of their original size but get about ten times thicker. So, you should probably poke a hole for the jump ring to go through before you bake them.
You will also need mod podge to coat the surface when you're ready to set the pendant. But first, grab some Shrinky Dinks from here!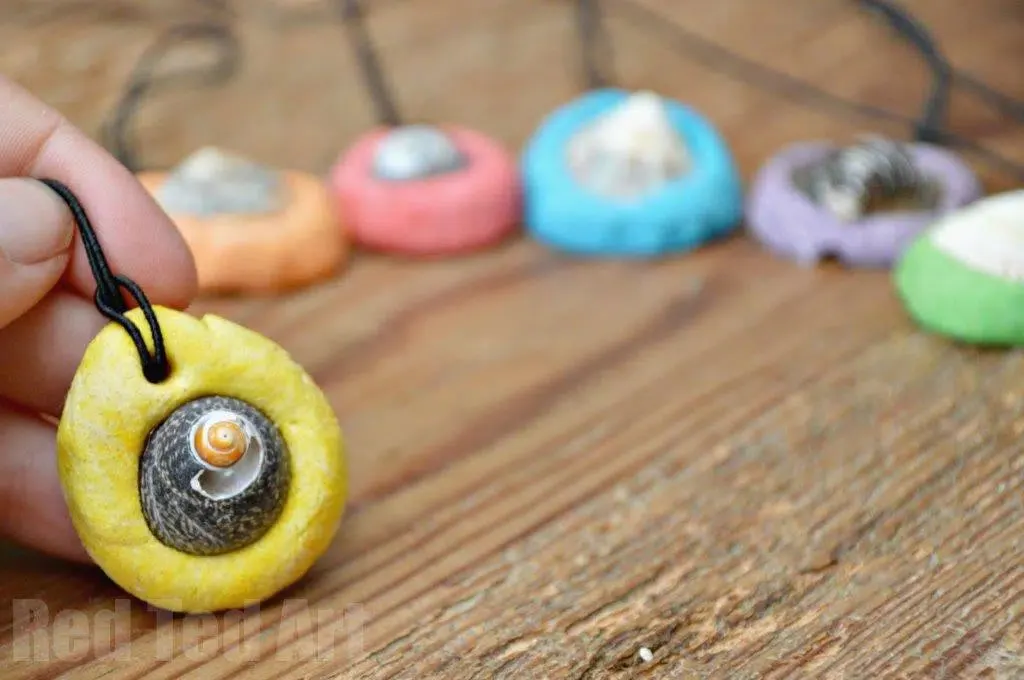 Source: redtedart.com
Salt dough craft can be messy, squishy, and downright fun. If you're in the mood to get your hands dirty, then go ahead and spread out some paper towels to get started on these salt dough seashell pendants.
While you're at it, why don't you rope your kids into the project, as well? I bet they'll have a blast making salt dough.
Grab some flour, a cup of salt, a few seashells you picked up on your last trip to the beach, and a cup of water. You will also need to pick up some colored dye, which you can find here.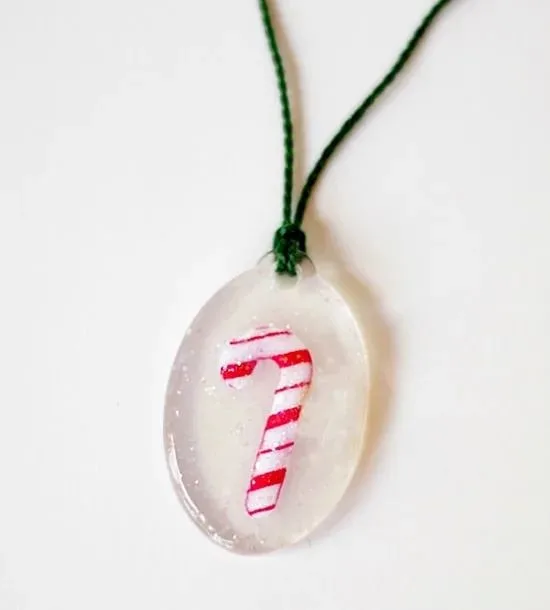 Source: modpodgerocksblog.com
A Christmas candy cane necklace? Sign me up for that, please! Unfortunately, though, it is not edible, despite how tasty it might look.
But there's nothing stopping you from sampling a few candy canes while you work on this pendant, though. Grab your resin art supplies, a clear pendant or keychain blank, mod podge, and some embroidery floss from here for the chain.
Just remember to poke a hole through the pendant if it doesn't already have one. Then, allow the mod podge to dry completely before you show off your necklace!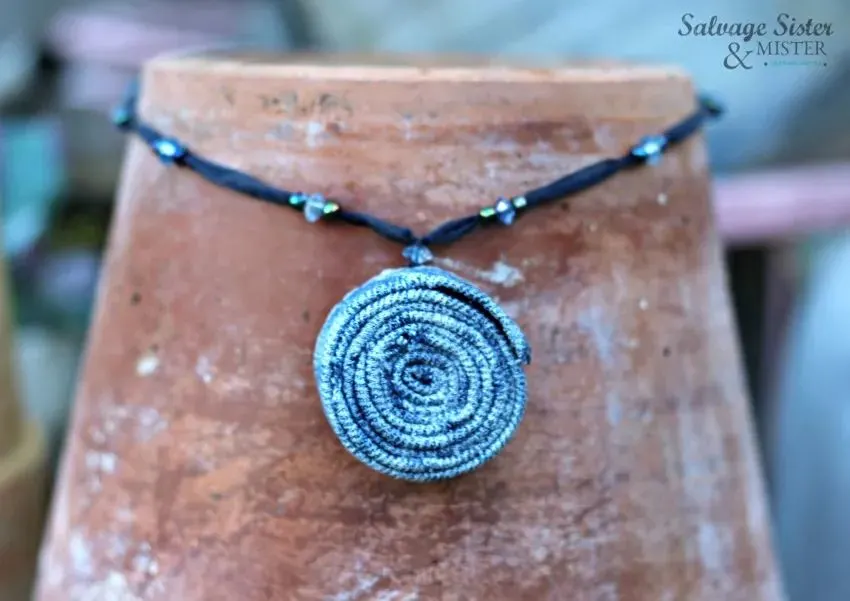 Source: salvagesisterandmister.com
Have you ever seen anything as unique or creative as this denim necklace? It's earthy and rustic, but also strangely chic at the same time!
I bet you have a pair of old and ratty jeans you've been meaning to dump. Go ahead and grab them so you can upcycle the denim for this project!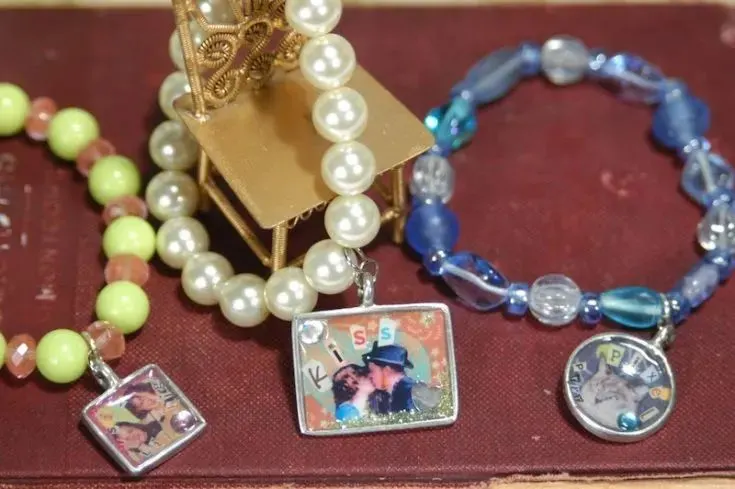 Source: modpodgerocksblog.com
Photo pendants are just so endearing. They're a great way to hold on to happy memories with friends and loved ones.
If you get to hold on to them around your neck, even better, right?
This project would also be a good way to rope the kids into a fun and memorable craft session, and it's super easy to make, too.
Grab everything you need first and then set everything up on your kitchen island or in your living room. A nice cold glass of lemonade and a plate of cookies is all that's left to make this the best photo pendant-making project ever.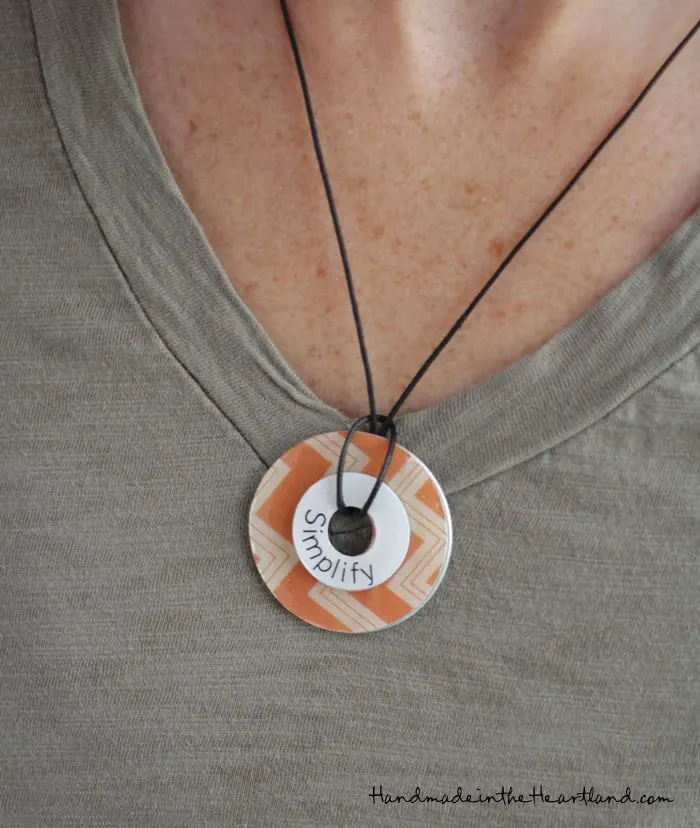 Source: handmadeintheheartland.com
You know what's always getting misplaced around the house? Those little washers! That's why I have a whole box of them, always at hand.
They're super inexpensive, and believe it or not, they're exactly what you need to make this pretty necklace. They're versatile, quirky, and they kind of remind you of the beach, don't they?
Grab a can of spray adhesive and set up your Cricut machine. You should also pick out some scrapbook paper you like while you're at it.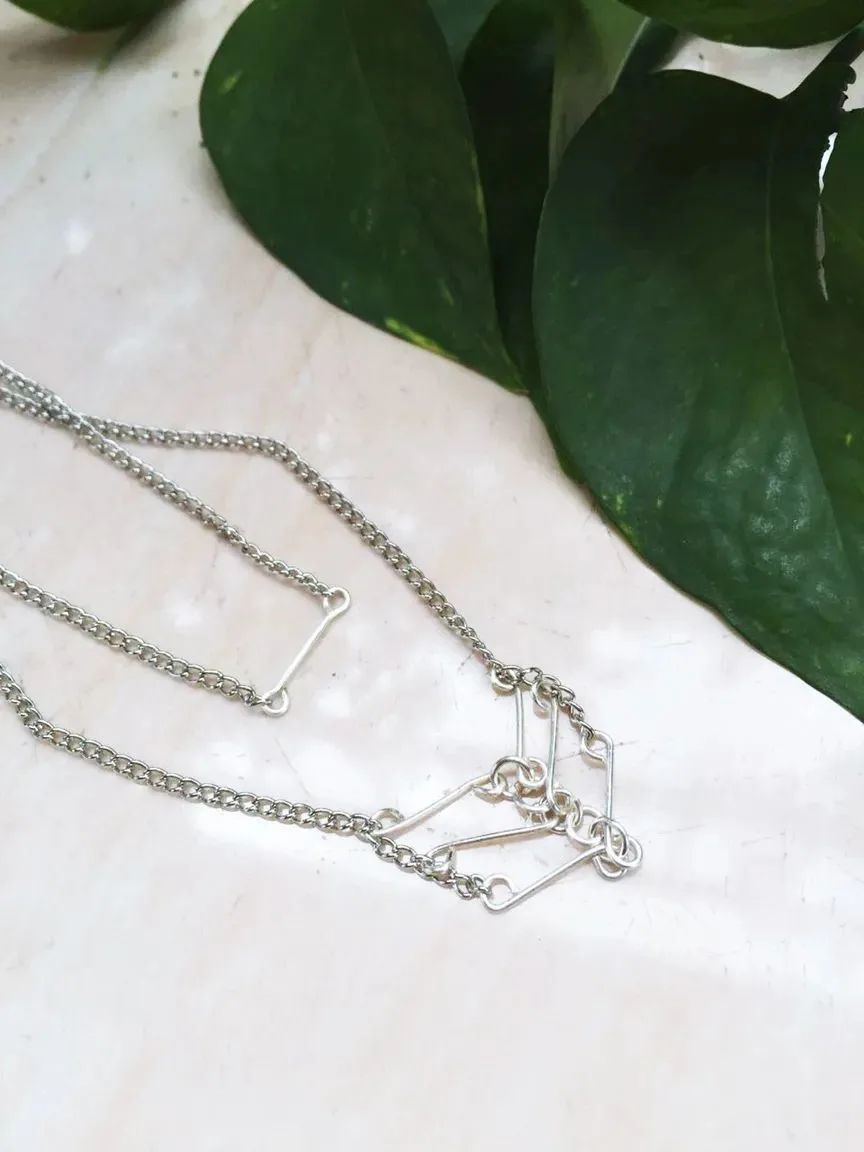 Source: craftbits.com
Wire jewelry is seriously underrated. They can be chunky and edgy, sleek and chic, and just downright fabulous all at once, so let's see how to make this one!
Don't let the intricate design fool you, this is actually pretty easy to recreate. You will need jewelry wire, pliers, and a length of chain. It all comes down to your looping technique, so feel free to practise with scrap wire first.
Finally, when you get the hang of it, feel free to play around with the design all you want!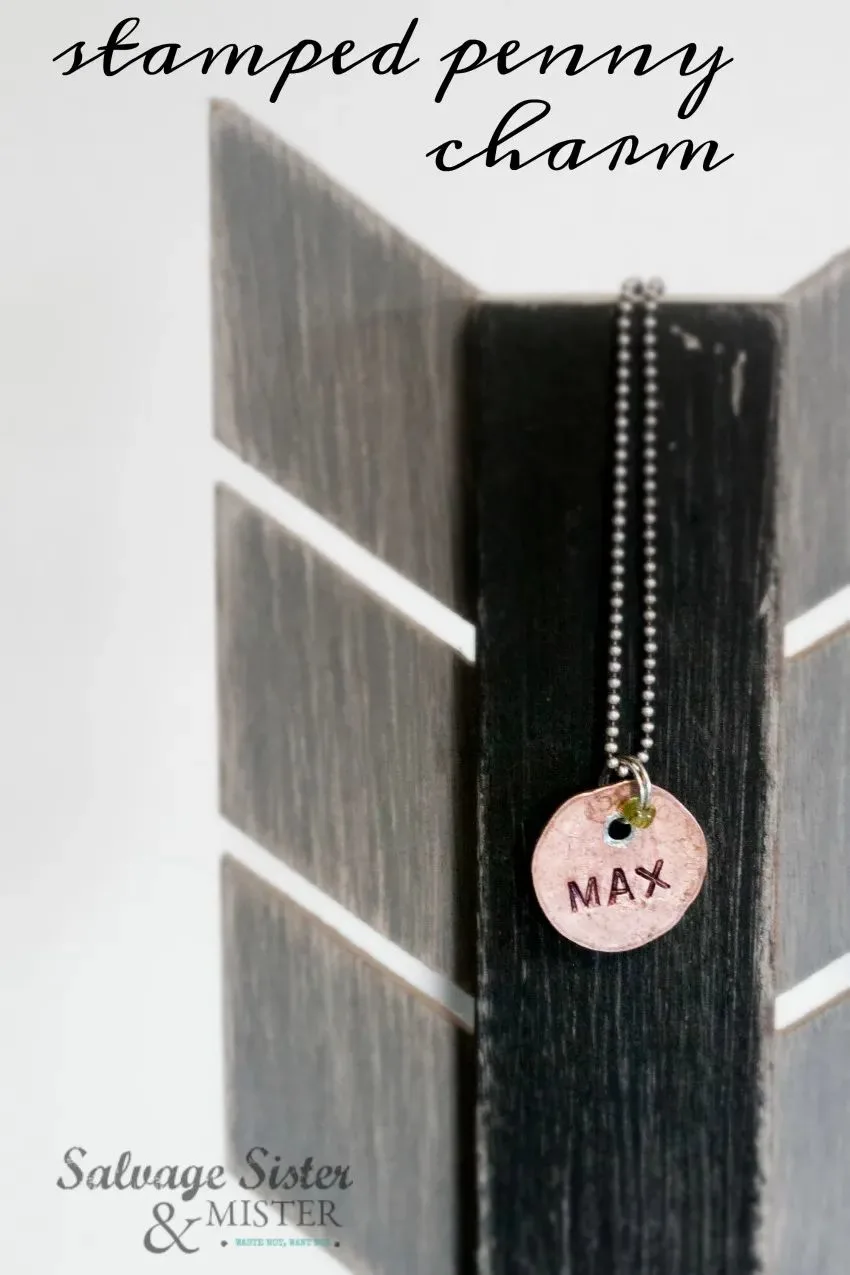 Source: salvagesisterandmister.com
Have you ever found a penny on the street that you felt brought you luck? I find that putting this lucky talisman in my wallet is a little risky.
Well, lucky pennies deserve to be carefully protected. You can't just slip one into the pocket of your jeans lest you accidentally gave it away.
Instead, you can play around with a little and turn it into a personalized stamped penny charm you can wear around your neck as a necklace.
Just pick up this stamping kit to get started.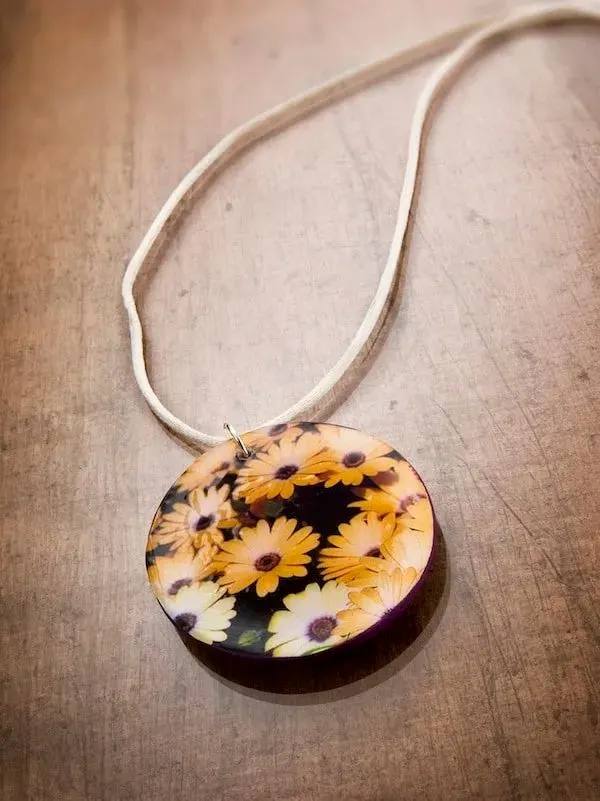 Source: modpodgerocksblog.com
Have you ever noticed how beautiful seed packet covers actually are? What if I told you that these seed packets hold a rather unique decoupage art project opportunity?
By saving the covers, you can use mod podge to adhere the pretty covers to your pendant base of choice. You can decorate it, as well, with colors, little embellishments, and more.
You can pick up your seed packets for just a dollar or so at a local garden shop, or even a dollar store!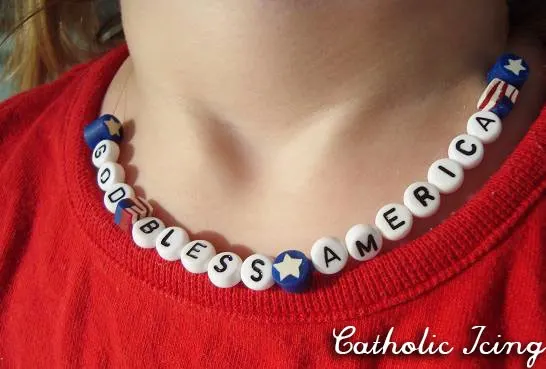 Source: catholicicing.com
The 4th of July holds a ton of opportunity for you to embrace the spirit of patriotism and show your love for your country. How? Well, perhaps you can start with a cute necklace like this one.
Here's what you will need to make this patriotic necklace:
Letter beads from here
Elastic string
Polymer clay kit
You can use the polymer clay kit to fashion little patriotic beads. When you're done, just string the beads and the letters through the elastic string, and your patriotic necklace is ready!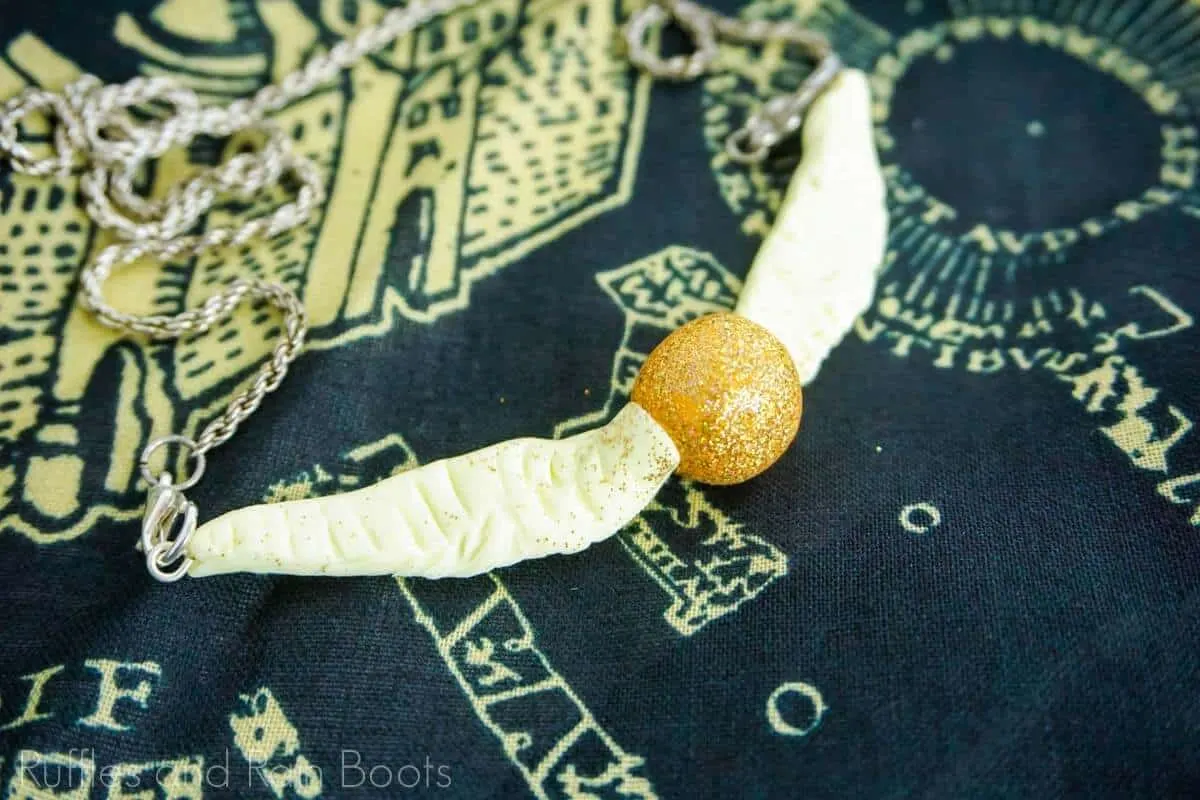 Source: rufflesandrainboots.com
This golden snitch necklace is exactly what every Potterhead—the truest of all Harry Potter fans—needs. What better way to honor your love for the series than with a snitch around your neck?
I hope you still have some clay left from your previous project. You can use it to make the body of the snitch. You will also need gold glitter, clay glaze, and a couple of jump rings and eye rings each.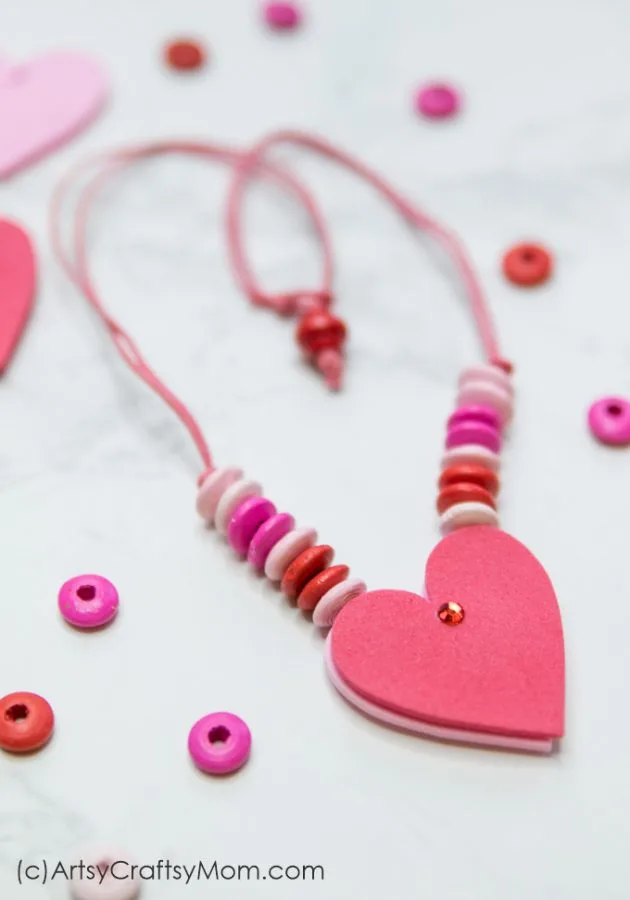 Source: artsycraftsymom.com
Do you want to embrace all the hearts and colors of Valentine's day to the very last detail? Then start off by making one of these heart-shaped necklaces.
Can you see all those Valentine colors? You've got all those shades of reds, pinks and purples that stand out like a traffic cone.
So, grab a few wooden beads from your craft supplies, as well as some nylon cord. You can either make the little hearts out of foam or felt, or just buy them ready-made online.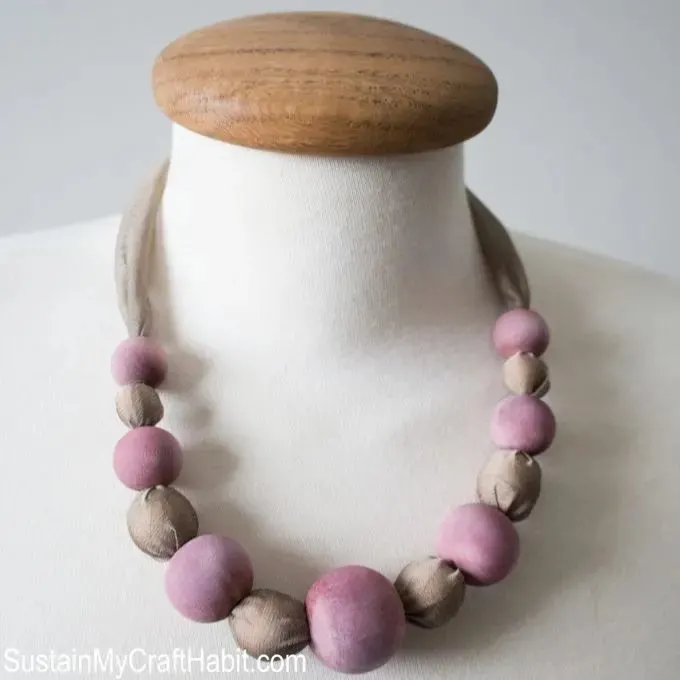 Source: sustainmycrafthabit.com
Nothing classes up an outfit like silk. If you've seen fashion magazines, you've probably seen how women fashion silk scarves into neckpieces.
Well, this might not be a Hermes scarf, but it's bound to be fun to make. You'll be sewing the entire project, so go ahead and set up your sewing machine.
Also, just remember to give yourself some room as seam allowance when you're sewing!
Yield: DIY necklaces
41 DIY Necklace Ideas Anyone Can Make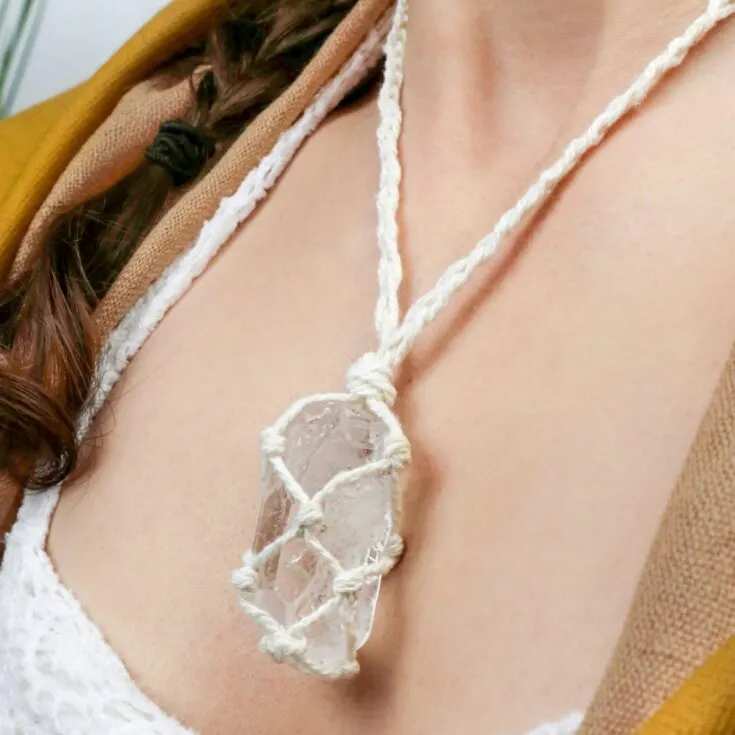 Make your very own DIY necklaces! These necklace ideas are easy to make, cute, beautiful, and perfect for accessorizing.
Materials
1. DIY Stone Necklace
2. Scandinavian Hoop Necklace
3. Simple Gemstone Beads
4. Tassel Chain Necklace
5. Upcycled Fabric Pendant
6. Feather Perler Bead
7. DIY Bead Pendant Necklace
8. Leather Fringe Pendant
9. Heart Necklace
10. Resin Pendant
11. Knit Bow Necklace
12. Macrame Sea Glass
13. Painted Wood Bead
14. Mixed Media Necklace Pendant
15. Dreamcatcher Necklace
16. Tassel Ghost
17. Butterfly Wing Necklace
18. Resin Pendants with Organic Flowers
19. Resin Feather Pendants
20. Emerald Necklace
21. Upcycled Gift Wrap Resin Jewelry
22. Fairy Dust Necklace
23. Clay Essential Oil Necklace
24. Aztec Clay Pendant
25. Clay Beads
26. Pressed Leaf Pendant
27. Butterfly Necklace with Vintaj
28. Soda Tab Gemstone Necklace
29. Shrink Plastic Pendant
30. Salt Dough Shell Pendants
31. Christmas Necklace
32. Denim Necklace
33. Photo Pendant
34. Washer Necklace
35. Wire Necklace
36. Stamped Penny Charm
37. Seed Packet Pendant
38. 4th of July Necklace
39. Golden Snitch Necklace
40. Valentines Day Necklace
41. Silk Necklace
Instructions
Choose the necklace you want to make.
Gather your supplies.
Get crafty!