These IKEA headboard hacks offer a fun way to elevate your bedroom decor. So, get creative with your IKEA furniture and decorate your bedroom on the cheap.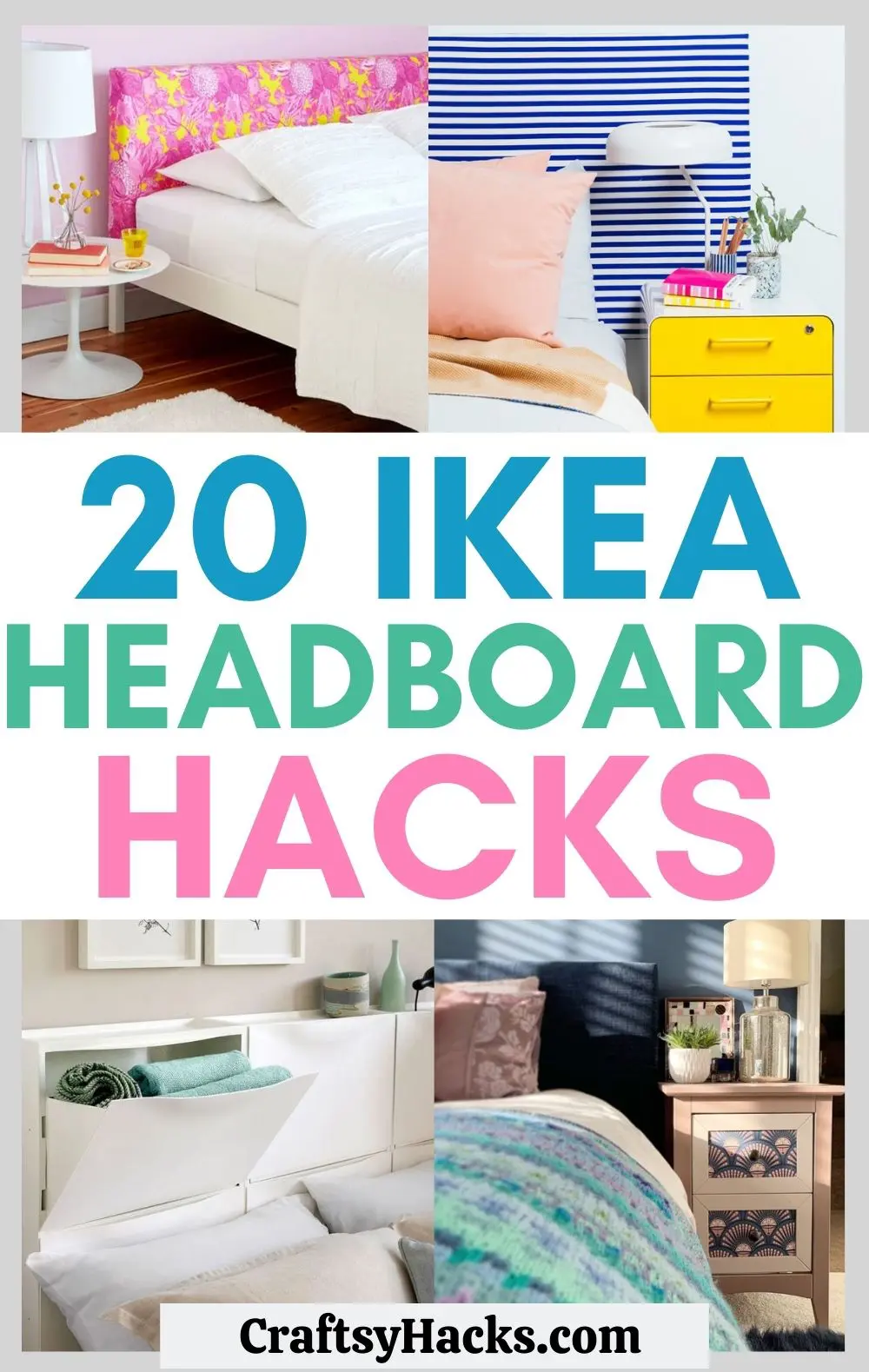 Headboards are one of the easiest ways to dress up your bedroom. They provide a focal piece for the eye, a resting place for your back, and a wide-open expanse to use as your creative playground.
The problem is, headboards can cost a pretty penny from traditional bedding and furniture stores. But what if you didn't have to shell out for them? What if, instead, you could create your own for much less?
Enter IKEA. Using these easy-to-assemble Swedish furniture pieces in some exciting ways, you can have your own unique headboard that will make you proud.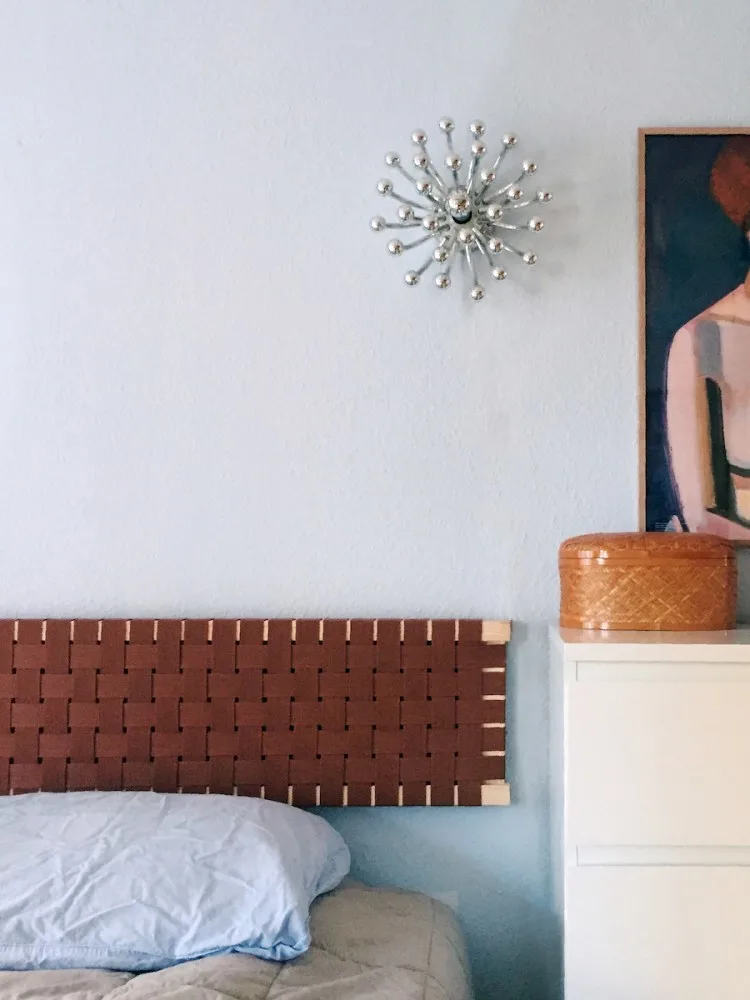 Credit: domino.com
Starting off with a hack using the IKEA Ivar, and I'm already infatuated. This clever creator found inspiration in a Finnish chair design, then refurbished an Ivar bookshelf frame with some nylon webbing.
This is a versatile hack, working for beds of any size thanks to the wide range of Ivar sizes. Your only hindrance is how much nylon webbing you have in stock, but thanks to Amazon, you'll have no shortage.
Curious about some other ways to use the Ivar? These low-budget IKEA Ivar hacks will give you some inspiration.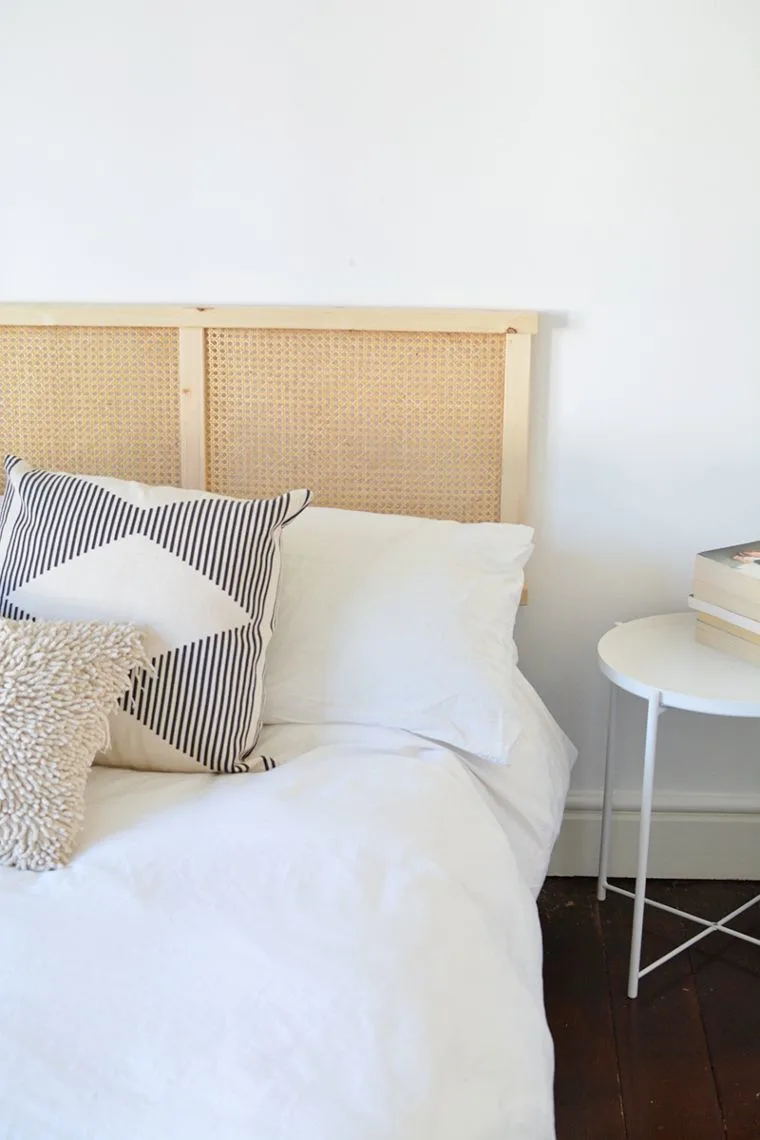 Credit: burkatron.com
Speaking of the Ivar, here's another way to use the frame… but we've gone a little bit beachy this time. Embrace coastal vibes and a batch-like aesthetic by backing your Ivar frame with sheets of cane.
Not only is this headboard super easy to pull together, but it's also ideal if you like to shift your décor schemes often. With a gentle appearance and versatile style, this is perfect for the changeable decorator.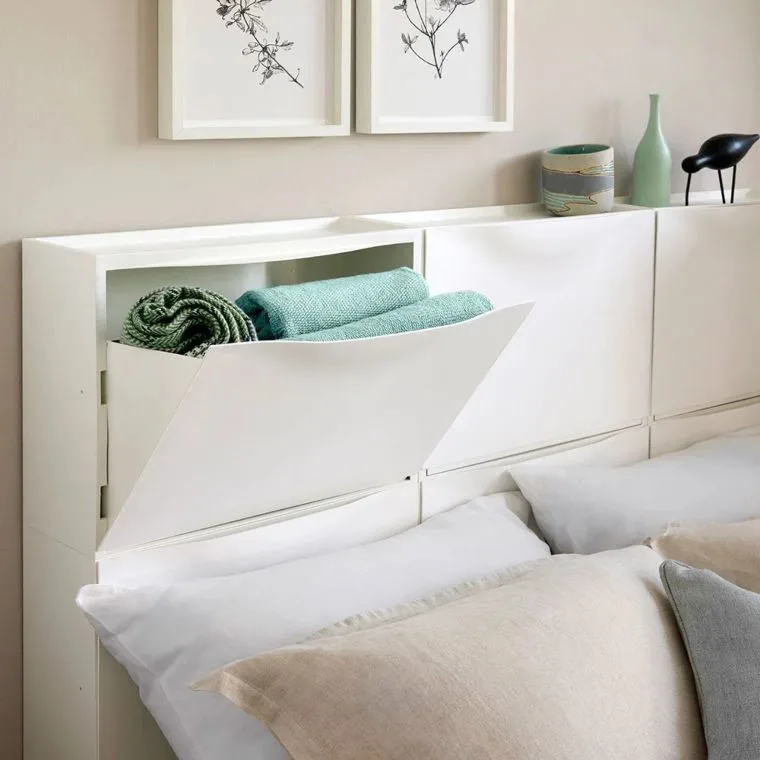 Credit: ampproject.org
Let's talk about storage. As we all know, storage is tough to come by (no matter how much space your home has). That's where I guarantee this genius headboard hack will change your life.
Rather than journeying to the hallway closet or stuffing your in-room wardrobe with unnecessary items, simply store them discreetly in your headboard. Blankets tuck smoothly away, and you're none the wiser.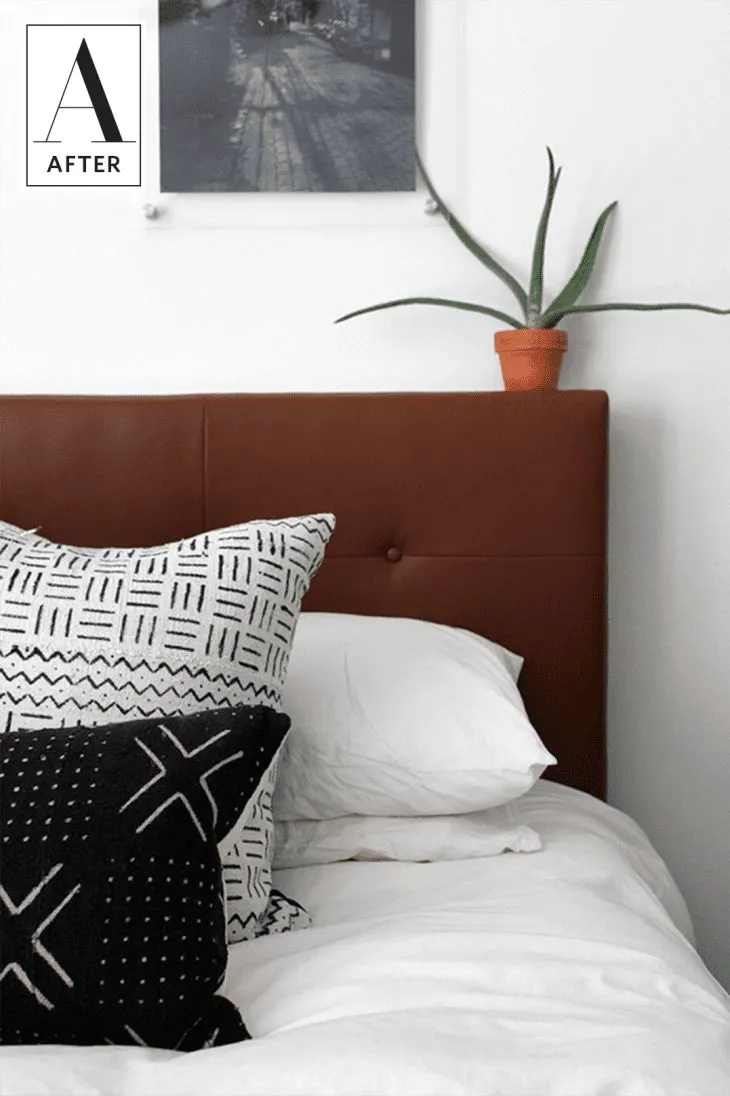 Credit: apartmenttherapy.com
Next up is an incredible hack that will take your basic IKEA headboard from zero to hero (without decimating your bank account). Start off with the Hemnes bed frame (including headboard) and get to work.
Bear in mind that this particular hack will require quite a few hours of work. However, the stunning and durable result will be worth it. Pick up a gorgeous leather fabric of your choice (I like this) and go to town!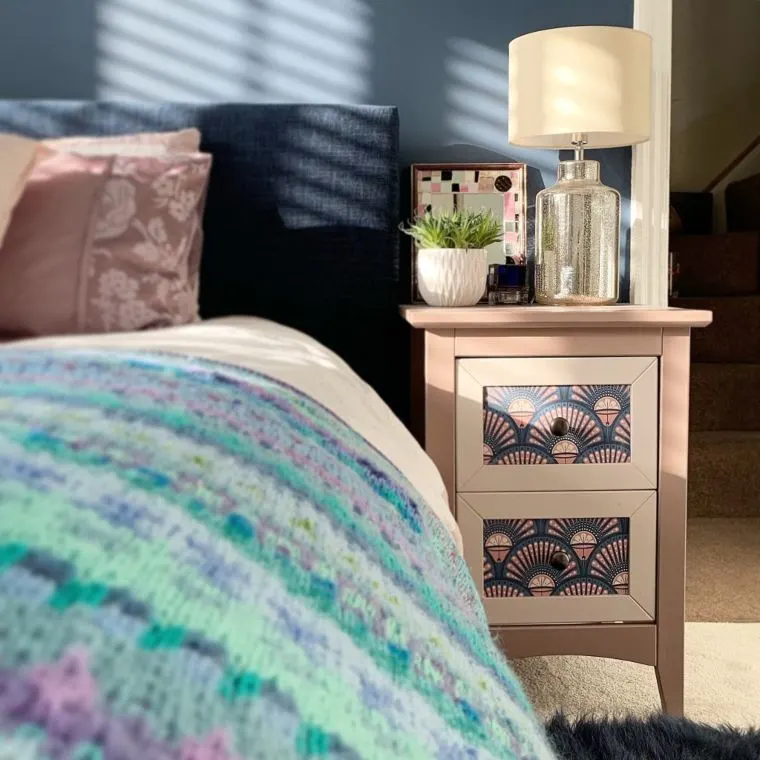 Credit: littleterracedhouse.com
The IKEA Malm headboard is just fine, but it's not great. However, with a little effort and a coordinated fabric choice, you can have an upholstered headboard worthy of a magazine cover.
Not only does upholstering a headboard make it look better, but it also makes it so much more comfortable! Trust me, you'll much prefer leaning back on this cushioned board than its predecessor.
While you're at it, why not elevate your kid's room as well with these 20 fun IKEA kids' room hacks?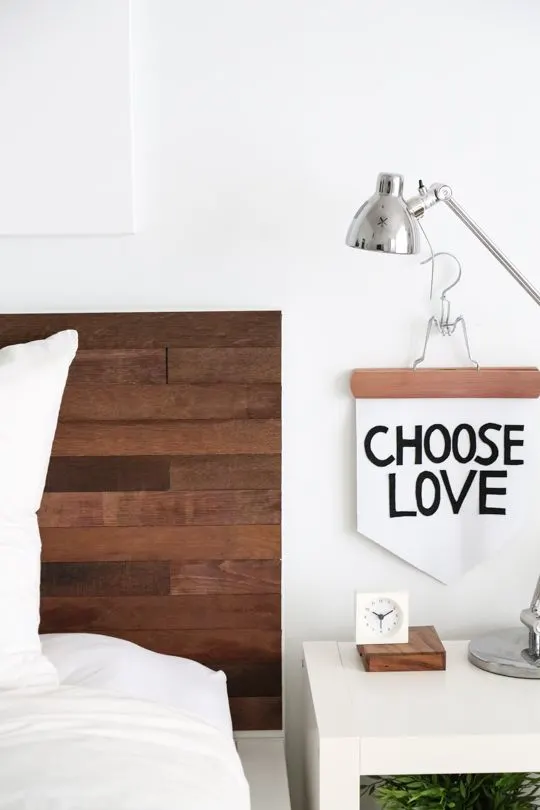 Credit: sugarandcloth.com
Starting off with a basic IKEA headboard of any kind, you can have a gorgeous new bedroom addition complete with wood planking. Best of all, you won't have to touch your drill or hammer at all!
Thanks to an ingenious invention called Stikwood (find it here), you can upscale your headboard with gorgeous, reclaimed wood easily. Simply cut into pieces, peel the backing, and stick into place.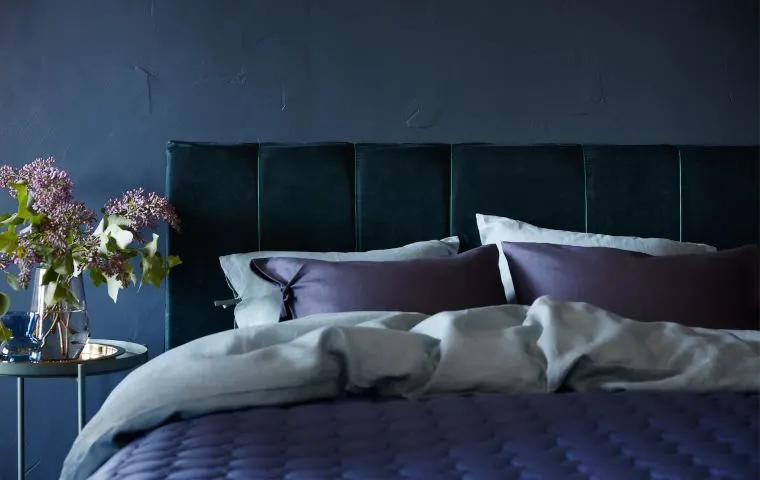 Credit: ikea.com
This hack comes directly from the IKEA gods themselves, so you just know it's going to be good. Using the Malm bedframe and a Sanela velvet curtain (as well as some sewing expertise), you can have a luxe headboard.
I love that IKEA uses a curtain instead of recommending you buy the velvet directly, as that can get expensive fast. Make sure you have enough foam to cover your headboard, as that creates the distinct panels.
Bit short? No problem, just grab some here.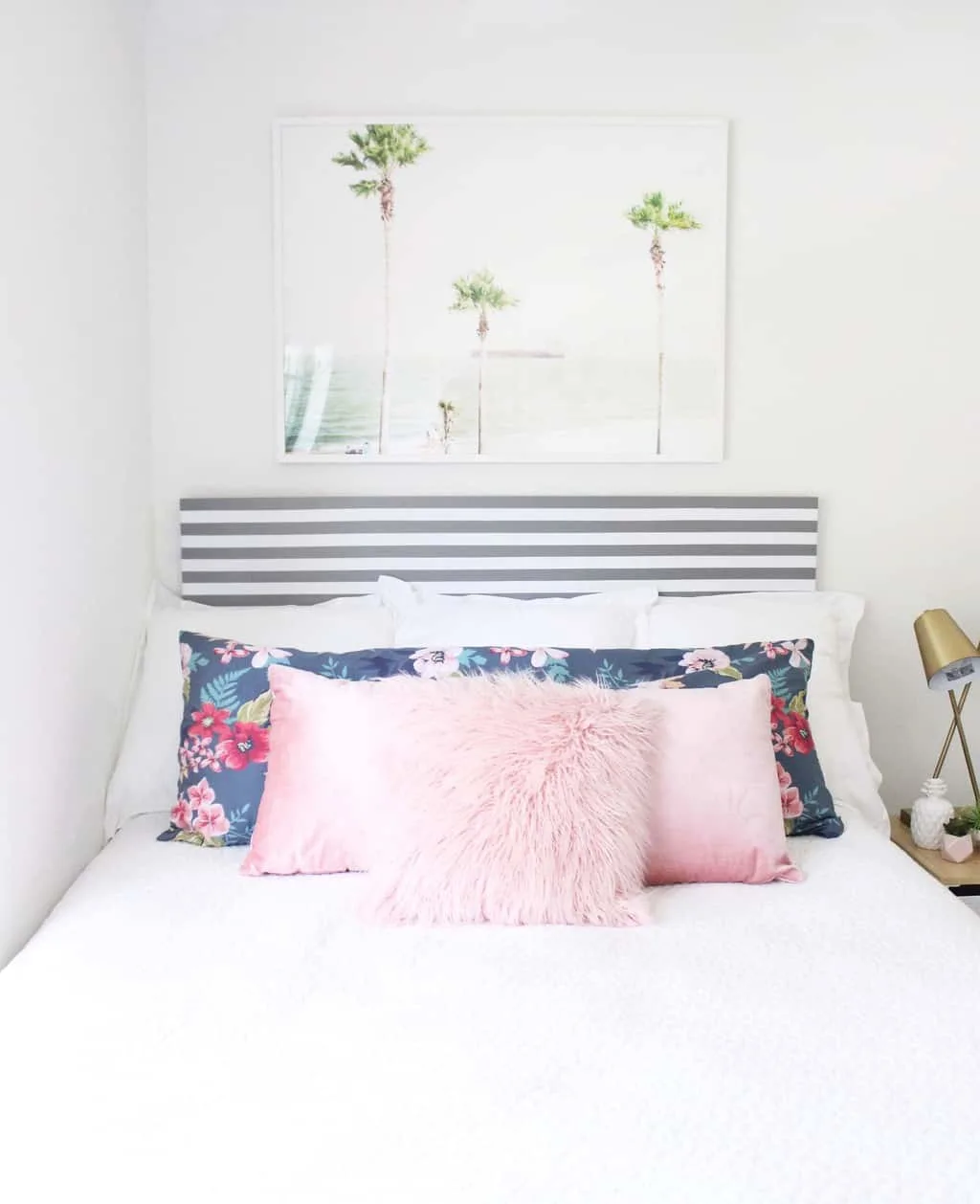 Credit: prettyprovidence.com
Here's another take on the headboard hack revolution: transforming an IKEA desktop into a headboard! This is perfect for smaller bed sizes, so it would be an ideal choice if you were changing a kid's room.
Best of all, you don't need to get messy with any paint if you don't want to. To create the stripes, simply whip out some vinyl tape like this to adorn your new headboard. Once you're done, mount it and enjoy!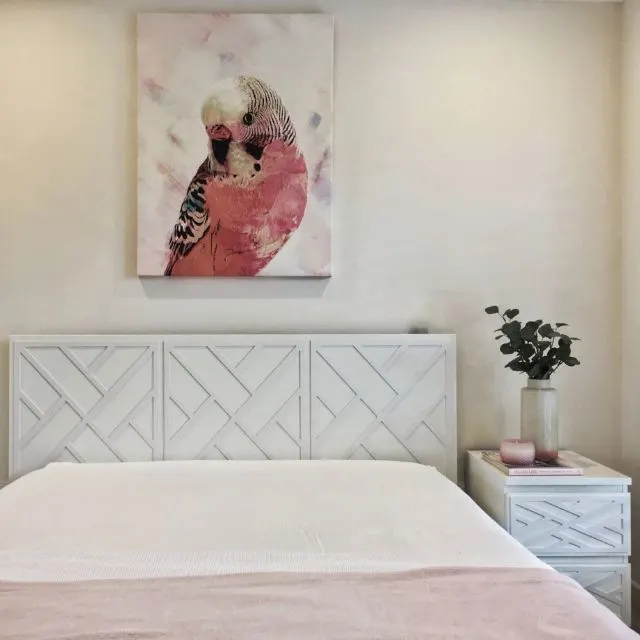 Credit: theinteriorsaddict.com
Using the IKEA Malm headboard as your base, you can take a trip back in time to the Roaring Twenties or even further back with a Greek-inspired design. The key? Peel-and-stick Perspex panels.
Choose from mirrored, read-to-paint, or metal varieties of the panel to truly embrace the customization possibilities. These create an embossed look on your flat headboard, effortlessly elevating it to a new level.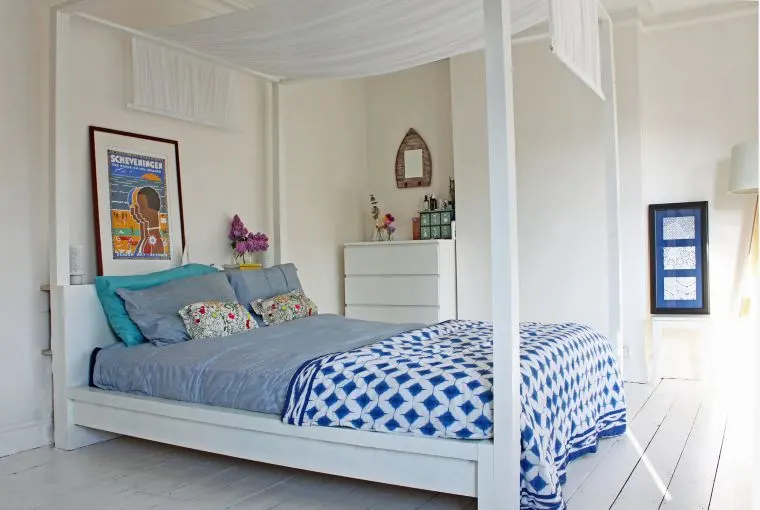 Credit: hestershandmadehome.com
Four-poster bed frames are typically the domain of the wealthy, but who says they have to stay that way? You can create your very own luxurious four-poster bed using the IKEA Malm bedframe and a little elbow grease.
This hack uses a bookshelf as the headboard piece, offering an easy resting place for flowers, art, and other bedrooms knick-knacks. Then, the recycled timber posts stand guard at the corners.
This isn't the only way you can transform a basic bed frame into something new (as evidenced by this list). Check out twenty more beautiful IKEA bed hacks!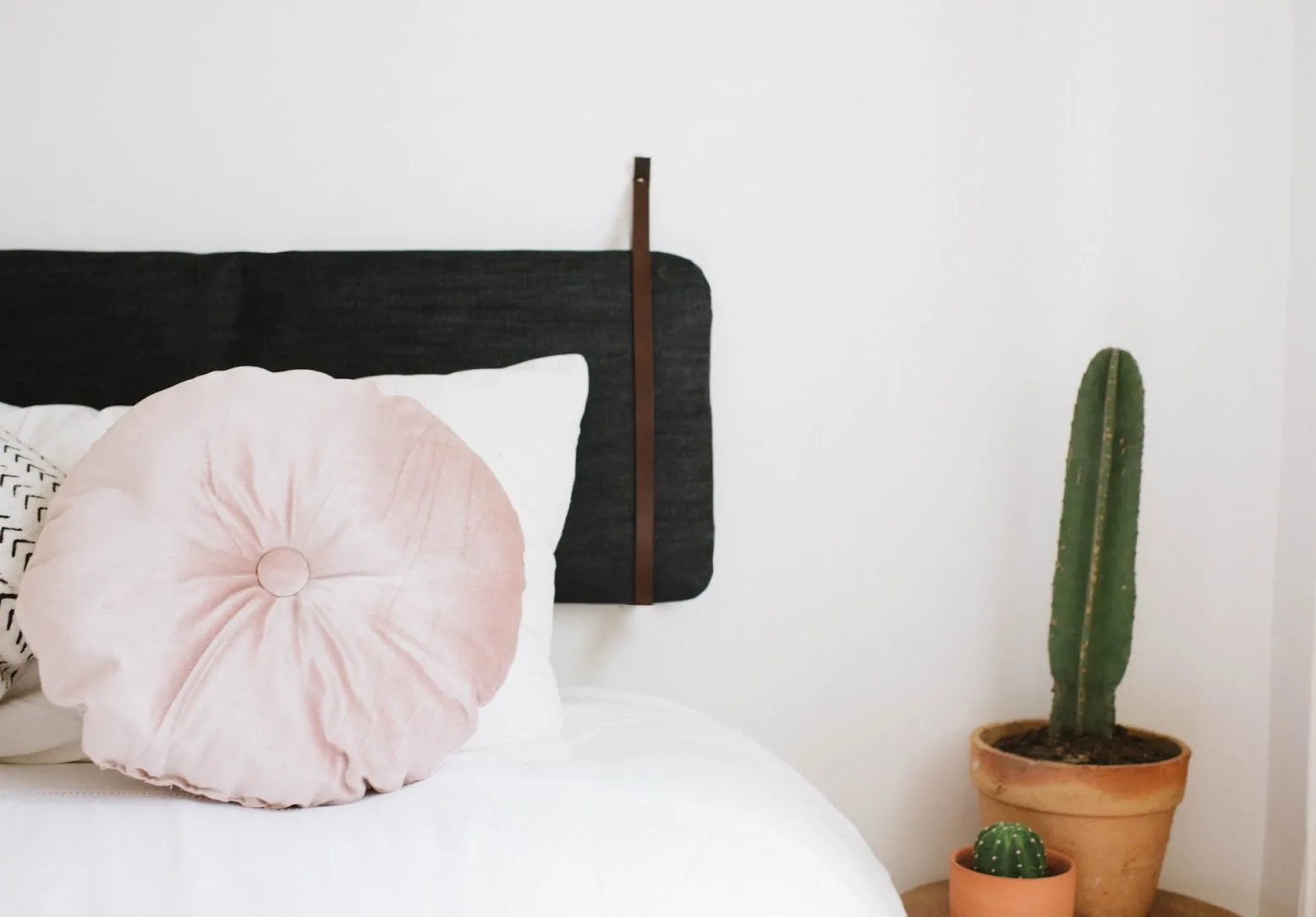 Credit: collectivegen.com
Sometimes, all we want in the world is a bit of simple comfort. That's precisely what this headboard provides. However, it goes about it a little differently… can anyone say IKEA bench cushions?
That's right, you can take some IKEA bench cushions, reupholster them in your chosen fabric, and anchor them to your wall using leather straps. It's such a straightforward idea, but I think it's genius.
I love the combination of denim and leather used in this tutorial. If you do, too, you can find the denim here and the leather for the straps here.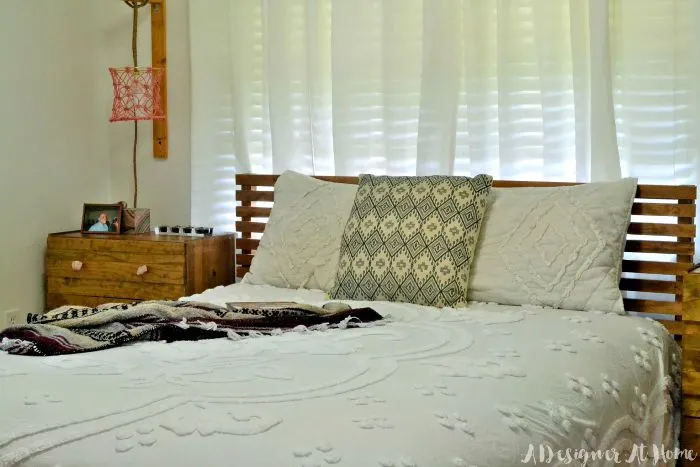 Credit: adesignerathome.com
Solid wooden bedframes get expensive fast, and mid-century inspired rusticism only drives up the price. Luckily, IKEA has a solid wood Tarva bed that can fulfill your mid-century dreams with a few alterations.
The slatted headboard hearkens back to rustic barns, old wooden doors, and slatted window shutters swaying in the wind. The idea is to update the existing headboard, so whip out your drill (find one here).
This is an excellent project for beginner craftsmen. It helps you get comfortable with woodworking without demanding a lot of cutting from you. Just buy pre-cut 1×2 slats, and you're good to go.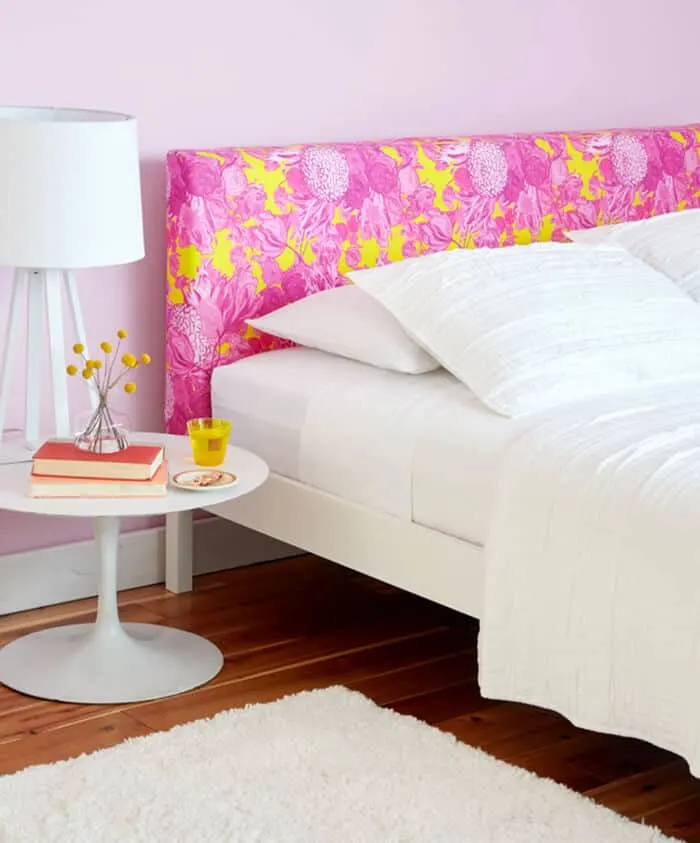 Credit: stylebyemilyhenderson.com
The key to this headboard's success lies not in the upholstery technique (which is fairly standard) but in fabric choice. Setting an insanely colorful headboard as the focal piece of an otherwise minimal room?
Genius.
Once you've painted your IKEA Tarva white (try this matte color), you can upholster it with the fabric of your choice. I recommend stark white bedding and walls, as this will really help the headboard pop.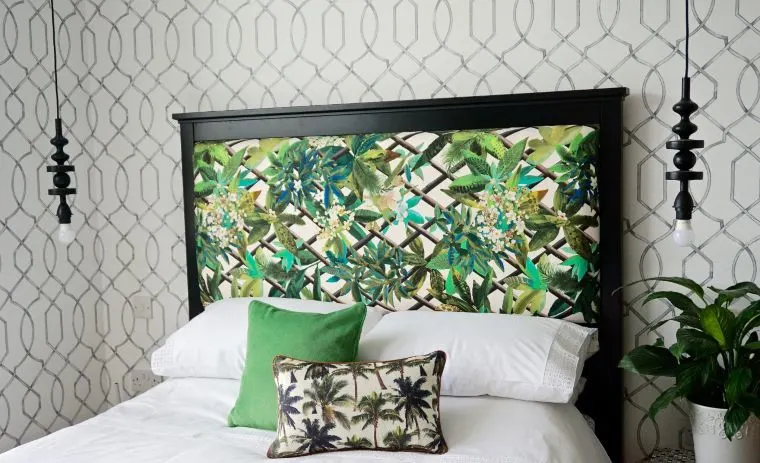 Credit: moregeous.com
This next hack takes the upholstering idea to a whole new level, creating a black frame around an upholstered section of the headboard for a modern look. This is not only stunning but also a versatile technique.
I challenge you to pick your most gorgeous, beautiful fabric, that one you've been saving for something extraordinary, and use it. Your headboard will shine out from behind the bed, and you'll love every inch.
You'll be creating a separated upholstered pad and affixing that to your existing headboard, so you have the ultimate freedom to choose how thick it should be. I say, go thick or go home with your foam (here).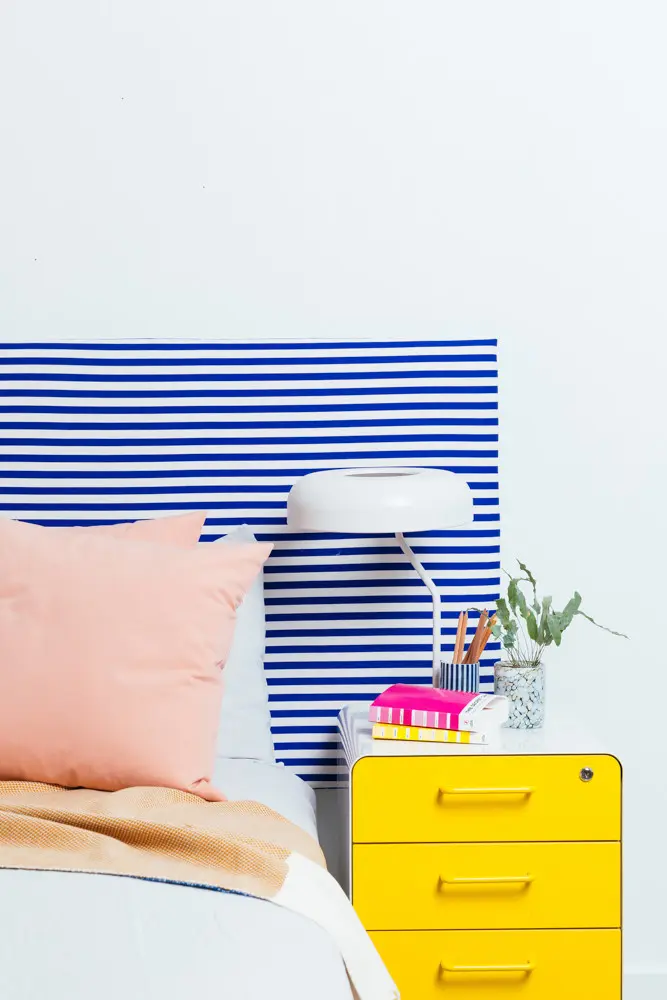 Credit: domino.com
Staples, patience, and a love of all things striped. Those are the three things you need to bring this headboard to life. I love how bold and dynamic the pinstripe pattern is here, and it's perfect for color blocking!
So, how do you create it? Start off with the Ryggestand tabletop (yep, tabletop), then upholster using the standard method with your chosen pinstripe fabric. Then, mount it as a floating board with a frame hanger (here).
You think that's unique? Check out these IKEA desk hacks. They'll blow your mind!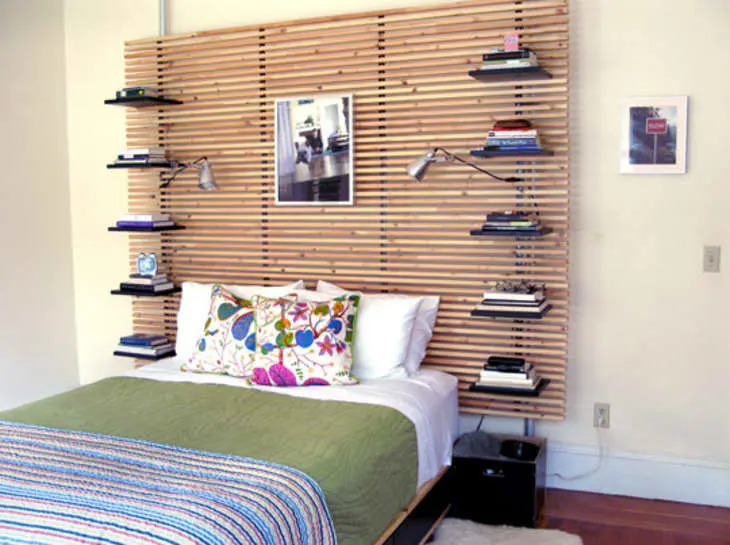 Credit: apartmenttherapy.com
This one is a hack that will go down in history. It combines incredible storage capacity, minimalist style, a gorgeous display layout, and it doesn't damage your wall? Sign me up right now!
As a dramatic wall installation, this headboard should logically damage the wall it's affixed to. However, if you choose to mount it on IKEA's Stolmen posts instead, then your walls remain untouched! Genius.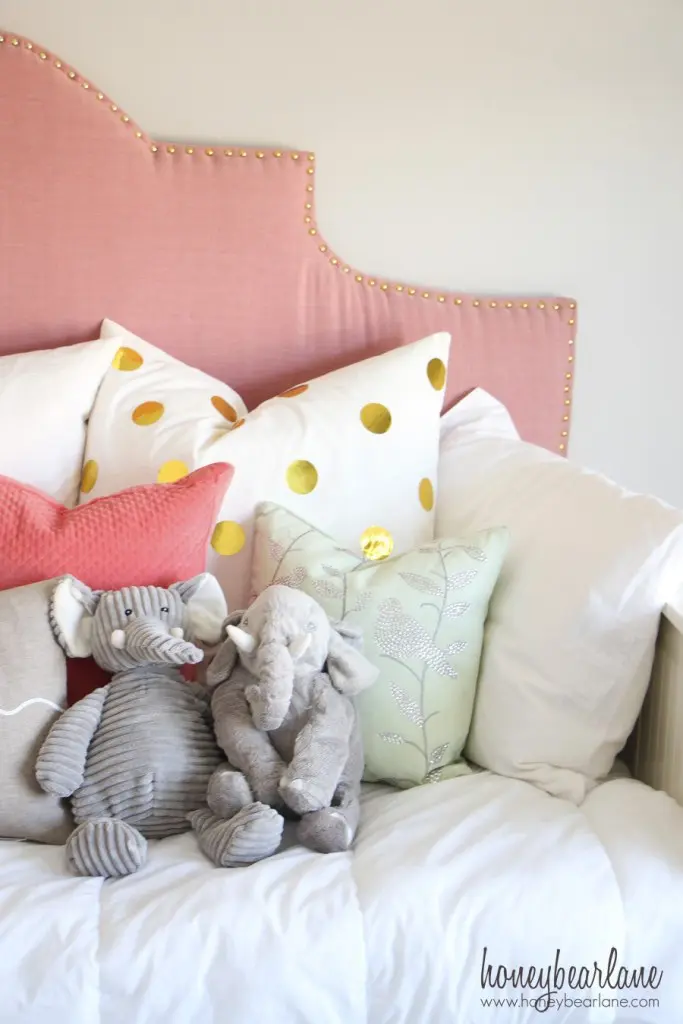 Credit: honeybearlane.com
The standard Hemnes daybed from IKEA is already good, thanks to its storage and versatility. However, it looks a little… meh. This clever crafter chose to solve that problem by installing a gorgeous statement headboard.
The headboard is like something straight out of a princess castle, with a stunning shape and rivets (like these) lining the edges for some extra shine. Remember, you can take this in any direction you like.
Making it for your child? Choose their favorite color to use for the fabric. Feeling a darker color scheme? Go modern and bold with black velvet like this and chrome rivets.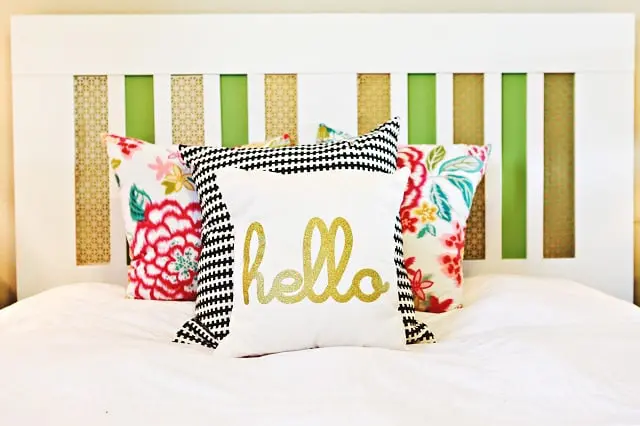 Credit: ikeahackers.net
Although these inset stripes might look intimidating to create, they're actually a lot simpler than you might expect. Using a combination of paint, brass, and extra wooden slats, you can have your own bold headboard.
Begin by painting the back layer of the headboard your chosen color. Then, trim your brass paneling to the correct stripe width (taking care to cut straight). You'll need some wire cutters like this.
Now, all that's left is to space out the brass paneling on your assembled headboard, bordering each piece with a white slat to create an inset appearance. See, much easier than expected!
Credit: wohngoldstueck.de
Your Malm bedframe has so much potential, so why not explore something a little… beachier? That's exactly what this German DIY genius did with their wicker headboard upcycle.
Using a sheet of wicker and some light wood oil, you can have an asymmetrical headboard borne straight from the pages of Architectural Digest. Remember, keep the oil light (like this) for a cohesive look.
If you're a fan of the shabby chic look, you can migrate it to the other rooms in your home too! For example, why not true out some of these shabby chic kitchen décor ideas?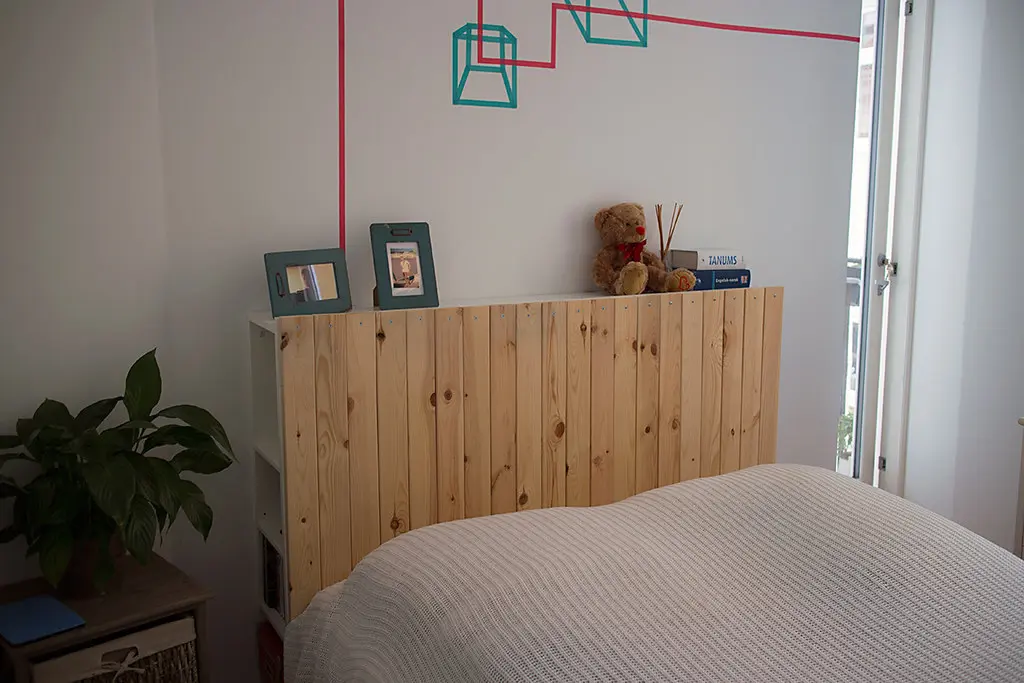 Credit: charlesravndal.com
The final IKEA hack on this list is another one embracing the beauty of natural wood paneling. Still, this time, we're using the Brimnes as a base! You don't even need to buy more wood; just use base slats to panel.
Using just a few screws, a drill, and a little elbow grease, you can transform this plain white headboard. Turn it into a gorgeous new installation (with a whole heap of storage potential).
So, which of these headboard hacks do you have on your radar? Are there any I missed on here that you'd like to suggest? Leave them in the comments below!