Have some buttons? Reuse these and make these button crafts – fun and easy to make.
Buttons can be a lot of fun to play with. They're colorful, quirky, and just what your craft projects need to add some jazz and pizazz.
They're one of those things that are always around when you don't need them, but never around when you do. So, to help you collect all your buttons and keep them all in one place, you'll need some incentive.
How do 37 button craft project ideas sound? Check these out!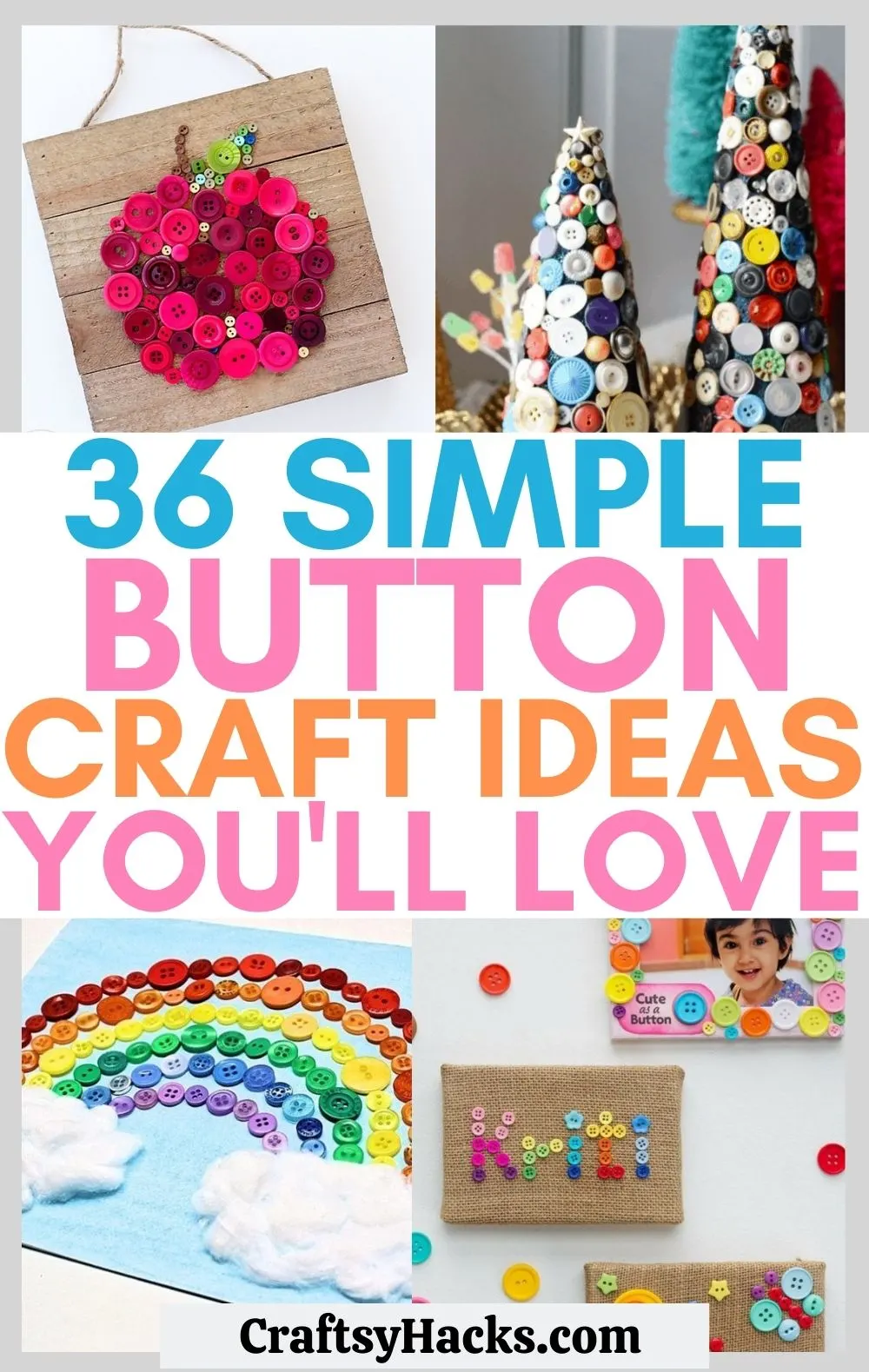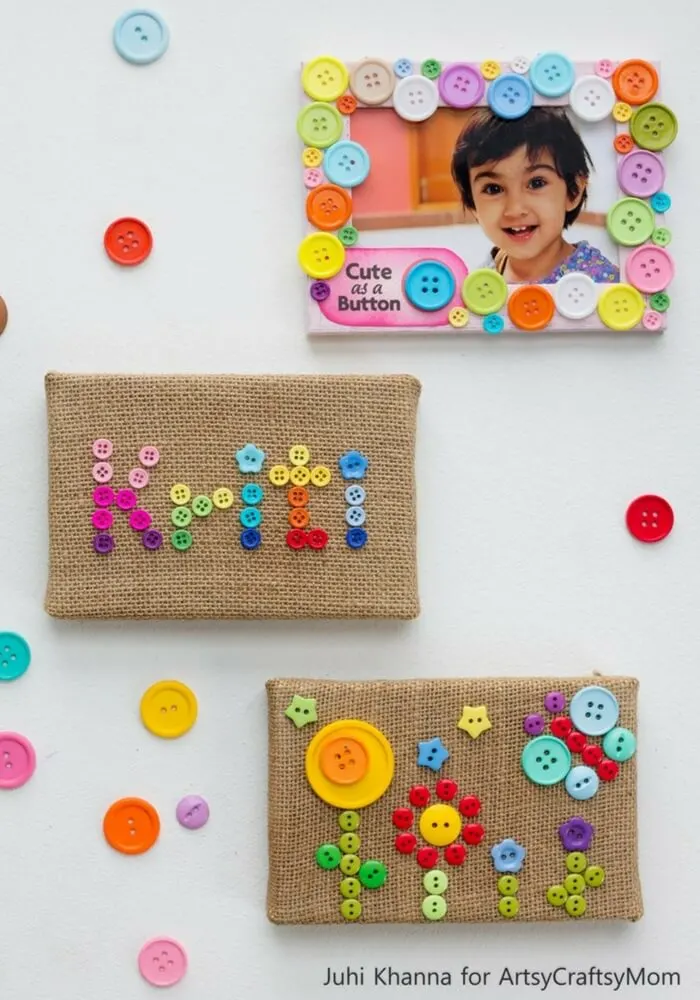 Source: artsycraftsymom.com
This cute-as-a-button photo frame is full of popping colors, fun and funky buttons, and even a little note that says it's a cute-as-a-button frame. That checks all boxes, don't you think?
First, grab a photo frame from here. You can also use an old frame you already have and upcycle it. It's a great opportunity to cover up any dings or dents it may have.
For a more snazzy finish, you can switch it up with the button sizes you pick. Alternate between bigger and smaller ones as you go, using the latter to help fill in any gaps along the way.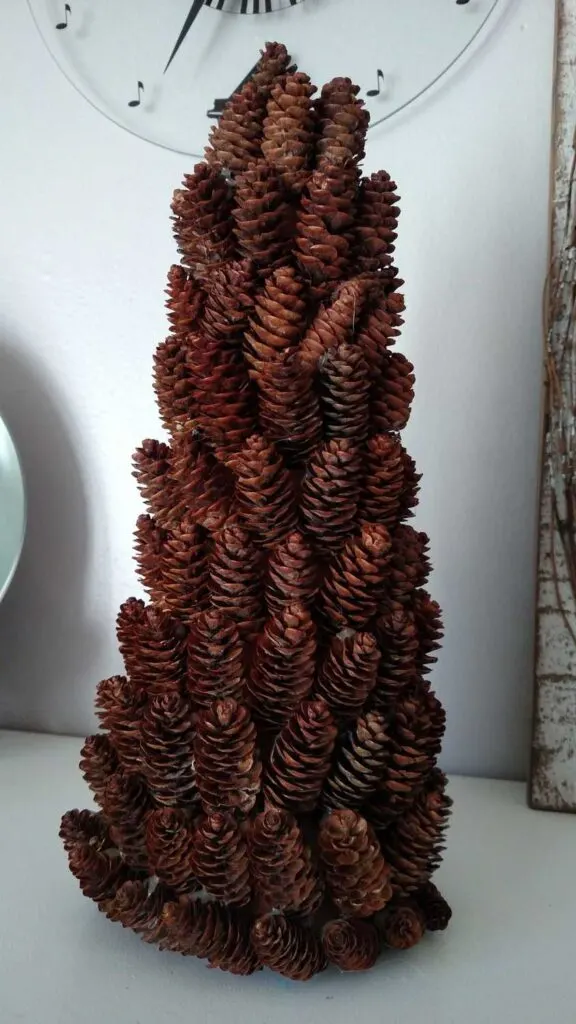 Source: b4andafters.com
We all have a button collection stashed somewhere in our dressers. I have quite the pile, I'll admit, but they really do come in handy when I'm looking to jazz up a craft project.
Take this pinecone tree, for example. Did you ever think to decorate this pinecone tree with a swirling string of buttons of all things? But that's the thing about buttons, they can really surprise you.
If you're enjoying a lovely fall season, then now is the chance to go outside and gather your pinecones rather than buying them!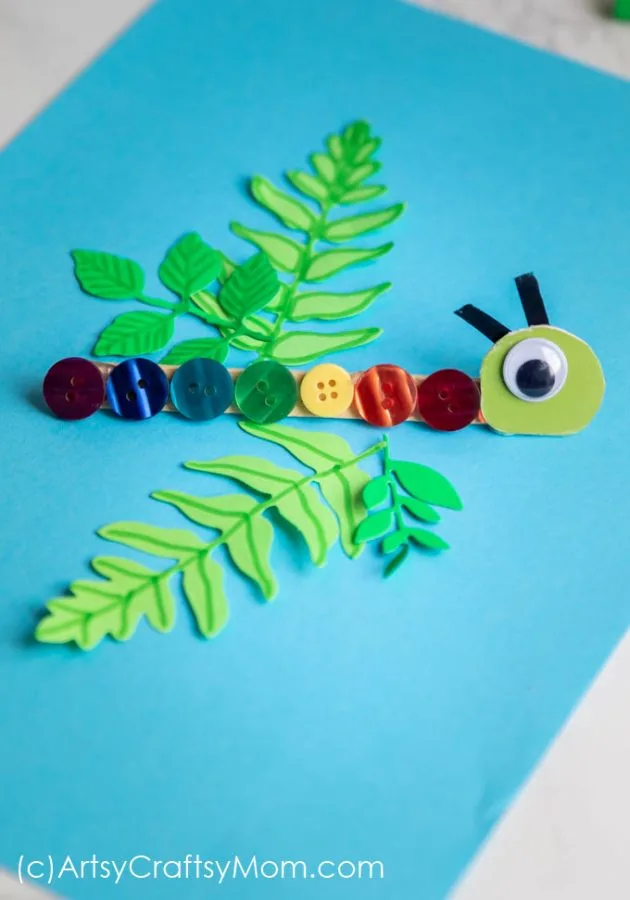 Source: artsycraftsymom.com
It seems like a natural thing to use up buttons to make a cute caterpillar, doesn't it? It's the perfect craft project to entice your little ones with.
It's also an opportunity for them to learn their colors. How? Well, what better way to teach them about the marvelous colors of the rainbow than to use rainbow-colored buttons?
Grab some black pipe cleaners from here to get started. If you find yourself with a surplus of leftover pipe cleaners, then here's what you're going to do: check out these pipe cleaner crafts!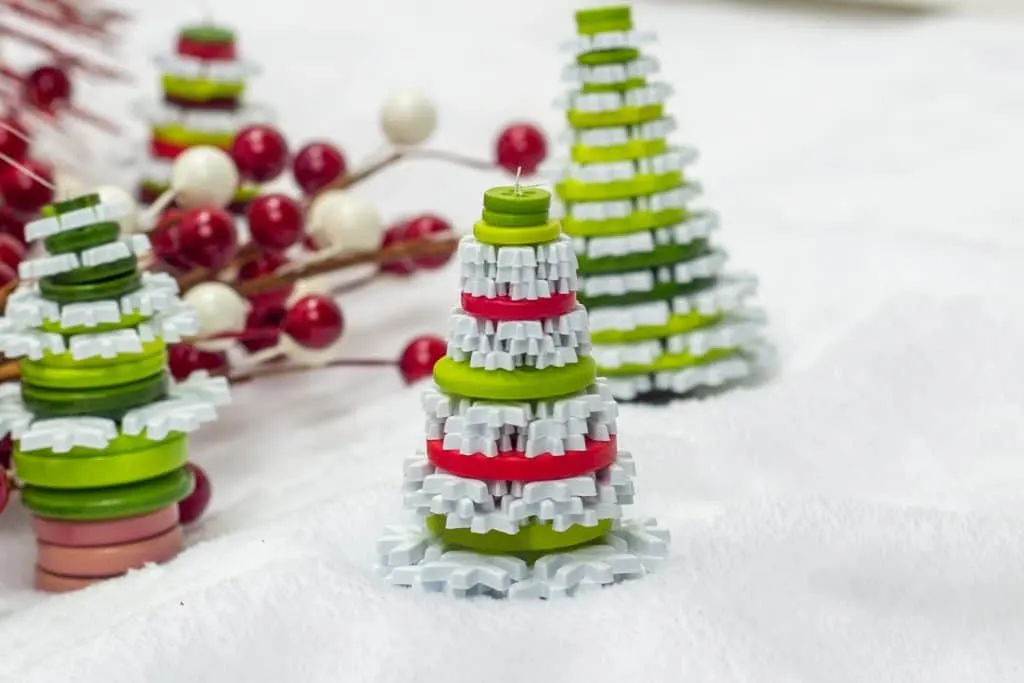 Source: beginnersewingprojects.com
When it's Christmas, there's always room for more ornaments on your tree. There's also always room for more buttons, too. How about a nice button tree ornament?
I think the hardest part would be to pick out the buttons you want to use. If you have a stash of buttons, then now is the time to dig into that stash.
You will also need a pack of mini snowflake embellishments. You can either switch out the colors for something bright and fun, or you can go with the traditional green and red combination.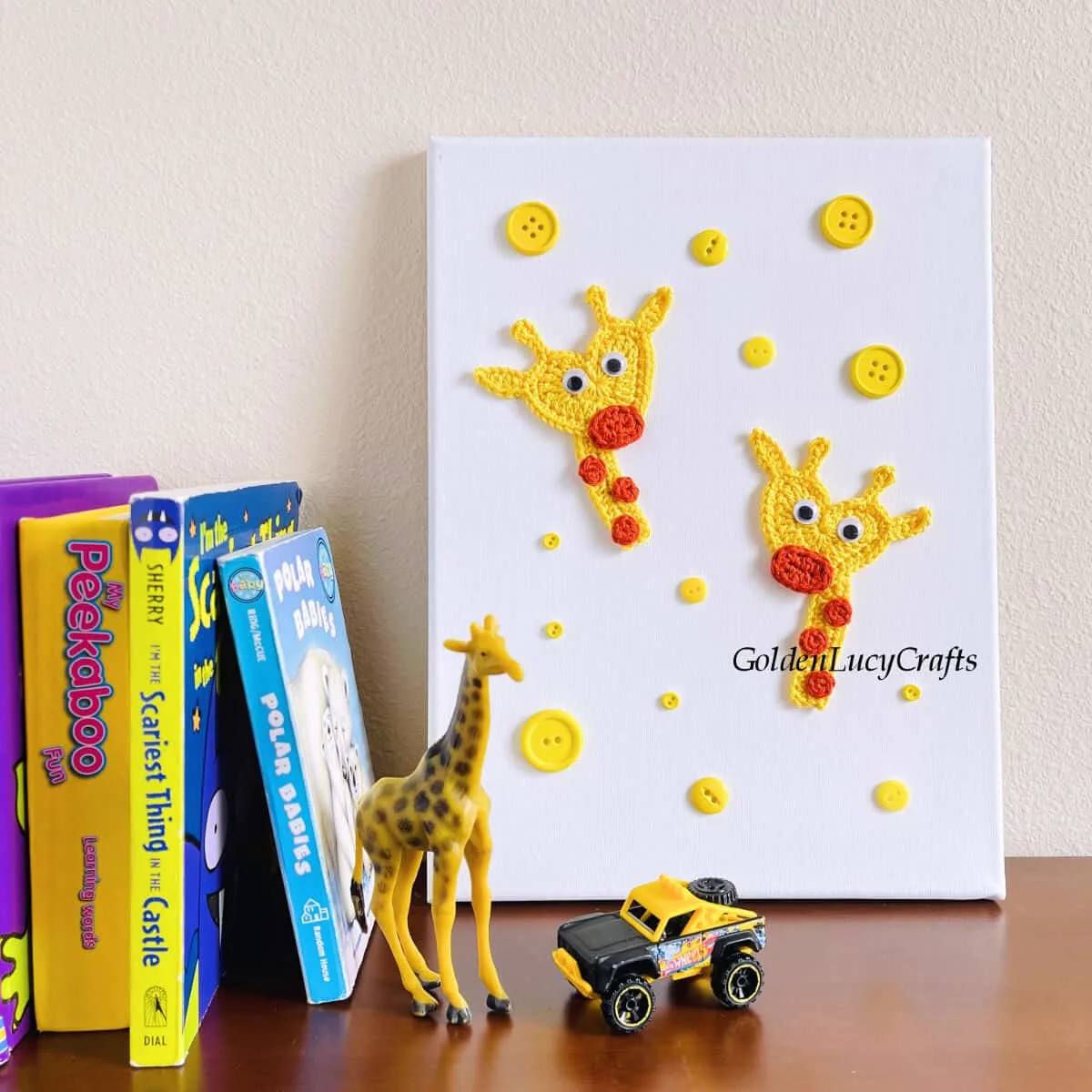 Source: goldenlucycrafts.com
Do you have a dab hand at crochet? Then I have a project for you that's going to blow your mind.
Think big—as big and tall as a giraffe! You're going to crochet these cute little giraffes and then for the finishing touch, you're going to embellish them with buttons.
Grab a couple of big yellow buttons first. Then, pick out your yarn from here. If you follow the pattern, you'll have your giraffe ready in no time. All that's left to do is to mount it up on a wall, et voila!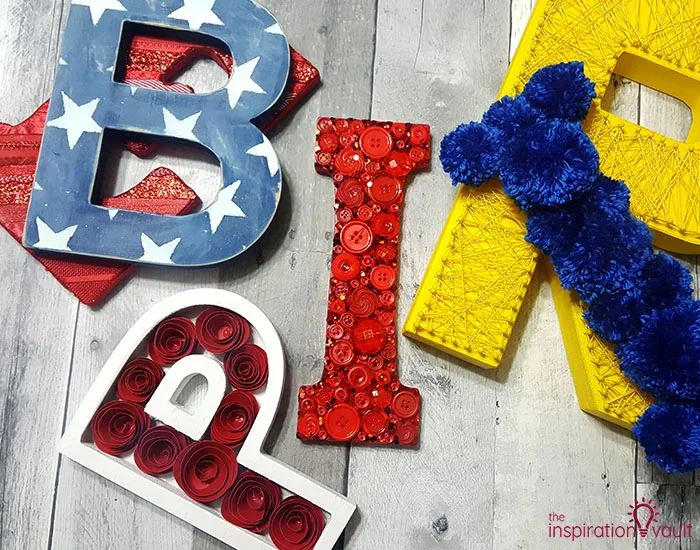 Source: ellemariehome.com
There's just something so inherently classy about anything that has been monogrammed. But what if I told you that it can be fun and quirky, too?
Check out these button-embellished monogram letters! They're inspired, don't you think? They're exactly perfect if you were looking for to add some color and glitter to your room.
There are so many ways for you to bedazzle these letters and they don't just involve buttons, you know. You can throw in some glitter and shine, as well.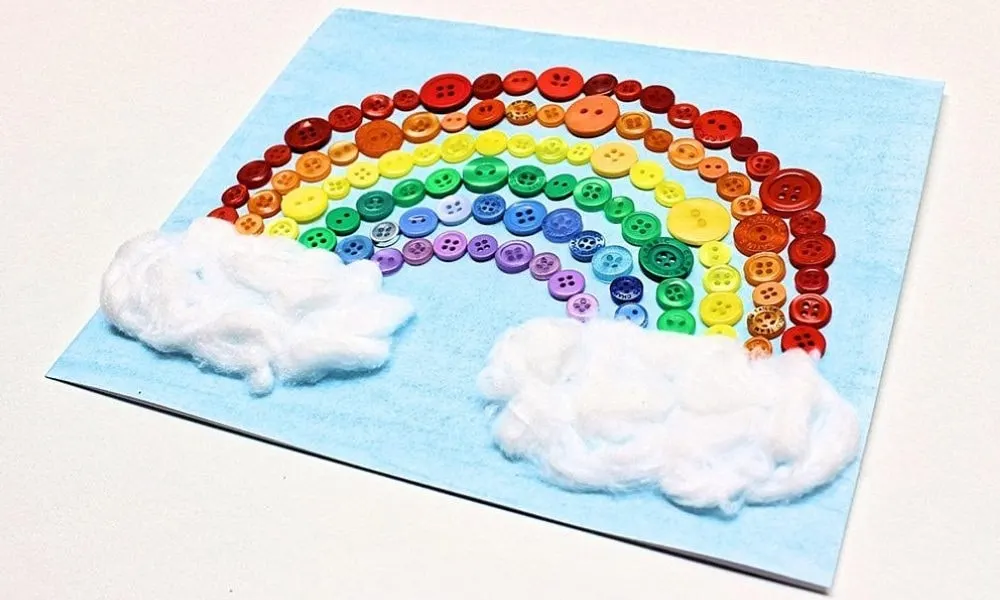 Source: thecraftathomefamily.com
Buttons are just the best possible craft item you can use to explore different colors. The most obvious would be to play around with a whole rainbow of colors.
So grab some plain white cardstock to begin. Just make sure that they are not letter-sized. You will also need some chalk, or liquid watercolors, or colored markers to work with.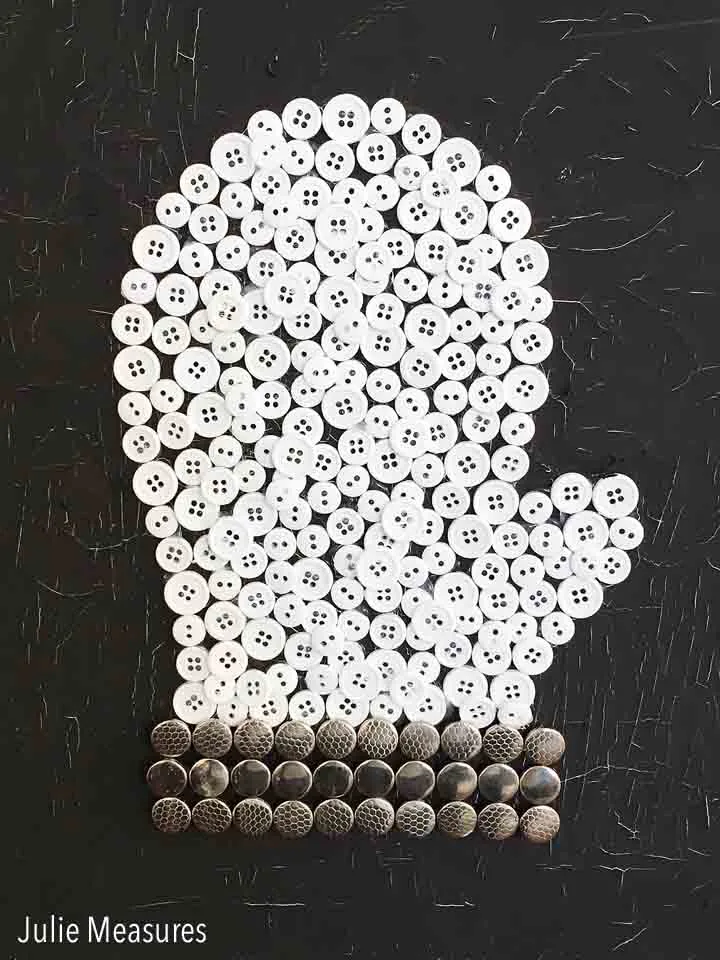 Source: juliemeasures.com
When it's cold and chilly outside, it's time to prioritize wrapping up and staying warm. A nice pair of warm mittens should do the trick, don't you think?
But first, let's start with a pair of button-mittens because they're just so darn cute. You're going to need a canvas, some white and silver buttons, black acrylic paint, brushes, and a hot glue gun.
You will also need to download the mittens template that has been provided. For that lovely distressed look you see on the canvas, you can start by painting a thicker base coat and work your way up from there.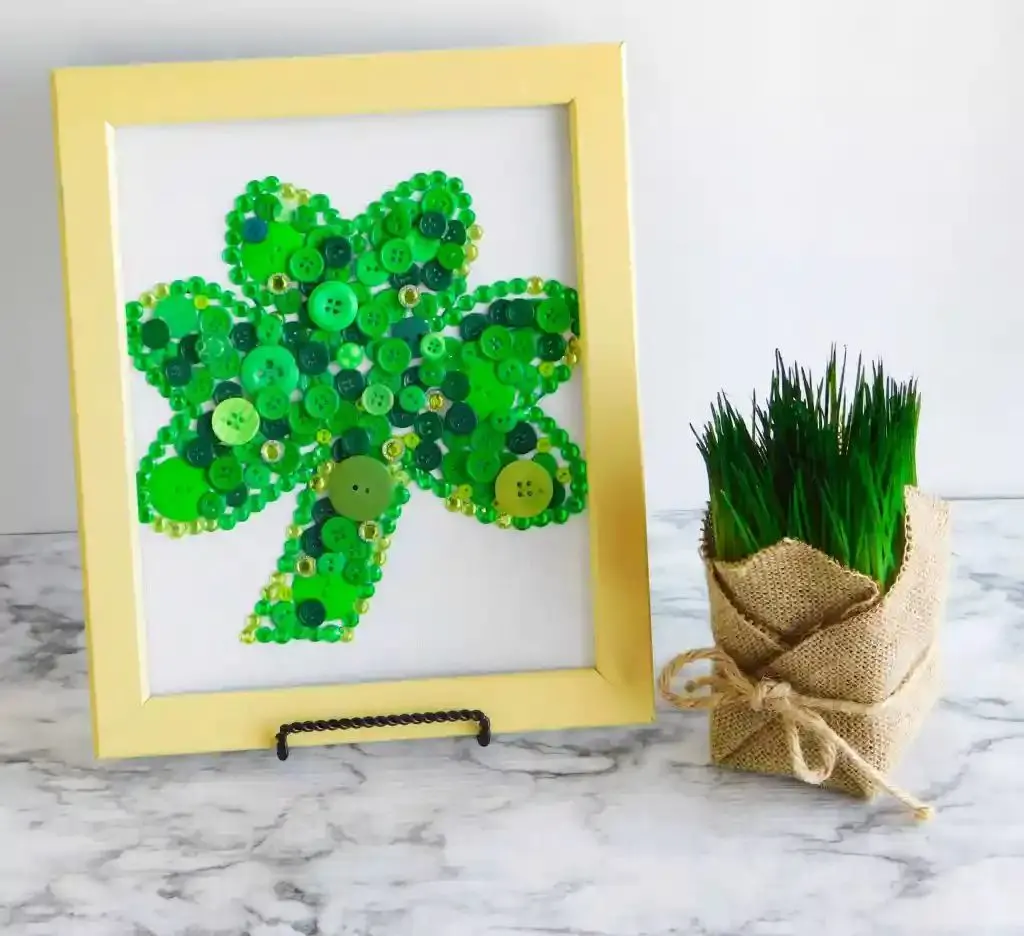 Source: homefreshideas.com
St. Patrick's Day is the best time to unleash the inner green beast. It's the perfect opportunity to go all out and embrace your love for this strapping color.
Let's add some luck to the pot, too, with a big green clover. Grab a ton of green buttons, little green rhinestones, a frame, and finally, plenty of glue and get cracking.
To enhance the entire project, make sure you include different shades of green buttons to the canvas. You'll love how the different hues blend in.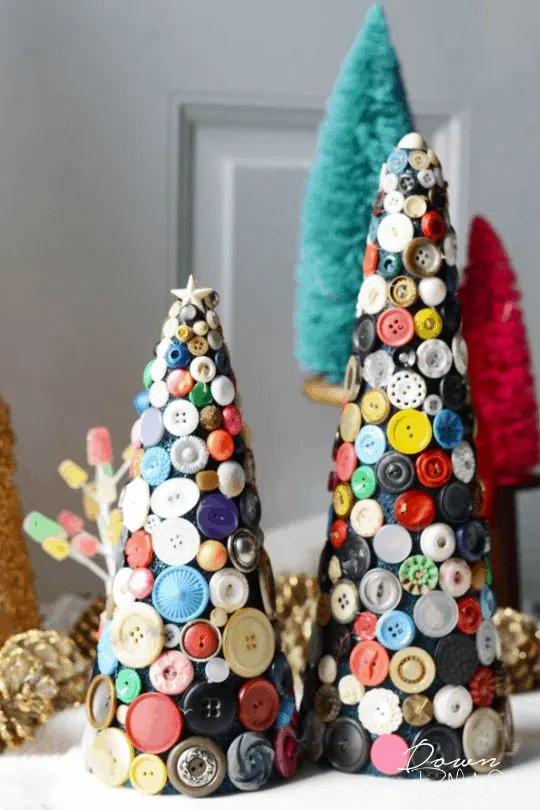 Source: downredbuddrive.com
Don't put away those green buttons just yet, I have a feeling you'll need them for this next project.
But if I were you, I'd want my vintage Christmas tree to be spectacular. So why don't you gather some more colored buttons, while you're at it?
Pick up a foam cone from here and figure out whether you want to spray paint the base of your tree. Then grab your glue gun and start adhering the buttons to the tree!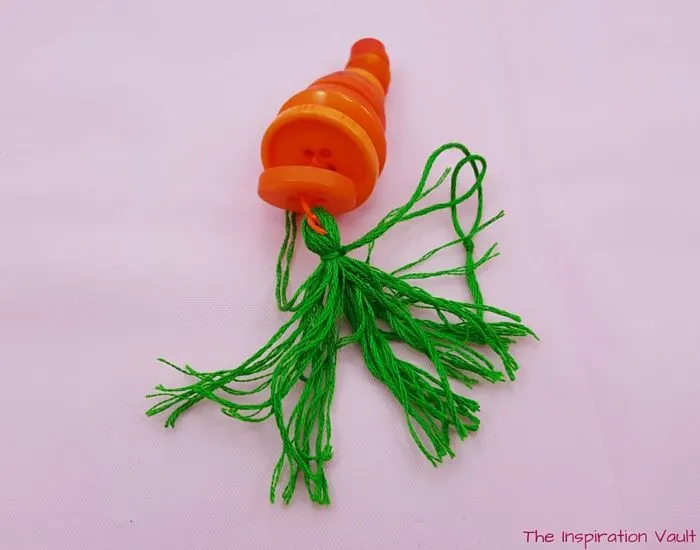 Source: ellemariehome.com
Let's fast forward a few months from Christmas and right into Easter with this button carrot Easter ornament. Somehow we always turn to Easter eggs, so how about you switch things up a little with an Easter carrot?
I bet the Easter Bunny would appreciate that, and so would your little ones! This project is super fun and easy enough to entice your little tots to enjoy an afternoon filled with fun during craft time.
When the ornaments are ready, go on outside and hang then up on your trees or from the porch. Just imagine how pretty they'll look swaying in the wind and adding that spectacular pop of orange to your yard!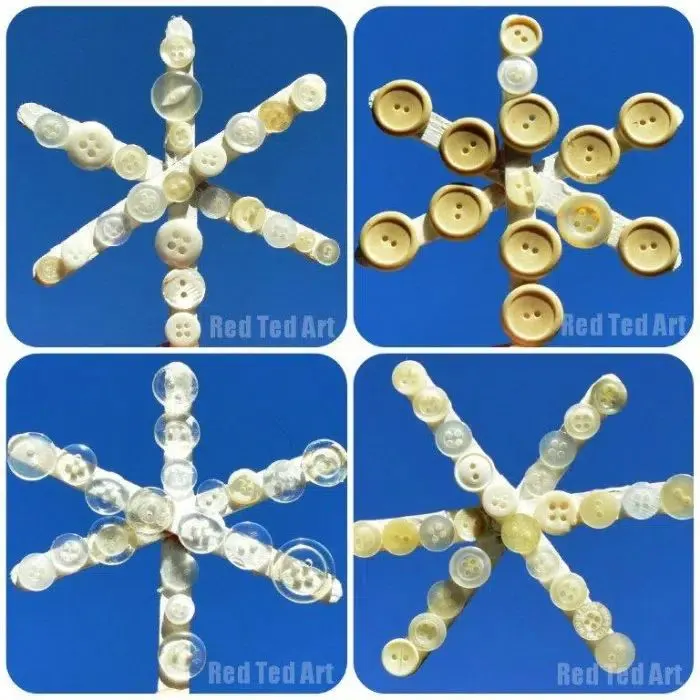 Source: redtedart.com
Let's go back to Christmas time for another minute, because these button snowflakes are to die for. It's so ingeniously simple; all you need are a few popsicle sticks, buttons, and hot glue.
While clear buttons, or even white or blue buttons, are ideal, you can always use colored ones, as well. Christmas-colored snowflakes would definitely work, don't you think?
You can also consider using glitter glue for an added sparkle.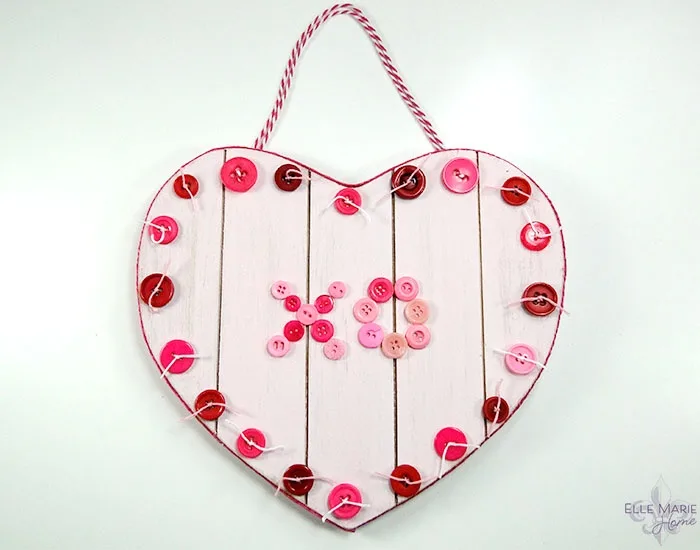 Source: ellemariehome.com
Okay, now fast forward once more all the way to February. It's the month of love, and Valentine's day falls bang in the middle of it and you know what that means: hearts, flowers, and…buttons!
With a heart shaped wood base, some embroidery floss from here and also a little decorative additions like pink jute lace or ribbon, you can make this gorgeous V-day heart, too. But that's not all; you can also spell out a cute and succinct 'XO' right in the middle!
Why? Well, you can never have too many hugs and kisses, especially not on Valentine's day!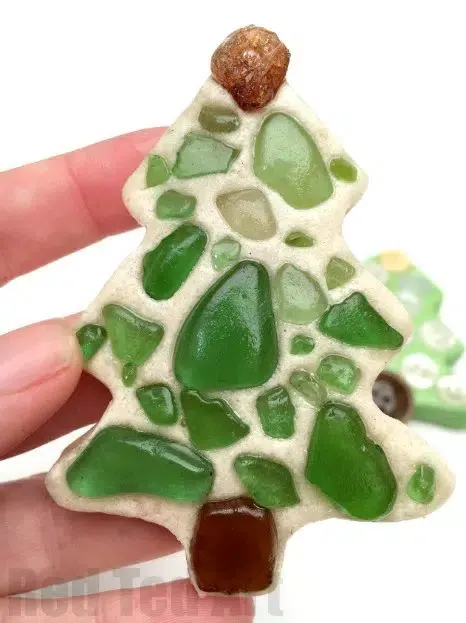 Source: redtedart.com
Making salt dough from scratch can be just as fulfilling as making actual dough and baking actual bread. It's perfect for the little ones to get their hands dirty and work out some of that extra energy they always seem to have in abundance.
To make these ornaments extra special, you can embed some sea glass into the dough. With a little craft wire, a couple of these cookie cutters, and of course, your salt dough, you'll be done in no time at all.
Just remember to follow the recipe correctly. You can always play around with the consistency, but it's important to have a batch of salt dough that sets just right.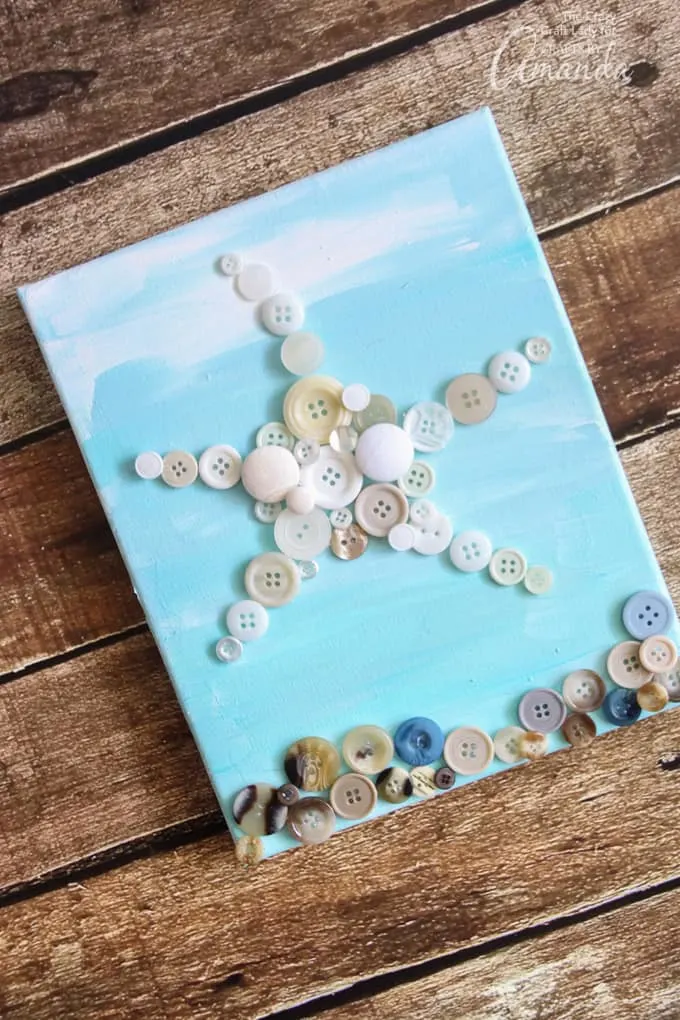 Source: craftsbyamanda.com
This button starfish is not too different from the snowflake you made earlier. Only this time, you're going to be making it without the popsicles and gluing them onto a canvas.
You also get to decorate the canvas in an ocean-themed fashion. That means plenty of blues, greens, and even some white for the sandy bed. You can incorporate multi-colored buttons into the canvas, or you can use actual sand, shells, and more for a more thought-out outcome.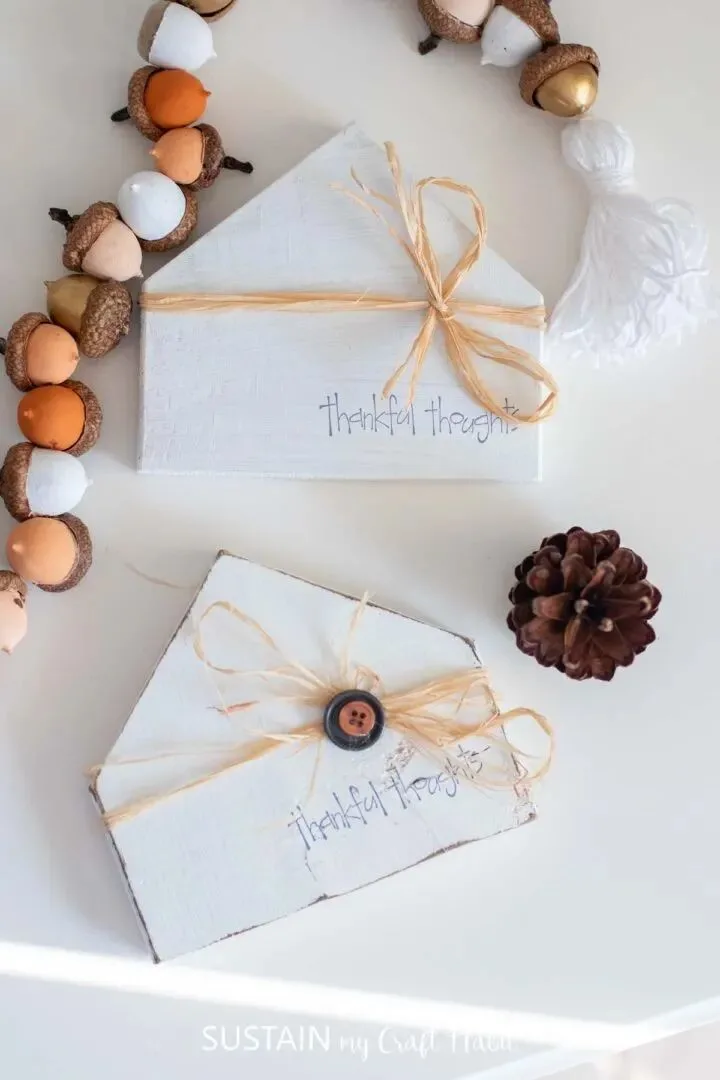 Source: sustainmycrafthabit.com
Are you looking for a way to upcycle little odds and ends around the house? Doesn't it feel just wonderful to declutter, but in a productive and useful way? That's exactly what this scrap wood house does for you—i makes you feel good.
It also helps that it looks good, as well. So go ahead and grab some scrap wood you have leftover from previous DIY projects. A slap of paint and a round or two with some sandpaper should have it looking brand new.
When you've cut the wood to the size and shape of your 'home,' just go ahead and scribble a message on there, too. "thankful Thoughts,' seems like the perfect fit, don't you think?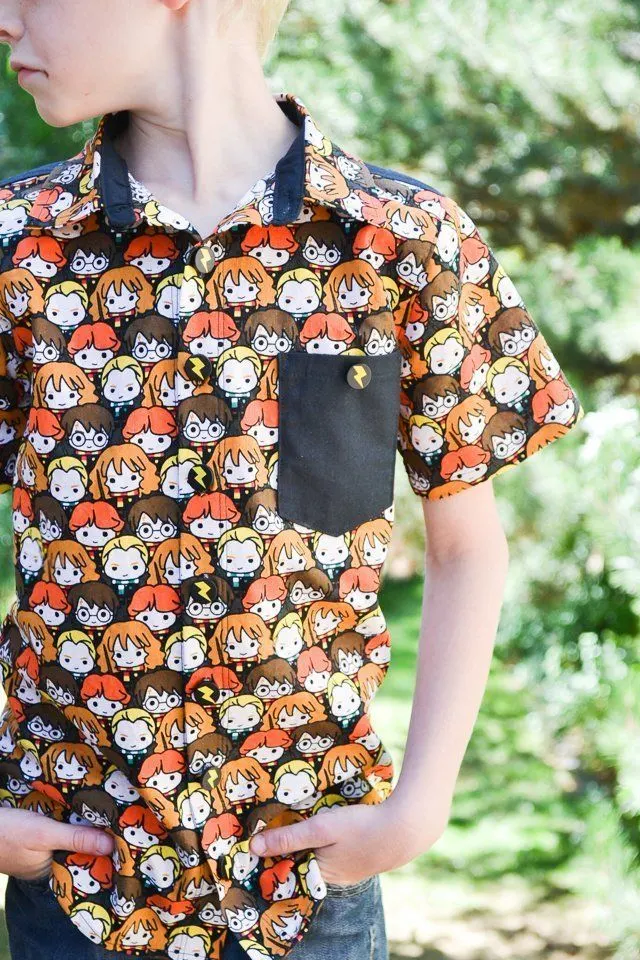 Source: heatherhandmade.com
We've all gone through a phase where Harry Potter was more a way of life than a movie we happened to watch. Well, if I'm being honest, I never really got over my phase.
Everything about the franchise just makes sense, and I'm all about Harry Potter themed craft projects. If you're looking for a little something to jazz up your shirt, then how about you check out this lightening button?
It's so simple to make and it's also a super quick project. You can use these buttons as little party favors and stocking stuffers, as well!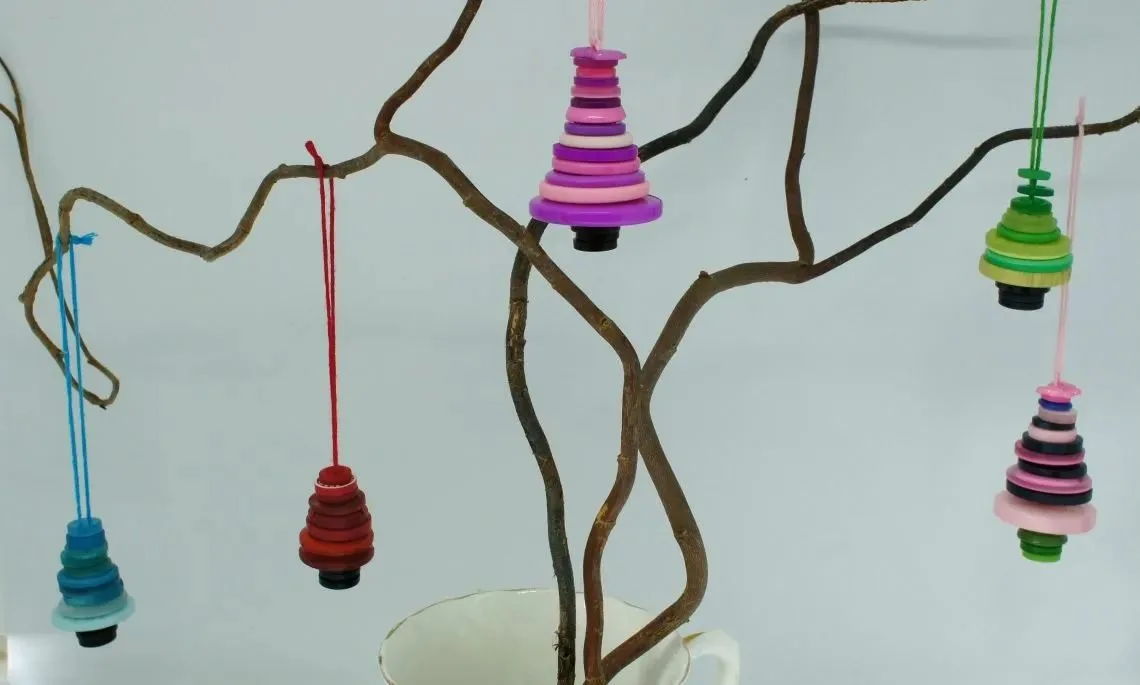 Source: christines-crafts.com
How about one more Christmas tree ornament with buttons to add to your tree this year? There's always room for more handmade ornaments, right? These little ornaments look simply delectable—almost good enough to eat.
They're effectively just buttons stacked atop one another in a conical fashion to imitate a Christmas tree. Finding appropriately-sized buttons is probably the hardest thing to do, so go ahead and look through your stash.
Once you've picked everything you need, you can thread a needle and loop a length of embroidery floss through the buttons to hang them up as ornaments.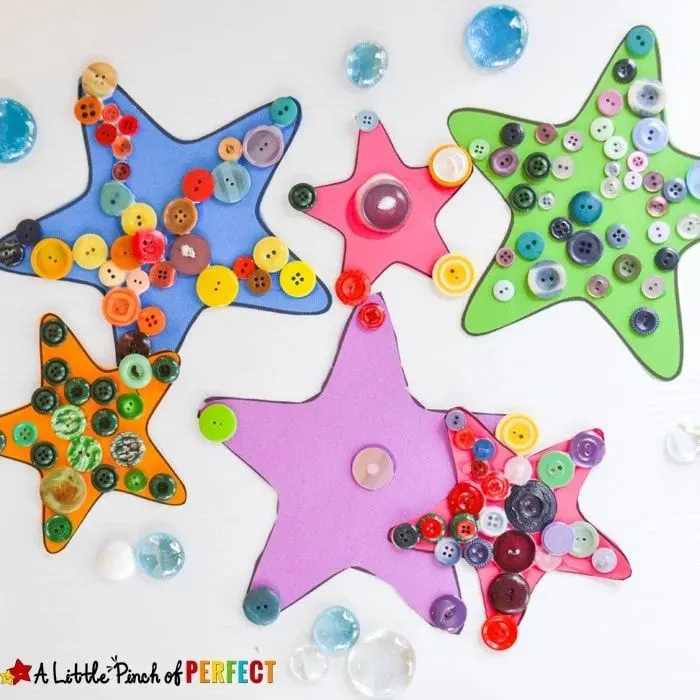 Source: alittlepinchofperfect.com
This is an opportunity to get your kids to learn about sea life and what really lies in the depths of the ocean. You can start with these pretty button-clad starfishes.
Grab some paper, a pair of scissors, some adhesive, and finally, your choice of colored buttons. There's a starfish template provided that might be able to help you speed things up a little. Just grab a pair of scissors and start cutting the template into a star.
Once you're done, figure out where you want your buttons to go. Then carefully stick them in place onto the paper cutout!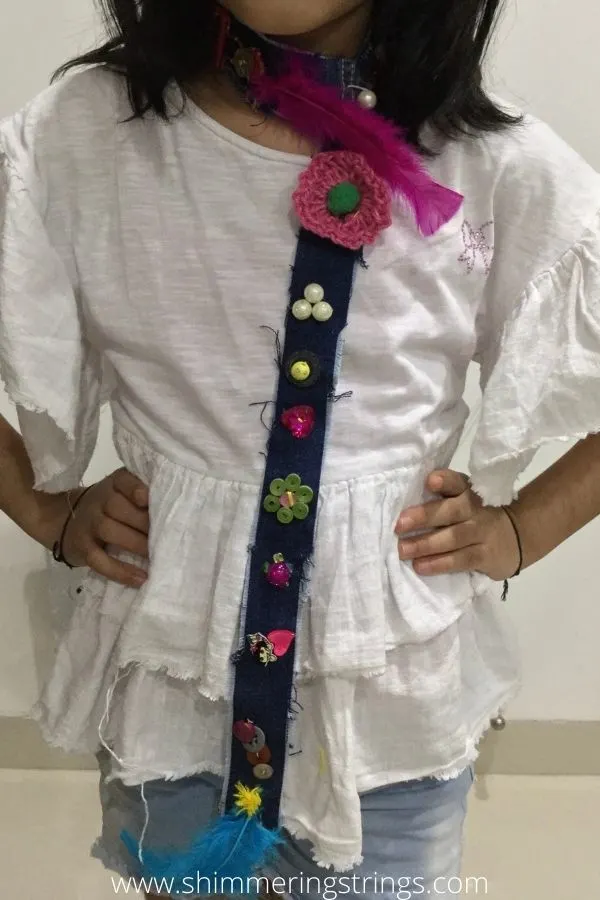 Source: shimmeringstrings.com
These chunky and funky accessories are a result of some creative flair and a ton of upcycling. It's all about bringing together an ensemble of different components—buttons, bobbins, knick-knacks, and more—into one quirky piece of jewelry.
You can draw inspiration from all this, and of course, the best of it all, buttons!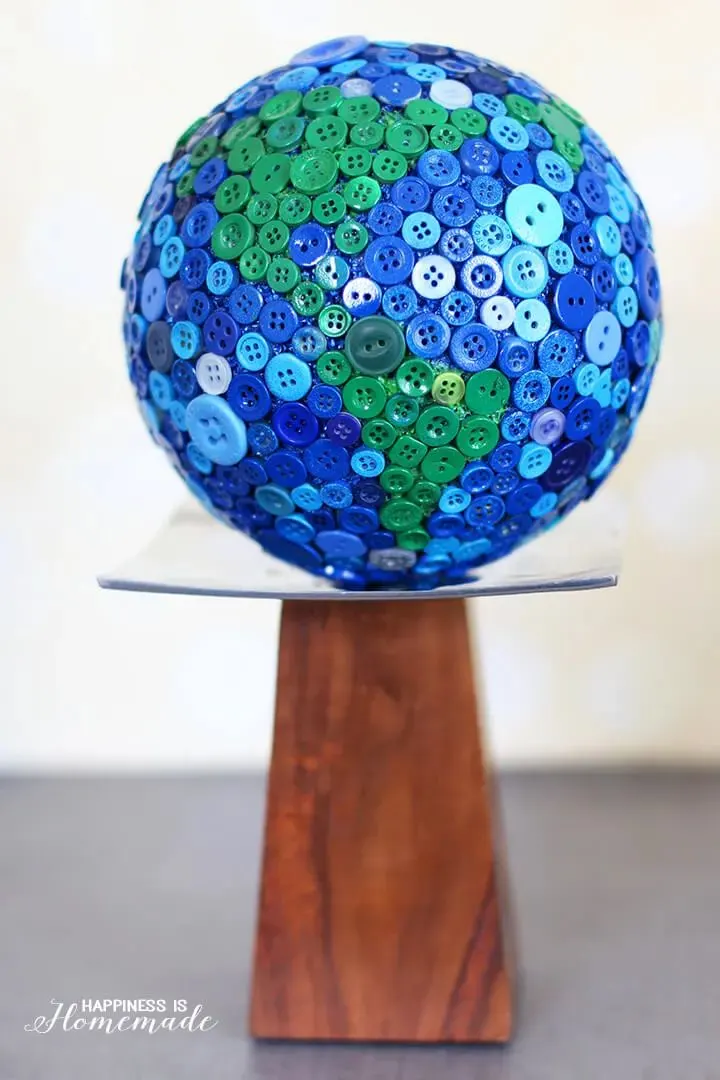 Source: happinessishomemade.net
If your little one's in need of a quick and easy DIY project to turn in as an assignment, or even for the Science fair, then check this out! It's a button globe, or rather, an entire globe made entirely of buttons.
I think the more I look at it, the more I find to love about it. It's colorful and creative, with plenty of shades of blue and green to make it look like the real deal. You can use green beads ad buttons to segregate land from the sea.
With a little extra planning, you'll be able to recreate the continents quite accurately, as well!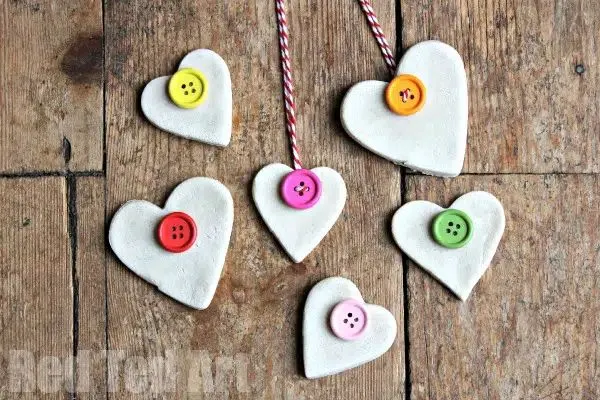 Source: redtedart.com
Here's another chance for the little ones to sit down for craft time and get their hands messy. If you made those sea glass salt dough ornaments from earlier, then this salt dough heart project should be no problem at all.
Once your shopping list is sorted, you can get down to making your dough. Just remember to add your warm water to the salt and flour gradually. This will help you control the texture and consistency of the dough.
Check out this DIY salt dough ornament for more ideas.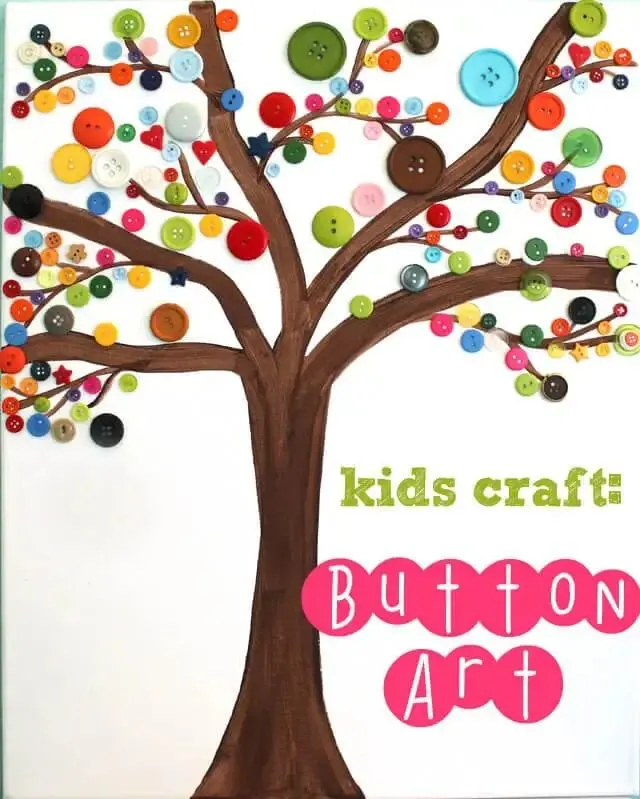 Source: happinessishomemade.net
Tree art is always my go-to when I'm trying to pull together something quick and easy. They can be as simple or as elaborate as you want them to be, depending on the props and techniques you use.
This particular button tree art definitely falls on the easier end of the spectrum. This means that there's plenty of ways to customize and decorate it.
Why stick to plain old green buttons for leaves when you can have a slew of colored buttons, instead? Grab some paint and get started!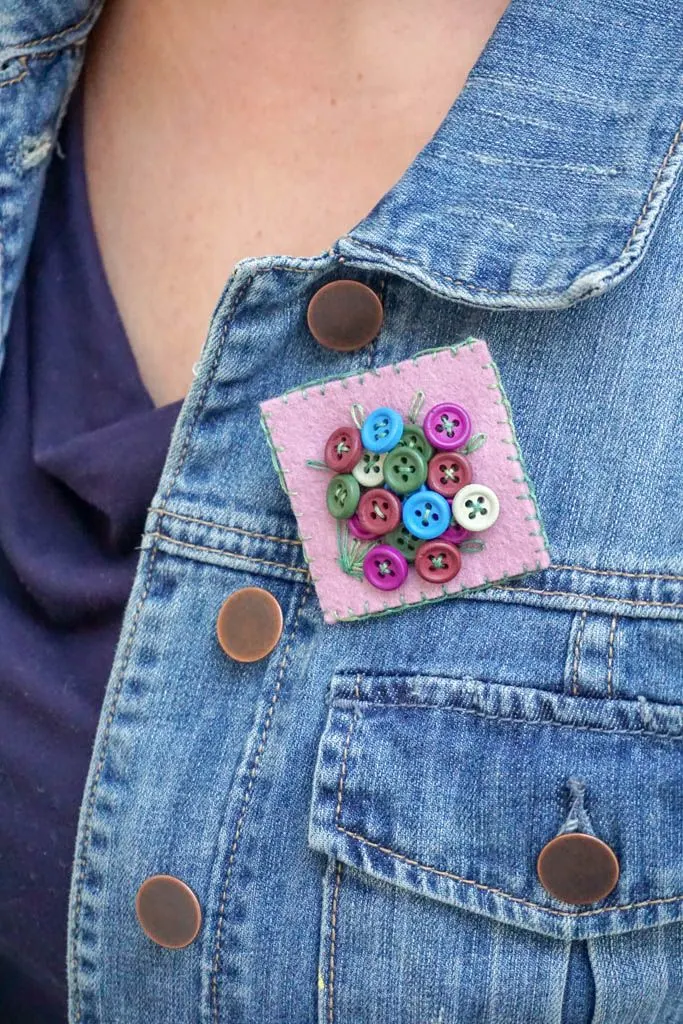 Source: albiongould.com
How does a bouquet of buttons sound? No, seriously, take a look! It's fun, flirty, and the best part? It's completely customizable.
This colorful cluster of buttons can help jazz up just about any ensemble. It will pair especially well with denim outfits.
So the next time you or your little ones are on the hunt for a new and unique accessory or add-on, I'd recommend that you grab a handful of buttons and start sewing this bouquet patch.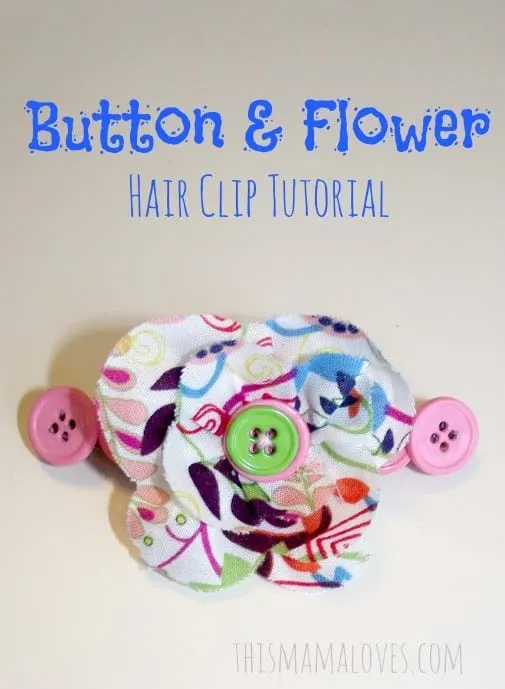 Source: thismamaloves.com
Here's another floral accessory that you can make using—you got it—buttons! Hair accessories are all in rage and with this cute little confection, so will you!
The first step is to cut your fabric so it has a scalloped edge on one end. Then you'll need to use your needle to thread the entire fabric and scrunch it into a circle, as instructed.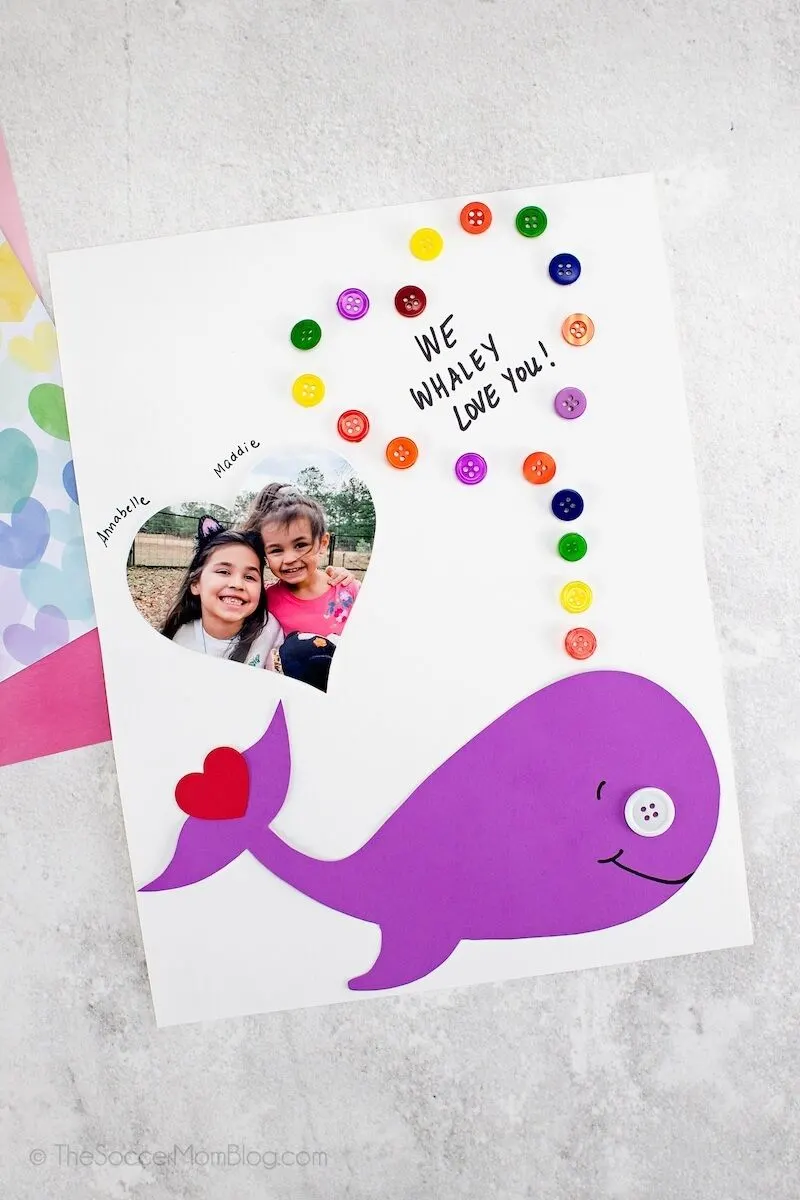 Source: thesoccermomblog.com
What, you might be wondering, is a whale card. Well, it's a cute little pun you can use to tell someone you 'whaley' love them. Get it?
With the help of the template provided, this project should be a veritable breeze. You just have to fill in the space with your message and add a photo or two to personalize the message.
Now for the fun part: decorating the card with buttons! The first place I'd think of adhering a button to is the whale's eye!
Source: organizedmom.net
Who doesn't love magnets? No, really, who doesn't? They are such a creative way to almost instantly boost the fun factor of any project.
A button magnet, though? I think that would take the cake, for the simple reason that they're so darn easy to make.
You can always use cardstock—it's sturdy yet pliable and can do much for customizing your project.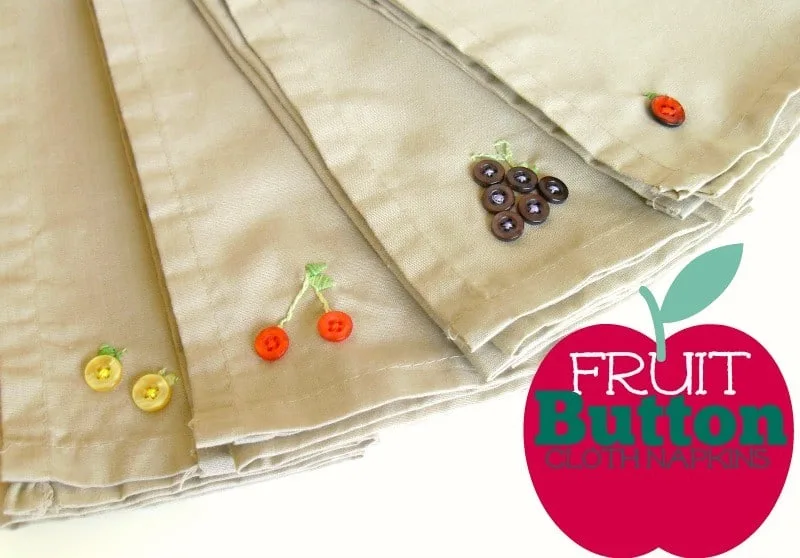 Source: thismamaloves.com
Napkins are simple and inexpensive additions to your table but they can easily make or break the entire decor. Why? Well, cloth napkins can bring a ton of character, color, and personality to your table setting.
But you know what's missing? Some texture, and you can take care of that little problem by sewing on a little button detail on your napkins!
You can pick up basic napkins at a dollar store near you, or you can buy them here. Once you've picked them out, go ahead and sew your buttons on!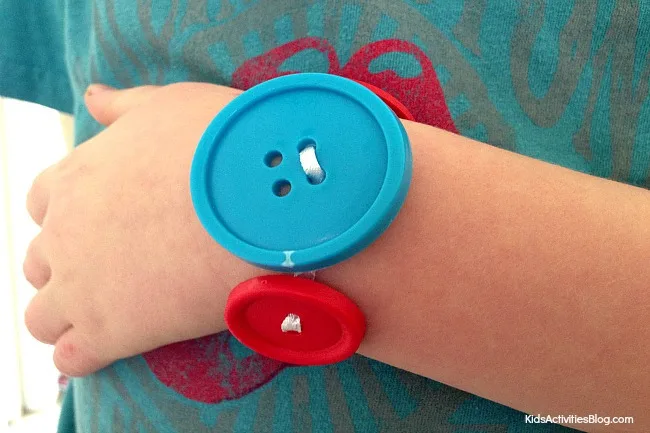 Source: kidsactivitiesblog.com
A lot of the DIY crafts on this list are super fun, yes, but they're not exactly things that your kids can show off. But this cute-as-a-button bracelet sure can be a conversation starter in school!
It's also a quick project to make in school, as well, and perfect for teachers to keep their students occupied. Besides, who doesn't love bracelets?
The kids can make and share them with each other, and you have a lovely bonding activity in the making! Grab some elastic from here to begin.
Check out some of these classroom crafts that kids will love, as well as these fun crafts for kids that will keep them occupied.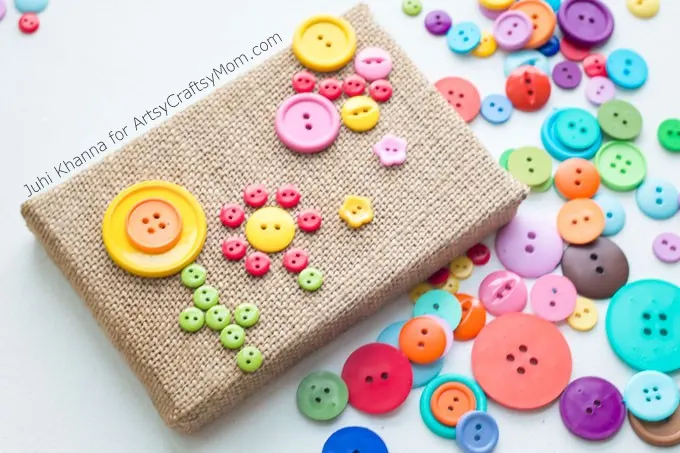 Source: artsycraftsymom.com
I love burlap, I love buttons, and most of all, I love flowers. So when there's an opportunity to incorporate so many loveable things in one single project, I'm hooked.
This burlap button flower garden project is effectively a wall decor piece that can add a color yet rustic element to your room.
Alternatively, if you want to practice your sewing skills, feel free to sew the buttons instead of gluing them.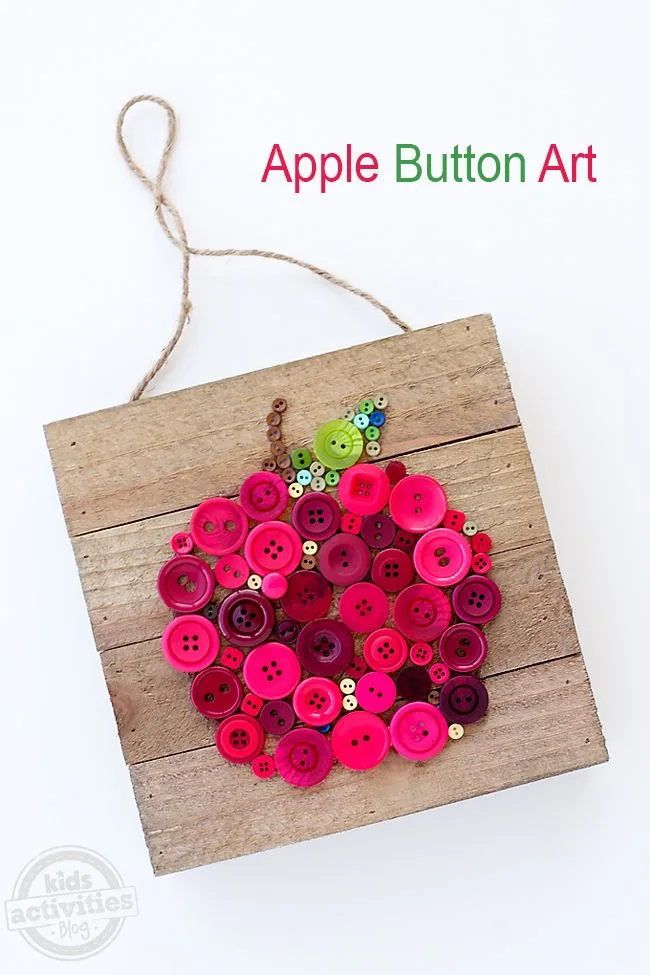 Source: kidsactivitiesblog.com
We're going right back to the basics with this next project: it's A for Apple and B for the buttons you're going to use to make it.
The key element is to use different sizes of buttons, as well as different shades. You can also incorporate little beads and rhinestones from here to add a little sparkle and shine.
Don't forget, you will also need a few brown and green buttons to create the stem and leaves!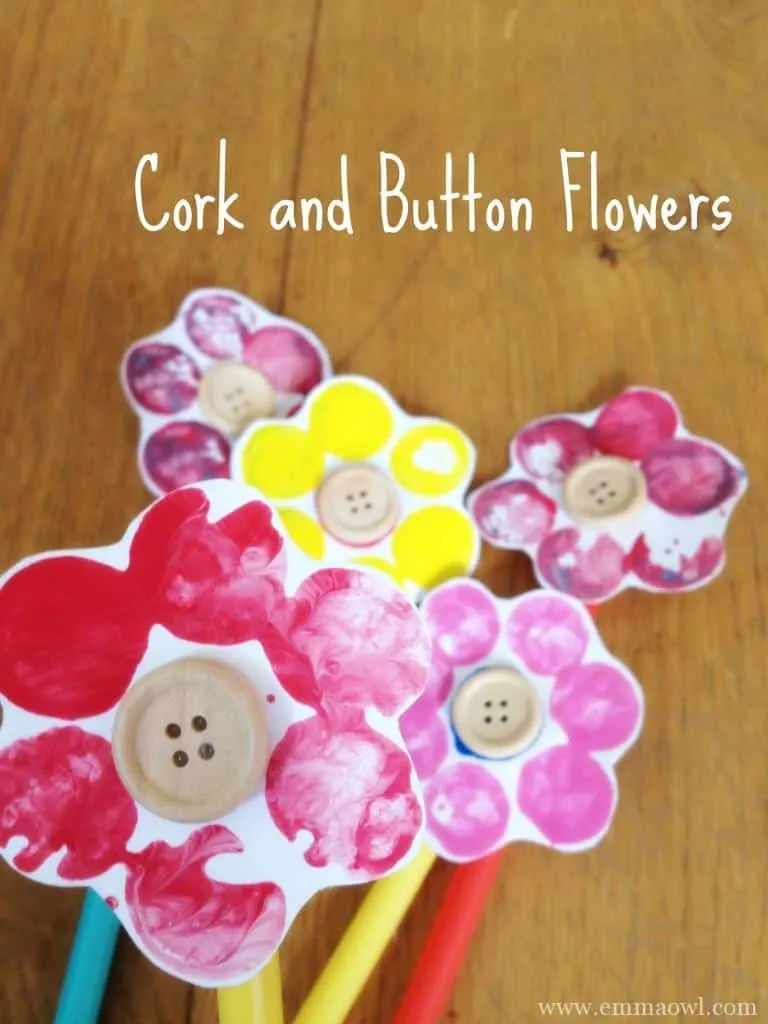 Source: emmaowl.com
Check out these button flowers. They make for perfect little gift add-ons where you can just stick them onto craft projects, cards, and more.
You can even use them as pencil toppers. You'll be stamping/etching the flowers onto paper and then using a pair of scissors to cut them to shape. You can use corks and dip them in paint before you press them onto paper.
Alternatively, you can use rubber bands from here to secure seven corks together in a flower-like ensemble and then stamp one full flower! It's completely up to you!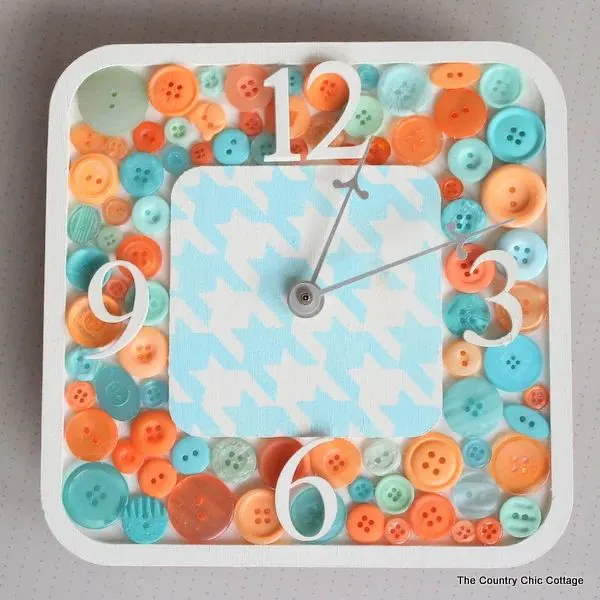 Source: thecountrychiccottage.net
Clocks have a ton of customizable potential. I'm sure that we all have one of those generic white clocks that are just borderline tacky and cheap.
But with a few decorative touches—like buttons, for instance—you can do wonders to give that clock a facelift. Alternatively, you can even put together an entire clock from scratch using a clock kit.
When you're done, just use tacky glue to stick the buttons in place!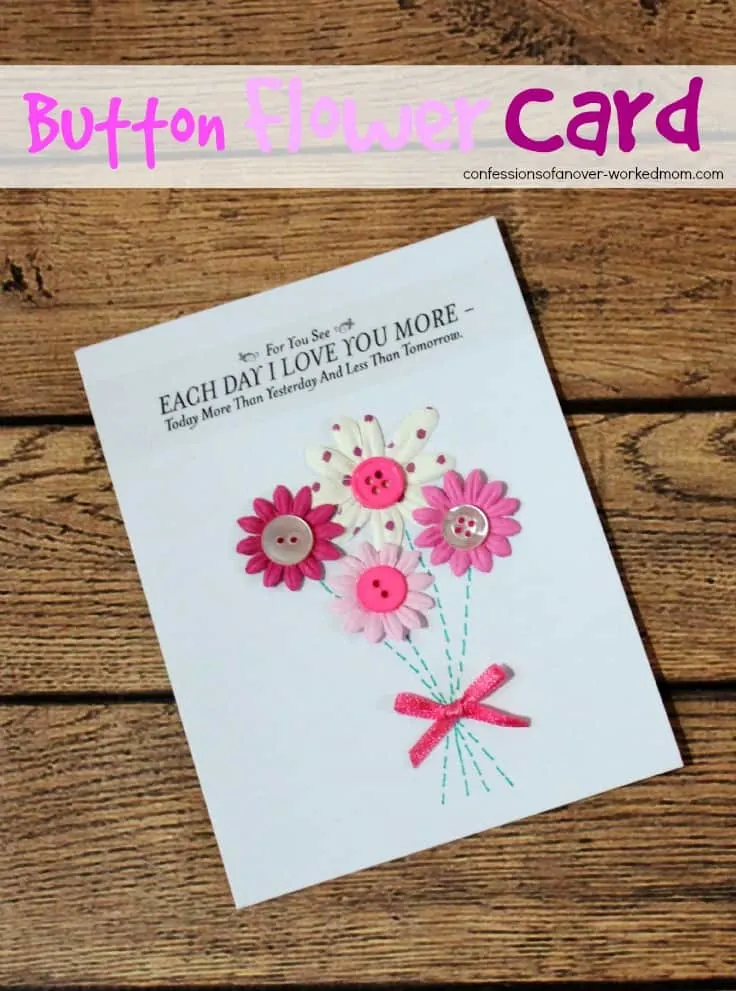 Source: confessionsofanover-workedmom.com
Why not hit the hat trick with floral button crafts? It's pretty, pastel, and bright, with just enough texture to brighten it up even more.
This gorgeous flower card can sit just about any type of button as long as it has a flat surface area and back. A hook on the back might be a little bumpy.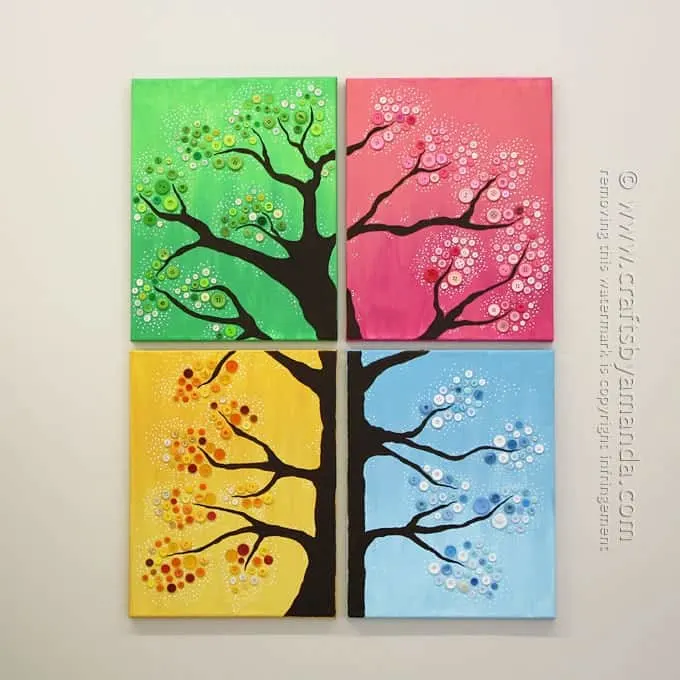 Source: craftsbyamanda.com
This button tree wall decor idea is for a four-piece ensemble that uses four canvases. It has a continuing design that progresses in tandem across all four canvases to create this lovely tree.
The finishing touch is, of course, the buttons. They're what this wall art needs to enhance the entire painting, and also to add some much-needed, much appreciated texture to the canvases.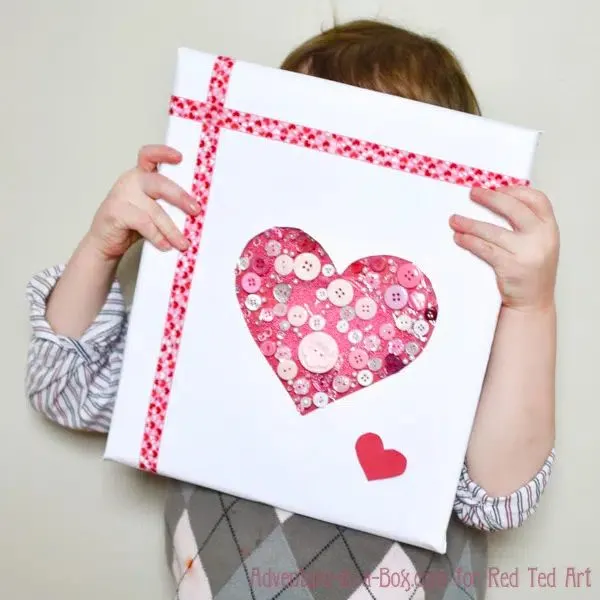 Source: redtedart.com
The last item on this list is a lovely DIY heart that's made out of gift wrap, washi tape, cardstock, and finally, buttons. Grab some glitter beads, buttons, and embellishments to begin with.
Next, go ahead and pick out some wrapping paper, a pair of scissors, and finally, some of the packing tape. When you're done gathering everything you need, all you have to do is assemble them on the canvas, et voila, c'est fin!
If you have some gift wrappers leftover, check out these Christmas gift wrapping ideas!
Yield: button crafts
36 Easy Button Crafts Anyone Can Make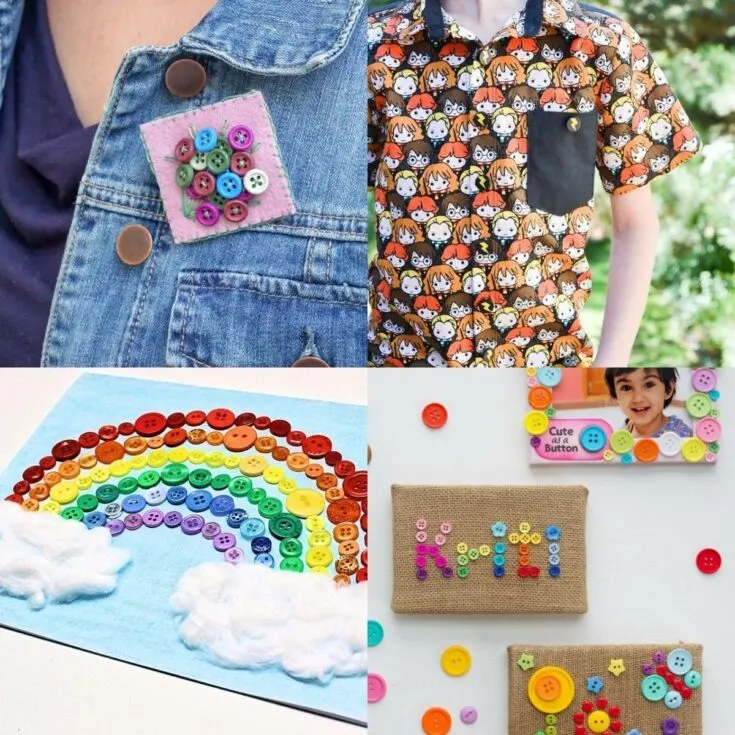 Have a bunch of buttons laying around? Give these easy button crafts a try and enjoy getting creative!
Materials
1. Photo Frame
2. Pinecone Tree
3. Rainbow Caterpillar
4. Christmas Tree Ornament
5. Giraffe Crochet Wall
6. Embellished Monogram
7. Rainbow
8. Mitten
9. St Patrick's Day Craft
10. Christmas Tree
11. Carrot Easter Ornament
12. Snowflakes
13. Valentines Heart
14. Salt Dough Tree Ornament
15. Starfish Wall Art
16. Scrapwood Houses
17. Lightning Buttons
18. Christmas Tree Ornaments
19. Starfish
20. Fashion Accessory
21. Button Globe
22. Salt Dough Heart
23. Tree Art
24. Bouquet Brooch
25. Fabric Flower Craft
26. Whale Card
27. Glass Button Magnets
28. Cloth Napkins
29. Bracelet
30. Wall Art with Burlap Buttons
31. Apple
32. Button Flowers
33. Button Clock
34. Flower Cards
35. Tree Wall Art
36. Heart Gift Wrap
Instructions
Choose the craft you like.
Get your supplies ready.
Start crafting!