Make your very own crafts with pom poms. Great for kids, adults, and teens to make!
Pom poms will forever be my go-to craft supplies. They're fun, textured, colorful, and just super easy to make.
The best part about them? You can make a few dozen of them in advance and store them for when you need them in other craft projects.
Check out how to make yarn pom poms first, and when you're ready, take a look at these 51 crafts with pom poms that you and your kids can explore!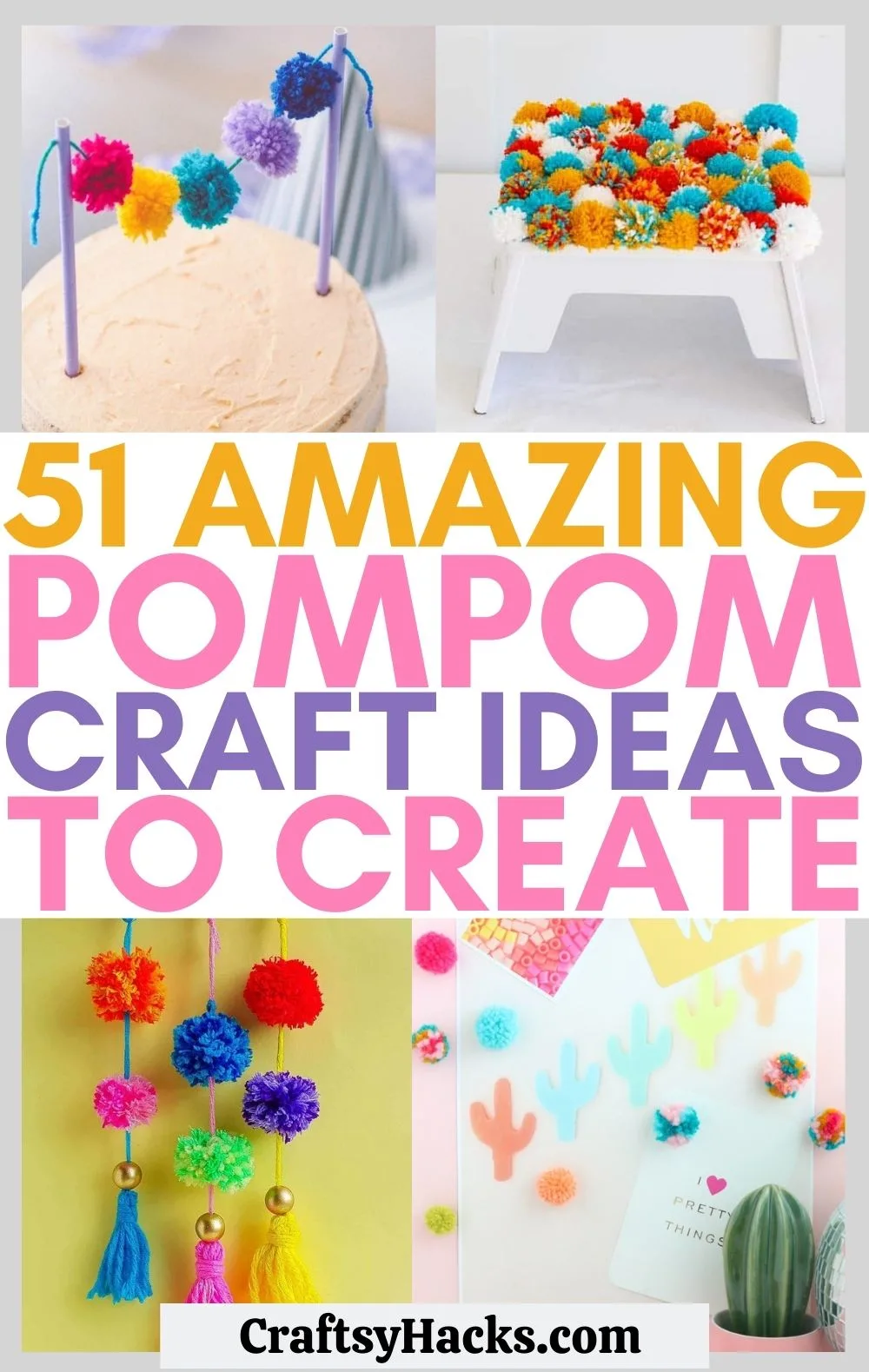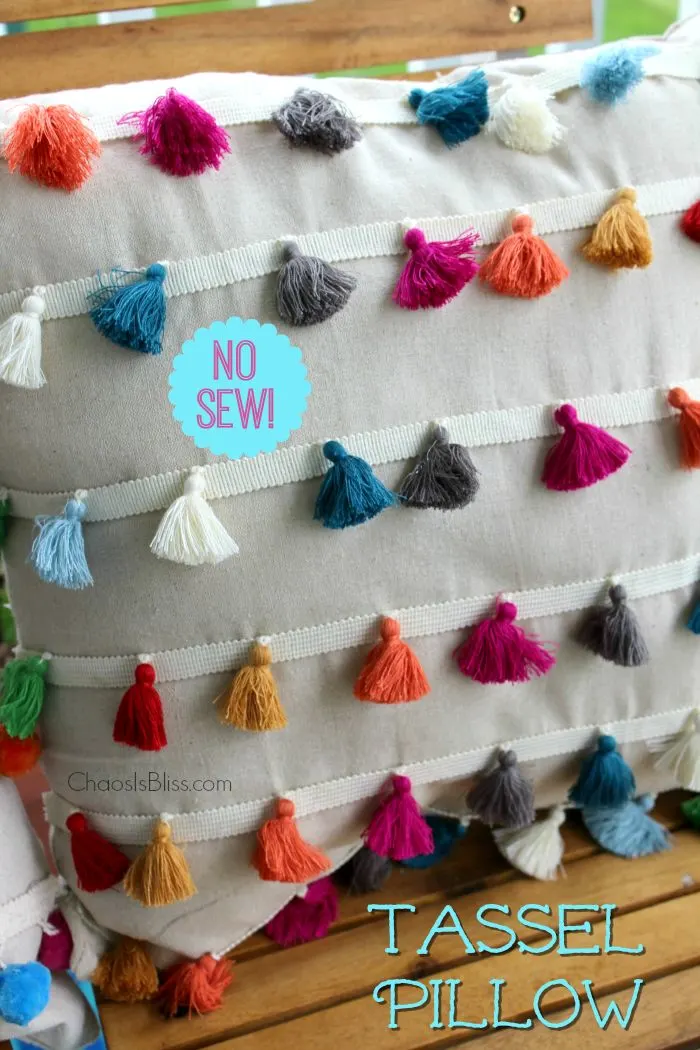 Source: chaosisbliss.com
You don't have to change your entire color scheme to add color to your room, you know. In the mood for a quick home renovation project? Then check out these no-sew pom pom pillows!
They check a ton of boxes: they're easy to make, look fabulous, and they bring a little flirty color to the entire room. Plus, they look like something you picked up at the store, not a no-sew project at home.
Grab a couple of pillow covers from here and a length of pom pom trim from here to get started.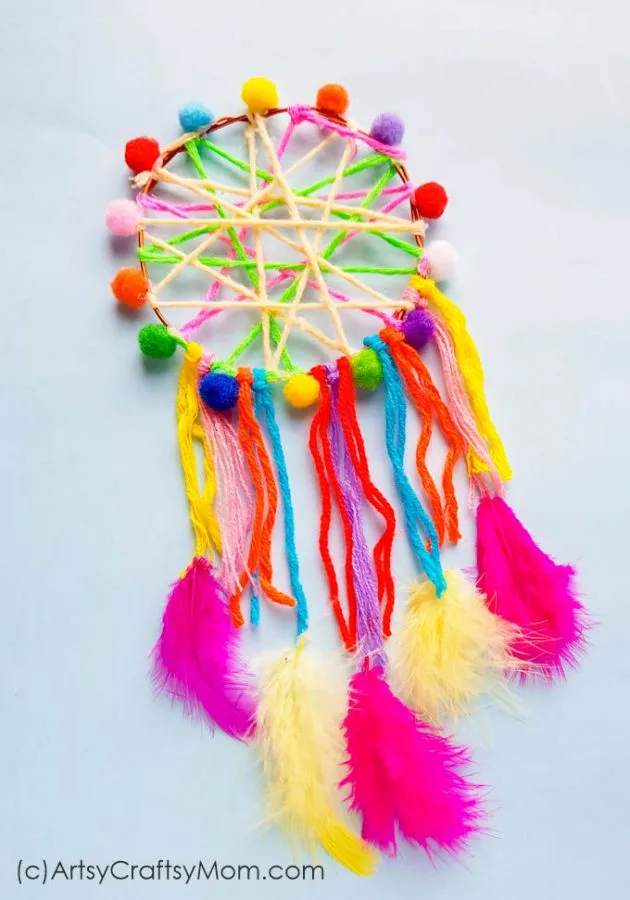 Source: artsycraftsymom.com
Dream catchers have a ton of potential to be customized, bedazzled, and in this case, pom pom-ed. With all these beautiful colors around you, there's absolutely no room for bad dreams.
Plus, all that yarn can even help draw in some pretty colorful dreams, don't you think? When you've gathered all your supplies, head on over to your workstation and get crafting.
Remember: the more colors you add, the more colorful your dreams will be. So go all out when you're picking your threads!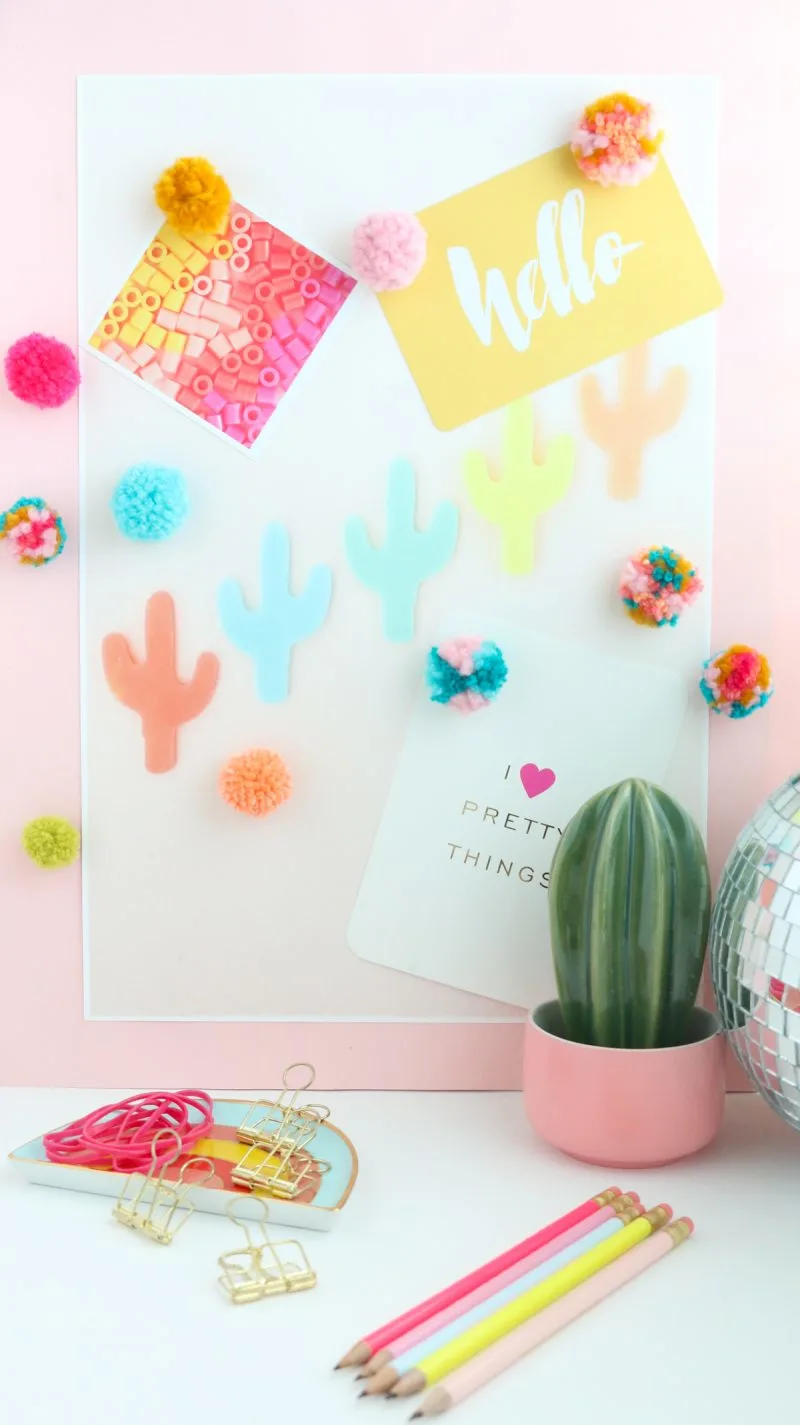 Source: lovelyindeed.com
Pom pom magnets? Sign me up! Just look at those little fluffy tufts and tell me you don't want them to adorn your refrigerator.
I'll be the first to admit that I love magnets—the wonkier and more unique, the better. So when I get to tag pictures, cute notes, or my to-do list up on the fridge with fluff ball pom poms, you bet I'm going to love them.
Grab some magnet rounds from here, first, as well as your low-temp glue gun. You can either make your own pom poms or buy them online and hot glue them in place.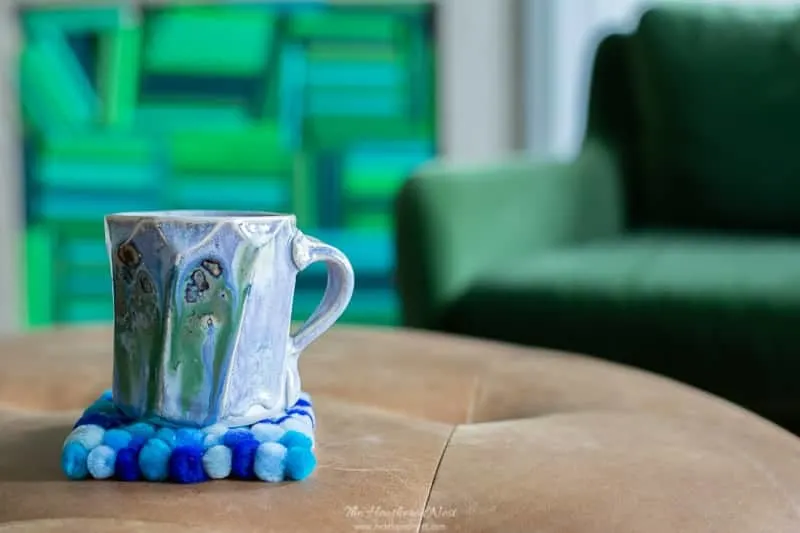 Source: heatherednest.com
DIY coasters can be a great gift if you're looking for something crafty and fun. But when these DIY coasters also happen to be pom pom coasters, then that's just what you need.
Imagine setting down a hot cup of tea or a tall glass of lemonade onto this fluffy confection of a coaster! You can make different sizes of pom poms to use, as well, to give your coasters a more textured look.
Grab a ton of gorilla glue—or any other low-heat adhesive—first. You'll be adhering the pom poms onto ceramic or porcelain tiles or coaster base.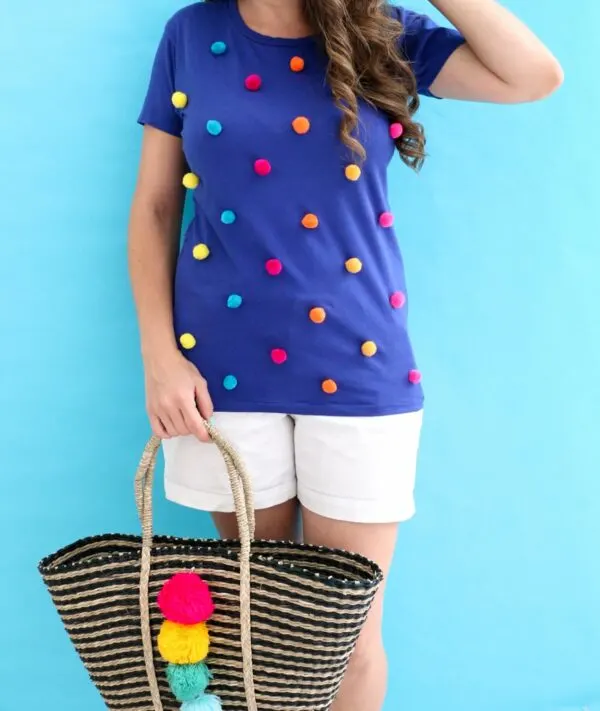 Source: lovelyindeed.com
Do you have a couple of tees in the back of your closet that you've been meaning to give away? Why don't you upcycled them instead into these pom pom shirts?
I think I'd be super distracted if I wore this pom pom shirt. I'd constantly have to resist the urge to play with the pom poms, wouldn't you?
But fun and colorful apart, these shirts are perfect to set yourself up for summer. So grab your tee, a needle, and some thread, and get started!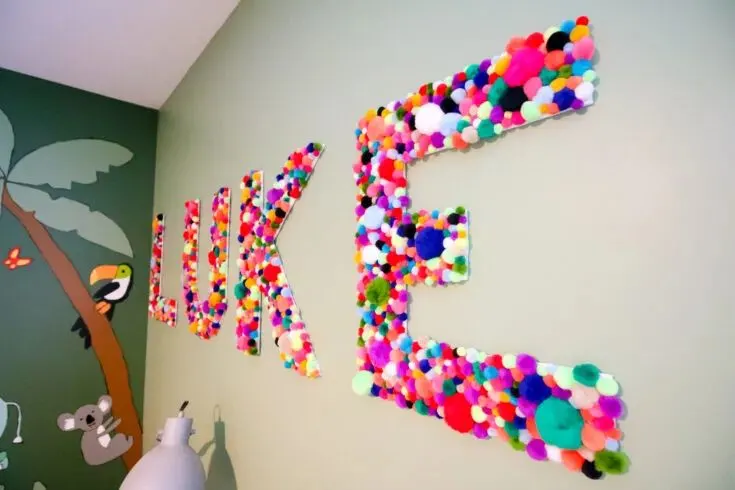 Source: charlestoncrafted.com
When you're decorating your home—especially your kids' rooms—they might want something to express their individuality and personality. Something big? Something bold? Something with…pom poms?
The easiest and most creative way to get all that is with pom pom letters. A big statement piece of sorts on an empty wall or across the space over the headboard, perhaps?
It's even a project that you can work on with your kids. They're bound to love a room even more when they've helped to decorate it and make it their own space.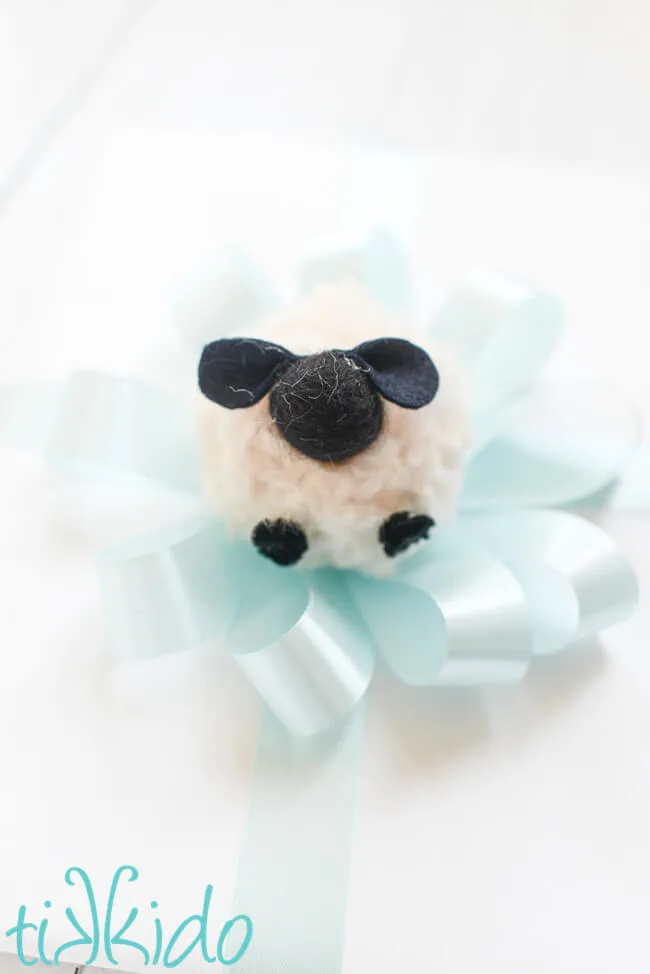 Source: tikkido.com
What's soft, cute, fluffy, and not a pom pom? Sheep, of course. So, doesn't it just seem the most natural thing to do to make pom pom sheep?
What can you use them, as you ask? Well, they can be used as gift toppers, stocking stuffings, and even just a cute little craft project for your kids.
Here's what you will need:
Faux fur style yarn from here
Pom pom maker
Black felt from here
Black pipe cleaners
Wool or felt balls from here or black pom poms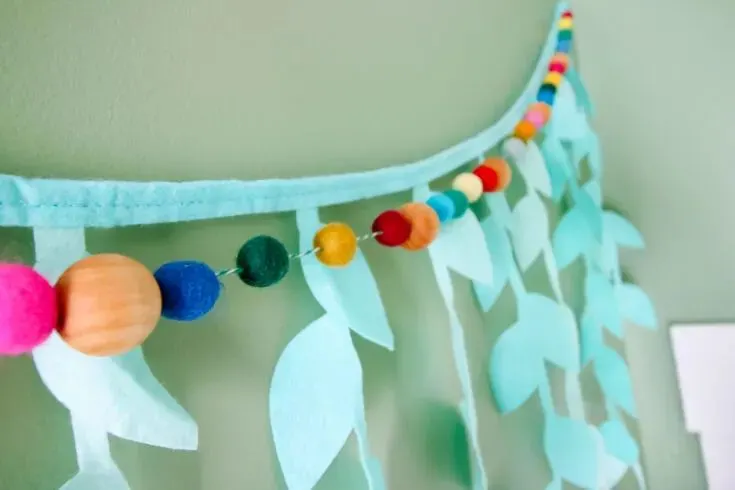 Source: charlestoncrafted.com
Don't put away those felt balls from earlier just yet. You'll be needing them for this felt ball pom pom garland. It's a quick and easy project—as most pom pom projects seem to be—but they do bring a ton of texture to your walls.
Grab some baker's twine while you're shopping for supplies. You will also need a large-eyed sewing needle, a pair of scissors, and any other embellishments you can think of—like beads, perhaps?
Just run your twine through the eye of the needle and start stringing your felt balls. When you're happy about the length, just fasten off, and you're all set!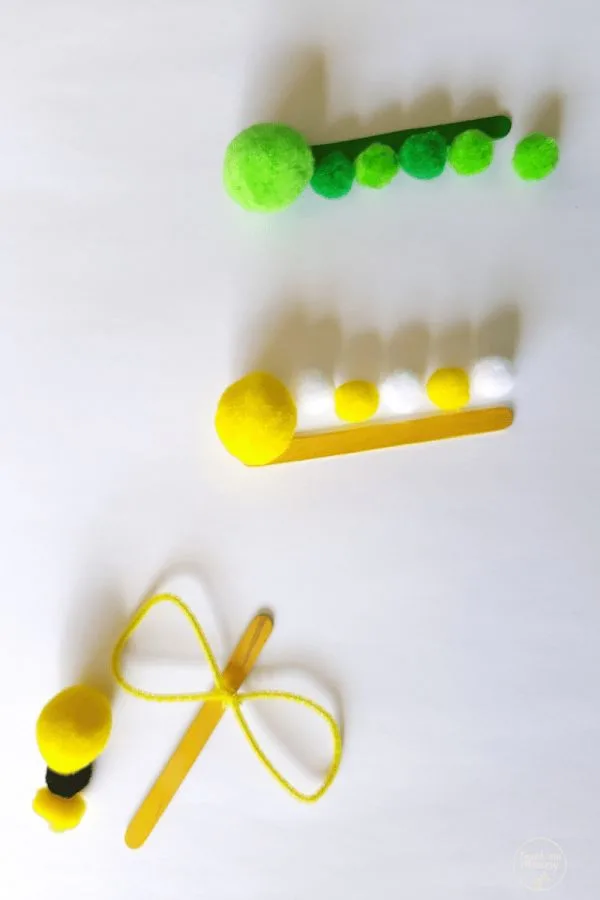 Source: teach-me-mommy.com
First, grab some pipe cleaners from here to make these pom pom animals. You will also need plenty of colored pom poms, depending on what you want to make.
For example, a pom pom bumble bee will need black and yellow pom poms with black and yellow pipe cleaners. If you're leaning towards a caterpillar, then pick out green pom poms—or even purple, if that's where the wind takes you!
When you've twisted your pipe cleaners into little furry caterpillar feet or fuzzy antennae, just hot glue a couple of these googly eyes onto the heads, and you're set.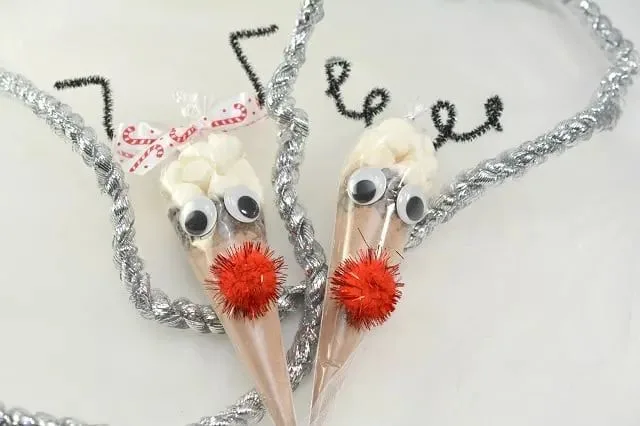 Source: mooreorlesscooking.com
What's Christmas time without a cup of hot cocoa, and what's Rudolph with his big red nose, right? So, this Christmas, let's incorporate both components together and make these super-quick and simple cocoa treat bags.
I love the simplicity of the treat bags and all the tasty goodies they hold within. You can fill them up with cocoa powder, tiny marshmallows, and even sprinkles on top.
Finally, just stick a red pom pom in place, and voila, all done!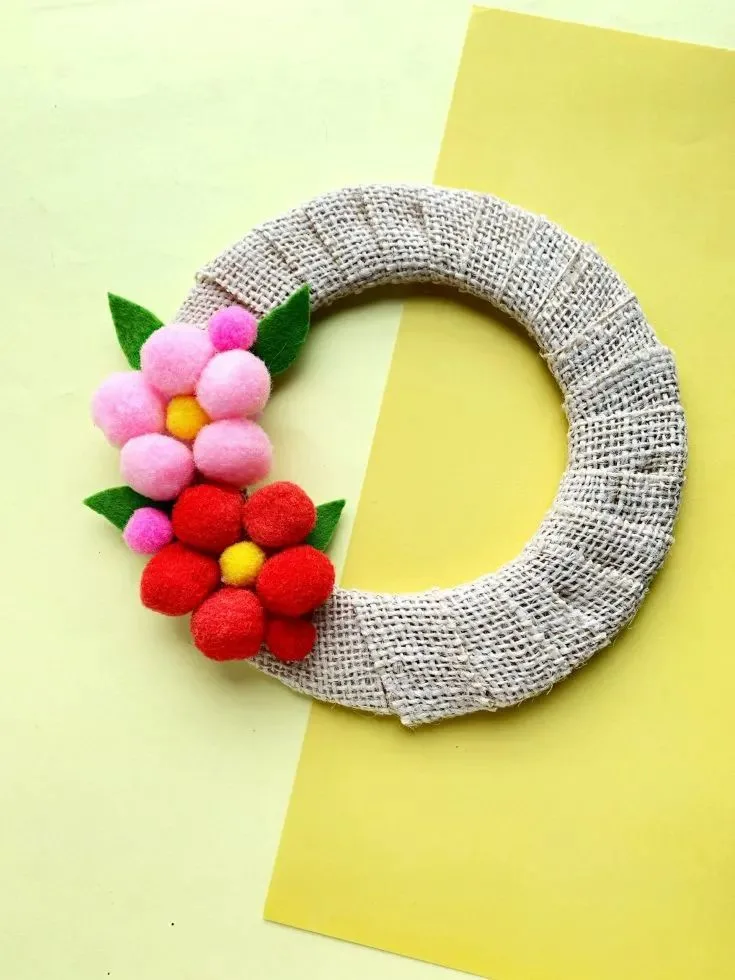 Source: moneywisemoms.com
When you're making a mother's day wreath and are browsing through different pics, you'll find that the best ones have…pom poms! Take a look for yourself.
With just six pom poms, you can fashion a little flower. Just imagine an entire wreath filled with colorful pom pom flowers. First, start gathering everything you'll need to make this wreath.
You will need a wreath form, some burlap ribbon to wrap around it, some felt scraps to fashion leaves out of, and finally, pom poms!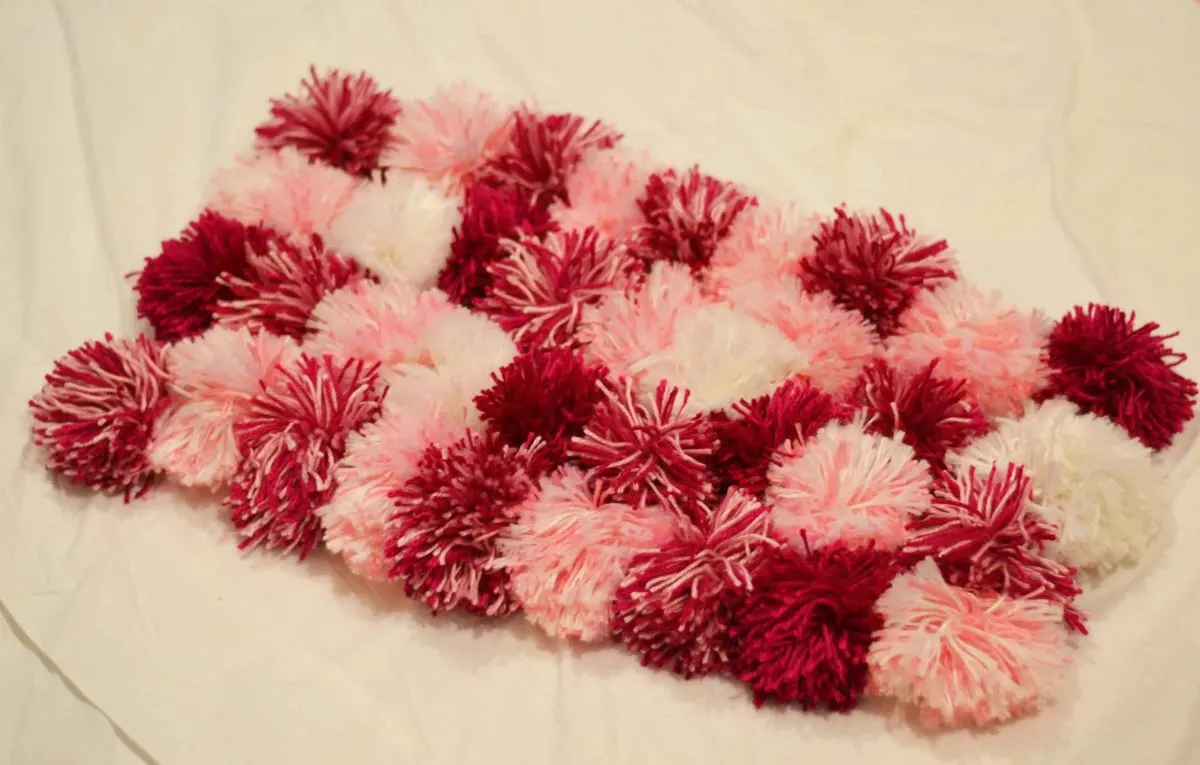 Source: simplifycreateinspire.com
If you haven't realized this already, pom poms are bursting with color and texture. Just imagine waking up and swinging your feet off your bed and sinking your toes into a soft, fluffy, and colorful pom pom rug!
You will need to pick out your rubber mat backing properly, though. While you get to choose from a variety of shapes for the base, you do, however, need something durable that you can attach your pom poms onto.
You will also need a crochet hook to help you pull the pom pom threads through the backing. Alternatively, you can also use a large-eyed embroidery needle like this.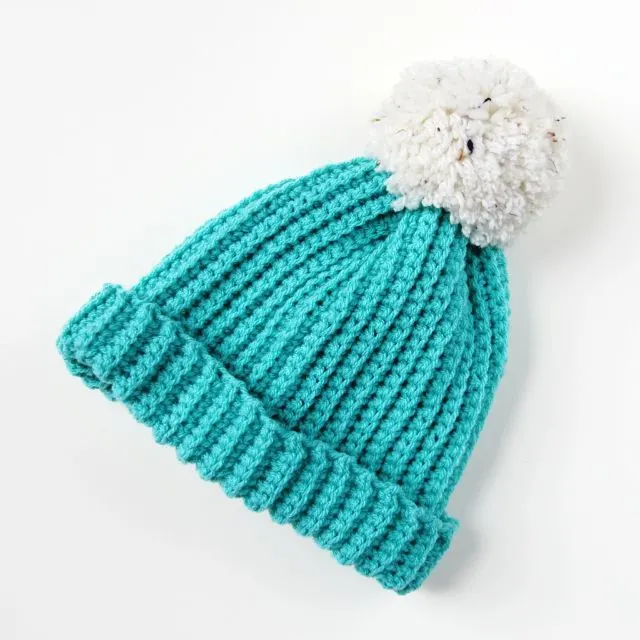 Source: gatheringbeauty.com
If you used that crochet hook just now with the previous project, then the chances are that you got carried away a little and crocheted something nice…a simple beanie or hat, perhaps?
Or maybe you just have an old knitted hat already that's in dire need of a little sprucing up. You know what it needs, don't you? The cherry on top, of course, or in this case, the fuzzy pom pom on top.
Grab your needle and thread and your pom pom of choice. Simply sew the pom pom onto the top and secure it with sturdy embroidery floss like this.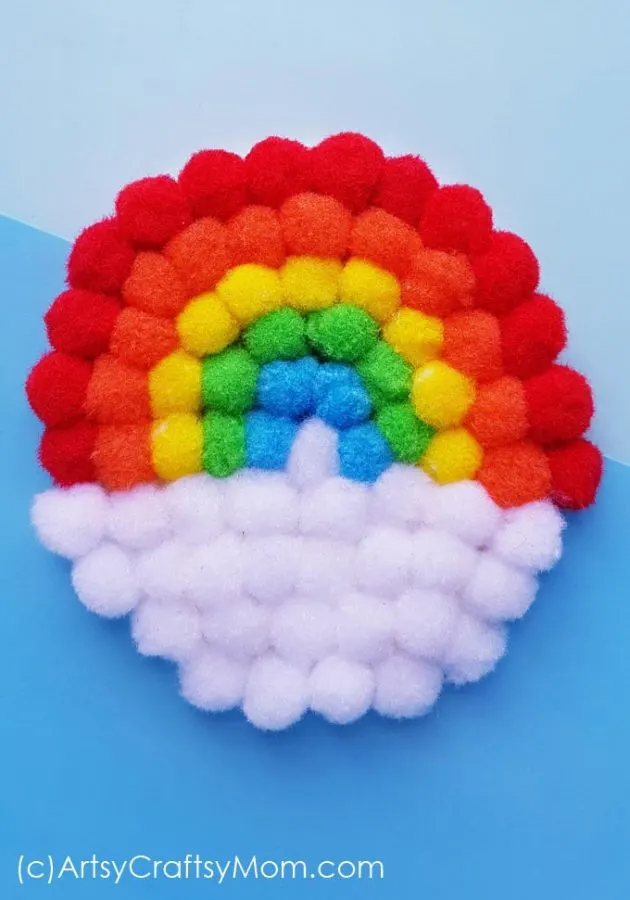 Source: artsycraftsymom.com
I know what you're thinking: how have you made it so far down this list of pom pom crafts and only just found this treasure. Well, all good things to those who wait because there's always a rainbow at the end of this particular tunnel.
Check out the smorgasbord of colors in this project! With a little bit of hot glue, cardstock, and of course, your pom poms, you and your little ones can recreate this gorgeous project in under half an hour.
Grab your cardstock and pencil and sketch a nice to help you with an outline. Then comes the best part: pom poms!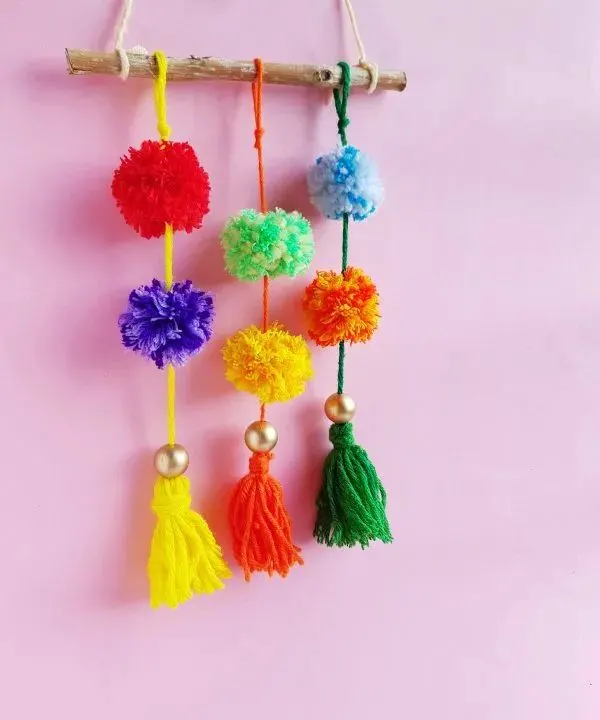 Source: craftbits.com
Wall hangings don't need to be elaborate or expensive, as this pretty pom pom wall decor piece shows us. All you need is a little bit of time, a couple of craft supplies, and pom poms!
You can even incorporate a fun outdoor activity for your kids to get involved in. Have them hunt in your backyard for the perfect branch or stick to use as the base for this wall hanging.
Once they're hooked, they'll enjoy playing with pom poms, as well. Don't forget; you're also free to decorate this hanging with little beads and other charms or embellishments.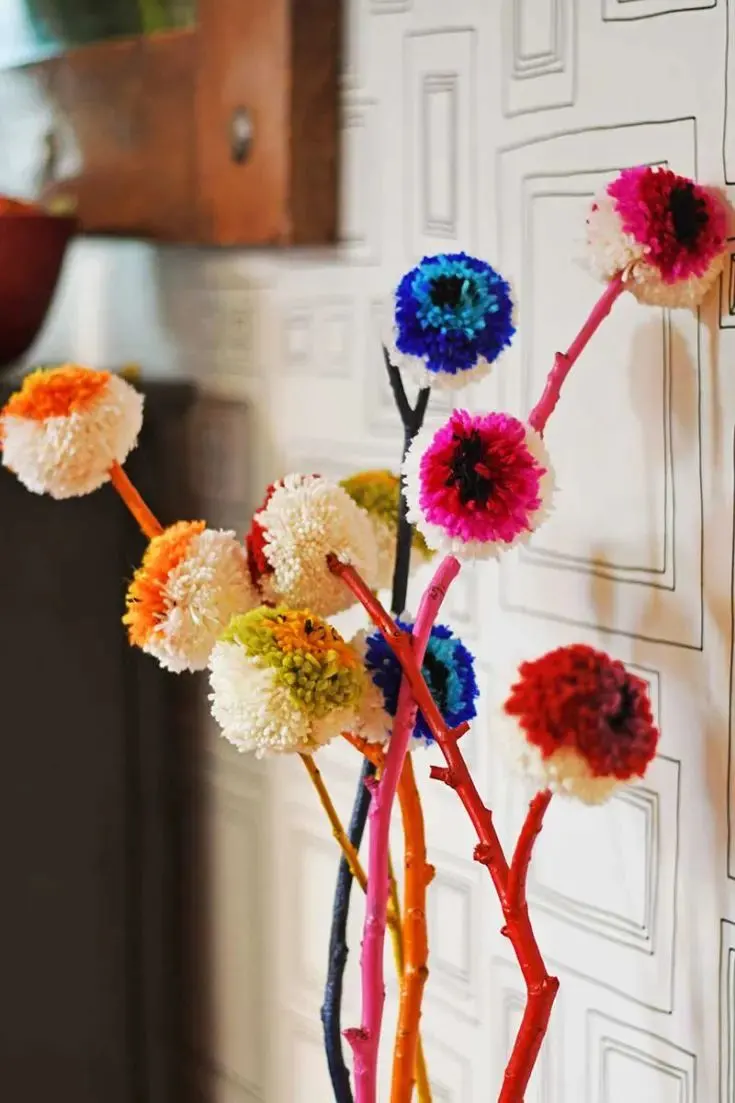 Source: pillarboxblue.com
A little flower-power, anyone? With spring right around the corner, we could all use a little pick-me-up to get us into the mood to do a little spring decorating.
So let's try to channel your inner spring enthusiast. Perhaps you can start off by making a few pom pom flowers? You can make a ton of pom pom flowers ahead of time and store them away for when it's time to decorate.
Grab your pom pom maker, yarn, and a pair of scissors, and start wrapping!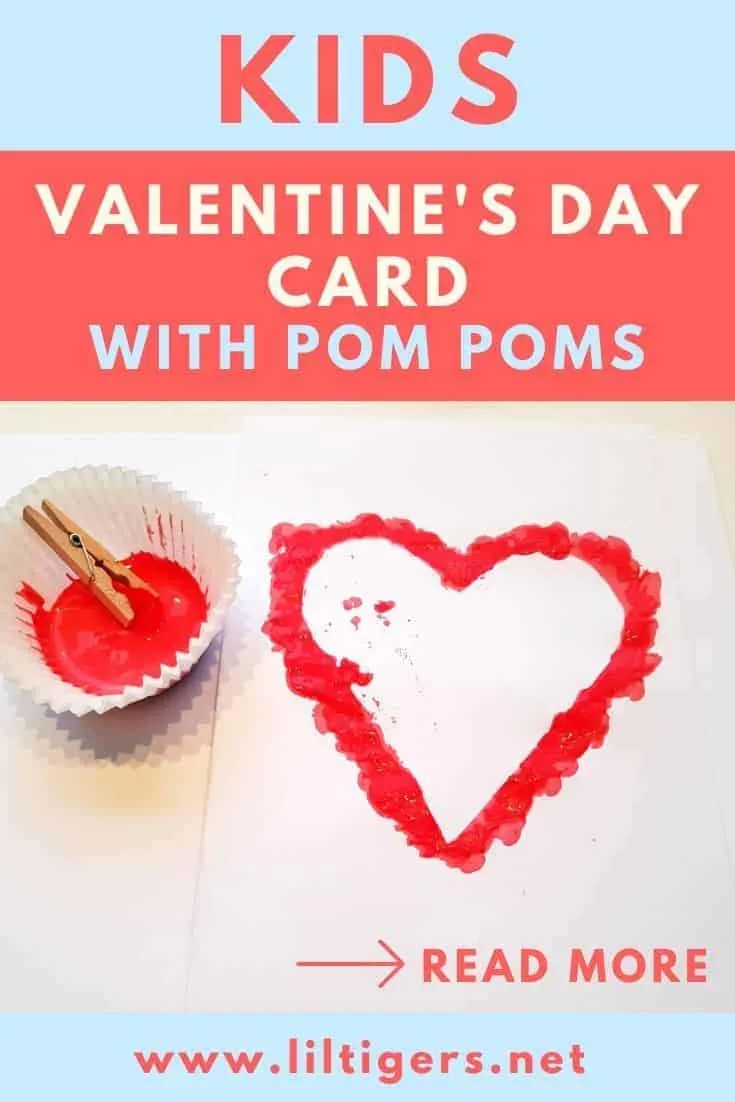 Source: liltigers.net
Valentine's Day cards don't have to be a cliche, you know. Sometimes, even the most heartfelt of words can fall…flat. So to add a little spice, depth, texture, and color to your romantic gesture, turn towards pom poms!
Grab all your supplies:
Pom poms
Clothespins from here
Liquid paint
Paper
Pencil
Scissors
Once you have everything on that list, you can start decorating your V-day card. This is probably one of the few times when more is just more fun, so feel free to glamorize the card with your pom poms.
Source: thesoccermomblog.com
I know what you're thinking: where on earth does a pom pom go on a bald eagle? Are we going to give the bird a fuzzy toupee of sorts?
Let me stop you right there. You're going to actually craft the eagle's body out of pom poms, from scratch.
This can be a little pet project, so to speak, and you can use it to decorate your 4th of July paraphernalia—it is the national bird, after all. Grab some scraps of felt and start crafting!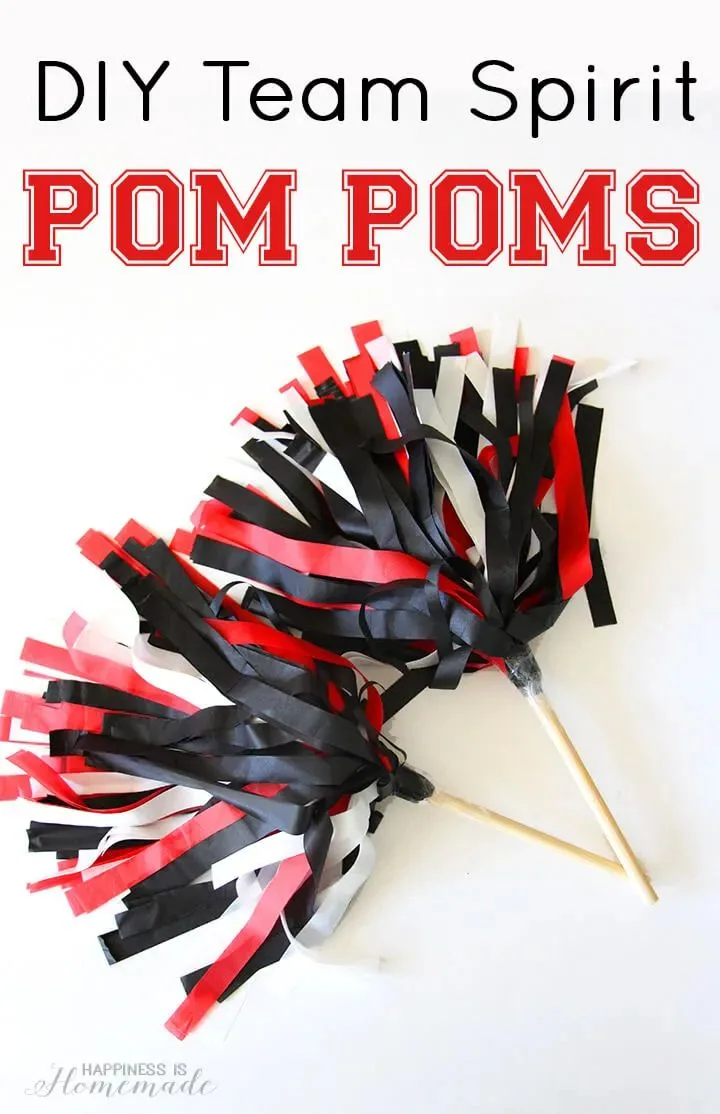 Source: happinessishomemade.net
We seemed to have forgotten the most common function of pom poms: cheering! What is it that cheerleaders carry to entice cheer from adoring fans at a big game? Pom poms, of course!
Grab a length of cloth first. You can use a tablecloth from here for this project. Also, grab this rotary cutter, some wooden sticks, and finally, some clear tape, as well.
Use the rotary cutters to cut the tablecloth into wide ribbons. This will act as your 'yarn' when you're ready to make your pom poms.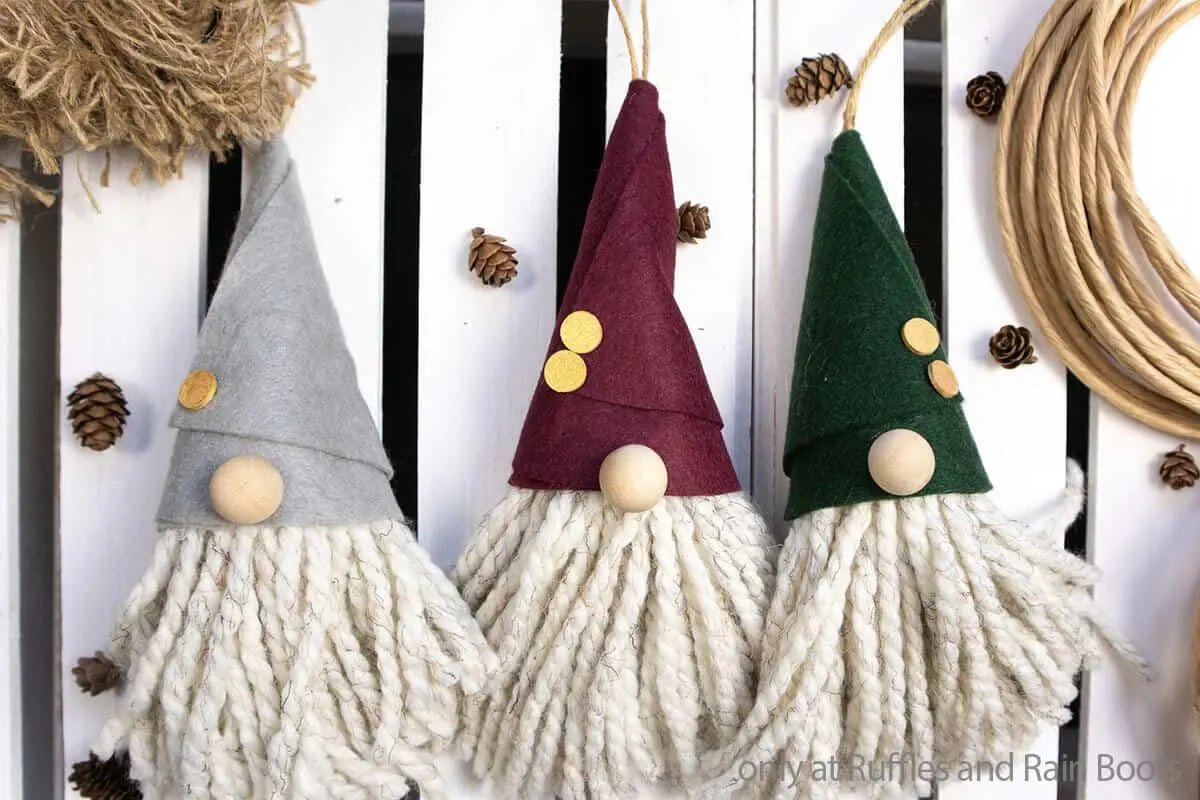 Source: rufflesandrainboots.com
Gnomes have somewhat of a bad rap, don't they? They're not all cute and cuddly, and they can come across as grumpy.
But why don't you take a look at these pom pom snouted gnomes? They don't look grumpy, do they? They look interesting and, dare I say this—cute?
It's because of those pom pom noses, I tell you! Even their long beards look pretty. You can use braided yarn, too, or even multicolored yarn to accentuate the beard.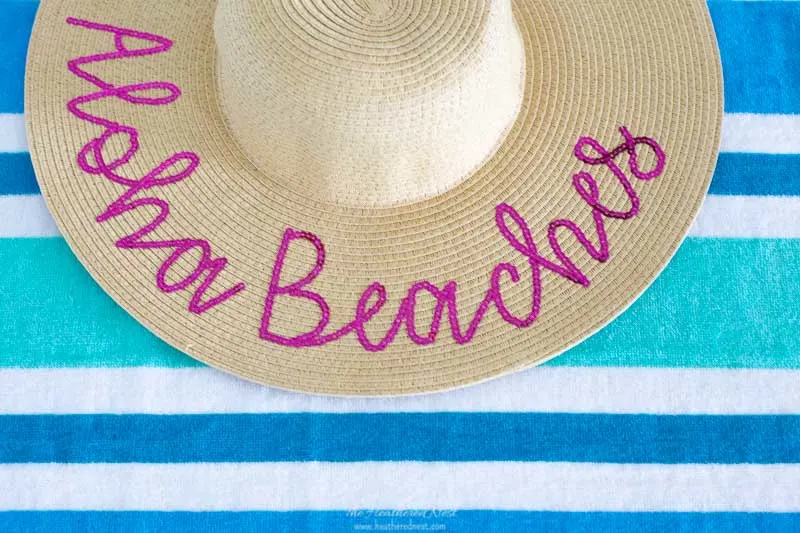 Source: heatherednest.com
Have an upcoming trip to the beach that you've been packing for? You know what would really set you and your outfit apart on the sunny sands? A beach hat like this one, with a cute string of pom poms!
You can take things one step further and hot glue a few seashells and beachy embellishments. Then just perch this snazzy hat atop your head, sit back in the shade with a good book, and enjoy a cold glass of bubbly!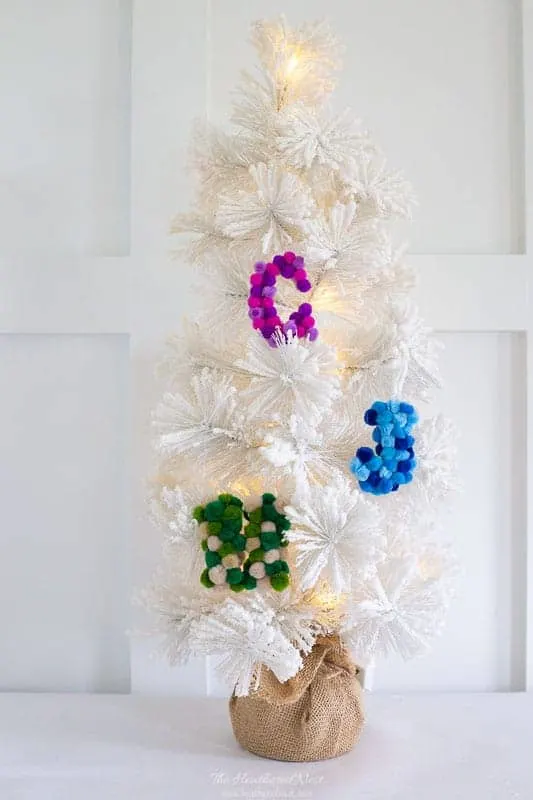 Source: heatherednest.com
DIY ornaments have a ton of potential. You can snazz up a tree or your home decor almost instantly with a few fuzzy pom poms ornaments.
If you've got a large family, then these letter ornaments will definitely help involve the whole family. You could even consider starting a tradition of sorts.
Just keep adding on to the letters with every new addition to the family, and you literally have a family tree in the making!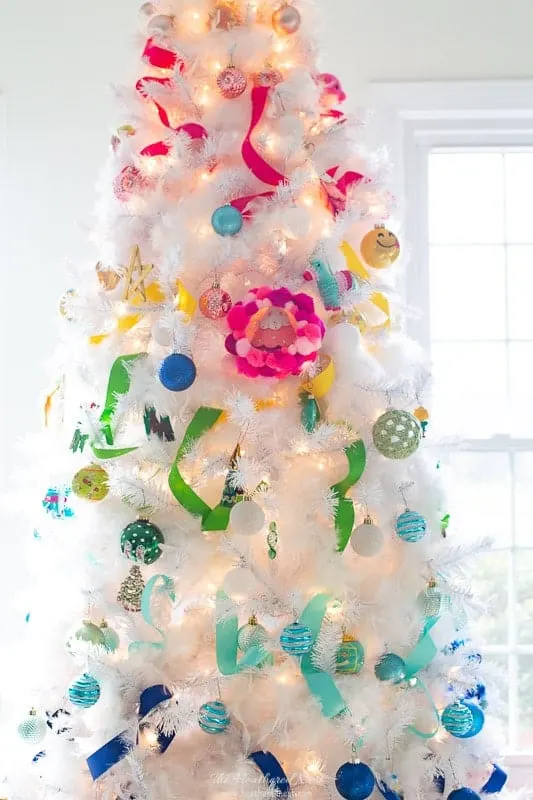 Source: heatherednest.com
Here's another snazzy tree decor ornament with pom poms you might be interested in trying. I don't know if you've kept up with the white-colored Christmas trees that have taken the internet by storm, but they are in!
So what better way to decorate it than go old-school with rainbow colors? Grab a globe plastic ornament first. You can find one right here.
To begin with, apply some heavy-duty spray adhesive to secure the pom poms. This won't just help adhere the pom poms to the ornament but also evens out the surface and bonds the two together.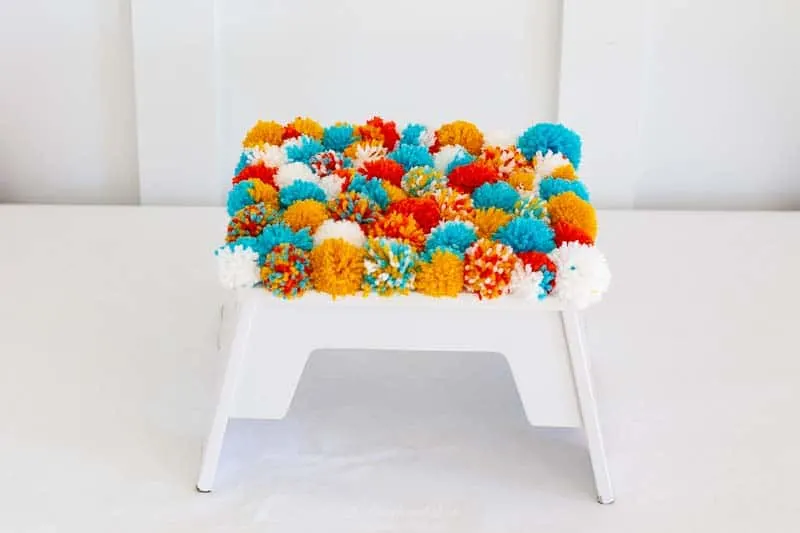 Source: heatherednest.com
Pom pom footstools have been trending like crazy, and rightfully so. They're like little pastry confections, albeit inedible, full of flirty textures, colors, and fun.
Fair warning, though, you will need a ton of pom poms. A veritable ton, I tell you! You'll want a sumptuous footstool, fluffy and big, not something meager and flat.
So go ahead and start making all those pom poms in advance to help you when you're ready to make this footstool.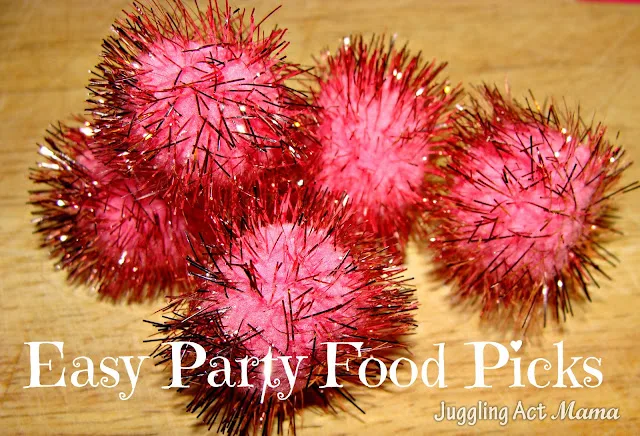 Source: jugglingactmama.com
Food picks for parties are quite underrated. When you're having a themed party, then they can really help you kick things up a notch and accentuate your theme.
These pom pom food picks are perfect for any party, a quick way to help you jazz up something simple like cheese, olives, pickles, and fruit. In under an hour, your whole food table will be bursting with pops of color.
And hey, when your guests are done nibbling on the food, I bet they'll get a kick out of having a fuzzy and colorful toothpick, don't you?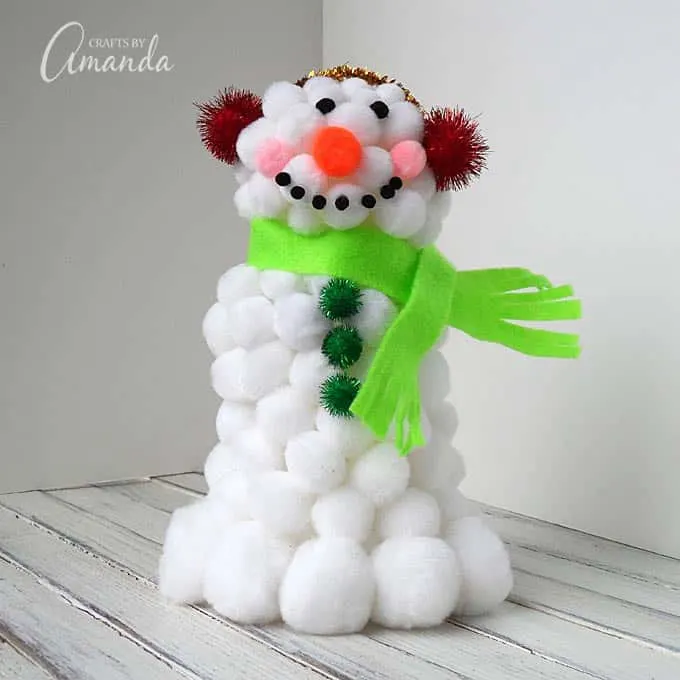 Source: craftsbyamanda.com
Do you wanna build a snowman? I don't mean with snow and a carrot stick nose—it's as hot as the underside of a saucepan right now, so some semblance of winter would be lovely.
Instead of snow and carrot sticks, let's try something a little simpler. Let's make a pom pom snowman. Now, the most natural thing to do is to probably just use two big pom poms for the body and face.
But what's the fun in that? Let's use a ton of mini pom poms for a more fluffy and textured snowman!
Here are fun Christmas crafts for kids.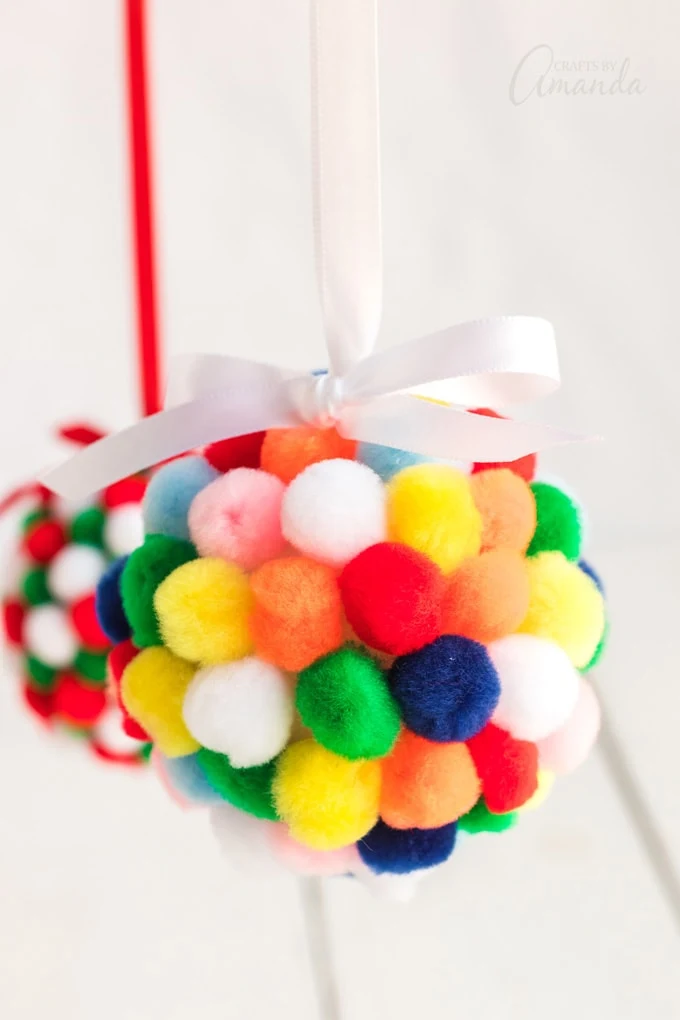 Source: craftsbyamanda.com
Here's one more Christmas ornament that can instantly add a disco ball of colors to your tree. Grab some tacky glue and a packet of multicolored mini pom poms.
You can always use different sizes of pom poms for a more varied look. When you've gathered everything you need, go ahead and assemble your pom poms.
You know what else would look fabulous with these ornaments? A nice big bow on top to wrap things up and a length of ribbon to hang these ornaments from.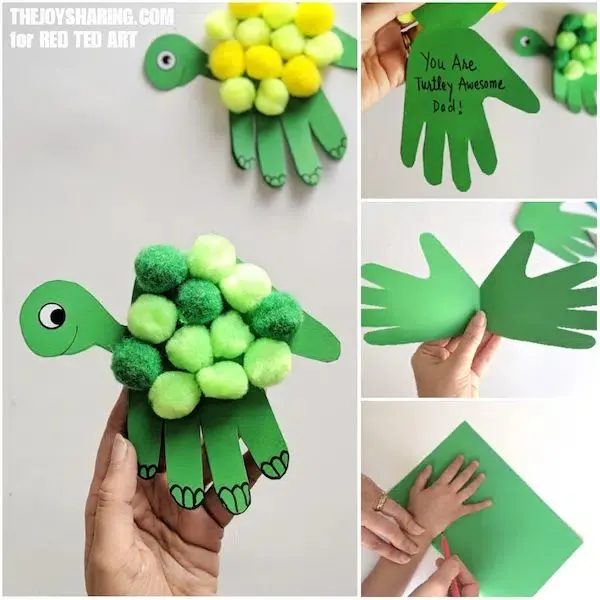 Source: redtedart.com
You might be wondering what turtle cards are. Well, It's an opportunity to use up some green pom poms.
Whether it's a card for your parents' birthdays or even a get well soon card, this fluffy turtle will definitely put a smile on the recipient's face.
Pick up some green cardstock from here, as well as green pom poms from here. You can trace your kid's handprint and then just work around that.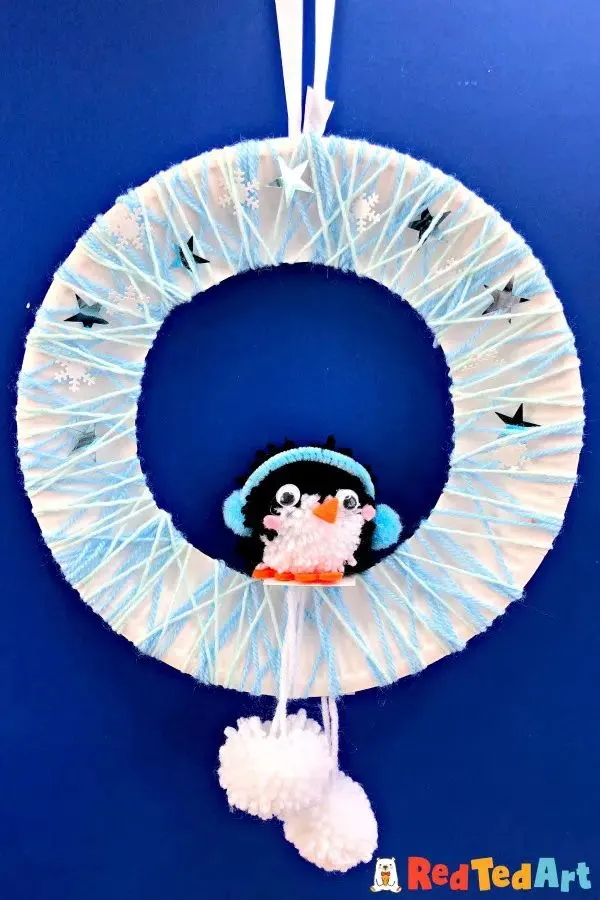 Source: redtedart.com
Snowmen and penguins are best when made out of pom poms, and you can't convince me otherwise. There's no better way to capture the cuddliness of penguins better, don't you think?
You can go all out with your love for penguins and pom poms with a yarn-wrapped DIY penguin wreath. It's so deliciously simple to make but can keep your kids occupied for an entire afternoon of craft time.
Grab a paper plate from here to use as the base for your paper wreath. You can also use stickers and embellishments like felt, googly eyes, and more to help decorate your penguin.
If your kids are fond of penguins, then why don't you take a look at these perfect penguin crafts for your kids to try?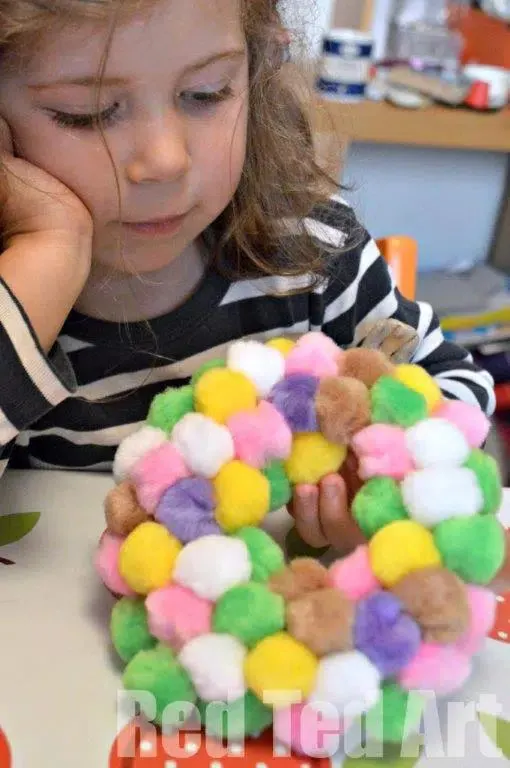 Source: redtedart.com
Here's another fun wreath that you can check out, and for your kids to experiment with. And, needless to say, it's got a ton of pom poms!
You will need a styrofoam or foam wreath base(look here) for this project, or you can just as easily use a paper plate to the same effect.
You know the drill by now, don't you? Just grab your adhesive of choice and start gluing the pom poms in place.
If you have a few paper plates left, then check out this DIY woven bowl out of paper plates you can try!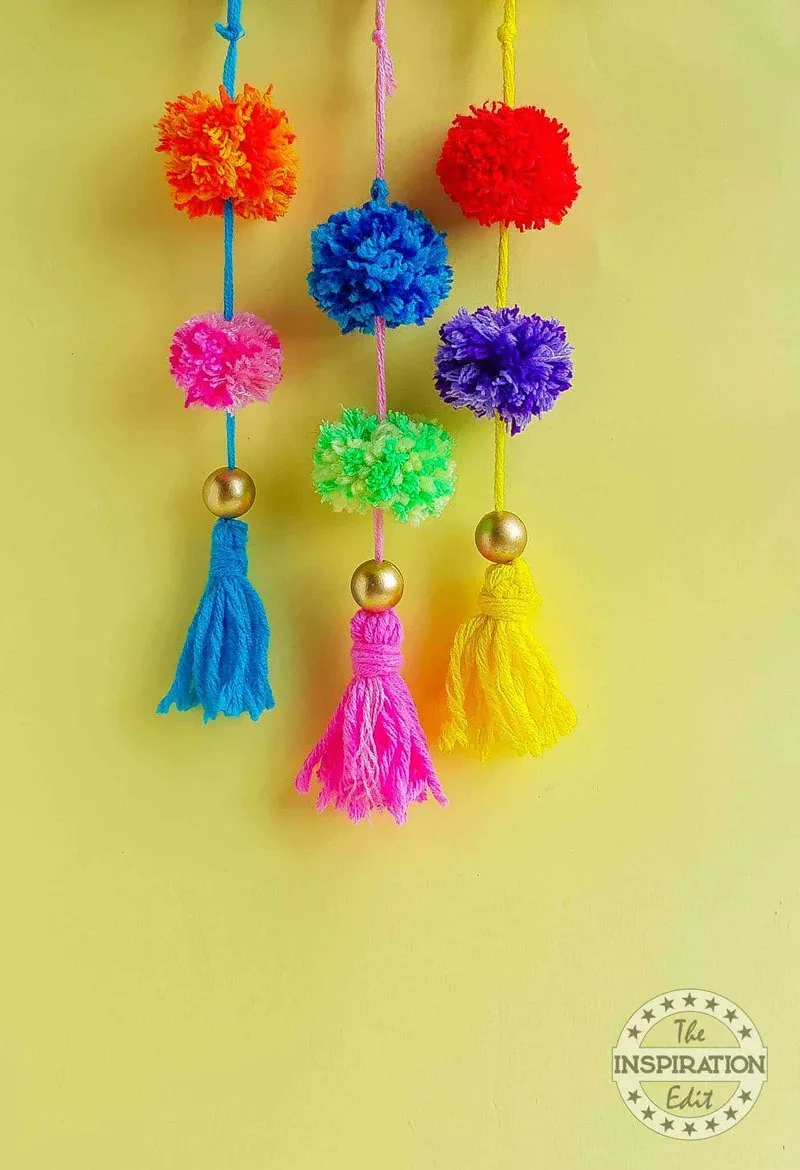 Source: theinspirationedit.com
This pom pom wall hanging isn't too different from the one you saw earlier, but you can use it as a tassel, too. So if you want to switch things up a little, just hang them from your ceiling or from even your pom pom garland.
It's got cute little beaded tassels to round it off nicely. In fact, you can also use it as a curtain tassel, if you have a mind to. But first, you have to make them, so start by gathering your supplies.
You will need:
Cardstock
Colorful yarn from here
A pom pom maker(or a fork)
Beads
Twigs and embellishments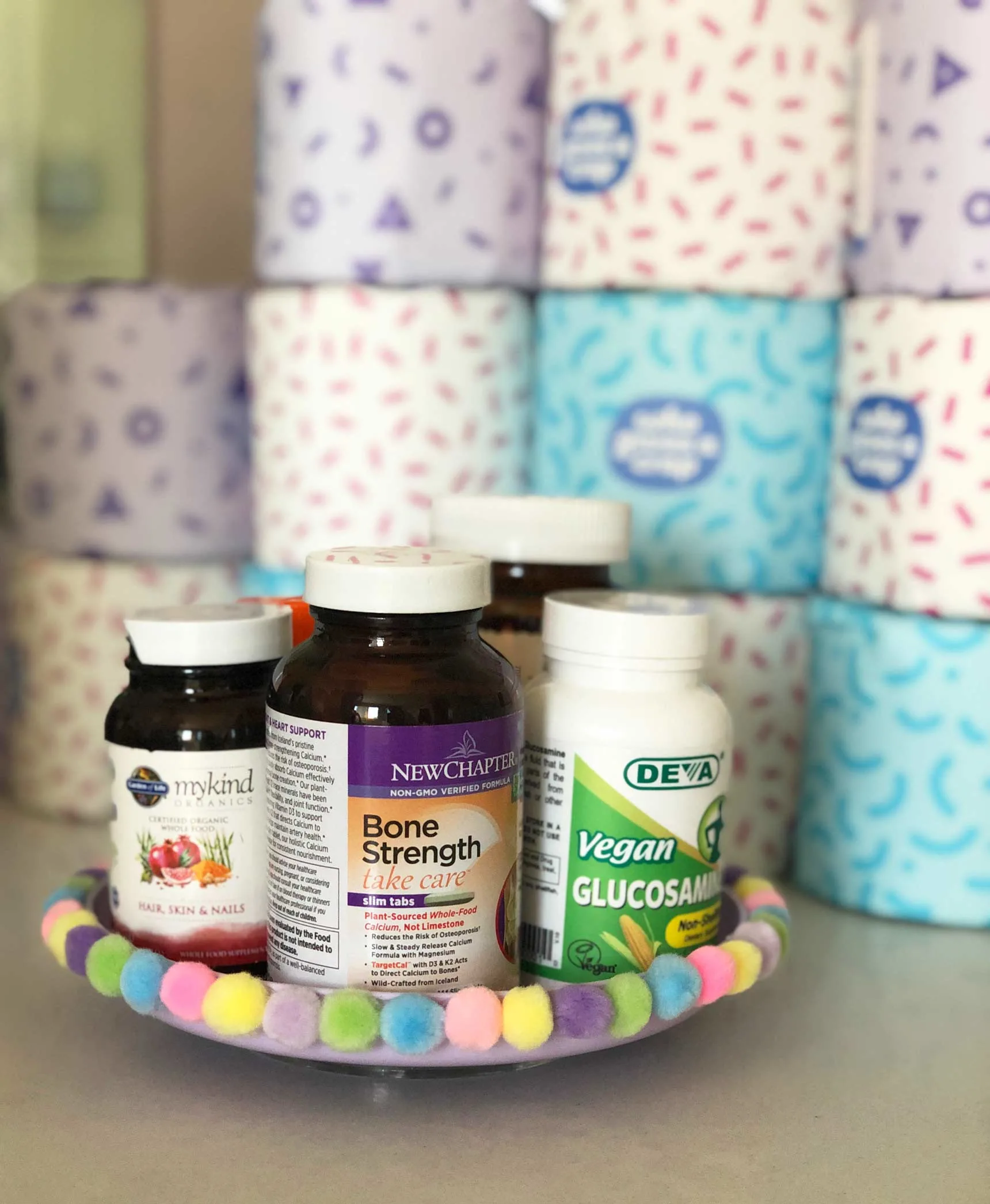 Source: vegandollhouse.com
You'll find that Lazy Susans are often tucked away in the corner of your kitchen or under the counters. If yours happens to be on display, then perhaps you might consider jazzing it up a little?
It can be quite fun to decorate your Lazy Susan with a string of pom poms. Just think of the volley of colors when you spin it around!
Whether it's to store your spices in the kitchen or stack your medicines in your dressing room, your Lazy Susan deserves a little extra flair and color!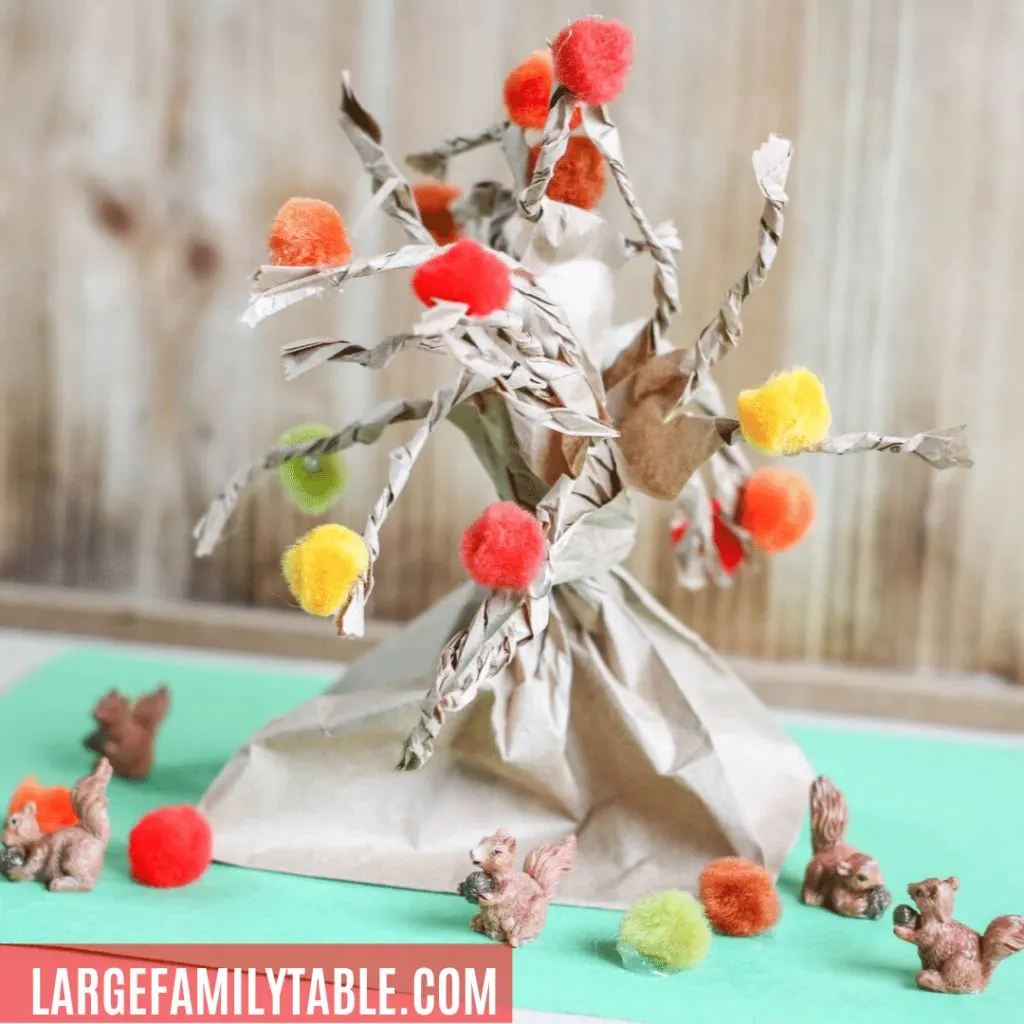 Source: largefamilytable.com
Have you ever seen anything quite this creative? A paper bag turned into this gorgeous fall craft project with just a few pom pom balls to add color!
Pick out a few orange, yellow, and red pom poms to get you started. Then, grab a few paper bags and tear into them as needed.
Next, start scrunching and twisting them to form your branches. When you're happy with how they look, just stick the pom poms onto the top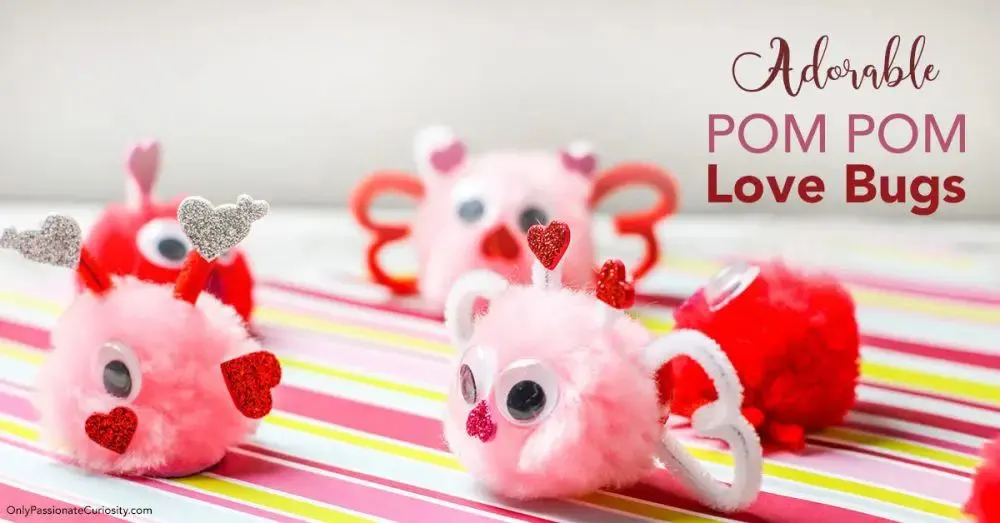 Source: onlypassionatecuriosity.com
If I had to pick an insect to be bitten by, I'd probably choose these adorable love bugs. They look like little balls of fluff; surely they deserve a special place as a part of your Valentine's day decorations.
It's also a fun activity to introduce to your kids. This will allow them to get in on the fun of planning for Valentine's Day.
You will need bigger pom poms for these love bugs—preferably at least an inch wide, in red, pink, or white. Just pick up a packet right here and start crafting.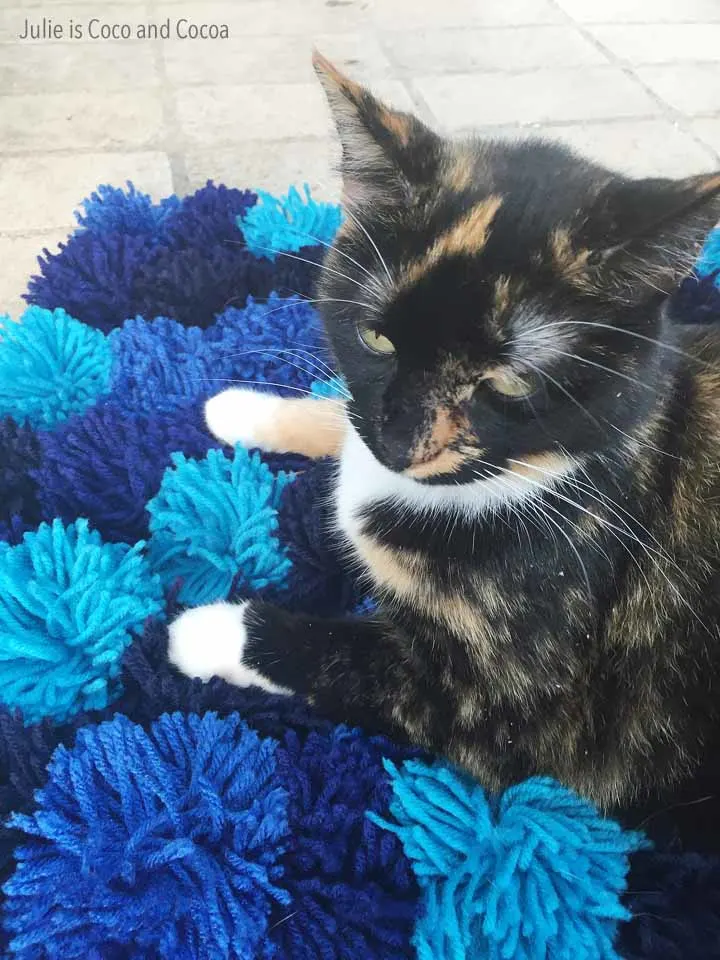 Source: juliemeasures.com
A soft and fluffy bed for a soft and fluffy cat—that sounds like a place I'd like to snuggle up in. This pom pom cat bed, like the pom pom rug you made earlier, will need a whole bunch of pom poms.
So if I were you, I'd definitely get started on making them ahead of time. Buying them ready-made will not give you the finish you'd normally get.
So go ahead and put a movie on, or settle down for a night of binge-watching your favorite TV show while you make these pom poms.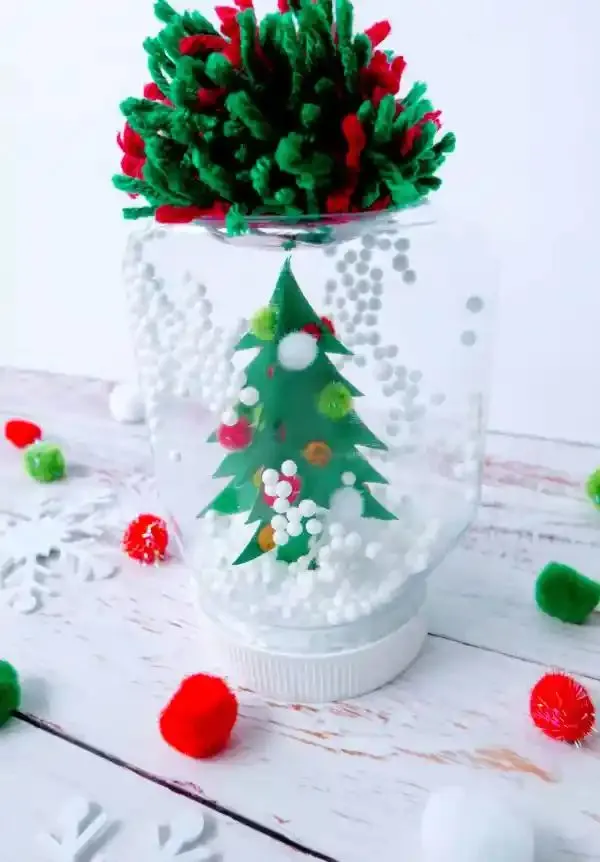 Source: madeinapinch.com
Snow globes will never go out of style. They are so fundamentally a part of Christmas that they'll always be a go-to craft project, as well.
So, let's make a snowglobe from scratch. Pick out the following supplies:
An old jar that can be upcycled
Polka dot cardstock from here
Pom poms
Snowflake confetti from here
Sequins from here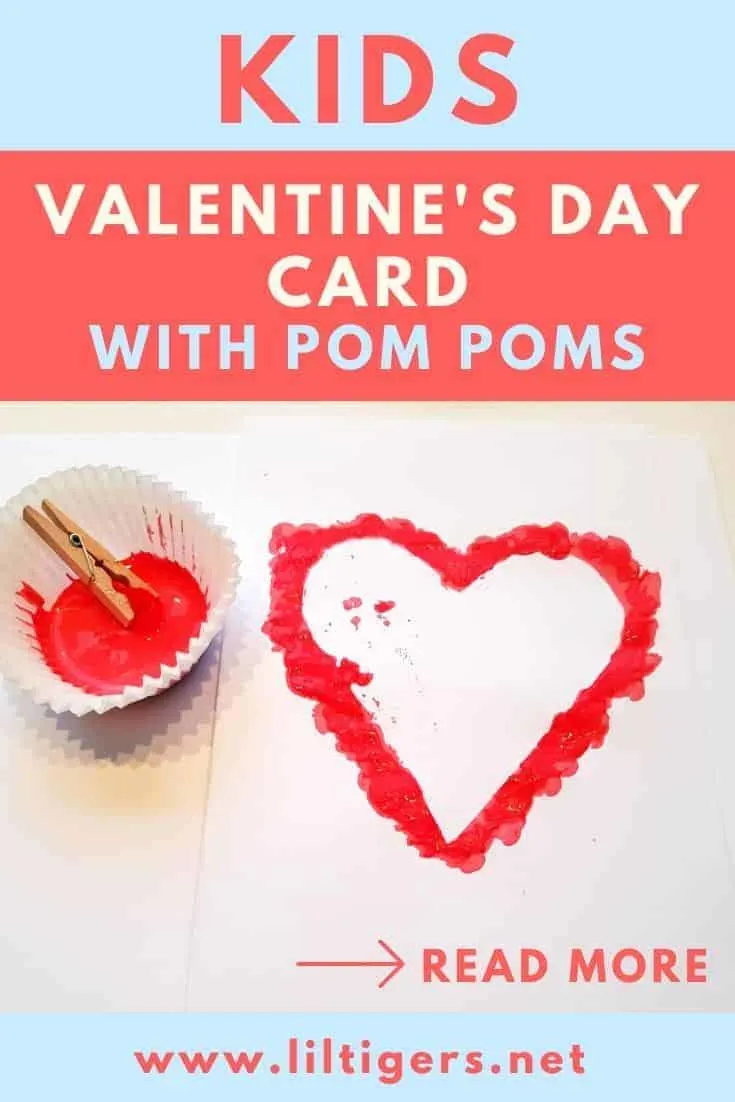 Source: liltigers.net
Here's one more V-day pom pom-themed card that you can indulge in. It isn't just for Valentine's day, you know, it's perfect for celebrating love and friendship.
I'm sure you already have all the supplies you'll need for this project, so just grab your red paint and get started
Just remember to lay out plenty of newspaper to catch any spills and help control messy paint splatters. It can be super easy for kids—and adults—to get carried away when there's paint involved!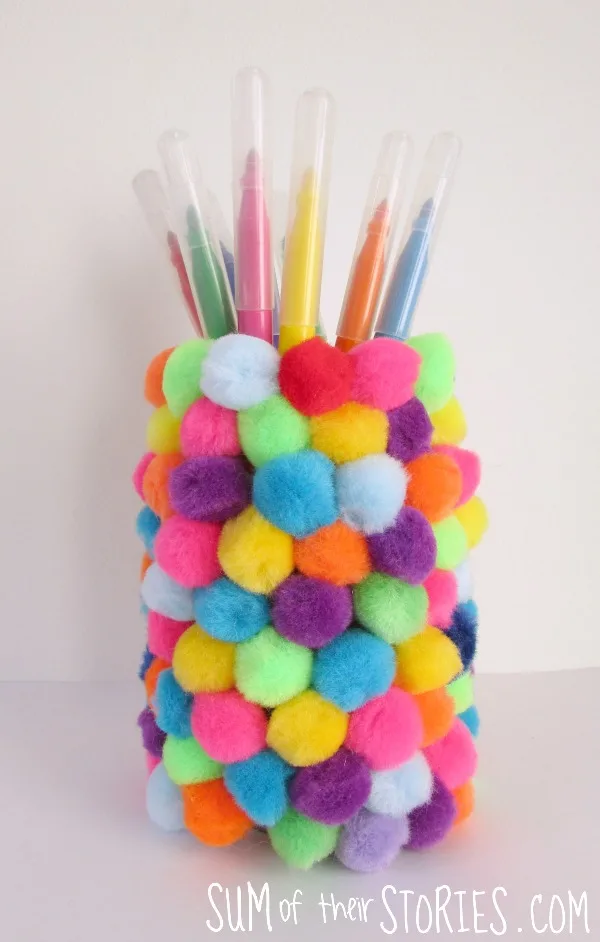 Source: sumoftheirstories.com
Pom pom pen pot. Say it with me again, and let's make it a tongue twister! Saying it out loud is perhaps the most difficult part of this project.
The pen pot itself is actually quite easy to make. We can always do with another desktop organizer, right?
Grab an old container from your cupboard, or take one from your recycling stash and upcycle it, instead. Jam pots or pickle jars work splendidly here.
Next, grab some pom poms from your stash, a hot glue gun, and any other embellishments you want to add to this pen pot.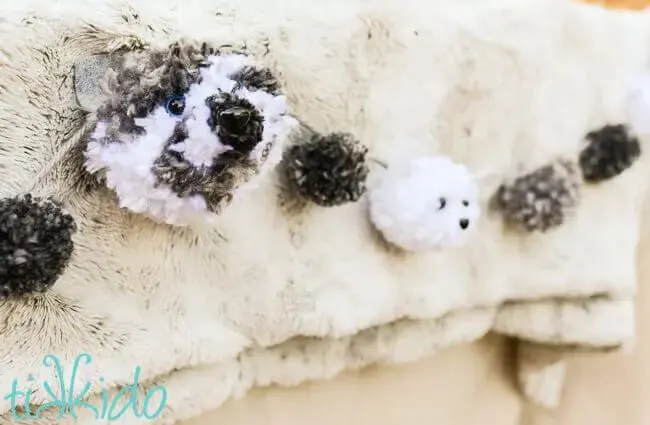 Source: tikkido.com
Pom Pom wolves—or dogs—can be just as exciting to make as pom pom eagles or snowmen. You can use this project to add to your stash of yarn animals, or you can just make them because they look cute.
You can see how the cute wolves have been strung up into a garland of sorts. So think party decor or kids' rooms decor, too.
You might need to buy the puppet eyes(look here), though, although googly eyes should probably work just as well. Don't forget to pick up these puppet noses, too, while you're shopping.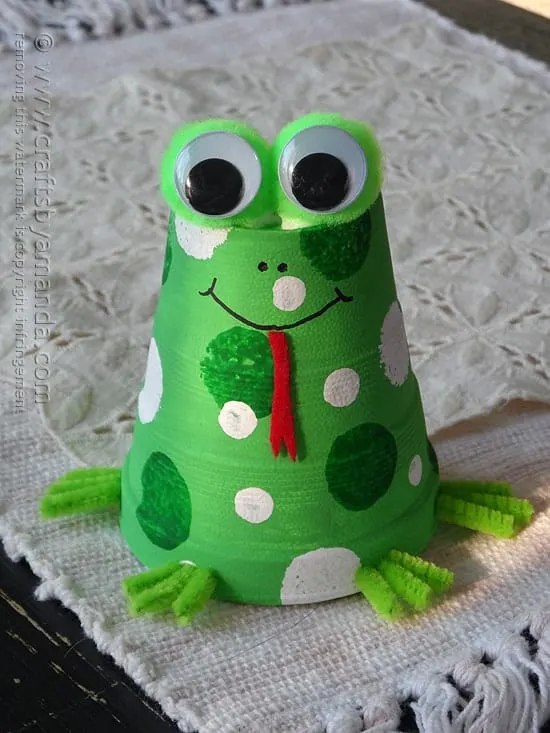 Source: craftsbyamanda.com
Speaking of adding to your stash of pom pom animals, here's a pom pom frog—or is it a toad?—you can experiment with.
You'll be making the body frog with a foam coffee cup(look here), by the way. It's for the big eyes that you'll be using pom poms. Grab your green paint and start painting the cup.
You will also need a few clippings of green pipe cleaners, so go ahead and snip off a few pieces with your craft scissors. When you're done, just hot glue a couple of googly eyes onto the pom poms, and your frog's just about ready!
Check out these pipe cleaner craft ideas for more inspiration!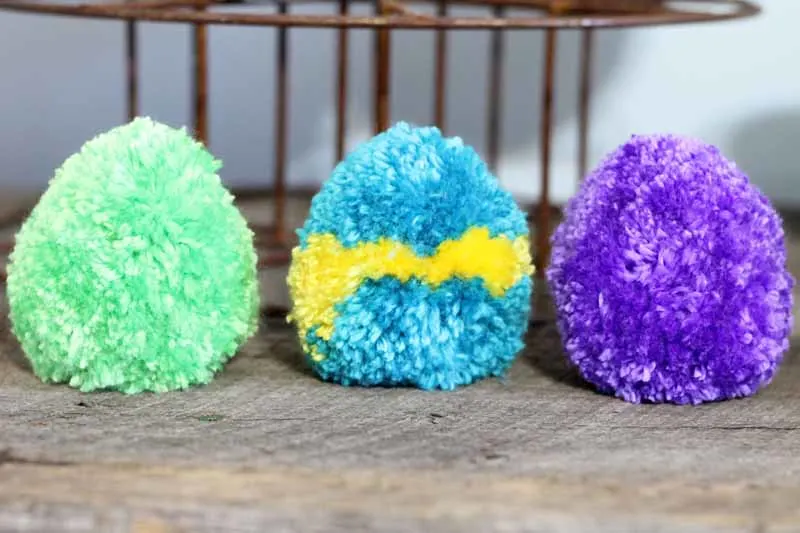 Source: thecountrychiccottage.net
Easter eggs and pom poms; what do they have in common? They both give me warm fuzzies. I just adore everything related to Easter, and it just makes absolute sense to incorporate the two.
So here is everything you'll need for this project:
Hemp twine
Cardboard
Yarn
Scissors
Sounds pretty simple, right? Well, that's because it is. Once you have everything ready, go ahead and start wrapping your yarn around to make the pom pom.
Check out more Easter Crafts for kids.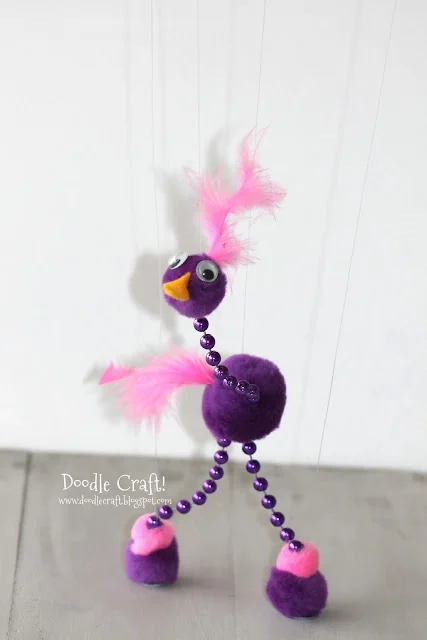 Source: doodlecraftblog.com
I think there's something so fundamentally quirky about a silly bird marionette-like this one. It's fun, weird, and silly—the perfect recipe for a perfect afternoon of crafting with your kids.
You probably would have noticed all the silly bird archetypes that Disney had been coming up with for us to enjoy, be it Kevin from Up or Heihei from Moana.
So, who knows, if you make enough of these, you can put on a puppet show right at home with plenty of characters to enrich the story and narrative!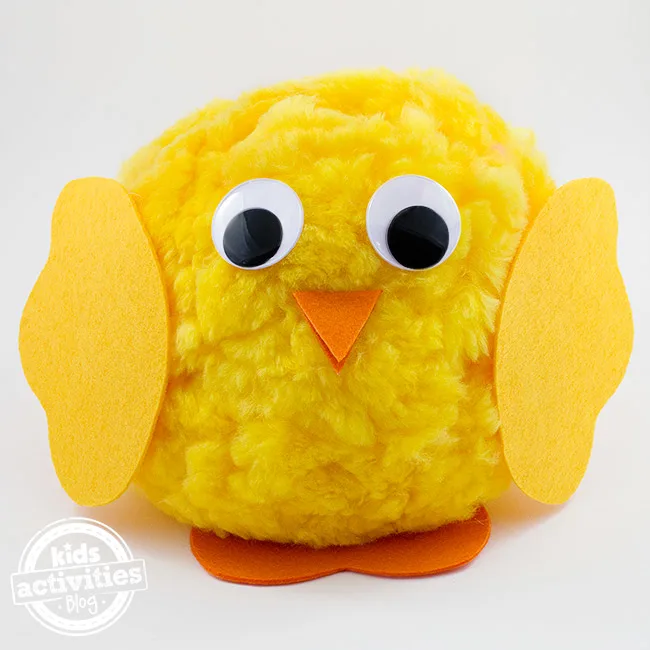 Source: kidsactivitiesblog.com
Speaking of pom pom chickens, here's a giant pom pom baby—although calling this big bird a baby doesn't seem right—chick!
This pom pom chick will probably outshine every single pom pom project on the list. It's big, fluffy, soft, and cuddly—pretty much all the hallmarks of a smashing cuddly toy!
Sure, you can just buy a toy like this at the store, but why would you when you can make your own from scratch?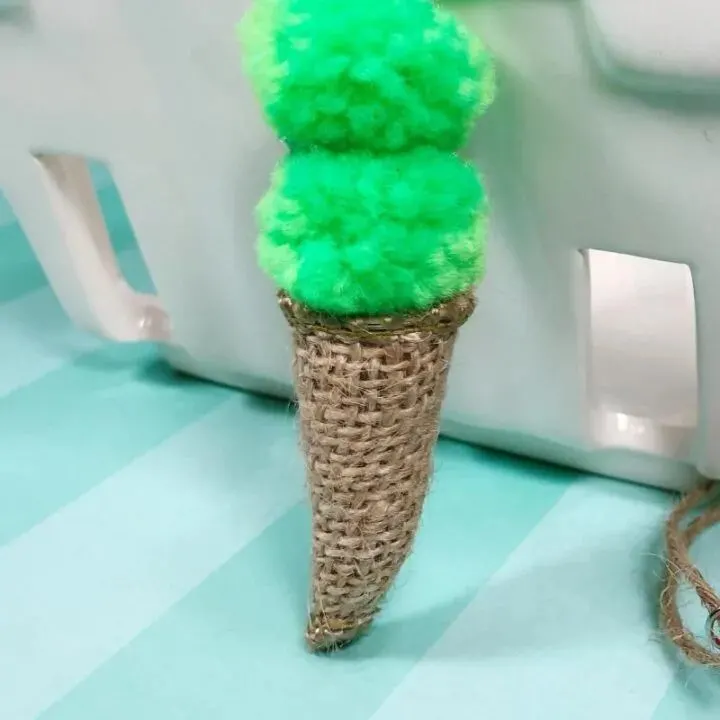 Source: thepurplepumpkinblog.co.uk
If you were worried that after that giant chick, everything else on this list of pom pom crafts would seem pretty tame, you're absolutely mistaken. Why? Well, check out this delicious ice cream cone.
It's got not one, but two! scoops of fluffy pom poms—everyone knows that three is too much of a good thing. So if you're ready to make yourself another delish-looking pom pom project, then go ahead and grab some on this burlap ribbon.
If you want to top it off, then one single fluffy red pom pom—the cherry on top—should be, well, the cherry on top!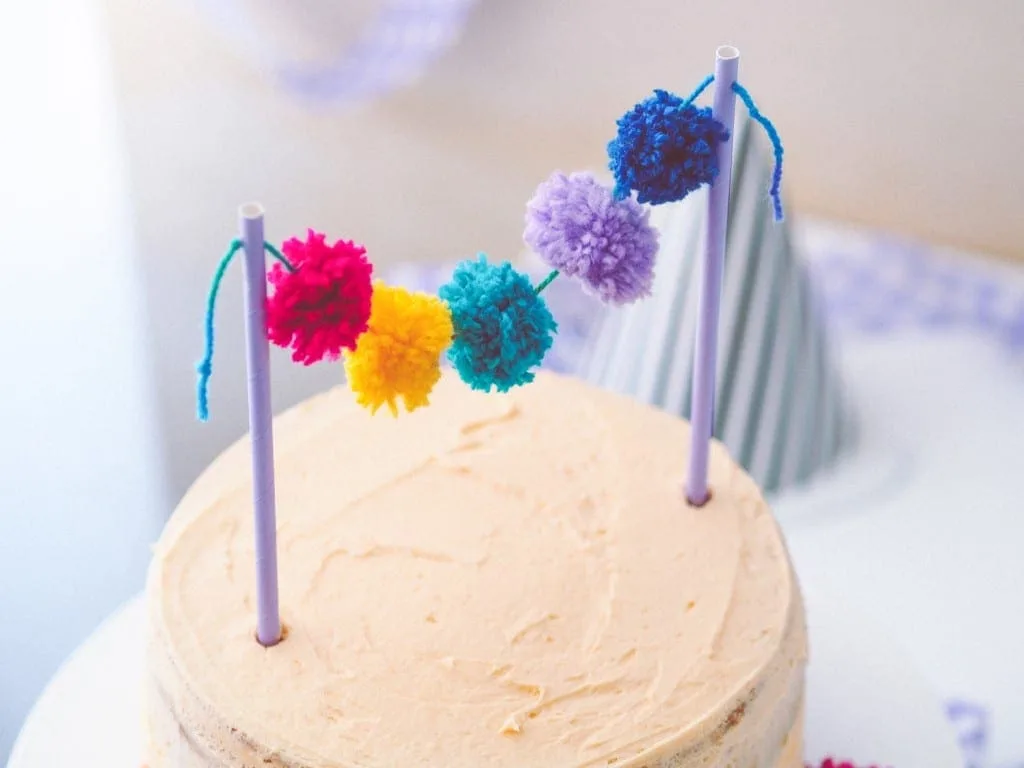 Source: familiesmagazine.com.au
Speaking of pom poms and cherries on top of food, here's a pom pom cake topper that you can make. I don't think I've ever seen pom poms atop a real cake but just look at it.
It's festive and cheerful, and it's super easy to make. You've already made pom pom garlands, so just make a mini version by stringing four to five pom poms.
You can use two paper straws as posts and hang the garland up between the two. But first, grab a fork—not to eat the cake just yet, but to make your pom poms!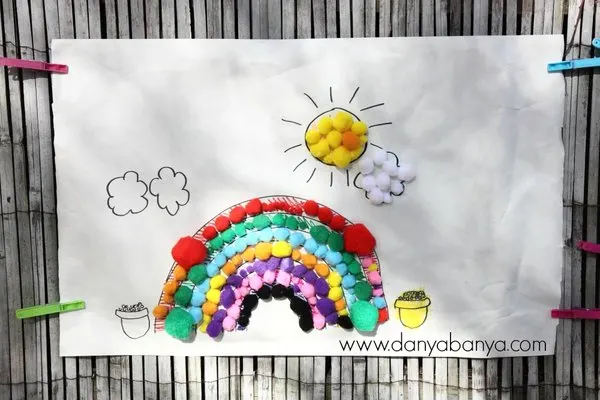 Source: danyabanya.com
Here's just one more rainbow-colored pom pom project—perfect, I think, for your younger kids. This activity can help toddlers learn and recognize colors.
First, set up some paper and color pencils and let them draw a lovely rainbow. Next, have them stick little colored pom poms in their right color lanes all around the rainbow.
Also check out these crafts for toddlers that the little ones are bound to love!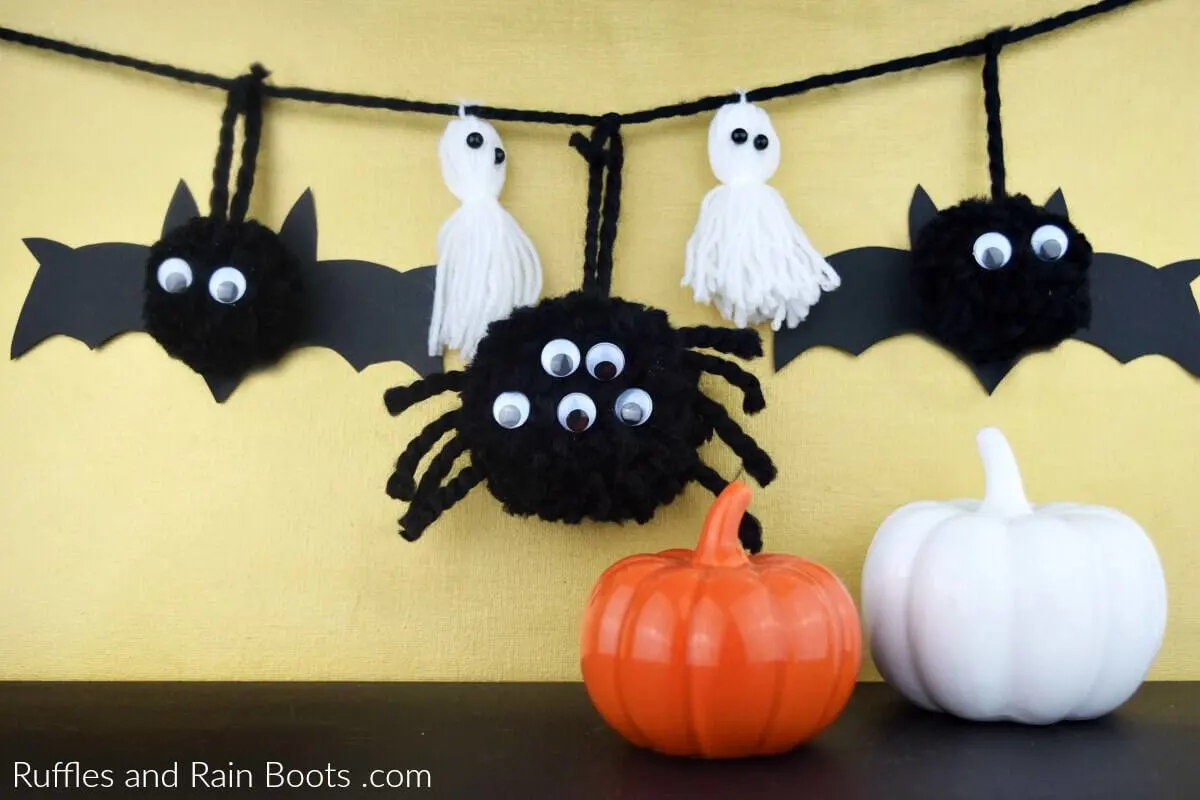 Source: rufflesandrainboots.com
Halloween decor for kids can't be as scary as one would like it to be. But that doesn't mean it has to be completely spook-free. You can just as easily turn a mad bat, sickly spider, or a ghastly ghost into fluffy pom pom-clad alternatives.
Why don't you string up an entire banner of pom pom toys this Halloween? It's going to be a thundering hit with the kids, I promise!
Grab all your supplies first. Remember: the key to executing a perfectly balanced banner lies in planning the banner and where everything goes beforehand!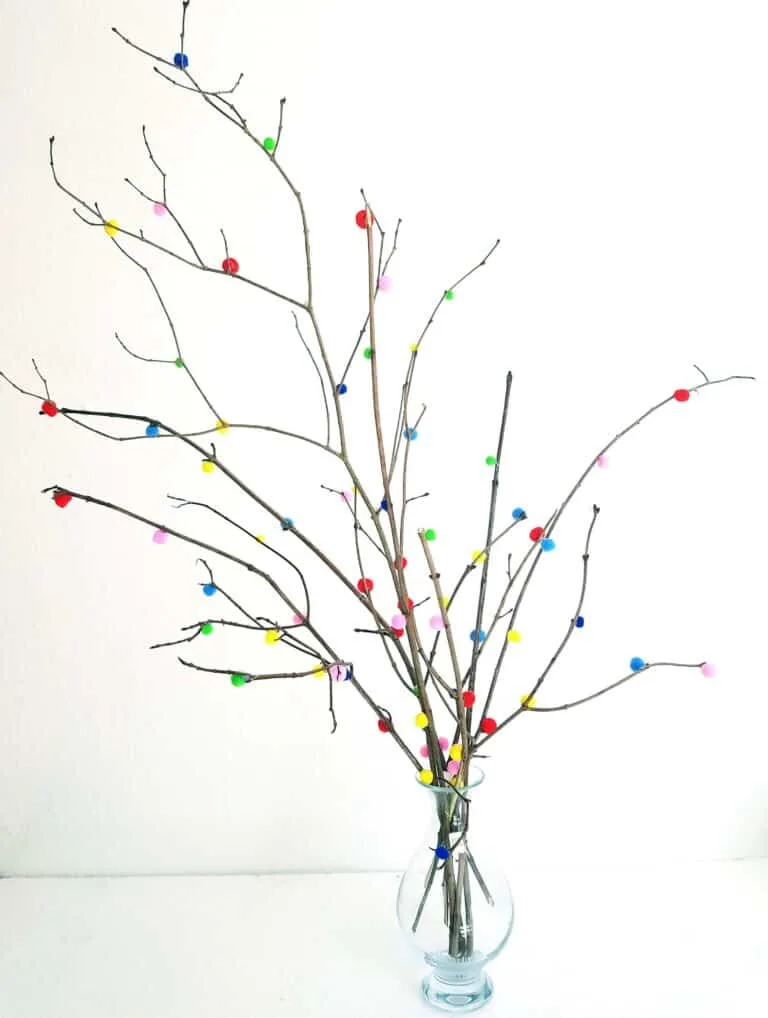 Source: liltigers.net
Remember that tree you made with autumnal colored pom poms? Well, this one's not that elaborate, but it is just as pretty and possibly even more colorful.
First, have your kids gather up some branches from your backyard and then tie them up into a bundle. Next, grab multiple colors of pom poms and start sticking them onto the branches.
This pom pom tree is something that you can work on, especially when you're on a decorating budget. Everything you need you probably already have or can pick up for a couple of bucks at a dollar store.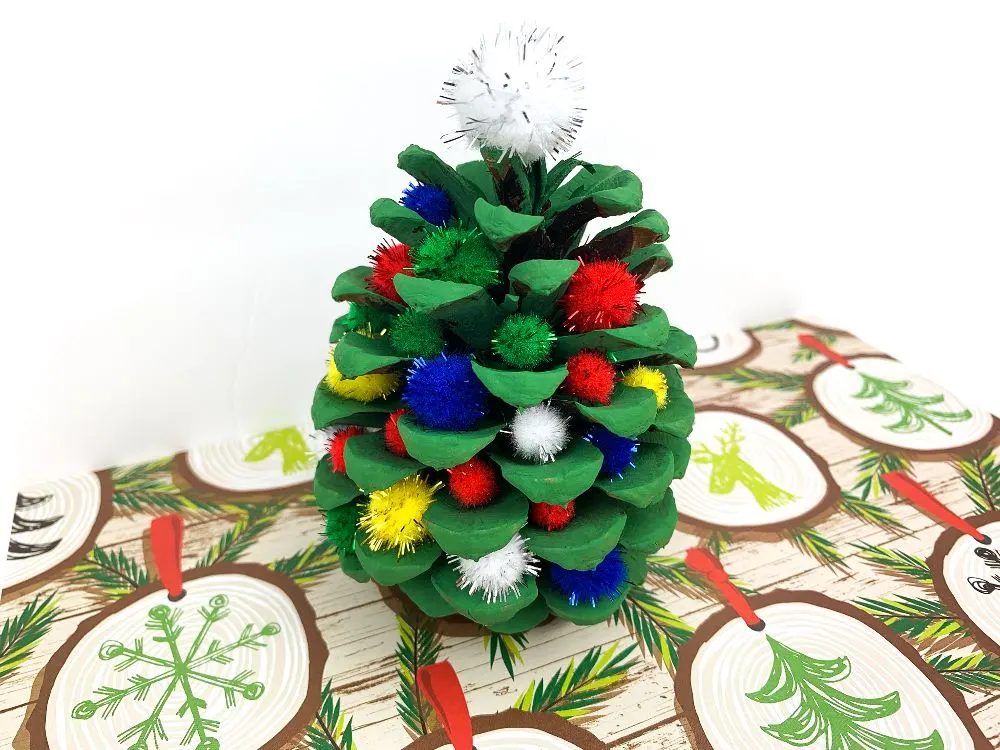 Source: twokidsandacoupon.com
Pine cones and Christmas trees are a unique yet perfect blend of my two favorite seasons: fall and winter. Just when I thought it couldn't get any better, in come the pom poms!
So, if you want a decor piece that will last you through Halloween and fall and into Christmas in winter, then look no further. It's got the perfect balance of the rich earthiness of fall, with festive colors of the holidays from those sparkly pom poms.
Let's grab a few brushes and paint the pinecones!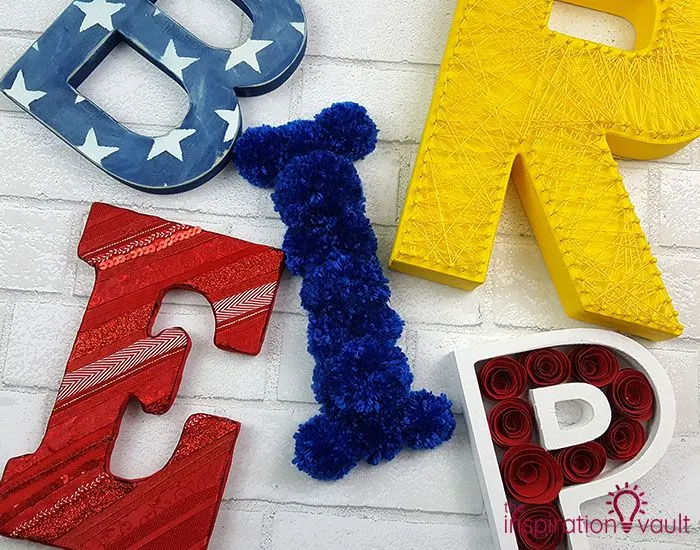 Source: ellemariehome.com
Pom pom monogram letters can help personalize your kids' rooms or study space. It's an age-old, much-loved, and easily-replicated project.
First, grab your pom pom-making supplies. In fact, I think it's time you invested in a pom pom maker, don't you? Check this one out!
You know the drill: once you've made your pom poms, grab your adhesive of choice and start sticking them onto your letter base.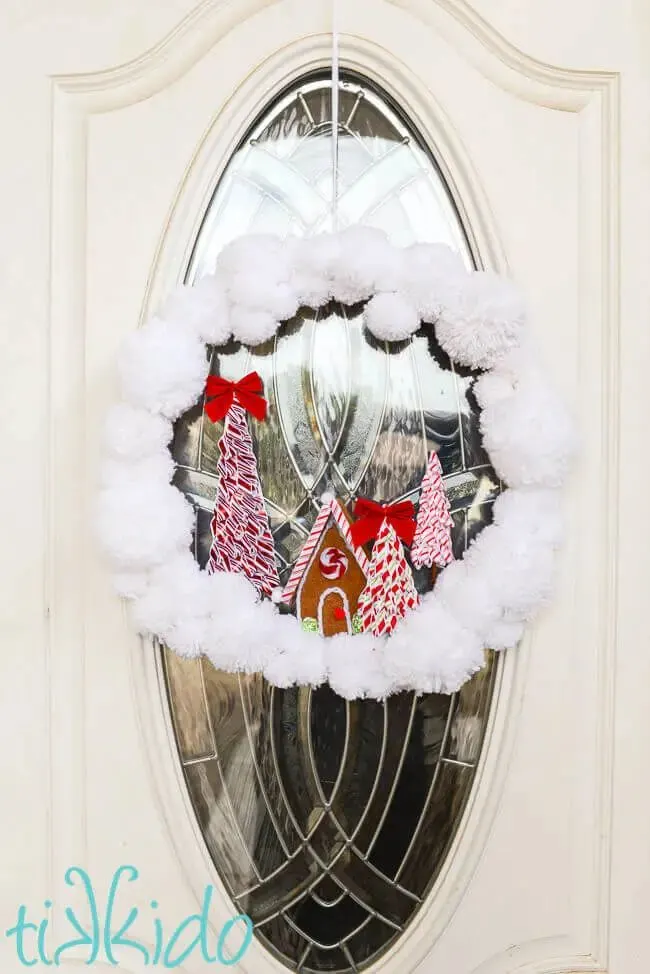 Source: tikkido.com
The very last project on this list is just what you need to finish up a long and fulfilling year: a DIY Christmas wreath. This wreath is sweet and simple but will definitely spice up your seasonal merry cheer.
Whether you wish to hang it up on your front door or just use it to adorn your living room above the mantle, this wreath will definitely be a stunner.
Check out these Christmas wreath ideas for more creative inspiration!
Yield: Crafts with pom poms
51 Amazing Crafts with Pom Poms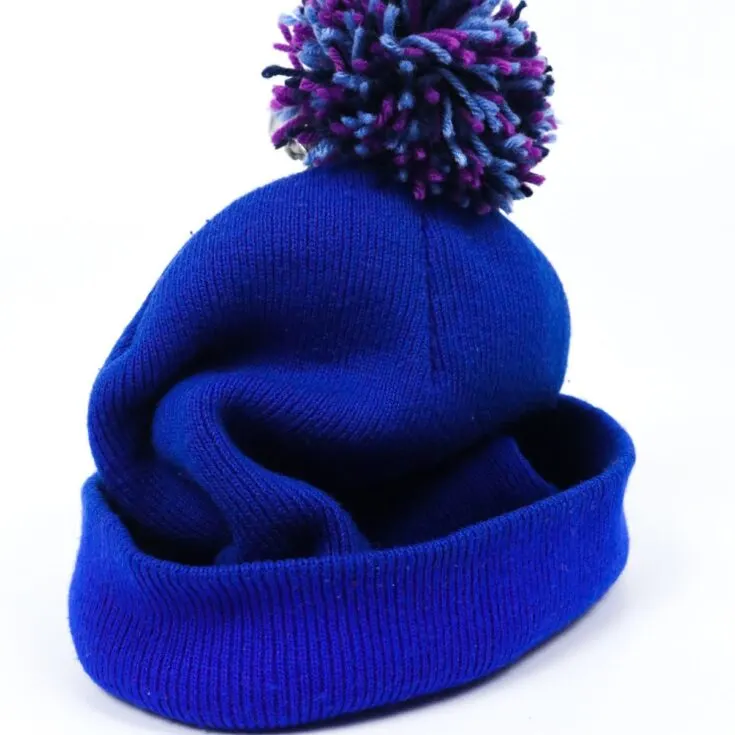 Have a few pom poms? Incorporate those into these pom pom crafts. Simple, easy and fun to make.
Materials
1. Pom Pom Pillow
2. Dream Catcher
3. Pom Pom Magnet
4. Coasters
5. Shirt
6. Letters
7. Pom Pom Sheep
8. Felt Ball Garland
9. Pom Pom Animals
10. Cocoa Treats Bag
11. Mother's Day Wreath
12. Pom Pom Rug
13. DIY Hat
14. Rainbow
15. Wall Hanging
16. Flower Decor
17. Valentine's Day Card
18. Bald Eagle
19. Cheer Pom Poms
20. Gnomes
21. Beach Hat
22. Letter Ornaments
23. Tree Decor
24. Footstool
25. Party Food Picks
26. Snowman
27.Ornaments
28. Turtle Card
29. Penguin Wreath
30. Kid's Wreath
31. Tassel Wall Hanging
32. Lazy Susan
33. Paper Bag
34. Love Bugs
35. Cat Bed
36. Snow Globe
37. Valentine's Day Card
38. Pen Pot
39. Wolf Dog
40. Frog
41. Easter Eggs
42. Marionette
43. Giant Chicks
44. Ice Cream Cone
45. Cake Topper
46. Rainbow Collage
47. Halloween Banner
48. Pom Pom Tree
49. Pine Cone Christmas Tree
50. Monogram
51. Christmas Wreath
Instructions
Choose the craft your want to make.
Gather your supplies and tools.
Create your favorite craft!