Two-year-olds have quite a reputation preceding them, don't they? We've all heard a crazy story involving a wild and crazy toddler. These crafts for 2 year olds will give you some relief!
I'm no expert, but these youngsters are gaining so many new independent skills paired with mobility and curiosity–it adds up quickly to that energetic facade.
So, the trick to curb some of that energy is to channel it into productive activity that holds their interest.
Easier said than done, right? It takes time, but lists like mine with plenty of options for any kiddo are important to bookmark!
The other trick is pairing these findings with what the child or children you have or are caring for love!
Activities, themes, and materials are just a few things to consider, but, in the meantime, you have forty-one crafts to look through for your littles.
Good luck, and remember to have fun at this age–it flies by! And now, onto the post!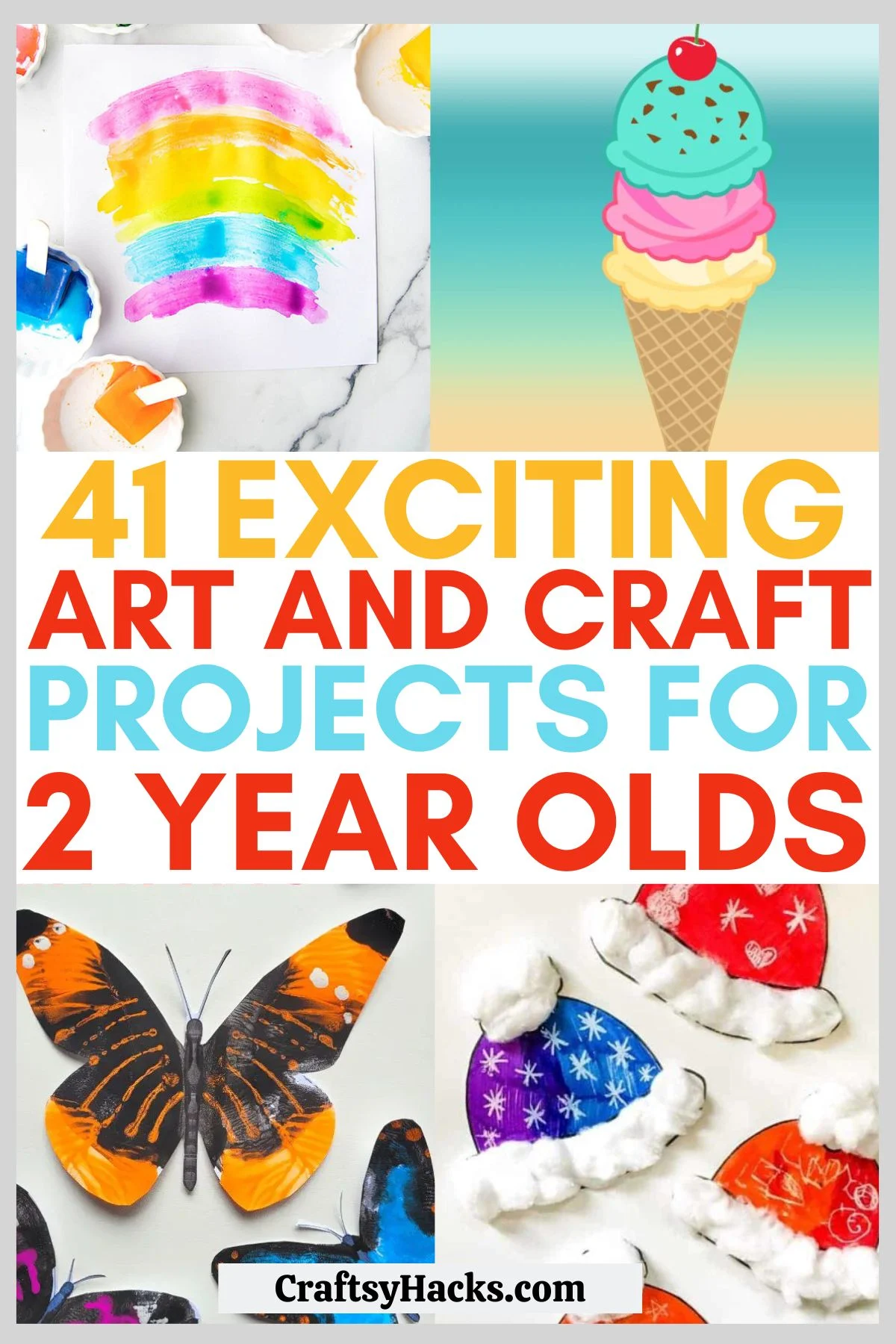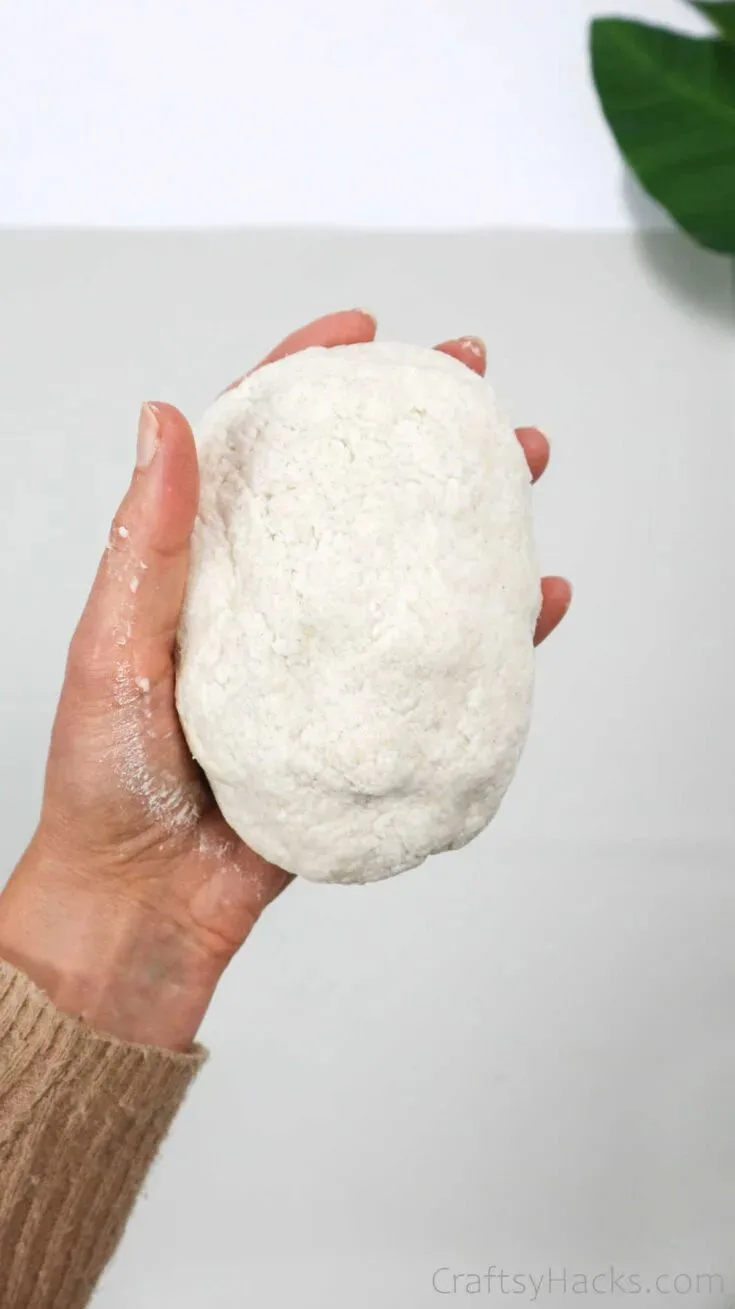 Source: craftsyhacks.com
Paper Mache is a great way to use up a whole afternoon with your little ones.
It's a fantastic option to practice multi-step activities practice patience, and, of course, results in a wonderfully fun end product that wows the crowd.
Start with a small project and see how it goes, and then expand if it's a hit with them.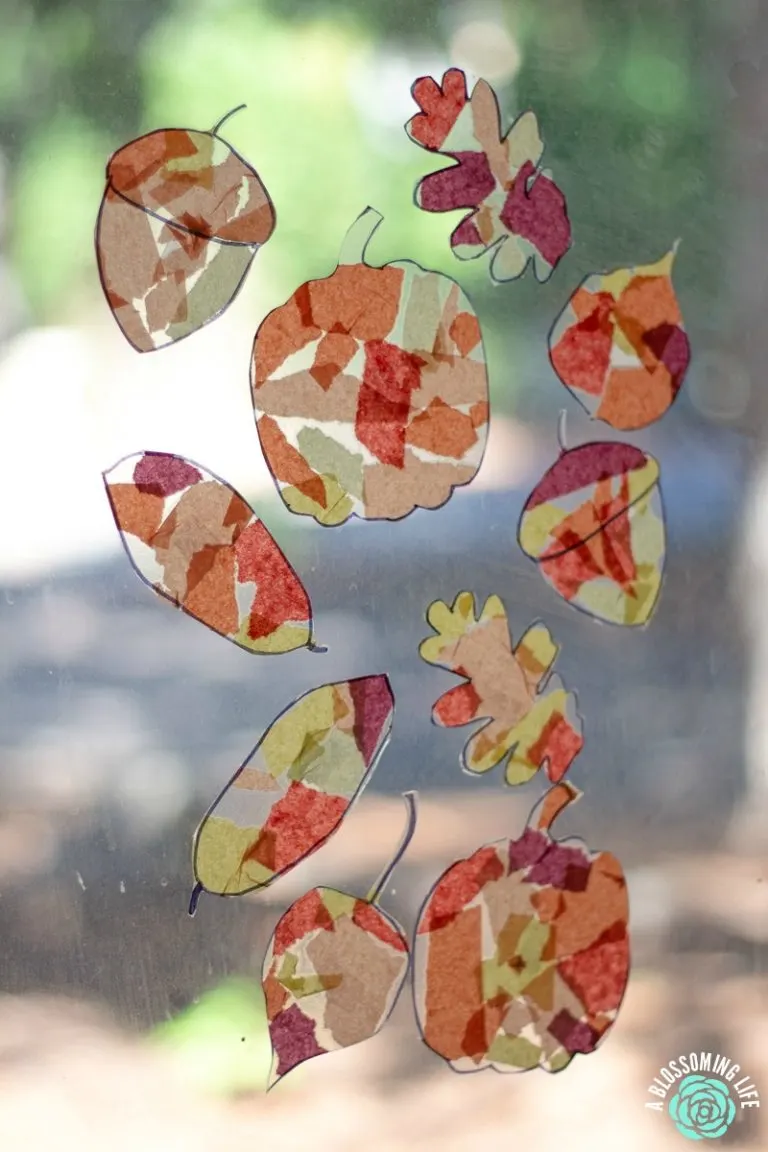 Source: ablossominglife.com
Suncatchers are always a craft that delivers–the end product always seems to enamor the kids with how the light shines through the different parts. This fall-themed one is no different.
Have a small handful of different silhouette options for the crafters to mix and match as they build their mobiles.
That way, the speedsters can make multiples while the detailed artists can work at their own pace without disruption.
This is one of the most cute craft ideas for fall!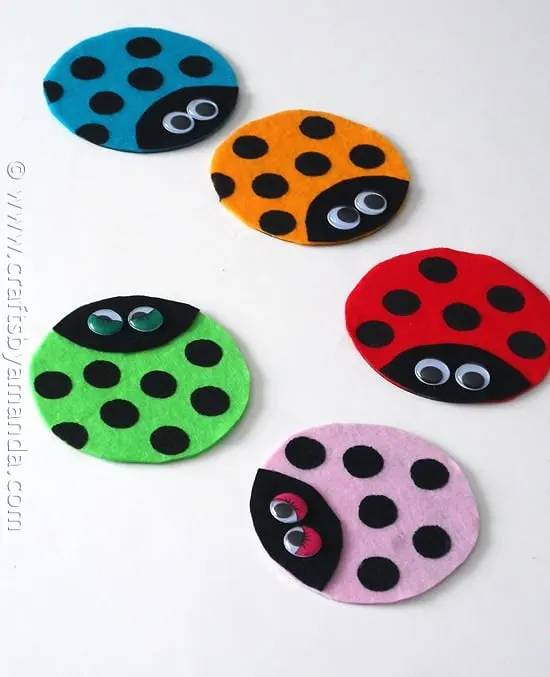 Source: craftsbyamanda.com
Ladybug crafts are great for children because of their bright, colorful, and simplistic design.
What's great about this specific ladybug project is that you can start putting that old CD or DVD collection to use.
The discs need a bit of prep so the glue will stick properly to either side, but beyond that, these bugs are straightforward. Grab a gentle sandpaper like this one to get started.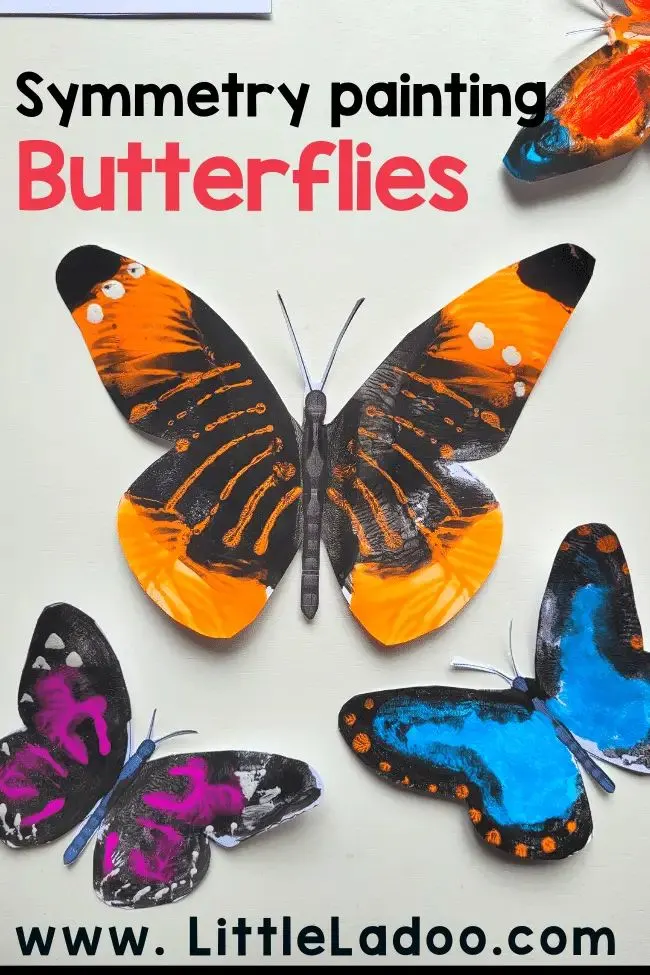 Source: littleladoo.com
Showcasing and introducing imaginative art styles is highly beneficial to young minds.
Drawing out a butterfly shape, folding the image in half, and having the kid paint one half–the key to the project encourages youngsters to see creating and thinking outside of the box.
A cardstock or sturdier weighted paper will help the look of the outcome once dried and cut out.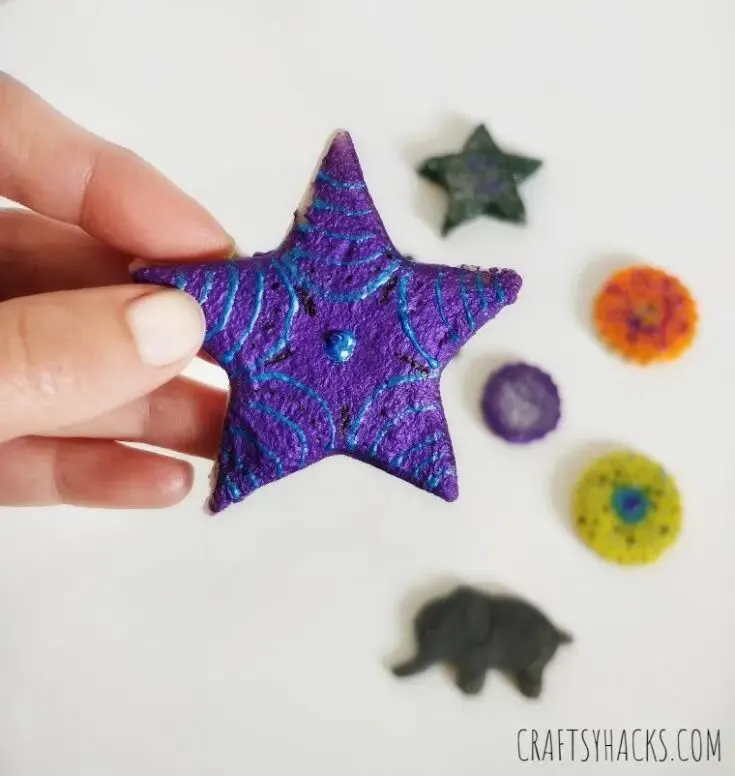 Source: craftsyhacks.com
Traditionally, I think of and usually pull this craft out during the winter, but salt dough is a fun and creative project year-round.
Many have used the dough to make ornaments for the holidays, but it is essentially moldable and bakeable clay.
Use it to craft anything from a favorite character from different media to a sweet gift for a loved one.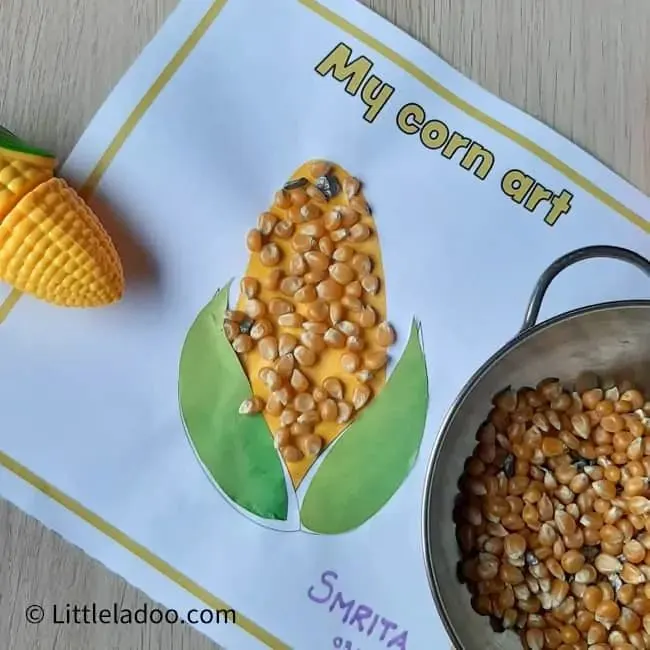 Source: littleladoo.com
It's a great craft to pair with a lesson about growing food, seasons, textures, or anything else you may be teaching.
A mixed material project is always an engaging activity for toddlers because of the different sensations–just make sure anything that's a choking hazard gets set out of reach.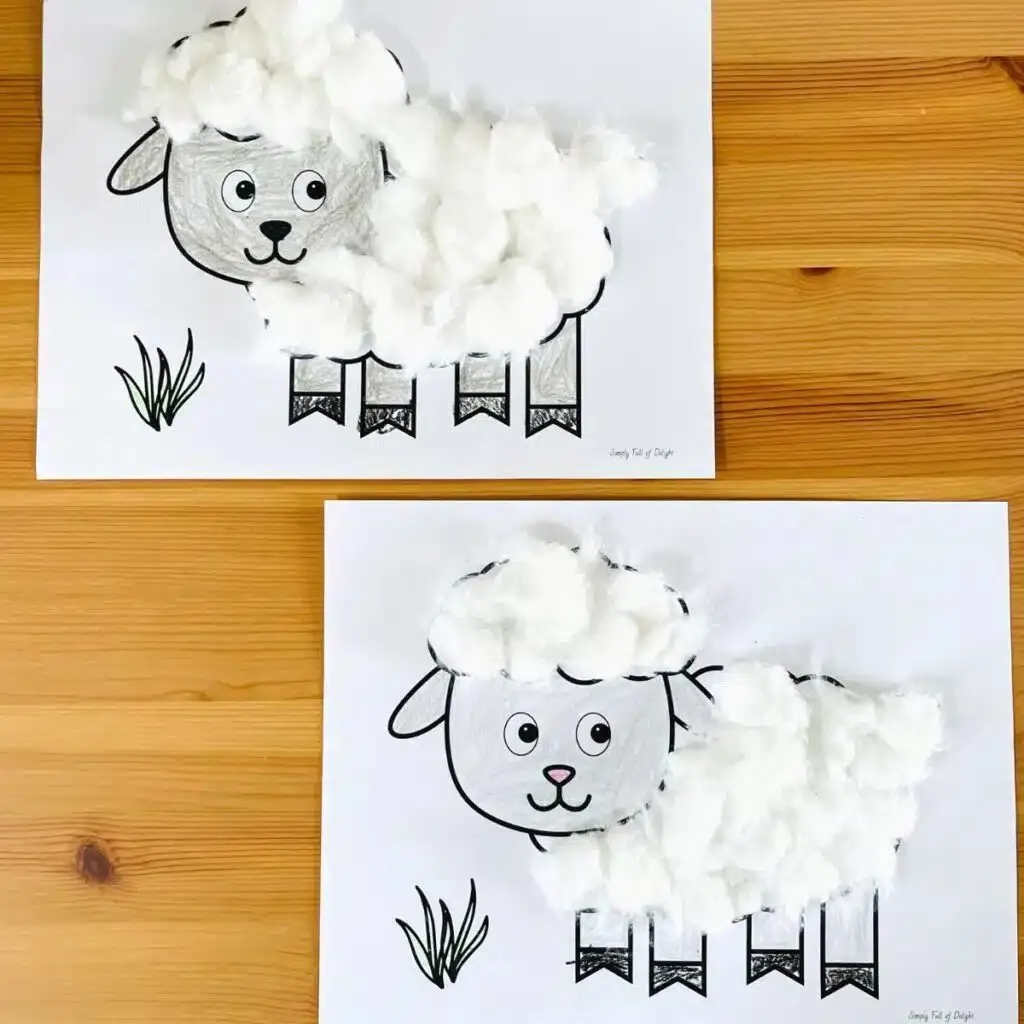 Source: simplyfullofdelight.com
As mentioned, mixed material projects are great sensory-oriented art projects that toddlers always enjoy.
Print out a template of a sheep or sketch one out–simplistic is fine since it'll get covered with cotton balls.
Don't forget the cotton balls–grab these, and you'll never run out.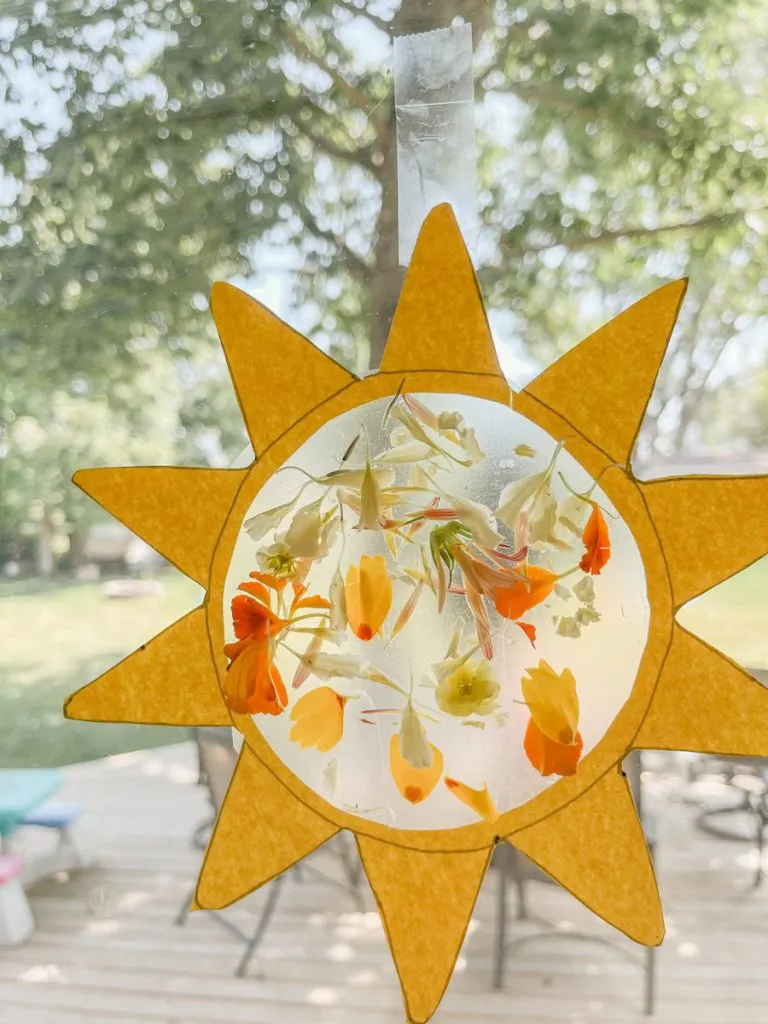 Source: foxfarmhome.com
Suncatchers of any sort are just so darling, and this sun suncatcher is no exception–if it's summer or you're trying to get the sun to come out, it's a cute addition to the home.
Like the fall-themed one, have everything ready to go, so it's more or less just assembly.
This contact paper is fantastic if you're looking for a clear paper.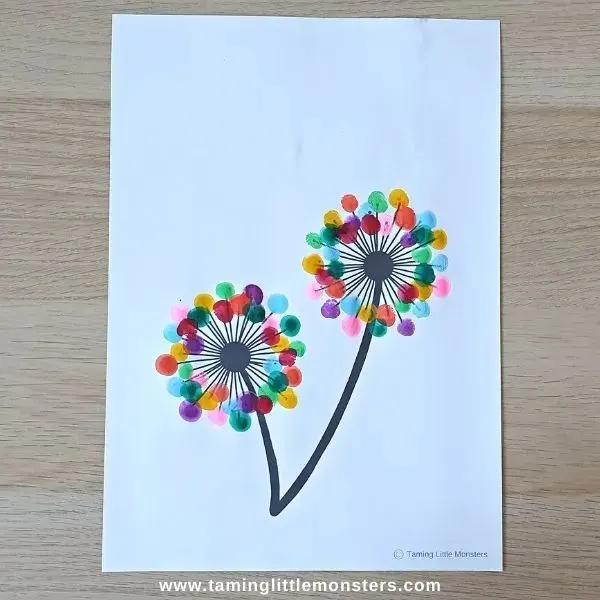 Source: taminglittlemonsters.com
These incredibly sweet fingerprint dandelion flowers create excellent images on homemade cards or art pieces.
Have the stems drawn out in light pencils so the kids can make the flowers entirely their creations.
If it's an art piece, consider dating the back so you can remember later the age of those tiny fingerprints.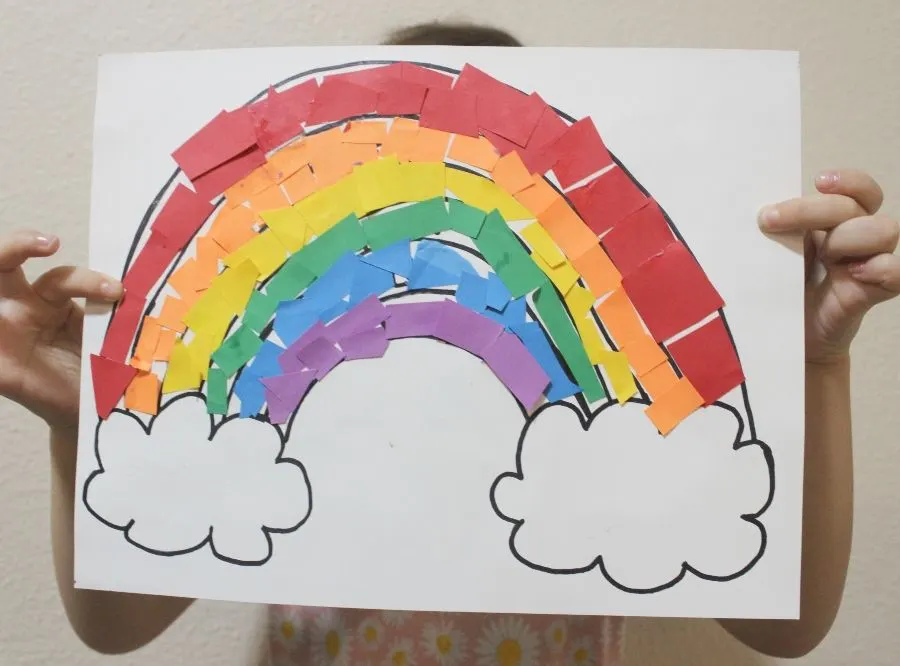 Source: themindfultoddler.com
I'm sure many of your kiddos have done this craft, but it's a fun and academic one that's easily customizable.
It practices color recognition, finger dexterity, and hand-eye coordination and results in an iconic favorite–a rainbow.
If you know for any reason the whole color spectrum of the rainbow won't work for your kid or kids, start with just two or three colors; the project still works just as well.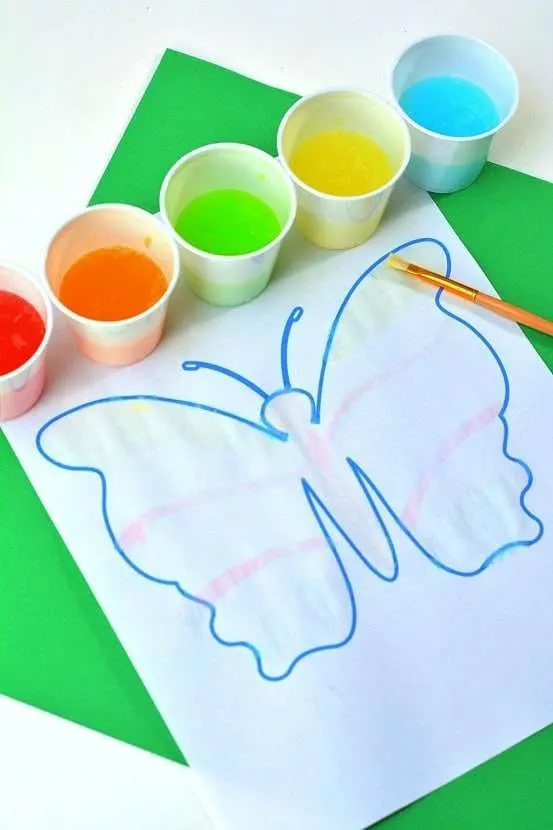 Source: twokidsandacoupon.com
Reading this idea of painting with jelly beans initially sounded kind of wacky, but it's a straightforward and creative way to use an out-of-the-ordinary medium.
It's simpler than dyeing easter eggs–just add a few jelly beans to each small cup of warm water and let them bleed a bit (add more for stronger pigments).
These little paper cups work great for painting and a snack cup filled with jelly beans for you and your kids.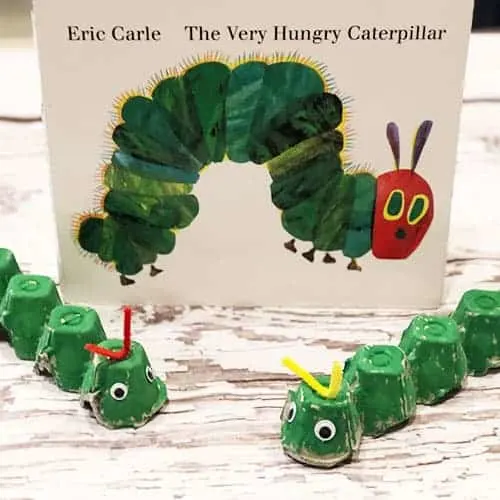 Source: twopinkpeonies.com
Egg cartons are one of the best-upcycled materials for toddler art projects and crafts, and that's what this very hungry caterpillar needs.
The soft-sided pulpy material is best because it takes on color well.
To make this craft a little extra special, consider buying or creating some different fun foods for the caterpillar to eat.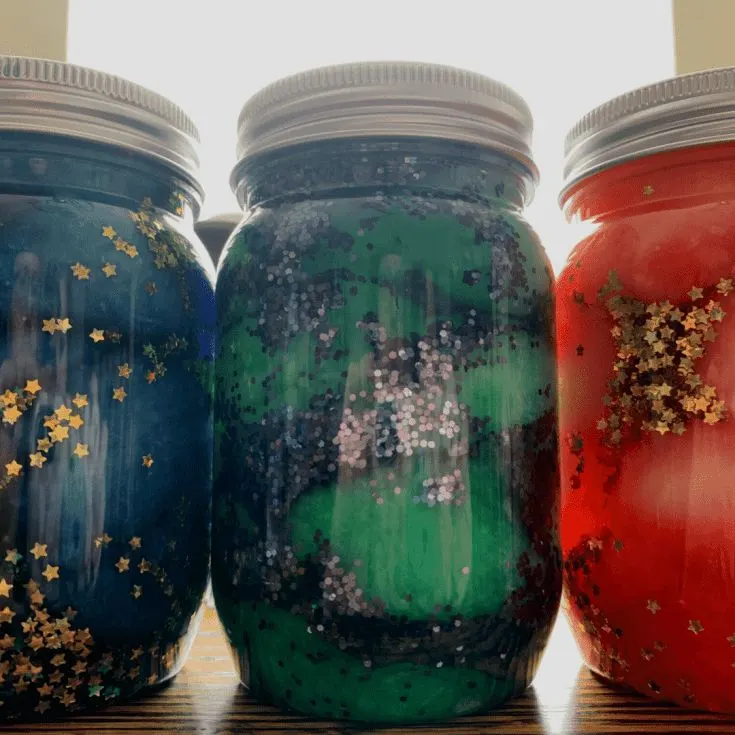 Source: bethannaverill.com
These jars are a great calming sensory activity that works well for toddlers, but anyone of any age can benefit.
The main components you'll need are glitter, food color, liquid watercolor, and cotton balls to make your very own galaxy.
Most importantly, you'll need a durable jar. I recommend these plastic ones that can survive more than a few tumbles, spills, and more.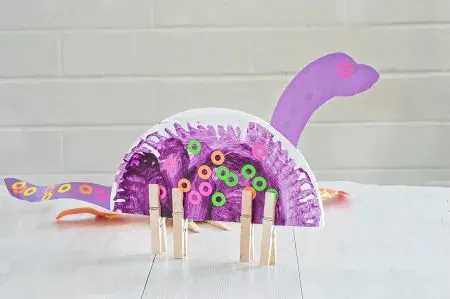 Source: homanathome.com
A handful of kitchen items work splendidly as toddler craft material, and paper plates have to be at the top of that list. There are a few more plate crafts, but we start with this great dinosaur one.
Play around with body part shapes to make a specific type of favorite dinosaur, or stick with this simple long neck.
Have stickers or other fun additions for the kids to decorate with after it comes together. This is one of the best crafts for boys of all ages!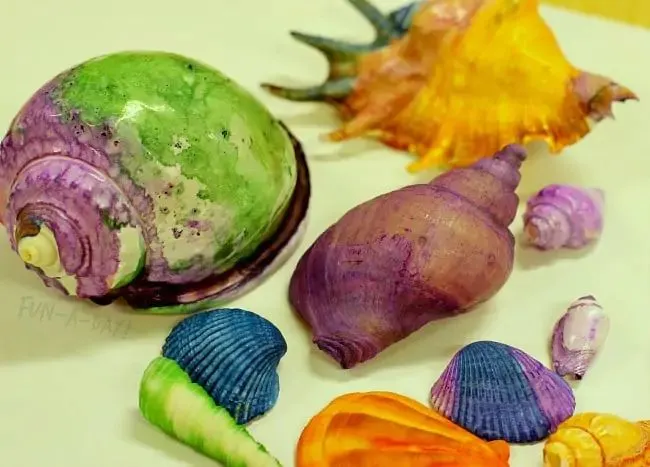 Source: fun-a-day.com
Try this fun shell painting activity at home or on a beach trip for a rainy afternoon. It's a cool take on the classic painted rock idea.
If you plan on keeping them outside after finishing, consider layering a weather-resistant coat of sealant on all your shells for an ensured longer life.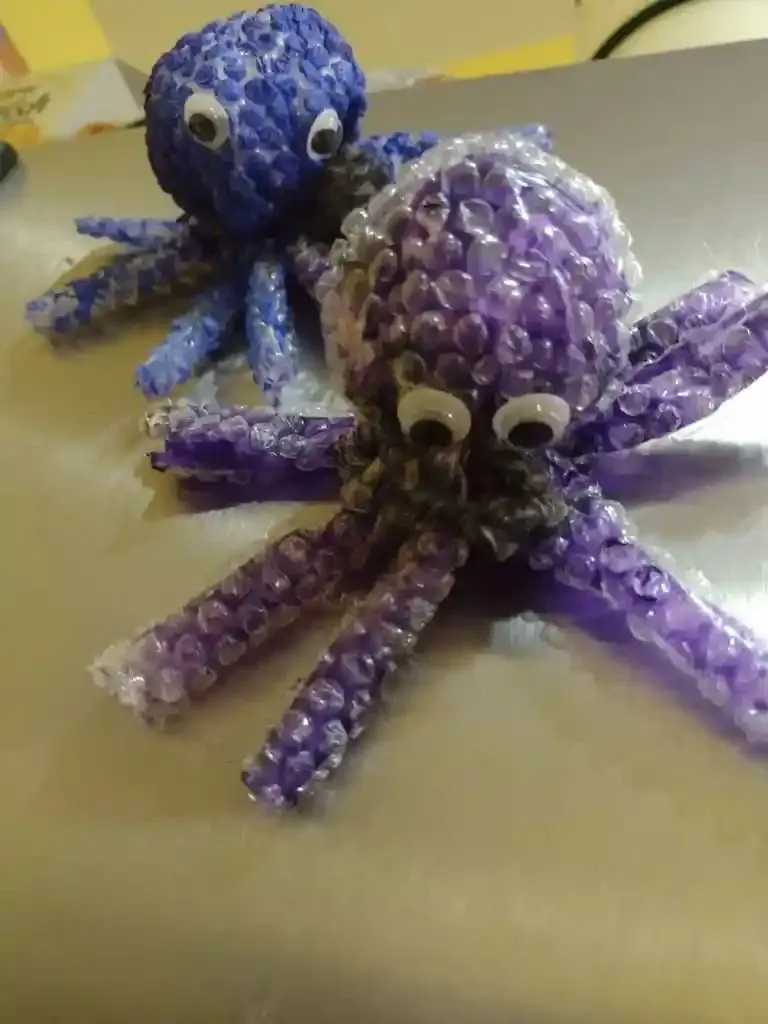 Source: crayonsandspice.com
Bubble wrap also falls into the category of household items to craft with, and it just so happens to be one of the absolute most fun (or scariest) ones.
The best part of these octopi is that they get made so quickly that you can make an entire small army, and the kids can immediately have fun with a bunch.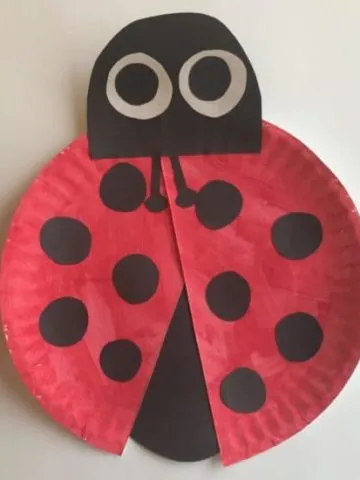 Source: journeytosahm.com
Ladybugs are a perfect insect for toddlers' crafts because of their simplicity, and a paper plate is an ideal vehicle to make it happen.
Have them color everything first and then split the plate in two for the wings.
If you don't want to cut a bunch of black circles individually, get this circle paper puncher to save time.
Your kids will have so much fun with these other fun paper plate crafts!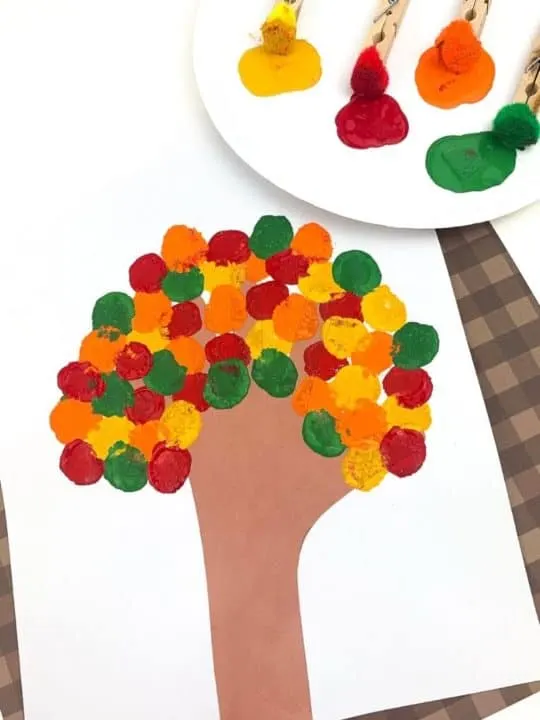 Source: journeytosahm.com
This fall tree is great to do during the fall months but is also a great option if you're talking or teaching about the seasons.
There are a handful of ways to construct the tree, including using the toddler's arm as the tree trunk!
Whether you use bingo daubers, stampers, or paint sponges and use the corresponding colors for the leaves, it'll look wonderful.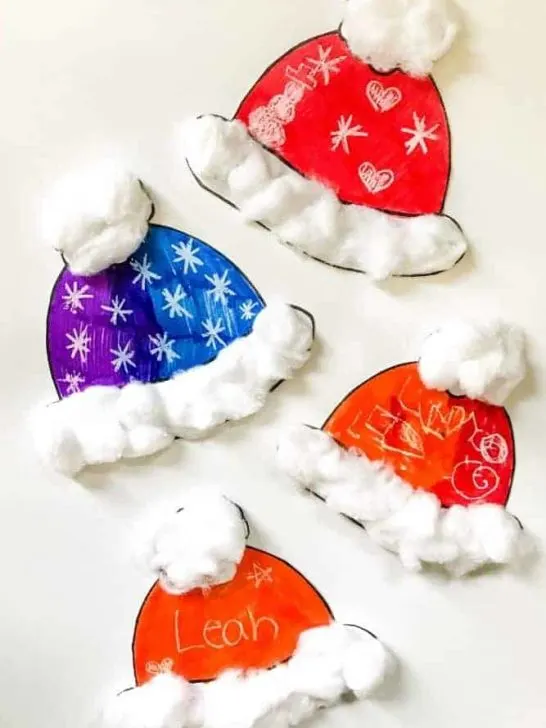 Source: journeytosahm.com
I love these winter hats–so easy, fun, and personable! Grab a free template from online, draw, or trace a winter hat for your kid.
People often use cotton balls for obvious reasons, but if you have other texture material, don't be afraid to try it out on these caps.
This is one of the best winter crafts for kids to create on a snow day!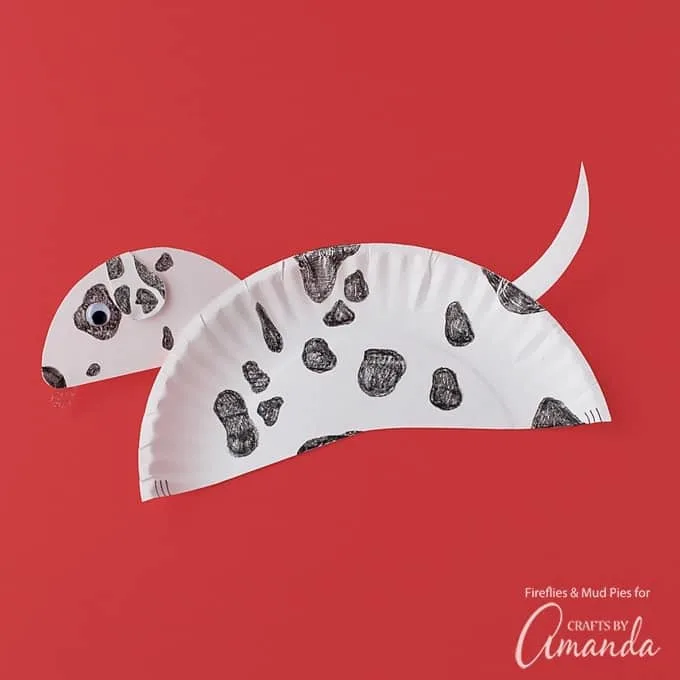 Source: craftsbyamanda.com
Another paper plate hit–this sweet Dalmatian pup for the kids to try. Have them decorate the plate, let it dry or sit, and cut and make up your pups!
You could easily change up the breed type if they want to try and recreate a family dog or a pup they love.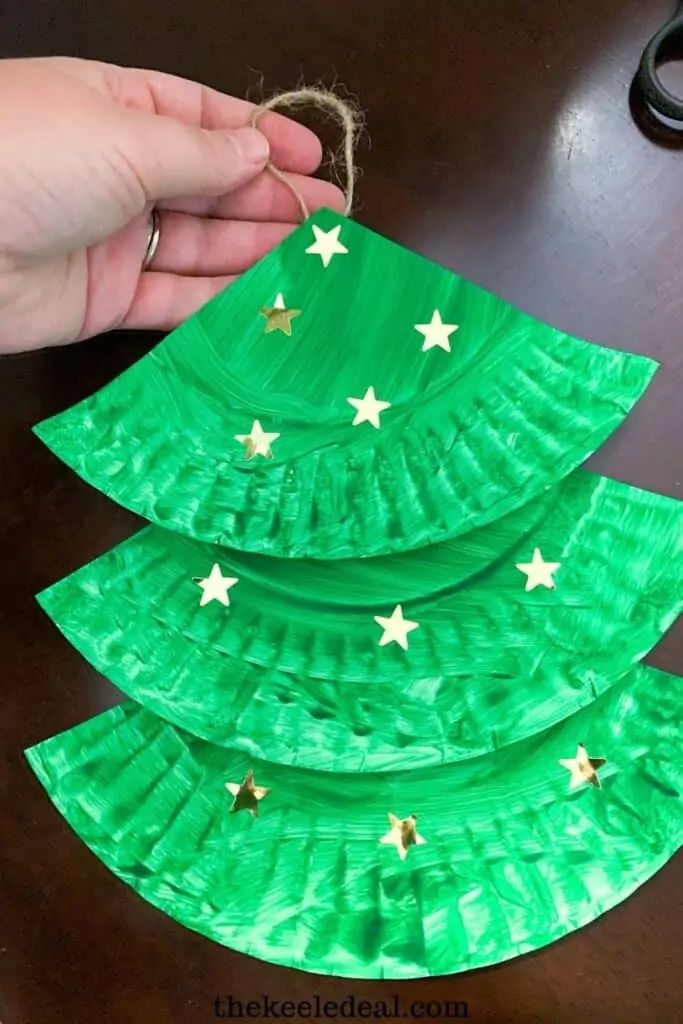 Source: thekeeledeal.com
The paper plate is endless in possible art projects. Whether it's making dinosaurs or these Christmas trees, you can't lose.
As always, decorate the plate before cutting it up for construction, and decorate however you'd like once all is dry.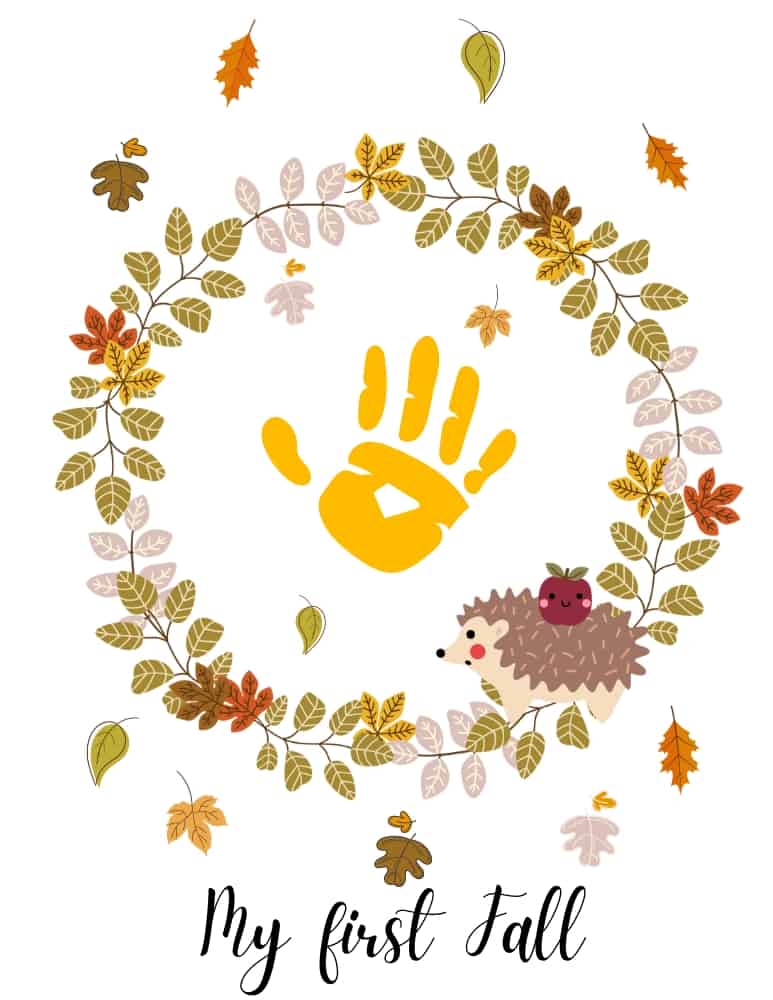 Source: busybloomingjoy.com
The most classic crafts for any age are handprint crafts. Easily turn them into fall-themed by opting for fall-colored paints or adding handprints into images with fall overtones.
There are plenty of fun fall templates to add your hands to if you're looking for a little more directed project.
Or stick with strictly the fall color palette and have a sensory-heavy painting session.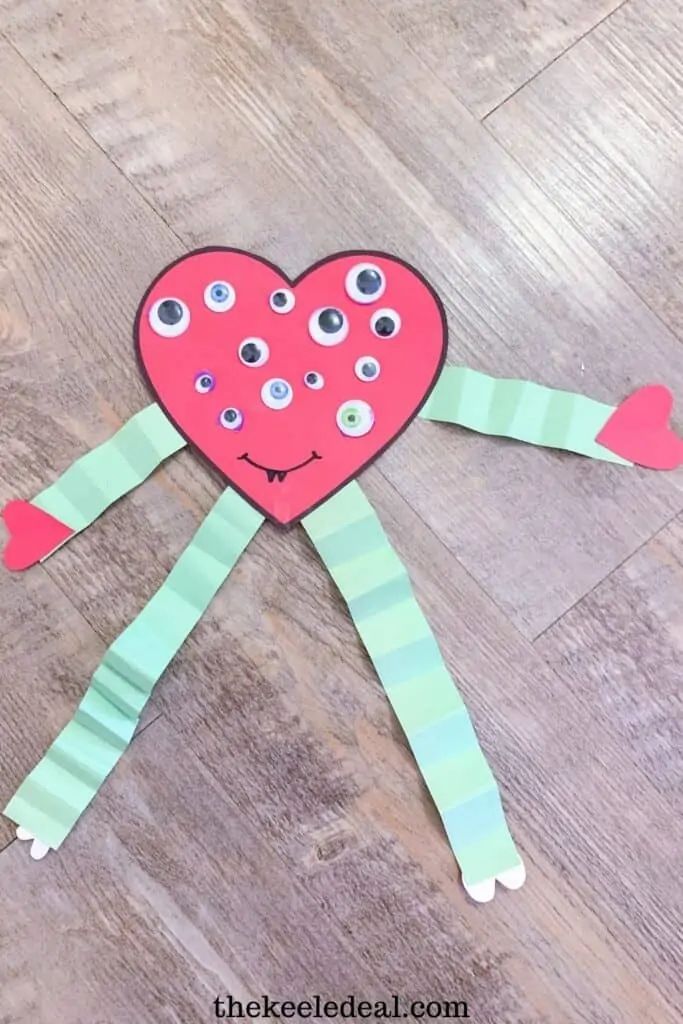 Source: thekeeledeal.com
A great Valentine's Day option to have ready for your little ones is this fun heart monster with goofy arms and legs.
Cut strips of construction paper and fold them back and forth to create an accordion look.
Add fun googly eyes and other cute accessories to bring these monsters to life!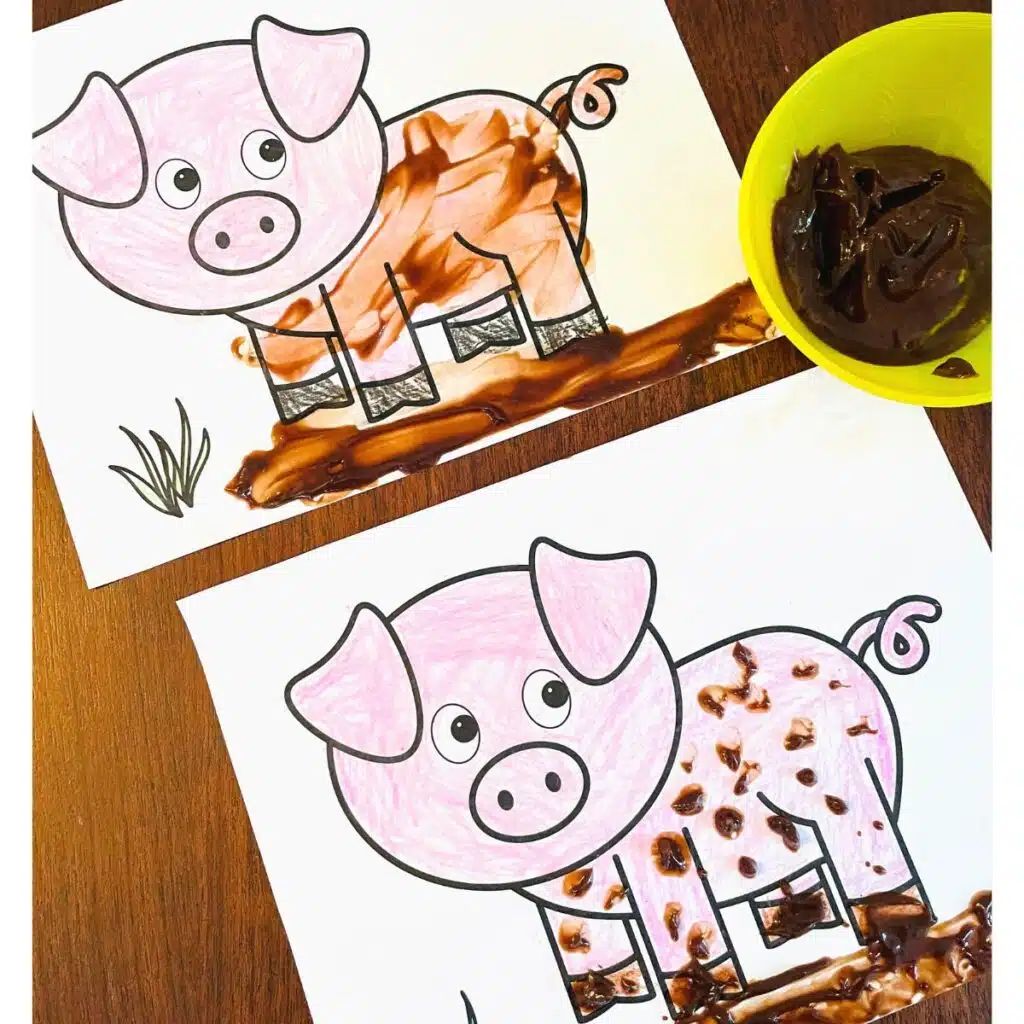 Source: simplyfullofdelight.com
I don't think that the average toddler loves anything more than to get muddy or messy, and that's why this pig is a match made in heaven for them.
Find a simple image online, let them try it independently, or sketch out a single pig they can color and get messy.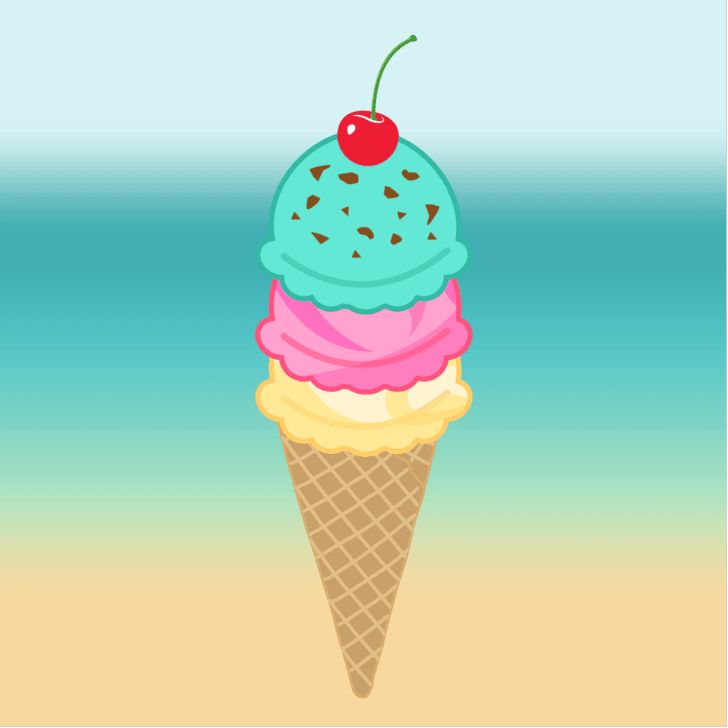 Source: paperheartfamily.com
Who can say no to ice cream? No one, and I may have some real ice cream to pair with this activity because they'll most likely be asking afterward.
There are many ways to try this craft: find a template online, cut out simple silhouettes from construction paper, or draw them.
However you do, the kids will love stacking the scoops while practicing colors and counting–nothing sweeter than that.
Source: taminglittlemonsters.com
Another wonderful way to practice colors is to introduce an artist's color wheel. That way, you can show the difference between cool and warm colors.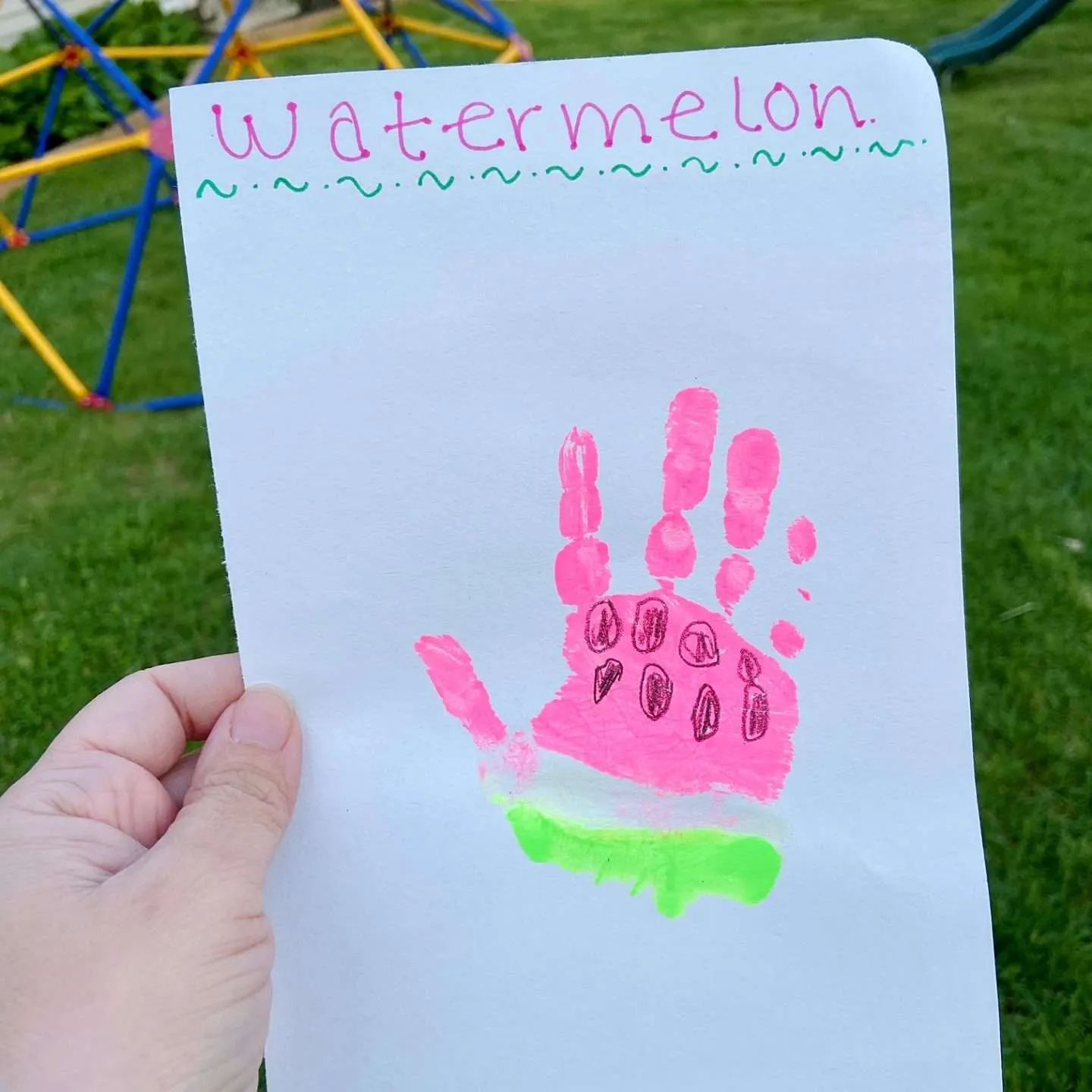 Source: cobberson.com
Watermelon and summer go hand in hand in real life and this art project! It's a sensory-heavy project because you paint the color block onto the child's hand so that the reactions may vary.
Have the paper or material within arm's reach so they can immediately stamp their hand firmly and evenly on the page. Seeds get added after.
Source: redtedart.com
Add another paper plate project to the docket with this rocking chair sheep!
For this plate craft, it may be easier to give the child the half-plate to decorate (so they don't make the sheep too big), depending on how many cotton balls are available.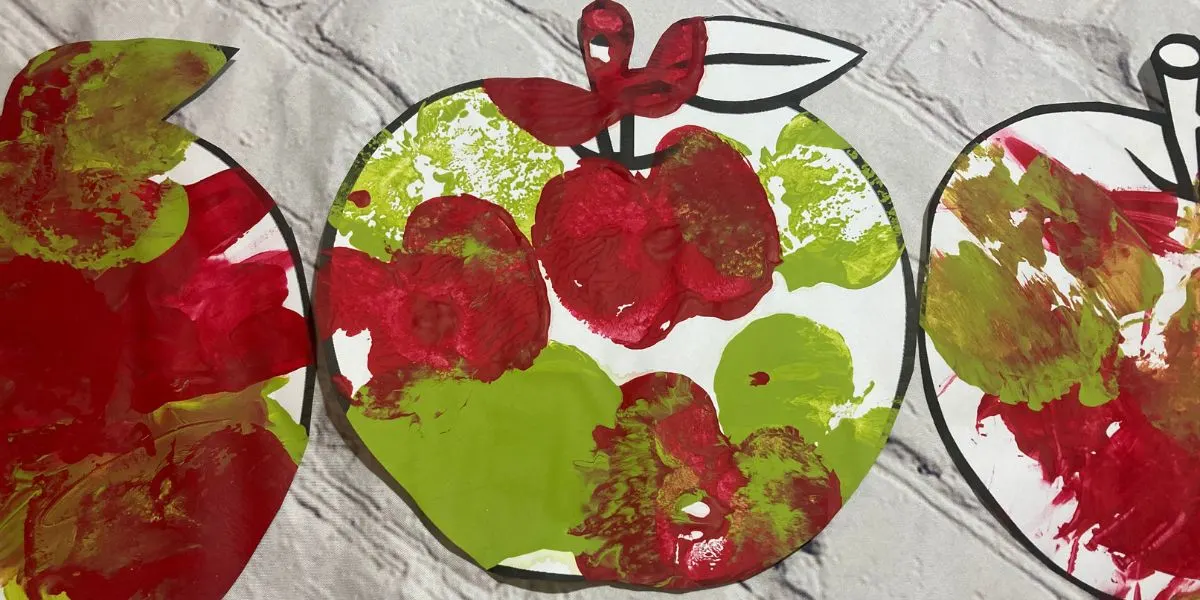 Source: mamaofminis.com
Using alternative tools to paint is a great and low-key way to introduce paint to children. Items like apples are easier for small young hands to grab onto and use than a brush.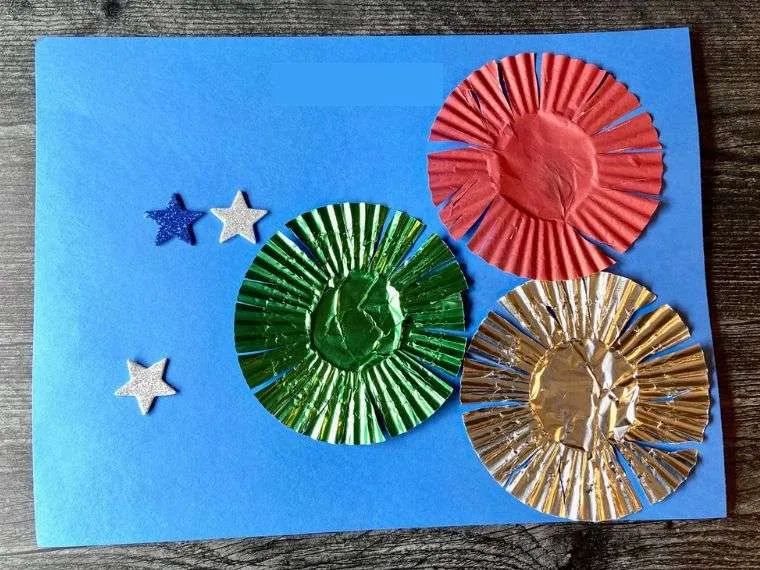 Source: cobberson.com
This everyday item fireworks display is a great option for on a whim in the summer (or when you're all dreaming of summer).
Anything from muffin liners to Cheerios is fair game in producing these fireworks!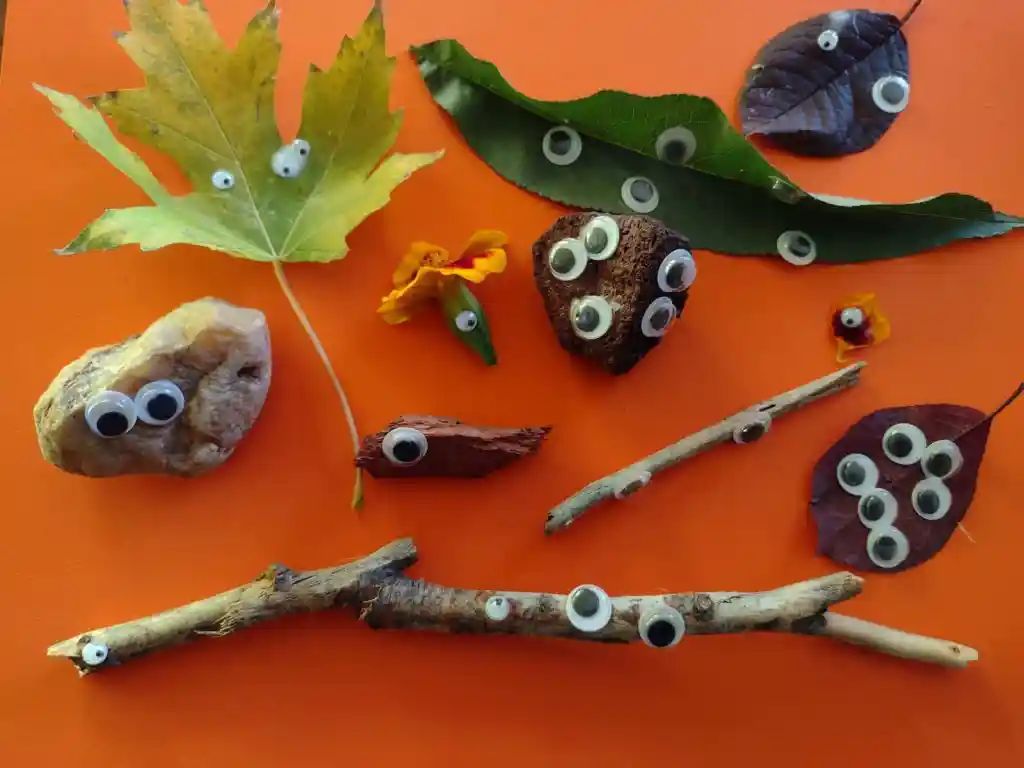 Source: crayonsandspice.com
Nature monsters are the perfect way to introduce nature time and respectful practices to your kid or kids you know.
Have them safely (explain what shouldn't get picked up) and collect anything they find on the forest floor they find interesting.
When you get home, talk about the findings while adding these fun googly eyes to the bunch!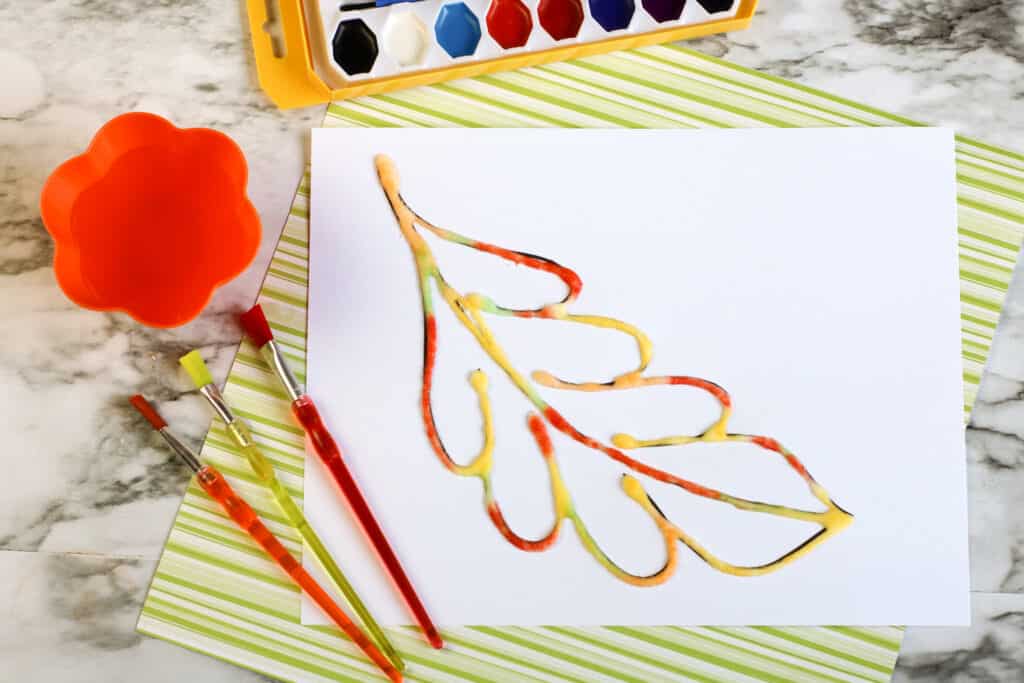 Source: momminfromscratch.com
Different mediums to use while creating are also an incredible way to educate children about how vast creating and imaginative practices can be.
Start with thick black printed or drawn images for the kids to have a natural guide while working.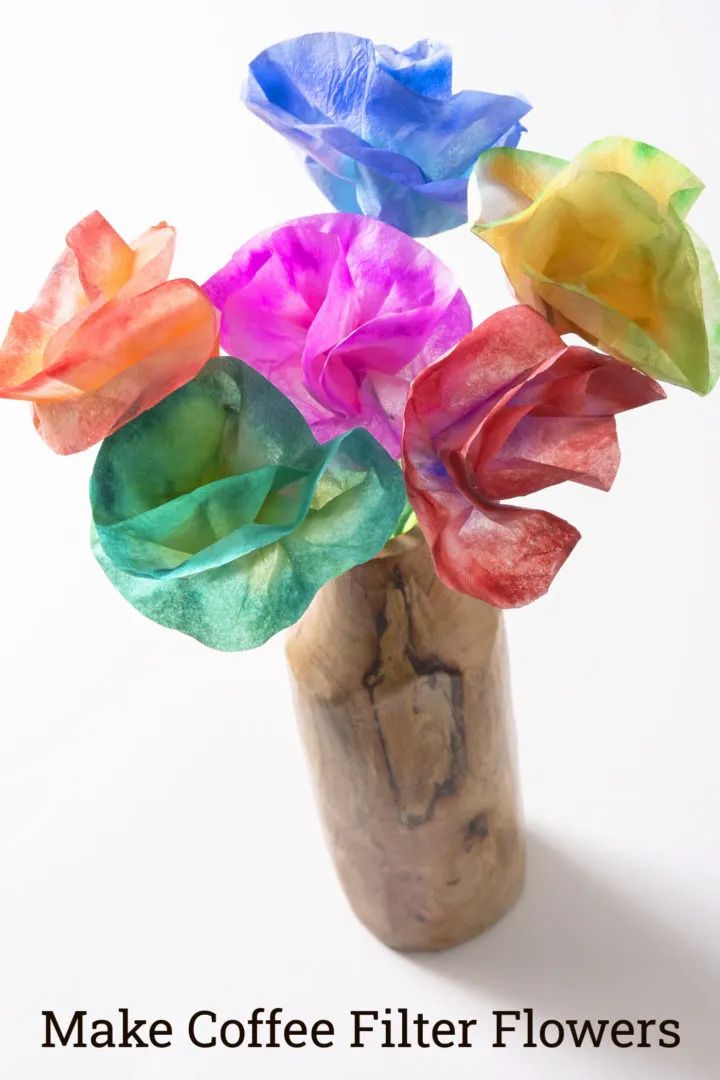 Source: diycandy.com
These coffee filter flowers are a semi-experimental tye-dyesque project that can turn into a darling present.
These flowers look beautiful whether you use markers and a spray bottle like this, watercolor, or anything in between.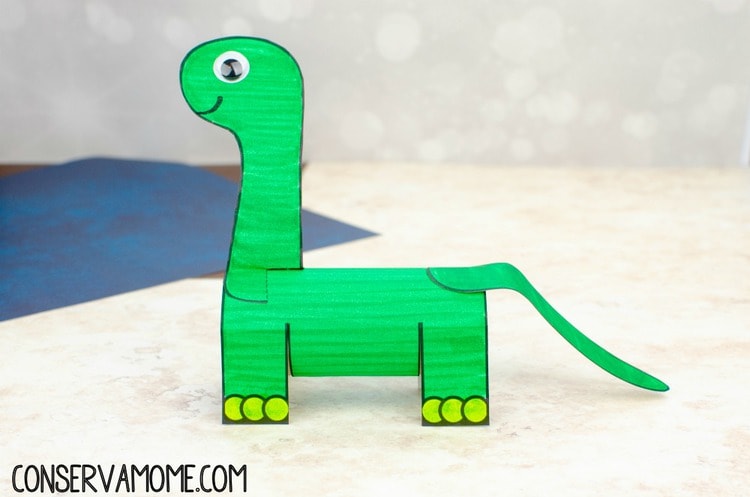 Source: conservamome.com
Another heavy-hitter of the home good craft supplies are, of course, toilet paper rolls. You just need to create his head, feet, and tail for this dino–attach it to the TP roll, and voila!
If you're up to it, this project could easily get turned into almost any other creature.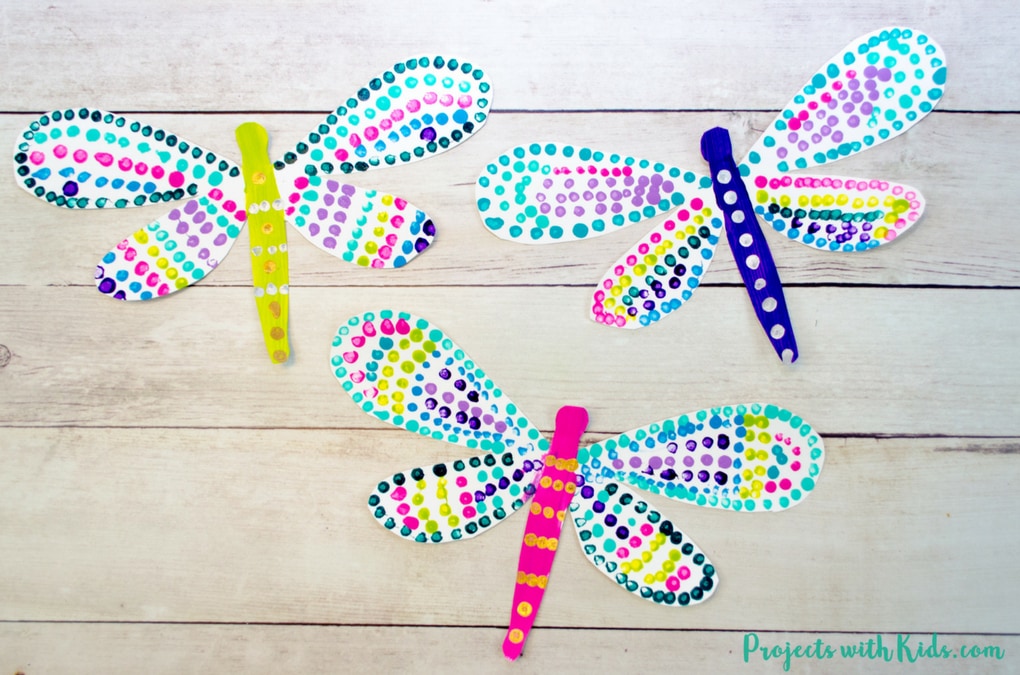 Source: projectswithkids.com
Last but not least, Q-Tips round out the diverse household items family.
Q-Tips make wonderful alternative tools to paint with or create art with (skeletons, anyone?) and help with fine motor skills in a way they won't hyper-focus on.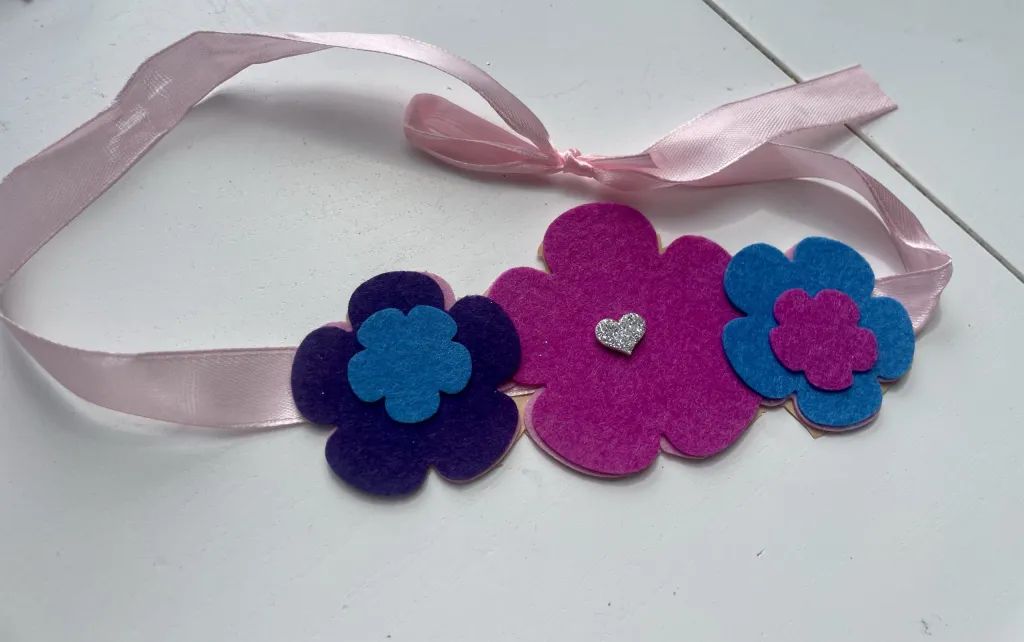 Source: intheplayroom.co.uk
Most toddlers love to pretend and dress up, so creating a garment that can be worn during play is smart.
This flower-inspired one is made to last because of the felted flowers and using a fabric ribbon like this one.
If you're interested in offering another felt shape other than a flower, consider a simple shape, animal, or something easily repeatable.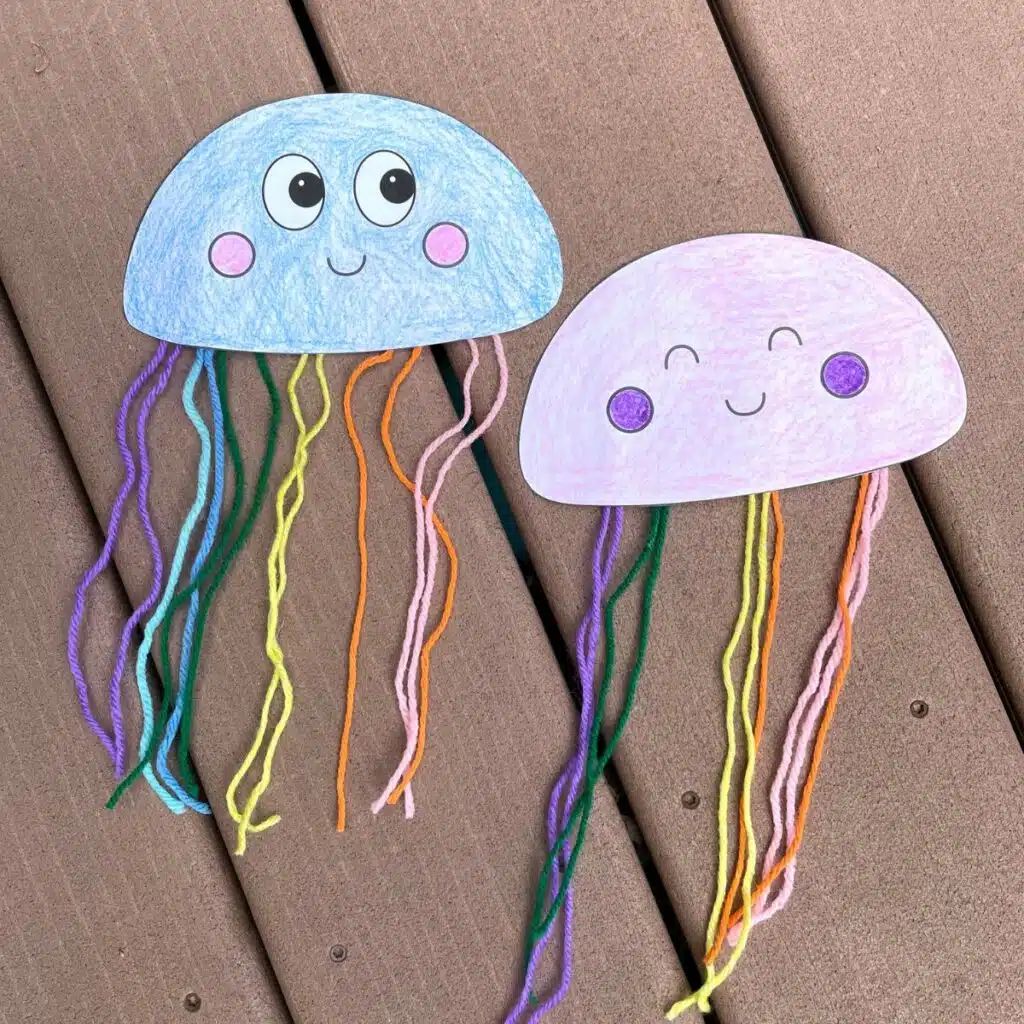 Source: simplyfullofdelight.com
Anything with squiggly legs is perfect for toddlers; most crafts, including this jellyfish, are cute and simple!
Find a template online, use a paper plate, or you or your kid draw one for yourselves–this jellyfish is meant for easy project time.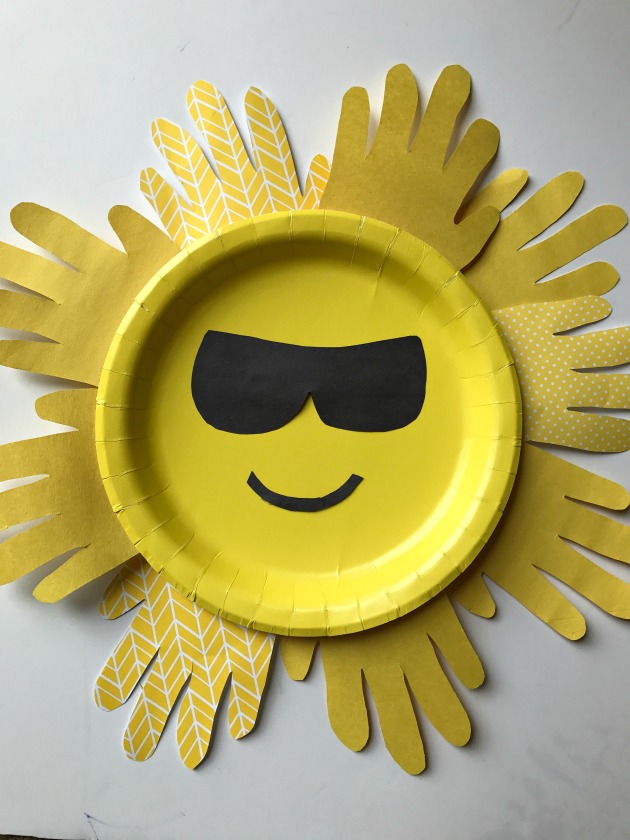 Source: familyfocusblog.com
Nothing shines brighter than the sun, but this handprint sun paper plate comes in at a pretty close second. Trace one hand and use it as a template–avoid all that fidgety time.
Stick with all yellows, or add different shades for a little extra depth to this fun handprint craft.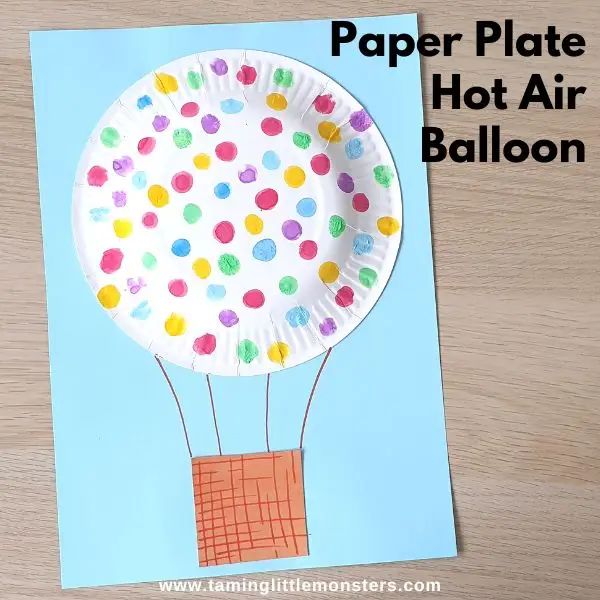 Source: taminglittlemonsters.com
Hot air balloon paper plates are one of the cutest projects I've seen recently–simple, wholesome, and unique to each piece.
The plate can be designed any way the artist desires, making these so sweet.
Beyond that, they could add characters, animals, or both to the balloon! Whatever they do, it'll be great looking.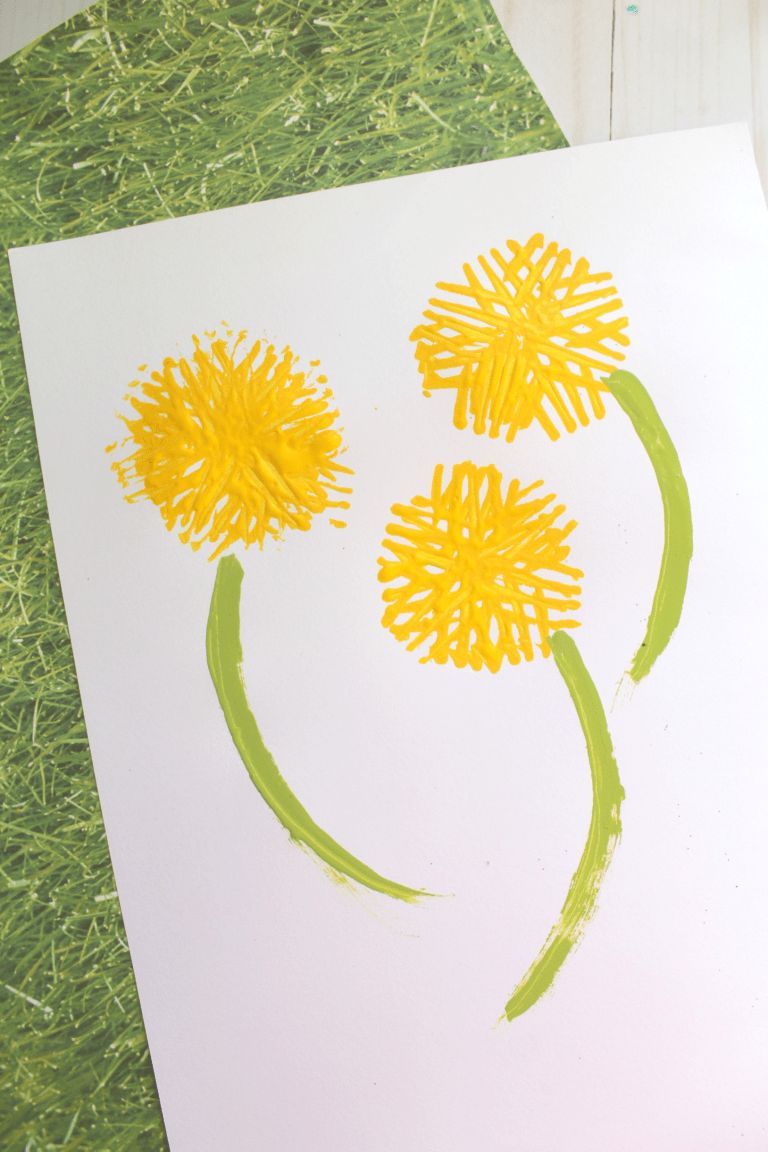 Source: uniquegifter.com
Textured projects are exciting and continue to help aid in fine motor skills, making these fork-stamped dandelions a perfect addition to the list.
Add the stems for the page or pages and let the kids have them; that way, they have a natural directive on the page.
Expand into different colors and flowers if it's a hit! I've seen tulips, mums, and more out there.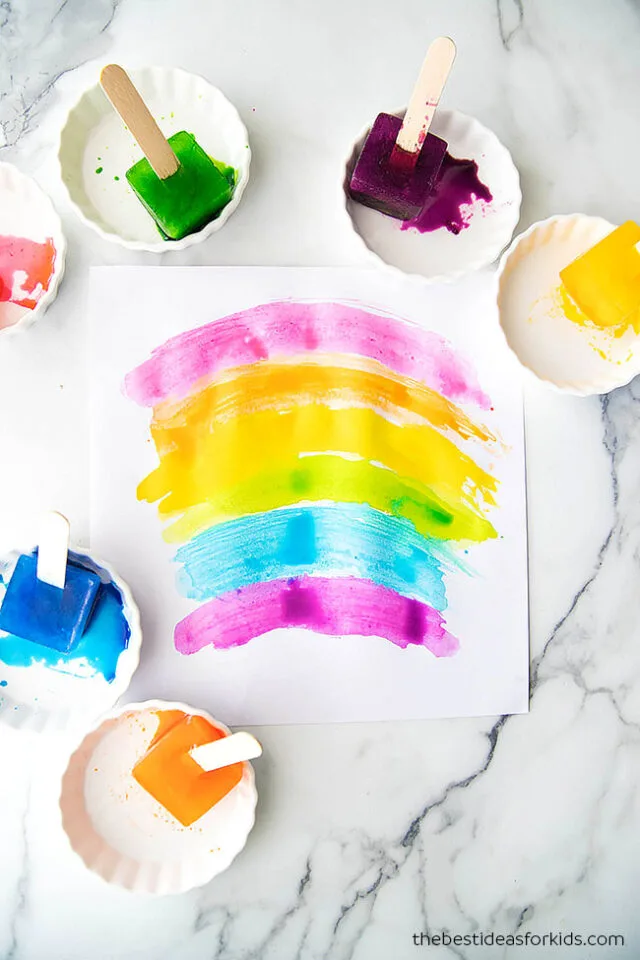 Source: thebestideasforkids.com
And finally, ice painting, like jelly bean painting, is a great way to show kids how creative creative endeavors can be.
Grab an ice tray like this one, freeze different colors in each cube, and add popsicle sticks.
Once frozen, get painting!