Copper is a beautiful material that functions supremely in many different applications. If you have or want to create more household goods out of copper, you've come to the right place for copper crafts!
Today, I have thirty-one copper crafts for you. The projects range from jewelry to restoring copper cookware to tealights.
This copper won't work for everything but grab some crafting copper here for many of the crafts you'll find today.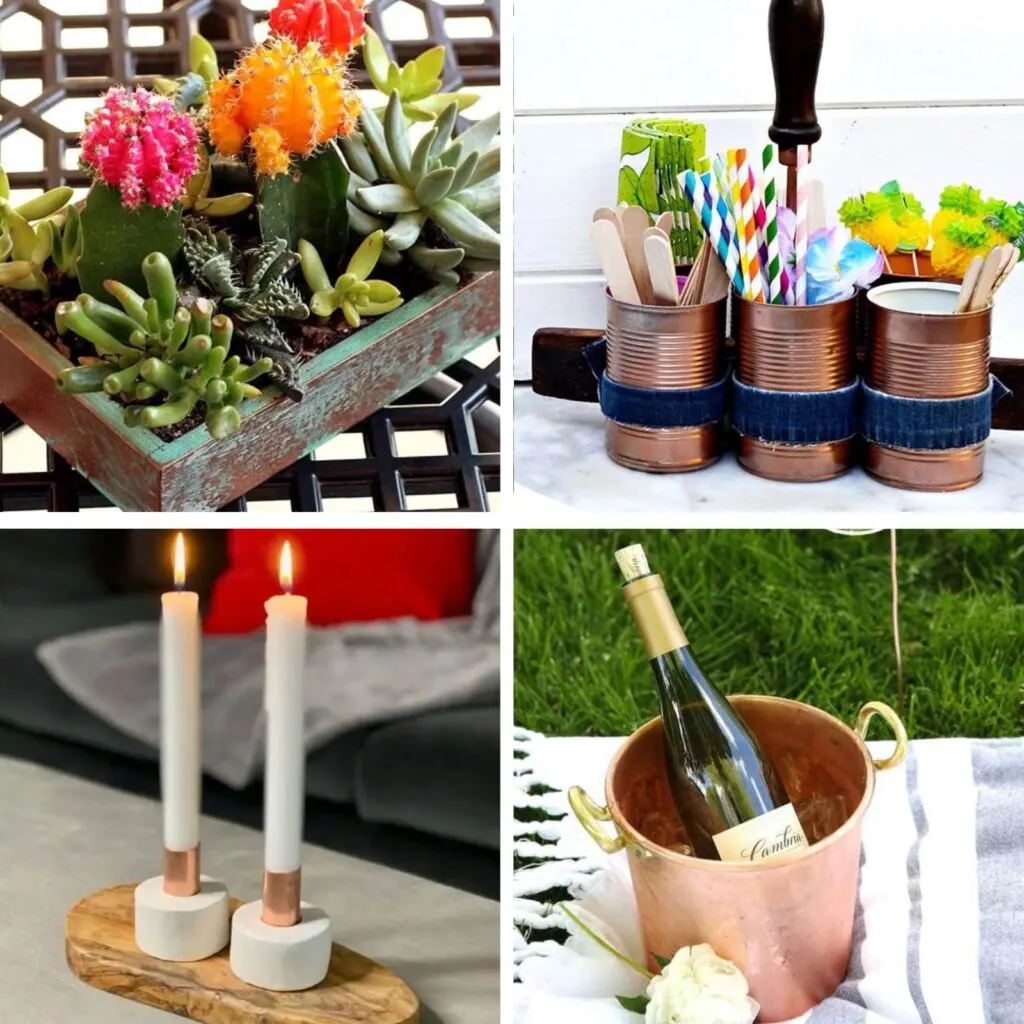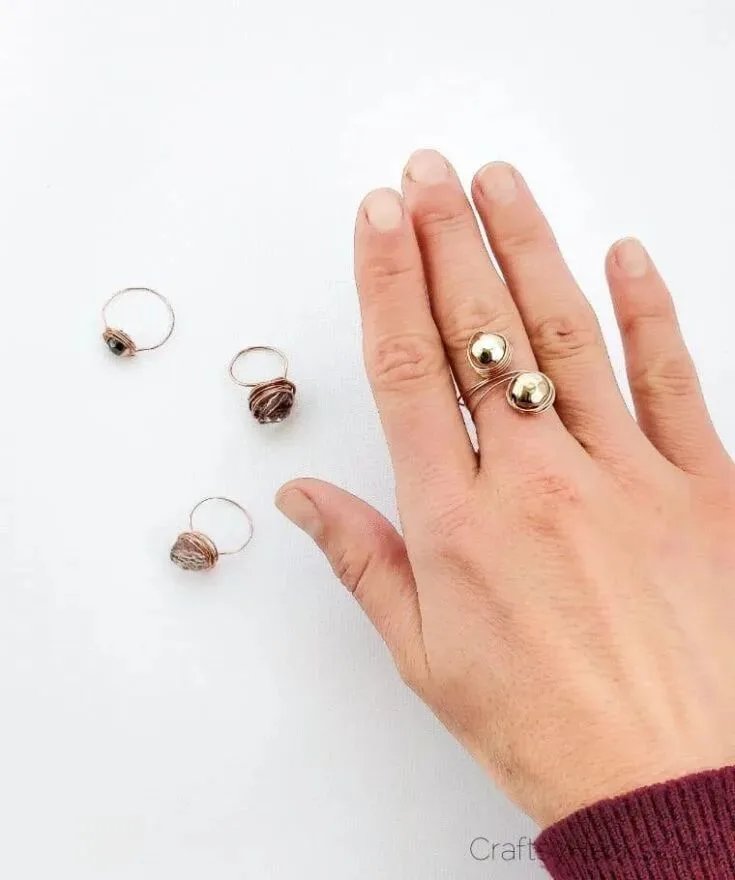 Source: craftsyhacks.com
What's great about copper is that it's relatively flexible with the right tools. Grab this wire bending kit to help you with your designs.
The twisted rings look great, but if you're feeling adventurous, grab some small beads or accessories from your local crafting store.
Create even more DIY jewelry with these clay rings!
Source: prettypurpledoor.com
I've mainly seen this flooring in public spaces and restaurants, but it's possible in your home. Be aware of what room or area you'd like to try it in.
The space size dictates how many pennies will be needed.
Once you're ready, plan on dedicating a weekend to it with the different steps involved. It isn't much different from redoing your floors.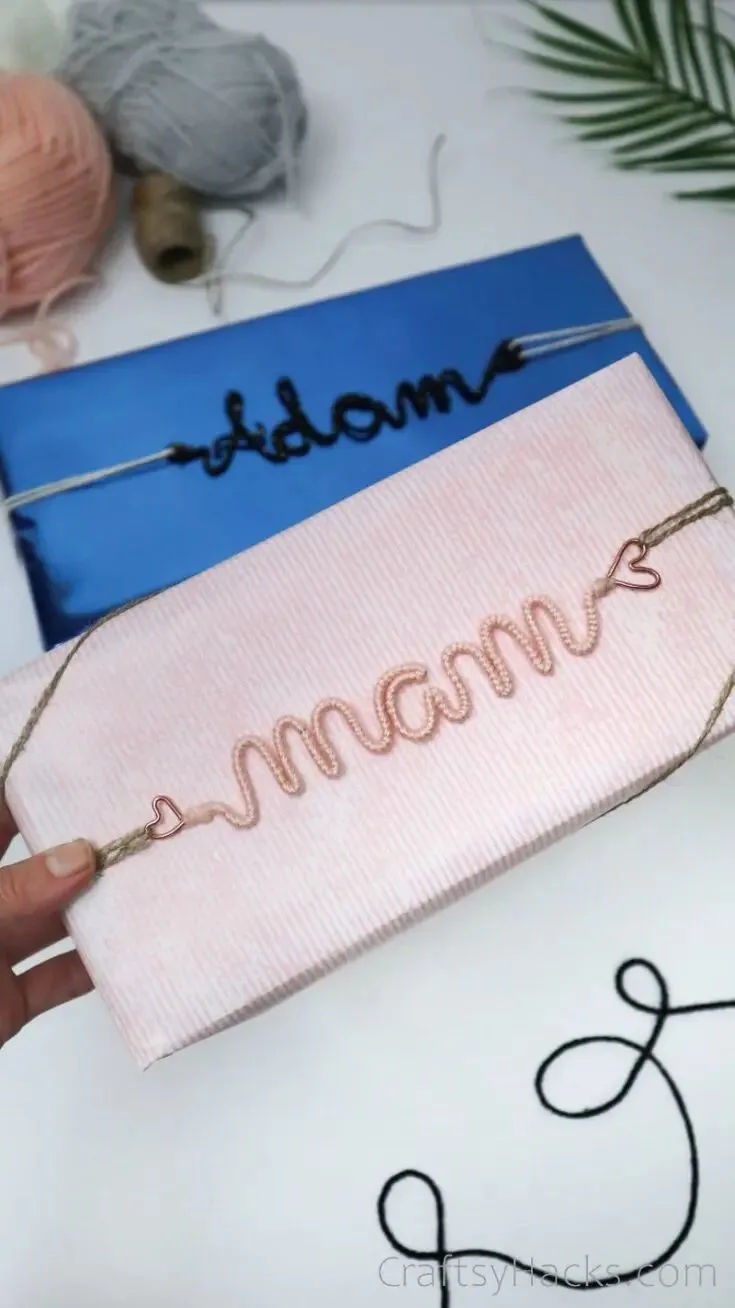 Source: craftsyhacks.com
Wire ornaments that spell something out are adorable, and now you can make them yourselves.
Have a sketched-out idea on paper before moving toward the copper or wire part of the craft; that way, there's no question of the plan.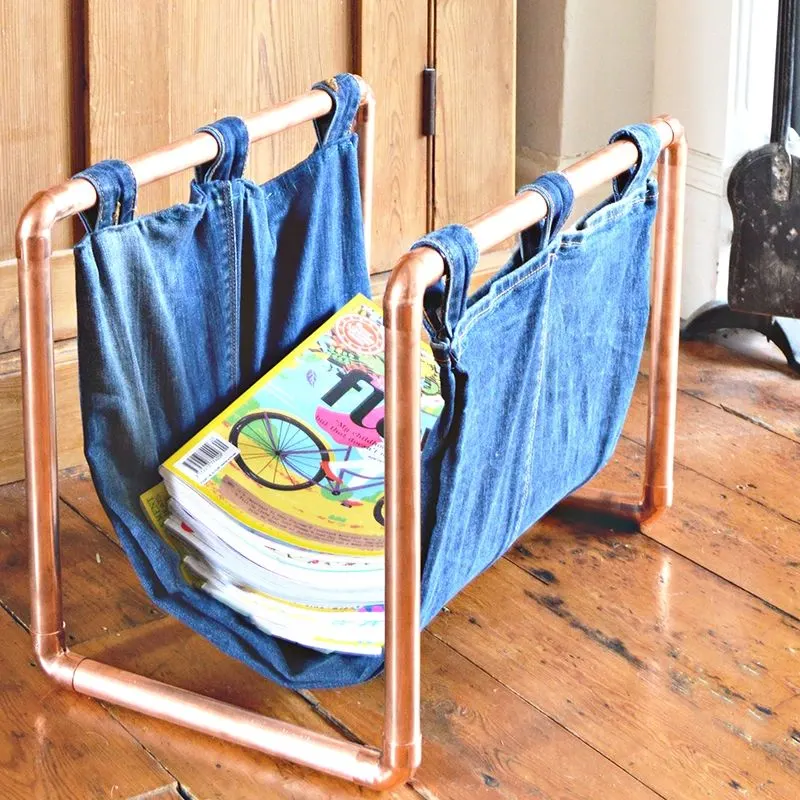 Source: pillarboxblue.com
Most of us don't buy magazines anymore, but magazine racks can hold anything small, from books to records (depending on the structure).
Use whatever fabric you have, or grab some of this denim fabric to ensure a more dependable hold.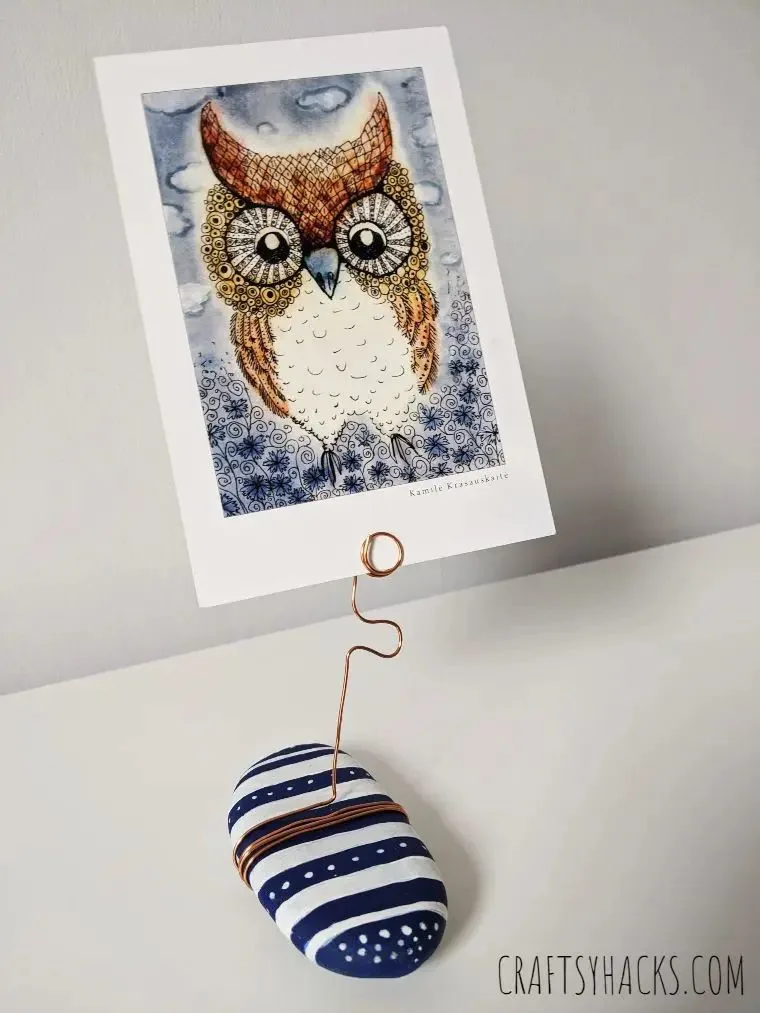 Source: craftsyhacks.com
I love wire photo holders; they are whimsical and cute, and the best part is all the different materials you can use as the base. Today's bases are painted rocks.
Paint the rocks in any fashion that matches your decor or vibe.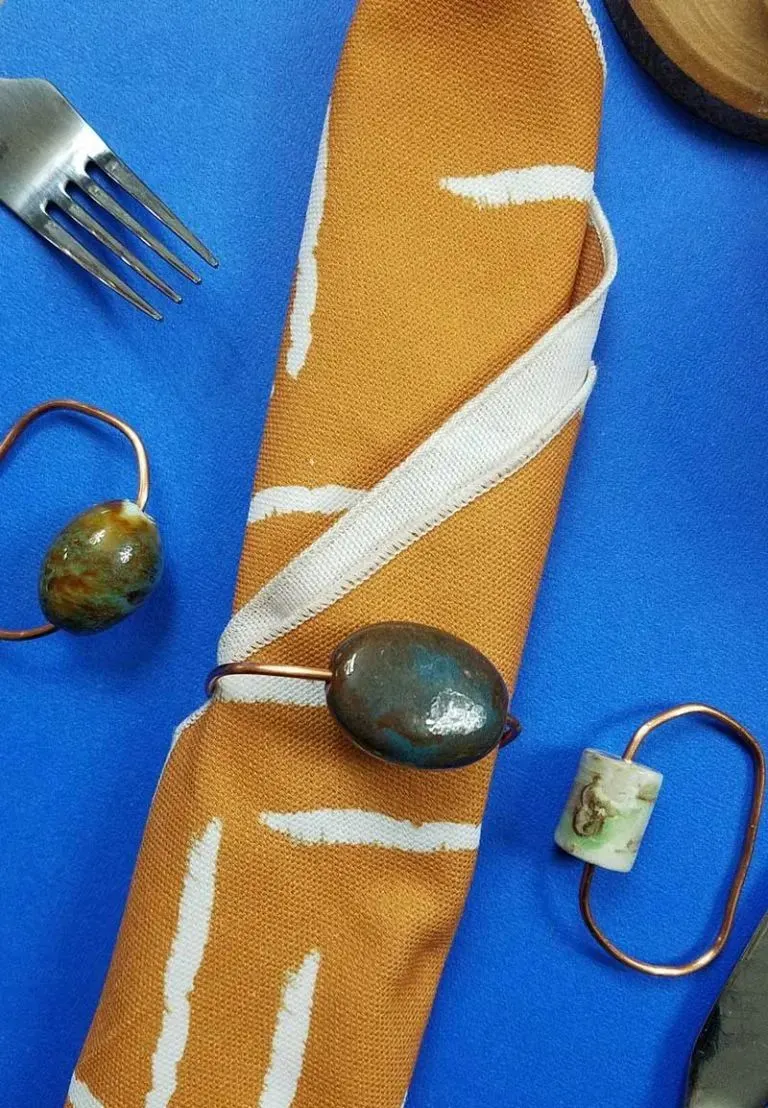 Source: momsandcrafters.com
Copper, as I've mentioned, is a wonderfully beautiful material and makes for fantastic kitchen decor, not to mention a great option for pots and pans.
These napkin rings are a great start for someone venturing into kitchen copper.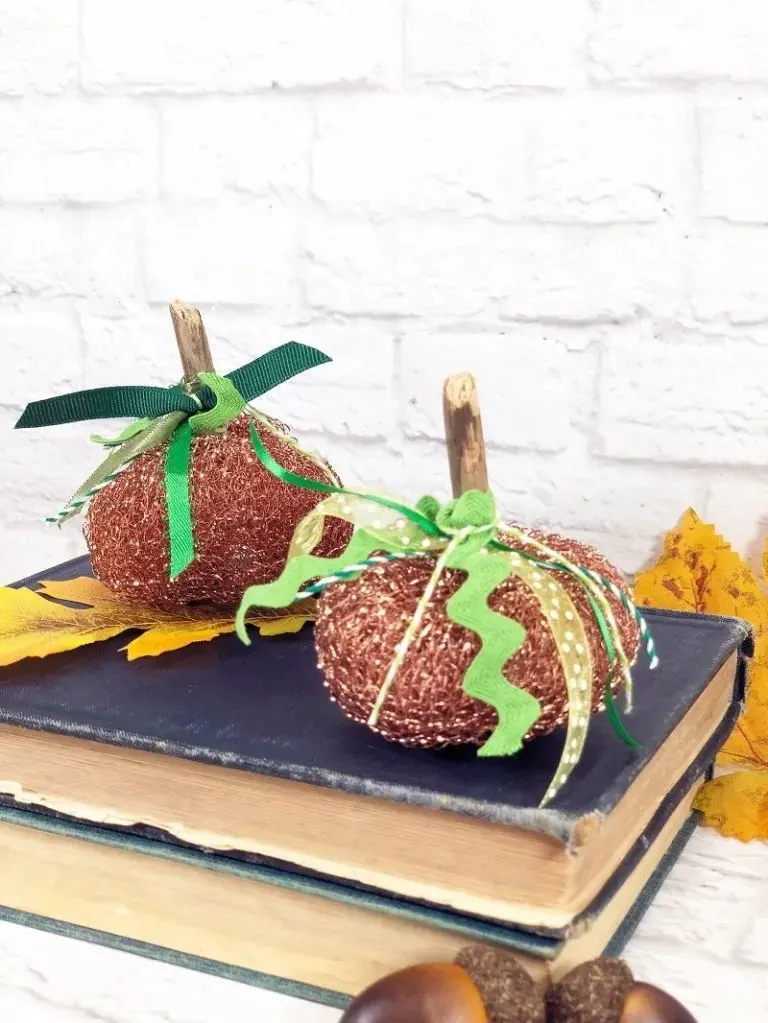 Source: creativelybeth.com
As the seasons change and you're looking to start putting out fun decorations that can last all fall long, try these copper scrubber pumpkins.
These gourds are made up of normal copper scrubbers like these, so the next time you pick up a pack for dishes, grab an extra for crafting.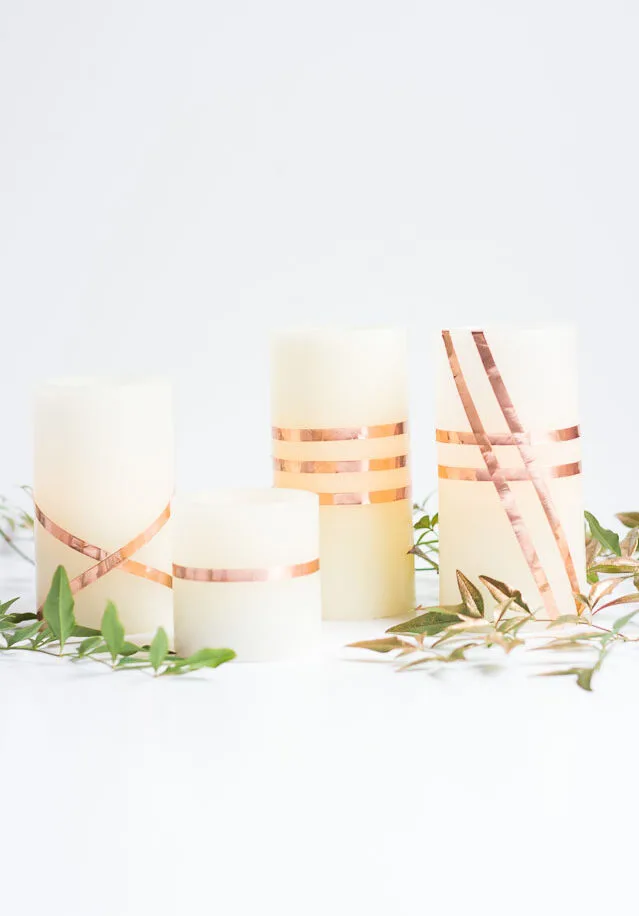 Source: designimprovised.com
An elegant touch to regular store-bought candles is to wrap them in copper. The wrap will help the candle keep its form as it continues to burn while looking extra pretty any time of the year.
They make a great gift for a host, co-worker, or candle-lover.
This is one of the most fun crafts to do when bored on a rainy day!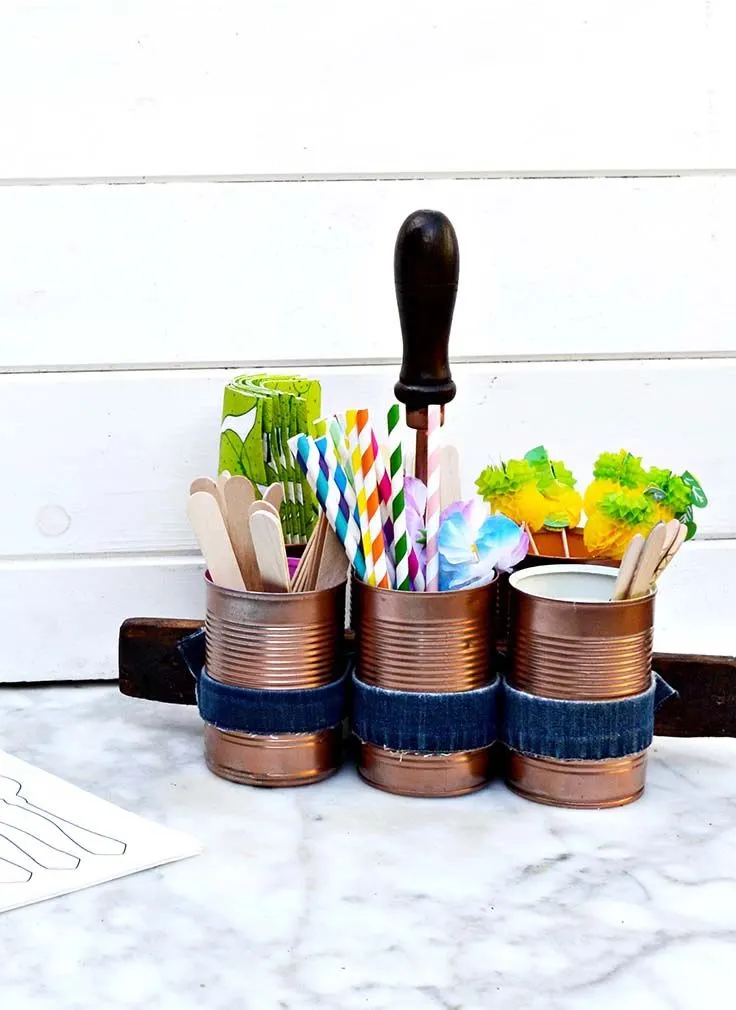 Source: pillarboxblue.com
The craft caddy is a great upcycling project if you have a bunch of extra tin cans lying around! Spray paint the exterior in a copper tone and the insides in any color you'd like.
Add a handle like this one to tote it around easily.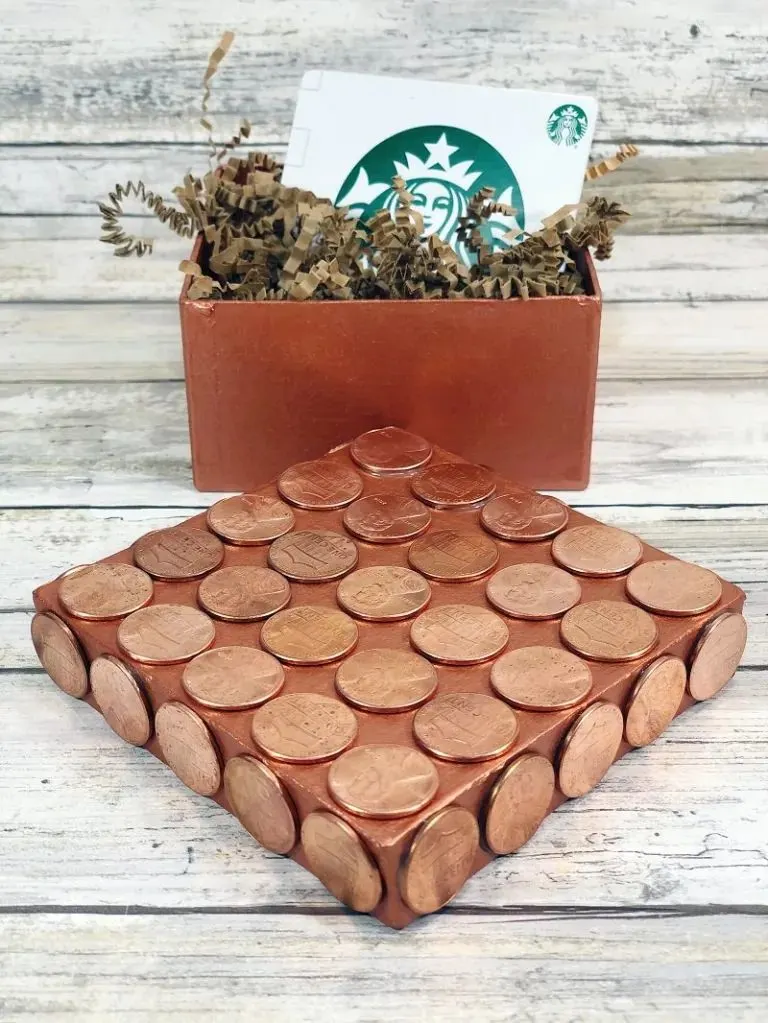 Source: creativelybeth.com
If your gift boxes look old and dusty, give them a quick paint job and add pennies to the lid for a shiny new wrapping option.
Plan this one if you try this one so everything can properly dry and adhere to the lid.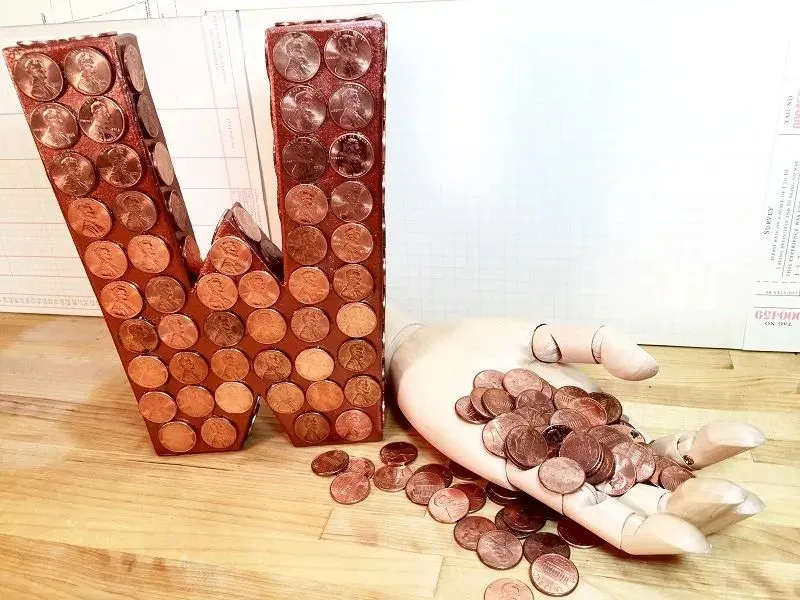 Source: creativelybeth.com
For a fun room decor option, consider grabbing a crafting letter and hot-gluing pennies to the exterior.
Pick a color for the base of the letter, and once that's dry, add your pennies–great for a kid's room or family space.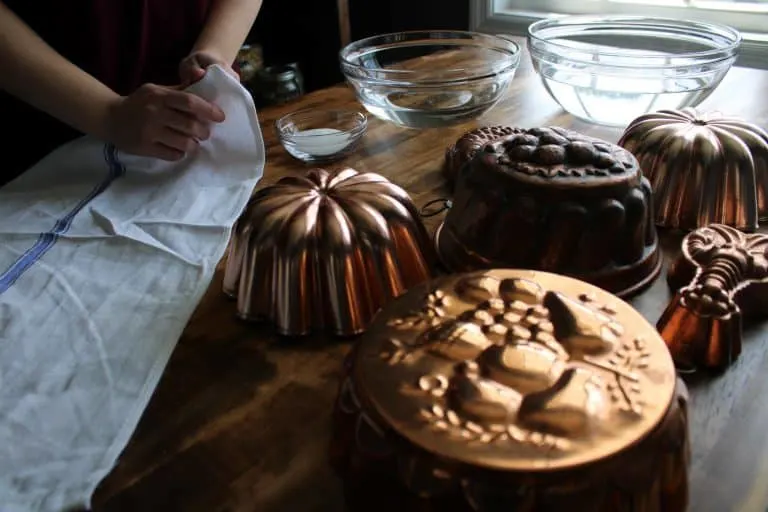 Source: tulipsandtwill.com
Restoring anything can be a labor of love, not to mention the maintaining of said item.
It all can be a lot, but the primed copper is stunning, and the two main items you'll need to do so are white vinegar and salt.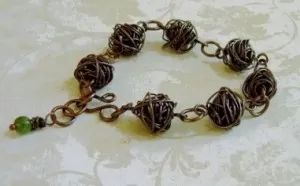 Source: mixedkreations.com
Copper is such a special material because it also contains healing properties. I'm no medical expert, so if you'd like more information on that, I'd recommend reading about it.
These wire beads are so unique and beautiful that they'll make a statement on any jewelry.
You might also have fun making these cute beaded bracelets.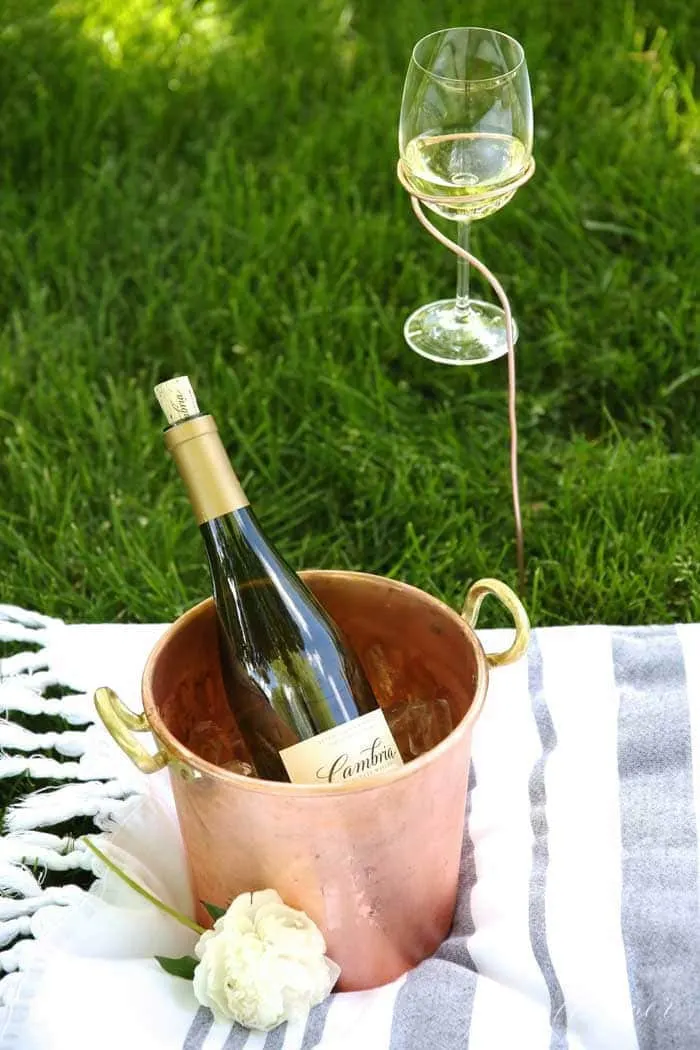 Source: julieblanner.com
I love these elegant outdoor wine glass holders for a picnic or party! Have all sizes of your wine glasses available while crafting these so no drink goes upheld.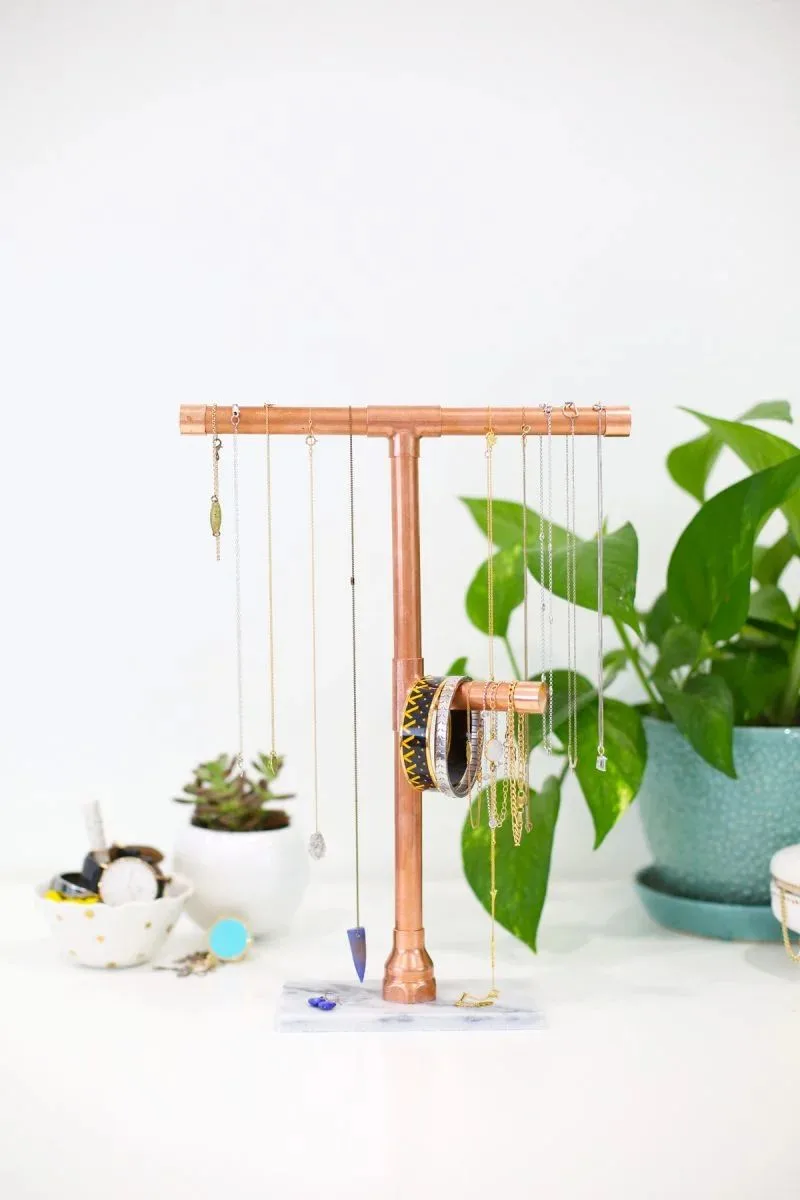 Source: lovelyindeed.com
Jewelry stands are a godsend, in my opinion–they save so much time in untangling, searching, and organizing. This simple frame is perfect for an afternoon of crafting.
Source: todayscreativelife.com
Are you getting ready for a party event, or just have a lot of photos you'd love to display?
This copper wire photo display will add some whimsy and elegance to your photos while still having all the pictures in one place.
Upcycle an old frame or make one yourself! Have all the materials planned out and ready to go, so there's no question when it comes time to build.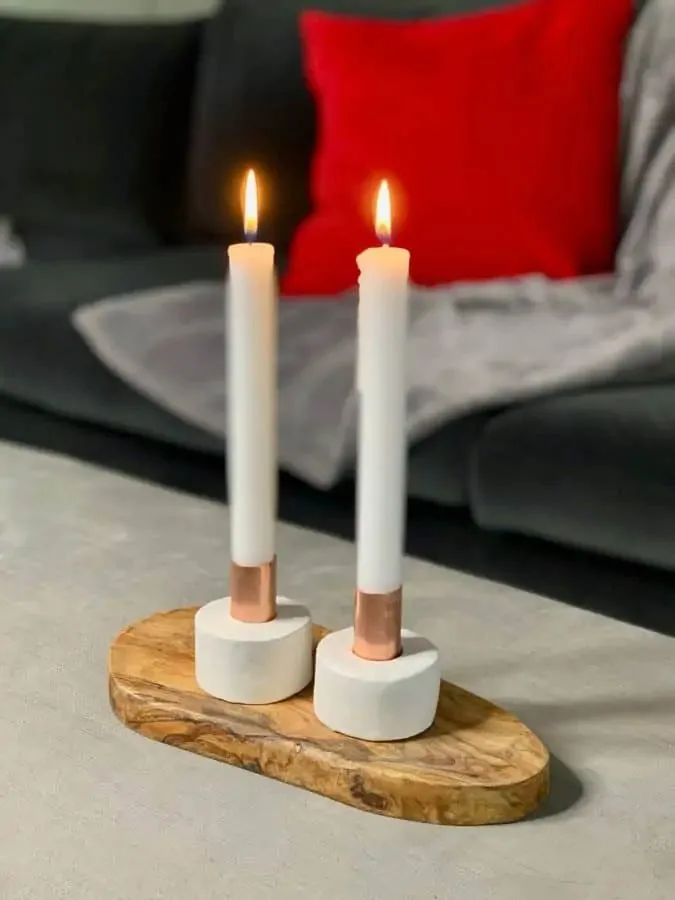 Source: artsyprettyplants.com
I love that tapered candles are popular again, and therefore, you need proper candlestick holders. This particular holder is minimalist but looks beautiful on a mantle or kitchen table.
Play around with the number of candles that can be helpful per holder if you want a bigger size. Construction is simple enough for a larger base and more copper holders.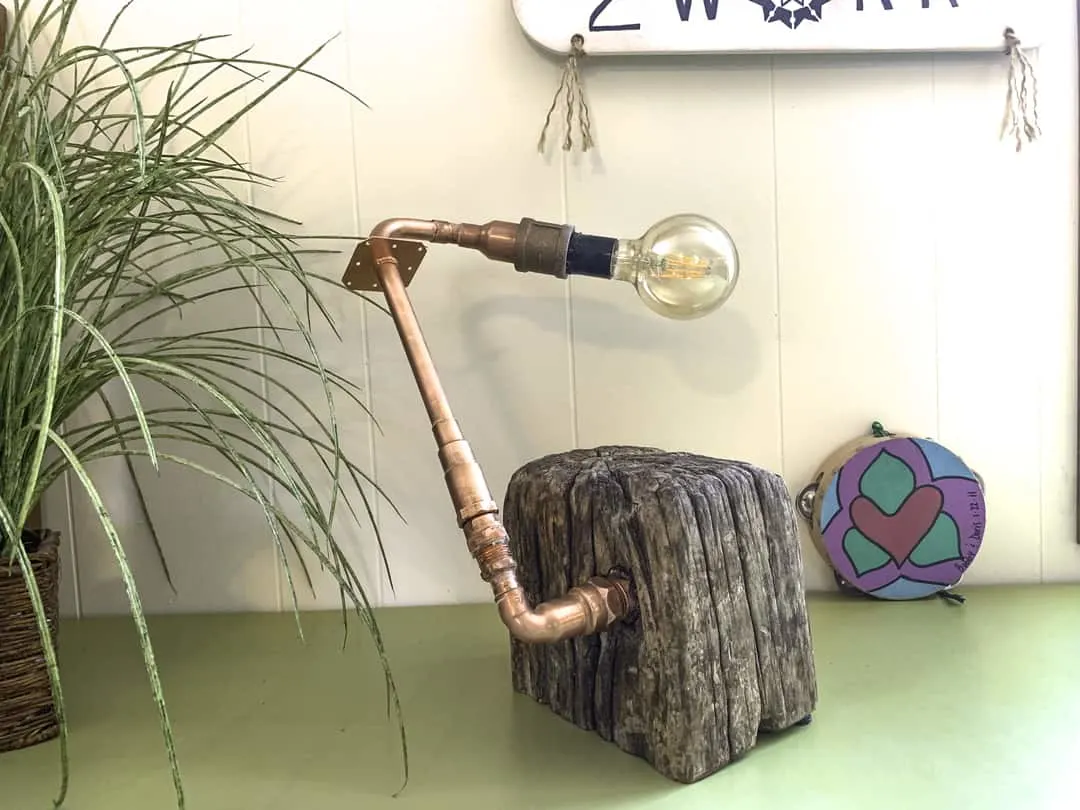 Source: hungaricanjourney.com
Before you start thinking, isn't a lamp really hard to make? There are only two major parts to put together and some fine detail work.
Depending on what you need, you can find many electrical lamp parts on places like Amazon or other websites. Take a look around and buy what suits your space best.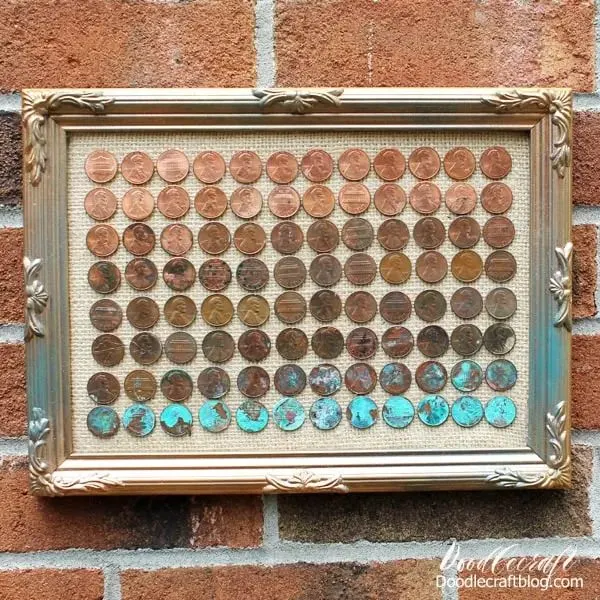 Source: doodlecraftblog.com
If you have some older pennies that are actually copper (or any other small bits of copper), newer ones, and everything in between, display them in this cool ombre penny art.
Grab a shadow box like this one, or craft a display all your own and add the pennies.
Source: julieblanner.com
Can't remember what you planted where? Make these adorable garden markers so you'll never forget them again.
Use them year-round if you have an indoor herb box or have starter seeds going during the colder months.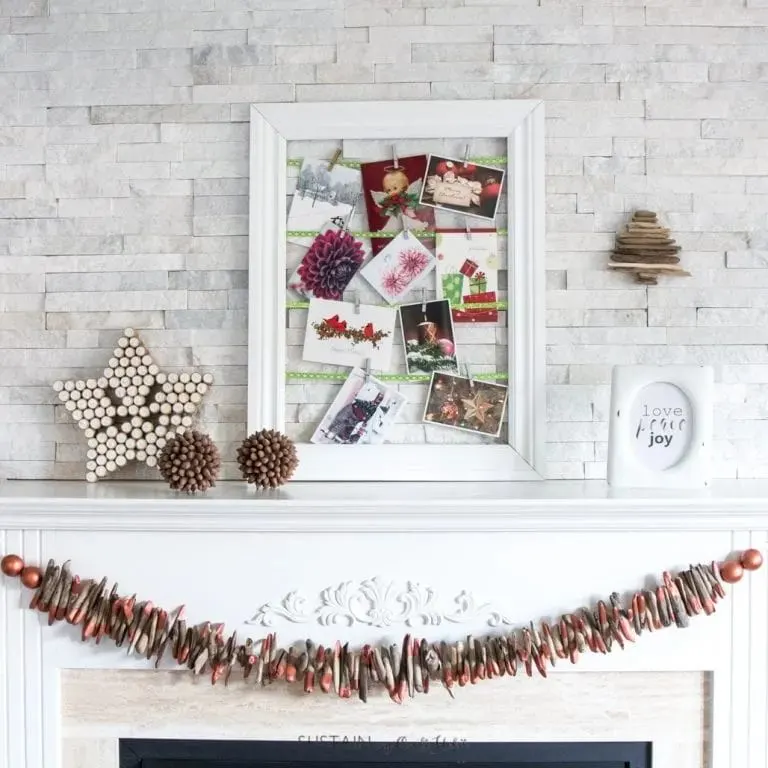 Source: sustainmycrafthabit.com
Driftwood is such an easy and cute addition to any home, but a way to elevate some older driftwood is to dip it in copper.
If you do smaller pieces, you can even make it into this wonderful-looking garland you can use for the holidays or all year.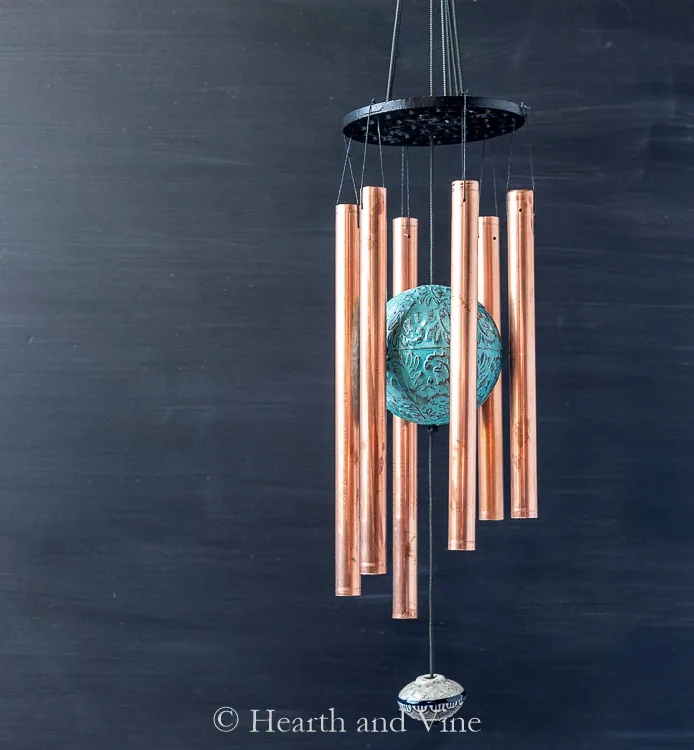 Source: hearthandvine.com
Wind chimes are so calming, and making them can even be therapeutic! Make it more so by using copper pipes to make a wind chime; remember, copper has healing properties.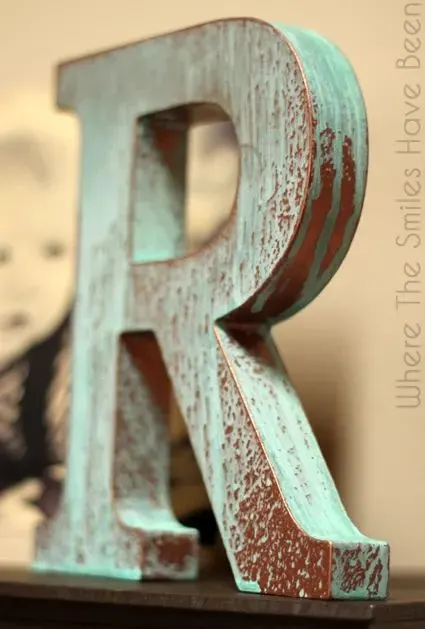 Source: wherethesmileshavebeen.com
For an easy home decor idea, try out this faux copper letter! The secret, beyond the copper paint, is this blue patina–it'll make for a more realistic aged copper look.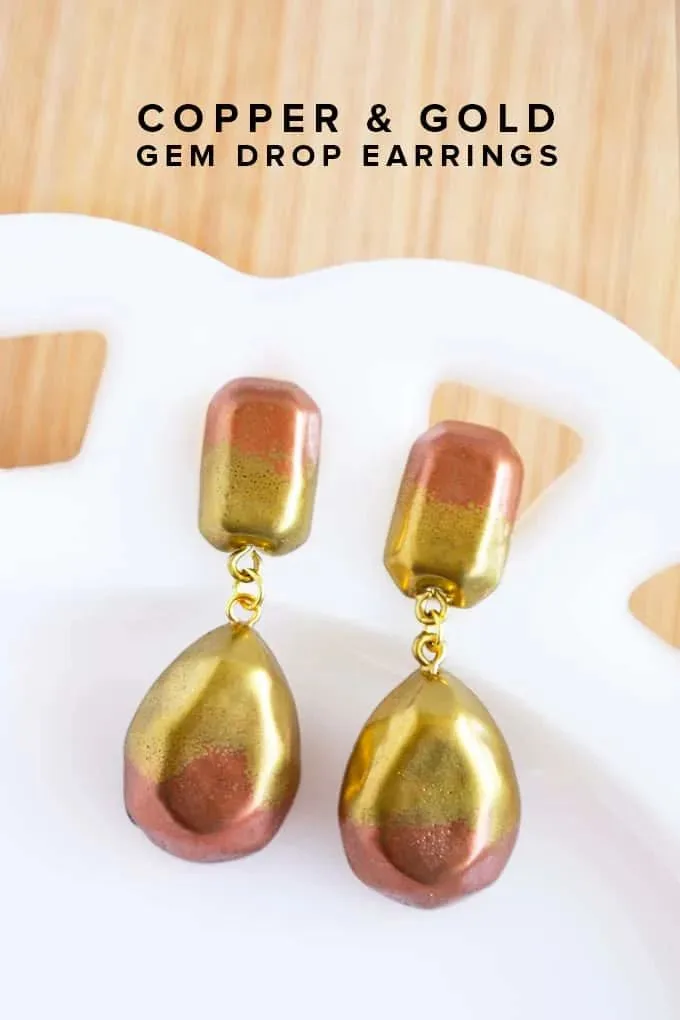 Source: modpodgerocksblog.com
Copper jewelry is some of the prettiest, and these drop earrings are no exception!
Create or buy a mold of your choice to make the silhouette, and then follow with some embossing tools to get that finish.
You'll also have fun making these stunning beaded earrings!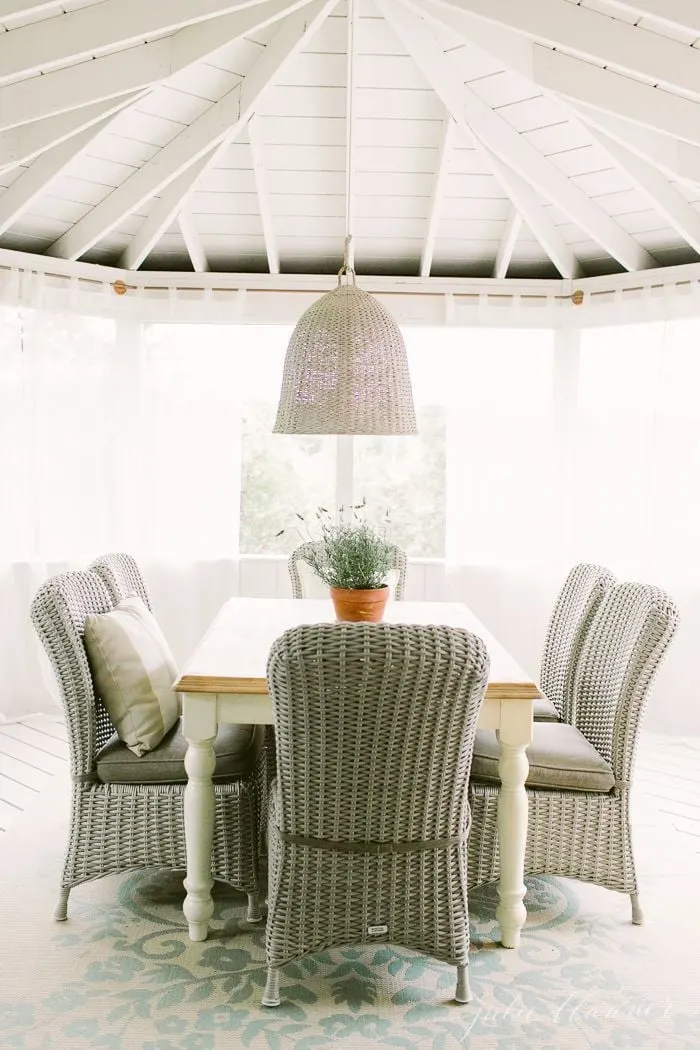 Source: julieblanner.com
If you need custom curtain rods or are looking to put your own touch on your space–create these curtain poles. Opt for a specific measure of copper pipe and get to measuring your space.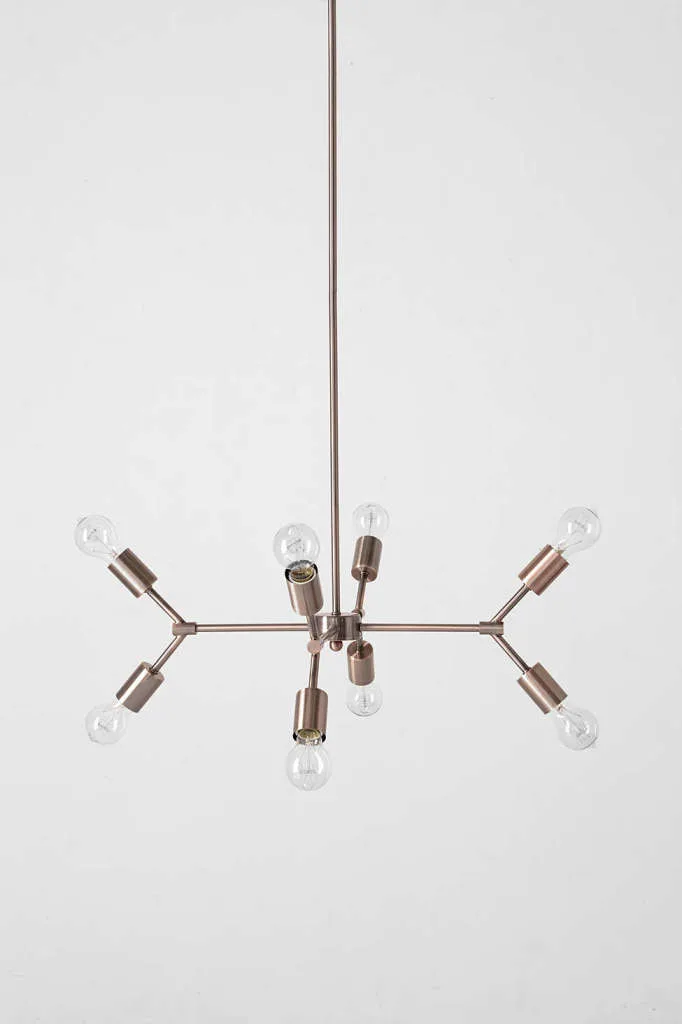 Source: thehoneycombhome.com
Do you love those industrial or post-modern lights but not the cost? Make your own light fixture with copper piping!
Like the lamp above, this will require some electric adjacent work, but nothing that isn't doable.
Brainstorm inspiration first before you go out and buy all the materials. Knowing what you'd like upfront makes it a lot easier to complete a project.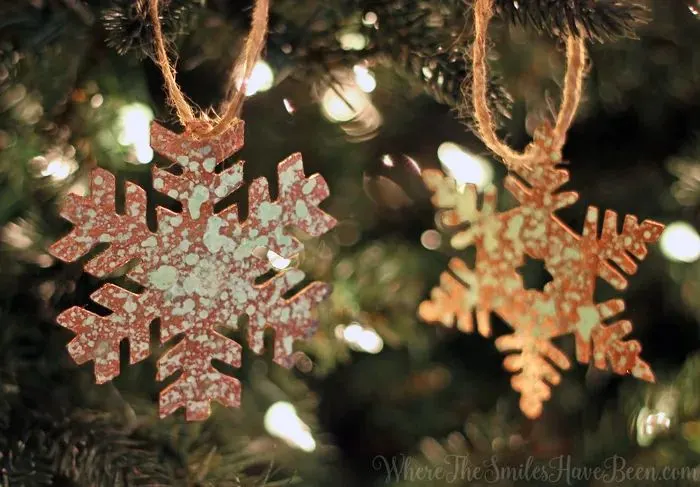 Source: wherethesmileshavebeen.com
As the holidays start to creep closer, having some easy crafts ready to go isn't a bad idea! This snowflake ornament is a great option, too, since the snowflake is made from old cereal boxes.
Like the letter above, this craft only requires copper spray and patina, making it easy to do as a family. Just make sure the paint stays out of reach for the kiddos.
If you are looking for the best winter crafts to sell, this is a great option!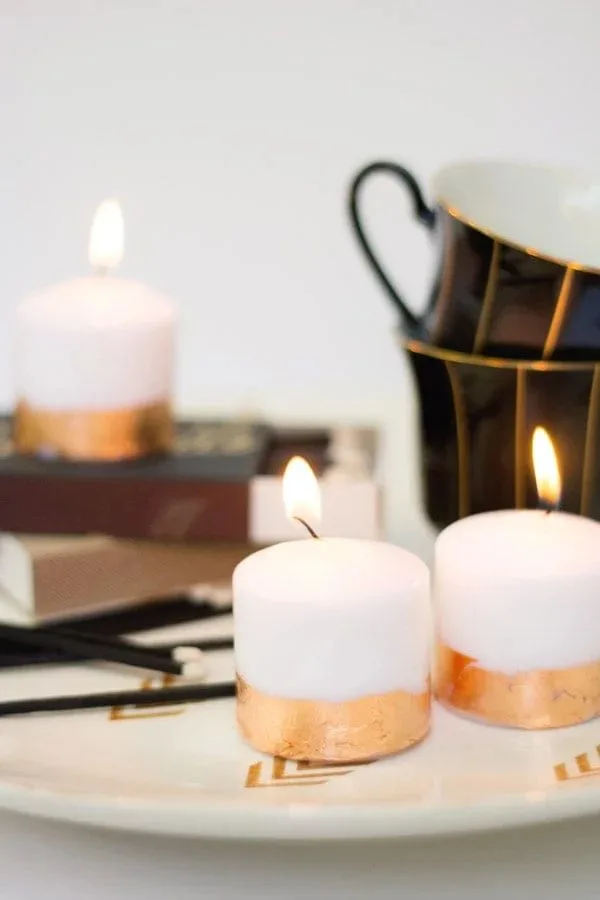 Source: lovelyindeed.com
Dressing up candles is easy with different types of copper! Above, we just used pieces of copper to wrap around each candle.
With leaf, it's a bit different in application but gives just as beautiful a result. Copy the example above or get creative with your copper leaf application–you really can not go wrong.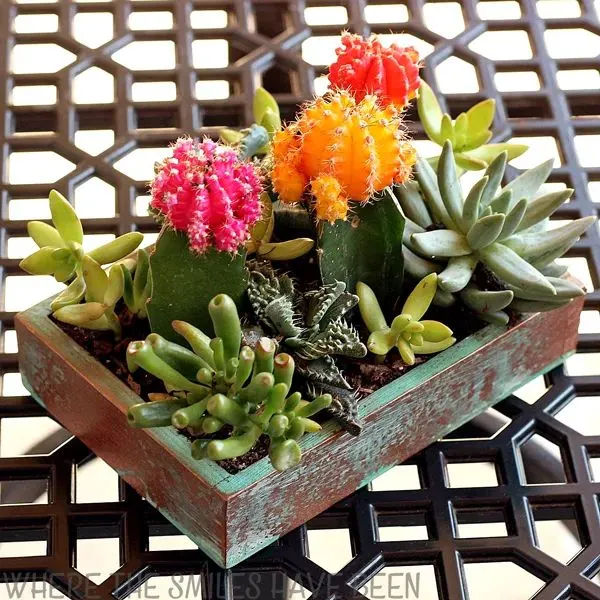 Source: wherethesmileshavebeen.com
Like the letter and the ornament, the magical mixture of copper paint and patina resurfaces for this adorable succulent planter!
Although simple to create, the results yield something a lot more elegant and homey.
The best part about the project is that you can apply this to any sized planter and get the same result. Be aware of how much paint and patina you'll need for your planter.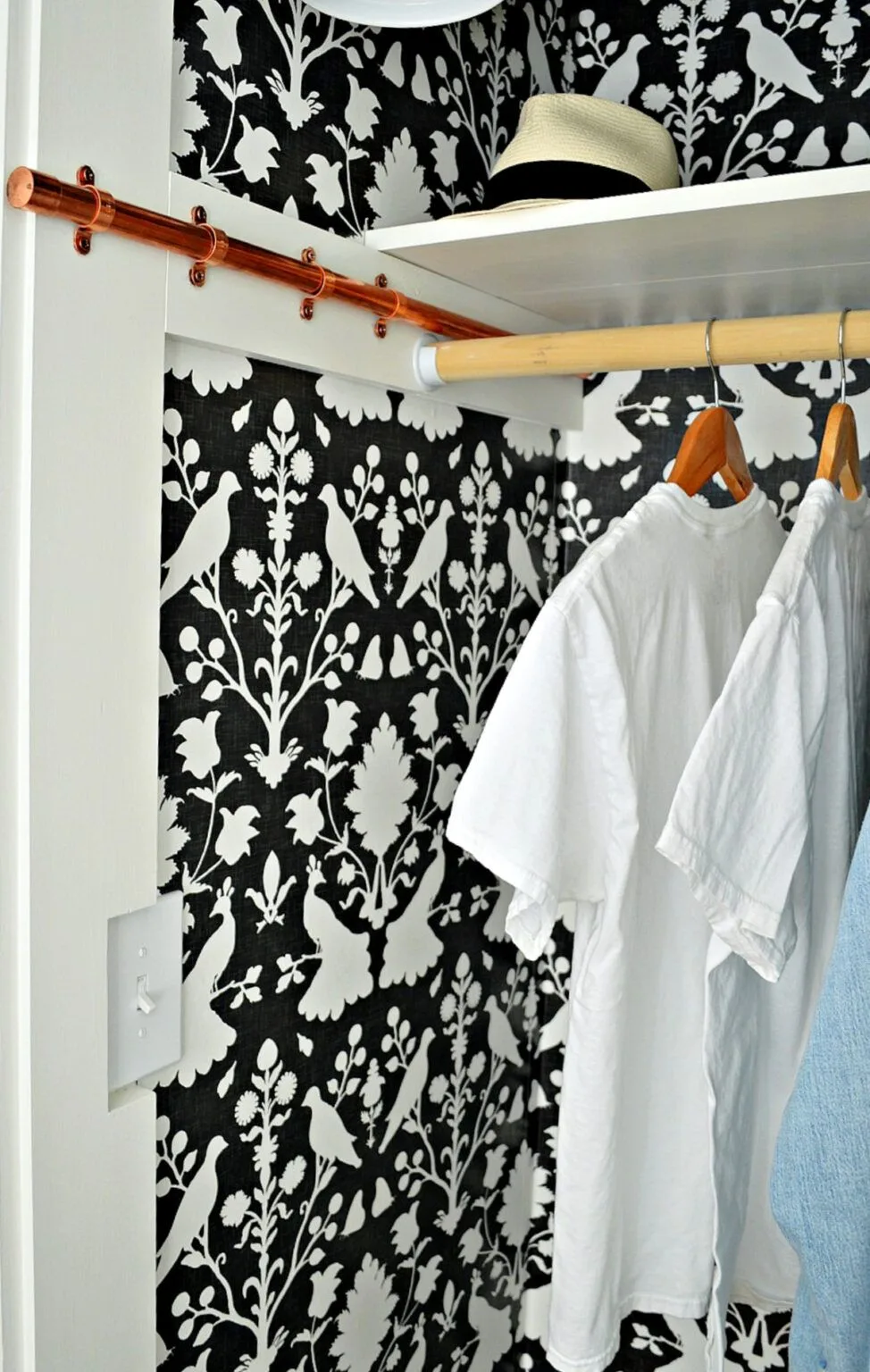 Source: chatfieldcourt.com
A great way to make small or regular-sized closets work for you is by installing a sliding clothes rod.
Adding this option to your wardrobe's space gives you so much extra hanging space and makes things look nicer.
Source: julieblanner.com
Last but not least, these quaint little tea lights. If you're looking for an incredible hygge accessory for the cold season, these copper tealights are a must.
The copper fitting can adapt to any sized candle and just takes the look of it to the next level. They also work wonderfully outside on porches or even light different pathways.