One of the most overlooked yet versatile home goods products is a clothespin! Everything from hanging laundry to holiday ornaments and more is possible with these clothespin crafts.
The best part about clothespins is that so many different types of them exist today. This post and crafts may not all call for the same pin, though.
A few different types of clothespins you may find below or may be interested in using while crafting are these classic ones, these mini ones, these colorful ones, and these vintage ones.
Those are probably some of the most commonly used ones in the crafts below.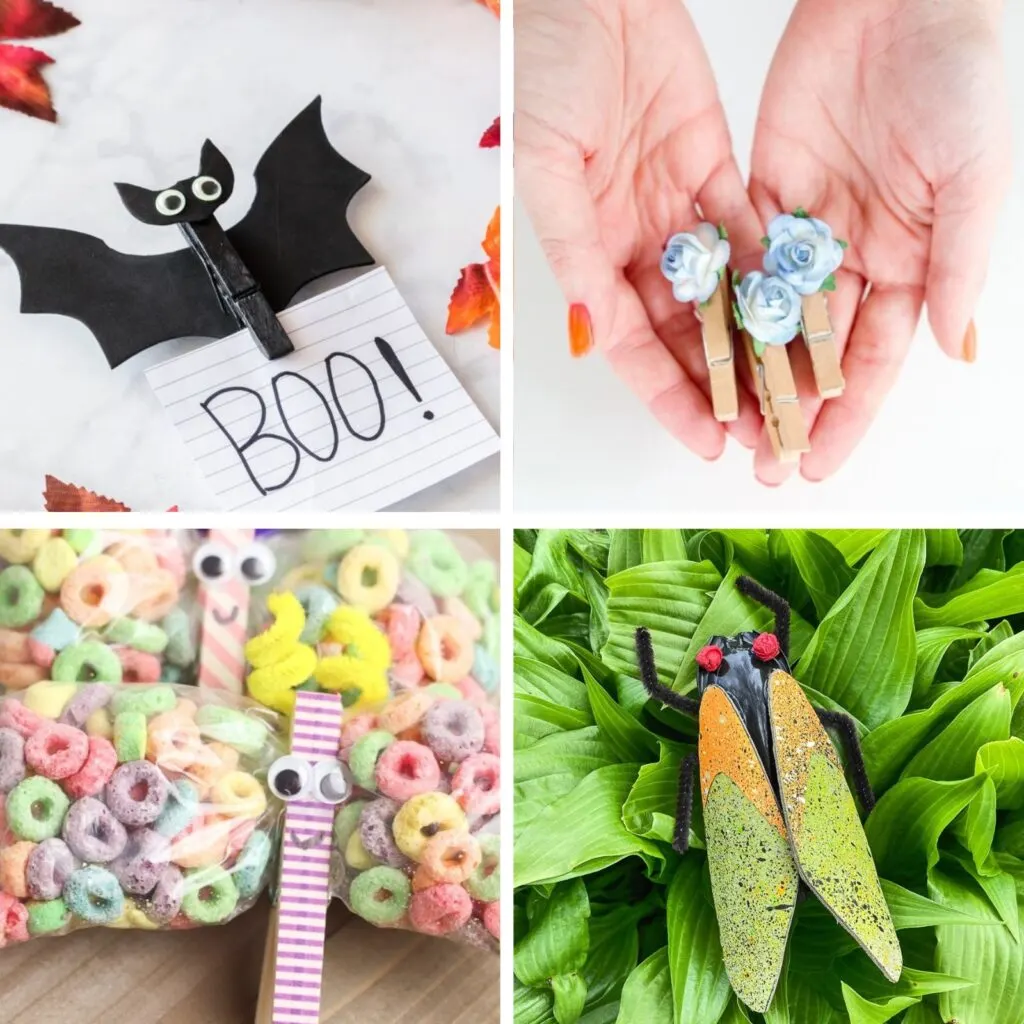 Source: mommyevolution.com
Wreaths, depending on materials, can get expensive, especially if it's a living one. For a greener and more sustainable swap, make a clothespin wreath.
What's great about it is that you can make one for each major season of the year and swap them out with each transition.
Buy some colored clothespins, as mentioned above, or paint them yourself for an extra personal touch.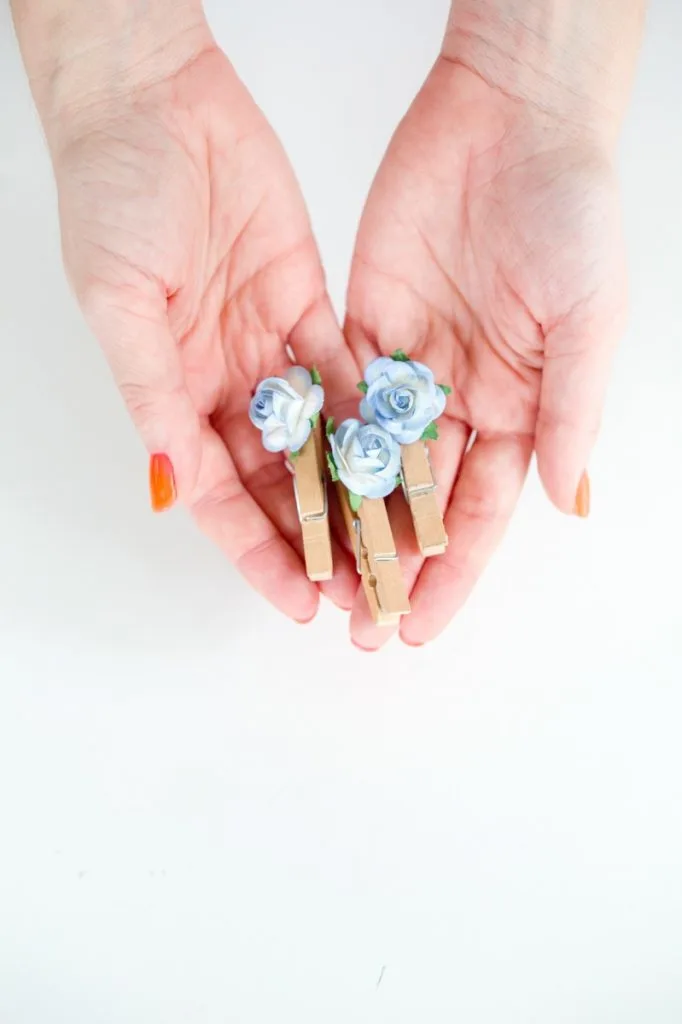 Source: popshopamerica.com
If you're looking to add some fun to the classic old clips, consider adding a fun embellishment like fake flowers!
It involves hot glue and your decoration of choice to turn plain old pins into something much more interesting.
These are a great option for displaying anything from classroom work to family photos. Stick with one color flower or grab a bouquet worth of different colors.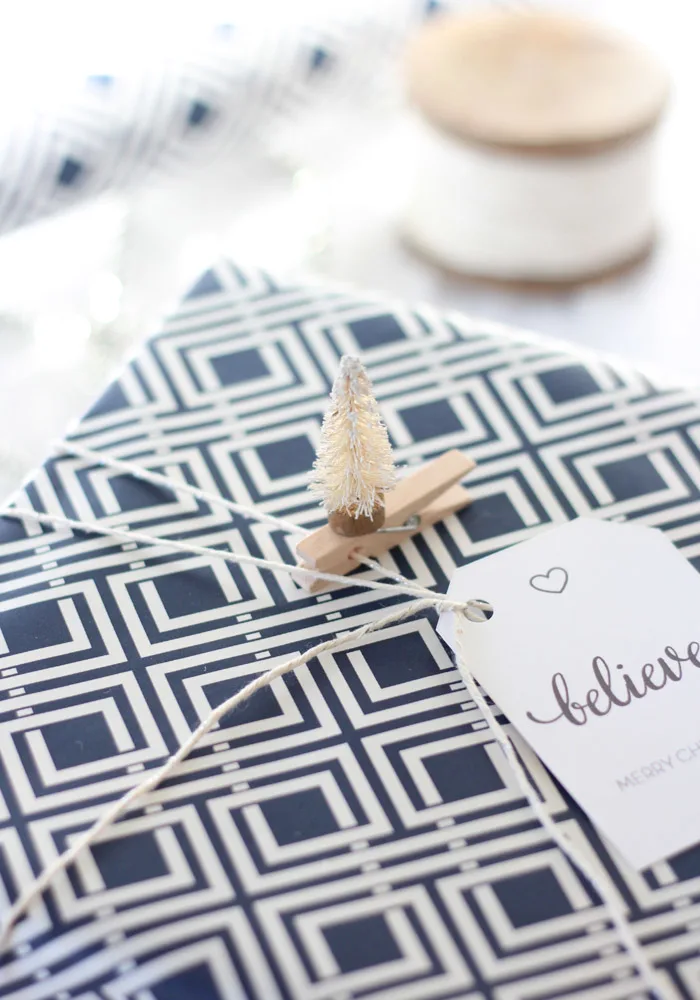 Source: satoridesignforliving.com
In the same spirit as the flower pins, get festive with these bottle brush cuties. It's the same idea with this craft, but a little more jolly and the perfect addition to your gift-giving this holiday season.
Stick with white bottle brushes, or pick some colorful ones up here.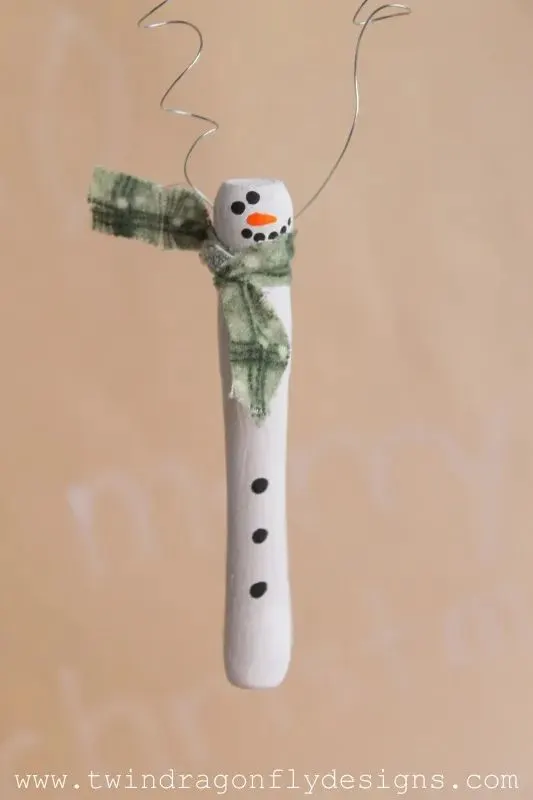 Source: homemadeheather.com
As mentioned, there are plenty of different types of pins for different projects, and these next two, although the same character, have completely different applications.
This wooden snowman ornament uses a vintage pin and makes for a darling ornament fully ready for you to accessorize with festive cheer.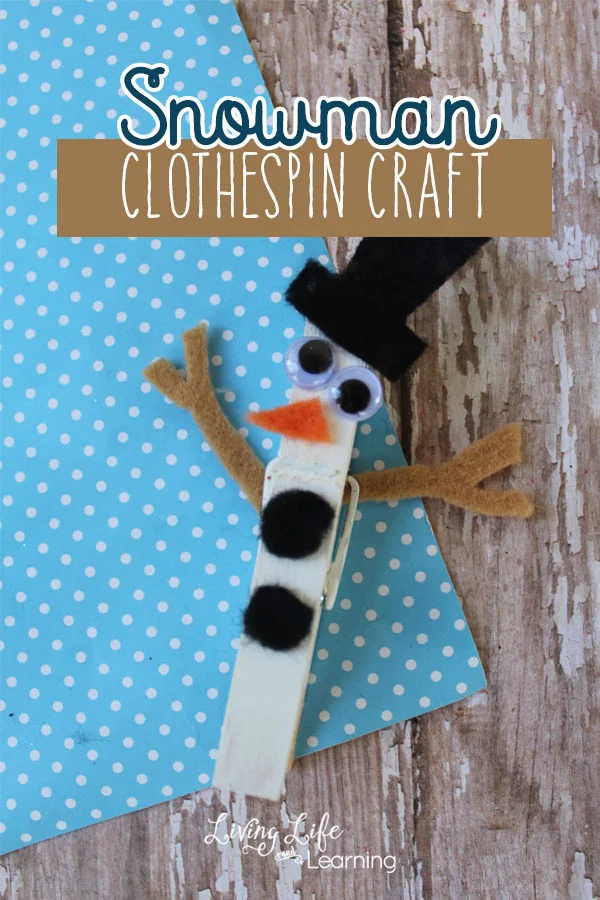 Source: livinglifeasmoms.com
As I said, this snowman is completely different from the last, mainly because it uses a pin that is most familiar to many of us.
This snowman, however, is a great option for kids to make and have for anything from a bookmark to just a fun character to add to their toys.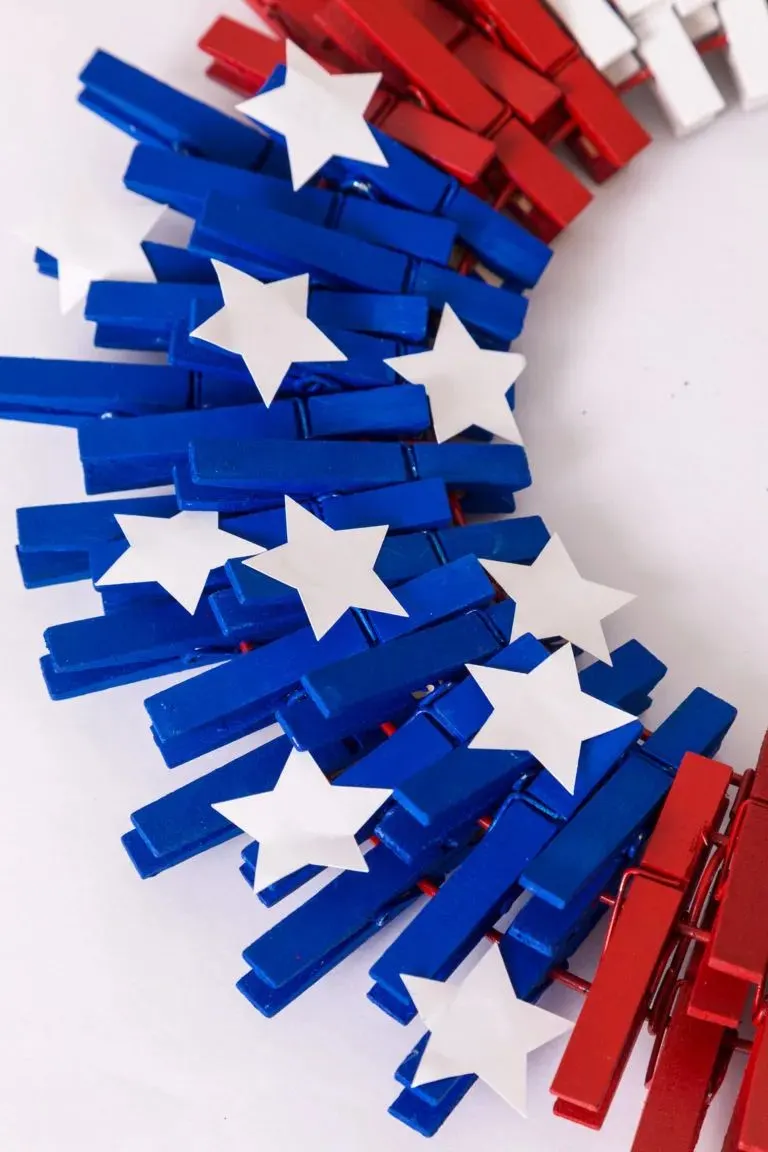 Source: kippiathome.com
Want an American-esque piece of decor for the fourth or just because? This flag wreath is the perfect answer to pay homage and an excellent piece you'll have for years.
You can customize the look to a more vintage-inspired one by opting for muted reds, whites, blues, and the stars. A coating of sealant or paint may help with the effect as well.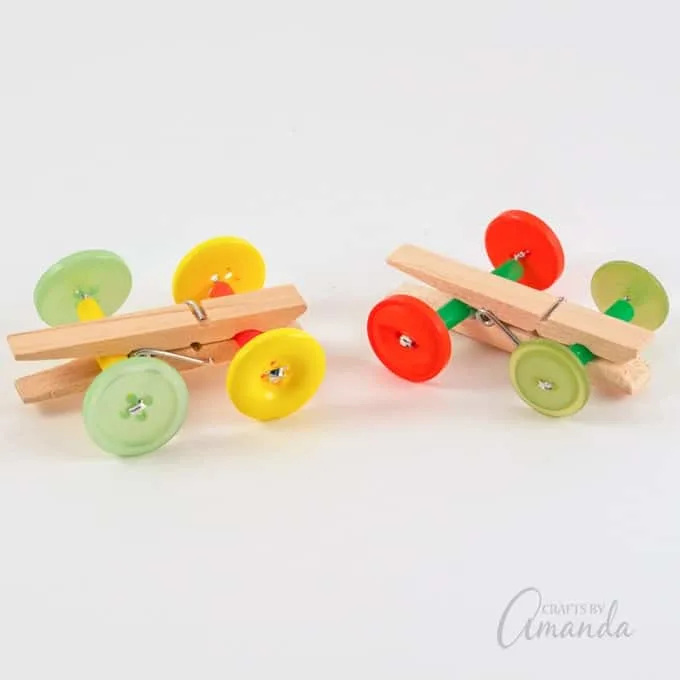 Source: craftsbyamanda.com
A great craft for a kid who loves cars, or if you love them, these are a great untraditional take on a classic racer. They won't be the speediest in the bunch, but you can play with them.
Feel free to decorate and paint as you please! Anything from Hotwheels to Model Ts is more than acceptable.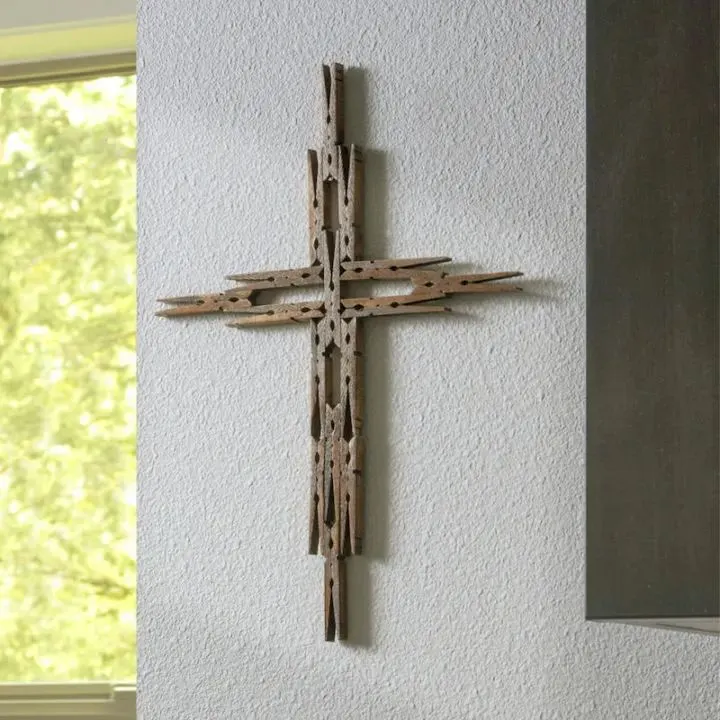 Source: modpodgerocksblog.com
For those looking to buy or make a Cross, this clothespin is a unique and beautiful option. It has a textured look that feels appropriate for the craft itself.
If you want to add color, you can paint it a solid color, opt for a few different colors, or make each pin different from the previous one.
Seal it all together with some of this Mod Podge.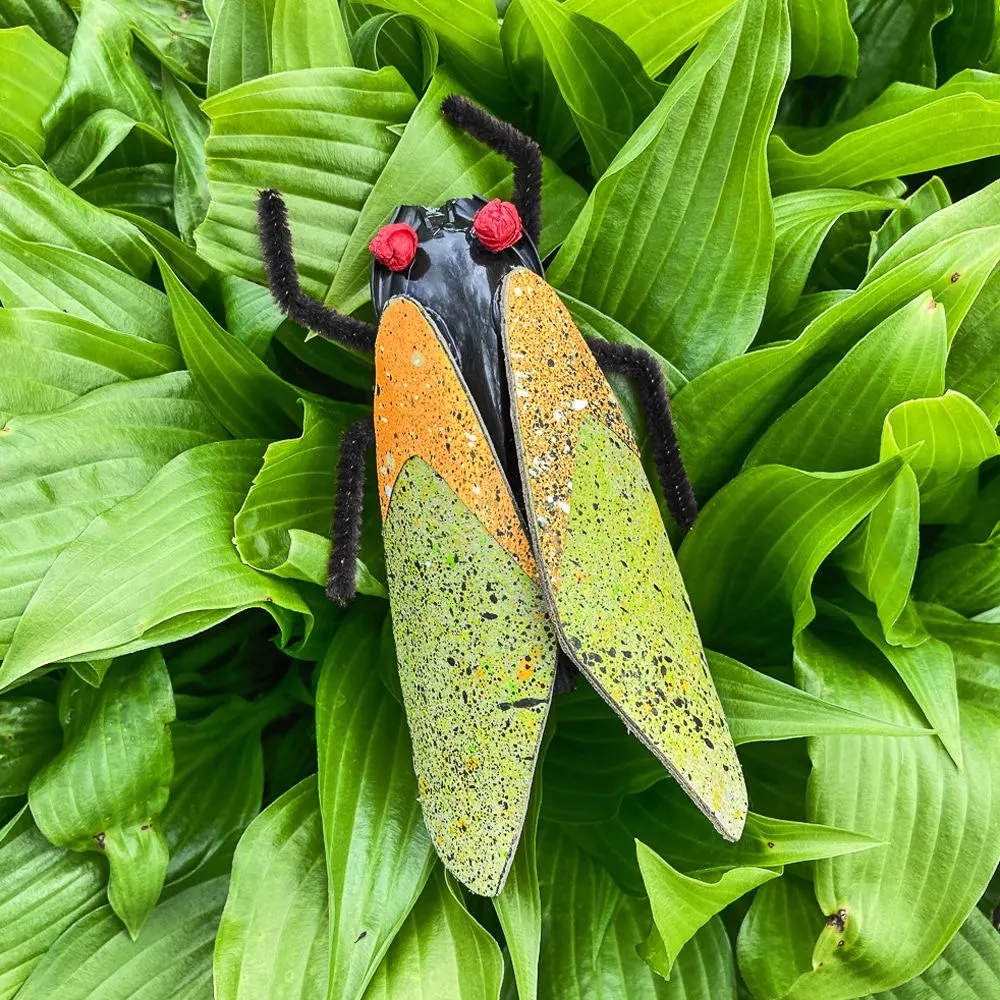 Source: barleyandbirch.com
If you work with, teach, or have kids in your life, this cicada craft would be an excellent art project in connection with teaching about hibernation.
Alternatively, if the kids you know love bugs, this cicada pin can't fail.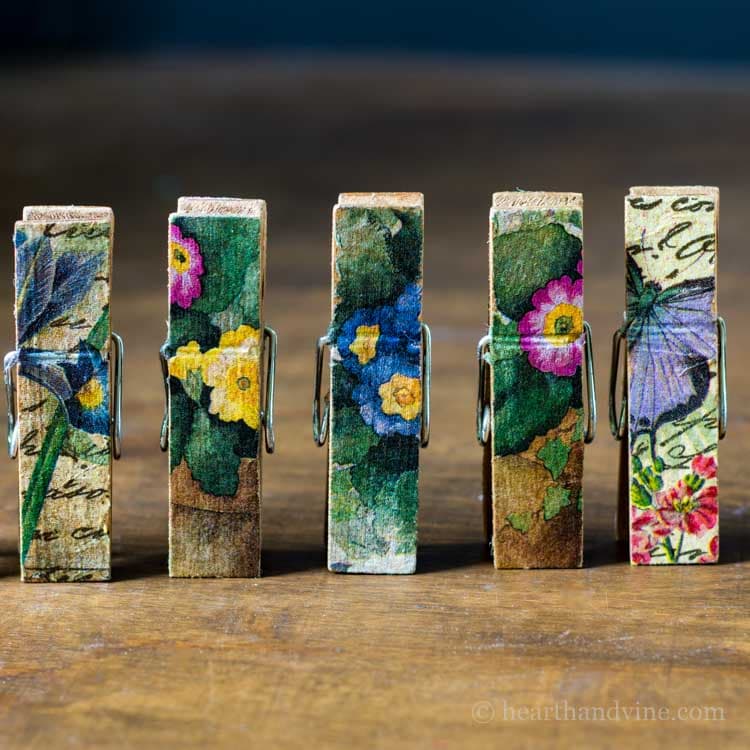 Source: hearthandvine.com
Are you always losing all of your clips or magnets? Make these magnetic clothespins, and grab these extra strong magnets so they'll always stick around.
I always make a bunch when I do make these because regardless of what happens, they do seem to disappear over time and, eventually, break.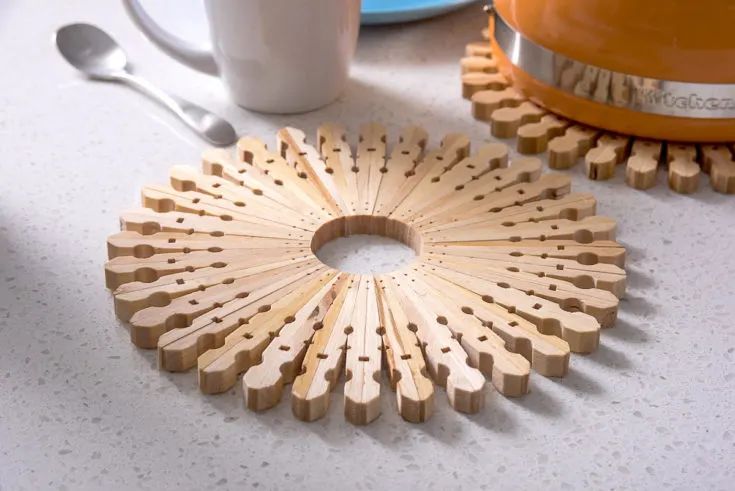 Source: diycandy.com
I never seem to have enough trivets in my life while cooking or baking, and these clothespin ones have come in handy a couple of times over.
They are an excellent and super cheap option for the sole purpose of being very budget-friendly; other trivets can be expensive.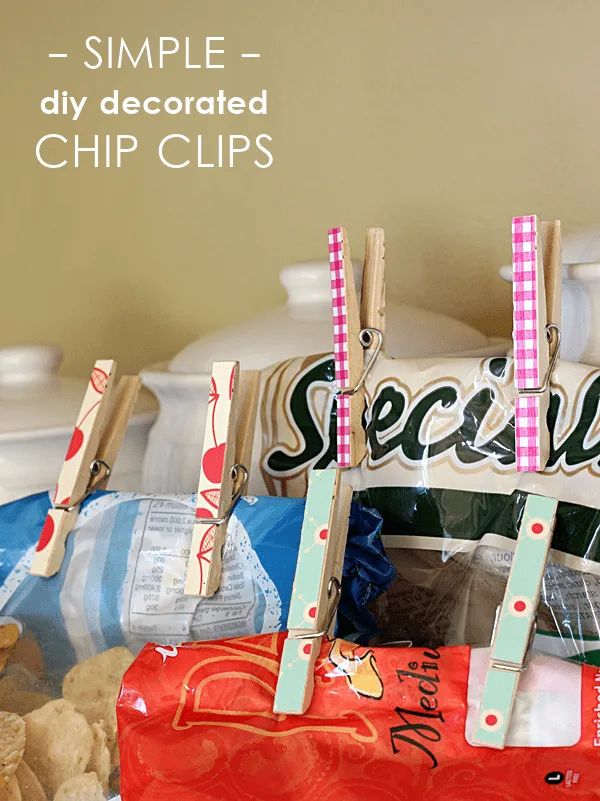 Source: modpodgerocksblog.com
Again, if you're always tracking down magnets, you may be losing your chip clips, too!
If you happen to be someone who does that, make these super bright and cute clips so you can spot them from a mile away.
Keep them in the same area as your snacks so you don't have to travel far for the clips, and it will be harder to lose track of them.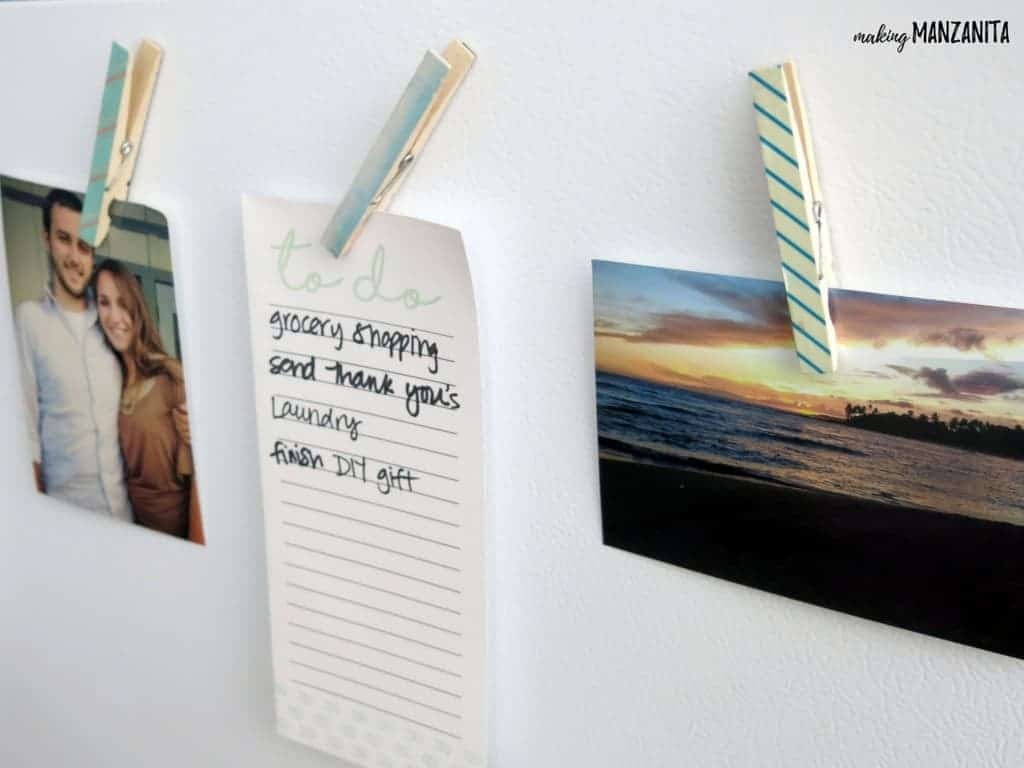 Source: makingmanzanita.com
Dress up your new magnets with some fun washi tape! You can even make a few different sets for every season or even month.
This set of washi tape has all the options.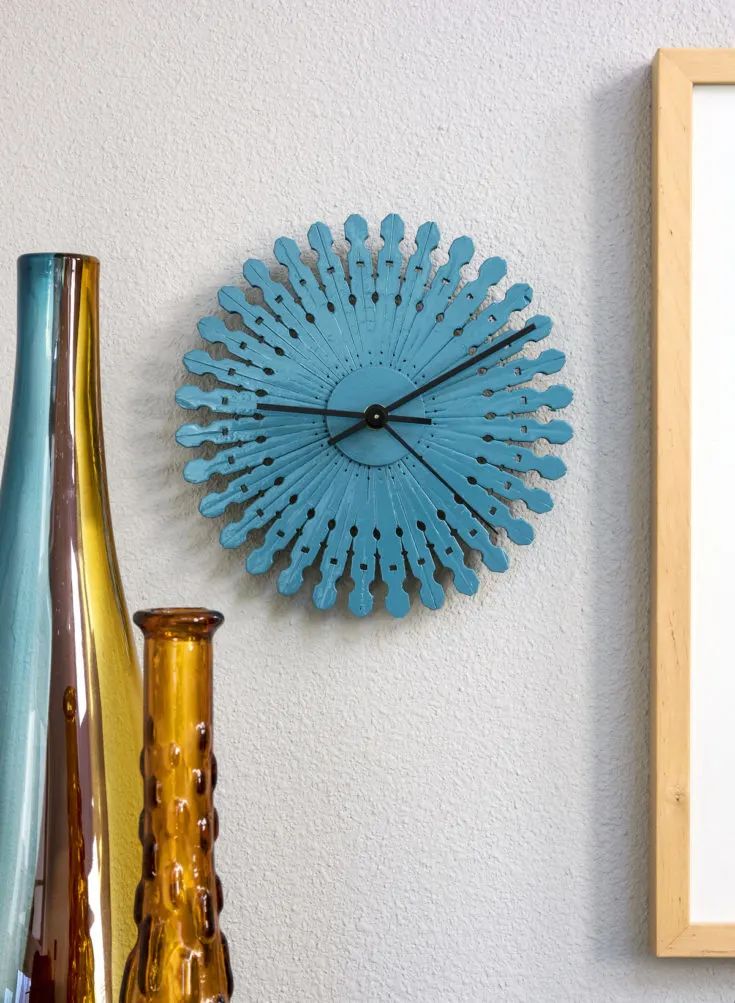 Source: diycandy.com
If you're looking for something truly unique, look no further. This clock has such a fun shape and pattern to it, and the best part is that you can decorate it any way you see fit.
This clock would make for a great gift for someone with eclectic taste.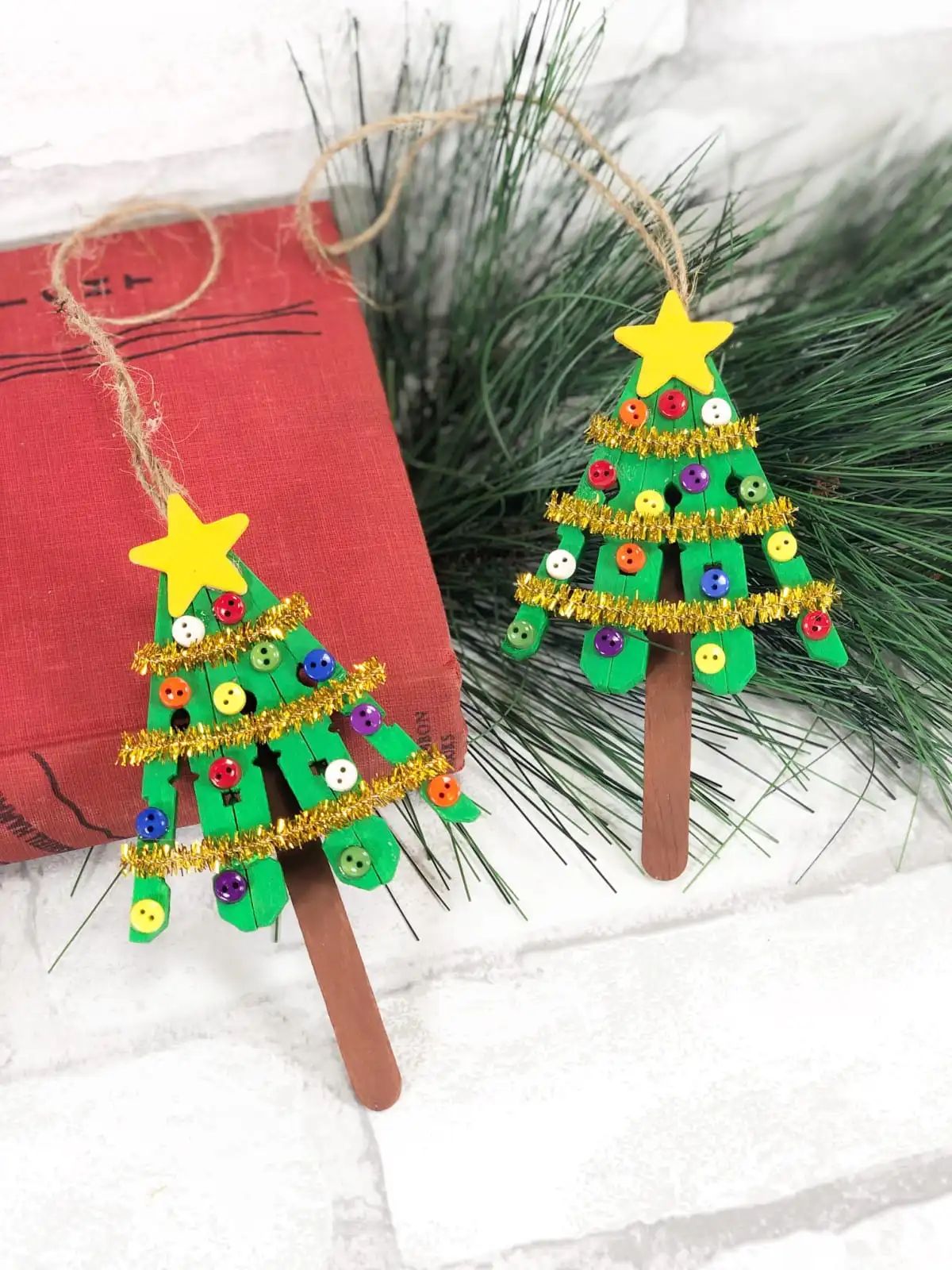 Source: funmoneymom.com
As the holiday season continues to near, having a small array of crafts to do for either myself or any kids around is one of my favorite festive activities.
This Christmas tree is perfect to do while watching a holiday movie or with a group of kiddos.
You might also enjoy these other holiday crafts for a quick crafting fix!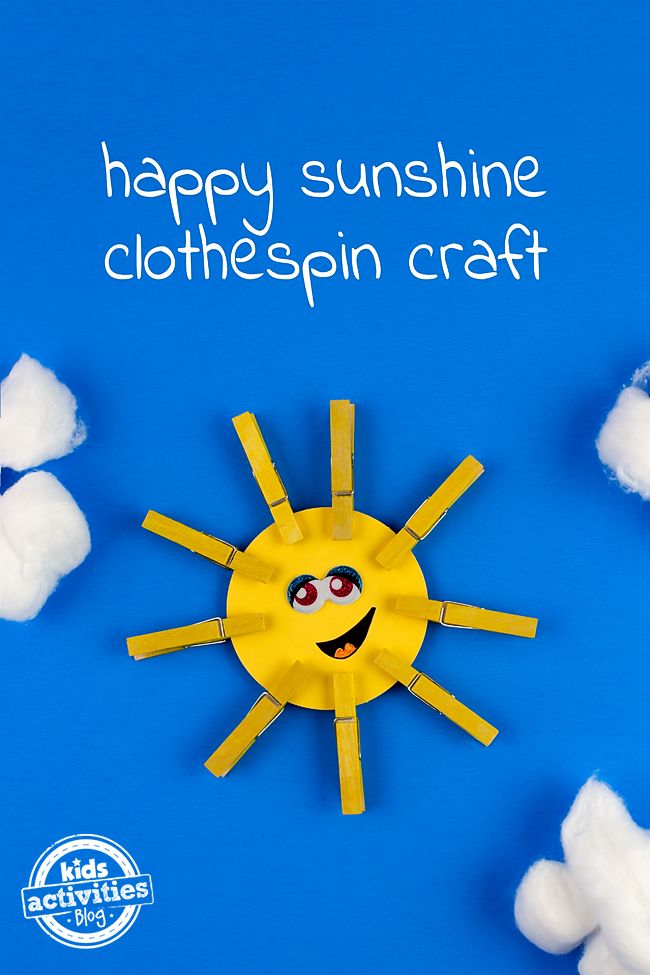 Source: kidsactivitiesblog.com
Clothespins are also a great option for someone working on their fine motor skills, and this sun brightens up the whole practice. Have it on hand for a fun project and a great low-key practice moment.
Give the sun fun accessories like a toothy grin and cool shades, or stick to the minimalist version.
Source: mandapandaprojects.com
As mentioned earlier, making a clothespin wreath for each season isn't a bad idea, and this sunflower wreath would be an excellent option for Summer or early Fall.
The flowers make this wreath pop; grab some fake flowers here.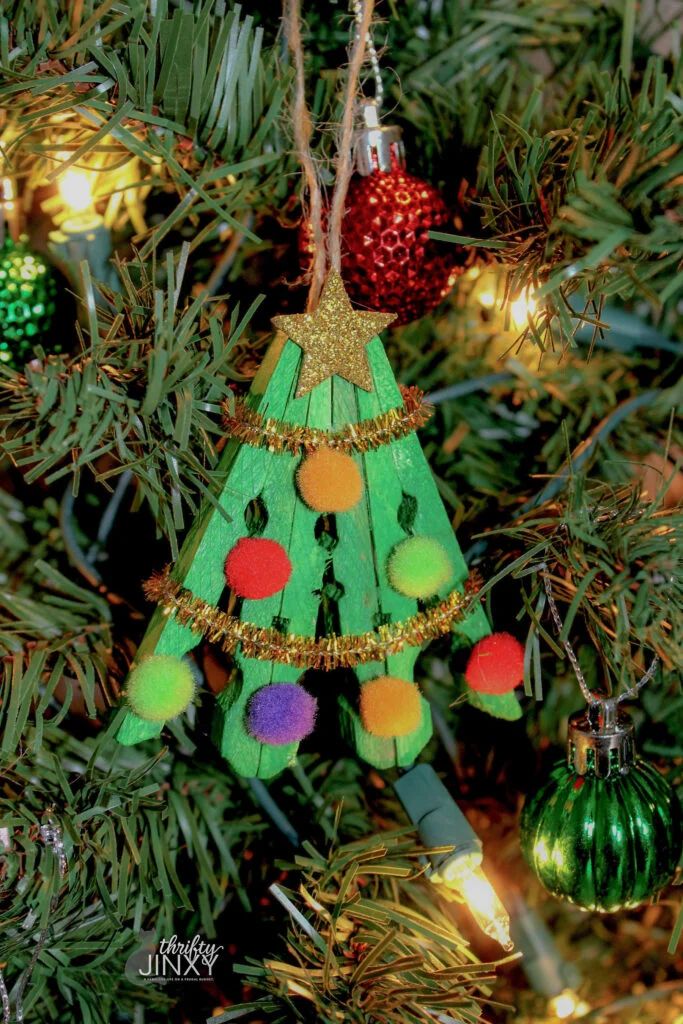 Source: thriftyjinxy.com
Another Christmas tree project is perfect to have ready for December for you or the kids who are itching to get into the spirit. Make them as party favors or for your tree.
Either way, these DIY Christmas ornaments are a great and simple option for any crafter.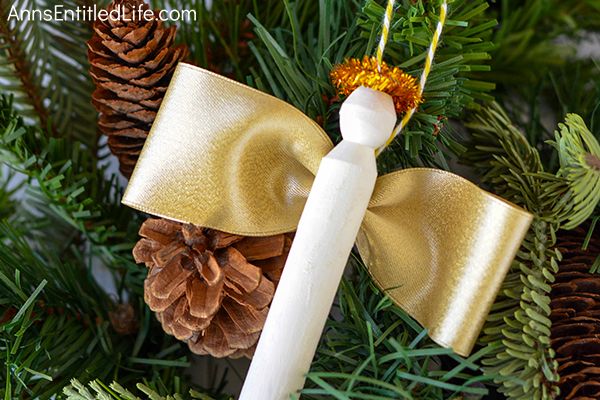 Source: annsentitledlife.com
Continuing with Christmas ornaments, add this sweet angel to your ornament craft list during December. You could gather a few different ornament materials and offer the kids options.
Or you could make all of them during a movie marathon or with friends.
Offer different skin-tone colored paint to customize each angel if embellishing.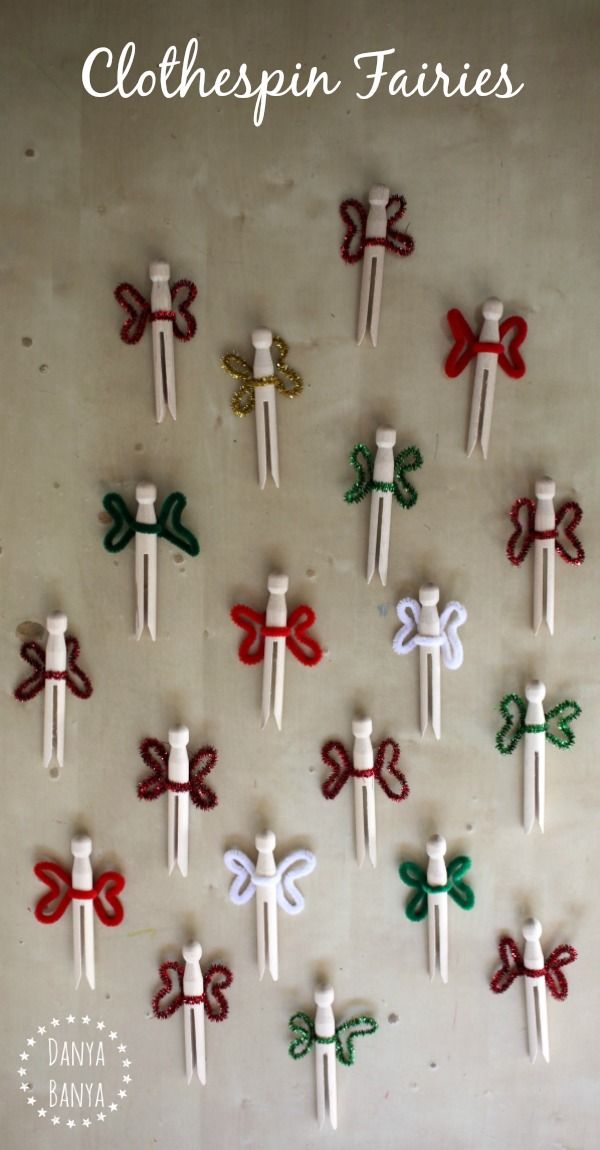 Source: danyabanya.com
For the believers of fairies, this next craft is perfect for you all.
These sweet fairies are the perfect fun addition to your home that can perch on ledges or stairwells watching over or an excellent toy to add to a kid's collection.
Go all out for your fairies or keep them minimal, whatever works best for each crafter making their fairy.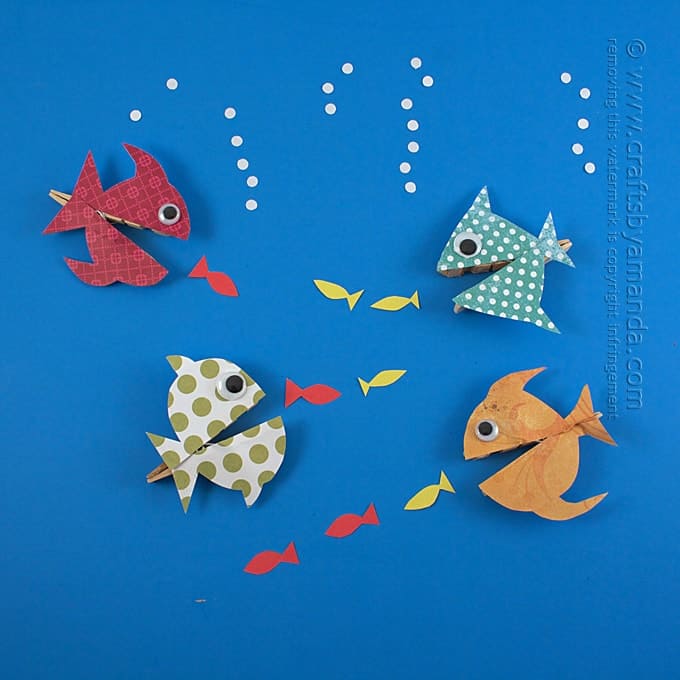 Source: craftsbyamanda.com
These sweet little clothespin fish are the perfect accompaniment to an academic lesson, game, or free play.
The best part is that any card stock or sturdier craft supplies can work as the fish's body–anything from contact paper to tissue paper-covered cardboard.
Add letters, numbers, or colors to the fish to have the option to turn it into a lesson at a moment's notice.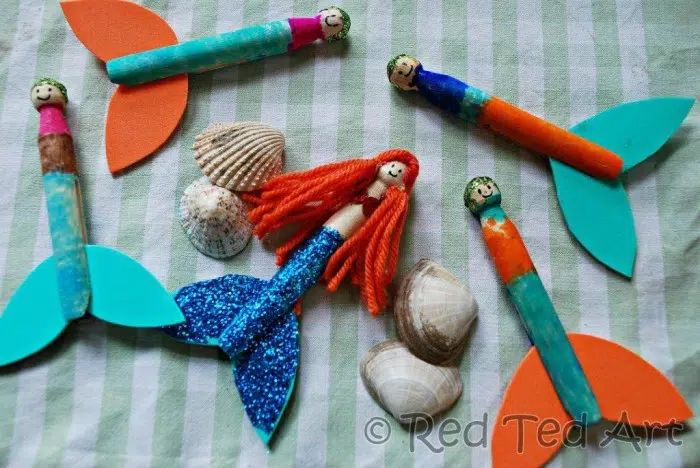 Source: redtedart.com
The mermaid pins are some of the most darling kid craft items I've done recently that turn out super cute. Make sure to have plenty of fun colors for the crafters and all the sparkly accessories.
This pack of yarn covers most hair colors. Create a singular mermaid or a whole family's worth–each comes out cuter than the last.
You will also love these other adorable mermaid crafts!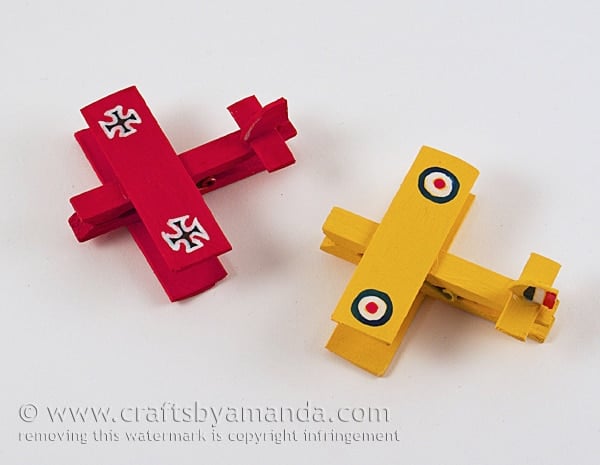 Source: craftsbyamanda.com
If you or your little one is an airplane lover over a car one, try making clothespin airplanes. Make historic ones by adding the individualistic details needed, or just have fun and create and design your own.
They make for great decor around a kid's room or an easy option for a party favor. Beyond just painting, I think staining them with wood stain could work well.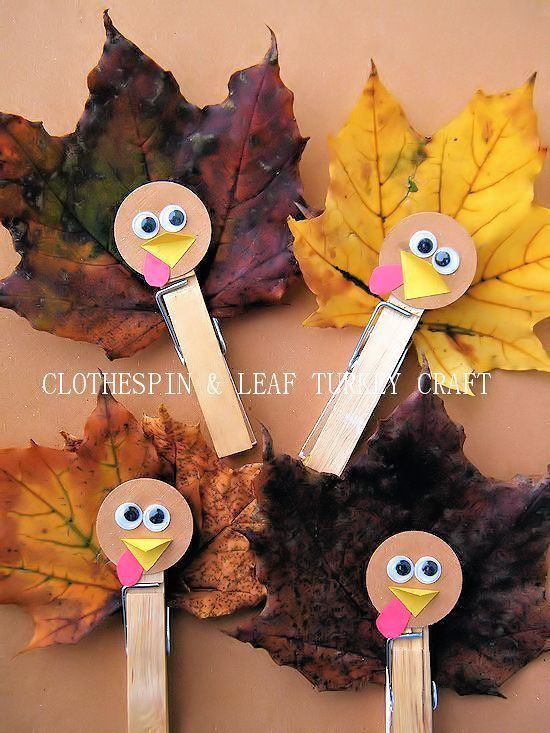 Source: ourkidthings.com
There's nothing cuter than a crowd of homemade turkeys; this craft sizes them into clothespin sizes. Fake leaves work better than their real counterparts, but experiment if you'd like!
This craft is awesome for a big group of young kids since most of it is straightforward. The uses for these turkeys are endless–anything from academic work to keeping snacks fresh for longer.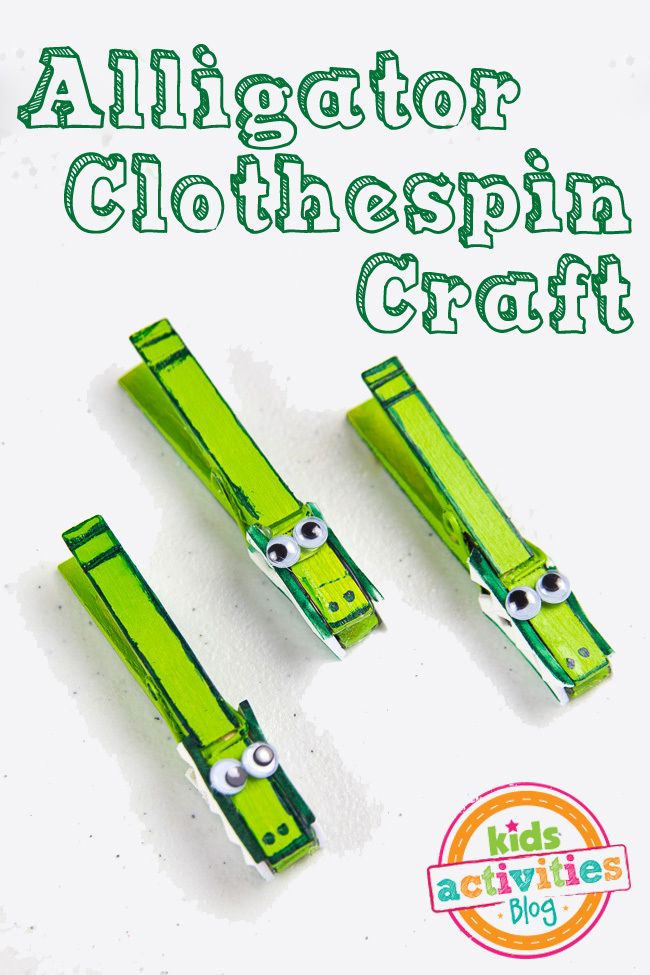 Source: kidsactivitiesblog.com
For the non-holiday season, a clothespin craft like this alligator one is perfect to keep on hand for a rainy day and a bunch of kids.
Kids love critters, and with the addition of expressive eyes, these clips are sure to be a hit.
Offer the animals different colors for each crafter if you'd like to.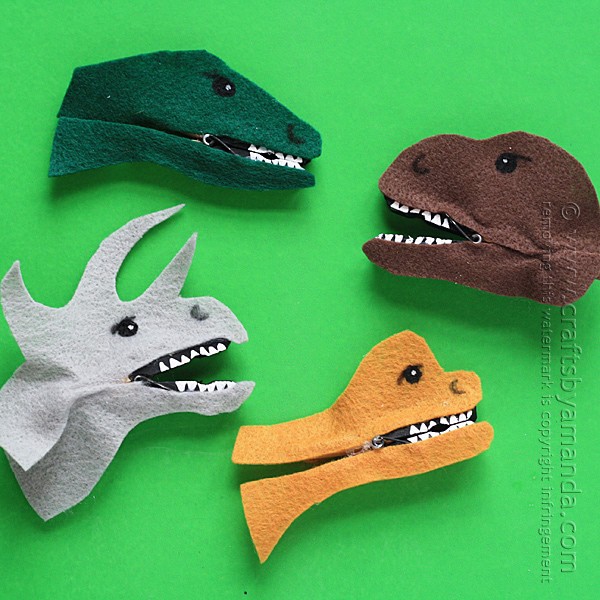 Source: craftsbyamanda.com
The beloved children's animals and critters just keep coming, and next are the extinct crowd, dinosaurs. These dinos call for felt to have the most distinctive and longstanding silhouettes.
Stick with traditional colored felt, or pick bright, patterned, or other fun options to try on those prehistoric pins.
Go even further and add magnets to the back or any pins today for a kid-friendly fridge fidget.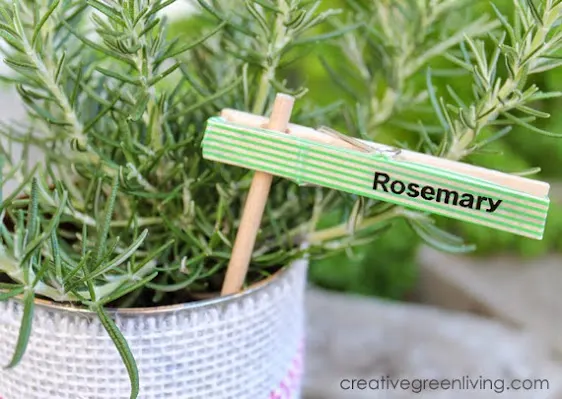 Source: creativegreenliving.com
Forget what you planted right after planting–it happens to the best of us.
Make some of these easy and cute plant markers with regular or mini-sized clothespins, depending on the garden size or space you're growing.
Use any decor style, from washi tape to paint pens, whatever fits your style and needs.
Keep them with your gardening items if you're doing a seasonal garden; that way, you can find your stuff easily every year.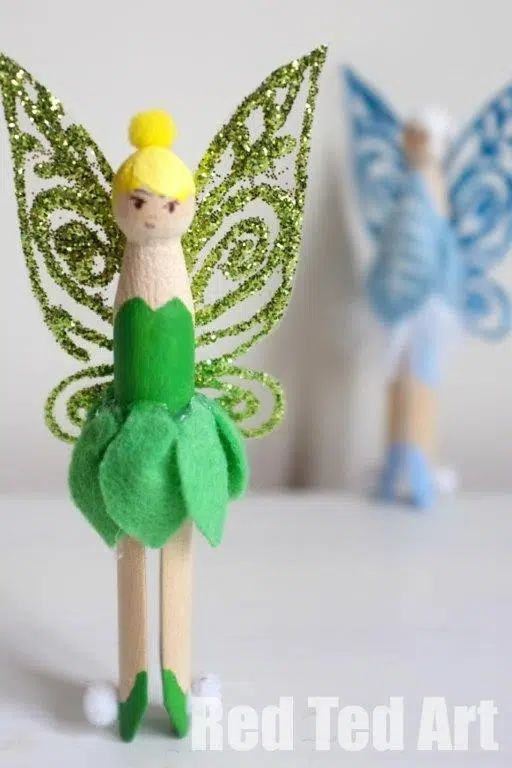 Source: redtedart.com
For the kids that would rather have Disney characters around rather than an airplane or race car, try Tinkerbell.
She isn't too complicated either; beyond sketching out Tink herself, it's just a matter of creating her wings.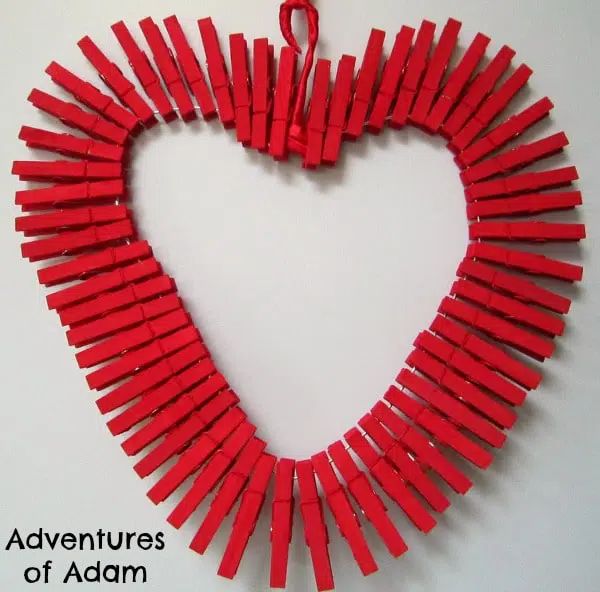 Source: redtedart.com
Add this to your seasonal clothespin wreaths! This heart wreath is obviously a perfect option for Valentine's Day and the time surrounding the holiday for lovers.
Keep it classic with an all-red heart, or add a bit of pink, white, or purple.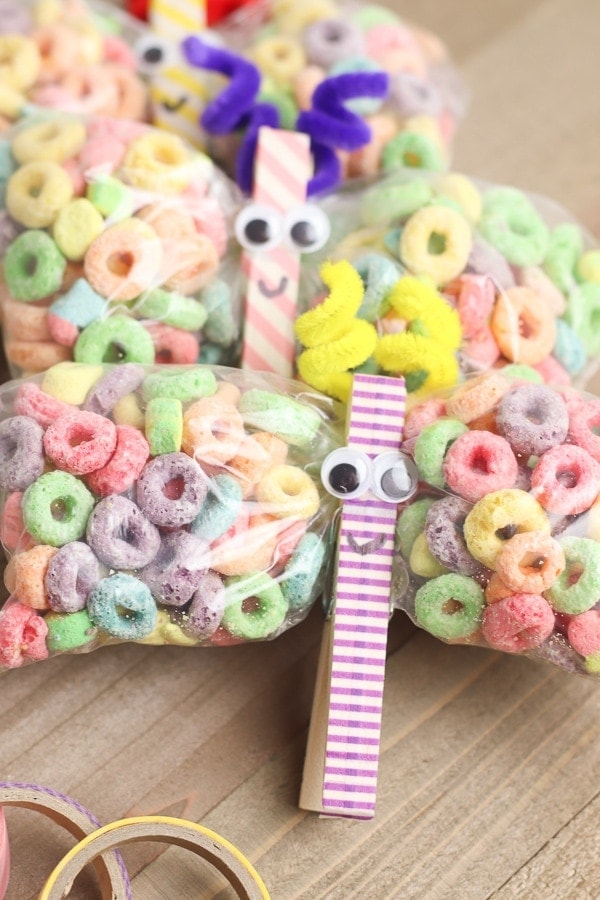 Source: mommymadethat.com
A trick I've learned to entice youngsters into eating most snacks is by presenting them in a way that's appealing to them.
One of those ways is by creating an animal or insect with the bag in tow–just like this butterfly snack bag.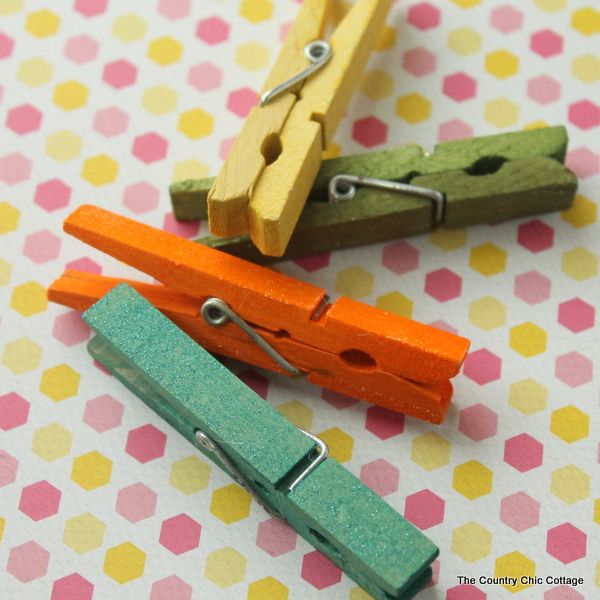 Source: thecountrychiccottage.net
For a unique and cute clothespin, dye them and add glitter. It's one of the easiest projects on the list, and they are one of the simplest step process.
Go for a theme and opt for specific colors, or pick and choose what you feel is right now.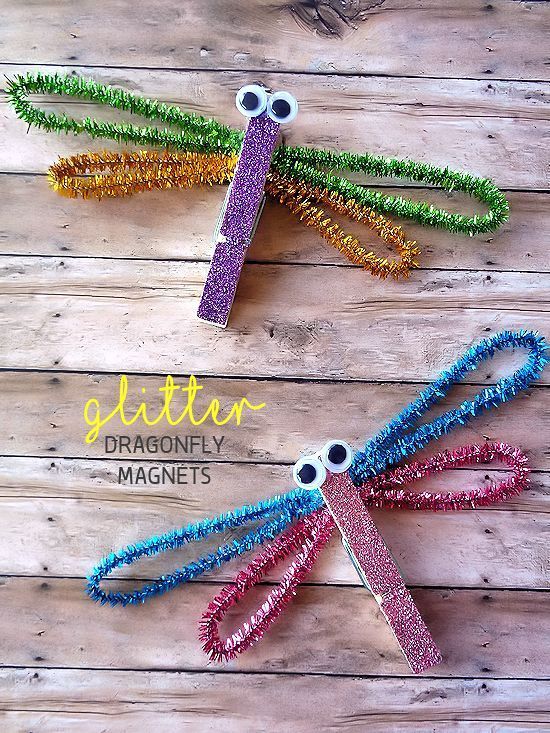 Source: ourkidthings.com
With you're newly glittered and dyed pins, make these darling dragonfly pins. They are perfect for the start of Spring or Summer and add bright pops of color when you need it most.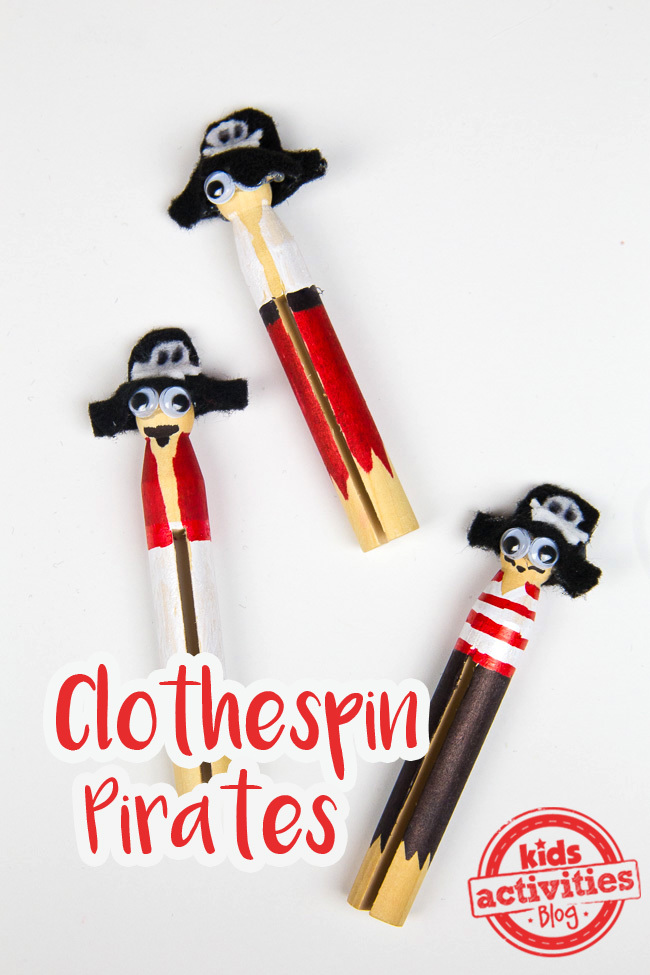 Source: kidsactivitiesblog.com
Are you looking for a new activity for your kiddos but not ready to buy a new box of Legos or toys? Make these pirate dolls!
The best part about the set is that you can go as detailed or reserved as you'd like. Create them to look like your family or people you know for an extra fun touch.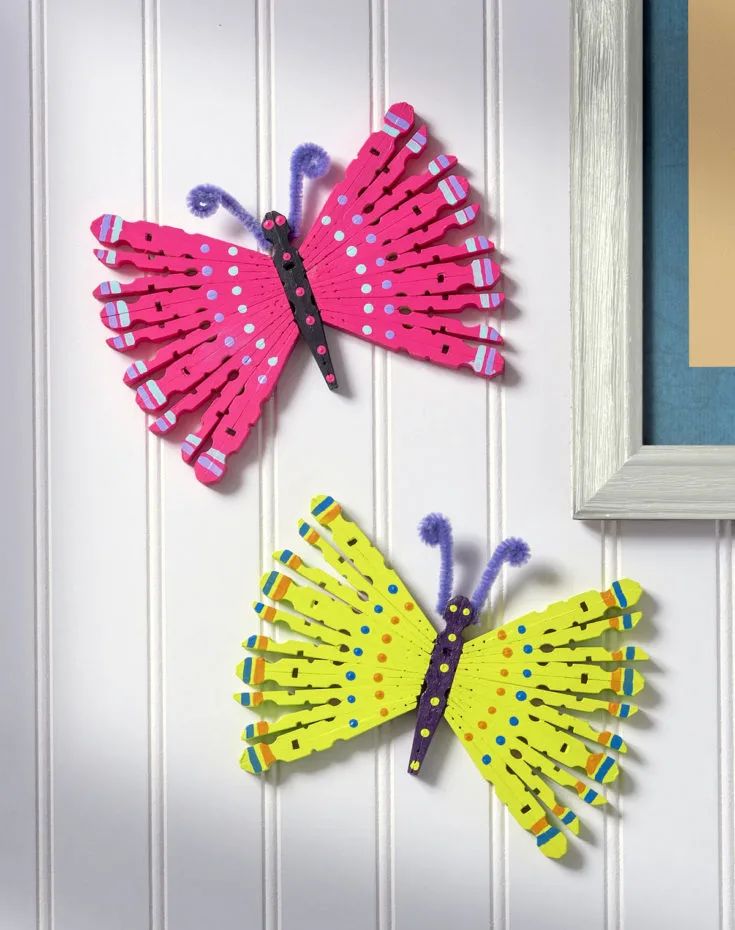 Source: diycandy.com
Pair these butterflies with the dragonflies for an extra color for your busy buzzing friends.
The butterflies alone, too, work beautifully in any part of your home, depending on the insect size in relation to your space.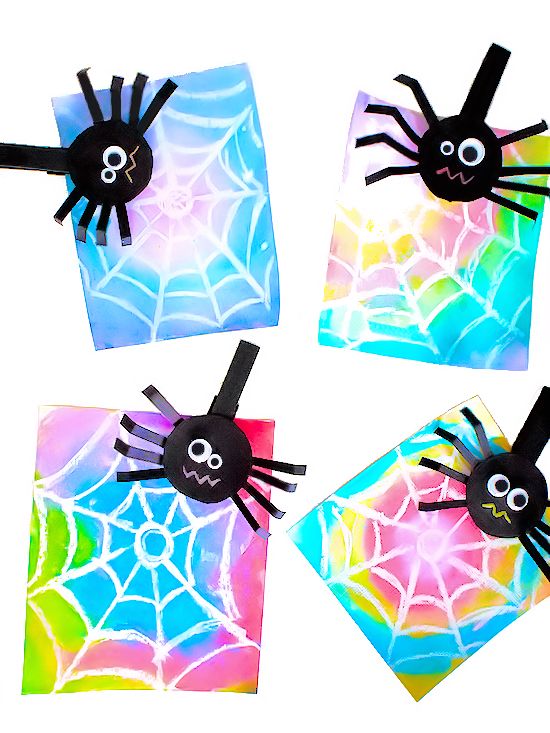 Source: ourkidthings.com
This art project is simple and fun, yet it's full of simple directions and steps. The classic spiderweb craft gets a fun makeover with the addition of the larger-than-life spider crawling back home.
Use mini and regular-sized pins to make a family of spiders return home to their web.
Source: craftsbyamanda.com
These zoo-oriented magnets are a perfect addition or gift to your favorite young classroom or teacher.
Classrooms can always use more fun and sweet functional decoration options or fun stuff for kids to play with on the whiteboards.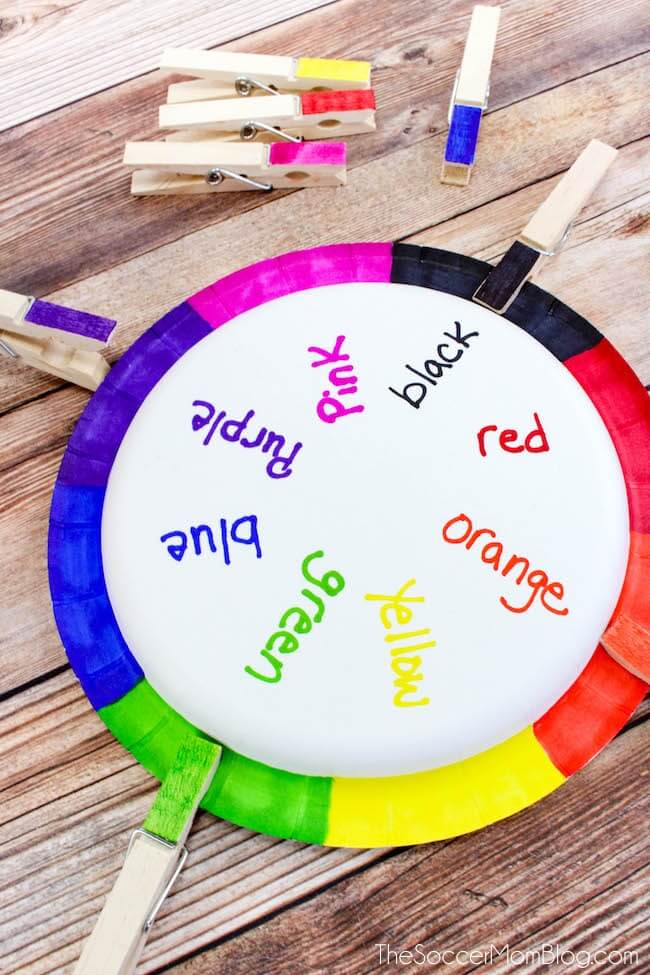 Source: thesoccermomblog.com
A great way to teach color recognition without too much pressure on the situation is by making this color-matching game.
Add as many or as few colors as are appropriate for the kid or kids learning their colors, and make a new one when adding more.
Making one out of cardboard is an easy and quick way to continue to practice colors, numbers, or anything else.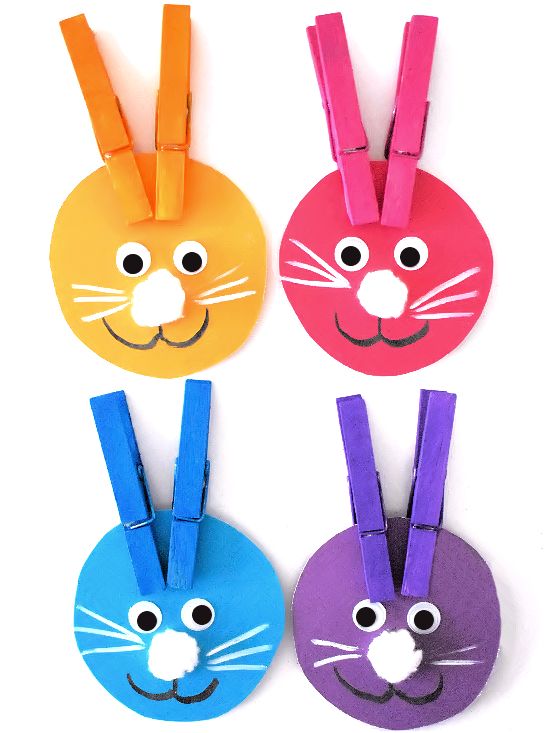 Source: ourkidthings.com
Bunny ears are maybe the easiest craft you can make within five minutes. Bunny face and all, depending on what the ear is made out of, and in this case, it's a simple option.
This cute craft ideas is perfect during the Spring season for any occasion.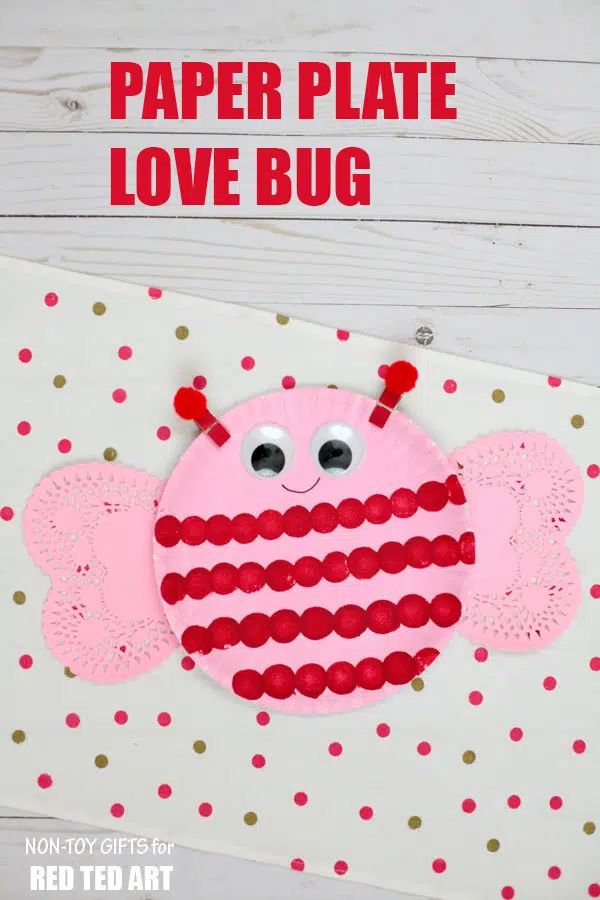 Source: redtedart.com
A love bug is one of the cutest Valentine's Day crafts you could do with little ones. This love bug involves another one of my favorite household goods–a paper plate.
Using simple items to create something joyful and fun will always get me. You might also have fun with these other paper plate crafts!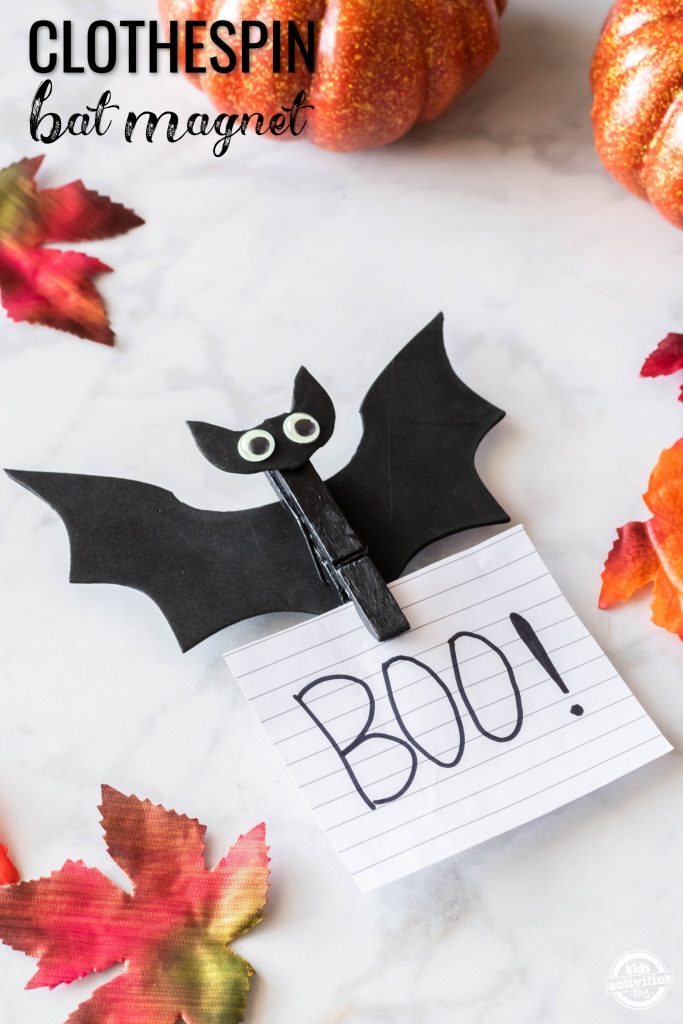 Source: kidsactivitiesblog.com
For a spooky edge during the Fall and Halloween season, try making these little bat magnets. They fall into the same category as our other critters and creatures.
And, for a good reason: bats will always be attached to Halloween.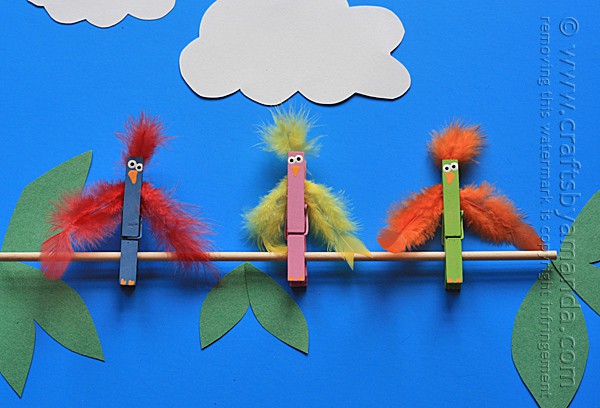 Source: craftsbyamanda.com
Last but not least, these goofy and sweet birds on a branch! They are an easy yet fun option for any age of crafter.