Have you decorated for the season, and the space looks a little…sparse? Fear not! Today I have these holiday crafts you can make in 15 or less!
Yes, these projects are super simple and can be made in a flash.
The best part–the crafts are all pretty impressive once completed. Some vary in quality level of complexities, but all are sweet and fun.
Also, none of these crafts are super pricy either–they are generally budget-friendly and don't involve too many materials.
There's also a craft on this list for a crafter at any phase in their journey.
I hope you find something fun to add to your holiday! Wishing you and yours a safe and warm holiday season and a happy new year!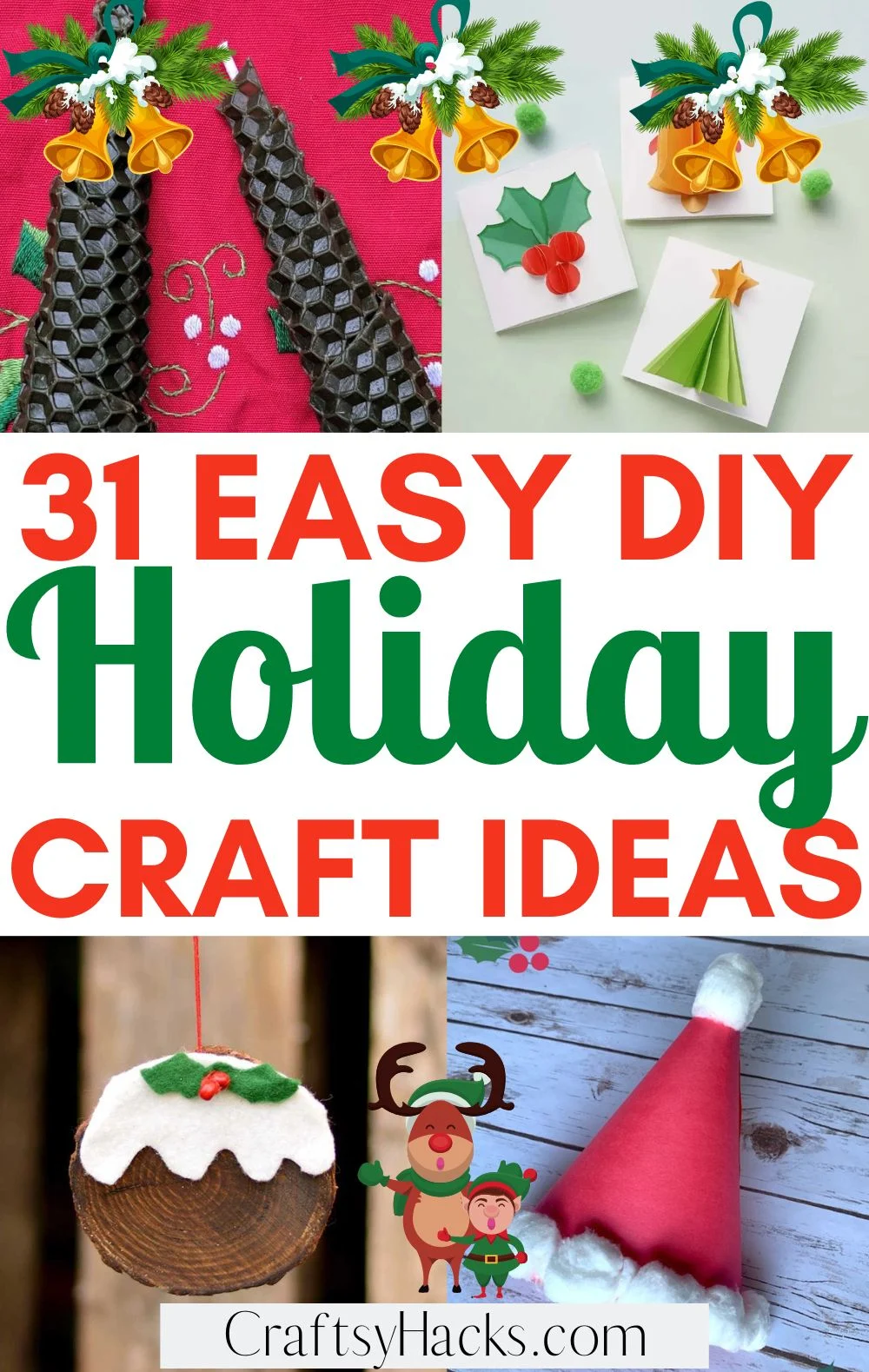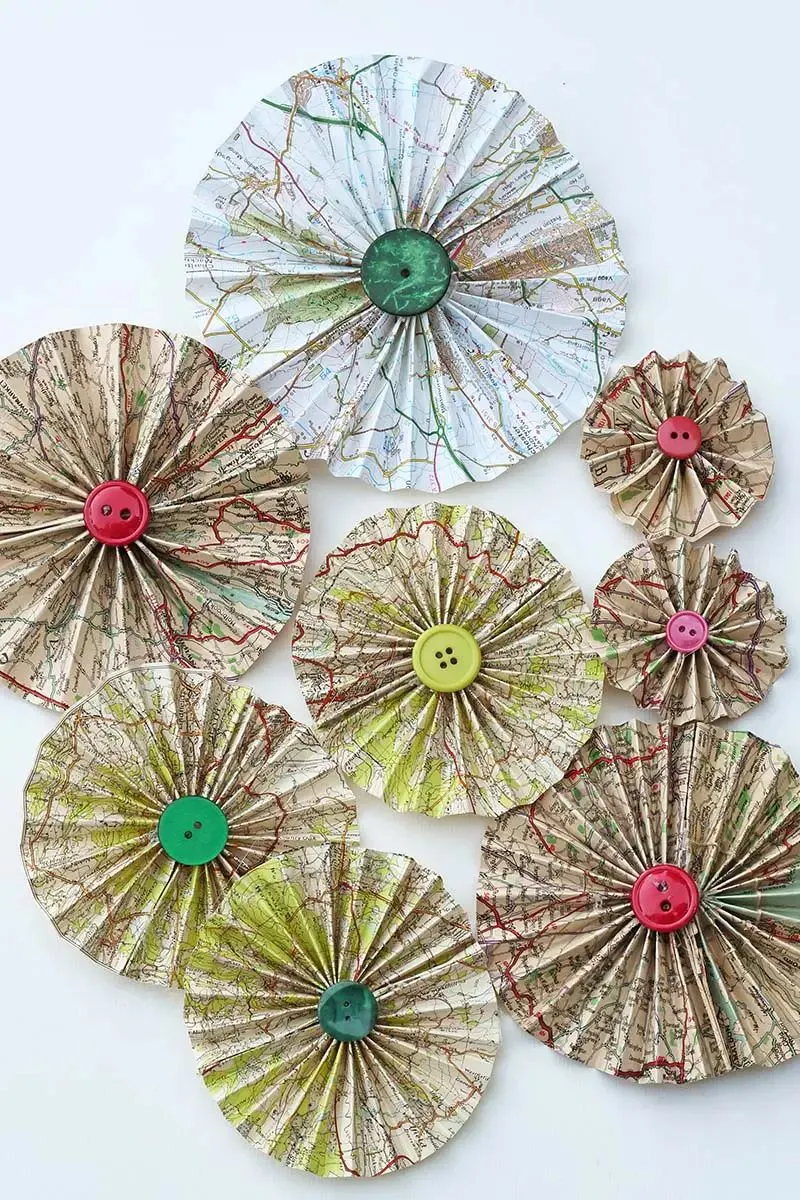 Source: pillarboxblue.com
Are you looking for a classic and vintage-looking piece of simple decor? This paper rosette decoration will make you jolly with delight at how easy and quickly you can make each one.
Source: acountrygirlslife.com
If you want to go the extra mile in giving holiday cards this year, why not try this 3D Christmas card craft? Opt for fun holiday imagery, from the classic Bell to a Christmas tree.
There are many ways to make the 3D part, but one of my favorite hacks is to use a pack of sticky notes, if applicable.
You will also enjoy these other easy Christmas crafts for adults!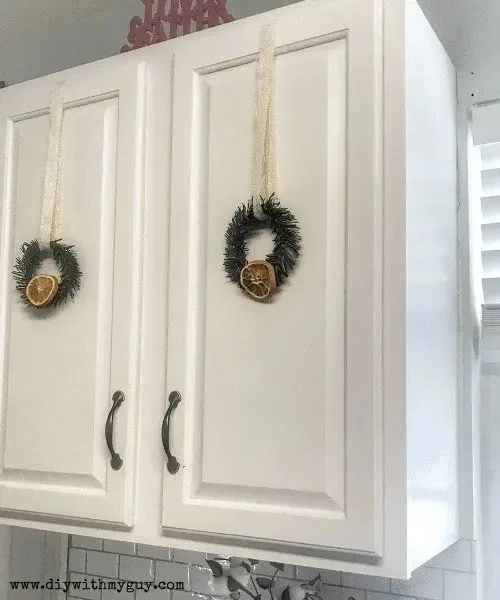 Source: diywithmyguy.com
Adding something a little extra to your cabinet doors is a great and underused space for decoration. The mini wreaths are a perfect option for those such spaces.
Use classic materials, get funky and creative, and finally, upcycle any of those lying around.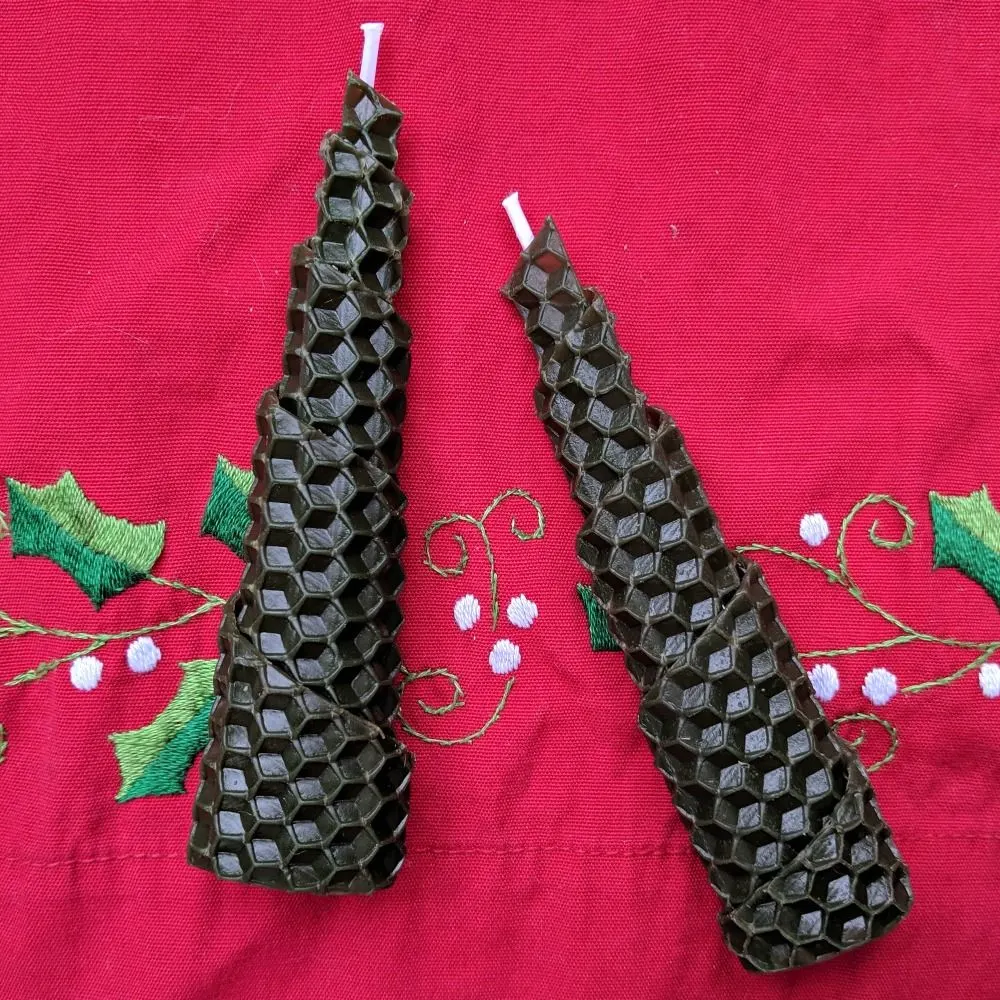 Source: mamalikesthis.com
These candles look beautiful in any home and are way easier than you think. Just grab a sheet of beeswax like this one and basic candle-making supplies, and you're on your way.
Once completed, let it sit for a day to harden fully.
Check out these other cool Christmas tree ideas!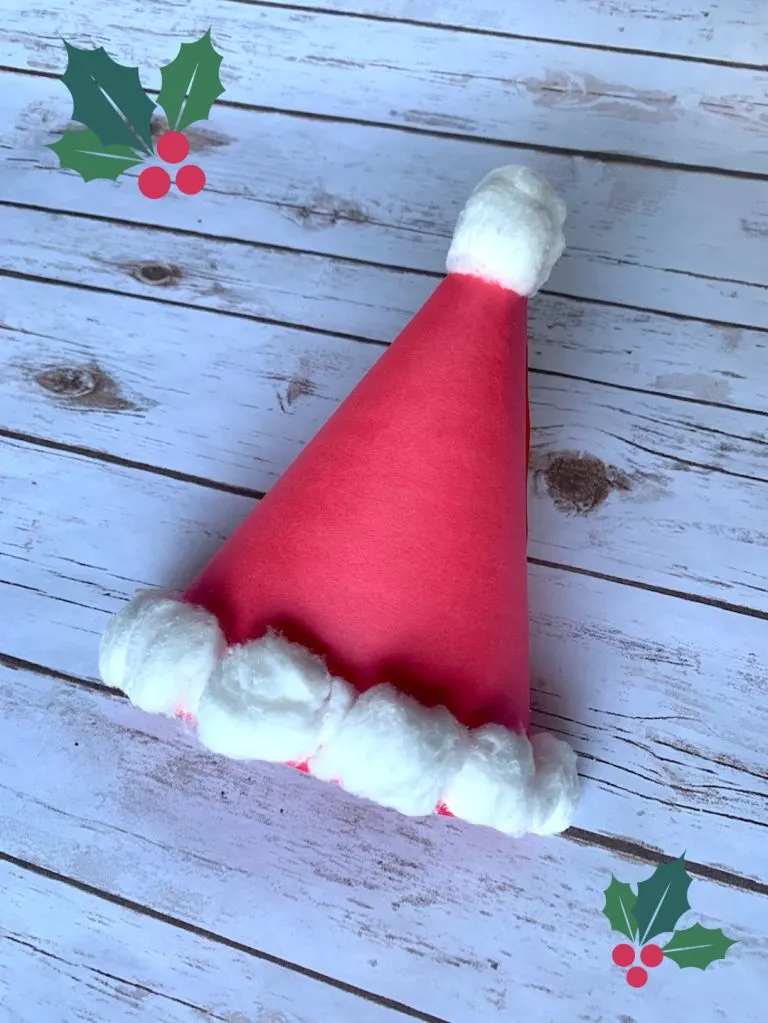 Source: honeyandlime.co
A tried and true favorite craft of all who love the Christmas season–Santa hats!
Here I've crafted mine out of simple construction paper, but if you're feeling motivated, try out any material you have.
Regardless of your material, people will recognize that iconic Christmas cap.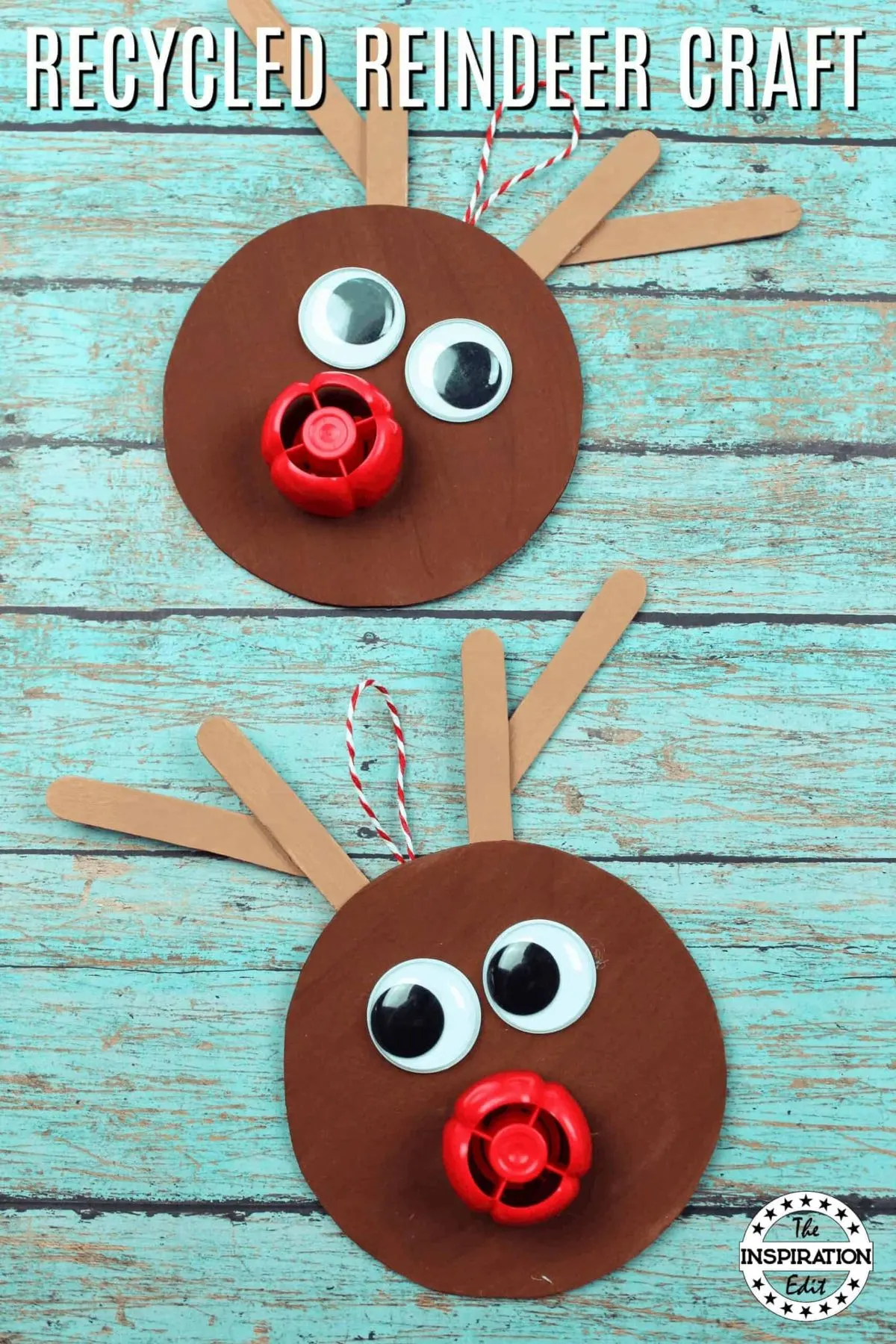 Source: theinspirationedit.com
We love to upcycle anything we can get our hands on, so this easily recycled reindeer was a must-add to the list.
It's also a great project to do with a larger number of children, prep any materials before and then let the kids partake in their own silly reindeer games.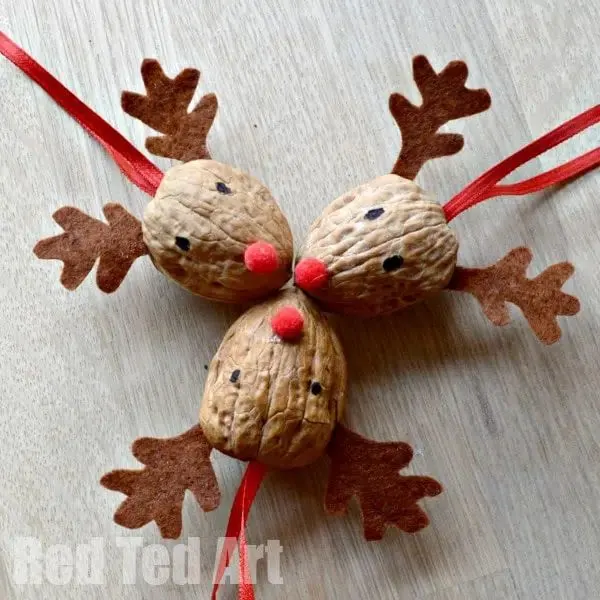 Source: redtedart.com
Consider these fun walnut reindeer for those looking to add some natural or nature-inspired decor.
These go so quickly that you could batch-make these ornaments and use them as holiday party favors or seat name tag holders.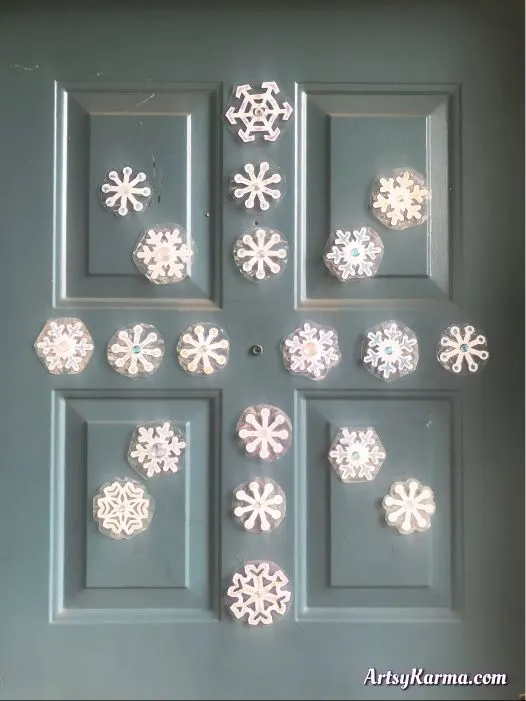 Source: artsykarma.com
There's nothing prettier than real snow, but for those who don't experience snow regularly, this is a great way to add a version of it to your home.
If you experience snow and love these, they are for you too.
Grab this pack of magnets–they are great.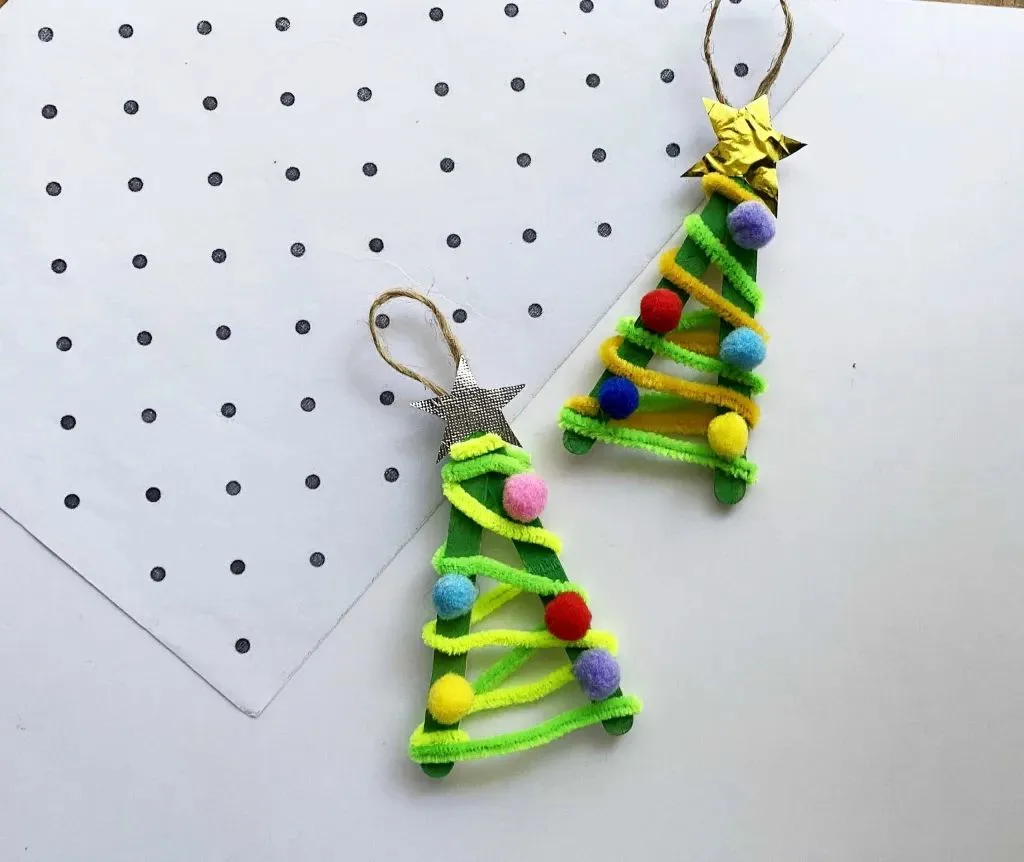 Source: intheplayroom.co.uk
Great fun for the kids to flex their creative muscles, a popsicle stick Christmas tree is a great craft to save for an extra cold or snowy afternoon.
Have fun with the ornaments; anything from gemstones to pom poms to buttons will do.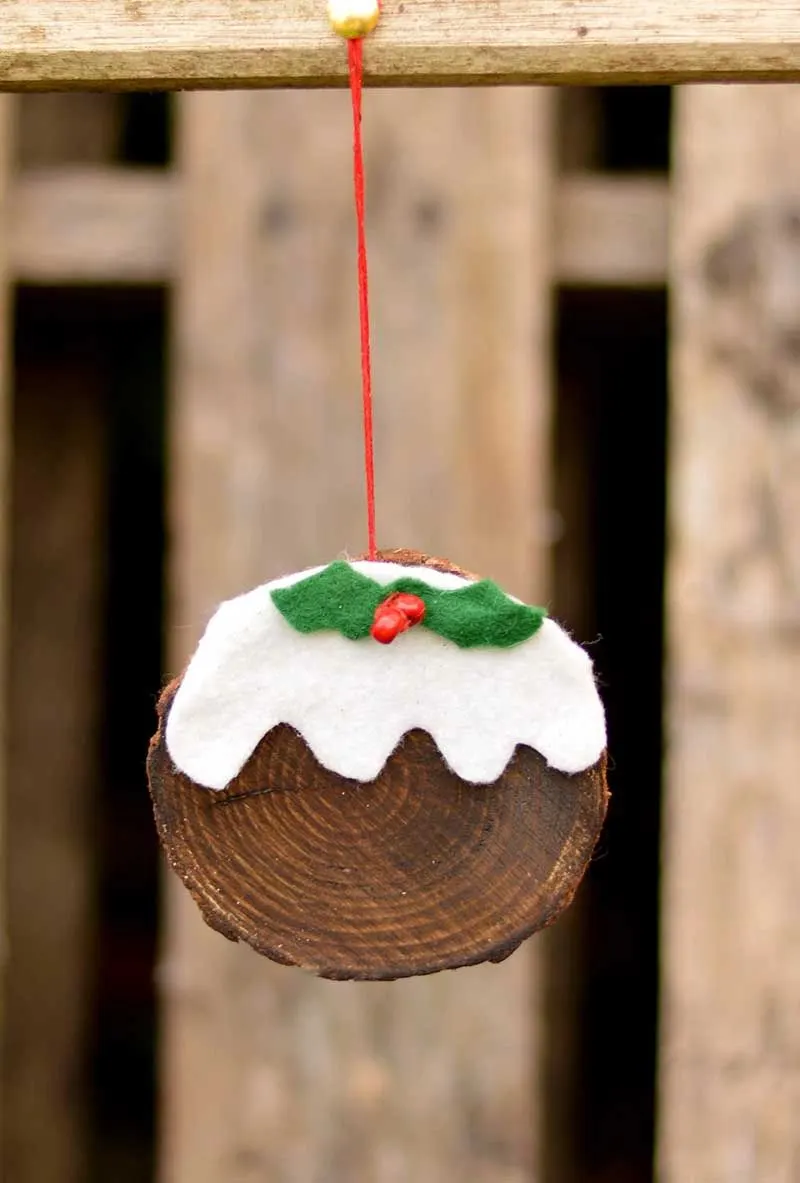 Source: pillarboxblue.com
Ah, Christmas pudding is one of the most classic essentials of Christmastime.
I'm a firm believer in giving essentials their place in decor, so this Christmas pudding wood slice ornament couldn't be an easier and no-brainer option.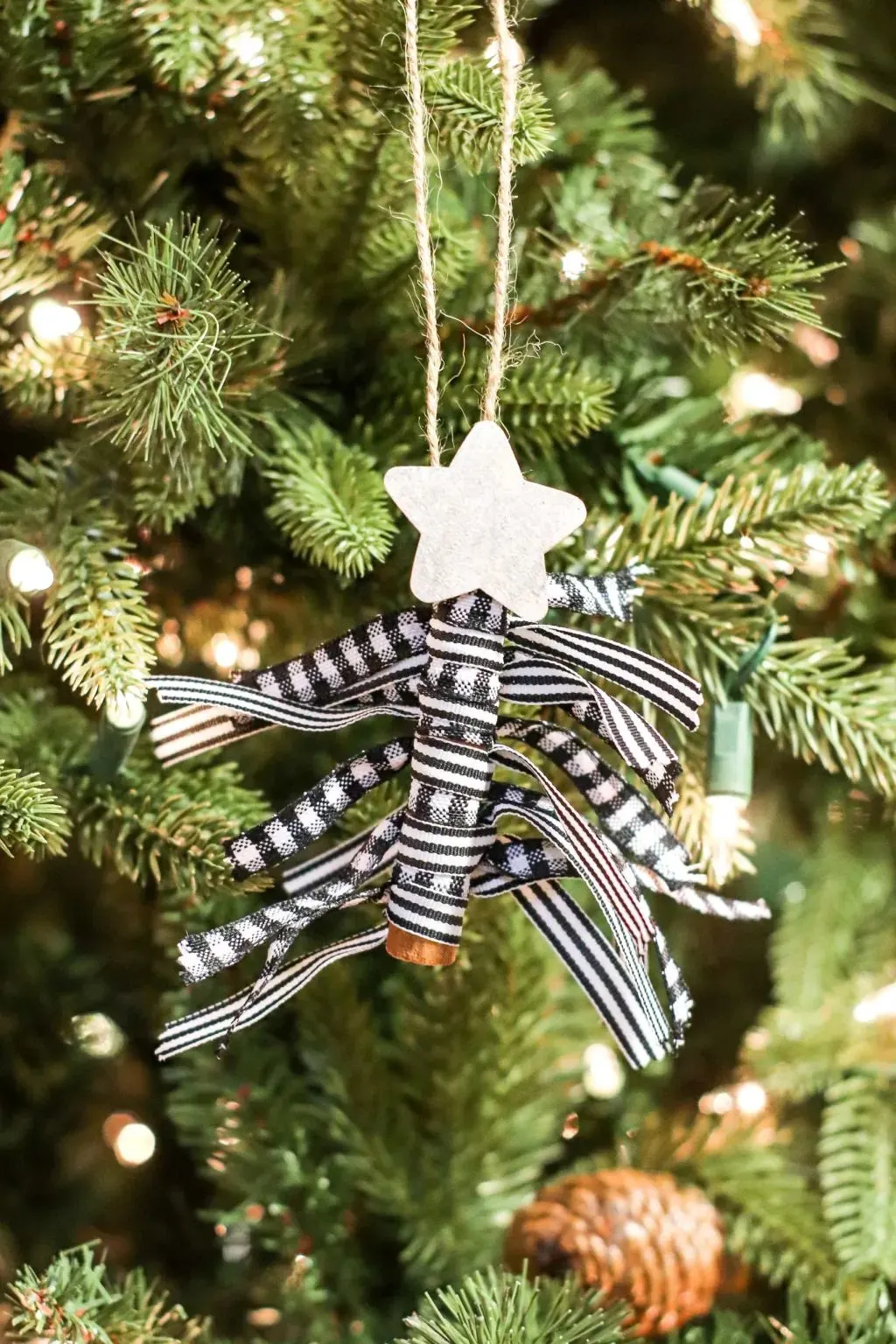 Source: intheplayroom.co.uk
For those looking for homier decor options, try this stick ribbon tree. Anything where you tie fabric together feels extra homemade and sweet.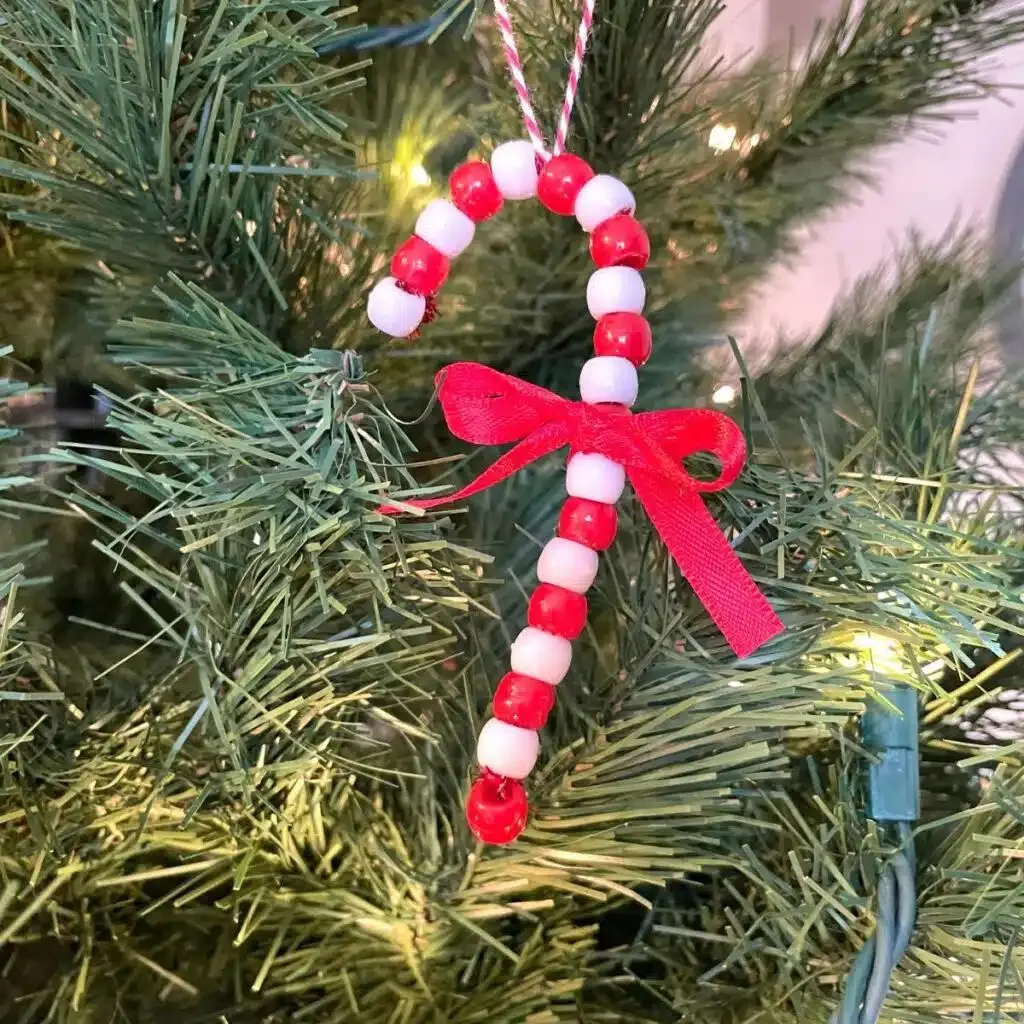 Source: simplyfullofdelight.com
One of the most basic and easiest crafts you could ever do is the classic beaded candy cane ornament. I'm betting most of us are familiar with or very familiar with this project.
Change it up with a set of beaded candy canes featuring different colored beads matched with the classic white.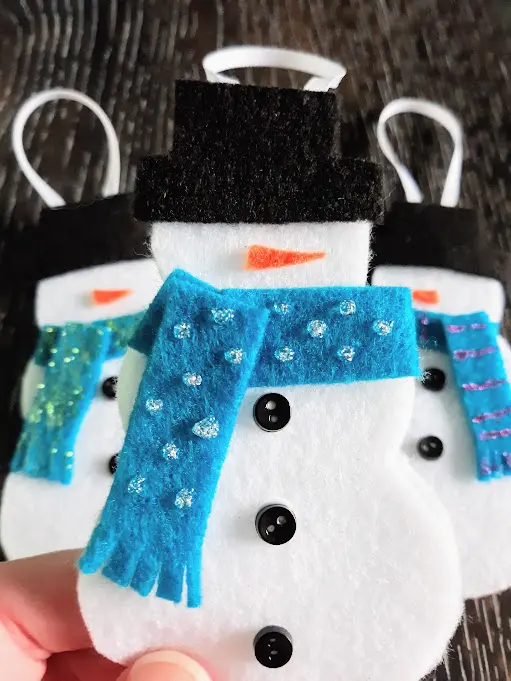 Source: darcyandbrian.com
Kids' crafts are an essential part of our household fabric. I normally have any random project I could pull out at a moment's notice.
It's great when the craft doubles as a functional decor piece like this fun snowman ornament. Cut a few different colors of scarves for the crafters for an extra touch of personalization.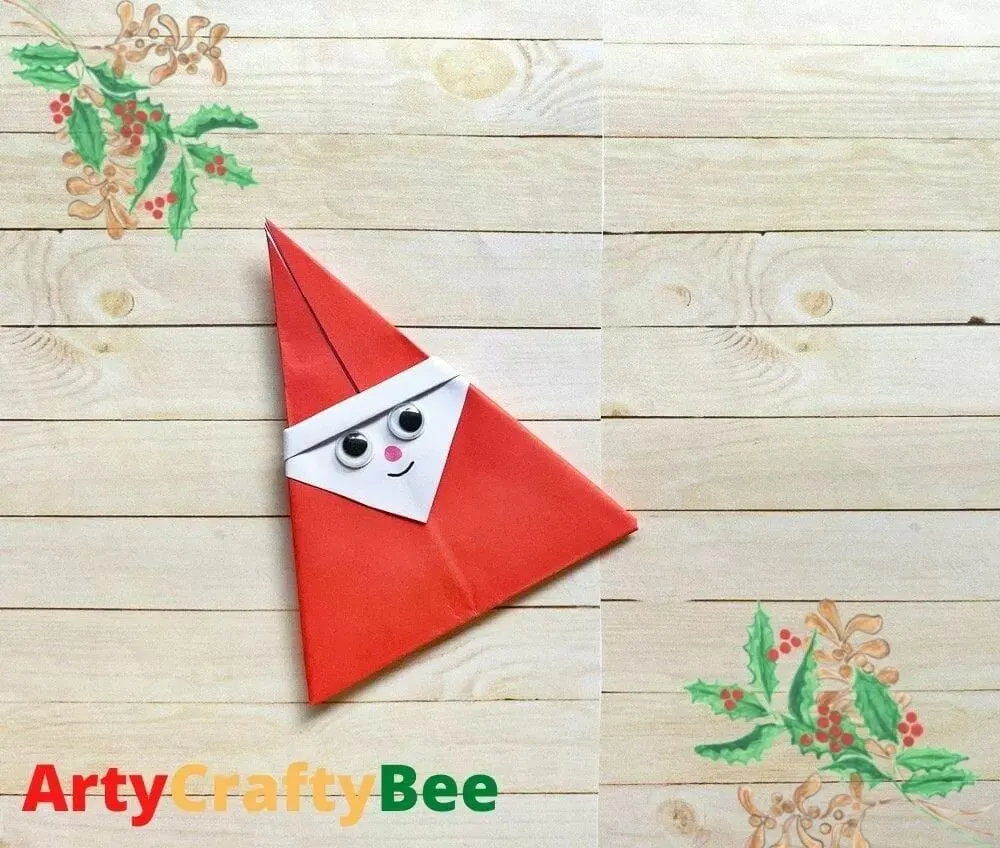 Source: artycraftybee.com
Origami has become one of the best and most versatile art forms, in my opinion. This easy Santa proves again that origami is possible for year-round projects.
Grab this pack of paper if you're new to the art form.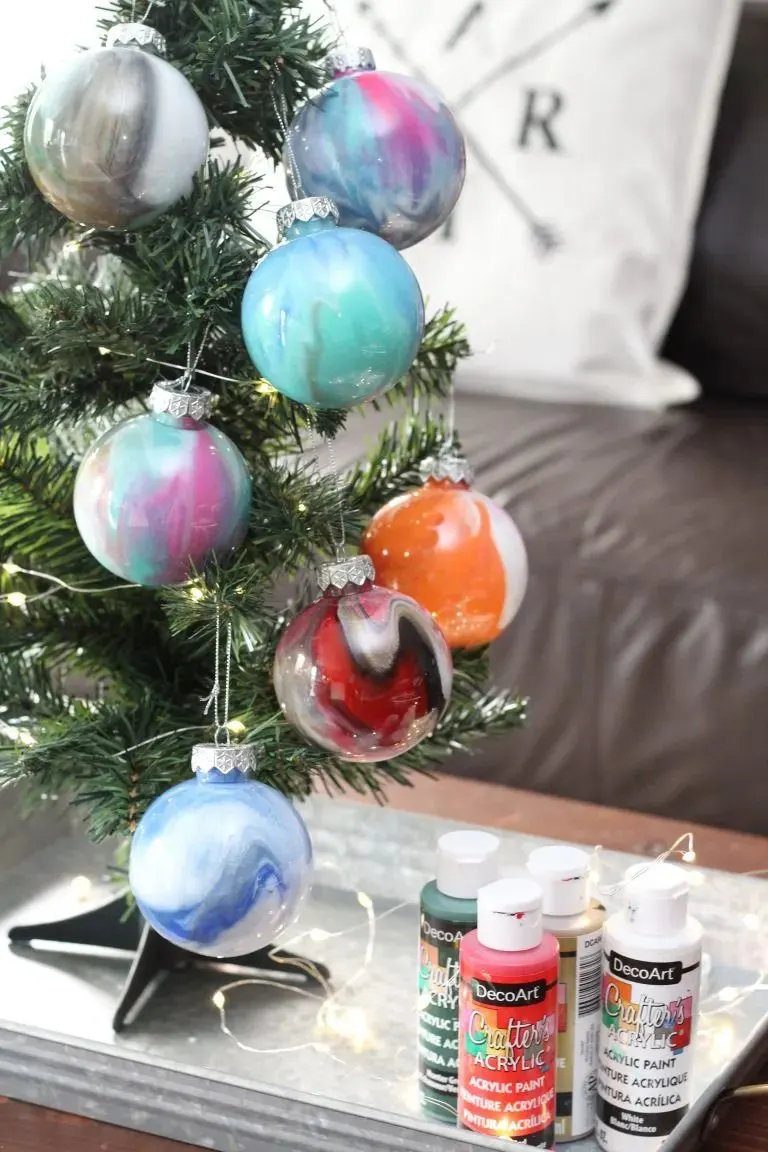 Source: feelingnifty.com
Marbling paint ornaments give your tree a wonderful arty feel and make for great conversation starters. When drying, sit them spout down for all excess paint to drip out.
An important thing to note, opt for at most three colors maximum. Otherwise, your ornaments can start looking muddy.
Your young will also enjoy these other fun Christmas crafts for kids!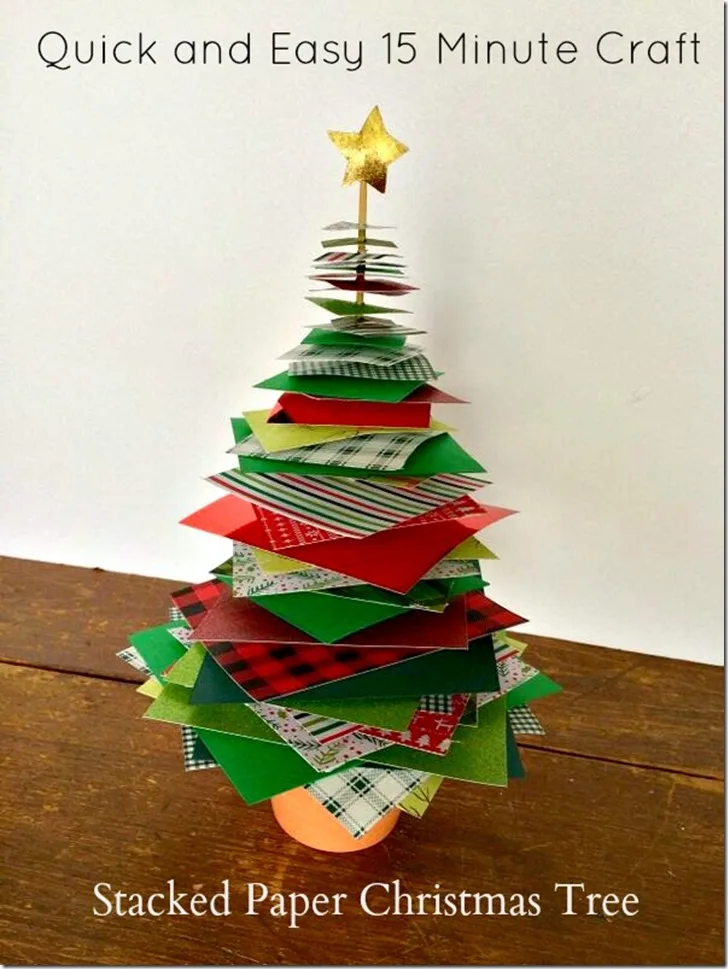 Source: creativecynchronicity.com
The timing all depends on the size of your chosen tree. This one took me just under fifteen minutes to create.
You want to use a firm type of cardstock or something similar to ensure the stability and longevity of your paper Christmas tree.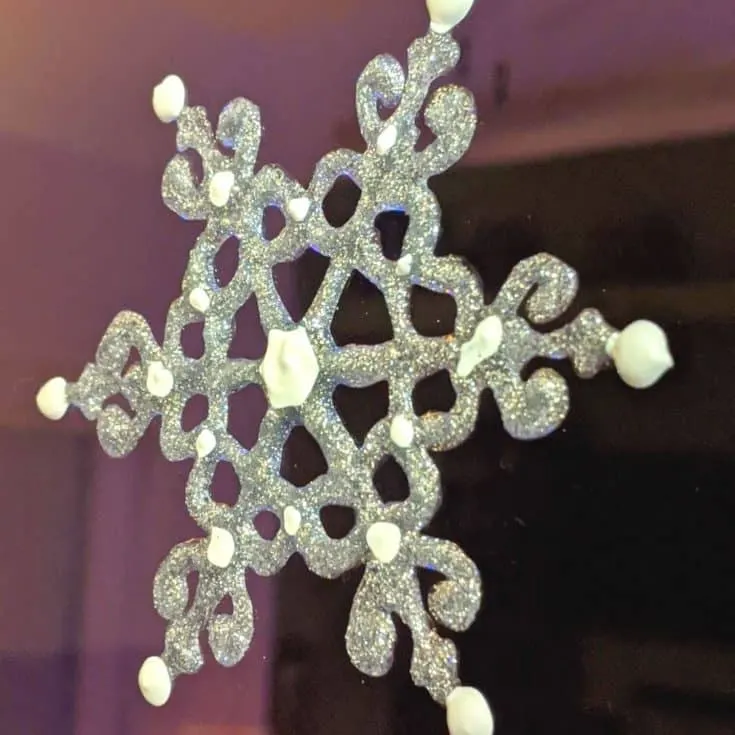 Source: educationpossible.com
Are you hoping for a white Christmas? If you are, encourage the world and try your hand at these snowflake window clings.
Stick with classic colors for the flurries, or add a little extra sparkle and cheer and add notes of gold, greens, and reds.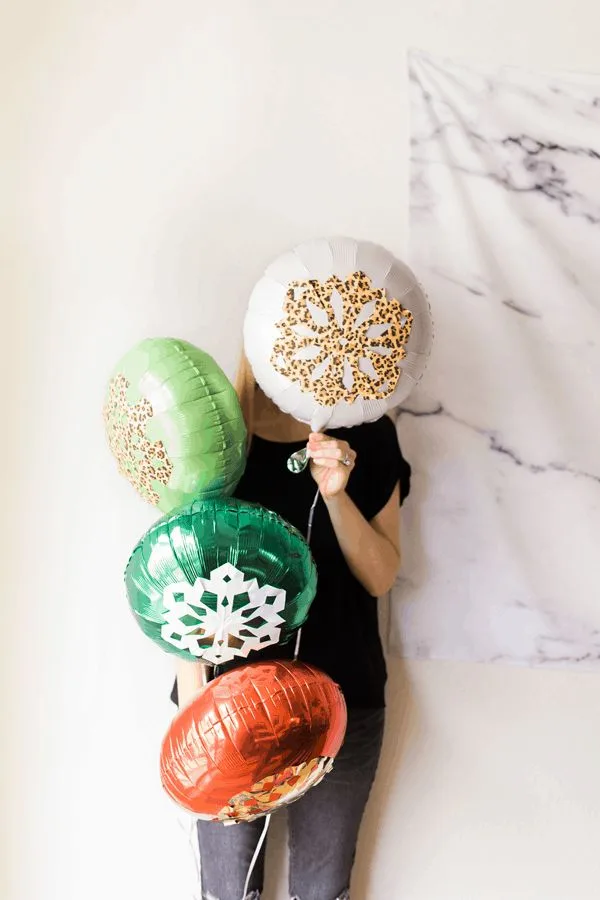 Source: cupcakesandcutlery.com
These snowflake balloons add so much life to the party.
The key to the snowflakes looking good–is lightweight material for the flakes (tissue paper, napkins, etc.), mylar balloons, and this spray adhesive.
Opt for fun patterns, or stick with classic holiday colors. Either way, the snowflakes always really pop against the balloon.
Make sure to check out these other cute Christmas crafts for teens!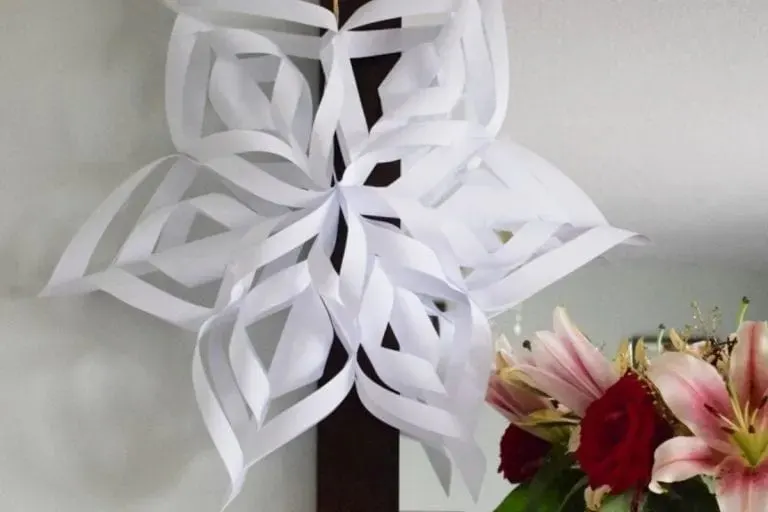 Source: craftwithcartwright.co.uk
Again, a project that looks like it'll take a lot longer than fifteen minutes to complete, but it's not.
The material you use for your big snowflakes is important here, too; something lighter will sustain the design.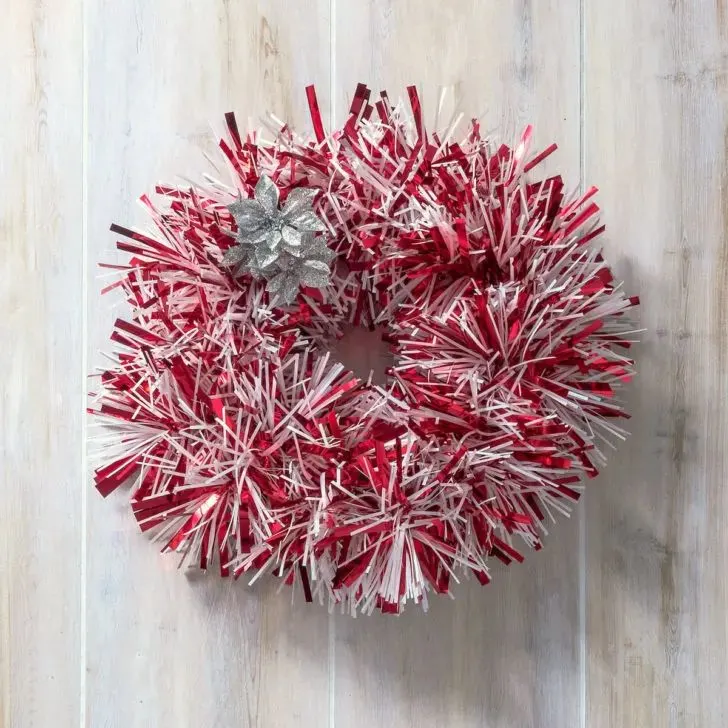 Source: diycandy.com
Christmas wreaths are so fun to make and play around with in design. Over the years, we've all seen some interesting ones–some beautiful and some just interesting.
One of my favorite materials is using these ties or ribbons. They look great, and anyone can try this type with promising results.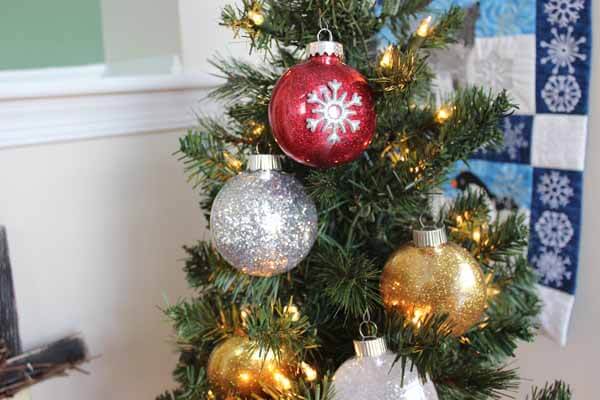 Source: needlepointers.com
Like the marbled paint ornaments, these glitter ones are just as fun to make. Stick with reds, greens, golds, and silvers, or mix it up for a more eclectic look.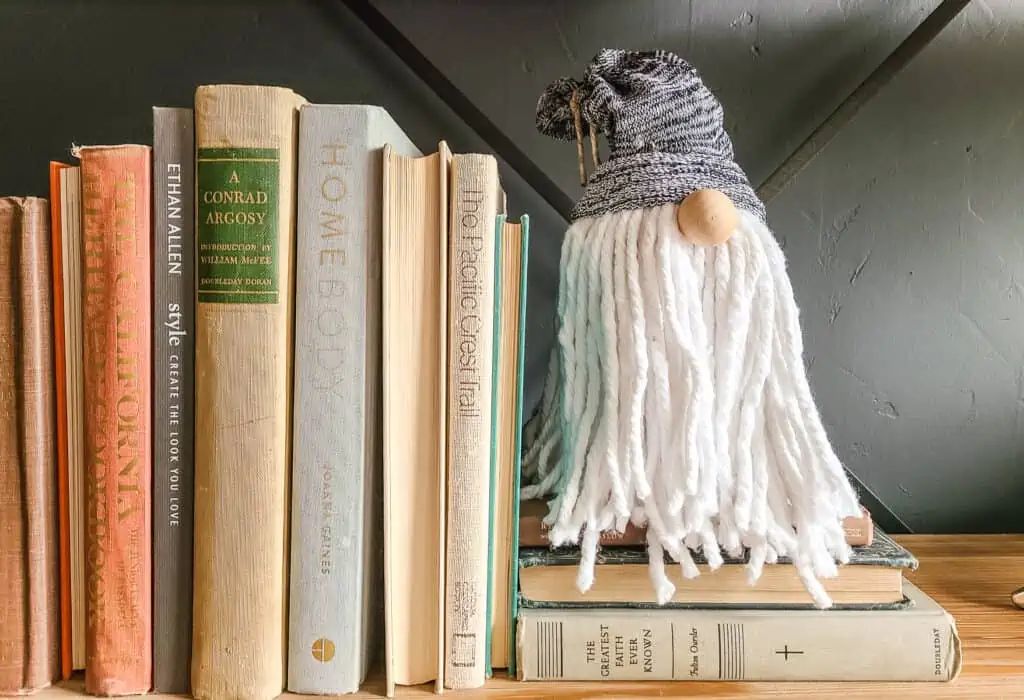 Source: makingmanzanita.com
Budget-friendly and adorable? Sign me up!
These yarn gnomes are lowkey one of the most fun and easiest crafts on the list today. I like to grab a multi-colored yarn pack if I don't have enough odds and ends like this one.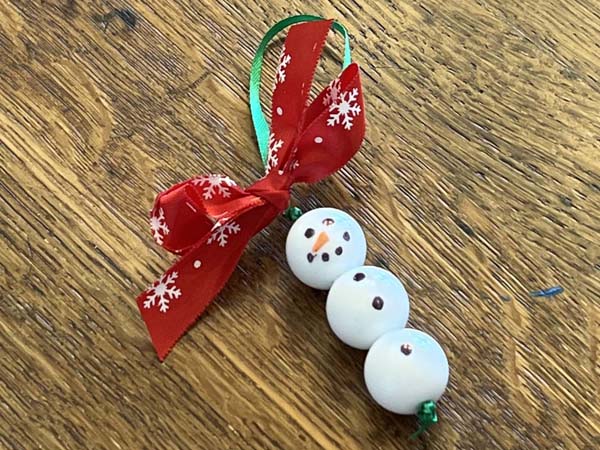 Source: needlepointers.com
It is minimalistic and great for young artists learning to refine their fine motor skills. As one of the quickest crafts, it's perfect for shorter attention spans; just keep an eye on those beads.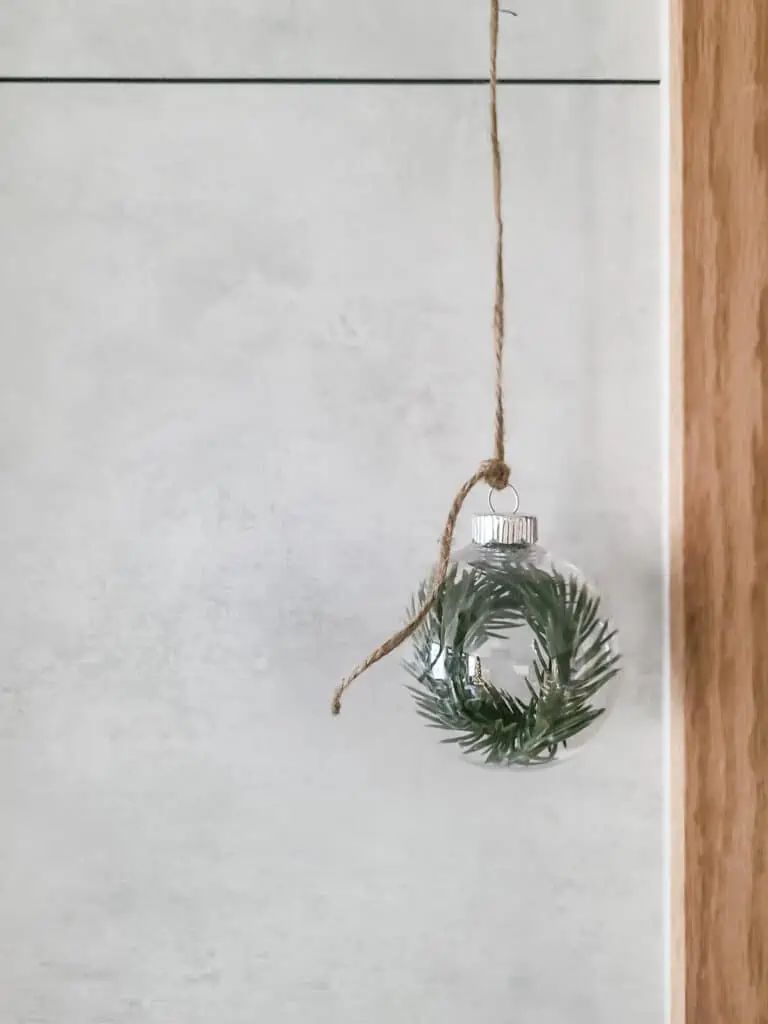 Source: makingmanzanita.com
I've been having fun making my own personal ornaments for the past couple of years. One of the simplest designs–adding natural elements into clear bulbs!
I love this set of bulbs, and there are different-sized options. Clean or sanitize any natural elements you add to avoid weird side effects.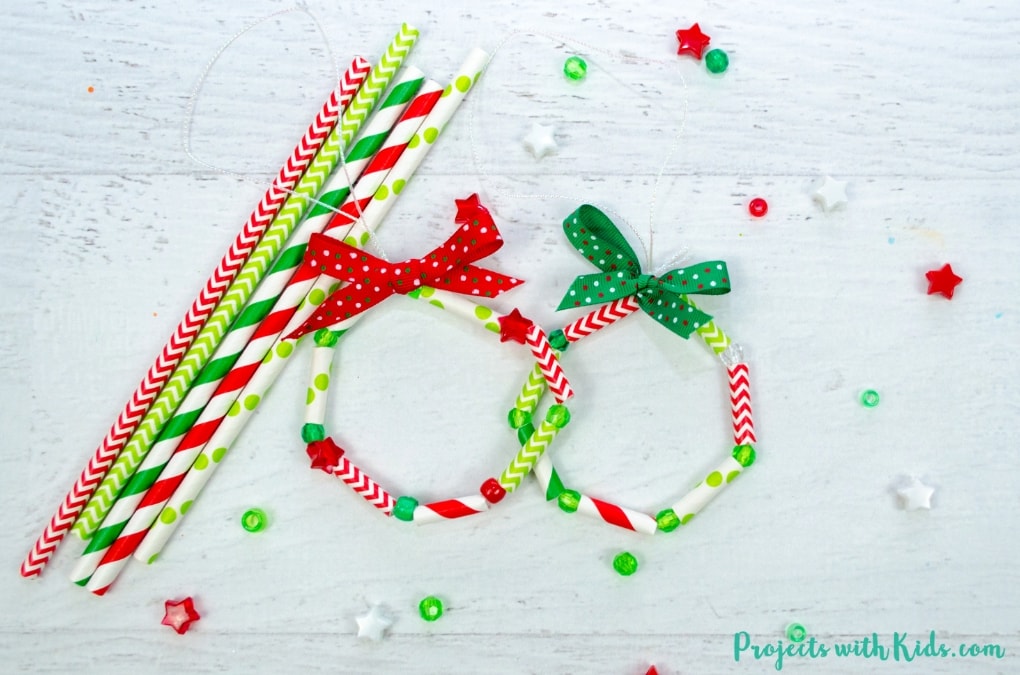 Source: projectswithkids.com
Paper straws are an interesting item. I have a love-hate relationship with them (using most for drinking is awful, but they are a great addition to a craft).
As I mentioned, they are great for crafting and easy material for anyone to work with. We love to use these wreaths for kid play, gifts, and more!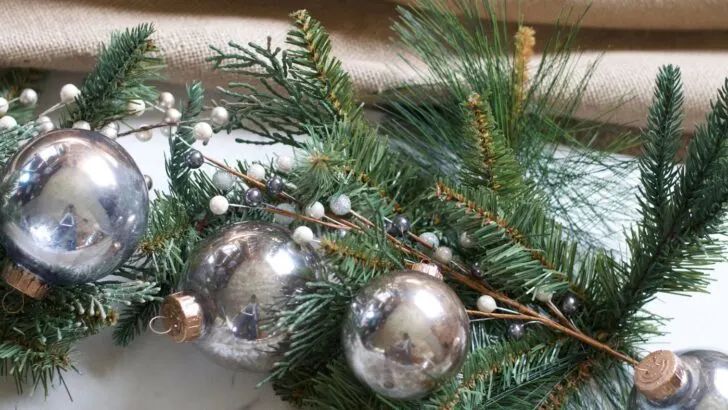 Source: therusticelk.com
Try these out for those who love the vintage-inspired look but aren't willing to put up older family bulbs because of their fragility.
With plastic bulbs and a few coats of vintage-inspired spray paint. You'll have a tree of Christmas's past without the gamble.
These other Chrismas tree decorating ideas are a must-see!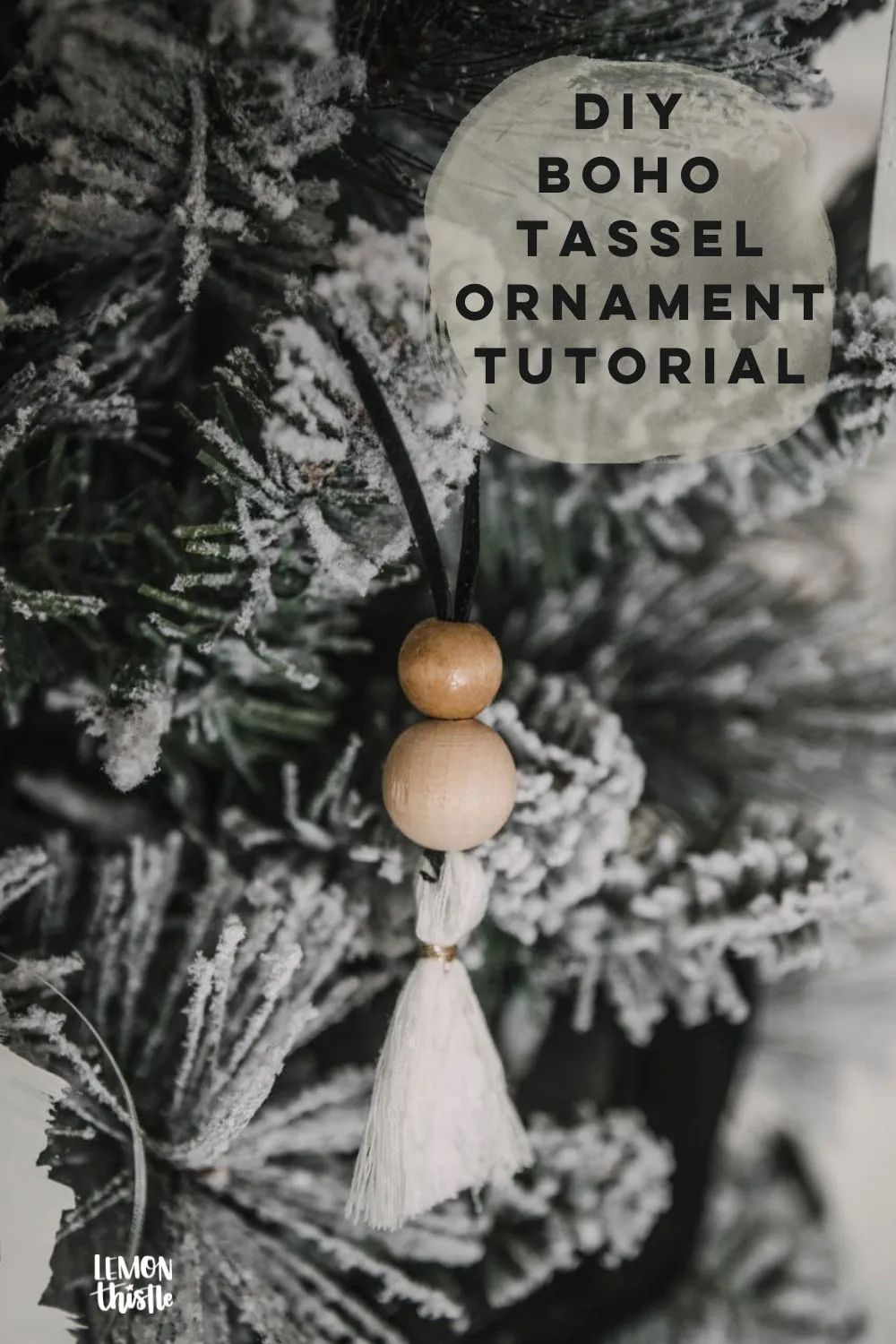 Source: lemonthistle.com
If you're not into vintage or modern, these boho tassel ornaments may be for you. Simple understated, these guys are highly customizable depending on your desired colors.
I like to make different-sized versions of this ornament to give the tree a little more whimsy on years that I'm looking to add a little different element.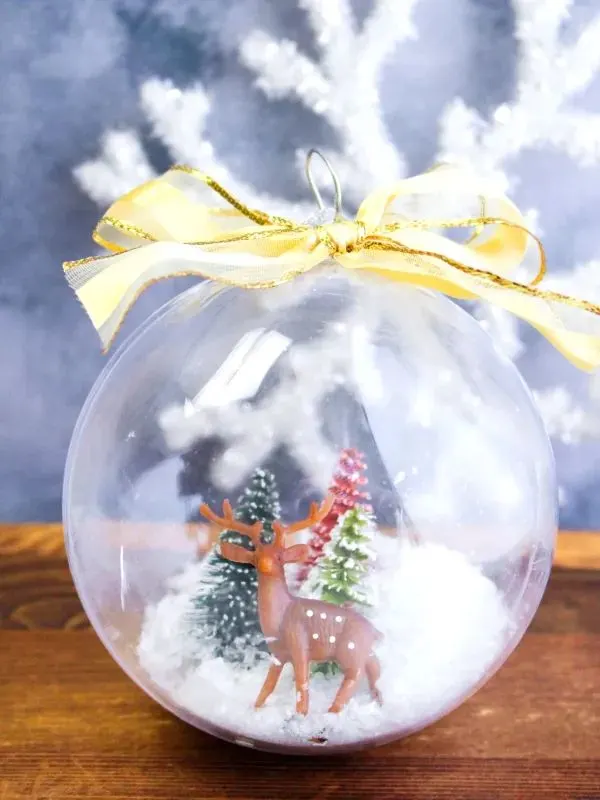 Source: ohclary.com
Snow globes are just so incredibly magical, aren't they? I love seeing snow globe ornaments like this one, regardless of the scene.
To achieve the longevity of these ornaments, skip the water but add a moving element–glitter, tiny white balls, or confetti.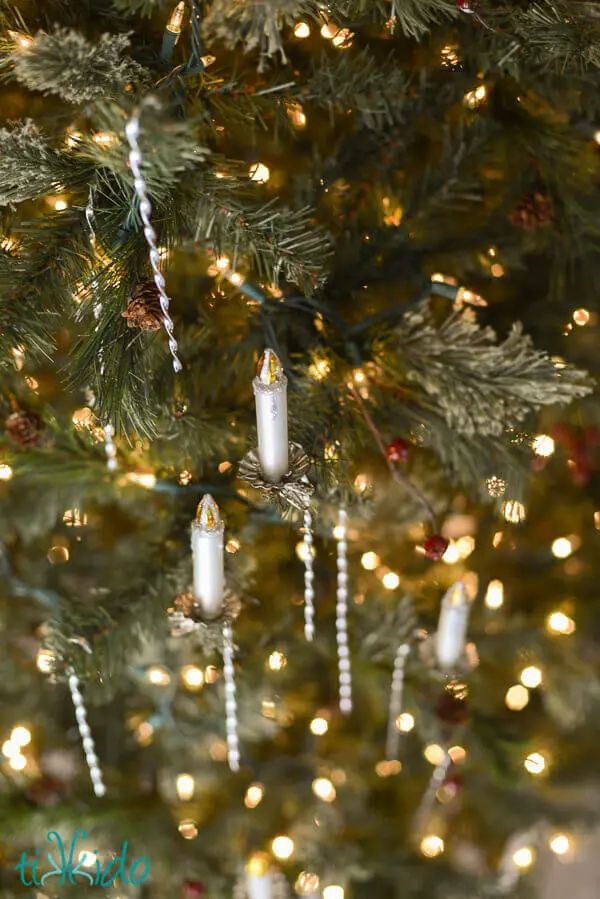 Source: tikkido.com
For hardcore vintage fans, these Victorian tinsel ornaments look divine on a tree. My favorite part about them–knowing I made them!
A simple crafting wire can bring so much joy in so many unexpected ways. When I've made these, I have only ever put a couple up at a time to give our tree a little special glimmer.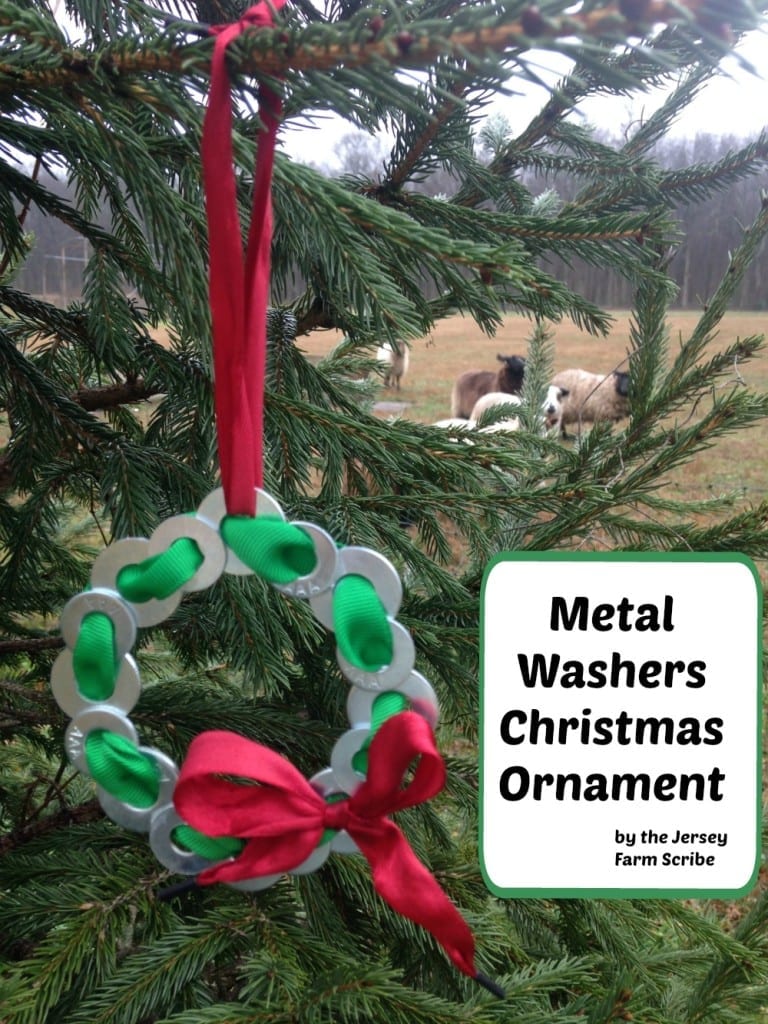 Source: familyfocusblog.com
A perfect ornament for those hands-on people in your life! Most sized washers will do, but be careful to stay manageable (otherwise, it may not be able to stay on the tree).
Any festive rope or twine will do–again, dependent on the size and weight of your washers. A little hot glue to secure the lifespan of this cool ornament.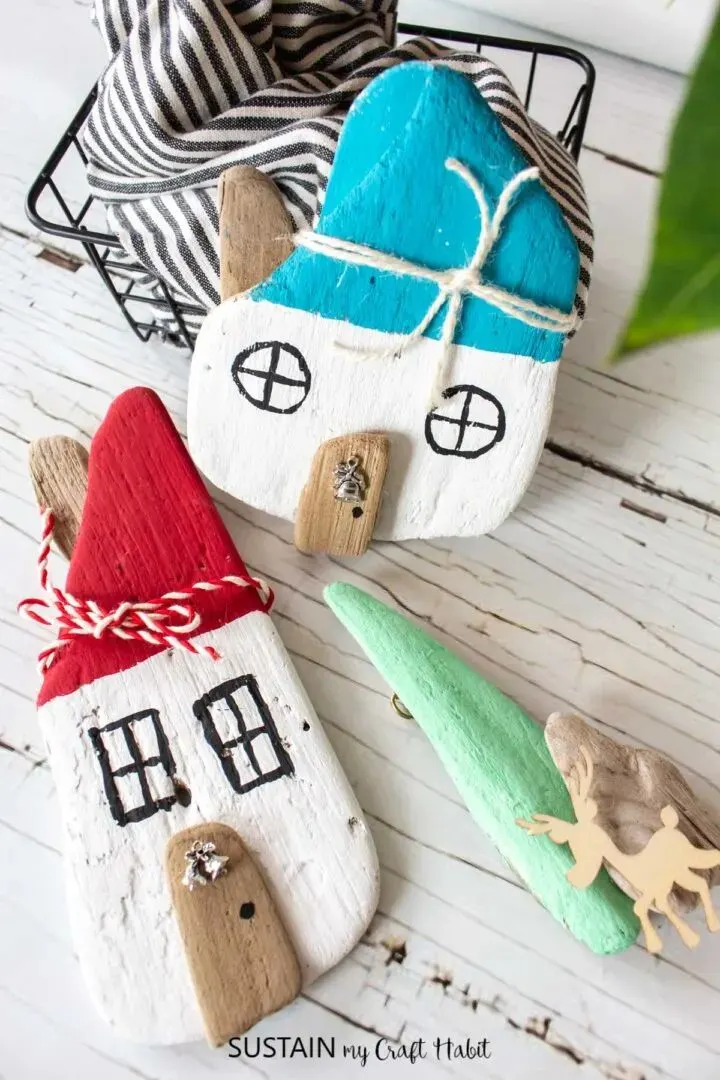 Source: sustainmycrafthabit.com
Last but not least, one of my favorite crafts on the post today. Painting driftwood is a great activity, and I think it's just darling in a Christmas village theme.
Add a few gnomes for an extra sweet scene.