Command hooks are a great and easily applied alternative to a nail in the wall and a renter's best friend, but with these Command Hook hacks there's more to them than just the basics.
Here, I've collected seventeen unique ways to let those hooks go the extra mile!
For each hack, you may need a different-sized one, so let me share with you one of my favorites–this variety pack of command hooks!
As you read on, I have more recommendations for different-sized or styled hooks to use, along with accessories for some hacks.
Let me know what you try out if you have any of your own command hacks and your favorites from the list.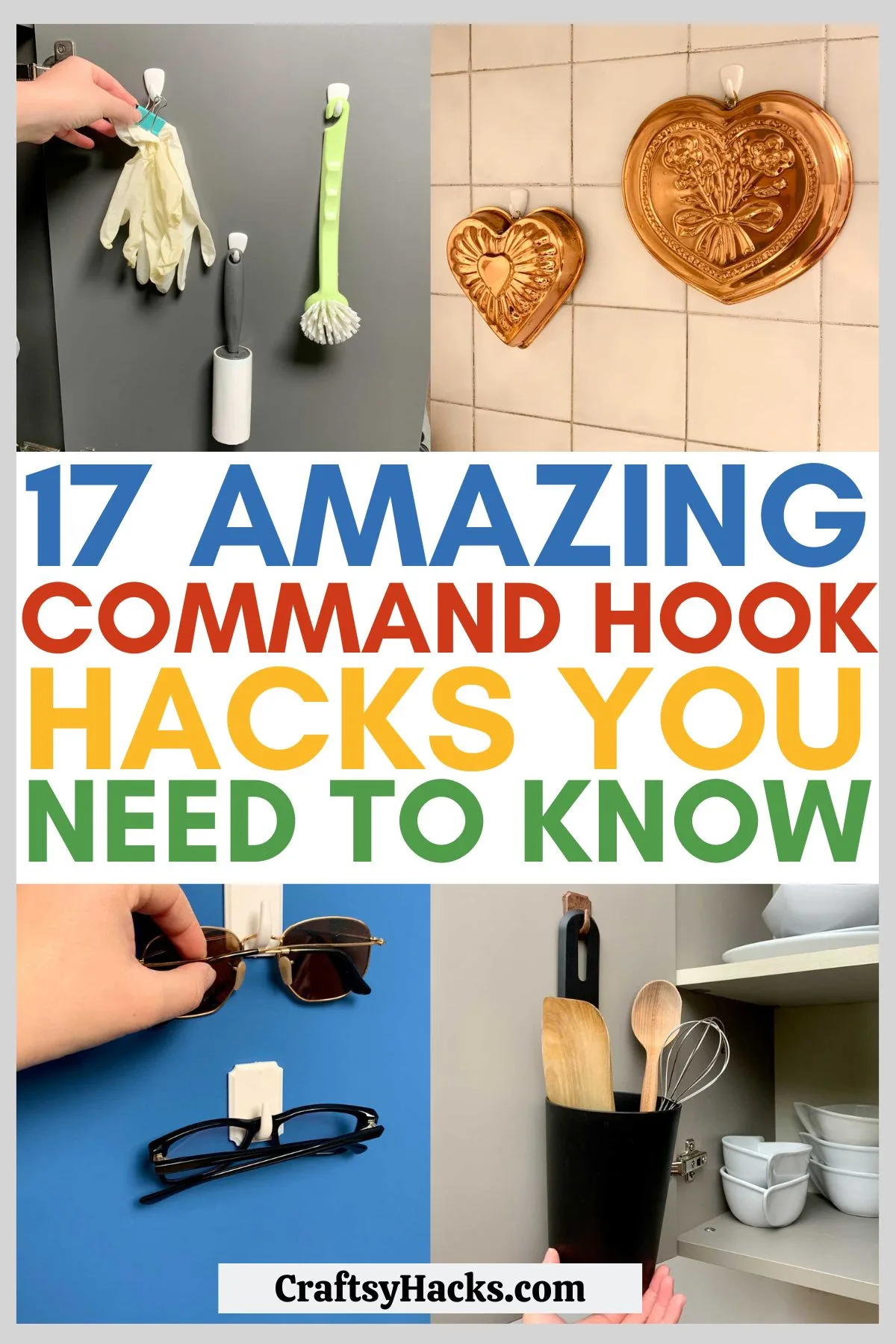 Enjoy, and I hope you try a handful of these to make your life a bit easier!
Watch: 17 Incredible Command Hook Hacks
1. Hang Your Measuring Spoons on Storage Container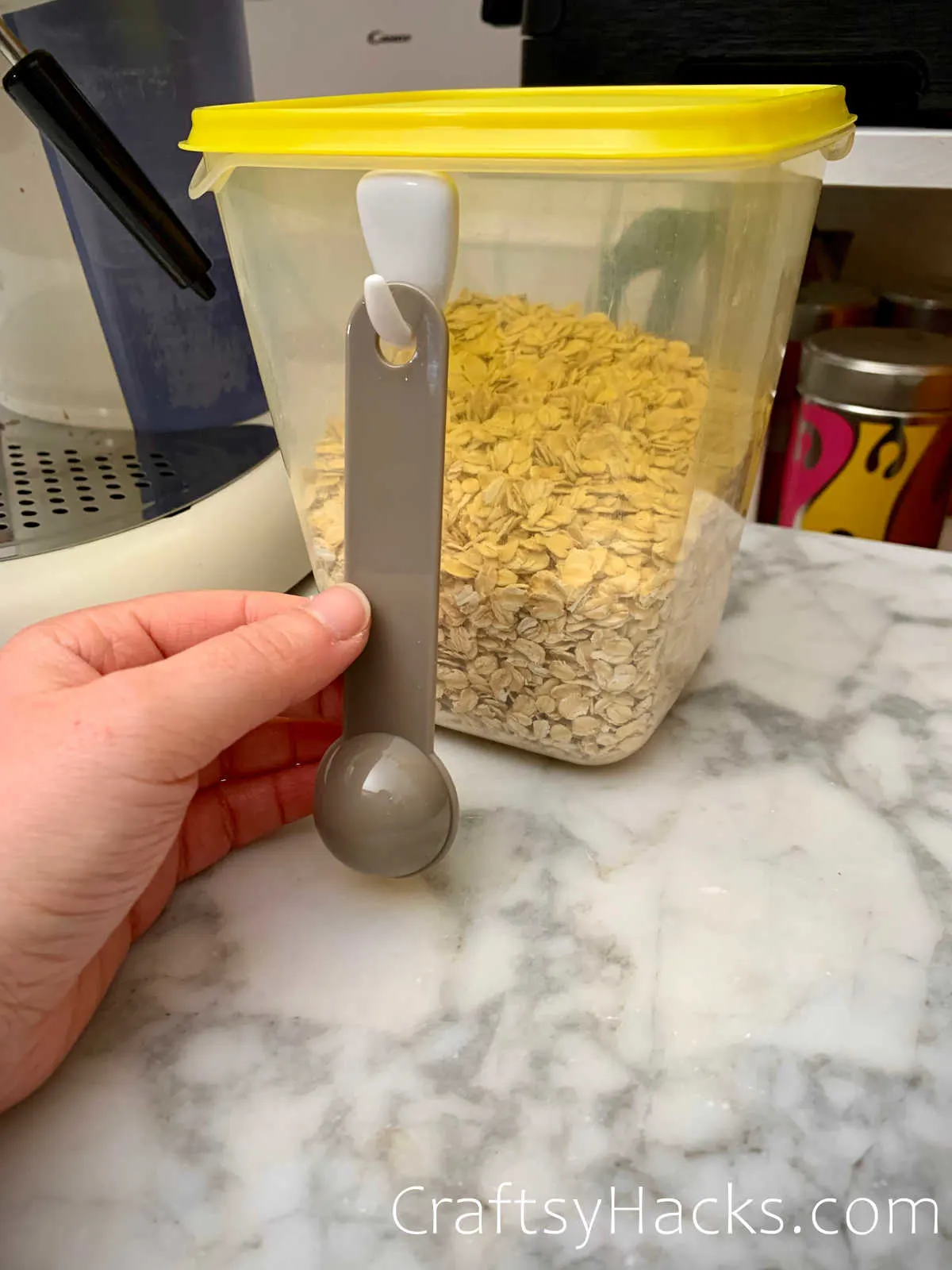 Have essentials you reach for every morning that require measuring?
Add a small command hook and the matching measuring spoon or cup to the outside to save you from scrambling to find it in the AM.
Do this for your oatmeal, coffee, etc. it's such a nice hack. I don't even think about how stressful some parts of the mornings can sometimes be.
2. Keep Your Garbage Bag in Place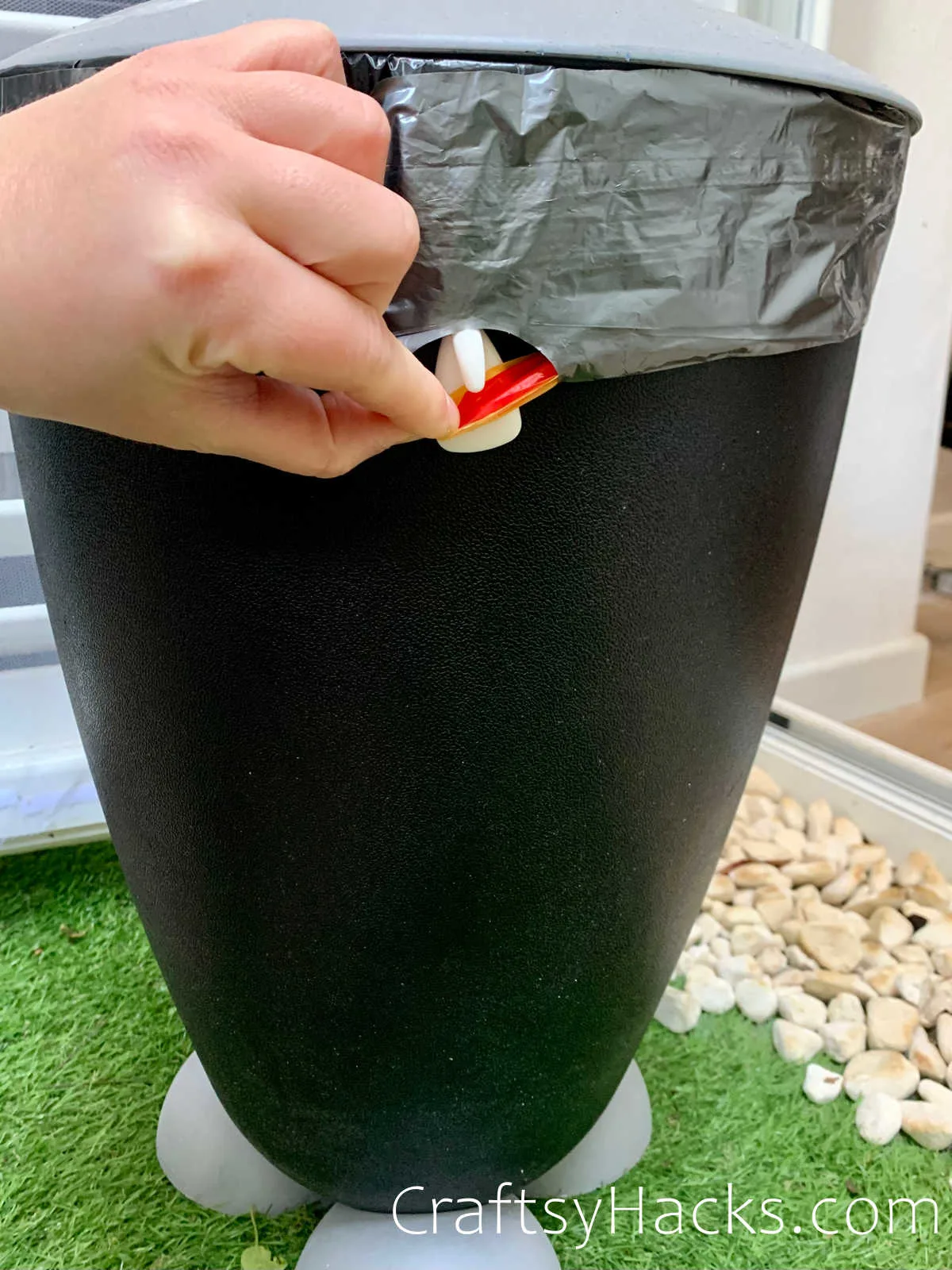 If your garbage bag always seems to fall down and get covered by trash, check this hack out.
All you have to do is add two upside-down command hooks on opposite sides from one another and hook your bag to them–easy retrieval every time!
I will say this works a bit more reliably for a drawstring bag, but poking holes in the center of one without does alright too.
3. Hang Your Toothbrushes
This idea is an excellent tip for those of us with smaller spaces for bathrooms or without a toothbrush holder. A sideways command hook will do just fine.
Make sure to consider the size of the hook in relation to your toothbrush and test it before applying it to your wall or cabinet door. Add a couple more if you have guests over on a regular basis.
4. Organize Your Kitchen Cabinets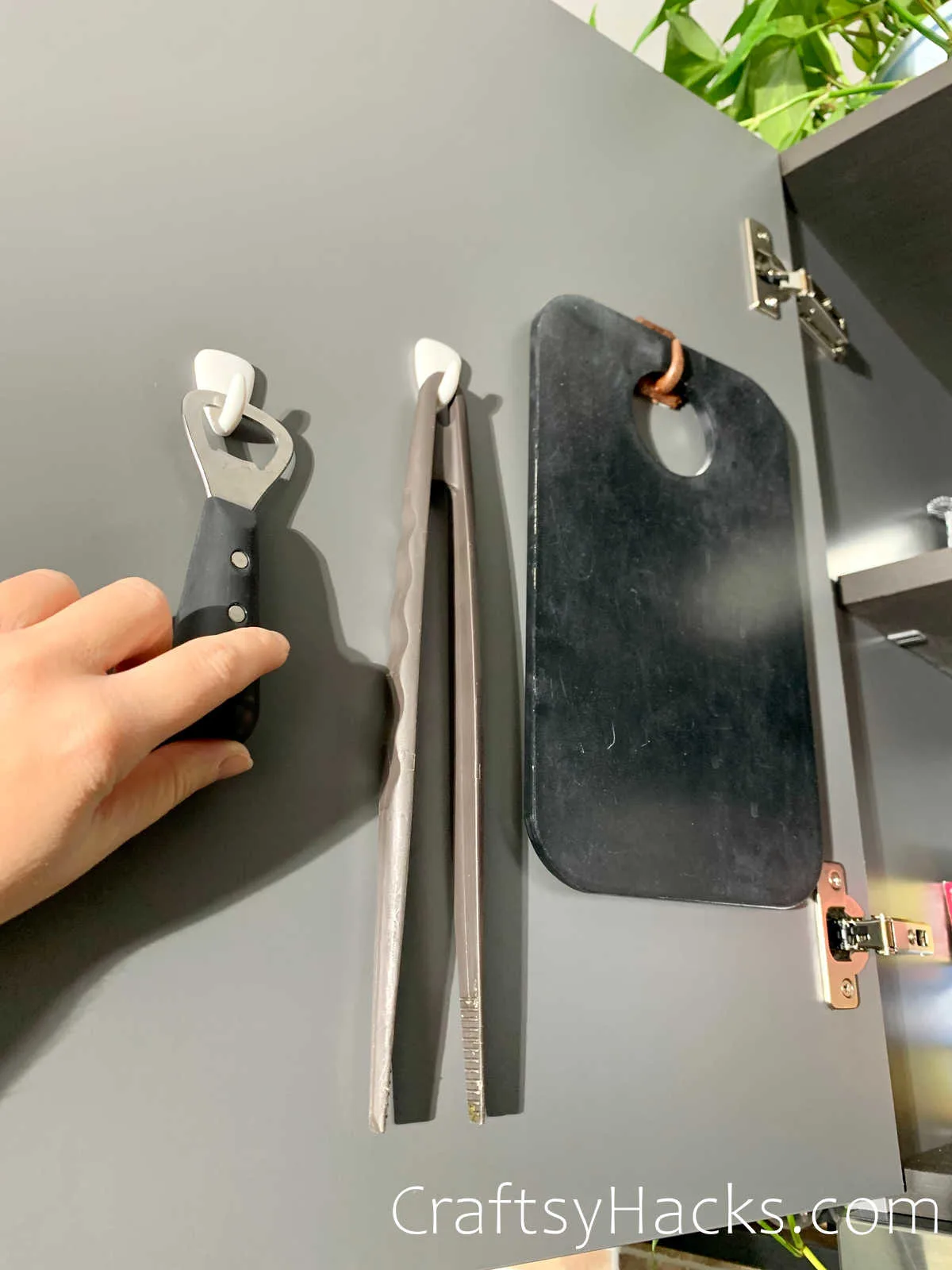 Pick some essential every day or sentimental items to hang on the inside of your kitchen cabinets.
Plan to account for the proper space both in relation to each item getting hung and to the shelves behind each door.
If it doesn't work, the best thing is to readjust the problem areas by removing and readjusting the adhesive.
5. An Organized Cleaning Cupboard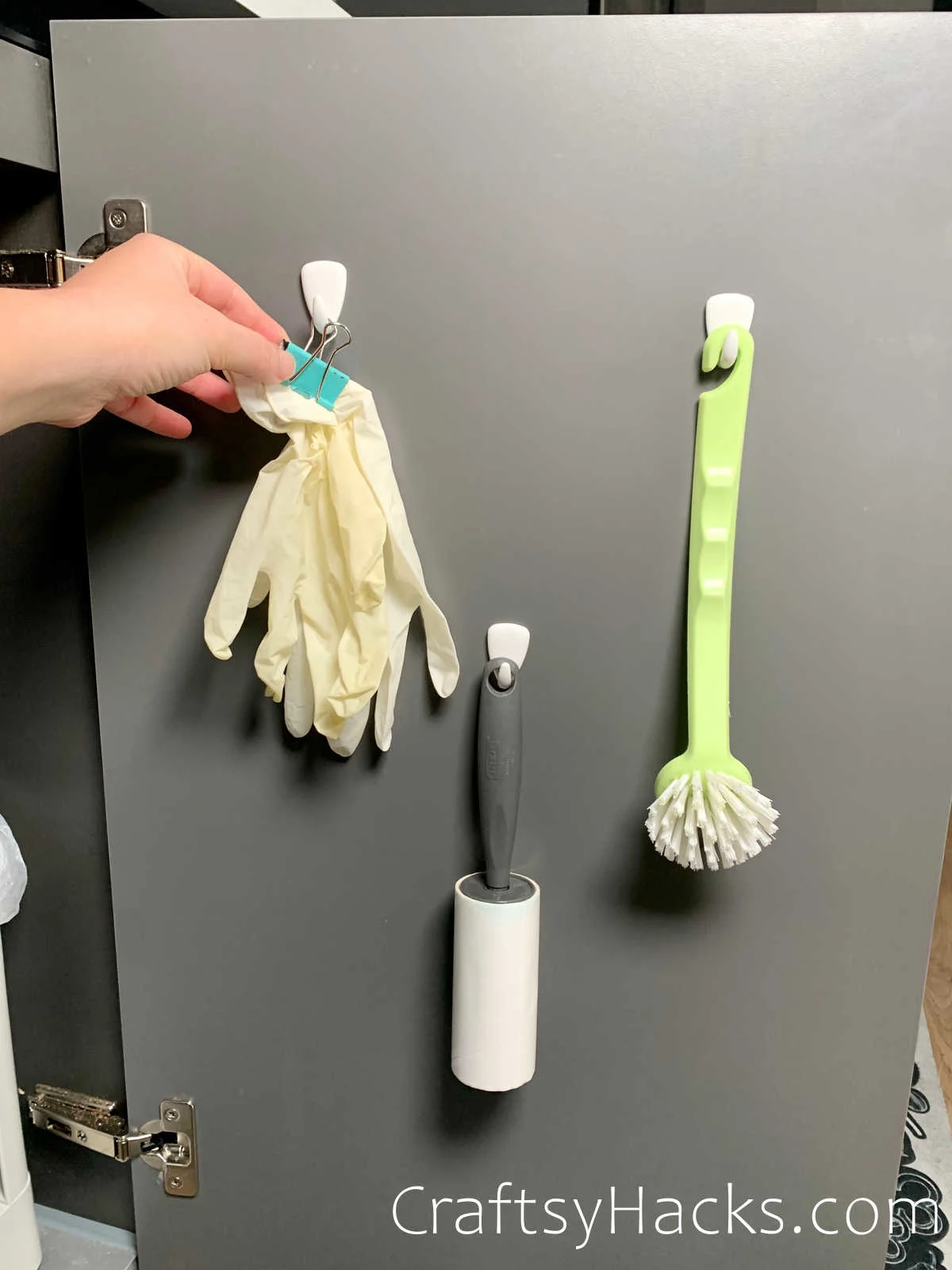 Don't count your utility spaces out, either! Underneath the sink or laundry room, essential cleaning tools and accessories used on the regular now have the perfect home.
Play around with the hook size that will get used for each item, and the same goes for under cabinets. Simply rearrange anything that isn't fitting right by rearranging the sticky part of the hook.
Also, for must-haves that are harder to attach to a hook, try putting a binder hook on them and connecting them to the hooks that way.
You could also use this DIY hanging organizer with Command hooks!
6. Hang Your Cups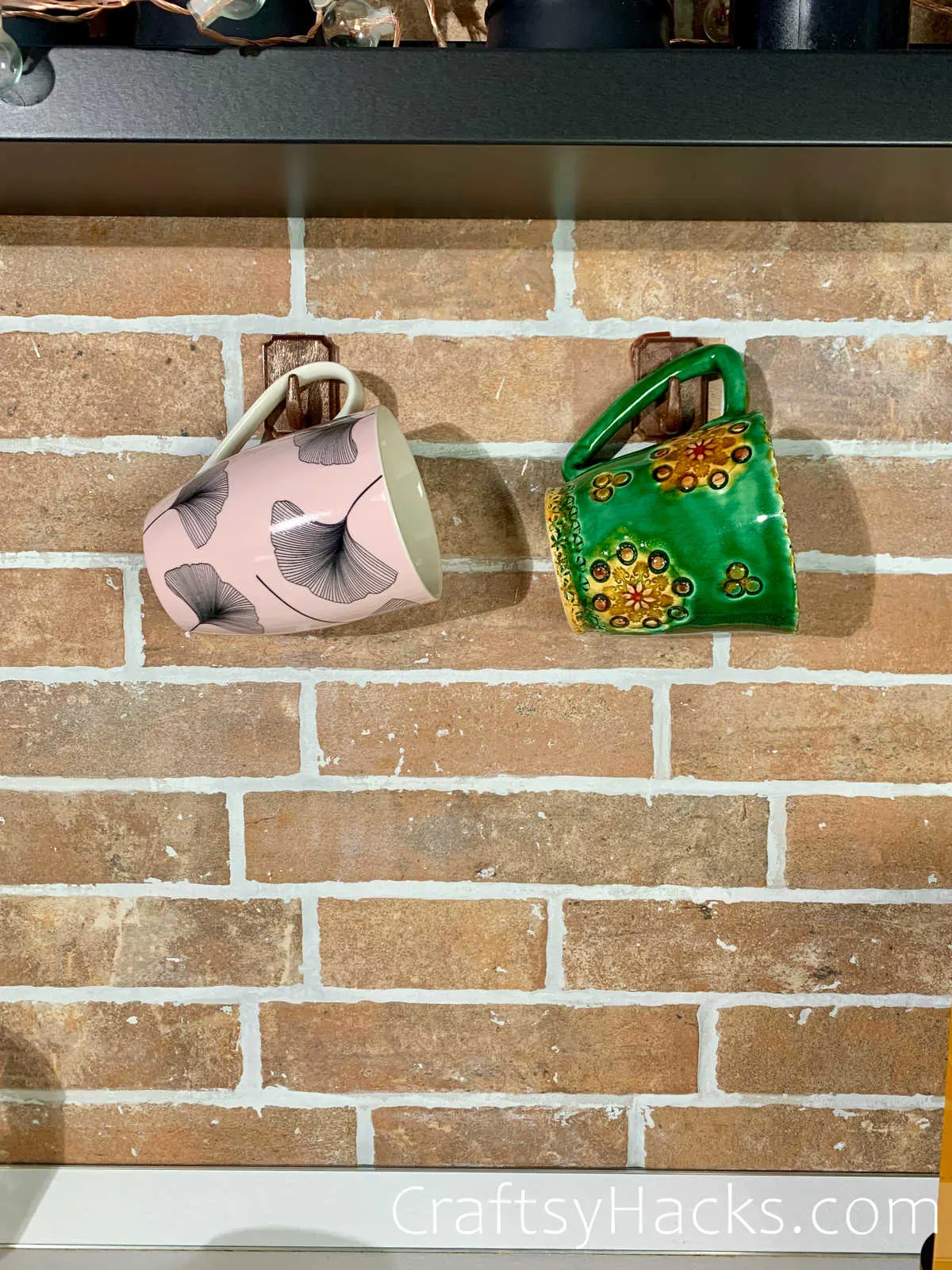 Love the look of hanging coffee cups and creating a little coffee station for your home? Command hooks are a cost-effective and more temporary way to try it out or a rental to feel cozier.
Stage the area as you please, and then find the most appropriate spots for the coffee cups to hang on the wall or underneath a shelf.
Remember, you'll want to look for a heavier-duty hook for this project–this pack will do the job and is easily paintable if you're looking to add a bit of color!
7. Keep Your Appliance Cable Organized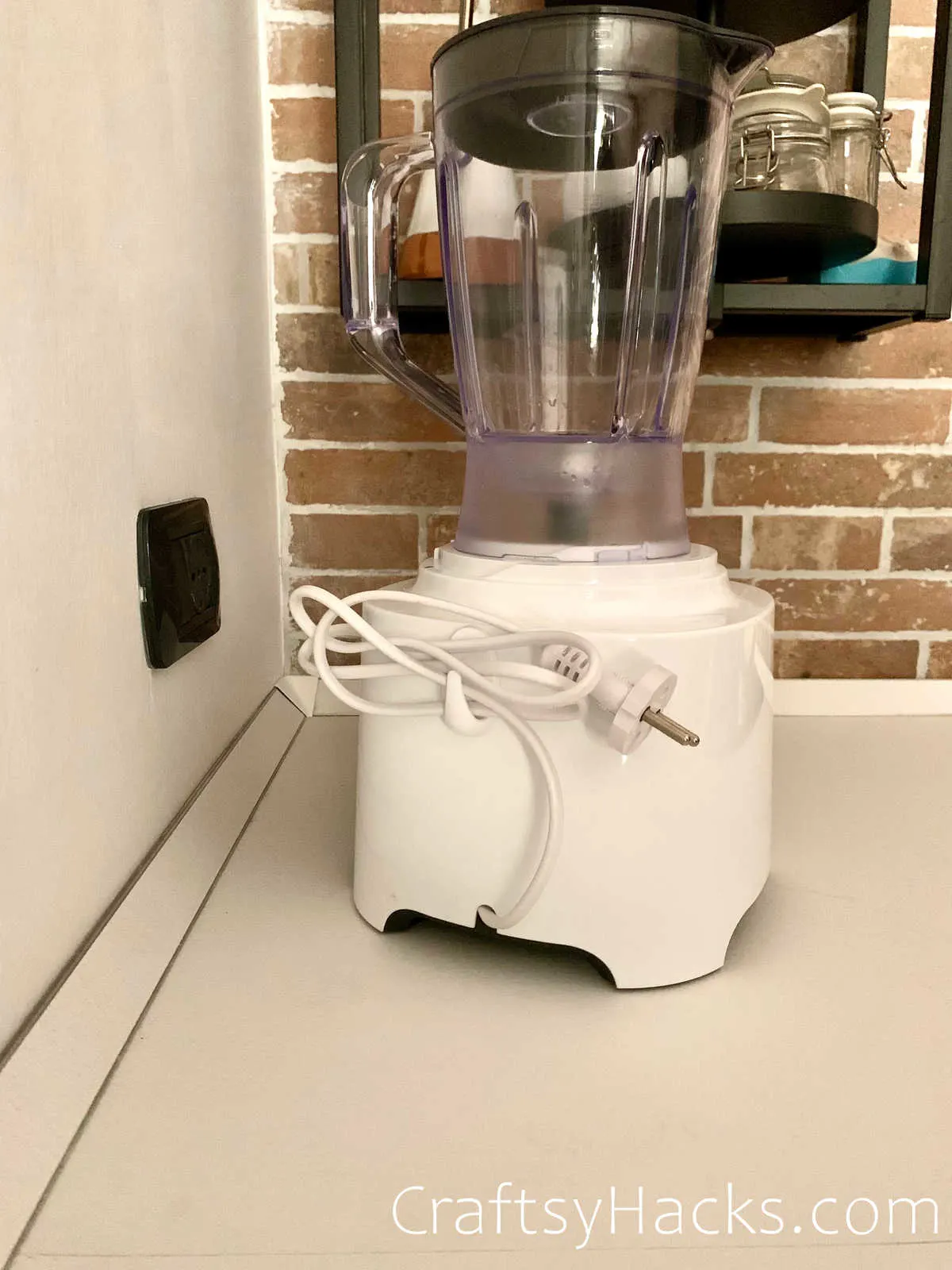 If you're anything like me, you hate a cord tail wrapped around an appliance or just even lying about it when not in use.
This hack has to be one of my absolute favorites–add a small command hook like this to an inconspicuous spot on your kitchen accessory and coil your cord around it until nothing is showing.
Bonus–use two facing away from each other if you'd like to wrap them even more neatly.
8. Display Your Jewellery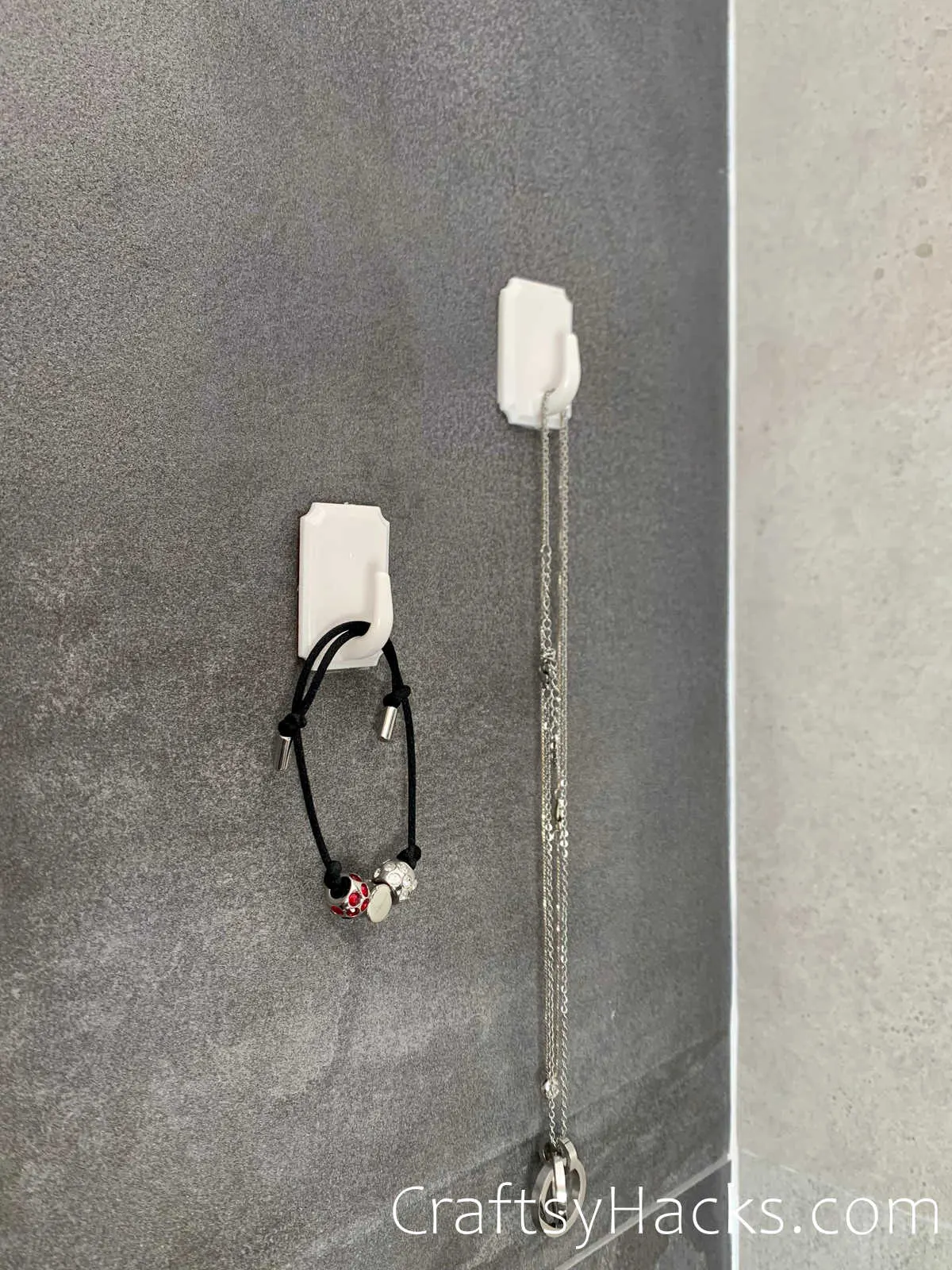 Now, I know for some of you, this looks a little too practical and not 'fun enough,' but this is the beauty of it!
Grab a little paint or a more chic-looking hook and display them in whatever manner you want in your space; it saves me from detangling time and generally looking for that particular piece.
You might also like this DIY jewelry organizer for your space!
9. Make Your Own Key Rack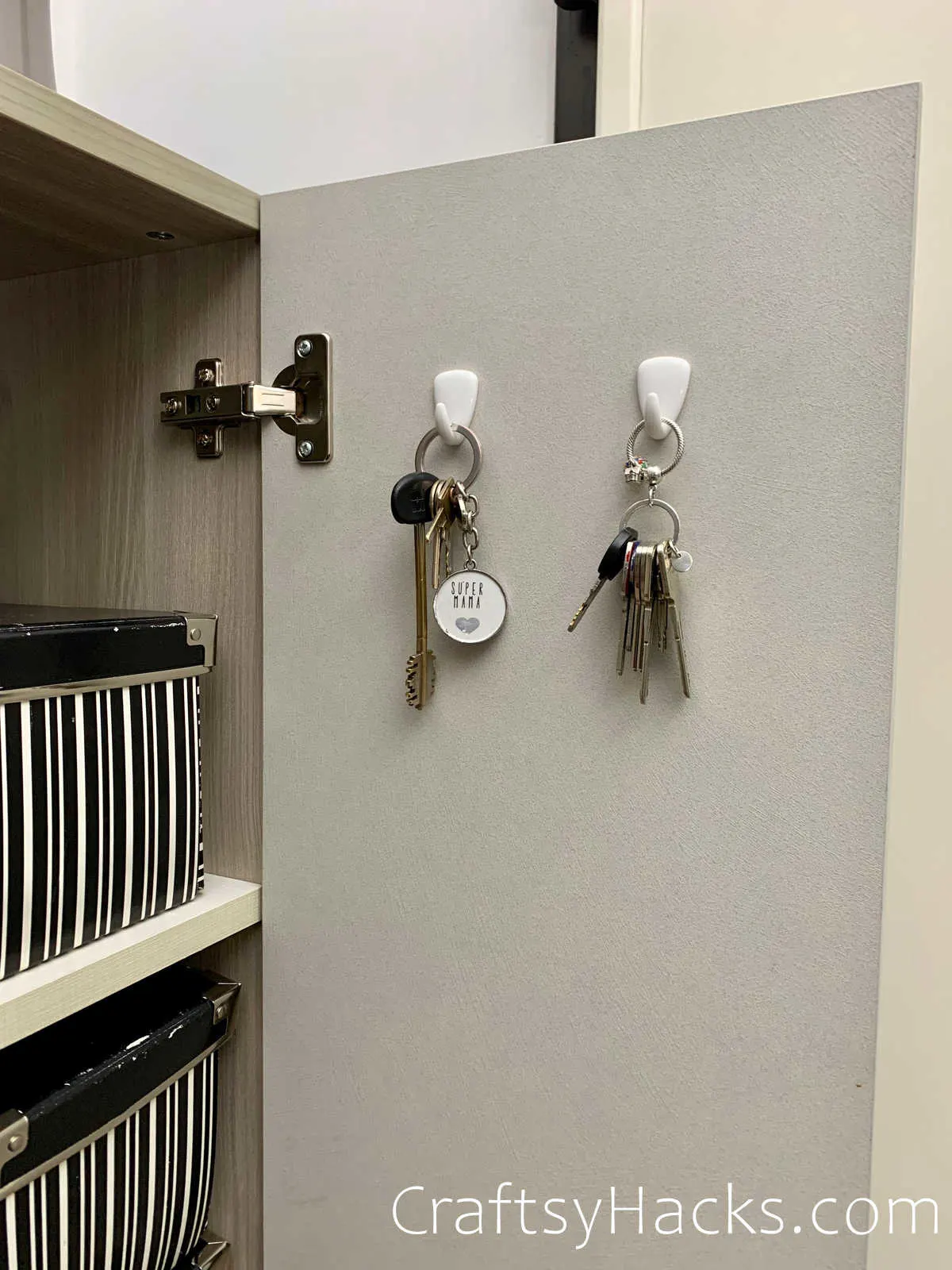 Again, this idea can be so customizable; make a plan first, and then look for the right hooks and accessories to make it happen!
The spot to create your own key rack may look a bit different for everyone, and that's alright.
The best part of this rack–we won't waste half our morning looking for the keys.
If you enjoyed this hack, you definitely need these genius no-drilling organizing hacks!
10. Mount Your Power Station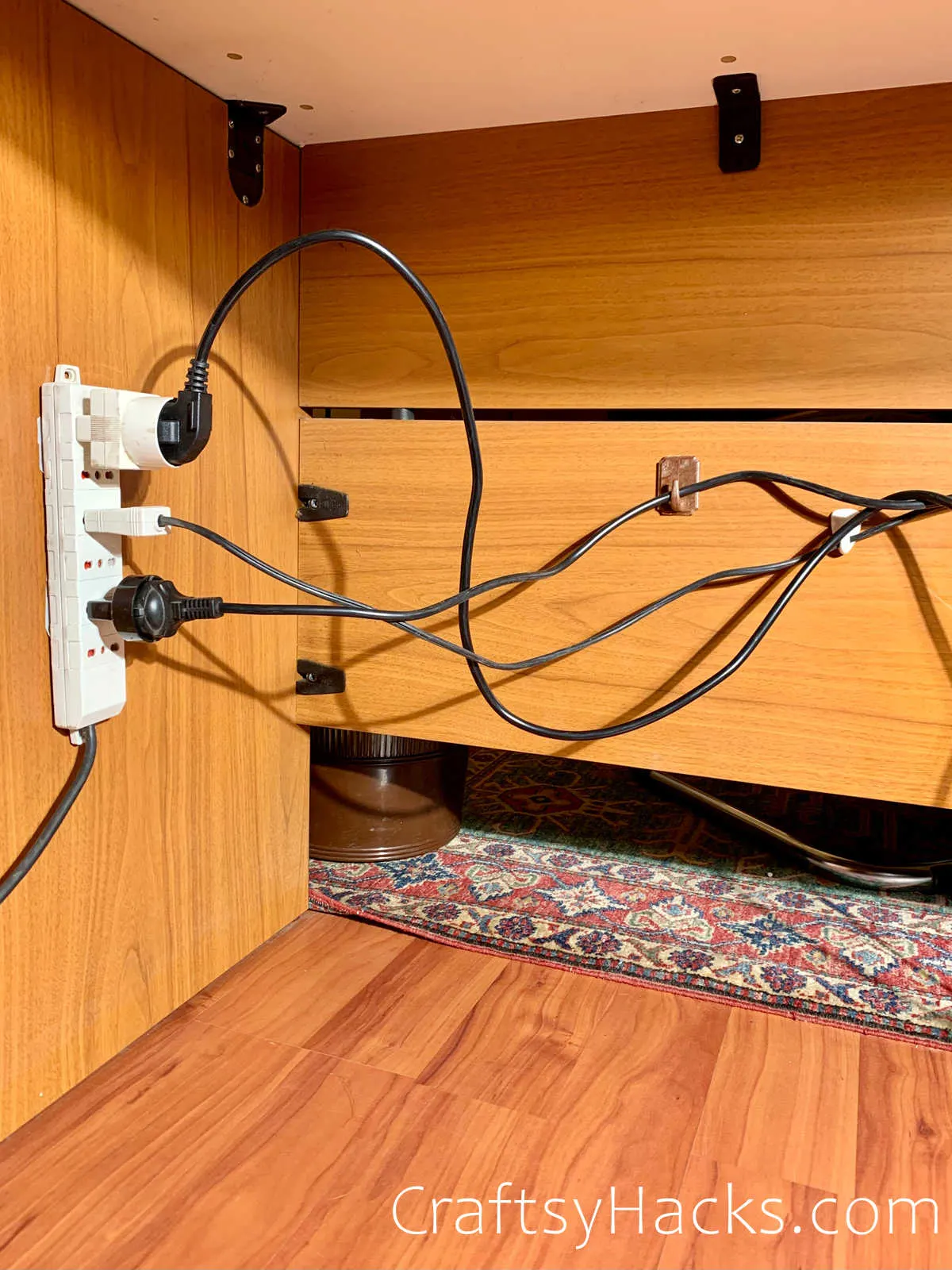 If you've been thinking about the weird amount of extra strips you have from buying packs of command hooks, this hack is definitely for you!
Attach any power strips or stations to themselves to keep them orderly.
11. Store Your Pot Lids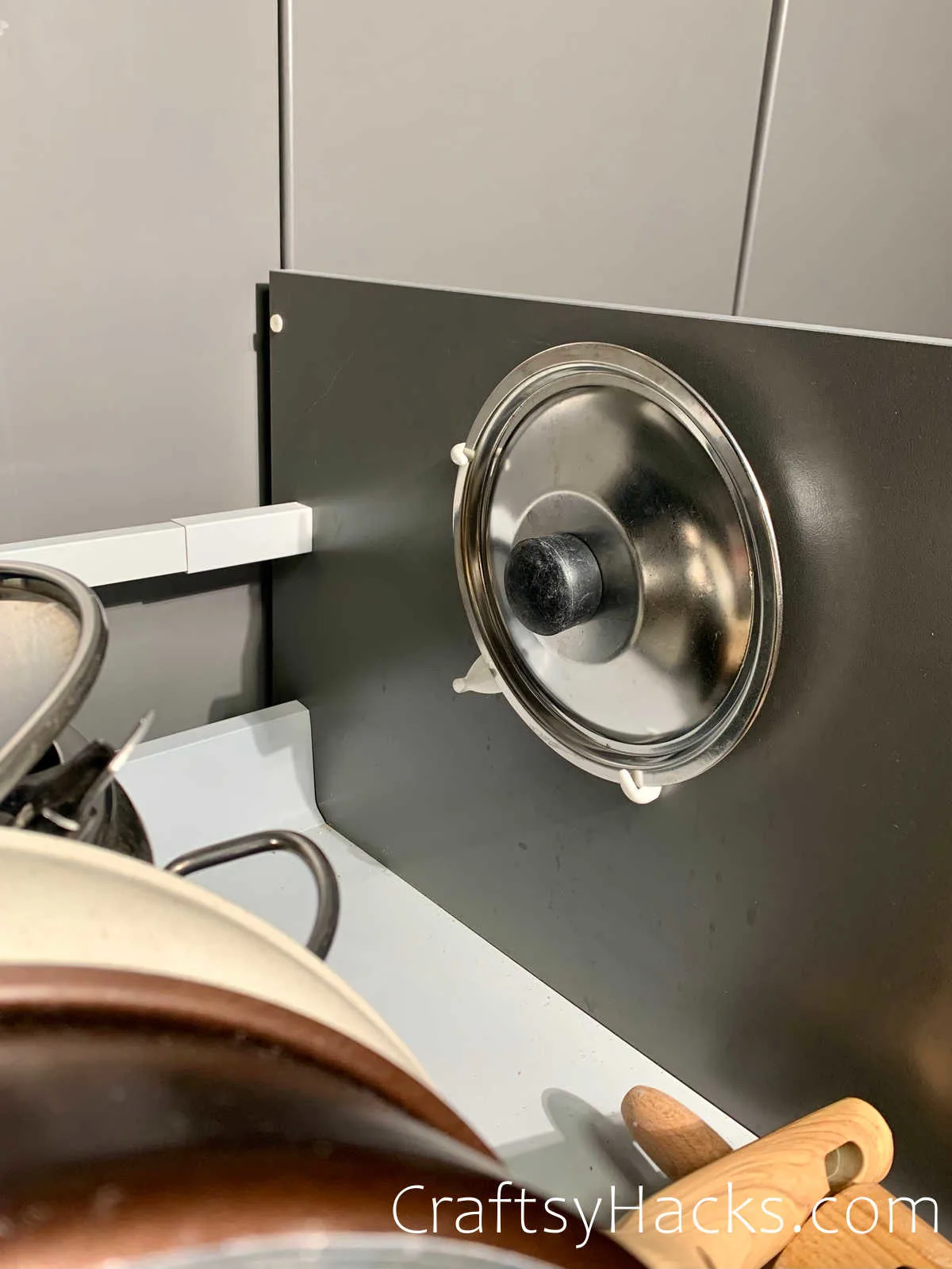 Are you constantly having trouble finding the fitting lid while in the middle of cooking? Don't worry, because I do too.
That is until I tried out this command hook hack. Strategically place a few hooks to support the lid or lids of choice to the inside of a cupboard door.
12. Make Your Own Kitchen Gallery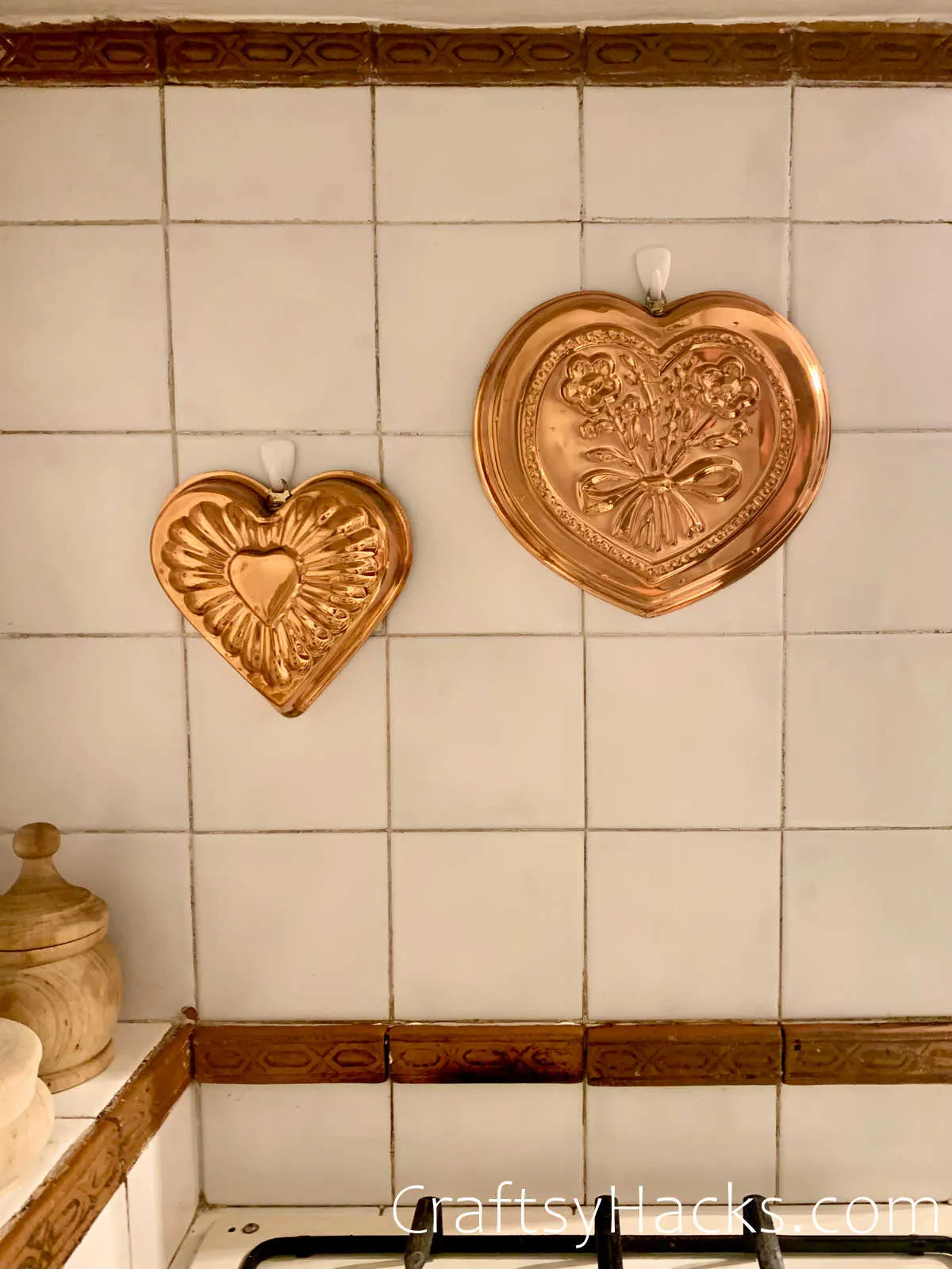 If you have some sentimental pieces or delicate but fun kitchen items, make your own gallery wall!
Determine where in your kitchen may be an excellent place to start this project and add the hooks you will need.
The best part? If the spot ends up not working out, or you'd like to add more things but are running out of space, pull the hooks off and rearrange!
13. Organize Your Sunglasses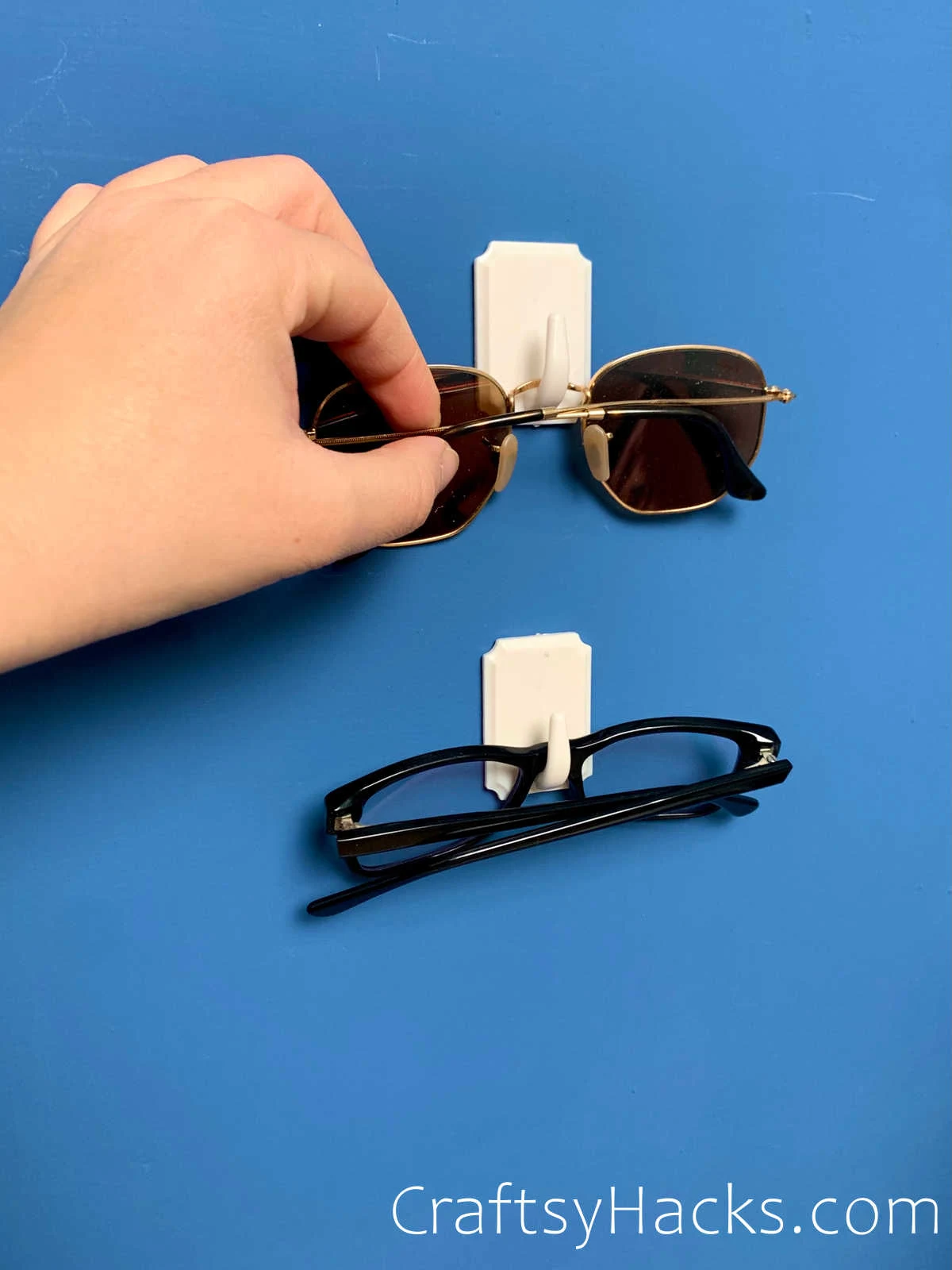 As my sunglasses and glasses grow and shrink over the years, I've never really had a reliable spot for any of them–enter command hooks.
I put my favorites or current picks on the hooks and the rest into a secured box that has a home in my bedroom. That way, no little ones can get into them without me knowing about the try-on.
While you're at it, organize your jewelry with this cool DIY earring organizer!
14. Make a Phone Charging Station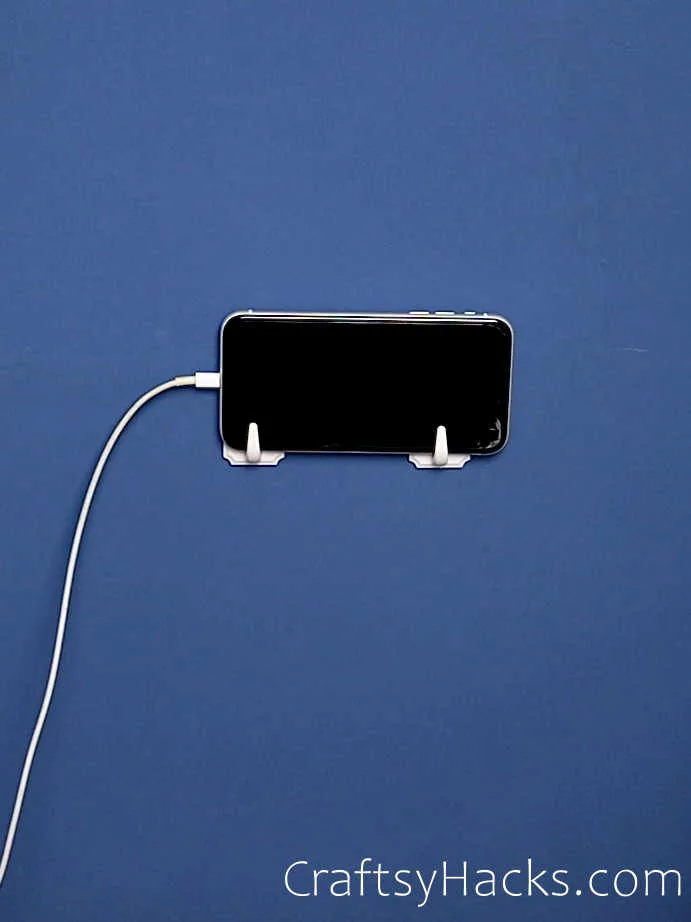 My friends love this hack. They've actually done it for their boys, so they know that charging their phones has a distinct home and doesn't get lost as easily.
Attach a couple of hooks to a wall or furniture wherever you charge phones, and there you have it–a simple DIY charging station.
Also, with the cord off the floor, it means way fewer accidental trippings occur in their house!
15. Clip on the Lights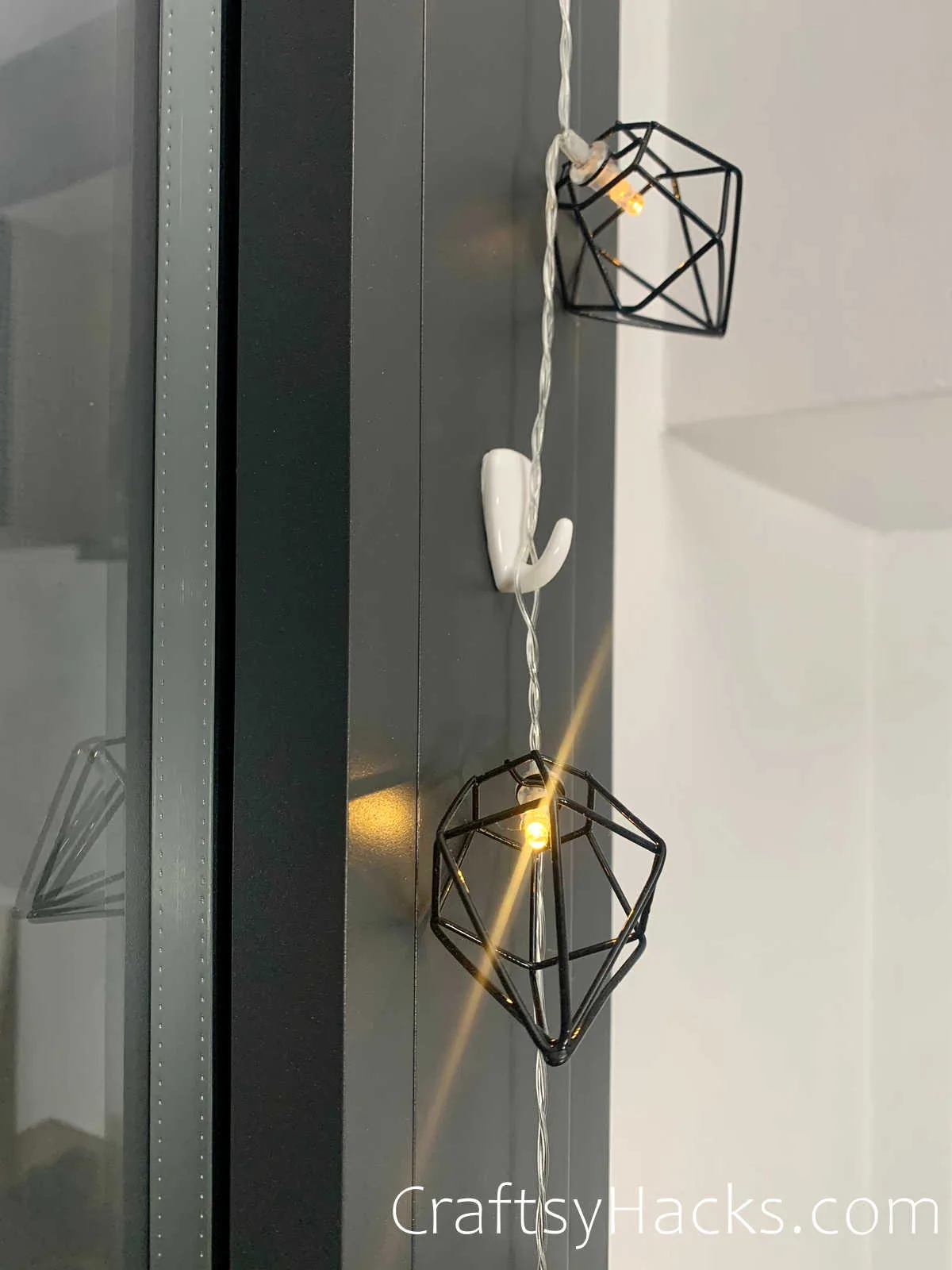 Hanging lights are so beautiful, but they can get droopy or brought down in the weather. An excellent way to stabilize your lights is to reinforce them with command hooks.
That way, no surprise dropping light strands will scare you or your loved ones.
16. Hang on Your Towels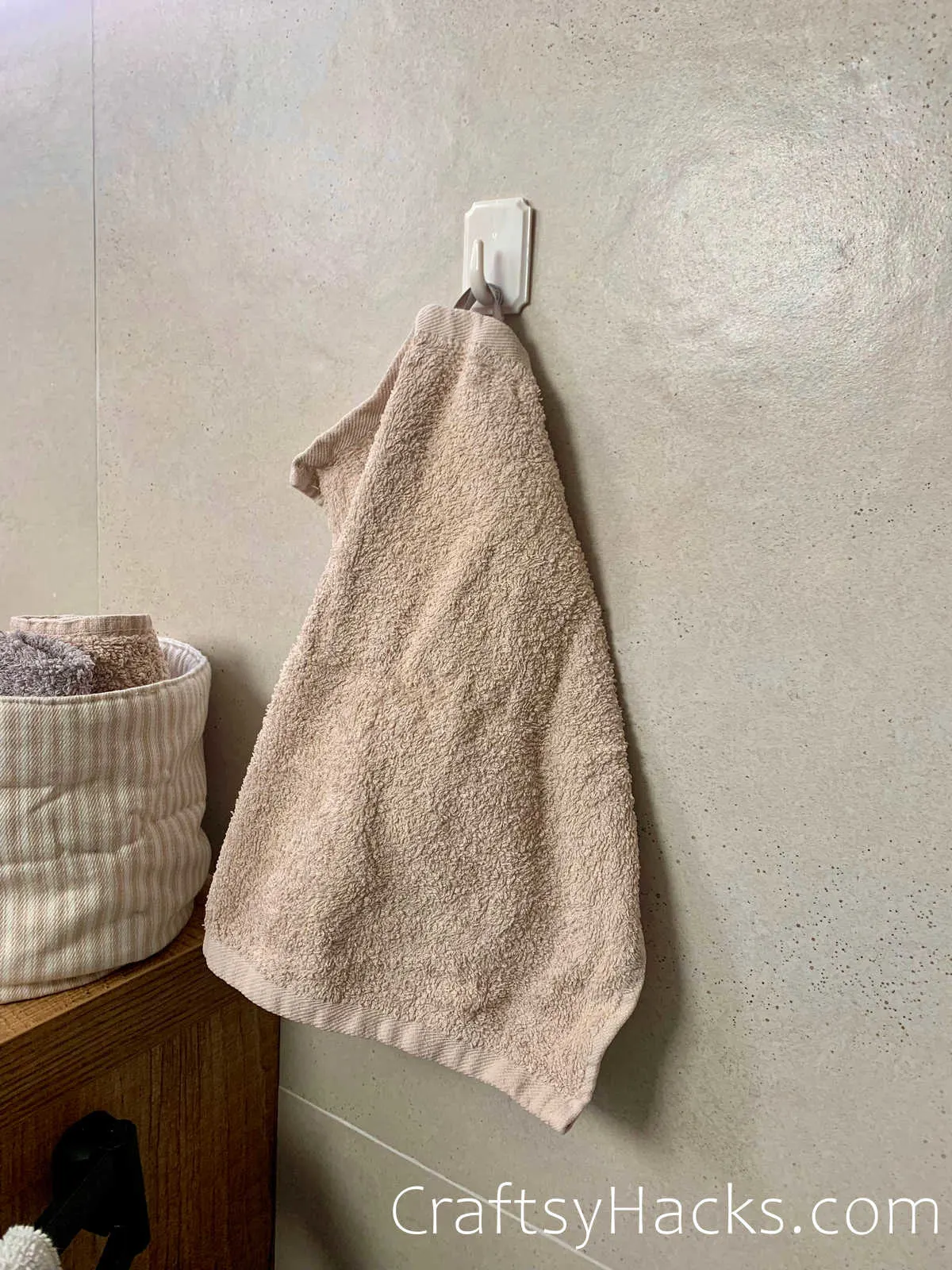 Whether you do need more hooks or temporary ones for guests or visitors, throw a few command hooks up in your bathroom!
The hooks can get used for towels, bathroom accessories, or even decorations you'd like to add.
17. Increase Storage in a Cupboard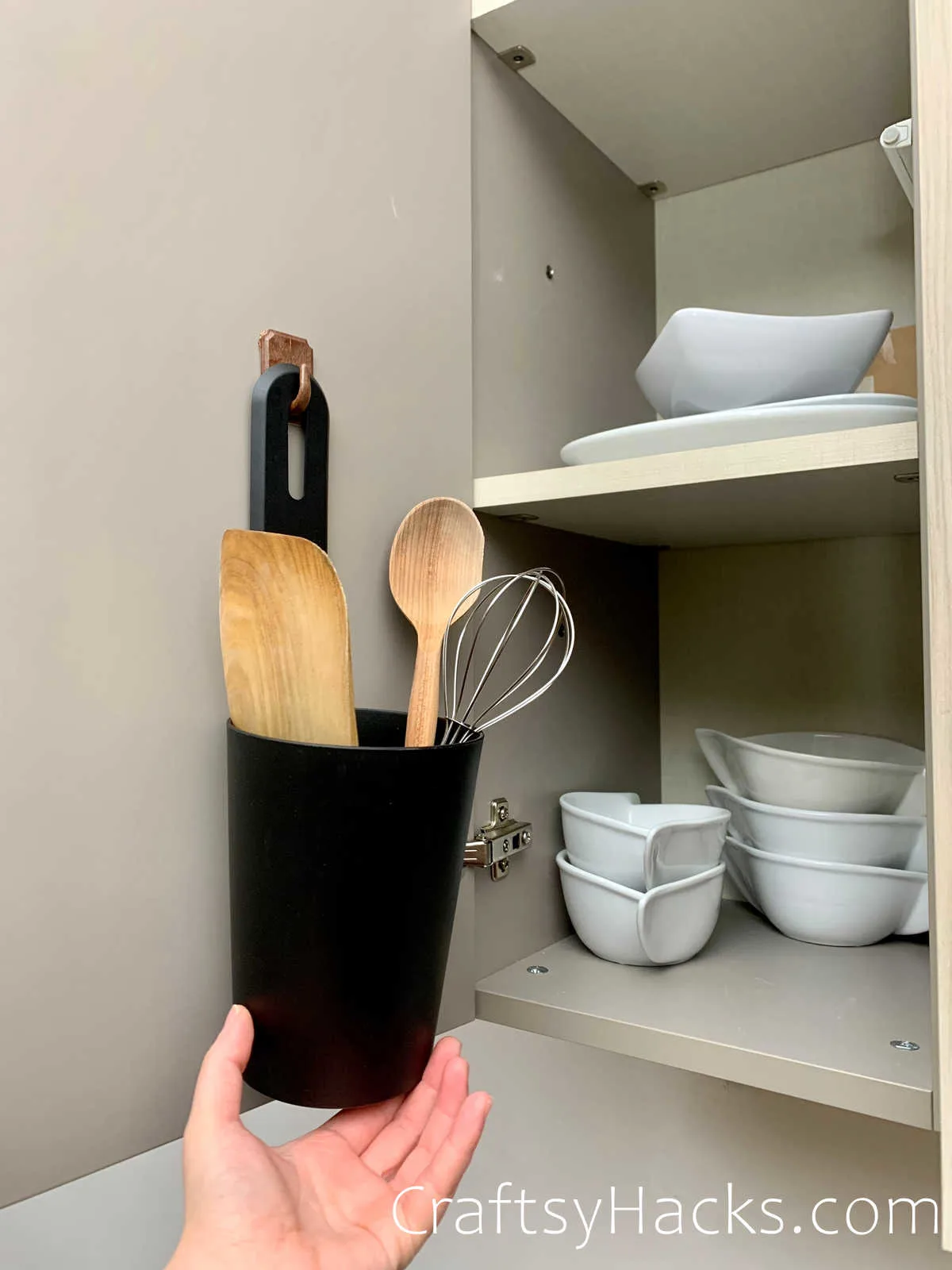 This last idea is a play-off of the earlier hack that mentions adding hooks for specific tools inside of your cupboards.
If there is a more considerable amount of accessories you'd like to put on the inner doors of your kitchen, try adding a cup or thin basket.
I have used magazine bins like this one and, like pictured above, cups like this one. Play around, and definitely make sure to plan for the amount of weight that may rely on the attached basket.
This is definitely one of the most creative ways to organize small items!