Butterflies are beautiful creatures and a popular subject for artists and illustrators. We've created these beautiful butterfly drawing ideas to help spark your creativity.
Their vibrant colors, intricate patterns, and delicate wings make them an ideal muse for creative inspiration.
Whether you're a beginner or a professional artist, drawing butterflies can be a fun and rewarding experience.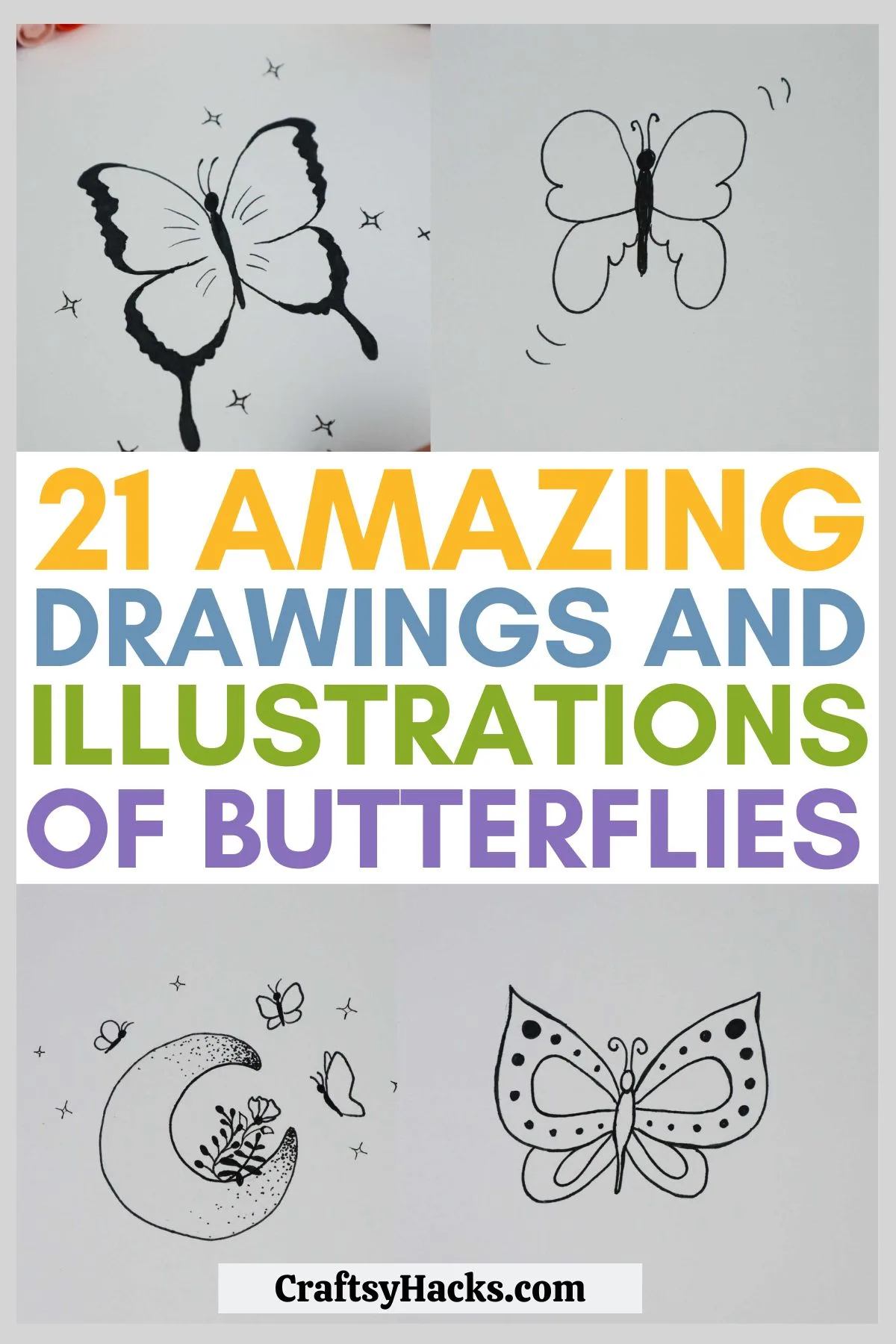 From realistic depictions to whimsical designs, there's something for everyone to try. So, grab your supplies, and let's dive into the world of butterfly art.
If you need art supplies to try any of these, here are my recommendations. These pencils, these markers, this notebook, and these erasers all work well for any of these projects.
1. Butterfly in Flight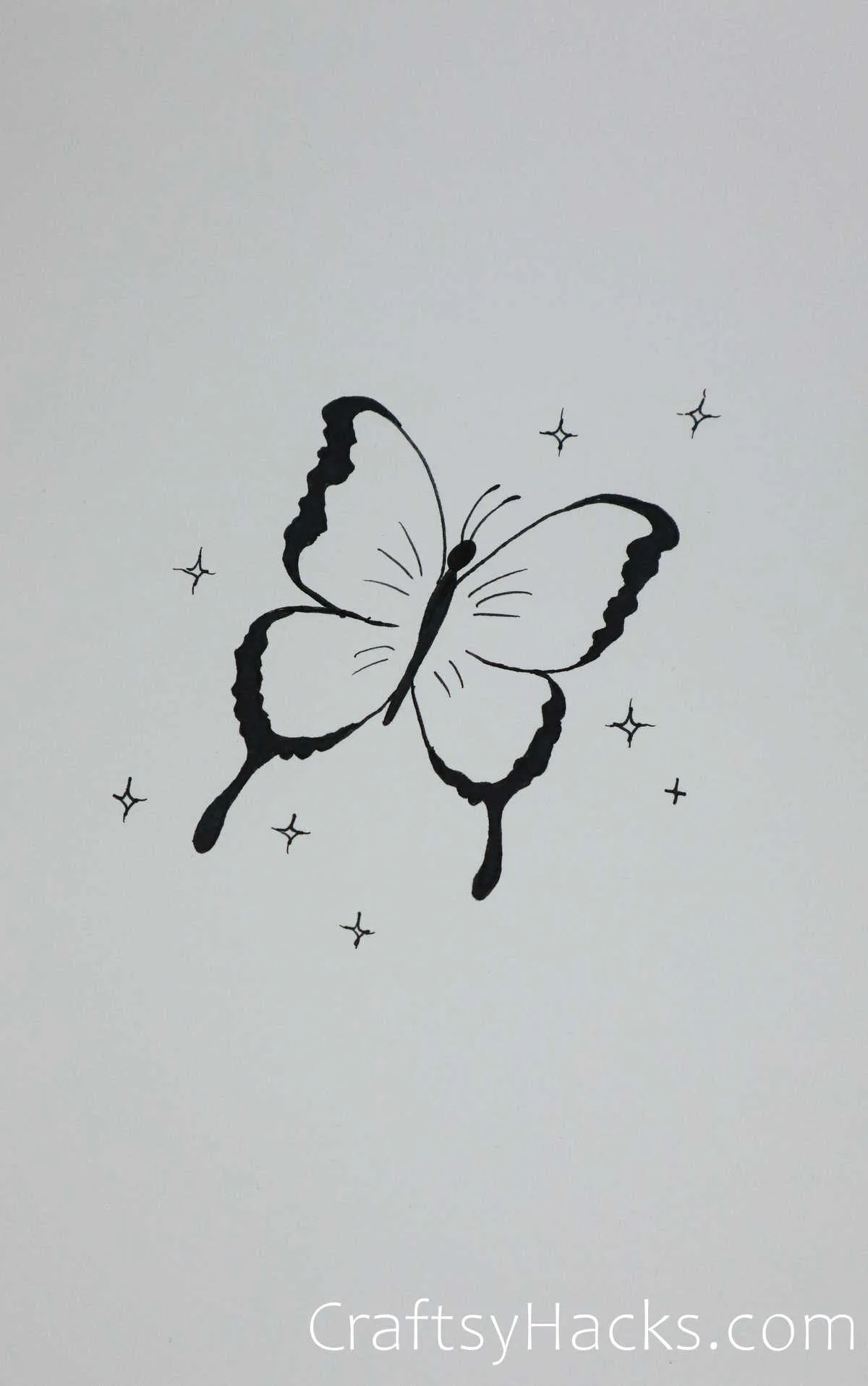 A simple way to start our list today is a butterfly in flight–classic simple, and to the point. Start with the body and draw a basic wing structure.
Since the butterfly is the focal point, the basic wing outline is key to correcting the proportions. Return and structure out the details of the wing and hit the rest of the butterfly.
Add sparkles or other motion lines to showcase the flight.
These great drawing hacks will be super helpful for you!
2. Butterfly to the Flower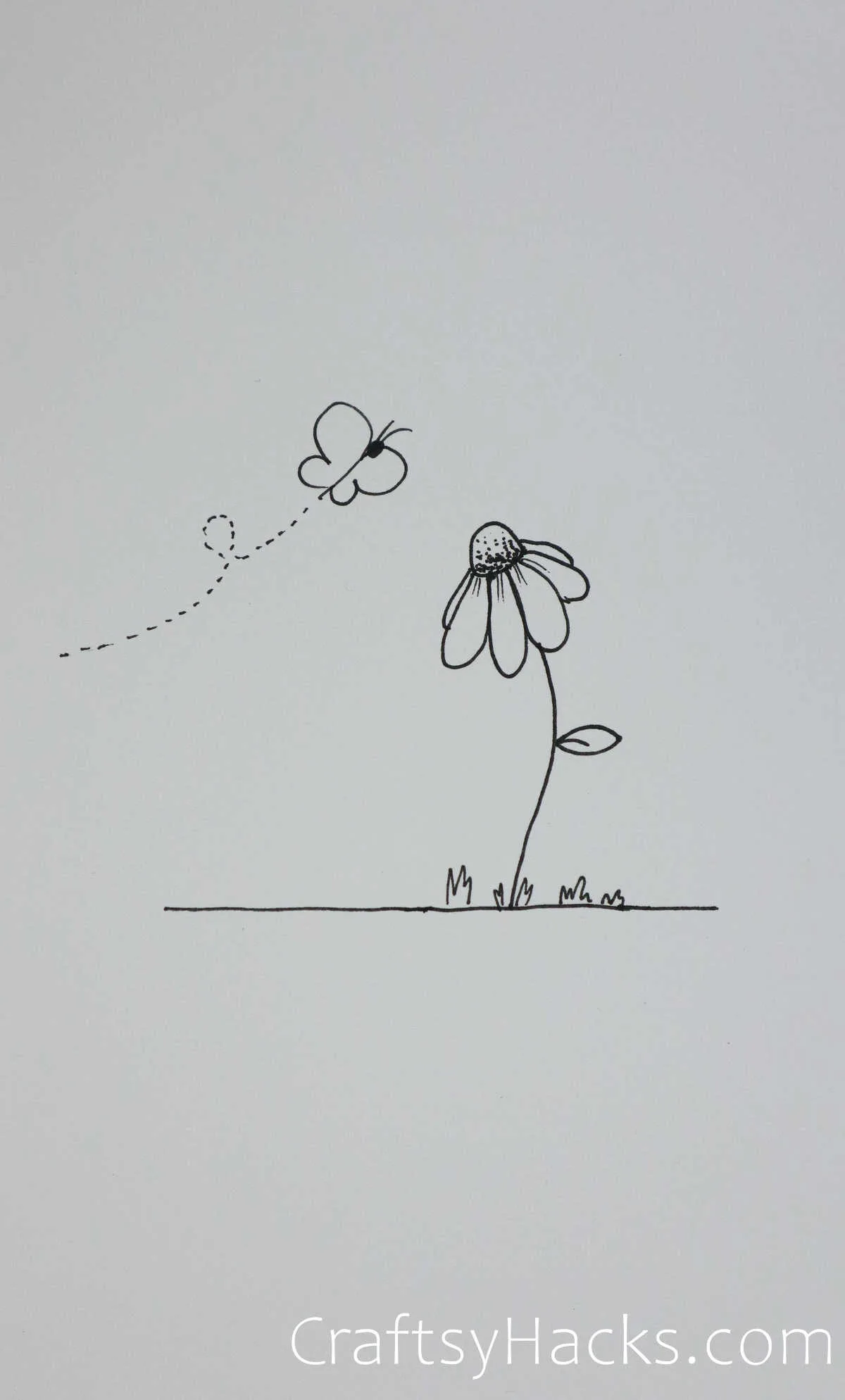 A main part of a butterfly's diet is flowers, so there's no better drawing to include in this post. Add a whole field of flowers or a family of butterflies to enhance the image.
3. Butterfly and Bunny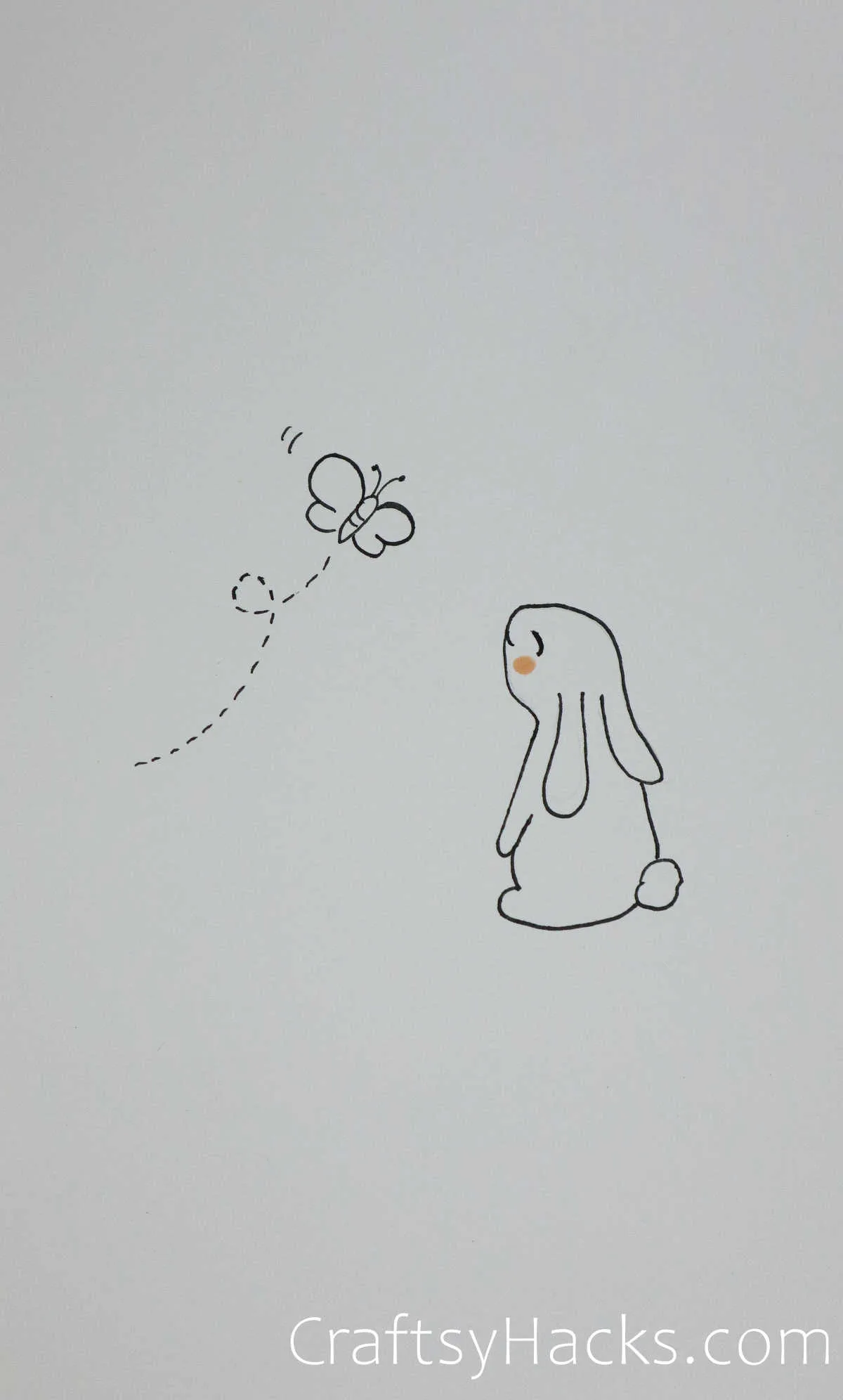 If you're looking for something a little different than a flower interacting with your butterfly, try a rabbit like this one. It gives a bit fresher look than the classic duo, but it's just as sweet of a takeaway.
Or, try a different animal entirely! Use the inspiration from this idea to create a whole new idea.
4. Group of Butterflies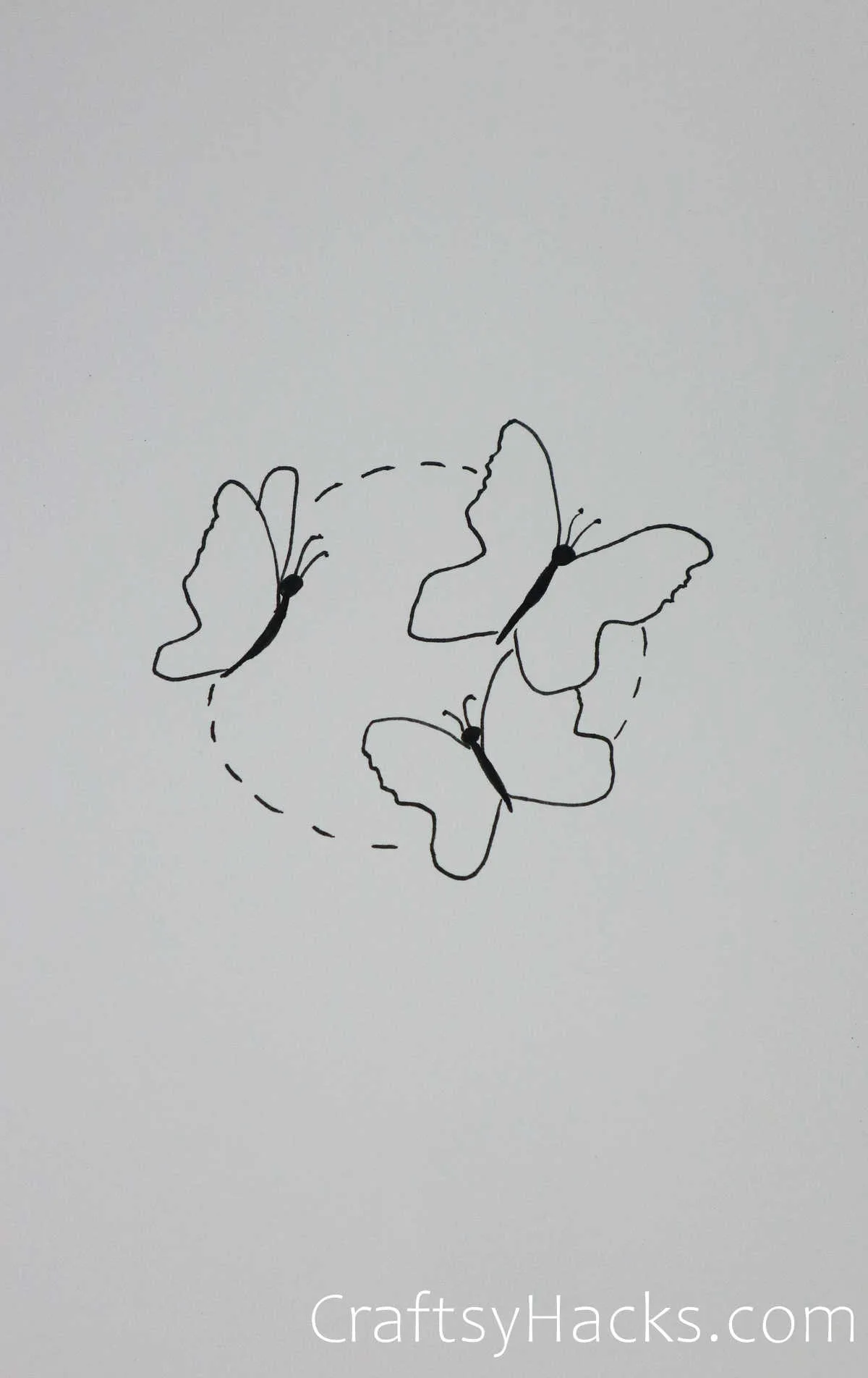 A group of butterflies is never a bad idea either–it can make a piece of art look incredibly playful.
Space your insects accordingly, sketch them onto the page, and then go over everything in pen once you are happy with the positions.
Structure the page for just the butterflies or add some background scenery–natural elements, a kid chasing after them, etc.
5. Butterfly Taking Flight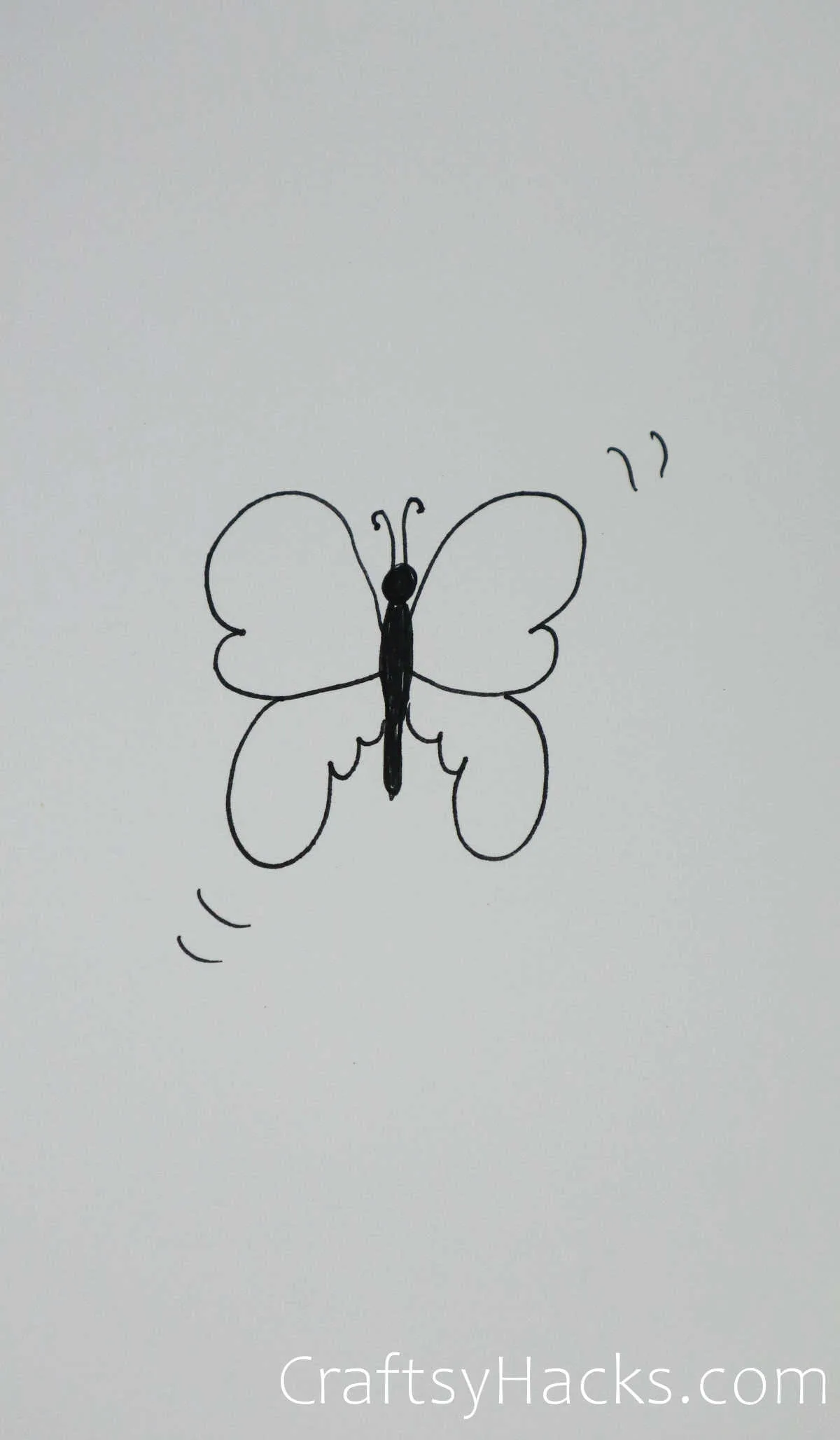 This image is another take on a butterfly in motion. This one is just starting to take flight with the more specific lines placed strategically.
Add a nice flower or resting spot for the butterfly to have launched off of to round out the idea. Don't be afraid to add more, take flight, or stay stationary.
6. Penguin and Butterfly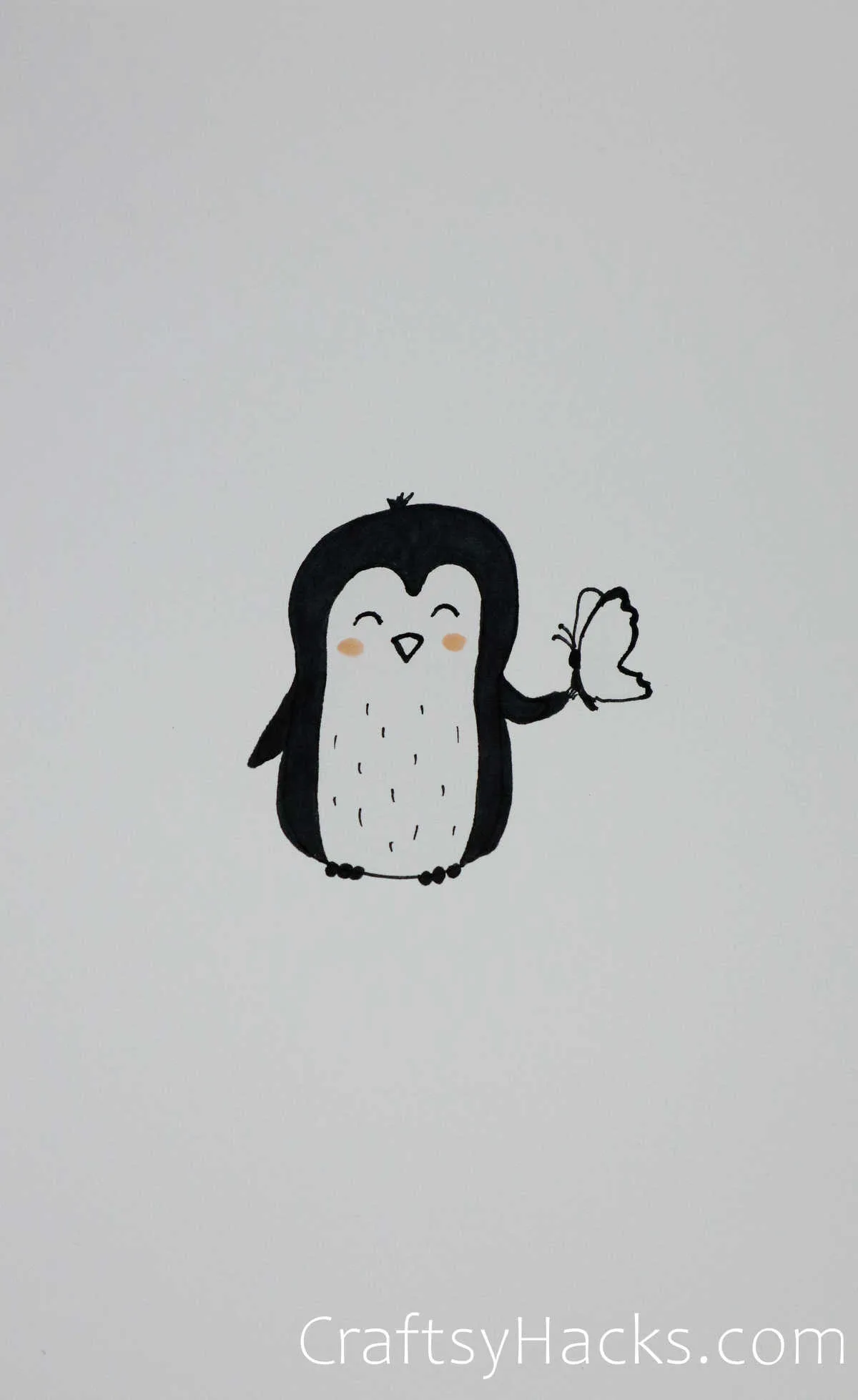 A very cute and maybe unexpected pairing is a butterfly and a penguin. The two are unlikely, but both are easy enough to draw and let co-exist on the page.
Make sure to draw the penguin's arms long enough so that if you have the butterfly perched on its flipper, either animal's body will coincide with the other.
7. Butterfly in the Clouds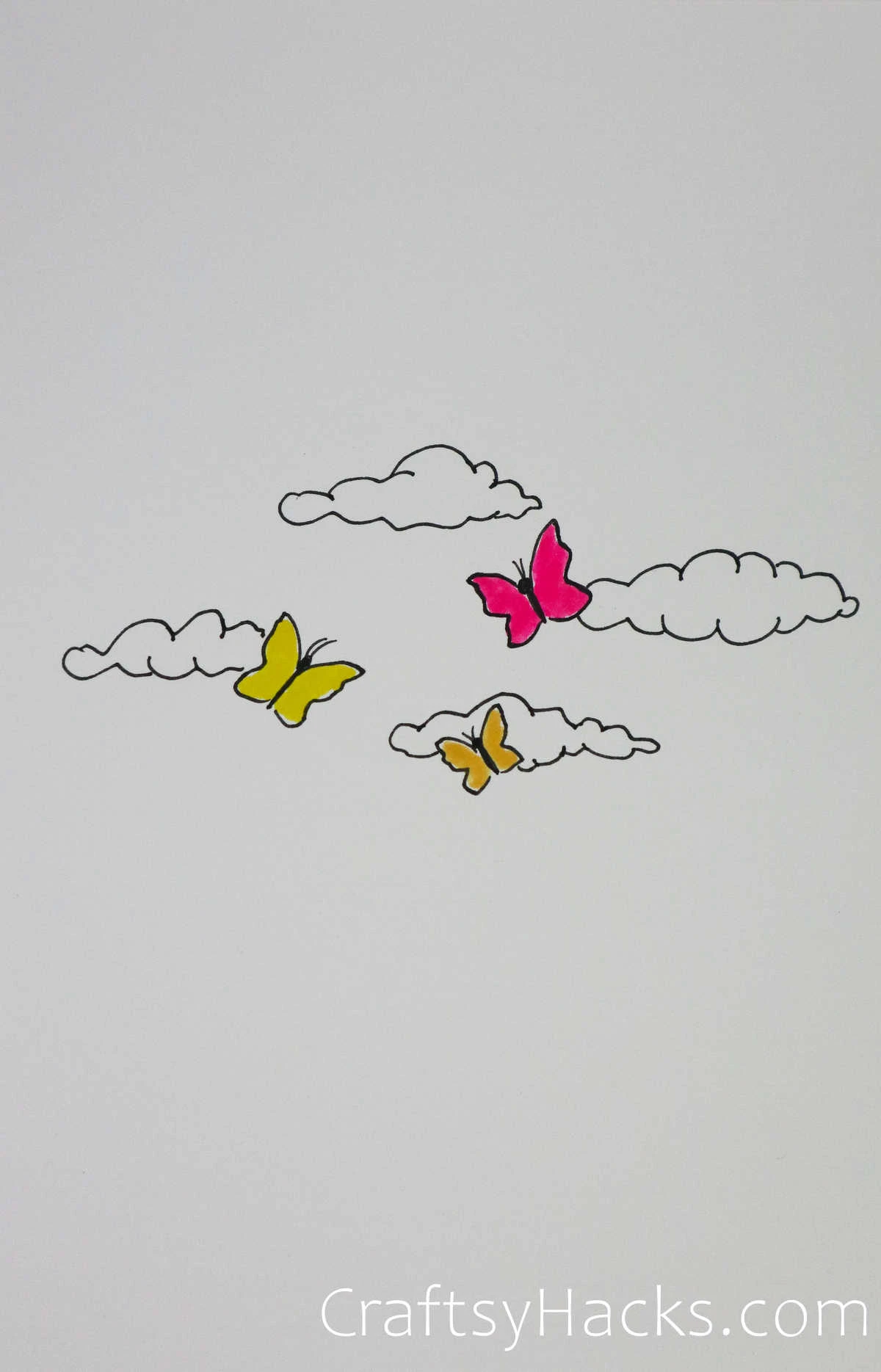 An easier and perhaps more serene take on butterflies in flight is the idea of having them fly amongst the clouds.
Although we all know this isn't a real depiction, and these little guys would never get found that high in the sky–it still feels pleasing.
It almost reminds me of a very simplistic styling of Lisa Frank's art from the 90s.
8. Butterfly Finds the Music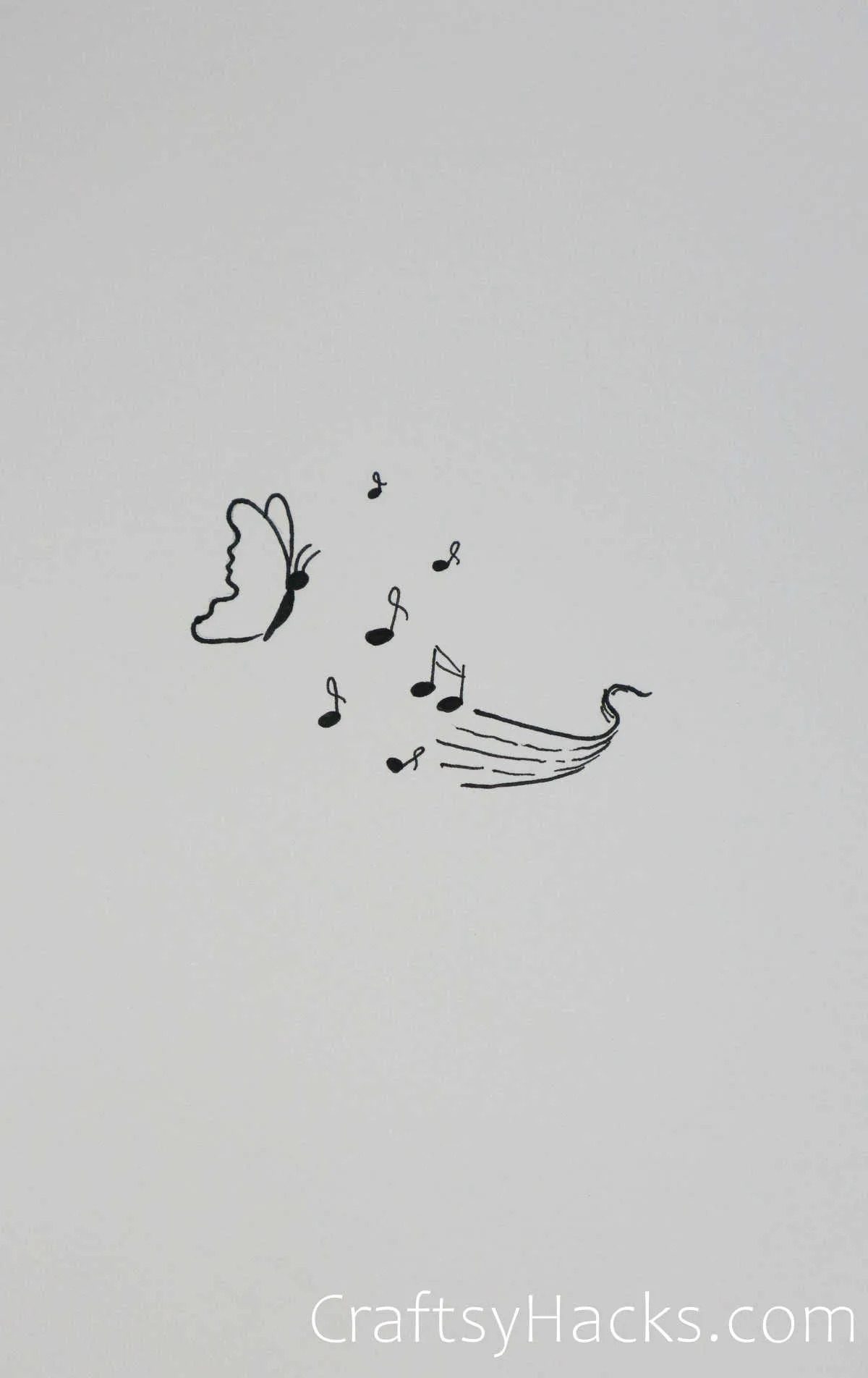 It is admittedly hard to find different ways to show butterflies in motion on the page, but the floating music notes help the idea without over-constructing the creature.
Punch this picture up with different colored music notes, a boombox (vintage, I know!), or even a musician in the background.
The detailing of the musical notes moving through the air help naturally shows the state of the butterfly.
This is one of the cutest aesthetic drawing ideas!
9. Polka-Dotted Butterfly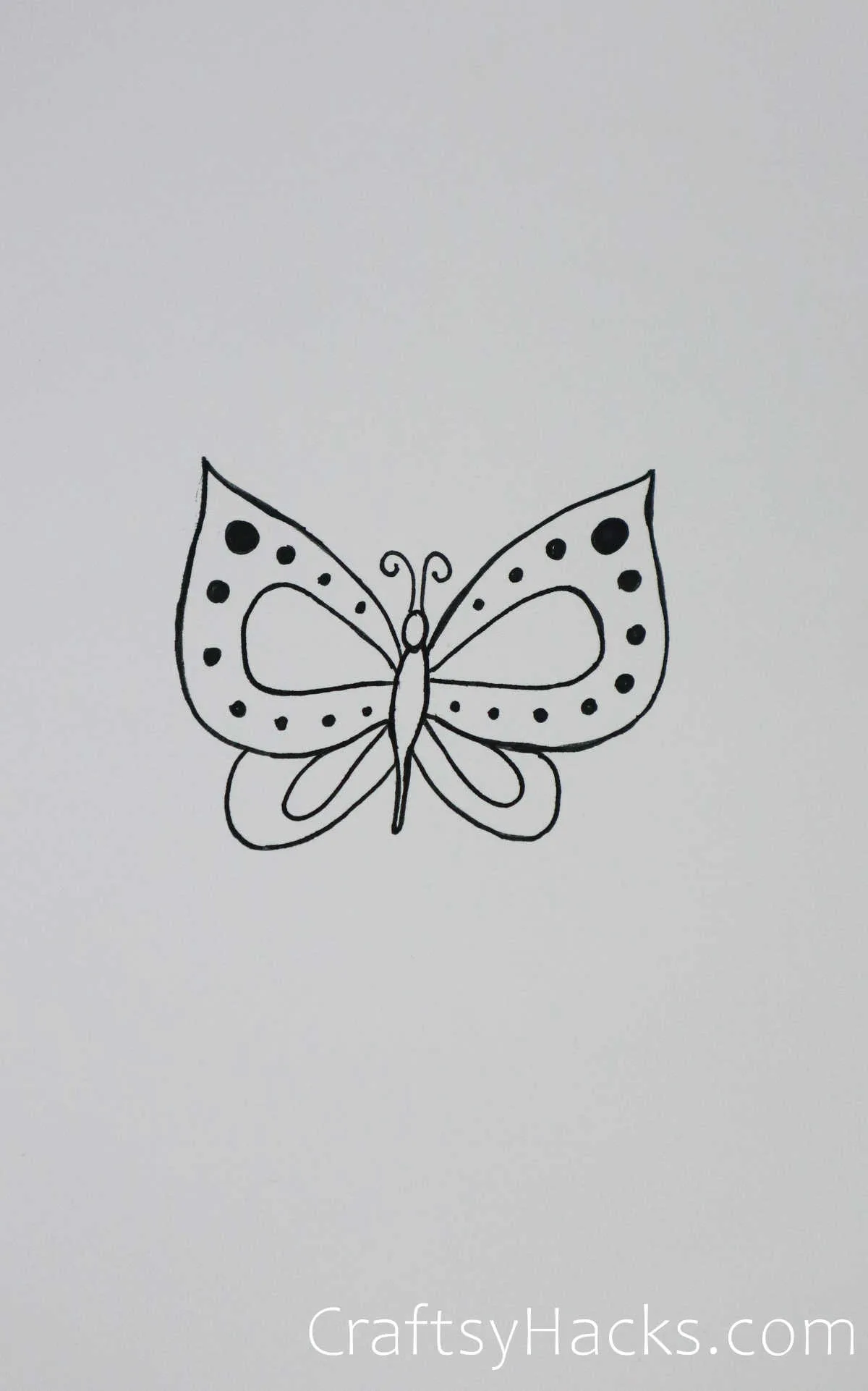 If you're looking for a semi-detailed butterfly, look no further.
Adding simple polka dots on the wings can completely change the look of the insect–or try multiple simple shapes in each wing or patterned throughout.
A little texture or pattern goes a long way in smaller spaces, like a butterfly's wings. Different sizes of simple shapes can also help alter–play around with it and go with what feels right.
These easy tree drawing ideas go perfectly with your butterflies!
10. Butterfly on the Moon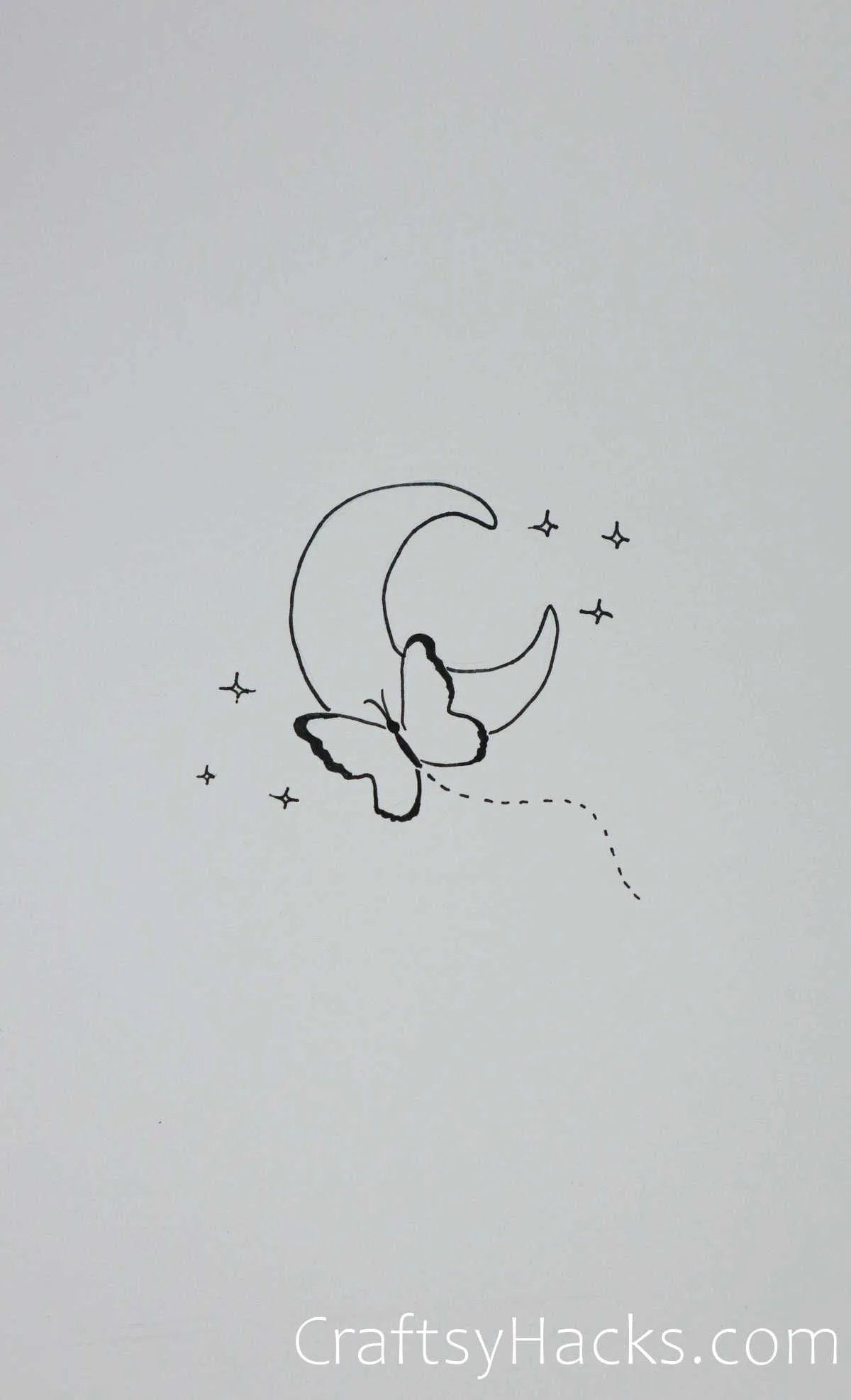 Again, butterflies reaching this height have a calming sensation, even though not very realistic at all.
The main detail to show an animal or insect with wings is, of course, the dotted line that you see tailing this particular butterfly.
Going forward, you'll probably see I use this depiction quite often, but I love another signifier of motion, like the music notes, to make something more authentic.
11. Paper Airplane and Butterfly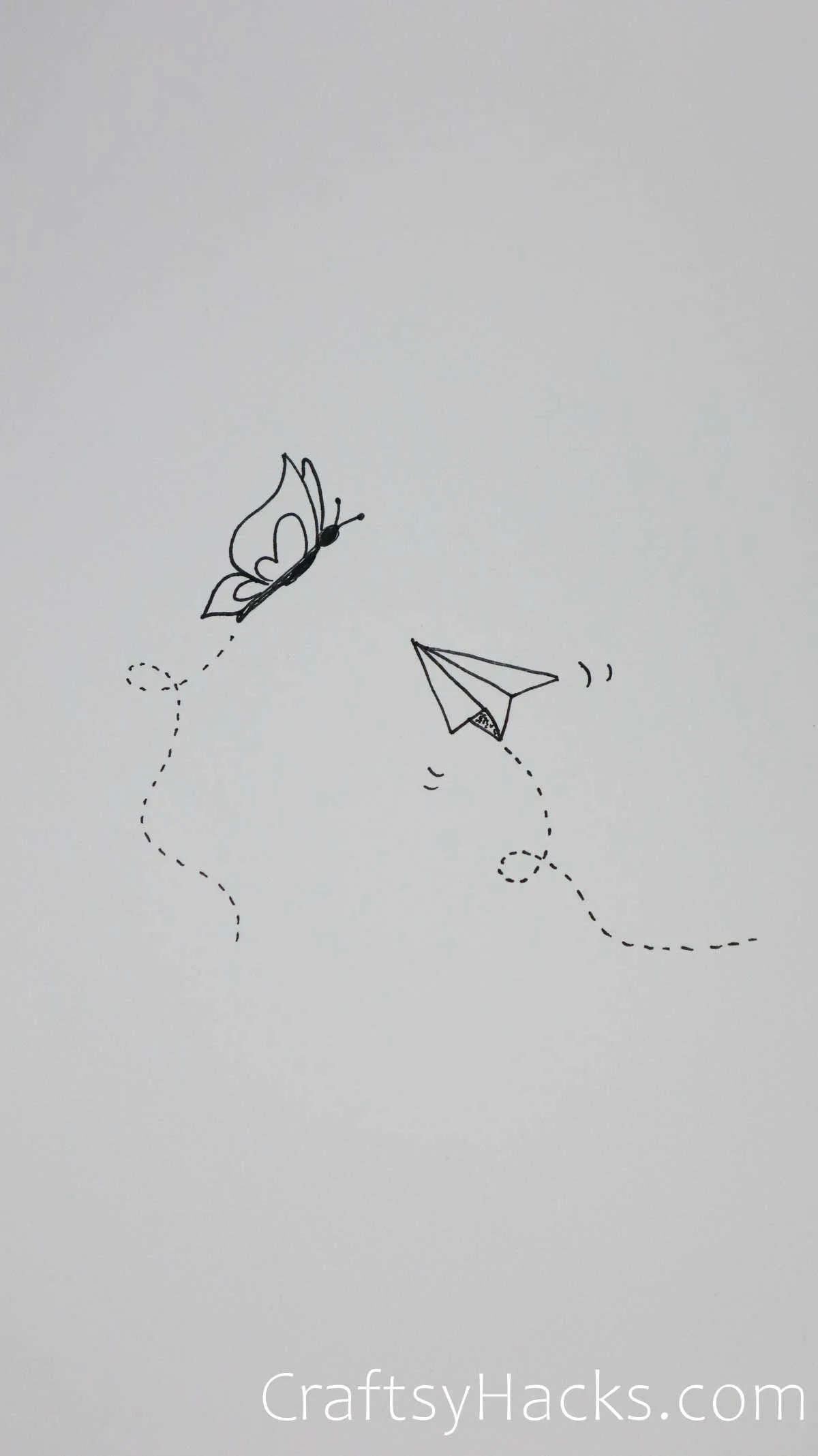 As you can see, more dotted lines show the butterfly's activity, but adding something else in motion is a fun way to play into the motion line.
What better idea for something moving than that of a paper airplane? Add anything that can move that makes sense for your drawing.
12. Butterfly in Love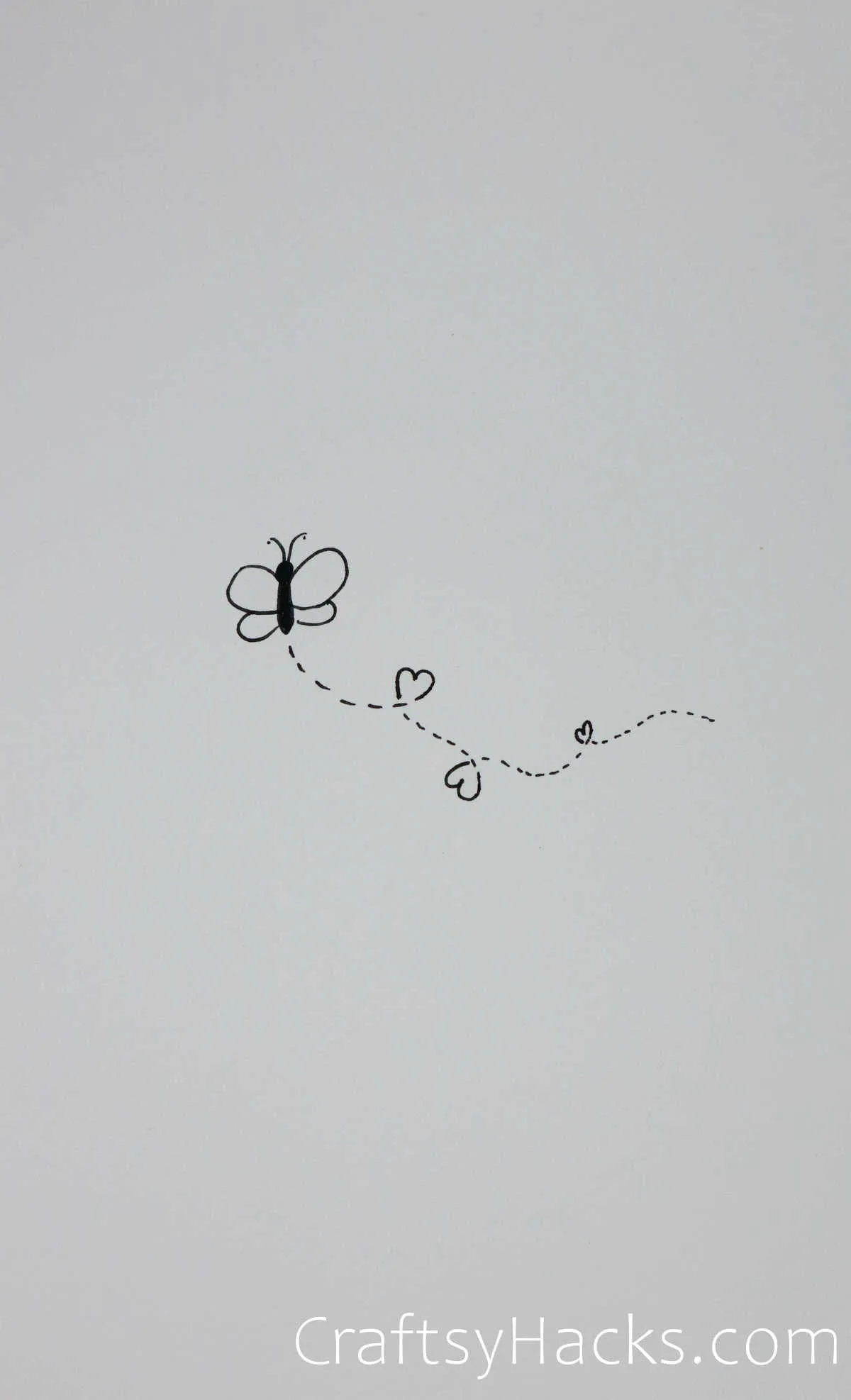 Again, the dotted line, but to make the line a little more prevalent, I added hearts, as you can see.
This detail transforms the idea behind the illustration to that of a butterfly that is potentially happy, in love, or some other overwhelming positive emotion.
13. Floral Butterfly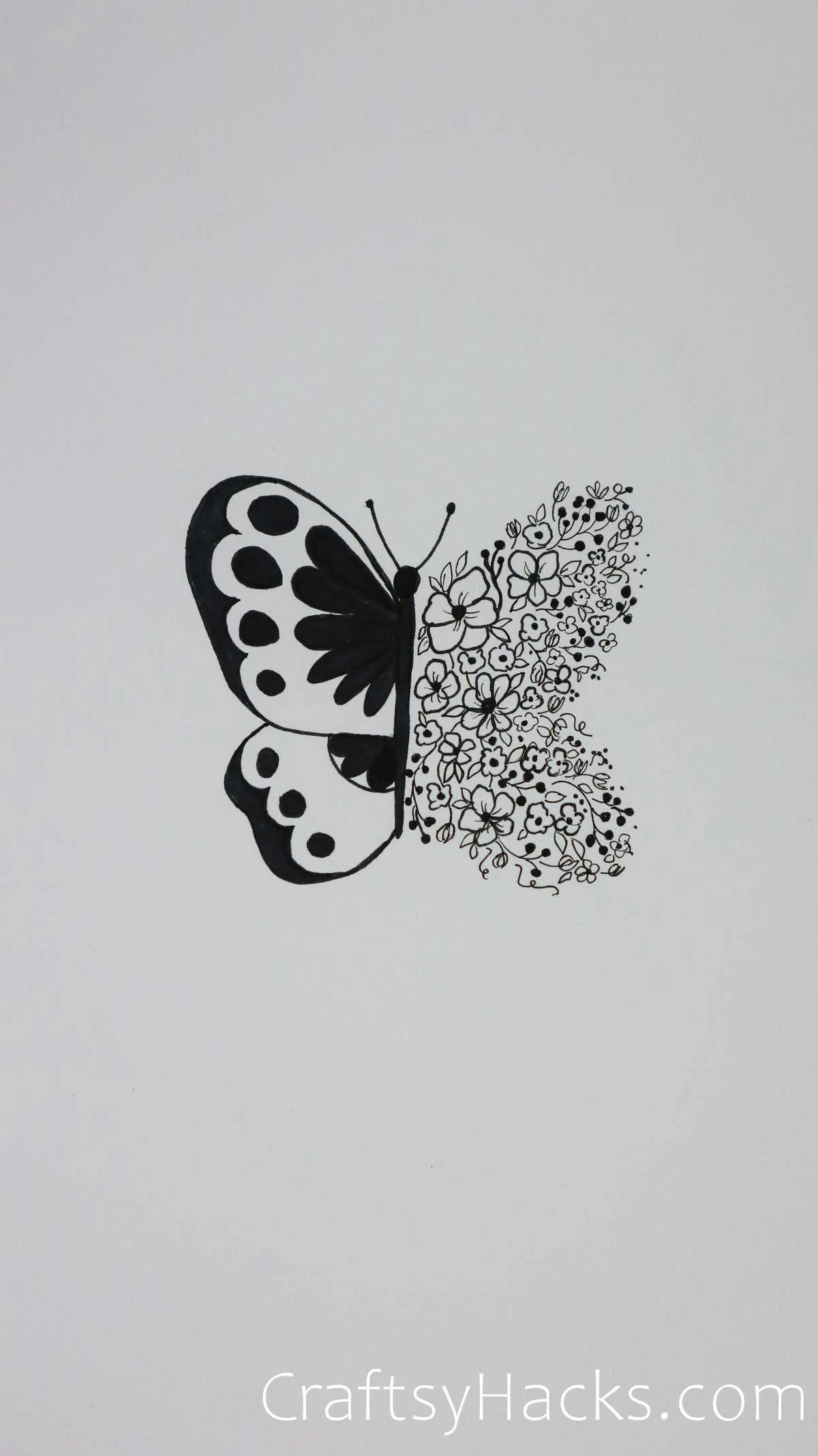 This half-floral creature is your answer for those looking for an even more detailed butterfly than the polka-dot one above.
I love images like this. It elicits the inner workings of seemingly simple everyday creatures with much more to offer.
You might also have fun with these pretty flower painting ideas!
14. Butterflies Get Set Free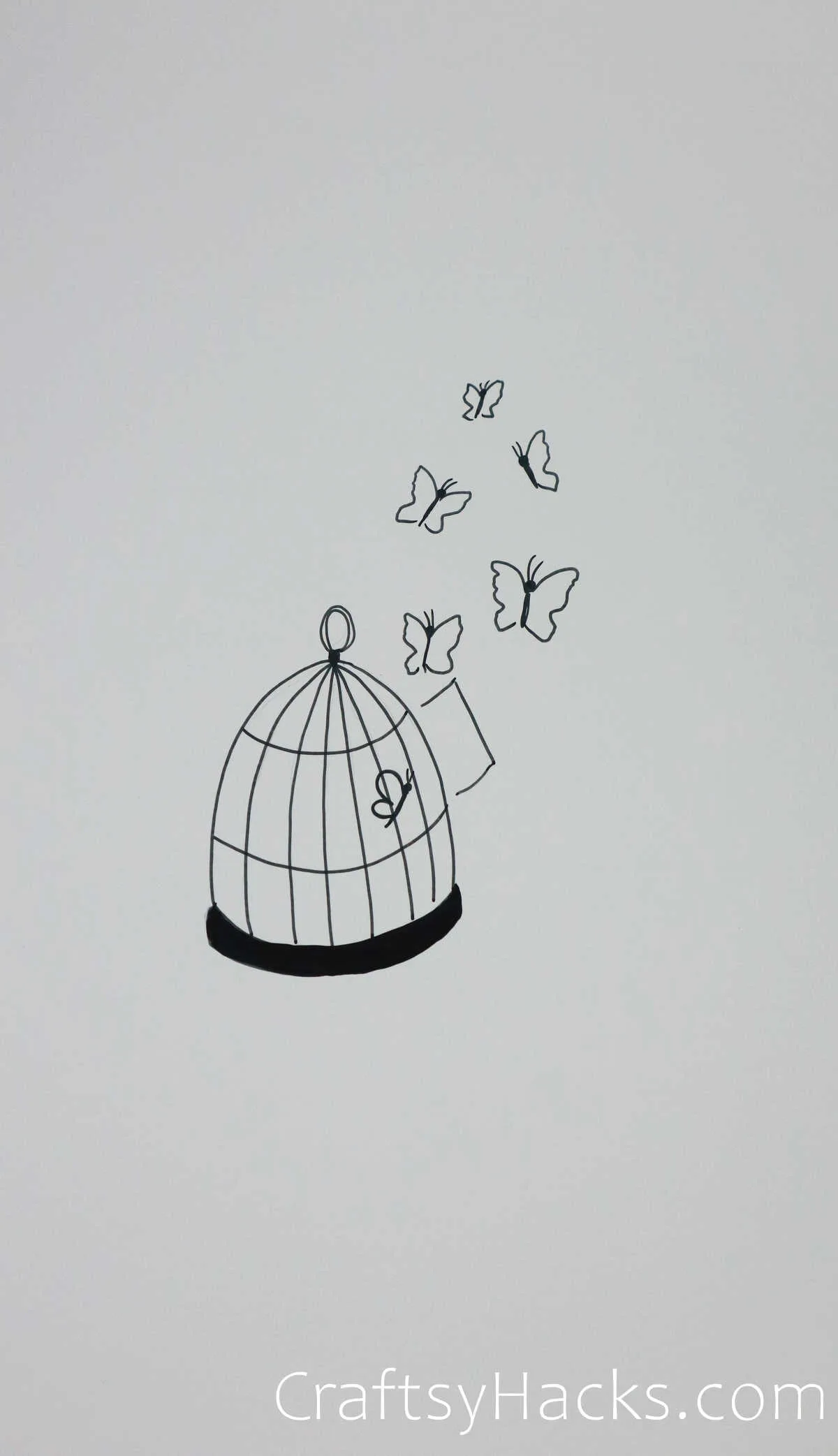 Another great way to show motion is by releasing the creatures from a container or space. Also, since there are multiple moving, it aids the idea that they are all actively flying out of the cage.
15. Balloon and Butterfly
Movement lines or things we know naturally can be airborne, whether aided or not, are great additions to butterfly images.
Between the movement lines on the balloon and the butterfly's line heading for the item, it again helps naturally show the motion on the page.
16. Dandelion Puff and Butterfly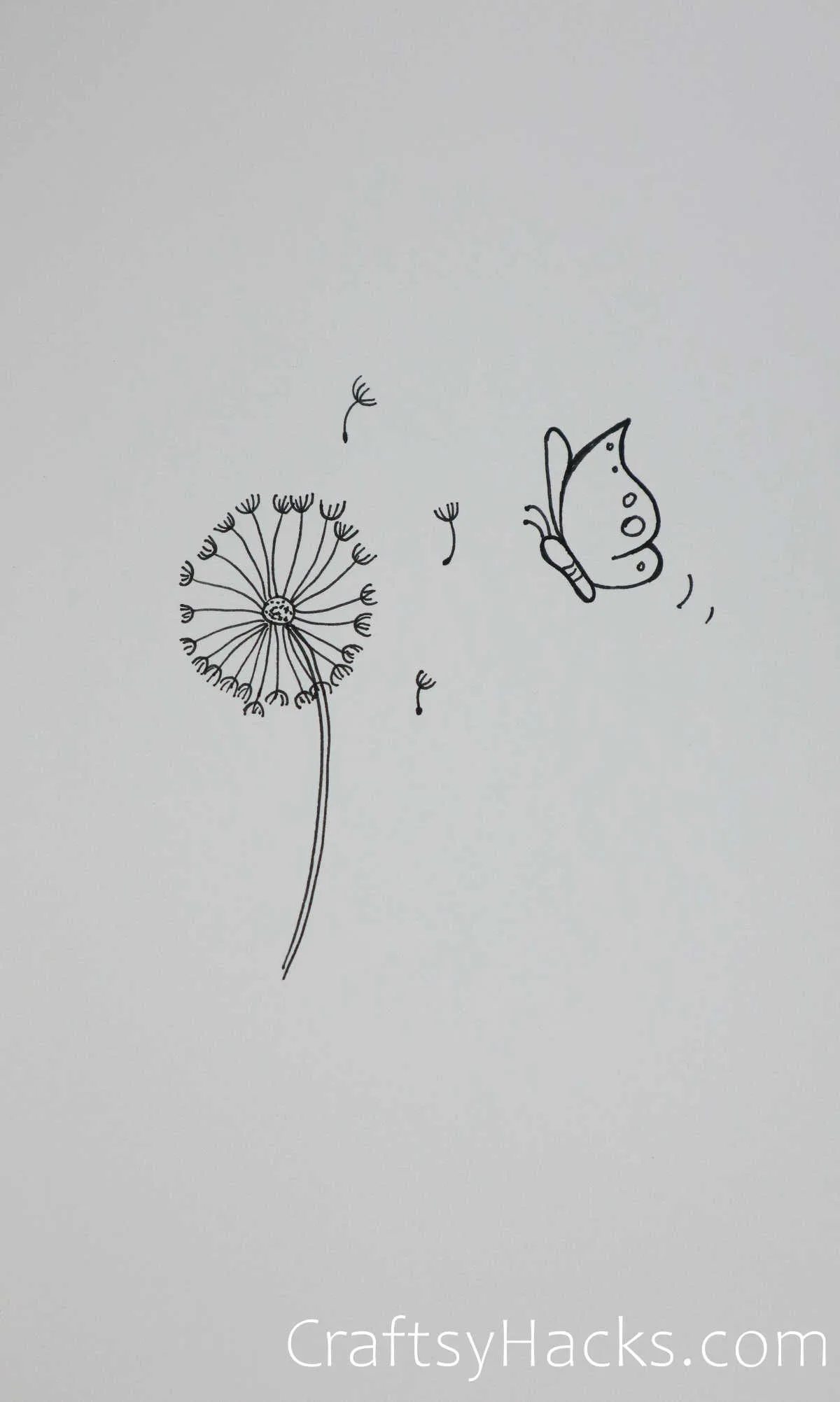 A dandelion puff is one of my favorite items to show naturally that a butterfly is in motion.
We've all come in contact with this weed at this stage and know how easily those fluffs fly if a force is upon them.
I think this idea would be sweet with adding a smaller butterfly, as if a mother and a child were investigating this dandelion puff for the first time.
It also makes me think of summertime–both are synonyms with summertime for me.
These easy mushroom drawing ideas will add so much to your butterfly art!
17. Butterflies on the Moon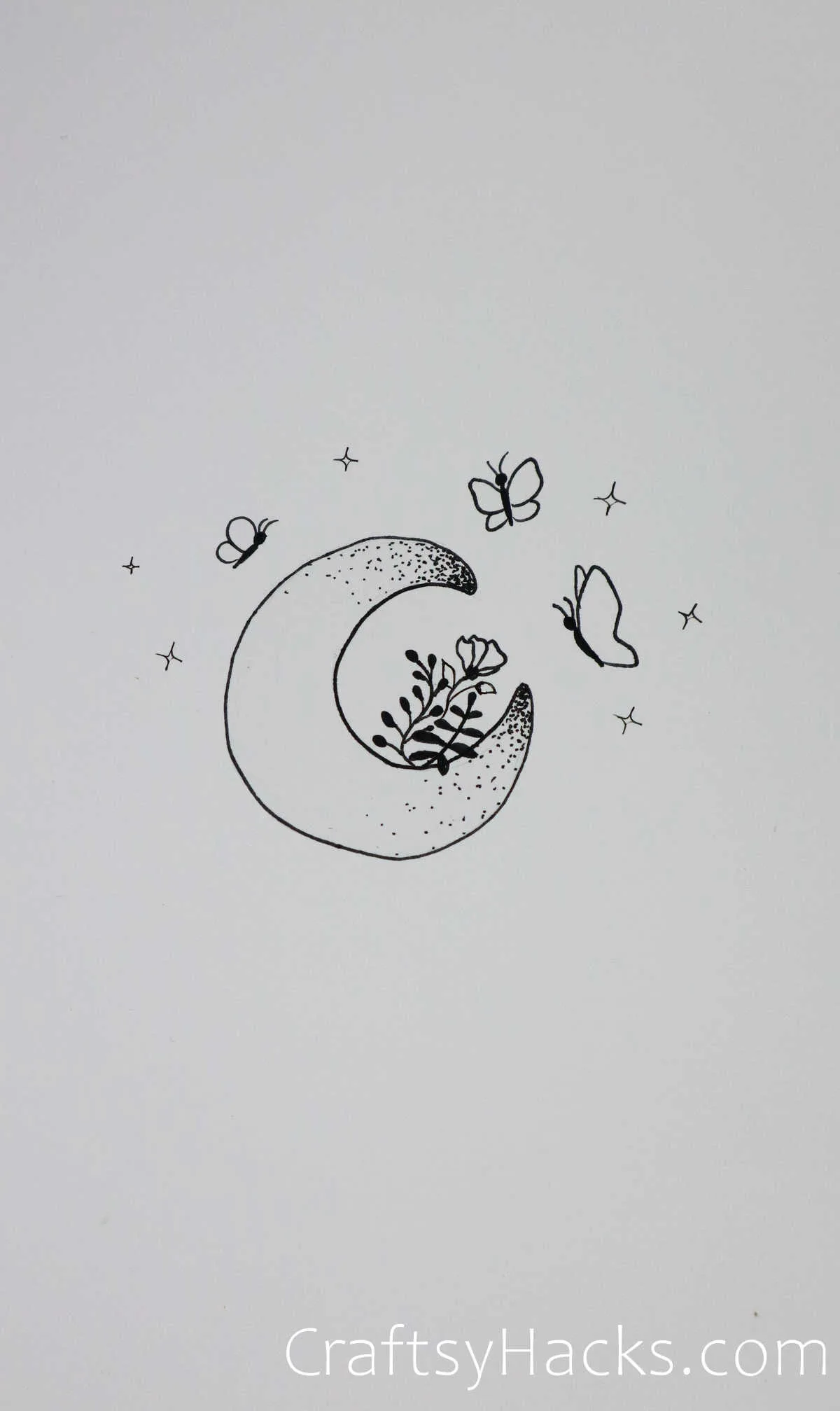 This idea is another variation of a butterfly with the moon. The image is a very natural feeling and has an overwhelmingly calm demeanor.
This image would be a great print for a teenager or a friend who loves nature. Color in the image if desired, grab a nice frame, and there you have a beautiful homemade present.
18. Butterfly in Nature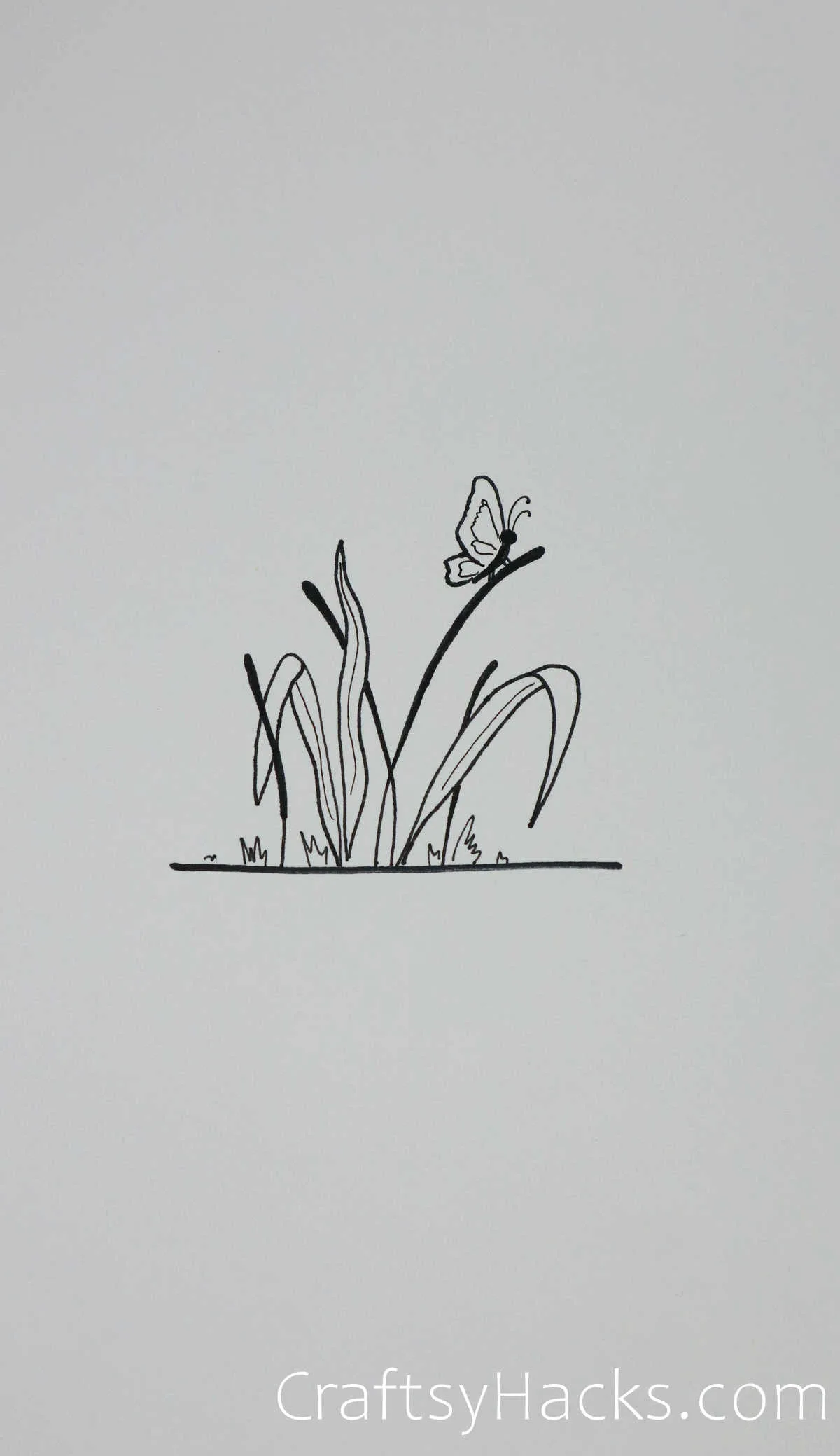 If you'd like just to have a pretty serene and naturally natural picture, this idea is for you.
Any nature scene that you'd like to use will be easy enough to incorporate a single or a handful of butterflies and may even a few other insects or animals.
Don't overthink the scene–keep it simple, and you can not go wrong with the results.
19. Present Full of Butterflies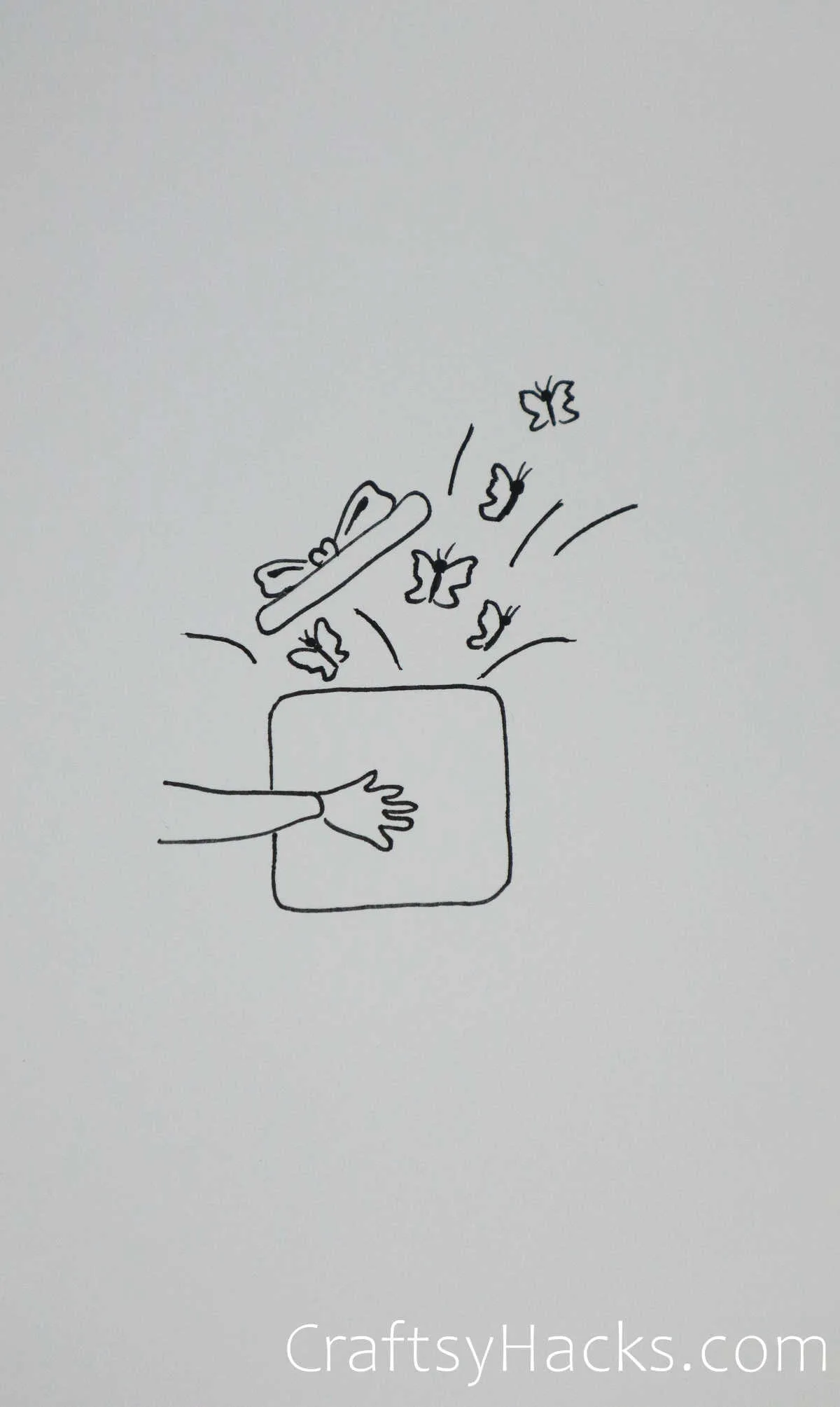 Here's another instance of a fun surprise barrier to set butterflies naturally in motion! Although, admittedly, if I ever received a box full of butterflies as a present, it'd probably scare me.
20. Neon Butterfly
Although this is the first fully in-color butterfly I have on the list doesn't mean the rest can't get colored in–I just think a brightly colored one is extra fun, and I had to share.
21. Butterfly and the Rosy World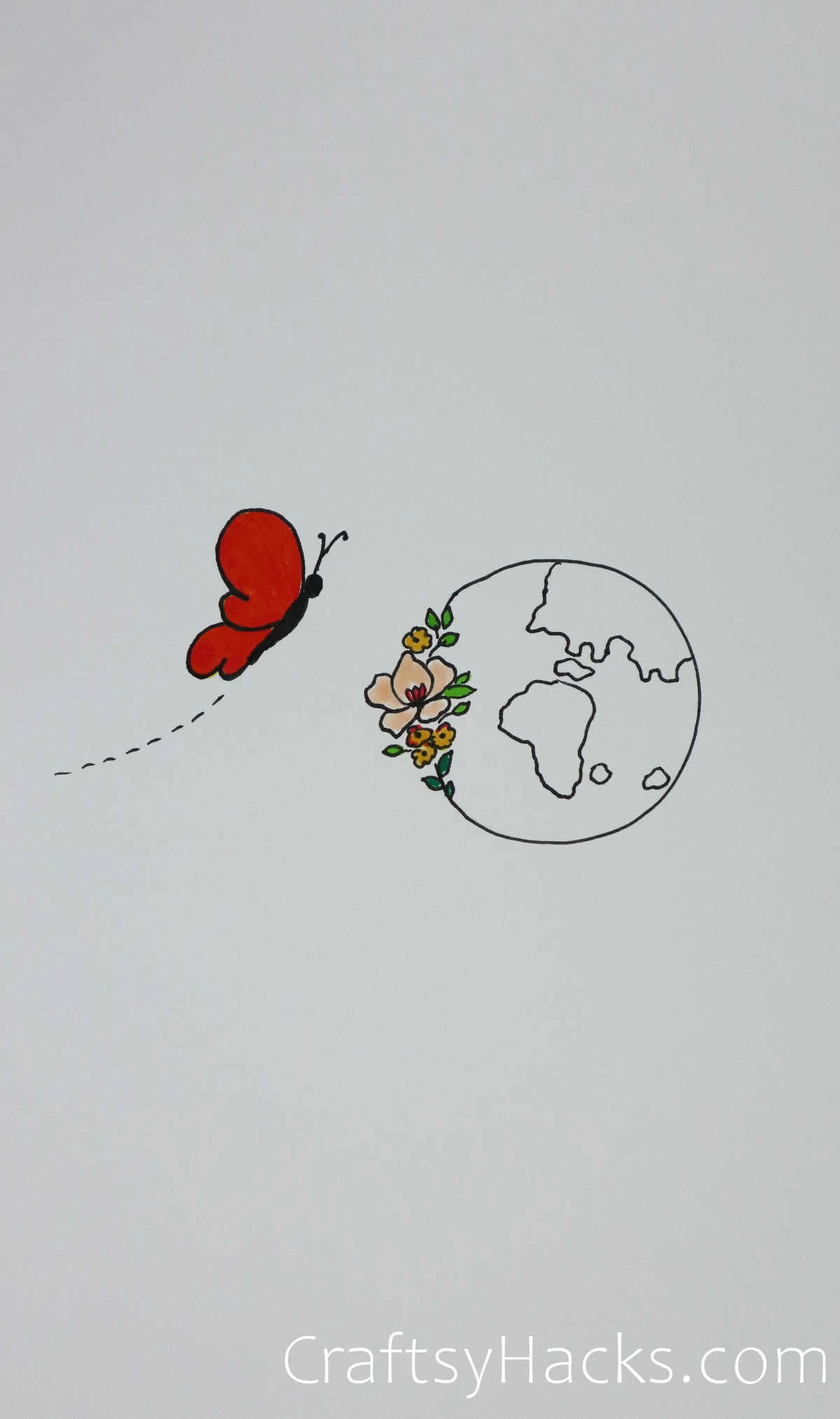 Finally, for the last idea, a butterfly greets a rosy world to round out the list.
It's one of my favorite ways to draw butterflies, as you can see–something ethereal and natural paired with them makes sense, and I hope you try it too!